A Bad Nightmare Quotes & Sayings
Enjoy reading and share 39 famous quotes about A Bad Nightmare with everyone.
Top A Bad Nightmare Quotes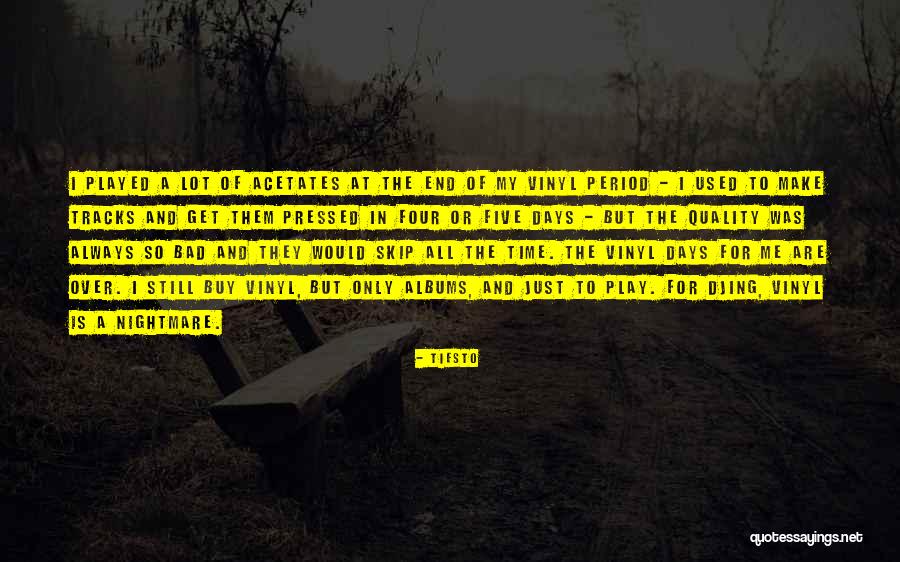 I played a lot of acetates at the end of my vinyl period - I used to make tracks and get them pressed in four or five days - but the quality was always so bad and they would skip all the time. The vinyl days for me are over. I still buy vinyl, but only albums, and just to play. For DJing, vinyl is a nightmare. — Tiesto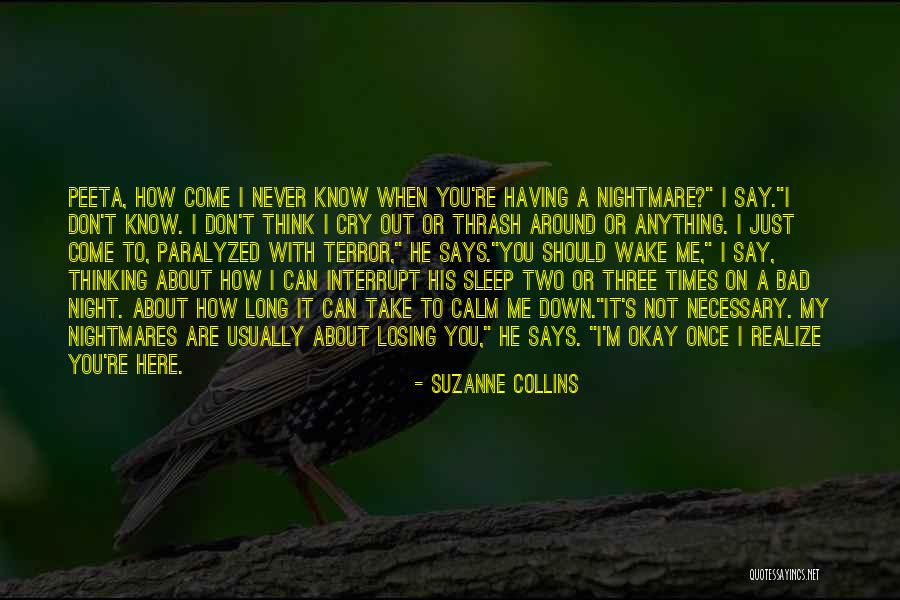 Peeta, how come I never know when you're having a nightmare?" I say.
"I don't know. I don't think I cry out or thrash around or anything. I just come to, paralyzed with terror," he says.
"You should wake me," I say, thinking about how I can interrupt his sleep two or three times on a bad night. About how long it can take to calm me down.
"It's not necessary. My nightmares are usually about losing you," he says. "I'm okay once I realize you're here. — Suzanne Collins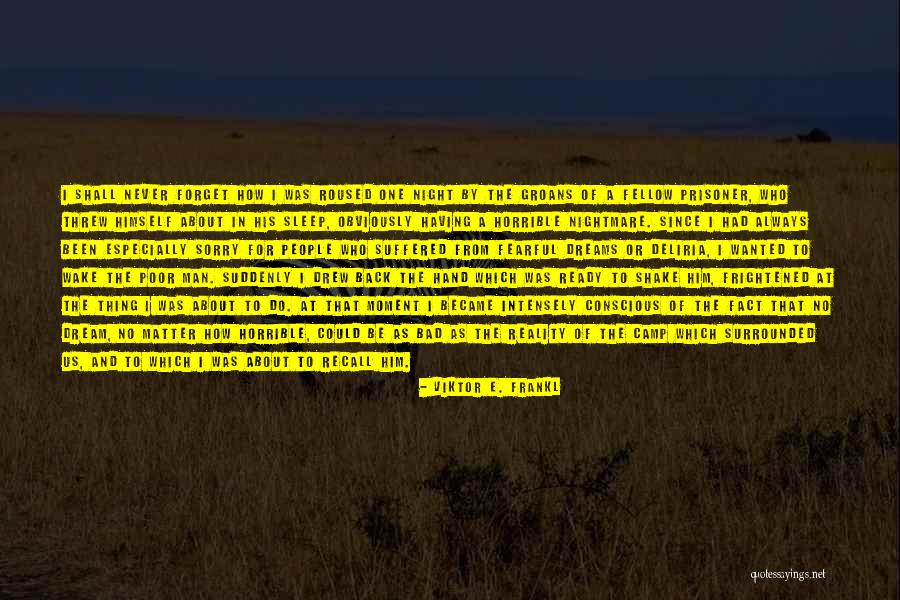 I shall never forget how I was roused one night by the groans of a fellow prisoner, who threw himself about in his sleep, obviously having a horrible nightmare. Since I had always been especially sorry for people who suffered from fearful dreams or deliria, I wanted to wake the poor man. Suddenly I drew back the hand which was ready to shake him, frightened at the thing I was about to do. At that moment I became intensely conscious of the fact that no dream, no matter how horrible, could be as bad as the reality of the camp which surrounded us, and to which I was about to recall him. — Viktor E. Frankl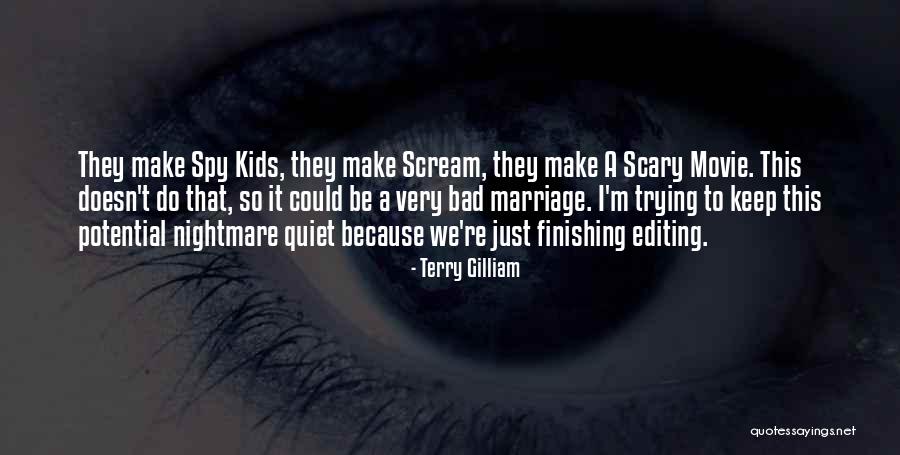 They make Spy Kids, they make Scream, they make A Scary Movie. This doesn't do that, so it could be a very bad marriage. I'm trying to keep this potential nightmare quiet because we're just finishing editing. — Terry Gilliam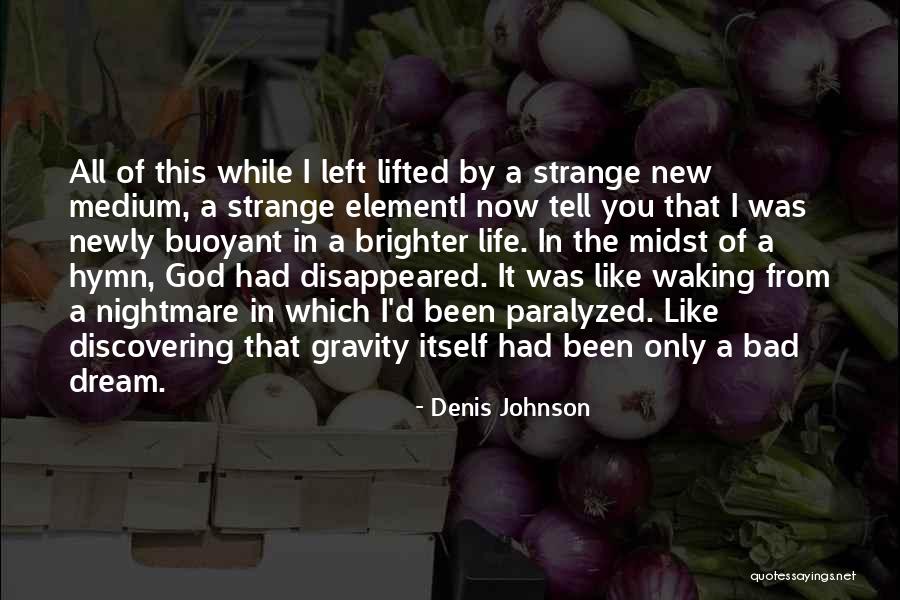 All of this while I left lifted by a strange new medium, a strange element
I now tell you that I was newly buoyant in a brighter life. In the midst of a hymn, God had disappeared. It was like waking from a nightmare in which I'd been paralyzed. Like discovering that gravity itself had been only a bad dream. — Denis Johnson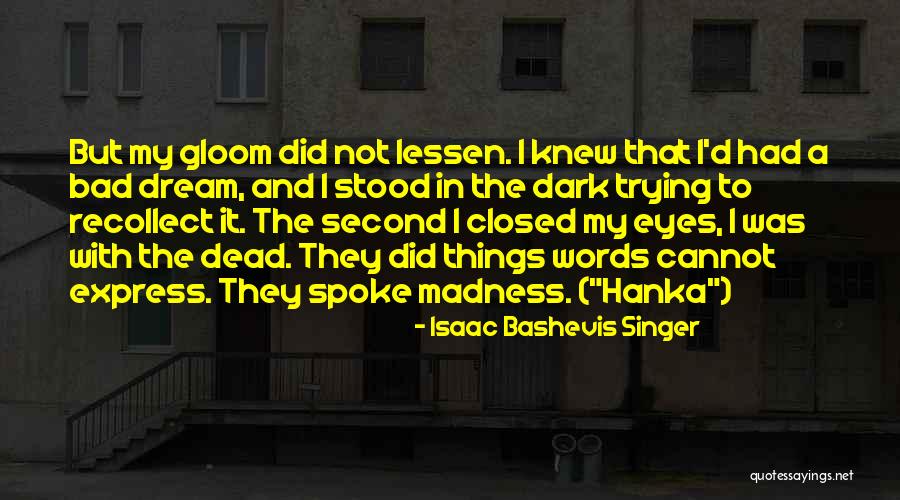 But my gloom did not lessen. I knew that I'd had a bad dream, and I stood in the dark trying to recollect it. The second I closed my eyes, I was with the dead. They did things words cannot express. They spoke madness. ("Hanka") — Isaac Bashevis Singer
You think I don't know how stories get written- how this story will be written?" Rhys put his hands on his chest, his face more open, more anguished than I'd seen it. "I am the dark lord, who stole away the bride of spring. I am a demon, and a nightmare, and I will meet a bad end. He is the golden prince- the hero who will get to keep you as his reward for not dying of stupidity and arrogance. — Sarah J. Maas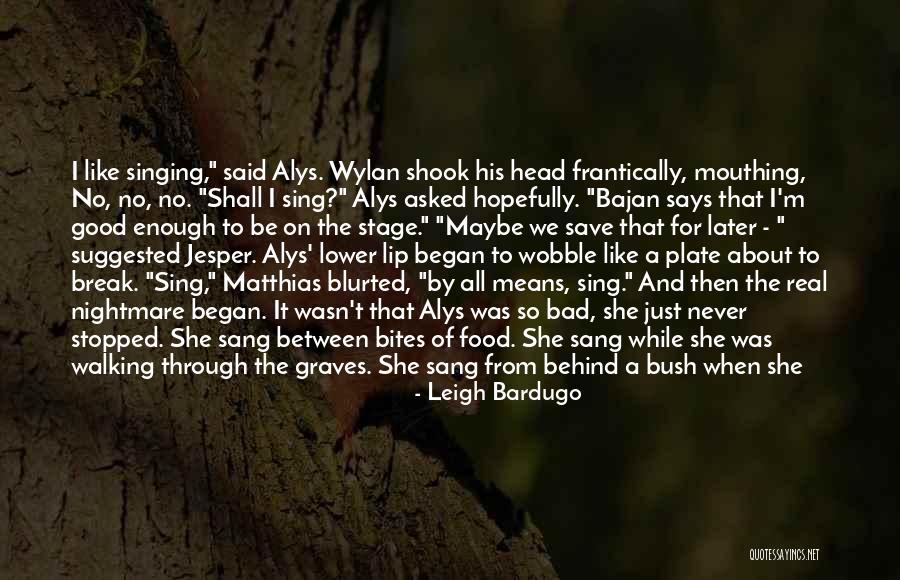 I like singing," said Alys.
Wylan shook his head frantically, mouthing, No, no, no.
"Shall I sing?" Alys asked hopefully. "Bajan says that I'm good enough to be on the stage."
"Maybe we save that for later - " suggested Jesper.
Alys' lower lip began to wobble like a plate about to break.
"Sing," Matthias blurted, "by all means, sing."
And then the real nightmare began.
It wasn't that Alys was so bad, she just never stopped. She sang between bites of food. She sang while she was walking through the graves. She sang from behind a bush when she needed to relieve herself. When she finally dozed off, she hummed in her sleep .
"Maybe this was Van Eck's plan all along," Kaz said glumly when they'd assembled outside the tomb again.
"To drive us mad?" said Nina. "It's working."
Jesper shut his eyes and groaned. "Diabolical. — Leigh Bardugo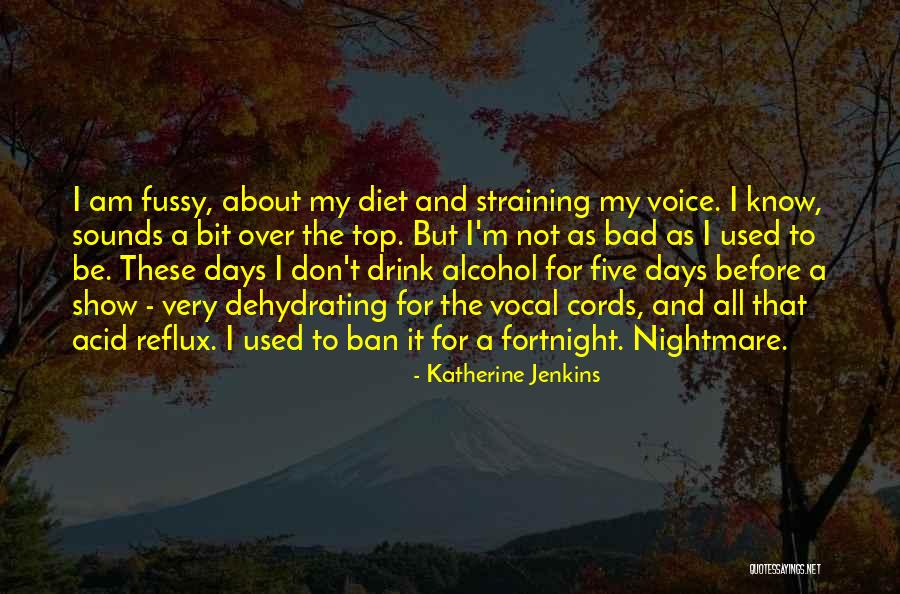 I am fussy, about my diet and straining my voice. I know, sounds a bit over the top. But I'm not as bad as I used to be. These days I don't drink alcohol for five days before a show - very dehydrating for the vocal cords, and all that acid reflux. I used to ban it for a fortnight. Nightmare. — Katherine Jenkins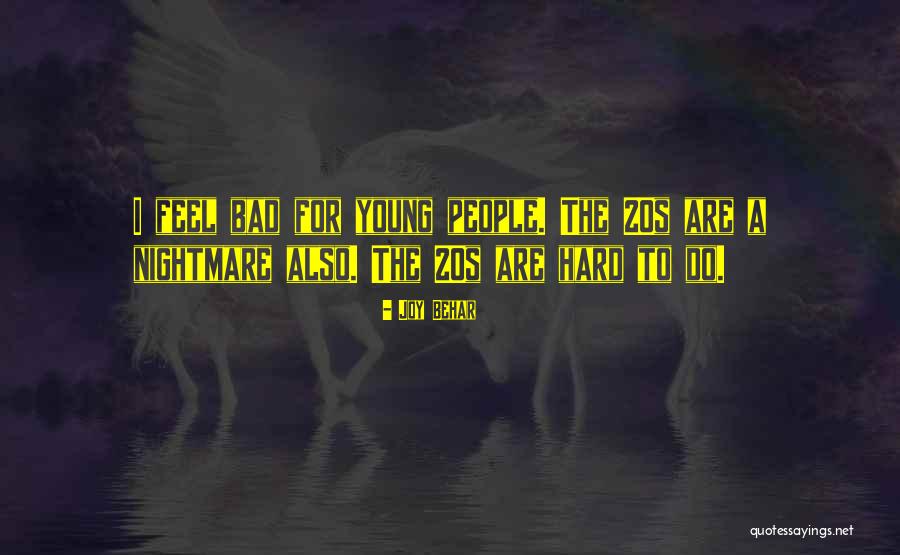 I feel bad for young people. The 20s are a nightmare also. The 20s are hard to do. — Joy Behar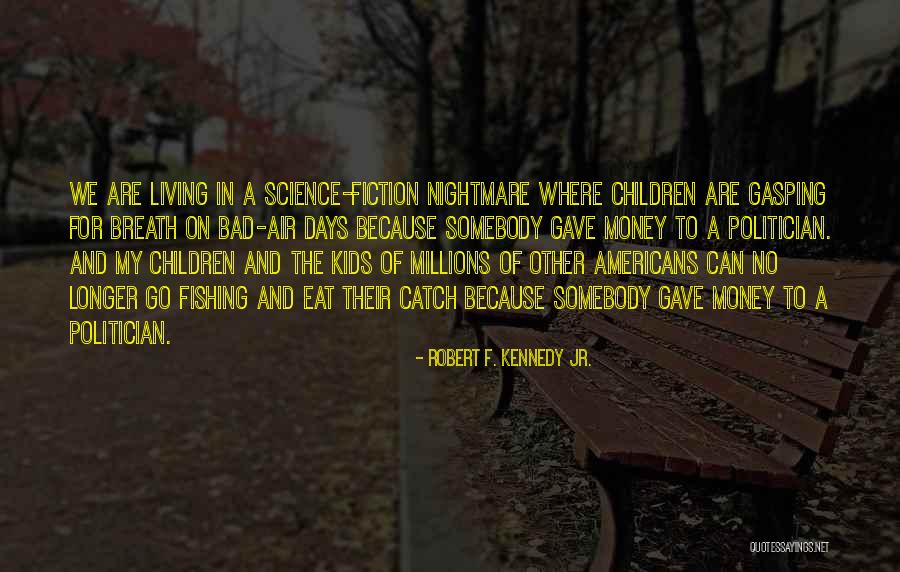 We are living in a science-fiction nightmare where children are gasping for breath on bad-air days because somebody gave money to a politician. And my children and the kids of millions of other Americans can no longer go fishing and eat their catch because somebody gave money to a politician. — Robert F. Kennedy Jr.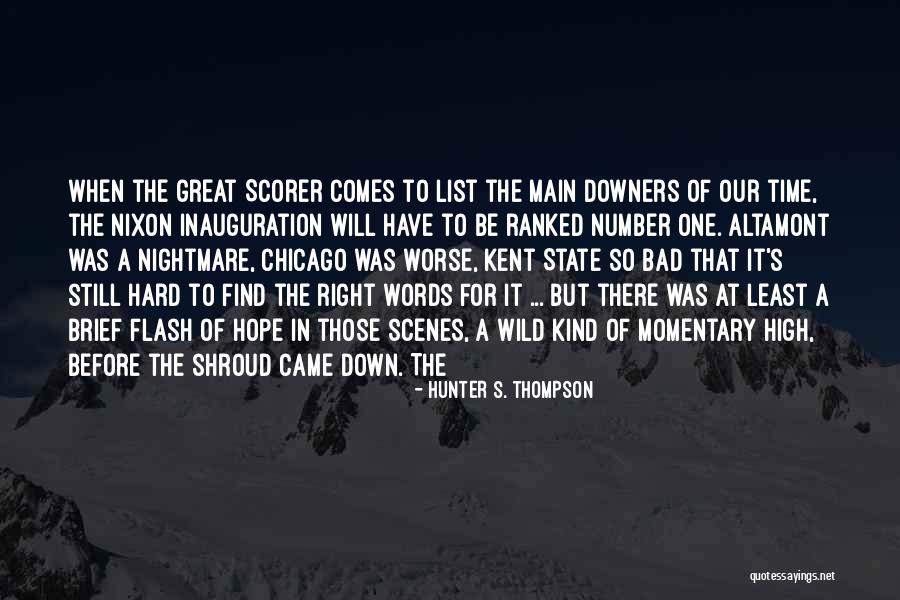 When the Great Scorer comes to list the main downers of our time, the Nixon Inauguration will have to be ranked Number One. Altamont was a nightmare, Chicago was worse, Kent State so bad that it's still hard to find the right words for it ... but there was at least a brief flash of hope in those scenes, a wild kind of momentary high, before the shroud came down. The — Hunter S. Thompson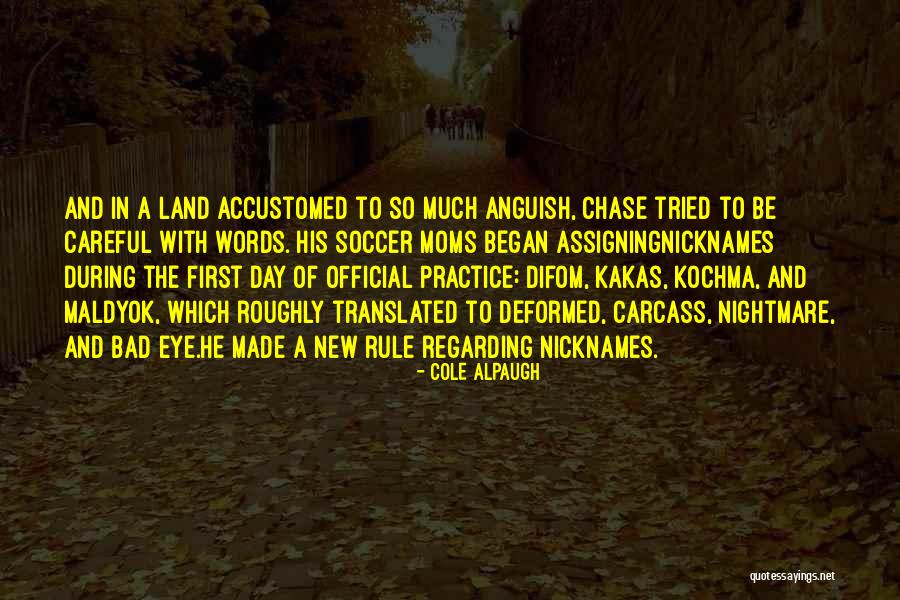 And in a land accustomed to so much anguish, Chase tried to be careful with words. His soccer moms began assigning
nicknames during the first day of official practice: Difom, Kakas, Kochma, and Maldyok, which roughly translated to Deformed, Carcass, Nightmare, and Bad Eye.
He made a new rule regarding nicknames. — Cole Alpaugh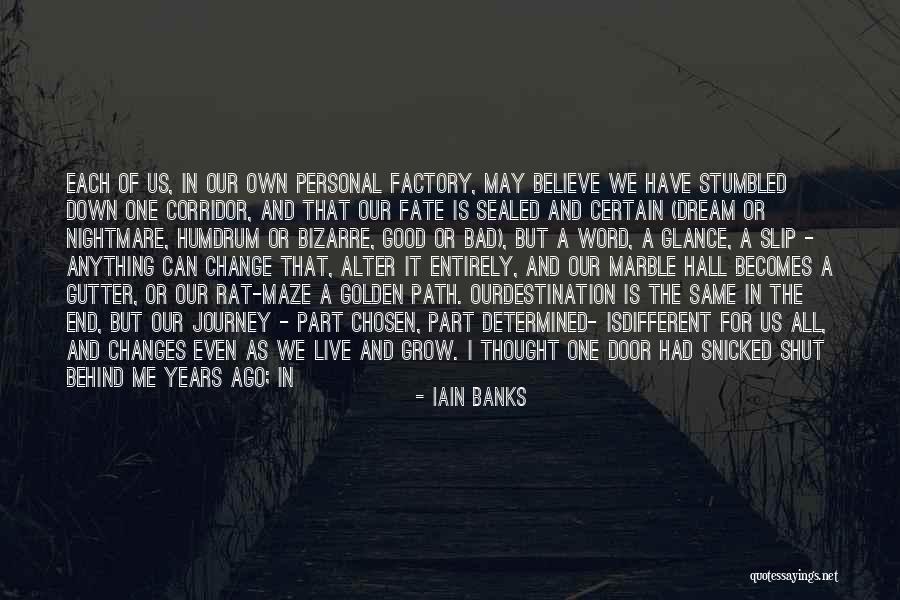 Each of us, in our own personal Factory, may believe we have stumbled down one corridor, and that our fate is sealed and certain (dream or nightmare, humdrum or bizarre, good or bad), but a word, a glance, a slip - anything can change that, alter it entirely, and our marble hall becomes a gutter, or our rat-maze a golden path. Our
destination is the same in the end, but our journey - part chosen, part determined- is
different for us all, and changes even as we live and grow. I thought one door had snicked shut behind me years ago; in fact I was still crawling about the face. Now the door closes, and my journey begins. — Iain Banks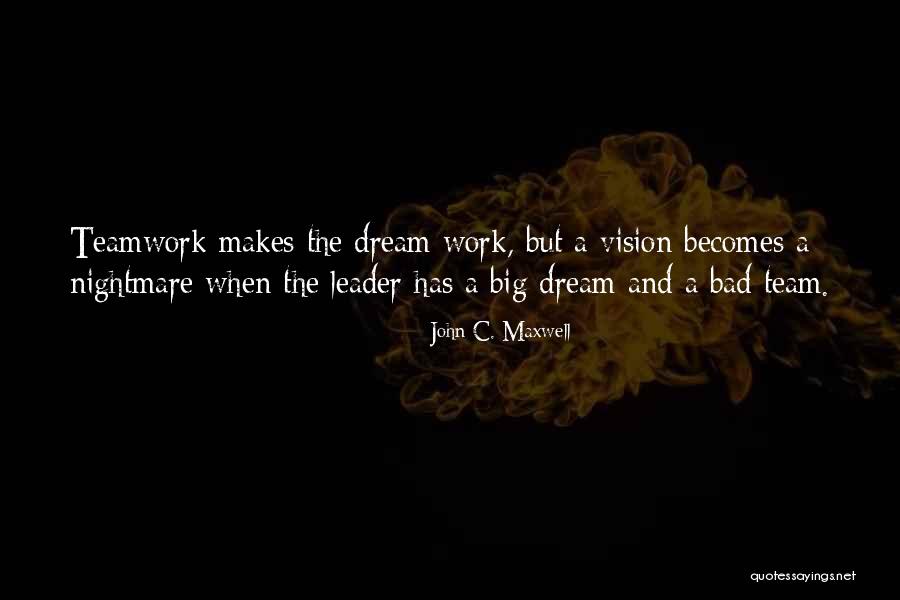 Teamwork makes the dream work, but a vision becomes a nightmare when the leader has a big dream and a bad team. — John C. Maxwell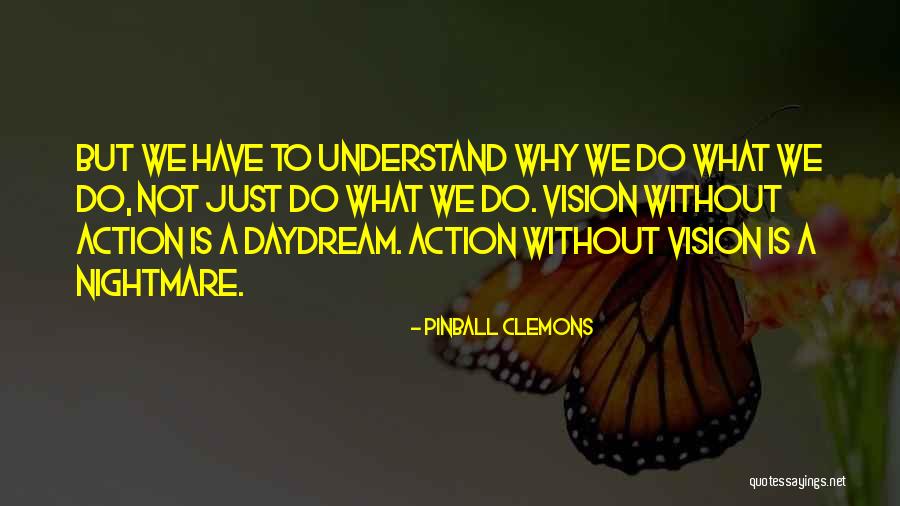 But we have to understand why we do what we do, not just do what we do. Vision without action is a daydream. Action without vision is a nightmare. — Pinball Clemons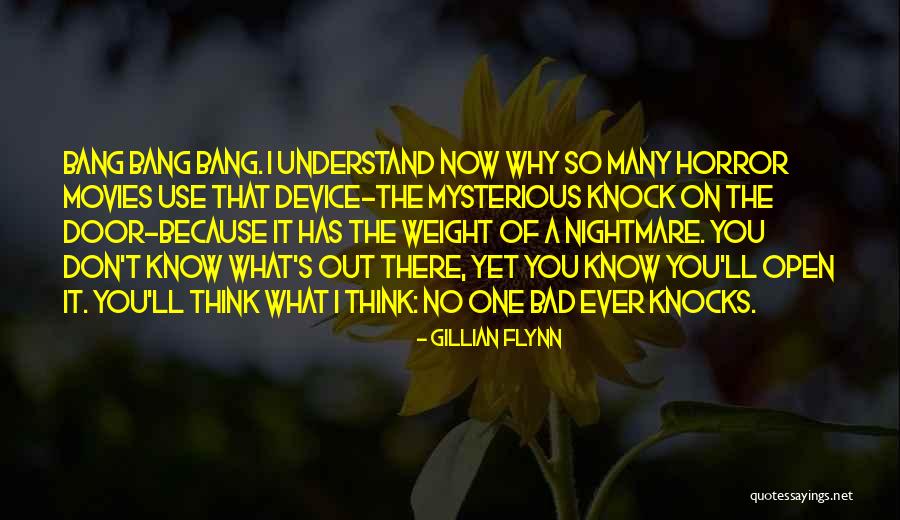 Bang bang bang. I understand now why so many horror movies use that device-the mysterious knock on the door-because it has the weight of a nightmare. You don't know what's out there, yet you know you'll open it. You'll think what I think: No one bad ever knocks. — Gillian Flynn
Don't you ever feel like, what if the world really IS messed up? What if we COULD Do it all over again from scratch? No more war. Nobody homeless. No more summer reading homework.
'm listening.
Annabeth: I mean, the West represents a lot of the best things mankind ever did
that's why the fire is still burning. That's why OlympusIs still around. But sometimes you just see the bad stuff, you know? And you start thinking the way Luke does: 'If I could tear this all down, i would do it better.'. Don't you ever feel that way? Like YOU could do a better job I'd you ran the world?
Percy:Um ... no. Me running the world would be kind of a nightmare.
Annabeth: then you're lucky. Hubris isn't your fatal flaw.
Percy: what is?
Annabeth: I don't know, Percy, but every hero has one. If you don't find it and learn to control it ... well, they don't call it 'fatal' for nothing.
Percy(thinking to himself): I thought about that. It didn't exactly cheer me up. — Rick Riordan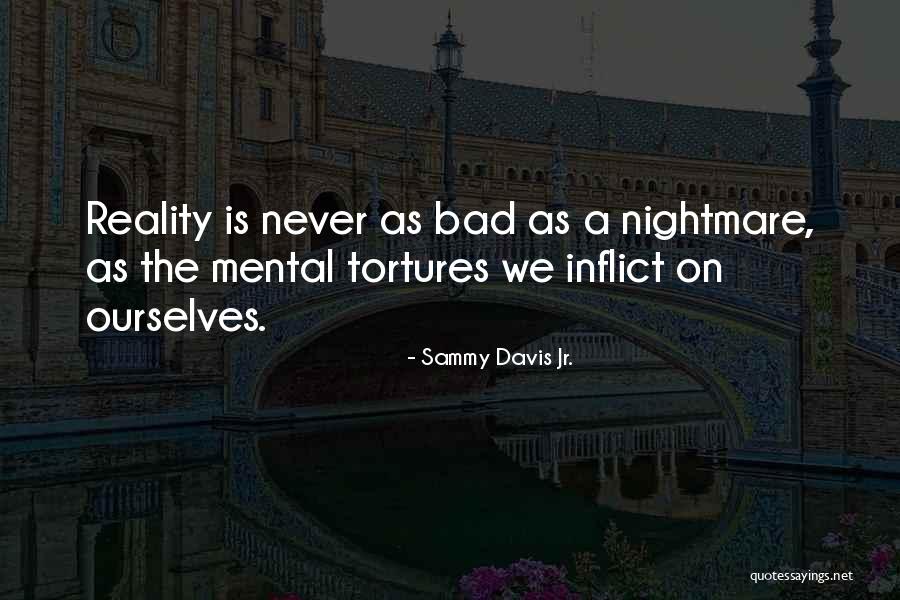 Reality is never as bad as a nightmare, as the mental tortures we inflict on ourselves. — Sammy Davis Jr.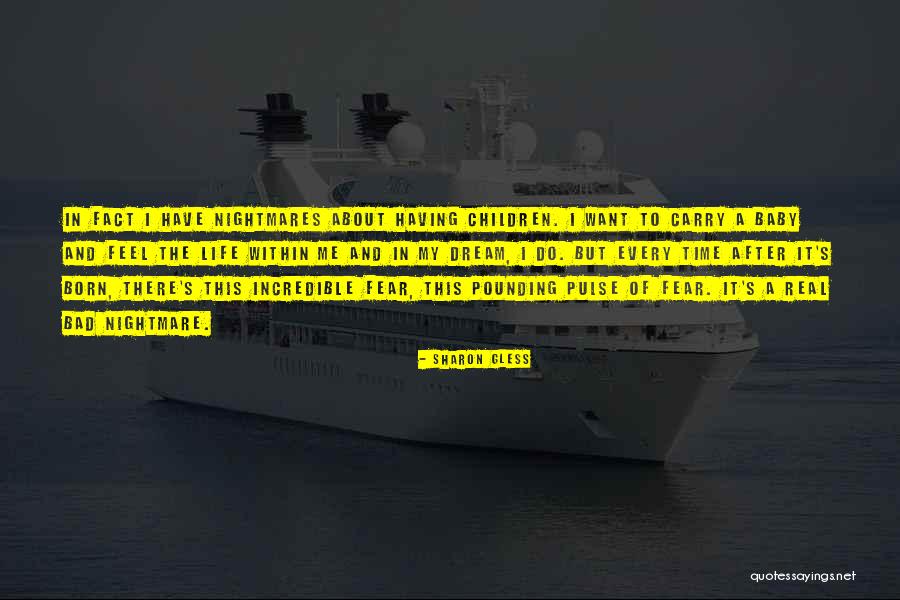 In fact I have nightmares about having children. I want to carry a baby and feel the life within me and in my dream, I do. But every time after it's born, there's this incredible fear, this pounding pulse of fear. It's a real bad nightmare. — Sharon Gless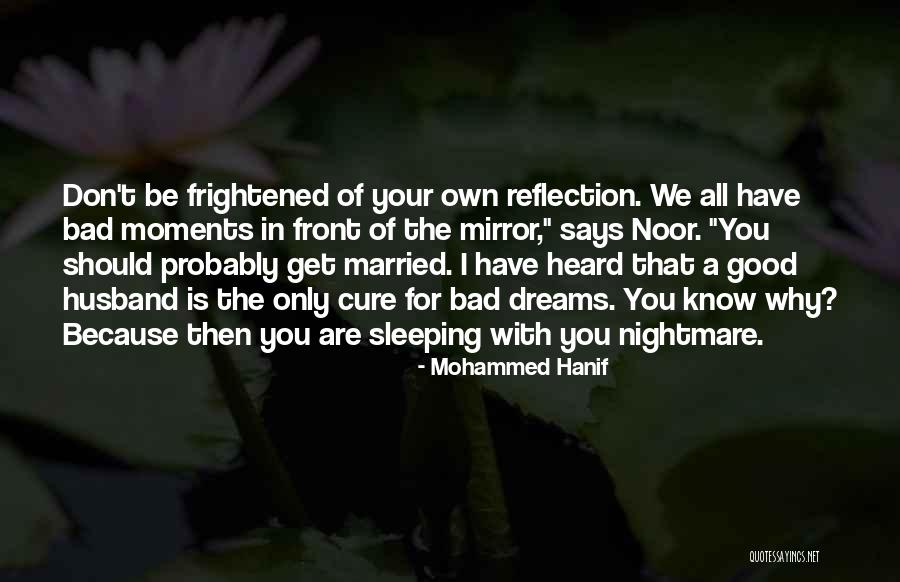 Don't be frightened of your own reflection. We all have bad moments in front of the mirror," says Noor. "You should probably get married. I have heard that a good husband is the only cure for bad dreams. You know why? Because then you are sleeping with you nightmare. — Mohammed Hanif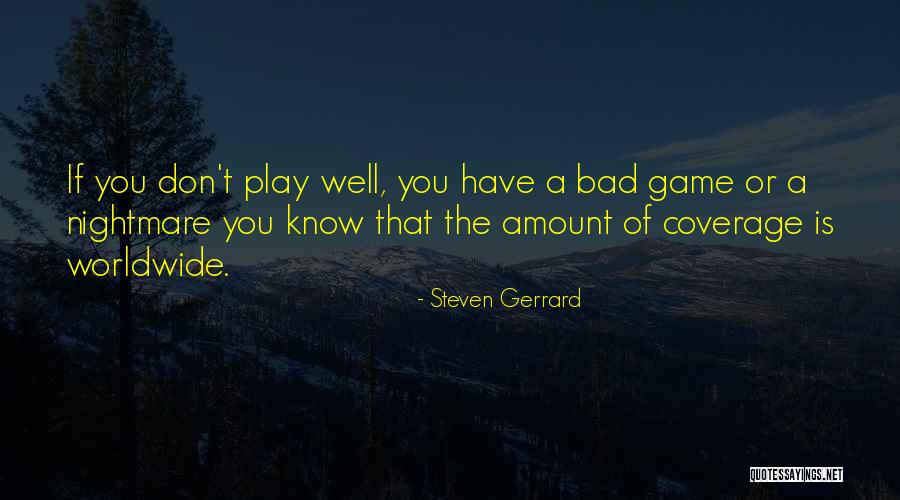 If you don't play well, you have a bad game or a nightmare you know that the amount of coverage is worldwide. — Steven Gerrard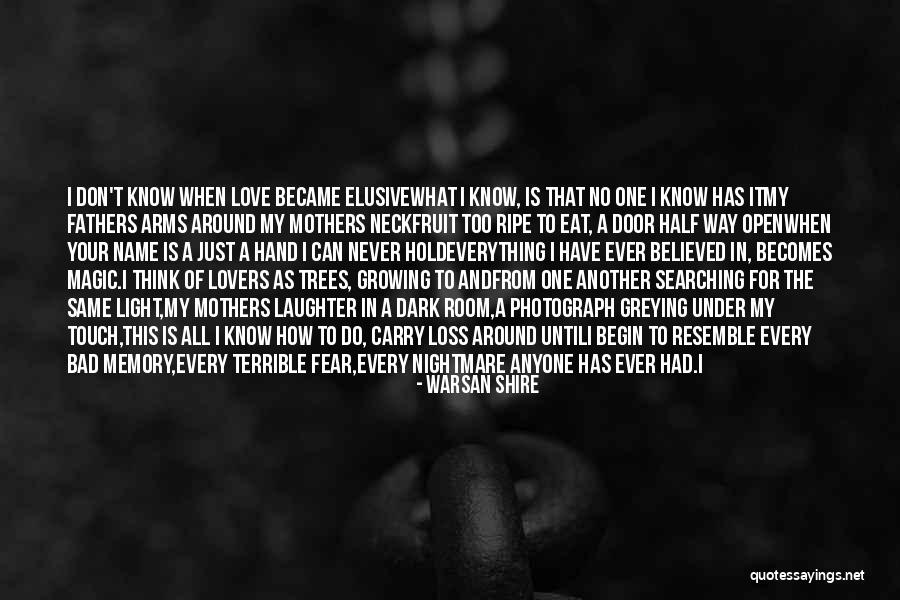 I don't know when love became elusive
what i know, is that no one i know has it
my fathers arms around my mothers neck
fruit too ripe to eat, a door half way open
when your name is a just a hand i can never hold
everything i have ever believed in, becomes magic.
i think of lovers as trees, growing to and
from one another searching for the same light,
my mothers laughter in a dark room,
a photograph greying under my touch,
this is all i know how to do, carry loss around until
i begin to resemble every bad memory,
every terrible fear,
every nightmare anyone has ever had.
i ask did you ever love me?
you say of course, of course so quickly
that you sound like someone else
i ask are you made of steel? are you made of iron?
you cry on the phone, my stomach hurts
i let you leave, i need someone who knows how to stay. — Warsan Shire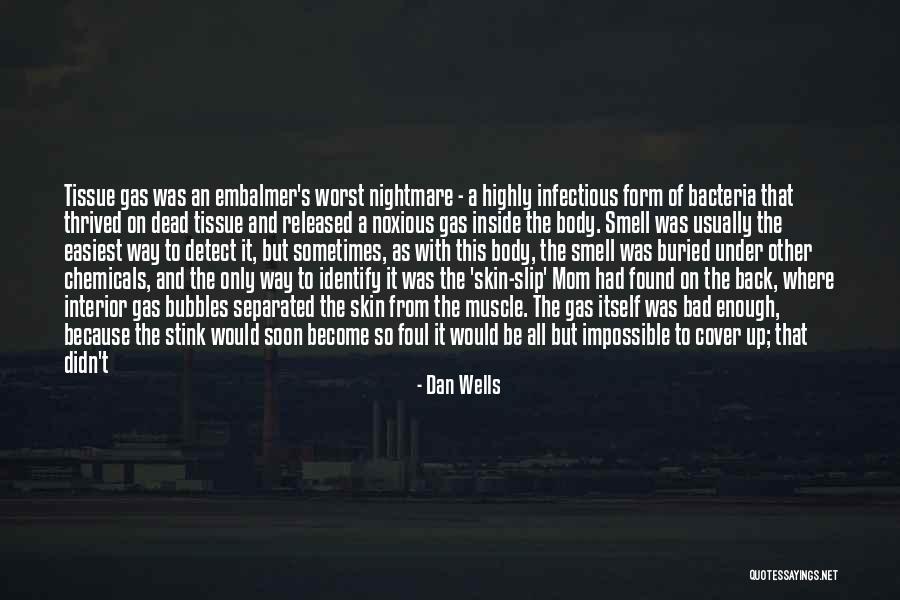 Tissue gas was an embalmer's worst nightmare - a highly infectious form of bacteria that thrived on dead tissue and released a noxious gas inside the body. Smell was usually the easiest way to detect it, but sometimes, as with this body, the smell was buried under other chemicals, and the only way to identify it was the 'skin-slip' Mom had found on the back, where interior gas bubbles separated the skin from the muscle. The gas itself was bad enough, because the stink would soon become so foul it would be all but impossible to cover up; that didn't reflect well on us when people showed up for the viewing. Even worse than the gas though, were the bacteria that made it. Once they got into your workspace, you might never get them out again. If we didn't put a stop to this right now, every body we embalmed would catch the same bacteria from our tools and table. It could destroy the entire business. — Dan Wells
Seriously, I do not know what to say of this book [ Absalom, Absalom!] except that it seem to point to the final blowup of what was once a remarkable, if minor, talent ... this is a penny dreadful tricked up in fancy language and given a specious depth by the expert manipulation of a series of eccentric technical tricks. The characters have no magnitude and no meaning because they have no more reality than a mince-pie nightmare. — Clifton Fadiman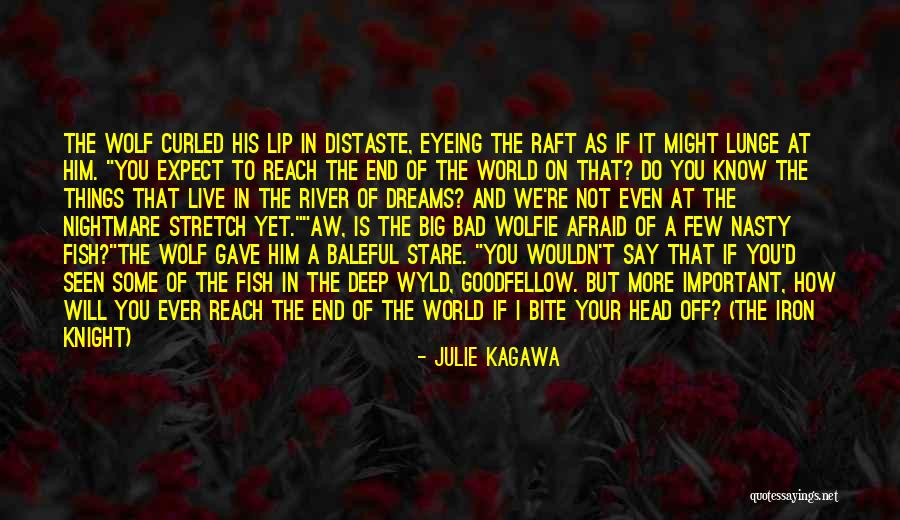 The Wolf curled his lip in distaste, eyeing the raft as if it might lunge at him. "You expect to reach the End of the World on that? Do you know the things that live in the River of Dreams? And we're not even at the nightmare stretch yet."
"Aw, is the Big Bad Wolfie afraid of a few nasty fish?"
The Wolf gave him a baleful stare. "You wouldn't say that if you'd seen some of the fish in the Deep Wyld, Goodfellow. But more important, how will you ever reach the End of the World if I bite your head off? (The Iron Knight) — Julie Kagawa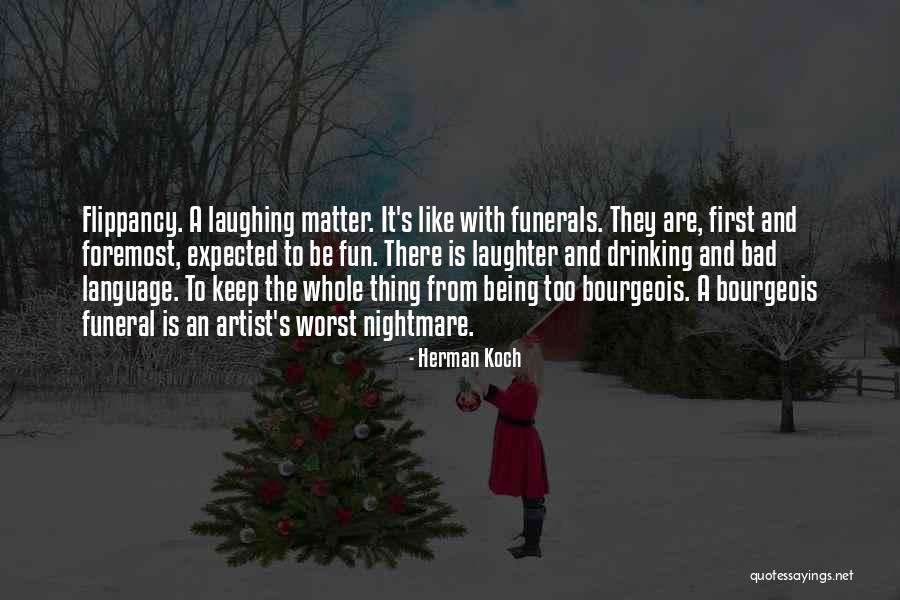 Flippancy. A laughing matter. It's like with funerals. They are, first and foremost, expected to be fun. There is laughter and drinking and bad language. To keep the whole thing from being too bourgeois. A bourgeois funeral is an artist's worst nightmare. — Herman Koch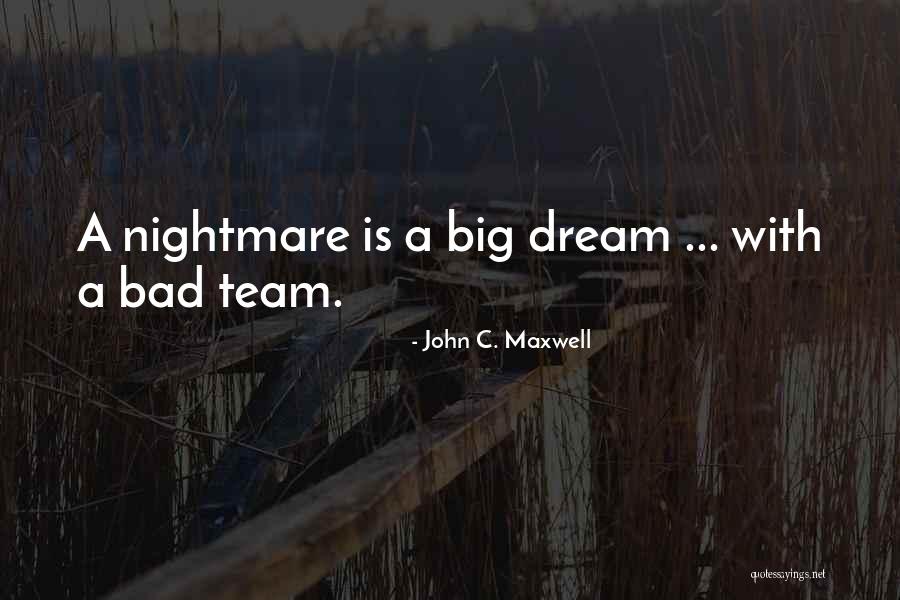 A nightmare is a big dream ... with a bad team. — John C. Maxwell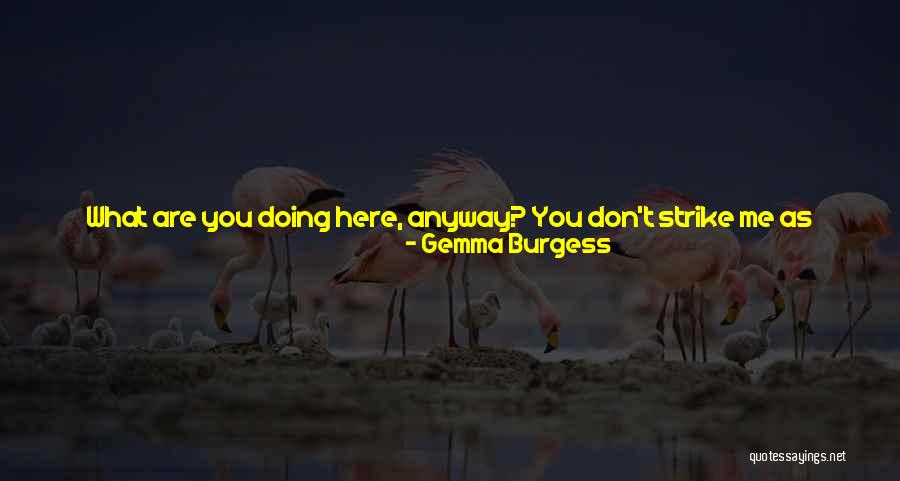 What are you doing here, anyway? You don't strike me as the speed dating type.'
'I lost a bet with Alfie,' he says. 'You met him at The Cow that day . . .?' Waistcoat Guy, I think, nodding. 'I said to him that if you didn't text me back then I'd try speed dating, because I'm officially the worst single man in London.'
'You're not!' I say. 'I mean, it wasn't a bad date. I was just . . .'
'Don't say you were drunk! It's the biggest post-sex insult ever.'
'. . . drunk, I mean drinking, a bit more than I ought, and I was, uh, cringing at the thought that I'd been a nightmare date.'
'No. You were great,' says Mark/Skinny Jeans.
'Actually, the biggest post-sex insult is "we did?"' says Robert. 'But that's another story. — Gemma Burgess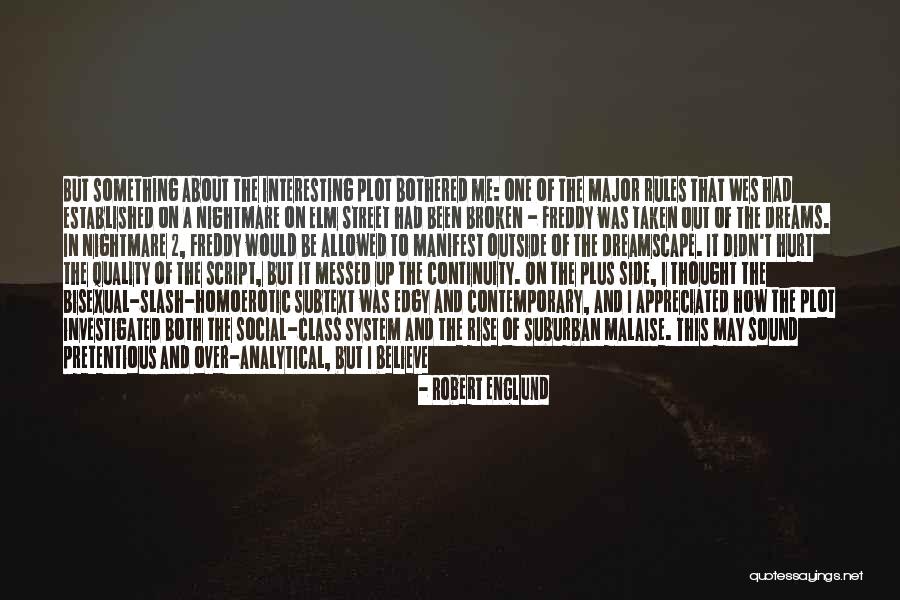 But something about the interesting plot bothered me: one of the major rules that Wes had established on A Nightmare on Elm Street had been broken - Freddy was taken out of the dreams. In Nightmare 2, Freddy would be allowed to manifest outside of the dreamscape. It didn't hurt the quality of the script, but it messed up the continuity. On the plus side, I thought the bisexual-slash-homoerotic subtext was edgy and contemporary, and I appreciated how the plot investigated both the social-class system and the rise of suburban malaise. This may sound pretentious and over-analytical, but I believe that Freddy represented what looked to be a bad future for the post-boomer generation. It's possible that Wes believed the youth of America were about to fall into a pile of shit - virtually all the parents in the Nightmare movies were flawed, so how could these kids turn out safe and sane? - and he might have created Freddy to represent a less-than-bright future. — Robert Englund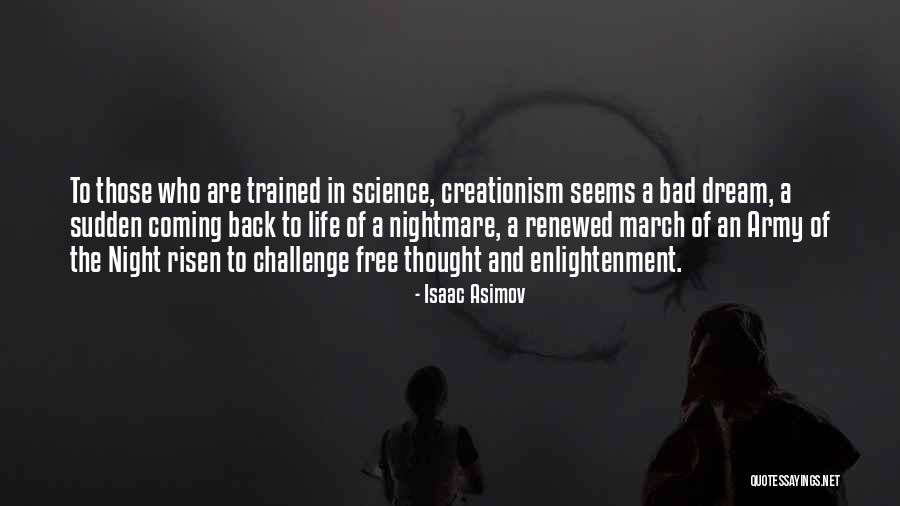 To those who are trained in science, creationism seems a bad dream, a sudden coming back to life of a nightmare, a renewed march of an Army of the Night risen to challenge free thought and enlightenment. — Isaac Asimov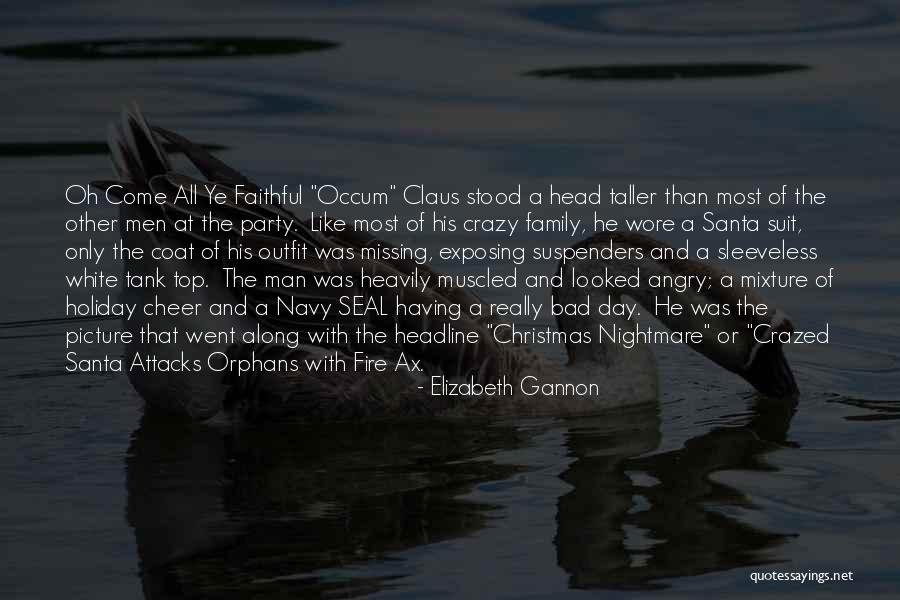 Oh Come All Ye Faithful "Occum" Claus stood a head taller than most of the other men at the party. Like most of his crazy family, he wore a Santa suit, only the coat of his outfit was missing, exposing suspenders and a sleeveless white tank top. The man was heavily muscled and looked angry; a mixture of holiday cheer and a Navy SEAL having a really bad day. He was the picture that went along with the headline "Christmas Nightmare" or "Crazed Santa Attacks Orphans with Fire Ax. — Elizabeth Gannon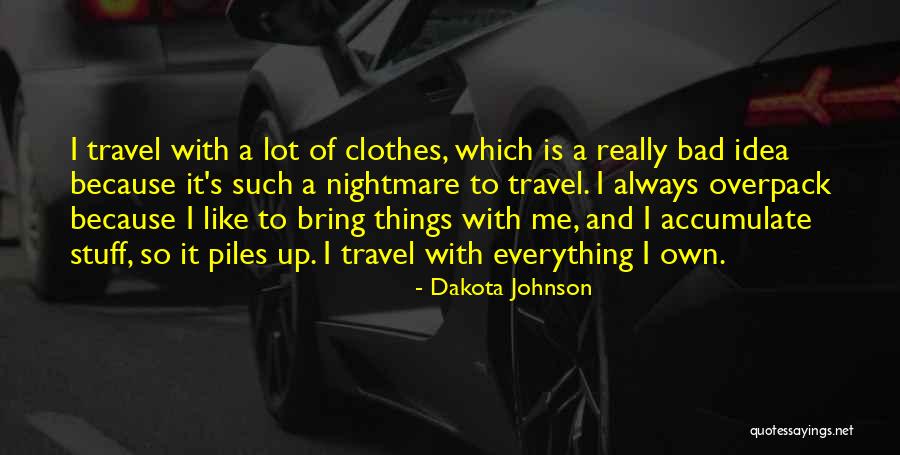 I travel with a lot of clothes, which is a really bad idea because it's such a nightmare to travel. I always overpack because I like to bring things with me, and I accumulate stuff, so it piles up. I travel with everything I own. — Dakota Johnson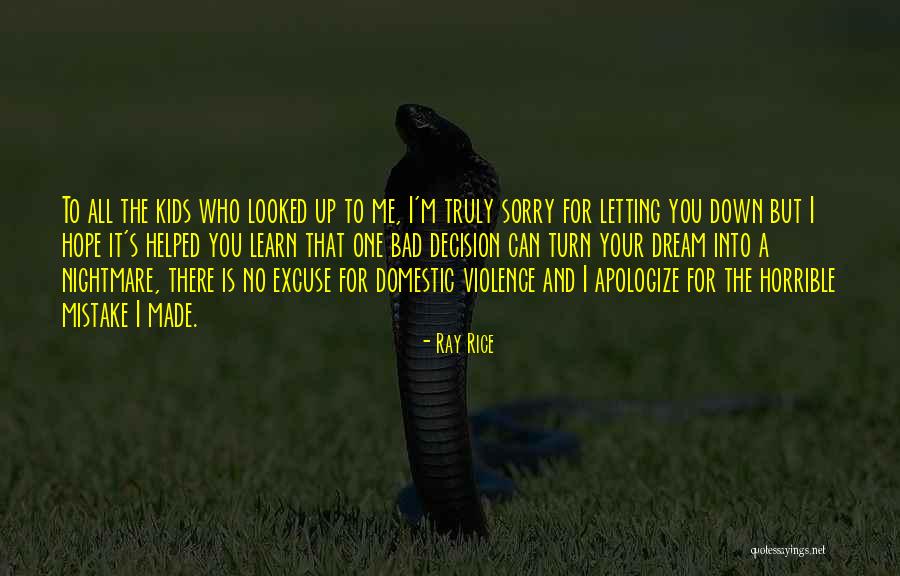 To all the kids who looked up to me, I'm truly sorry for letting you down but I hope it's helped you learn that one bad decision can turn your dream into a nightmare, there is no excuse for domestic violence and I apologize for the horrible mistake I made. — Ray Rice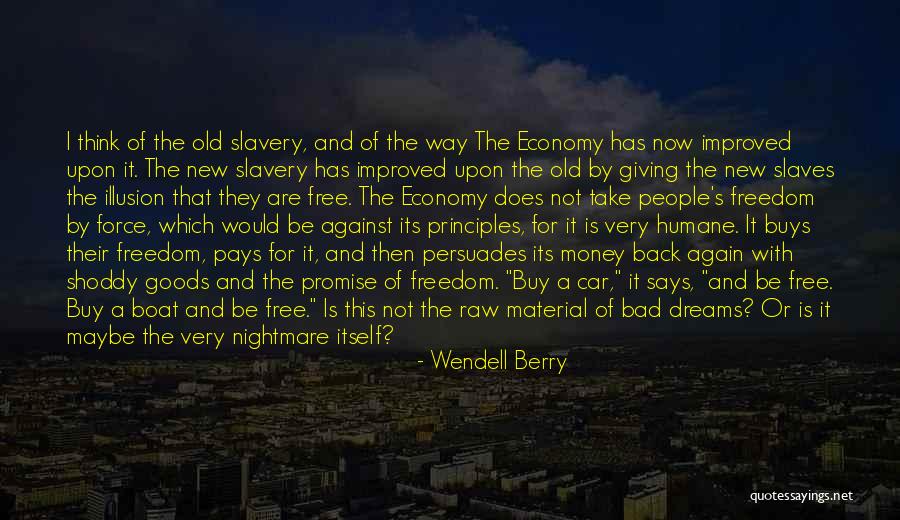 I think of the old slavery, and of the way The Economy has now improved upon it. The new slavery has improved upon the old by giving the new slaves the illusion that they are free. The Economy does not take people's freedom by force, which would be against its principles, for it is very humane. It buys their freedom, pays for it, and then persuades its money back again with shoddy goods and the promise of freedom. "Buy a car," it says, "and be free. Buy a boat and be free." Is this not the raw material of bad dreams? Or is it maybe the very nightmare itself? — Wendell Berry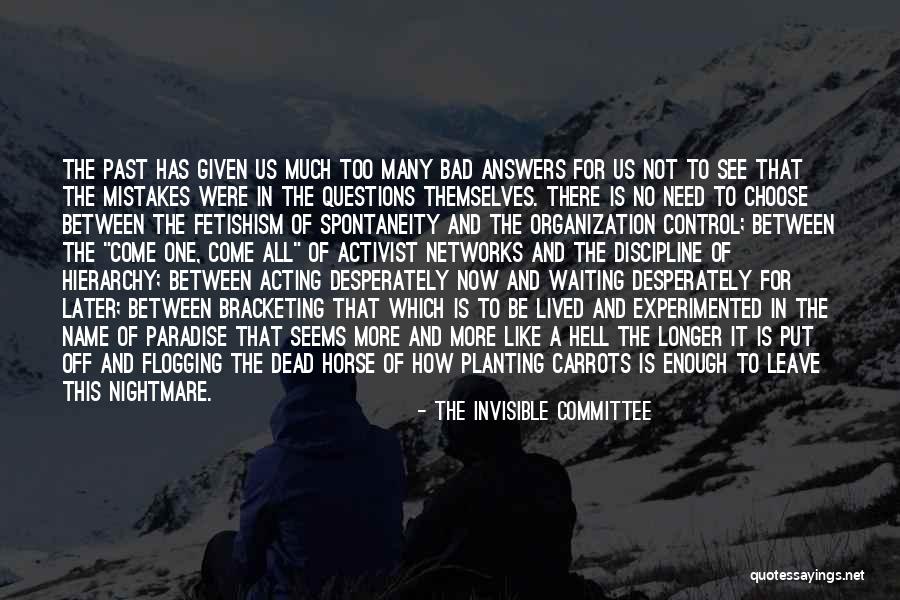 The past has given us much too many bad answers for us not to see that the mistakes were in the questions themselves. There is no need to choose between the fetishism of spontaneity and the organization control; between the "come one, come all" of activist networks and the discipline of hierarchy; between acting desperately now and waiting desperately for later; between bracketing that which is to be lived and experimented in the name of paradise that seems more and more like a hell the longer it is put off and flogging the dead horse of how planting carrots is enough to leave this nightmare. — The Invisible Committee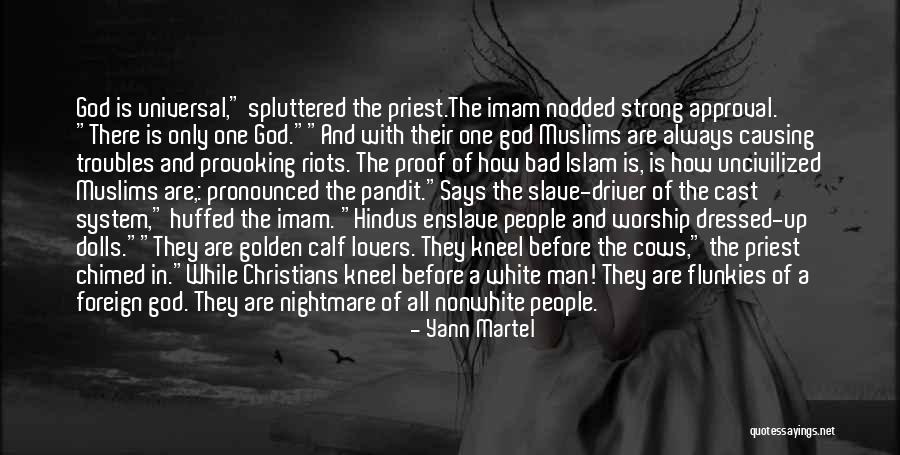 God is universal," spluttered the priest.
The imam nodded strong approval. "There is only one God."
"And with their one god Muslims are always causing troubles and provoking riots. The proof of how bad Islam is, is how uncivilized Muslims are,: pronounced the pandit.
"Says the slave-driver of the cast system," huffed the imam. "Hindus enslave people and worship dressed-up dolls."
"They are golden calf lovers. They kneel before the cows," the priest chimed in.
"While Christians kneel before a white man! They are flunkies of a foreign god. They are nightmare of all nonwhite people. — Yann Martel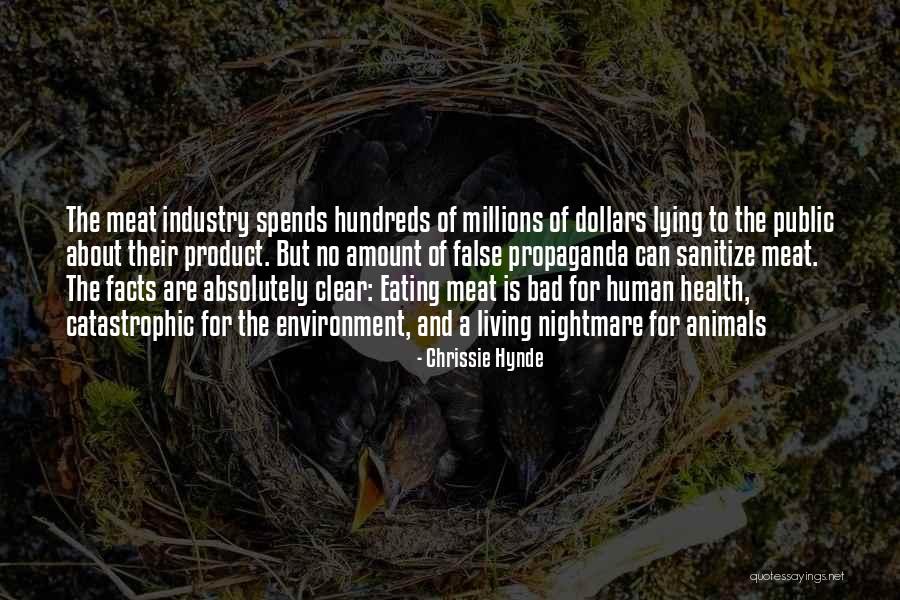 The meat industry spends hundreds of millions of dollars lying to the public about their product. But no amount of false propaganda can sanitize meat. The facts are absolutely clear: Eating meat is bad for human health, catastrophic for the environment, and a living nightmare for animals — Chrissie Hynde