You're In Our Thoughts And Prayers Quotes & Sayings
Enjoy reading and share 38 famous quotes about You're In Our Thoughts And Prayers with everyone.
Top You're In Our Thoughts And Prayers Quotes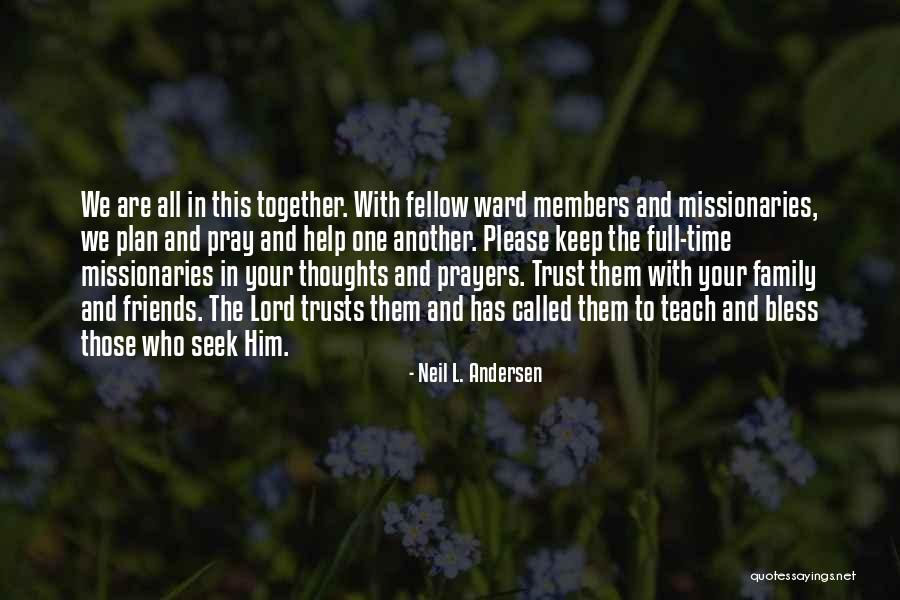 We are all in this together. With fellow ward members and missionaries, we plan and pray and help one another. Please keep the full-time missionaries in your thoughts and prayers. Trust them with your family and friends. The Lord trusts them and has called them to teach and bless those who seek Him. — Neil L. Andersen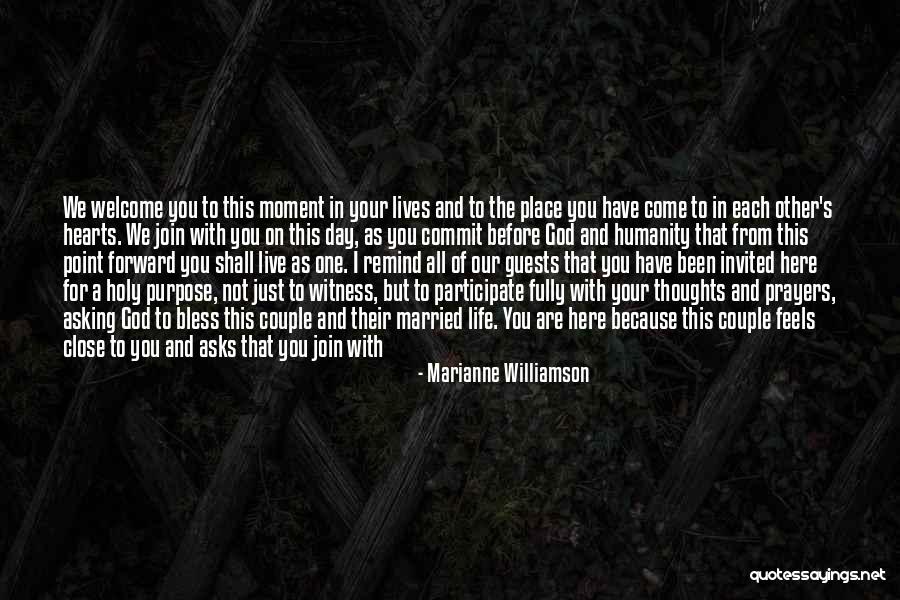 We welcome you to this moment in your lives and to the place you have come to in each other's hearts. We join with you on this day, as you commit before God and humanity that from this point forward you shall live as one. I remind all of our guests that you have been invited here for a holy purpose, not just to witness, but to participate fully with your thoughts and prayers, asking God to bless this couple and their married life. You are here because this couple feels close to you and asks that you join with them in this dedication of sacred purpose. You represent symbolically all the people in the world who will be touched in any way by the life of this couple. You represent their friends and family, now and forever. They have chosen this act of marriage and this public, holy ceremony in which to proclaim it. Together we all thank God who brought them together and ask Him always to guide their way. — Marianne Williamson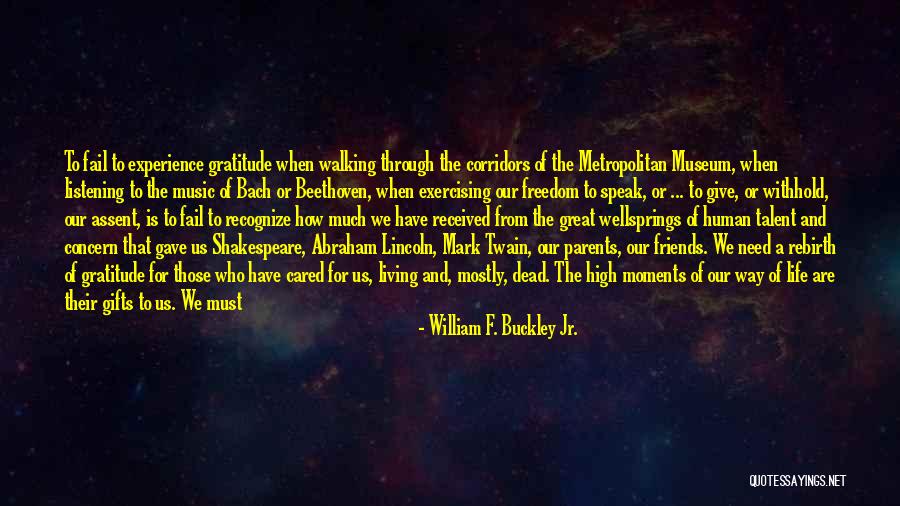 To fail to experience gratitude when walking through the corridors of the Metropolitan Museum, when listening to the music of Bach or Beethoven, when exercising our freedom to speak, or ... to give, or withhold, our assent, is to fail to recognize how much we have received from the great wellsprings of human talent and concern that gave us Shakespeare, Abraham Lincoln, Mark Twain, our parents, our friends. We need a rebirth of gratitude for those who have cared for us, living and, mostly, dead. The high moments of our way of life are their gifts to us. We must remember them in our thoughts and in our prayers; and in our deeds. — William F. Buckley Jr.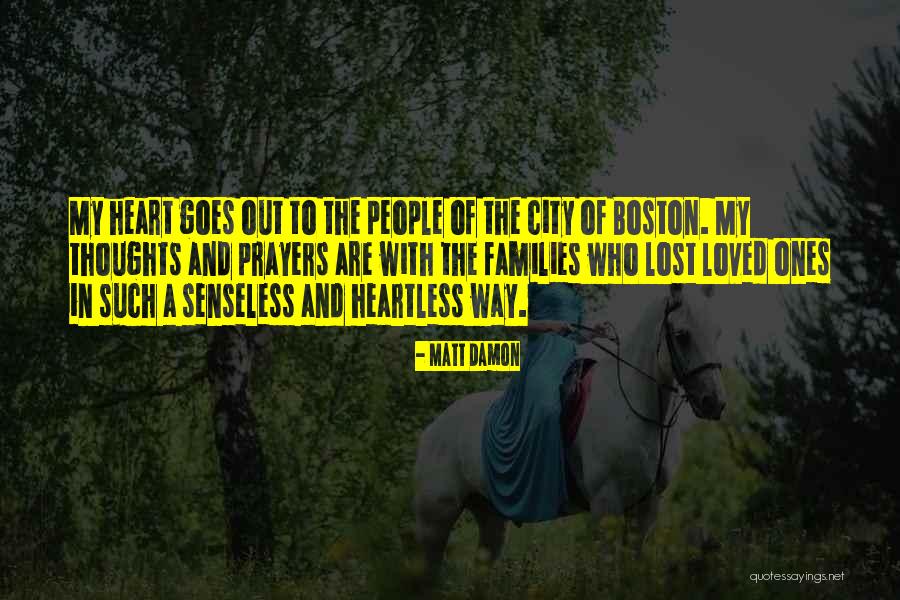 My heart goes out to the people of the city of Boston. My thoughts and prayers are with the families who lost loved ones in such a senseless and heartless way. — Matt Damon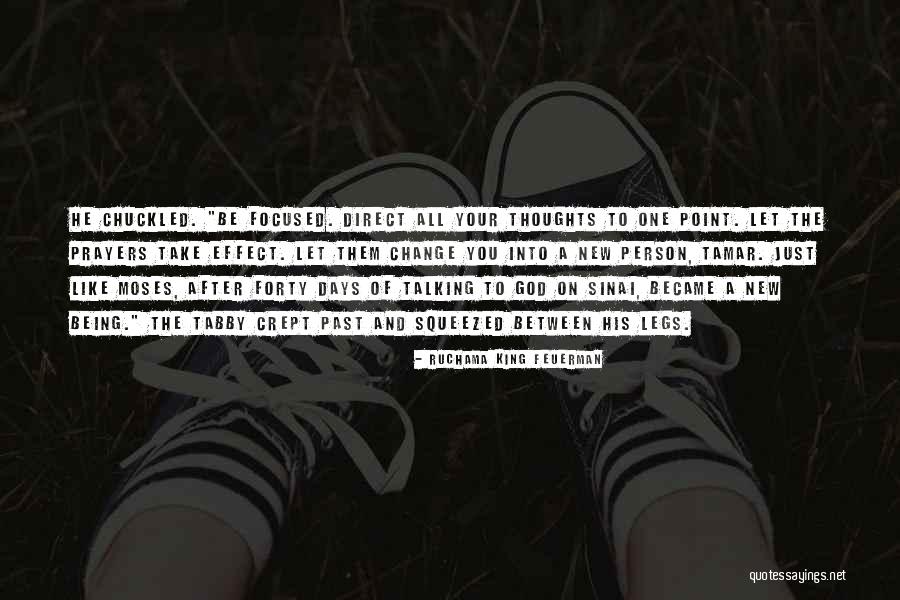 He chuckled. "Be focused. Direct all your thoughts to one point. Let the prayers take effect. Let them change you into a new person, Tamar. Just like Moses, after forty days of talking to God on Sinai, became a new being." The tabby crept past and squeezed between his legs. — Ruchama King Feuerman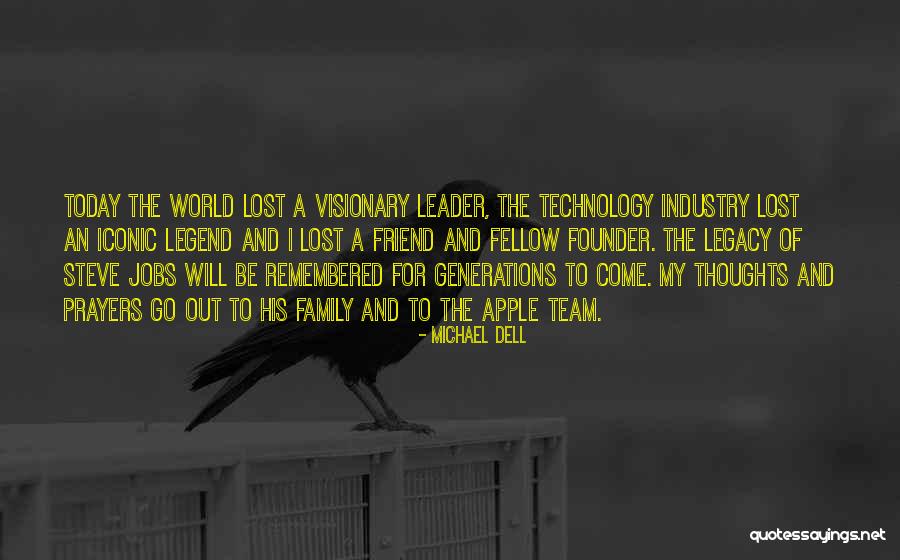 Today the world lost a visionary leader, the technology industry lost an iconic legend and I lost a friend and fellow founder. The legacy of Steve Jobs will be remembered for generations to come. My thoughts and prayers go out to his family and to the Apple team. — Michael Dell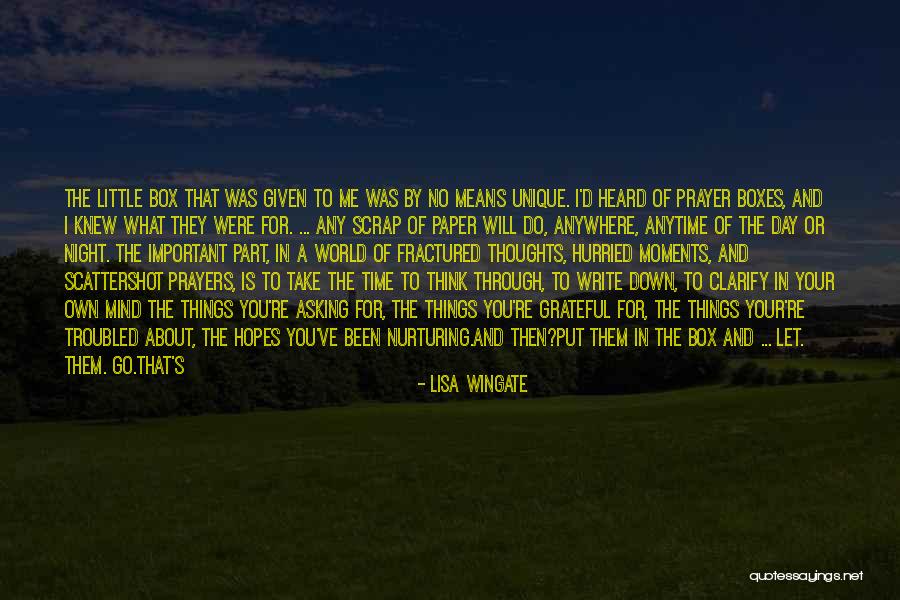 The little box that was given to me was by no means unique. I'd heard of prayer boxes, and I knew what they were for.
... Any scrap of paper will do, anywhere, anytime of the day or night. The important part, in a world of fractured thoughts, hurried moments, and scattershot prayers, is to take the time to think through, to write down, to clarify in your own mind the things you're asking for, the things you're grateful for, the things your're troubled about, the hopes you've been nurturing.
And then?
Put them in the box and ...
Let. Them. Go.
That's what trust is. It's letting go of the worry. It's the way of peace and also the way of God. such a hard road to travel for people like me, who are worriers. When I'm writing a story, I control the whole universe. In life ... not so much. Actually, not at all. Things happen that I hadn't anticipated and wouldn't choose and can't change. That's the tough part. — Lisa Wingate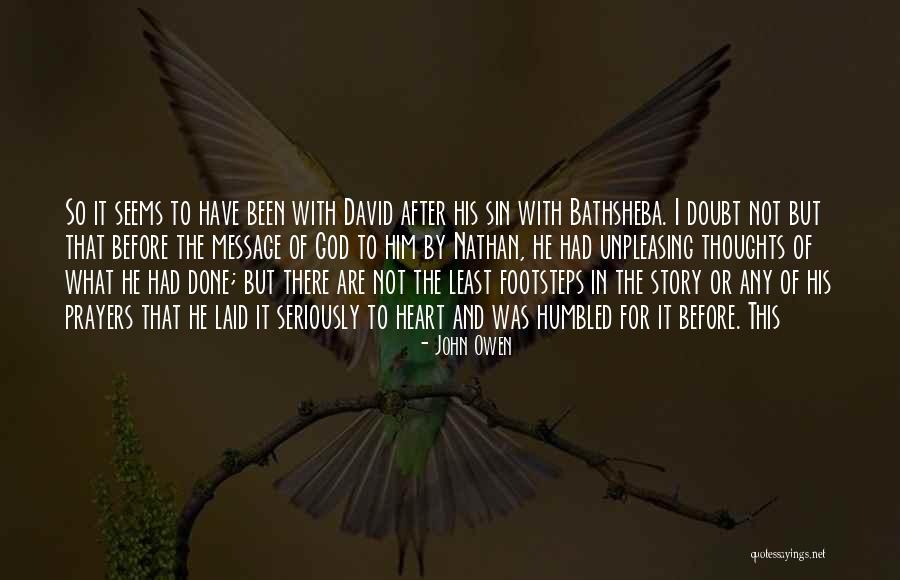 So it seems to have been with David after his sin with Bathsheba. I doubt not but that before the message of God to him by Nathan, he had unpleasing thoughts of what he had done; but there are not the least footsteps in the story or any of his prayers that he laid it seriously to heart and was humbled for it before. This — John Owen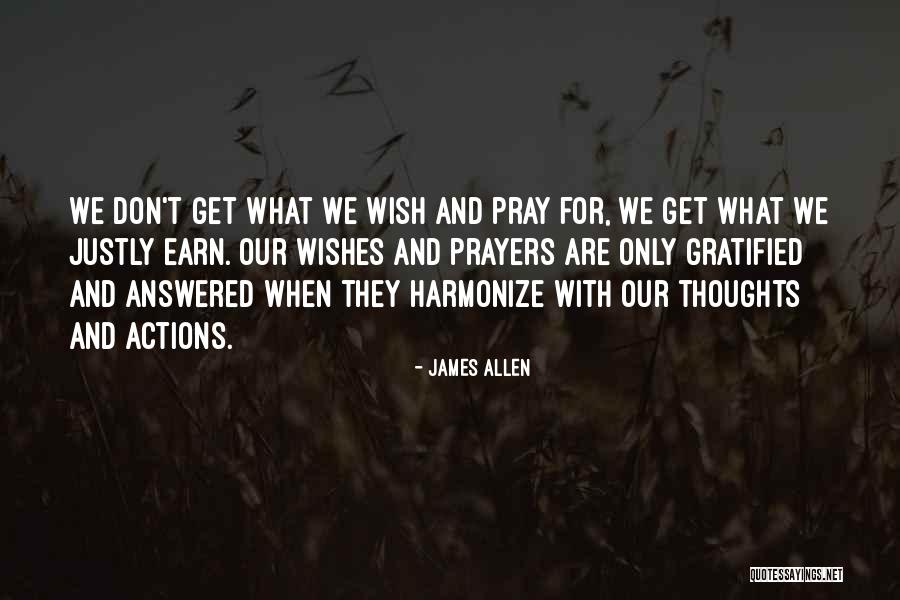 We don't get what we wish and pray for, we get what we justly earn. Our wishes and prayers are only gratified and answered when they harmonize with our thoughts and actions. — James Allen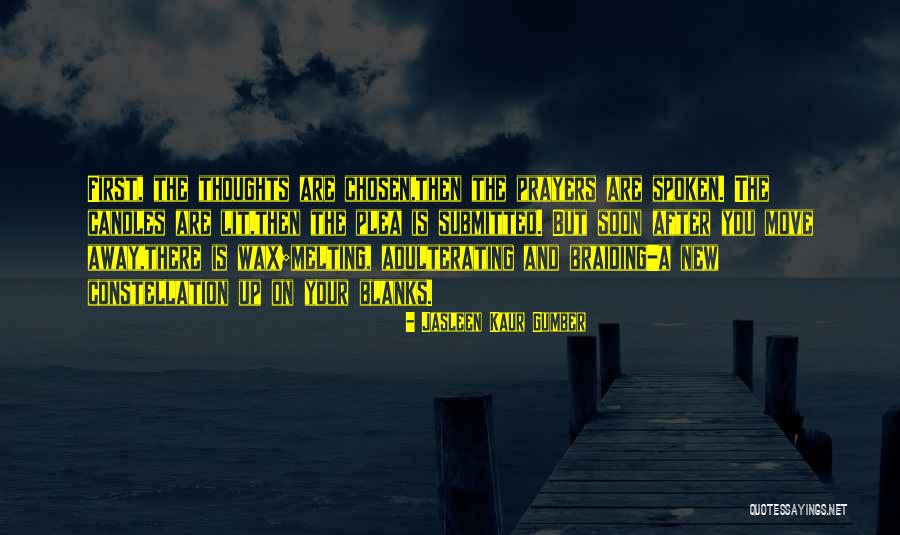 First, the thoughts are chosen,
then the prayers are spoken.
The candles are lit,
then the plea is submitted.
But soon after you move away,
there is wax;
melting, adulterating and braiding-
a new constellation up on your blanks. — Jasleen Kaur Gumber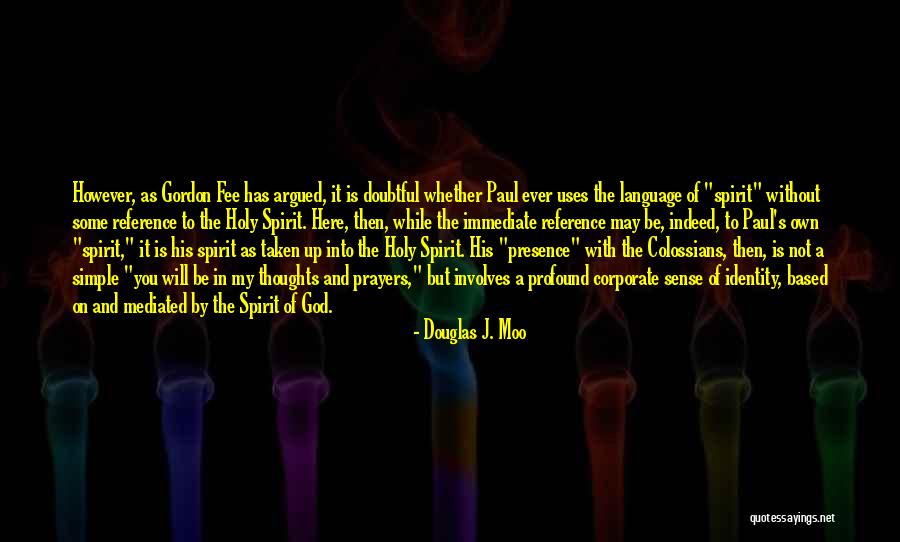 However, as Gordon Fee has argued, it is doubtful whether Paul ever uses the language of "spirit" without some reference to the Holy Spirit. Here, then, while the immediate reference may be, indeed, to Paul's own "spirit," it is his spirit as taken up into the Holy Spirit. His "presence" with the Colossians, then, is not a simple "you will be in my thoughts and prayers," but involves a profound corporate sense of identity, based on and mediated by the Spirit of God. — Douglas J. Moo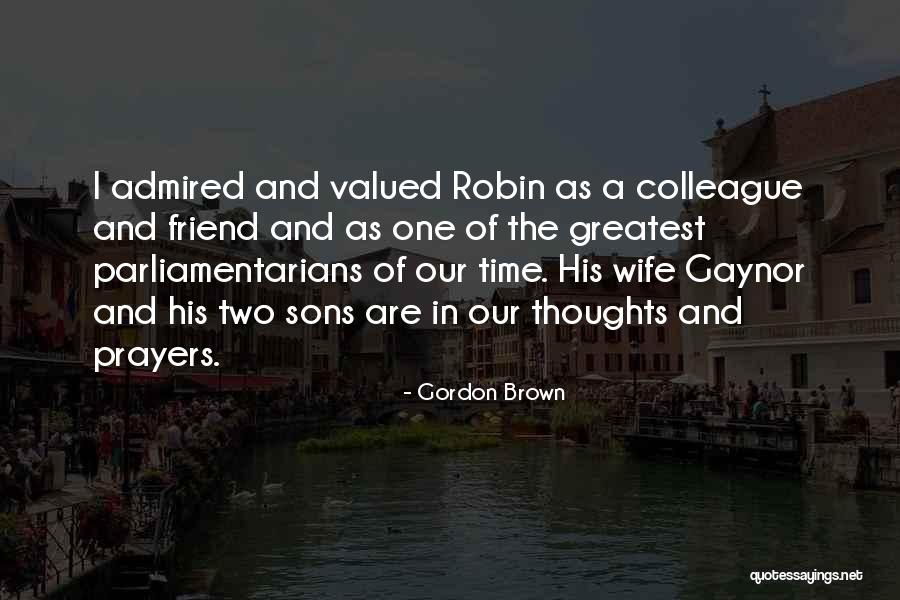 I admired and valued Robin as a colleague and friend and as one of the greatest parliamentarians of our time. His wife Gaynor and his two sons are in our thoughts and prayers. — Gordon Brown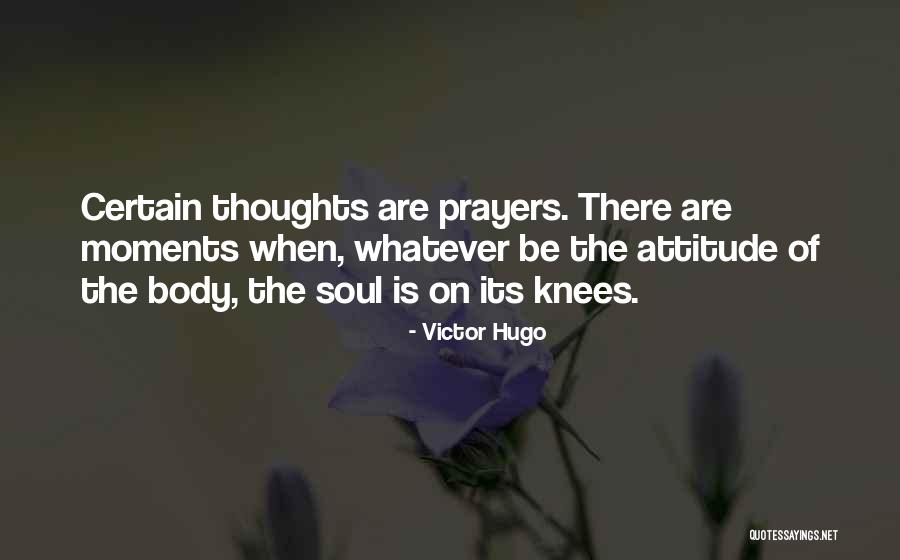 Certain thoughts are prayers. There are moments when, whatever be the attitude of the body, the soul is on its knees. — Victor Hugo
Little works, little thoughts, little loves, little prayers for little Christians, and larger and larger as the years grow. — Charles Henry Parkhurst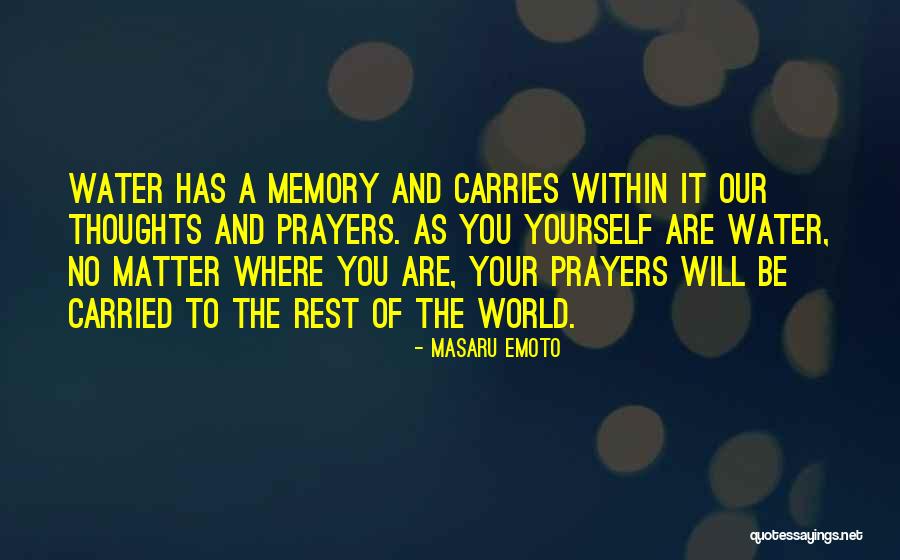 Water has a memory and carries within it our thoughts and prayers. As you yourself are water, no matter where you are, your prayers will be carried to the rest of the world. — Masaru Emoto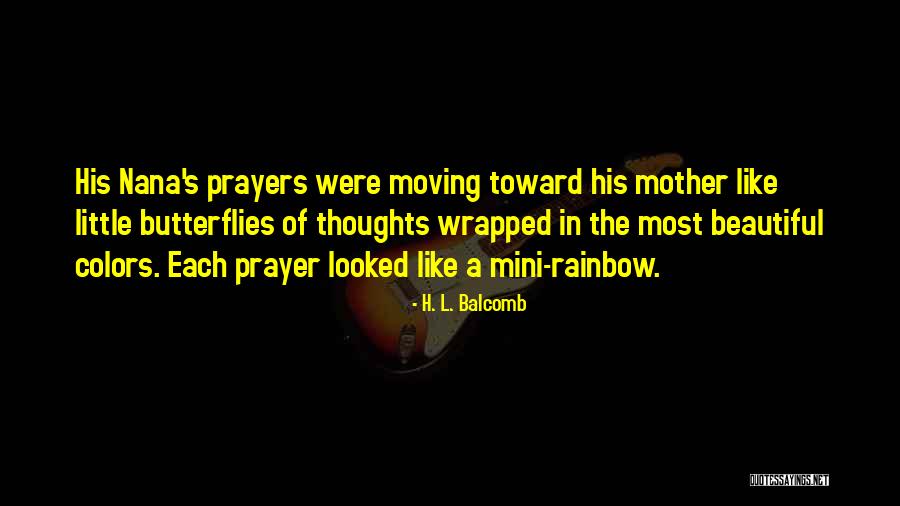 His Nana's prayers were moving toward his mother like little butterflies of thoughts wrapped in the most beautiful colors. Each prayer looked like a mini-rainbow. — H. L. Balcomb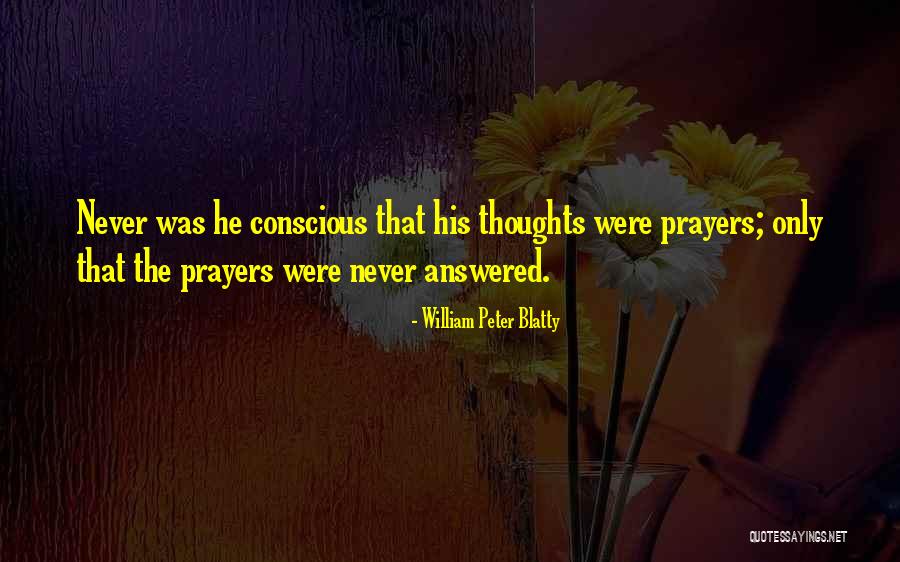 Never was he conscious that his thoughts were prayers; only that the prayers were never answered. — William Peter Blatty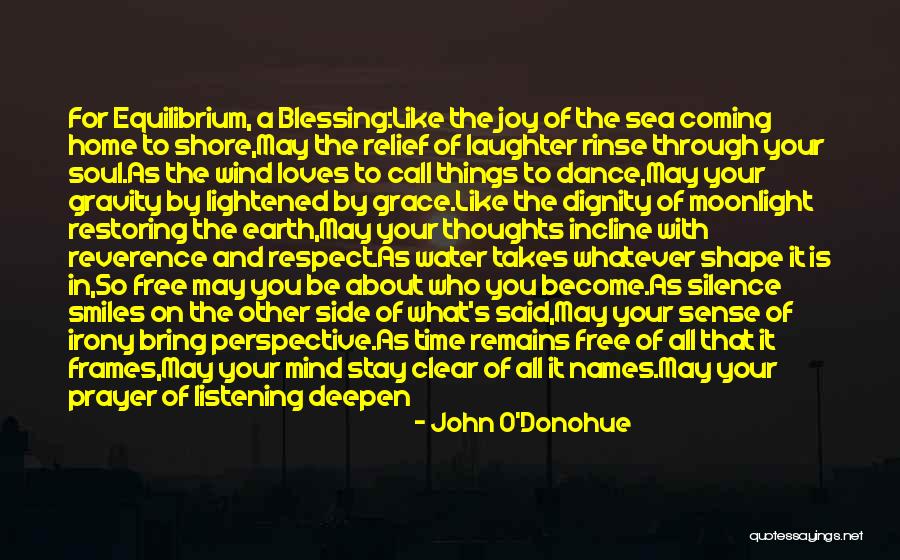 For Equilibrium, a Blessing:
Like the joy of the sea coming home to shore,
May the relief of laughter rinse through your soul.
As the wind loves to call things to dance,
May your gravity by lightened by grace.
Like the dignity of moonlight restoring the earth,
May your thoughts incline with reverence and respect.
As water takes whatever shape it is in,
So free may you be about who you become.
As silence smiles on the other side of what's said,
May your sense of irony bring perspective.
As time remains free of all that it frames,
May your mind stay clear of all it names.
May your prayer of listening deepen enough
to hear in the depths the laughter of god. — John O'Donohue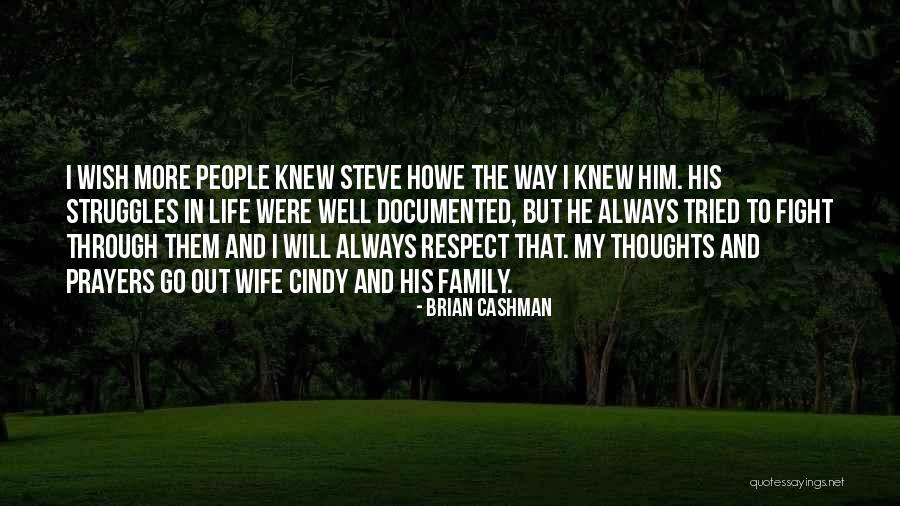 I wish more people knew Steve Howe the way I knew him. His struggles in life were well documented, but he always tried to fight through them and I will always respect that. My thoughts and prayers go out wife Cindy and his family. — Brian Cashman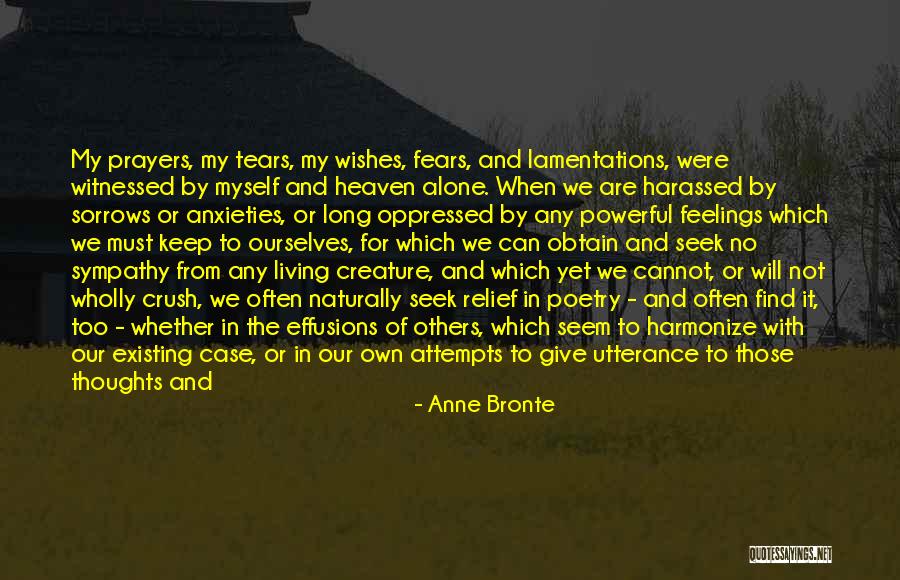 My prayers, my tears, my wishes, fears, and lamentations, were witnessed by myself and heaven alone. When we are harassed by sorrows or anxieties, or long oppressed by any powerful feelings which we must keep to ourselves, for which we can obtain and seek no sympathy from any living creature, and which yet we cannot, or will not wholly crush, we often naturally seek relief in poetry - and often find it, too - whether in the effusions of others, which seem to harmonize with our existing case, or in our own attempts to give utterance to those thoughts and feelings in strains less musical, perchance, but more appropriate, and therefore more penetrating and sympathetic, and, for the time, more soothing, or more powerful to rouse and to unburden the oppressed and swollen heart. — Anne Bronte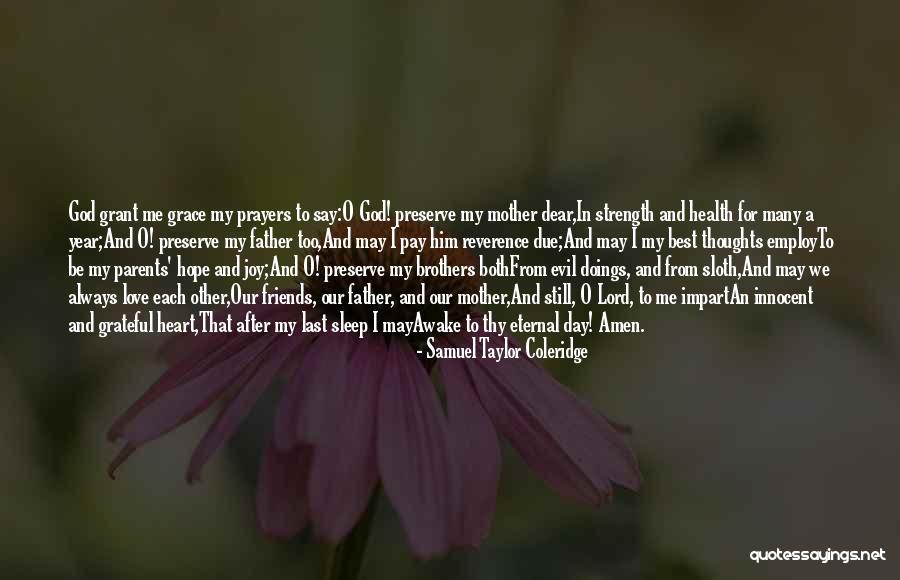 God grant me grace my prayers to say:
O God! preserve my mother dear,
In strength and health for many a year;
And O! preserve my father too,
And may I pay him reverence due;
And may I my best thoughts employ
To be my parents' hope and joy;
And O! preserve my brothers both
From evil doings, and from sloth,
And may we always love each other,
Our friends, our father, and our mother,
And still, O Lord, to me impart
An innocent and grateful heart,
That after my last sleep I may
Awake to thy eternal day! Amen. — Samuel Taylor Coleridge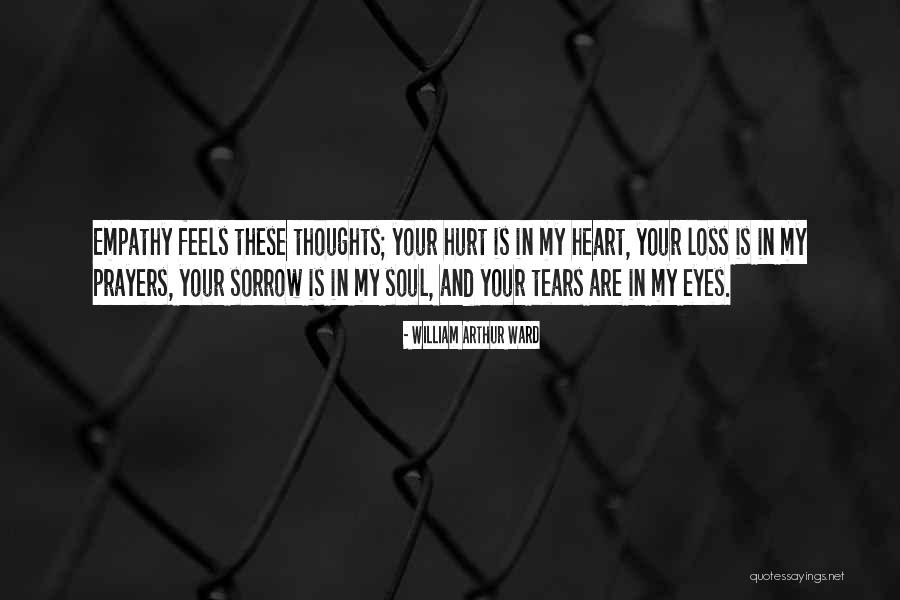 Empathy feels these thoughts; your hurt is in my heart, your loss is in my prayers, your sorrow is in my soul, and your tears are in my eyes. — William Arthur Ward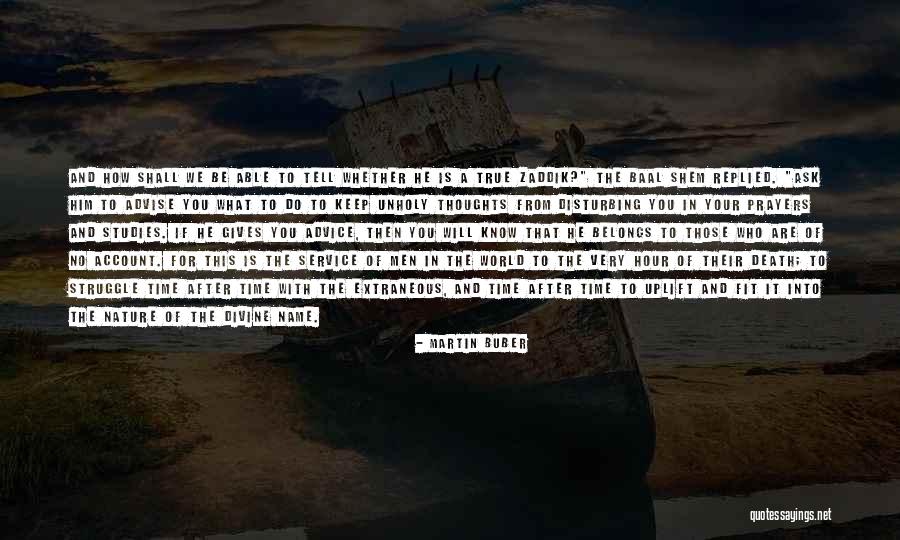 And how shall we be able to tell whether he is a true zaddik?" The Baal Shem replied. "Ask him to advise you what to do to keep unholy thoughts from disturbing you in your prayers and studies. If he gives you advice, then you will know that he belongs to those who are of no account. For this is the service of men in the world to the very hour of their death; to struggle time after time with the extraneous, and time after time to uplift and fit it into the nature of the Divine Name. — Martin Buber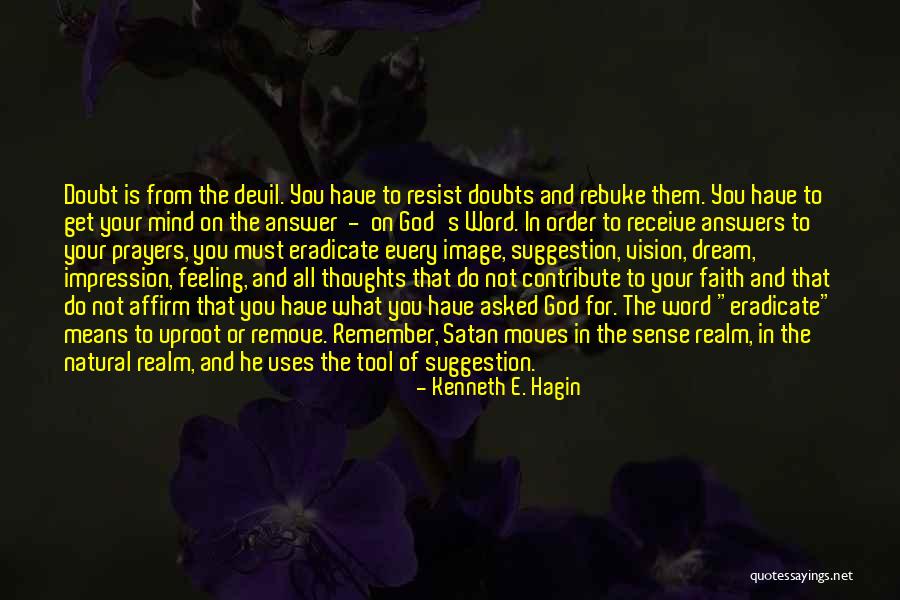 Doubt is from the devil. You have to resist doubts and rebuke them. You have to get your mind on the answer - on God's Word. In order to receive answers to your prayers, you must eradicate every image, suggestion, vision, dream, impression, feeling, and all thoughts that do not contribute to your faith and that do not affirm that you have what you have asked God for. The word "eradicate" means to uproot or remove. Remember, Satan moves in the sense realm, in the natural realm, and he uses the tool of suggestion. — Kenneth E. Hagin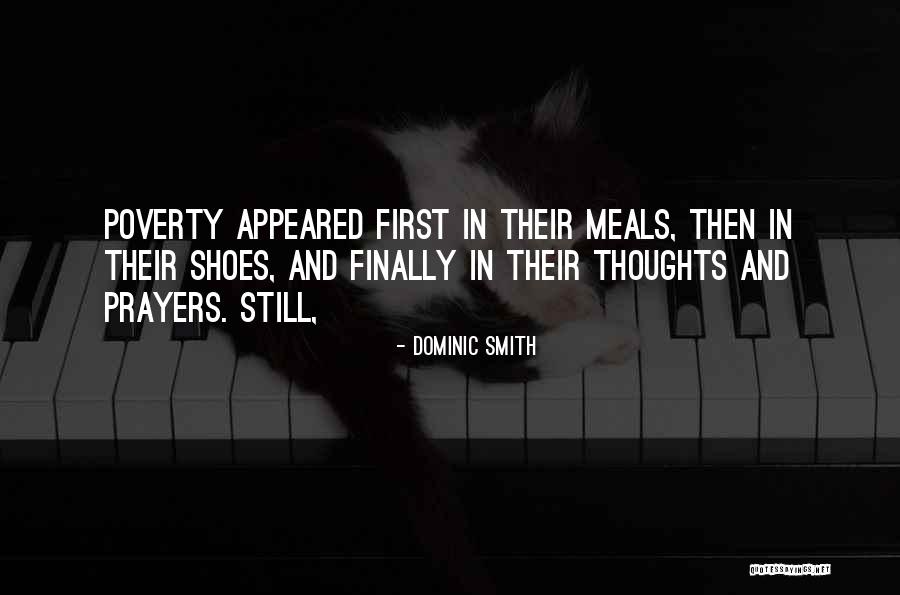 Poverty appeared first in their meals, then in their shoes, and finally in their thoughts and prayers. Still, — Dominic Smith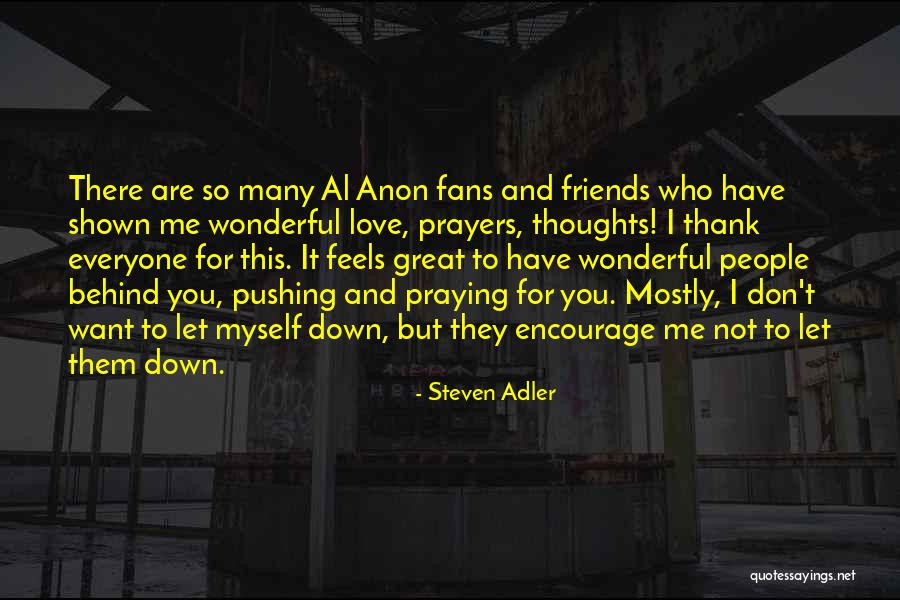 There are so many Al Anon fans and friends who have shown me wonderful love, prayers, thoughts! I thank everyone for this. It feels great to have wonderful people behind you, pushing and praying for you. Mostly, I don't want to let myself down, but they encourage me not to let them down. — Steven Adler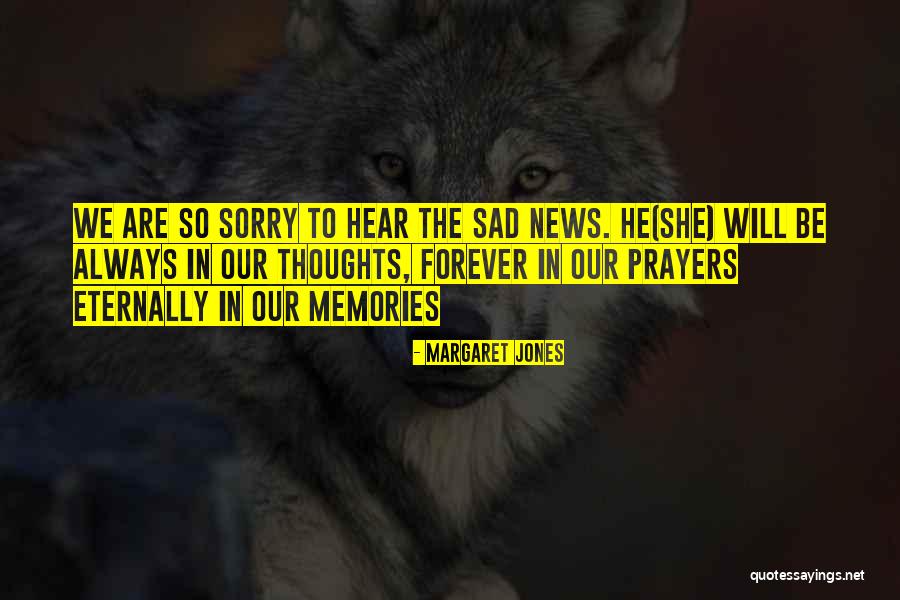 We are so sorry to hear the sad news. He(She) will be Always in our thoughts, Forever in our prayers Eternally in our memories — Margaret Jones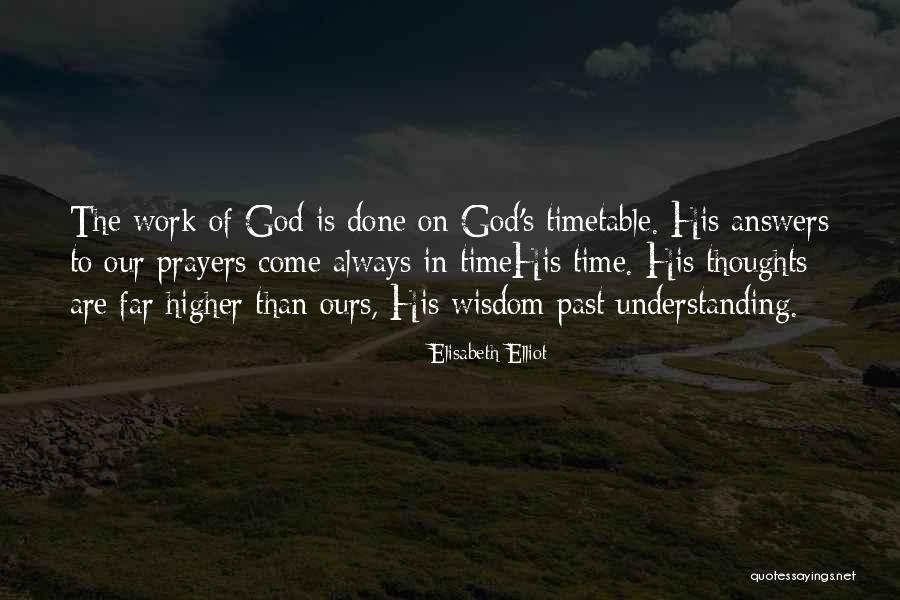 The work of God is done on God's timetable. His answers to our prayers come always in time
His time. His thoughts are far higher than ours, His wisdom past understanding. — Elisabeth Elliot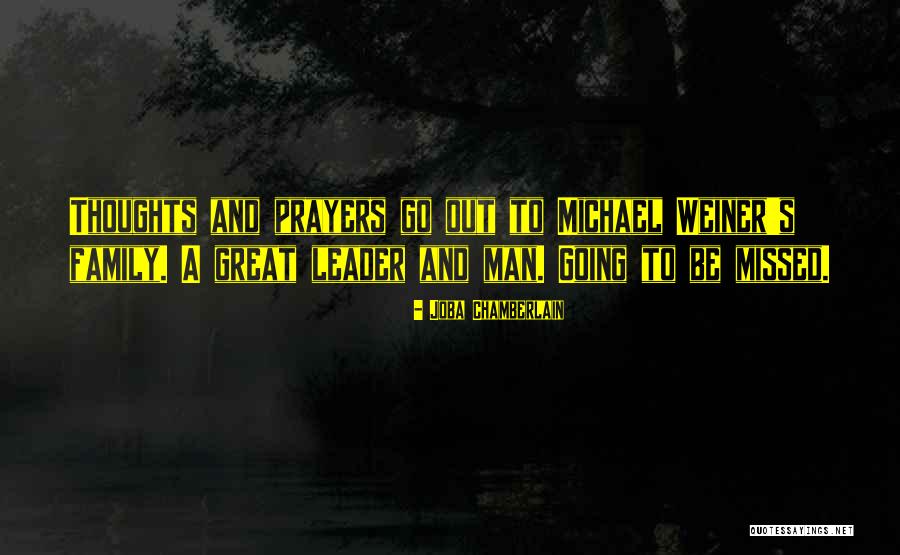 Thoughts and prayers go out to Michael Weiner's family. A great leader and man. Going to be missed. — Joba Chamberlain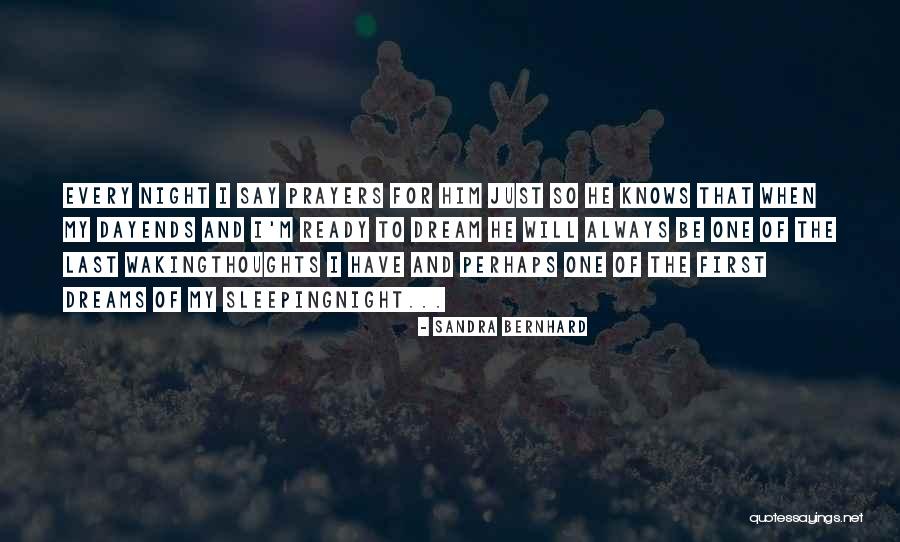 every night i say prayers for him just so he knows that when my day
ends and i'm ready to dream he will always be one of the last waking
thoughts i have and perhaps one of the first dreams of my sleeping
night... — Sandra Bernhard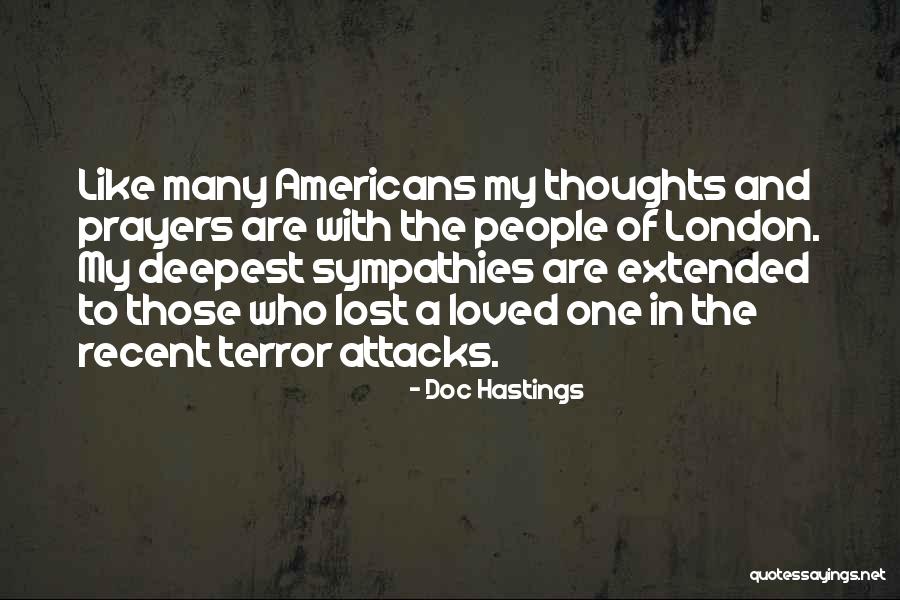 Like many Americans my thoughts and prayers are with the people of London. My deepest sympathies are extended to those who lost a loved one in the recent terror attacks. — Doc Hastings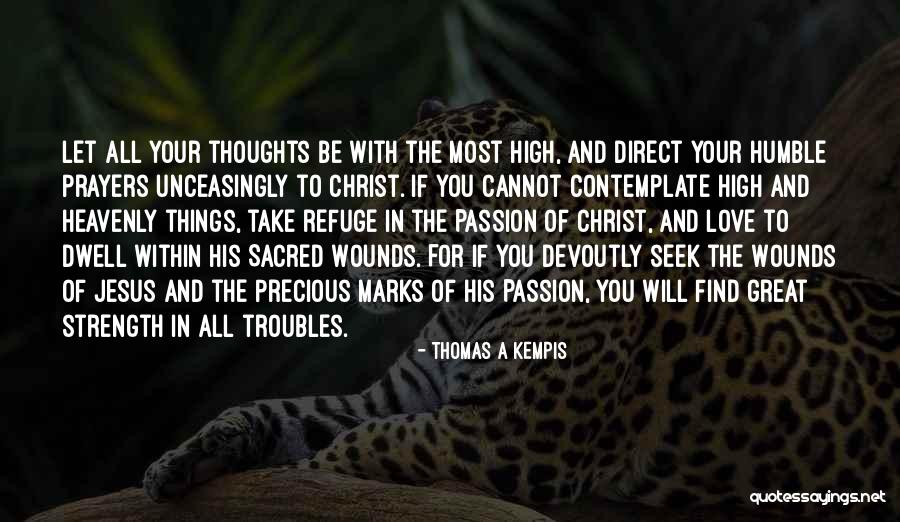 Let all your thoughts be with the Most High, and direct your humble prayers unceasingly to Christ. If you cannot contemplate high and heavenly things, take refuge in the Passion of Christ, and love to dwell within His Sacred Wounds. For if you devoutly seek the Wounds of Jesus and the precious marks of His Passion, you will find great strength in all troubles. — Thomas A Kempis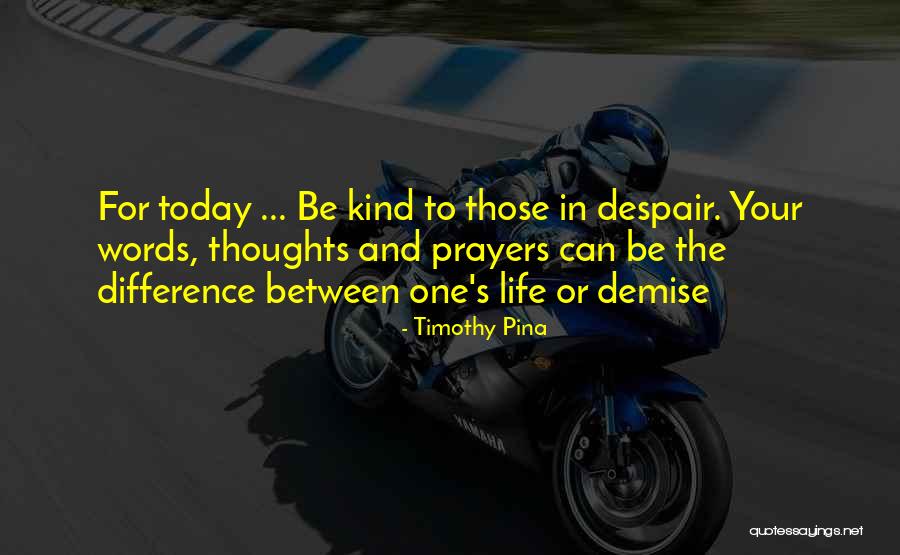 For today ... Be kind to those in despair.
Your words, thoughts and prayers can be the difference between one's life or demise — Timothy Pina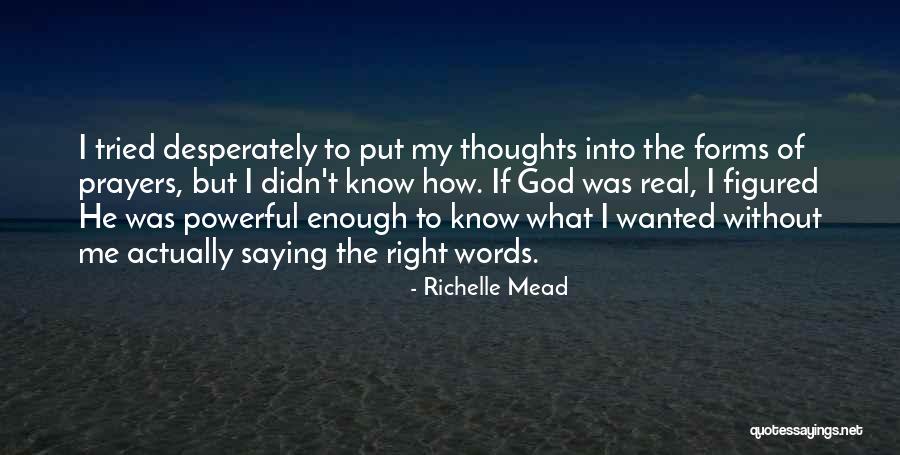 I tried desperately to put my thoughts into the forms of prayers, but I didn't know how. If God was real, I figured He was powerful enough to know what I wanted without me actually saying the right words. — Richelle Mead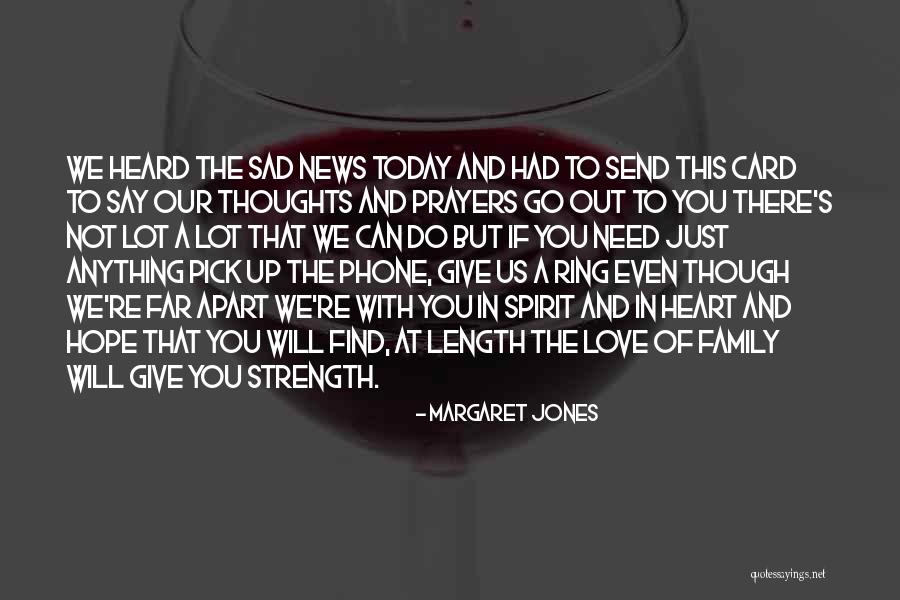 We heard the sad news today And had to send this card to say Our thoughts and prayers go out to you There's not lot a lot that we can do But if you need just anything Pick up the phone, give us a ring Even though we're far apart We're with you in spirit and in heart And hope that you will find, at length The love of family will give you strength. — Margaret Jones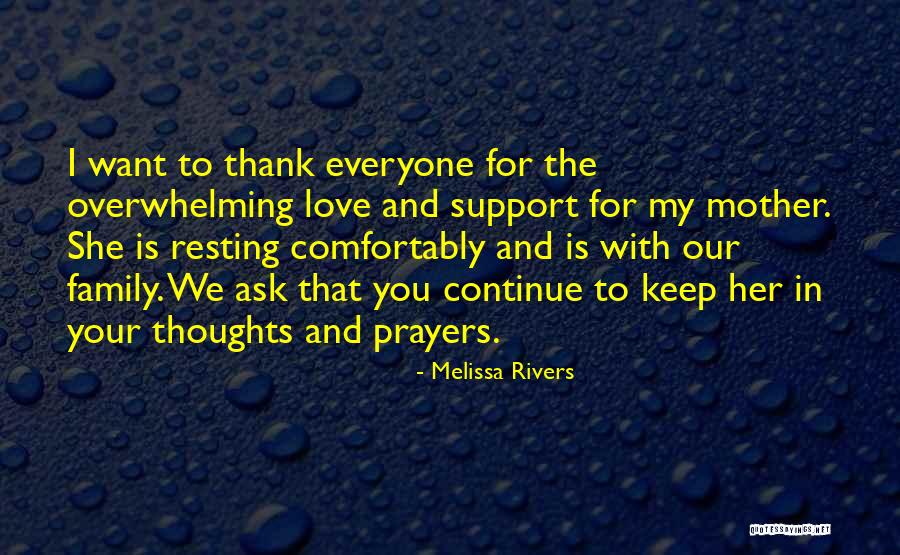 I want to thank everyone for the overwhelming love and support for my mother. She is resting comfortably and is with our family. We ask that you continue to keep her in your thoughts and prayers. — Melissa Rivers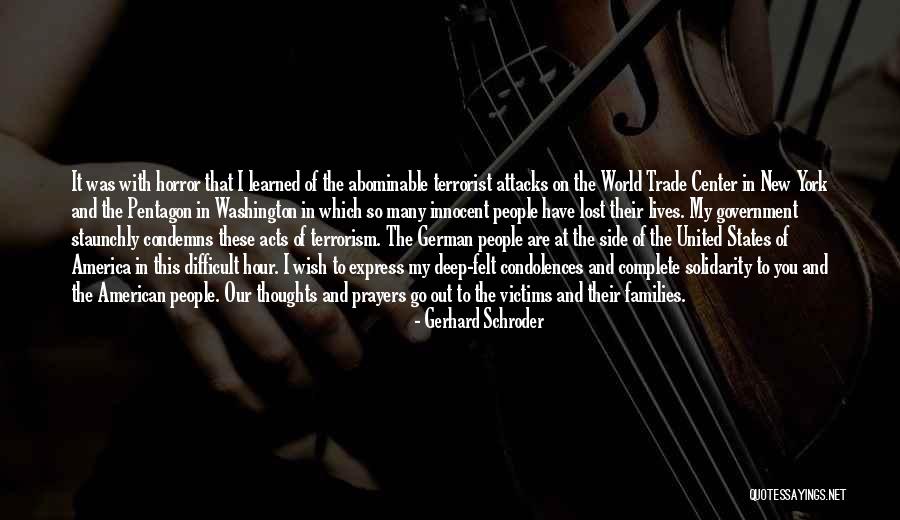 It was with horror that I learned of the abominable terrorist attacks on the World Trade Center in New York and the Pentagon in Washington in which so many innocent people have lost their lives. My government staunchly condemns these acts of terrorism. The German people are at the side of the United States of America in this difficult hour. I wish to express my deep-felt condolences and complete solidarity to you and the American people. Our thoughts and prayers go out to the victims and their families. — Gerhard Schroder