Your Presence In My Life Quotes & Sayings
Enjoy reading and share 45 famous quotes about Your Presence In My Life with everyone.
Top Your Presence In My Life Quotes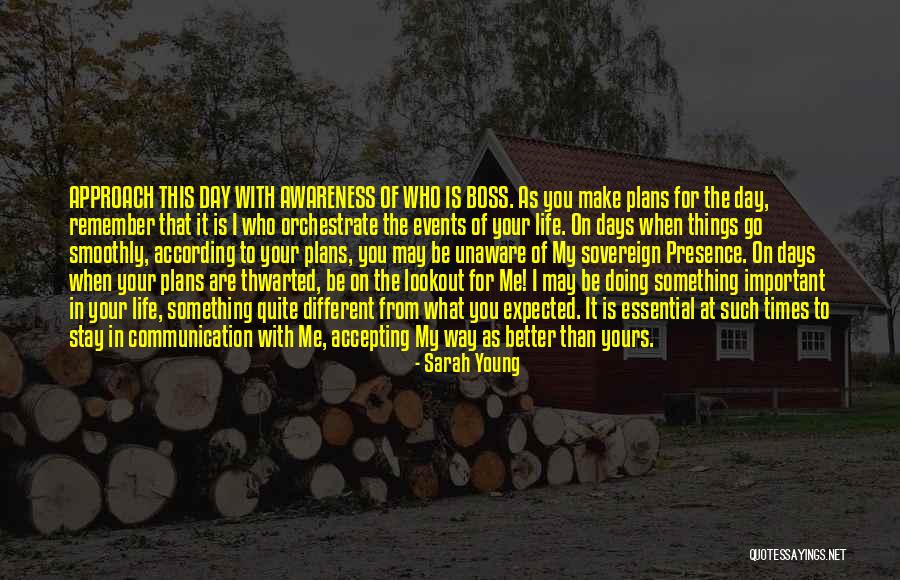 APPROACH THIS DAY WITH AWARENESS OF WHO IS BOSS. As you make plans for the day, remember that it is I who orchestrate the events of your life. On days when things go smoothly, according to your plans, you may be unaware of My sovereign Presence. On days when your plans are thwarted, be on the lookout for Me! I may be doing something important in your life, something quite different from what you expected. It is essential at such times to stay in communication with Me, accepting My way as better than yours. — Sarah Young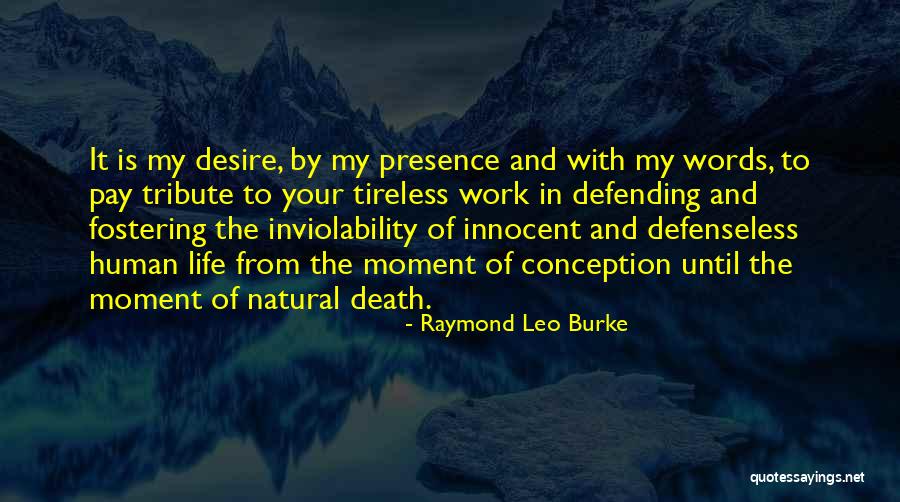 It is my desire, by my presence and with my words, to pay tribute to your tireless work in defending and fostering the inviolability of innocent and defenseless human life from the moment of conception until the moment of natural death. — Raymond Leo Burke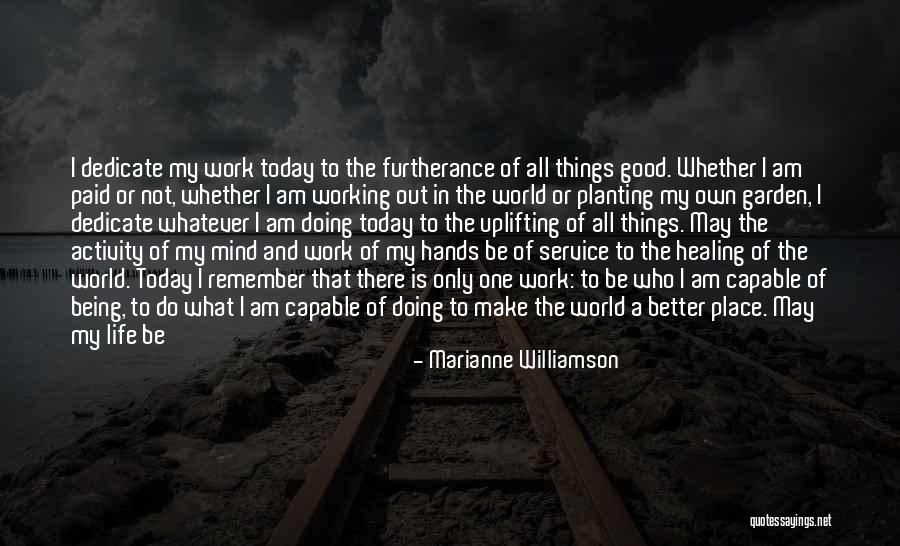 I dedicate my work today to the furtherance of all things good. Whether I am paid or not, whether I am working out in the world or planting my own garden, I dedicate whatever I am doing today to the uplifting of all things. May the activity of my mind and work of my hands be of service to the healing of the world. Today I remember that there is only one work: to be who I am capable of being, to do what I am capable of doing to make the world a better place. May my life be of use to something greater than myself, that I might feel the joy of being used. Dear God, Today I dedicate all I am and all that I have, That love might use me as a conduit of its power. Illumine my mind and increase my understanding, Hone my personality and deepen my skills, That all I do might glorify Your presence in the world. And so it is. Amen. — Marianne Williamson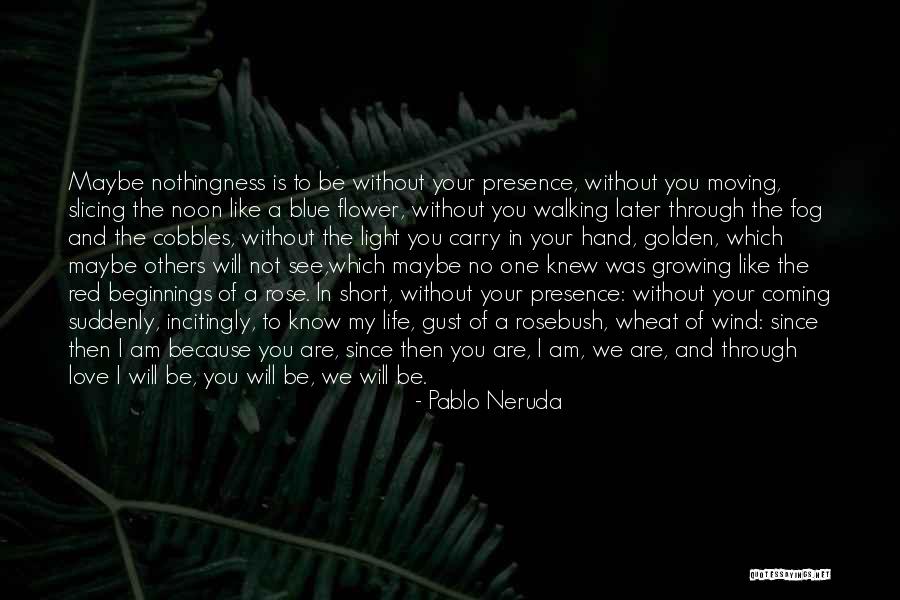 Maybe nothingness is to be without your presence,
without you moving, slicing the noon
like a blue flower, without you walking
later through the fog and the cobbles,
without the light you carry in your hand,
golden, which maybe others will not see,
which maybe no one knew was growing
like the red beginnings of a rose.
In short, without your presence: without your coming
suddenly, incitingly, to know my life,
gust of a rosebush, wheat of wind:
since then I am because you are,
since then you are, I am, we are,
and through love I will be, you will be, we will be. — Pablo Neruda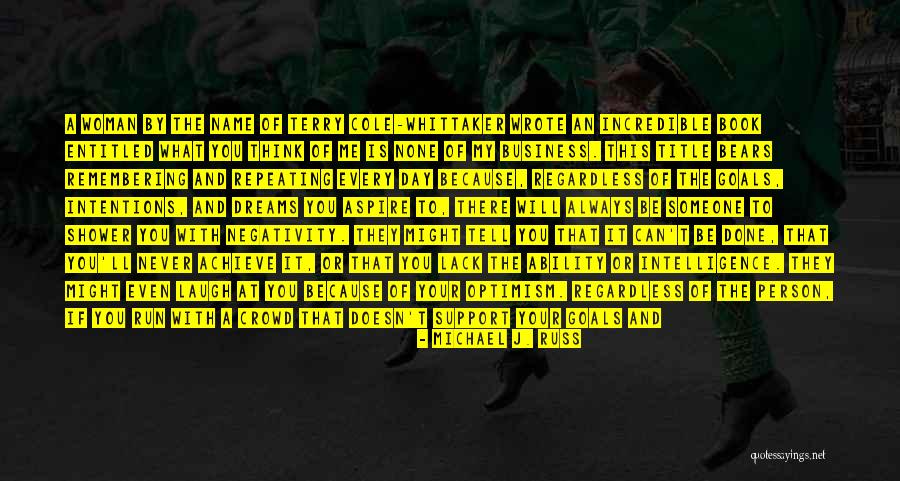 A woman by the name of Terry Cole-Whittaker wrote an incredible book
entitled What You Think of Me is None of My Business. This title bears remembering and
repeating every day because, regardless of the goals, intentions, and dreams you aspire to,
there will always be someone to shower you with negativity. They might tell you that it can't
be done, that you'll never achieve it, or that you lack the ability or intelligence. They might
even laugh at you because of your optimism.

Regardless of the person, if you run with a crowd that doesn't support your goals and
intentions, you might want to get away from them as soon as possible. Their presence in your
life will kill your attitude, smother your energy, and snuff out your dreams. If you can't get
away from them, before you allow them affect you, keep in mind that the influence and power
they have over you is what you allow it to be. — Michael J. Russ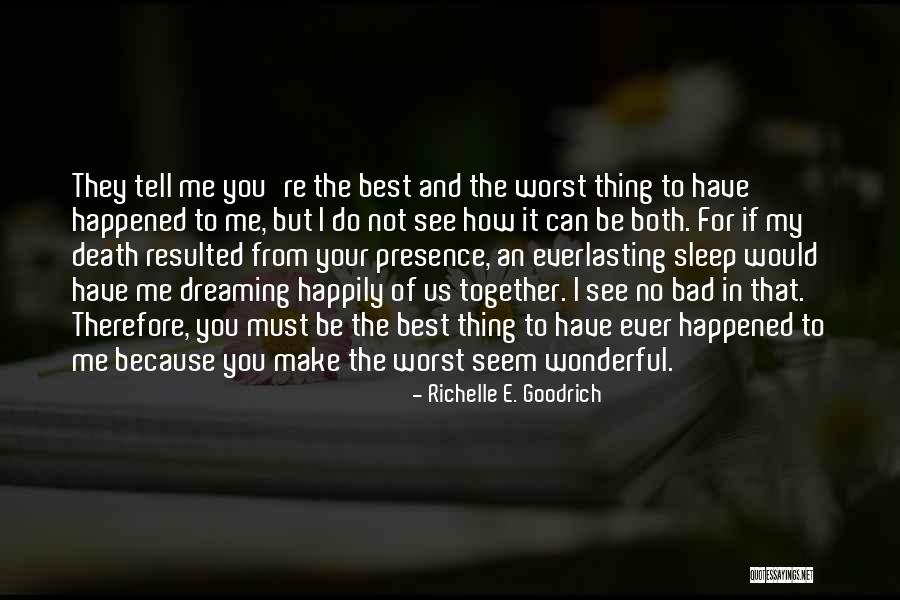 They tell me you're the best and the worst thing to have happened to me, but I do not see how it can be both. For if my death resulted from your presence, an everlasting sleep would have me dreaming happily of us together. I see no bad in that. Therefore, you must be the best thing to have ever happened to me because you make the worst seem wonderful. — Richelle E. Goodrich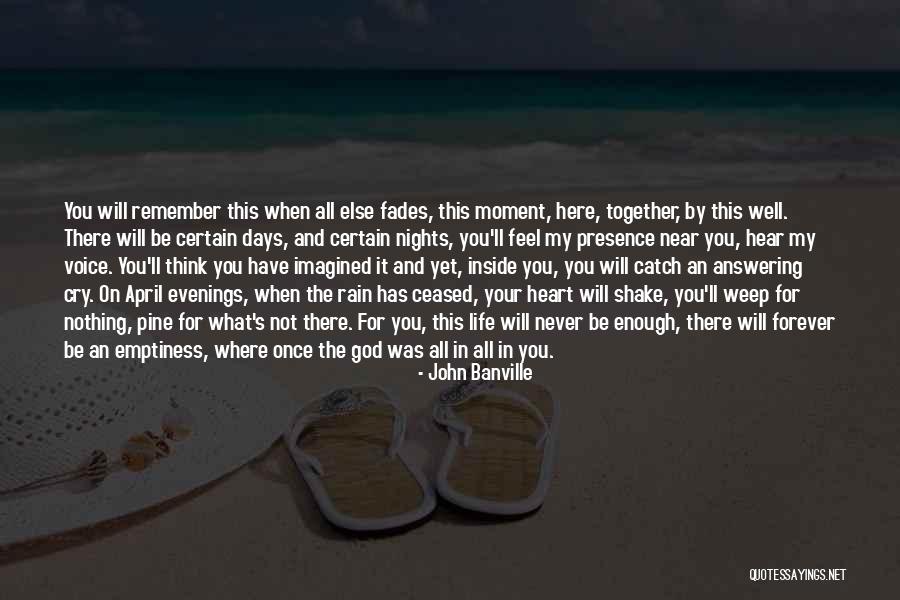 You will remember this when all else fades, this moment, here, together, by this well. There will be certain days, and certain nights, you'll feel my presence near you, hear my voice. You'll think you have imagined it and yet, inside you, you will catch an answering cry. On April evenings, when the rain has ceased, your heart will shake, you'll weep for nothing, pine for what's not there. For you, this life will never be enough, there will forever be an emptiness, where once the god was all in all in you. — John Banville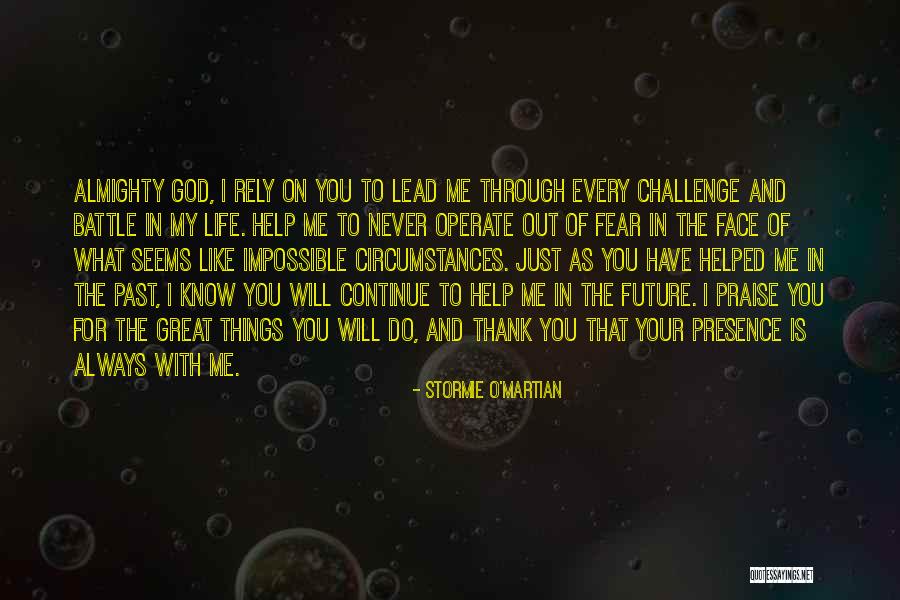 Almighty God, I rely on You to lead me through every challenge and battle in my life. Help me to never operate out of fear in the face of what seems like impossible circumstances. Just as You have helped me in the past, I know You will continue to help me in the future. I praise You for the great things You will do, and thank You that Your presence is always with me. — Stormie O'martian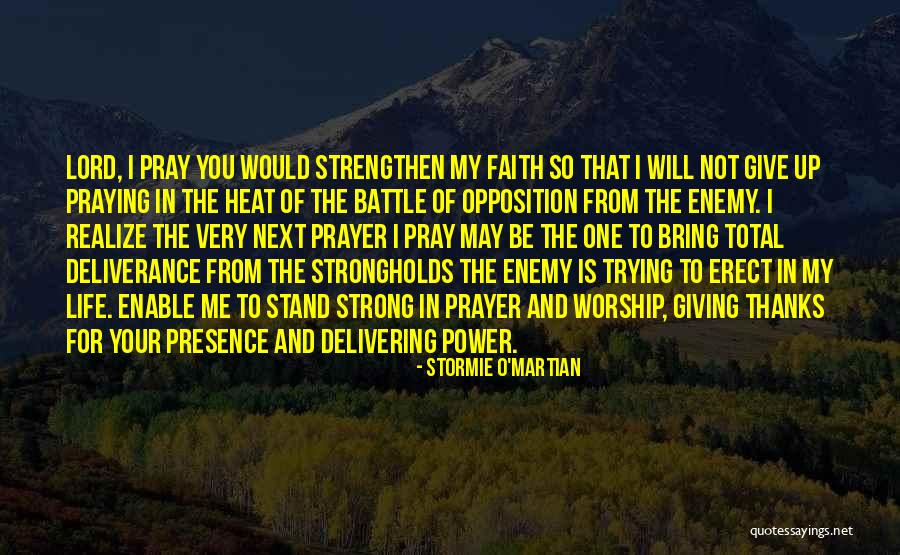 Lord, I pray You would strengthen my faith so that I will not give up praying in the heat of the battle of opposition from the enemy. I realize the very next prayer I pray may be the one to bring total deliverance from the strongholds the enemy is trying to erect in my life. Enable me to stand strong in prayer and worship, giving thanks for Your presence and delivering power. — Stormie O'martian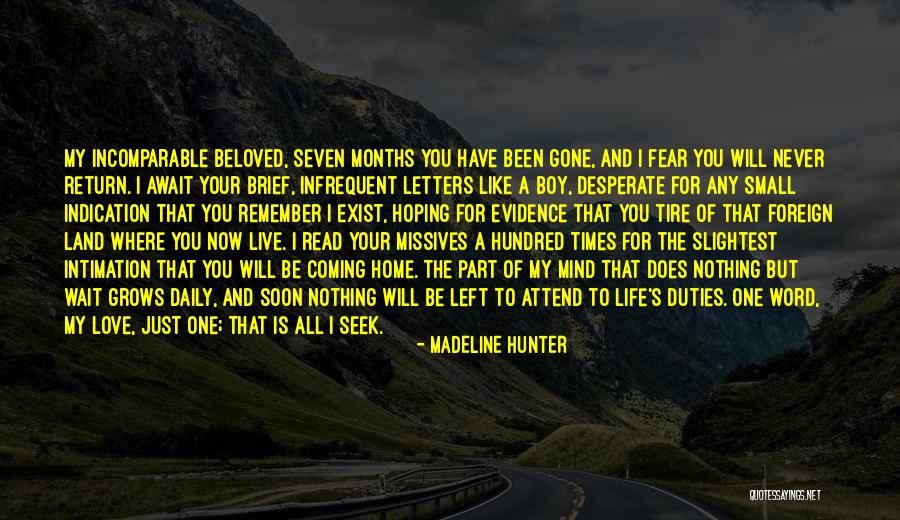 My incomparable beloved,
Seven months you have been gone, and I fear you will never return. I await your brief, infrequent letters like a boy, desperate for any small indication that you remember I exist, hoping for evidence that you tire of that foreign land where you now live. I read your missives a hundred times for the slightest intimation that you will be coming home. The part of my mind that does nothing but wait grows daily, and soon nothing will be left to attend to life's duties. One word, my love, just one; that is all I seek. One word to let me know that you will not stay away forever, and that I will at least have your presence and friendship in my life, even if I can never have your passion and your love.
Julian Hampton to Penelope, Countess of Glasbury — Madeline Hunter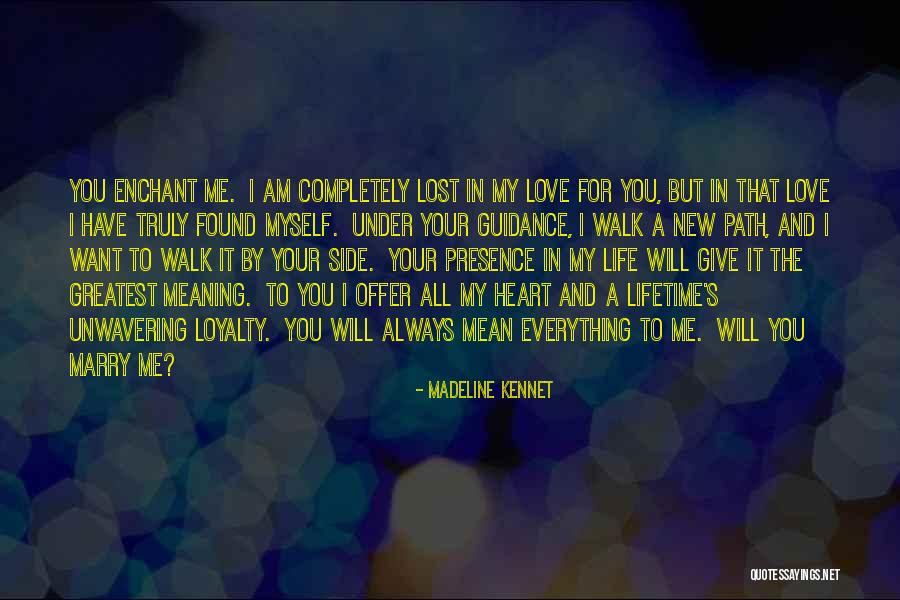 You enchant me. I am completely lost in my love for you, but in that love I have truly found myself. Under your guidance, I walk a new path, and I want to walk it by your side. Your presence in my life will give it the greatest meaning. To you I offer all my heart and a lifetime's unwavering loyalty. You will always mean everything to me. Will you marry me? — Madeline Kennet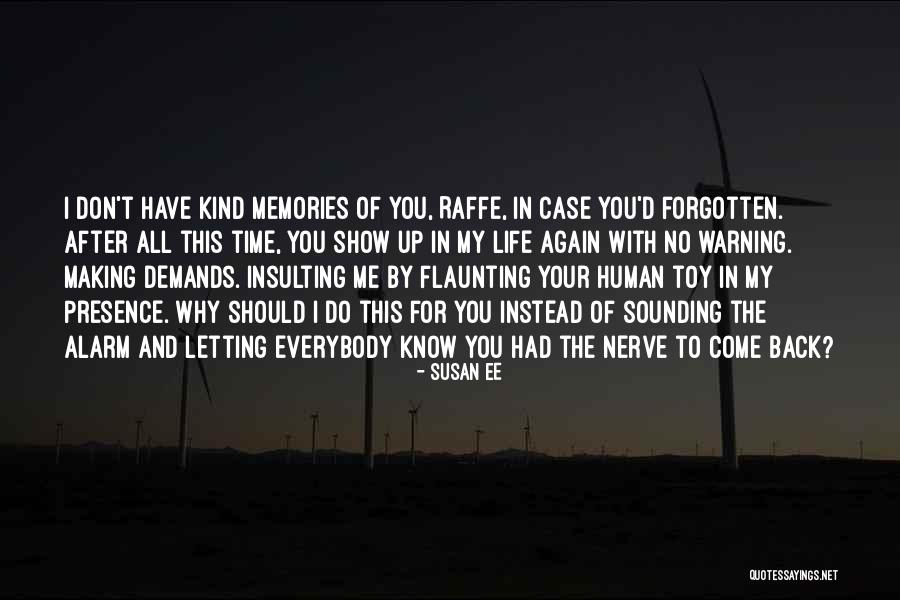 I don't have kind memories of you, Raffe, in case you'd forgotten. After all this time, you show up in my life again with no warning. Making demands. Insulting me by flaunting your human toy in my presence. Why should I do this for you instead of sounding the alarm and letting everybody know you had the nerve to come back? — Susan Ee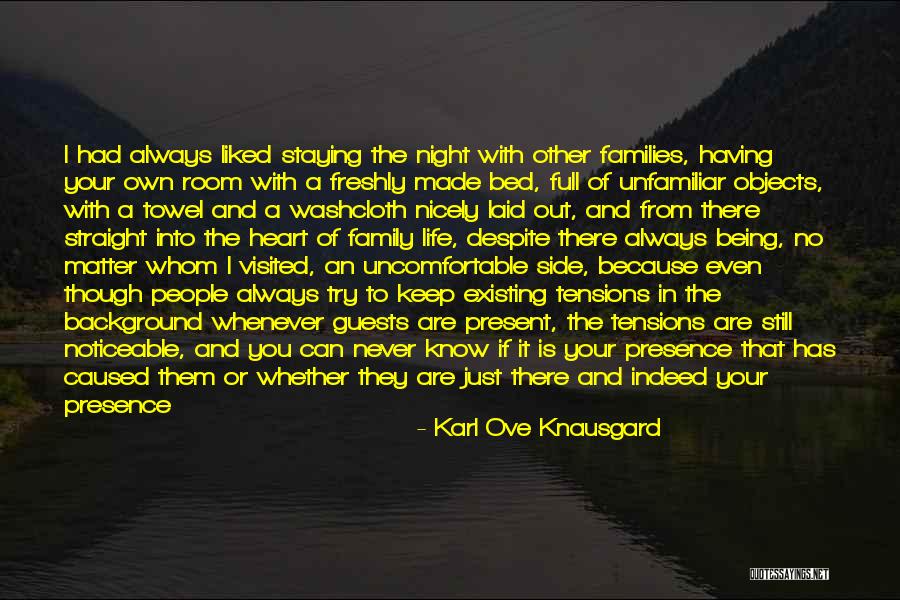 I had always liked staying the night with other families, having your own room with a freshly made bed, full of unfamiliar objects, with a towel and a washcloth nicely laid out, and from there straight into the heart of family life, despite there always being, no matter whom I visited, an uncomfortable side, because even though people always try to keep existing tensions in the background whenever guests are present, the tensions are still noticeable, and you can never know if it is your presence that has caused them or whether they are just there and indeed your presence is helping to suppress them. A third possibility is, of course, that all these tensions were just tensions that lived their own lives in my head. — Karl Ove Knausgard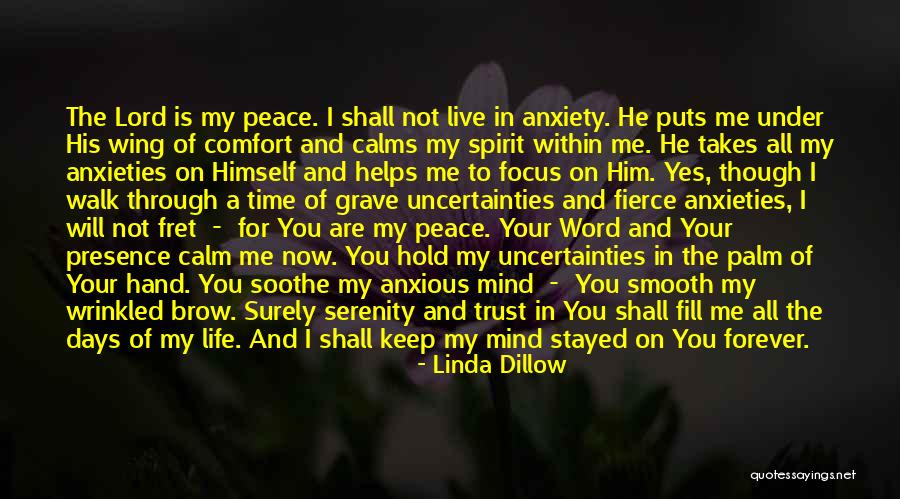 The Lord is my peace. I shall not live in anxiety. He puts me under His wing of comfort and calms my spirit within me. He takes all my anxieties on Himself and helps me to focus on Him. Yes, though I walk through a time of grave uncertainties and fierce anxieties, I will not fret - for You are my peace. Your Word and Your presence calm me now. You hold my uncertainties in the palm of Your hand. You soothe my anxious mind - You smooth my wrinkled brow. Surely serenity and trust in You shall fill me all the days of my life. And I shall keep my mind stayed on You forever. — Linda Dillow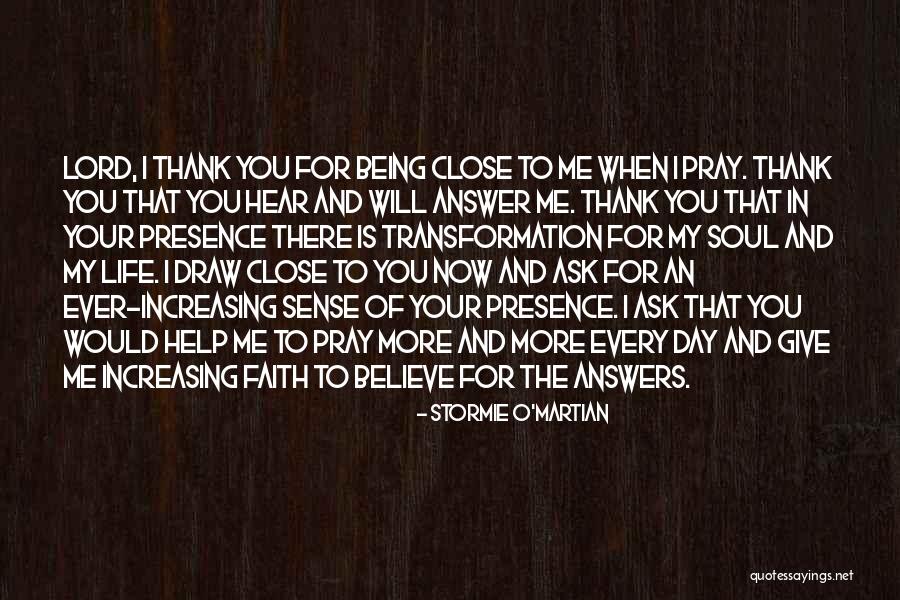 Lord, I thank You for being close to me when I pray. Thank You that You hear and will answer me. Thank You that in Your presence there is transformation for my soul and my life. I draw close to You now and ask for an ever-increasing sense of Your presence. I ask that You would help me to pray more and more every day and give me increasing faith to believe for the answers. — Stormie O'martian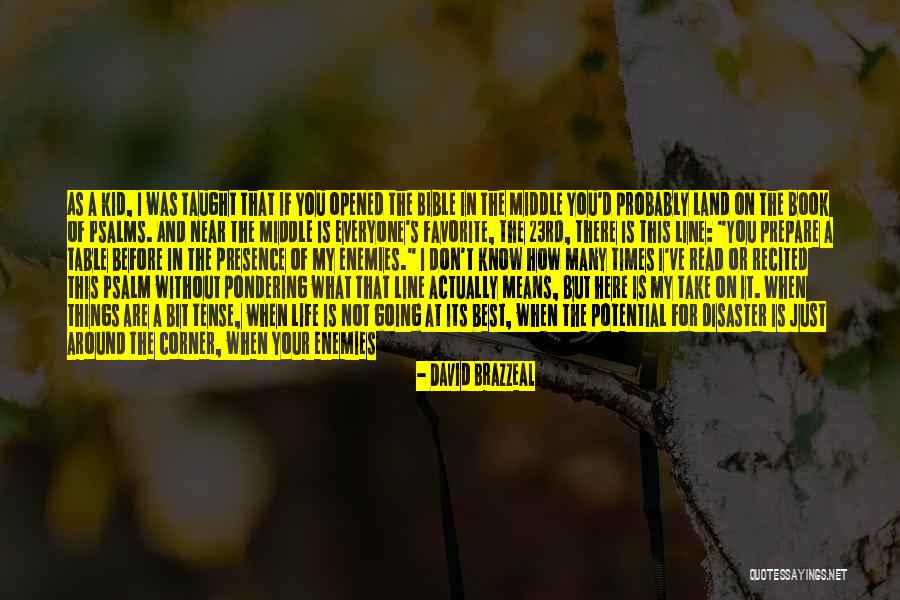 As a kid, I was taught that if you opened the Bible in the middle you'd probably land on the book of Psalms. And near the middle is everyone's favorite, the 23rd, there is this line: "You prepare a table before in the presence of my enemies." I don't know how many times I've read or recited this Psalm without pondering what that line actually means, but here is my take on it. When things are a bit tense, when life is not going at its best, when the potential for disaster is just around the corner, when your enemies are all around you - and even staring you down! - that's when God lays out the red-checkered picnic cloth and says, "Oooo, this is a nice place. Let's hang out here together for a while...just you and me. — David Brazzeal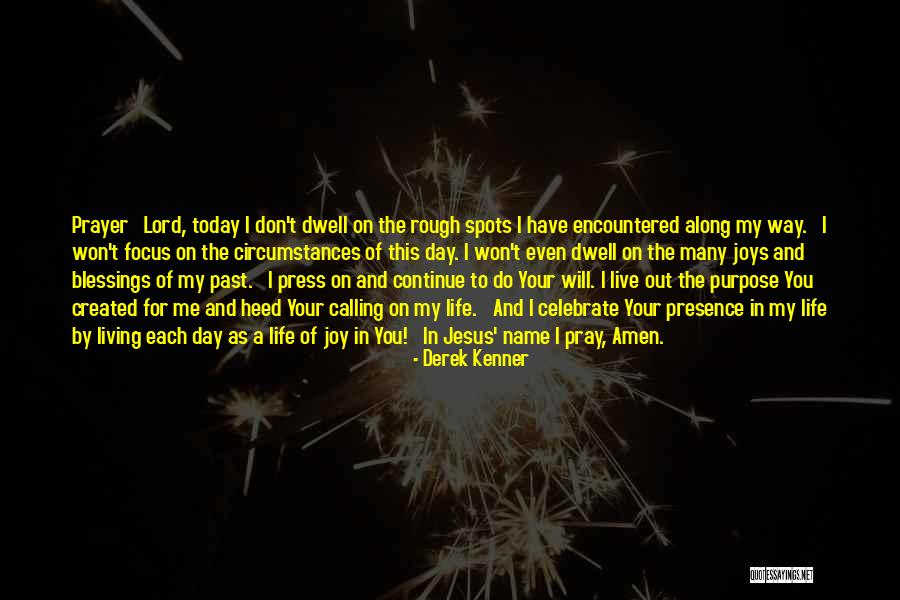 Prayer Lord, today I don't dwell on the rough spots I have encountered along my way. I won't focus on the circumstances of this day. I won't even dwell on the many joys and blessings of my past. I press on and continue to do Your will. I live out the purpose You created for me and heed Your calling on my life. And I celebrate Your presence in my life by living each day as a life of joy in You! In Jesus' name I pray, Amen. — Derek Kenner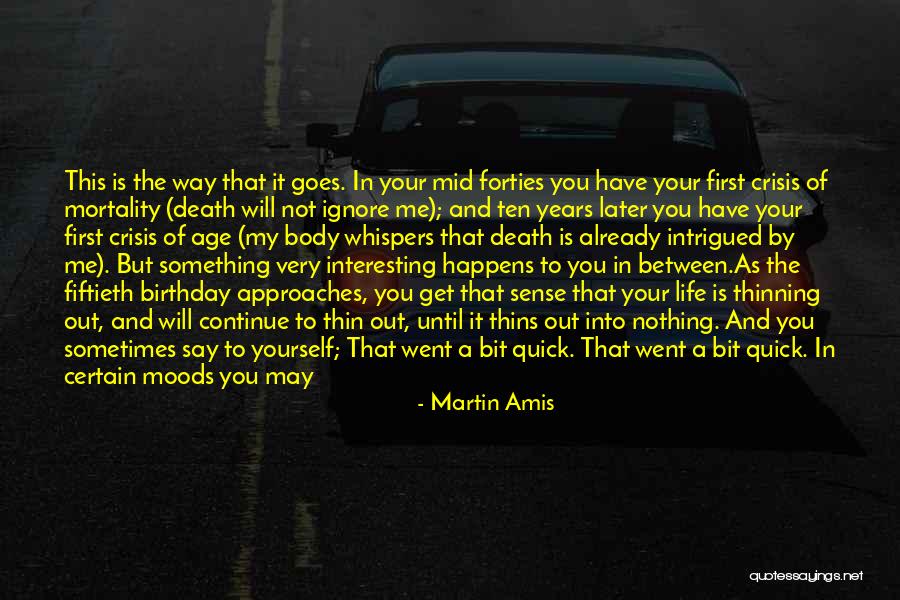 This is the way that it goes. In your mid forties you have your first crisis of mortality (death will not ignore me); and ten years later you have your first crisis of age (my body whispers that death is already intrigued by me). But something very interesting happens to you in between.
As the fiftieth birthday approaches, you get that sense that your life is thinning out, and will continue to thin out, until it thins out into nothing. And you sometimes say to yourself; That went a bit quick. That went a bit quick. In certain moods you may want to put it a bit more forcefully. As in: OY!! That went a BIT FUCKING QUICK!!! ... Then fifty comes and goes, and fifty-one, and fifty-two. And life thickens out again. Because there is now an enormous and unsuspected presence within your being, like an undiscovered continent. This is the past. — Martin Amis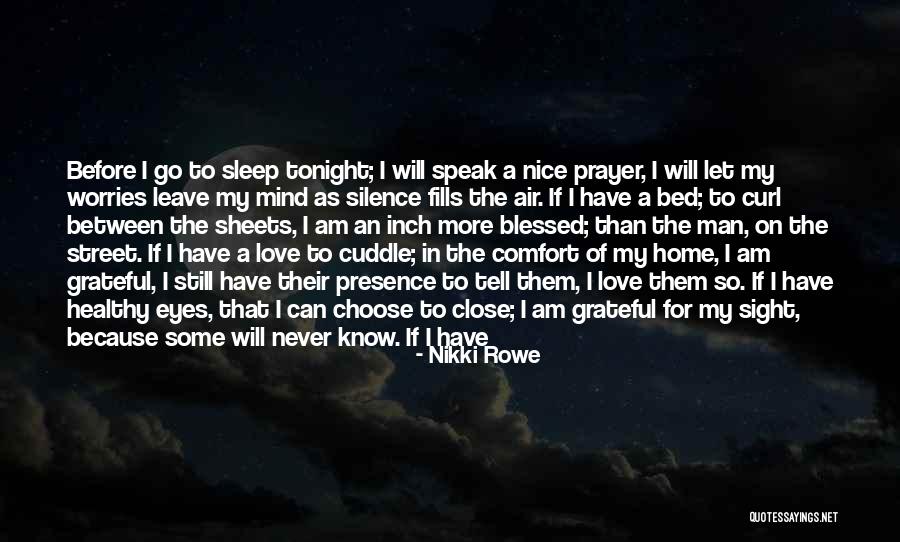 Before I go to sleep tonight; I will speak a nice prayer, I will let my worries leave my mind as silence fills the air.
If I have a bed; to curl between the sheets,
I am an inch more blessed; than the man, on the street.
If I have a love to cuddle; in the comfort of my home,
I am grateful, I still have their presence to tell them, I love them so.
If I have healthy eyes, that I can choose to close;
I am grateful for my sight, because some will never know.
If I have a voice & glistening ears to listen;
Than in all my glory, I am grateful for this livin'
All that really matters; is what, most don't have the courage to see,
Who you became; from the day of your birth, the dash and the final chapter that makes your story complete. — Nikki Rowe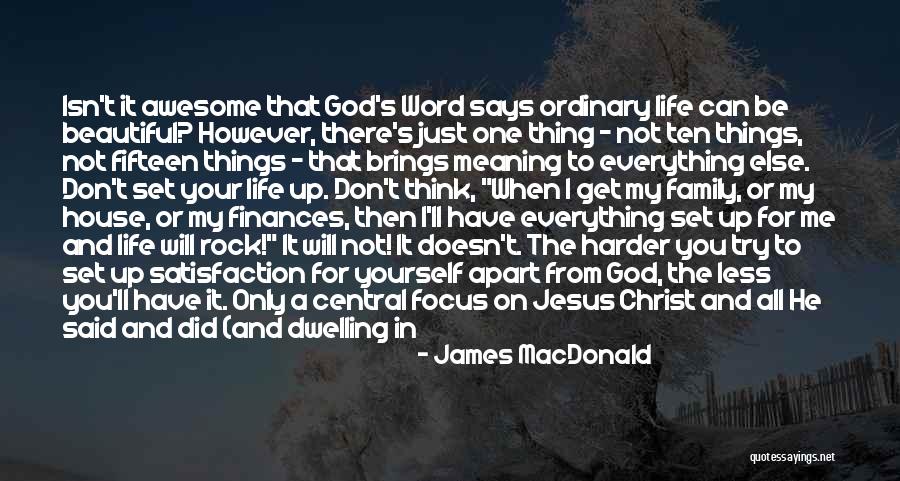 Isn't it awesome that God's Word says ordinary life can be beautiful? However, there's just one thing - not ten things, not fifteen things - that brings meaning to everything else. Don't set your life up. Don't think, "When I get my family, or my house, or my finances, then I'll have everything set up for me and life will rock!" It will not! It doesn't. The harder you try to set up satisfaction for yourself apart from God, the less you'll have it. Only a central focus on Jesus Christ and all He said and did (and dwelling in His presence) can be the one thing that puts everything else in order. Even when it seems like it's falling apart. — James MacDonald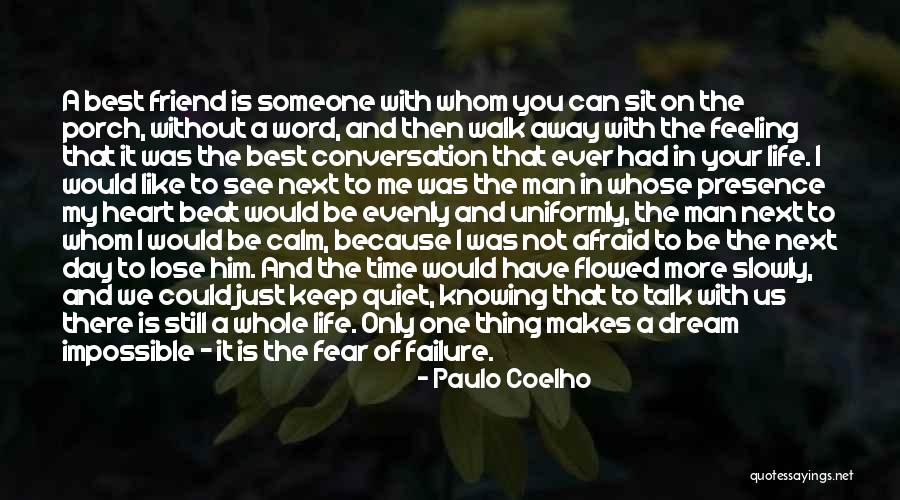 A best friend is someone with whom you can sit on the porch, without a word, and then walk away with the feeling that it was the best conversation that ever had in your life. I would like to see next to me was the man in whose presence my heart beat would be evenly and uniformly, the man next to whom I would be calm, because I was not afraid to be the next day to lose him. And the time would have flowed more slowly, and we could just keep quiet, knowing that to talk with us there is still a whole life. Only one thing makes a dream impossible - it is the fear of failure. — Paulo Coelho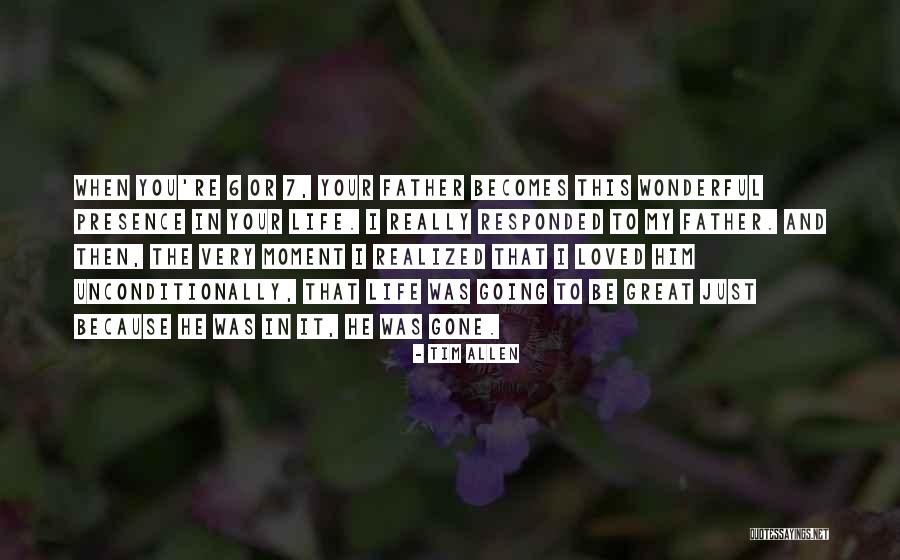 When you're 6 or 7, your father becomes this wonderful presence in your life. I really responded to my father. And then, the very moment I realized that I loved him unconditionally, that life was going to be great just because he was in it, he was gone. — Tim Allen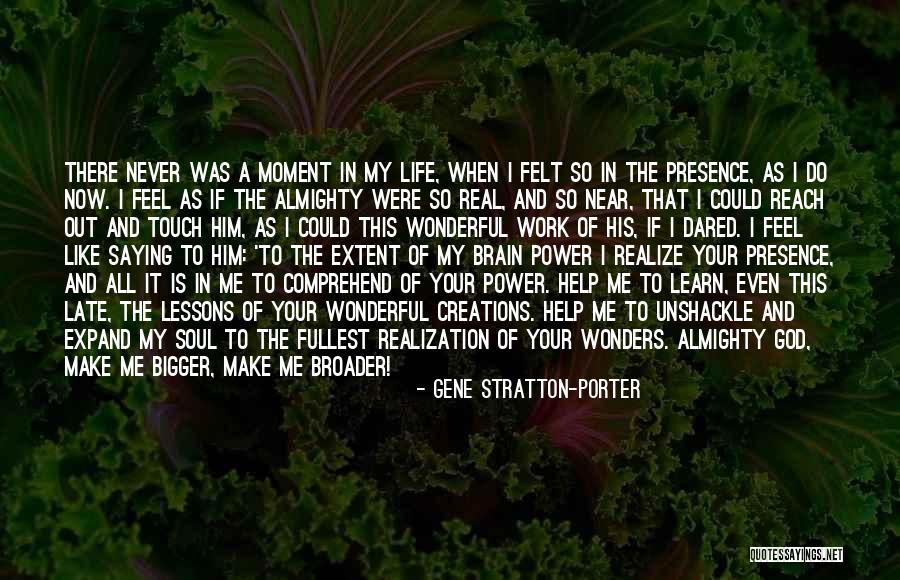 There never was a moment in my life, when I felt so in the Presence, as I do now. I feel as if the Almighty were so real, and so near, that I could reach out and touch Him, as I could this wonderful work of His, if I dared. I feel like saying to Him: 'To the extent of my brain power I realize Your presence, and all it is in me to comprehend of Your power. Help me to learn, even this late, the lessons of Your wonderful creations. Help me to unshackle and expand my soul to the fullest realization of Your wonders. Almighty God, make me bigger, make me broader! — Gene Stratton-Porter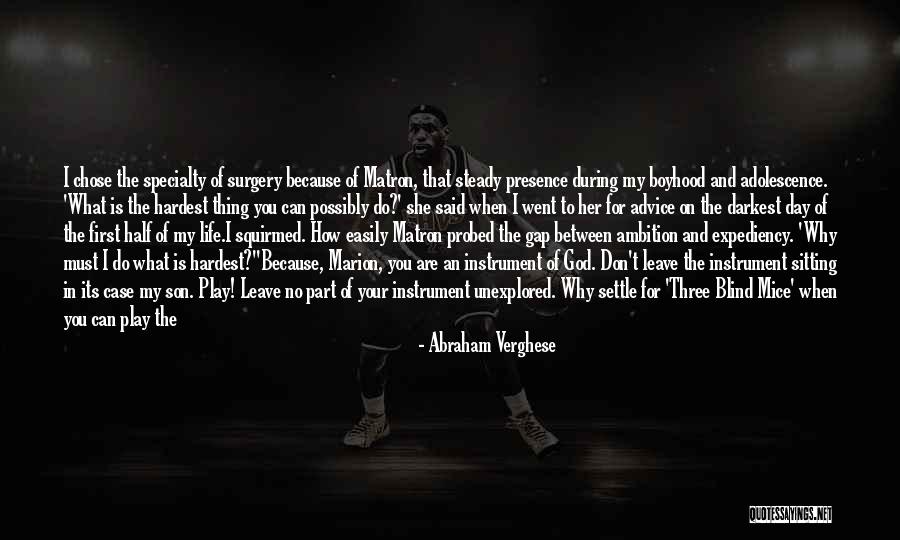 I chose the specialty of surgery because of Matron, that steady presence during my boyhood and adolescence. 'What is the hardest thing you can possibly do?' she said when I went to her for advice on the darkest day of the first half of my life.
I squirmed. How easily Matron probed the gap between ambition and expediency. 'Why must I do what is hardest?'
'Because, Marion, you are an instrument of God. Don't leave the instrument sitting in its case my son. Play! Leave no part of your instrument unexplored. Why settle for 'Three Blind Mice' when you can play the 'Gloria'?
'But, Matron, I can't dream of playing Bach ... I couldn't read music.
'No, Marion,' she said her gaze soft ... 'No, not Bach's 'Gloria'. Yours! Your 'Gloria' lives within you. The greatest sin is not finding it, ignoring what God made possible in you. — Abraham Verghese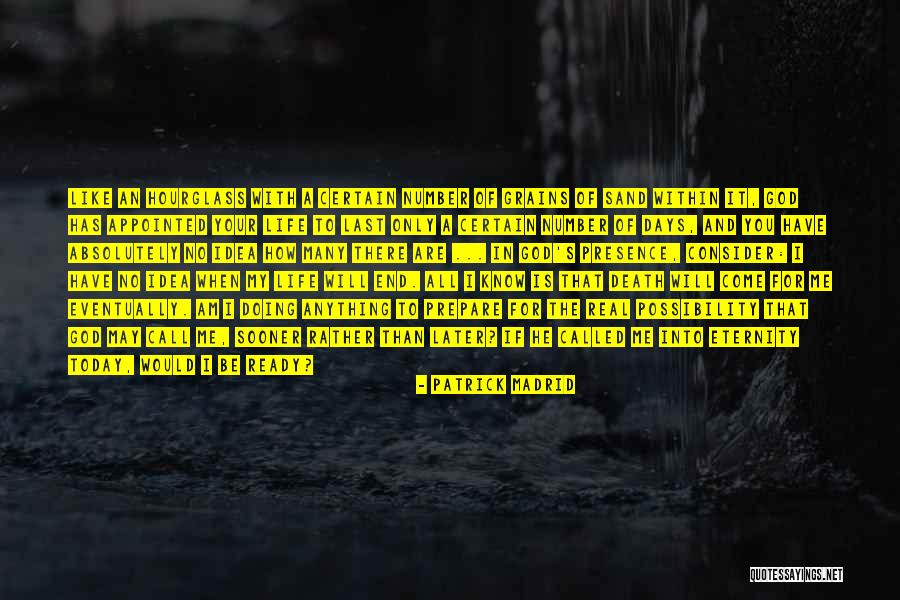 Like an hourglass with a certain number of grains of sand within it, God has appointed your life to last only a certain number of days, and you have absolutely no idea how many there are ... In God's presence, consider: I have no idea when my life will end. All I know is that death will come for me eventually. Am I doing anything to prepare for the real possibility that God may call me, sooner rather than later? If he called me into eternity today, would I be ready? — Patrick Madrid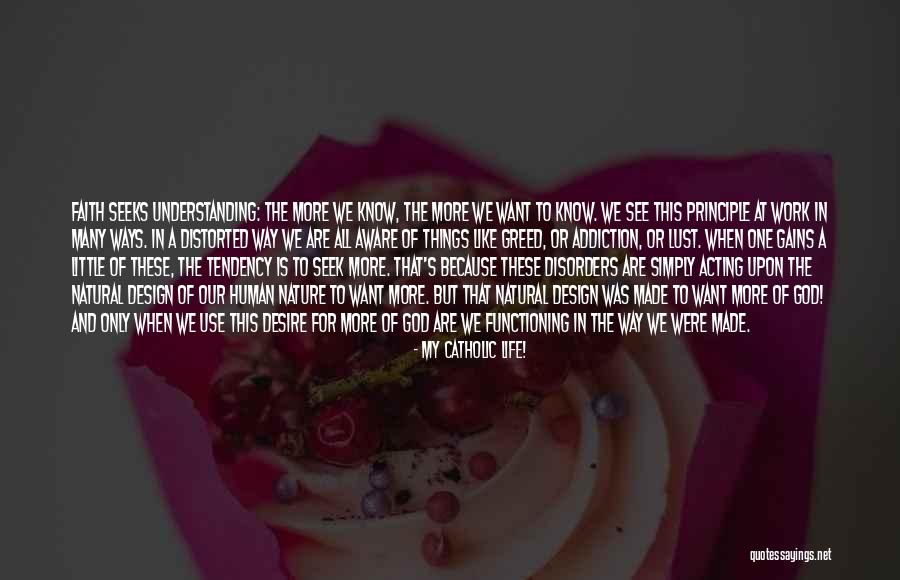 Faith seeks understanding: The more we know, the more we want to know. We see this principle at work in many ways. In a distorted way we are all aware of things like greed, or addiction, or lust. When one gains a little of these, the tendency is to seek more. That's because these disorders are simply acting upon the natural design of our human nature to want more. But that natural design was made to want more of God! And only when we use this desire for more of God are we functioning in the way we were made. So with faith we see this at work. The more one knows God, personally, truly, intimately, the more one wants to know God, love God and be with God all the more. And there is no limit to how much the human soul can receive of this glorious Gift! So seek God and let the gift of His presence in your life stir up the desire for more. — My Catholic Life!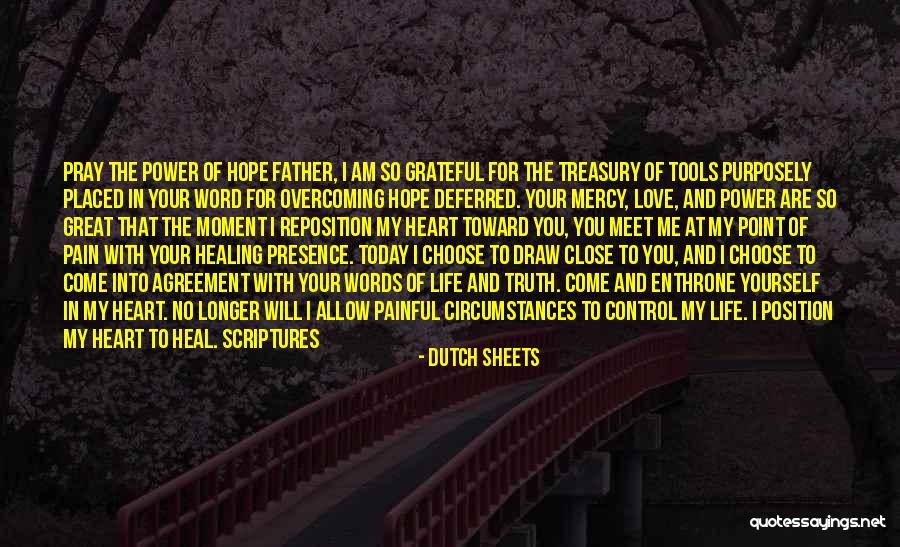 PRAY the Power of Hope Father, I am so grateful for the treasury of tools purposely placed in Your Word for overcoming hope deferred. Your mercy, love, and power are so great that the moment I reposition my heart toward You, You meet me at my point of pain with Your healing presence. Today I choose to draw close to You, and I choose to come into agreement with Your words of life and truth. Come and enthrone Yourself in my heart. No longer will I allow painful circumstances to control my life. I position my heart to heal. SCRIPTURES — Dutch Sheets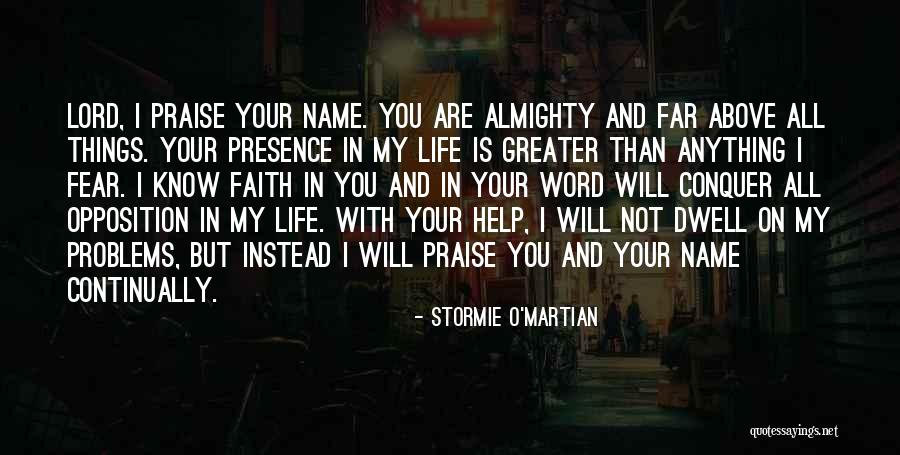 Lord, I praise Your name. You are almighty and far above all things. Your presence in my life is greater than anything I fear. I know faith in You and in Your Word will conquer all opposition in my life. With Your help, I will not dwell on my problems, but instead I will praise You and Your name continually. — Stormie O'martian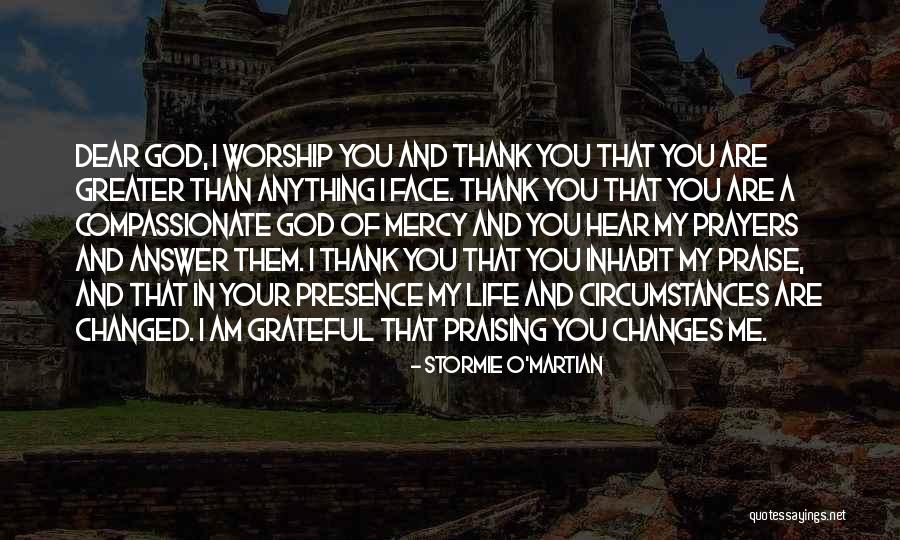 Dear God, I worship You and thank You that You are greater than anything I face. Thank You that You are a compassionate God of mercy and You hear my prayers and answer them. I thank You that You inhabit my praise, and that in Your presence my life and circumstances are changed. I am grateful that praising You changes me. — Stormie O'martian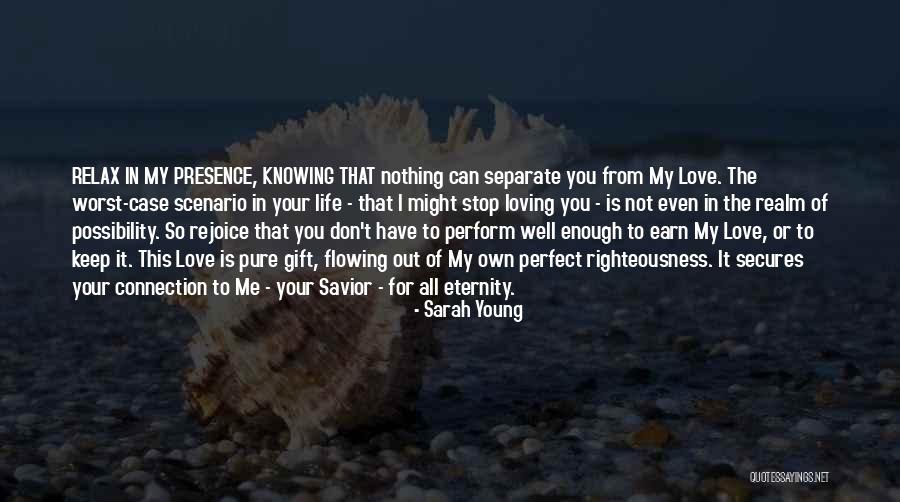 RELAX IN MY PRESENCE, KNOWING THAT nothing can separate you from My Love. The worst-case scenario in your life - that I might stop loving you - is not even in the realm of possibility. So rejoice that you don't have to perform well enough to earn My Love, or to keep it. This Love is pure gift, flowing out of My own perfect righteousness. It secures your connection to Me - your Savior - for all eternity. — Sarah Young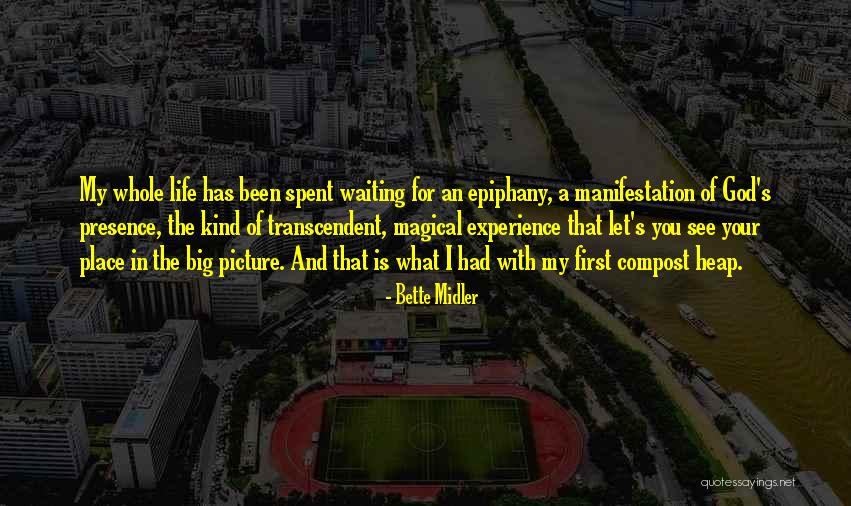 My whole life has been spent waiting for an epiphany, a manifestation of God's presence, the kind of transcendent, magical experience that let's you see your place in the big picture. And that is what I had with my first compost heap. — Bette Midler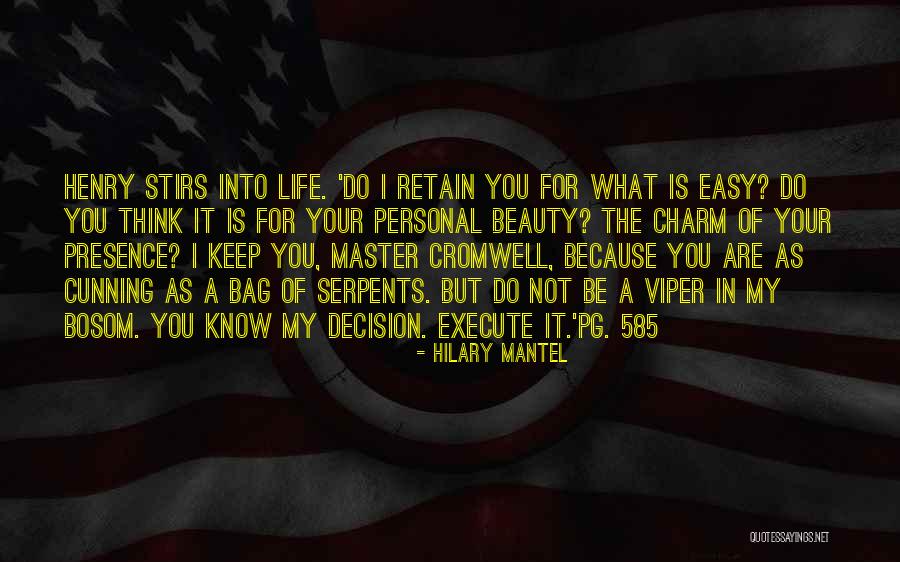 Henry stirs into life. 'Do I retain you for what is easy? Do you think it is for your personal beauty? The charm of your presence? I keep you, Master Cromwell, because you are as cunning as a bag of serpents. But do not be a viper in my bosom. You know my decision. Execute it.'
pg. 585 — Hilary Mantel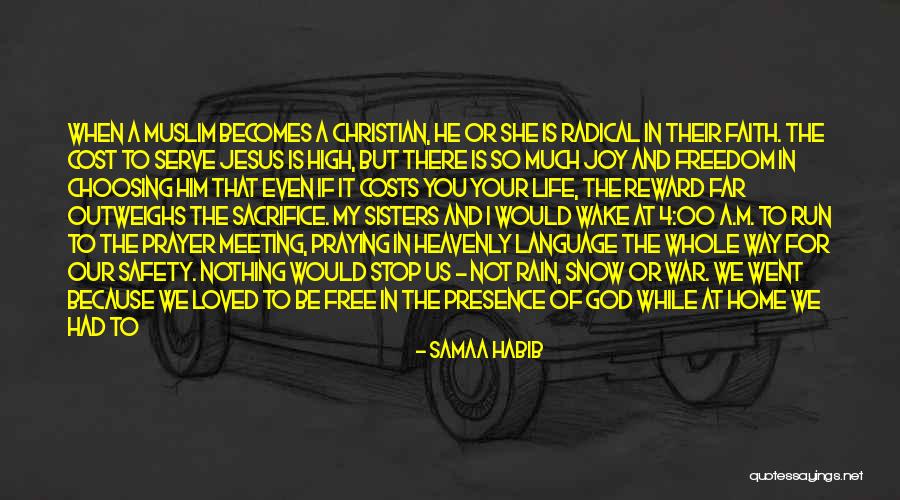 When a Muslim becomes a Christian, he or she is radical in their faith. The cost to serve Jesus is high, but there is so much joy and freedom in choosing Him that even if it costs you your life, the reward far outweighs the sacrifice. My sisters and I would wake at 4:00 a.m. to run to the prayer meeting, praying in heavenly language the whole way for our safety. Nothing would stop us - not rain, snow or war. We went because we loved to be free in the presence of God while at home we had to hide our faith. Our mother knew where we were going, but our father and brothers had no idea. They woke up early to go to work and assumed we were still asleep in our beds. — Samaa Habib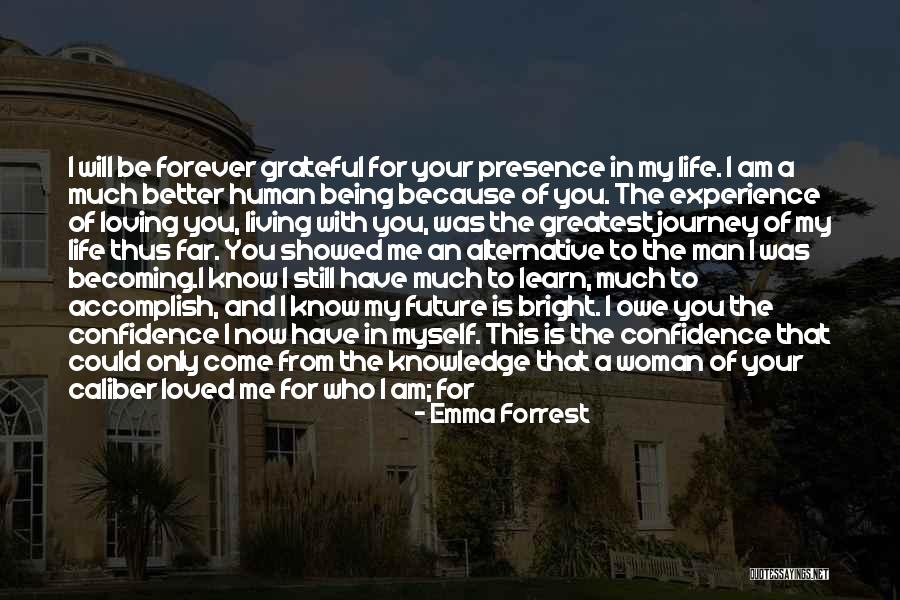 I will be forever grateful for your presence in my life. I am a much better human being because of you. The experience of loving you, living with you, was the greatest journey of my life thus far. You showed me an alternative to the man I was becoming.
I know I still have much to learn, much to accomplish, and I know my future is bright. I owe you the confidence I now have in myself. This is the confidence that could only come from the knowledge that a woman of your caliber loved me for who I am; for what you saw in me.
You are a great woman and I mean that in the strongest sense of the phrase. You feel deeply, think deeply, and live deeply. I admire so much about you. Regardless of whether our paths cross again, know that I am actively wishing you success and happiness. I pray that you will once again be part of my life. But if left with just the experience we've shared, I know my life was better because of it. — Emma Forrest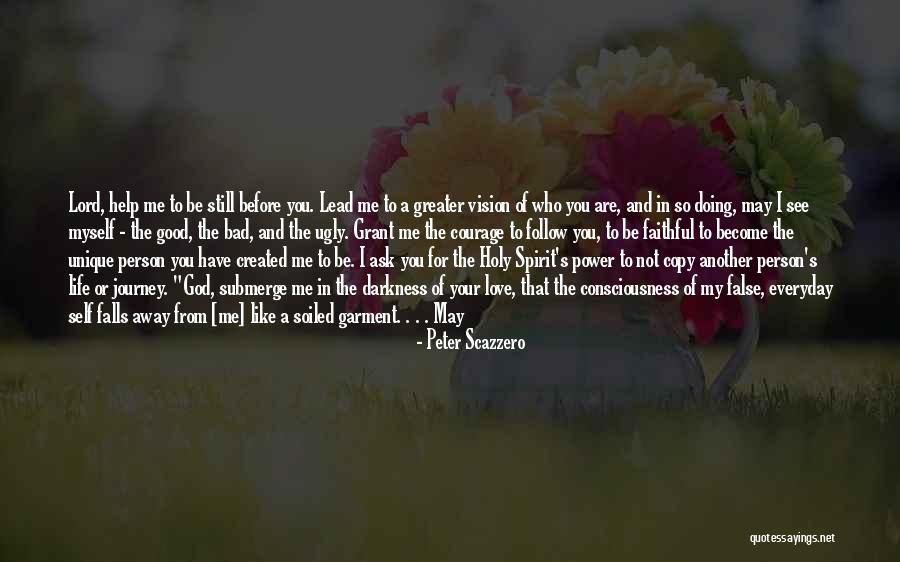 Lord, help me to be still before you. Lead me to a greater vision of who you are, and in so doing, may I see myself - the good, the bad, and the ugly. Grant me the courage to follow you, to be faithful to become the unique person you have created me to be. I ask you for the Holy Spirit's power to not copy another person's life or journey. "God, submerge me in the darkness of your love, that the consciousness of my false, everyday self falls away from [me] like a soiled garment. . . . May my 'deep self' fall into your presence. . . . knowing you alone . . . carried away into eternity like a dead leaf in the November wind."24 In Jesus' name, amen. — Peter Scazzero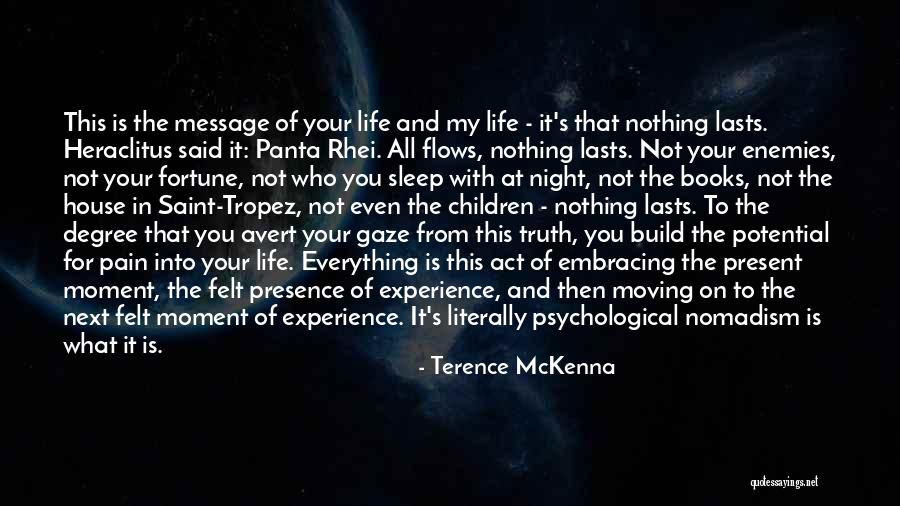 This is the message of your life and my life - it's that nothing lasts. Heraclitus said it: Panta Rhei. All flows, nothing lasts. Not your enemies, not your fortune, not who you sleep with at night, not the books, not the house in Saint-Tropez, not even the children - nothing lasts. To the degree that you avert your gaze from this truth, you build the potential for pain into your life. Everything is this act of embracing the present moment, the felt presence of experience, and then moving on to the next felt moment of experience. It's literally psychological nomadism is what it is. — Terence McKenna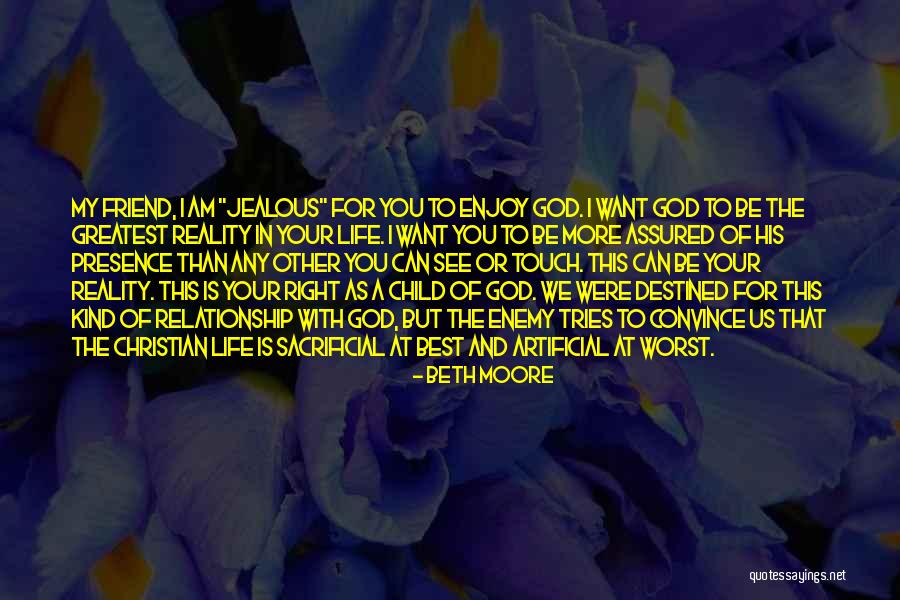 My friend, I am "jealous" for you to enjoy God. I want God to be the greatest reality in your life. I want you to be more assured of His presence than any other you can see or touch. This can be your reality. This is your right as a child of God. We were destined for this kind of relationship with God, but the enemy tries to convince us that the Christian life is sacrificial at best and artificial at worst. — Beth Moore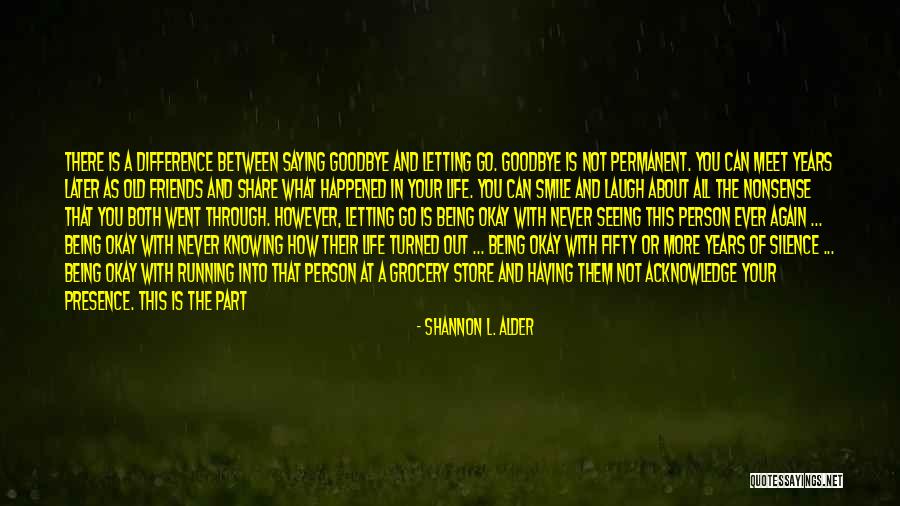 There is a difference between saying goodbye and letting go. Goodbye is not permanent. You can meet years later as old friends and share what happened in your life. You can smile and laugh about all the nonsense that you both went through. However, letting go is being okay with never seeing this person ever again ... being okay with never knowing how their life turned out ... being okay with fifty or more years of silence ... being okay with running into that person at a grocery store and having them not acknowledge your presence. This is the part of life that doesn't sit well with me and never will. It tears my heart in pieces, robs me of gratitude, drains me of anything positive and eats at the faith that holds on. It goes against kindness. — Shannon L. Alder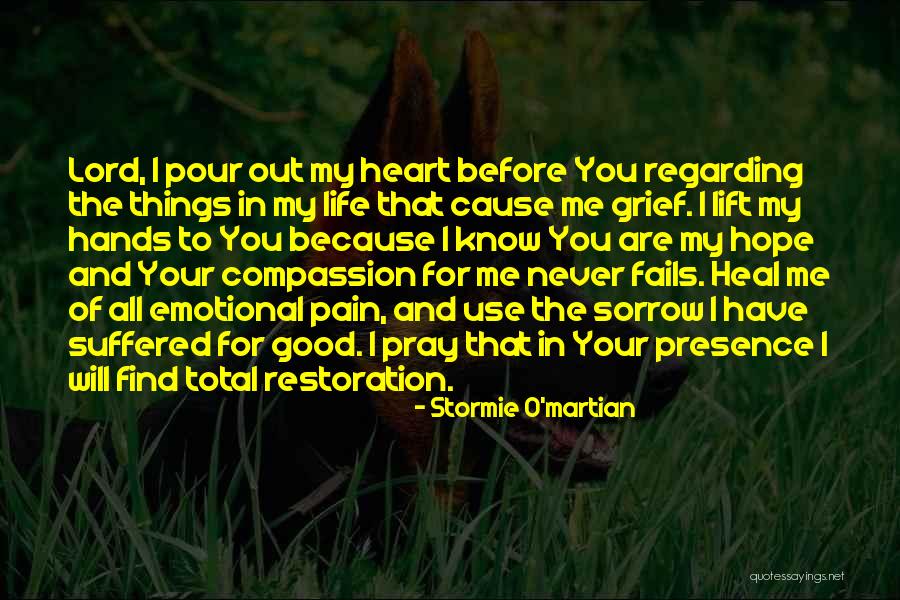 Lord, I pour out my heart before You regarding the things in my life that cause me grief. I lift my hands to You because I know You are my hope and Your compassion for me never fails. Heal me of all emotional pain, and use the sorrow I have suffered for good. I pray that in Your presence I will find total restoration. — Stormie O'martian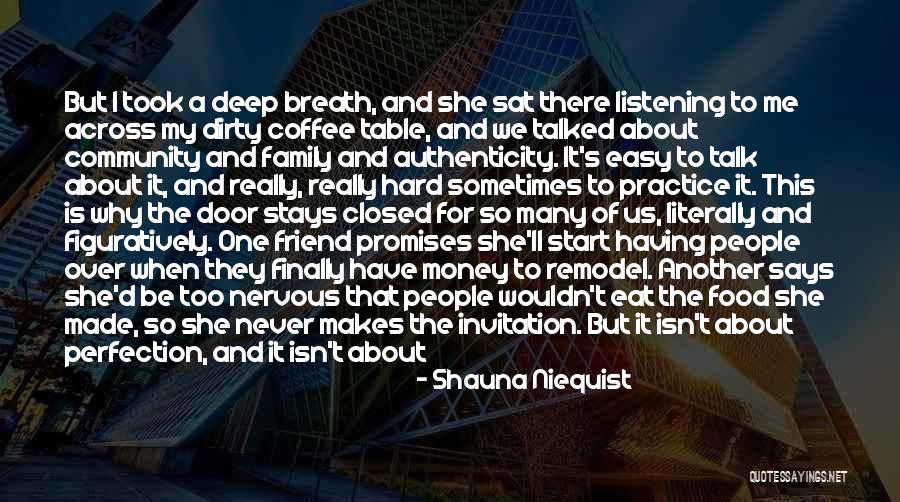 But I took a deep breath, and she sat there listening to me across my dirty coffee table, and we talked about community and family and authenticity. It's easy to talk about it, and really, really hard sometimes to practice it. This is why the door stays closed for so many of us, literally and figuratively. One friend promises she'll start having people over when they finally have money to remodel. Another says she'd be too nervous that people wouldn't eat the food she made, so she never makes the invitation. But it isn't about perfection, and it isn't about performance. You'll miss the richest moments in life - the sacred moments when we feel God's grace and presence through the actual faces and hands of the people we love - if you're too scared or too ashamed to open the door. I know it's scary, but throw open the door anyway, even though someone might see you in your terribly ugly half-zip. — Shauna Niequist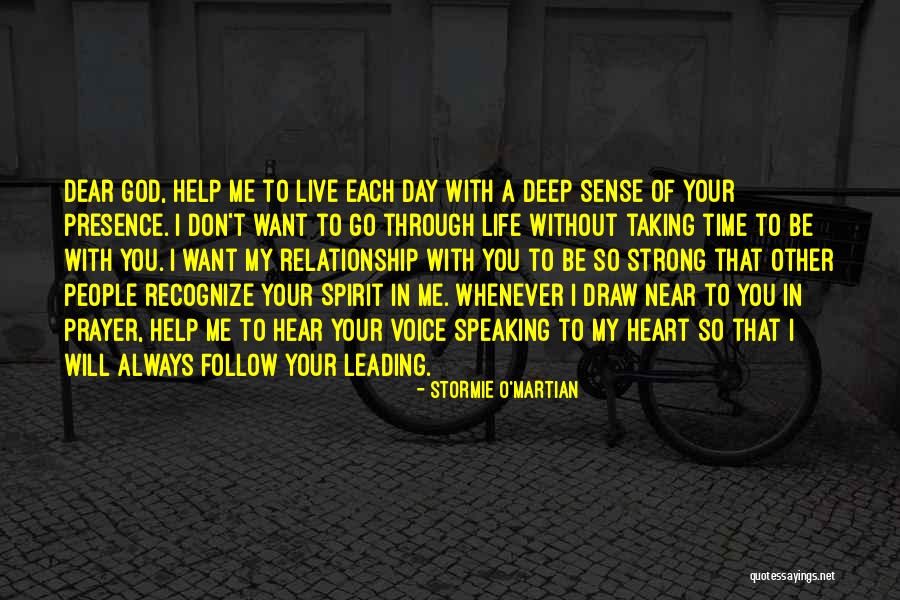 Dear God, help me to live each day with a deep sense of Your presence. I don't want to go through life without taking time to be with You. I want my relationship with You to be so strong that other people recognize Your Spirit in me. Whenever I draw near to You in prayer, help me to hear Your voice speaking to my heart so that I will always follow Your leading. — Stormie O'martian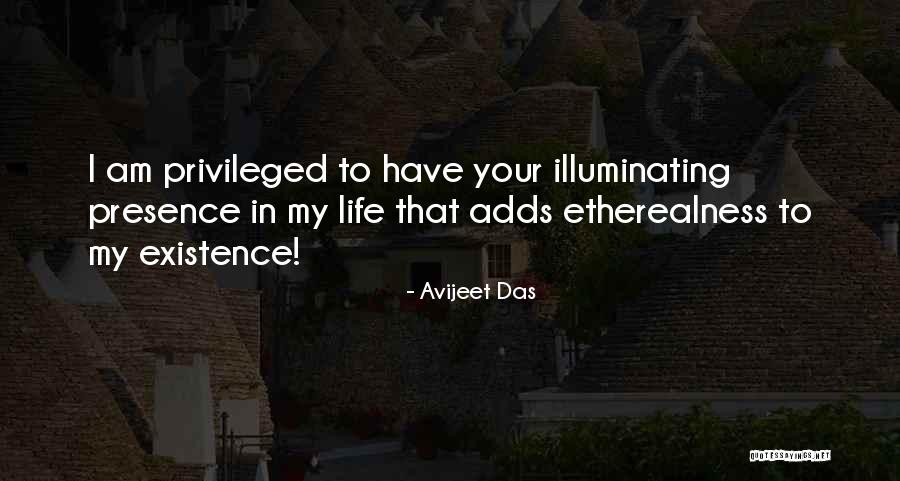 I am privileged to have your illuminating presence in my life that adds etherealness to my existence! — Avijeet Das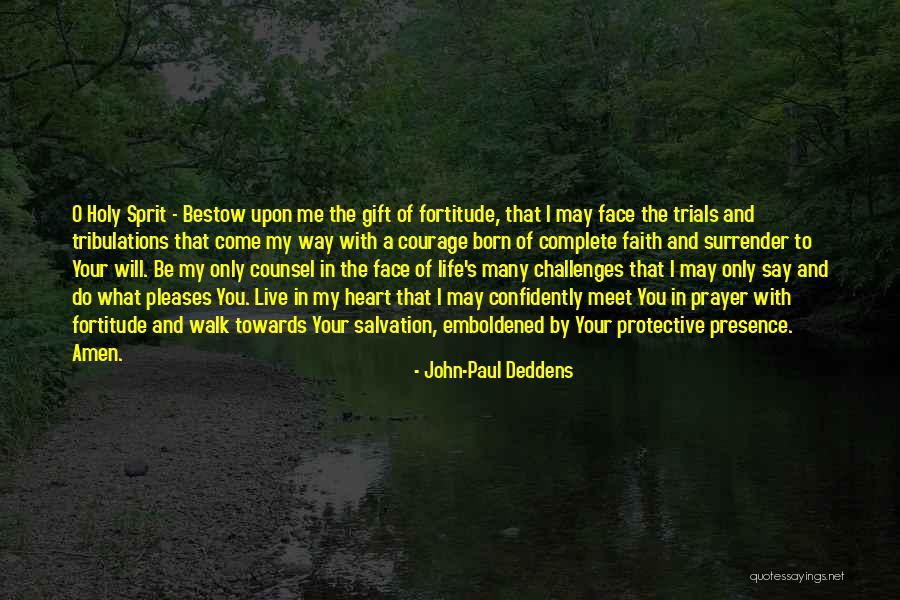 O Holy Sprit - Bestow upon me the gift of fortitude, that I may face the trials and tribulations that come my way with a courage born of complete faith and surrender to Your will. Be my only counsel in the face of life's many challenges that I may only say and do what pleases You. Live in my heart that I may confidently meet You in prayer with fortitude and walk towards Your salvation, emboldened by Your protective presence. Amen. — John-Paul Deddens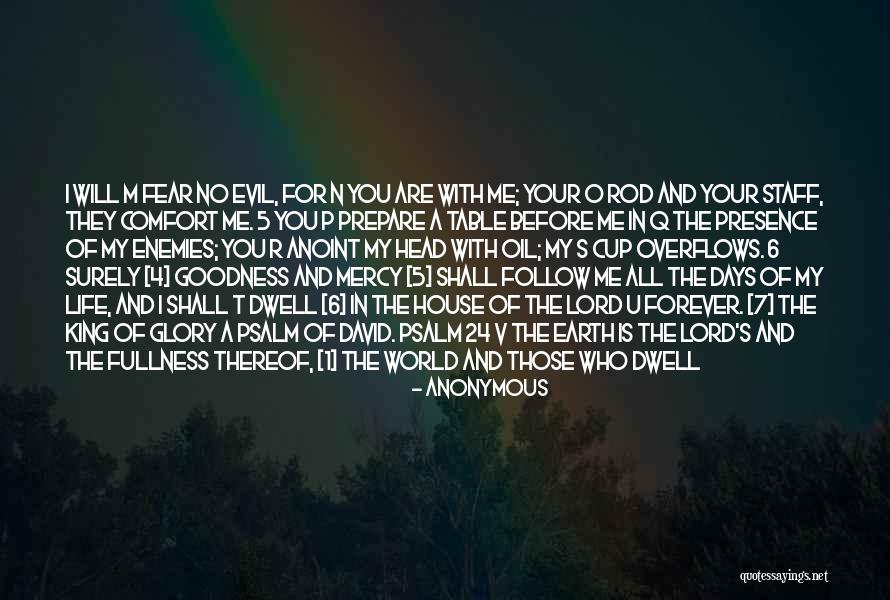 I will m fear no evil, for n you are with me; your o rod and your staff, they comfort me. 5 You p prepare a table before me in q the presence of my enemies; you r anoint my head with oil; my s cup overflows. 6 Surely [4] goodness and mercy [5] shall follow me all the days of my life, and I shall t dwell [6] in the house of the LORD u forever. [7] The King of Glory A Psalm of David. PSALM 24 v The earth is the LORD's and the fullness thereof, [1] the world and those who dwell — Anonymous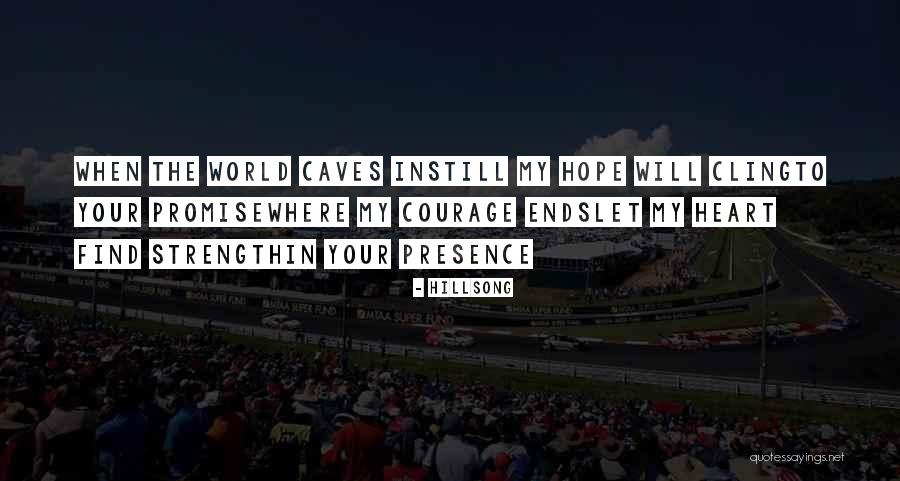 When the world caves in
Still my hope will cling
To Your promise
Where my courage ends
Let my heart find strength
In Your presence — Hillsong