Quotes & Sayings About You Making Me A Better Person
Enjoy reading and share 46 famous quotes about You Making Me A Better Person with everyone.
Top You Making Me A Better Person Quotes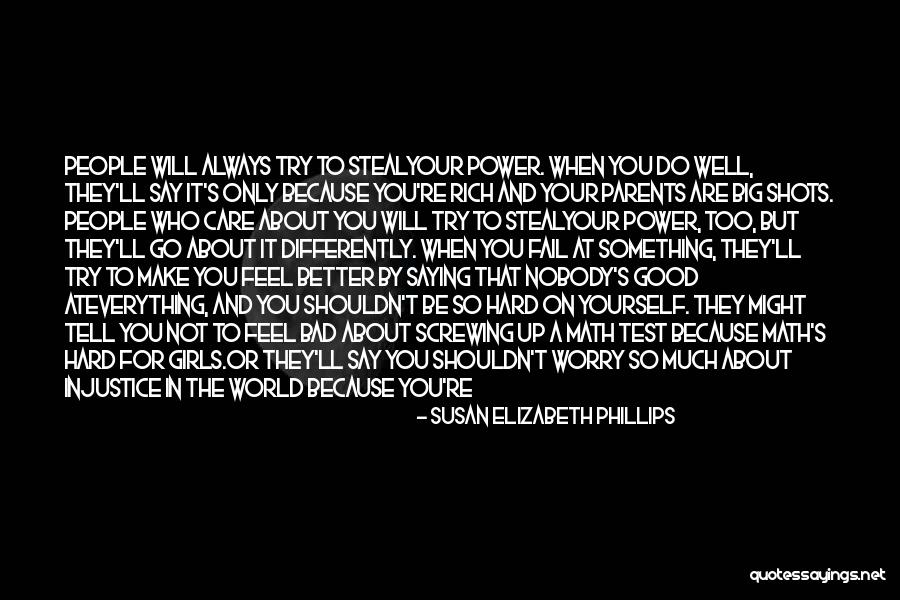 People will always try to steal
your power. When you do well, they'll say it's only because you're rich and your parents are big shots. People who care about you will try to steal
your power, too, but they'll go about it differently. When you fail at something, they'll try to make you feel better by saying that nobody's good at
everything, and you shouldn't be so hard on yourself. They might tell you not to feel bad about screwing up a math test because math's hard for girls.
Or they'll say you shouldn't worry so much about injustice in the world because you're only one person. And even though they mean well, they'll be
making you less than what you can be. — Susan Elizabeth Phillips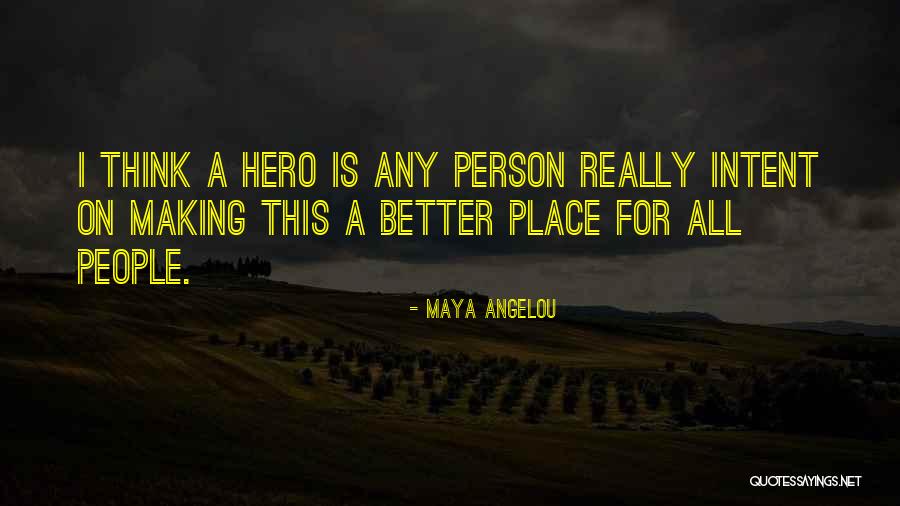 I think a hero is any person really intent on making this a better place for all people. — Maya Angelou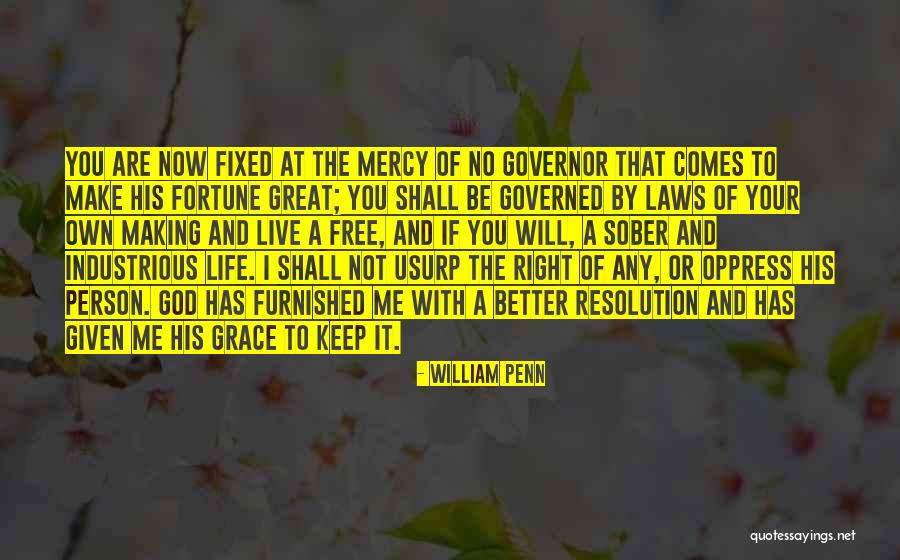 You are now fixed at the mercy of no governor that comes to make his fortune great; you shall be governed by laws of your own making and live a free, and if you will, a sober and industrious life. I shall not usurp the right of any, or oppress his person. God has furnished me with a better resolution and has given me his grace to keep it. — William Penn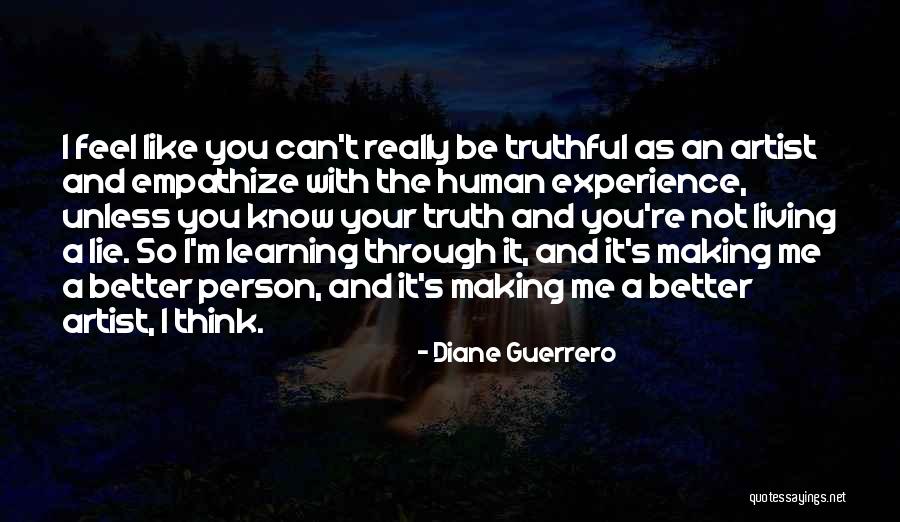 I feel like you can't really be truthful as an artist and empathize with the human experience, unless you know your truth and you're not living a lie. So I'm learning through it, and it's making me a better person, and it's making me a better artist, I think. — Diane Guerrero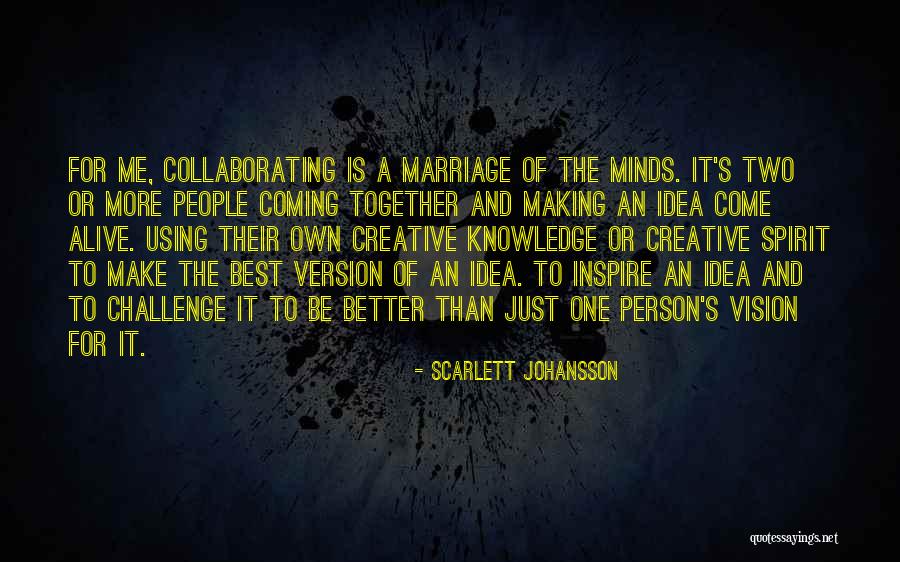 For me, collaborating is a marriage of the minds. It's two or more people coming together and making an idea come alive. Using their own creative knowledge or creative spirit to make the best version of an idea. To inspire an idea and to challenge it to be better than just one person's vision for it. — Scarlett Johansson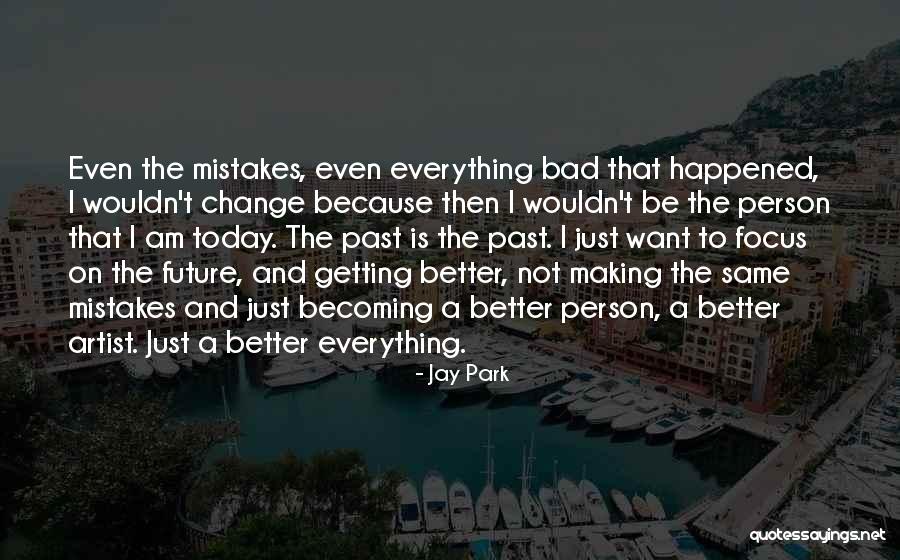 Even the mistakes, even everything bad that happened, I wouldn't change because then I wouldn't be the person that I am today. The past is the past. I just want to focus on the future, and getting better, not making the same mistakes and just becoming a better person, a better artist. Just a better everything. — Jay Park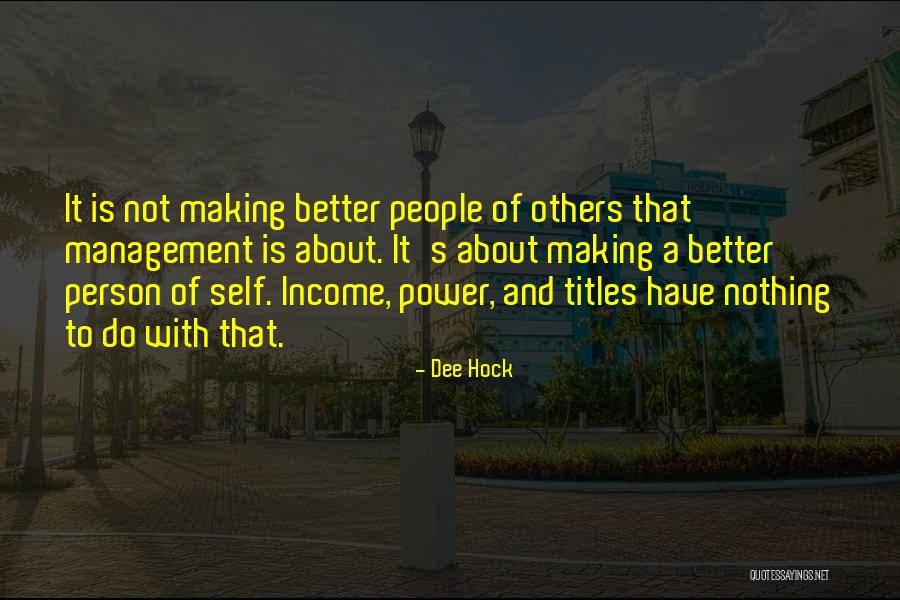 It is not making better people of others that management is about. It's about making a better person of self. Income, power, and titles have nothing to do with that. — Dee Hock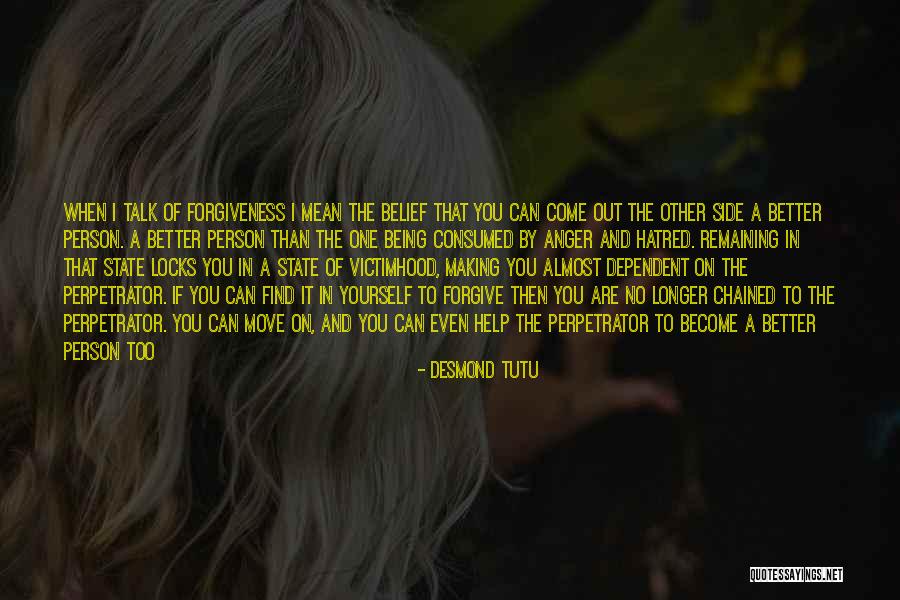 When I talk of forgiveness I mean the belief that you can come out the other side a better person. A better person than the one being consumed by anger and hatred. Remaining in that state locks you in a state of victimhood, making you almost dependent on the perpetrator. If you can find it in yourself to forgive then you are no longer chained to the perpetrator. You can move on, and you can even help the perpetrator to become a better person too — Desmond Tutu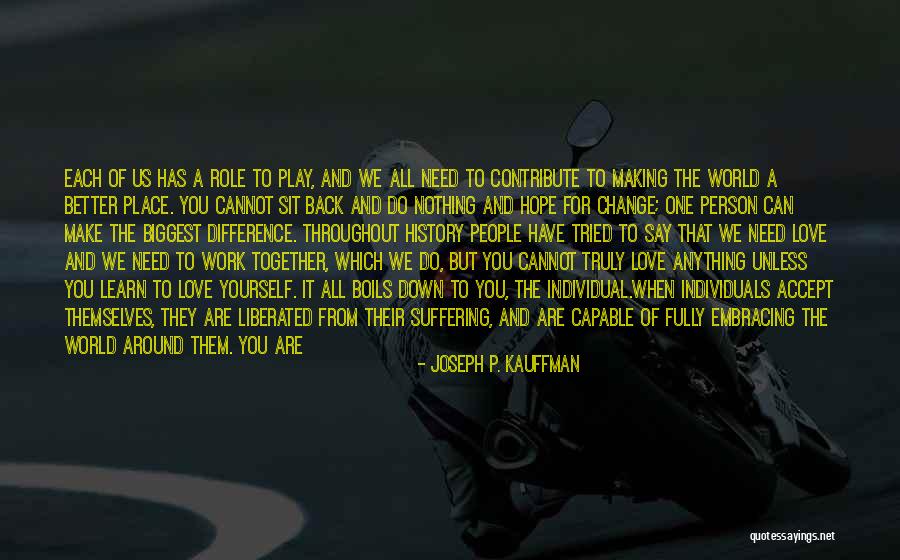 Each of us has a role to play, and we all need to contribute to making the world a better place. You cannot sit back and do nothing and hope for change; one person can make the biggest difference. Throughout history people have tried to say that we need love and we need to work together, which we do, but you cannot truly love anything unless you learn to love yourself. It all boils down to you, the individual.
When individuals accept themselves, they are liberated from their suffering, and are capable of fully embracing the world around them. You are the only one who can change your life. When the people recognize this, real change will come. Do not wait around for someone else to save the world. You are unique and you have knowledge from your own experience that no one else has. You have ideas and passions that nobody else can claim. You could be the one to help us out of the dreadful situation that we are in, but if you do not act on your ambition the world will never know. — Joseph P. Kauffman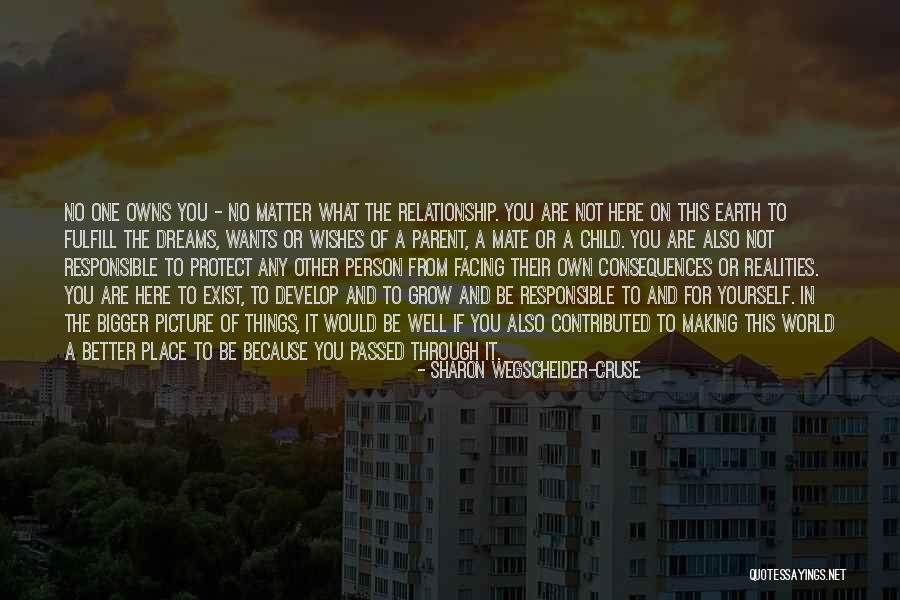 No one owns you - no matter what the relationship. You are not here on this earth to fulfill the dreams, wants or wishes of a parent, a mate or a child. You are also not responsible to protect any other person from facing their own consequences or realities. You are here to exist, to develop and to grow and be responsible to and for yourself. In the bigger picture of things, it would be well if you also contributed to making this world a better place to be because you passed through it. — Sharon Wegscheider-Cruse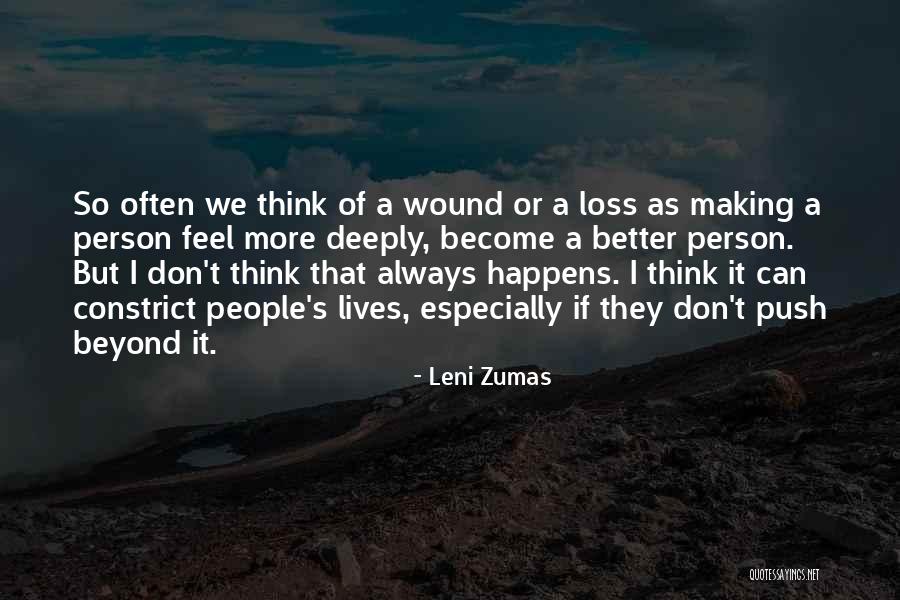 So often we think of a wound or a loss as making a person feel more deeply, become a better person. But I don't think that always happens. I think it can constrict people's lives, especially if they don't push beyond it. — Leni Zumas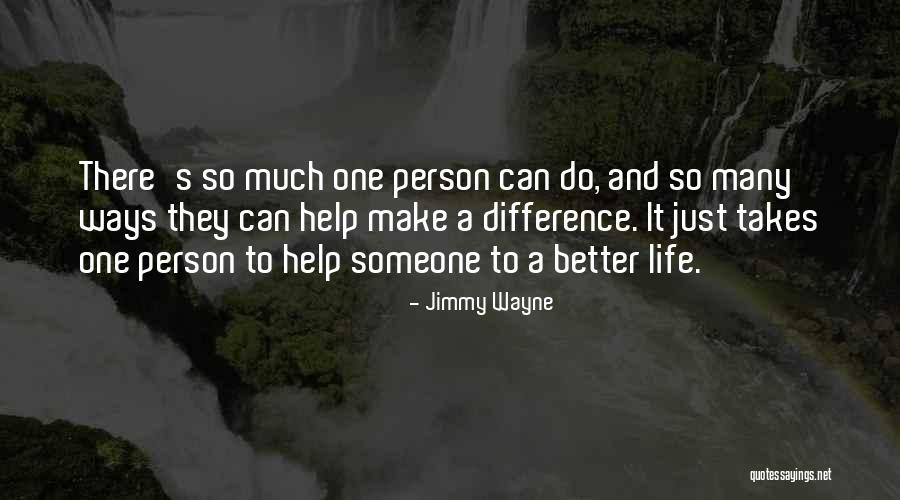 There's so much one person can do, and so many ways they can help make a difference. It just takes one person to help someone to a better life. — Jimmy Wayne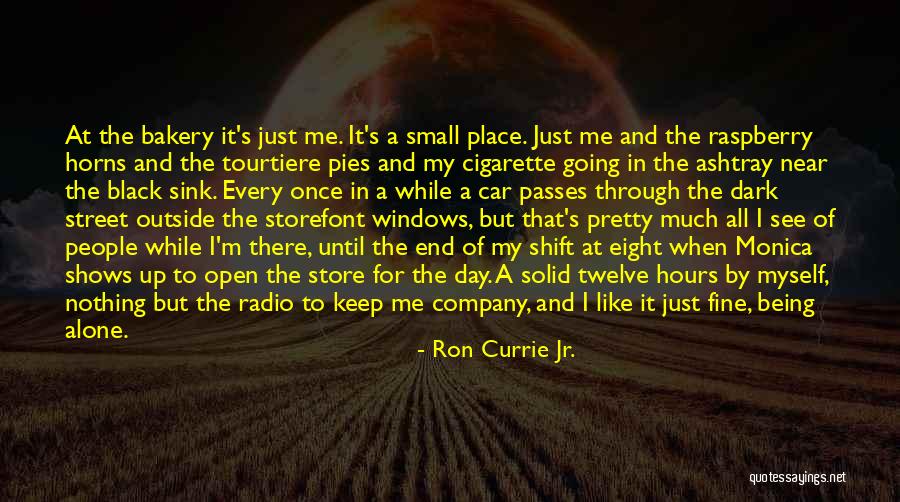 At the bakery it's just me. It's a small place. Just me and the raspberry horns and the tourtiere pies and my cigarette going in the ashtray near the black sink. Every once in a while a car passes through the dark street outside the storefont windows, but that's pretty much all I see of people while I'm there, until the end of my shift at eight when Monica shows up to open the store for the day. A solid twelve hours by myself, nothing but the radio to keep me company, and I like it just fine, being alone. It's even better in the winter, during a storm, when the snow piles up outside and no cars come by at all. Inside the bakery it's warm and there's plenty to keep my hands busy. Times like that, for all I can tell I'm the only person left on earth. I could go on making pies and watching the snow pile up until the end of time, so long as there was enough coffee on hand. I don't need company like some people seem to. — Ron Currie Jr.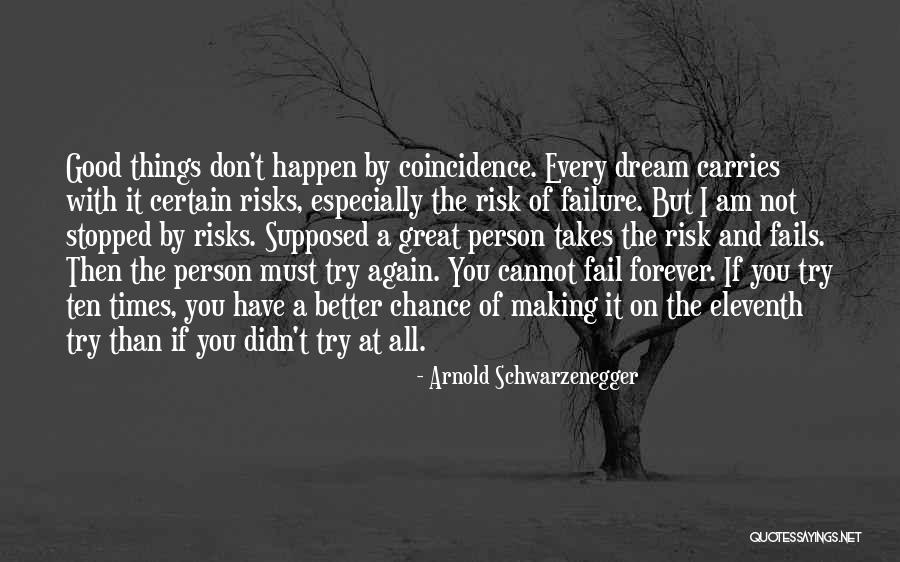 Good things don't happen by coincidence. Every dream carries with it certain risks, especially the risk of failure. But I am not stopped by risks. Supposed a great person takes the risk and fails. Then the person must try again. You cannot fail forever. If you try ten times, you have a better chance of making it on the eleventh try than if you didn't try at all. — Arnold Schwarzenegger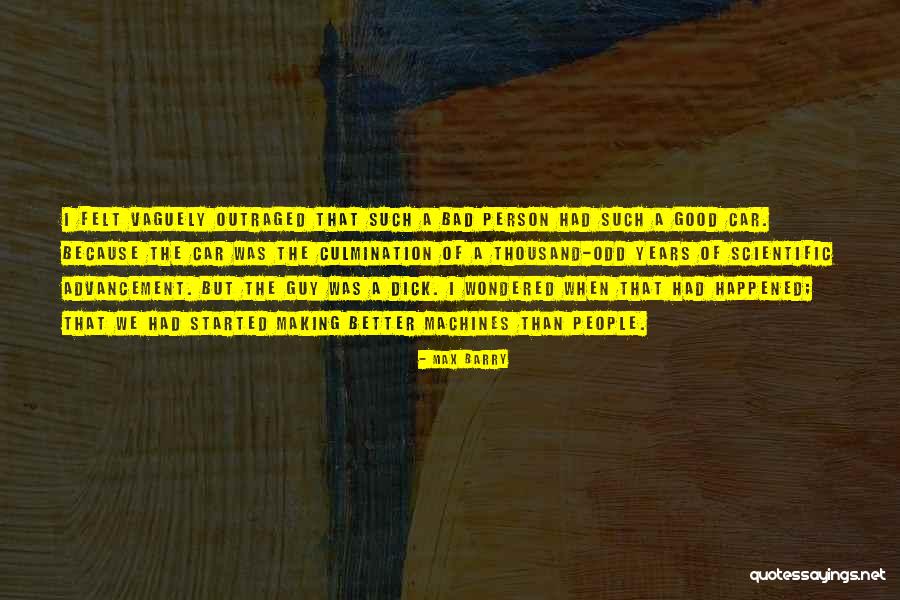 I felt vaguely outraged that such a bad person had such a good car. Because the car was the culmination of a thousand-odd years of scientific advancement. But the guy was a dick. I wondered when that had happened; that we had started making better machines than people. — Max Barry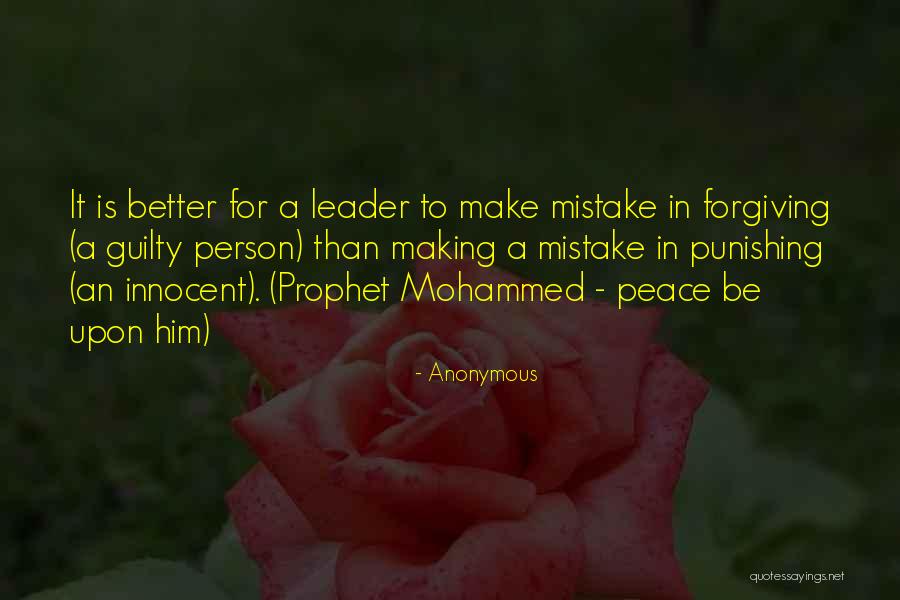 It is better for a leader to make mistake in forgiving (a guilty person) than making a mistake in punishing (an innocent). (Prophet Mohammed - peace be upon him) — Anonymous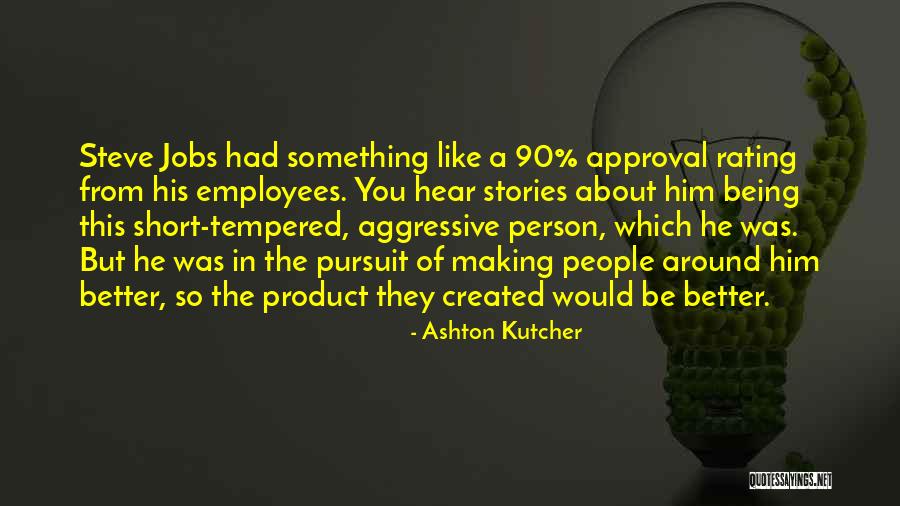 Steve Jobs had something like a 90% approval rating from his employees. You hear stories about him being this short-tempered, aggressive person, which he was. But he was in the pursuit of making people around him better, so the product they created would be better. — Ashton Kutcher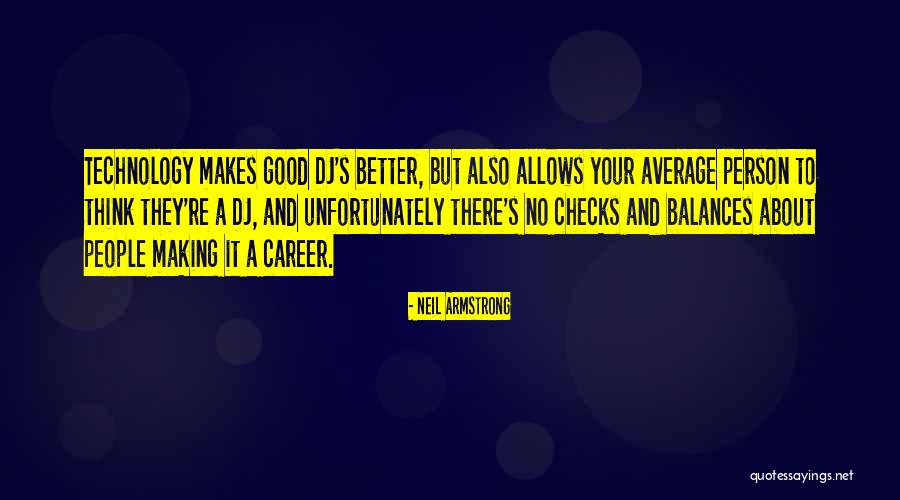 Technology makes good DJ's better, but also allows your average person to think they're a DJ, and unfortunately there's no checks and balances about people making it a career. — Neil Armstrong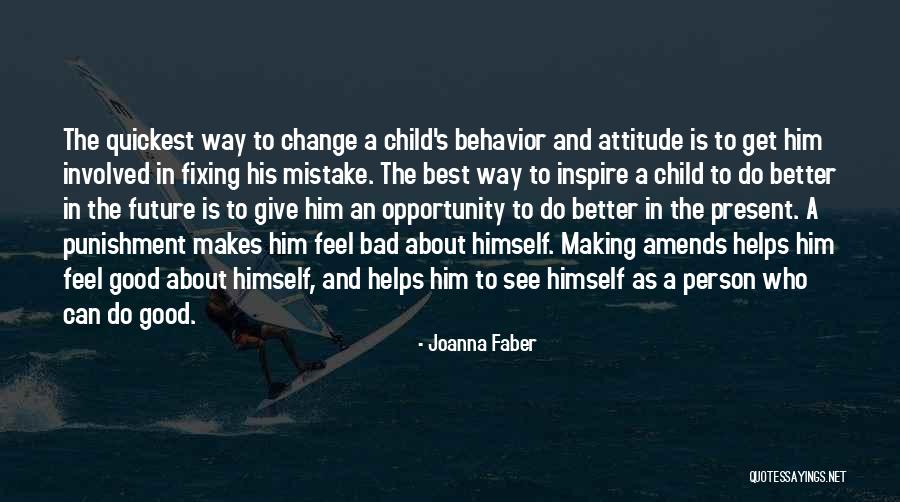 The quickest way to change a child's behavior and attitude is to get him involved in fixing his mistake. The best way to inspire a child to do better in the future is to give him an opportunity to do better in the present. A punishment makes him feel bad about himself. Making amends helps him feel good about himself, and helps him to see himself as a person who can do good. — Joanna Faber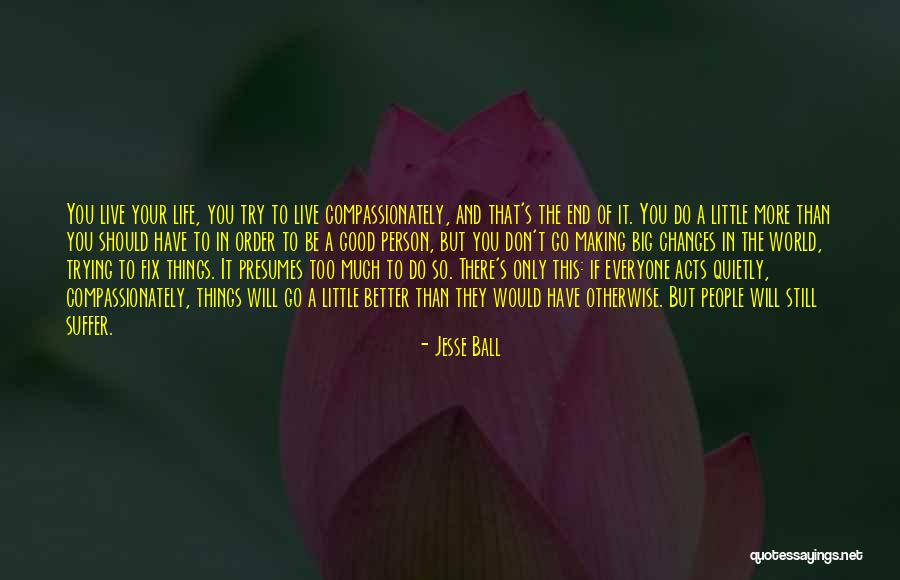 You live your life, you try to live compassionately, and that's the end of it. You do a little more than you should have to in order to be a good person, but you don't go making big changes in the world, trying to fix things. It presumes too much to do so. There's only this: if everyone acts quietly, compassionately, things will go a little better than they would have otherwise. But people will still suffer. — Jesse Ball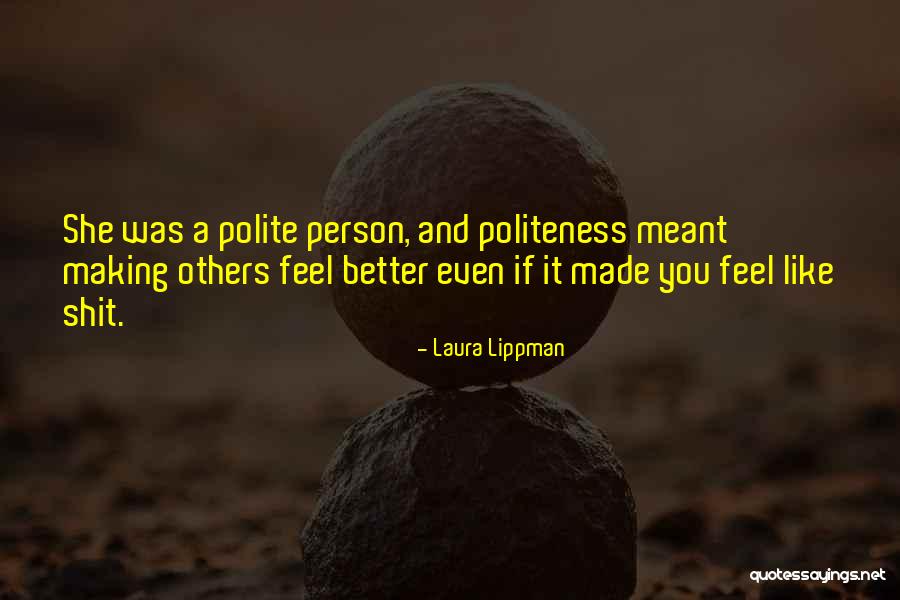 She was a polite person, and politeness meant making others feel better even if it made you feel like shit. — Laura Lippman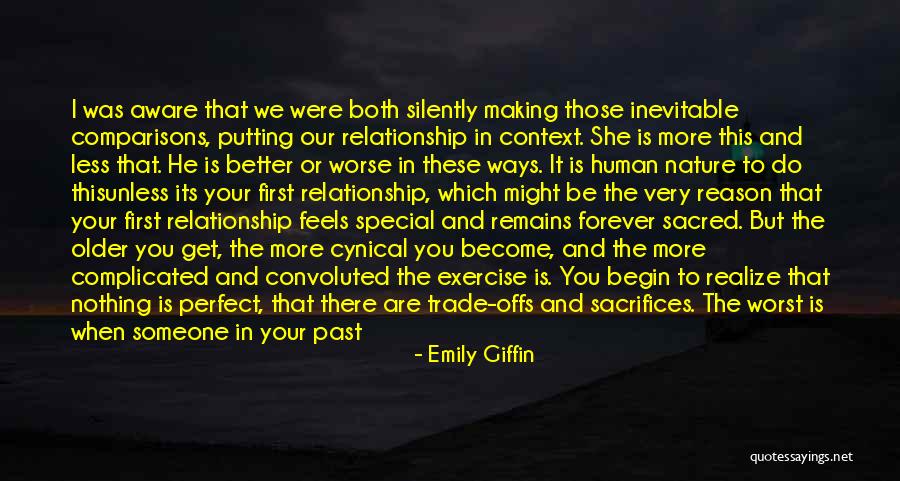 I was aware that we were both silently making those inevitable comparisons, putting our relationship in context. She is more this and less that. He is better or worse in these ways. It is human nature to do this
unless its your first relationship, which might be the very reason that your first relationship feels special and remains forever sacred. But the older you get, the more cynical you become, and the more complicated and convoluted the exercise is. You begin to realize that nothing is perfect, that there are trade-offs and sacrifices. The worst is when someone in your past trumps the person in the present, and you think to yourself: if I'd known this, then maybe I wouldn't have let him go. — Emily Giffin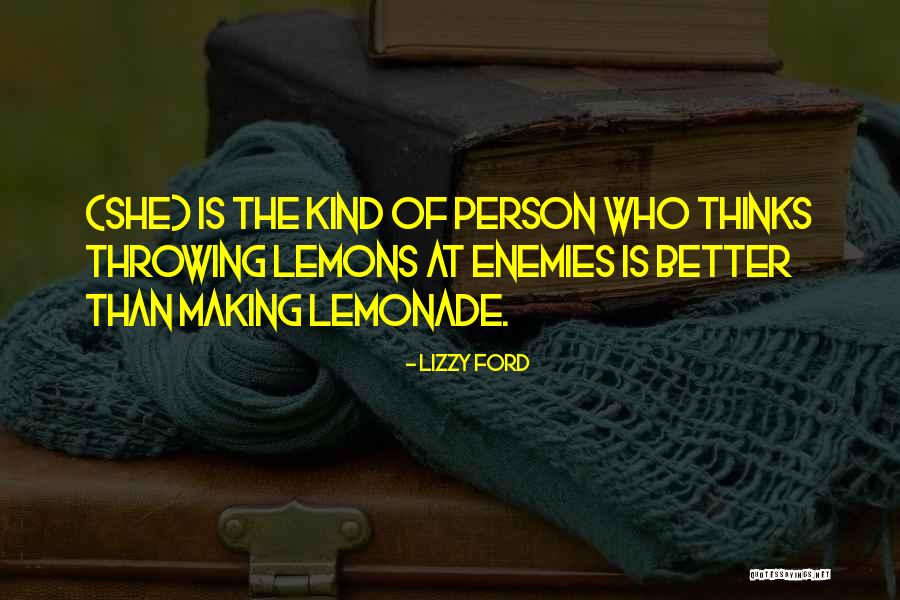 (She) is the kind of person who thinks throwing lemons at enemies is better than making lemonade. — Lizzy Ford
My decision not to eat animals anymore was paramount to my growth as a spiritual person. It made me aware of greed and made me more sensitive to cruelty. It made me feel like I was contributing to making the world better and that I was connected to everything around me. I felt like I was part of the whole by respecting every living thing rather than using it and destroying it by living unconsciously. Healing comes from love. And loving every living thing in turn helps you love yourself. — Portia De Rossi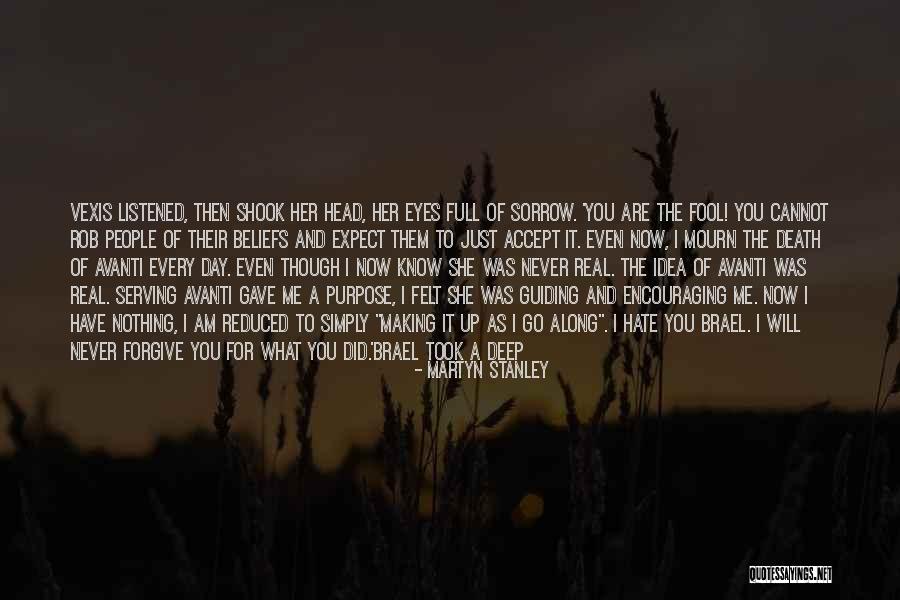 Vexis listened, then shook her head, her eyes full of sorrow. 'YOU are the fool! You cannot rob people of their beliefs and expect them to just accept it. Even now, I mourn the death of Avanti every day. Even though I now know she was never real. The idea of Avanti was real. Serving Avanti gave me a purpose, I felt she was guiding and encouraging me. Now I have nothing, I am reduced to simply "making it up as I go along". I hate you Brael. I will never forgive you for what you did.'
Brael took a deep breath. 'You were always making it up as you went along. You just didn't know it. People need to take responsibility for their actions. There is one person guiding me, and that is me. I will live as long as I can and I will try to leave this world a better place for my presence. That is enough purpose for all. — Martyn Stanley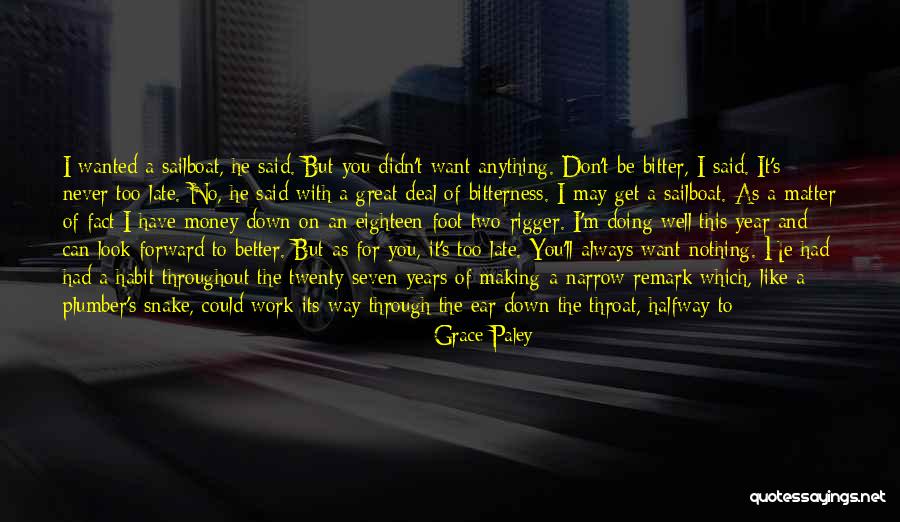 I wanted a sailboat, he said. But you didn't want anything. Don't be bitter, I said. It's never too late. No, he said with a great deal of bitterness. I may get a sailboat. As a matter of fact I have money down on an eighteen-foot two-rigger. I'm doing well this year and can look forward to better. But as for you, it's too late. You'll always want nothing. He had had a habit throughout the twenty-seven years of making a narrow remark which, like a plumber's snake, could work its way through the ear down the throat, halfway to my heart. He would then disappear, leaving me choking with equipment. What I mean is, I sat down on the library steps and he went away. I looked through The House of Mirth, but lost interest. I felt extremely accused. Now, it's true, I'm short of requests and absolute requirements. But I do want something. I want, for instance, to be a different person. — Grace Paley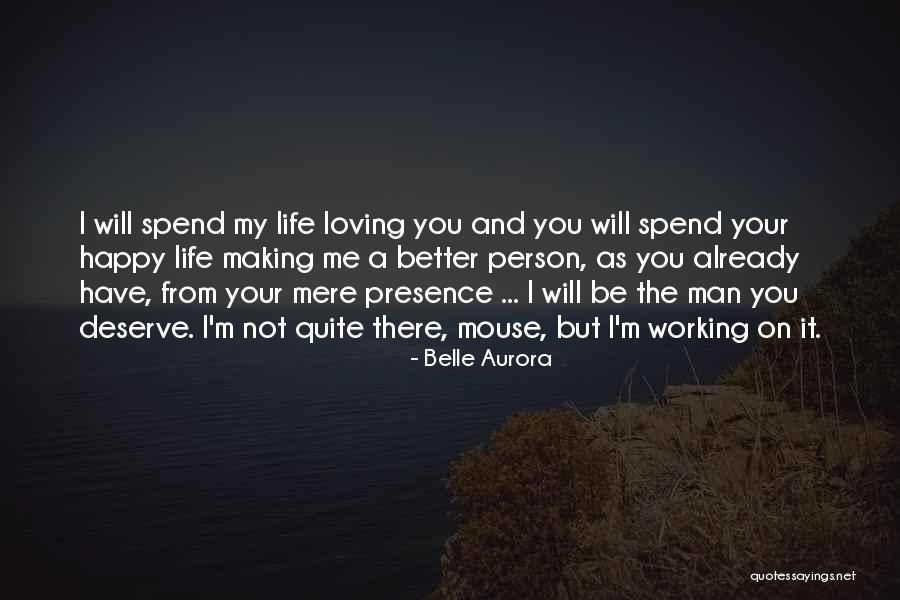 I will spend my life loving you and you will spend your happy life making me a better person, as you already have, from your mere presence ... I will be the man you deserve. I'm not quite there, mouse, but I'm working on it. — Belle Aurora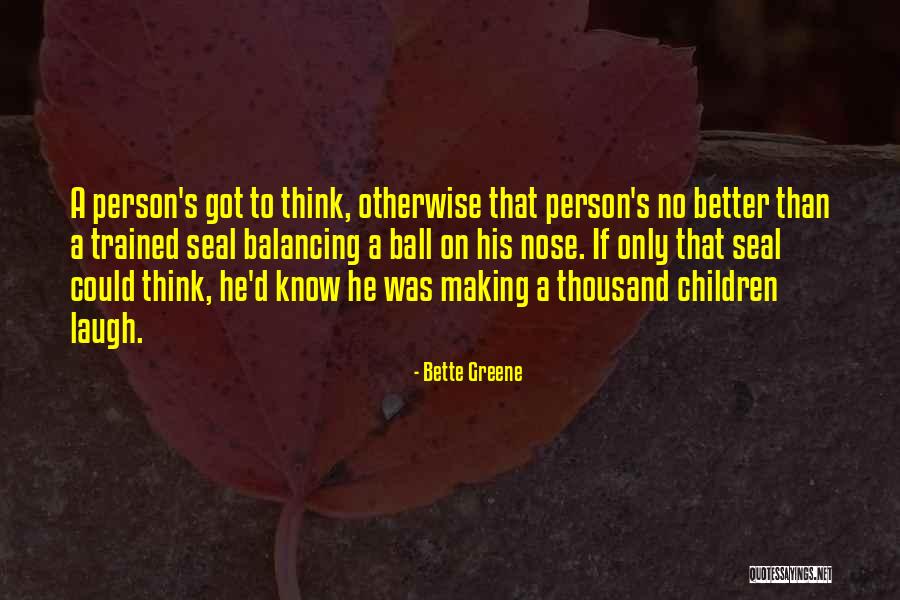 A person's got to think, otherwise that person's no better than a trained seal balancing a ball on his nose. If only that seal could think, he'd know he was making a thousand children laugh. — Bette Greene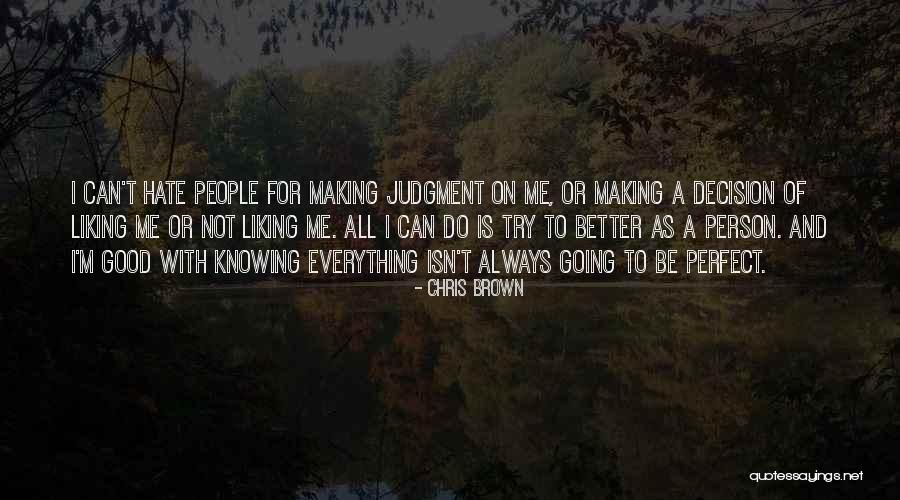 I can't hate people for making judgment on me, or making a decision of liking me or not liking me. All I can do is try to better as a person. And I'm good with knowing everything isn't always going to be perfect. — Chris Brown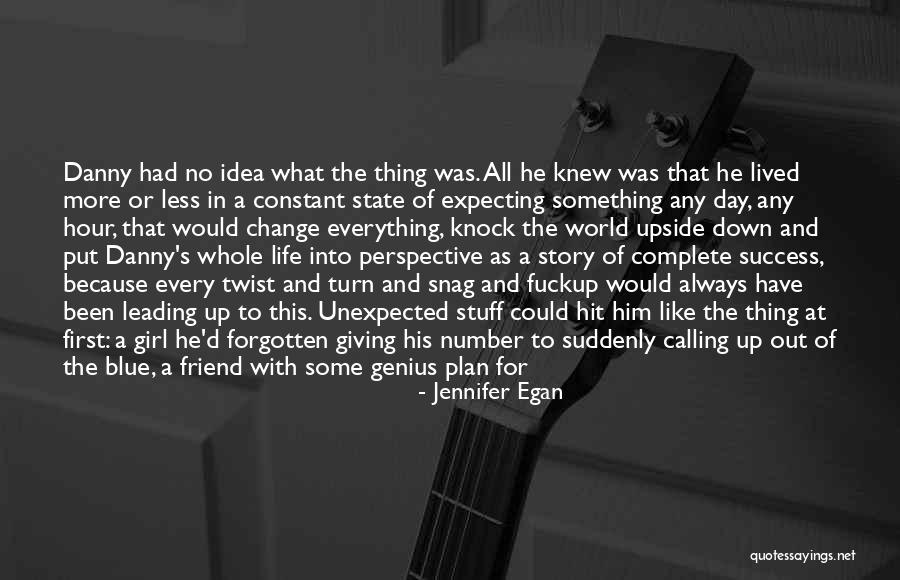 Danny had no idea what the thing was. All he knew was that he lived more or less in a constant state of expecting something any day, any hour, that would change everything, knock the world upside down and put Danny's whole life into perspective as a story of complete success, because every twist and turn and snag and fuckup would always have been leading up to this. Unexpected stuff could hit him like the thing at first: a girl he'd forgotten giving his number to suddenly calling up out of the blue, a friend with some genius plan for making money, better yet a person he'd never heard of who wanted to talk. Danny got an actual physical head rush from messages like these, but as soon as he called back and found out the details, the calls would turn out to just be about more projects, possibilities, schemes that boiled down to everything staying exactly like it was. — Jennifer Egan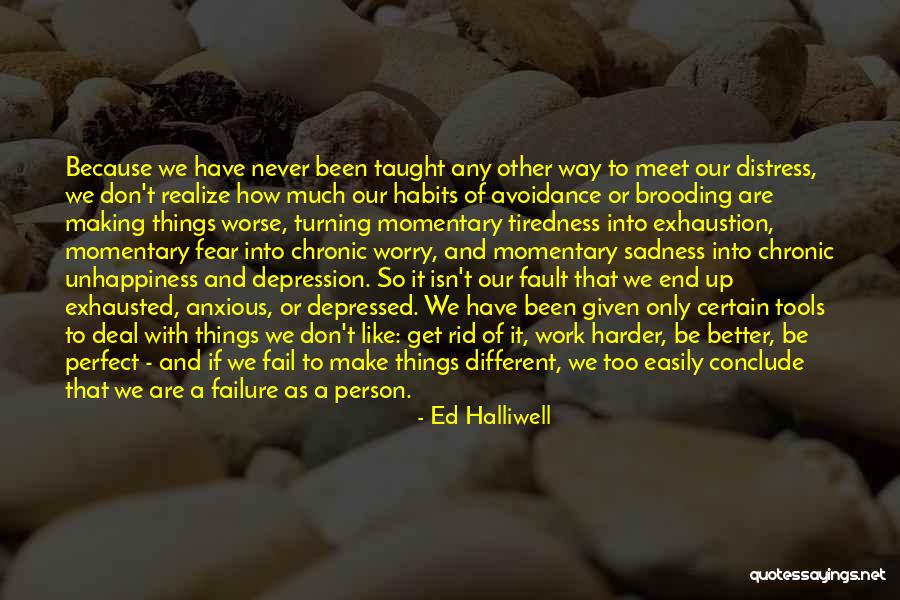 Because we have never been taught any other way to meet our distress, we don't realize how much our habits of avoidance or brooding are making things worse, turning momentary tiredness into exhaustion, momentary fear into chronic worry, and momentary sadness into chronic unhappiness and depression. So it isn't our fault that we end up exhausted, anxious, or depressed. We have been given only certain tools to deal with things we don't like: get rid of it, work harder, be better, be perfect - and if we fail to make things different, we too easily conclude that we are a failure as a person. — Ed Halliwell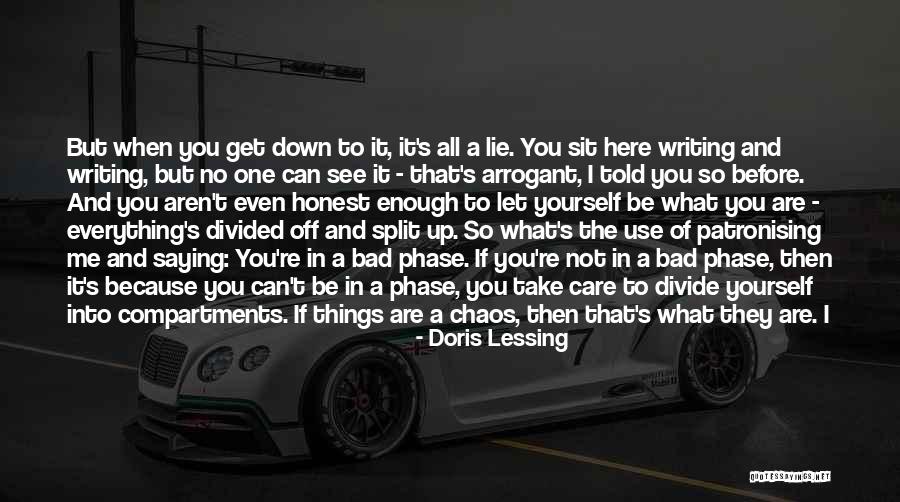 But when you get down to it, it's all a lie. You sit here writing and writing, but no one can see it - that's arrogant, I told you so before. And you aren't even honest enough to let yourself be what you are - everything's divided off and split up. So what's the use of patronising me and saying: You're in a bad phase. If you're not in a bad phase, then it's because you can't be in a phase, you take care to divide yourself into compartments. If things are a chaos, then that's what they are. I don't think there's a pattern anywhere - you are just making patterns, out of cowardice. I think people aren't good at all, they are cannibals, and when you get down to it no one cares about anyone else. All the best people can be good to one other person or their families. But that's egotism, it isn't being good. We aren't any better than the animals, we just pretend to be. — Doris Lessing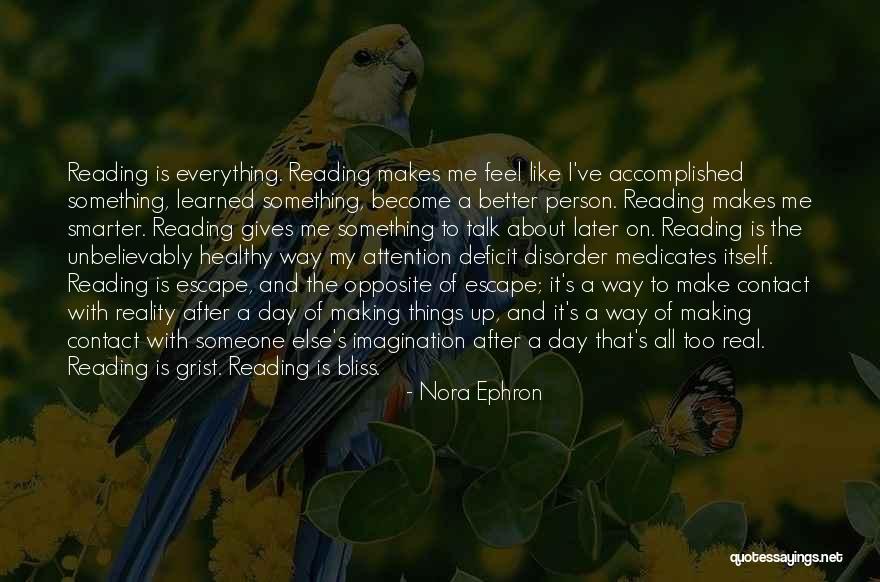 Reading is everything. Reading makes me feel like I've accomplished something, learned something, become a better person. Reading makes me smarter. Reading gives me something to talk about later on. Reading is the unbelievably healthy way my attention deficit disorder medicates itself. Reading is escape, and the opposite of escape; it's a way to make contact with reality after a day of making things up, and it's a way of making contact with someone else's imagination after a day that's all too real. Reading is grist. Reading is bliss. — Nora Ephron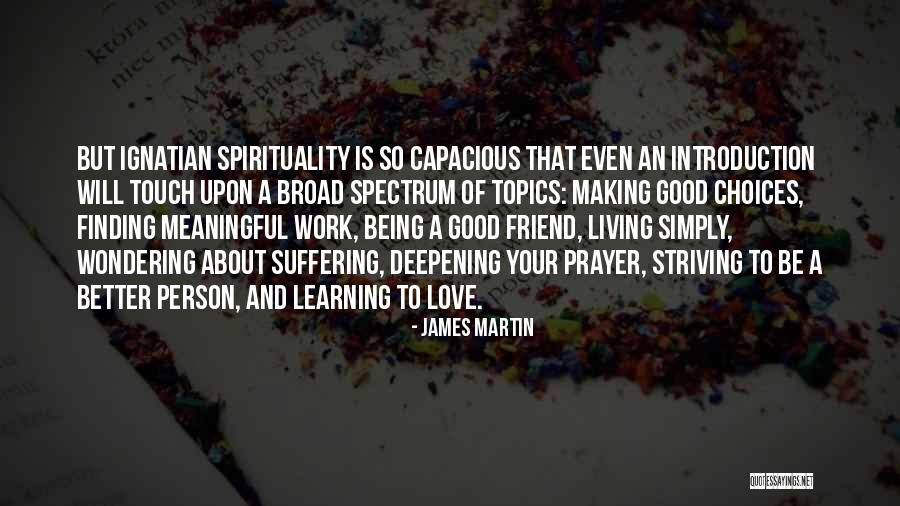 But Ignatian spirituality is so capacious that even an introduction will touch upon a broad spectrum of topics: making good choices, finding meaningful work, being a good friend, living simply, wondering about suffering, deepening your prayer, striving to be a better person, and learning to love. — James Martin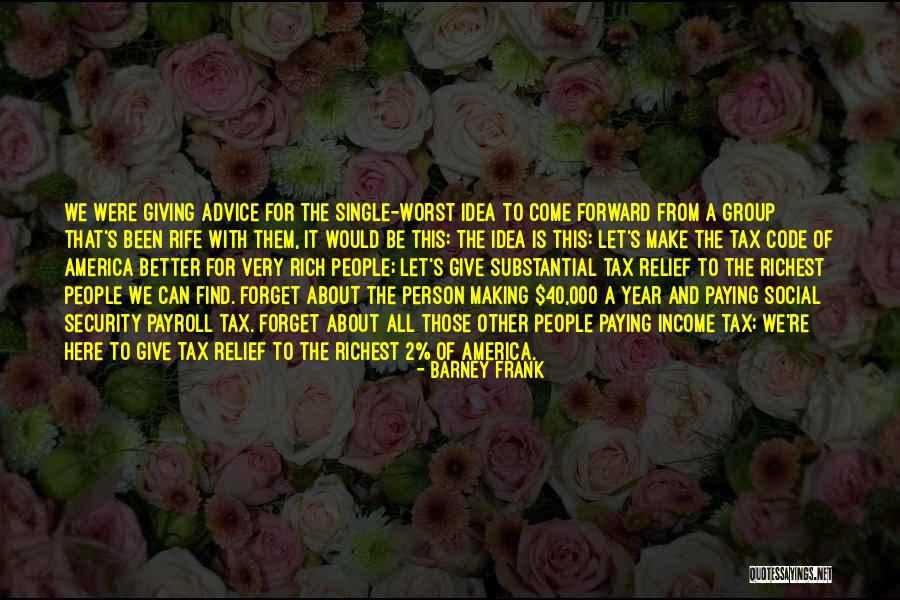 We were giving advice for the single-worst idea to come forward from a group that's been rife with them, it would be this: The idea is this: Let's make the tax code of America better for very rich people; let's give substantial tax relief to the richest people we can find. Forget about the person making $40,000 a year and paying Social Security payroll tax. Forget about all those other people paying income tax; we're here to give tax relief to the richest 2% of America. — Barney Frank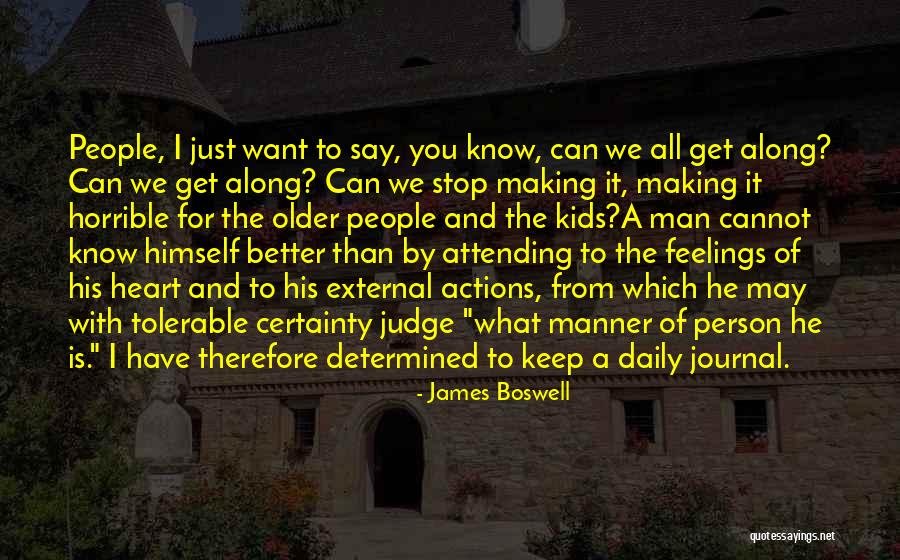 People, I just want to say, you know, can we all get along? Can we get along? Can we stop making it, making it horrible for the older people and the kids?
A man cannot know himself better than by attending to the feelings of his heart and to his external actions, from which he may with tolerable certainty judge "what manner of person he is." I have therefore determined to keep a daily journal. — James Boswell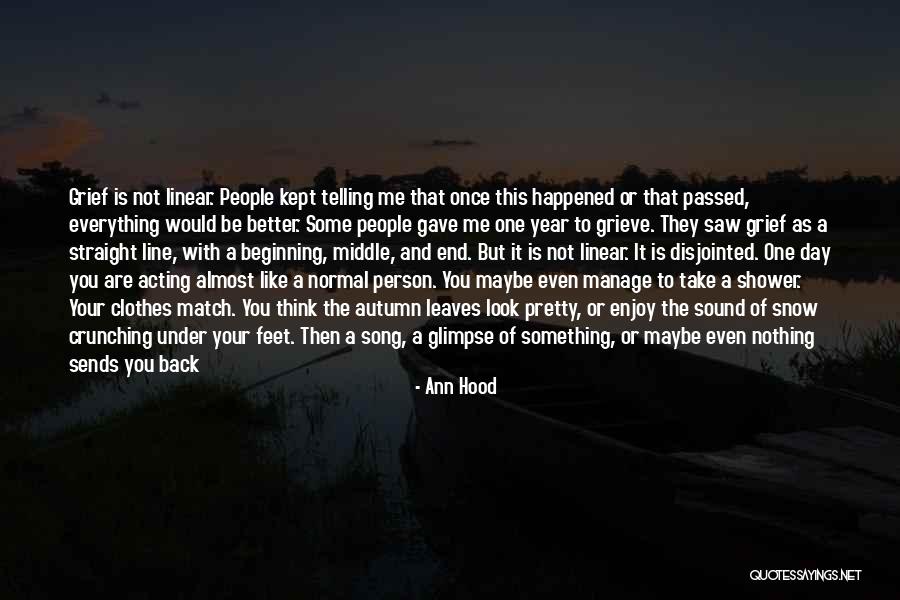 Grief is not linear. People kept telling me that once this happened or that passed, everything would be better. Some people gave me one year to grieve. They saw grief as a straight line, with a beginning, middle, and end. But it is not linear. It is disjointed. One day you are acting almost like a normal person. You maybe even manage to take a shower. Your clothes match. You think the autumn leaves look pretty, or enjoy the sound of snow crunching under your feet. Then a song, a glimpse of something, or maybe even nothing sends you back into the hole of grief. It is not one step forward, two steps back. It is a jumble. It is hours that are all right, and weeks that aren't. Or it is good days and bad days. Or it is the weight of sadness making you look different to others and nothing helps. — Ann Hood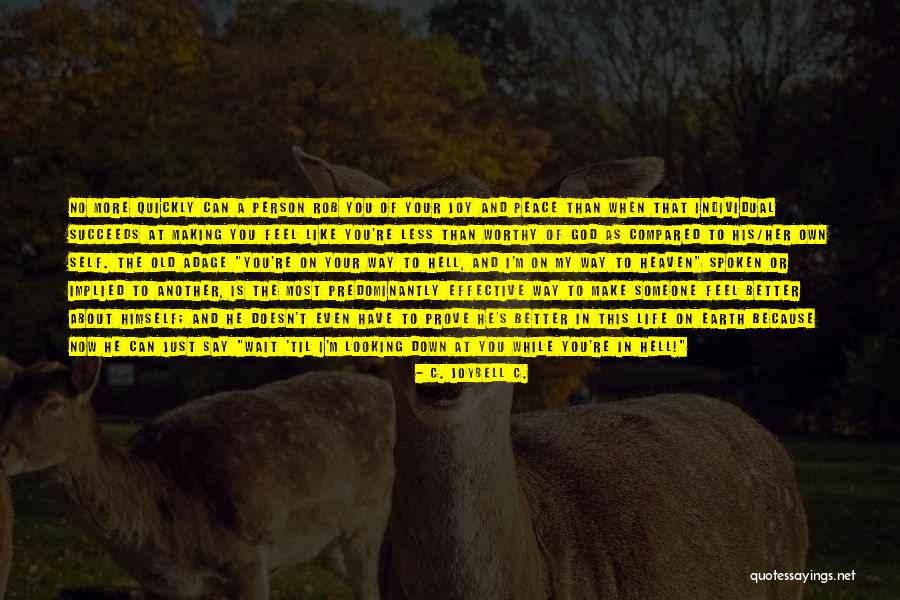 No more quickly can a person rob you of your joy and peace than when that individual succeeds at making you feel like you're less than worthy of God as compared to his/her own self. The old adage "You're on your way to hell, and I'm on my way to heaven" spoken or implied to another, is the most predominantly effective way to make someone feel better about himself; and he doesn't even have to prove he's better in this life on earth because now he can just say "Wait 'til I'm looking down at you while you're in hell!" But don't be robbed of your joy and peace, individuals or groups of people like that don't know where God is; He is a whisper-distance away from you, is all. — C. JoyBell C.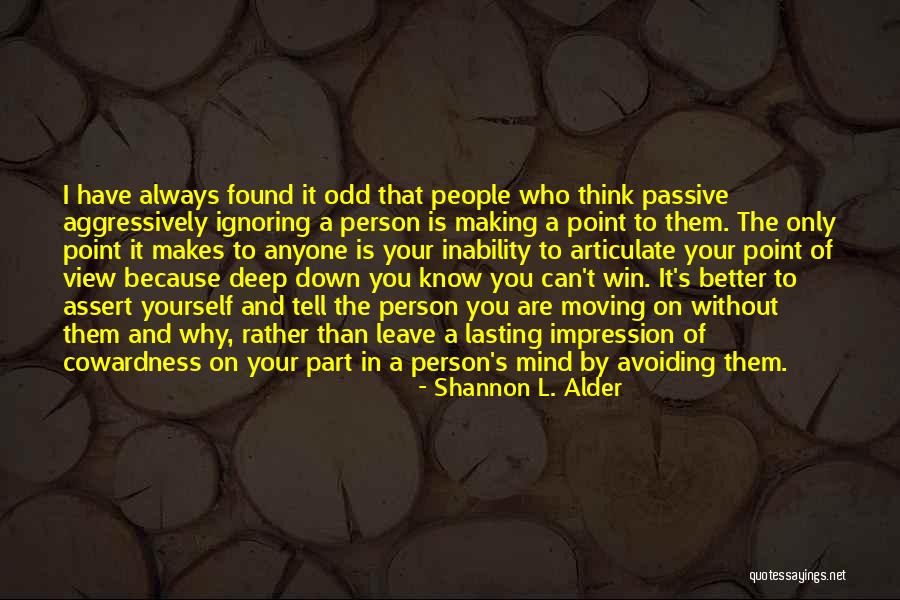 I have always found it odd that people who think passive aggressively ignoring a person is making a point to them. The only point it makes to anyone is your inability to articulate your point of view because deep down you know you can't win. It's better to assert yourself and tell the person you are moving on without them and why, rather than leave a lasting impression of cowardness on your part in a person's mind by avoiding them. — Shannon L. Alder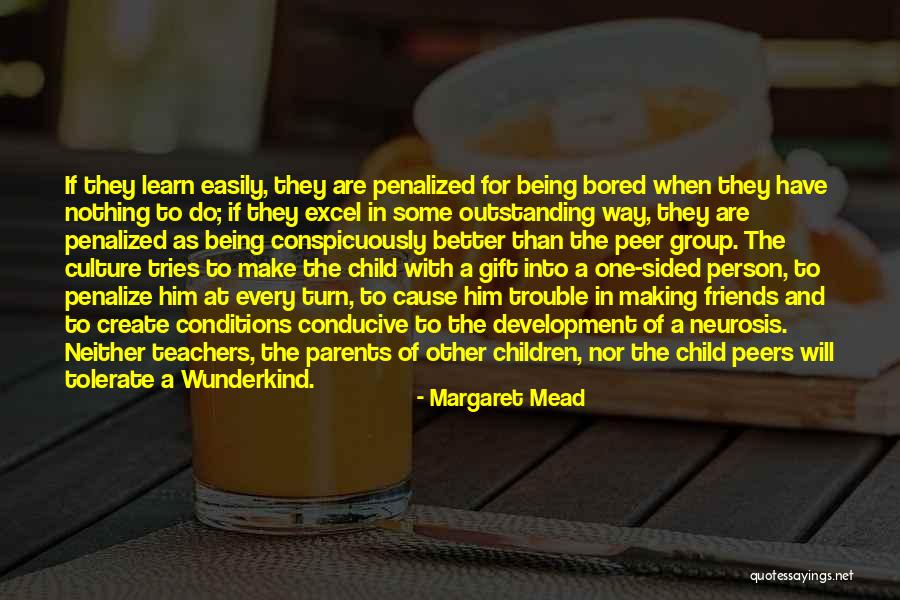 If they learn easily, they are penalized for being bored when they have nothing to do; if they excel in some outstanding way, they are penalized as being conspicuously better than the peer group. The culture tries to make the child with a gift into a one-sided person, to penalize him at every turn, to cause him trouble in making friends and to create conditions conducive to the development of a neurosis. Neither teachers, the parents of other children, nor the child peers will tolerate a Wunderkind. — Margaret Mead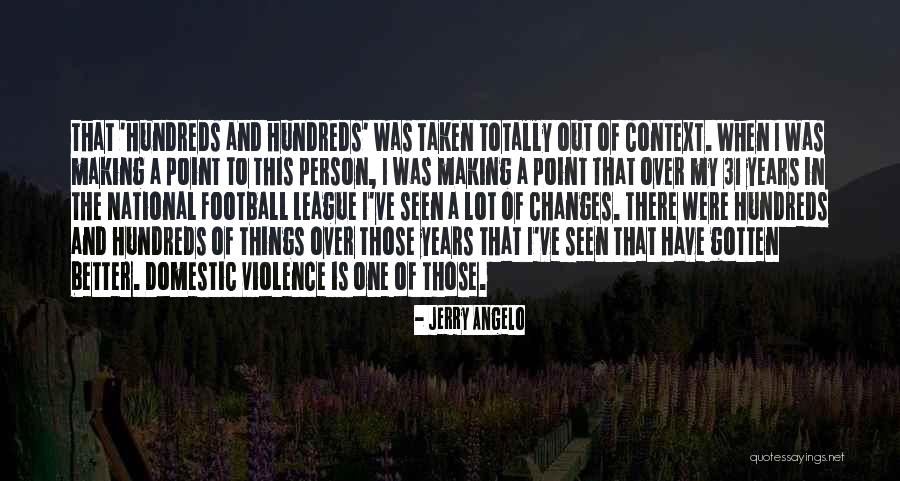 That 'hundreds and hundreds' was taken totally out of context. When I was making a point to this person, I was making a point that over my 31 years in the National Football League I've seen a lot of changes. There were hundreds and hundreds of things over those years that I've seen that have gotten better. Domestic violence is one of those. — Jerry Angelo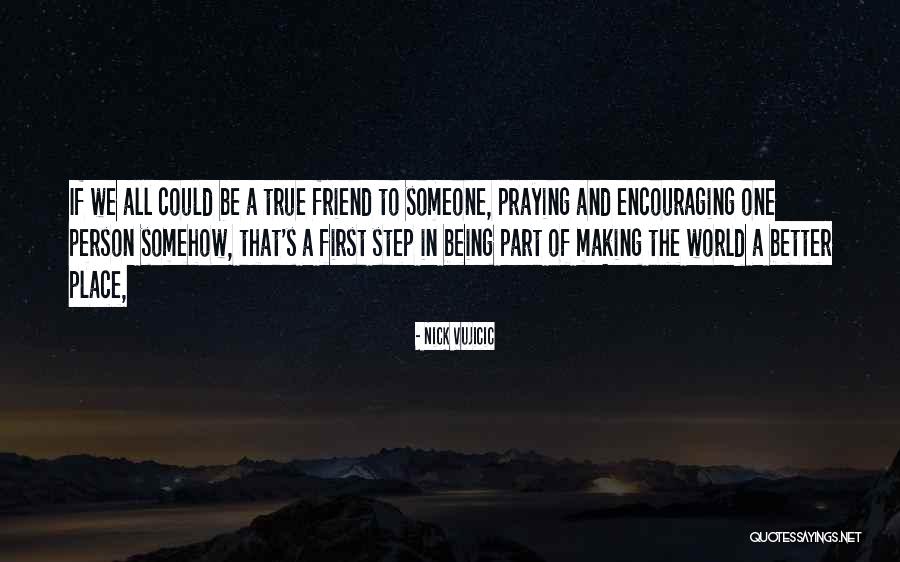 If we all could be a true friend to someone, praying and encouraging one person somehow, that's a first step in being part of making the world a better place, — Nick Vujicic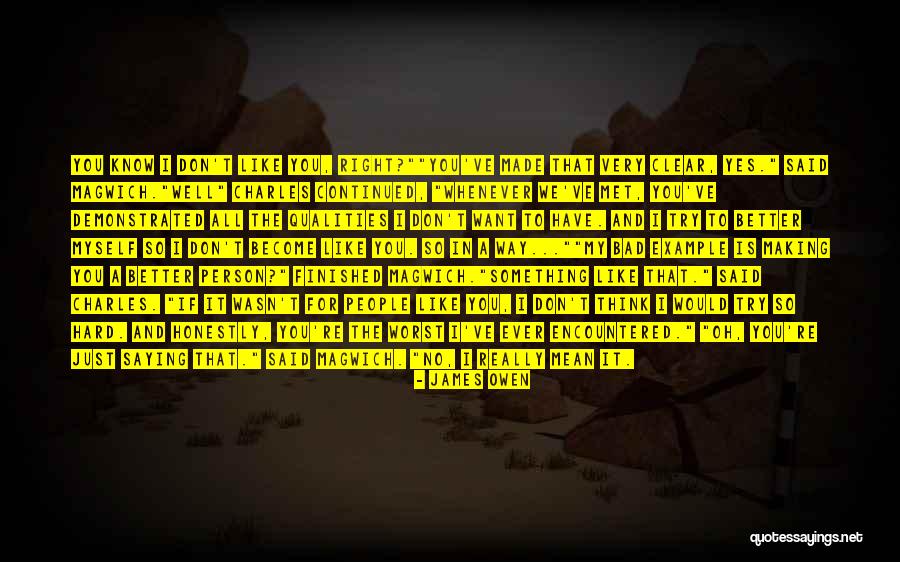 You know i don't like you, right?"
"You've made that very clear, yes." said Magwich.
"Well" Charles continued, "whenever we've met, you've demonstrated all the qualities i don't want to have. And I try to better myself so I don't become like you. So in a way..."
"My bad example is making you a better person?" finished Magwich.
"something like that." said Charles. "If it wasn't for people like you, I don't think I would try so hard. And honestly, you're the worst i've ever encountered."
"Oh, you're just saying that." said Magwich.
"No, I really mean it. — James Owen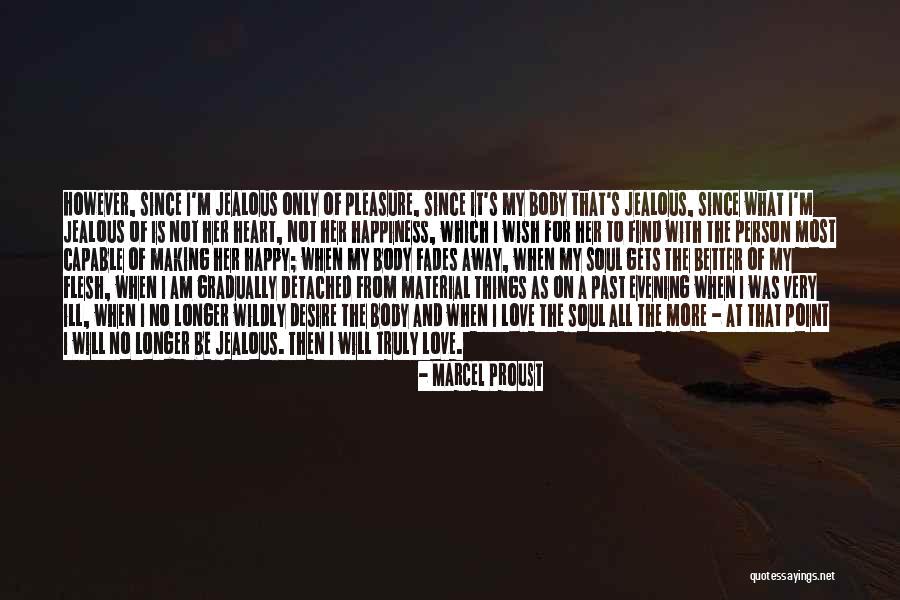 However, since I'm jealous only of pleasure, since it's my body that's jealous, since what I'm jealous of is not her heart, not her happiness, which I wish for her to find with the person most capable of making her happy; when my body fades away, when my soul gets the better of my flesh, when I am gradually detached from material things as on a past evening when I was very ill, when I no longer wildly desire the body and when I love the soul all the more - at that point I will no longer be jealous. Then I will truly love. — Marcel Proust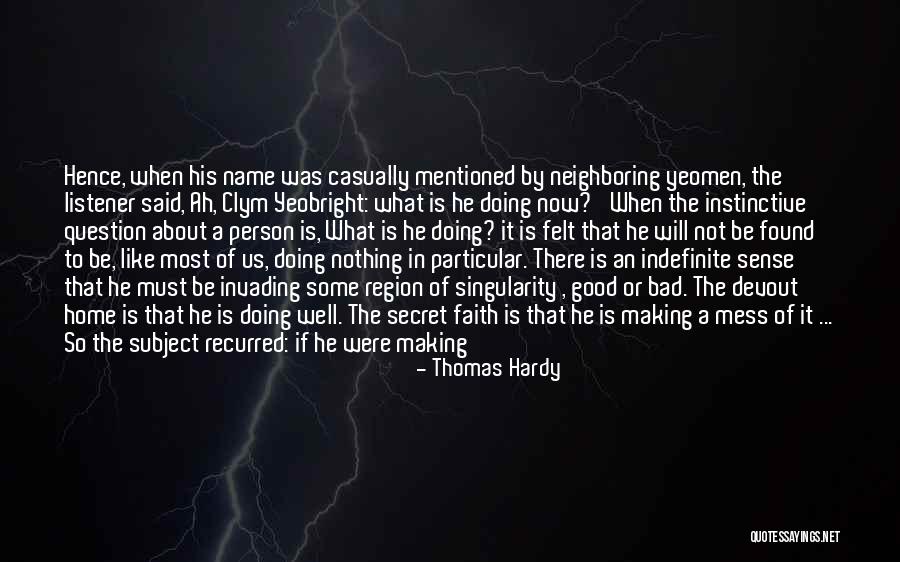 Hence, when his name was casually mentioned by neighboring yeomen, the listener said, Ah, Clym Yeobright: what is he doing now?' When the instinctive question about a person is, What is he doing? it is felt that he will not be found to be, like most of us, doing nothing in particular. There is an indefinite sense that he must be invading some region of singularity , good or bad. The devout home is that he is doing well. The secret faith is that he is making a mess of it ... So the subject recurred: if he were making a fortune and a name, so much the better for him, if he were making a tragical figure in the world, so much the better for a narrative — Thomas Hardy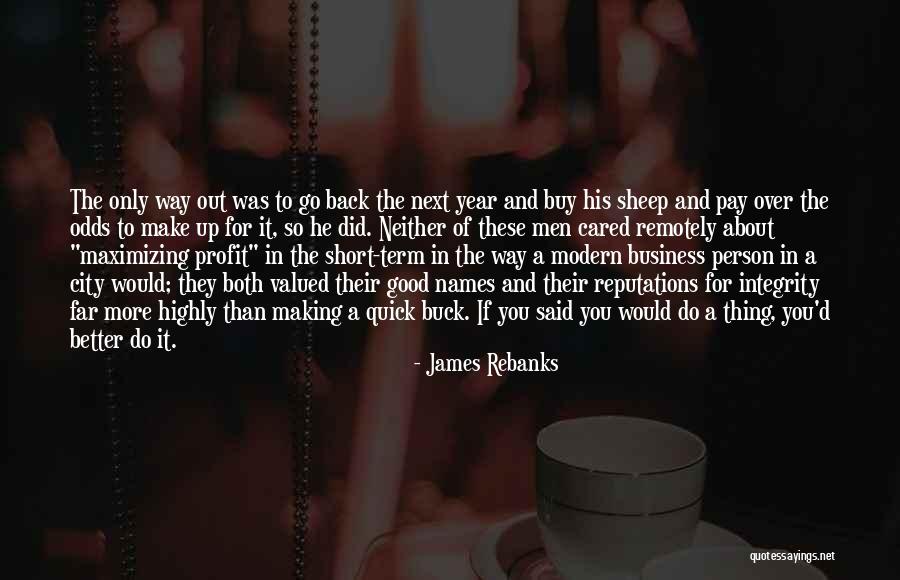 The only way out was to go back the next year and buy his sheep and pay over the odds to make up for it, so he did. Neither of these men cared remotely about "maximizing profit" in the short-term in the way a modern business person in a city would; they both valued their good names and their reputations for integrity far more highly than making a quick buck. If you said you would do a thing, you'd better do it. — James Rebanks