You Know Yourself Better Than Anyone Else Quotes & Sayings
Enjoy reading and share 38 famous quotes about You Know Yourself Better Than Anyone Else with everyone.
Top You Know Yourself Better Than Anyone Else Quotes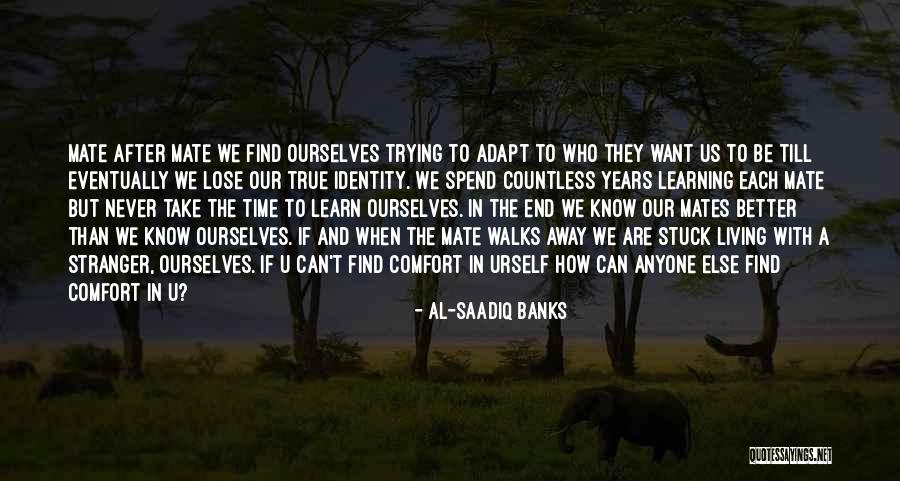 Mate after mate we find ourselves trying to adapt to who they want us to be till eventually we lose our true identity. We spend countless years learning each mate but never take the time to learn ourselves. In the end we know our mates better than we know ourselves. If and when the mate walks away we are stuck living with a stranger, ourselves. If u can't find comfort in urself how can anyone else find comfort in u? — Al-Saadiq Banks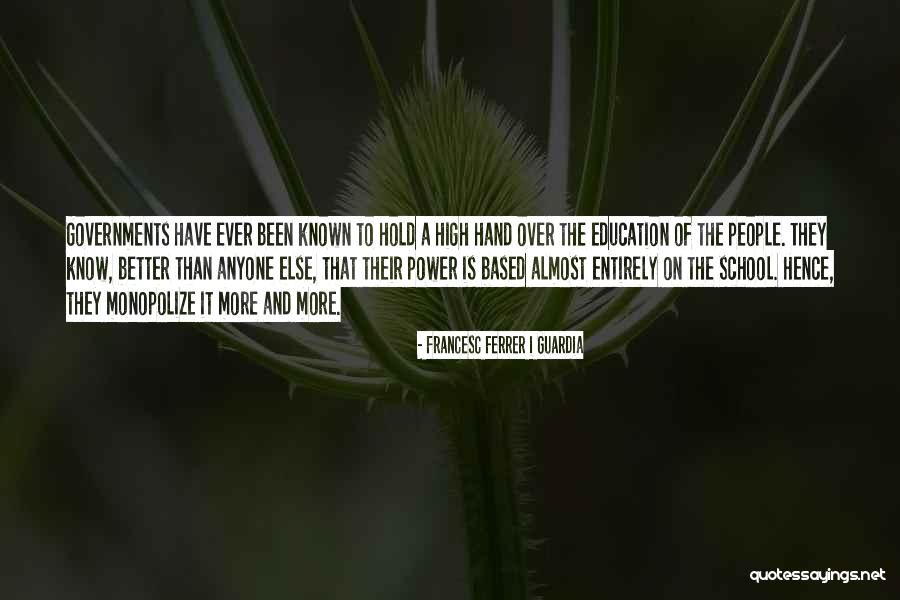 Governments have ever been known to hold a high hand over the education of the people. They know, better than anyone else, that their power is based almost entirely on the school. Hence, they monopolize it more and more. — Francesc Ferrer I Guardia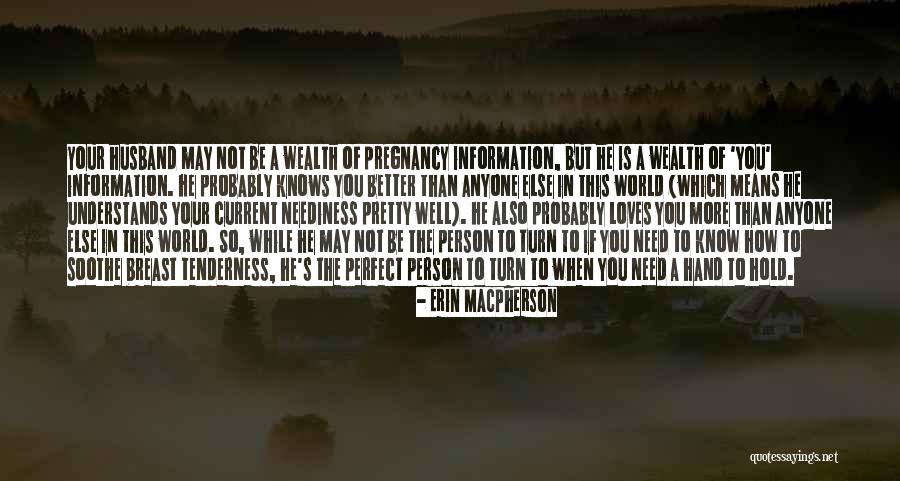 Your husband may not be a wealth of pregnancy information, but he is a wealth of 'you' information. He probably knows you better than anyone else in this world (which means he understands your current neediness pretty well). He also probably loves you more than anyone else in this world. So, while he may not be the person to turn to if you need to know how to soothe breast tenderness, he's the perfect person to turn to when you need a hand to hold. — Erin MacPherson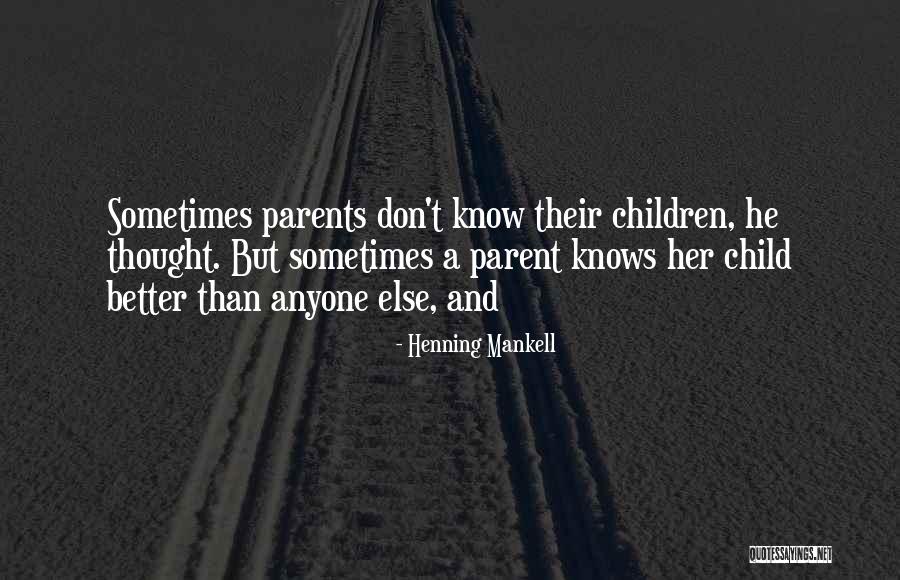 Sometimes parents don't know their children, he thought. But sometimes a parent knows her child better than anyone else, and — Henning Mankell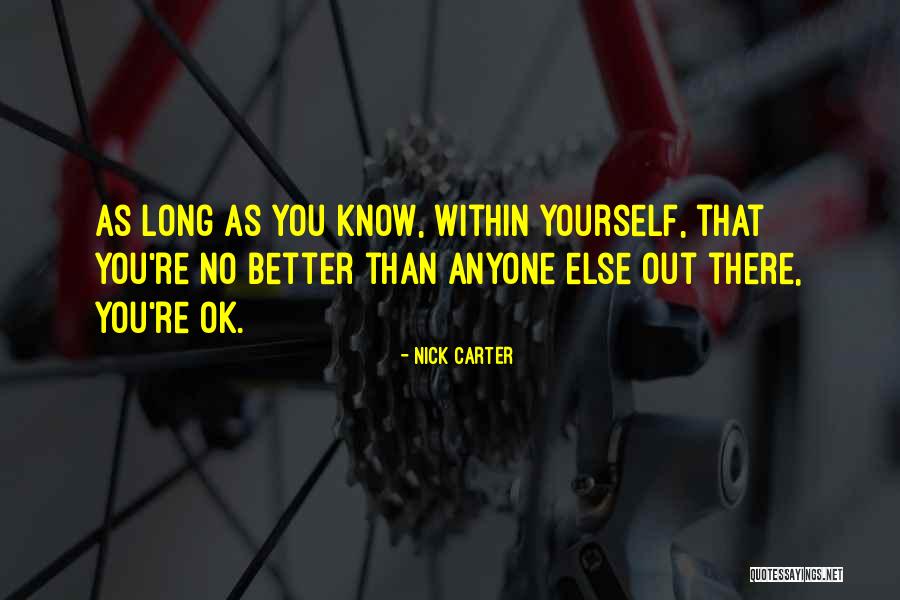 As long as you know, within yourself, that you're no better than anyone else out there, you're OK. — Nick Carter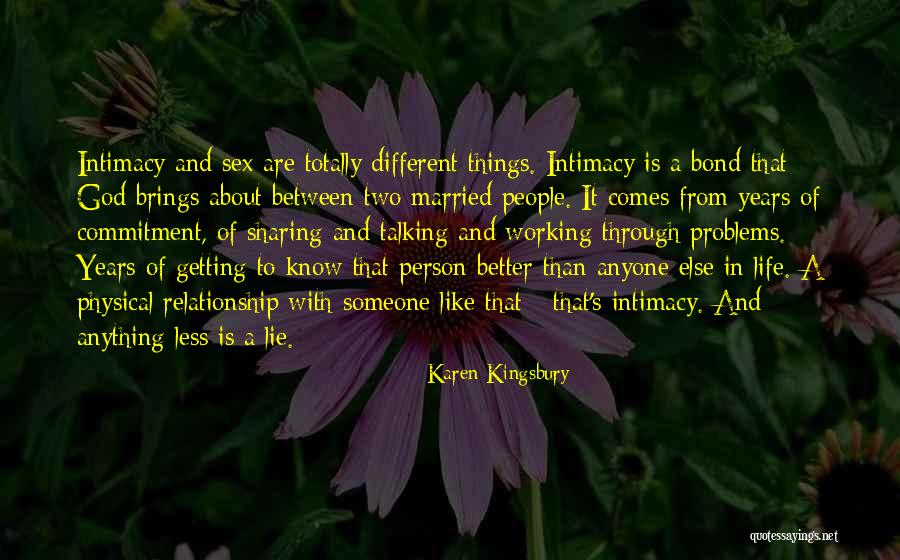 Intimacy and sex are totally different things. Intimacy is a bond that God brings about between two married people. It comes from years of commitment, of sharing and talking and working through problems. Years of getting to know that person better than anyone else in life. A physical relationship with someone like that - that's intimacy. And anything less is a lie. — Karen Kingsbury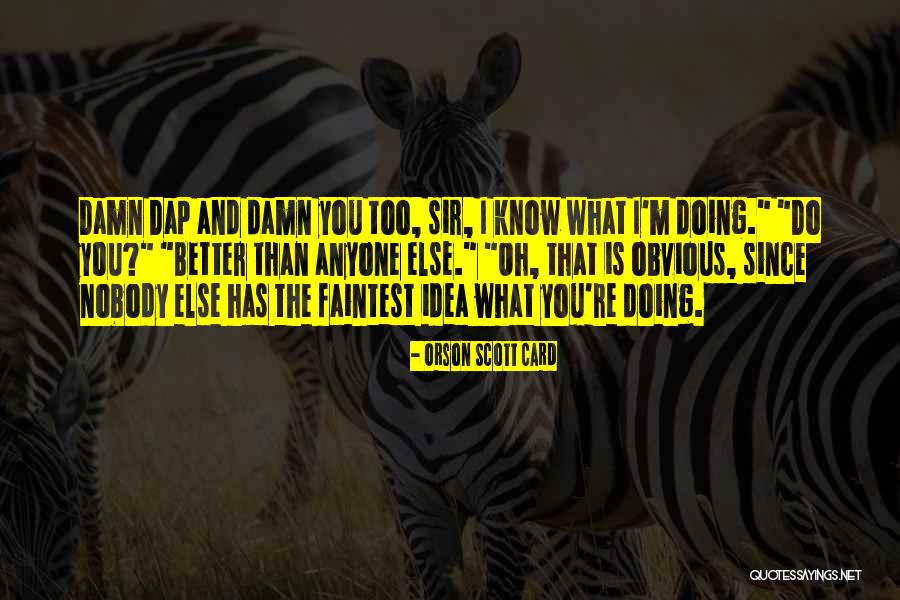 Damn Dap and damn you too, sir, I know what I'm doing." "Do you?" "Better than anyone else." "Oh, that is obvious, since nobody else has the faintest idea what you're doing. — Orson Scott Card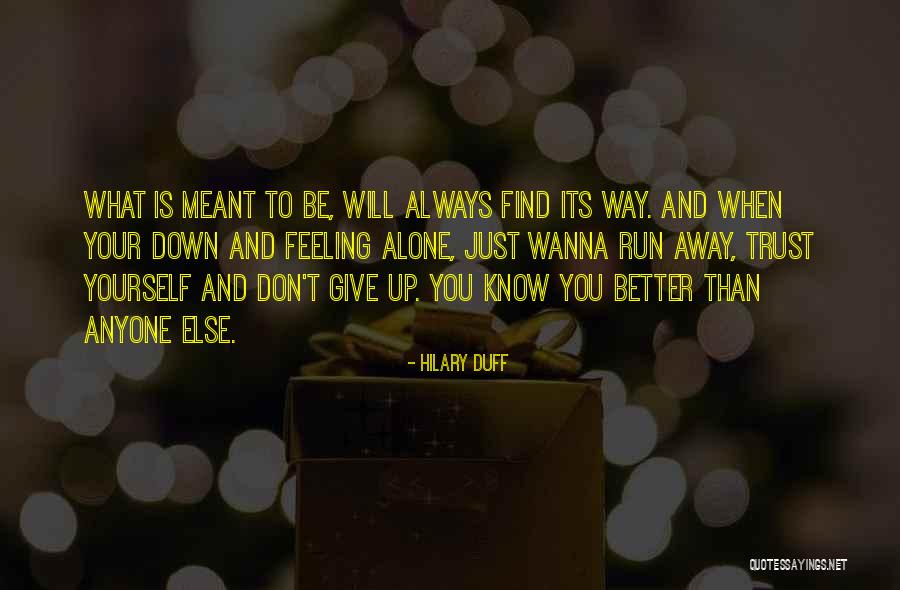 What is meant to be, will always find its way. And when your down and feeling alone, just wanna run away, trust yourself and don't give up. You know you better than anyone else. — Hilary Duff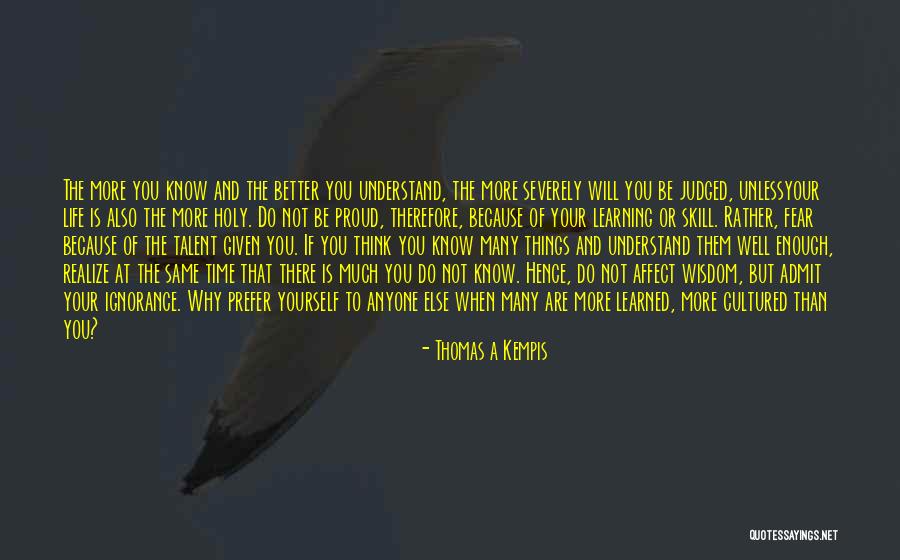 The more you know and the better you understand, the more severely will you be judged, unless
your life is also the more holy. Do not be proud, therefore, because of your learning or skill. Rather, fear because of the talent given you. If you think you know many things and understand them well enough, realize at the same time that there is much you do not know. Hence, do not affect wisdom, but admit your ignorance. Why prefer yourself to anyone else when many are more learned, more cultured than you? — Thomas A Kempis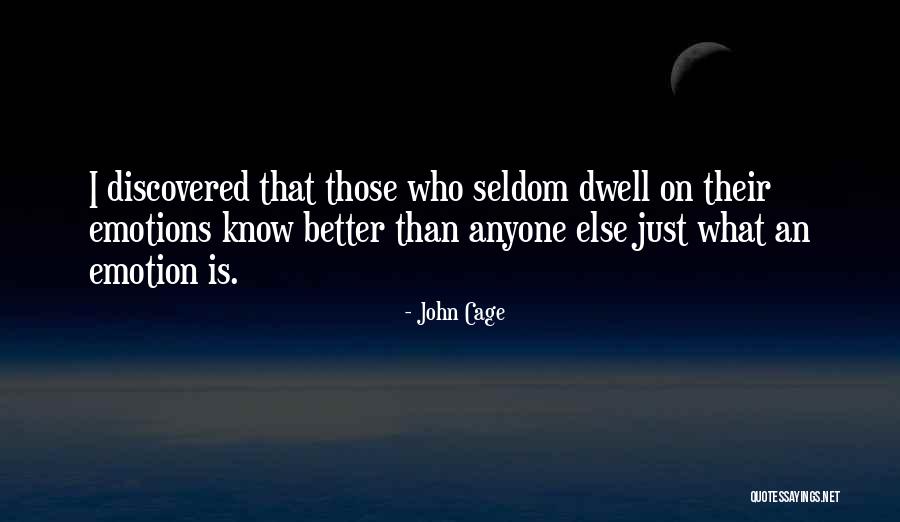 I discovered that those who seldom dwell on their emotions know better than anyone else just what an emotion is. — John Cage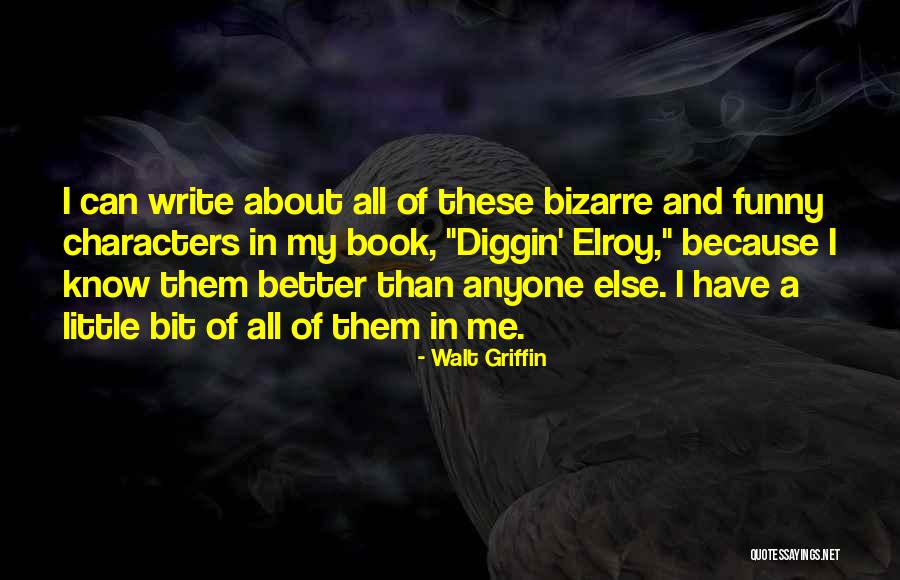 I can write about all of these bizarre and funny characters in my book, "Diggin' Elroy," because I know them better than anyone else. I have a little bit of all of them in me. — Walt Griffin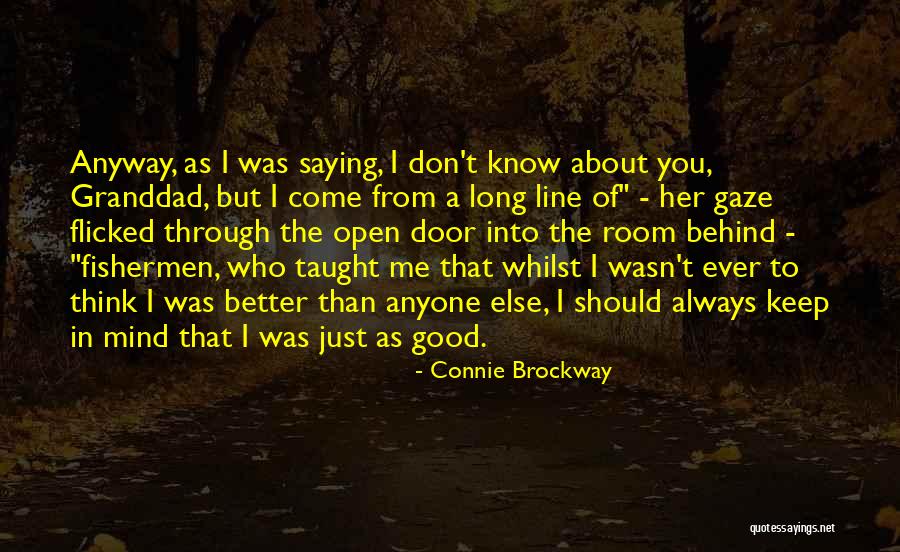 Anyway, as I was saying, I don't know about you, Granddad, but I come from a long line of" - her gaze flicked through the open door into the room behind - "fishermen, who taught me that whilst I wasn't ever to think I was better than anyone else, I should always keep in mind that I was just as good. — Connie Brockway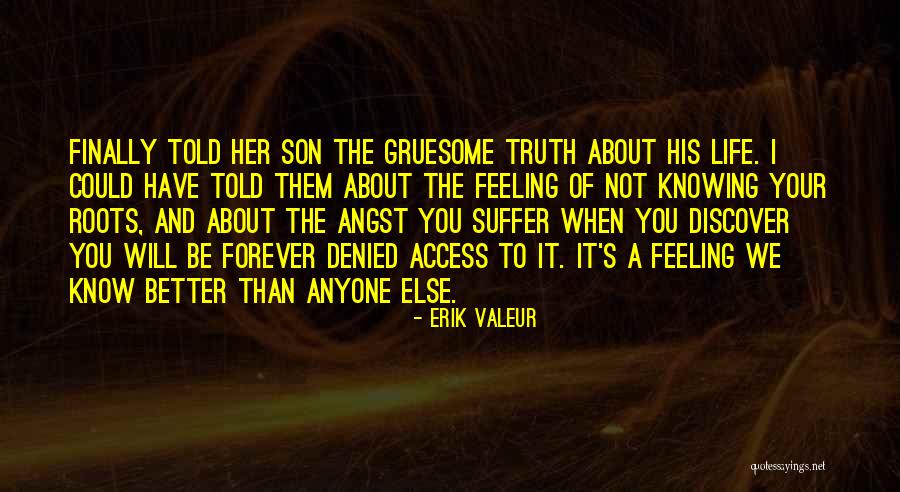 Finally told her son the gruesome truth about his life. I could have told them about the feeling of not knowing your roots, and about the angst you suffer when you discover you will be forever denied access to it. It's a feeling we know better than anyone else. — Erik Valeur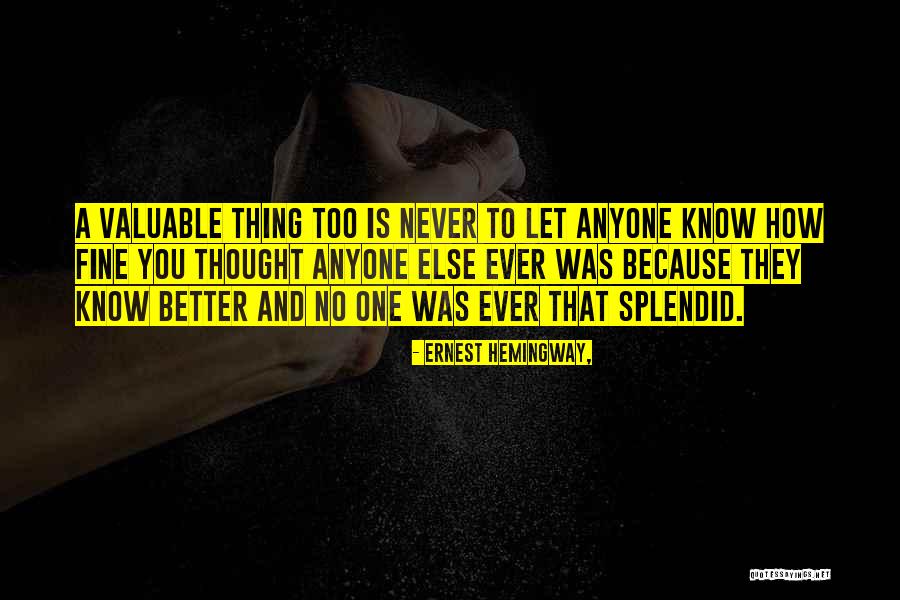 A valuable thing too is never to let anyone know how fine you thought anyone else ever was because they know better and no one was ever that splendid. — Ernest Hemingway,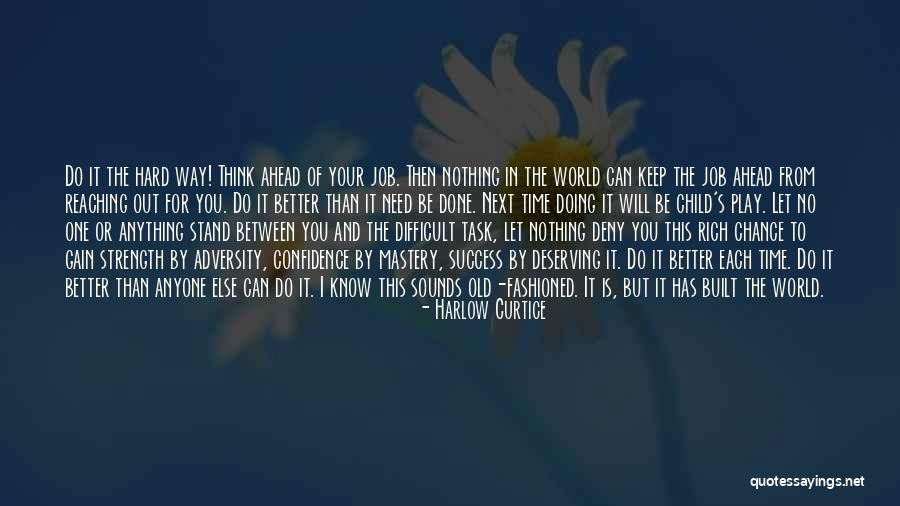 Do it the hard way! Think ahead of your job. Then nothing in the world can keep the job ahead from reaching out for you. Do it better than it need be done. Next time doing it will be child's play. Let no one or anything stand between you and the difficult task, let nothing deny you this rich chance to gain strength by adversity, confidence by mastery, success by deserving it. Do it better each time. Do it better than anyone else can do it. I know this sounds old-fashioned. It is, but it has built the world. — Harlow Curtice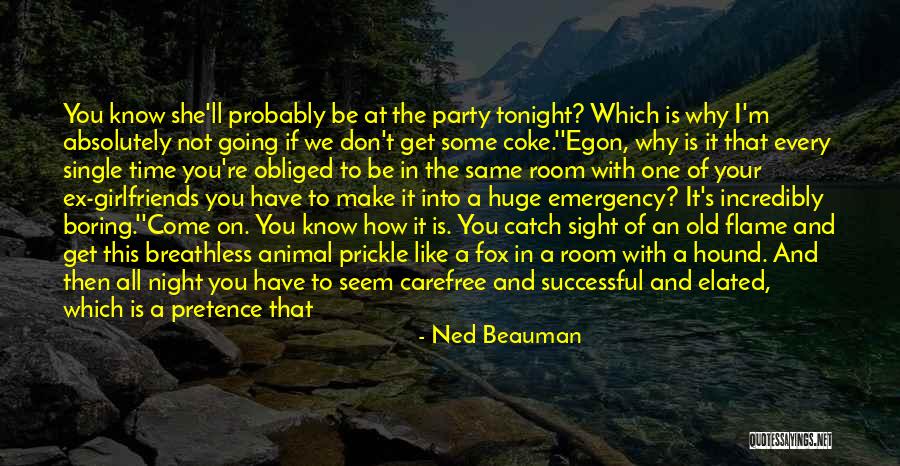 You know she'll probably be at the party tonight? Which is why I'm absolutely not going if we don't get some coke.'
'Egon, why is it that every single time you're obliged to be in the same room with one of your ex-girlfriends you have to make it into a huge emergency? It's incredibly boring.'
'Come on. You know how it is. You catch sight of an old flame and get this breathless
animal prickle like a fox in a room with a hound. And then all night you have to seem carefree and successful and elated, which is a pretence that for some reason you feel no choice but to maintain even though you know they're better qualified than anyone else
in the world to detect immediately that you're really the same hapless cunt as ever.'
'That's adolescent. The fact that you are so neurotic about your past lovers makes it both fortunate and predictable that you have so few of them. It's one of those elegant self-regulating systems that one so often finds in nature. — Ned Beauman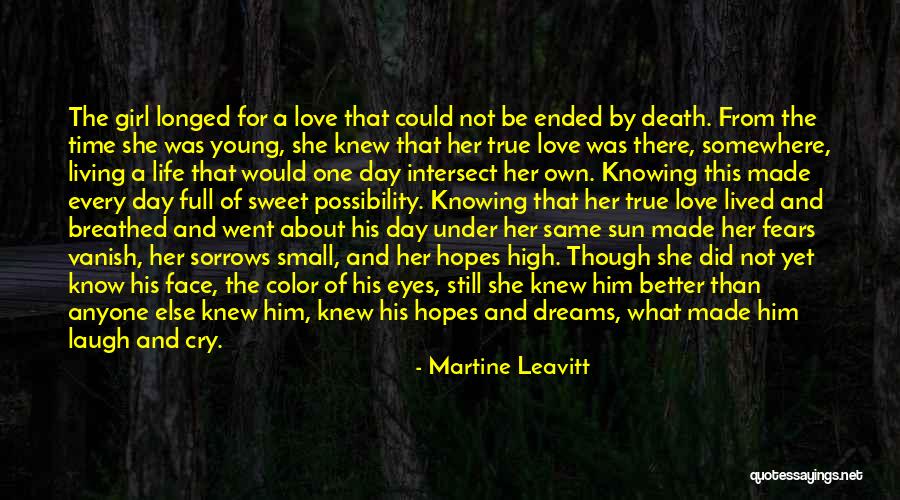 The girl longed for a love that could not be ended by death. From the time she was young, she knew that her true love was there, somewhere, living a life that would one day intersect her own. Knowing this made every day full of sweet possibility. Knowing that her true love lived and breathed and went about his day under her same sun made her fears vanish, her sorrows small, and her hopes high. Though she did not yet know his face, the color of his eyes, still she knew him better than anyone else knew him, knew his hopes and dreams, what made him laugh and cry. — Martine Leavitt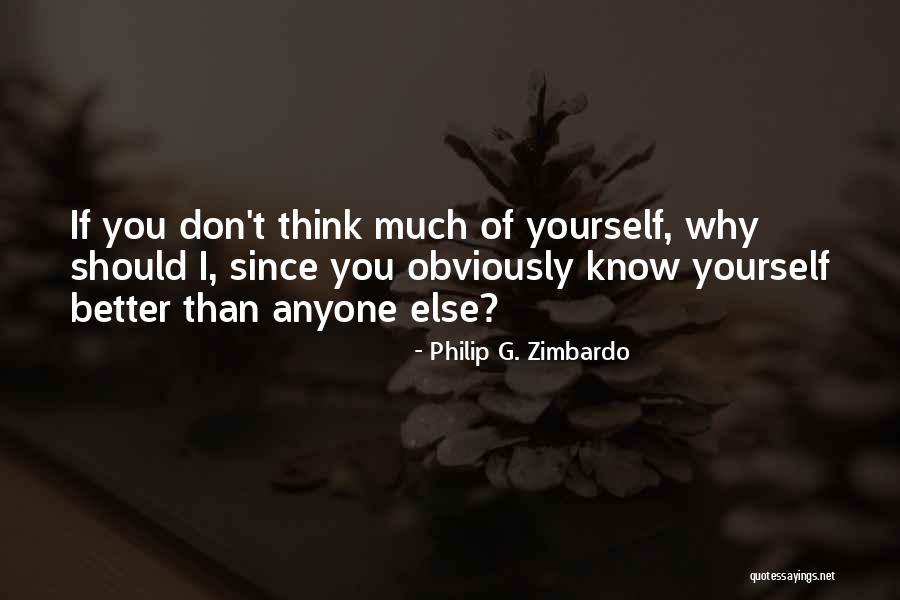 If you don't think much of yourself, why should I, since you obviously know yourself better than anyone else? — Philip G. Zimbardo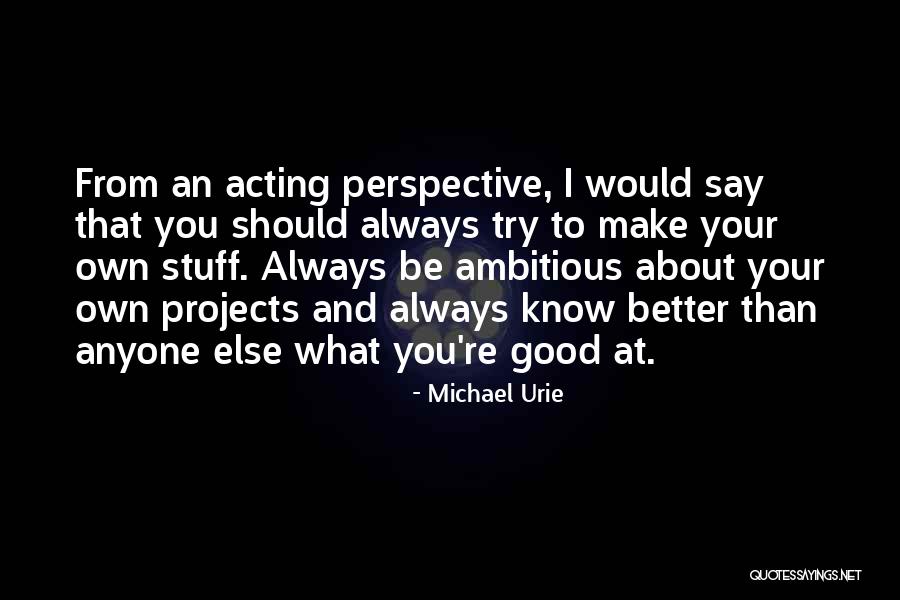 From an acting perspective, I would say that you should always try to make your own stuff. Always be ambitious about your own projects and always know better than anyone else what you're good at. — Michael Urie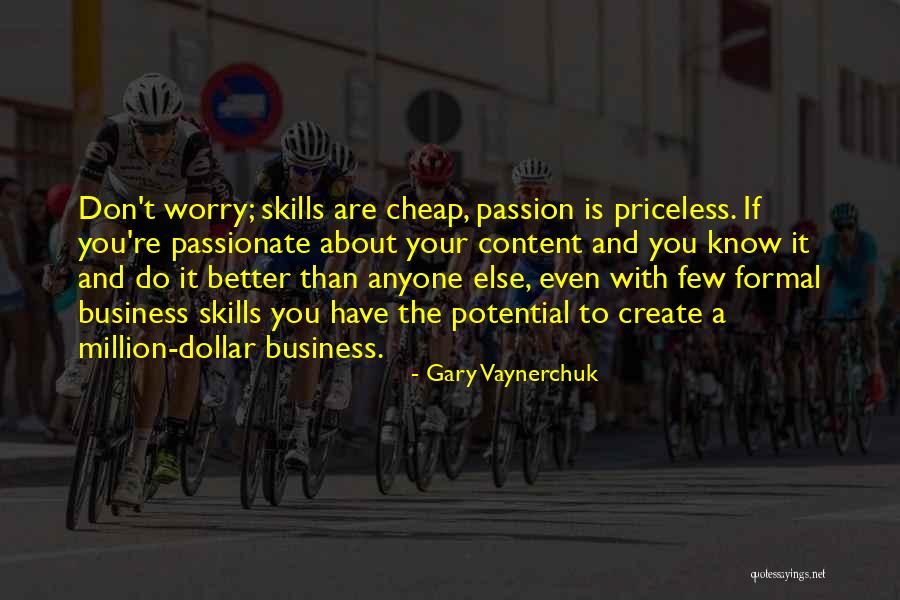 Don't worry; skills are cheap, passion is priceless. If you're passionate about your content and you know it and do it better than anyone else, even with few formal business skills you have the potential to create a million-dollar business. — Gary Vaynerchuk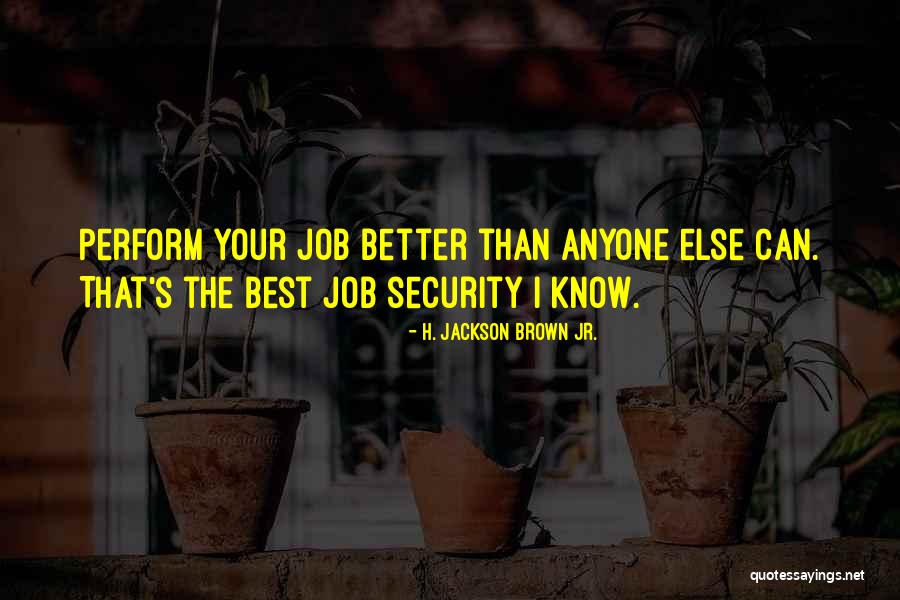 Perform your job better than anyone else can. That's the best job security I know. — H. Jackson Brown Jr.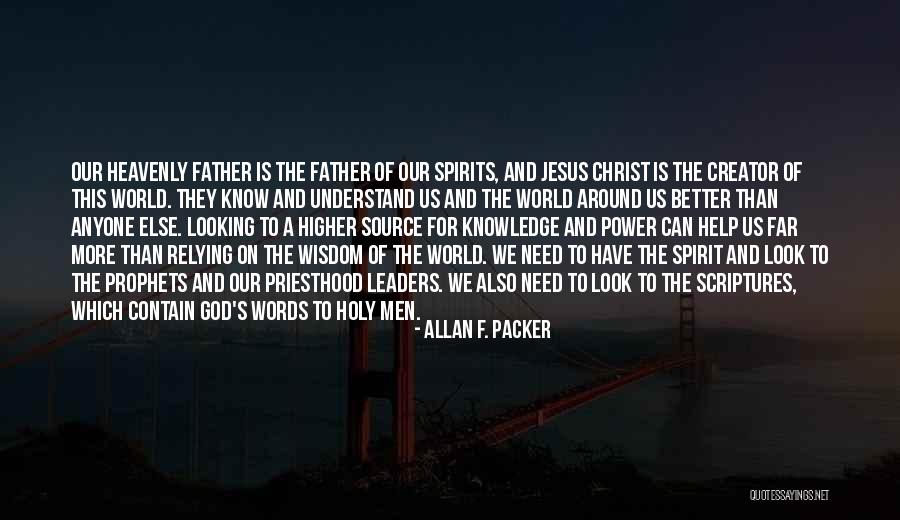 Our Heavenly Father is the Father of our spirits, and Jesus Christ is the Creator of this world. They know and understand us and the world around us better than anyone else. Looking to a higher source for knowledge and power can help us far more than relying on the wisdom of the world. We need to have the Spirit and look to the prophets and our priesthood leaders. We also need to look to the scriptures, which contain God's words to holy men. — Allan F. Packer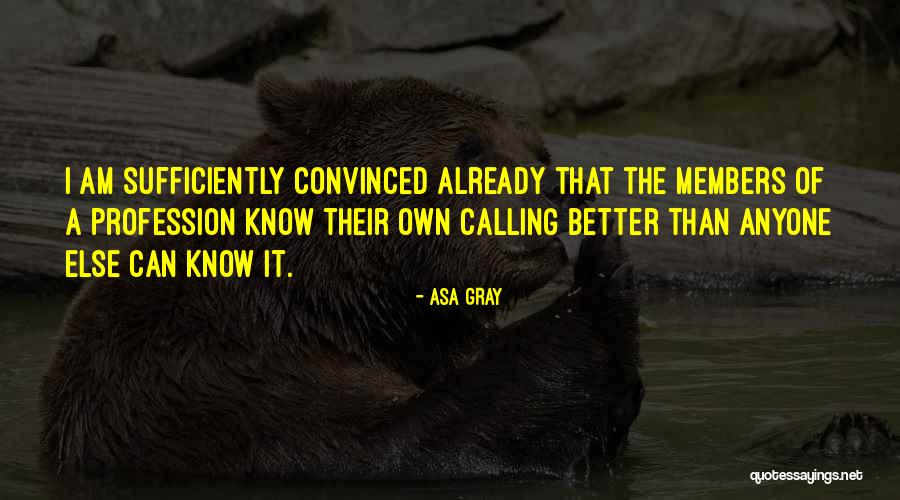 I am sufficiently convinced already that the members of a profession know their own calling better than anyone else can know it. — Asa Gray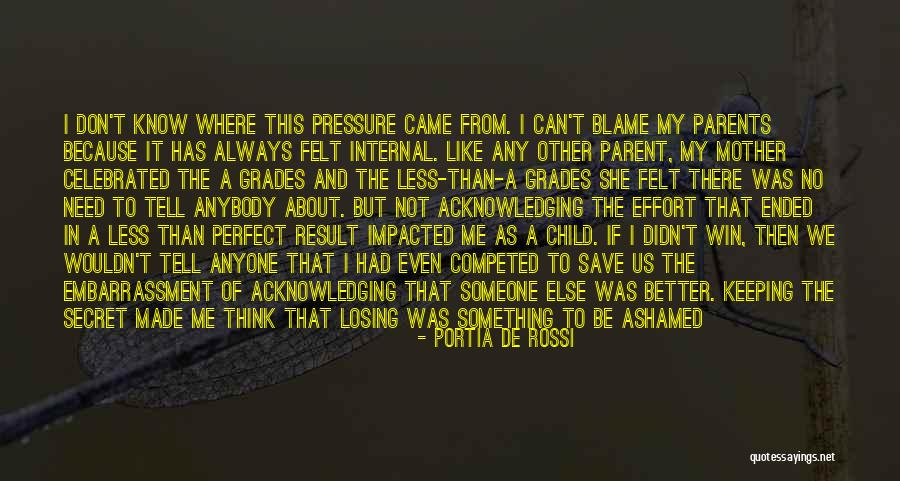 I don't know where this pressure came from. I can't blame my parents because it has always felt internal. Like any other parent, my mother celebrated the A grades and the less-than-A grades she felt there was no need to tell anybody about. But not acknowledging the effort that ended in a less than perfect result impacted me as a child. If I didn't win, then we wouldn't tell anyone that I had even competed to save us the embarrassment of acknowledging that someone else was better. Keeping the secret made me think that losing was something to be ashamed of, and that unless I was sure I was going to be the champion there was no point in trying. And there was certainly no point to just having fun. — Portia De Rossi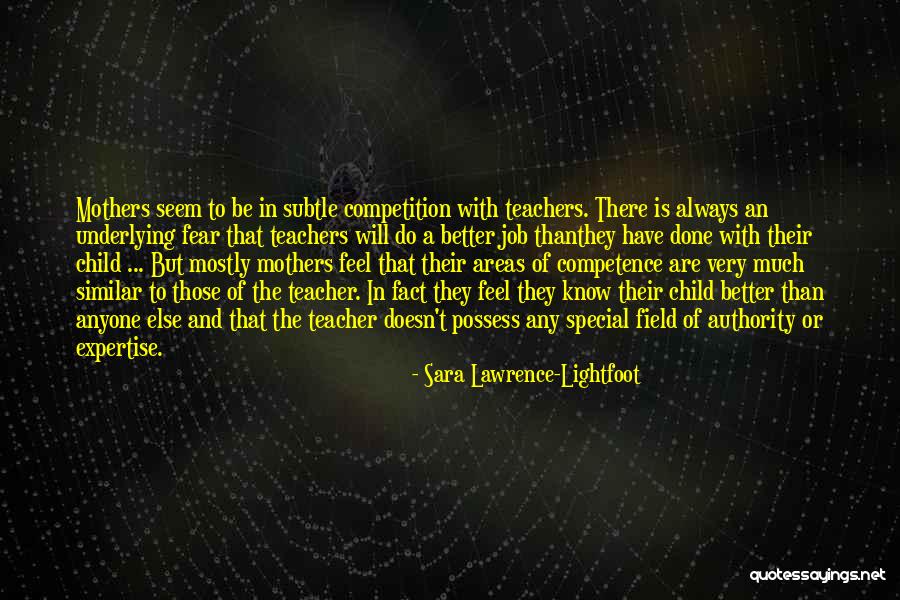 Mothers seem to be in subtle competition with teachers. There is always an underlying fear that teachers will do a better job thanthey have done with their child ... But mostly mothers feel that their areas of competence are very much similar to those of the teacher. In fact they feel they know their child better than anyone else and that the teacher doesn't possess any special field of authority or expertise. — Sara Lawrence-Lightfoot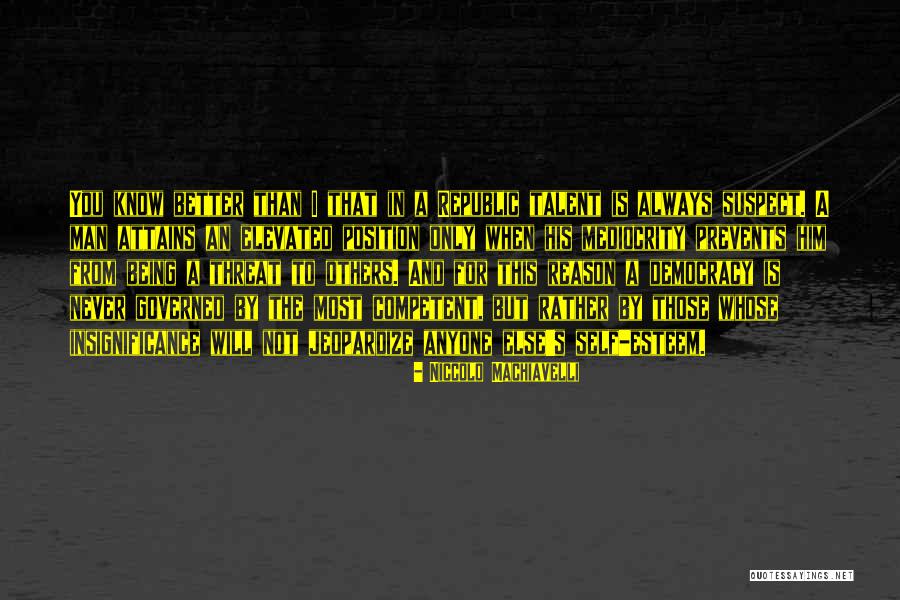 You know better than I that in a Republic talent is always suspect. A man attains an elevated position only when his mediocrity prevents him from being a threat to others. And for this reason a democracy is never governed by the most competent, but rather by those whose insignificance will not jeopardize anyone else's self-esteem. — Niccolo Machiavelli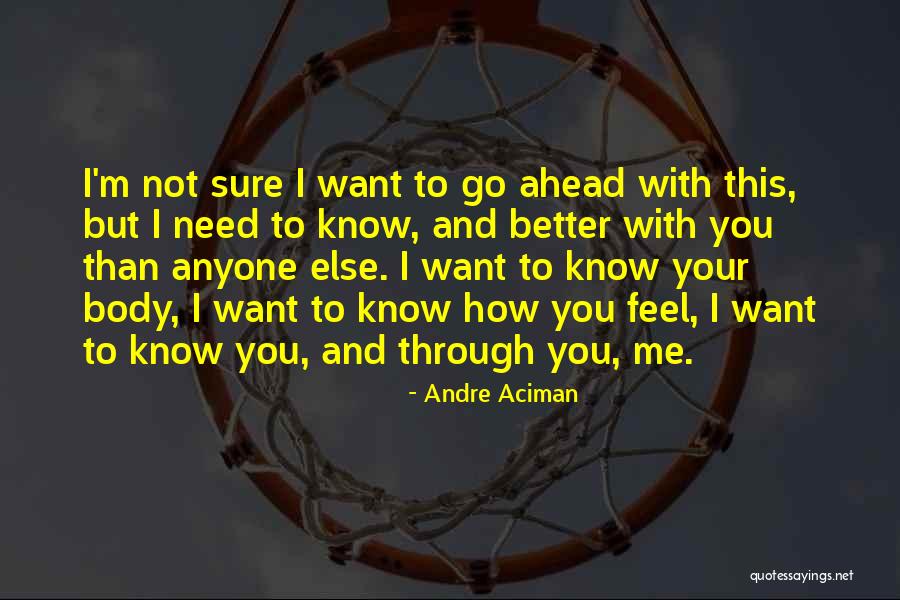 I'm not sure I want to go ahead with this, but I need to know, and better with you than anyone else. I want to know your body, I want to know how you feel, I want to know you, and through you, me. — Andre Aciman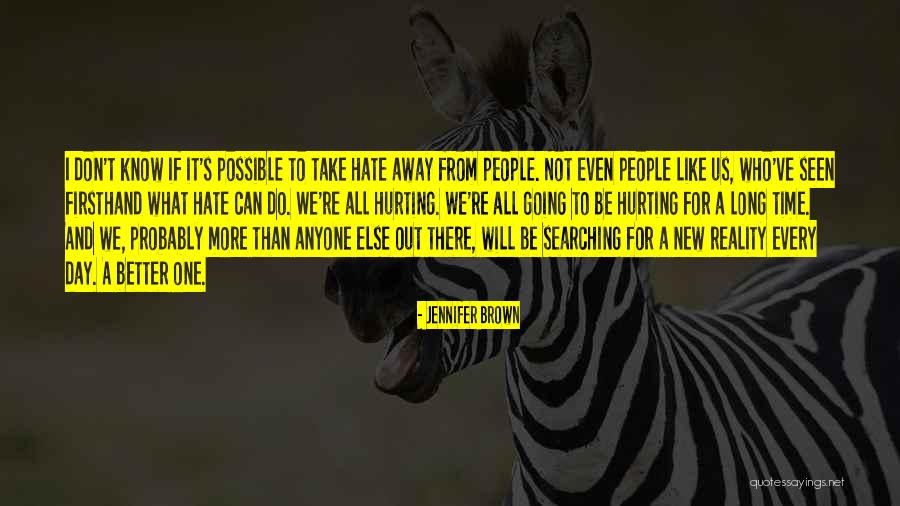 I don't know if it's possible to take hate away from people. Not even people like us, who've seen firsthand what hate can do. We're all hurting. We're all going to be hurting for a long time. And we, probably more than anyone else out there, will be searching for a new reality every day. A better one. — Jennifer Brown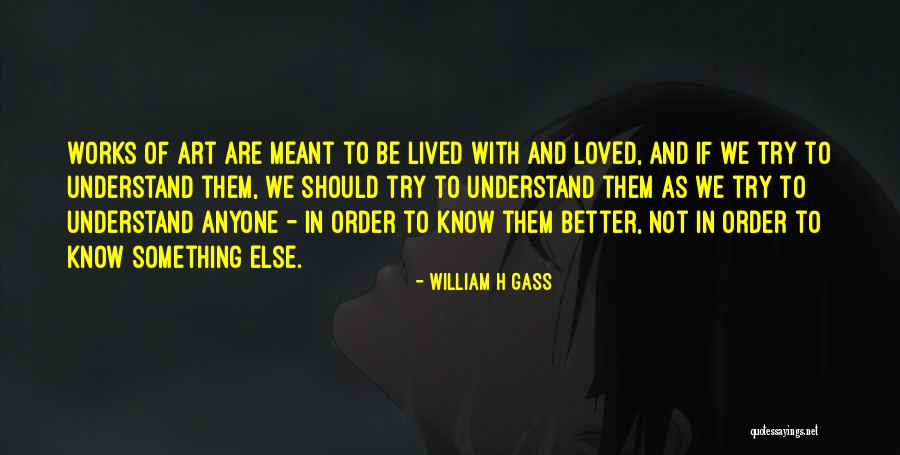 Works of art are meant to be lived with and loved, and if we try to understand them, we should try to understand them as we try to understand anyone - in order to know them better, not in order to know something else. — William H Gass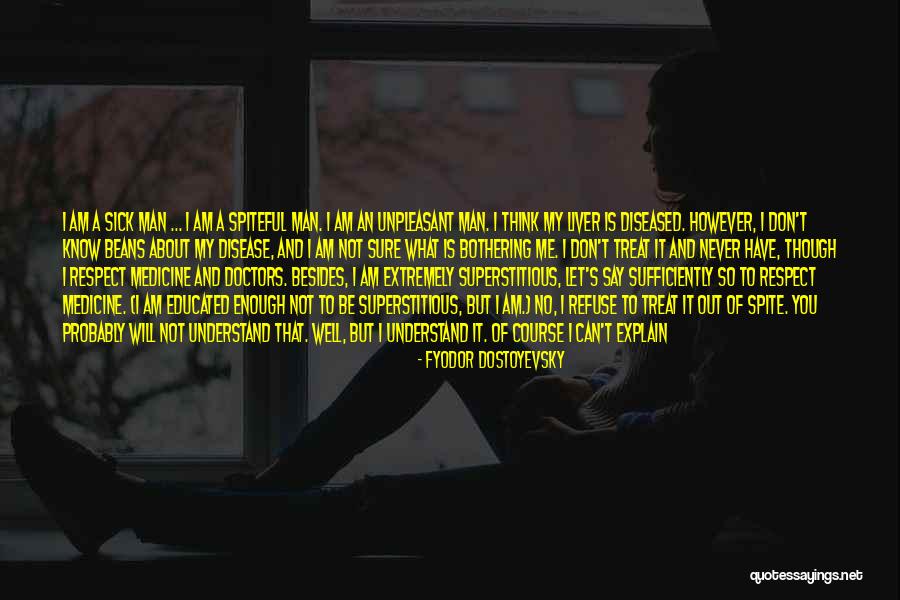 I am a sick man ... I am a spiteful man. I am an unpleasant man. I think my liver is diseased. However, I don't know beans about my disease, and I am not sure what is bothering me. I don't treat it and never have, though I respect medicine and doctors. Besides, I am extremely superstitious, let's say sufficiently so to respect medicine. (I am educated enough not to be superstitious, but I am.) No, I refuse to treat it out of spite. You probably will not understand that. Well, but I understand it. Of course I can't explain to you just whom I am annoying in this case by my spite. I am perfectly well aware that I cannot "get even" with the doctors by not consulting them. I know better than anyone that I thereby injure only myself and no one else. But still, if I don't treat it, its is out of spite. My liver is bad, well then
let it get even worse! — Fyodor Dostoyevsky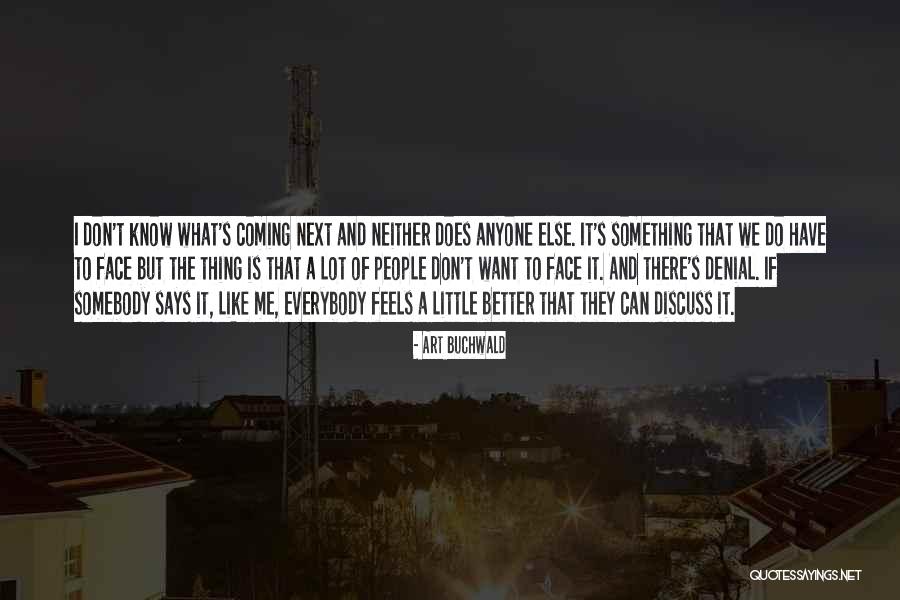 I don't know what's coming next and neither does anyone else. It's something that we do have to face but the thing is that a lot of people don't want to face it. And there's denial. If somebody says it, like me, everybody feels a little better that they can discuss it. — Art Buchwald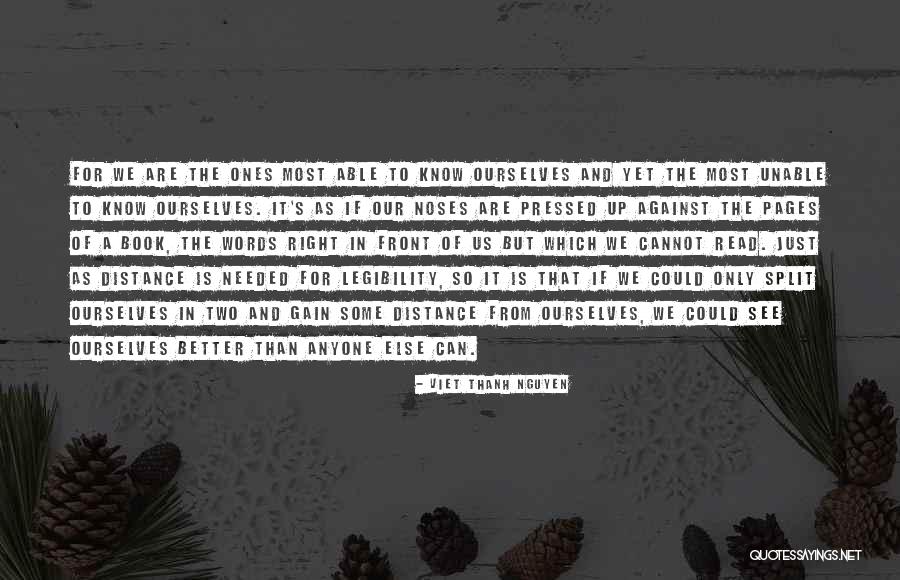 For we are the ones most able to know ourselves and yet the most unable to know ourselves. It's as if our noses are pressed up against the pages of a book, the words right in front of us but which we cannot read. Just as distance is needed for legibility, so it is that if we could only split ourselves in two and gain some distance from ourselves, we could see ourselves better than anyone else can. — Viet Thanh Nguyen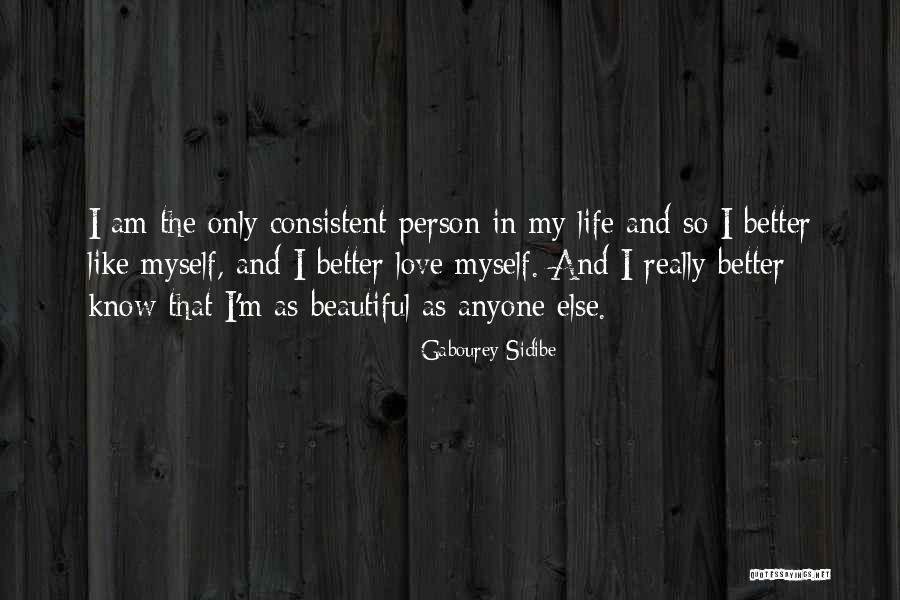 I am the only consistent person in my life and so I better like myself, and I better love myself. And I really better know that I'm as beautiful as anyone else. — Gabourey Sidibe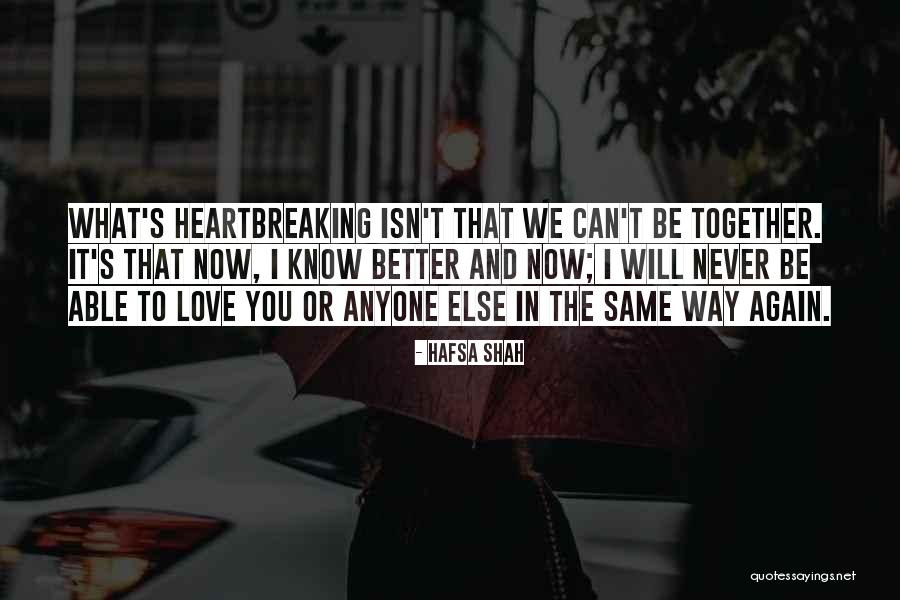 What's heartbreaking isn't that we can't be together. It's that now, I know better and now; I will never be able to love you or anyone else in the same way again. — Hafsa Shah
No, It does. And if I left, you'd probably want to give me my jacket back. And if you did, I wouldn't be able to put it on, because the whole time I'd be knowing how perfectly it fit on you. How even though the sleeves are ridiculously too long and the collar is all fucked up and for all I know some guy named Salvatore is going to come in this very club and say, 'Hey, that's my jacket' and strike up a conversation and sweep you off your feet away from me- even though all those things are true or possibly true, I just can't ruin the image of you sitting there across from me wearing my jacket better than I, or anyone else could. If I don't owe it to you, and I don't owe it to me, I at least owe it Salvatore. — David Levithan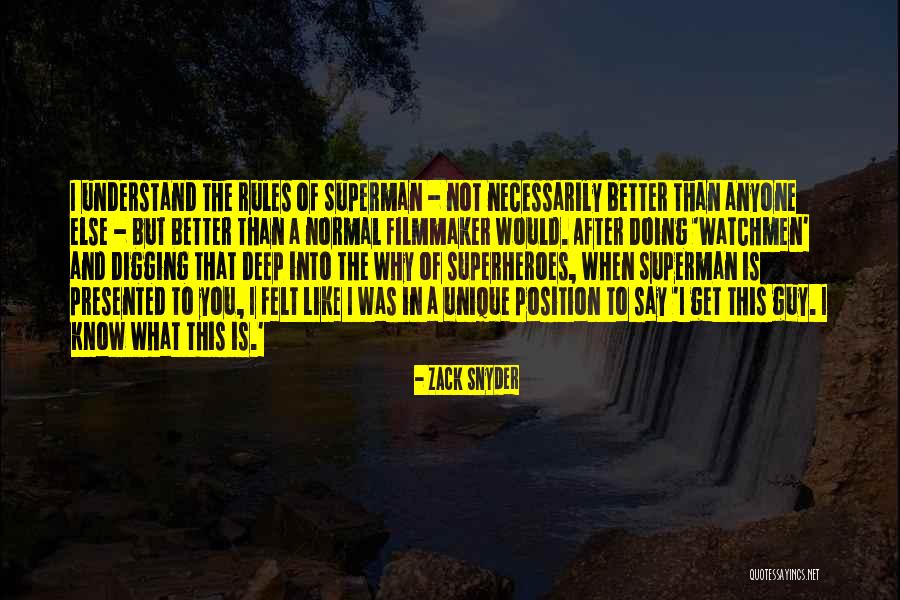 I understand the rules of Superman - not necessarily better than anyone else - but better than a normal filmmaker would. After doing 'Watchmen' and digging that deep into the why of superheroes, when Superman is presented to you, I felt like I was in a unique position to say 'I get this guy. I know what this is.' — Zack Snyder
I know my face better than anyone else. — Dree Hemingway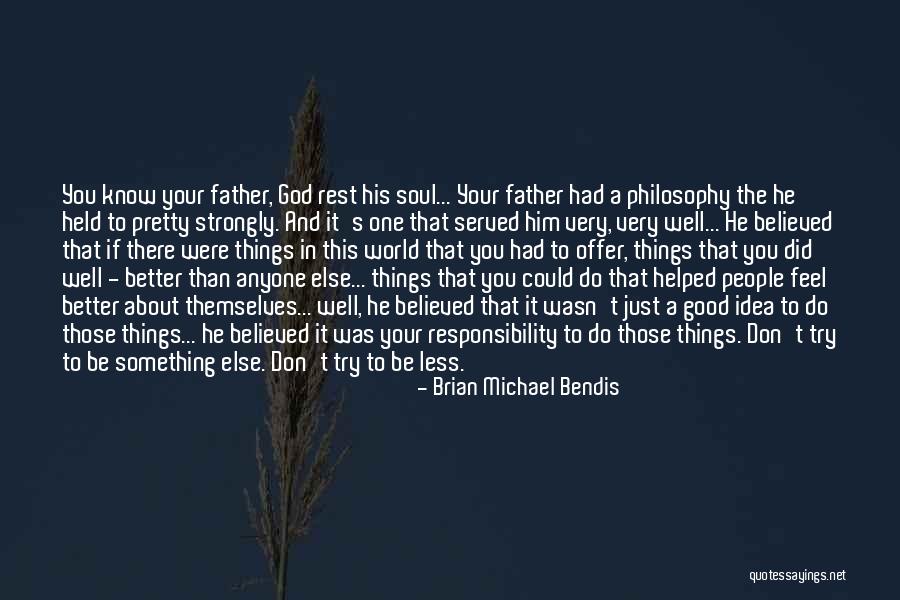 You know your father, God rest his soul... Your father had a philosophy the he held to pretty strongly. And it's one that served him very, very well... He believed that if there were things in this world that you had to offer, things that you did well - better than anyone else... things that you could do that helped people feel better about themselves... well, he believed that it wasn't just a good idea to do those things... he believed it was your responsibility to do those things. Don't try to be something else. Don't try to be less. Great things are going to happen to you and your life Peter. Great things. And with that will come great responsibility. Do you understand? Great responsibility. — Brian Michael Bendis