Yes I Smoke Weed Quotes & Sayings
Enjoy reading and share 30 famous quotes about Yes I Smoke Weed with everyone.
Top Yes I Smoke Weed Quotes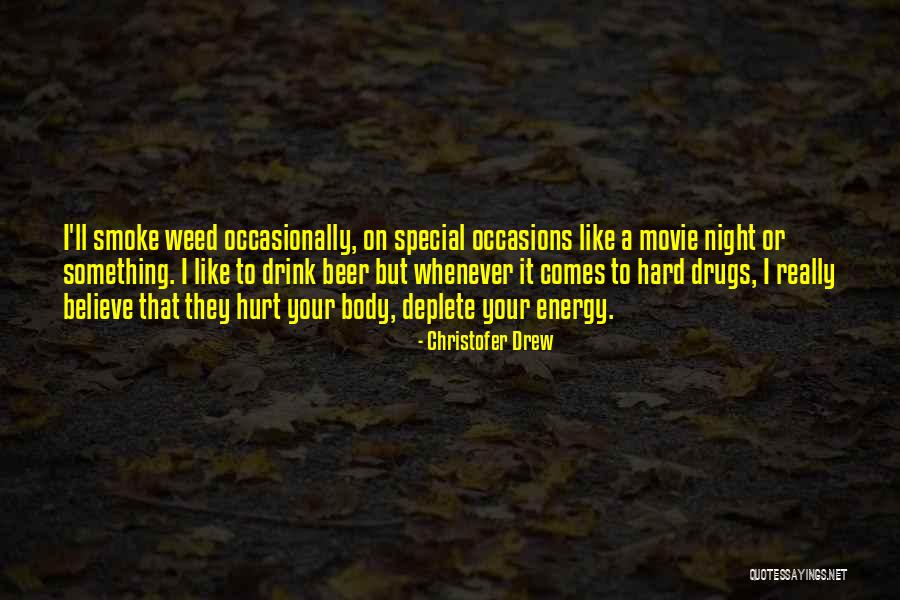 I'll smoke weed occasionally, on special occasions like a movie night or something. I like to drink beer but whenever it comes to hard drugs, I really believe that they hurt your body, deplete your energy. — Christofer Drew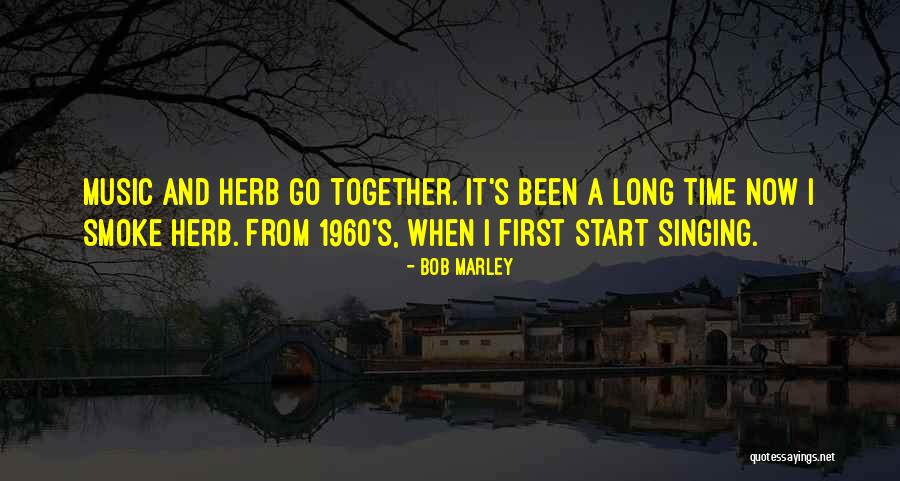 Music and herb go together. It's been a long time now I smoke herb. From 1960's, when I first start singing. — Bob Marley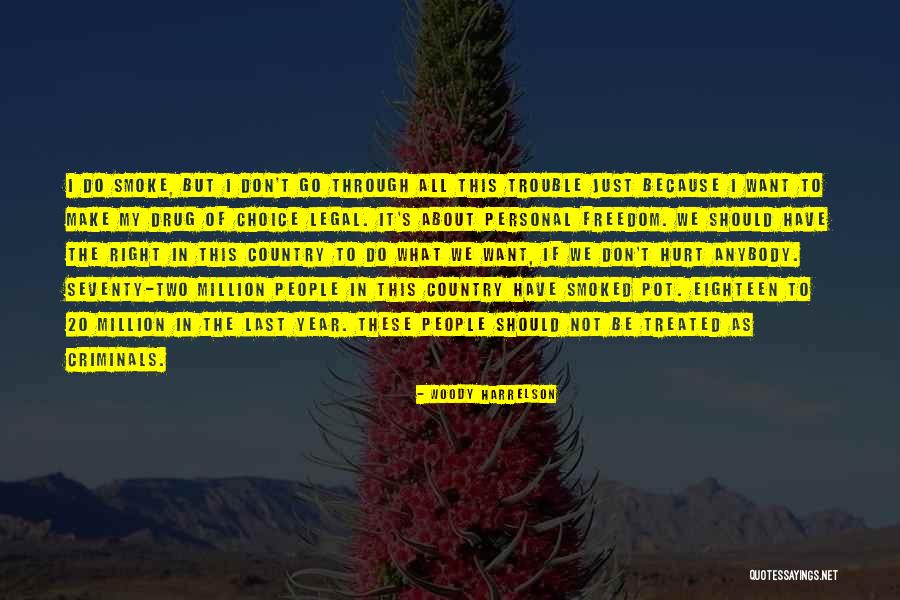 I do smoke, but I don't go through all this trouble just because I want to make my drug of choice legal. It's about personal freedom. We should have the right in this country to do what we want, if we don't hurt anybody. Seventy-two million people in this country have smoked pot. Eighteen to 20 million in the last year. These people should not be treated as criminals. — Woody Harrelson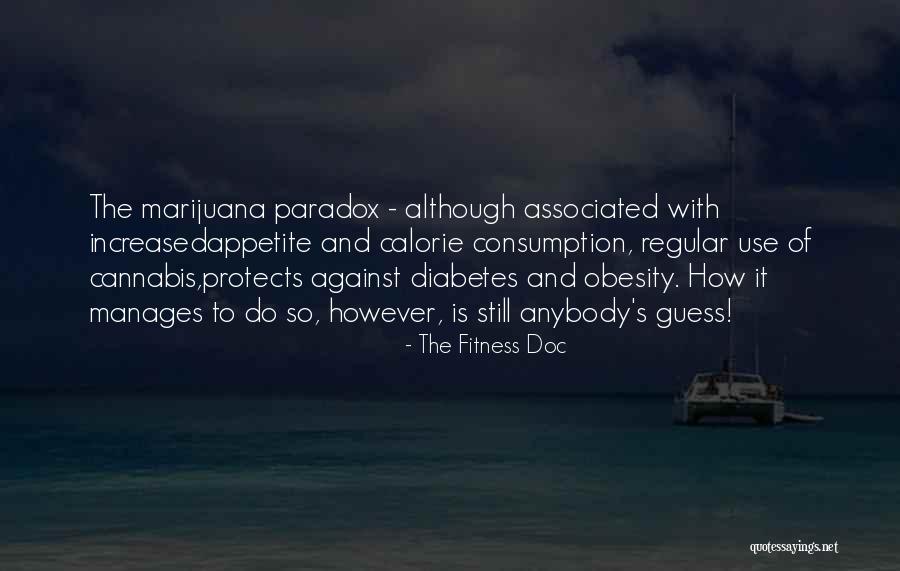 The marijuana paradox - although associated with increased
appetite and calorie consumption, regular use of cannabis,
protects against diabetes and obesity. How it manages to do so, however, is still anybody's guess! — The Fitness Doc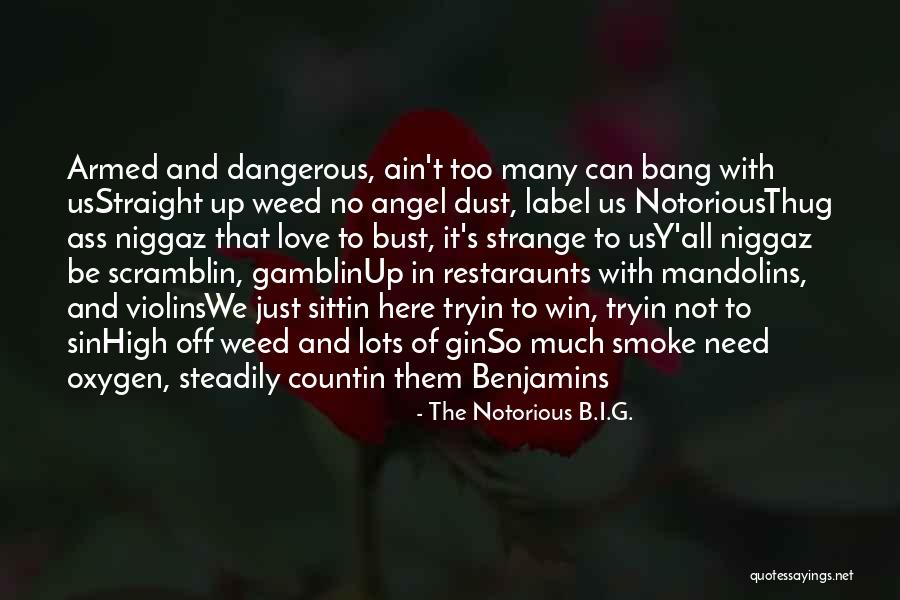 Armed and dangerous, ain't too many can bang with us
Straight up weed no angel dust, label us Notorious
Thug ass niggaz that love to bust, it's strange to us
Y'all niggaz be scramblin, gamblin
Up in restaraunts with mandolins, and violins
We just sittin here tryin to win, tryin not to sin
High off weed and lots of gin
So much smoke need oxygen, steadily countin them Benjamins — The Notorious B.I.G.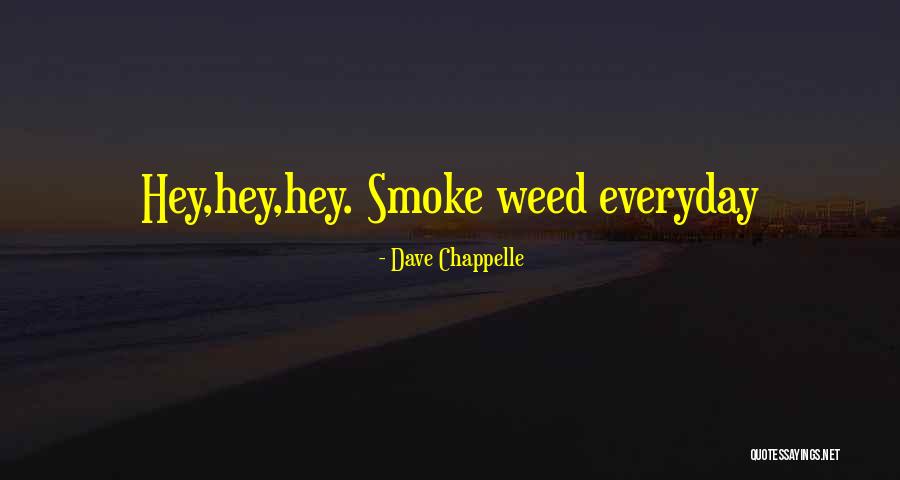 Hey,hey,hey. Smoke weed everyday — Dave Chappelle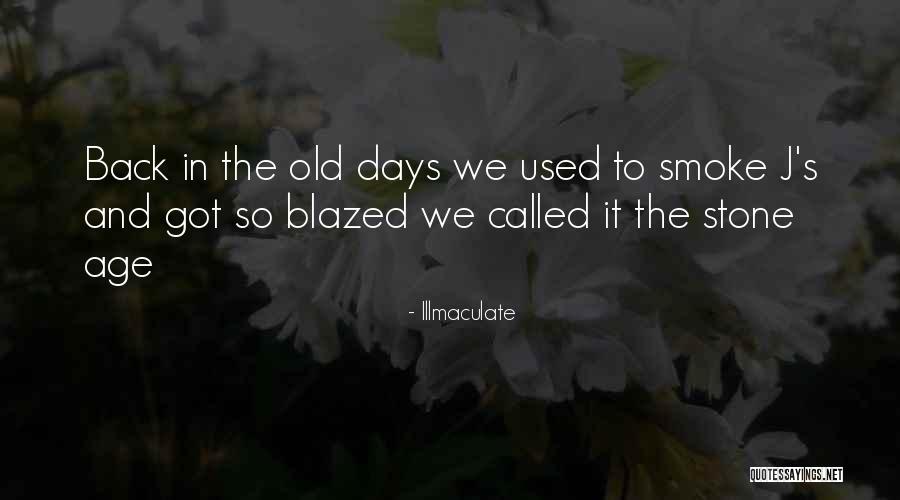 Back in the old days we used to smoke J's and got so blazed we called it the stone age — Illmaculate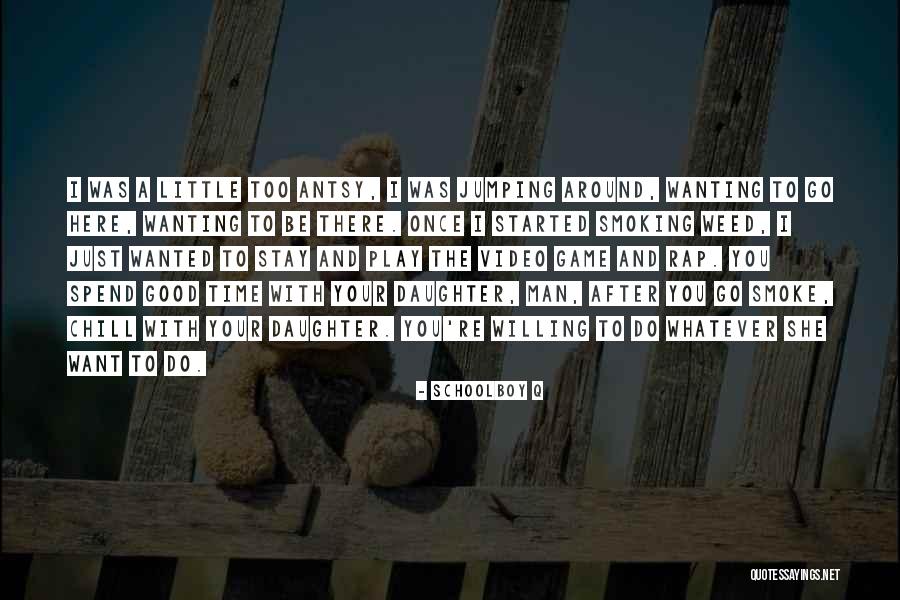 I was a little too antsy, I was jumping around, wanting to go here, wanting to be there. Once I started smoking weed, I just wanted to stay and play the video game and rap. You spend good time with your daughter, man, after you go smoke, chill with your daughter. You're willing to do whatever she want to do. — Schoolboy Q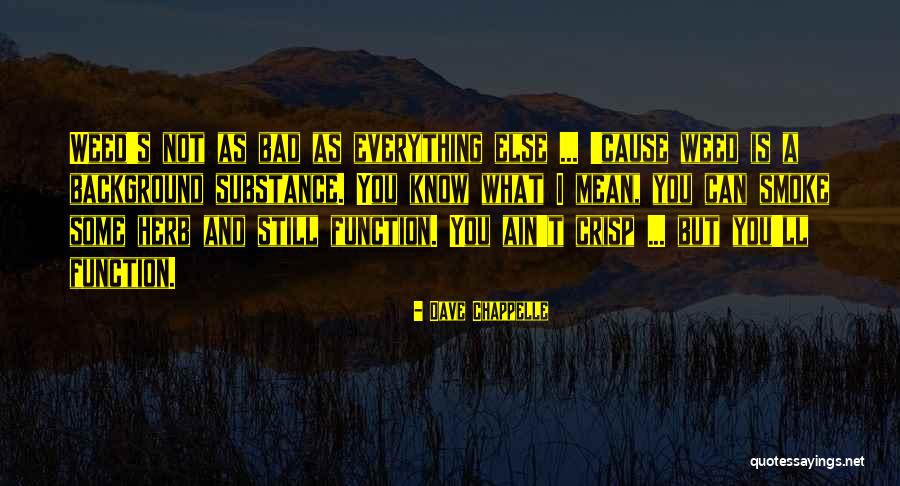 Weed's not as bad as everything else ... 'cause weed is a background substance. You know what I mean, you can smoke some herb and still function. You ain't crisp ... but you'll function. — Dave Chappelle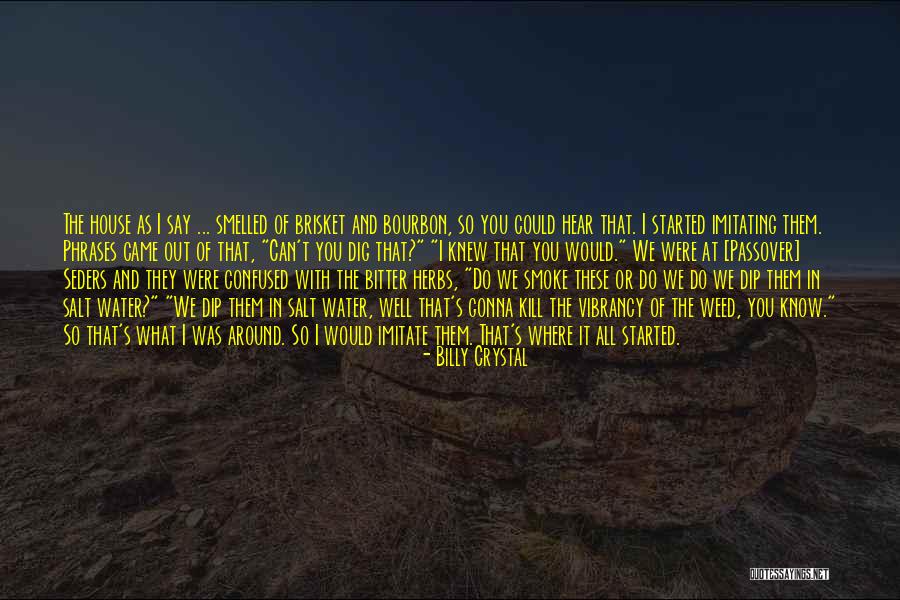 The house as I say ... smelled of brisket and bourbon, so you could hear that. I started imitating them. Phrases came out of that, "Can't you dig that?" "I knew that you would." We were at [Passover] Seders and they were confused with the bitter herbs, "Do we smoke these or do we do we dip them in salt water?" "We dip them in salt water, well that's gonna kill the vibrancy of the weed, you know." So that's what I was around. So I would imitate them. That's where it all started. — Billy Crystal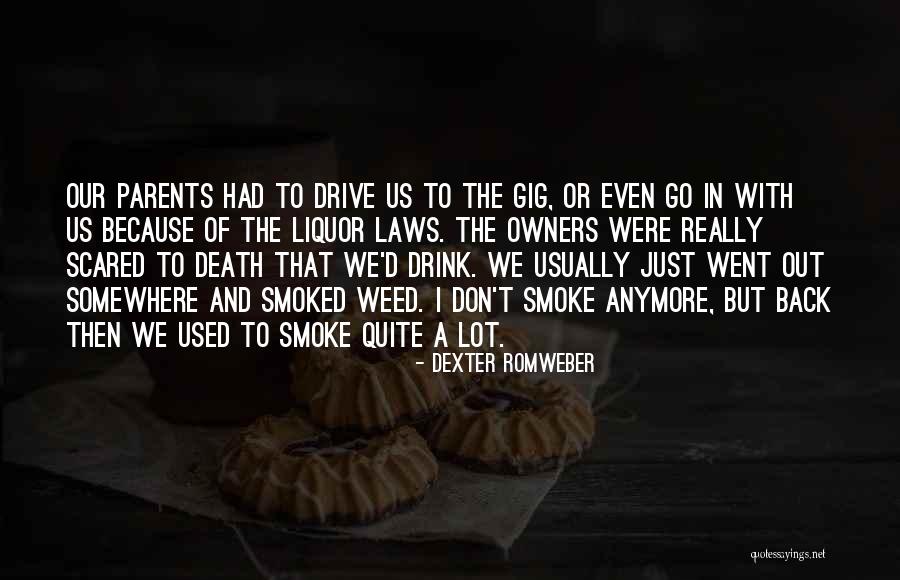 Our parents had to drive us to the gig, or even go in with us because of the liquor laws. The owners were really scared to death that we'd drink. We usually just went out somewhere and smoked weed. I don't smoke anymore, but back then we used to smoke quite a lot. — Dexter Romweber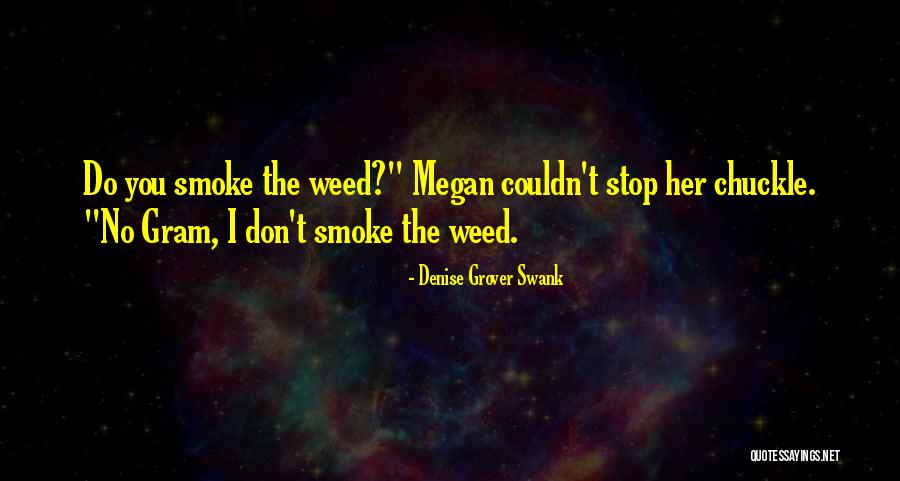 Do you smoke the weed?" Megan couldn't stop her chuckle. "No Gram, I don't smoke the weed. — Denise Grover Swank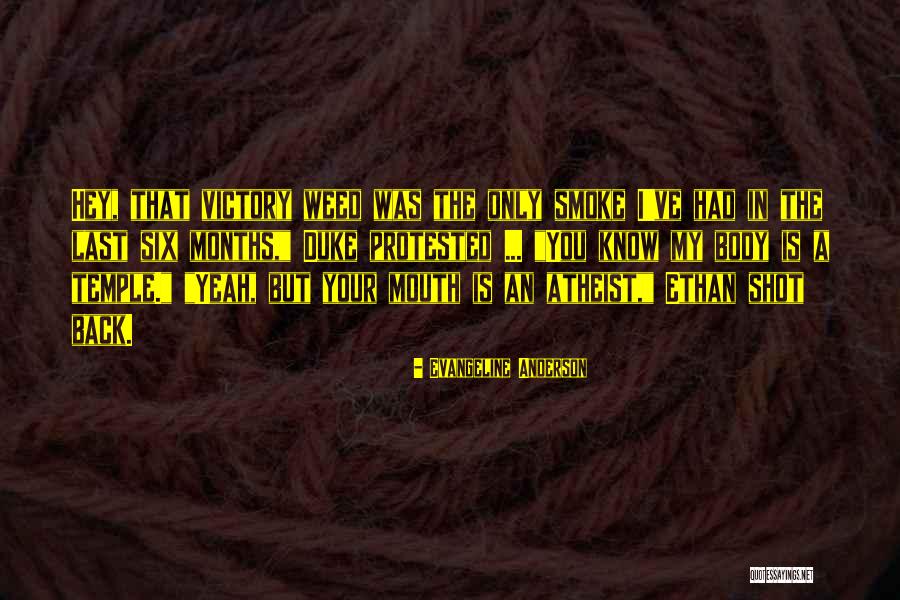 Hey, that victory weed was the only smoke I've had in the last six months," Duke protested ... "You know my body is a temple."
"Yeah, but your mouth is an atheist," Ethan shot back. — Evangeline Anderson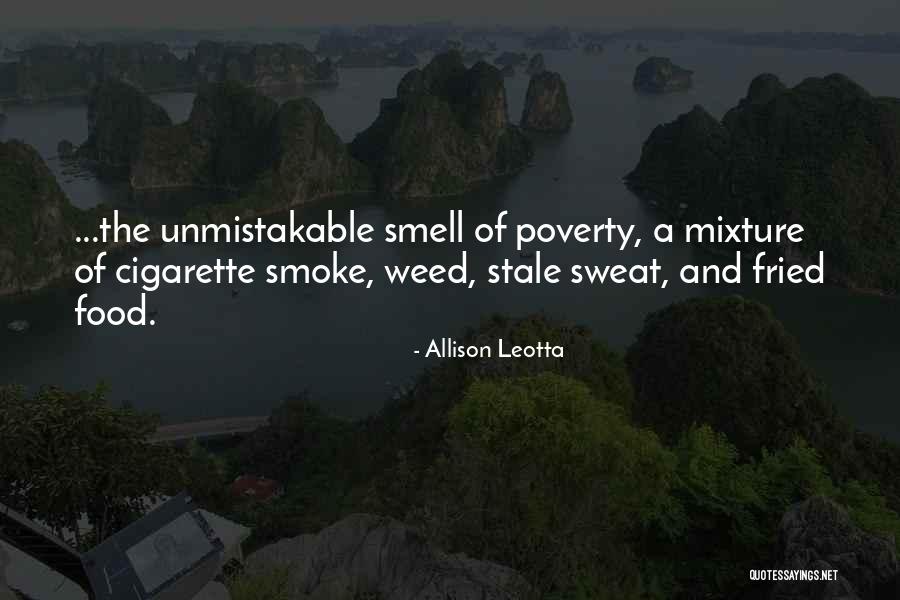 ...the unmistakable smell of poverty, a mixture of cigarette smoke, weed, stale sweat, and fried food. — Allison Leotta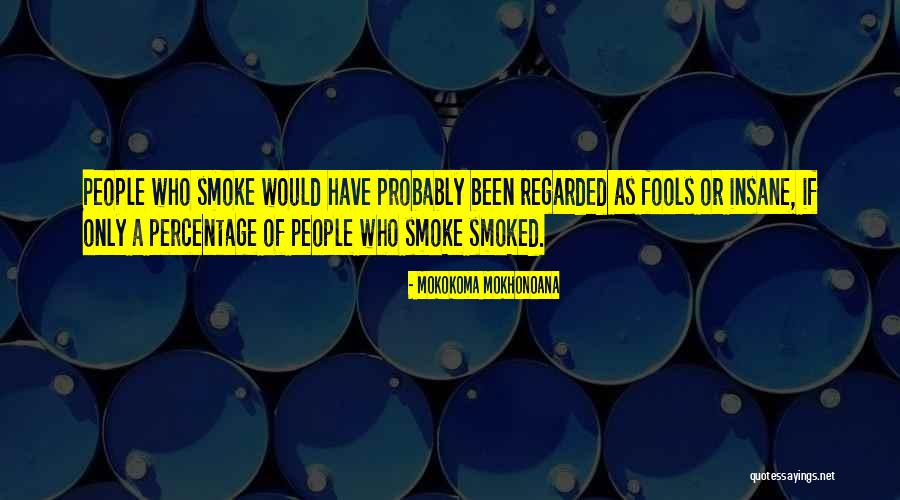 People who smoke would have probably been regarded as fools or insane, if only a percentage of people who smoke smoked. — Mokokoma Mokhonoana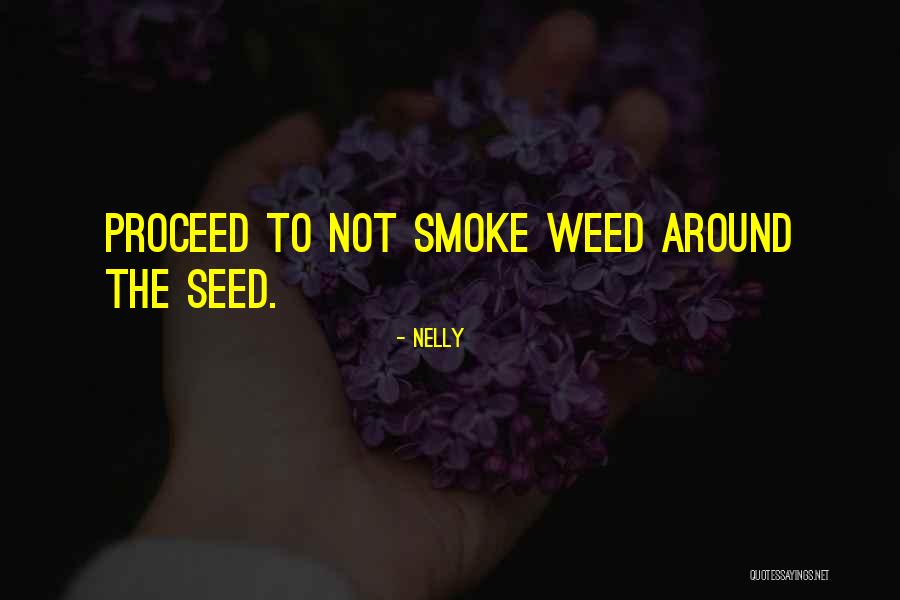 Proceed to not smoke weed around the seed. — Nelly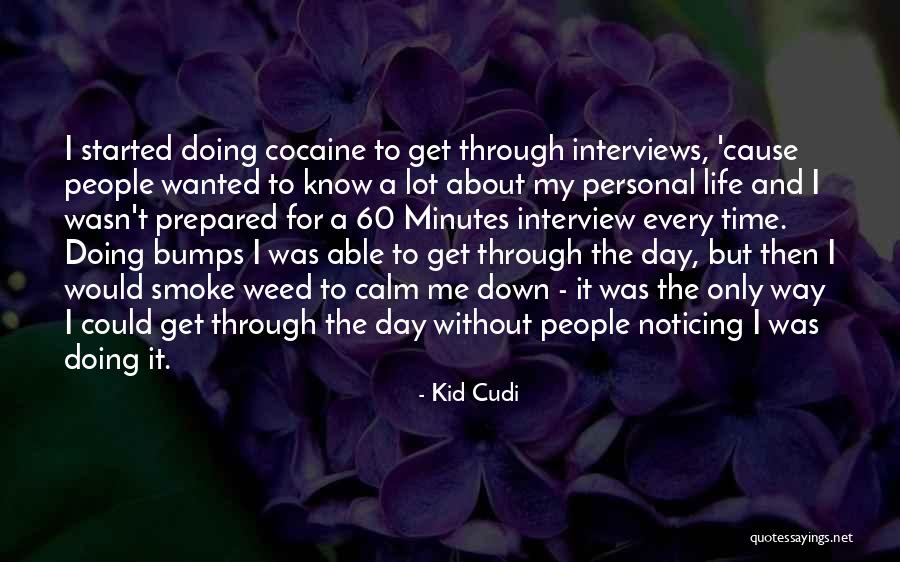 I started doing cocaine to get through interviews, 'cause people wanted to know a lot about my personal life and I wasn't prepared for a 60 Minutes interview every time. Doing bumps I was able to get through the day, but then I would smoke weed to calm me down - it was the only way I could get through the day without people noticing I was doing it. — Kid Cudi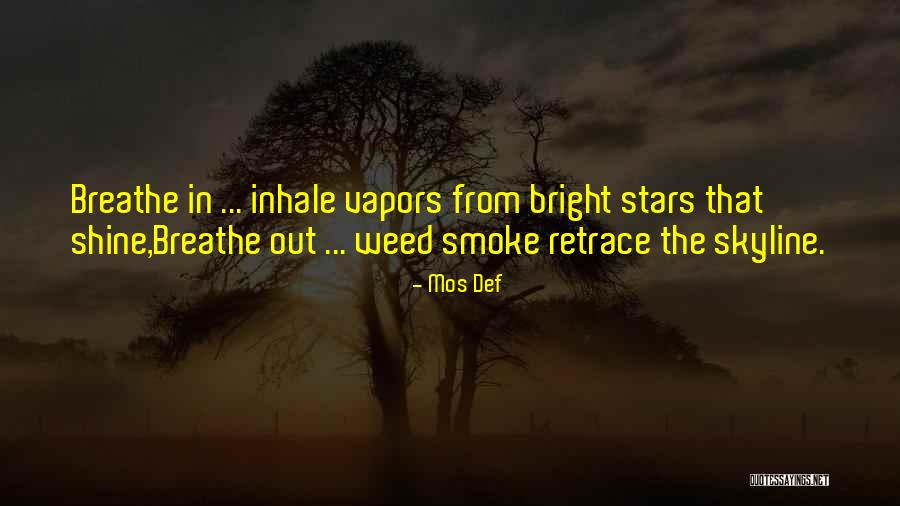 Breathe in ... inhale vapors from bright stars that shine,
Breathe out ... weed smoke retrace the skyline. — Mos Def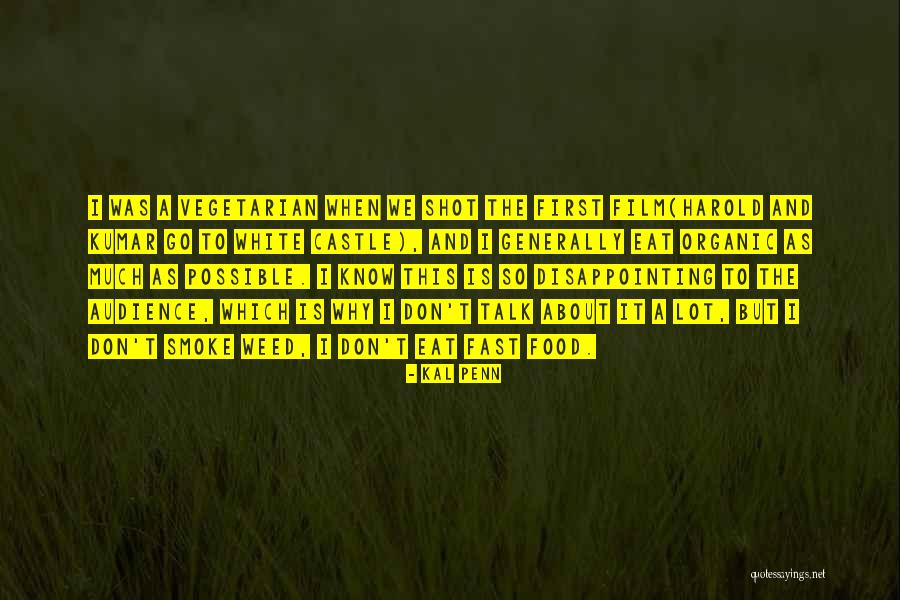 I was a vegetarian when we shot the first film(Harold and Kumar Go To White Castle), and I generally eat organic as much as possible. I know this is so disappointing to the audience, which is why I don't talk about it a lot, but I don't smoke weed, I don't eat fast food. — Kal Penn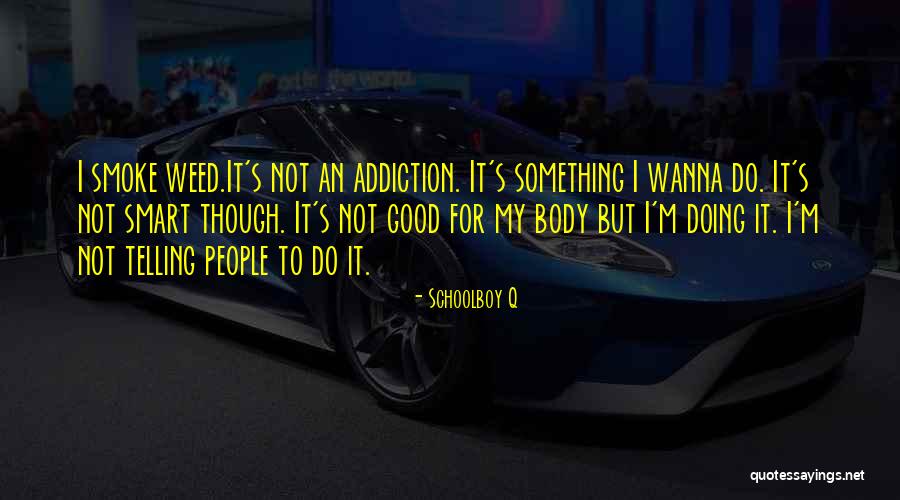 I smoke weed.It's not an addiction. It's something I wanna do. It's not smart though. It's not good for my body but I'm doing it. I'm not telling people to do it. — Schoolboy Q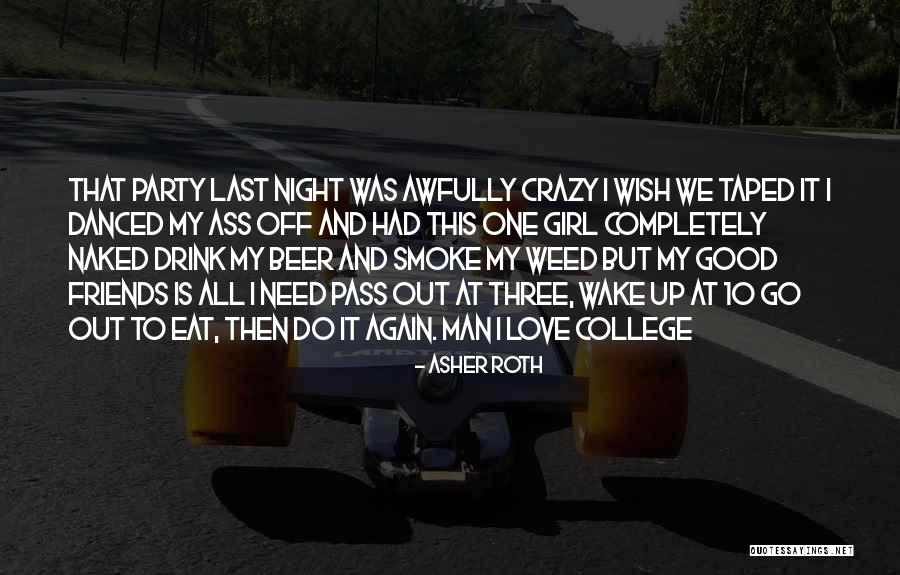 That party last night was awfully crazy I wish we taped it I danced my ass off and had this one girl completely naked Drink my beer and smoke my weed But my good friends is all I need Pass out at three, wake up at 10 Go out to eat, then do it again. Man I love college — Asher Roth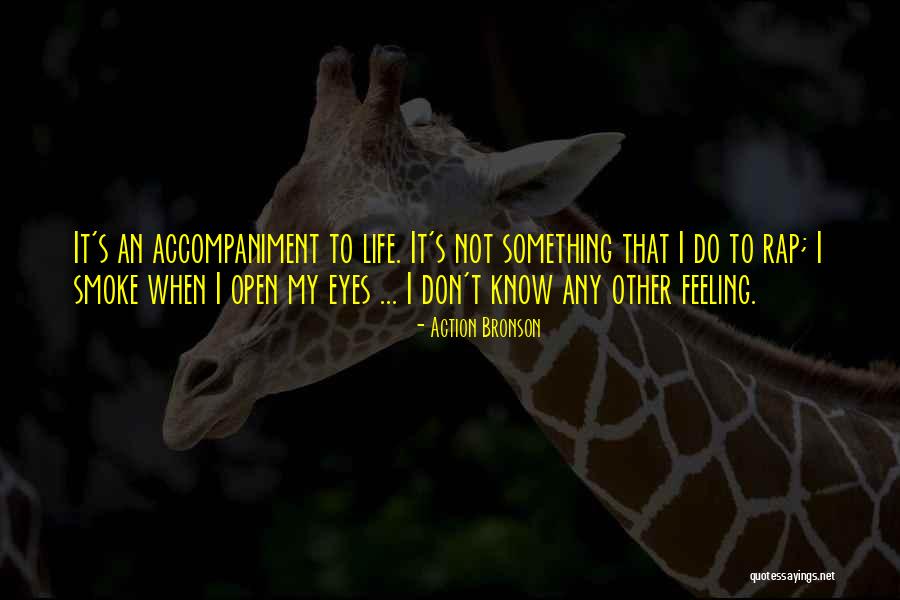 It's an accompaniment to life. It's not something that I do to rap; I smoke when I open my eyes ... I don't know any other feeling. — Action Bronson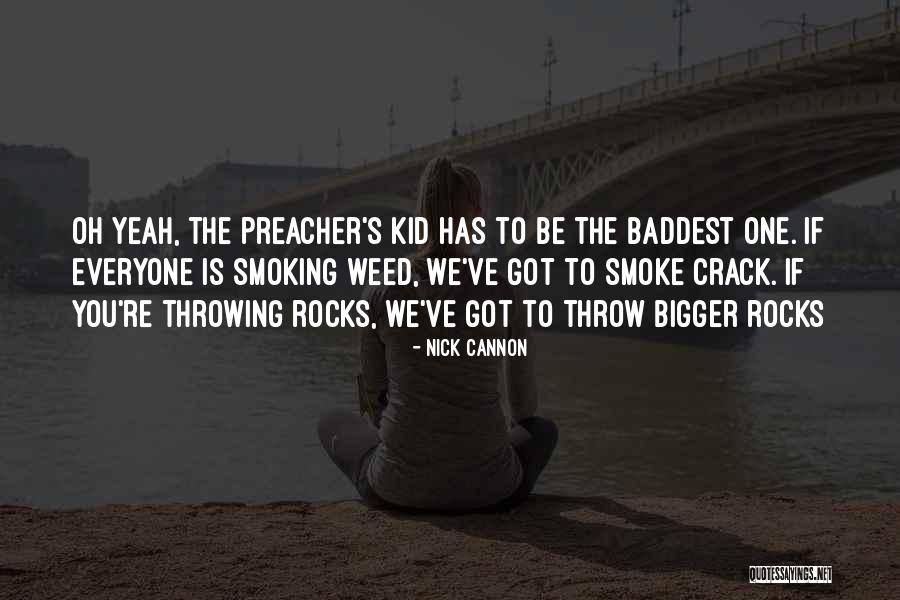 Oh yeah, the preacher's kid has to be the baddest one. If everyone is smoking weed, we've got to smoke crack. If you're throwing rocks, we've got to throw bigger rocks — Nick Cannon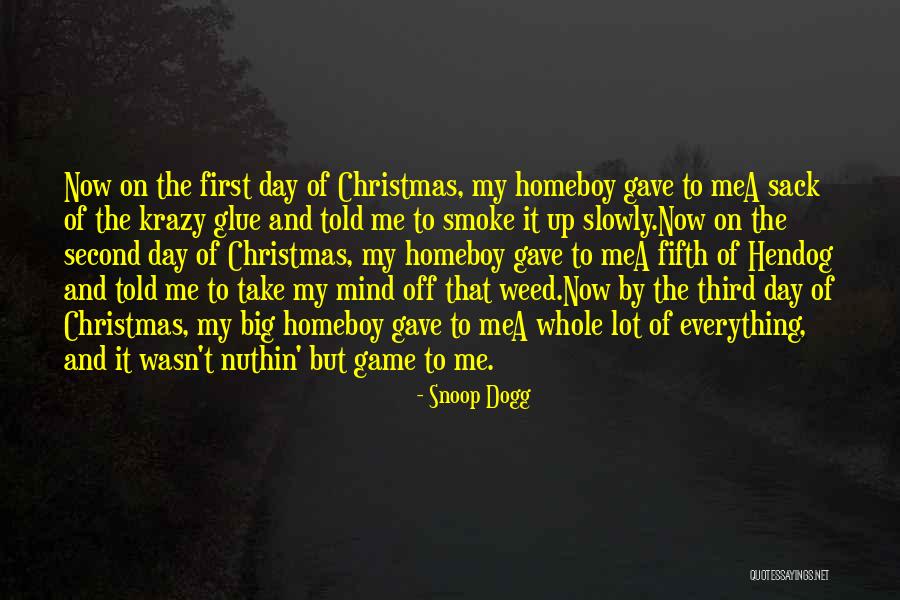 Now on the first day of Christmas, my homeboy gave to me
A sack of the krazy glue and told me to smoke it up slowly.
Now on the second day of Christmas, my homeboy gave to me
A fifth of Hendog and told me to take my mind off that weed.
Now by the third day of Christmas, my big homeboy gave to me
A whole lot of everything, and it wasn't nuthin' but game to me. — Snoop Dogg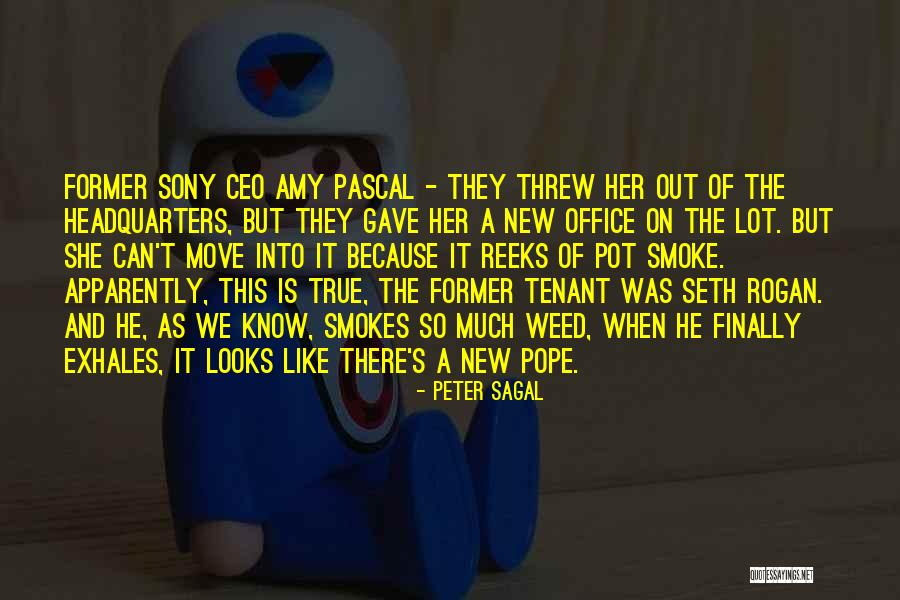 Former Sony CEO Amy Pascal - they threw her out of the headquarters, but they gave her a new office on the lot. But she can't move into it because it reeks of pot smoke. Apparently, this is true, the former tenant was Seth Rogan. And he, as we know, smokes so much weed, when he finally exhales, it looks like there's a new pope. — Peter Sagal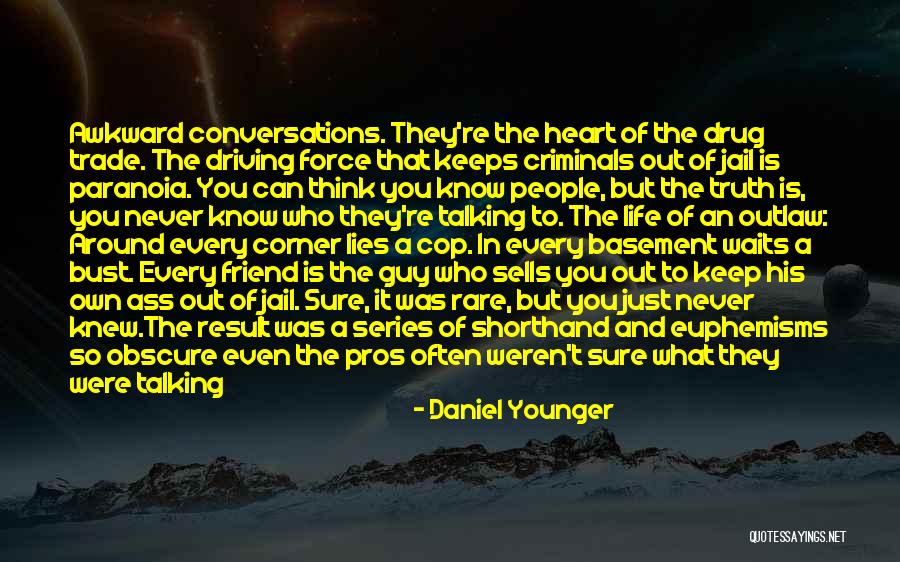 Awkward conversations. They're the heart of the drug trade. The driving force that keeps criminals out of jail is paranoia. You can think you know people, but the truth is, you never know who they're talking to. The life of an outlaw: Around every corner lies a cop. In every basement waits a bust. Every friend is the guy who sells you out to keep his own ass out of jail. Sure, it was rare, but you just never knew.
The result was a series of shorthand and euphemisms so obscure even the pros often weren't sure what they were talking about. Sales became pickups. Pot, ganja, bud, or weed became lettuce, green, happy, herb, smoke... the list went on, and changed from dealer to dealer. — Daniel Younger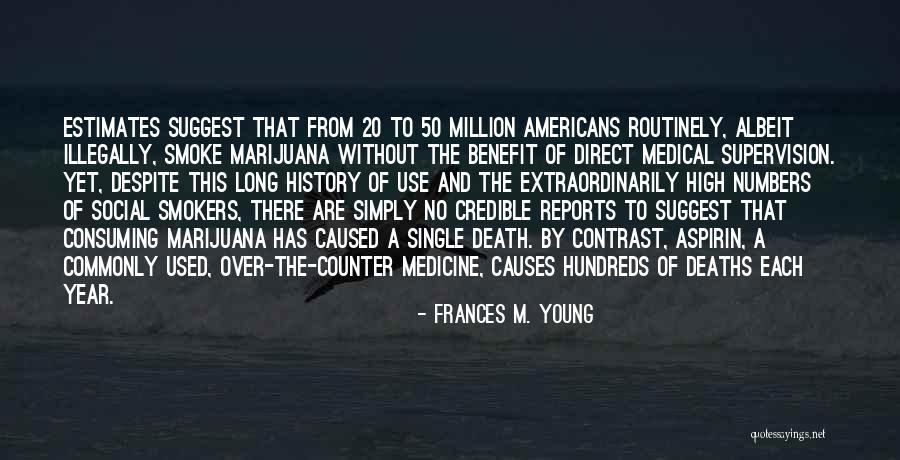 Estimates suggest that from 20 to 50 million Americans routinely, albeit illegally, smoke marijuana without the benefit of direct medical supervision. Yet, despite this long history of use and the extraordinarily high numbers of social smokers, there are simply no credible reports to suggest that consuming marijuana has caused a single death. By contrast, aspirin, a commonly used, over-the-counter medicine, causes hundreds of deaths each year. — Frances M. Young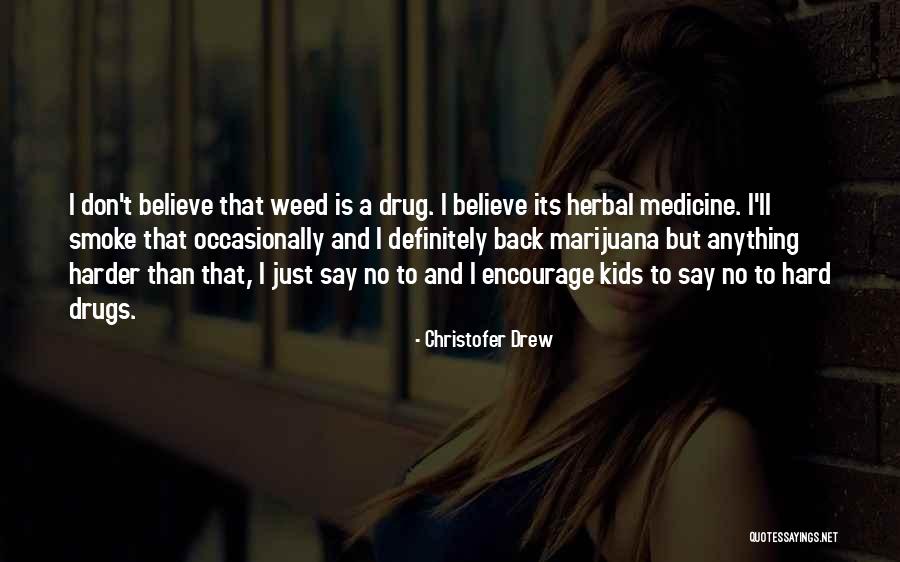 I don't believe that weed is a drug. I believe its herbal medicine. I'll smoke that occasionally and I definitely back marijuana but anything harder than that, I just say no to and I encourage kids to say no to hard drugs. — Christofer Drew