Y U Mad Quotes & Sayings
Enjoy reading and share 30 famous quotes about Y U Mad with everyone.
I've never understood why people get mad at others for not being interested in them romantically - especially when there are so many reasons to be mad at people that are within their control. — Ingrid Weir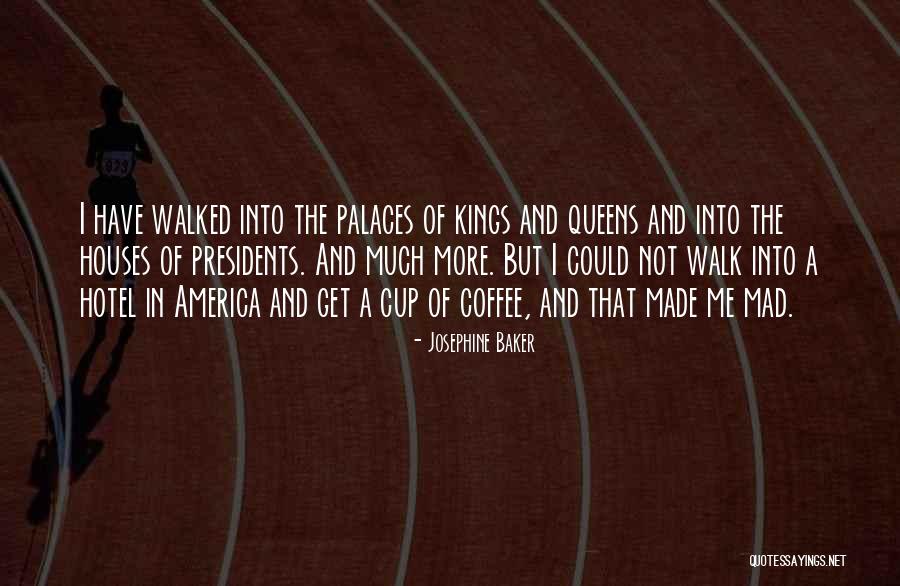 I have walked into the palaces of kings and queens and into the houses of presidents. And much more. But I could not walk into a hotel in America and get a cup of coffee, and that made me mad. — Josephine Baker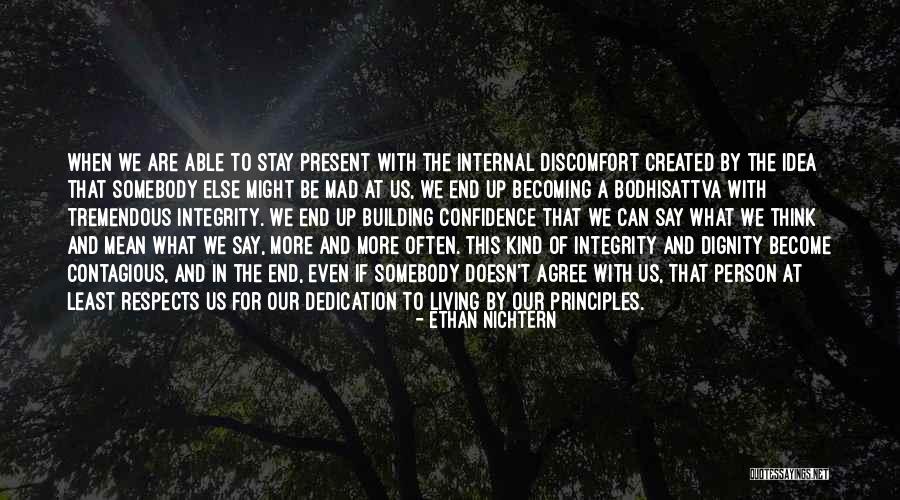 When we are able to stay present with the internal discomfort created by the idea that somebody else might be mad at us, we end up becoming a bodhisattva with tremendous integrity. We end up building confidence that we can say what we think and mean what we say, more and more often. This kind of integrity and dignity become contagious, and in the end, even if somebody doesn't agree with us, that person at least respects us for our dedication to living by our principles. — Ethan Nichtern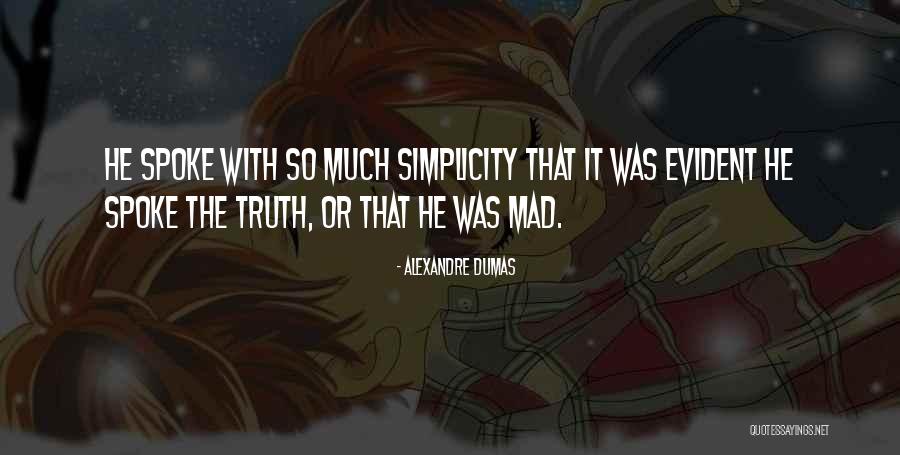 he spoke with so much simplicity that it was evident he spoke the truth, or that he was mad. — Alexandre Dumas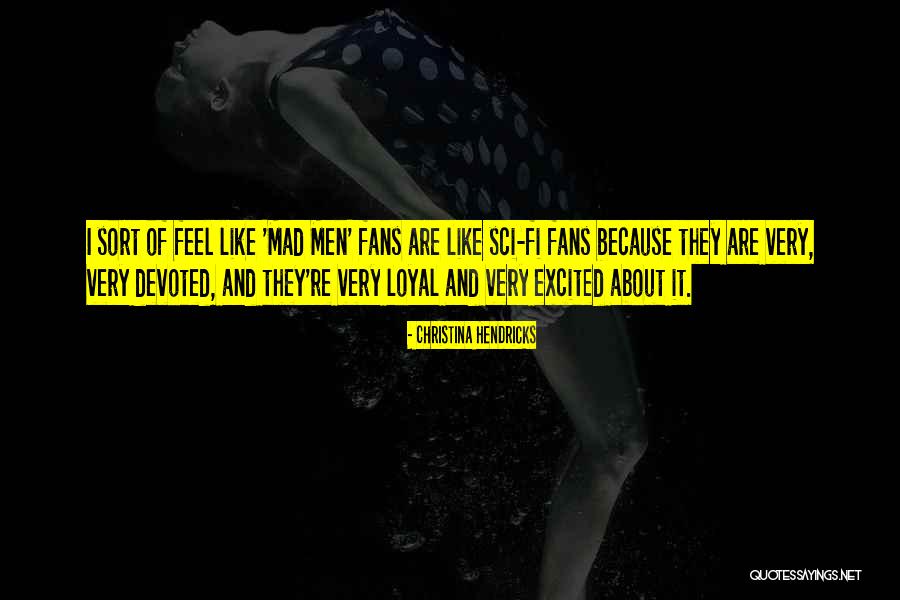 I sort of feel like 'Mad Men' fans are like sci-fi fans because they are very, very devoted, and they're very loyal and very excited about it. — Christina Hendricks
You could arm-wrestle with a T. rex and win, but you shouldn't because it only makes them mad. — Robert T. Bakker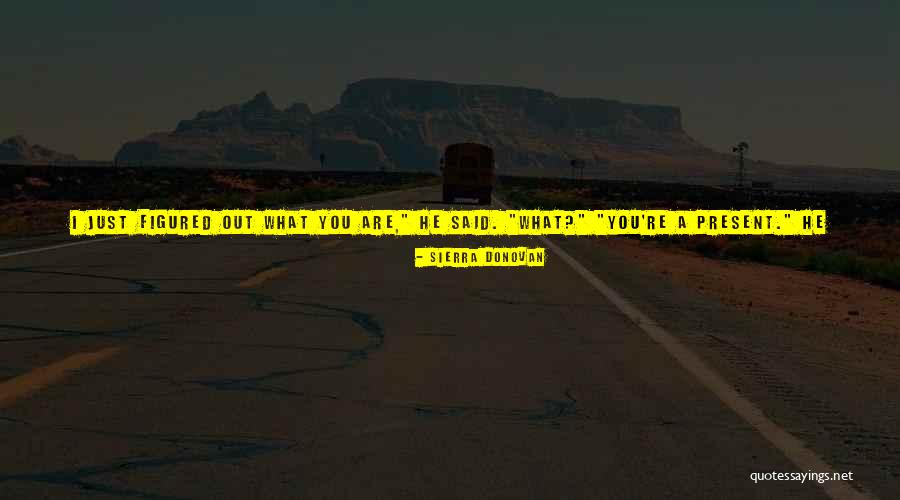 I just figured out what you are," he said.
"What?"
"You're a present." He nodded as if in satisfaction. "Tightly wrapped, with lots of tape, lots of beautiful shiny ribbon, all tied up in impossible knots. The kind of present that makes you half mad when you're trying to get it open. Because you know, the whole time, what's inside is going to be wonderful. — Sierra Donovan
What is madness?" she asked, sitting with one leg up against her chest, vaporous skirt flickering around her calves and vanishing into mist. "It's when men don't think right," Kaladin said, glad for the conversation to distract him. "Men never seem to think right." "Madness is worse than normal," Kaladin said with a smile. "It really just depends on the people around you. How different are you from them? The person that stands out is mad, I guess. — Brandon Sanderson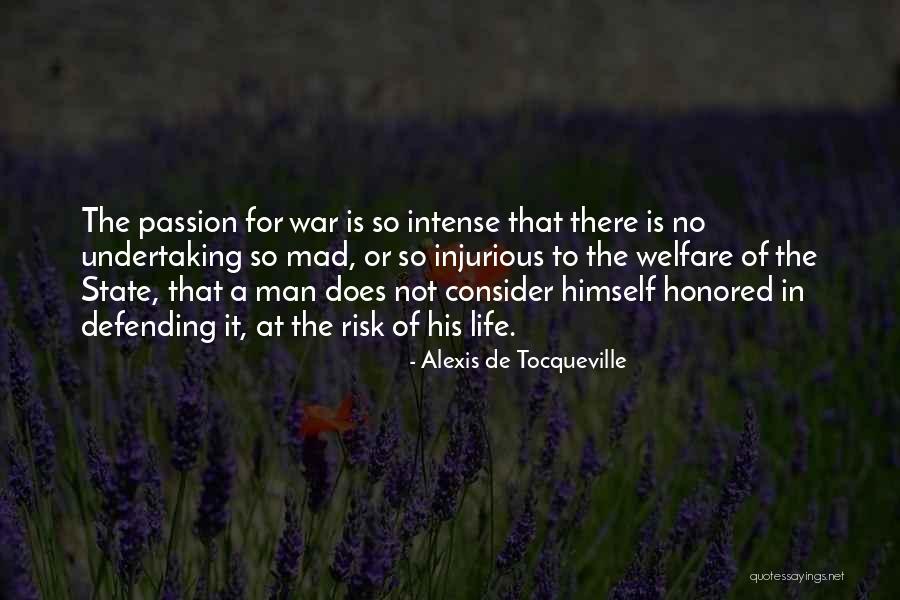 The passion for war is so intense that there is no undertaking so mad, or so injurious to the welfare of the State, that a man does not consider himself honored in defending it, at the risk of his life. — Alexis De Tocqueville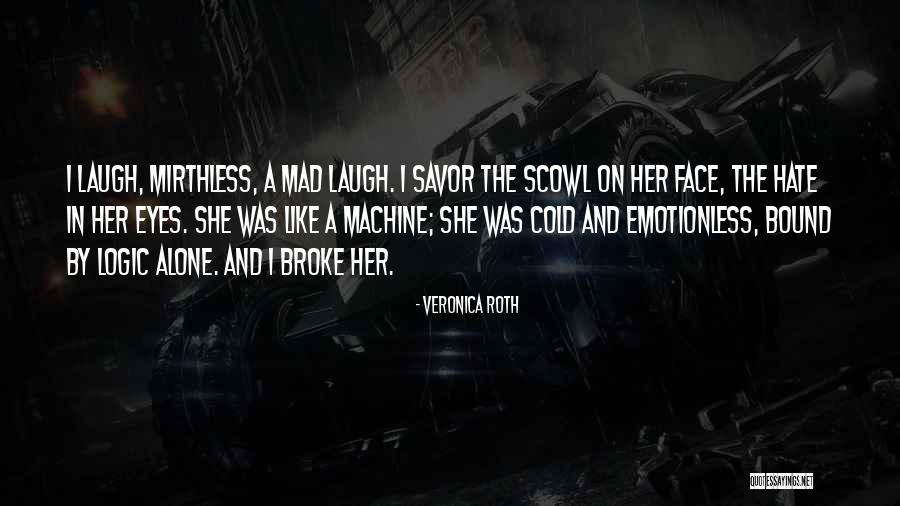 I laugh, mirthless, a mad laugh. I savor the scowl on her face, the hate in her eyes. She was like a machine; she was cold and emotionless, bound by logic alone. And I broke her. — Veronica Roth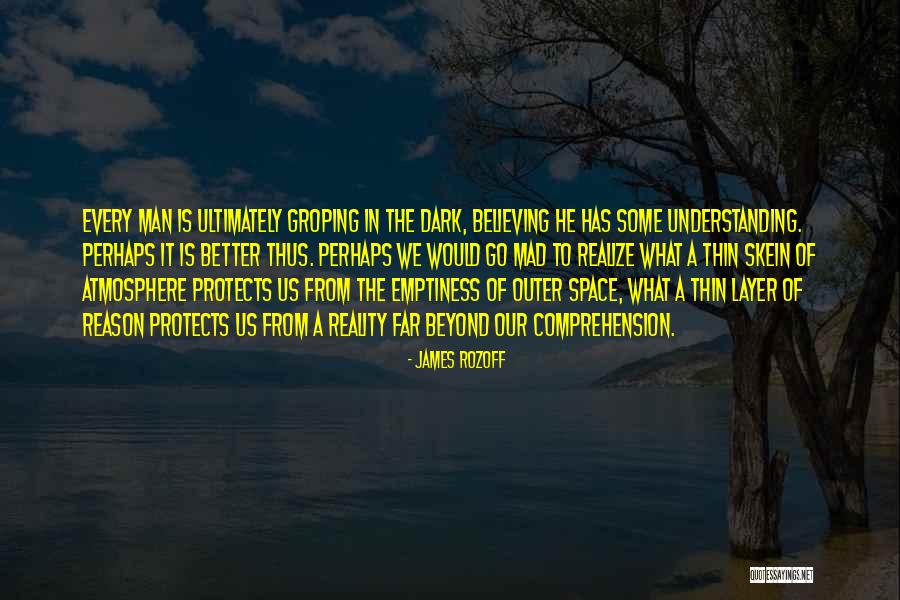 Every man is ultimately groping in the dark, believing he has some understanding. Perhaps it is better thus. Perhaps we would go mad to realize what a thin skein of atmosphere protects us from the emptiness of outer space, what a thin layer of reason protects us from a reality far beyond our comprehension. — James Rozoff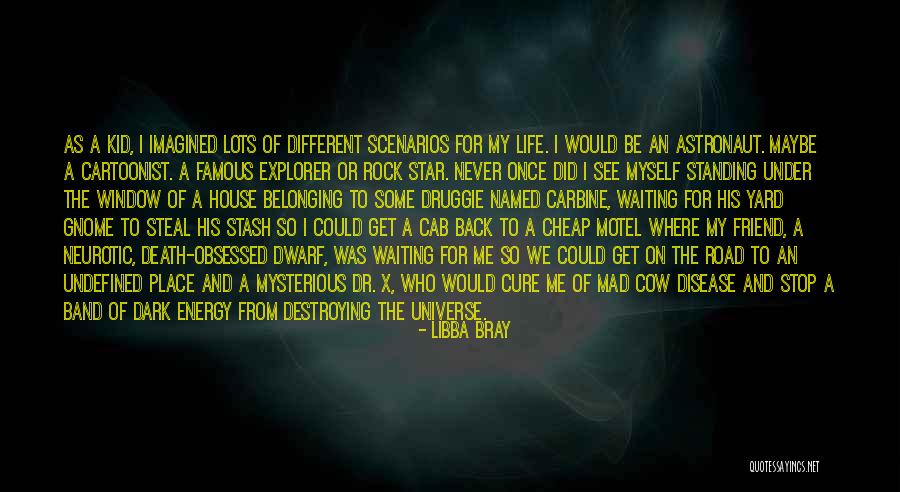 As a kid, I imagined lots of different scenarios for my life. I would be an astronaut. Maybe a cartoonist. A famous explorer or rock star. Never once did I see myself standing under the window of a house belonging to some druggie named Carbine, waiting for his yard gnome to steal his stash so I could get a cab back to a cheap motel where my friend, a neurotic, death-obsessed dwarf, was waiting for me so we could get on the road to an undefined place and a mysterious Dr. X, who would cure me of mad cow disease and stop a band of dark energy from destroying the universe. — Libba Bray
News came of Beni Beni, the madman of Wimbe, who'd always made us laugh in better times. He'd run up to merchants in the trading center with his raving eyes and snatch cakes and Fantas from their stalls. No one ever took them away because his hands were always so filthy. The mad people had always depended on others to care for them, but now there were none. Beni Beni died at the church. — William Kamkwamba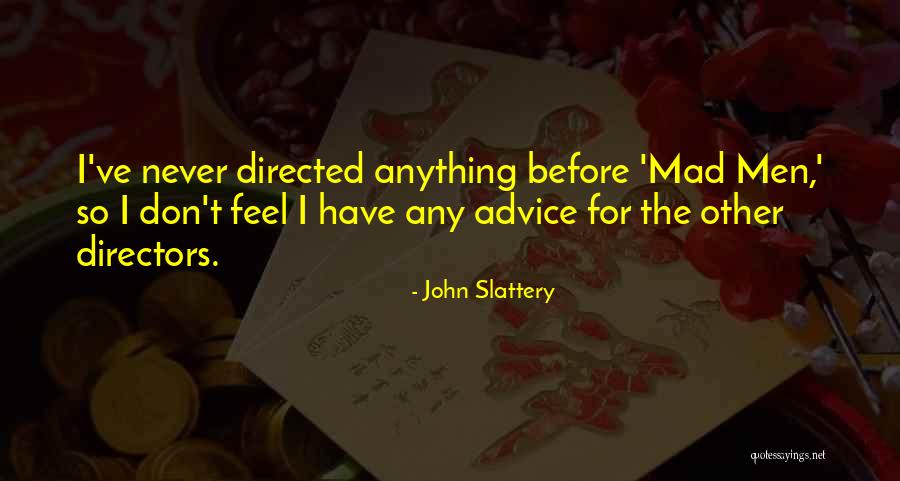 I've never directed anything before 'Mad Men,' so I don't feel I have any advice for the other directors. — John Slattery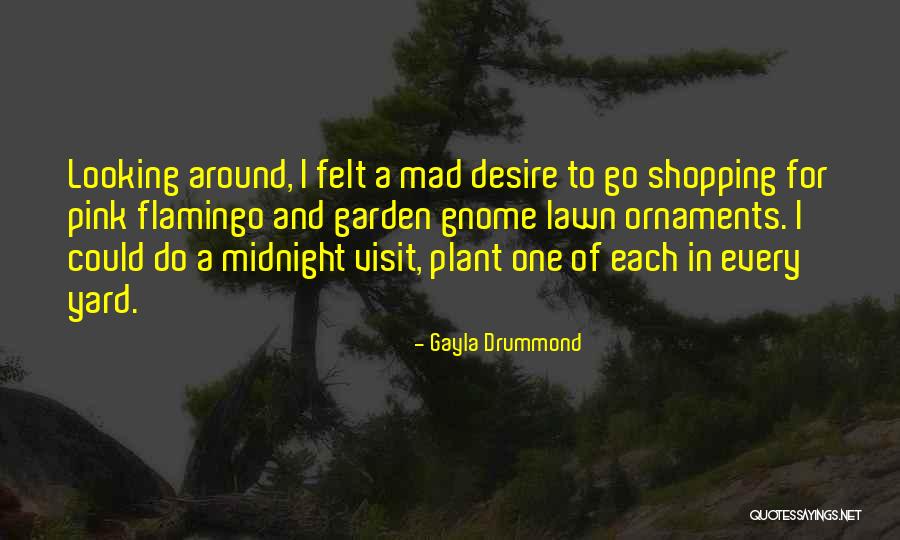 Looking around, I felt a mad desire to go shopping for pink flamingo and garden gnome lawn ornaments. I could do a midnight visit, plant one of each in every yard. — Gayla Drummond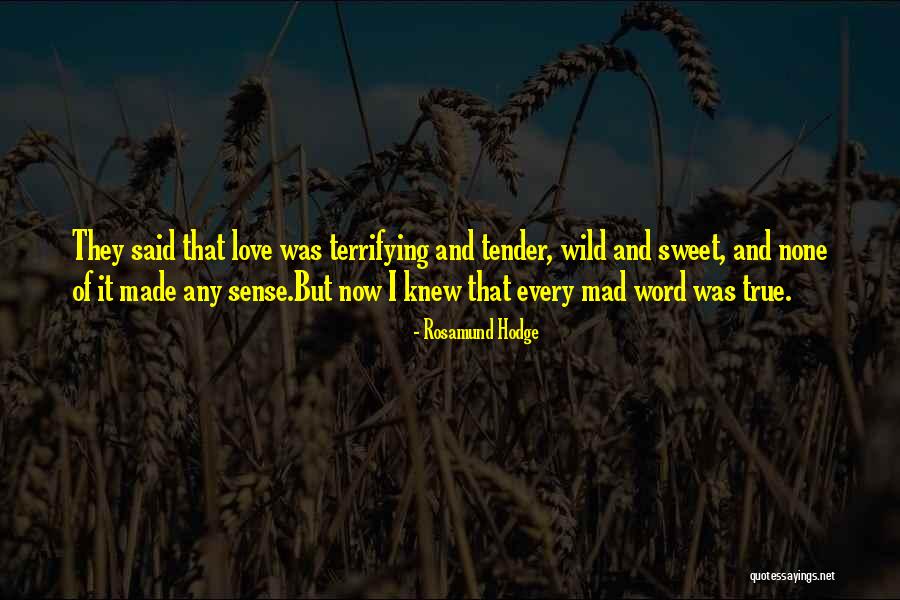 They said that love was terrifying and tender, wild and sweet, and none of it made any sense.
But now I knew that every mad word was true. — Rosamund Hodge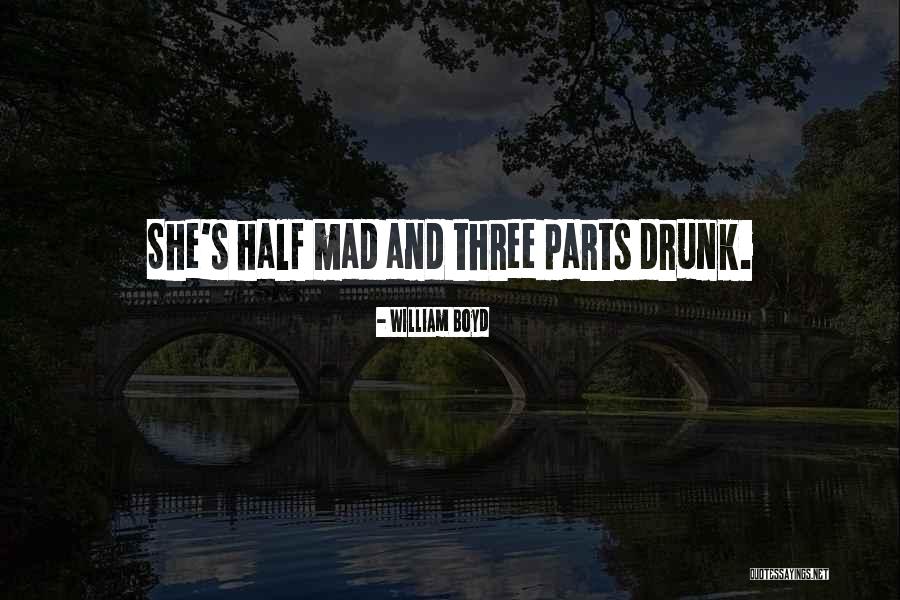 She's half mad and three parts drunk. — William Boyd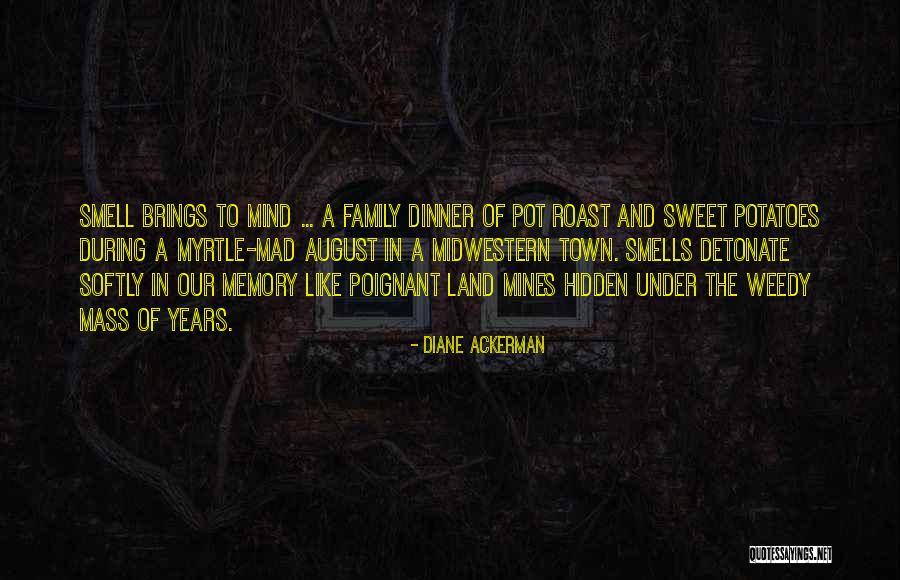 Smell brings to mind ... a family dinner of pot roast and sweet potatoes during a myrtle-mad August in a Midwestern town. Smells detonate softly in our memory like poignant land mines hidden under the weedy mass of years. — Diane Ackerman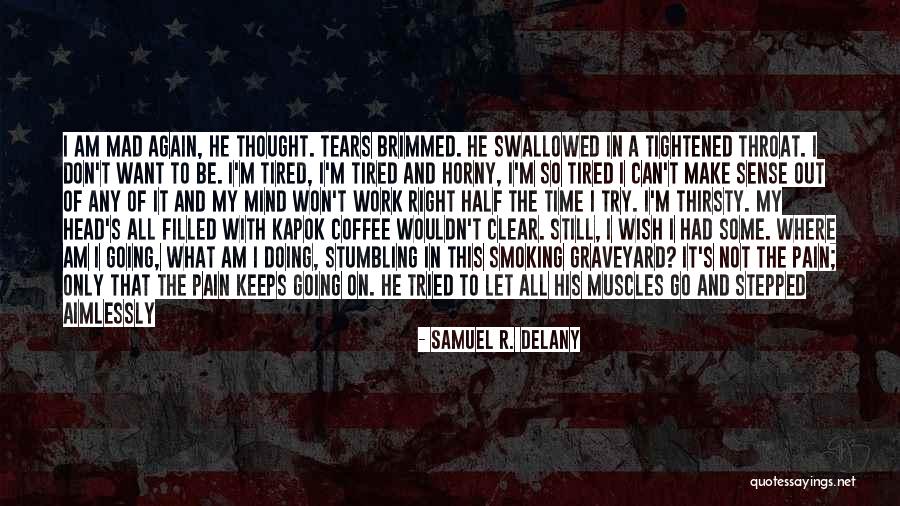 I am mad again, he thought. Tears brimmed. He swallowed in a tightened throat. I don't want to be. I'm tired, I'm tired and horny, I'm so tired I can't make sense out of any of it and my mind won't work right half the time I try. I'm thirsty. My head's all filled with kapok coffee wouldn't clear. Still, I wish I had some. Where am I going, what am I doing, stumbling in this smoking graveyard? It's not the pain; only that the pain keeps going on. He tried to let all his muscles go and stepped aimlessly from sidewalk to gutter, his mouth dryer and dryer and dryer. Well, he thought, if it hurts, it hurts. It's only pain. — Samuel R. Delany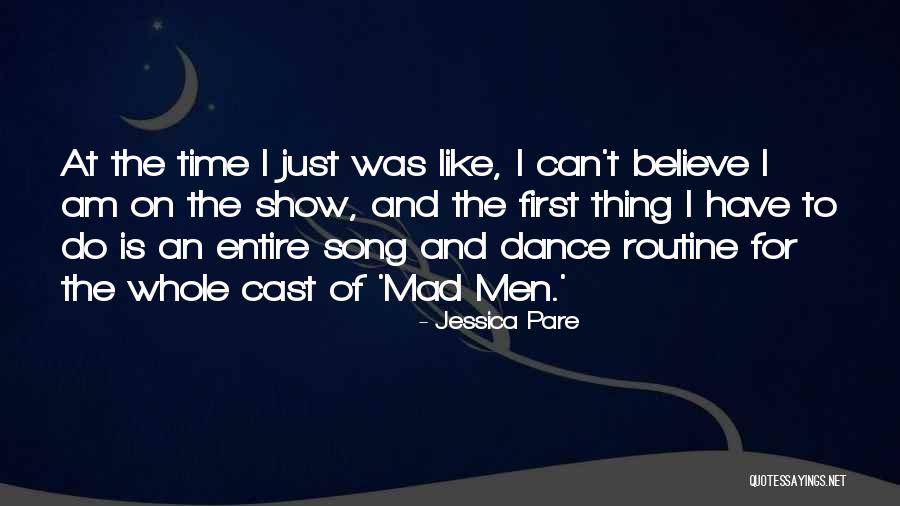 At the time I just was like, I can't believe I am on the show, and the first thing I have to do is an entire song and dance routine for the whole cast of 'Mad Men.' — Jessica Pare
I had a mad impulse to throw you down on the lunar surface and commit interstellar perversion with you. — Woody Allen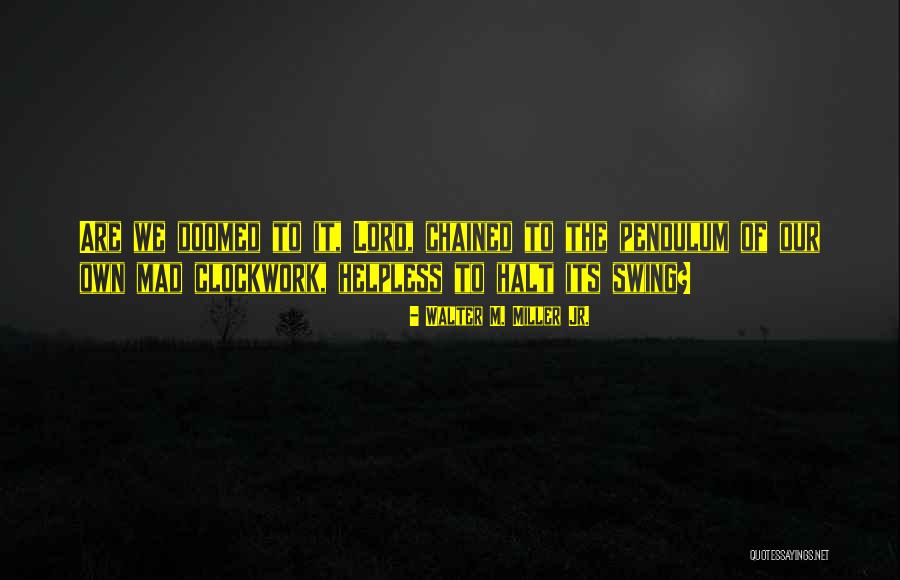 Are we doomed to it, Lord, chained to the pendulum of our own mad clockwork, helpless to halt its swing? — Walter M. Miller Jr.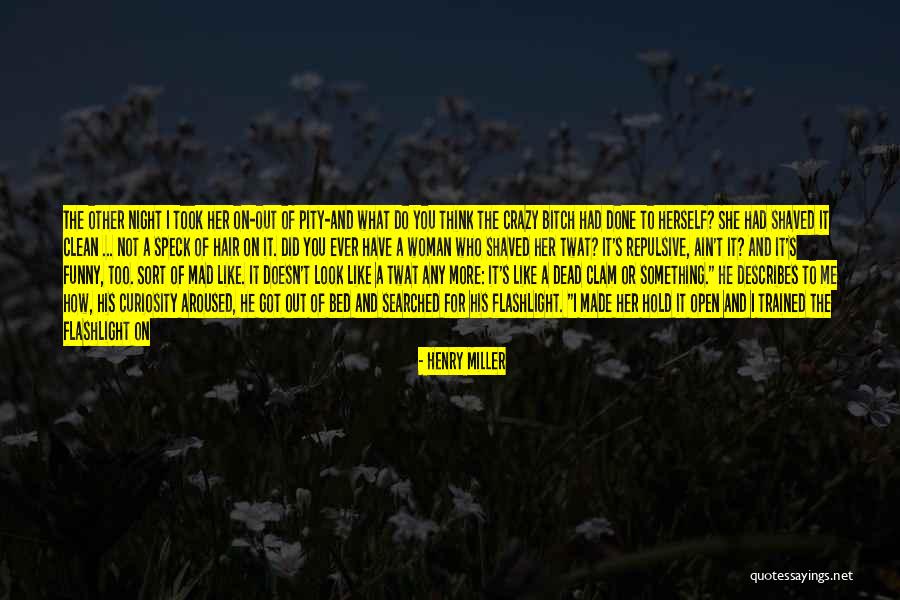 The other night I took her on-out of pity-and what do you think the crazy bitch had done to herself? She had shaved it clean ... not a speck of hair on it. Did you ever have a woman who shaved her twat? It's repulsive, ain't it? And it's funny, too. Sort of mad like. It doesn't look like a twat any more: it's like a dead clam or something." He describes to me how, his curiosity aroused, he got out of bed and searched for his flashlight. "I made her hold it open and I trained the flashlight on it. You should have seen me ... it was comical. I got so worked up about it that I forgot all about her. I never in my life looked at a cunt so seriously. — Henry Miller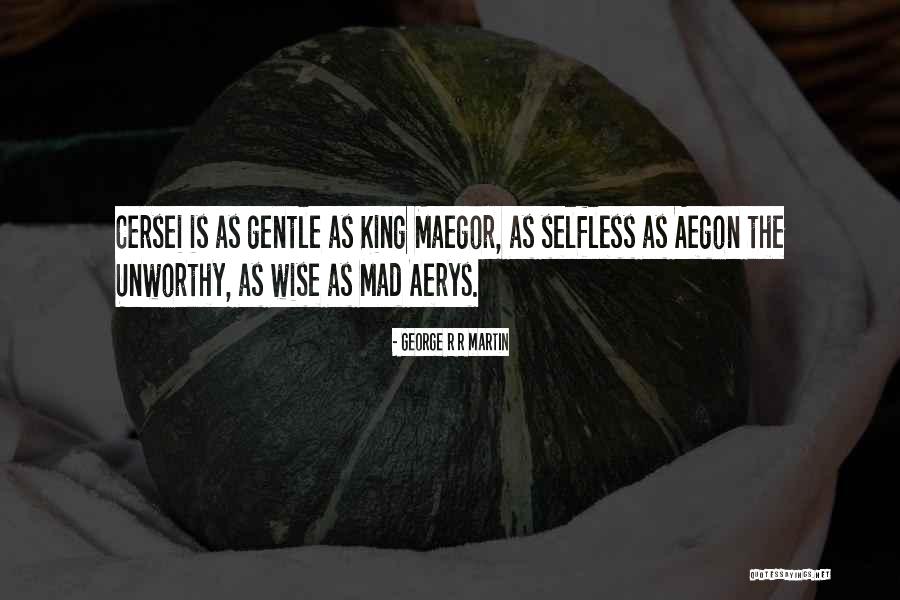 Cersei is as gentle as King Maegor, as selfless as Aegon the Unworthy, as wise as Mad Aerys. — George R R Martin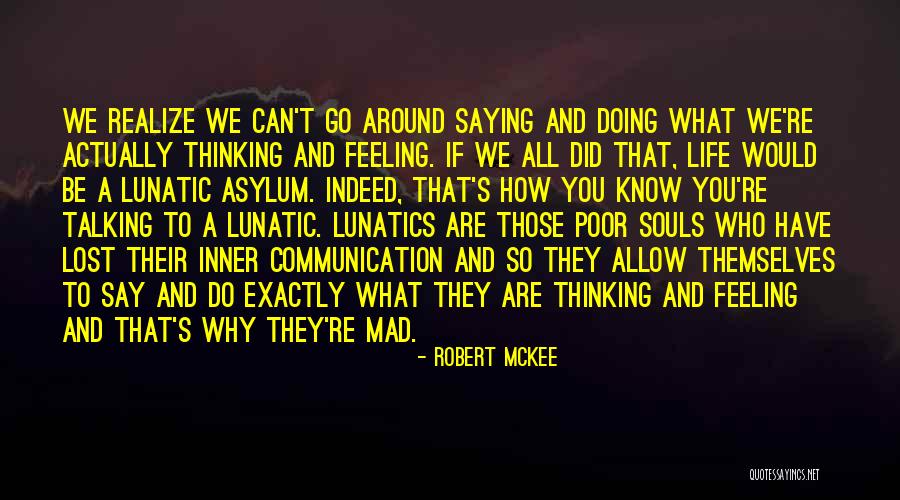 We realize we can't go around saying and doing what we're actually thinking and feeling. If we all did that, life would be a lunatic asylum. Indeed, that's how you know you're talking to a lunatic. Lunatics are those poor souls who have lost their inner communication and so they allow themselves to say and do exactly what they are thinking and feeling and that's why they're mad. — Robert McKee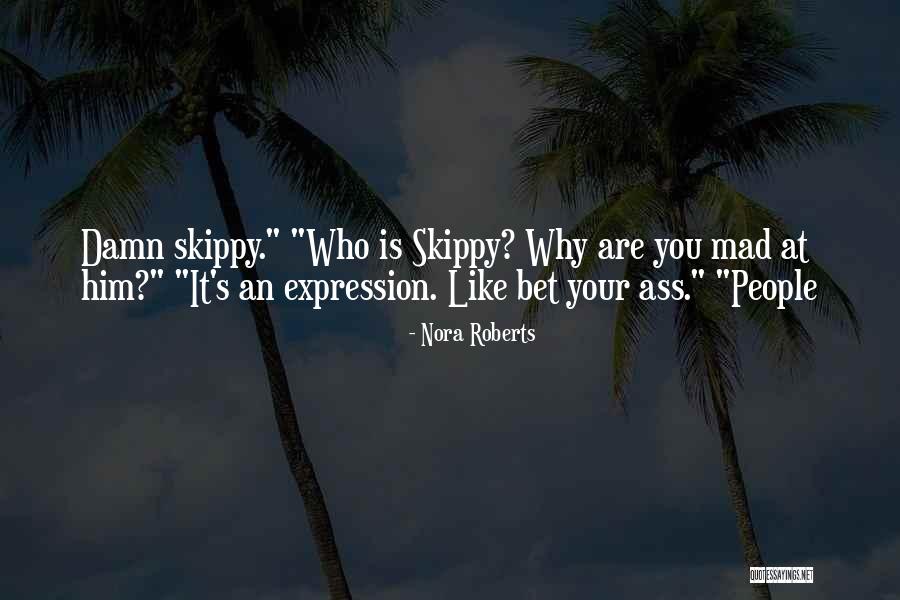 Damn skippy." "Who is Skippy? Why are you mad at him?" "It's an expression. Like bet your ass." "People — Nora Roberts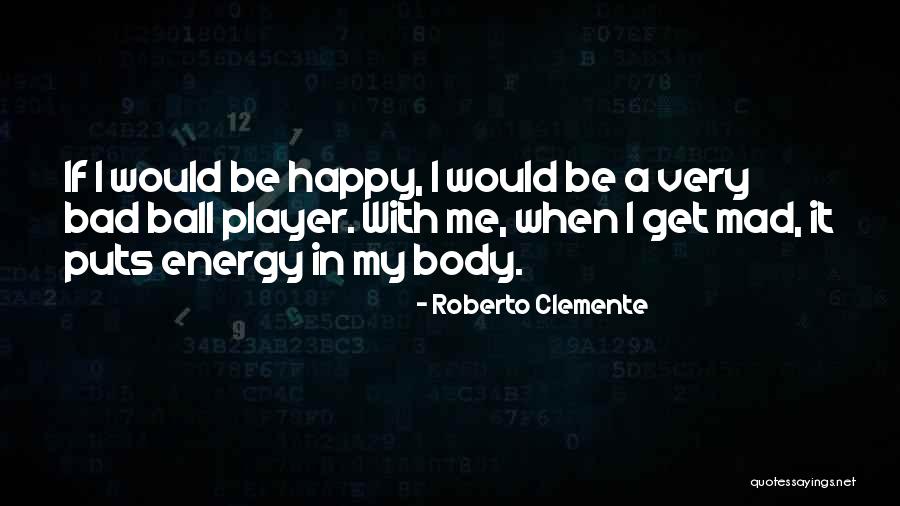 If I would be happy, I would be a very bad ball player. With me, when I get mad, it puts energy in my body. — Roberto Clemente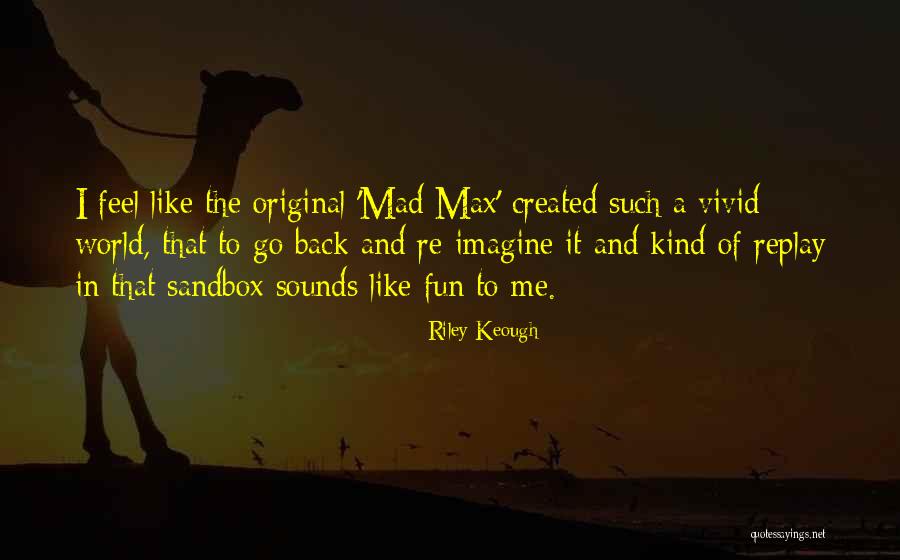 I feel like the original 'Mad Max' created such a vivid world, that to go back and re-imagine it and kind of replay in that sandbox sounds like fun to me. — Riley Keough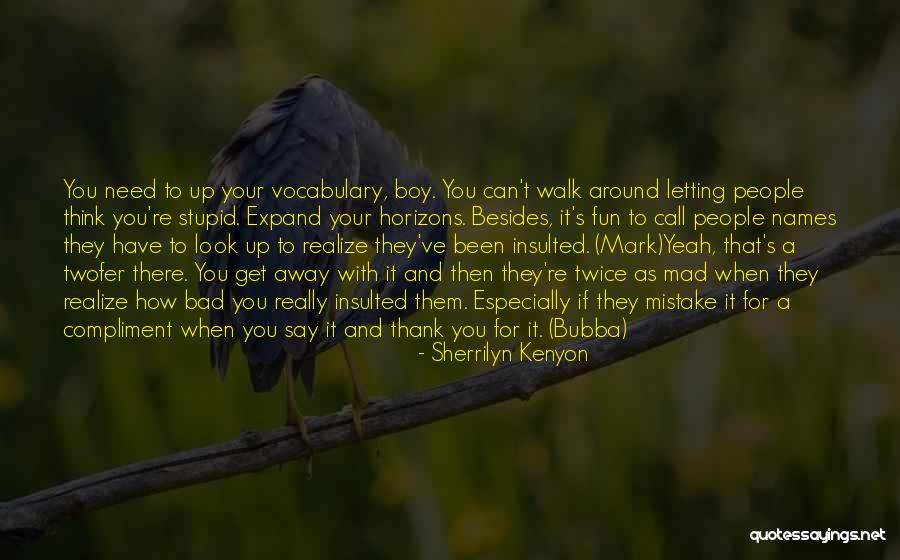 You need to up your vocabulary, boy. You can't walk around letting people think you're stupid. Expand your horizons. Besides, it's fun to call people names they have to look up to realize they've been insulted. (Mark)
Yeah, that's a twofer there. You get away with it and then they're twice as mad when they realize how bad you really insulted them. Especially if they mistake it for a compliment when you say it and thank you for it. (Bubba) — Sherrilyn Kenyon