World's Most Valuable Quotes & Sayings
Enjoy reading and share 70 famous quotes about World's Most Valuable with everyone.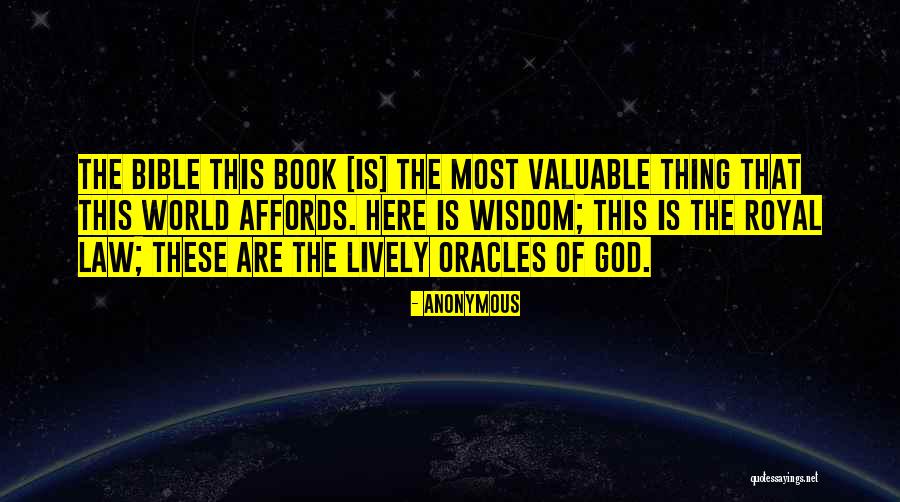 The Bible This Book [is] the most valuable thing that this world affords. Here is Wisdom; this is the royal Law; these are the lively Oracles of God. — Anonymous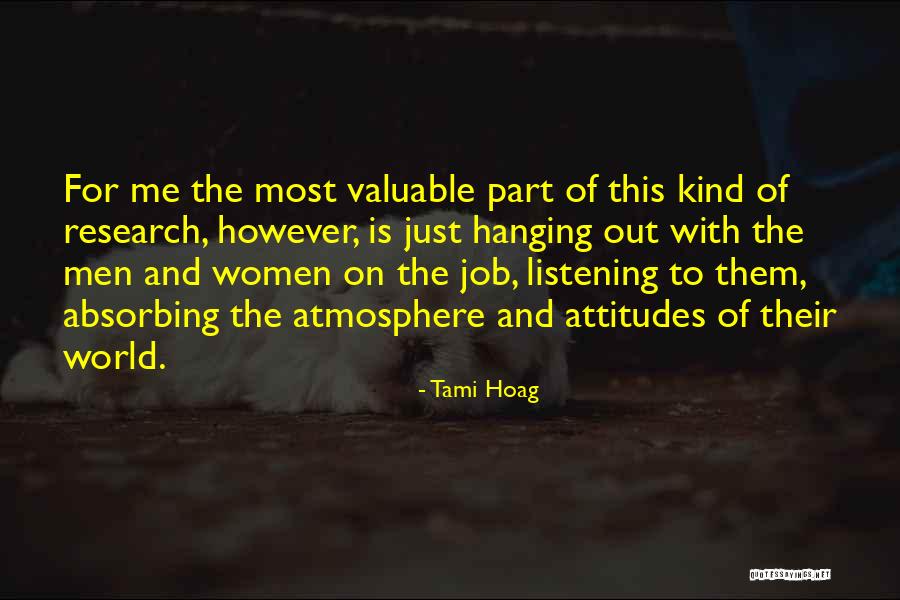 For me the most valuable part of this kind of research, however, is just hanging out with the men and women on the job, listening to them, absorbing the atmosphere and attitudes of their world. — Tami Hoag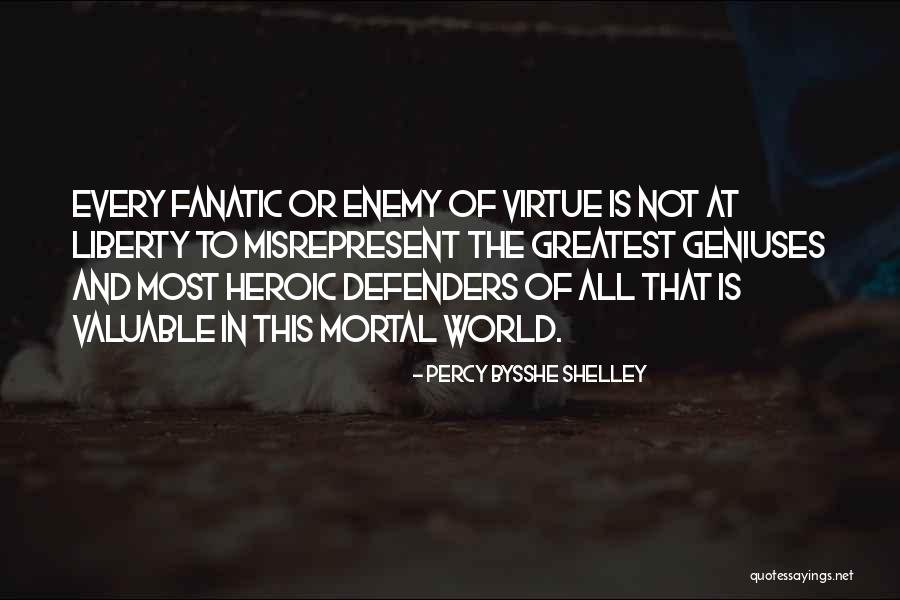 Every fanatic or enemy of virtue is not at liberty to misrepresent the greatest geniuses and most heroic defenders of all that is valuable in this mortal world. — Percy Bysshe Shelley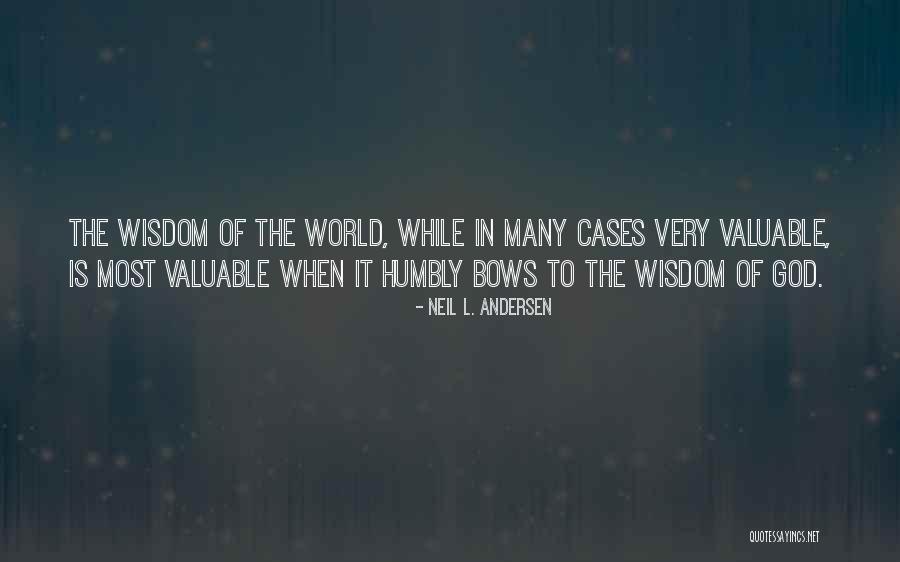 The wisdom of the world, while in many cases very valuable, is most valuable when it humbly bows to the wisdom of God. — Neil L. Andersen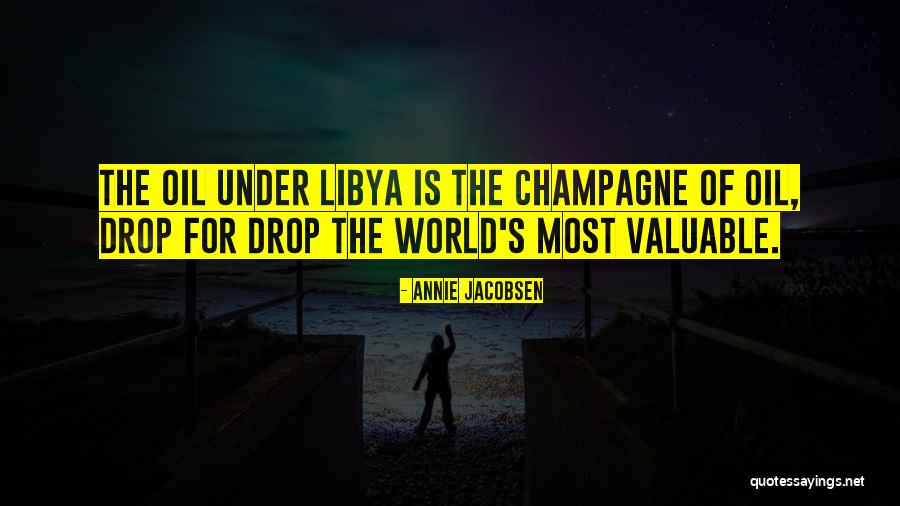 The oil under Libya is the champagne of oil, drop for drop the world's most valuable. — Annie Jacobsen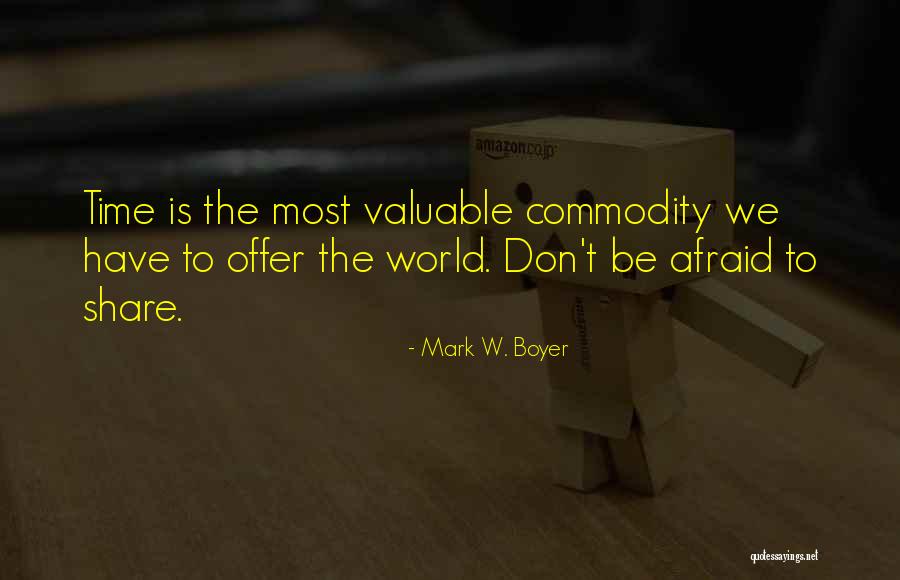 Time is the most valuable commodity we have to offer the world. Don't be afraid to share. — Mark W. Boyer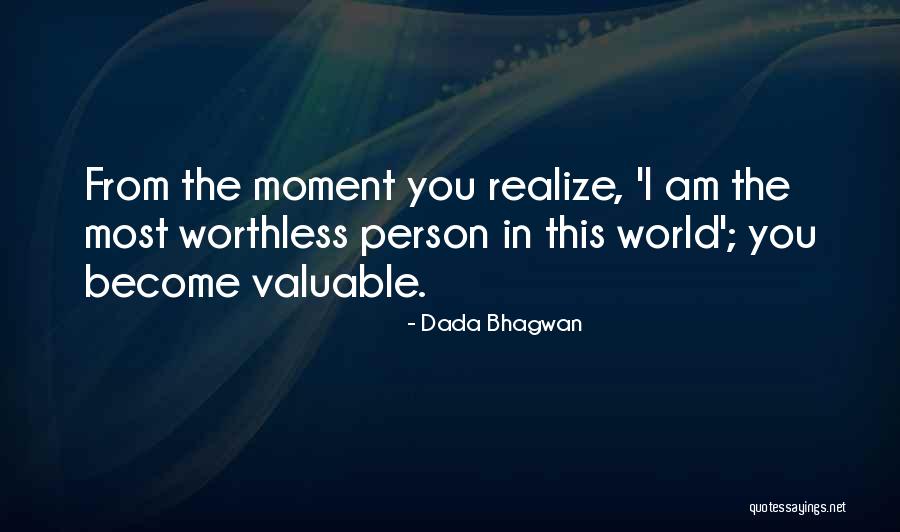 From the moment you realize, 'I am the most worthless person in this world'; you become valuable. — Dada Bhagwan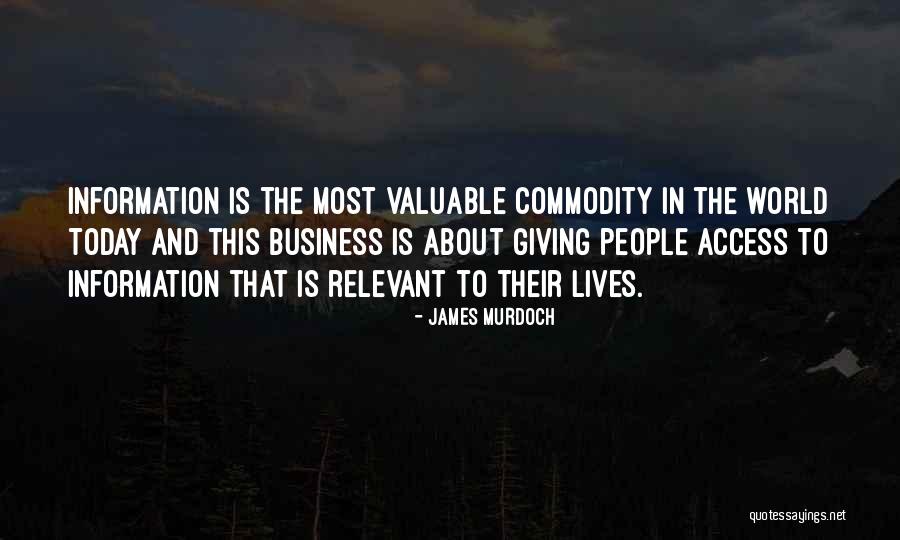 Information is the most valuable commodity in the world today and this business is about giving people access to information that is relevant to their lives. — James Murdoch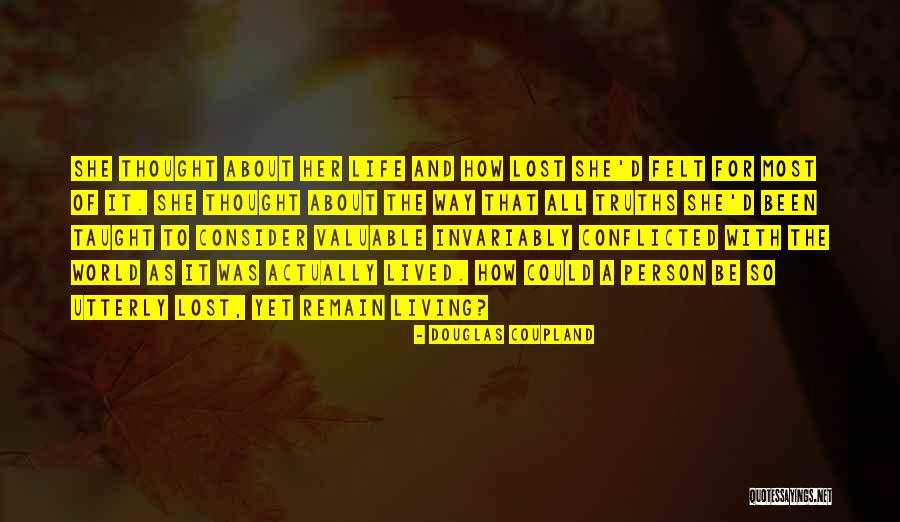 She thought about her life and how lost she'd felt for most of it. She thought about the way that all truths she'd been taught to consider valuable invariably conflicted with the world as it was actually lived. How could a person be so utterly lost, yet remain living? — Douglas Coupland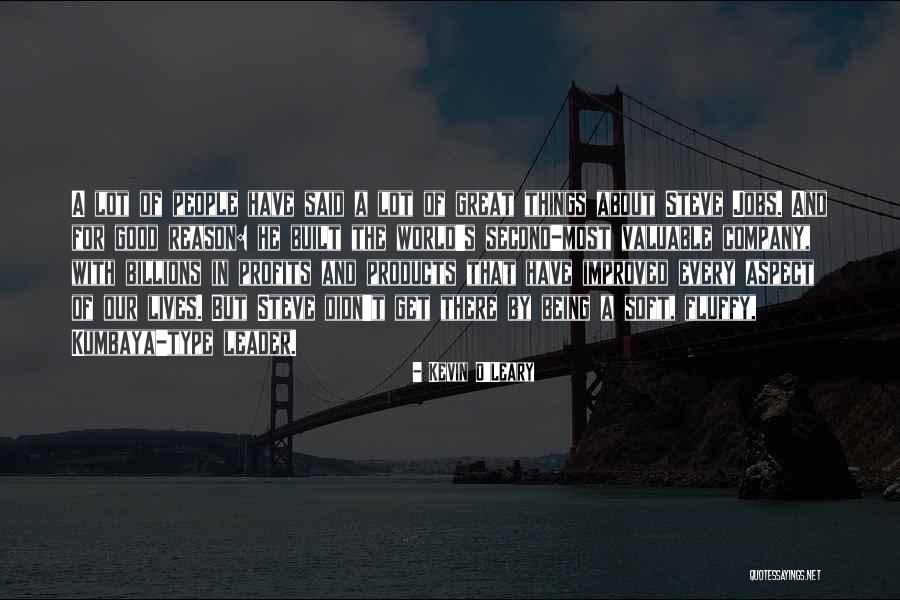 A lot of people have said a lot of great things about Steve Jobs. And for good reason: he built the world's second-most valuable company, with billions in profits and products that have improved every aspect of our lives. But Steve didn't get there by being a soft, fluffy, Kumbaya-type leader. — Kevin O'Leary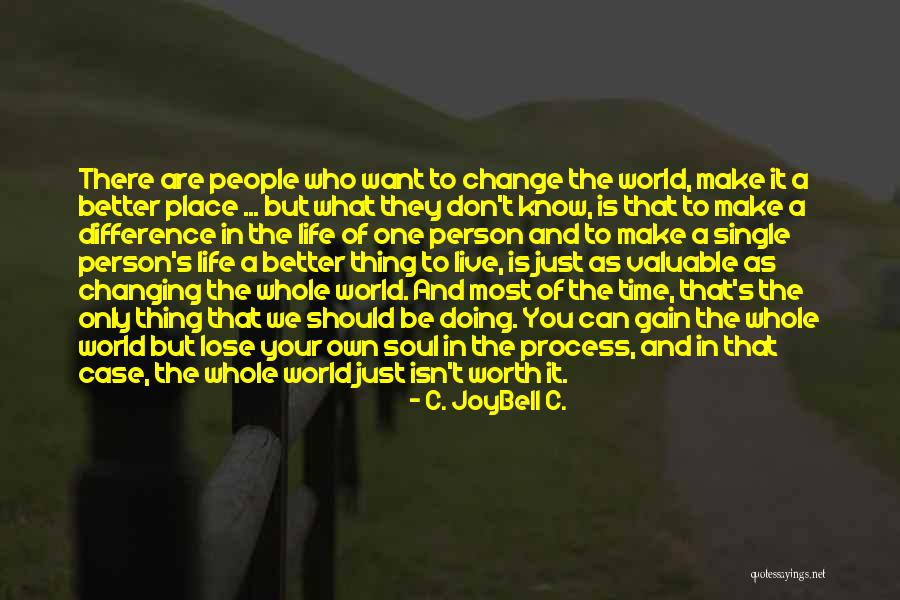 There are people who want to change the world, make it a better place ... but what they don't know, is that to make a difference in the life of one person and to make a single person's life a better thing to live, is just as valuable as changing the whole world. And most of the time, that's the only thing that we should be doing. You can gain the whole world but lose your own soul in the process, and in that case, the whole world just isn't worth it. — C. JoyBell C.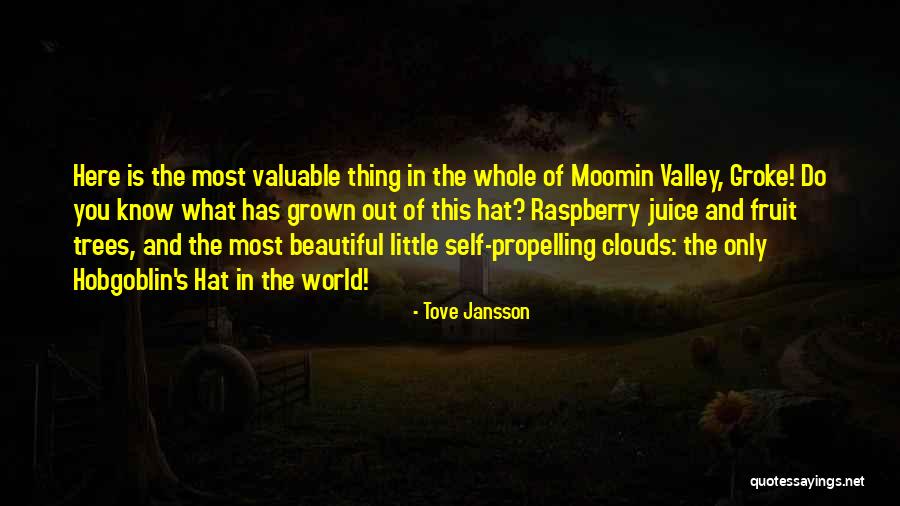 Here is the most valuable thing in the whole of Moomin Valley, Groke! Do you know what has grown out of this hat? Raspberry juice and fruit trees, and the most beautiful little self-propelling clouds: the only Hobgoblin's Hat in the world! — Tove Jansson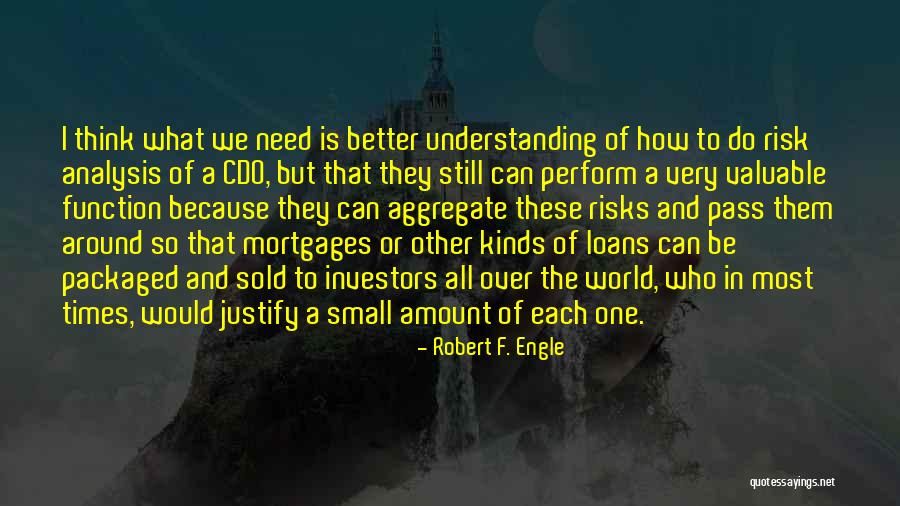 I think what we need is better understanding of how to do risk analysis of a CDO, but that they still can perform a very valuable function because they can aggregate these risks and pass them around so that mortgages or other kinds of loans can be packaged and sold to investors all over the world, who in most times, would justify a small amount of each one. — Robert F. Engle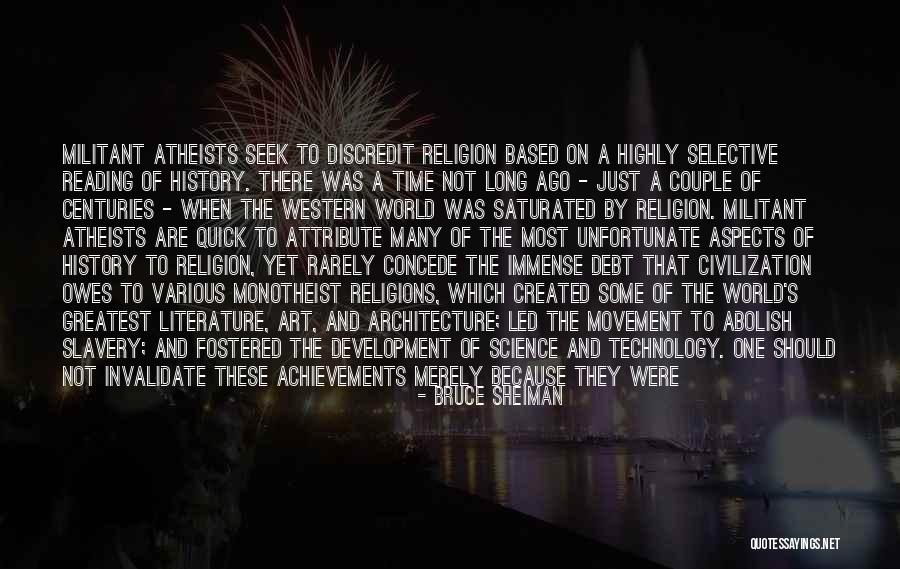 Militant atheists seek to discredit religion based on a highly selective reading of history. There was a time not long ago - just a couple of centuries - when the Western world was saturated by religion. Militant atheists are quick to attribute many of the most unfortunate aspects of history to religion, yet rarely concede the immense debt that civilization owes to various monotheist religions, which created some of the world's greatest literature, art, and architecture; led the movement to abolish slavery; and fostered the development of science and technology. One should not invalidate these achievements merely because they were developed for religious purposes. If much of science was originally a religious endeavor, does that mean science is not valuable? Is religiously motivated charity not genuine? Is art any less beautiful because it was created to express devotion to God? To regret religion is to regret our civilization and its achievements. — Bruce Sheiman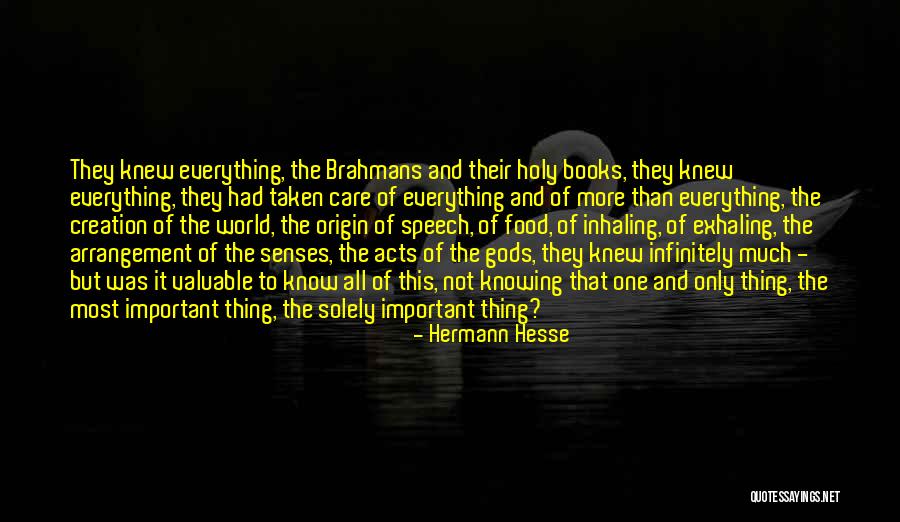 They knew everything, the Brahmans and their holy books, they knew everything, they had taken care of everything and of more than everything, the creation of the world, the origin of speech, of food, of inhaling, of exhaling, the arrangement of the senses, the acts of the gods, they knew infinitely much - but was it valuable to know all of this, not knowing that one and only thing, the most important thing, the solely important thing? — Hermann Hesse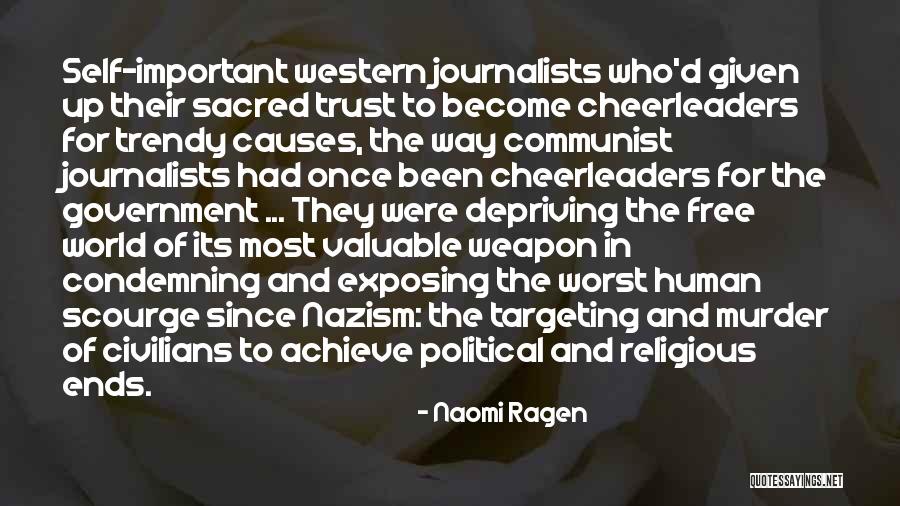 Self-important western journalists who'd given up their sacred trust to become cheerleaders for trendy causes, the way communist journalists had once been cheerleaders for the government ... They were depriving the free world of its most valuable weapon in condemning and exposing the worst human scourge since Nazism: the targeting and murder of civilians to achieve political and religious ends. — Naomi Ragen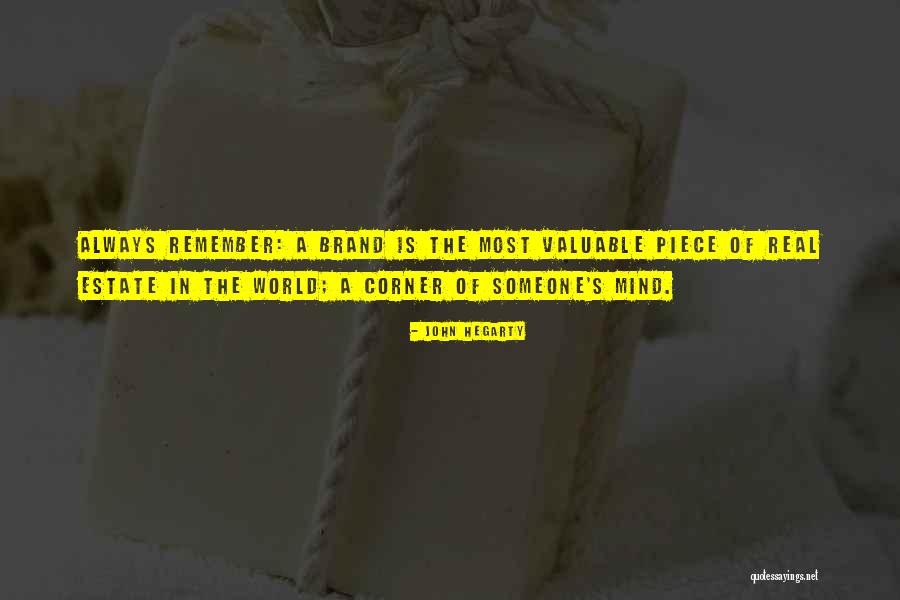 Always remember: a brand is the most valuable piece of real estate in the world; a corner of someone's mind. — John Hegarty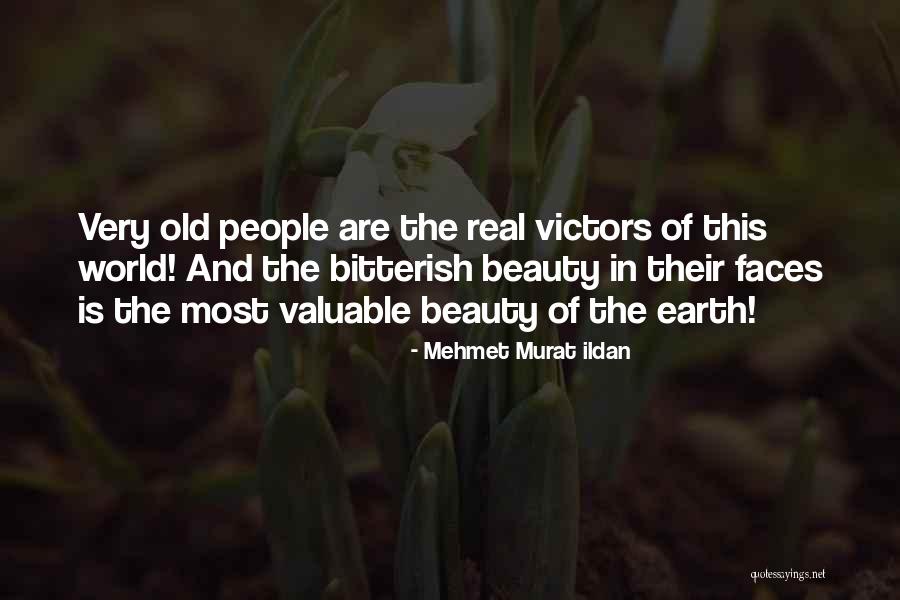 Very old people are the real victors of this world! And the bitterish beauty in their faces is the most valuable beauty of the earth! — Mehmet Murat Ildan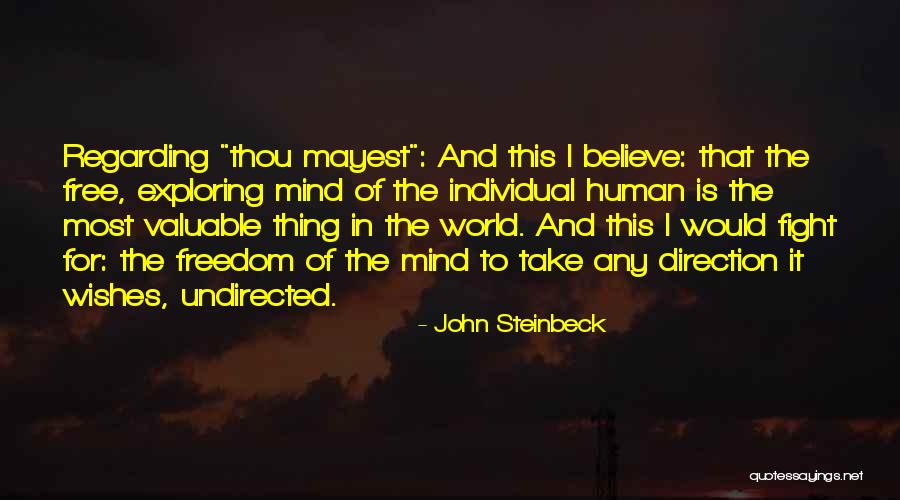 Regarding "thou mayest":
And this I believe: that the free, exploring mind of the individual human is the most valuable thing in the world. And this I would fight for: the freedom of the mind to take any direction it wishes, undirected. — John Steinbeck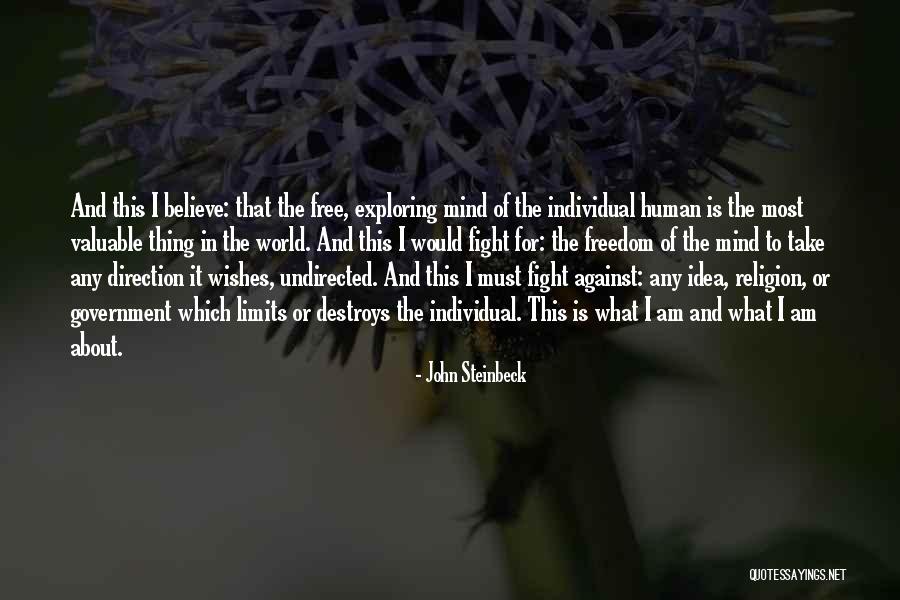 And this I believe: that the free, exploring mind of the individual human is the most valuable thing in the world. And this I would fight for: the freedom of the mind to take any direction it wishes, undirected. And this I must fight against: any idea, religion, or government which limits or destroys the individual. This is what I am and what I am about. — John Steinbeck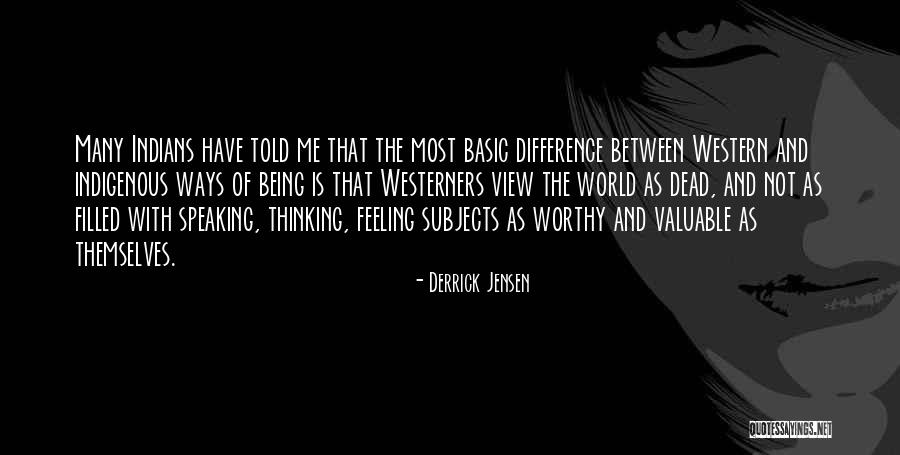 Many Indians have told me that the most basic difference between Western and indigenous ways of being is that Westerners view the world as dead, and not as filled with speaking, thinking, feeling subjects as worthy and valuable as themselves. — Derrick Jensen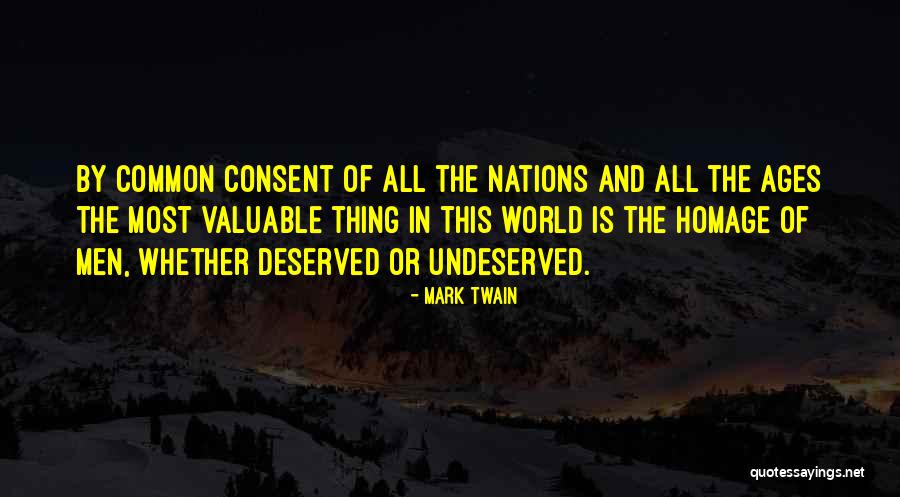 By common consent of all the nations and all the ages the most valuable thing in this world is the homage of men, whether deserved or undeserved. — Mark Twain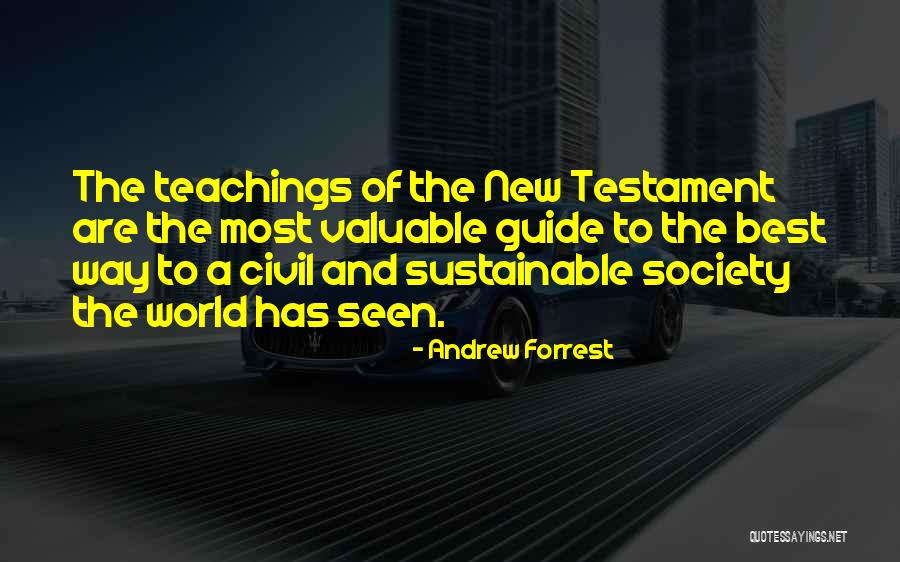 The teachings of the New Testament are the most valuable guide to the best way to a civil and sustainable society the world has seen. — Andrew Forrest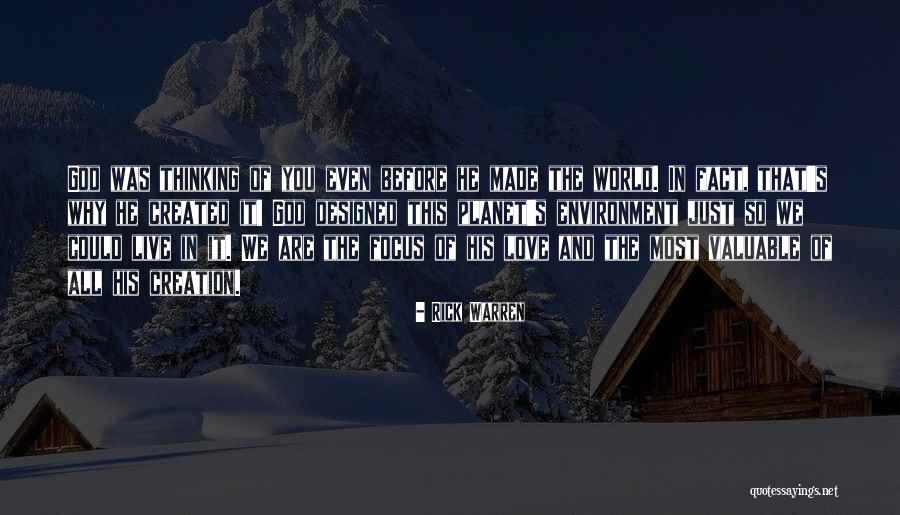 God was thinking of you even before he made the world. In fact, that's why he created it! God designed this planet's environment just so we could live in it. We are the focus of his love and the most valuable of all his creation. — Rick Warren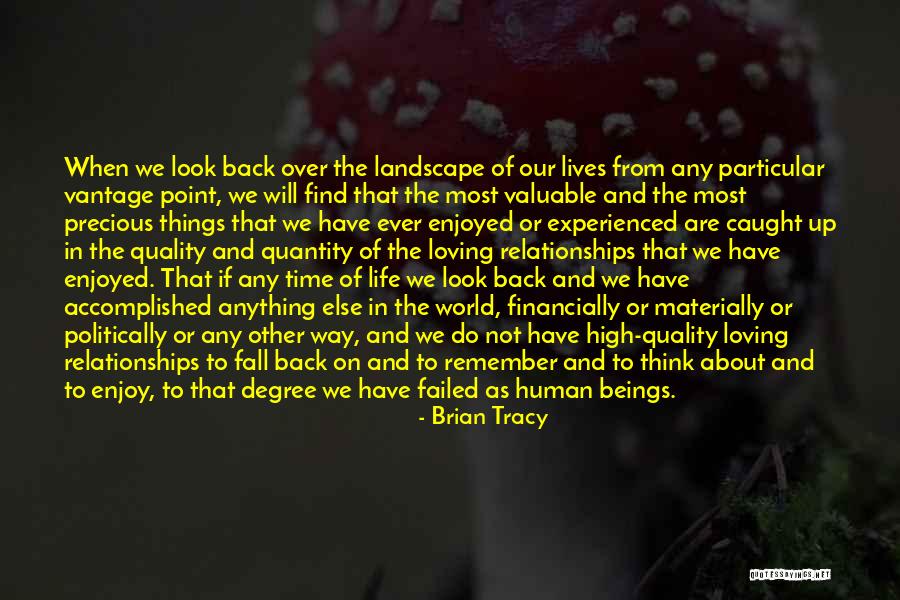 When we look back over the landscape of our lives from any particular vantage point, we will find that the most valuable and the most precious things that we have ever enjoyed or experienced are caught up in the quality and quantity of the loving relationships that we have enjoyed. That if any time of life we look back and we have accomplished anything else in the world, financially or materially or politically or any other way, and we do not have high-quality loving relationships to fall back on and to remember and to think about and to enjoy, to that degree we have failed as human beings. — Brian Tracy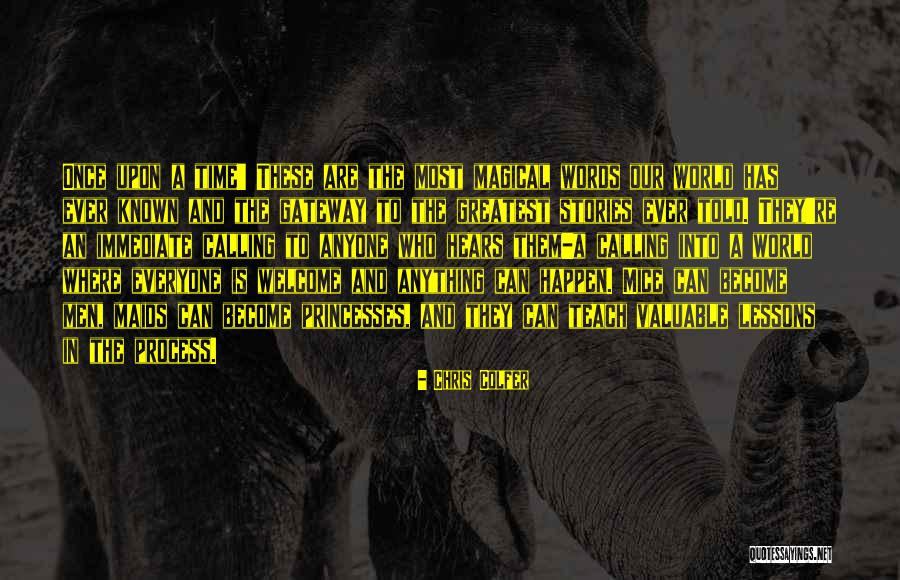 Once upon a time' These are the most magical words our world has ever known and the gateway to the greatest stories ever told. They're an immediate calling to anyone who hears them-a calling into a world where everyone is welcome and anything can happen. Mice can become men, maids can become princesses, and they can teach valuable lessons in the process. — Chris Colfer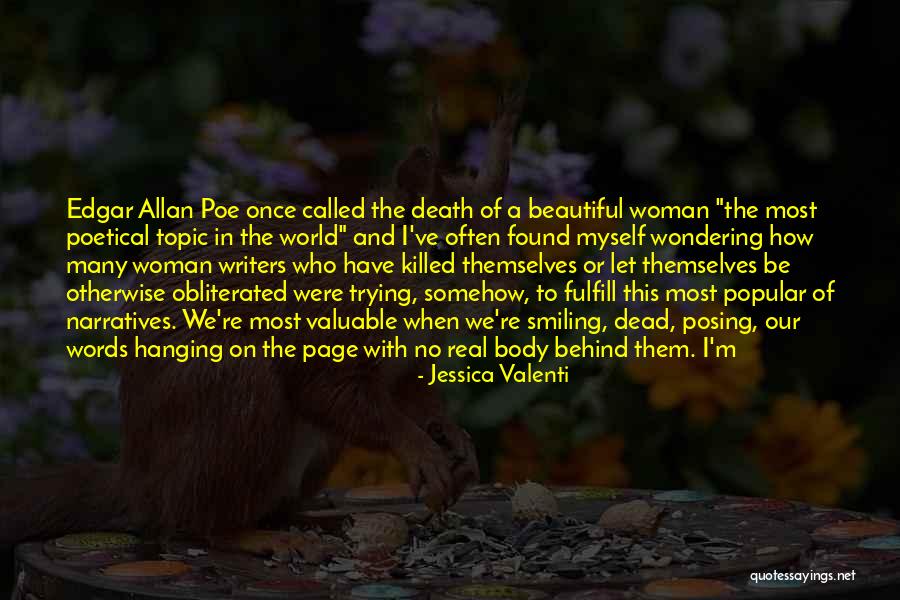 Edgar Allan Poe once called the death of a beautiful woman "the most poetical topic in the world" and I've often found myself wondering how many woman writers who have killed themselves or let themselves be otherwise obliterated were trying, somehow, to fulfill this most popular of narratives. We're most valuable when we're smiling, dead, posing, our words hanging on the page with no real body behind them. I'm — Jessica Valenti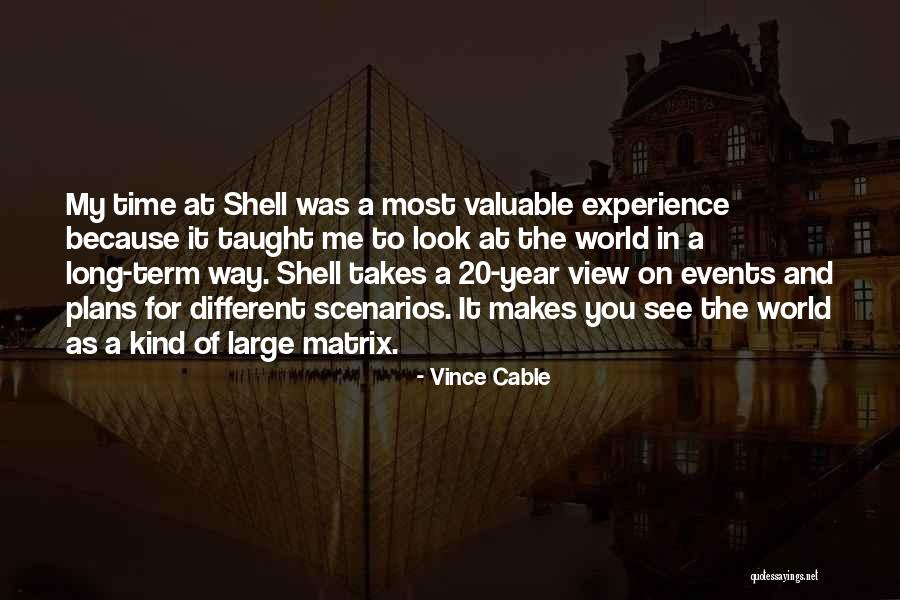 My time at Shell was a most valuable experience because it taught me to look at the world in a long-term way. Shell takes a 20-year view on events and plans for different scenarios. It makes you see the world as a kind of large matrix. — Vince Cable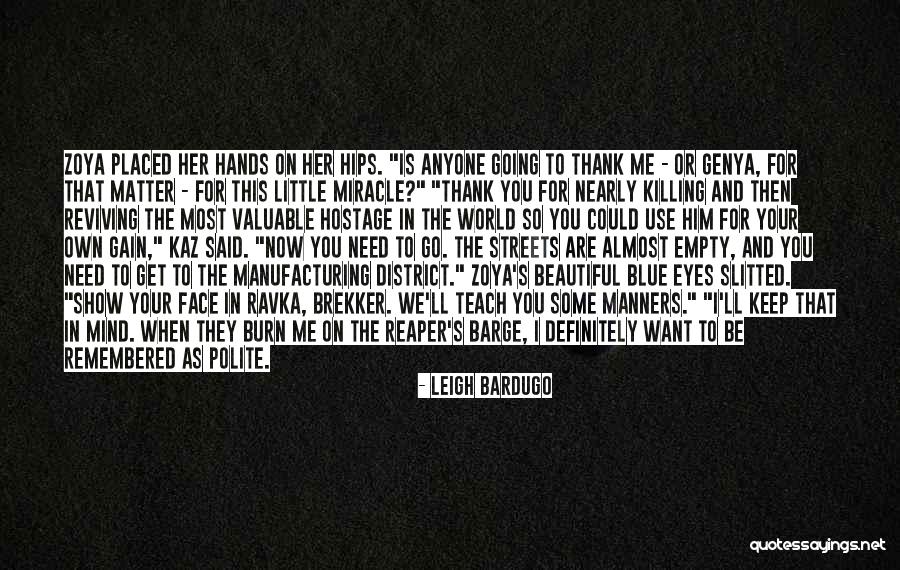 Zoya placed her hands on her hips. "Is anyone going to thank me - or Genya, for that matter - for this little miracle?"
"Thank you for nearly killing and then reviving the most valuable hostage in the world so you could use him for your own gain," Kaz said. "Now you need to go. The streets are almost empty, and you need to get to the manufacturing district."
Zoya's beautiful blue eyes slitted. "Show your face in Ravka, Brekker. We'll teach you some manners."
"I'll keep that in mind. When they burn me on the Reaper's Barge, I definitely want to be remembered as polite. — Leigh Bardugo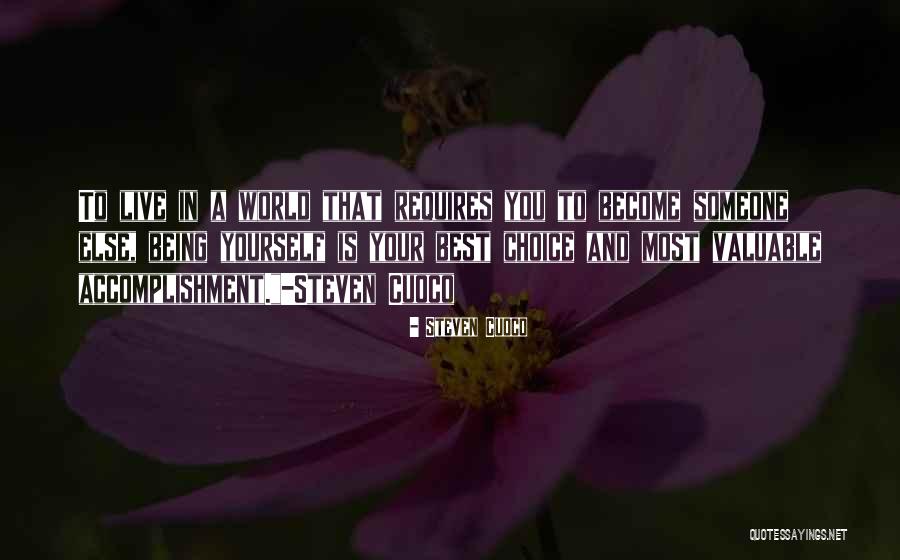 To live in a world that requires you to become someone else, being yourself is your best choice and most valuable accomplishment."

-Steven Cuoco — Steven Cuoco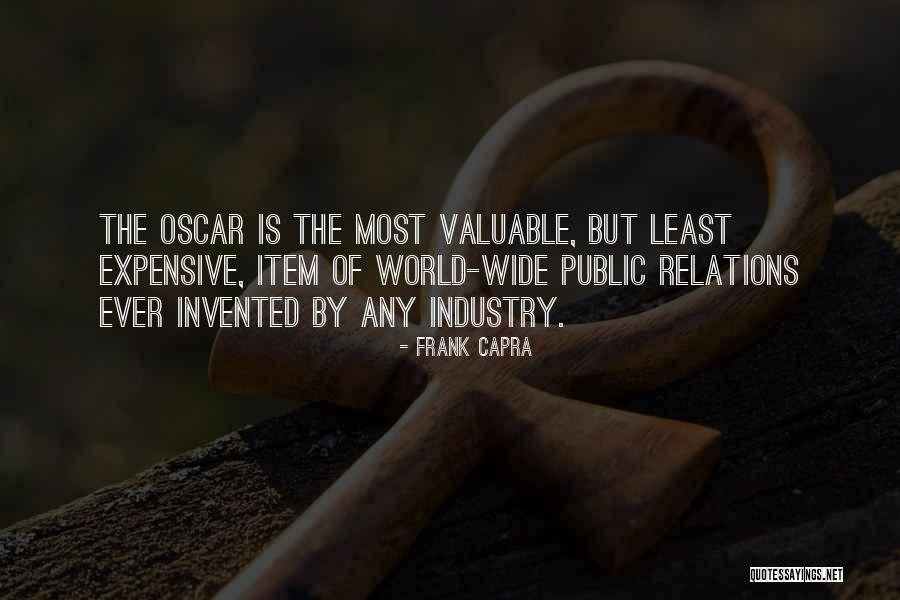 The Oscar is the most valuable, but least expensive, item of world-wide public relations ever invented by any industry. — Frank Capra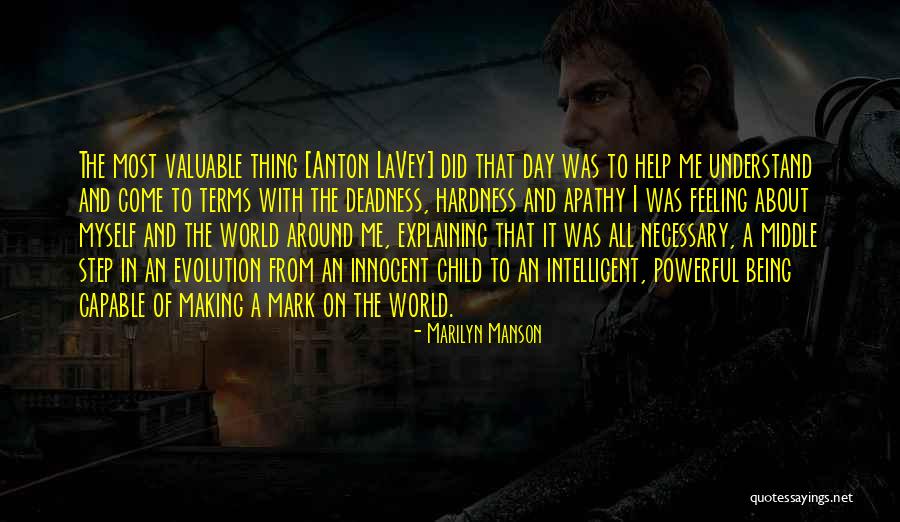 The most valuable thing [Anton LaVey] did that day was to help me understand and come to terms with the deadness, hardness and apathy I was feeling about myself and the world around me, explaining that it was all necessary, a middle step in an evolution from an innocent child to an intelligent, powerful being capable of making a mark on the world. — Marilyn Manson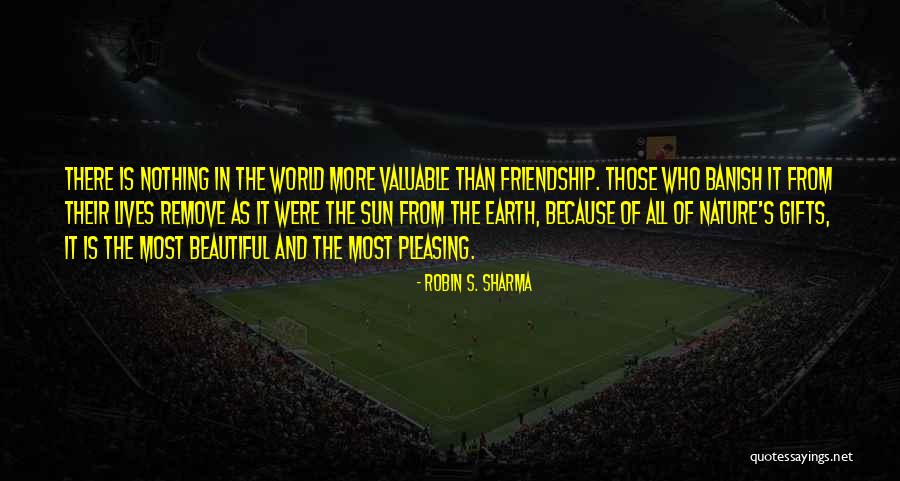 There is nothing in the world more valuable than friendship. Those who banish it from their lives remove as it were the sun from the earth, because of all of nature's gifts, it is the most beautiful and the most pleasing. — Robin S. Sharma
This is a book about the roller-coaster life and searingly intense personality of a creative entrepreneur whose passion for perfection and ferocious drive revolutionized six industries: personal computers, animated movies, music, phones, tablet computing, and digital publishing. You might even add a seventh, retail stores, which Jobs did not quite revolutionize but did reimagine. In addition, he opened the way for a new market for digital content based on apps rather than just websites. Along the way he produced not only transforming products but also, on his second try, a lasting company, endowed with his DNA, that is filled with creative designers and daredevil engineers who could carry forward his vision. In August 2011, right before he stepped down as CEO, the enterprise he started in his parents' garage became the world's most valuable company. — Walter Isaacson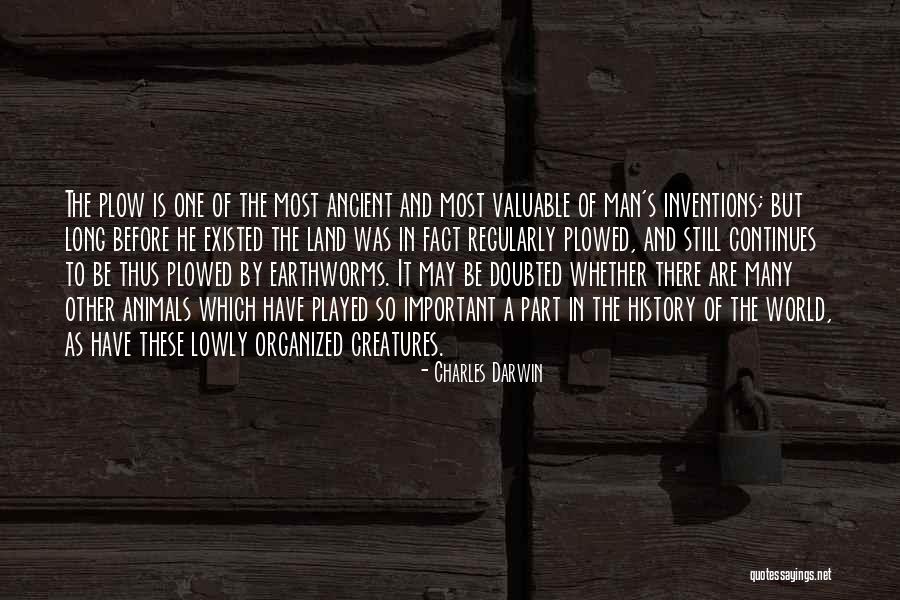 The plow is one of the most ancient and most valuable of man's inventions; but long before he existed the land was in fact regularly plowed, and still continues to be thus plowed by earthworms. It may be doubted whether there are many other animals which have played so important a part in the history of the world, as have these lowly organized creatures. — Charles Darwin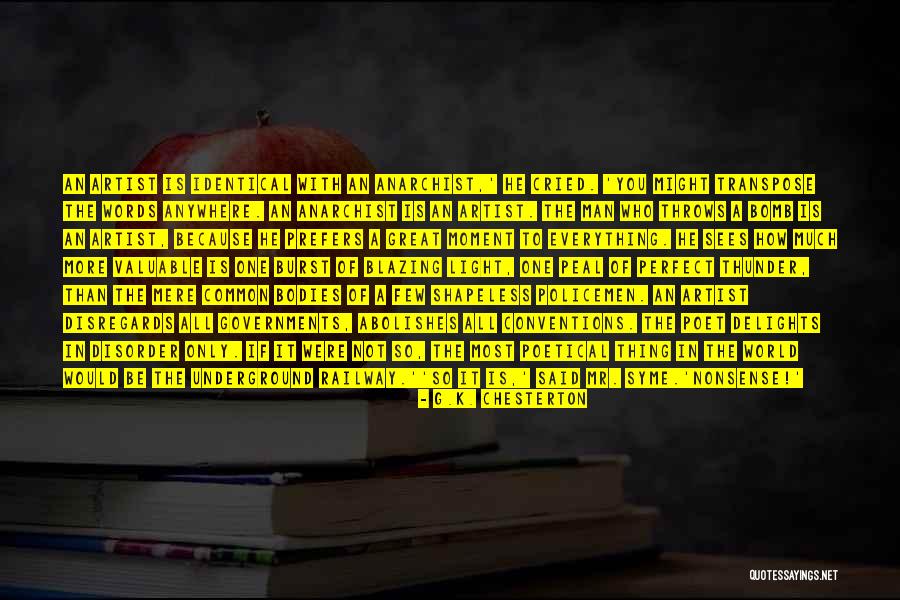 An artist is identical with an anarchist,' he cried. 'You might transpose the words anywhere. An anarchist is an artist. The man who throws a bomb is an artist, because he prefers a great moment to everything. He sees how much more valuable is one burst of blazing light, one peal of perfect thunder, than the mere common bodies of a few shapeless policemen. An artist disregards all governments, abolishes all conventions. The poet delights in disorder only. If it were not so, the most poetical thing in the world would be the Underground Railway.'
'So it is,' said Mr. Syme.
'Nonsense!' said Gregory, who was very rational when any one else attempted paradox. — G.K. Chesterton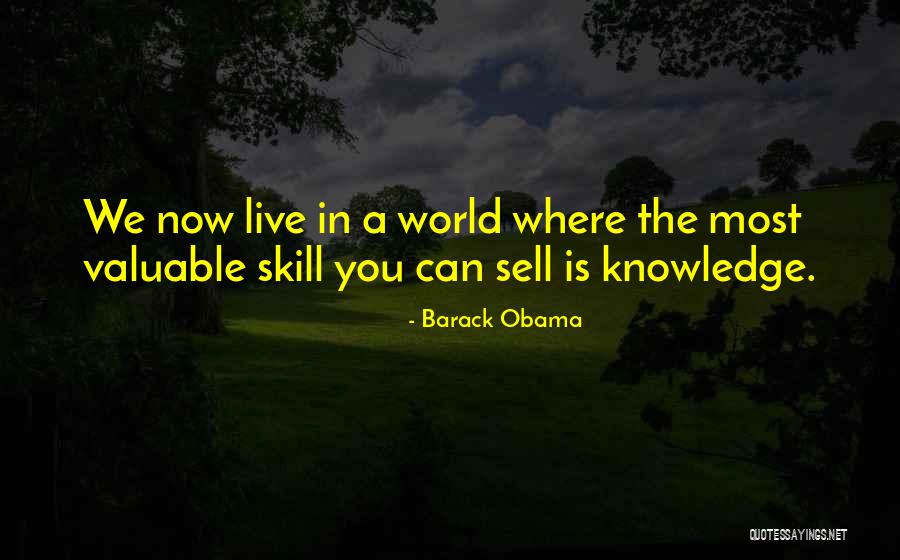 We now live in a world where the most valuable skill you can sell is knowledge. — Barack Obama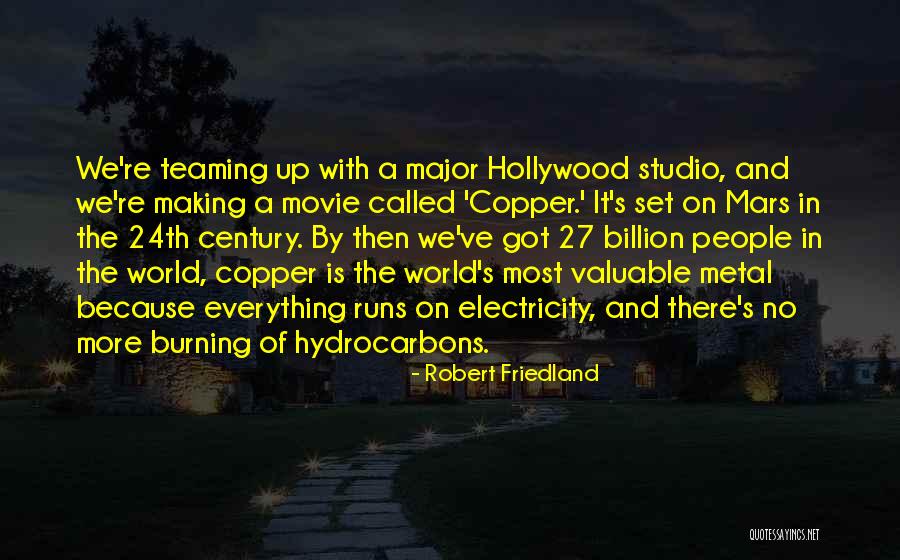 We're teaming up with a major Hollywood studio, and we're making a movie called 'Copper.' It's set on Mars in the 24th century. By then we've got 27 billion people in the world, copper is the world's most valuable metal because everything runs on electricity, and there's no more burning of hydrocarbons. — Robert Friedland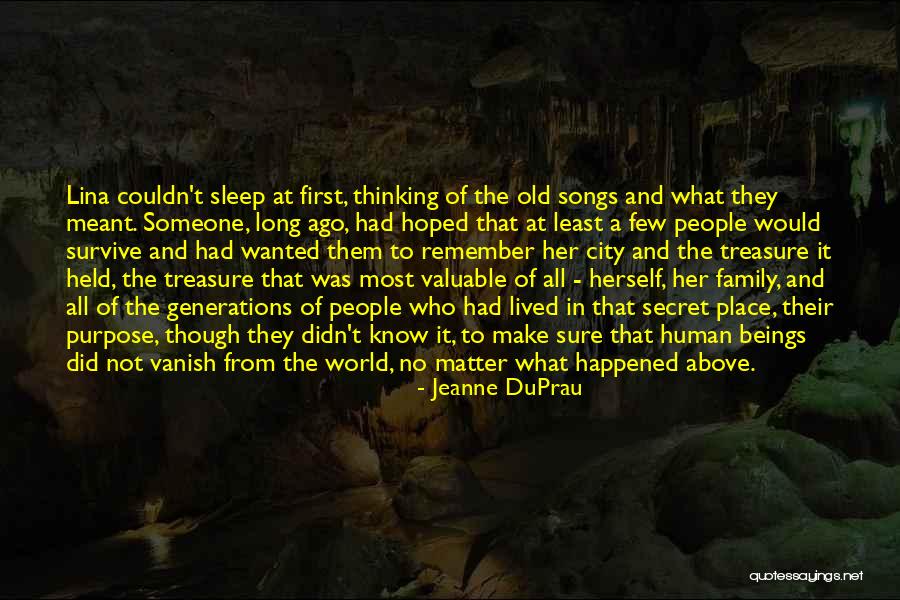 Lina couldn't sleep at first, thinking of the old songs and what they meant. Someone, long ago, had hoped that at least a few people would survive and had wanted them to remember her city and the treasure it held, the treasure that was most valuable of all - herself, her family, and all of the generations of people who had lived in that secret place, their purpose, though they didn't know it, to make sure that human beings did not vanish from the world, no matter what happened above. — Jeanne DuPrau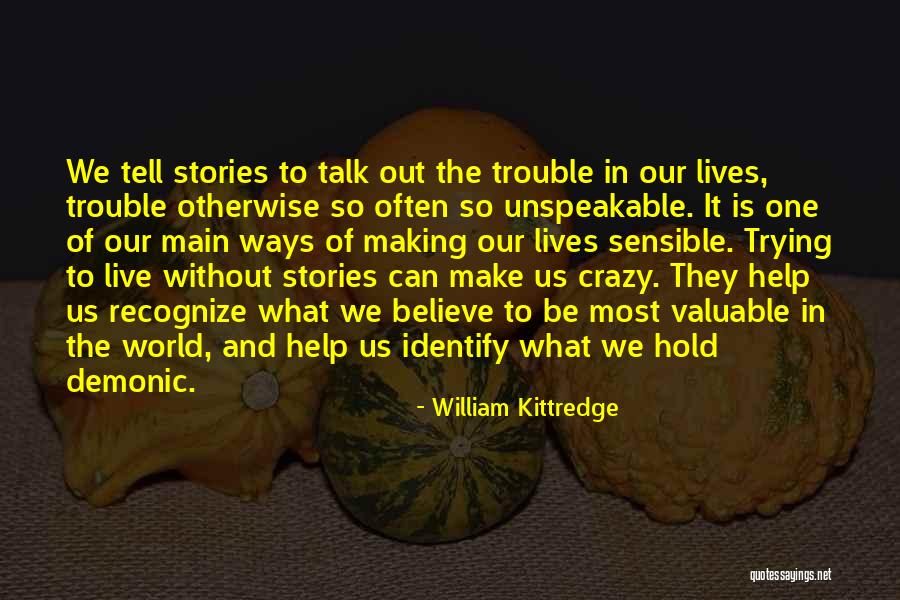 We tell stories to talk out the trouble in our lives, trouble otherwise so often so unspeakable. It is one of our main ways of making our lives sensible. Trying to live without stories can make us crazy. They help us recognize what we believe to be most valuable in the world, and help us identify what we hold demonic. — William Kittredge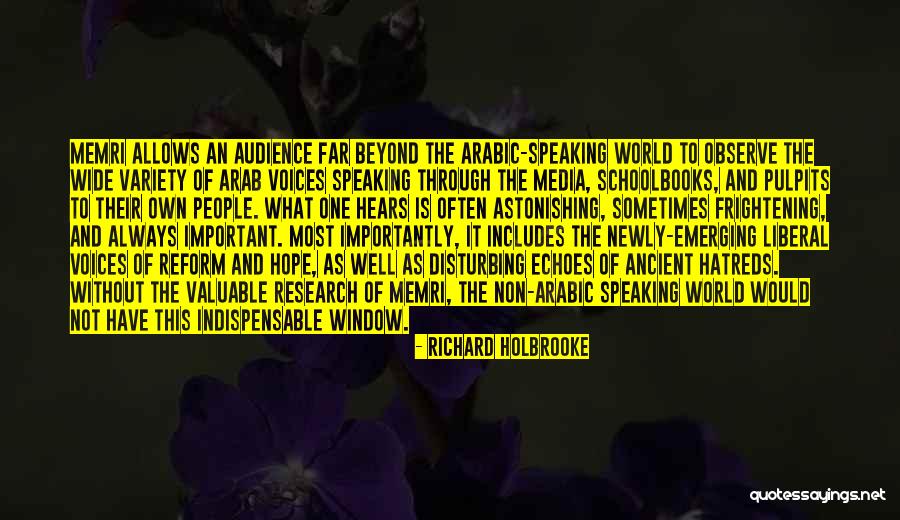 MEMRI allows an audience far beyond the Arabic-speaking world to observe the wide variety of Arab voices speaking through the media, schoolbooks, and pulpits to their own people. What one hears is often astonishing, sometimes frightening, and always important. Most importantly, it includes the newly-emerging liberal voices of reform and hope, as well as disturbing echoes of ancient hatreds. Without the valuable research of MEMRI, the non-Arabic speaking world would not have this indispensable window. — Richard Holbrooke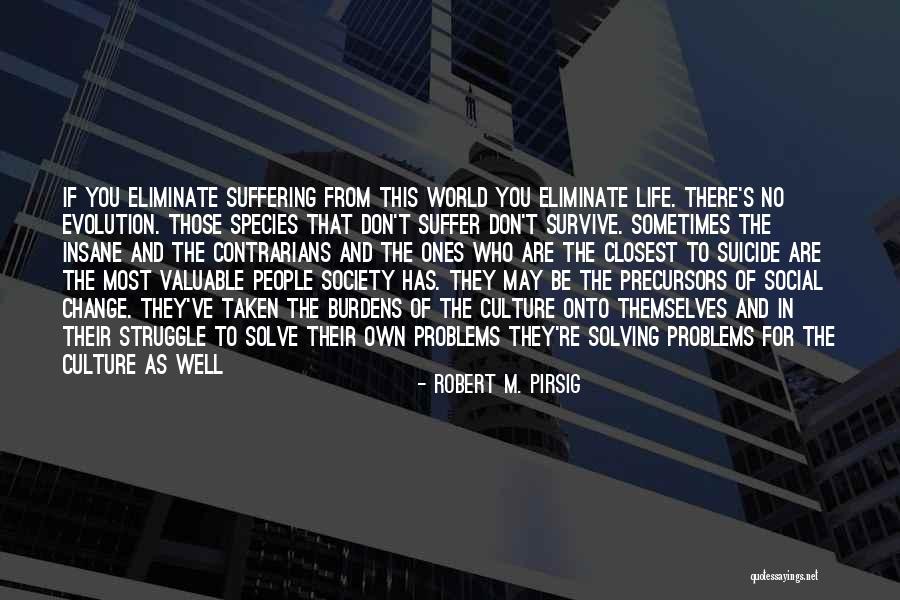 If you eliminate suffering from this world you eliminate life. There's no evolution. Those species that don't suffer don't survive. Sometimes the insane and the contrarians and the ones who are the closest to suicide are the most valuable people society has. They may be the precursors of social change. They've taken the burdens of the culture onto themselves and in their struggle to solve their own problems they're solving problems for the culture as well — Robert M. Pirsig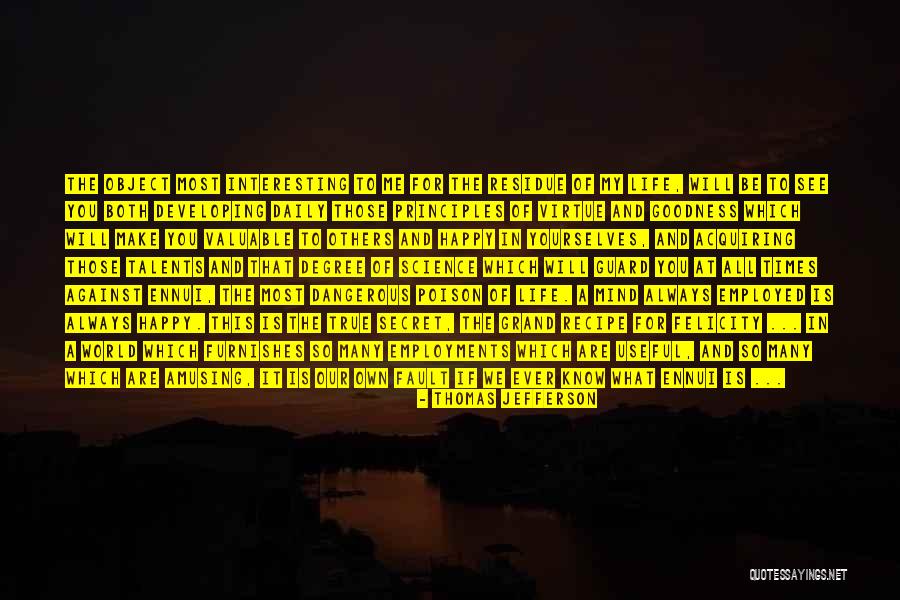 The object most interesting to me for the residue of my life, will be to see you both developing daily those principles of virtue and goodness which will make you valuable to others and happy in yourselves, and acquiring those talents and that degree of science which will guard you at all times against ennui, the most dangerous poison of life. A mind always employed is always happy. This is the true secret, the grand recipe for felicity ... In a world which furnishes so many employments which are useful, and so many which are amusing, it is our own fault if we ever know what ennui is ... — Thomas Jefferson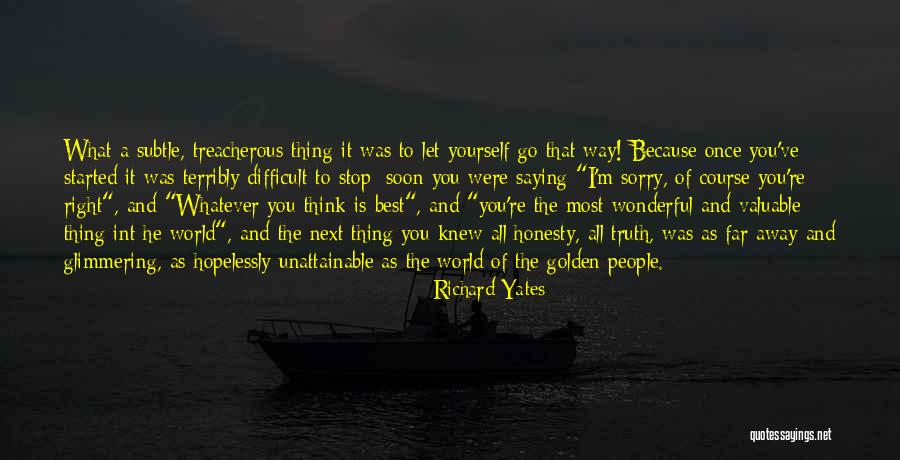 What a subtle, treacherous thing it was to let yourself go that way! Because once you've started it was terribly difficult to stop; soon you were saying "I'm sorry, of course you're right", and "Whatever you think is best", and "you're the most wonderful and valuable thing int he world", and the next thing you knew all honesty, all truth, was as far away and glimmering, as hopelessly unattainable as the world of the golden people. — Richard Yates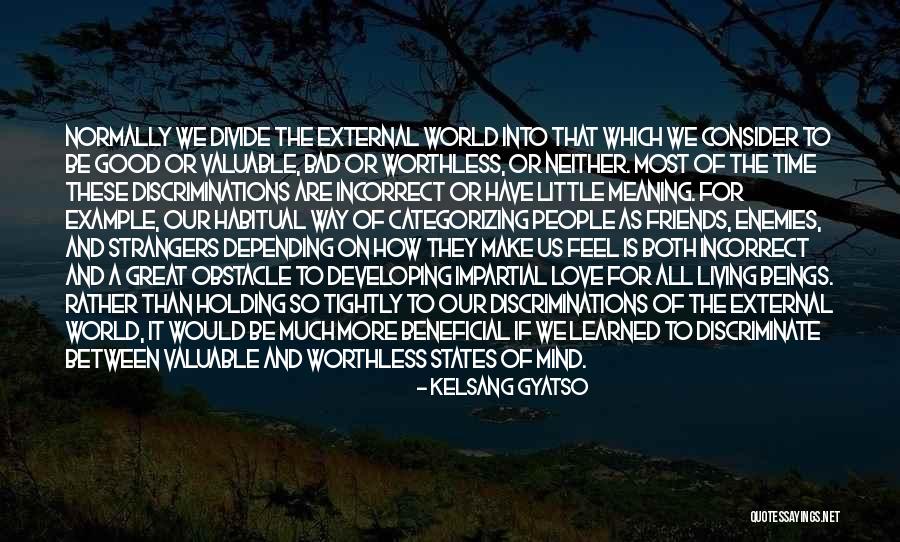 Normally we divide the external world into that which we consider to be good or valuable, bad or worthless, or neither. Most of the time these discriminations are incorrect or have little meaning. For example, our habitual way of categorizing people as friends, enemies, and strangers depending on how they make us feel is both incorrect and a great obstacle to developing impartial love for all living beings. Rather than holding so tightly to our discriminations of the external world, it would be much more beneficial if we learned to discriminate between valuable and worthless states of mind. — Kelsang Gyatso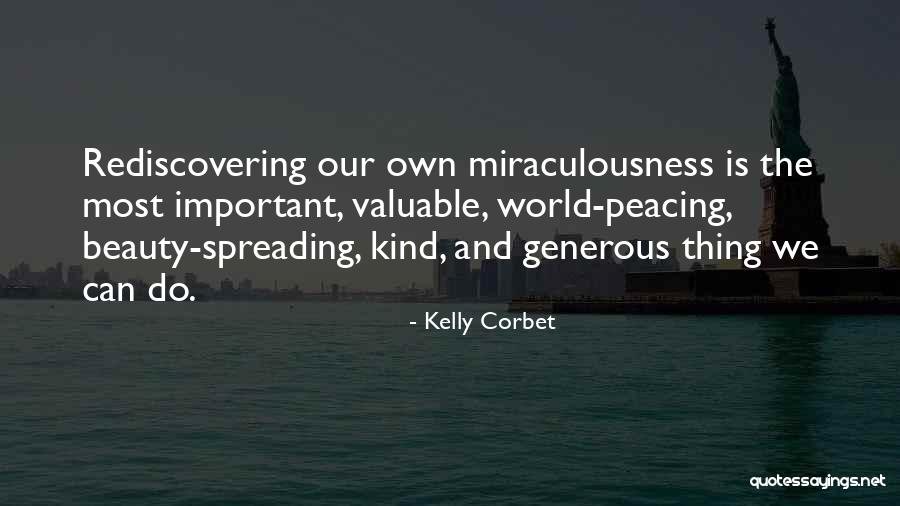 Rediscovering our own miraculousness is the most important, valuable, world-peacing, beauty-spreading, kind, and generous thing we can do. — Kelly Corbet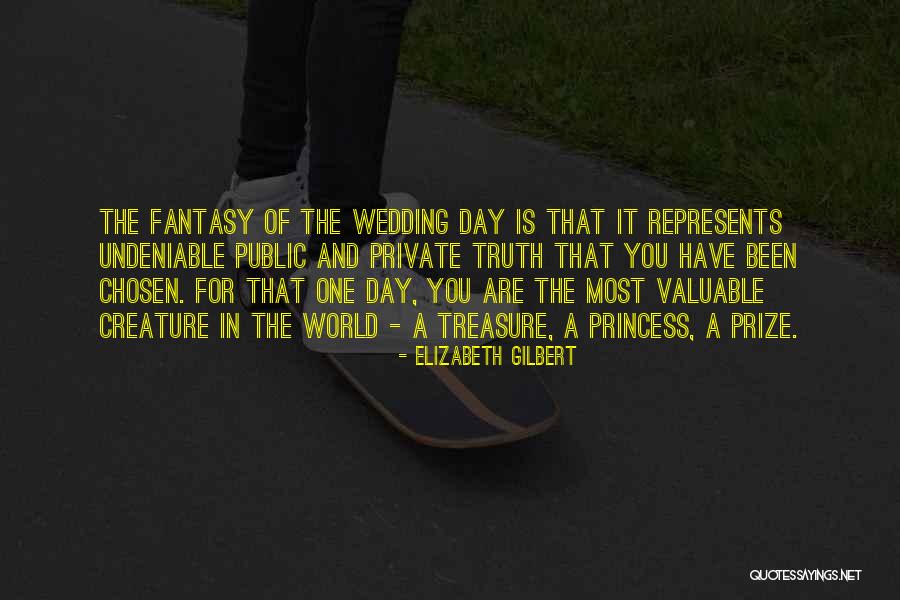 The fantasy of the wedding day is that it represents undeniable public and private truth that you have been chosen. For that one day, you are the most valuable creature in the world - a treasure, a princess, a prize. — Elizabeth Gilbert
Industrial innovations are costly, and managers must justify their high cost by producing measurable proof of their
superiority ... [P]eriodic innovations in goods or tools foster the belief that anything new will be proven better. This belief has become an integral part of the modern world view. It is forgotten that whenever a society lives by this delusion, each marketed unit generates more wants than it satisfies. If new things are made because they are better, then the things most people use are not quite good. New models constantly renovate poverty. The consumer feels the lag between what he has and what he ought to get. He believes that products can be made measurably more valuable and allows himself to be constantly re-educated for their consumption. The "better" replaces the "good" as the fundamental normative concept. — Ivan Illich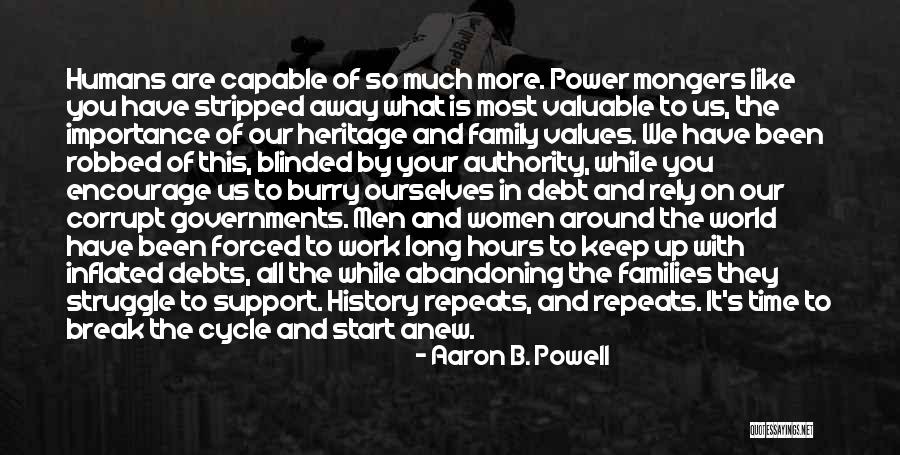 Humans are capable of so much more. Power mongers like you have stripped away what is most valuable to us, the importance of our heritage and family values. We have been robbed of this, blinded by your authority, while you encourage us to burry ourselves in debt and rely on our corrupt governments. Men and women around the world have been forced to work long hours to keep up with inflated debts, all the while abandoning the families they struggle to support. History repeats, and repeats. It's time to break the cycle and start anew. — Aaron B. Powell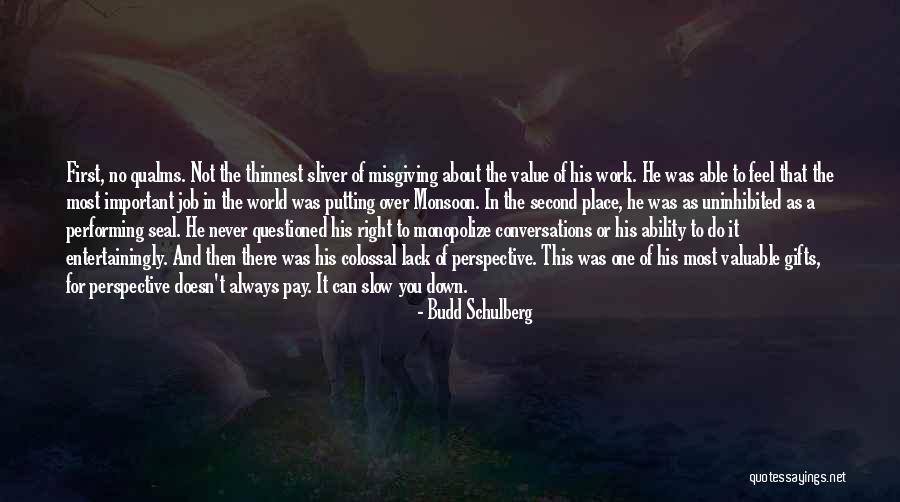 First, no qualms. Not the thinnest sliver of misgiving about the value of his work. He was able to feel that the most important job in the world was putting over Monsoon. In the second place, he was as uninhibited as a performing seal. He never questioned his right to monopolize conversations or his ability to do it entertainingly. And then there was his colossal lack of perspective. This was one of his most valuable gifts, for perspective doesn't always pay. It can slow you down. — Budd Schulberg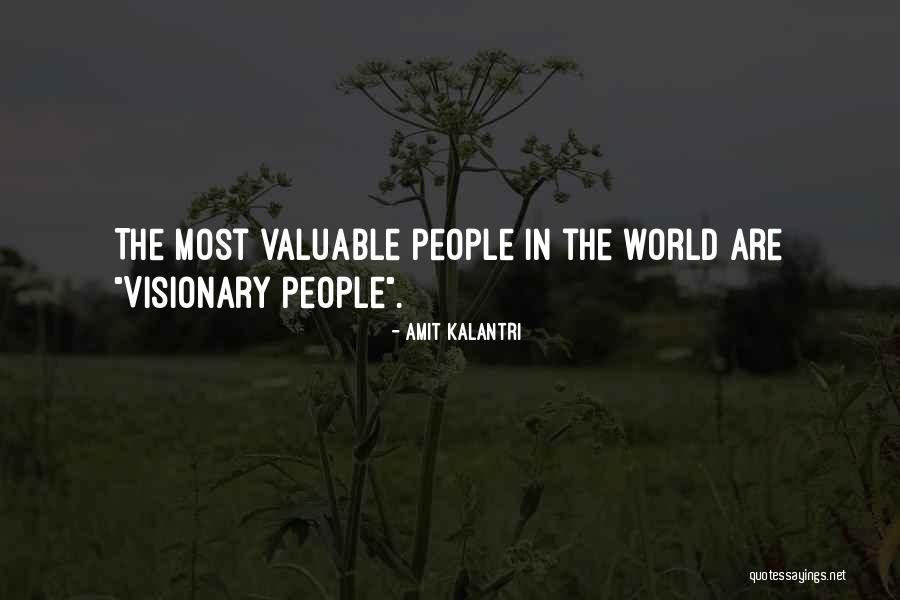 The most valuable people in the world are "Visionary People". — Amit Kalantri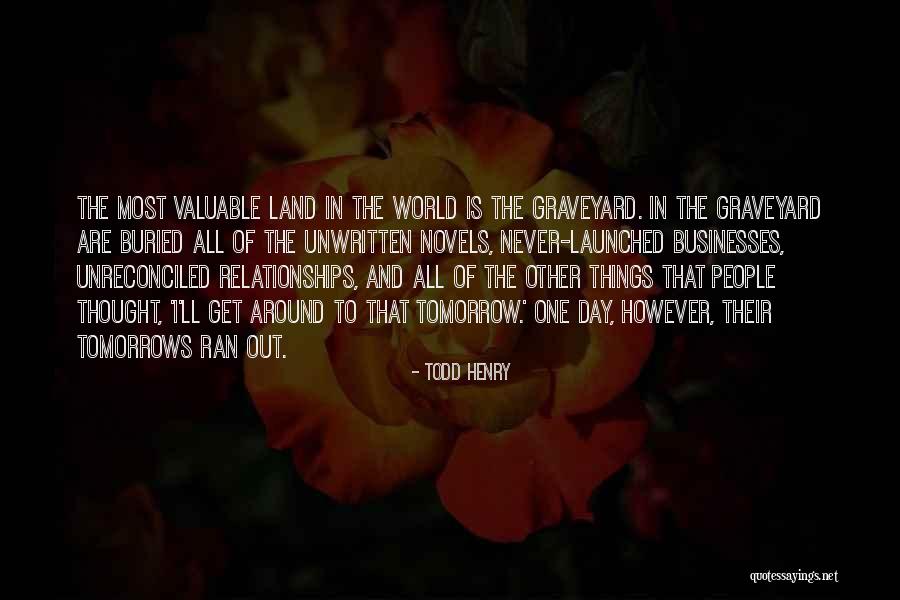 The most valuable land in the world is the graveyard. In the graveyard are buried all of the unwritten novels, never-launched businesses, unreconciled relationships, and all of the other things that people thought, 'I'll get around to that tomorrow.' One day, however, their tomorrows ran out. — Todd Henry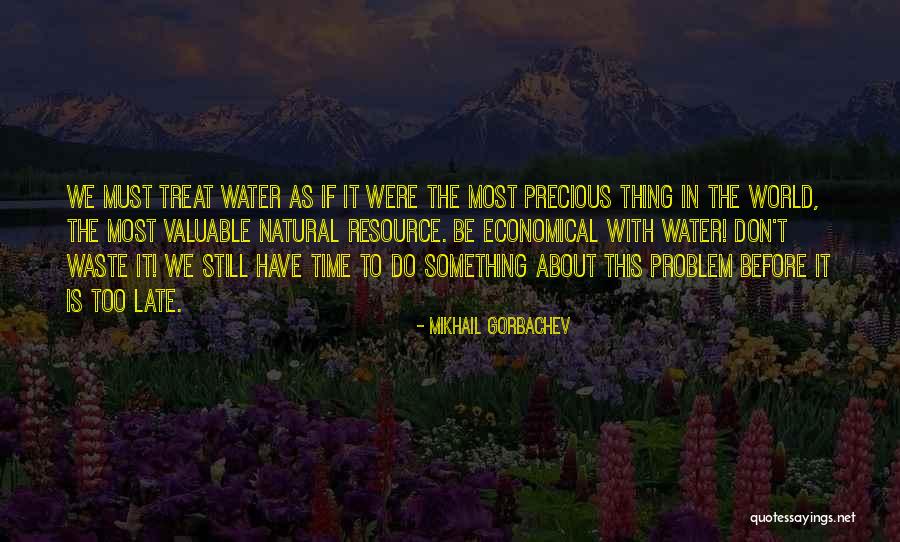 We must treat water as if it were the most precious thing in the world, the most valuable natural resource. Be economical with water! Don't waste it! We still have time to do something about this problem before it is too late. — Mikhail Gorbachev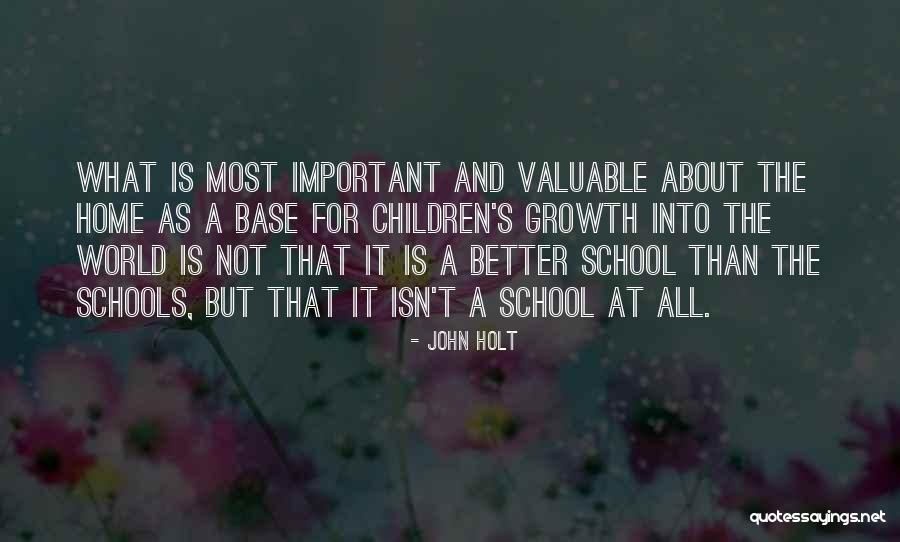 What is most important and valuable about the home as a base for children's growth into the world is not that it is a better school than the schools, but that it isn't a school at all. — John Holt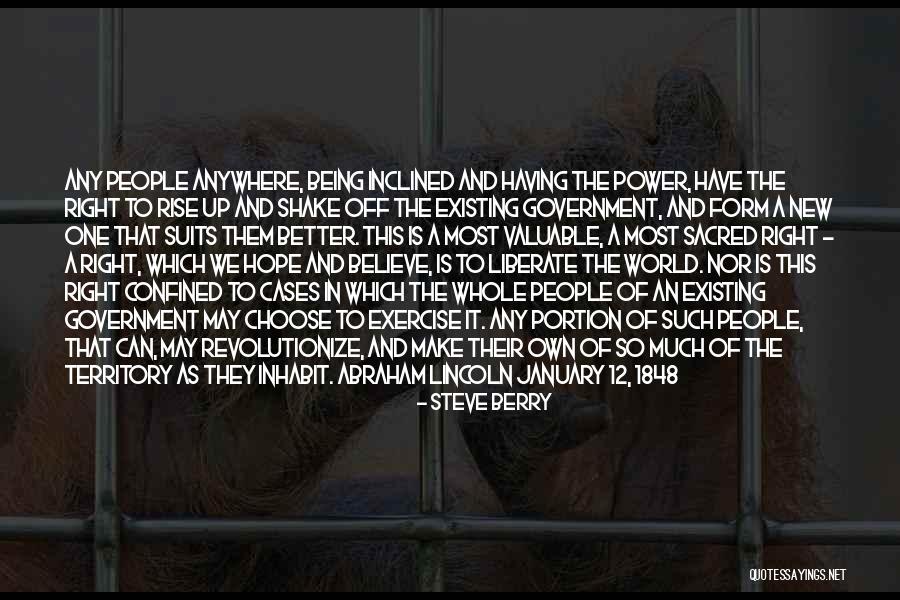 Any people anywhere, being inclined and having the power, have the right to rise up and shake off the existing government, and form a new one that suits them better. This is a most valuable, a most sacred right - a right, which we hope and believe, is to liberate the world. Nor is this right confined to cases in which the whole people of an existing government may choose to exercise it. Any portion of such people, that can, may revolutionize, and make their own of so much of the territory as they inhabit. ABRAHAM LINCOLN January 12, 1848 — Steve Berry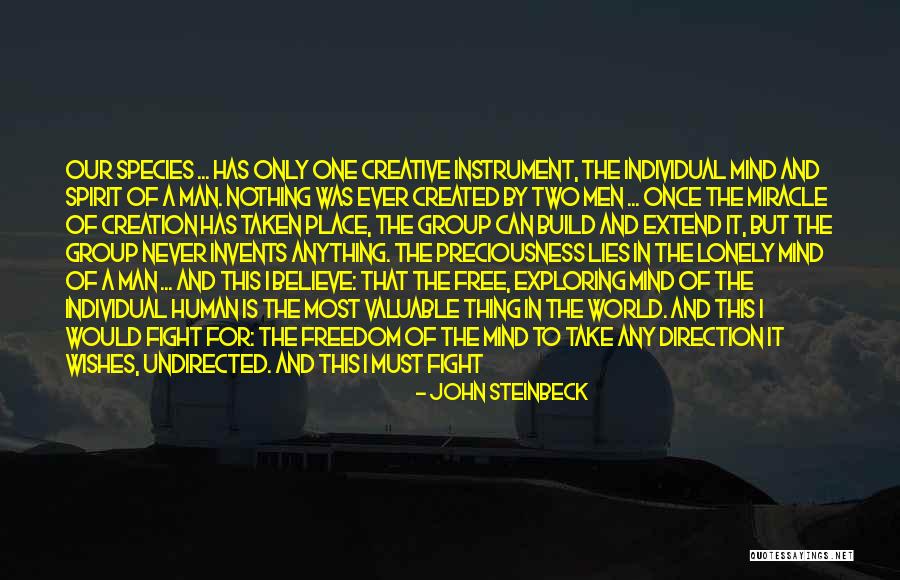 Our species ... has only one creative instrument, the individual mind and spirit of a man. Nothing was ever created by two men ... Once the miracle of creation has taken place, the group can build and extend it, but the group never invents anything. The preciousness lies in the lonely mind of a man ... And this I believe: that the free, exploring mind of the individual human is the most valuable thing in the world. And this I would fight for: the freedom of the mind to take any direction it wishes, undirected. And this I must fight against: any idea, religion, or government which limits or destroys the individual. This is what I am and what I am about. I can understand why a system built on a pattern must try to destroy the free mind, for that is one thing which can by inspection destroy such a system. Surely I can understand this, and I hate it and I will fight against it to preserve the one thing that separates us from the uncreative beasts. If the glory can be killed, we are lost. — John Steinbeck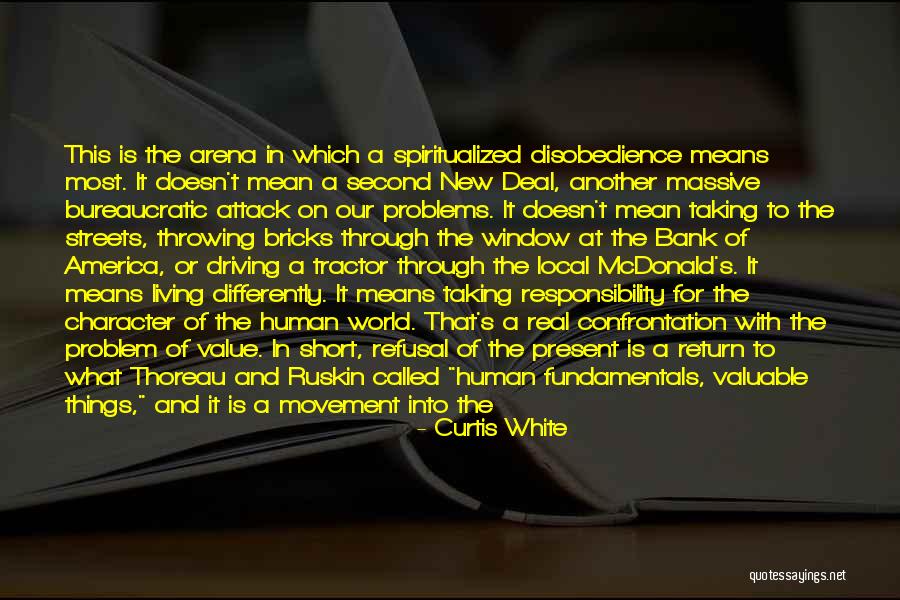 This is the arena in which a spiritualized disobedience means most. It doesn't mean a second New Deal, another massive bureaucratic attack on our problems. It doesn't mean taking to the streets, throwing bricks through the window at the Bank of America, or driving a tractor through the local McDonald's. It means living differently. It means taking responsibility for the character of the human world. That's a real confrontation with the problem of value. In short, refusal of the present is a return to what Thoreau and Ruskin called "human fundamentals, valuable things," and it is a movement into the future. This movement into the future is also a powerful expression of that most human spiritual emotion, Hope.
p.124 — Curtis White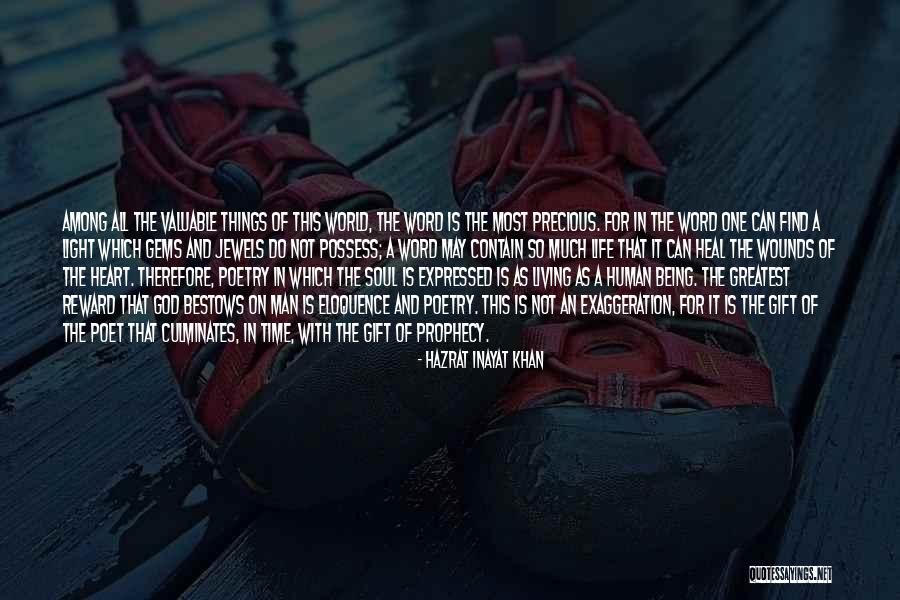 Among all the valuable things of this world, the word is the most precious. For in the word one can find a light which gems and jewels do not possess; a word may contain so much life that it can heal the wounds of the heart. Therefore, poetry in which the soul is expressed is as living as a human being. The greatest reward that God bestows on man is eloquence and poetry. This is not an exaggeration, for it is the gift of the poet that culminates, in time, with the gift of prophecy. — Hazrat Inayat Khan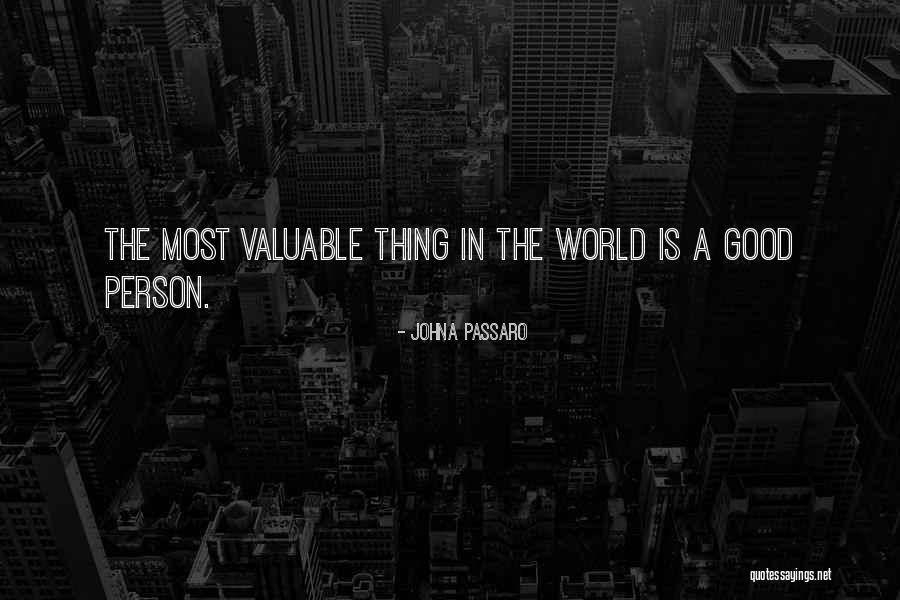 The most valuable thing in the world is a good person. — JohnA Passaro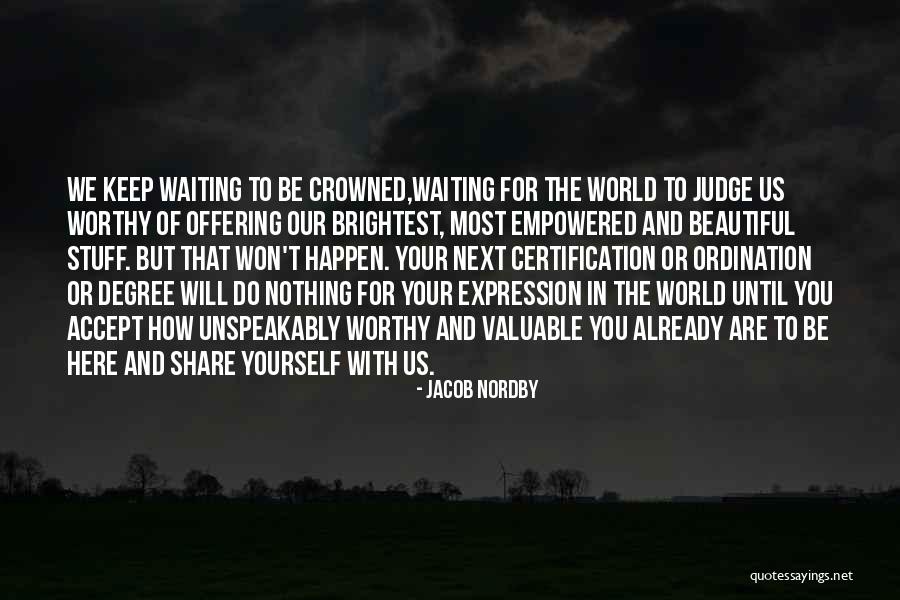 We keep waiting to be crowned,
Waiting for the world to judge us worthy of offering our brightest, most empowered and beautiful stuff.
But that won't happen.
Your next certification or ordination or degree will do nothing for your expression in the world until you accept how unspeakably worthy and valuable you already are to be here and share yourself with us. — Jacob Nordby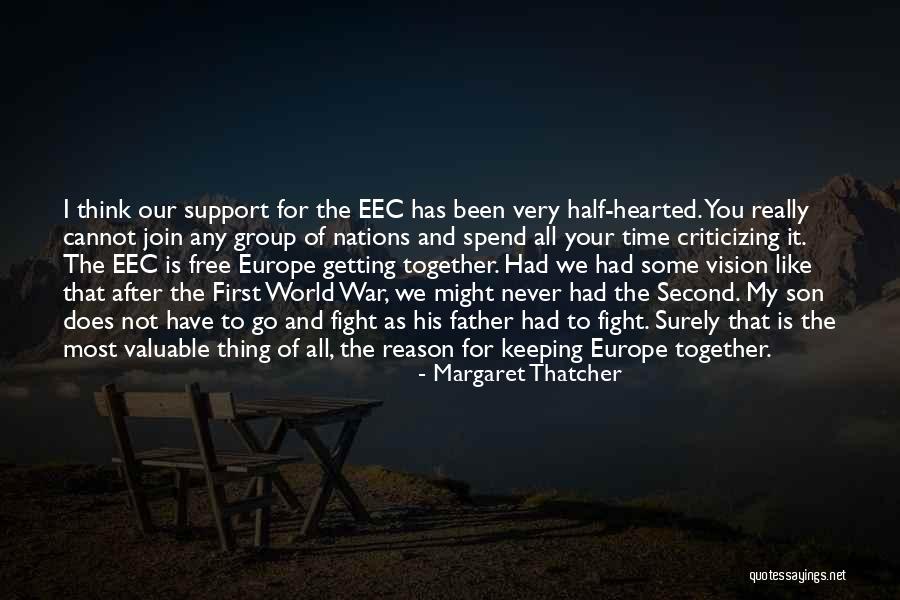 I think our support for the EEC has been very half-hearted. You really cannot join any group of nations and spend all your time criticizing it. The EEC is free Europe getting together. Had we had some vision like that after the First World War, we might never had the Second. My son does not have to go and fight as his father had to fight. Surely that is the most valuable thing of all, the reason for keeping Europe together. — Margaret Thatcher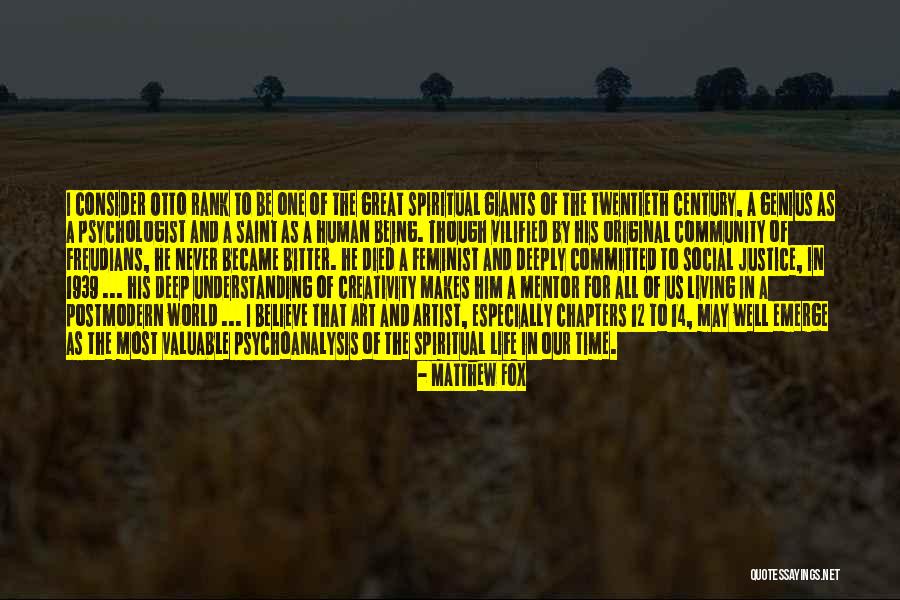 I consider Otto Rank to be one of the great spiritual giants of the twentieth century, a genius as a psychologist and a saint as a human being. Though vilified by his original community of Freudians, he never became bitter. He died a feminist and deeply committed to social justice, in 1939 ... His deep understanding of creativity makes him a mentor for all of us living in a postmodern world ... I believe that Art and Artist, especially chapters 12 to 14, may well emerge as the most valuable psychoanalysis of the spiritual life in our time. — Matthew Fox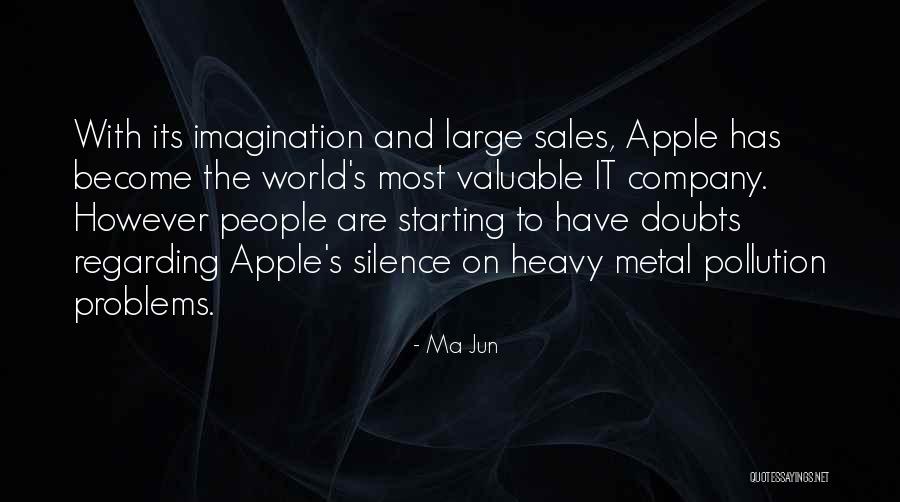 With its imagination and large sales, Apple has become the world's most valuable IT company. However people are starting to have doubts regarding Apple's silence on heavy metal pollution problems. — Ma Jun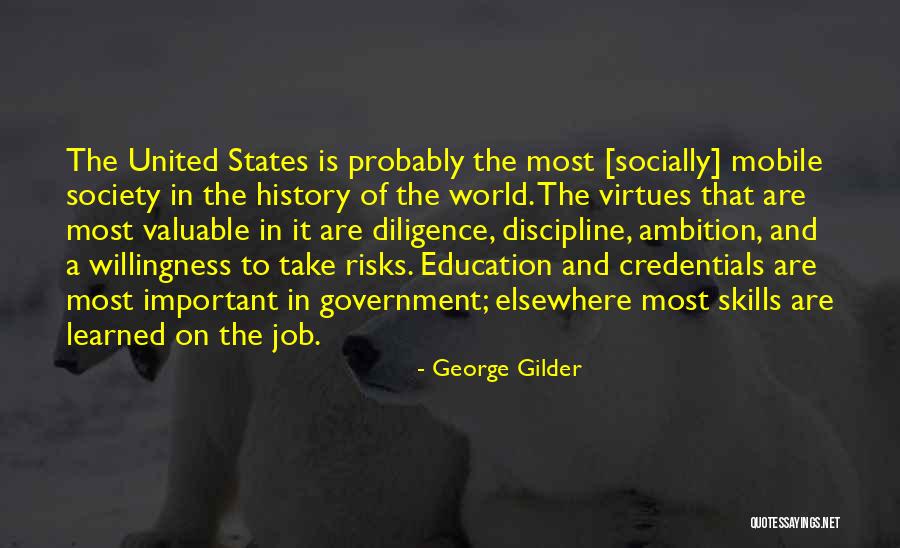 The United States is probably the most [socially] mobile society in the history of the world. The virtues that are most valuable in it are diligence, discipline, ambition, and a willingness to take risks. Education and credentials are most important in government; elsewhere most skills are learned on the job. — George Gilder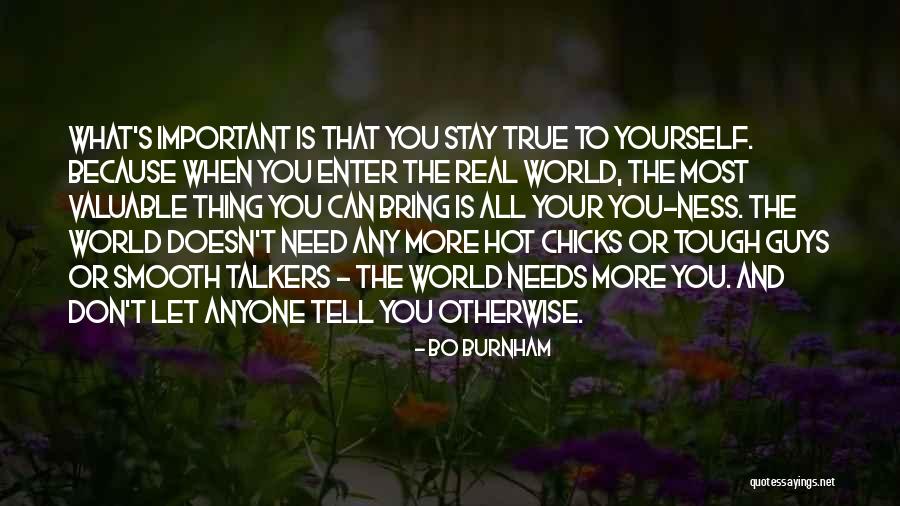 What's important is that you stay true to yourself. Because when you enter the real world, the most valuable thing you can bring is all your you-ness. The world doesn't need any more hot chicks or tough guys or smooth talkers - the world needs more you. And don't let anyone tell you otherwise. — Bo Burnham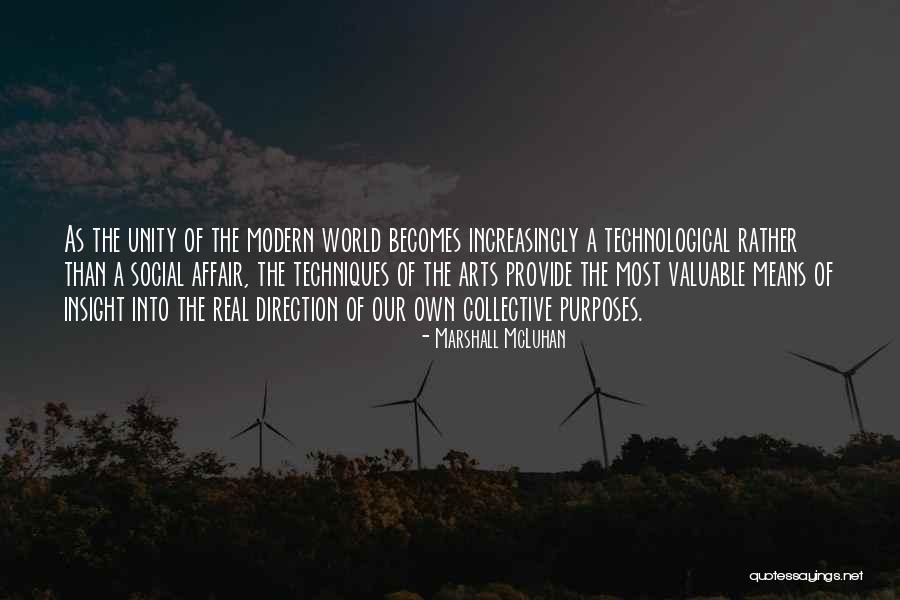 As the unity of the modern world becomes increasingly a technological rather than a social affair, the techniques of the arts provide the most valuable means of insight into the real direction of our own collective purposes. — Marshall McLuhan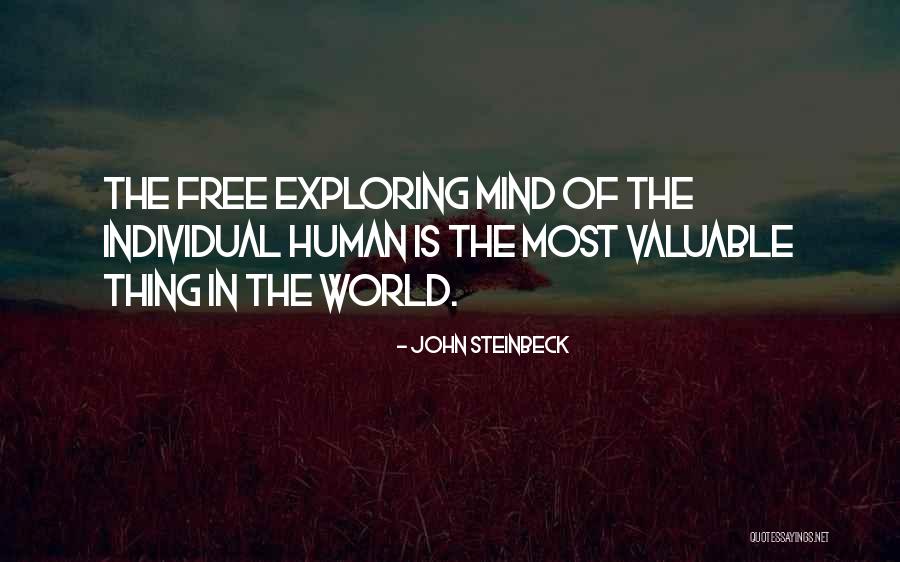 The free exploring mind of the individual human is the most valuable thing in the world. — John Steinbeck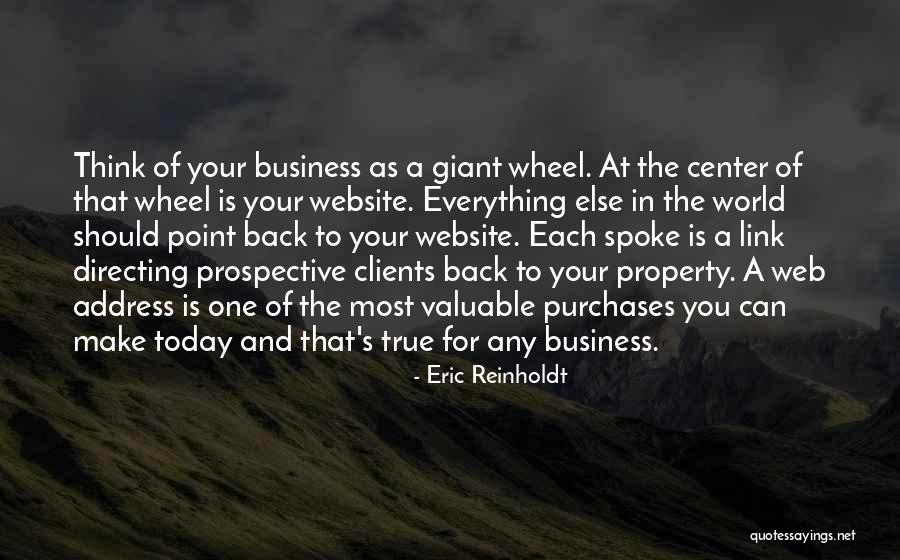 Think of your business as a giant wheel. At the center of that wheel is your website. Everything else in the world should point back to your website. Each spoke is a link directing prospective clients back to your property. A web address is one of the most valuable purchases you can make today and that's true for any business. — Eric Reinholdt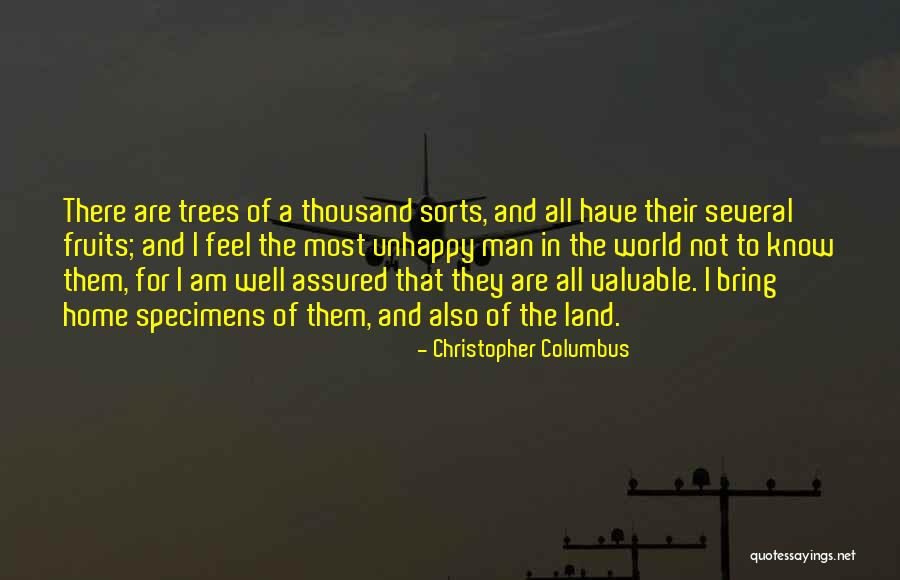 There are trees of a thousand sorts, and all have their several fruits; and I feel the most unhappy man in the world not to know them, for I am well assured that they are all valuable. I bring home specimens of them, and also of the land. — Christopher Columbus