Without Love You Have Nothing Quotes & Sayings
Enjoy reading and share 61 famous quotes about Without Love You Have Nothing with everyone.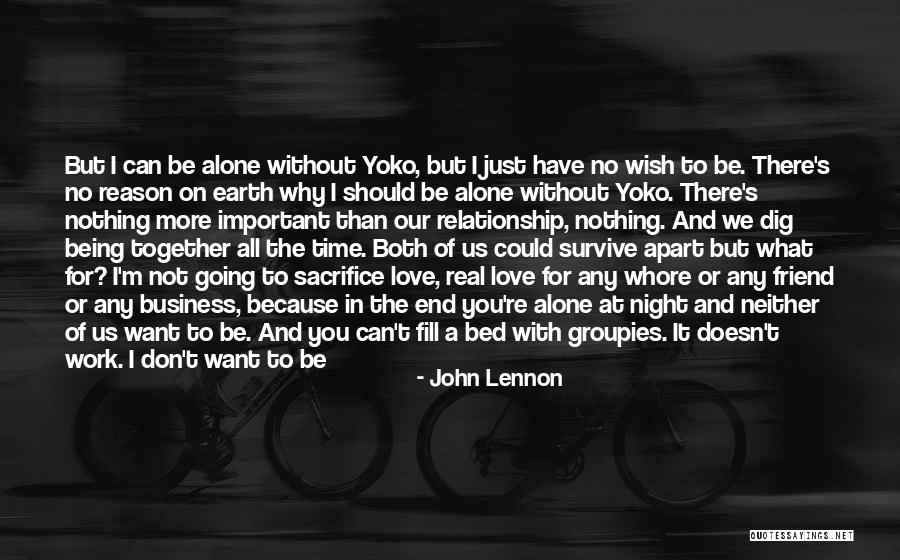 But I can be alone without Yoko, but I just have no wish to be. There's no reason on earth why I should be alone without Yoko. There's nothing more important than our relationship, nothing. And we dig being together all the time. Both of us could survive apart but what for? I'm not going to sacrifice love, real love for any whore or any friend or any business, because in the end you're alone at night and neither of us want to be. And you can't fill a bed with groupies. It doesn't work. I don't want to be a swinger. I've been through it all and nothing works better than to have someone you love hold you. — John Lennon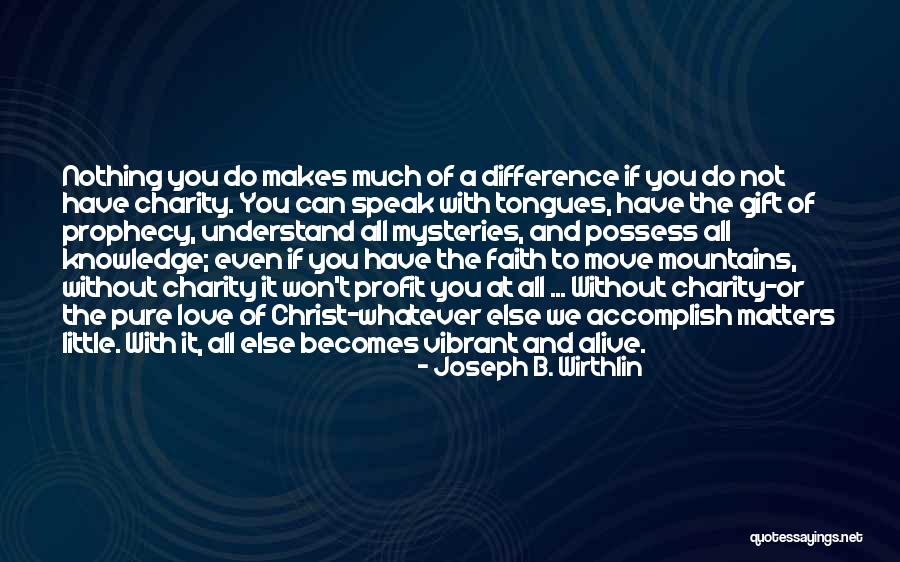 Nothing you do makes much of a difference if you do not have charity. You can speak with tongues, have the gift of prophecy, understand all mysteries, and possess all knowledge; even if you have the faith to move mountains, without charity it won't profit you at all ... Without charity-or the pure love of Christ-whatever else we accomplish matters little. With it, all else becomes vibrant and alive. — Joseph B. Wirthlin
Jack: Rose, you're no picnic, all right? You're a spoiled little brat, even, but under that, you're the most amazingly, astounding, wonderful girl, woman that I've ever known ...
Rose: Jack, I ...
Jack: No, let me try and get this out. You're ama- I'm not an idiot, I know how the world works. I've got ten bucks in my pocket, I have no-nothing to offer you and I know that. I understand. But I'm too involved now. You jump, I jump remember? I can't turn away without knowing you'll be all right ... That's all that I want.
Rose: Well, I'm fine ... I'll be fine ... really.
Jack: Really? I don't think so. They've got you trapped, Rose. And you're gonna die if you don't break free. Maybe not right away because you're strong but ... sooner or later that fire that I love about you, Rose ... that fire's gonna burn out ...
Rose: It's not up to you to save me, Jack.
Jack: You're right ... only you can do that. — James Cameron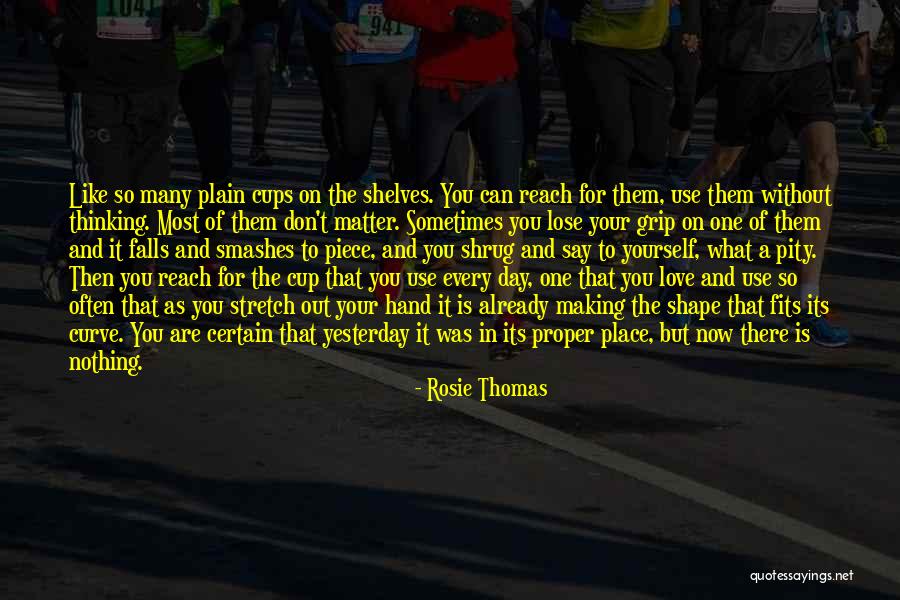 Like so many plain cups on the shelves. You can reach for them, use them without thinking. Most of them don't matter. Sometimes you lose your grip on one of them and it falls and smashes to piece, and you shrug and say to yourself, what a pity. Then you reach for the cup that you use every day, one that you love and use so often that as you stretch out your hand it is already making the shape that fits its curve. You are certain that yesterday it was in its proper place, but now there is nothing. Just air. You have lost something that was so familiar, so much a part of your life that you were not even looking for it. Just expecting it to be there, as always. — Rosie Thomas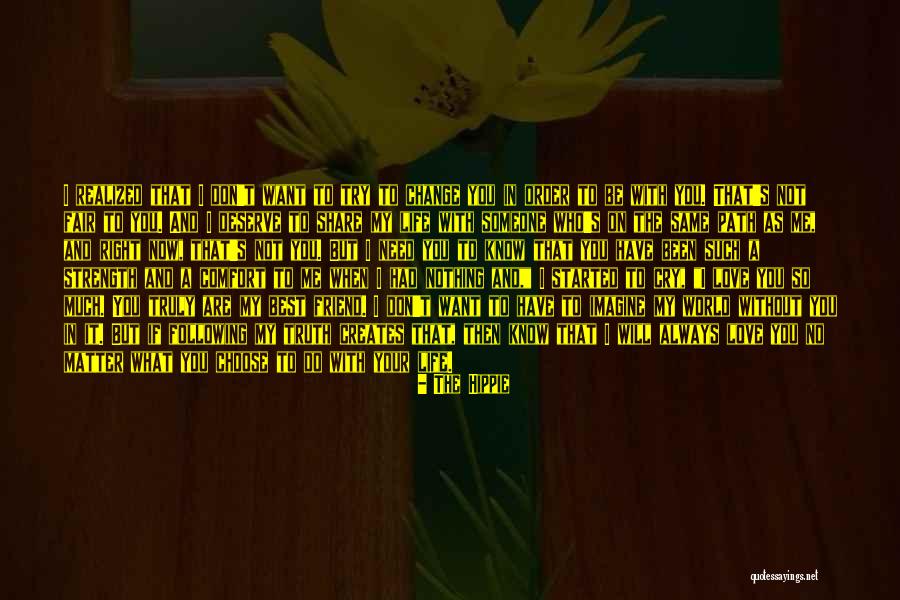 I realized that I don't want to try to change you in order to be with you. That's not fair to you. And I deserve to share my life with someone who's on the same path as me, and right now, that's not you. But I need you to know that you have been such a strength and a comfort to me when I had nothing and," I started to cry, "I love you so much. You truly are my best friend. I don't want to have to imagine my world without you in it. But if following my truth creates that, then know that I will always love you no matter what you choose to do with your life. — The Hippie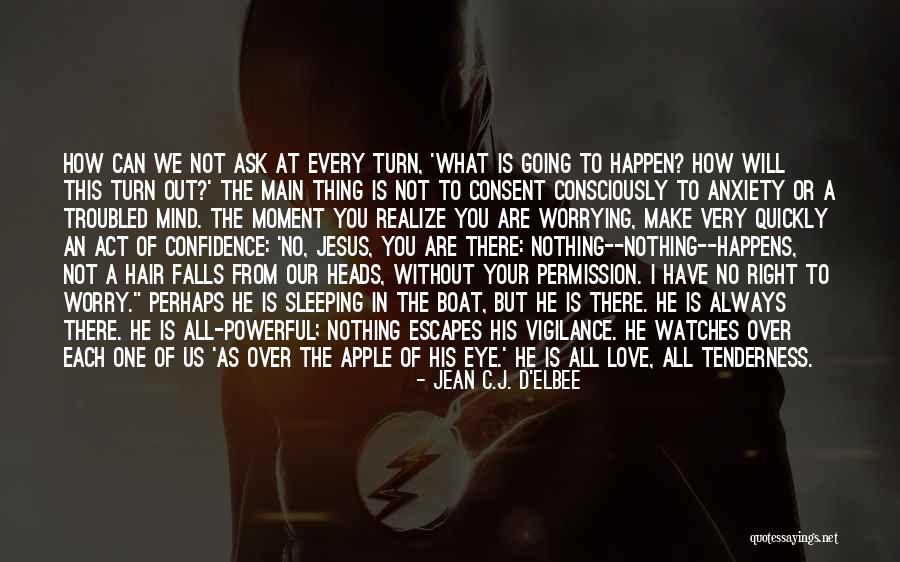 How can we not ask at every turn, 'What is going to happen? How will this turn out?' The main thing is not to consent consciously to anxiety or a troubled mind. The moment you realize you are worrying, make very quickly an act of confidence: 'No, Jesus, You are there: nothing--nothing--happens, not a hair falls from our heads, without Your permission. I have no right to worry." Perhaps He is sleeping in the boat, but He is there. He is always there. He is all-powerful; nothing escapes His vigilance. He watches over each one of us 'as over the apple of His eye.' He is all love, all tenderness. — Jean C.J. D'Elbee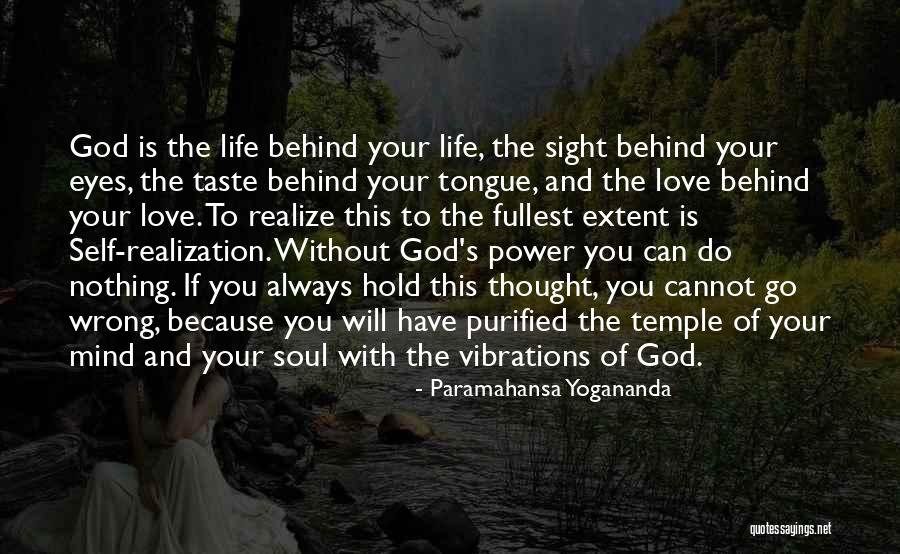 God is the life behind your life, the sight behind your eyes, the taste behind your tongue, and the love behind your love. To realize this to the fullest extent is Self-realization. Without God's power you can do nothing. If you always hold this thought, you cannot go wrong, because you will have purified the temple of your mind and your soul with the vibrations of God. — Paramahansa Yogananda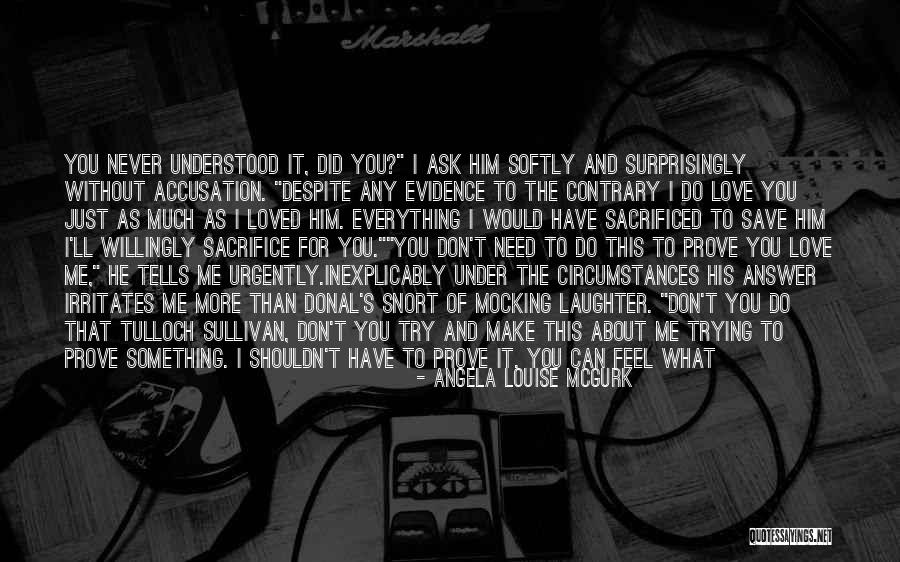 You never understood it, did you?" I ask him softly and surprisingly without accusation. "Despite any evidence to the contrary I do love you just as much as I loved him. Everything I would have sacrificed to save him I'll willingly sacrifice for you."
"You don't need to do this to prove you love me," he tells me urgently.
Inexplicably under the circumstances his answer irritates me more than Donal's snort of mocking laughter. "Don't you do that Tulloch Sullivan, don't you try and make this about me trying to prove something. I shouldn't have to prove it. You can feel what I feel even if you don't believe it. I'm trying to save your life, nothing more than that, because you are the only thing that matters to me. — Angela Louise McGurk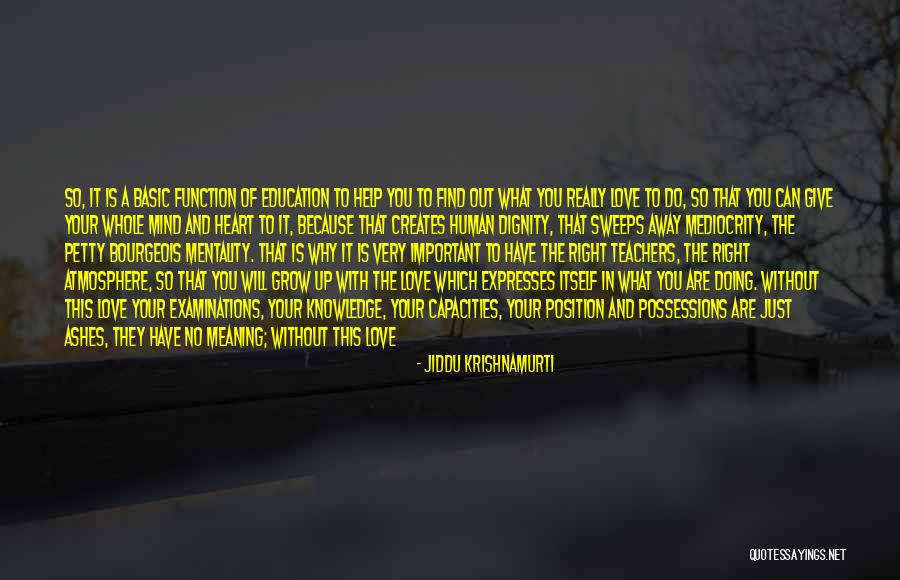 So, it is a basic function of education to help you to find out what you really love to do, so that you can give your whole mind and heart to it, because that creates human dignity, that sweeps away mediocrity, the petty bourgeois mentality. That is why it is very important to have the right teachers, the right atmosphere, so that you will grow up with the love which expresses itself in what you are doing. Without this love your examinations, your knowledge, your capacities, your position and possessions are just ashes, they have no meaning; without this love your actions are going to bring more wars, more hatred, more mischief and destruction. All this may mean nothing to you, because outwardly you are still very young, but I hope it will mean something to your teachers - and also to you, somewhere inside. — Jiddu Krishnamurti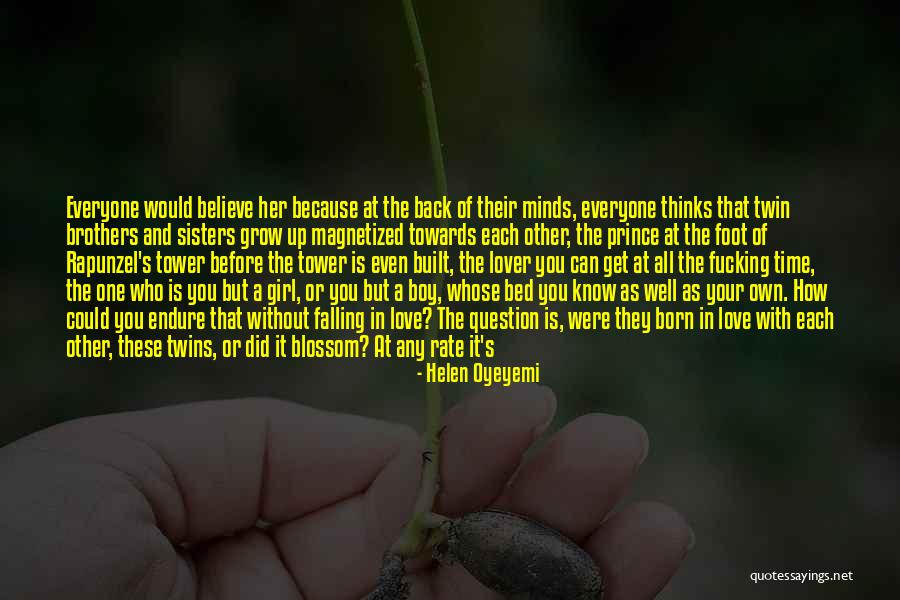 Everyone would believe her because at the back of their minds, everyone thinks that twin brothers and sisters grow up magnetized towards each other, the prince at the foot of Rapunzel's tower before the tower is even built, the lover you can get at all the fucking time, the one who is you but a girl, or you but a boy, whose bed you know as well as your own. How could you endure that without falling in love? The question is, were they born in love with each other, these twins, or did it blossom? At any rate it's already happened, the onlookers agree. It must have. Ask them when they fell. The brother and sister say no, no, it's nothing like that, but what they mean is that they can't remember when. — Helen Oyeyemi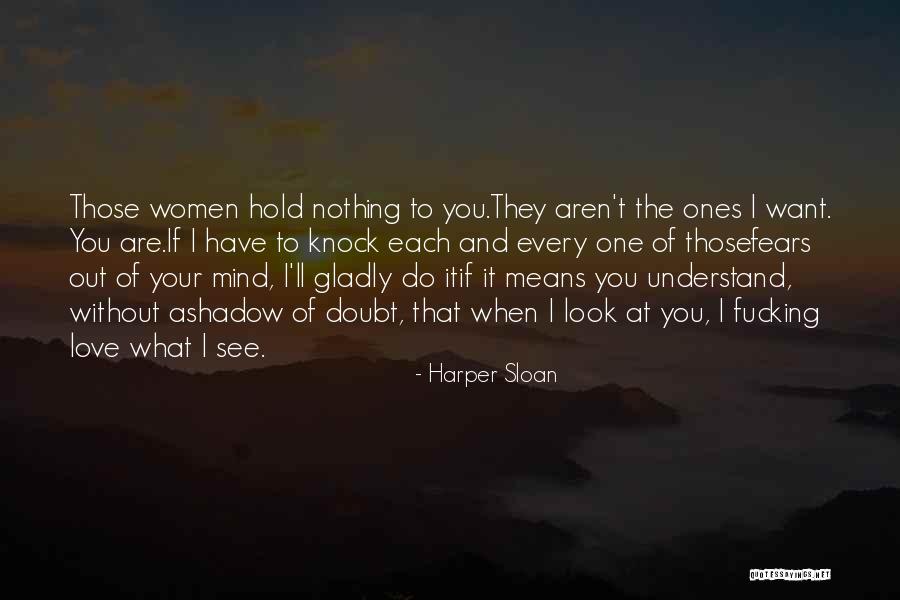 Those women hold nothing to you.
They aren't the ones I want. You are.
If I have to knock each and every one of those
fears out of your mind, I'll gladly do it
if it means you understand, without a
shadow of doubt, that when I look at
you, I fucking love what I see. — Harper Sloan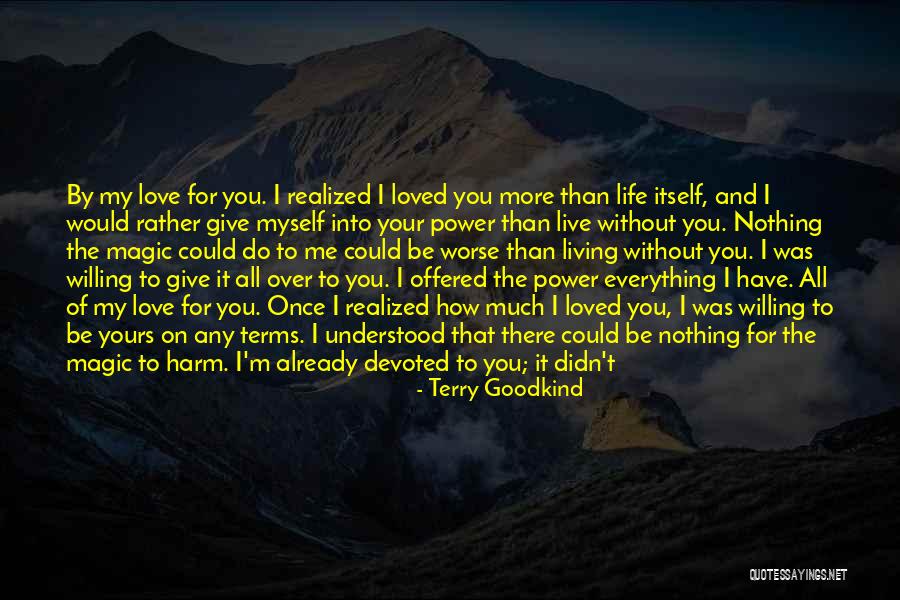 By my love for you. I realized I loved you more than life itself, and I would rather give myself into your power than live without you. Nothing the magic could do to me could be worse than living without you. I was willing to give it all over to you. I offered the power everything I have. All of my love for you. Once I realized how much I loved you, I was willing to be yours on any terms. I understood that there could be nothing for the magic to harm. I'm already devoted to you; it didn't need to change me. I was protected, because I have already been untouched by your love. I had utter faith that you felt the same, and had no fear of what would happen. Had I had any doubt, the magic would have latched on to that crack and taken me, but I had no doubt. My love for you is smooth and seamless. My love for you protected me from the magic. — Terry Goodkind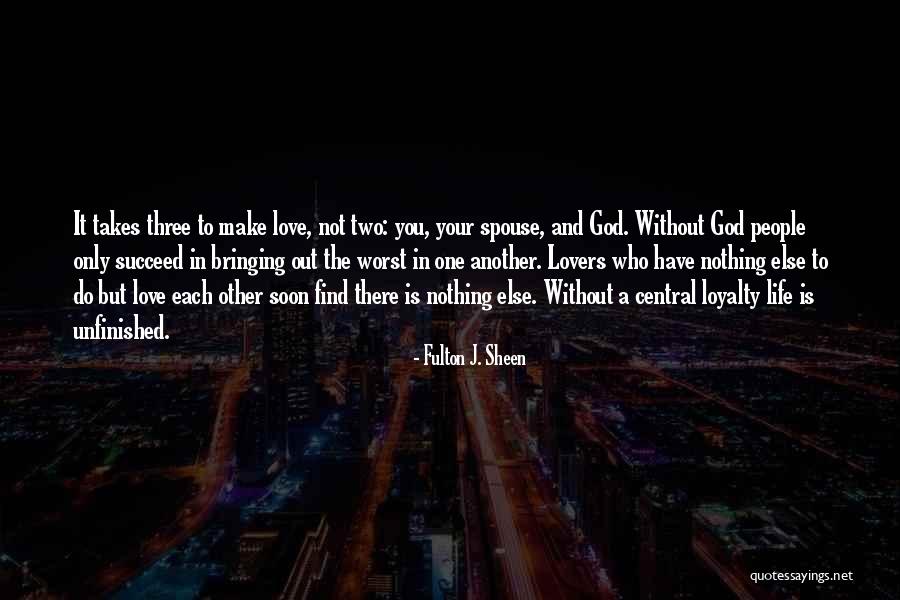 It takes three to make love, not two: you, your spouse, and God. Without God people only succeed in bringing out the worst in one another. Lovers who have nothing else to do but love each other soon find there is nothing else. Without a central loyalty life is unfinished. — Fulton J. Sheen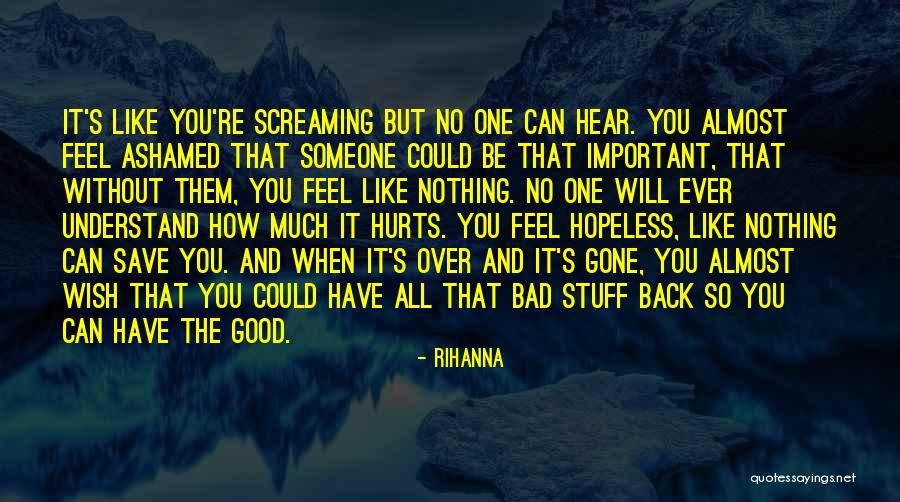 It's like you're screaming but no one can hear. You almost feel ashamed that someone could be that important, that without them, you feel like nothing. No one will ever understand how much it hurts. You feel hopeless, like nothing can save you. And when it's over and it's gone, you almost wish that you could have all that bad stuff back so you can have the good. — Rihanna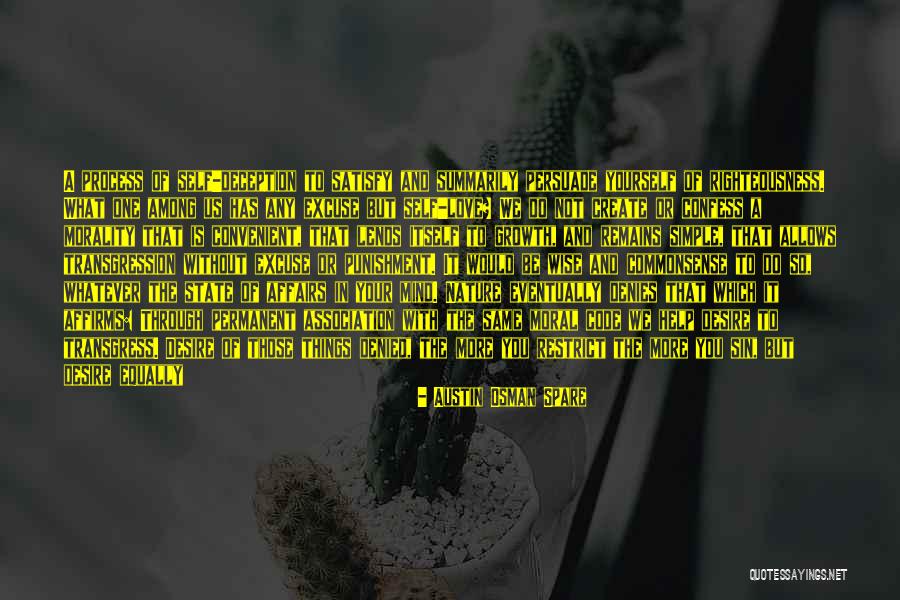 A process of self-deception to satisfy and summarily persuade yourself of righteousness. What one among us has any excuse but self-love? We do not create or confess a morality that is convenient, that lends itself to growth, and remains simple, that allows transgression without excuse or punishment. It would be wise and commonsense to do so, whatever the state of affairs in your mind. Nature eventually denies that which it affirms: Through permanent association with the same moral code we help desire to transgress. Desire of those things denied, the more you restrict the more you sin, but desire equally desires preservation of moral instinct, so desire is its own conflict (and weakly enough). Have no fear, the Bull of earth has long had nothing to do with your unclean conscience, your stagnant ideas of morality. The microbe alone would seem without fear! — Austin Osman Spare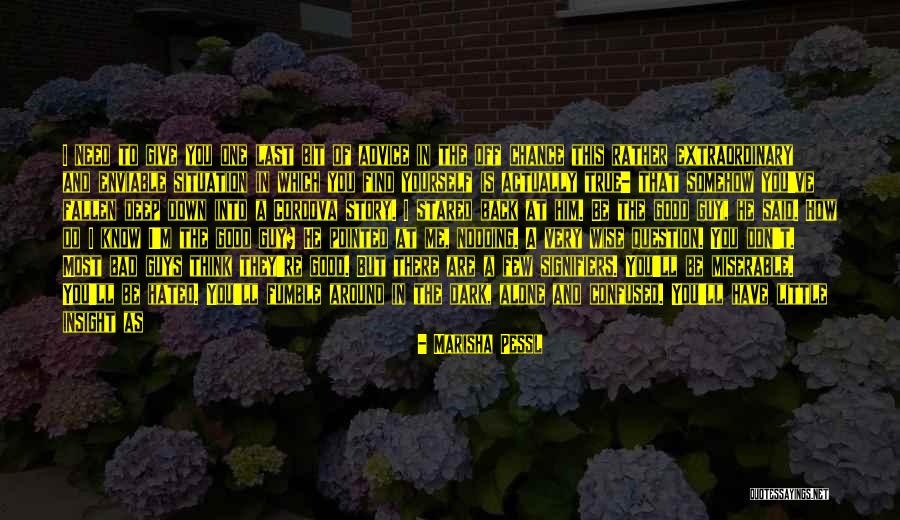 I need to give you one last bit of advice in the off chance this rather extraordinary and enviable situation in which you find yourself is actually true- that somehow you've fallen deep down into a Cordova story. I stared back at him. Be the good guy, he said. How do I know I'm the good guy? He pointed at me, nodding. A very wise question. You don't. Most bad guys think they're good. But there are a few signifiers. You'll be miserable. You'll be hated. You'll fumble around in the dark, alone and confused. You'll have little insight as to the true nature of things, not until the very last minute, and only if you have the stamina and the madness to go to the very, very end. But most importantly- and critically- you will act without regard for yourself. You'll be motivated by something that has nothing to do with the ego. You'll do it for justice. For grace. For love. Those large rather heroic qualities only the good have the strength to carry on their shoulders. And you'll listen. — Marisha Pessl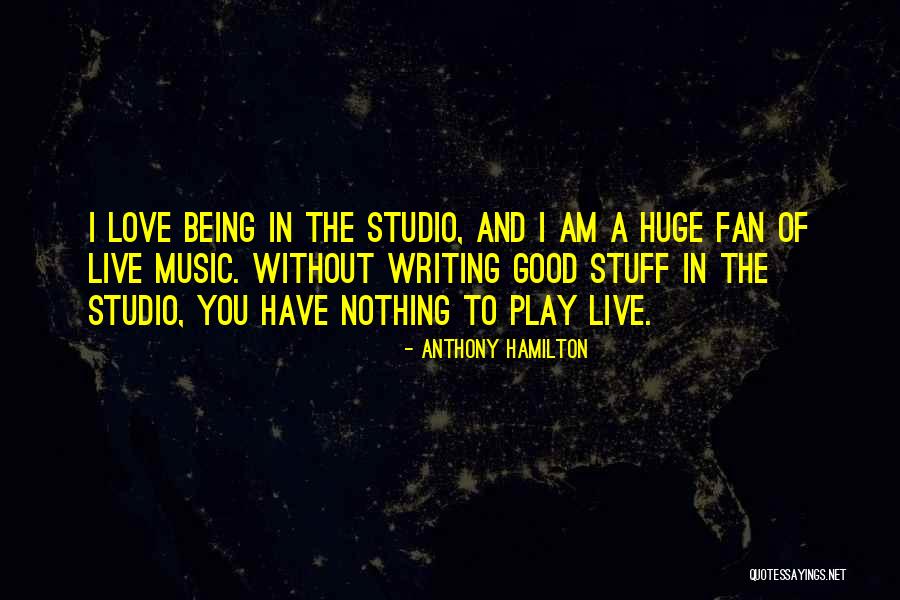 I love being in the studio, and I am a huge fan of live music. Without writing good stuff in the studio, you have nothing to play live. — Anthony Hamilton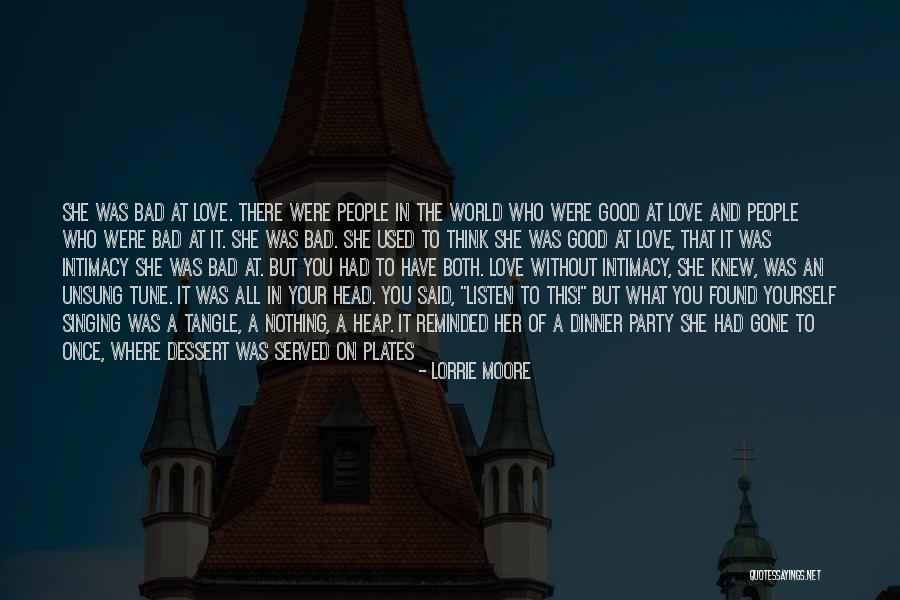 She was bad at love. There were people in the world who were good at love and people who were bad at it. She was bad. She used to think she was good at love, that it was intimacy she was bad at. But you had to have both. Love without intimacy, she knew, was an unsung tune. It was all in your head. You said, "Listen to this!" but what you found yourself singing was a tangle, a nothing, a heap. It reminded her of a dinner party she had gone to once, where dessert was served on plates printed with French songs. After dinner everyone had had to sing their plate, but hers had still had whipped cream on it, and when it came her turn, she had garbled the notes and words, frantically pushing the whipped cream around with a fork so she could see the next measure. Oh, she was bad, bad like that, at love. — Lorrie Moore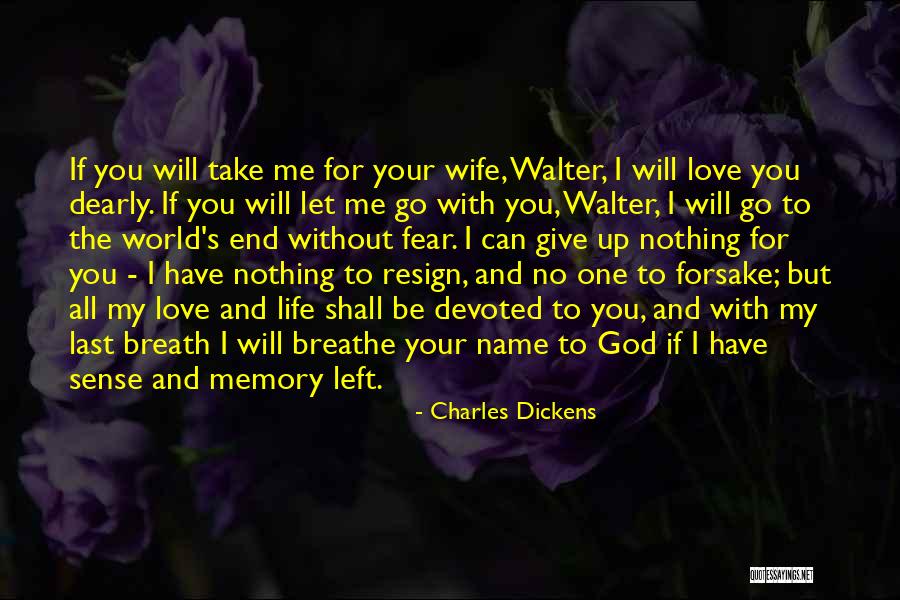 If you will take me for your wife, Walter, I will love you dearly. If you will let me go with you, Walter, I will go to the world's end without fear. I can give up nothing for you - I have nothing to resign, and no one to forsake; but all my love and life shall be devoted to you, and with my last breath I will breathe your name to God if I have sense and memory left. — Charles Dickens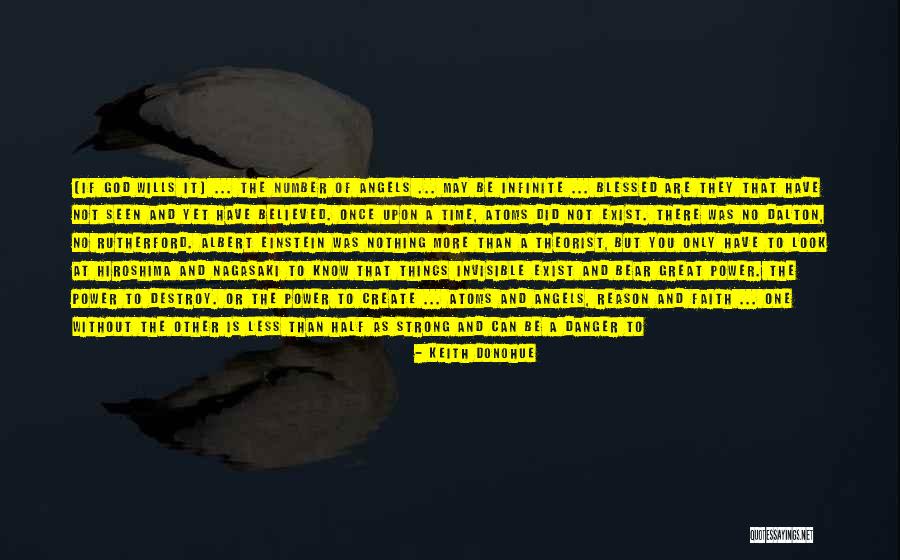 (If God wills it) ... the number of angels ... may be infinite ... Blessed are they that have not seen and yet have believed. Once upon a time, atoms did not exist. There was no Dalton, no Rutherford. Albert Einstein was nothing more than a theorist, but you only have to look at Hiroshima and Nagasaki to know that things invisible exist and bear great power. The power to destroy. Or the power to create ... Atoms and angels, reason and faith ... One without the other is less than half as strong and can be a danger to our vitality. Reason is subject to the tests of logic and observable, demonstrable phenomena. Faith is tested by our desire and will. One cannot see faith, just as one cannot pour out hope or love from a beaker. Self-sacrifice and devotion escape the strongest microscope, but such qualities of spirit can be shown and known by us all ... And so with God's messengers, more believed than seen, more felt than touched, our angel's exist in open hearts, if we have but faith. — Keith Donohue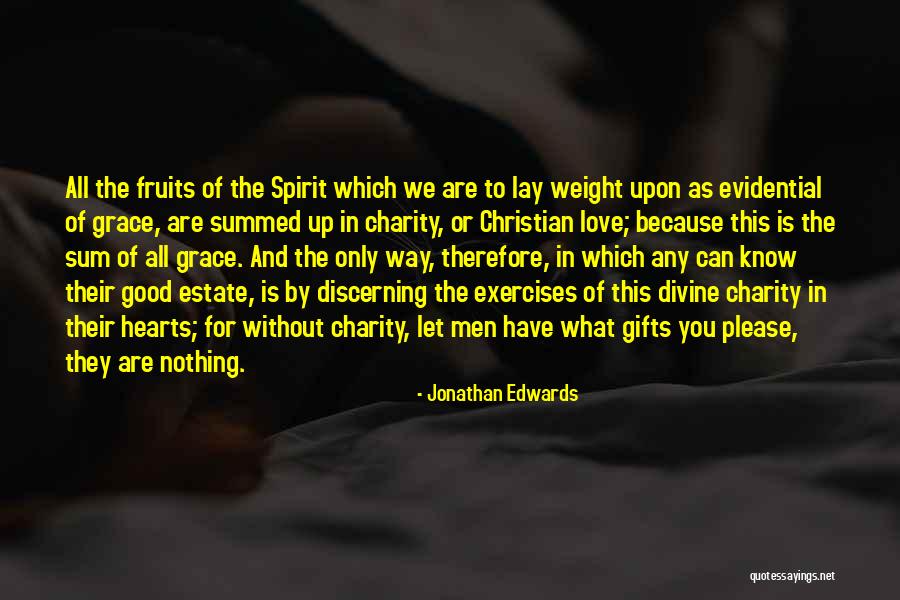 All the fruits of the Spirit which we are to lay weight upon as evidential of grace, are summed up in charity, or Christian love; because this is the sum of all grace. And the only way, therefore, in which any can know their good estate, is by discerning the exercises of this divine charity in their hearts; for without charity, let men have what gifts you please, they are nothing. — Jonathan Edwards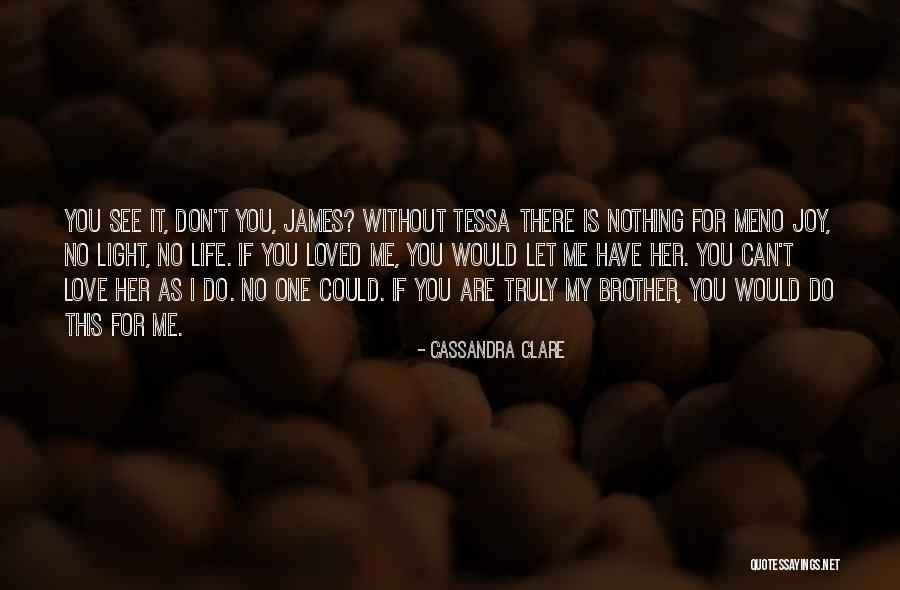 You see it, don't you, James? Without Tessa there is nothing for me
no joy, no light, no life. If you loved me, you would let me have her. You can't love her as I do. No one could. If you are truly my brother, you would do this for me. — Cassandra Clare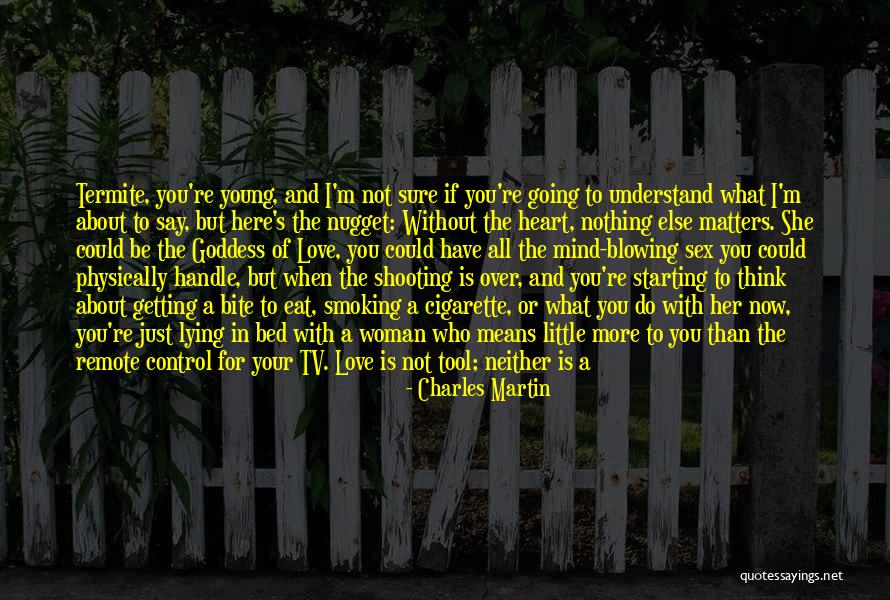 Termite, you're young, and I'm not sure if you're going to understand what I'm about to say, but here's the nugget: Without the heart, nothing else matters. She could be the Goddess of Love, you could have all the mind-blowing sex you could physically handle, but when the shooting is over, and you're starting to think about getting a bite to eat, smoking a cigarette, or what you do with her now, you're just lying in bed with a woman who means little more to you than the remote control for your TV. Love is not tool; neither is a woman's heart. What I'm talking about, you won't find in that magazine."
"How would you know? You just said you've only loved one woman. I think you need to test-drive a few cars before you buy one."
"You can buy that lie if you want, but if you're working for a bank, you don't study the counterfeit to know the real thing. You study the real thing to know the counterfeit."
Reese talking to Termite, pg. 109-110 — Charles Martin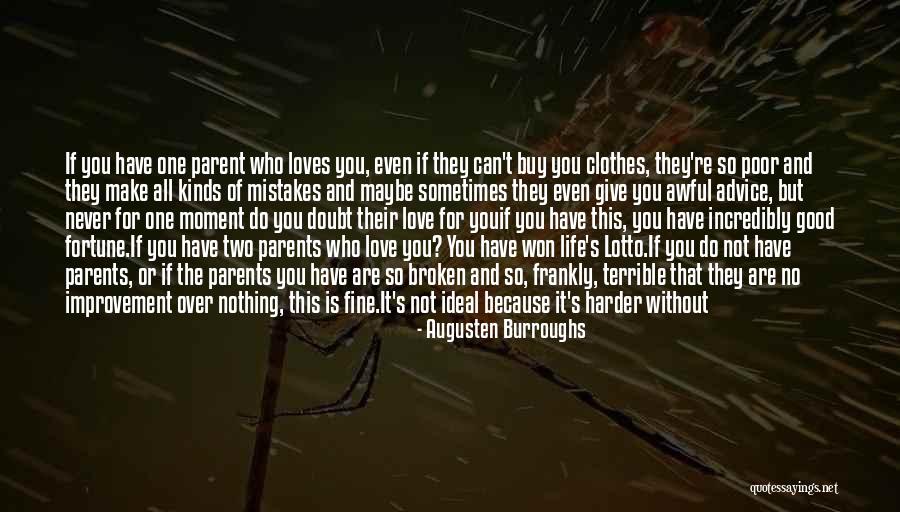 If you have one parent who loves you, even if they can't buy you clothes, they're so poor and they make all kinds of mistakes and maybe sometimes they even give you awful advice, but never for one moment do you doubt their love for you
if you have this, you have incredibly good fortune.
If you have two parents who love you? You have won life's Lotto.
If you do not have parents, or if the parents you have are so broken and so, frankly, terrible that they are no improvement over nothing, this is fine.
It's not ideal because it's harder without adults who love you more than they love themselves. But harder is just harder, that's all. — Augusten Burroughs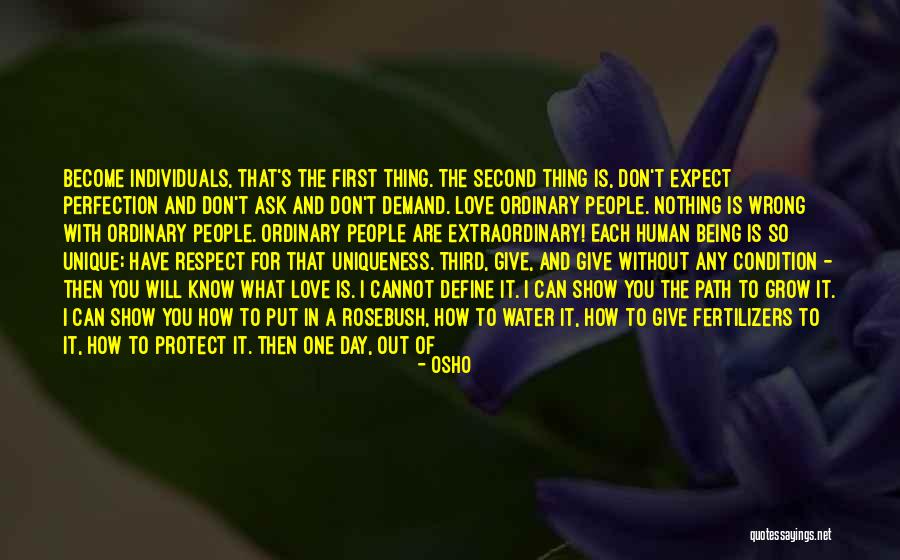 Become individuals, that's the first thing. The second thing is, don't expect perfection and don't ask and don't demand. Love ordinary people. Nothing is wrong with ordinary people. Ordinary people are extraordinary! Each human being is so unique; have respect for that uniqueness. Third, give, and give without any condition - then you will know what love is. I cannot define it. I can show you the path to grow it. I can show you how to put in a rosebush, how to water it, how to give fertilizers to it, how to protect it. Then one day, out of the blue, comes the rose, and your home is full of the fragrance. That's how love happens. — Osho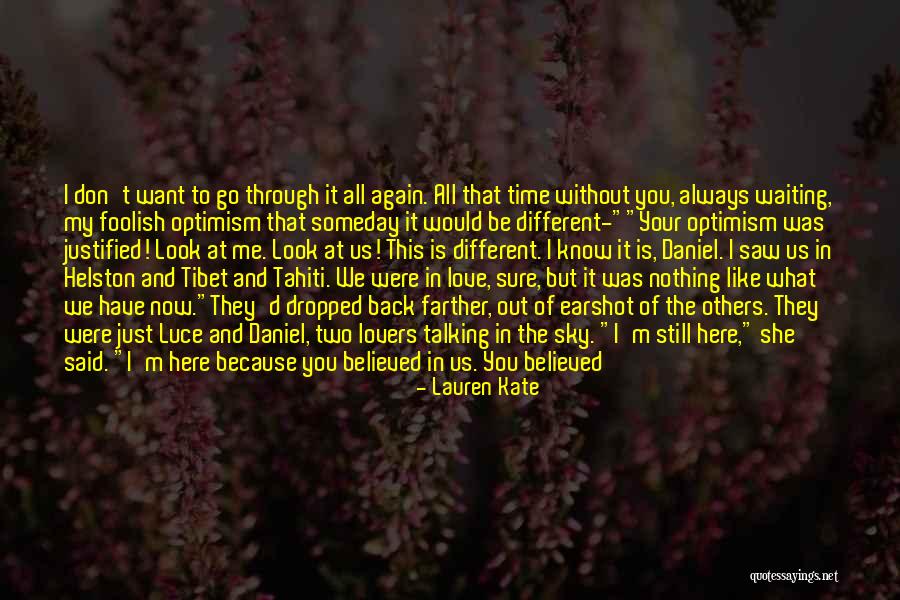 I don't want to go through it all again. All that time without you, always waiting, my foolish optimism that someday it would be different-"
"Your optimism was justified! Look at me. Look at us! This is different. I know it is, Daniel. I saw us in Helston and Tibet and Tahiti. We were in love, sure, but it was nothing like what we have now."
They'd dropped back farther, out of earshot of the others. They were just Luce and Daniel, two lovers talking in the sky. "I'm still here," she said. "I'm here because you believed in us. You believed in me."
"I did-I do believe in you."
"I believe in you, too." She heard a smile enter her voice. "I always have."
They were not going to fail. — Lauren Kate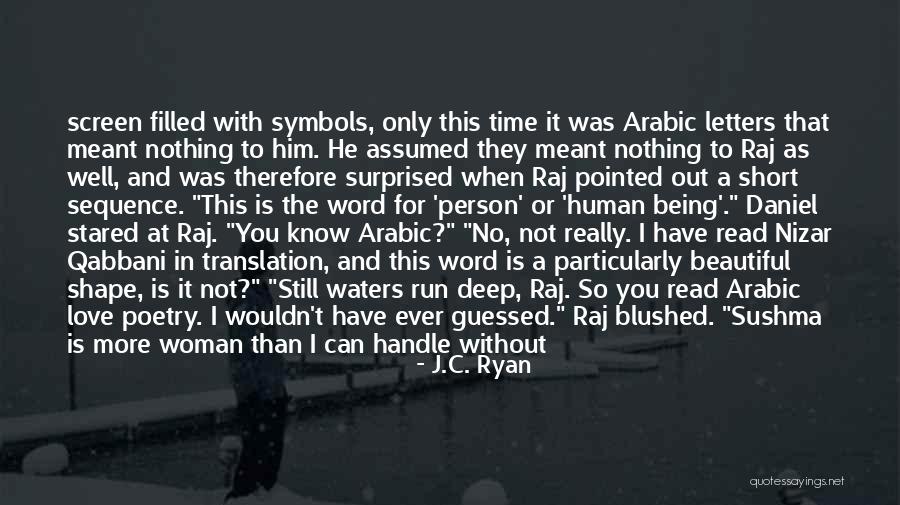 screen filled with symbols, only this time it was Arabic letters that meant nothing to him. He assumed they meant nothing to Raj as well, and was therefore surprised when Raj pointed out a short sequence. "This is the word for 'person' or 'human being'." Daniel stared at Raj. "You know Arabic?" "No, not really. I have read Nizar Qabbani in translation, and this word is a particularly beautiful shape, is it not?" "Still waters run deep, Raj. So you read Arabic love poetry. I wouldn't have ever guessed." Raj blushed. "Sushma is more woman than I can handle without help," he admitted. "Qabbani writes more than just love poetry. It is quite erotic. — J.C. Ryan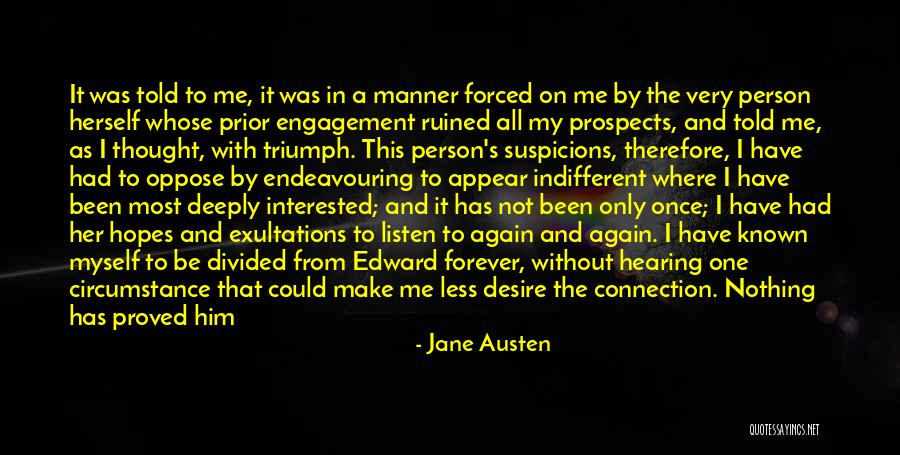 It was told to me, it was in a manner forced on me by the very person herself whose prior engagement ruined all my prospects, and told me, as I thought, with triumph. This person's suspicions, therefore, I have had to oppose by endeavouring to appear indifferent where I have been most deeply interested; and it has not been only once; I have had her hopes and exultations to listen to again and again. I have known myself to be divided from Edward forever, without hearing one circumstance that could make me less desire the connection. Nothing has proved him unworthy; nor has anything declared him indifferent to me. I have had to content against the unkindness of his sister and the insolence of his mother, and have suffered the punishment of an attachment without enjoying its advantages. And all this has been going on at the time when, as you too well know, it has not been my only unhappiness. If you can think me capable of ever feeling, surely you may suppose that I have suffered now. — Jane Austen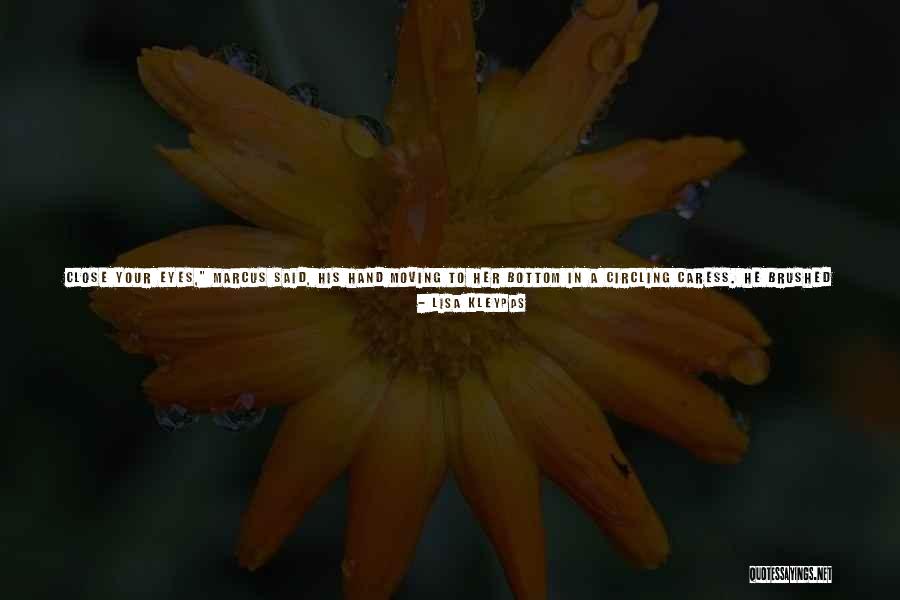 Close your eyes," Marcus said, his hand moving to her bottom in a circling caress. He brushed his mouth over her forehead and her fragile eyelids. "Rest. You'll need to regain your strength ... because once we're married, I won't be able to leave you alone. I'll want to love you every hour, every minute of the day." He nestled her more closely against him. "There is nothing on earth more beautiful to me than your smile ... no sound sweeter than your laughter ... no pleasure greater than holding you in my arms. I realized today that I could never live without you, stubborn little hellion that you are. In this life and the next, you're my only hope of happiness. Tell me, Lillian, dearest love ... how can you have reached so far inside my heart?" He paused to kiss her damp silken skin ... and smiled as the wisp of a feminine snore broke the peaceful silence. — Lisa Kleypas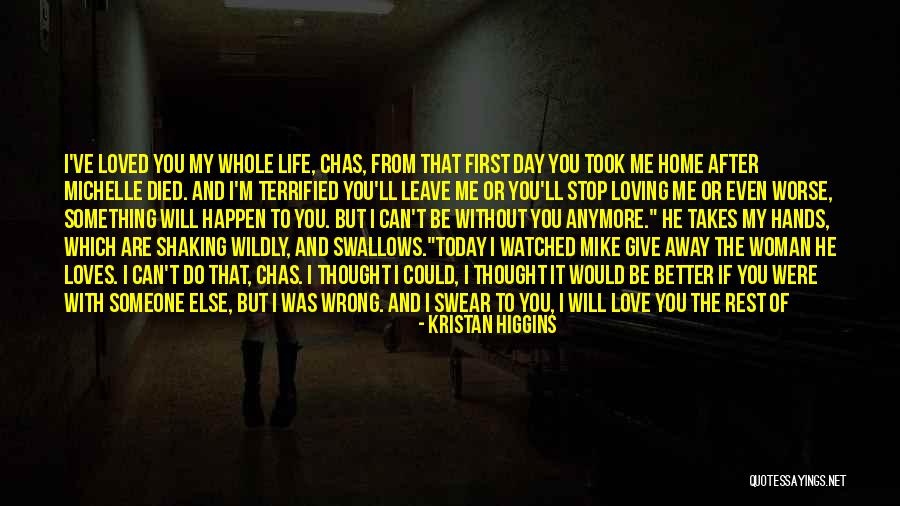 I've loved you my whole life, Chas, from that first day you took me home after Michelle died. And I'm terrified you'll leave me or you'll stop loving me or even worse, something will happen to you. But I can't be without you anymore." He takes my hands, which are shaking wildly, and swallows.
"Today I watched Mike give away the woman he loves. I can't do that, Chas. I thought I could, I thought it would be better if you were with someone else, but I was wrong. And I swear to you, I will love you the rest of my life and nothing will ever come before you. Please, Chastity. Forgive me and marry me and have a bunch of babies with me, and I'll- — Kristan Higgins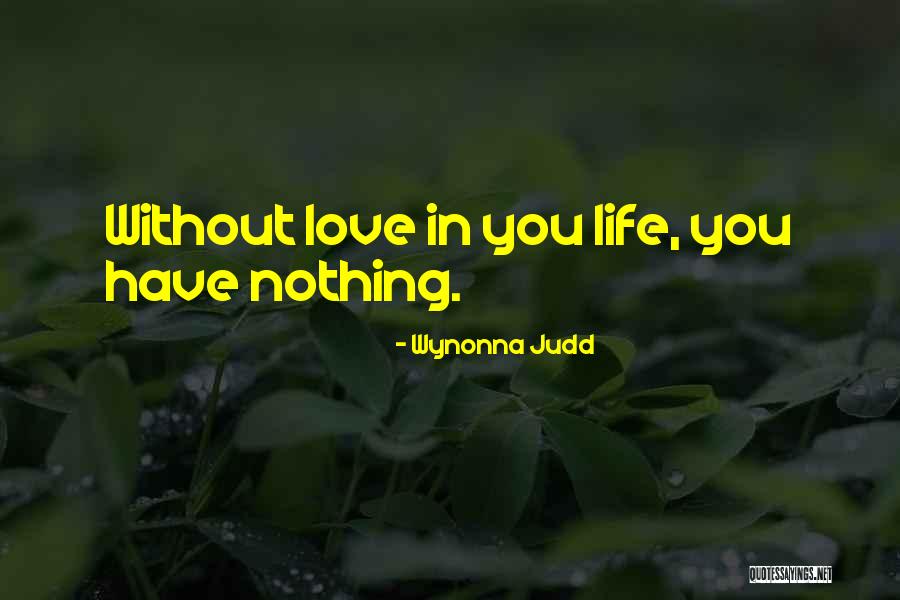 Without love in you life, you have nothing. — Wynonna Judd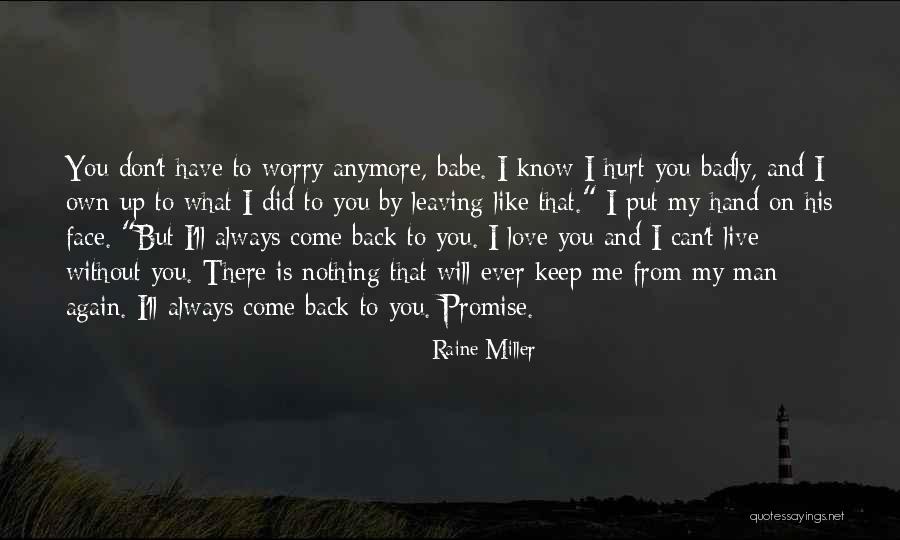 You don't have to worry anymore, babe. I know I hurt you badly, and I own up to what I did to you by leaving like that." I put my hand on his face. "But I'll always come back to you. I love you and I can't live without you. There is nothing that will ever keep me from my man again. I'll always come back to you. Promise. — Raine Miller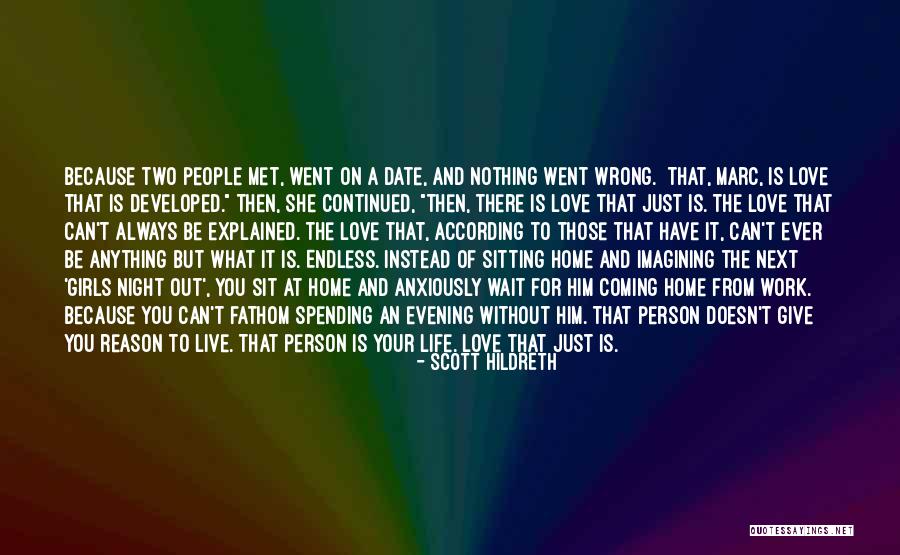 Because two people met, went on a date, and nothing went wrong. That, Marc, is love that is developed." Then, she continued, "Then, there is love that just is. The love that can't always be explained. The love that, according to those that have it, can't ever be anything but what it is. Endless. Instead of sitting home and imagining the next 'girls night out', you sit at home and anxiously wait for him coming home from work. Because you can't fathom spending an evening without him. That person doesn't give you reason to live. That person is your life. Love that just is. — Scott Hildreth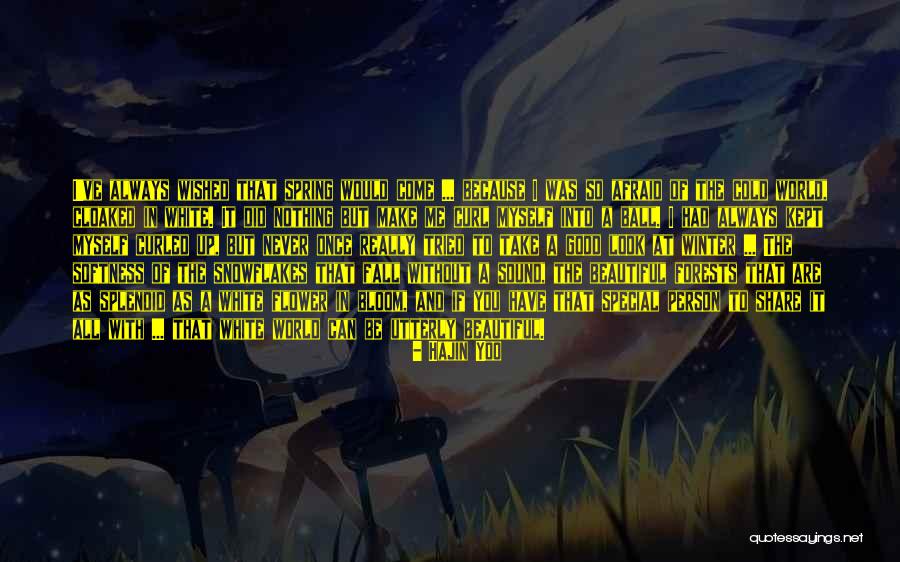 I've always wished that spring would come ... because I was so afraid of the cold world, cloaked in white. It did nothing but make me curl myself into a ball. I had always kept myself curled up, but never once really tried to take a good look at winter ...
The softness of the snowflakes that fall without a sound, the beautiful forests that are as splendid as a white flower in bloom, and if you have that special person to share it all with ... that white world can be utterly beautiful. — Hajin Yoo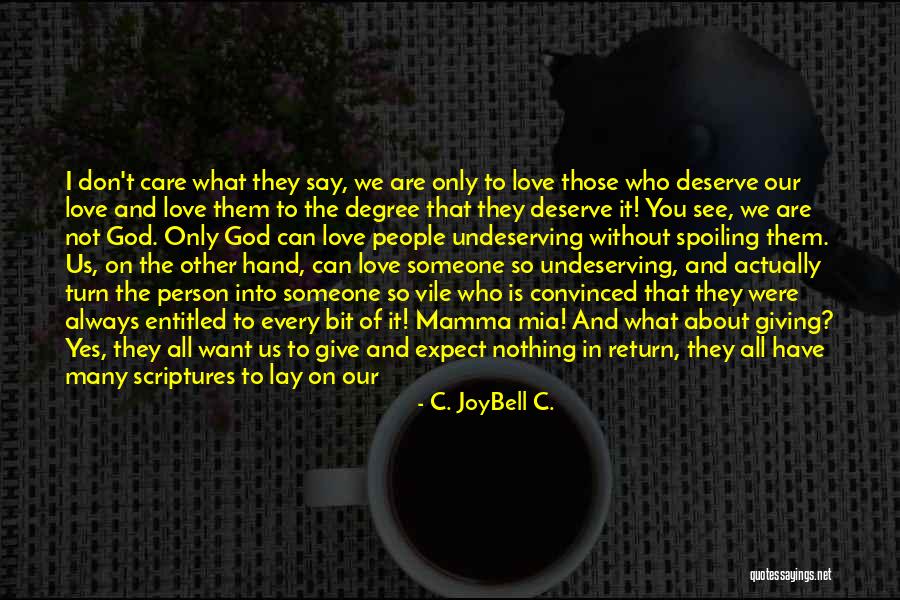 I don't care what they say, we are only to love those who deserve our love and love them to the degree that they deserve it! You see, we are not God. Only God can love people undeserving without spoiling them. Us, on the other hand, can love someone so undeserving, and actually turn the person into someone so vile who is convinced that they were always entitled to every bit of it! Mamma mia! And what about giving? Yes, they all want us to give and expect nothing in return, they all have many scriptures to lay on our tables when it is they who are at the receiving end! But when the tables are turned and we are the ones at the receiving end, suddenly all the scriptures mean something else! And all the times they were on our end and we gave to them- suddenly are all forgotten! — C. JoyBell C.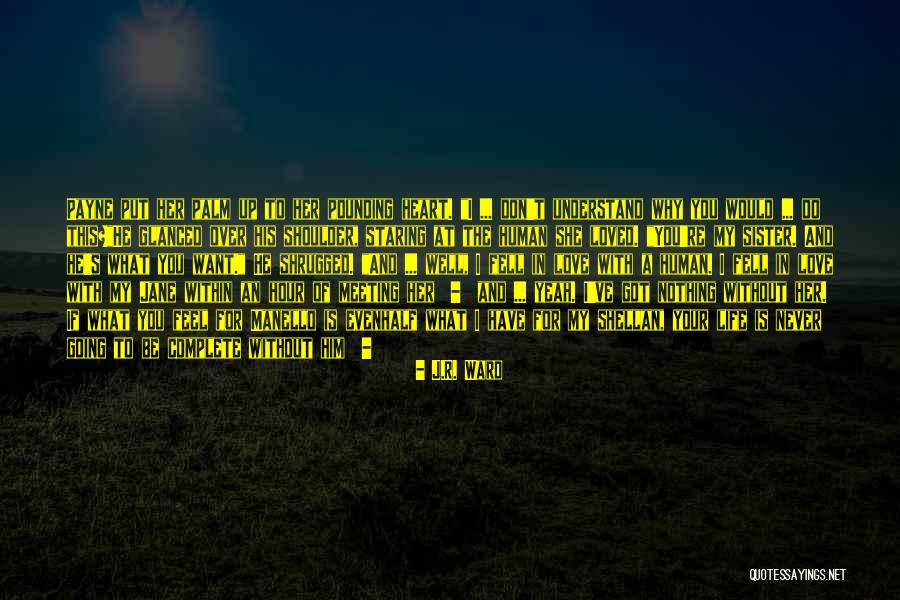 Payne put her palm up to her pounding heart. "I ... don't understand why you would ... do this?"
He glanced over his shoulder, staring at the human she loved. "You're my sister. And he's what you want." He shrugged. "And ... well, I fell in love with a human. I fell in love with my Jane within an hour of meeting her - and ... yeah. I've got nothing without her. If what you feel for Manello is even
half what I have for my shellan, your life is never going to be complete without him - — J.R. Ward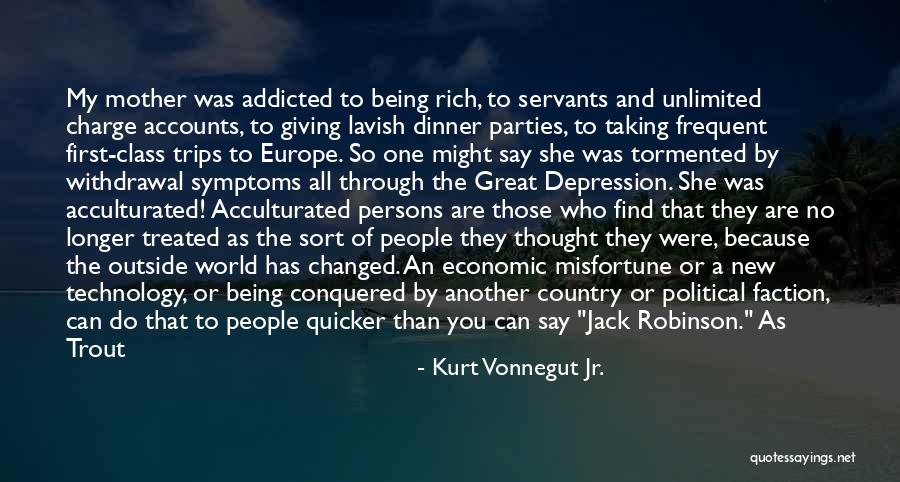 My mother was addicted to being rich, to servants and unlimited charge accounts, to giving lavish dinner parties, to taking frequent first-class trips to Europe. So one might say she was tormented by withdrawal symptoms all through the Great Depression. She was acculturated! Acculturated persons are those who find that they are no longer treated as the sort of people they thought they were, because the outside world has changed. An economic misfortune or a new technology, or being conquered by another country or political faction, can do that to people quicker than you can say "Jack Robinson." As Trout wrote in his "An American Family Marooned on the Planet Pluto": "Nothing wrecks any kind of love more effectively than the discovery that your previously acceptable behavior has become ridiculous." He said in conversation at the 2001 clambake: "If I hadn't learned how to live without a culture and a society, acculturation would have broken my heart a thousand times." *** — Kurt Vonnegut Jr.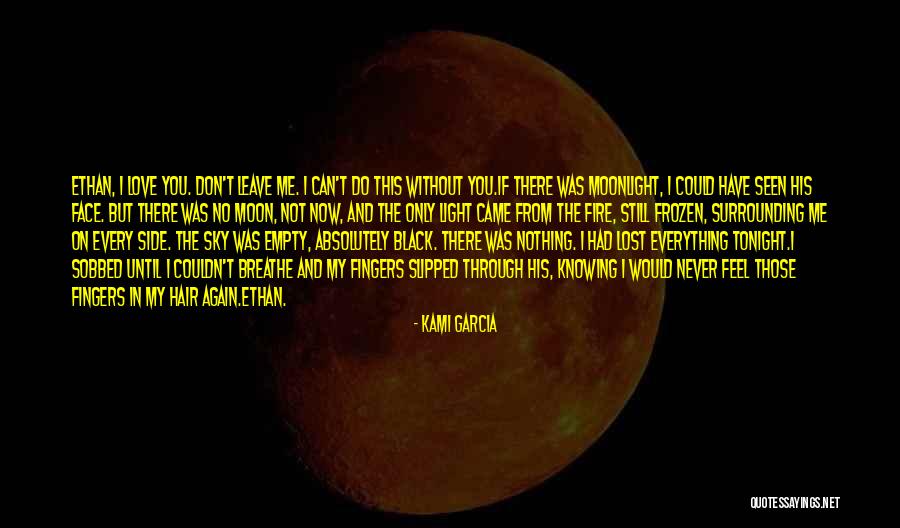 Ethan, I love you. Don't leave me. I can't do this without you.
If there was moonlight, I could have seen his face. But there was no moon, not now, and the only light came from the fire, still frozen, surrounding me on every side. The sky was empty, absolutely black. There was nothing. I had lost everything tonight.
I sobbed until I couldn't breathe and my fingers slipped through his, knowing I would never feel those fingers in my hair again.
Ethan. — Kami Garcia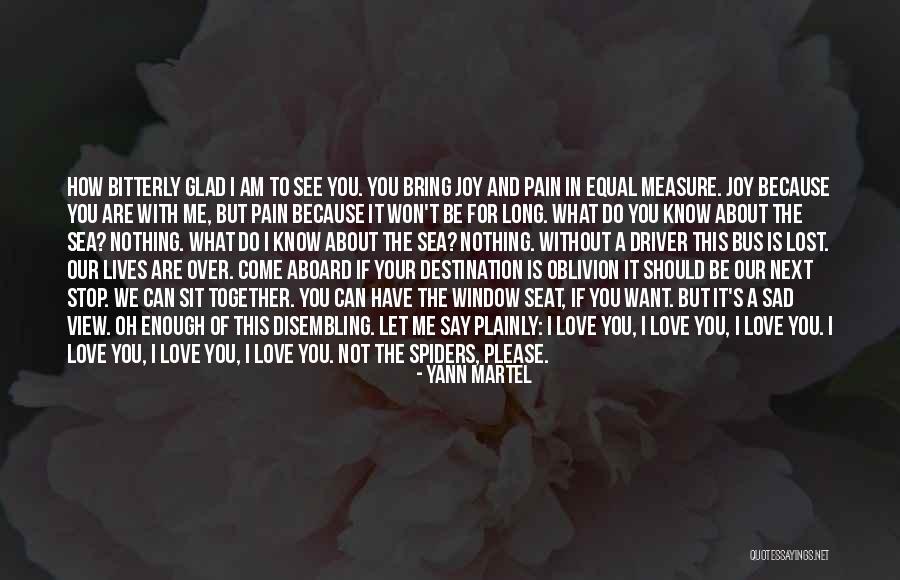 How bitterly glad I am to see you. You bring joy and pain in equal measure. Joy because you are with me, but pain because it won't be for long. What do you know about the sea? Nothing. What do I know about the sea? Nothing. Without a driver this bus is lost. Our lives are over. Come aboard if your destination is oblivion
It should be our next stop. We can sit together. You can have the window seat, if you want. But it's a sad view. Oh enough of this disembling. Let me say plainly: I love you, I love you, I love you. I love you, I love you, I love you. Not the spiders, please. — Yann Martel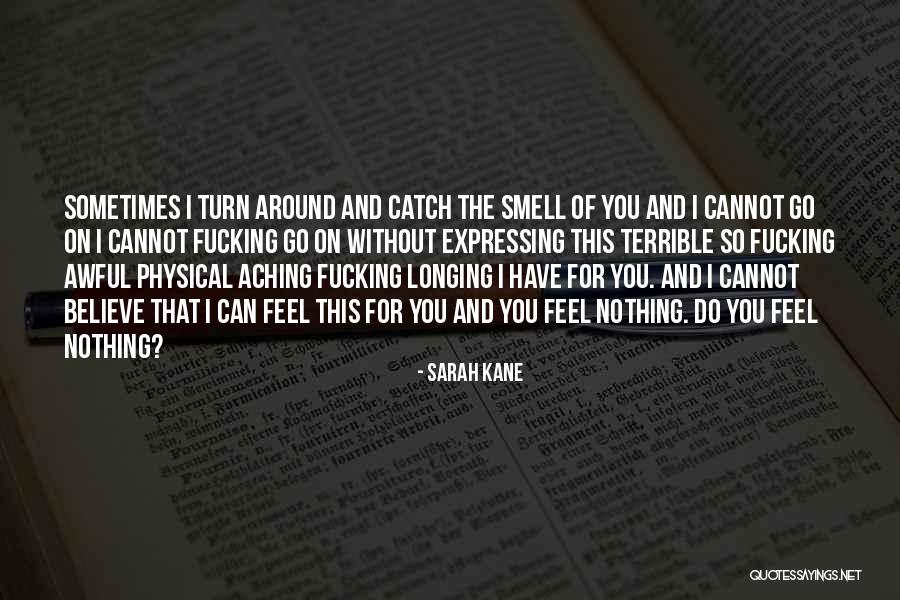 Sometimes I turn around and catch the smell of you and I cannot go on I cannot fucking go on without expressing this terrible so fucking awful physical aching fucking longing I have for you. And I cannot believe that I can feel this for you and you feel nothing. Do you feel nothing? — Sarah Kane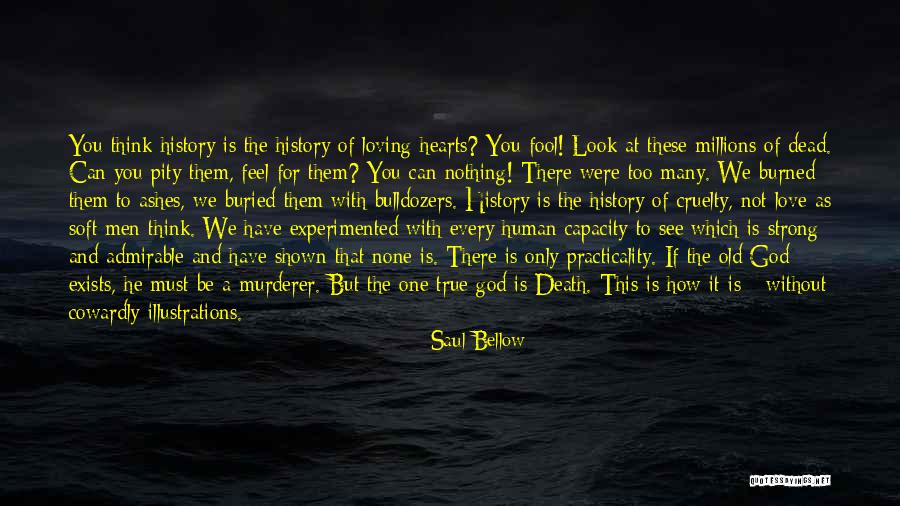 You think history is the history of loving hearts? You fool! Look at these millions of dead. Can you pity them, feel for them? You can nothing! There were too many. We burned them to ashes, we buried them with bulldozers. History is the history of cruelty, not love as soft men think. We have experimented with every human capacity to see which is strong and admirable and have shown that none is. There is only practicality. If the old God exists, he must be a murderer. But the one true god is Death. This is how it is - without cowardly illustrations. — Saul Bellow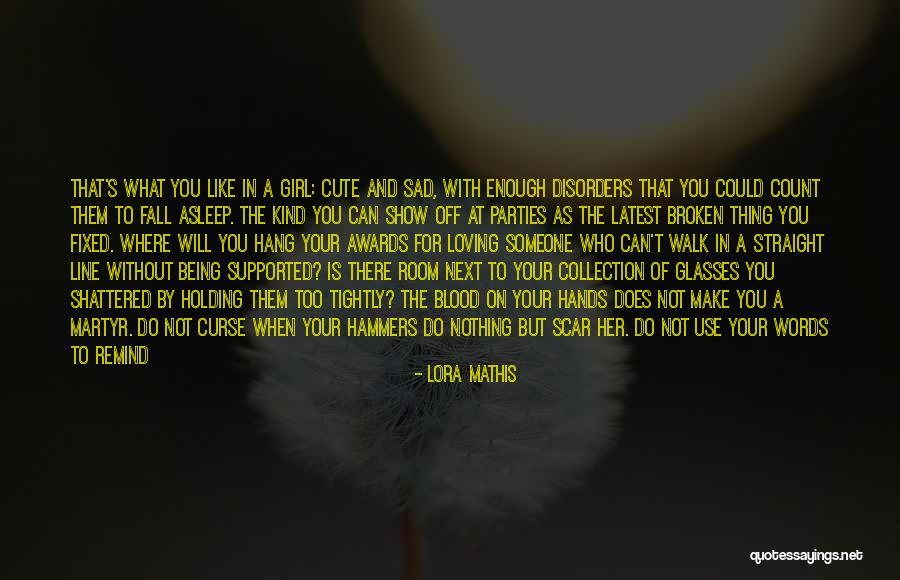 That's what you like in a girl: cute and sad, with enough disorders that you could count them to fall asleep. The kind you can show off at parties as the latest broken thing you fixed. Where will you hang your awards for loving someone who can't walk in a straight line without being supported? Is there room next to your collection of glasses you shattered by holding them too tightly? The blood on your hands does not make you a martyr. Do not curse when your hammers do nothing but scar her. Do not use your words to remind her that everybody else would have left by now. If she could speak, she would tell you: you think it's beautiful to love somebody as light as me but you don't know how heavy I had to be to become this empty. — Lora Mathis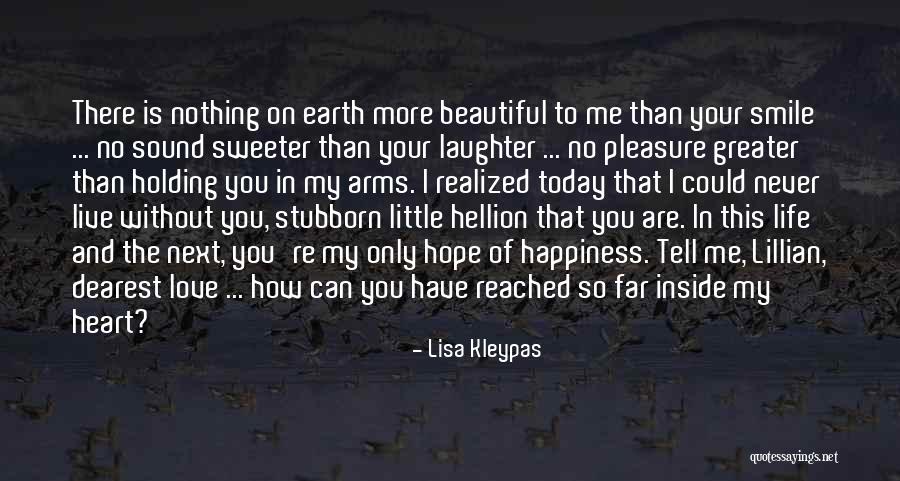 There is nothing on earth more beautiful to me than your smile ... no sound sweeter than your laughter ... no pleasure greater than holding you in my arms. I realized today that I could never live without you, stubborn little hellion that you are. In this life and the next, you're my only hope of happiness. Tell me, Lillian, dearest love ... how can you have reached so far inside my heart? — Lisa Kleypas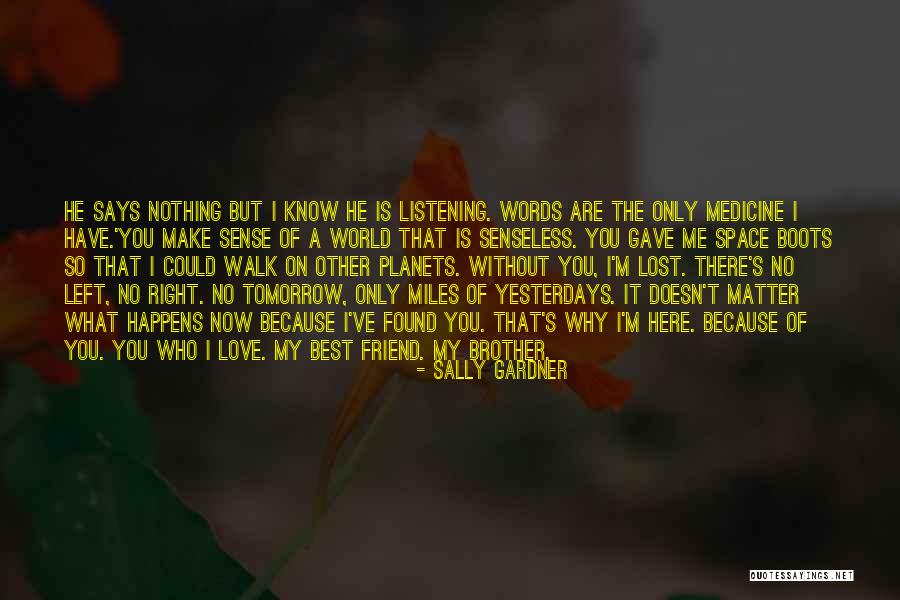 He says nothing but I know he is listening. Words are the only medicine I have.
'You make sense of a world that is senseless. You gave me space boots so that I could walk on other planets. Without you, I'm lost. There's no left, no right. No tomorrow, only miles of yesterdays. It doesn't matter what happens now because I've found you. That's why I'm here. Because of you. You who I love. My best friend. My brother. — Sally Gardner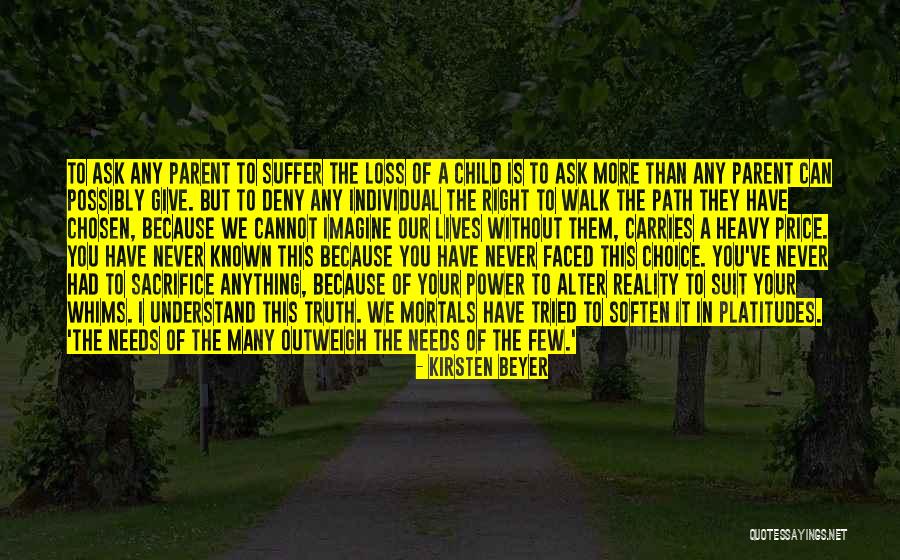 To ask any parent to suffer the loss of a child is to ask more than any parent can possibly give. But to deny any individual the right to walk the path they have chosen, because we cannot imagine our lives without them, carries a heavy price. You have never known this because you have never faced this choice. You've never had to sacrifice anything, because of your power to alter reality to suit your whims. I understand this truth. We mortals have tried to soften it in platitudes. 'The needs of the many outweigh the needs of the few.' 'Death before dishonor.' In the end, nothing makes it easier to accept. I've given my life once for those I love, and I'm about to do it again. To have made any other choice was to grant fear dominion. Your son is a remarkable individual. Don't ask him to be less than he is. He has made his choice. — Kirsten Beyer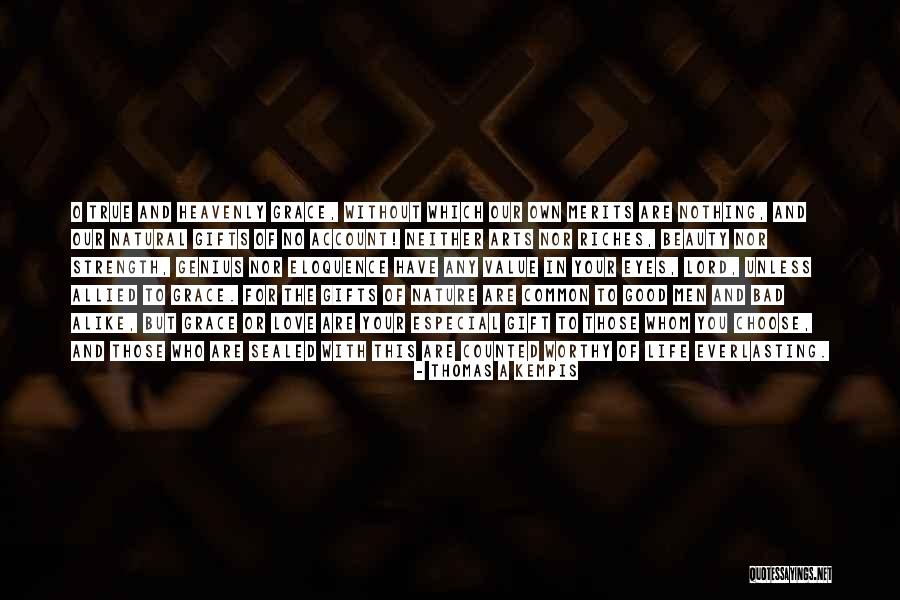 0 true and heavenly grace, without which our own merits are nothing, and our natural gifts of no account! Neither arts nor riches, beauty nor strength, genius nor eloquence have any value in Your eyes, Lord, unless allied to grace. For the gifts of nature are common to good men and bad alike, but grace or love are Your especial gift to those whom You choose, and those who are sealed with this are counted worthy of life everlasting. — Thomas A Kempis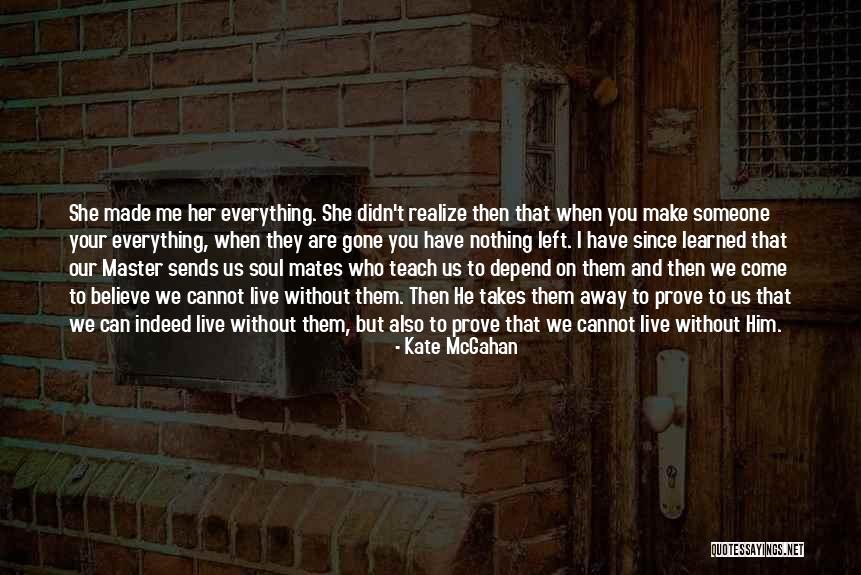 She made me her everything. She didn't realize then that when you make someone your everything, when they are gone you have nothing left. I have since learned that our Master sends us soul mates who teach us to depend on them and then we come to believe we cannot live without them. Then He takes them away to prove to us that we can indeed live without them, but also to prove that we cannot live without Him. — Kate McGahan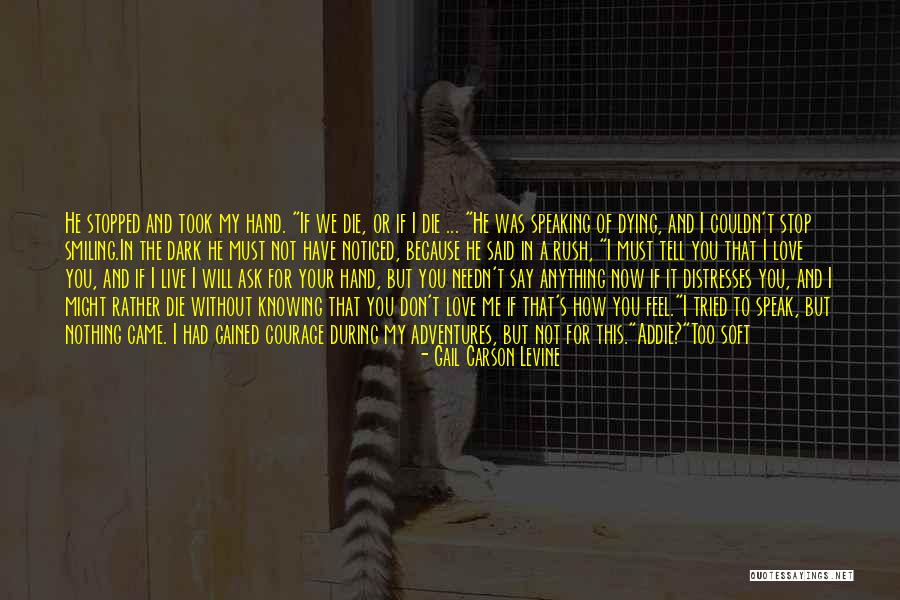 He stopped and took my hand. "If we die, or if I die ... "
He was speaking of dying, and I couldn't stop smiling.
In the dark he must not have noticed, because he said in a rush, "I must tell you that I love you, and if I live I will ask for your hand, but you needn't say anything now if it distresses you, and I might rather die without knowing that you don't love me if that's how you feel."
I tried to speak, but nothing came. I had gained courage during my adventures, but not for this.
"Addie?"
Too soft to hear, I whispered, "I do love you."
But he heard. He cupped his hand under my chin and tilted my face up so I had to meet his eyes. He was smiling too, with a smile as happy as mine. "Oh, Addie!" He leaned down to kiss me ... — Gail Carson Levine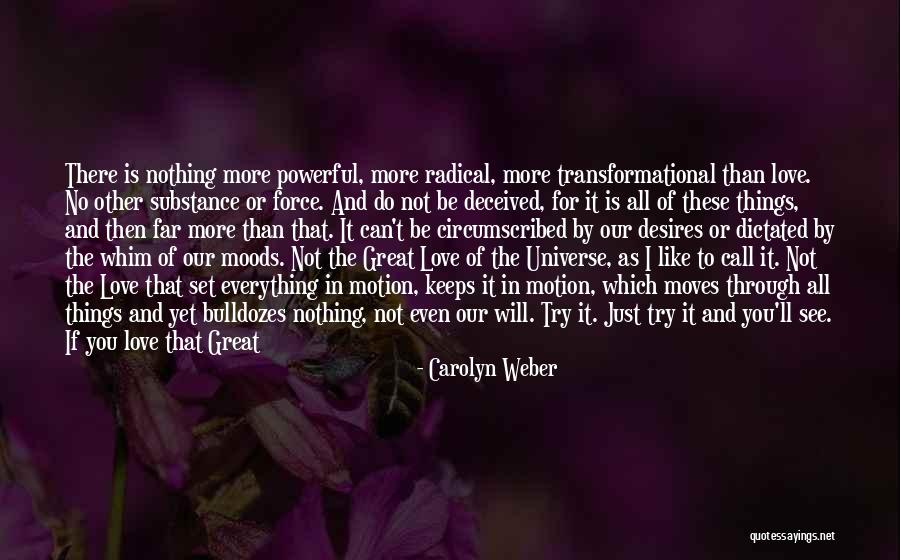 There is nothing more powerful, more radical, more transformational than love. No other substance or force. And do not be deceived, for it is all of these things, and then far more than that. It can't be circumscribed by our desires or dictated by the whim of our moods. Not the Great Love of the Universe, as I like to call it. Not the Love that set everything in motion, keeps it in motion, which moves through all things and yet bulldozes nothing, not even our will. Try it. Just try it and you'll see. If you love that Great Love first, because It loved you first, and then love yourself as you have been loved, and love others from that love ... WOW! BAM! Life without that kind of faith-that's death. Therein lies the great metaphor ... Life without faith IS death. For life, as it was intended to be, is love. Start loving and you'll really start living. There is no other force in the universe comparable to that. — Carolyn Weber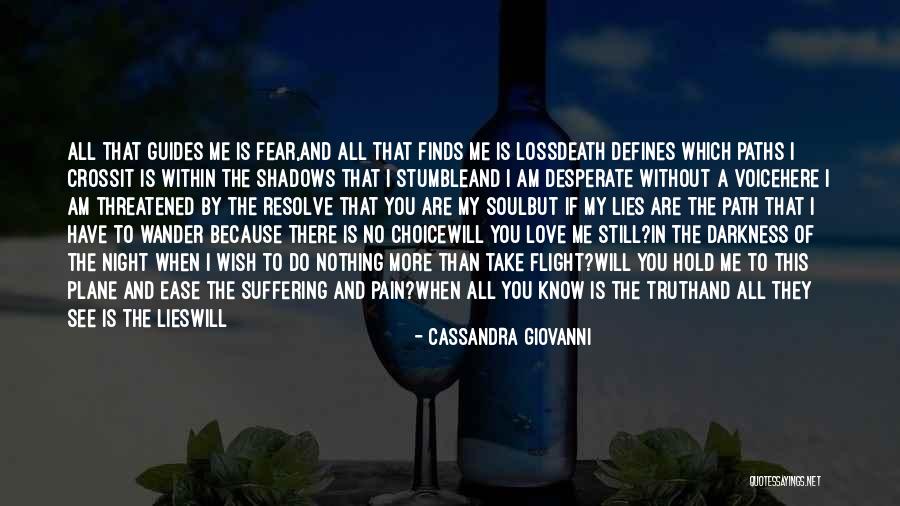 All that guides me is fear,
And all that finds me is loss
Death defines which paths I cross
It is within the shadows that I stumble
And I am desperate without a voice
Here I am threatened by the resolve that you are
my soul
But if my lies are the path that I have to wander
because there is no choice
Will you love me still?
In the darkness of the night when I wish to do
nothing more than take flight?
Will you hold me to this plane and ease the
suffering and pain?
When all you know is the truth
And all they see is the lies
Will I be the one you find, or the one you leave
behind?
Alone may be the only home I shall find — Cassandra Giovanni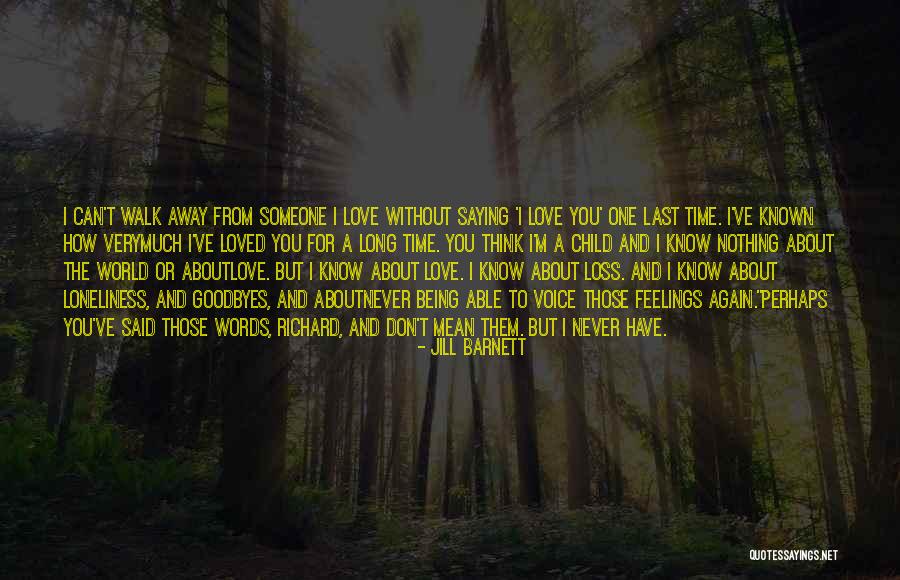 I can't walk away from someone I love without saying 'I love you' one last time. I've known how very
much I've loved you for a long time. You think I'm a child and I know nothing about the world or about
love. But I know about love. I know about loss. And I know about loneliness, and goodbyes, and about
never being able to voice those feelings again.
"Perhaps you've said those words, Richard, and don't mean them. But I never have. — Jill Barnett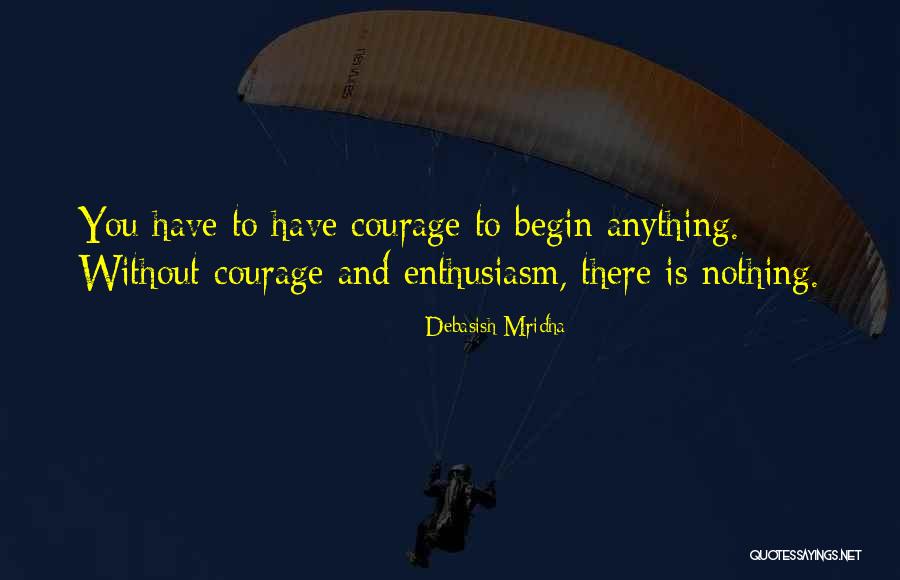 You have to have courage to begin anything. Without courage and enthusiasm, there is nothing. — Debasish Mridha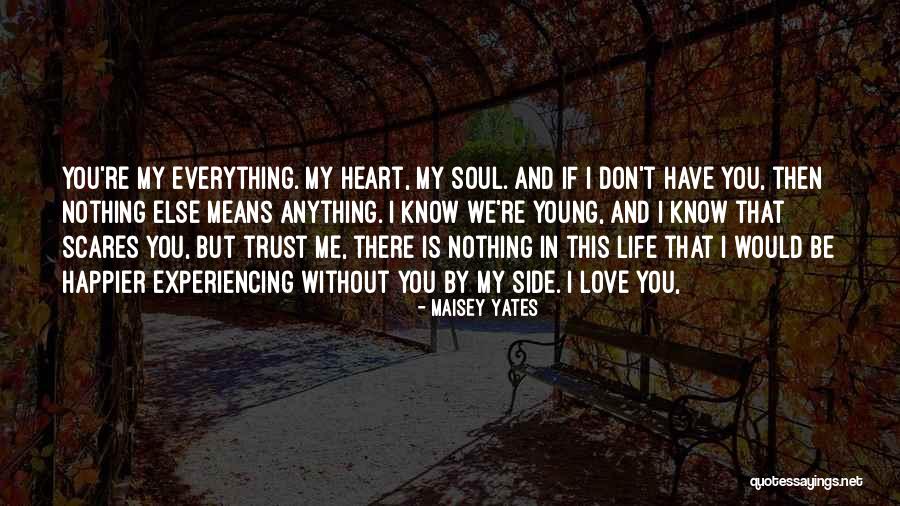 You're my everything. My heart, my soul. And if I don't have you, then nothing else means anything. I know we're young, and I know that scares you, but trust me, there is nothing in this life that I would be happier experiencing without you by my side. I love you, — Maisey Yates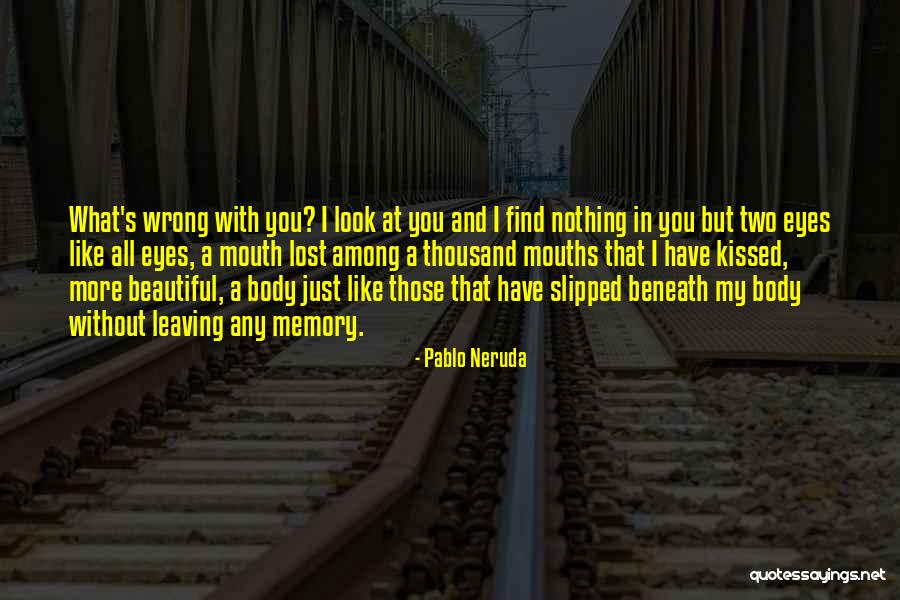 What's wrong with you? I look at you
and I find nothing in you but two eyes
like all eyes, a mouth
lost among a thousand mouths that I have kissed, more beautiful,
a body just like those that have slipped
beneath my body without leaving any memory. — Pablo Neruda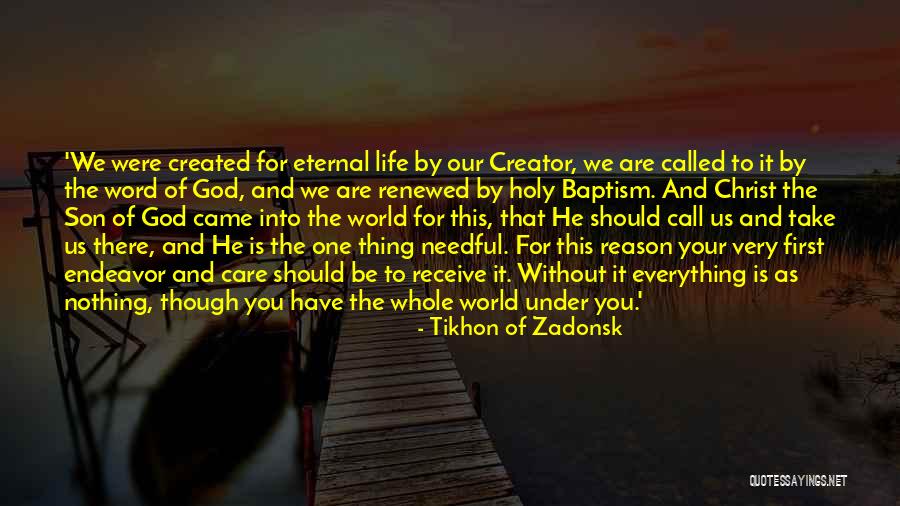 'We were created for eternal life by our Creator, we are called to it by the word of God, and we are renewed by holy Baptism. And Christ the Son of God came into the world for this, that He should call us and take us there, and He is the one thing needful. For this reason your very first endeavor and care should be to receive it. Without it everything is as nothing, though you have the whole world under you.' — Tikhon Of Zadonsk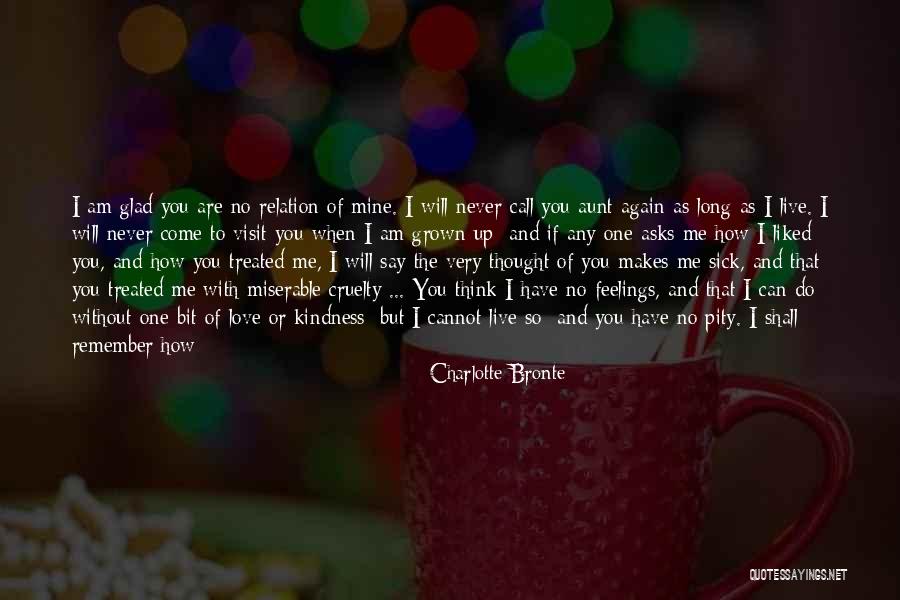 I am glad you are no relation of mine. I will never call you aunt again as long as I live. I will never come to visit you when I am grown up; and if any one asks me how I liked you, and how you treated me, I will say the very thought of you makes me sick, and that you treated me with miserable cruelty ... You think I have no feelings, and that I can do without one bit of love or kindness; but I cannot live so: and you have no pity. I shall remember how you thrust me back ... into the red-room ... And that punishment you made me suffer because your wicked boy struck me - knocked me down for nothing. I will tell anybody who asks me questions this exact tale. 'Ere I had finished this reply, my soul began to expand, to exult, with the strangest sense of freedom, of triumph, I ever felt. It seemed as if an invisible bond had burst, and that I had struggled out into unhoped-for liberty ... — Charlotte Bronte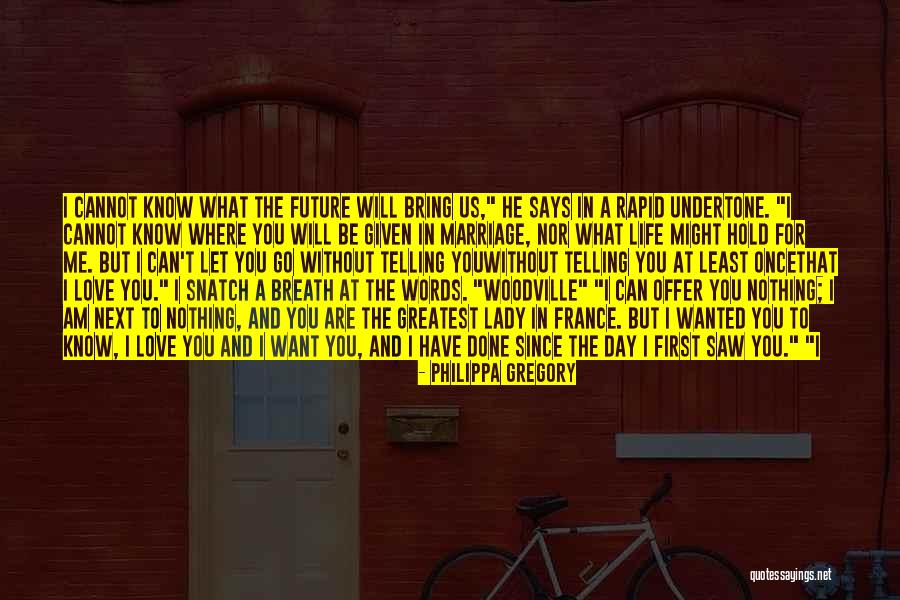 I cannot know what the future will bring us," he says in a rapid undertone. "I cannot know where you will be given in marriage, nor what life might hold for me. But I can't let you go without telling you
without telling you at least once
that I love you."
I snatch a breath at the words. "Woodville
"
"I can offer you nothing; I am next to nothing, and you are the greatest lady in France. But I wanted you to know, I love you and I want you, and I have done since the day I first saw you."
"I should
"
"I have to tell you, you have to know. I have loved you honorably as a knight should do his lady, and I have loved you passionately as a man might a woman; and now, before I leave you, I want to tell you that I love you, I love you
" He breaks off and looks at me desperately. "I had to tell you," he repeats. — Philippa Gregory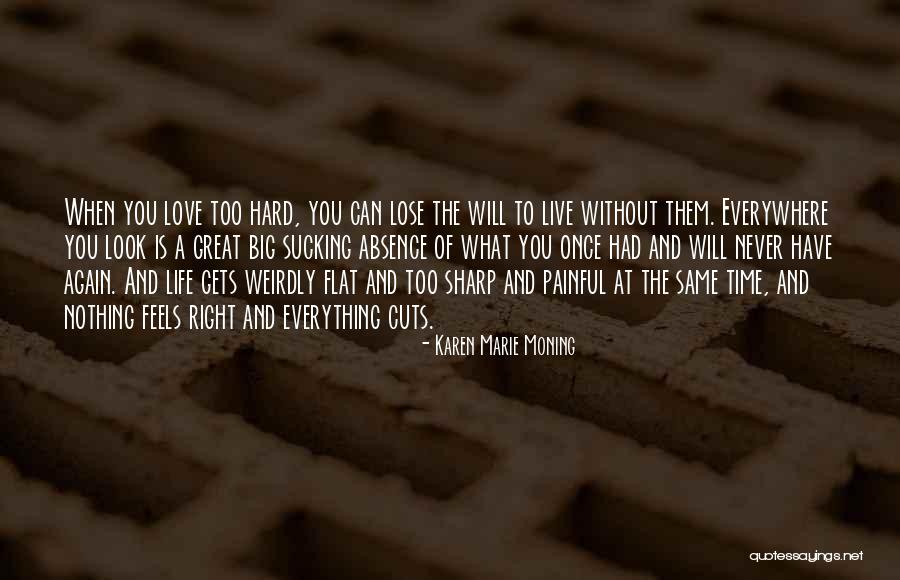 When you love too hard, you can lose the will to live without them. Everywhere you look is a great big sucking absence of what you once had and will never have again. And life gets weirdly flat and too sharp and painful at the same time, and nothing feels right and everything cuts. — Karen Marie Moning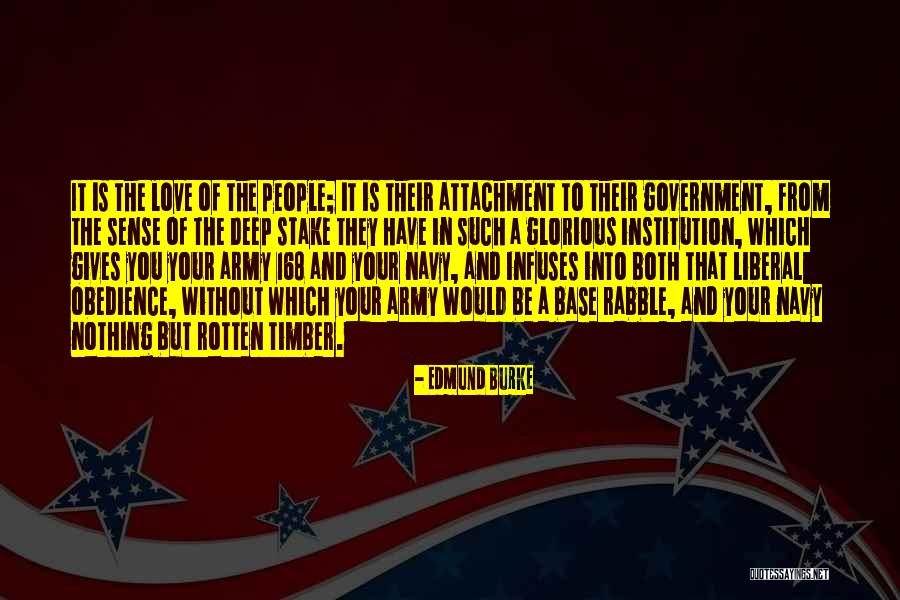 It is the love of the people; it is their attachment to their government, from the sense of the deep stake they have in such a glorious institution, which gives you your army 168 and your navy, and infuses into both that liberal obedience, without which your army would be a base rabble, and your navy nothing but rotten timber. — Edmund Burke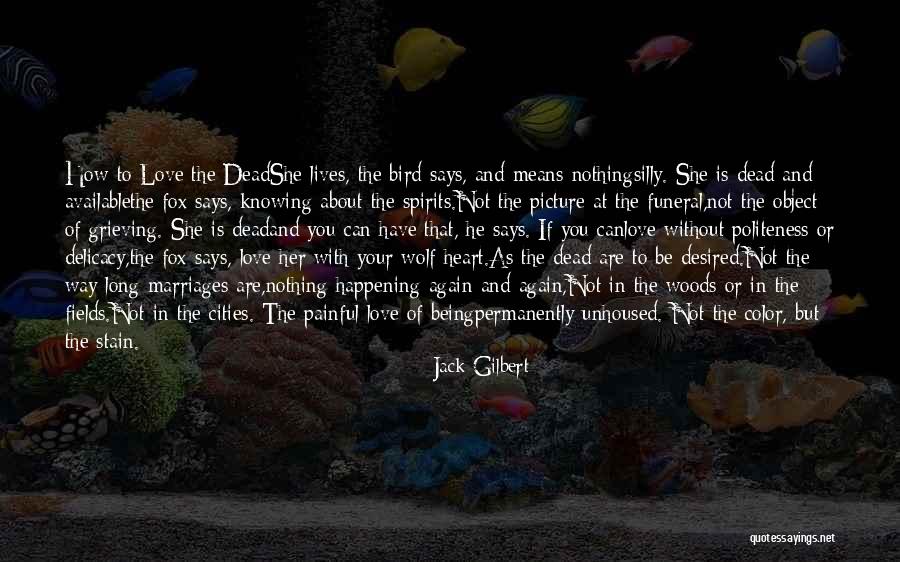 How to Love the Dead
She lives, the bird says, and means nothing
silly. She is dead and available
the fox says, knowing about the spirits.
Not the picture at the funeral,
not the object of grieving. She is dead
and you can have that, he says. If you can
love without politeness or delicacy,
the fox says, love her with your wolf heart.
As the dead are to be desired.
Not the way long marriages are,
nothing happening again and again,
Not in the woods or in the fields.
Not in the cities. The painful love of being
permanently unhoused. Not the color, but the stain. — Jack Gilbert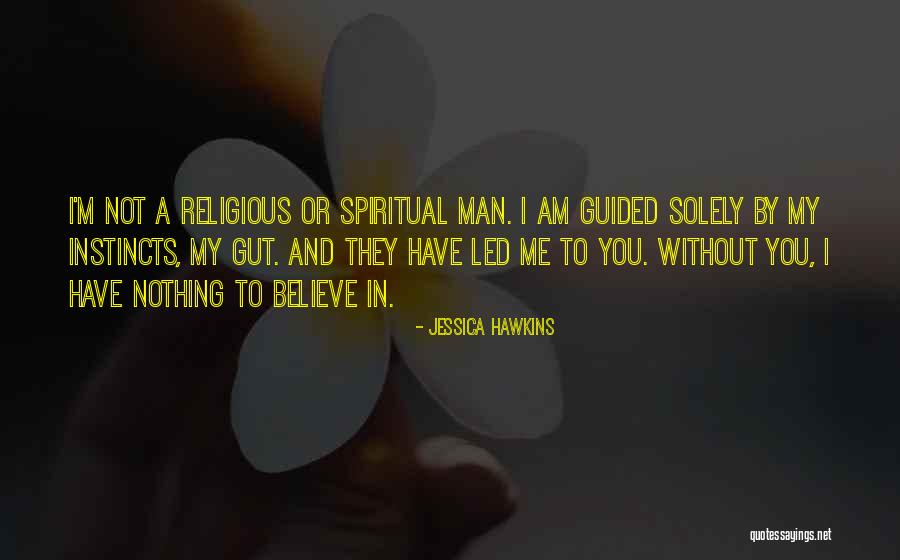 I'm not a religious or spiritual man. I am guided solely by my instincts, my gut. And they have led me to you. Without you, I have nothing to believe in. — Jessica Hawkins