Wisdom Strength And Courage Quotes & Sayings
Enjoy reading and share 62 famous quotes about Wisdom Strength And Courage with everyone.
Top Wisdom Strength And Courage Quotes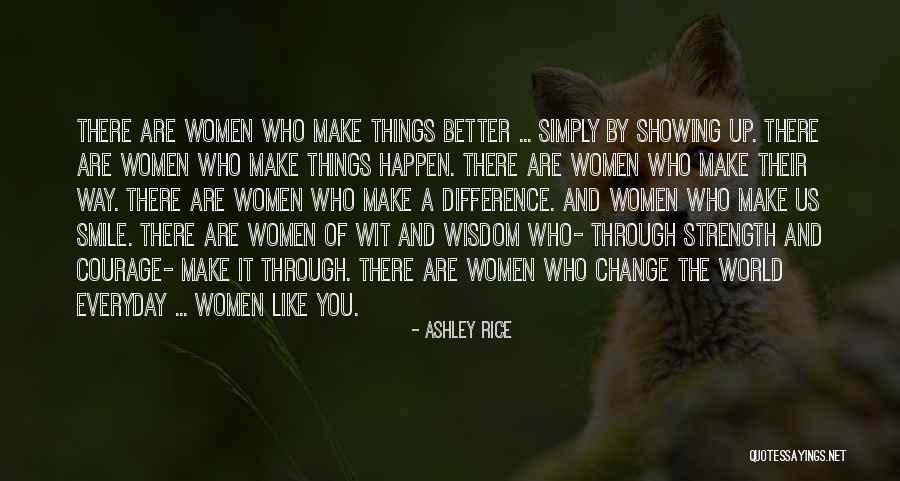 There are women who make things better ... simply by showing up. There are women who make things happen. There are women who make their way. There are women who make a difference. And women who make us smile. There are women of wit and wisdom who- through strength and courage- make it through. There are women who change the world everyday ... Women like you. — Ashley Rice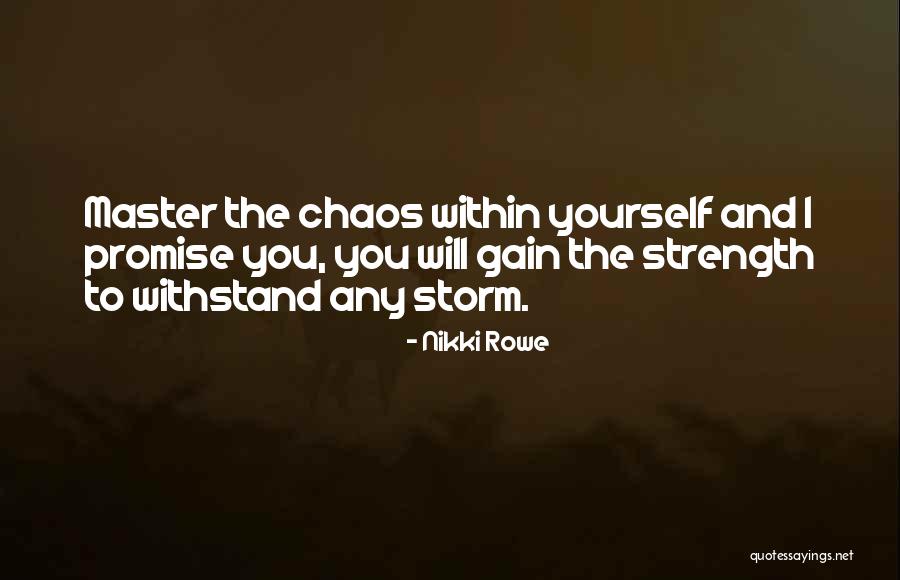 Master the chaos within yourself and I promise you, you will gain the strength to withstand any storm. — Nikki Rowe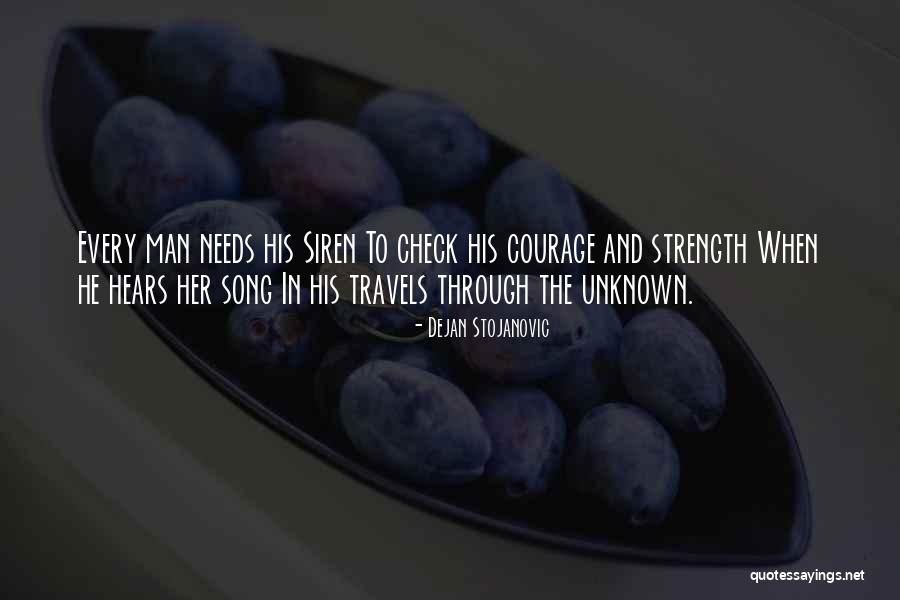 Every man needs his Siren
To check his courage and strength
When he hears her song
In his travels through the unknown. — Dejan Stojanovic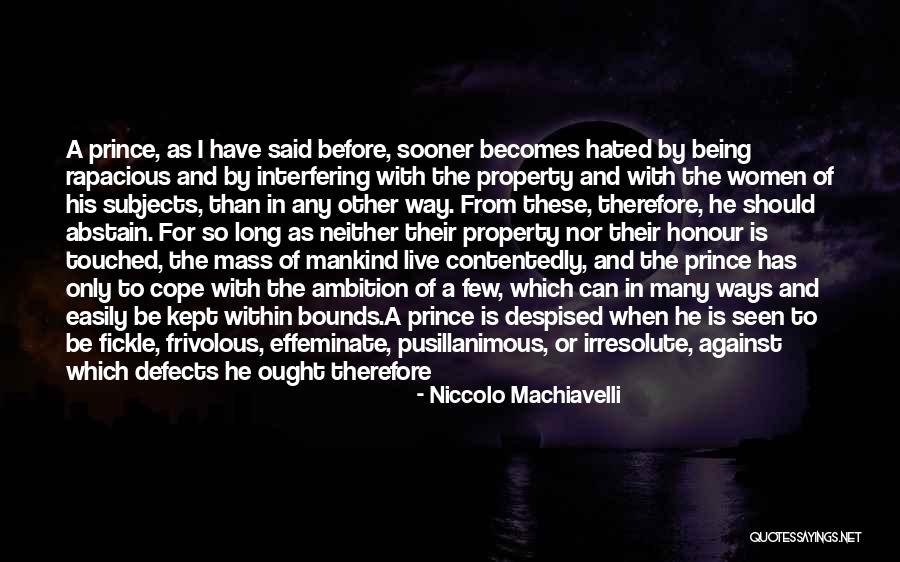 A prince, as I have said before, sooner becomes hated by being rapacious and by interfering with the property and with the women of his subjects, than in any other way. From these, therefore, he should abstain. For so long as neither their property nor their honour is touched, the mass of mankind live contentedly, and the prince has only to cope with the ambition of a few, which can in many ways and easily be kept within bounds.

A prince is despised when he is seen to be fickle, frivolous, effeminate, pusillanimous, or irresolute, against which defects he ought therefore most carefully to guard, striving so to bear himself that greatness, courage, wisdom, and strength may appear in all his actions. In his private dealings with his subjects his decisions should be irrevocable, and his reputation such that no one would dream of overreaching or cajoling him. — Niccolo Machiavelli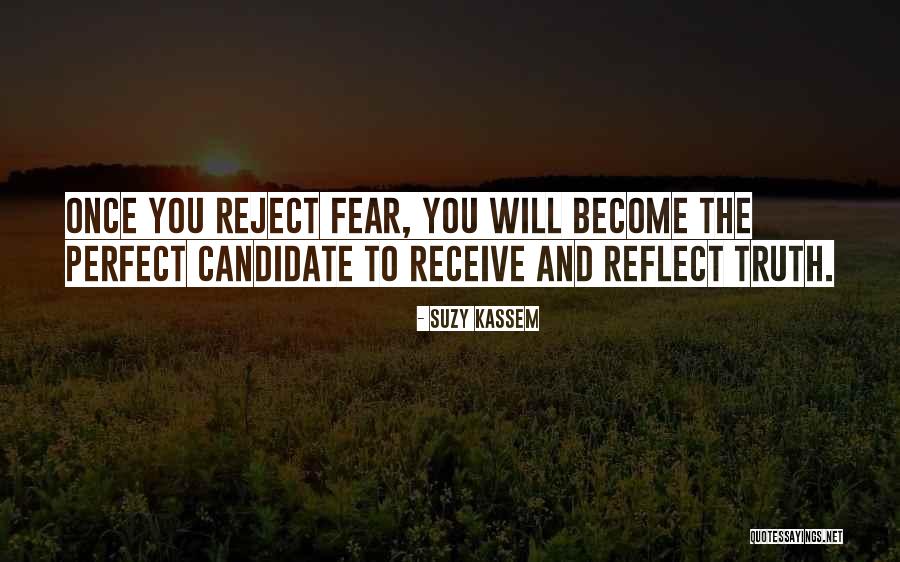 Once you reject fear, you will become the perfect candidate to receive and reflect Truth. — Suzy Kassem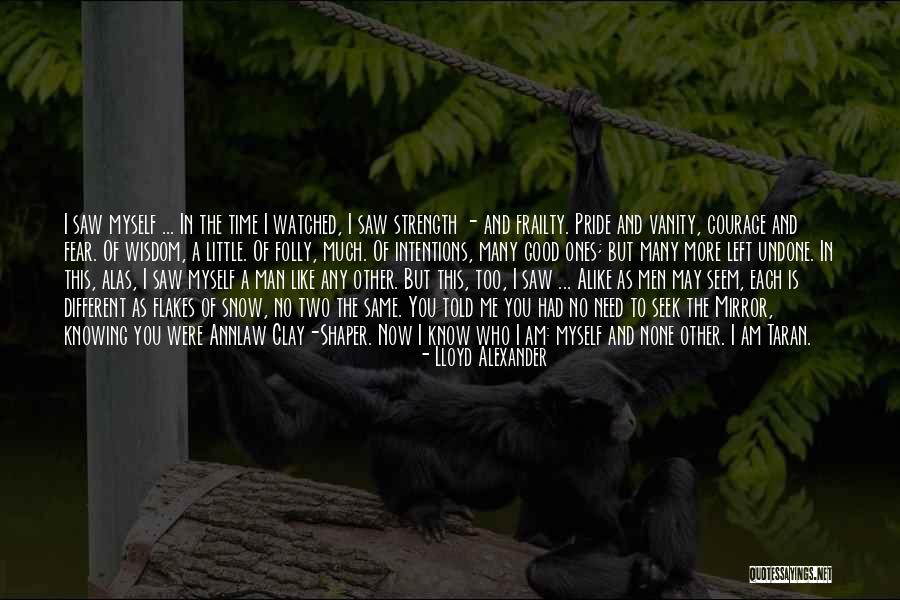 I saw myself ... In the time I watched, I saw strength - and frailty. Pride and vanity, courage and fear. Of wisdom, a little. Of folly, much. Of intentions, many good ones; but many more left undone. In this, alas, I saw myself a man like any other.
But this, too, I saw ... Alike as men may seem, each is different as flakes of snow, no two the same. You told me you had no need to seek the Mirror, knowing you were Annlaw Clay-Shaper. Now I know who I am: myself and none other. I am Taran. — Lloyd Alexander
Hasten Little Maiden
...
stop and listen
for pearls of wisdom
stop and listen
as the river glistens ... — Muse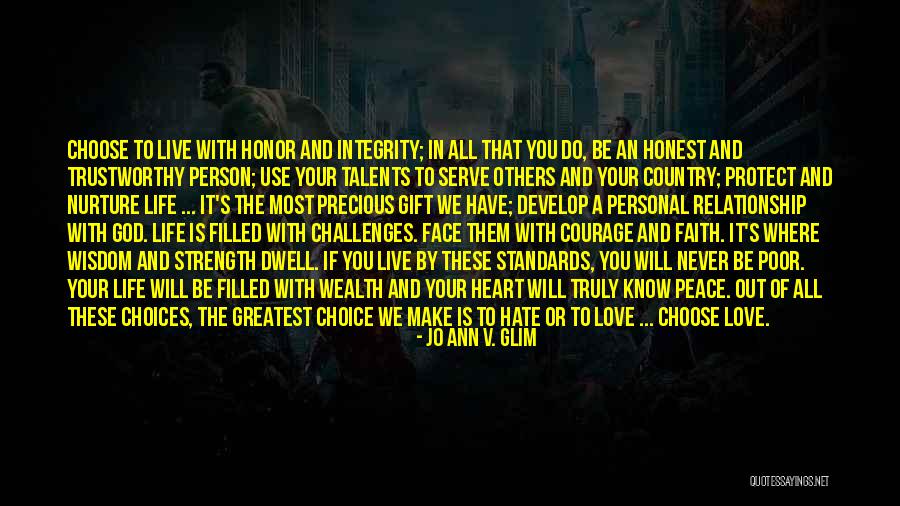 Choose to live with honor and integrity; In all that you do, be an honest and trustworthy person; Use your talents to serve others and your country; Protect and nurture life ... it's the most precious gift we have; Develop a personal relationship with God. Life is filled with challenges. Face them with courage and faith. It's where wisdom and strength dwell. If you live by these standards, you will never be poor. Your life will be filled with wealth and your heart will truly know peace. Out of all these choices, the greatest choice we make is to hate or to love ... Choose Love. — Jo Ann V. Glim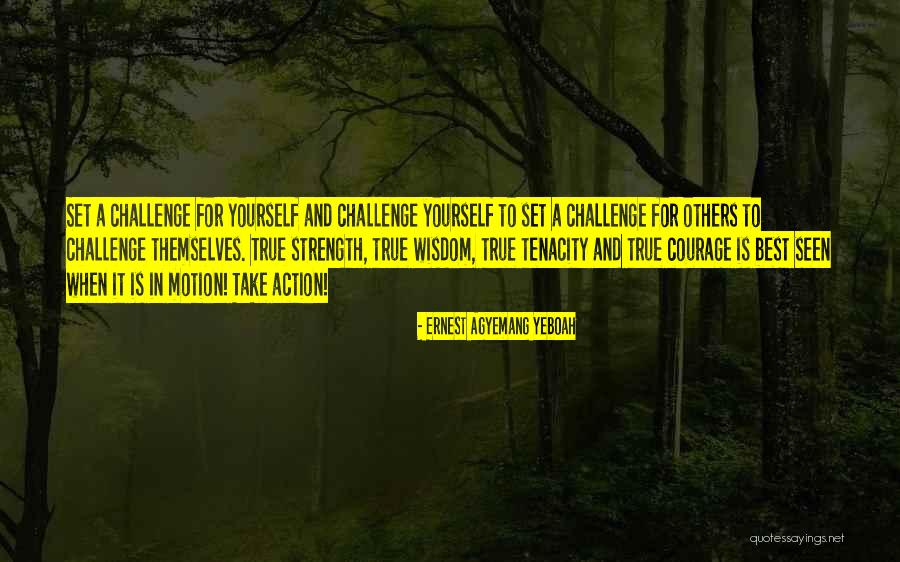 Set a challenge for yourself and challenge yourself to set a challenge for others to challenge themselves. True strength, true wisdom, true tenacity and true courage is best seen when it is in motion! Take action! — Ernest Agyemang Yeboah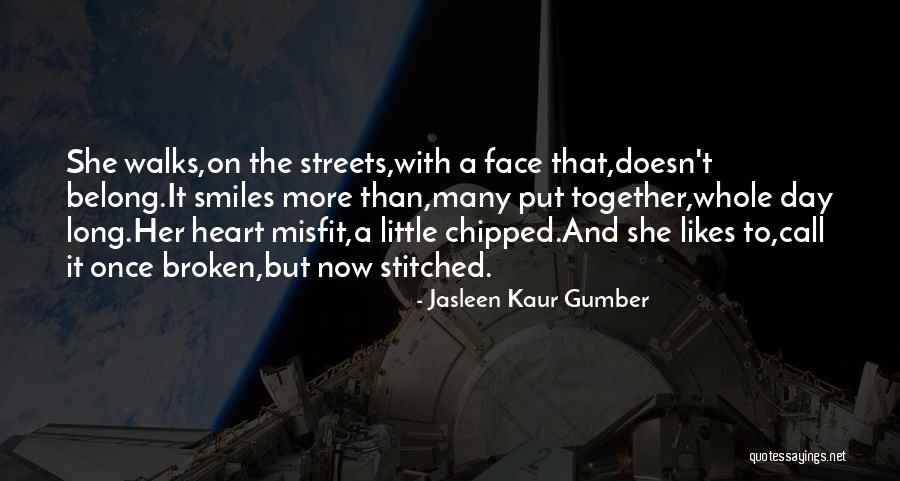 She walks,
on the streets,
with a face that,
doesn't belong.
It smiles more than,
many put together,
whole day long.
Her heart misfit,
a little chipped.
And she likes to,
call it once broken,
but now stitched. — Jasleen Kaur Gumber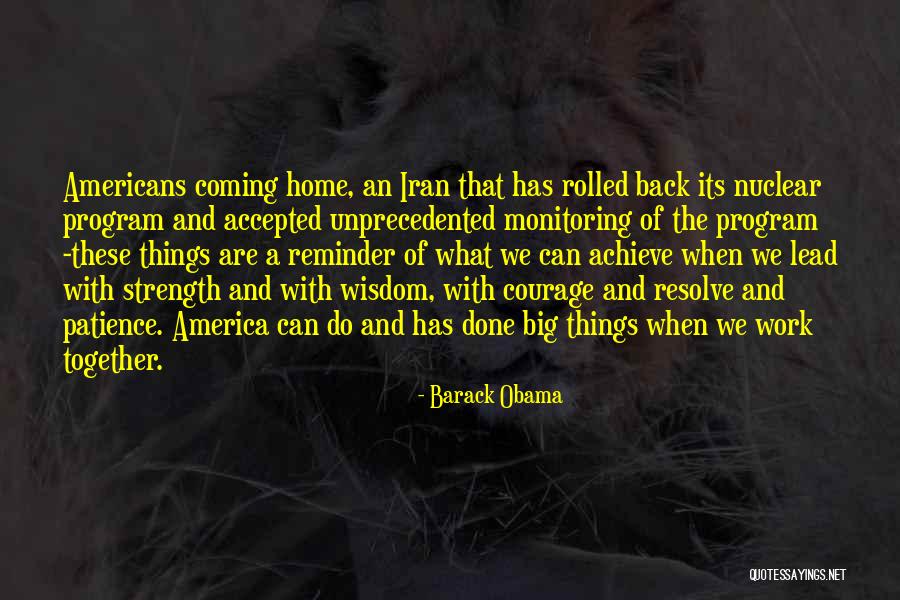 Americans coming home, an Iran that has rolled back its nuclear program and accepted unprecedented monitoring of the program -these things are a reminder of what we can achieve when we lead with strength and with wisdom, with courage and resolve and patience. America can do and has done big things when we work together. — Barack Obama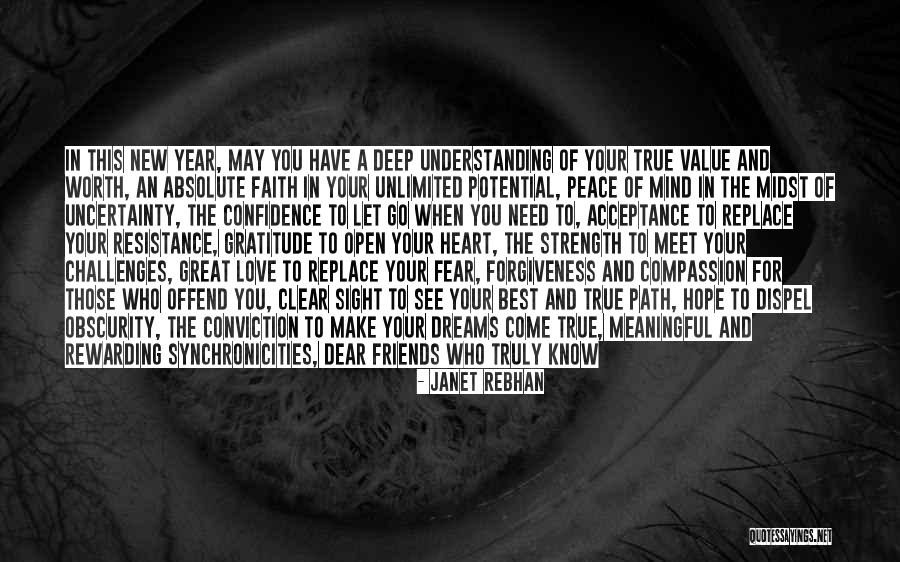 In this new year, may you have a deep understanding of your true value and worth, an absolute faith in your unlimited potential, peace of mind in the midst of uncertainty, the confidence to let go when you need to, acceptance to replace your resistance, gratitude to open your heart, the strength to meet your challenges, great love to replace your fear, forgiveness and compassion for those who offend you, clear sight to see your best and true path, hope to dispel obscurity, the conviction to make your dreams come true, meaningful and rewarding synchronicities, dear friends who truly know and love you, a childlike trust in the benevolence of the universe, the humility to remain teachable, the wisdom to fully embrace your life exactly as it is, the understanding that every soul has its own course to follow, the discernment to recognize your own unique inner voice of truth, and the courage to learn to be still. — Janet Rebhan
Let your light shine. Be a source of strength and courage. Share your wisdom. Radiate love. — Wilferd Peterson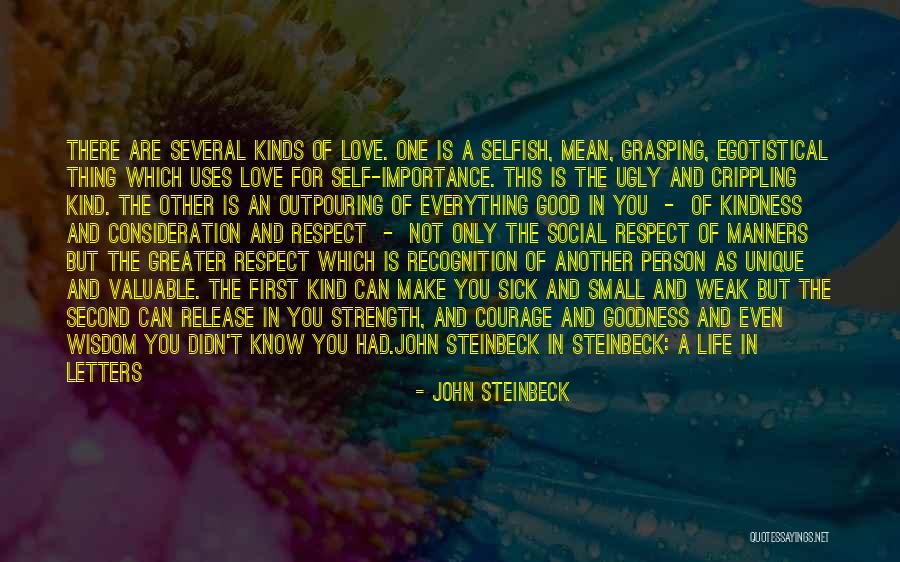 There are several kinds of love. One is a selfish, mean, grasping, egotistical thing which uses love for self-importance. This is the ugly and crippling kind. The other is an outpouring of everything good in you - of kindness and consideration and respect - not only the social respect of manners but the greater respect which is recognition of another person as unique and valuable. The first kind can make you sick and small and weak but the second can release in you strength, and courage and goodness and even wisdom you didn't know you had.
John Steinbeck in Steinbeck: A Life in Letters — John Steinbeck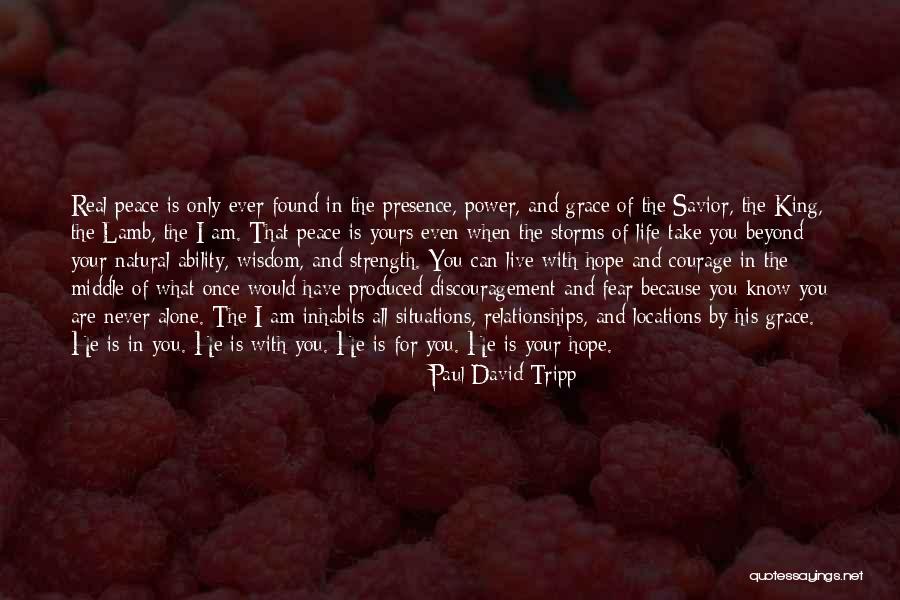 Real peace is only ever found in the presence, power, and grace of the Savior, the King, the Lamb, the I am. That peace is yours even when the storms of life take you beyond your natural ability, wisdom, and strength. You can live with hope and courage in the middle of what once would have produced discouragement and fear because you know you are never alone. The I am inhabits all situations, relationships, and locations by his grace. He is in you. He is with you. He is for you. He is your hope. — Paul David Tripp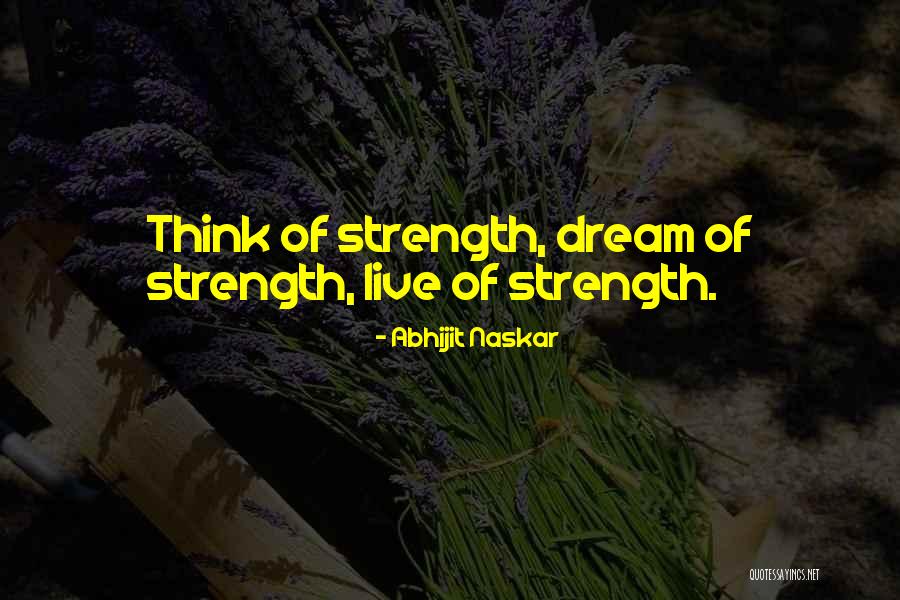 Think of strength, dream of strength, live of strength. — Abhijit Naskar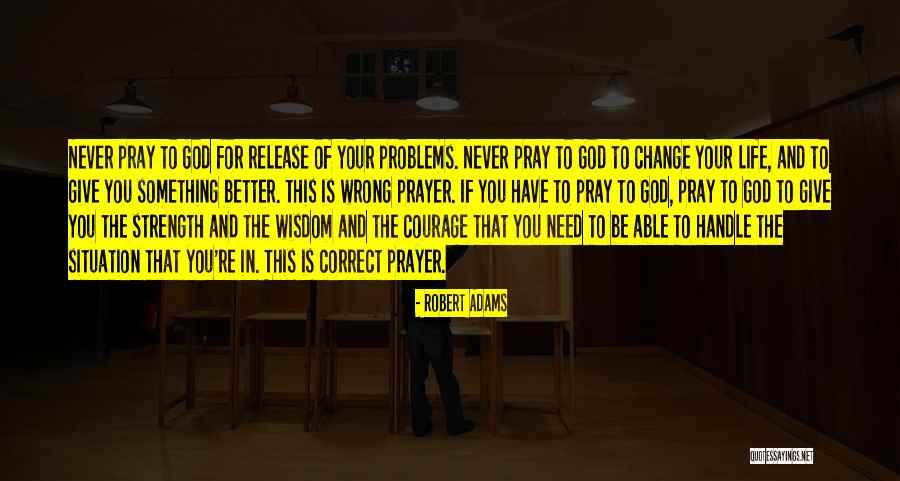 Never pray to God for release of your problems. Never pray to God to change your life, and to give you something better. This is wrong prayer. If you have to pray to God, pray to God to give you the strength and the wisdom and the courage that you need to be able to handle the situation that you're in. This is correct prayer. — Robert Adams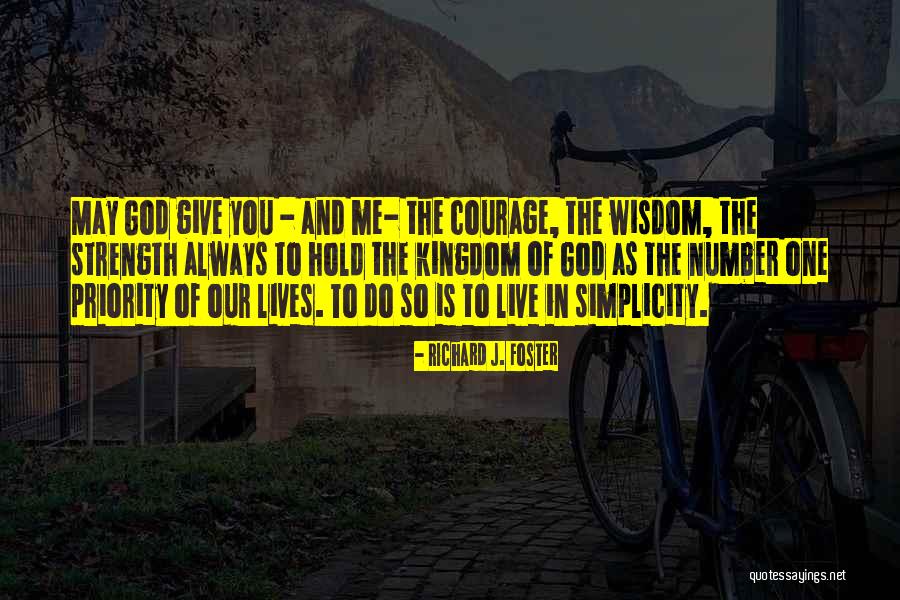 May God give you - and me- the courage, the wisdom, the strength always to hold the kingdom of God as the number one priority of our lives. To do so is to live in simplicity. — Richard J. Foster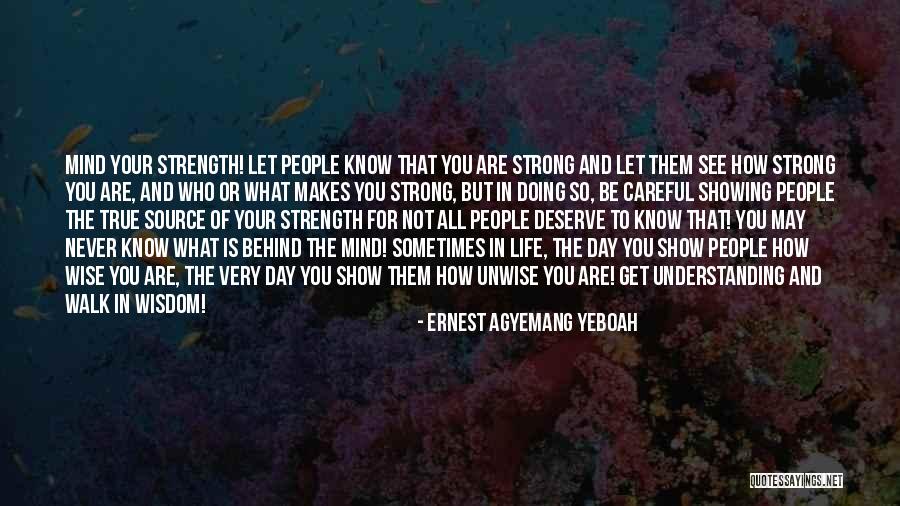 Mind your strength! Let people know that you are strong and let them see how strong you are, and who or what makes you strong, but in doing so, be careful showing people the true source of your strength for not all people deserve to know that! You may never know what is behind the mind! Sometimes in life, the day you show people how wise you are, the very day you show them how unwise you are! Get understanding and walk in wisdom! — Ernest Agyemang Yeboah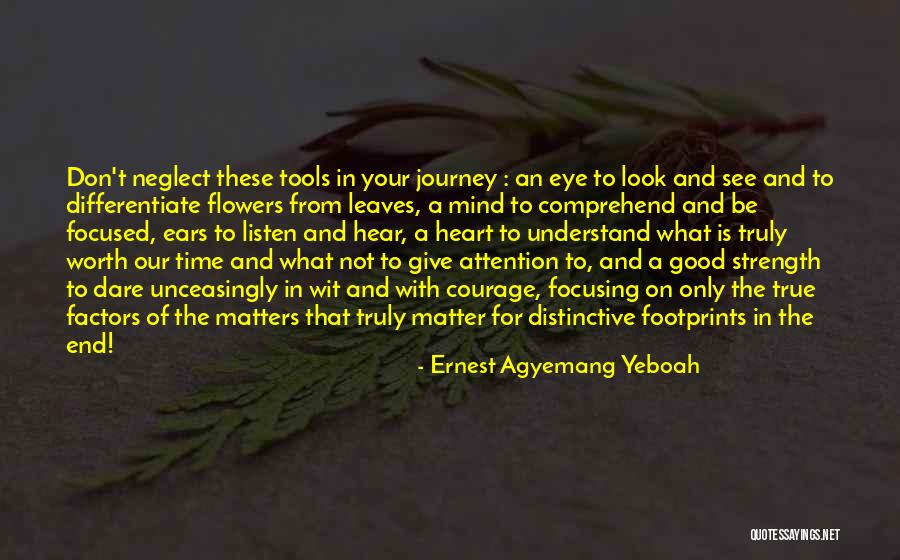 Don't neglect these tools in your journey : an eye to look and see and to differentiate flowers from leaves, a mind to comprehend and be focused, ears to listen and hear, a heart to understand what is truly worth our time and what not to give attention to, and a good strength to dare unceasingly in wit and with courage, focusing on only the true factors of the matters that truly matter for distinctive footprints in the end! — Ernest Agyemang Yeboah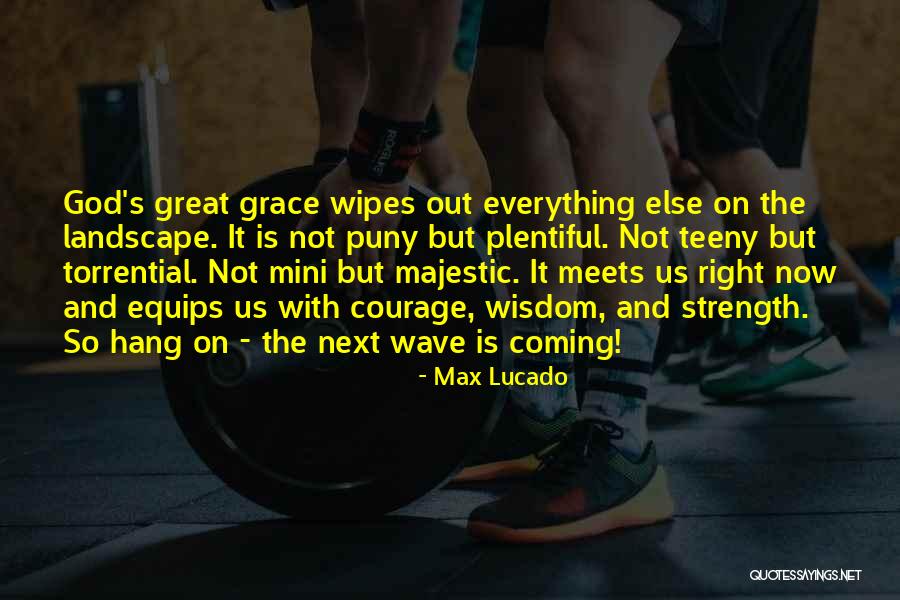 God's great grace wipes out everything else on the landscape. It is not puny but plentiful. Not teeny but torrential. Not mini but majestic. It meets us right now and equips us with courage, wisdom, and strength. So hang on - the next wave is coming! — Max Lucado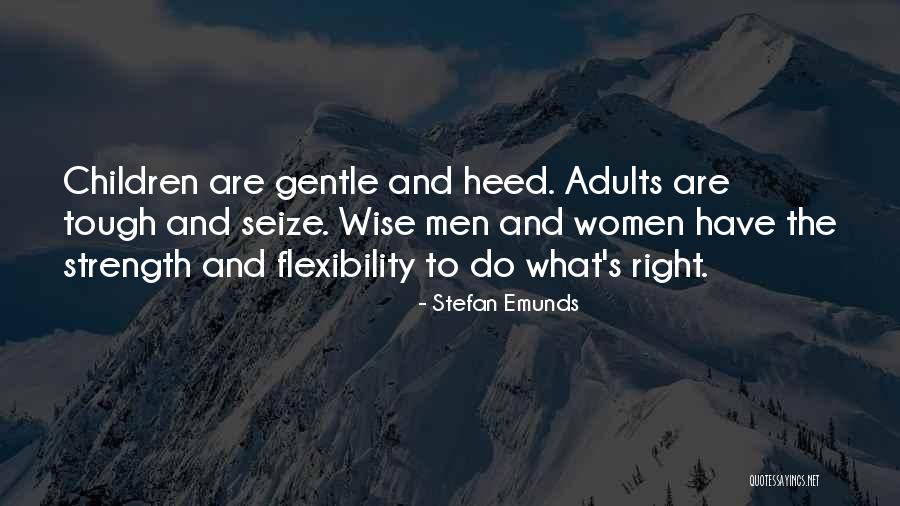 Children are gentle and heed. Adults are tough and seize. Wise men and women have the strength and flexibility to do what's right. — Stefan Emunds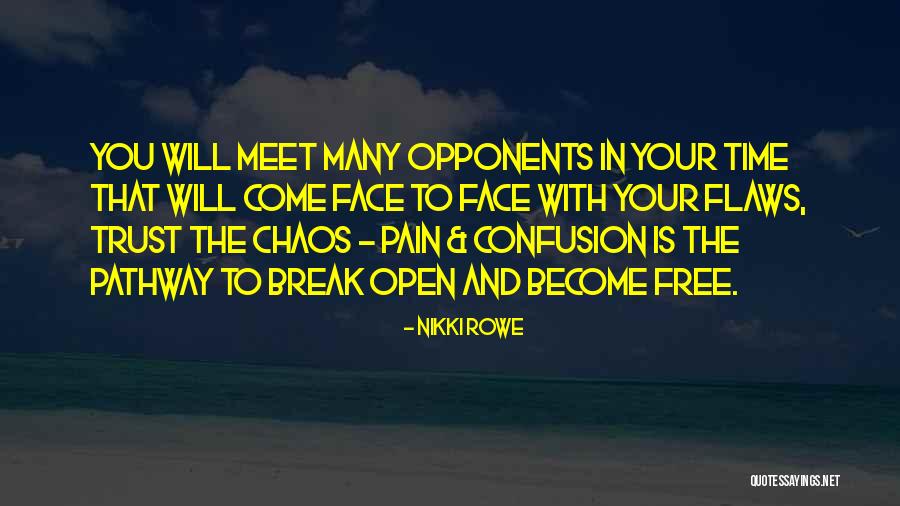 You will meet many opponents in your time that will come face to face with your flaws, trust the chaos ~ pain & confusion is the pathway to break open and become free. — Nikki Rowe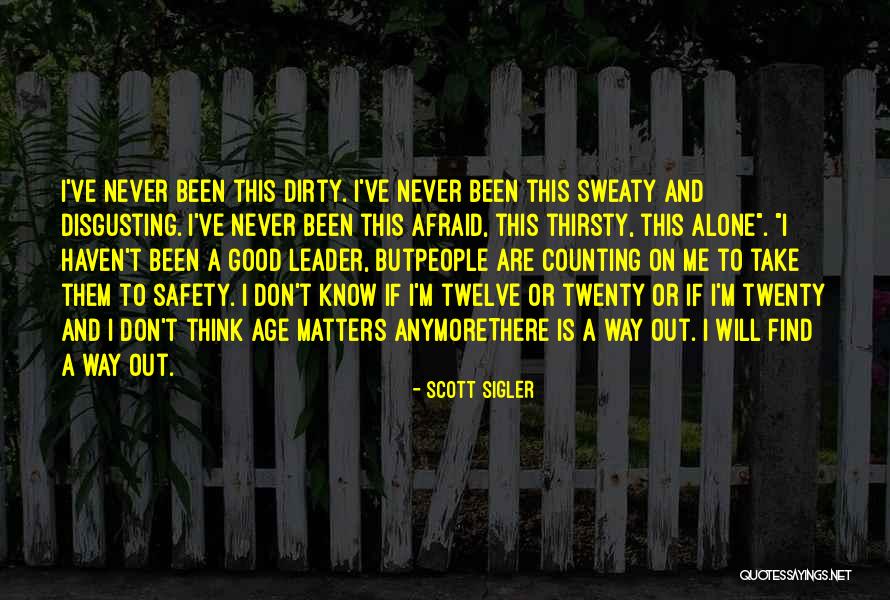 I've never been this dirty. I've never been this sweaty and disgusting. I've never been this afraid, this thirsty, this alone".
"I haven't been a good leader, but
people are counting on me to take them to safety. I don't know if I'm twelve or twenty or if I'm twenty and I don't think age matters anymore
There is a way out. I will find a way out. — Scott Sigler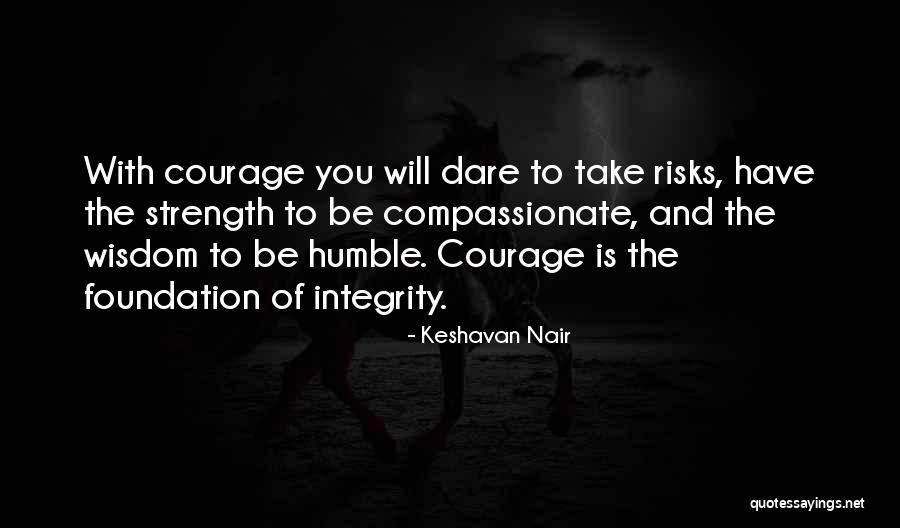 With courage you will dare to take risks, have the strength to be compassionate, and the wisdom to be humble. Courage is the foundation of integrity. — Keshavan Nair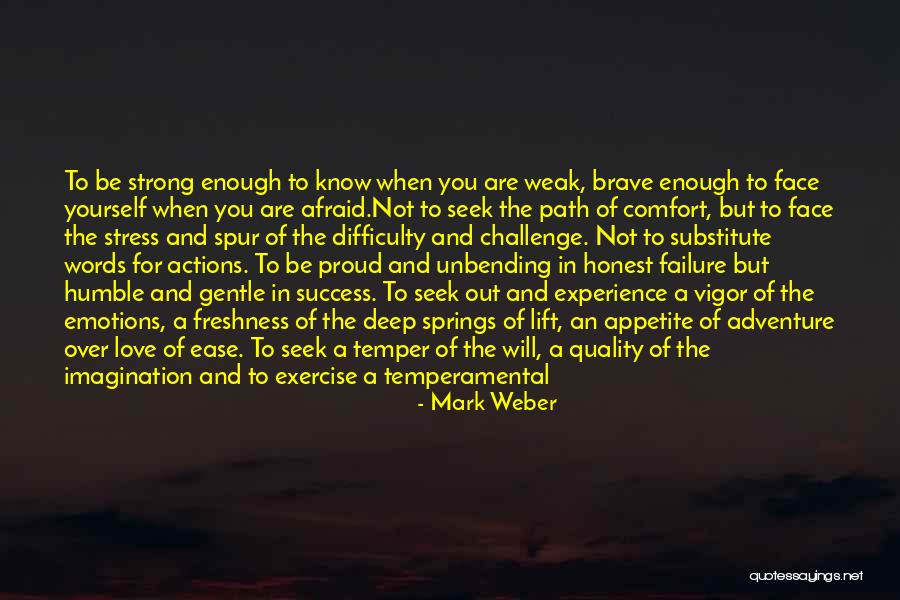 To be strong enough to know when you are weak, brave enough to face yourself when you are afraid.

Not to seek the path of comfort, but to face the stress and spur of the difficulty and challenge.

Not to substitute words for actions.

To be proud and unbending in honest failure but humble and gentle in success.

To seek out and experience a vigor of the emotions, a freshness of the deep springs of lift, an appetite of adventure over love of ease.

To seek a temper of the will, a quality of the imagination and to exercise a temperamental predominance of courage over timidity.

To be modest so that you will appreciate the open mind of true wisdom, the meekness of true strength.

To be serious, yet never to take yourself too seriously; to cry, but also to laugh.

To discover the sense of wonder, the unfailing hope of what is next, and the joy and inspiration of life. — Mark Weber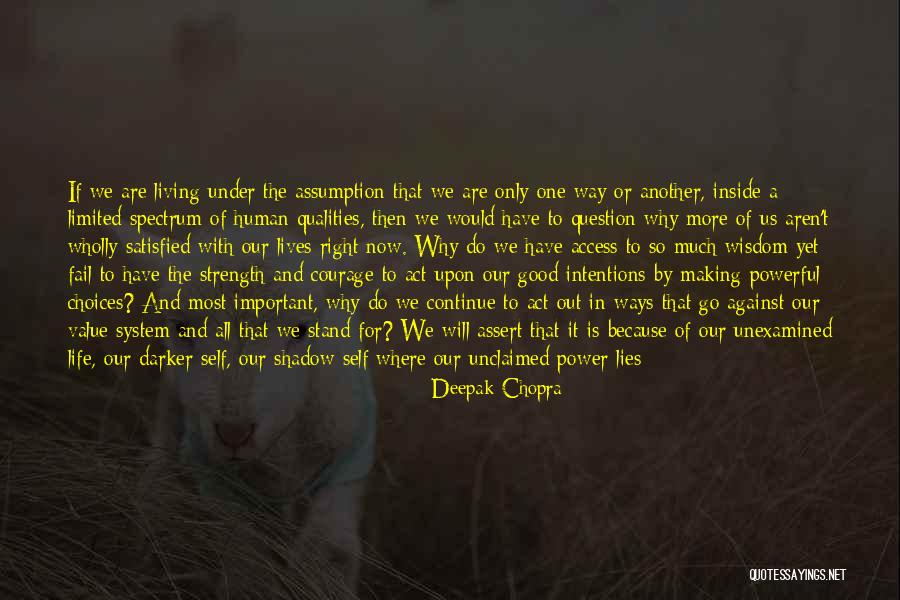 If we are living under the assumption that we are only one way or another, inside a limited spectrum of human qualities, then we would have to question why more of us aren't wholly satisfied with our lives right now. Why do we have access to so much wisdom yet fail to have the strength and courage to act upon our good intentions by making powerful choices? And most important, why do we continue to act out in ways that go against our value system and all that we stand for? We will assert that it is because of our unexamined life, our darker self, our shadow self where our unclaimed power lies — Deepak Chopra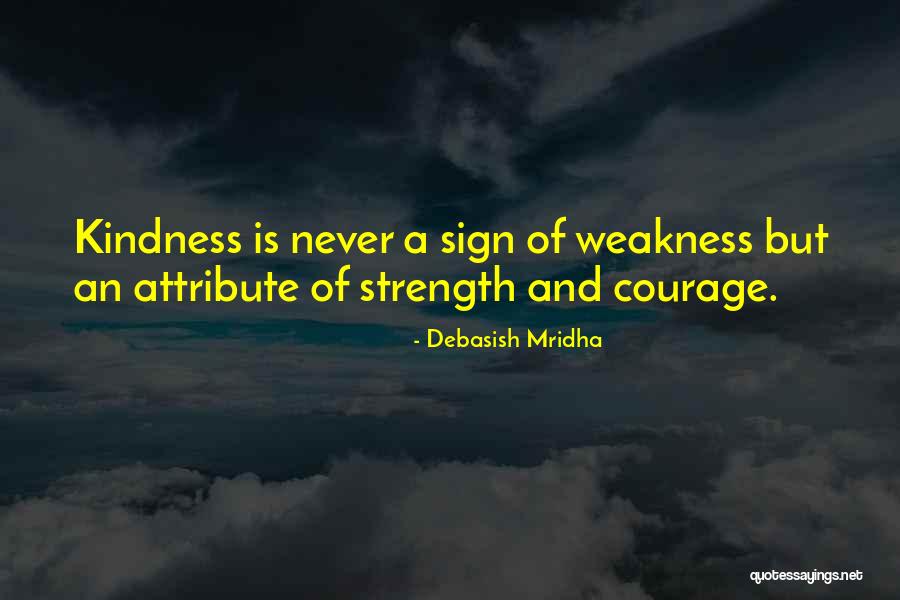 Kindness is never a sign of weakness but an attribute of strength and courage. — Debasish Mridha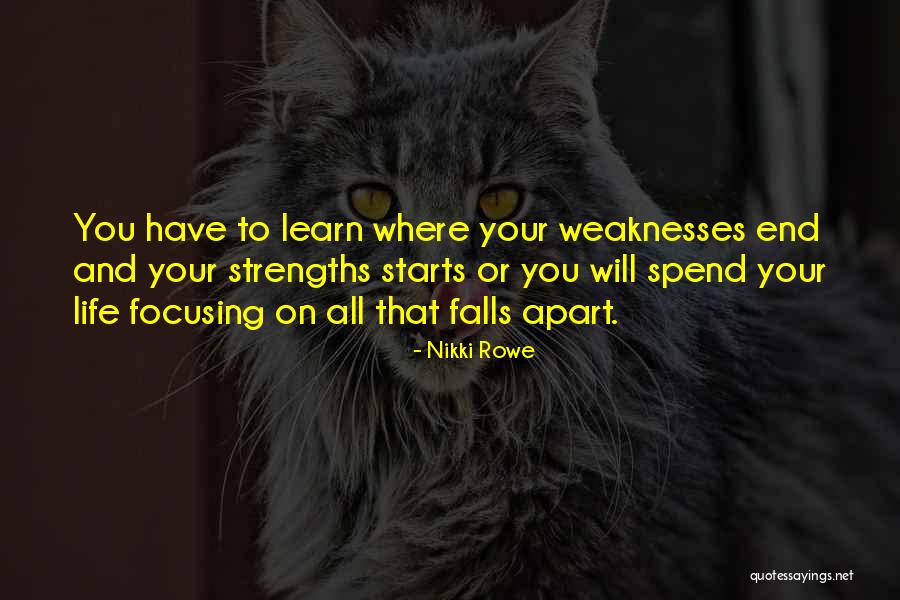 You have to learn where your weaknesses end and your strengths starts or you will spend your life focusing on all that falls apart. — Nikki Rowe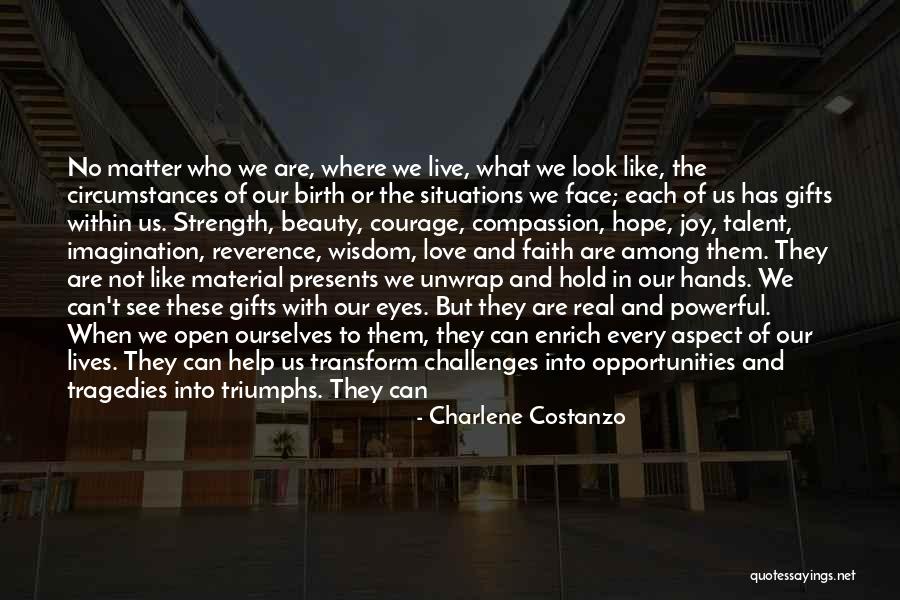 No matter who we are, where we live, what we look like, the circumstances of our birth or the situations we face; each of us has gifts within us. Strength, beauty, courage, compassion, hope, joy, talent, imagination, reverence, wisdom, love and faith are among them. They are not like material presents we unwrap and hold in our hands. We can't see these gifts with our eyes. But they are real and powerful. When we open ourselves to them, they can enrich every aspect of our lives. They can help us transform challenges into opportunities and tragedies into triumphs. They can help us make a difference in the world. — Charlene Costanzo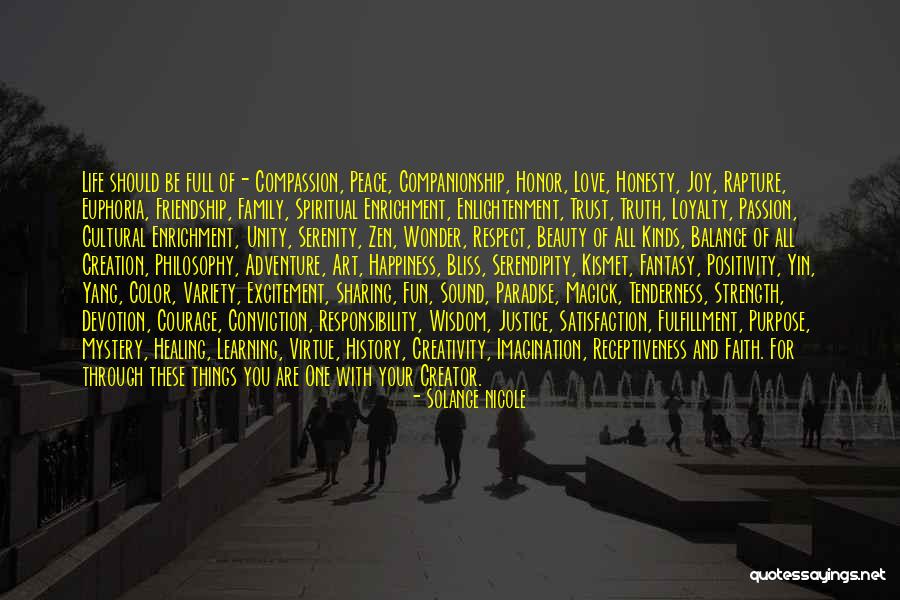 Life should be full of- Compassion, Peace, Companionship, Honor, Love, Honesty, Joy, Rapture, Euphoria, Friendship, Family, Spiritual Enrichment, Enlightenment, Trust, Truth, Loyalty, Passion, Cultural Enrichment, Unity, Serenity, Zen, Wonder, Respect, Beauty of All Kinds, Balance of all Creation, Philosophy, Adventure, Art, Happiness, Bliss, Serendipity, Kismet, Fantasy, Positivity, Yin, Yang, Color, Variety, Excitement, Sharing, Fun, Sound, Paradise, Magick, Tenderness, Strength, Devotion, Courage, Conviction, Responsibility, Wisdom, Justice, Satisfaction, Fulfillment, Purpose, Mystery, Healing, Learning, Virtue, History, Creativity, Imagination, Receptiveness and Faith. For through these things you are One with your Creator. — Solange Nicole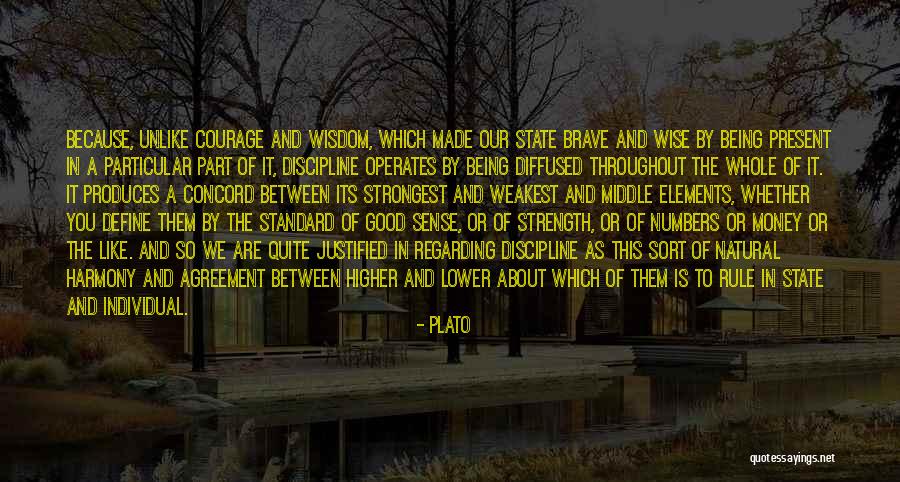 Because, unlike courage and wisdom, which made our state brave and wise by being present in a particular part of it, discipline operates by being diffused throughout the whole of it. It produces a concord between its strongest and weakest and middle elements, whether you define them by the standard of good sense, or of strength, or of numbers or money or the like. And so we are quite justified in regarding discipline as this sort of natural harmony and agreement between higher and lower about which of them is to rule in state and individual. — Plato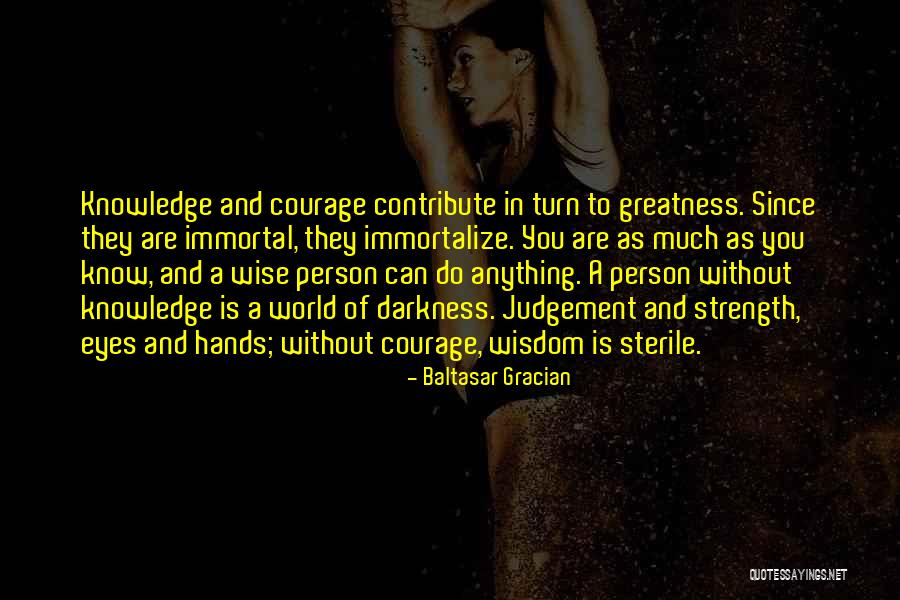 Knowledge and courage contribute in turn to greatness. Since they are immortal, they immortalize. You are as much as you know, and a wise person can do anything. A person without knowledge is a world of darkness. Judgement and strength, eyes and hands; without courage, wisdom is sterile. — Baltasar Gracian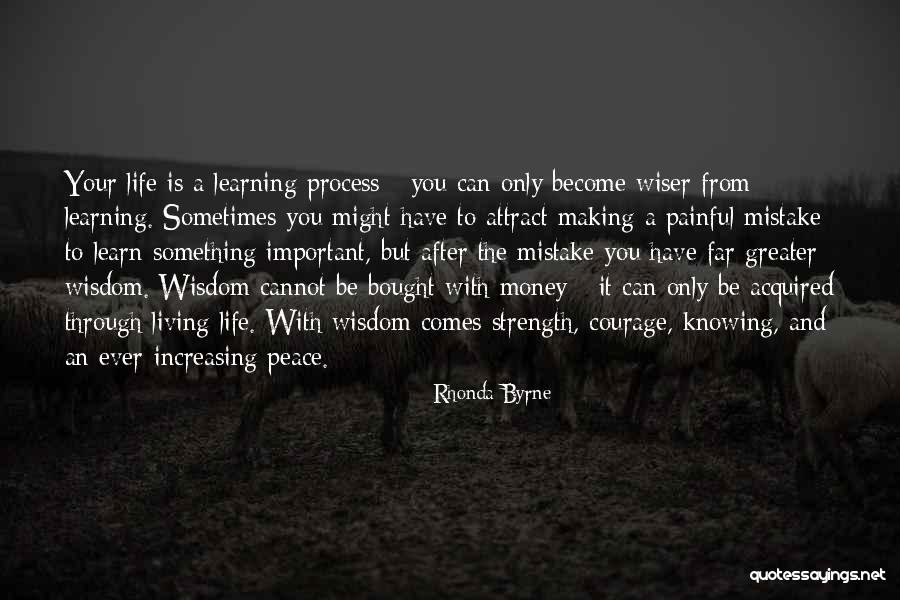 Your life is a learning process - you can only become wiser from learning. Sometimes you might have to attract making a painful mistake to learn something important, but after the mistake you have far greater wisdom. Wisdom cannot be bought with money - it can only be acquired through living life. With wisdom comes strength, courage, knowing, and an ever-increasing peace. — Rhonda Byrne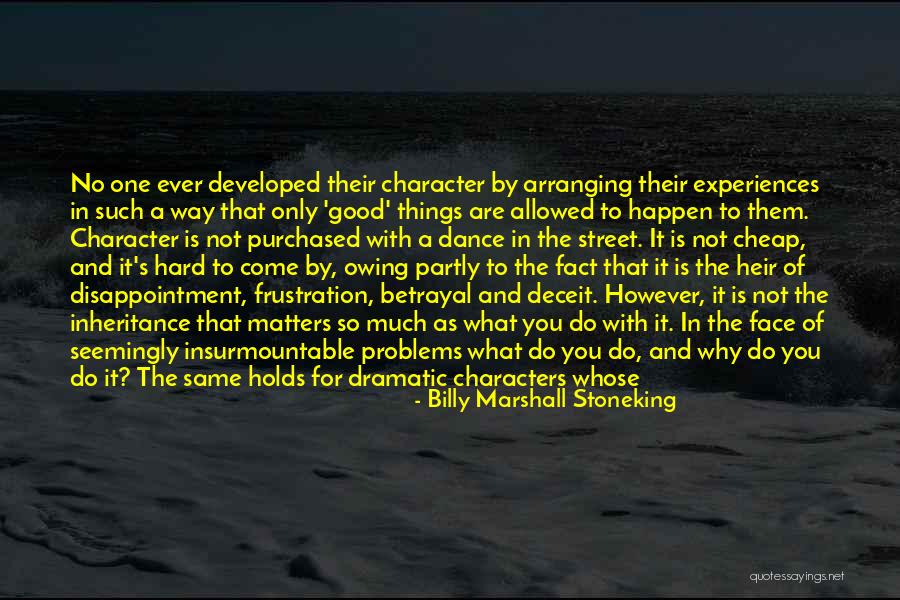 No one ever developed their character by arranging their experiences in such a way that only 'good' things are allowed to happen to them. Character is not purchased with a dance in the street. It is not cheap, and it's hard to come by, owing partly to the fact that it is the heir of disappointment, frustration, betrayal and deceit. However, it is not the inheritance that matters so much as what you do with it. In the face of seemingly insurmountable problems what do you do, and why do you do it? The same holds for dramatic characters whose strength, courage, insight and wisdom have to be earned. — Billy Marshall Stoneking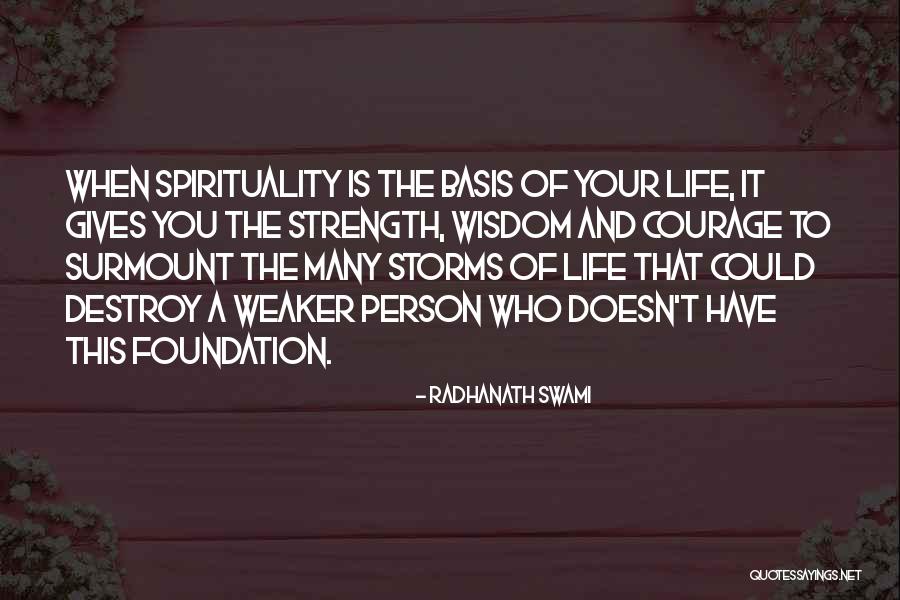 When spirituality is the basis of your life, it gives you the strength, wisdom and courage to surmount the many storms of life that could destroy a weaker person who doesn't have this foundation. — Radhanath Swami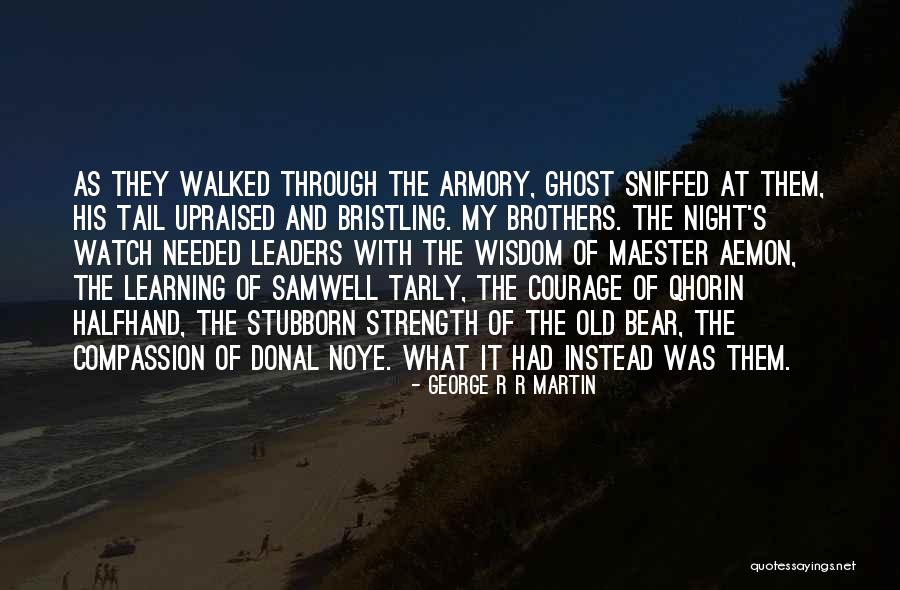 As they walked through the armory, Ghost sniffed at them, his tail upraised and bristling. My brothers. The Night's Watch needed leaders with the wisdom of Maester Aemon, the learning of Samwell Tarly, the courage of Qhorin Halfhand, the stubborn strength of the Old Bear, the compassion of Donal Noye. What it had instead was them. — George R R Martin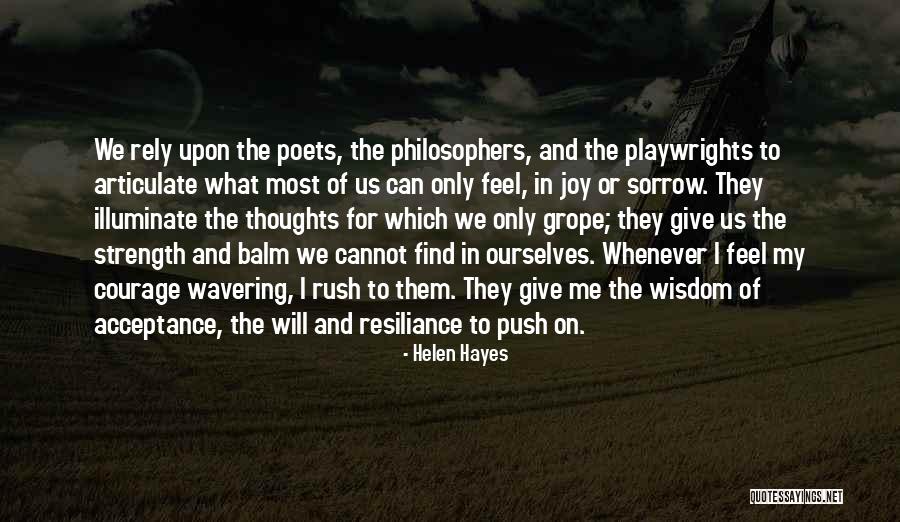 We rely upon the poets, the philosophers, and the playwrights to articulate what most of us can only feel, in joy or sorrow. They illuminate the thoughts for which we only grope; they give us the strength and balm we cannot find in ourselves. Whenever I feel my courage wavering, I rush to them. They give me the wisdom of acceptance, the will and resiliance to push on. — Helen Hayes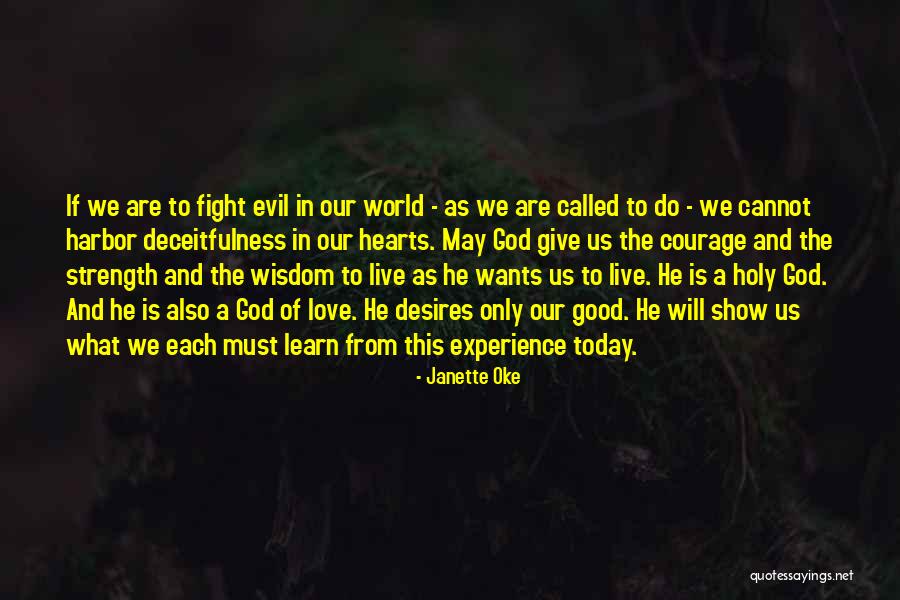 If we are to fight evil in our world - as we are called to do - we cannot harbor deceitfulness in our hearts. May God give us the courage and the strength and the wisdom to live as he wants us to live. He is a holy God. And he is also a God of love. He desires only our good. He will show us what we each must learn from this experience today. — Janette Oke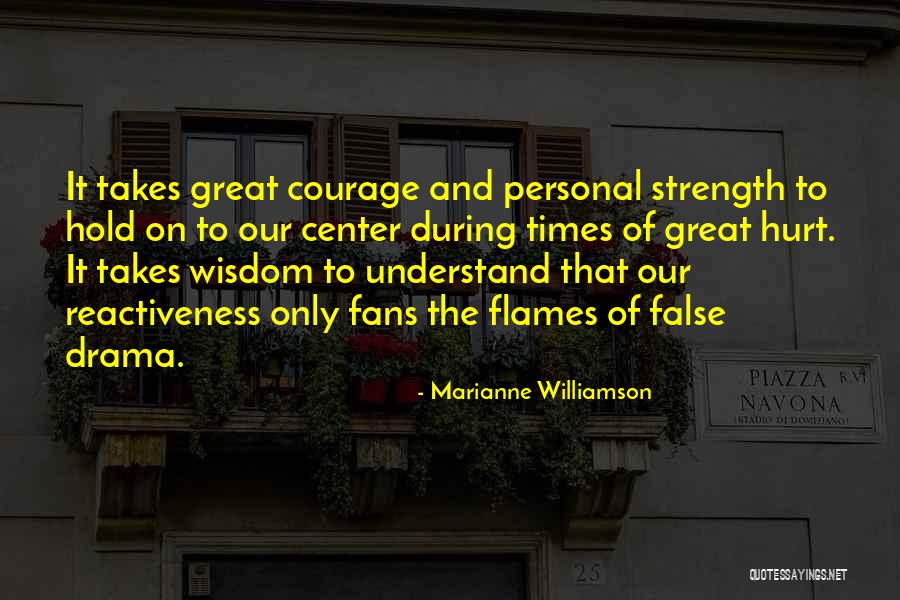 It takes great courage and personal strength to hold on to our center during times of great hurt. It takes wisdom to understand that our reactiveness only fans the flames of false drama. — Marianne Williamson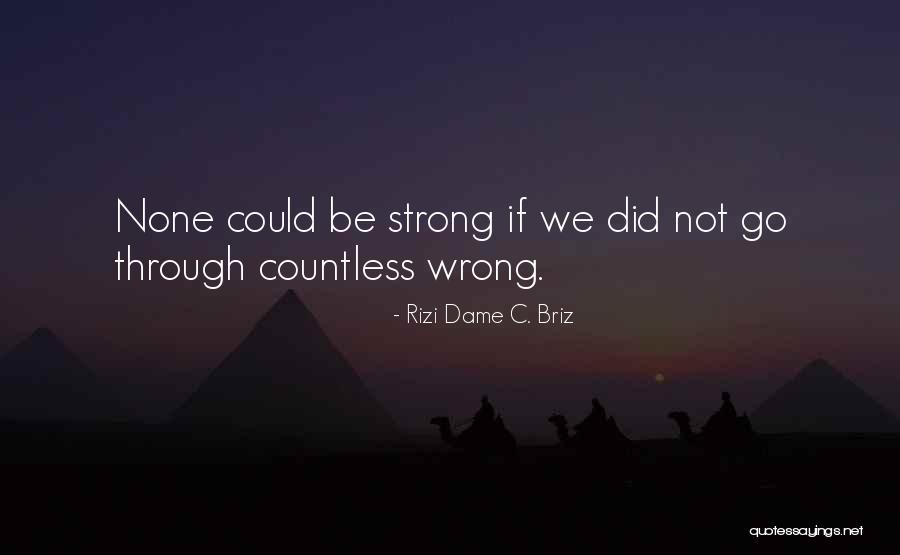 None could be strong if we did not go through countless wrong. — Rizi Dame C. Briz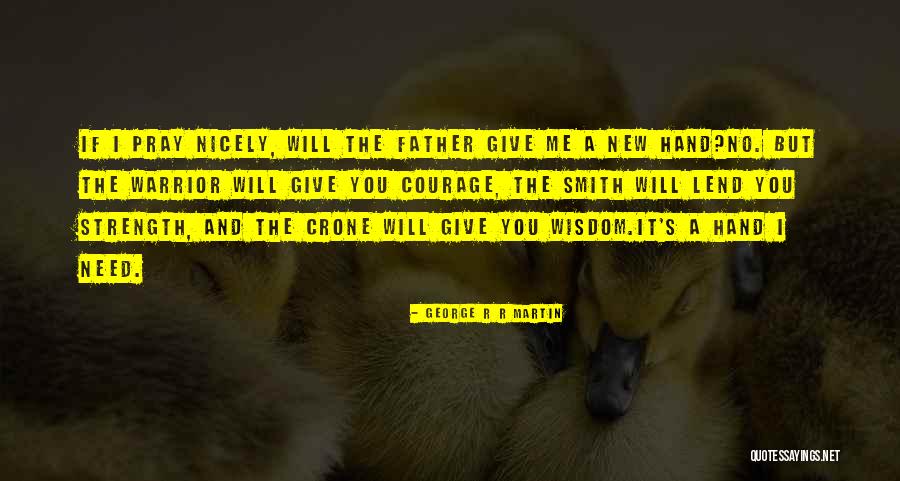 If I pray nicely, will the Father give me a new hand?
No. But the Warrior will give you courage, the Smith will lend you strength, and the Crone will give you wisdom.
It's a hand I need. — George R R Martin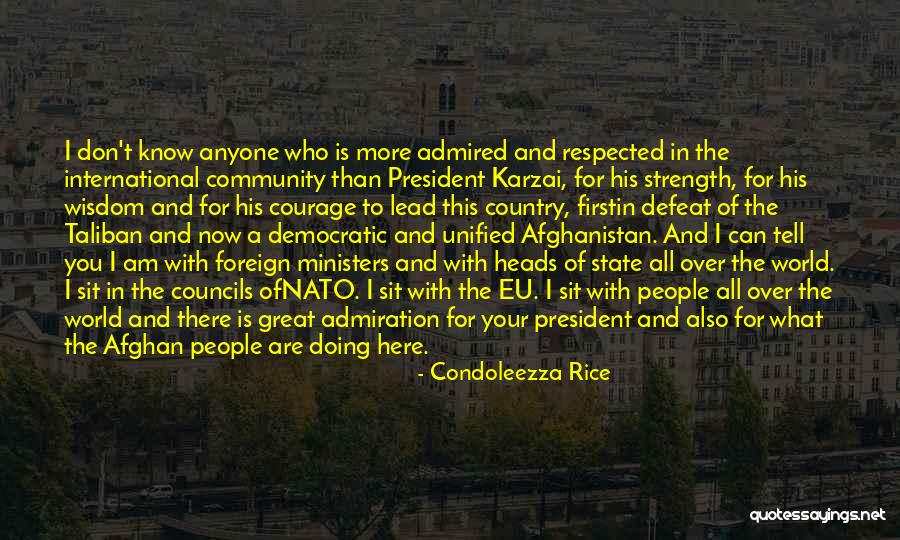 I don't know anyone who is more admired and respected in the international community than President Karzai, for his strength, for his wisdom and for his courage to lead this country, first
in defeat of the Taliban and now a democratic and unified Afghanistan. And I can tell you I am with foreign ministers and with heads of state all over the world. I sit in the councils of
NATO. I sit with the EU. I sit with people all over the world and there is great admiration for your president and also for what the Afghan people are doing here. — Condoleezza Rice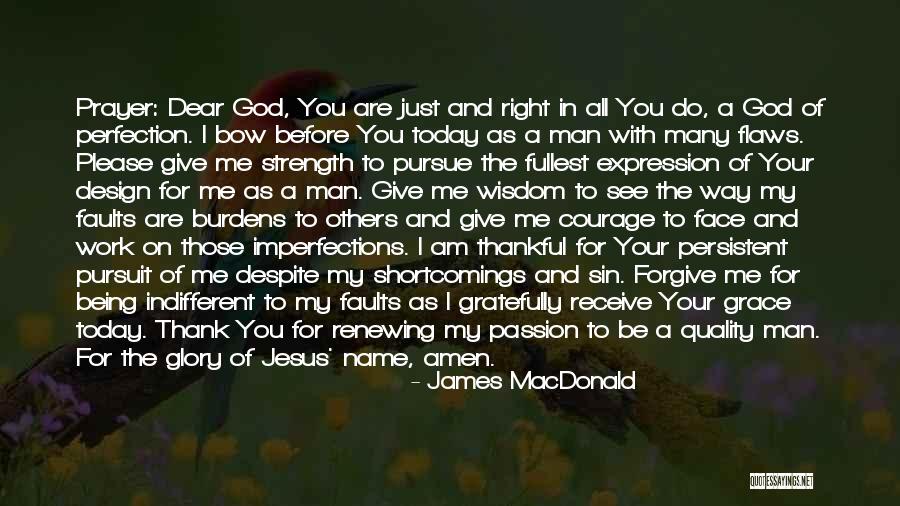 Prayer: Dear God, You are just and right in all You do, a God of perfection. I bow before You today as a man with many flaws. Please give me strength to pursue the fullest expression of Your design for me as a man. Give me wisdom to see the way my faults are burdens to others and give me courage to face and work on those imperfections. I am thankful for Your persistent pursuit of me despite my shortcomings and sin. Forgive me for being indifferent to my faults as I gratefully receive Your grace today. Thank You for renewing my passion to be a quality man. For the glory of Jesus' name, amen. — James MacDonald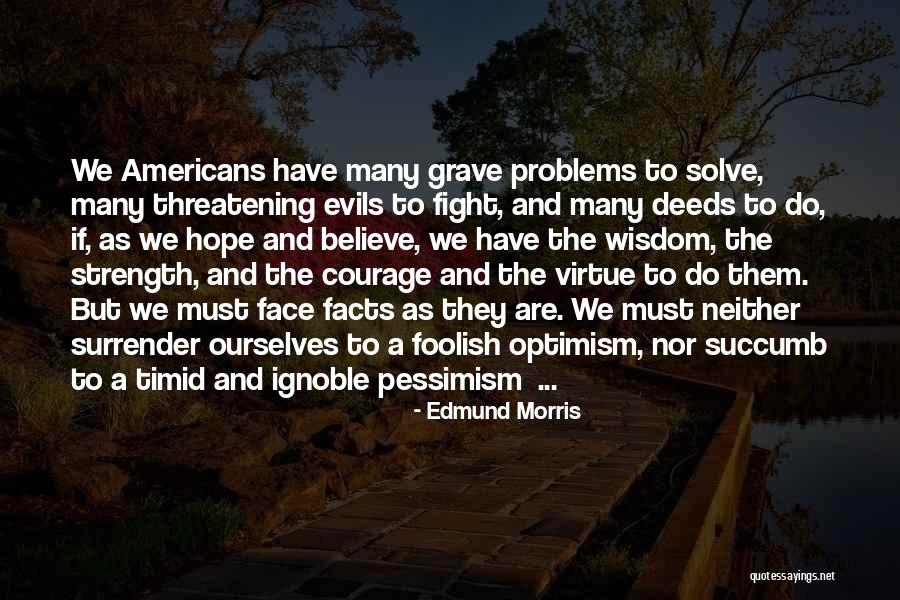 We Americans have many grave problems to solve, many threatening evils to fight, and many deeds to do, if, as we hope and believe, we have the wisdom, the strength, and the courage and the virtue to do them. But we must face facts as they are. We must neither surrender ourselves to a foolish optimism, nor succumb to a timid and ignoble pessimism ... — Edmund Morris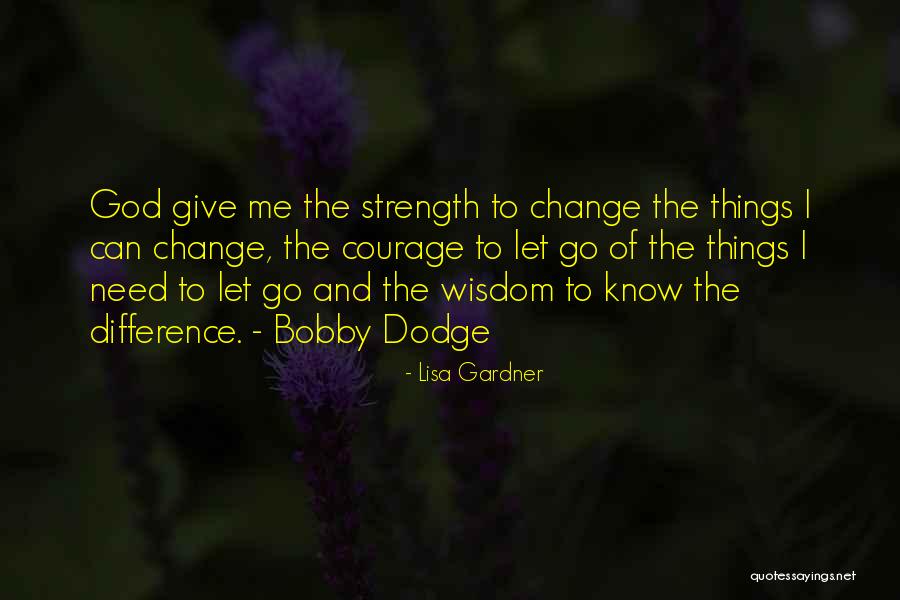 God give me the strength to change the things I can change, the courage to let go of the things I need to let go and the wisdom to know the difference. - Bobby Dodge — Lisa Gardner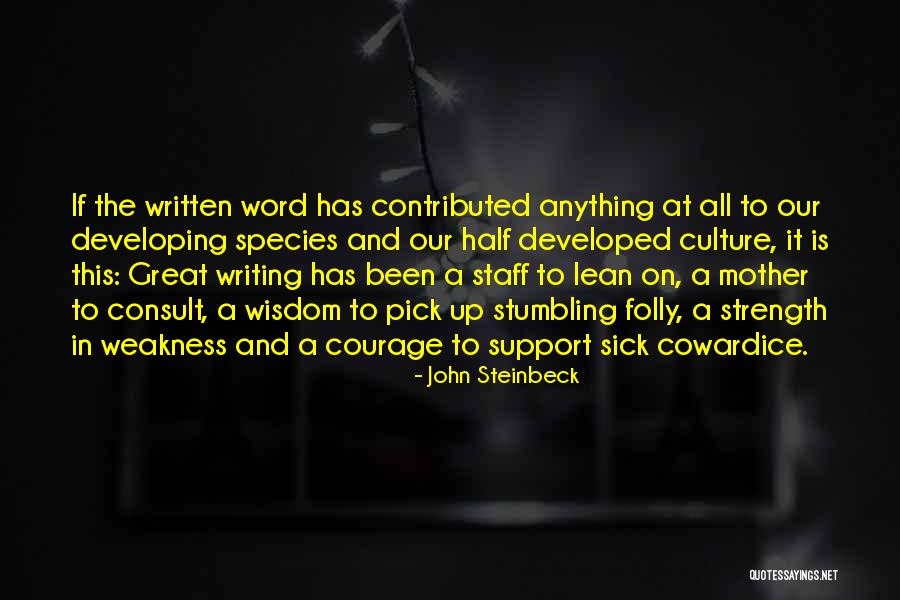 If the written word has contributed anything at all to our developing species and our half developed culture, it is this: Great writing has been a staff to lean on, a mother to consult, a wisdom to pick up stumbling folly, a strength in weakness and a courage to support sick cowardice. — John Steinbeck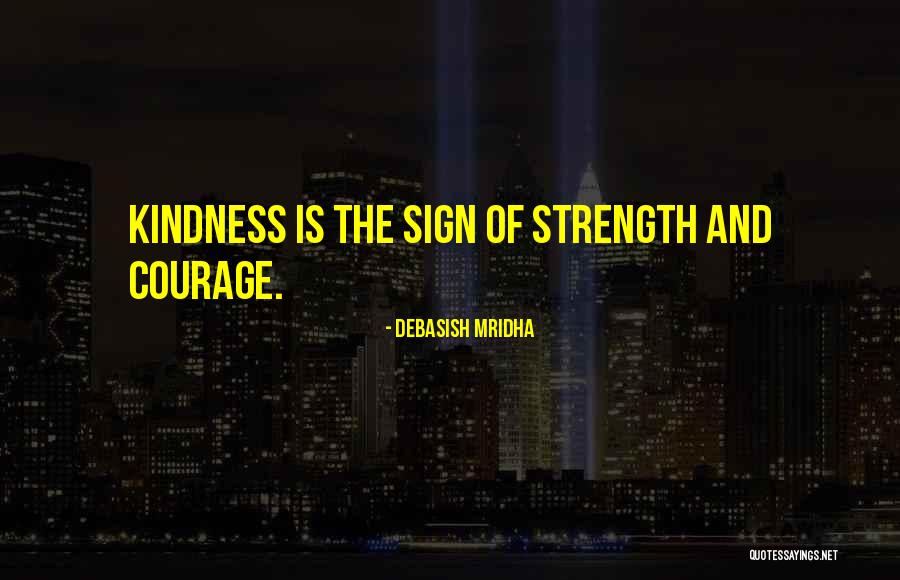 Kindness is the sign of strength and courage. — Debasish Mridha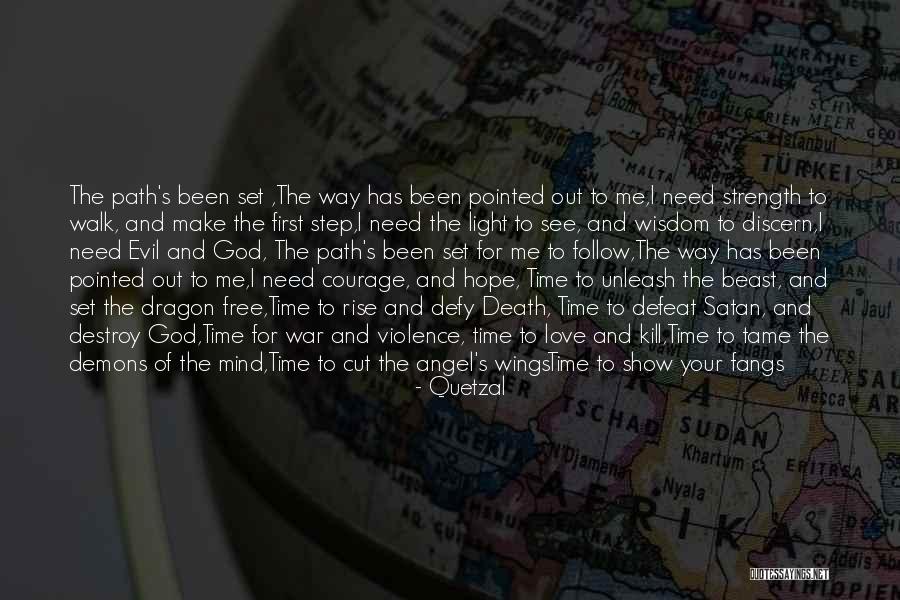 The path's been set ,
The way has been pointed out to me,
I need strength to walk, and make the first step,
I need the light to see, and wisdom to discern,
I need Evil and God,
The path's been set for me to follow,
The way has been pointed out to me,
I need courage, and hope,
Time to unleash the beast, and set the dragon free,
Time to rise and defy Death,
Time to defeat Satan, and destroy God,
Time for war and violence, time to love and kill,
Time to tame the demons of the mind,
Time to cut the angel's wings
Time to show your fangs and claws to the Devil,
I need courage, I need hope,
I need strength to slit the devil's throat
Give me Satan, Give me God,
Give me death, give me life,
The path is been set for me to follow — Quetzal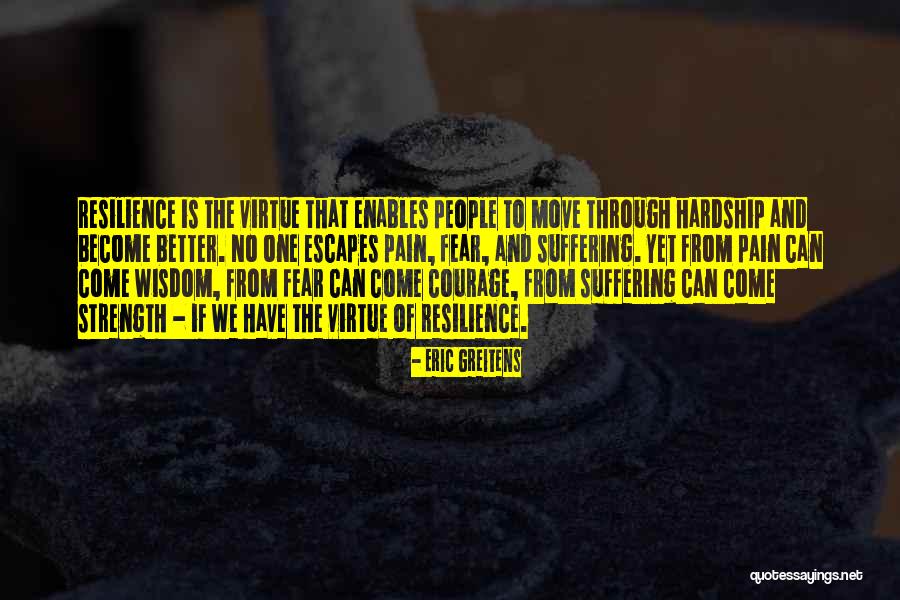 Resilience is the virtue that enables people to move through hardship and become better. No one escapes pain, fear, and suffering. Yet from pain can come wisdom, from fear can come courage, from suffering can come strength - if we have the virtue of resilience. — Eric Greitens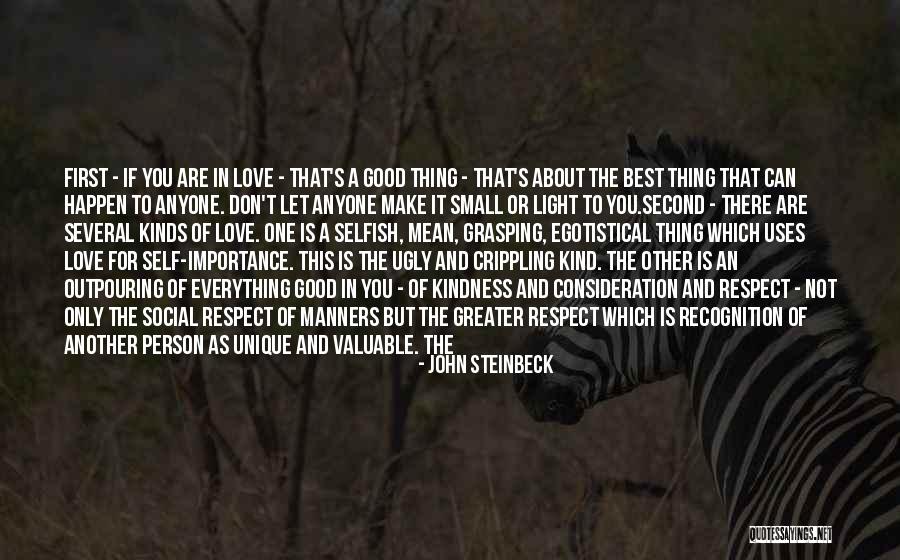 First - if you are in love - that's a good thing - that's about the best thing that can happen to anyone. Don't let anyone make it small or light to you.
Second - There are several kinds of love. One is a selfish, mean, grasping, egotistical thing which uses love for self-importance. This is the ugly and crippling kind. The other is an outpouring of everything good in you - of kindness and consideration and respect - not only the social respect of manners but the greater respect which is recognition of another person as unique and valuable. The first kind can make you sick and small and weak but the second can release in you strength, and courage and goodness and even wisdom you didn't know you had. — John Steinbeck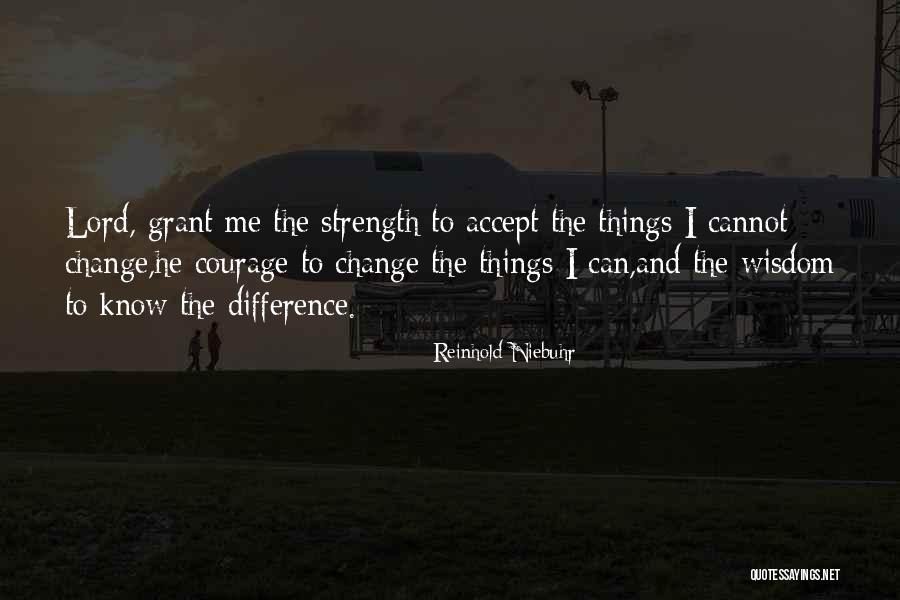 Lord, grant me the strength to accept the things I cannot change,
he courage to change the things I can,
and the wisdom to know the difference. — Reinhold Niebuhr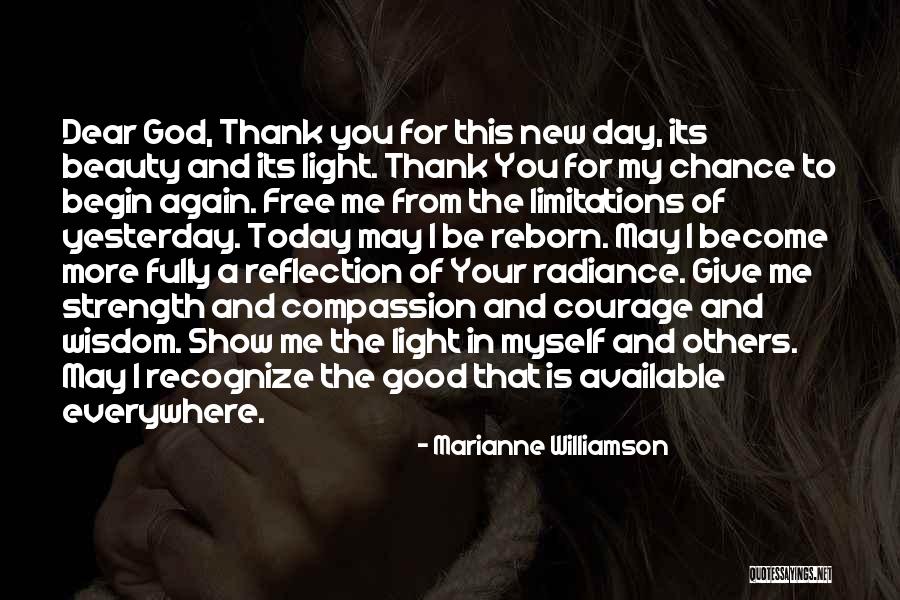 Dear God, Thank you for this new day, its beauty and its light. Thank You for my chance to begin again. Free me from the limitations of yesterday. Today may I be reborn. May I become more fully a reflection of Your radiance. Give me strength and compassion and courage and wisdom. Show me the light in myself and others. May I recognize the good that is available everywhere. — Marianne Williamson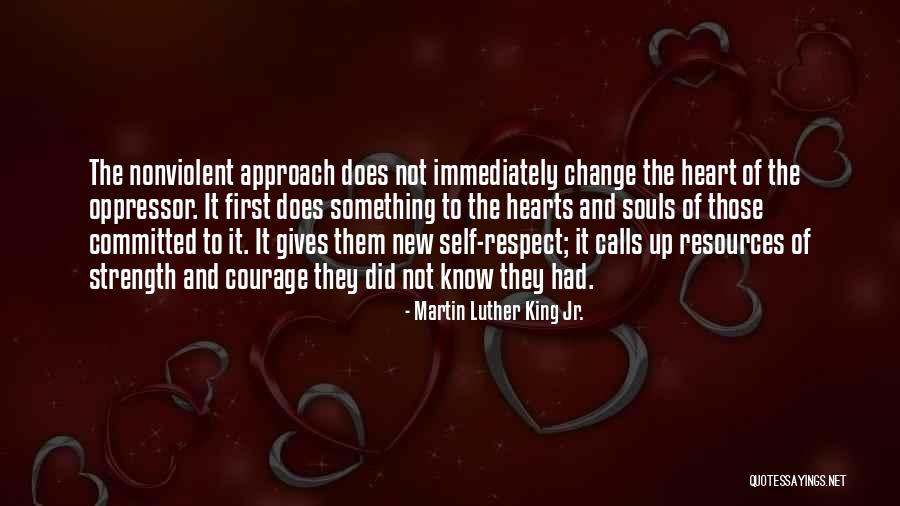 The nonviolent approach does not immediately change the heart of the oppressor. It first does something to the hearts and souls of those committed to it. It gives them new self-respect; it calls up resources of strength and courage they did not know they had. — Martin Luther King Jr.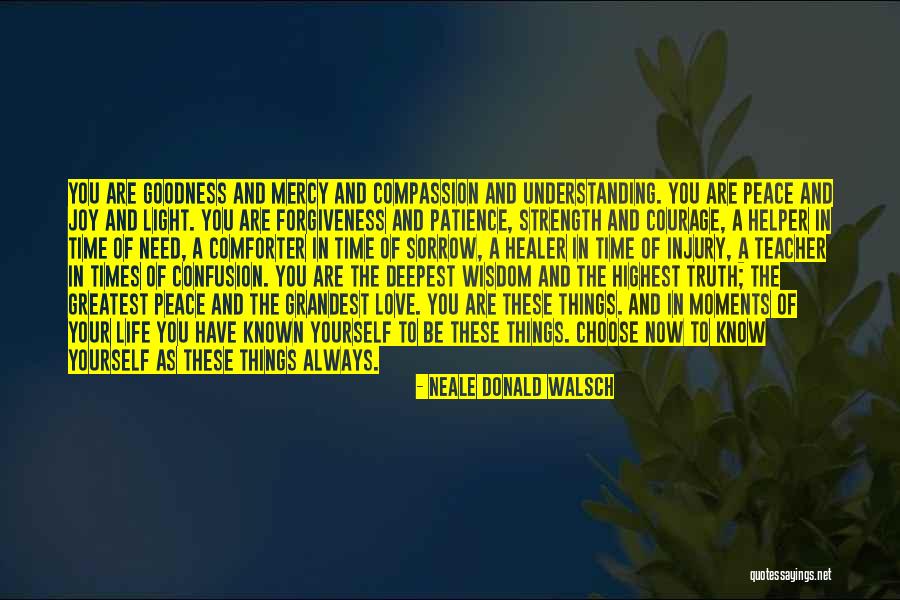 You are goodness and mercy and compassion and understanding. You are peace and joy and light. You are forgiveness and patience, strength and courage, a helper in time of need, a comforter in time of sorrow, a healer in time of injury, a teacher in times of confusion. You are the deepest wisdom and the highest truth; the greatest peace and the grandest love. You are these things. And in moments of your life you have known yourself to be these things. Choose now to know yourself as these things always. — Neale Donald Walsch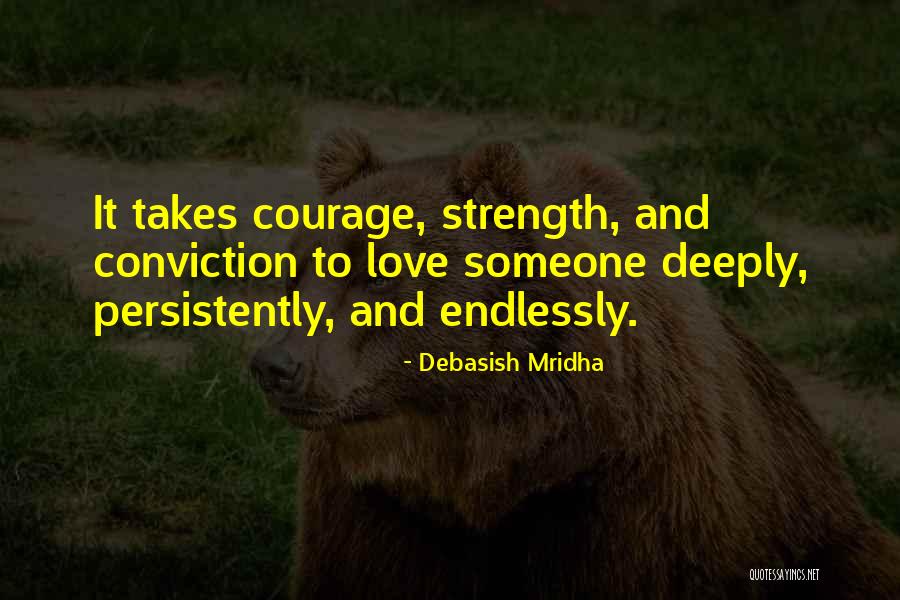 It takes courage, strength, and conviction to love someone deeply, persistently, and endlessly. — Debasish Mridha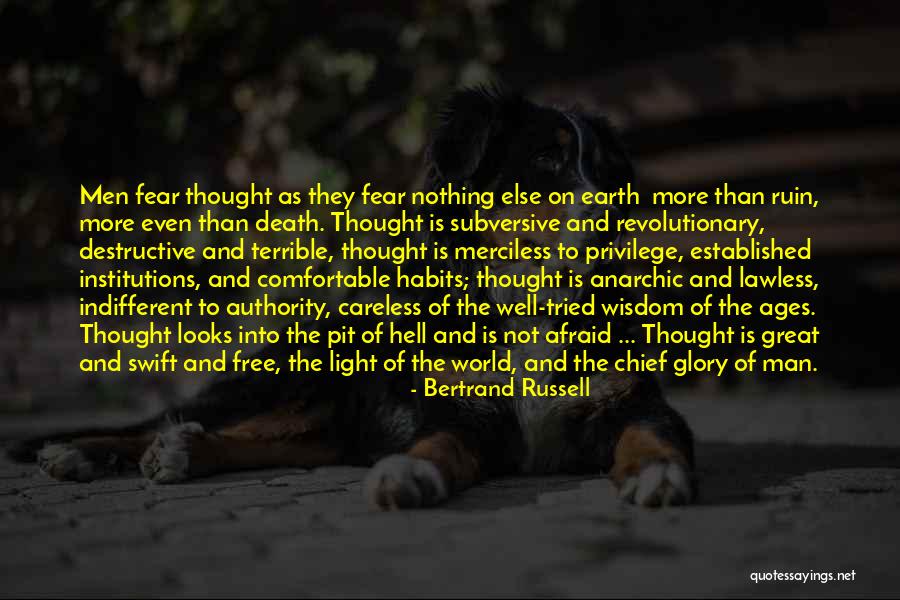 Men fear thought as they fear nothing else on earth
more than ruin, more even than death. Thought is subversive and revolutionary, destructive and terrible, thought is merciless to privilege, established institutions, and comfortable habits; thought is anarchic and lawless, indifferent to authority, careless of the well-tried wisdom of the ages. Thought looks into the pit of hell and is not afraid ... Thought is great and swift and free, the light of the world, and the chief glory of man. — Bertrand Russell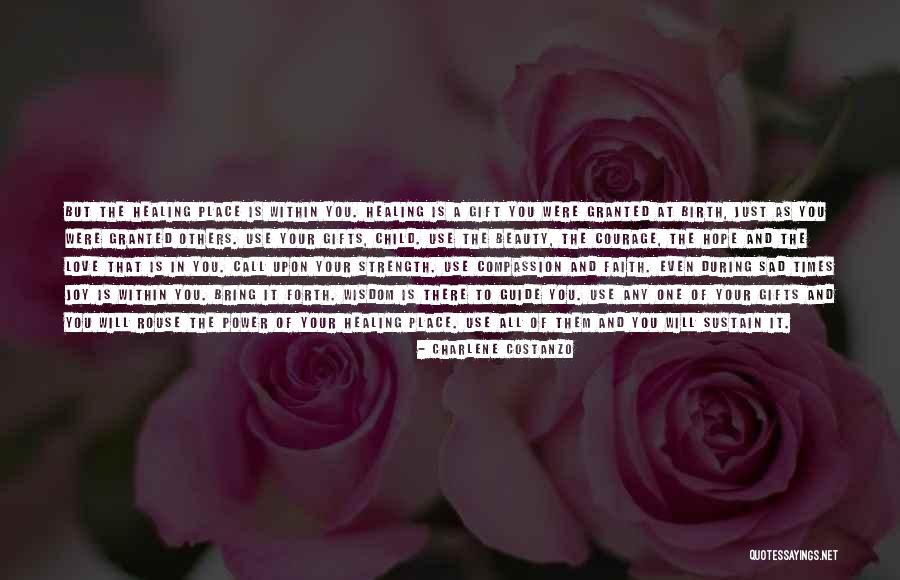 But the healing place is within you. Healing is a gift you were granted at birth, just as you were granted others. Use your gifts, child. Use the beauty, the courage, the hope and the love that is in you. Call upon your strength. Use compassion and faith. Even during sad times joy is within you. Bring it forth. Wisdom is there to guide you. Use any one of your gifts and you will rouse the power of your healing place. Use all of them and you will sustain it. — Charlene Costanzo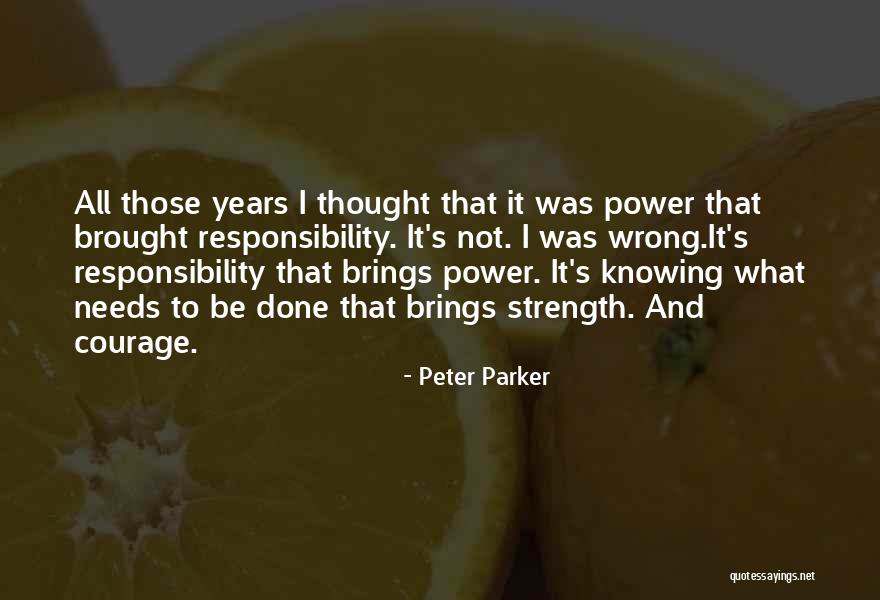 All those years I thought that it was power that brought responsibility. It's not. I was wrong.
It's responsibility that brings power. It's knowing what needs to be done that brings strength. And courage. — Peter Parker