Quotes & Sayings About Whiteboards
Enjoy reading and share 7 famous quotes about Whiteboards with everyone.
Top Whiteboards Quotes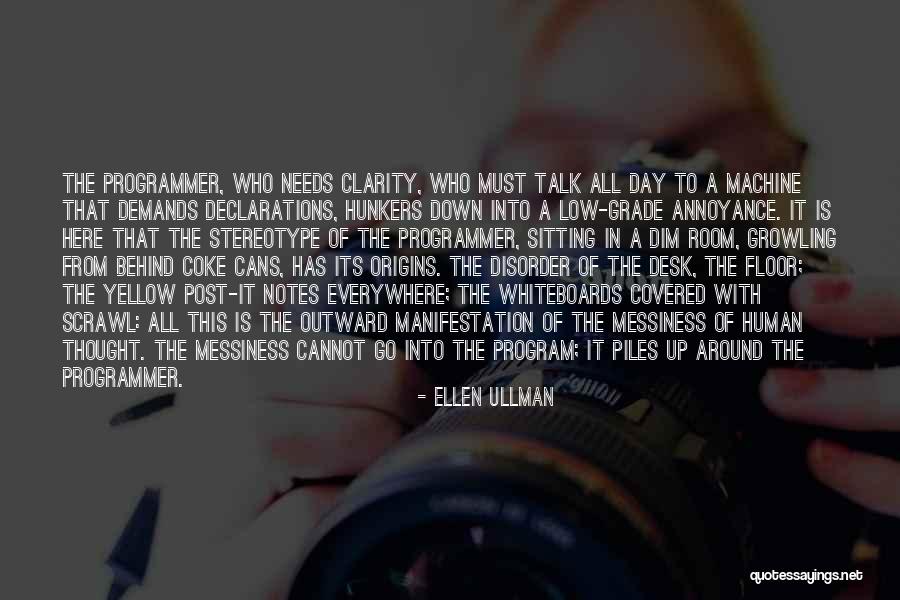 The programmer, who needs clarity, who must talk all day to a machine that demands declarations, hunkers down into a low-grade annoyance. It is here that the stereotype of the programmer, sitting in a dim room, growling from behind Coke cans, has its origins. The disorder of the desk, the floor; the yellow Post-It notes everywhere; the whiteboards covered with scrawl: all this is the outward manifestation of the messiness of human thought. The messiness cannot go into the program; it piles up around the programmer. — Ellen Ullman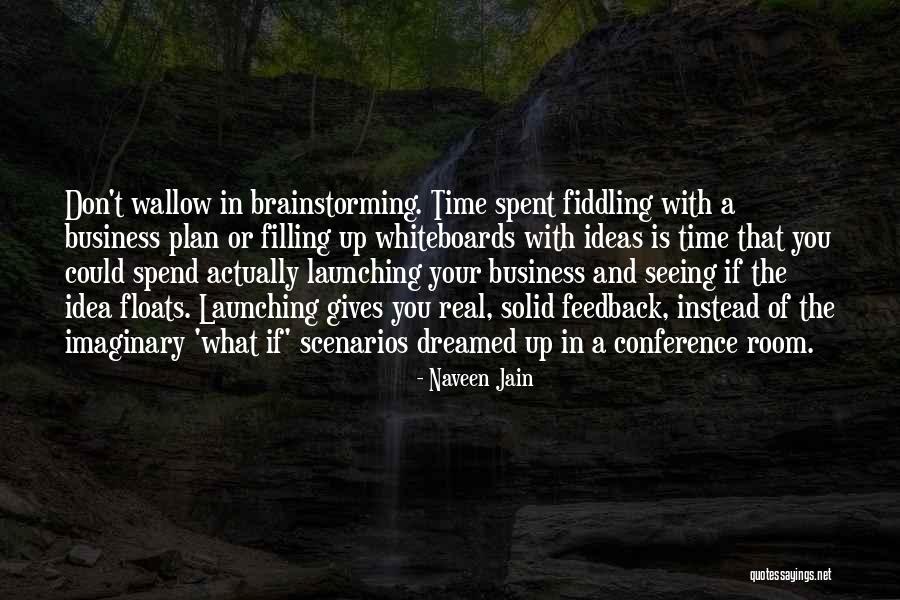 Don't wallow in brainstorming. Time spent fiddling with a business plan or filling up whiteboards with ideas is time that you could spend actually launching your business and seeing if the idea floats. Launching gives you real, solid feedback, instead of the imaginary 'what if' scenarios dreamed up in a conference room. — Naveen Jain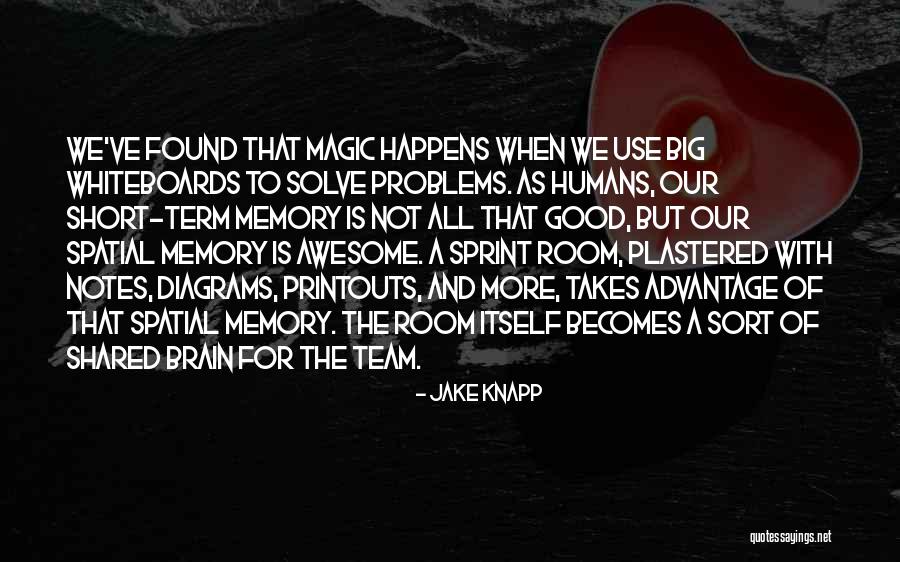 We've found that magic happens when we use big whiteboards to solve problems. As humans, our short-term memory is not all that good, but our spatial memory is awesome. A sprint room, plastered with notes, diagrams, printouts, and more, takes advantage of that spatial memory. The room itself becomes a sort of shared brain for the team. — Jake Knapp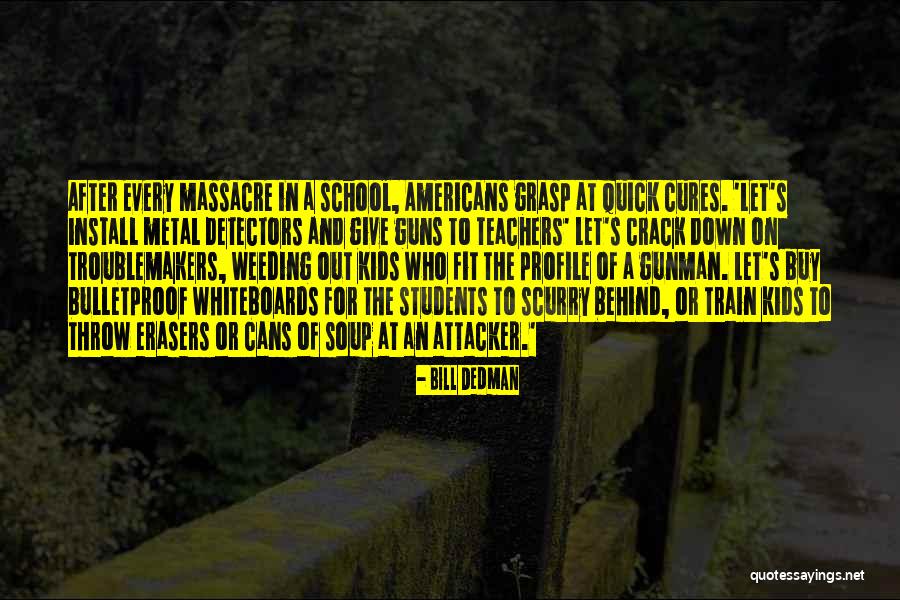 After every massacre in a school, Americans grasp at quick cures. 'Let's install metal detectors and give guns to teachers' Let's crack down on troublemakers, weeding out kids who fit the profile of a gunman. Let's buy bulletproof whiteboards for the students to scurry behind, or train kids to throw erasers or cans of soup at an attacker.' — Bill Dedman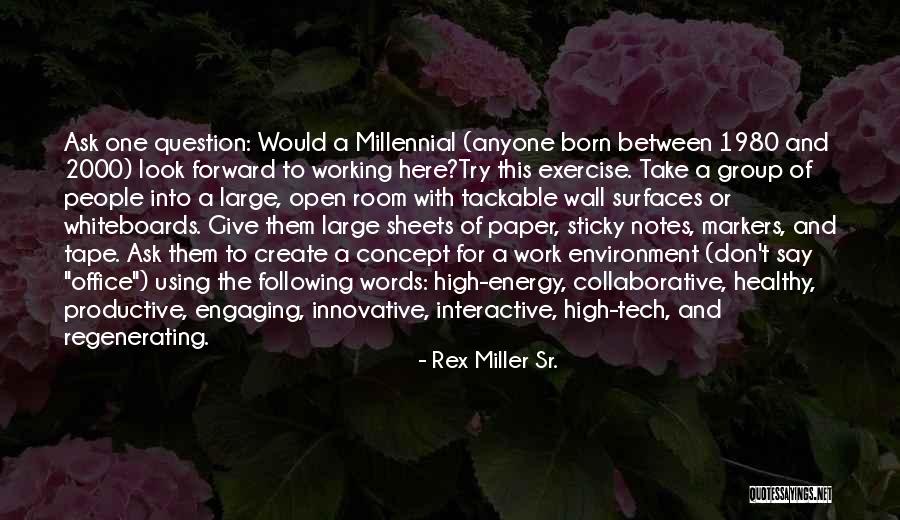 Ask one question: Would a Millennial (anyone born between 1980 and 2000) look forward to working here?

Try this exercise. Take a group of people into a large, open room with tackable wall surfaces or whiteboards. Give them large sheets of paper, sticky notes, markers, and tape. Ask them to create a concept for a work environment (don't say "office") using the following words: high-energy, collaborative, healthy, productive, engaging, innovative, interactive, high-tech, and regenerating. — Rex Miller Sr.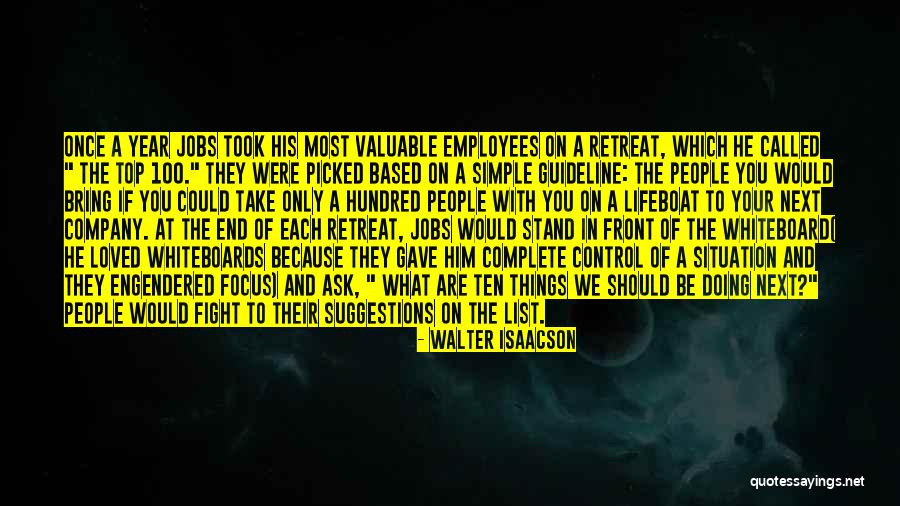 Once a year Jobs took his most valuable employees on a retreat, which he called " The Top 100." They were picked based on a simple guideline: the people you would bring if you could take only a hundred people with you on a lifeboat to your next company. At the end of each retreat, Jobs would stand in front of the whiteboard( he loved whiteboards because they gave him complete control of a situation and they engendered focus) and ask, " What are ten things we should be doing next?" People would fight to their suggestions on the list. Jobs would write them down, and then cross off the ones he decreed dumb. After much jockeying, the group would come up with a list of ten.Then Jobs would slash the bottom seven and announce, " We can only do three. — Walter Isaacson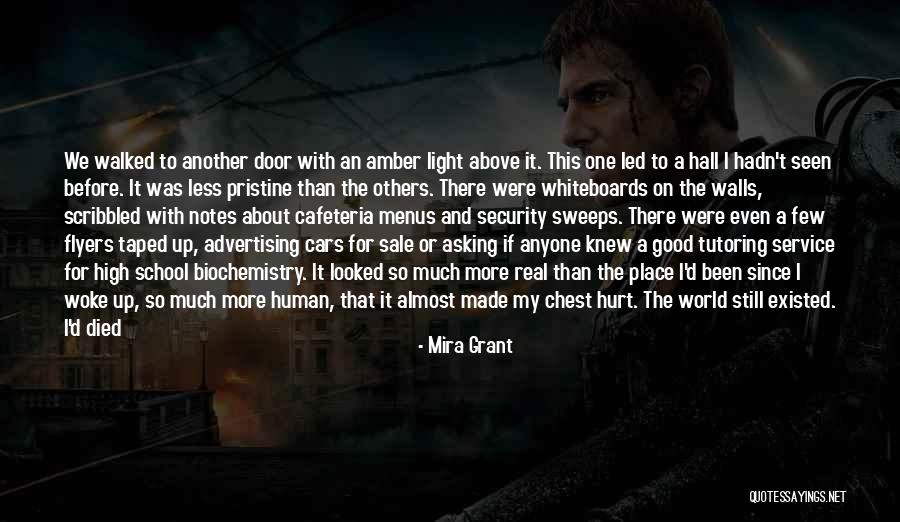 We walked to another door with an amber light above it. This one led to a hall I hadn't seen before. It was less pristine than the others. There were whiteboards on the walls, scribbled with notes about cafeteria menus and security sweeps. There were even a few flyers taped up, advertising cars for sale or asking if anyone knew a good tutoring service for high school biochemistry. It looked so much more real than the place I'd been since I woke up, so much more human, that it almost made my chest hurt. The world still existed. I'd died and come back, and the whole time I was gone, the world continued. — Mira Grant