When Your Friends Turn Their Back On You Quotes & Sayings
Enjoy reading and share 27 famous quotes about When Your Friends Turn Their Back On You with everyone.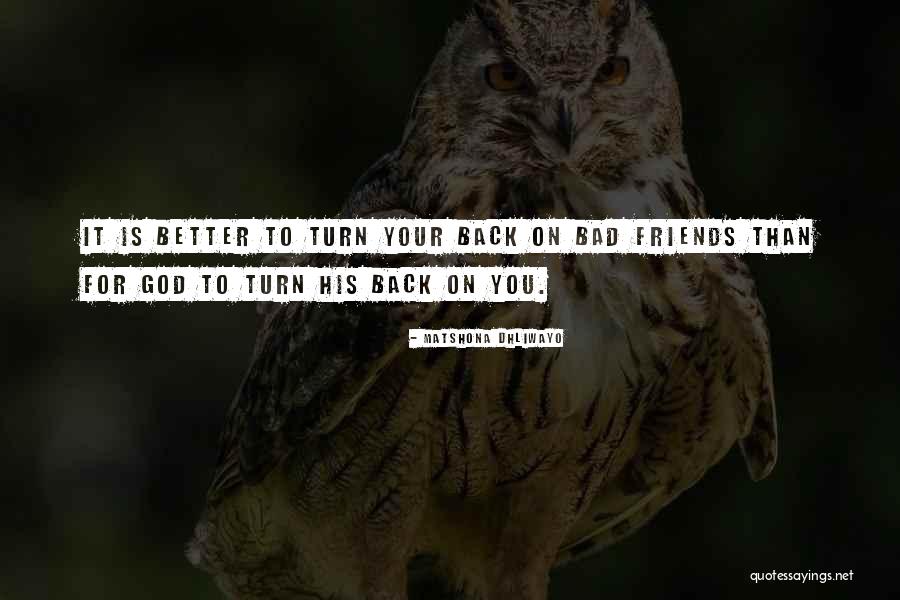 It is better to turn your back on bad friends than for God to turn His back on you. — Matshona Dhliwayo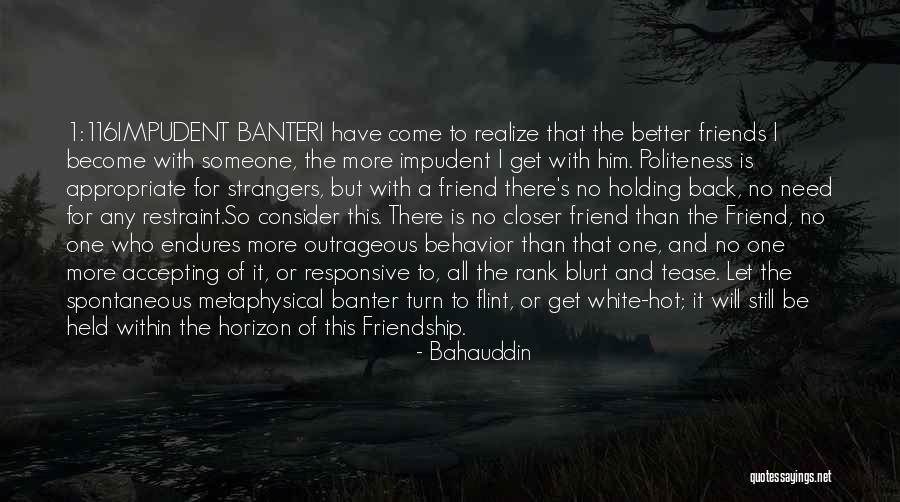 1:116
IMPUDENT BANTER

I have come to realize that the better friends I become with someone, the more impudent I get with him. Politeness is appropriate for strangers, but with a friend there's no holding back, no need for any restraint.

So consider this. There is no closer friend than the Friend, no one who endures more outrageous behavior than that one, and no one more accepting of it, or responsive to, all the rank blurt and tease. Let the spontaneous metaphysical banter turn to flint, or get white-hot; it will still be held within the horizon of this Friendship. — Bahauddin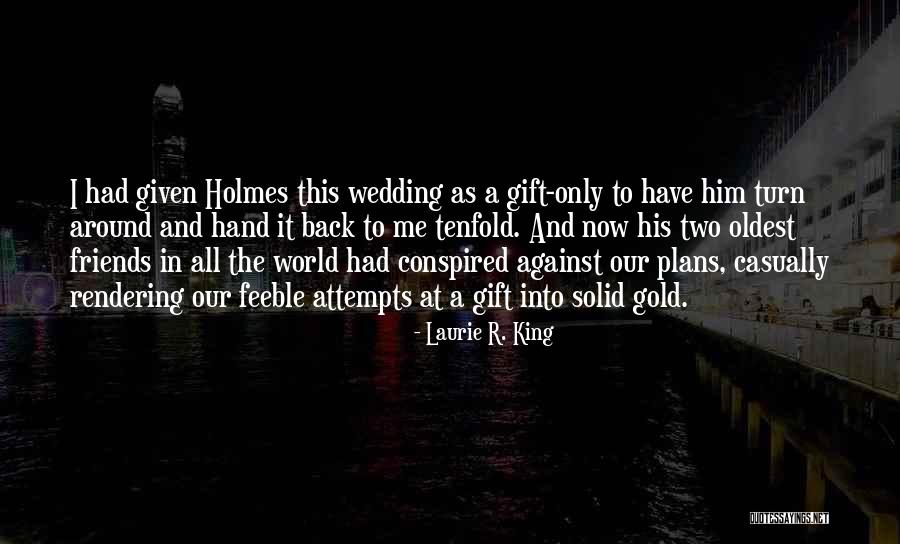 I had given Holmes this wedding as a gift-only to have him turn around and hand it back to me tenfold. And now his two oldest friends in all the world had conspired against our plans, casually rendering our feeble attempts at a gift into solid gold. — Laurie R. King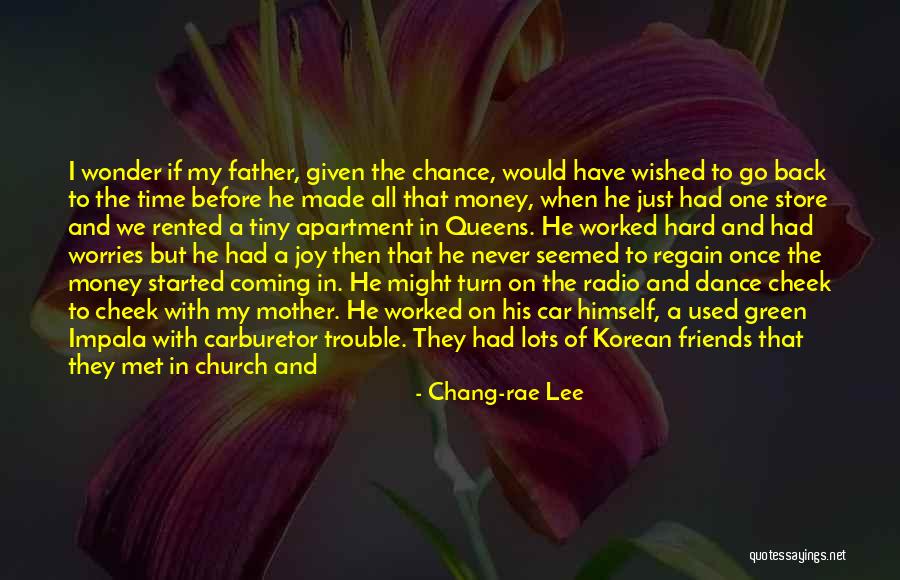 I wonder if my father, given the chance, would have wished to go back to the time before he made all that money, when he just had one store and we rented a tiny apartment in Queens. He worked hard and had worries but he had a joy then that he never seemed to regain once the money started coming in. He might turn on the radio and dance cheek to cheek with my mother. He worked on his car himself, a used green Impala with carburetor trouble. They had lots of Korean friends that they met in church and then even in the street, and when they talked in public there was a shared sense of how lucky they were, to be in America but still have countrymen near. — Chang-rae Lee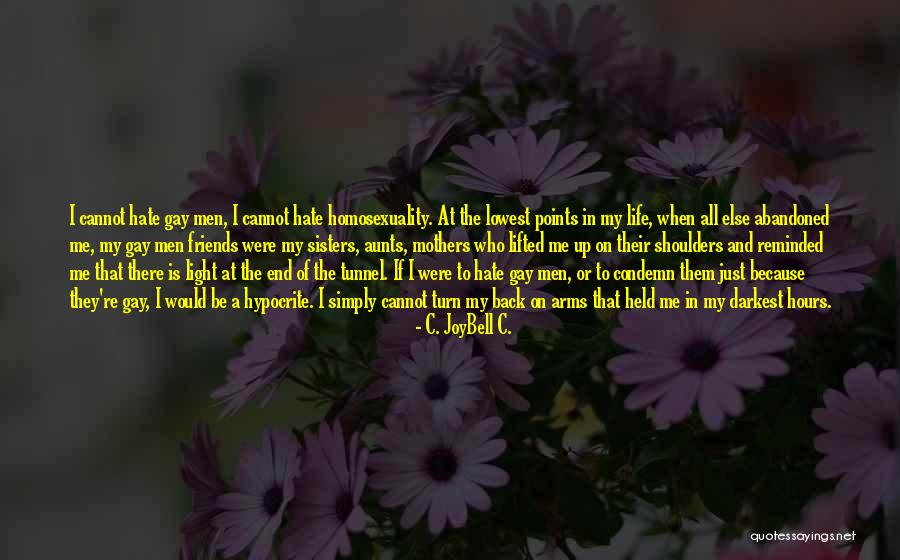 I cannot hate gay men, I cannot hate homosexuality. At the lowest points in my life, when all else abandoned me, my gay men friends were my sisters, aunts, mothers who lifted me up on their shoulders and reminded me that there is light at the end of the tunnel. If I were to hate gay men, or to condemn them just because they're gay, I would be a hypocrite. I simply cannot turn my back on arms that held me in my darkest hours. — C. JoyBell C.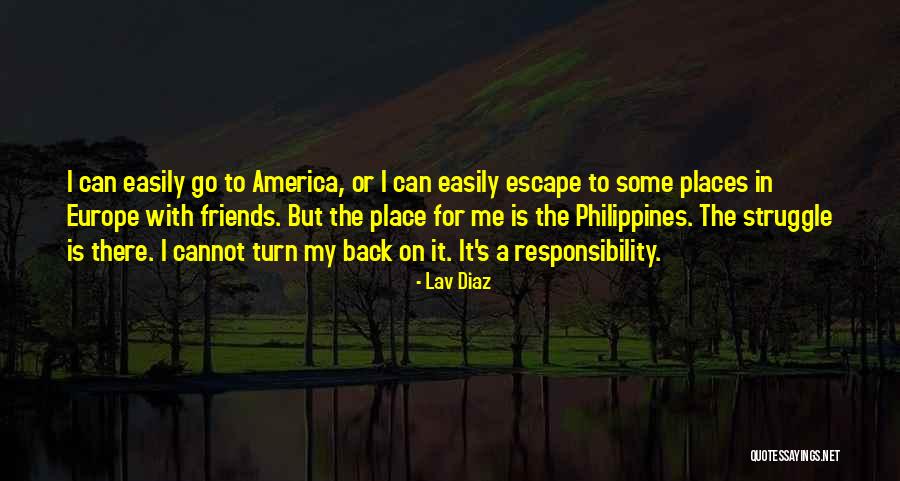 I can easily go to America, or I can easily escape to some places in Europe with friends. But the place for me is the Philippines. The struggle is there. I cannot turn my back on it. It's a responsibility. — Lav Diaz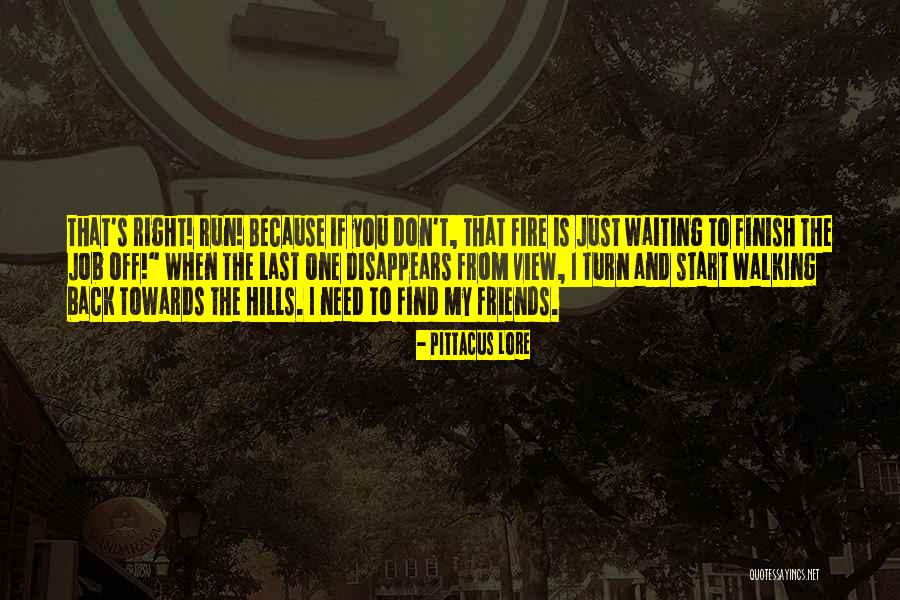 That's right! Run! Because if you don't, that fire is just waiting to finish the job off!" When the last one disappears from view, I turn and start walking back towards the hills. I need to find my friends. — Pittacus Lore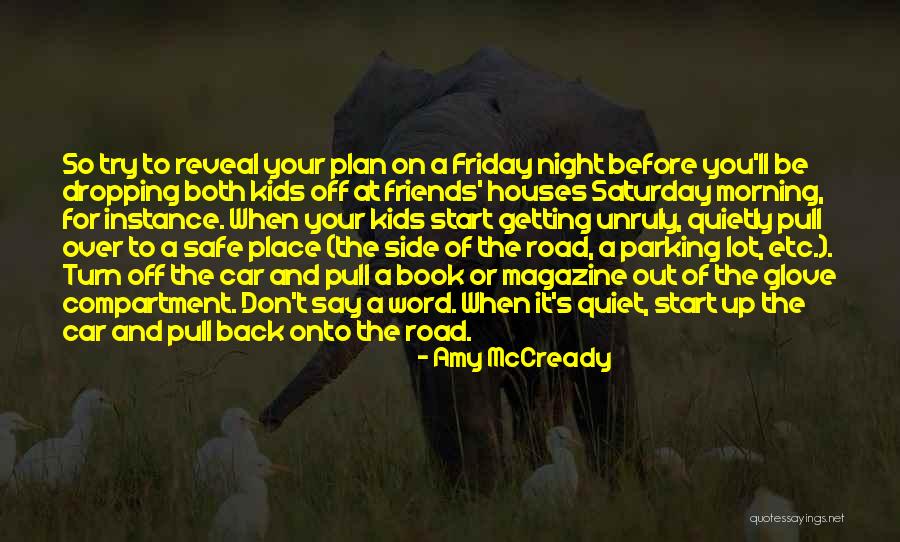 So try to reveal your plan on a Friday night before you'll be dropping both kids off at friends' houses Saturday morning, for instance. When your kids start getting unruly, quietly pull over to a safe place (the side of the road, a parking lot, etc.). Turn off the car and pull a book or magazine out of the glove compartment. Don't say a word. When it's quiet, start up the car and pull back onto the road. — Amy McCready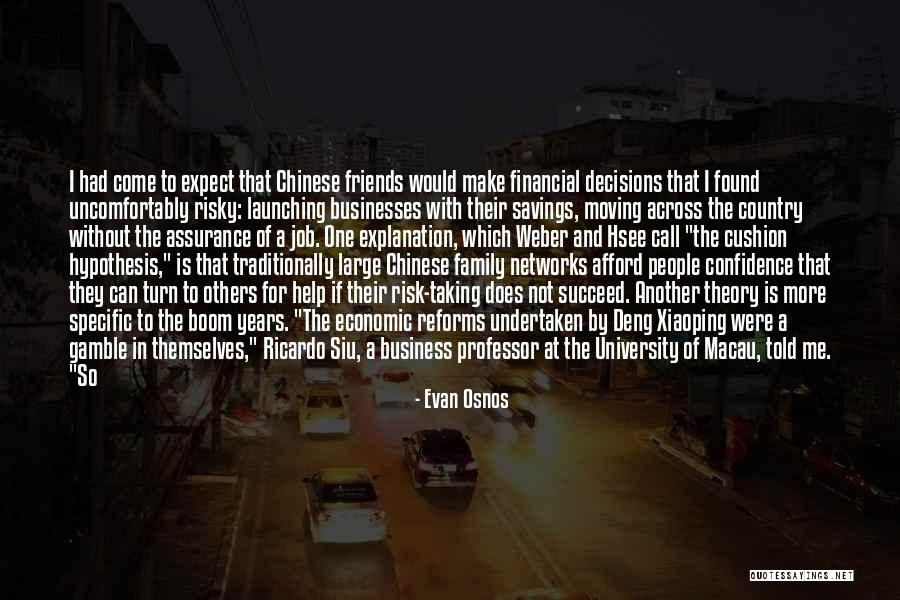 I had come to expect that Chinese friends would make financial decisions that I found uncomfortably risky: launching businesses with their savings, moving across the country without the assurance of a job. One explanation, which Weber and Hsee call "the cushion hypothesis," is that traditionally large Chinese family networks afford people confidence that they can turn to others for help if their risk-taking does not succeed. Another theory is more specific to the boom years. "The economic reforms undertaken by Deng Xiaoping were a gamble in themselves," Ricardo Siu, a business professor at the University of Macau, told me. "So people got the idea that taking a risk is not just okay; it has utility." For those who have come from poverty to the middle class, he added, "the thinking may be, If I lose half my money, well, I've lived through that. I won't be poor again. And in several years I can earn it back. But if I win? I'm a millionaire! — Evan Osnos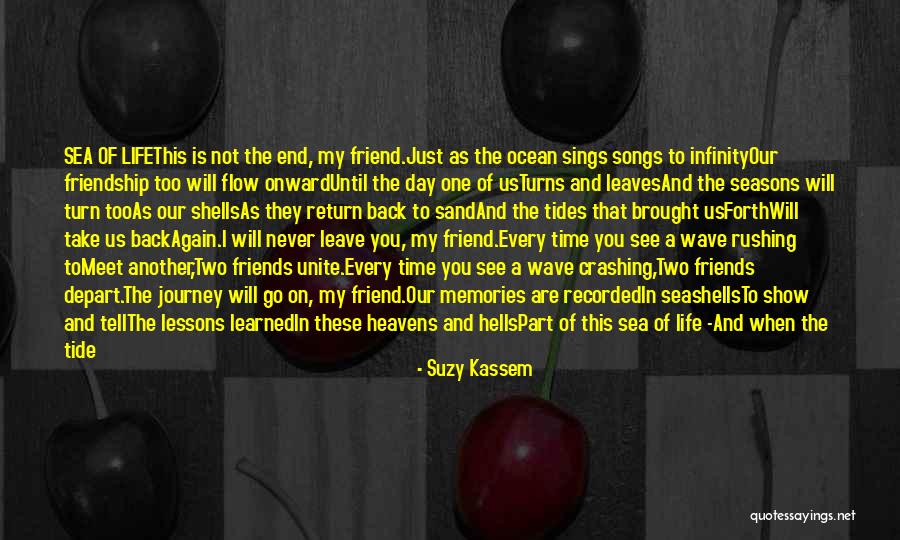 SEA OF LIFE

This is not the end, my friend.
Just as the ocean sings songs to infinity
Our friendship too will flow onward
Until the day one of us
Turns and leaves
And the seasons will turn too
As our shells
As they return back to sand
And the tides that brought us
Forth
Will take us back
Again.

I will never leave you, my friend.
Every time you see a wave rushing to
Meet another,
Two friends unite.
Every time you see a wave crashing,
Two friends depart.
The journey will go on, my friend.
Our memories are recorded
In seashells
To show and tell
The lessons learned
In these heavens and hells
Part of this sea of life -
And when the tide is right,
We shall cross paths again
When the ocean sings our song.

Poetry by Suzy Kassem — Suzy Kassem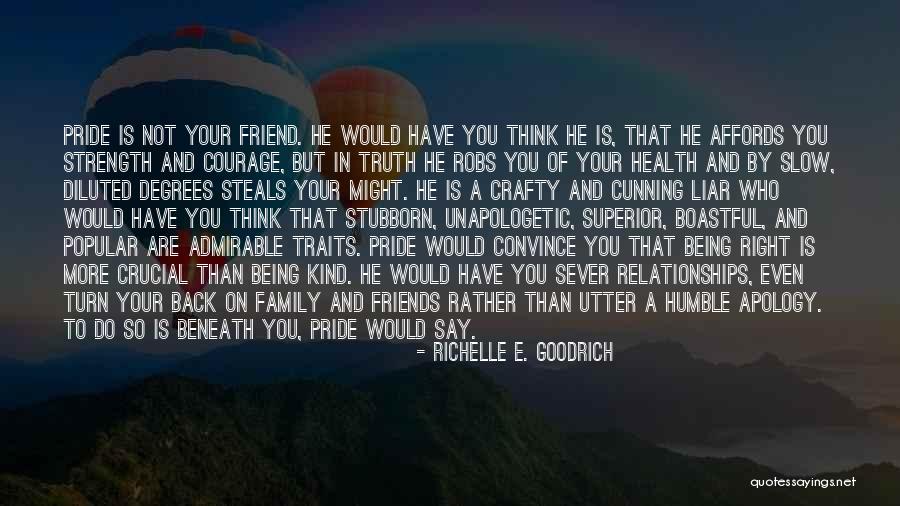 Pride is not your friend.
He would have you think he is, that he affords you strength and courage, but in truth he robs you of your health and by slow, diluted degrees steals your might. He is a crafty and cunning liar who would have you think that stubborn, unapologetic, superior, boastful, and popular are admirable traits. Pride would convince you that being right is more crucial than being kind. He would have you sever relationships, even turn your back on family and friends rather than utter a humble apology. To do so is beneath you, pride would say. He would have you fight like a raptor and gnash your teeth while jutting out an inflexible jaw to defend and protect him, regardless of who is hurt in the process. He would use and demean you in order to puff up and fortify himself. He would destroy your life and every meaningful association before casting you aside without a hint of remorse.
Again, Pride is not your friend. — Richelle E. Goodrich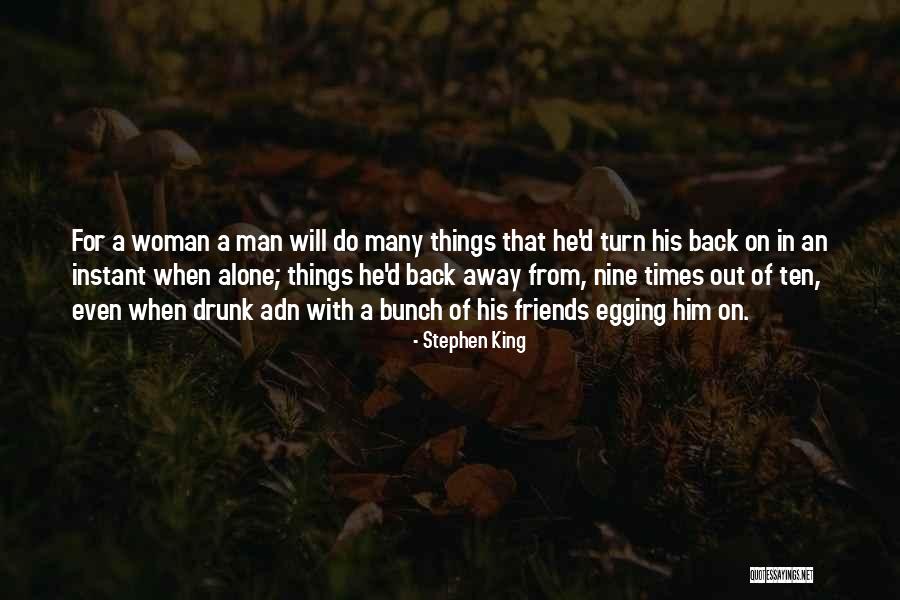 For a woman a man will do many things that he'd turn his back on in an instant when alone; things he'd back away from, nine times out of ten, even when drunk adn with a bunch of his friends egging him on. — Stephen King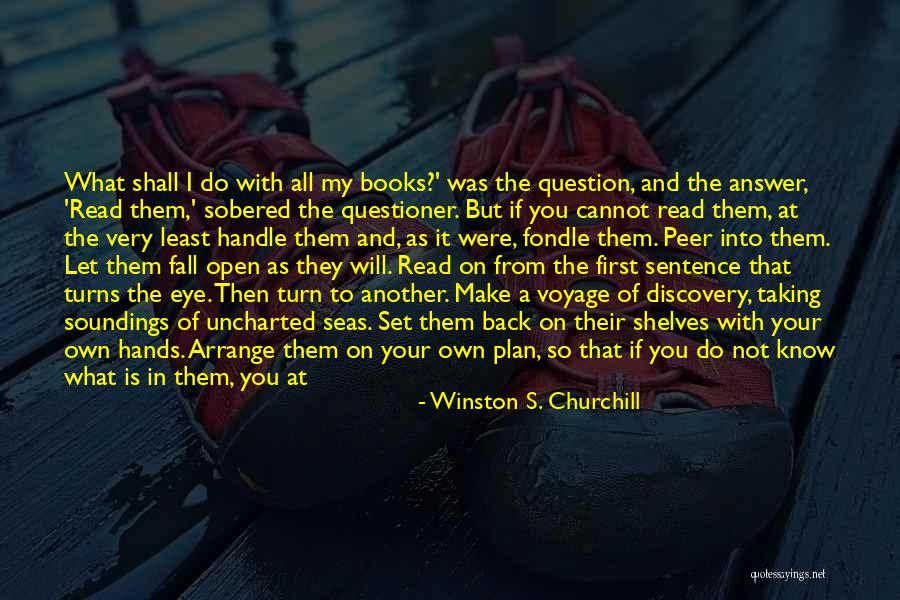 What shall I do with all my books?' was the question, and the answer, 'Read them,' sobered the questioner. But if you cannot read them, at the very least handle them and, as it were, fondle them. Peer into them. Let them fall open as they will. Read on from the first sentence that turns the eye. Then turn to another. Make a voyage of discovery, taking soundings of uncharted seas. Set them back on their shelves with your own hands. Arrange them on your own plan, so that if you do not know what is in them, you at least know where they are. If they cannot be your friends, let them at any rate be your acquaintances. If they cannot enter the circle of your life, do not deny them at least a nod of recognition. — Winston S. Churchill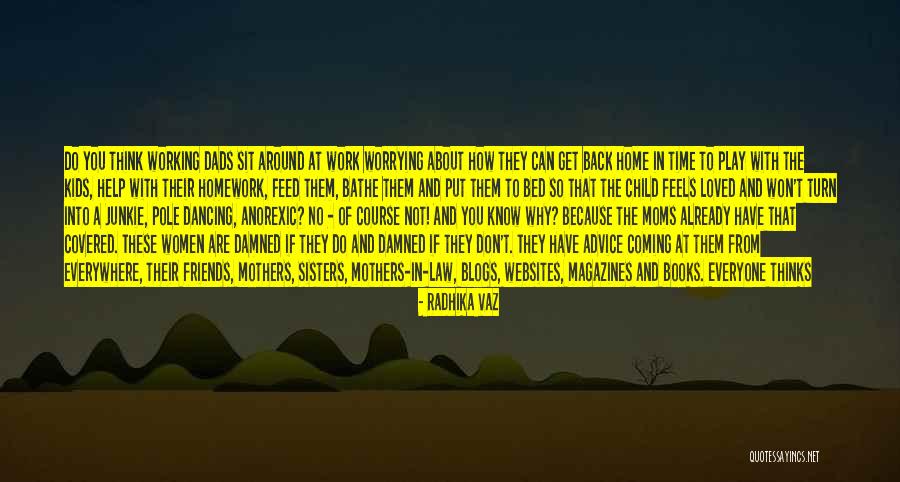 Do you think working dads sit around at work worrying about how they can get back home in time to play with the kids, help with their homework, feed them, bathe them and put them to bed so that the child feels loved and won't turn into a junkie, pole dancing, anorexic? No - of course not! And you know why? Because the moms already have that covered. These women are damned if they do and damned if they don't. They have advice coming at them from everywhere, their friends, mothers, sisters, mothers-in-law, blogs, websites, magazines and books. Everyone thinks they know how it's done and they keep heaping more pain and aggravation on the moms of the world. — Radhika Vaz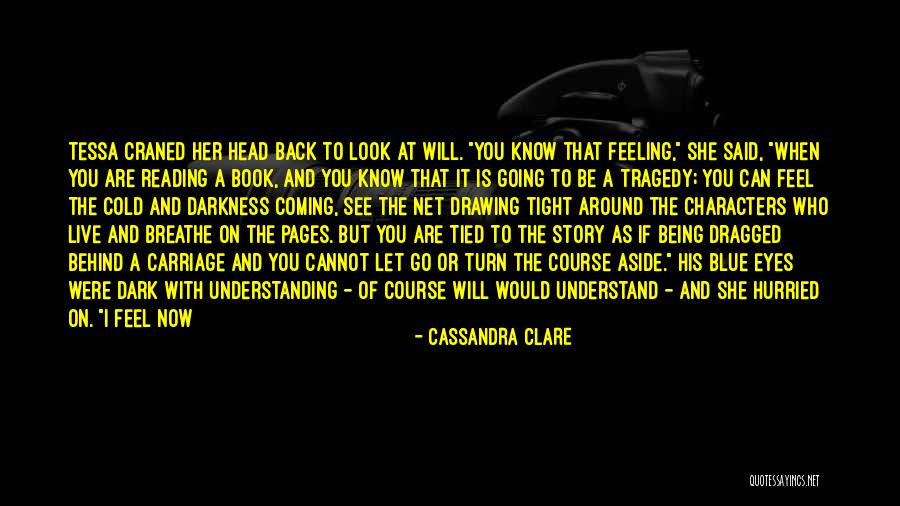 Tessa craned her head back to look at Will. "You know that feeling," she said, "when you are reading a book, and you know that it is going to be a tragedy; you can feel the cold and darkness coming, see the net drawing tight around the characters who live and breathe on the pages. But you are tied to the story as if being dragged behind a carriage and you cannot let go or turn the course aside." His blue eyes were dark with understanding - of course Will would understand - and she hurried on. "I feel now as if the same is happening, only not to characters on a page but to my own beloved friends and companions. I do not want to sit by while tragedy comes for us. I would turn it aside, only I struggle to discover how that might be done."
"You fear for Jem," Will said.
"Yes," she said. "And I fear for you, too."
"No," Will said, hoarsely. "Don't waste that on me, Tess. — Cassandra Clare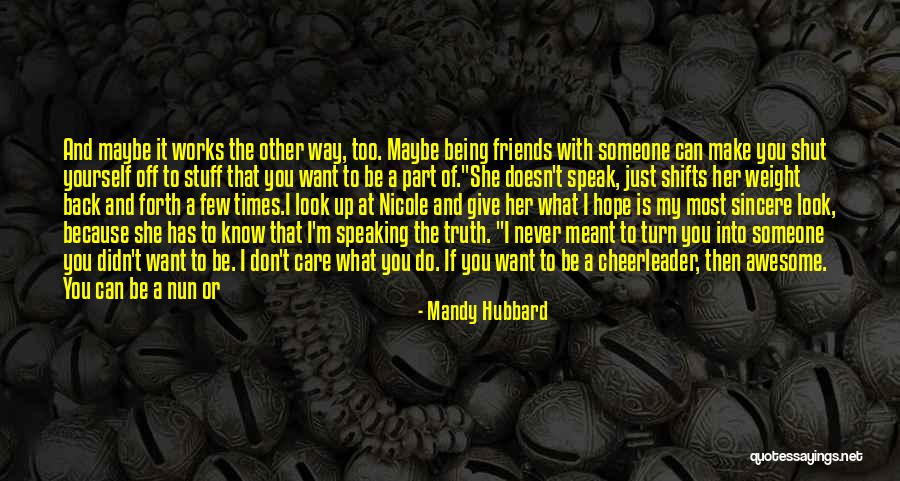 And maybe it works the other way, too. Maybe being friends with someone can make you shut yourself off to stuff that you want to be a part of."
She doesn't speak, just shifts her weight back and forth a few times.
I look up at Nicole and give her what I hope is my most sincere look, because she has to know that I'm speaking the truth. "I never meant to turn you into someone you didn't want to be. I don't care what you do. If you want to be a cheerleader, then awesome. You can be a nun or a backup dancer for the Jonas Brothers. I don't care. I just don't want you to think you can't be my friend and the things you want to be. — Mandy Hubbard
As we live, our hearts turn colder. Cause pain is what we go through, as we become older. We get insulted by others, lose trust for those others. We get back stabbed by friends. It becomes harder for us to give others a hand. We get our heart broken by people we love, even that we give them all we have. Then we lose family over time. What else could rust the heart more over time? Blackgold. — Kanye West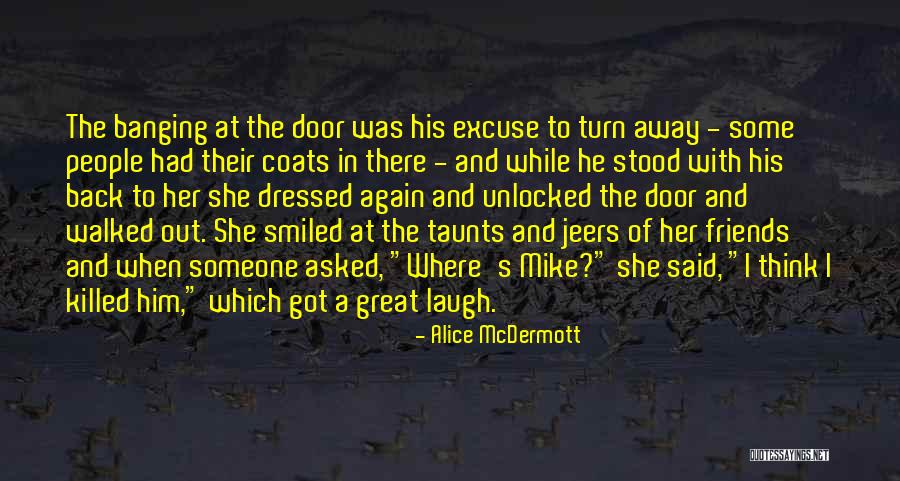 The banging at the door was his excuse to turn away - some people had their coats in there - and while he stood with his back to her she dressed again and unlocked the door and walked out. She smiled at the taunts and jeers of her friends and when someone asked, "Where's Mike?" she said, "I think I killed him," which got a great laugh. — Alice McDermott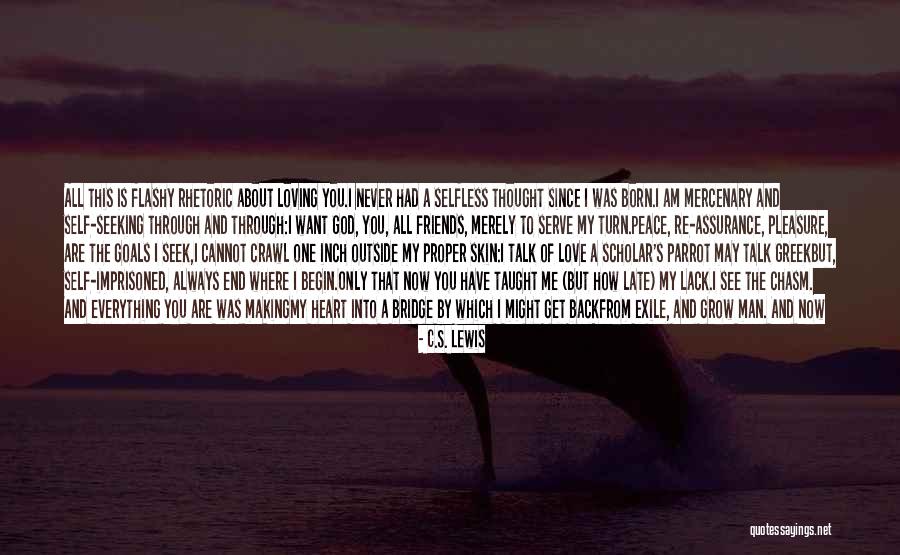 All this is flashy rhetoric about loving you.
I never had a selfless thought since I was born.
I am mercenary and self-seeking through and through:
I want God, you, all friends, merely to serve my turn.
Peace, re-assurance, pleasure, are the goals I seek,
I cannot crawl one inch outside my proper skin:
I talk of love
a scholar's parrot may talk Greek
But, self-imprisoned, always end where I begin.
Only that now you have taught me (but how late) my lack.
I see the chasm. And everything you are was making
My heart into a bridge by which I might get back
From exile, and grow man. And now the bridge is breaking.
For this I bless you as the ruin falls. The pains
You give me are more precious than all other gains. — C.S. Lewis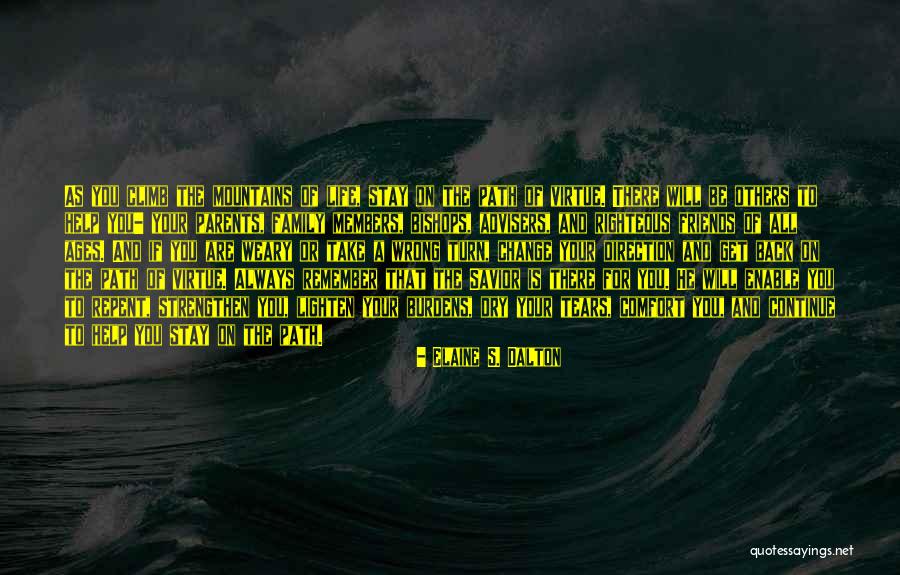 As you climb the mountains of life, stay on the path of virtue. There will be others to help you- your parents, family members, bishops, advisers, and righteous friends of all ages. And if you are weary or take a wrong turn, change your direction and get back on the path of virtue. Always remember that the Savior is there for you. He will enable you to repent, strengthen you, lighten your burdens, dry your tears, comfort you, and continue to help you stay on the path. — Elaine S. Dalton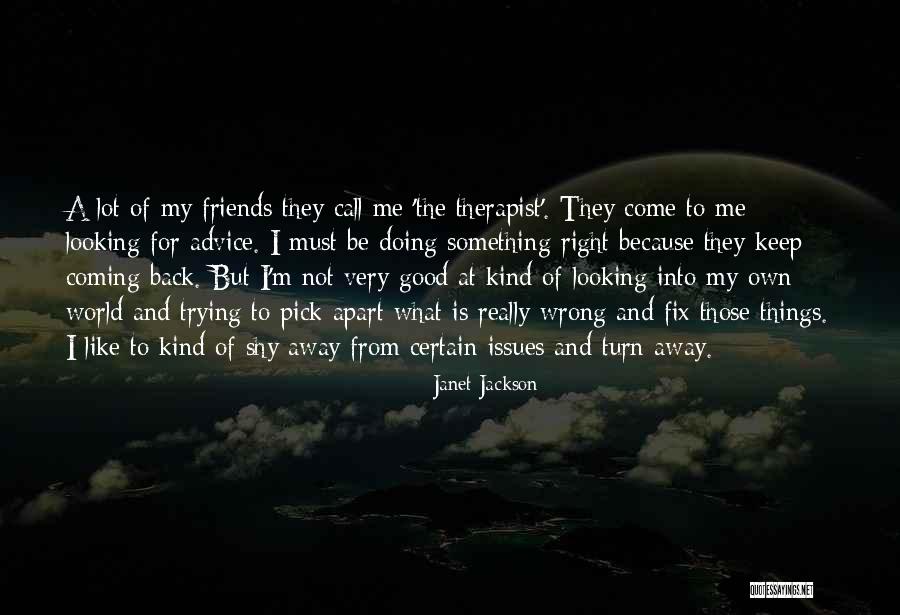 A lot of my friends they call me 'the therapist'. They come to me looking for advice. I must be doing something right because they keep coming back. But I'm not very good at kind of looking into my own world and trying to pick apart what is really wrong and fix those things. I like to kind of shy away from certain issues and turn away. — Janet Jackson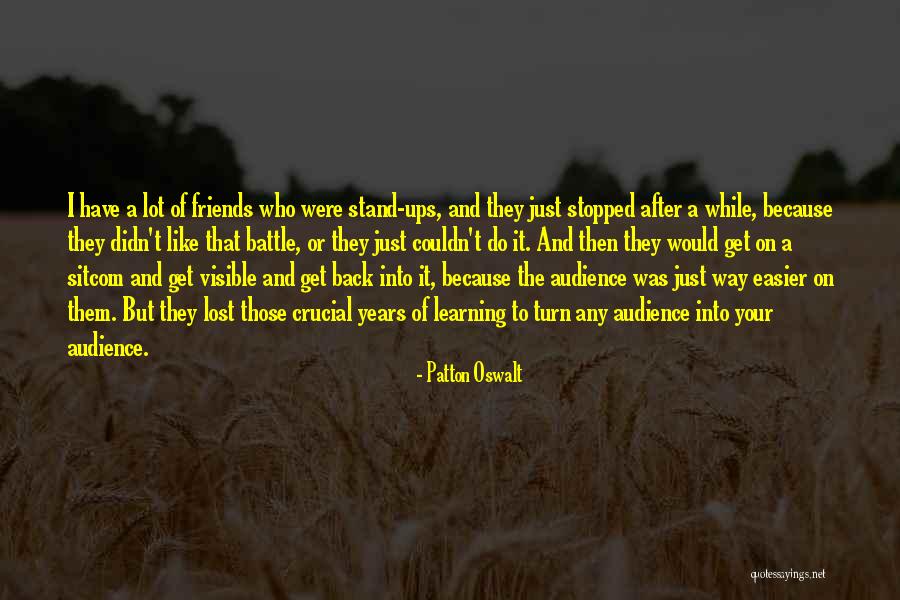 I have a lot of friends who were stand-ups, and they just stopped after a while, because they didn't like that battle, or they just couldn't do it. And then they would get on a sitcom and get visible and get back into it, because the audience was just way easier on them. But they lost those crucial years of learning to turn any audience into your audience. — Patton Oswalt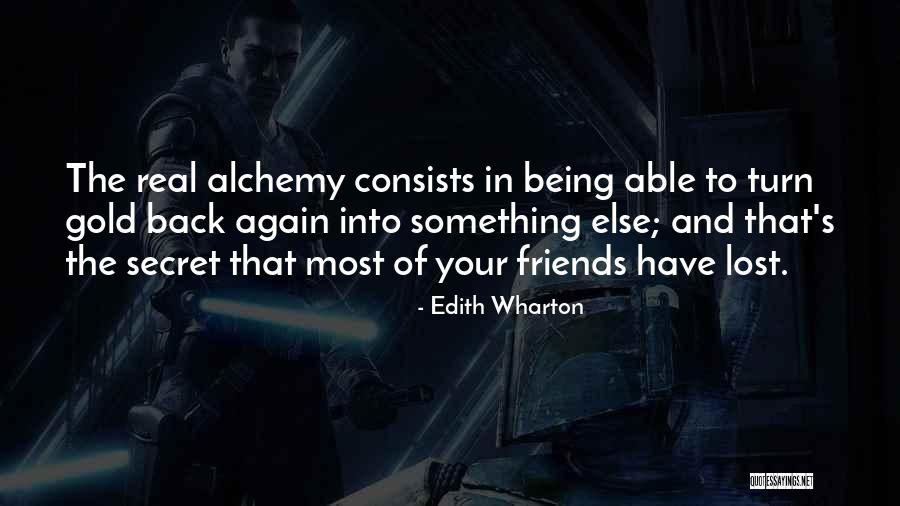 The real alchemy consists in being able to turn gold back again into something else; and that's the secret that most of your friends have lost. — Edith Wharton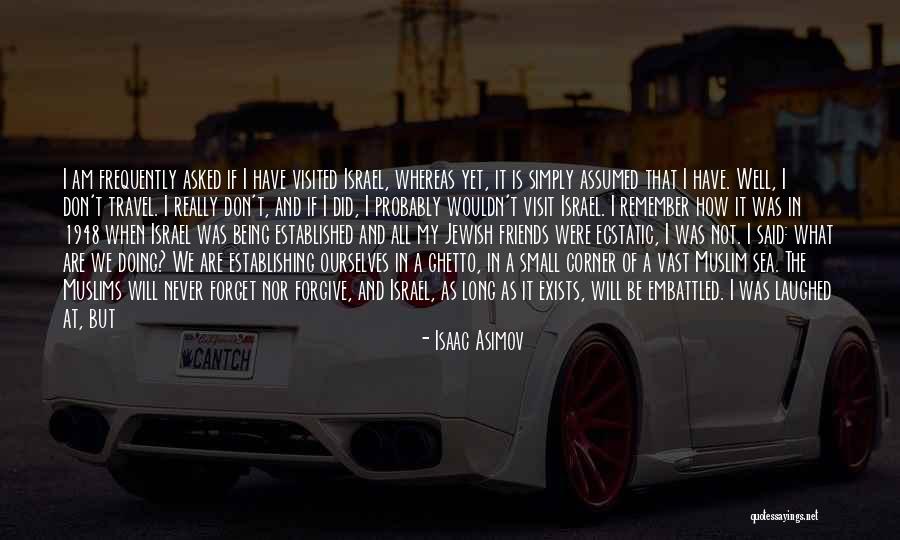 I am frequently asked if I have visited Israel, whereas yet, it is simply assumed that I have. Well, I don't travel. I really don't, and if I did, I probably wouldn't visit Israel. I remember how it was in 1948 when Israel was being established and all my Jewish friends were ecstatic, I was not. I said: what are we doing? We are establishing ourselves in a ghetto, in a small corner of a vast Muslim sea. The Muslims will never forget nor forgive, and Israel, as long as it exists, will be embattled. I was laughed at, but I was right. I can't help but feel that the Jews didn't really have the right to appropriate a territory only because 2000 years ago, people they consider their ancestors, were living there. History moves on and you can't really turn it back. (#92 ff.) — Isaac Asimov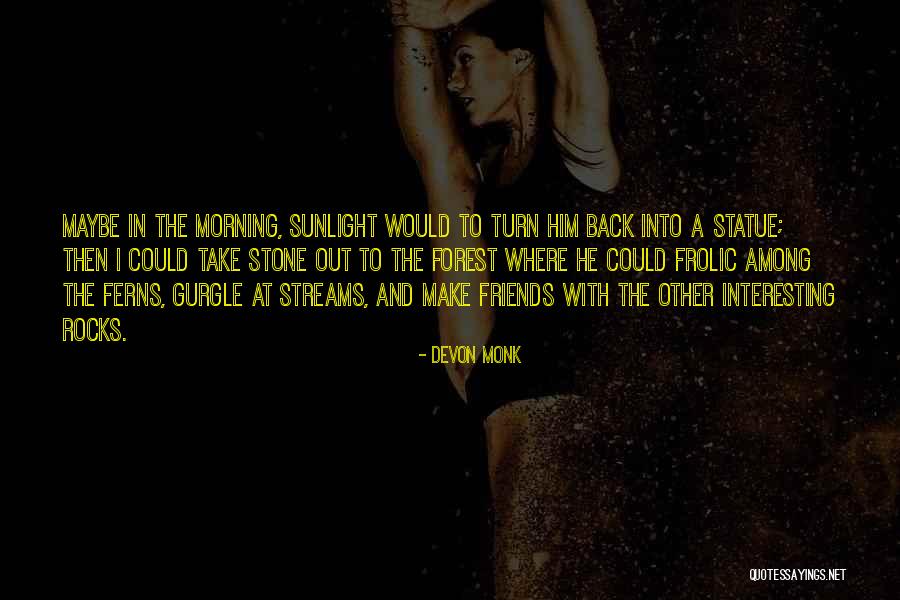 Maybe in the morning, sunlight would to turn him back into a statue; then I could take Stone out to the forest where he could frolic among the ferns, gurgle at streams, and make friends with the other interesting rocks. — Devon Monk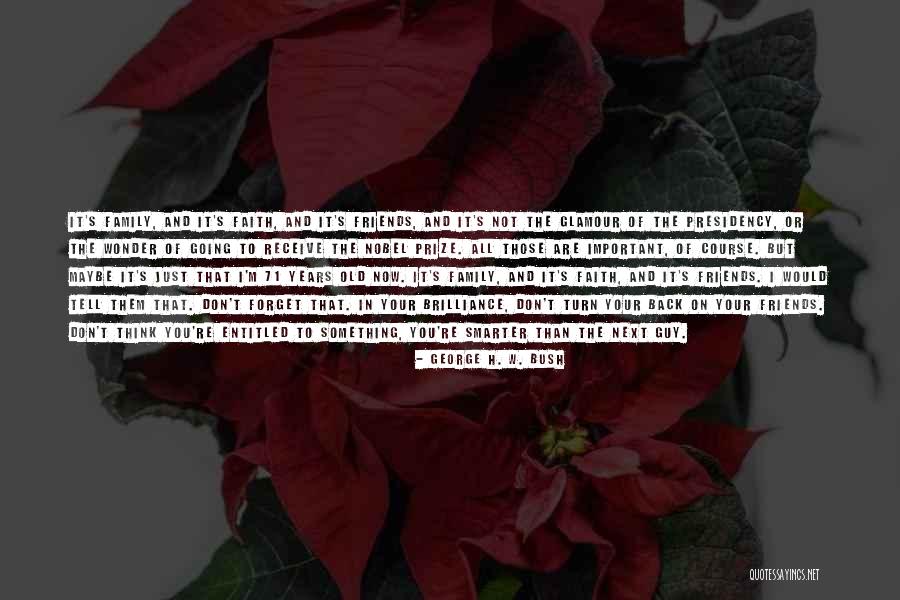 It's family, and it's faith, and it's friends, and it's not the glamour of the Presidency, or the wonder of going to receive the Nobel Prize. All those are important, of course. But maybe it's just that I'm 71 years old now. It's family, and it's faith, and it's friends. I would tell them that. Don't forget that. In your brilliance, don't turn your back on your friends. Don't think you're entitled to something, you're smarter than the next guy. — George H. W. Bush