What Matters Is The Heart Quotes & Sayings
Enjoy reading and share 84 famous quotes about What Matters Is The Heart with everyone.
Top What Matters Is The Heart Quotes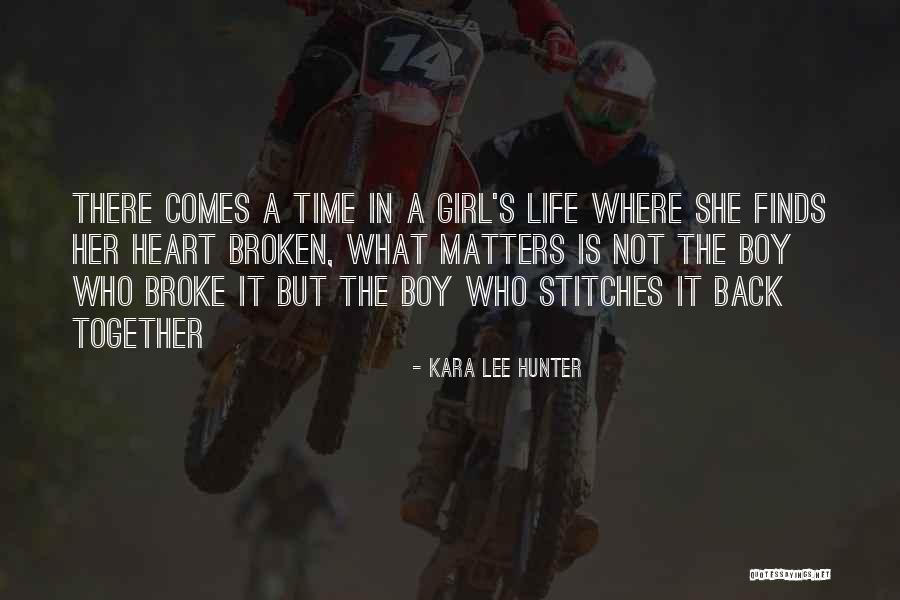 There comes a time in a girl's life where she finds her heart broken, what matters is not the boy who broke it but the boy who stitches it back together — Kara Lee Hunter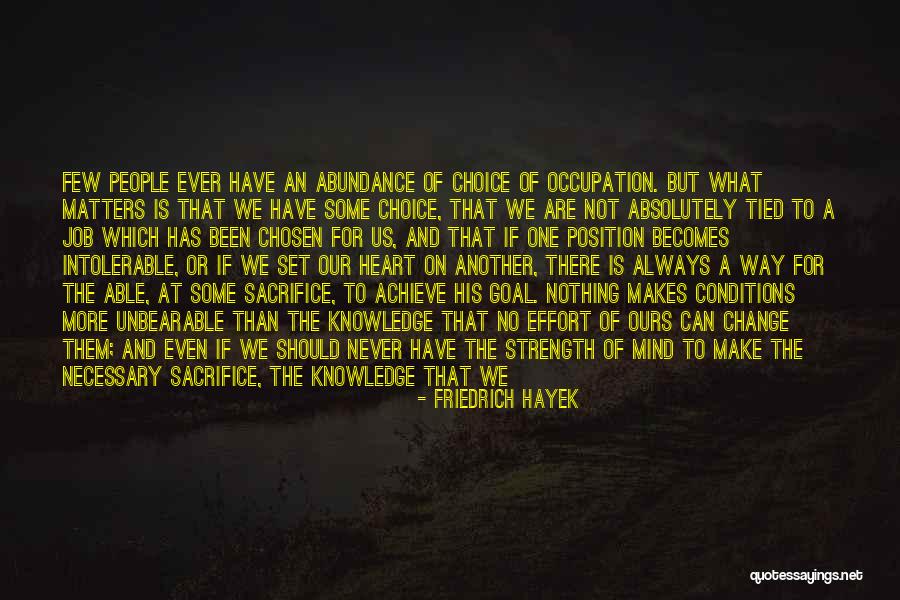 Few people ever have an abundance of choice of occupation. But what matters is that we have some choice, that we are not absolutely tied to a job which has been chosen for us, and that if one position becomes intolerable, or if we set our heart on another, there is always a way for the able, at some sacrifice, to achieve his goal. Nothing makes conditions more unbearable than the knowledge that no effort of ours can change them; and even if we should never have the strength of mind to make the necessary sacrifice, the knowledge that we could escape if we only strove hard enough makes many otherwise intolerable positions bearable. — Friedrich Hayek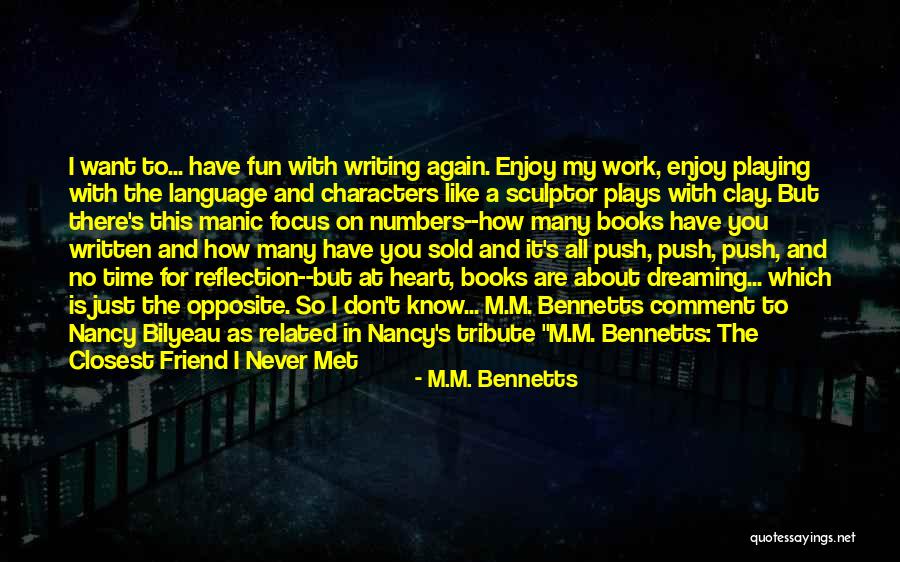 I want to... have fun with writing again. Enjoy my work, enjoy playing with the language and characters like a sculptor plays with clay. But there's this manic focus on numbers--how many books have you written and how many have you sold and it's all push, push, push, and no time for reflection--but at heart, books are about dreaming... which is just the opposite. So I don't know...
M.M. Bennetts comment to Nancy Bilyeau as related in Nancy's tribute "M.M. Bennetts: The Closest Friend I Never Met — M.M. Bennetts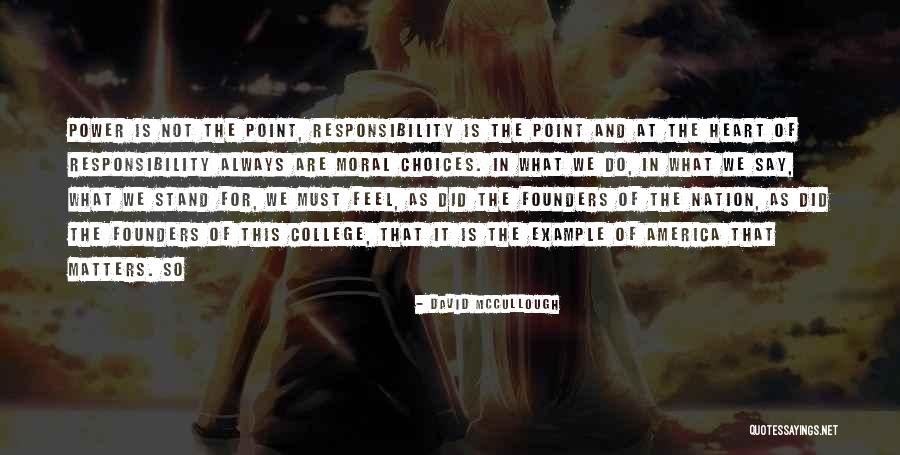 power is not the point, responsibility is the point and at the heart of responsibility always are moral choices. In what we do, in what we say, what we stand for, we must feel, as did the founders of the nation, as did the founders of this college, that it is the example of America that matters. So — David McCullough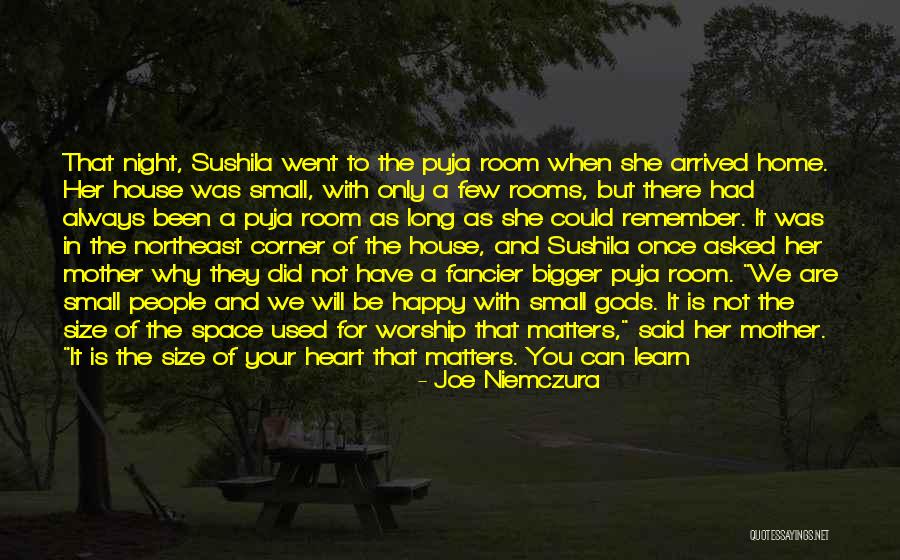 That night, Sushila went to the puja room when she arrived home. Her house was small, with only a few rooms, but there had always been a puja room as long as she could remember. It was in the northeast corner of the house, and Sushila once asked her mother why they did not have a fancier bigger puja room.
"We are small people and we will be happy with small gods. It is not the size of the space used for worship that matters," said her mother. "It is the size of your heart that matters. You can learn the lessons of Buddha and the Goddess in a prison, you do not need even this humble puja room. There are people in this town who are happy with much less than what we have. — Joe Niemczura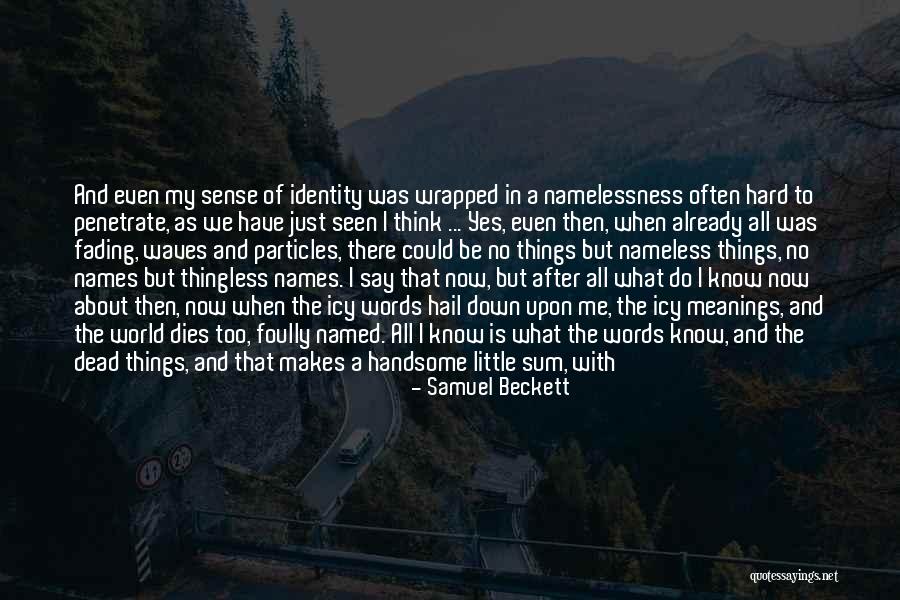 And even my sense of identity was wrapped in a namelessness often hard to penetrate, as we have just seen I think ... Yes, even then, when already all was fading, waves and particles, there could be no things but nameless things, no names but thingless names. I say that now, but after all what do I know now about then, now when the icy words hail down upon me, the icy meanings, and the world dies too, foully named. All I know is what the words know, and the dead things, and that makes a handsome little sum, with a beginning, a middle and an end as in the well-built phrase and the long sonata of the dead. And truly it little matters what I say, this or that or any other thing. Saying is inventing. Wrong, very rightly wrong. You invent nothing, you think you are inventing, you think you are escaping, and all you do is stammer out your lesson, the remnants of a pensum one day got by heart and long forgotten, life without tears, as it is wept. To hell with it anyway. — Samuel Beckett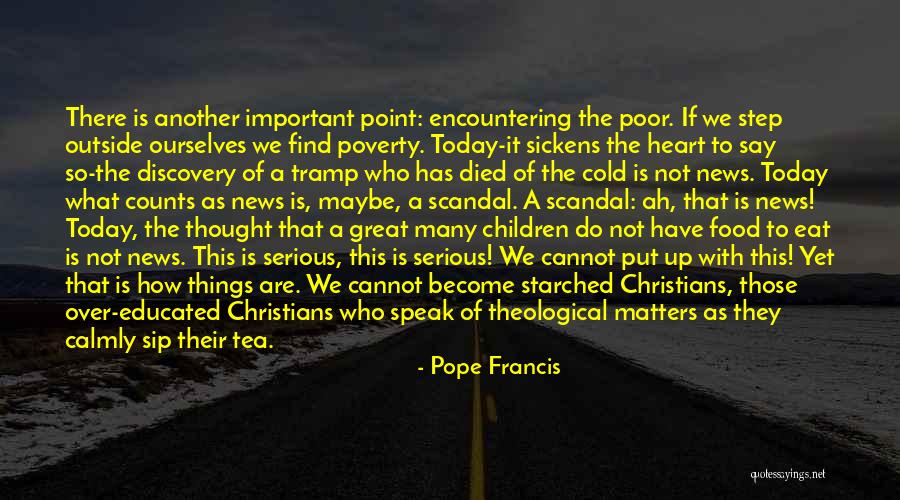 There is another important point: encountering the poor. If we step outside ourselves we find poverty. Today-it sickens the heart to say so-the discovery of a tramp who has died of the cold is not news. Today what counts as news is, maybe, a scandal. A scandal: ah, that is news! Today, the thought that a great many children do not have food to eat is not news. This is serious, this is serious! We cannot put up with this! Yet that is how things are. We cannot become starched Christians, those over-educated Christians who speak of theological matters as they calmly sip their tea. — Pope Francis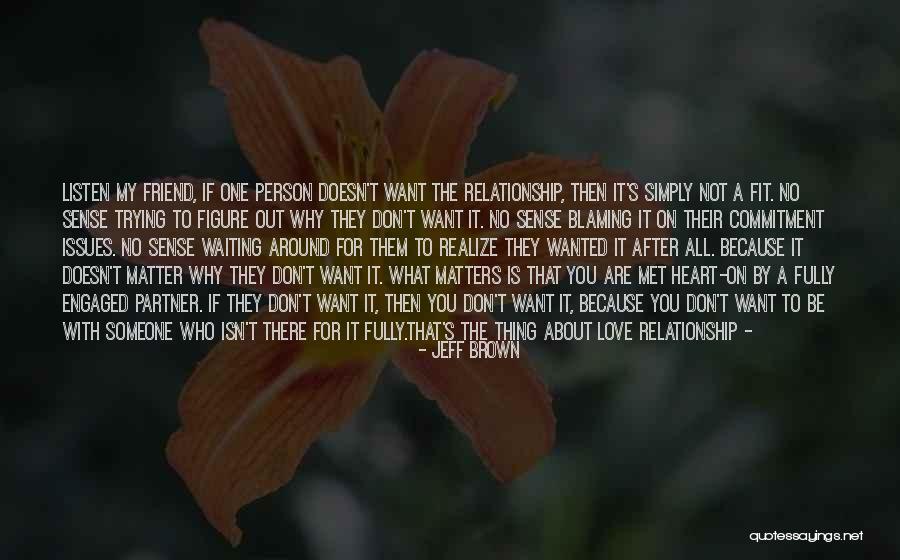 Listen my friend, if one person doesn't want the relationship, then it's simply not a fit. No sense trying to figure out why they don't want it. No sense blaming it on their commitment issues. No sense waiting around for them to realize they wanted it after all. Because it doesn't matter why they don't want it. What matters is that you are met heart-on by a fully engaged partner. If they don't want it, then you don't want it, because you don't want to be with someone who isn't there for it fully.
That's the thing about love relationship - it's an agreement that has to be signed by both souls. If one doesn't sign, then nothing has been lost. If it's not a fit for them, it's not a fit for you either. — Jeff Brown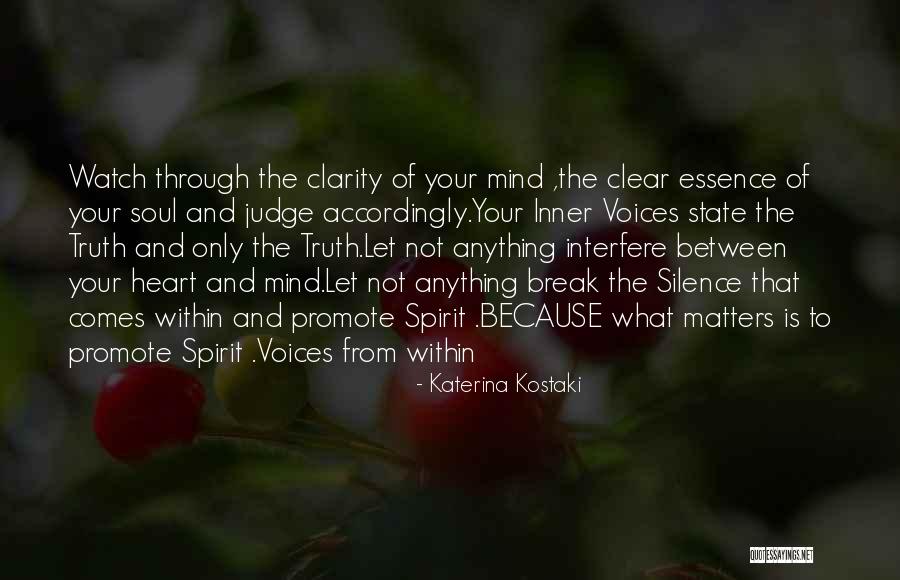 Watch through the clarity of your mind ,the clear essence of your soul and judge accordingly.
Your Inner Voices state the Truth and only the Truth.
Let not anything interfere between your heart and mind.
Let not anything break the Silence that comes within and promote Spirit .
BECAUSE what matters is to promote Spirit .
Voices from within — Katerina Kostaki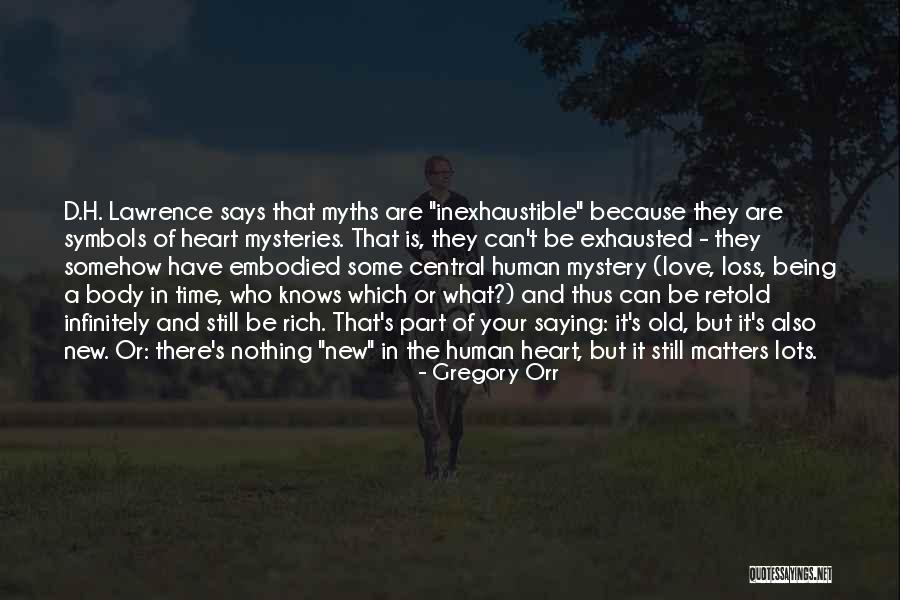 D.H. Lawrence says that myths are "inexhaustible" because they are symbols of heart mysteries. That is, they can't be exhausted - they somehow have embodied some central human mystery (love, loss, being a body in time, who knows which or what?) and thus can be retold infinitely and still be rich. That's part of your saying: it's old, but it's also new. Or: there's nothing "new" in the human heart, but it still matters lots. — Gregory Orr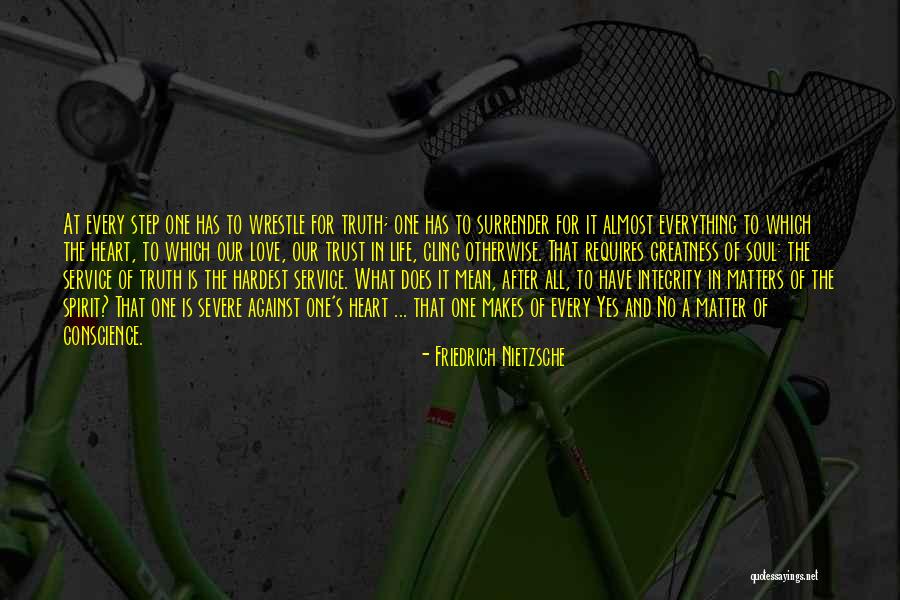 At every step one has to wrestle for truth; one has to surrender for it almost everything to which the heart, to which our love, our trust in life, cling otherwise. That requires greatness of soul: the service of truth is the hardest service. What does it mean, after all, to have integrity in matters of the spirit? That one is severe against one's heart ... that one makes of every Yes and No a matter of conscience. — Friedrich Nietzsche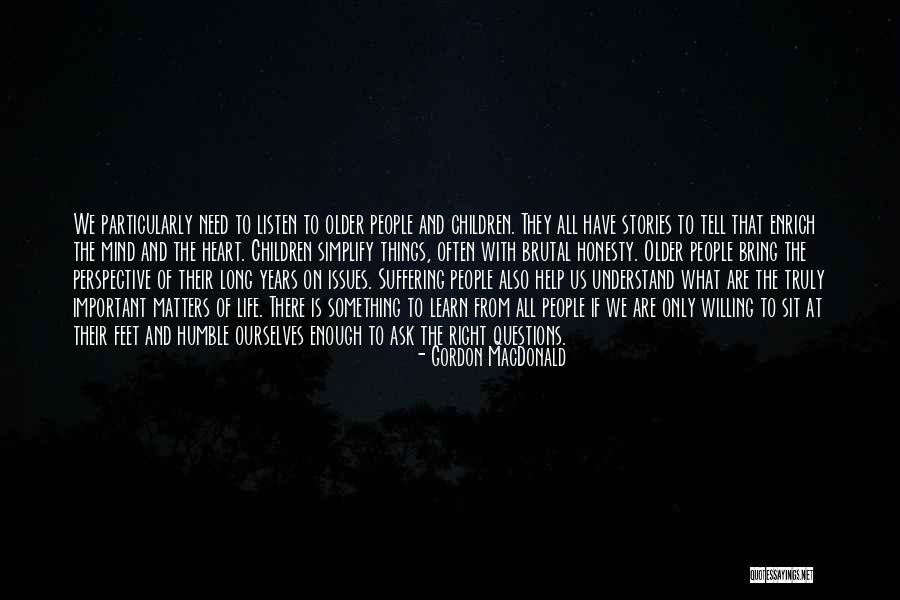 We particularly need to listen to older people and children. They all have stories to tell that enrich the mind and the heart. Children simplify things, often with brutal honesty. Older people bring the perspective of their long years on issues. Suffering people also help us understand what are the truly important matters of life. There is something to learn from all people if we are only willing to sit at their feet and humble ourselves enough to ask the right questions. — Gordon MacDonald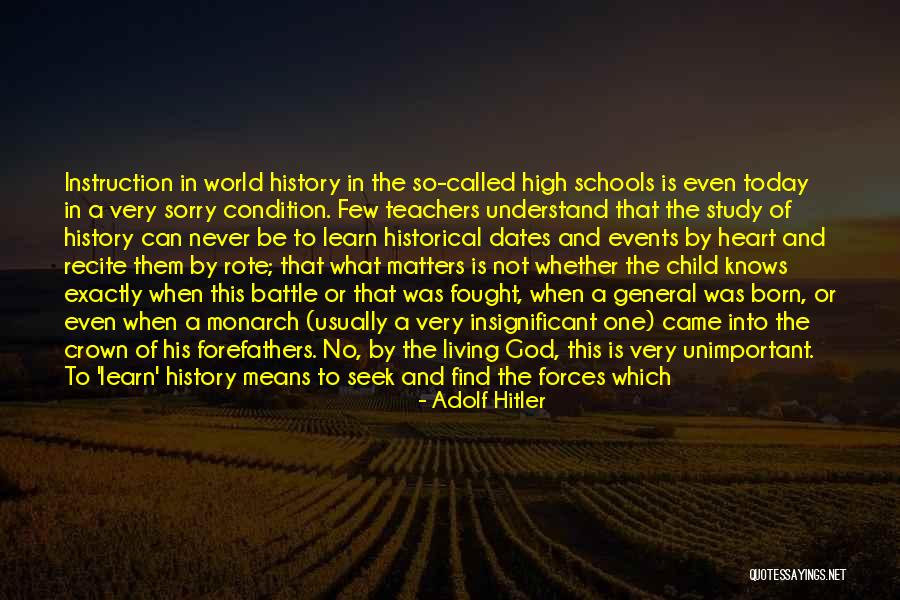 Instruction in world history in the so-called high schools is even today in a very sorry condition. Few teachers understand that the study of history can never be to learn historical dates and events by heart and recite them by rote; that what matters is not whether the child knows exactly when this battle or that was fought, when a general was born, or even when a monarch (usually a very insignificant one) came into the crown of his forefathers. No, by the living God, this is very unimportant. To 'learn' history means to seek and find the forces which are the causes leading to those effects which we subsequently perceive as historical events. — Adolf Hitler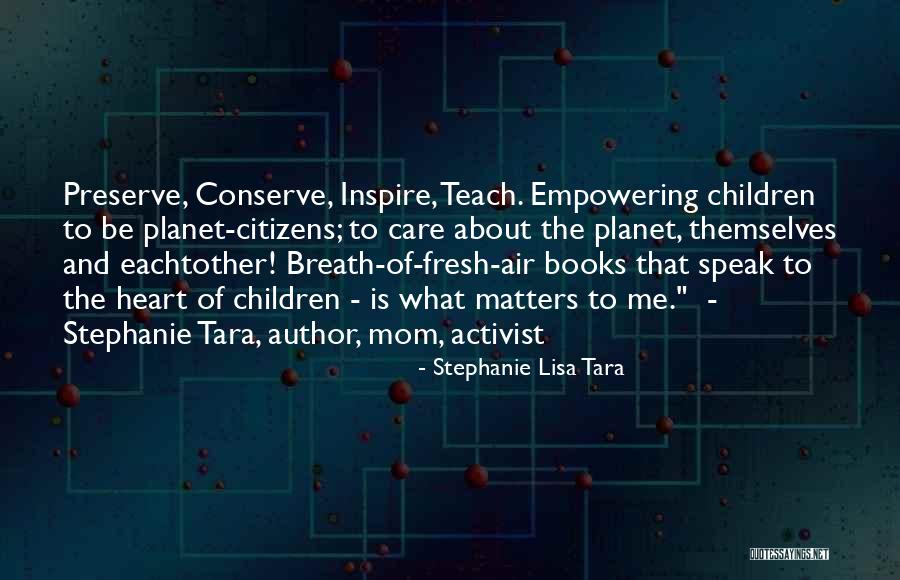 Preserve, Conserve, Inspire, Teach. Empowering children to be planet-citizens; to care about the planet, themselves and eachtother! Breath-of-fresh-air books that speak to the heart of children - is what matters to me."
- Stephanie Tara, author, mom, activist — Stephanie Lisa Tara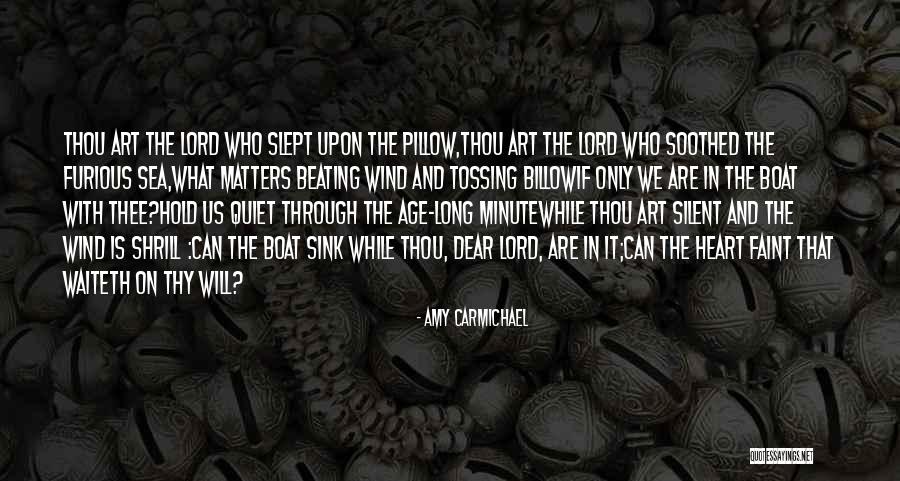 Thou art the Lord who slept upon the pillow,
Thou art the Lord who soothed the furious sea,
What matters beating wind and tossing billow
If only we are in the boat with Thee?
Hold us quiet through the age-long minute
While Thou art silent and the wind is shrill :
Can the boat sink while Thou, dear Lord, are in it;
Can the heart faint that waiteth on Thy will? — Amy Carmichael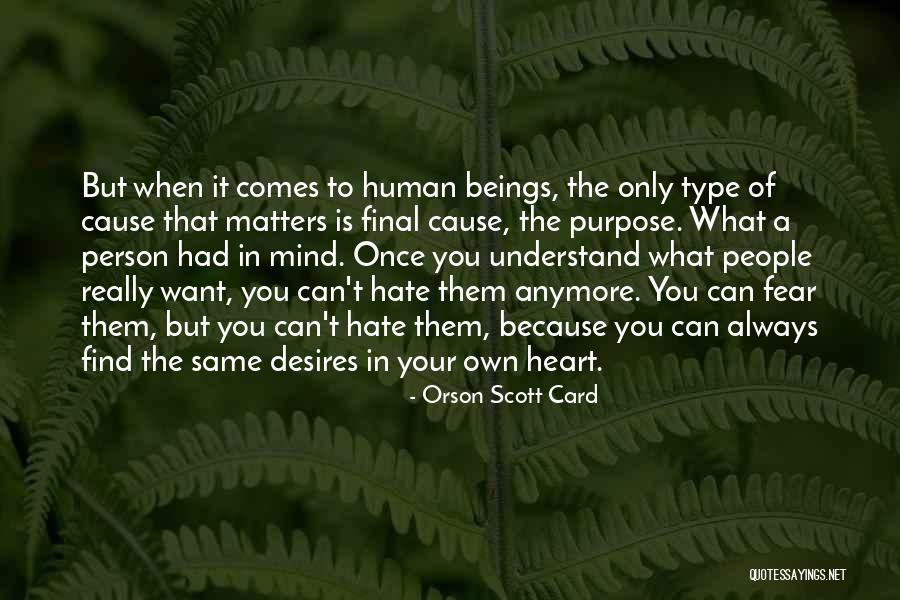 But when it comes to human beings, the only type of cause that matters is final cause, the purpose. What a person had in mind. Once you understand what people really want, you can't hate them anymore. You can fear them, but you can't hate them, because you can always find the same desires in your own heart. — Orson Scott Card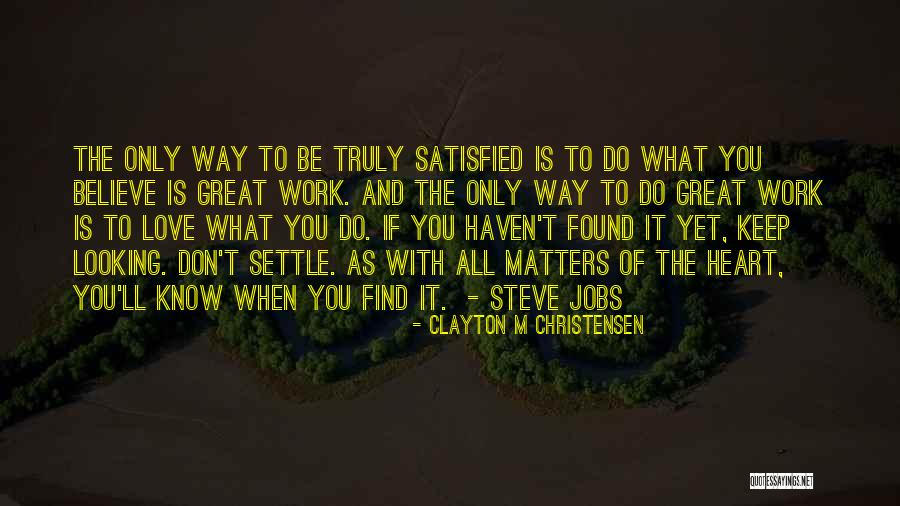 The only way to be truly satisfied is to do what you believe is great work. And the only way to do great work is to love what you do. If you haven't found it yet, keep looking. Don't settle. As with all matters of the heart, you'll know when you find it. - Steve Jobs — Clayton M Christensen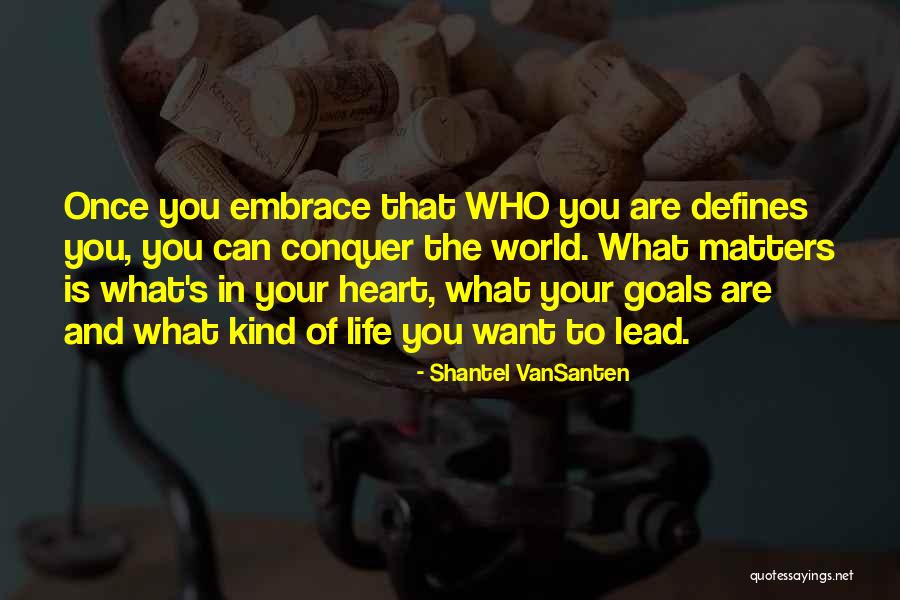 Once you embrace that WHO you are defines you, you can conquer the world. What matters is what's in your heart, what your goals are and what kind of life you want to lead. — Shantel VanSanten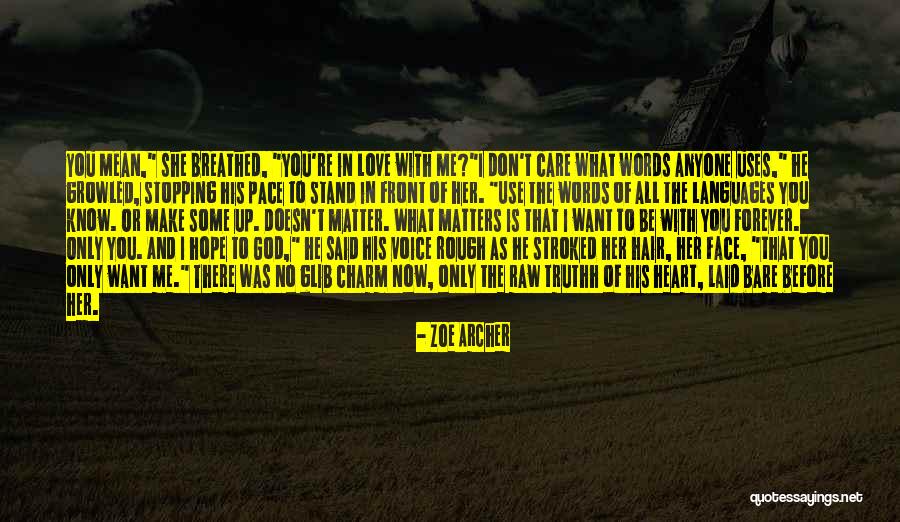 You mean," she breathed, "you're in love with me?"
I don't care what words anyone uses," he growled, stopping his pace to stand in front of her. "Use the words of all the languages you know. Or make some up. Doesn't matter. What matters is that I want to be with you forever. Only you. And I hope to God," he said his voice rough as he stroked her hair, her face, "that you only want me." There was no glib charm now, only the raw truthh of his heart, laid bare before her. — Zoe Archer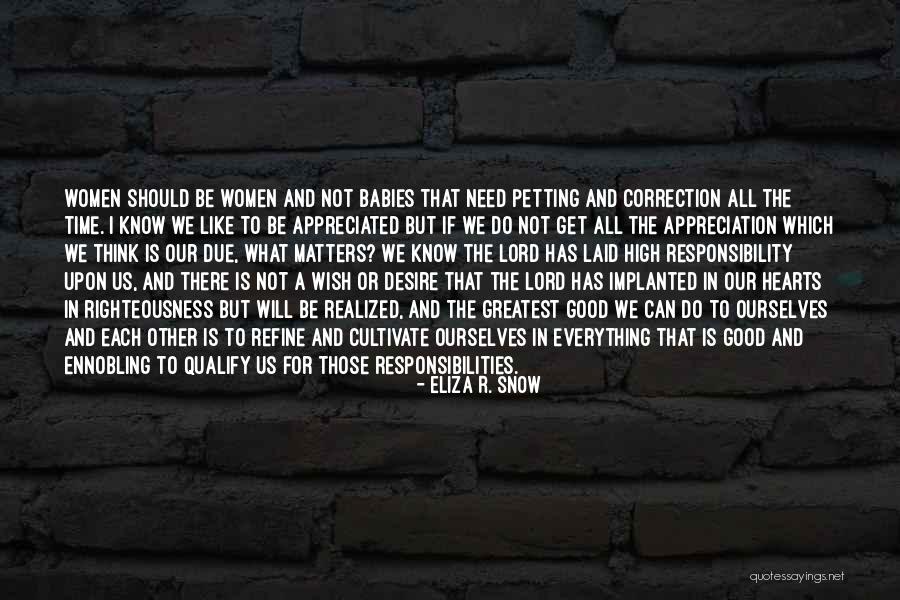 Women should be women and not babies that need petting and correction all the time. I know we like to be appreciated but if we do not get all the appreciation which we think is our due, what matters? We know the Lord has laid high responsibility upon us, and there is not a wish or desire that the Lord has implanted in our hearts in righteousness but will be realized, and the greatest good we can do to ourselves and each other is to refine and cultivate ourselves in everything that is good and ennobling to qualify us for those responsibilities. — Eliza R. Snow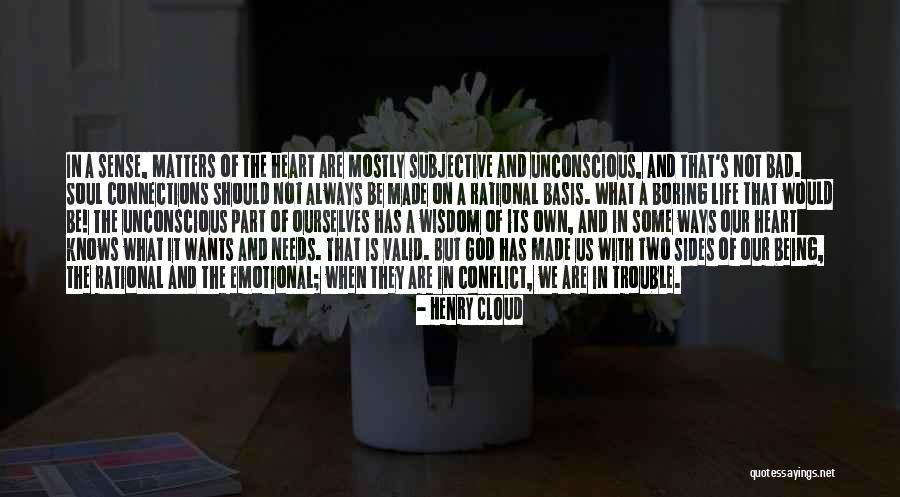 In a sense, matters of the heart are mostly subjective and unconscious, and that's not bad. Soul connections should not always be made on a rational basis. What a boring life that would be! The unconscious part of ourselves has a wisdom of its own, and in some ways our heart knows what it wants and needs. That is valid. But God has made us with two sides of our being, the rational and the emotional; when they are in conflict, we are in trouble. — Henry Cloud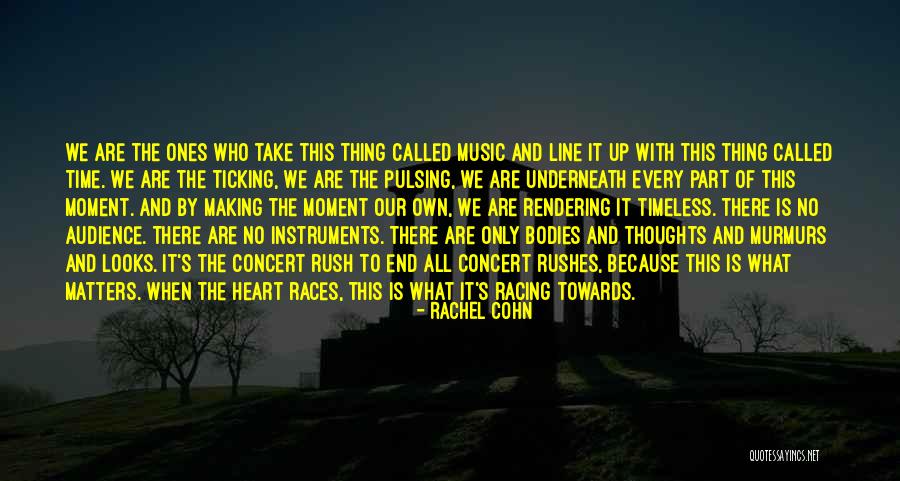 We are the ones who take this thing called music and line it up with this thing called time. We are the ticking, we are the pulsing, we are underneath every part of this moment. And by making the moment our own, we are rendering it timeless. There is no audience. There are no instruments. There are only bodies and thoughts and murmurs and looks. It's the concert rush to end all concert rushes, because this is what matters. When the heart races, this is what it's racing towards. — Rachel Cohn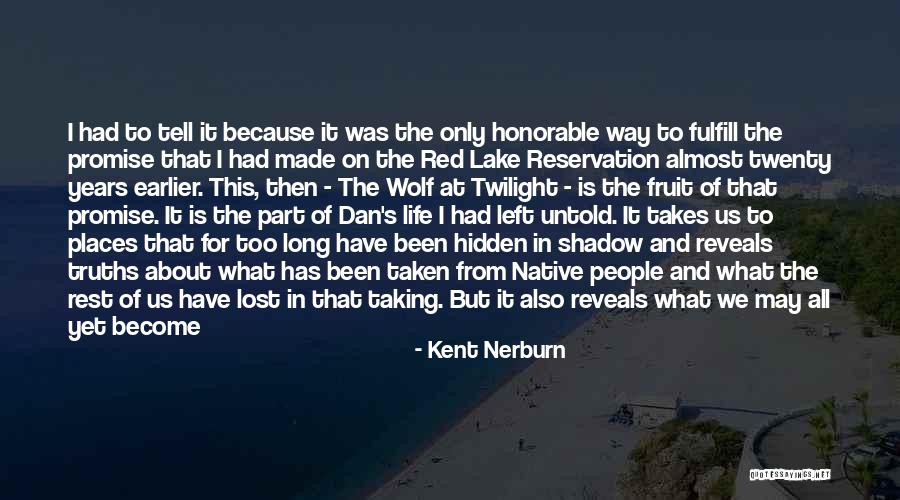 I had to tell it because it was the only honorable way to fulfill the promise that I had made on the Red Lake Reservation almost twenty years earlier. This, then - The Wolf at Twilight - is the fruit of that promise. It is the part of Dan's life I had left untold. It takes us to places that for too long have been hidden in shadow and reveals truths about what has been taken from Native people and what the rest of us have lost in that taking. But it also reveals what we may all yet become if we heed Sitting Bull's poignant entreaty and put our minds together to see what kind of lives we can create for the children. I hope you find it worthy of your time. If it opens your eyes to another way of understanding, I am grateful. If it simply entertains you, I am pleased. But what matters most is that it touches you. For it is, above all, a story of Native America, and its goal is to lodge deep in your heart. — Kent Nerburn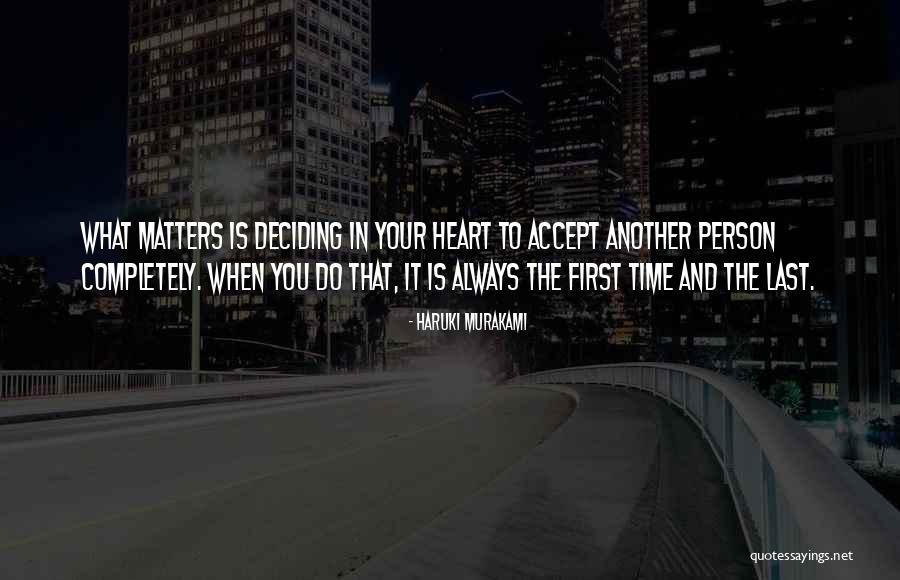 What matters is deciding in your heart to accept another person completely. When you do that, it is always the first time and the last. — Haruki Murakami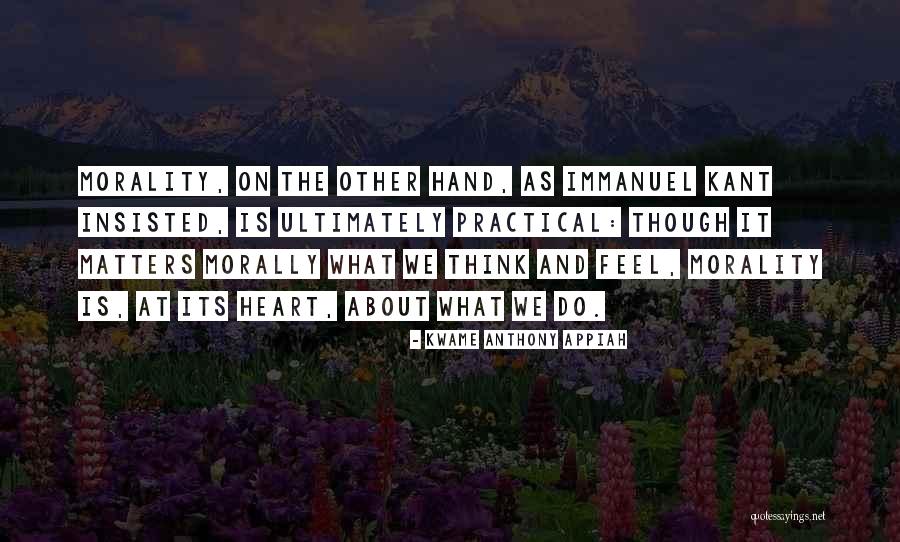 Morality, on the other hand, as Immanuel Kant insisted, is ultimately practical: though it matters morally what we think and feel, morality is, at its heart, about what we do. — Kwame Anthony Appiah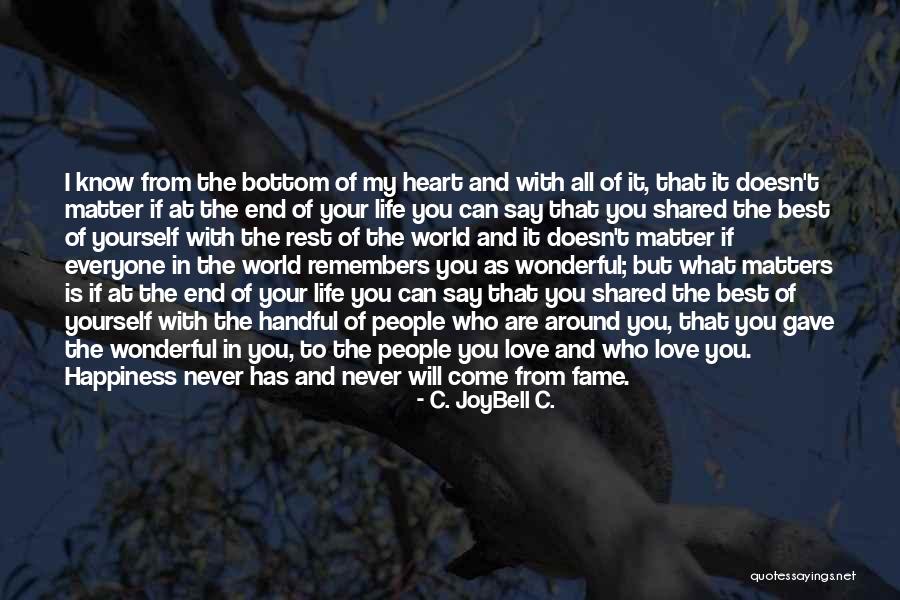 I know from the bottom of my heart and with all of it, that it doesn't matter if at the end of your life you can say that you shared the best of yourself with the rest of the world and it doesn't matter if everyone in the world remembers you as wonderful; but what matters is if at the end of your life you can say that you shared the best of yourself with the handful of people who are around you, that you gave the wonderful in you, to the people you love and who love you. Happiness never has and never will come from fame. — C. JoyBell C.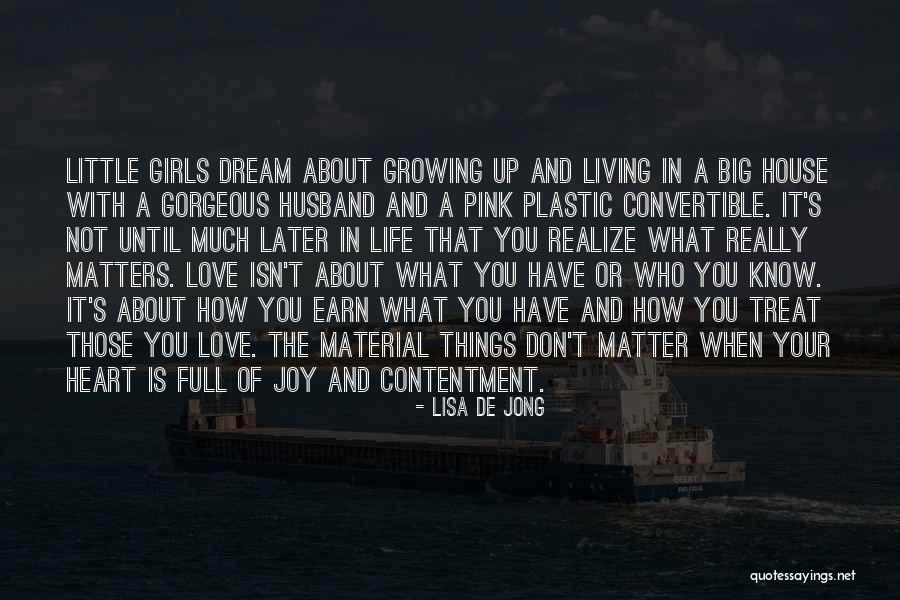 Little girls dream about growing up and living in a big house with a gorgeous husband and a pink plastic convertible. It's not until much later in life that you realize what really matters. Love isn't about what you have or who you know. It's about how you earn what you have and how you treat those you love. The material things don't matter when your heart is full of joy and contentment. — Lisa De Jong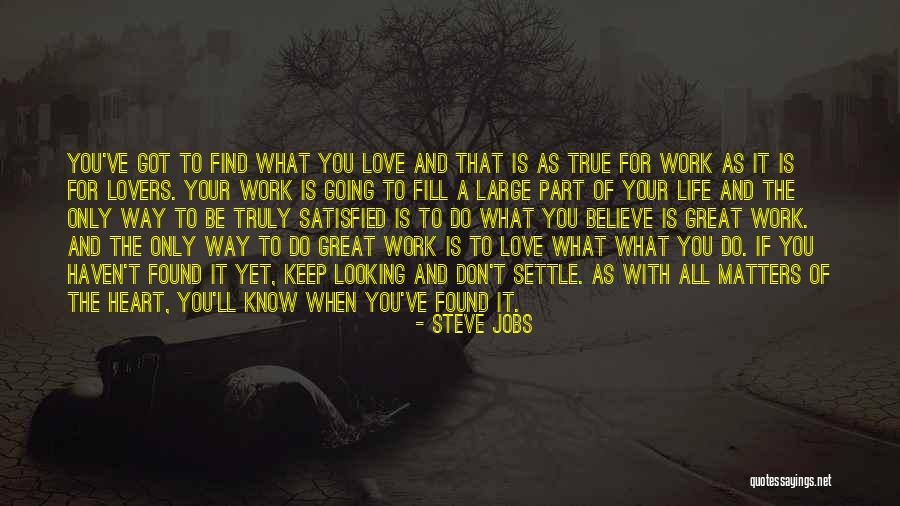 You've got to find what you love and that is as true for work as it is for lovers. Your work is going to fill a large part of your life and the only way to be truly satisfied is to do what you believe is great work. And the only way to do great work is to love what what you do. If you haven't found it yet, keep looking and don't settle. As with all matters of the heart, you'll know when you've found it. — Steve Jobs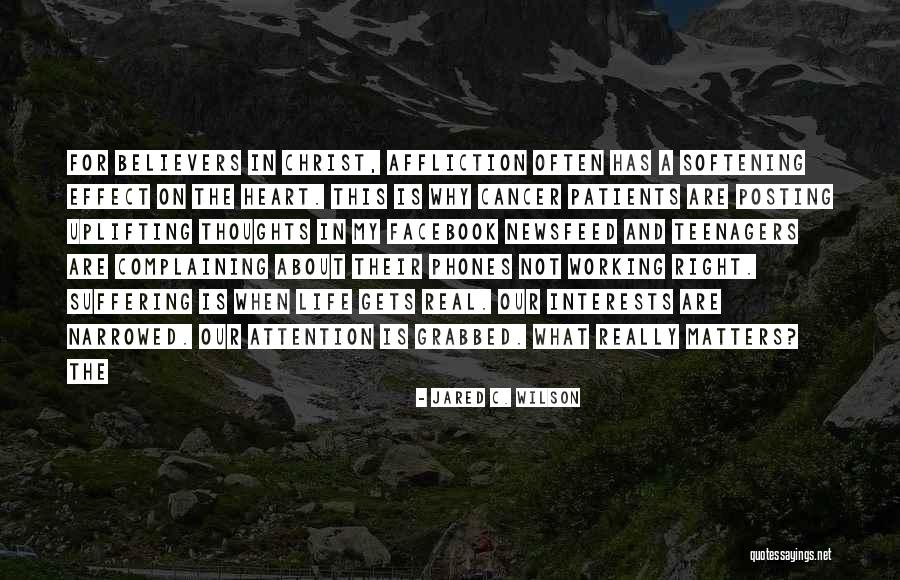 For believers in Christ, affliction often has a softening effect on the heart. This is why cancer patients are posting uplifting thoughts in my Facebook newsfeed and teenagers are complaining about their phones not working right. Suffering is when life gets real. Our interests are narrowed. Our attention is grabbed. What really matters? The — Jared C. Wilson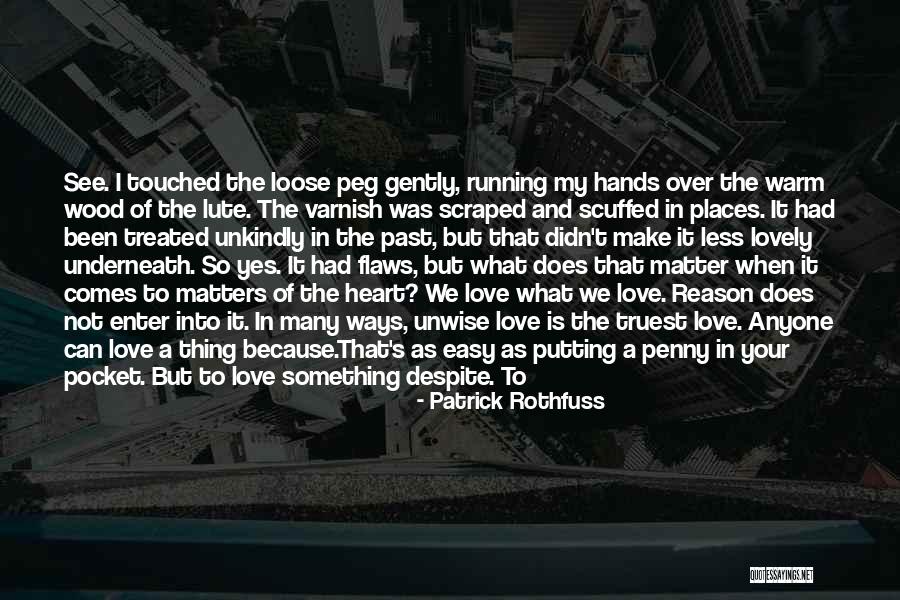 See. I touched the loose peg gently, running my hands over the warm wood of the lute. The varnish was scraped and scuffed in places. It had been treated unkindly in the past, but that didn't make it less lovely underneath. So yes. It had flaws, but what does that matter when it comes to matters of the heart? We love what we love. Reason does not enter into it. In many ways, unwise love is the truest love. Anyone can love a thing because.That's as easy as putting a penny in your pocket. But to love something despite. To know the flaws and love them too. That is rare and pure and perfect. Stanchion made a sweeping gesture — Patrick Rothfuss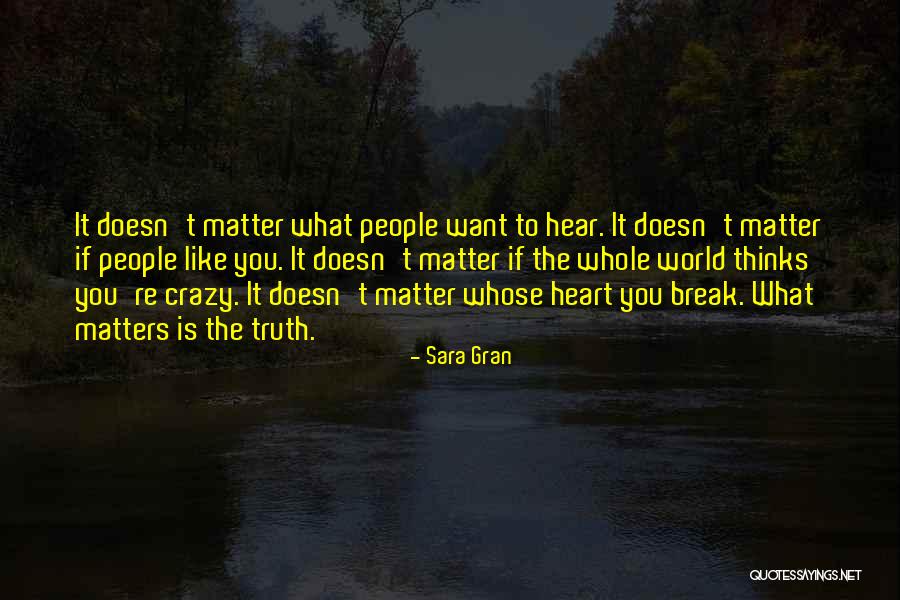 It doesn't matter what people want to hear. It doesn't matter if people like you. It doesn't matter if the whole world thinks you're crazy. It doesn't matter whose heart you break. What matters is the truth. — Sara Gran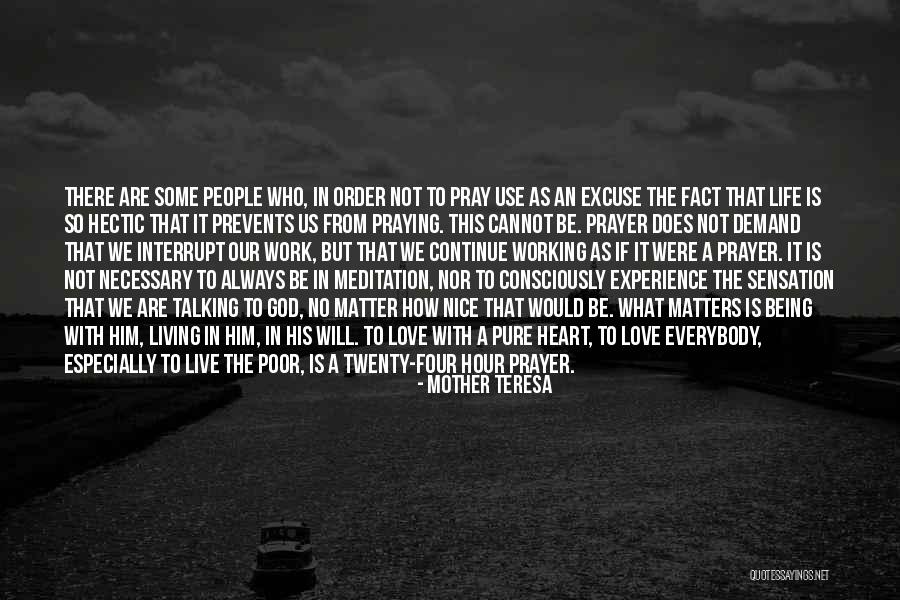 There are some people who, in order not to pray use as an excuse the fact that life is so hectic that it prevents us from praying. This cannot be. Prayer does not demand that we interrupt our work, but that we continue working as if it were a prayer. It is not necessary to always be in meditation, nor to consciously experience the sensation that we are talking to God, no matter how nice that would be. What matters is being with Him, living in Him, in His will. To love with a pure heart, to love everybody, especially to live the poor, is a twenty-four hour prayer. — Mother Teresa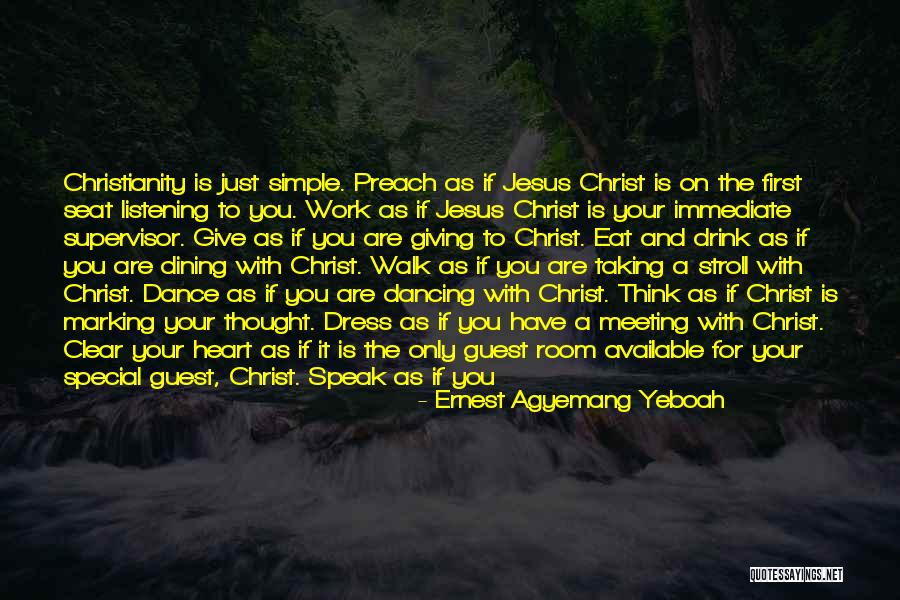 Christianity is just simple. Preach as if Jesus Christ is on the first seat listening to you. Work as if Jesus Christ is your immediate supervisor. Give as if you are giving to Christ. Eat and drink as if you are dining with Christ. Walk as if you are taking a stroll with Christ. Dance as if you are dancing with Christ. Think as if Christ is marking your thought. Dress as if you have a meeting with Christ. Clear your heart as if it is the only guest room available for your special guest, Christ. Speak as if you are speaking to Christ. Watch as if you are looking at Christ. Listen as if you have borrowed the ears of Christ. Respect time as if you borrowed from Christ. All else matters less and no problem then exists. Living to gratify mankind and ourselves is a mere hypocrisy in the first order and the underpinning of the woes of mankind. — Ernest Agyemang Yeboah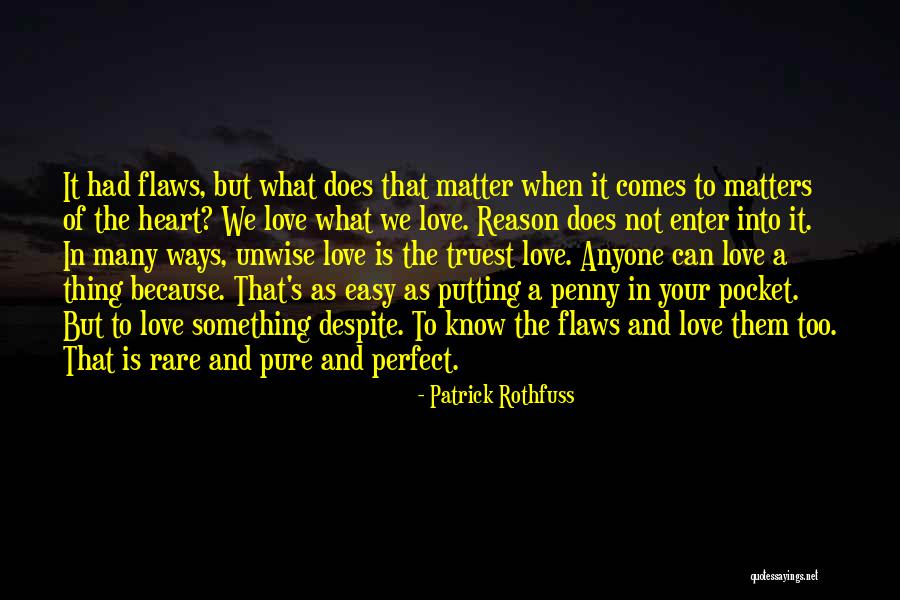 It had flaws, but what does that matter when it comes to matters of the heart? We love what we love. Reason does not enter into it. In many ways, unwise love is the truest love. Anyone can love a thing because. That's as easy as putting a penny in your pocket. But to love something despite. To know the flaws and love them too. That is rare and pure and perfect. — Patrick Rothfuss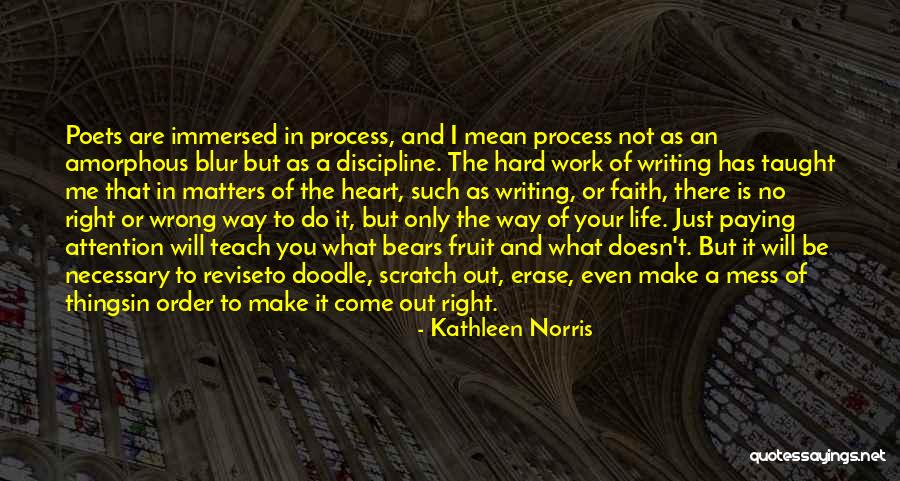 Poets are immersed in process, and I mean process not as an amorphous blur but as a discipline. The hard work of writing has taught me that in matters of the heart, such as writing, or faith, there is no right or wrong way to do it, but only the way of your life. Just paying attention will teach you what bears fruit and what doesn't. But it will be necessary to revise
to doodle, scratch out, erase, even make a mess of things
in order to make it come out right. — Kathleen Norris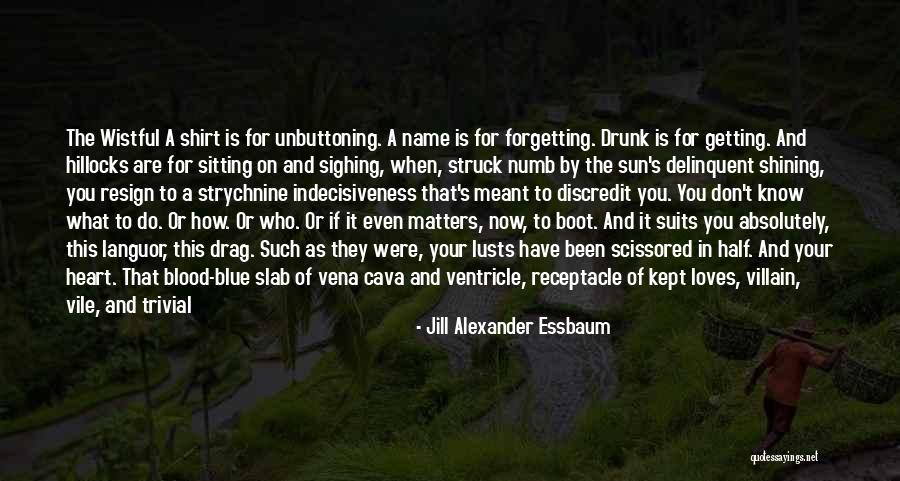 The Wistful A shirt is for unbuttoning. A name is for forgetting. Drunk is for getting. And hillocks are for sitting on and sighing, when, struck numb by the sun's delinquent shining, you resign to a strychnine indecisiveness that's meant to discredit you. You don't know what to do. Or how. Or who. Or if it even matters, now, to boot. And it suits you absolutely, this languor, this drag. Such as they were, your lusts have been scissored in half. And your heart. That blood-blue slab of vena cava and ventricle, receptacle of kept loves, villain, vile, and trivial - it will take a final beating then throw in its towel. Then brake. Then coast. Then slow to an almost stock-still throb. Then - if you're lucky - it stops. — Jill Alexander Essbaum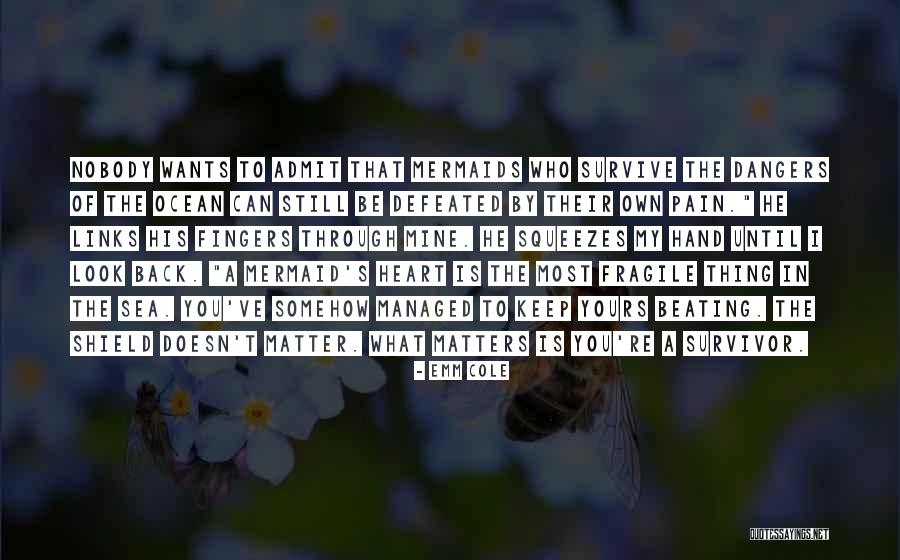 Nobody wants to admit that mermaids who survive the dangers of the ocean can still be defeated by their own pain." He links his fingers through mine. He squeezes my hand until I look back.
"A mermaid's heart is the most fragile thing in the sea. You've somehow managed to keep yours beating. The shield doesn't matter. What matters is you're a survivor. — Emm Cole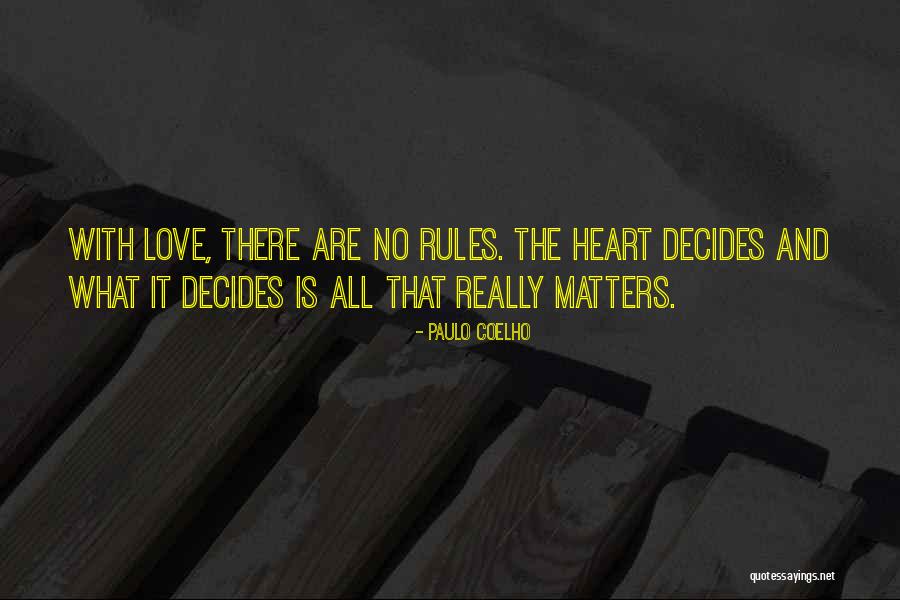 With love, there are no rules. The heart decides and what it decides is all that really matters. — Paulo Coelho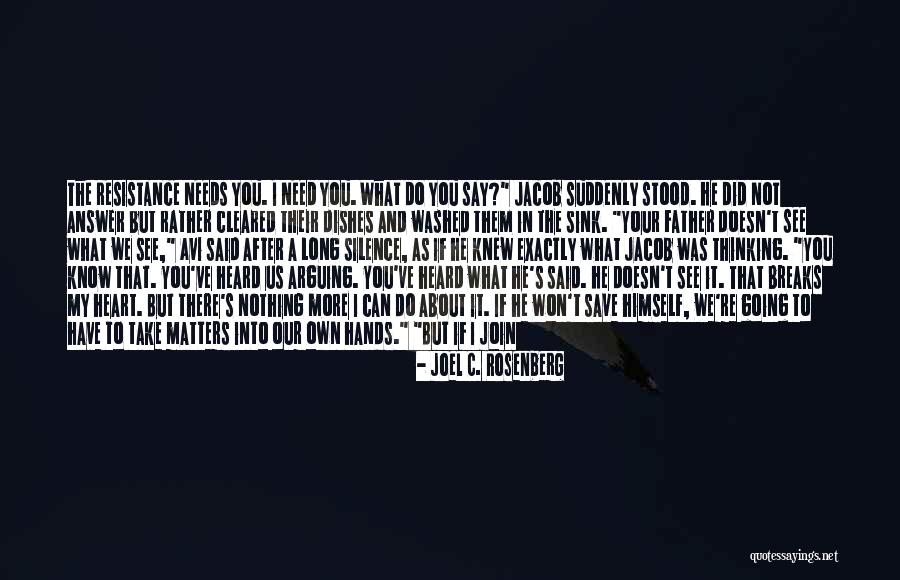 The Resistance needs you. I need you. What do you say?" Jacob suddenly stood. He did not answer but rather cleared their dishes and washed them in the sink. "Your father doesn't see what we see," Avi said after a long silence, as if he knew exactly what Jacob was thinking. "You know that. You've heard us arguing. You've heard what he's said. He doesn't see it. That breaks my heart. But there's nothing more I can do about it. If he won't save himself, we're going to have to take matters into our own hands." "But if I join you, what will happen to them?" "I can't give you answers, Jacob," Avi replied. "I can't promise you they'll be safe. I hope they will be. But I don't really know. All I can do is tell you the truth, which is this: the moment of reckoning is at hand. I've made my choice. Now you must make yours. — Joel C. Rosenberg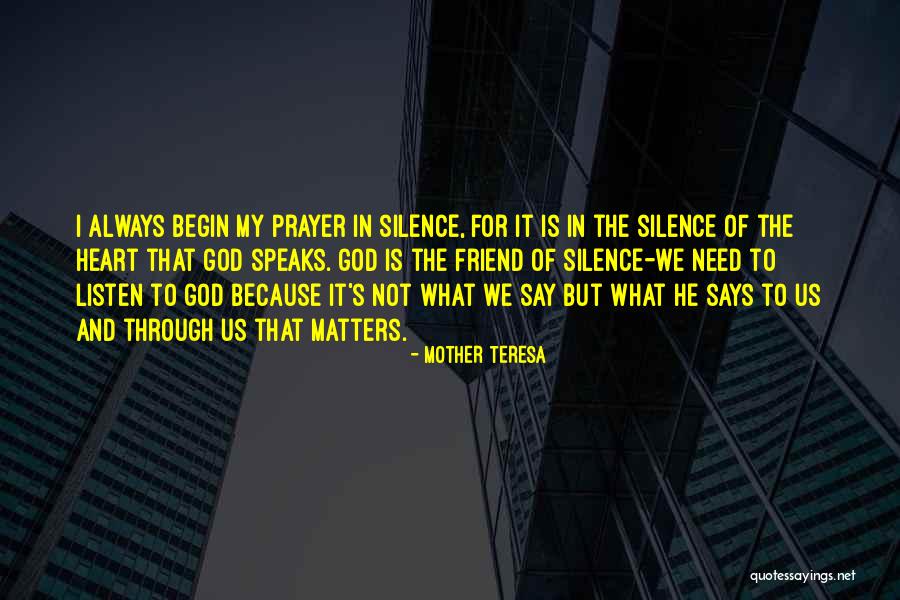 I always begin my prayer in silence, for it is in the silence of the heart that God speaks. God is the friend of silence-we need to listen to God because it's not what we say but what He says to us and through us that matters. — Mother Teresa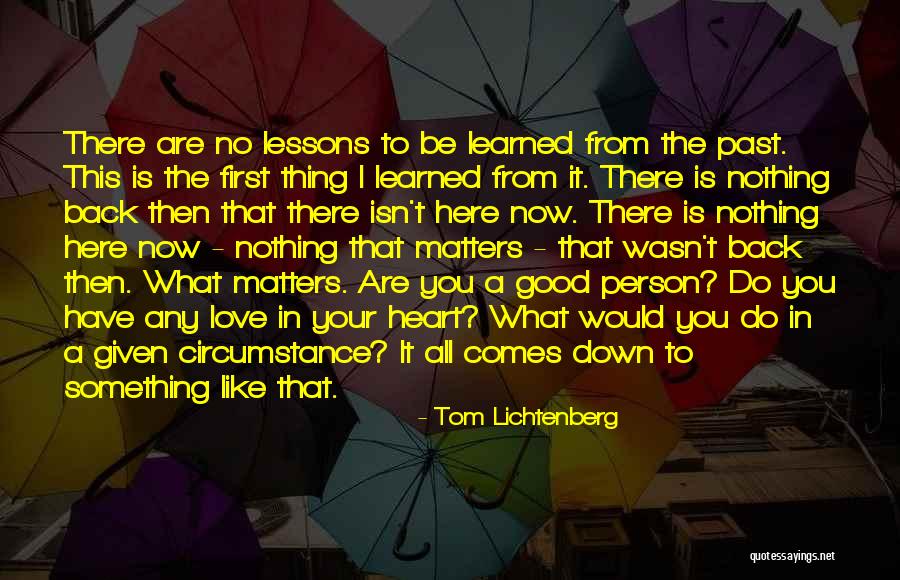 There are no lessons to be learned from the past. This is the first thing I learned from it. There is nothing back then that there isn't here now. There is nothing here now - nothing that matters - that wasn't back then. What matters. Are you a good person? Do you have any love in your heart? What would you do in a given circumstance? It all comes down to something like that. — Tom Lichtenberg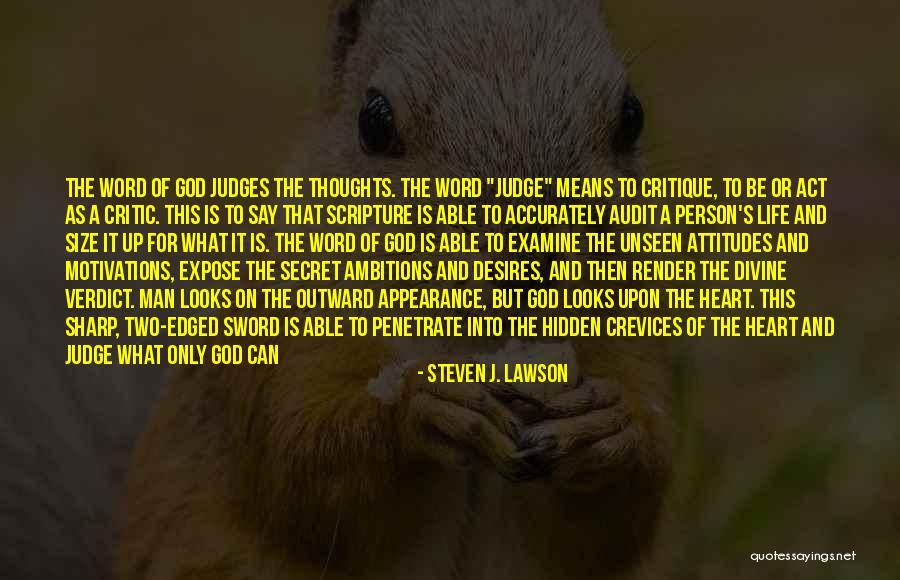 The Word of God judges the thoughts. The word "judge" means to critique, to be or act as a critic. This is to say that Scripture is able to accurately audit a person's life and size it up for what it is. The Word of God is able to examine the unseen attitudes and motivations, expose the secret ambitions and desires, and then render the divine verdict. Man looks on the outward appearance, but God looks upon the heart. This sharp, two-edged sword is able to penetrate into the hidden crevices of the heart and judge what only God can see. The Word makes known what we alone know about ourselves - and often what we do not yet know of ourselves. Scripture plunges deep into the unseen places of the human spirit and judges the private matters of the heart. Only the razor-sharp Word of God can do this. — Steven J. Lawson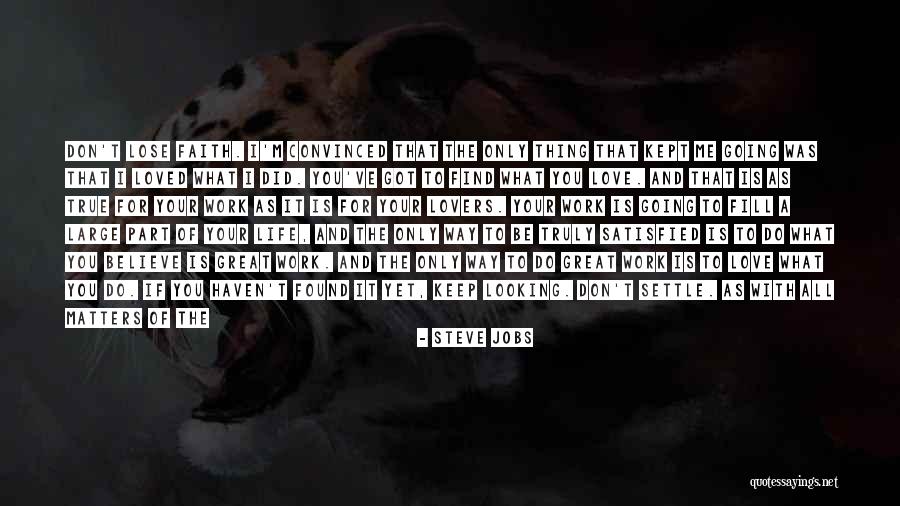 Don't lose faith. I'm convinced that the only thing that kept me going was that I loved what I did. You've got to find what you love. And that is as true for your work as it is for your lovers. Your work is going to fill a large part of your life, and the only way to be truly satisfied is to do what you believe is great work. And the only way to do great work is to love what you do. If you haven't found it yet, keep looking. Don't settle. As with all matters of the heart, you'll know when you find it. And, like any great relationship, it just gets better and better as the years roll on. So keep looking until you find it. Don't settle. — Steve Jobs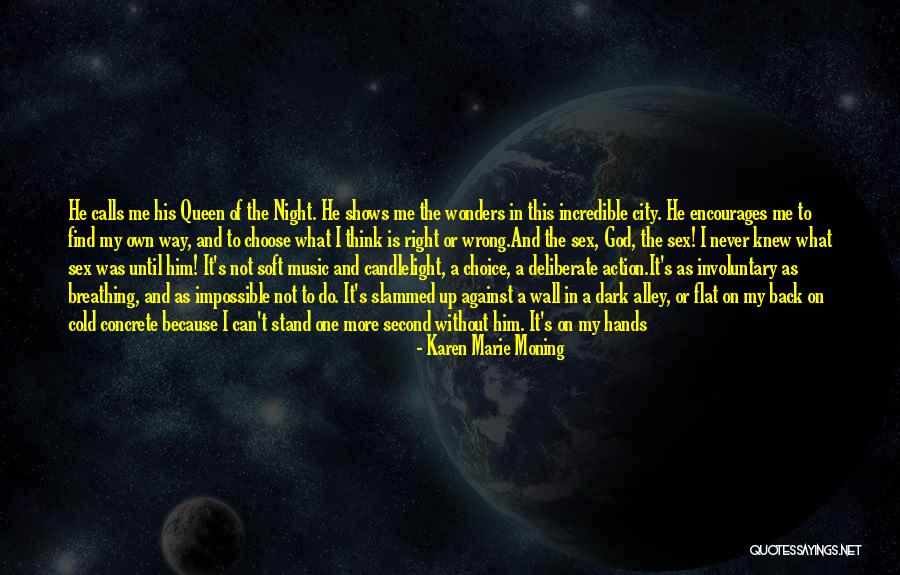 He calls me his Queen of the Night. He shows me the wonders in this incredible city. He encourages me to find my own way, and to choose what I think is right or wrong.
And the sex, God, the sex! I never knew what sex was until him! It's not soft music and candlelight, a choice, a deliberate action.
It's as involuntary as breathing, and as impossible not to do. It's slammed up against a wall in a dark alley, or flat on my back on cold concrete because I can't stand one more second without him. It's on my hands and knees, dry-mouthed, heart-in-my-throat, waiting for the moment he touches me, and I'm alive again. It's punishing and purifying, velvet and violent, and it makes everything else melt away, until nothing matters but getting him inside me and I wouldn't just die for him - I'd kill for him, too.
Like I did tonight. — Karen Marie Moning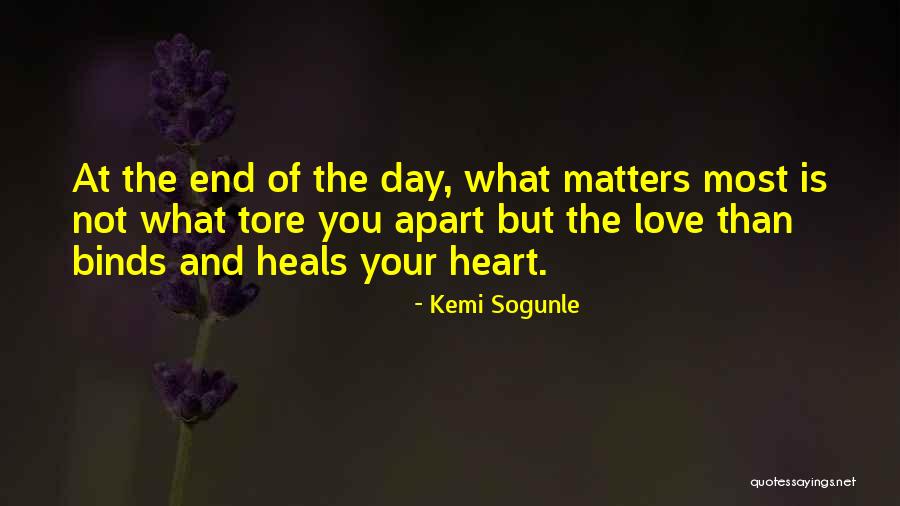 At the end of the day, what matters most is not what tore you apart but the love than binds and heals your heart. — Kemi Sogunle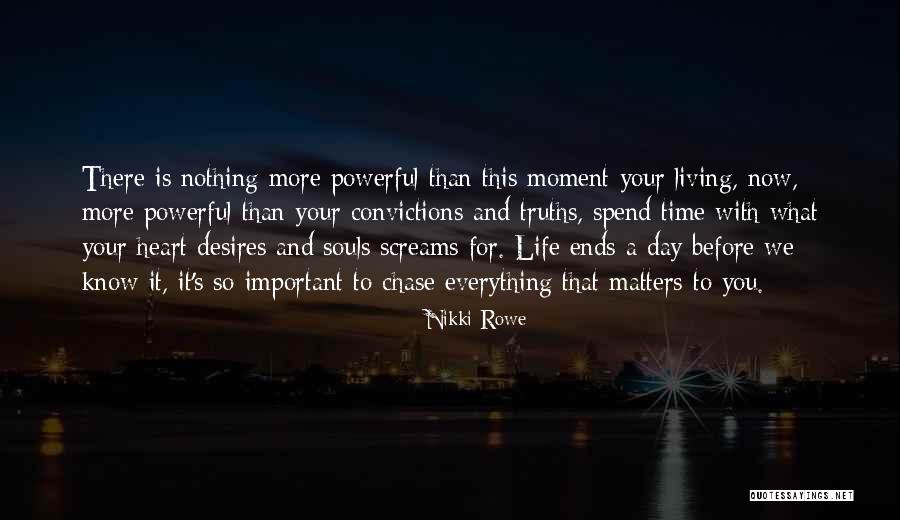 There is nothing more powerful than this moment your living, now, more powerful than your convictions and truths, spend time with what your heart desires and souls screams for. Life ends a day before we know it, it's so important to chase everything that matters to you. — Nikki Rowe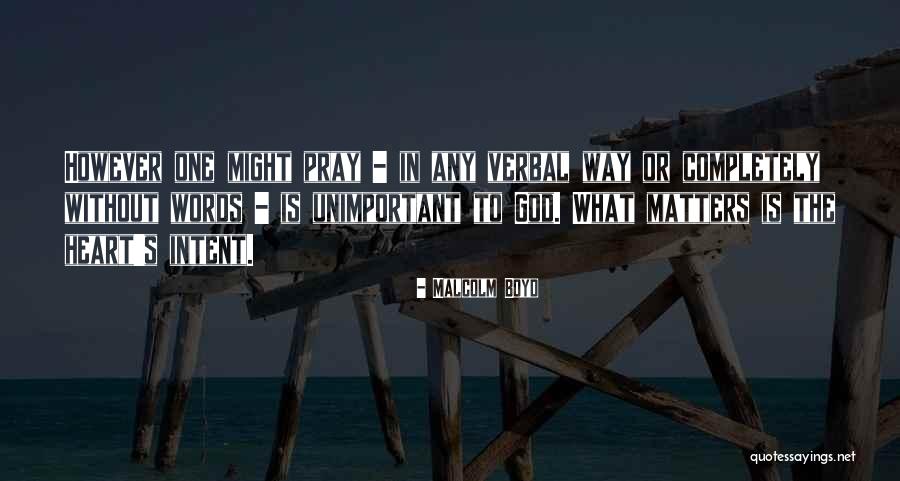 However one might pray - in any verbal way or completely without words - is unimportant to God. What matters is the heart's intent. — Malcolm Boyd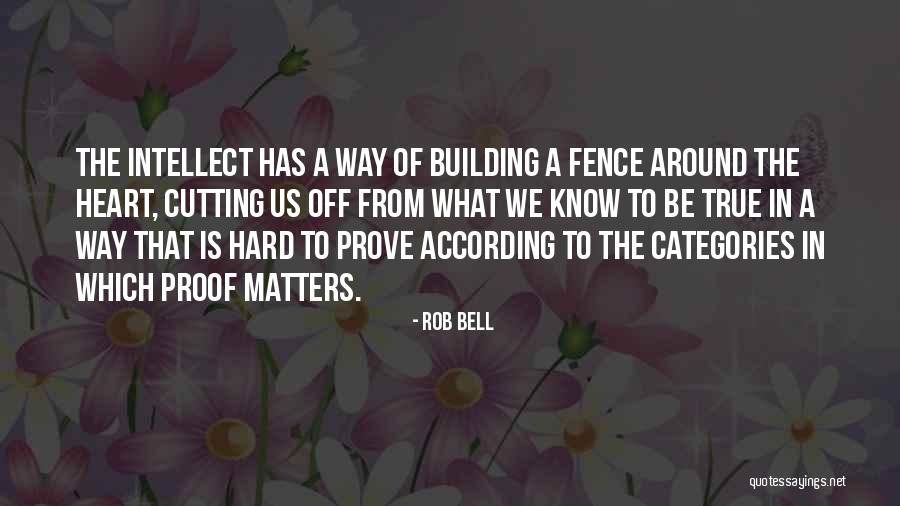 The intellect has a way of building a fence around the heart, cutting us off from what we know to be true in a way that is hard to prove according to the categories in which proof matters. — Rob Bell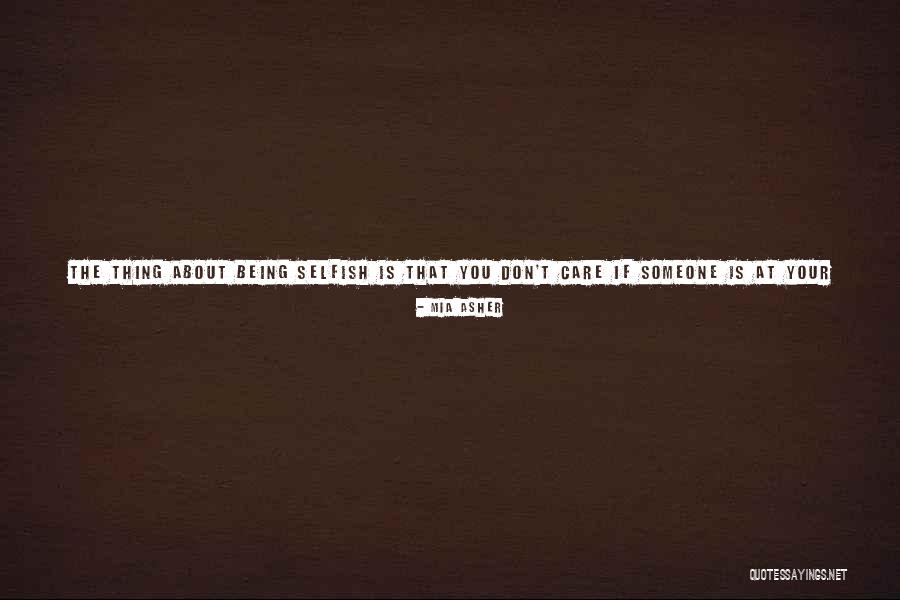 The thing about being selfish is that you don't care if someone is at your feet begging you to stay with him, offering you the world, his heart and soul. It doesn't matter. You'll do whatever you want to do. What you need to do for yourself. Nothing matters but what you want. What you think you need. — Mia Asher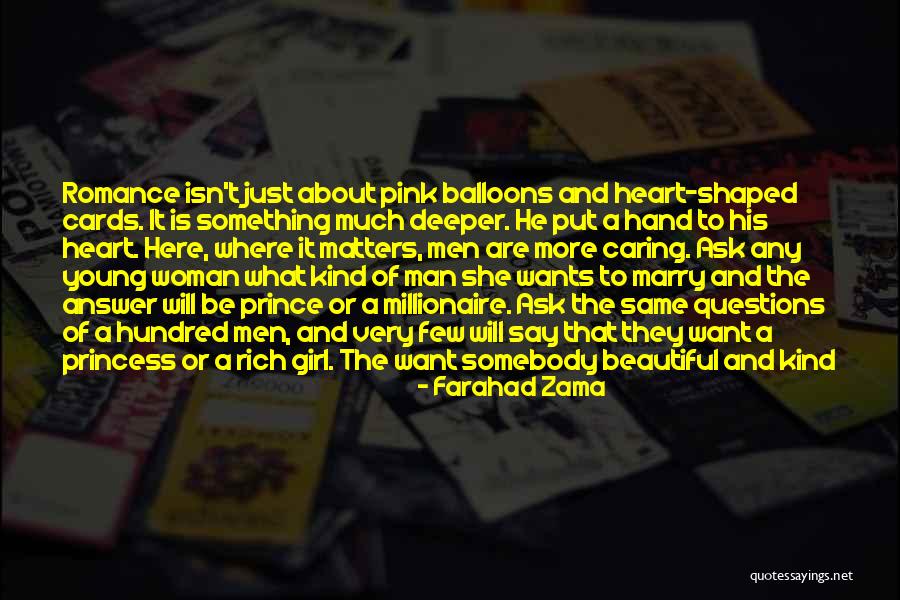 Romance isn't just about pink balloons and heart-shaped cards. It is something much deeper. He put a hand to his heart. Here, where it matters, men are more caring. Ask any young woman what kind of man she wants to marry and the answer will be prince or a millionaire. Ask the same questions of a hundred men, and very few will say that they want a princess or a rich girl. The want somebody beautiful and kind — Farahad Zama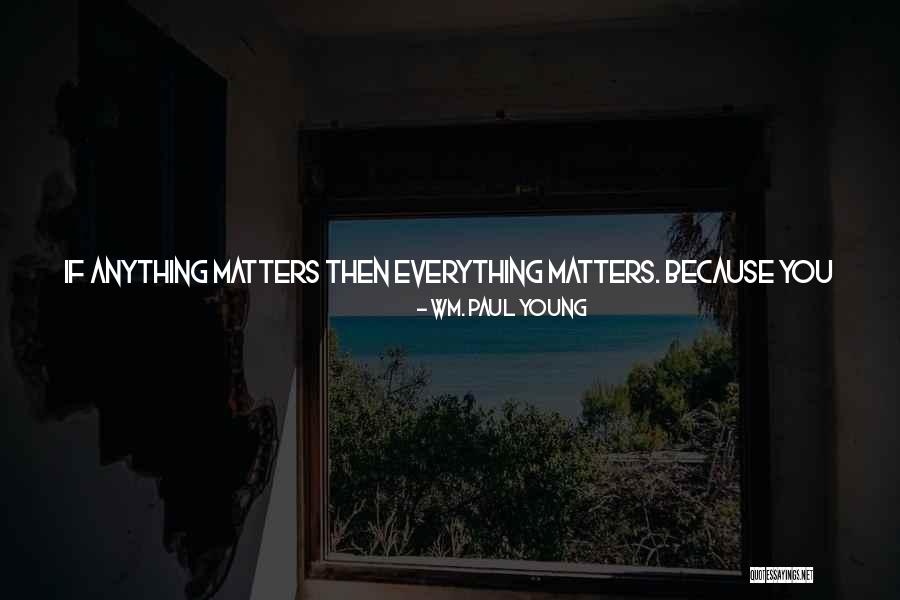 If anything matters then everything matters. Because you are important, everything you do is important. Every time you forgive, the universe changes; every time you reach out and touch a heart or a life, the world changes; with every kindness and service, seen or unseen, my purposes are accomplished and nothing will be the same again. — Wm. Paul Young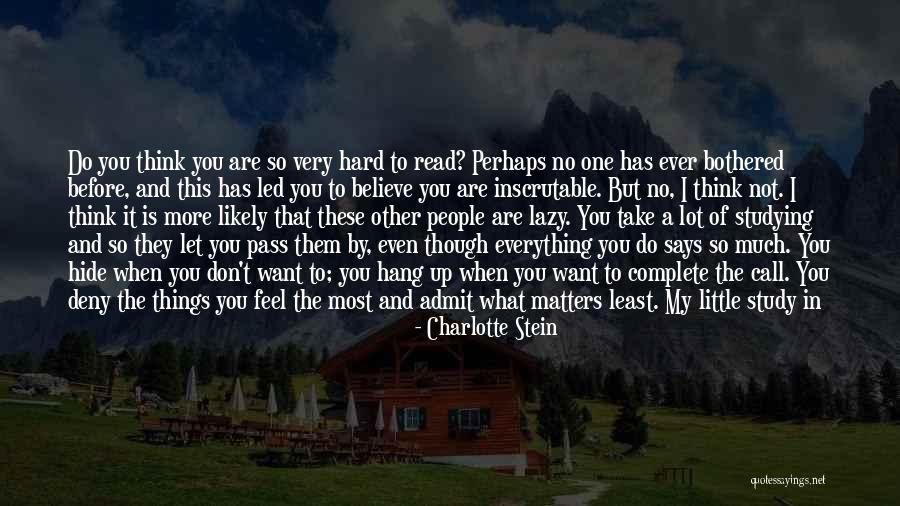 Do you think you are so very hard to read? Perhaps no one has ever bothered before, and this has led you to believe you are inscrutable. But no, I think not. I think it is more likely that these other people are lazy. You take a lot of studying and so they let you pass them by, even though everything you do says so much. You hide when you don't want to; you hang up when you want to complete the call. You deny the things you feel the most and admit what matters least. My little study in opposites, are you not? Heart on her sleeve, though she would say it was only the pattern of the piece of clothing she was wearing. — Charlotte Stein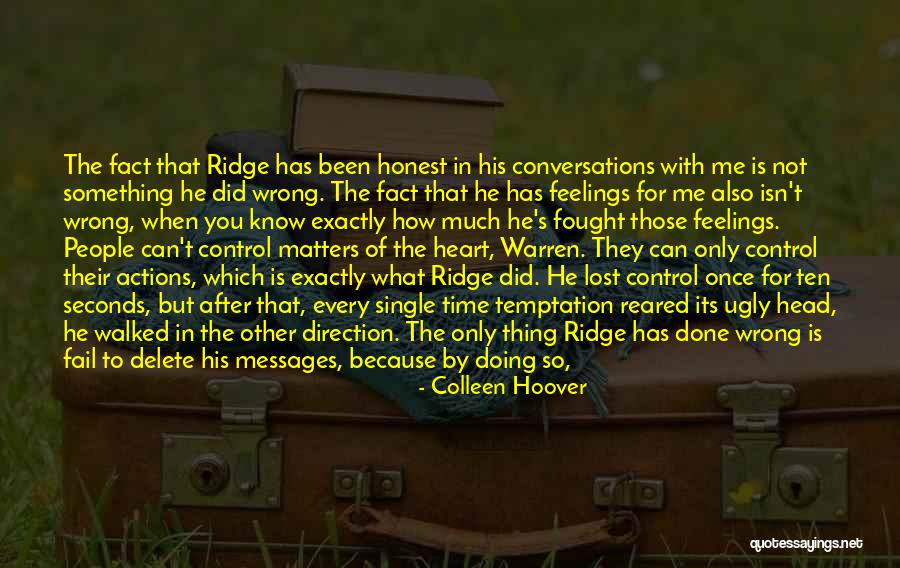 The fact that Ridge has been honest in his conversations with me is not something he did wrong. The fact that he has feelings for me also isn't wrong, when you know exactly how much he's fought those feelings. People can't control matters of the heart, Warren.
They can only control their actions, which is exactly what Ridge did. He lost control once for ten seconds, but after that, every single time temptation reared its ugly head, he walked in the other direction. The only thing Ridge has done wrong is fail to delete his messages, because by doing so, he failed to protect Maggie. He failed to protect her from the harsh truth that people don't get to choose who they fall in love with. They only get to choose who they stay in love with." I look up at the ceiling and blink back tears. "He was choosing to stay in love with her, Warren. Why can't she see that? This will kill him so much more than it's killing her. — Colleen Hoover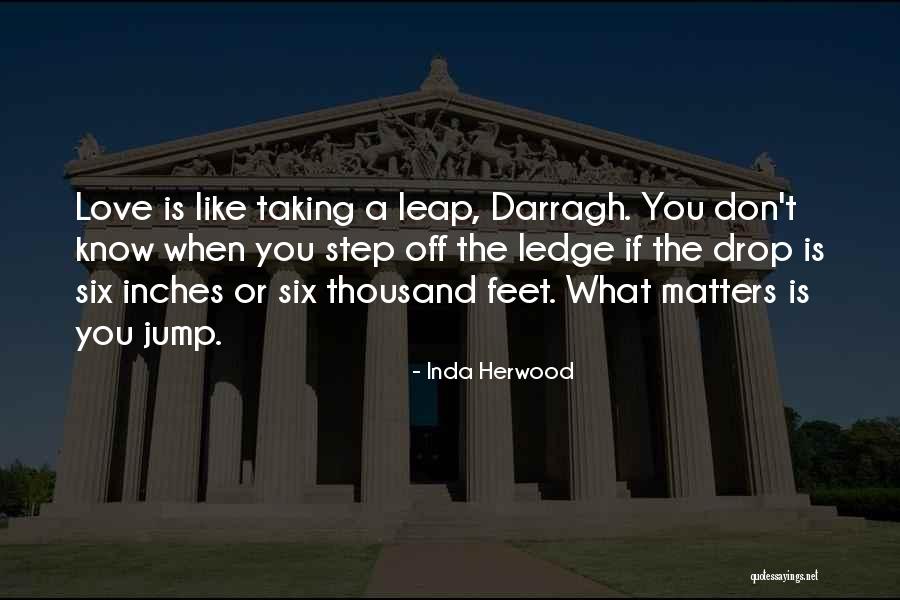 Love is like taking a leap, Darragh. You don't know when you step off the ledge if the drop is six inches or six thousand feet. What matters is you jump. — Inda Herwood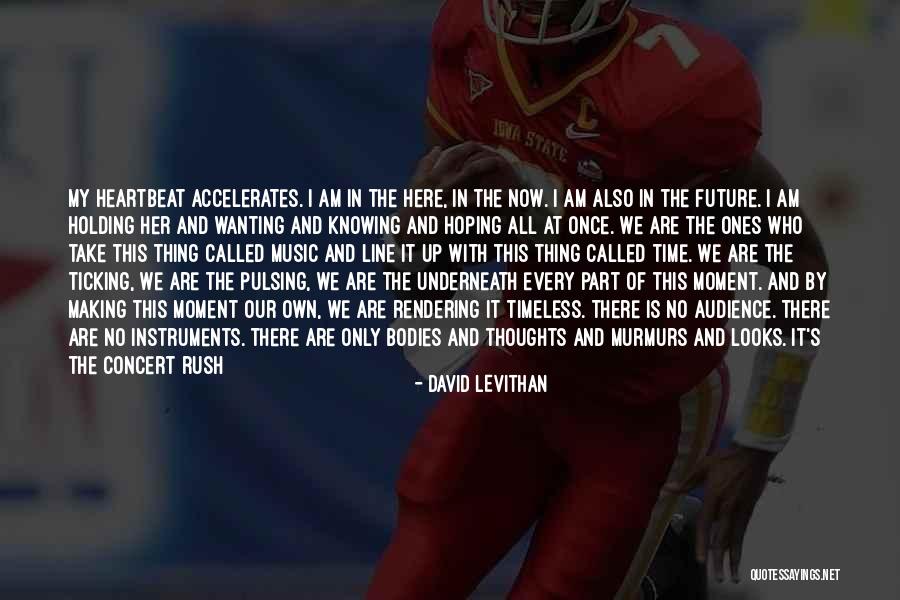 My heartbeat accelerates. I am in the here, in the now. I am also in the future. I am holding her and wanting and knowing and hoping all at once. We are the ones who take this thing called music and line it up with this thing called time. We are the ticking, we are the pulsing, we are the underneath every part of this moment. And by making this moment our own, we are rendering it timeless. There is no audience. There are no instruments. There are only bodies and thoughts and murmurs and looks. It's the concert rush to end all concert rushes, because this is what matters. When the heart races, this is what it's racing toward. — David Levithan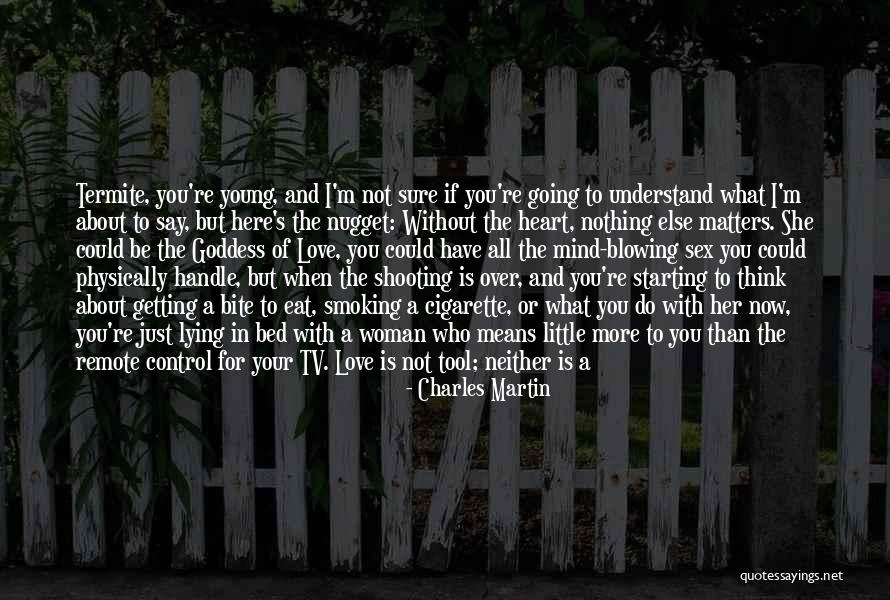 Termite, you're young, and I'm not sure if you're going to understand what I'm about to say, but here's the nugget: Without the heart, nothing else matters. She could be the Goddess of Love, you could have all the mind-blowing sex you could physically handle, but when the shooting is over, and you're starting to think about getting a bite to eat, smoking a cigarette, or what you do with her now, you're just lying in bed with a woman who means little more to you than the remote control for your TV. Love is not tool; neither is a woman's heart. What I'm talking about, you won't find in that magazine."
"How would you know? You just said you've only loved one woman. I think you need to test-drive a few cars before you buy one."
"You can buy that lie if you want, but if you're working for a bank, you don't study the counterfeit to know the real thing. You study the real thing to know the counterfeit."
Reese talking to Termite, pg. 109-110 — Charles Martin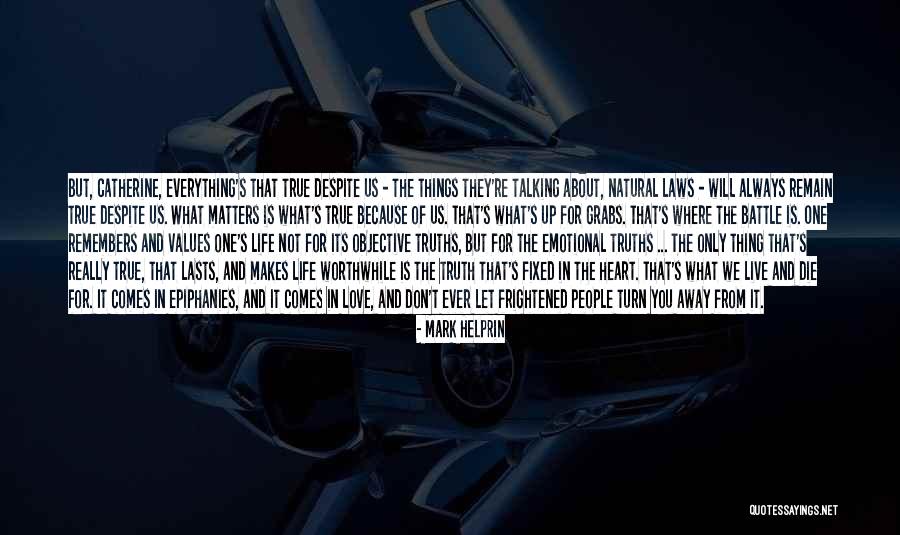 But, Catherine, everything's that true despite us - the things they're talking about, natural laws - will always remain true despite us. What matters is what's true because of us. That's what's up for grabs. That's where the battle is. One remembers and values one's life not for its objective truths, but for the emotional truths ... The only thing that's really true, that lasts, and makes life worthwhile is the truth that's fixed in the heart. That's what we live and die for. It comes in epiphanies, and it comes in love, and don't ever let frightened people turn you away from it. — Mark Helprin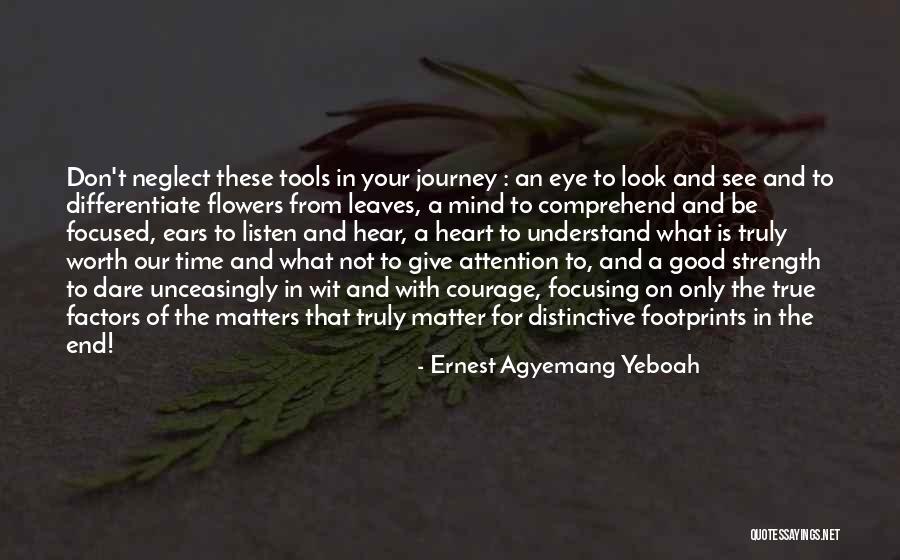 Don't neglect these tools in your journey : an eye to look and see and to differentiate flowers from leaves, a mind to comprehend and be focused, ears to listen and hear, a heart to understand what is truly worth our time and what not to give attention to, and a good strength to dare unceasingly in wit and with courage, focusing on only the true factors of the matters that truly matter for distinctive footprints in the end! — Ernest Agyemang Yeboah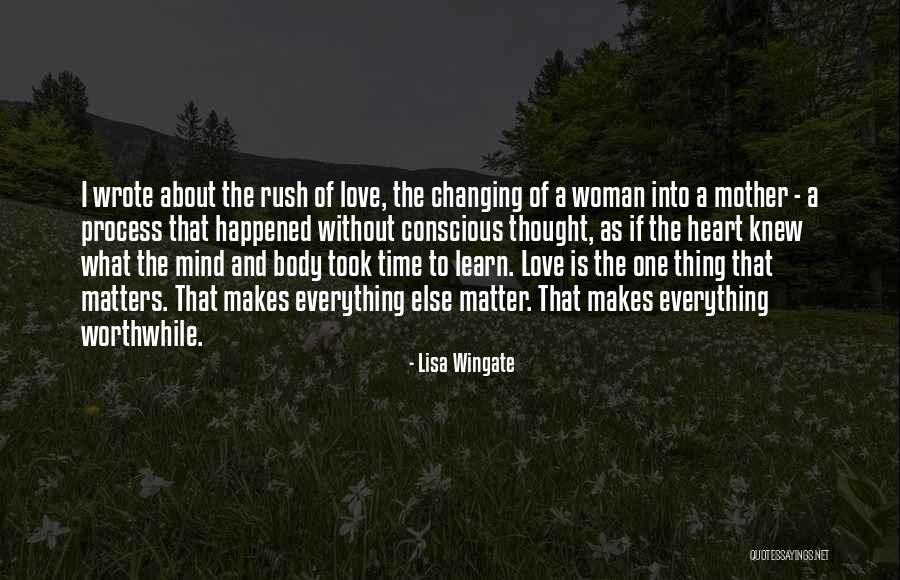 I wrote about the rush of love, the changing of a woman into a mother - a process that happened without conscious thought, as if the heart knew what the mind and body took time to learn. Love is the one thing that matters. That makes everything else matter. That makes everything worthwhile. — Lisa Wingate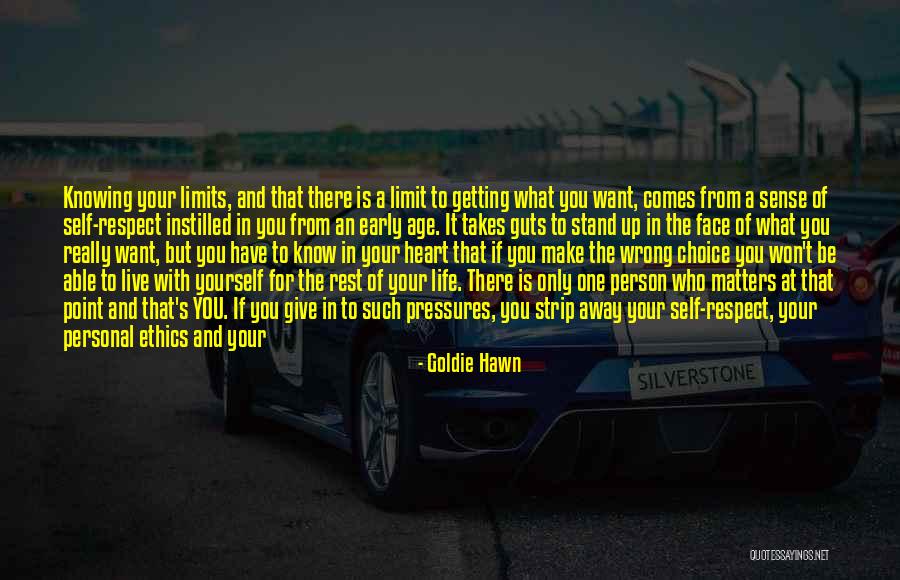 Knowing your limits, and that there is a limit to getting what you want, comes from a sense of self-respect instilled in you from an early age. It takes guts to stand up in the face of what you really want, but you have to know in your heart that if you make the wrong choice you won't be able to live with yourself for the rest of your life. There is only one person who matters at that point and that's YOU. If you give in to such pressures, you strip away your self-respect, your personal ethics and your standards - the very things that create the fiber that will hold you together for the rest of your life. — Goldie Hawn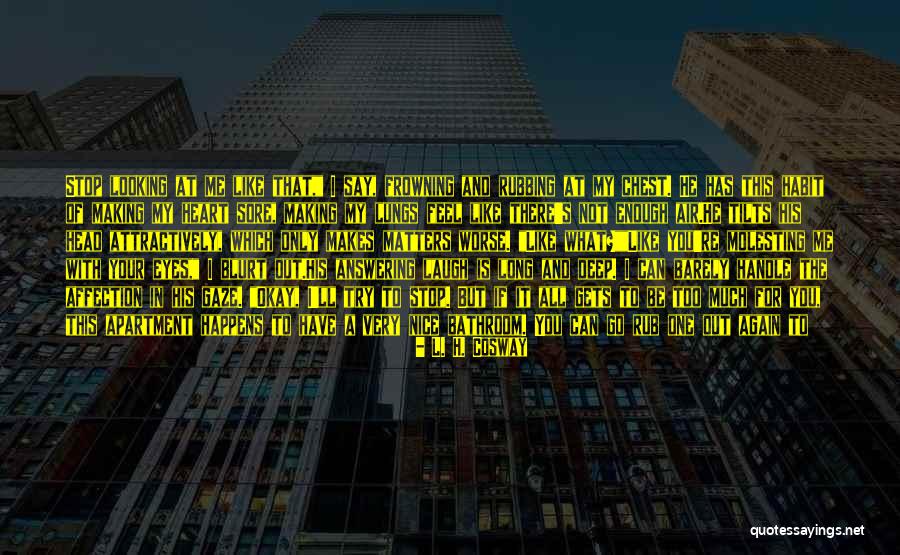 Stop looking at me like that," I say, frowning and rubbing at my chest. He has this habit of making my heart sore, making my lungs feel like there's not enough air.
He tilts his head attractively, which only makes matters worse. "Like what?"
"Like you're molesting me with your eyes," I blurt out.
His answering laugh is long and deep. I can barely handle the affection in his gaze. "Okay, I'll try to stop. But if it all gets to be too much for you, this apartment happens to have a very nice bathroom. You can go rub one out again to take the edge off. I'll come listen, too, if that will help."
There he goes again, pushing me.
I do a slow blink at him before coming out with a rather masterful comeback. And when I say "masterful," I mean shit. "Why don't you go and rub one out?"
He cocks an eyebrow. "I don't rub out, darlin'. I jack off. — L. H. Cosway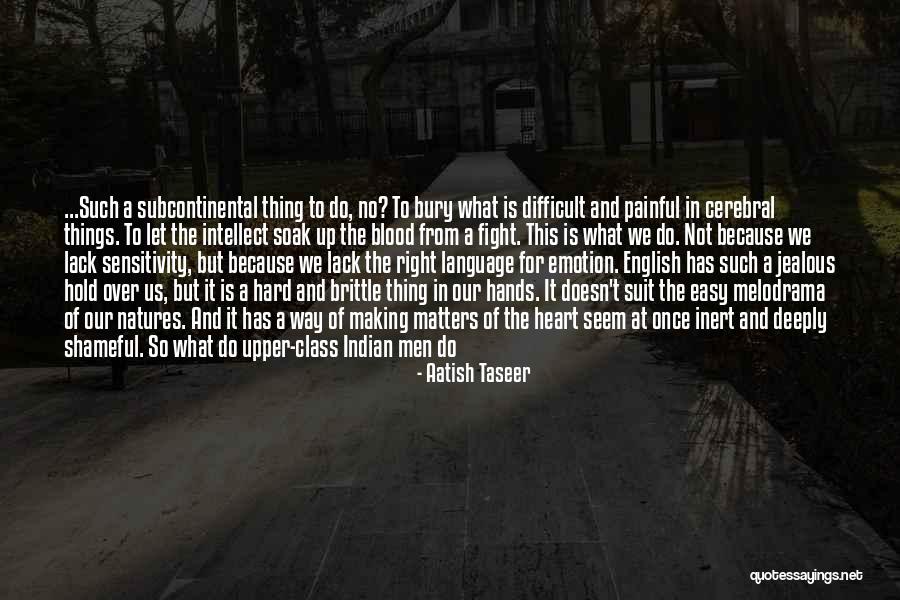 ...Such a subcontinental thing to do, no? To bury what is difficult and painful in cerebral things. To let the intellect soak up the blood from a fight. This is what we do. Not because we lack sensitivity, but because we lack the right language for emotion. English has such a jealous hold over us, but it is a hard and brittle thing in our hands. It doesn't suit the easy melodrama of our natures. And it has a way of making matters of the heart seem at once inert and deeply shameful. So what do upper-class Indian men do when they are too wretched to do anything else? They talk of the Russians! Of Dostoevsky and Belinsky, of "cultural schizophrenia" and "the lackeyishness of thinking"... — Aatish Taseer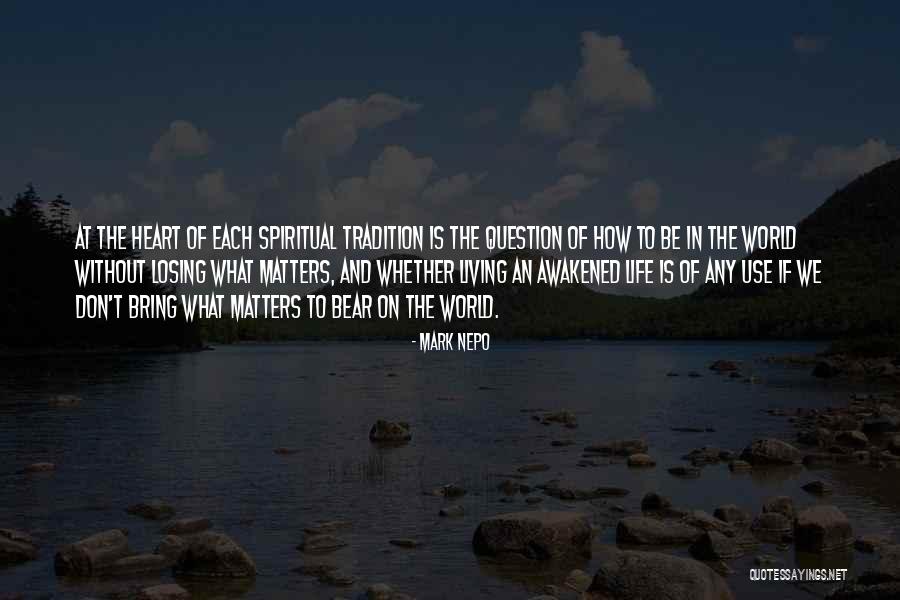 At the heart of each spiritual tradition is the question of how to be in the world without losing what matters, and whether living an awakened life is of any use if we don't bring what matters to bear on the world. — Mark Nepo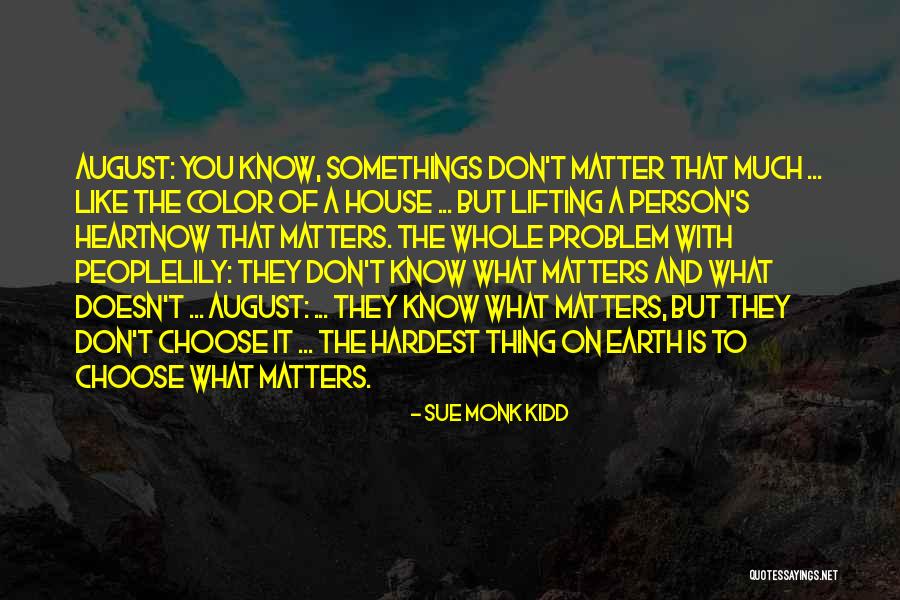 August: You know, somethings don't matter that much ... like the color of a house ... But lifting a person's heart
now that matters. The whole problem with people

Lily: They don't know what matters and what doesn't ...
August: ... They know what matters, but they don't choose it ... The hardest thing on earth is to choose what matters. — Sue Monk Kidd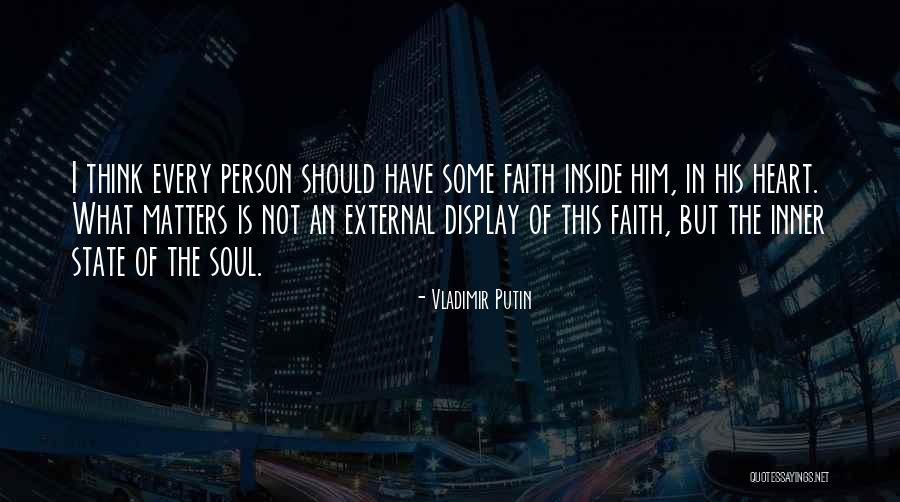 I think every person should have some faith inside him, in his heart. What matters is not an external display of this faith, but the inner state of the soul. — Vladimir Putin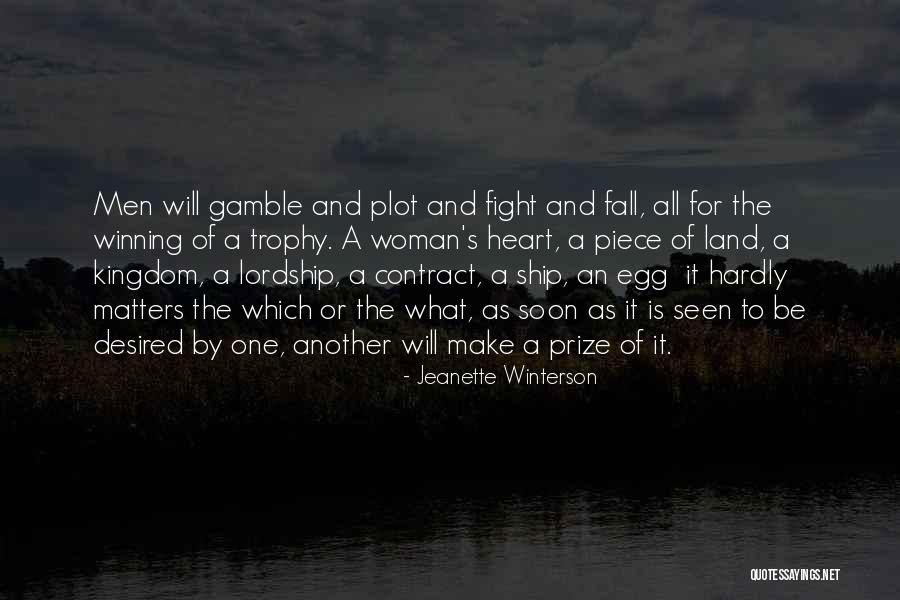 Men will gamble and plot and fight and fall, all for the winning of a trophy. A woman's heart, a piece of land, a kingdom, a lordship, a contract, a ship, an egg
it hardly matters the which or the what, as soon as it is seen to be desired by one, another will make a prize of it. — Jeanette Winterson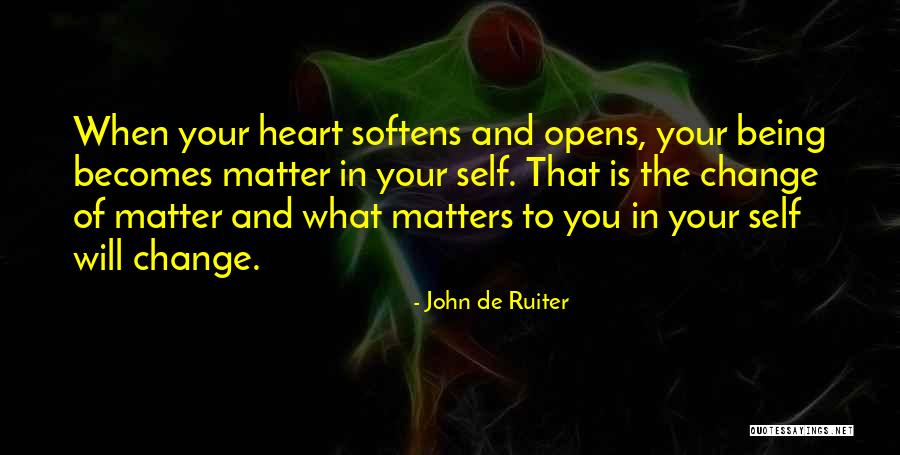 When your heart softens and opens, your being becomes matter in your self. That is the change of matter and what matters to you in your self will change. — John De Ruiter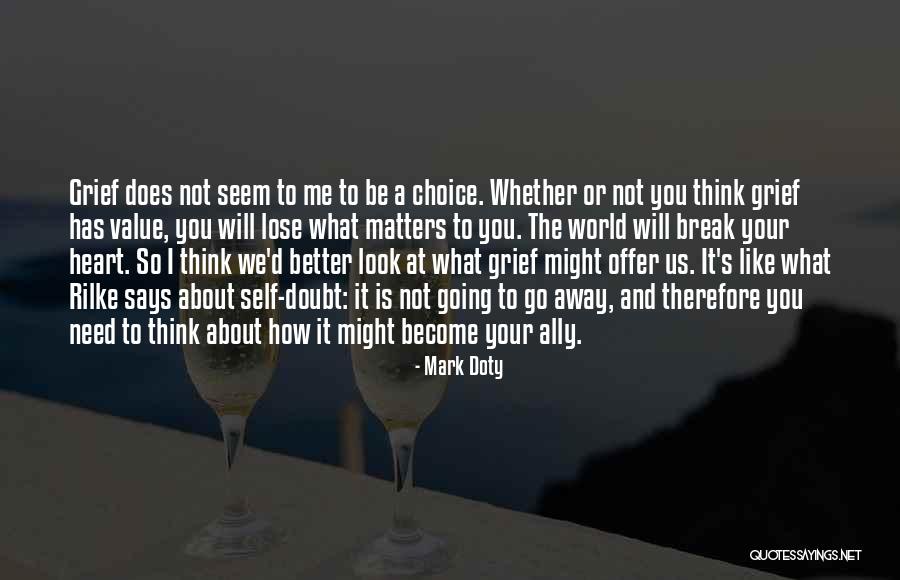 Grief does not seem to me to be a choice. Whether or not you think grief has value, you will lose what matters to you. The world will break your heart. So I think we'd better look at what grief might offer us. It's like what Rilke says about self-doubt: it is not going to go away, and therefore you need to think about how it might become your ally. — Mark Doty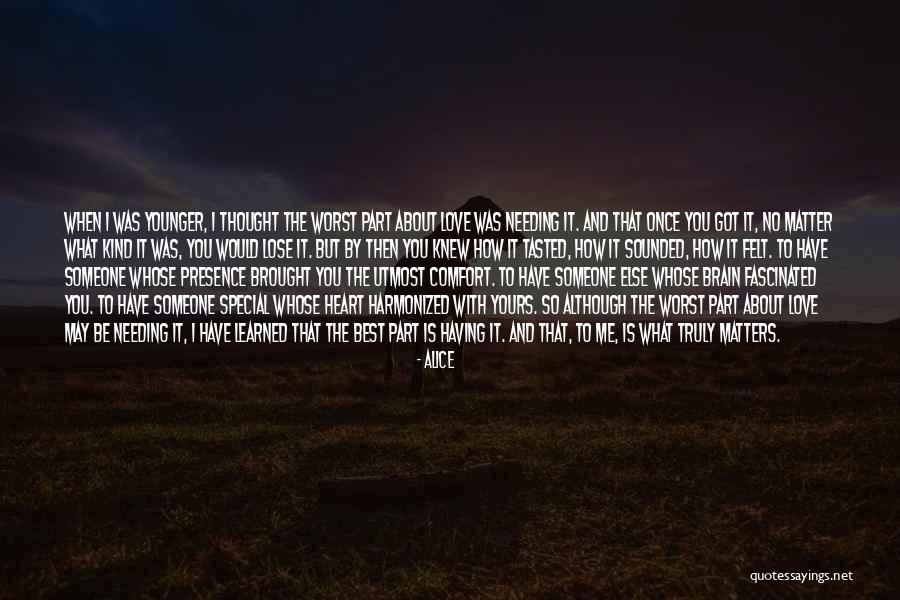 When I was younger, I thought the worst part about love was needing it. And that once you got it, no matter what kind it was, you would lose it. But by then you knew how it tasted, how it sounded, how it felt. To have someone whose presence brought you the utmost comfort. To have someone else whose brain fascinated you. To have someone special whose heart harmonized with yours. So although the worst part about love may be needing it, I have learned that the best part is having it. And that, to me, is what truly matters. — Alice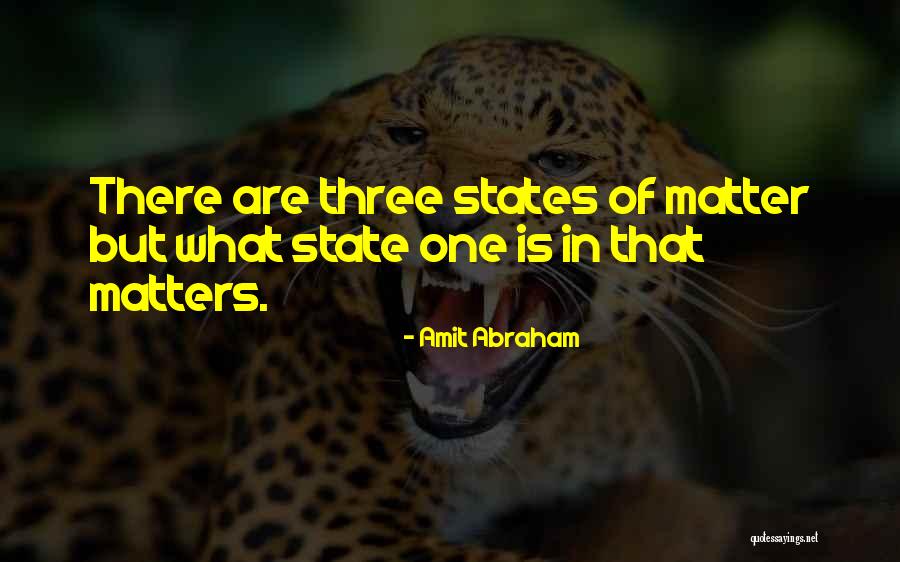 There are three states of matter but what state one is in that matters. — Amit Abraham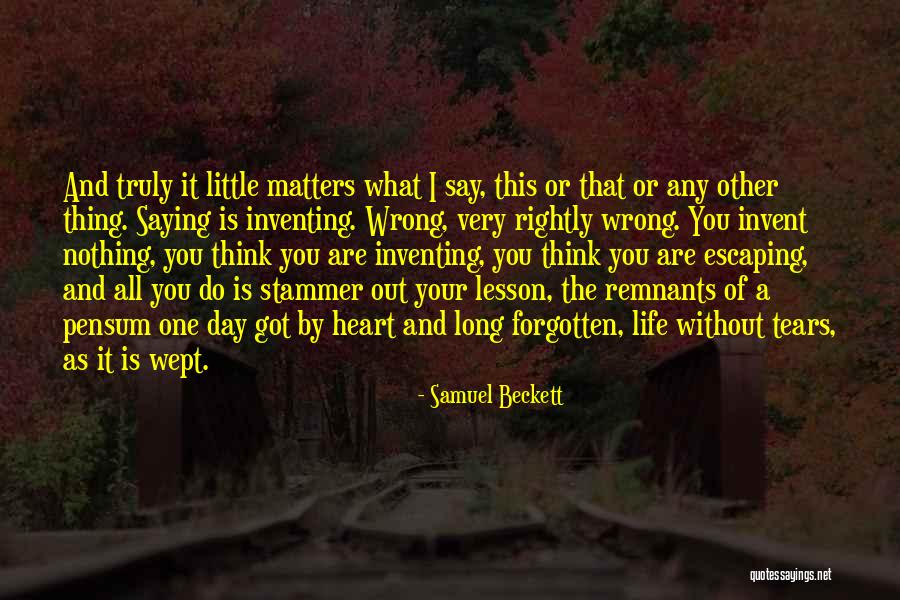 And truly it little matters what I say, this or that or any other thing. Saying is inventing. Wrong, very rightly wrong. You invent nothing, you think you are inventing, you think you are escaping, and all you do is stammer out your lesson, the remnants of a pensum one day got by heart and long forgotten, life without tears, as it is wept. — Samuel Beckett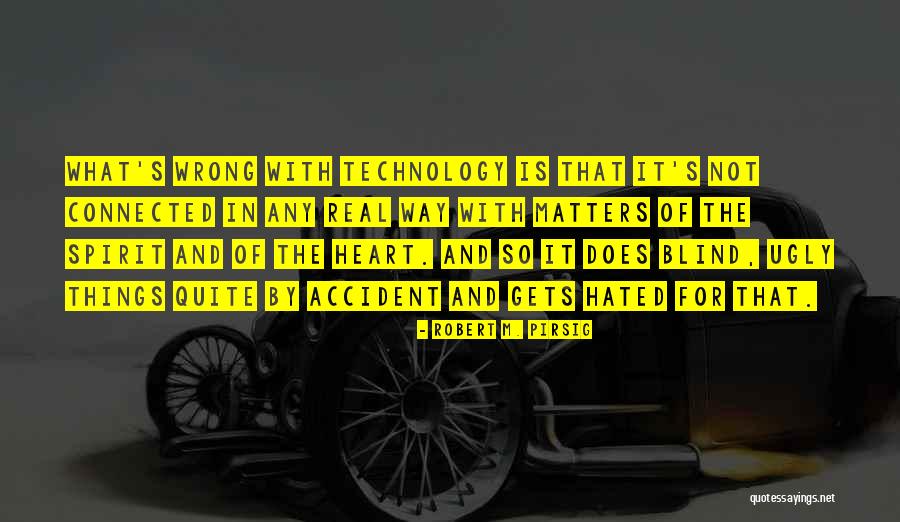 What's wrong with technology is that it's not connected in any real way with matters of the spirit and of the heart. And so it does blind, ugly things quite by accident and gets hated for that. — Robert M. Pirsig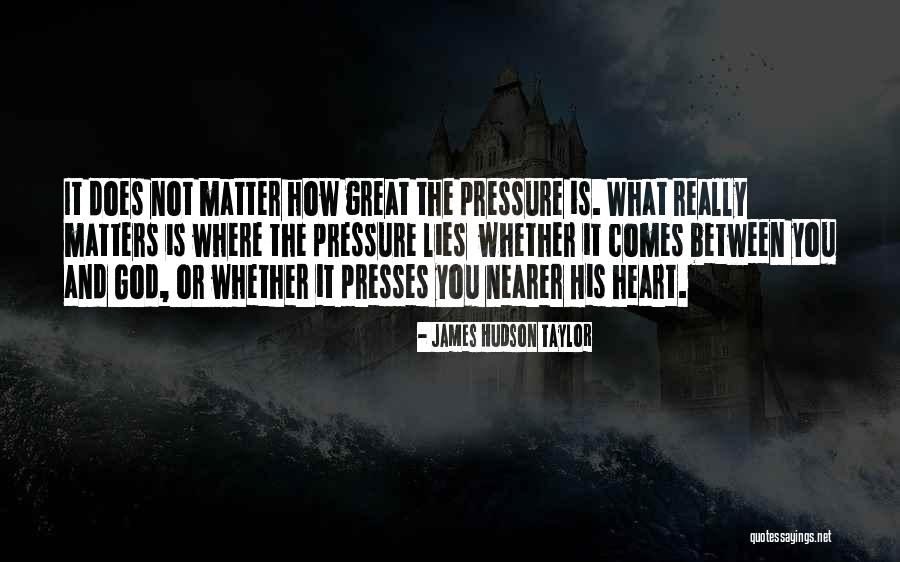 It does not matter how great the pressure is. What really matters is where the pressure lies
whether it comes between you and God, or whether it presses you nearer His heart. — James Hudson Taylor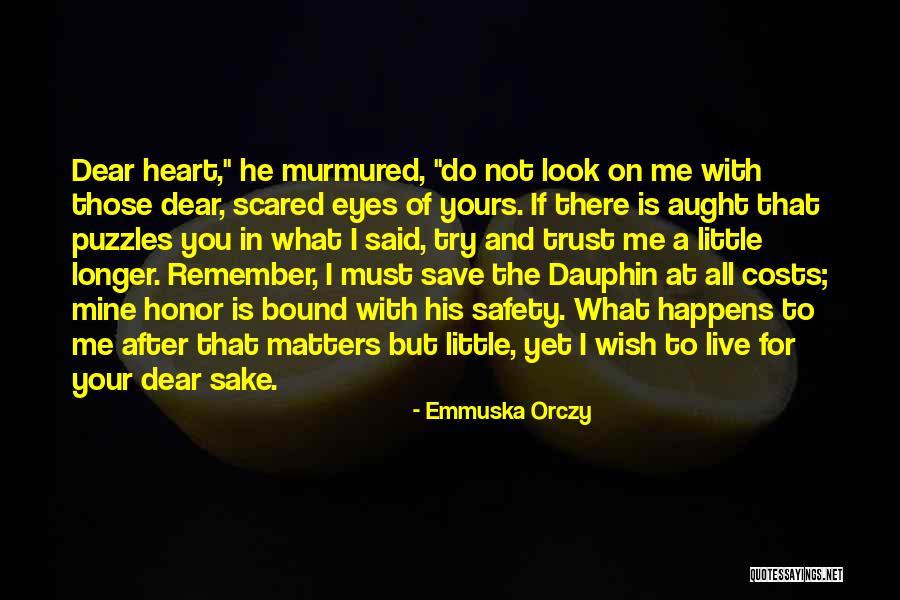 Dear heart," he murmured, "do not look on me with those dear, scared eyes of yours. If there is aught that puzzles you in what I said, try and trust me a little longer. Remember, I must save the Dauphin at all costs; mine honor is bound with his safety. What happens to me after that matters but little, yet I wish to live for your dear sake. — Emmuska Orczy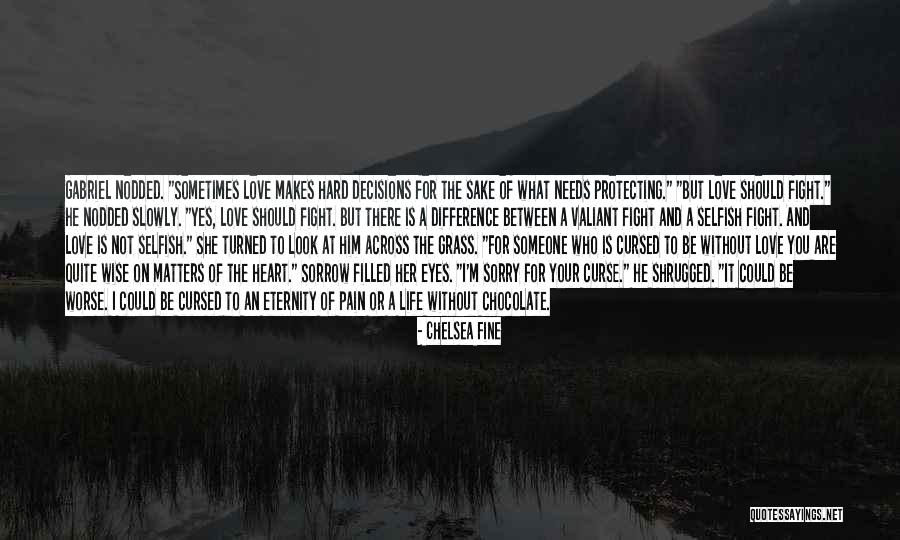 Gabriel nodded. "Sometimes love makes hard decisions for the sake of what needs protecting." "But love should fight." He nodded slowly. "Yes, love should fight. But there is a difference between a valiant fight and a selfish fight. And love is not selfish." She turned to look at him across the grass. "For someone who is cursed to be without love you are quite wise on matters of the heart." Sorrow filled her eyes. "I'm sorry for your curse." He shrugged. "It could be worse. I could be cursed to an eternity of pain or a life without chocolate. — Chelsea Fine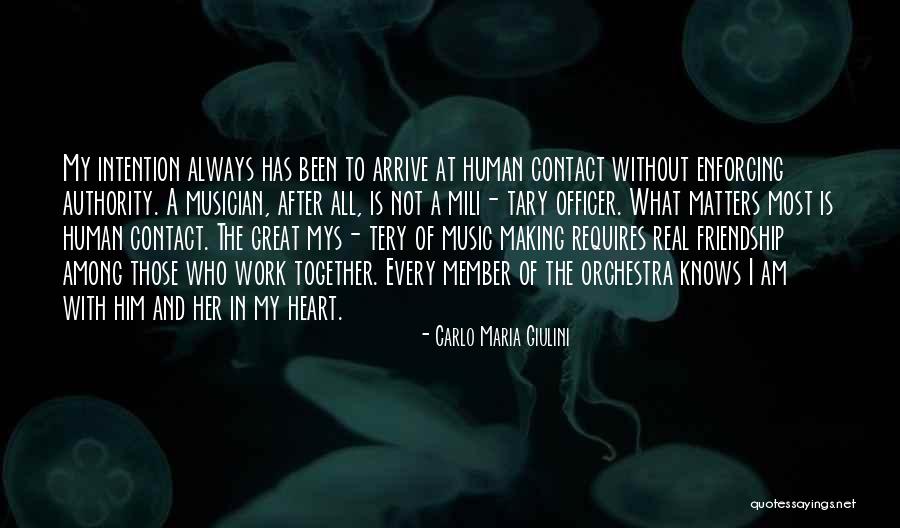 My intention always has been to arrive at human contact without enforcing authority. A musician, after all, is not a mili- tary officer. What matters most is human contact. The great mys- tery of music making requires real friendship among those who work together. Every member of the orchestra knows I am with him and her in my heart. — Carlo Maria Giulini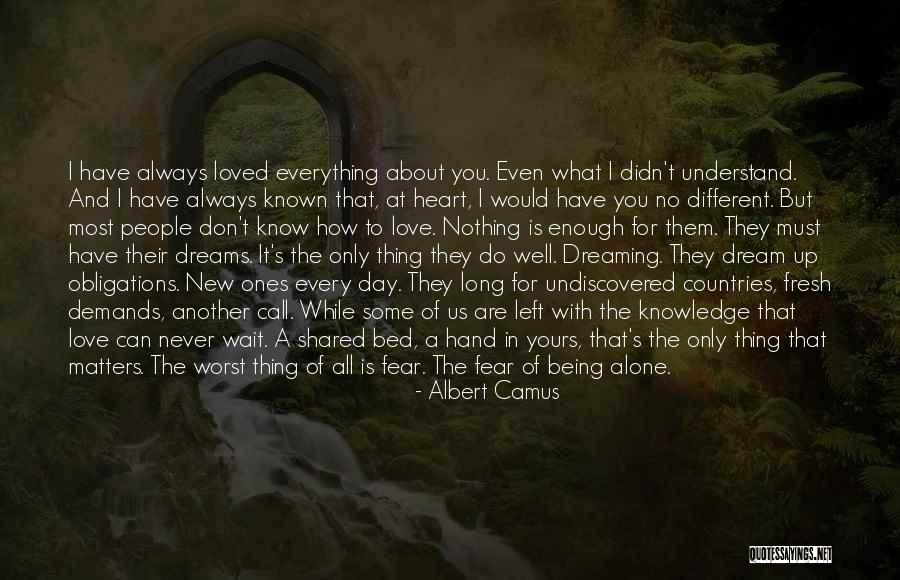 I have always loved everything about you. Even what I didn't understand. And I have always known that, at heart, I would have you no different. But most people don't know how to love. Nothing is enough for them. They must have their dreams. It's the only thing they do well. Dreaming. They dream up obligations. New ones every day. They long for undiscovered countries, fresh demands, another call. While some of us are left with the knowledge that love can never wait. A shared bed, a hand in yours, that's the only thing that matters. The worst thing of all is fear. The fear of being alone. — Albert Camus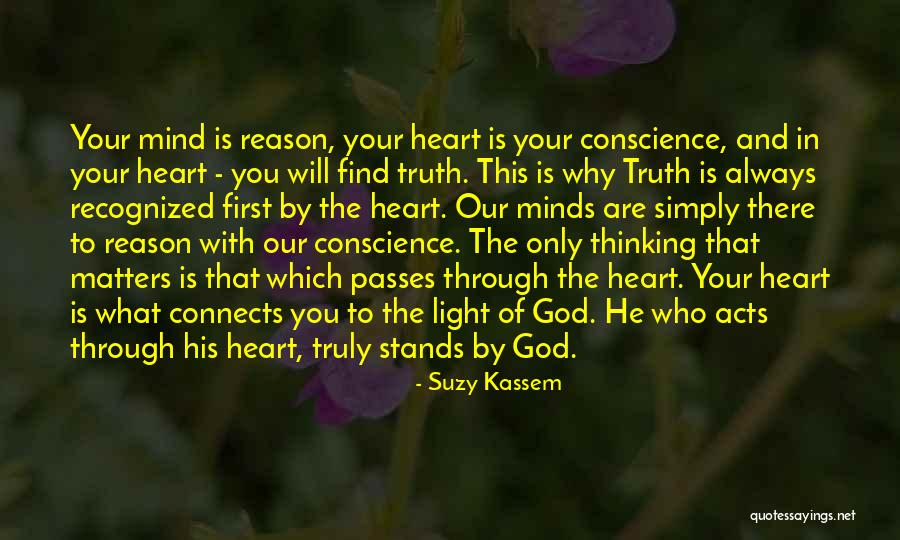 Your mind is reason, your heart is your conscience, and in your heart - you will find truth. This is why Truth is always recognized first by the heart. Our minds are simply there to reason with our conscience. The only thinking that matters is that which passes through the heart. Your heart is what connects you to the light of God. He who acts through his heart, truly stands by God. — Suzy Kassem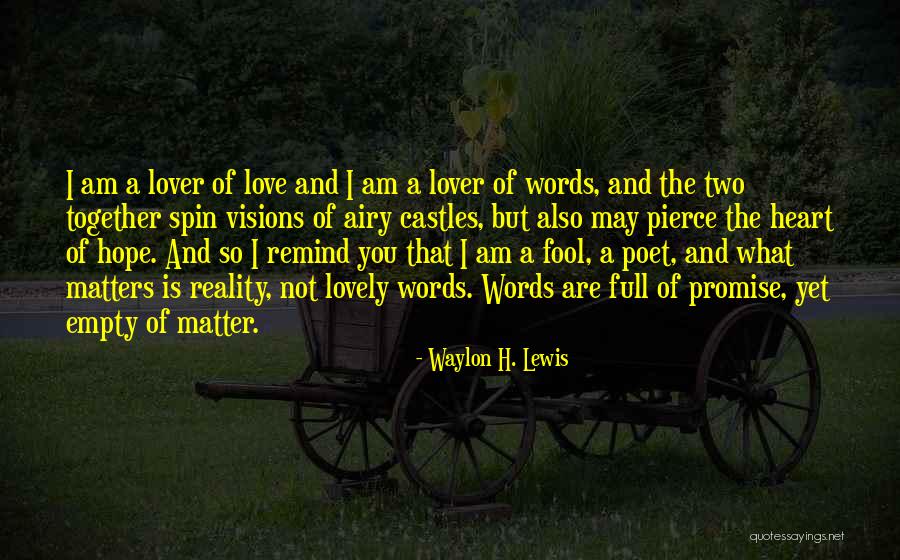 I am a lover of love and I am a lover of words, and the two together spin visions of airy castles, but also may pierce the heart of hope. And so I remind you that I am a fool, a poet, and what matters is reality, not lovely words. Words are full of promise, yet empty of matter. — Waylon H. Lewis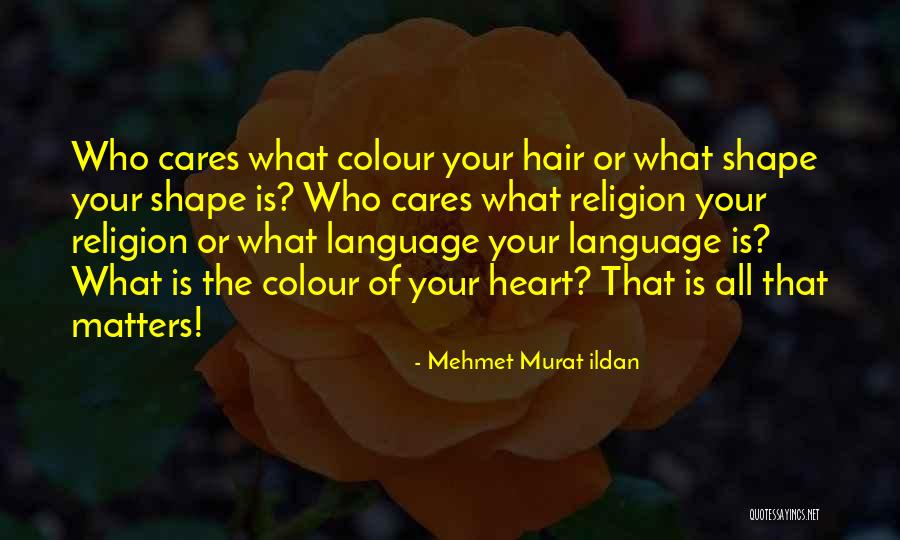 Who cares what colour your hair or what shape your shape is? Who cares what religion your religion or what language your language is? What is the colour of your heart? That is all that matters! — Mehmet Murat Ildan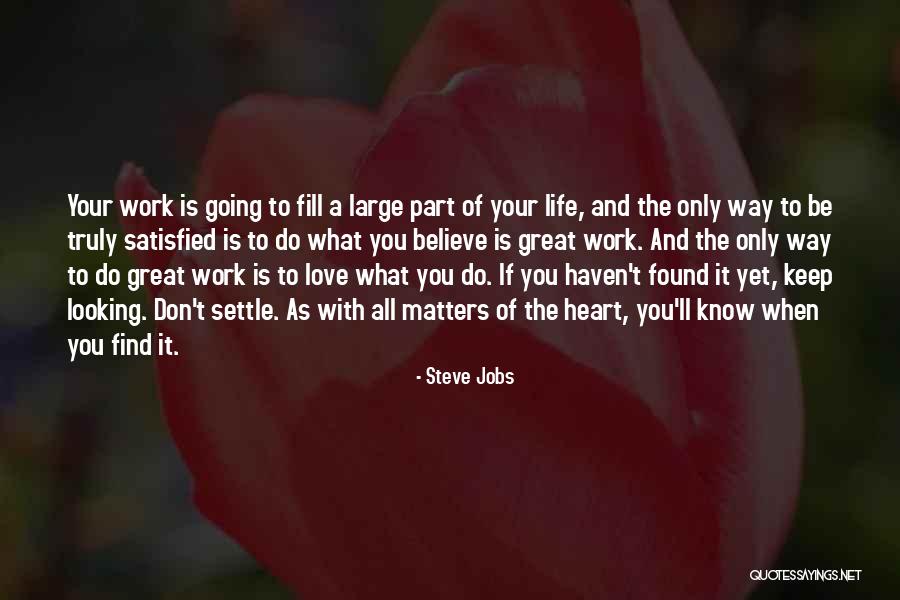 Your work is going to fill a large part of your life, and the only way to be truly satisfied is to do what you believe is great work. And the only way to do great work is to love what you do. If you haven't found it yet, keep looking. Don't settle. As with all matters of the heart, you'll know when you find it. — Steve Jobs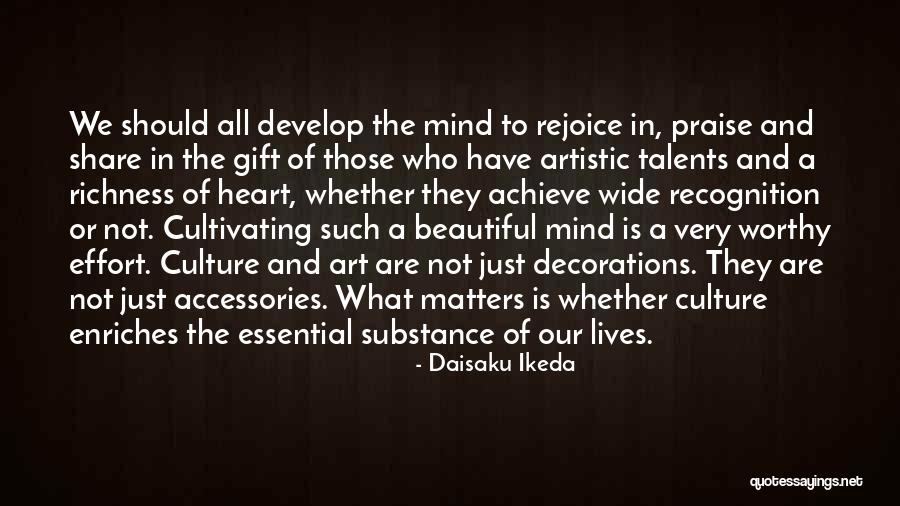 We should all develop the mind to rejoice in, praise and share in the gift of those who have artistic talents and a richness of heart, whether they achieve wide recognition or not. Cultivating such a beautiful mind is a very worthy effort. Culture and art are not just decorations. They are not just accessories. What matters is whether culture enriches the essential substance of our lives. — Daisaku Ikeda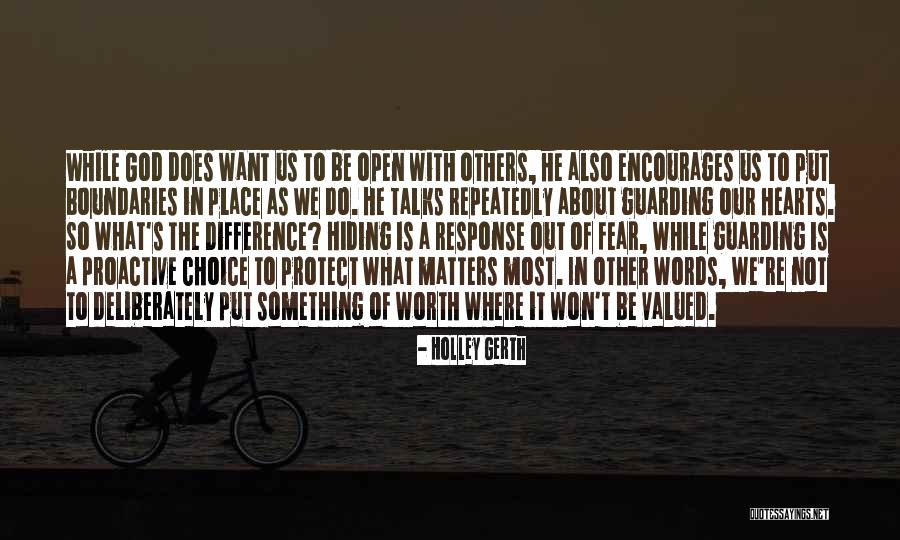 While God does want us to be open with others, he also encourages us to put boundaries in place as we do. He talks repeatedly about guarding our hearts. So what's the difference? Hiding is a response out of fear, while guarding is a proactive choice to protect what matters most. In other words, we're not to deliberately put something of worth where it won't be valued. — Holley Gerth