We All Fall Short Quotes & Sayings
Enjoy reading and share 43 famous quotes about We All Fall Short with everyone.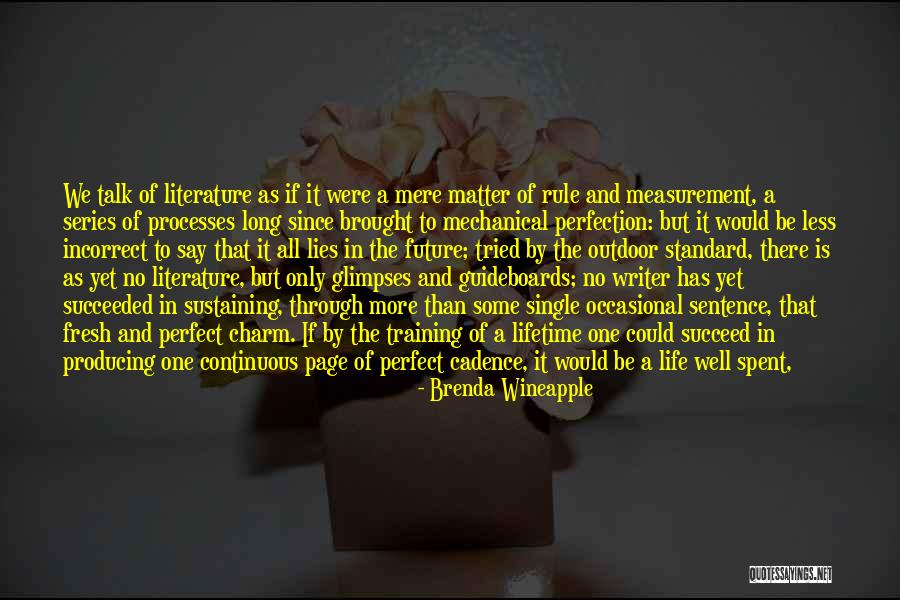 We talk of literature as if it were a mere matter of rule and measurement, a series of processes long since brought to mechanical perfection: but it would be less incorrect to say that it all lies in the future; tried by the outdoor standard, there is as yet no literature, but only glimpses and guideboards; no writer has yet succeeded in sustaining, through more than some single occasional sentence, that fresh and perfect charm. If by the training of a lifetime one could succeed in producing one continuous page of perfect cadence, it would be a life well spent, and such a literary artist would fall short of Nature's standard in quantity only, not in quality. — Brenda Wineapple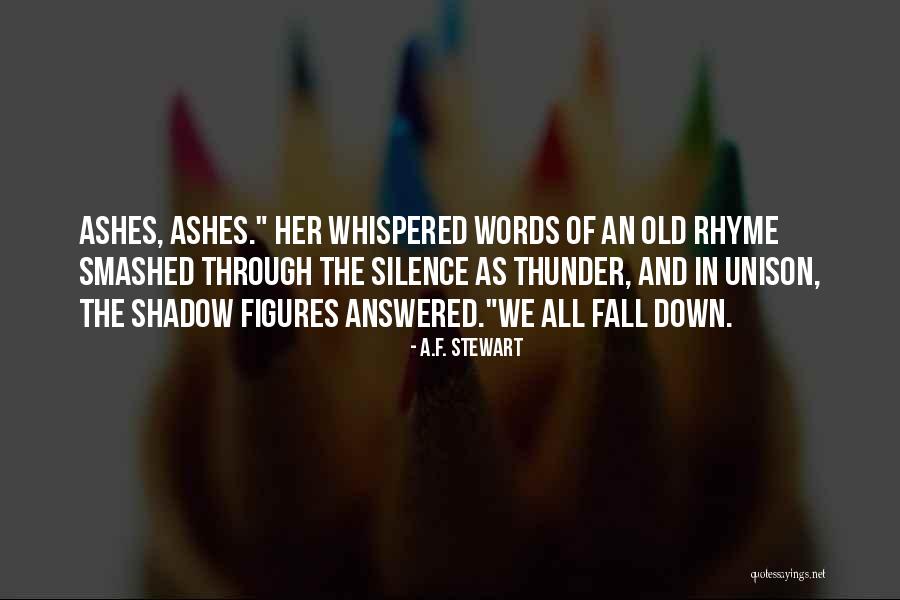 Ashes, ashes." Her whispered words of an old rhyme smashed through the silence as thunder, and in unison, the shadow figures answered.
"We all fall down. — A.F. Stewart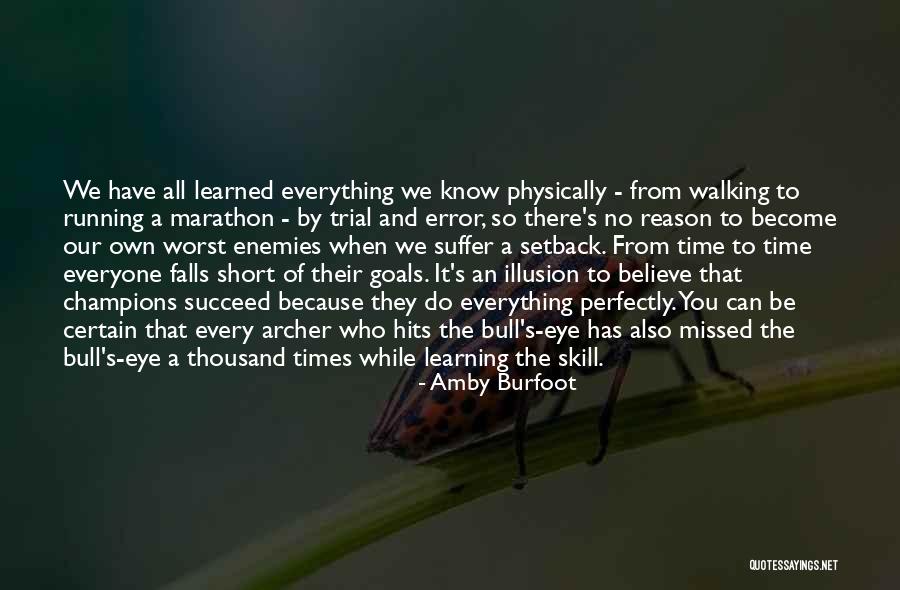 We have all learned everything we know physically - from walking to running a marathon - by trial and error, so there's no reason to become our own worst enemies when we suffer a setback. From time to time everyone falls short of their goals. It's an illusion to believe that champions succeed because they do everything perfectly. You can be certain that every archer who hits the bull's-eye has also missed the bull's-eye a thousand times while learning the skill. — Amby Burfoot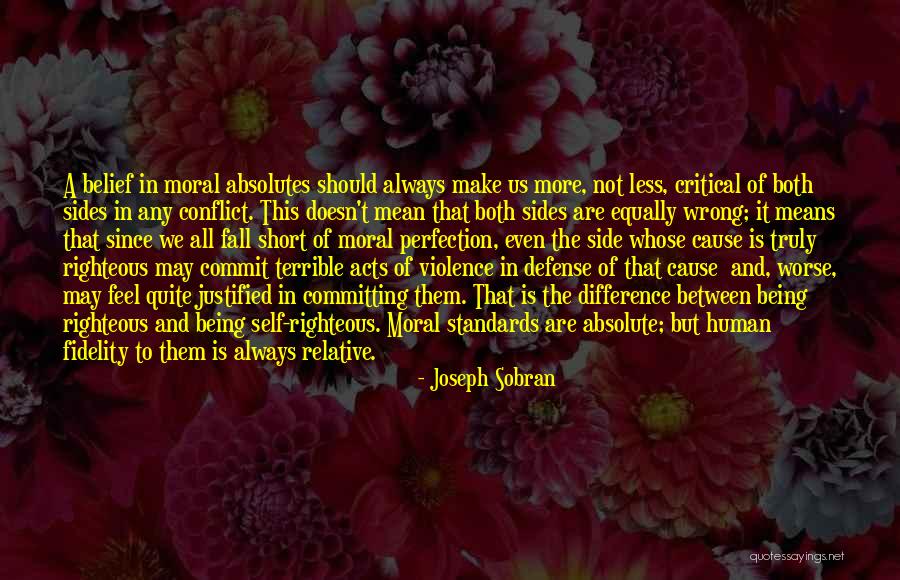 A belief in moral absolutes should always make us more, not less, critical of both sides in any conflict. This doesn't mean that both sides are equally wrong; it means that since we all fall short of moral perfection, even the side whose cause is truly righteous may commit terrible acts of violence in defense of that cause
and, worse, may feel quite justified in committing them. That is the difference between being righteous and being self-righteous. Moral standards are absolute; but human fidelity to them is always relative. — Joseph Sobran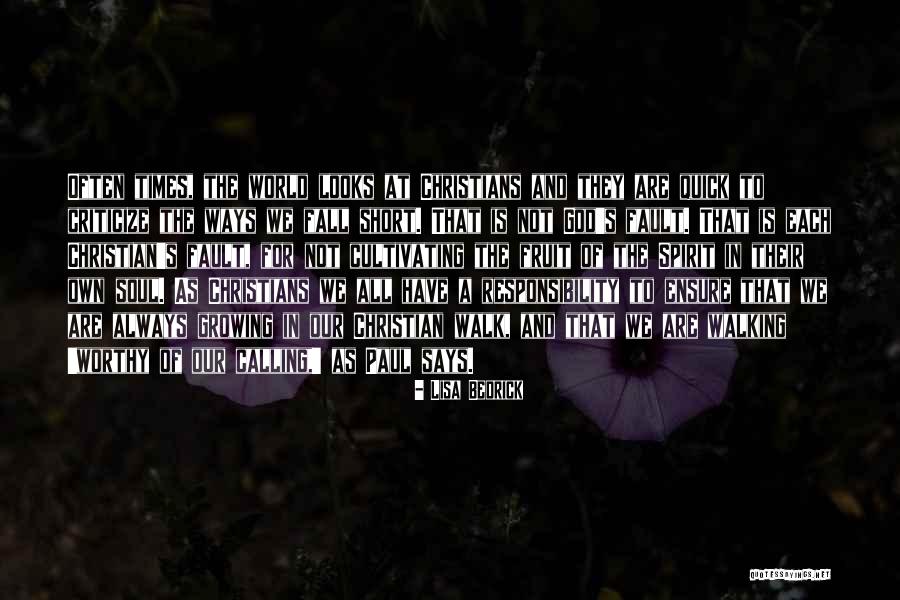 Often times, the world looks at Christians and they are quick to criticize the ways we fall short. That is not God's fault. That is each Christian's fault, for not cultivating the fruit of the Spirit in their own soul. As Christians we all have a responsibility to ensure that we are always growing in our Christian walk, and that we are walking 'worthy of our calling,' as Paul says. — Lisa Bedrick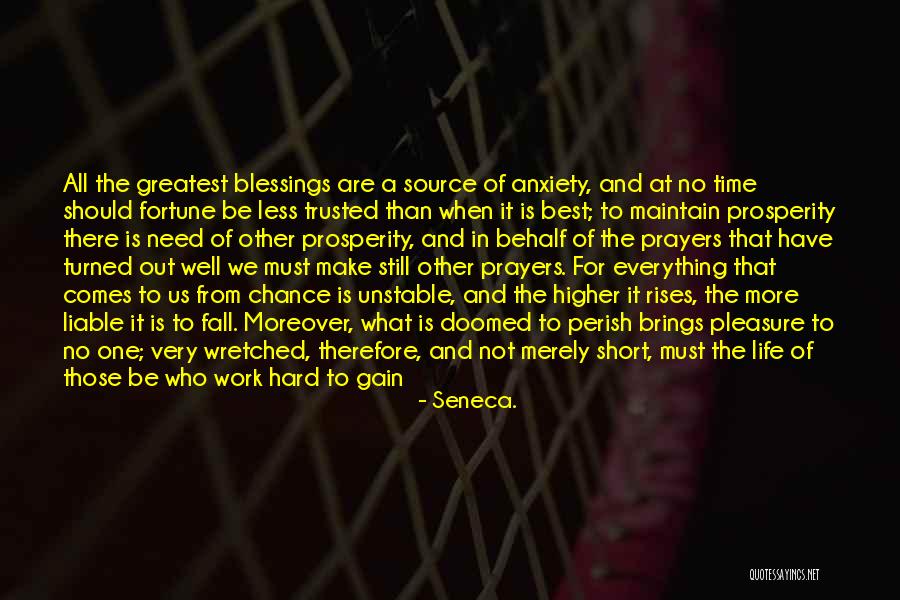 All the greatest blessings are a source of anxiety, and at no time should fortune be less trusted than when it is best; to maintain prosperity there is need of other prosperity, and in behalf of the prayers that have turned out well we must make still other prayers. For everything that comes to us from chance is unstable, and the higher it rises, the more liable it is to fall. Moreover, what is doomed to perish brings pleasure to no one; very wretched, therefore, and not merely short, must the life of those be who work hard to gain what they must work harder to keep. By great toil they attain what they wish, and with anxiety hold what they have attained; meanwhile they take no account of time that will never more return. — Seneca.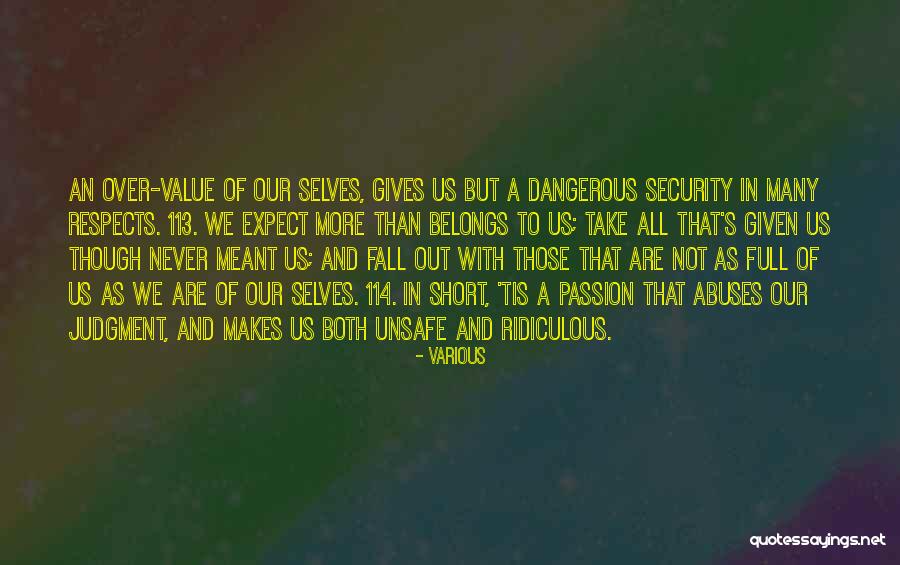 an Over-value of our selves, gives us but a dangerous Security in many Respects. 113. We expect more than belongs to us; take all that's given us though never meant us; and fall out with those that are not as full of us as we are of our selves. 114. In short, 'tis a Passion that abuses our Judgment, and makes us both Unsafe and Ridiculous. — Various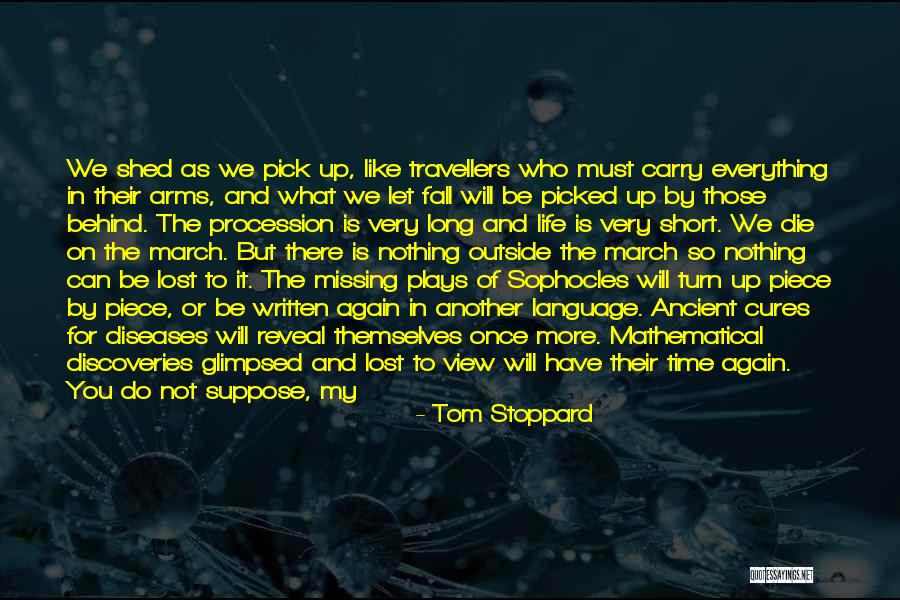 We shed as we pick up, like travellers who must carry everything in their arms, and what we let fall will be picked up by those behind. The procession is very long and life is very short. We die on the march. But there is nothing outside the march so nothing can be lost to it. The missing plays of Sophocles will turn up piece by piece, or be written again in another language. Ancient cures for diseases will reveal themselves once more. Mathematical discoveries glimpsed and lost to view will have their time again. You do not suppose, my lady, that if all of Archimedes had been hiding in the great library of Alexandria, we would be at a loss for a corkscrew? — Tom Stoppard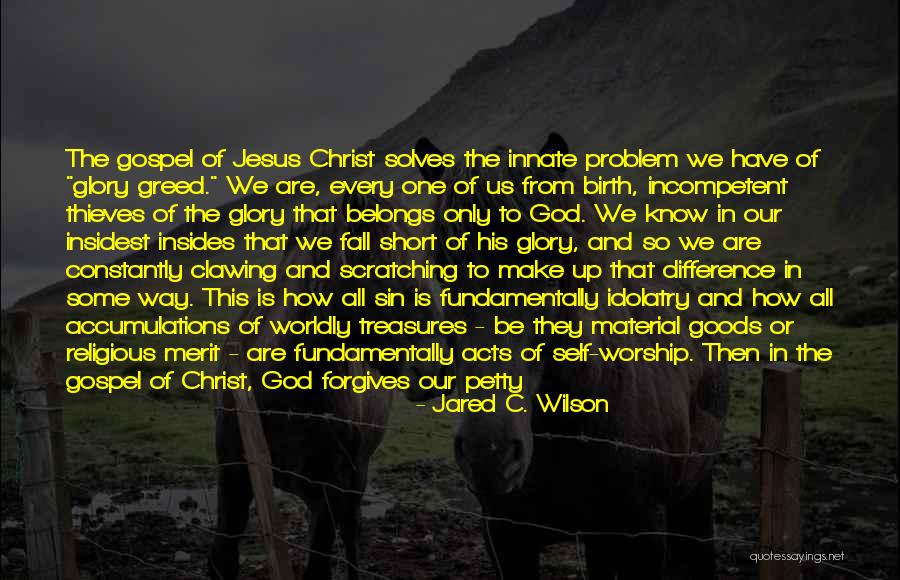 The gospel of Jesus Christ solves the innate problem we have of "glory greed." We are, every one of us from birth, incompetent thieves of the glory that belongs only to God. We know in our insidest insides that we fall short of his glory, and so we are constantly clawing and scratching to make up that difference in some way. This is how all sin is fundamentally idolatry and how all accumulations of worldly treasures - be they material goods or religious merit - are fundamentally acts of self-worship. Then in the gospel of Christ, God forgives our petty theft, sets us free from the bondage of our idols, and unites us Spiritually, irrevocably, and satisfyingly to himself. Now the glory we tried to steal is shared with us freely, and it is real glory this time, not these pathetic knockoffs we think will do the trick. — Jared C. Wilson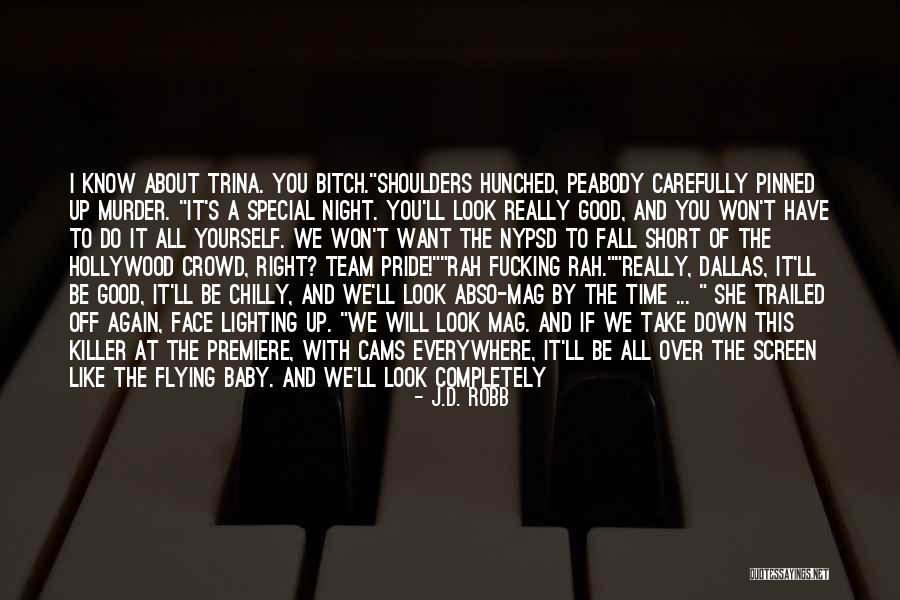 I know about Trina. You bitch."
Shoulders hunched, Peabody carefully pinned up murder. "It's a special night. You'll look really good, and you won't have to do it all yourself. We won't want the NYPSD to fall short of the Hollywood crowd, right? Team pride!"
"Rah fucking rah."
"Really, Dallas, it'll be good, it'll be chilly, and we'll look abso-mag by the time ... " She trailed off again, face lighting up. "We will look mag. And if we take down this killer at the premiere, with cams everywhere, it'll be all over the screen like the flying baby. And we'll look completely frosted."
"It's so good you've got your priorities in place, Detective."
"Catching killers, that's what we do. But if we get to do it at a big celeb event, there's no downside to looking most totally excellent. — J.D. Robb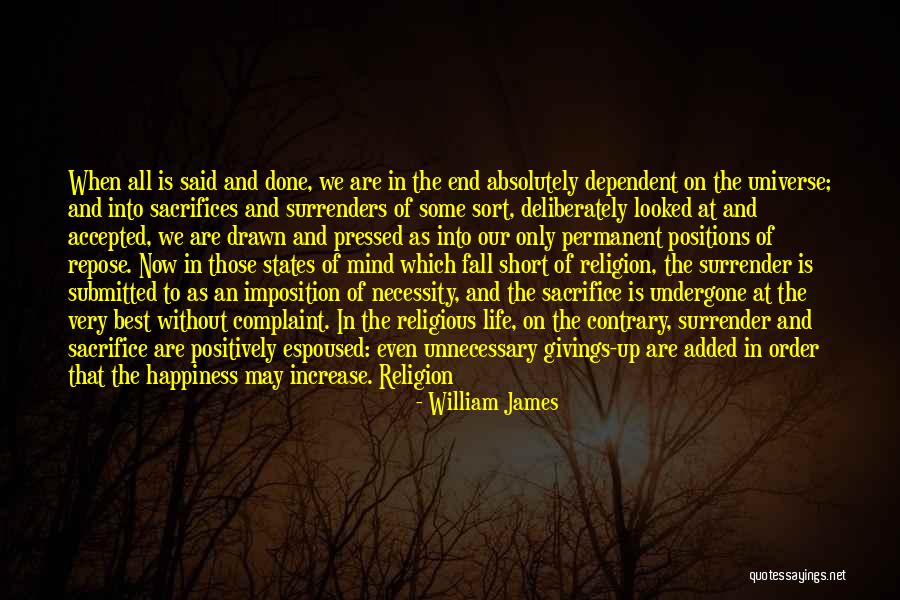 When all is said and done, we are in the end absolutely dependent on the universe; and into sacrifices and surrenders of some sort, deliberately looked at and accepted, we are drawn and pressed as into our only permanent positions of repose. Now in those states of mind which fall short of religion, the surrender is submitted to as an imposition of necessity, and the sacrifice is undergone at the very best without complaint. In the religious life, on the contrary, surrender and sacrifice are positively espoused: even unnecessary givings-up are added in order that the happiness may increase. Religion thus makes easy and felicitous what in any case is necessary. — William James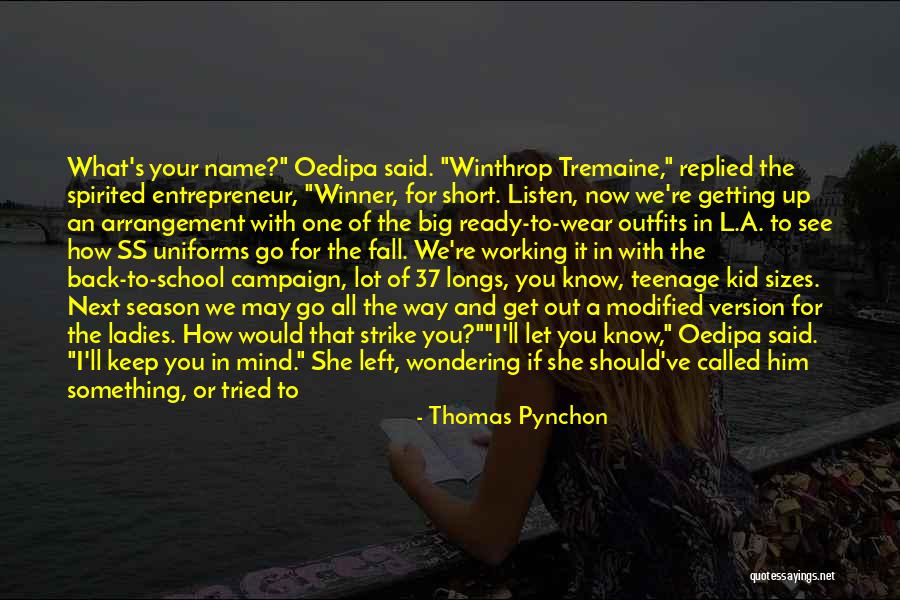 What's your name?" Oedipa said. "Winthrop Tremaine," replied the spirited entrepreneur, "Winner, for short. Listen, now we're getting up an arrangement with one of the big ready-to-wear outfits in L.A. to see how SS uniforms go for the fall. We're working it in with the back-to-school campaign, lot of 37 longs, you know, teenage kid sizes. Next season we may go all the way and get out a modified version for the ladies. How would that strike you?""I'll let you know," Oedipa said. "I'll keep you in mind." She left, wondering if she should've called him something, or tried to hit him with any of a dozen surplus, heavy, blunt objects in easy reach. There had been no witnesses. Why hadn't she? — Thomas Pynchon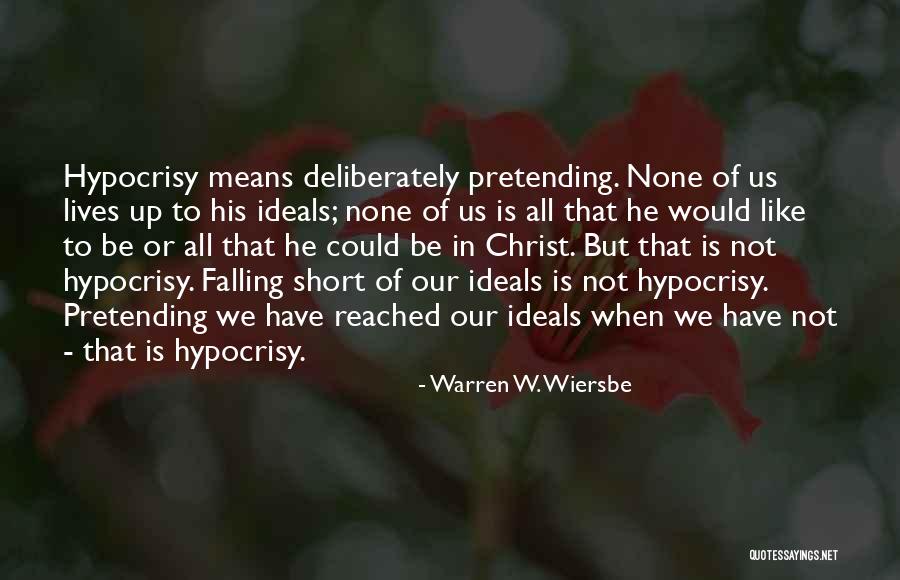 Hypocrisy means deliberately pretending. None of us lives up to his ideals; none of us is all that he would like to be or all that he could be in Christ. But that is not hypocrisy. Falling short of our ideals is not hypocrisy. Pretending we have reached our ideals when we have not - that is hypocrisy. — Warren W. Wiersbe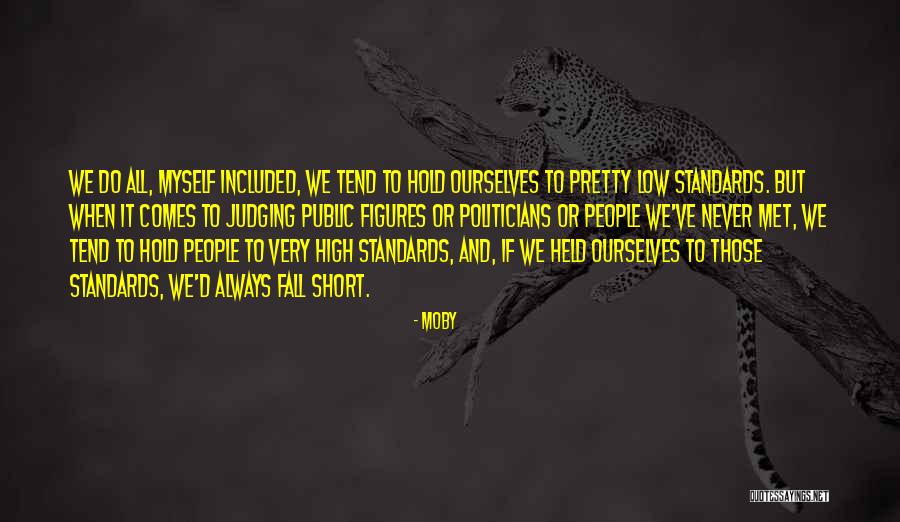 We do all, myself included, we tend to hold ourselves to pretty low standards. But when it comes to judging public figures or politicians or people we've never met, we tend to hold people to very high standards, and, if we held ourselves to those standards, we'd always fall short. — Moby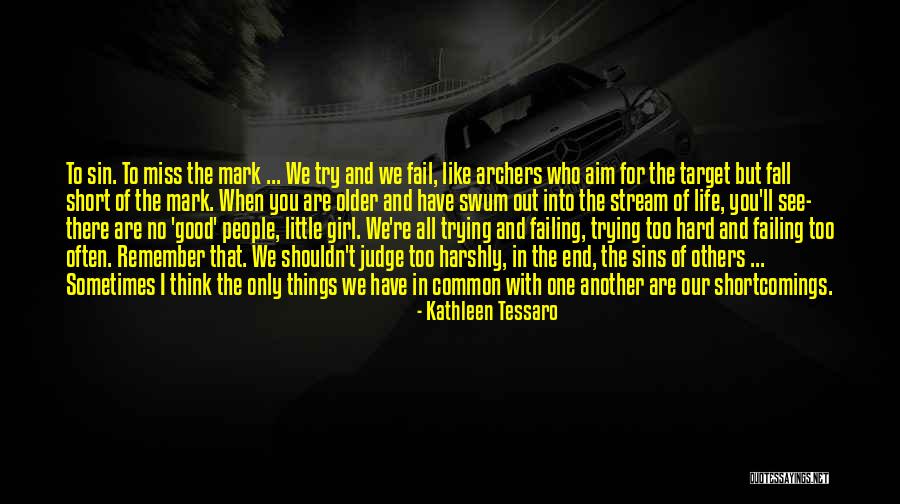 To sin. To miss the mark ... We try and we fail, like archers who aim for the target but fall short of the mark. When you are older and have swum out into the stream of life, you'll see- there are no 'good' people, little girl. We're all trying and failing, trying too hard and failing too often. Remember that. We shouldn't judge too harshly, in the end, the sins of others ... Sometimes I think the only things we have in common with one another are our shortcomings. — Kathleen Tessaro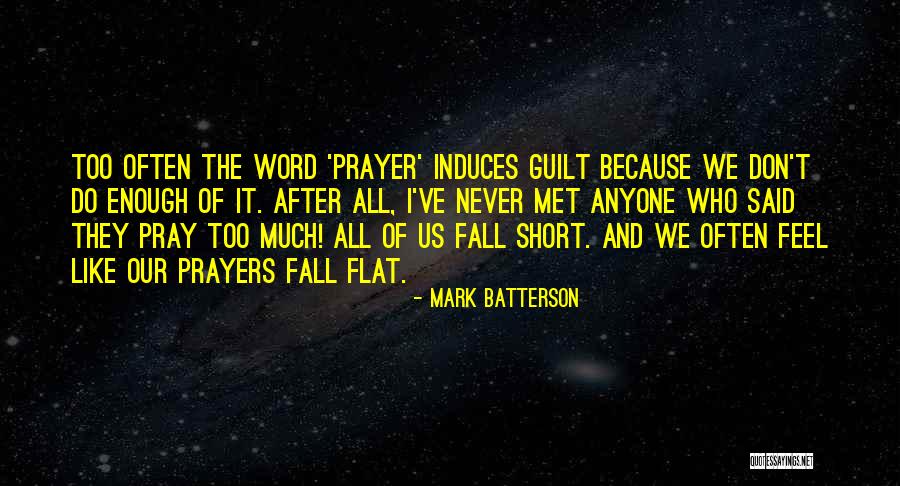 Too often the word 'prayer' induces guilt because we don't do enough of it. After all, I've never met anyone who said they pray too much! All of us fall short. And we often feel like our prayers fall flat. — Mark Batterson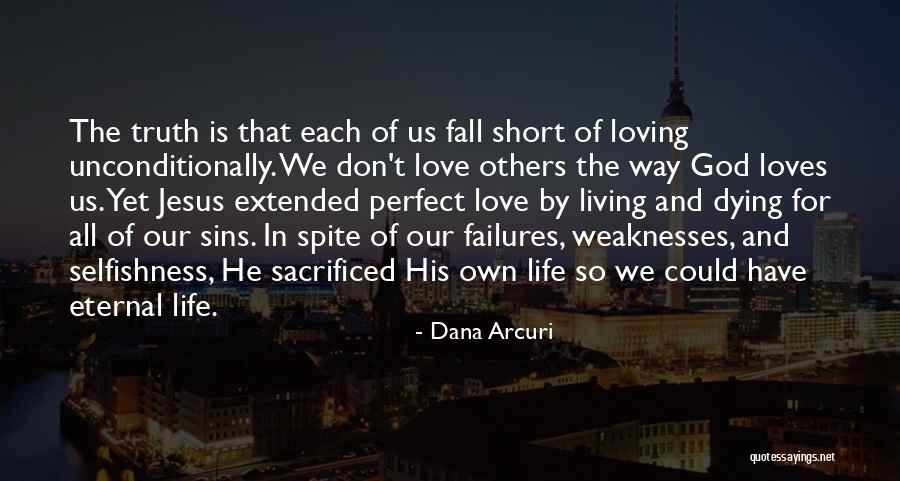 The truth is that each of us fall short of loving unconditionally. We don't love others the way God loves us. Yet Jesus extended perfect love by living and dying for all of our sins. In spite of our failures, weaknesses, and selfishness, He sacrificed His own life so we could have eternal life. — Dana Arcuri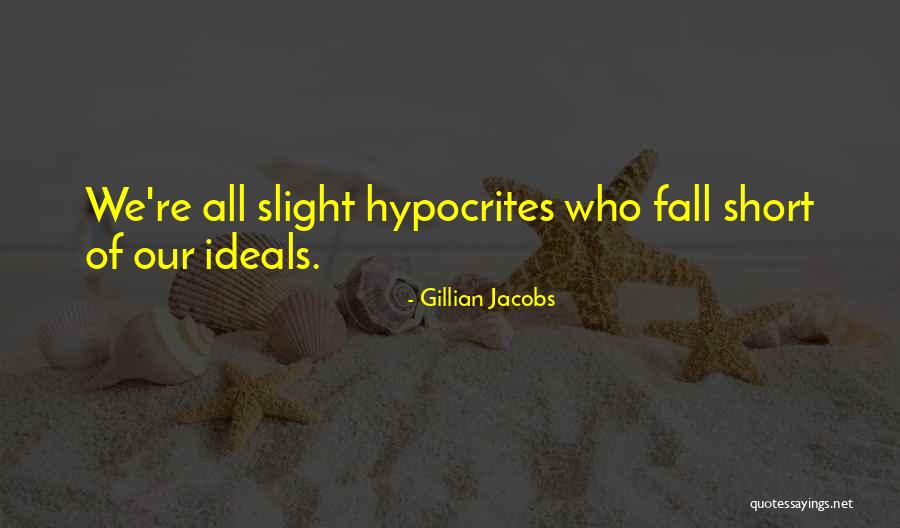 We're all slight hypocrites who fall short of our ideals. — Gillian Jacobs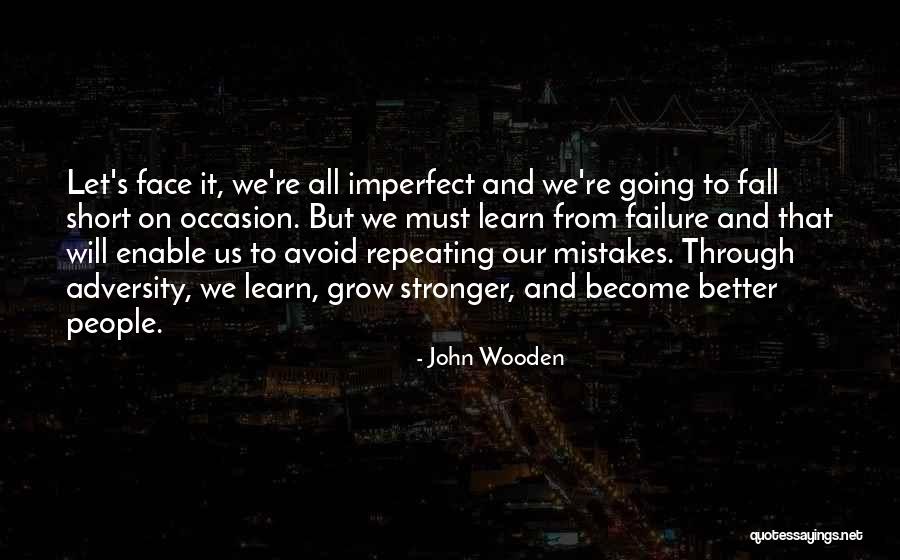 Let's face it, we're all imperfect and we're going to fall short on occasion. But we must learn from failure and that will enable us to avoid repeating our mistakes. Through adversity, we learn, grow stronger, and become better people. — John Wooden
All sin, at its root, is failing to give God glory. It is loving anything else more than God. Refusing to bring glory to God is prideful rebellion, and it is the sin that caused Satan's fall - and ours, too. In different ways we have all lived for our own glory, not God's. The Bible says, "All have sinned and fall short of the glory of God."9 — Rick Warren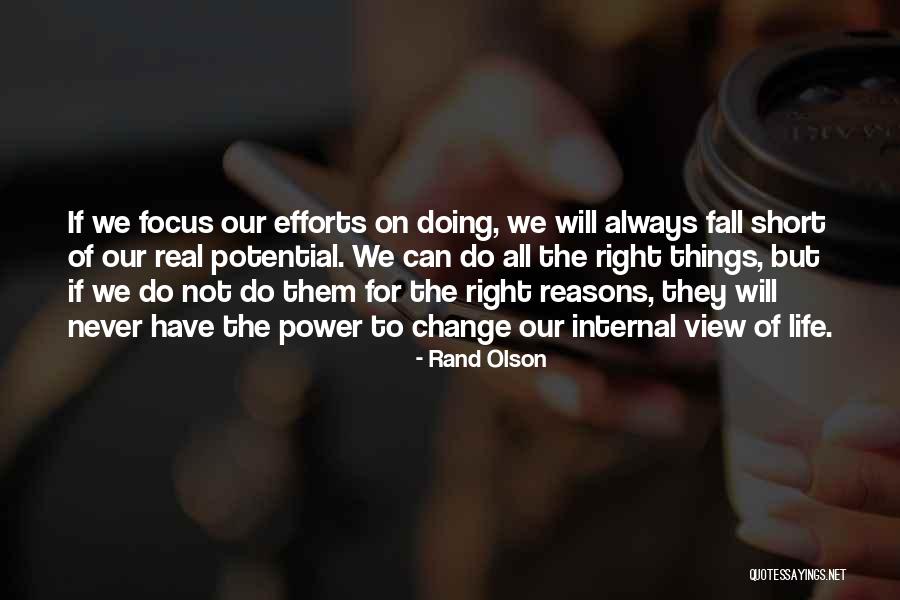 If we focus our efforts on doing, we will always fall short of our real potential. We can do all the right things, but if we do not do them for the right reasons, they will never have the power to change our internal view of life. — Rand Olson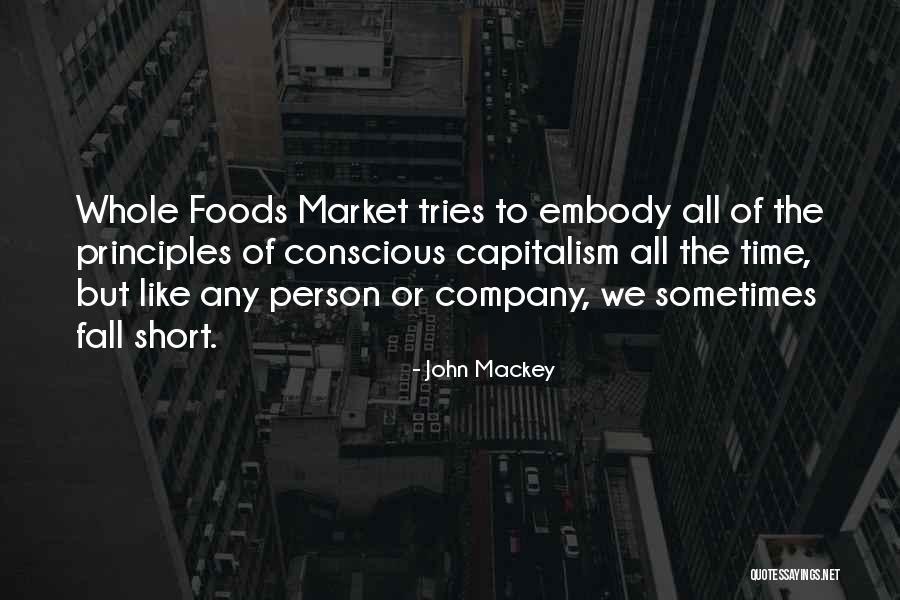 Whole Foods Market tries to embody all of the principles of conscious capitalism all the time, but like any person or company, we sometimes fall short. — John Mackey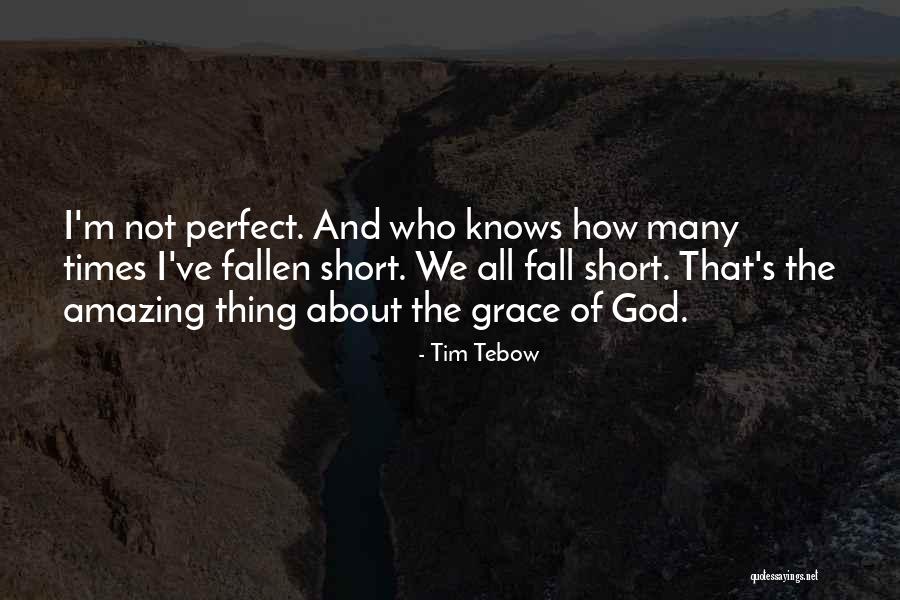 I'm not perfect. And who knows how many times I've fallen short. We all fall short. That's the amazing thing about the grace of God. — Tim Tebow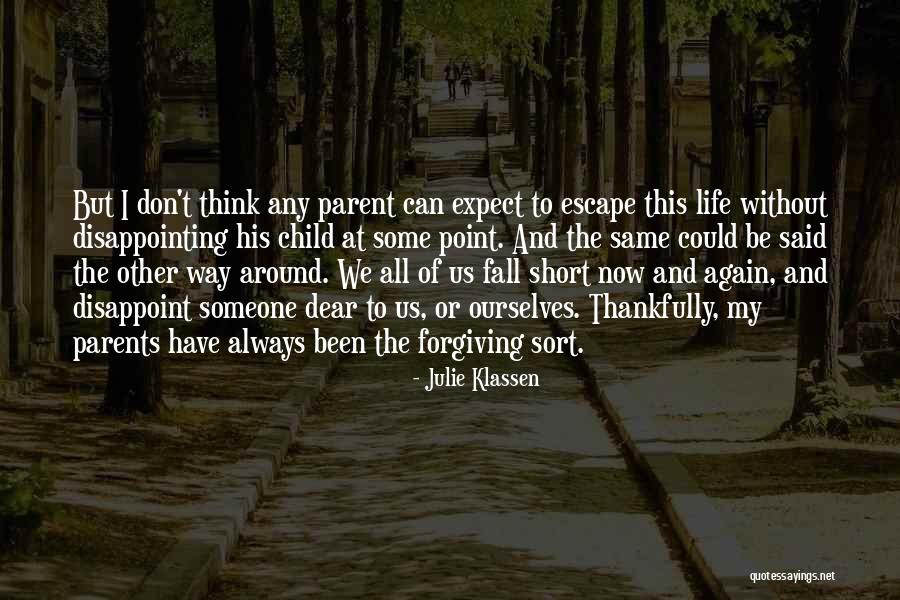 But I don't think any parent can expect to escape this life without disappointing his child at some point. And the same could be said the other way around. We all of us fall short now and again, and disappoint someone dear to us, or ourselves. Thankfully, my parents have always been the forgiving sort. — Julie Klassen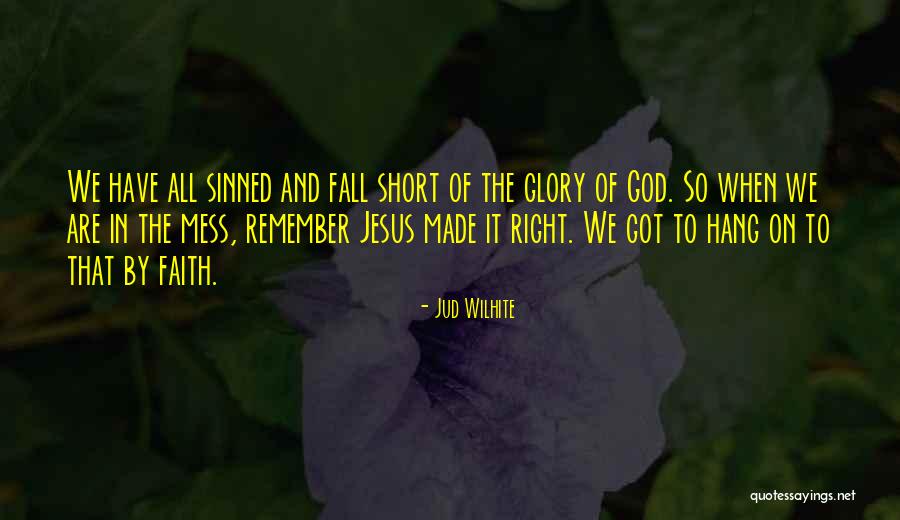 We have all sinned and fall short of the glory of God. So when we are in the mess, remember Jesus made it right. We got to hang on to that by faith. — Jud Wilhite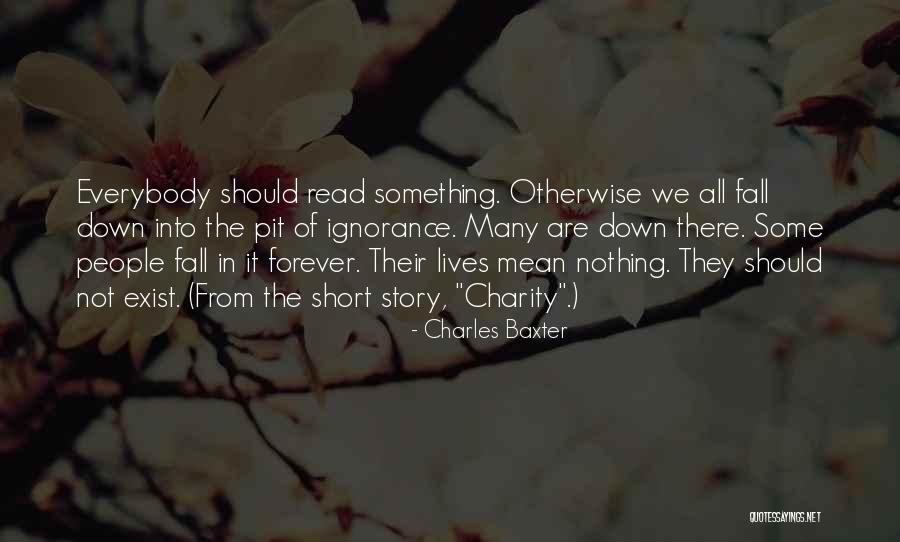 Everybody should read something. Otherwise we all fall down into the pit of ignorance. Many are down there. Some people fall in it forever. Their lives mean nothing. They should not exist. (From the short story, "Charity".) — Charles Baxter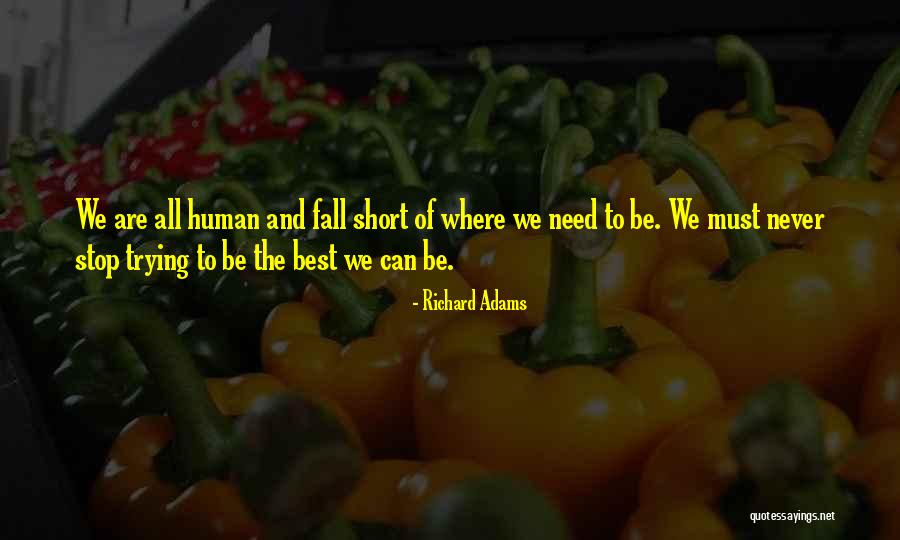 We are all human and fall short of where we need to be. We must never stop trying to be the best we can be. — Richard Adams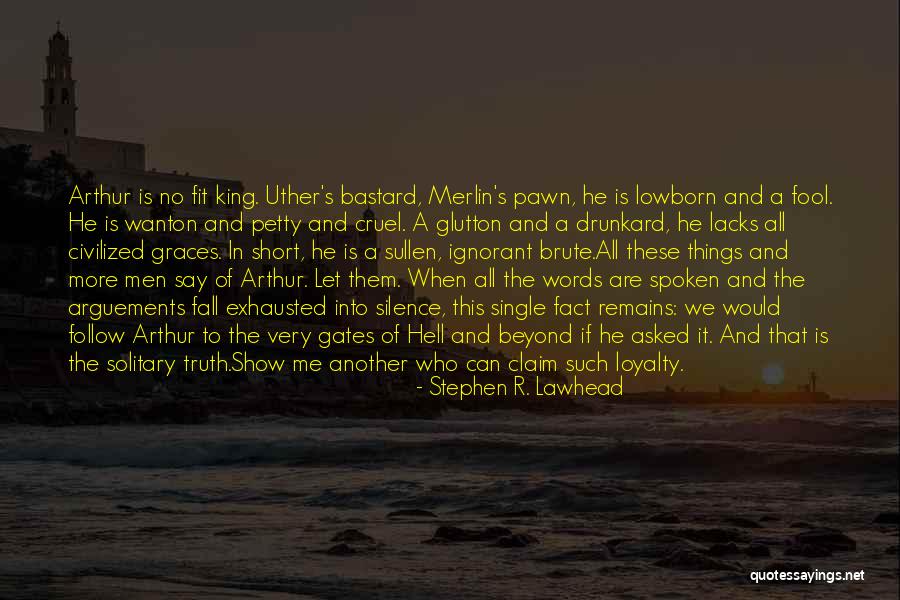 Arthur is no fit king. Uther's bastard, Merlin's pawn, he is lowborn and a fool. He is wanton and petty and cruel. A glutton and a drunkard, he lacks all civilized graces. In short, he is a sullen, ignorant brute.
All these things and more men say of Arthur. Let them. When all the words are spoken and the arguements fall exhausted into silence, this single fact remains: we would follow Arthur to the very gates of Hell and beyond if he asked it. And that is the solitary truth.
Show me another who can claim such loyalty. — Stephen R. Lawhead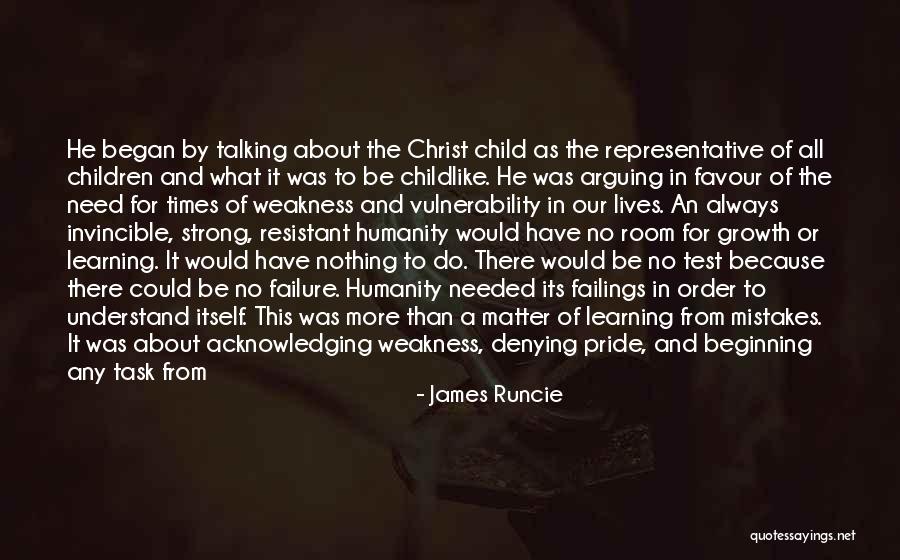 He began by talking about the Christ child as the representative of all children and what it was to be childlike. He was arguing in favour of the need for times of weakness and vulnerability in our lives. An always invincible, strong, resistant humanity would have no room for growth or learning. It would have nothing to do. There would be no test because there could be no failure. Humanity needed its failings in order to understand itself. This was more than a matter of learning from mistakes. It was about acknowledging weakness, denying pride, and beginning any task from a position of openness, aware of the possibility that we often fall short. We must learn from the appearance of the Christ child in the world, as ready for companionship as tribulation, a blank canvas on whose surface life was painted and where depths contained mysteries yet to be understood. 'The — James Runcie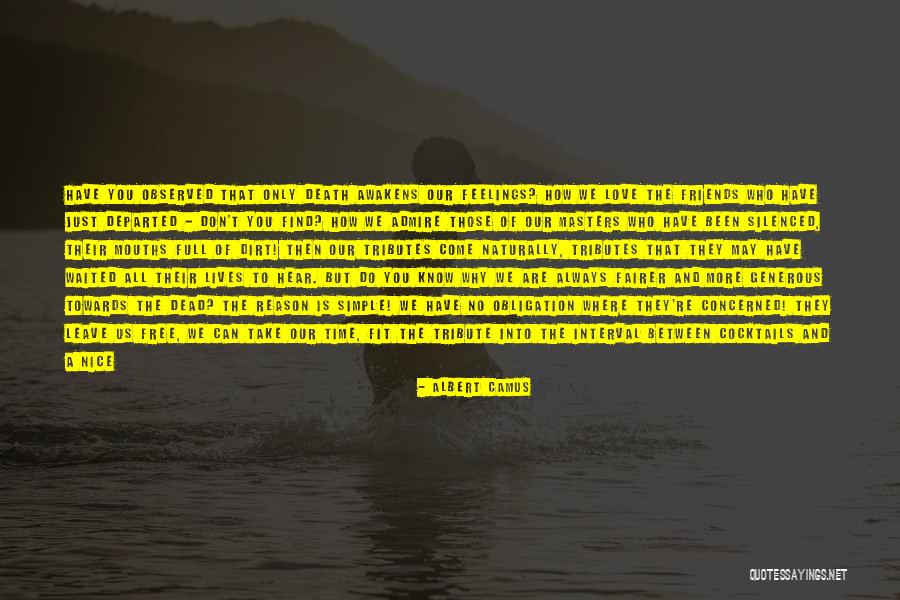 Have you observed that only death awakens our feelings? How we love the friends who have just departed - don't you find? How we admire those of our masters who have been silenced, their mouths full of dirt! Then our tributes come naturally, tributes that they may have waited all their lives to hear. But do you know why we are always fairer and more generous towards the dead? The reason is simple! We have no obligation where they're concerned! They leave us free, we can take our time, fit the tribute into the interval between cocktails and a nice mistress, in other words, lost moments. If they did oblige us to do anything, it would be to remember, and our memories are short. No, what we like in our friends is fresh death, painful death, our own feelings, in short, ourselves! — Albert Camus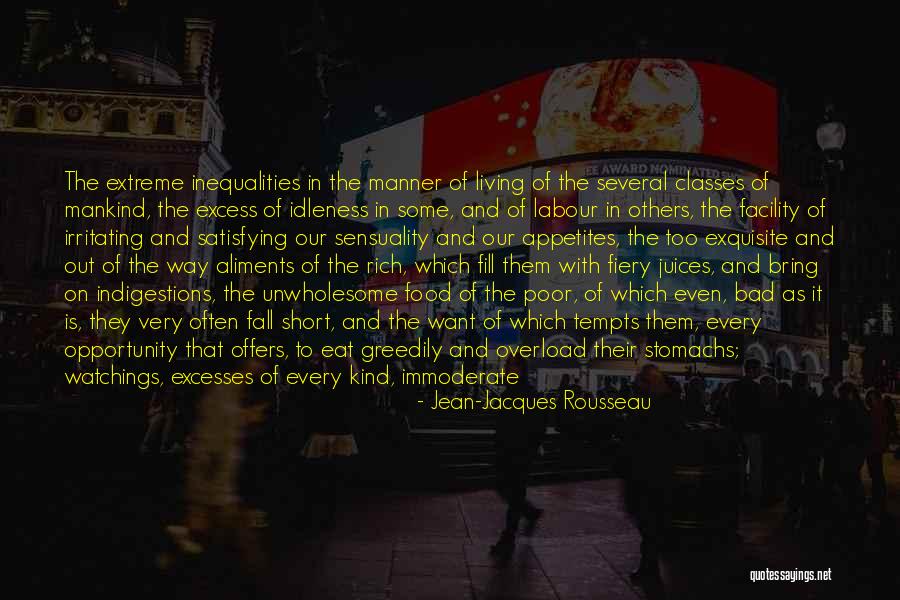 The extreme inequalities in the manner of living of the several classes of mankind, the excess of idleness in some, and of labour in others, the facility of irritating and satisfying our sensuality and our appetites, the too exquisite and out of the way aliments of the rich, which fill them with fiery juices, and bring on indigestions, the unwholesome food of the poor, of which even, bad as it is, they very often fall short, and the want of which tempts them, every opportunity that offers, to eat greedily and overload their stomachs; watchings, excesses of every kind, immoderate transports of all the passions, fatigues, waste of spirits, in a word, the numberless pains and anxieties annexed to every condition, and which the mind of man is constantly a prey to; these are the fatal proofs that most of our ills are of our own making, and that we might have avoided them all by adhering to the simple, uniform and solitary way of life prescribed to us by nature. — Jean-Jacques Rousseau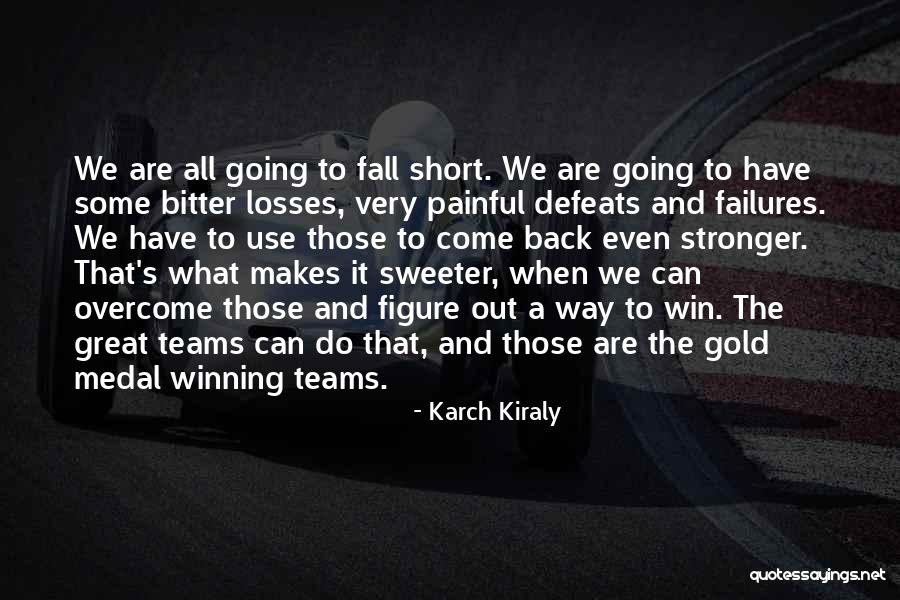 We are all going to fall short. We are going to have some bitter losses, very painful defeats and failures. We have to use those to come back even stronger. That's what makes it sweeter, when we can overcome those and figure out a way to win. The great teams can do that, and those are the gold medal winning teams. — Karch Kiraly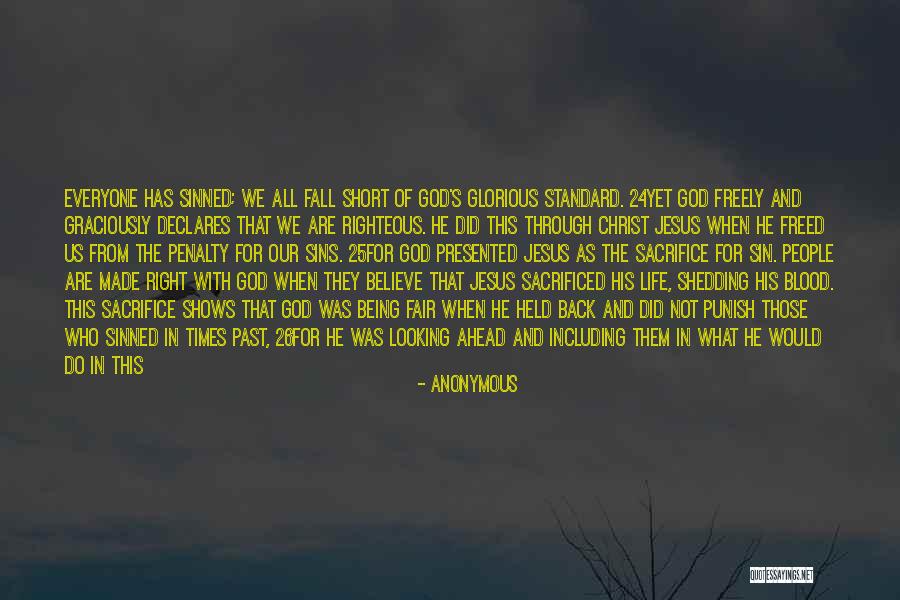 Everyone has sinned; we all fall short of God's glorious standard. 24Yet God freely and graciously declares that we are righteous. He did this through Christ Jesus when he freed us from the penalty for our sins. 25For God presented Jesus as the sacrifice for sin. People are made right with God when they believe that Jesus sacrificed his life, shedding his blood. This sacrifice shows that God was being fair when he held back and did not punish those who sinned in times past, 26for he was looking ahead and including them in what he would do in this present time. God did this to demonstrate his righteousness, for he himself is fair and just, and he declares sinners to be right in his sight when they believe in Jesus. — Anonymous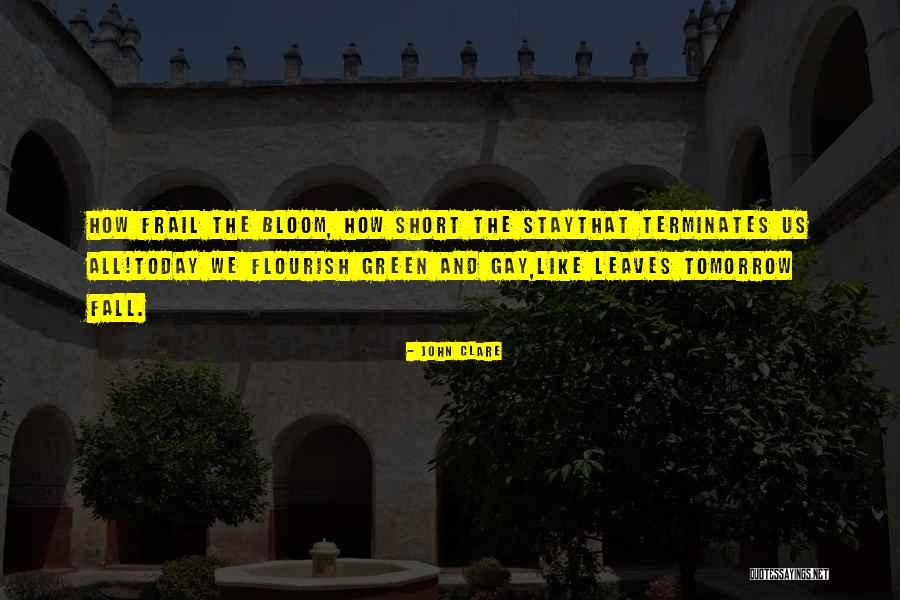 How frail the bloom, how short the stay
That terminates us all!
Today we flourish green and gay,
Like leaves tomorrow fall. — John Clare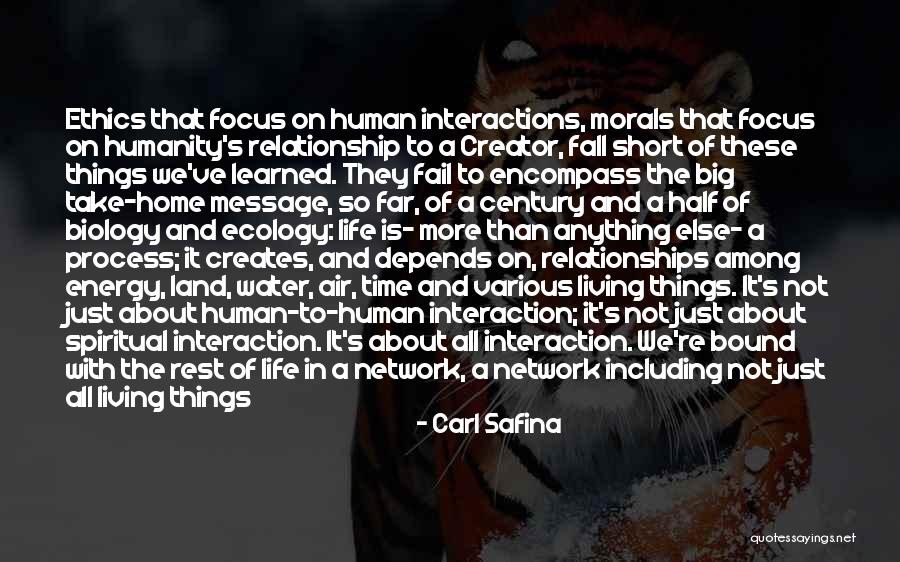 Ethics that focus on human interactions, morals that focus on humanity's relationship to a Creator, fall short of these things we've learned. They fail to encompass the big take-home message, so far, of a century and a half of biology and ecology: life is- more than anything else- a process; it creates, and depends on, relationships among energy, land, water, air, time and various living things. It's not just about human-to-human interaction; it's not just about spiritual interaction. It's about all interaction. We're bound with the rest of life in a network, a network including not just all living things but the energy and nonliving matter that flows through the living, making and keeping all of us alive as we make it alive. We can keep debating ideologies and sending entreaties toward heaven. But unless we embrace the fuller reality we're in- and reality's implications- we'll face big problems. — Carl Safina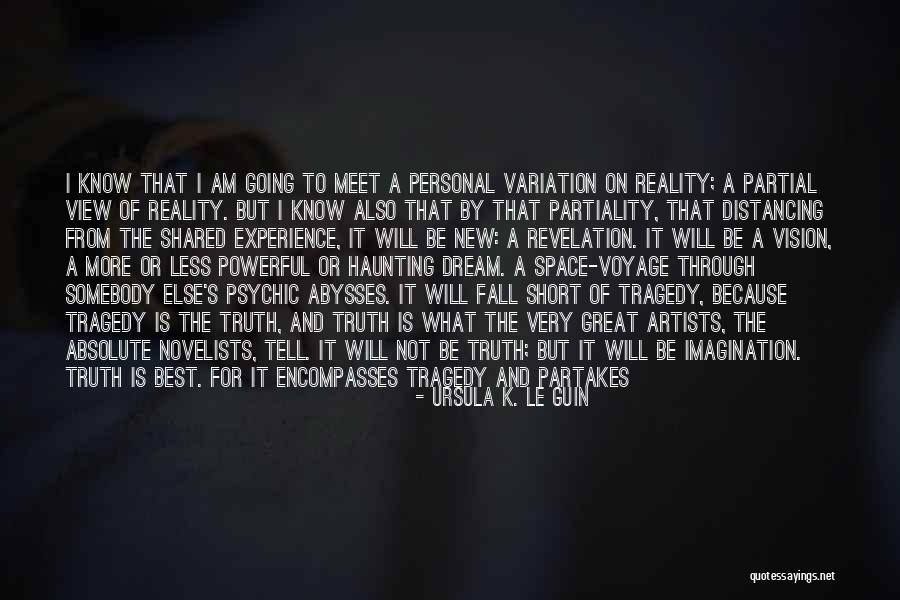 I know that I am going to meet a personal variation on reality; a partial view of reality. But I know also that by that partiality, that distancing from the shared experience, it will be new: a revelation. It will be a vision, a more or less powerful or haunting dream. A space-voyage through somebody else's psychic abysses. It will fall short of tragedy, because tragedy is the truth, and truth is what the very great artists, the absolute novelists, tell. It will not be truth; but it will be imagination. Truth is best. For it encompasses tragedy and partakes of the eternal joy. But very few of us know it; the best we can do is recognize it. Imagination - to me - is the next best. For it partakes of Creation, which is one aspect of the eternal joy.
All the rest is either Politics or Pedantry, or Mainstream Fiction, may it rest in peace. — Ursula K. Le Guin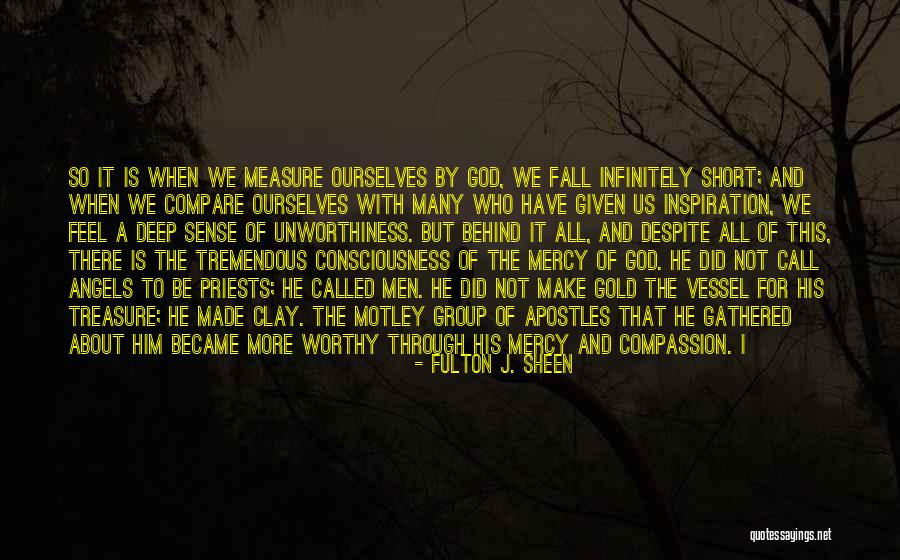 So it is when we measure ourselves by God, we fall infinitely short; and when we compare ourselves with many who have given us inspiration, we feel a deep sense of unworthiness. But behind it all, and despite all of this, there is the tremendous consciousness of the mercy of God. He did not call angels to be priests; He called men. He did not make gold the vessel for his treasure; He made clay. The motley group of Apostles that He gathered about Him became more worthy through his mercy and compassion. I — Fulton J. Sheen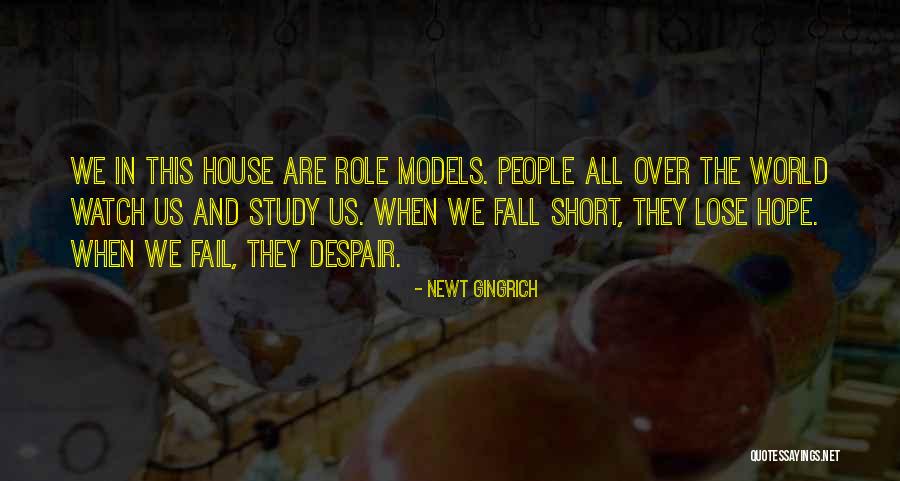 We in this House are role models. People all over the world watch us and study us. When we fall short, they lose hope. When we fail, they despair. — Newt Gingrich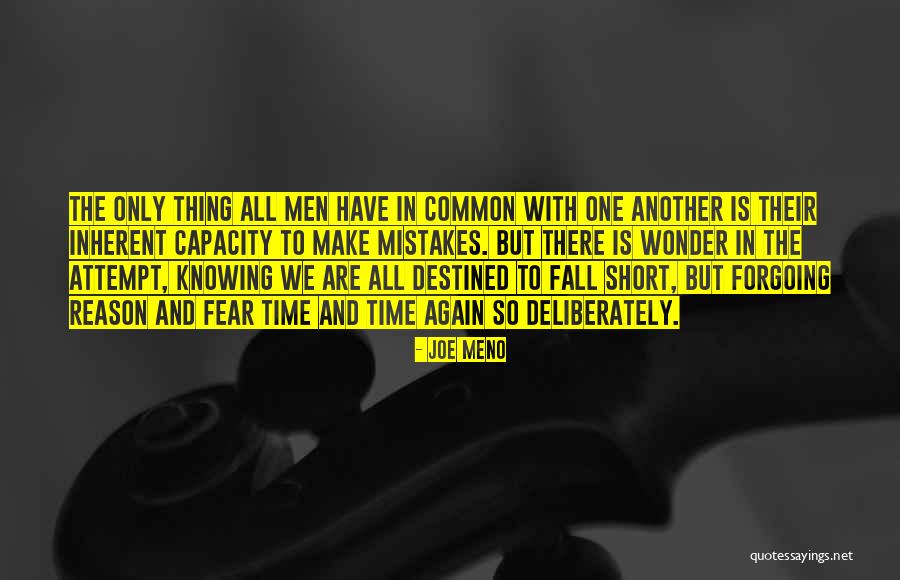 The only thing all men have in common with one another is their inherent capacity to make mistakes. But there is wonder in the attempt, knowing we are all destined to fall short, but forgoing reason and fear time and time again so deliberately. — Joe Meno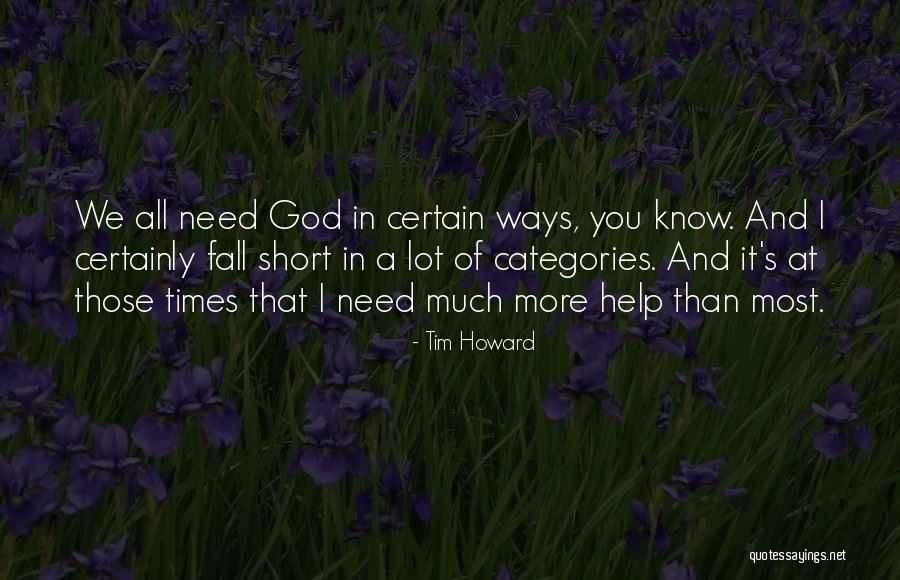 We all need God in certain ways, you know. And I certainly fall short in a lot of categories. And it's at those times that I need much more help than most. — Tim Howard
In high school, she'd been the loner fat girl and I'd been the asshole jock. There had always been something between us; we had gotten on so easily. I remember being both confused and upset that when I'd finally experienced that thing everyone called chemistry, it had been with her of all people. — Rose Fall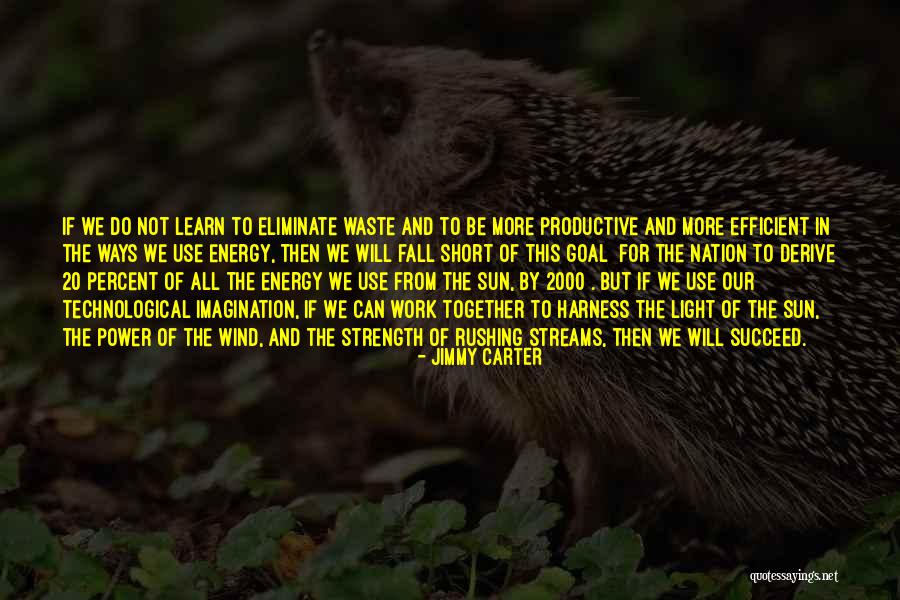 If we do not learn to eliminate waste and to be more productive and more efficient in the ways we use energy, then we will fall short of this goal [for the Nation to derive 20 percent of all the energy we use from the Sun, by 2000]. But if we use our technological imagination, if we can work together to harness the light of the Sun, the power of the wind, and the strength of rushing streams, then we will succeed. — Jimmy Carter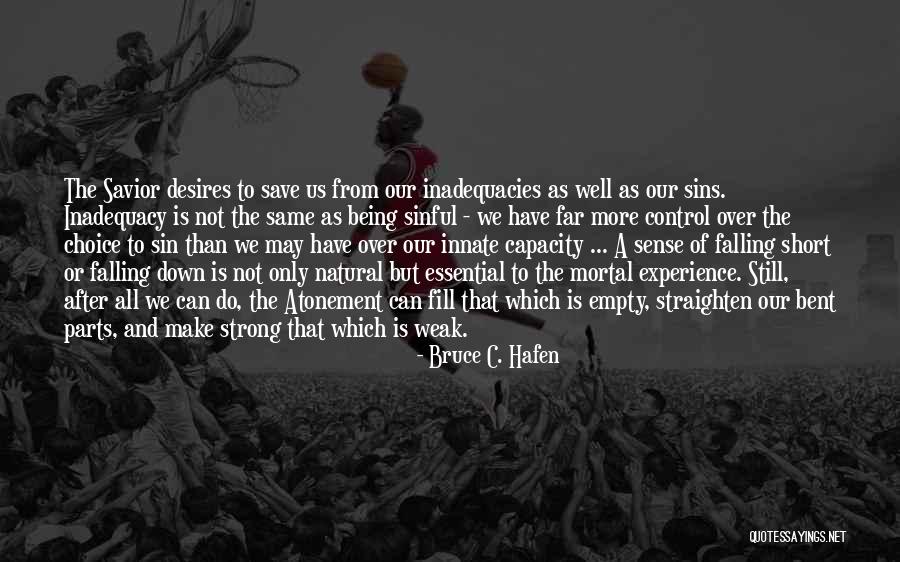 The Savior desires to save us from our inadequacies as well as our sins. Inadequacy is not the same as being sinful - we have far more control over the choice to sin than we may have over our innate capacity ... A sense of falling short or falling down is not only natural but essential to the mortal experience. Still, after all we can do, the Atonement can fill that which is empty, straighten our bent parts, and make strong that which is weak. — Bruce C. Hafen