Quotes & Sayings About Walking In Your Shoes
Enjoy reading and share 64 famous quotes about Walking In Your Shoes with everyone.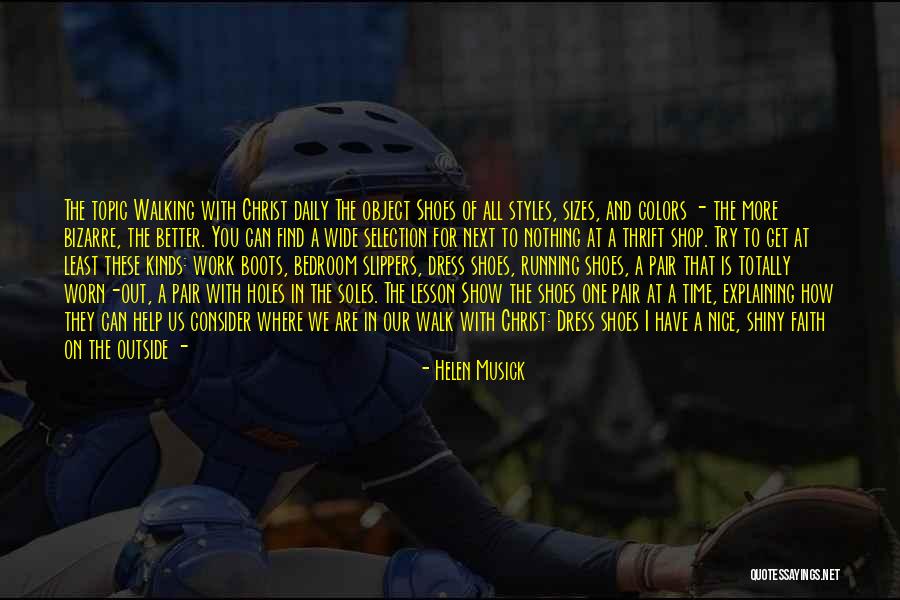 The topic Walking with Christ daily The object Shoes of all styles, sizes, and colors - the more bizarre, the better. You can find a wide selection for next to nothing at a thrift shop. Try to get at least these kinds: work boots, bedroom slippers, dress shoes, running shoes, a pair that is totally worn-out, a pair with holes in the soles. The lesson Show the shoes one pair at a time, explaining how they can help us consider where we are in our walk with Christ: Dress shoes I have a nice, shiny faith on the outside - but I only bring it out on Sundays and special occasions. Bedroom slippers I've made a commitment to Christ, but I've been pretty lazy in terms of trying to serve him. — Helen Musick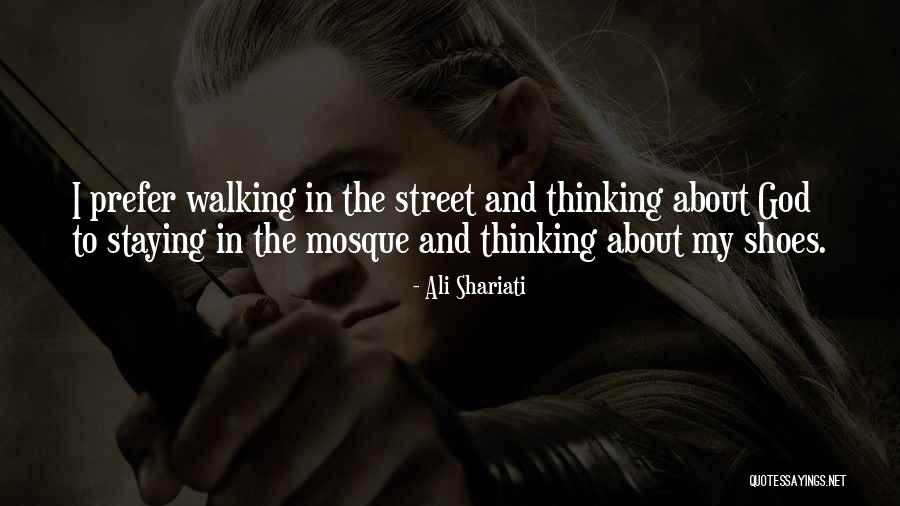 I prefer walking in the street and thinking about God to staying in the mosque and thinking about my shoes. — Ali Shariati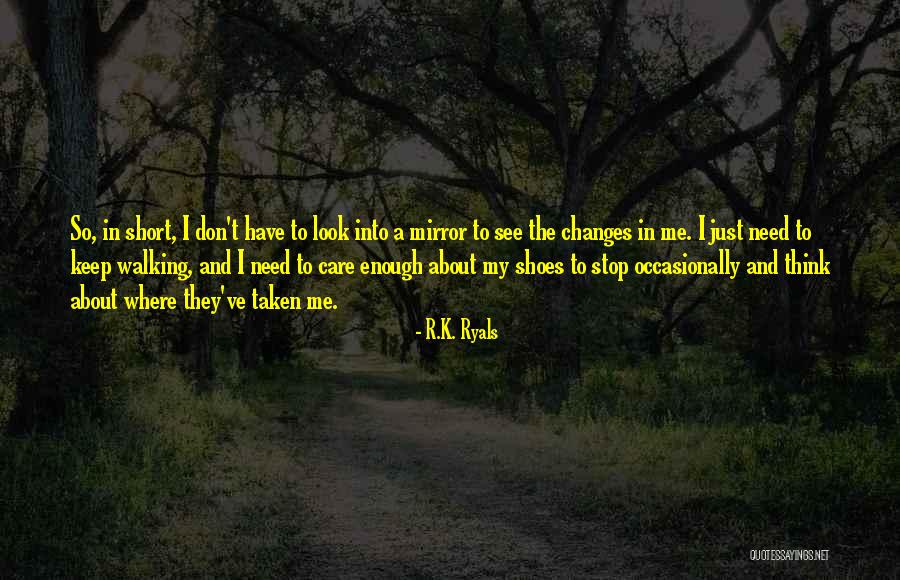 So, in short, I don't have to look into a mirror to see the changes in me. I just need to keep walking, and I need to care enough about my shoes to stop occasionally and think about where they've taken me. — R.K. Ryals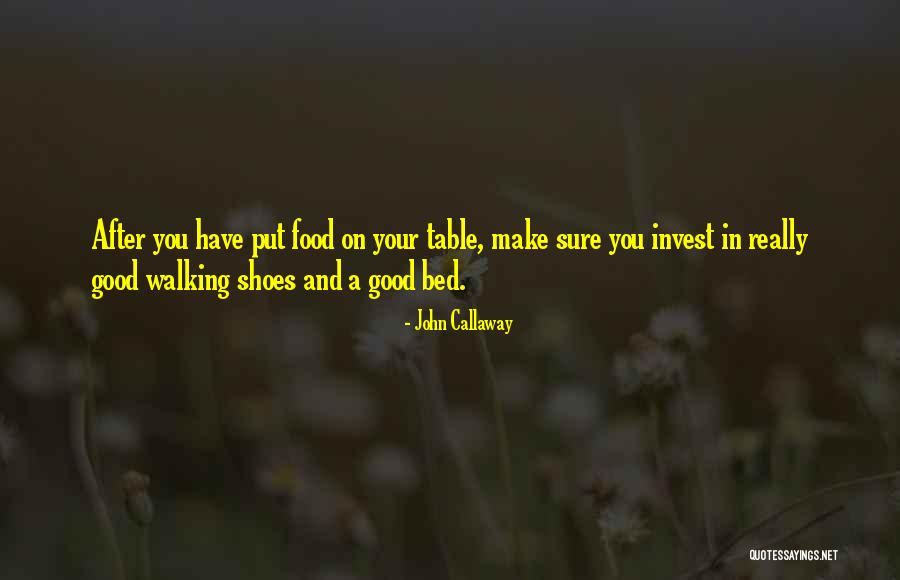 After you have put food on your table, make sure you invest in really good walking shoes and a good bed. — John Callaway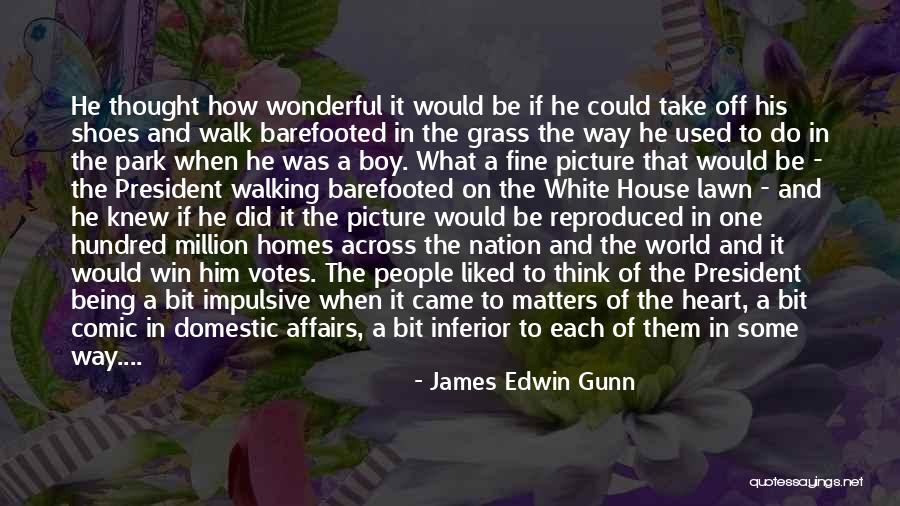 He thought how wonderful it would be if he could take off his shoes and walk barefooted in the grass the way he used to do in the park when he was a boy. What a fine picture that would be - the President walking barefooted on the White House lawn - and he knew if he did it the picture would be reproduced in one hundred million homes across the nation and the world and it would win him votes. The people liked to think of the President being a bit impulsive when it came to matters of the heart, a bit comic in domestic affairs, a bit inferior to each of them in some way.... — James Edwin Gunn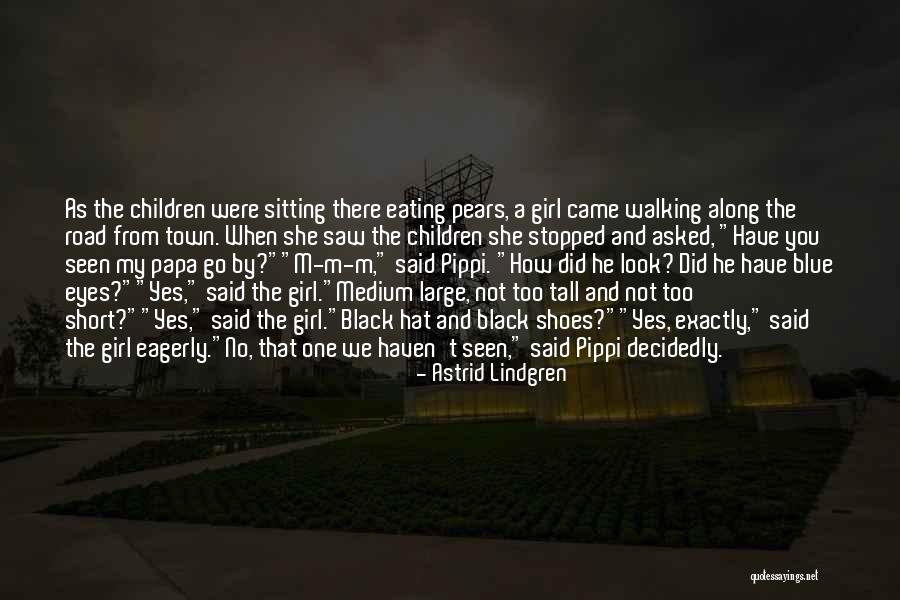 As the children were sitting there eating pears, a girl came walking along the road from town. When she saw the children she stopped and asked, "Have you seen my papa go by?"
"M-m-m," said Pippi. "How did he look? Did he have blue eyes?"
"Yes," said the girl.
"Medium large, not too tall and not too short?"
"Yes," said the girl.
"Black hat and black shoes?"
"Yes, exactly," said the girl eagerly.
"No, that one we haven't seen," said Pippi decidedly. — Astrid Lindgren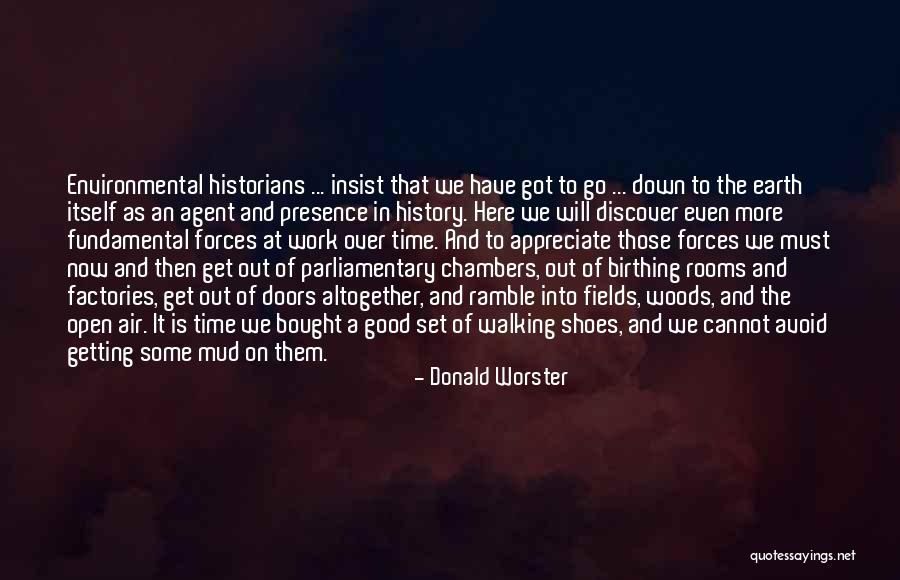 Environmental historians ... insist that we have got to go ... down to the earth itself as an agent and presence in history. Here we will discover even more fundamental forces at work over time. And to appreciate those forces we must now and then get out of parliamentary chambers, out of birthing rooms and factories, get out of doors altogether, and ramble into fields, woods, and the open air. It is time we bought a good set of walking shoes, and we cannot avoid getting some mud on them. — Donald Worster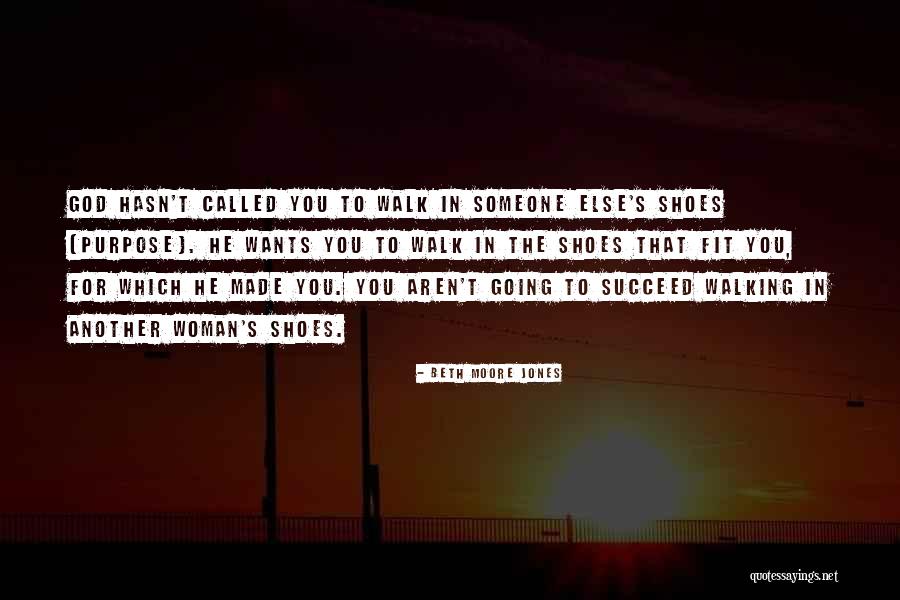 God hasn't called you to walk in someone else's shoes (purpose). He wants you to walk in the shoes that fit you, for which He made you. You aren't going to succeed walking in another woman's shoes. — Beth Moore Jones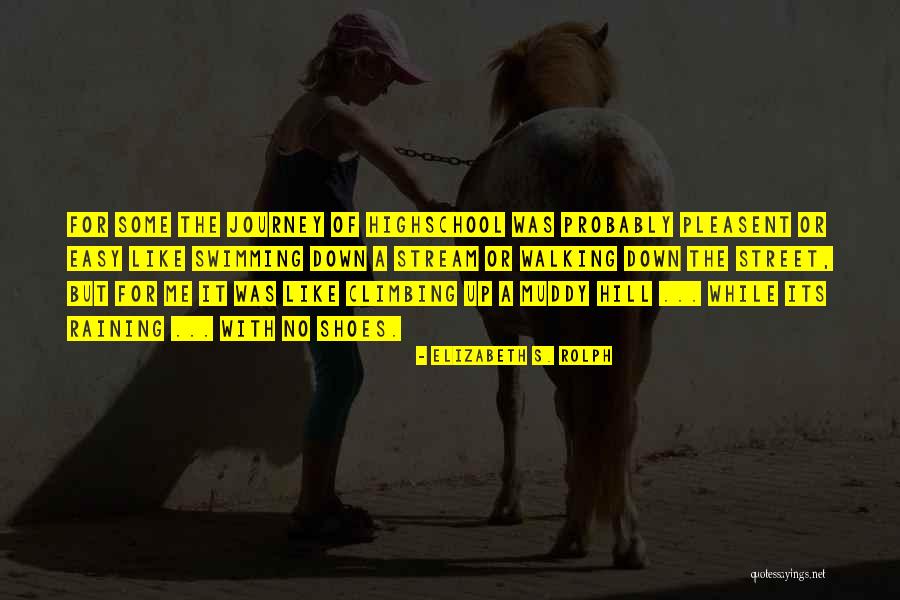 For some the journey of highschool was probably pleasent or easy like swimming down a stream or walking down the street, but for me it was like climbing up a muddy hill ... while its raining ... with no shoes. — Elizabeth S. Rolph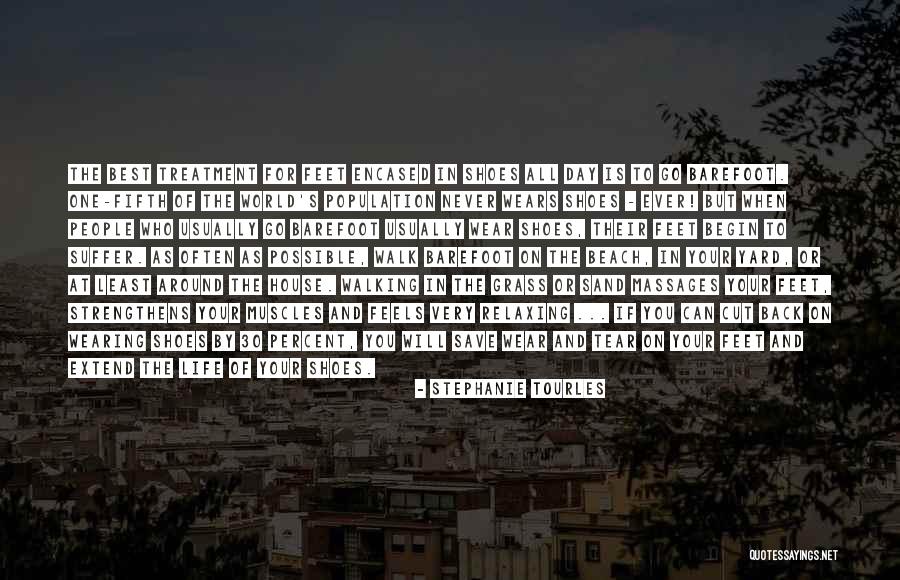 The best treatment for feet encased in shoes all day is to go barefoot. One-fifth of the world's population never wears shoes - ever! But when people who usually go barefoot usually wear shoes, their feet begin to suffer. As often as possible, walk barefoot on the beach, in your yard, or at least around the house. Walking in the grass or sand massages your feet, strengthens your muscles and feels very relaxing ... If you can cut back on wearing shoes by 30 percent, you will save wear and tear on your feet and extend the life of your shoes. — Stephanie Tourles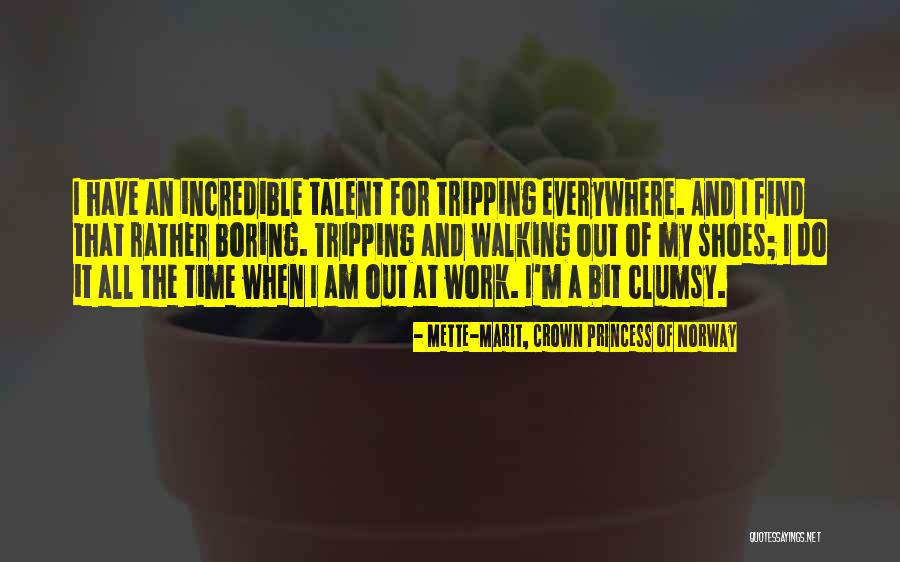 I have an incredible talent for tripping everywhere. And I find that rather boring. Tripping and walking out of my shoes; I do it all the time when I am out at work. I'm a bit clumsy. — Mette-Marit, Crown Princess Of Norway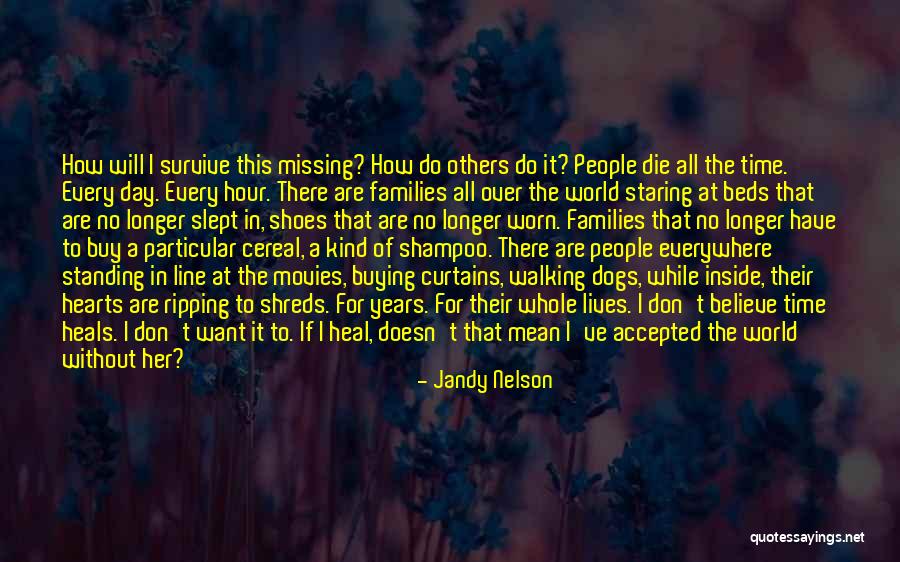 How will I survive this missing? How do others do it? People die all the time. Every day. Every hour. There are families all over the world staring at beds that are no longer slept in, shoes that are no longer worn. Families that no longer have to buy a particular cereal, a kind of shampoo. There are people everywhere standing in line at the movies, buying curtains, walking dogs, while inside, their hearts are ripping to shreds. For years. For their whole lives. I don't believe time heals. I don't want it to. If I heal, doesn't that mean I've accepted the world without her? — Jandy Nelson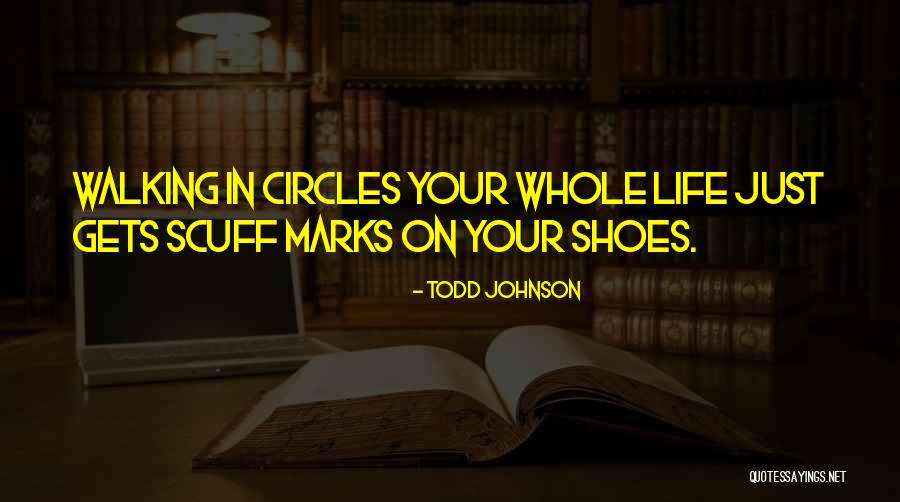 Walking in circles your whole life just gets scuff marks on your shoes. — Todd Johnson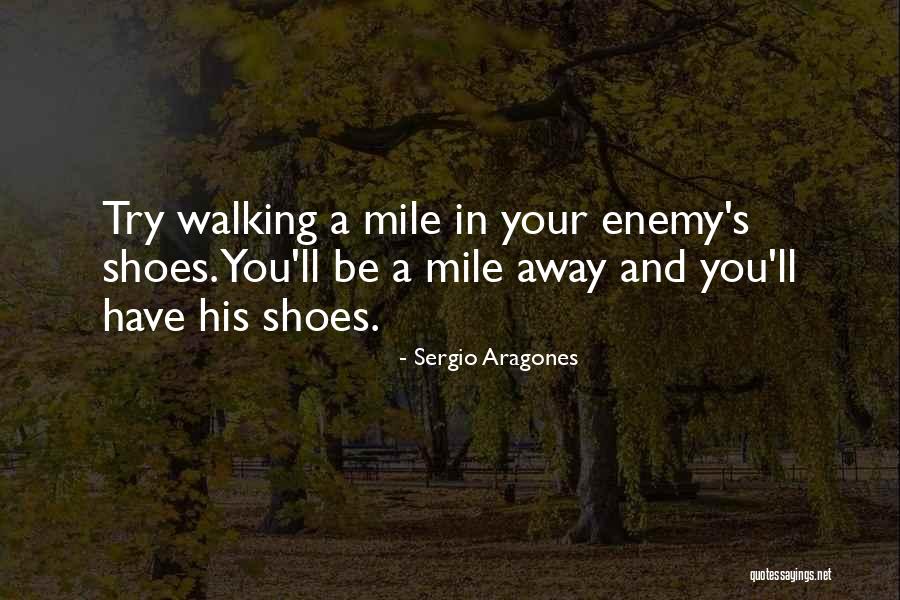 Try walking a mile in your enemy's shoes. You'll be a mile away and you'll have his shoes. — Sergio Aragones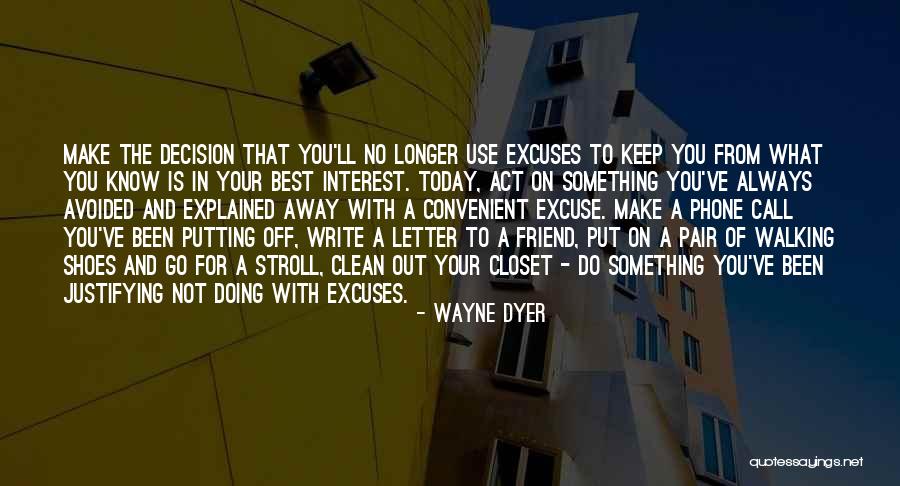 Make the decision that you'll no longer use excuses to keep you from what you know is in your best interest. Today, act on something you've always avoided and explained away with a convenient excuse. Make a phone call you've been putting off, write a letter to a friend, put on a pair of walking shoes and go for a stroll, clean out your closet - do something you've been justifying not doing with excuses. — Wayne Dyer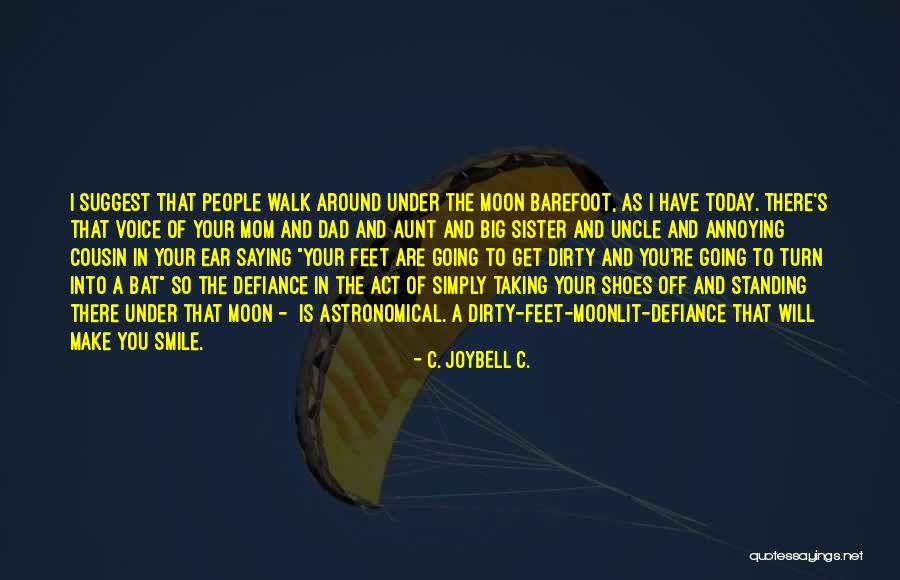 I suggest that people walk around under the moon barefoot, as I have today. There's that voice of your mom and dad and aunt and big sister and uncle and annoying cousin in your ear saying "Your feet are going to get dirty and you're going to turn into a bat" so the defiance in the act of simply taking your shoes off and standing there under that moon - is astronomical. A dirty-feet-moonlit-defiance that will make you smile. — C. JoyBell C.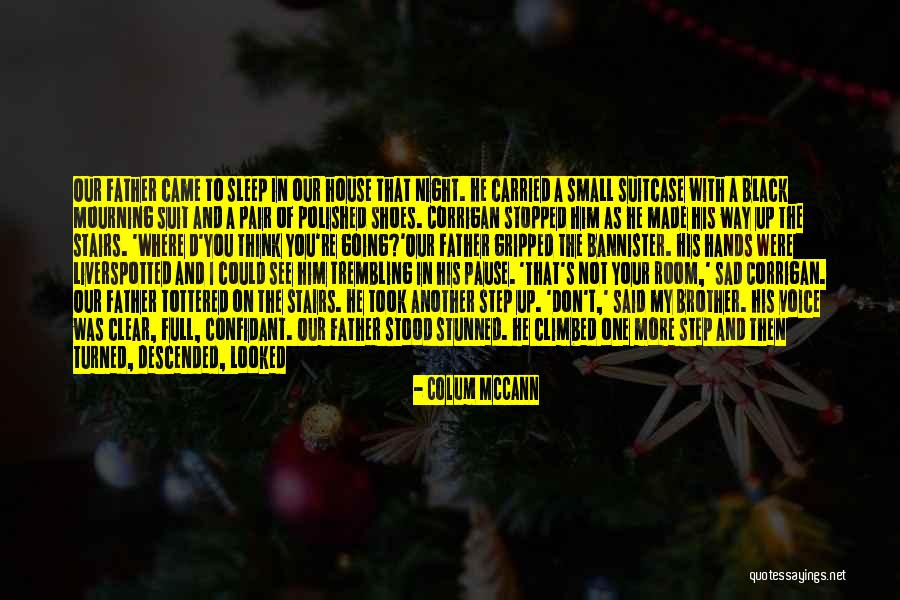 Our father came to sleep in our house that night. He carried a small suitcase with a black mourning suit and a pair of polished shoes. Corrigan stopped him as he made his way up the stairs. 'Where d'you think you're going?'Our father gripped the bannister. His hands were liverspotted and I could see him trembling in his pause. 'That's not your room,' sad Corrigan. Our father tottered on the stairs. He took another step up. 'Don't,' said my brother. His voice was clear, full, confidant. Our father stood stunned. He climbed one more step and then turned, descended, looked around, lost.
'My own sons,' he said.
We made a bed for him on a sofa in the living room, but even then Corrigan refused to stay under the same roof; he went walking in the direction of the city center and I wondered what alley he might be found in later that night, what fist he might walk into, whose bottle he might climb down inside. — Colum McCann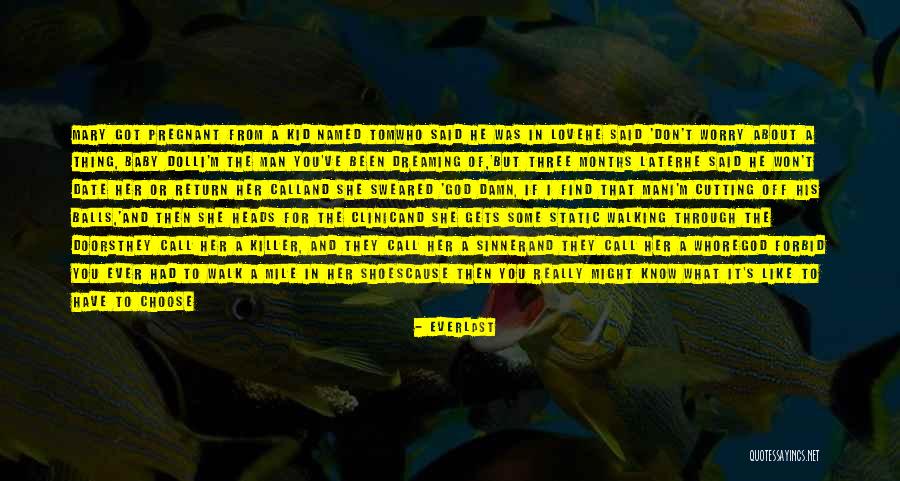 Mary got pregnant from a kid named Tom
Who said he was in love
He said 'Don't worry about a thing, baby doll
I'm the man you've been dreaming of,'
But three months later
He said he won't date her or return her call
And she sweared 'God damn, if I find that man
I'm cutting off his balls,'
And then she heads for the clinic
And she gets some static walking through the doors
They call her a killer, and they call her a sinner
And they call her a whore

God forbid you ever had to walk a mile in her shoes
Cause then you really might know what it's like to have to choose — Everlast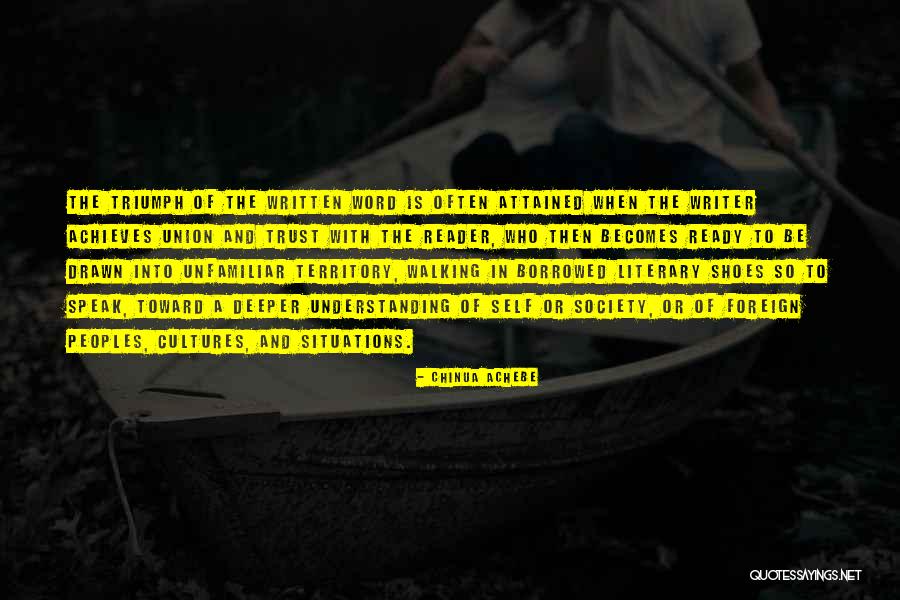 The triumph of the written word is often attained when the writer achieves union and trust with the reader, who then becomes ready to be drawn into unfamiliar territory, walking in borrowed literary shoes so to speak, toward a deeper understanding of self or society, or of foreign peoples, cultures, and situations. — Chinua Achebe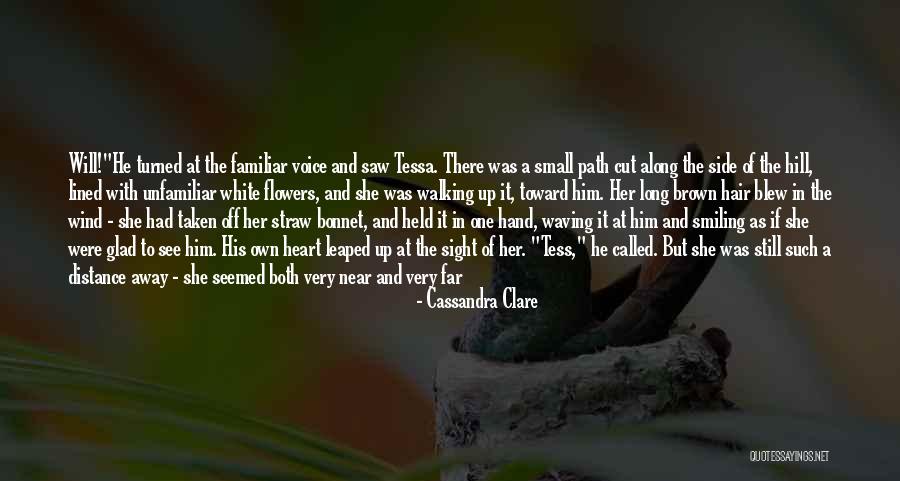 Will!"
He turned at the familiar voice and saw Tessa. There was a small path cut along the side of the hill, lined with unfamiliar white flowers, and she was walking up it, toward him. Her long brown hair blew in the wind - she had taken off her straw bonnet, and held it in one hand, waving it at him and smiling as if she were glad to see him.
His own heart leaped up at the sight of her. "Tess," he called. But she was still such a distance away - she seemed both very near and very far suddenly and at the same time. He could see every detail of her pretty, upturned face, but could not touch her, and so he stood, waiting and desiring, and his heart beat like the wings of seagulls in his chest.
At last she was there, close enough that he could see where the grass and flowers bent beneath the tread of her shoes. He reached out for her - — Cassandra Clare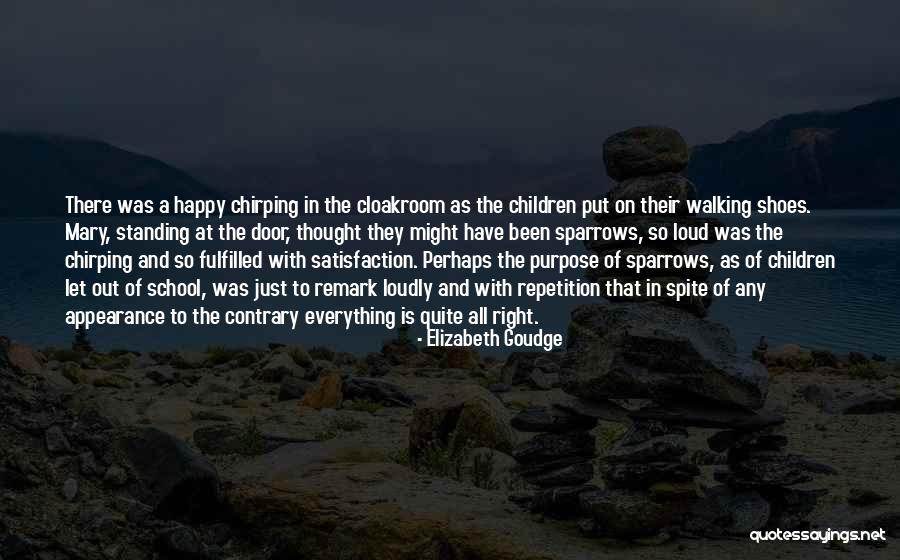 There was a happy chirping in the cloakroom as the children put on their walking shoes. Mary, standing at the door, thought they might have been sparrows, so loud was the chirping and so fulfilled with satisfaction. Perhaps the purpose of sparrows, as of children let out of school, was just to remark loudly and with repetition that in spite of any appearance to the contrary everything is quite all right. — Elizabeth Goudge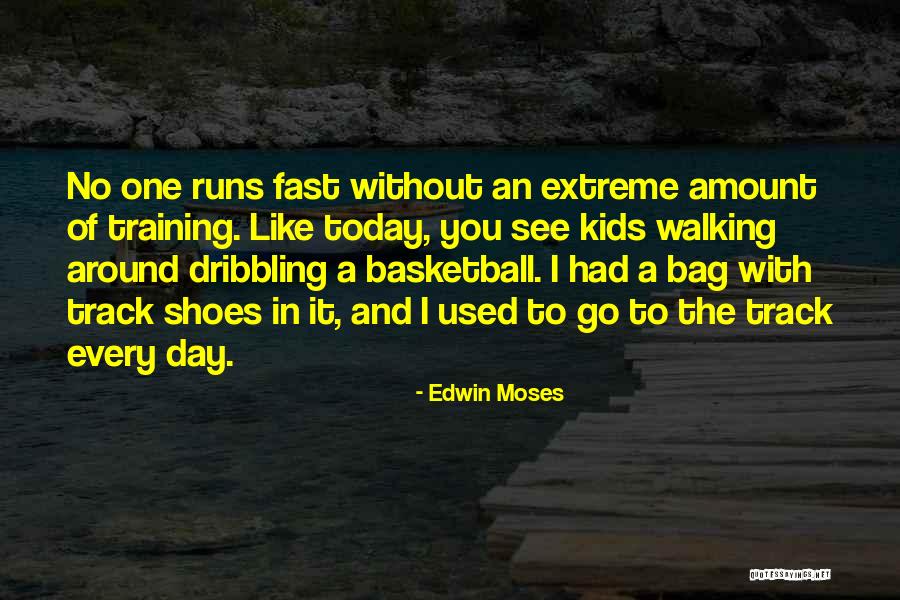 No one runs fast without an extreme amount of training. Like today, you see kids walking around dribbling a basketball. I had a bag with track shoes in it, and I used to go to the track every day. — Edwin Moses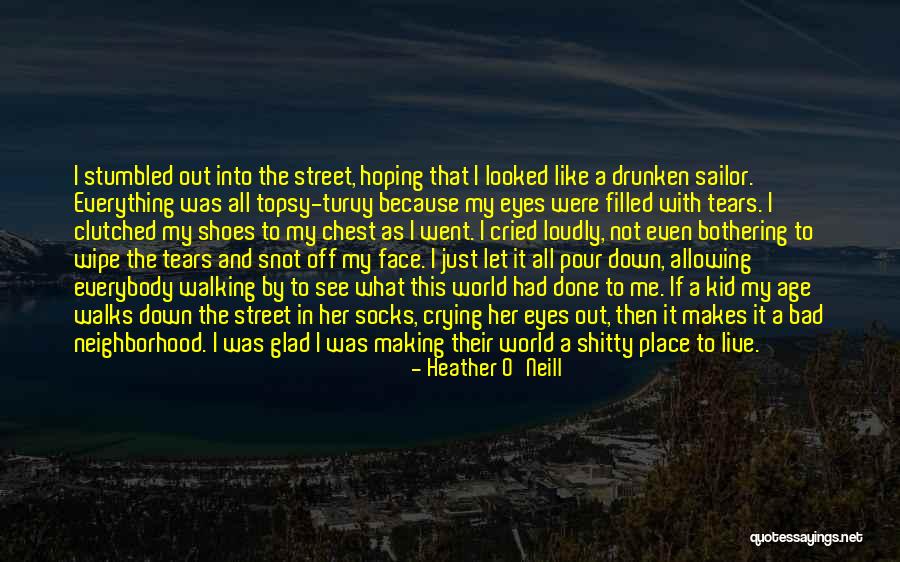 I stumbled out into the street, hoping that I looked like a drunken sailor. Everything was all topsy-turvy because my eyes were filled with tears. I clutched my shoes to my chest as I went. I cried loudly, not even bothering to wipe the tears and snot off my face. I just let it all pour down, allowing everybody walking by to see what this world had done to me. If a kid my age walks down the street in her socks, crying her eyes out, then it makes it a bad neighborhood. I was glad I was making their world a shitty place to live. — Heather O'Neill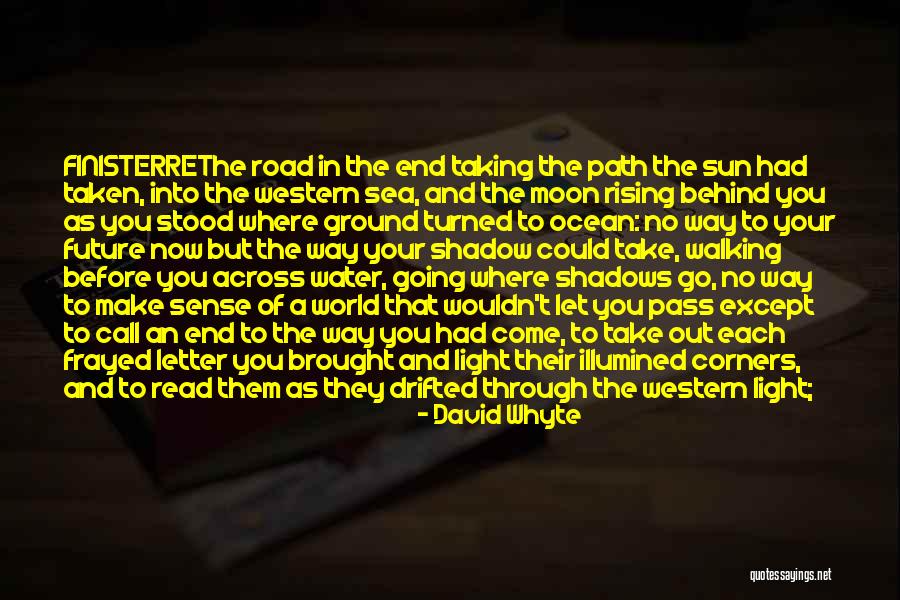 FINISTERRE
The road in the end taking the path the sun had taken,
into the western sea, and the moon rising behind you
as you stood where ground turned to ocean: no way
to your future now but the way your shadow could take,
walking before you across water, going where shadows go,
no way to make sense of a world that wouldn't let you pass
except to call an end to the way you had come,
to take out each frayed letter you brought
and light their illumined corners, and to read
them as they drifted through the western light;
to empty your bags; to sort this and to leave that;
to promise what you needed to promise all along,
and to abandon the shoes that had brought you here
right at the water's edge, not because you had given up
but because now, you would find a different way to tread,
and because, through it all, part of you could still walk on,
no matter how, over the waves. — David Whyte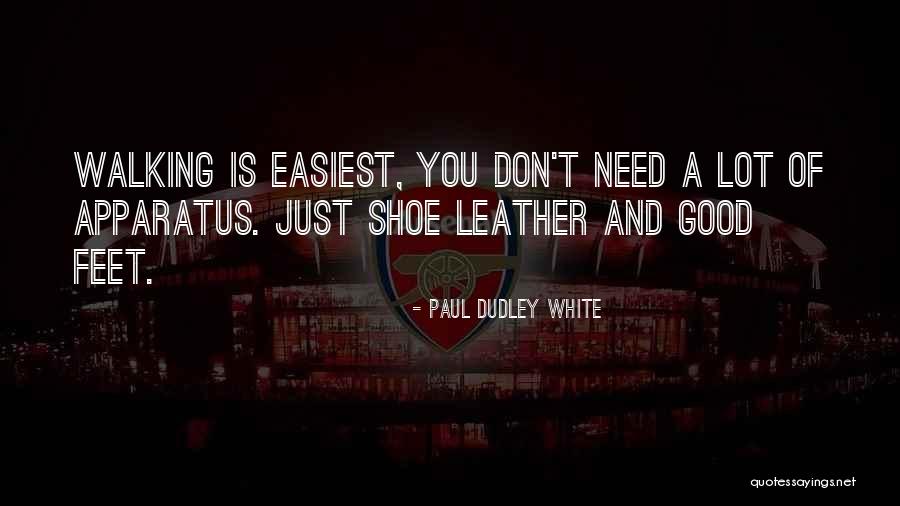 Walking is easiest, you don't need a lot of apparatus. Just shoe leather and good feet. — Paul Dudley White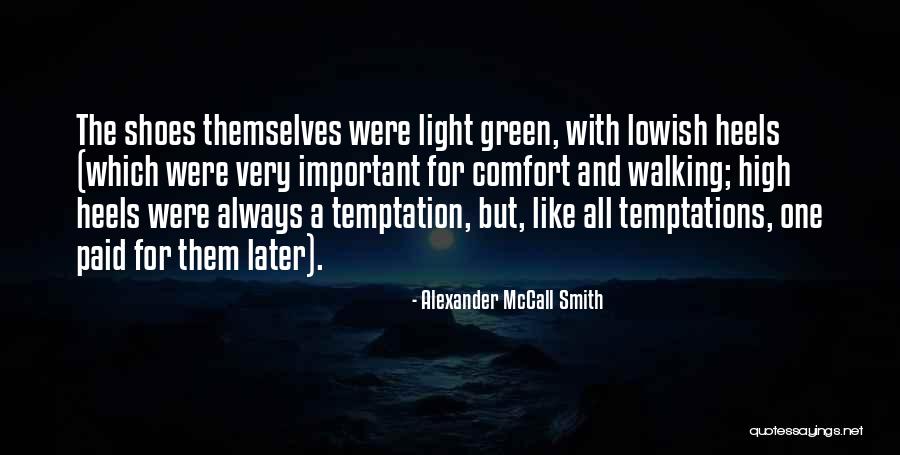 The shoes themselves were light green, with lowish heels (which were very important for comfort and walking; high heels were always a temptation, but, like all temptations, one paid for them later). — Alexander McCall Smith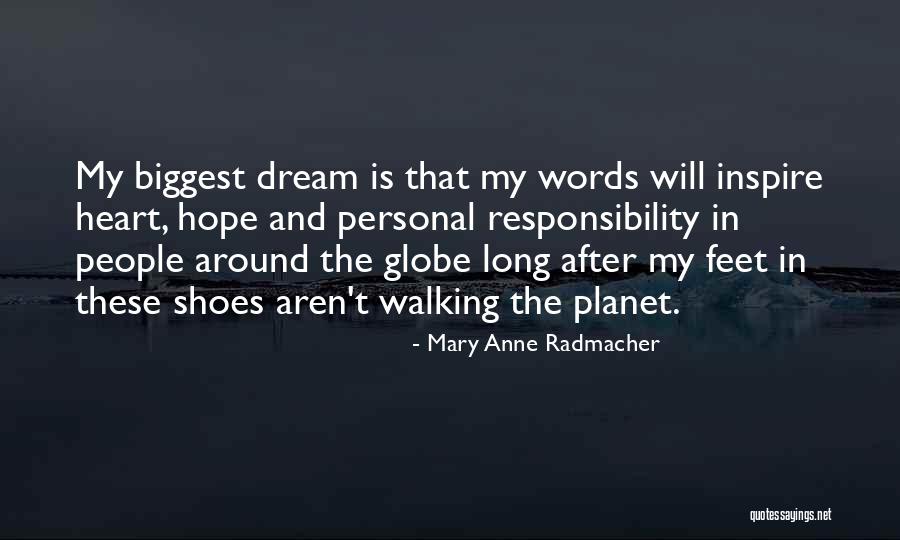 My biggest dream is that my words will inspire heart, hope and personal responsibility in people around the globe long after my feet in these shoes aren't walking the planet. — Mary Anne Radmacher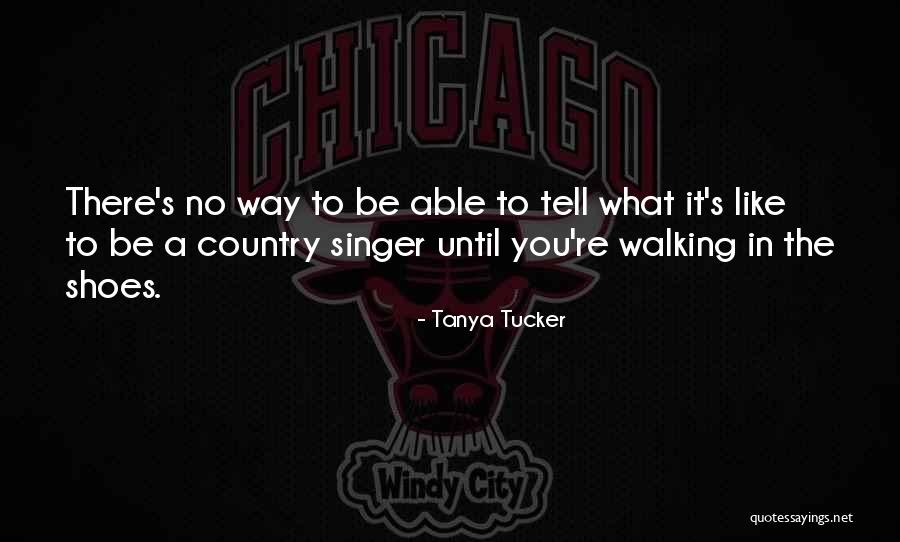 There's no way to be able to tell what it's like to be a country singer until you're walking in the shoes. — Tanya Tucker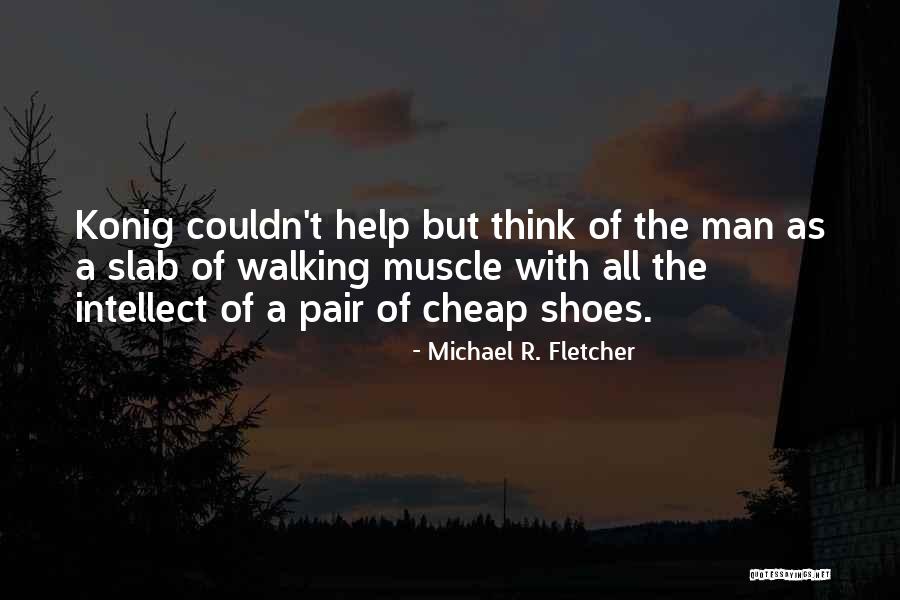 Konig couldn't help but think of the man as a slab of walking muscle with all the intellect of a pair of cheap shoes. — Michael R. Fletcher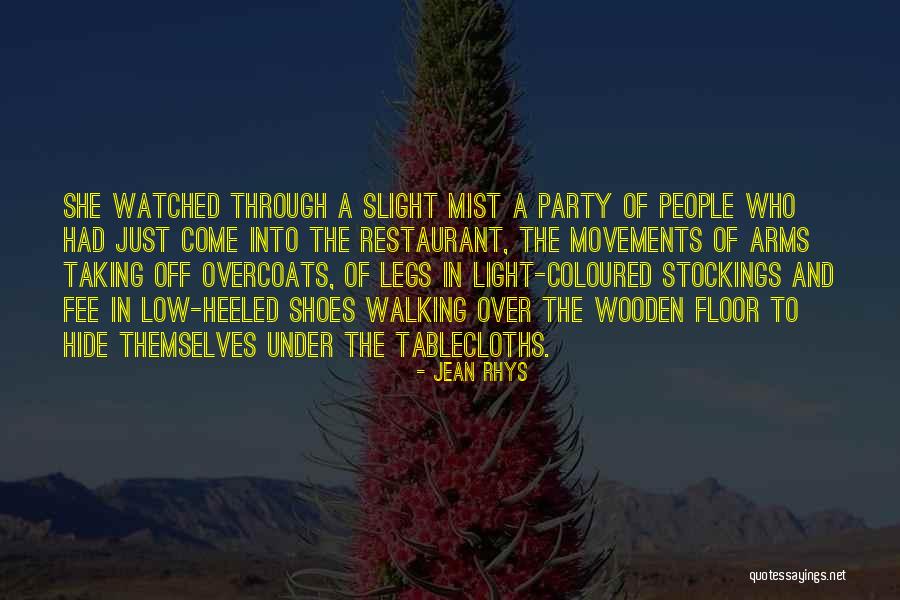 She watched through a slight mist a party of people who had just come into the restaurant, the movements of arms taking off overcoats, of legs in light-coloured stockings and fee in low-heeled shoes walking over the wooden floor to hide themselves under the tablecloths. — Jean Rhys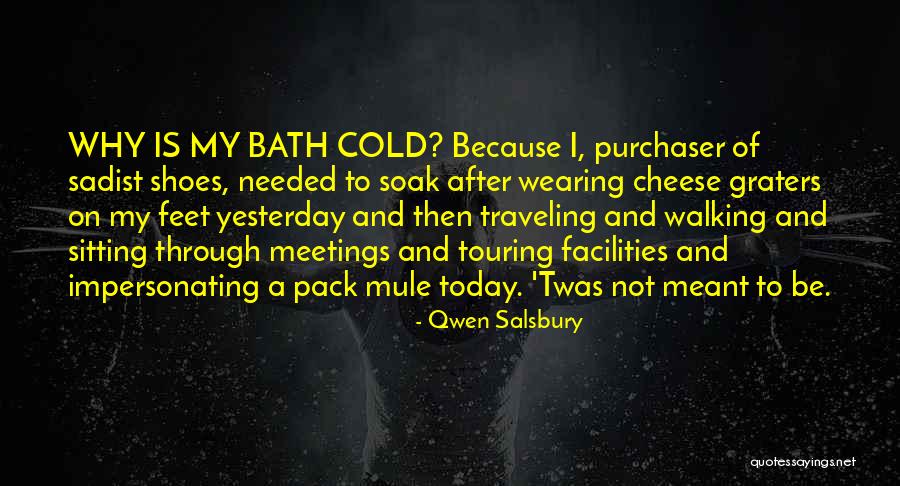 WHY IS MY BATH COLD? Because I, purchaser of sadist shoes, needed to soak after wearing cheese graters on my feet yesterday and then traveling and walking and sitting through meetings and touring facilities and impersonating a pack mule today. 'Twas not meant to be. — Qwen Salsbury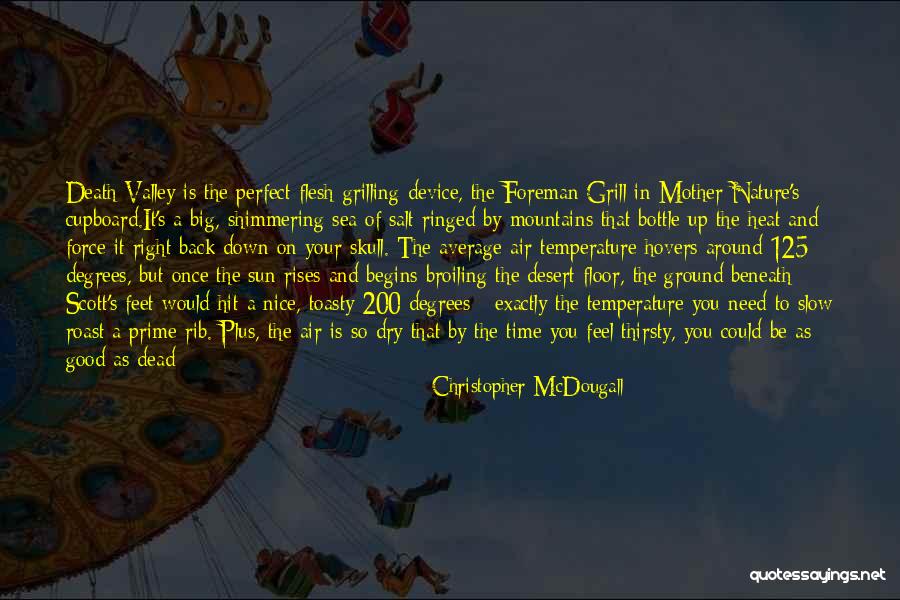 Death Valley is the perfect flesh-grilling device, the Foreman Grill in Mother Nature's cupboard.

It's a big, shimmering sea of salt ringed by mountains that bottle up the heat and force it right back down on your skull. The average air temperature hovers around 125 degrees, but once the sun rises and begins broiling the desert floor, the ground beneath Scott's feet would hit a nice, toasty 200 degrees - exactly the temperature you need to slow roast a prime rib. Plus, the air is so dry that by the time you feel thirsty, you could be as good as dead; sweat is sucked so quickly from your body,you can be dangerously dehydrated before it even registers in your throat. Try to conserve water,and you could be a dead man walking.

But every July, ninety runners from around the world spend up to sixty straight hours running down the sizzling black ribbon of Highway 190, making sure to stay on the white lines so the soles of their running shoes don't melt. — Christopher McDougall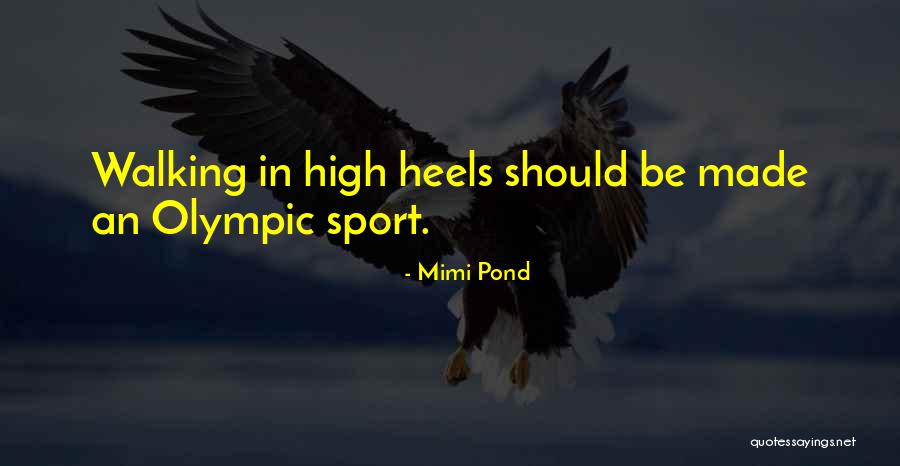 Walking in high heels should be made an Olympic sport. — Mimi Pond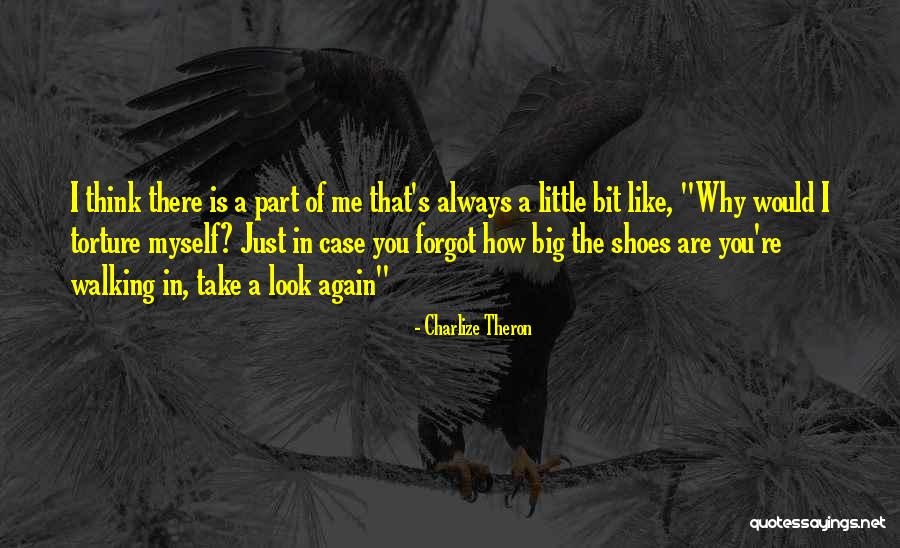 I think there is a part of me that's always a little bit like, "Why would I torture myself? Just in case you forgot how big the shoes are you're walking in, take a look again" — Charlize Theron
Honestly, musicals? I just can't. What if this was real life and I was just walking down the street on Rodeo Drive and all of a sudden I just burst into song about how much I love shoes? — Miley Cyrus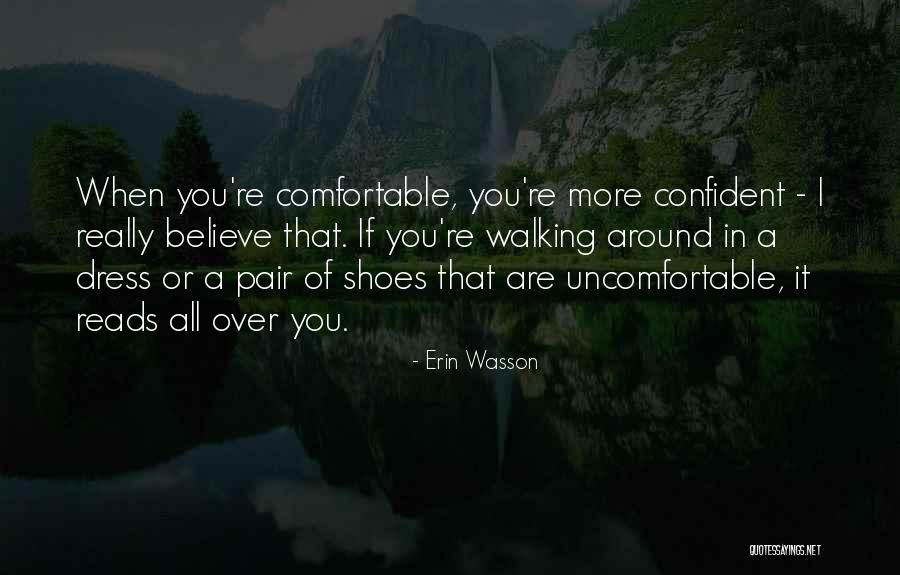 When you're comfortable, you're more confident - I really believe that. If you're walking around in a dress or a pair of shoes that are uncomfortable, it reads all over you. — Erin Wasson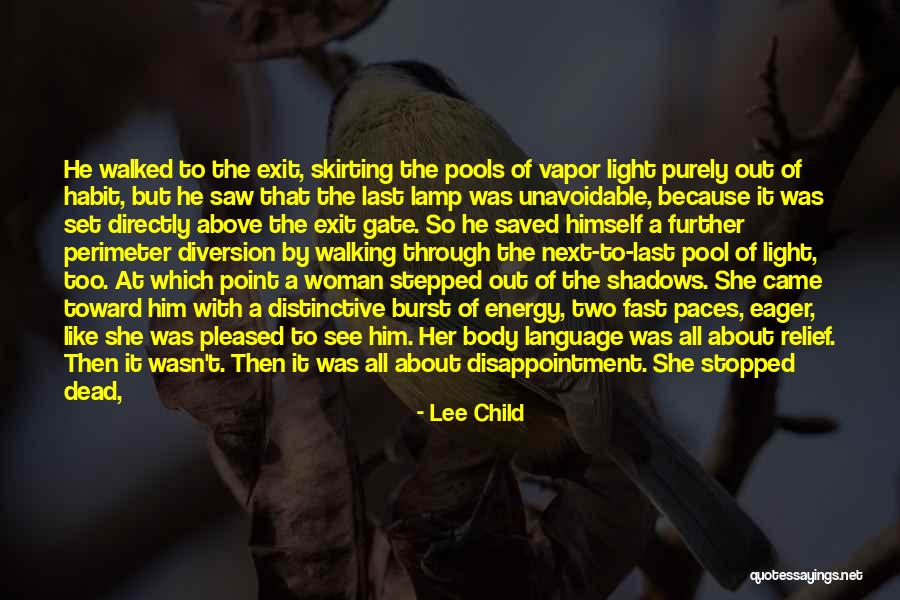 He walked to the exit, skirting the pools of vapor light purely out of habit, but he saw that the last lamp was unavoidable, because it was set directly above the exit gate. So he saved himself a further perimeter diversion by walking through the next-to-last pool of light, too. At which point a woman stepped out of the shadows. She came toward him with a distinctive burst of energy, two fast paces, eager, like she was pleased to see him. Her body language was all about relief. Then it wasn't. Then it was all about disappointment. She stopped dead, and she said, "Oh." She was Asian. But not petite. Five-nine, maybe, or even five-ten. And built to match. Not a bone in sight. No kind of a willowy waif. She was about forty, Reacher guessed, with black hair worn long, jeans and a T-shirt under a short cotton coat. She had lace-up shoes on her feet. He said, "Good evening, ma'am." She was looking past his shoulder. He said, "I'm the only passenger. — Lee Child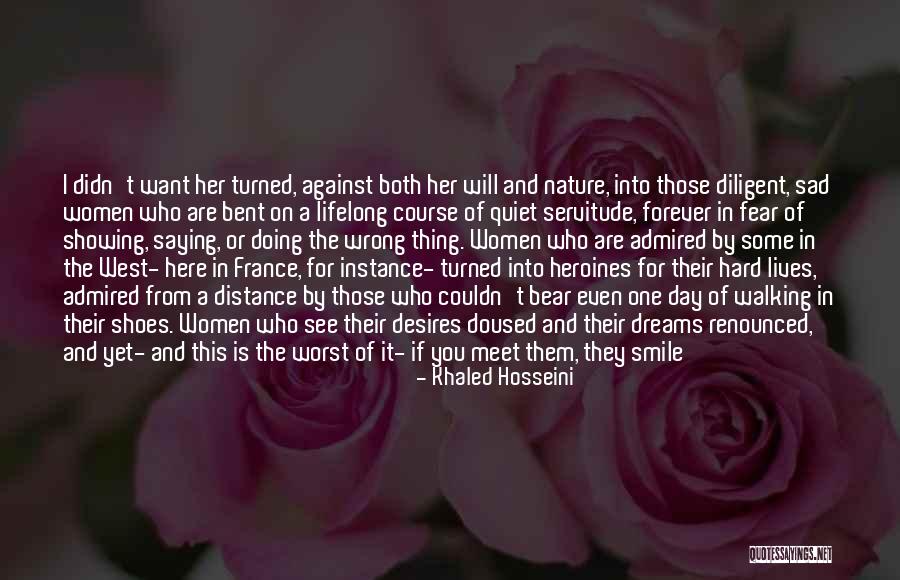 I didn't want her turned, against both her will and nature, into those diligent, sad women who are bent on a lifelong course of quiet servitude, forever in fear of showing, saying, or doing the wrong thing. Women who are admired by some in the West- here in France, for instance- turned into heroines for their hard lives, admired from a distance by those who couldn't bear even one day of walking in their shoes. Women who see their desires doused and their dreams renounced, and yet- and this is the worst of it- if you meet them, they smile and pretend they have no misgivings at all. As though they lead enviable lives. But you look closely and you see the helpless looks, the desperation, and how it belies all their show of good humor. I did not want this for my daughter. — Khaled Hosseini
Just because I have shoes on is no sign that I am walking. — Eugene Blase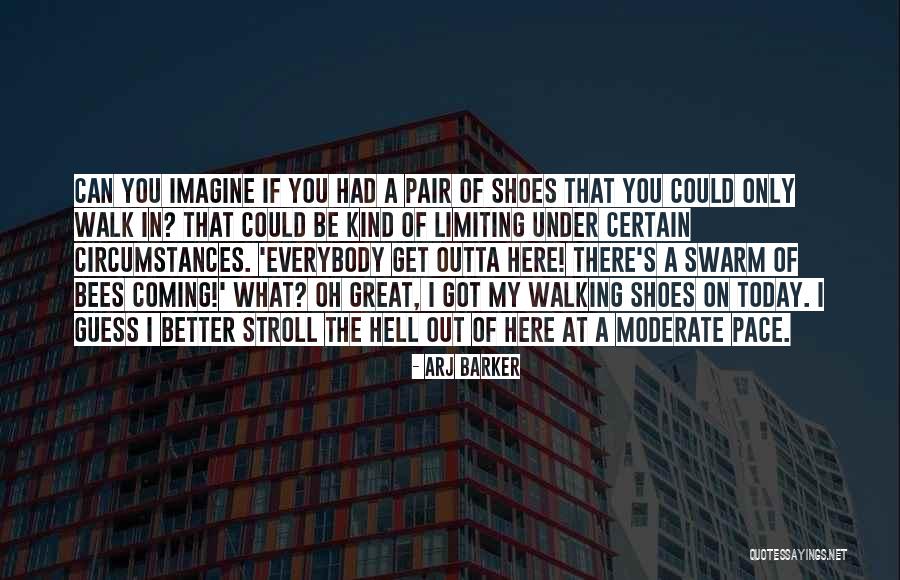 Can you imagine if you had a pair of shoes that you could only walk in? That could be kind of limiting under certain circumstances. 'Everybody get outta here! There's a swarm of bees coming!' What? Oh great, I got my walking shoes on today. I guess I better stroll the hell out of here at a moderate pace. — Arj Barker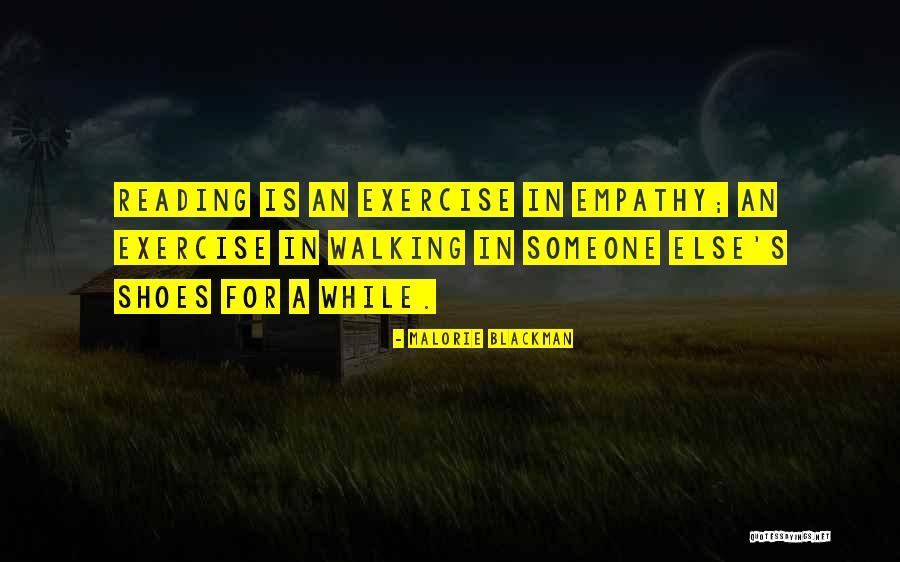 Reading is an exercise in empathy; an exercise in walking in someone else's shoes for a while. — Malorie Blackman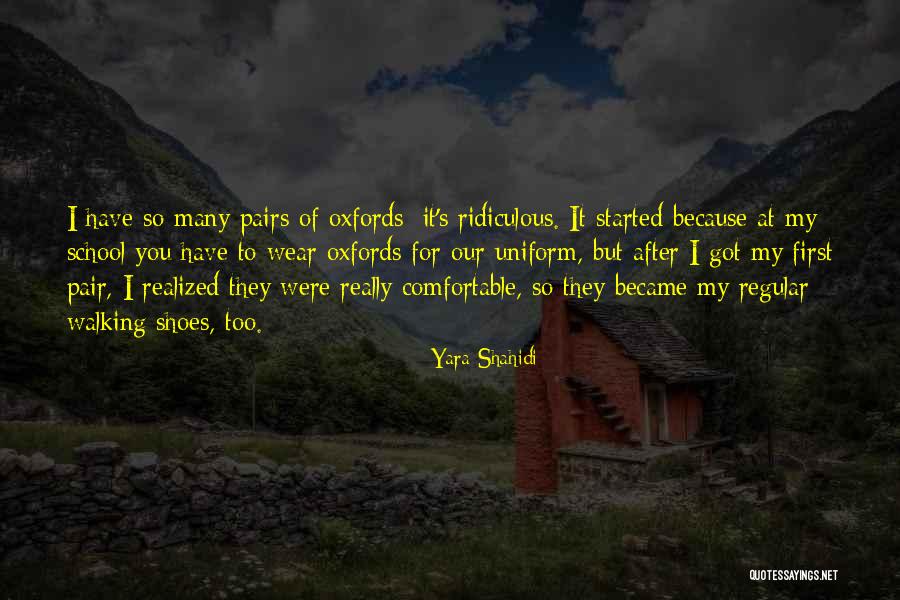 I have so many pairs of oxfords; it's ridiculous. It started because at my school you have to wear oxfords for our uniform, but after I got my first pair, I realized they were really comfortable, so they became my regular walking shoes, too. — Yara Shahidi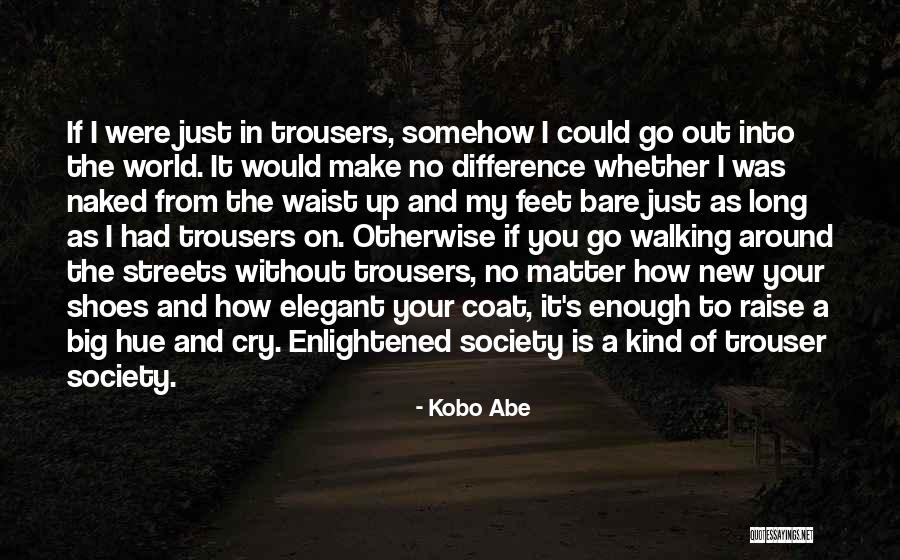 If I were just in trousers, somehow I could go out into the world. It would make no difference whether I was naked from the waist up and my feet bare just as long as I had trousers on. Otherwise if you go walking around the streets without trousers, no matter how new your shoes and how elegant your coat, it's enough to raise a big hue and cry. Enlightened society is a kind of trouser society. — Kobo Abe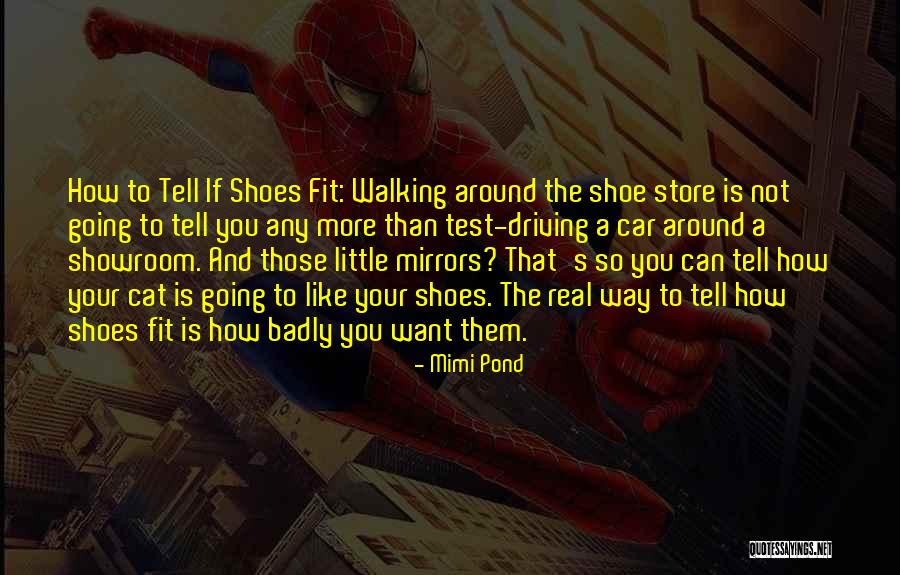 How to Tell If Shoes Fit: Walking around the shoe store is not going to tell you any more than test-driving a car around a showroom. And those little mirrors? That's so you can tell how your cat is going to like your shoes. The real way to tell how shoes fit is how badly you want them. — Mimi Pond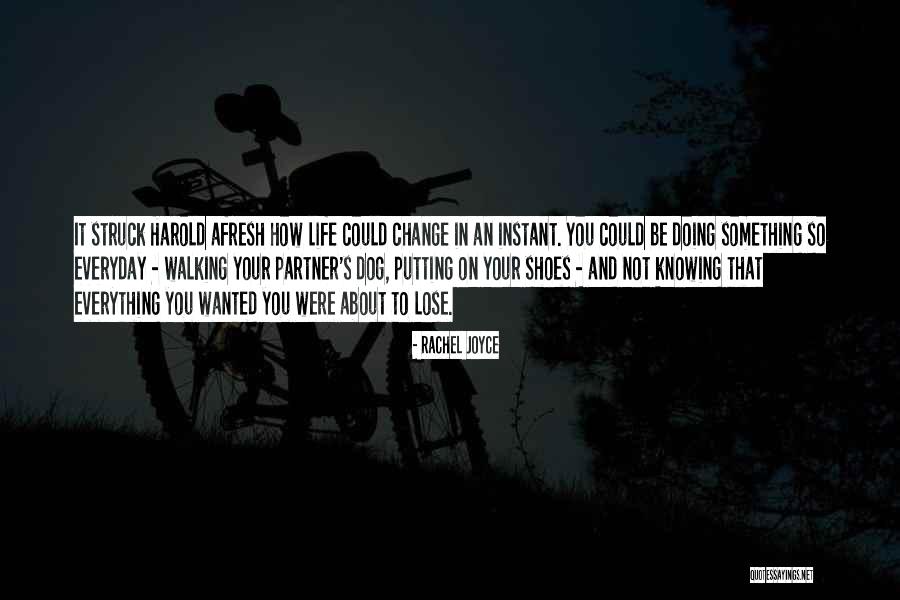 It struck Harold afresh how life could change in an instant. You could be doing something so everyday - walking your partner's dog, putting on your shoes - and not knowing that everything you wanted you were about to lose. — Rachel Joyce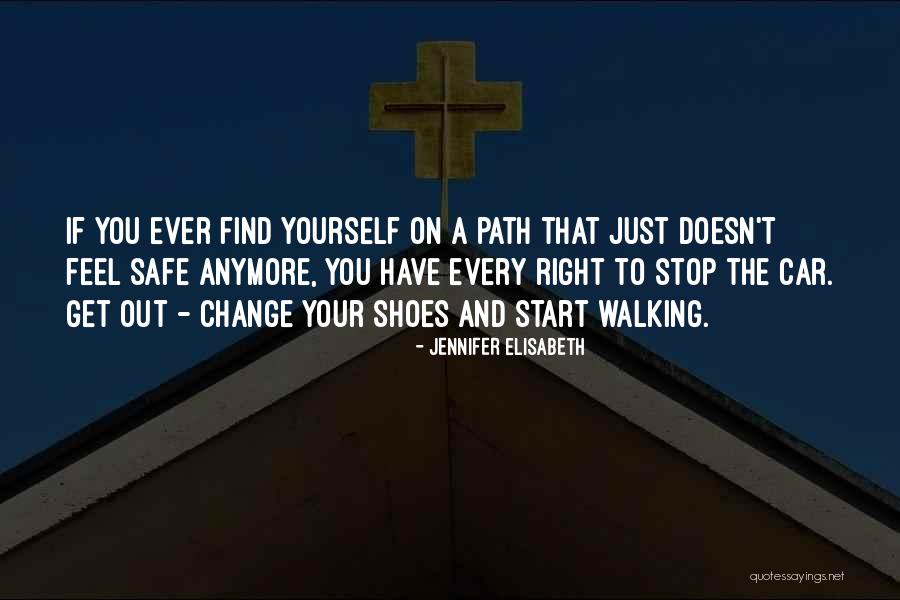 If you ever find yourself on a path that just doesn't feel safe anymore, you have every right to stop the car. Get out - change your shoes and start walking. — Jennifer Elisabeth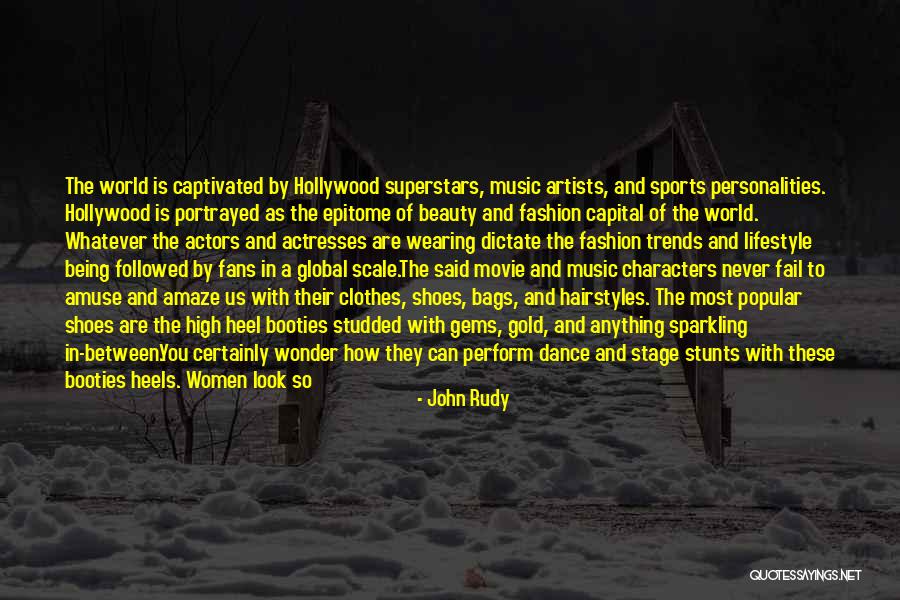 The world is captivated by Hollywood superstars, music artists, and sports personalities. Hollywood is portrayed as the epitome of beauty and fashion capital of the world. Whatever the actors and actresses are wearing dictate the fashion trends and lifestyle being followed by fans in a global scale.
The said movie and music characters never fail to amuse and amaze us with their clothes, shoes, bags, and hairstyles. The most popular shoes are the high heel booties studded with gems, gold, and anything sparkling in-between.
You certainly wonder how they can perform dance and stage stunts with these booties heels. Women look so attractive donning high heel booties. They get few extra inches in height and look stunning from head to toe.
If you are going for mall shopping or walking long distances, stay away from heeled bootiesas your feet will surely get hurt. However, if you are attending special occasions and corporate functions, heel bootiesis the perfect footwear. — John Rudy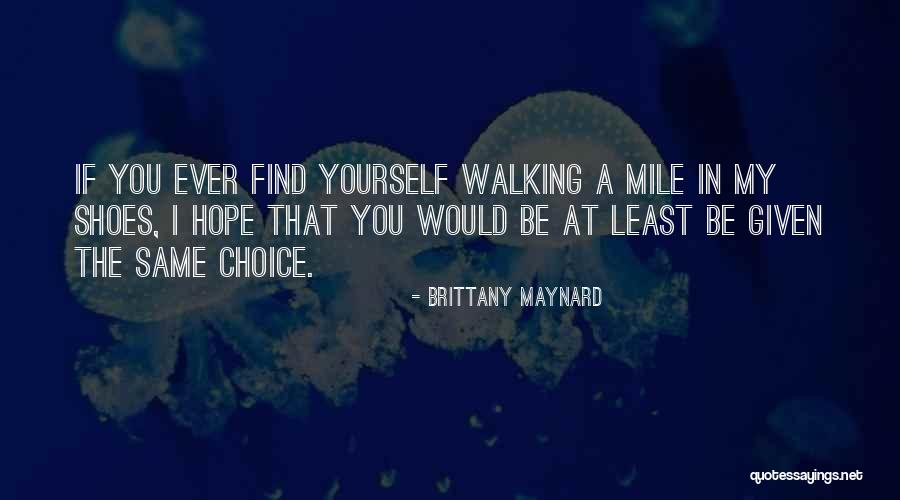 If you ever find yourself walking a mile in my shoes, I hope that you would be at least be given the same choice. — Brittany Maynard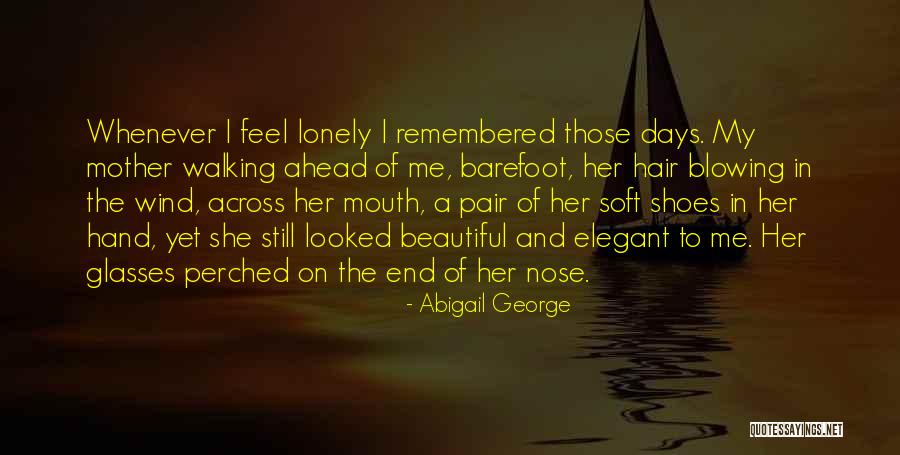 Whenever I feel lonely I remembered those days. My mother walking ahead of me, barefoot, her hair blowing in the wind, across her mouth, a pair of her soft shoes in her hand, yet she still looked beautiful and elegant to me. Her glasses perched on the end of her nose. — Abigail George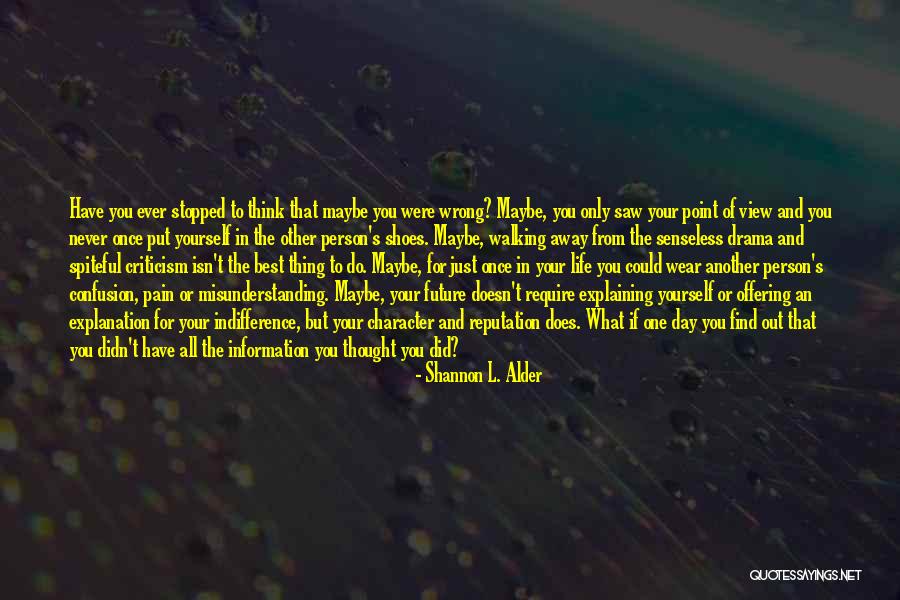 Have you ever stopped to think that maybe you were wrong? Maybe, you only saw your point of view and you never once put yourself in the other person's shoes. Maybe, walking away from the senseless drama and spiteful criticism isn't the best thing to do. Maybe, for just once in your life you could wear another person's confusion, pain or misunderstanding. Maybe, your future doesn't require explaining yourself or offering an explanation for your indifference, but your character and reputation does. What if one day you find out that you didn't have all the information you thought you did? What if you find out that your presence was needed for healing? What if you only knew half of it and the other half was just your fear and anger translating everything you experienced? What if you were wrong? What if the same thing happened to you? — Shannon L. Alder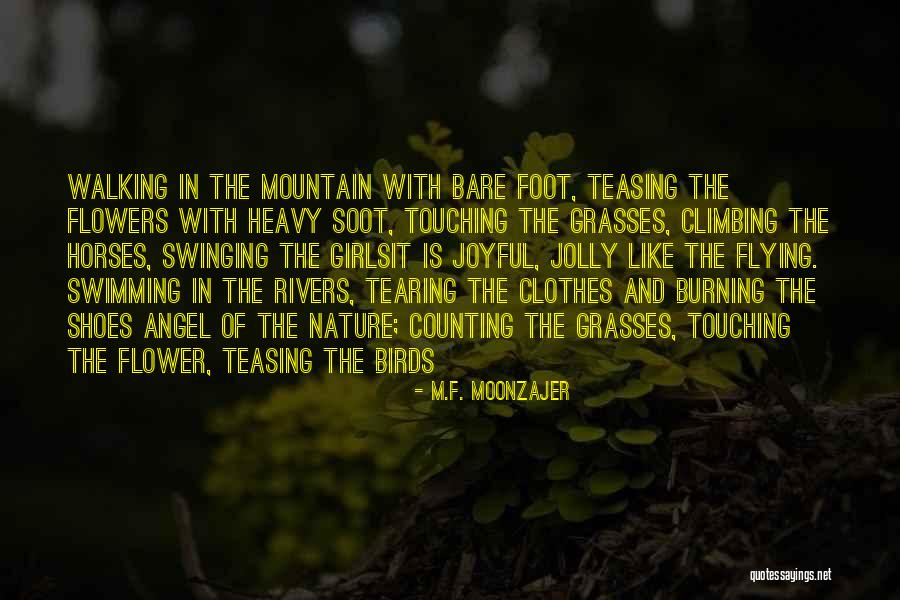 Walking in the mountain with bare foot,
Teasing the flowers with heavy soot,
Touching the grasses, climbing the horses, swinging the girls
It is joyful, jolly like the flying.
Swimming in the rivers, tearing the clothes and burning the shoes
Angel of the nature; counting the grasses, touching the flower, teasing the birds — M.F. Moonzajer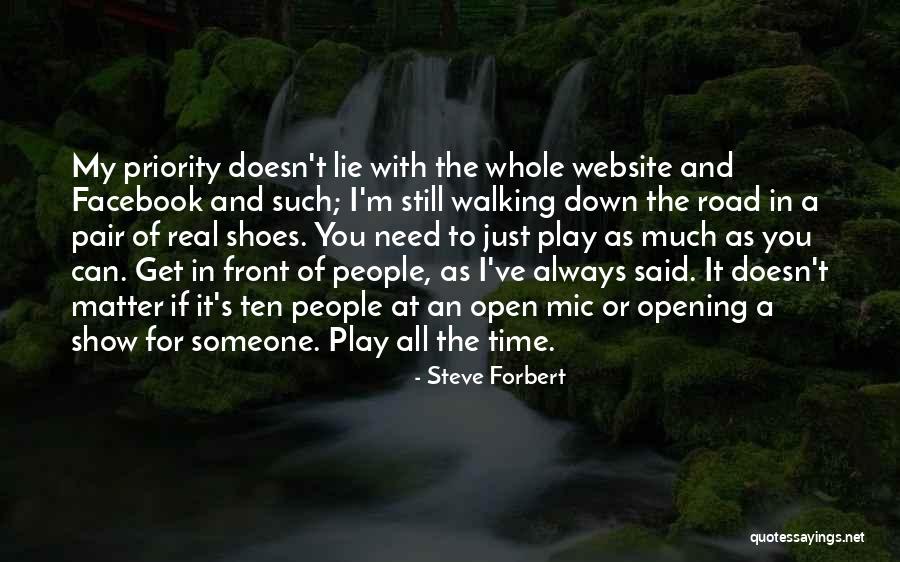 My priority doesn't lie with the whole website and Facebook and such; I'm still walking down the road in a pair of real shoes. You need to just play as much as you can. Get in front of people, as I've always said. It doesn't matter if it's ten people at an open mic or opening a show for someone. Play all the time. — Steve Forbert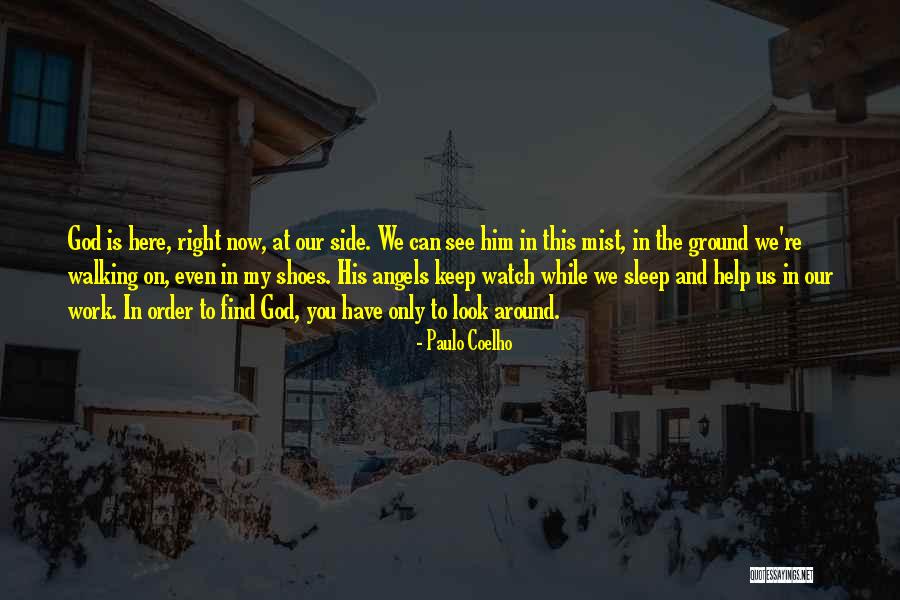 God is here, right now, at our side. We can see him in this mist, in the ground we're walking on, even in my shoes. His angels keep watch while we sleep and help us in our work. In order to find God, you have only to look around. — Paulo Coelho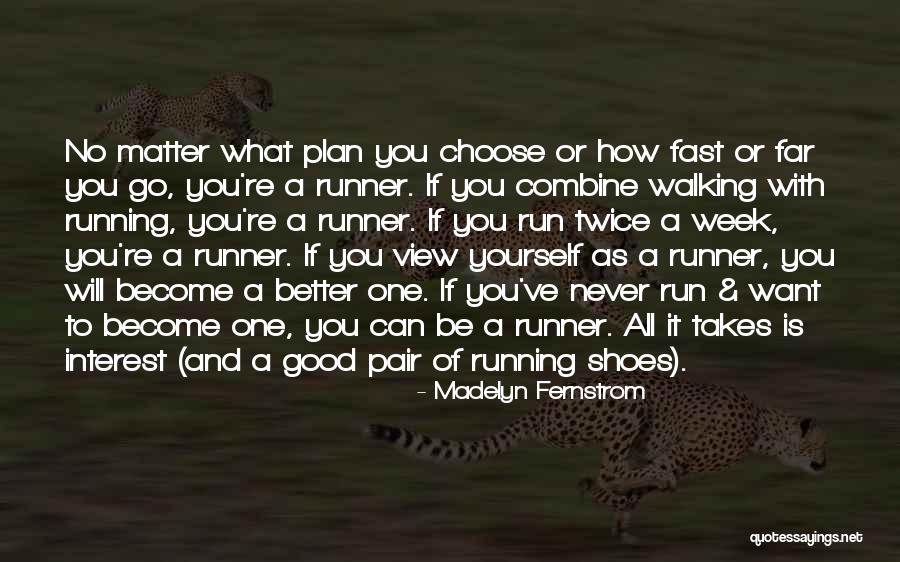 No matter what plan you choose or how fast or far you go, you're a runner. If you combine walking with running, you're a runner. If you run twice a week, you're a runner. If you view yourself as a runner, you will become a better one. If you've never run & want to become one, you can be a runner. All it takes is interest (and a good pair of running shoes). — Madelyn Fernstrom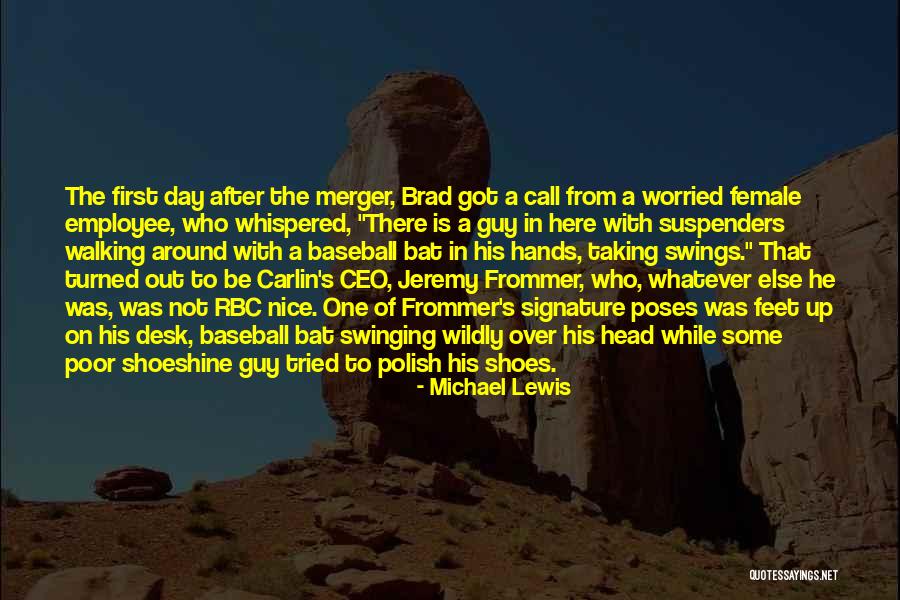 The first day after the merger, Brad got a call from a worried female employee, who whispered, "There is a guy in here with suspenders walking around with a baseball bat in his hands, taking swings." That turned out to be Carlin's CEO, Jeremy Frommer, who, whatever else he was, was not RBC nice. One of Frommer's signature poses was feet up on his desk, baseball bat swinging wildly over his head while some poor shoeshine guy tried to polish his shoes. — Michael Lewis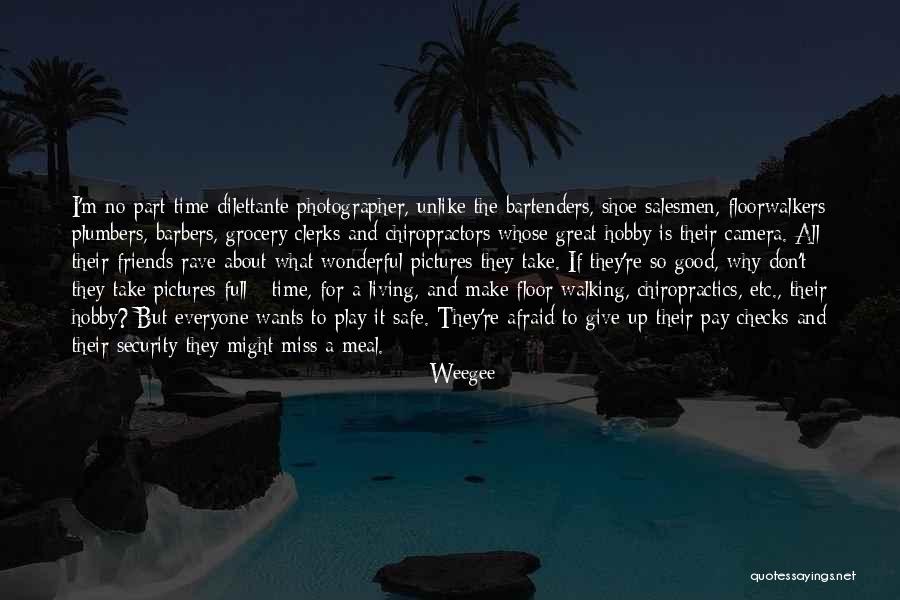 I'm no part time dilettante photographer, unlike the bartenders, shoe salesmen, floorwalkers plumbers, barbers, grocery clerks and chiropractors whose great hobby is their camera. All their friends rave about what wonderful pictures they take. If they're so good, why don't they take pictures full - time, for a living, and make floor walking, chiropractics, etc., their hobby? But everyone wants to play it safe. They're afraid to give up their pay checks and their security they might miss a meal. — Weegee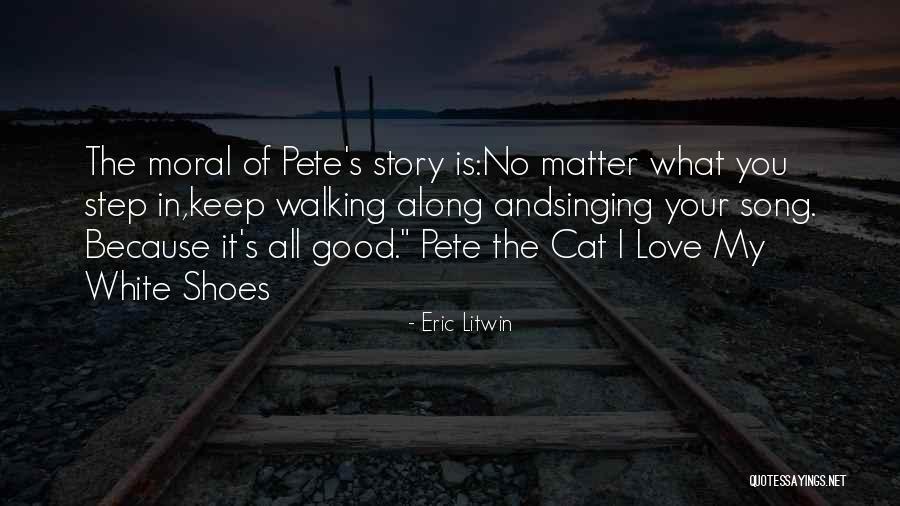 The moral of Pete's story is:
No matter what you step in,
keep walking along and
singing your song. Because it's all good." Pete the Cat I Love My White Shoes — Eric Litwin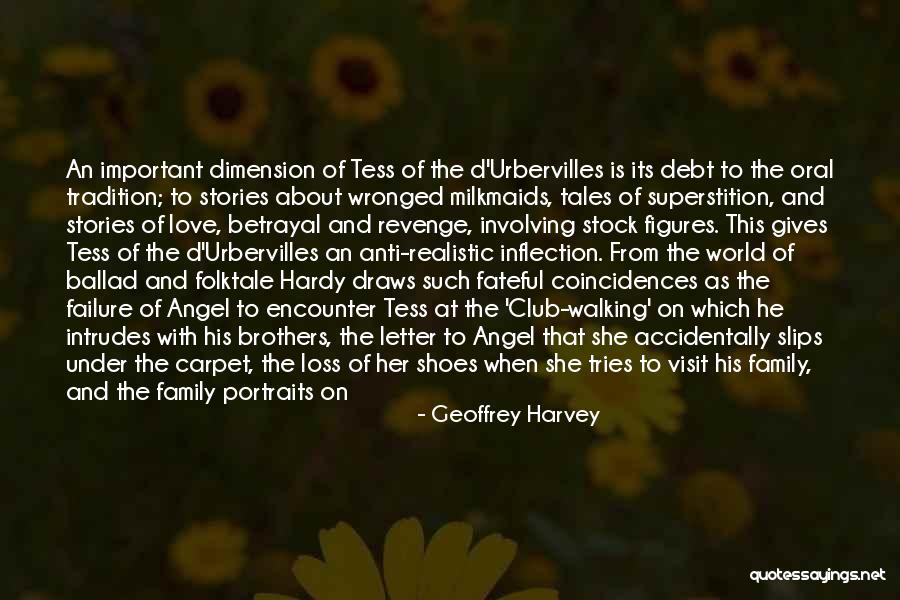 An important dimension of Tess of the d'Urbervilles is its debt to the oral tradition; to stories about wronged milkmaids, tales of superstition, and stories of love, betrayal and revenge, involving stock figures. This gives Tess of the d'Urbervilles an anti-realistic inflection. From the world of ballad and folktale Hardy draws such fateful coincidences as the failure of Angel to encounter Tess at the 'Club-walking' on which he intrudes with his brothers, the letter to Angel that she accidentally slips under the carpet, the loss of her shoes when she tries to visit his family, and the family portraits on the wall of their honeymoon dwelling, as well as several omens. This chimes effectively with a world in which the rural folk have a superstitious and fatalistic attitude to life. — Geoffrey Harvey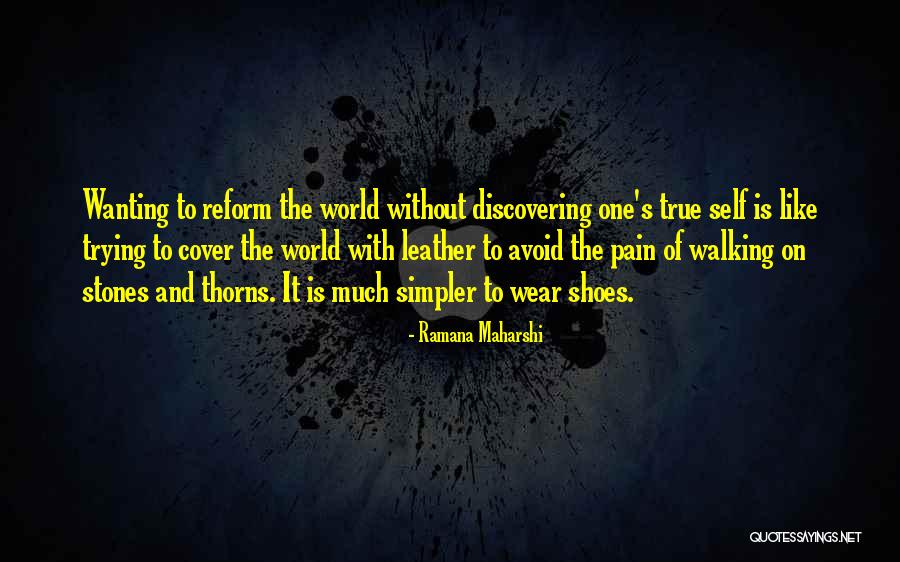 Wanting to reform the world without discovering one's true self is like trying to cover the world with leather to avoid the pain of walking on stones and thorns. It is much simpler to wear shoes. — Ramana Maharshi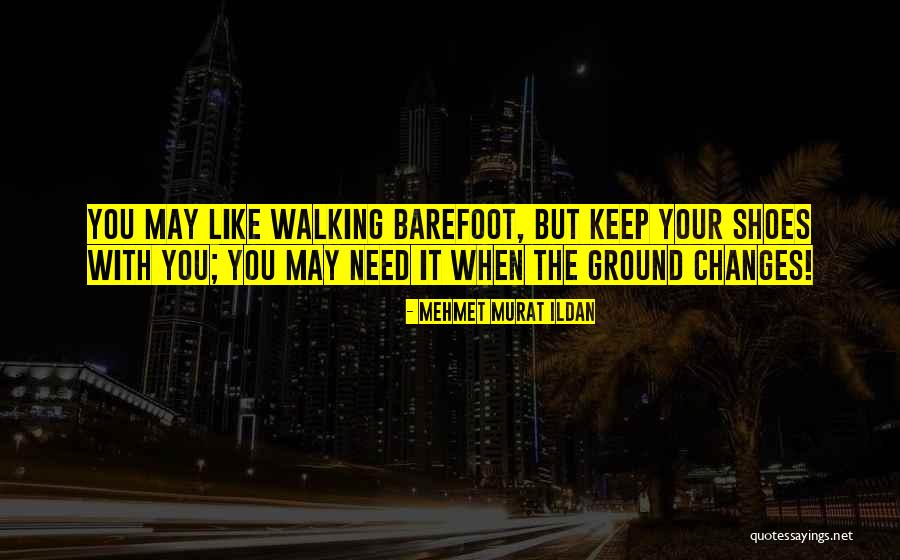 You may like walking barefoot, but keep your shoes with you; you may need it when the ground changes! — Mehmet Murat Ildan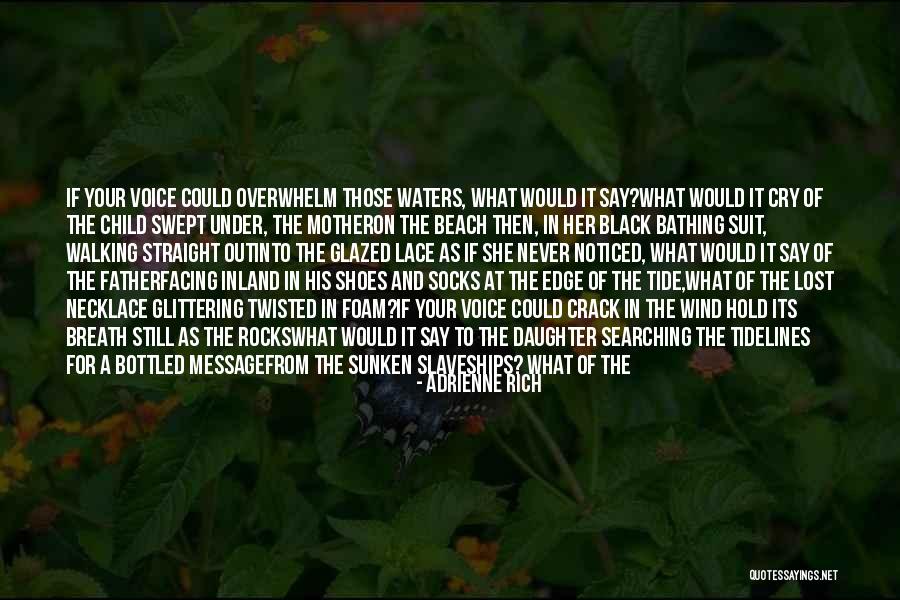 If your voice could overwhelm those waters, what would it say?
What would it cry of the child swept under, the mother
on the beach then, in her black bathing suit, walking straight out
into the glazed lace as if she never noticed, what would it say of the father
facing inland in his shoes and socks at the edge of the tide,
what of the lost necklace glittering twisted in foam?
If your voice could crack in the wind hold its breath still as the rocks
what would it say to the daughter searching the tidelines for a bottled message
from the sunken slaveships? what of the huge sun slowly defaulting into the clouds
what of the picnic stored in the dunes at high tide, full of the moon, the basket
with sandwiches, eggs, paper napkins, can-opener, the meal
packed for a family feast, excavated now by scuttling
ants, sandcrabs, dune-rats, because no one understood
all picnics are eaten on the grave? — Adrienne Rich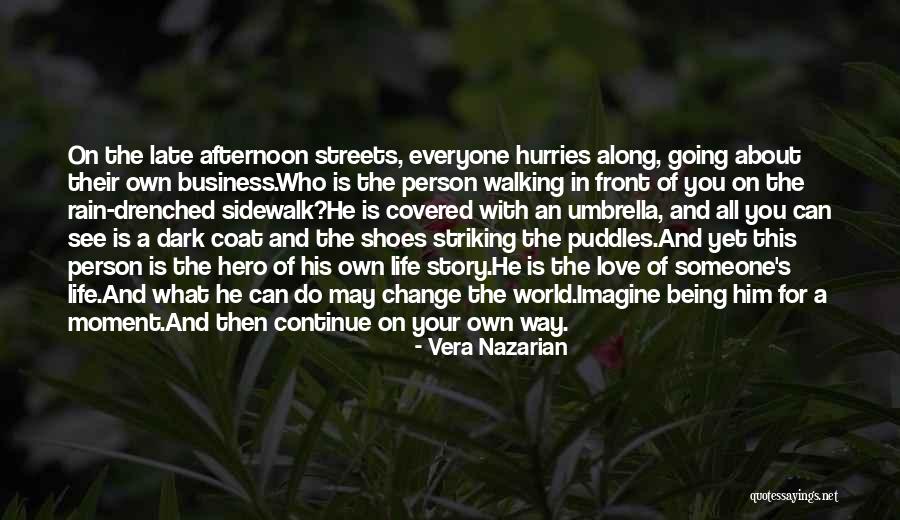 On the late afternoon streets, everyone hurries along, going about their own business.
Who is the person walking in front of you on the rain-drenched sidewalk?
He is covered with an umbrella, and all you can see is a dark coat and the shoes striking the puddles.
And yet this person is the hero of his own life story.
He is the love of someone's life.
And what he can do may change the world.
Imagine being him for a moment.
And then continue on your own way. — Vera Nazarian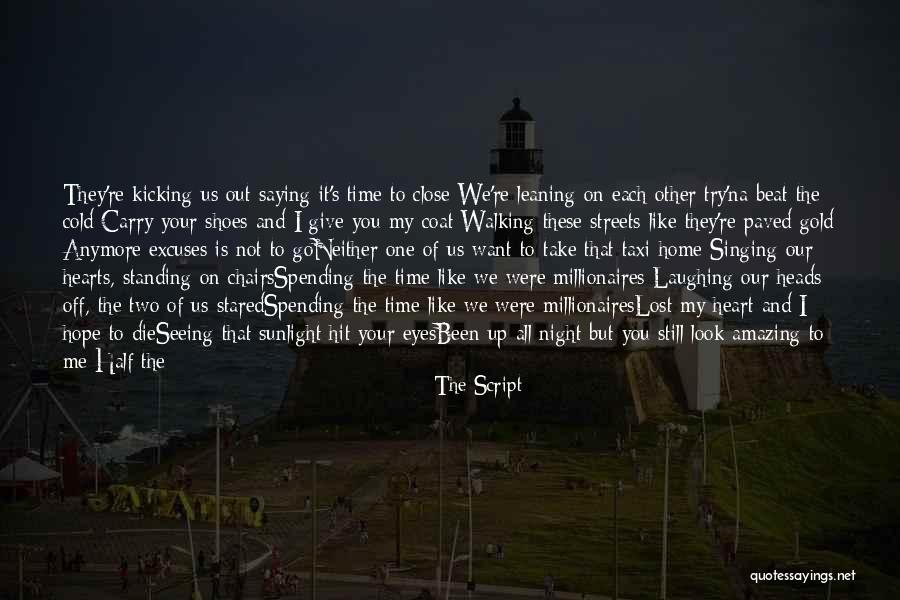 They're kicking us out saying it's time to close
We're leaning on each other try'na beat the cold
Carry your shoes and I give you my coat Walking these streets like they're paved gold
Anymore excuses is not to go
Neither one of us want to take that taxi home
Singing our hearts, standing on chairs
Spending the time like we were millionaires
Laughing our heads off, the two of us stared
Spending the time like we were millionaires
Lost my heart and I hope to die
Seeing that sunlight hit your eyes
Been up all night but you still look amazing to me
Half the time of the night you only dream
About if God came down he could take me now
Cause in my mind, yeah we will always be — The Script