Quotes & Sayings About Victory And Failure
Enjoy reading and share 53 famous quotes about Victory And Failure with everyone.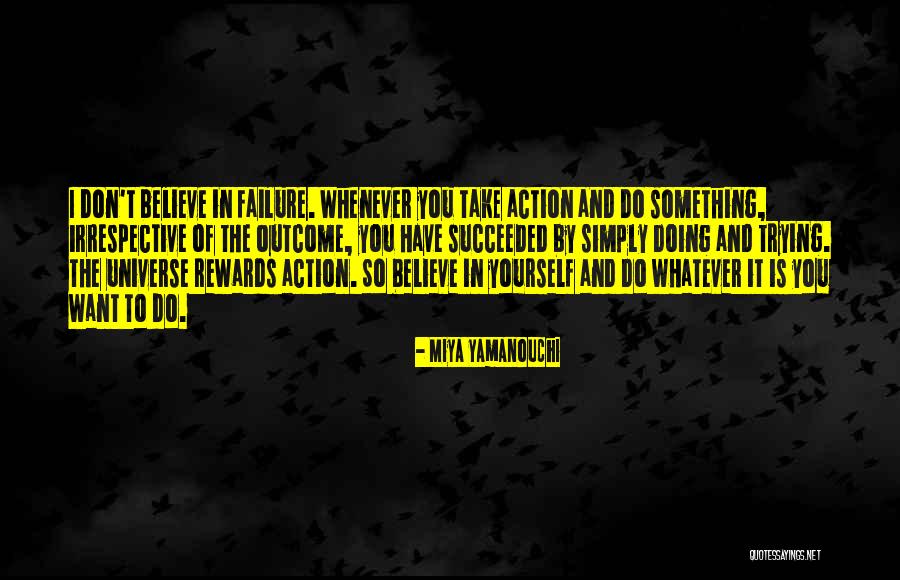 I don't believe in failure. Whenever you take action and do something, irrespective of the outcome, you have succeeded by simply doing and trying. The universe rewards action. So believe in yourself and do whatever it is you want to do. — Miya Yamanouchi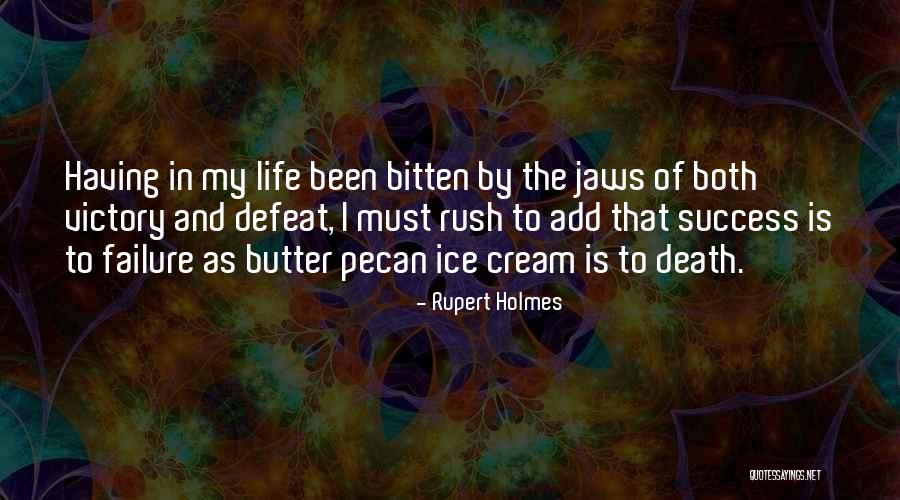 Having in my life been bitten by the jaws of both victory and defeat, I must rush to add that success is to failure as butter pecan ice cream is to death. — Rupert Holmes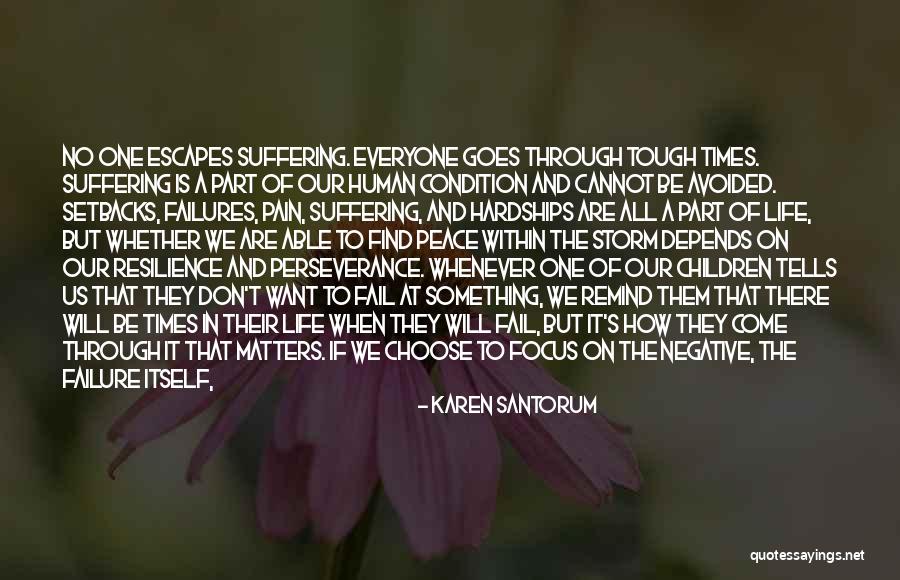 No one escapes suffering. Everyone goes through tough times. Suffering is a part of our human condition and cannot be avoided. Setbacks, failures, pain, suffering, and hardships are all a part of life, but whether we are able to find peace within the storm depends on our resilience and perseverance. Whenever one of our children tells us that they don't want to fail at something, we remind them that there will be times in their life when they will fail, but it's how they come through it that matters. If we choose to focus on the negative, the failure itself, the darkness will oppress and consume us. Eventually it will destroy a person. We need to embrace the fact that we're human and our lives will be filled with suffering and hardship, but we have the ultimate hope and victory in Our Lord. — Karen Santorum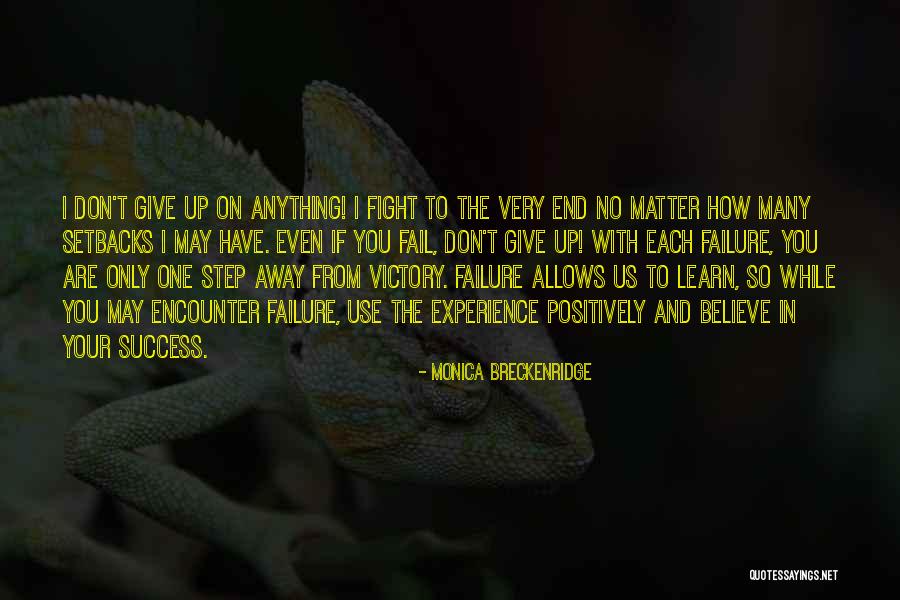 I don't give up on anything! I fight to the very end no matter how many setbacks I may have. Even if you fail, don't give up! With each failure, you are only one step away from victory. Failure allows us to learn, so while you may encounter failure, use the experience positively and believe in your success. — Monica Breckenridge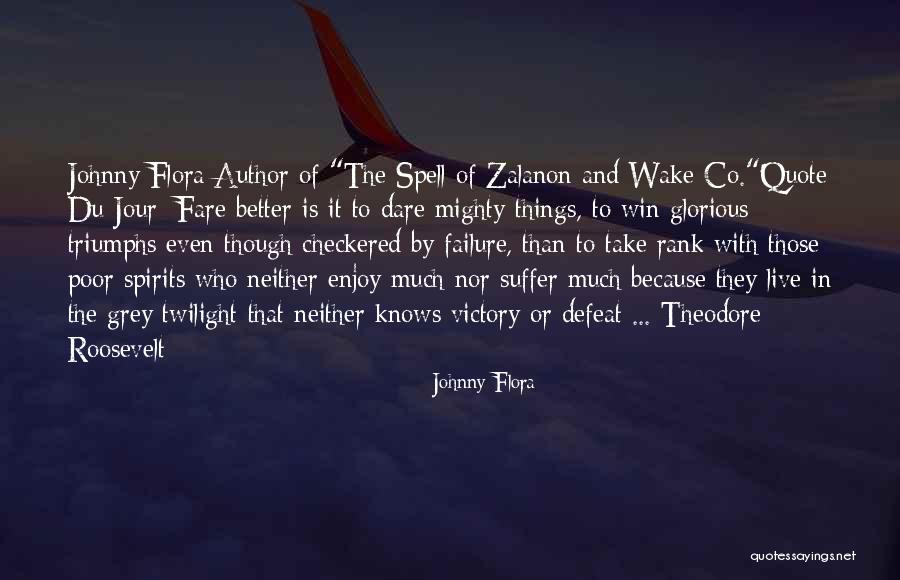 Johnny Flora Author of "The Spell of Zalanon and Wake Co."
Quote Du Jour; Fare better is it to dare mighty things, to win glorious triumphs even though checkered by failure, than to take rank with those poor spirits who neither enjoy much nor suffer much because they live in the grey twilight that neither knows victory or defeat ... Theodore Roosevelt — Johnny Flora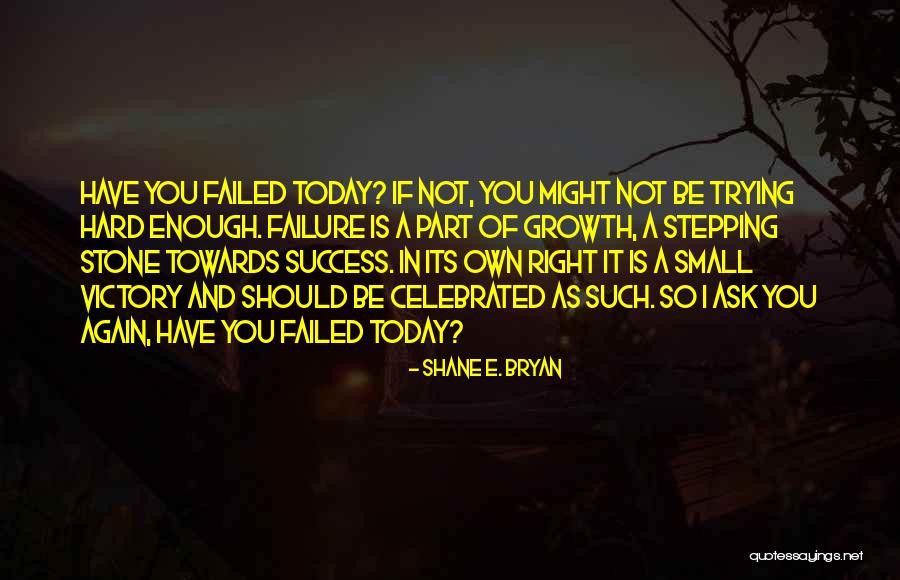 Have you failed today? If not, you might not be trying hard enough. Failure is a part of growth, a stepping stone towards success. In its own right it is a small victory and should be celebrated as such. So I ask you again, have you failed today? — Shane E. Bryan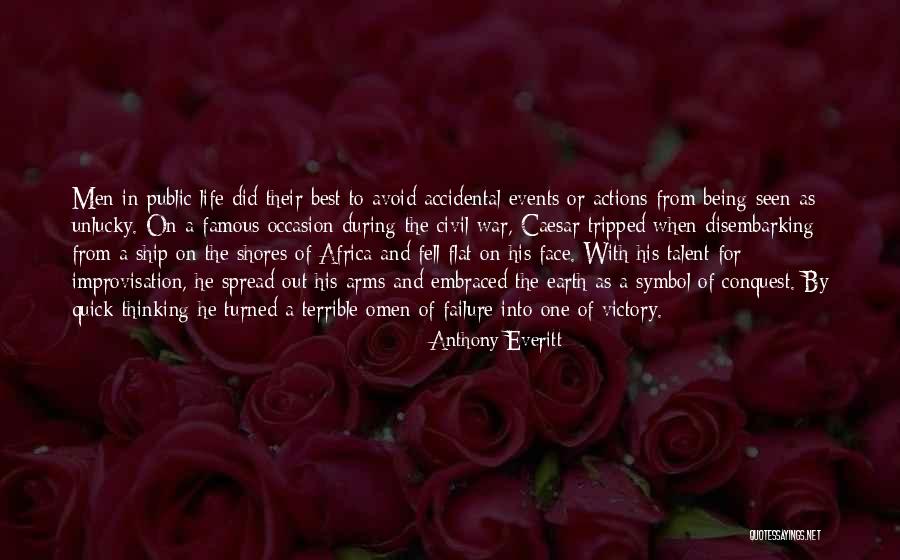 Men in public life did their best to avoid accidental events or actions from being seen as unlucky. On a famous occasion during the civil war, Caesar tripped when disembarking from a ship on the shores of Africa and fell flat on his face. With his talent for improvisation, he spread out his arms and embraced the earth as a symbol of conquest. By quick thinking he turned a terrible omen of failure into one of victory. — Anthony Everitt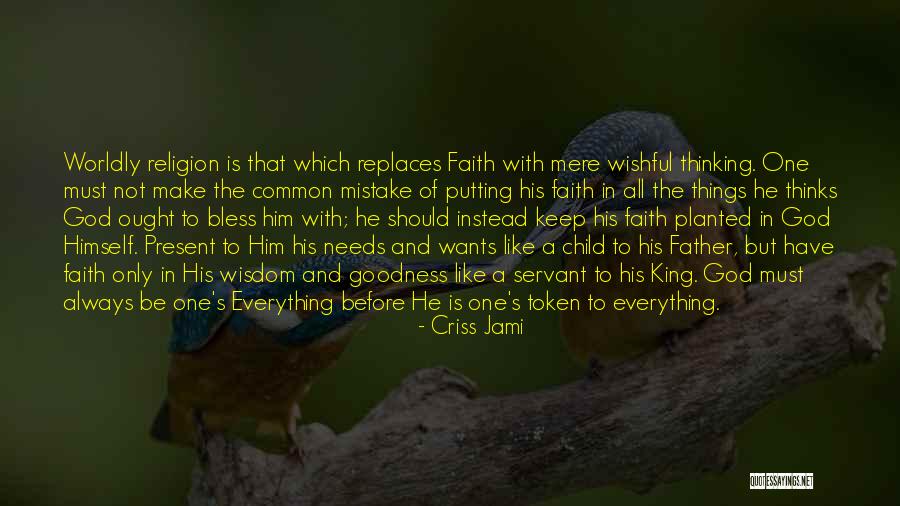 Worldly religion is that which replaces Faith with mere wishful thinking. One must not make the common mistake of putting his faith in all the things he thinks God ought to bless him with; he should instead keep his faith planted in God Himself. Present to Him his needs and wants like a child to his Father, but have faith only in His wisdom and goodness like a servant to his King. God must always be one's Everything before He is one's token to everything. — Criss Jami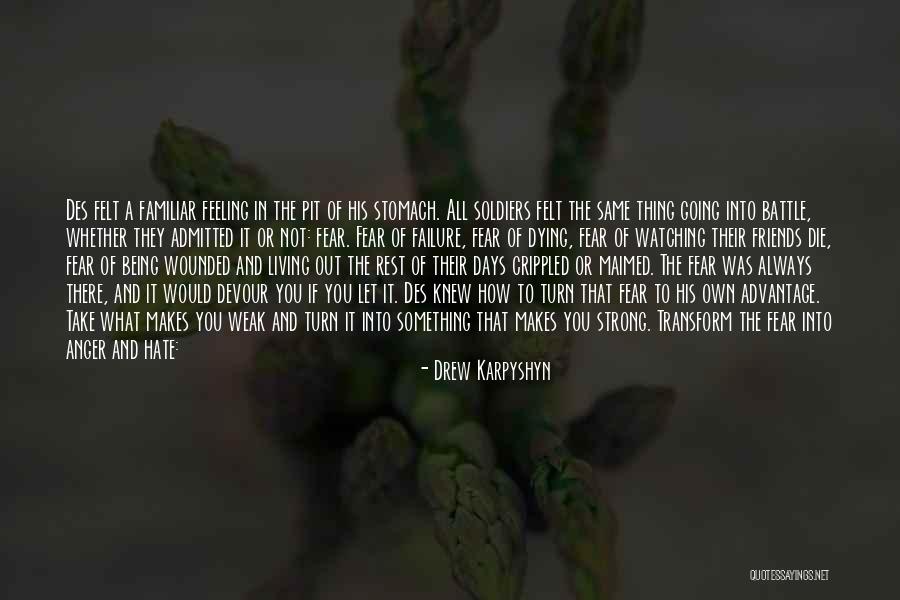 Des felt a familiar feeling in the pit of his stomach. All soldiers felt the same thing going into battle, whether they admitted it or not: fear. Fear of failure, fear of dying, fear of watching their friends die, fear of being wounded and living out the rest of their days crippled or maimed. The fear was always there, and it would devour you if you let it.
Des knew how to turn that fear to his own advantage. Take what makes you weak and turn it into something that makes you strong. Transform the fear into anger and hate: hatred of the enemy; hatred of the Republic and the Jedi. The hate gave him strength, and the strength brought him victory.
For Des the transformation came easily once the fighting started. Thanks to his abusive father, he'd been turning fear into anger and hate ever since he was a child. Maybe that was why he was such a good soldier. Maybe that was why the others looked to him for leadership. — Drew Karpyshyn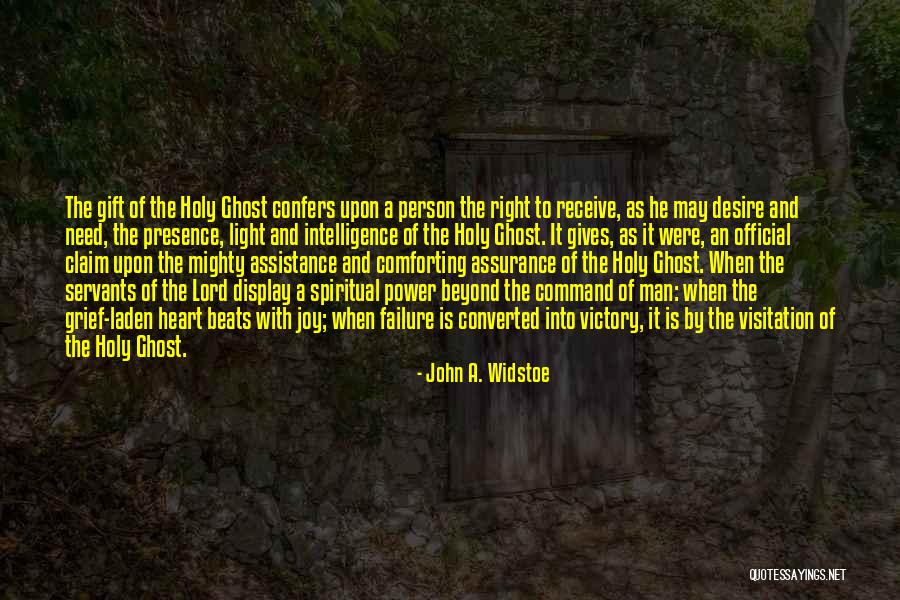 The gift of the Holy Ghost confers upon a person the right to receive, as he may desire and need, the presence, light and intelligence of the Holy Ghost. It gives, as it were, an official claim upon the mighty assistance and comforting assurance of the Holy Ghost. When the servants of the Lord display a spiritual power beyond the command of man: when the grief-laden heart beats with joy; when failure is converted into victory, it is by the visitation of the Holy Ghost. — John A. Widstoe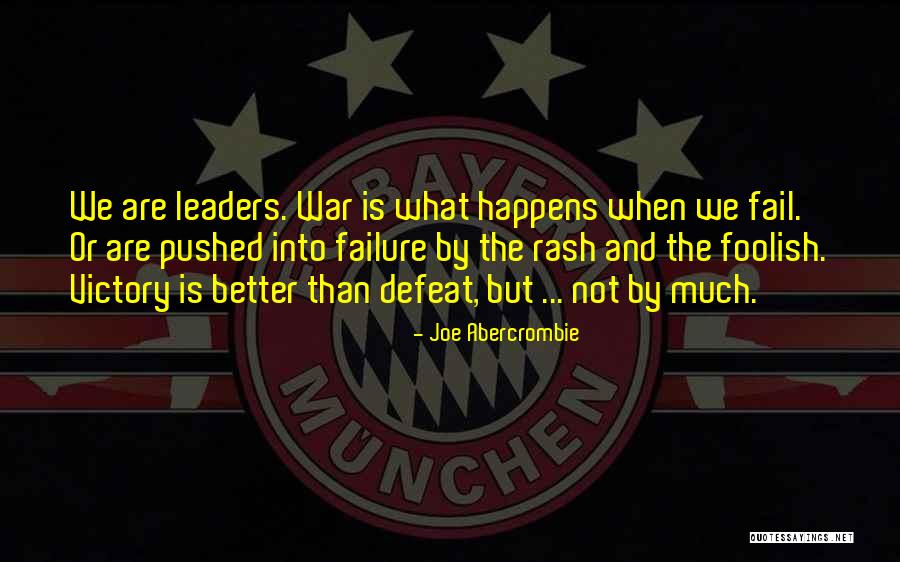 We are leaders. War is what happens when we fail. Or are pushed into failure by the rash and the foolish. Victory is better than defeat, but ... not by much. — Joe Abercrombie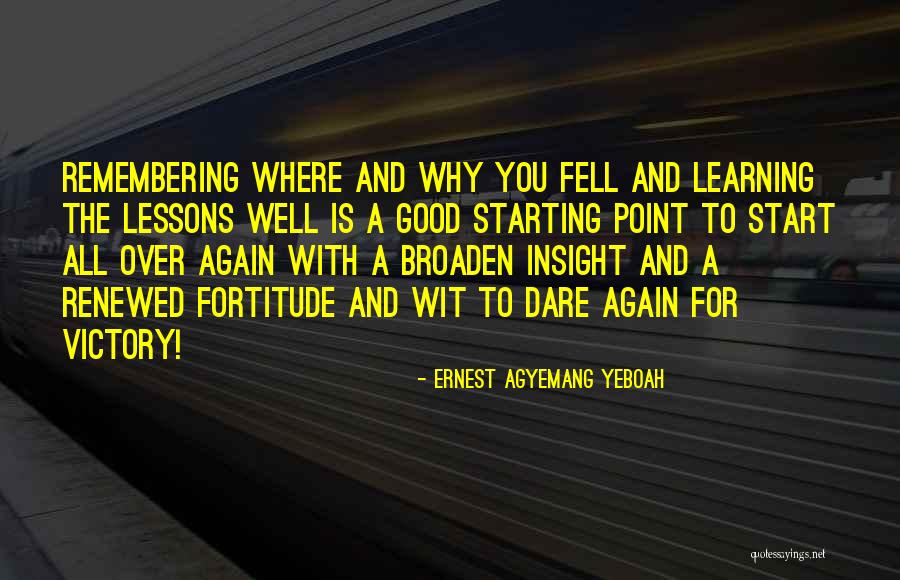 Remembering where and why you fell and learning the lessons well is a good starting point to start all over again with a broaden insight and a renewed fortitude and wit to dare again for victory! — Ernest Agyemang Yeboah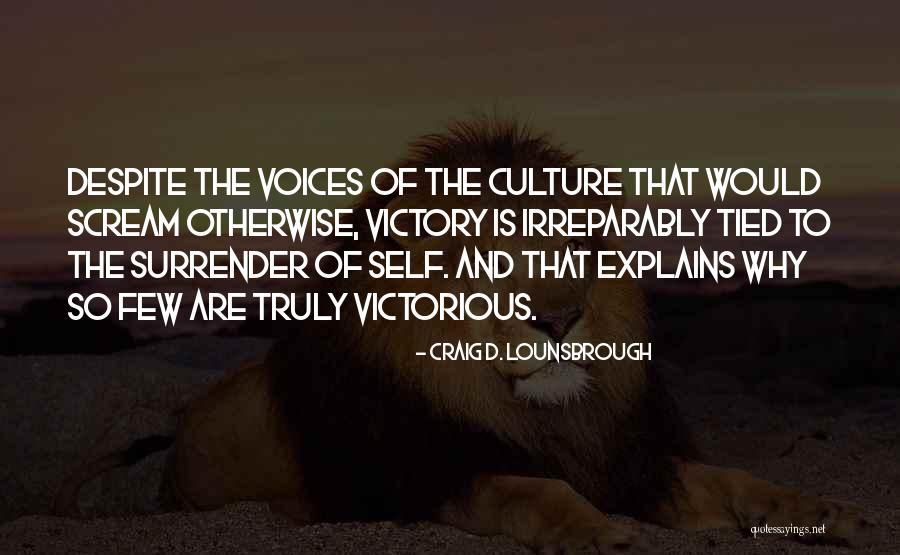 Despite the voices of the culture that would scream otherwise, victory is irreparably tied to the surrender of self. And that explains why so few are truly victorious. — Craig D. Lounsbrough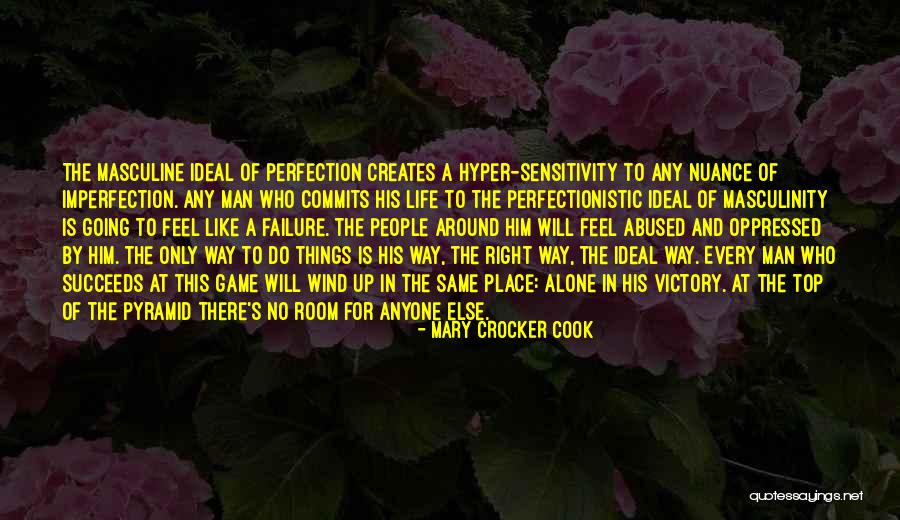 The masculine ideal of perfection creates a hyper-sensitivity to any nuance of imperfection. Any man who commits his life to the perfectionistic ideal of masculinity is going to feel like a failure. The people around him will feel abused and oppressed by him. The only way to do things is his way, the right way, the ideal way. Every man who succeeds at this game will wind up in the same place: Alone in his victory. At the top of the pyramid there's no room for anyone else. — Mary Crocker Cook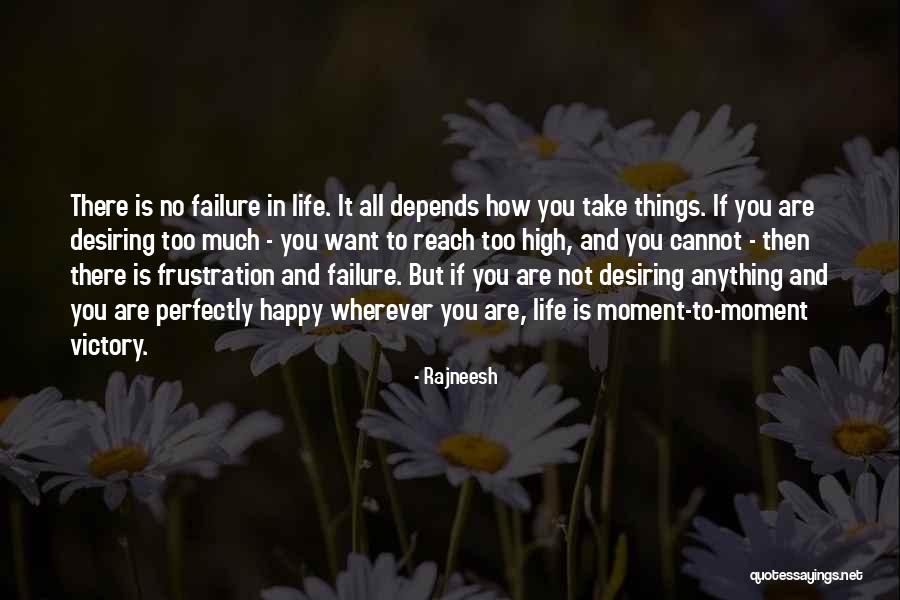 There is no failure in life. It all depends how you take things. If you are desiring too much - you want to reach too high, and you cannot - then there is frustration and failure. But if you are not desiring anything and you are perfectly happy wherever you are, life is moment-to-moment victory. — Rajneesh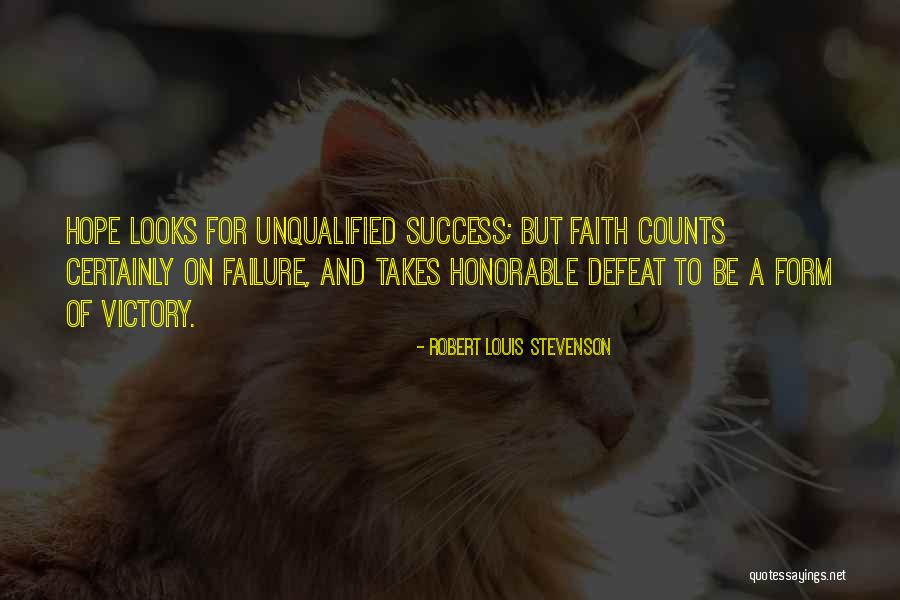 Hope looks for unqualified success; but Faith counts certainly on failure, and takes honorable defeat to be a form of victory. — Robert Louis Stevenson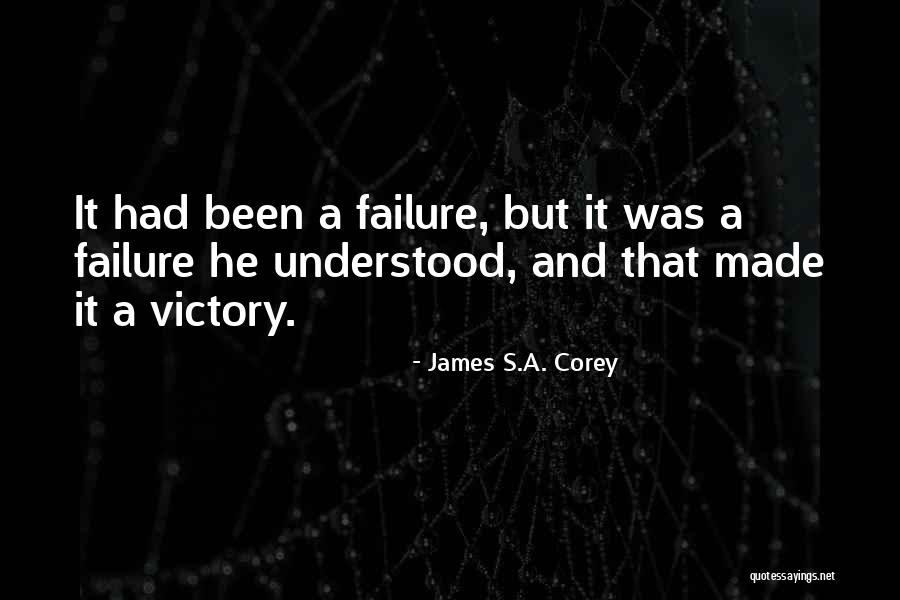 It had been a failure, but it was a failure he understood, and that made it a victory. — James S.A. Corey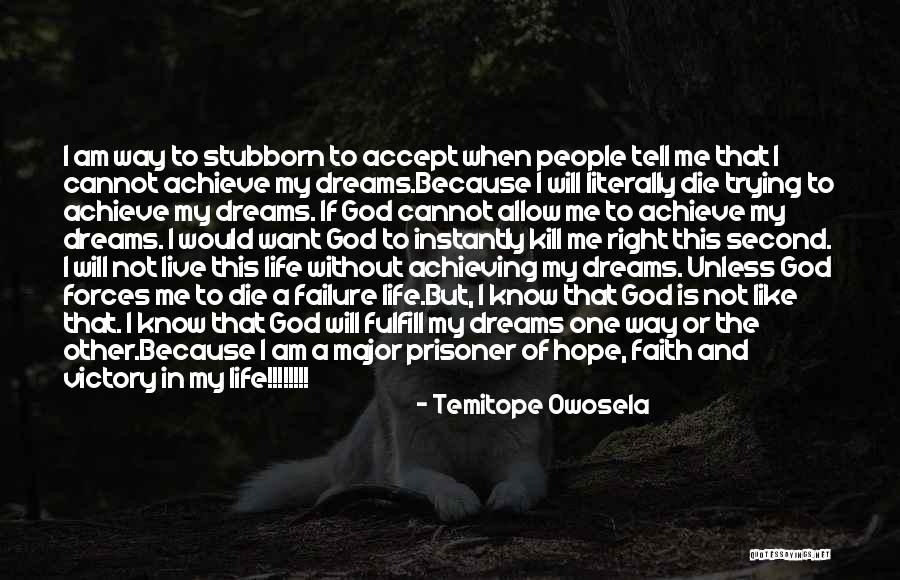 I am way to stubborn to accept when people tell me that I cannot achieve my dreams.
Because I will literally die trying to achieve my dreams. If God cannot allow me to achieve my dreams. I would want God to instantly kill me right this second. I will not live this life without achieving my dreams. Unless God forces me to die a failure life.
But, I know that God is not like that. I know that God will fulfill my dreams one way or the other.
Because I am a major prisoner of hope, faith and victory in my life!!!!!!!! — Temitope Owosela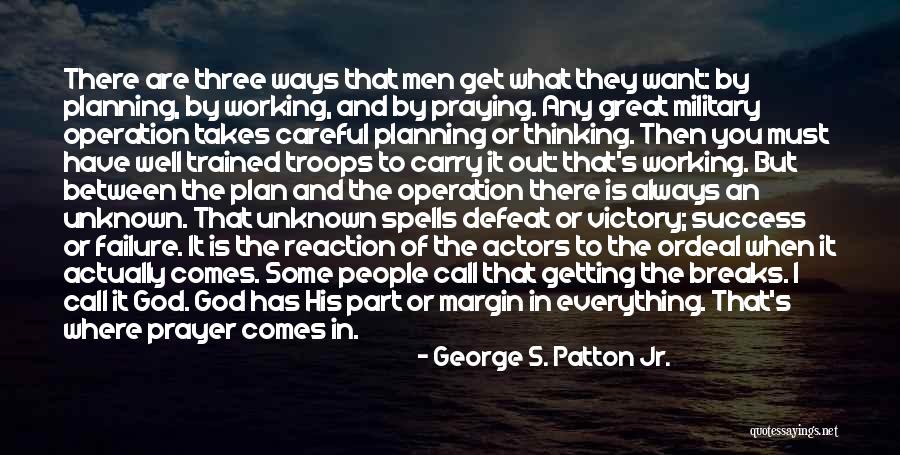 There are three ways that men get what they want: by planning, by working, and by praying. Any great military operation takes careful planning or thinking. Then you must have well trained troops to carry it out: that's working. But between the plan and the operation there is always an unknown. That unknown spells defeat or victory; success or failure. It is the reaction of the actors to the ordeal when it actually comes. Some people call that getting the breaks. I call it God. God has His part or margin in everything. That's where prayer comes in. — George S. Patton Jr.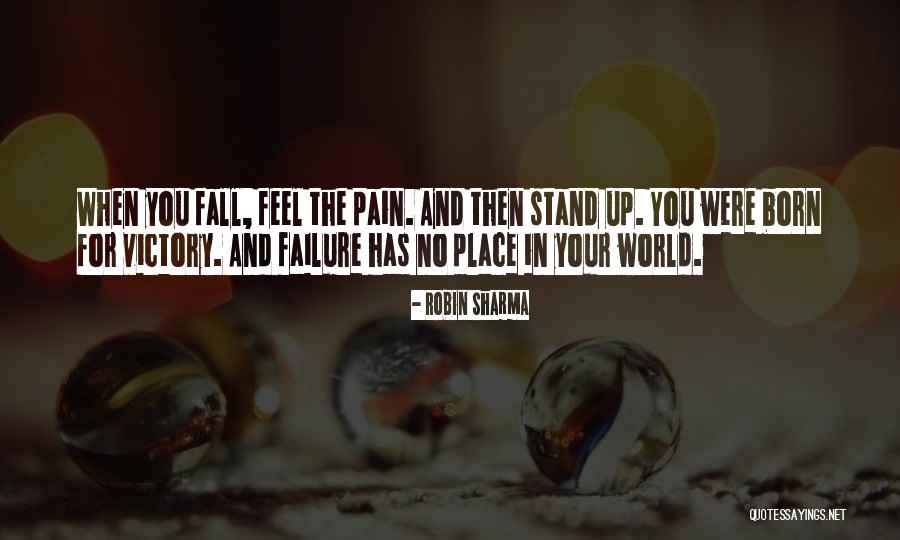 When you fall, feel the pain. And then stand up. You were born for victory. And failure has no place in your world. — Robin Sharma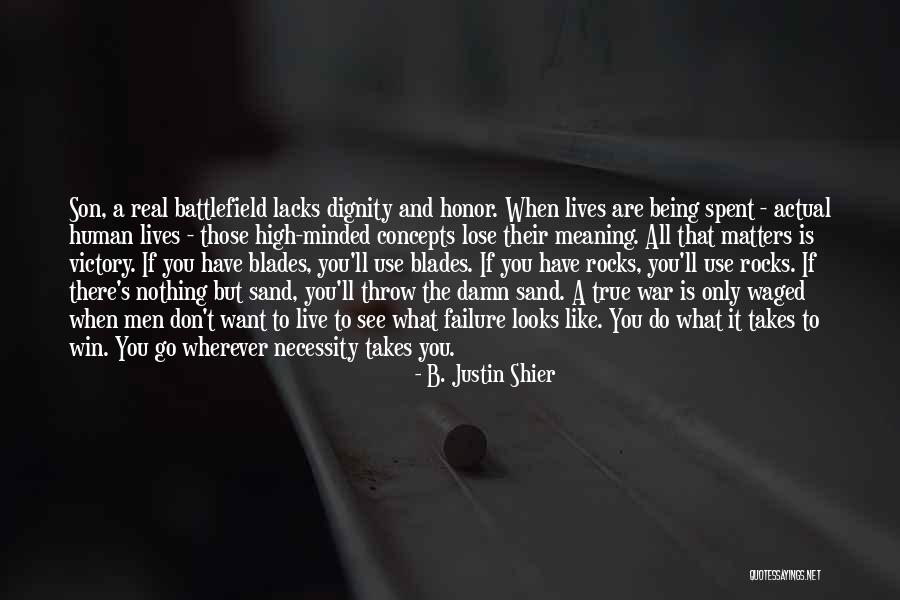 Son, a real battlefield lacks dignity and honor. When lives are being spent - actual human lives - those high-minded concepts lose their meaning. All that matters is victory. If you have blades, you'll use blades. If you have rocks, you'll use rocks. If there's nothing but sand, you'll throw the damn sand. A true war is only waged when men don't want to live to see what failure looks like. You do what it takes to win. You go wherever necessity takes you. — B. Justin Shier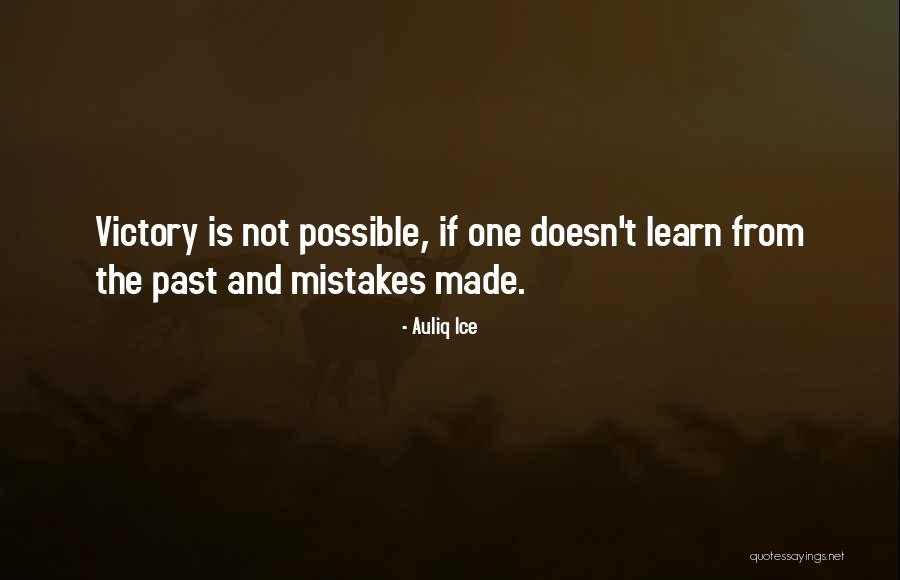 Victory is not possible, if one doesn't learn from the past and mistakes made. — Auliq Ice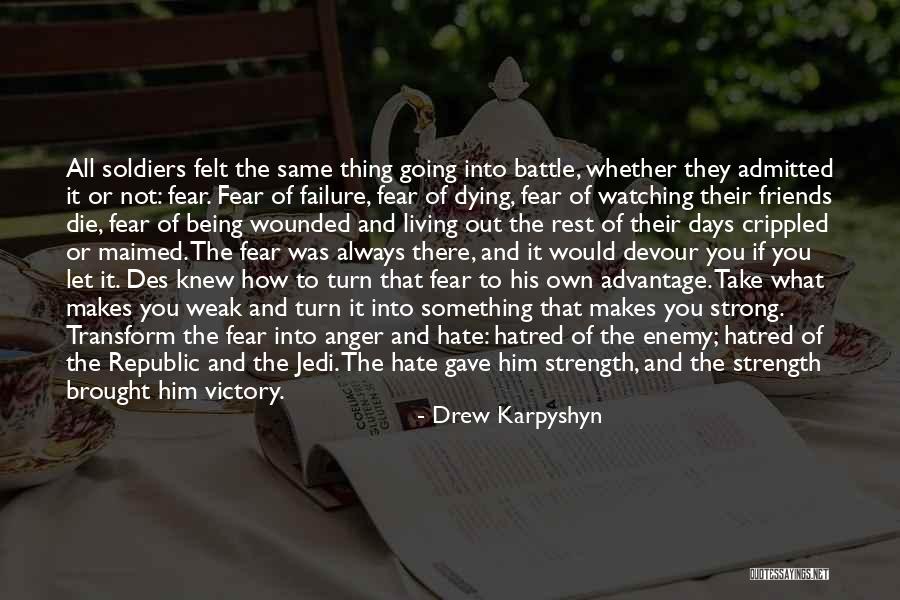 All soldiers felt the same thing going into battle, whether they admitted it or not: fear. Fear of failure, fear of dying, fear of watching their friends die, fear of being wounded and living out the rest of their days crippled or maimed. The fear was always there, and it would devour you if you let it.
Des knew how to turn that fear to his own advantage. Take what makes you weak and turn it into something that makes you strong. Transform the fear into anger and hate: hatred of the enemy; hatred of the Republic and the Jedi. The hate gave him strength, and the strength brought him victory. — Drew Karpyshyn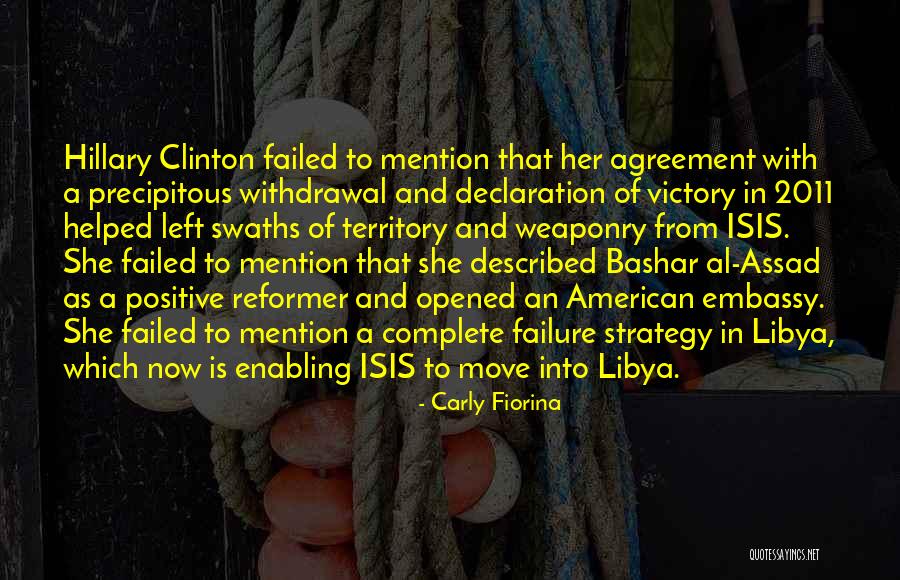 Hillary Clinton failed to mention that her agreement with a precipitous withdrawal and declaration of victory in 2011 helped left swaths of territory and weaponry from ISIS. She failed to mention that she described Bashar al-Assad as a positive reformer and opened an American embassy. She failed to mention a complete failure strategy in Libya, which now is enabling ISIS to move into Libya. — Carly Fiorina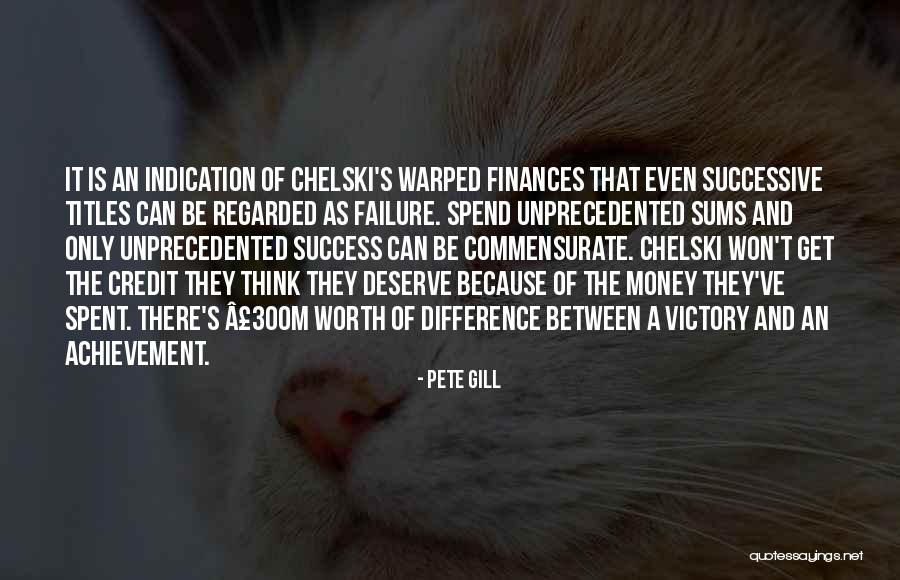 It is an indication of Chelski's warped finances that even successive titles can be regarded as failure. Spend unprecedented sums and only unprecedented success can be commensurate. Chelski won't get the credit they think they deserve because of the money they've spent. There's £300m worth of difference between a victory and an achievement. — Pete Gill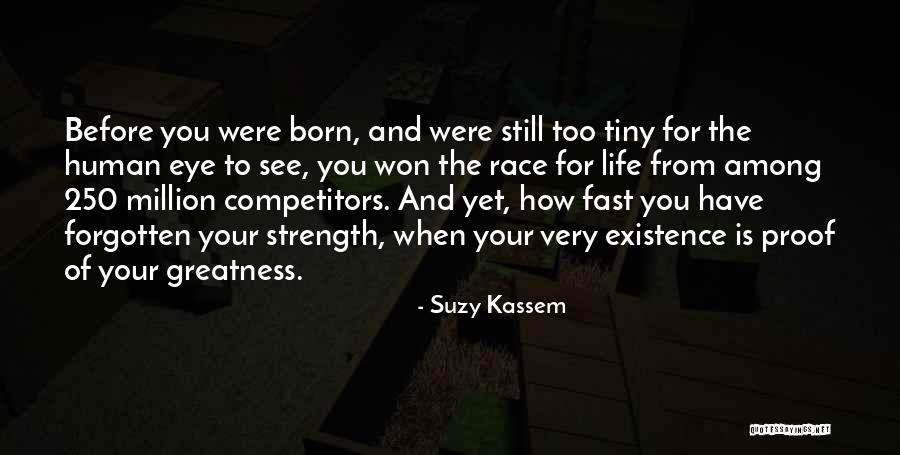 Before you were born, and were still too tiny for the human eye to see, you won the race for life from among 250 million competitors. And yet, how fast you have forgotten your strength, when your very existence is proof of your greatness. — Suzy Kassem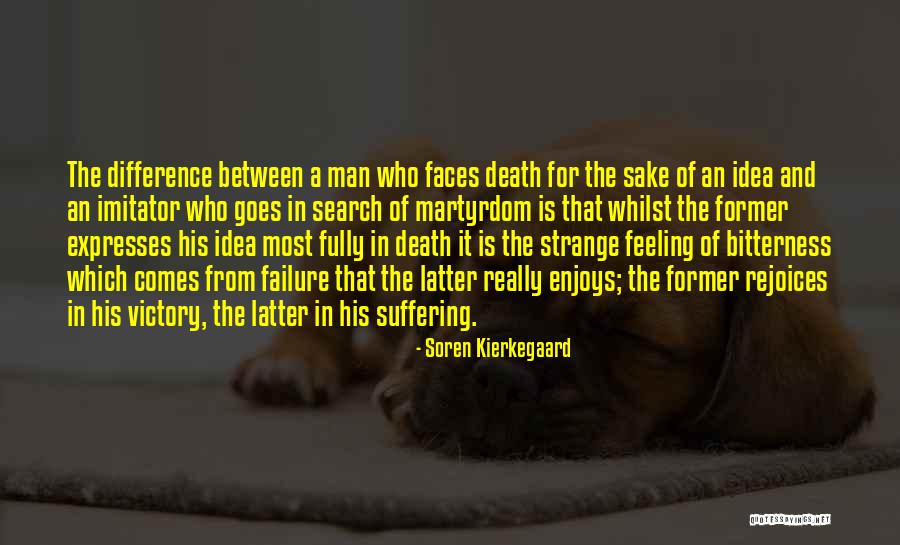 The difference between a man who faces death for the sake of an idea and an imitator who goes in search of martyrdom is that whilst the former expresses his idea most fully in death it is the strange feeling of bitterness which comes from failure that the latter really enjoys; the former rejoices in his victory, the latter in his suffering. — Soren Kierkegaard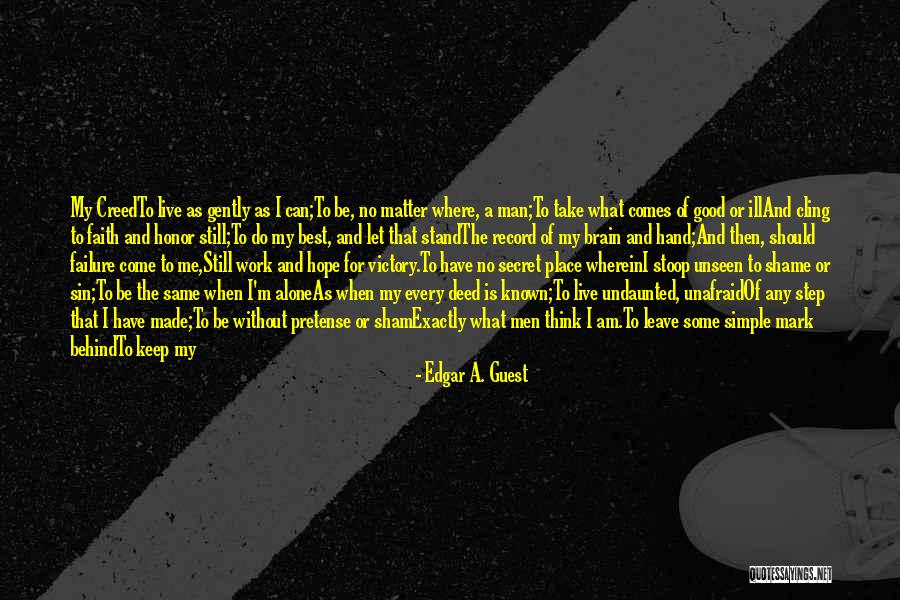 My Creed

To live as gently as I can;
To be, no matter where, a man;
To take what comes of good or ill
And cling to faith and honor still;
To do my best, and let that stand
The record of my brain and hand;
And then, should failure come to me,
Still work and hope for victory.

To have no secret place wherein
I stoop unseen to shame or sin;
To be the same when I'm alone
As when my every deed is known;
To live undaunted, unafraid
Of any step that I have made;
To be without pretense or sham
Exactly what men think I am.

To leave some simple mark behind
To keep my having lived in mind;
If enmity to aught I show,
To be an honest, generous foe,
To play my little part, nor whine
That greater honors are not mine.
This, I believe, is all I need
For my philosophy and creed. — Edgar A. Guest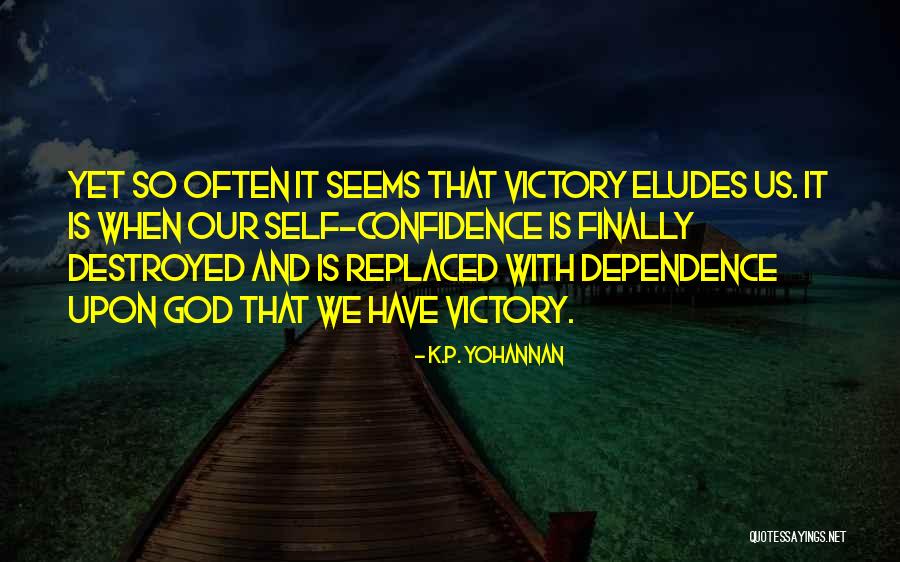 Yet so often it seems that victory eludes us. It is when our self-confidence is finally destroyed and is replaced with dependence upon God that we have victory. — K.P. Yohannan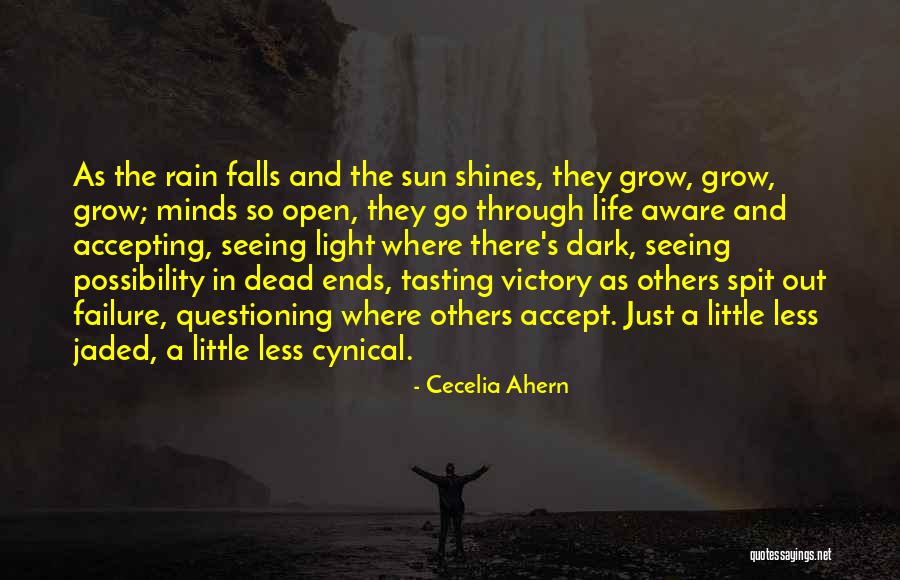 As the rain falls and the sun shines, they grow, grow, grow; minds so open, they go through life aware and accepting, seeing light where there's dark, seeing possibility in dead ends, tasting victory as others spit out failure, questioning where others accept. Just a little less jaded, a little less cynical. — Cecelia Ahern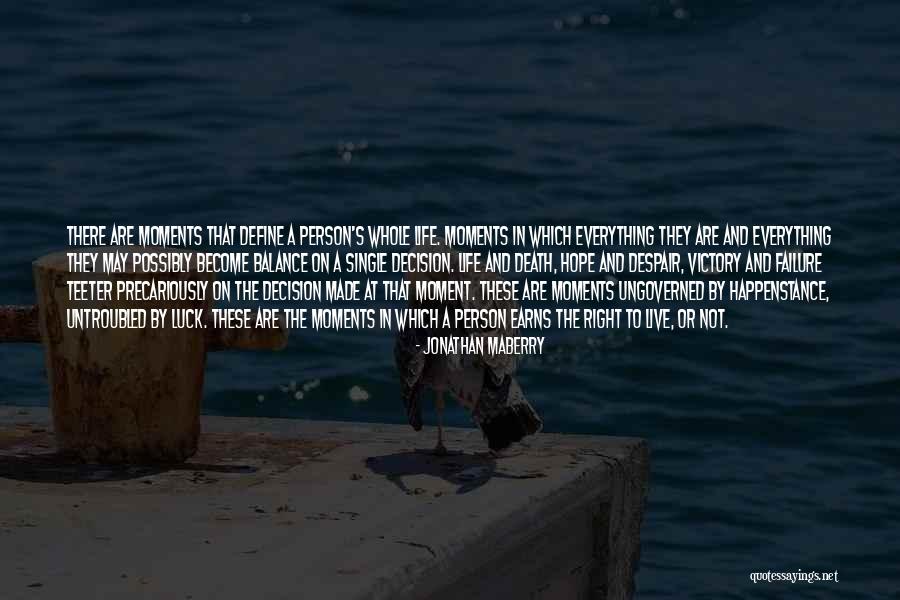 There are moments that define a person's whole life. Moments in which everything they are and everything they may possibly become balance on a single decision. Life and death, hope and despair, victory and failure teeter precariously on the decision made at that moment. These are moments ungoverned by happenstance, untroubled by luck. These are the moments in which a person earns the right to live, or not. — Jonathan Maberry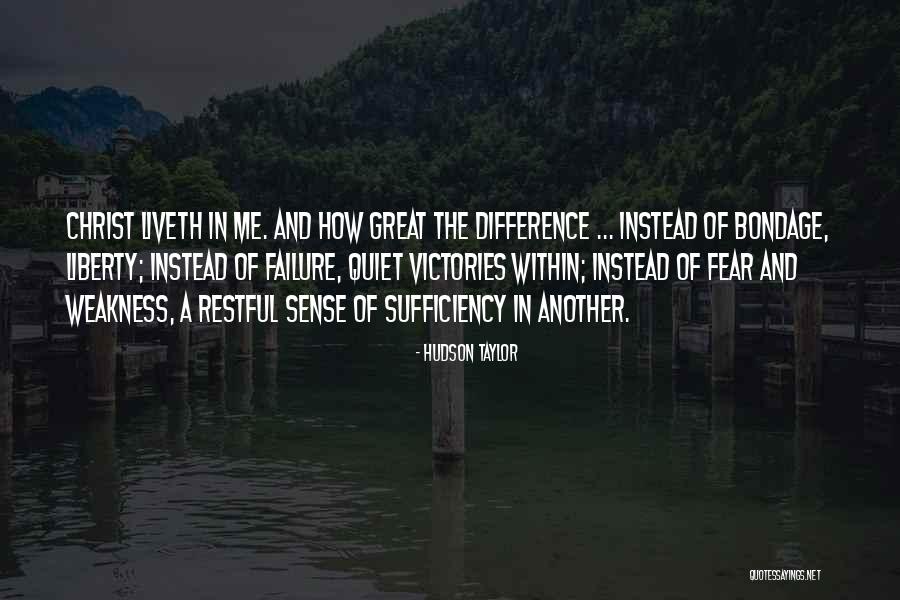 Christ liveth in me. And how great the difference ... instead of bondage, liberty; instead of failure, quiet victories within; instead of fear and weakness, a restful sense of sufficiency in Another. — Hudson Taylor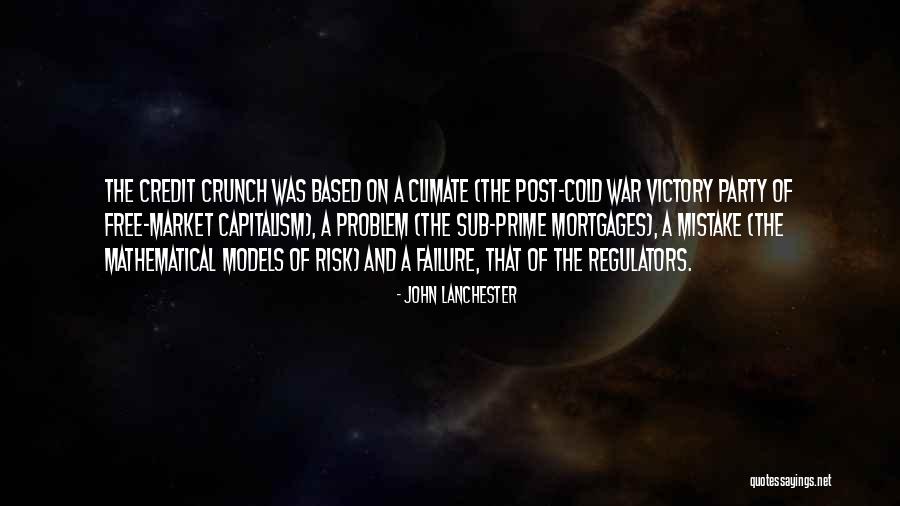 The credit crunch was based on a climate (the post-Cold War victory party of free-market capitalism), a problem (the sub-prime mortgages), a mistake (the mathematical models of risk) and a failure, that of the regulators. — John Lanchester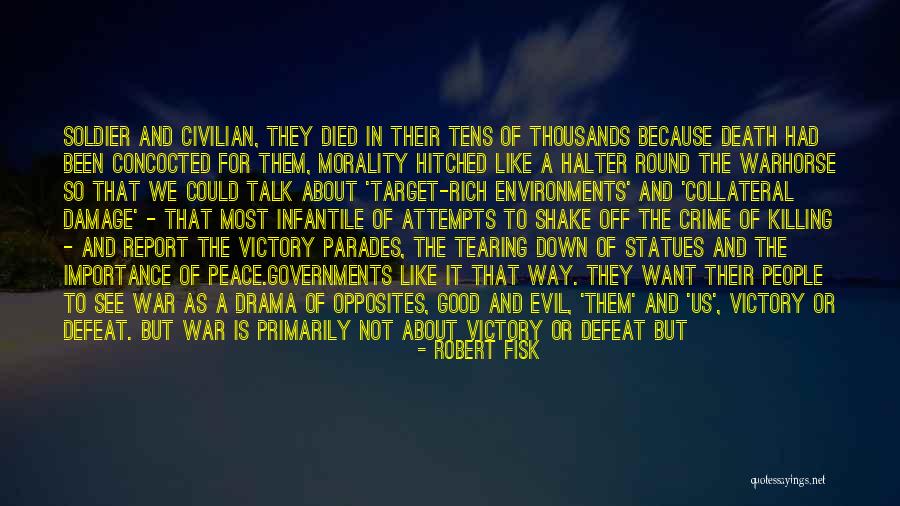 Soldier and civilian, they died in their tens of thousands because death had been concocted for them, morality hitched like a halter round the warhorse so that we could talk about 'target-rich environments' and 'collateral damage' - that most infantile of attempts to shake off the crime of killing - and report the victory parades, the tearing down of statues and the importance of peace.
Governments like it that way. They want their people to see war as a drama of opposites, good and evil, 'them' and 'us', victory or defeat. But war is primarily not about victory or defeat but about death and the infliction of death. It represents a total failure of the human spirit. — Robert Fisk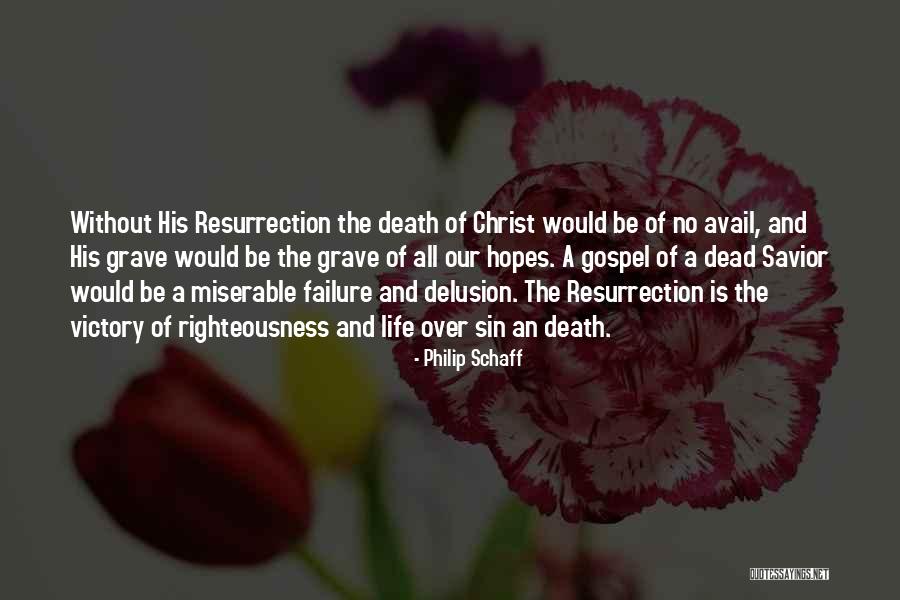 Without His Resurrection the death of Christ would be of no avail, and His grave would be the grave of all our hopes. A gospel of a dead Savior would be a miserable failure and delusion. The Resurrection is the victory of righteousness and life over sin an death. — Philip Schaff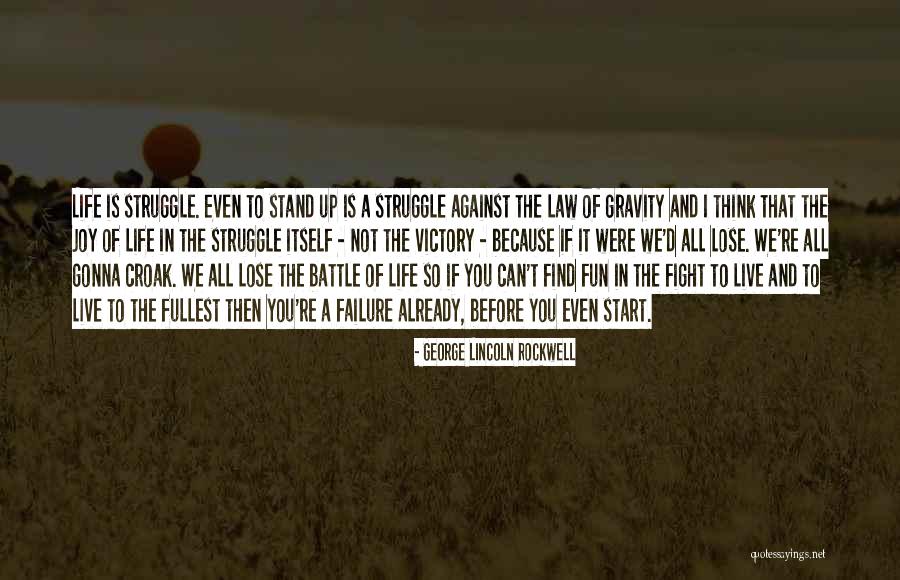 Life is struggle. Even to stand up is a struggle against the law of gravity and I think that the joy of life in the struggle itself - not the victory - because if it were we'd all lose. We're all gonna croak. We all lose the battle of life so if you can't find fun in the fight to live and to live to the fullest then you're a failure already, before you even start. — George Lincoln Rockwell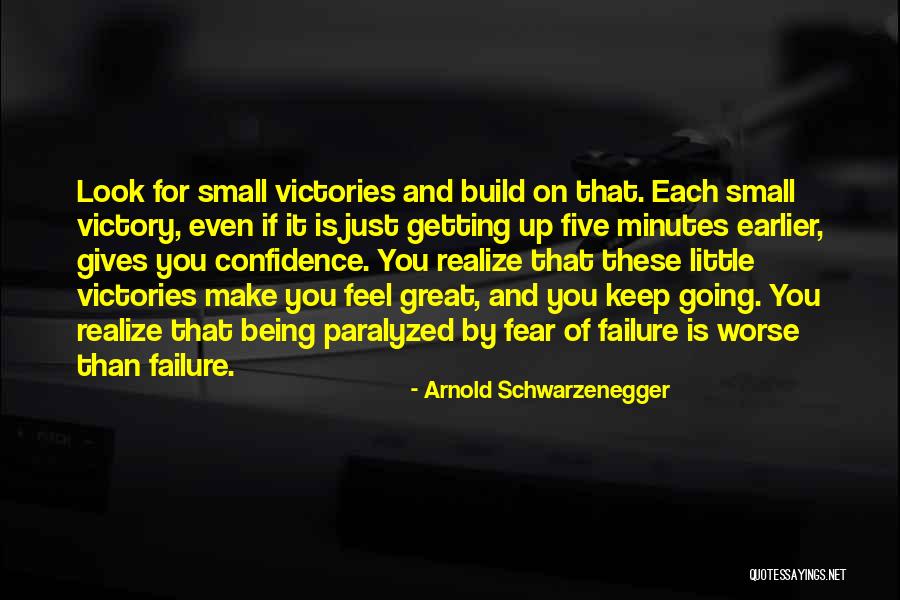 Look for small victories and build on that. Each small victory, even if it is just getting up five minutes earlier, gives you confidence. You realize that these little victories make you feel great, and you keep going. You realize that being paralyzed by fear of failure is worse than failure. — Arnold Schwarzenegger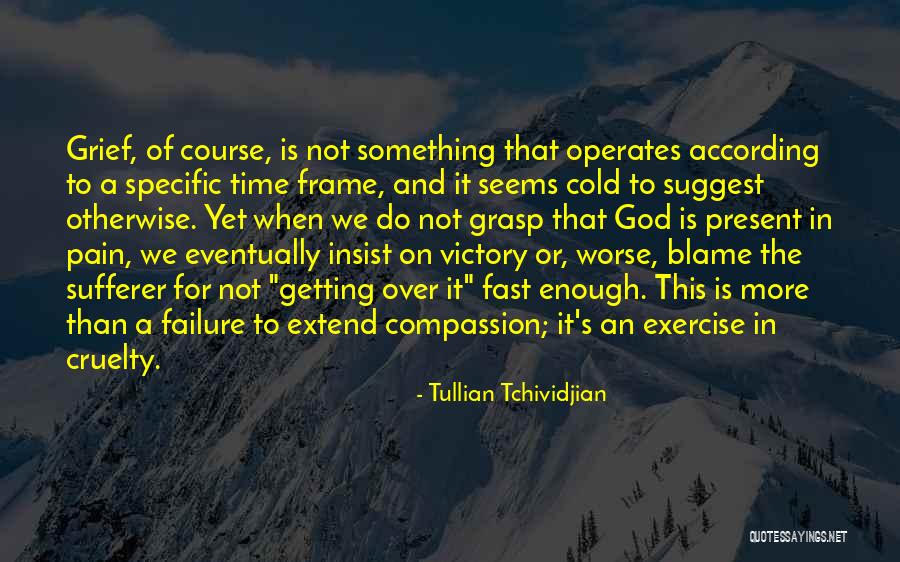 Grief, of course, is not something that operates according to a specific time frame, and it seems cold to suggest otherwise. Yet when we do not grasp that God is present in pain, we eventually insist on victory or, worse, blame the sufferer for not "getting over it" fast enough. This is more than a failure to extend compassion; it's an exercise in cruelty. — Tullian Tchividjian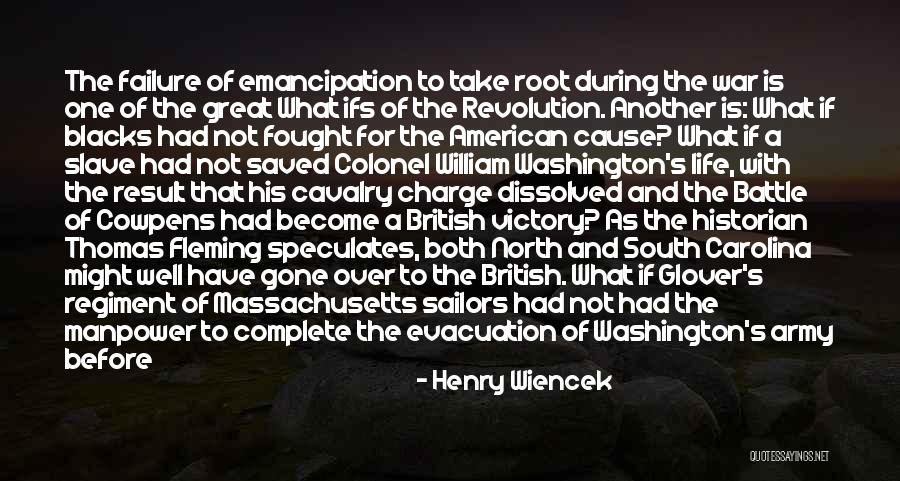 The failure of emancipation to take root during the war is one of the great What ifs of the Revolution. Another is: What if blacks had not fought for the American cause? What if a slave had not saved Colonel William Washington's life, with the result that his cavalry charge dissolved and the Battle of Cowpens had become a British victory? As the historian Thomas Fleming speculates, both North and South Carolina might well have gone over to the British. What if Glover's regiment of Massachusetts sailors had not had the manpower to complete the evacuation of Washington's army before the fog lifted in New York - and Washington himself, waiting for the last boat, had been captured? * — Henry Wiencek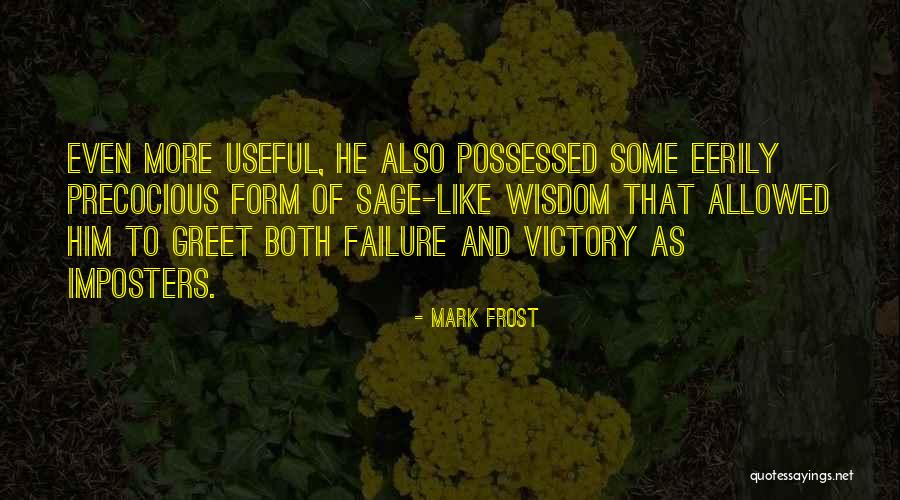 Even more useful, he also possessed some eerily precocious form of sage-like wisdom that allowed him to greet both failure and victory as imposters. — Mark Frost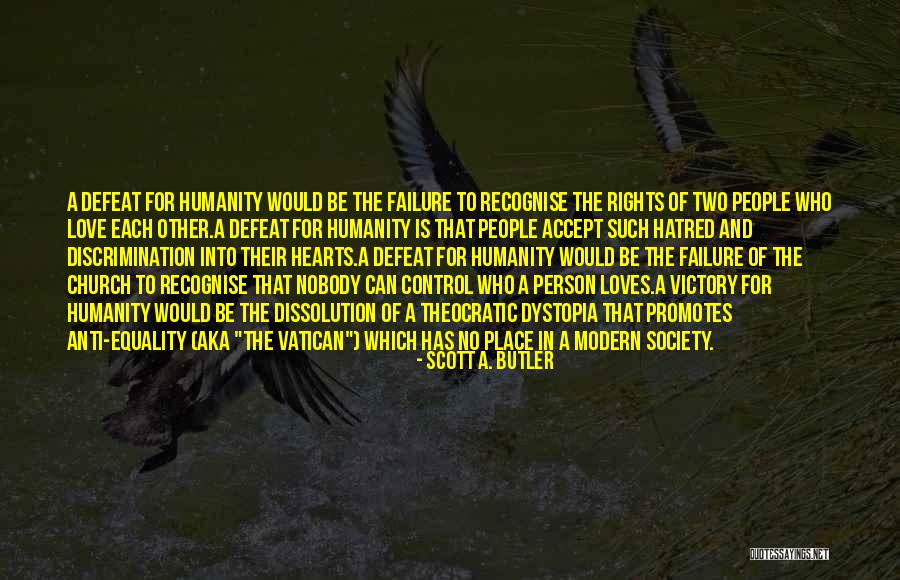 A defeat for humanity would be the failure to recognise the rights of two people who love each other.

A defeat for humanity is that people accept such hatred and discrimination into their hearts.

A defeat for humanity would be the failure of the church to recognise that nobody can control who a person loves.

A victory for humanity would be the dissolution of a theocratic dystopia that promotes anti-equality (aka "the Vatican") which has no place in a modern society. — Scott A. Butler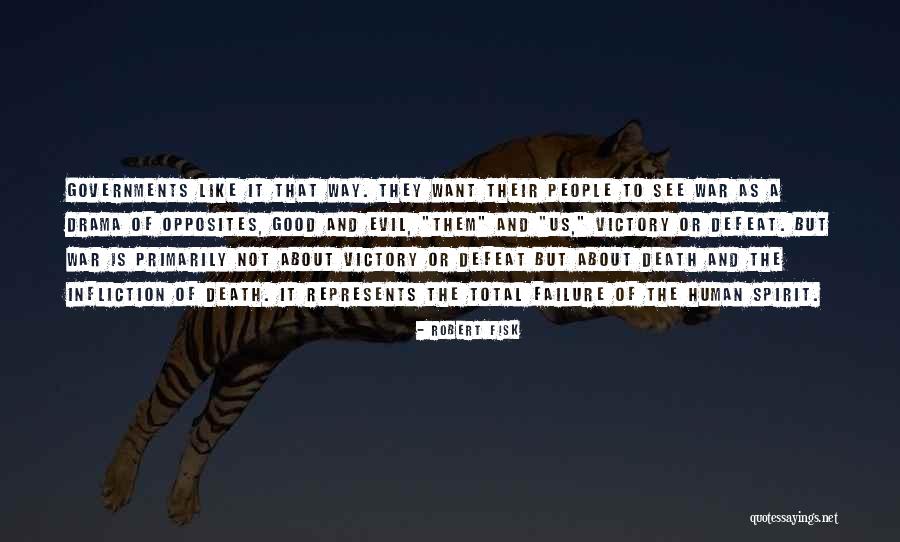 Governments like it that way. They want their people to see war as a drama of opposites, good and evil, "them" and "us," victory or defeat. But war is primarily not about victory or defeat but about death and the infliction of death. It represents the total failure of the human spirit. — Robert Fisk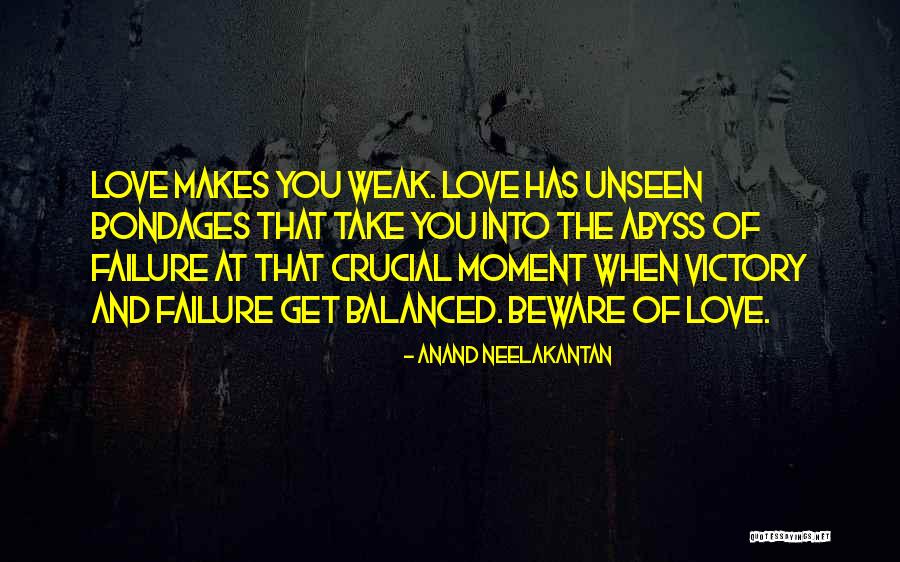 Love makes you weak. Love has unseen bondages that take you into the abyss of failure at that crucial moment when victory and failure get balanced. Beware of love. — Anand Neelakantan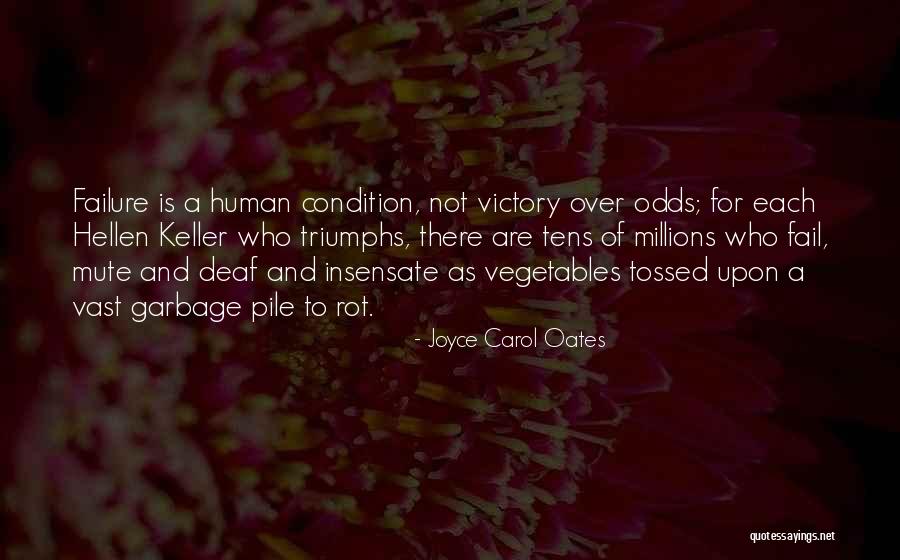 Failure is a human condition, not victory over odds; for each Hellen Keller who triumphs, there are tens of millions who fail, mute and deaf and insensate as vegetables tossed upon a vast garbage pile to rot. — Joyce Carol Oates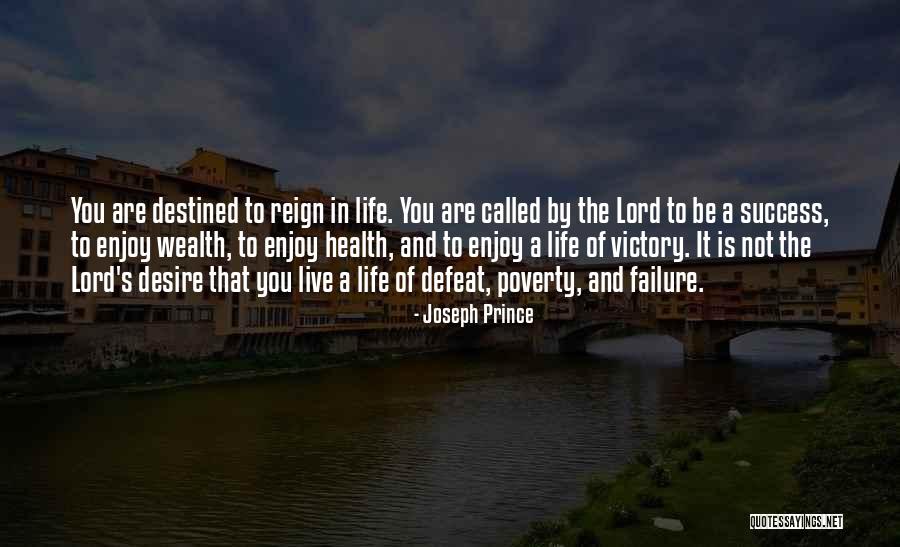 You are destined to reign in life. You are called by the Lord to be a success, to enjoy wealth, to enjoy health, and to enjoy a life of victory. It is not the Lord's desire that you live a life of defeat, poverty, and failure. — Joseph Prince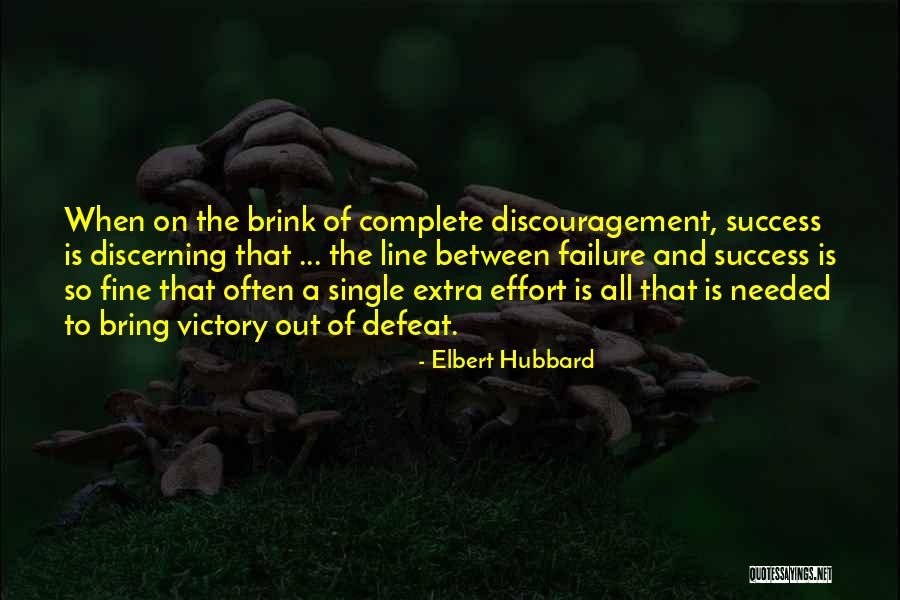 When on the brink of complete discouragement, success is discerning that ... the line between failure and success is so fine that often a single extra effort is all that is needed to bring victory out of defeat. — Elbert Hubbard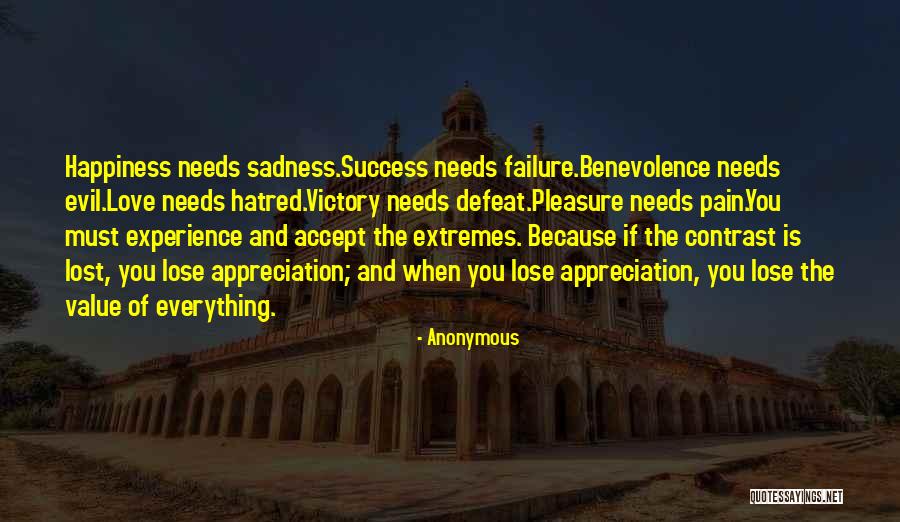 Happiness needs sadness.
Success needs failure.
Benevolence needs evil.
Love needs hatred.
Victory needs defeat.
Pleasure needs pain.

You must experience and accept the extremes. Because if the contrast is lost, you lose appreciation; and when you lose appreciation, you lose the value of everything. — Anonymous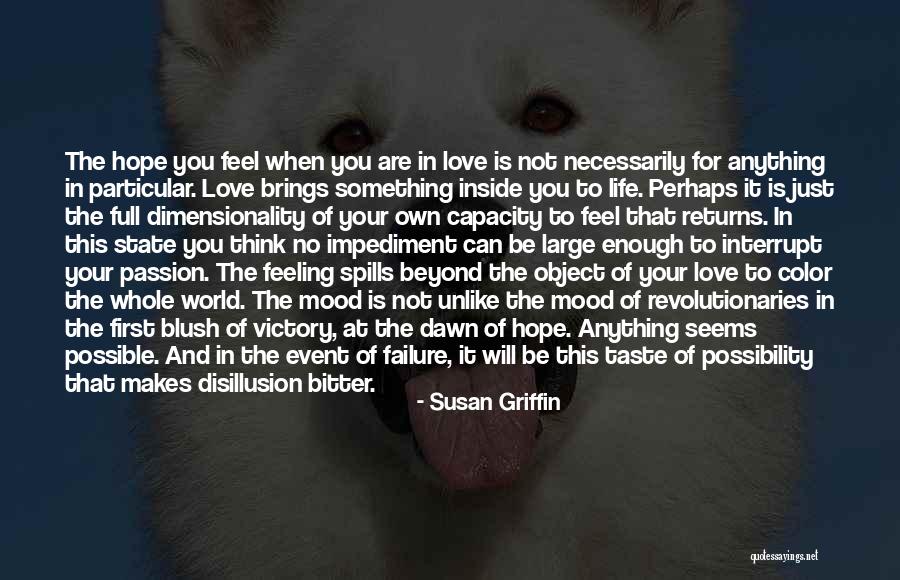 The hope you feel when you are in love is not necessarily for anything in particular. Love brings something inside you to life. Perhaps it is just the full dimensionality of your own capacity to feel that returns. In this state you think no impediment can be large enough to interrupt your passion. The feeling spills beyond the object of your love to color the whole world. The mood is not unlike the mood of revolutionaries in the first blush of victory, at the dawn of hope. Anything seems possible. And in the event of failure, it will be this taste of possibility that makes disillusion bitter. — Susan Griffin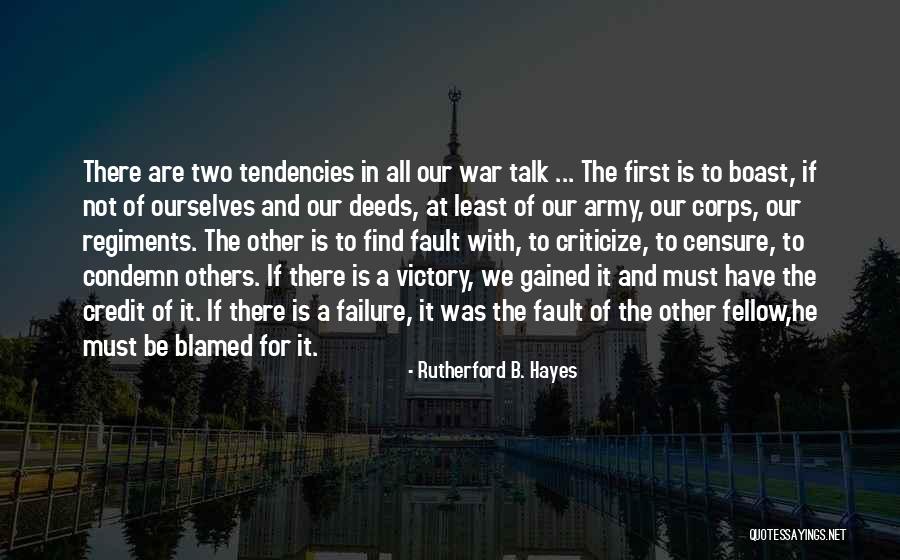 There are two tendencies in all our war talk ... The first is to boast, if not of ourselves and our deeds, at least of our army, our corps, our regiments. The other is to find fault with, to criticize, to censure, to condemn others. If there is a victory, we gained it and must have the credit of it. If there is a failure, it was the fault of the other fellow,
he must be blamed for it. — Rutherford B. Hayes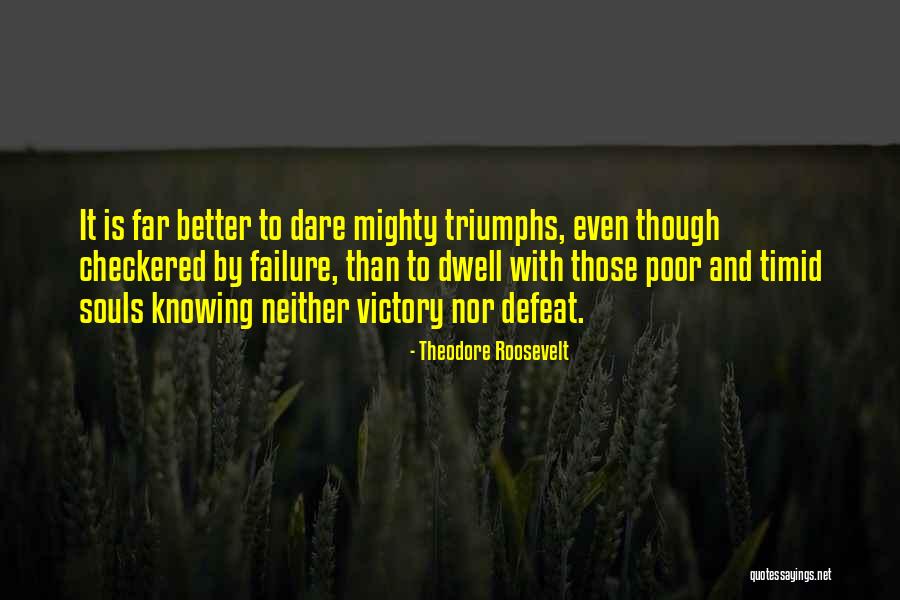 It is far better to dare mighty triumphs, even though checkered by failure, than to dwell with those poor and timid souls knowing neither victory nor defeat. — Theodore Roosevelt
To make the fastest progress,
Be an absolutely cheerful
Hero-warrior
And take both victory and failure
As parallel experience rivers
Leading to the sea
Of progress-delight. — Sri Chinmoy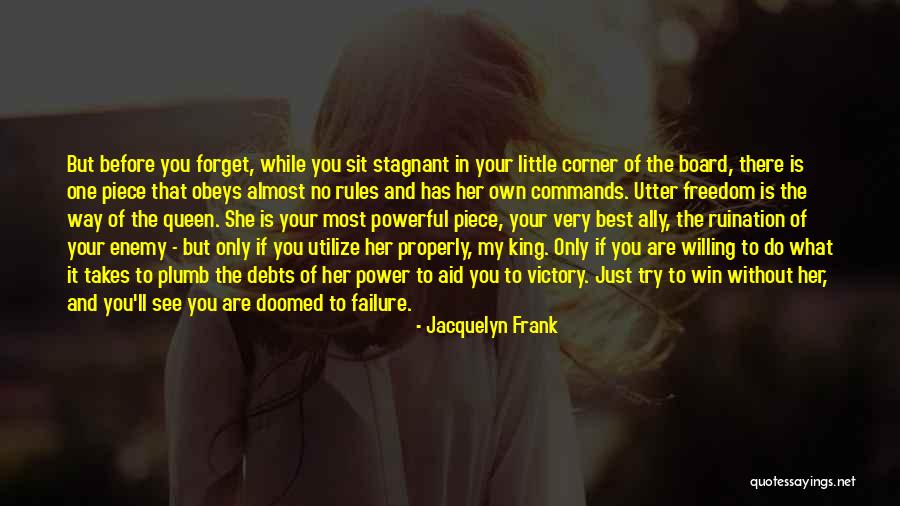 But before you forget, while you sit stagnant in your little corner of the board, there is one piece that obeys almost no rules and has her own commands. Utter freedom is the way of the queen. She is your most powerful piece, your very best ally, the ruination of your enemy - but only if you utilize her properly, my king. Only if you are willing to do what it takes to plumb the debts of her power to aid you to victory. Just try to win without her, and you'll see you are doomed to failure. — Jacquelyn Frank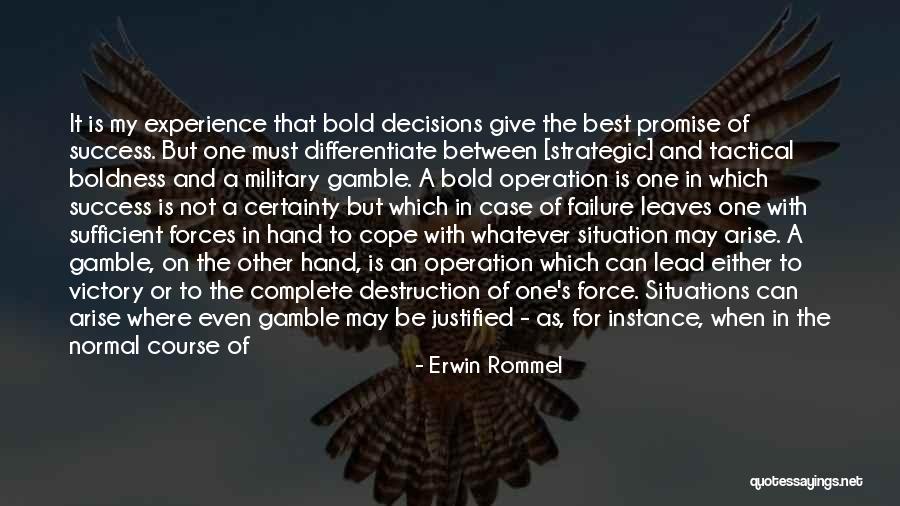 It is my experience that bold decisions give the best promise of success. But one must differentiate between [strategic] and tactical boldness and a military gamble. A bold operation is one in which success is not a certainty but which in case of failure leaves one with sufficient forces in hand to cope with whatever situation may arise. A gamble, on the other hand, is an operation which can lead either to victory or to the complete destruction of one's force. Situations can arise where even gamble may be justified - as, for instance, when in the normal course of events defeat is merely a matter of time, when the gaining of time is therefore pointless and the only chance lies in an operation of great risk. — Erwin Rommel