Us Agencies Quotes & Sayings
Enjoy reading and share 34 famous quotes about Us Agencies with everyone.
Top Us Agencies Quotes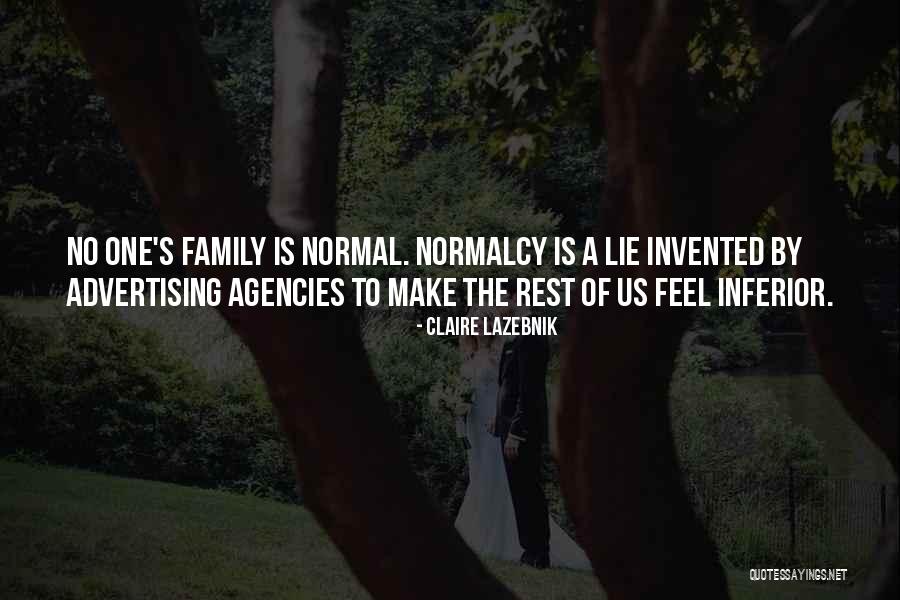 No one's family is normal. Normalcy is a lie invented by advertising agencies to make the rest of us feel inferior. — Claire LaZebnik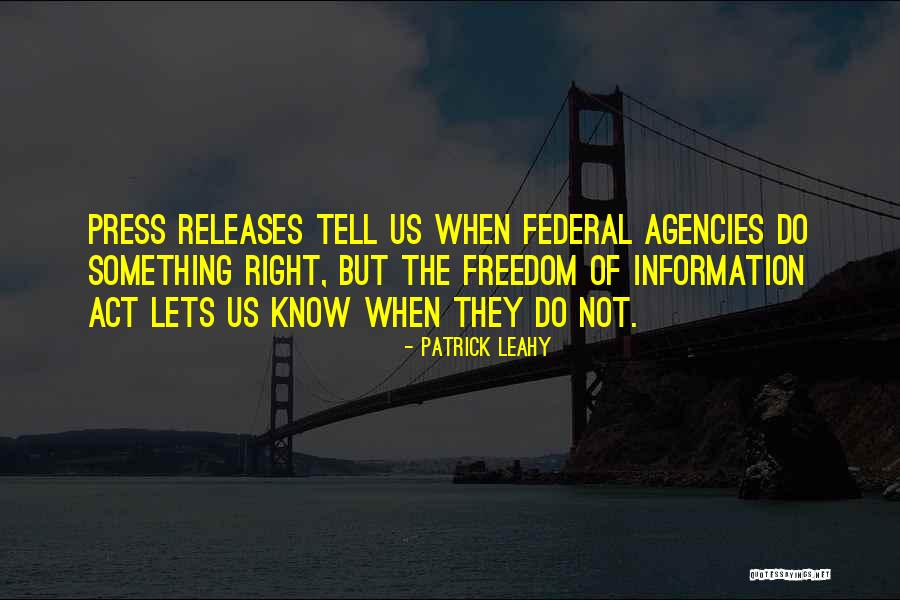 Press releases tell us when federal agencies do something right, but the Freedom of Information Act lets us know when they do not. — Patrick Leahy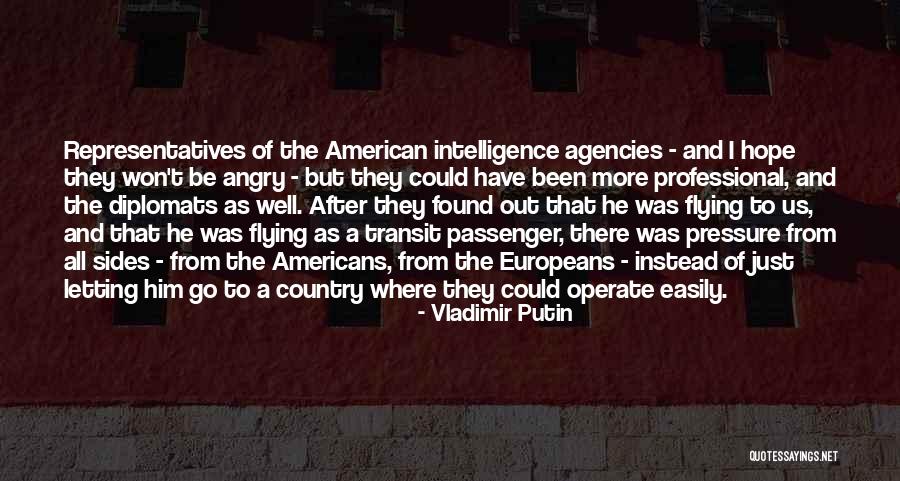 Representatives of the American intelligence agencies - and I hope they won't be angry - but they could have been more professional, and the diplomats as well. After they found out that he was flying to us, and that he was flying as a transit passenger, there was pressure from all sides - from the Americans, from the Europeans - instead of just letting him go to a country where they could operate easily. — Vladimir Putin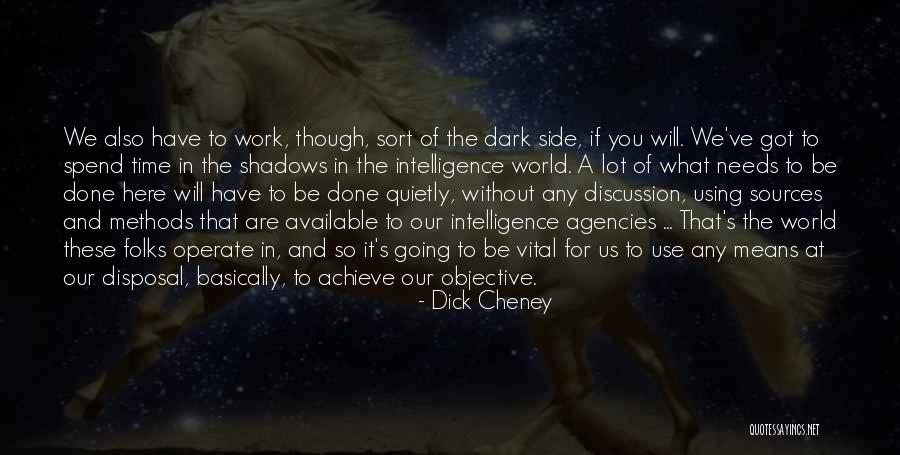 We also have to work, though, sort of the dark side, if you will. We've got to spend time in the shadows in the intelligence world. A lot of what needs to be done here will have to be done quietly, without any discussion, using sources and methods that are available to our intelligence agencies ... That's the world these folks operate in, and so it's going to be vital for us to use any means at our disposal, basically, to achieve our objective. — Dick Cheney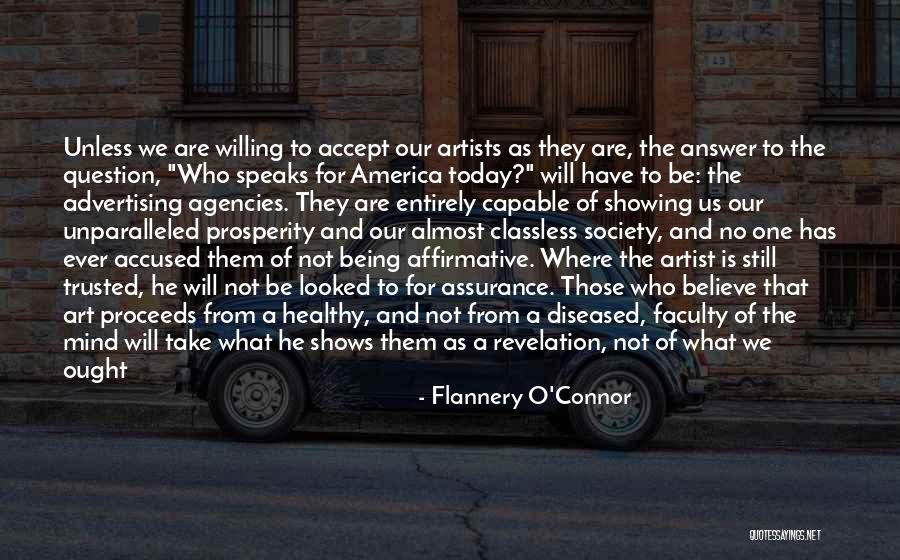 Unless we are willing to accept our artists as they are, the answer to the question, "Who speaks for America today?" will have to be: the advertising agencies. They are entirely capable of showing us our unparalleled prosperity and our almost classless society, and no one has ever accused them of not being affirmative. Where the artist is still trusted, he will not be looked to for assurance. Those who believe that art proceeds from a healthy, and not from a diseased, faculty of the mind will take what he shows them as a revelation, not of what we ought to be but of what we are at a given time and under given circumstances; that is , as a limited revelation but revelation nevertheless. — Flannery O'Connor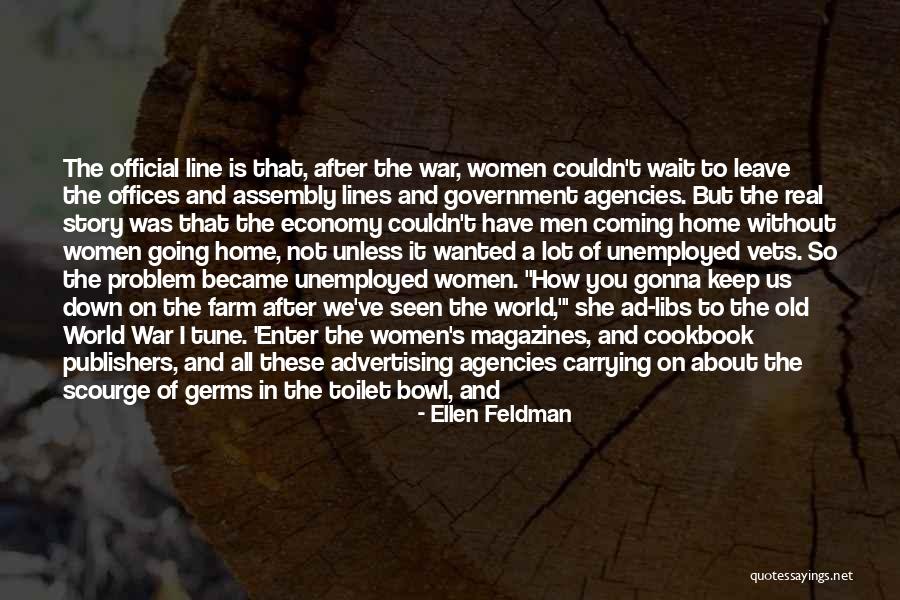 The official line is that, after the war, women couldn't wait to leave the offices and assembly lines and government agencies. But the real story was that the economy couldn't have men coming home without women going home, not unless it wanted a lot of unemployed vets. So the problem became unemployed women. "How you gonna keep us down on the farm after we've seen the world,"' she ad-libs to the old World War I tune. 'Enter the women's magazines, and cookbook publishers, and all these advertising agencies carrying on about the scourge of germs in the toilet bowl, and scuffs on the kitchen floor, and, my favorite, house B.O. Enter chicken hash that takes two and a half hours to prepare. I can just hear them sitting around the conference tables. 'That'll keep the gals out of trouble. — Ellen Feldman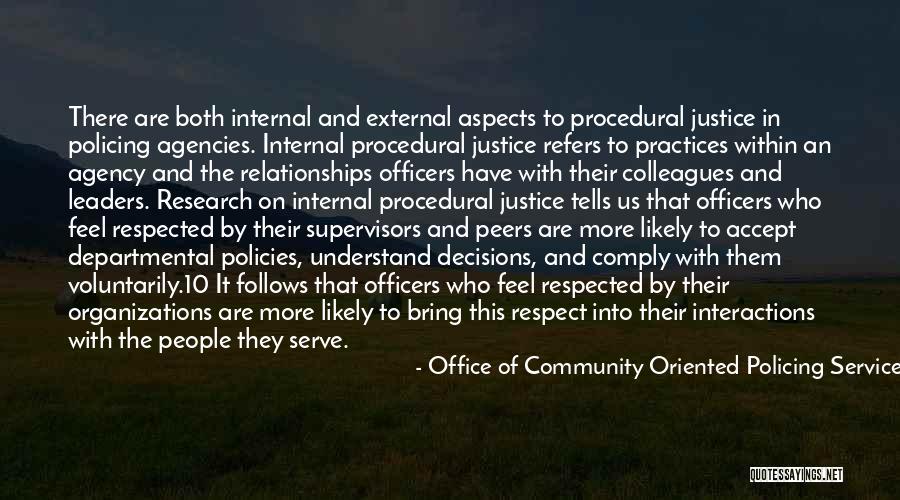 There are both internal and external aspects to procedural justice in policing agencies. Internal procedural justice refers to practices within an agency and the relationships officers have with their colleagues and leaders. Research on internal procedural justice tells us that officers who feel respected by their supervisors and peers are more likely to accept departmental policies, understand decisions, and comply with them voluntarily.10 It follows that officers who feel respected by their organizations are more likely to bring this respect into their interactions with the people they serve. — Office Of Community Oriented Policing Service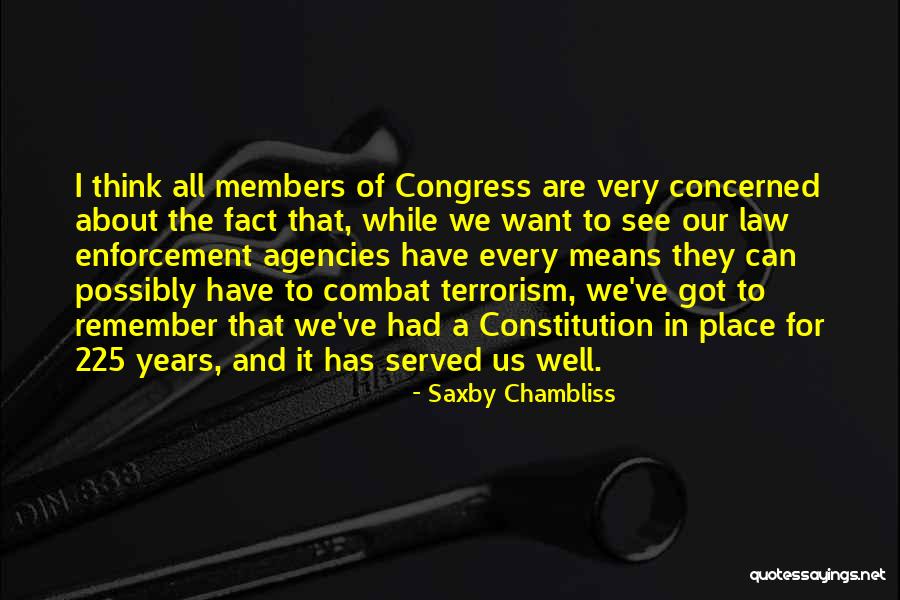 I think all members of Congress are very concerned about the fact that, while we want to see our law enforcement agencies have every means they can possibly have to combat terrorism, we've got to remember that we've had a Constitution in place for 225 years, and it has served us well. — Saxby Chambliss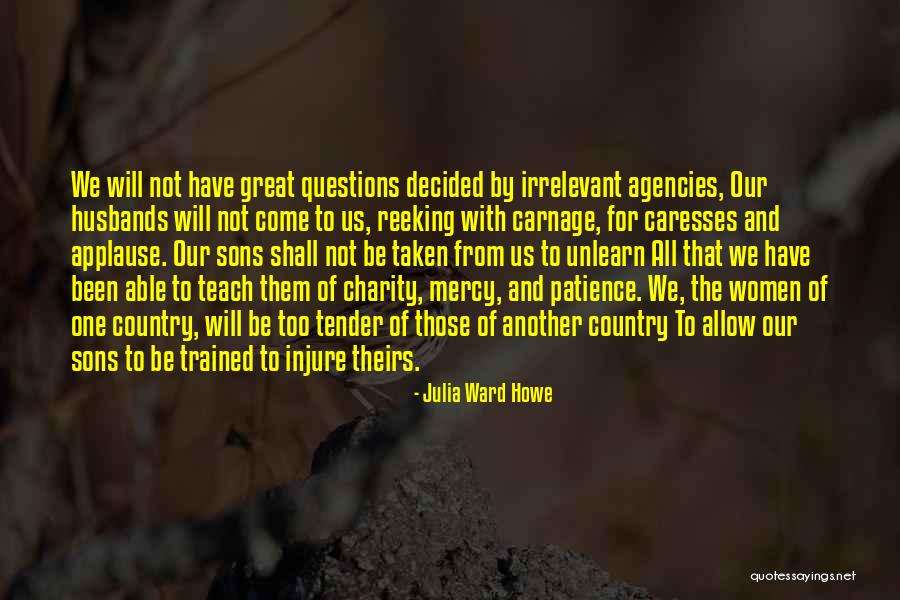 We will not have great questions decided by irrelevant agencies, Our husbands will not come to us, reeking with carnage, for caresses and applause. Our sons shall not be taken from us to unlearn All that we have been able to teach them of charity, mercy, and patience. We, the women of one country, will be too tender of those of another country To allow our sons to be trained to injure theirs. — Julia Ward Howe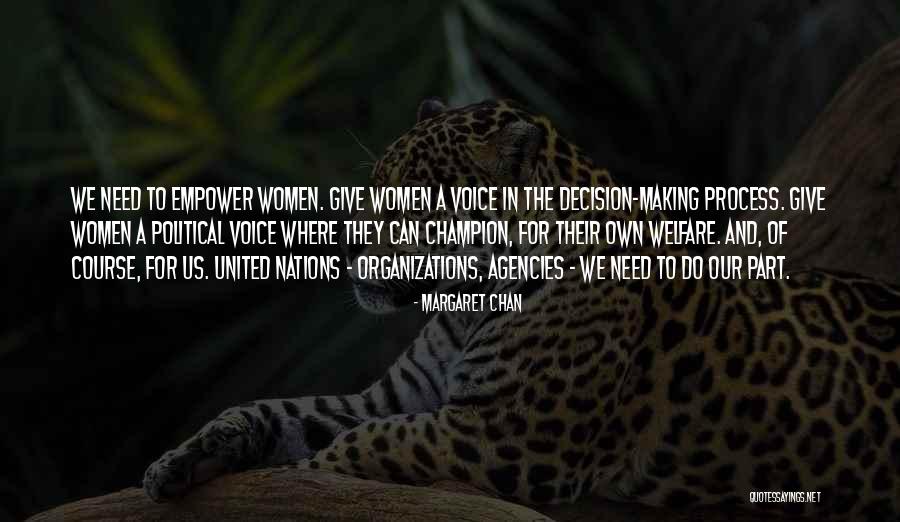 We need to empower women. Give women a voice in the decision-making process. Give women a political voice where they can champion, for their own welfare. And, of course, for us. United Nations - organizations, agencies - we need to do our part. — Margaret Chan
When we give help to the poor, we are not doing the work of aid agencies 'in a Christian way'. Those are good, it is a decent thing to do - aid work is good and quite human - but it is not Christian poverty, which St. Paul desires of us and preaches to us. Christian poverty is that I give of my own, and not of that which is left over - I give even that, which I need for myself, to the poor person, because I know that he enriches me. Why does the poor person enrich me? Because Jesus Himself told us that He is in the poor person. — Pope Francis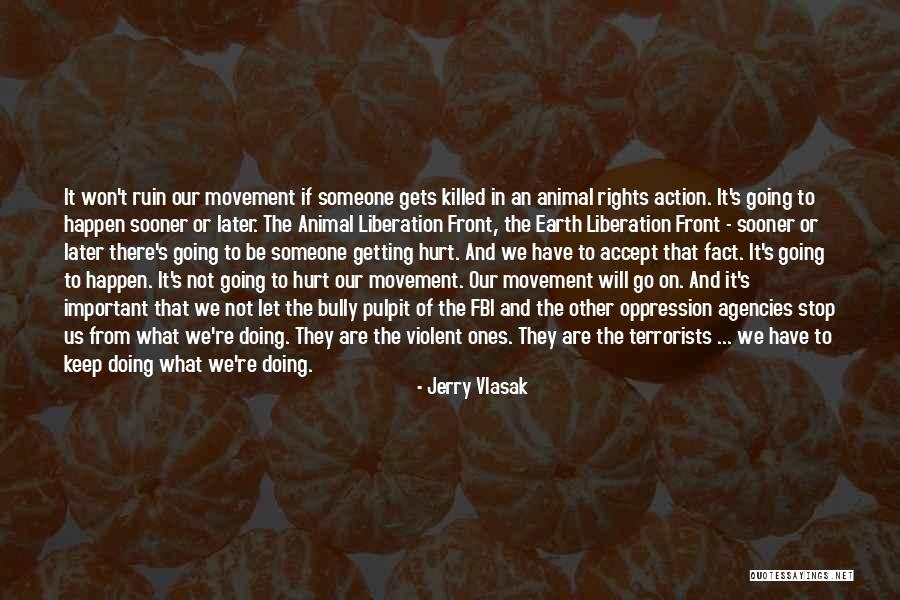 It won't ruin our movement if someone gets killed in an animal rights action. It's going to happen sooner or later. The Animal Liberation Front, the Earth Liberation Front - sooner or later there's going to be someone getting hurt. And we have to accept that fact. It's going to happen. It's not going to hurt our movement. Our movement will go on. And it's important that we not let the bully pulpit of the FBI and the other oppression agencies stop us from what we're doing. They are the violent ones. They are the terrorists ... we have to keep doing what we're doing. — Jerry Vlasak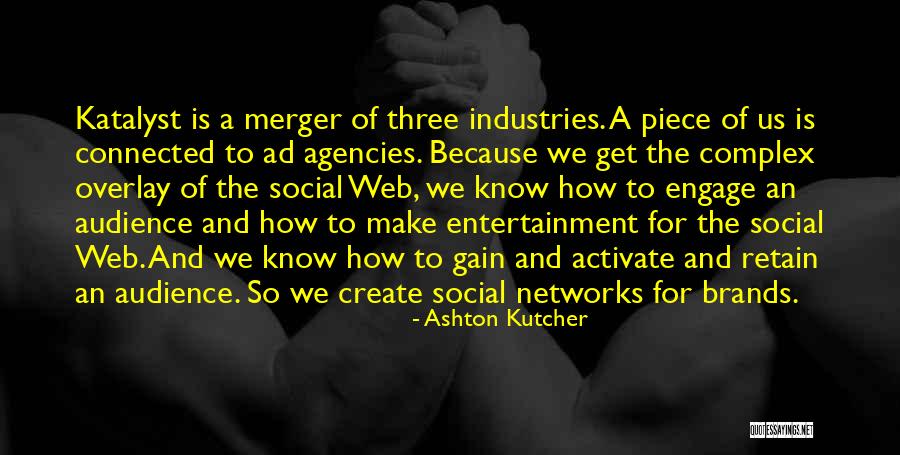 Katalyst is a merger of three industries. A piece of us is connected to ad agencies. Because we get the complex overlay of the social Web, we know how to engage an audience and how to make entertainment for the social Web. And we know how to gain and activate and retain an audience. So we create social networks for brands. — Ashton Kutcher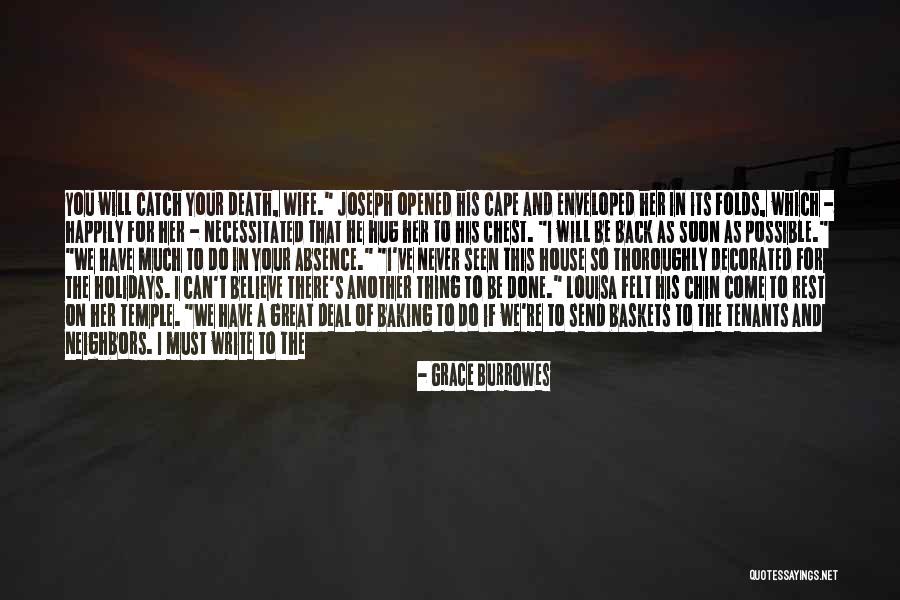 You will catch your death, Wife." Joseph opened his cape and enveloped her in its folds, which - happily for her - necessitated that he hug her to his chest. "I will be back as soon as possible." "We have much to do in your absence." "I've never seen this house so thoroughly decorated for the holidays. I can't believe there's another thing to be done." Louisa felt his chin come to rest on her temple. "We have a great deal of baking to do if we're to send baskets to the tenants and neighbors. I must write to the agencies to find us another governess, and you've set me the task of finding a charity worthy of your coin. Then too, I am behind on my correspondence, and if all else fails, I have your library to explore. I will stay busy." "While I will freeze my backside off, haring about the realm without you. — Grace Burrowes
Most designers and creative agencies, no matter their industry niche, will do some nonprofit or cause-related work at some stage of their career. This work helps us create a sense of purpose that is bigger than us. It connects us to our community, helps us leave a legacy and be part of something bigger than our own work. — Peleg Top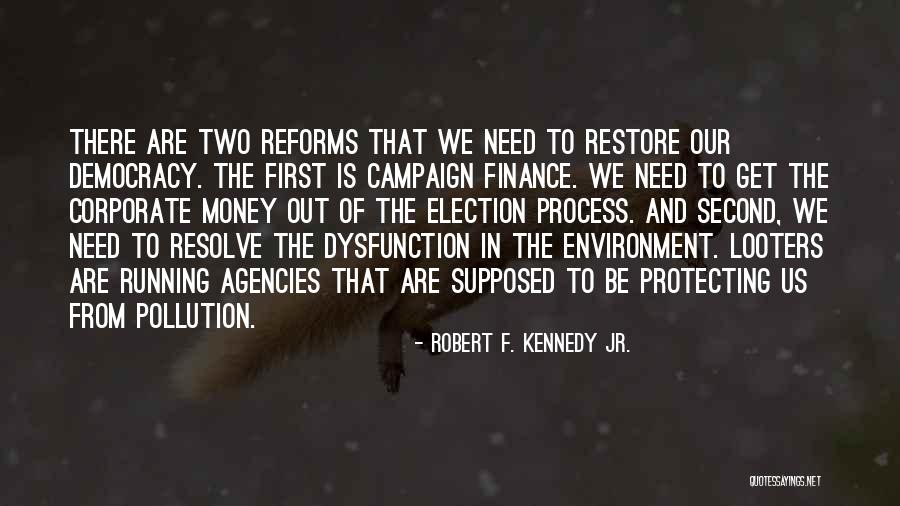 There are two reforms that we need to restore our democracy. The first is campaign finance. We need to get the corporate money out of the election process. And second, we need to resolve the dysfunction in the environment. Looters are running agencies that are supposed to be protecting us from pollution. — Robert F. Kennedy Jr.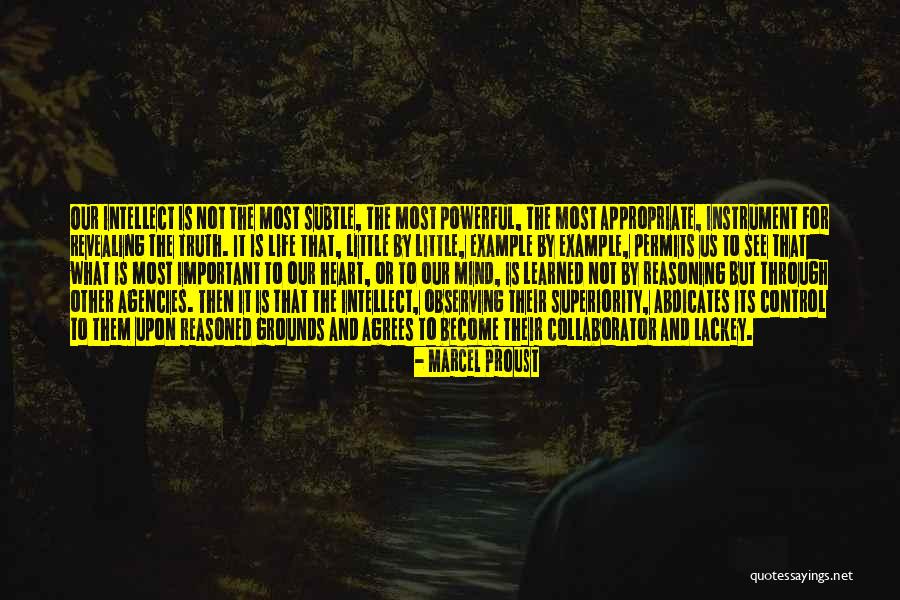 Our intellect is not the most subtle, the most powerful, the most appropriate, instrument for revealing the truth. It is life that, little by little, example by example, permits us to see that what is most important to our heart, or to our mind, is learned not by reasoning but through other agencies. Then it is that the intellect, observing their superiority, abdicates its control to them upon reasoned grounds and agrees to become their collaborator and lackey. — Marcel Proust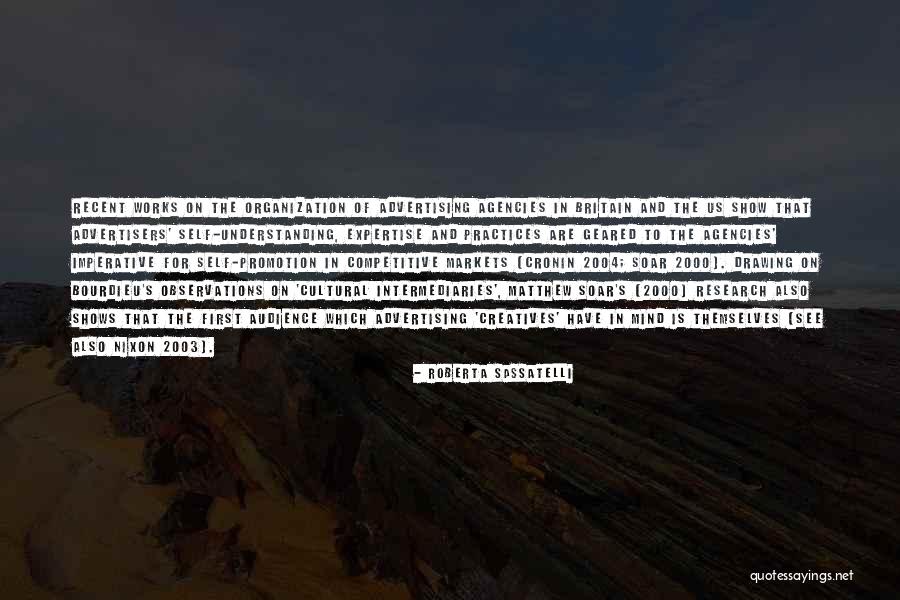 Recent works on the organization of advertising agencies in Britain and the US show that advertisers' self-understanding, expertise and practices are geared to the agencies' imperative for self-promotion in competitive markets (Cronin 2004; Soar 2000). Drawing on Bourdieu's observations on 'cultural intermediaries', Matthew Soar's (2000) research also shows that the first audience which advertising 'creatives' have in mind is themselves (see also Nixon 2003). — Roberta Sassatelli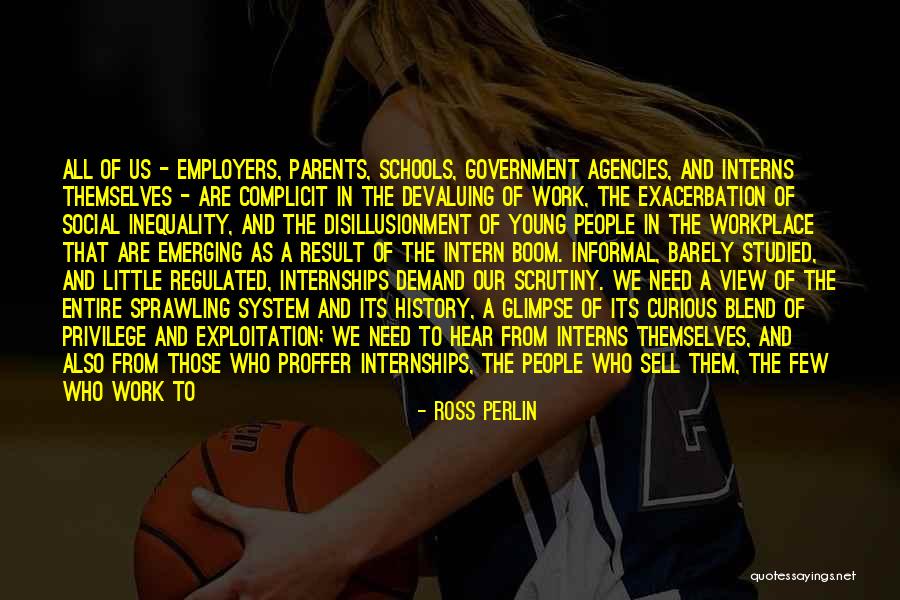 All of us - employers, parents, schools, government agencies, and interns themselves - are complicit in the devaluing of work, the exacerbation of social inequality, and the disillusionment of young people in the workplace that are emerging as a result of the intern boom. Informal, barely studied, and little regulated, internships demand our scrutiny. We need a view of the entire sprawling system and its history, a glimpse of its curious blend of privilege and exploitation; we need to hear from interns themselves, and also from those who proffer internships, the people who sell them, the few who work to improve them, an the many who are unable to access them at all. only then can we consider ethical, legal alternatives to a system that is broken, a practice that is often poisonous. — Ross Perlin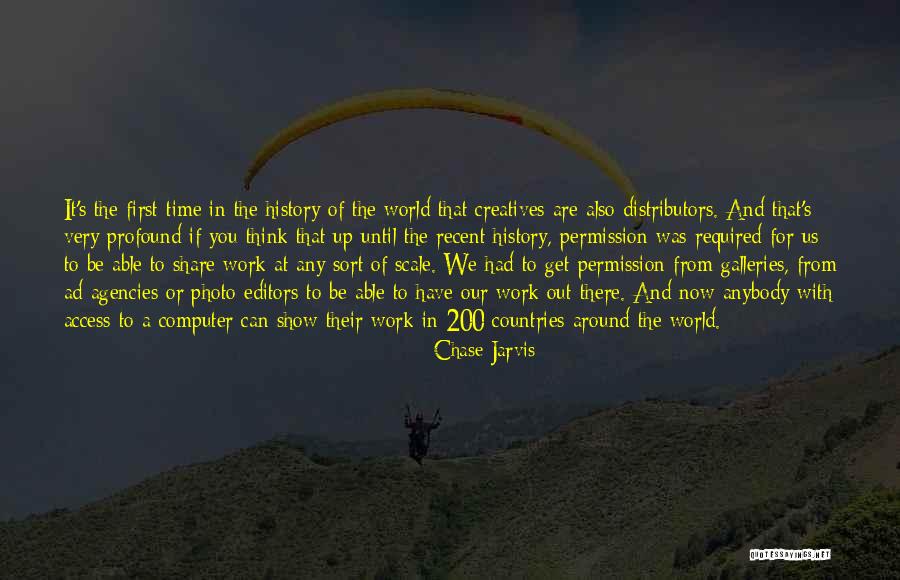 It's the first time in the history of the world that creatives are also distributors. And that's very profound if you think that up until the recent history, permission was required for us to be able to share work at any sort of scale. We had to get permission from galleries, from ad agencies or photo editors to be able to have our work out there. And now anybody with access to a computer can show their work in 200 countries around the world. — Chase Jarvis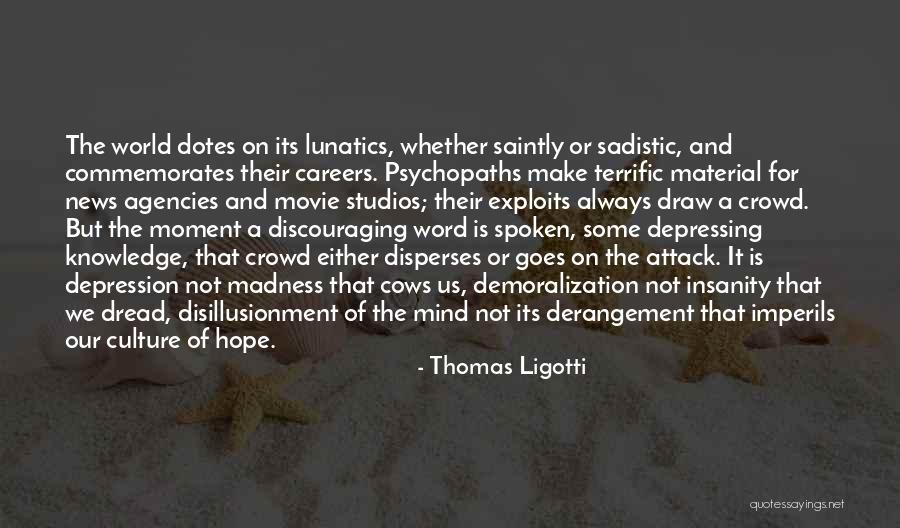 The world dotes on its lunatics, whether saintly or sadistic, and commemorates their careers. Psychopaths make terrific material for news agencies and movie studios; their exploits always draw a crowd. But the moment a discouraging word is spoken, some depressing knowledge, that crowd either disperses or goes on the attack. It is depression not madness that cows us, demoralization not insanity that we dread, disillusionment of the mind not its derangement that imperils our culture of hope. — Thomas Ligotti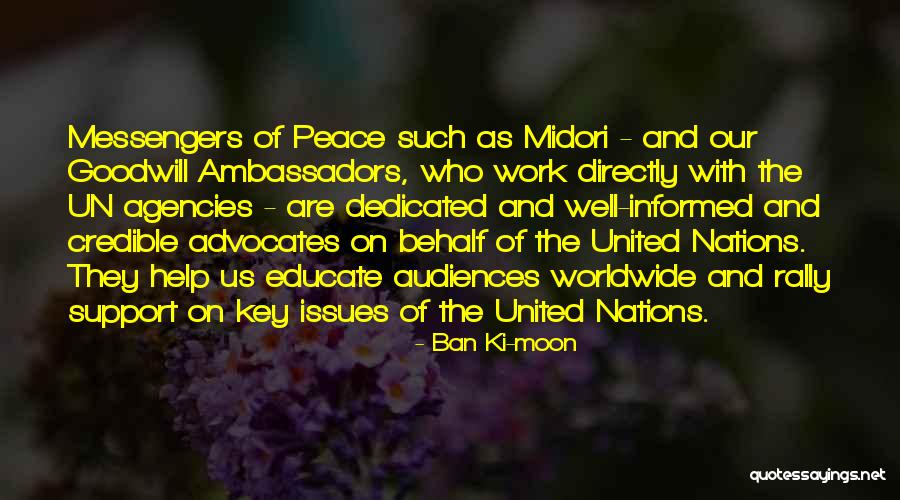 Messengers of Peace such as Midori - and our Goodwill Ambassadors, who work directly with the UN agencies - are dedicated and well-informed and credible advocates on behalf of the United Nations. They help us educate audiences worldwide and rally support on key issues of the United Nations. — Ban Ki-moon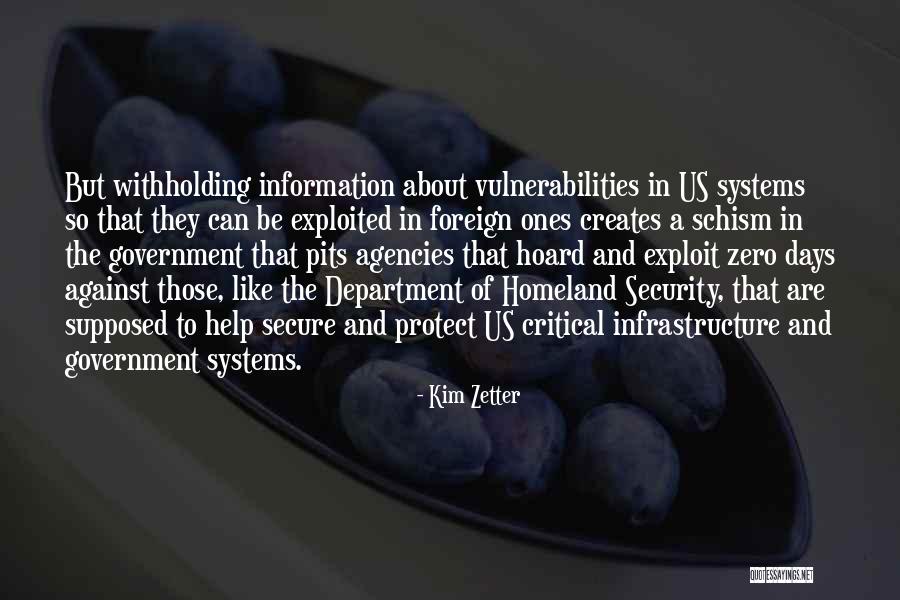 But withholding information about vulnerabilities in US systems so that they can be exploited in foreign ones creates a schism in the government that pits agencies that hoard and exploit zero days against those, like the Department of Homeland Security, that are supposed to help secure and protect US critical infrastructure and government systems. — Kim Zetter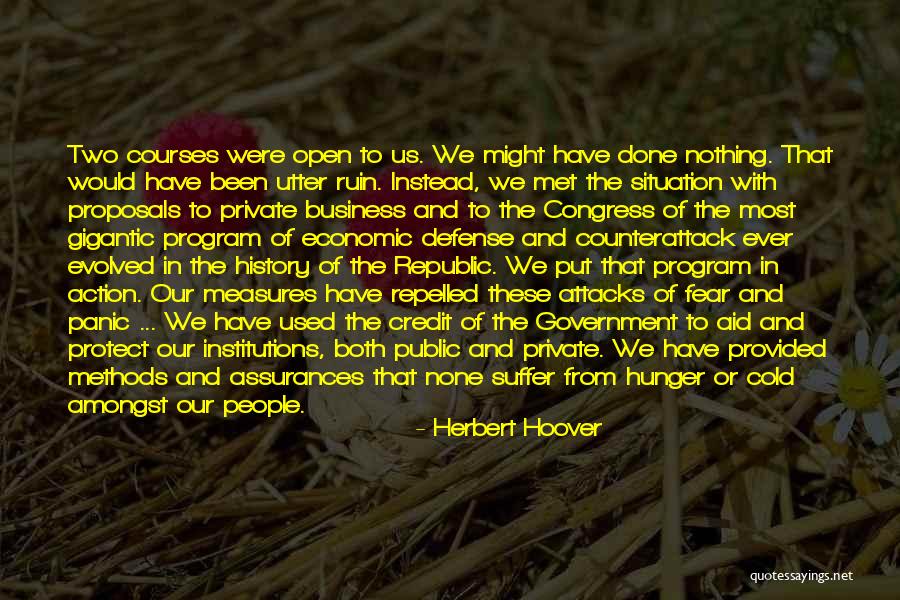 Two courses were open to us. We might have done nothing. That would have been utter ruin. Instead, we met the situation with proposals to private business and to the Congress of the most gigantic program of economic defense and counterattack ever evolved in the history of the Republic. We put that program in action. Our measures have repelled these attacks of fear and panic ... We have used the credit of the Government to aid and protect our institutions, both public and private. We have provided methods and assurances that none suffer from hunger or cold amongst our people. We have instituted measures to assist our farmers and our homeowners. We have created vast agencies for employment. — Herbert Hoover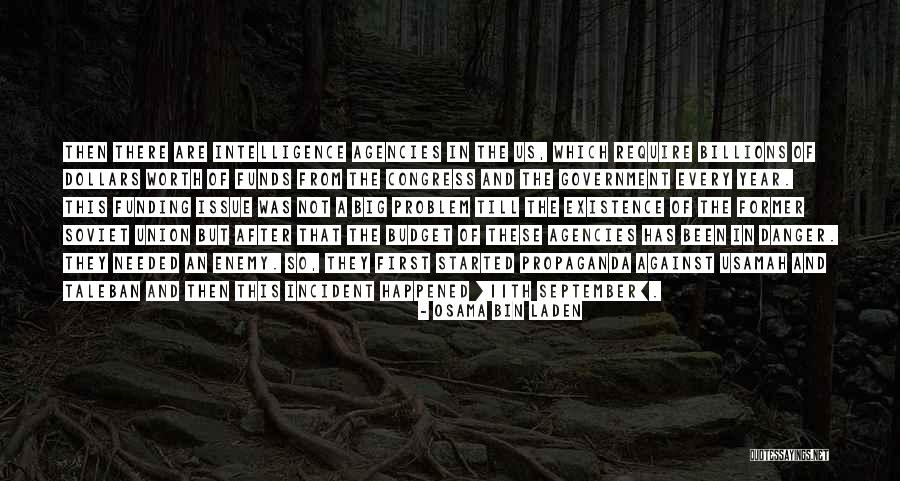 Then there are intelligence agencies in the US, which require billions of dollars worth of funds from the Congress and the government every year. This funding issue was not a big problem till the existence of the former Soviet Union but after that the budget of these agencies has been in danger. They needed an enemy. So, they first started propaganda against Usamah and Taleban and then this incident happened [11th September]. — Osama Bin Laden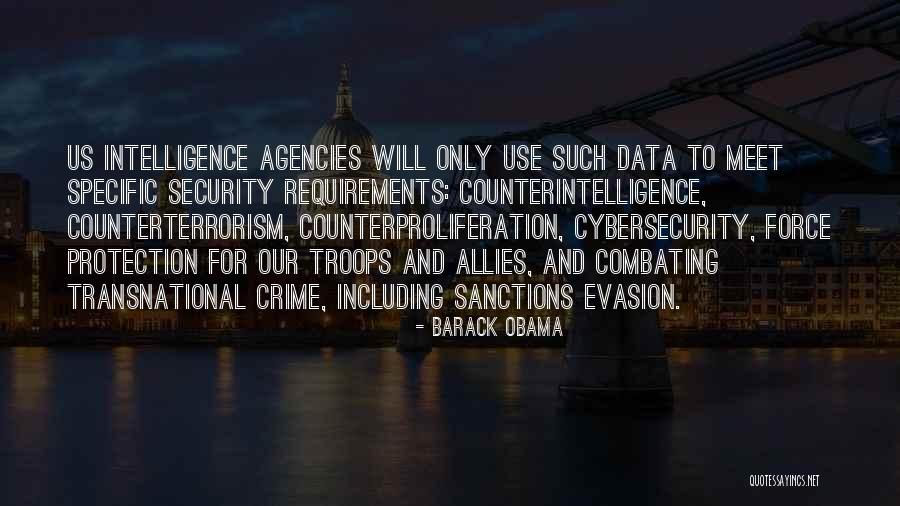 US intelligence agencies will only use such data to meet specific security requirements: counterintelligence, counterterrorism, counterproliferation, cybersecurity, force protection for our troops and allies, and combating transnational crime, including sanctions evasion. — Barack Obama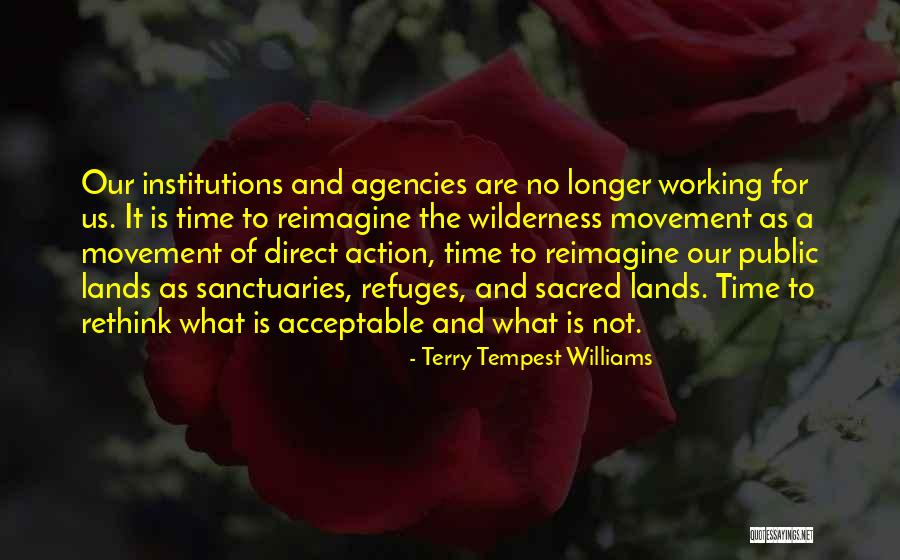 Our institutions and agencies are no longer working for us. It is time to reimagine the wilderness movement as a movement of direct action, time to reimagine our public lands as sanctuaries, refuges, and sacred lands. Time to rethink what is acceptable and what is not. — Terry Tempest Williams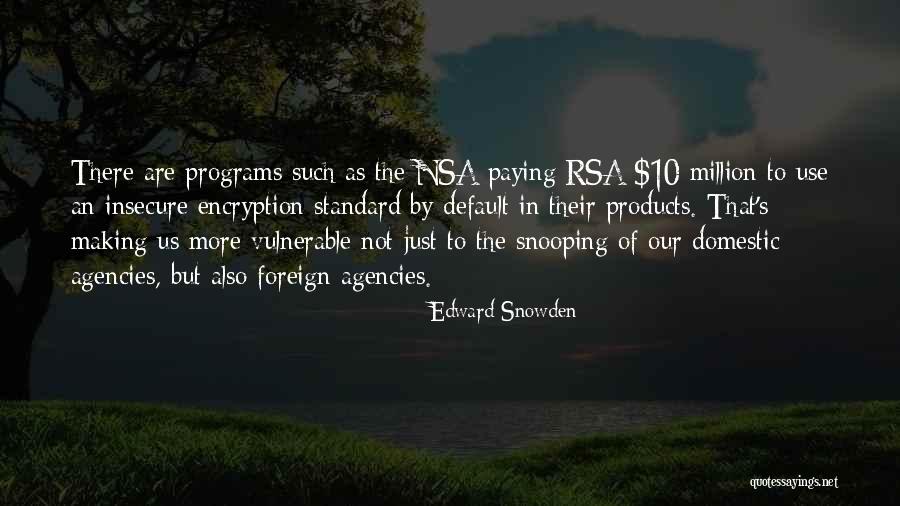 There are programs such as the NSA paying RSA $10 million to use an insecure encryption standard by default in their products. That's making us more vulnerable not just to the snooping of our domestic agencies, but also foreign agencies. — Edward Snowden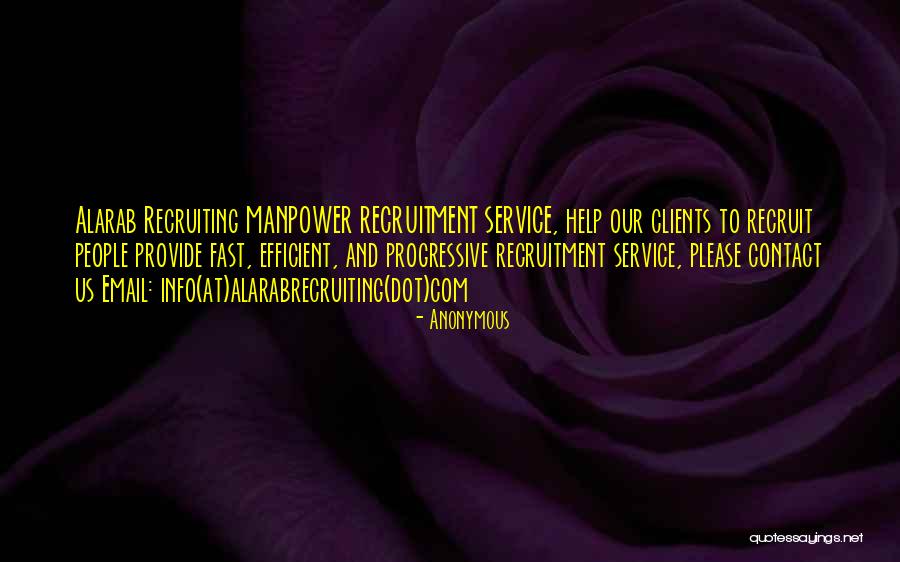 Alarab Recruiting MANPOWER RECRUITMENT SERVICE, help our clients to recruit people provide fast, efficient, and progressive recruitment service, please contact us Email: info(at)alarabrecruiting(dot)com — Anonymous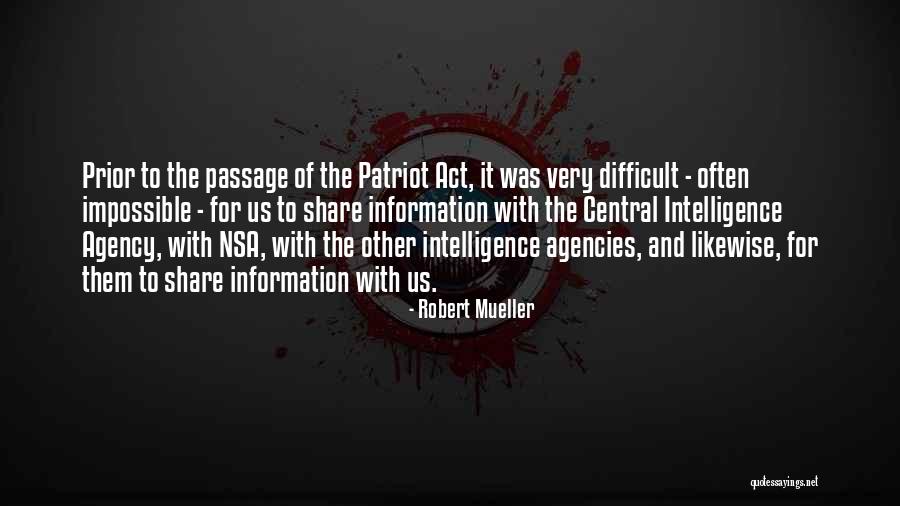 Prior to the passage of the Patriot Act, it was very difficult - often impossible - for us to share information with the Central Intelligence Agency, with NSA, with the other intelligence agencies, and likewise, for them to share information with us. — Robert Mueller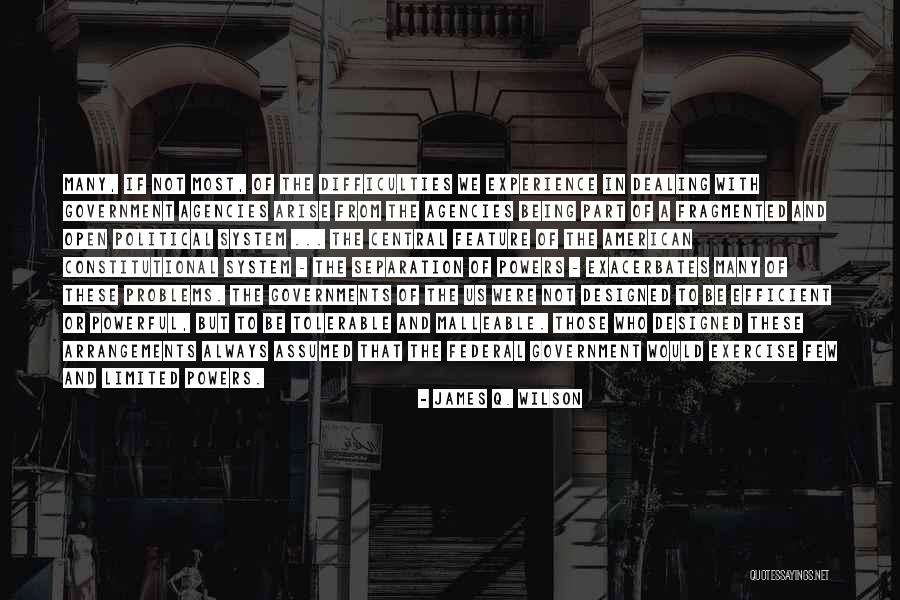 Many, if not most, of the difficulties we experience in dealing with government agencies arise from the agencies being part of a fragmented and open political system ... The central feature of the American constitutional system - the separation of powers - exacerbates many of these problems. The governments of the US were not designed to be efficient or powerful, but to be tolerable and malleable. Those who designed these arrangements always assumed that the federal government would exercise few and limited powers. — James Q. Wilson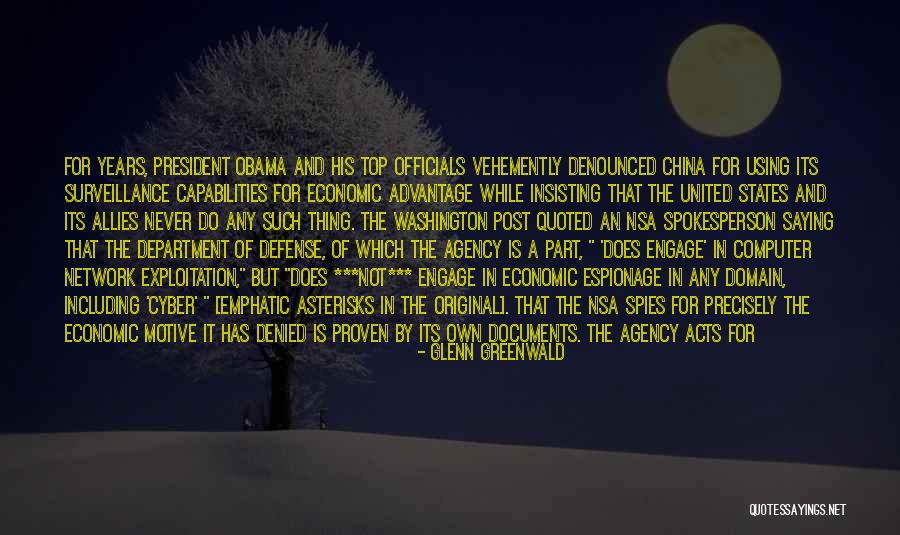 For years, President Obama and his top officials vehemently denounced China for using its surveillance capabilities for economic advantage while insisting that the United States and its allies never do any such thing. The Washington Post quoted an NSA spokesperson saying that the Department of Defense, of which the agency is a part, " 'does engage' in computer network exploitation," but "does ***not*** engage in economic espionage in any domain, including 'cyber' " [emphatic asterisks in the original]. That the NSA spies for precisely the economic motive it has denied is proven by its own documents. The agency acts for the benefit of what it calls its "customers," a list that includes not only the White House, the State Department, and the CIA, but also primarily economic agencies, such as the US Trade Representative and the Departments of Agriculture, Treasury, and Commerce: — Glenn Greenwald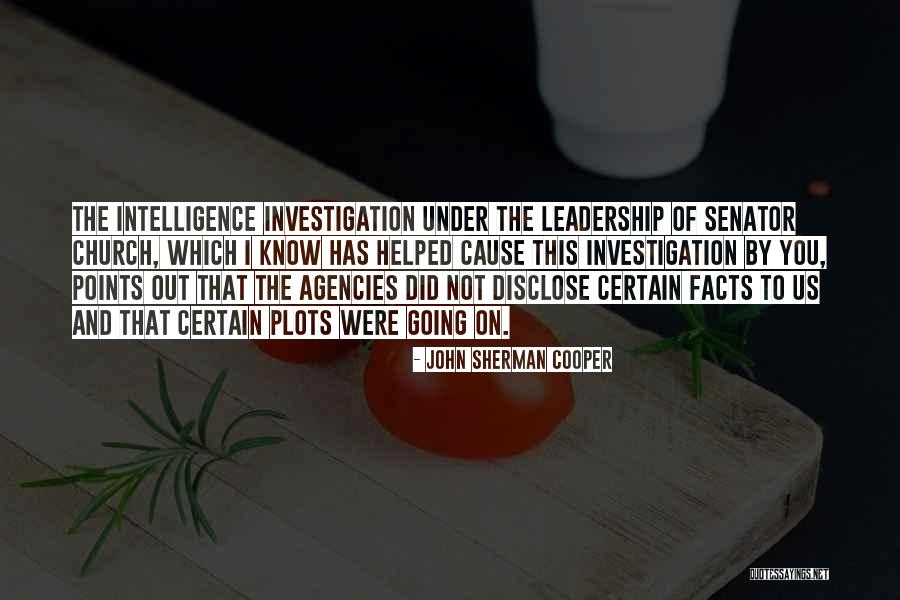 The intelligence investigation under the leadership of Senator Church, which I know has helped cause this investigation by you, points out that the agencies did not disclose certain facts to us and that certain plots were going on. — John Sherman Cooper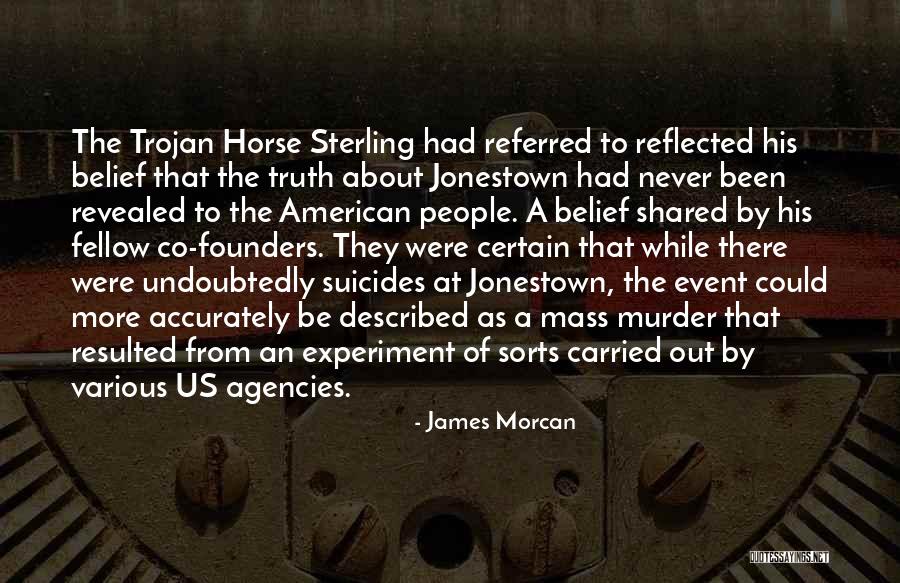 The Trojan Horse Sterling had referred to reflected his belief that the truth about Jonestown had never been revealed to the American people. A belief shared by his fellow co-founders. They were certain that while there were undoubtedly suicides at Jonestown, the event could more accurately be described as a mass murder that resulted from an experiment of sorts carried out by various US agencies. — James Morcan