Quotes & Sayings About Unity And Leadership
Enjoy reading and share 27 famous quotes about Unity And Leadership with everyone.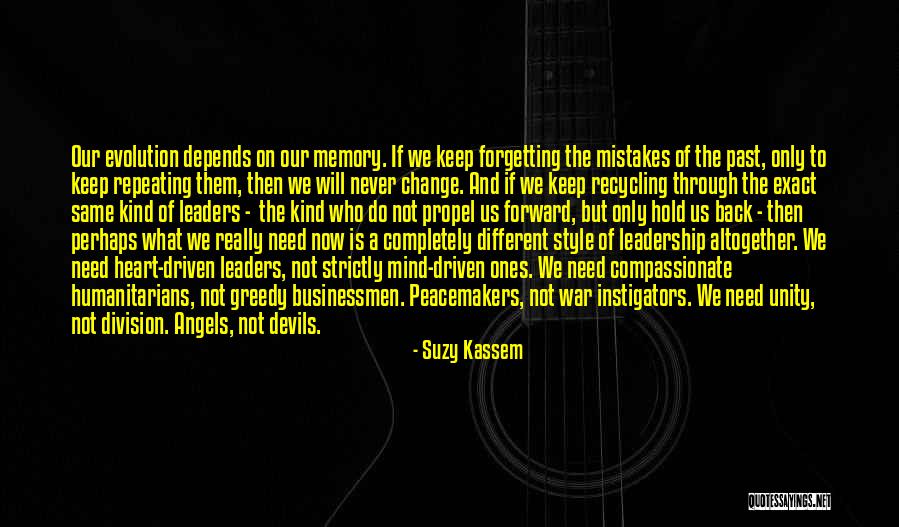 Our evolution depends on our memory. If we keep forgetting the mistakes of the past, only to keep repeating them, then we will never change. And if we keep recycling through the exact same kind of leaders - the kind who do not propel us forward, but only hold us back - then perhaps what we really need now is a completely different style of leadership altogether. We need heart-driven leaders, not strictly mind-driven ones. We need compassionate humanitarians, not greedy businessmen. Peacemakers, not war instigators. We need unity, not division. Angels, not devils. — Suzy Kassem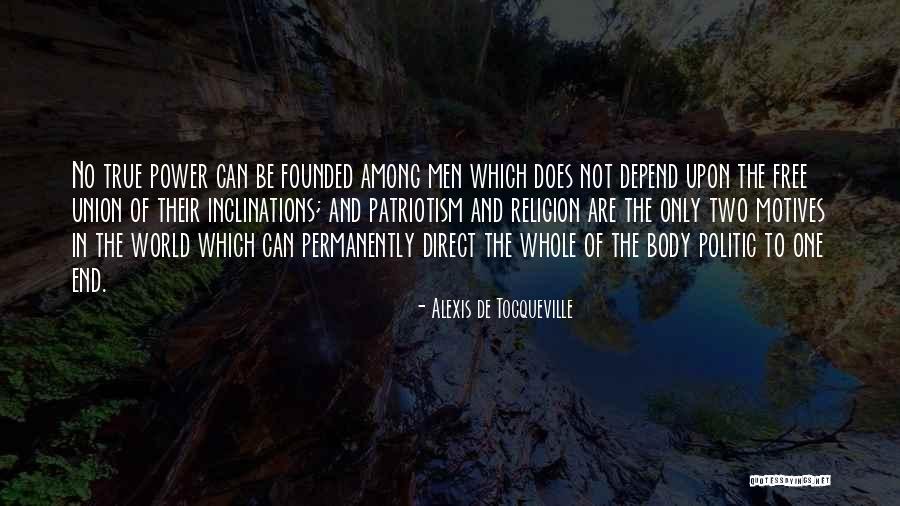 No true power can be founded among men which does not depend upon the free union of their inclinations; and patriotism and religion are the only two motives in the world which can permanently direct the whole of the body politic to one end. — Alexis De Tocqueville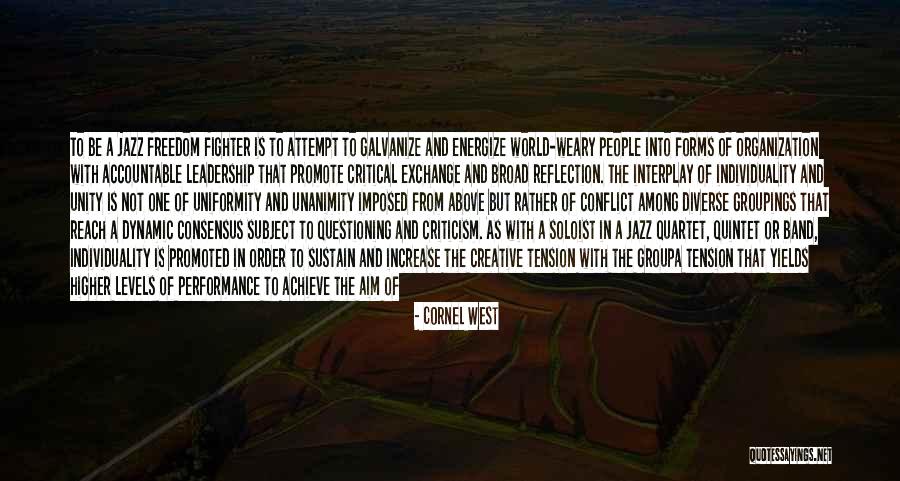 To be a jazz freedom fighter is to attempt to galvanize and energize world-weary people into forms of organization with accountable leadership that promote critical exchange and broad reflection. The interplay of individuality and unity is not one of uniformity and unanimity imposed from above but rather of conflict among diverse groupings that reach a dynamic consensus subject to questioning and criticism. As with a soloist in a jazz quartet, quintet or band, individuality is promoted in order to sustain and increase the creative tension with the group
a tension that yields higher levels of performance to achieve the aim of the collective project. — Cornel West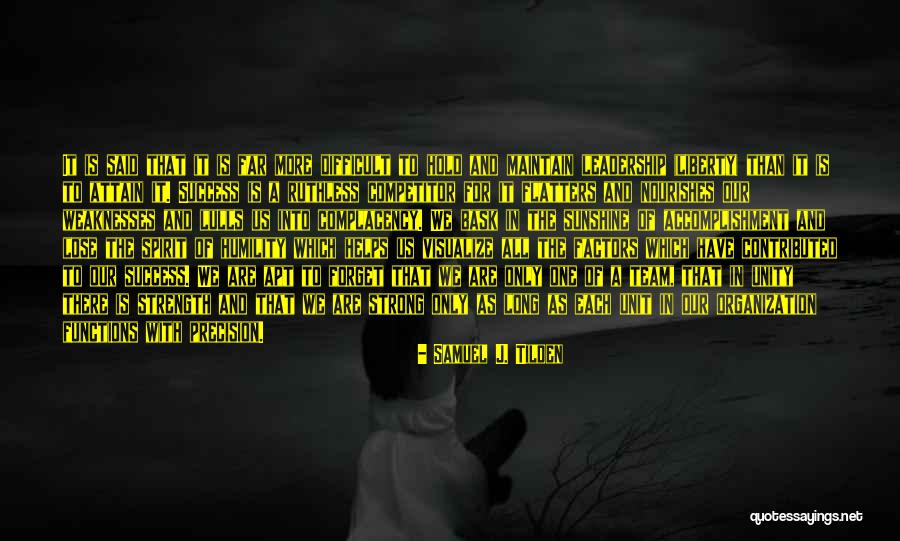 It is said that it is far more difficult to hold and maintain leadership (liberty) than it is to attain it. Success is a ruthless competitor for it flatters and nourishes our weaknesses and lulls us into complacency. We bask in the sunshine of accomplishment and lose the spirit of humility which helps us visualize all the factors which have contributed to our success. We are apt to forget that we are only one of a team, that in unity there is strength and that we are strong only as long as each unit in our organization functions with precision. — Samuel J. Tilden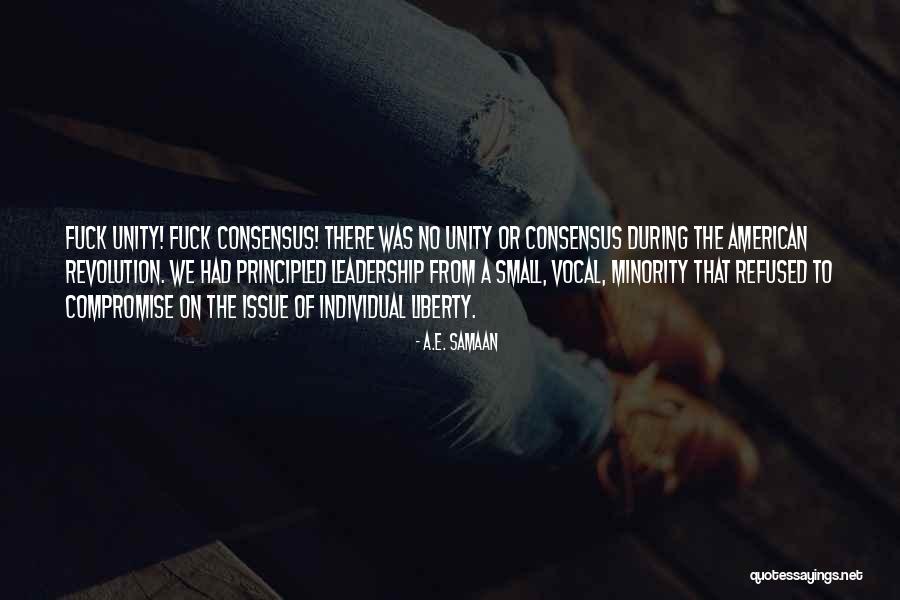 FUCK UNITY! FUCK CONSENSUS! There was no unity or consensus during the American Revolution. We had principled leadership from a small, vocal, minority that refused to compromise on the issue of individual liberty. — A.E. Samaan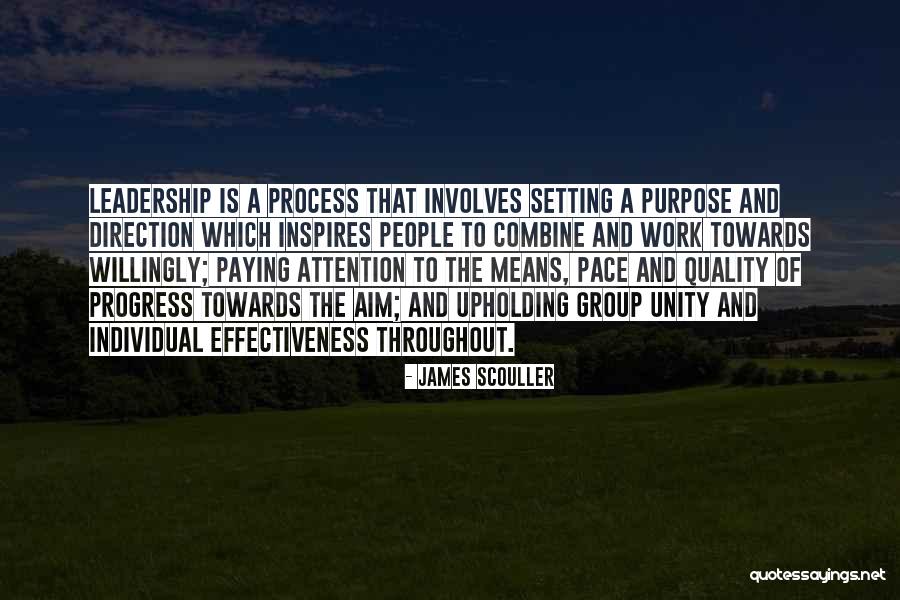 Leadership is a process that involves setting a PURPOSE AND DIRECTION which inspires people to combine and work towards willingly; paying attention to the MEANS, PACE AND QUALITY OF PROGRESS towards the aim; and upholding GROUP UNITY and INDIVIDUAL EFFECTIVENESS throughout. — James Scouller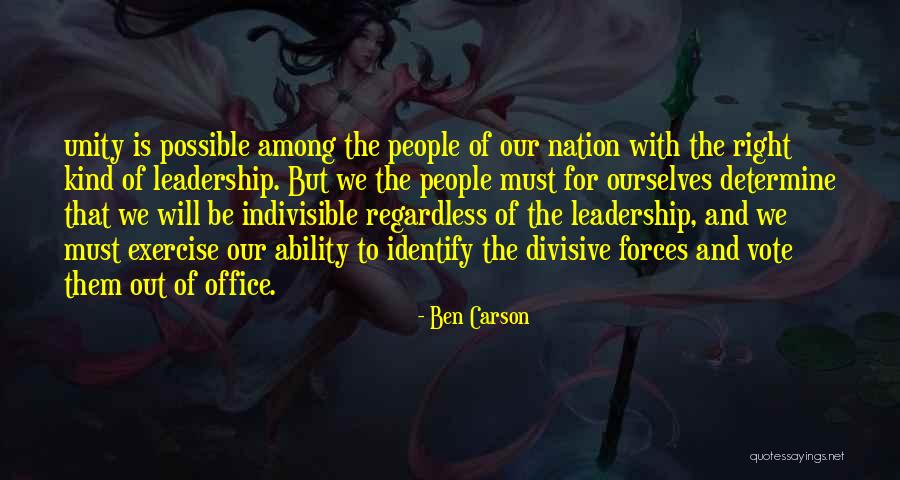 unity is possible among the people of our nation with the right kind of leadership. But we the people must for ourselves determine that we will be indivisible regardless of the leadership, and we must exercise our ability to identify the divisive forces and vote them out of office. — Ben Carson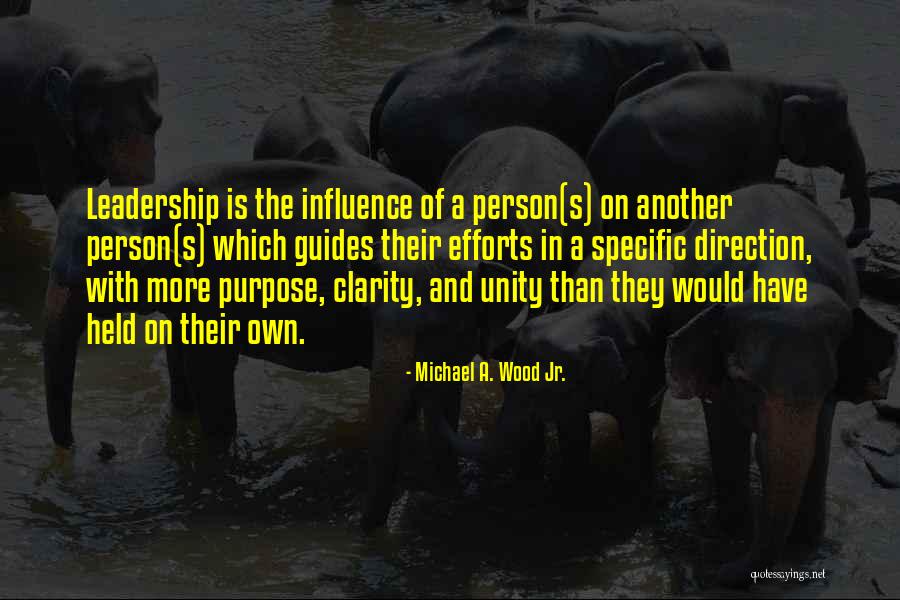 Leadership is the influence of a person(s) on another person(s) which guides their efforts in a specific direction, with more purpose, clarity, and unity than they would have held on their own. — Michael A. Wood Jr.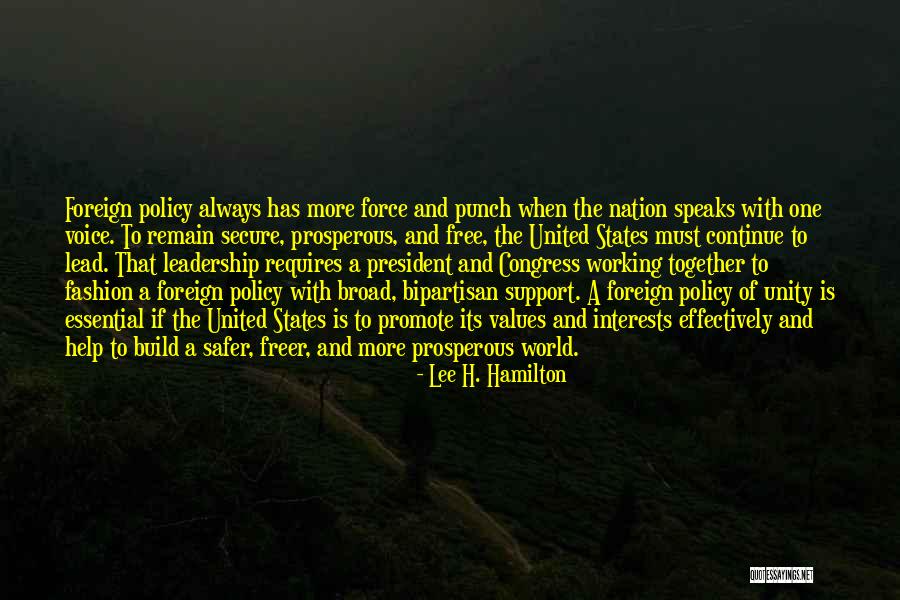 Foreign policy always has more force and punch when the nation speaks with one voice. To remain secure, prosperous, and free, the United States must continue to lead. That leadership requires a president and Congress working together to fashion a foreign policy with broad, bipartisan support. A foreign policy of unity is essential if the United States is to promote its values and interests effectively and help to build a safer, freer, and more prosperous world. — Lee H. Hamilton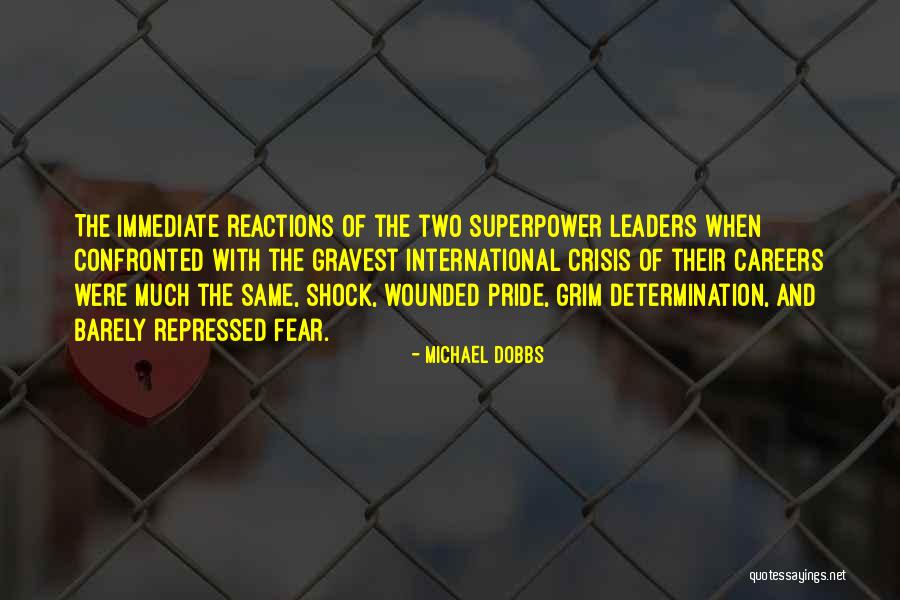 The immediate reactions of the two superpower leaders when confronted with the gravest international crisis of their careers were much the same, shock, wounded pride, grim determination, and barely repressed fear. — Michael Dobbs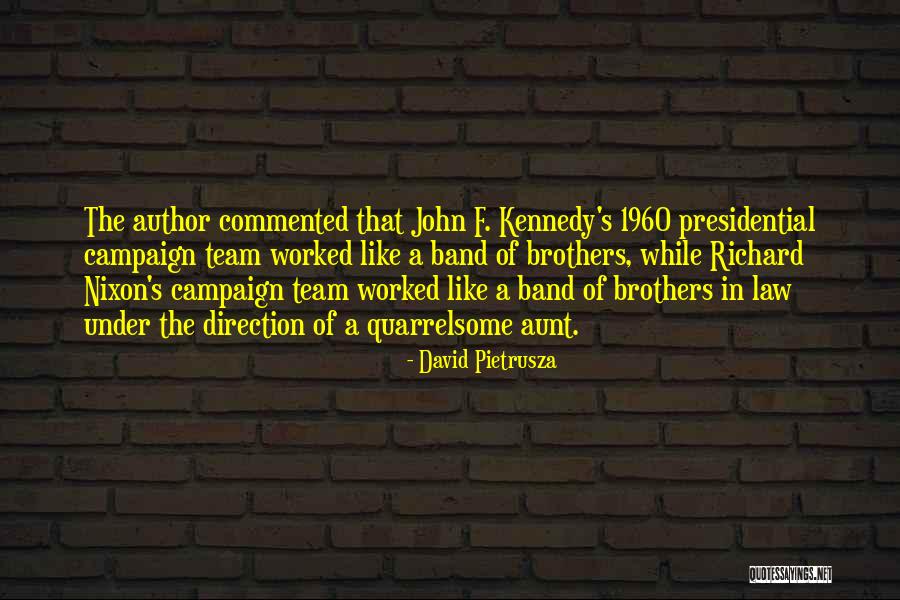 The author commented that John F. Kennedy's 1960 presidential campaign team worked like a band of brothers, while Richard Nixon's campaign team worked like a band of brothers in law under the direction of a quarrelsome aunt. — David Pietrusza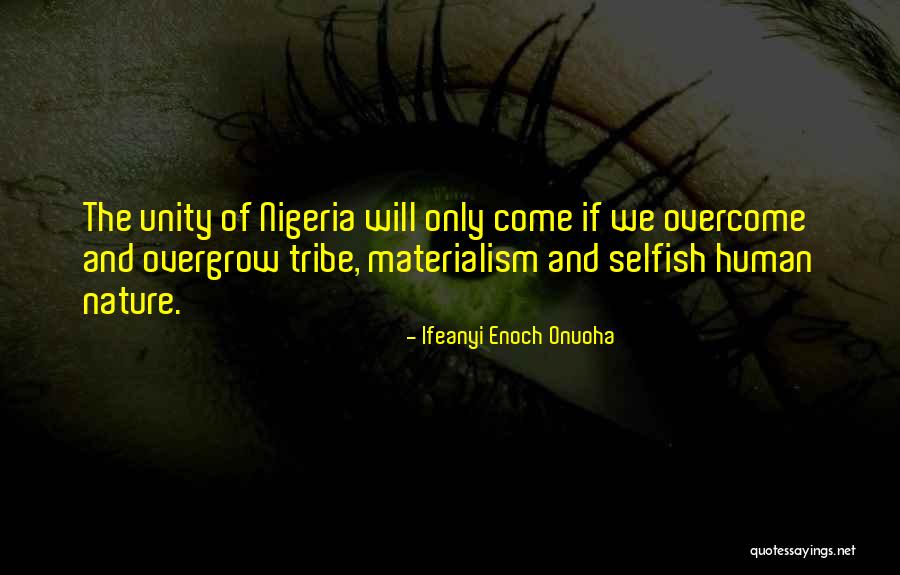 The unity of Nigeria will only come if we overcome and overgrow tribe, materialism and selfish human nature. — Ifeanyi Enoch Onuoha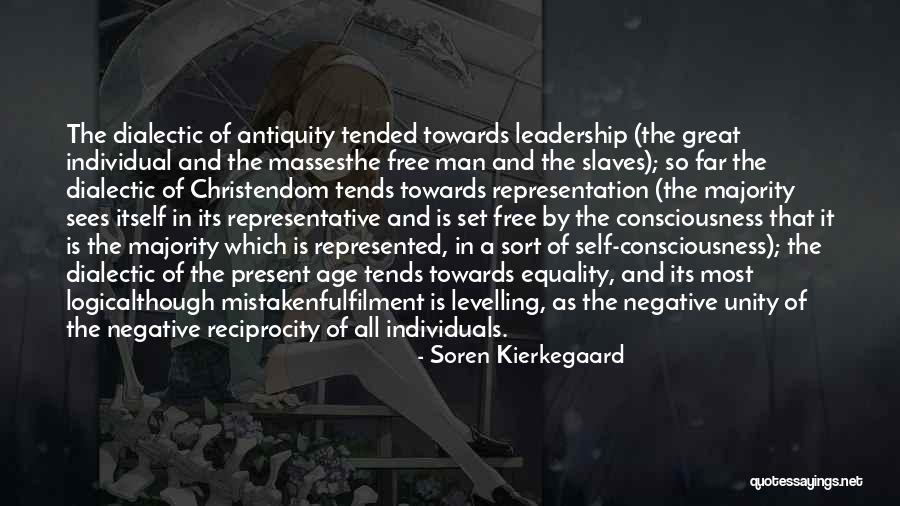 The dialectic of antiquity tended towards leadership (the great individual and the masses
the free man and the slaves); so far the dialectic of Christendom tends towards representation (the majority sees itself in its representative and is set free by the consciousness that it is the majority which is represented, in a sort of self-consciousness); the dialectic of the present age tends towards equality, and its most logical
though mistaken
fulfilment is levelling, as the negative unity of the negative reciprocity of all individuals. — Soren Kierkegaard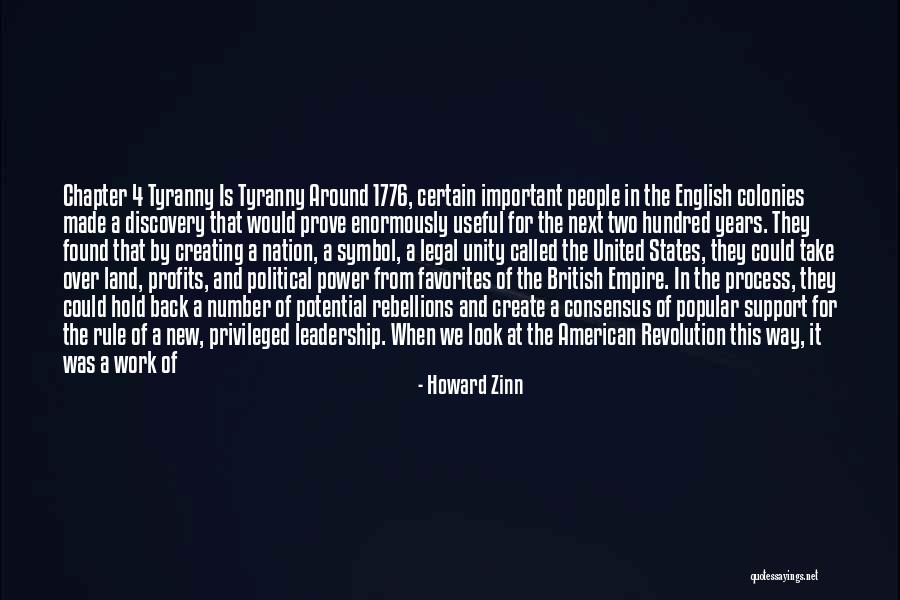 Chapter 4 Tyranny Is Tyranny Around 1776, certain important people in the English colonies made a discovery that would prove enormously useful for the next two hundred years. They found that by creating a nation, a symbol, a legal unity called the United States, they could take over land, profits, and political power from favorites of the British Empire. In the process, they could hold back a number of potential rebellions and create a consensus of popular support for the rule of a new, privileged leadership. When we look at the American Revolution this way, it was a work of genius, and the Founding Fathers deserve the awed tribute they have received over the centuries. They created the most effective system of national control devised in modern times, and showed future generations of leaders the advantages of combining paternalism with command. — Howard Zinn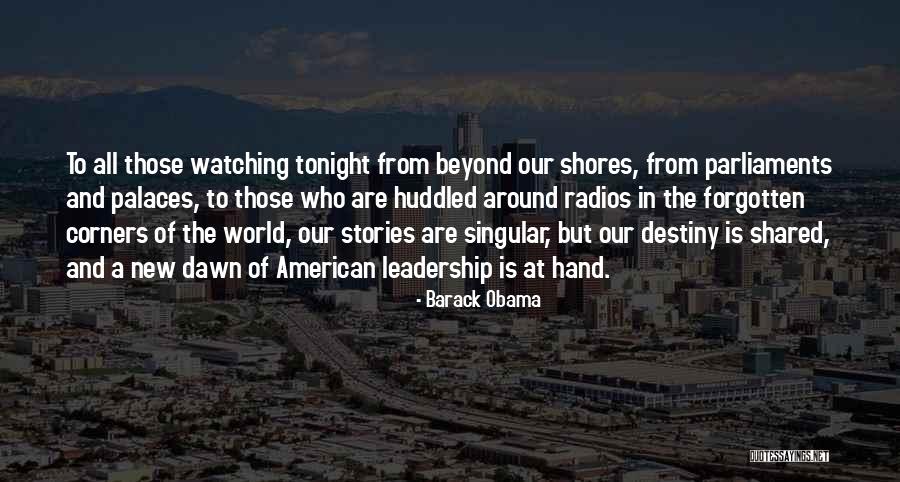 To all those watching tonight from beyond our shores, from parliaments and palaces, to those who are huddled around radios in the forgotten corners of the world, our stories are singular, but our destiny is shared, and a new dawn of American leadership is at hand. — Barack Obama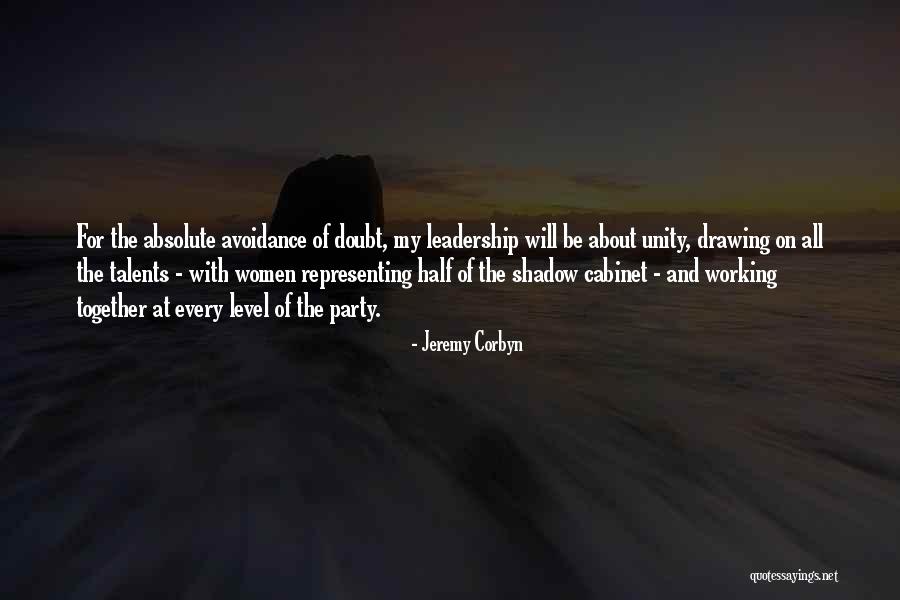 For the absolute avoidance of doubt, my leadership will be about unity, drawing on all the talents - with women representing half of the shadow cabinet - and working together at every level of the party. — Jeremy Corbyn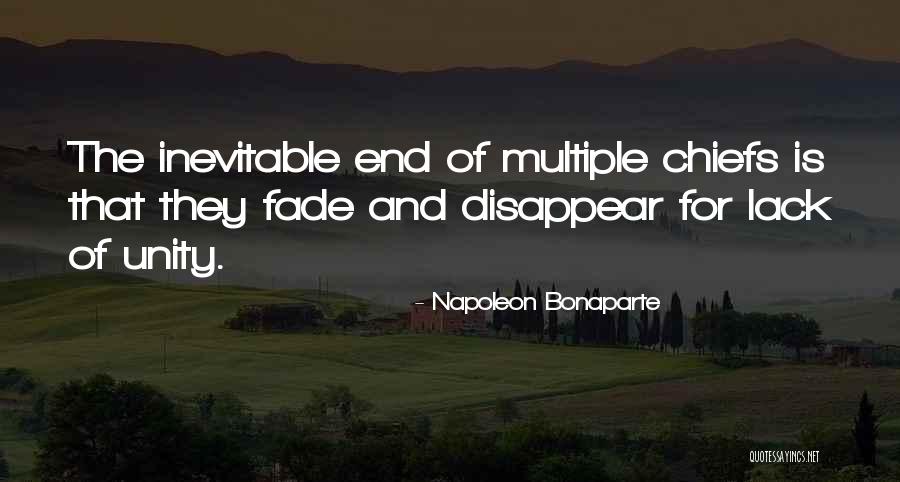 The inevitable end of multiple chiefs is that they fade and disappear for lack of unity. — Napoleon Bonaparte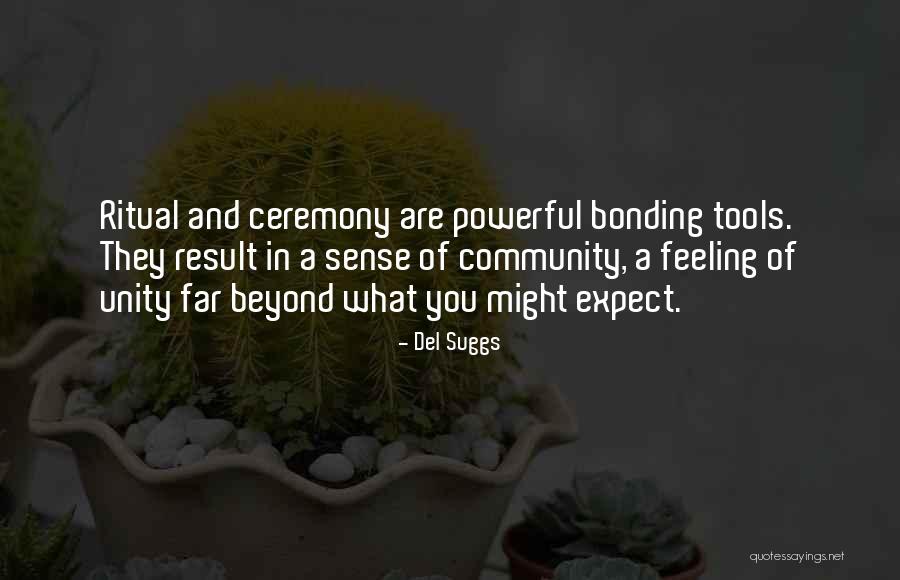 Ritual and ceremony are powerful bonding tools. They result in a sense of community, a feeling of unity far beyond what you might expect. — Del Suggs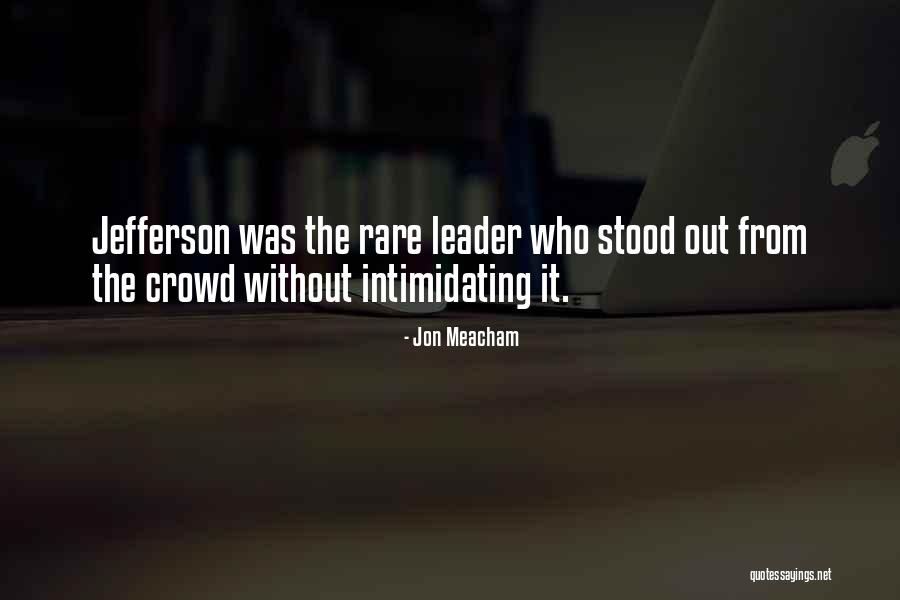 Jefferson was the rare leader who stood out from the crowd without intimidating it. — Jon Meacham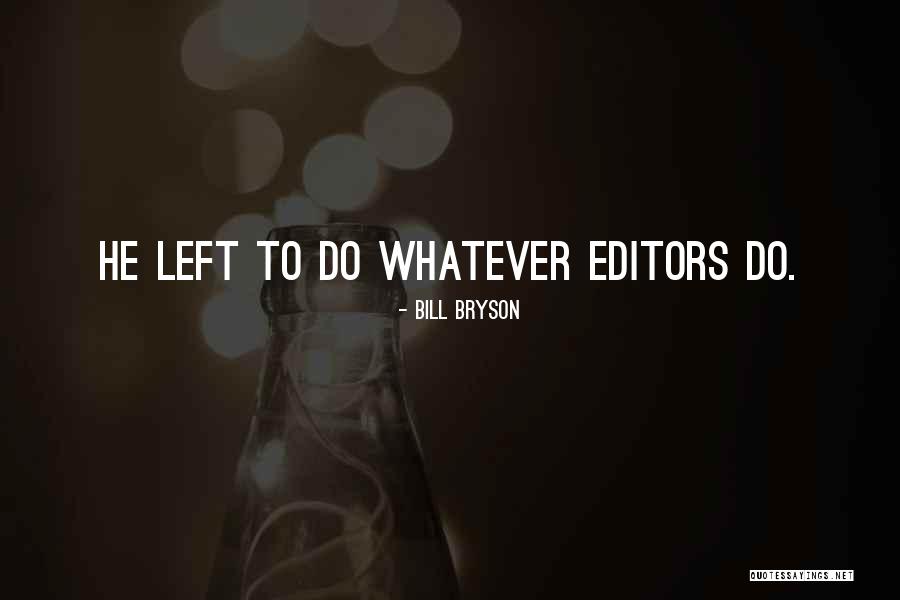 He left to do whatever editors do. — Bill Bryson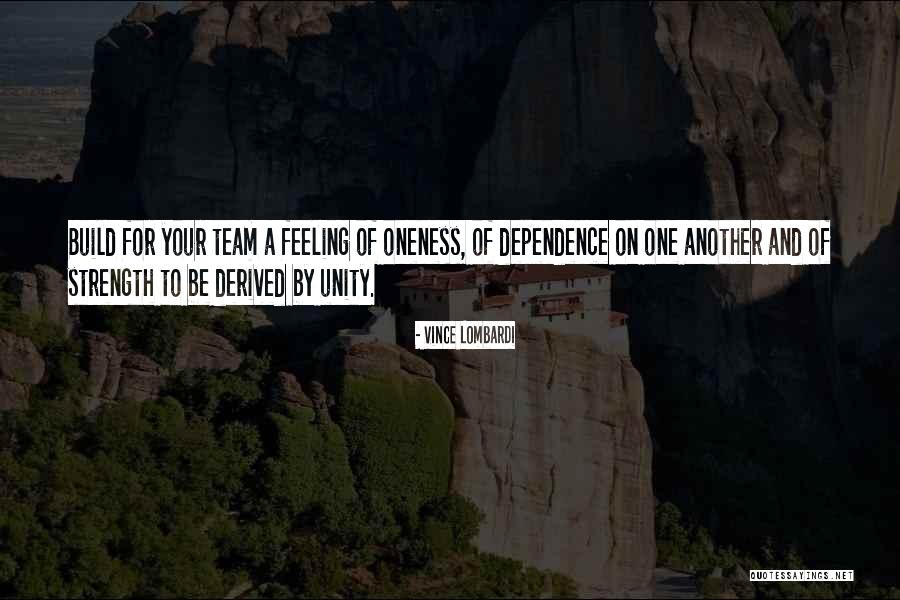 Build for your team a feeling of oneness, of dependence on one another and of strength to be derived by unity. — Vince Lombardi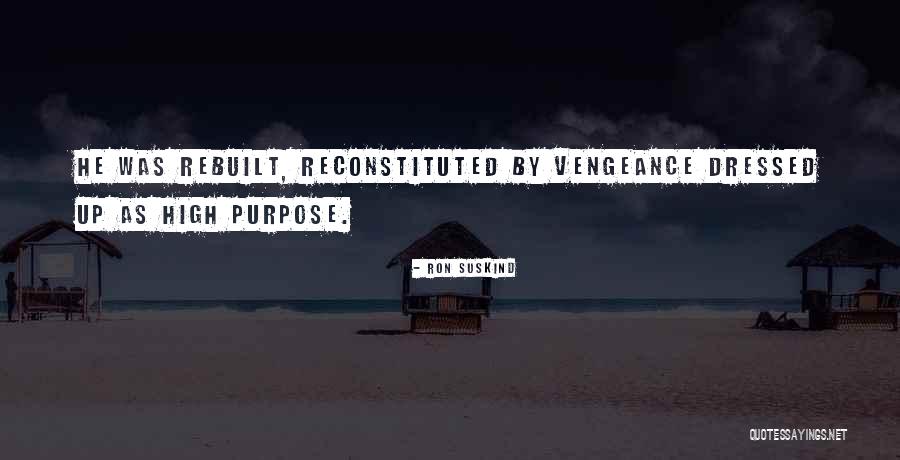 He was rebuilt, reconstituted by vengeance dressed up as high purpose. — Ron Suskind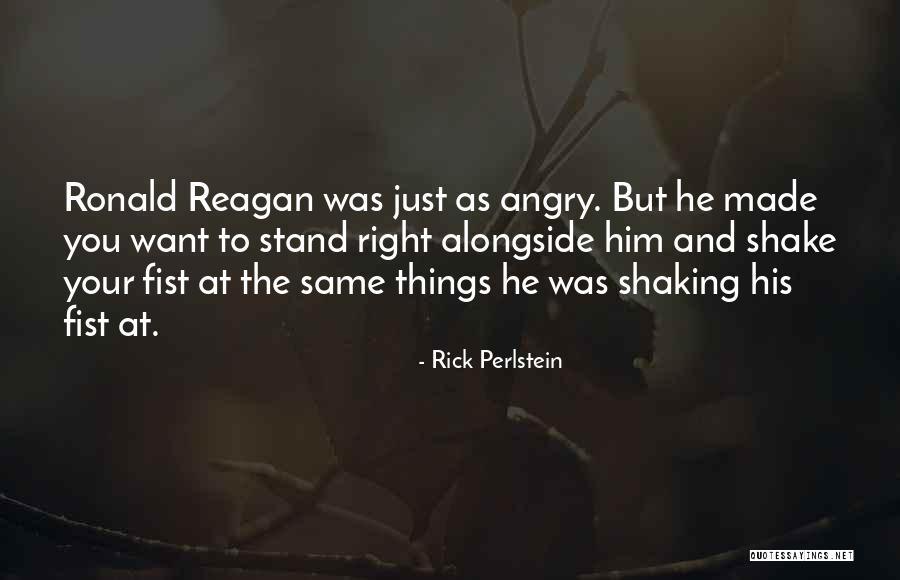 Ronald Reagan was just as angry. But he made you want to stand right alongside him and shake your fist at the same things he was shaking his fist at. — Rick Perlstein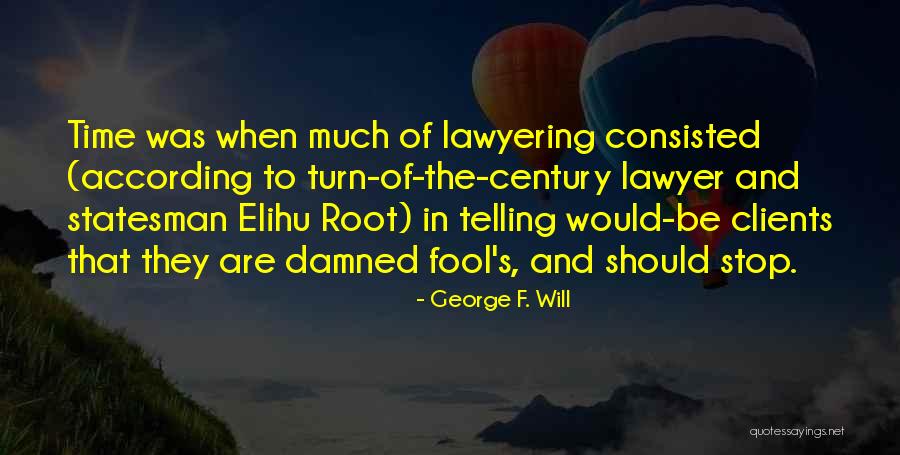 Time was when much of lawyering consisted (according to turn-of-the-century lawyer and statesman Elihu Root) in telling would-be clients that they are damned fool's, and should stop. — George F. Will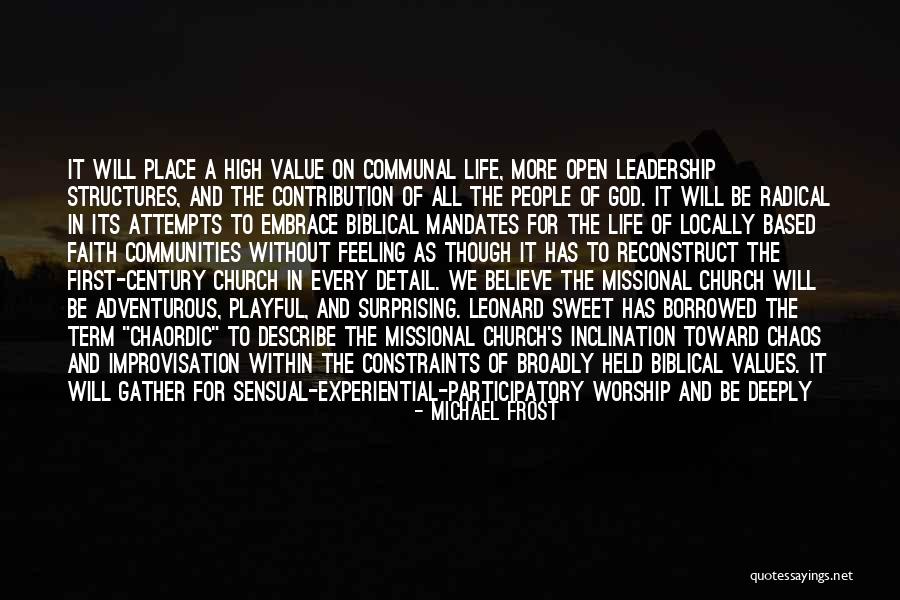 It will place a high value on communal life, more open leadership structures, and the contribution of all the people of God. It will be radical in its attempts to embrace biblical mandates for the life of locally based faith communities without feeling as though it has to reconstruct the first-century church in every detail. We believe the missional church will be adventurous, playful, and surprising. Leonard Sweet has borrowed the term "chaordic" to describe the missional church's inclination toward chaos and improvisation within the constraints of broadly held biblical values. It will gather for sensual-experiential-participatory worship and be deeply concerned for matters of justice-seeking and mercy-bringing. It will strive for a type of unity-in-diversity as it celebrates individual differences and values uniqueness, while also placing a high premium on community. — Michael Frost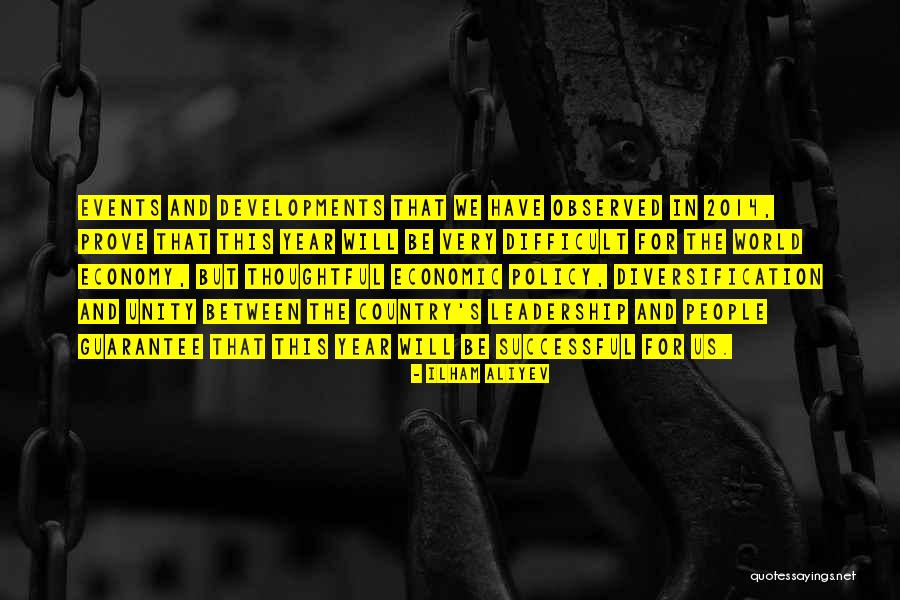 Events and developments that we have observed in 2014, prove that this year will be very difficult for the world economy, but thoughtful economic policy, diversification and unity between the country's leadership and people guarantee that this year will be successful for us. — Ilham Aliyev