Quotes & Sayings About Ungrateful People
Enjoy reading and share 35 famous quotes about Ungrateful People with everyone.
Top Ungrateful People Quotes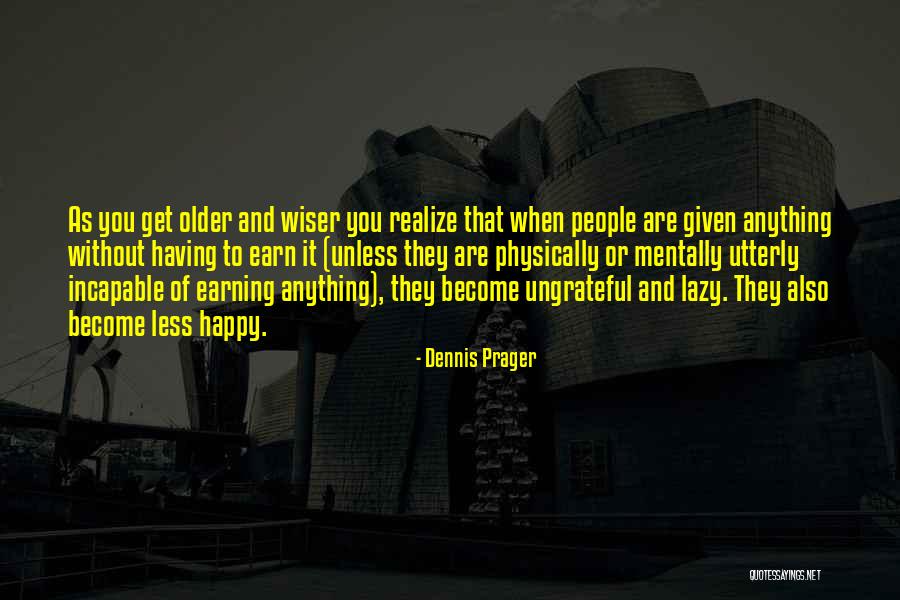 As you get older and wiser you realize that when people are given anything without having to earn it (unless they are physically or mentally utterly incapable of earning anything), they become ungrateful and lazy. They also become less happy. — Dennis Prager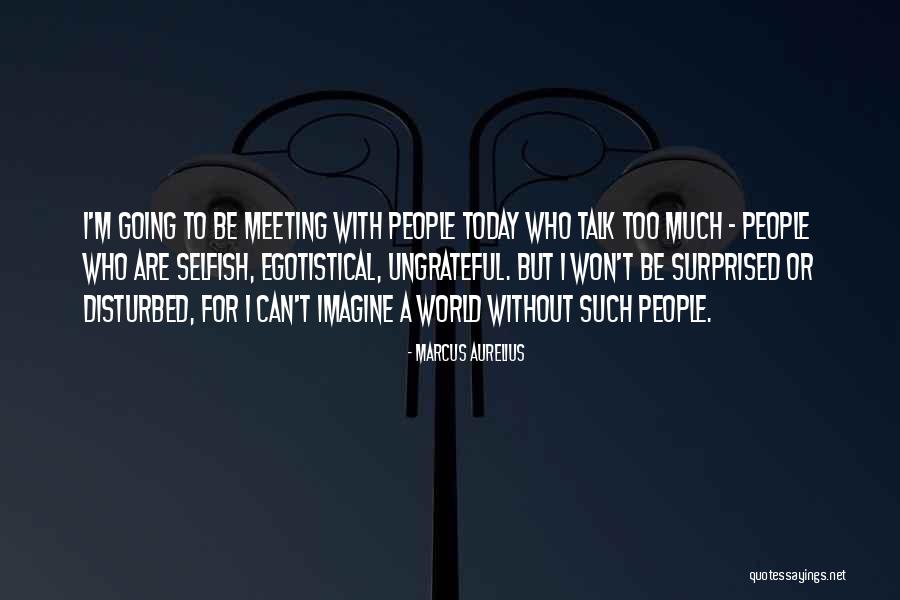 I'm going to be meeting with people today who talk too much - people who are selfish, egotistical, ungrateful. But I won't be surprised or disturbed, for I can't imagine a world without such people. — Marcus Aurelius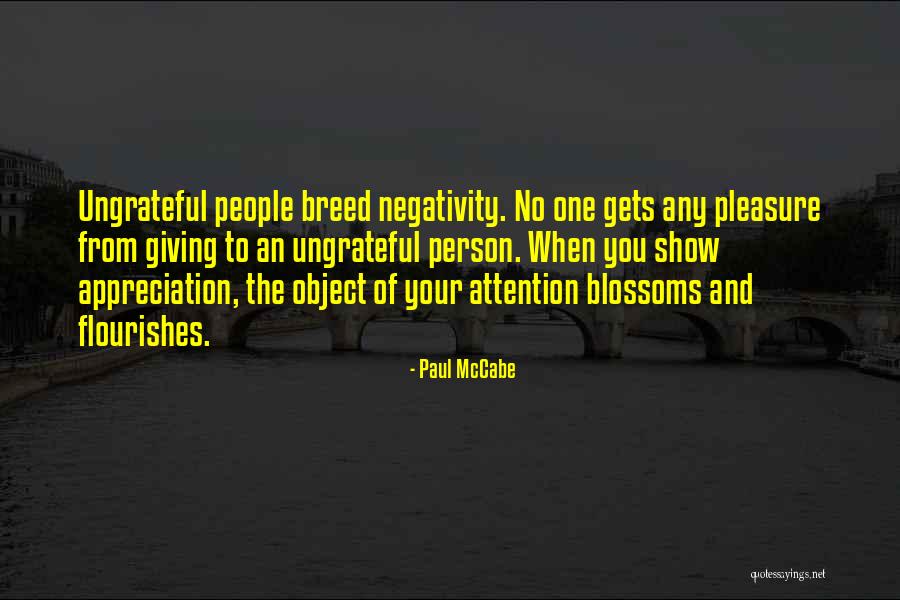 Ungrateful people breed negativity. No one gets any pleasure from giving to an ungrateful person. When you show appreciation, the object of your attention blossoms and flourishes. — Paul McCabe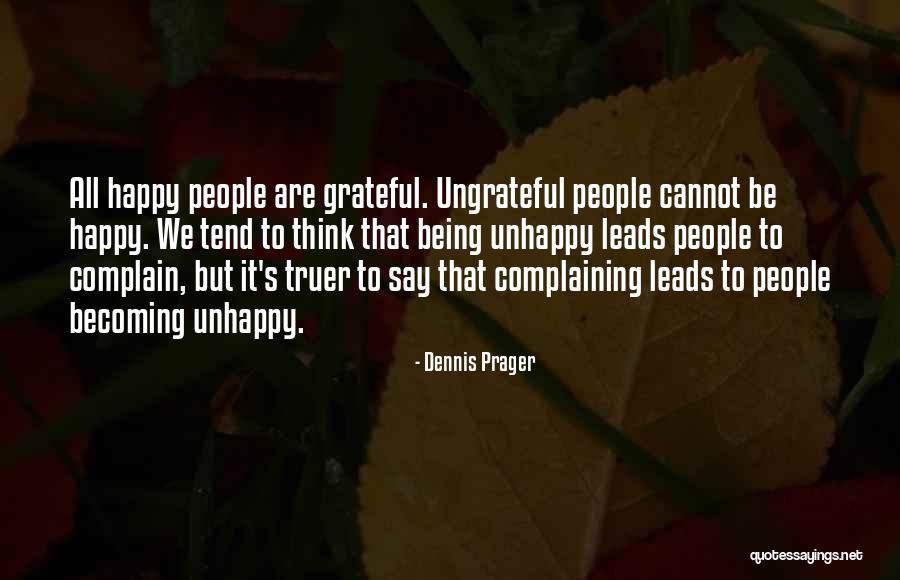 All happy people are grateful. Ungrateful people cannot be happy. We tend to think that being unhappy leads people to complain, but it's truer to say that complaining leads to people becoming unhappy. — Dennis Prager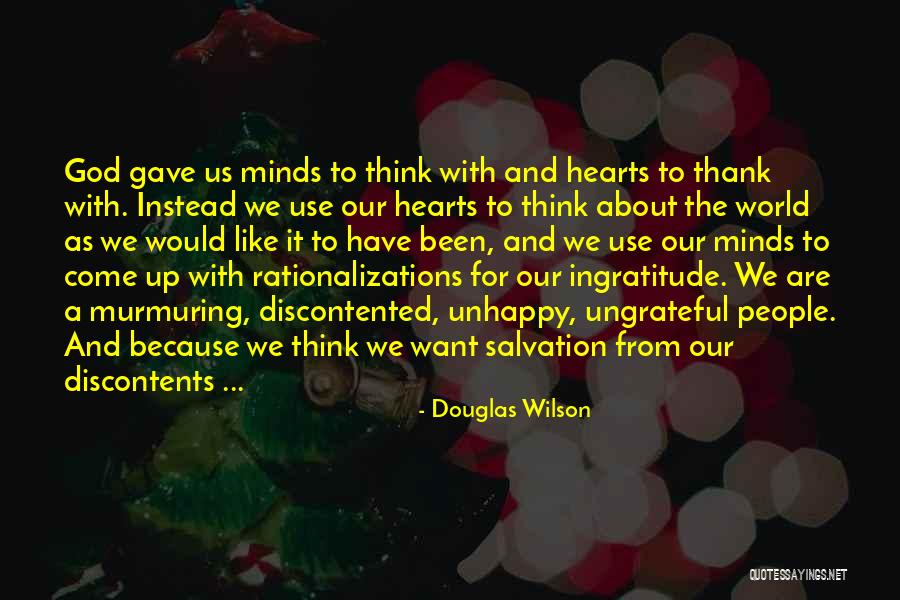 God gave us minds to think with and hearts to thank with. Instead we use our hearts to think about the world as we would like it to have been, and we use our minds to come up with rationalizations for our ingratitude. We are a murmuring, discontented, unhappy, ungrateful people. And because we think we want salvation from our discontents ... — Douglas Wilson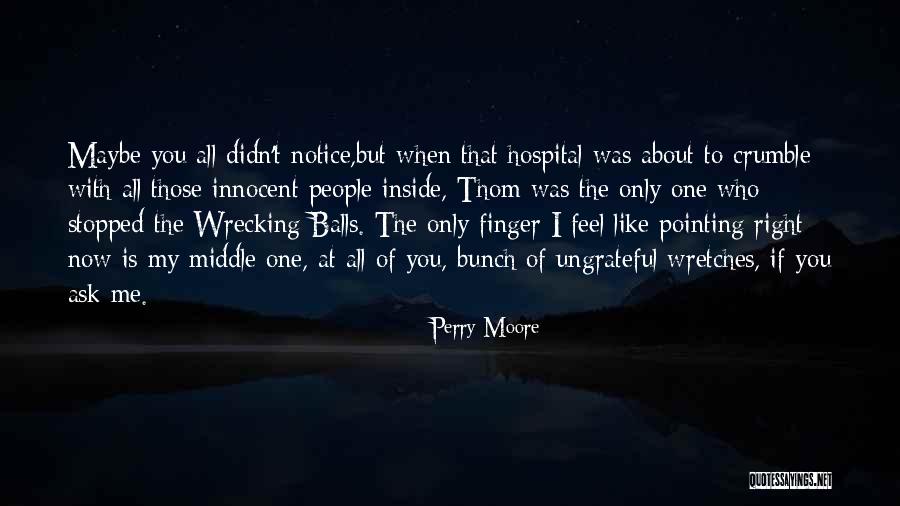 Maybe you all didn't notice,but when that hospital was about to crumble with all those innocent people inside, Thom was the only one who stopped the Wrecking Balls. The only finger I feel like pointing right now is my middle one, at all of you, bunch of ungrateful wretches, if you ask me. — Perry Moore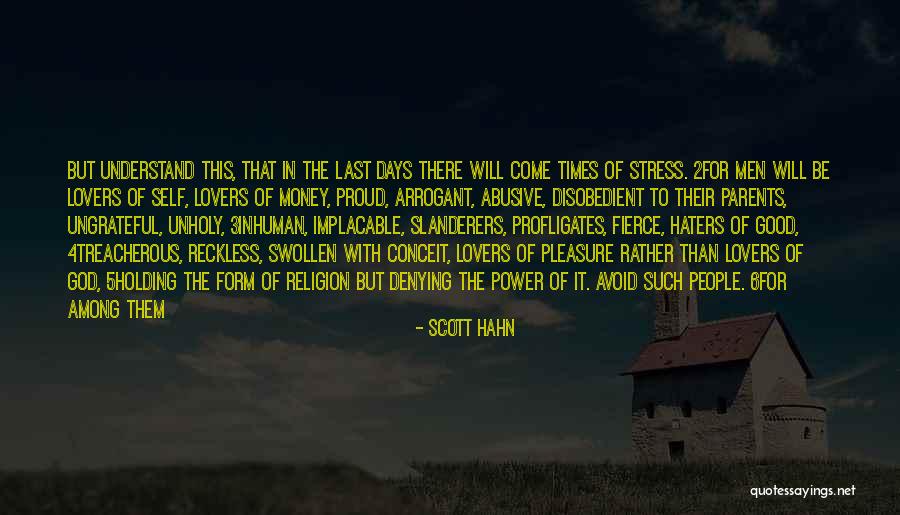 But understand this, that in the last days there will come times of stress. 2For men will be lovers of self, lovers of money, proud, arrogant, abusive, disobedient to their parents, ungrateful, unholy, 3inhuman, implacable, slanderers, profligates, fierce, haters of good, 4treacherous, reckless, swollen with conceit, lovers of pleasure rather than lovers of God, 5holding the form of religion but denying the power of it. Avoid such people. 6For among them — Scott Hahn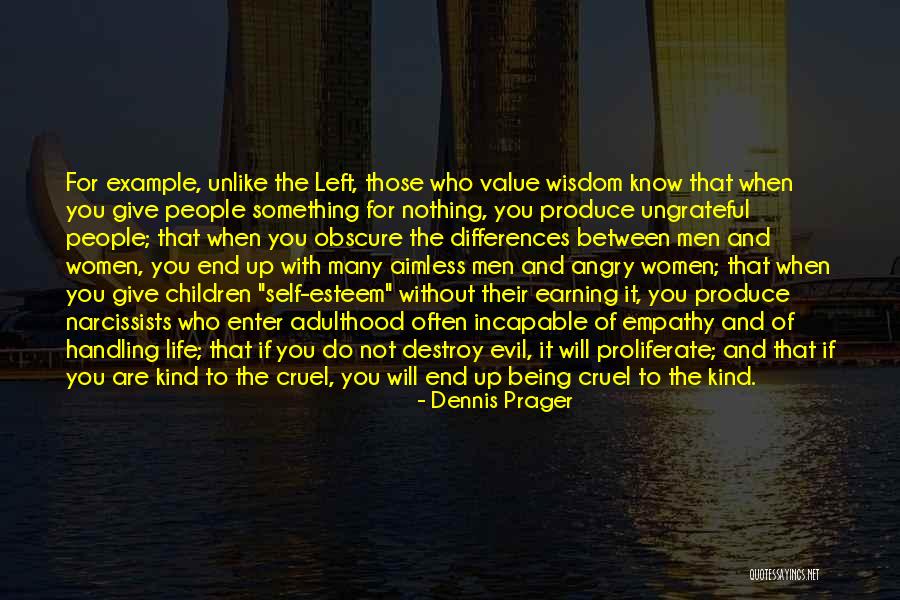 For example, unlike the Left, those who value wisdom know that when you give people something for nothing, you produce ungrateful people; that when you obscure the differences between men and women, you end up with many aimless men and angry women; that when you give children "self-esteem" without their earning it, you produce narcissists who enter adulthood often incapable of empathy and of handling life; that if you do not destroy evil, it will proliferate; and that if you are kind to the cruel, you will end up being cruel to the kind. — Dennis Prager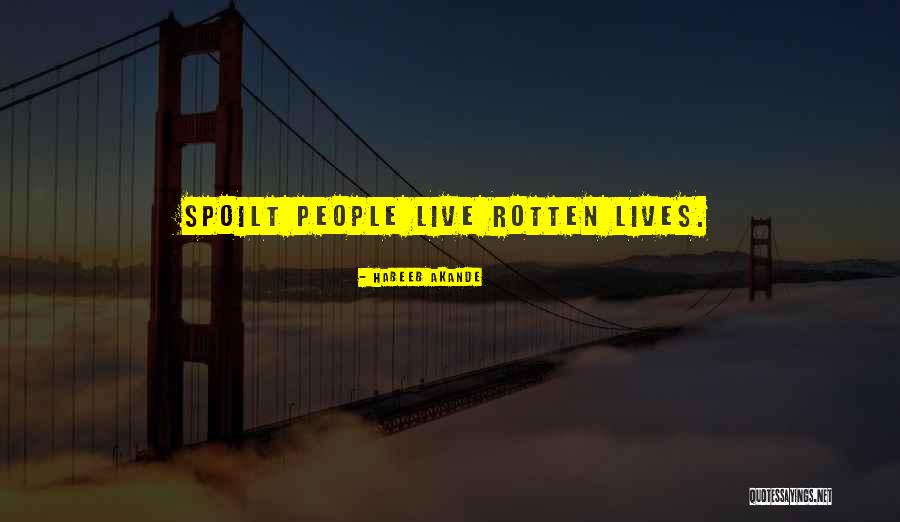 Spoilt people live rotten lives. — Habeeb Akande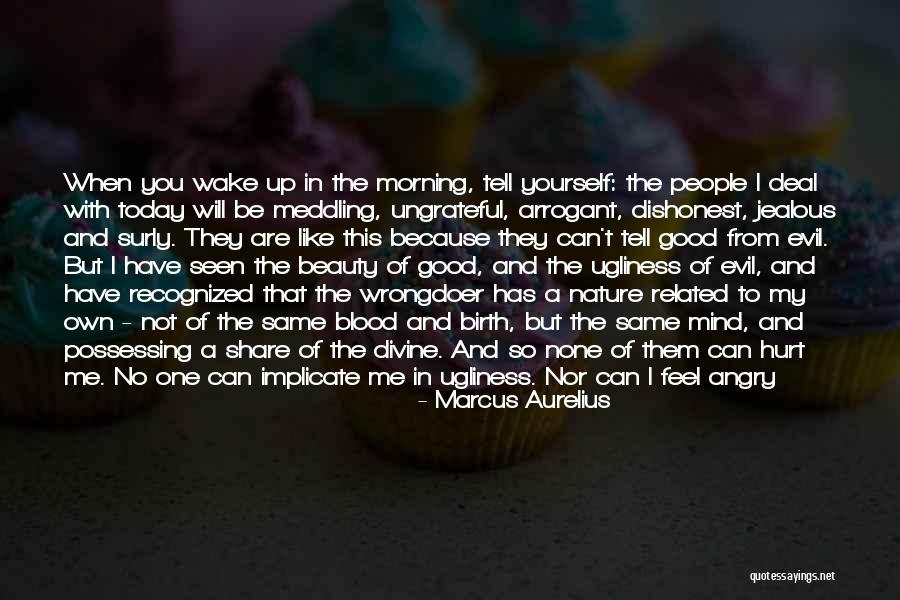 When you wake up in the morning, tell yourself: the people I deal with today will be meddling, ungrateful, arrogant, dishonest, jealous and surly. They are like this because they can't tell good from evil. But I have seen the beauty of good, and the ugliness of evil, and have recognized that the wrongdoer has a nature related to my own - not of the same blood and birth, but the same mind, and possessing a share of the divine. And so none of them can hurt me. No one can implicate me in ugliness. Nor can I feel angry at my relative, or hate him. We were born to work together like feet, hands and eyes, like the two rows of teeth, upper and lower. To obstruct each other is unnatural. To feel anger at someone, to turn your back on him: these are unnatural. — Marcus Aurelius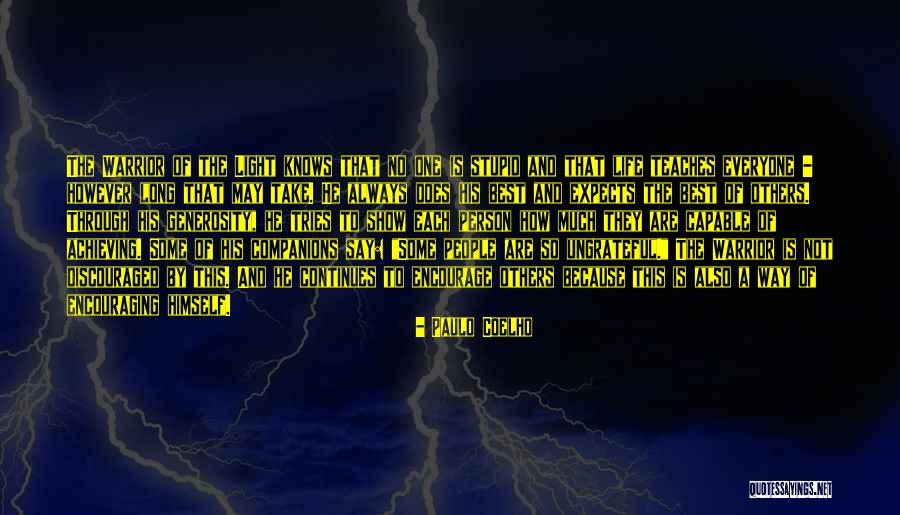 The Warrior of the Light knows that no one is stupid and that life teaches everyone - however long that may take. He always does his best and expects the best of others. Through his generosity, he tries to show each person how much they are capable of achieving. Some of his companions say: "Some people are so ungrateful." The Warrior is not discouraged by this. And he continues to encourage others because this is also a way of encouraging himself. — Paulo Coelho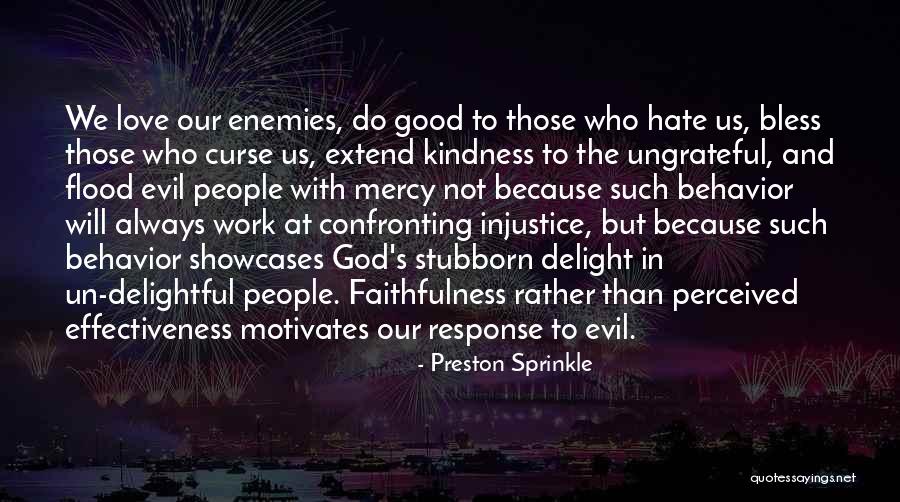 We love our enemies, do good to those who hate us, bless those who curse us, extend kindness to the ungrateful, and flood evil people with mercy not because such behavior will always work at confronting injustice, but because such behavior showcases God's stubborn delight in un-delightful people. Faithfulness rather than perceived effectiveness motivates our response to evil. — Preston Sprinkle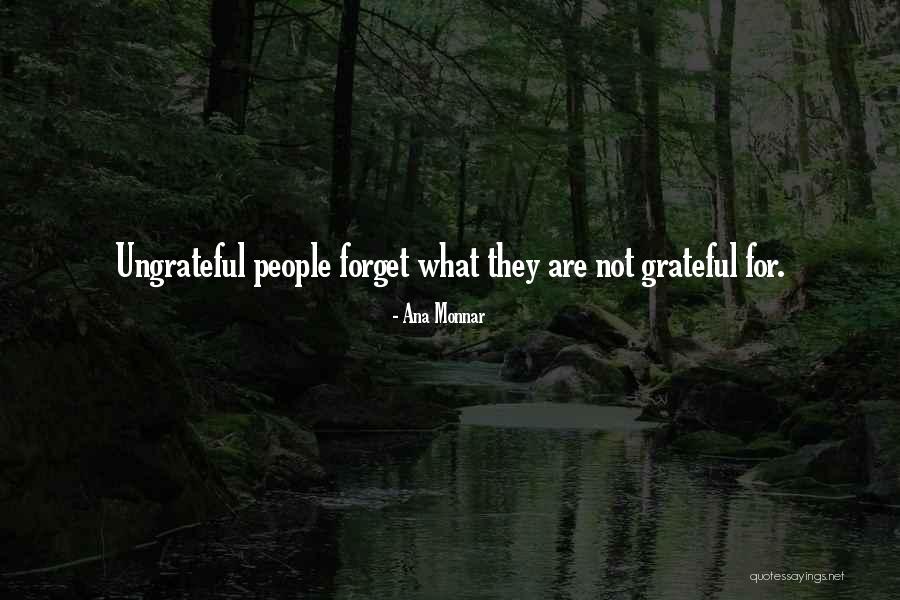 Ungrateful people forget what they are not grateful for. — Ana Monnar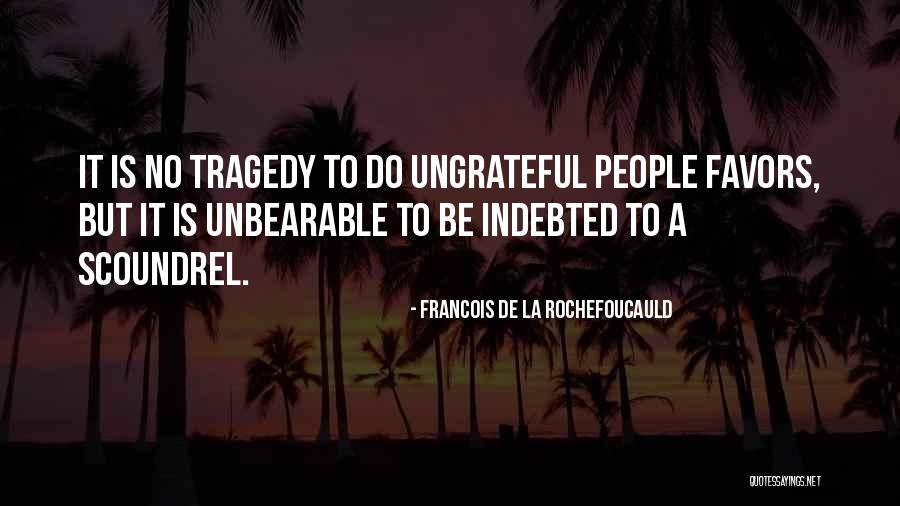 It is no tragedy to do ungrateful people favors, but it is unbearable to be indebted to a scoundrel. — Francois De La Rochefoucauld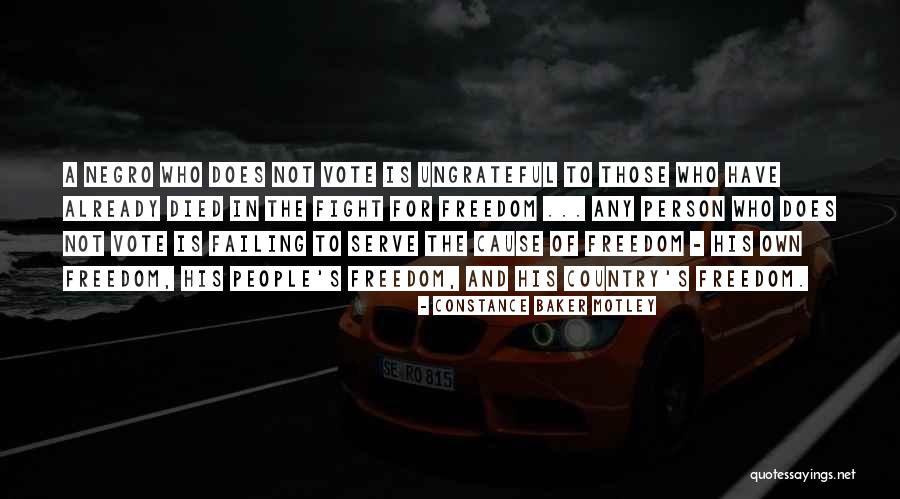 A Negro who does not vote is ungrateful to those who have already died in the fight for freedom ... Any person who does not vote is failing to serve the cause of freedom - his own freedom, his people's freedom, and his country's freedom. — Constance Baker Motley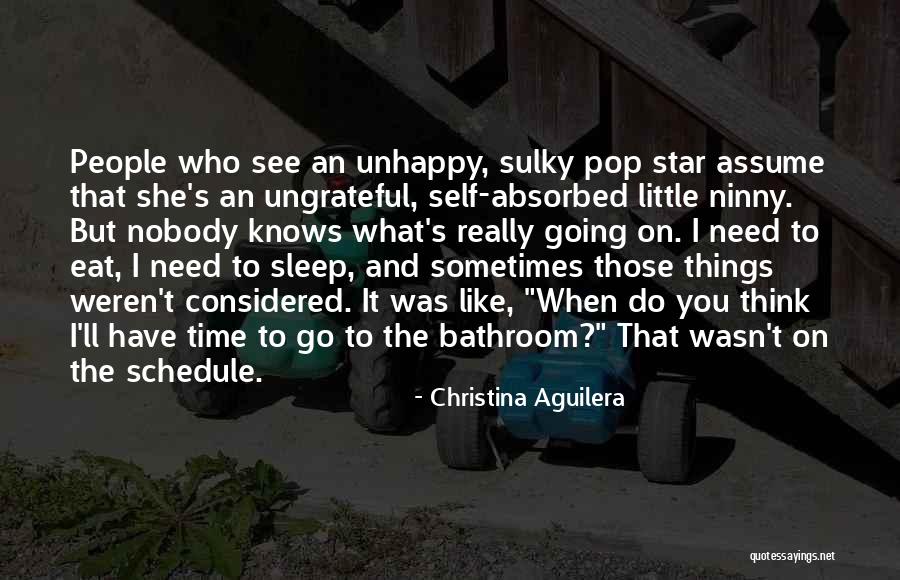 People who see an unhappy, sulky pop star assume that she's an ungrateful, self-absorbed little ninny. But nobody knows what's really going on. I need to eat, I need to sleep, and sometimes those things weren't considered. It was like, "When do you think I'll have time to go to the bathroom?" That wasn't on the schedule. — Christina Aguilera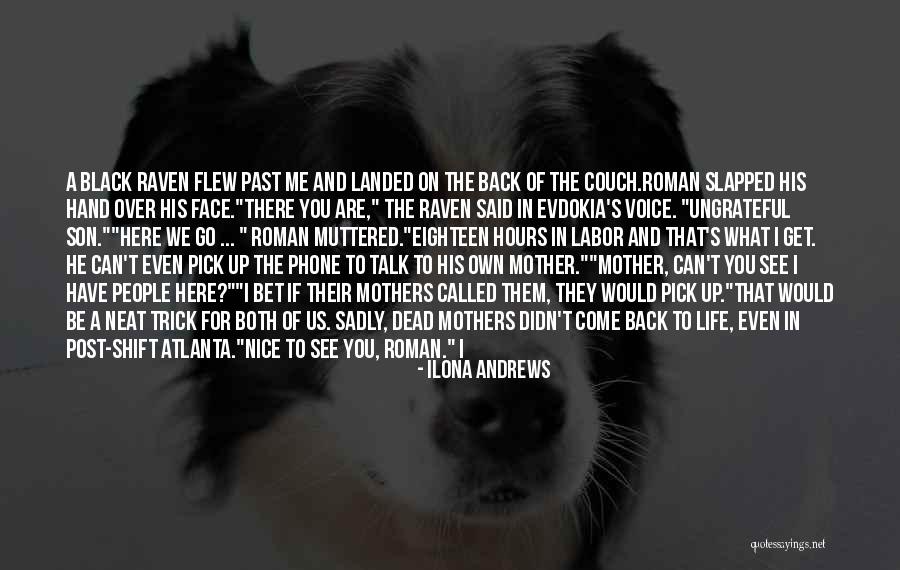 A black raven flew past me and landed on the back of the couch.
Roman slapped his hand over his face.
"There you are," the raven said in Evdokia's voice. "Ungrateful son."
"Here we go ... " Roman muttered.
"Eighteen hours in labor and that's what I get. He can't even pick up the phone to talk to his own mother."
"Mother, can't you see I have people here?"
"I bet if their mothers called them, they would pick up."
That would be a neat trick for both of us. Sadly, dead mothers didn't come back to life, even in post-Shift Atlanta.
"Nice to see you, Roman." I grabbed Curran by the hand.
The bird swiveled toward me. "Katya!"
Oh no.
"Don't you leave. I need to talk to you."
"Got to go, bye! — Ilona Andrews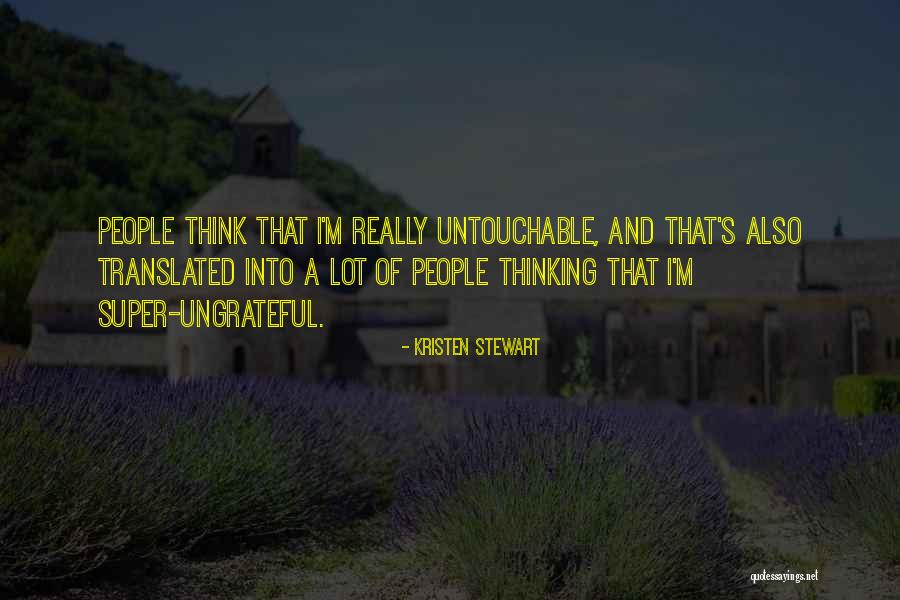 People think that I'm really untouchable, and that's also translated into a lot of people thinking that I'm super-ungrateful. — Kristen Stewart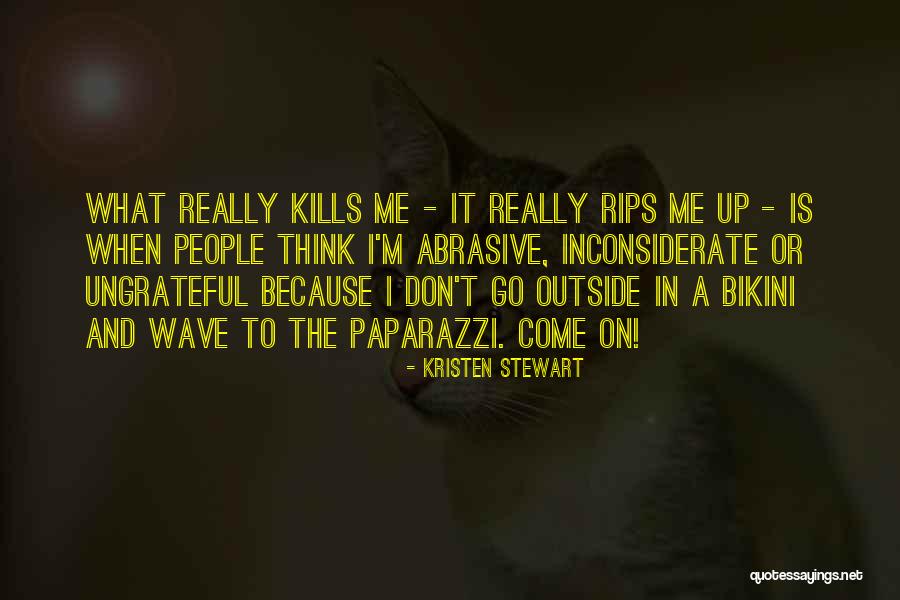 What really kills me - it really rips me up - is when people think I'm abrasive, inconsiderate or ungrateful because I don't go outside in a bikini and wave to the paparazzi. Come on! — Kristen Stewart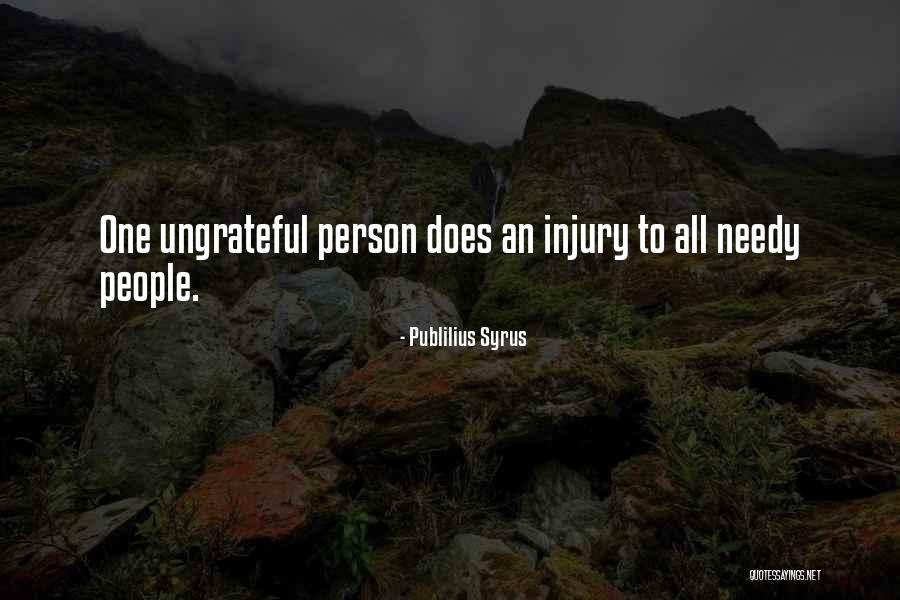 One ungrateful person does an injury to all needy people. — Publilius Syrus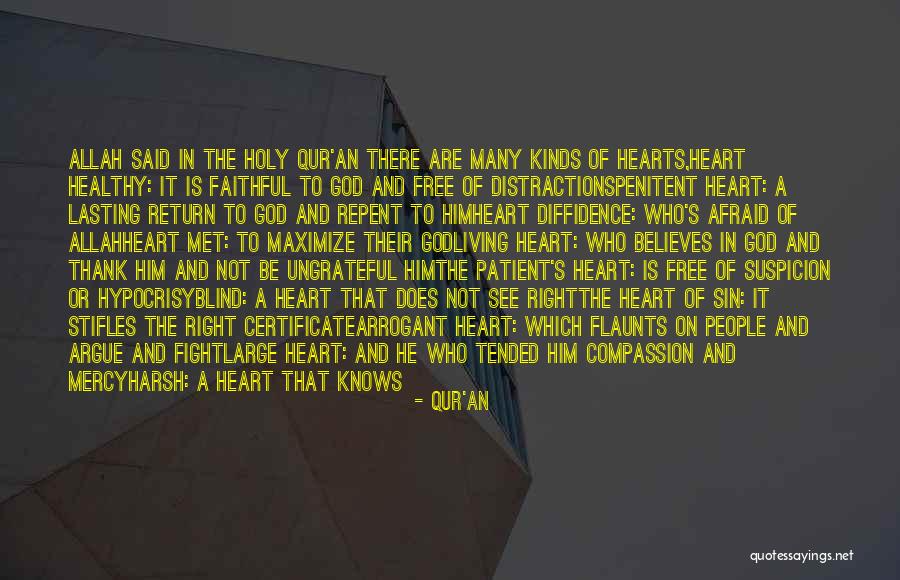 Allah said in the Holy Qur'an there are many kinds of hearts,

Heart healthy: it is faithful to God and free of distractions

Penitent heart: a lasting return to God and repent to him

Heart diffidence: who's afraid of Allah

Heart met: to maximize their God

Living heart: who believes in God and thank him and not be ungrateful him

The patient's heart: is free of suspicion or hypocrisy

Blind: a heart that does not see right

The heart of sin: it stifles the right certificate

Arrogant heart: which flaunts on people and argue and fight

Large heart: and he who tended him compassion and mercy

Harsh: a heart that knows no God and no MOT

Heart dopey: it overlooked his role and his worship life

O Lord, let our hearts of hearts sound the repentant — Qur'an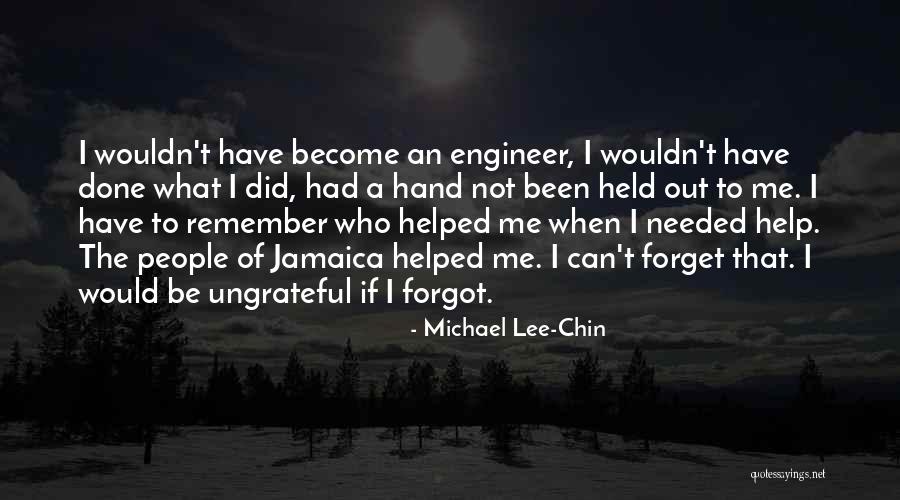 I wouldn't have become an engineer, I wouldn't have done what I did, had a hand not been held out to me. I have to remember who helped me when I needed help. The people of Jamaica helped me. I can't forget that. I would be ungrateful if I forgot. — Michael Lee-Chin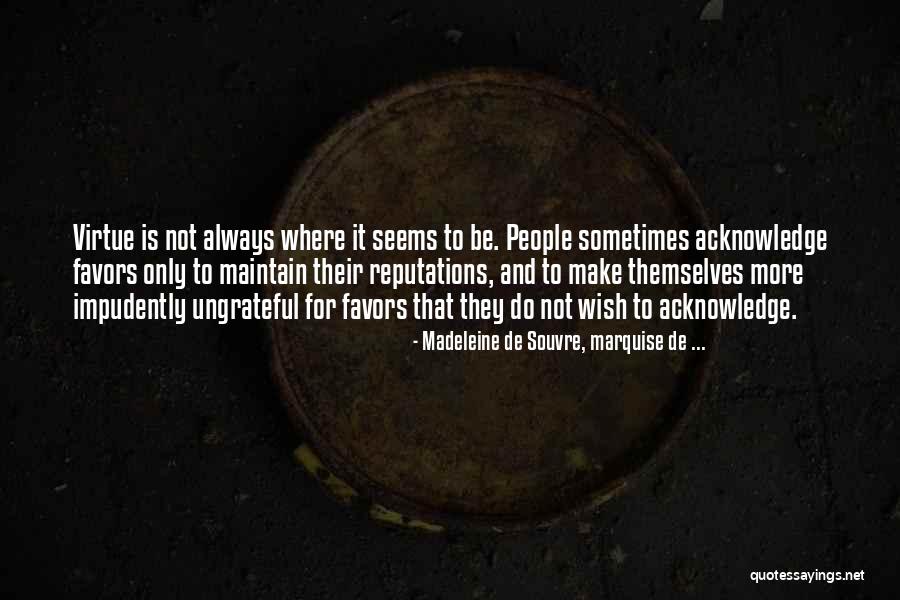 Virtue is not always where it seems to be. People sometimes acknowledge favors only to maintain their reputations, and to make themselves more impudently ungrateful for favors that they do not wish to acknowledge. — Madeleine De Souvre, Marquise De ...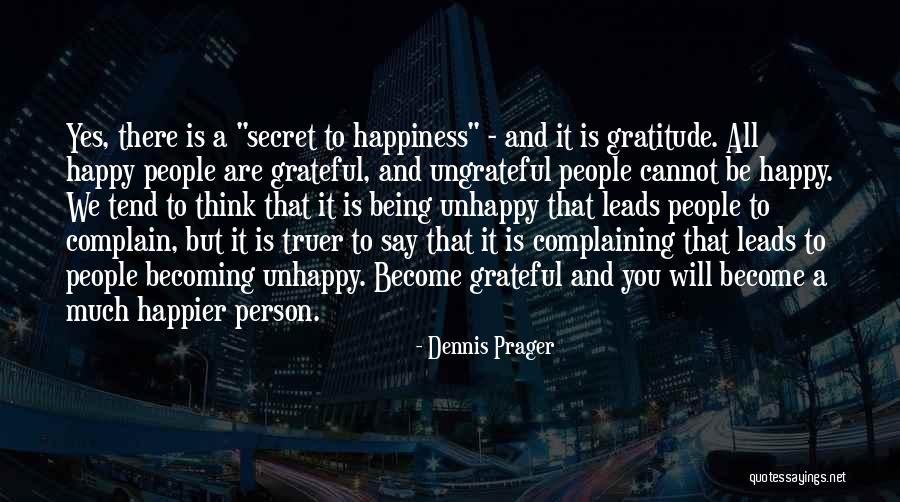 Yes, there is a "secret to happiness" - and it is gratitude. All happy people are grateful, and ungrateful people cannot be happy. We tend to think that it is being unhappy that leads people to complain, but it is truer to say that it is complaining that leads to people becoming unhappy. Become grateful and you will become a much happier person. — Dennis Prager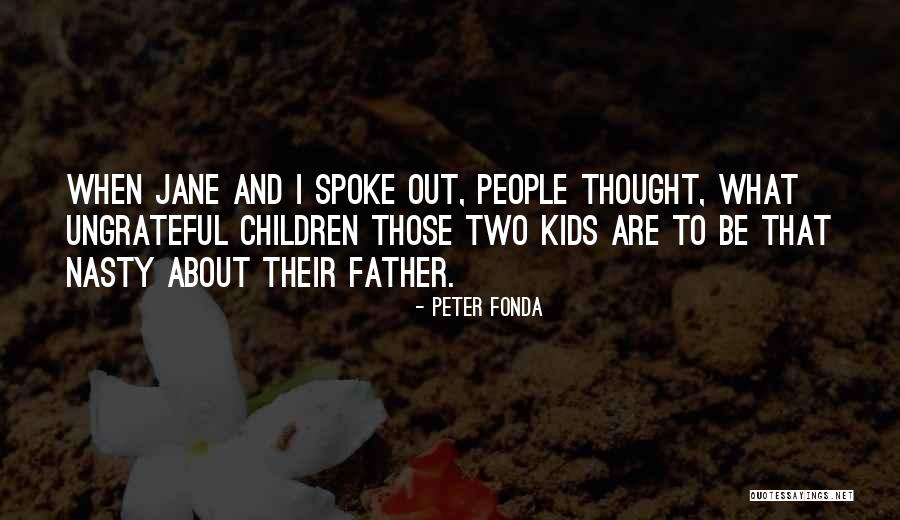 When Jane and I spoke out, people thought, What ungrateful children those two kids are to be that nasty about their father. — Peter Fonda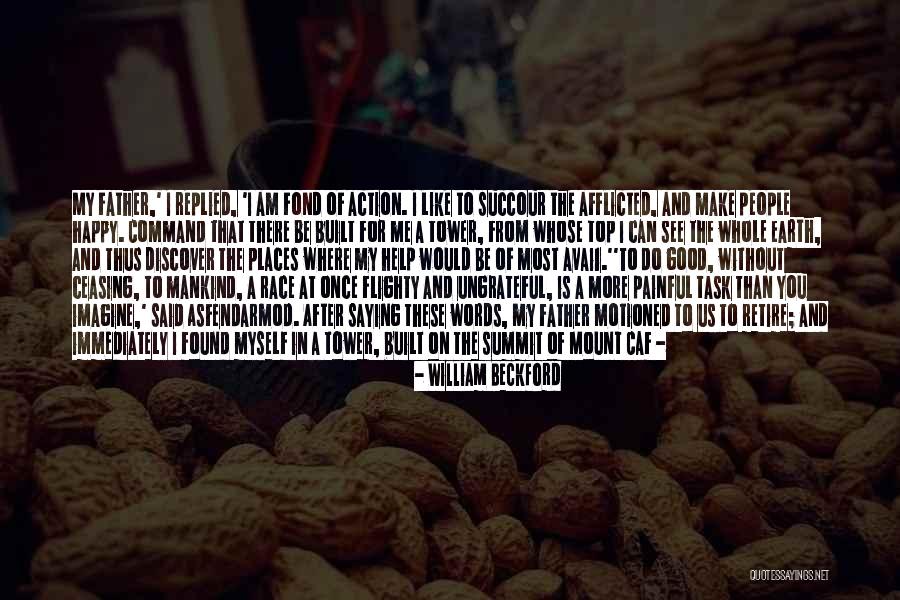 My father,' I replied, 'I am fond of action. I like to succour the afflicted, and make people happy. Command that there be built for me a tower, from whose top I can see the whole earth, and thus discover the places where my help would be of most avai1.'
'To do good, without ceasing, to mankind, a race at once flighty and ungrateful, is a more painful task than you imagine,' said Asfendarmod.
After saying these words, my father motioned to us to retire; and immediately I found myself in a tower, built on the summit of Mount Caf - a tower whose outer walls were lined with numberless mirrors that reflected, though hazily and as in a kind of dream, a thousand varied scenes then being enacted on the earth. Asfendarmod's power had indeed annihilated space, and brought me not only within sight of all the beings thus reflected in the mirrors, but also within sound of their voices and of the very words they uttered. ("The Story of The Peri Homaiouna") — William Beckford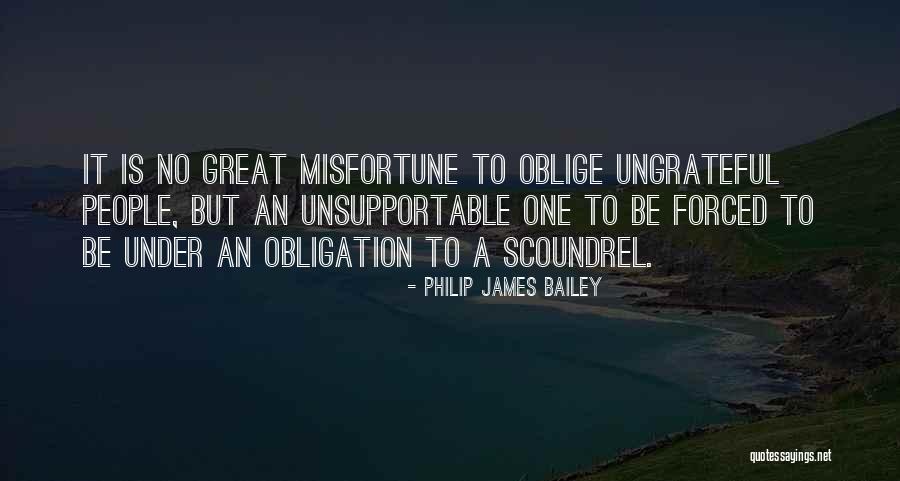 It is no great misfortune to oblige ungrateful people, but an unsupportable one to be forced to be under an obligation to a scoundrel. — Philip James Bailey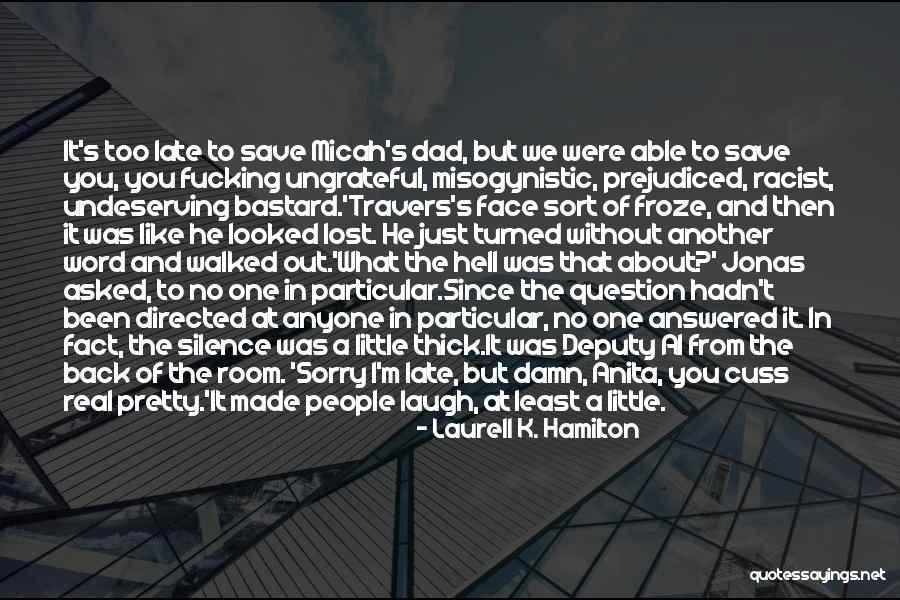 It's too late to save Micah's dad, but we were able to save you, you fucking ungrateful, misogynistic, prejudiced, racist, undeserving bastard.'
Travers's face sort of froze, and then it was like he looked lost. He just turned without another word and walked out.
'What the hell was that about?' Jonas asked, to no one in particular.
Since the question hadn't been directed at anyone in particular, no one answered it. In fact, the silence was a little thick.
It was Deputy Al from the back of the room. 'Sorry I'm late, but damn, Anita, you cuss real pretty.'
It made people laugh, at least a little. — Laurell K. Hamilton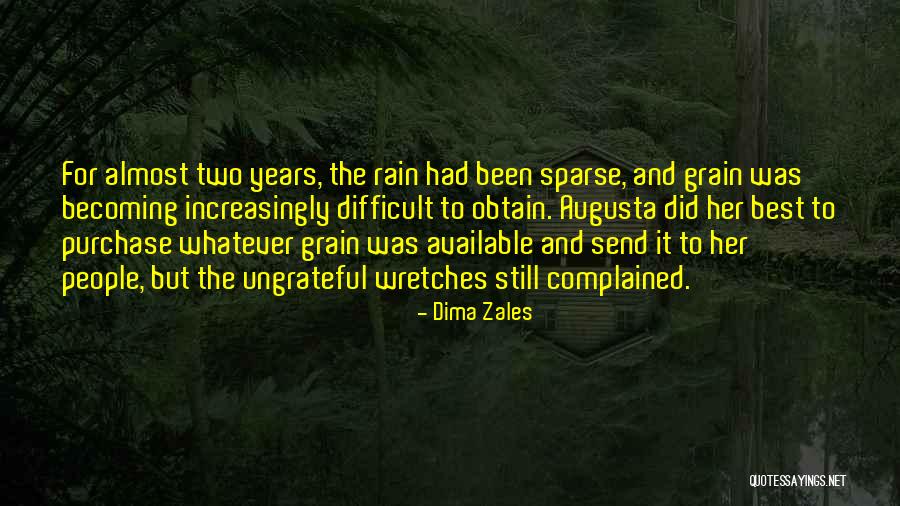 For almost two years, the rain had been sparse, and grain was becoming increasingly difficult to obtain. Augusta did her best to purchase whatever grain was available and send it to her people, but the ungrateful wretches still complained. — Dima Zales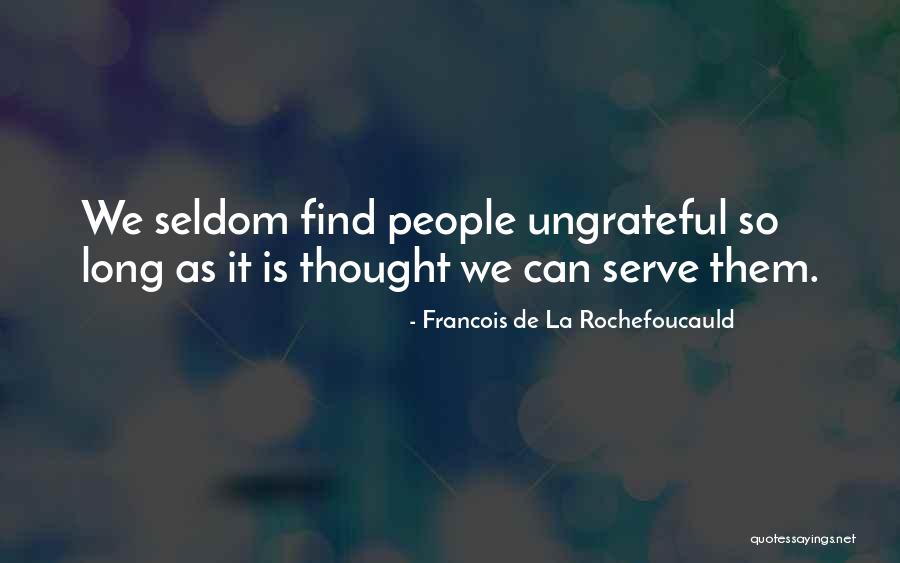 We seldom find people ungrateful so long as it is thought we can serve them. — Francois De La Rochefoucauld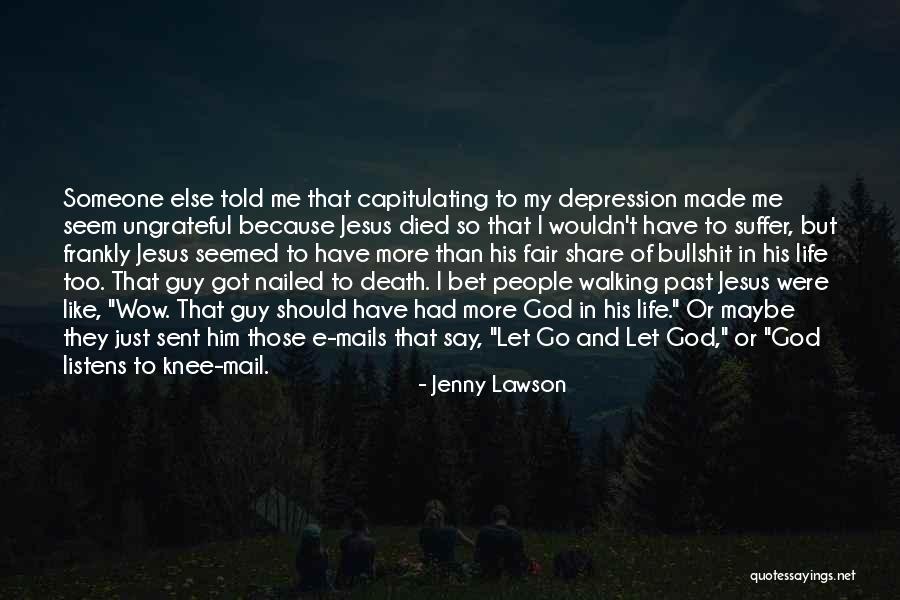 Someone else told me that capitulating to my depression made me seem ungrateful because Jesus died so that I wouldn't have to suffer, but frankly Jesus seemed to have more than his fair share of bullshit in his life too. That guy got nailed to death. I bet people walking past Jesus were like, "Wow. That guy should have had more God in his life." Or maybe they just sent him those e-mails that say, "Let Go and Let God," or "God listens to knee-mail. — Jenny Lawson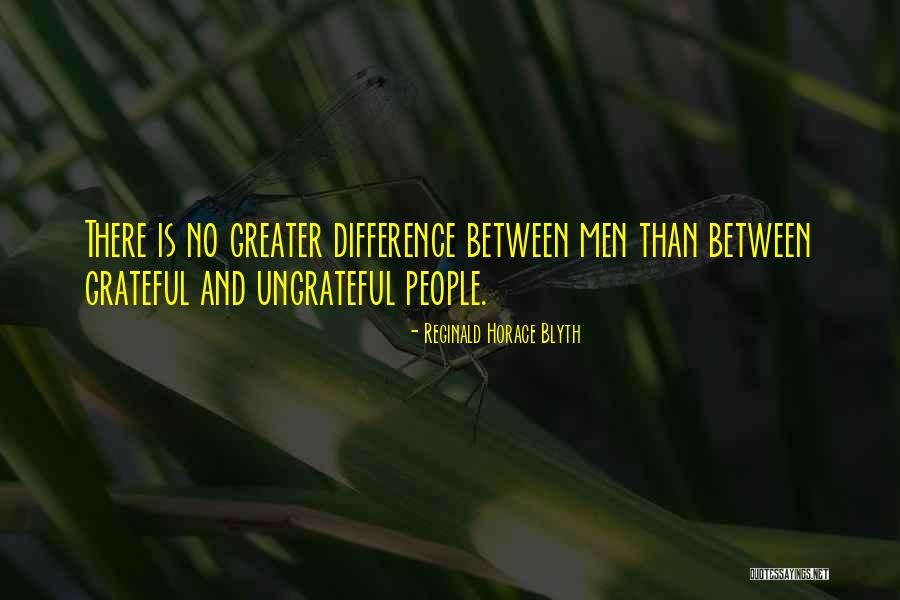 There is no greater difference between men than between grateful and ungrateful people. — Reginald Horace Blyth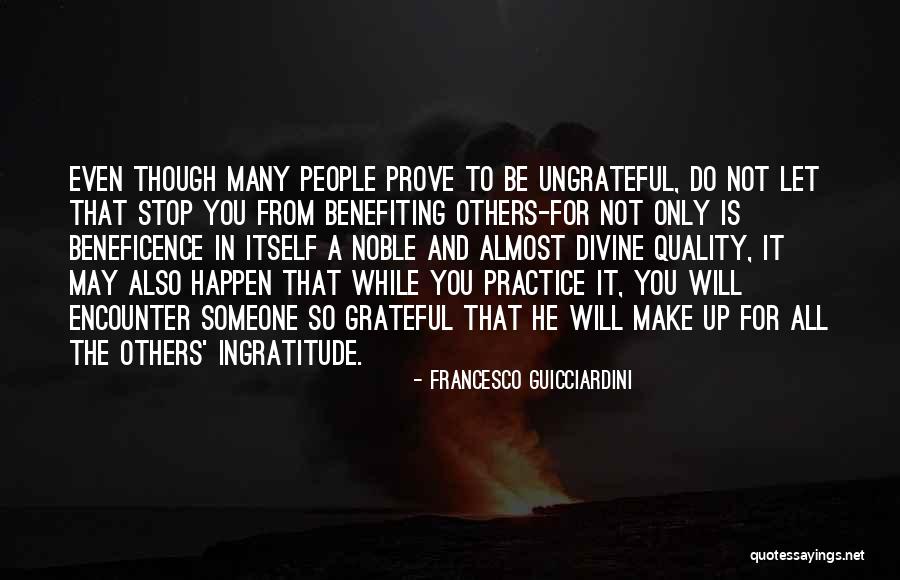 Even though many people prove to be ungrateful, do not let that stop you from benefiting others-for not only is beneficence in itself a noble and almost divine quality, it may also happen that while you practice it, you will encounter someone so grateful that he will make up for all the others' ingratitude. — Francesco Guicciardini