Un Declaration Of Human Rights Quotes & Sayings
Enjoy reading and share 33 famous quotes about Un Declaration Of Human Rights with everyone.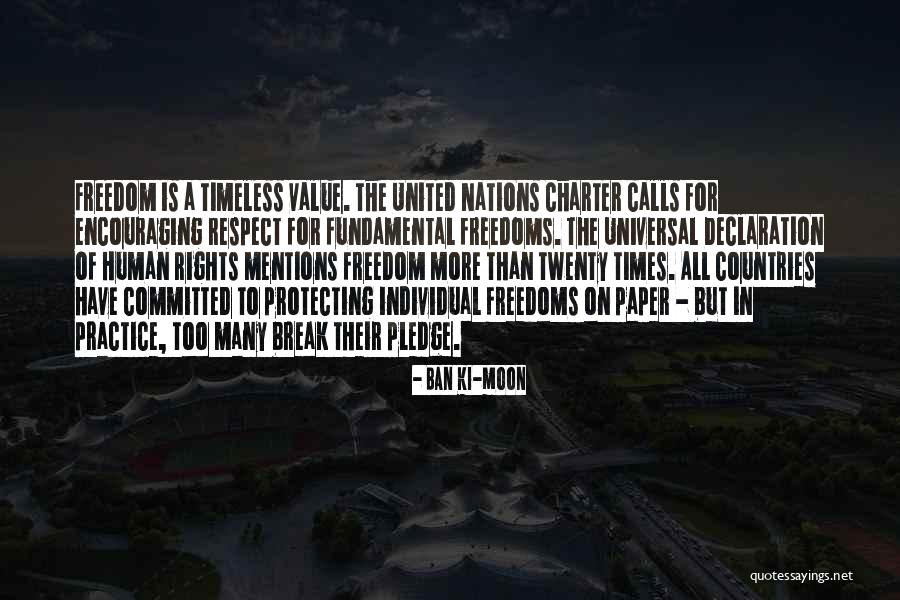 Freedom is a timeless value. The United Nations Charter calls for encouraging respect for fundamental freedoms. The Universal Declaration of Human Rights mentions freedom more than twenty times. All countries have committed to protecting individual freedoms on paper - but in practice, too many break their pledge. — Ban Ki-moon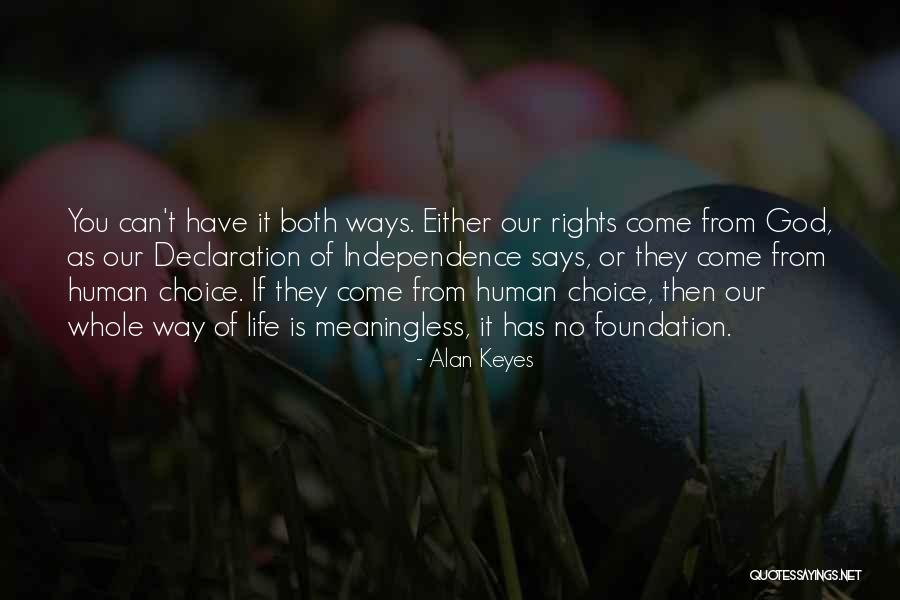 You can't have it both ways. Either our rights come from God, as our Declaration of Independence says, or they come from human choice. If they come from human choice, then our whole way of life is meaningless, it has no foundation. — Alan Keyes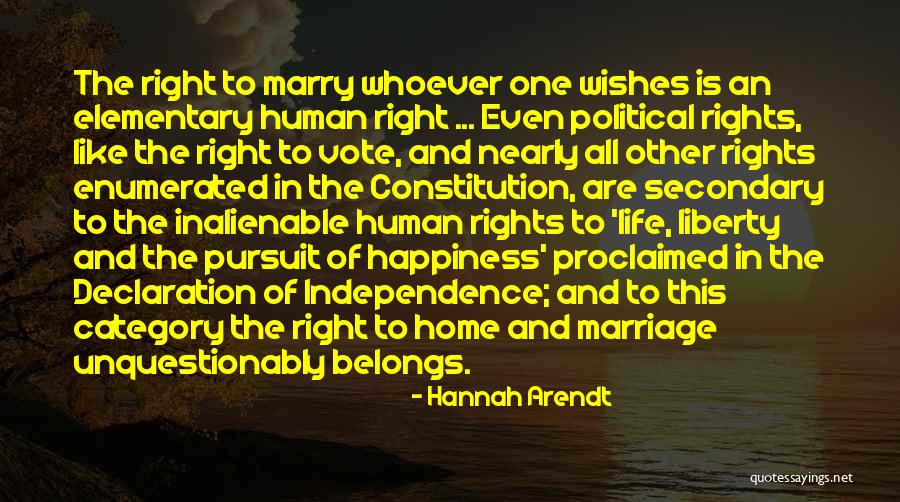 The right to marry whoever one wishes is an elementary human right ... Even political rights, like the right to vote, and nearly all other rights enumerated in the Constitution, are secondary to the inalienable human rights to 'life, liberty and the pursuit of happiness' proclaimed in the Declaration of Independence; and to this category the right to home and marriage unquestionably belongs. — Hannah Arendt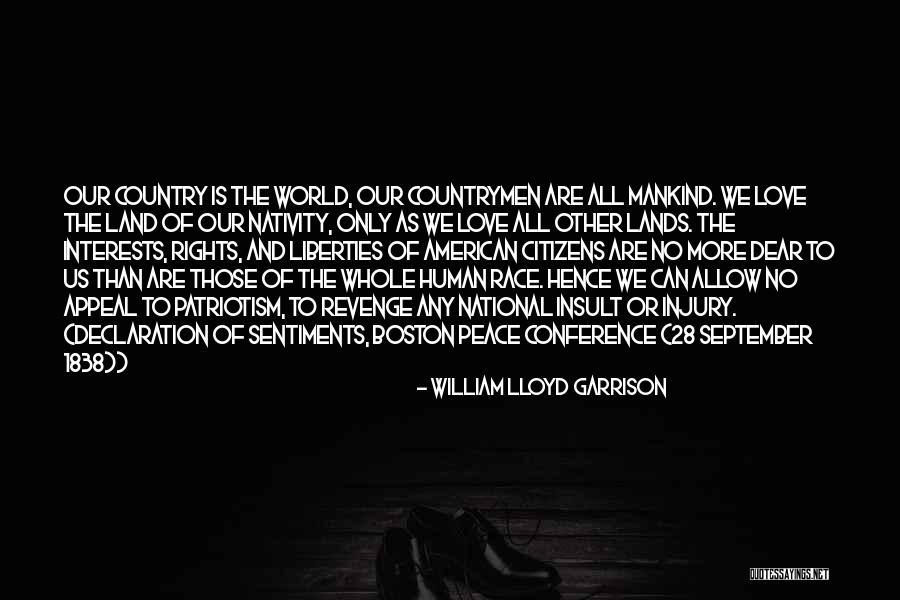 Our country is the world, our countrymen are all mankind. We love the land of our nativity, only as we love all other lands. The interests, rights, and liberties of American citizens are no more dear to us than are those of the whole human race. Hence we can allow no appeal to patriotism, to revenge any national insult or injury.
(Declaration of Sentiments, Boston Peace Conference (28 September 1838)) — William Lloyd Garrison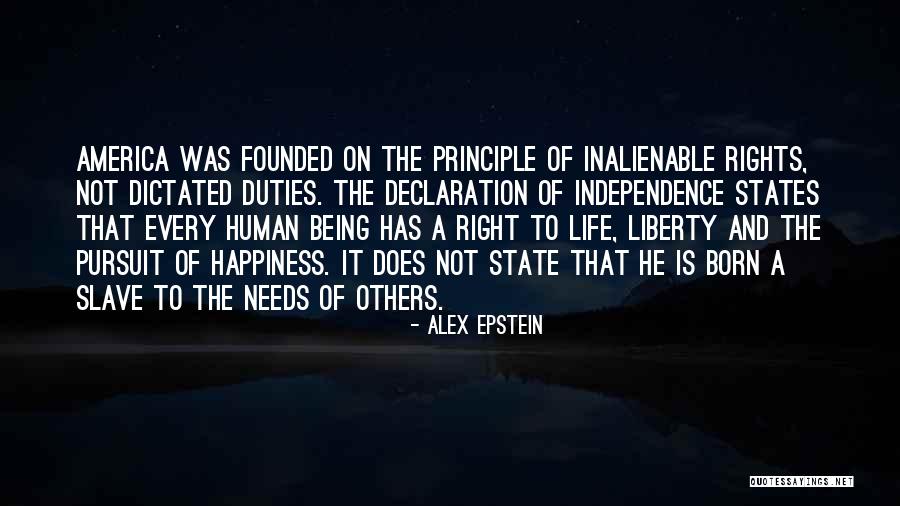 America was founded on the principle of inalienable rights, not dictated duties. The Declaration of Independence states that every human being has a right to life, liberty and the pursuit of happiness. It does not state that he is born a slave to the needs of others. — Alex Epstein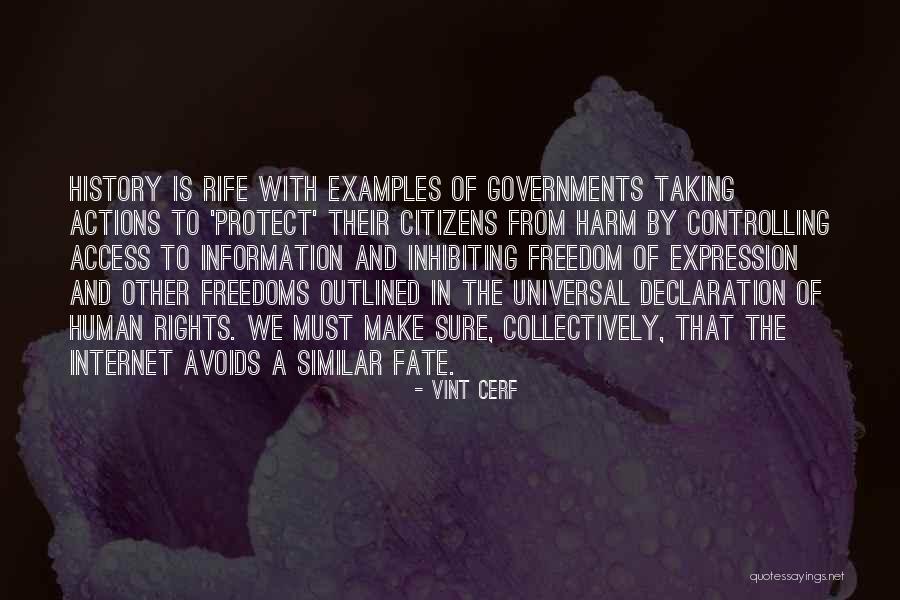 History is rife with examples of governments taking actions to 'protect' their citizens from harm by controlling access to information and inhibiting freedom of expression and other freedoms outlined in The Universal Declaration of Human Rights. We must make sure, collectively, that the Internet avoids a similar fate. — Vint Cerf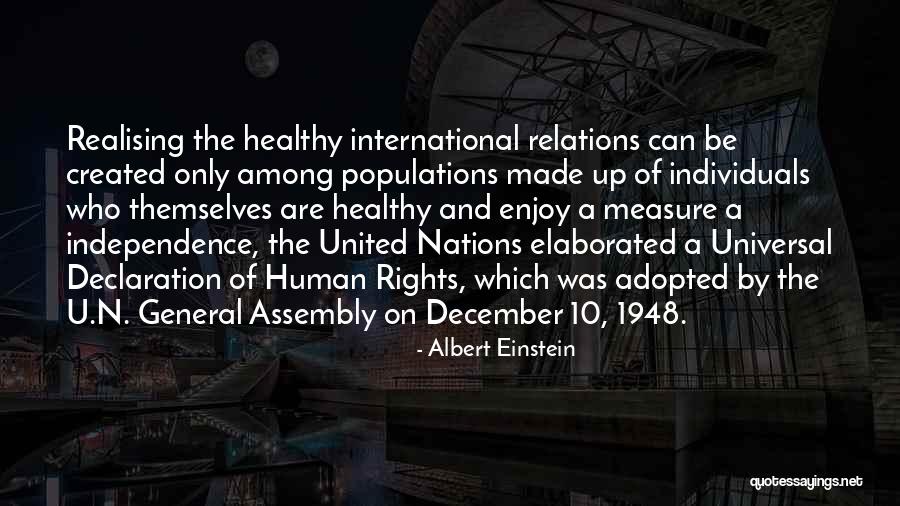 Realising the healthy international relations can be created only among populations made up of individuals who themselves are healthy and enjoy a measure a independence, the United Nations elaborated a Universal Declaration of Human Rights, which was adopted by the U.N. General Assembly on December 10, 1948. — Albert Einstein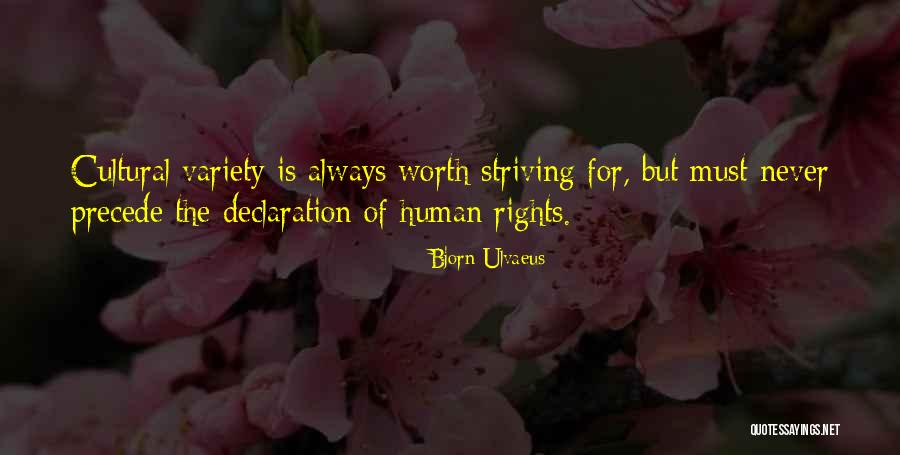 Cultural variety is always worth striving for, but must never precede the declaration of human rights. — Bjorn Ulvaeus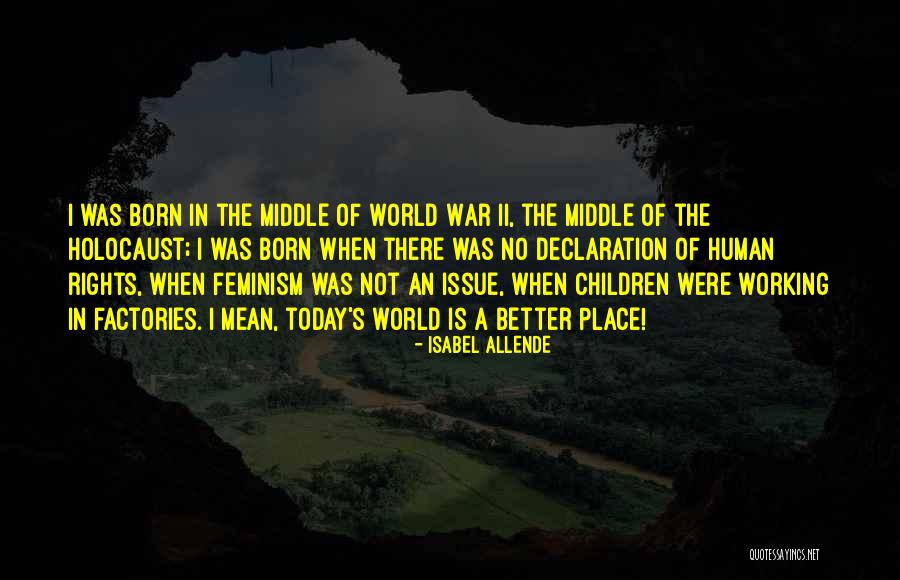 I was born in the middle of World War II, the middle of the Holocaust; I was born when there was no declaration of human rights, when feminism was not an issue, when children were working in factories. I mean, today's world is a better place! — Isabel Allende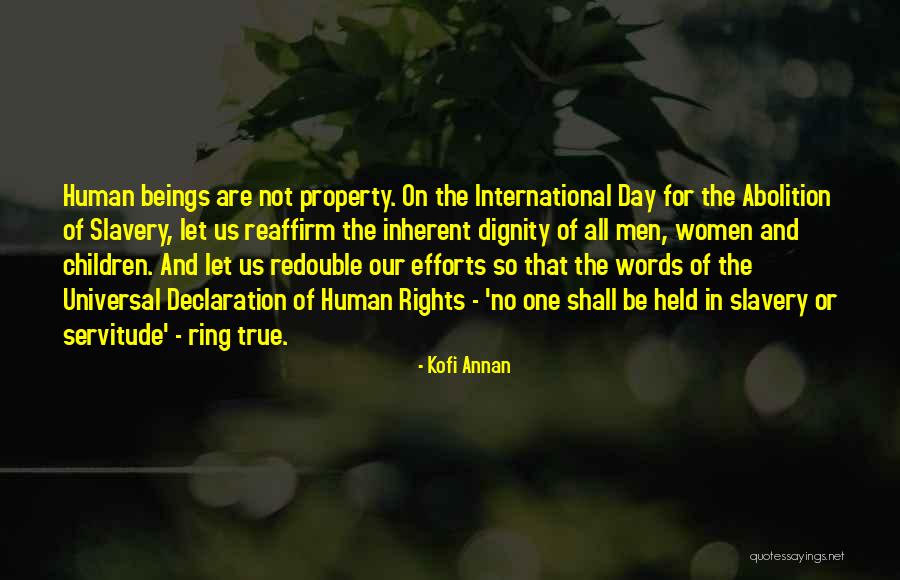 Human beings are not property. On the International Day for the Abolition of Slavery, let us reaffirm the inherent dignity of all men, women and children. And let us redouble our efforts so that the words of the Universal Declaration of Human Rights - 'no one shall be held in slavery or servitude' - ring true. — Kofi Annan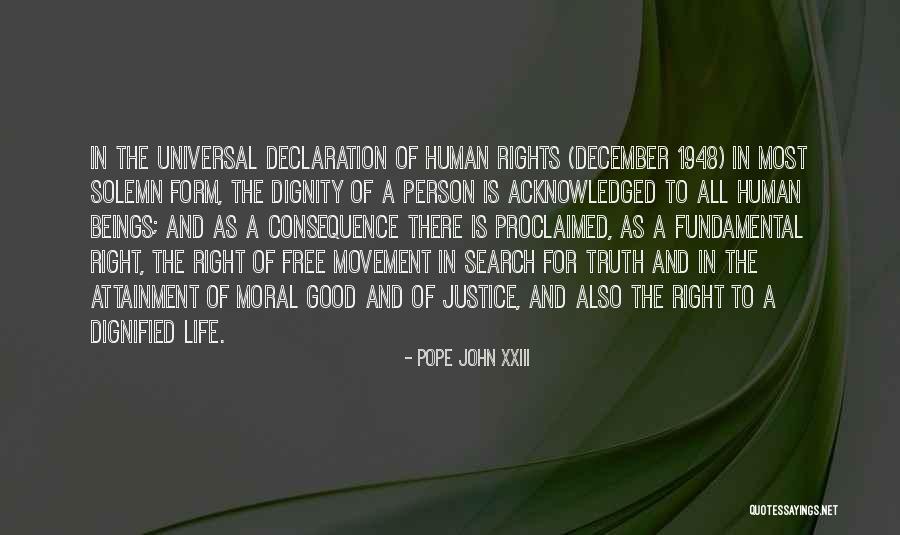 In the Universal Declaration of Human Rights (December 1948) in most solemn form, the dignity of a person is acknowledged to all human beings; and as a consequence there is proclaimed, as a fundamental right, the right of free movement in search for truth and in the attainment of moral good and of justice, and also the right to a dignified life. — Pope John XXIII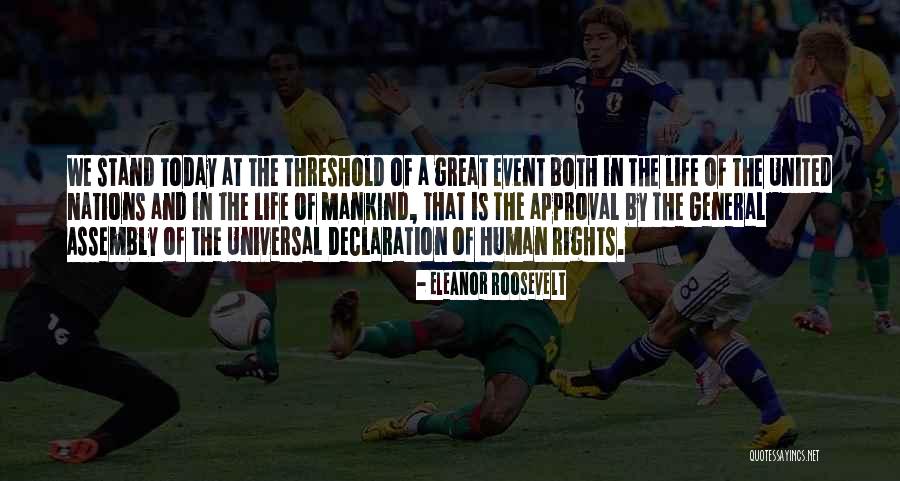 We stand today at the threshold of a great event both in the life of the United Nations and in the life of mankind, that is the approval by the General Assembly of the Universal Declaration of Human Rights. — Eleanor Roosevelt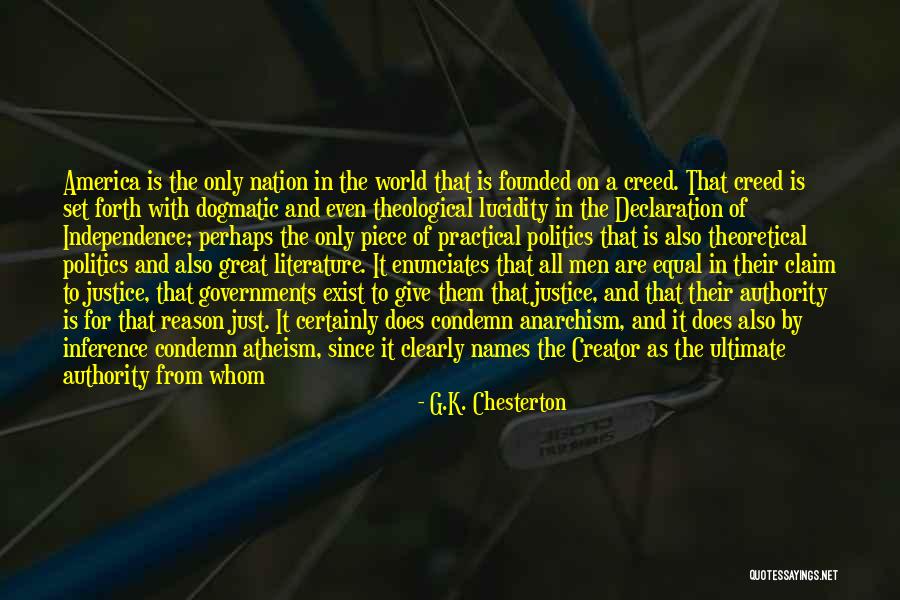 America is the only nation in the world that is founded on a creed. That creed is set forth with dogmatic and even theological lucidity in the Declaration of Independence; perhaps the only piece of practical politics that is also theoretical politics and also great literature. It enunciates that all men are equal in their claim to justice, that governments exist to give them that justice, and that their authority is for that reason just. It certainly does condemn anarchism, and it does also by inference condemn atheism, since it clearly names the Creator as the ultimate authority from whom these equal rights are derived. Nobody expects a modern political system to proceed logically in the application of such dogmas, and in the matter of God and Government it is naturally God whose claim is taken more lightly. The point is that there is a creed, if not about divine, at least about human things. — G.K. Chesterton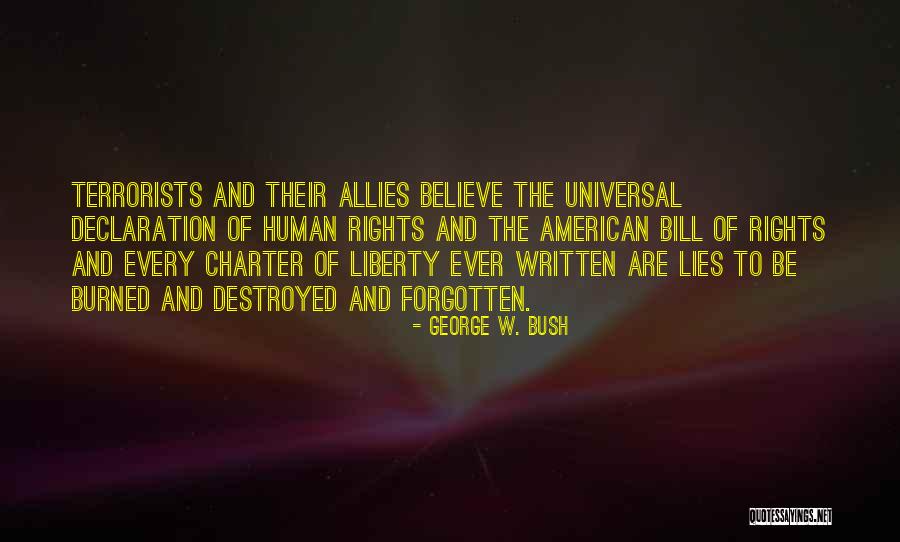 Terrorists and their allies believe the Universal Declaration of Human Rights and the American Bill of Rights and every charter of liberty ever written are lies to be burned and destroyed and forgotten. — George W. Bush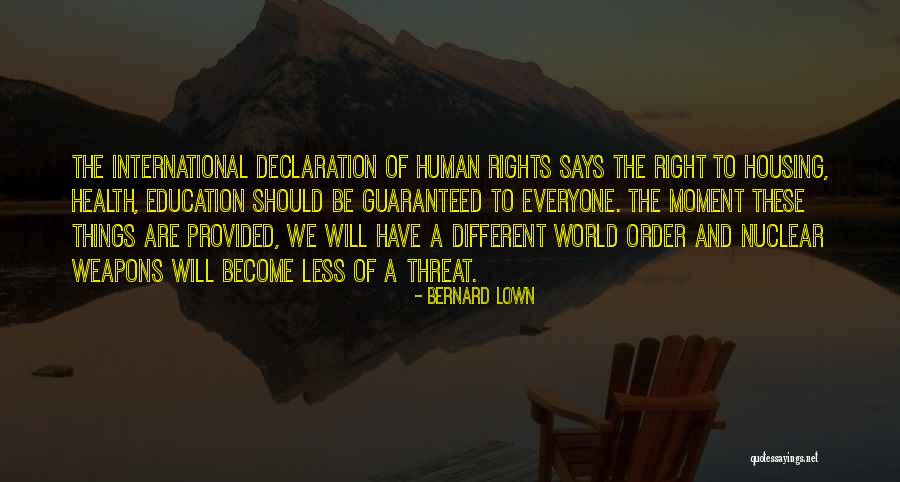 The International Declaration of Human Rights says the right to housing, health, education should be guaranteed to everyone. The moment these things are provided, we will have a different world order and nuclear weapons will become less of a threat. — Bernard Lown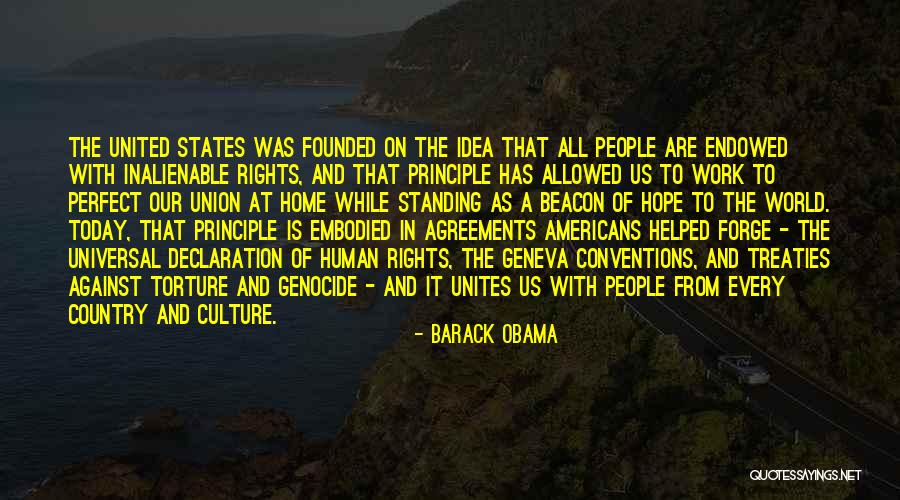 The United States was founded on the idea that all people are endowed with inalienable rights, and that principle has allowed us to work to perfect our union at home while standing as a beacon of hope to the world. Today, that principle is embodied in agreements Americans helped forge - the Universal Declaration of Human Rights, the Geneva Conventions, and treaties against torture and genocide - and it unites us with people from every country and culture. — Barack Obama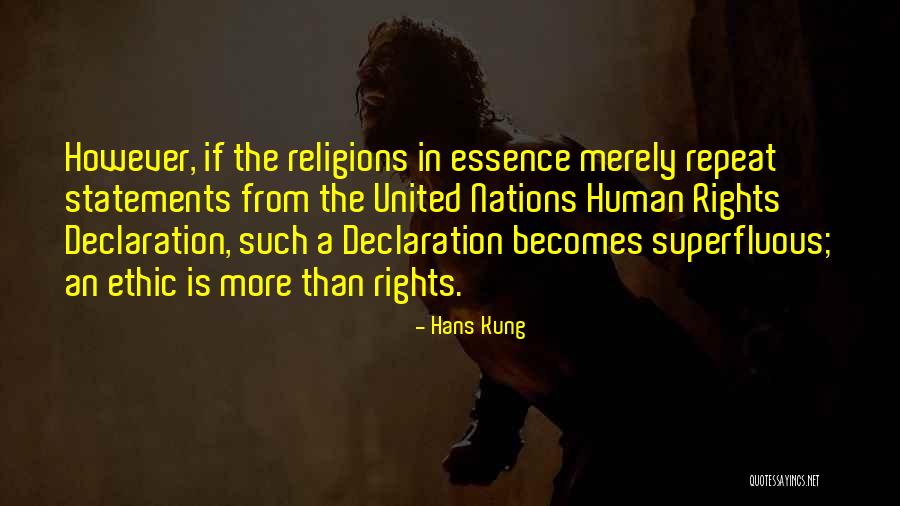 However, if the religions in essence merely repeat statements from the United Nations Human Rights Declaration, such a Declaration becomes superfluous; an ethic is more than rights. — Hans Kung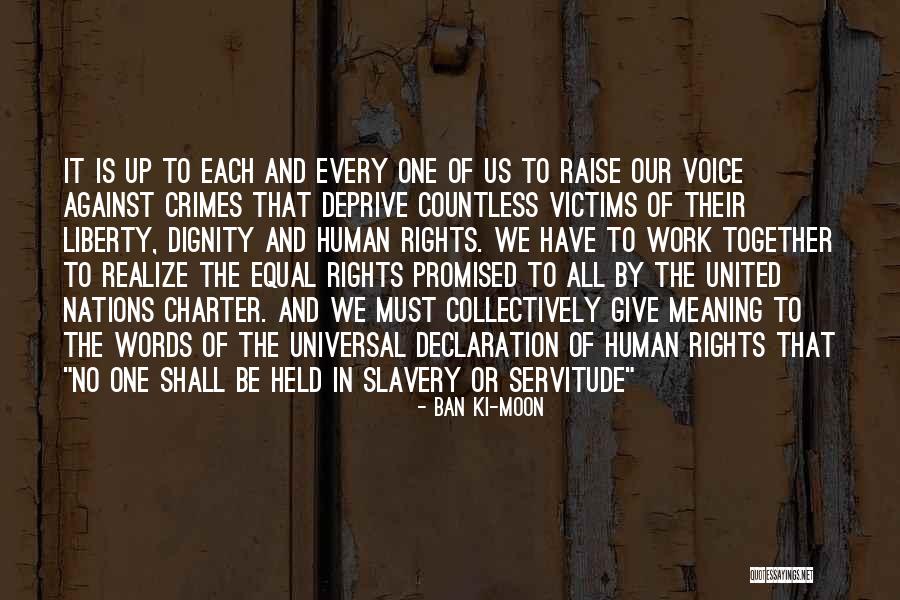 It is up to each and every one of us to raise our voice against crimes that deprive countless victims of their liberty, dignity and human rights. We have to work together to realize the equal rights promised to all by the United Nations Charter. And we must collectively give meaning to the words of the Universal Declaration of Human Rights that "no one shall be held in slavery or servitude" — Ban Ki-moon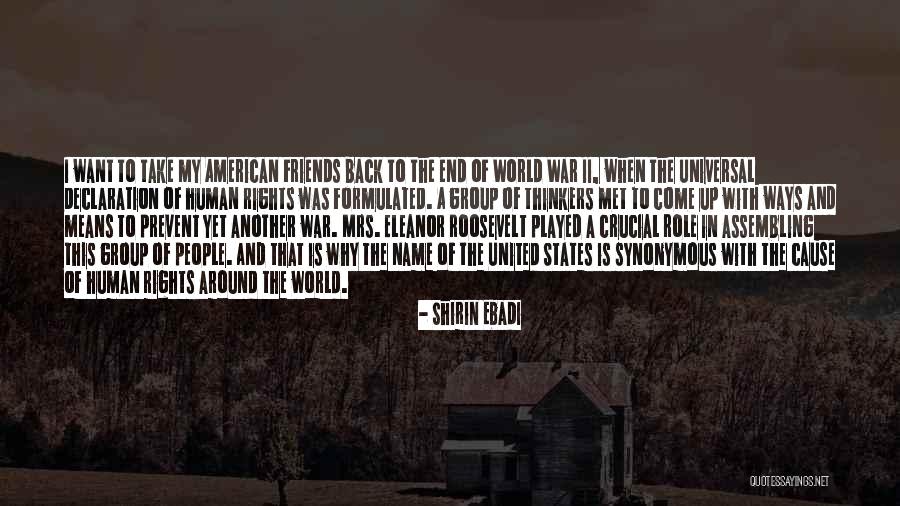 I want to take my American friends back to the end of World War II, when the Universal Declaration of Human Rights was formulated. A group of thinkers met to come up with ways and means to prevent yet another war. Mrs. Eleanor Roosevelt played a crucial role in assembling this group of people. And that is why the name of the United States is synonymous with the cause of human rights around the world. — Shirin Ebadi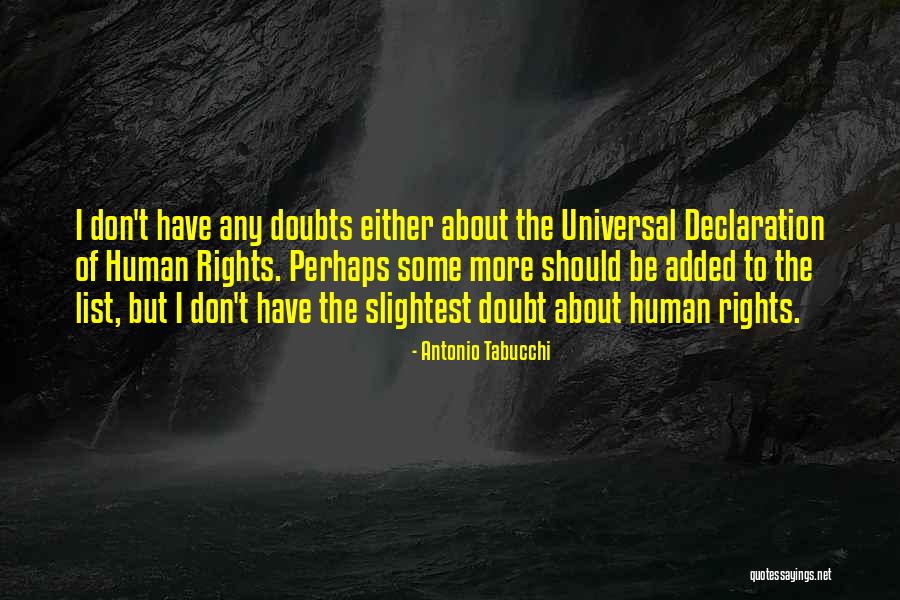 I don't have any doubts either about the Universal Declaration of Human Rights. Perhaps some more should be added to the list, but I don't have the slightest doubt about human rights. — Antonio Tabucchi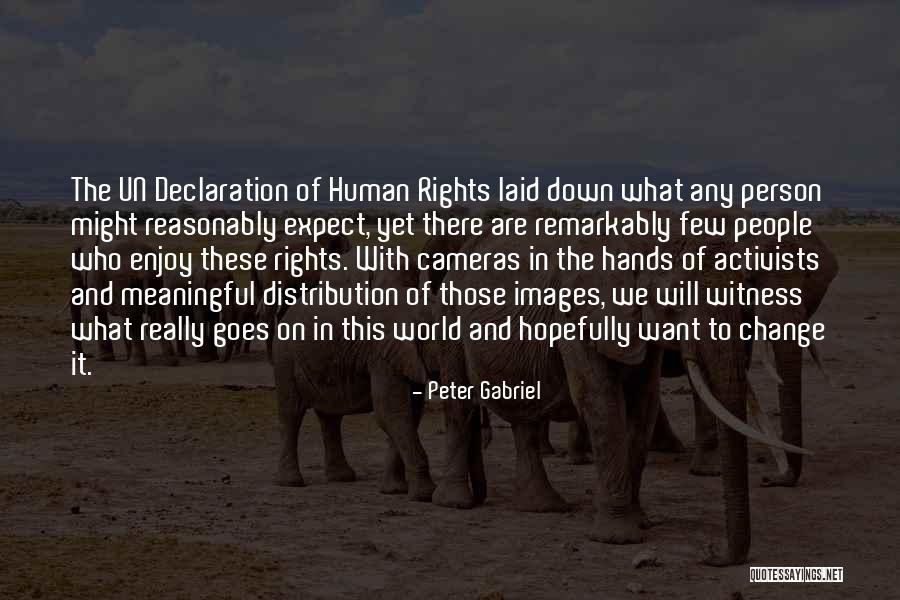 The UN Declaration of Human Rights laid down what any person might reasonably expect, yet there are remarkably few people who enjoy these rights. With cameras in the hands of activists and meaningful distribution of those images, we will witness what really goes on in this world and hopefully want to change it. — Peter Gabriel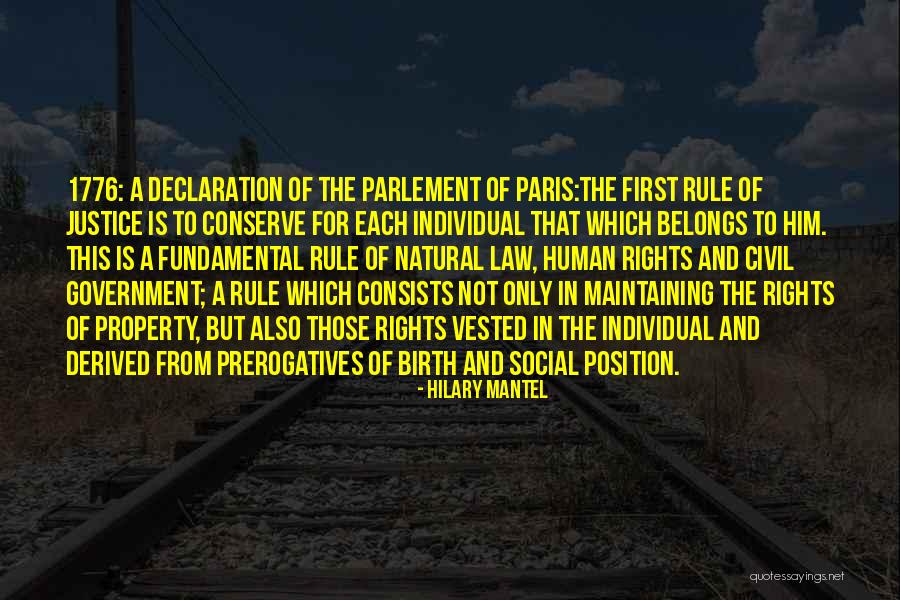 1776: A declaration of the Parlement of Paris:
The first rule of justice is to conserve for each individual that which belongs to him. This is a fundamental rule of natural law, human rights and civil government; a rule which consists not only in maintaining the rights of property, but also those rights vested in the individual and derived from prerogatives of birth and social position. — Hilary Mantel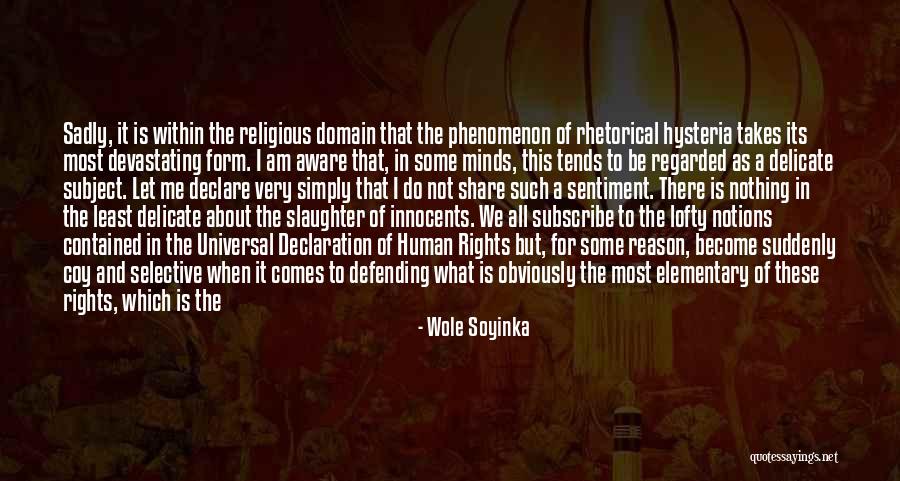 Sadly, it is within the religious domain that the phenomenon of rhetorical hysteria takes its most devastating form. I am aware that, in some minds, this tends to be regarded as a delicate subject. Let me declare very simply that I do not share such a sentiment. There is nothing in the least delicate about the slaughter of innocents. We all subscribe to the lofty notions contained in the Universal Declaration of Human Rights but, for some reason, become suddenly coy and selective when it comes to defending what is obviously the most elementary of these rights, which is the right to life. One of my all-time favourite lines comes from the black American poet Langston Hughes. It reads, simply, 'There is no lavender word for lynch'. — Wole Soyinka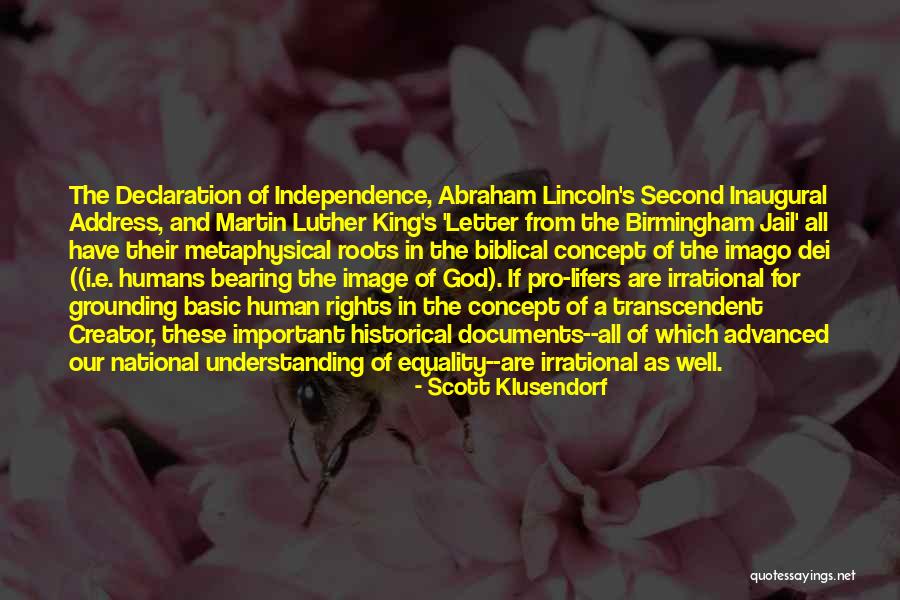 The Declaration of Independence, Abraham Lincoln's Second Inaugural Address, and Martin Luther King's 'Letter from the Birmingham Jail' all have their metaphysical roots in the biblical concept of the imago dei ((i.e. humans bearing the image of God). If pro-lifers are irrational for grounding basic human rights in the concept of a transcendent Creator, these important historical documents--all of which advanced our national understanding of equality--are irrational as well. — Scott Klusendorf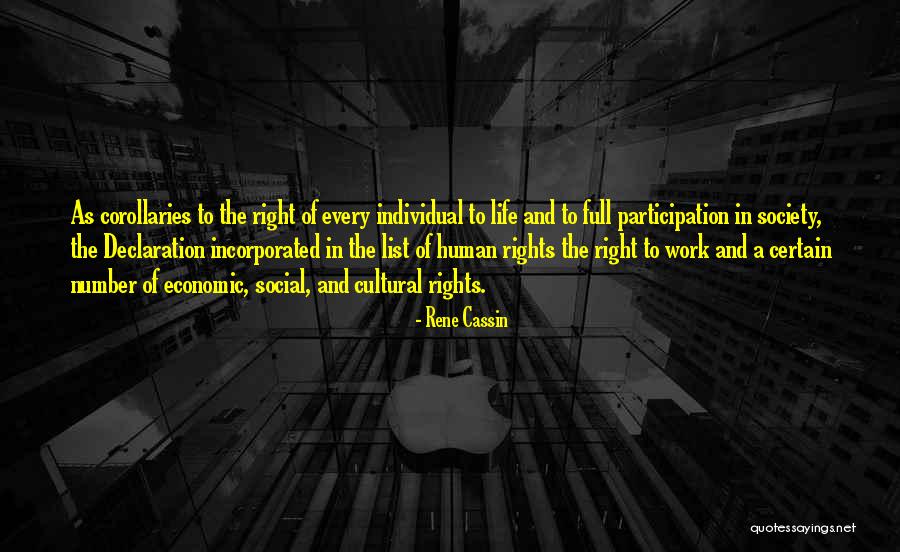 As corollaries to the right of every individual to life and to full participation in society, the Declaration incorporated in the list of human rights the right to work and a certain number of economic, social, and cultural rights. — Rene Cassin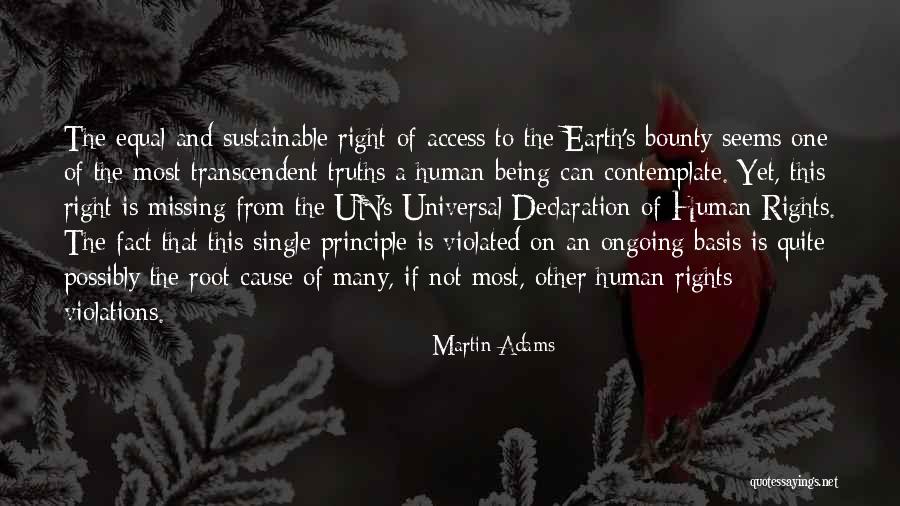 The equal and sustainable right of access to the Earth's bounty seems one of the most transcendent truths a human being can contemplate. Yet, this right is missing from the UN's Universal Declaration of Human Rights. The fact that this single principle is violated on an ongoing basis is quite possibly the root cause of many, if not most, other human rights violations. — Martin Adams
Millions of people have been lifted from poverty and have gained access to modern education and health care. We have a universal declaration of human rights, and awareness of the importance of such rights has grown tremendously. As a result, the ideals of freedom and democracy have spread around the world, and there is increasing recognition of the oneness of humanity. — Dalai Lama XIV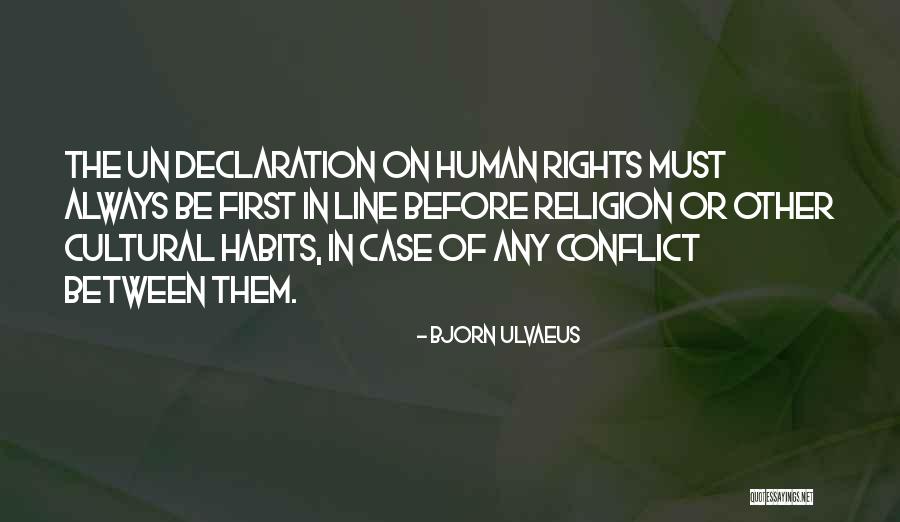 The UN declaration on human rights must always be first in line before religion or other cultural habits, in case of any conflict between them. — Bjorn Ulvaeus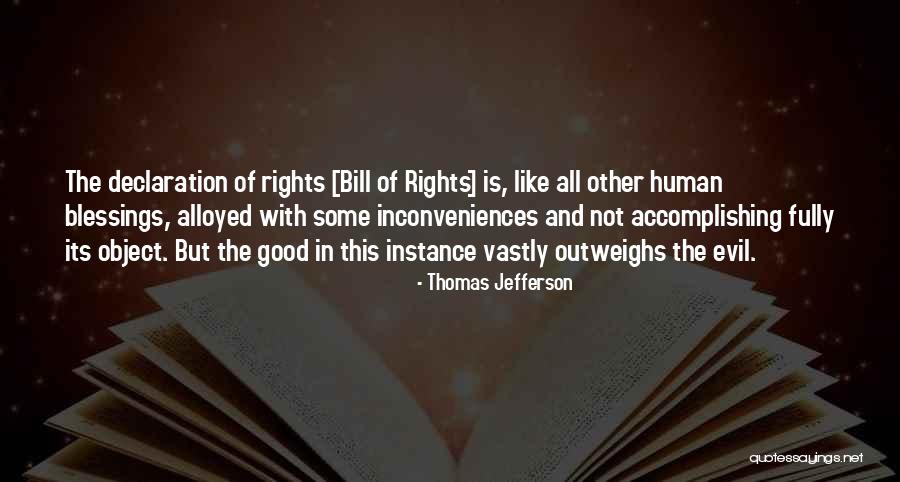 The declaration of rights [Bill of Rights] is, like all other human blessings, alloyed with some inconveniences and not accomplishing fully its object. But the good in this instance vastly outweighs the evil. — Thomas Jefferson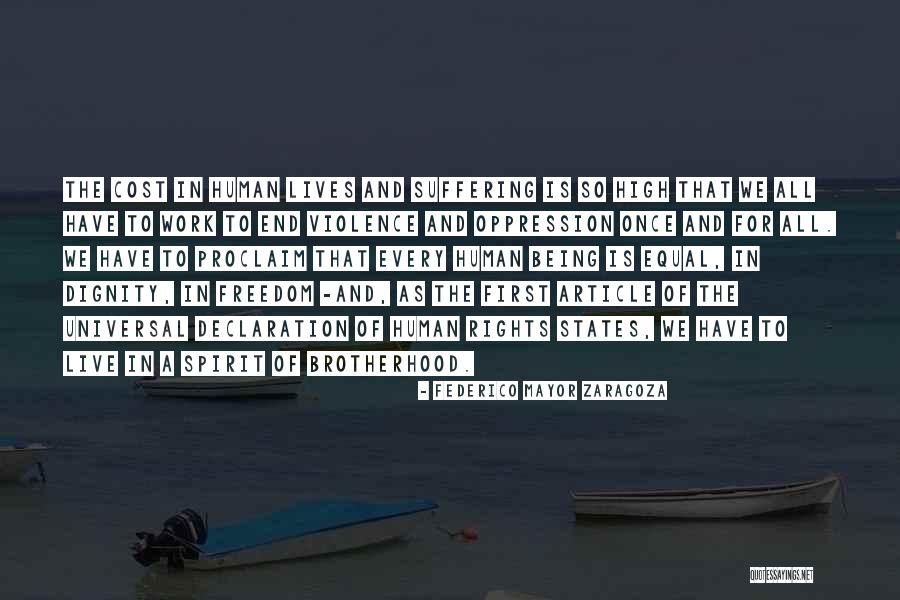 The cost in human lives and suffering is so high that we all have to work to end violence and oppression once and for all. We have to proclaim that every human being is equal, in dignity, in freedom -and, as the first article of the Universal Declaration of Human Rights states, we have to live in a spirit of brotherhood. — Federico Mayor Zaragoza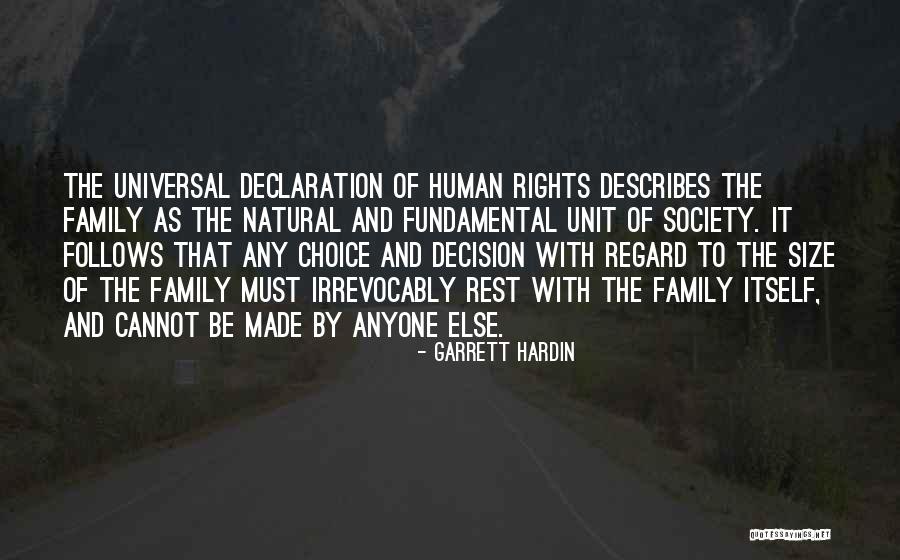 The Universal Declaration of Human Rights describes the family as the natural and fundamental unit of society. It follows that any choice and decision with regard to the size of the family must irrevocably rest with the family itself, and cannot be made by anyone else. — Garrett Hardin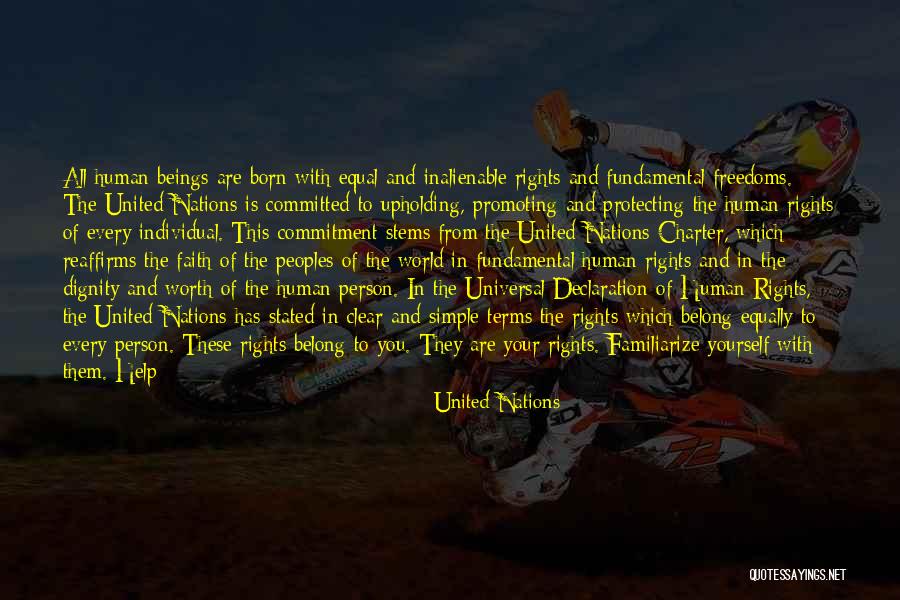 All human beings are born with equal and inalienable rights and fundamental freedoms. The United Nations is committed to upholding, promoting and protecting the human rights of every individual. This commitment stems from the United Nations Charter, which reaffirms the faith of the peoples of the world in fundamental human rights and in the dignity and worth of the human person. In the Universal Declaration of Human Rights, the United Nations has stated in clear and simple terms the rights which belong equally to every person. These rights belong to you. They are your rights. Familiarize yourself with them. Help to promote and defend them for yourself as well as for your fellow human beings. — United Nations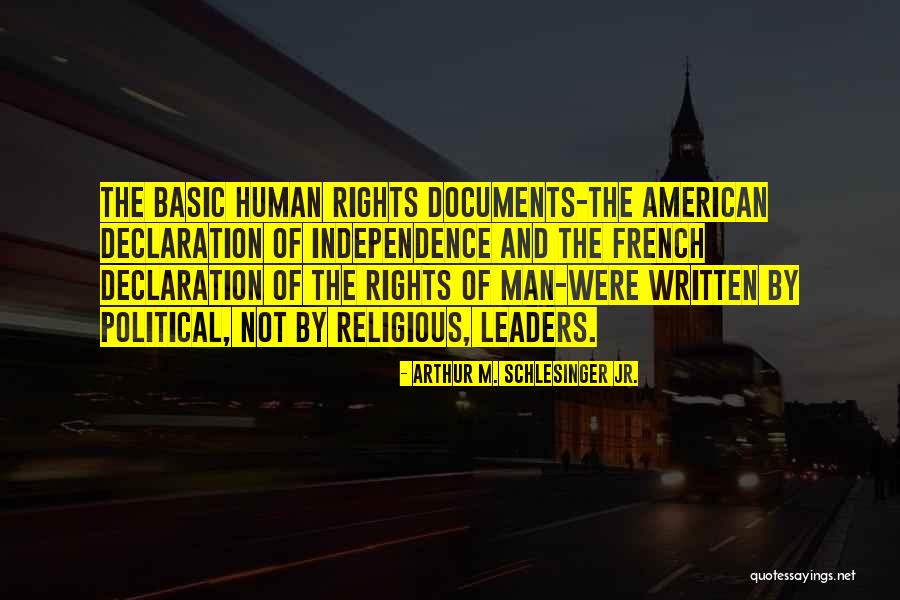 The basic human rights documents-the American Declaration of Independence and the French Declaration of the Rights of Man-were written by political, not by religious, leaders. — Arthur M. Schlesinger Jr.