Two Way Friendship Quotes & Sayings
Enjoy reading and share 29 famous quotes about Two Way Friendship with everyone.
Top Two Way Friendship Quotes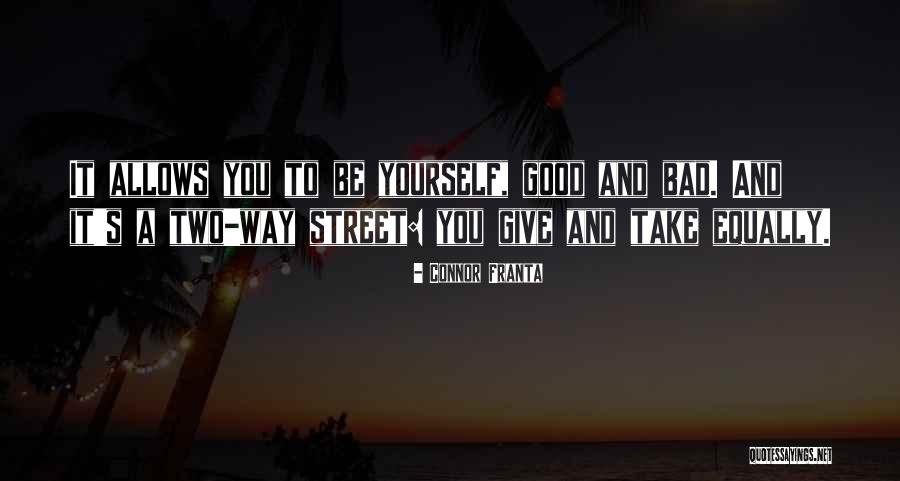 It allows you to be yourself, good and bad. And it's a two-way street: you give and take equally. — Connor Franta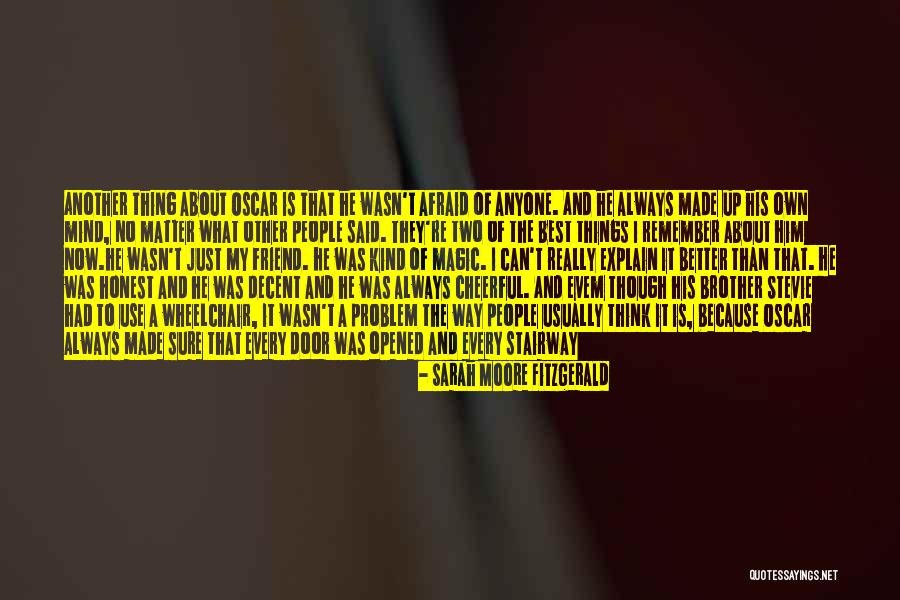 Another thing about Oscar is that he wasn't afraid of anyone. And he always made up his own mind, no matter what other people said. They're two of the best things I remember about him now.
He wasn't just my friend. He was kind of magic. I can't really explain it better than that. He was honest and he was decent and he was always cheerful. And evem though his brother Stevie had to use a wheelchair, it wasn't a problem the way people usually think it is, because Oscar always made sure that every door was opened and every stairway had a ramp, and every train station had the right access so he could get it. He used to say that if the world was designed properly, the whole population would be flying around the place in wheelchairs. And when he said that, Stevie used to laugh. — Sarah Moore Fitzgerald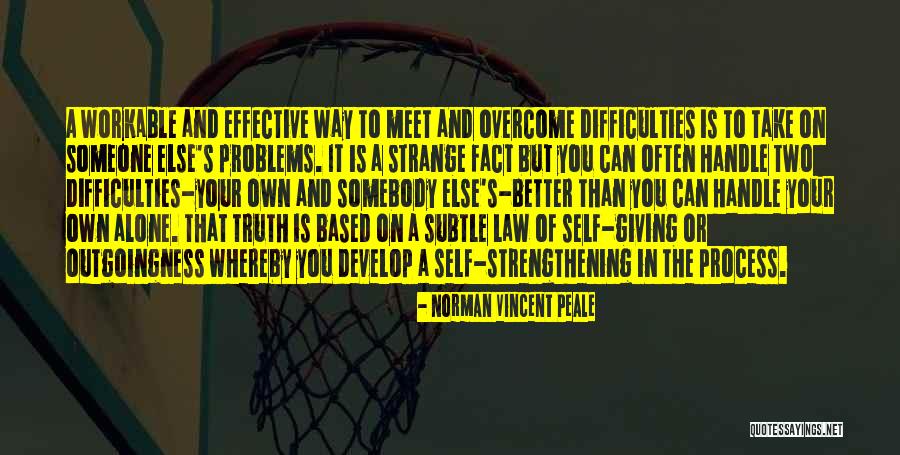 A workable and effective way to meet and overcome difficulties is to take on someone else's problems. It is a strange fact but you can often handle two difficulties-your own and somebody else's-better than you can handle your own alone. That truth is based on a subtle law of self-giving or outgoingness whereby you develop a self-strengthening in the process. — Norman Vincent Peale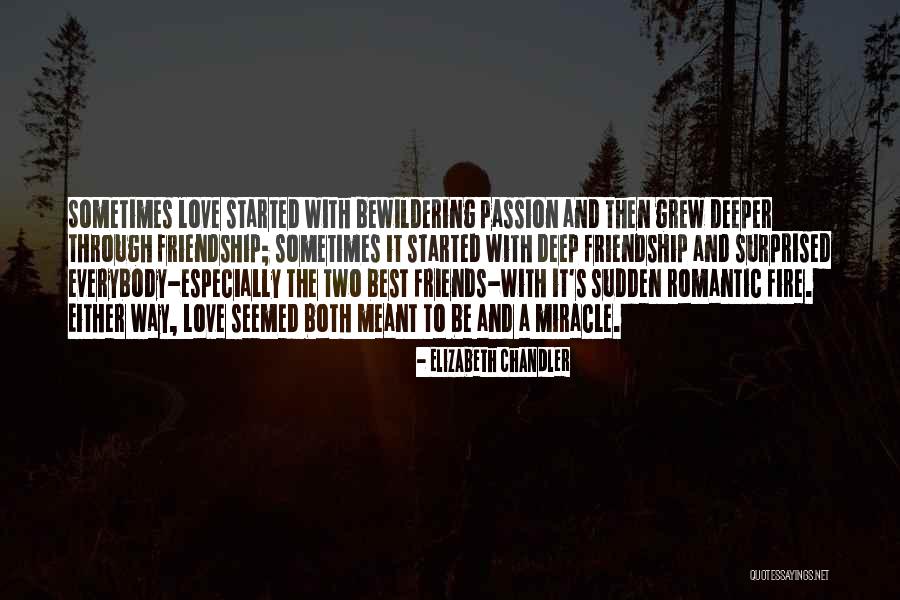 Sometimes love started with bewildering passion and then grew deeper through friendship; sometimes it started with deep friendship and surprised everybody-especially the two best friends-with it's sudden romantic fire. Either way, love seemed both meant to be and a miracle. — Elizabeth Chandler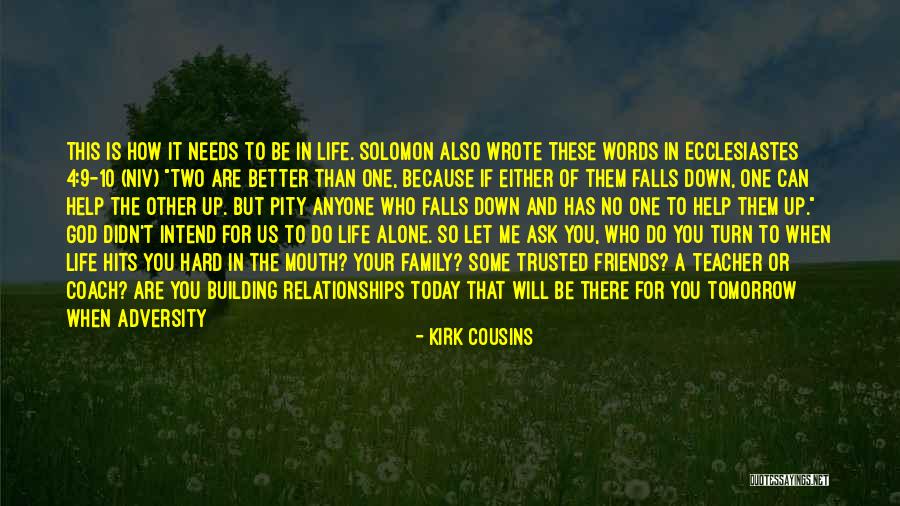 This is how it needs to be in life. Solomon also wrote these words in Ecclesiastes 4:9-10 (NIV) "Two are better than one, because if either of them falls down, one can help the other up. But pity anyone who falls down and has no one to help them up." God didn't intend for us to do life alone. So let me ask you, who do you turn to when life hits you hard in the mouth? Your family? Some trusted friends? A teacher or coach? Are you building relationships today that will be there for you tomorrow when adversity comes your way? Do you have humility to look to others for strength and encouragement, or are you holding to the foolish pride that says, "I need to make it alone"? — Kirk Cousins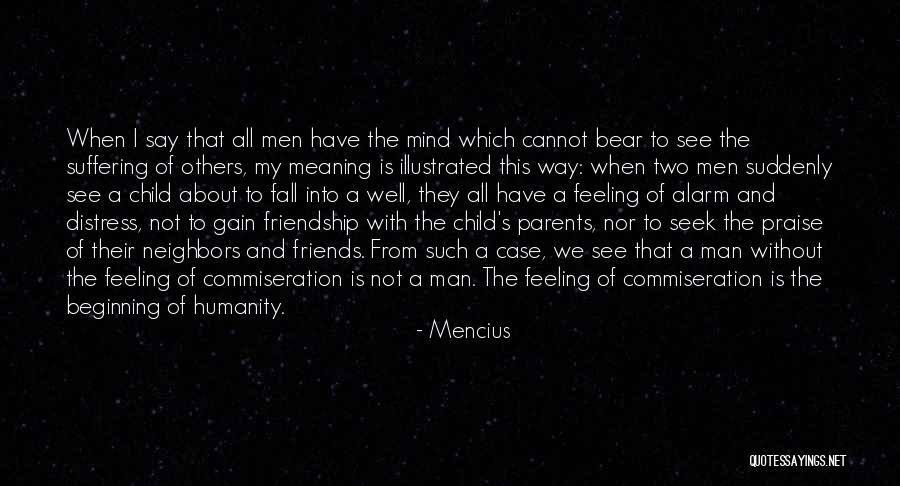 When I say that all men have the mind which cannot bear to see the suffering of others, my meaning is illustrated this way: when two men suddenly see a child about to fall into a well, they all have a feeling of alarm and distress, not to gain friendship with the child's parents, nor to seek the praise of their neighbors and friends. From such a case, we see that a man without the feeling of commiseration is not a man. The feeling of commiseration is the beginning of humanity. — Mencius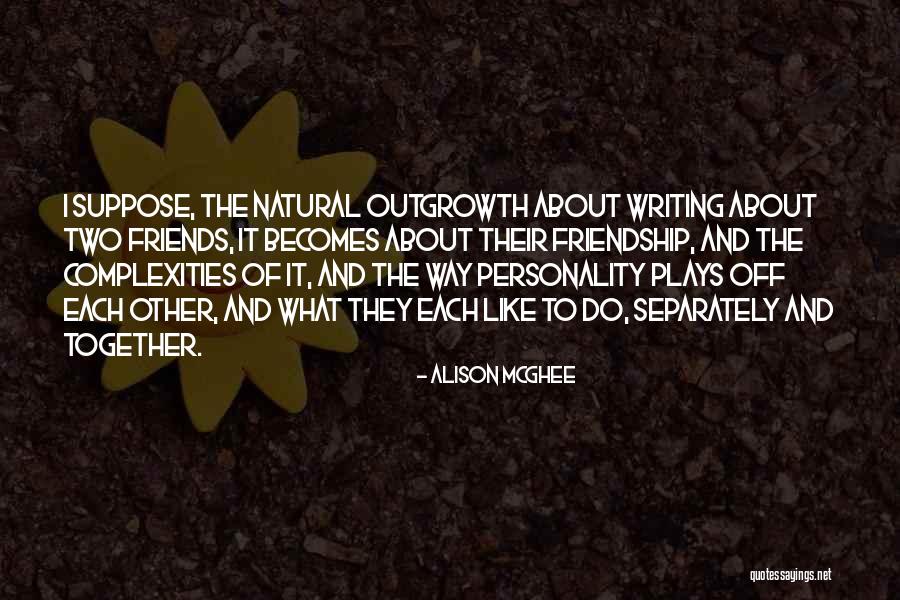 I suppose, the natural outgrowth about writing about two friends, it becomes about their friendship, and the complexities of it, and the way personality plays off each other, and what they each like to do, separately and together. — Alison McGhee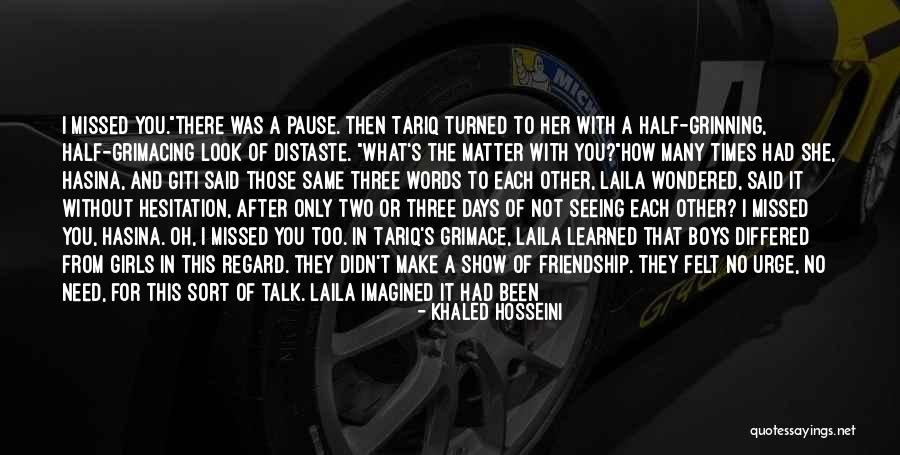 I missed you."
There was a pause. Then Tariq turned to her with a half-grinning, half-grimacing look of distaste. "What's the matter with you?"
How many times had she, Hasina, and Giti said those same three words to each other, Laila wondered, said it without hesitation, after only two or three days of not seeing each other? I missed you, Hasina. Oh, I missed you too. In Tariq's grimace, Laila learned that boys differed from girls in this regard. They didn't make a show of friendship. They felt no urge, no need, for this sort of talk. Laila imagined it had been this way for her brothers too. Boys, Laila came to see, treated friendship the way they treated the sun: its existence undisputed; its radiance best enjoyed, not beheld directly.
"I was trying to annoy you," she said.
He gave her a sidelong glance. "It worked."
But she thought his grimace softened. And she thought that maybe the sunburn on his cheeks deepened momentarily. — Khaled Hosseini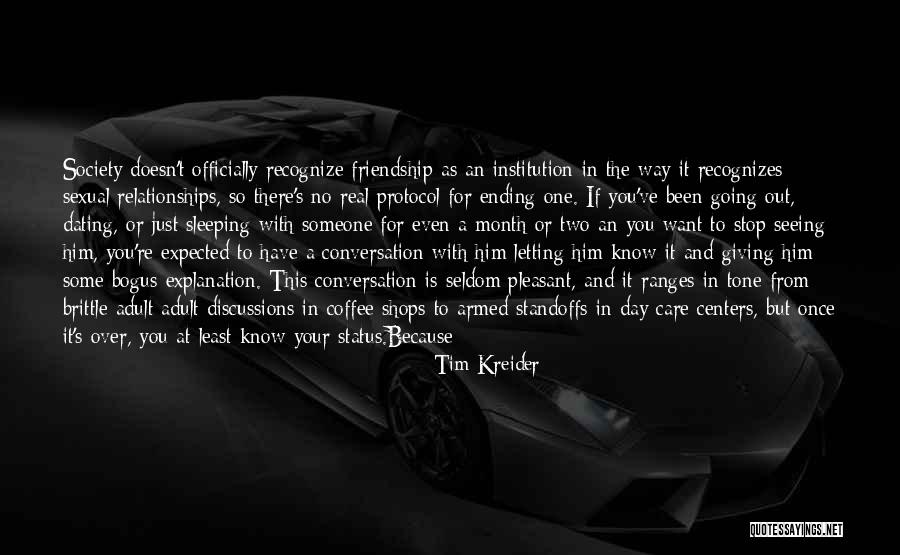 Society doesn't officially recognize friendship as an institution in the way it recognizes sexual relationships, so there's no real protocol for ending one. If you've been going out, dating, or just sleeping with someone for even a month or two an you want to stop seeing him, you're expected to have a conversation with him letting him know it and giving him some bogus explanation. This conversation is seldom pleasant, and it ranges in tone from brittle adult adult discussions in coffee shops to armed standoffs in day care centers, but once it's over, you at least know your status.

Because there's no formal etiquette for ending a friendship, most people do it in the laziest, most passive and painless way possible, by unilaterally dropping any effort to sustain it and letting the other person figure it out for themselves. — Tim Kreider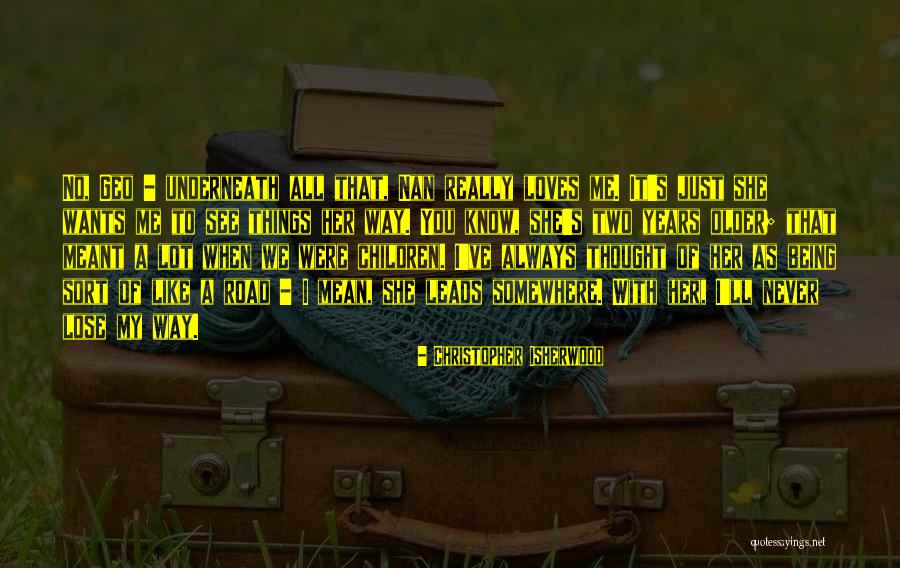 No, Geo - underneath all that, Nan really loves me. It's just she wants me to see things her way. You know, she's two years older; that meant a lot when we were children. I've always thought of her as being sort of like a road - I mean, she leads somewhere. With her, I'll never lose my way. — Christopher Isherwood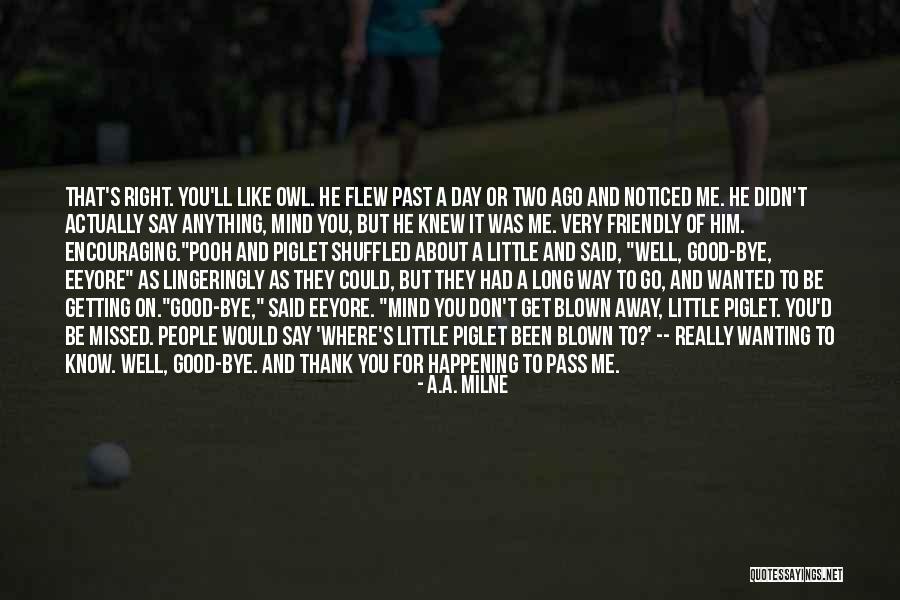 That's right. You'll like Owl. He flew past a day or two ago and noticed me. He didn't actually say anything, mind you, but he knew it was me. Very friendly of him. Encouraging."

Pooh and Piglet shuffled about a little and said, "Well, good-bye, Eeyore" as lingeringly as they could, but they had a long way to go, and wanted to be getting on.

"Good-bye," said Eeyore. "Mind you don't get blown away, little Piglet. You'd be missed. People would say 'Where's little Piglet been blown to?' -- really wanting to know. Well, good-bye. And thank you for happening to pass me. — A.A. Milne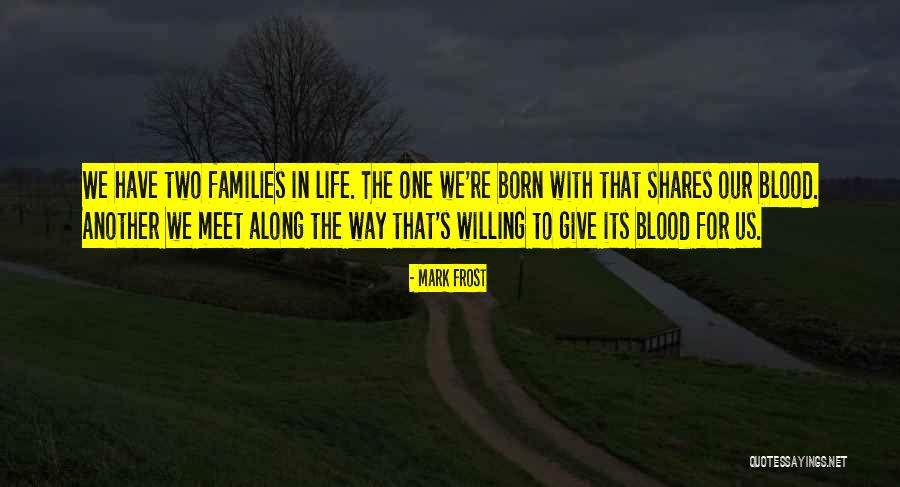 We have two families in life. The one we're born with that shares our blood. Another we meet along the way that's willing to give its blood for us. — Mark Frost
I have always believed I cd diagnose this state of being in love, which they regard as most particular, as inspired by item, one pair of black eyes or indifferent blue, item, one graceful attitude of body or mind, item, one female history of some twenty-two years from, shall we say, 1821-1844
I have always believed this in love to be something of the most abstract masking itself under the particular forms of both lover and beloved. And Poet, who assumes and informs both. I wd have told you
no, I do tell you
friendship is rarer, more idiosyncratic, more individual and in every way more durable than this Love. — A.S. Byatt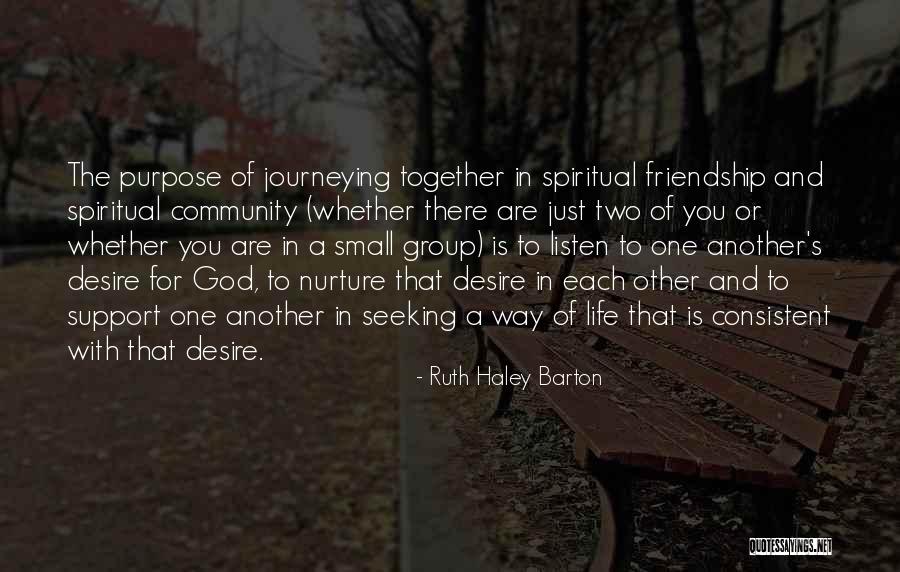 The purpose of journeying together in spiritual friendship and spiritual community (whether there are just two of you or whether you are in a small group) is to listen to one another's desire for God, to nurture that desire in each other and to support one another in seeking a way of life that is consistent with that desire. — Ruth Haley Barton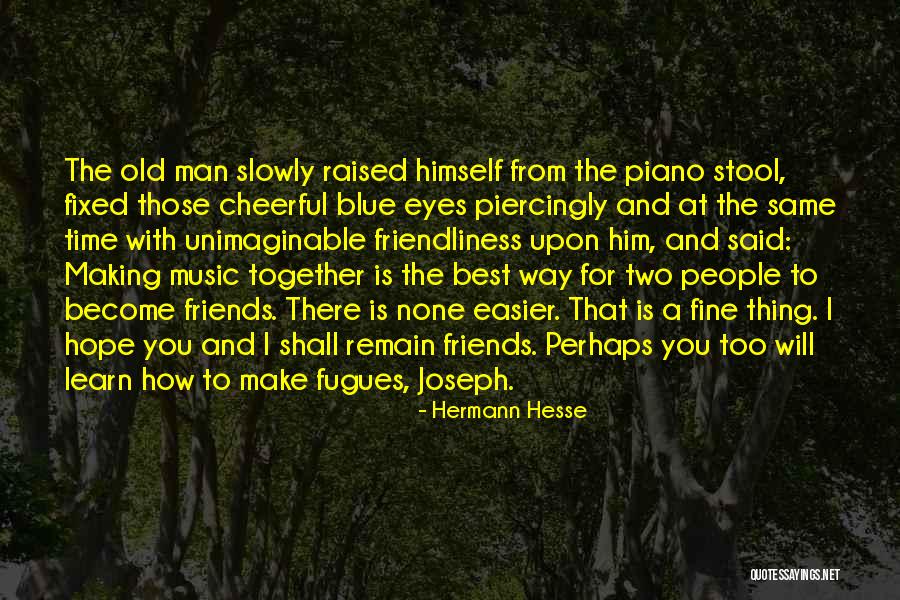 The old man slowly raised himself from the piano stool, fixed those cheerful blue eyes piercingly and at the same time with unimaginable friendliness upon him, and said: Making music together is the best way for two people to become friends. There is none easier. That is a fine thing. I hope you and I shall remain friends. Perhaps you too will learn how to make fugues, Joseph. — Hermann Hesse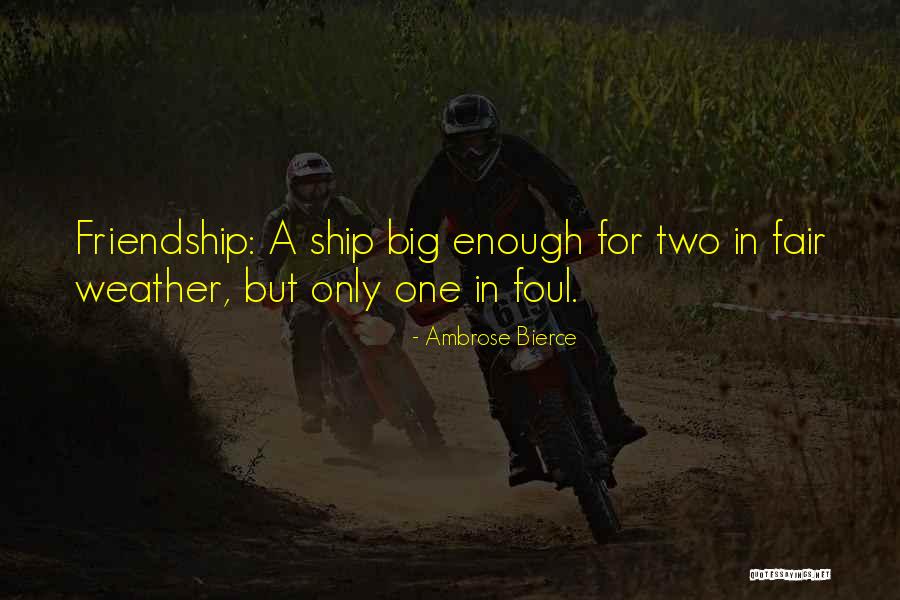 Friendship: A ship big enough for two in fair weather, but only one in foul. — Ambrose Bierce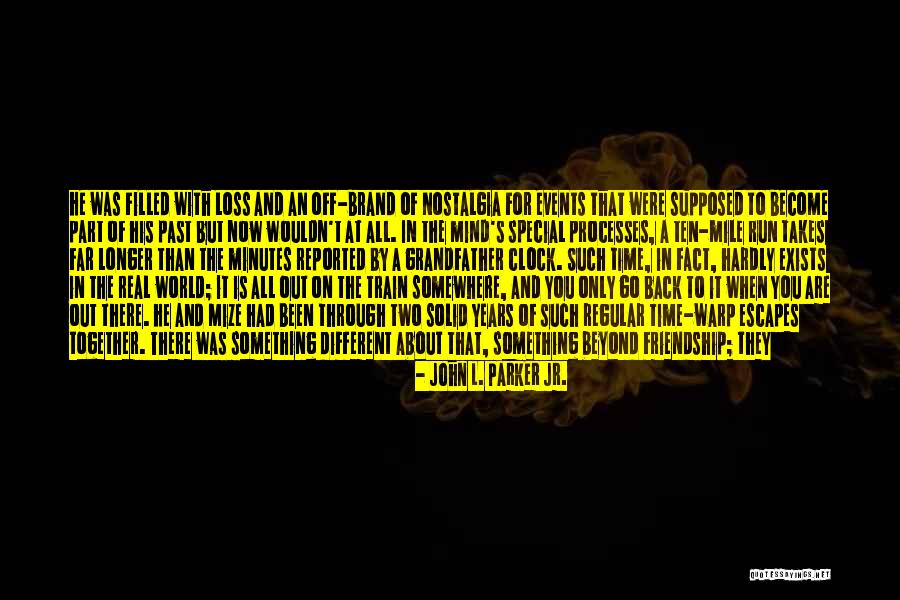 He was filled with loss and an off-brand of nostalgia for events that were supposed to become part of his past but now wouldn't at all. In the mind's special processes, a ten-mile run takes far longer than the minutes reported by a grandfather clock. Such time, in fact, hardly exists in the real world; it is all out on the train somewhere, and you only go back to it when you are out there. He and Mize had been through two solid years of such regular time-warp escapes together. There was something different about that, something beyond friendship; they had a way of transferring pain back and forth, without the banality of words. — John L. Parker Jr.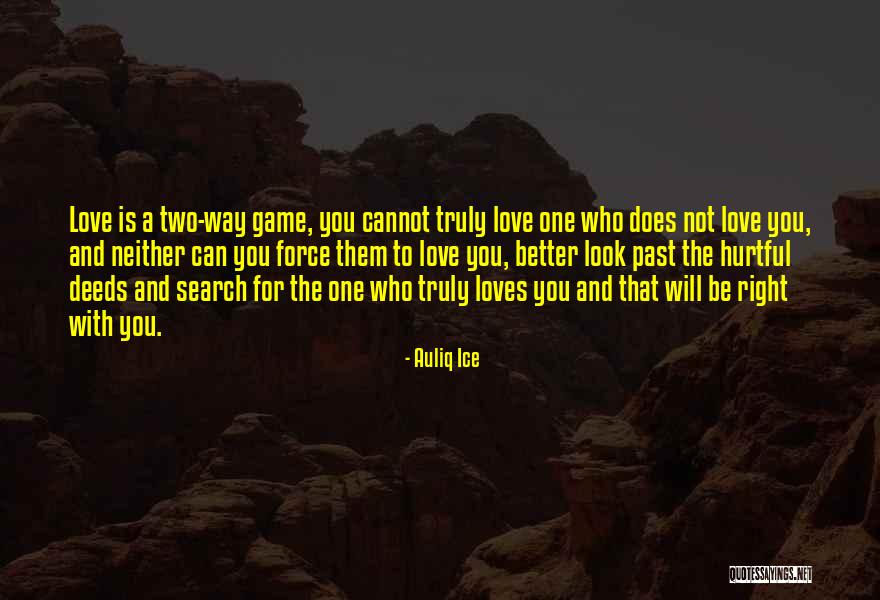 Love is a two-way game, you cannot truly love one who does not love you, and neither can you force them to love you, better look past the hurtful deeds and search for the one who truly loves you and that will be right with you. — Auliq Ice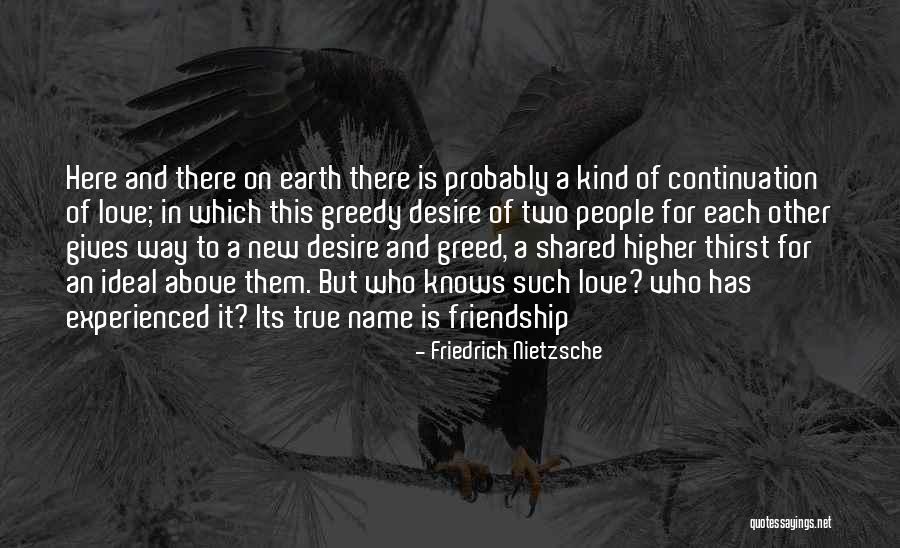 Here and there on earth there is probably a kind of continuation of love; in which this greedy desire of two people for each other gives way to a new desire and greed, a shared higher thirst for an ideal above them.
But who knows such love? who has experienced it?
Its true name is friendship — Friedrich Nietzsche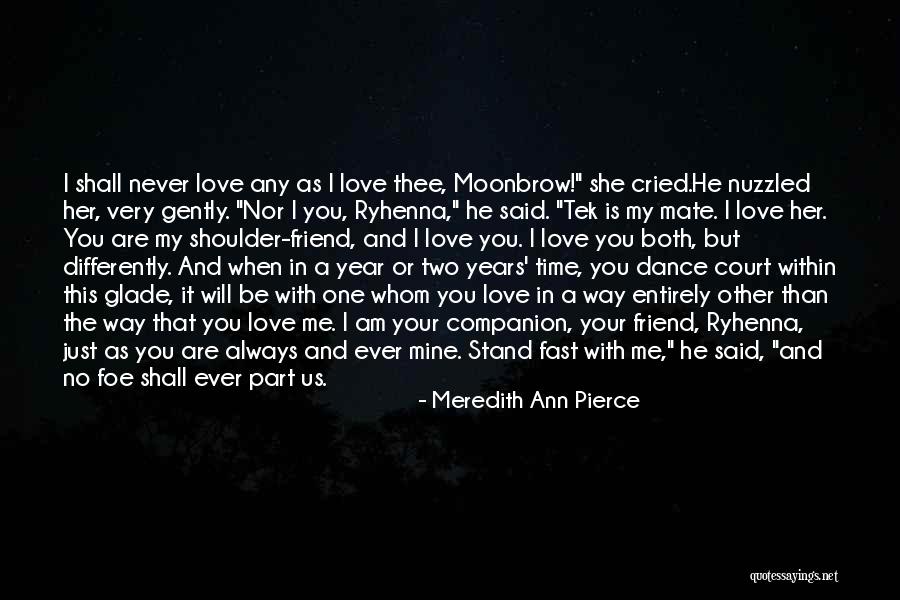 I shall never love any as I love thee, Moonbrow!" she cried.
He nuzzled her, very gently. "Nor I you, Ryhenna," he said. "Tek is my mate. I love her. You are my shoulder-friend, and I love you. I love you both, but differently. And when in a year or two years' time, you dance court within this glade, it will be with one whom you love in a way entirely other than the way that you love me. I am your companion, your friend, Ryhenna, just as you are always and ever mine. Stand fast with me," he said, "and no foe shall ever part us. — Meredith Ann Pierce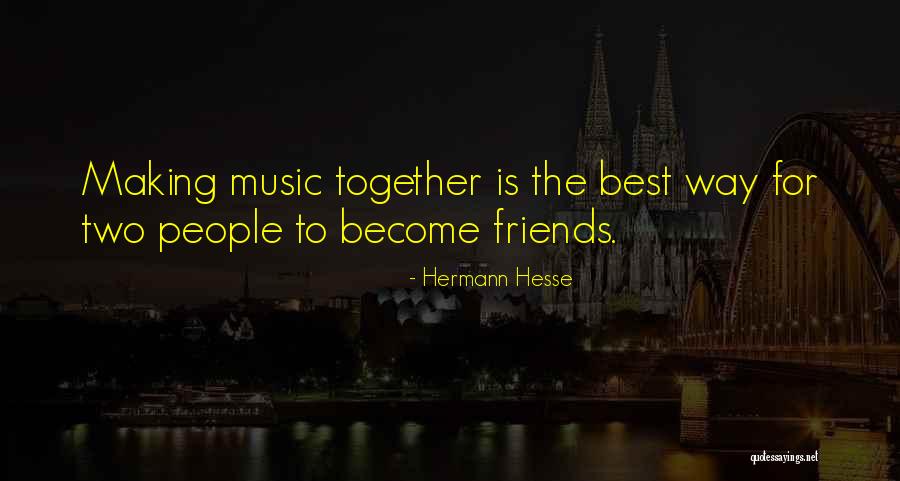 Making music together is the best way for two people to become friends. — Hermann Hesse
Everyone lives in two worlds," Maggie said, speaking in an absentminded sort of way while she studied her letters. "There's the real world, with all its annoying facts and rules. In the real world, there are things that are true and things that aren't. Mostly the real world s-s-s-suh-sucks. But everyone also lives in the world inside their own head. An inscape, a world of thought. In a world made of thought - in an inscape - every idea is a fact. Emotions are as real as gravity. Dreams are as powerful as history. Creative people, like writers, and Henry Rollins, spend a lot of their time hanging out in their thoughtworld. S-s-strong creatives, though, can use a knife to cut the stitches between the two worlds, can bring them together. Your bike. My tiles. Those are our knives. — Joe Hill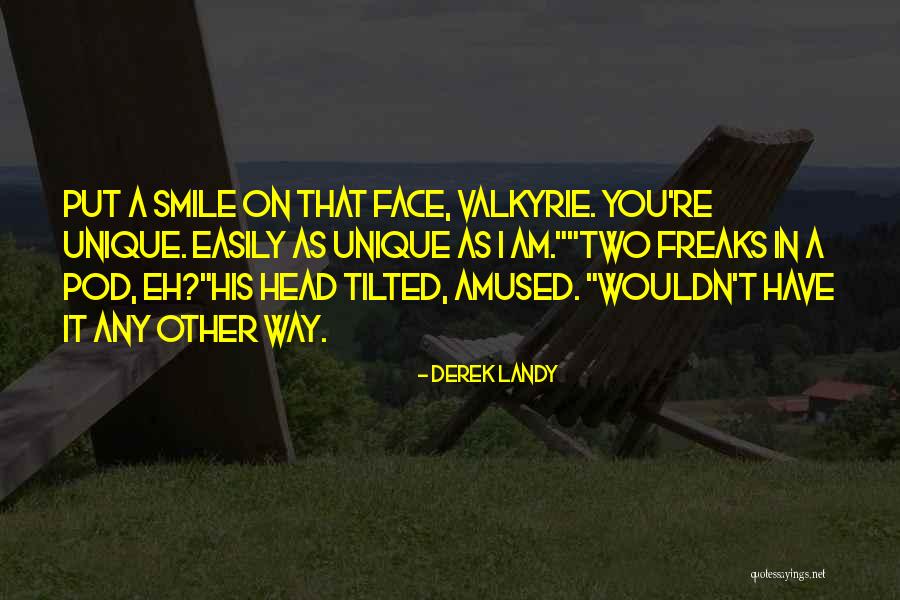 Put a smile on that face, Valkyrie. You're unique. Easily as unique as I am."
"Two freaks in a pod, eh?"
His head tilted, amused. "Wouldn't have it any other way. — Derek Landy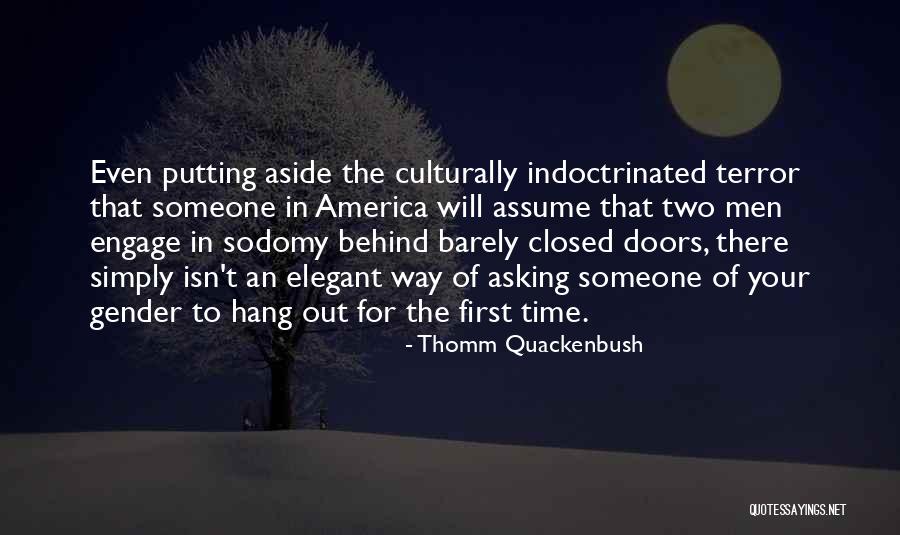 Even putting aside the culturally indoctrinated terror that someone in America will assume that two men engage in sodomy behind barely closed doors, there simply isn't an elegant way of asking someone of your gender to hang out for the first time. — Thomm Quackenbush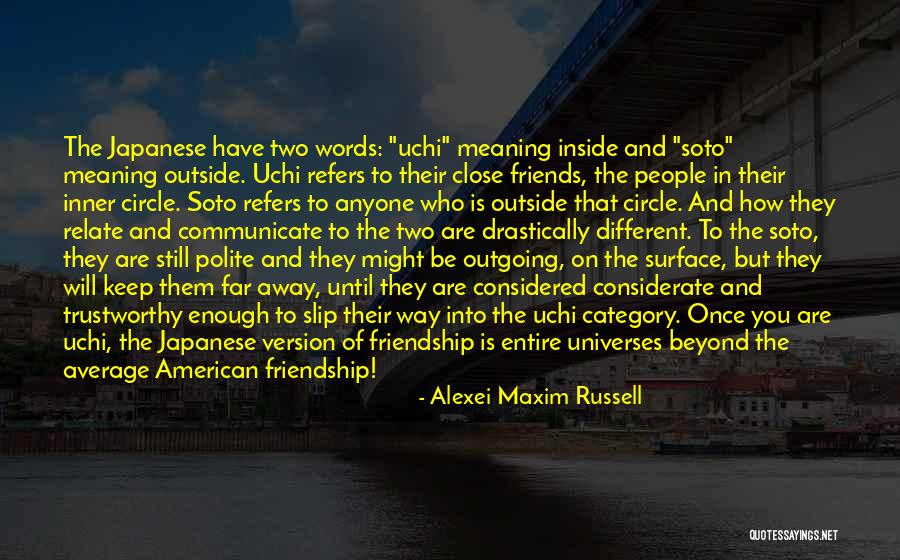 The Japanese have two words: "uchi" meaning inside and "soto" meaning outside. Uchi refers to their close friends, the people in their inner circle. Soto refers to anyone who is outside that circle. And how they relate and communicate to the two are drastically different. To the soto, they are still polite and they might be outgoing, on the surface, but they will keep them far away, until they are considered considerate and trustworthy enough to slip their way into the uchi category. Once you are uchi, the Japanese version of friendship is entire universes beyond the average American friendship! Uchi friends are for life. Uchi friends represent a sacred duty. A Japanese friend, who has become an uchi friend, is the one who will come to your aid, in your time of need, when all your western "friends" have turned their back and walked away. — Alexei Maxim Russell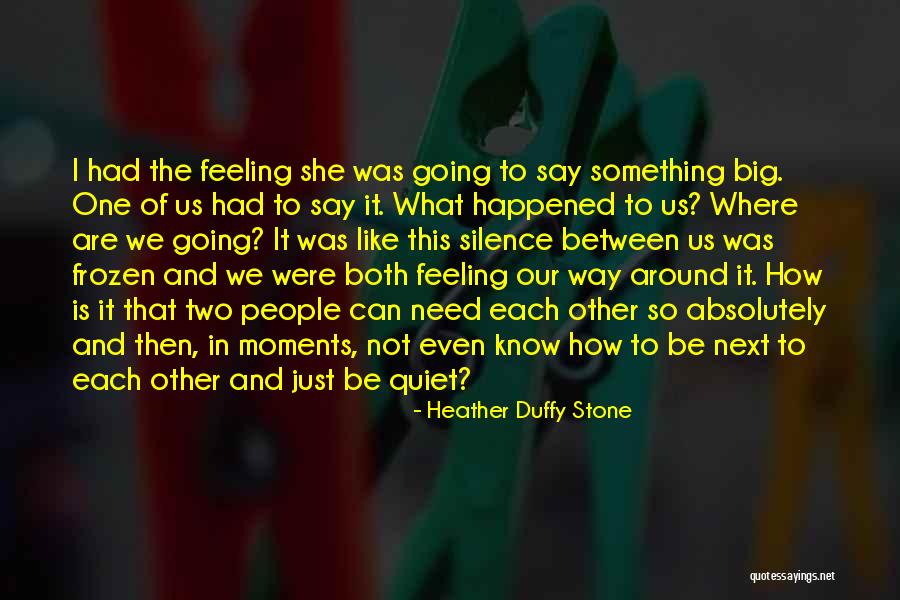 I had the feeling she was going to say something big. One of us had to say it. What happened to us? Where are we going? It was like this silence between us was frozen and we were both feeling our way around it. How is it that two people can need each other so absolutely and then, in moments, not even know how to be next to each other and just be quiet? — Heather Duffy Stone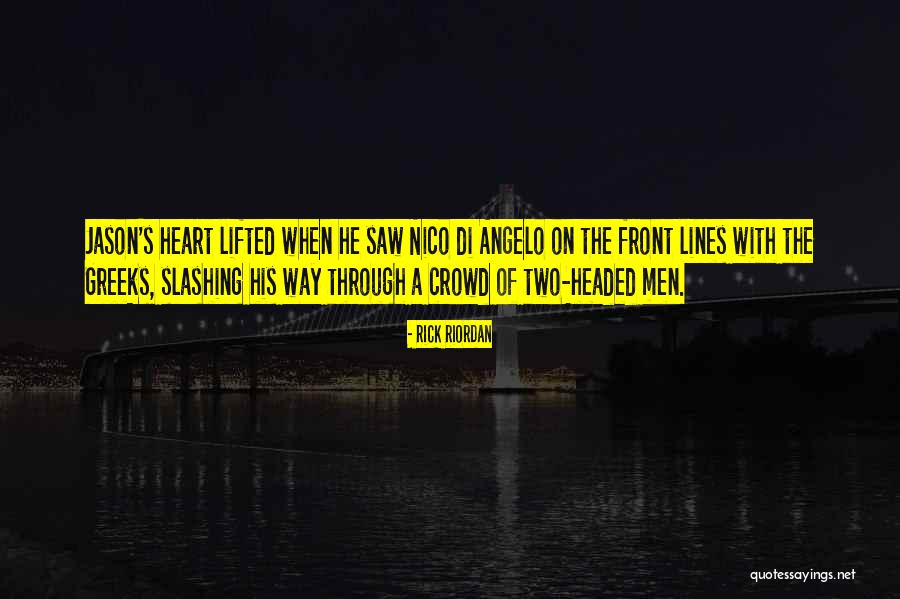 Jason's heart lifted when he saw Nico di Angelo on the front lines with the Greeks, slashing his way through a crowd of two-headed men. — Rick Riordan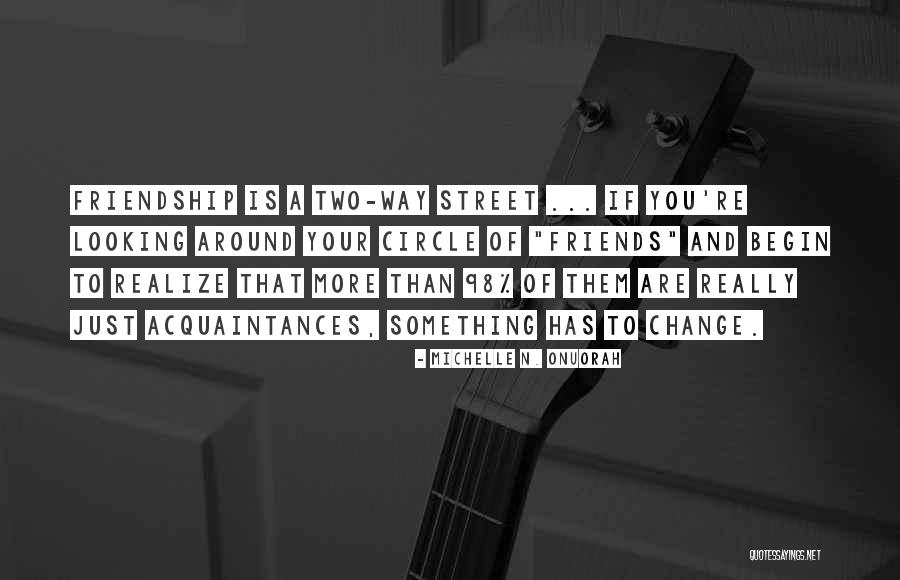 Friendship is a two-way street ... if you're looking around your circle of "friends" and begin to realize that more than 98% of them are really just acquaintances, something has to change. — Michelle N. Onuorah