True Love Is Worth It Quotes & Sayings
Enjoy reading and share 36 famous quotes about True Love Is Worth It with everyone.
Top True Love Is Worth It Quotes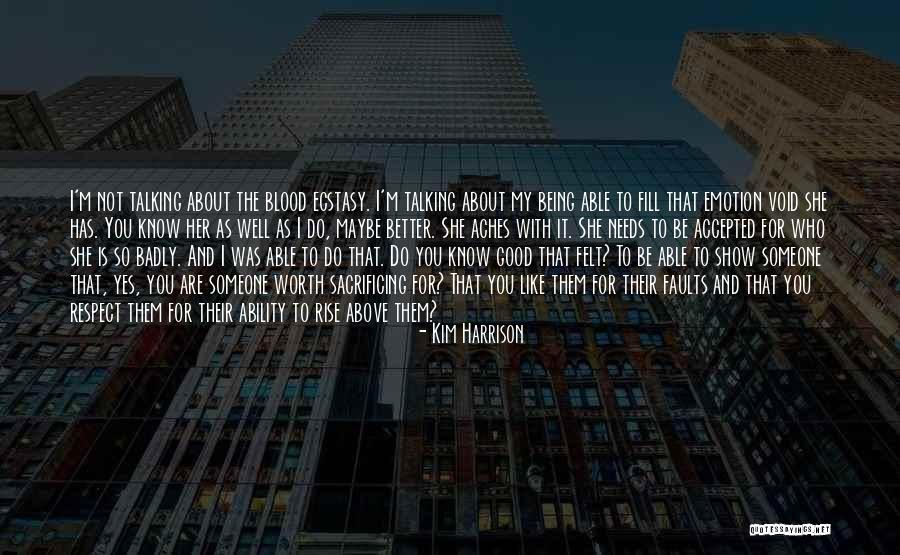 I'm not talking about the blood ecstasy. I'm talking about my being able to fill that emotion void she has. You know her as well as I do, maybe better. She aches with it. She needs to be accepted for who she is so badly. And I was able to do that. Do you know good that felt? To be able to show someone that, yes, you are someone worth sacrificing for? That you like them for their faults and that you respect them for their ability to rise above them? — Kim Harrison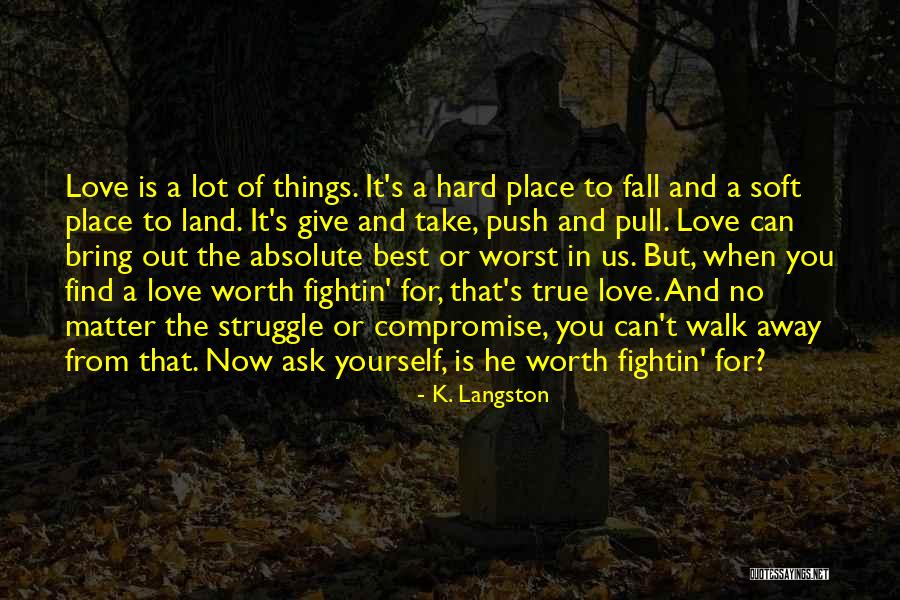 Love is a lot of things. It's a hard place to fall and a soft place to land. It's give and take, push and pull. Love can bring out the absolute best or worst in us. But, when you find a love worth fightin' for, that's true love. And no matter the struggle or compromise, you can't walk away from that. Now ask yourself, is he worth fightin' for? — K. Langston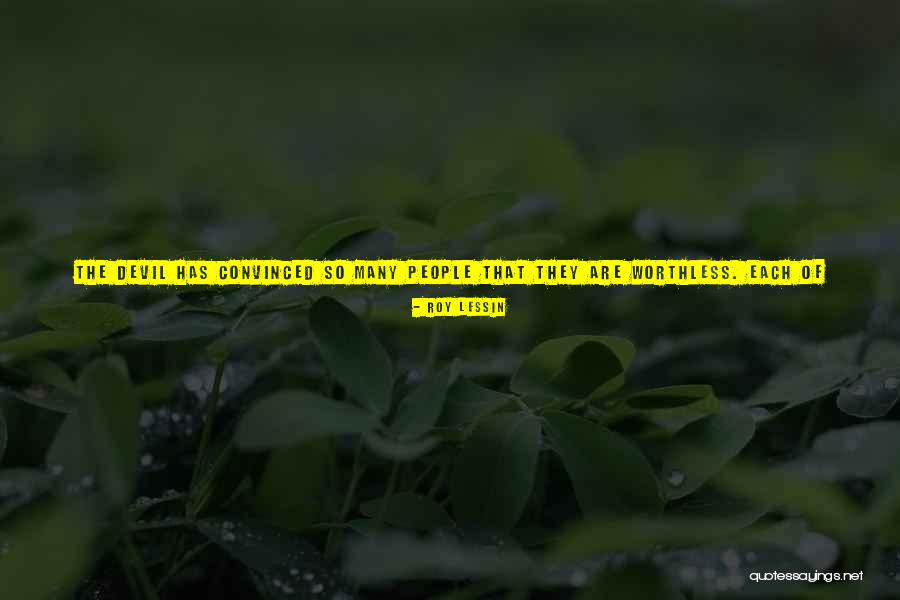 The devil has convinced so many people that they are worthless. Each of us needs to stop and remember the cross-at the cross we will discover our true value-for it is here that we discover the price God was willing to pay for us, the depth of His love, and how much we are worth to Him. — Roy Lessin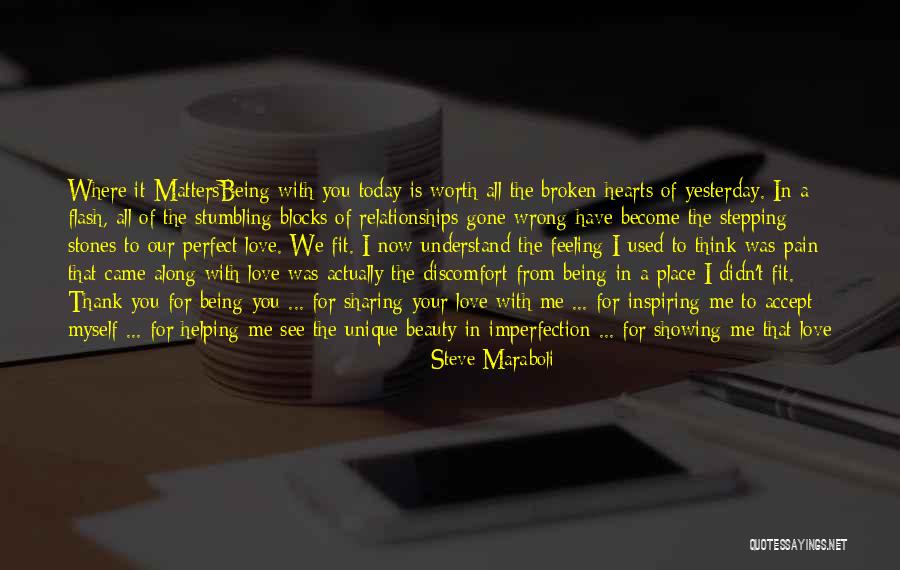 Where it Matters
Being with you today is worth all the broken hearts of yesterday. In a flash, all of the stumbling blocks of relationships gone wrong have become the stepping stones to our perfect love.
We fit. I now understand the feeling I used to think was pain that came along with love was actually the discomfort from being in a place I didn't fit.
Thank you for being you ... for sharing your love with me ... for inspiring me to accept myself ... for helping me see the unique beauty in imperfection ... for showing me that love is something you do; something not just to be said, but also to be shown.
I am not perfect; neither are you. I love that!
Our love is perfect. And even though we may not be, our love creates a bridge that spans over our imperfections and joins us where it matters.
I love you! — Steve Maraboli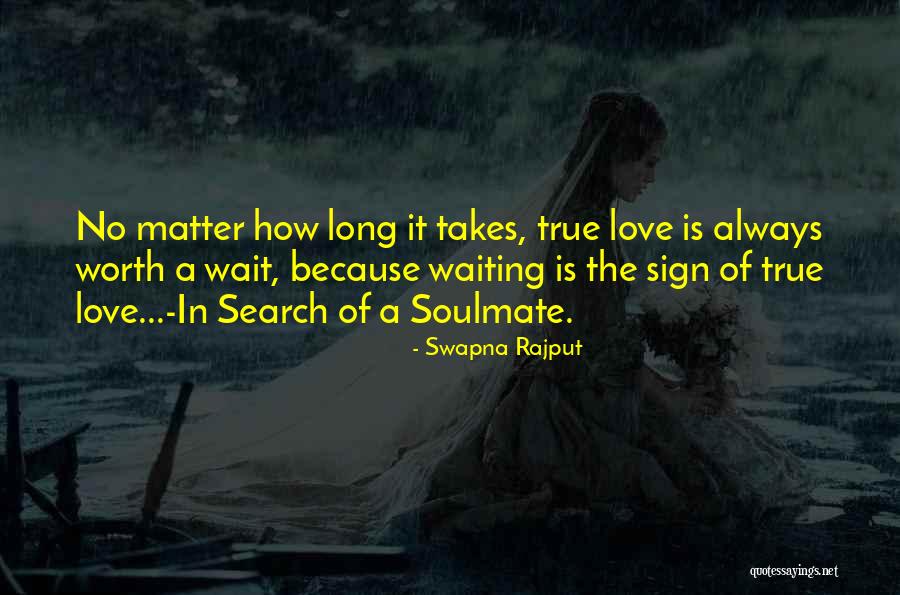 No matter how long it takes, true love is always worth a wait, because waiting is the sign of true love...
-In Search of a Soulmate. — Swapna Rajput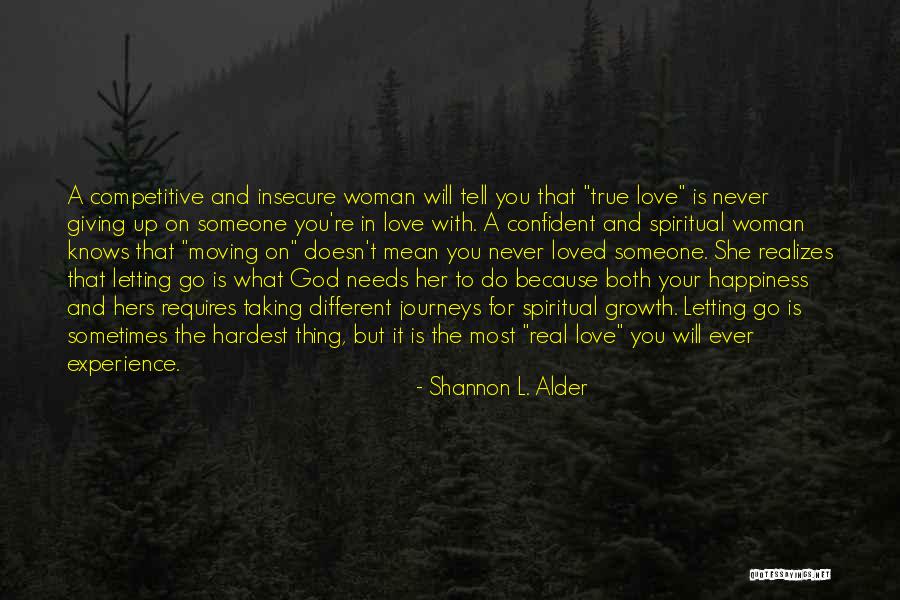 A competitive and insecure woman will tell you that "true love" is never giving up on someone you're in love with. A confident and spiritual woman knows that "moving on" doesn't mean you never loved someone. She realizes that letting go is what God needs her to do because both your happiness and hers requires taking different journeys for spiritual growth. Letting go is sometimes the hardest thing, but it is the most "real love" you will ever experience. — Shannon L. Alder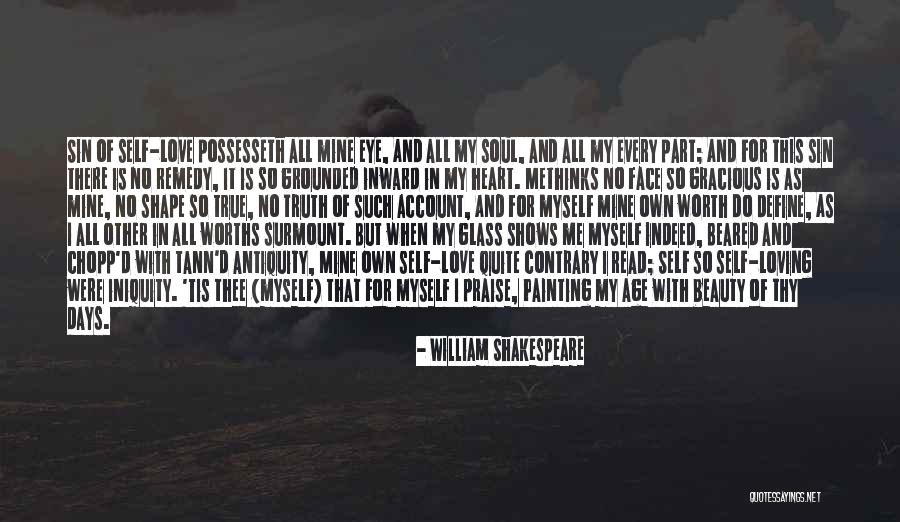 Sin of self-love possesseth all mine eye,
And all my soul, and all my every part;
And for this sin there is no remedy,
It is so grounded inward in my heart.
Methinks no face so gracious is as mine,
No shape so true, no truth of such account,
And for myself mine own worth do define,
As I all other in all worths surmount.
But when my glass shows me myself indeed,
Beared and chopp'd with tann'd antiquity,
Mine own self-love quite contrary I read;
Self so self-loving were iniquity.
'Tis thee (myself) that for myself I praise,
Painting my age with beauty of thy days. — William Shakespeare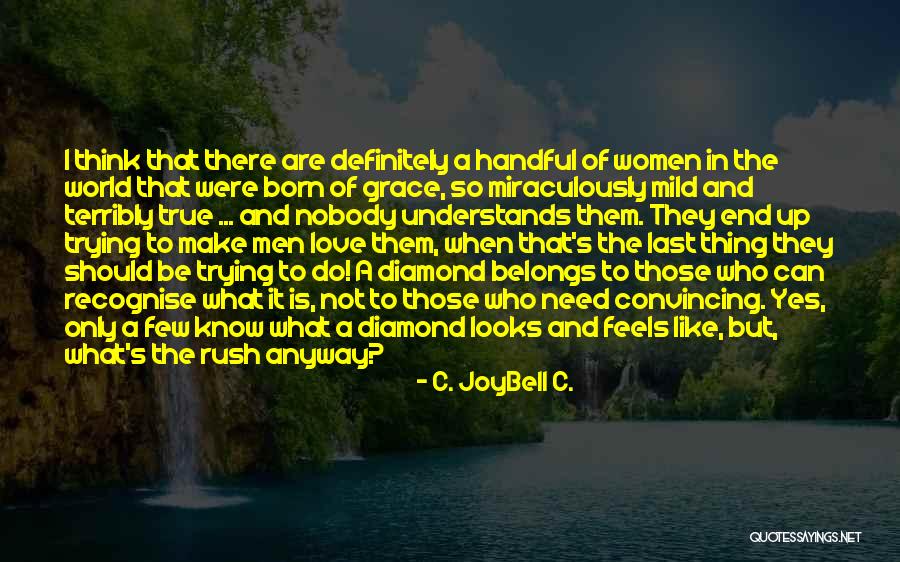 I think that there are definitely a handful of women in the world that were born of grace, so miraculously mild and terribly true ... and nobody understands them. They end up trying to make men love them, when that's the last thing they should be trying to do! A diamond belongs to those who can recognise what it is, not to those who need convincing. Yes, only a few know what a diamond looks and feels like, but, what's the rush anyway? — C. JoyBell C.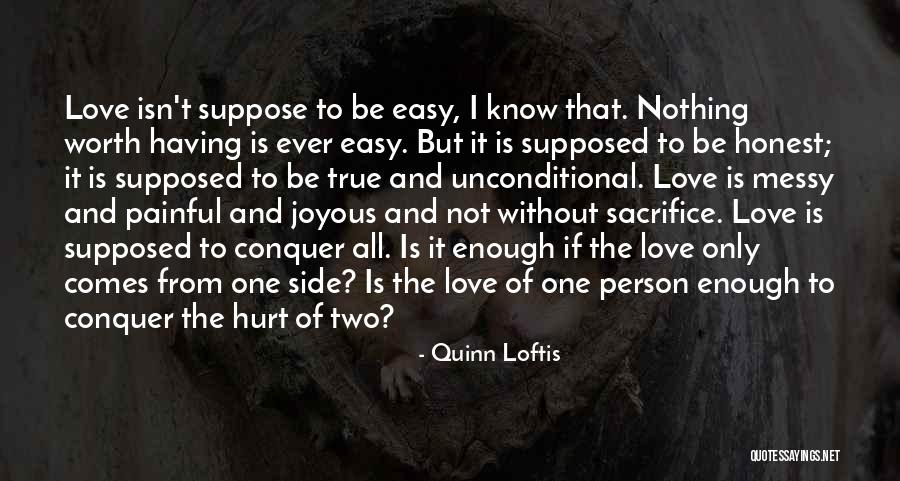 Love isn't suppose to be easy, I know that. Nothing worth having is ever easy. But it is supposed to be honest; it is supposed to be true and unconditional. Love is messy and painful and joyous and not without sacrifice. Love is supposed to conquer all. Is it enough if the love only comes from one side? Is the love of one person enough to conquer the hurt of two? — Quinn Loftis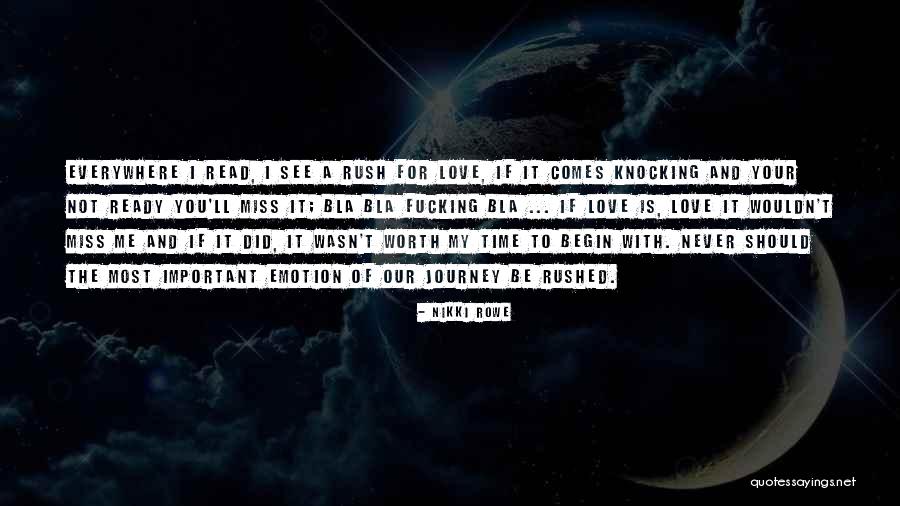 Everywhere I read, I see a rush for love, if it comes knocking and your not ready you'll miss it; bla bla fucking bla ... If love is, LOVE it wouldn't miss me and if it did, it wasn't worth my time to begin with. Never should the most important emotion of our journey be rushed. — Nikki Rowe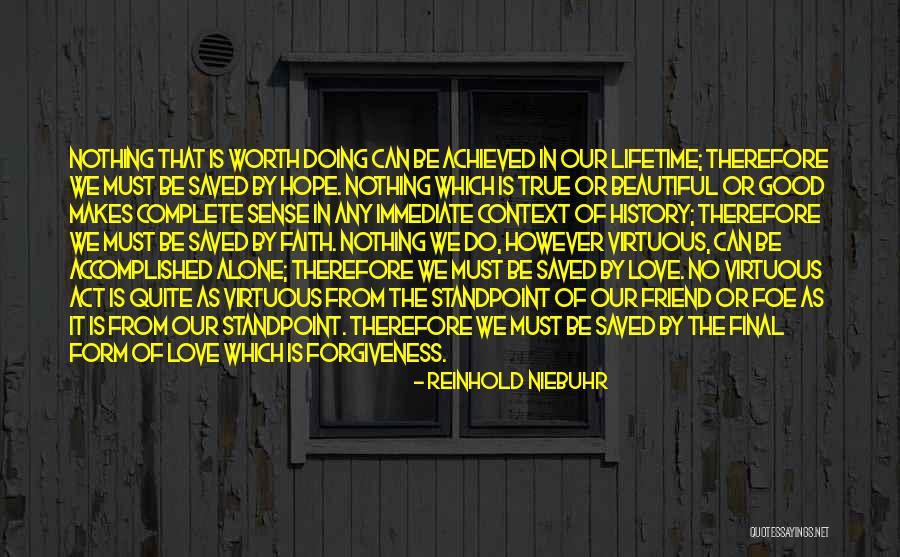 Nothing that is worth doing can be achieved in our lifetime; therefore we must be saved by hope.
Nothing which is true or beautiful or good makes complete sense in any immediate context of history; therefore we must be saved by faith.
Nothing we do, however virtuous, can be accomplished alone; therefore we must be saved by love.
No virtuous act is quite as virtuous from the standpoint of our friend or foe as it is from our standpoint. Therefore we must be saved by the final form of love which is forgiveness. — Reinhold Niebuhr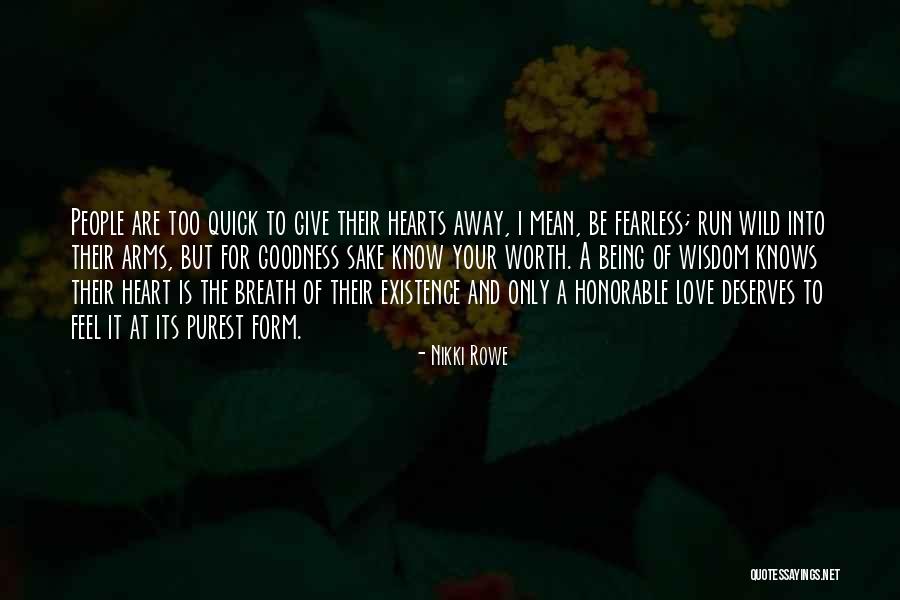 People are too quick to give their hearts away, i mean, be fearless; run wild into their arms, but for goodness sake know your worth. A being of wisdom knows their heart is the breath of their existence and only a honorable love deserves to feel it at its purest form. — Nikki Rowe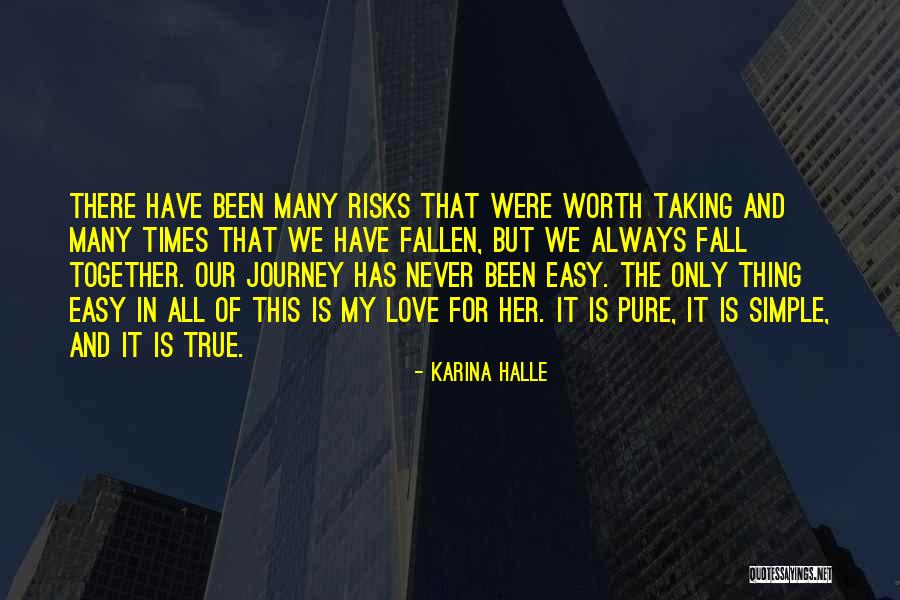 There have been many risks that were worth taking and many times that we have fallen, but we always fall together. Our journey has never been easy. The only thing easy in all of this is my love for her. It is pure, it is simple, and it is true. — Karina Halle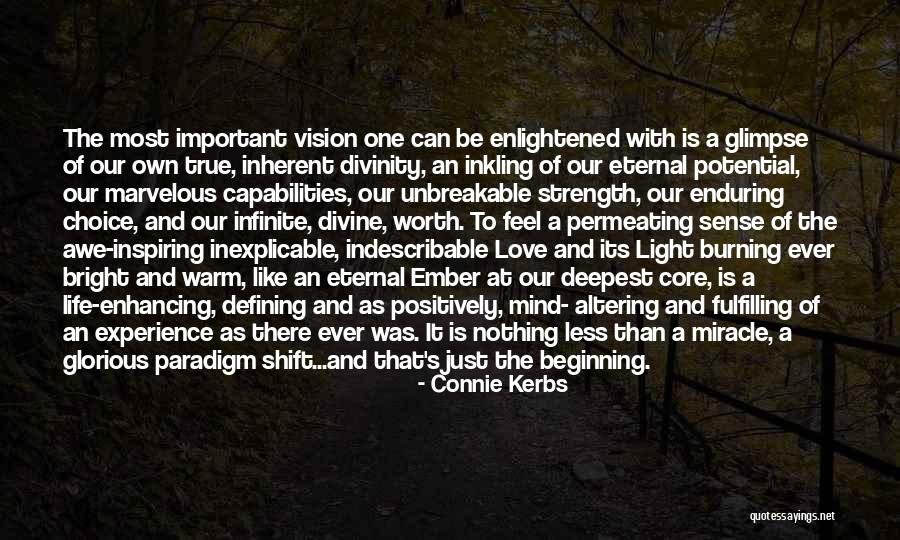 The most important vision one can be enlightened with is a glimpse of our own true, inherent divinity, an inkling of our eternal potential, our marvelous capabilities, our unbreakable strength, our enduring choice, and our infinite, divine, worth. To feel a permeating sense of the awe-inspiring inexplicable, indescribable Love and its Light burning ever bright and warm, like an eternal Ember at our deepest core, is a life-enhancing, defining and as positively, mind- altering and fulfilling of an experience as there ever was. It is nothing less than a miracle, a glorious paradigm shift...and that's just the beginning. — Connie Kerbs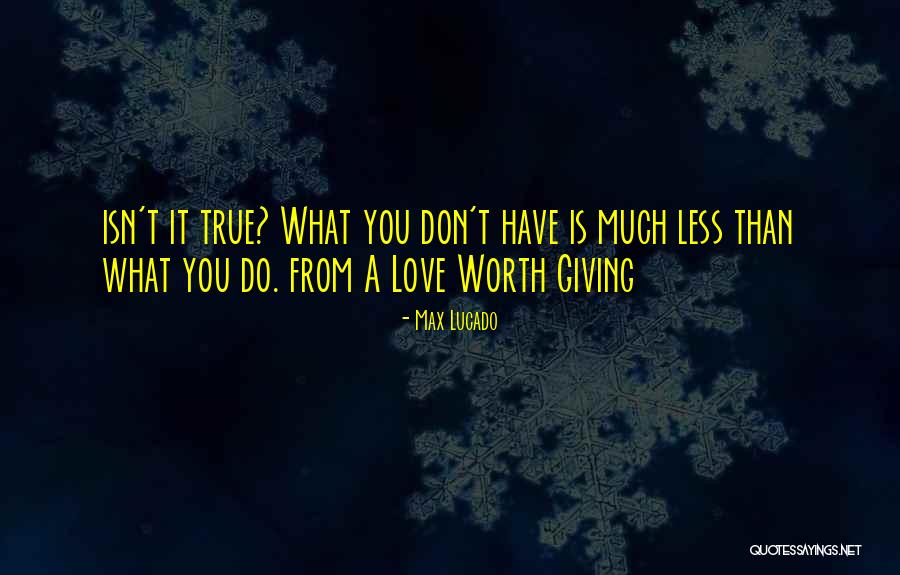 isn't it true? What you don't have is much less than what you do. from A Love Worth Giving — Max Lucado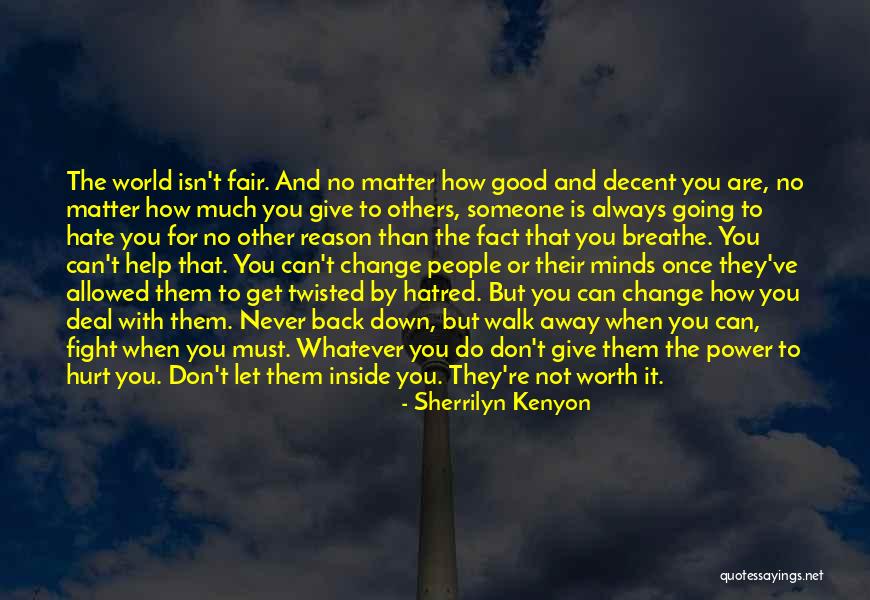 The world isn't fair. And no matter how good and decent you are, no matter how much you give to others, someone is always going to hate you for no other reason than the fact that you breathe. You can't help that. You can't change people or their minds once they've allowed them to get twisted by hatred. But you can change how you deal with them. Never back down, but walk away when you can, fight when you must. Whatever you do don't give them the power to hurt you. Don't let them inside you. They're not worth it. Live your life for yourself. Stay true to yourself and if they can't see the beauty that is you, it's their loss. Let the bitterness take them to their graves. Spend your time on what matters most. Being you and appreciating the people who see you for who and what you are. The people who love you, and the ones that you love. They are all that matter. Let the rest go to hell. - Drux Cruel — Sherrilyn Kenyon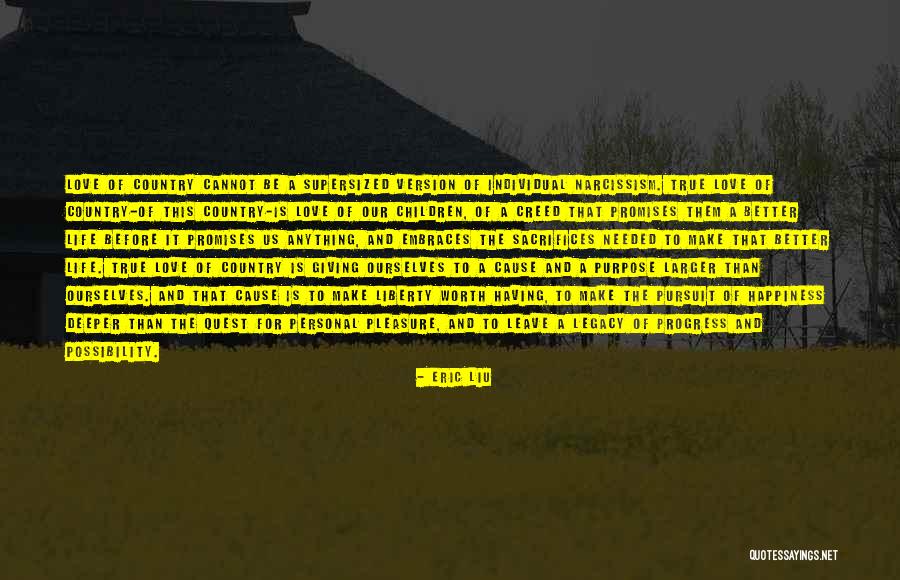 Love of country cannot be a supersized version of individual narcissism. True love of country-of this country-is love of our children, of a creed that promises them a better life before it promises us anything, and embraces the sacrifices needed to make that better life. True love of country is giving ourselves to a cause and a purpose larger than ourselves. And that cause is to make liberty worth having, to make the pursuit of happiness deeper than the quest for personal pleasure, and to leave a legacy of progress and possibility. — Eric Liu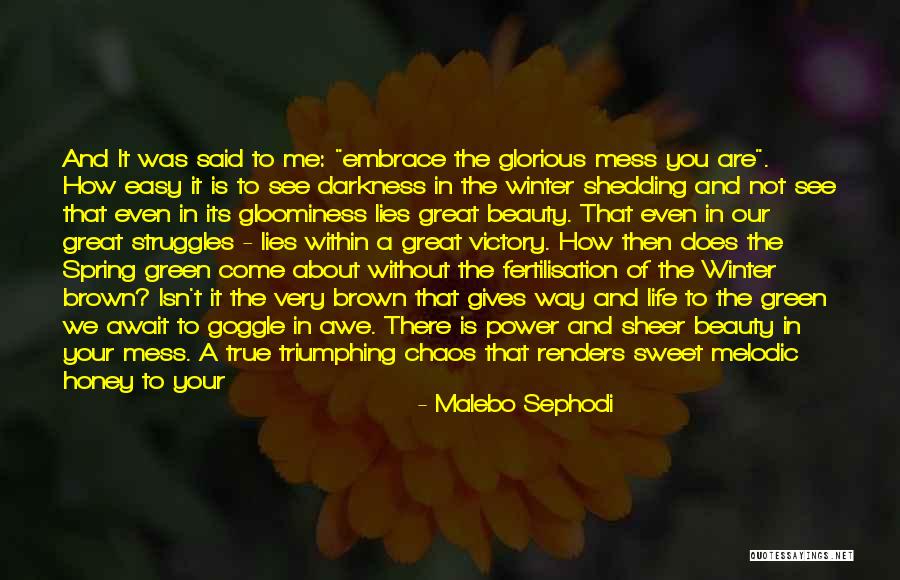 And It was said to me: "embrace the glorious mess you are". How easy it is to see darkness in the winter shedding and not see that even in its gloominess lies great beauty. That even in our great struggles - lies within a great victory. How then does the Spring green come about without the fertilisation of the Winter brown? Isn't it the very brown that gives way and life to the green we await to goggle in awe. There is power and sheer beauty in your mess. A true triumphing chaos that renders sweet melodic honey to your journey. So again it was whispered to me "embrace the glorious mess that you are — Malebo Sephodi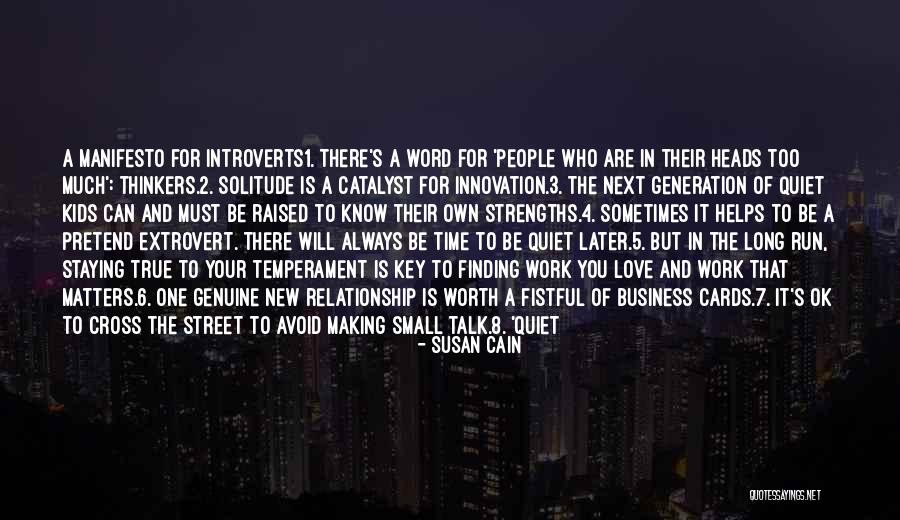 A Manifesto for Introverts
1. There's a word for 'people who are in their heads too much': thinkers.
2. Solitude is a catalyst for innovation.
3. The next generation of quiet kids can and must be raised to know their own strengths.
4. Sometimes it helps to be a pretend extrovert. There will always be time to be quiet later.
5. But in the long run, staying true to your temperament is key to finding work you love and work that matters.
6. One genuine new relationship is worth a fistful of business cards.
7. It's OK to cross the street to avoid making small talk.
8. 'Quiet leadership' is not an oxymoron.
9. Love is essential; gregariousness is optional.
10. 'In a gentle way, you can shake the world.' -Mahatma Gandhi — Susan Cain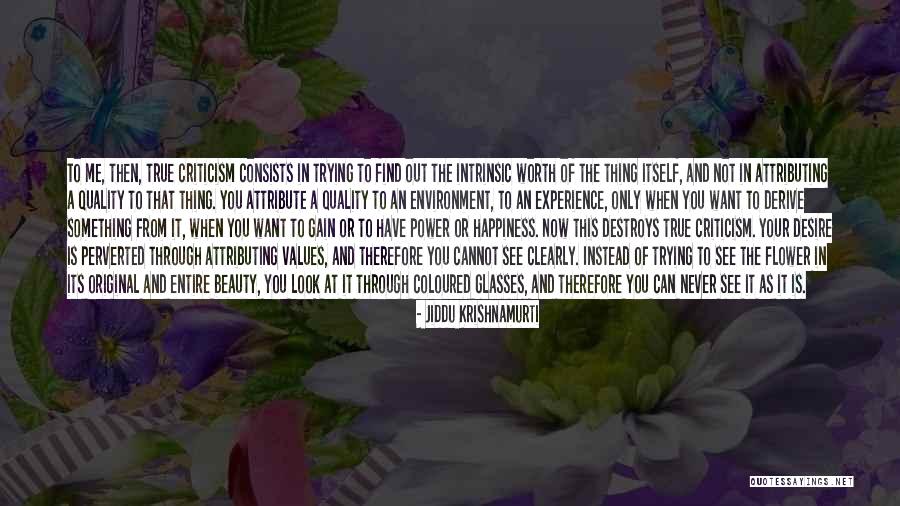 To me, then, true criticism consists in trying to find out the intrinsic worth of the thing itself, and not in attributing a quality to that thing. You attribute a quality to an environment, to an experience, only when you want to derive something from it, when you want to gain or to have power or happiness. Now this destroys true criticism. Your desire is perverted through attributing values, and therefore you cannot see clearly. Instead of trying to see the flower in its original and entire beauty, you look at it through coloured glasses, and therefore you can never see it as it is. — Jiddu Krishnamurti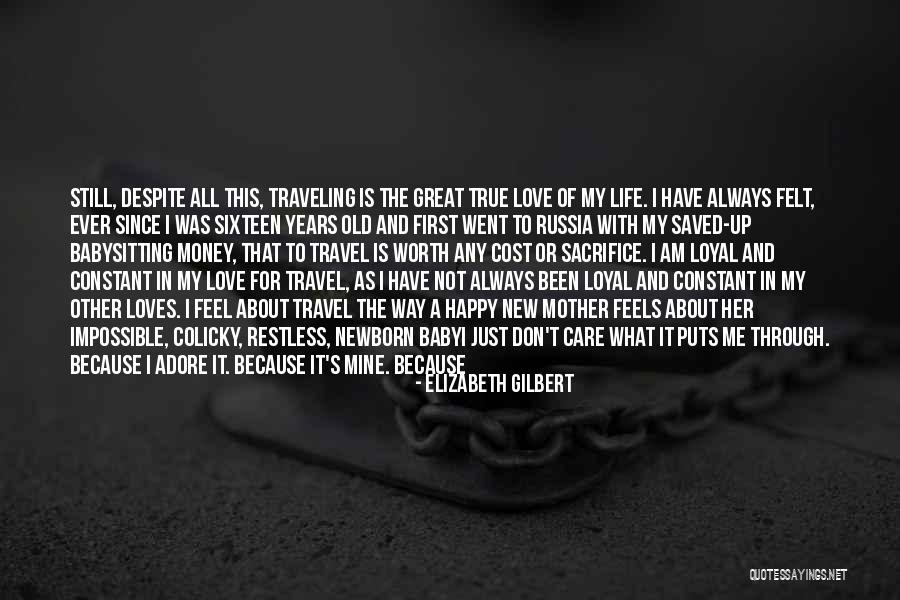 Still, despite all this, traveling is the great true love of my life. I have always felt, ever since I was sixteen years old and first went to Russia with my saved-up babysitting money, that to travel is worth any cost or sacrifice. I am loyal and constant in my love for travel, as I have not always been loyal and constant in my other loves. I feel about travel the way a happy new mother feels about her impossible, colicky, restless, newborn baby
I just don't care what it puts me through. Because I adore it. Because it's mine. Because it looks exactly like me. It can barf all over me if it wants to
I just don't care. — Elizabeth Gilbert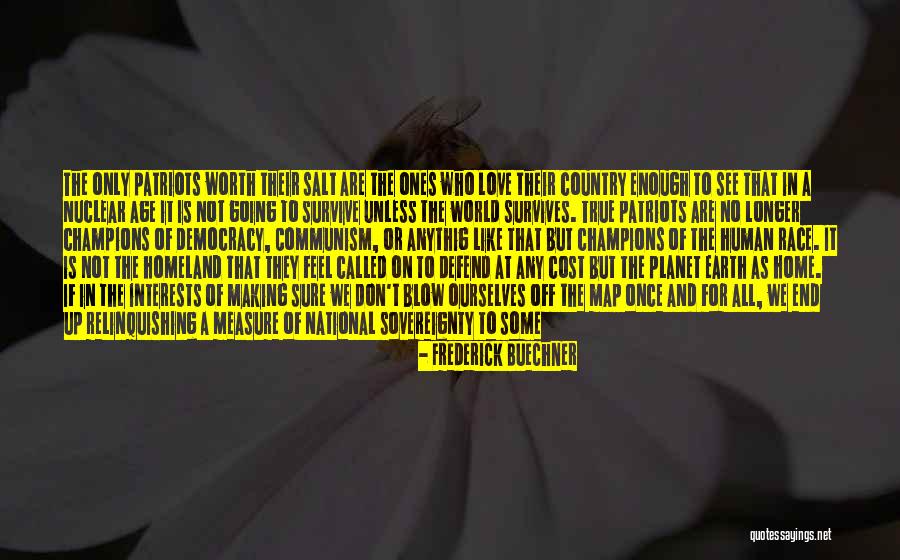 The only patriots worth their salt are the ones who love their country enough to see that in a nuclear age it is not going to survive unless the world survives. True patriots are no longer champions of Democracy, Communism, or anythig like that but champions of the Human Race. It is not the Homeland that they feel called on to defend at any cost but the planet Earth as Home. If in the interests of making sure we don't blow ourselves off the map once and for all, we end up relinquishing a measure of national sovereignty to some international body, so much the worse for national sovereignty. There is only one Sovereignty that matters ultimately, and it is another sort altogether. — Frederick Buechner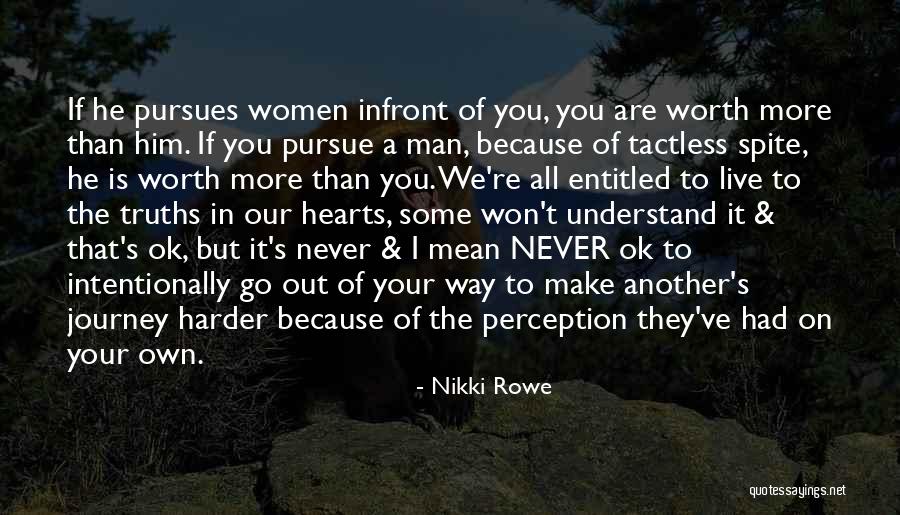 If he pursues women infront of you, you are worth more than him.
If you pursue a man, because of tactless spite, he is worth more than you.
We're all entitled to live to the truths in our hearts, some won't understand it & that's ok, but it's never & I mean NEVER ok to intentionally go out of your way to make another's journey harder because of the perception they've had on your own. — Nikki Rowe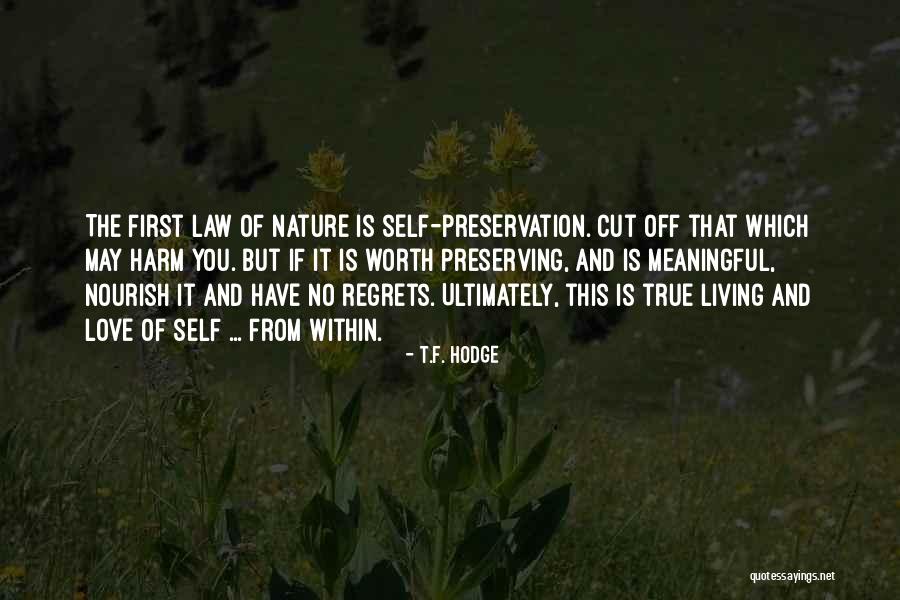 The first law of nature is self-preservation. Cut off that which may harm you. But if it is worth preserving, and is meaningful, nourish it and have no regrets. Ultimately, this is true living and love of self ... from within. — T.F. Hodge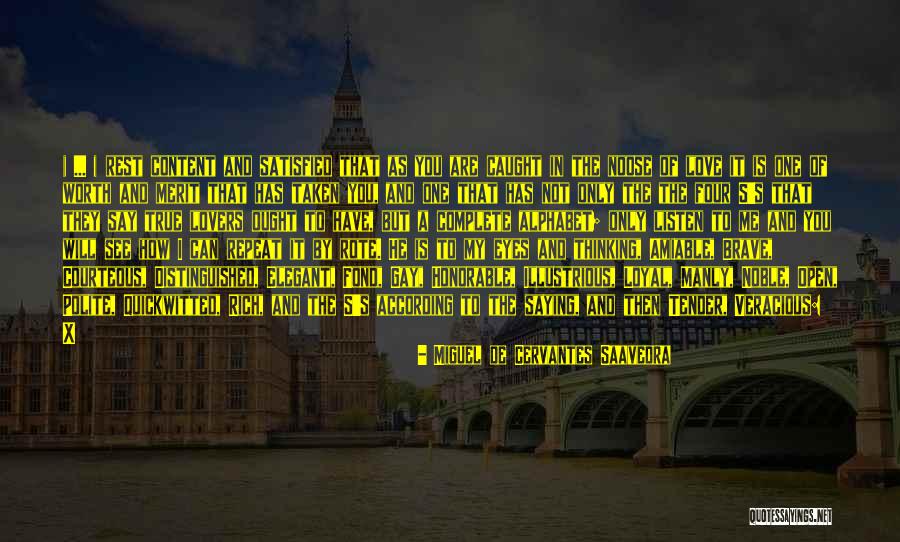 ( ... ) rest content and satisfied that as you are caught in the noose of love it is one of worth and merit that has taken you, and one that has not only the the four S's that they say true lovers ought to have, but a complete alphabet; only listen to me and you will see how I can repeat it by rote. He is to my eyes and thinking, Amiable, Brave, Courteous, Distinguished, Elegant, Fond, Gay, Honorable, Illustrious, Loyal, Manly, Noble, Open, Polite, Quickwitted, Rich, and the S's according to the saying, and then Tender, Veracious: X does not suite him, for it is a rough letter; Y has been given already; and Z Zealous for your honour. — Miguel De Cervantes Saavedra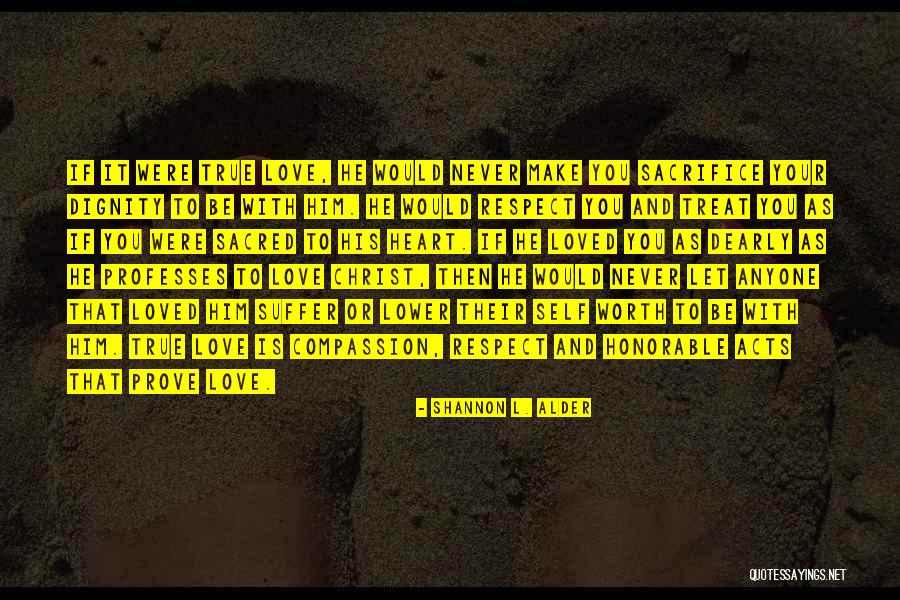 If it were true love, he would never make you sacrifice your dignity to be with him. He would respect you and treat you as if you were sacred to his heart. If he loved you as dearly as he professes to love Christ, then he would never let anyone that loved him suffer or lower their self worth to be with him. True love is compassion, respect and honorable acts that prove love. — Shannon L. Alder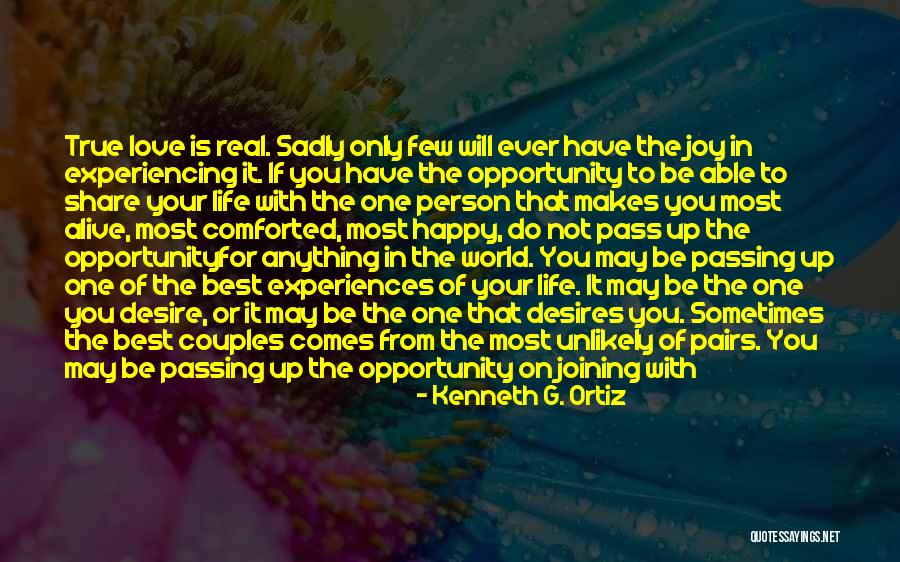 True love is real. Sadly only few will ever have the joy in experiencing it. If you have the opportunity to be able to share your life with the one person that makes you most alive, most comforted, most happy, do not pass up the opportunity
for anything in the world. You may be passing up one of the best experiences of your life. It may be the one you desire, or it may be the one that desires you. Sometimes the best couples comes from the most unlikely of pairs. You may be passing up the opportunity on joining with the other half that will make you whole. Love is a risk, but a risk worth taking. — Kenneth G. Ortiz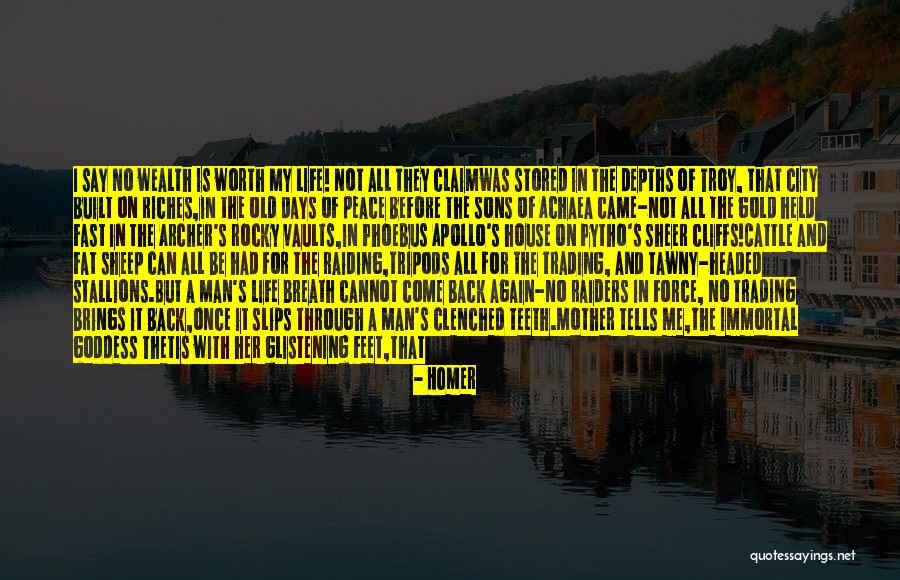 I say no wealth is worth my life! Not all they claim
was stored in the depths of Troy, that city built on riches,
in the old days of peace before the sons of Achaea came-
not all the gold held fast in the Archer's rocky vaults,
in Phoebus Apollo's house on Pytho's sheer cliffs!
Cattle and fat sheep can all be had for the raiding,
tripods all for the trading, and tawny-headed stallions.
But a man's life breath cannot come back again-
no raiders in force, no trading brings it back,
once it slips through a man's clenched teeth.
Mother tells me,
the immortal goddess Thetis with her glistening feet,
that two fates bear me on to the day of death.
If I hold out here and I lay siege to Troy,
my journey home is gone, but my glory never dies.
If I voyage back to the fatherland I love,
my pride, my glory dies ...
true, but the life that's left me will be long,
the stroke of death will not come on me quickly. — Homer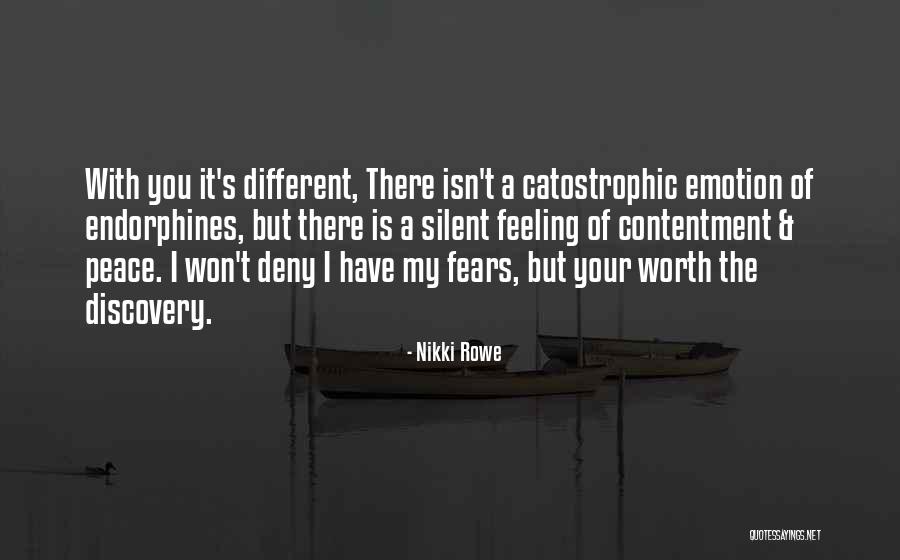 With you it's different, There isn't a catostrophic emotion of endorphines, but there is a silent feeling of contentment & peace. I won't deny I have my fears, but your worth the discovery. — Nikki Rowe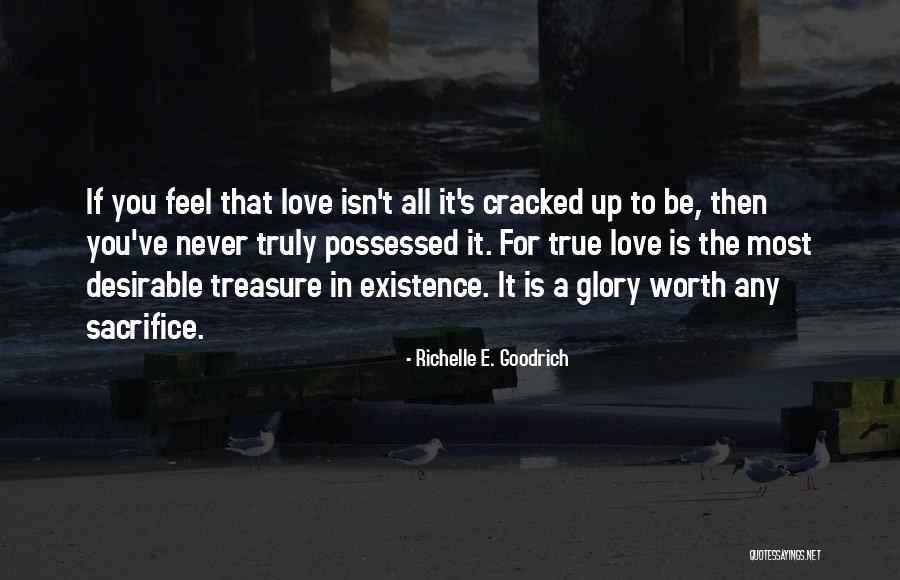 If you feel that love isn't all it's cracked up to be, then you've never truly possessed it. For true love is the most desirable treasure in existence. It is a glory worth any sacrifice. — Richelle E. Goodrich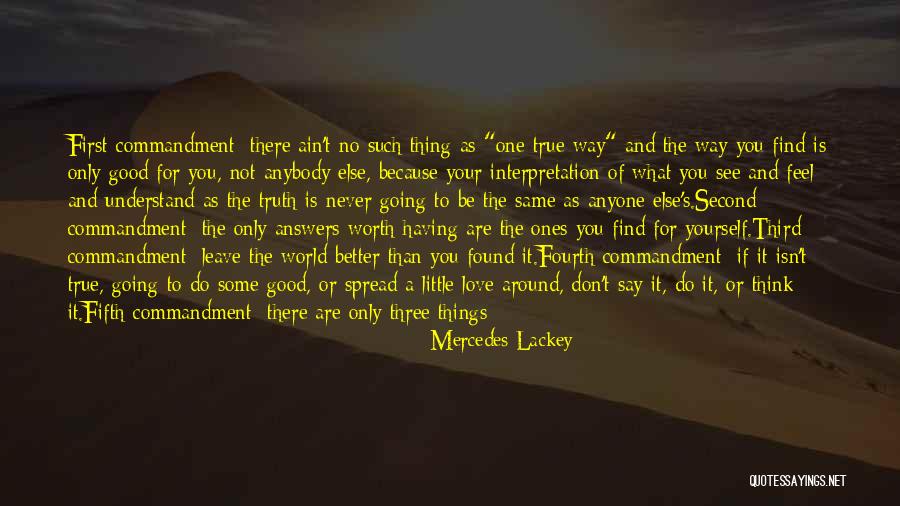 First commandment: there ain't no such thing as "one true way" and the way you find is only good for you, not anybody else, because your interpretation of what you see and feel and understand as the truth is never going to be the same as anyone else's.
Second commandment: the only answers worth having are the ones you find for yourself.
Third commandment: leave the world better than you found it.
Fourth commandment: if it isn't true, going to do some good, or spread a little love around, don't say it, do it, or think it.
Fifth commandment: there are only three things worth living for; love in all it's manifestations, freedom, and the chance to keep humanity going a little while longer. They're the same things worth dying for. And if you aren't willing to die for the things worth living for, you might as well turn in your membership in the human race. — Mercedes Lackey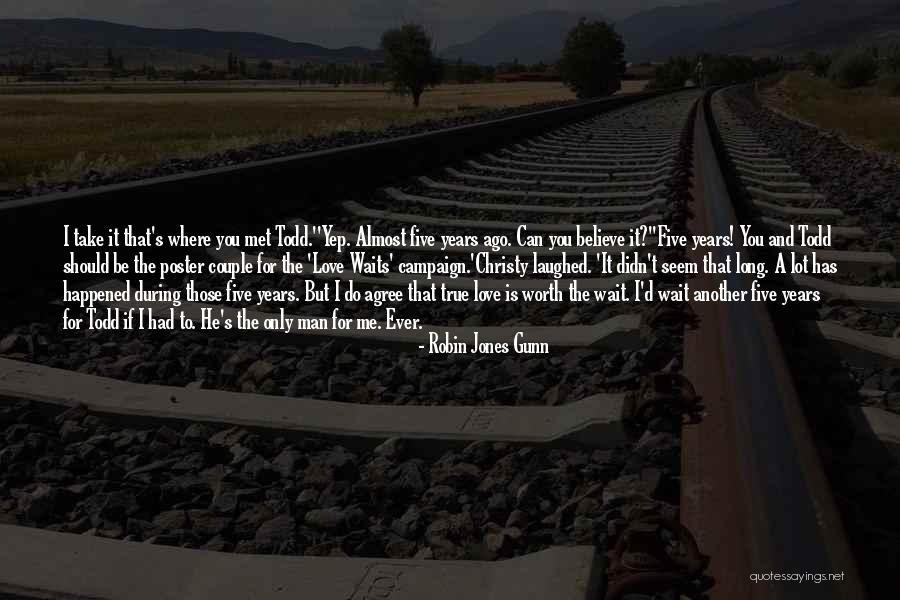 I take it that's where you met Todd.'
'Yep. Almost five years ago. Can you believe it?'
'Five years! You and Todd should be the poster couple for the 'Love Waits' campaign.'
Christy laughed. 'It didn't seem that long. A lot has happened during those five years. But I do agree that true love is worth the wait. I'd wait another five years for Todd if I had to. He's the only man for me. Ever. — Robin Jones Gunn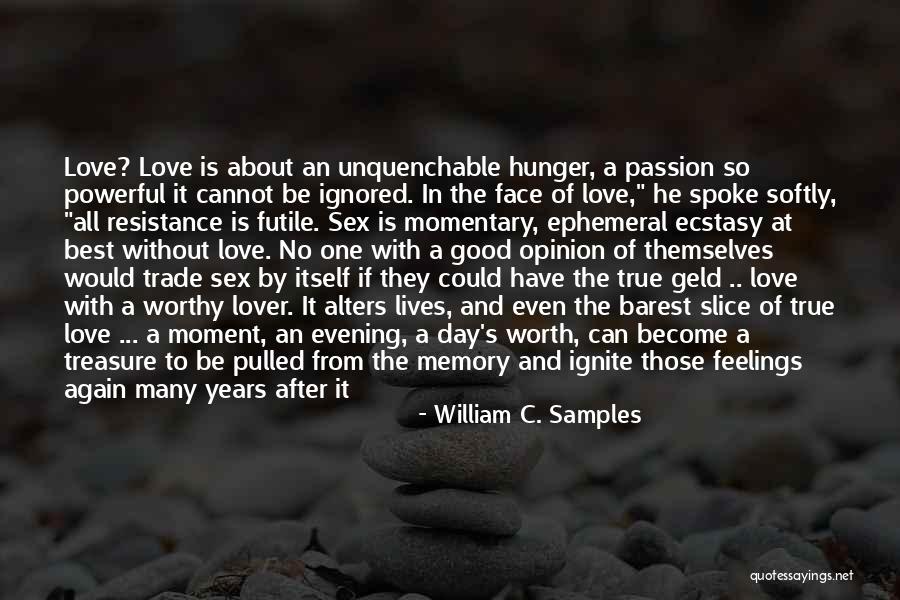 Love? Love is about an unquenchable hunger, a passion so powerful it cannot be ignored. In the face of love," he spoke softly, "all resistance is futile. Sex is momentary, ephemeral ecstasy at best without love. No one with a good opinion of themselves would trade sex by itself if they could have the true geld .. love with a worthy lover. It alters lives, and even the barest slice of true love ... a moment, an evening, a day's worth, can become a treasure to be pulled from the memory and ignite those feelings again many years after it has passed. It is the most powerful of all compulsions." Das — William C. Samples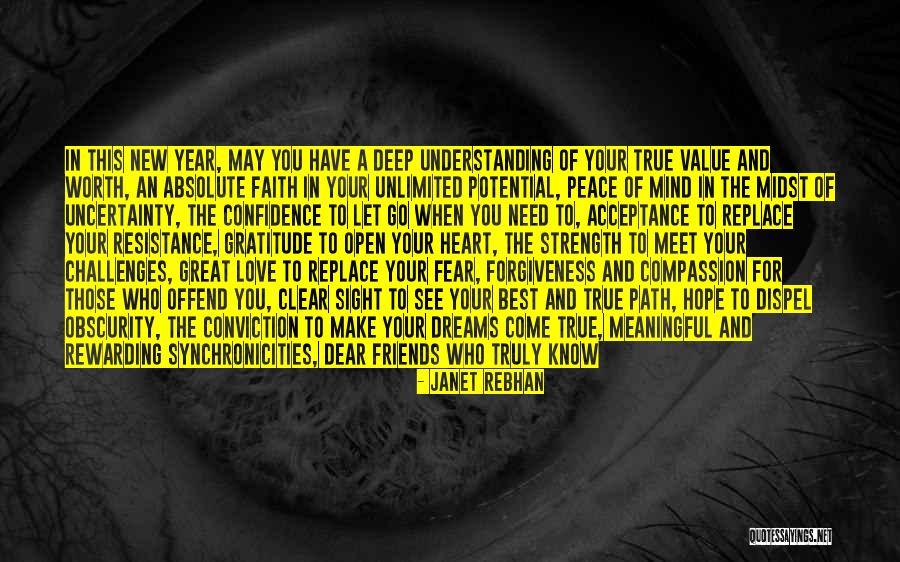 In this new year, may you have a deep understanding of your true value and worth, an absolute faith in your unlimited potential, peace of mind in the midst of uncertainty, the confidence to let go when you need to, acceptance to replace your resistance, gratitude to open your heart, the strength to meet your challenges, great love to replace your fear, forgiveness and compassion for those who offend you, clear sight to see your best and true path, hope to dispel obscurity, the conviction to make your dreams come true, meaningful and rewarding synchronicities, dear friends who truly know and love you, a childlike trust in the benevolence of the universe, the humility to remain teachable, the wisdom to fully embrace your life exactly as it is, the understanding that every soul has its own course to follow, the discernment to recognize your own unique inner voice of truth, and the courage to learn to be still. — Janet Rebhan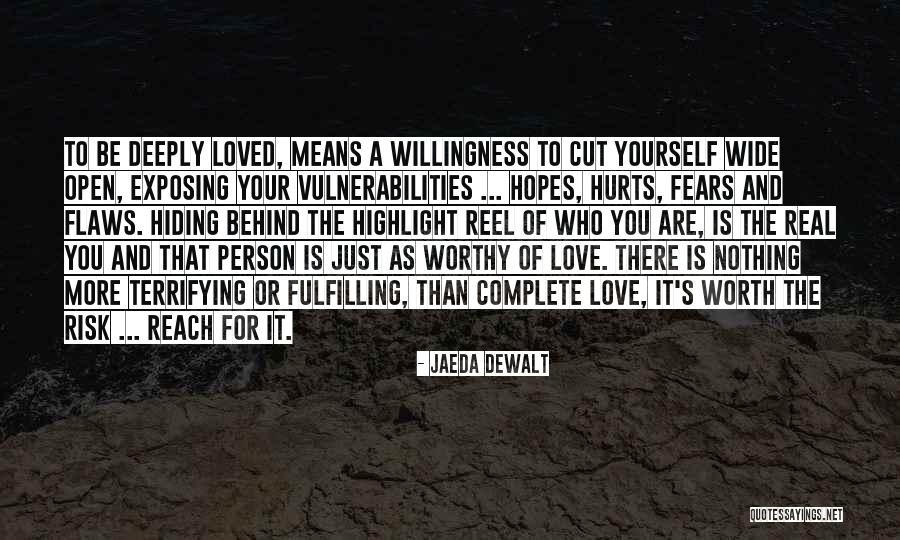 To be deeply loved, means a willingness to cut yourself wide open, exposing your vulnerabilities ... hopes, hurts, fears and flaws. Hiding behind the highlight reel of who you are, is the real you and that person is just as worthy of love. There is nothing more terrifying or fulfilling, than complete love, it's worth the risk ... reach for it. — Jaeda DeWalt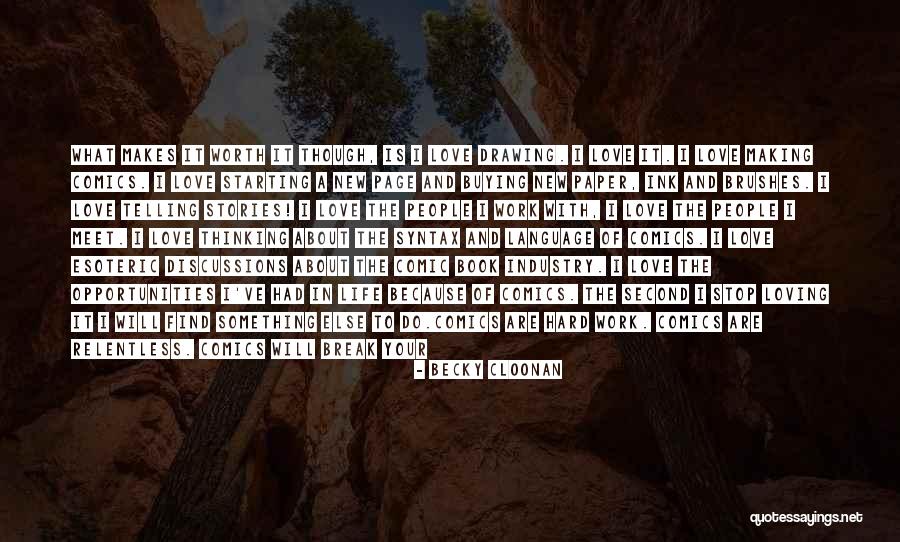 What makes it worth it though, is I love drawing. I LOVE IT. I love making comics. I love starting a new page and buying new paper, ink and brushes. I love telling stories! I love the people I work with, I love the people I meet. I love thinking about the syntax and language of comics. I love esoteric discussions about the comic book industry. I love the opportunities I've had in life because of comics. The second I stop loving it I will find something else to do.
Comics are hard work. Comics are relentless. Comics will break your heart. Comics are monetarily unsatisfying. Comics don't offer much in terms of fortune and glory, but comics will give you complete freedom to tell the stories you want to tell, in ways unlike any other medium. Comics will pick you up after it knocks you down. Comics will dust you off and tell you it loves you. And you will look into it's eyes and know it's true, that you love comics back. — Becky Cloonan