Treated Differently Quotes & Sayings
Enjoy reading and share 47 famous quotes about Treated Differently with everyone.
Top Treated Differently Quotes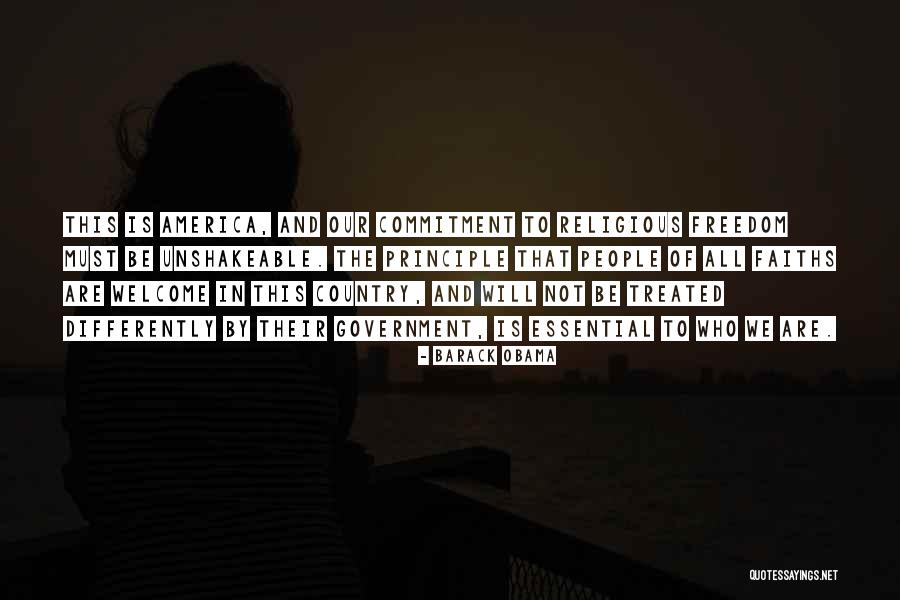 This is America, and our commitment to religious freedom must be unshakeable. The principle that people of all faiths are welcome in this country, and will not be treated differently by their government, is essential to who we are. — Barack Obama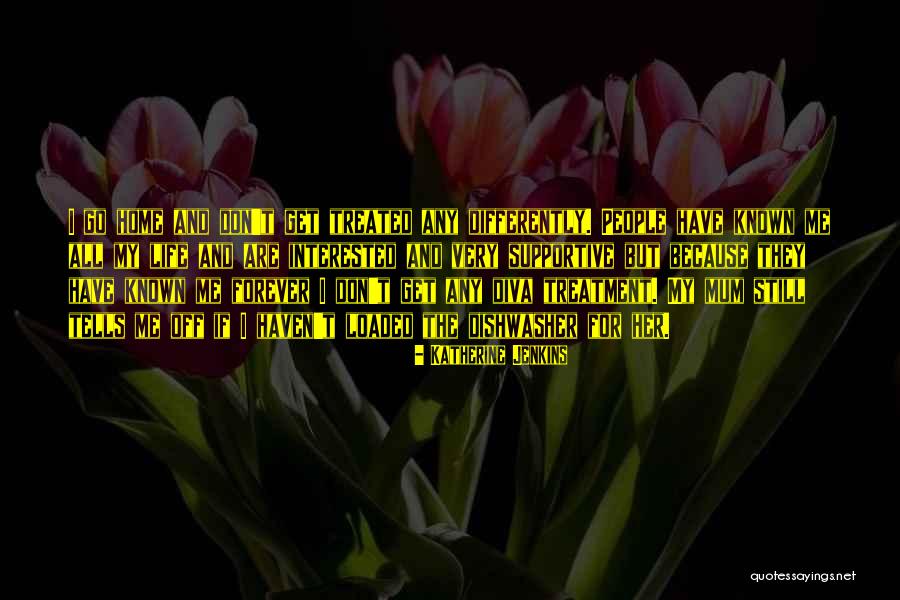 I go home and don't get treated any differently. People have known me all my life and are interested and very supportive but because they have known me forever I don't get any diva treatment. My mum still tells me off if I haven't loaded the dishwasher for her. — Katherine Jenkins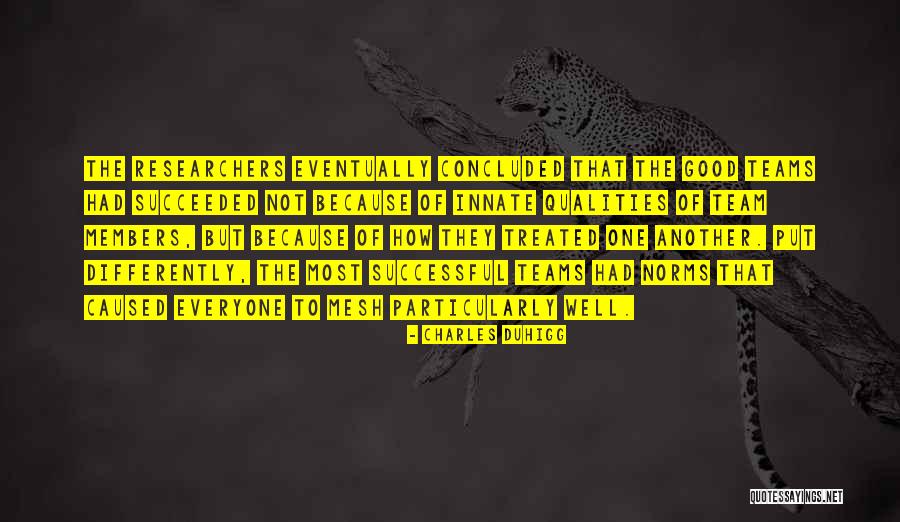 The researchers eventually concluded that the good teams had succeeded not because of innate qualities of team members, but because of how they treated one another. Put differently, the most successful teams had norms that caused everyone to mesh particularly well. — Charles Duhigg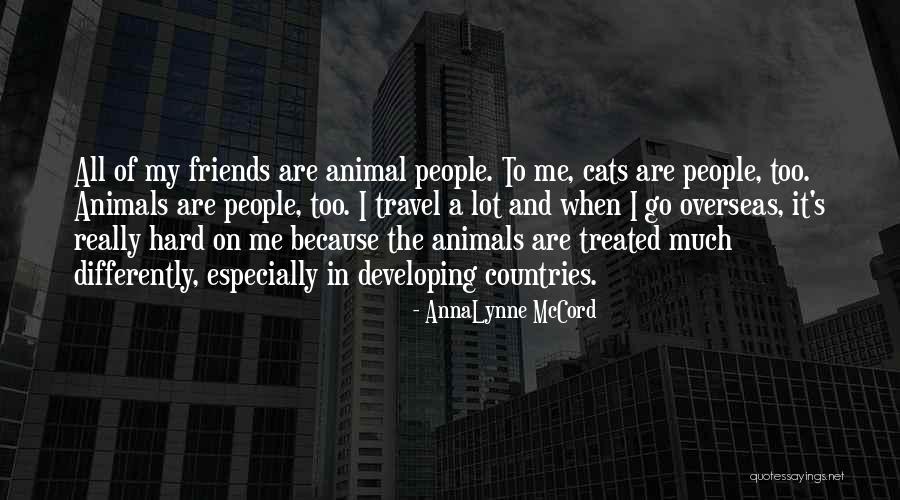 All of my friends are animal people. To me, cats are people, too. Animals are people, too. I travel a lot and when I go overseas, it's really hard on me because the animals are treated much differently, especially in developing countries. — AnnaLynne McCord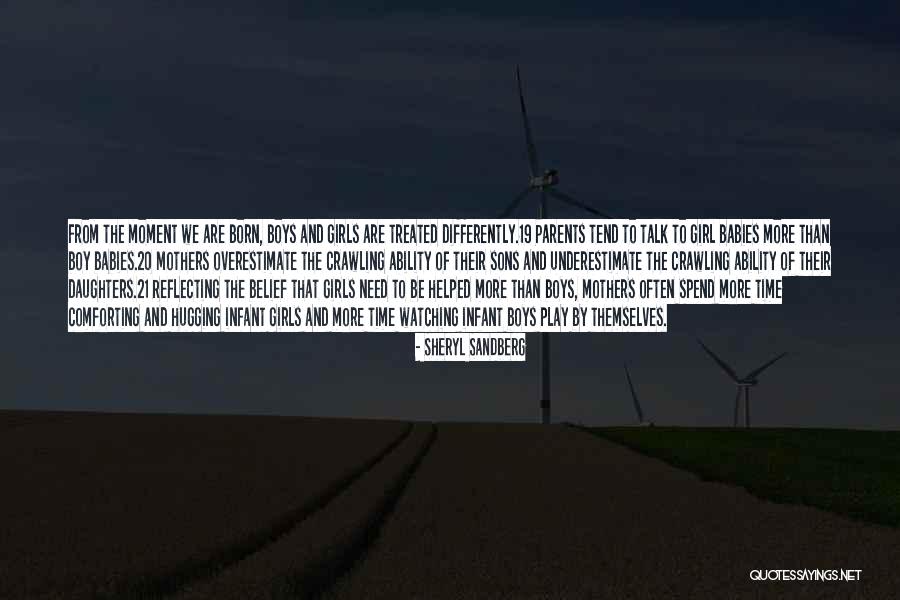 From the moment we are born, boys and girls are treated differently.19 Parents tend to talk to girl babies more than boy babies.20 Mothers overestimate the crawling ability of their sons and underestimate the crawling ability of their daughters.21 Reflecting the belief that girls need to be helped more than boys, mothers often spend more time comforting and hugging infant girls and more time watching infant boys play by themselves. — Sheryl Sandberg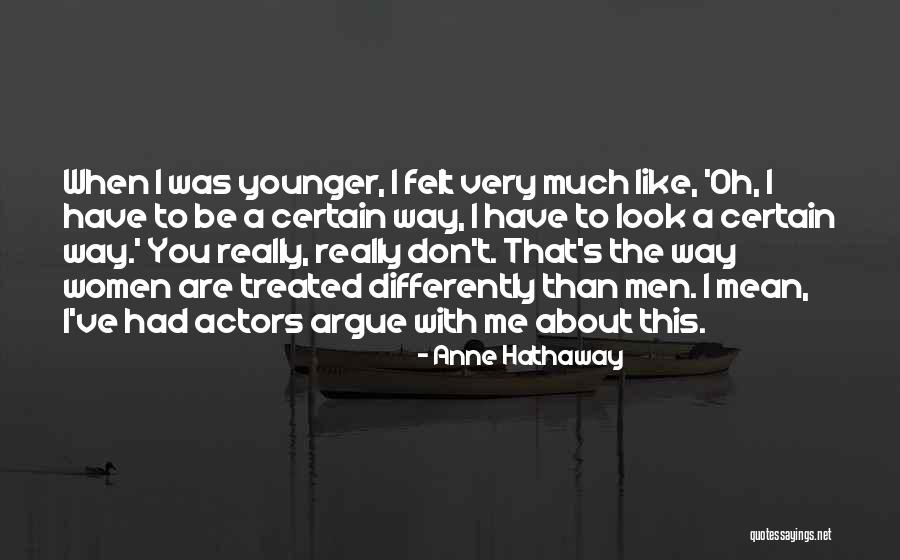 When I was younger, I felt very much like, 'Oh, I have to be a certain way, I have to look a certain way.' You really, really don't. That's the way women are treated differently than men. I mean, I've had actors argue with me about this. — Anne Hathaway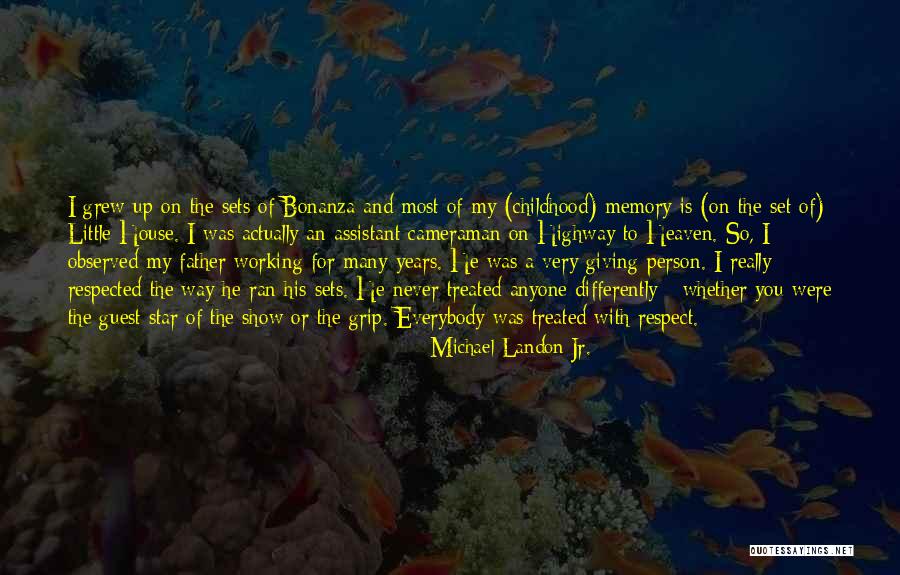 I grew up on the sets of Bonanza and most of my (childhood) memory is (on the set of) Little House. I was actually an assistant cameraman on Highway to Heaven. So, I observed my father working for many years. He was a very giving person. I really respected the way he ran his sets. He never treated anyone differently - whether you were the guest star of the show or the grip. Everybody was treated with respect. — Michael Landon Jr.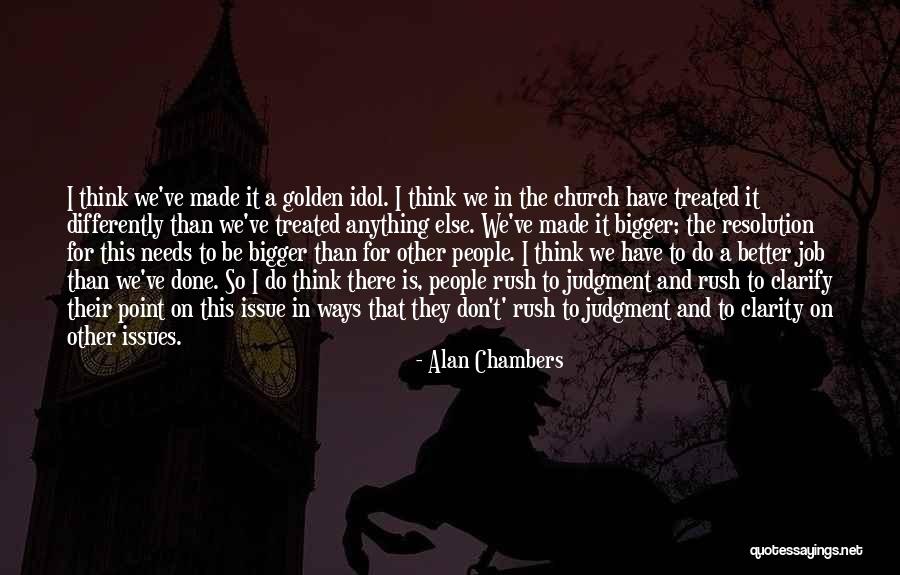 I think we've made it a golden idol. I think we in the church have treated it differently than we've treated anything else. We've made it bigger; the resolution for this needs to be bigger than for other people. I think we have to do a better job than we've done. So I do think there is, people rush to judgment and rush to clarify their point on this issue in ways that they don't' rush to judgment and to clarity on other issues. — Alan Chambers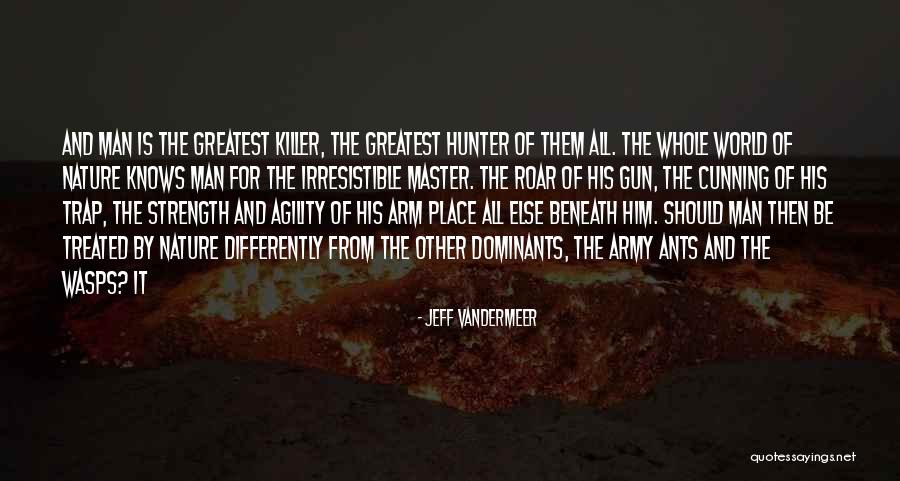 And man is the greatest killer, the greatest hunter of them all. The whole world of nature knows man for the irresistible master. The roar of his gun, the cunning of his trap, the strength and agility of his arm place all else beneath him. Should man then be treated by nature differently from the other dominants, the army ants and the wasps? It — Jeff VanderMeer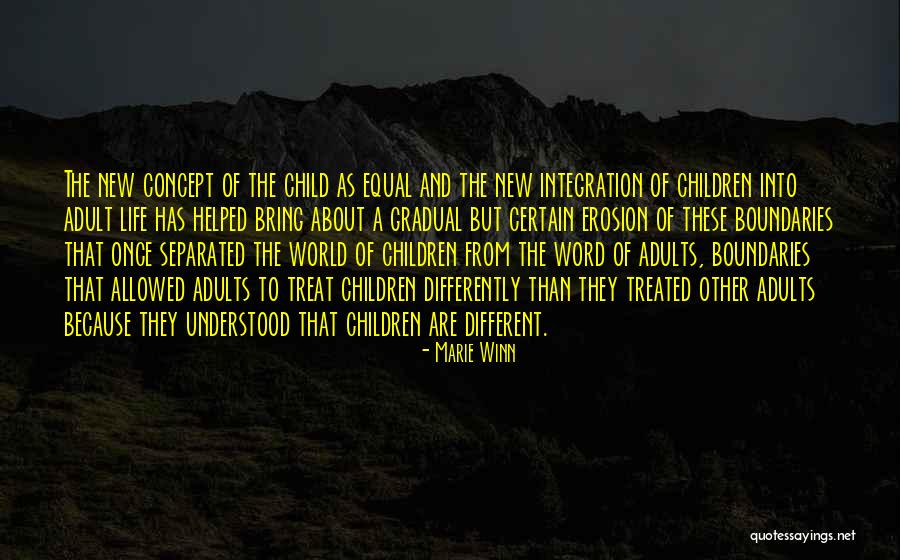 The new concept of the child as equal and the new integration of children into adult life has helped bring about a gradual but certain erosion of these boundaries that once separated the world of children from the word of adults, boundaries that allowed adults to treat children differently than they treated other adults because they understood that children are different. — Marie Winn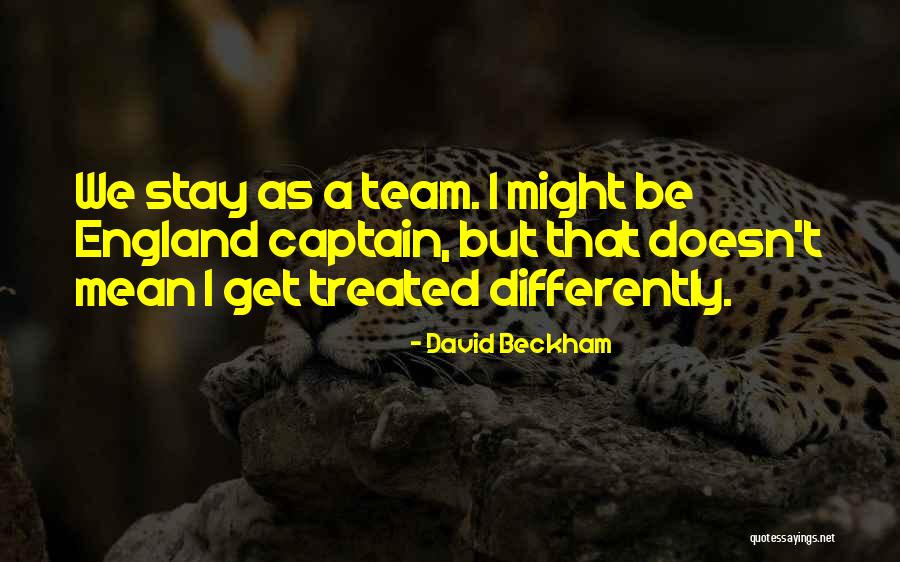 We stay as a team. I might be England captain, but that doesn't mean I get treated differently. — David Beckham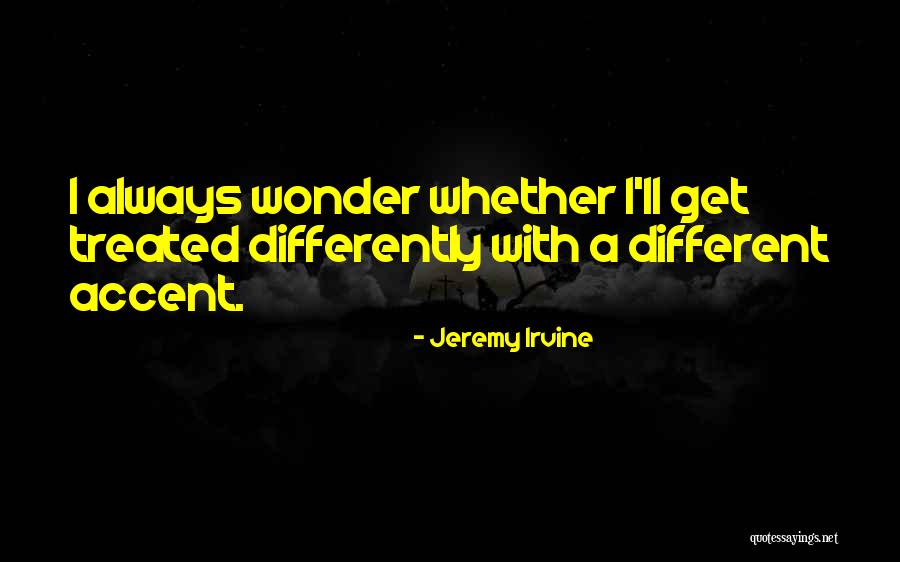 I always wonder whether I'll get treated differently with a different accent. — Jeremy Irvine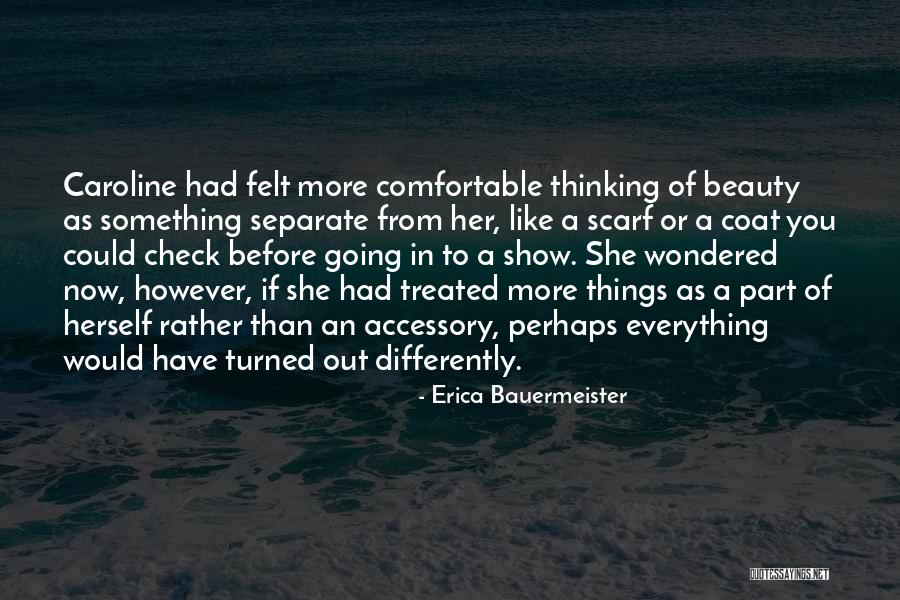 Caroline had felt more comfortable thinking of beauty as something separate from her, like a scarf or a coat you could check before going in to a show. She wondered now, however, if she had treated more things as a part of herself rather than an accessory, perhaps everything would have turned out differently. — Erica Bauermeister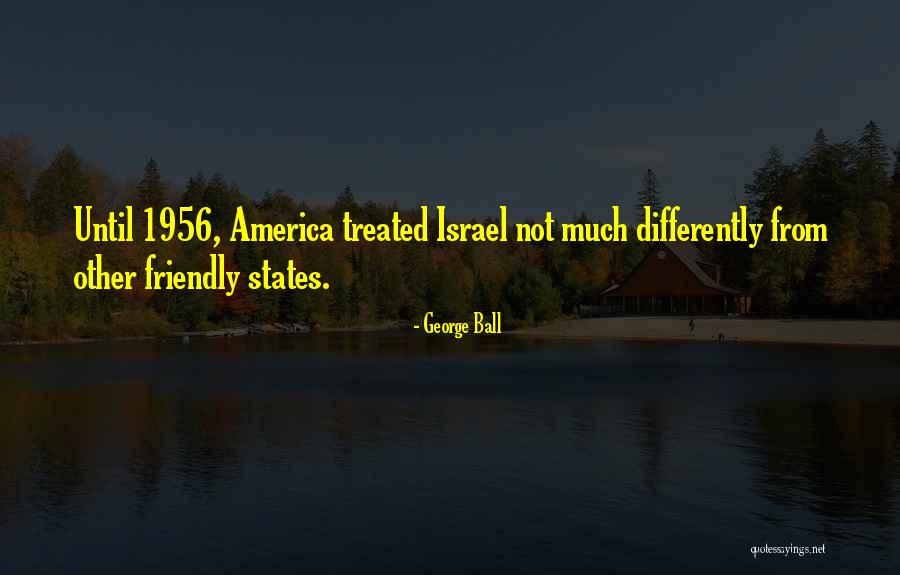 Until 1956, America treated Israel not much differently from other friendly states. — George Ball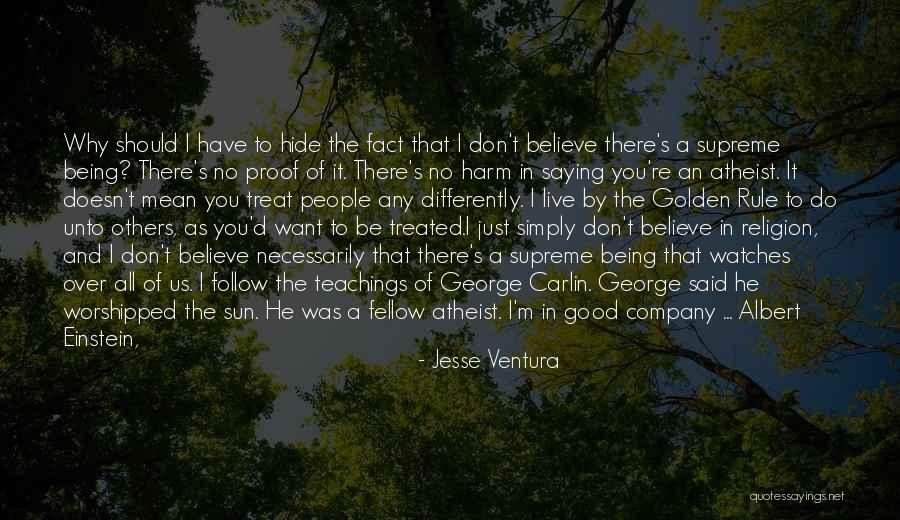 Why should I have to hide the fact that I don't believe there's a supreme being? There's no proof of it. There's no harm in saying you're an atheist. It doesn't mean you treat people any differently. I live by the Golden Rule to do unto others, as you'd want to be treated.
I just simply don't believe in religion, and I don't believe necessarily that there's a supreme being that watches over all of us. I follow the teachings of George Carlin. George said he worshipped the sun. He was a fellow atheist. I'm in good company ... Albert Einstein, Mark Twain, Charles Darwin. It's not like I'm not with good company and intelligent people. There have been some good, intelligent atheists who have lived in the world. — Jesse Ventura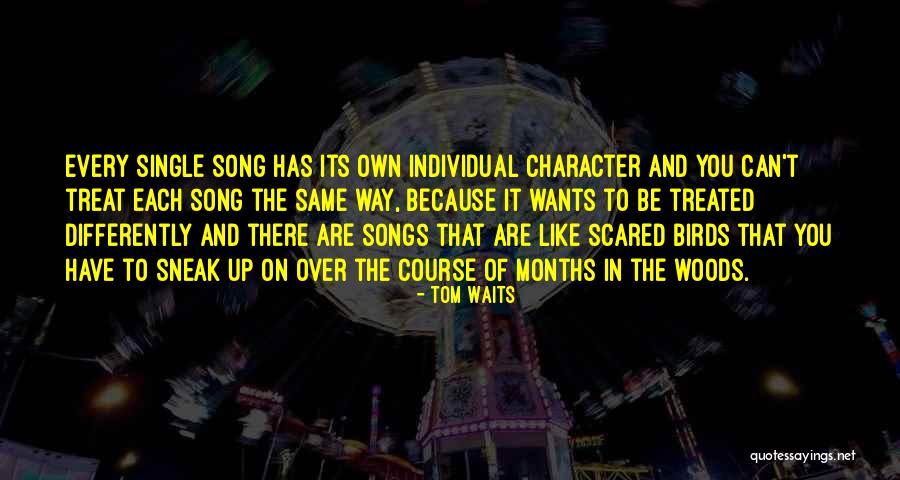 Every single song has its own individual character and you can't treat each song the same way, because it wants to be treated differently and there are songs that are like scared birds that you have to sneak up on over the course of months in the woods. — Tom Waits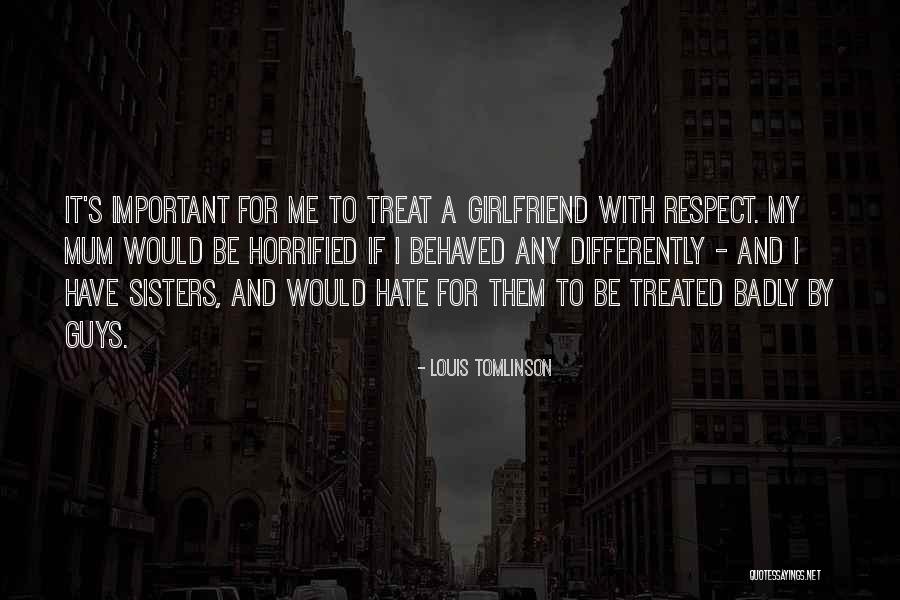 It's important for me to treat a girlfriend with respect. My mum would be horrified if I behaved any differently - and I have sisters, and would hate for them to be treated badly by guys. — Louis Tomlinson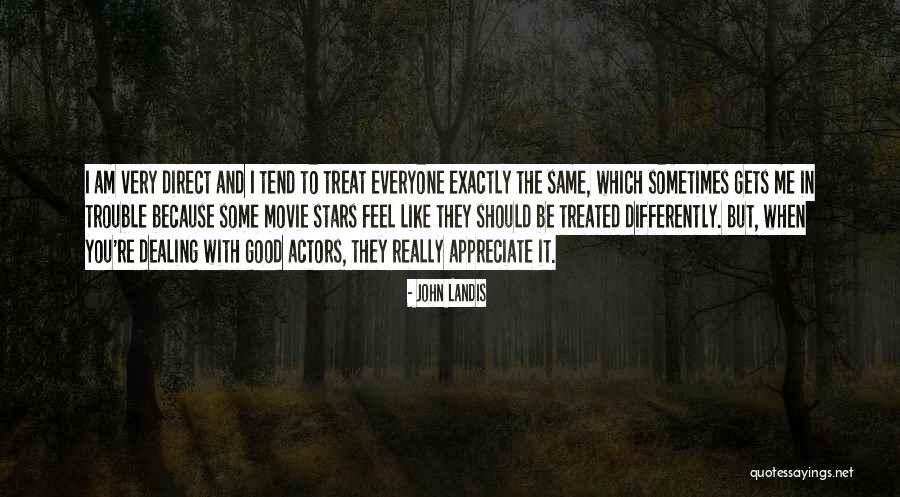 I am very direct and I tend to treat everyone exactly the same, which sometimes gets me in trouble because some movie stars feel like they should be treated differently. But, when you're dealing with good actors, they really appreciate it. — John Landis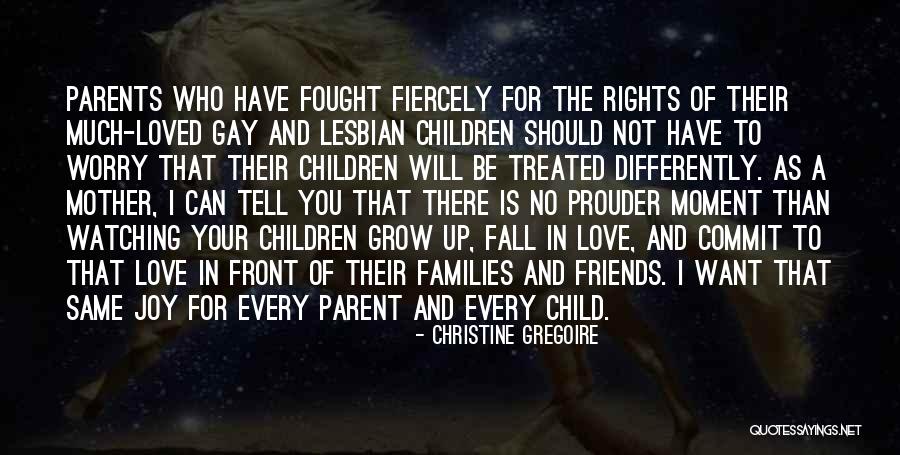 Parents who have fought fiercely for the rights of their much-loved Gay and Lesbian children should not have to worry that their children will be treated differently. As a mother, I can tell you that there is no prouder moment than watching your children grow up, fall in love, and commit to that love in front of their families and friends. I want that same joy for every parent and every child. — Christine Gregoire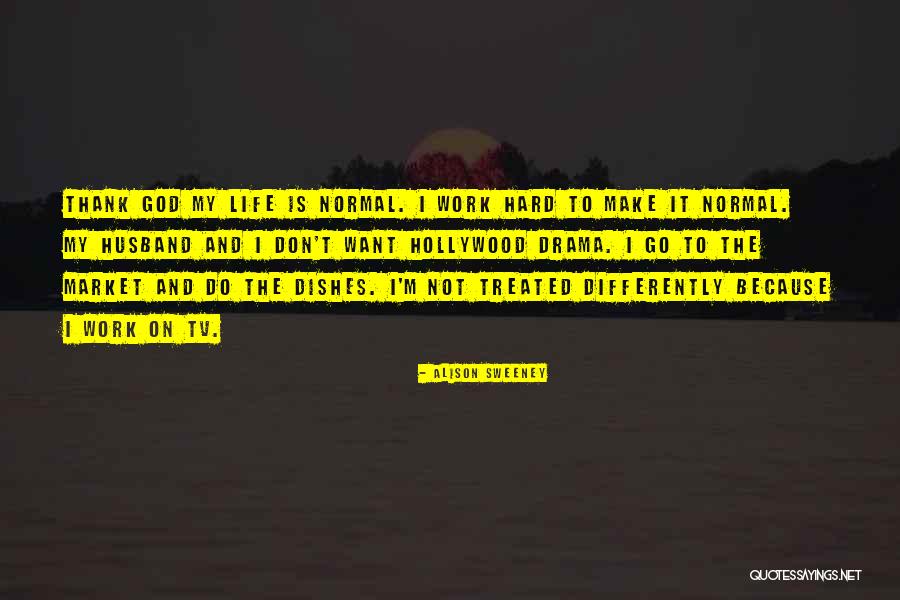 Thank God my life is normal. I work hard to make it normal. My husband and I don't want Hollywood drama. I go to the market and do the dishes. I'm not treated differently because I work on TV. — Alison Sweeney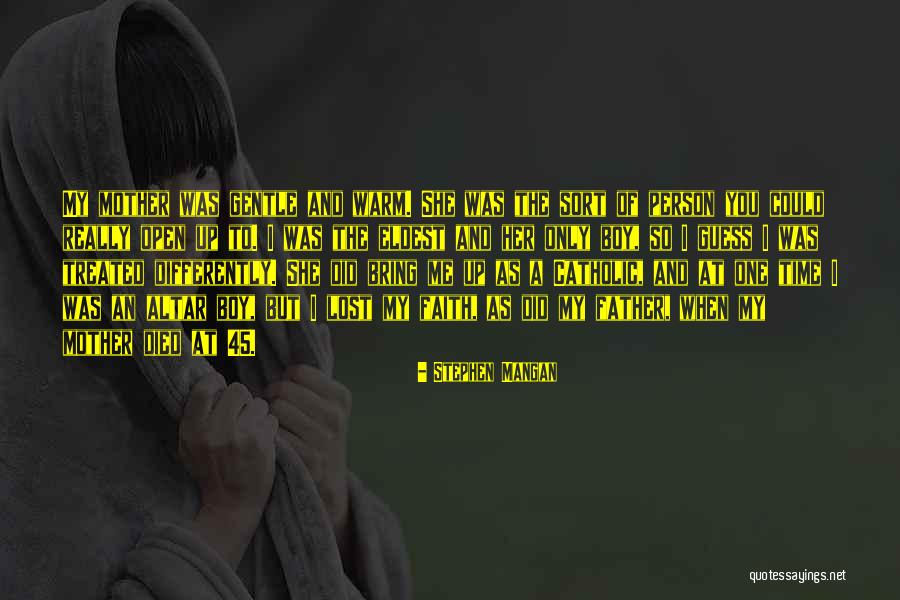 My mother was gentle and warm. She was the sort of person you could really open up to. I was the eldest and her only boy, so I guess I was treated differently. She did bring me up as a Catholic, and at one time I was an altar boy, but I lost my faith, as did my father, when my mother died at 45. — Stephen Mangan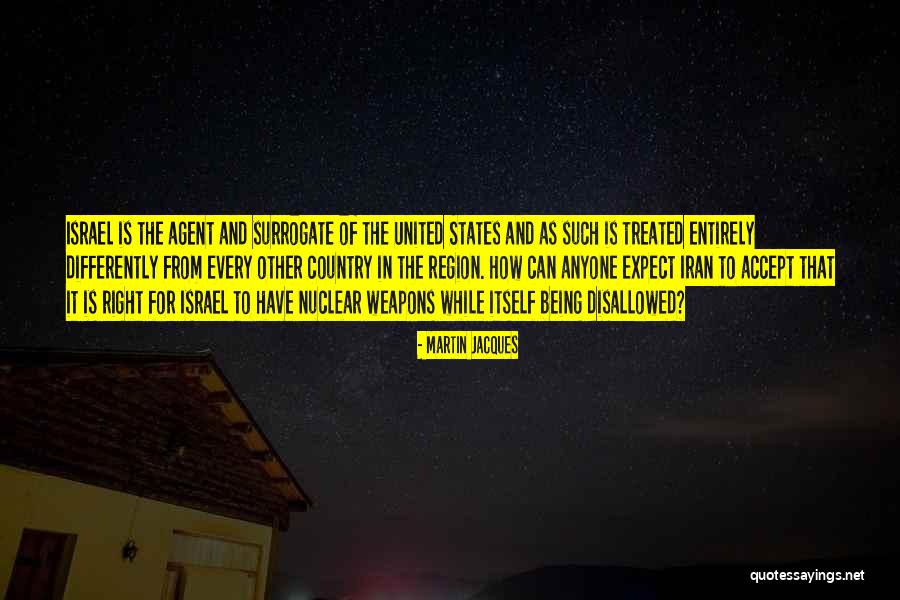 Israel is the agent and surrogate of the United States and as such is treated entirely differently from every other country in the region. How can anyone expect Iran to accept that it is right for Israel to have nuclear weapons while itself being disallowed? — Martin Jacques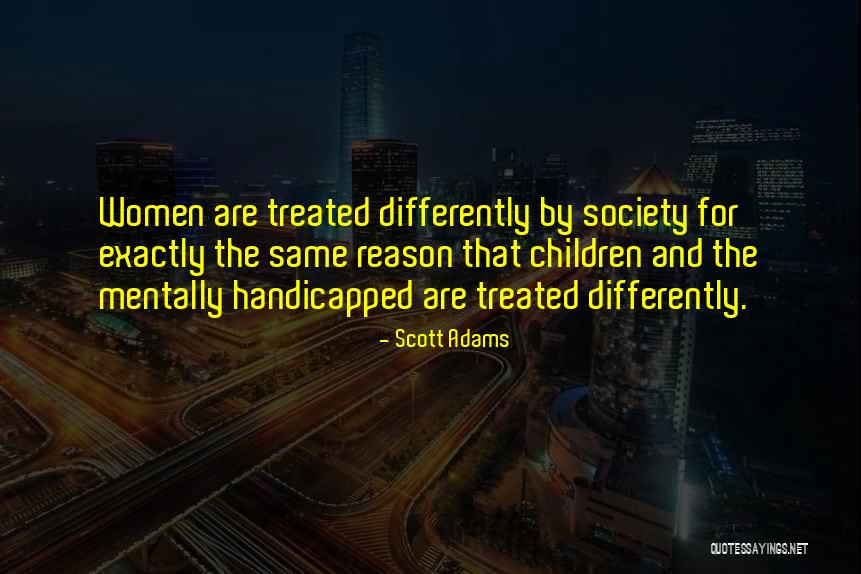 Women are treated differently by society for exactly the same reason that children and the mentally handicapped are treated differently. — Scott Adams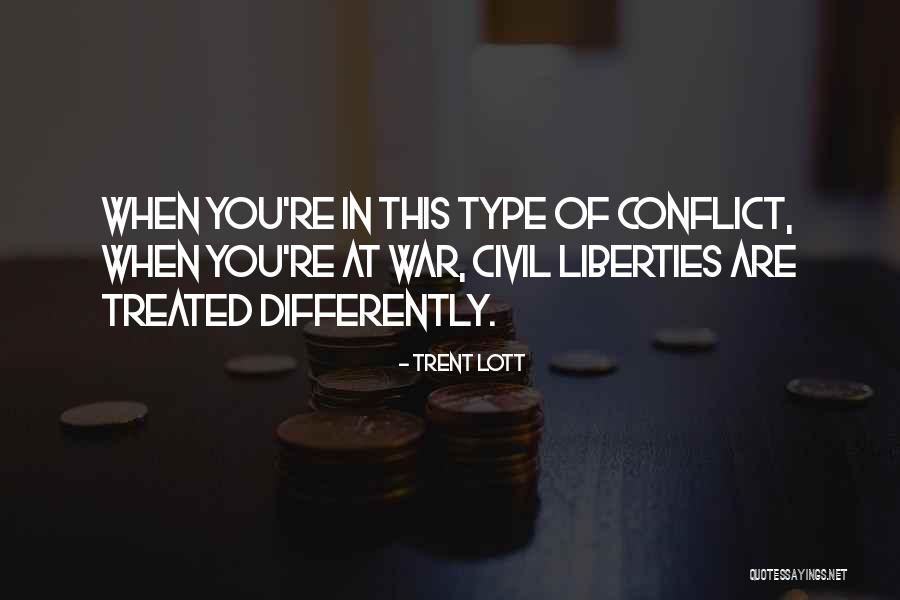 When you're in this type of conflict, when you're at war, civil liberties are treated differently. — Trent Lott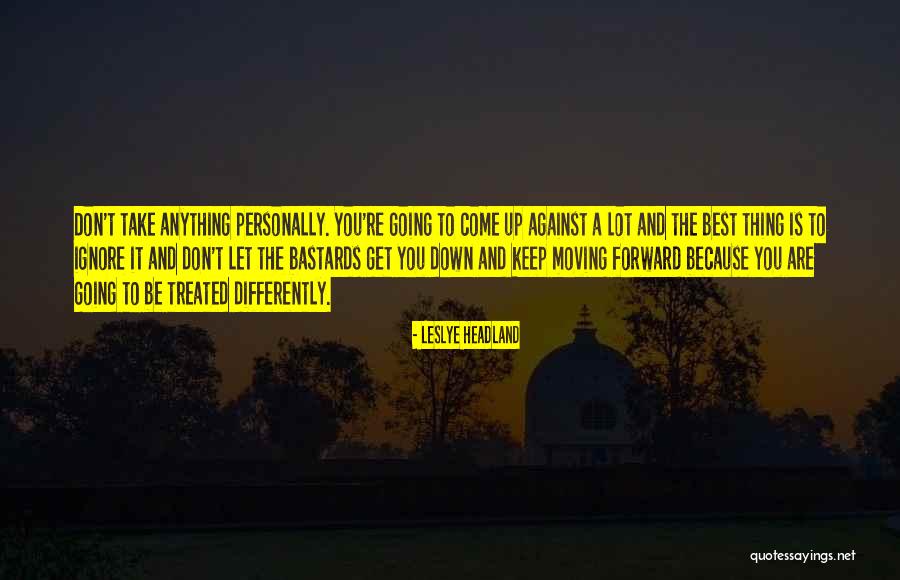 Don't take anything personally. You're going to come up against a lot and the best thing is to ignore it and don't let the bastards get you down and keep moving forward because you are going to be treated differently. — Leslye Headland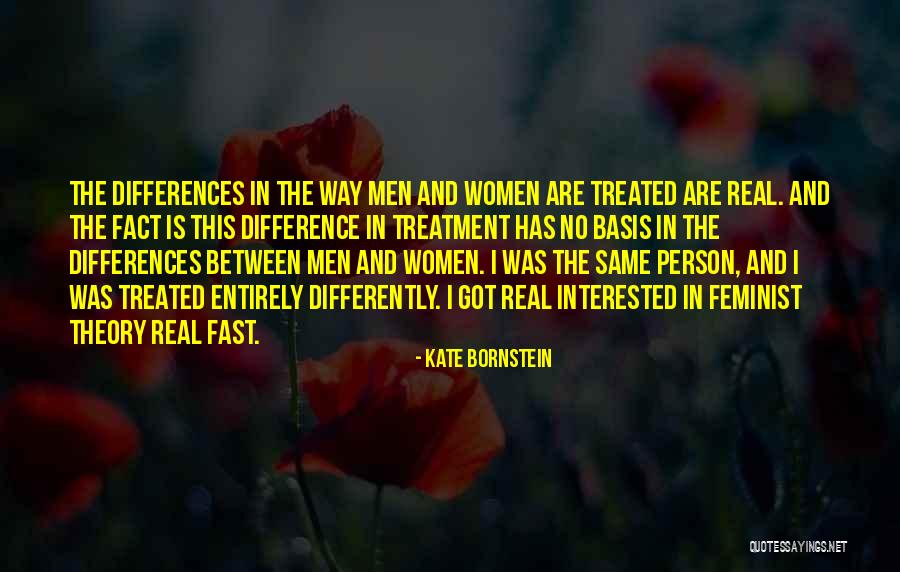 The differences in the way men and women are treated are real. And the fact is this difference in treatment has no basis in the differences between men and women. I was the same person, and I was treated entirely differently. I got real interested in feminist theory
real fast. — Kate Bornstein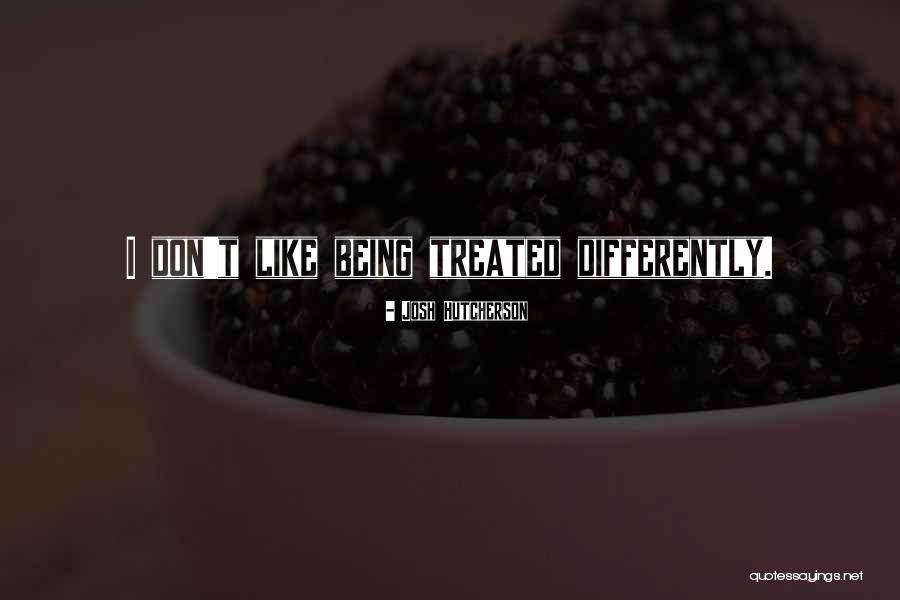 I don't like being treated differently. — Josh Hutcherson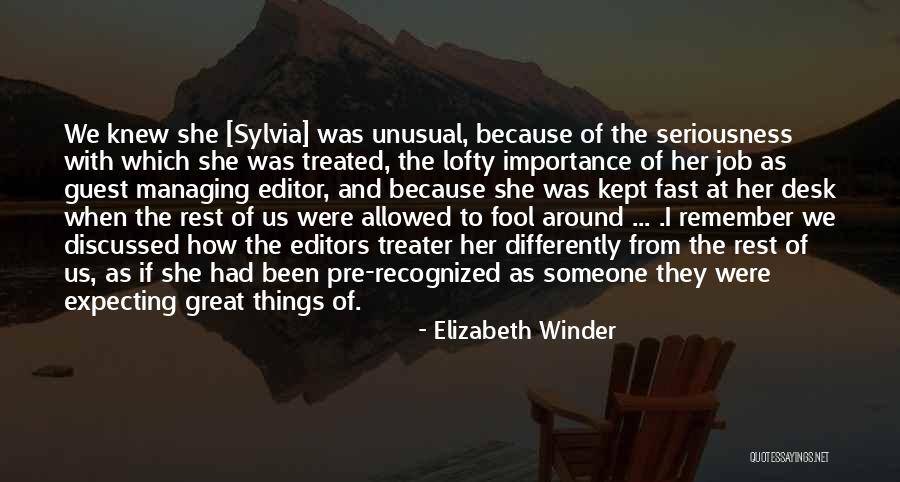 We knew she [Sylvia] was unusual, because of the seriousness with which she was treated, the lofty importance of her job as guest managing editor, and because she was kept fast at her desk when the rest of us were allowed to fool around ... .I remember we discussed how the editors treater her differently from the rest of us, as if she had been pre-recognized as someone they were expecting great things of. — Elizabeth Winder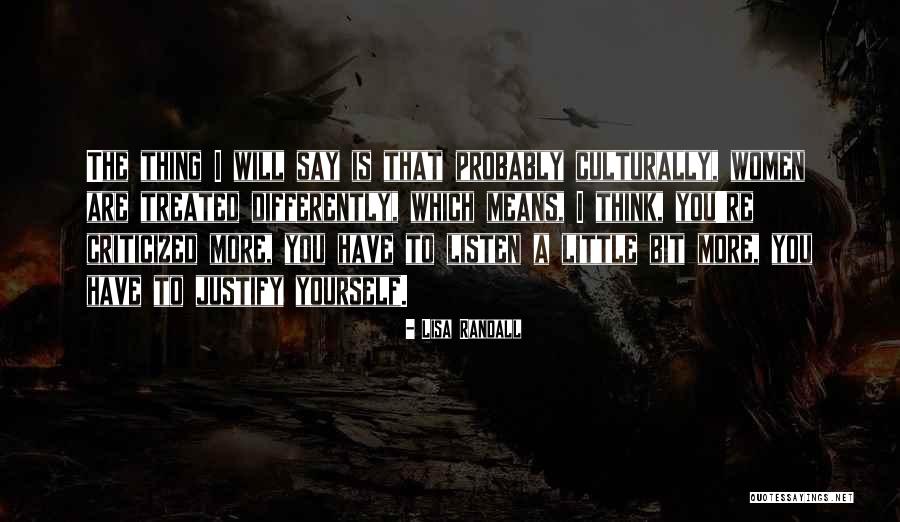 The thing I will say is that probably culturally, women are treated differently, which means, I think, you're criticized more, you have to listen a little bit more, you have to justify yourself. — Lisa Randall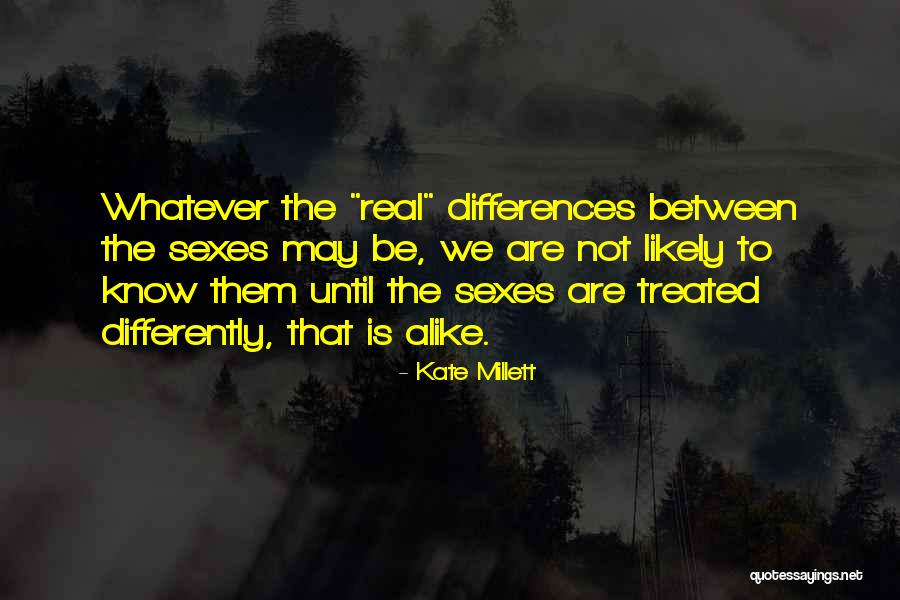 Whatever the "real" differences between the sexes may be, we are not likely to know them until the sexes are treated differently, that is alike. — Kate Millett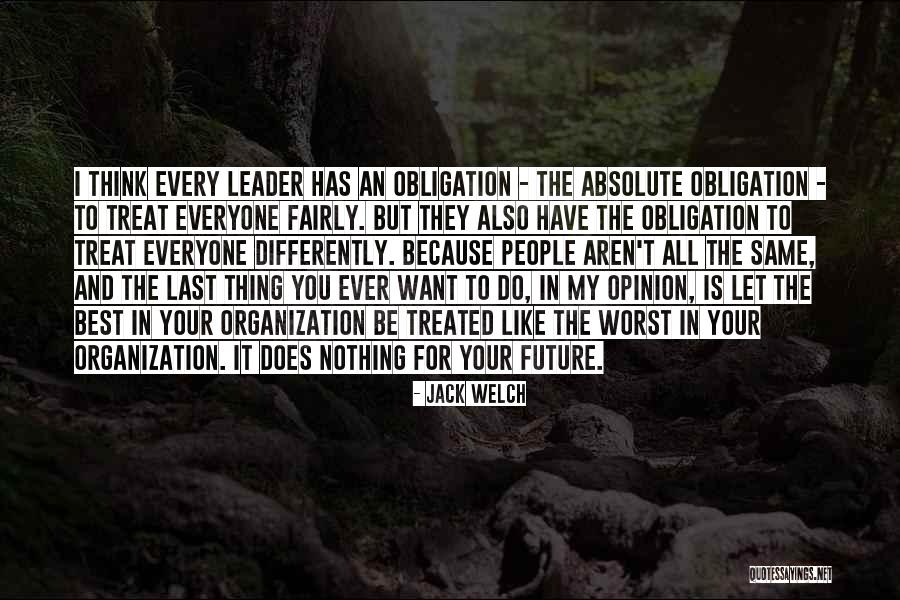 I think every leader has an obligation - the absolute obligation - to treat everyone fairly. But they also have the obligation to treat everyone differently. Because people aren't all the same, and the last thing you ever want to do, in my opinion, is let the best in your organization be treated like the worst in your organization. It does nothing for your future. — Jack Welch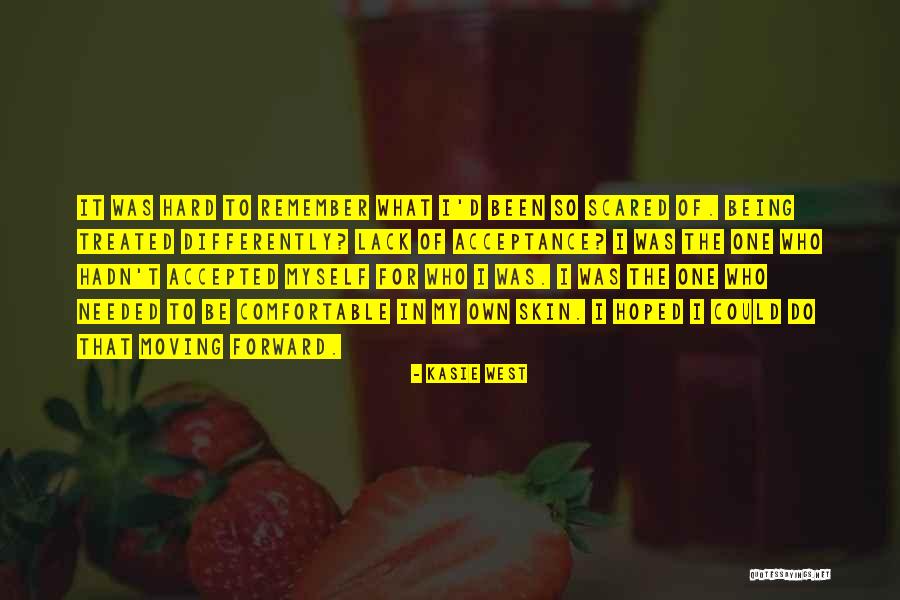 It was hard to remember what I'd been so scared of. Being treated differently? Lack of acceptance? I was the one who hadn't accepted myself for who I was. I was the one who needed to be comfortable in my own skin. I hoped I could do that moving forward. — Kasie West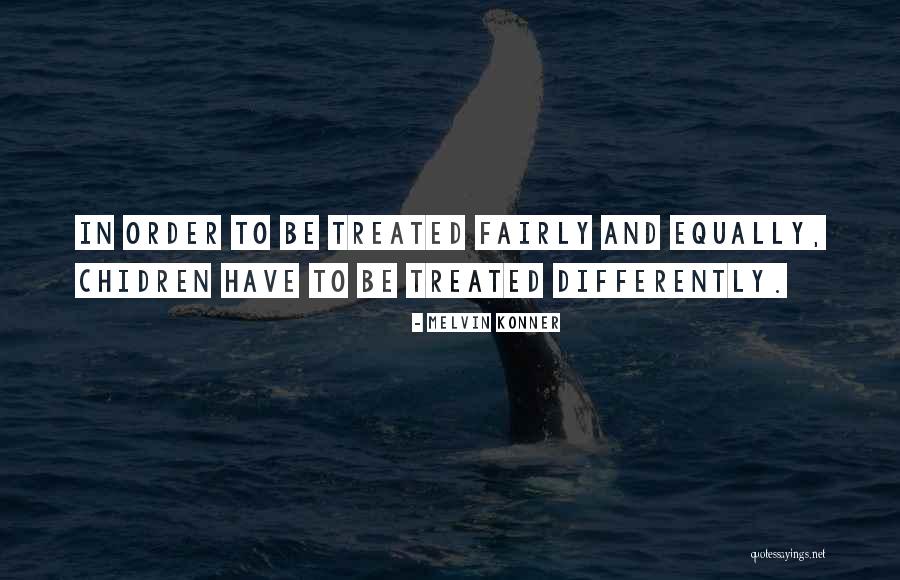 In order to be treated fairly and equally, chidren have to be treated differently. — Melvin Konner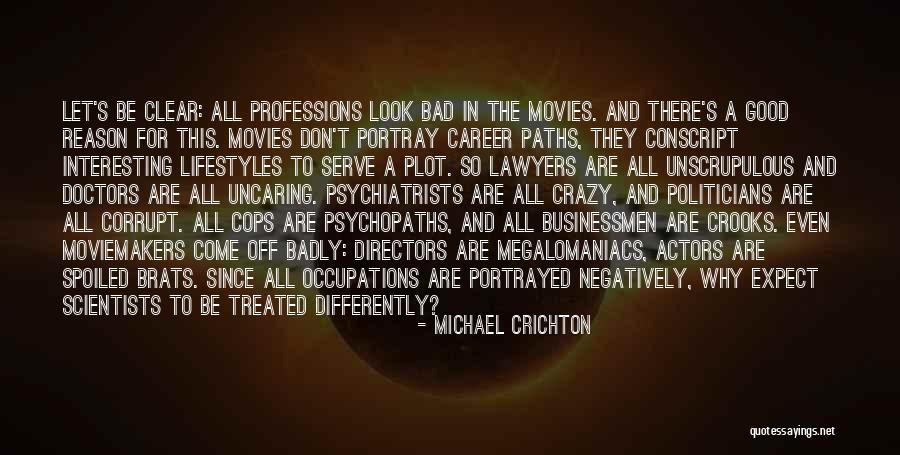 Let's be clear: all professions look bad in the movies. And there's a good reason for this. Movies don't portray career paths, they conscript interesting lifestyles to serve a plot. So lawyers are all unscrupulous and doctors are all uncaring. Psychiatrists are all crazy, and politicians are all corrupt. All cops are psychopaths, and all businessmen are crooks. Even moviemakers come off badly: directors are megalomaniacs, actors are spoiled brats. Since all occupations are portrayed negatively, why expect scientists to be treated differently? — Michael Crichton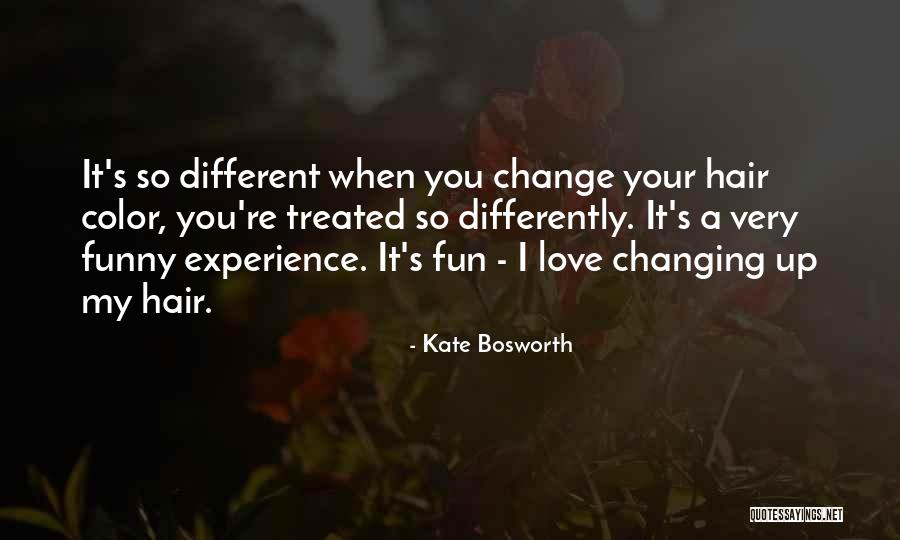 It's so different when you change your hair color, you're treated so differently. It's a very funny experience. It's fun - I love changing up my hair. — Kate Bosworth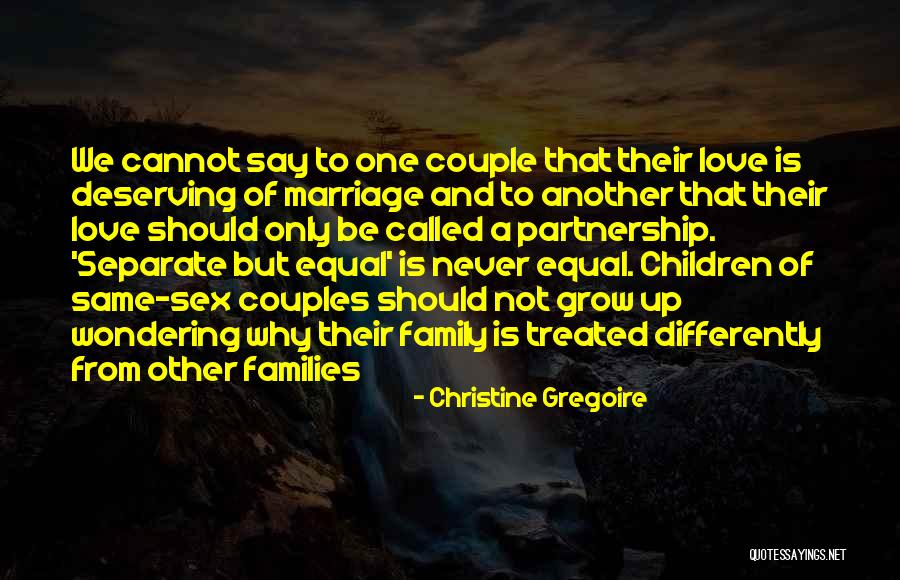 We cannot say to one couple that their love is deserving of marriage and to another that their love should only be called a partnership. 'Separate but equal' is never equal. Children of same-sex couples should not grow up wondering why their family is treated differently from other families — Christine Gregoire
You have to fight for respect. In life, even cashiers at the supermarket, if they're women, they're differently treated. It's a reality. The reality is not nice; it's not pretty. — Isabel Coixet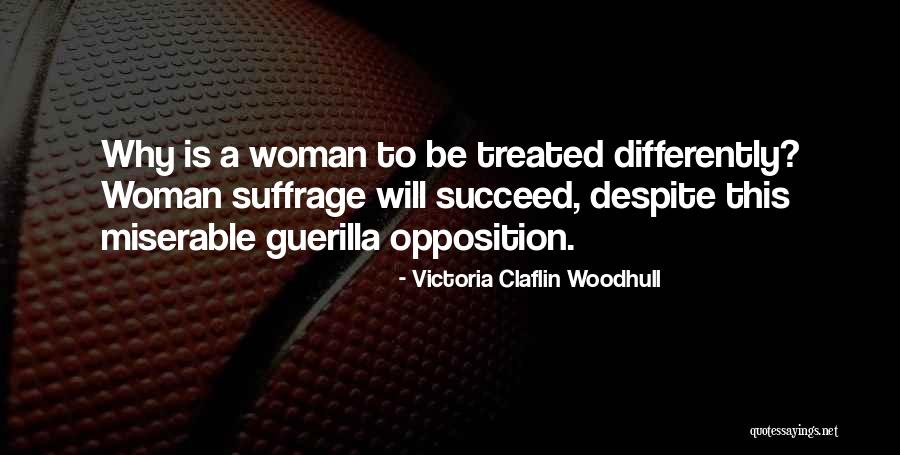 Why is a woman to be treated differently? Woman suffrage will succeed, despite this miserable guerilla opposition. — Victoria Claflin Woodhull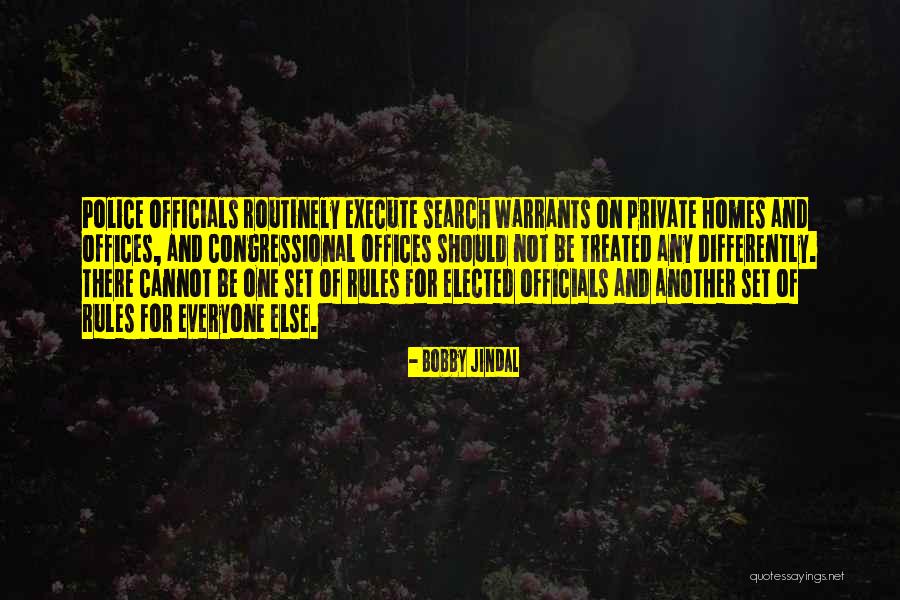 Police officials routinely execute search warrants on private homes and offices, and Congressional offices should not be treated any differently. There cannot be one set of rules for elected officials and another set of rules for everyone else. — Bobby Jindal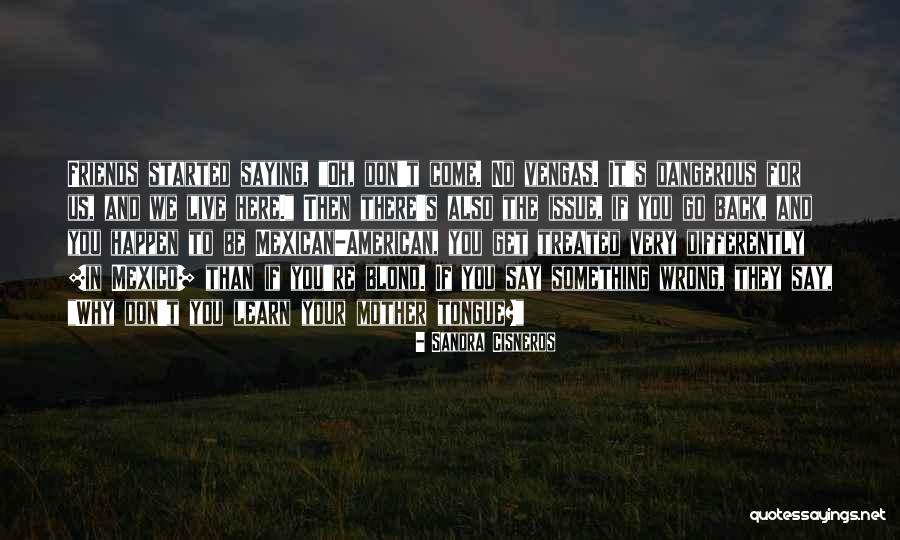 Friends started saying, "Oh, don't come. No vengas. It's dangerous for us, and we live here." Then there's also the issue, if you go back, and you happen to be Mexican-American, you get treated very differently [in Mexico] than if you're blond. If you say something wrong, they say, "Why don't you learn your mother tongue?" — Sandra Cisneros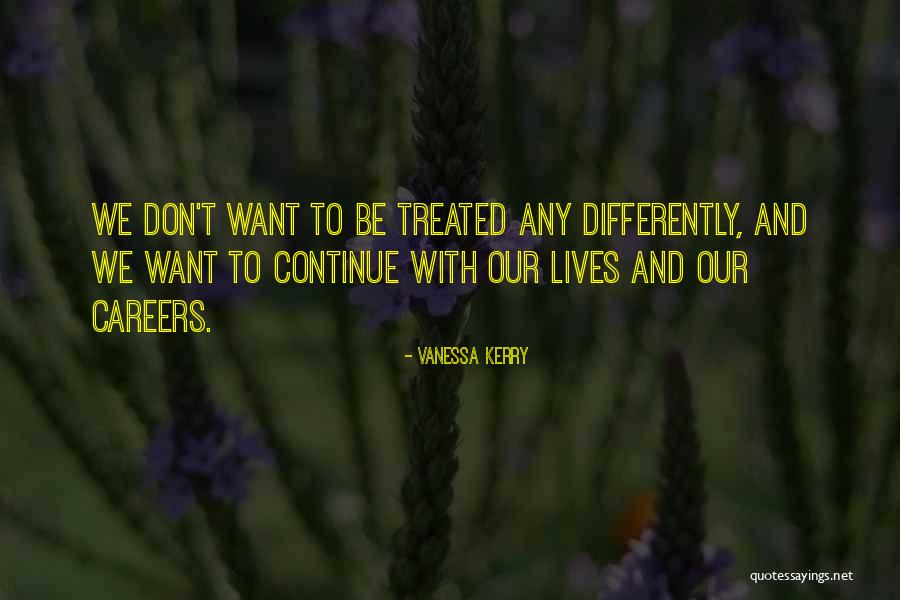 We don't want to be treated any differently, and we want to continue with our lives and our careers. — Vanessa Kerry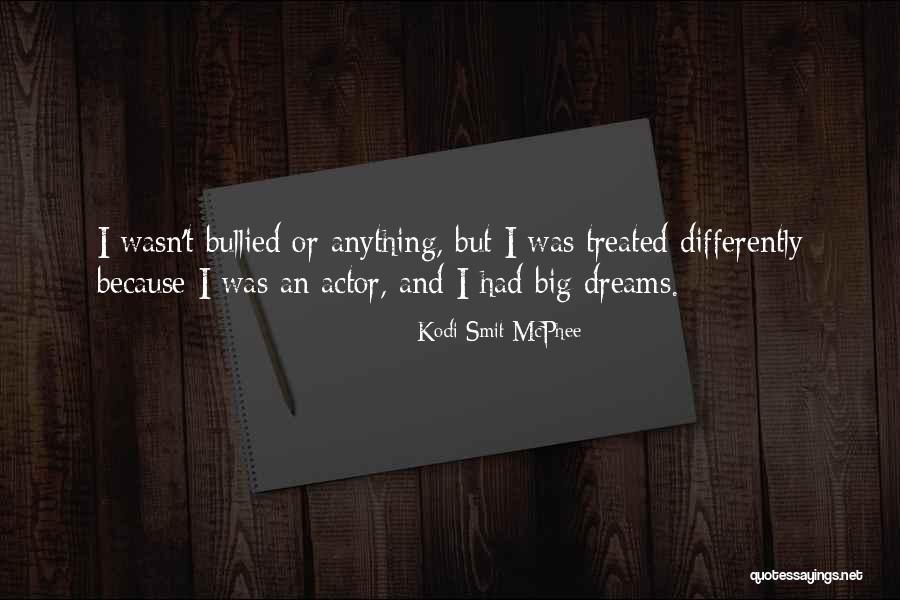 I wasn't bullied or anything, but I was treated differently because I was an actor, and I had big dreams. — Kodi Smit-McPhee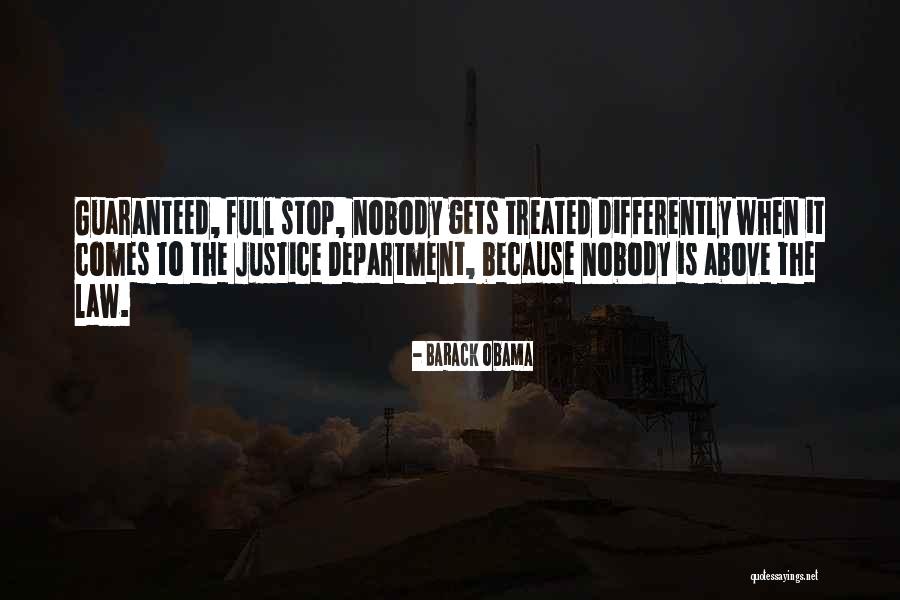 Guaranteed, full stop, nobody gets treated differently when it comes to the Justice Department, because nobody is above the law. — Barack Obama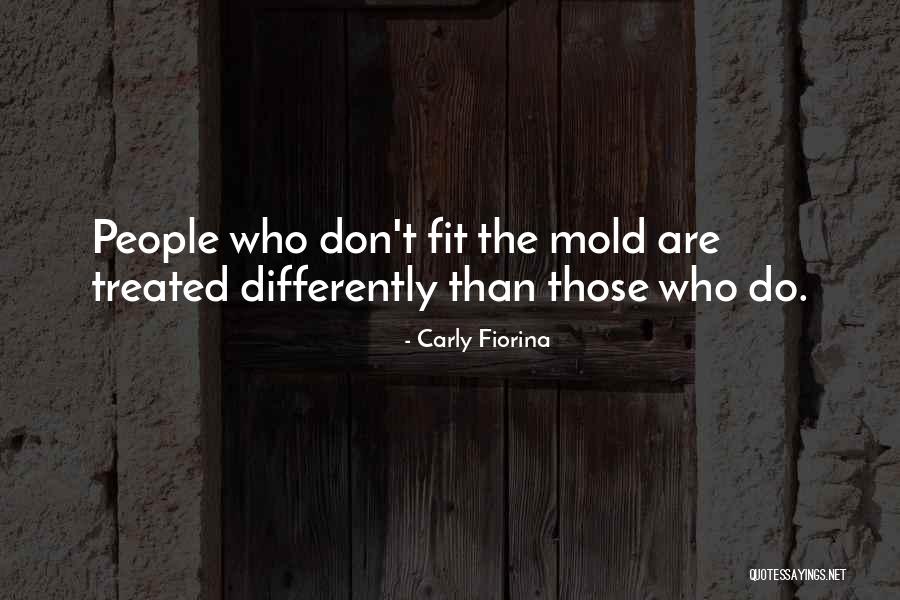 People who don't fit the mold are treated differently than those who do. — Carly Fiorina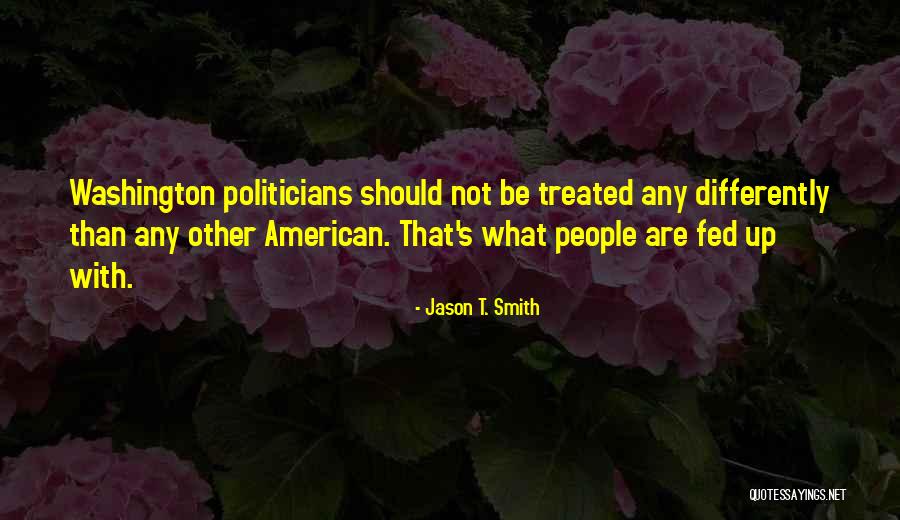 Washington politicians should not be treated any differently than any other American. That's what people are fed up with. — Jason T. Smith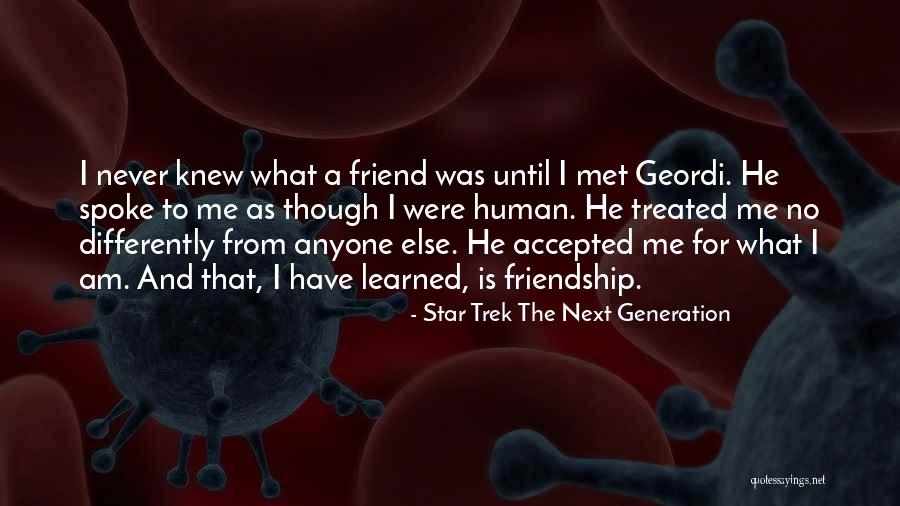 I never knew what a friend was until I met Geordi. He spoke to me as though I were human. He treated me no differently from anyone else. He accepted me for what I am. And that, I have learned, is friendship. — Star Trek The Next Generation