Treat U Right Quotes & Sayings
Enjoy reading and share 32 famous quotes about Treat U Right with everyone.
Top Treat U Right Quotes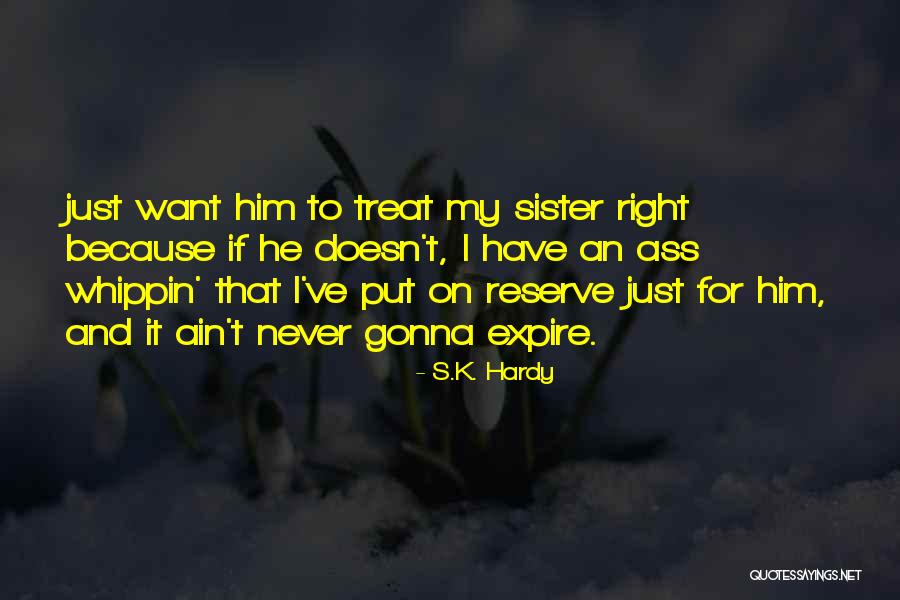 just want him to treat my sister right because if he doesn't, I have an ass whippin' that I've put on reserve just for him, and it ain't never gonna expire. — S.K. Hardy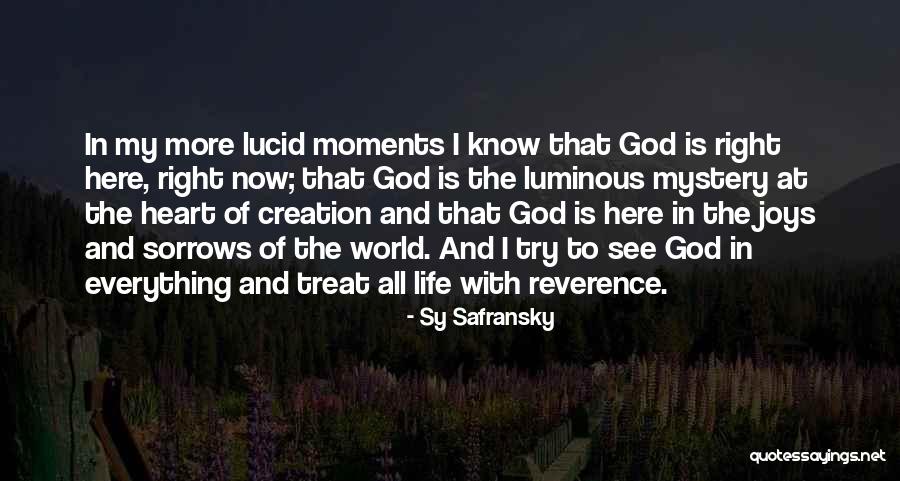 In my more lucid moments I know that God is right here, right now; that God is the luminous mystery at the heart of creation and that God is here in the joys and sorrows of the world. And I try to see God in everything and treat all life with reverence. — Sy Safransky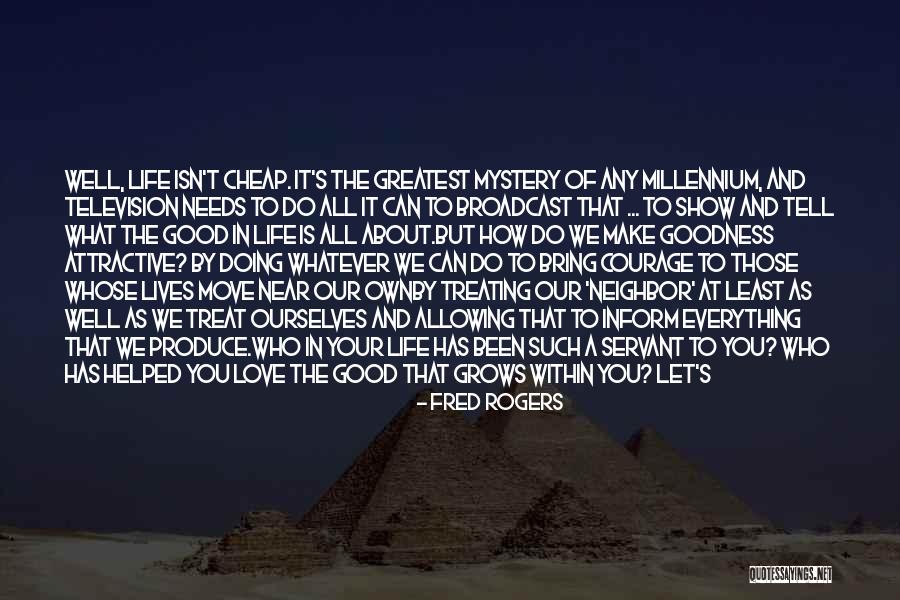 Well, life isn't cheap. It's the greatest mystery of any millennium, and television needs to do all it can to broadcast that ... to show and tell what the good in life is all about.
But how do we make goodness attractive? By doing whatever we can do to bring courage to those whose lives move near our own
by treating our 'neighbor' at least as well as we treat ourselves and allowing that to inform everything that we produce.
Who in your life has been such a servant to you? Who has helped you love the good that grows within you? Let's just take ten seconds to think of some of those people who have loved us and wanted what was best for us in life, those who have encouraged us to become who we are tonight - just ten seconds of silence.
No matter where they are, either here or in heaven, imagine how pleased those people must be to know that you thought of them right now. — Fred Rogers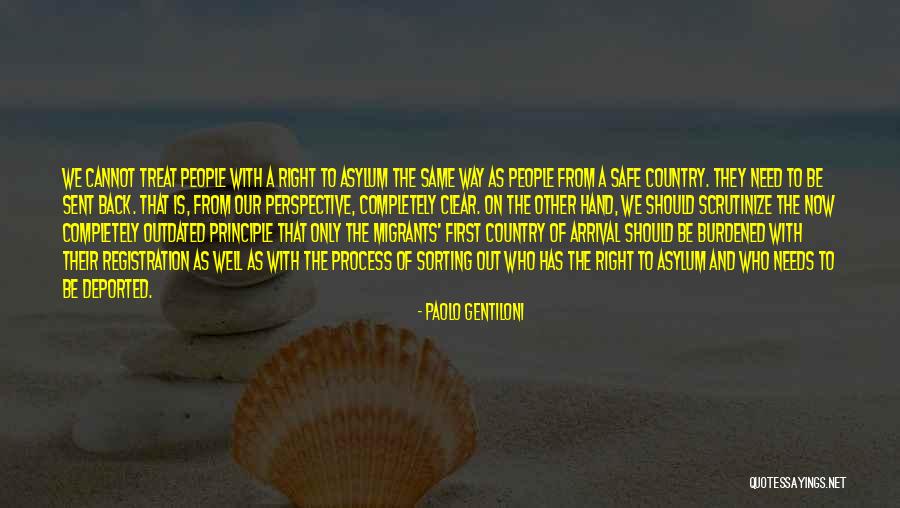 We cannot treat people with a right to asylum the same way as people from a safe country. They need to be sent back. That is, from our perspective, completely clear. On the other hand, we should scrutinize the now completely outdated principle that only the migrants' first country of arrival should be burdened with their registration as well as with the process of sorting out who has the right to asylum and who needs to be deported. — Paolo Gentiloni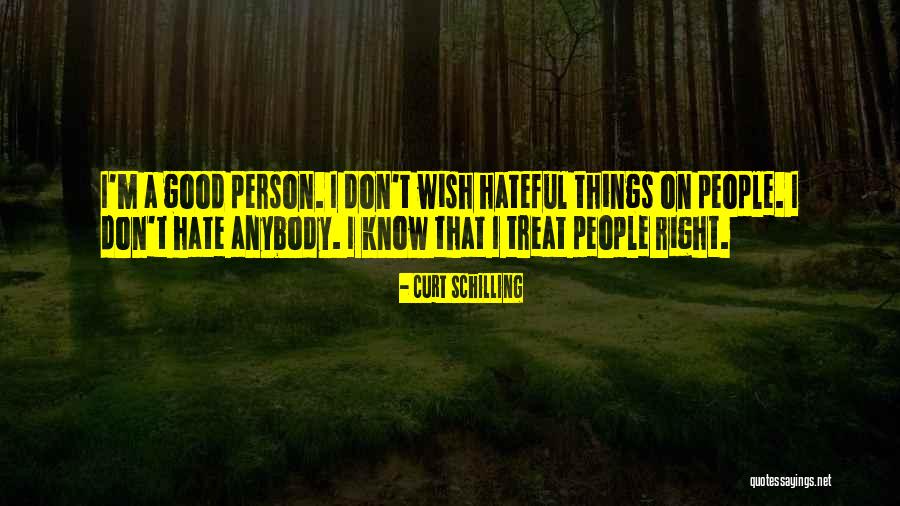 I'm a good person. I don't wish hateful things on people. I don't hate anybody. I know that I treat people right. — Curt Schilling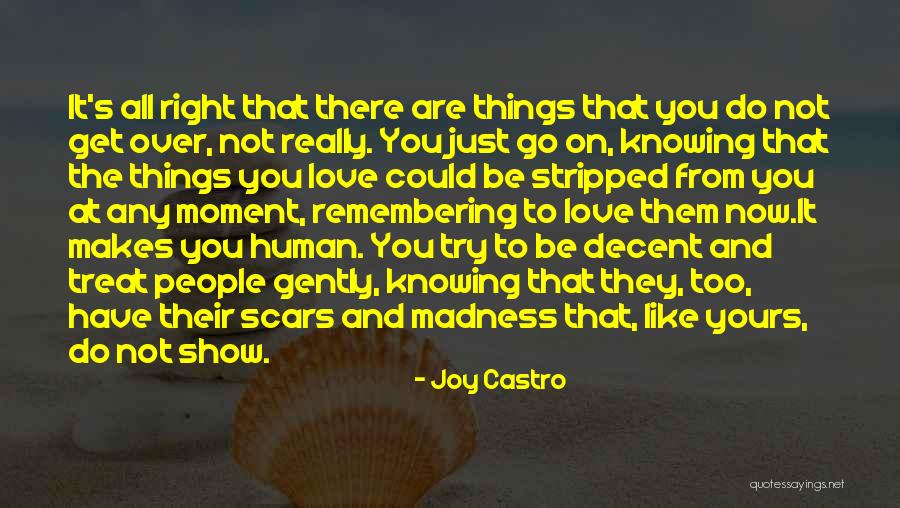 It's all right that there are things that you do not get over, not really. You just go on, knowing that the things you love could be stripped from you at any moment, remembering to love them now.
It makes you human. You try to be decent and treat people gently, knowing that they, too, have their scars and madness that, like yours, do not show. — Joy Castro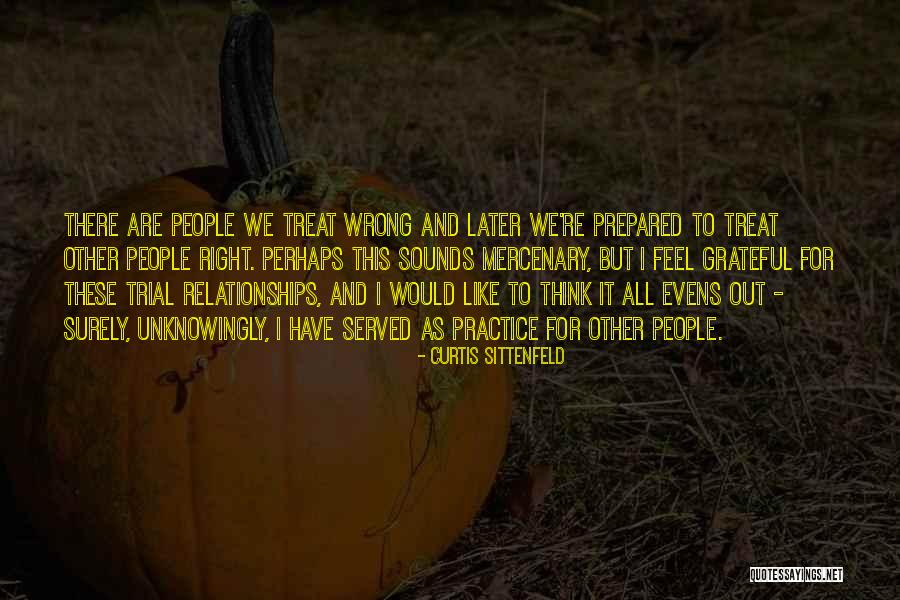 There are people we treat wrong and later we're prepared to treat other people right. Perhaps this sounds mercenary, but I feel grateful for these trial relationships, and I would like to think it all evens out - surely, unknowingly, I have served as practice for other people. — Curtis Sittenfeld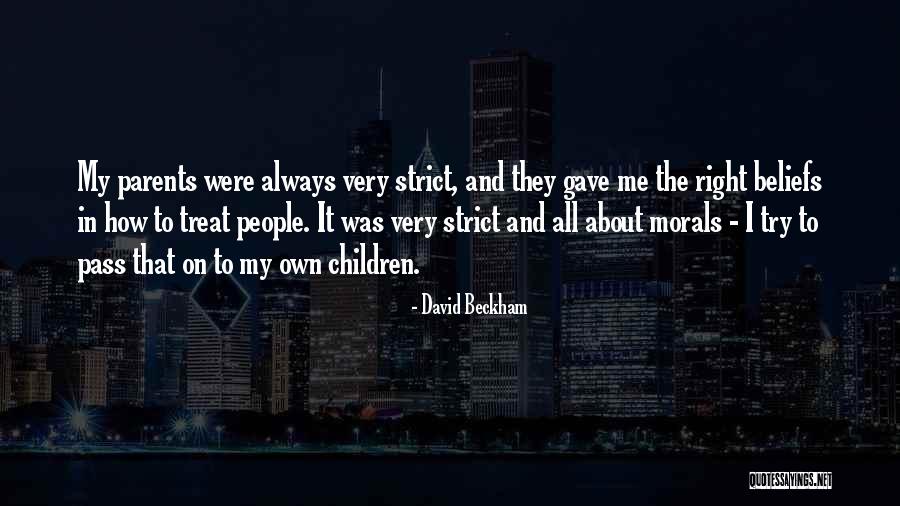 My parents were always very strict, and they gave me the right beliefs in how to treat people. It was very strict and all about morals - I try to pass that on to my own children. — David Beckham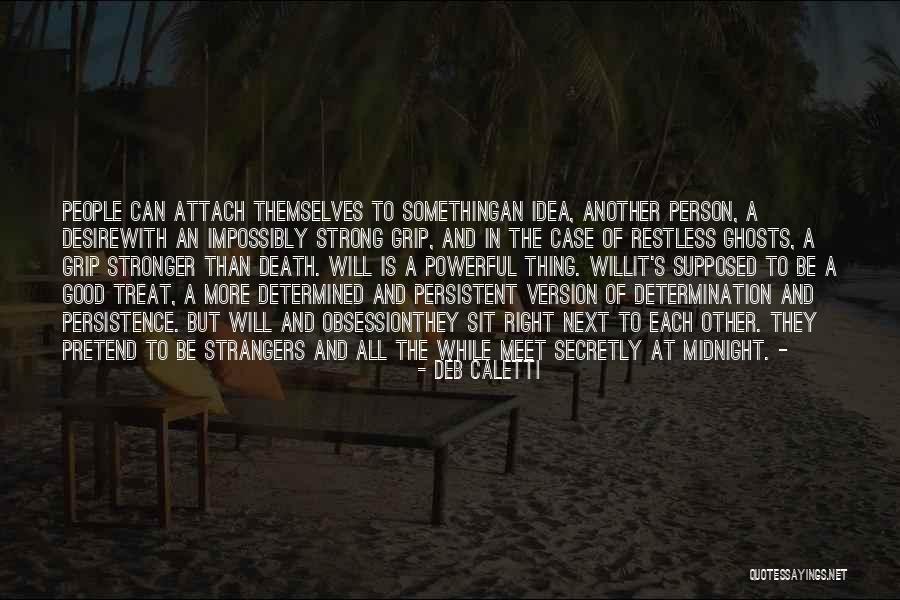 People can attach themselves to something
an idea, another person, a desire
with an impossibly strong grip, and in the case of restless ghosts, a grip stronger than death. Will is a powerful thing. Will
it's supposed to be a good treat, a more determined and persistent version of determination and persistence. But will and obsession
they sit right next to each other. They pretend to be strangers and all the while meet secretly at midnight. - — Deb Caletti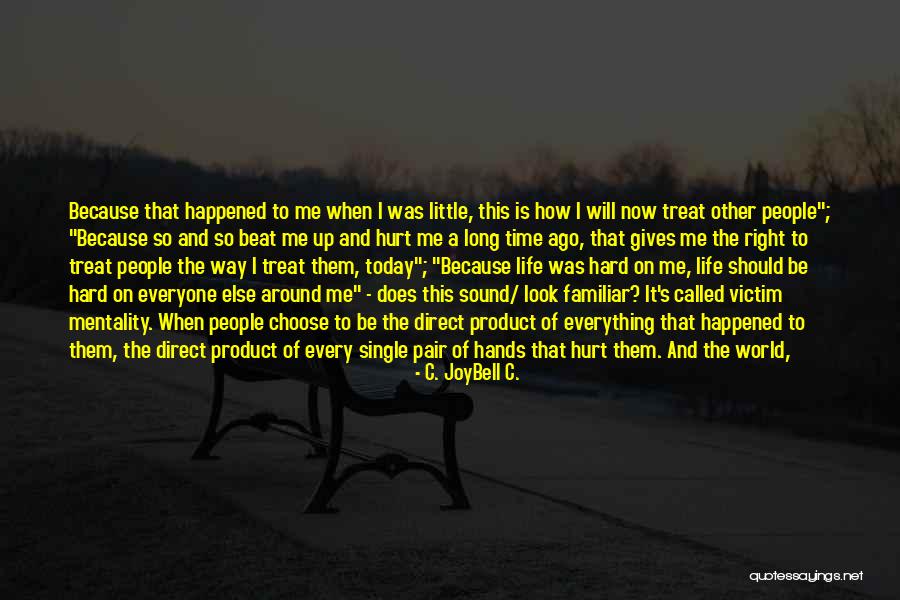 Because that happened to me when I was little, this is how I will now treat other people"; "Because so and so beat me up and hurt me a long time ago, that gives me the right to treat people the way I treat them, today"; "Because life was hard on me, life should be hard on everyone else around me" - does this sound/ look familiar? It's called victim mentality. When people choose to be the direct product of everything that happened to them, the direct product of every single pair of hands that hurt them. And the world, to these people, must bend over backwards in order to accommodate their wounds. Some people don't want to be loved; they just want to make the world pay. — C. JoyBell C.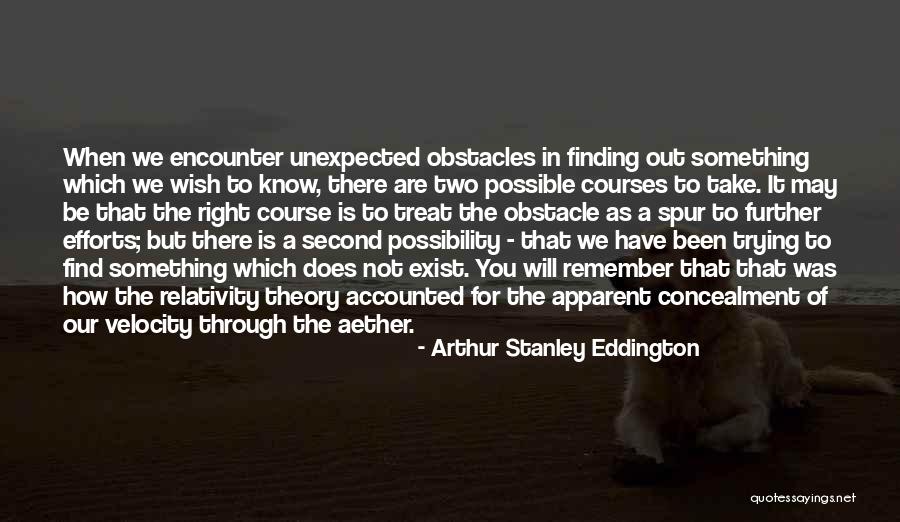 When we encounter unexpected obstacles in finding out something which we wish to know, there are two possible courses to take. It may be that the right course is to treat the obstacle as a spur to further efforts; but there is a second possibility - that we have been trying to find something which does not exist. You will remember that that was how the relativity theory accounted for the apparent concealment of our velocity through the aether. — Arthur Stanley Eddington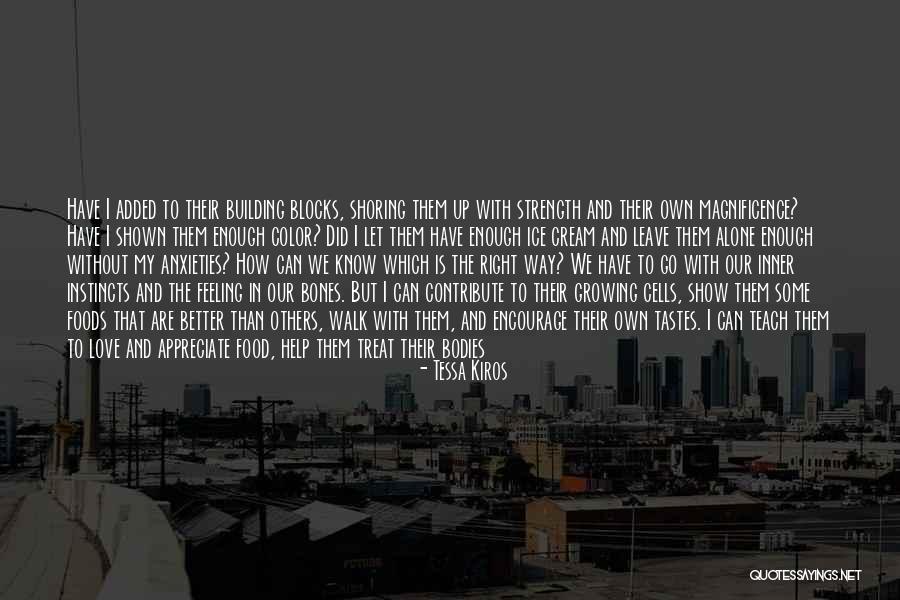 Have I added to their building blocks, shoring them up with strength and their own magnificence? Have I shown them enough color? Did I let them have enough ice cream and leave them alone enough without my anxieties? How can we know which is the right way? We have to go with our inner instincts and the feeling in our bones. But I can contribute to their growing cells, show them some foods that are better than others, walk with them, and encourage their own tastes. I can teach them to love and appreciate food, help them treat their bodies like gold, listen to them wanting more or less. The rest I have to trust. — Tessa Kiros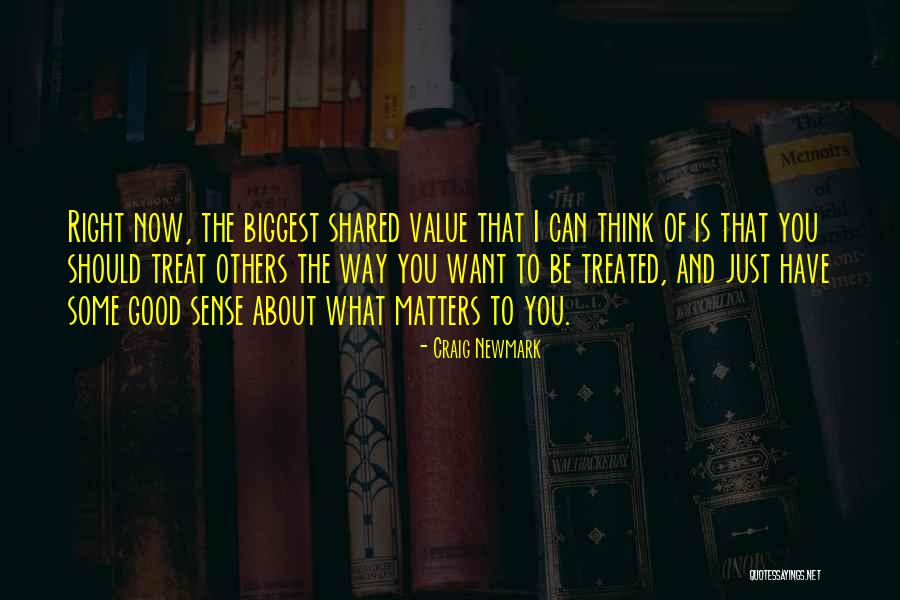 Right now, the biggest shared value that I can think of is that you should treat others the way you want to be treated, and just have some good sense about what matters to you. — Craig Newmark
I love people and want to be good to people. If I'm in restaurant and somebody doesn't treat a waitress right, I literally will leave. I will unfriend you. You are not my friend anymore. — Kristen Stewart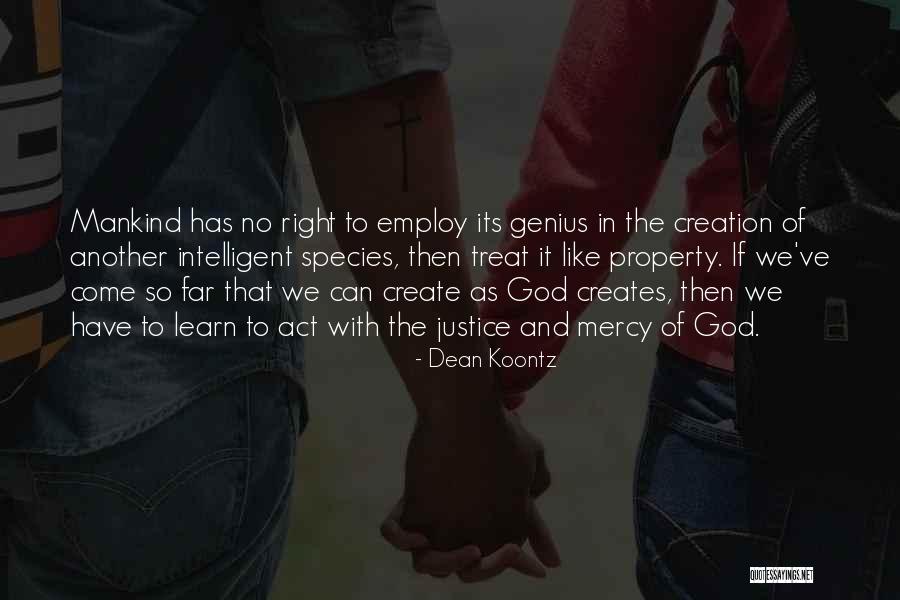 Mankind has no right to employ its genius in the creation of another intelligent species, then treat it like property. If we've come so far that we can create as God creates, then we have to learn to act with the justice and mercy of God. — Dean Koontz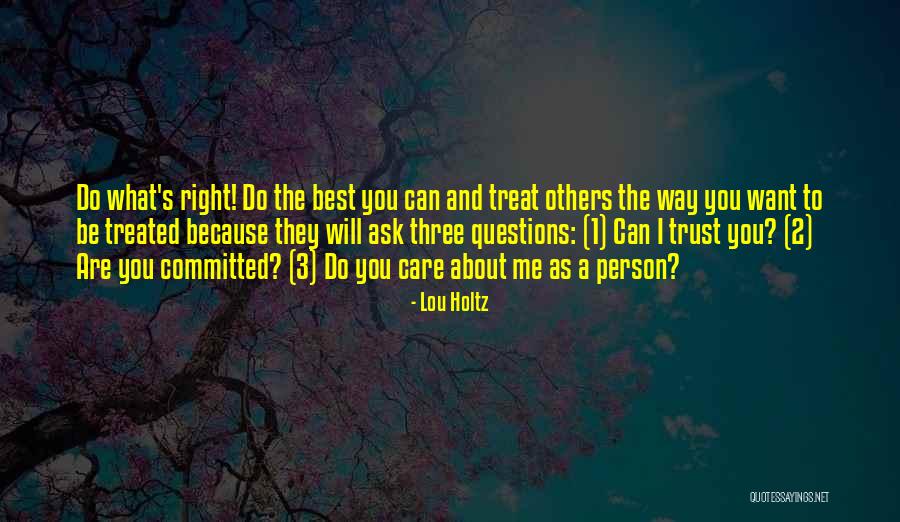 Do what's right! Do the best you can and treat others the way you want to be treated because they will ask three questions: (1) Can I trust you? (2) Are you committed? (3) Do you care about me as a person? — Lou Holtz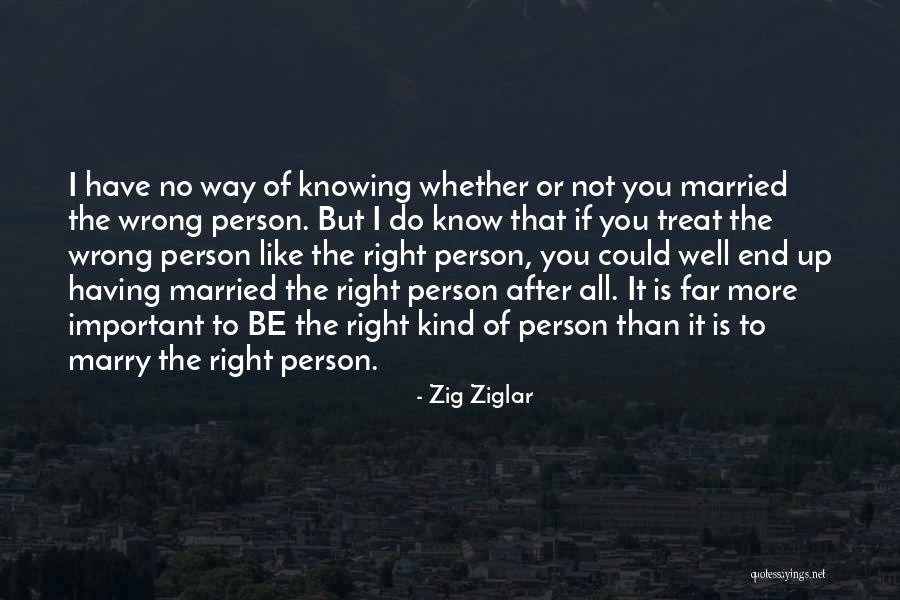 I have no way of knowing whether or not you married the wrong person. But I do know that if you treat the wrong person like the right person, you could well end up having married the right person after all. It is far more important to BE the right kind of person than it is to marry the right person. — Zig Ziglar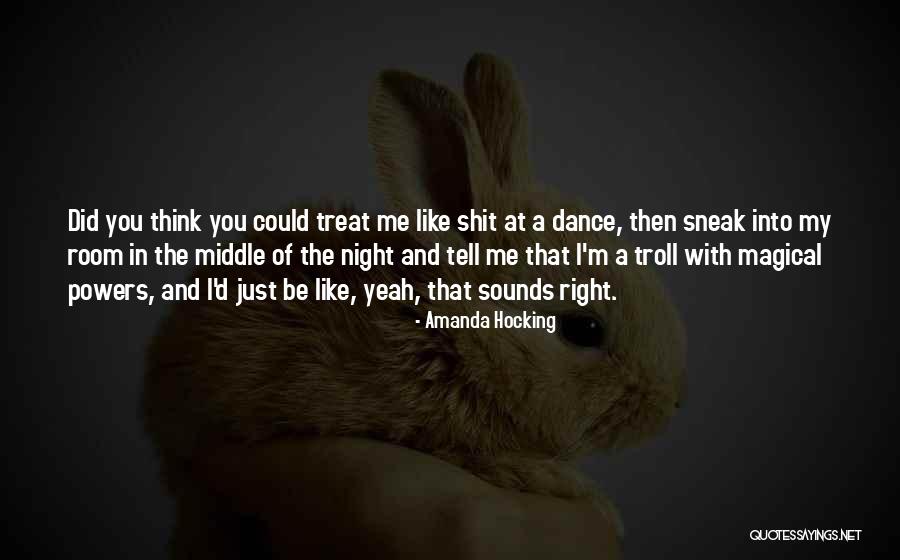 Did you think you could treat me like shit at a dance, then sneak into my room in the middle of the night and tell me that I'm a troll with magical powers, and I'd just be like, yeah, that sounds right. — Amanda Hocking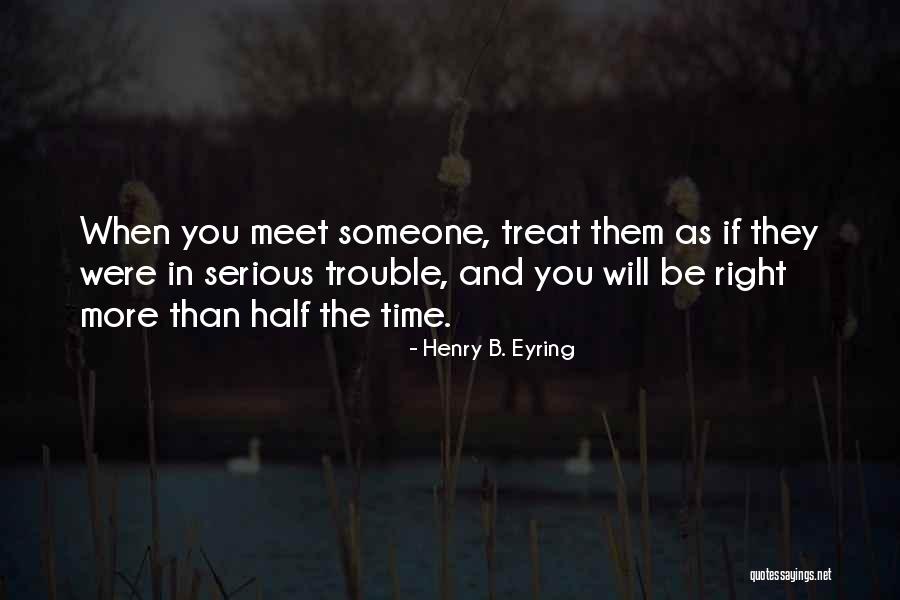 When you meet someone, treat them as if they were in serious trouble, and you will be right more than half the time. — Henry B. Eyring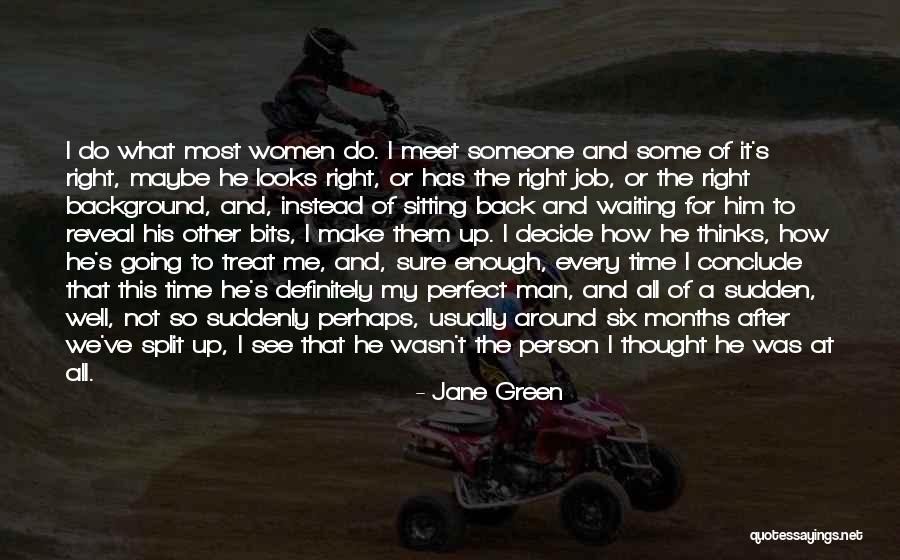 I do what most women do. I meet someone and some of it's right, maybe he looks right, or has the right job, or the right background, and, instead of sitting back and waiting for him to reveal his other bits, I make them up. I decide how he thinks, how he's going to treat me, and, sure enough, every time I conclude that this time he's definitely my perfect man, and all of a sudden, well, not so suddenly perhaps, usually around six months after we've split up, I see that he wasn't the person I thought he was at all. — Jane Green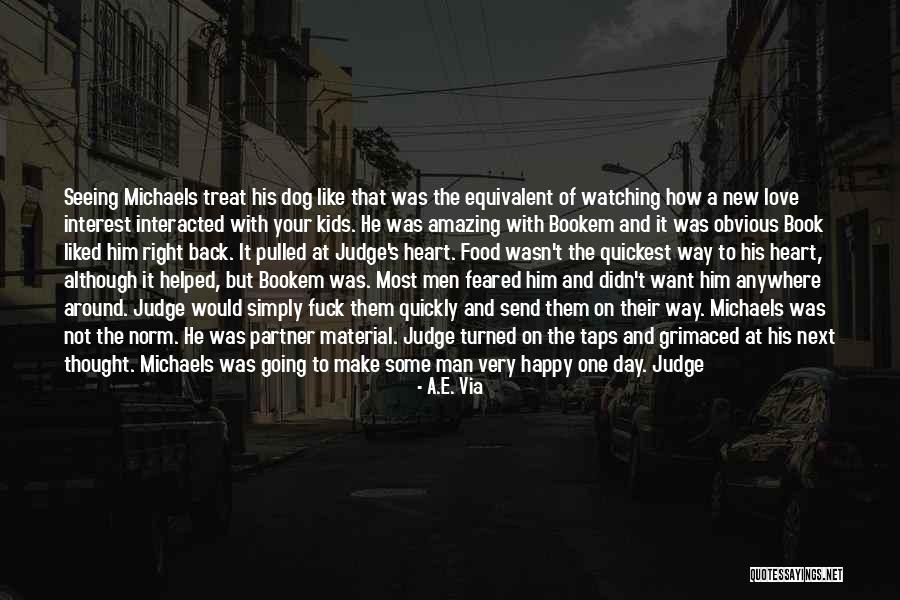 Seeing Michaels treat his dog like that was the equivalent of watching how a new love interest interacted with your kids. He was amazing with Bookem and it was obvious Book liked him right back. It pulled at Judge's heart. Food wasn't the quickest way to his heart, although it helped, but Bookem was. Most men feared him and didn't want him anywhere around. Judge would simply fuck them quickly and send them on their way. Michaels was not the norm. He was partner material. Judge turned on the taps and grimaced at his next thought. Michaels was going to make some man very happy one day. Judge — A.E. Via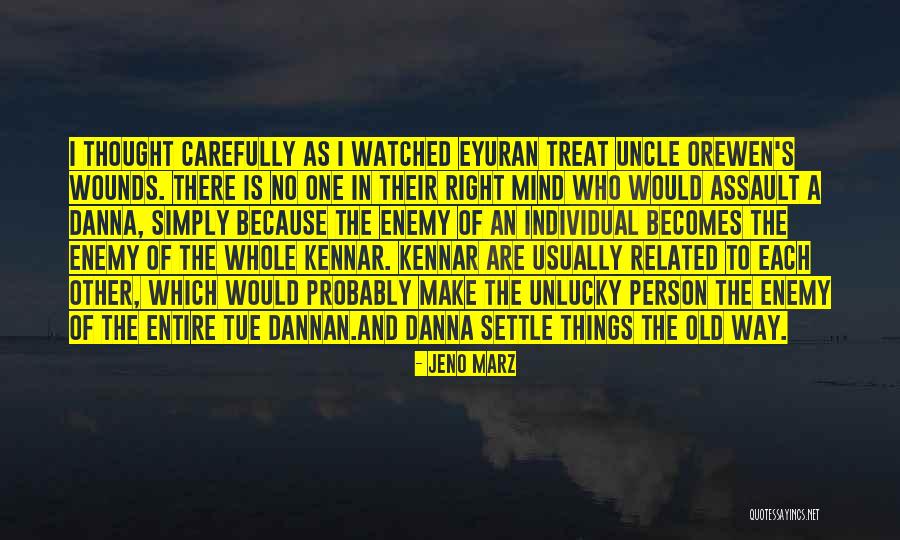 I thought carefully as I watched Eyuran treat Uncle Orewen's wounds. There is no one in their right mind who would assault a Danna, simply because the enemy of an individual becomes the enemy of the whole kennar. Kennar are usually related to each other, which would probably make the unlucky person the enemy of the entire Tue Dannan.

And Danna settle things the old way. — Jeno Marz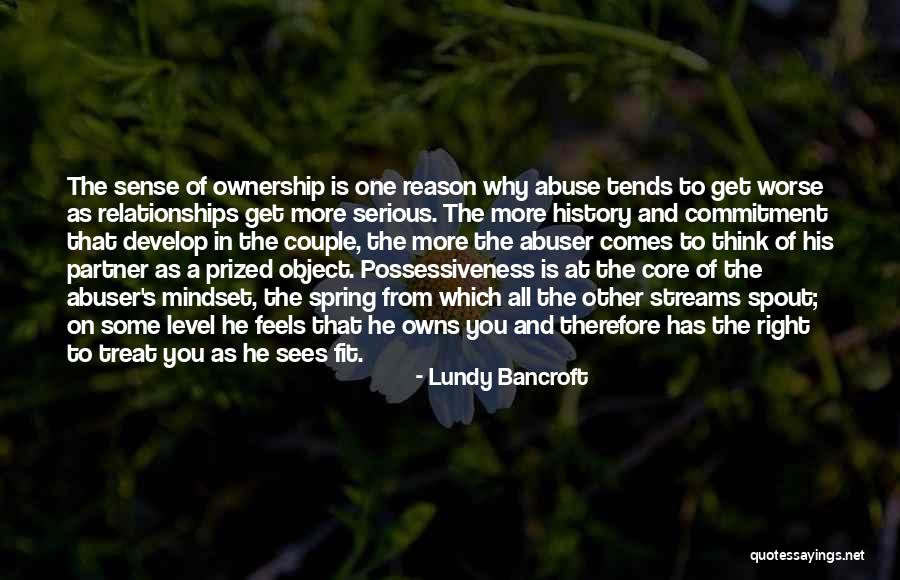 The sense of ownership is one reason why abuse tends to get worse as relationships get more serious. The more history and commitment that develop in the couple, the more the abuser comes to think of his partner as a prized object. Possessiveness is at the core of the abuser's mindset, the spring from which all the other streams spout; on some level he feels that he owns you and therefore has the right to treat you as he sees fit. — Lundy Bancroft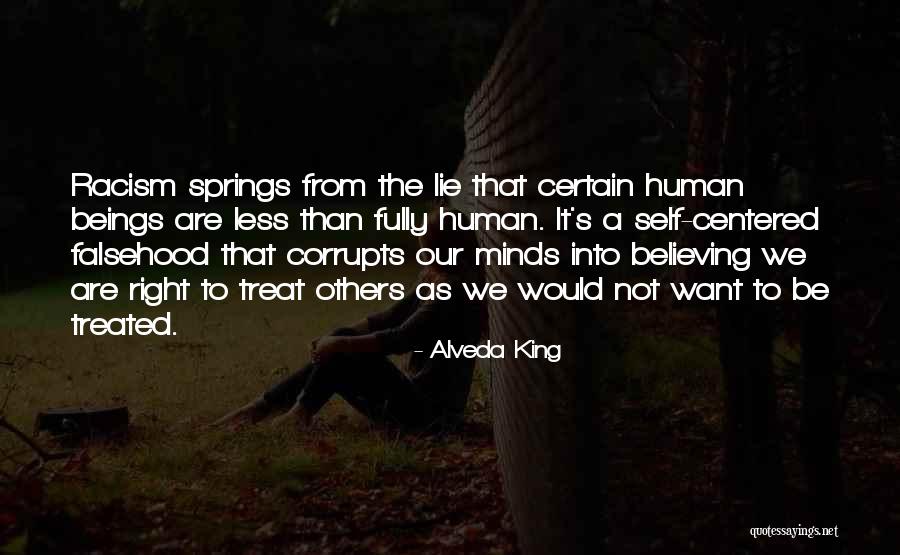 Racism springs from the lie that certain human beings are less than fully human. It's a self-centered falsehood that corrupts our minds into believing we are right to treat others as we would not want to be treated. — Alveda King
I'm in love with a girl who knows me better.
Fell for the woman just when I met her.
Took my sweet time when I was bitter.
Someone understands,
She knows how treat a fella right.
Give me that feeling every night,
She wants show love when I wanna fight,
Now someone understand me. — Juxtaposition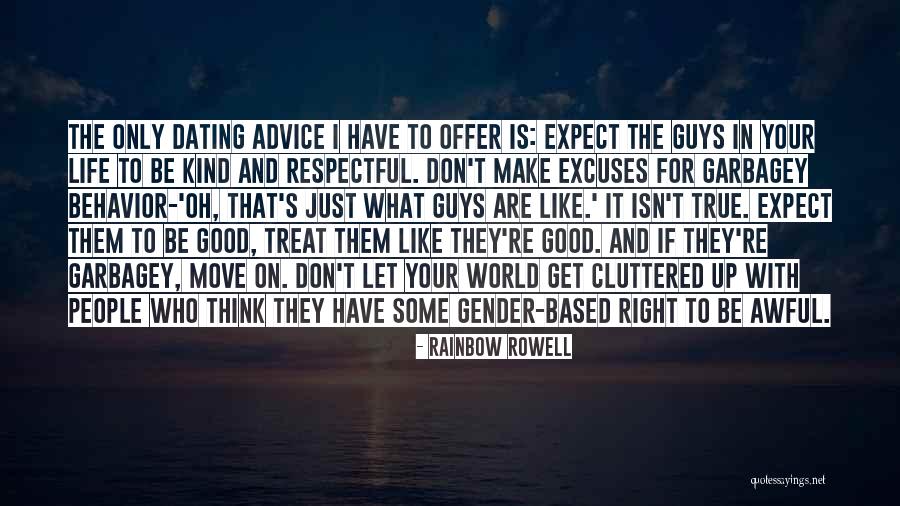 The only dating advice I have to offer is: Expect the guys in your life to be kind and respectful. Don't make excuses for garbagey behavior-'Oh, that's just what guys are like.' It isn't true. Expect them to be good, treat them like they're good. And if they're garbagey, move on. Don't let your world get cluttered up with people who think they have some gender-based right to be awful. — Rainbow Rowell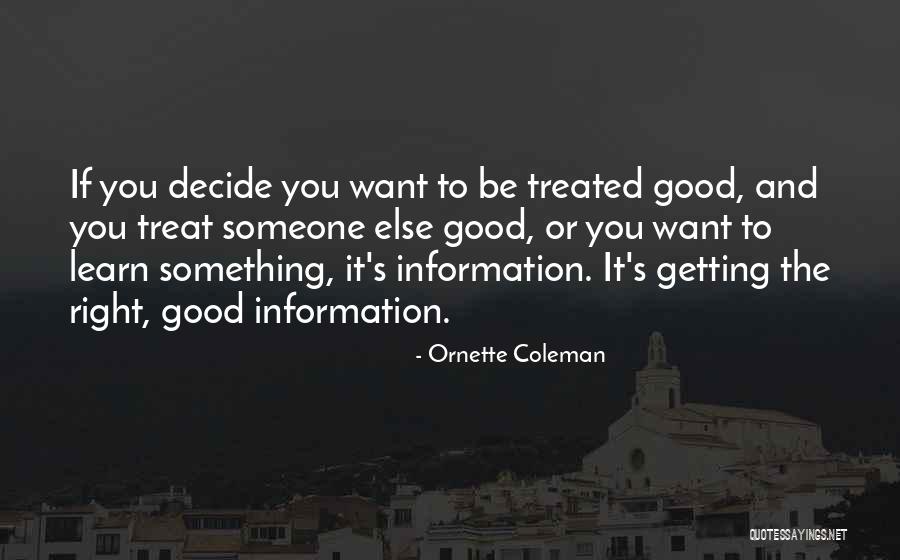 If you decide you want to be treated good, and you treat someone else good, or you want to learn something, it's information. It's getting the right, good information. — Ornette Coleman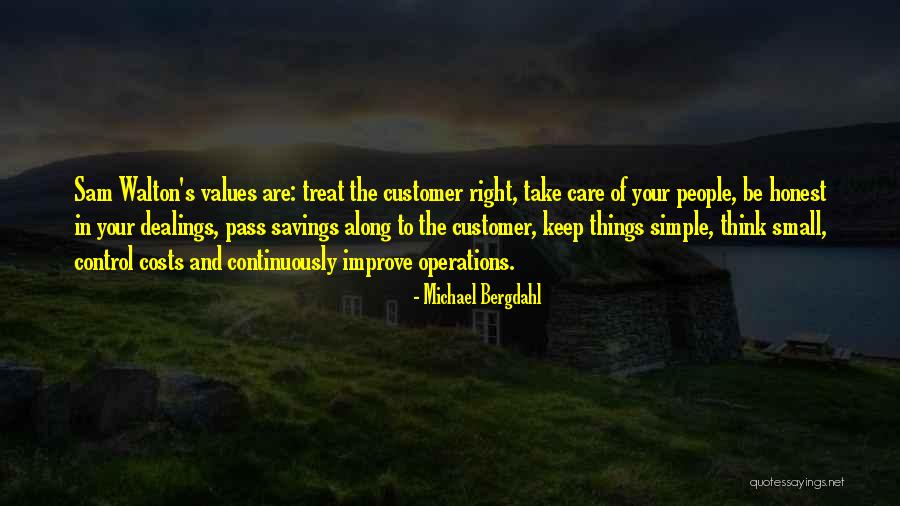 Sam Walton's values are: treat the customer right, take care of your people, be honest in your dealings, pass savings along to the customer, keep things simple, think small, control costs and continuously improve operations. — Michael Bergdahl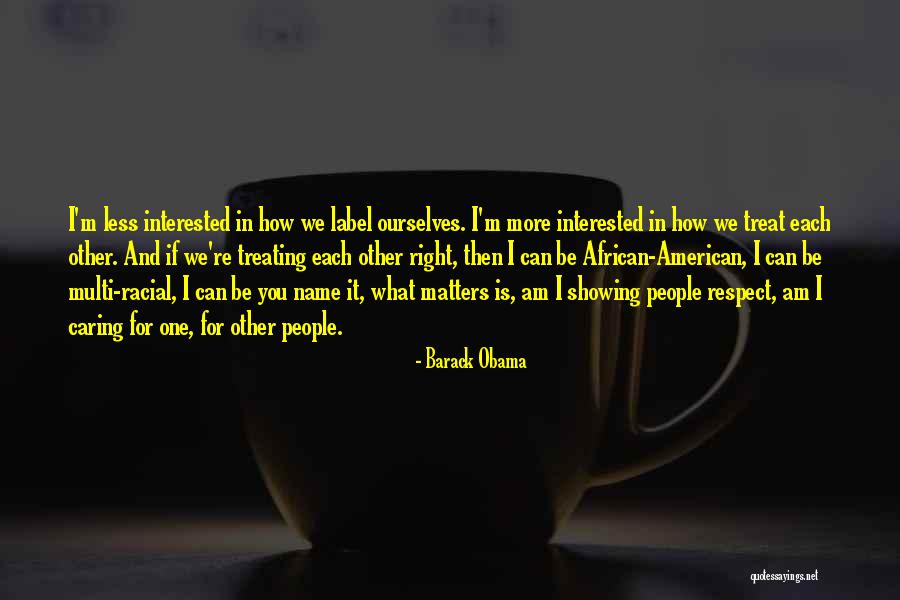 I'm less interested in how we label ourselves. I'm more interested in how we treat each other. And if we're treating each other right, then I can be African-American, I can be multi-racial, I can be you name it, what matters is, am I showing people respect, am I caring for one, for other people. — Barack Obama
The new science takes us from a colonial vision of nature as an enemy to pillage and enslave, to a new vision of nature as a community to nurture. The right to exploit, harness, and own nature in the form of property is tempered by the obligation to steward nature and treat it with dignity and respect. The utility value of nature is slowly giving way to the intrinsic value of nature. — Jeremy Rifkin
When we're not fucking, I will treat you like gold. But right now, all I can think about is wearing out my little bad girl. — Anonymous
Miguel: We've only gone over 100x! Mika: K - gonna roc!! Billy: Glad ur babysitting, dumbass. U know how 2 shoot, right? Mika: Screw u! Kevin: Cut the crap - stay focused treat us like animals we'll show them animals Mika: Hear that! Miguel: Payback a bitch! — Sophie Jordan