Quotes & Sayings About Transformation Of Yourself
Enjoy reading and share 43 famous quotes about Transformation Of Yourself with everyone.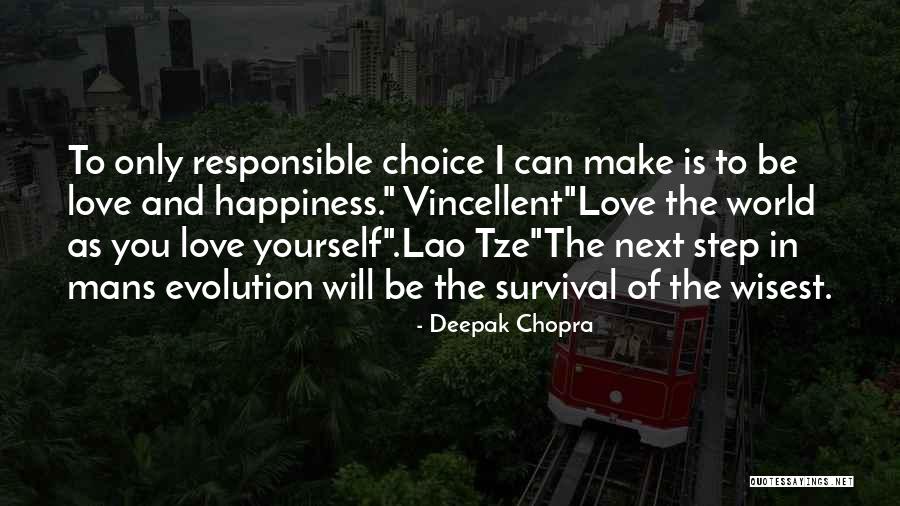 To only responsible choice I can make is to be love and happiness." Vincellent
"Love the world as you love yourself".Lao Tze
"The next step in mans evolution will be the survival of the wisest. — Deepak Chopra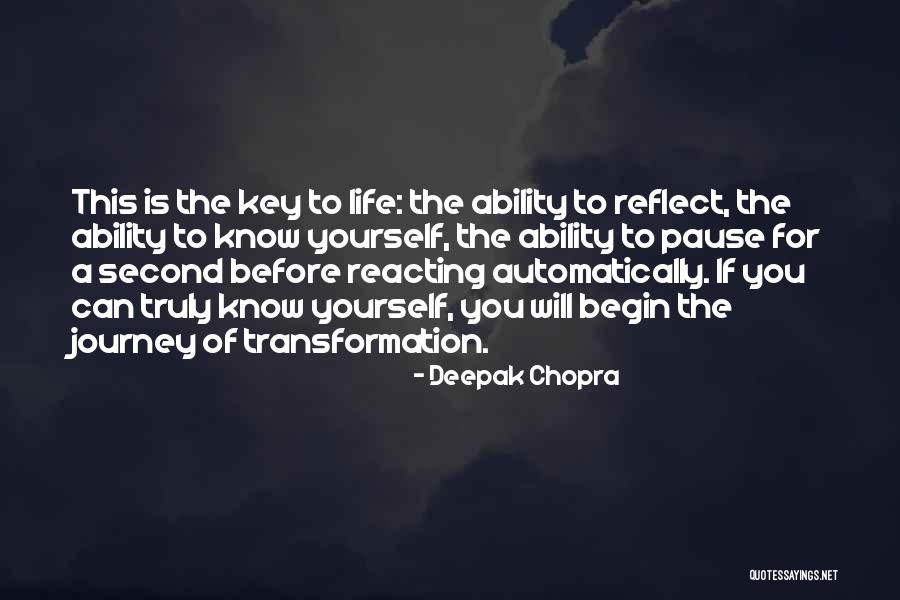 This is the key to life: the ability to reflect, the ability to know yourself, the ability to pause for a second before reacting automatically. If you can truly know yourself, you will begin the journey of transformation. — Deepak Chopra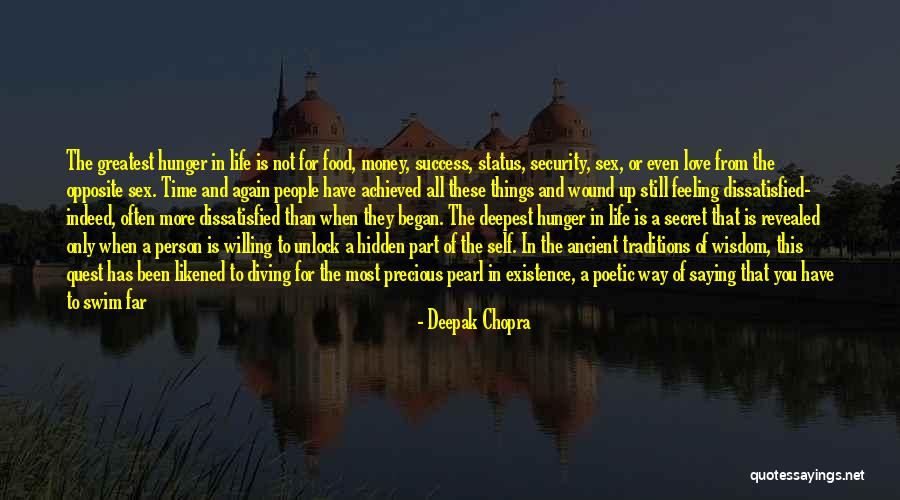 The greatest hunger in life is not for food, money, success, status, security, sex, or even love from the opposite sex. Time and again people have achieved all these things and wound up still feeling dissatisfied- indeed, often more dissatisfied than when they began. The deepest hunger in life is a secret that is revealed only when a person is willing to unlock a hidden part of the self. In the ancient traditions of wisdom, this quest has been likened to diving for the most precious pearl in existence, a poetic way of saying that you have to swim far out beyond shallow waters, plunge deep into yourself, and search patiently until the pearl beyond price is found. The pearl is also called essence, the breath of god, the water of life ... labels for what we, in our more prosaic scientific age, would simply call TRANSFORMATION. — Deepak Chopra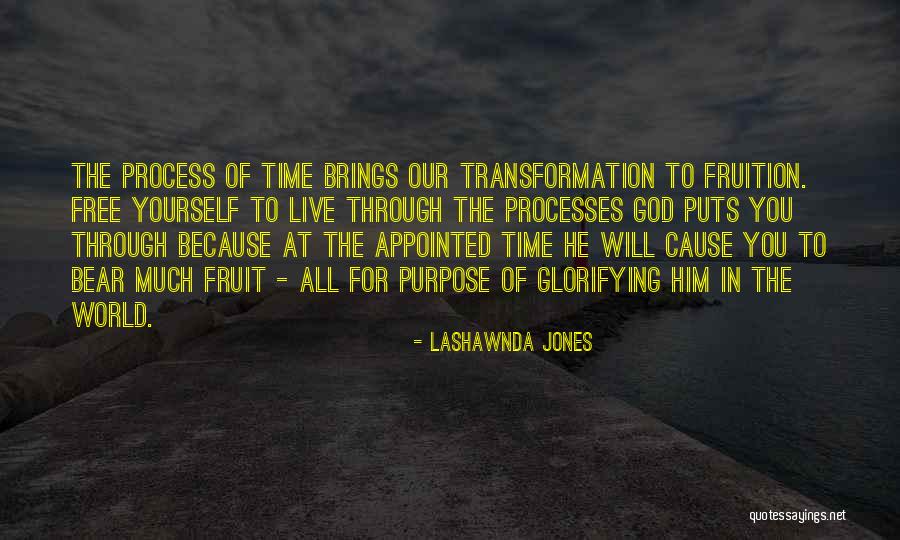 The process of time brings our transformation to fruition. Free yourself to live through the processes God puts you through because at the appointed time He will cause you to bear much fruit - all for purpose of glorifying Him in the world. — LaShawnda Jones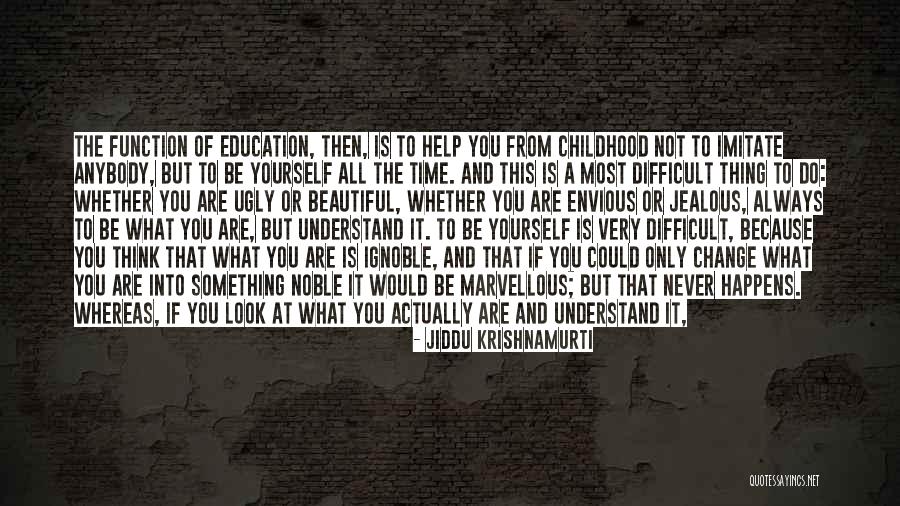 The function of education, then, is to help you from childhood not to imitate anybody, but to be yourself all the time. And this is a most difficult thing to do: whether you are ugly or beautiful, whether you are envious or jealous, always to be what you are, but understand it. To be yourself is very difficult, because you think that what you are is ignoble, and that if you could only change what you are into something noble it would be marvellous; but that never happens. Whereas, if you look at what you actually are and understand it, then in that very understanding there is a transformation. So freedom lies, not in trying to become something different, nor in doing whatever you happen to feel like doing, nor in following the authority of tradition, of your parents, of your guru, but in understanding what you are from moment to moment. — Jiddu Krishnamurti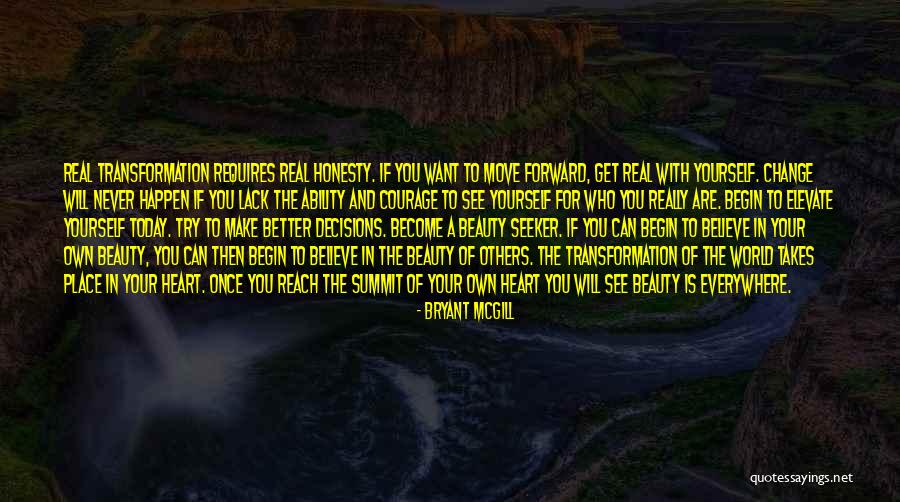 Real transformation requires real honesty. If you want to move forward, get real with yourself. Change will never happen if you lack the ability and courage to see yourself for who you really are. Begin to elevate yourself today. Try to make better decisions. Become a beauty seeker. If you can begin to believe in your own beauty, you can then begin to believe in the beauty of others. The transformation of the world takes place in your heart. Once you reach the summit of your own heart you will see beauty is everywhere. — Bryant McGill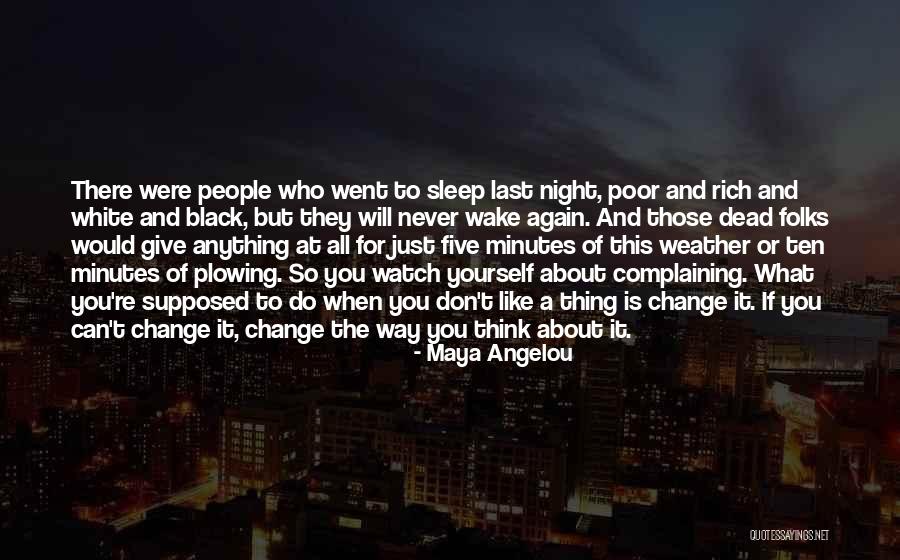 There were people who went to sleep last night,
poor and rich and white and black,
but they will never wake again.
And those dead folks would give anything at all
for just five minutes of this weather
or ten minutes of plowing.
So you watch yourself about complaining.
What you're supposed to do
when you don't like a thing is change it.
If you can't change it,
change the way you think about it. — Maya Angelou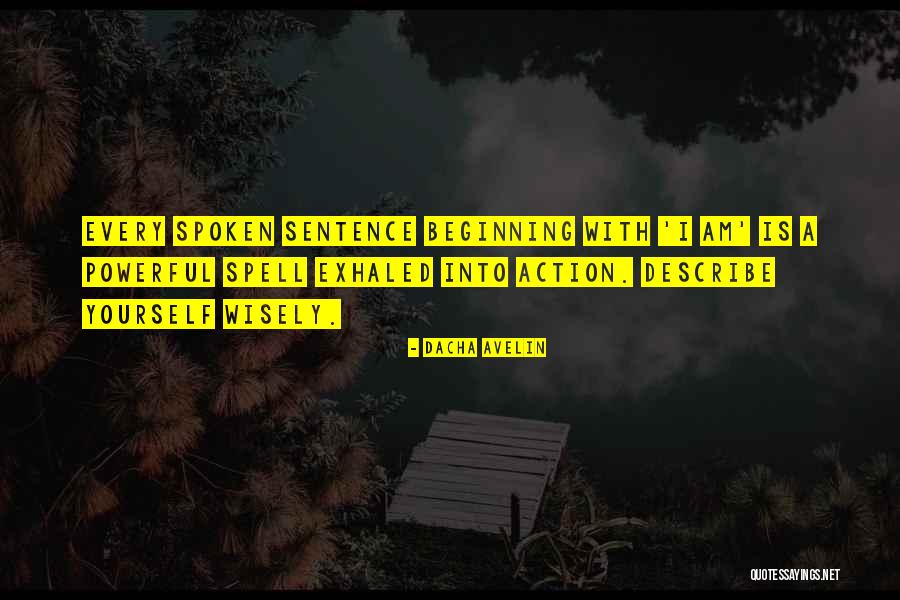 Every spoken sentence beginning with 'I Am' is a powerful spell exhaled into action. Describe yourself wisely. — Dacha Avelin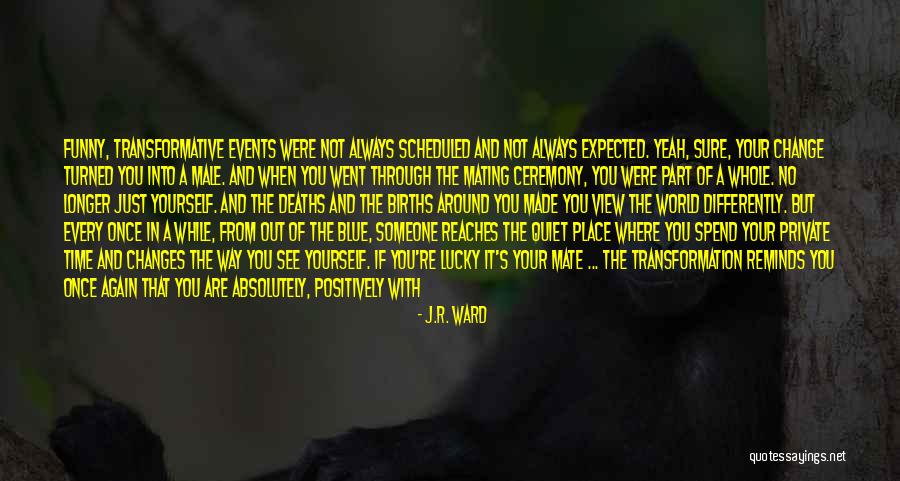 Funny, transformative events were not always scheduled and not always expected. Yeah, sure, your change turned you into a male. And when you went through the mating ceremony, you were part of a whole. No longer just yourself. And the deaths and the births around you made you view the world differently.
But every once in a while, from out of the blue, someone reaches the quiet place where you spend your private time and changes the way you see yourself. If you're lucky it's your mate ... the transformation reminds you once again that you are absolutely, positively with the right person: because what they say doesn't touch you because of who they are to you, but because of the content of their message.
— J.R. Ward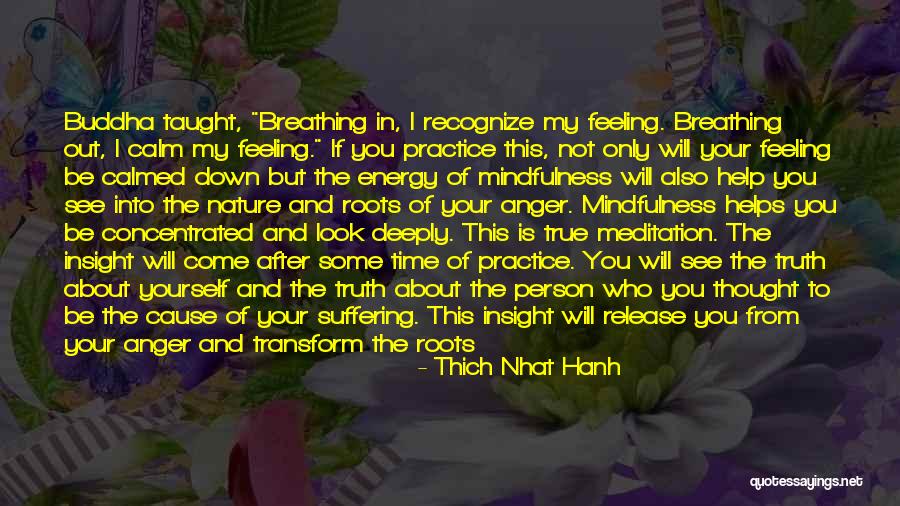 Buddha taught, "Breathing in, I recognize my feeling. Breathing out, I calm my feeling." If you practice this, not only will your feeling be calmed down but the energy of mindfulness will also help you see into the nature and roots of your anger. Mindfulness helps you be concentrated and look deeply. This is true meditation. The insight will come after some time of practice. You will see the truth about yourself and the truth about the person who you thought to be the cause of your suffering. This insight will release you from your anger and transform the roots of anger in you. The transformation in you will also help transform the other person. Mindful speaking can bring real happiness, and unmindful speech can kill. When someone tells us something that makes us happy, that is a wonderful gift. But sometimes someone says something to us that is so cruel and distressing that we feel like committing suicide. We lose our joie de vivre. — Thich Nhat Hanh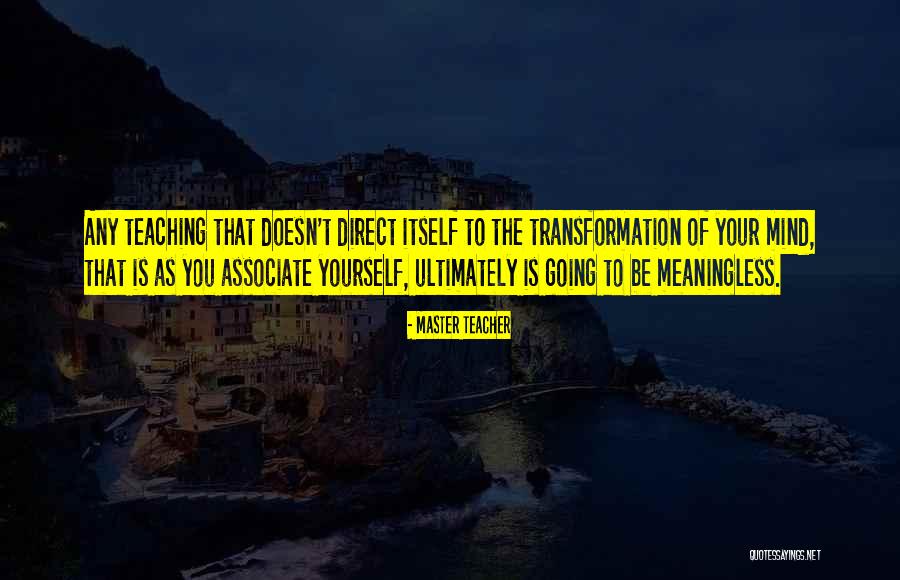 Any teaching that doesn't direct itself to the transformation of your mind, that is as you associate yourself, ultimately is going to be meaningless. — Master Teacher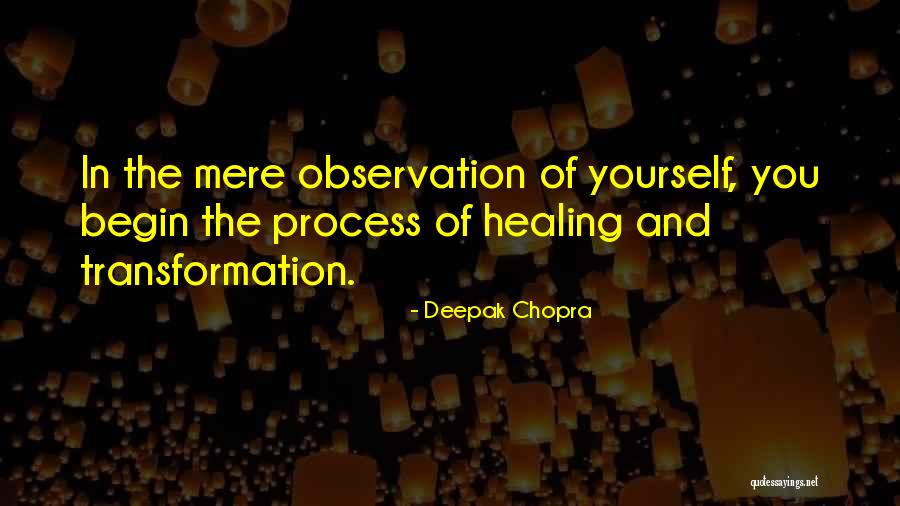 In the mere observation of yourself, you begin the process of healing and transformation. — Deepak Chopra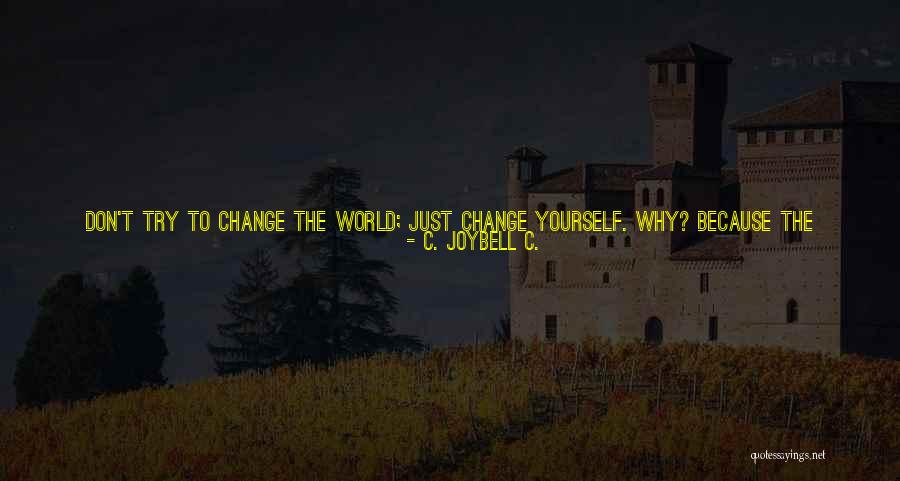 Don't try to change the world; just change yourself. Why? Because the whole world is only relative to the eyes that are looking at it. Your world actually only exists for as long as you exist and with the death of you, includes the death of your world. Therefore, if there is no peace in your heart; you will find no peace in this world, if there is no happiness in your life; you will find no happiness anywhere around you, if you have no love in your heart; you will not find love anywhere and if you do not fly around freely inside your own soul like a bird with perfectly formed wings; then there will never be any freedom for you regardless if you are on a mountaintop removed from all attachments to all of mankind! Even the mountaintop cannot give you freedom if it is not already flying around there inside your own soul! So I say, change yourself. Not the world. — C. JoyBell C.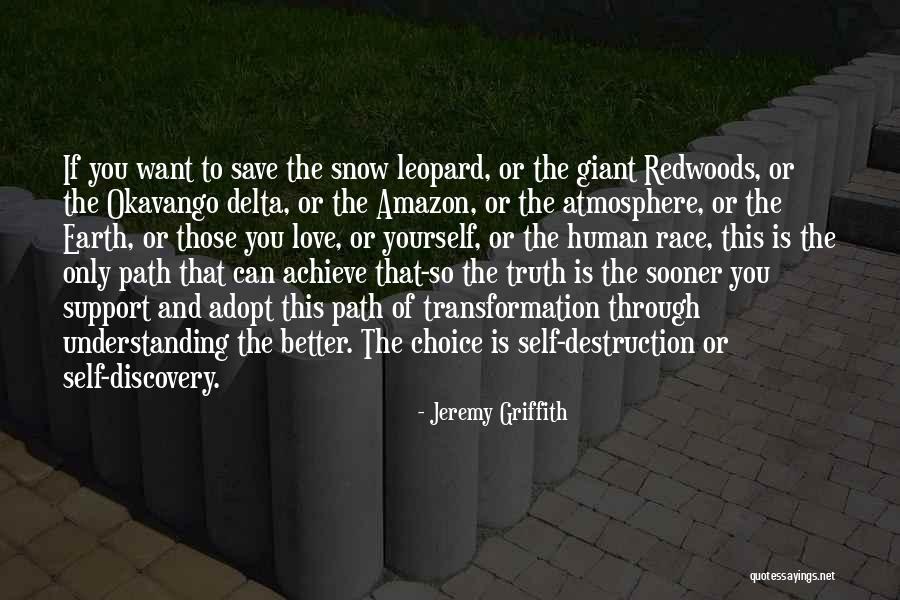 If you want to save the snow leopard, or the giant Redwoods, or the Okavango delta, or the Amazon, or the atmosphere, or the Earth, or those you love, or yourself, or the human race, this is the only path that can achieve that-so the truth is the sooner you support and adopt this path of transformation through understanding the better. The choice is self-destruction or self-discovery. — Jeremy Griffith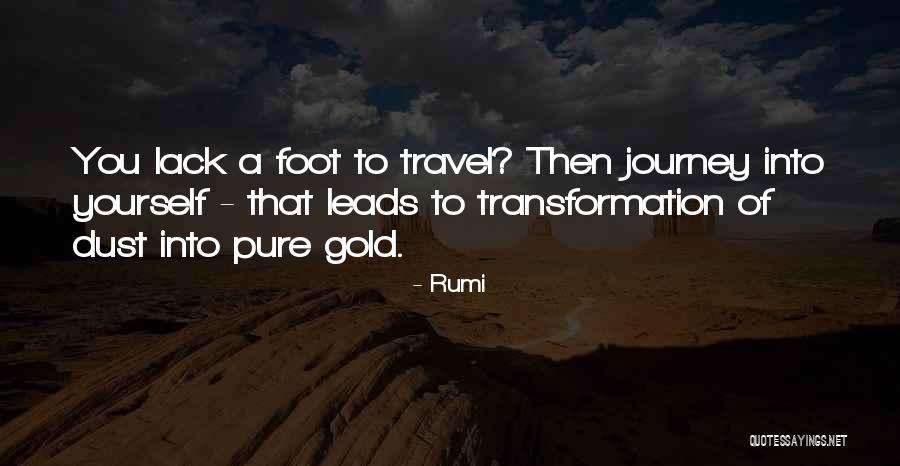 You lack a foot to travel? Then journey into yourself - that leads to transformation of dust into pure gold. — Rumi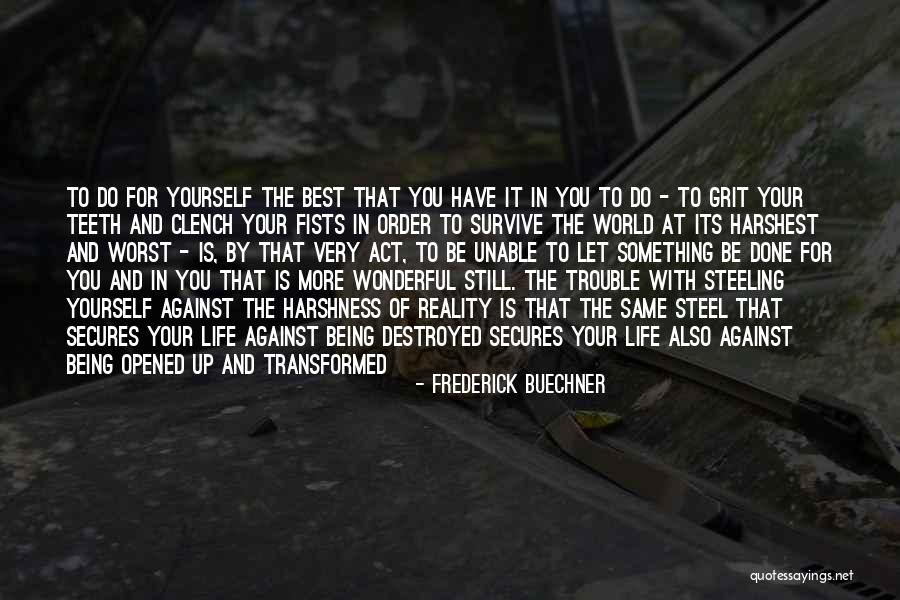 To do for yourself the best that you have it in you to do - to grit your teeth and clench your fists in order to survive the world at its harshest and worst - is, by that very act, to be unable to let something be done for you and in you that is more wonderful still. The trouble with steeling yourself against the harshness of reality is that the same steel that secures your life against being destroyed secures your life also against being opened up and transformed — Frederick Buechner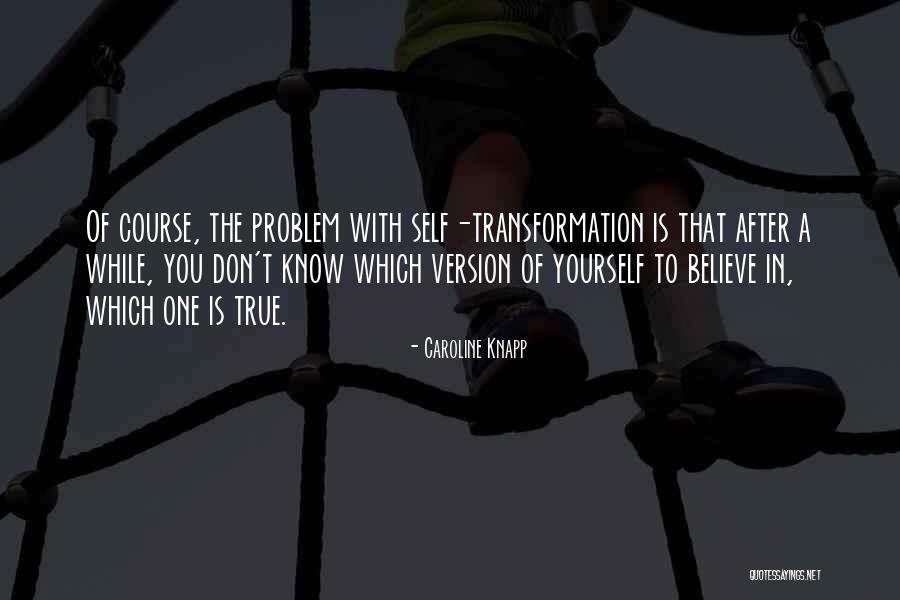 Of course, the problem with self-transformation is that after a while, you don't know which version of yourself to believe in, which one is true. — Caroline Knapp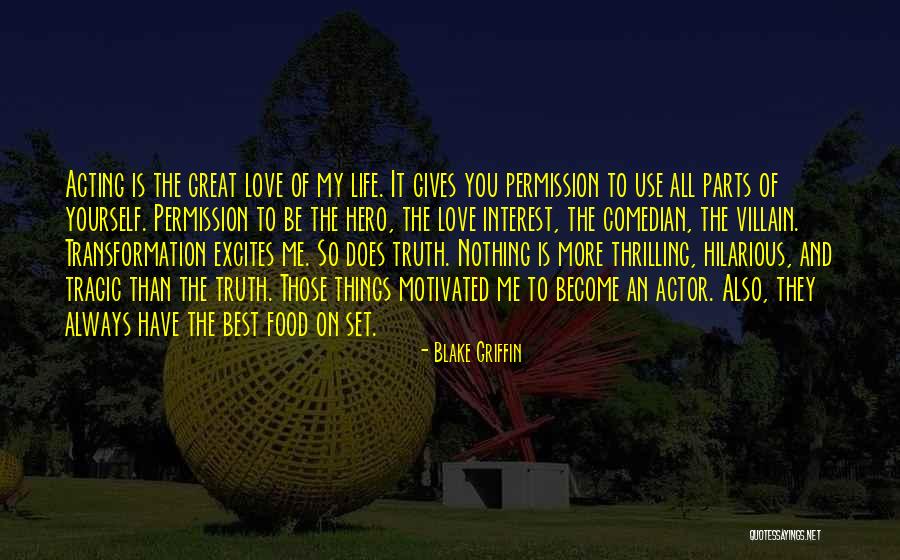 Acting is the great love of my life. It gives you permission to use all parts of yourself. Permission to be the hero, the love interest, the comedian, the villain. Transformation excites me. So does truth. Nothing is more thrilling, hilarious, and tragic than the truth. Those things motivated me to become an actor. Also, they always have the best food on set. — Blake Griffin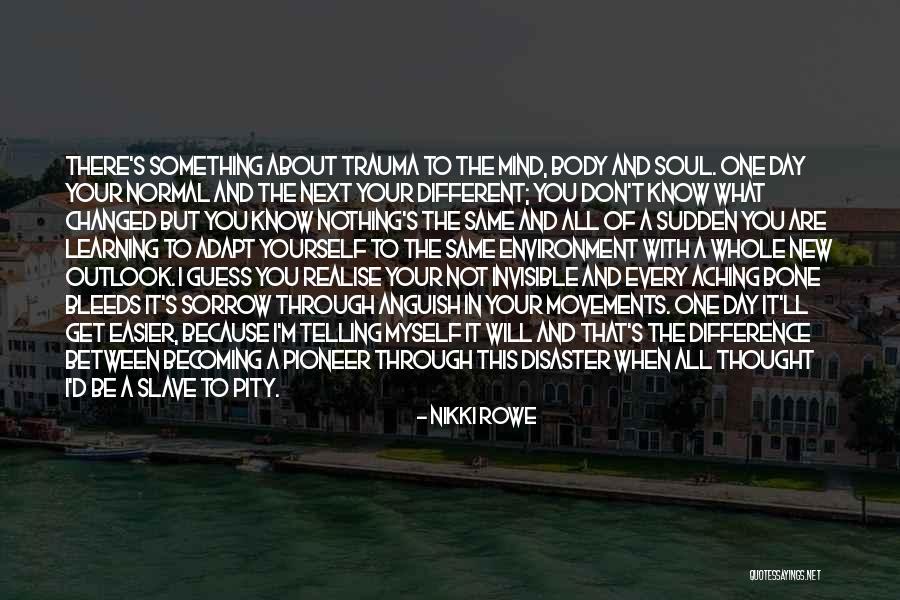 There's something about trauma to the mind, body and soul. One day your normal and the next your different; you don't know what changed but you know nothing's the same and all of a sudden you are learning to adapt yourself to the same environment with a whole new outlook. I guess you realise your not invisible and every aching bone bleeds it's sorrow through anguish in your movements. One day it'll get easier, because I'm telling myself it will and that's the difference between becoming a pioneer through this disaster when all thought I'd be a slave to pity. — Nikki Rowe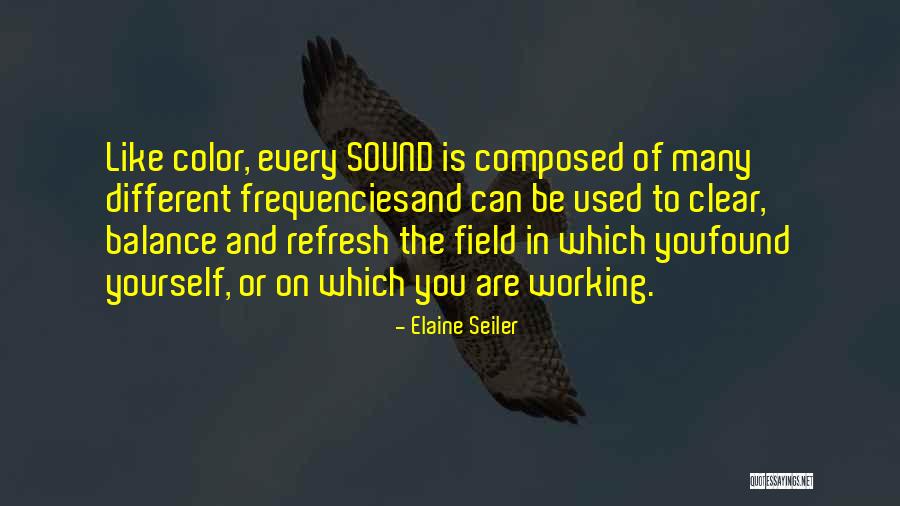 Like color, every SOUND is composed of many different frequencies
and can be used to clear, balance and refresh the field in which you
found yourself, or on which you are working. — Elaine Seiler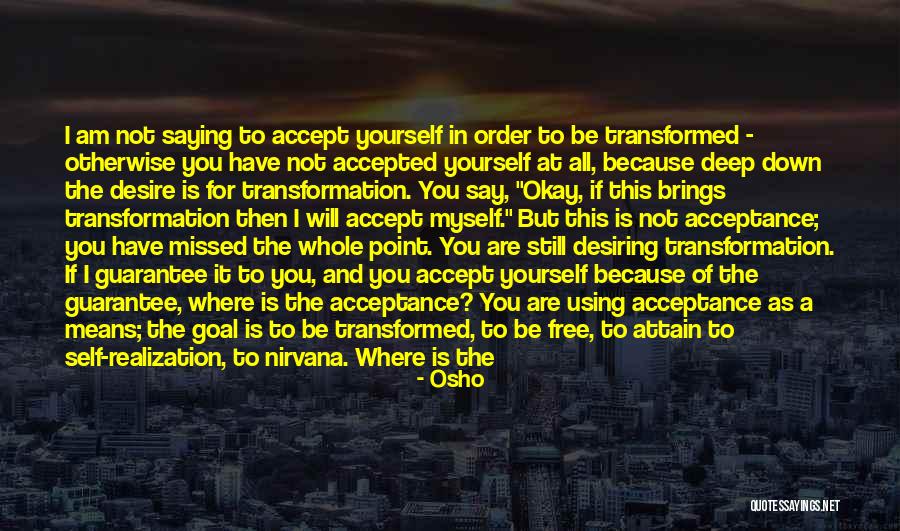 I am not saying to accept yourself in order to be transformed - otherwise you have not accepted yourself at all, because deep down the desire is for transformation. You say, "Okay, if this brings transformation then I will accept myself." But this is not acceptance; you have missed the whole point. You are still desiring transformation. If I guarantee it to you, and you accept yourself because of the guarantee, where is the acceptance? You are using acceptance as a means; the goal is to be transformed, to be free, to attain to self-realization, to nirvana. Where is the acceptance? Acceptance has to be unconditional, for no reason at all, without any motivation. — Osho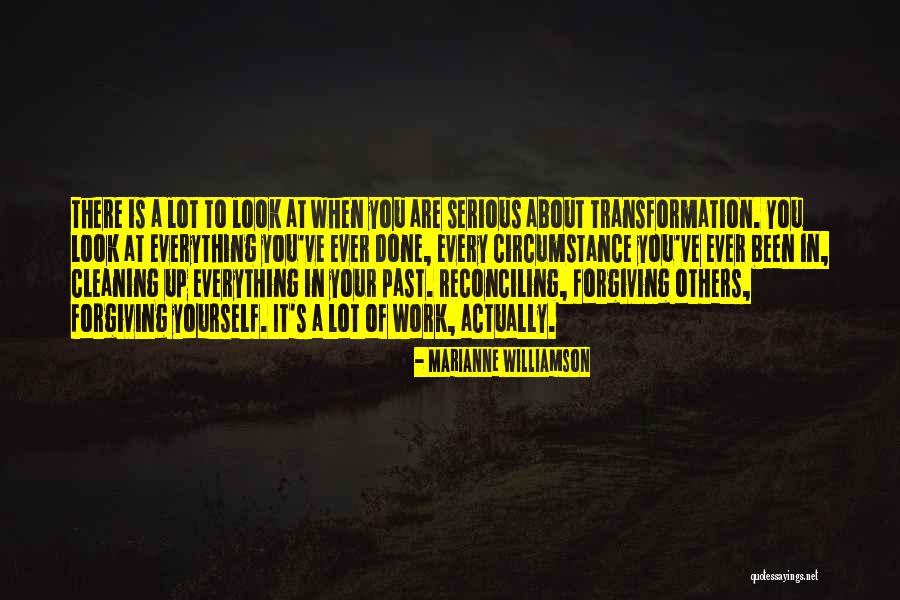 There is a lot to look at when you are serious about transformation. You look at everything you've ever done, every circumstance you've ever been in, cleaning up everything in your past. Reconciling, forgiving others, forgiving yourself. It's a lot of work, actually. — Marianne Williamson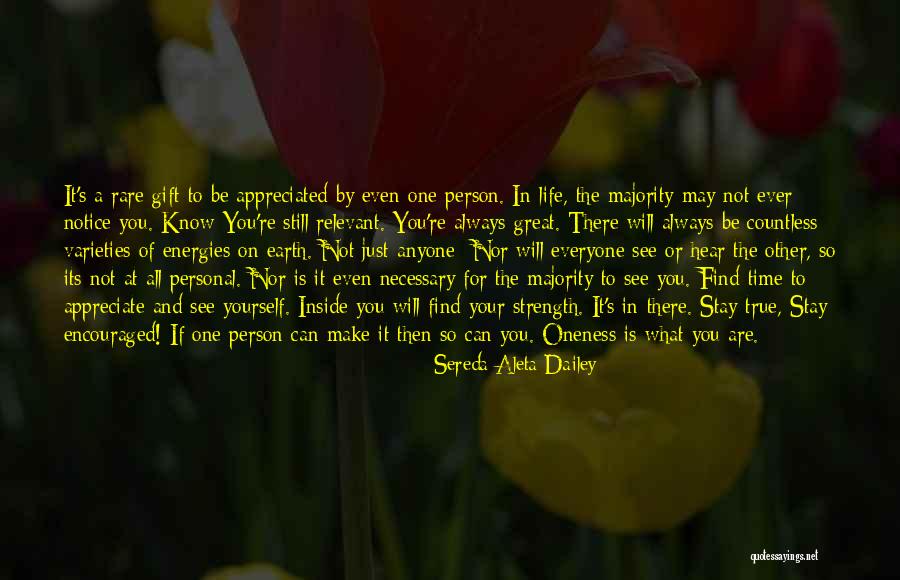 It's a rare gift to be appreciated by even one person. In life, the majority may not ever notice you. Know You're still relevant. You're always great. There will always be countless varieties of energies on earth. Not just anyone- Nor will everyone see or hear the other, so its not at all personal. Nor is it even necessary for the majority to see you. Find time to appreciate and see yourself. Inside you will find your strength. It's in there. Stay true, Stay encouraged! If one person can make it then so can you. Oneness is what you are. If one gets there we all do. Say it again and again! Let the words echo throughout your being. Stay true to your dreams. — Sereda Aleta Dailey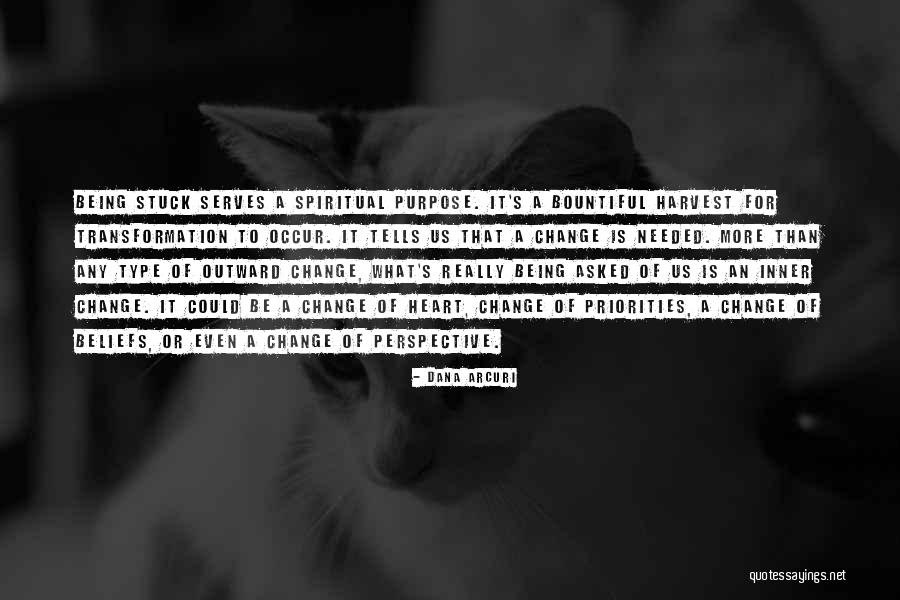 Being stuck serves a spiritual purpose. It's a bountiful harvest for transformation to occur. It tells us that a change is needed. More than any type of outward change, what's really being asked of us is an inner change. It could be a change of heart, change of priorities, a change of beliefs, or even a change of perspective. — Dana Arcuri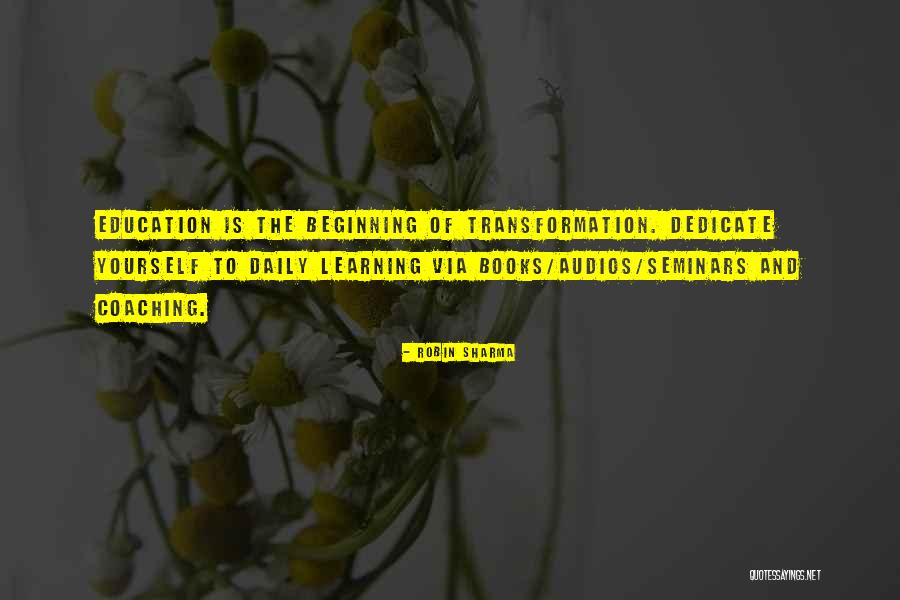 Education is the beginning of transformation. Dedicate yourself to daily learning via books/audios/seminars and coaching. — Robin Sharma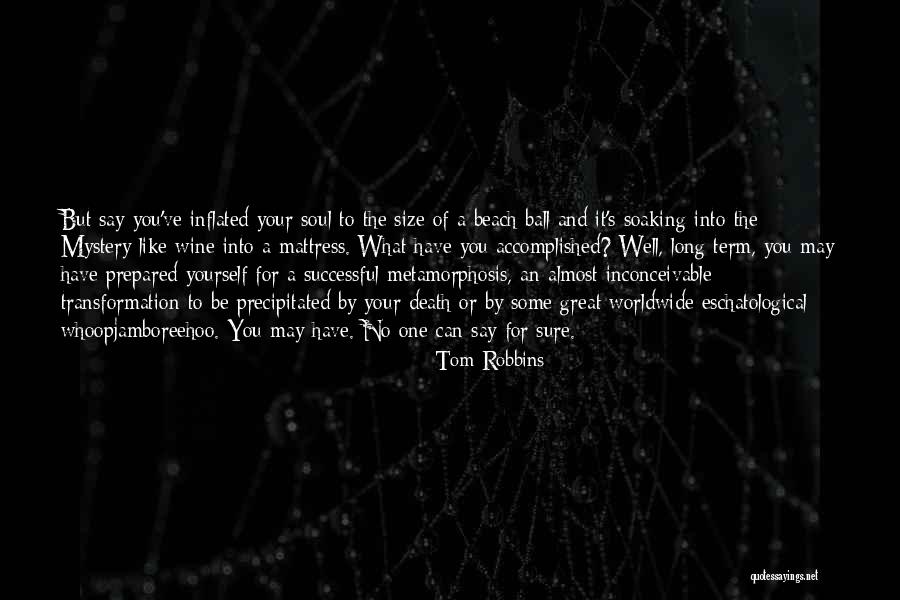 But say you've inflated your soul to the size of a beach ball and it's soaking into the Mystery like wine into a mattress. What have you accomplished? Well, long term, you may have prepared yourself for a successful metamorphosis, an almost inconceivable transformation to be precipitated by your death or by some great worldwide eschatological whoopjamboreehoo. You may have. No one can say for sure. — Tom Robbins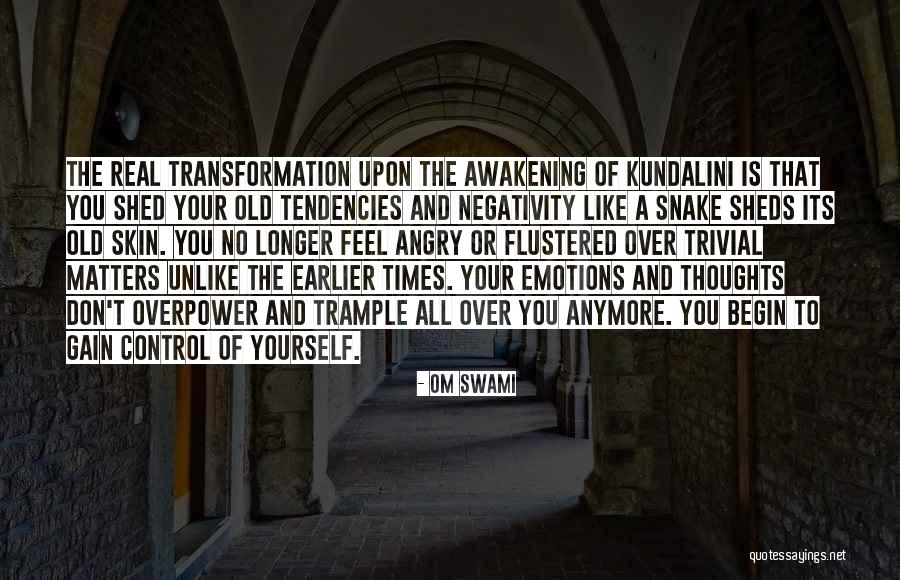 The real transformation upon the awakening of kundalini is that you shed your old tendencies and negativity like a snake sheds its old skin. You no longer feel angry or flustered over trivial matters unlike the earlier times. Your emotions and thoughts don't overpower and trample all over you anymore. You begin to gain control of yourself. — Om Swami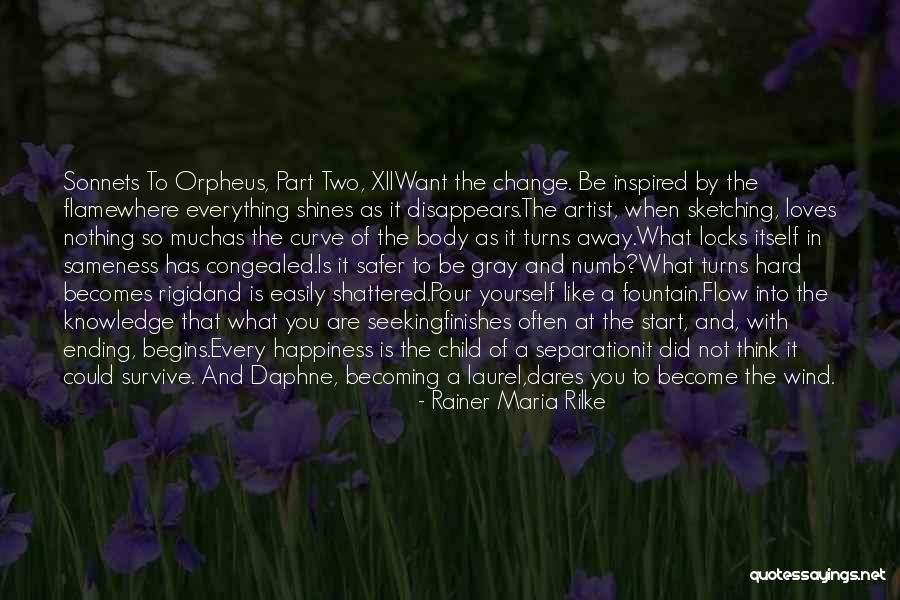 Sonnets To Orpheus, Part Two, XII
Want the change. Be inspired by the flame
where everything shines as it disappears.
The artist, when sketching, loves nothing so much
as the curve of the body as it turns away.
What locks itself in sameness has congealed.
Is it safer to be gray and numb?
What turns hard becomes rigid
and is easily shattered.
Pour yourself like a fountain.
Flow into the knowledge that what you are seeking
finishes often at the start, and, with ending, begins.
Every happiness is the child of a separation
it did not think it could survive. And Daphne, becoming a laurel,
dares you to become the wind. — Rainer Maria Rilke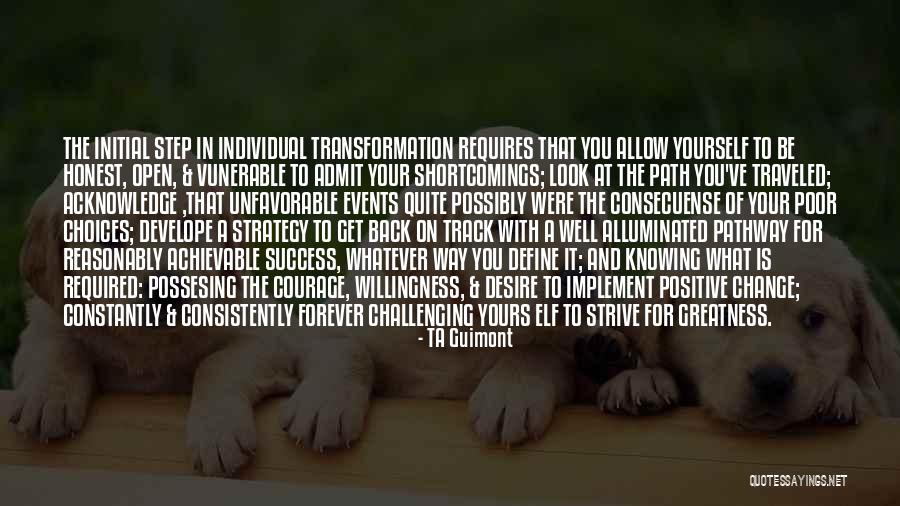 THE INITIAL STEP IN INDIVIDUAL TRANSFORMATION REQUIRES THAT YOU ALLOW YOURSELF TO BE HONEST, OPEN, & VUNERABLE TO ADMIT YOUR SHORTCOMINGS; LOOK AT THE PATH YOU'VE TRAVELED; ACKNOWLEDGE ,THAT UNFAVORABLE EVENTS QUITE POSSIBLY WERE THE CONSECUENSE OF YOUR POOR CHOICES; DEVELOPE A STRATEGY TO GET BACK ON TRACK WITH A WELL ALLUMINATED PATHWAY FOR REASONABLY ACHIEVABLE SUCCESS, WHATEVER WAY YOU DEFINE IT; AND KNOWING WHAT IS REQUIRED: POSSESING THE COURAGE, WILLINGNESS, & DESIRE TO IMPLEMENT POSITIVE CHANGE; CONSTANTLY & CONSISTENTLY FOREVER CHALLENGING YOURS ELF TO STRIVE FOR GREATNESS. — TA Guimont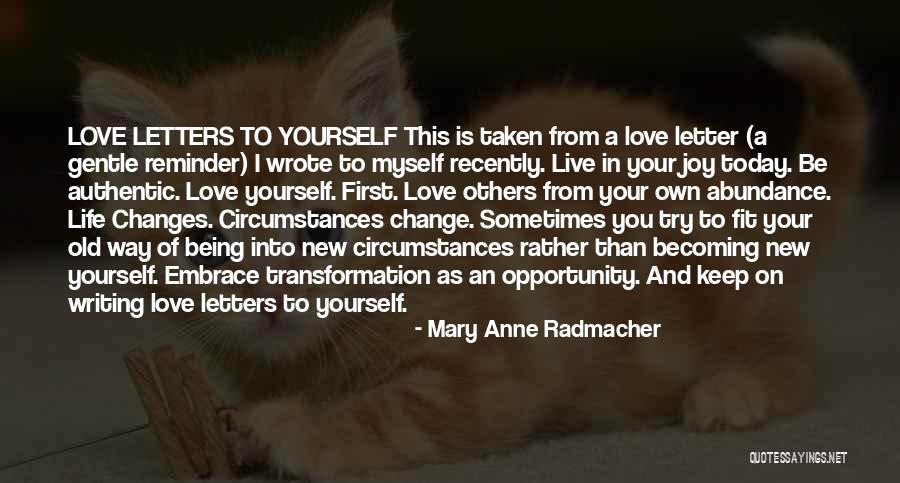 LOVE LETTERS TO YOURSELF This is taken from a love letter (a gentle reminder) I wrote to myself recently. Live in your joy today. Be authentic. Love yourself. First. Love others from your own abundance. Life Changes. Circumstances change. Sometimes you try to fit your old way of being into new circumstances rather than becoming new yourself. Embrace transformation as an opportunity. And keep on writing love letters to yourself. — Mary Anne Radmacher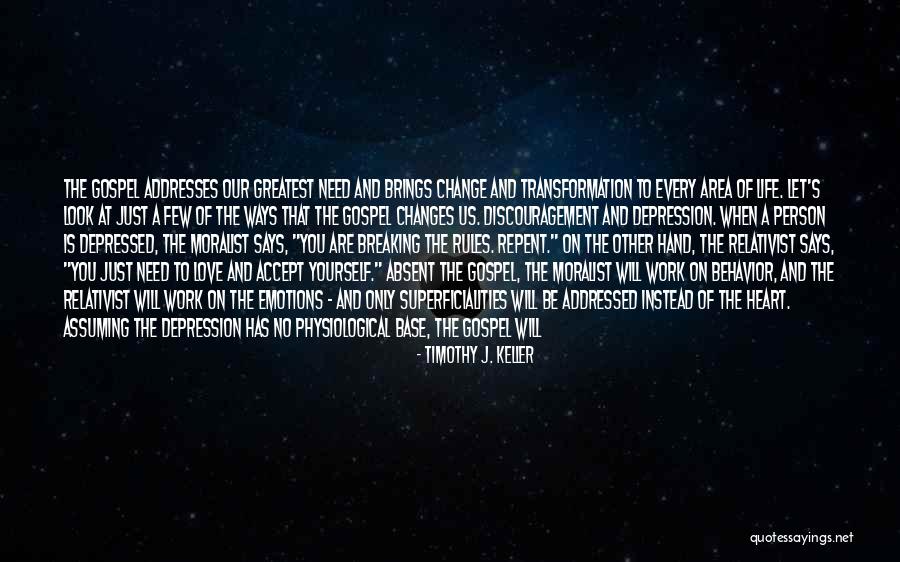 The gospel addresses our greatest need and brings change and transformation to every area of life. Let's look at just a few of the ways that the gospel changes us. Discouragement and depression. When a person is depressed, the moralist says, "You are breaking the rules. Repent." On the other hand, the relativist says, "You just need to love and accept yourself." Absent the gospel, the moralist will work on behavior, and the relativist will work on the emotions - and only superficialities will be addressed instead of the heart. Assuming the depression has no physiological base, the gospel will lead us to examine ourselves and say, "Something in my life has become more important than God - a pseudo-savior, a form of works-righteousness." The gospel leads us to embrace repentance, not to merely set our will against superficialities. — Timothy J. Keller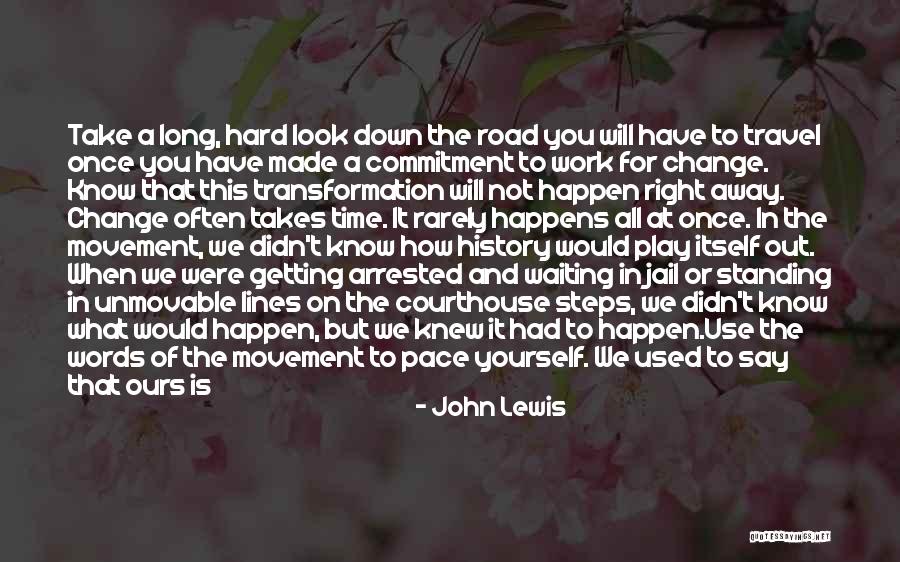 Take a long, hard look down the road you will have to travel once you have made a commitment to work for change. Know that this transformation will not happen right away. Change often takes time. It rarely happens all at once. In the movement, we didn't know how history would play itself out. When we were getting arrested and waiting in jail or standing in unmovable lines on the courthouse steps, we didn't know what would happen, but we knew it had to happen.

Use the words of the movement to pace yourself. We used to say that ours is not the struggle of one day, one week, or one year. Ours is not the struggle of one judicial appointment or presidential term. Ours is the struggle of a lifetime, or maybe even many lifetimes, and each one of us in every generation must do our part. And if we believe in the change we seek, then it is easy to commit to doing all we can, because the responsibility is ours alone to build a better society and a more peaceful world. — John Lewis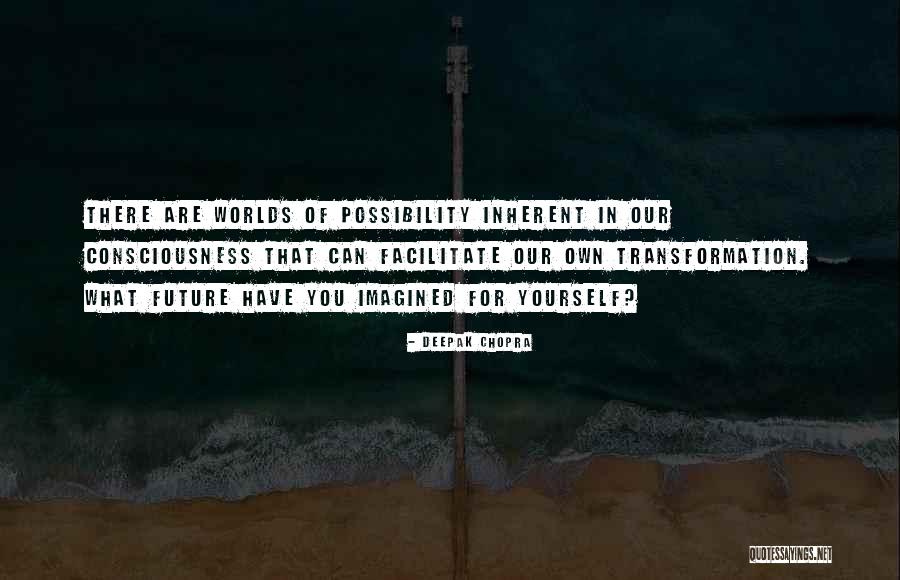 There are worlds of possibility inherent in our consciousness that can facilitate our own transformation. What future have you imagined for yourself? — Deepak Chopra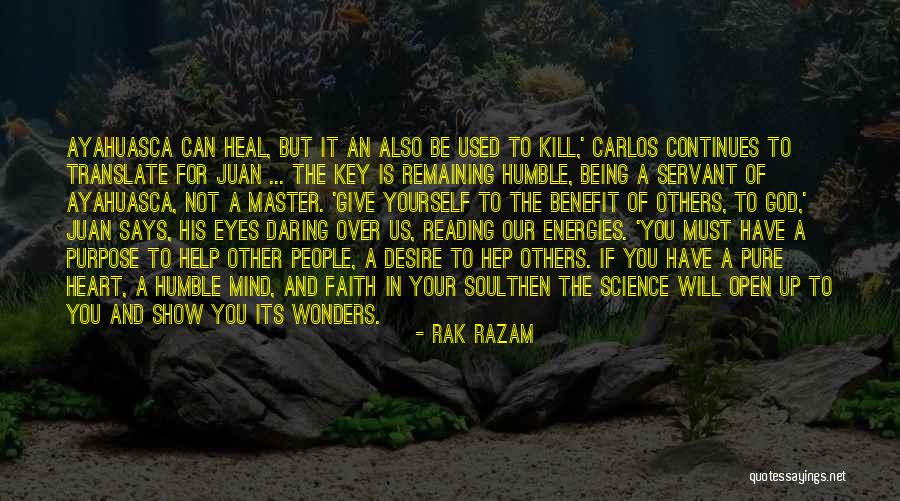 Ayahuasca can heal, but it an also be used to kill,' Carlos continues to translate for Juan ... The key is remaining humble, being a servant of ayahuasca, not a master. 'Give yourself to the benefit of others, to God,' Juan says, his eyes daring over us, reading our energies. 'You must have a purpose to help other people, a desire to hep others. If you have a pure heart, a humble mind, and faith in your soul
then the Science will open up to you and show you its wonders. — Rak Razam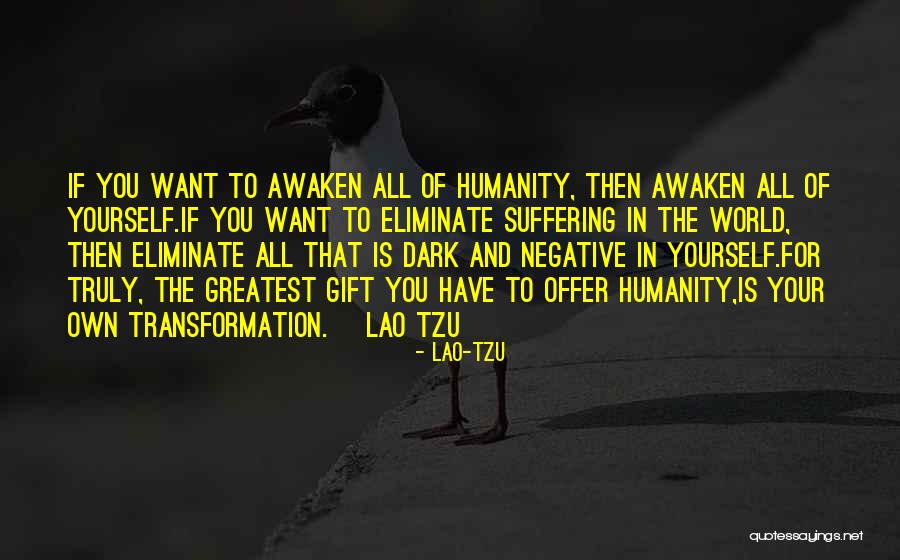 If you want to awaken all of humanity,
then awaken all of yourself.
If you want to eliminate suffering in the world,
then eliminate all that is dark and negative in yourself.
For truly, the greatest gift you have to offer humanity,
is your own transformation.
~Lao Tzu — Lao-Tzu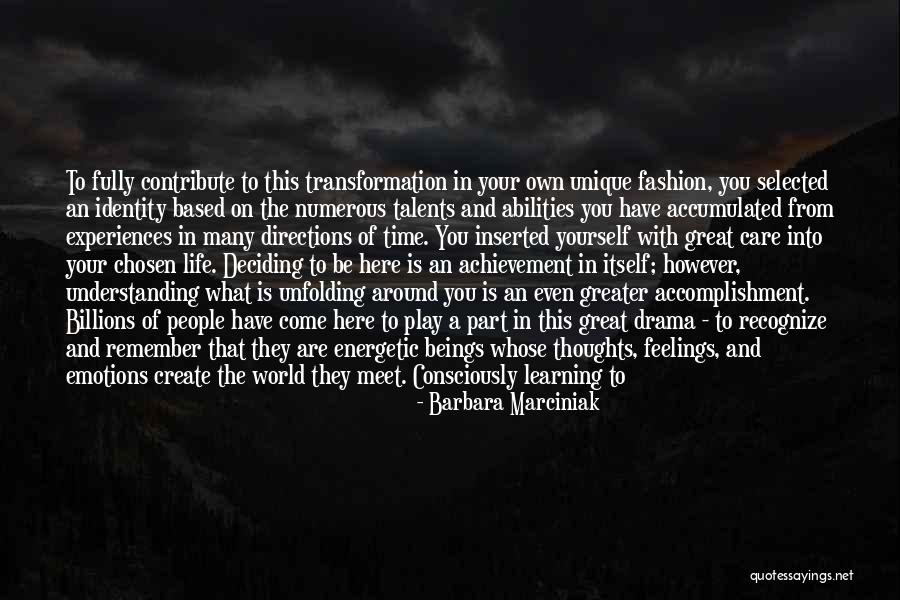 To fully contribute to this transformation in your own unique fashion, you selected an identity based on the numerous talents and abilities you have accumulated from experiences in many directions of time. You inserted yourself with great care into your chosen life. Deciding to be here is an achievement in itself; however, understanding what is unfolding around you is an even greater accomplishment. Billions of people have come here to play a part in this great drama - to recognize and remember that they are energetic beings whose thoughts, feelings, and emotions create the world they meet. Consciously learning to recognize frequencies and then producing those you want is an underlying key to the game; being able to read and communicate with the life energies of your environment is a worthy goal for all humanity. To — Barbara Marciniak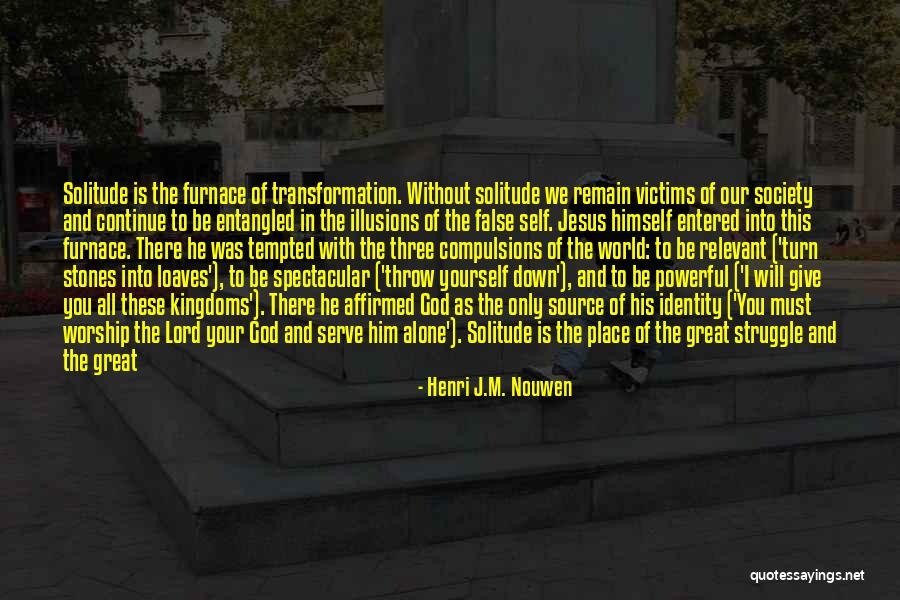 Solitude is the furnace of transformation. Without solitude we remain victims of our society and continue to be entangled in the illusions of the false self. Jesus himself entered into this furnace. There he was tempted with the three compulsions of the world: to be relevant ('turn stones into loaves'), to be spectacular ('throw yourself down'), and to be powerful ('I will give you all these kingdoms'). There he affirmed God as the only source of his identity ('You must worship the Lord your God and serve him alone'). Solitude is the place of the great struggle and the great encounter - the struggle against the compulsions of the false self, and the encounter with the loving God who offers himself as the substance of the new self. — Henri J.M. Nouwen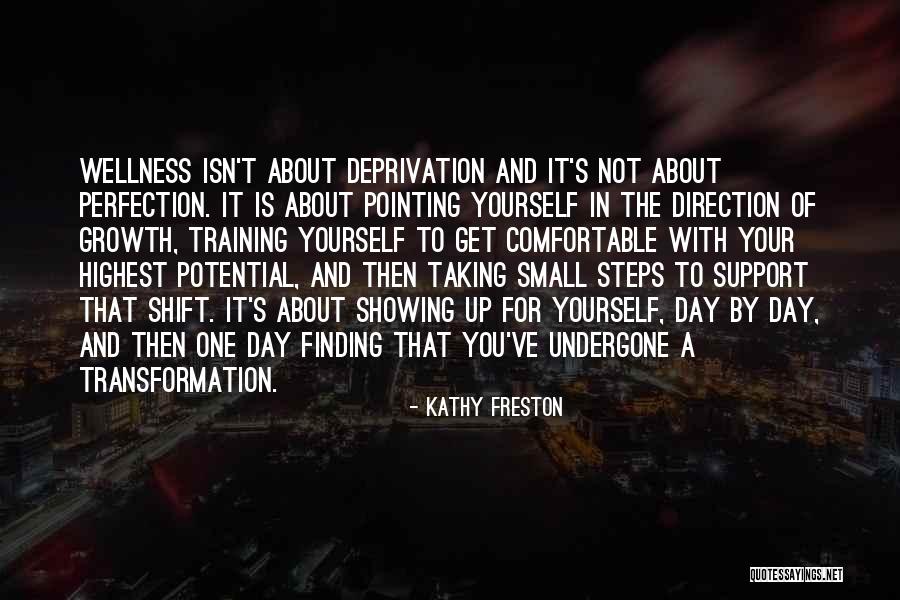 Wellness isn't about deprivation and it's not about perfection. It is about pointing yourself in the direction of growth, training yourself to get comfortable with your highest potential, and then taking small steps to support that shift. It's about showing up for yourself, day by day, and then one day finding that you've undergone a transformation. — Kathy Freston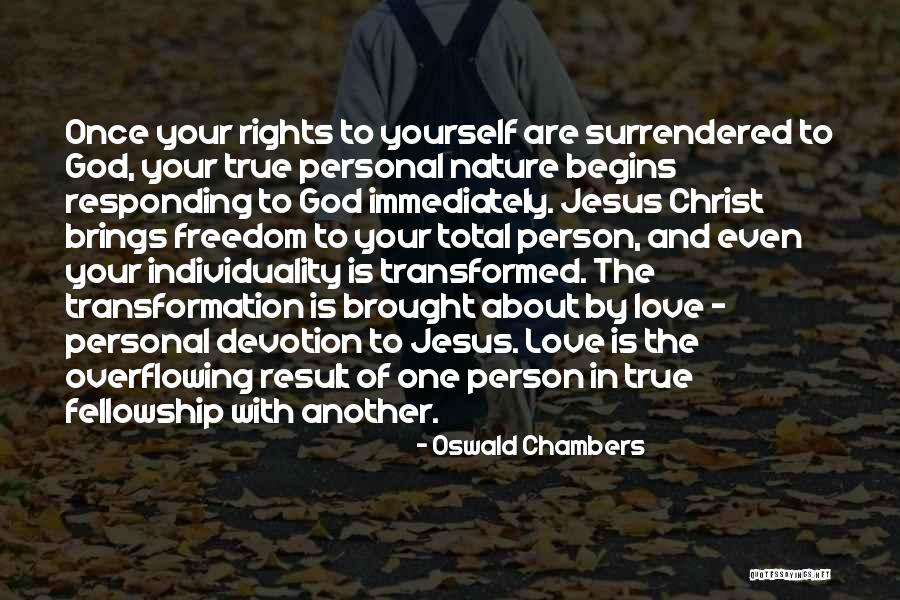 Once your rights to yourself are surrendered to God, your true personal nature begins responding to God immediately. Jesus Christ brings freedom to your total person, and even your individuality is transformed. The transformation is brought about by love - personal devotion to Jesus. Love is the overflowing result of one person in true fellowship with another. — Oswald Chambers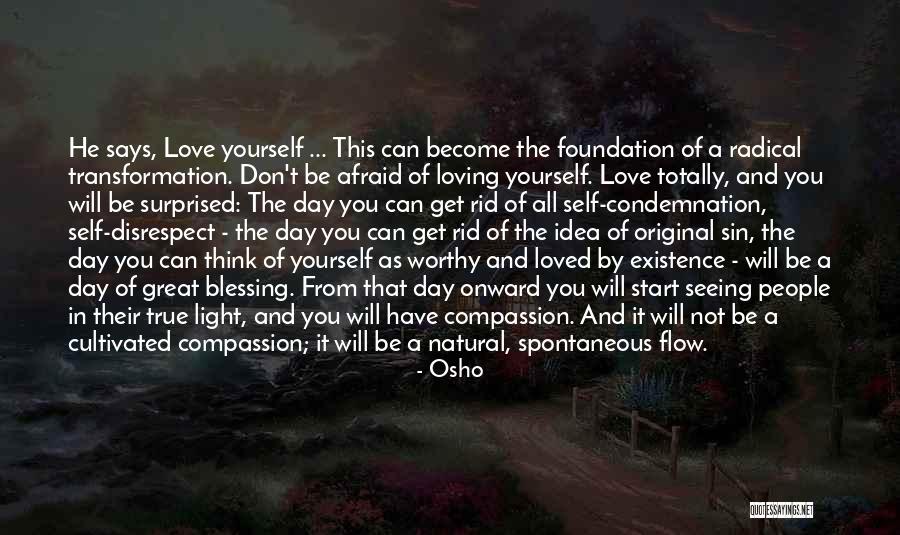 He says, Love yourself ... This can become the foundation of a radical transformation. Don't be afraid of loving yourself. Love totally, and you will be surprised: The day you can get rid of all self-condemnation, self-disrespect - the day you can get rid of the idea of original sin, the day you can think of yourself as worthy and loved by existence - will be a day of great blessing. From that day onward you will start seeing people in their true light, and you will have compassion. And it will not be a cultivated compassion; it will be a natural, spontaneous flow. — Osho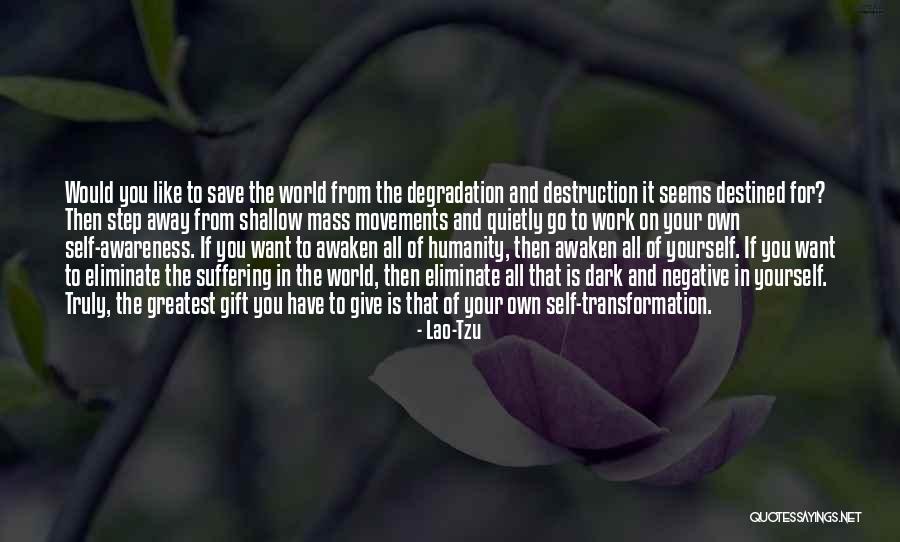 Would you like to save the world from the degradation and destruction it seems destined for? Then step away from shallow mass movements and quietly go to work on your own self-awareness. If you want to awaken all of humanity, then awaken all of yourself. If you want to eliminate the suffering in the world, then eliminate all that is dark and negative in yourself. Truly, the greatest gift you have to give is that of your own self-transformation. — Lao-Tzu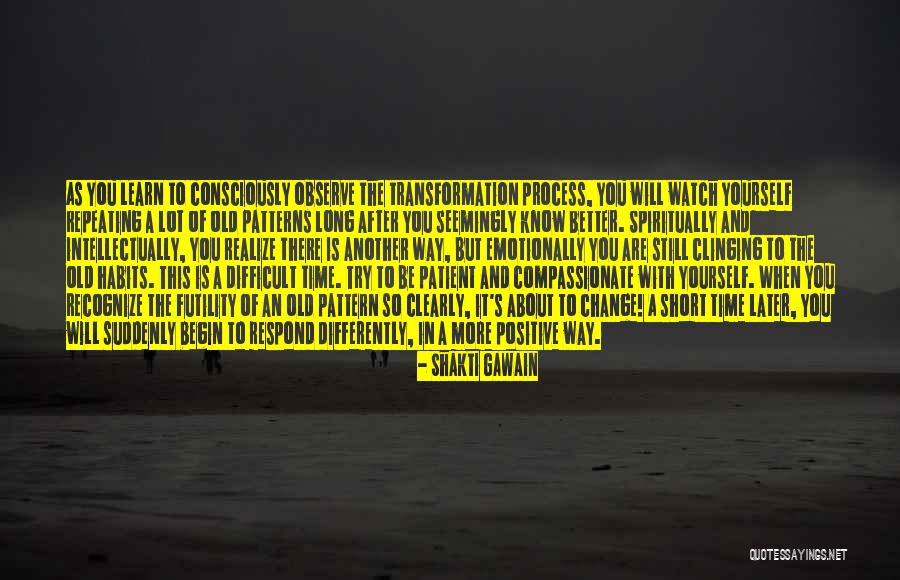 As you learn to consciously observe the transformation process, you will watch yourself repeating a lot of old patterns long after you seemingly know better. Spiritually and intellectually, you realize there is another way, but emotionally you are still clinging to the old habits. This is a difficult time. Try to be patient and compassionate with yourself. When you recognize the futility of an old pattern so clearly, it's about to change! A short time later, you will suddenly begin to respond differently, in a more positive way. — Shakti Gawain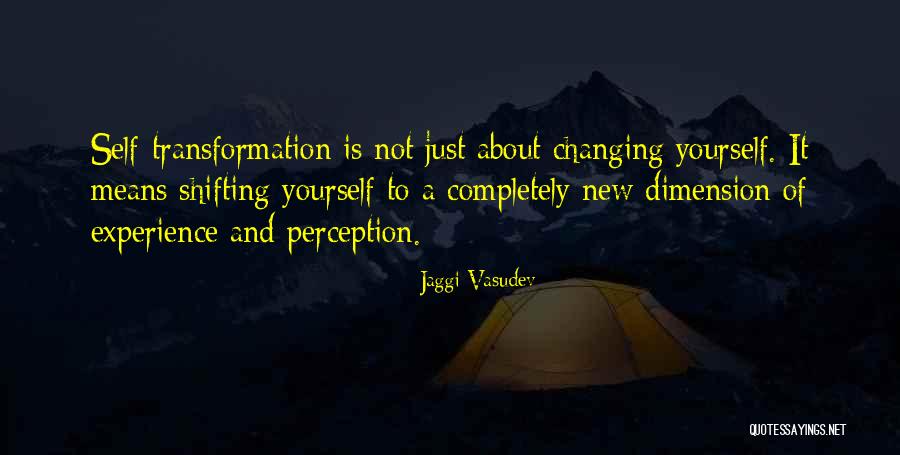 Self-transformation is not just about changing yourself. It means shifting yourself to a completely new dimension of experience and perception. — Jaggi Vasudev