Quotes & Sayings About Trains Of Thought
Enjoy reading and share 41 famous quotes about Trains Of Thought with everyone.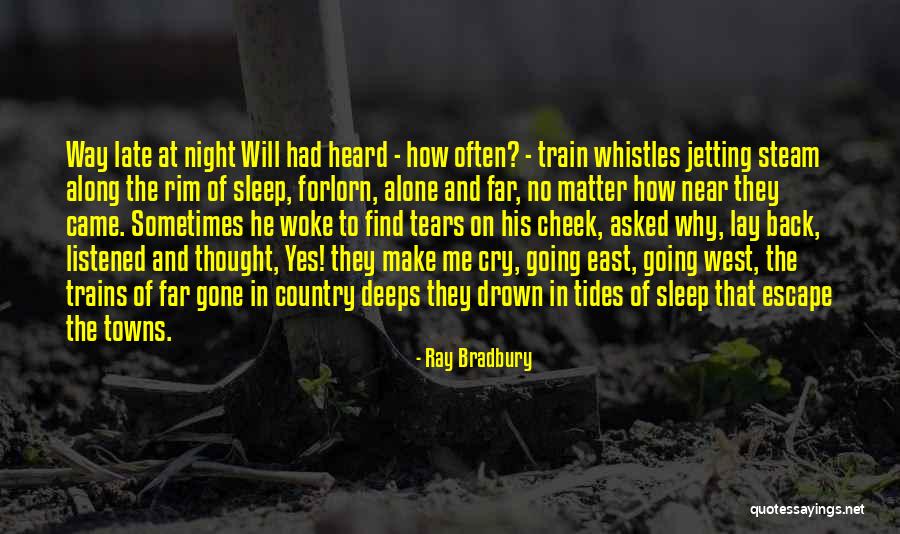 Way late at night Will had heard - how often? - train whistles jetting steam along the rim of sleep, forlorn, alone and far, no matter how near they came. Sometimes he woke to find tears on his cheek, asked why, lay back, listened and thought, Yes! they make me cry, going east, going west, the trains of far gone in country deeps they drown in tides of sleep that escape the towns. — Ray Bradbury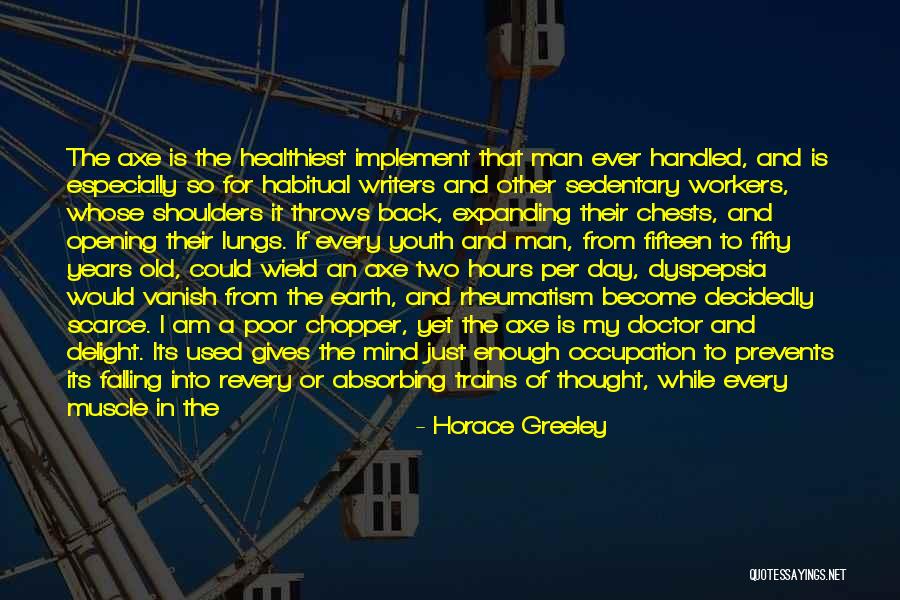 The axe is the healthiest implement that man ever handled, and is especially so for habitual writers and other sedentary workers, whose shoulders it throws back, expanding their chests, and opening their lungs. If every youth and man, from fifteen to fifty years old, could wield an axe two hours per day, dyspepsia would vanish from the earth, and rheumatism become decidedly scarce. I am a poor chopper, yet the axe is my doctor and delight. Its used gives the mind just enough occupation to prevents its falling into revery or absorbing trains of thought, while every muscle in the body receives sufficient, yet not exhausting, exercise. — Horace Greeley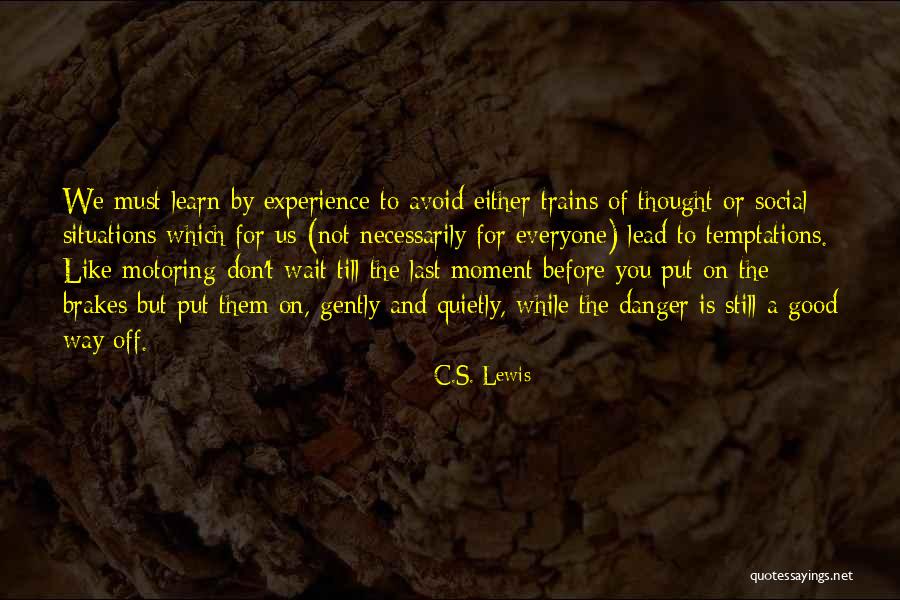 We must learn by experience to avoid either trains of thought or social situations which for us (not necessarily for everyone) lead to temptations. Like motoring-don't wait till the last moment before you put on the brakes but put them on, gently and quietly, while the danger is still a good way off. — C.S. Lewis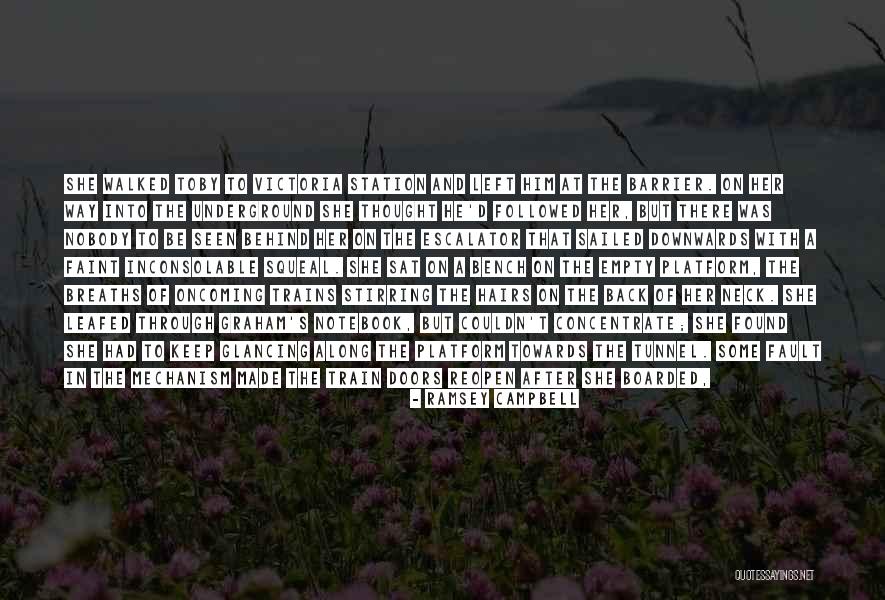 She walked Toby to Victoria Station and left him at the barrier. On her way into the underground she thought he'd followed her, but there was nobody to be seen behind her on the escalator that sailed downwards with a faint inconsolable squeal. She sat on a bench on the empty platform, the breaths of oncoming trains stirring the hairs on the back of her neck. She leafed through Graham's notebook, but couldn't concentrate; she found she had to keep glancing along the platform towards the tunnel. Some fault in the mechanism made the train doors reopen after she boarded, as if someone had leapt on at the last moment. The galloping rush of the wheels made her think of a hunt in the dark. — Ramsey Campbell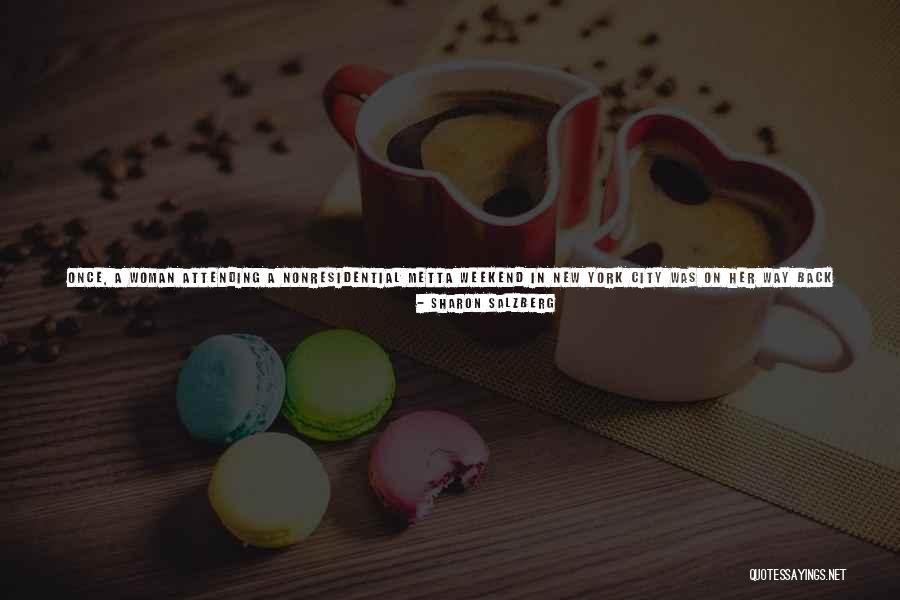 Once, a woman attending a nonresidential metta weekend in New York City was on her way back to the retreat site on Saturday morning when a man approached her on the railway platform and asked a question about the train schedule. Even though she was holding a schedule in her hand, her thought was, "He looks really weird! I'd better get rid of him." Her initial claim to have no knowledge of the trains was belied by her clearly visible schedule. She tried a few ploys to have him go away, to no avail. Finally, she randomly pointed to someone else on the platform and said, "You should go ask him." The stranger looked at her uneasily and said, "Oh no! I couldn't ask him - he looks really weird! — Sharon Salzberg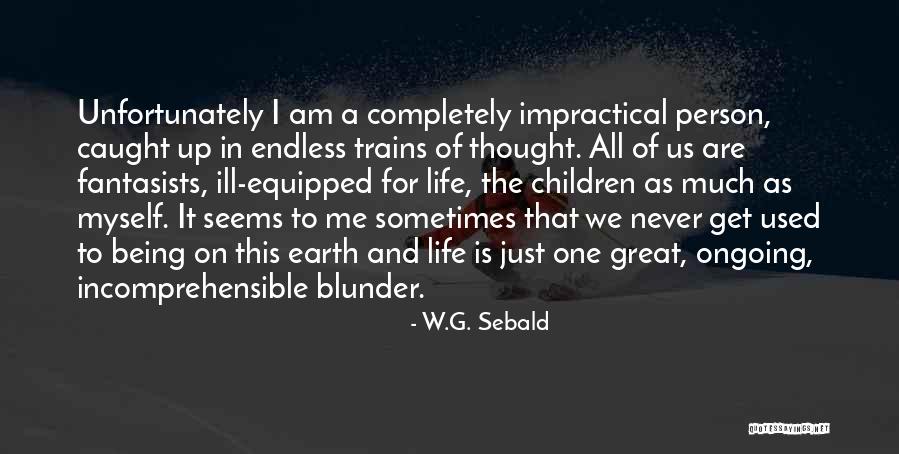 Unfortunately I am a completely impractical person, caught up in endless trains of thought. All of us are fantasists, ill-equipped for life, the children as much as myself. It seems to me sometimes that we never get used to being on this earth and life is just one great, ongoing, incomprehensible blunder. — W.G. Sebald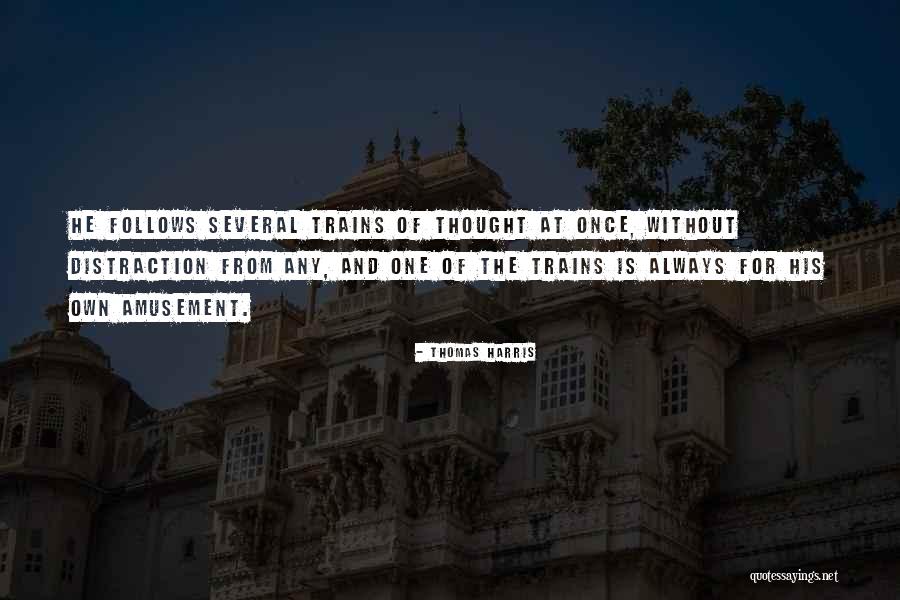 He follows several trains of thought at once, without distraction from any, and one of the trains is always for his own amusement. — Thomas Harris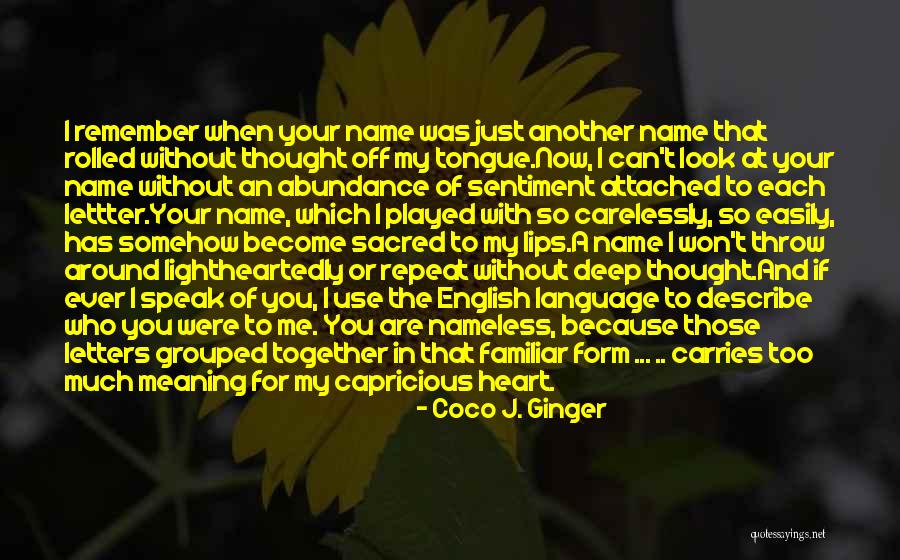 I remember when your name was just another name that rolled without thought off my tongue.
Now, I can't look at your name without an abundance of sentiment attached to each lettter.
Your name, which I played with so carelessly, so easily, has somehow become sacred to my lips.
A name I won't throw around lightheartedly or repeat without deep thought.
And if ever I speak of you, I use the English language to describe who you were to me. You are nameless, because those letters grouped together in that familiar form ... .. carries too much meaning for my capricious heart. — Coco J. Ginger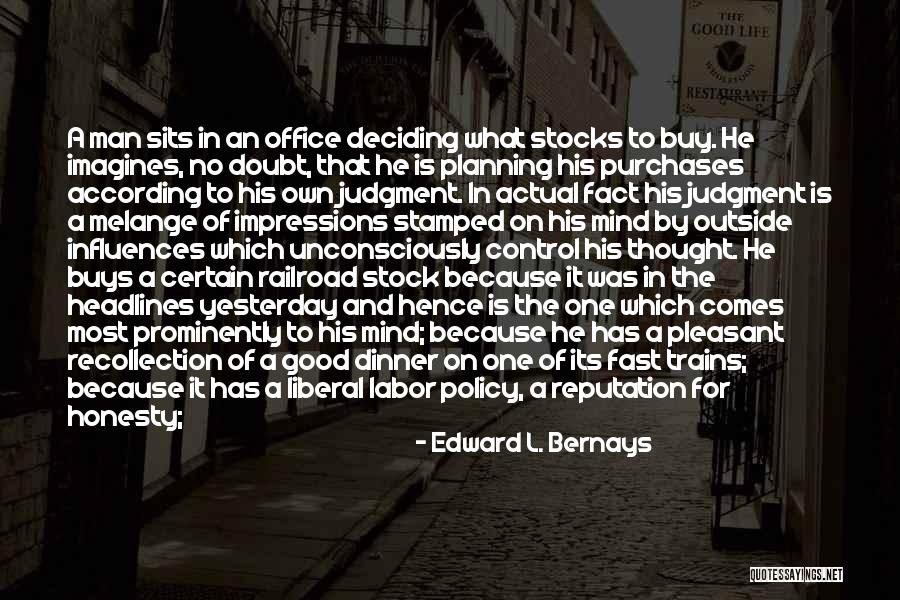 A man sits in an office deciding what stocks to buy. He imagines, no doubt, that he is planning his purchases according to his own judgment. In actual fact his judgment is a melange of impressions stamped on his mind by outside influences which unconsciously control his thought. He buys a certain railroad stock because it was in the headlines yesterday and hence is the one which comes most prominently to his mind; because he has a pleasant recollection of a good dinner on one of its fast trains; because it has a liberal labor policy, a reputation for honesty; because he has been told that J. P. Morgan owns some of its shares. — Edward L. Bernays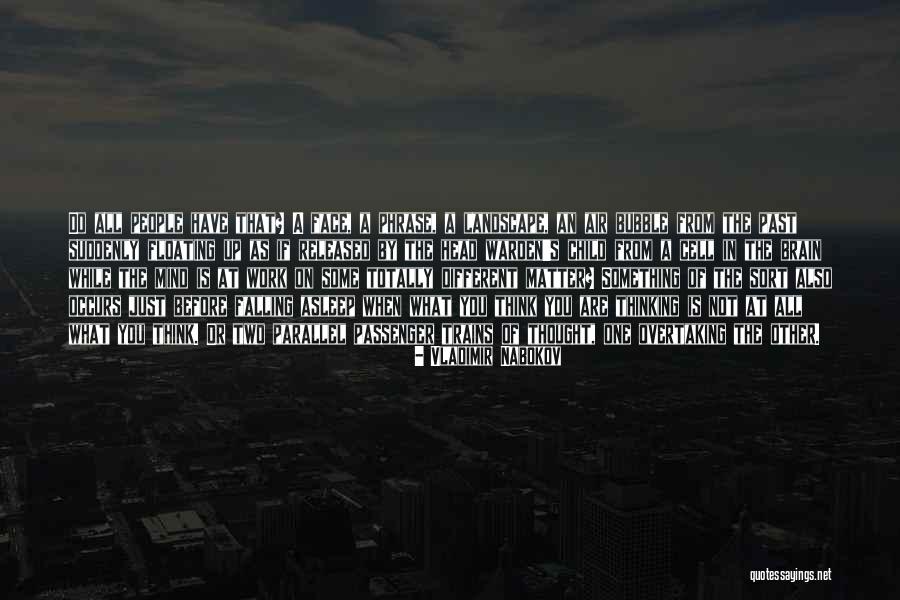 Do all people have that? A face, a phrase, a landscape, an air bubble from the past suddenly floating up as if released by the head warden's child from a cell in the brain while the mind is at work on some totally different matter? Something of the sort also occurs just before falling asleep when what you think you are thinking is not at all what you think. Or two parallel passenger trains of thought, one overtaking the other. — Vladimir Nabokov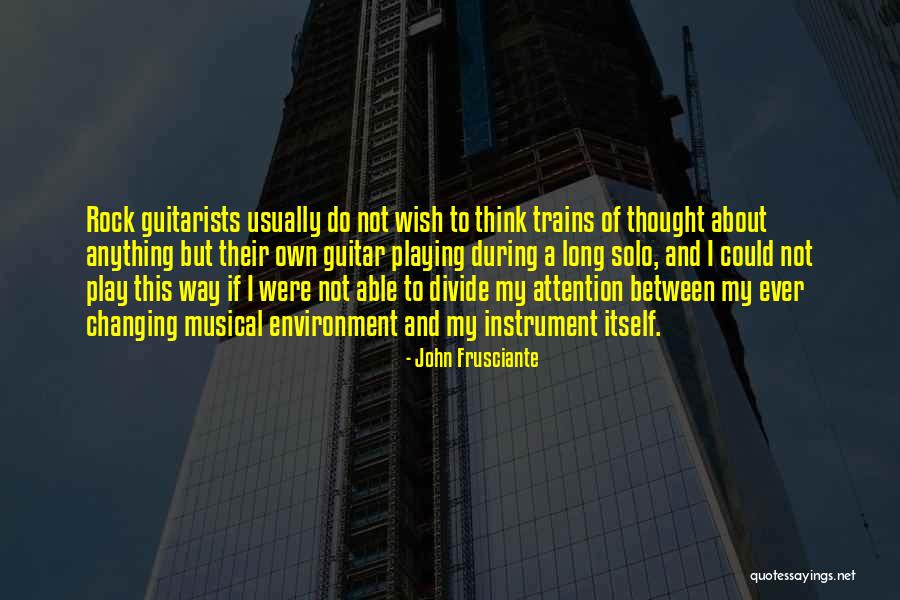 Rock guitarists usually do not wish to think trains of thought about anything but their own guitar playing during a long solo, and I could not play this way if I were not able to divide my attention between my ever changing musical environment and my instrument itself. — John Frusciante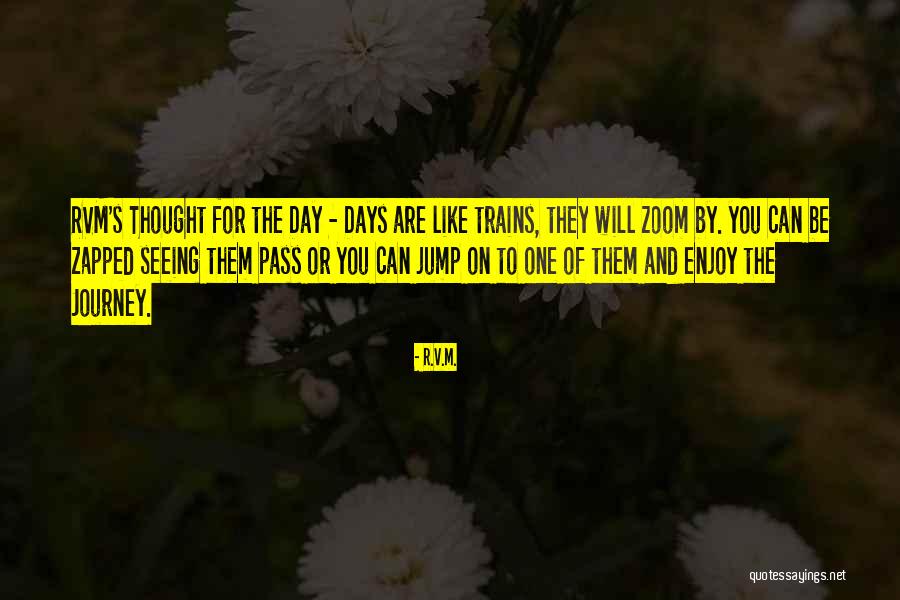 RVM's Thought for the Day -
Days are like trains, they will zoom by. you can be zapped seeing them pass or you can jump on to one of them and enjoy the Journey. — R.v.m.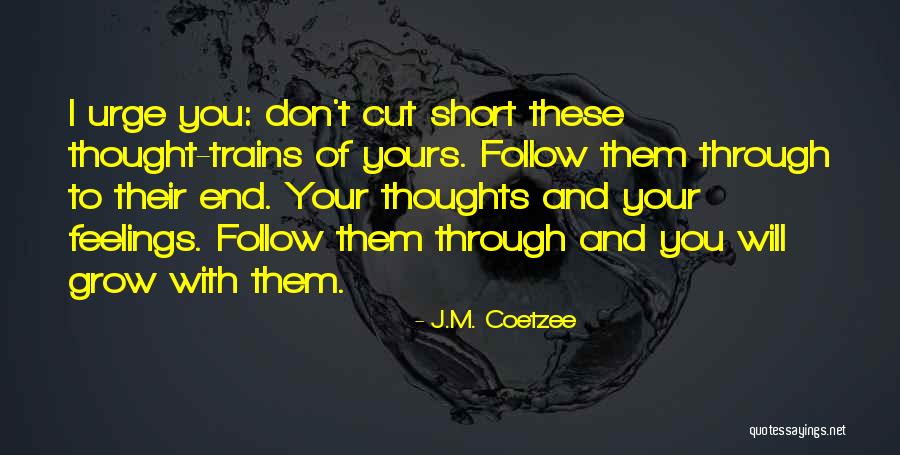 I urge you: don't cut short these thought-trains of yours. Follow them through to their end. Your thoughts and your feelings. Follow them through and you will grow with them. — J.M. Coetzee
She felt a board indifference toward the immediate world around her toward other children and adults alike. She took it as a regrettable accident to be borne patiently for a while, that she happened to be imprisoned among people who were dull. She had caught a glimpse of another world and she knew it existed somewhere, the world that had created trains, bridges, telegraph wires and signal lights winking in the night. She had to wait she thought, and grow up to that world. - Dagny Taggart — Ayn Rand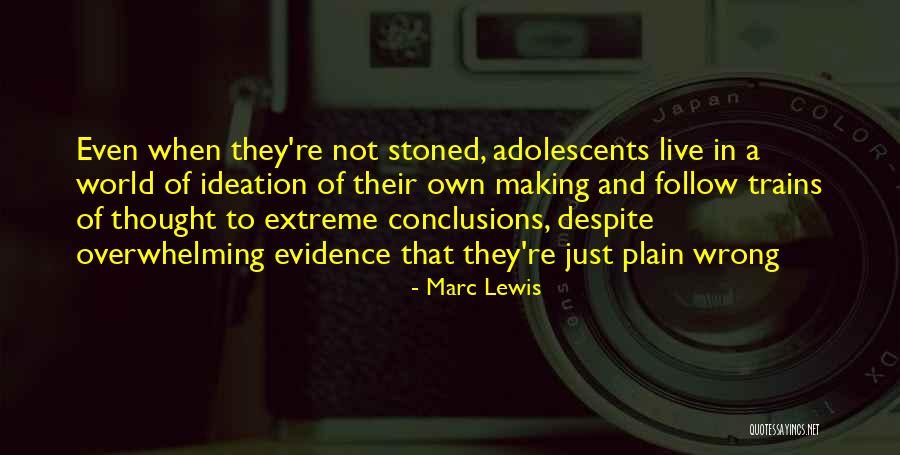 Even when they're not stoned, adolescents live in a world of ideation of their own making and follow trains of thought to extreme conclusions, despite overwhelming evidence that they're just plain wrong — Marc Lewis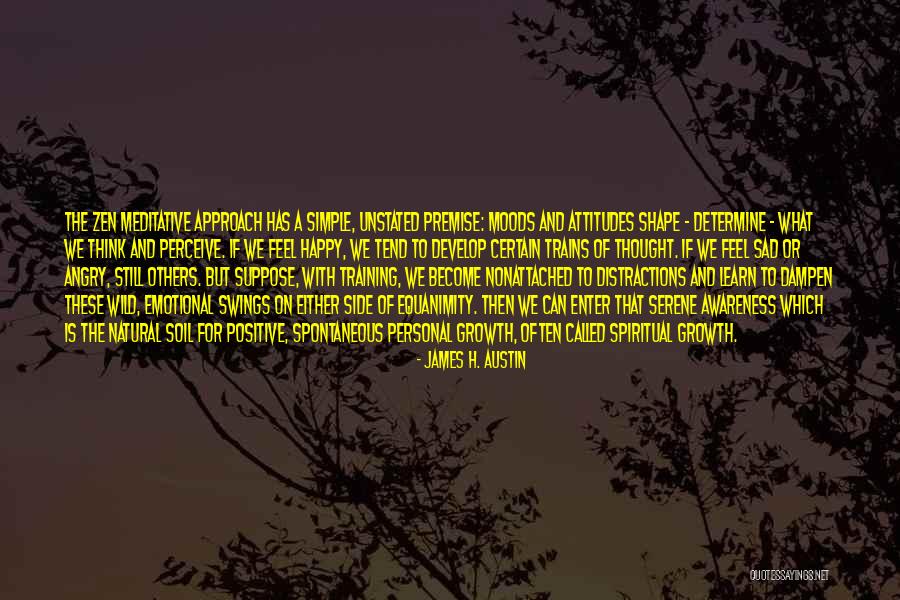 The Zen meditative approach has a simple, unstated premise: moods and attitudes shape - determine - what we think and perceive. If we feel happy, we tend to develop certain trains of thought. If we feel sad or angry, still others. But suppose, with training, we become nonattached to distractions and learn to dampen these wild, emotional swings on either side of equanimity. Then we can enter that serene awareness which is the natural soil for positive, spontaneous personal growth, often called spiritual growth. — James H. Austin
I had an overwhelming sense of the lonliness of this city - a trillion souls in their bedrooms, high in the cliffs of windows. I thought of what was underneath it all - I thought of the electricty cables, steam, water, fire, subway trains and lava in the city's guts, the subterranean rumbling of trains and earthquakes. I thought of the dead souls from the war, concreted over. — Mo Hayder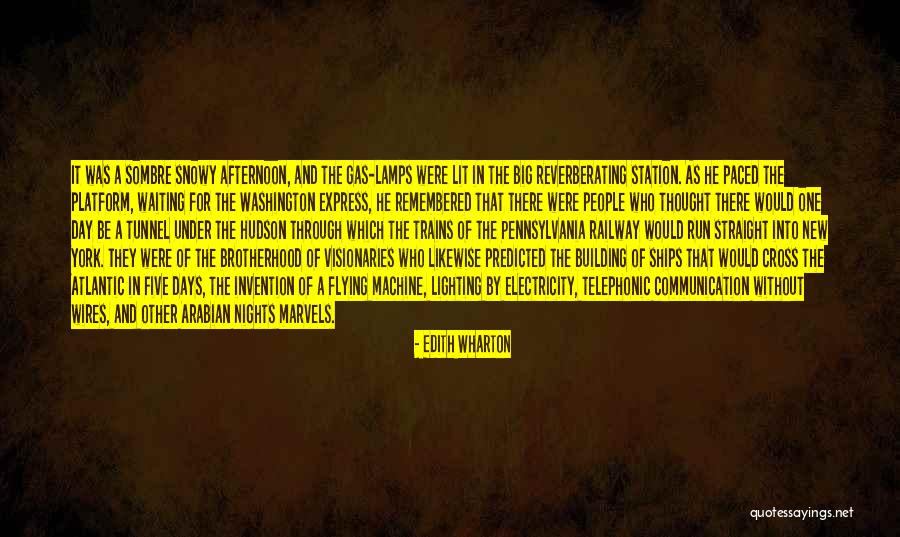 It was a sombre snowy afternoon, and the gas-lamps were lit in the big reverberating station. As he paced the platform, waiting for the Washington express, he remembered that there were people who thought there would one day be a tunnel under the Hudson through which the trains of the Pennsylvania railway would run straight into New York. They were of the brotherhood of visionaries who likewise predicted the building of ships that would cross the Atlantic in five days, the invention of a flying machine, lighting by electricity, telephonic communication without wires, and other Arabian Nights marvels. — Edith Wharton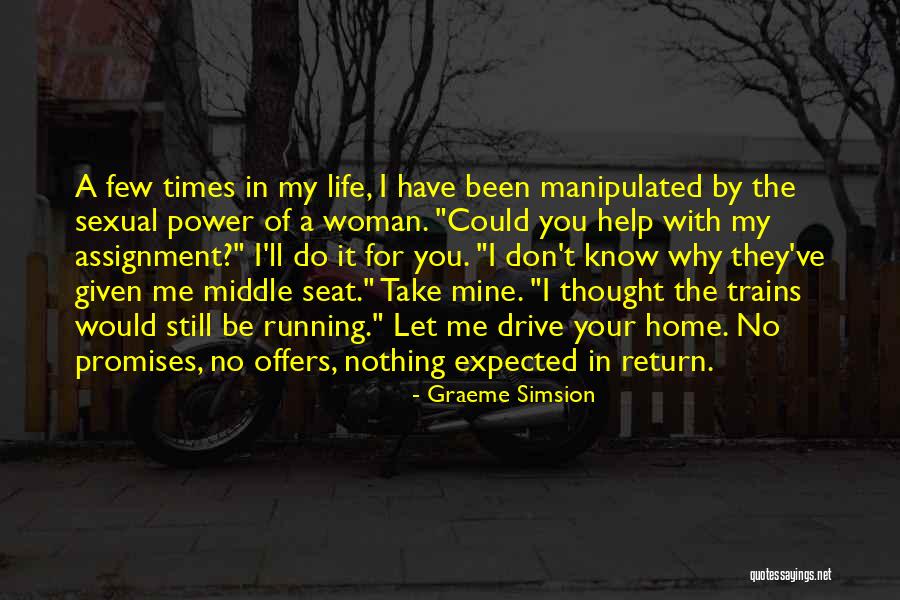 A few times in my life, I have been manipulated by the sexual power of a woman. "Could you help with my assignment?" I'll do it for you. "I don't know why they've given me middle seat." Take mine. "I thought the trains would still be running." Let me drive your home. No promises, no offers, nothing expected in return. — Graeme Simsion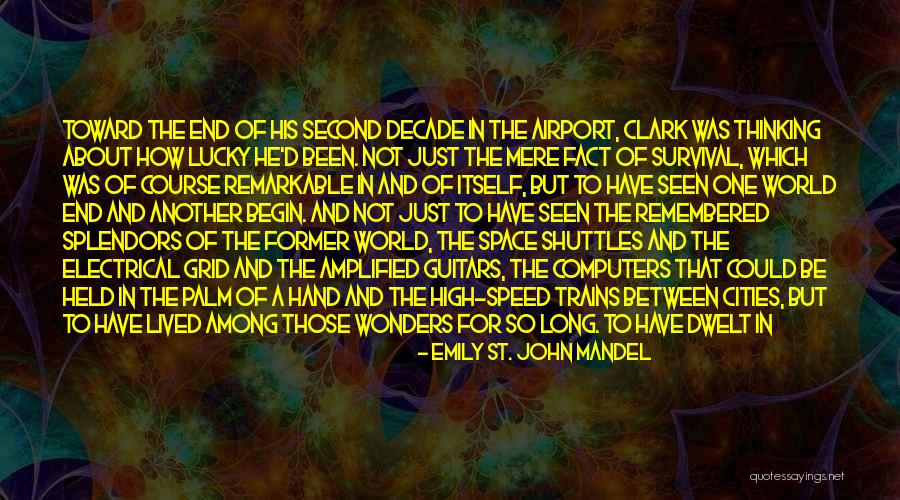 Toward the end of his second decade in the airport, Clark was thinking about how lucky he'd been. Not just the mere fact of survival, which was of course remarkable in and of itself, but to have seen one world end and another begin. And not just to have seen the remembered splendors of the former world, the space shuttles and the electrical grid and the amplified guitars, the computers that could be held in the palm of a hand and the high-speed trains between cities, but to have lived among those wonders for so long. To have dwelt in that spectacular world for fifty-one years of his life. Sometimes he lay awake in Concourse B of the Severn City Airport and thought, "I was there," and the thought pierced him through with an admixture of sadness and exhilaration. — Emily St. John Mandel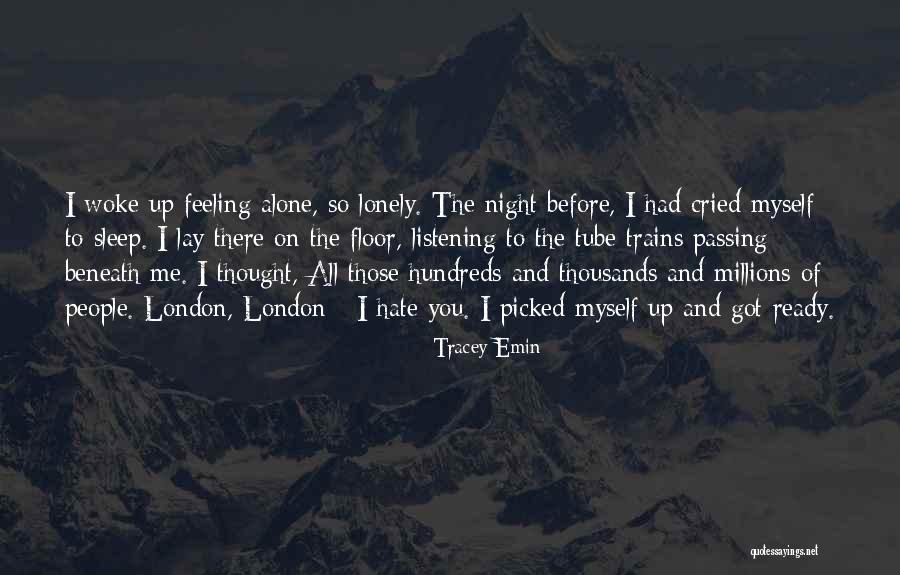 I woke up feeling alone, so lonely. The night before, I had cried myself to sleep. I lay there on the floor, listening to the tube trains passing beneath me. I thought, All those hundreds and thousands and millions of people. London, London - I hate you. I picked myself up and got ready. — Tracey Emin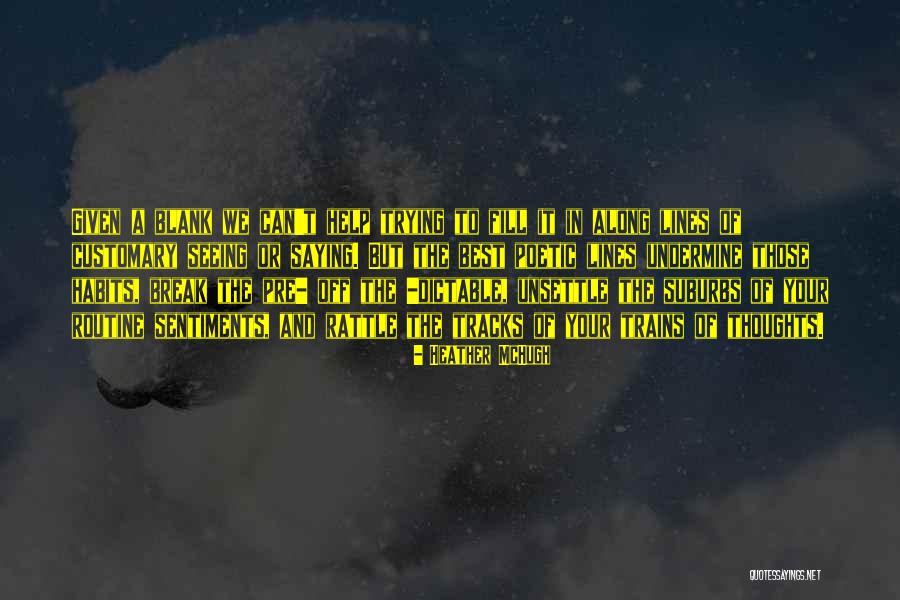 Given a blank we can't help trying to fill it in along lines of customary seeing or saying. But the best poetic lines undermine those habits, break the pre- off the -dictable, unsettle the suburbs of your routine sentiments, and rattle the tracks of your trains of thoughts. — Heather McHugh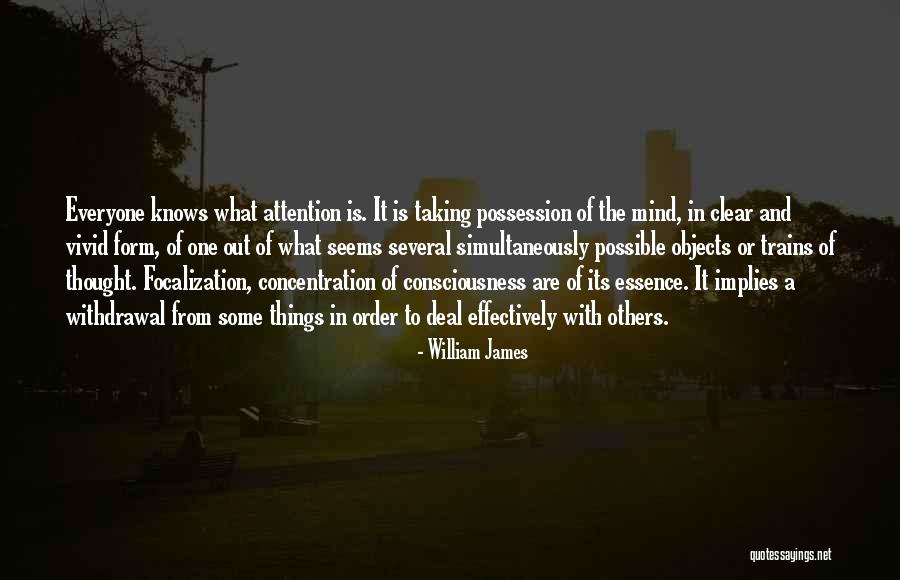 Everyone knows what attention is. It is taking possession of the mind, in clear and vivid form, of one out of what seems several simultaneously possible objects or trains of thought. Focalization, concentration of consciousness are of its essence. It implies a withdrawal from some things in order to deal effectively with others. — William James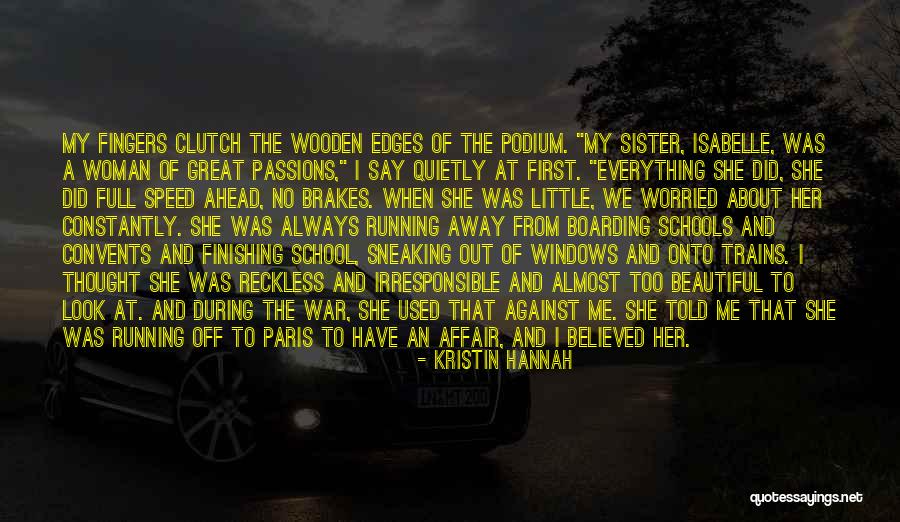 My fingers clutch the wooden edges of the podium. "My sister, Isabelle, was a woman of great passions," I say quietly at first. "Everything she did, she did full speed ahead, no brakes. When she was little, we worried about her constantly. She was always running away from boarding schools and convents and finishing school, sneaking out of windows and onto trains. I thought she was reckless and irresponsible and almost too beautiful to look at. And during the war, she used that against me. She told me that she was running off to Paris to have an affair, and I believed her. — Kristin Hannah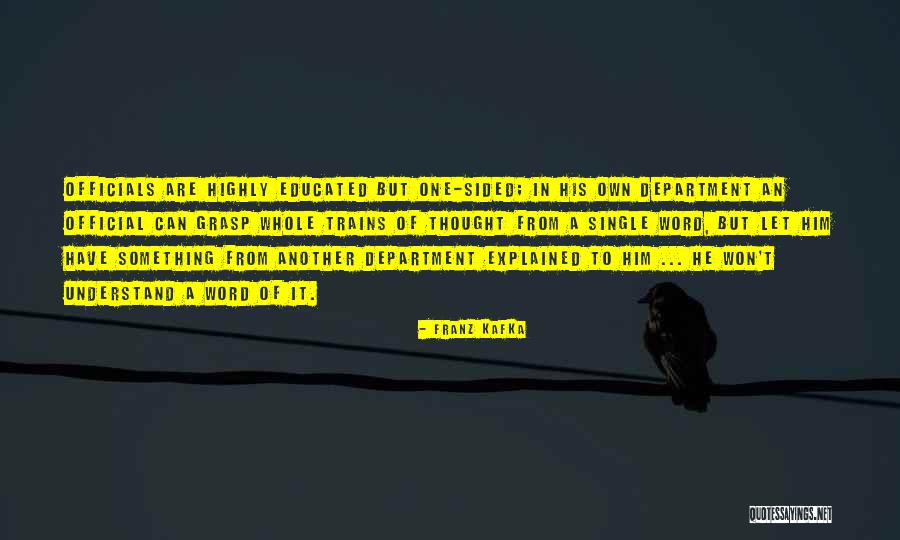 Officials are highly educated but one-sided; in his own department an official can grasp whole trains of thought from a single word, but let him have something from another department explained to him ... he won't understand a word of it. — Franz Kafka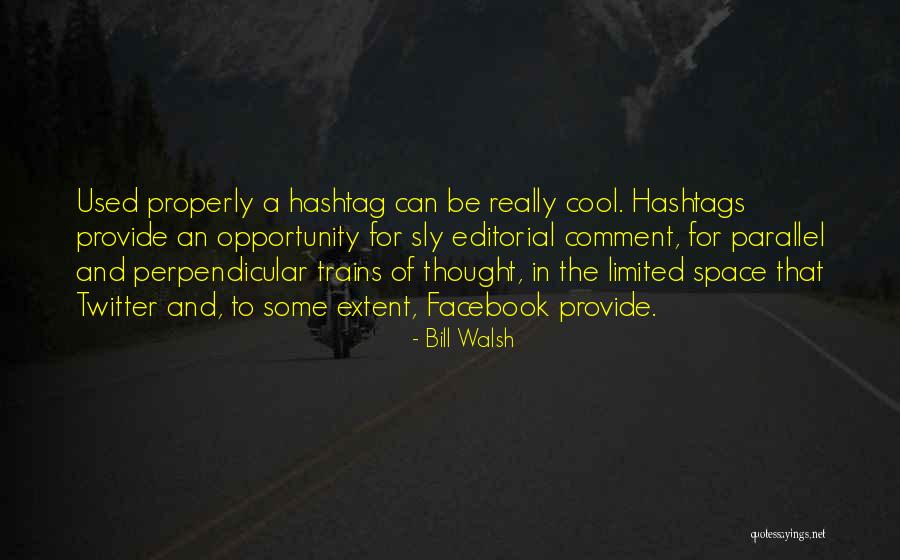 Used properly a hashtag can be really cool. Hashtags provide an opportunity for sly editorial comment, for parallel and perpendicular trains of thought, in the limited space that Twitter and, to some extent, Facebook provide. — Bill Walsh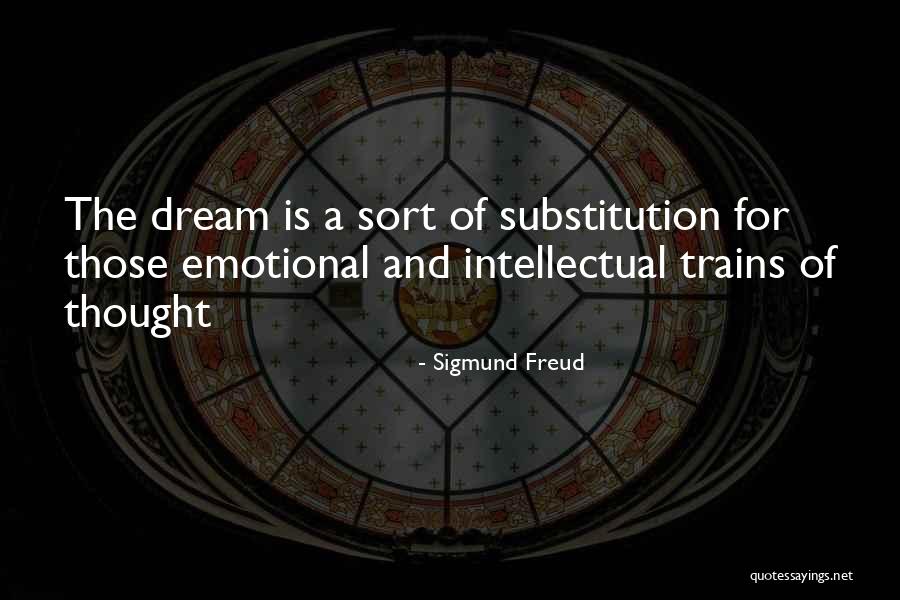 The dream is a sort of substitution for those emotional and intellectual trains of thought — Sigmund Freud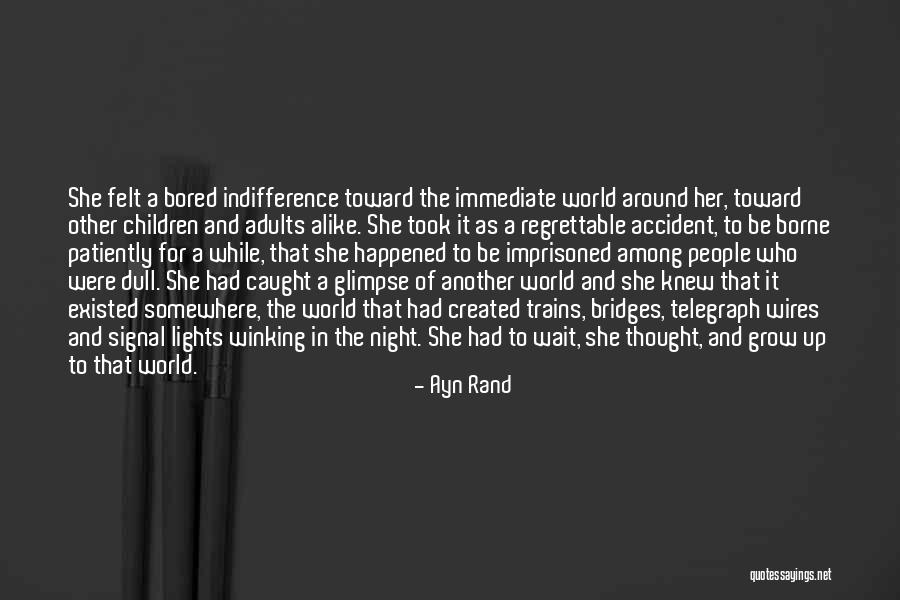 She felt a bored indifference toward the immediate world around her, toward other children and adults alike. She took it as a regrettable accident, to be borne patiently for a while, that she happened to be imprisoned among people who were dull. She had caught a glimpse of another world and she knew that it existed somewhere, the world that had created trains, bridges, telegraph wires and signal lights winking in the night. She had to wait, she thought, and grow up to that world. — Ayn Rand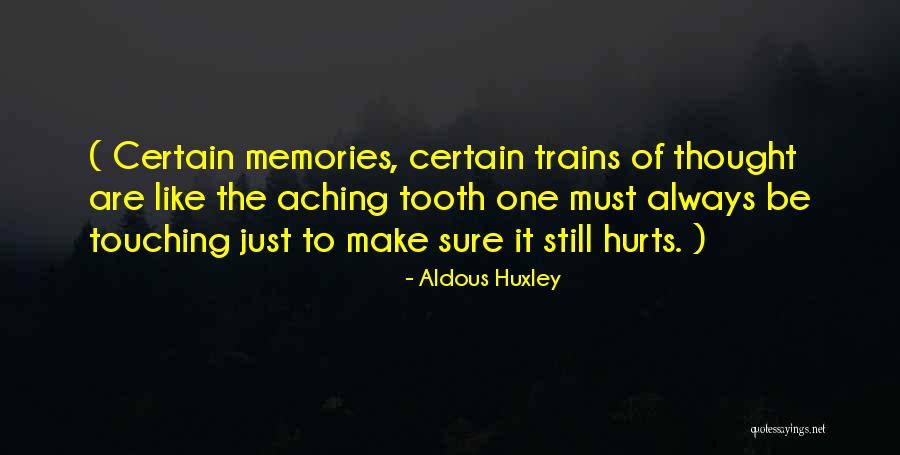 ( Certain memories, certain trains of thought are like the aching tooth one must always be touching just to make sure it still hurts. ) — Aldous Huxley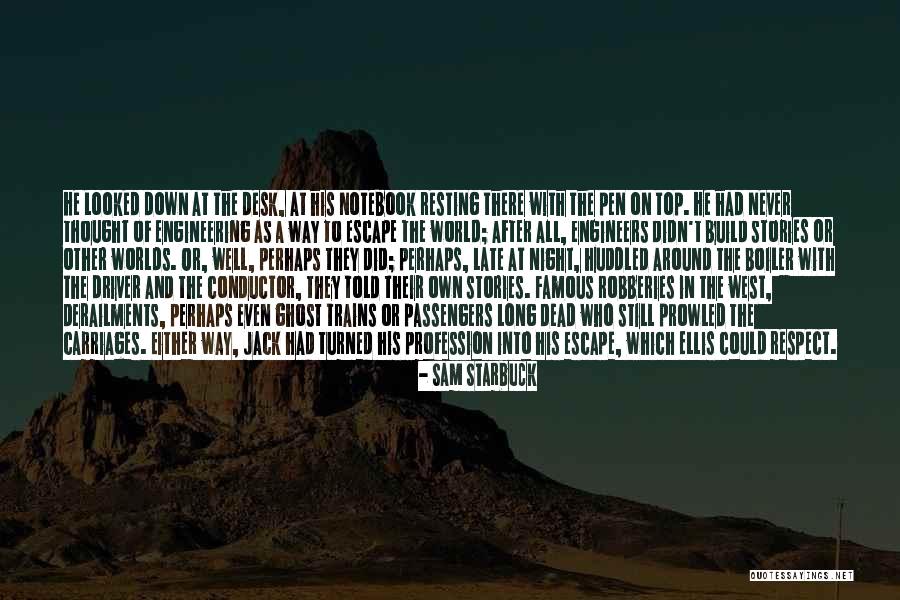 He looked down at the desk, at his notebook resting there with the pen on top. He had never thought of engineering as a way to escape the world; after all, engineers didn't build stories or other worlds.
Or, well, perhaps they did; perhaps, late at night, huddled around the boiler with the driver and the conductor, they told their own stories. Famous robberies in the west, derailments, perhaps even ghost trains or passengers long dead who still prowled the carriages.
Either way, Jack had turned his profession into his escape, which Ellis could respect. — Sam Starbuck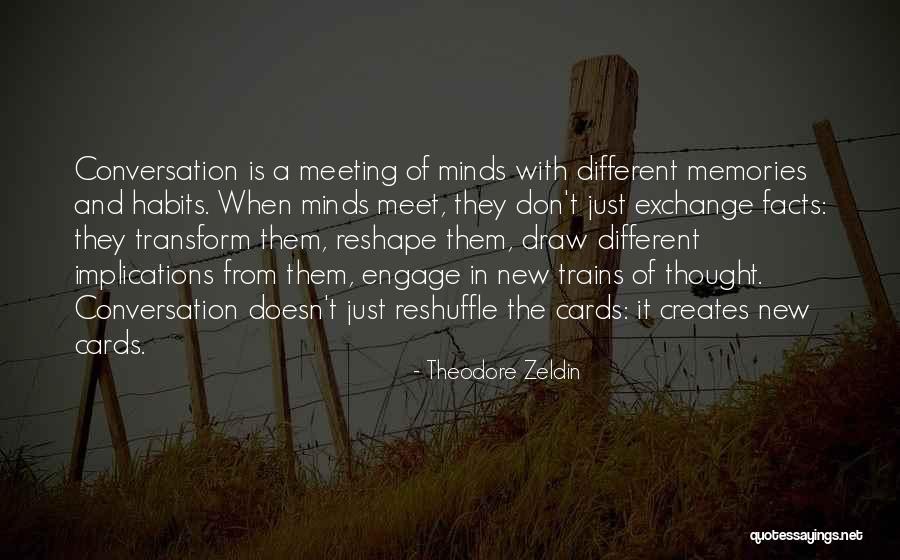 Conversation is a meeting of minds with different memories and habits. When minds meet, they don't just exchange facts: they transform them, reshape them, draw different implications from them, engage in new trains of thought. Conversation doesn't just reshuffle the cards: it creates new cards. — Theodore Zeldin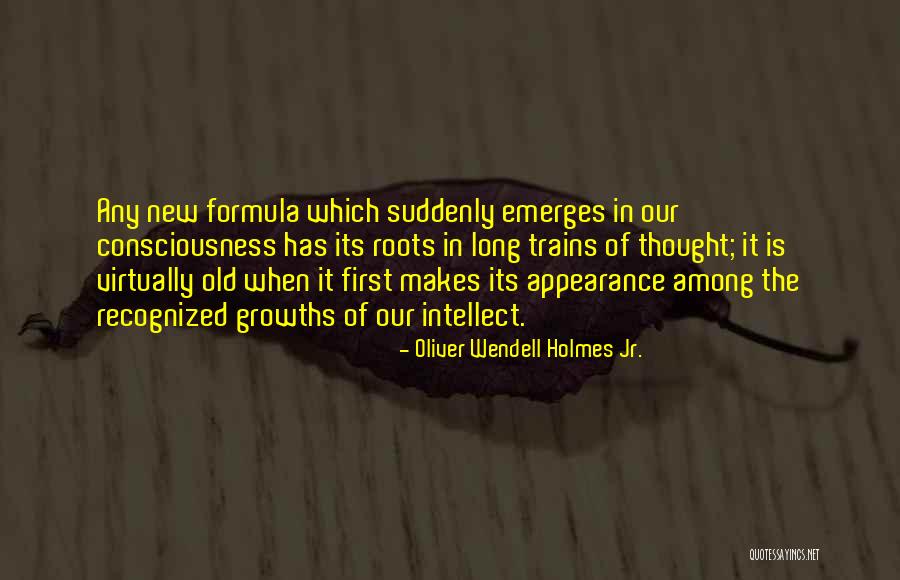 Any new formula which suddenly emerges in our consciousness has its roots in long trains of thought; it is virtually old when it first makes its appearance among the recognized growths of our intellect. — Oliver Wendell Holmes Jr.
I could tell he wanted the best for me. Of course, he assumed that would be getting out. Everyone always thought that, not of what we had to go back to, at home. Maybe our parents had thrown away our mattresses. Maybe they'd told our siblings we'd been run over by trains, to make our absence fonder.
Not everyone had a parent. It could be that nothing was waiting for us. Our keys would no longer fit the locks. We'd resort to ringing the bell, saying we've come home, can't we come in?
The eye in the peephole would show itself, and that eye could belong to a stranger, as our family had moved halfway across the country and never informed us. Or that eye could belong to the woman who carried us for nine months, who labored for fourteen hours, who was sliced open with a C-section to give us life, and now wished she never did.
The juvenile correctional system could let us out into the world, but it could not control who would be out there, willing to claim us. — Nova Ren Suma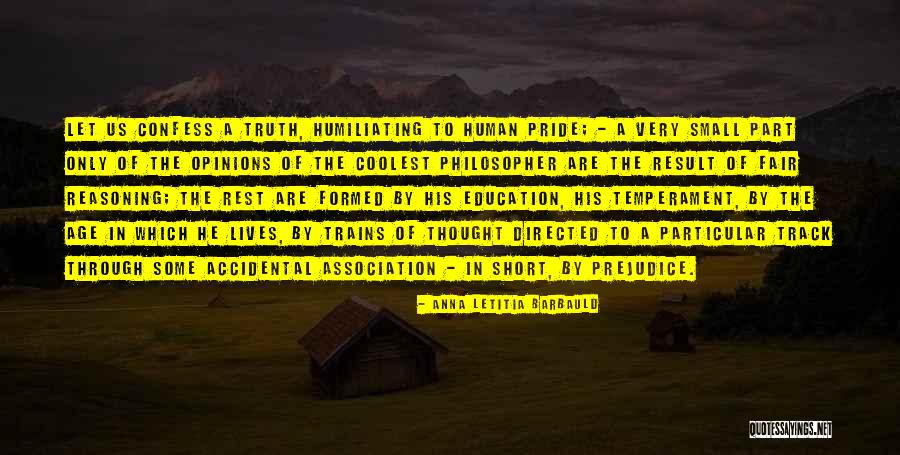 Let us confess a truth, humiliating to human pride; - a very small part only of the opinions of the coolest philosopher are the result of fair reasoning; the rest are formed by his education, his temperament, by the age in which he lives, by trains of thought directed to a particular track through some accidental association - in short, by prejudice. — Anna Letitia Barbauld
That may be true," I thought, "But they don't have digital cable or Internet access, so really what's the point of being alive?" Civilized life, with all its threats and potential dooms, is too much to bear without the respite of three hundred channels. True, Osama bin Laden may very well send nuclear-bomb-filled suitcases on Amtrak trains into Penn Station, but until then: "I Love the 80s on VH1. — Augusten Burroughs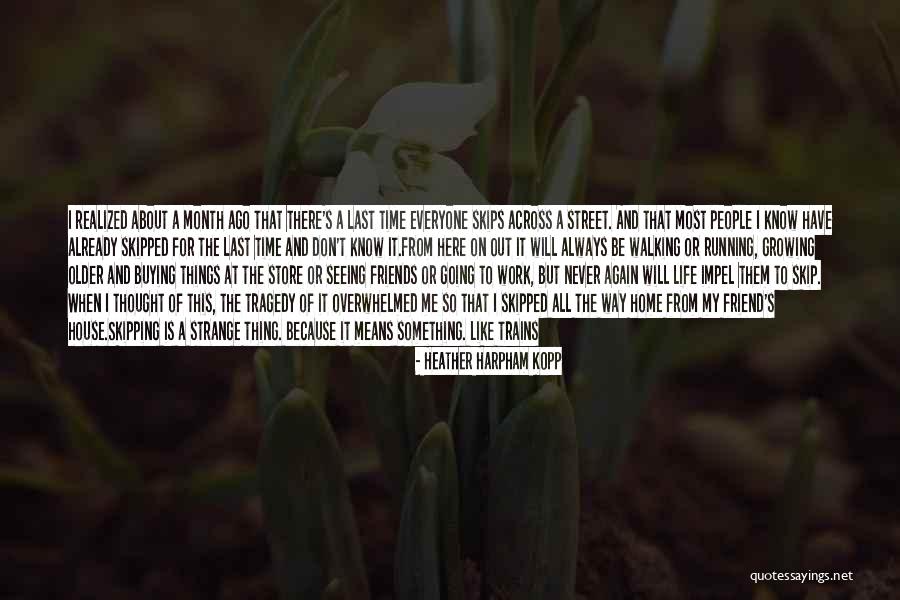 I realized about a month ago that there's a last time everyone skips across a street. And that most people I know have already skipped for the last time and don't know it.

From here on out it will always be walking or running, growing older and buying things at the store or seeing friends or going to work, but never again will life impel them to skip. When I thought of this, the tragedy of it overwhelmed me so that I skipped all the way home from my friend's house.

Skipping is a strange thing. Because it means something. Like trains make the sound of leaving. Skipping is the motion of being totally free, childlike, abandoned of self and to self.

But I learned something else about skipping. You can't fake it. Or make it happen. It must be something that happens to you. (pp. 152-153) — Heather Harpham Kopp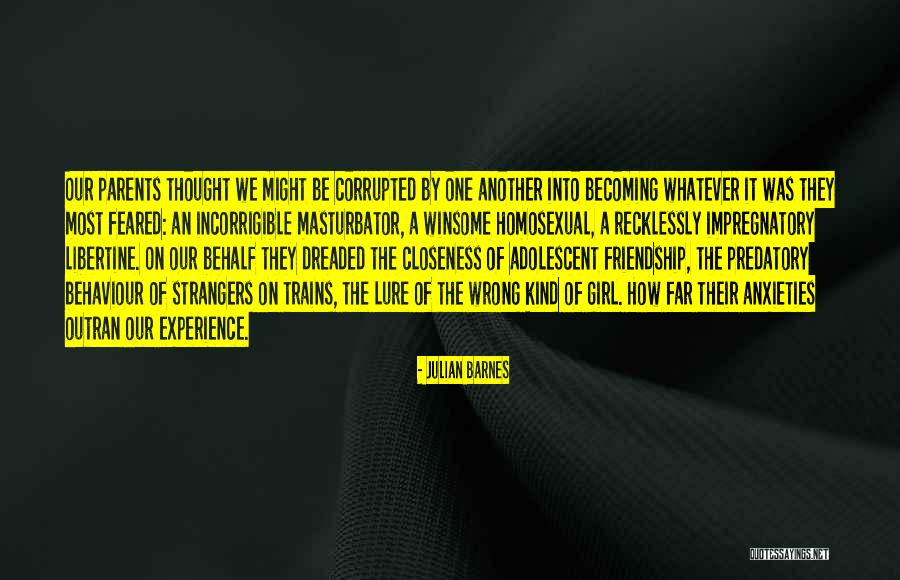 Our parents thought we might be corrupted by one another into becoming whatever it was they most feared: an incorrigible masturbator, a winsome homosexual, a recklessly impregnatory libertine. On our behalf they dreaded the closeness of adolescent friendship, the predatory behaviour of strangers on trains, the lure of the wrong kind of girl. How far their anxieties outran our experience. — Julian Barnes
We can trace back our existence almost to a point. Former time presents us with trains of thoughts gradually diminishing to nothing. But our ideas of futurity are perpetually expanding. Our desires and our hopes, even when modified by our fears, seem to grasp at immensity. This alone would be sufficient to prove the progressiveness of our nature, and that this little earth is but a point from which we start toward a perfection of being. — Humphry Davy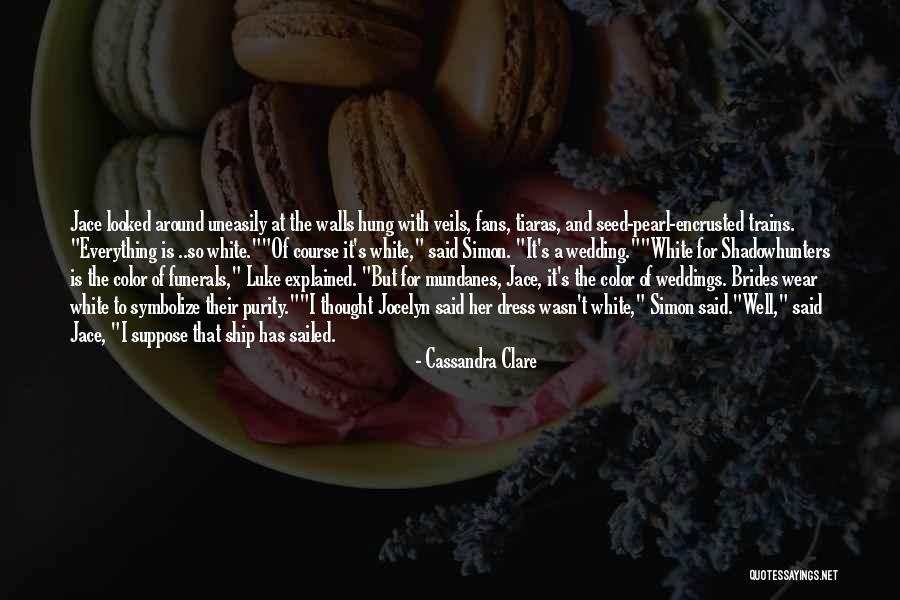 Jace looked around uneasily at the walls hung with veils, fans, tiaras, and seed-pearl-encrusted trains. "Everything is ..so white."
"Of course it's white," said Simon. "It's a wedding."
"White for Shadowhunters is the color of funerals," Luke explained. "But for mundanes, Jace, it's the color of weddings. Brides wear white to symbolize their purity."
"I thought Jocelyn said her dress wasn't white," Simon said.
"Well," said Jace, "I suppose that ship has sailed. — Cassandra Clare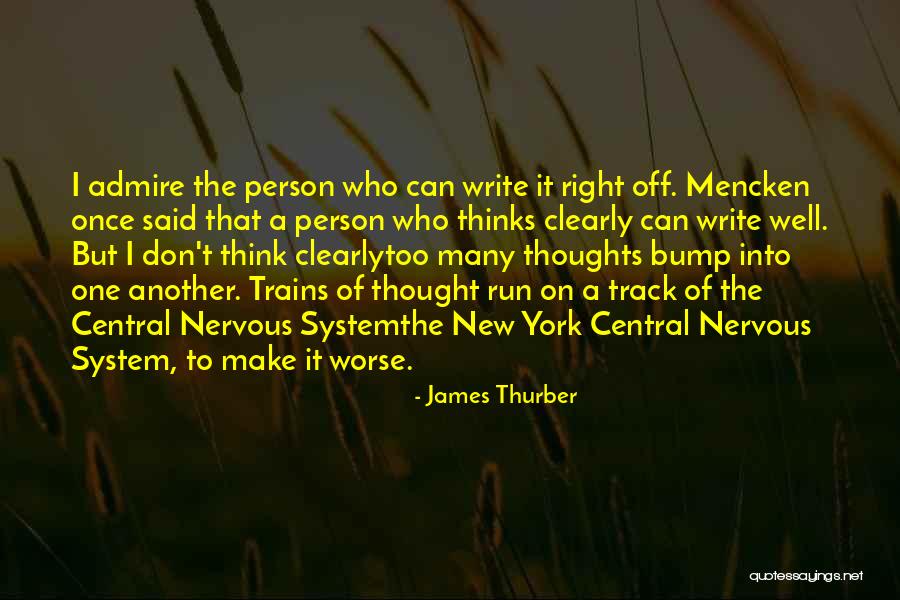 I admire the person who can write it right off. Mencken once said that a person who thinks clearly can write well. But I don't think clearly
too many thoughts bump into one another. Trains of thought run on a track of the Central Nervous System
the New York Central Nervous System, to make it worse. — James Thurber