Today Facebook Quotes & Sayings
Enjoy reading and share 39 famous quotes about Today Facebook with everyone.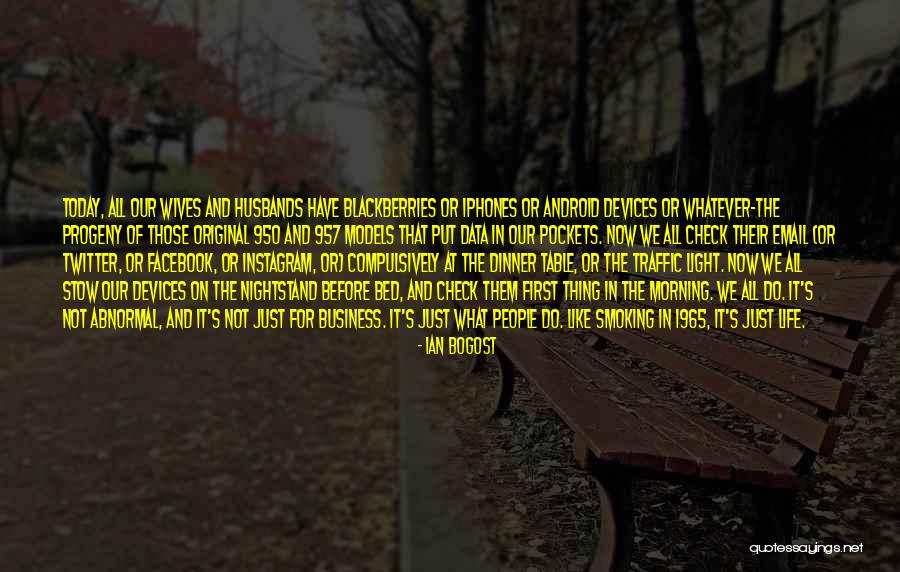 Today, all our wives and husbands have Blackberries or iPhones or Android devices or whatever-the progeny of those original 950 and 957 models that put data in our pockets. Now we all check their email (or Twitter, or Facebook, or Instagram, or) compulsively at the dinner table, or the traffic light. Now we all stow our devices on the nightstand before bed, and check them first thing in the morning. We all do. It's not abnormal, and it's not just for business. It's just what people do. Like smoking in 1965, it's just life. — Ian Bogost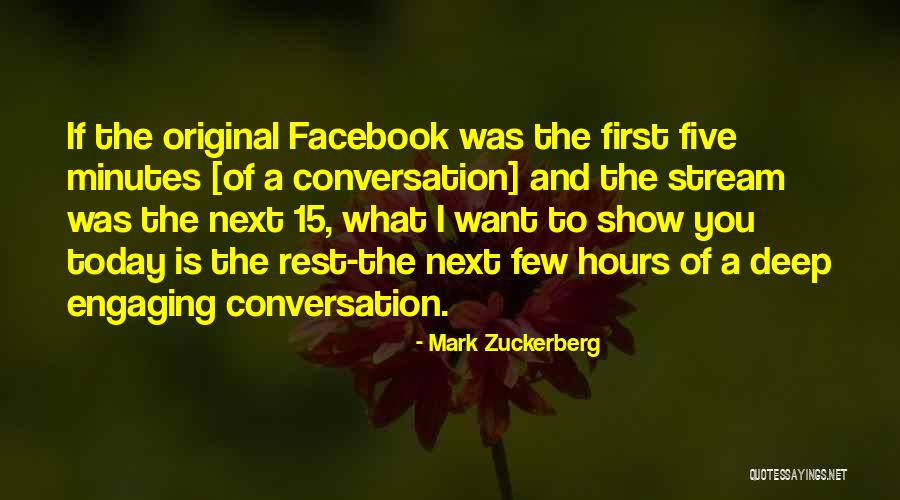 If the original Facebook was the first five minutes [of a conversation] and the stream was the next 15, what I want to show you today is the rest-the next few hours of a deep engaging conversation. — Mark Zuckerberg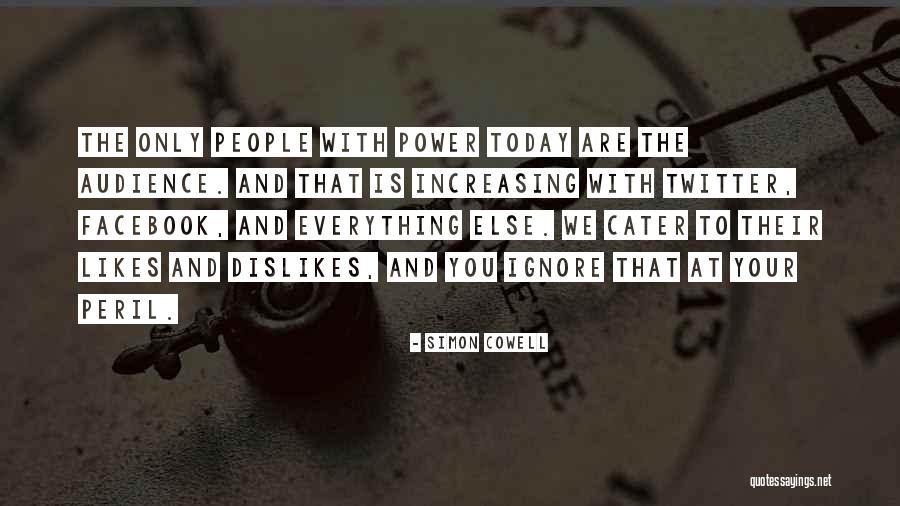 The only people with power today are the audience. And that is increasing with Twitter, Facebook, and everything else. We cater to their likes and dislikes, and you ignore that at your peril. — Simon Cowell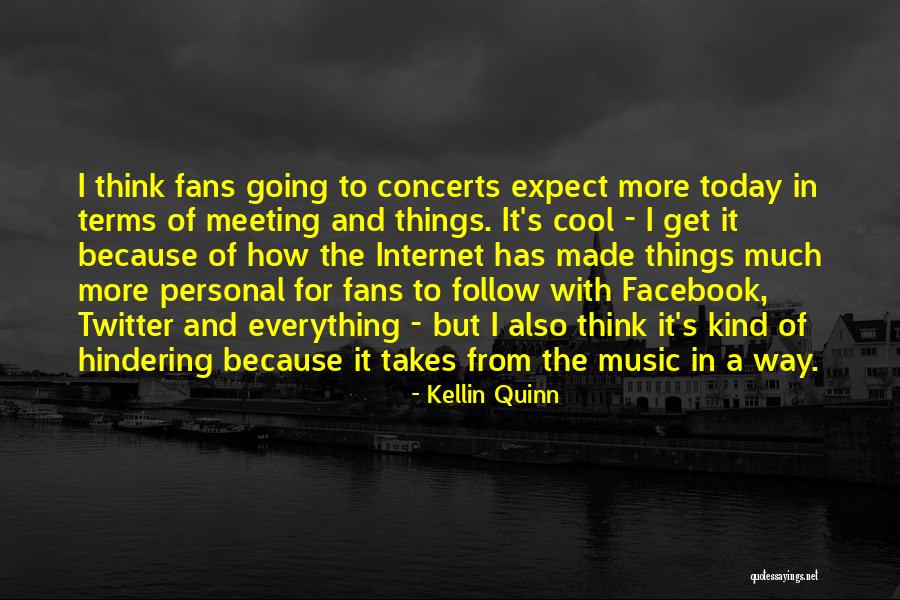 I think fans going to concerts expect more today in terms of meeting and things. It's cool - I get it because of how the Internet has made things much more personal for fans to follow with Facebook, Twitter and everything - but I also think it's kind of hindering because it takes from the music in a way. — Kellin Quinn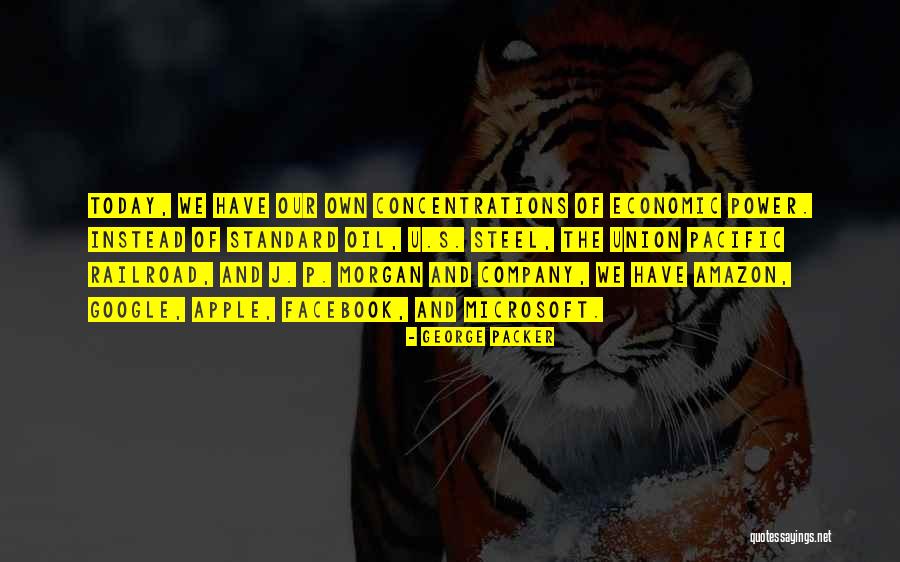 Today, we have our own concentrations of economic power. Instead of Standard Oil, U.S. Steel, the Union Pacific Railroad, and J. P. Morgan and Company, we have Amazon, Google, Apple, Facebook, and Microsoft. — George Packer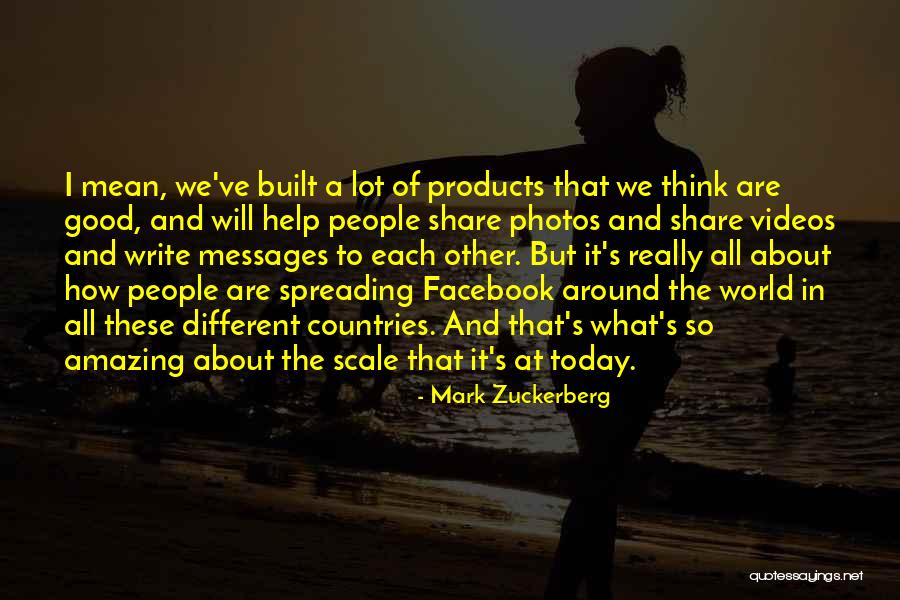 I mean, we've built a lot of products that we think are good, and will help people share photos and share videos and write messages to each other. But it's really all about how people are spreading Facebook around the world in all these different countries. And that's what's so amazing about the scale that it's at today. — Mark Zuckerberg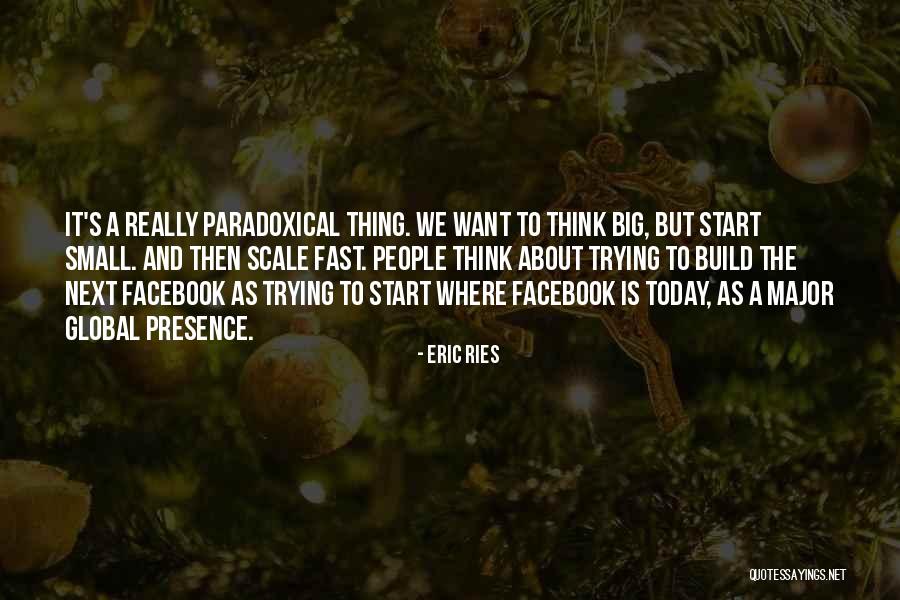 It's a really paradoxical thing. We want to think big, but start small. And then scale fast. People think about trying to build the next Facebook as trying to start where Facebook is today, as a major global presence. — Eric Ries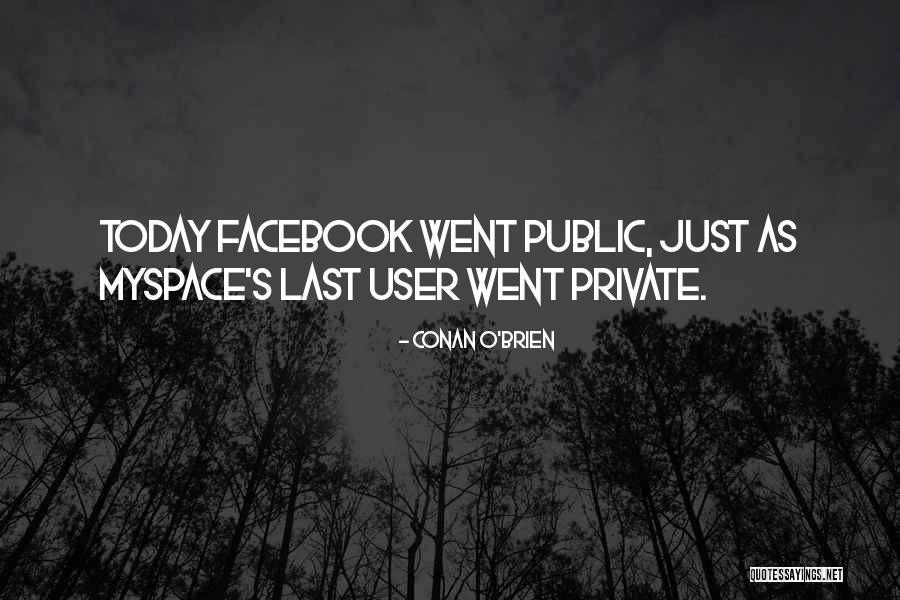 Today Facebook went public, just as Myspace's last user went private. — Conan O'Brien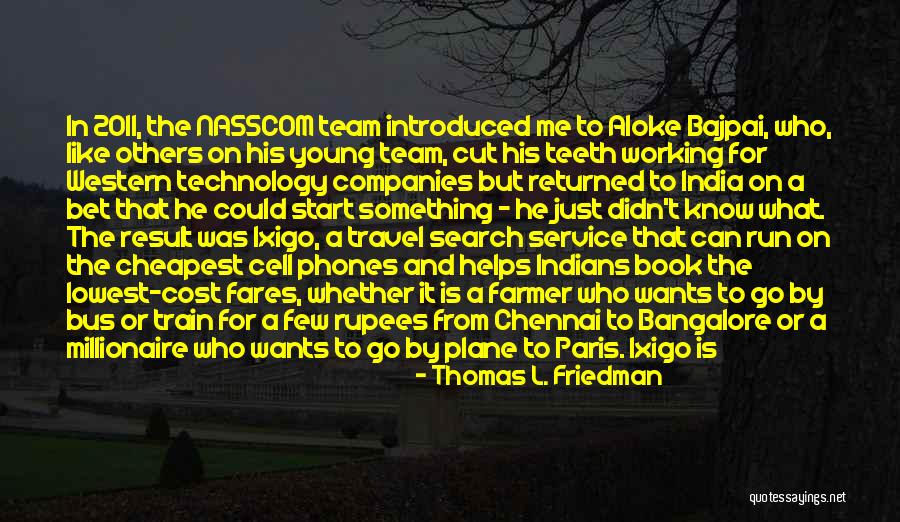 In 2011, the NASSCOM team introduced me to Aloke Bajpai, who, like others on his young team, cut his teeth working for Western technology companies but returned to India on a bet that he could start something - he just didn't know what. The result was Ixigo, a travel search service that can run on the cheapest cell phones and helps Indians book the lowest-cost fares, whether it is a farmer who wants to go by bus or train for a few rupees from Chennai to Bangalore or a millionaire who wants to go by plane to Paris. Ixigo is today the biggest travel search platform in India, with millions of users. To build it, Bajpai leveraged the supernova, using free open-source software, Skype, and cloud-based office tools such as Google Apps and social media marketing on Facebook. They "enabled us to grow so much faster with no money," he told me. It — Thomas L. Friedman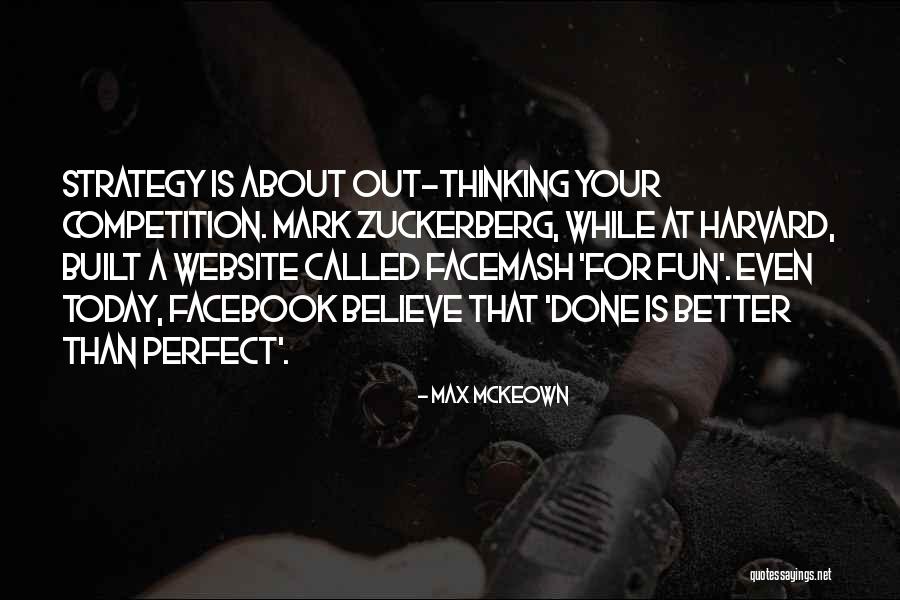 Strategy is about out-thinking your competition. Mark Zuckerberg, while at Harvard, built a website called Facemash 'for fun'. Even today, Facebook believe that 'done is better than perfect'. — Max McKeown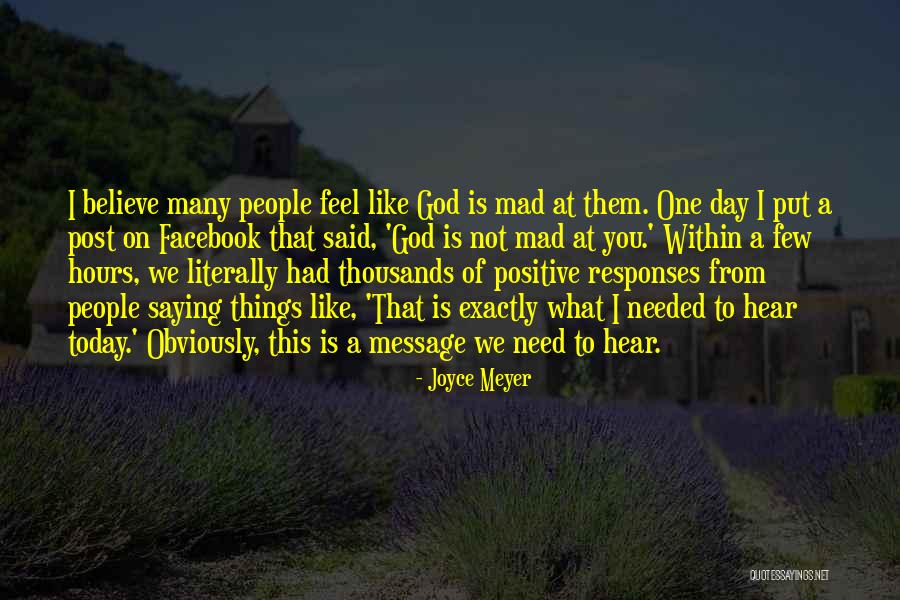 I believe many people feel like God is mad at them. One day I put a post on Facebook that said, 'God is not mad at you.' Within a few hours, we literally had thousands of positive responses from people saying things like, 'That is exactly what I needed to hear today.' Obviously, this is a message we need to hear. — Joyce Meyer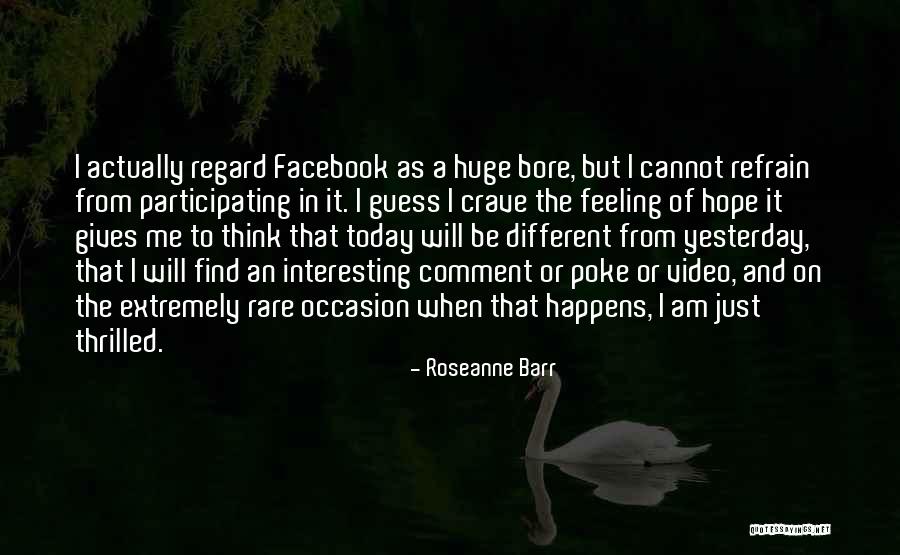 I actually regard Facebook as a huge bore, but I cannot refrain from participating in it. I guess I crave the feeling of hope it gives me to think that today will be different from yesterday, that I will find an interesting comment or poke or video, and on the extremely rare occasion when that happens, I am just thrilled. — Roseanne Barr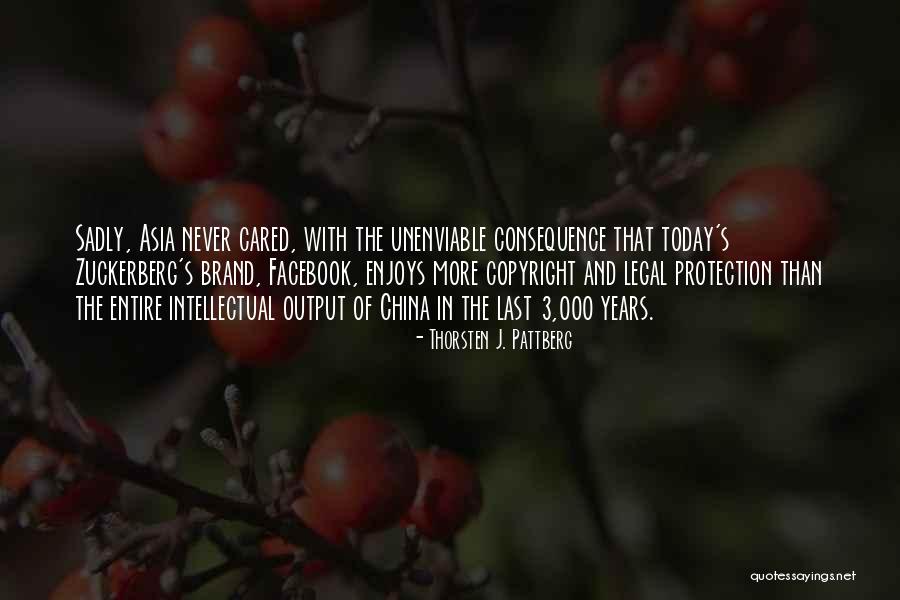 Sadly, Asia never cared, with the unenviable consequence that today's Zuckerberg's brand, Facebook, enjoys more copyright and legal protection than the entire intellectual output of China in the last 3,000 years. — Thorsten J. Pattberg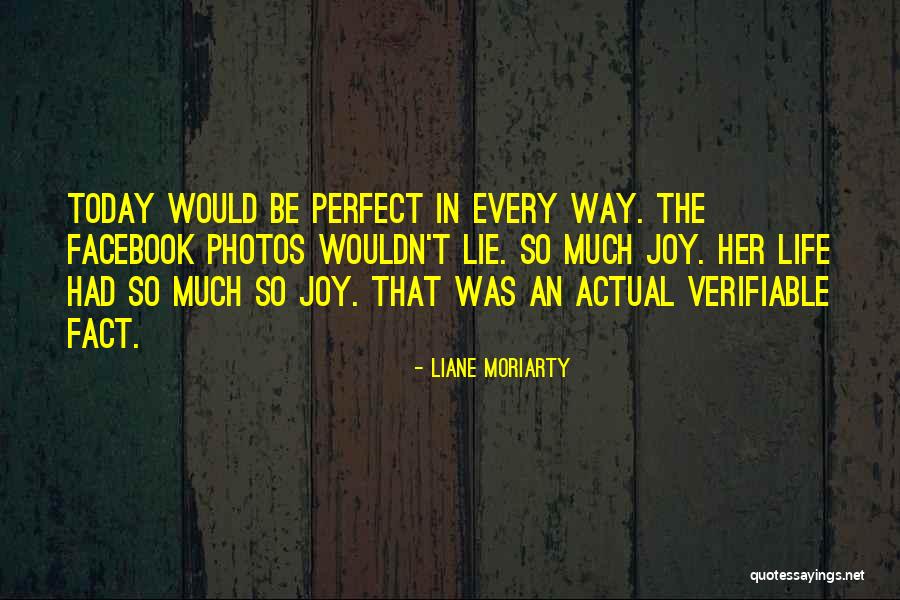 Today would be perfect in every way. The Facebook photos wouldn't lie. So much joy. Her life had so much so joy. That was an actual verifiable fact. — Liane Moriarty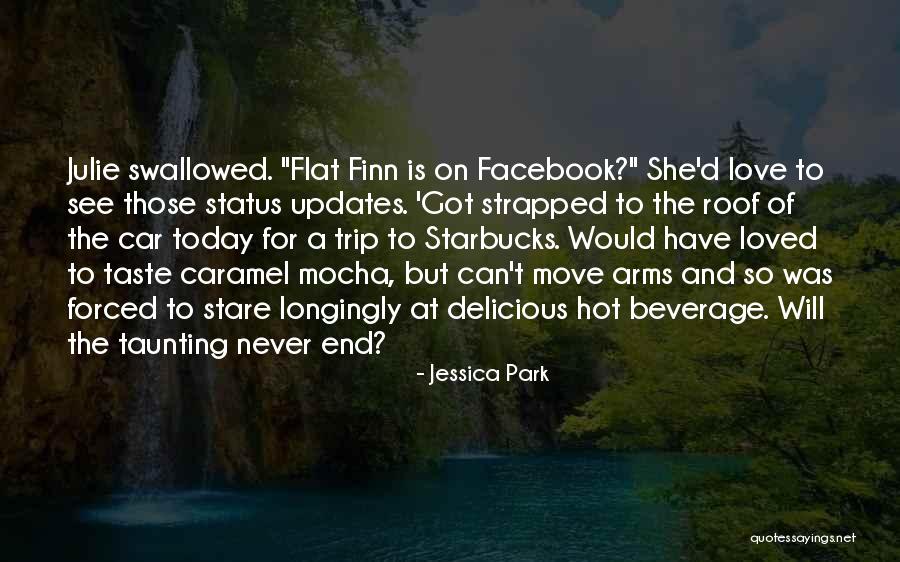 Julie swallowed. "Flat Finn is on Facebook?" She'd love to see those status updates. 'Got strapped to the roof of the car today for a trip to Starbucks. Would have loved to taste caramel mocha, but can't move arms and so was forced to stare longingly at delicious hot beverage. Will the taunting never end? — Jessica Park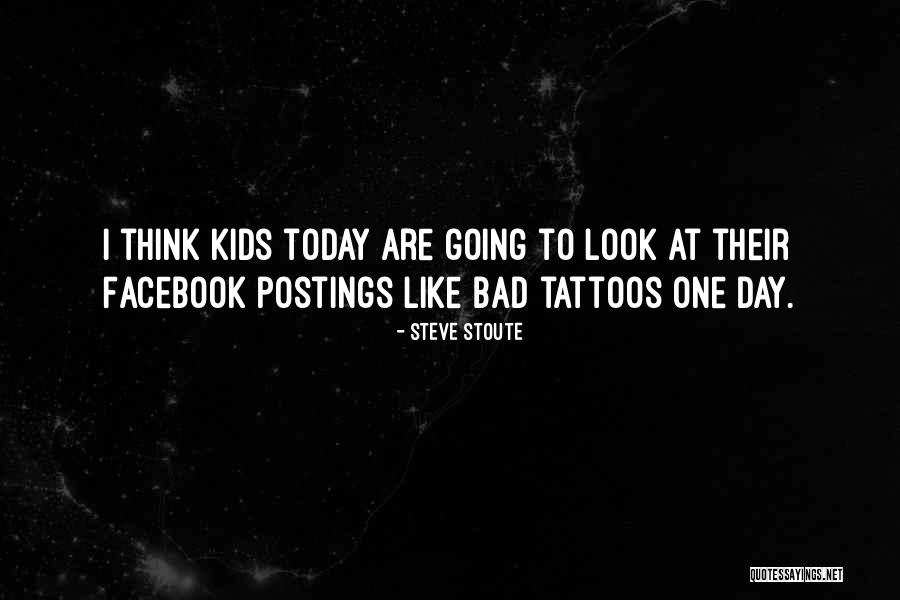 I think kids today are going to look at their Facebook postings like bad tattoos one day. — Steve Stoute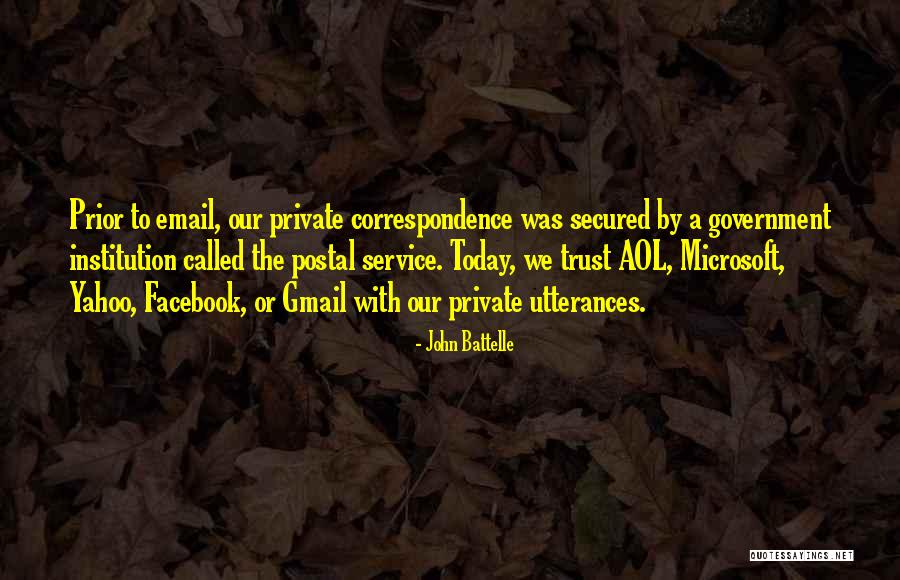 Prior to email, our private correspondence was secured by a government institution called the postal service. Today, we trust AOL, Microsoft, Yahoo, Facebook, or Gmail with our private utterances. — John Battelle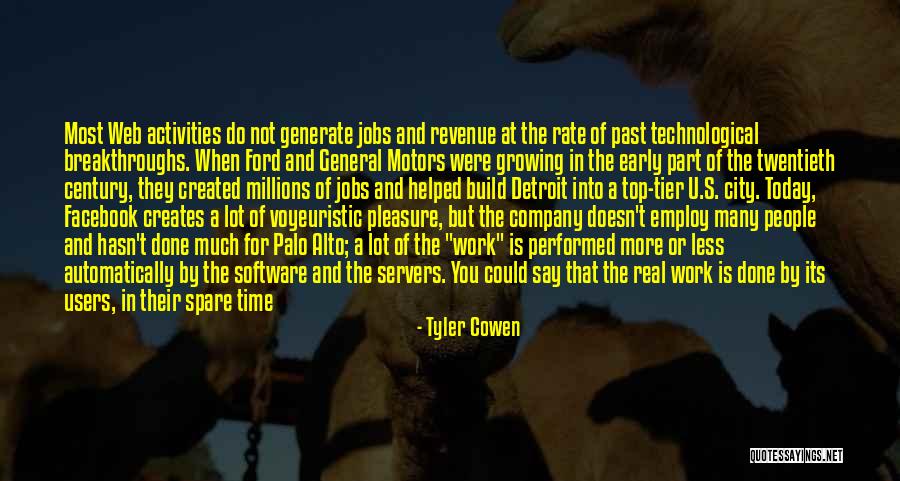 Most Web activities do not generate jobs and revenue at the rate of past technological breakthroughs. When Ford and General Motors were growing in the early part of the twentieth century, they created millions of jobs and helped build Detroit into a top-tier U.S. city. Today, Facebook creates a lot of voyeuristic pleasure, but the company doesn't employ many people and hasn't done much for Palo Alto; a lot of the "work" is performed more or less automatically by the software and the servers. You could say that the real work is done by its users, in their spare time and as a form of leisure. Web 2.0 is not filling government coffers or supporting many families, even though it's been great for users, programmers, and some information technology specialists. Everyone on the Web has heard of Twitter, but as of Fall 2010, only about three hundred people work there. — Tyler Cowen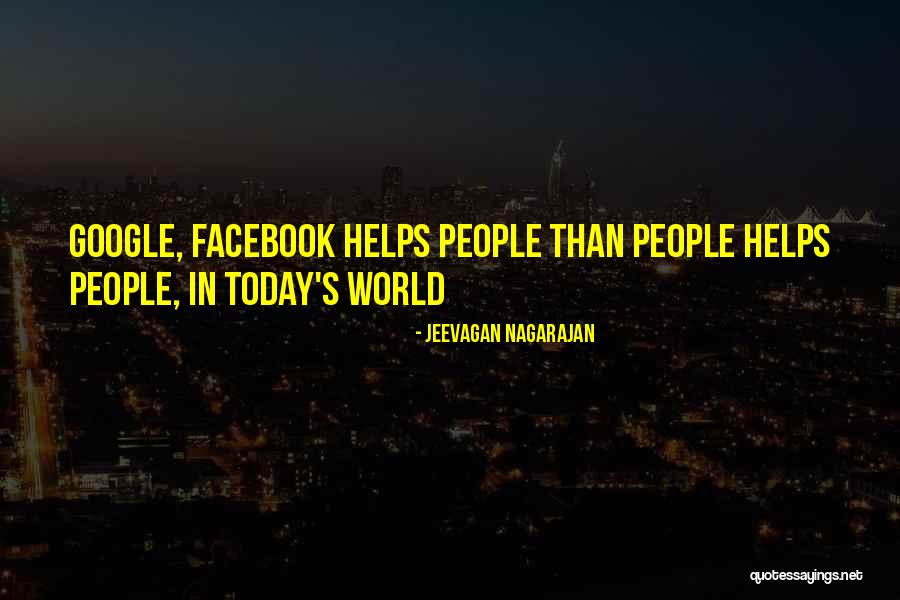 Google, Facebook helps people than people helps people, in today's world — Jeevagan Nagarajan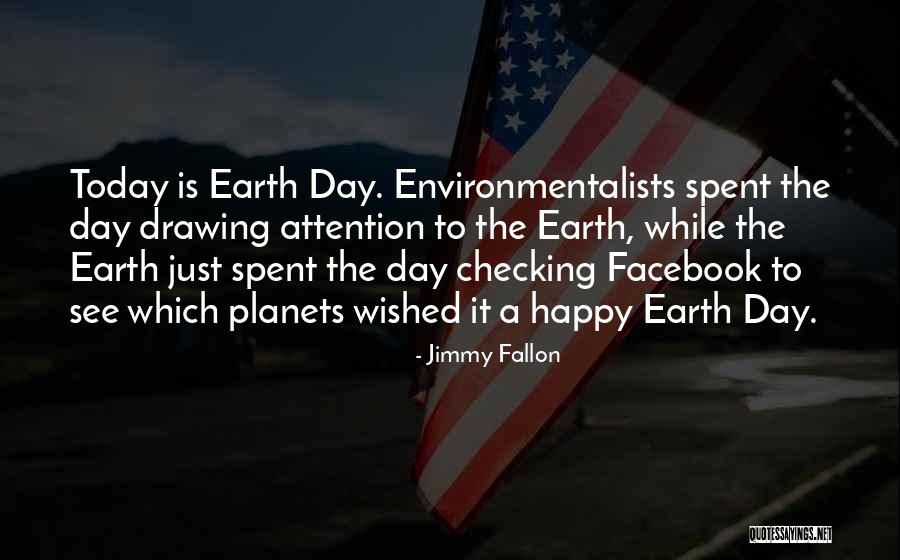 Today is Earth Day. Environmentalists spent the day drawing attention to the Earth, while the Earth just spent the day checking Facebook to see which planets wished it a happy Earth Day. — Jimmy Fallon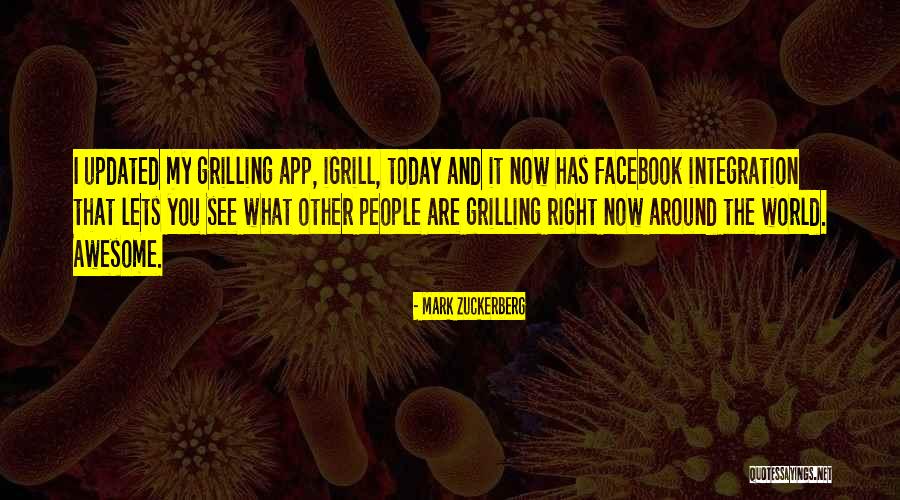 I updated my grilling app, iGrill, today and it now has Facebook integration that lets you see what other people are grilling right now around the world. Awesome. — Mark Zuckerberg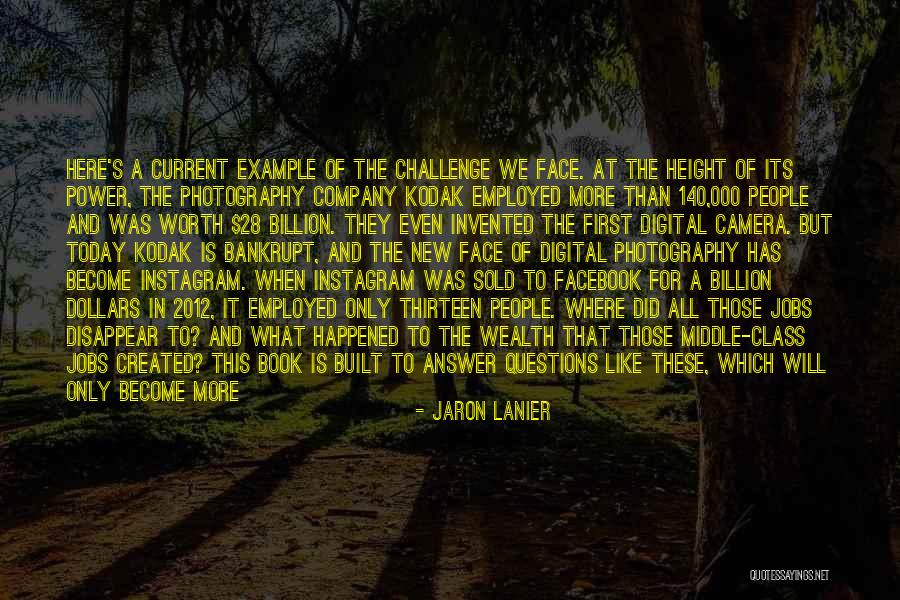 Here's a current example of the challenge we face. At the height of its power, the photography company Kodak employed more than 140,000 people and was worth $28 billion. They even invented the first digital camera. But today Kodak is bankrupt, and the new face of digital photography has become Instagram. When Instagram was sold to Facebook for a billion dollars in 2012, it employed only thirteen people. Where did all those jobs disappear to? And what happened to the wealth that those middle-class jobs created? This book is built to answer questions like these, which will only become more common as digital networking hollows out every industry, from media to medicine to manufacturing. — Jaron Lanier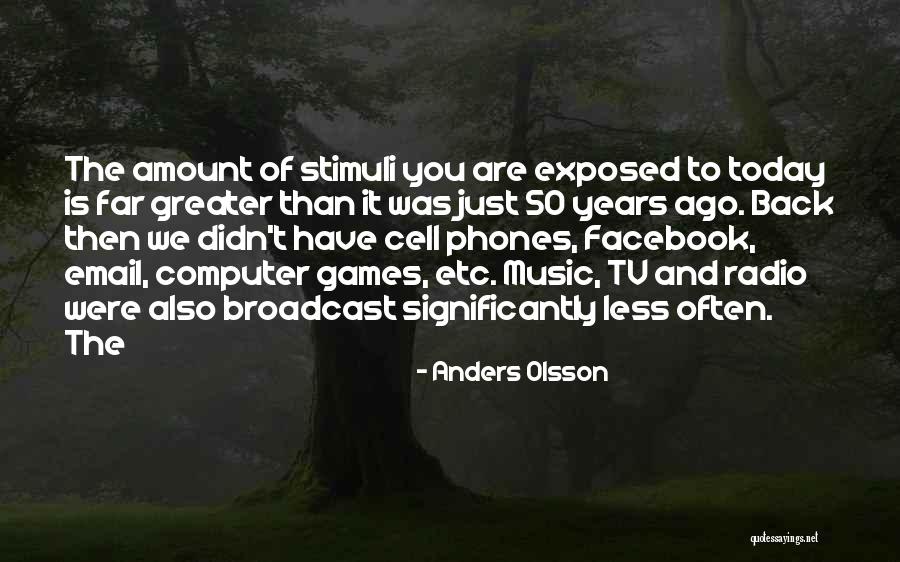 The amount of stimuli you are exposed to today is far greater than it was just 50 years ago. Back then we didn't have cell phones, Facebook, email, computer games, etc. Music, TV and radio were also broadcast significantly less often. The — Anders Olsson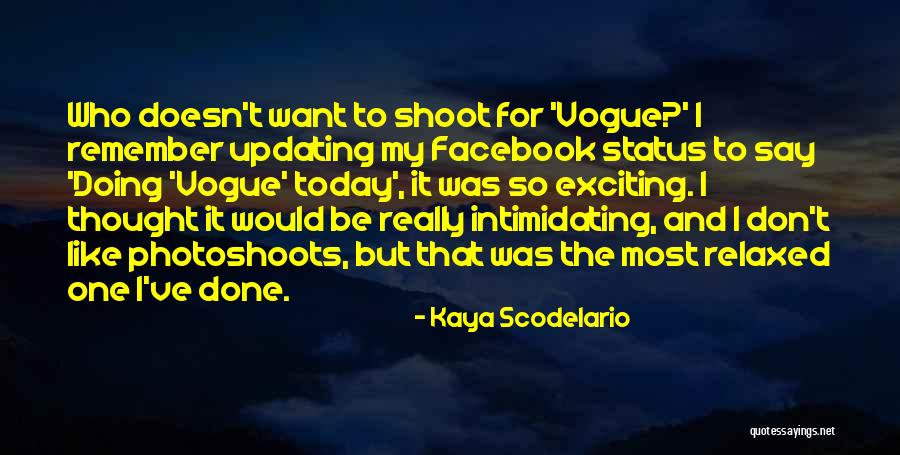 Who doesn't want to shoot for 'Vogue?' I remember updating my Facebook status to say 'Doing 'Vogue' today', it was so exciting. I thought it would be really intimidating, and I don't like photoshoots, but that was the most relaxed one I've done. — Kaya Scodelario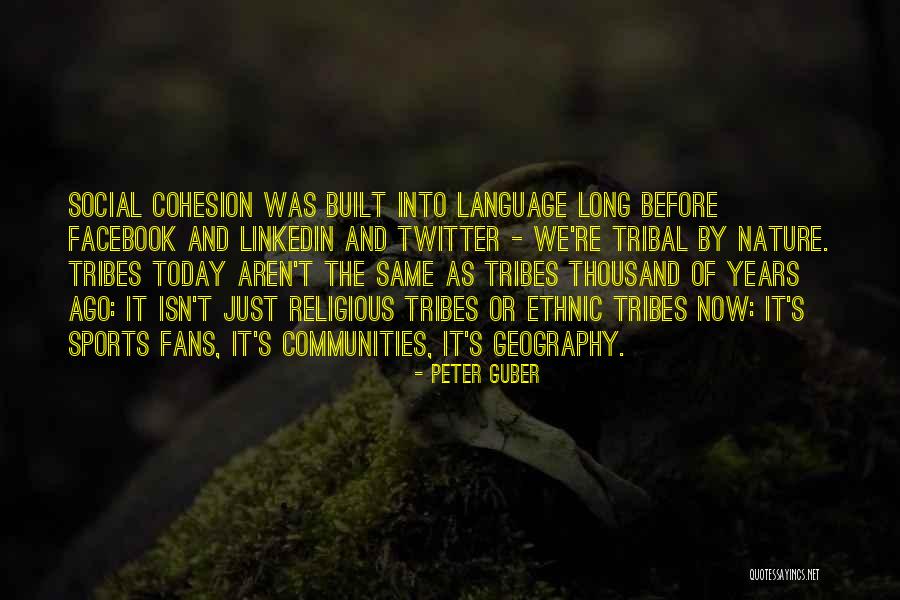 Social cohesion was built into language long before Facebook and LinkedIn and Twitter - we're tribal by nature. Tribes today aren't the same as tribes thousand of years ago: It isn't just religious tribes or ethnic tribes now: It's sports fans, it's communities, it's geography. — Peter Guber
I only know what it's like to be an author with social media. I can't compare. I do think we lose the mystery of the author. Today, I get tons of e-mails and Facebook messages from readers, and my goal with Twitter and Facebook is, if someone reaches out to me, I'm going to respond to them. I don't want to be an elitist author who is untouchable. I'm just a regular person, too. I will always respond to everybody. — Matt De La Pena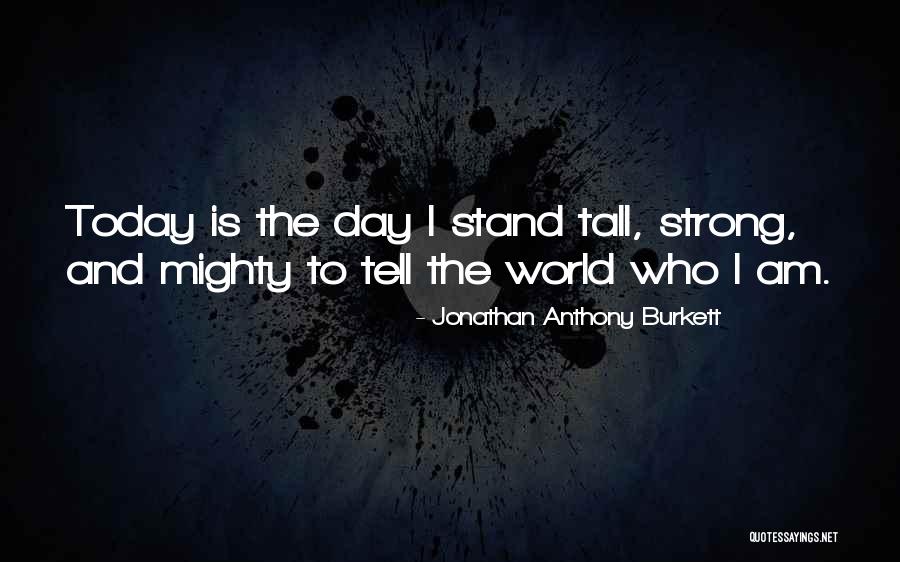 Today is the day I stand tall, strong, and mighty to tell the world who I am. — Jonathan Anthony Burkett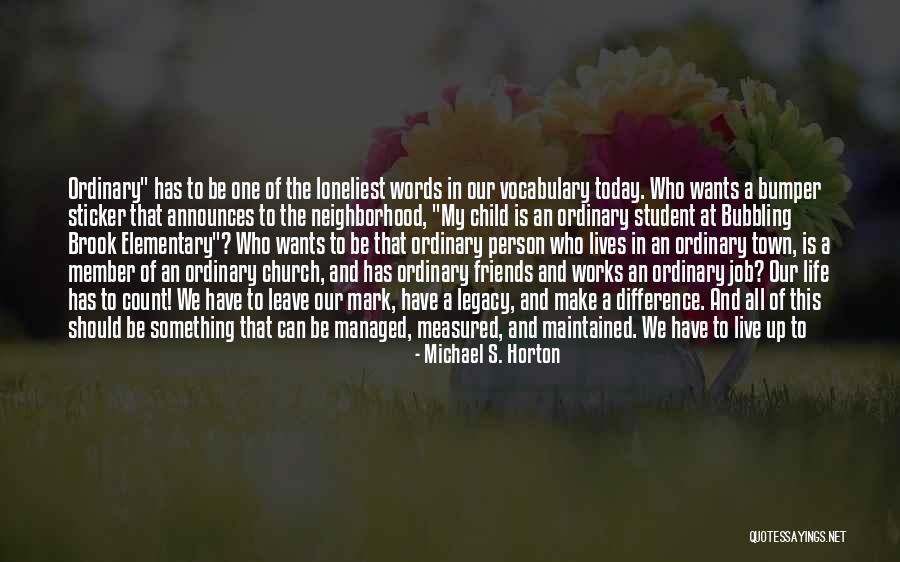 Ordinary" has to be one of the loneliest words in our vocabulary today. Who wants a bumper sticker that announces to the neighborhood, "My child is an ordinary student at Bubbling Brook Elementary"? Who wants to be that ordinary person who lives in an ordinary town, is a member of an ordinary church, and has ordinary friends and works an ordinary job? Our life has to count! We have to leave our mark, have a legacy, and make a difference. And all of this should be something that can be managed, measured, and maintained. We have to live up to our Facebook profile. It's one of the newer versions of salvation by works. — Michael S. Horton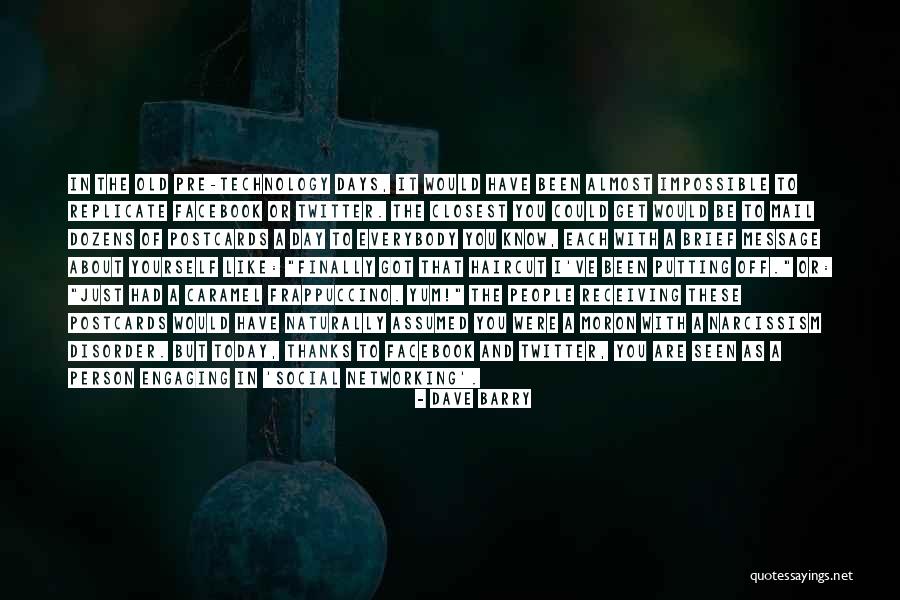 In the old pre-technology days, it would have been almost impossible to replicate Facebook or Twitter. The closest you could get would be to mail dozens of postcards a day to everybody you know, each with a brief message about yourself like: "Finally got that haircut I've been putting off." Or: "Just had a caramel frappuccino. Yum!" The people receiving these postcards would have naturally assumed you were a moron with a narcissism disorder. But today, thanks to Facebook and Twitter, you are seen as a person engaging in 'social networking'. — Dave Barry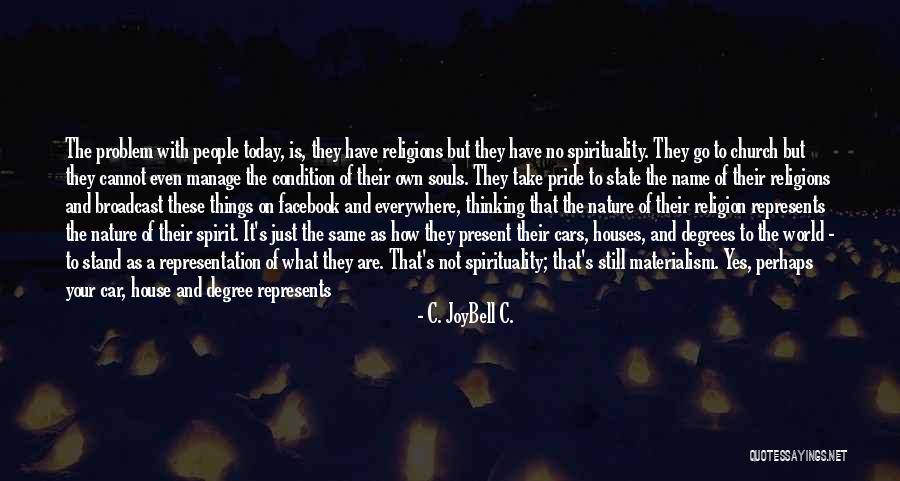 The problem with people today, is, they have religions but they have no spirituality. They go to church but they cannot even manage the condition of their own souls. They take pride to state the name of their religions and broadcast these things on facebook and everywhere, thinking that the nature of their religion represents the nature of their spirit. It's just the same as how they present their cars, houses, and degrees to the world - to stand as a representation of what they are. That's not spirituality; that's still materialism. Yes, perhaps your car, house and degree represents what you've achieved (or what your status in society is); but your religion does not represent what your spirit is like. You cannot go to a certain church or belong to a certain group of people and have that be a replica of your spirit. — C. JoyBell C.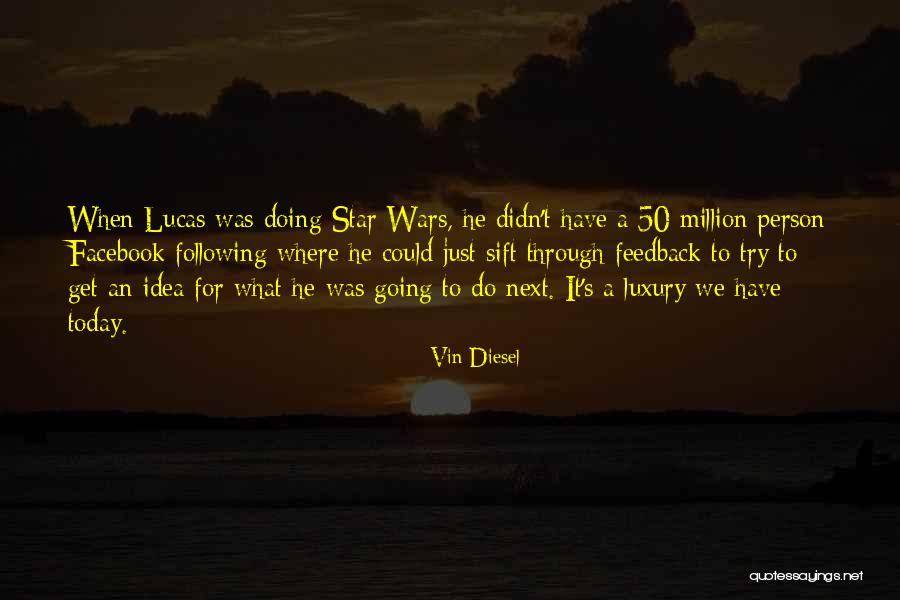 When Lucas was doing Star Wars, he didn't have a 50 million person Facebook following where he could just sift through feedback to try to get an idea for what he was going to do next. It's a luxury we have today. — Vin Diesel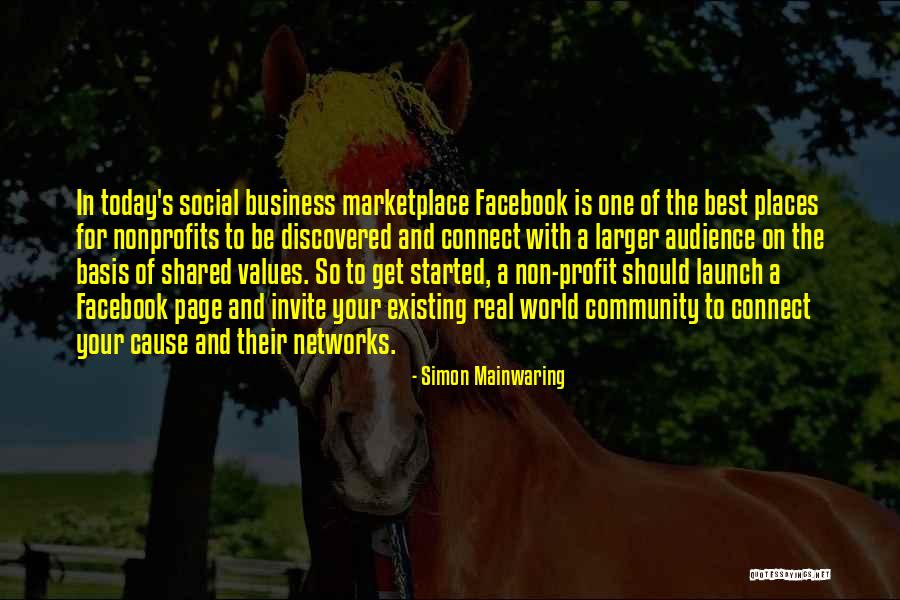 In today's social business marketplace Facebook is one of the best places for nonprofits to be discovered and connect with a larger audience on the basis of shared values. So to get started, a non-profit should launch a Facebook page and invite your existing real world community to connect your cause and their networks. — Simon Mainwaring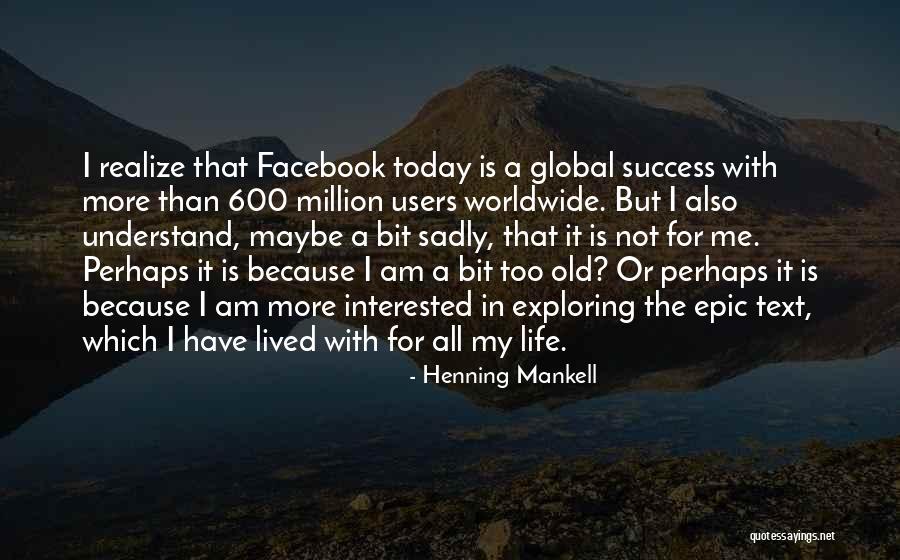 I realize that Facebook today is a global success with more than 600 million users worldwide. But I also understand, maybe a bit sadly, that it is not for me. Perhaps it is because I am a bit too old? Or perhaps it is because I am more interested in exploring the epic text, which I have lived with for all my life. — Henning Mankell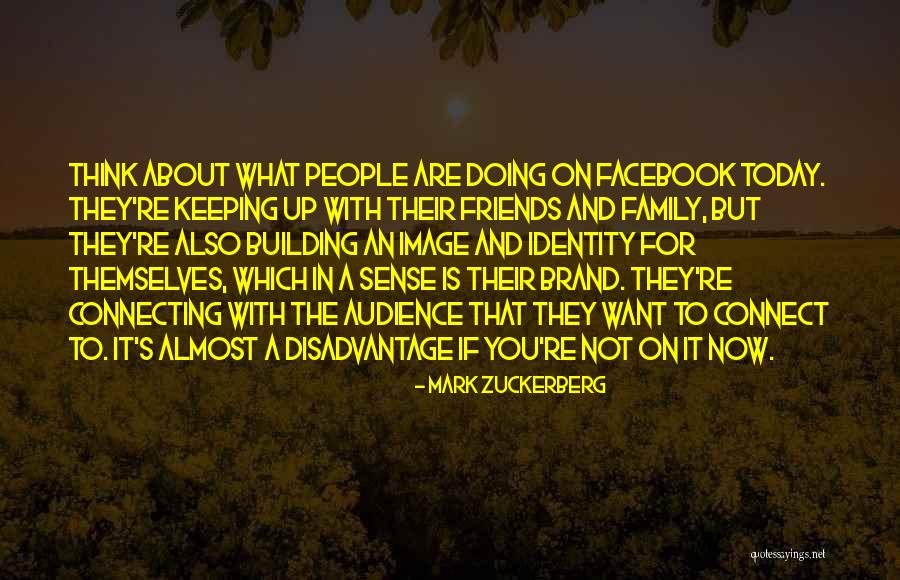 Think about what people are doing on Facebook today. They're keeping up with their friends and family, but they're also building an image and identity for themselves, which in a sense is their brand. They're connecting with the audience that they want to connect to. It's almost a disadvantage if you're not on it now. — Mark Zuckerberg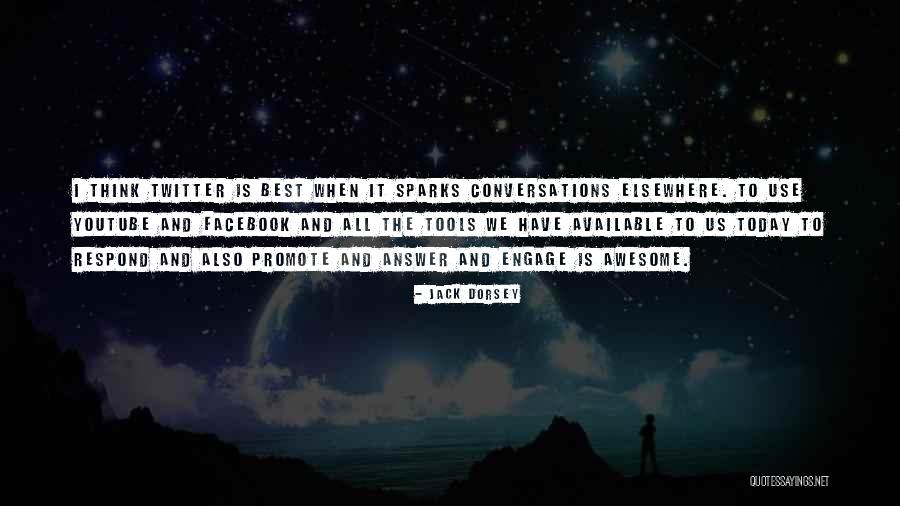 I think Twitter is best when it sparks conversations elsewhere. To use YouTube and Facebook and all the tools we have available to us today to respond and also promote and answer and engage is awesome. — Jack Dorsey
Innovating Women is more important today than ever. Things are changing for the better. The recent announcements by Google, LinkedIn, Yahoo, and Facebook of their diversity numbers - and a pledge to improve these - are the most recent victories. The Boys Club is under fire and is trying to reform itself. Women are achieving success and helping each other. Advancing technologies are leveling the playing field. Women are in the catbird seat for the new era of exponential innovation. This is the time to inspire and motivate - and that is what Innovating Women will surely do. — Vivek Wadhwa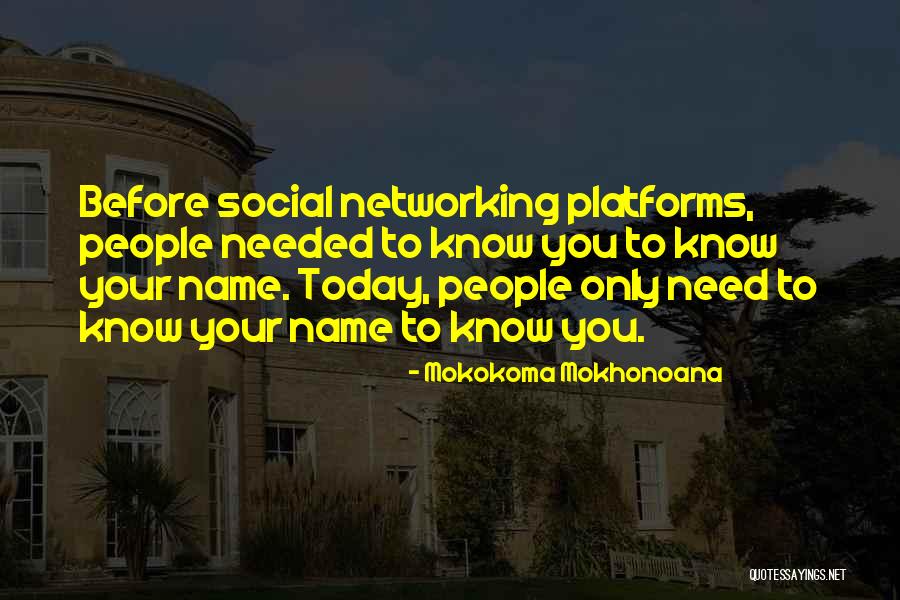 Before social networking platforms, people needed to know you to know your name. Today, people only need to know your name to know you. — Mokokoma Mokhonoana
My hope for AI and Facebook in the next decade is you can sit down and tell Facebook, 'This is what I want to hear about today.' Like, I'm having a bad day; I want to hear some good news. If we make our products better, more people will use it - people use it more. It's fairly easy to understand. — Mike Schroepfer