Quotes & Sayings About Tigress
Enjoy reading and share 25 famous quotes about Tigress with everyone.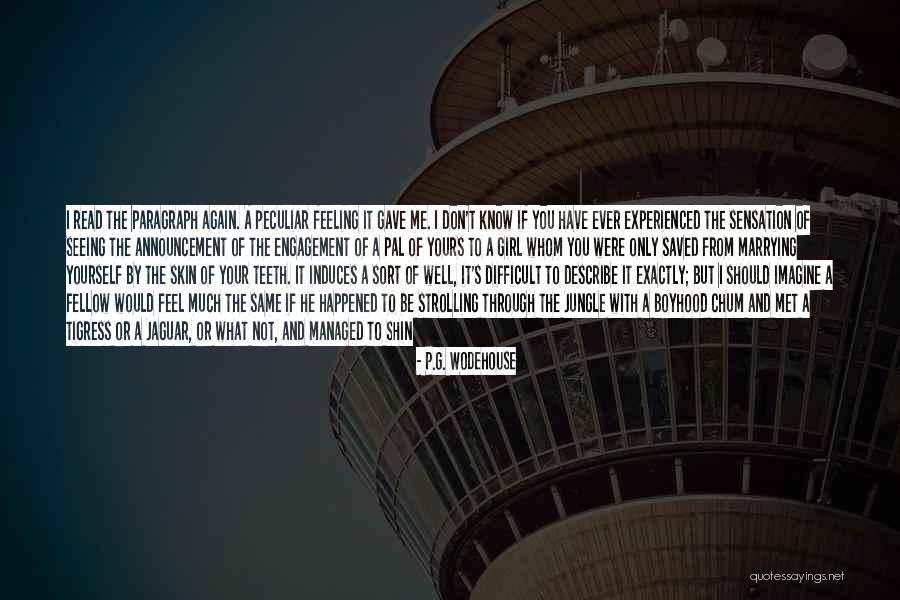 I read the paragraph again. A peculiar feeling it gave me. I don't know if you have ever experienced the sensation of seeing the announcement of the engagement of a pal of yours to a girl whom you were only saved from marrying yourself by the skin of your teeth. It induces a sort of
well, it's difficult to describe it exactly; but I should imagine a fellow would feel much the same if he happened to be strolling through the jungle with a boyhood chum and met a tigress or a jaguar, or what not, and managed to shin up a tree and looked down and saw the friend of his youth vanishing into the undergrowth in the animal's slavering jaws. A sort of profound, prayerful relief, if you know what I mean, blended at the same time with a pang of pity. What I'm driving at is that, thankful as I was that I hadn't had to marry Honoria myself, I was sorry to see a real good chap like old Biffy copping it. I sucked down a spot of tea and began brooding over the business. — P.G. Wodehouse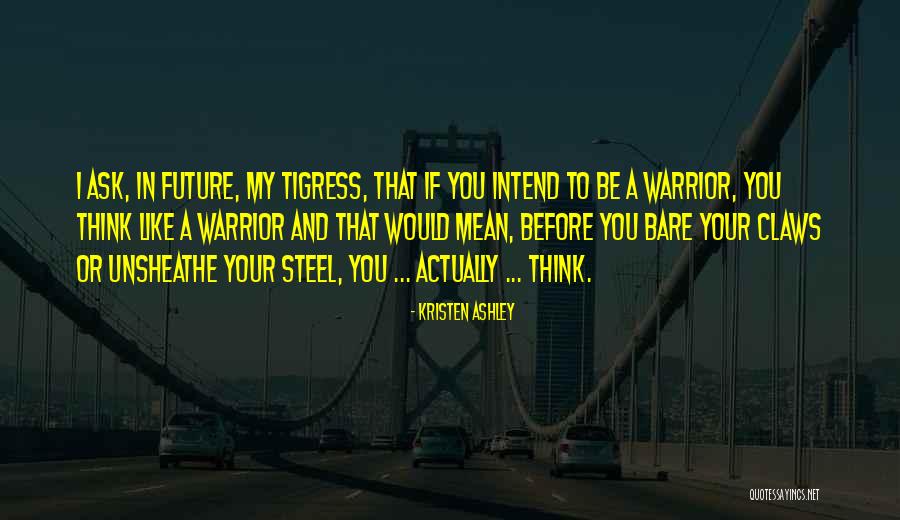 I ask, in future, my tigress, that if you intend to be a warrior, you think like a warrior and that would mean, before you bare your claws or unsheathe your steel, you ... actually ... think. — Kristen Ashley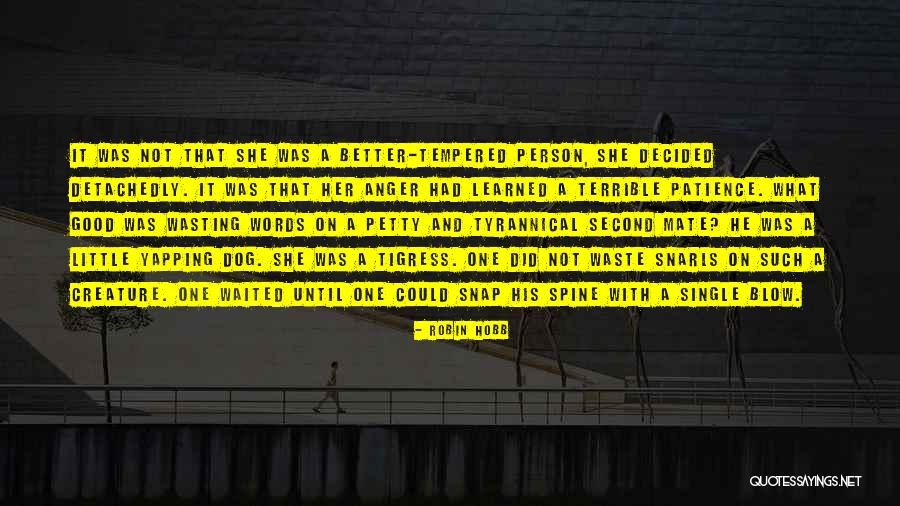 It was not that she was a better-tempered person, she decided detachedly. It was that her anger had learned a terrible patience. What good was wasting words on a petty and tyrannical second mate? He was a little yapping dog. She was a tigress. One did not waste snarls on such a creature. One waited until one could snap his spine with a single blow. — Robin Hobb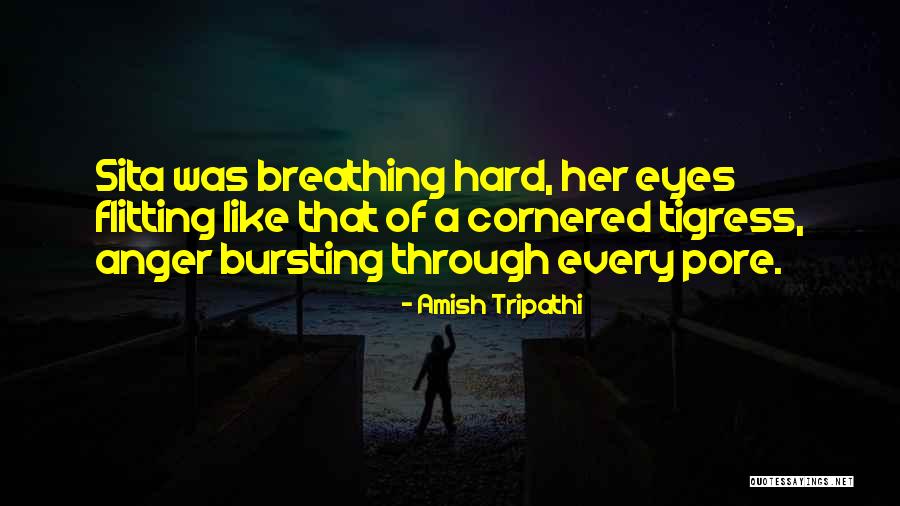 Sita was breathing hard, her eyes flitting like that of a cornered tigress, anger bursting through every pore. — Amish Tripathi
Where is your false, your treacherous, and cursed wife?"
"She's gone forrard to the Police Office," returns Mr Bucket. "You'll see her there, my dear."
"I would like to kiss her!" exclaims Mademoiselle Hortense, panting tigress-like. "You'd bite her, I suspect," says Mr Bucket.
"I would!" making her eyes very large. "I would love to tear her, limb from limb."
"Bless you, darling," says Mr Bucket, with the greatest composure; "I'm fully prepared to hear that. Your sex have such a surprising animosity against one another, when you do differ. — Charles Dickens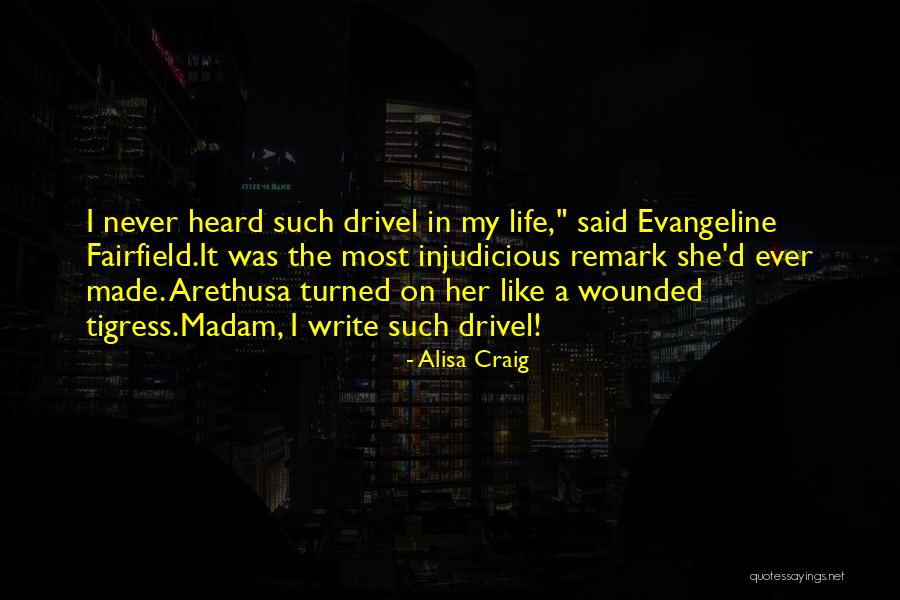 I never heard such drivel in my life," said Evangeline Fairfield.

It was the most injudicious remark she'd ever made. Arethusa turned on her like a wounded tigress.

Madam, I write such drivel! — Alisa Craig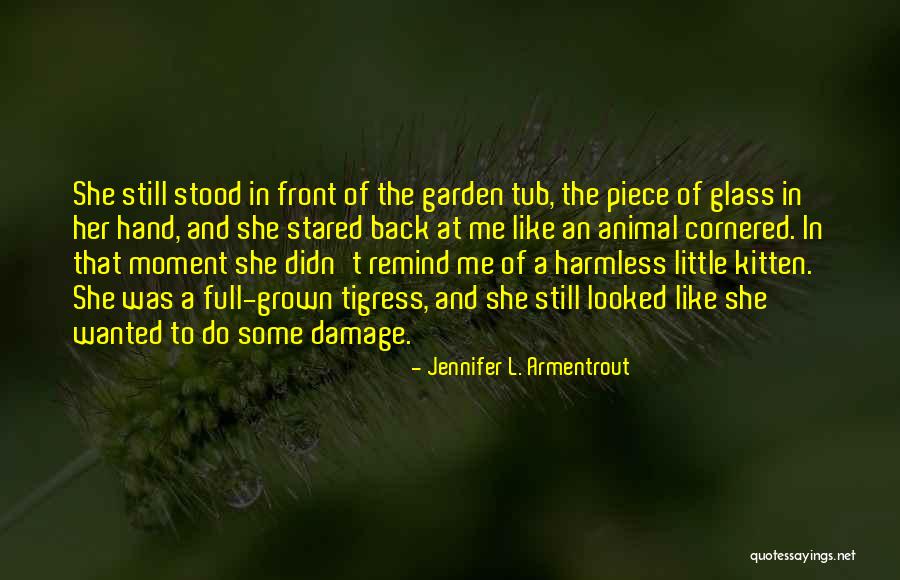 She still stood in front of the garden tub, the piece of glass in her hand, and she stared back at me like an animal cornered.
In that moment she didn't remind me of a harmless little kitten. She was a full-grown tigress, and she still looked like she wanted to do some damage. — Jennifer L. Armentrout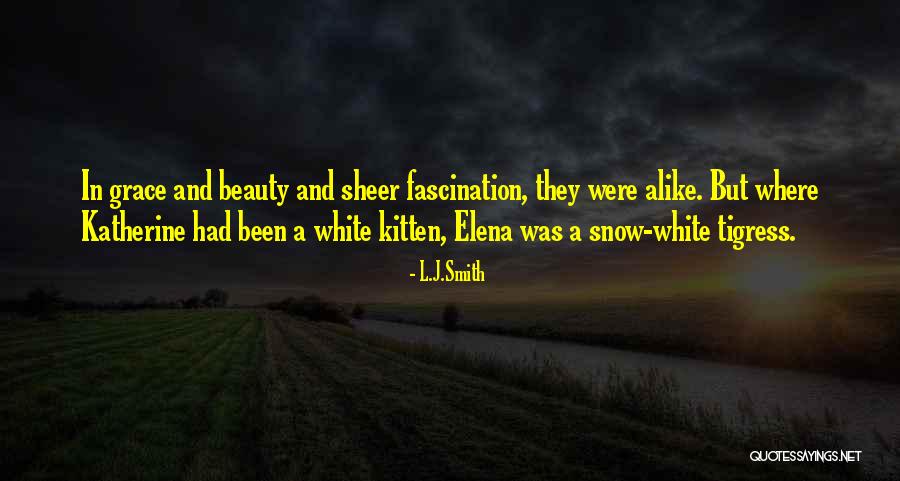 In grace and beauty and sheer fascination, they were alike. But where Katherine had been a white kitten, Elena was a snow-white tigress. — L.J.Smith
... she does not resent her grief. No; the weakness of that word would make it a lie. To her, what hurts becomes immediately embodied: she looks on it as a thing that can be attacked, worried down, torn in shreds. Scarcely a substance herself, she grapples to conflict with abstractions. Before calamity she is a tigress; she rends her woes, shivers them in convulsed abhorrence. Pain, for her, has no result in good; tears water no harvest of wisdom; on sickness, on death itself, she looks with the eye of a rebel. Wicked, perhaps, she is, but also she is strong: and her strength has conqueredBeauty, has overcome Grace, and bound both at her side, captives peerlessly fair, and docile as fair. Even in the uttermost frenzy of energy is each maenad movement royally, imperially, incedingly upborne. ... Fallen, insurgent, banished, she remembers the heaven whereshe rebelled. — Charlotte Bronte
An enormous round egg snatching and castrating the agile sperm;
monstorous and stuffed, the queen termite reigning over the servile
males; the praying mantis and the spider, gorged on love, crushing
their partners and gobbling them up; the dog in heat running through
back alleys, leaving perverse smells in her wake; the monkey showing
herself off brazenly, sneaking away with flirtatious hypocrisy. And
the most splendid wildcats, the tigress, lioness, and panther, lie
down slavishly under the male's imperial embrace, inert, impatient,
shrewd, stupid, insensitive, lewd, fierce, and humiliated — Simone De Beauvoir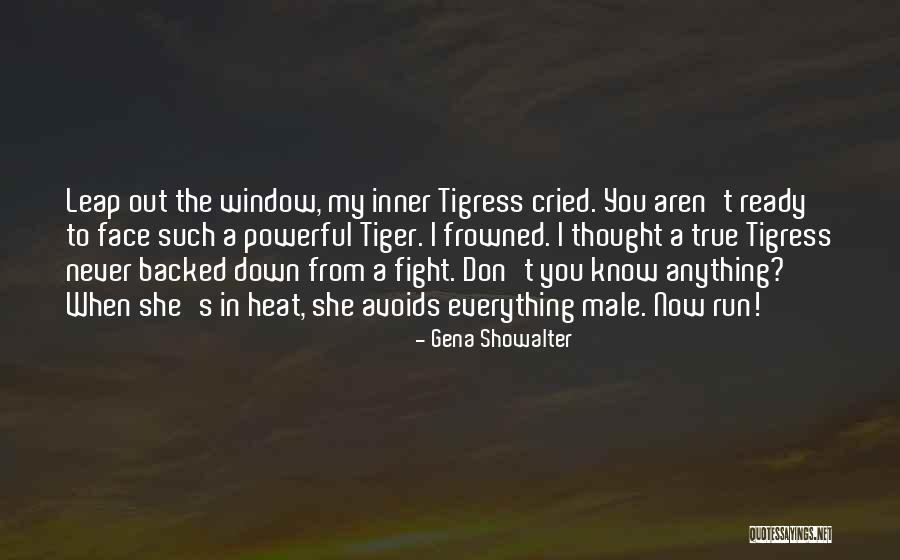 Leap out the window, my inner Tigress cried. You aren't ready to face such a powerful Tiger. I frowned. I thought a true Tigress never backed down from a fight. Don't you know anything? When she's in heat, she avoids everything male. Now run! — Gena Showalter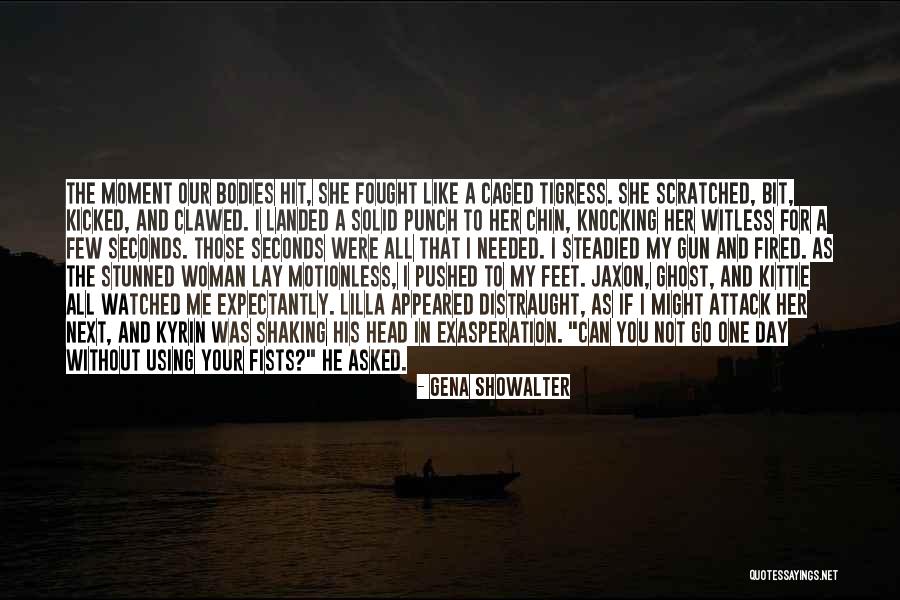 The moment our bodies hit, she fought like a caged tigress. She scratched, bit, kicked, and clawed. I landed a solid punch to her chin, knocking her witless for a few seconds. Those seconds were all that I needed. I steadied my gun and fired. As the stunned woman lay motionless, I pushed to my feet. Jaxon, Ghost, and Kittie all watched me expectantly. Lilla appeared distraught, as if I might attack her next, and Kyrin was shaking his head in exasperation. "Can you not go one day without using your fists?" he asked. — Gena Showalter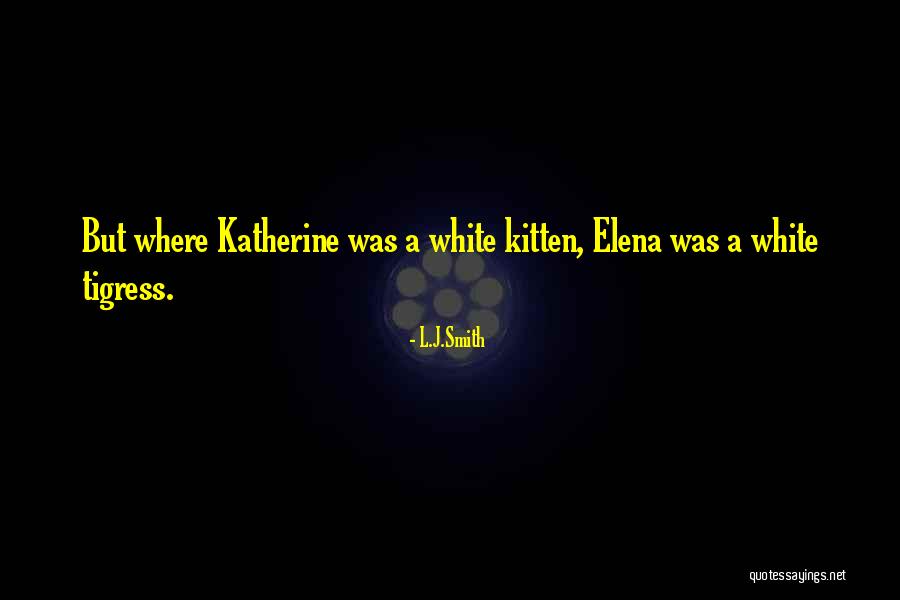 But where Katherine was a white kitten, Elena was a white tigress. — L.J.Smith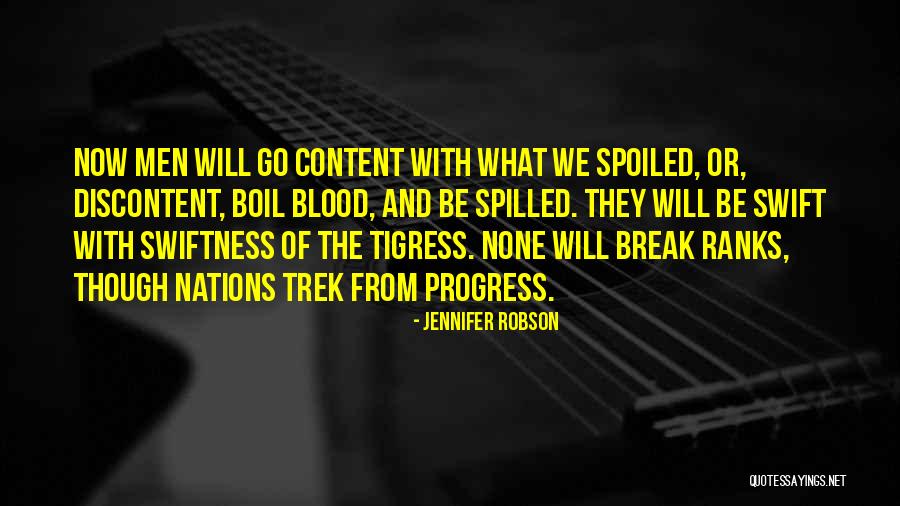 Now men will go content with what we spoiled, Or, discontent, boil blood, and be spilled. They will be swift with swiftness of the tigress. None will break ranks, though nations trek from progress. — Jennifer Robson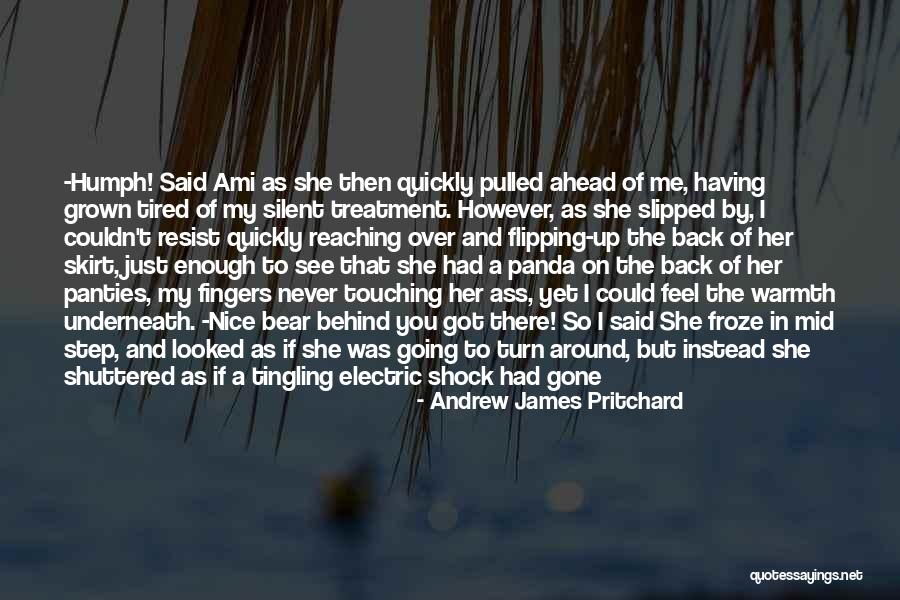 -Humph! Said Ami as she then quickly pulled ahead of me, having grown tired of my silent treatment. However, as she slipped by, I couldn't resist quickly reaching over and flipping-up the back of her skirt, just enough to see that she had a panda on the back of her panties, my fingers never touching her ass, yet I could feel the warmth underneath.
-Nice bear behind you got there! So I said
She froze in mid step, and looked as if she was going to turn around, but instead she shuttered as if a tingling electric shock had gone all through her body. I then noticed that the back of her neck to the roots of her hair had turned a lobster red! Though whether that was because of embarrassment or anger or both I'm not sure. In any case, Ami's hands became tight fists, and then with a growl like a tigress she quickly stomped off. I have actually heard a growl like that since that time. It's the sound of a female Nepali snow leopard, in heat, just before it pounces on a potential mate. — Andrew James Pritchard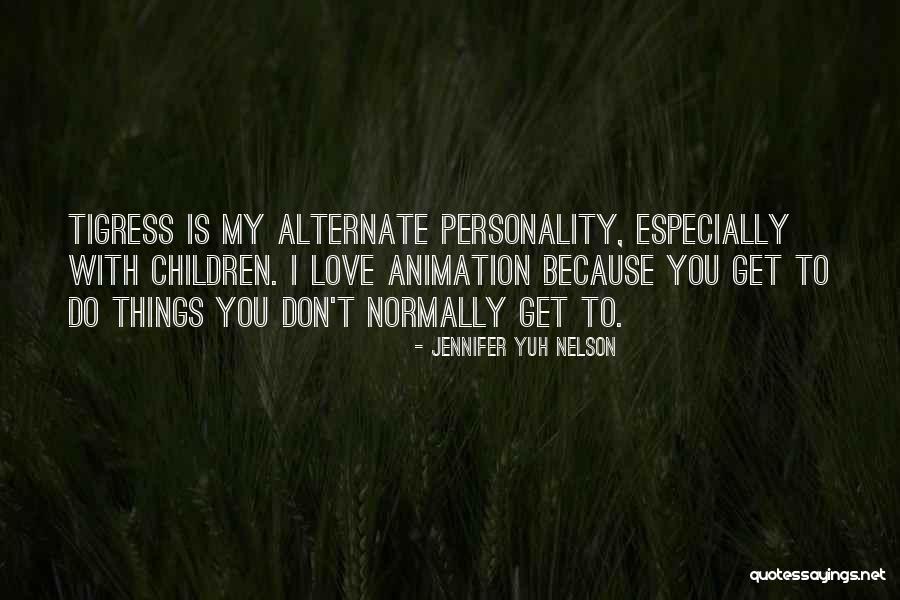 Tigress is my alternate personality, especially with children. I love animation because you get to do things you don't normally get to. — Jennifer Yuh Nelson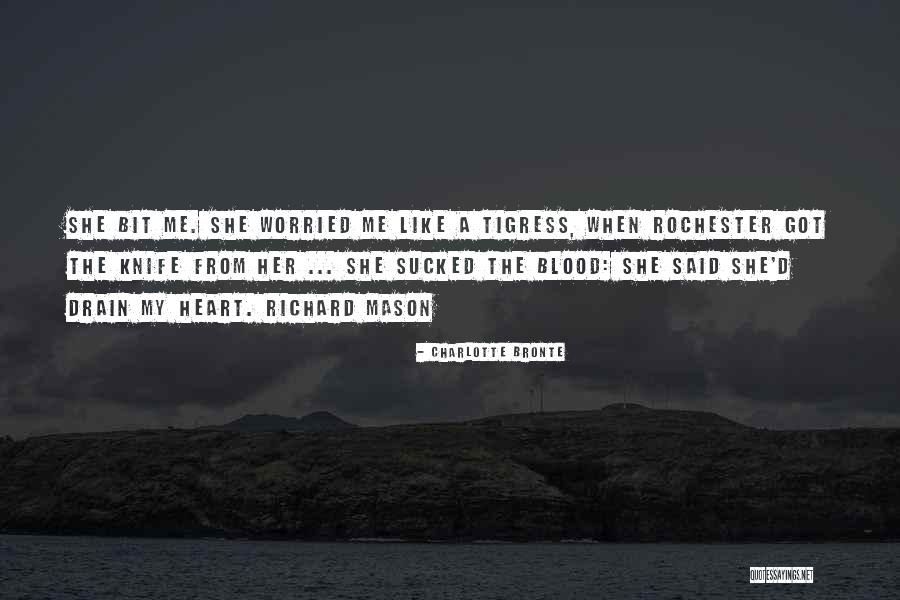 She bit me. She worried me like a tigress, when Rochester got the knife from her ... She sucked the blood: she said she'd drain my heart. Richard mason — Charlotte Bronte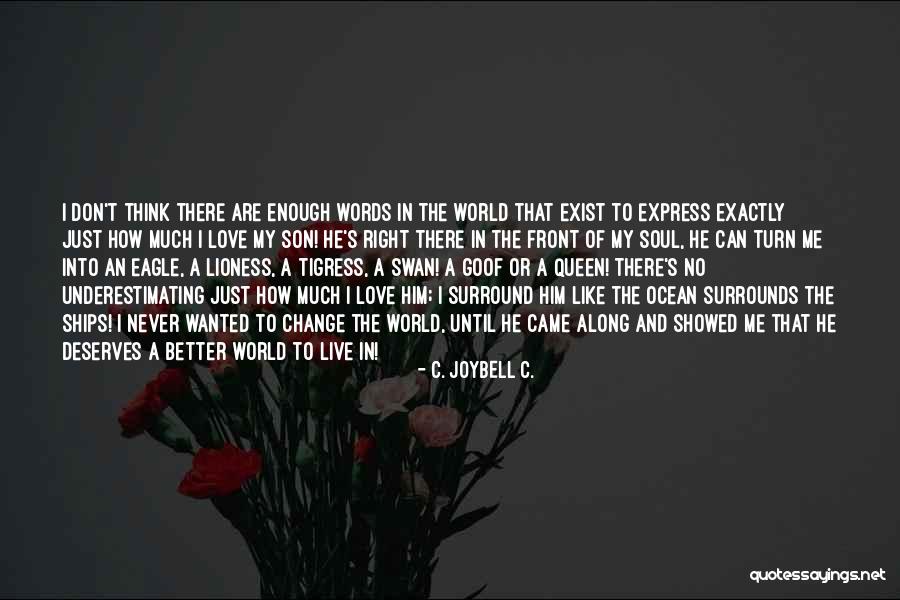 I don't think there are enough words in the world that exist to express exactly just how much I love my son! He's right there in the front of my soul, he can turn me into an eagle, a lioness, a tigress, a swan! A goof or a queen! There's no underestimating just how much I love him; I surround him like the ocean surrounds the ships! I never wanted to change the world, until he came along and showed me that he deserves a better world to live in! — C. JoyBell C.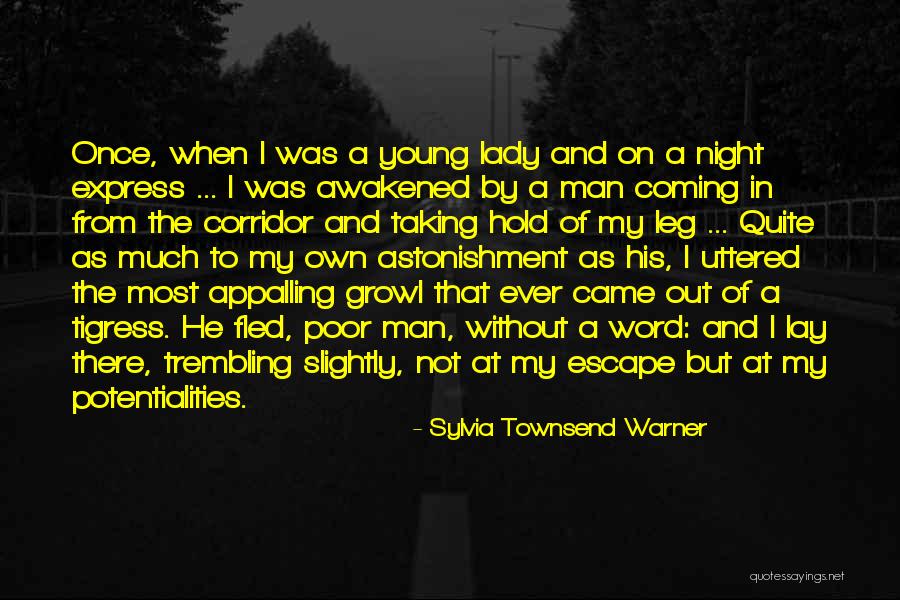 Once, when I was a young lady and on a night express ... I was awakened by a man coming in from the corridor and taking hold of my leg ... Quite as much to my own astonishment as his, I uttered the most appalling growl that ever came out of a tigress. He fled, poor man, without a word: and I lay there, trembling slightly, not at my escape but at my potentialities. — Sylvia Townsend Warner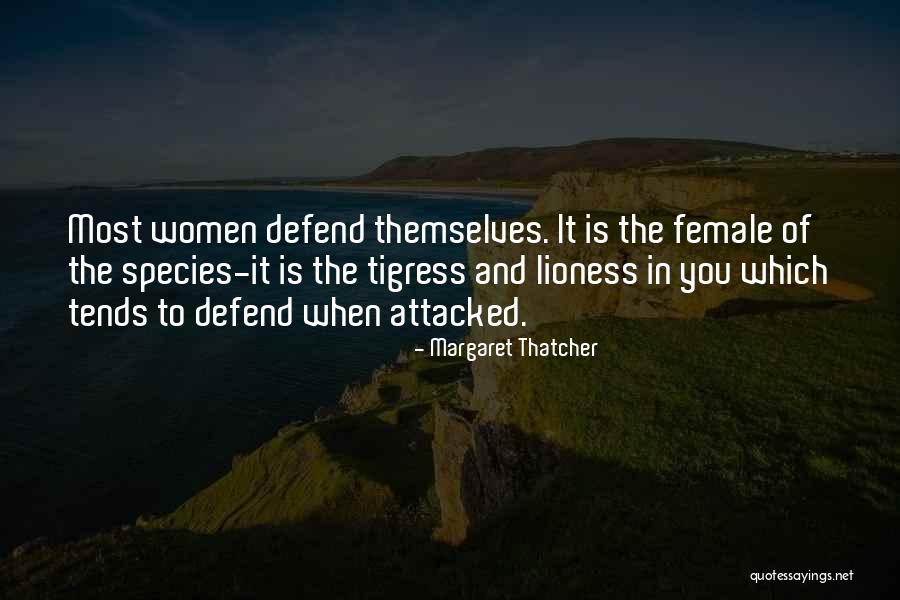 Most women defend themselves. It is the female of the species-it is the tigress and lioness in you which tends to defend when attacked. — Margaret Thatcher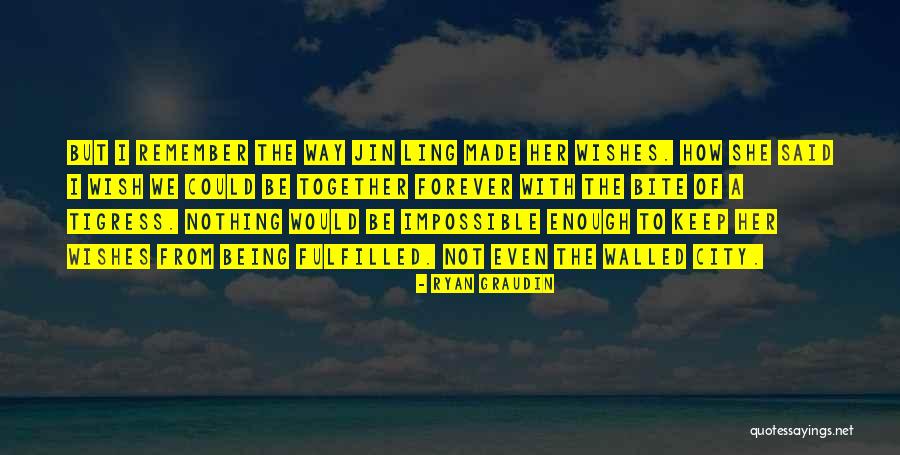 But I remember the way Jin Ling made her wishes. How she said I wish we could be together forever with the bite of a tigress. Nothing would be impossible enough to keep her wishes from being fulfilled. Not even the walled City. — Ryan Graudin
I'm not a mouse or a tigress, she thought, I'm a hedgehog. — Vikram Seth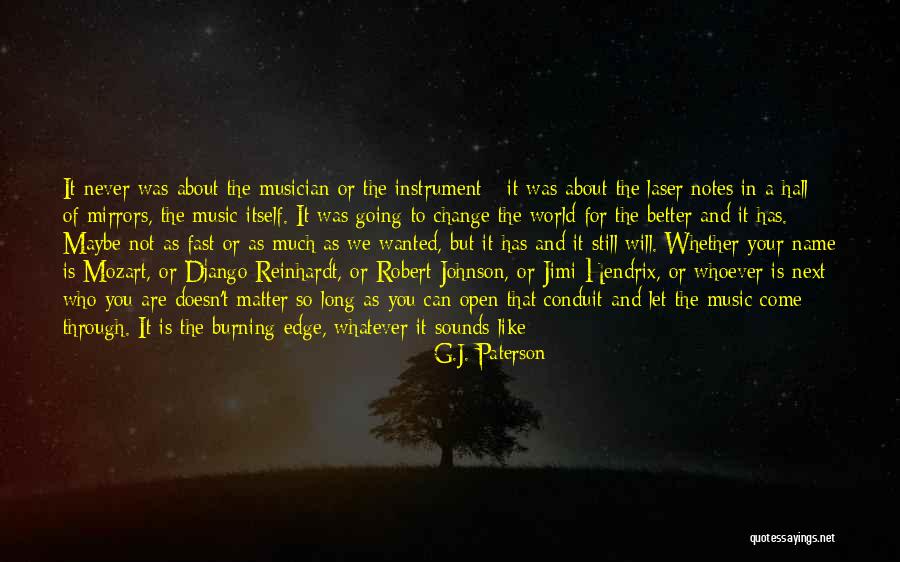 It never was about the musician or the instrument - it was about the laser notes in a hall of mirrors, the music itself. It was going to change the world for the better and it has. Maybe not as fast or as much as we wanted, but it has and it still will. Whether your name is Mozart, or Django Reinhardt, or Robert Johnson, or Jimi Hendrix, or whoever is next; who you are doesn't matter so long as you can open that conduit and let the music come through. It is the burning edge, whatever it sounds like and whoever is playing it. It is the noisy, messy, silly, invincible voice of life that comes through the LP on the turn-table, the transistor radio, or the Bose in your new Lexus that makes you want to get up out of whatever you are stuck in and dance. It is Dionysus and the Maenads all over again. No one can control it and I pity whoever tries. I am old now and only a house cat sunning herself in the window - but I was a tigress once, and I remember. I still remember. — G.J. Paterson
In every advanced mammalian species that survives and thrives, a common anthropological characteristic is the fierce behavior of the adult female of the species when she senses a threat to her cubs. The lioness, the tigress and the mama bear are all examples. — Marianne Williamson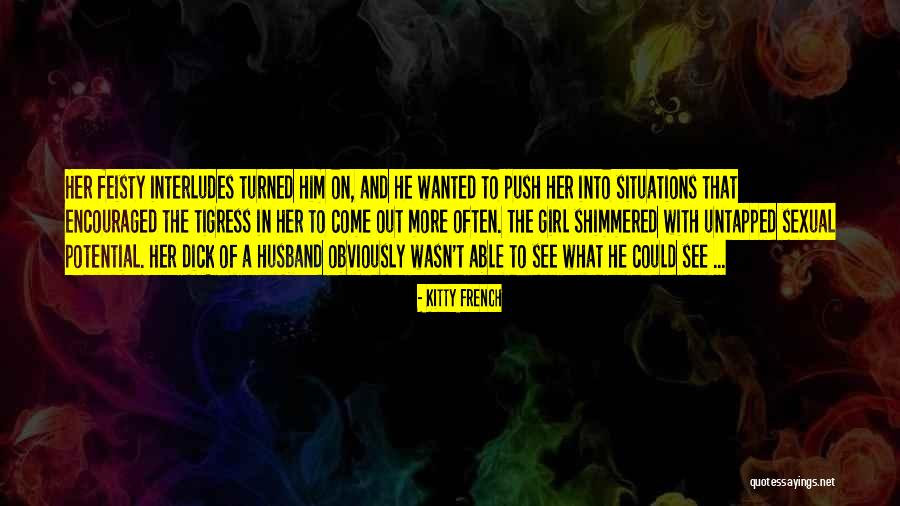 Her feisty interludes turned him on, and he wanted to push her into situations that encouraged the tigress in her to come out more often. The girl shimmered with untapped sexual potential. Her dick of a husband obviously wasn't able to see what he could see ... — Kitty French