Quotes & Sayings About The Ultimate Gift
Enjoy reading and share 41 famous quotes about The Ultimate Gift with everyone.
Top The Ultimate Gift Quotes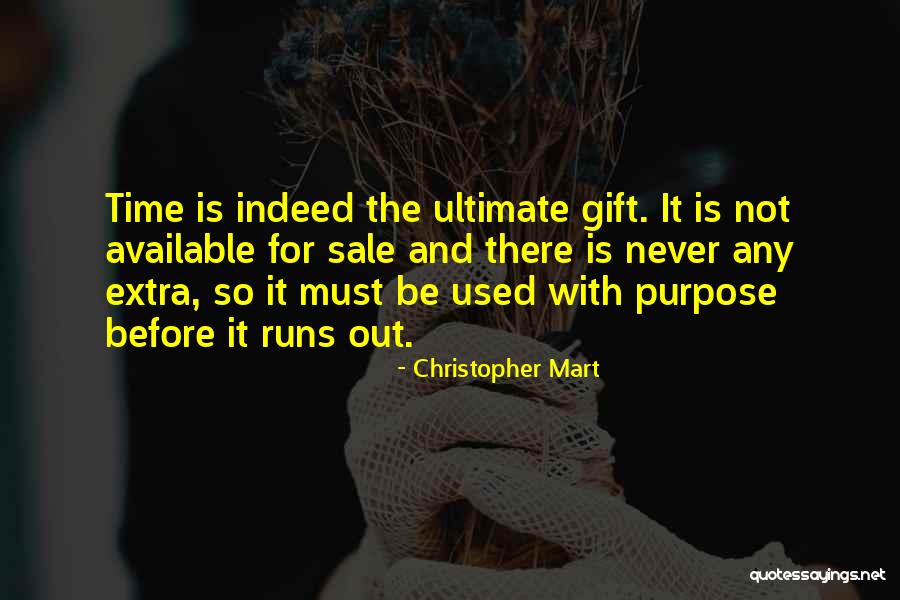 Time is indeed the ultimate gift. It is not available for sale and there is never any extra, so it must be used with purpose before it runs out. — Christopher Mart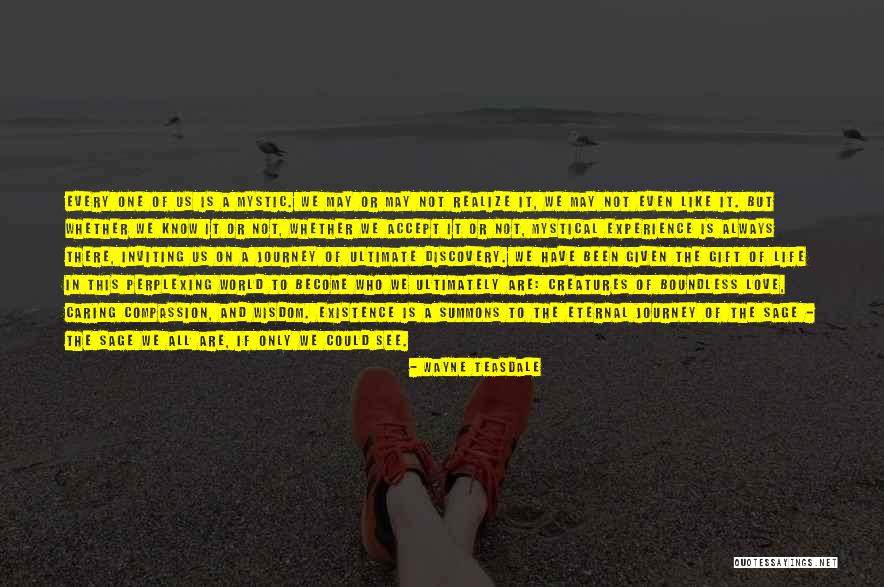 Every one of us is a mystic. We may or may not realize it, we may not even like it. But whether we know it or not, whether we accept it or not, mystical experience is always there, inviting us on a journey of ultimate discovery. We have been given the gift of life in this perplexing world to become who we ultimately are: creatures of boundless love, caring compassion, and wisdom. Existence is a summons to the eternal journey of the sage - the sage we all are, if only we could see. — Wayne Teasdale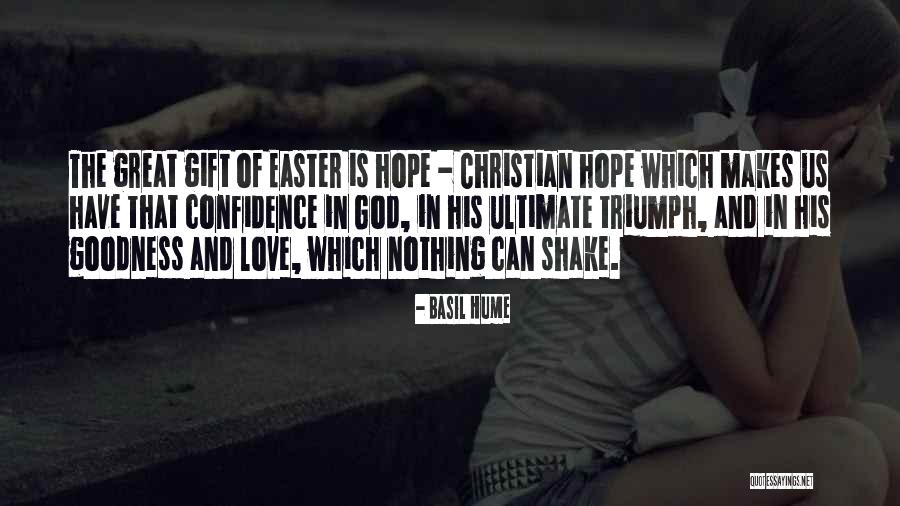 The great gift of Easter is hope - Christian hope which makes us have that confidence in God, in his ultimate triumph, and in his goodness and love, which nothing can shake. — Basil Hume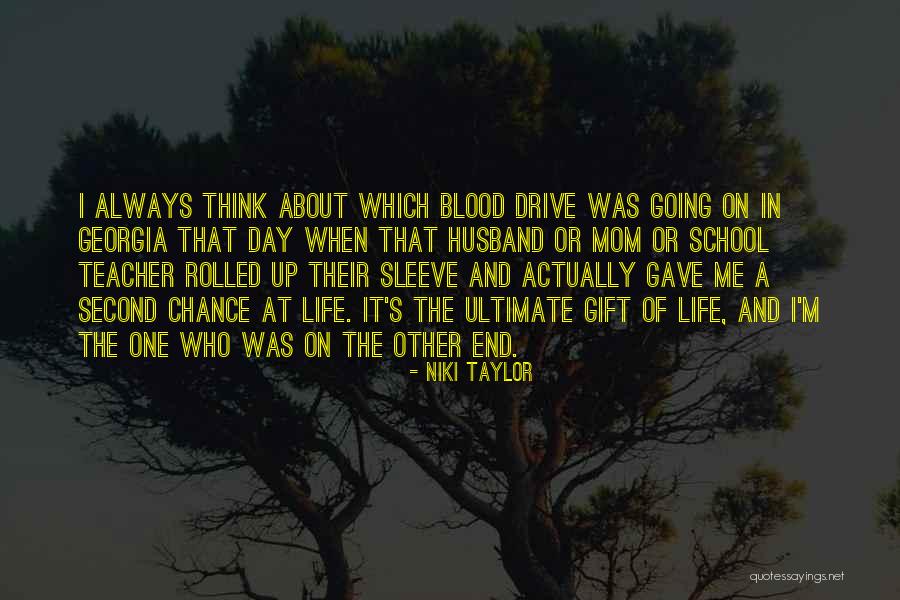 I always think about which blood drive was going on in Georgia that day when that husband or mom or school teacher rolled up their sleeve and actually gave me a second chance at life. It's the ultimate gift of life, and I'm the one who was on the other end. — Niki Taylor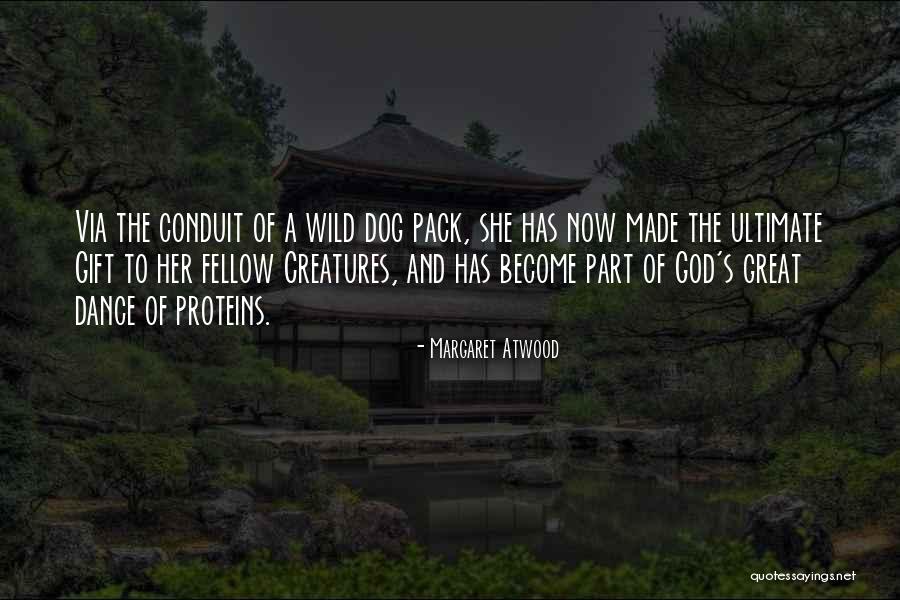 Via the conduit of a wild dog pack, she has now made the ultimate Gift to her fellow Creatures, and has become part of God's great dance of proteins. — Margaret Atwood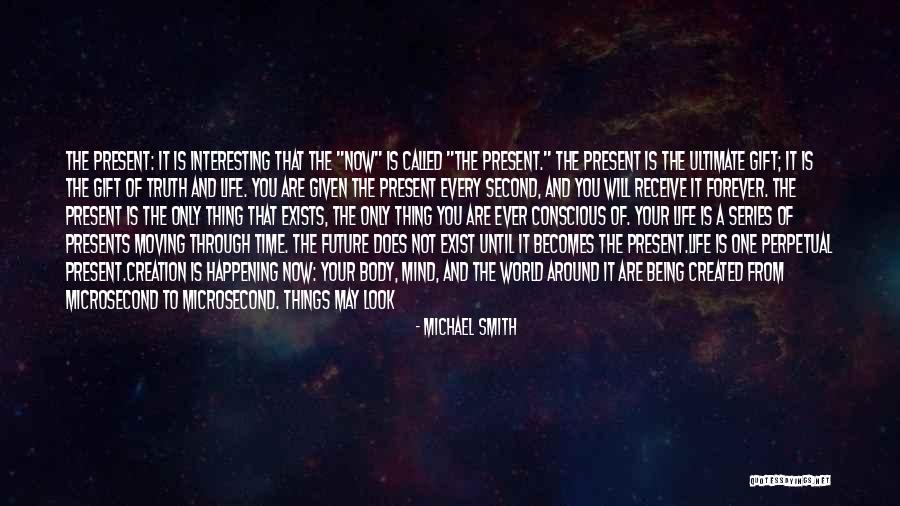 The present: It is interesting that the "NOW" is called "the present." The present is the ultimate gift; it is the gift of truth and life. You are given the present every second, and you will receive it forever. The present is the only thing that exists, the only thing you are ever conscious of. Your life is a series of presents moving through time. The future does not exist until it becomes the present.

Life is one perpetual present.

Creation is happening now: Your body, mind, and the world around it are being created from microsecond to microsecond. Things may look the same, but they are not; everything is constantly changing and being recreated. Our life and our world is being created from moment to moment.

Life and everything in it is always new. — Michael Smith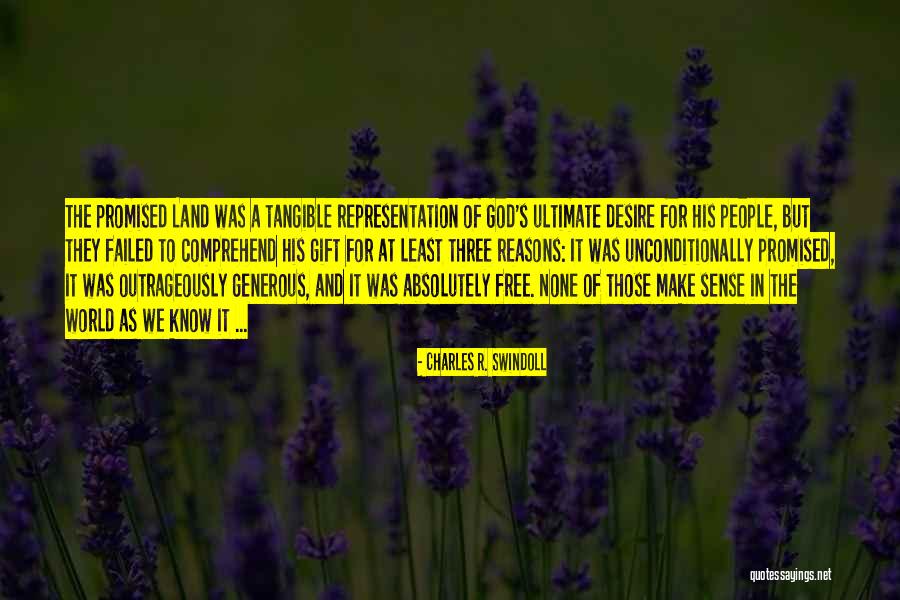 The Promised Land was a tangible representation of God's ultimate desire for His people, but they failed to comprehend His gift for at least three reasons: It was unconditionally promised, it was outrageously generous, and it was absolutely free. None of those make sense in the world as we know it ... — Charles R. Swindoll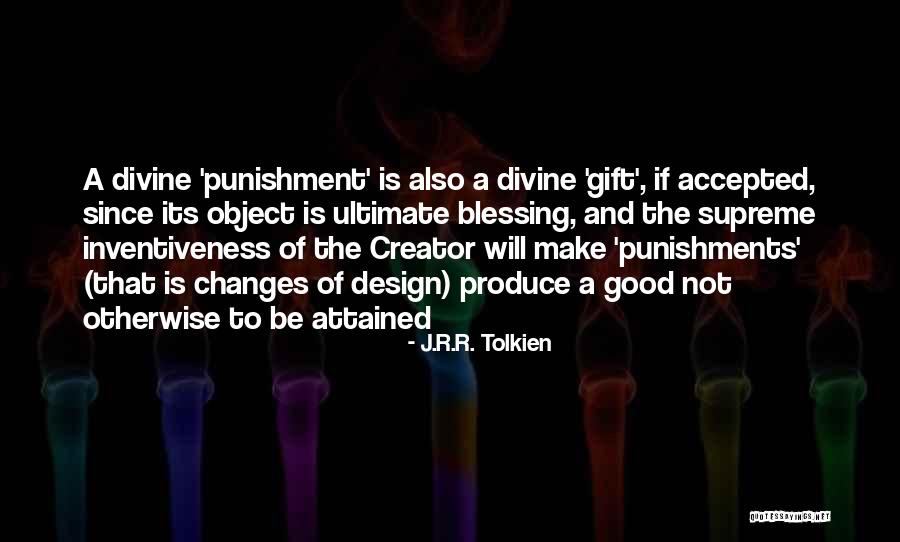 A divine 'punishment' is also a divine 'gift', if accepted, since its object is ultimate blessing, and the supreme inventiveness of the Creator will make 'punishments' (that is changes of design) produce a good not otherwise to be attained — J.R.R. Tolkien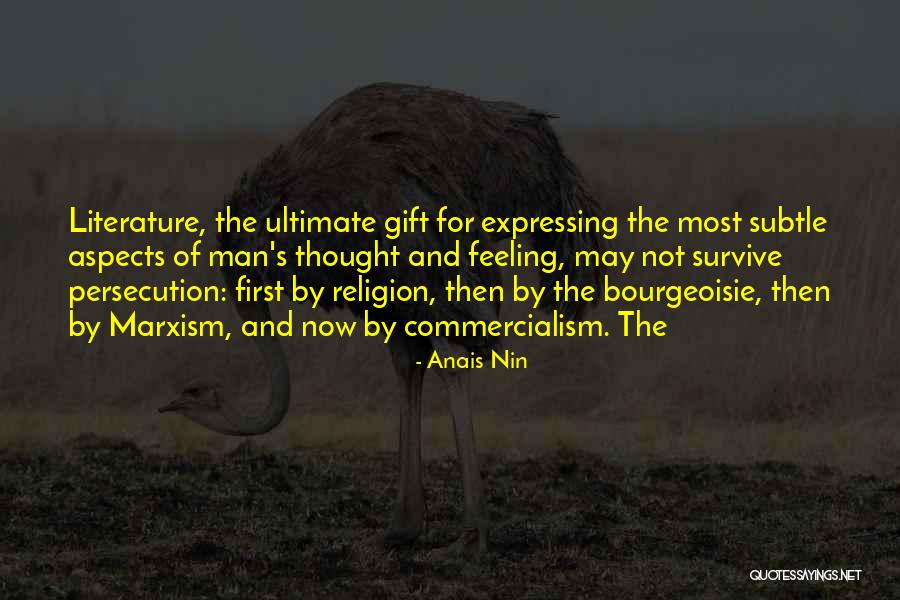 Literature, the ultimate gift for expressing the most subtle aspects of man's thought and feeling, may not survive persecution: first by religion, then by the bourgeoisie, then by Marxism, and now by commercialism. The — Anais Nin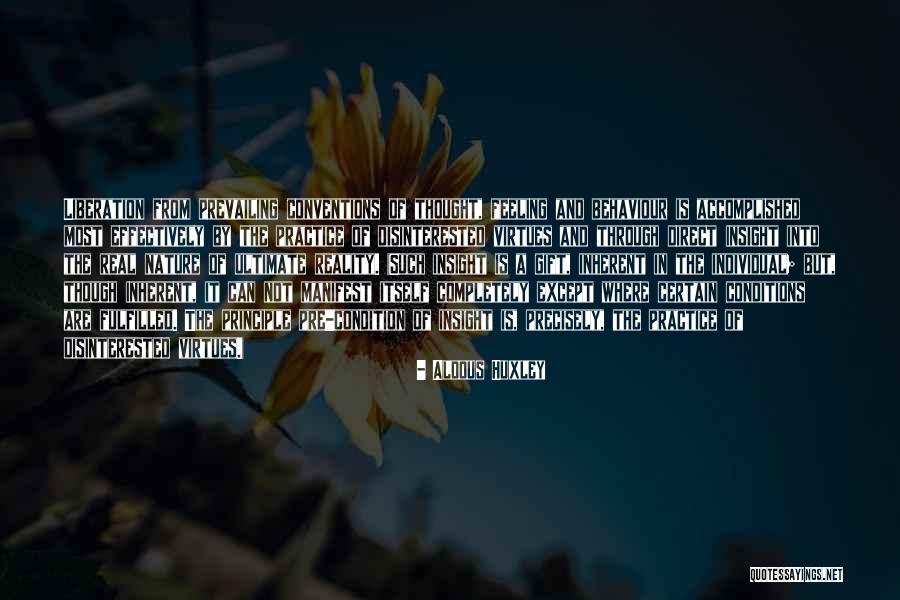 Liberation from prevailing conventions of thought, feeling and behaviour is accomplished most effectively by the practice of disinterested virtues and through direct insight into the real nature of ultimate reality. (Such insight is a gift, inherent in the individual; but, though inherent, it can not manifest itself completely except where certain conditions are fulfilled. The principle pre-condition of insight is, precisely, the practice of disinterested virtues.) — Aldous Huxley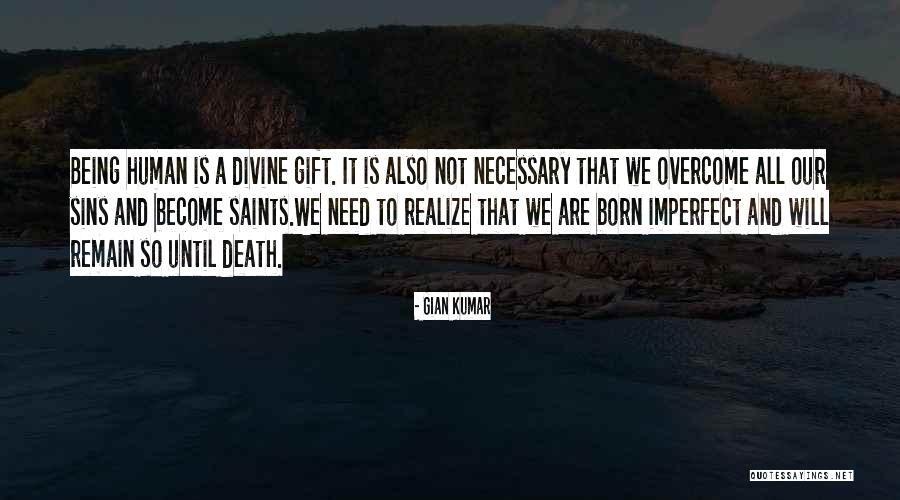 Being human is a divine gift. It is also not necessary that we overcome all our sins and become saints.We need to realize that we are born imperfect and will remain so until death. — Gian Kumar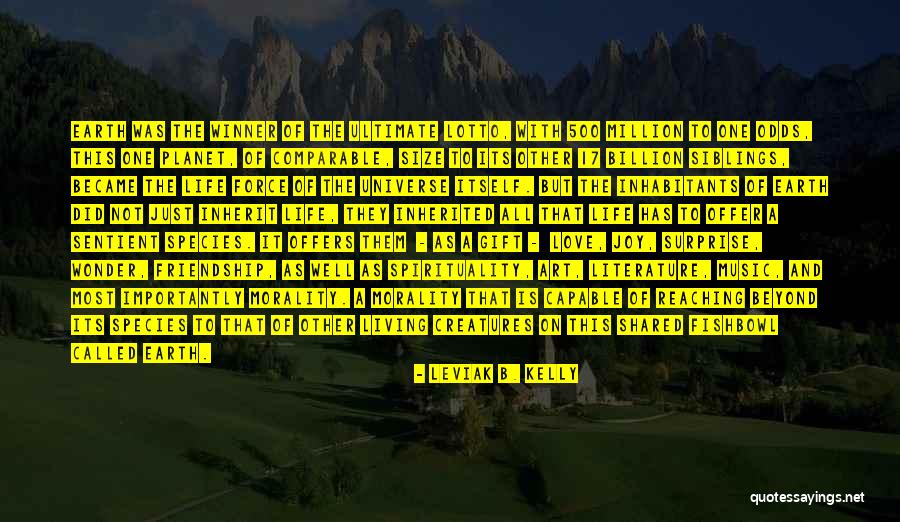 Earth was the winner of the ultimate lotto, with 500 million to one odds, this one planet, of comparable, size to its other 17 billion siblings, became the life force of the universe itself. But the inhabitants of earth did not just inherit life, they inherited all that life has to offer a sentient species. It offers them - as a gift - love, joy, surprise, wonder, friendship, as well as spirituality, art, literature, music, and most importantly morality. A morality that is capable of reaching beyond its species to that of other living creatures on this shared fishbowl called Earth. — Leviak B. Kelly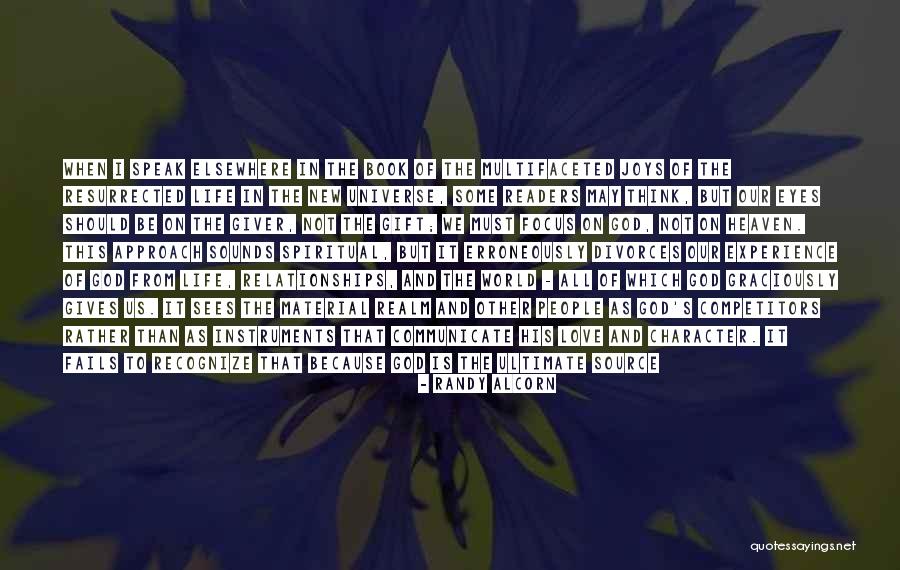 When I speak elsewhere in the book of the multifaceted joys of the resurrected life in the new universe, some readers may think, But our eyes should be on the giver, not the gift; we must focus on God, not on Heaven. This approach sounds spiritual, but it erroneously divorces our experience of God from life, relationships, and the world - all of which God graciously gives us. It sees the material realm and other people as God's competitors rather than as instruments that communicate his love and character. It fails to recognize that because God is the ultimate source of joy, and all secondary joys emanate from him, to love secondary joys on Earth can be - and in Heaven always will be - to love God, their source. — Randy Alcorn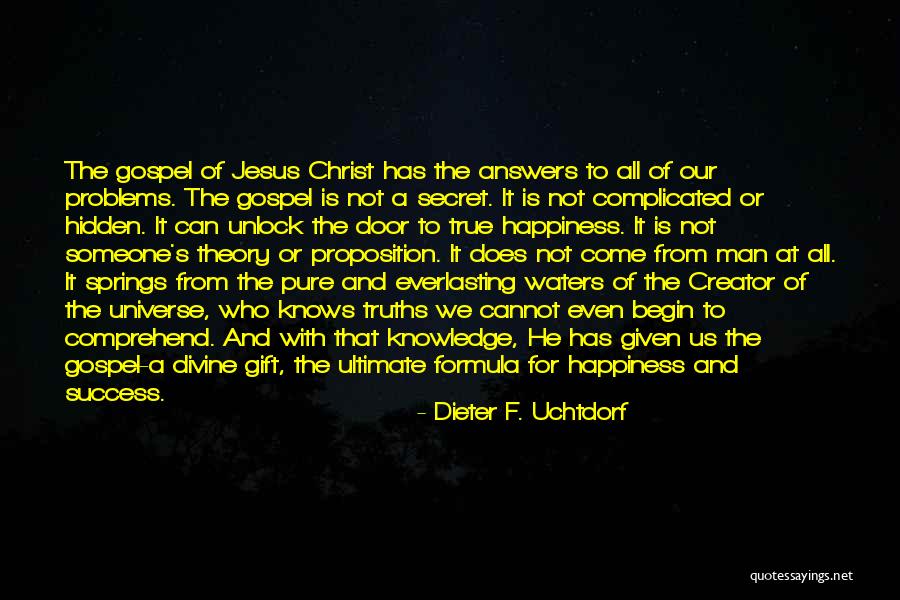 The gospel of Jesus Christ has the answers to all of our problems. The gospel is not a secret. It is not complicated or hidden. It can unlock the door to true happiness. It is not someone's theory or proposition. It does not come from man at all. It springs from the pure and everlasting waters of the Creator of the universe, who knows truths we cannot even begin to comprehend. And with that knowledge, He has given us the gospel-a divine gift, the ultimate formula for happiness and success. — Dieter F. Uchtdorf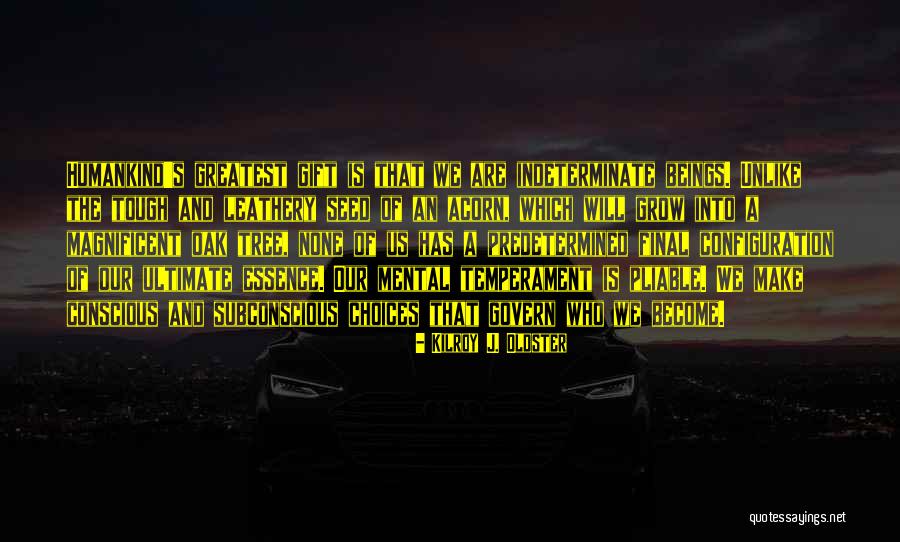 Humankind's greatest gift is that we are indeterminate beings. Unlike the tough and leathery seed of an acorn, which will grow into a magnificent oak tree, none of us has a predetermined final configuration of our ultimate essence. Our mental temperament is pliable. We make conscious and subconscious choices that govern who we become. — Kilroy J. Oldster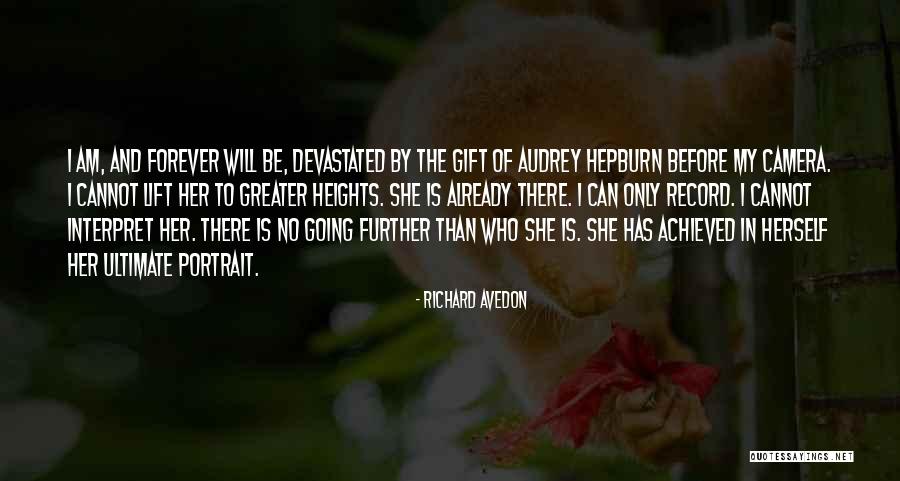 I am, and forever will be, devastated by the gift of Audrey Hepburn before my camera. I cannot lift her to greater heights. She is already there. I can only record. I cannot interpret her. There is no going further than who she is. She has achieved in herself her ultimate portrait. — Richard Avedon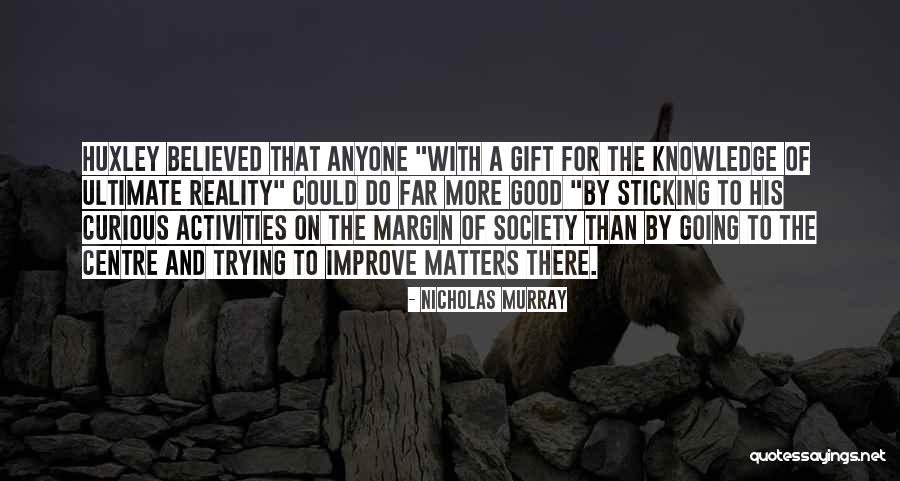 Huxley believed that anyone "with a gift for the knowledge of ultimate reality" could do far more good "by sticking to his curious activities on the margin of society than by going to the centre and trying to improve matters there. — Nicholas Murray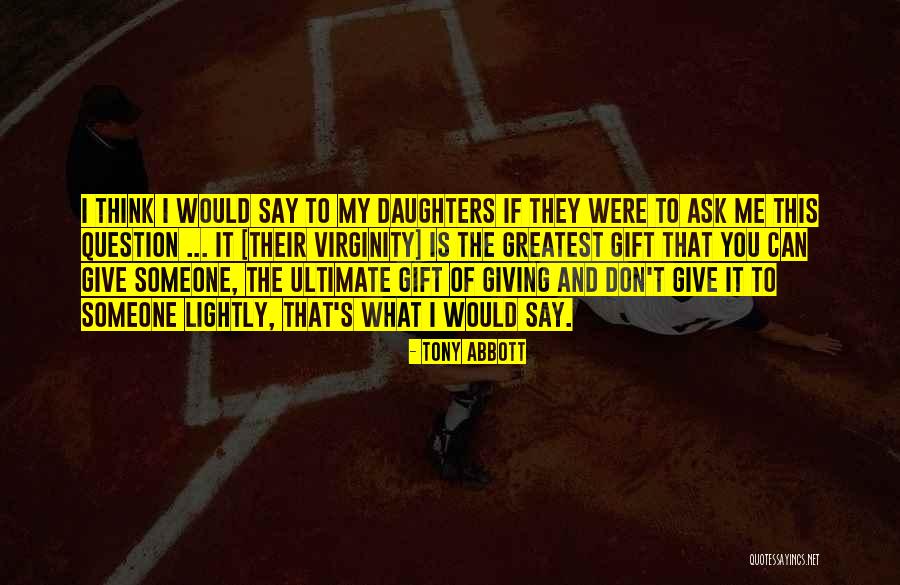 I think I would say to my daughters if they were to ask me this question ... it [their virginity] is the greatest gift that you can give someone, the ultimate gift of giving and don't give it to someone lightly, that's what I would say. — Tony Abbott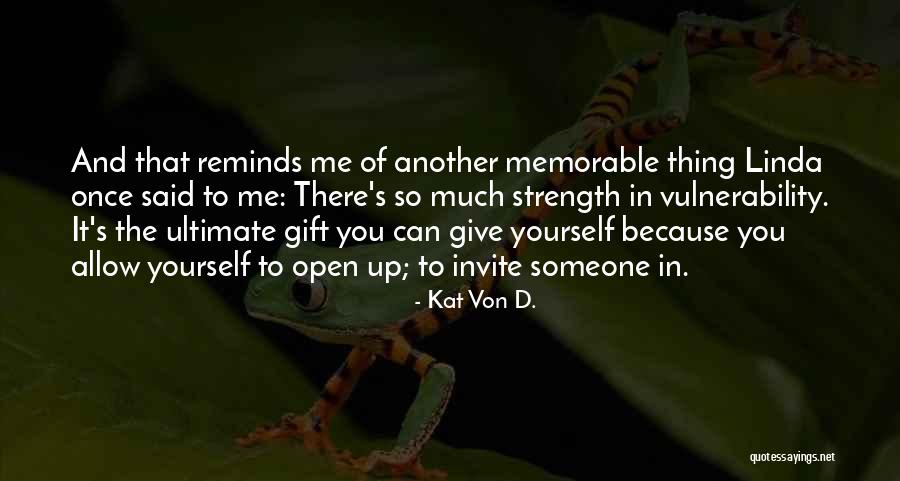 And that reminds me of another memorable thing Linda once said to me: There's so much strength in vulnerability. It's the ultimate gift you can give yourself because you allow yourself to open up; to invite someone in. — Kat Von D.
Love is a gift, a miracle, a mystery. You are led to its threshold by your affinities, by your inclinations, and by the yearnings of your heart, although its power and presentation is by grace, not by expectation, demand, or requirement. Love is the ultimate paradox, for it is the lamb that is also the lion. Love is the ultimate power, which resides in surrender. — Glenda Green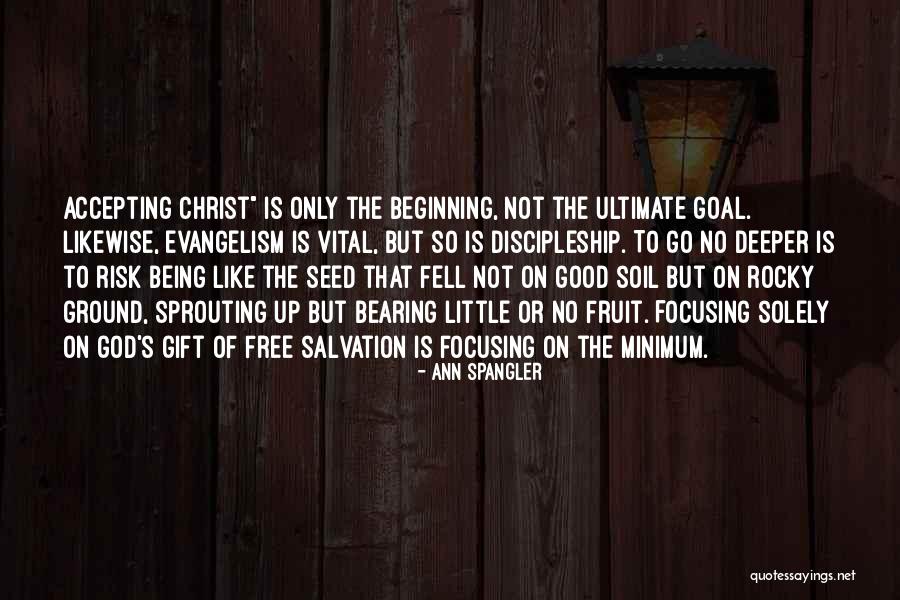 Accepting Christ" is only the beginning, not the ultimate goal. Likewise, evangelism is vital, but so is discipleship. To go no deeper is to risk being like the seed that fell not on good soil but on rocky ground, sprouting up but bearing little or no fruit. Focusing solely on God's gift of free salvation is focusing on the minimum. — Ann Spangler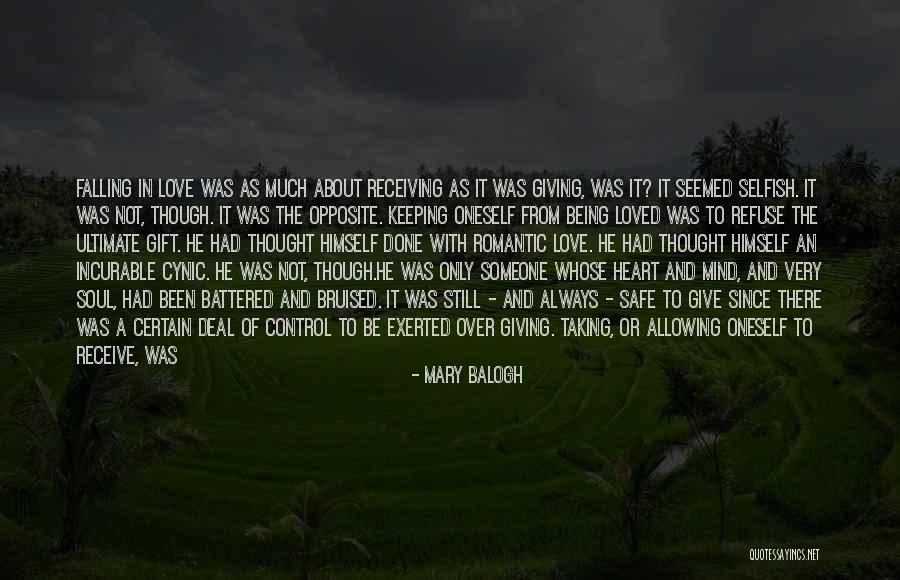 Falling in love was as much about receiving as it was giving, was it? It seemed selfish. It was not, though. It was the opposite. Keeping oneself from being loved was to refuse the ultimate gift.
He had thought himself done with romantic love. He had thought himself an incurable cynic.
He was not, though.
He was only someone whose heart and mind, and very soul, had been battered and bruised. It was still - and always - safe to give since there was a certain deal of control to be exerted over giving. Taking, or allowing oneself to receive, was an altogether more risky business.
For receiving meant opening up the heart again.
Perhaps to rejection.
Or disillusionment.
Or pain.
Or even heart break.
It was all terribly risky.
And all terribly necessary.
And of course, there was the whole issue of trust ... — Mary Balogh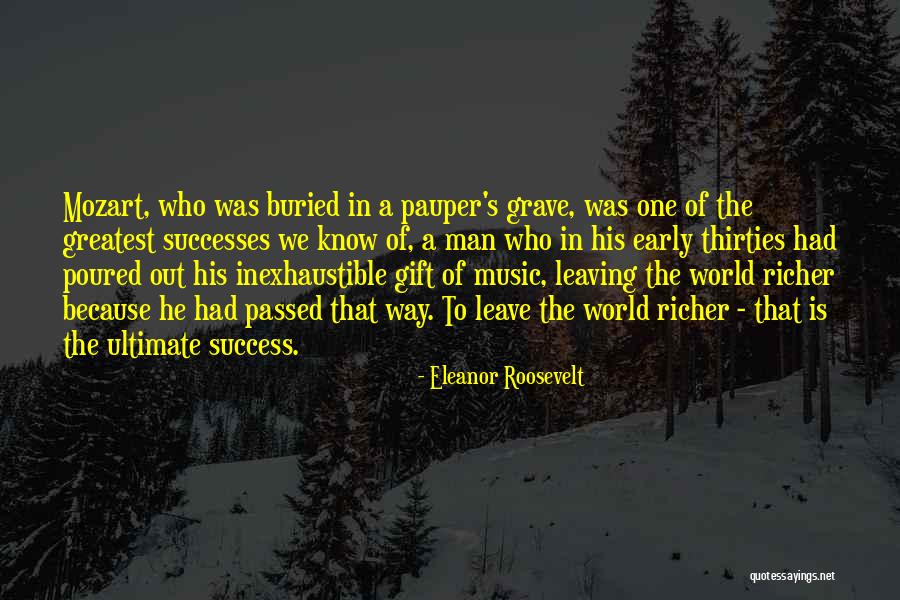 Mozart, who was buried in a pauper's grave, was one of the greatest successes we know of, a man who in his early thirties had poured out his inexhaustible gift of music, leaving the world richer because he had passed that way. To leave the world richer - that is the ultimate success. — Eleanor Roosevelt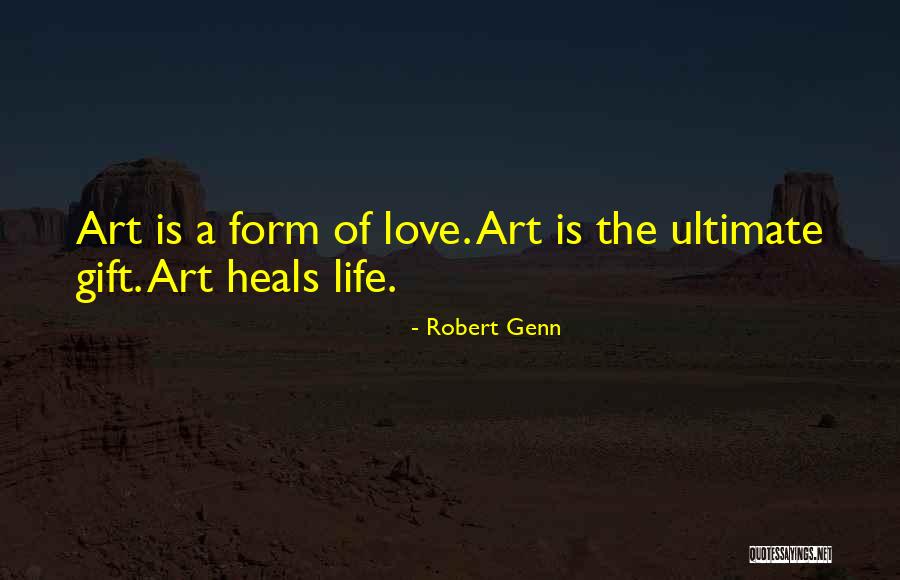 Art is a form of love. Art is the ultimate gift. Art heals life. — Robert Genn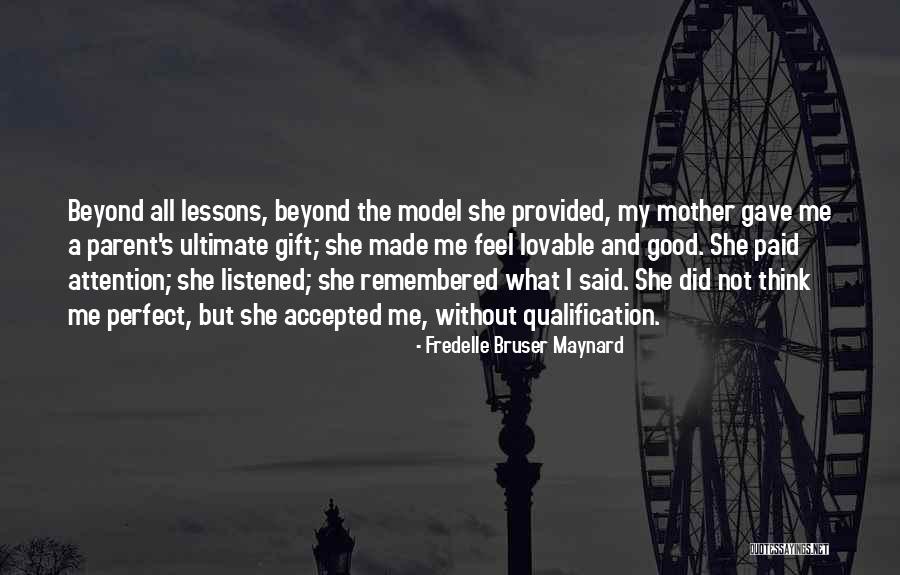 Beyond all lessons, beyond the model she provided, my mother gave me a parent's ultimate gift; she made me feel lovable and good. She paid attention; she listened; she remembered what I said. She did not think me perfect, but she accepted me, without qualification. — Fredelle Bruser Maynard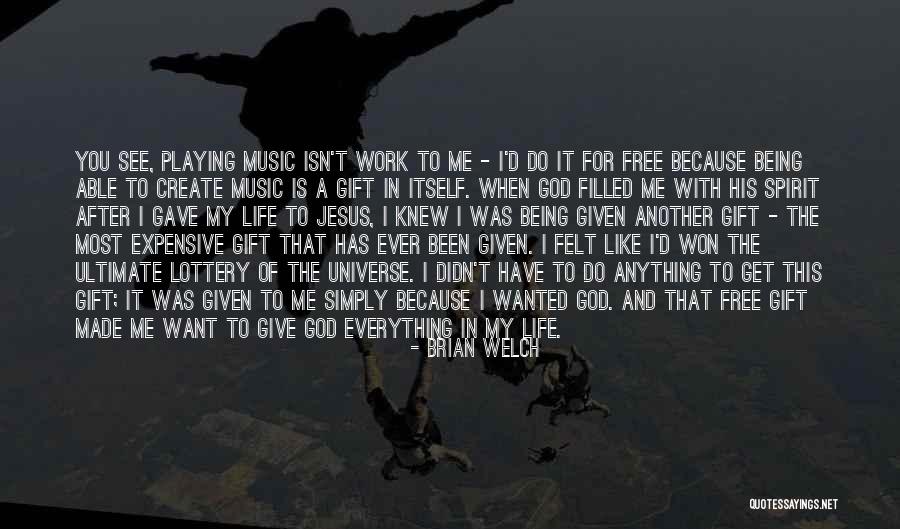 You see, playing music isn't work to me - I'd do it for free because being able to create music is a gift in itself. When God filled me with His Spirit after I gave my life to Jesus, I knew I was being given another gift - the most expensive gift that has ever been given. I felt like I'd won the ultimate lottery of the universe. I didn't have to do anything to get this gift; it was given to me simply because I wanted God. And that free gift made me want to give God everything in my life. — Brian Welch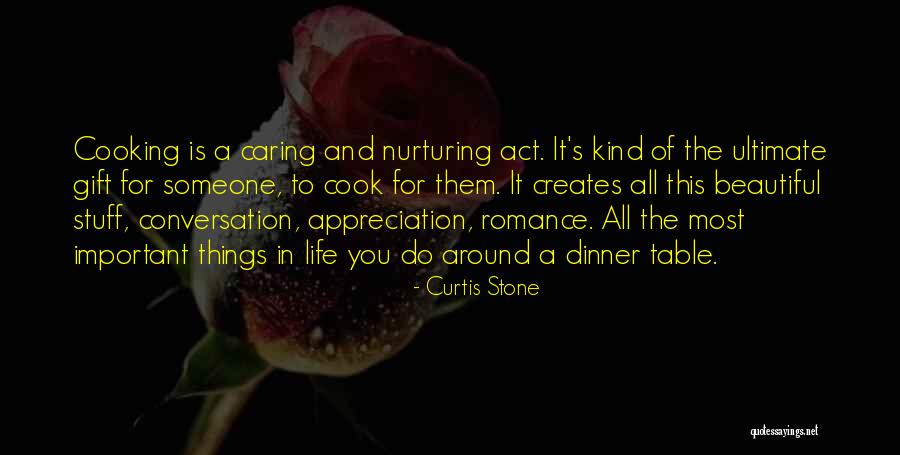 Cooking is a caring and nurturing act. It's kind of the ultimate gift for someone, to cook for them. It creates all this beautiful stuff, conversation, appreciation, romance. All the most important things in life you do around a dinner table. — Curtis Stone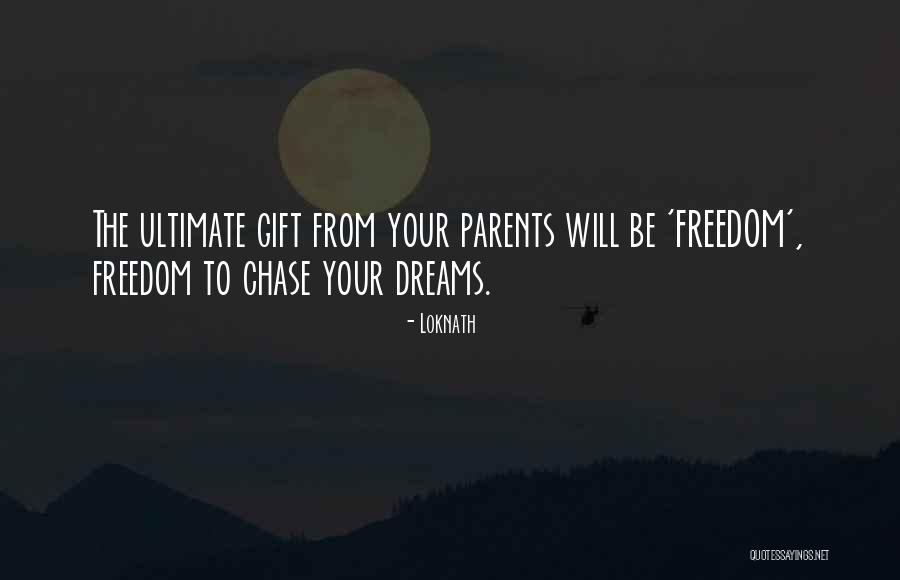 The ultimate gift from your parents will be 'FREEDOM', freedom to chase your dreams. — Loknath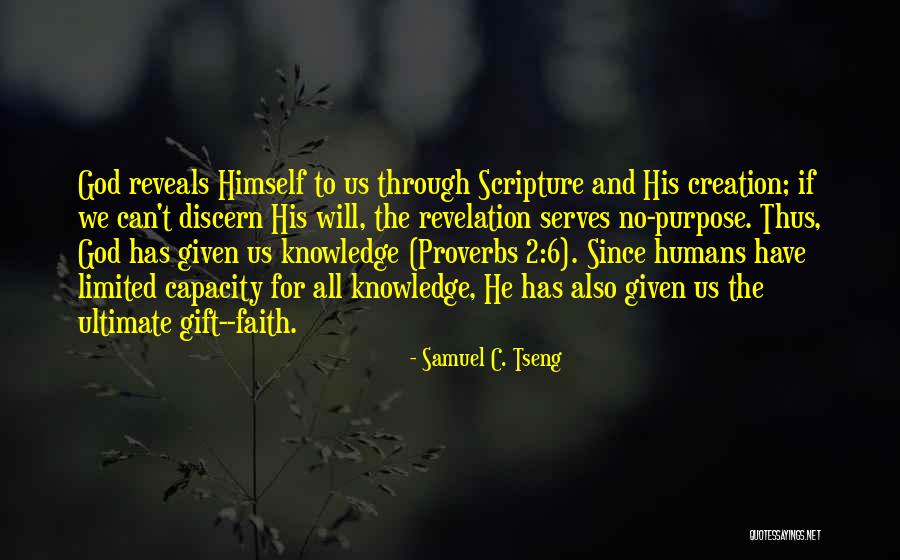 God reveals Himself to us through Scripture and His creation; if we can't discern His will, the revelation serves no-purpose. Thus, God has given us knowledge (Proverbs 2:6). Since humans have limited capacity for all knowledge, He has also given us the ultimate gift--faith. — Samuel C. Tseng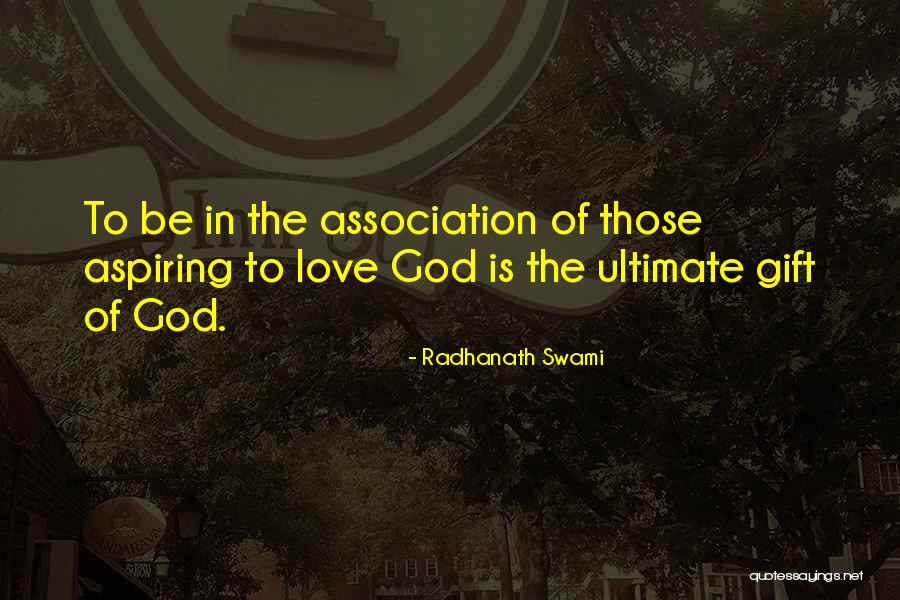 To be in the association of those aspiring to love God is the ultimate gift of God. — Radhanath Swami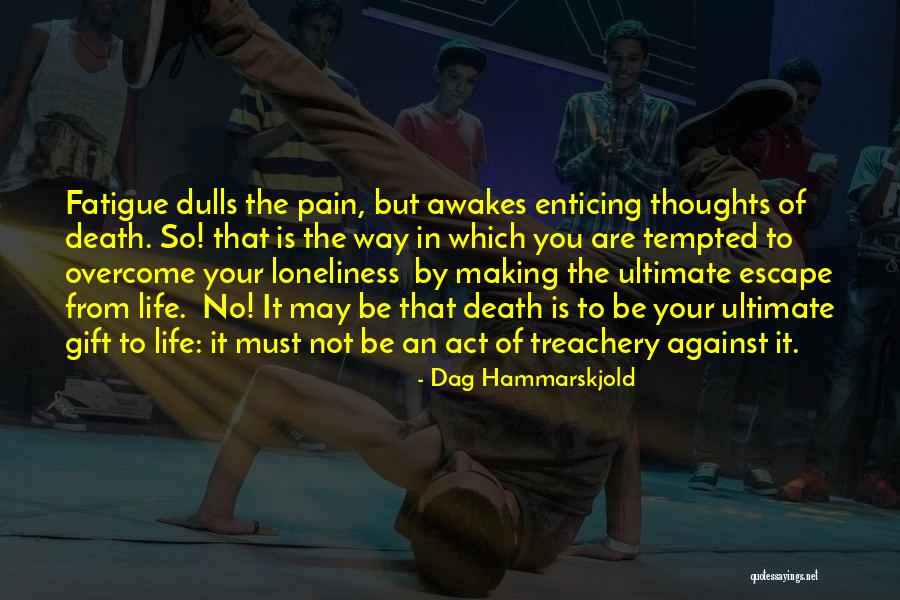 Fatigue dulls the pain, but awakes enticing thoughts of death. So! that is the way in which you are tempted to overcome your loneliness
by making the ultimate escape from life.
No! It may be that death is to be your ultimate gift to life: it must not be an act of treachery against it. — Dag Hammarskjold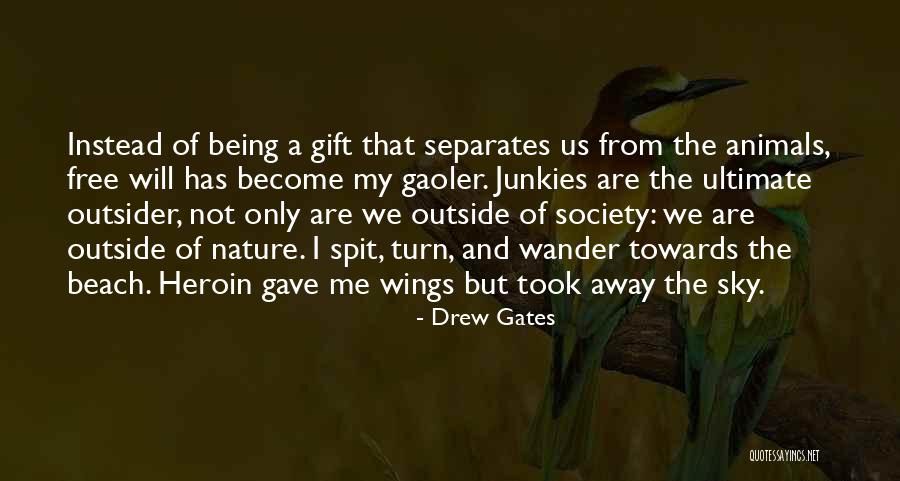 Instead of being a gift that separates us from the animals, free will has become my gaoler. Junkies are the ultimate outsider, not only are we outside of society: we are outside of nature. I spit, turn, and wander towards the beach. Heroin gave me wings but took away the sky. — Drew Gates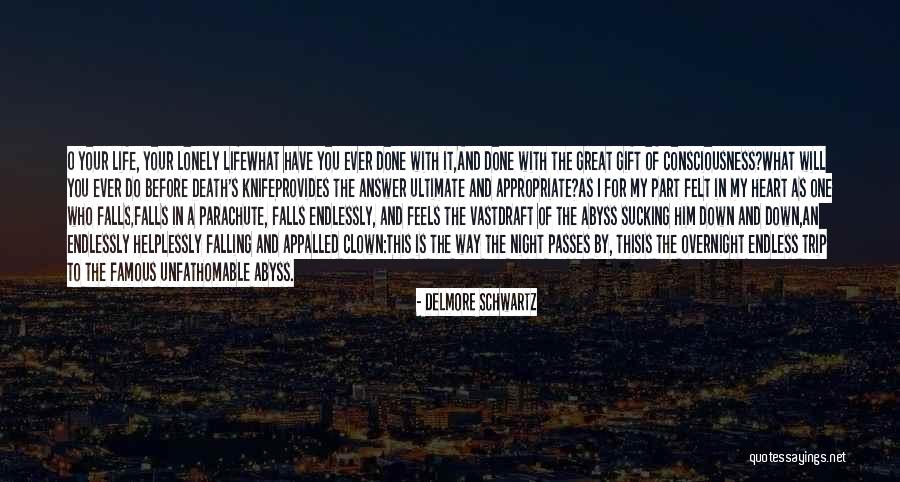 O your life, your lonely life
What have you ever done with it,
And done with the great gift of consciousness?
What will you ever do before Death's knife
Provides the answer ultimate and appropriate?
As I for my part felt in my heart as one who falls,
Falls in a parachute, falls endlessly, and feels the vast
Draft of the abyss sucking him down and down,
An endlessly helplessly falling and appalled clown:
This is the way the night passes by, this
Is the overnight endless trip to the famous unfathomable abyss. — Delmore Schwartz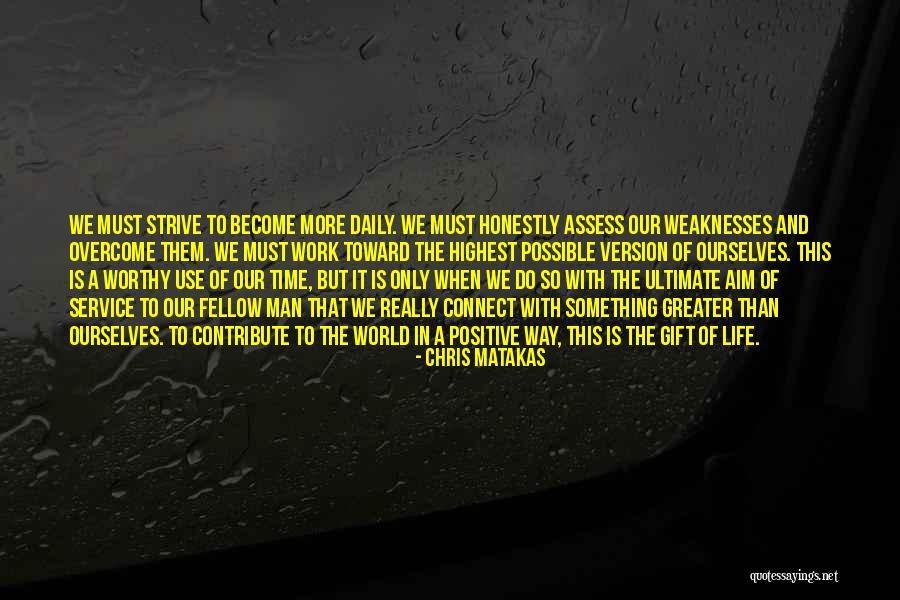 We must strive to become more daily. We must honestly assess our weaknesses and overcome them. We must work toward the highest possible version of ourselves. This is a worthy use of our time, but it is only when we do so with the ultimate aim of service to our fellow man that we really connect with something greater than ourselves. To contribute to the world in a positive way, this is the gift of life. — Chris Matakas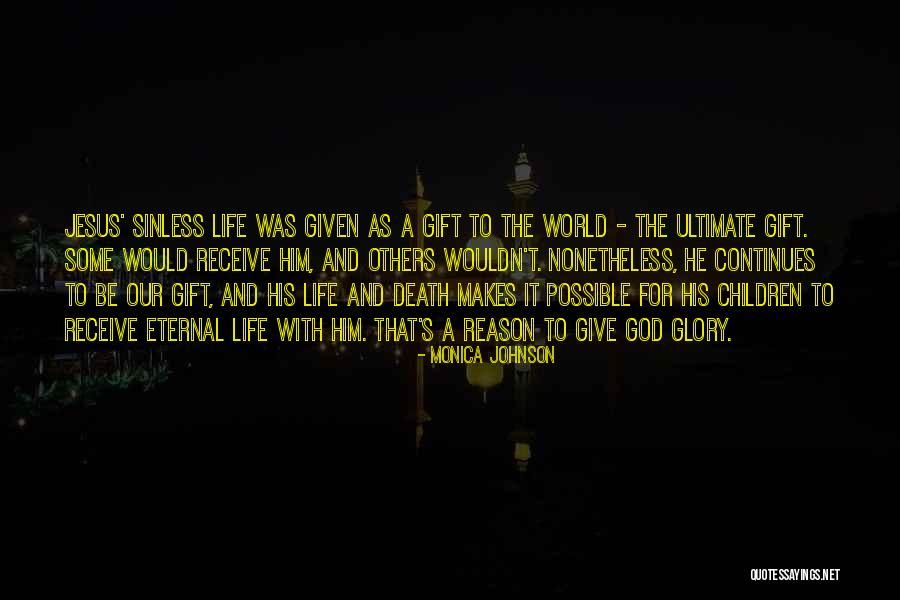 Jesus' sinless life was given as a gift to the world - the ultimate gift. Some would receive Him, and others wouldn't. Nonetheless, He continues to be our gift, and His life and death makes it possible for His children to receive eternal life with Him. That's a reason to give God glory. — Monica Johnson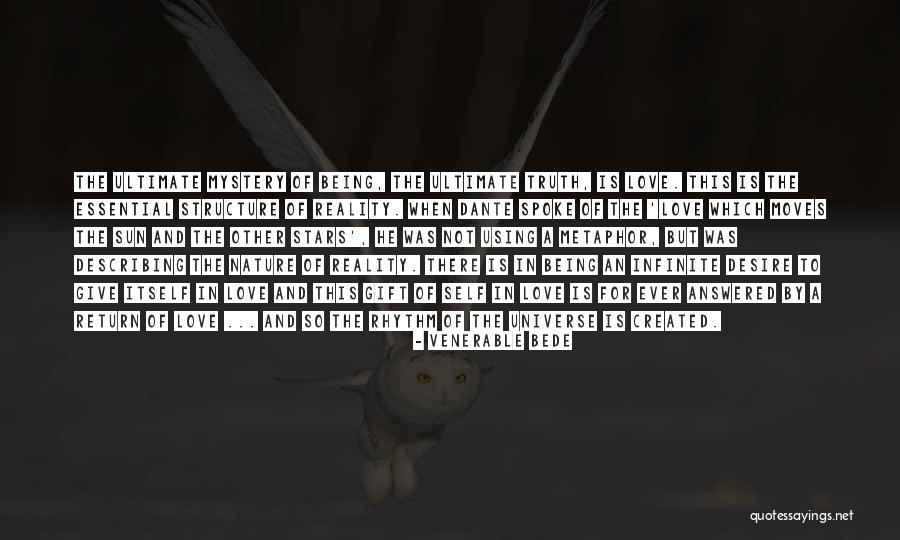 The ultimate Mystery of being, the ultimate Truth, is Love. This is the essential structure of reality. When Dante spoke of the 'love which moves the sun and the other stars', he was not using a metaphor, but was describing the nature of reality. There is in Being an infinite desire to give itself in love and this gift of Self in love is for ever answered by a return of love ... and so the rhythm of the universe is created. — Venerable Bede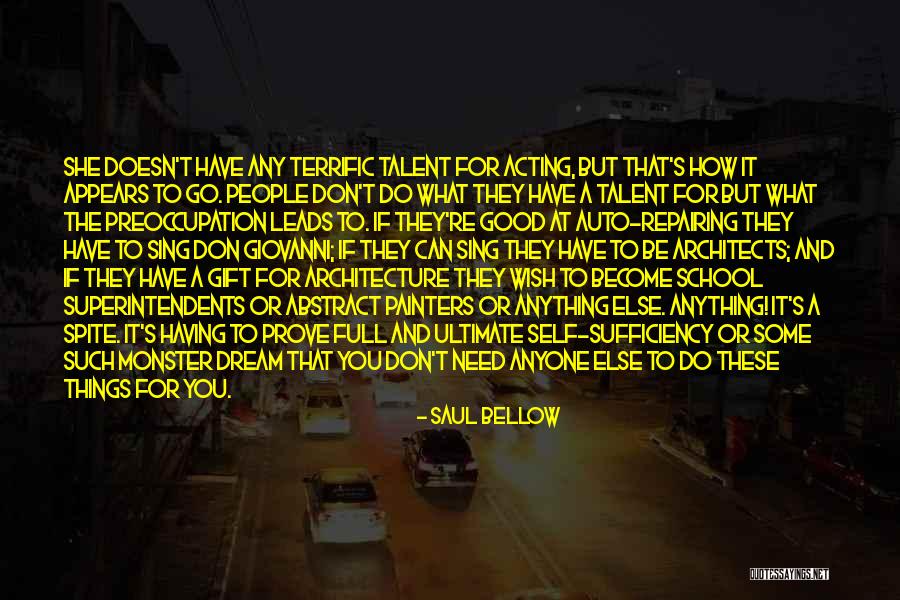 She doesn't have any terrific talent for acting, but that's how it appears to go. People don't do what they have a talent for but what the preoccupation leads to. If they're good at auto-repairing they have to sing Don Giovanni; if they can sing they have to be architects; and if they have a gift for architecture they wish to become school superintendents or abstract painters or anything else. Anything! It's a spite. It's having to prove full and ultimate self-sufficiency or some such monster dream that you don't need anyone else to do these things for you. — Saul Bellow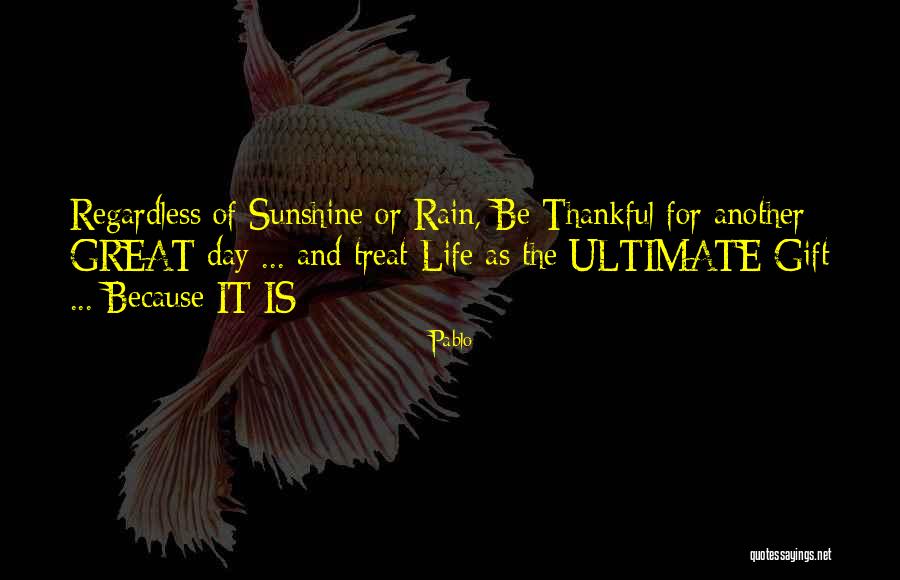 Regardless of Sunshine or Rain, Be Thankful for another GREAT day ... and treat Life as the ULTIMATE Gift ... Because IT IS — Pablo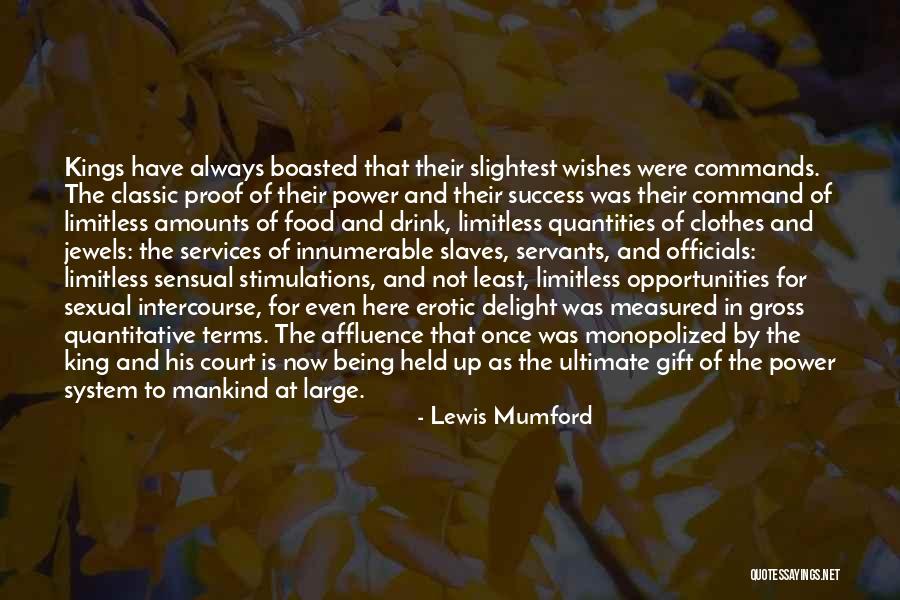 Kings have always boasted that their slightest wishes were commands. The classic proof of their power and their success was their command of limitless amounts of food and drink, limitless quantities of clothes and jewels: the services of innumerable slaves, servants, and officials: limitless sensual stimulations, and not least, limitless opportunities for sexual intercourse, for even here erotic delight was measured in gross quantitative terms. The affluence that once was monopolized by the king and his court is now being held up as the ultimate gift of the power system to mankind at large. — Lewis Mumford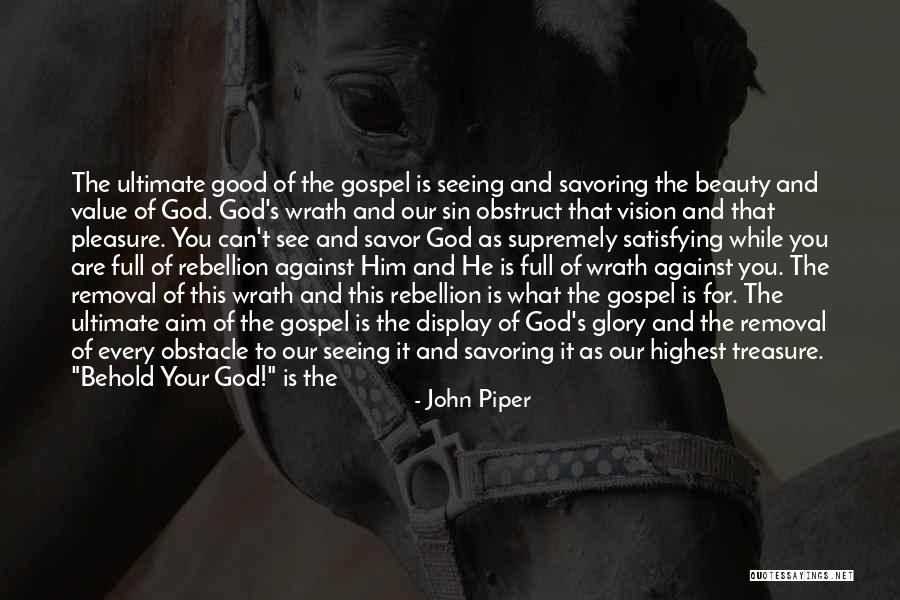 The ultimate good of the gospel is seeing and savoring the beauty and value of God. God's wrath and our sin obstruct that vision and that pleasure. You can't see and savor God as supremely satisfying while you are full of rebellion against Him and He is full of wrath against you. The removal of this wrath and this rebellion is what the gospel is for. The ultimate aim of the gospel is the display of God's glory and the removal of every obstacle to our seeing it and savoring it as our highest treasure. "Behold Your God!" is the most gracious command and the best gift of the gospel. If we do not see Him and savor Him as our greatest fortune, we have not obeyed or believed the gospel. — John Piper