The Time We Shared Quotes & Sayings
Enjoy reading and share 100 famous quotes about The Time We Shared with everyone.
Top The Time We Shared Quotes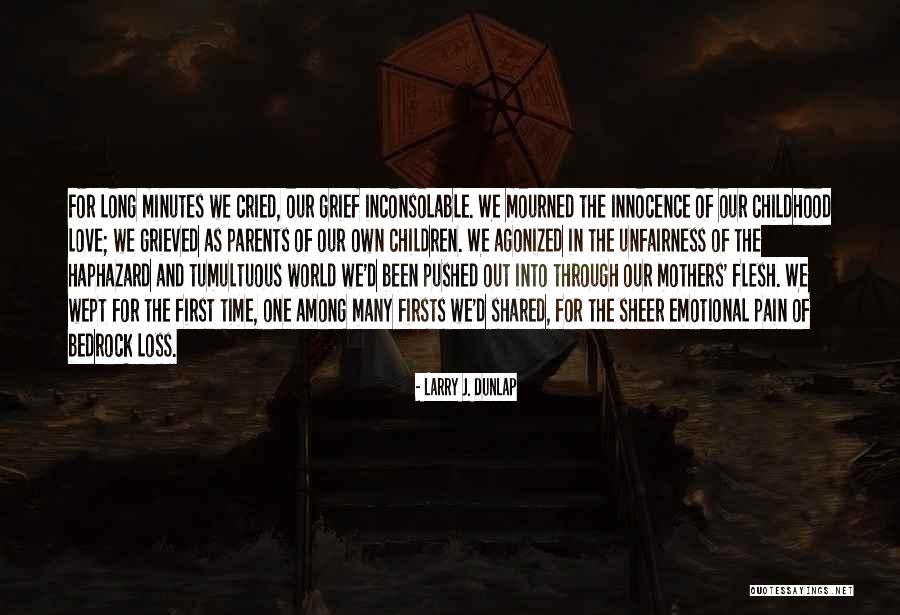 For long minutes we cried, our grief inconsolable. We mourned the innocence of our childhood love; we grieved as parents of our own children. We agonized in the unfairness of the haphazard and tumultuous world we'd been pushed out into through our mothers' flesh. We wept for the first time, one among many firsts we'd shared, for the sheer emotional pain of bedrock loss. — Larry J. Dunlap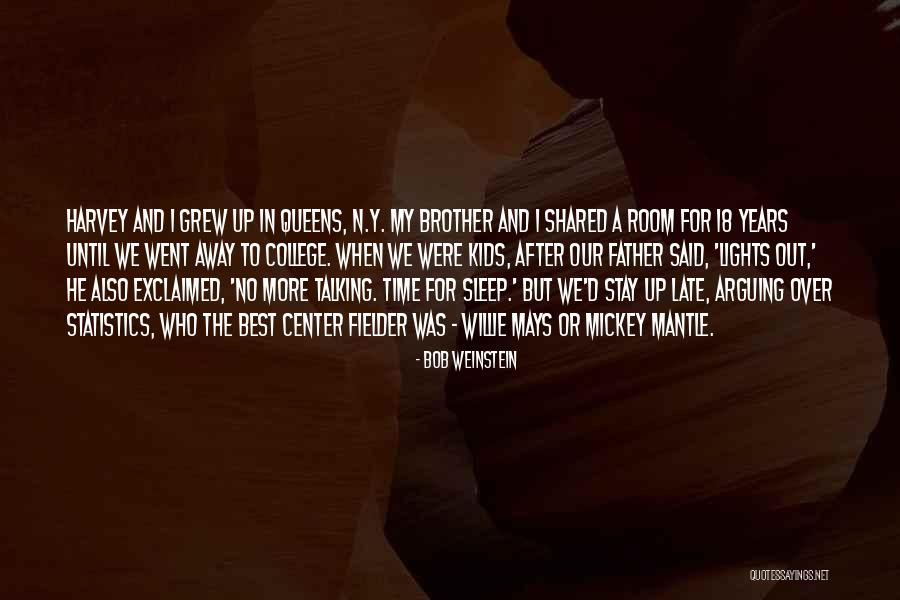 Harvey and I grew up in Queens, N.Y. My brother and I shared a room for 18 years until we went away to college. When we were kids, after our father said, 'Lights out,' he also exclaimed, 'No more talking. Time for sleep.' But we'd stay up late, arguing over statistics, who the best center fielder was - Willie Mays or Mickey Mantle. — Bob Weinstein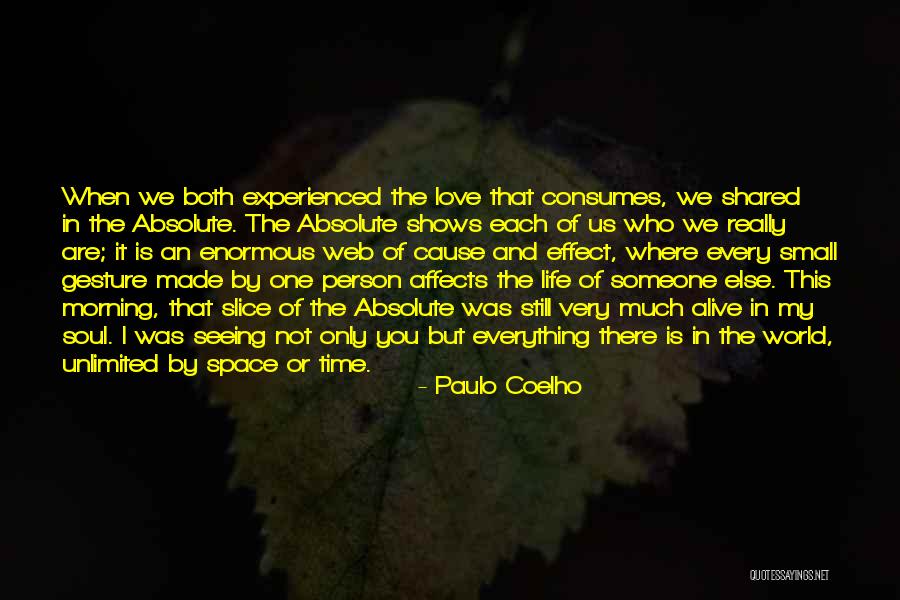 When we both experienced the love that consumes, we shared in the Absolute. The Absolute shows each of us who we really are; it is an enormous web of cause and effect, where every small gesture made by one person affects the life of someone else. This morning, that slice of the Absolute was still very much alive in my soul. I was seeing not only you but everything there is in the world, unlimited by space or time. — Paulo Coelho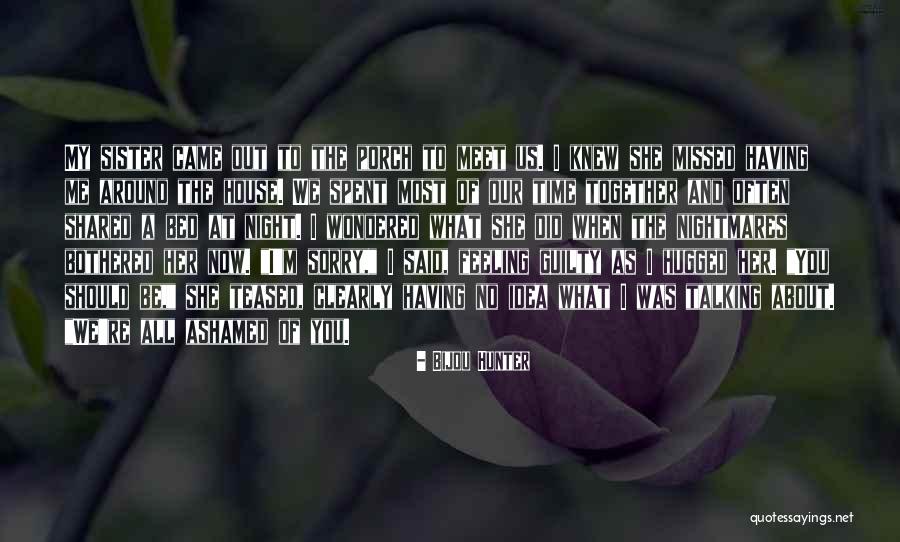 My sister came out to the porch to meet us. I knew she missed having me around the house. We spent most of our time together and often shared a bed at night. I wondered what she did when the nightmares bothered her now.
"I'm sorry," I said, feeling guilty as I hugged her.
"You should be," she teased, clearly having no idea what I was talking about. "We're all ashamed of you. — Bijou Hunter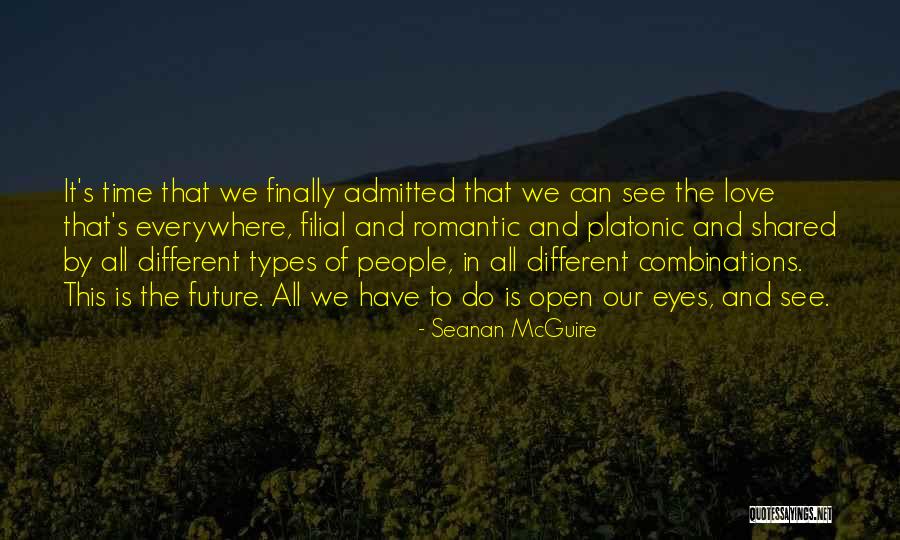 It's time that we finally admitted that we can see the love that's everywhere, filial and romantic and platonic and shared by all different types of people, in all different combinations. This is the future. All we have to do is open our eyes, and see. — Seanan McGuire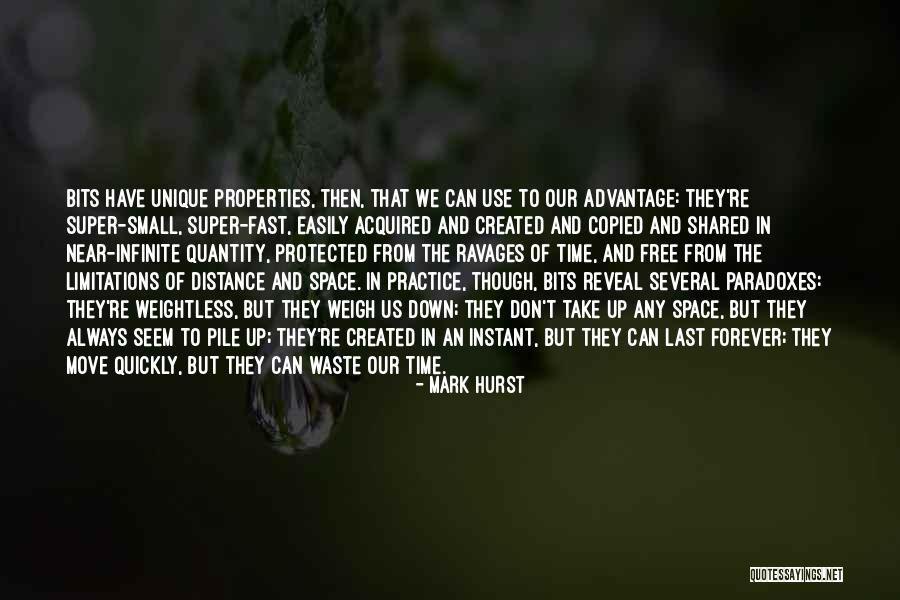 Bits have unique properties, then, that we can use to our advantage: they're super-small, super-fast, easily acquired and created and copied and shared in near-infinite quantity, protected from the ravages of time, and free from the limitations of distance and space. In practice, though, bits reveal several paradoxes: they're weightless, but they weigh us down; they don't take up any space, but they always seem to pile up; they're created in an instant, but they can last forever; they move quickly, but they can waste our time. — Mark Hurst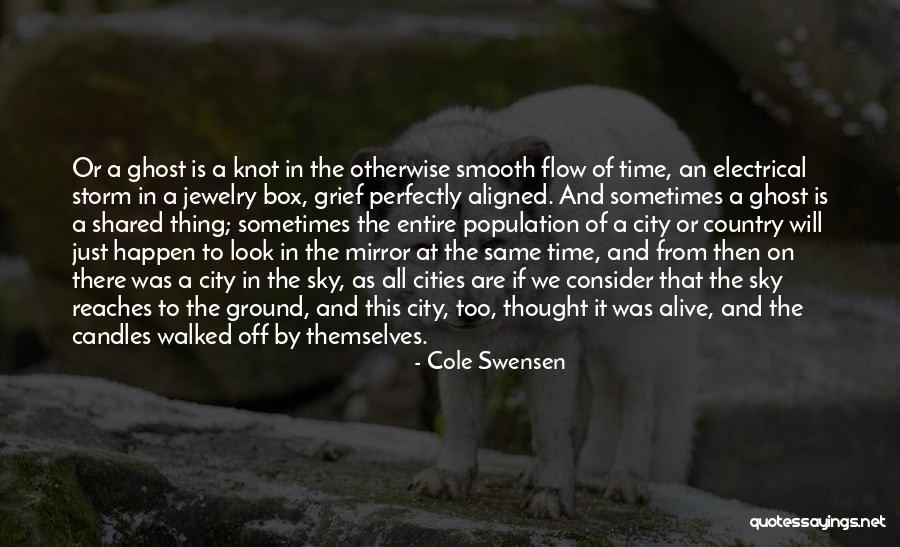 Or a ghost is a knot in the otherwise smooth flow of time, an electrical storm in a jewelry box, grief perfectly aligned. And sometimes a ghost is a shared thing; sometimes the entire population of a city or country will just happen to look in the mirror at the same time, and from then on there was a city in the sky, as all cities are if we consider that the sky reaches to the ground, and this city, too, thought it was alive, and the candles walked off by themselves. — Cole Swensen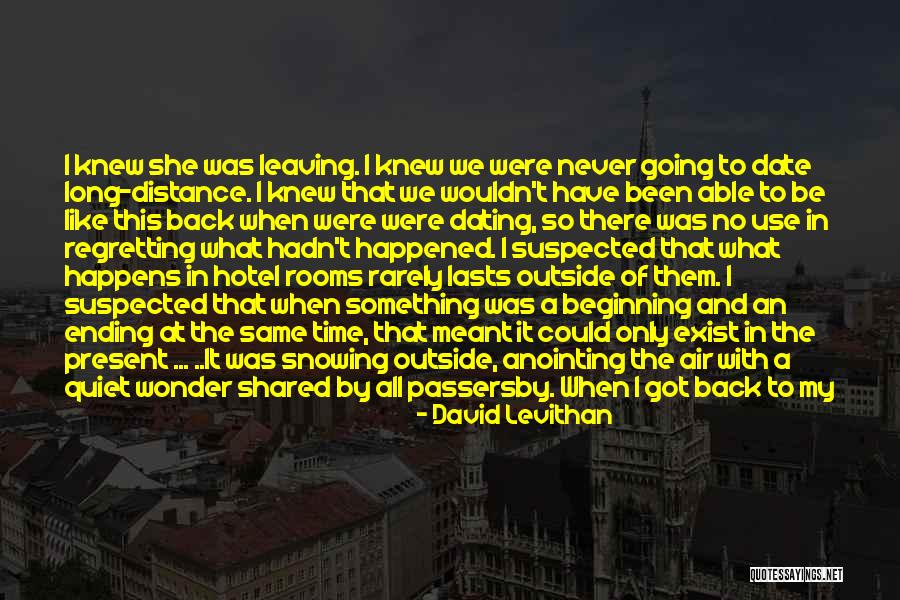 I knew she was leaving. I knew we were never going to date long-distance. I knew that we wouldn't have been able to be like this back when were were dating, so there was no use in regretting what hadn't happened. I suspected that what happens in hotel rooms rarely lasts outside of them. I suspected that when something was a beginning and an ending at the same time, that meant it could only exist in the present ...
..It was snowing outside, anointing the air with a quiet wonder shared by all passersby. When I got back to my mother's apartment, I was a mixture of giddy thrill-happiness and muddle gut-confusion
I didn't want to leave anything regarding Sofia to chance, and at the same time I was enjoying this step away from it. — David Levithan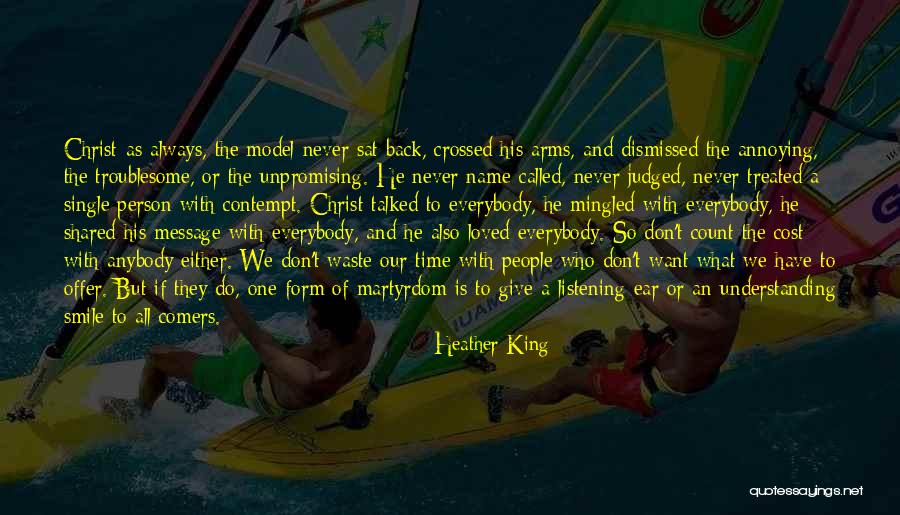 Christ-as always, the model-never sat back, crossed his arms, and dismissed the annoying, the troublesome, or the unpromising. He never name-called, never judged, never treated a single person with contempt. Christ talked to everybody, he mingled with everybody, he shared his message with everybody, and he also loved everybody. So don't count the cost with anybody either. We don't waste our time with people who don't want what we have to offer. But if they do, one form of martyrdom is to give a listening ear or an understanding smile to all comers. — Heather King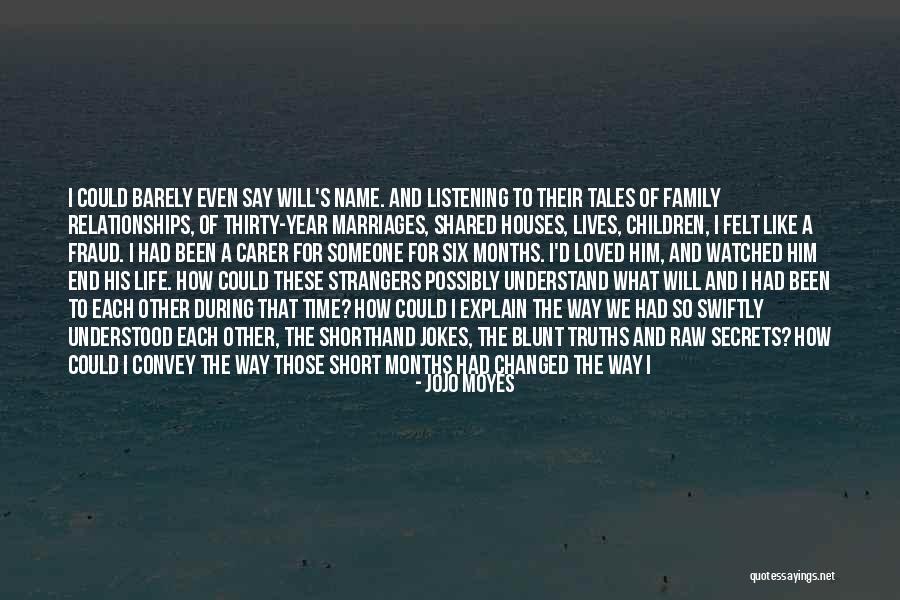 I could barely even say Will's name. And listening to their tales of family relationships, of thirty-year marriages, shared houses, lives, children, I felt like a fraud. I had been a carer for someone for six months. I'd loved him, and watched him end his life. How could these strangers possibly understand what Will and I had been to each other during that time? How could I explain the way we had so swiftly understood each other, the shorthand jokes, the blunt truths and raw secrets? How could I convey the way those short months had changed the way I felt about everything? The way he had skewed my world so totally that it made no sense without him in it? — Jojo Moyes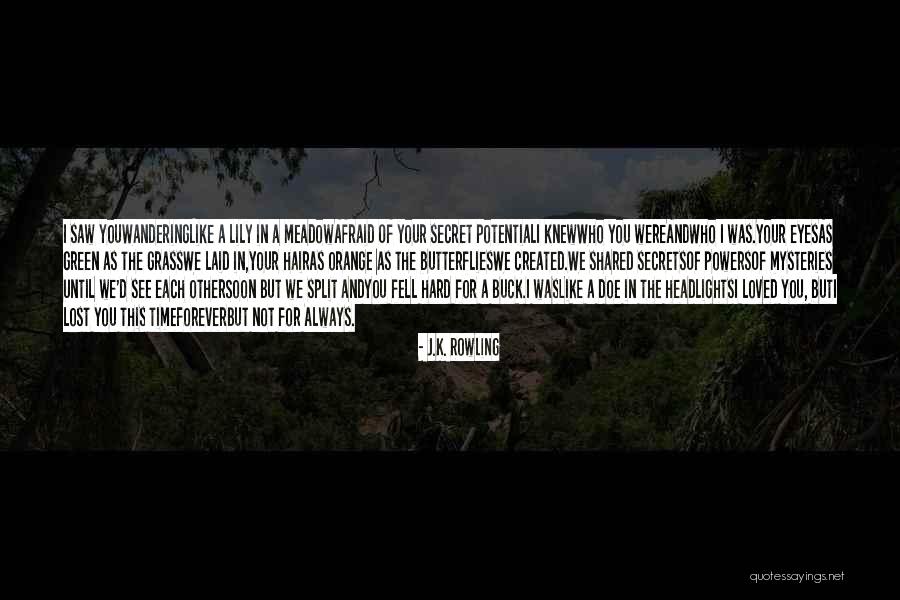 I saw you
Wandering
Like a lily in a meadow
Afraid
Of your secret potential
I knew
Who you were
And
Who I was.
Your eyes
As green as the grass
We laid in,
Your hair
As orange as the butterflies
We created.
We shared secrets
Of powers
Of mysteries
Until we'd see each other
Soon
But we split and
You fell hard for a
Buck.
I was
Like a doe in the headlights
I loved you, but
I lost you this time
Forever
But not for
Always. — J.K. Rowling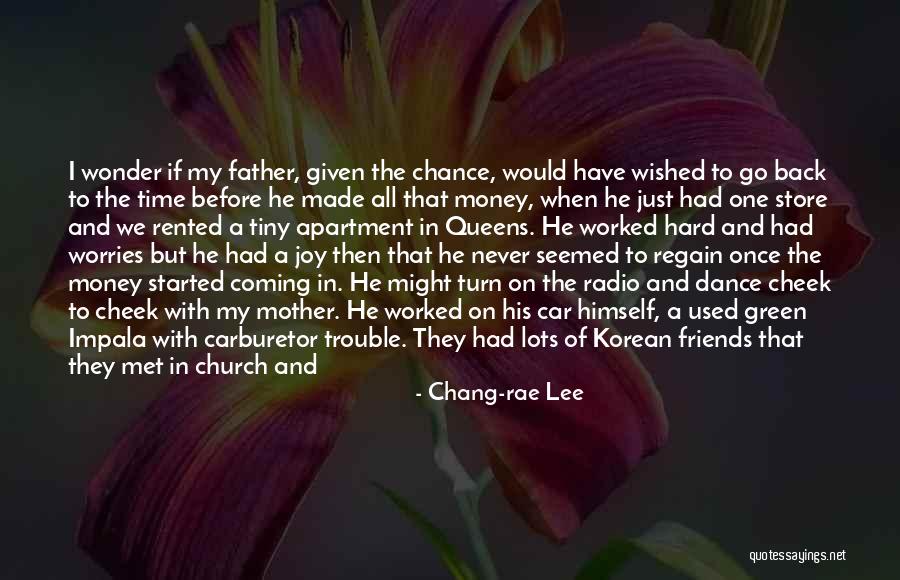 I wonder if my father, given the chance, would have wished to go back to the time before he made all that money, when he just had one store and we rented a tiny apartment in Queens. He worked hard and had worries but he had a joy then that he never seemed to regain once the money started coming in. He might turn on the radio and dance cheek to cheek with my mother. He worked on his car himself, a used green Impala with carburetor trouble. They had lots of Korean friends that they met in church and then even in the street, and when they talked in public there was a shared sense of how lucky they were, to be in America but still have countrymen near. — Chang-rae Lee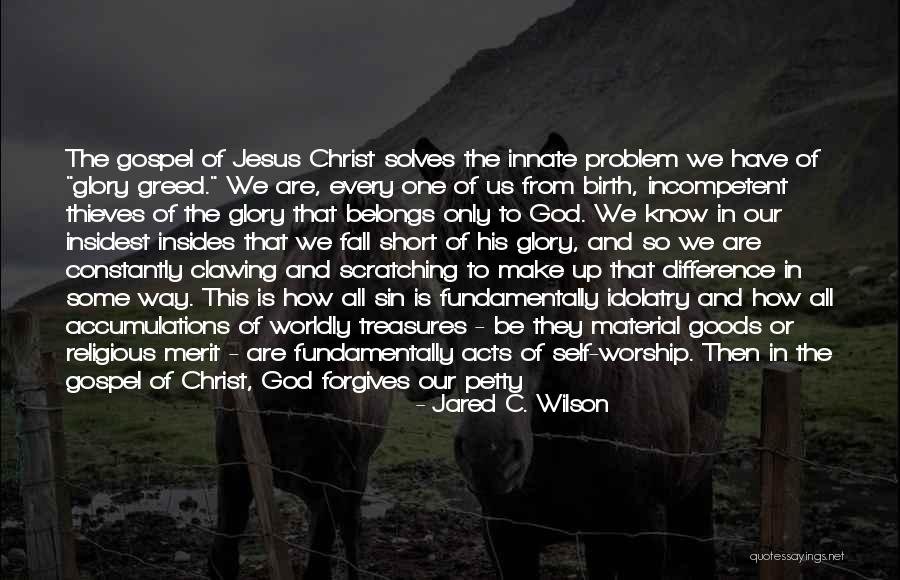 The gospel of Jesus Christ solves the innate problem we have of "glory greed." We are, every one of us from birth, incompetent thieves of the glory that belongs only to God. We know in our insidest insides that we fall short of his glory, and so we are constantly clawing and scratching to make up that difference in some way. This is how all sin is fundamentally idolatry and how all accumulations of worldly treasures - be they material goods or religious merit - are fundamentally acts of self-worship. Then in the gospel of Christ, God forgives our petty theft, sets us free from the bondage of our idols, and unites us Spiritually, irrevocably, and satisfyingly to himself. Now the glory we tried to steal is shared with us freely, and it is real glory this time, not these pathetic knockoffs we think will do the trick. — Jared C. Wilson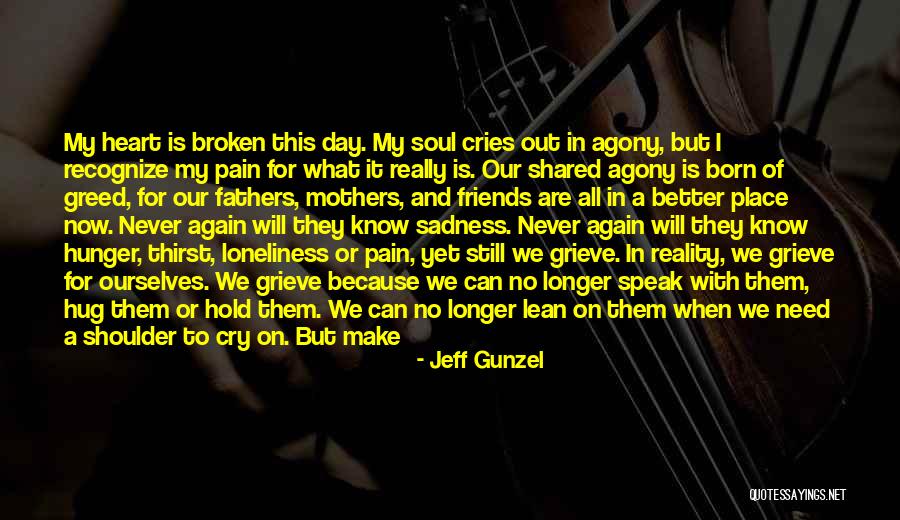 My heart is broken this day. My soul cries out in agony, but I recognize my pain for what it really is. Our shared agony is born of greed, for our fathers, mothers, and friends are all in a better place now. Never again will they know sadness. Never again will they know hunger, thirst, loneliness or pain, yet still we grieve. In reality, we grieve for ourselves. We grieve because we can no longer speak with them, hug them or hold them. We can no longer lean on them when we need a shoulder to cry on. But make no mistake, my brothers and sisters: They are perfect now. Perfect, as all of us will be when the gods, in their infinite wisdom, decide it is our time. — Jeff Gunzel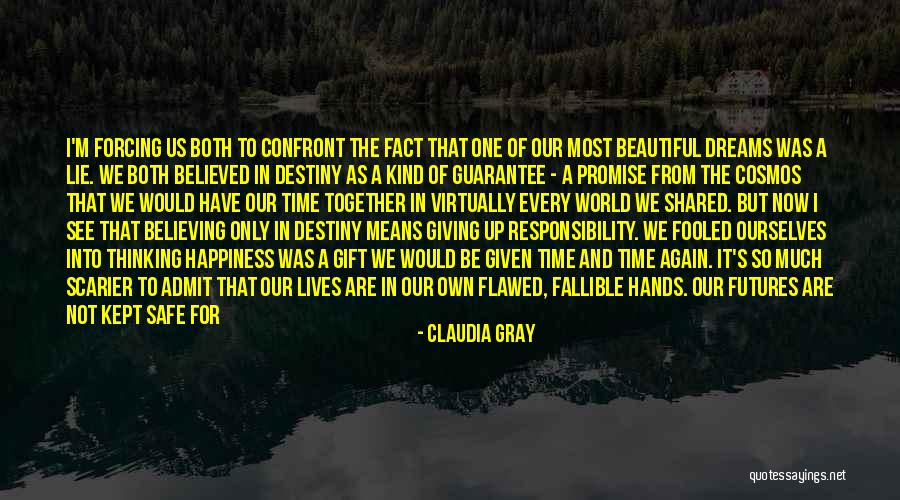 I'm forcing us both to confront the fact that one of our most beautiful dreams was a lie. We both believed in destiny as a kind of guarantee - a promise from the cosmos that we would have our time together in virtually every world we shared. But now I see that believing only in destiny means giving up responsibility. We fooled ourselves into thinking happiness was a gift we would be given time and time again. It's so much scarier to admit that our lives are in our own flawed, fallible hands. Our futures are not kept safe for us in the cradle of fate. We have to hack them out of stone, dig them out of mud, and build them one messy, imperfect day at a time. — Claudia Gray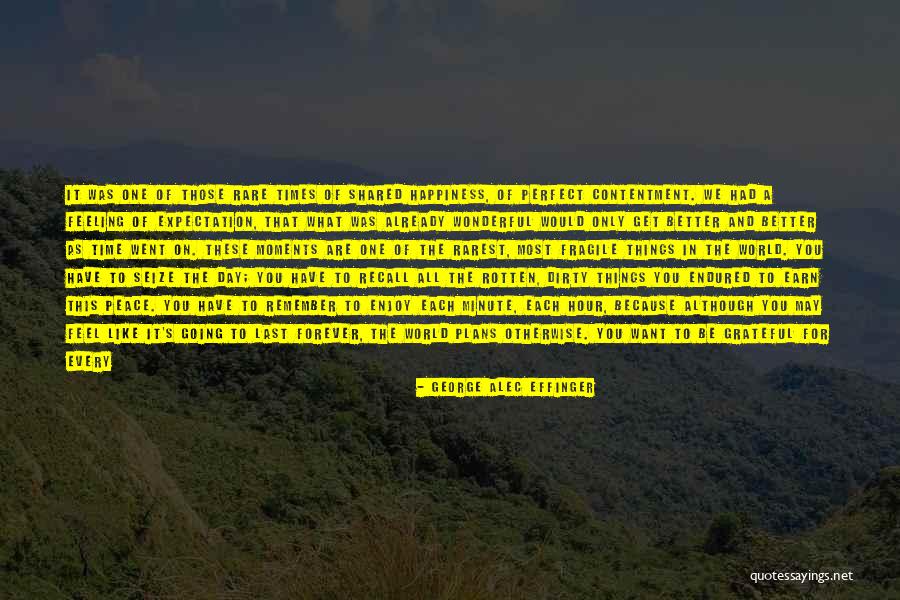 It was one of those rare times of shared happiness, of perfect contentment. We had a feeling of expectation, that what was already wonderful would only get better and better as time went on. These moments are one of the rarest, most fragile things in the world. You have to seize the day; you have to recall all the rotten, dirty things you endured to earn this peace. You have to remember to enjoy each minute, each hour, because although you may feel like it's going to last forever, the world plans otherwise. You want to be grateful for every precious second, but you simply can't do it. It's not in human nature to live life to the fullest. Haven't your ever noticed that equal amounts of pain and joy are not, in fact, equal in duration? Pain drags on until you wonder if life will ever be bearable again; pleasure, though, once it's reached its peak, fades faster than a trodden gardenia, and your memory searches in vain for the sweet scent. — George Alec Effinger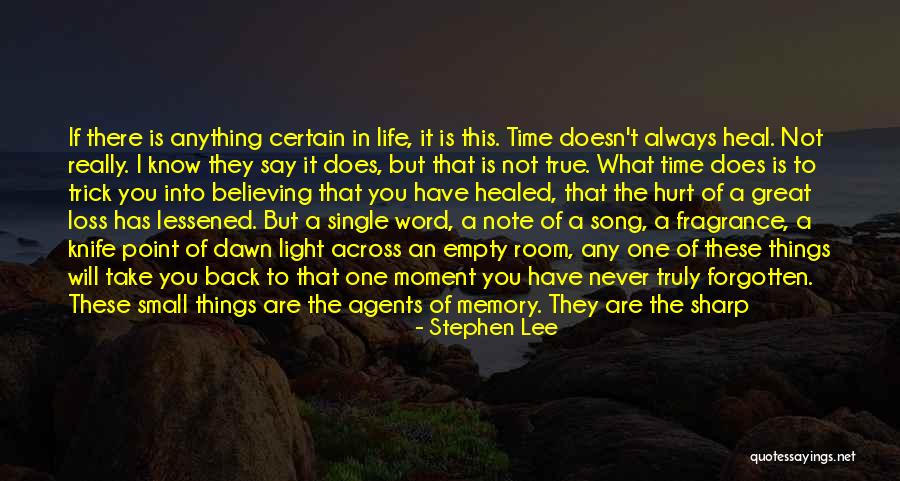 If there is anything certain in life, it is this. Time doesn't always heal. Not really. I know they say it does, but that is not true. What time does is to trick you into believing that you have healed, that the hurt of a great loss has lessened. But a single word, a note of a song, a fragrance, a knife point of dawn light across an empty room, any one of these things will take you back to that one moment you have never truly forgotten. These small things are the agents of memory. They are the sharp needle points piercing the living fabric of your life.

Life, my children, isn't linear where the heart is concerned. It is filled with invisible threads that reach out from your past and into your future. These threads connect every second we have lived and breathed. As your own lives move forward and as the decades pass, the more of these threads are cast. Your task is to weave them into a tapestry, one that tells the story of the time we shared. — Stephen Lee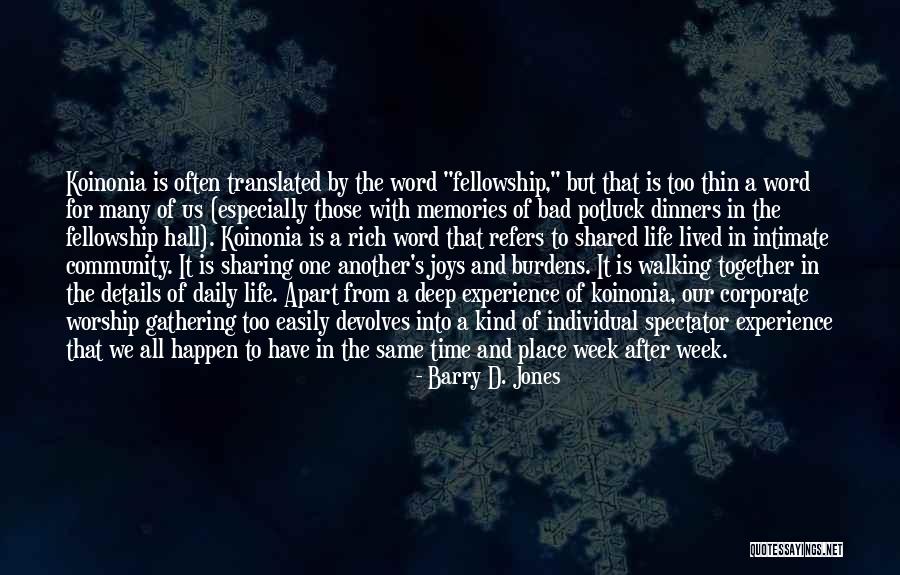 Koinonia is often translated by the word "fellowship," but that is too thin a word for many of us (especially those with memories of bad potluck dinners in the fellowship hall). Koinonia is a rich word that refers to shared life lived in intimate community. It is sharing one another's joys and burdens. It is walking together in the details of daily life. Apart from a deep experience of koinonia, our corporate worship gathering too easily devolves into a kind of individual spectator experience that we all happen to have in the same time and place week after week. — Barry D. Jones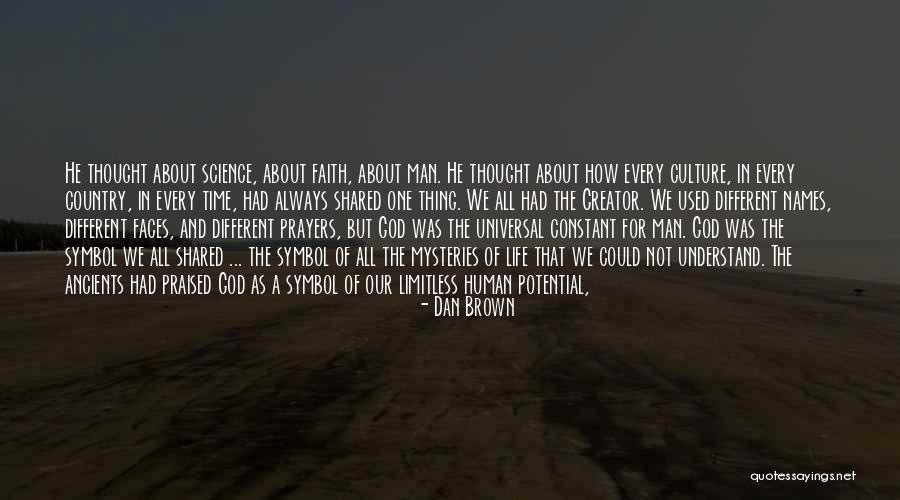 He thought about science, about faith, about man. He thought about how every culture, in every country, in every time, had always shared one thing. We all had the Creator. We used different names, different faces, and different prayers, but God was the universal constant for man. God was the symbol we all shared ... the symbol of all the mysteries of life that we could not understand. The ancients had praised God as a symbol of our limitless human potential, — Dan Brown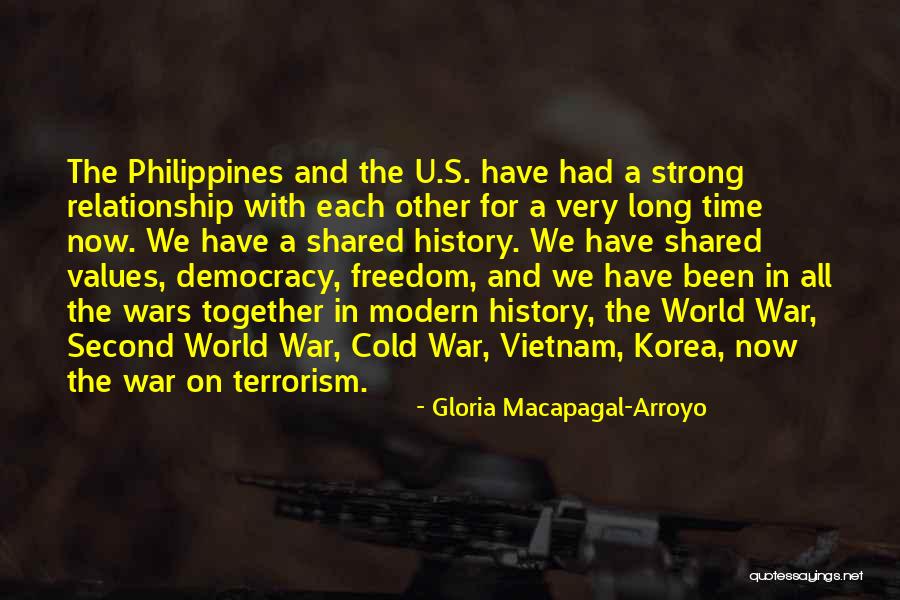 The Philippines and the U.S. have had a strong relationship with each other for a very long time now. We have a shared history. We have shared values, democracy, freedom, and we have been in all the wars together in modern history, the World War, Second World War, Cold War, Vietnam, Korea, now the war on terrorism. — Gloria Macapagal-Arroyo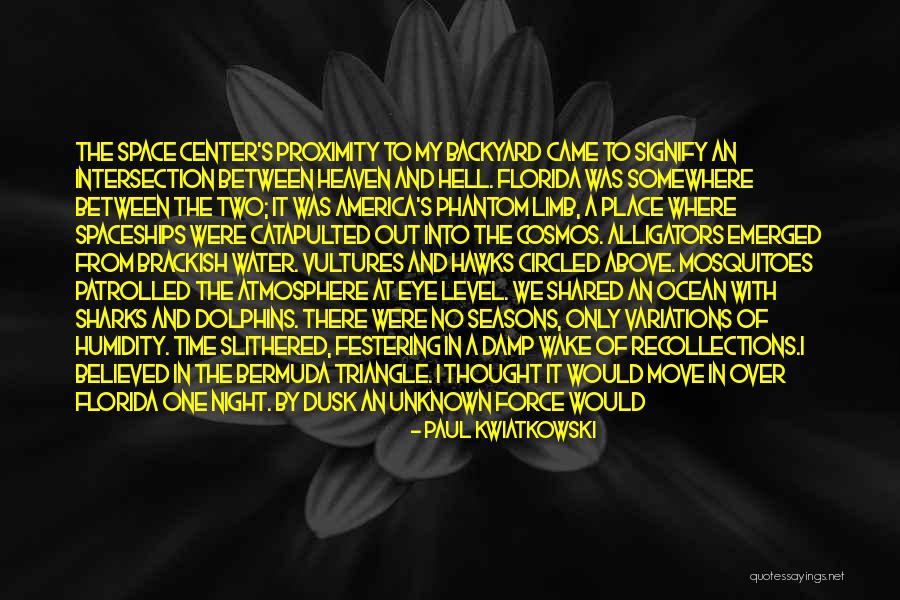 The space center's proximity to my backyard came to signify an intersection between heaven and hell. Florida was somewhere between the two; it was America's phantom limb, a place where spaceships were catapulted out into the cosmos. Alligators emerged from brackish water. Vultures and hawks circled above. Mosquitoes patrolled the atmosphere at eye level. We shared an ocean with sharks and dolphins. There were no seasons, only variations of humidity. Time slithered, festering in a damp wake of recollections.

I believed in the Bermuda Triangle. I thought it would move in over Florida one night. By dusk an unknown force would vaporize us through a tear in the atmosphere. We'd be stuck, wandering in a parallel version of the same place, unaware that we were dead but dreaming.

People came here to vanish. — Paul Kwiatkowski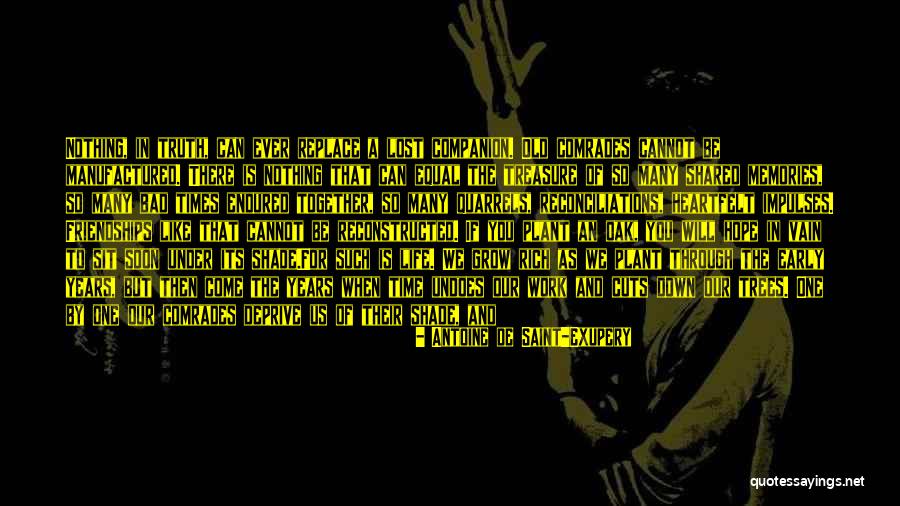 Nothing, in truth, can ever replace a lost companion. Old comrades cannot be manufactured. There is nothing that can equal the treasure of so many shared memories, so many bad times endured together, so many quarrels, reconciliations, heartfelt impulses. Friendships like that cannot be reconstructed. If you plant an oak, you will hope in vain to sit soon under its shade.
For such is life. We grow rich as we plant through the early years, but then come the years when time undoes our work and cuts down our trees. One by one our comrades deprive us of their shade, and within our mourning we always feel now the secret grief of growing old.
If I search among my memories for those whose taste is lasting, if I write the balance sheet of the moments that truly counted, I surely find those that no fortune could have bought me. You cannot buy the friendship of a companion bound to you forever by ordeals endured together. — Antoine De Saint-Exupery
The first line grabs me by the throat. "Therefore we do not lose heart." Somebody knows how not to lose heart? I'm all ears. For we are losing heart. All of us. Daily. It is the single most unifying quality shared by the human race on the planet at this time. We are losing - or we have already lost - heart. — John Eldredge
Life holds one great but quite commonplace mystery. Though shared by each of us and known to all, seldom rates a second thought. That mystery, which most of us take for granted and never think twice about, is time.
Calendars and clocks exist to measure time, but that signifies little because we all know that an hour can seem as eternity or pass in a flash, according to how we spend it.
Time is life itself, and life resides in the human heart. — Michael Ende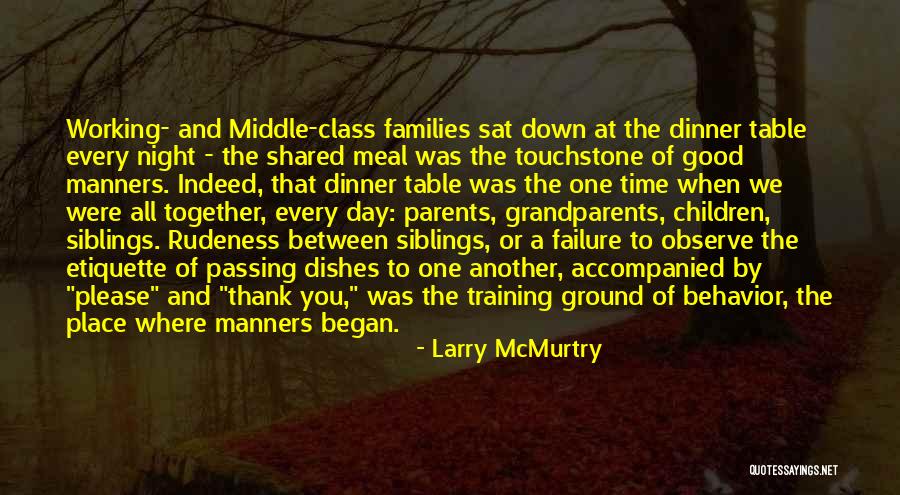 Working- and Middle-class families sat down at the dinner table every night - the shared meal was the touchstone of good manners. Indeed, that dinner table was the one time when we were all together, every day: parents, grandparents, children, siblings. Rudeness between siblings, or a failure to observe the etiquette of passing dishes to one another, accompanied by "please" and "thank you," was the training ground of behavior, the place where manners began. — Larry McMurtry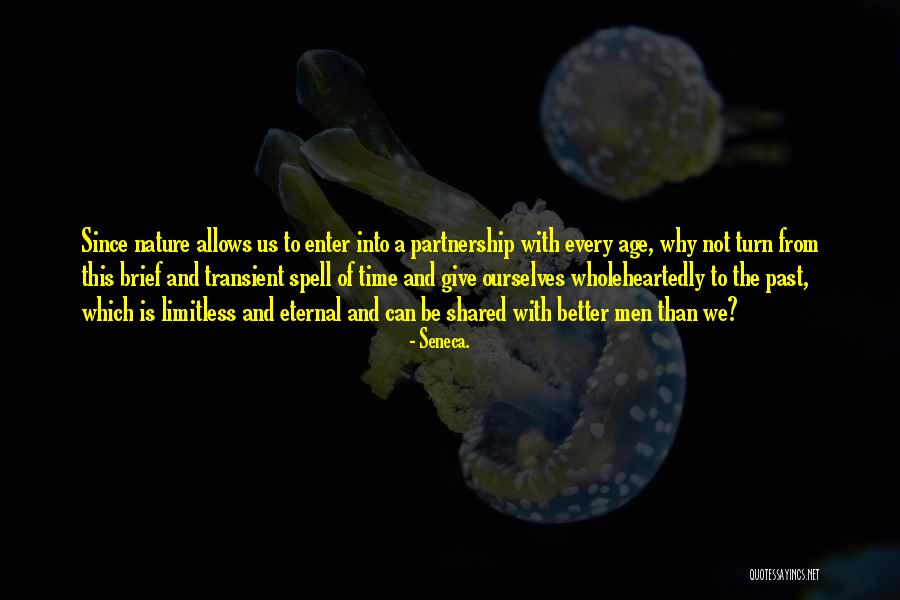 Since nature allows us to enter into a partnership with every age, why not turn from this brief and transient spell of time and give ourselves wholeheartedly to the past, which is limitless and eternal and can be shared with better men than we? — Seneca.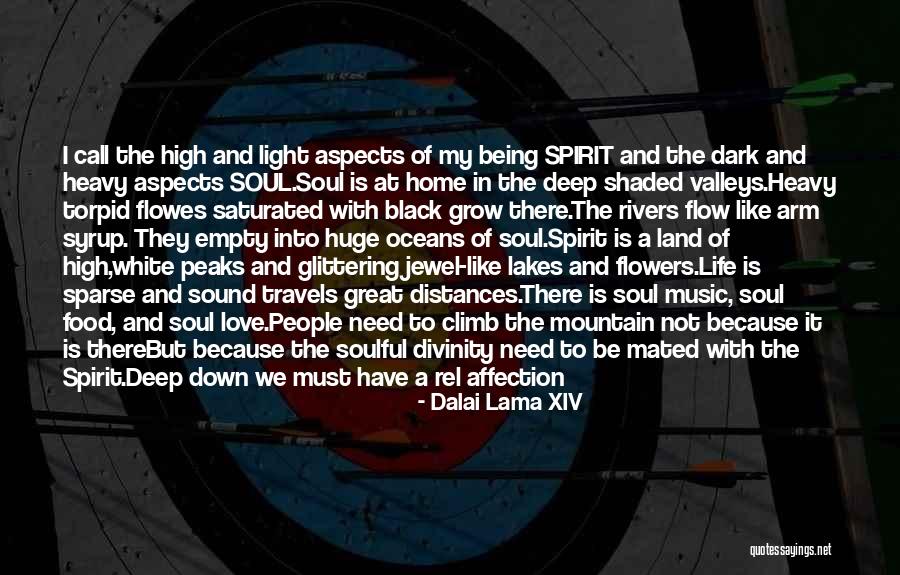 I call the high and light aspects of my being SPIRIT and the dark and heavy aspects SOUL.
Soul is at home in the deep shaded valleys.
Heavy torpid flowes saturated with black grow there.
The rivers flow like arm syrup. They empty into huge oceans of soul.
Spirit is a land of high,white peaks and glittering jewel-like lakes and flowers.
Life is sparse and sound travels great distances.
There is soul music, soul food, and soul love.
People need to climb the mountain not because it is there
But because the soulful divinity need to be mated with the Spirit.
Deep down we must have a rel affection for each other, a clear recognition of our shared human status. At the same time we must openly accept all ideologies and systems as means of solving humanity's problems. No matter how strong the wind of evil may blow, the flame of truth cannot be extinguished. — Dalai Lama XIV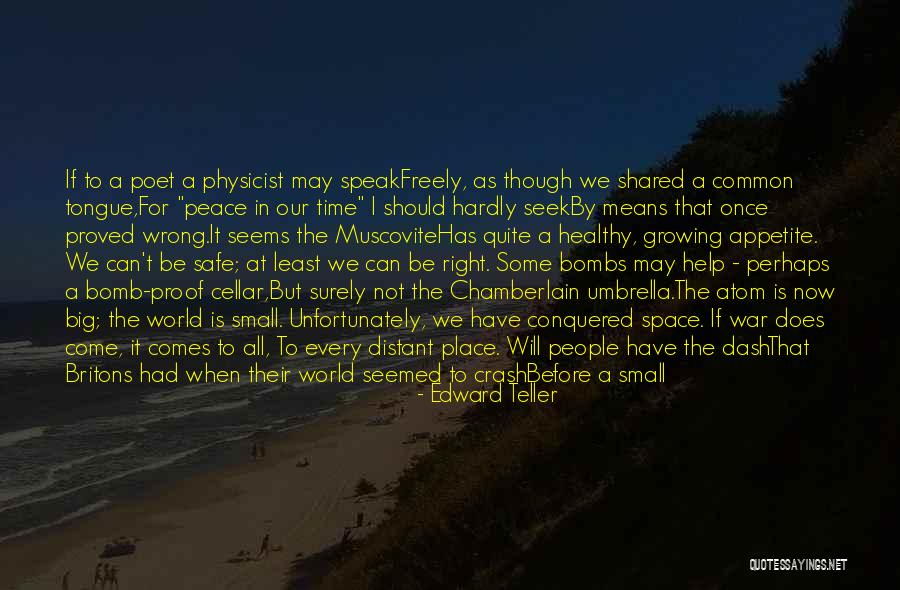 If to a poet a physicist may speak
Freely, as though we shared a common tongue,
For "peace in our time" I should hardly seek
By means that once proved wrong.
It seems the Muscovite
Has quite a healthy, growing appetite.
We can't be safe; at least we can be right.
Some bombs may help - perhaps a bomb-proof cellar,
But surely not the Chamberlain umbrella.
The atom is now big; the world is small.
Unfortunately, we have conquered space.
If war does come, it comes to all,
To every distant place.
Will people have the dash
That Britons had when their world seemed to crash
Before a small man with a small mustache?
You rhyme the atoms to amuse and charm us -
Your counsel should inspire, and not disarm us.

(Teller's reply to an anonymous British man's poem/message (that Americans are too belligerent), both in the Bulletin of Atomic Scientists). — Edward Teller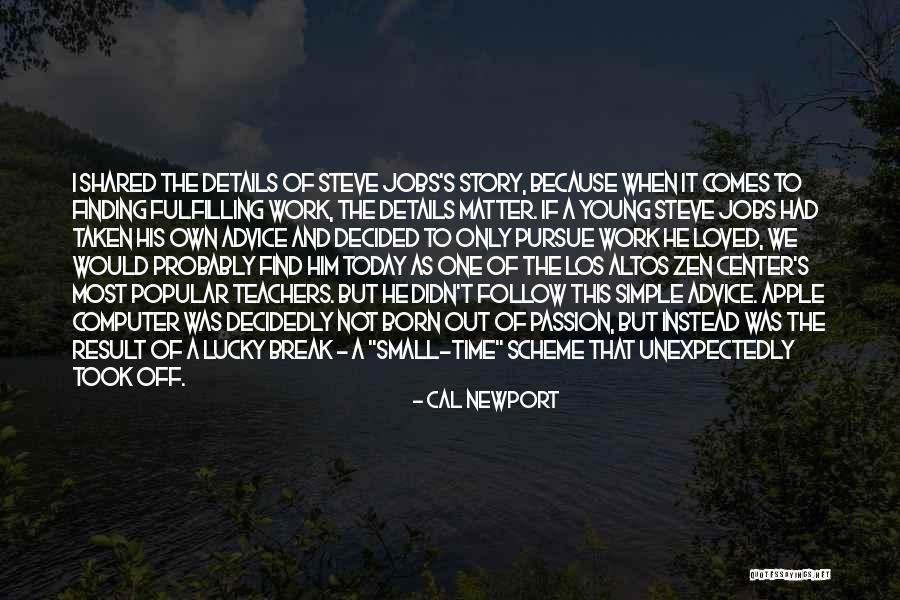 I shared the details of Steve Jobs's story, because when it comes to finding fulfilling work, the details matter. If a young Steve Jobs had taken his own advice and decided to only pursue work he loved, we would probably find him today as one of the Los Altos Zen Center's most popular teachers. But he didn't follow this simple advice. Apple Computer was decidedly not born out of passion, but instead was the result of a lucky break - a "small-time" scheme that unexpectedly took off. — Cal Newport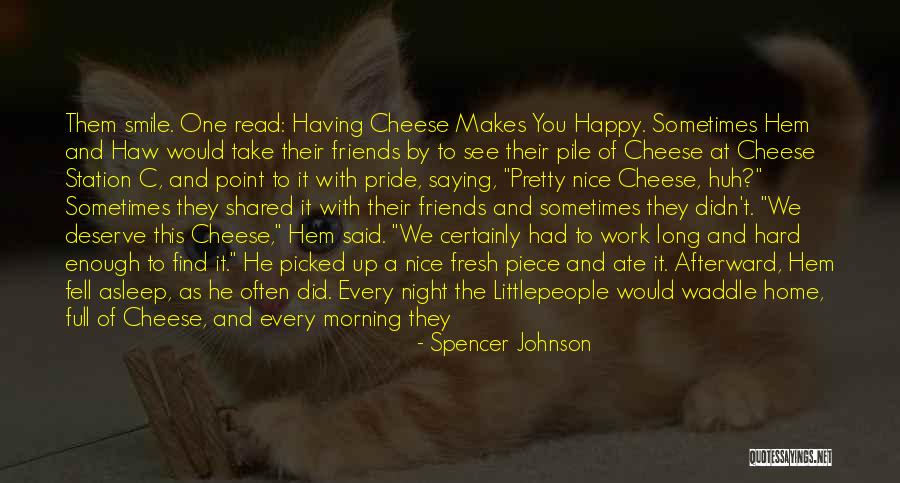 Them smile. One read: Having Cheese Makes You Happy. Sometimes Hem and Haw would take their friends by to see their pile of Cheese at Cheese Station C, and point to it with pride, saying, "Pretty nice Cheese, huh?" Sometimes they shared it with their friends and sometimes they didn't. "We deserve this Cheese," Hem said. "We certainly had to work long and hard enough to find it." He picked up a nice fresh piece and ate it. Afterward, Hem fell asleep, as he often did. Every night the Littlepeople would waddle home, full of Cheese, and every morning they would confidently return for more. This went on for quite some time. After a while Hem's and Haw's confidence grew into the arrogance of success. Soon they became so comfortable they didn't even notice what was happening. As — Spencer Johnson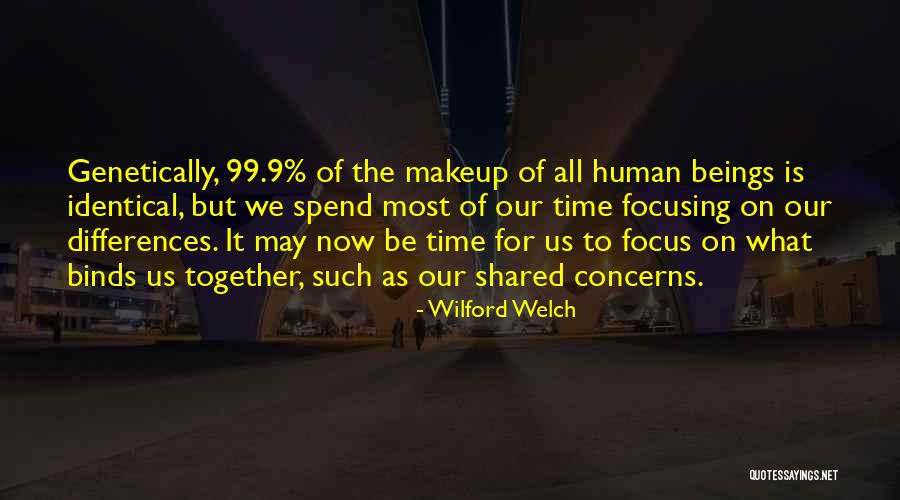 Genetically, 99.9% of the makeup of all human beings is identical, but we spend most of our time focusing on our differences. It may now be time for us to focus on what binds us together, such as our shared concerns. — Wilford Welch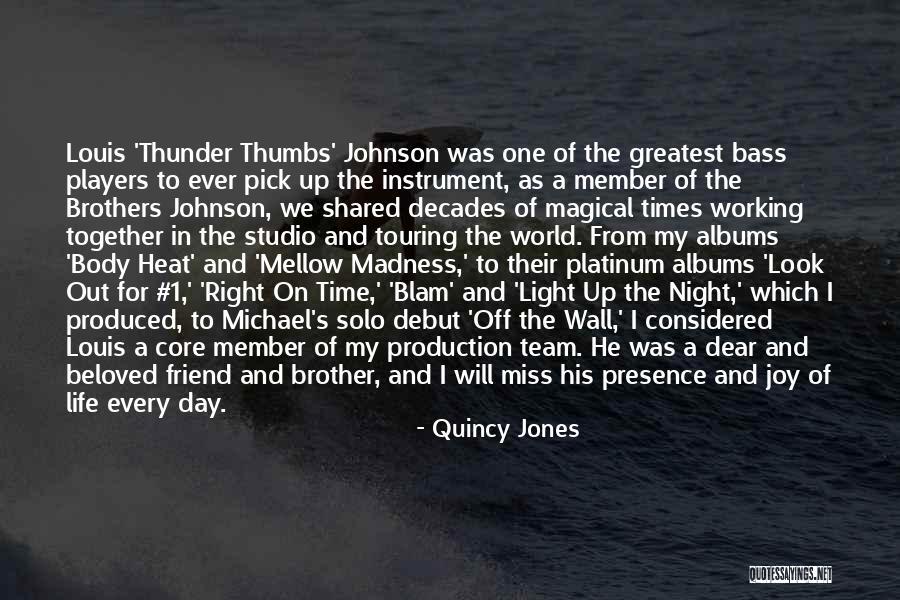 Louis 'Thunder Thumbs' Johnson was one of the greatest bass players to ever pick up the instrument, as a member of the Brothers Johnson, we shared decades of magical times working together in the studio and touring the world. From my albums 'Body Heat' and 'Mellow Madness,' to their platinum albums 'Look Out for #1,' 'Right On Time,' 'Blam' and 'Light Up the Night,' which I produced, to Michael's solo debut 'Off the Wall,' I considered Louis a core member of my production team. He was a dear and beloved friend and brother, and I will miss his presence and joy of life every day. — Quincy Jones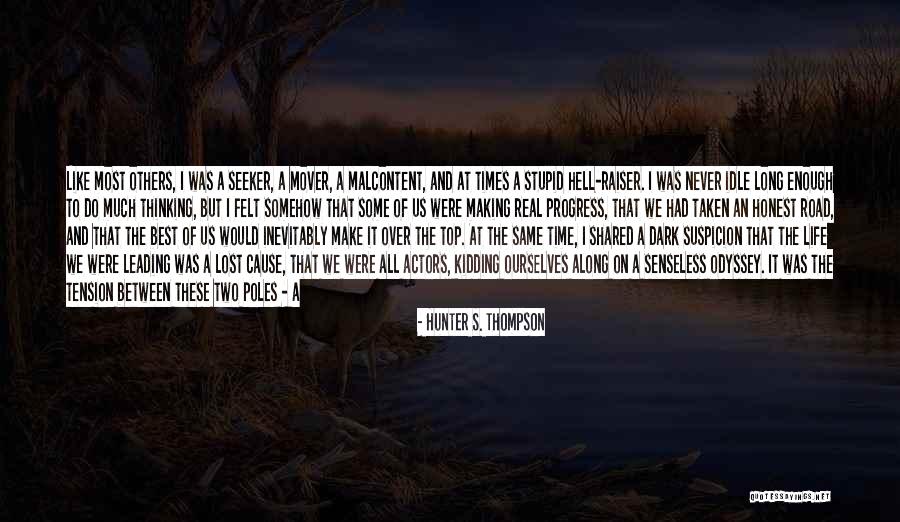 Like most others, I was a seeker, a mover, a malcontent, and at times a stupid hell-raiser. I was never idle long enough to do much thinking, but I felt somehow that some of us were making real progress, that we had taken an honest road, and that the best of us would inevitably make it over the top. At the same time, I shared a dark suspicion that the life we were leading was a lost cause, that we were all actors, kidding ourselves along on a senseless odyssey. It was the tension between these two poles - a restless idealism on one hand and a sense of impending doom on the other - that kept me going. — Hunter S. Thompson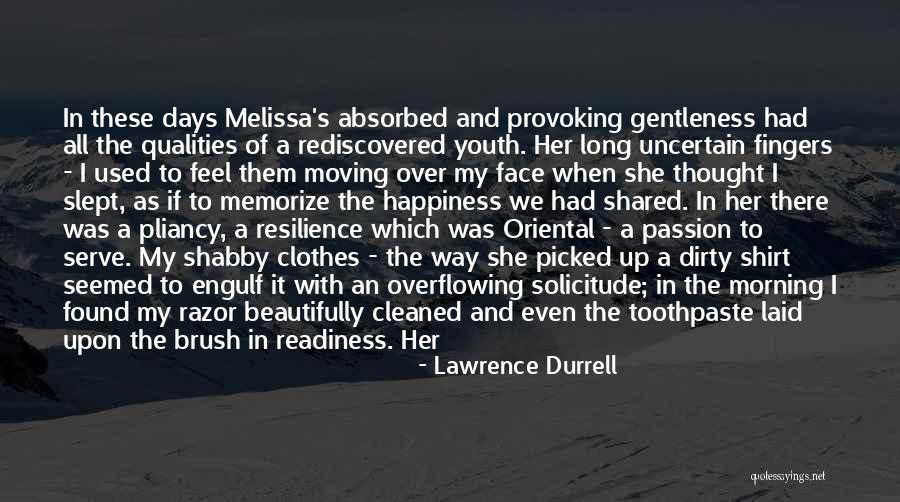 In these days Melissa's absorbed and provoking gentleness had all the qualities of a rediscovered youth. Her long uncertain fingers - I used to feel them moving over my face when she thought I slept, as if to memorize the happiness we had shared. In her there was a pliancy, a resilience which was Oriental - a passion to serve. My shabby clothes - the way she picked up a dirty shirt seemed to engulf it with an overflowing solicitude; in the morning I found my razor beautifully cleaned and even the toothpaste laid upon the brush in readiness. Her care for me was a goad, provoking me to give my life some sort of shape and style that might match the simplicity of hers. Of her experiences in love she would never speak, turning from them with a weariness and distaste which suggested that they had been born of necessity rather than desire. She paid me the comlpiment of saying: "For the first time I am not afraid to be light-headed or foolish with a man". — Lawrence Durrell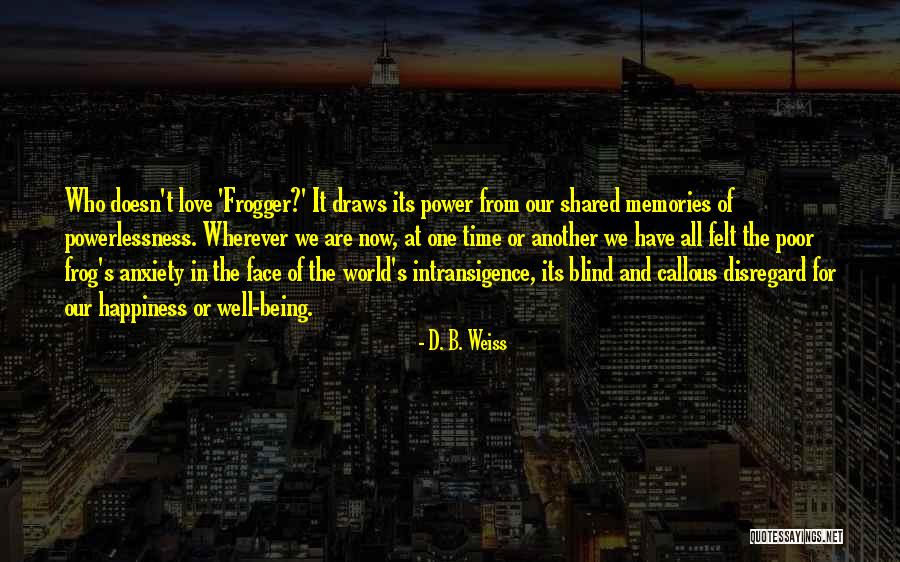 Who doesn't love 'Frogger?' It draws its power from our shared memories of powerlessness. Wherever we are now, at one time or another we have all felt the poor frog's anxiety in the face of the world's intransigence, its blind and callous disregard for our happiness or well-being. — D. B. Weiss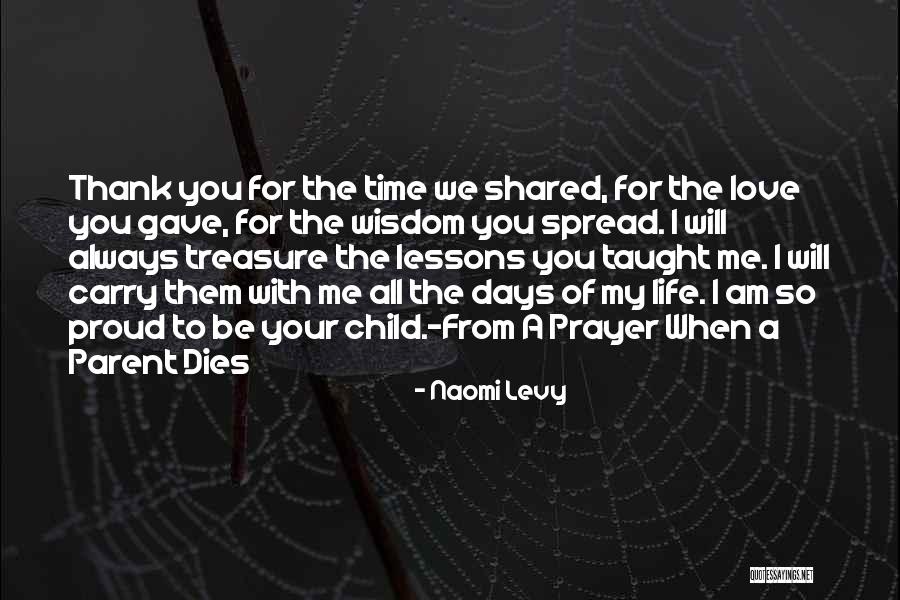 Thank you for the time we shared, for the love you gave, for the wisdom you spread. I will always treasure the lessons you taught me. I will carry them with me all the days of my life. I am so proud to be your child.
-From A Prayer When a Parent Dies — Naomi Levy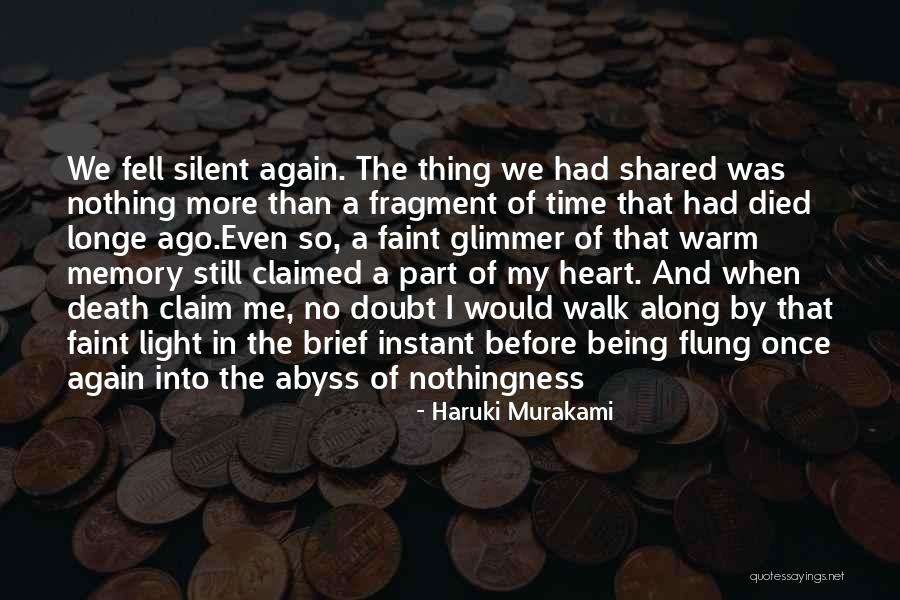 We fell silent again. The thing we had shared was nothing more than a fragment of time that had died longe ago.Even so, a faint glimmer of that warm memory still claimed a part of my heart. And when death claim me, no doubt I would walk along by that faint light in the brief instant before being flung once again into the abyss of nothingness — Haruki Murakami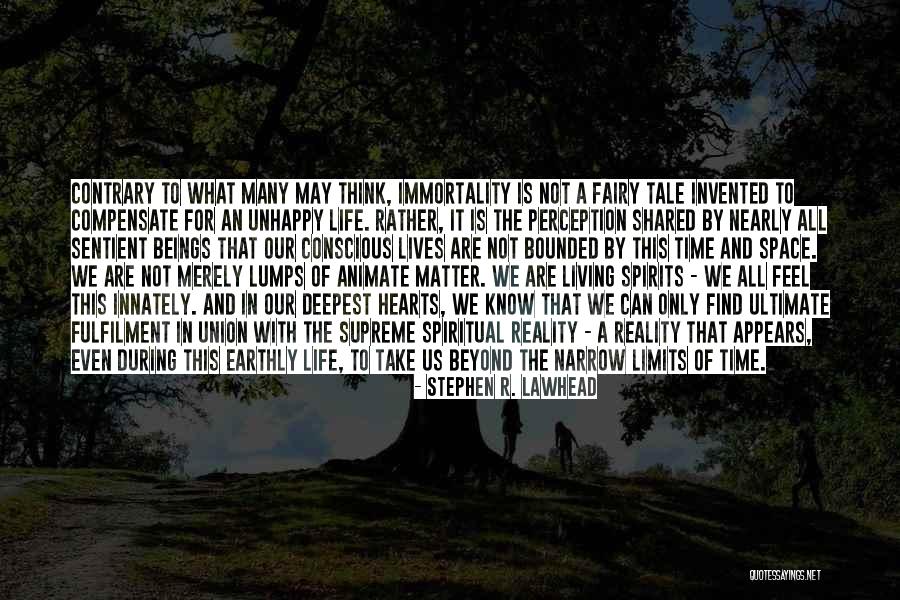 Contrary to what many may think, immortality is not a fairy tale invented to compensate for an unhappy life. Rather, it is the perception shared by nearly all sentient beings that our conscious lives are not bounded by this time and space. We are not merely lumps of animate matter. We are living spirits - we all feel this innately. And in our deepest hearts, we know that we can only find ultimate fulfilment in union with the supreme spiritual reality - a reality that appears, even during this earthly life, to take us beyond the narrow limits of time. — Stephen R. Lawhead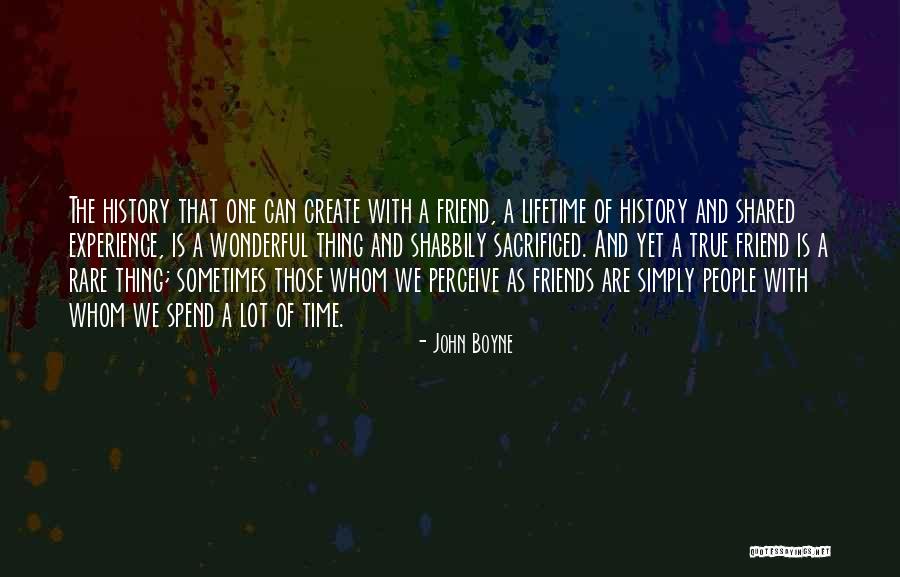 The history that one can create with a friend, a lifetime of history and shared experience, is a wonderful thing and shabbily sacrificed. And yet a true friend is a rare thing; sometimes those whom we perceive as friends are simply people with whom we spend a lot of time. — John Boyne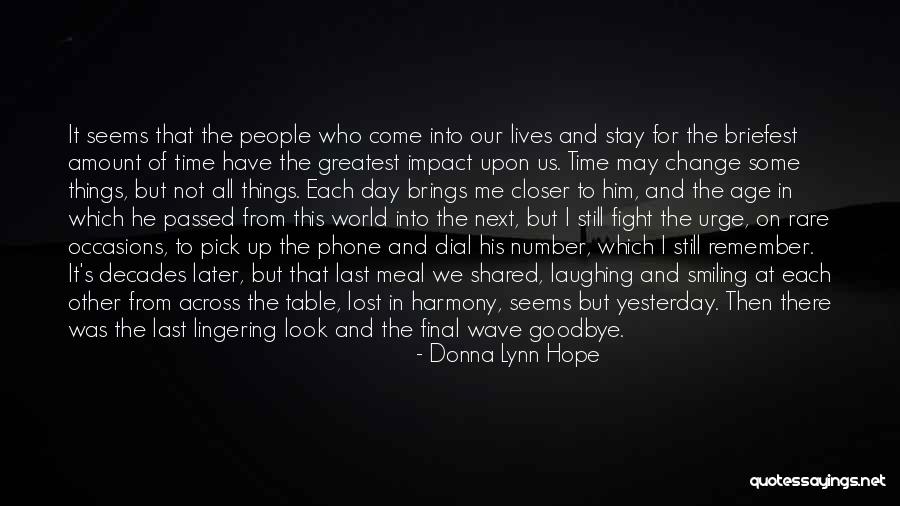 It seems that the people who come into our lives and stay for the briefest amount of time have the greatest impact upon us. Time may change some things, but not all things. Each day brings me closer to him, and the age in which he passed from this world into the next, but I still fight the urge, on rare occasions, to pick up the phone and dial his number, which I still remember. It's decades later, but that last meal we shared, laughing and smiling at each other from across the table, lost in harmony, seems but yesterday. Then there was the last lingering look and the final wave goodbye. — Donna Lynn Hope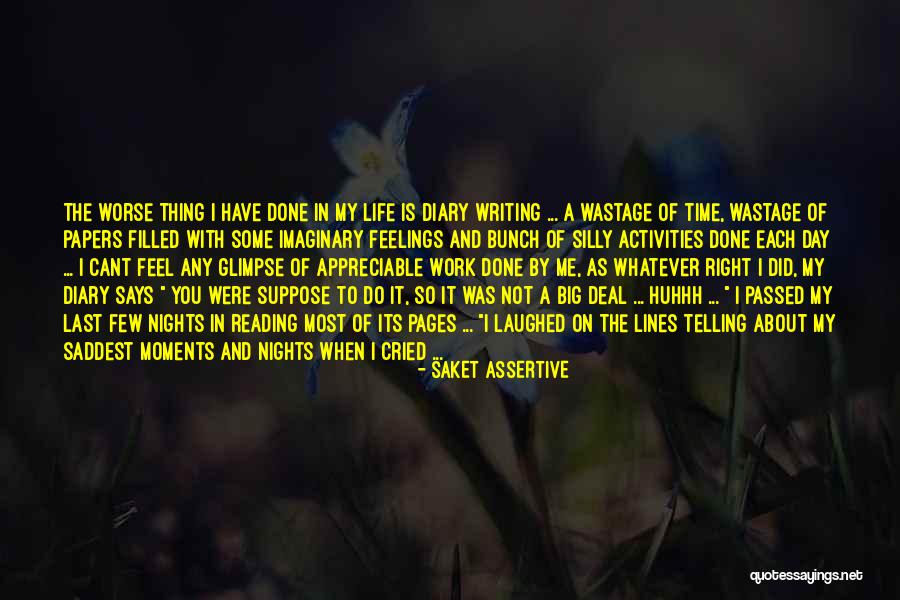 The worse thing I have done in my life is Diary writing ... a wastage of time, wastage of papers filled with some imaginary feelings and bunch of silly activities done each day ... I cant feel any glimpse of appreciable work done by me, as whatever right I did, my Diary says " you were suppose to do it, so it was not a big deal ... huhhh ... "
I passed my last few nights in reading most of its pages ... "I laughed on the lines telling about my saddest moments and nights when I cried ... .. but I felt woeful and downhearted on the lines telling about the moments when I shared my smile with someone, when I enjoyed the moments with my friends and near and dear ones, who r far and far now, and we can't get those moments back in this busy selfish life"
So now its better in busy life to live evry day and forget it in night ... enjoy life ... save papers ... no diary writing from today ... Sorry Diary, You will Miss Me ... — Saket Assertive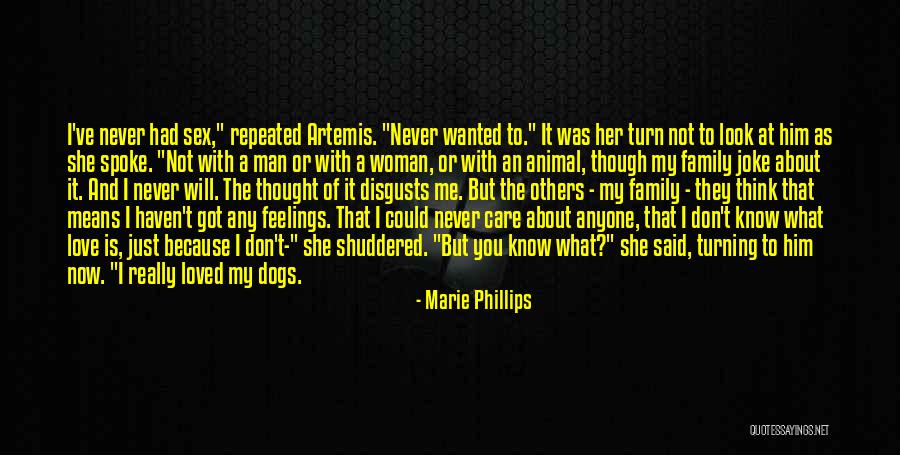 I've never had sex," repeated Artemis. "Never wanted to." It was her turn not to look at him as she spoke. "Not with a man or with a woman, or with an animal, though my family joke about it. And I never will. The thought of it disgusts me. But the others - my family - they think that means I haven't got any feelings. That I could never care about anyone, that I don't know what love is, just because I don't-" she shuddered. "But you know what?" she said, turning to him now. "I really loved my dogs. Everyone laughs at me for it, but it's true. The time I spent with them, running, hunting, those were the happiest times of my life. They understood me. They were animals but they understood me far better than anyone in my family ever will. We shared something, we were the same. And they made me kill them. — Marie Phillips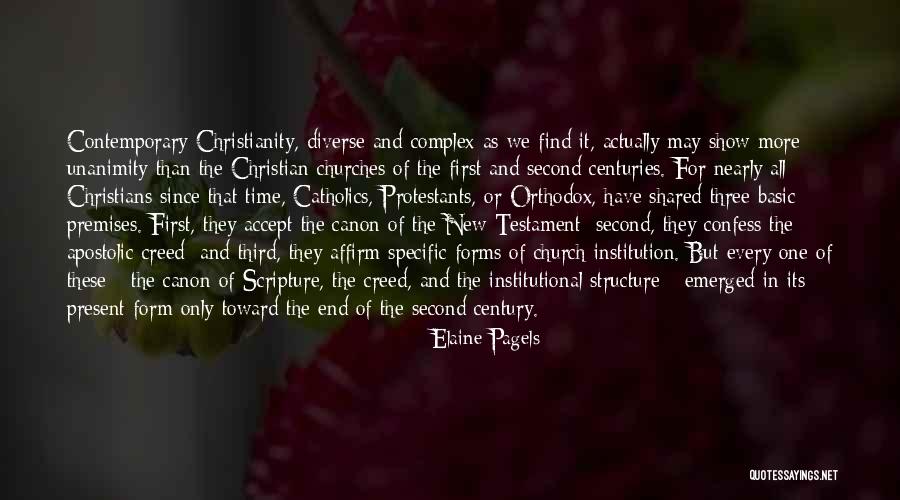 Contemporary Christianity, diverse and complex as we find it, actually may show more unanimity than the Christian churches of the first and second centuries. For nearly all Christians since that time, Catholics, Protestants, or Orthodox, have shared three basic premises. First, they accept the canon of the New Testament; second, they confess the apostolic creed; and third, they affirm specific forms of church institution. But every one of these - the canon of Scripture, the creed, and the institutional structure - emerged in its present form only toward the end of the second century. — Elaine Pagels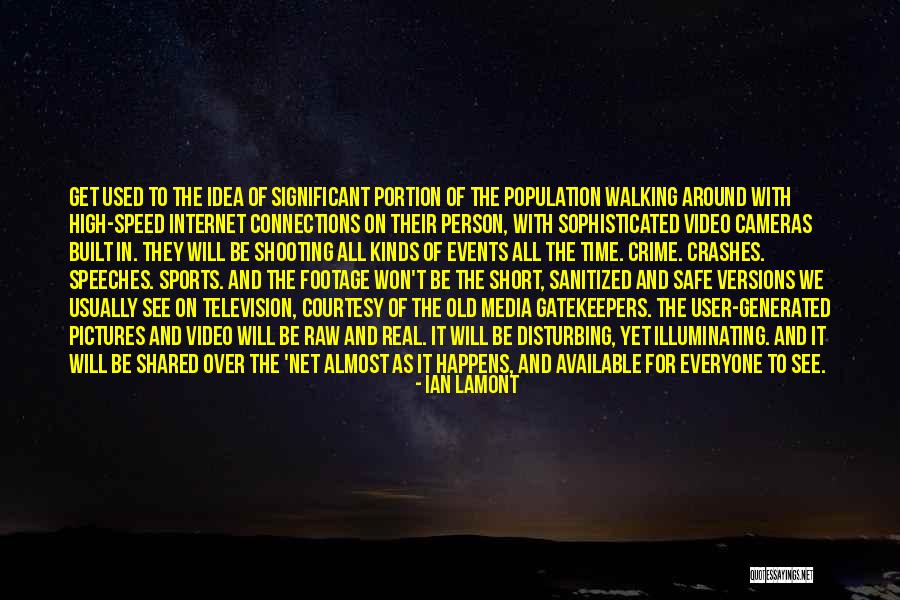 Get used to the idea of significant portion of the population walking around with high-speed Internet connections on their person, with sophisticated video cameras built in. They will be shooting all kinds of events all the time. Crime. Crashes. Speeches. Sports. And the footage won't be the short, sanitized and safe versions we usually see on television, courtesy of the old media gatekeepers. The user-generated pictures and video will be raw and real. It will be disturbing, yet illuminating. And it will be shared over the 'Net almost as it happens, and available for everyone to see. — Ian Lamont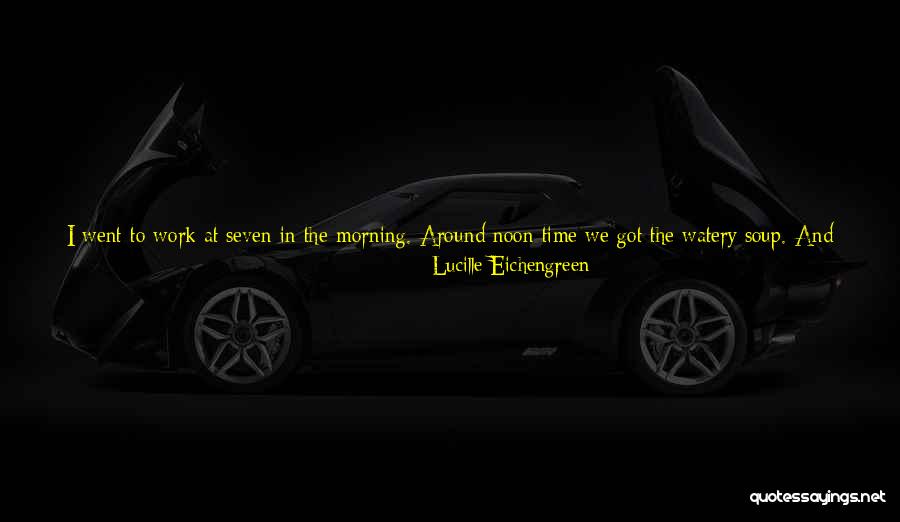 I went to work at seven in the morning. Around noon time we got the watery soup. And we worked until seven or eight or nine at night, sometimes later. And then I walked back home - there was no public transportation - into that shared room. And if there was food we would prepare an evening meal depending on what was available. And then probably go to bed because it was cold most the time. And then start the day all over again, six or seven days a week. — Lucille Eichengreen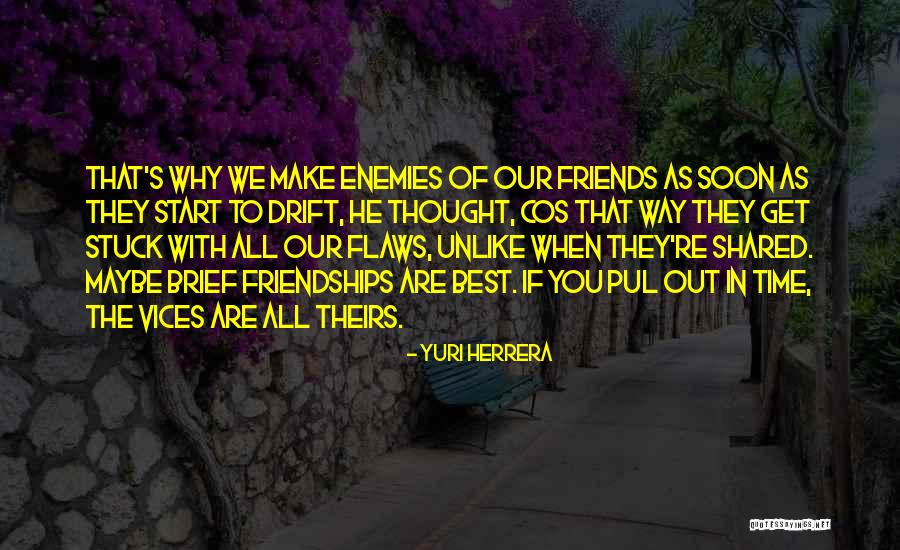 That's why we make enemies of our friends as soon as they start to drift, he thought, cos that way they get stuck with all our flaws, unlike when they're shared. Maybe brief friendships are best. If you pul out in time, the vices are all theirs. — Yuri Herrera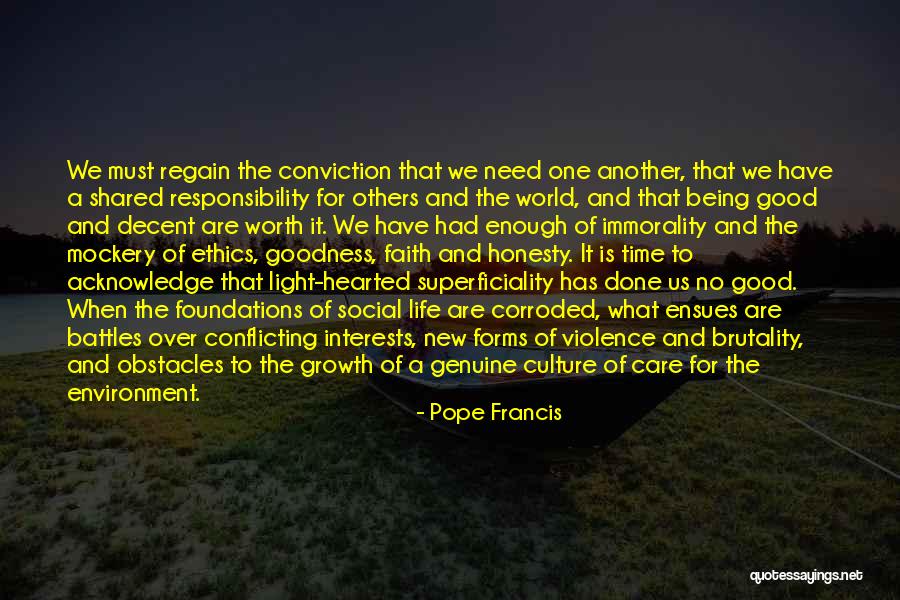 We must regain the conviction that we need one another, that we have a shared responsibility for others and the world, and that being good and decent are worth it. We have had enough of immorality and the mockery of ethics, goodness, faith and honesty. It is time to acknowledge that light-hearted superficiality has done us no good. When the foundations of social life are corroded, what ensues are battles over conflicting interests, new forms of violence and brutality, and obstacles to the growth of a genuine culture of care for the environment. — Pope Francis
Far be it from me to slow down two badass supermodels on a mission, but we have a problem," a male voice said wryly.
I could see Christian out of the corner of my eye as we turned, his stance and movements almost synchronized to my own. We shared a look, our expressions almost identically similar, wit arched brows and half-smiles.
"What's the problem?" I called out, scanning the faces to see who had spoken.
"You're a badass supermodel," Christian muttered under his breath at the same time, taking the mature approach, as usual. — Rebecca K. Lilley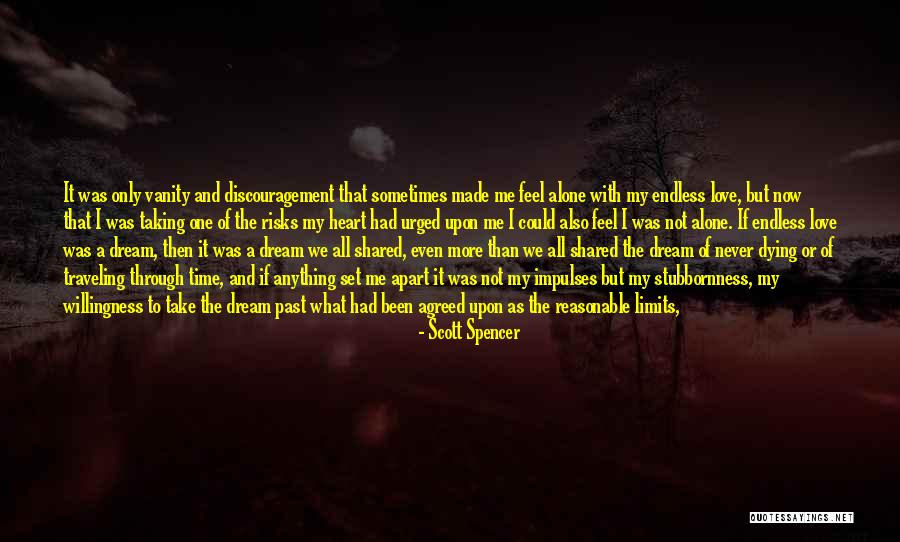 It was only vanity and discouragement that sometimes made me feel alone with my endless love, but now that I was taking one of the risks my heart had urged upon me I could also feel I was not alone. If endless love was a dream, then it was a dream we all shared, even more than we all shared the dream of never dying or of traveling through time, and if anything set me apart it was not my impulses but my stubbornness, my willingness to take the dream past what had been agreed upon as the reasonable limits, to declare that this dream was not a feverish trick of the mind but was an actuality at least as real as that other, thinner, more unhappy illusion we call normal life. After all, the intimations of endless love were the same now as they were thousands of years before, while normal life had changed a thousand times and in a thousand different ways. Which then, was more real? — Scott Spencer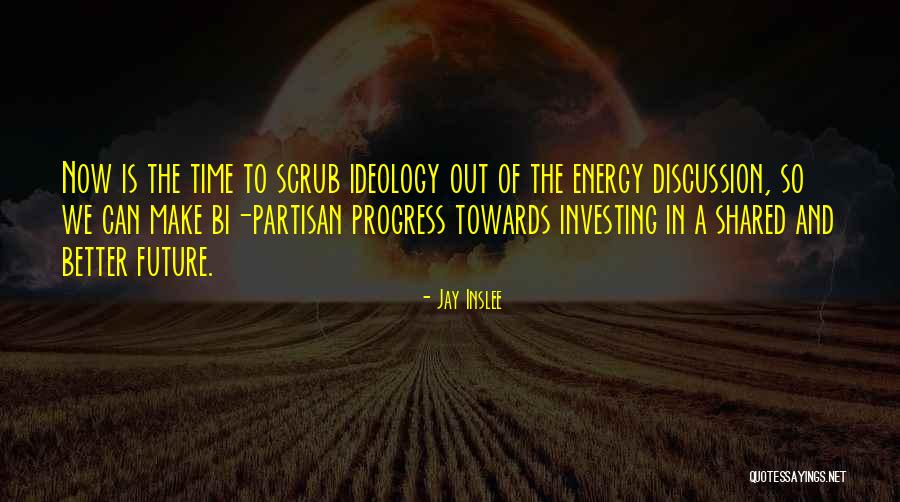 Now is the time to scrub ideology out of the energy discussion, so we can make bi-partisan progress towards investing in a shared and better future. — Jay Inslee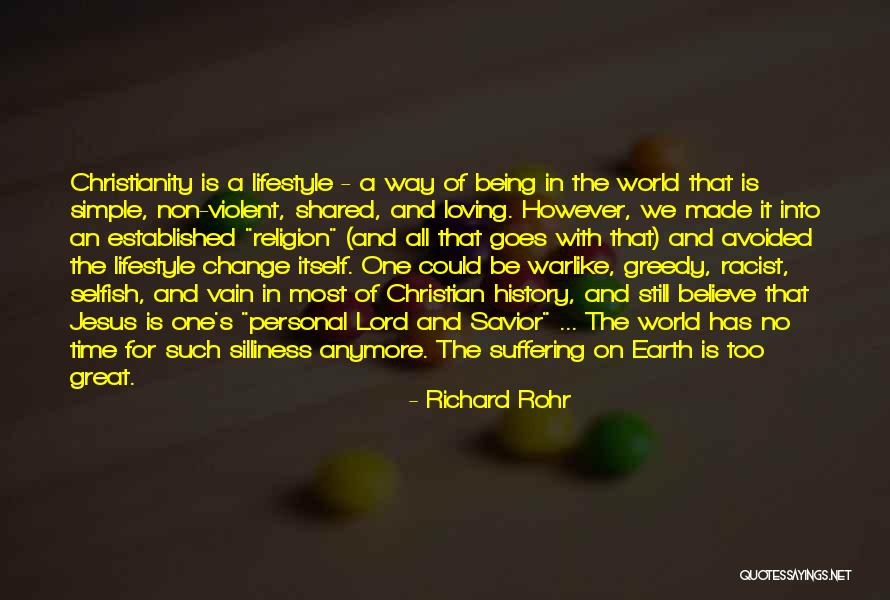 Christianity is a lifestyle - a way of being in the world that is simple, non-violent, shared, and loving. However, we made it into an established "religion" (and all that goes with that) and avoided the lifestyle change itself. One could be warlike, greedy, racist, selfish, and vain in most of Christian history, and still believe that Jesus is one's "personal Lord and Savior" ... The world has no time for such silliness anymore. The suffering on Earth is too great. — Richard Rohr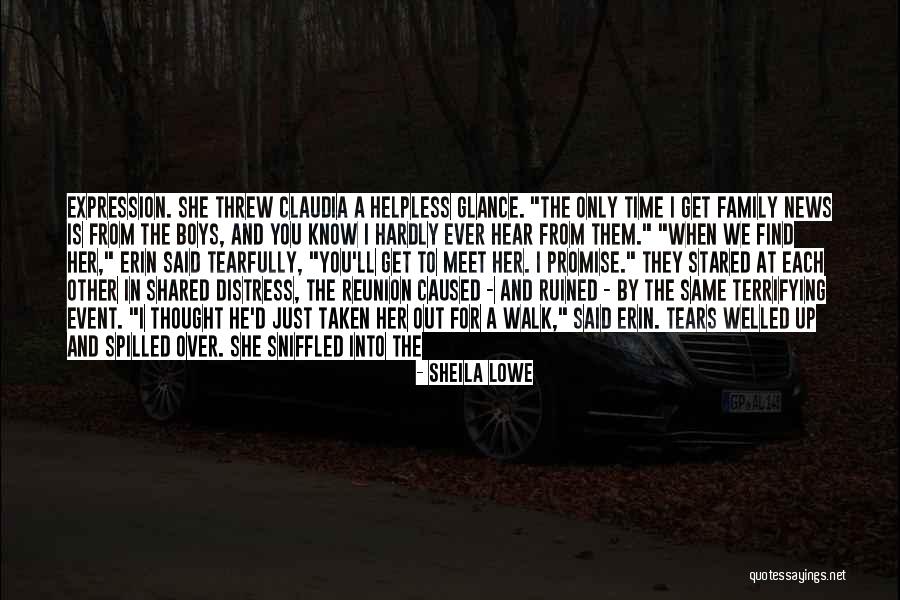 expression. She threw Claudia a helpless glance. "The only time I get family news is from the boys, and you know I hardly ever hear from them." "When we find her," Erin said tearfully, "You'll get to meet her. I promise." They stared at each other in shared distress, the reunion caused - and ruined - by the same terrifying event. "I thought he'd just taken her out for a walk," said Erin. Tears welled up and spilled over. She sniffled into the — Sheila Lowe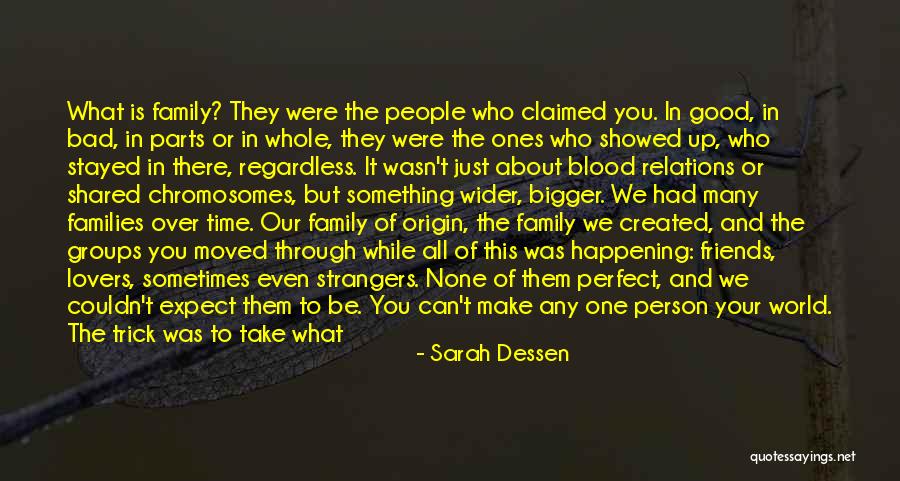 What is family? They were the people who claimed you. In good, in bad, in parts or in whole, they were the ones who showed up, who stayed in there, regardless. It wasn't just about blood relations or shared chromosomes, but something wider, bigger. We had many families over time. Our family of origin, the family we created, and the groups you moved through while all of this was happening: friends, lovers, sometimes even strangers. None of them perfect, and we couldn't expect them to be. You can't make any one person your world. The trick was to take what each could give you and build your world from it. — Sarah Dessen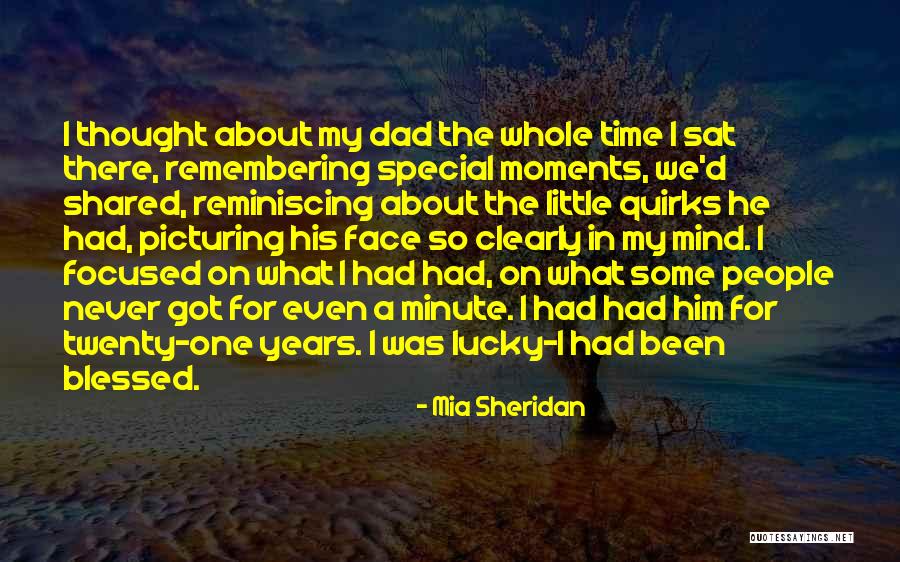 I thought about my dad the whole time I sat there, remembering special moments, we'd shared, reminiscing about the little quirks he had, picturing his face so clearly in my mind. I focused on what I had had, on what some people never got for even a minute. I had had him for twenty-one years. I was lucky-I had been blessed. — Mia Sheridan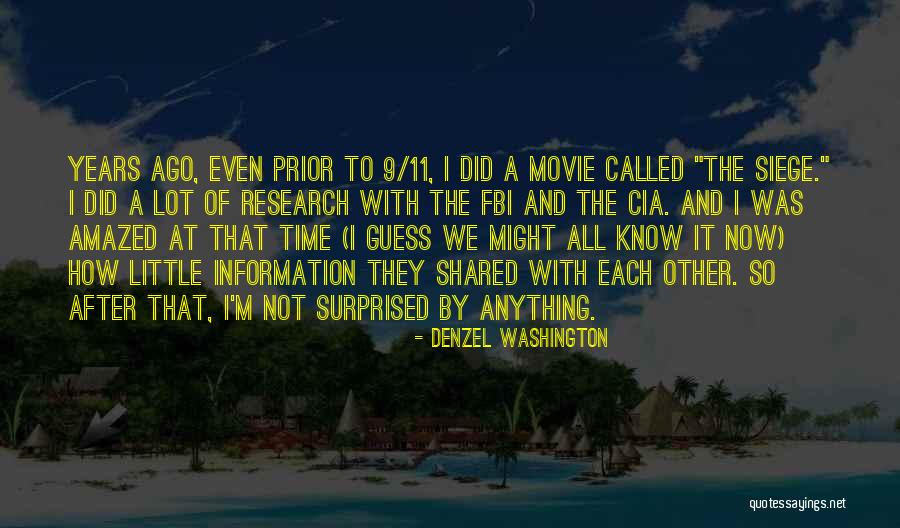 Years ago, even prior to 9/11, I did a movie called "The Siege." I did a lot of research with the FBI and the CIA. And I was amazed at that time (I guess we might all know it now) how little information they shared with each other. So after that, I'm not surprised by anything. — Denzel Washington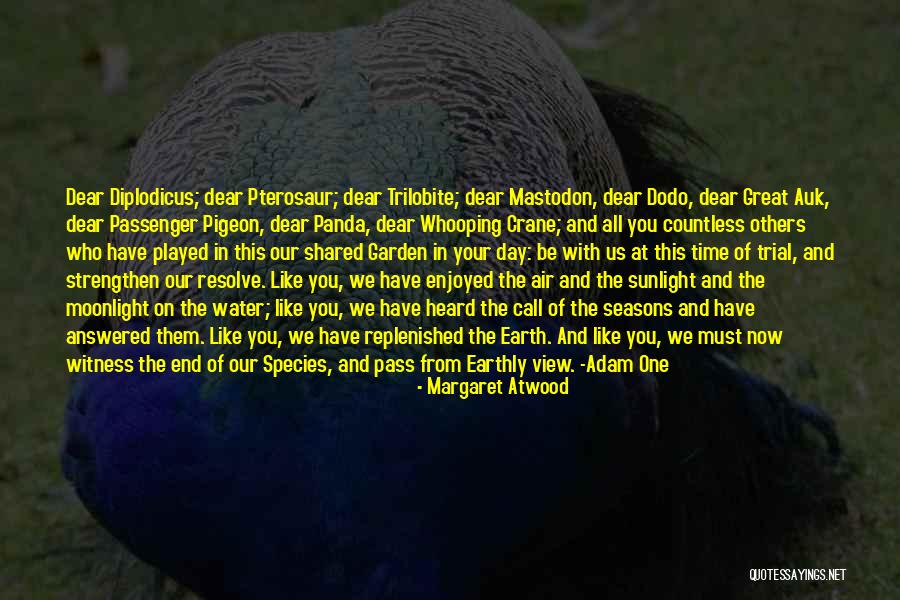 Dear Diplodicus; dear Pterosaur; dear Trilobite; dear Mastodon, dear Dodo, dear Great Auk, dear Passenger Pigeon, dear Panda, dear Whooping Crane; and all you countless others who have played in this our shared Garden in your day: be with us at this time of trial, and strengthen our resolve. Like you, we have enjoyed the air and the sunlight and the moonlight on the water; like you, we have heard the call of the seasons and have answered them. Like you, we have replenished the Earth. And like you, we must now witness the end of our Species, and pass from Earthly view. -Adam One — Margaret Atwood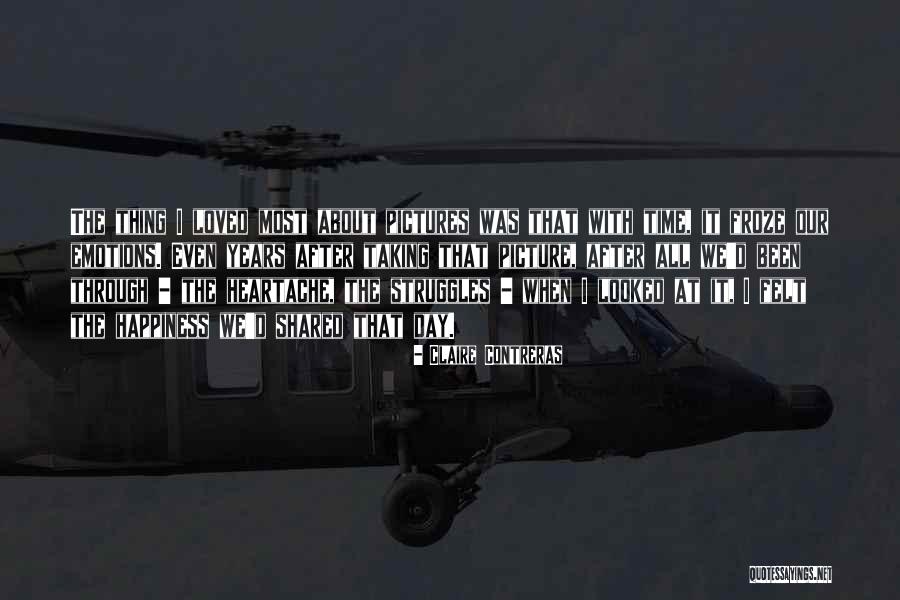 The thing I loved most about pictures was that with time, it froze our emotions. Even years after taking that picture, after all we'd been through - the heartache, the struggles - when I looked at it, I felt the happiness we'd shared that day. — Claire Contreras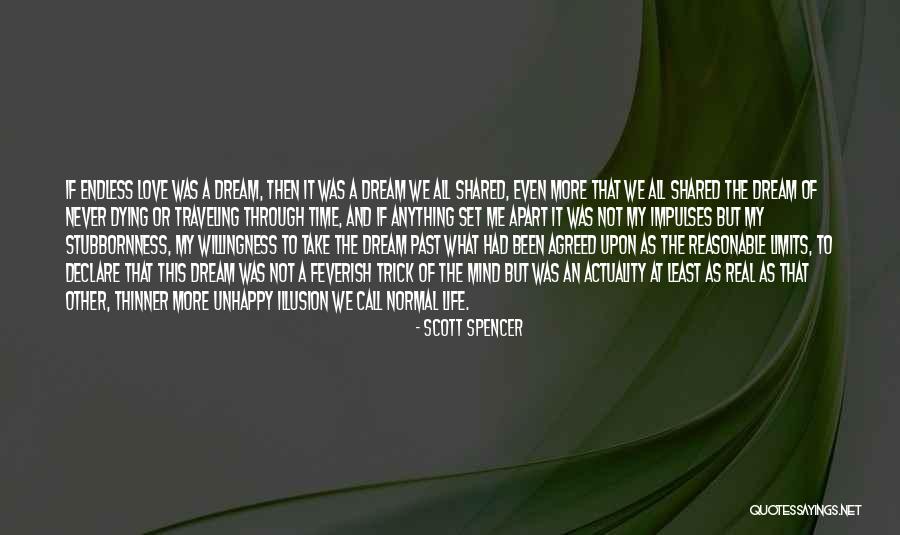 If endless love was a dream, then it was a dream we all shared, even more that we all shared the dream of never dying or traveling through time, and if anything set me apart it was not my impulses but my stubbornness, my willingness to take the dream past what had been agreed upon as the reasonable limits, to declare that this dream was not a feverish trick of the mind but was an actuality at least as real as that other, thinner more unhappy illusion we call normal life. — Scott Spencer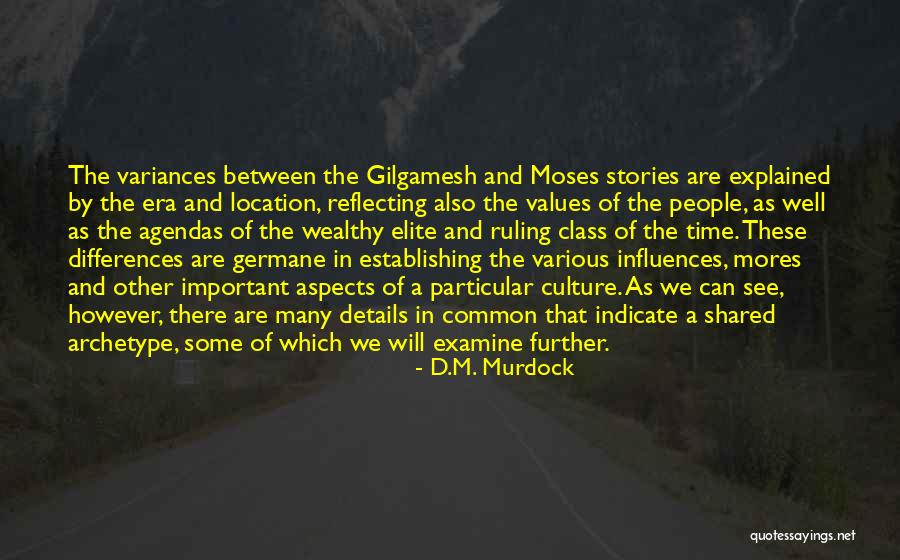 The variances between the Gilgamesh and Moses stories are explained by the era and location, reflecting also the values of the people, as well as the agendas of the wealthy elite and ruling class of the time. These differences are germane in establishing the various influences, mores and other important aspects of a particular culture. As we can see, however, there are many details in common that indicate a shared archetype, some of which we will examine further. — D.M. Murdock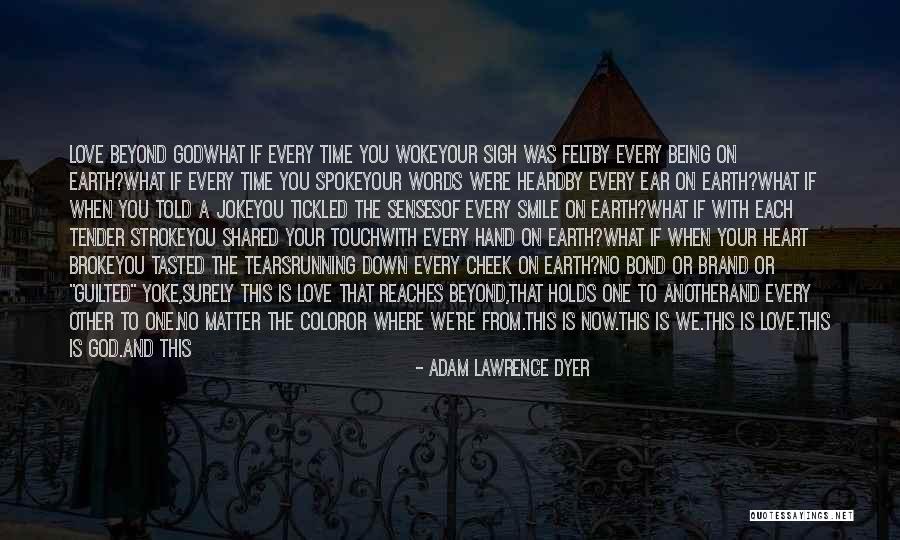 Love Beyond God

What if every time you woke
Your sigh was felt
By every being on Earth?

What if every time you spoke
Your words were heard
By every ear on Earth?

What if when you told a joke
You tickled the senses
Of every smile on Earth?

What if with each tender stroke
You shared your touch
With every hand on Earth?

What if when your heart broke
You tasted the tears
Running down every cheek on Earth?

No bond or brand or "guilted" yoke,
Surely this is love that reaches beyond,
That holds one to another
And every other to one.
No matter the color
Or where we're from.
This is now.
This is we.
This is Love.
This is God.
And this is love beyond God. — Adam Lawrence Dyer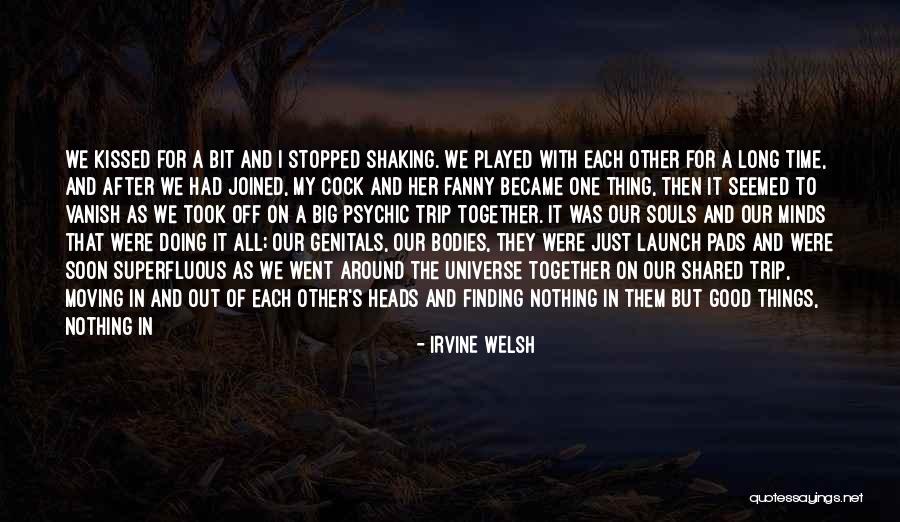 We kissed for a bit and I stopped shaking. We played with each other for a long time, and after we had joined, my cock and her fanny became one thing, then it seemed to vanish as we took off on a big psychic trip together. It was our souls and our minds that were doing it all; our genitals, our bodies, they were just launch pads and were soon superfluous as we went around the universe together on our shared trip, moving in and out of each other's heads and finding nothing in them but good things, nothing in them but love. The intensity increased until it became almost unbearable and we exploded together in an orgasmic crash-landing onto the shipwreck of a bed, from a long way out in some form of space. We held each other tightly, drenched in sweat and shaking with emotion — Irvine Welsh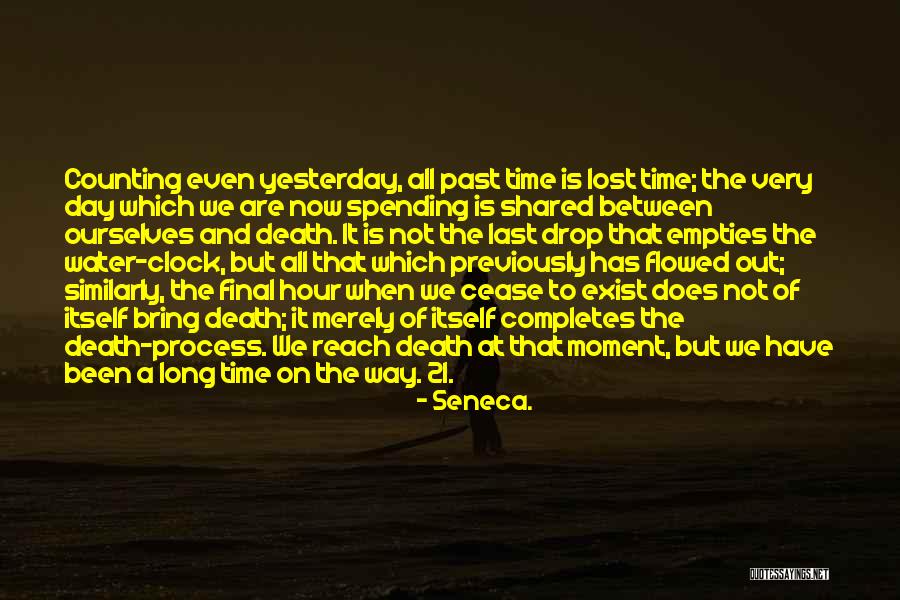 Counting even yesterday, all past time is lost time; the very day which we are now spending is shared between ourselves and death. It is not the last drop that empties the water-clock, but all that which previously has flowed out; similarly, the final hour when we cease to exist does not of itself bring death; it merely of itself completes the death-process. We reach death at that moment, but we have been a long time on the way. 21. — Seneca.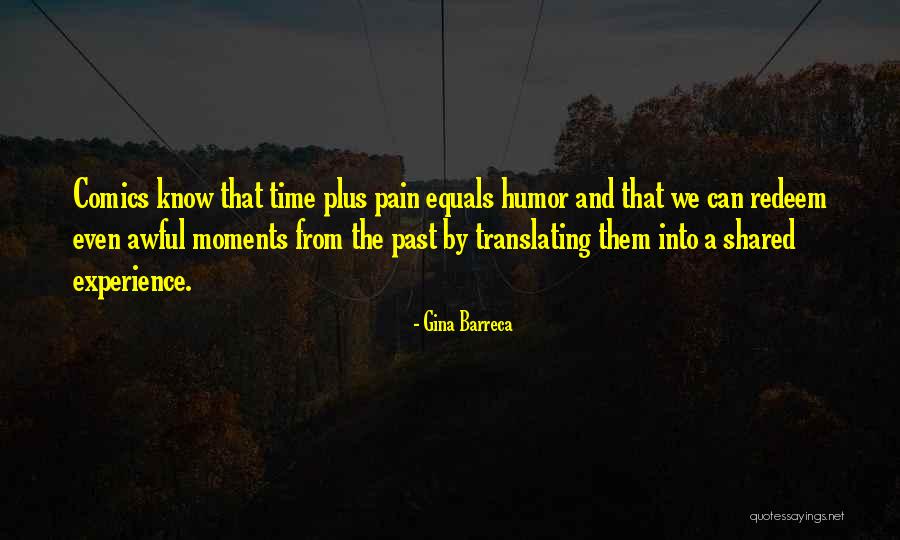 Comics know that time plus pain equals humor and that we can redeem even awful moments from the past by translating them into a shared experience. — Gina Barreca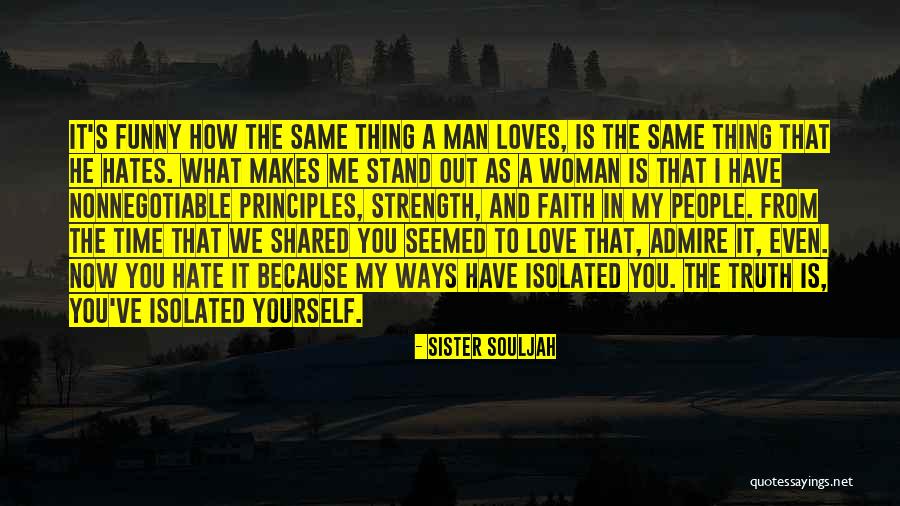 It's funny how the same thing a man loves, is the same thing that he hates. What makes me stand out as a woman is that I have nonnegotiable principles, strength, and faith in my people. From the time that we shared you seemed to love that, admire it, even. Now you hate it because my ways have isolated you. The truth is, you've isolated yourself. — Sister Souljah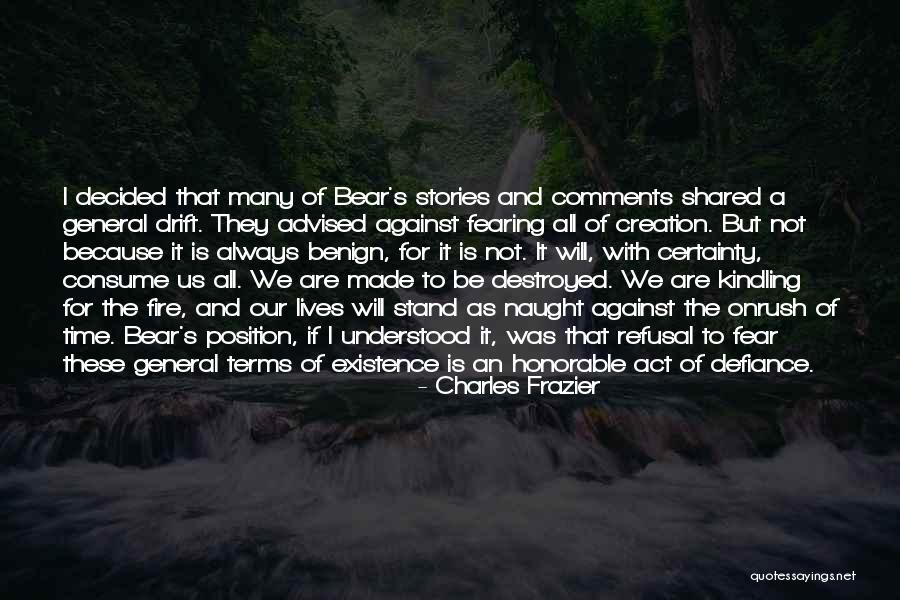 I decided that many of Bear's stories and comments shared a general drift. They advised against fearing all of creation. But not because it is always benign, for it is not. It will, with certainty, consume us all. We are made to be destroyed. We are kindling for the fire, and our lives will stand as naught against the onrush of time. Bear's position, if I understood it, was that refusal to fear these general terms of existence is an honorable act of defiance. — Charles Frazier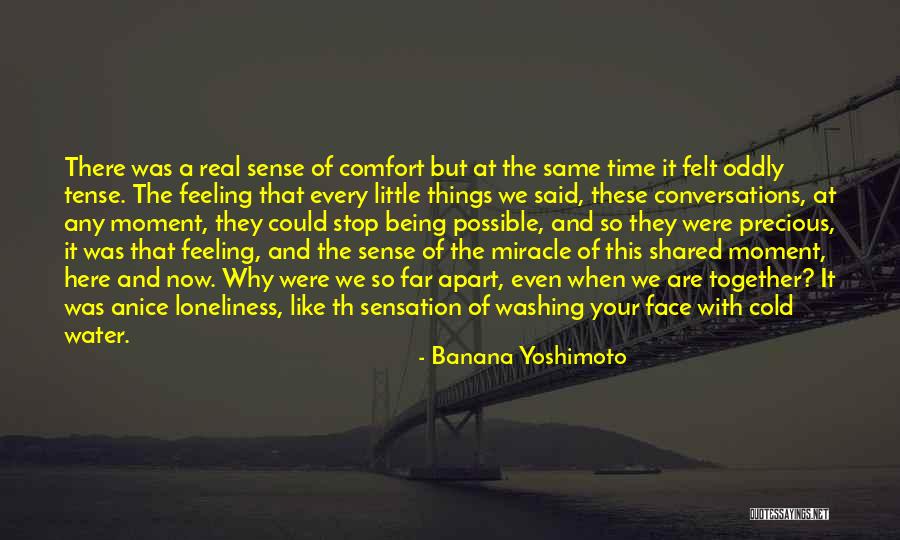 There was a real sense of comfort but at the same time it felt oddly tense. The feeling that every little things we said, these conversations, at any moment, they could stop being possible, and so they were precious, it was that feeling, and the sense of the miracle of this shared moment, here and now. Why were we so far apart, even when we are together? It was anice loneliness, like th sensation of washing your face with cold water. — Banana Yoshimoto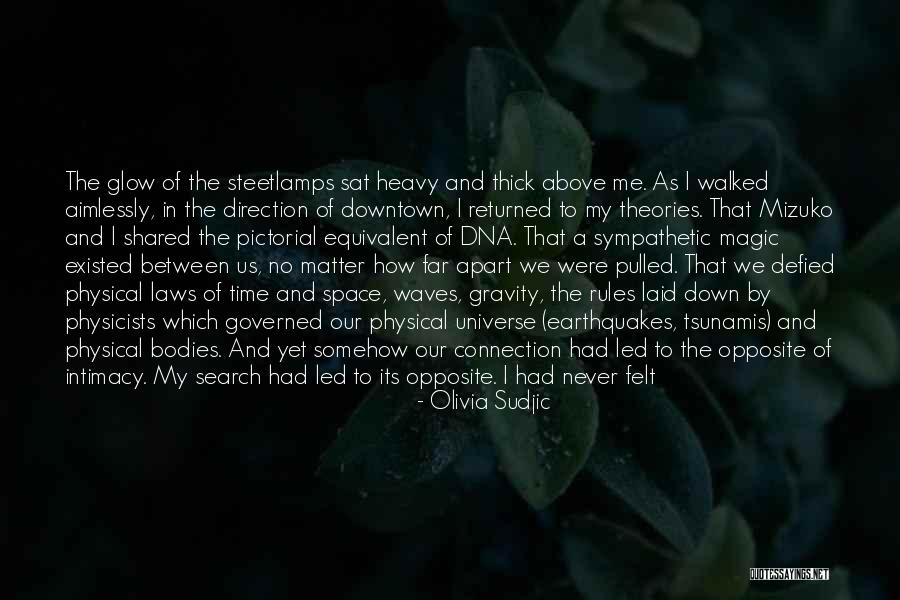 The glow of the steetlamps sat heavy and thick above me. As I walked aimlessly, in the direction of downtown, I returned to my theories. That Mizuko and I shared the pictorial equivalent of DNA. That a sympathetic magic existed between us, no matter how far apart we were pulled. That we defied physical laws of time and space, waves, gravity, the rules laid down by physicists which governed our physical universe (earthquakes, tsunamis) and physical bodies. And yet somehow our connection had led to the opposite of intimacy. My search had led to its opposite. I had never felt so isolated and disconnected, even from myself. — Olivia Sudjic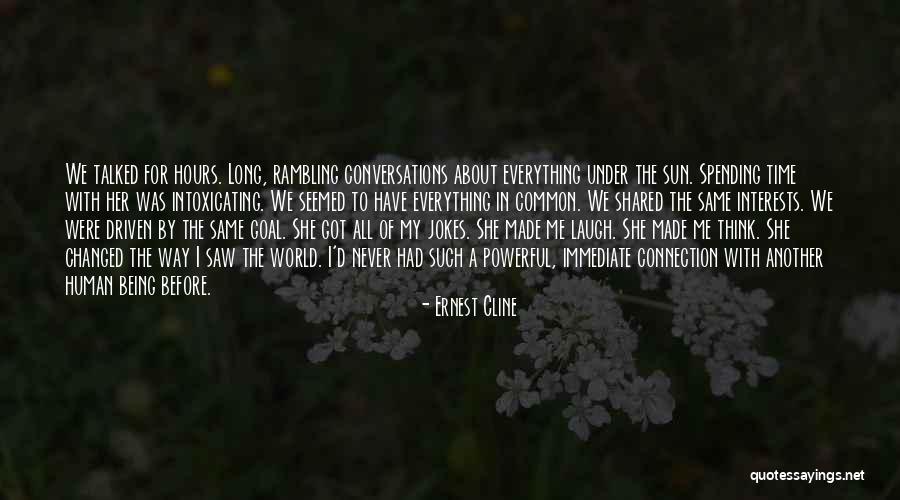 We talked for hours. Long, rambling conversations about everything under the sun. Spending time with her was intoxicating. We seemed to have everything in common. We shared the same interests. We were driven by the same goal. She got all of my jokes. She made me laugh. She made me think. She changed the way I saw the world. I'd never had such a powerful, immediate connection with another human being before. — Ernest Cline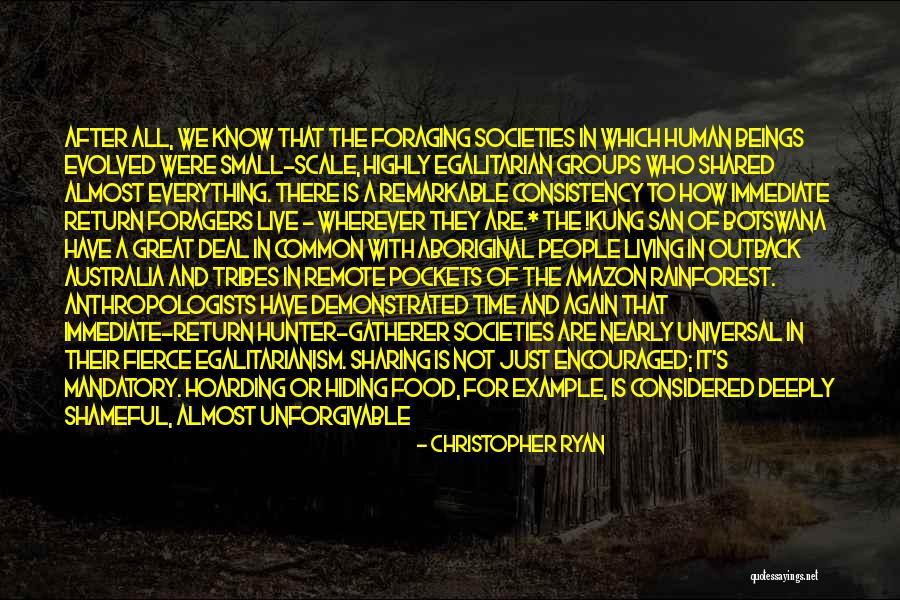 After all, we know that the foraging societies in which human beings evolved were small-scale, highly egalitarian groups who shared almost everything. There is a remarkable consistency to how immediate return foragers live - wherever they are.* The !Kung San of Botswana have a great deal in common with Aboriginal people living in outback Australia and tribes in remote pockets of the Amazon rainforest. Anthropologists have demonstrated time and again that immediate-return hunter-gatherer societies are nearly universal in their fierce egalitarianism. Sharing is not just encouraged; it's mandatory. Hoarding or hiding food, for example, is considered deeply shameful, almost unforgivable behavior in these societies. — Christopher Ryan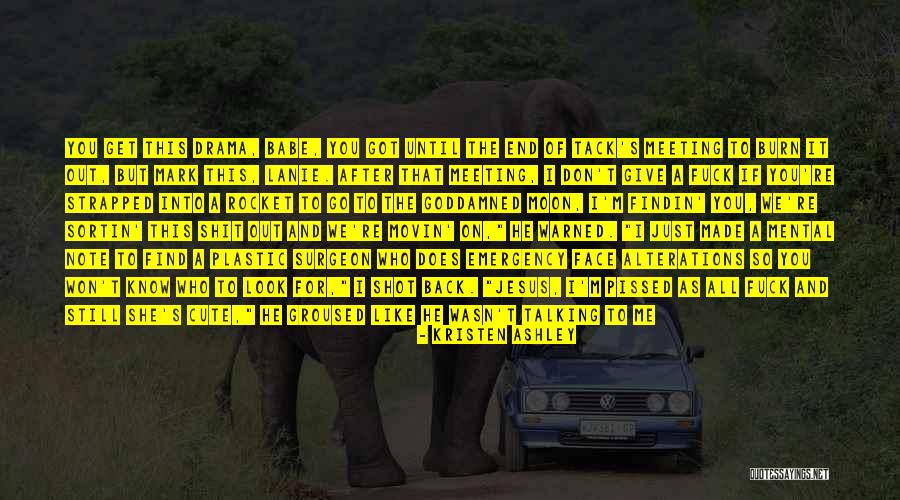 You get this drama, babe, you got until the end of Tack's meeting to burn it out, but mark this, Lanie. After that meeting, I don't give a fuck if you're strapped into a rocket to go to the goddamned moon, I'm findin' you, we're sortin' this shit out and we're movin' on," he warned. "I just made a mental note to find a plastic surgeon who does emergency face alterations so you won't know who to look for," I shot back. "Jesus, I'm pissed as all fuck and still she's cute," he groused like he wasn't talking to me but actually complaining to the Son of God. "Jesus works on Sunday, Hop. You want a direct line, time to haul your biker ass to church," I shared. "You want me to let you go so you can burn this out, you better stop bein' cute, lady. You keep bein' cute, I'll kiss you in the goddamn forecourt and I won't give a fuck who sees." I snapped my mouth shut. "That's what I thought," he — Kristen Ashley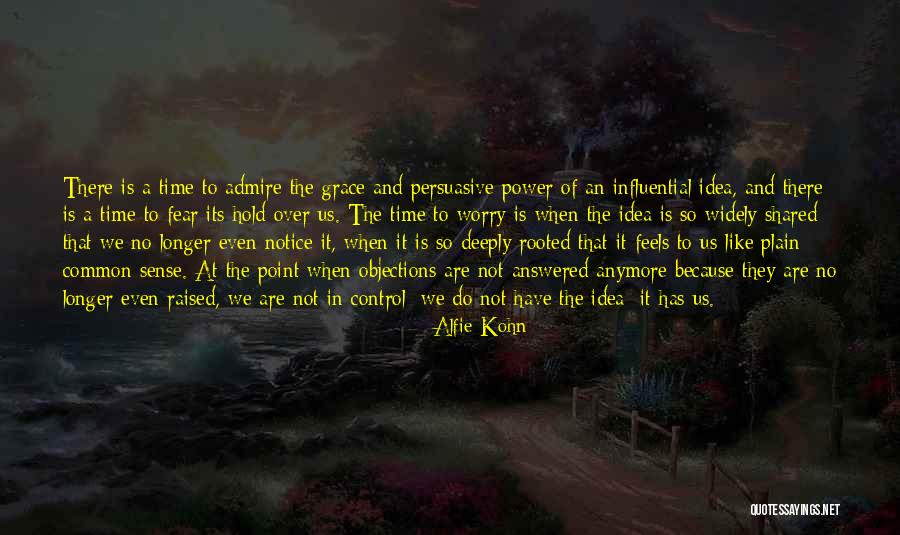 There is a time to admire the grace and persuasive power of an influential idea, and there is a time to fear its hold over us. The time to worry is when the idea is so widely shared that we no longer even notice it, when it is so deeply rooted that it feels to us like plain common sense. At the point when objections are not answered anymore because they are no longer even raised, we are not in control: we do not have the idea; it has us. — Alfie Kohn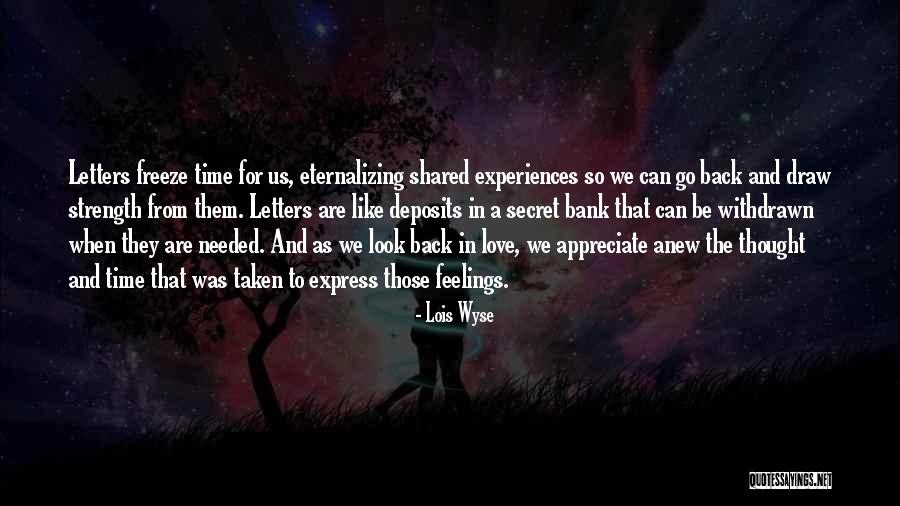 Letters freeze time for us, eternalizing shared experiences so we can go back and draw strength from them. Letters are like deposits in a secret bank that can be withdrawn when they are needed. And as we look back in love, we appreciate anew the thought and time that was taken to express those feelings. — Lois Wyse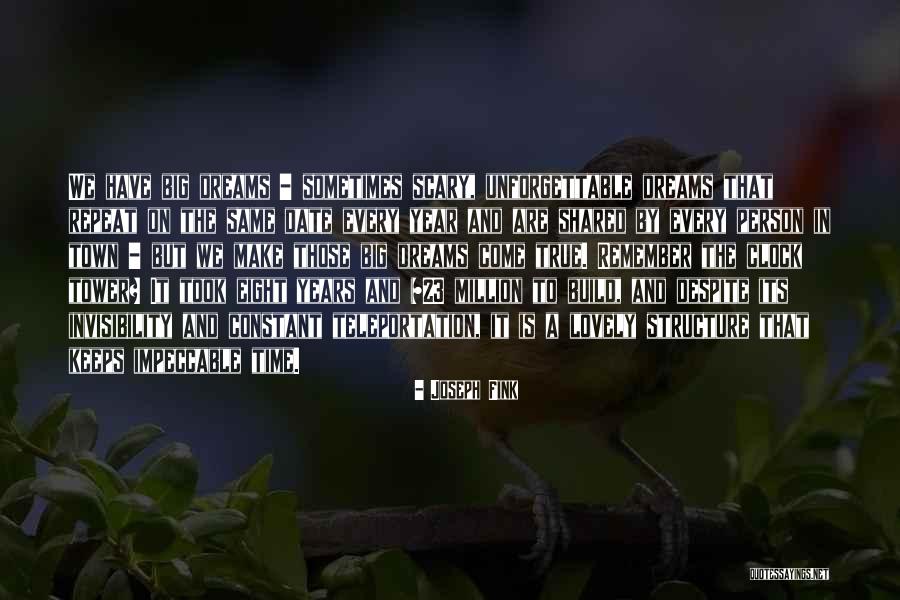 We have big dreams - sometimes scary, unforgettable dreams that repeat on the same date every year and are shared by every person in town - but we make those big dreams come true. Remember the clock tower? It took eight years and $23 million to build, and despite its invisibility and constant teleportation, it is a lovely structure that keeps impeccable time. — Joseph Fink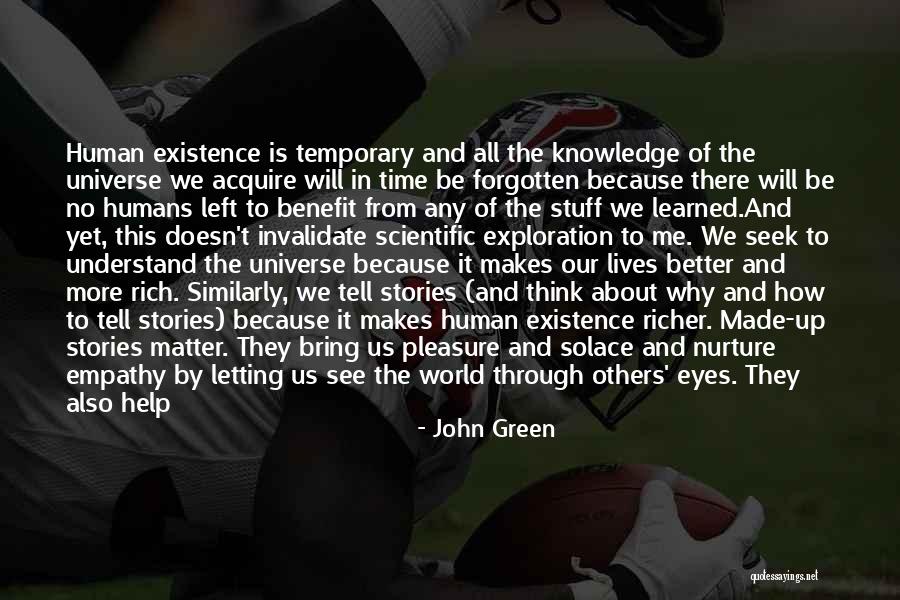 Human existence is temporary and all the knowledge of the universe we acquire will in time be forgotten because there will be no humans left to benefit from any of the stuff we learned.
And yet, this doesn't invalidate scientific exploration to me. We seek to understand the universe because it makes our lives better and more rich. Similarly, we tell stories (and think about why and how to tell stories) because it makes human existence richer. Made-up stories matter. They bring us pleasure and solace and nurture empathy by letting us see the world through others' eyes. They also help us to feel unalone, to understand that our grief and joy is shared not just by those around us but by all those who came before us and all those still yet to come. — John Green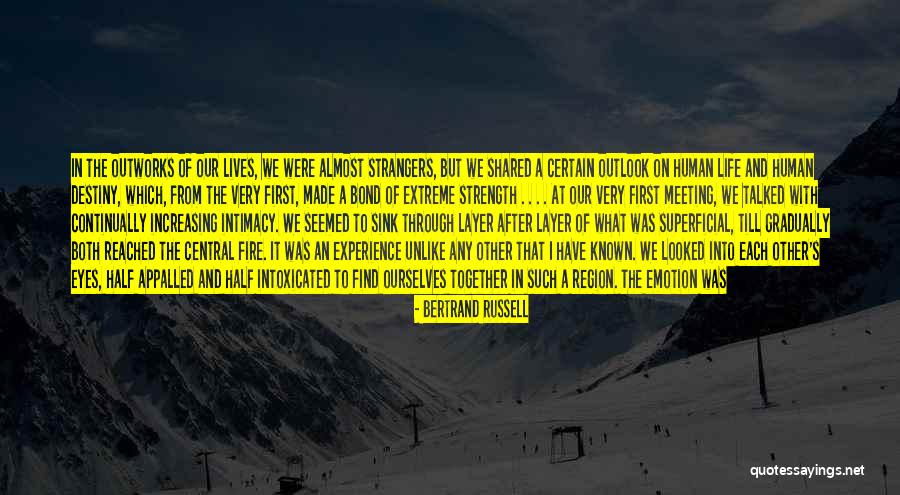 In the outworks of our lives, we were almost strangers, but we shared a certain outlook on human life and human destiny, which, from the very first, made a bond of extreme strength . . . . At our very first meeting, we talked with continually increasing intimacy. We seemed to sink through layer after layer of what was superficial, till gradually both reached the central fire. It was an experience unlike any other that I have known. We looked into each other's eyes, half appalled and half intoxicated to find ourselves together in such a region. The emotion was as intense as passionate love, and at the same time all-embracing. I came away bewildered, and hardly able to find my way among ordinary affairs. — Bertrand Russell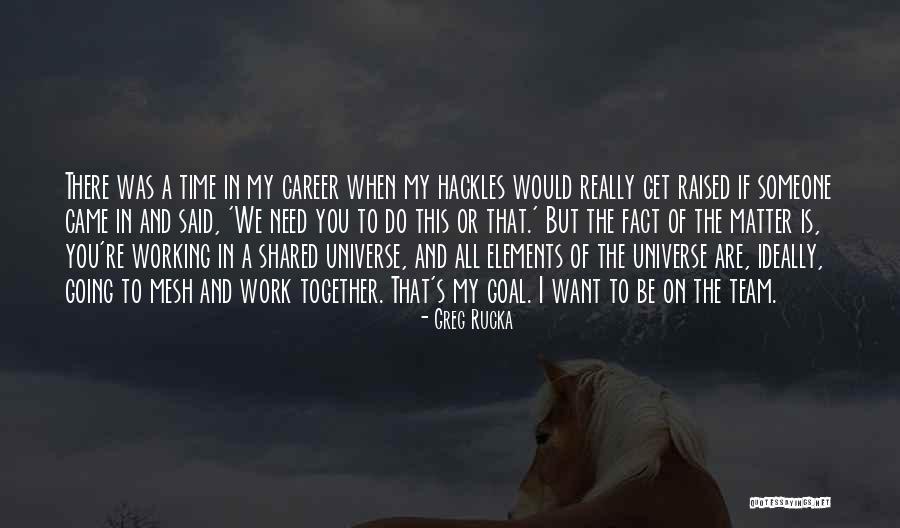 There was a time in my career when my hackles would really get raised if someone came in and said, 'We need you to do this or that.' But the fact of the matter is, you're working in a shared universe, and all elements of the universe are, ideally, going to mesh and work together. That's my goal. I want to be on the team. — Greg Rucka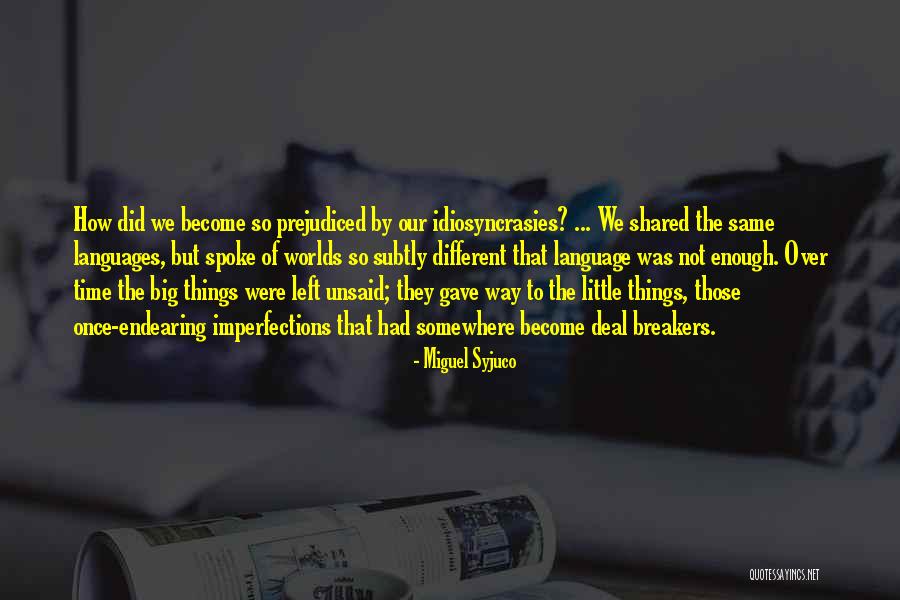 How did we become so prejudiced by our idiosyncrasies? ... We shared the same languages, but spoke of worlds so subtly different that language was not enough. Over time the big things were left unsaid; they gave way to the little things, those once-endearing imperfections that had somewhere become deal breakers. — Miguel Syjuco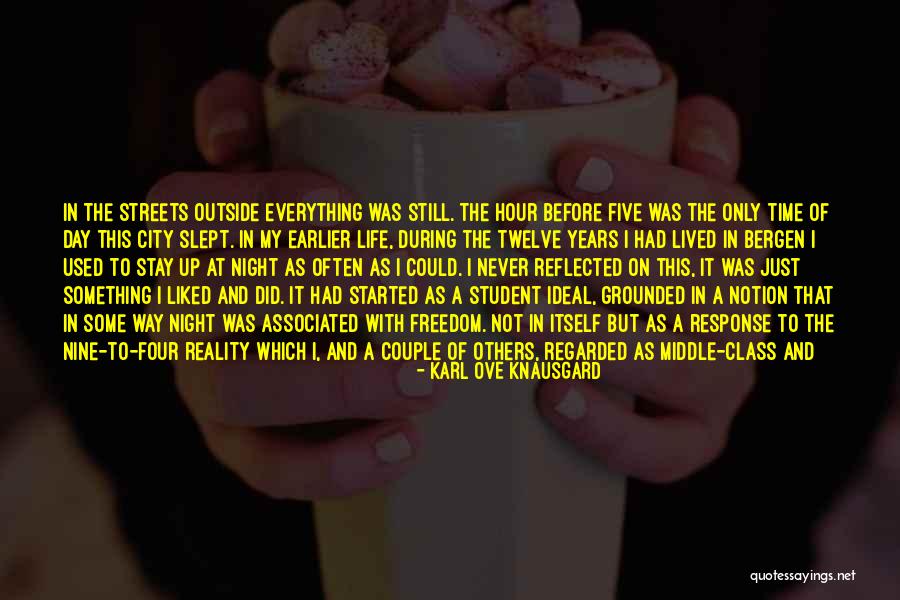 In the streets outside everything was still. The hour before five was the only time of day this city slept. In my earlier life, during the twelve years I had lived in Bergen I used to stay up at night as often as I could. I never reflected on this, it was just something I liked and did. It had started as a student ideal, grounded in a notion that in some way night was associated with freedom. Not in itself but as a response to the nine-to-four reality which I, and a couple of others, regarded as middle-class and conformist. We wanted to be free, we stayed up at night. Continuing with this had less to do with freedom than a growing need to be alone. This, I understood now, I shared with my father. In the house where we lived he had a whole studio apartment to himself and he spent more or less every evening there. The night was his. — Karl Ove Knausgard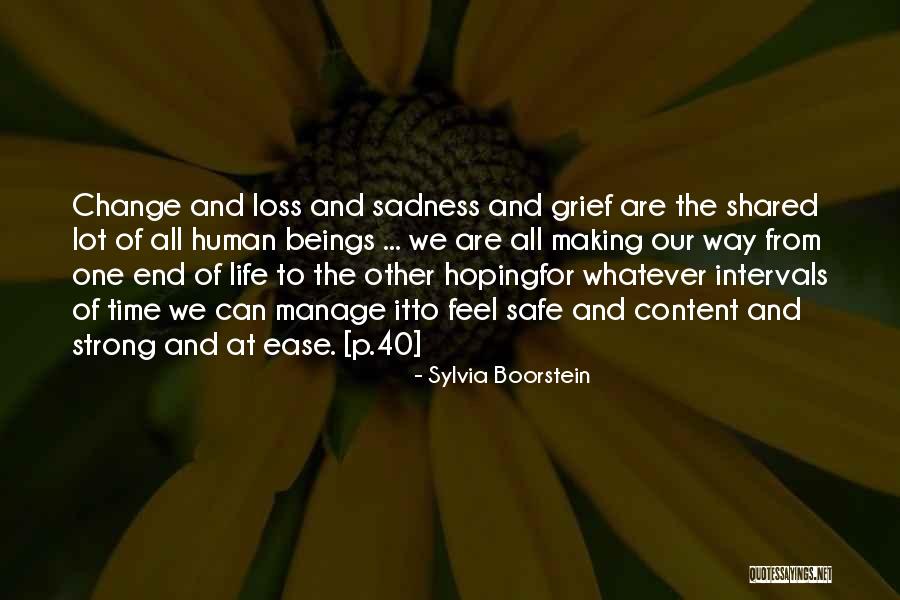 Change and loss and sadness and grief are the shared lot of all human beings ... we are all making our way from one end of life to the other hoping
for whatever intervals of time we can manage it
to feel safe and content and strong and at ease. [p.40] — Sylvia Boorstein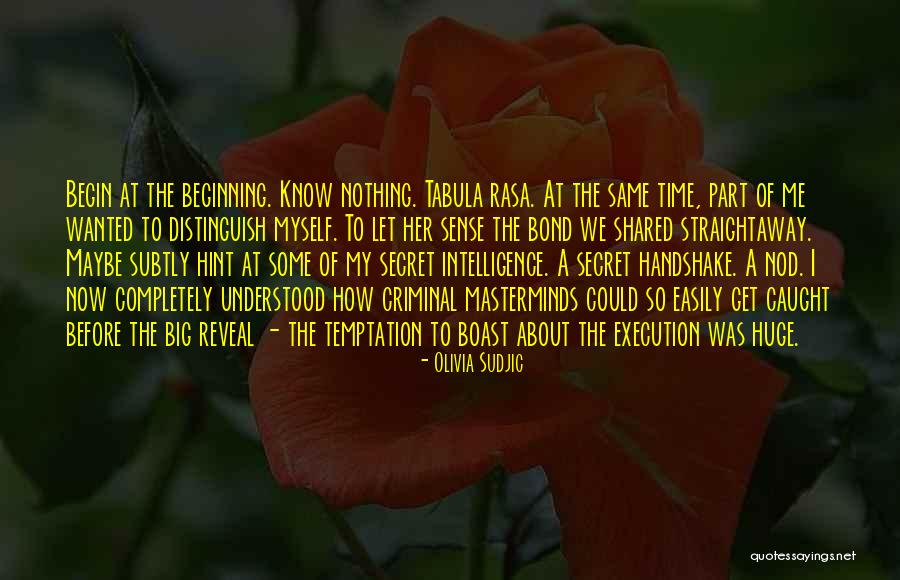 Begin at the beginning. Know nothing. Tabula rasa. At the same time, part of me wanted to distinguish myself. To let her sense the bond we shared straightaway. Maybe subtly hint at some of my secret intelligence. A secret handshake. A nod. I now completely understood how criminal masterminds could so easily get caught before the big reveal - the temptation to boast about the execution was huge. — Olivia Sudjic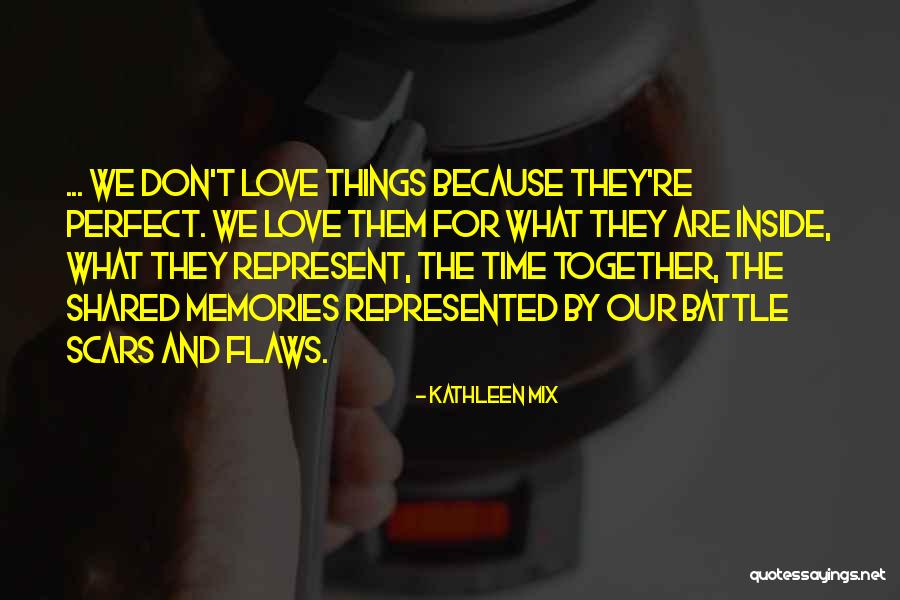 ... we don't love things because they're perfect. We love them for what they are inside, what they represent, the time together, the shared memories represented by our battle scars and flaws. — Kathleen Mix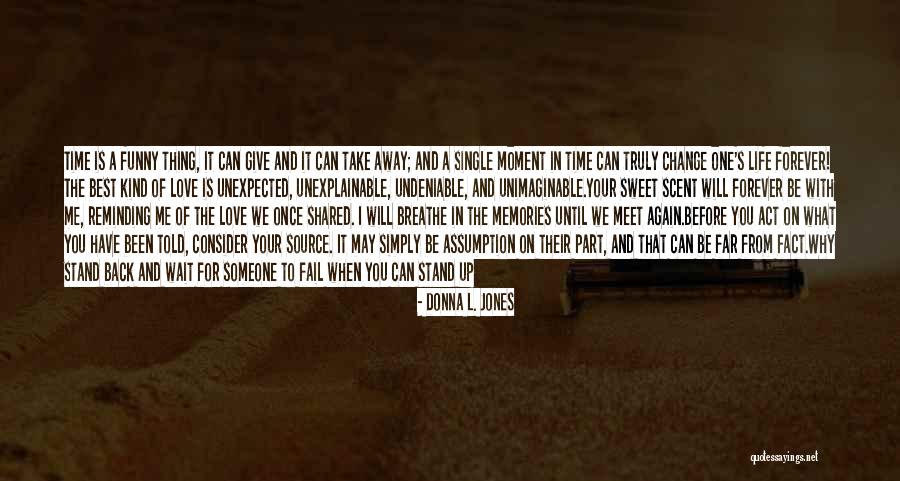 Time is a funny thing, it can give and it can take away; and a single moment in time can truly change one's life forever!
The best kind of love is unexpected, unexplainable, undeniable, and unimaginable.
Your sweet scent will forever be with me, reminding me of the love we once shared. I will breathe in the memories until we meet again.
Before you act on what you have been told, consider your source. It may simply be assumption on their part, and that can be far from fact.
Why stand back and wait for someone to fail when you can stand up and offer your support?
Love is when the sound of your partner's snoring lulls you to sleep, and it acts as a reminder that they are there by your side.
Building a wall around your heart is a voluntary imprisonment to which only you have the key. Open your heart to life's possibilities! — Donna L. Jones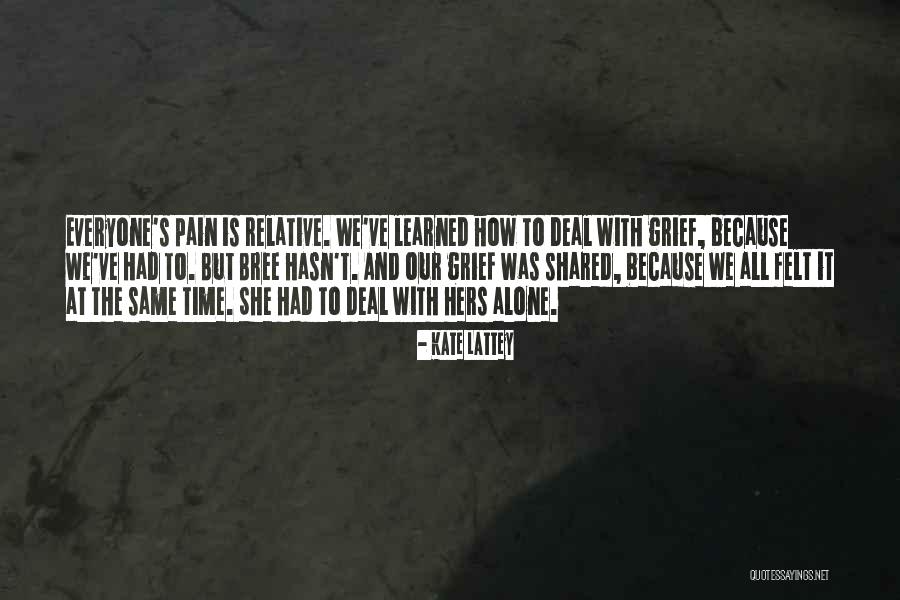 Everyone's pain is relative. We've learned how to deal with grief, because we've had to. But Bree hasn't. And our grief was shared, because we all felt it at the same time. She had to deal with hers alone. — Kate Lattey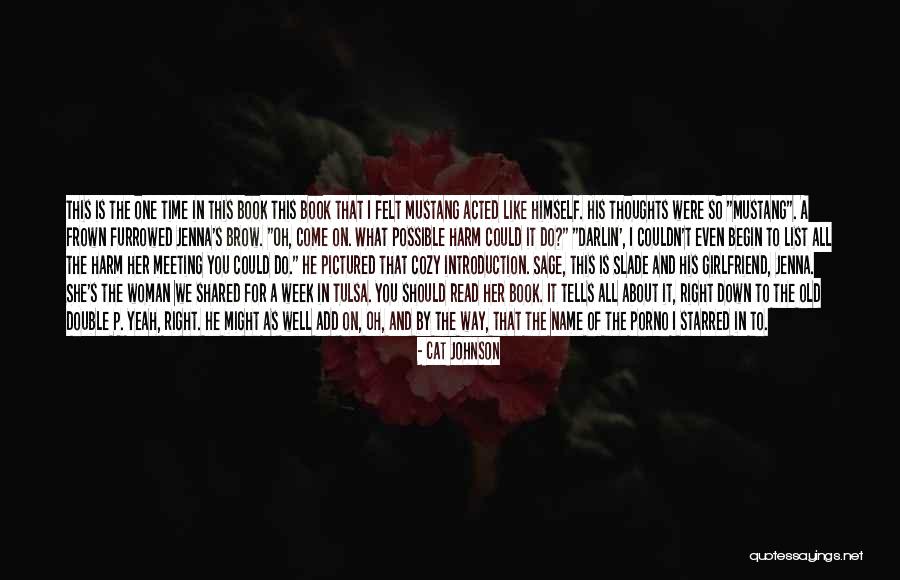 This is the one time in this book this book that I felt Mustang acted like himself. His thoughts were so "Mustang". A frown furrowed Jenna's brow. "Oh, come on. What possible harm could it do?" "Darlin', I couldn't even begin to list all the harm her meeting you could do." He pictured that cozy introduction. Sage, this is Slade and his girlfriend, Jenna. She's the woman we shared for a week in Tulsa. You should read her book. It tells all about it, right down to the old double P. Yeah, right. He might as well add on, Oh, and by the way, that the name of the porno I starred in to. — Cat Johnson
And maybe one winter it will get too cold and I'll forget about the summers we once shared. My family portrait might
fold in too, producing the same horrific effect as Jeremy's: that I, all along, had another sibling who eclipsed and became me - a prosperous sibling, an imposturous sibling, who outgrew a sense of time and place in which the three of us were everything to one another. Then only my blood in the sea could unfold and lead me back out of the origami. — Nicholaus Patnaude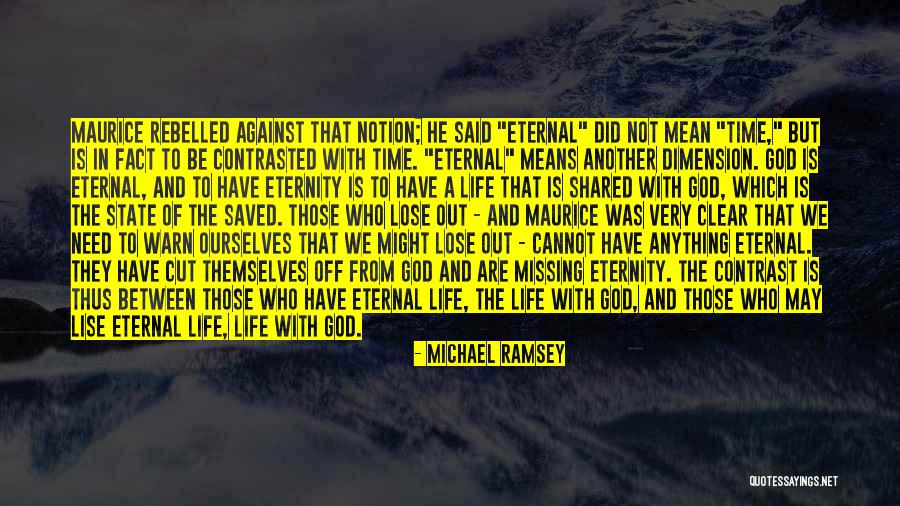 Maurice rebelled against that notion; he said "eternal" did not mean "time," but is in fact to be contrasted with time. "Eternal" means another dimension. God is eternal, and to have eternity is to have a life that is shared with God, which is the state of the saved. Those who lose out - and Maurice was very clear that we need to warn ourselves that we might lose out - cannot have anything eternal. They have cut themselves off from God and are missing eternity. The contrast is thus between those who have eternal life, the life with God, and those who may lise eternal life, life with God. — Michael Ramsey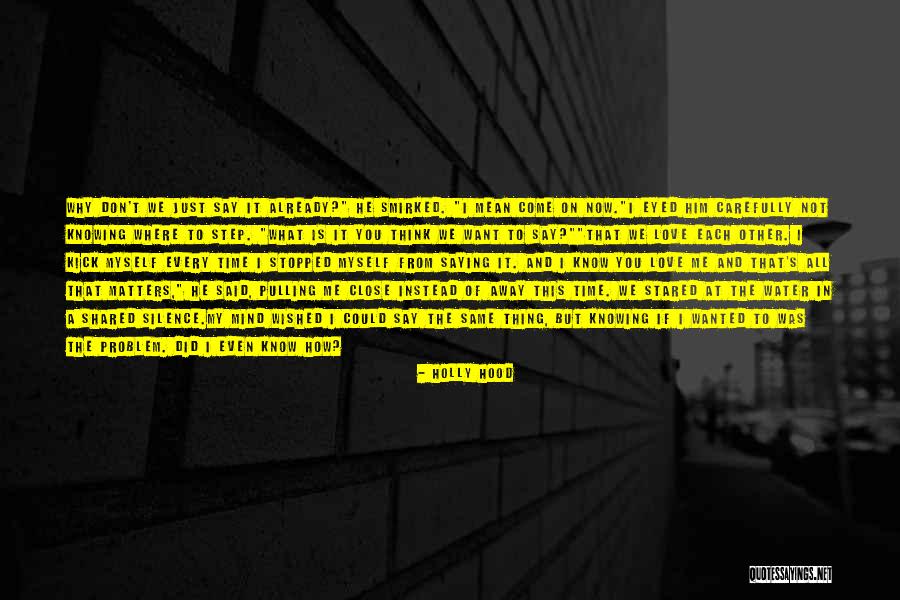 Why don't we just say it already?" He smirked. "I mean come on now."
I eyed him carefully not knowing where to step. "What is it you think we want to say?"
"That we love each other. I kick myself every time I stopped myself from saying it. And I know you love me and that's all that matters," he said, pulling me close instead of away this time. We stared at the water in a shared silence.
My mind wished I could say the same thing, but knowing if I wanted to was the problem. Did I even know how? — Holly Hood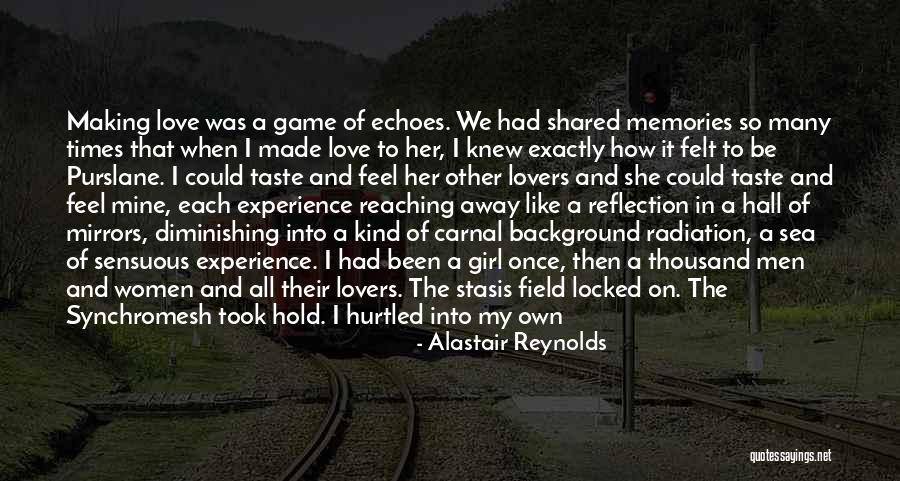 Making love was a game of echoes. We had shared memories so many times that when I made love to her, I knew exactly how it felt to be Purslane. I could taste and feel her other lovers and she could taste and feel mine, each experience reaching away like a reflection in a hall of mirrors, diminishing into a kind of carnal background radiation, a sea of sensuous experience. I had been a girl once, then a thousand men and women and all their lovers. The stasis field locked on. The Synchromesh took hold. I hurtled into my own future, while my ship ate space and time.

- "House of Suns" by Alastair Reynolds — Alastair Reynolds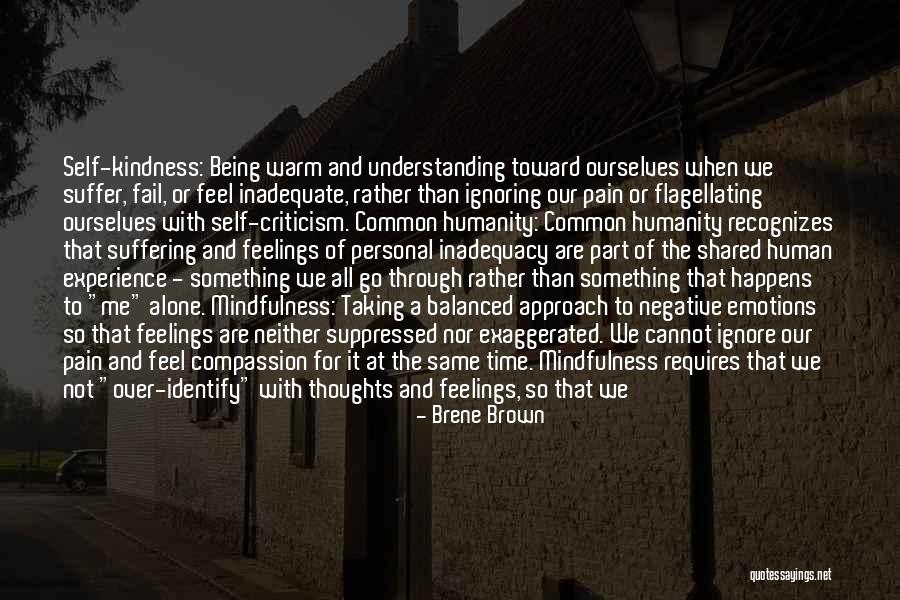 Self-kindness: Being warm and understanding toward ourselves when we suffer, fail, or feel inadequate, rather than ignoring our pain or flagellating ourselves with self-criticism. Common humanity: Common humanity recognizes that suffering and feelings of personal inadequacy are part of the shared human experience - something we all go through rather than something that happens to "me" alone. Mindfulness: Taking a balanced approach to negative emotions so that feelings are neither suppressed nor exaggerated. We cannot ignore our pain and feel compassion for it at the same time. Mindfulness requires that we not "over-identify" with thoughts and feelings, so that we are caught up and swept away by negativity. — Brene Brown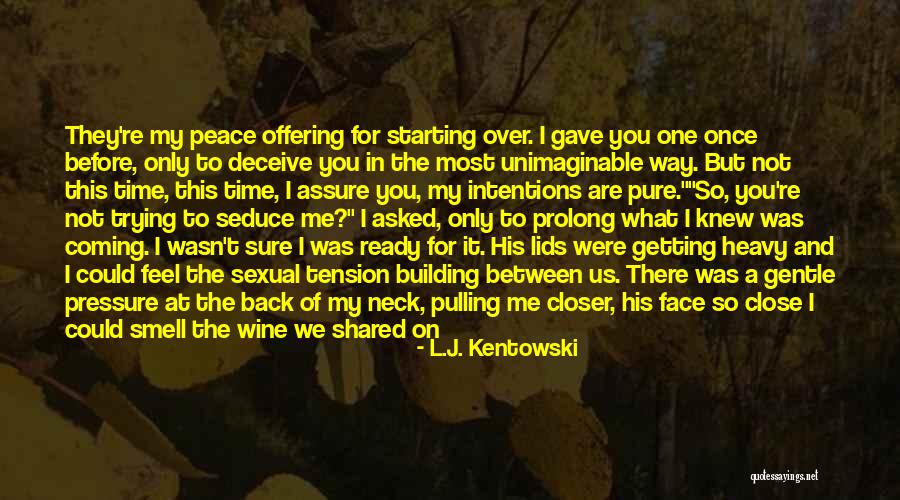 They're my peace offering for starting over. I gave you one once before, only to deceive you in the most unimaginable way. But not this time, this time, I assure you, my intentions are pure."
"So, you're not trying to seduce me?" I asked, only to prolong what I knew was coming. I wasn't sure I was ready for it. His lids were getting heavy and I could feel the sexual tension building between us.
There was a gentle pressure at the back of my neck, pulling me closer, his face so close I could smell the wine we shared on his breath.
"I said my intentions were pure. That doesn't mean I don't intend to seduce you, Cassie. — L.J. Kentowski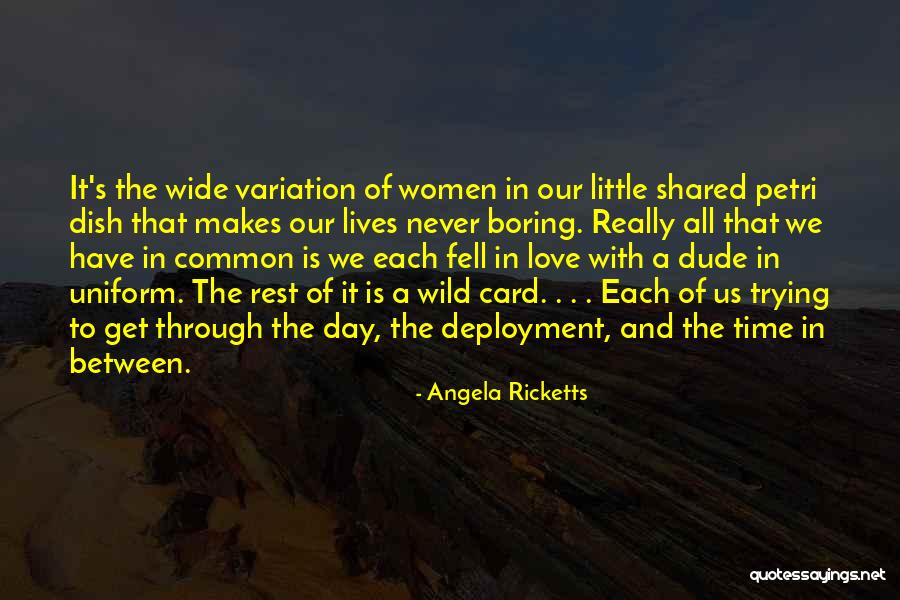 It's the wide variation of women in our little shared petri dish that makes our lives never boring. Really all that we have in common is we each fell in love with a dude in uniform. The rest of it is a wild card. . . . Each of us trying to get through the day, the deployment, and the time in between. — Angela Ricketts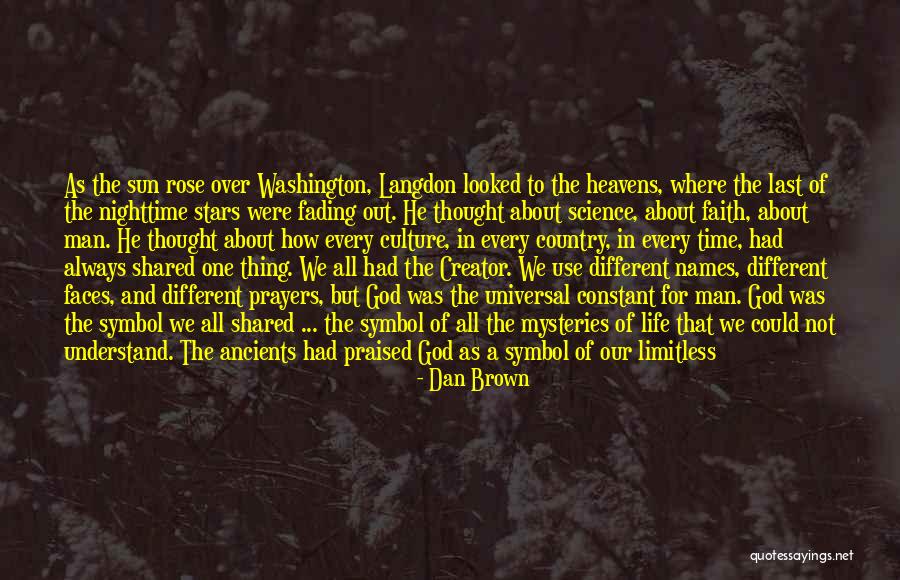 As the sun rose over Washington, Langdon looked to the heavens, where the last of the nighttime stars were fading out. He thought about science, about faith, about man. He thought about how every culture, in every country, in every time, had always shared one thing. We all had the Creator. We use different names, different faces, and different prayers, but God was the universal constant for man. God was the symbol we all shared ... the symbol of all the mysteries of life that we could not understand. The ancients had praised God as a symbol of our limitless human potential, but that ancient symbol had been lost over time. Until now. — Dan Brown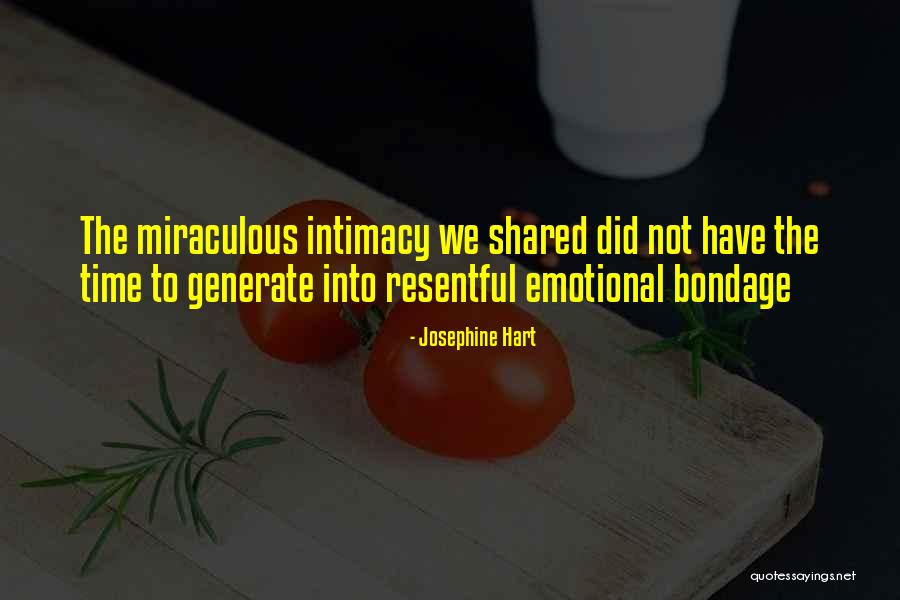 The miraculous intimacy we shared did not have the time to generate into resentful emotional bondage — Josephine Hart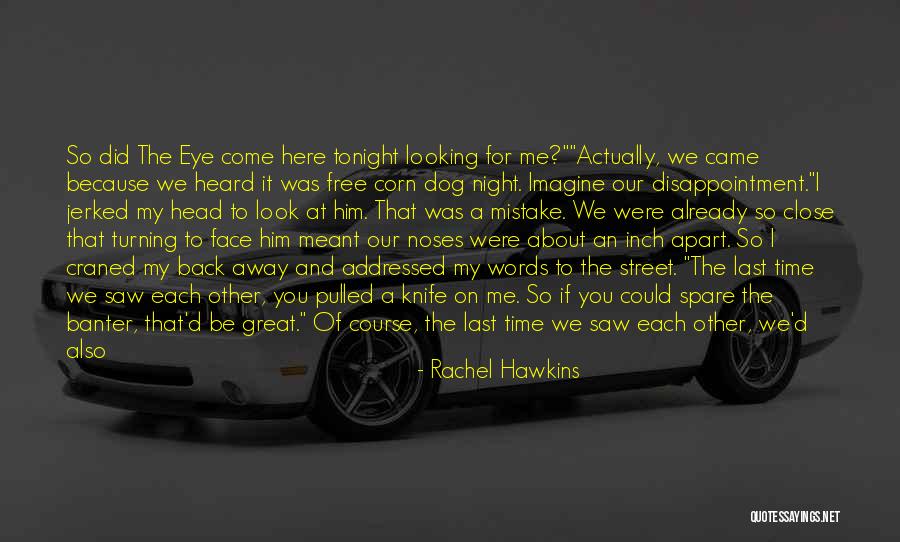 So did The Eye come here tonight looking for me?"
"Actually, we came because we heard it was free corn dog night. Imagine our disappointment."
I jerked my head to look at him. That was a mistake. We were already so close that turning to face him meant our noses were about an inch apart. So I craned my back away and addressed my words to the street. "The last time we saw each other, you pulled a knife on me. So if you could spare the banter, that'd be great." Of course, the last time we saw each other, we'd also shared a kiss so hot it nearly set my hair on fire,but I wasn't about to bring that up. — Rachel Hawkins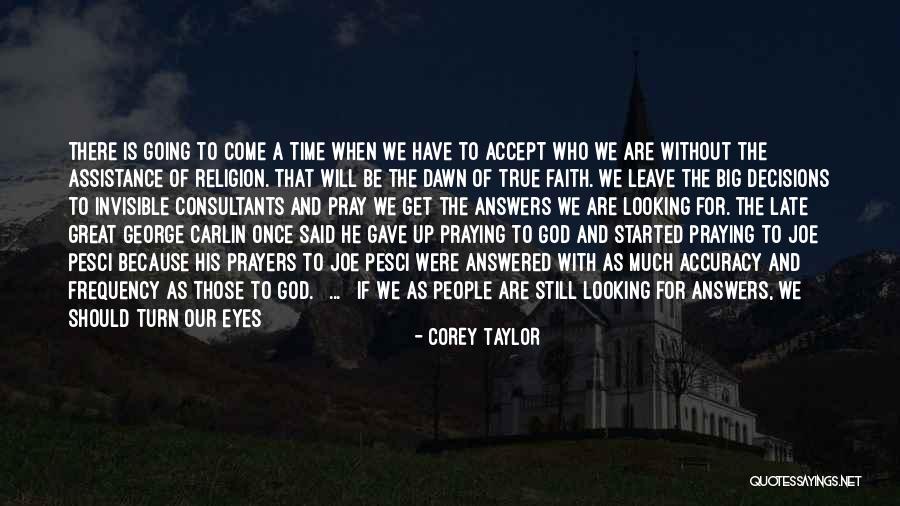 There is going to come a time when we have to accept who we are without the assistance of religion. That will be the dawn of true faith. We leave the big decisions to invisible consultants and pray we get the answers we are looking for. The late great George Carlin once said he gave up praying to God and started praying to Joe Pesci because his prayers to Joe Pesci were answered with as much accuracy and frequency as those to God. [ ... ] If we as people are still looking for answers, we should turn our eyes away from the heavens and look to each other. I know we do not play well together - hell, some of us do not even like being in the same room with each other - but the divine lies in all of us. We are miracles. We are "god." If we shared a little more, we would not be left feeling less. We hold the keys to our own destinies. It is time we started looking for the locks. — Corey Taylor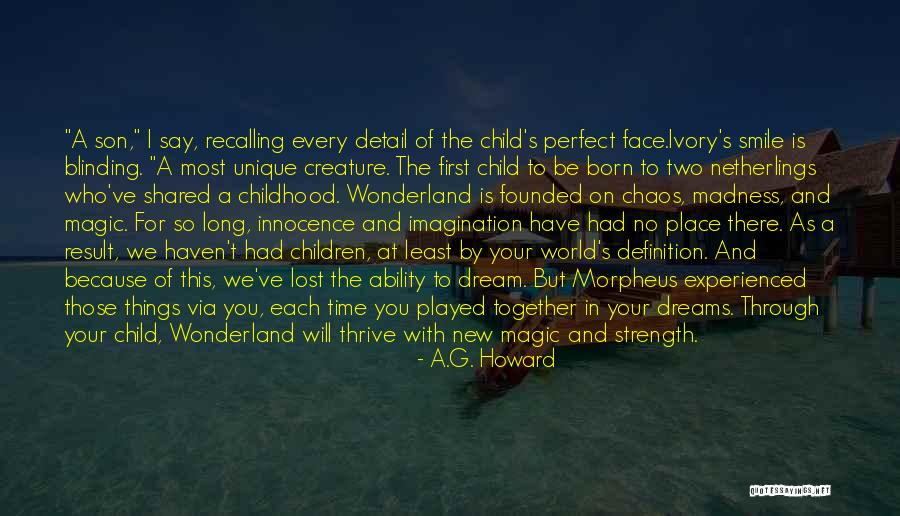 "A son," I say, recalling every detail of the child's perfect face.
Ivory's smile is blinding. "A most unique creature. The first child to be born to two netherlings who've shared a childhood. Wonderland is founded on chaos, madness, and magic. For so long, innocence and imagination have had no place there. As a result, we haven't had children, at least by your world's definition. And because of this, we've lost the ability to dream. But Morpheus experienced those things via you, each time you played together in your dreams. Through your child, Wonderland will thrive with new magic and strength. Our offspring will become true children once more; they will learn to dream again. And all will be right with our world. — A.G. Howard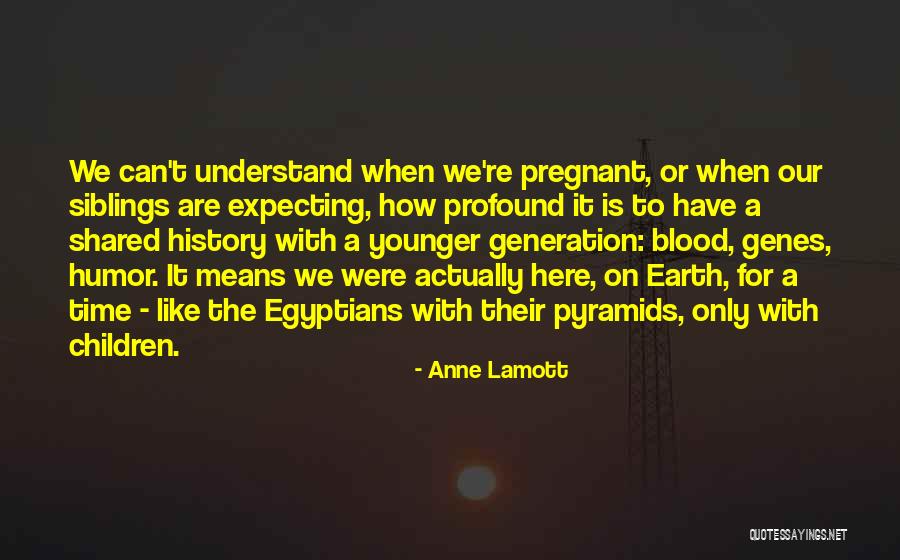 We can't understand when we're pregnant, or when our siblings are expecting, how profound it is to have a shared history with a younger generation: blood, genes, humor. It means we were actually here, on Earth, for a time - like the Egyptians with their pyramids, only with children. — Anne Lamott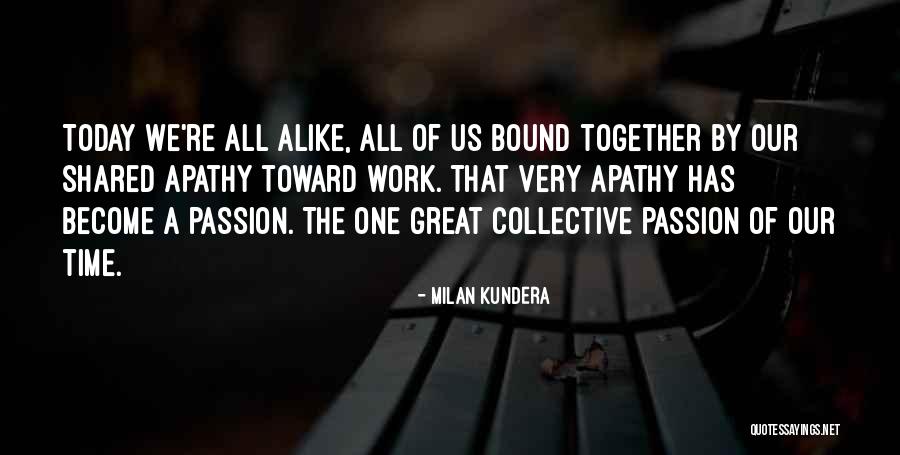 Today we're all alike, all of us bound together by our shared apathy toward work. That very apathy has become a passion. The one great collective passion of our time. — Milan Kundera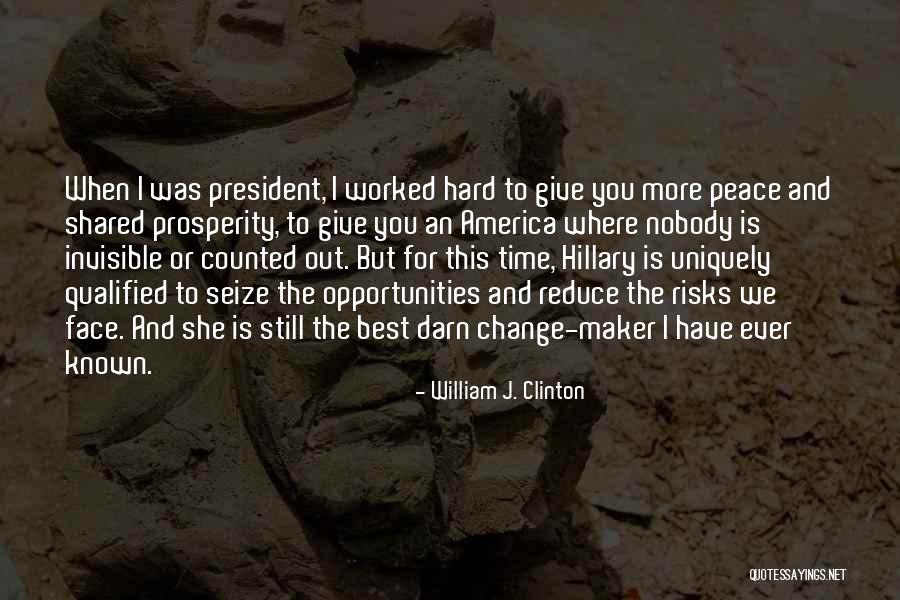 When I was president, I worked hard to give you more peace and shared prosperity, to give you an America where nobody is invisible or counted out. But for this time, Hillary is uniquely qualified to seize the opportunities and reduce the risks we face. And she is still the best darn change-maker I have ever known. — William J. Clinton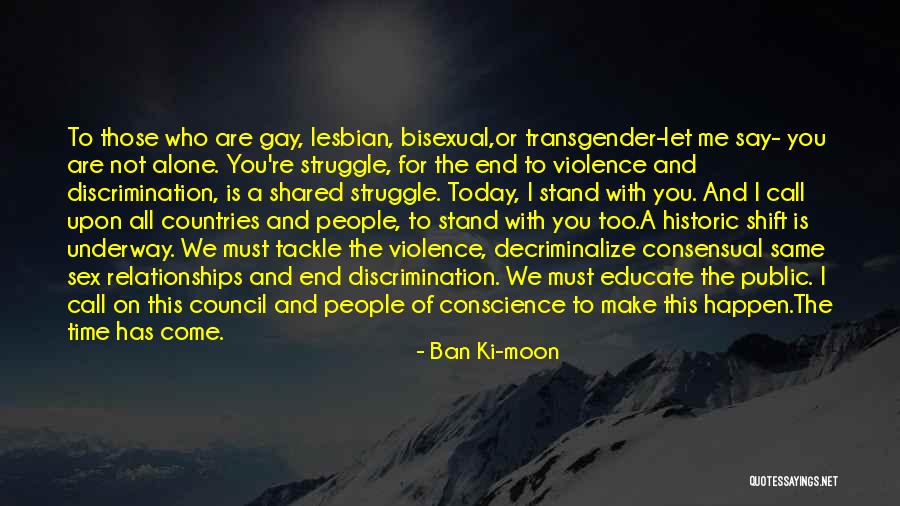 To those who are gay, lesbian, bisexual,or transgender-let me say- you are not alone. You're struggle, for the end to violence and discrimination, is a shared struggle. Today, I stand with you. And I call upon all countries and people, to stand with you too.
A historic shift is underway. We must tackle the violence, decriminalize consensual same sex relationships and end discrimination. We must educate the public. I call on this council and people of conscience to make this happen.
The time has come. — Ban Ki-moon