Quotes & Sayings About The Sufficiency Of Christ
Enjoy reading and share 26 famous quotes about The Sufficiency Of Christ with everyone.
Top The Sufficiency Of Christ Quotes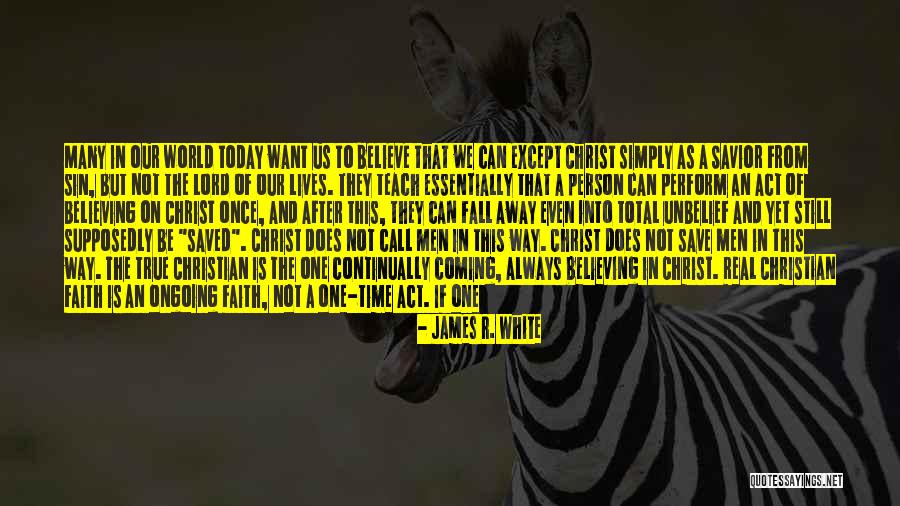 Many in our world today want us to believe that we can except Christ simply as a Savior from sin, but not the Lord of our lives. They teach essentially that a person can perform an act of believing on Christ once, and after this, they can fall away even into total unbelief and yet still supposedly be "saved". Christ does not call men in this way. Christ does not save men in this way. The true Christian is the one continually coming, always believing in Christ. Real Christian faith is an ongoing faith, not a one-time act. If one wishes to be eternally satiated, one meal is not enough. If we wish to feast on the bread of heaven, we must do so all our lives. We will never hunger or thirst if we are always coming and always believing in Christ. He's our sufficiency. Christ the bread from heaven. We must feed on all of Christ, not just the parts we happen to like. Christ is not the Savior of anyone unless He is their Lord as well. — James R. White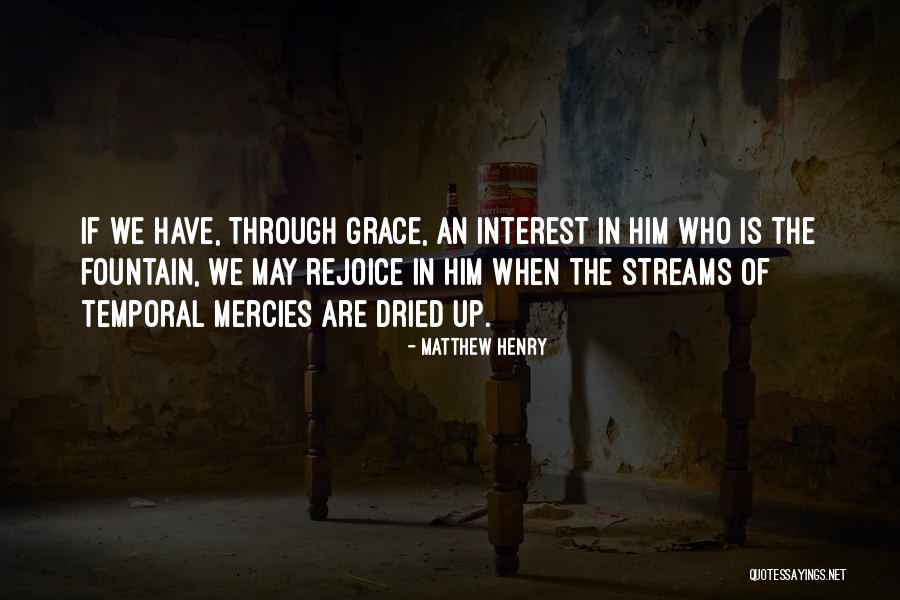 If we have, through grace, an interest in Him who is the Fountain, we may rejoice in him when the streams of temporal mercies are dried up. — Matthew Henry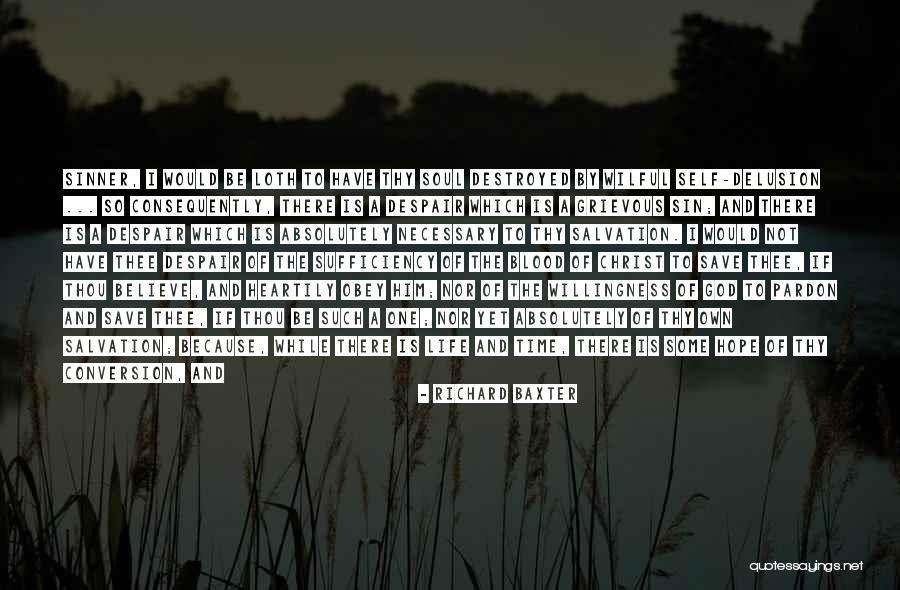 Sinner, I would be loth to have thy soul destroyed by wilful self-delusion ... So consequently, there is a despair which is a grievous sin; and there is a despair which is absolutely necessary to thy salvation. I would not have thee despair of the sufficiency of the blood of Christ to save thee, if thou believe, and heartily obey him; nor of the willingness of God to pardon and save thee, if thou be such a one; nor yet absolutely of thy own salvation; because, while there is life and time, there is some hope of thy conversion, and so of thy salvation ... Never stick at the sadness of the conclusion, man, but acknowledge plainly, If I die before I get out of this estate, I am lost forever. It is as good deal truly with thyself as not; God will not flatter thee, he will deal plainly whether thou do or not. The very truth is, this kind of despair is one of the first steps to heaven(233). — Richard Baxter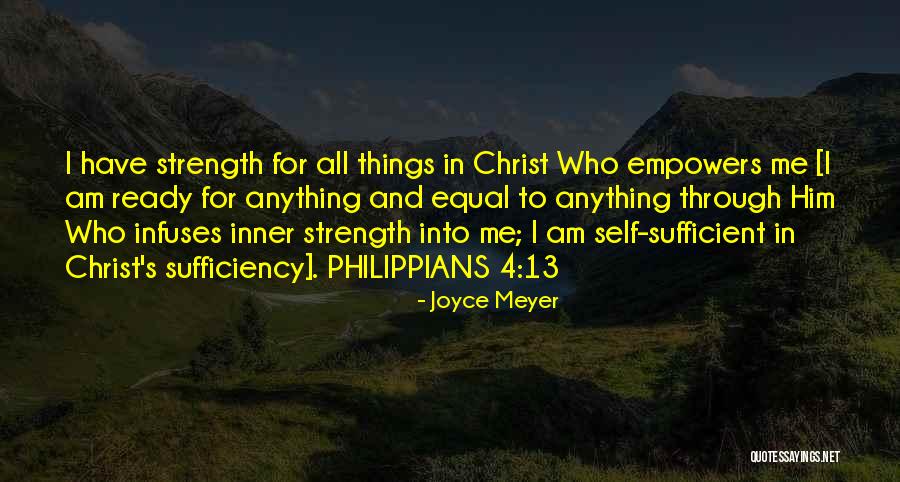 I have strength for all things in Christ Who empowers me [I am ready for anything and equal to anything through Him Who infuses inner strength into me; I am self-sufficient in Christ's sufficiency]. PHILIPPIANS 4:13 — Joyce Meyer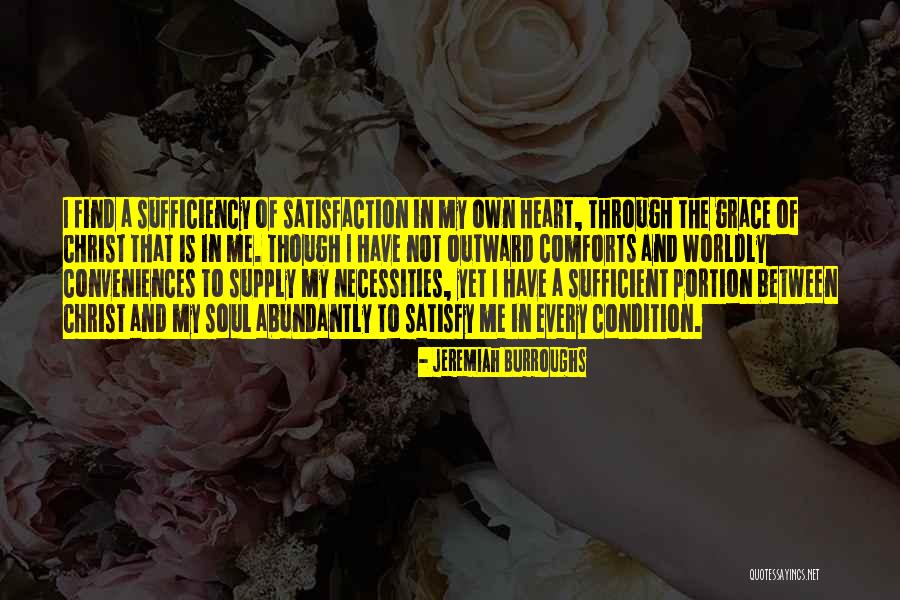 I find a sufficiency of satisfaction in my own heart, through the grace of Christ that is in me. Though I have not outward comforts and worldly conveniences to supply my necessities, yet I have a sufficient portion between Christ and my soul abundantly to satisfy me in every condition. — Jeremiah Burroughs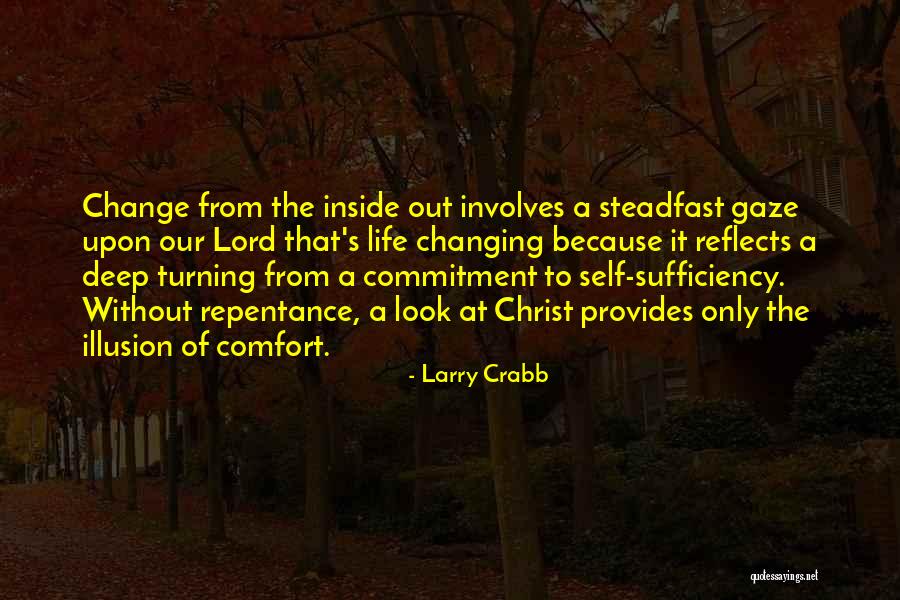 Change from the inside out involves a steadfast gaze upon our Lord that's life changing because it reflects a deep turning from a commitment to self-sufficiency. Without repentance, a look at Christ provides only the illusion of comfort. — Larry Crabb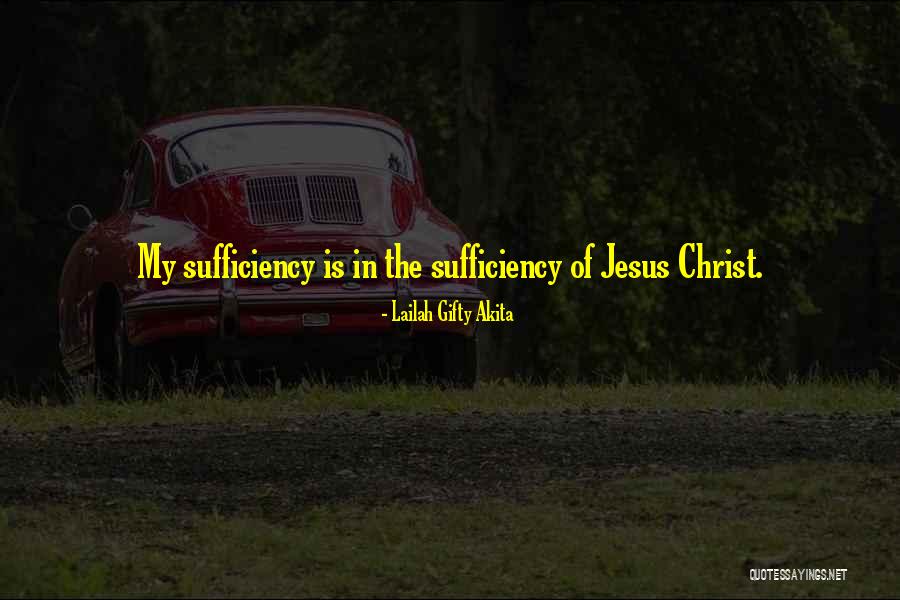 My sufficiency is in the sufficiency of Jesus Christ. — Lailah Gifty Akita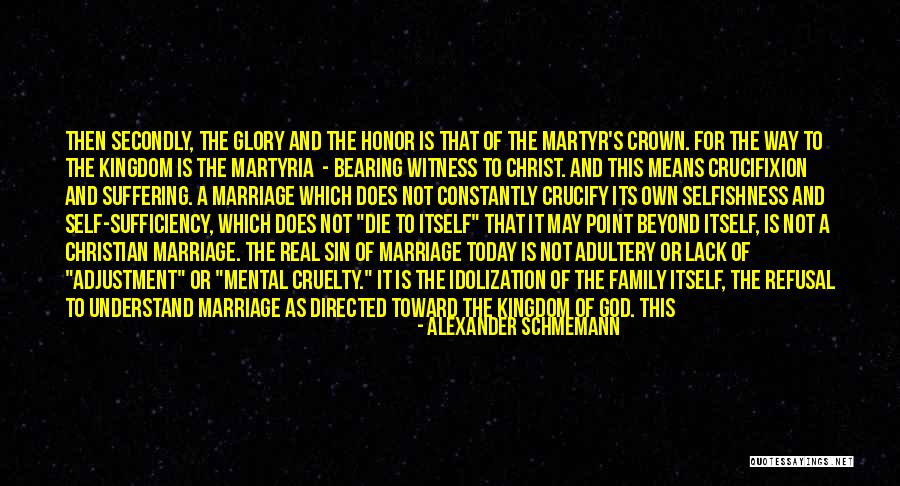 Then secondly, the glory and the honor is that of the martyr's crown. For the way to the Kingdom is the martyria - bearing witness to Christ. And this means crucifixion and suffering. A marriage which does not constantly crucify its own selfishness and self-sufficiency, which does not "die to itself" that it may point beyond itself, is not a Christian marriage. The real sin of marriage today is not adultery or lack of "adjustment" or "mental cruelty." It is the idolization of the family itself, the refusal to understand marriage as directed toward the Kingdom of God. This — Alexander Schmemann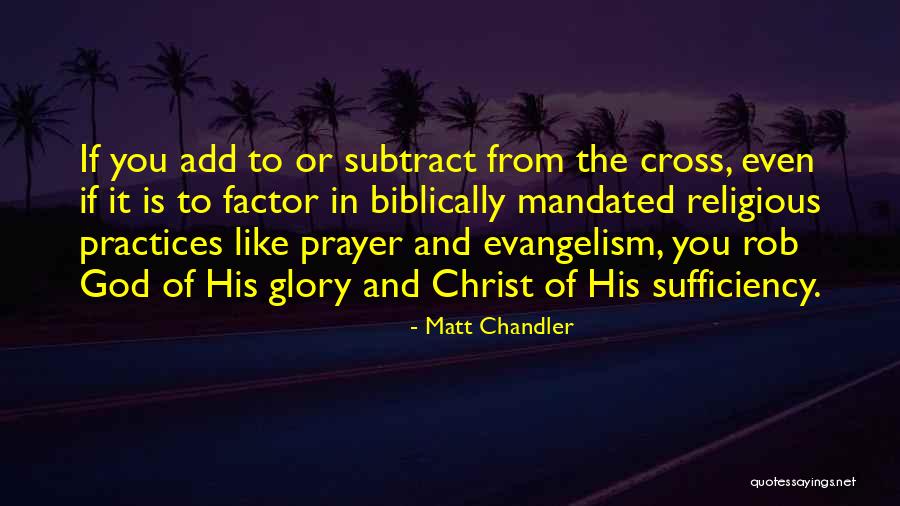 If you add to or subtract from the cross, even if it is to factor in biblically mandated religious practices like prayer and evangelism, you rob God of His glory and Christ of His sufficiency. — Matt Chandler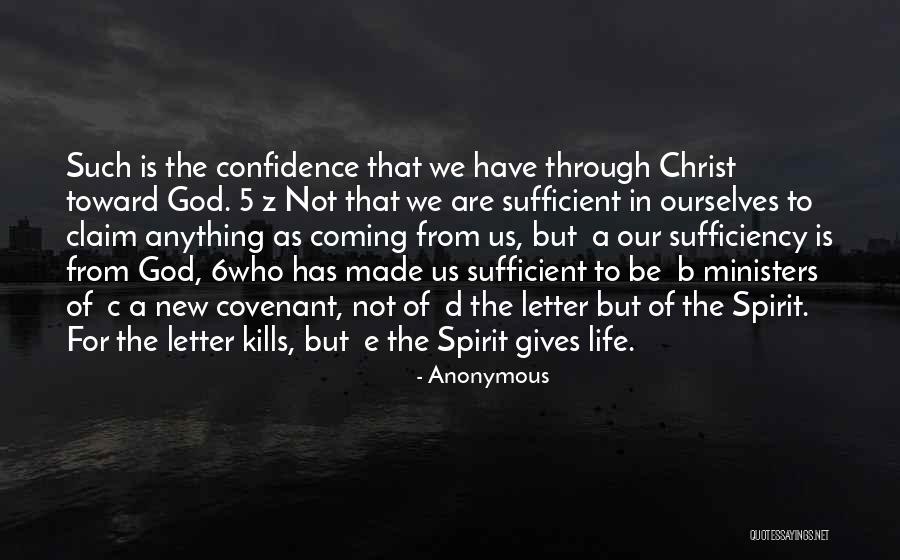 Such is the confidence that we have through Christ toward God. 5 z Not that we are sufficient in ourselves to claim anything as coming from us, but a our sufficiency is from God, 6who has made us sufficient to be b ministers of c a new covenant, not of d the letter but of the Spirit. For the letter kills, but e the Spirit gives life. — Anonymous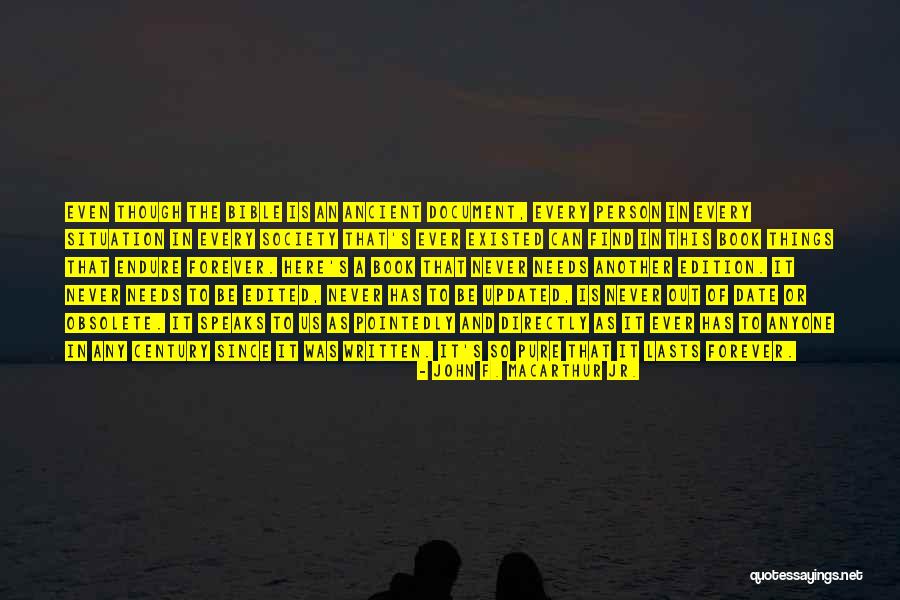 Even though the Bible is an ancient document, every person in every situation in every society that's ever existed can find in this book things that endure forever. Here's a book that never needs another edition. It never needs to be edited, never has to be updated, is never out of date or obsolete. It speaks to us as pointedly and directly as it ever has to anyone in any century since it was written. It's so pure that it lasts forever. — John F. MacArthur Jr.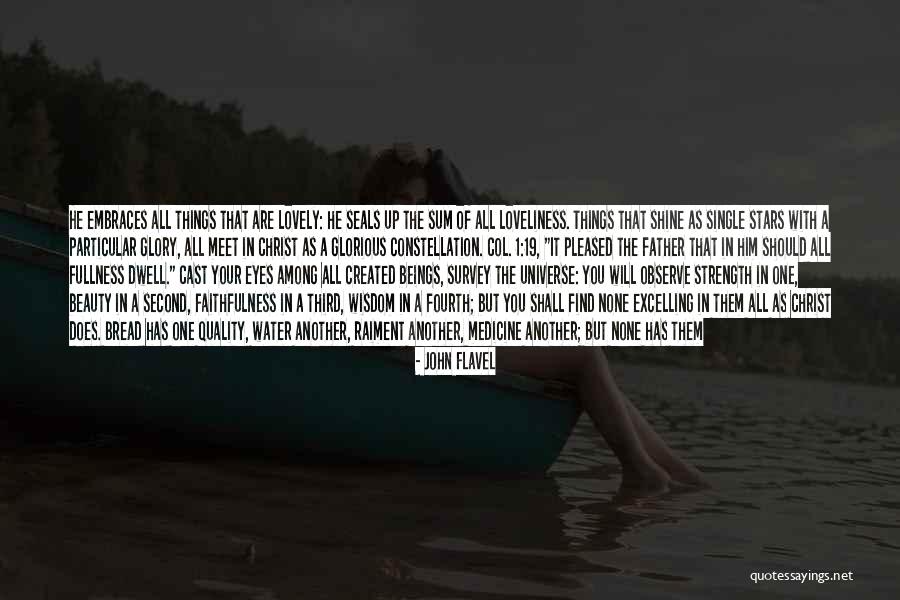 He embraces all things that are lovely: he seals up the sum of all loveliness. Things that shine as single stars with a particular glory, all meet in Christ as a glorious constellation. Col. 1:19, "It pleased the Father that in him should all fullness dwell." Cast your eyes among all created beings, survey the universe: you will observe strength in one, beauty in a second, faithfulness in a third, wisdom in a fourth; but you shall find none excelling in them all as Christ does. Bread has one quality, water another, raiment another, medicine another; but none has them all in itself as Christ does. He is bread to the hungry, water to the thirsty, a garment to the naked, healing to the wounded; and whatever a soul can desire is found in him, 1 Cor. 1:30 — John Flavel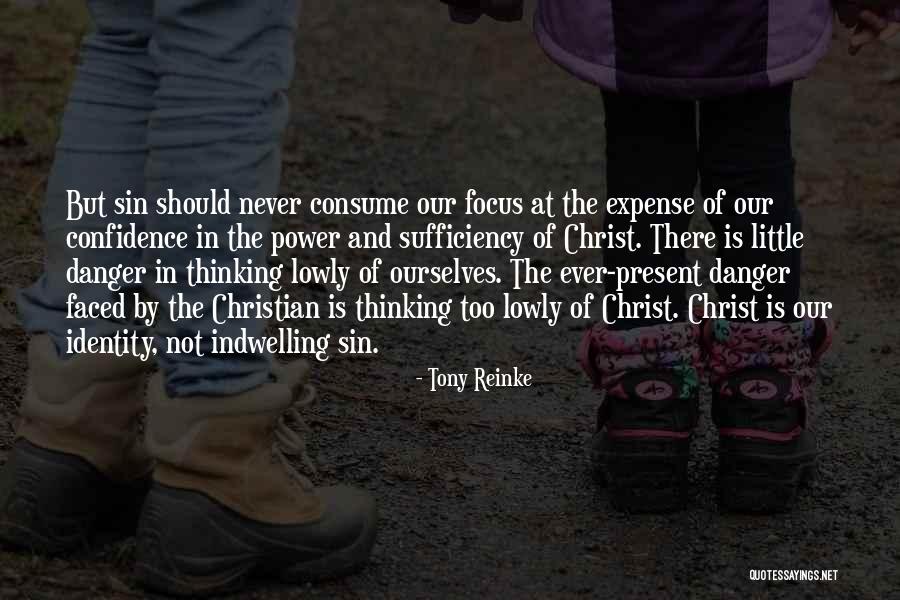 But sin should never consume our focus at the expense of our confidence in the power and sufficiency of Christ. There is little danger in thinking lowly of ourselves. The ever-present danger faced by the Christian is thinking too lowly of Christ. Christ is our identity, not indwelling sin. — Tony Reinke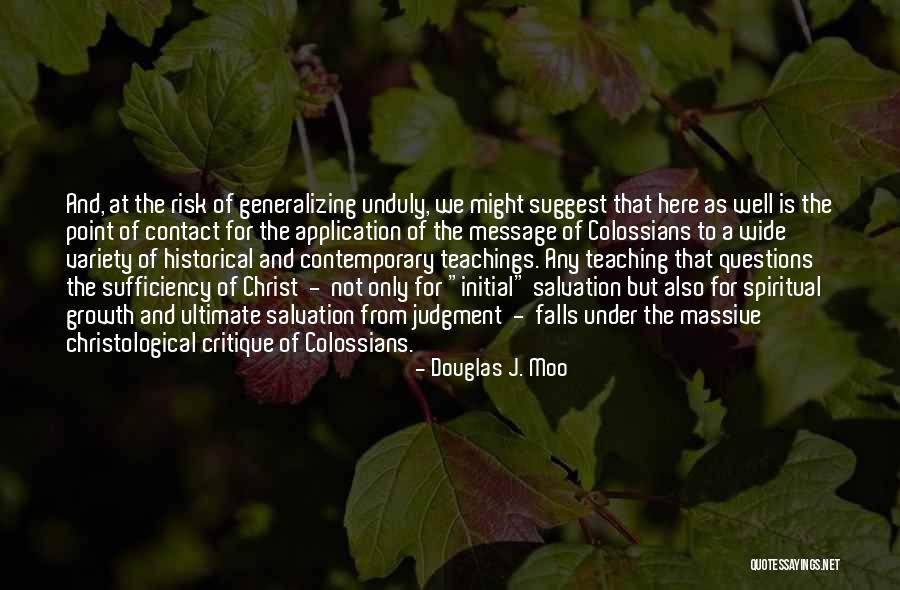 And, at the risk of generalizing unduly, we might suggest that here as well is the point of contact for the application of the message of Colossians to a wide variety of historical and contemporary teachings. Any teaching that questions the sufficiency of Christ - not only for "initial" salvation but also for spiritual growth and ultimate salvation from judgment - falls under the massive christological critique of Colossians. — Douglas J. Moo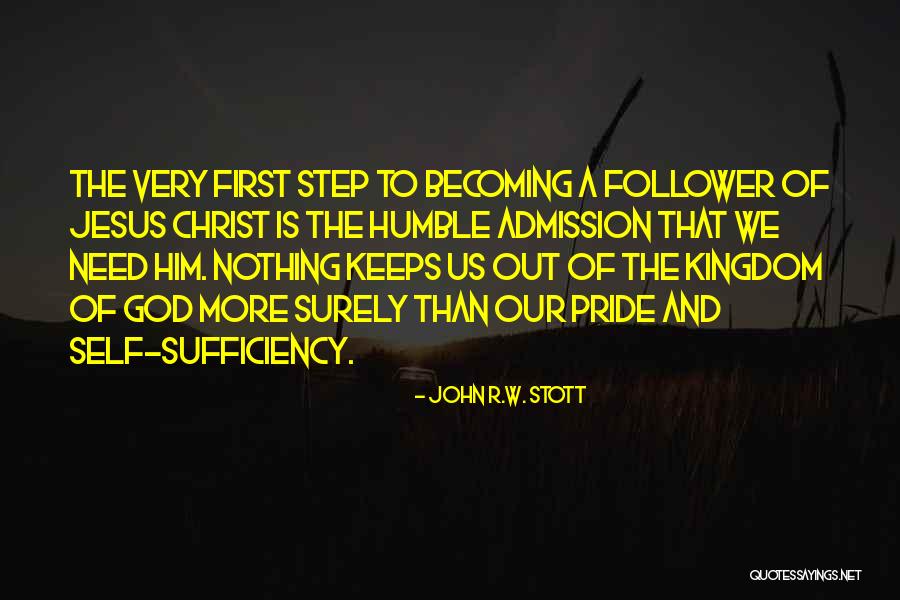 The very first step to becoming a follower of Jesus Christ is the humble admission that we need him. Nothing keeps us out of the kingdom of God more surely than our pride and self-sufficiency. — John R.W. Stott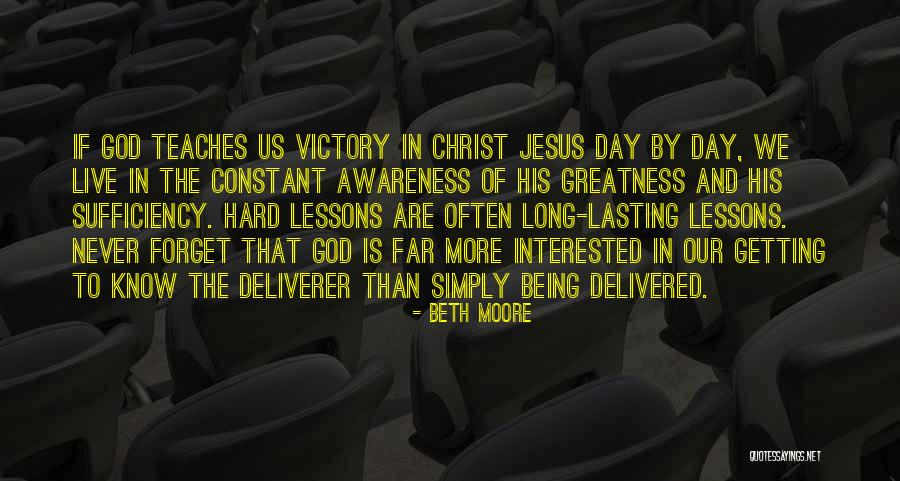 If God teaches us victory in Christ Jesus day by day, we live in the constant awareness of His greatness and His sufficiency. Hard lessons are often long-lasting lessons. Never forget that God is far more interested in our getting to know the Deliverer than simply being delivered. — Beth Moore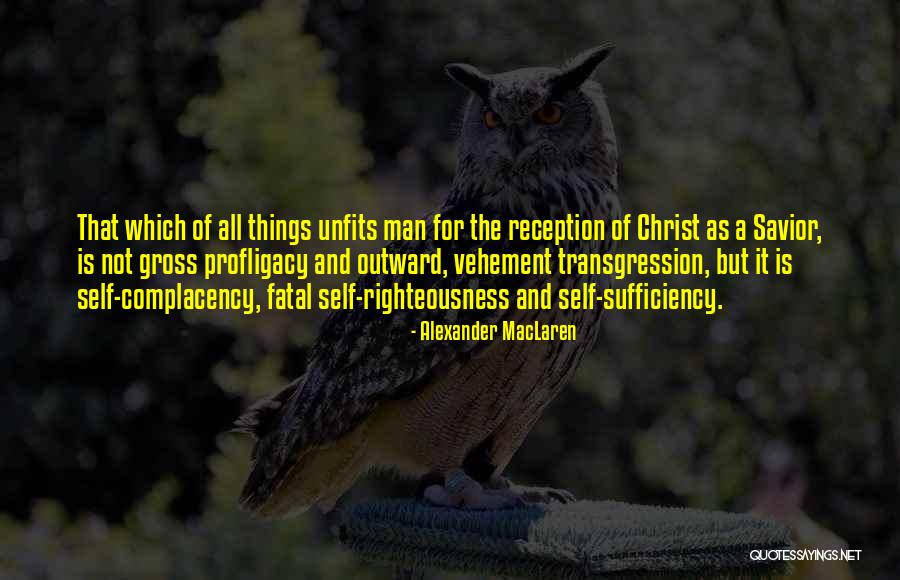 That which of all things unfits man for the reception of Christ as a Savior, is not gross profligacy and outward, vehement transgression, but it is self-complacency, fatal self-righteousness and self-sufficiency. — Alexander MacLaren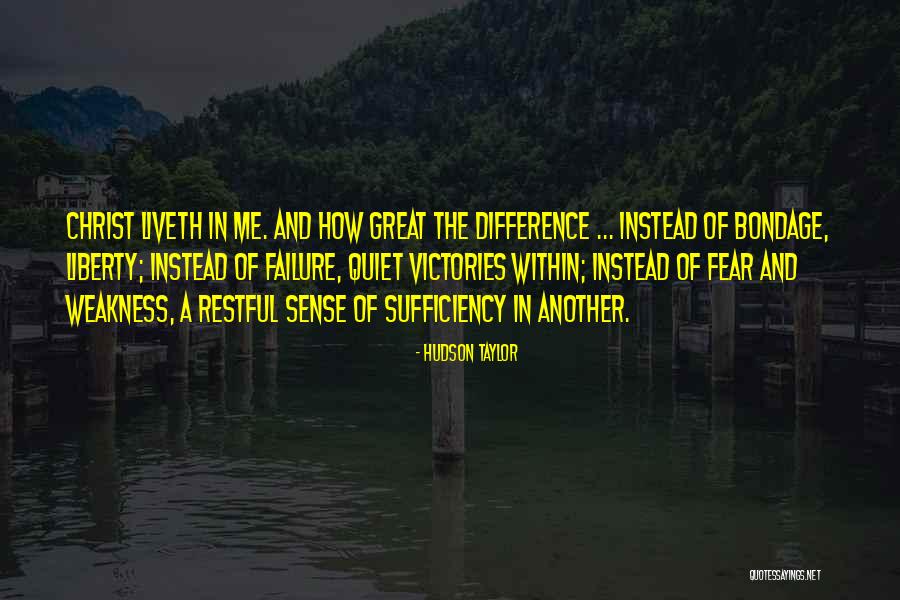 Christ liveth in me. And how great the difference ... instead of bondage, liberty; instead of failure, quiet victories within; instead of fear and weakness, a restful sense of sufficiency in Another. — Hudson Taylor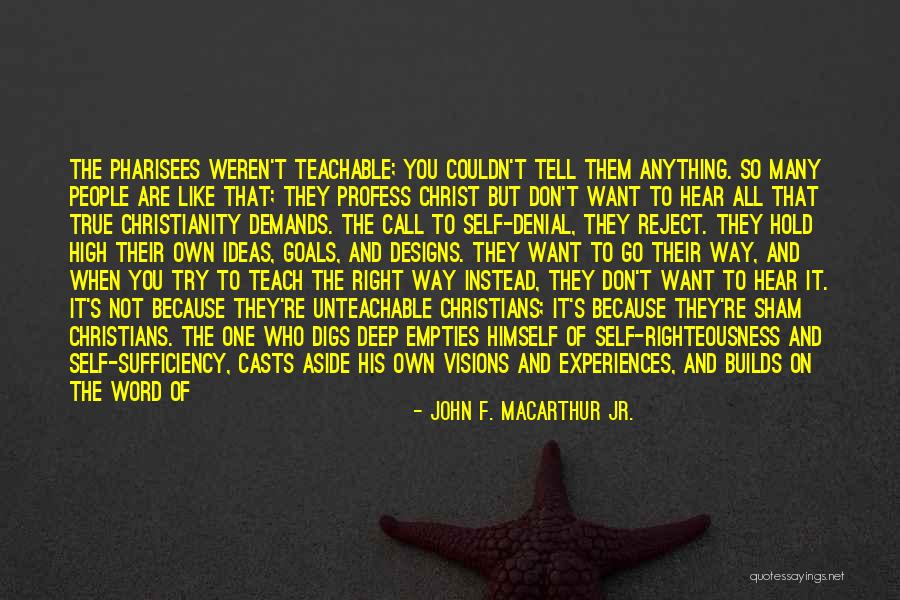 The Pharisees weren't teachable; you couldn't tell them anything. So many people are like that; they profess Christ but don't want to hear all that true Christianity demands. The call to self-denial, they reject. They hold high their own ideas, goals, and designs. They want to go their way, and when you try to teach the right way instead, they don't want to hear it. It's not because they're unteachable Christians; it's because they're sham Christians. The one who digs deep empties himself of self-righteousness and self-sufficiency, casts aside his own visions and experiences, and builds on the Word of God for God's glory and not his own. — John F. MacArthur Jr.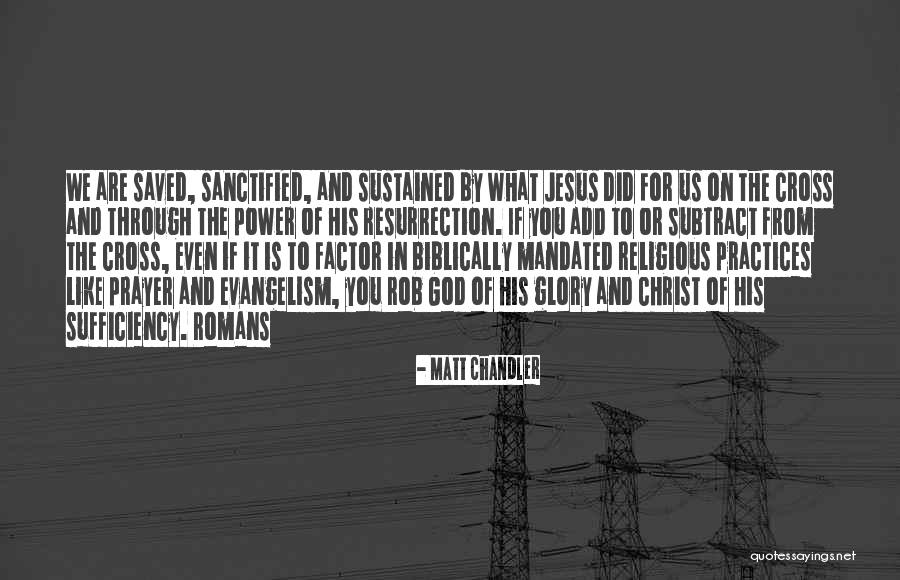 We are saved, sanctified, and sustained by what Jesus did for us on the cross and through the power of his resurrection. If you add to or subtract from the cross, even if it is to factor in biblically mandated religious practices like prayer and evangelism, you rob God of his glory and Christ of his sufficiency. Romans — Matt Chandler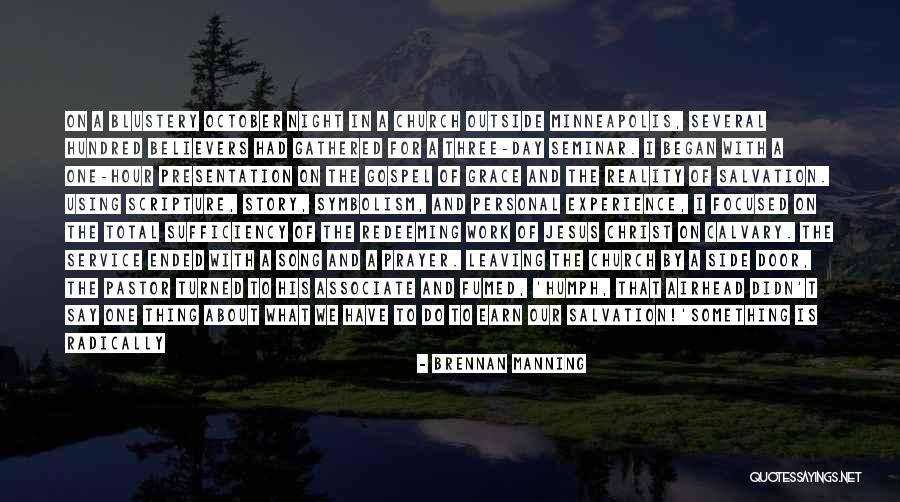 On a blustery October night in a church outside Minneapolis, several hundred believers had gathered for a three-day seminar. I began with a one-hour presentation on the gospel of grace and the reality of Salvation. Using Scripture, story, symbolism, and personal experience, I focused on the total sufficiency of the redeeming work of Jesus Christ on Calvary. The service ended with a song and a prayer.
Leaving the church by a side door, the pastor turned to his associate and fumed, 'Humph, that airhead didn't say one thing about what we have to do to earn our salvation!'
Something is radically wrong. — Brennan Manning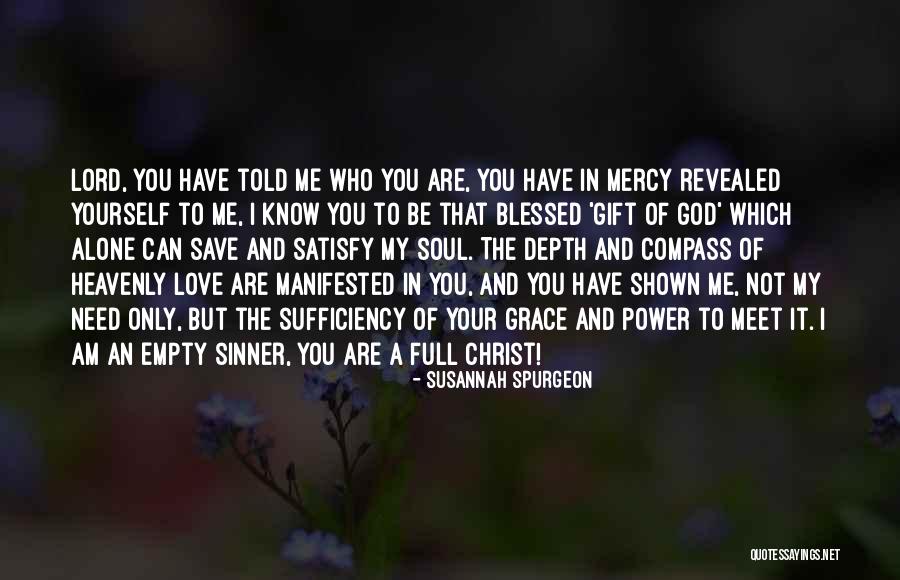 Lord, You have told me who You are, You have in mercy revealed Yourself to me, I know You to be that blessed 'gift of God' which alone can save and satisfy my soul. The depth and compass of heavenly love are manifested in You, and You have shown me, not my need only, but the sufficiency of Your grace and power to meet it. I am an empty sinner, You are a full Christ! — Susannah Spurgeon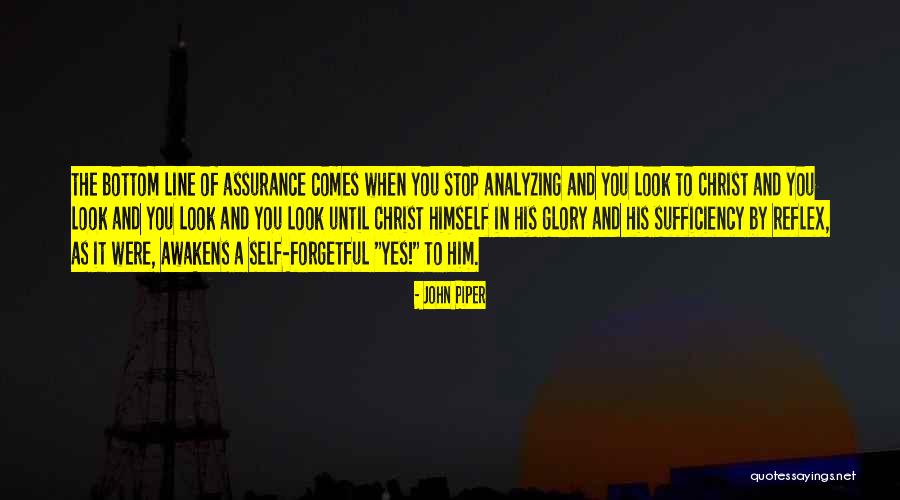 the bottom line of assurance comes when you stop analyzing and you look to Christ and you look and you look and you look until Christ himself in his glory and his sufficiency by reflex, as it were, awakens a self-forgetful "Yes!" to him. — John Piper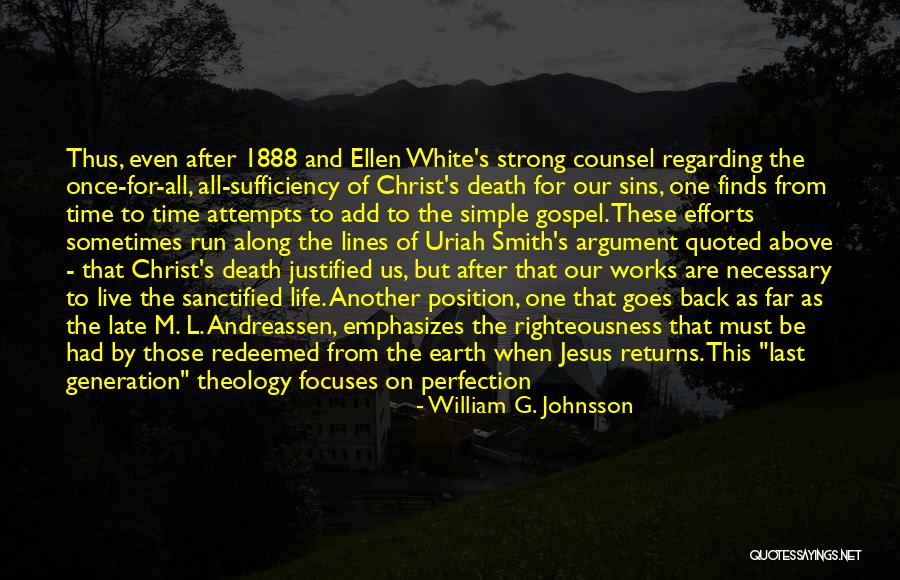 Thus, even after 1888 and Ellen White's strong counsel regarding the once-for-all, all-sufficiency of Christ's death for our sins, one finds from time to time attempts to add to the simple gospel. These efforts sometimes run along the lines of Uriah Smith's argument quoted above - that Christ's death justified us, but after that our works are necessary to live the sanctified life. Another position, one that goes back as far as the late M. L. Andreassen, emphasizes the righteousness that must be had by those redeemed from the earth when Jesus returns. This "last generation" theology focuses on perfection of character rather than righteousness by faith. In doing so it falls into the error that Paul addressed in his letter to the Galatians, namely, adding something to the gospel, which declares that Christ has done it all for us. — William G. Johnsson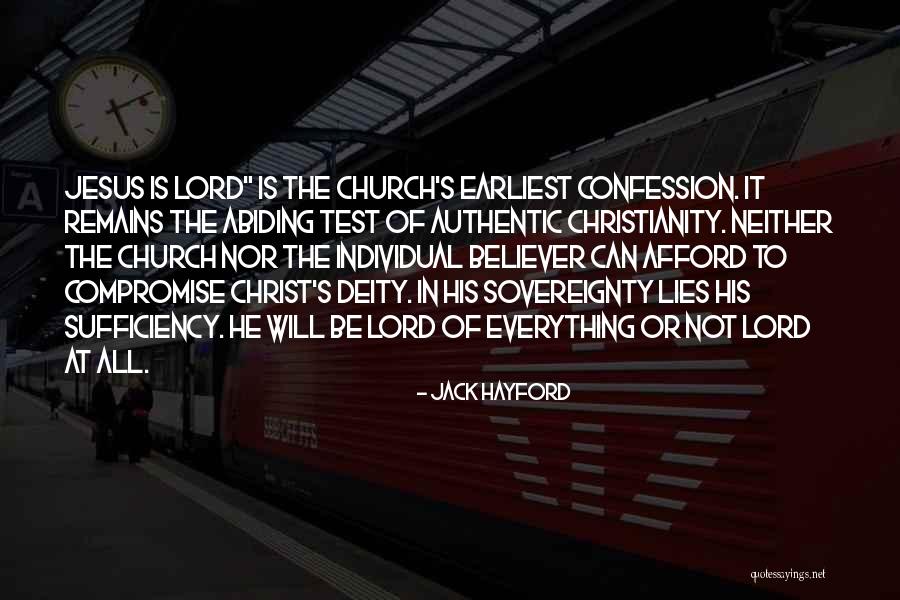 Jesus is Lord" is the church's earliest confession. It remains the abiding test of authentic Christianity. Neither the church nor the individual believer can afford to compromise Christ's deity. In His sovereignty lies His sufficiency. He will be Lord of everything or not Lord at all. — Jack Hayford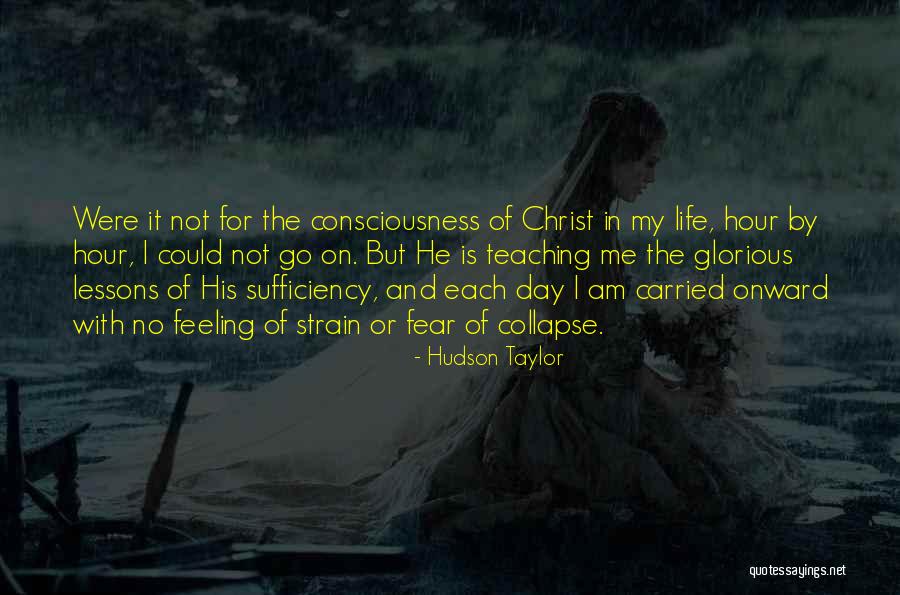 Were it not for the consciousness of Christ in my life, hour by hour, I could not go on. But He is teaching me the glorious lessons of His sufficiency, and each day I am carried onward with no feeling of strain or fear of collapse. — Hudson Taylor