Quotes & Sayings About The Military Industrial Complex
Enjoy reading and share 58 famous quotes about The Military Industrial Complex with everyone.
Top The Military Industrial Complex Quotes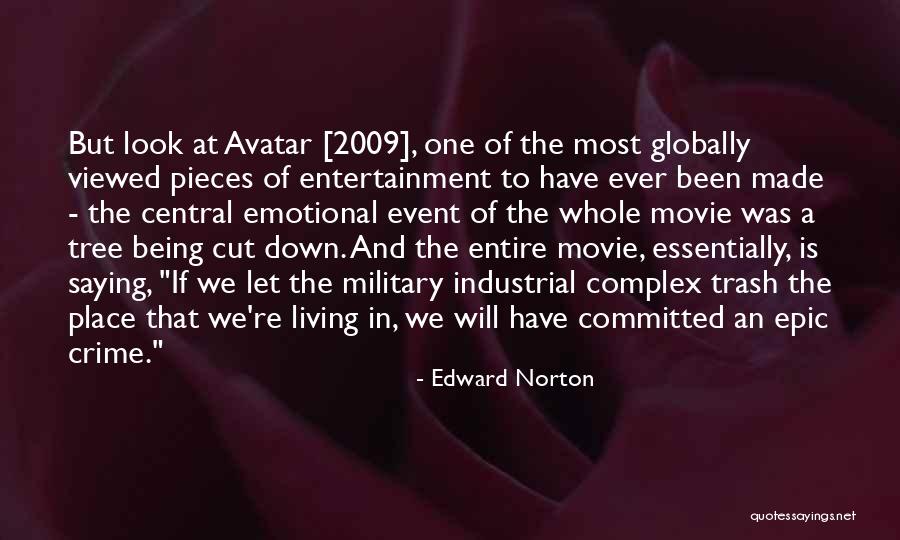 But look at Avatar [2009], one of the most globally viewed pieces of entertainment to have ever been made - the central emotional event of the whole movie was a tree being cut down. And the entire movie, essentially, is saying, "If we let the military industrial complex trash the place that we're living in, we will have committed an epic crime." — Edward Norton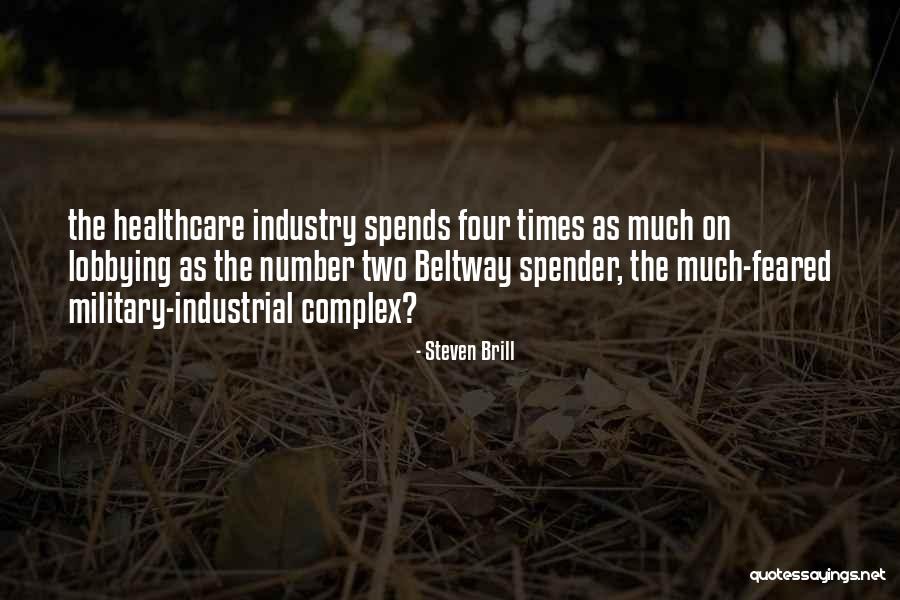 the healthcare industry spends four times as much on lobbying as the number two Beltway spender, the much-feared military-industrial complex? — Steven Brill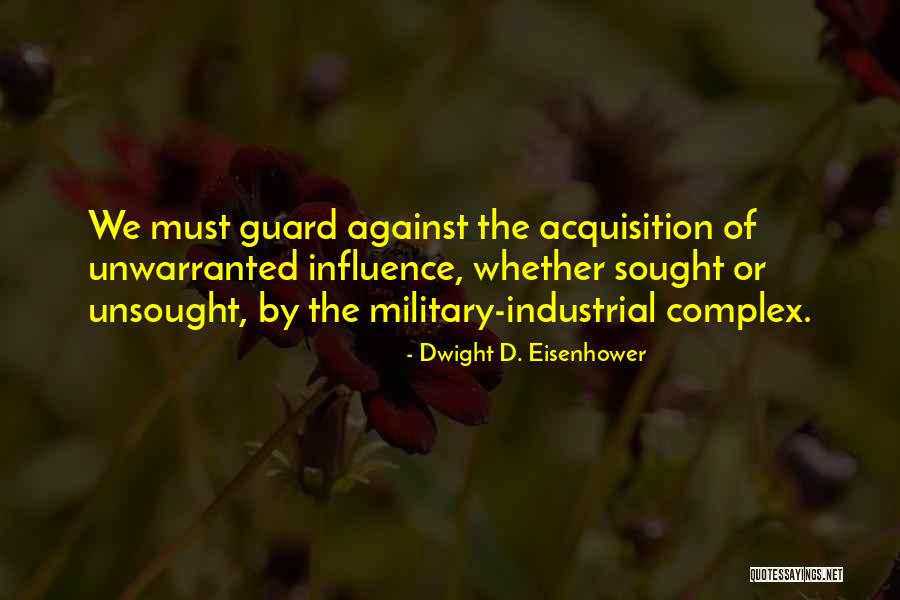 We must guard against the acquisition of unwarranted influence, whether sought or unsought, by the military-industrial complex. — Dwight D. Eisenhower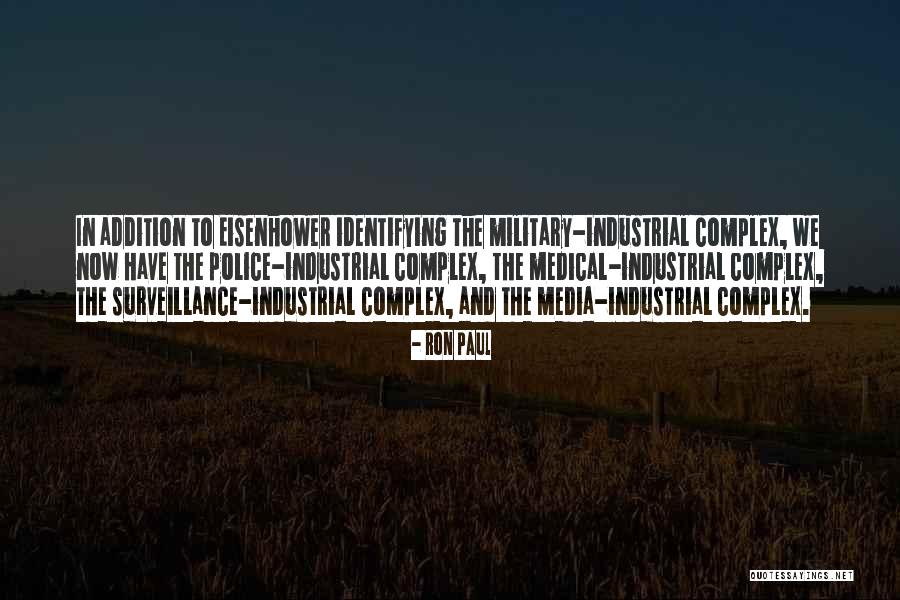 In addition to Eisenhower identifying the military-industrial complex, we now have the police-industrial complex, the medical-industrial complex, the surveillance-industrial complex, and the media-industrial complex. — Ron Paul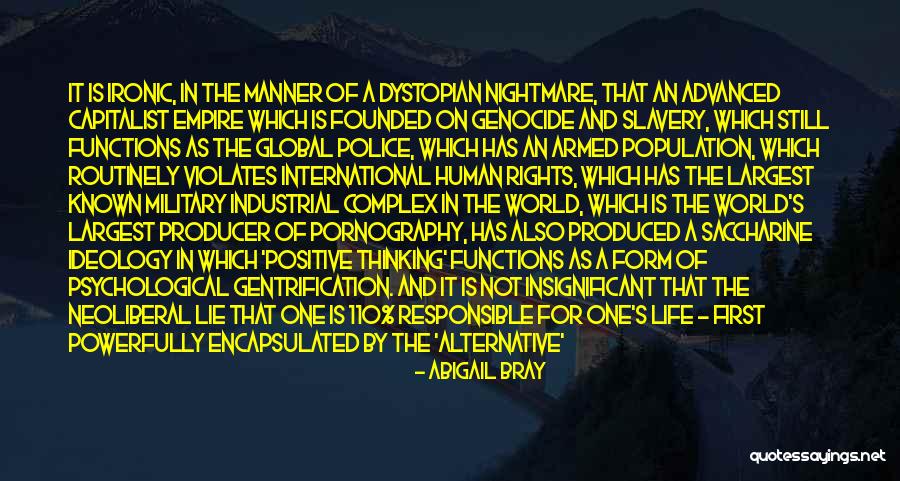 It is ironic, in the manner of a dystopian nightmare, that an advanced capitalist empire which is founded on genocide and slavery, which still functions as the global police, which has an armed population, which routinely violates international human rights, which has the largest known military industrial complex in the world, which is the world's largest producer of pornography, has also produced a saccharine ideology in which 'positive thinking' functions as a form of psychological gentrification. And it is not insignificant that the neoliberal lie that one is 110% responsible for one's life - first powerfully encapsulated by the 'alternative' conservative thinker Louise Hay, and more recently echoed by Eckhart Tolle, author of The Power of Now (1997/2005) - is directed at women. Today, gendered victim-blaming has become a form of upwardly mobile common sense 'wisdom'. Now victimblaming is expressed by voices that sound soothing, wise, calm, above all, loving. — Abigail Bray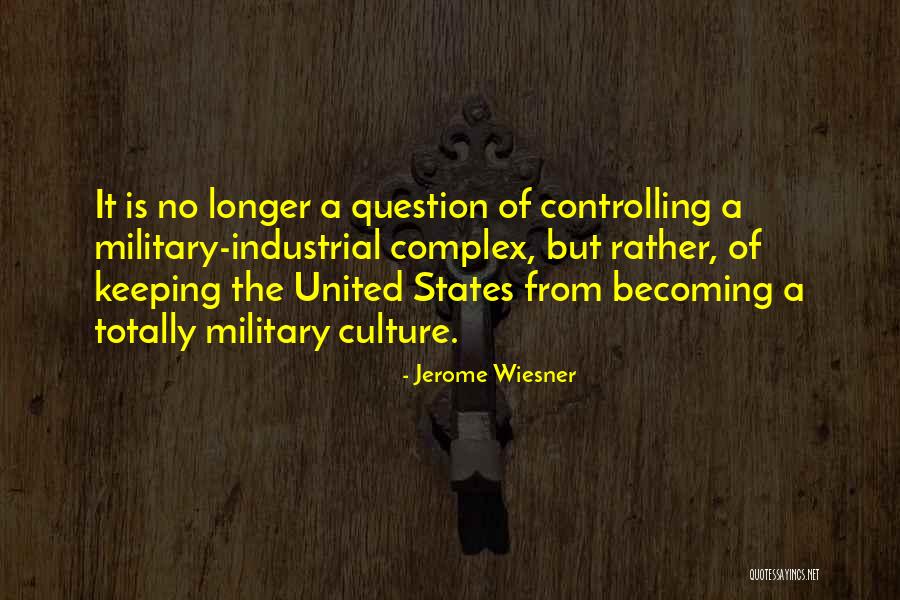 It is no longer a question of controlling a military-industrial complex, but rather, of keeping the United States from becoming a totally military culture. — Jerome Wiesner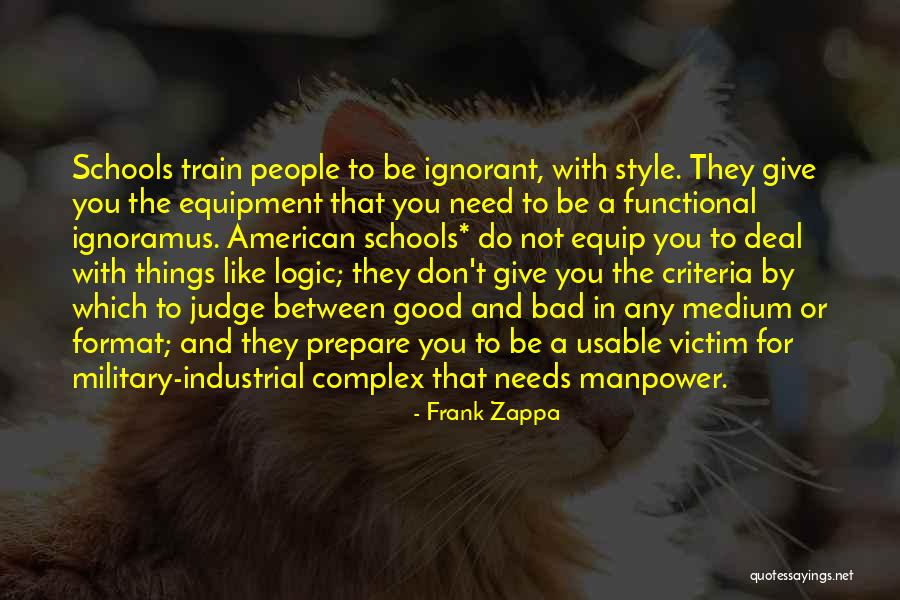 Schools train people to be ignorant, with style. They give you the equipment that you need to be a functional ignoramus. American schools* do not equip you to deal with things like logic; they don't give you the criteria by which to judge between good and bad in any medium or format; and they prepare you to be a usable victim for military-industrial complex that needs manpower. — Frank Zappa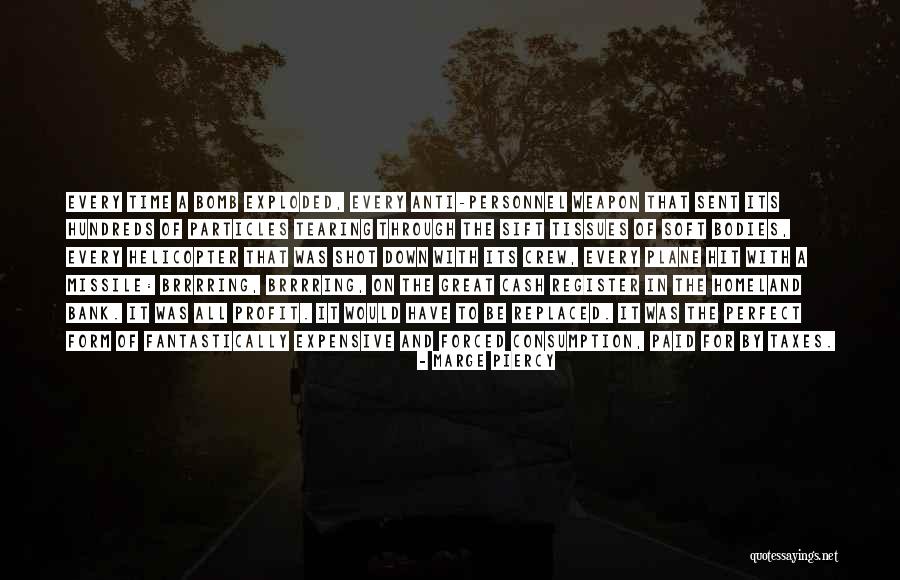 Every time a bomb exploded, every anti-personnel weapon that sent its hundreds of particles tearing through the sift tissues of soft bodies, every helicopter that was shot down with its crew, every plane hit with a missile: brrrring, brrrring, on the great cash register in the homeland bank. It was all profit. It would have to be replaced. It was the perfect form of fantastically expensive and forced consumption, paid for by taxes. — Marge Piercy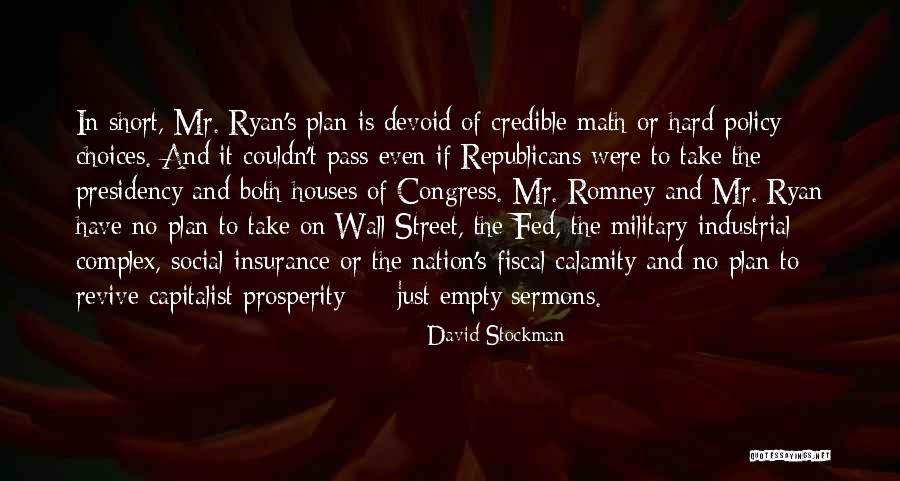 In short, Mr. Ryan's plan is devoid of credible math or hard policy choices. And it couldn't pass even if Republicans were to take the presidency and both houses of Congress. Mr. Romney and Mr. Ryan have no plan to take on Wall Street, the Fed, the military-industrial complex, social insurance or the nation's fiscal calamity and no plan to revive capitalist prosperity - just empty sermons. — David Stockman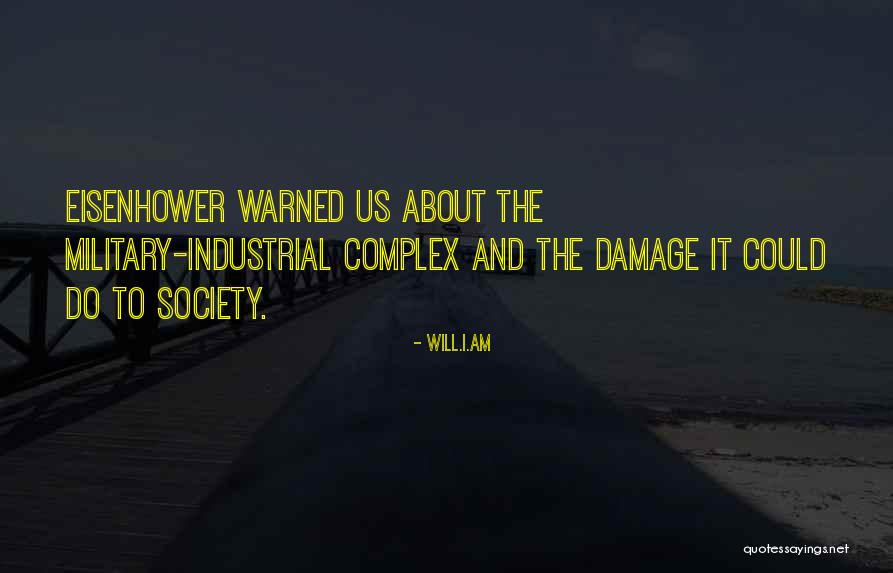 Eisenhower warned us about the military-industrial complex and the damage it could do to society. — Will.i.am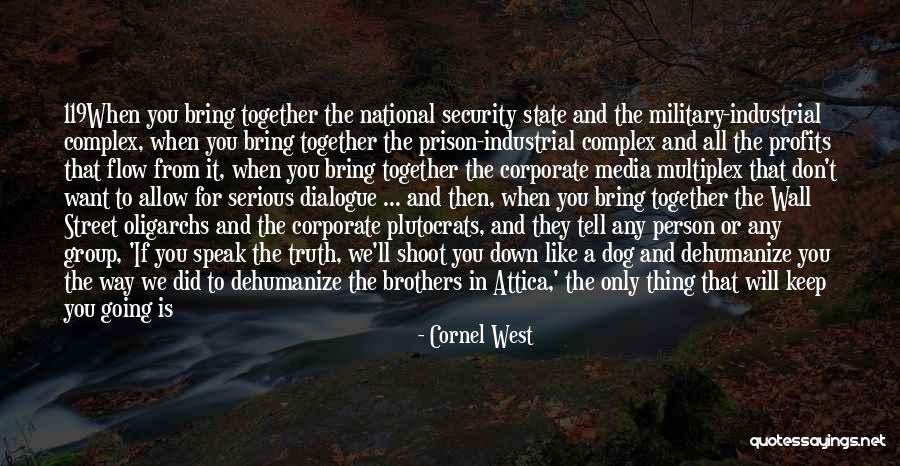 119When you bring together the national security state and the military-industrial complex, when you bring together the prison-industrial complex and all the profits that flow from it, when you bring together the corporate media multiplex that don't want to allow for serious dialogue ... and then, when you bring together the Wall Street oligarchs and the corporate plutocrats, and they tell any person or any group, 'If you speak the truth, we'll shoot you down like a dog and dehumanize you the way we did to dehumanize the brothers in Attica,' the only thing that will keep you going is you better have some love in your heart for the people. — Cornel West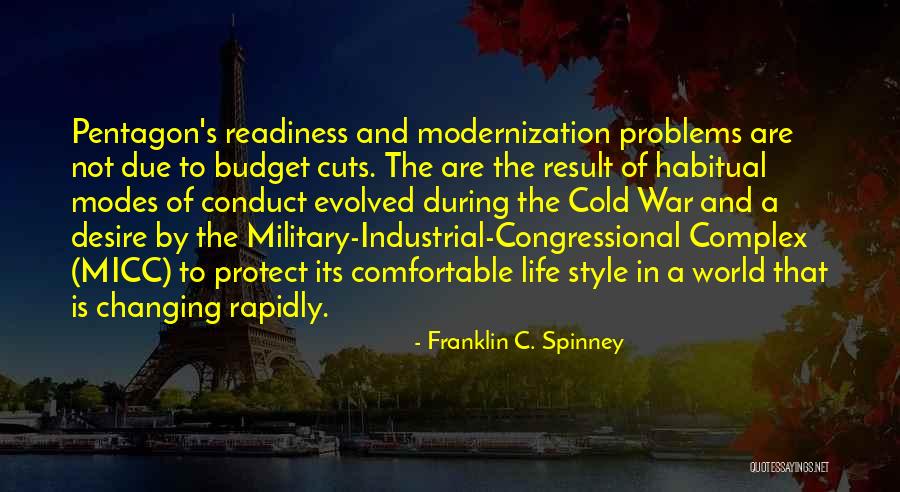 Pentagon's readiness and modernization problems are not due to budget cuts. The are the result of habitual modes of conduct evolved during the Cold War and a desire by the Military-Industrial-Congressional Complex (MICC) to protect its comfortable life style in a world that is changing rapidly. — Franklin C. Spinney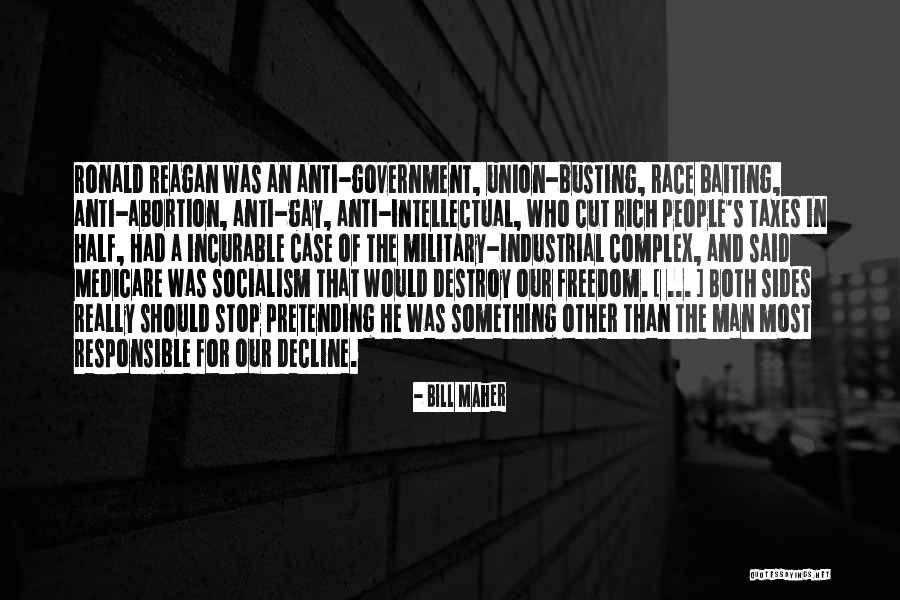 Ronald Reagan was an anti-government, union-busting, race baiting, anti-abortion, anti-gay, anti-intellectual, who cut rich people's taxes in half, had a incurable case of the military-industrial complex, and said Medicare was socialism that would destroy our freedom. [ ... ] Both sides really should stop pretending he was something other than the man most responsible for our decline. — Bill Maher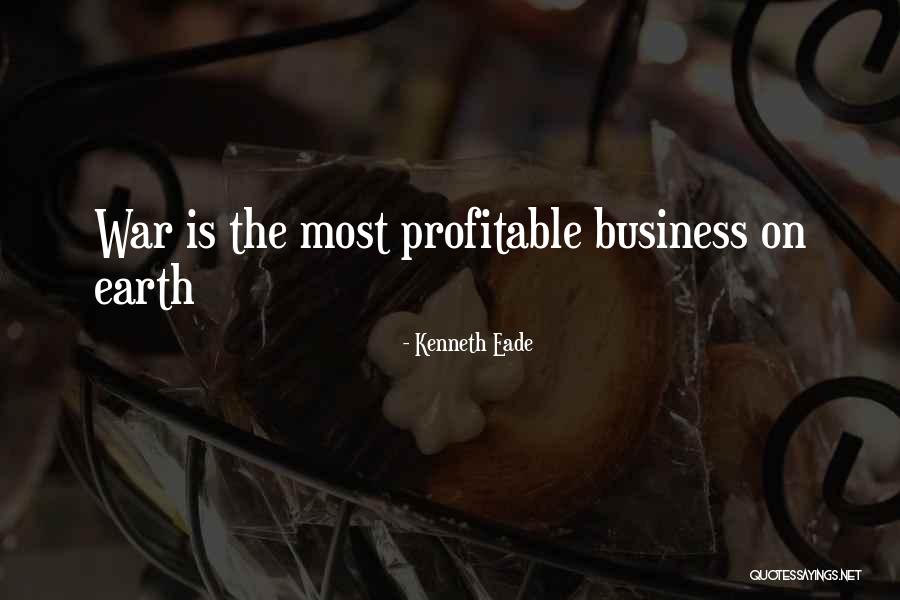 War is the most profitable business on earth — Kenneth Eade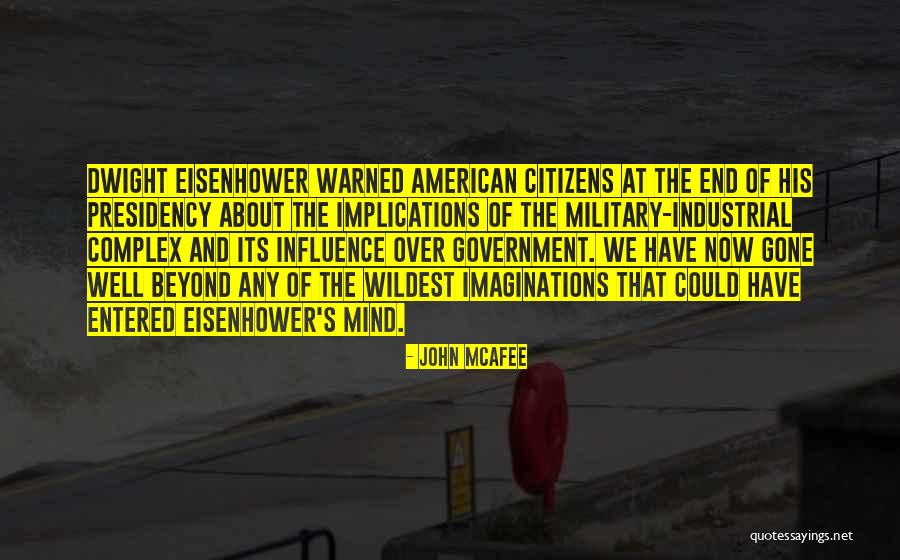 Dwight Eisenhower warned American citizens at the end of his presidency about the implications of the military-industrial complex and its influence over government. We have now gone well beyond any of the wildest imaginations that could have entered Eisenhower's mind. — John McAfee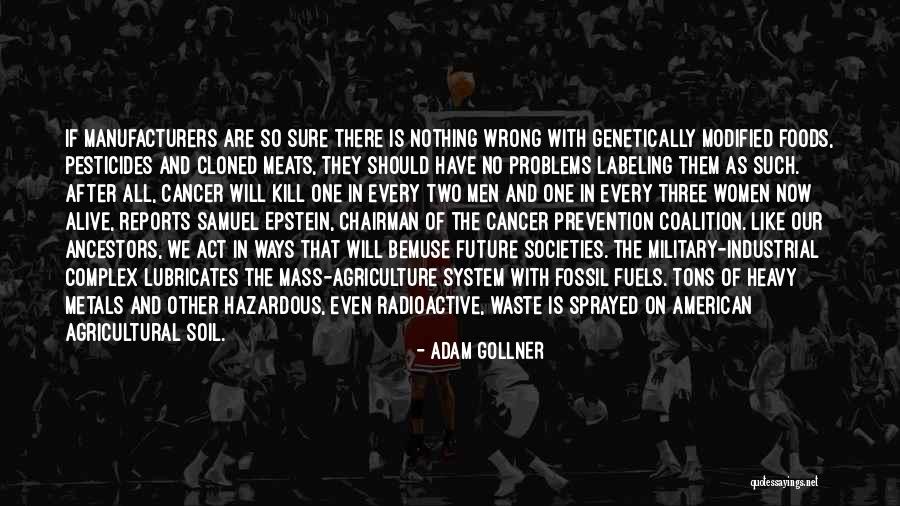 If manufacturers are so sure there is nothing wrong with genetically modified foods, pesticides and cloned meats, they should have no problems labeling them as such. After all, cancer will kill one in every two men and one in every three women now alive, reports Samuel Epstein, chairman of the Cancer Prevention Coalition. Like our ancestors, we act in ways that will bemuse future societies. The military-industrial complex lubricates the mass-agriculture system with fossil fuels. Tons of heavy metals and other hazardous, even radioactive, waste is sprayed on American agricultural soil. — Adam Gollner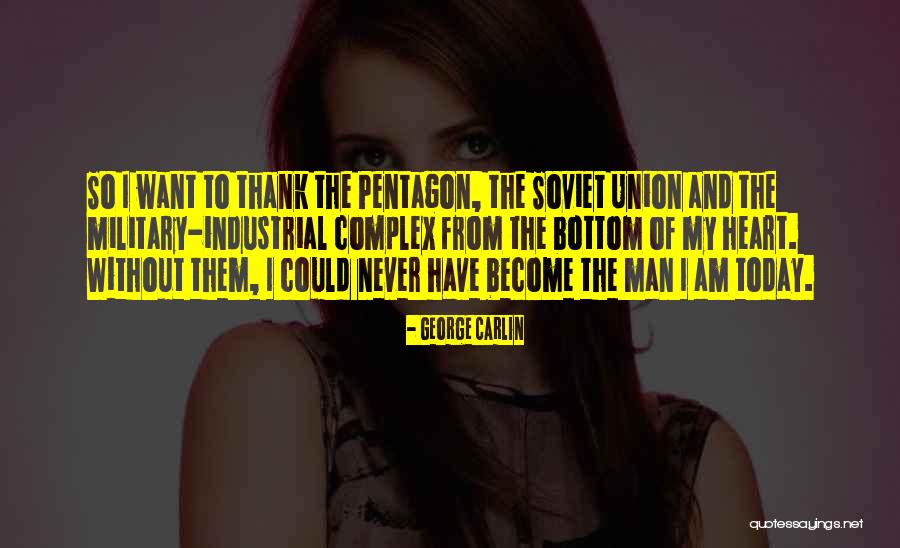 So I want to thank the Pentagon, the Soviet Union and the military-industrial complex from the bottom of my heart. Without them, I could never have become the man I am today. — George Carlin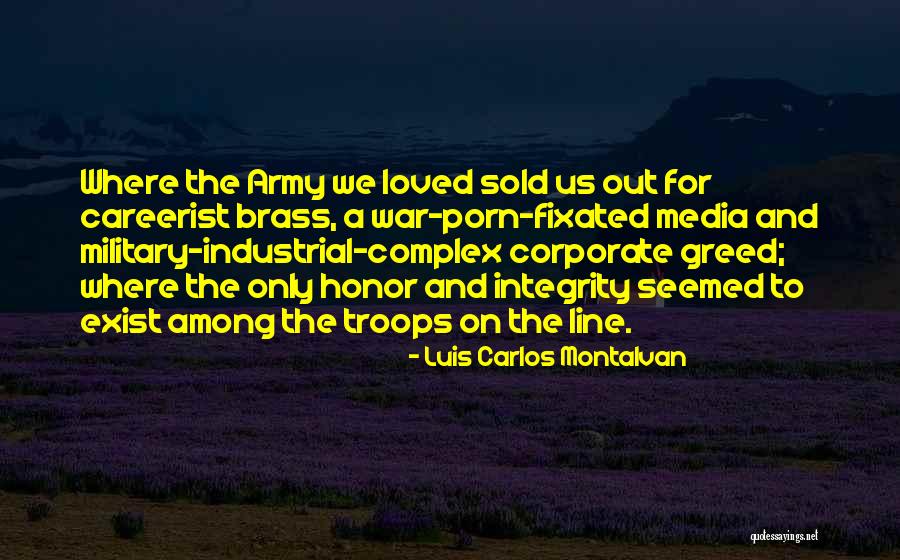 Where the Army we loved sold us out for careerist brass, a war-porn-fixated media and military-industrial-complex corporate greed; where the only honor and integrity seemed to exist among the troops on the line. — Luis Carlos Montalvan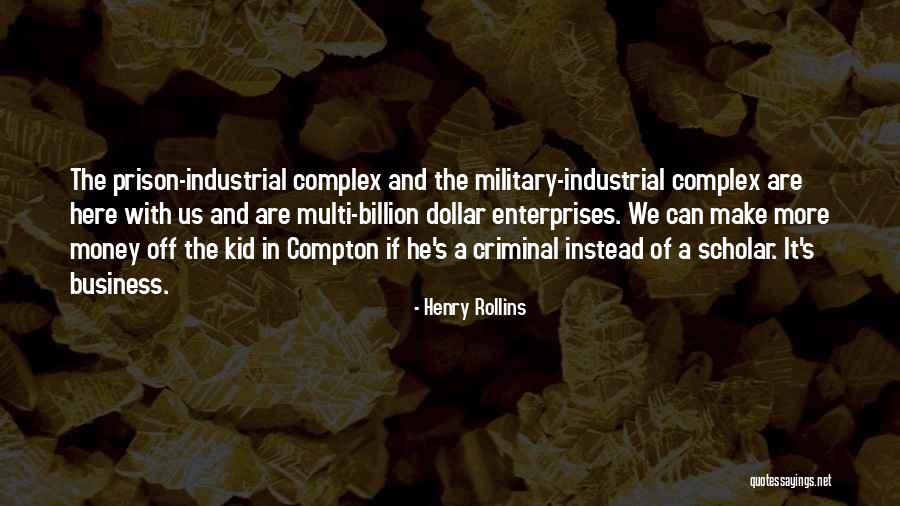 The prison-industrial complex and the military-industrial complex are here with us and are multi-billion dollar enterprises. We can make more money off the kid in Compton if he's a criminal instead of a scholar. It's business. — Henry Rollins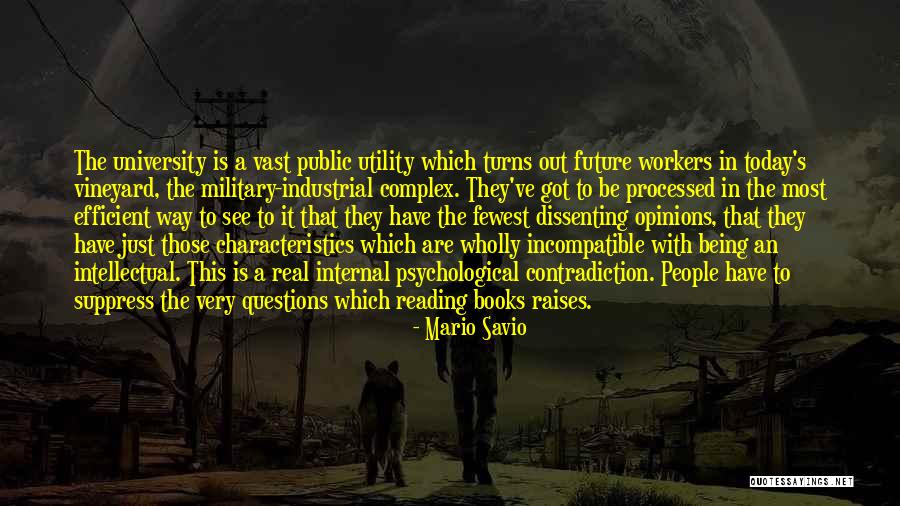 The university is a vast public utility which turns out future workers in today's vineyard, the military-industrial complex. They've got to be processed in the most efficient way to see to it that they have the fewest dissenting opinions, that they have just those characteristics which are wholly incompatible with being an intellectual. This is a real internal psychological contradiction. People have to suppress the very questions which reading books raises. — Mario Savio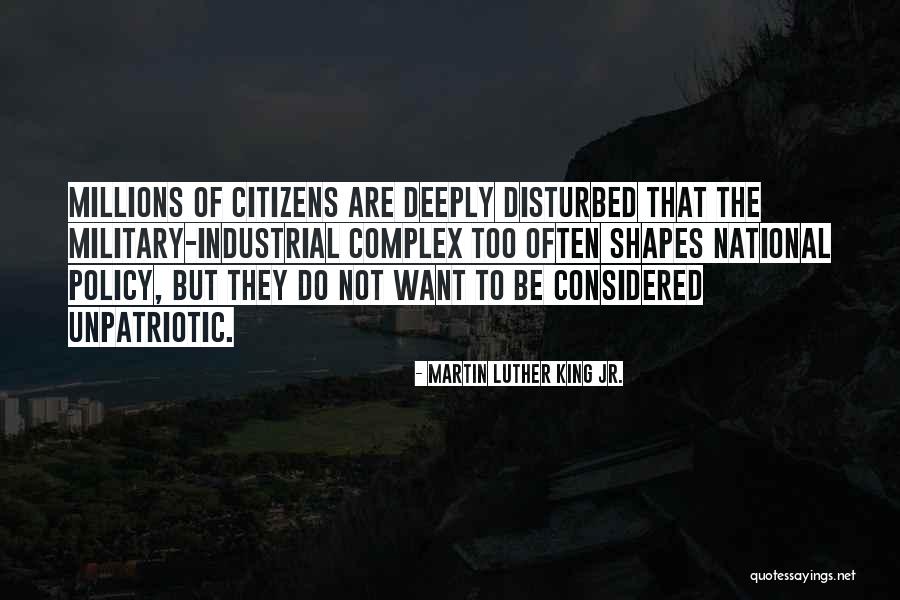 Millions of citizens are deeply disturbed that the military-industrial complex too often shapes national policy, but they do not want to be considered unpatriotic. — Martin Luther King Jr.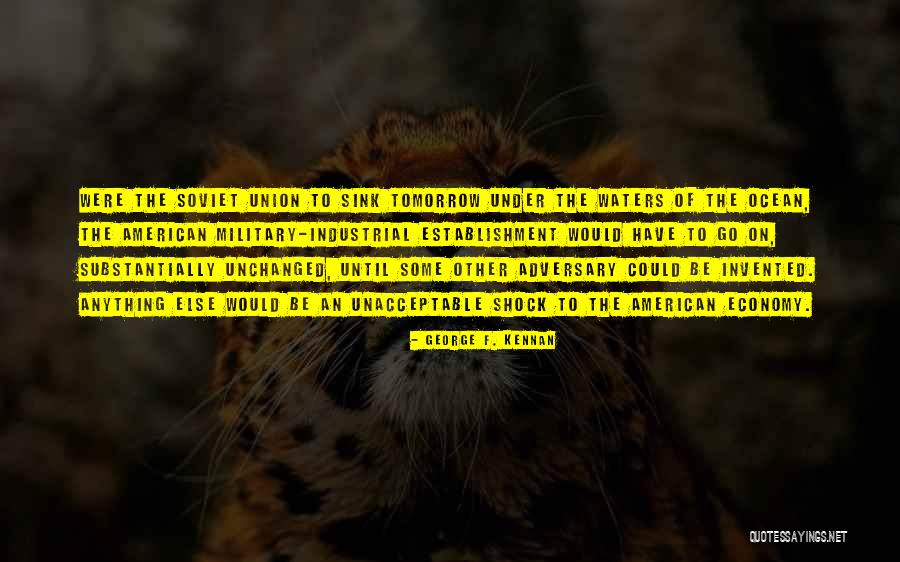 Were the Soviet Union to sink tomorrow under the waters of the ocean, the American military-industrial establishment would have to go on, substantially unchanged, until some other adversary could be invented. Anything else would be an unacceptable shock to the American economy. — George F. Kennan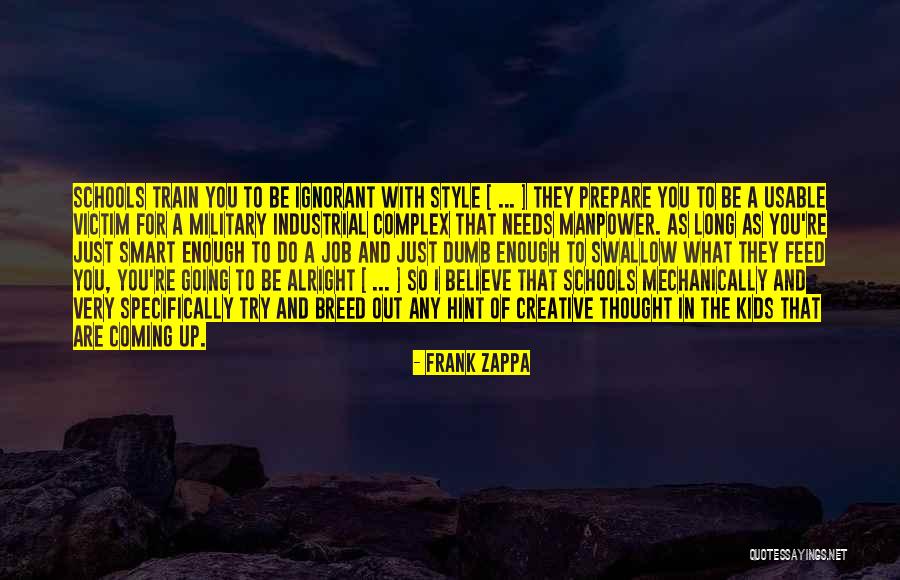 Schools train you to be ignorant with style [ ... ] they prepare you to be a usable victim for a military industrial complex that needs manpower. As long as you're just smart enough to do a job and just dumb enough to swallow what they feed you, you're going to be alright [ ... ] So I believe that schools mechanically and very specifically try and breed out any hint of creative thought in the kids that are coming up. — Frank Zappa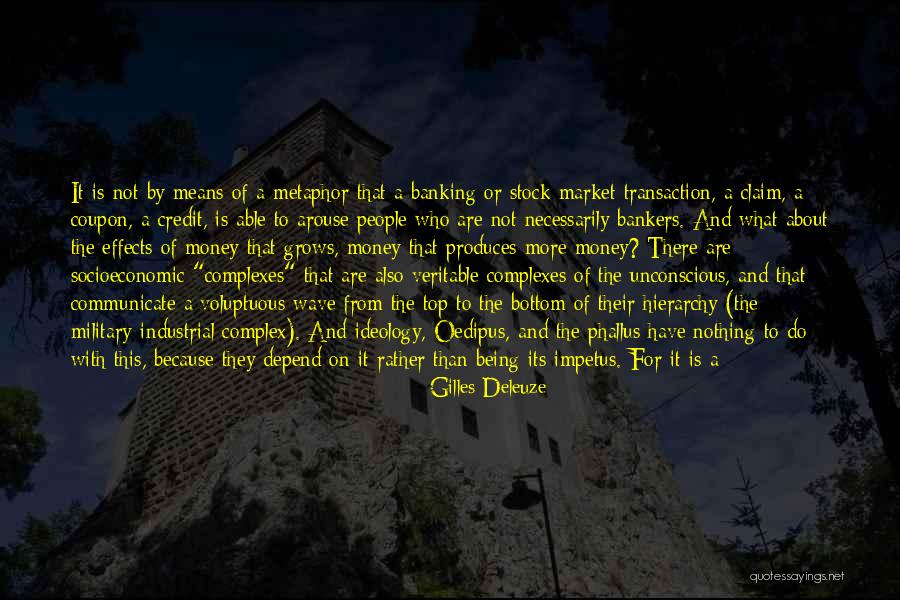 It is not by means of a metaphor that a banking or stock-market transaction, a claim, a coupon, a credit, is able to arouse people who are not necessarily bankers. And what about the effects of money that grows, money that produces more money? There are socioeconomic "complexes" that are also veritable complexes of the unconscious, and that communicate a voluptuous wave from the top to the bottom of their hierarchy (the military-industrial complex). And ideology, Oedipus, and the phallus have nothing to do with this, because they depend on it rather than being its impetus. For it is a matter of flows, of stocks, of breaks in and fluctuations of flows; desire is present wherever something flows and runs, carrying along with it interested subjects - but also drunken or slumbering subjects - toward lethal destinations. — Gilles Deleuze
Carl took on the military-industrial complex. He campaigned around the world for an end to the production of weapons of mass destruction. To him it was a perversion of science. — Ann Druyan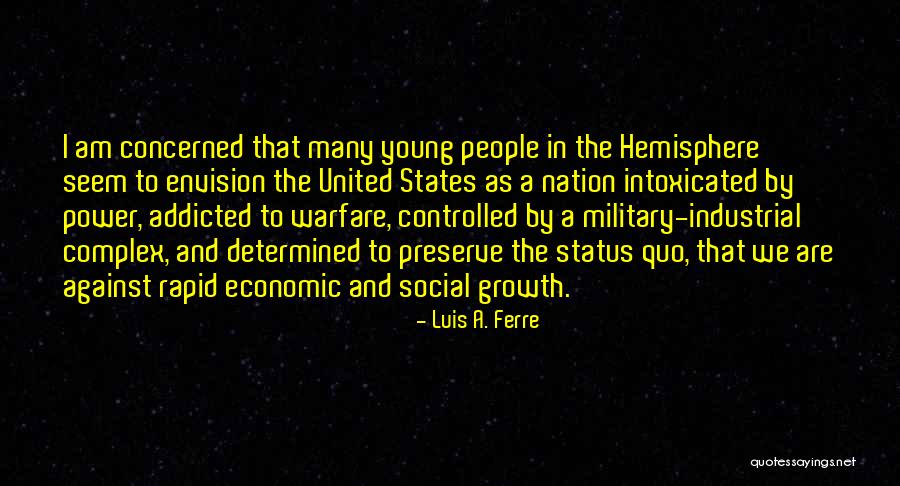 I am concerned that many young people in the Hemisphere seem to envision the United States as a nation intoxicated by power, addicted to warfare, controlled by a military-industrial complex, and determined to preserve the status quo, that we are against rapid economic and social growth. — Luis A. Ferre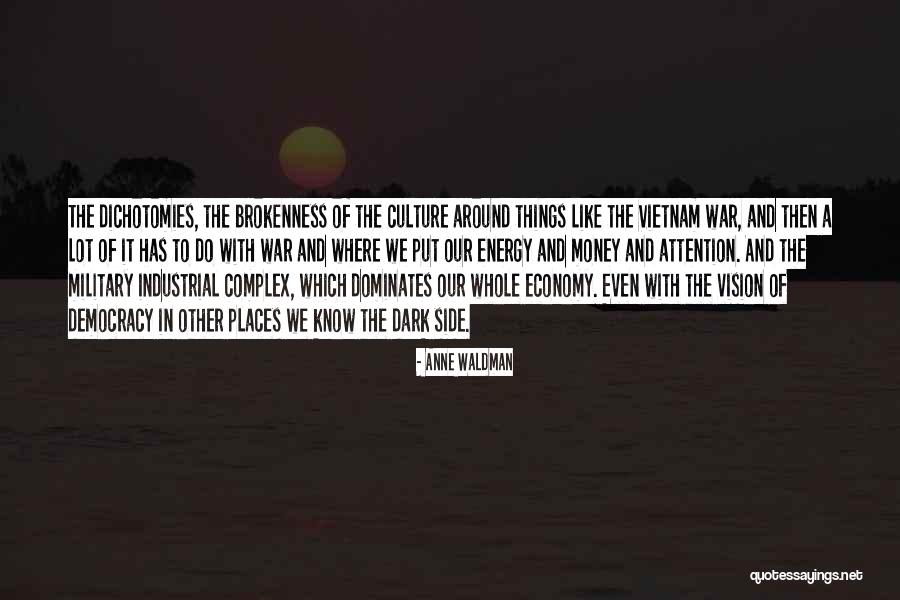 The dichotomies, the brokenness of the culture around things like the Vietnam war, and then a lot of it has to do with war and where we put our energy and money and attention. And the military industrial complex, which dominates our whole economy. Even with the vision of democracy in other places we know the dark side. — Anne Waldman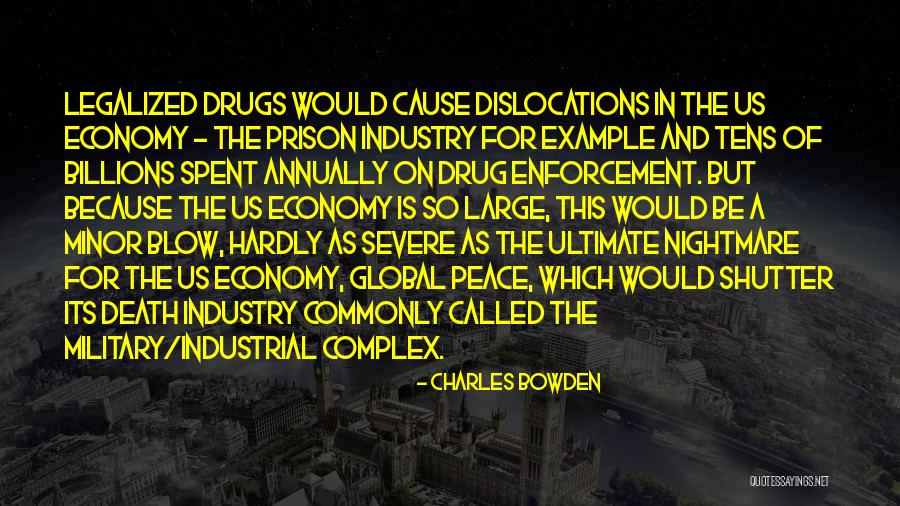 Legalized drugs would cause dislocations in the US economy - the prison industry for example and tens of billions spent annually on drug enforcement. But because the US economy is so large, this would be a minor blow, hardly as severe as the ultimate nightmare for the US economy, global peace, which would shutter its death industry commonly called the military/industrial complex. — Charles Bowden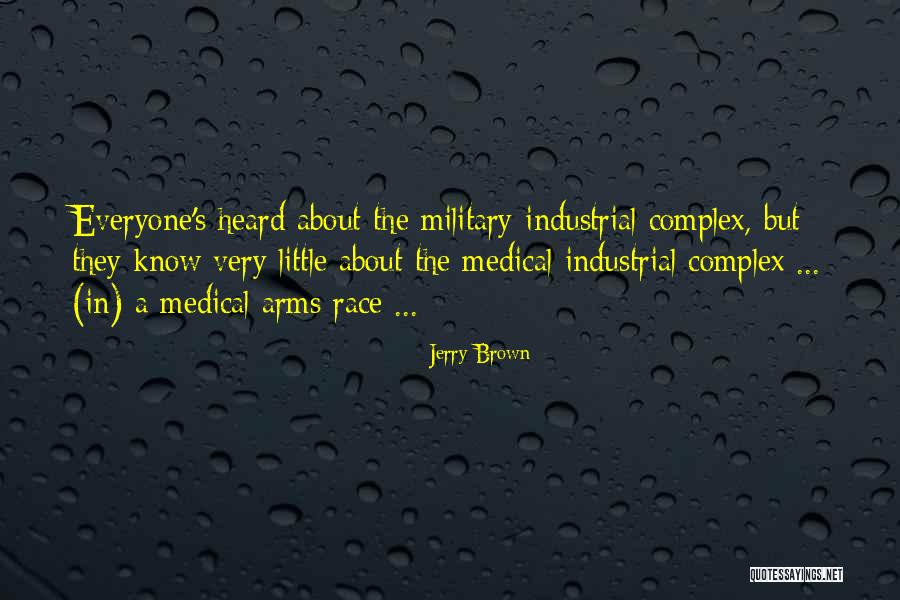 Everyone's heard about the military-industrial complex, but they know very little about the medical-industrial complex ... (in) a medical arms race ... — Jerry Brown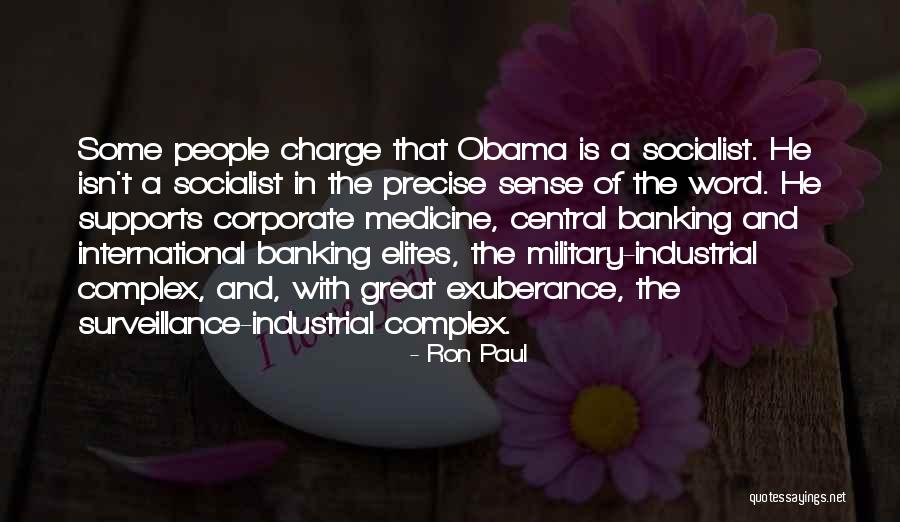 Some people charge that Obama is a socialist. He isn't a socialist in the precise sense of the word. He supports corporate medicine, central banking and international banking elites, the military-industrial complex, and, with great exuberance, the surveillance-industrial complex. — Ron Paul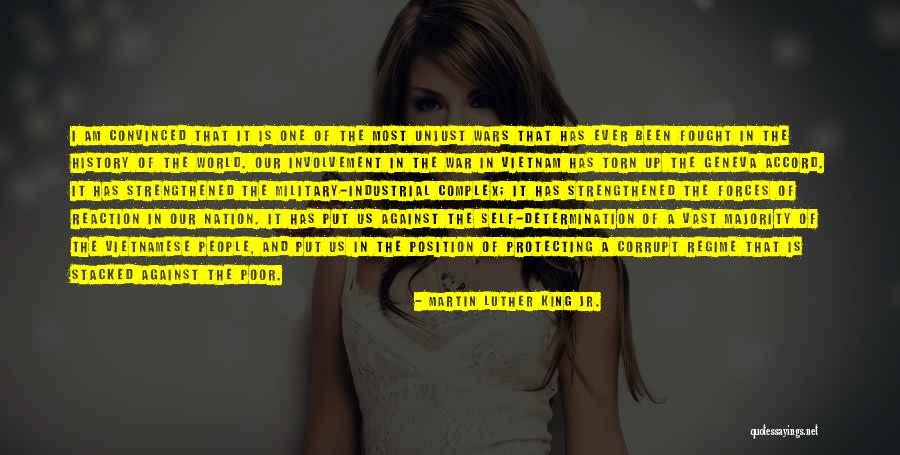 I am convinced that it is one of the most unjust wars that has ever been fought in the history of the world. Our involvement in the war in Vietnam has torn up the Geneva Accord. It has strengthened the military-industrial complex; it has strengthened the forces of reaction in our nation. It has put us against the self-determination of a vast majority of the Vietnamese people, and put us in the position of protecting a corrupt regime that is stacked against the poor. — Martin Luther King Jr.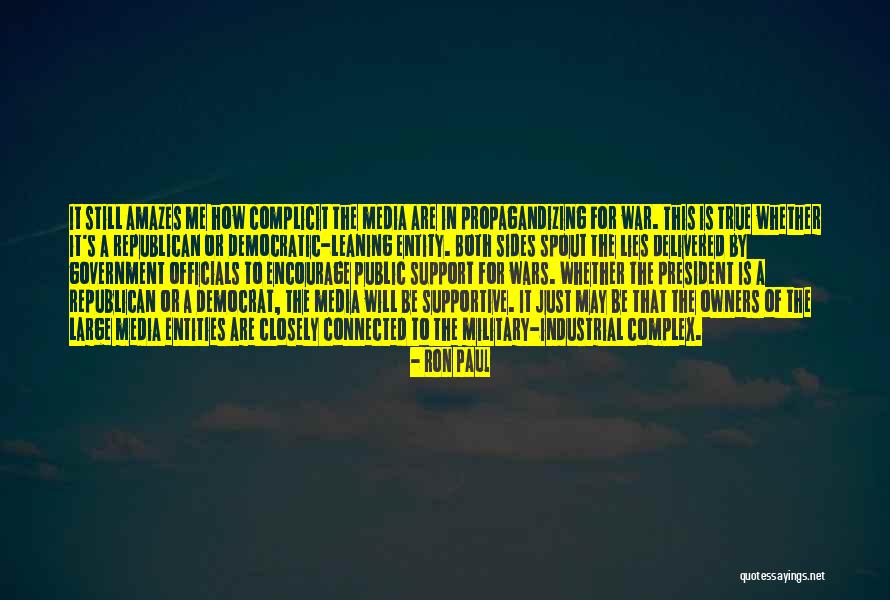 It still amazes me how complicit the media are in propagandizing for war. This is true whether it's a Republican or Democratic-leaning entity. Both sides spout the lies delivered by government officials to encourage public support for wars. Whether the president is a Republican or a Democrat, the media will be supportive. It just may be that the owners of the large media entities are closely connected to the military-industrial complex. — Ron Paul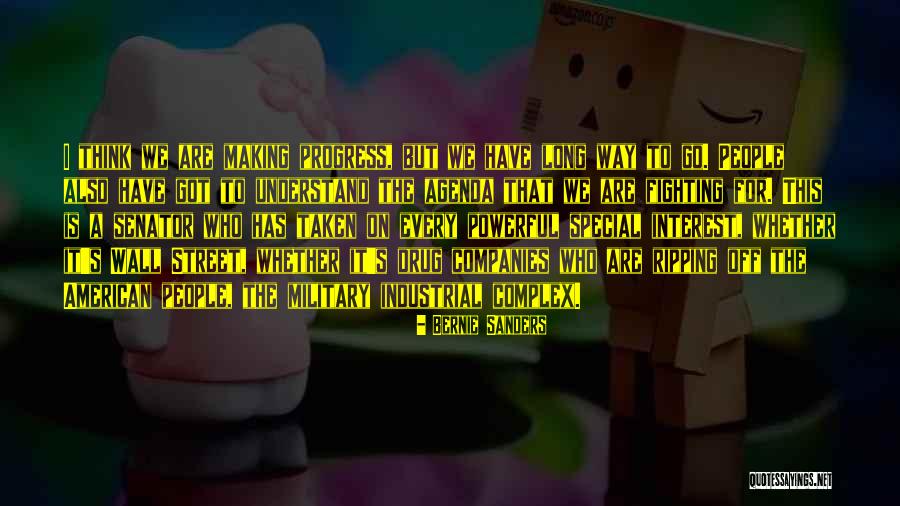 I think we are making progress, but we have long way to go. People also have got to understand the agenda that we are fighting for. This is a senator who has taken on every powerful special interest, whether it's Wall Street, whether it's drug companies who are ripping off the American people, the military industrial complex. — Bernie Sanders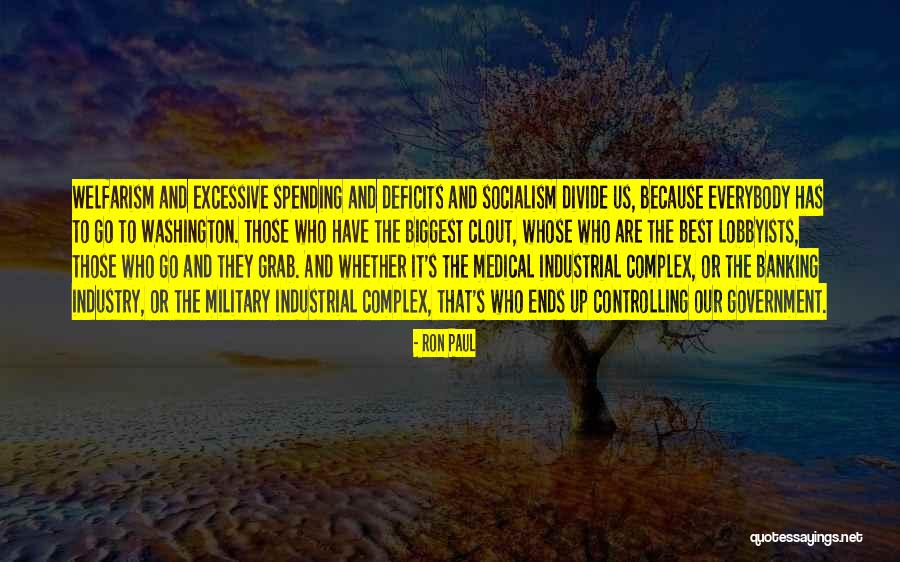 Welfarism and excessive spending and deficits and socialism divide us, because everybody has to go to Washington. Those who have the biggest clout, whose who are the best lobbyists, those who go and they grab. And whether it's the medical industrial complex, or the banking industry, or the military industrial complex, that's who ends up controlling our government. — Ron Paul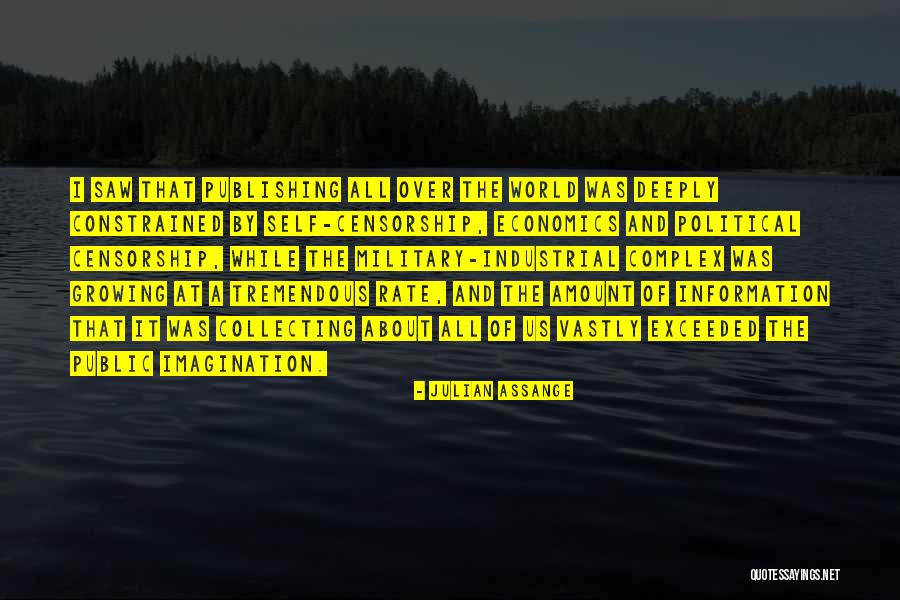 I saw that publishing all over the world was deeply constrained by self-censorship, economics and political censorship, while the military-industrial complex was growing at a tremendous rate, and the amount of information that it was collecting about all of us vastly exceeded the public imagination. — Julian Assange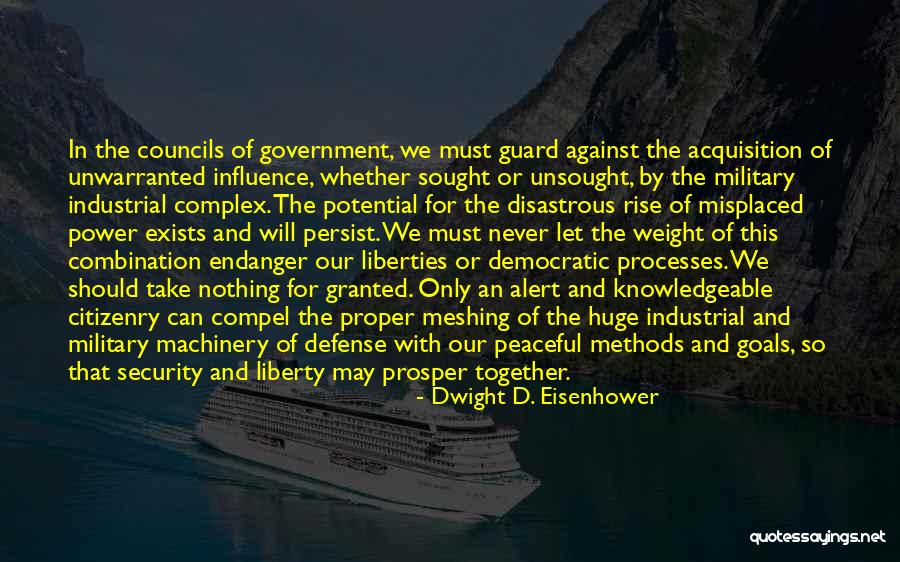 In the councils of government, we must guard against the acquisition of unwarranted influence, whether sought or unsought, by the military industrial complex. The potential for the disastrous rise of misplaced power exists and will persist. We must never let the weight of this combination endanger our liberties or democratic processes. We should take nothing for granted. Only an alert and knowledgeable citizenry can compel the proper meshing of the huge industrial and military machinery of defense with our peaceful methods and goals, so that security and liberty may prosper together. — Dwight D. Eisenhower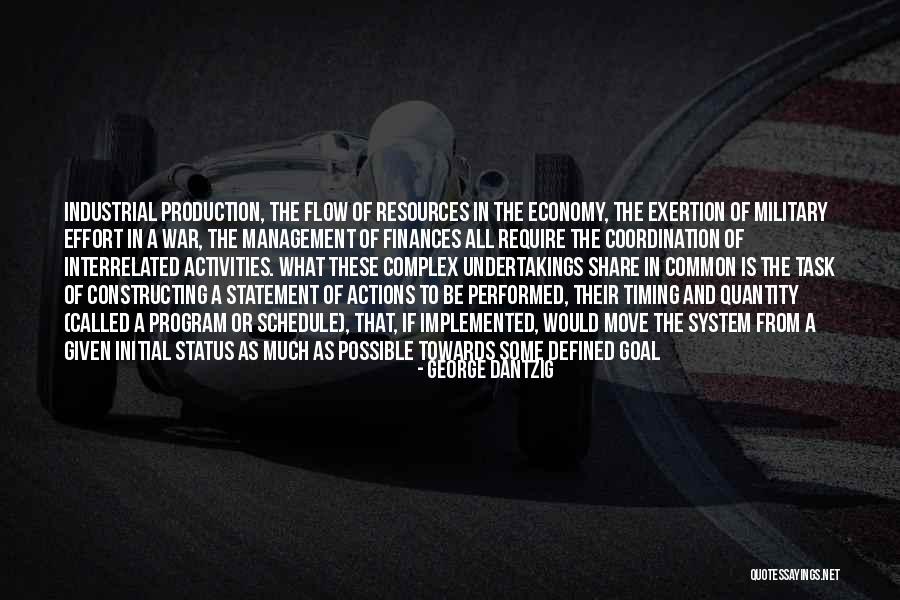 Industrial production, the flow of resources in the economy, the exertion of military effort in a war, the management of finances
all require the coordination of interrelated activities. What these complex undertakings share in common is the task of constructing a statement of actions to be performed, their timing and quantity (called a program or schedule), that, if implemented, would move the system from a given initial status as much as possible towards some defined goal — George Dantzig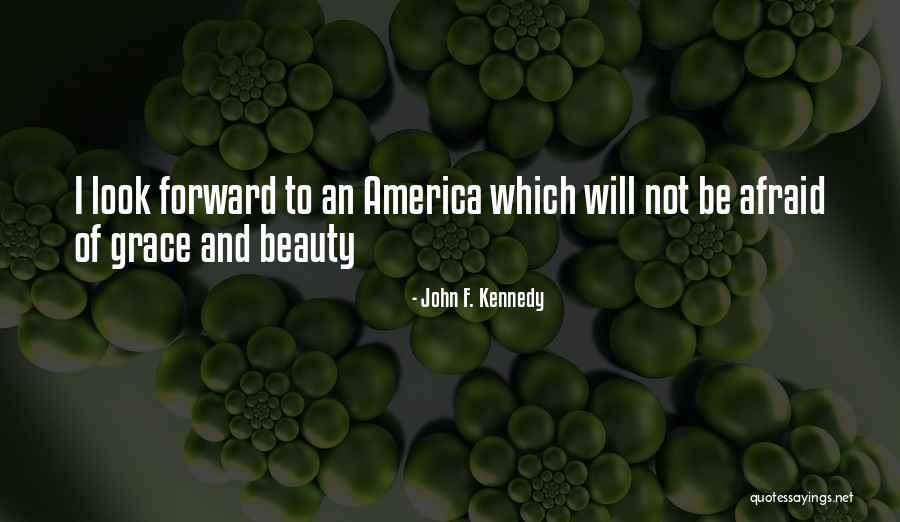 I look forward to an America which will not be afraid of grace and beauty — John F. Kennedy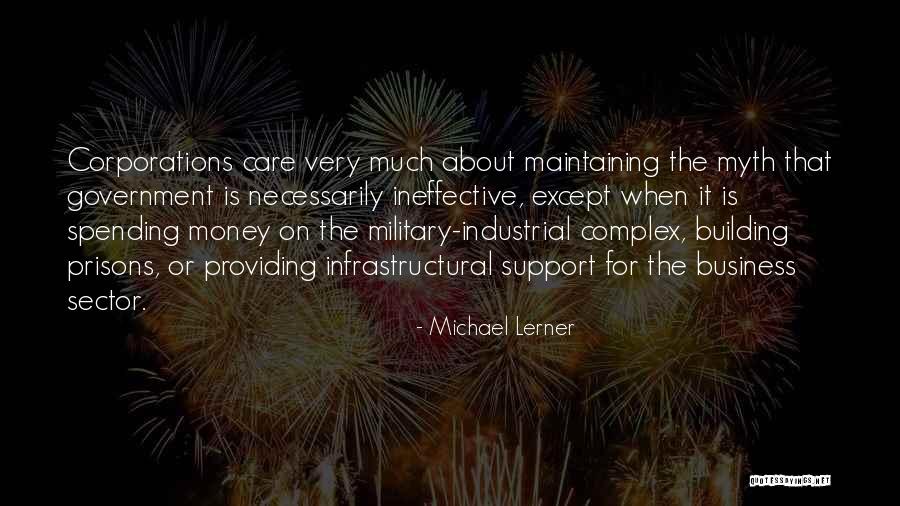 Corporations care very much about maintaining the myth that government is necessarily ineffective, except when it is spending money on the military-industrial complex, building prisons, or providing infrastructural support for the business sector. — Michael Lerner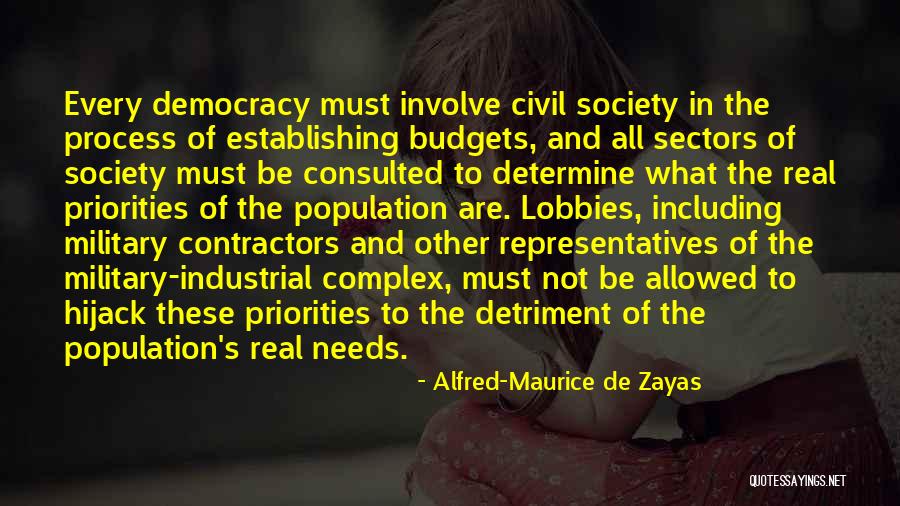 Every democracy must involve civil society in the process of establishing budgets, and all sectors of society must be consulted to determine what the real priorities of the population are. Lobbies, including military contractors and other representatives of the military-industrial complex, must not be allowed to hijack these priorities to the detriment of the population's real needs. — Alfred-Maurice De Zayas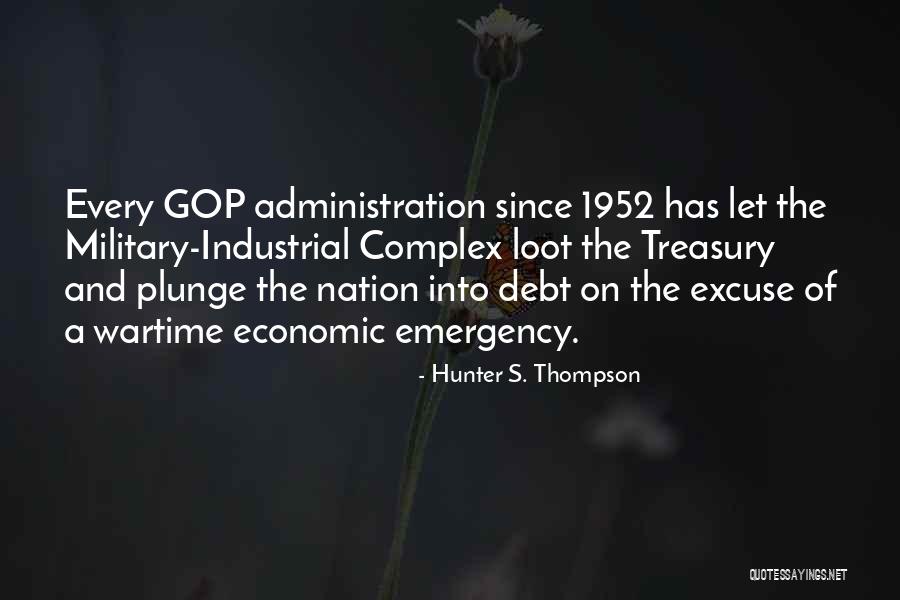 Every GOP administration since 1952 has let the Military-Industrial Complex loot the Treasury and plunge the nation into debt on the excuse of a wartime economic emergency. — Hunter S. Thompson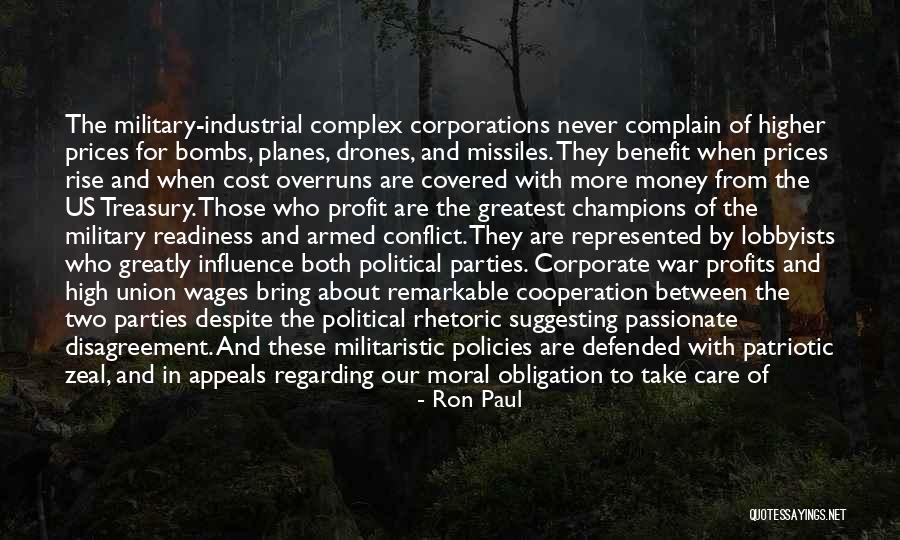 The military-industrial complex corporations never complain of higher prices for bombs, planes, drones, and missiles. They benefit when prices rise and when cost overruns are covered with more money from the US Treasury. Those who profit are the greatest champions of the military readiness and armed conflict. They are represented by lobbyists who greatly influence both political parties. Corporate war profits and high union wages bring about remarkable cooperation between the two parties despite the political rhetoric suggesting passionate disagreement. And these militaristic policies are defended with patriotic zeal, and in appeals regarding our moral obligation to take care of all the world's needs and to meet our obligation to spread our "goodness" around the world. — Ron Paul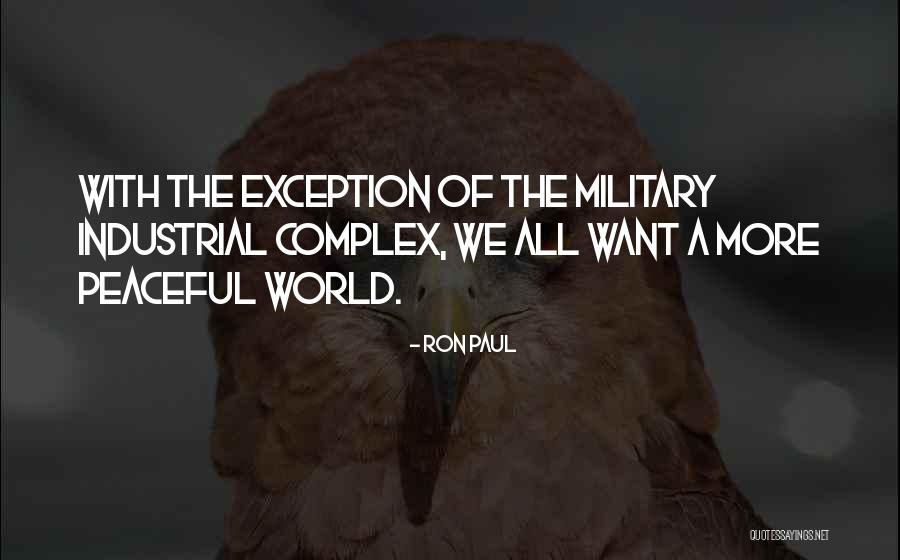 With the exception of the military industrial complex, we all want a more peaceful world. — Ron Paul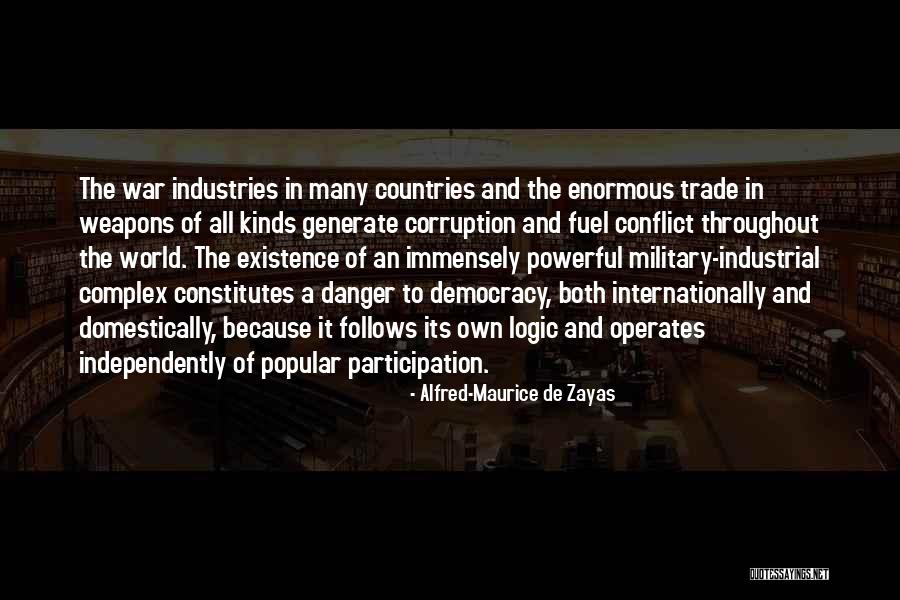 The war industries in many countries and the enormous trade in weapons of all kinds generate corruption and fuel conflict throughout the world. The existence of an immensely powerful military-industrial complex constitutes a danger to democracy, both internationally and domestically, because it follows its own logic and operates independently of popular participation. — Alfred-Maurice De Zayas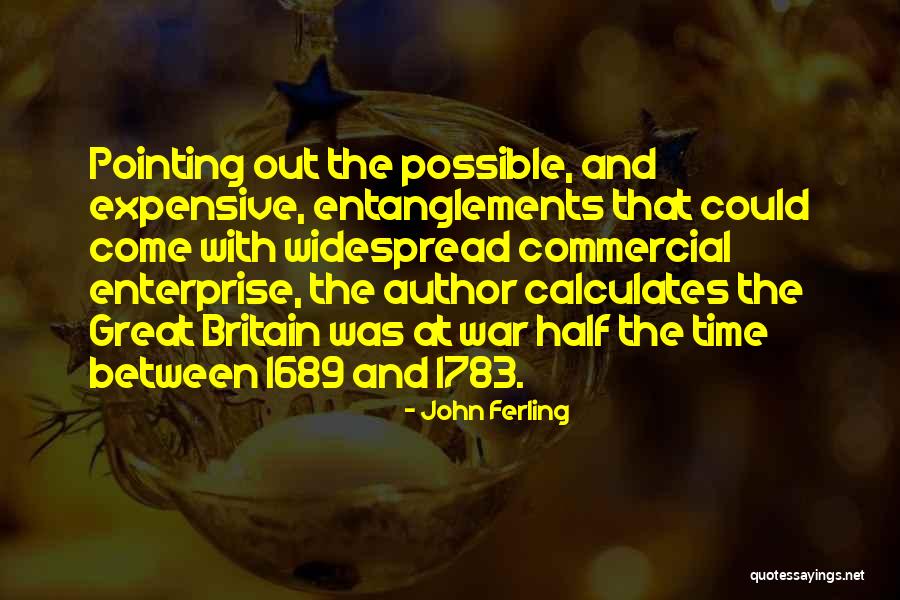 Pointing out the possible, and expensive, entanglements that could come with widespread commercial enterprise, the author calculates the Great Britain was at war half the time between 1689 and 1783. — John Ferling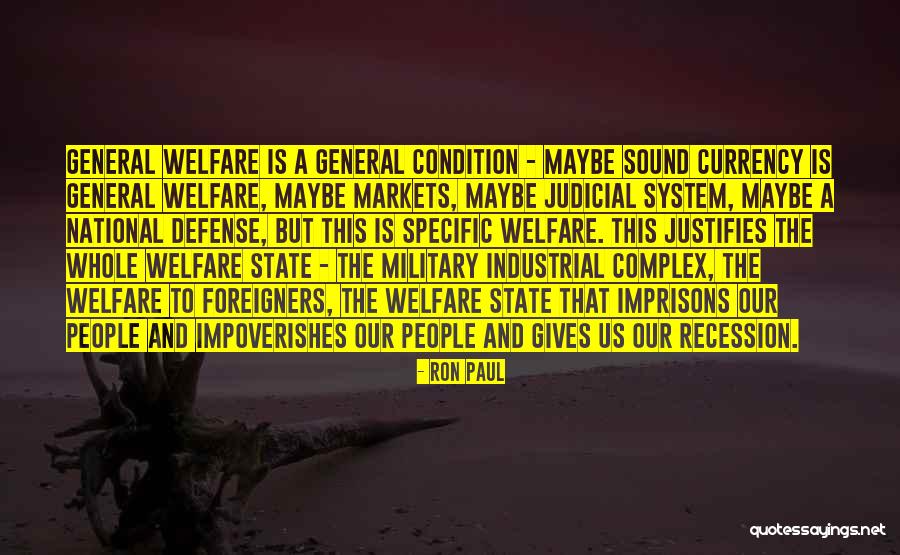 General welfare is a general condition - maybe sound currency is general welfare, maybe markets, maybe judicial system, maybe a national defense, but this is specific welfare. This justifies the whole welfare state - the military industrial complex, the welfare to foreigners, the welfare state that imprisons our people and impoverishes our people and gives us our recession. — Ron Paul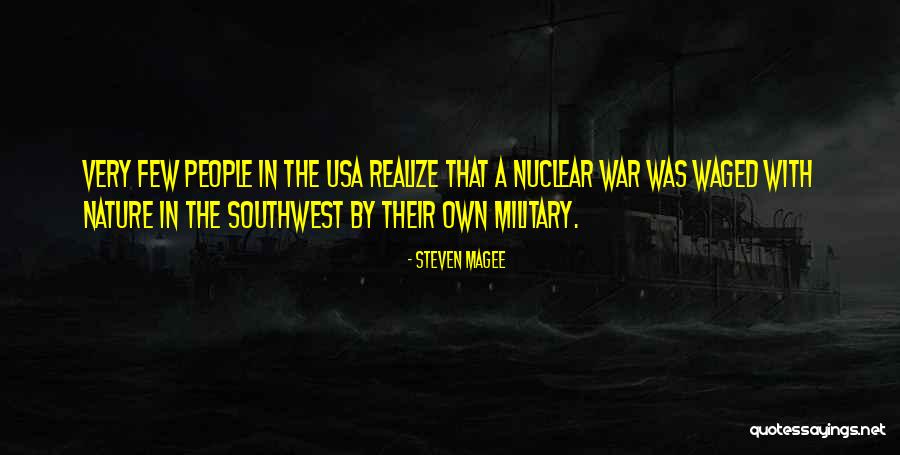 Very few people in the USA realize that a nuclear war was waged with nature in the southwest by their own military. — Steven Magee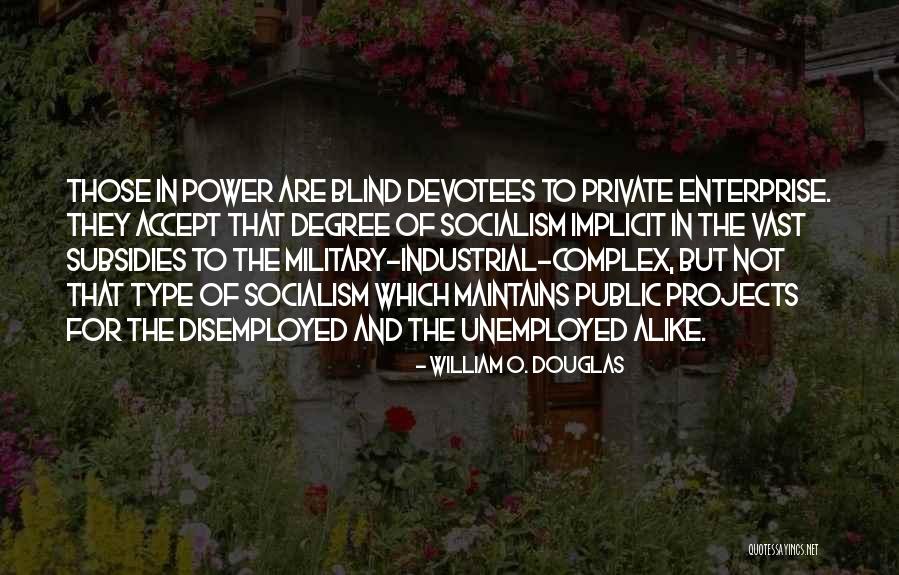 Those in power are blind devotees to private enterprise. They accept that degree of socialism implicit in the vast subsidies to the military-industrial-complex, but not that type of socialism which maintains public projects for the disemployed and the unemployed alike. — William O. Douglas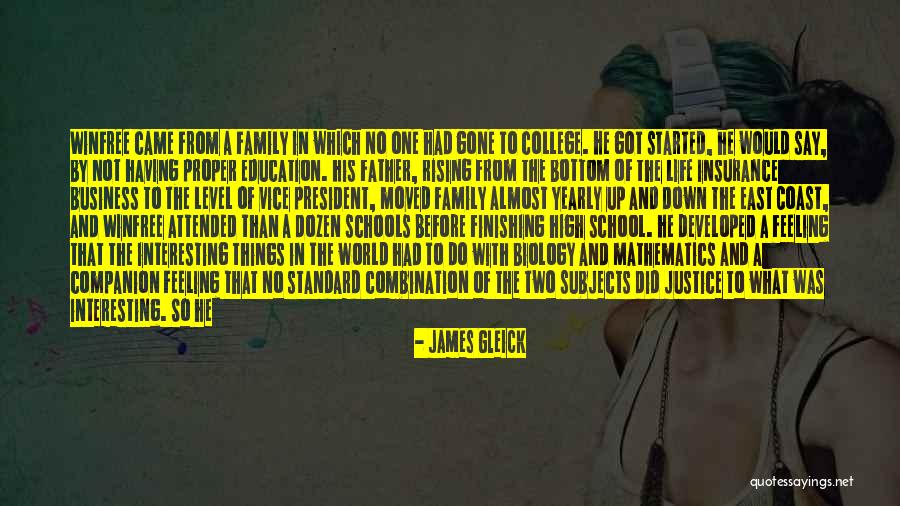 Winfree came from a family in which no one had gone to college. He got started, he would say, by not having proper education. His father, rising from the bottom of the life insurance business to the level of vice president, moved family almost yearly up and down the East Coast, and Winfree attended than a dozen schools before finishing high school. He developed a feeling that the interesting things in the world had to do with biology and mathematics and a companion feeling that no standard combination of the two subjects did justice to what was interesting. So he decided not to take a standard approach. He took a five-year course in engineering physics at Cornell University, learning applied mathematics and a full range of hands-on laboratory styles. Prepared to be hired into military-industrial complex, he got a doctorate in biology, striving to combine experiment with theory in new ways. — James Gleick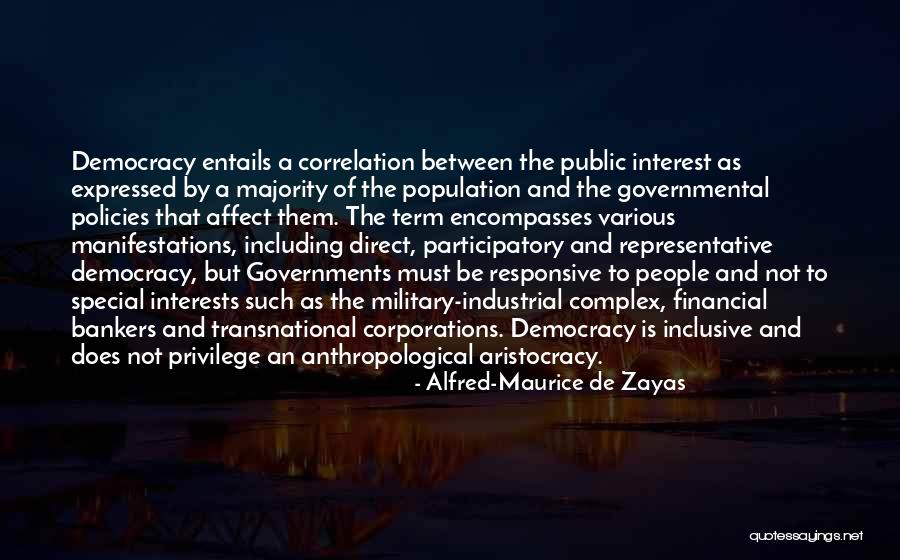 Democracy entails a correlation between the public interest as expressed by a majority of the population and the governmental policies that affect them. The term encompasses various manifestations, including direct, participatory and representative democracy, but Governments must be responsive to people and not to special interests such as the military-industrial complex, financial bankers and transnational corporations. Democracy is inclusive and does not privilege an anthropological aristocracy. — Alfred-Maurice De Zayas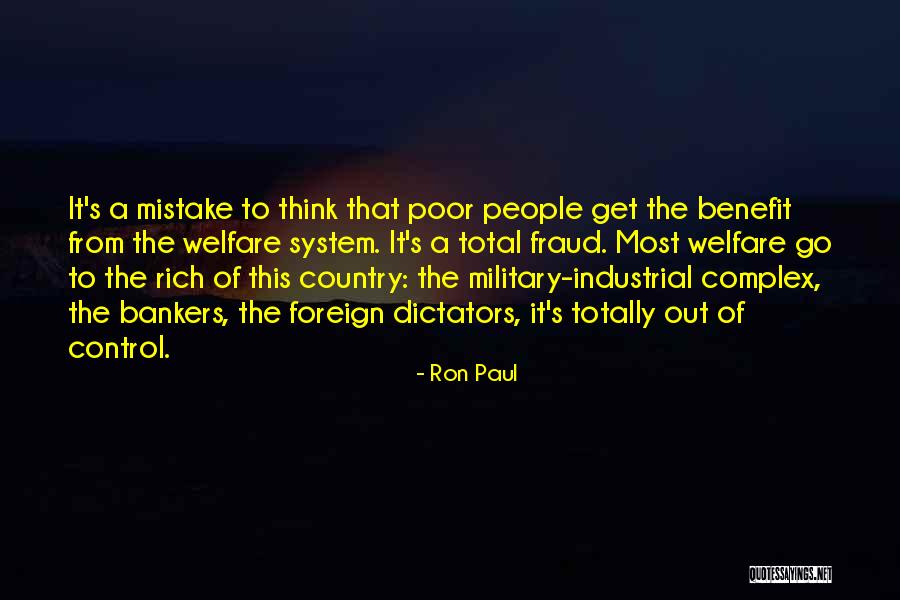 It's a mistake to think that poor people get the benefit from the welfare system. It's a total fraud. Most welfare go to the rich of this country: the military-industrial complex, the bankers, the foreign dictators, it's totally out of control. — Ron Paul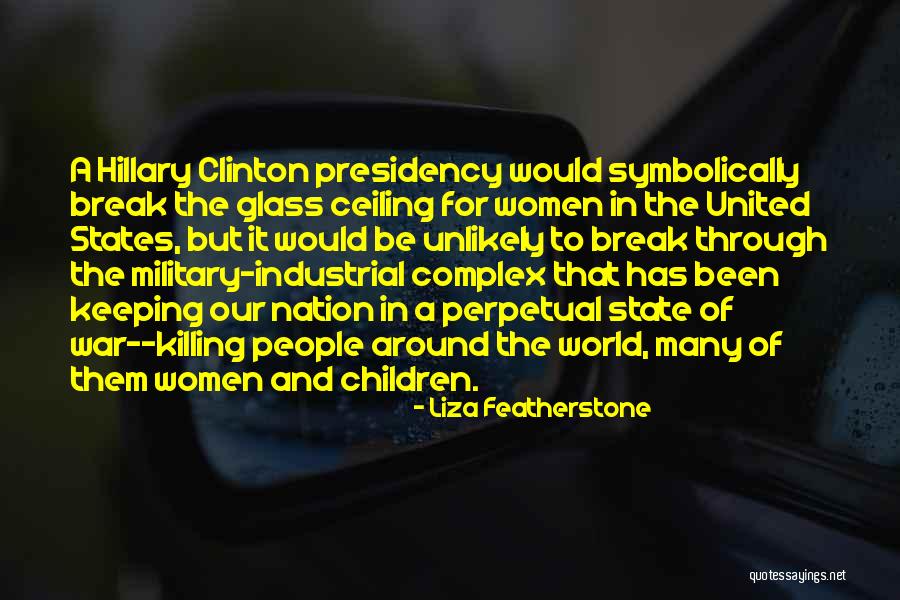 A Hillary Clinton presidency would symbolically break the glass ceiling for women in the United States, but it would be unlikely to break through the military-industrial complex that has been keeping our nation in a perpetual state of war--killing people around the world, many of them women and children. — Liza Featherstone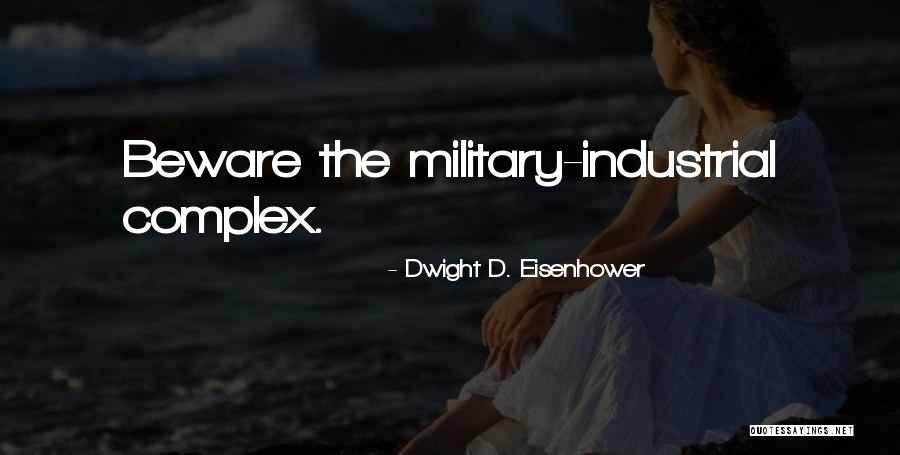 Beware the military-industrial complex. — Dwight D. Eisenhower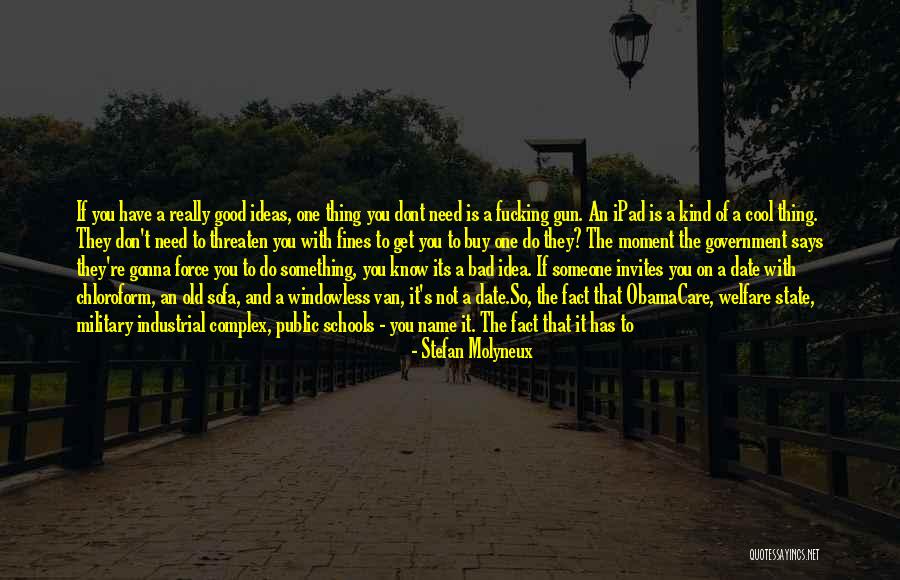 If you have a really good ideas, one thing you dont need is a fucking gun. An iPad is a kind of a cool thing. They don't need to threaten you with fines to get you to buy one do they? The moment the government says they're gonna force you to do something, you know its a bad idea. If someone invites you on a date with chloroform, an old sofa, and a windowless van, it's not a date.
So, the fact that ObamaCare, welfare state, military industrial complex, public schools - you name it. The fact that it has to be imposed at gunpoint is a clue that it's shit. Recognize that when there is a gun to your face, there is not a very advantageous human being on the other end. — Stefan Molyneux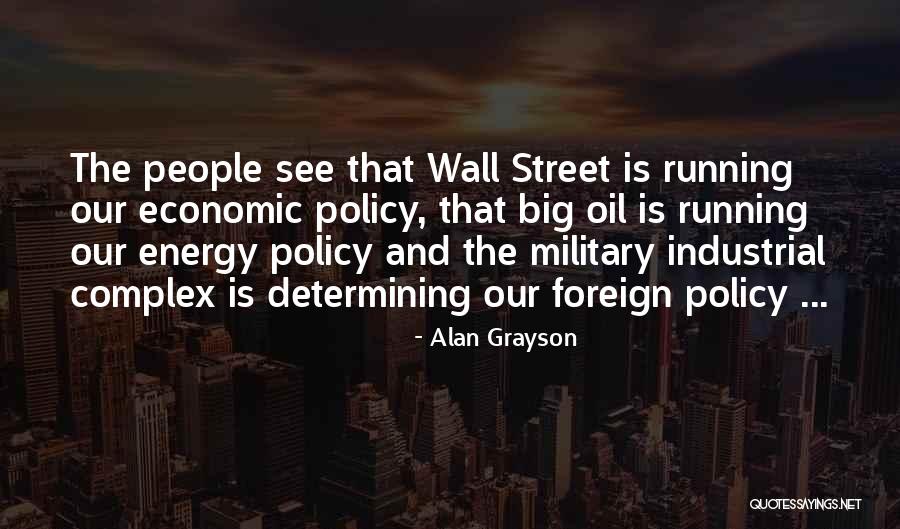 The people see that Wall Street is running our economic policy, that big oil is running our energy policy and the military industrial complex is determining our foreign policy ... — Alan Grayson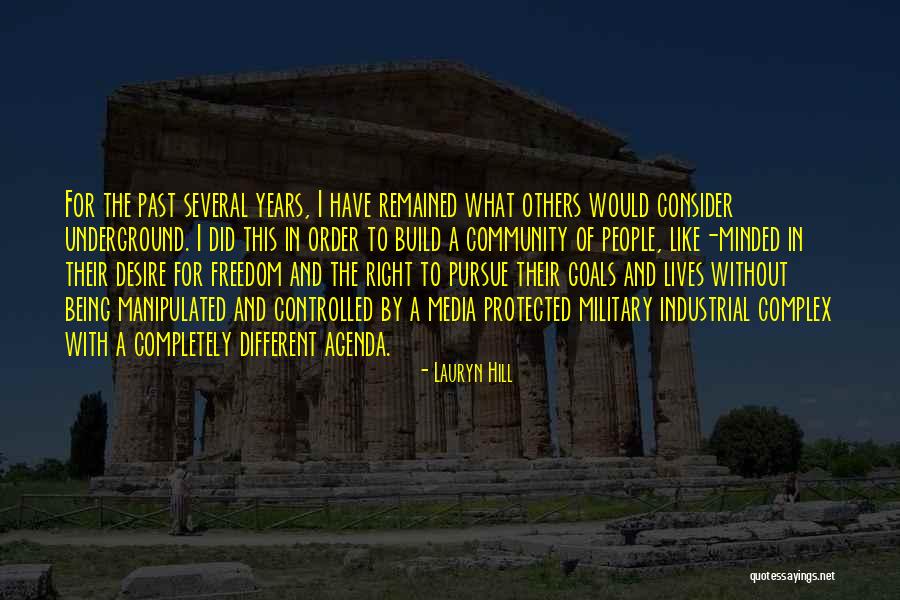 For the past several years, I have remained what others would consider underground. I did this in order to build a community of people, like-minded in their desire for freedom and the right to pursue their goals and lives without being manipulated and controlled by a media protected military industrial complex with a completely different agenda. — Lauryn Hill