Quotes & Sayings About The Fifties And Sixties
Enjoy reading and share 32 famous quotes about The Fifties And Sixties with everyone.
Top The Fifties And Sixties Quotes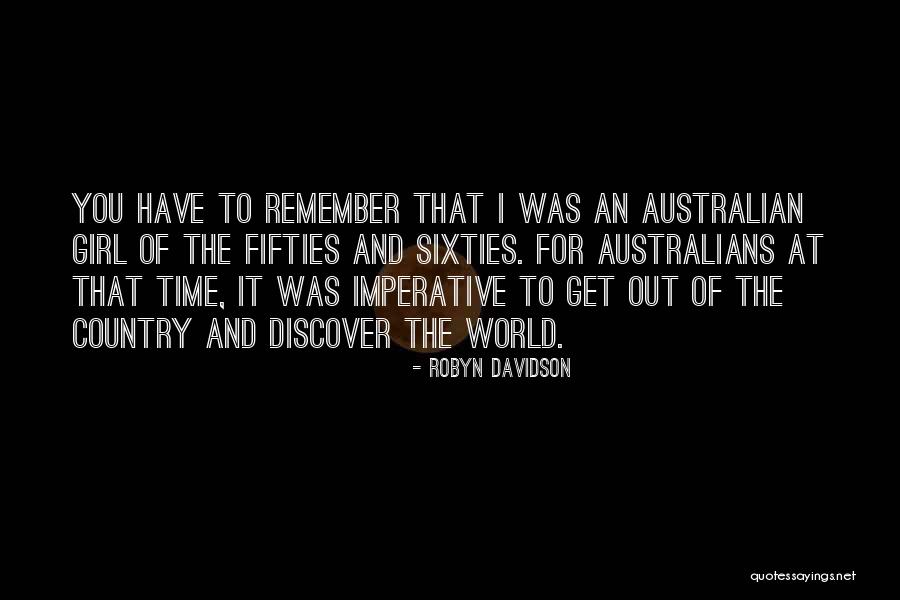 You have to remember that I was an Australian girl of the Fifties and Sixties. For Australians at that time, it was imperative to get out of the country and discover the world. — Robyn Davidson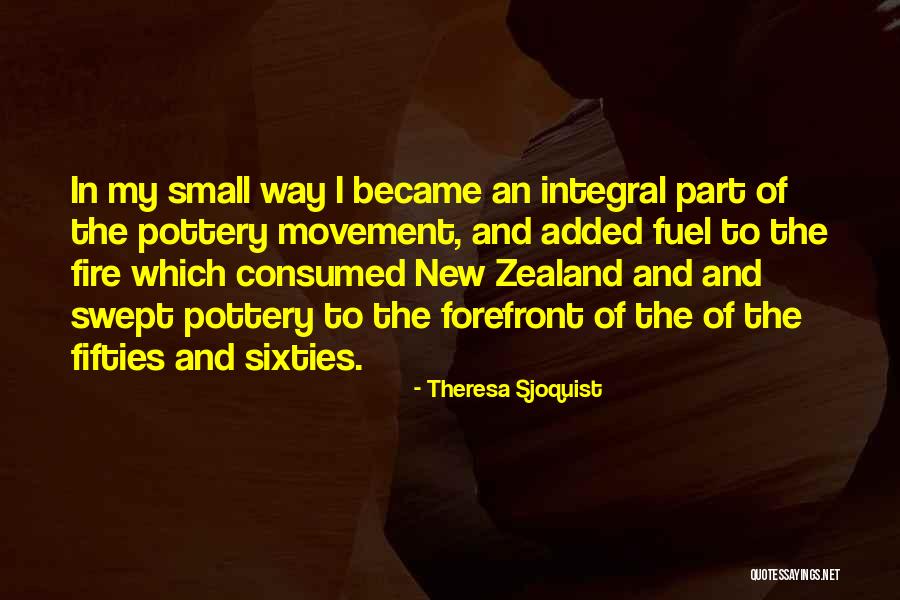 In my small way I became an integral part of the pottery movement, and added fuel to the fire which consumed New Zealand and and swept pottery to the forefront of the of the fifties and sixties. — Theresa Sjoquist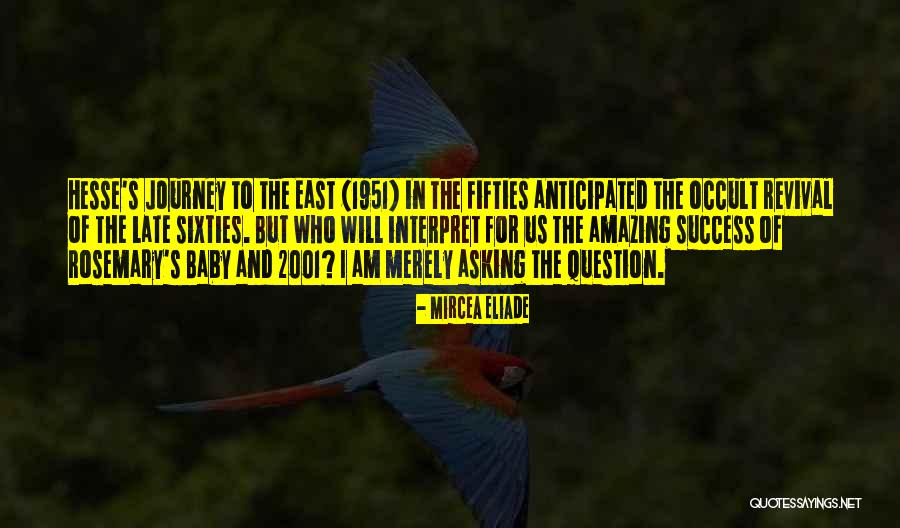 Hesse's Journey to the East (1951) in the fifties anticipated the occult revival of the late sixties. But who will interpret for us the amazing success of Rosemary's Baby and 2001? I am merely asking the question. — Mircea Eliade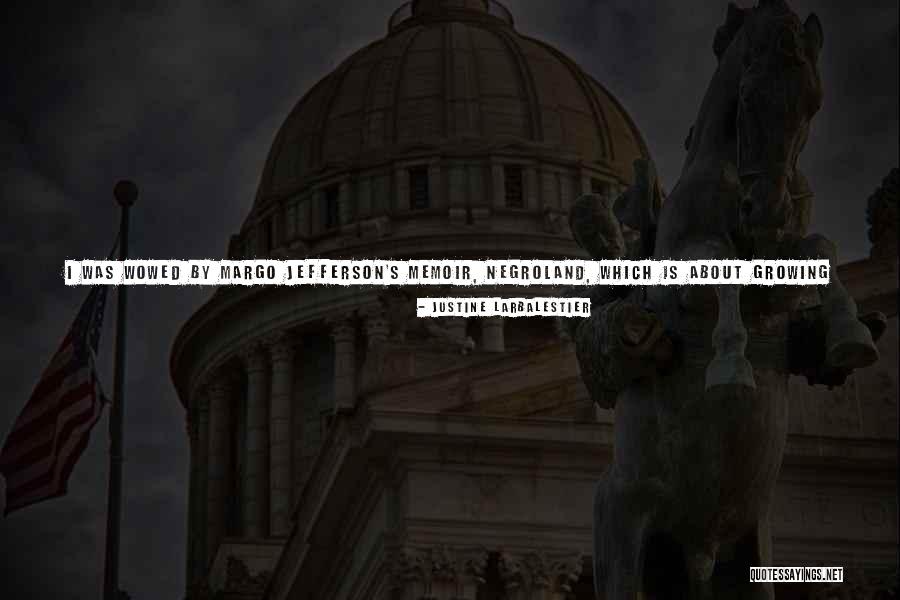 I was wowed by Margo Jefferson's memoir, Negroland, which is about growing up black and privileged in Chicago in the fifties and sixties. It was a window into an alien world. Obviously, I'm not black, but what was really alien to me was her family's focus on respectability. I was never taught when to wear white gloves, what length skirt is appropriate. — Justine Larbalestier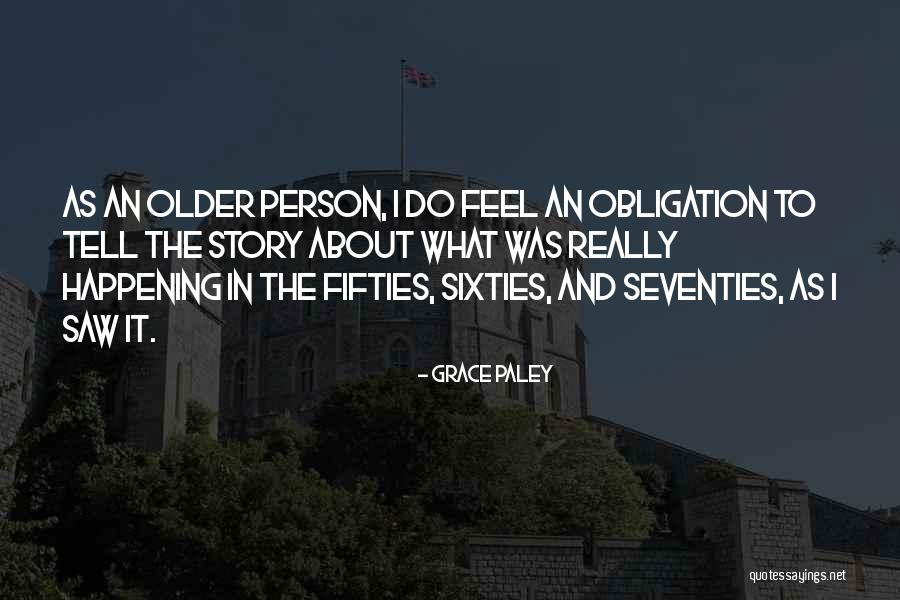 As an older person, I do feel an obligation to tell the story about what was really happening in the fifties, sixties, and seventies, as I saw it. — Grace Paley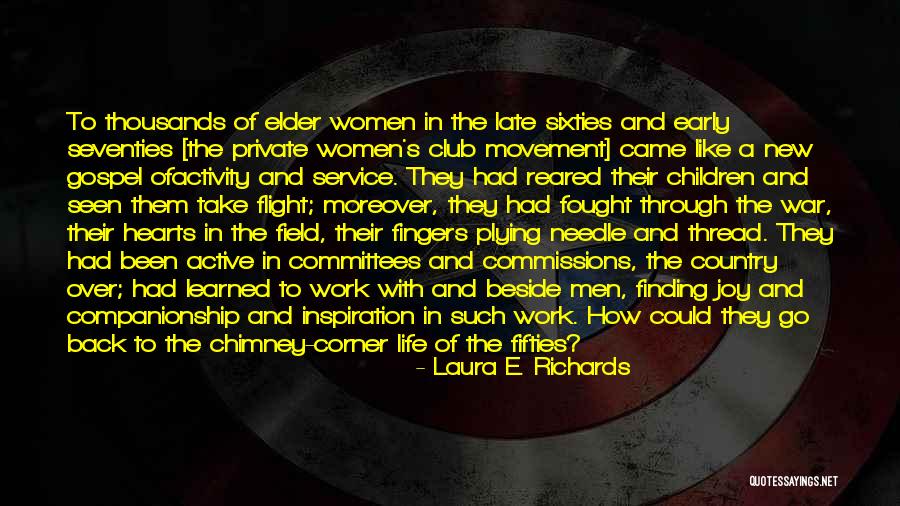 To thousands of elder women in the late sixties and early seventies [the private women's club movement] came like a new gospel ofactivity and service. They had reared their children and seen them take flight; moreover, they had fought through the war, their hearts in the field, their fingers plying needle and thread. They had been active in committees and commissions, the country over; had learned to work with and beside men, finding joy and companionship and inspiration in such work. How could they go back to the chimney-corner life of the fifties? — Laura E. Richards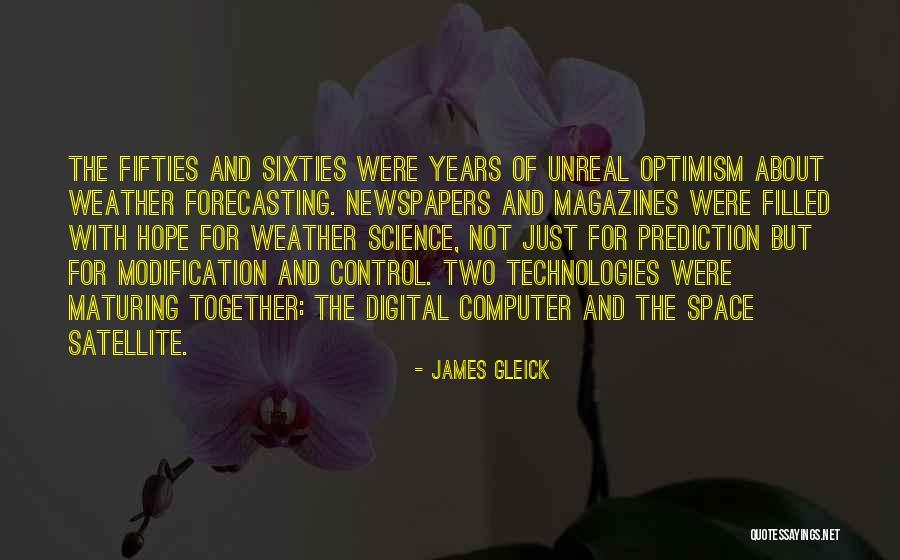 The Fifties and Sixties were years of unreal optimism about weather forecasting. Newspapers and magazines were filled with hope for weather science, not just for prediction but for modification and control. Two technologies were maturing together: the digital computer and the space satellite. — James Gleick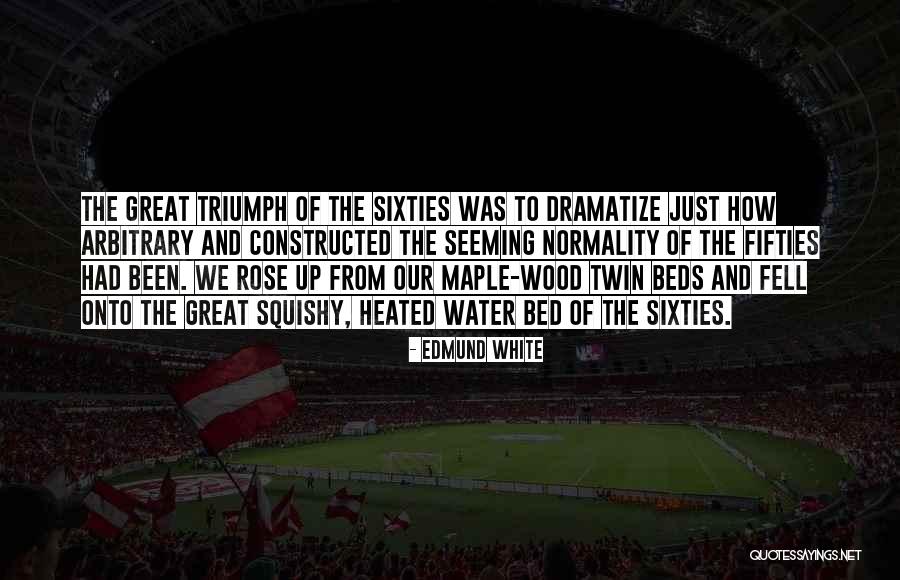 The great triumph of the Sixties was to dramatize just how arbitrary and constructed the seeming normality of the Fifties had been. We rose up from our maple-wood twin beds and fell onto the great squishy, heated water bed of the Sixties. — Edmund White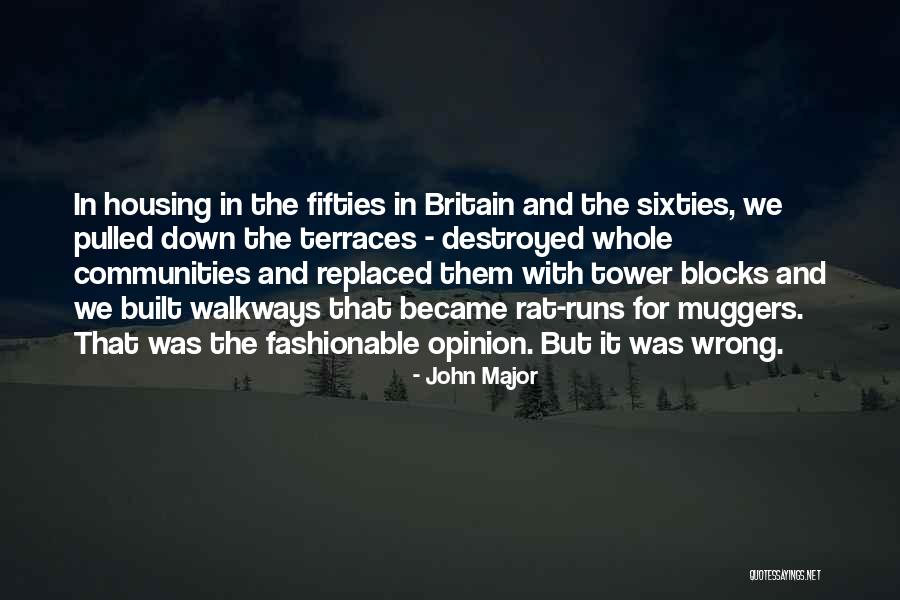 In housing in the fifties in Britain and the sixties, we pulled down the terraces - destroyed whole communities and replaced them with tower blocks and we built walkways that became rat-runs for muggers. That was the fashionable opinion. But it was wrong. — John Major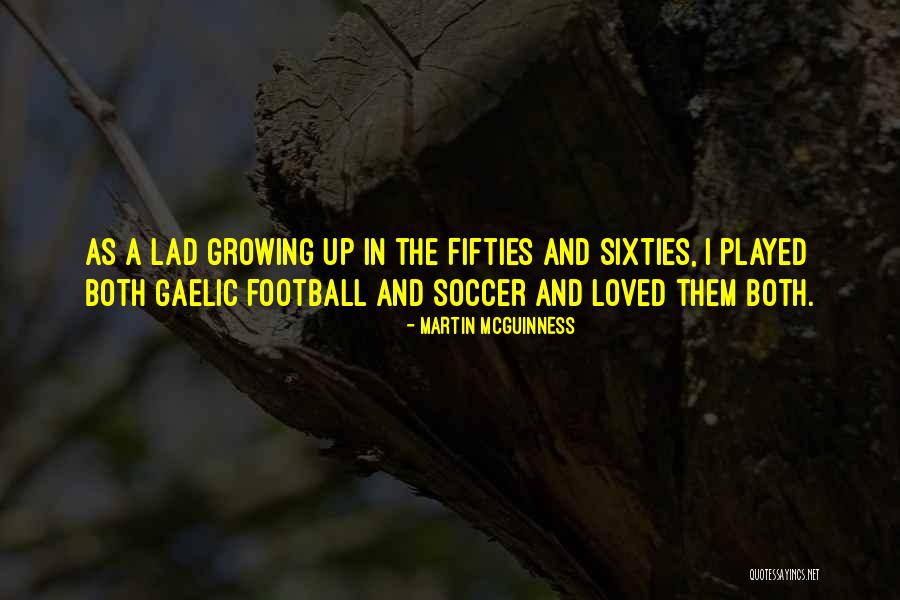 As a lad growing up in the Fifties and Sixties, I played both Gaelic football and soccer and loved them both. — Martin McGuinness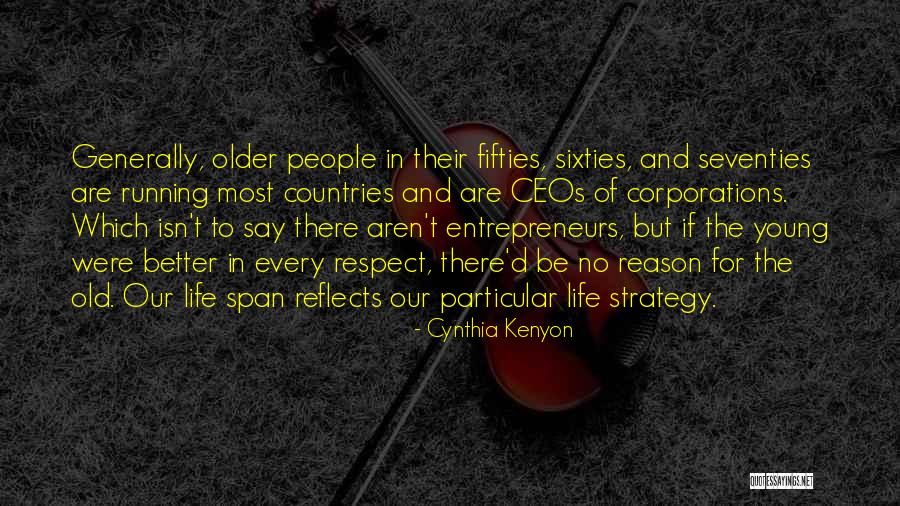 Generally, older people in their fifties, sixties, and seventies are running most countries and are CEOs of corporations. Which isn't to say there aren't entrepreneurs, but if the young were better in every respect, there'd be no reason for the old. Our life span reflects our particular life strategy. — Cynthia Kenyon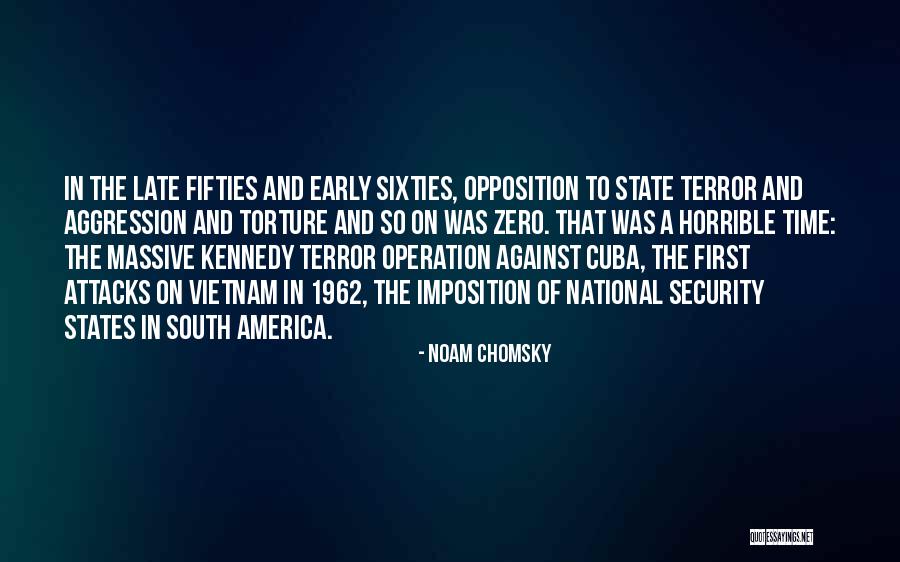 In the late Fifties and early Sixties, opposition to state terror and aggression and torture and so on was zero. That was a horrible time: the massive Kennedy terror operation against Cuba, the first attacks on Vietnam in 1962, the imposition of national security states in South America. — Noam Chomsky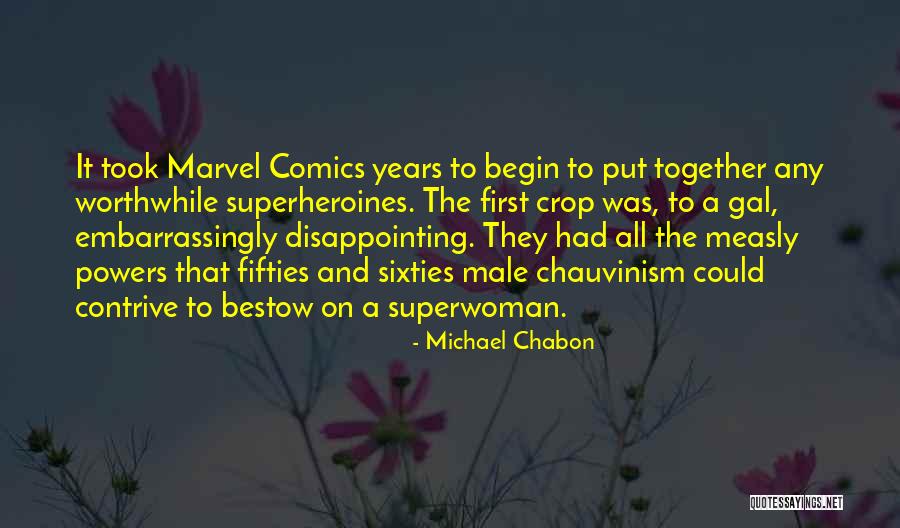 It took Marvel Comics years to begin to put together any worthwhile superheroines. The first crop was, to a gal, embarrassingly disappointing. They had all the measly powers that fifties and sixties male chauvinism could contrive to bestow on a superwoman. — Michael Chabon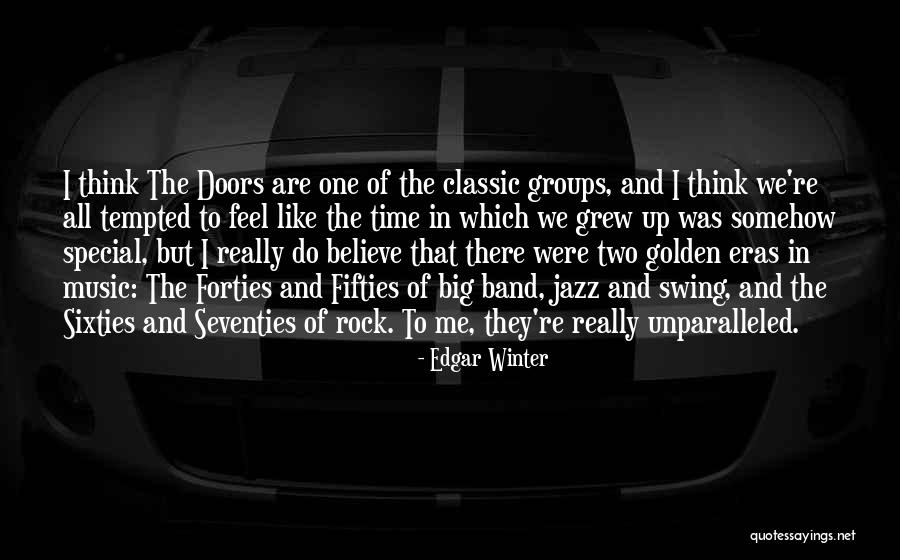 I think The Doors are one of the classic groups, and I think we're all tempted to feel like the time in which we grew up was somehow special, but I really do believe that there were two golden eras in music: The Forties and Fifties of big band, jazz and swing, and the Sixties and Seventies of rock. To me, they're really unparalleled. — Edgar Winter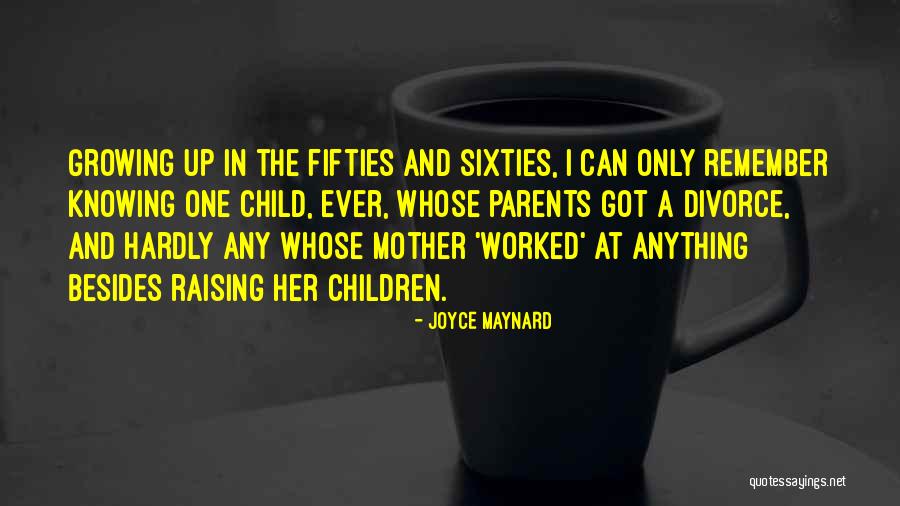 Growing up in the fifties and sixties, I can only remember knowing one child, ever, whose parents got a divorce, and hardly any whose mother 'worked' at anything besides raising her children. — Joyce Maynard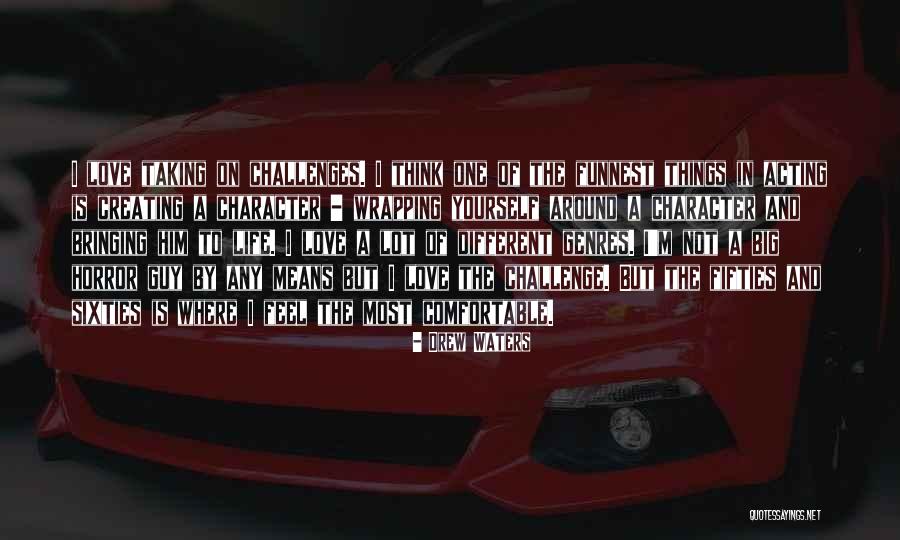 I love taking on challenges. I think one of the funnest things in acting is creating a character - wrapping yourself around a character and bringing him to life. I love a lot of different genres. I'm not a big horror guy by any means but I love the challenge. But the fifties and sixties is where I feel the most comfortable. — Drew Waters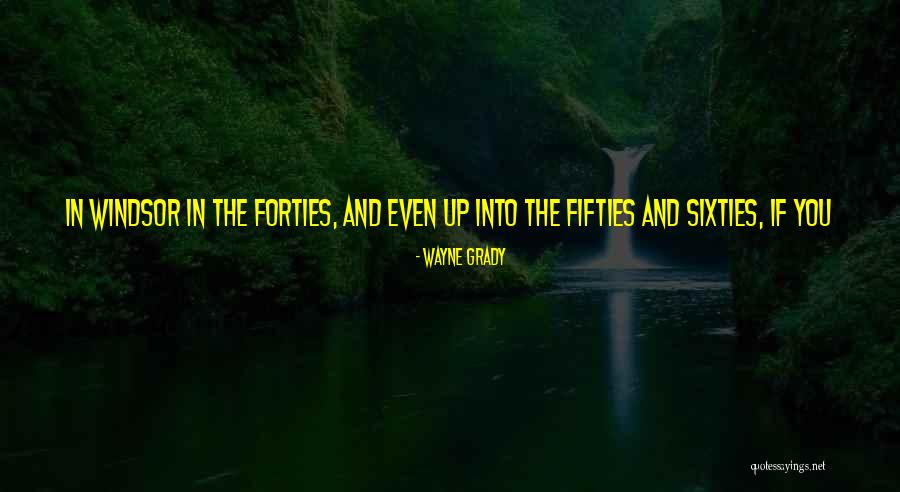 In Windsor in the forties, and even up into the fifties and sixties, if you were black, you had to sit in the balcony of the theatres, and you couldn't buy property in most places. — Wayne Grady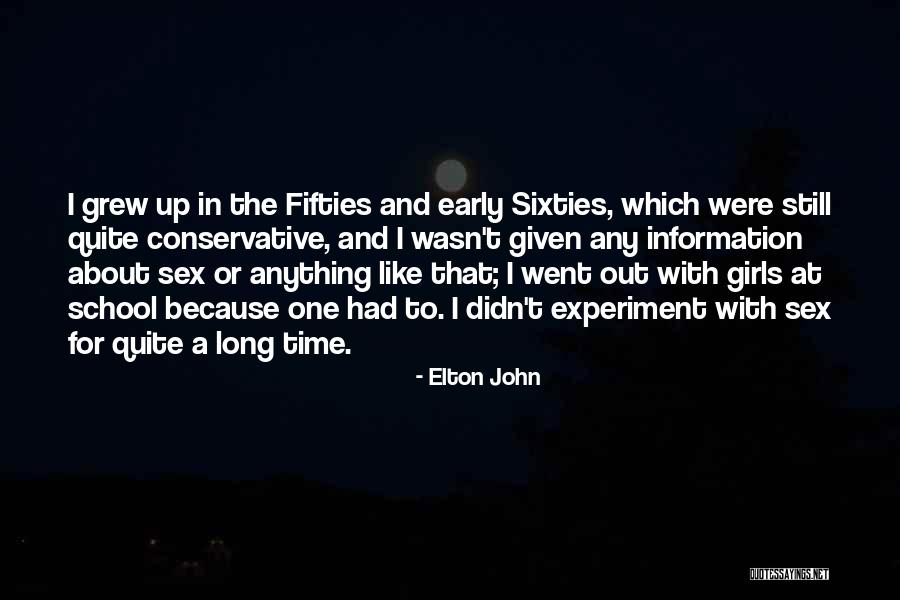 I grew up in the Fifties and early Sixties, which were still quite conservative, and I wasn't given any information about sex or anything like that; I went out with girls at school because one had to. I didn't experiment with sex for quite a long time. — Elton John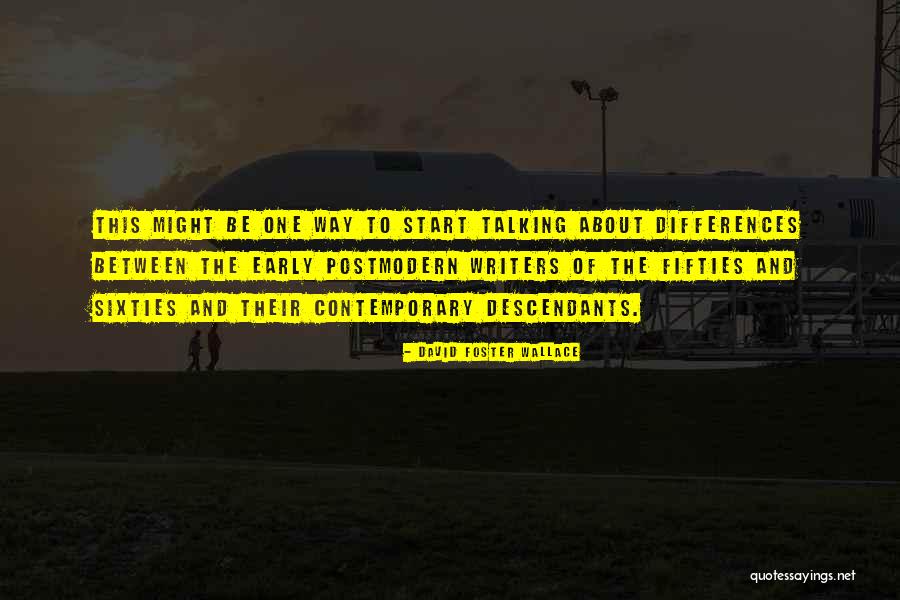 This might be one way to start talking about differences between the early postmodern writers of the fifties and sixties and their contemporary descendants. — David Foster Wallace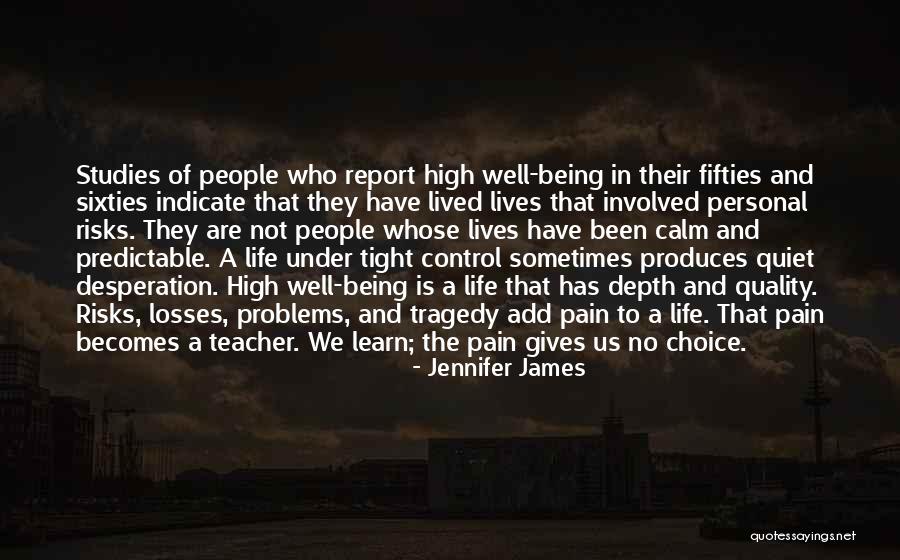 Studies of people who report high well-being in their fifties and sixties indicate that they have lived lives that involved personal risks. They are not people whose lives have been calm and predictable. A life under tight control sometimes produces quiet desperation. High well-being is a life that has depth and quality. Risks, losses, problems, and tragedy add pain to a life. That pain becomes a teacher. We learn; the pain gives us no choice. — Jennifer James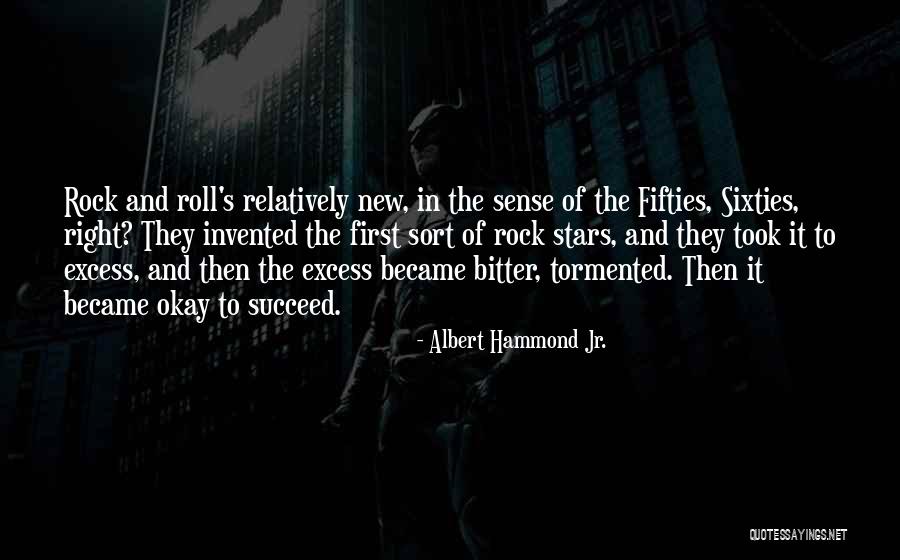 Rock and roll's relatively new, in the sense of the Fifties, Sixties, right? They invented the first sort of rock stars, and they took it to excess, and then the excess became bitter, tormented. Then it became okay to succeed. — Albert Hammond Jr.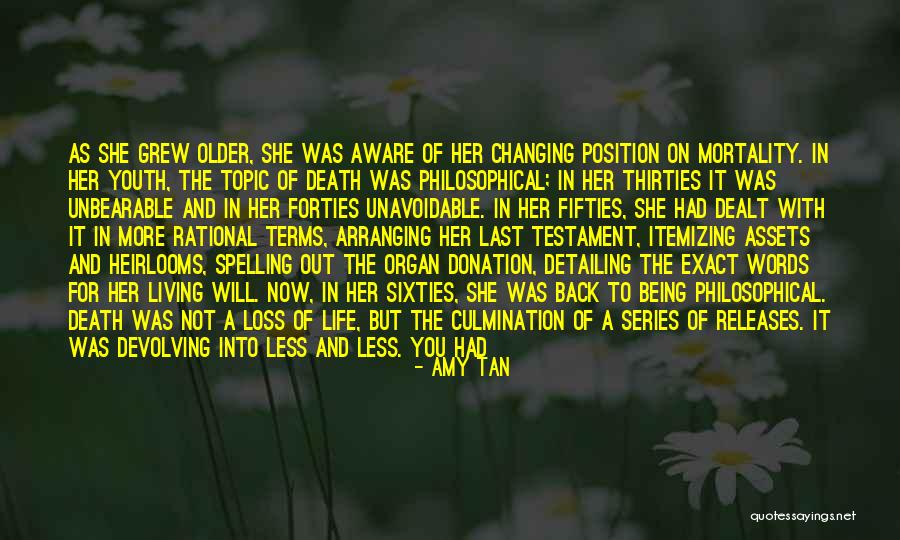 As she grew older, she was aware of her changing position on mortality. In her youth, the topic of death was philosophical; in her thirties it was unbearable and in her forties unavoidable. In her fifties, she had dealt with it in more rational terms, arranging her last testament, itemizing assets and heirlooms, spelling out the organ donation, detailing the exact words for her living will. Now, in her sixties, she was back to being philosophical. Death was not a loss of life, but the culmination of a series of releases. It was devolving into less and less. You had to release yourself from vanity, desire, ambition, suffering, and frustration - all the accoutrements of the I, the ego. And if you die, you would disappear, leave no trace, evaporate into nothingness ... — Amy Tan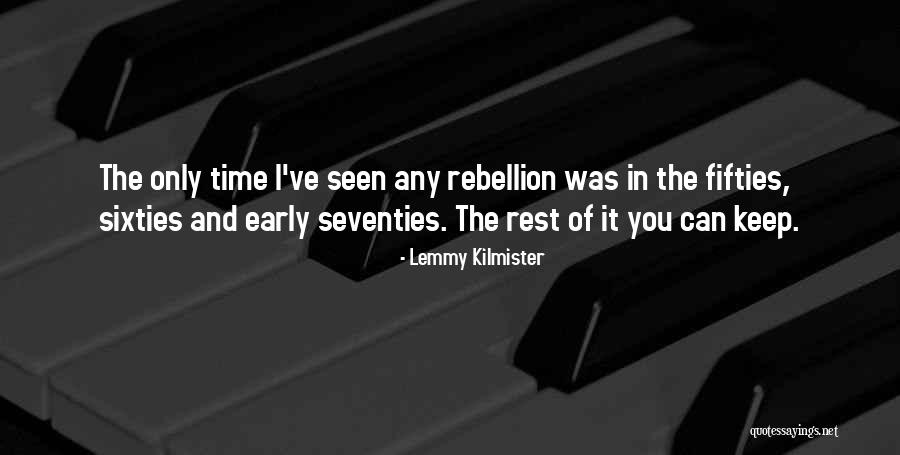 The only time I've seen any rebellion was in the fifties, sixties and early seventies. The rest of it you can keep. — Lemmy Kilmister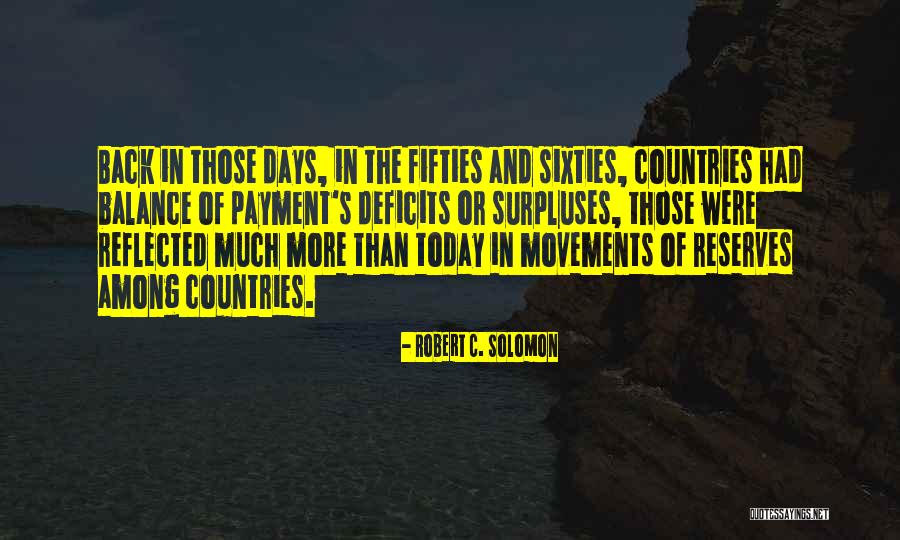 Back in those days, in the fifties and sixties, countries had balance of payment's deficits or surpluses, those were reflected much more than today in movements of reserves among countries. — Robert C. Solomon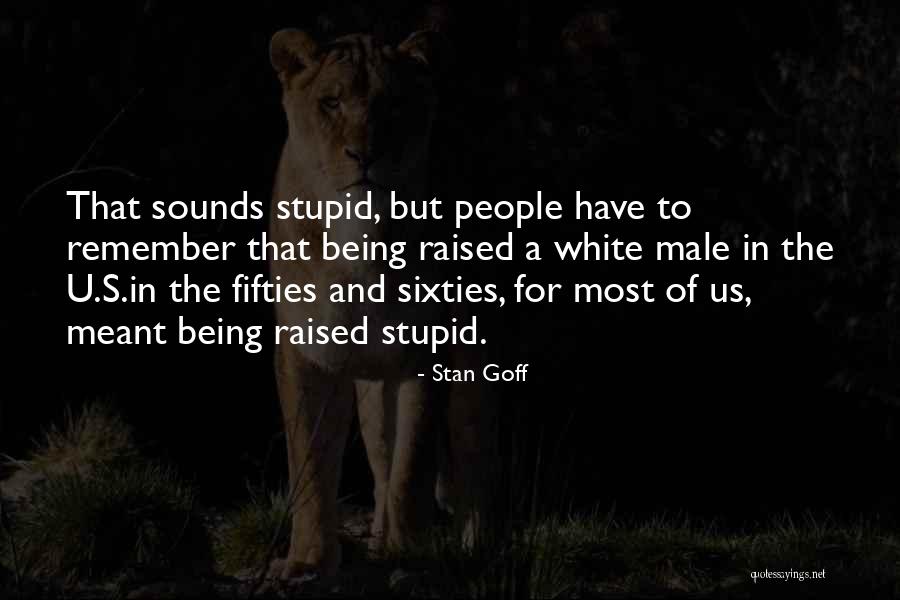 That sounds stupid, but people have to remember that being raised a white male in the U.S.in the fifties and sixties, for most of us, meant being raised stupid. — Stan Goff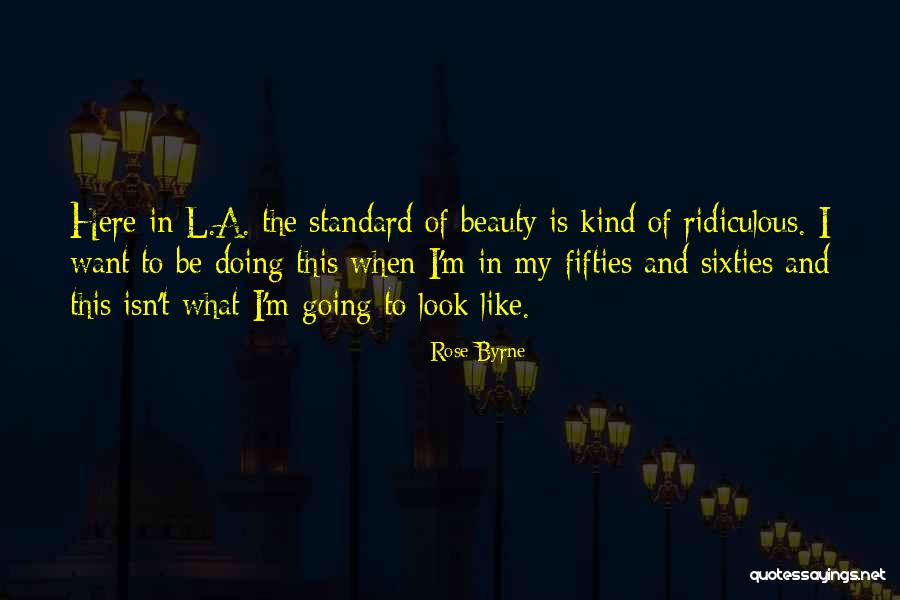 Here in L.A. the standard of beauty is kind of ridiculous. I want to be doing this when I'm in my fifties and sixties and this isn't what I'm going to look like. — Rose Byrne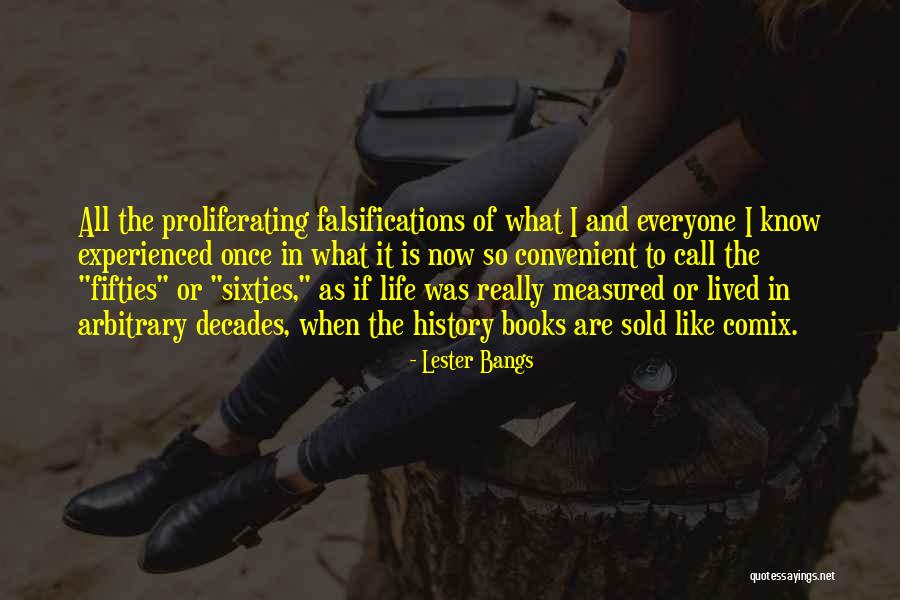 All the proliferating falsifications of what I and everyone I know experienced once in what it is now so convenient to call the "fifties" or "sixties," as if life was really measured or lived in arbitrary decades, when the history books are sold like comix. — Lester Bangs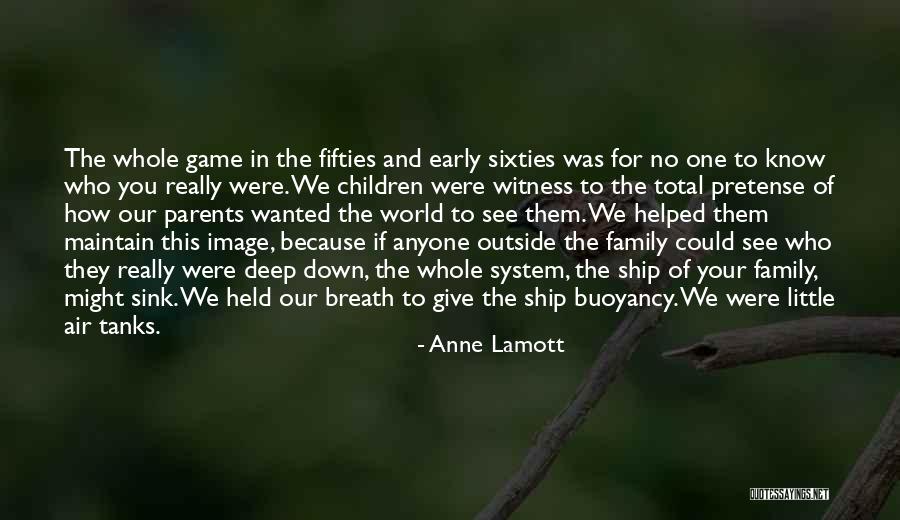 The whole game in the fifties and early sixties was for no one to know who you really were. We children were witness to the total pretense of how our parents wanted the world to see them. We helped them maintain this image, because if anyone outside the family could see who they really were deep down, the whole system, the ship of your family, might sink. We held our breath to give the ship buoyancy. We were little air tanks. — Anne Lamott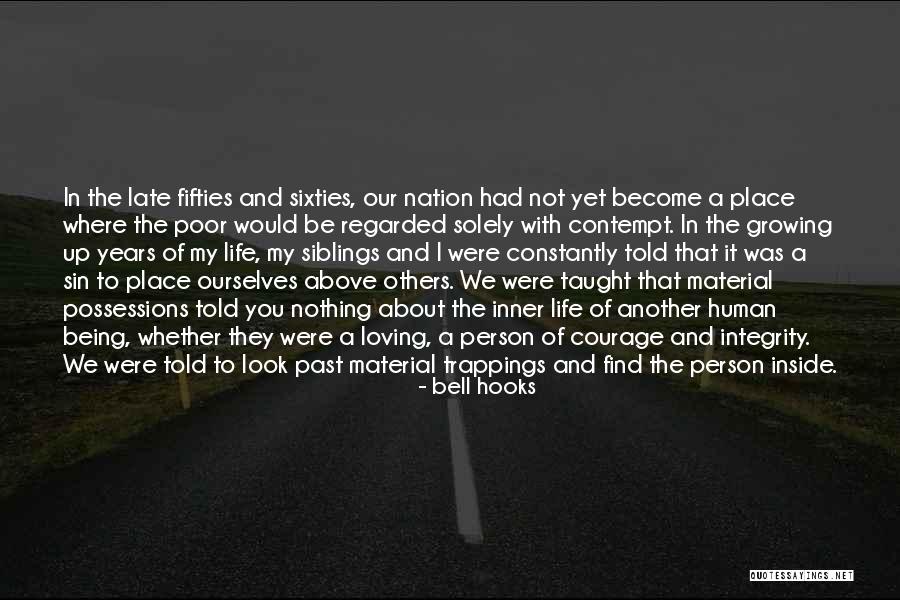 In the late fifties and sixties, our nation had not yet become a place where the poor would be regarded solely with contempt. In the growing up years of my life, my siblings and I were constantly told that it was a sin to place ourselves above others. We were taught that material possessions told you nothing about the inner life of another human being, whether they were a loving, a person of courage and integrity. We were told to look past material trappings and find the person inside. — Bell Hooks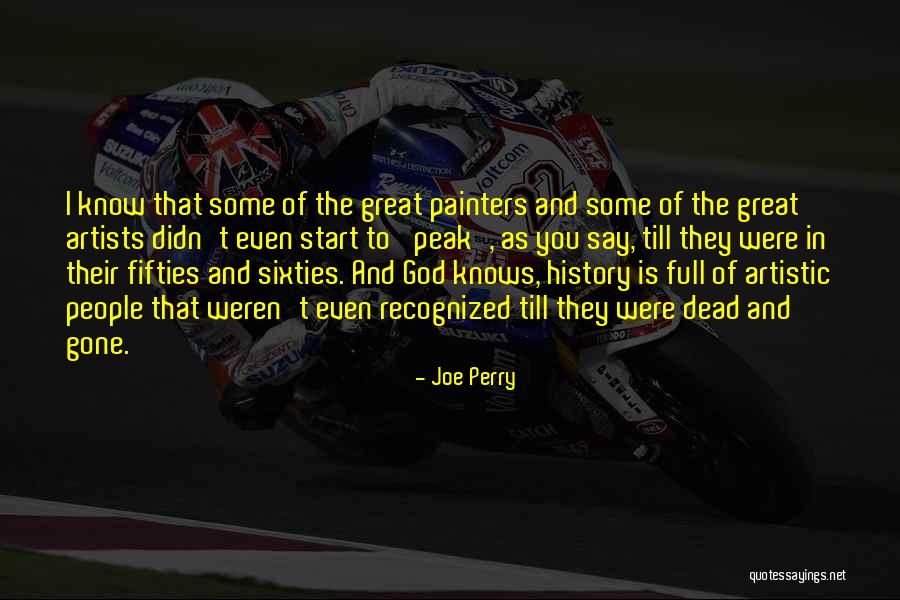 I know that some of the great painters and some of the great artists didn't even start to 'peak', as you say, till they were in their fifties and sixties. And God knows, history is full of artistic people that weren't even recognized till they were dead and gone. — Joe Perry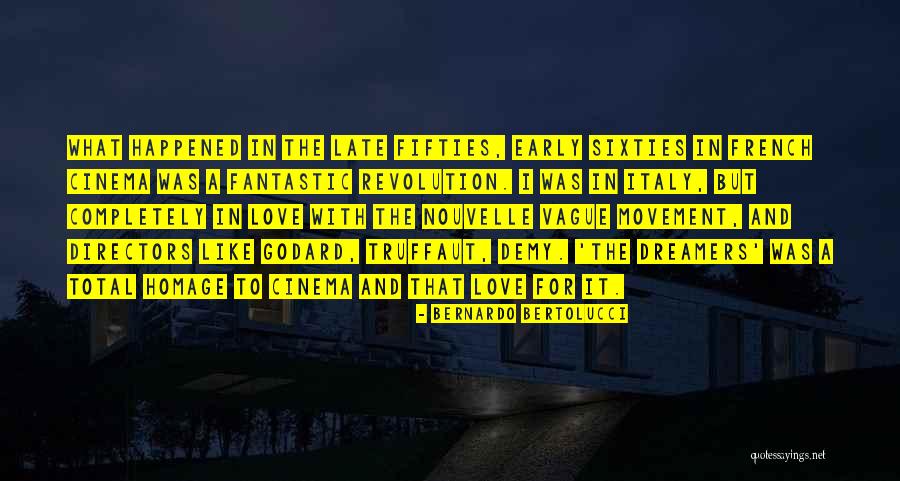 What happened in the late Fifties, early Sixties in French cinema was a fantastic revolution. I was in Italy, but completely in love with the nouvelle vague movement, and directors like Godard, Truffaut, Demy. 'The Dreamers' was a total homage to cinema and that love for it. — Bernardo Bertolucci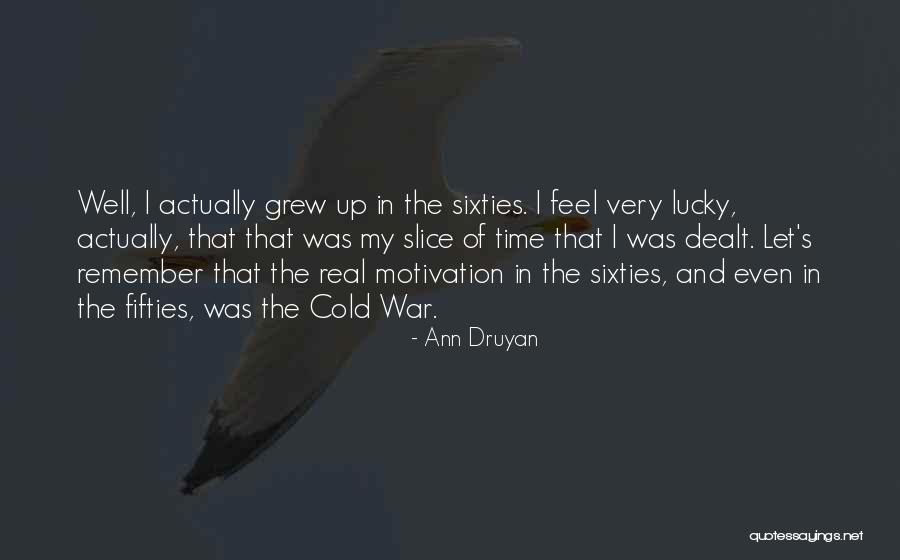 Well, I actually grew up in the sixties. I feel very lucky, actually, that that was my slice of time that I was dealt. Let's remember that the real motivation in the sixties, and even in the fifties, was the Cold War. — Ann Druyan