Thank You So Much Teacher Quotes & Sayings
Enjoy reading and share 32 famous quotes about Thank You So Much Teacher with everyone.
Top Thank You So Much Teacher Quotes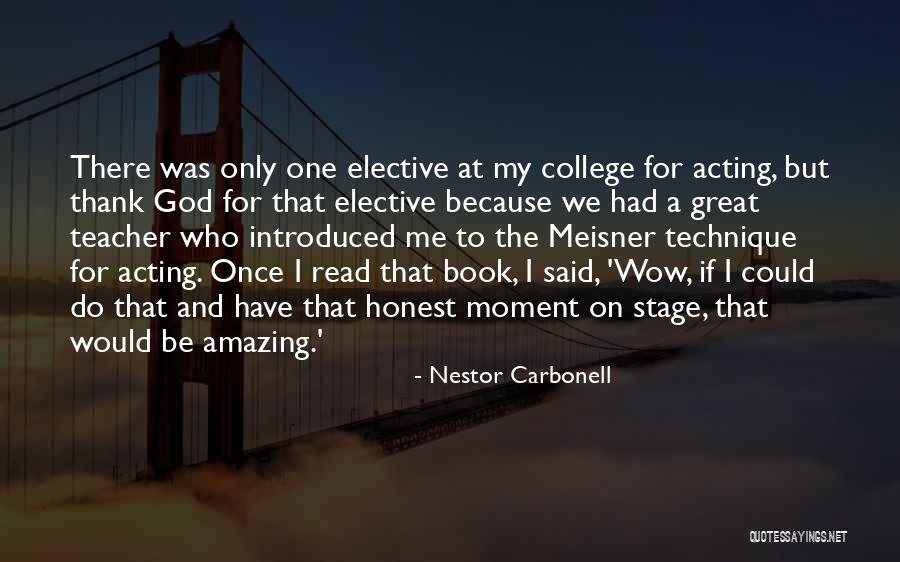 There was only one elective at my college for acting, but thank God for that elective because we had a great teacher who introduced me to the Meisner technique for acting. Once I read that book, I said, 'Wow, if I could do that and have that honest moment on stage, that would be amazing.' — Nestor Carbonell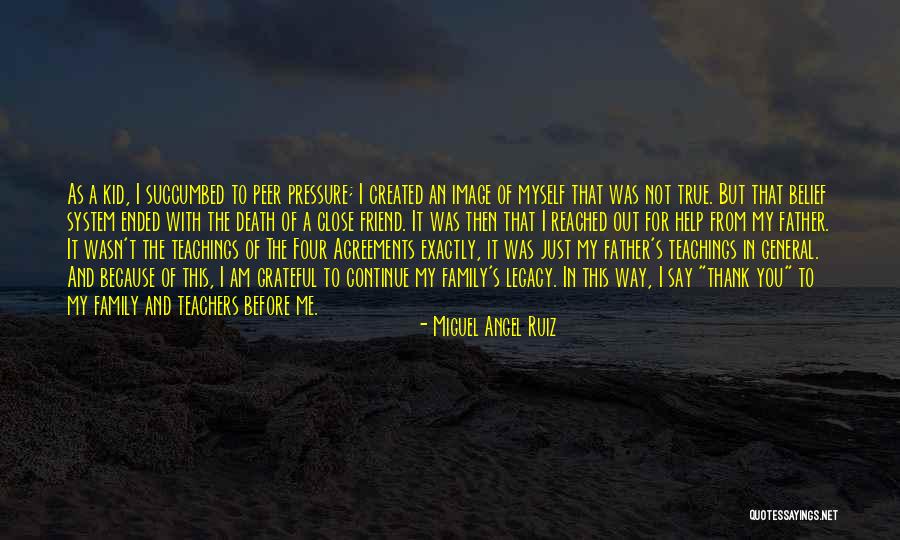 As a kid, I succumbed to peer pressure; I created an image of myself that was not true. But that belief system ended with the death of a close friend. It was then that I reached out for help from my father. It wasn't the teachings of The Four Agreements exactly, it was just my father's teachings in general. And because of this, I am grateful to continue my family's legacy. In this way, I say "thank you" to my family and teachers before me. — Miguel Angel Ruiz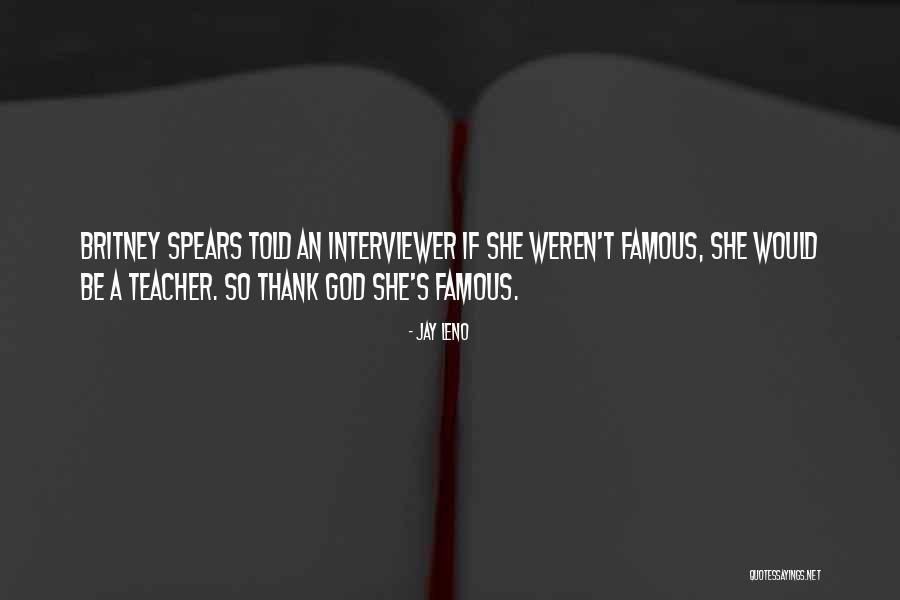 Britney Spears told an interviewer if she weren't famous, she would be a teacher. So thank God she's famous. — Jay Leno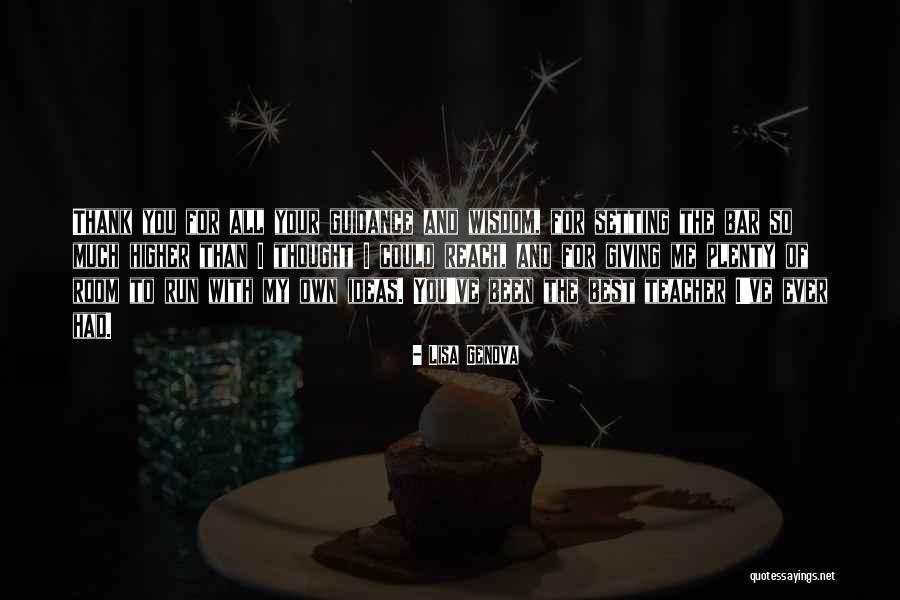 Thank you for all your guidance and wisdom, for setting the bar so much higher than I thought I could reach, and for giving me plenty of room to run with my own ideas. You've been the best teacher I've ever had. — Lisa Genova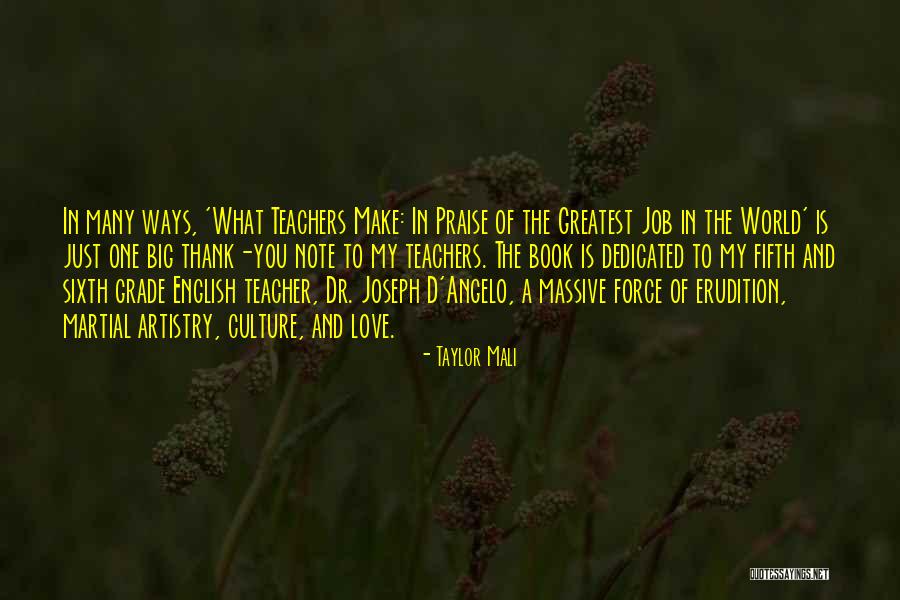 In many ways, 'What Teachers Make: In Praise of the Greatest Job in the World' is just one big thank-you note to my teachers. The book is dedicated to my fifth and sixth grade English teacher, Dr. Joseph D'Angelo, a massive force of erudition, martial artistry, culture, and love. — Taylor Mali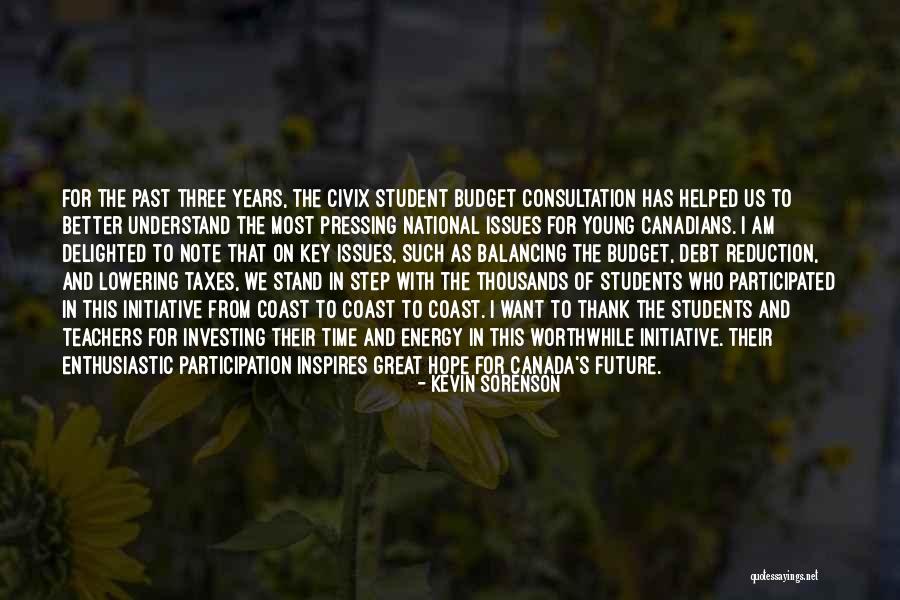 For the past three years, the CIVIX Student Budget Consultation has helped us to better understand the most pressing national issues for young Canadians. I am delighted to note that on key issues, such as balancing the budget, debt reduction, and lowering taxes, we stand in step with the thousands of students who participated in this initiative from coast to coast to coast. I want to thank the students and teachers for investing their time and energy in this worthwhile initiative. Their enthusiastic participation inspires great hope for Canada's future. — Kevin Sorenson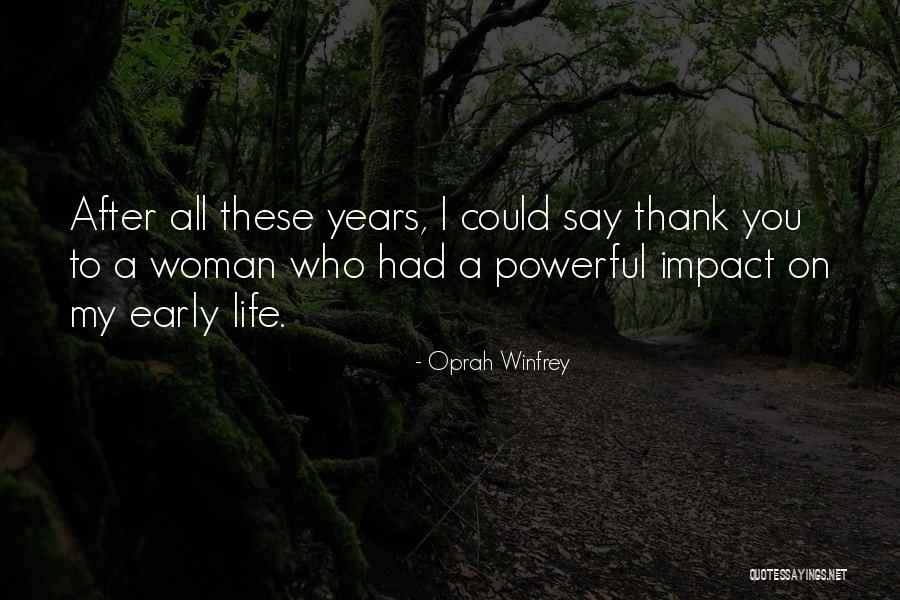 After all these years, I could say thank you to a woman who had a powerful impact on my early life. — Oprah Winfrey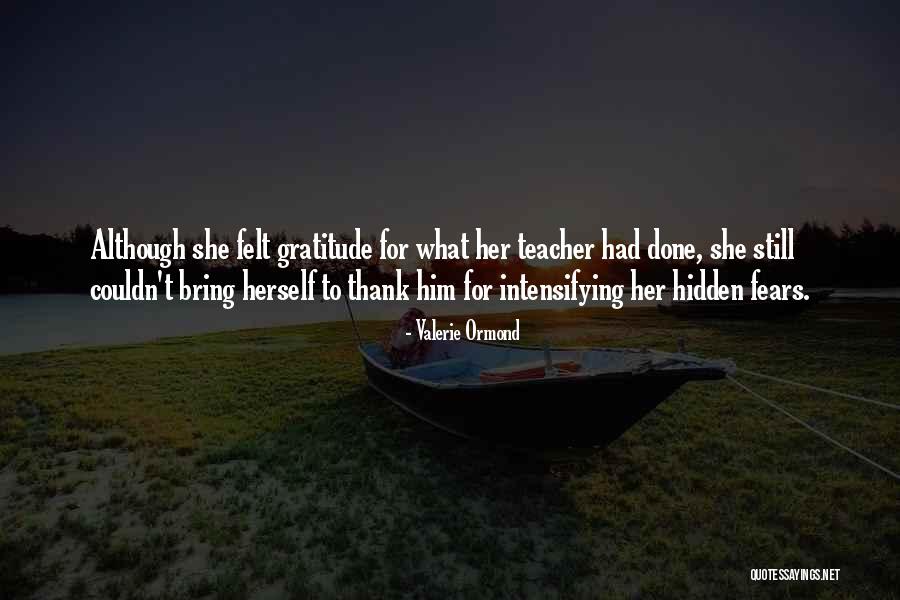 Although she felt gratitude for what her teacher had done, she still couldn't bring herself to thank him for intensifying her hidden fears. — Valerie Ormond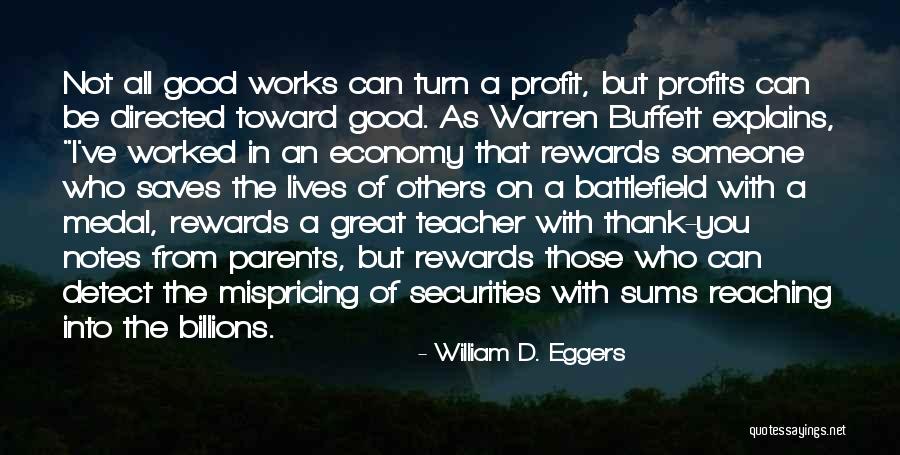 Not all good works can turn a profit, but profits can be directed toward good. As Warren Buffett explains, "I've worked in an economy that rewards someone who saves the lives of others on a battlefield with a medal, rewards a great teacher with thank-you notes from parents, but rewards those who can detect the mispricing of securities with sums reaching into the billions. — William D. Eggers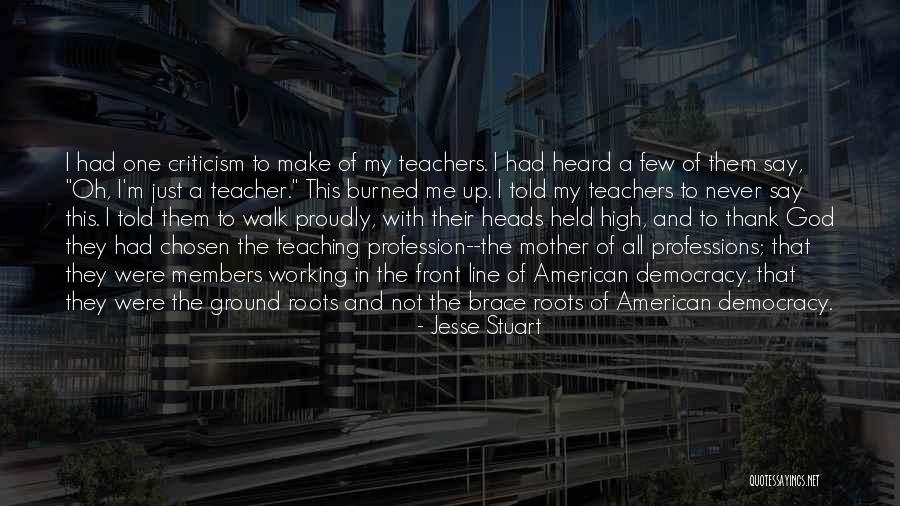 I had one criticism to make of my teachers. I had heard a few of them say, "Oh, I'm just a teacher." This burned me up. I told my teachers to never say this. I told them to walk proudly, with their heads held high, and to thank God they had chosen the teaching profession--the mother of all professions; that they were members working in the front line of American democracy. that they were the ground roots and not the brace roots of American democracy. — Jesse Stuart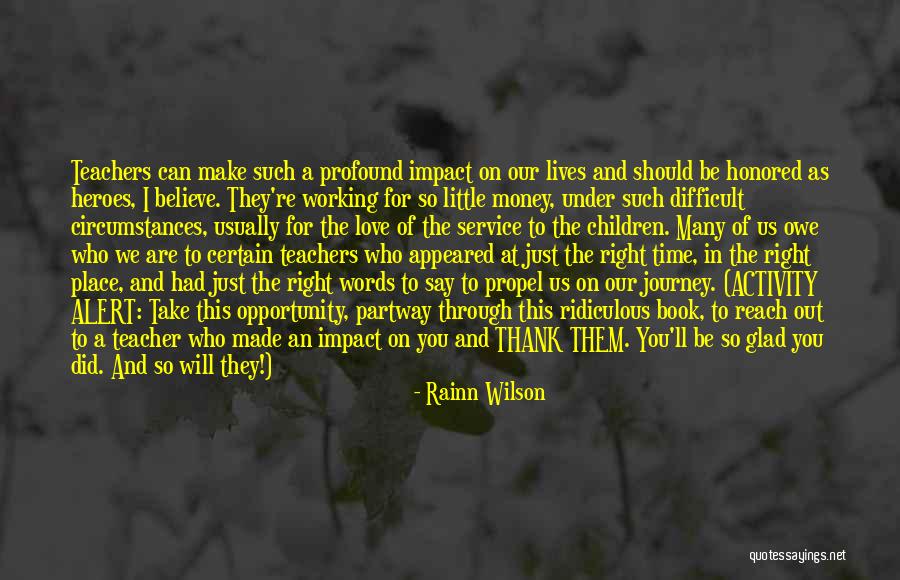 Teachers can make such a profound impact on our lives and should be honored as heroes, I believe. They're working for so little money, under such difficult circumstances, usually for the love of the service to the children. Many of us owe who we are to certain teachers who appeared at just the right time, in the right place, and had just the right words to say to propel us on our journey. (ACTIVITY ALERT: Take this opportunity, partway through this ridiculous book, to reach out to a teacher who made an impact on you and THANK THEM. You'll be so glad you did. And so will they!) — Rainn Wilson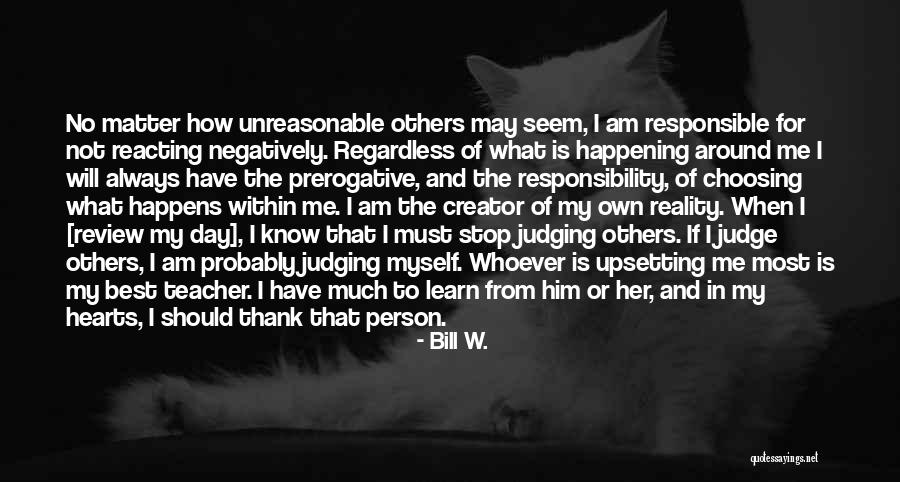 No matter how unreasonable others may seem, I am responsible for not reacting negatively. Regardless of what is happening around me I will always have the prerogative, and the responsibility, of choosing what happens within me. I am the creator of my own reality. When I [review my day], I know that I must stop judging others. If I judge others, I am probably judging myself. Whoever is upsetting me most is my best teacher. I have much to learn from him or her, and in my hearts, I should thank that person. — Bill W.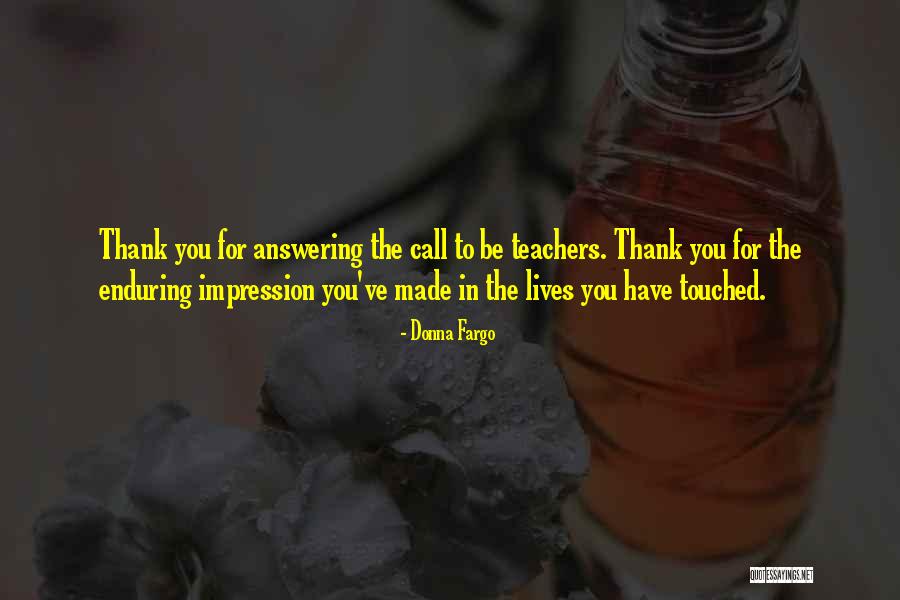 Thank you for answering the call to be teachers. Thank you for the enduring impression you've made in the lives you have touched. — Donna Fargo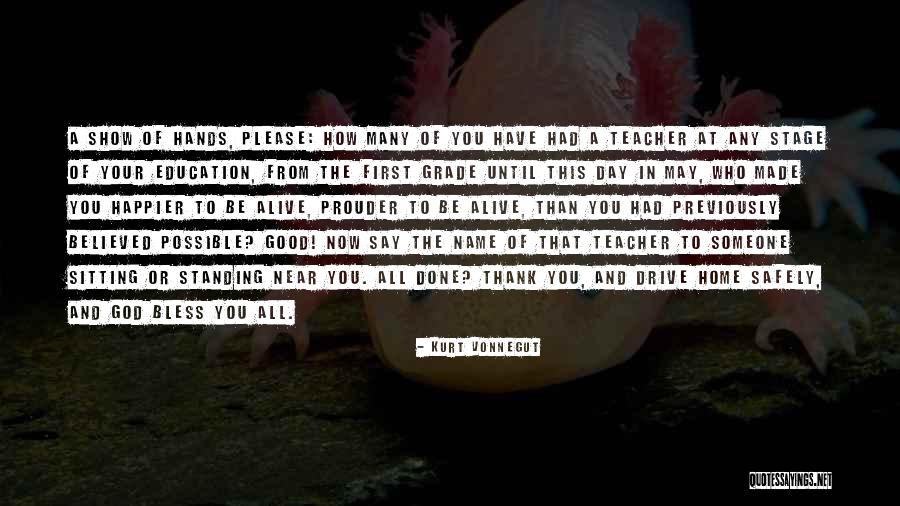 A show of hands, please: How many of you have had a teacher at any stage of your education, from the first grade until this day in May, who made you happier to be alive, prouder to be alive, than you had previously believed possible? Good! Now say the name of that teacher to someone sitting or standing near you. All done? Thank you, and drive home safely, and God bless you all. — Kurt Vonnegut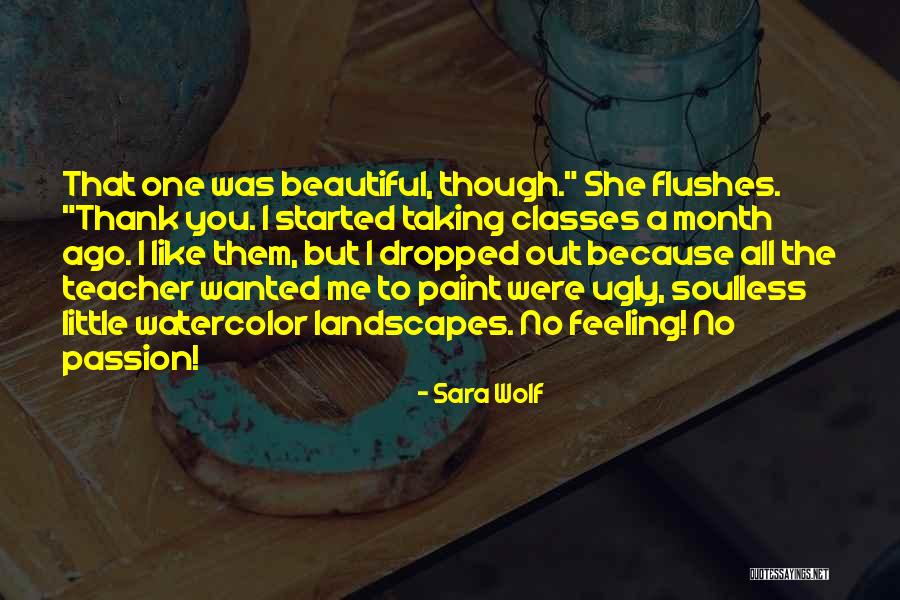 That one was beautiful, though." She flushes. "Thank you. I started taking classes a month ago. I like them, but I dropped out because all the teacher wanted me to paint were ugly, soulless little watercolor landscapes. No feeling! No passion! — Sara Wolf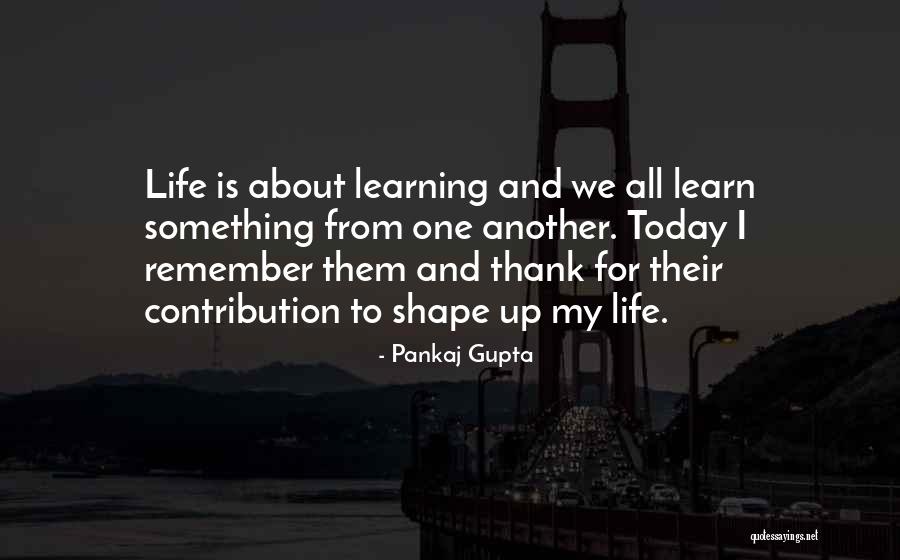 Life is about learning and we all learn something from one another. Today I remember them and thank for their contribution to shape up my life. — Pankaj Gupta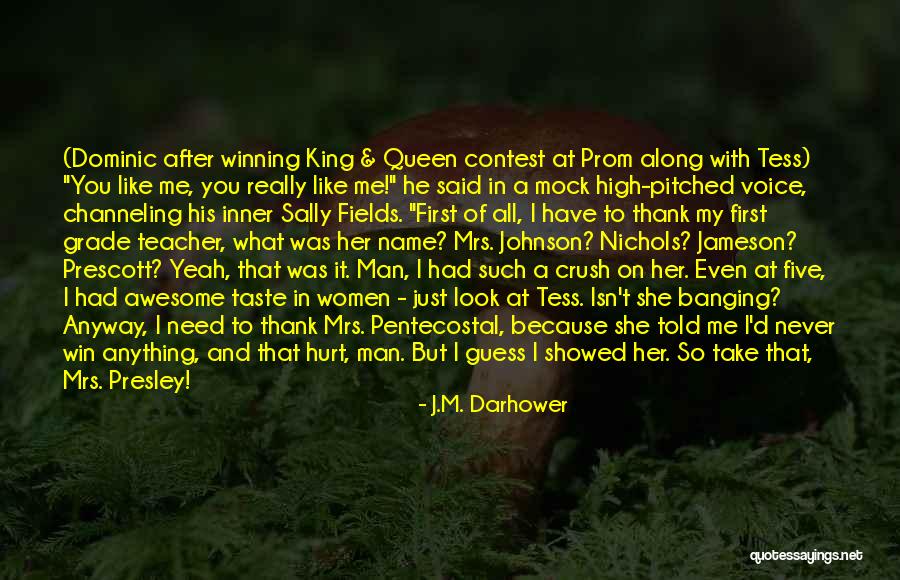 (Dominic after winning King & Queen contest at Prom along with Tess)
"You like me, you really like me!" he said in a mock high-pitched voice, channeling his inner Sally Fields. "First of all, I have to thank my first grade teacher, what was her name? Mrs. Johnson? Nichols? Jameson? Prescott? Yeah, that was it. Man, I had such a crush on her. Even at five, I had awesome taste in women - just look at Tess. Isn't she banging? Anyway, I need to thank Mrs. Pentecostal, because she told me I'd never win anything, and that hurt, man. But I guess I showed her. So take that, Mrs. Presley! — J.M. Darhower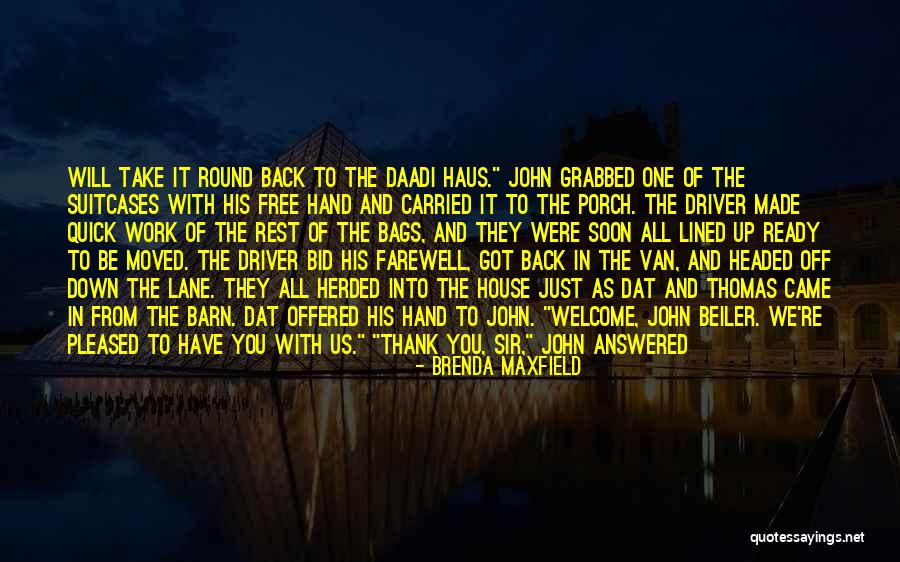 will take it round back to the daadi haus." John grabbed one of the suitcases with his free hand and carried it to the porch. The driver made quick work of the rest of the bags, and they were soon all lined up ready to be moved. The driver bid his farewell, got back in the van, and headed off down the lane. They all herded into the house just as Dat and Thomas came in from the barn. Dat offered his hand to John. "Welcome, John Beiler. We're pleased to have you with us." "Thank you, sir," John answered with a smile. Mamm interjected, "Malachi, will you and Thomas take the teacher's luggage around back to the daadi haus? Then hurry back in for dinner." "Will do," Dat agreed, and off the two of them went. A few minutes later, Mamm had everyone organized at the table, and Dat gave the silent blessing. After the amen was sounded, Susie got busy making silly — Brenda Maxfield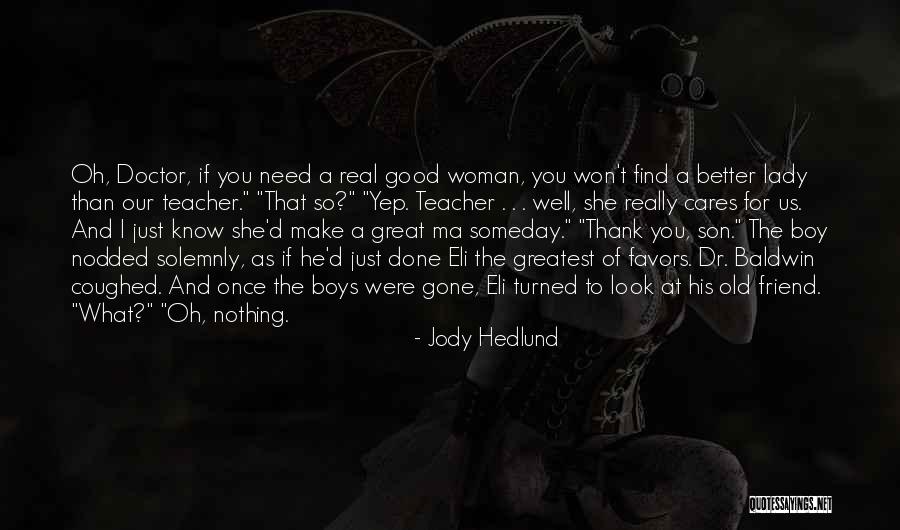 Oh, Doctor, if you need a real good woman, you won't find a better lady than our teacher." "That so?" "Yep. Teacher . . . well, she really cares for us. And I just know she'd make a great ma someday." "Thank you, son." The boy nodded solemnly, as if he'd just done Eli the greatest of favors. Dr. Baldwin coughed. And once the boys were gone, Eli turned to look at his old friend. "What?" "Oh, nothing. — Jody Hedlund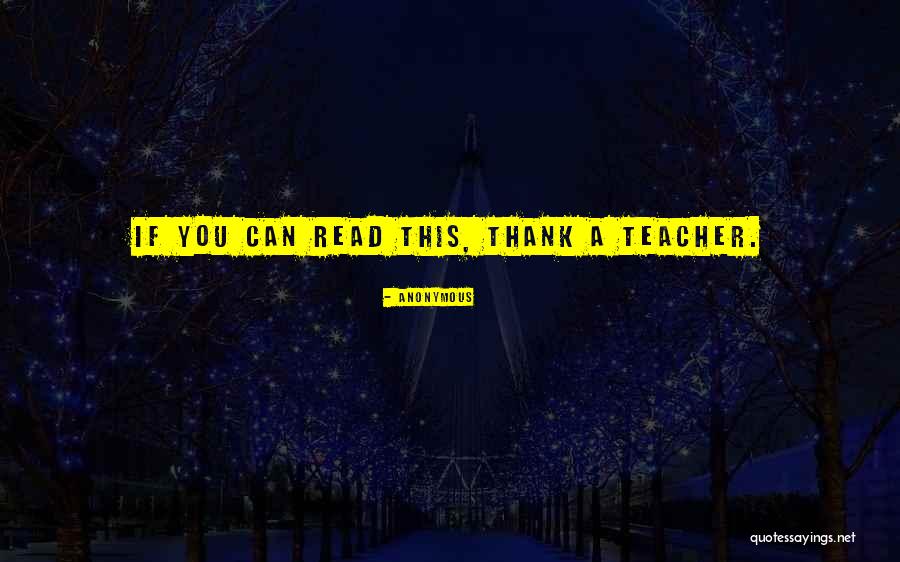 If you can read this, thank a teacher. — Anonymous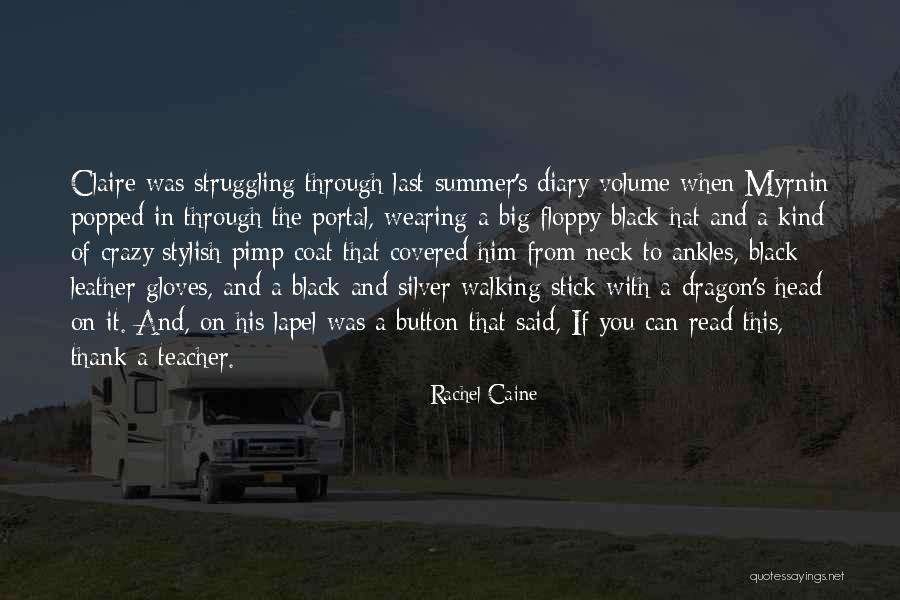 Claire was struggling through last summer's diary volume when Myrnin popped in through the portal, wearing a big floppy black hat and a kind of crazy/stylish pimp coat that covered him from neck to ankles, black leather gloves, and a black and silver walking stick with a dragon's head on it. And, on his lapel was a button that said, If you can read this, thank a teacher. — Rachel Caine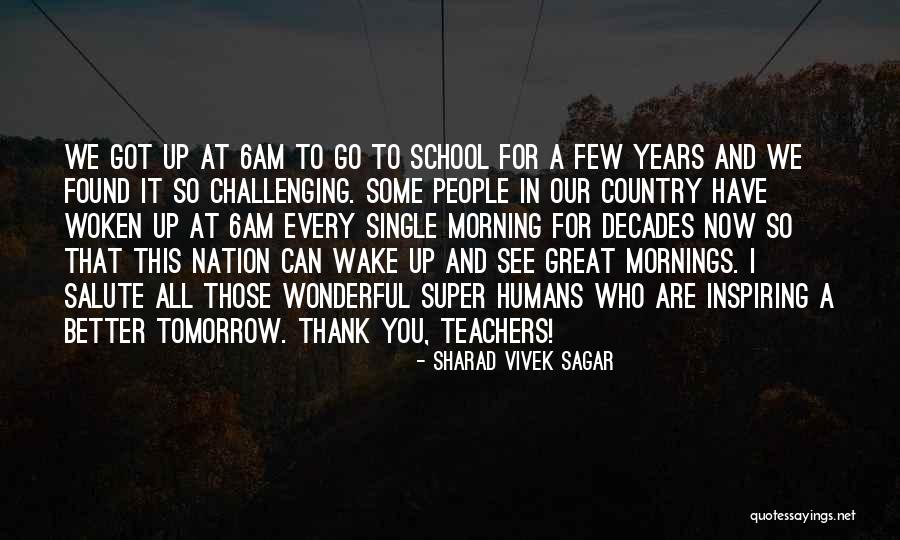 We got up at 6am to go to school for a few years and we found it so challenging. Some people in our country have woken up at 6am every single morning for decades now so that this nation can wake up and see great mornings. I salute all those wonderful super humans who are inspiring a better tomorrow. Thank you, Teachers! — Sharad Vivek Sagar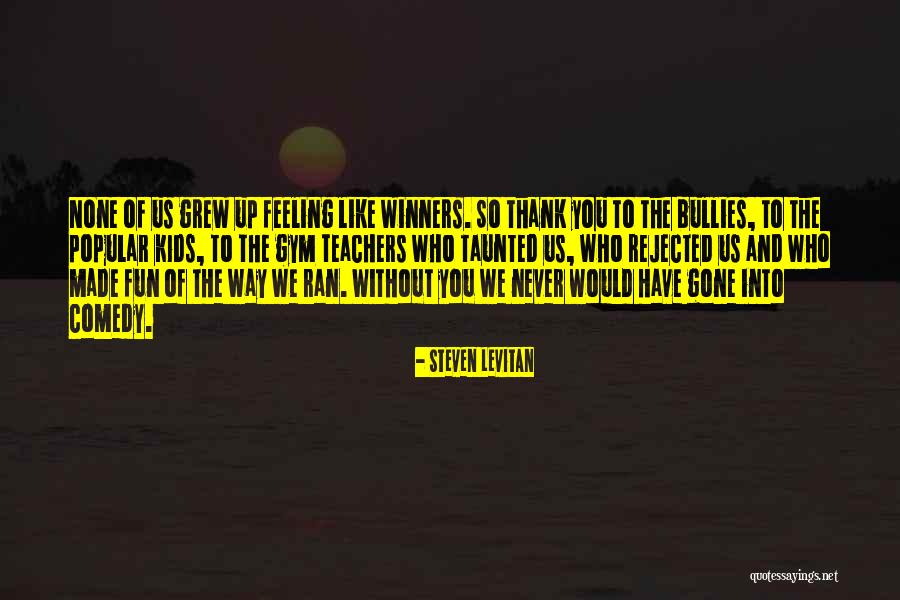 None of us grew up feeling like winners. So thank you to the bullies, to the popular kids, to the gym teachers who taunted us, who rejected us and who made fun of the way we ran. Without you we never would have gone into comedy. — Steven Levitan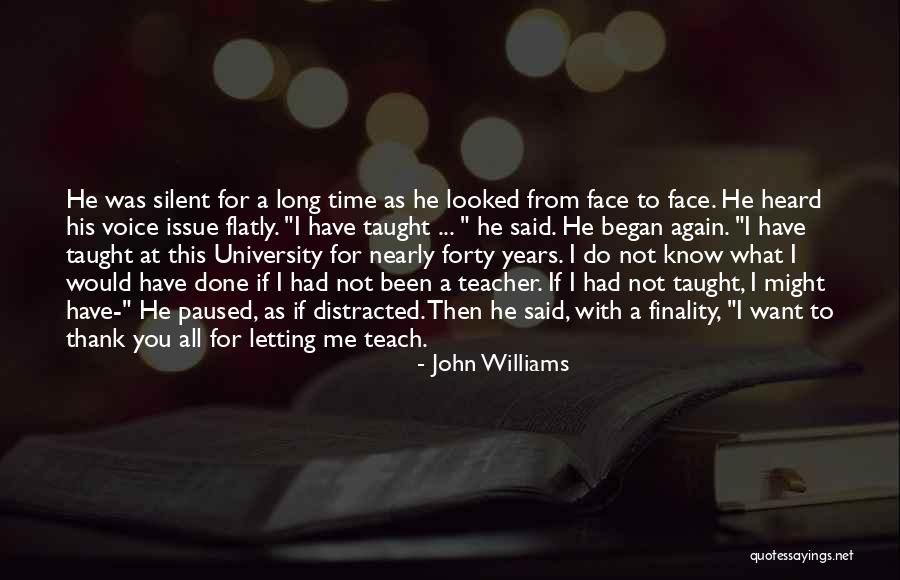 He was silent for a long time as he looked from face to face. He heard his voice issue flatly. "I have taught ... " he said. He began again. "I have taught at this University for nearly forty years. I do not know what I would have done if I had not been a teacher. If I had not taught, I might have-" He paused, as if distracted. Then he said, with a finality, "I want to thank you all for letting me teach. — John Williams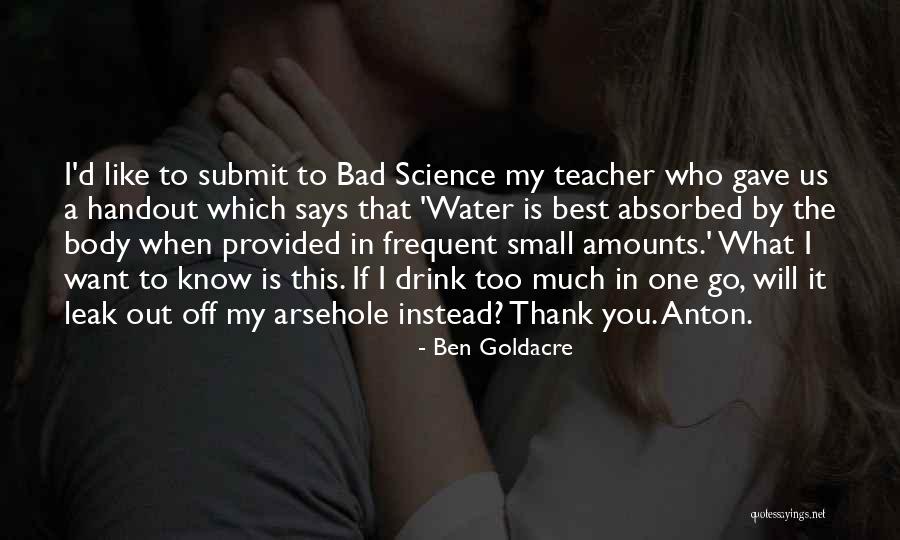 I'd like to submit to Bad Science my teacher who gave us a handout which says that 'Water is best absorbed by the body when provided in frequent small amounts.' What I want to know is this. If I drink too much in one go, will it leak out off my arsehole instead?
Thank you. Anton. — Ben Goldacre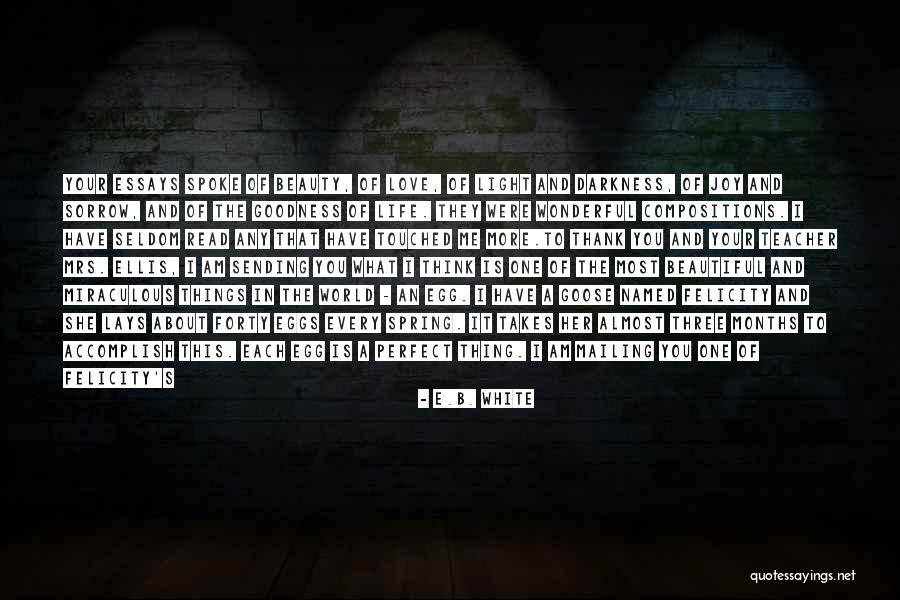 Your essays spoke of beauty, of love, of light and darkness, of joy and sorrow, and of the goodness of life. They were wonderful compositions. I have seldom read any that have touched me more.
To thank you and your teacher Mrs. Ellis, I am sending you what I think is one of the most beautiful and miraculous things in the world - an egg. I have a goose named Felicity and she lays about forty eggs every spring. It takes her almost three months to accomplish this. Each egg is a perfect thing. I am mailing you one of Felicity's eggs. The insides have been removed - blown out - so the egg should last forever. I hope you will enjoy seeing this great egg and loving it. Thank you for sending me your essays about being somebody. I was pleased that so many of you felt the beauty and goodness of the world. If we feel that when we are young, then there is great hope for us when we grow older. — E.B. White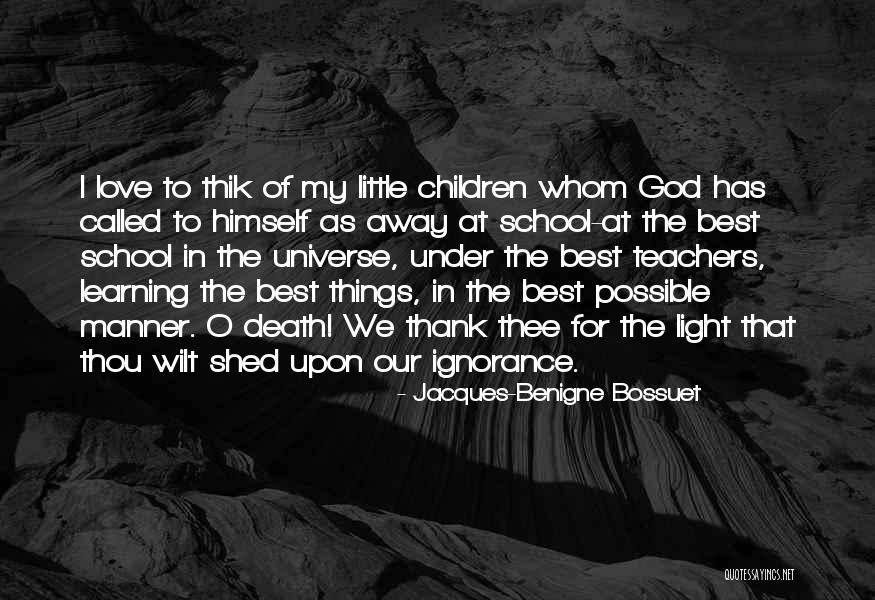 I love to thik of my little children whom God has called to himself as away at school-at the best school in the universe, under the best teachers, learning the best things, in the best possible manner. O death! We thank thee for the light that thou wilt shed upon our ignorance. — Jacques-Benigne Bossuet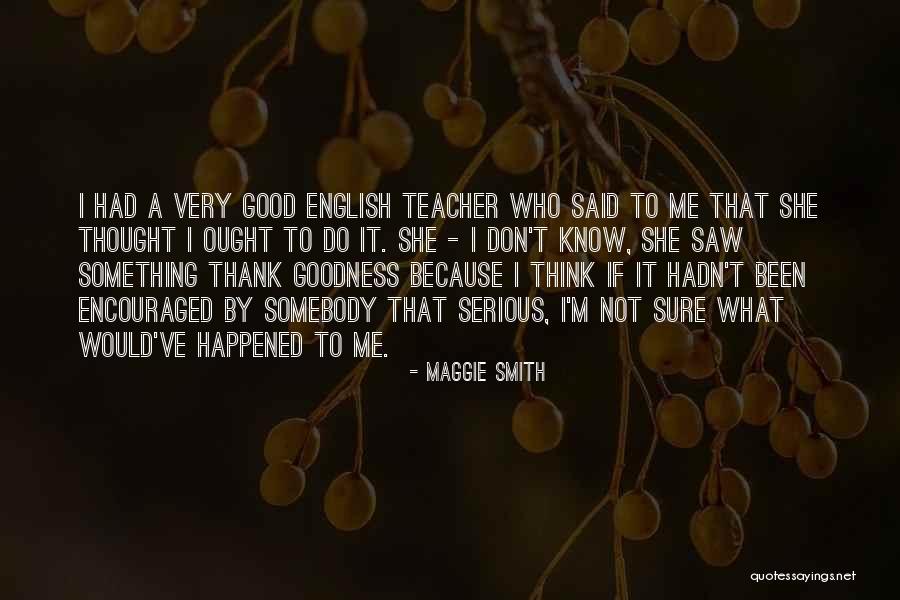 I had a very good English teacher who said to me that she thought I ought to do it. She - I don't know, she saw something thank goodness because I think if it hadn't been encouraged by somebody that serious, I'm not sure what would've happened to me. — Maggie Smith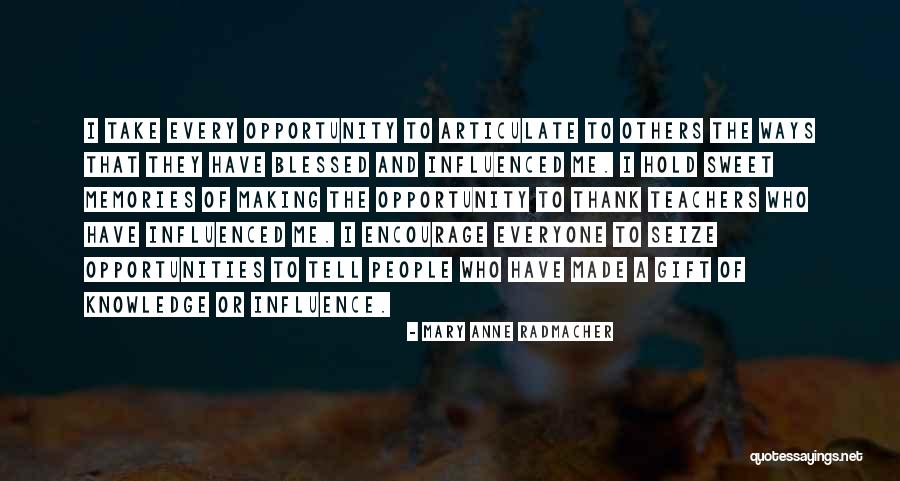 I take every opportunity to articulate to others the ways that they have blessed and influenced me. I hold sweet memories of making the opportunity to thank teachers who have influenced me. I encourage everyone to seize opportunities to tell people who have made a gift of knowledge or influence. — Mary Anne Radmacher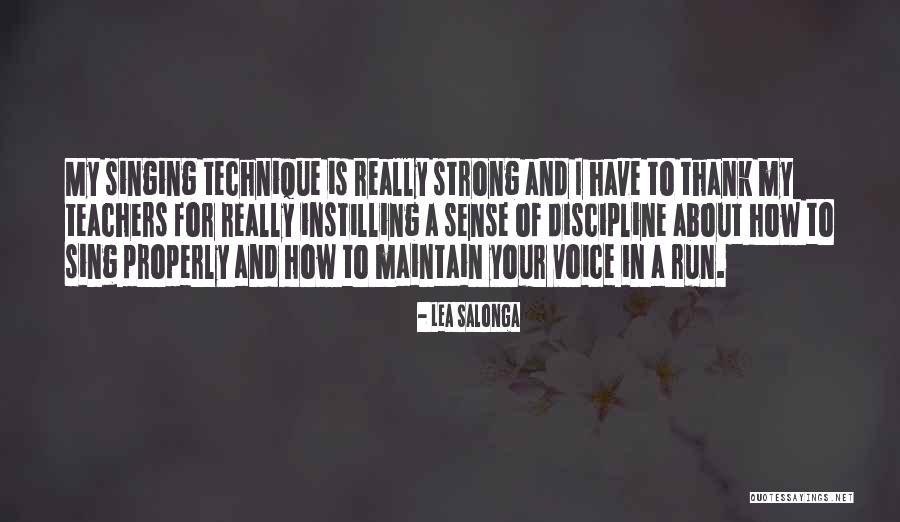 My singing technique is really strong and I have to thank my teachers for really instilling a sense of discipline about how to sing properly and how to maintain your voice in a run. — Lea Salonga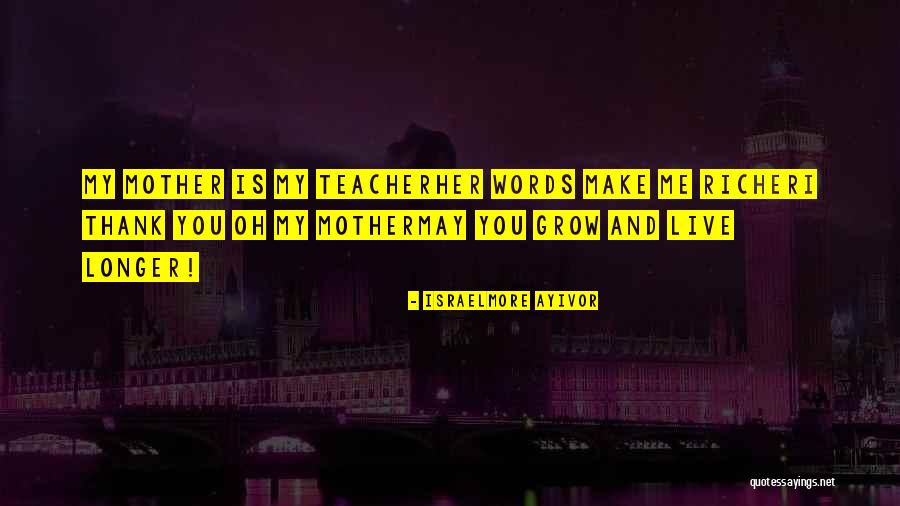 My mother is my teacher
Her words make me richer
I thank you oh my mother
May you grow and live longer! — Israelmore Ayivor