Tearful Quotes & Sayings
Enjoy reading and share 77 famous quotes about Tearful with everyone.
Top Tearful Quotes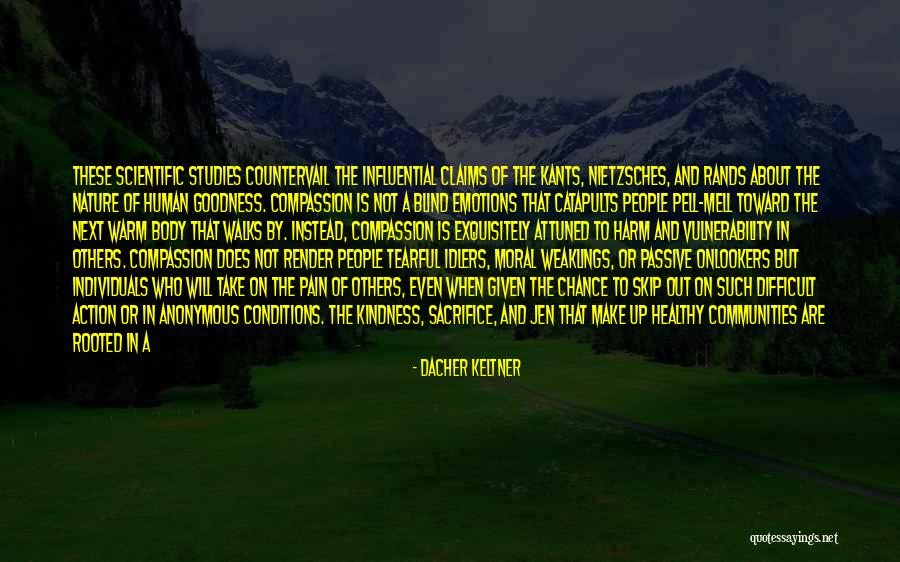 These scientific studies countervail the influential claims of the Kants, Nietzsches, and Rands about the nature of human goodness. Compassion is not a blind emotions that catapults people pell-mell toward the next warm body that walks by. Instead, compassion is exquisitely attuned to harm and vulnerability in others. Compassion does not render people tearful idlers, moral weaklings, or passive onlookers but individuals who will take on the pain of others, even when given the chance to skip out on such difficult action or in anonymous conditions. The kindness, sacrifice, and jen that make up healthy communities are rooted in a bundle of nerves that has been producing caretaking behavior for over 100 million years of mammalian evolution. — Dacher Keltner
How useful it would be to put a daily limit on self pity. Just a few tearful minutes, then on with the day. — Morrie Schwartz.
In fact all country music - with its wailing hearts, tearful angst, and neatly trimmed facial hair - is a little too gay for its own good. — Wallace Godfrey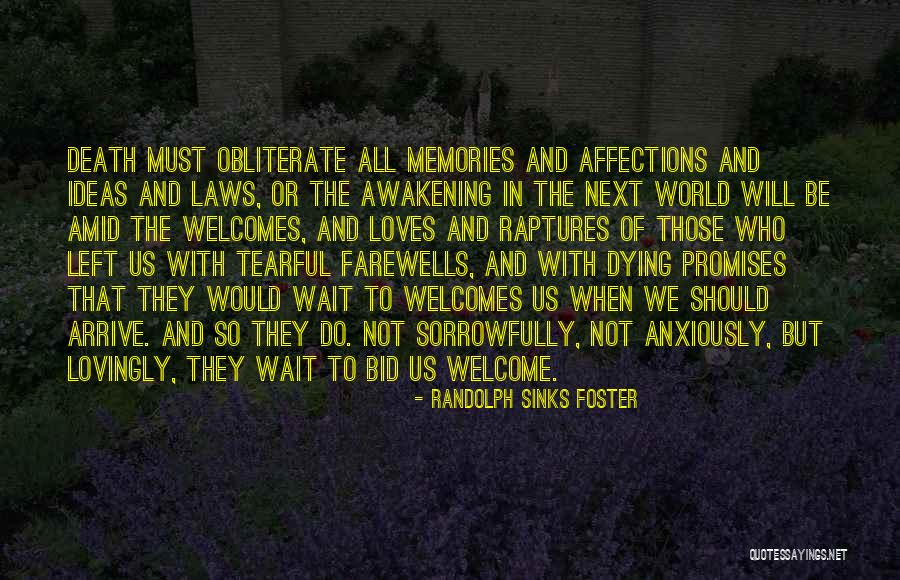 Death must obliterate all memories and affections and ideas and laws, or the awakening in the next world will be amid the welcomes, and loves and raptures of those who left us with tearful farewells, and with dying promises that they would wait to welcomes us when we should arrive. And so they do. Not sorrowfully, not anxiously, but lovingly, they wait to bid us welcome. — Randolph Sinks Foster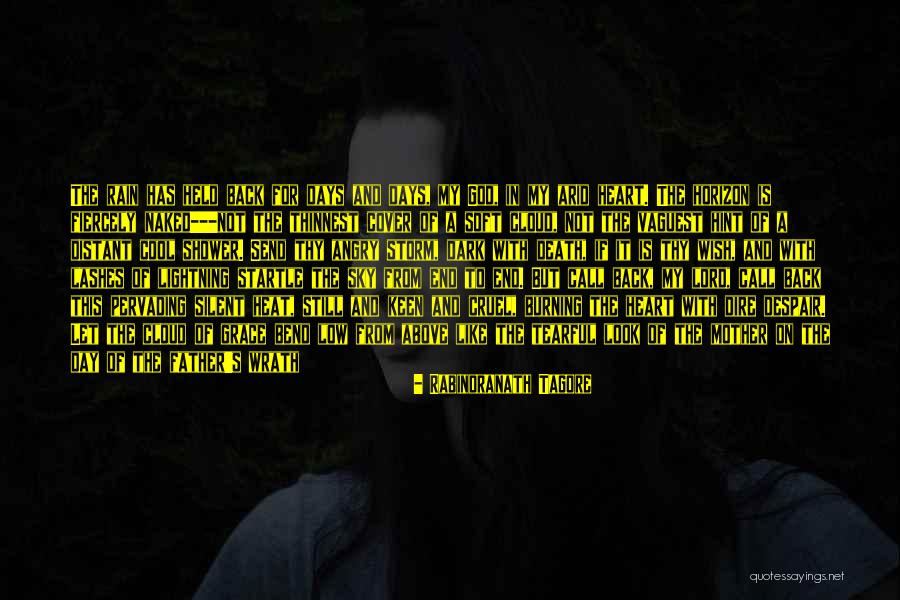 The rain has held back for days and days, my God, in my arid heart. The horizon is fiercely naked---not the thinnest cover of a soft cloud, not the vaguest hint of a distant cool shower.

Send thy angry storm, dark with death, if it is thy wish, and with lashes of lightning startle the sky from end to end.

But call back, my lord, call back this pervading silent heat, still and keen and cruel, burning the heart with dire despair.

Let the cloud of grace bend low from above like the tearful look of the mother on the day of the father's wrath — Rabindranath Tagore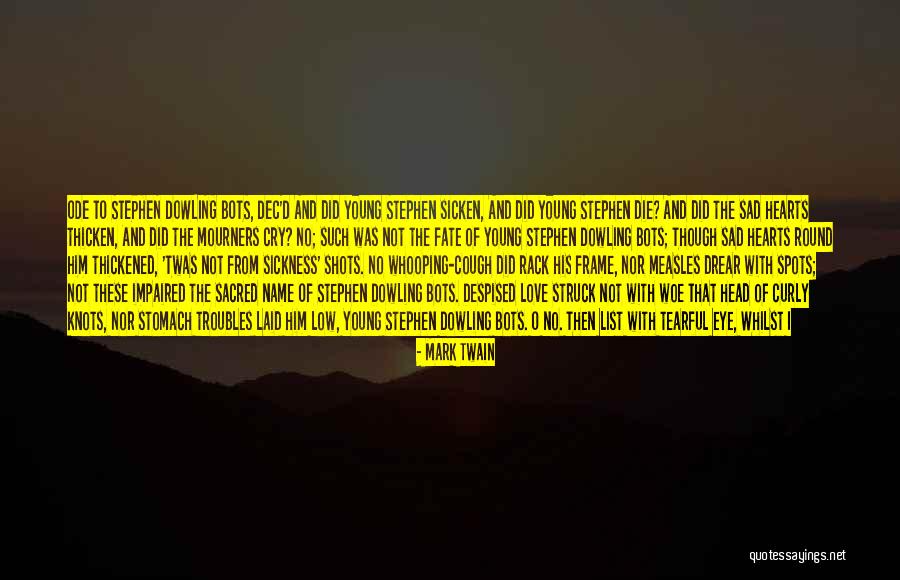 ODE TO STEPHEN DOWLING BOTS, DEC'D And did young Stephen sicken, And did young Stephen die? And did the sad hearts thicken, And did the mourners cry? No; such was not the fate of Young Stephen Dowling Bots; Though sad hearts round him thickened, 'Twas not from sickness' shots. No whooping-cough did rack his frame, Nor measles drear with spots; Not these impaired the sacred name Of Stephen Dowling Bots. Despised love struck not with woe That head of curly knots, Nor stomach troubles laid him low, Young Stephen Dowling Bots. O no. Then list with tearful eye, Whilst I his fate do tell. His soul did from this cold world fly By falling down a well. They got him out and emptied him; Alas it was too late; His spirit was gone for to sport aloft In the realms of the good and great. If — Mark Twain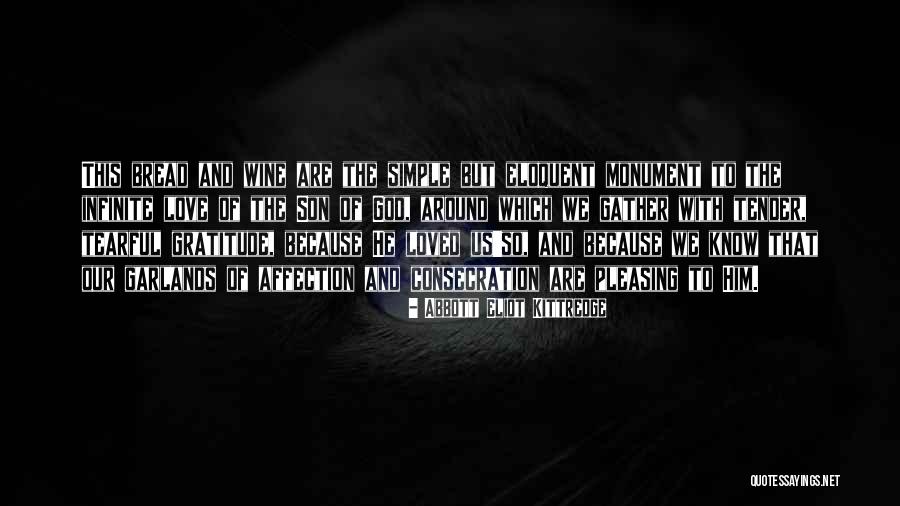 This bread and wine are the simple but eloquent monument to the infinite love of the Son of God, around which we gather with tender, tearful gratitude, because He loved us'so, and because we know that our garlands of affection and consecration are pleasing to Him. — Abbott Eliot Kittredge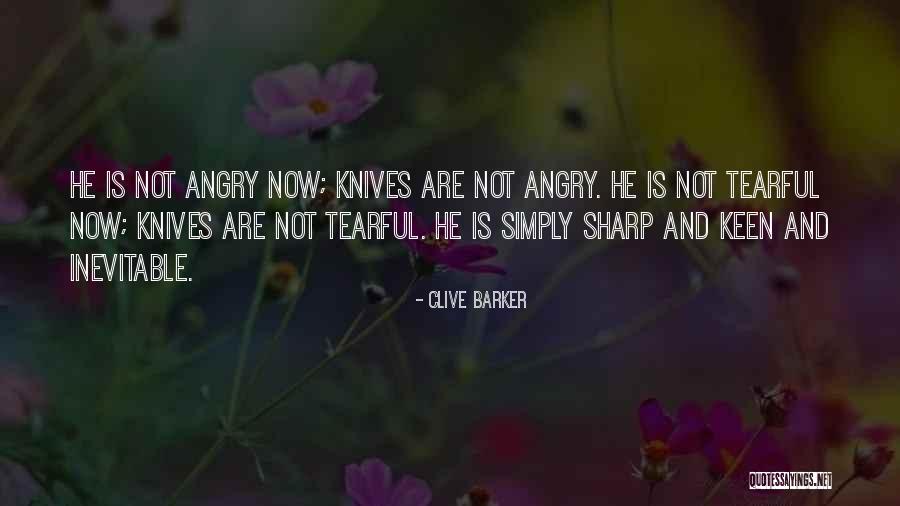 He is not angry now; knives are not angry. He is not tearful now; knives are not tearful. He is simply sharp and keen and inevitable. — Clive Barker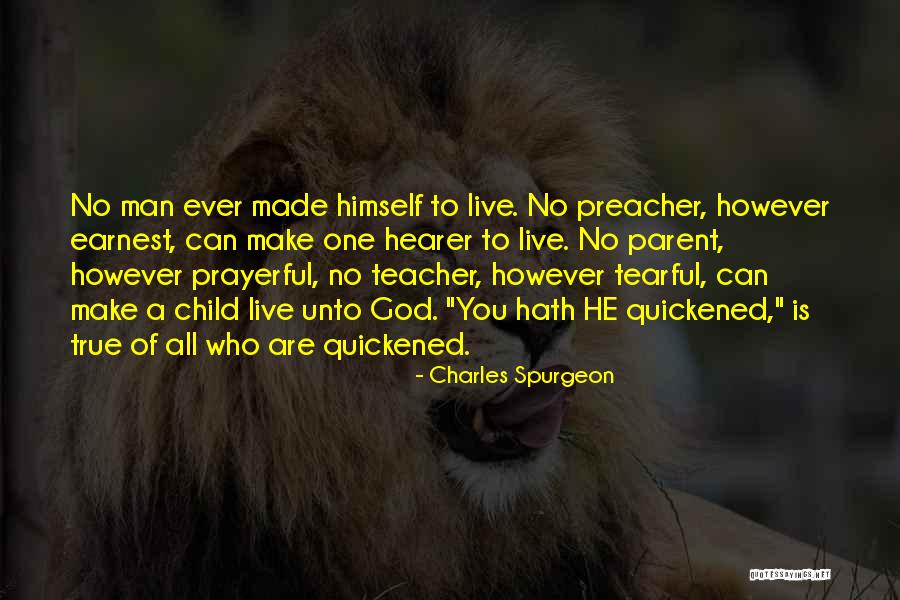 No man ever made himself to live. No preacher, however earnest, can make one hearer to live. No parent, however prayerful, no teacher, however tearful, can make a child live unto God. "You hath HE quickened," is true of all who are quickened. — Charles Spurgeon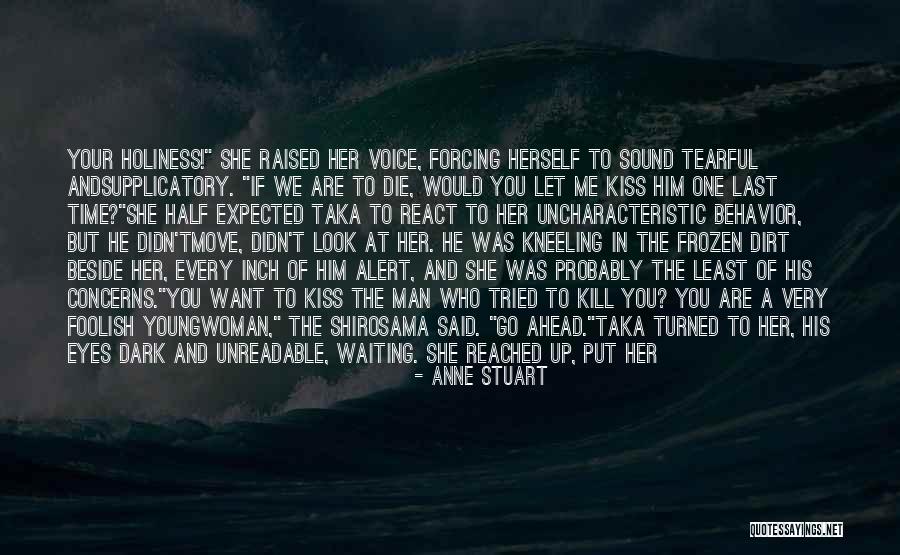 Your holiness!" She raised her voice, forcing herself to sound tearful and
supplicatory. "If we are to die, would you let me kiss him one last time?"
She half expected Taka to react to her uncharacteristic behavior, but he didn't
move, didn't look at her. He was kneeling in the frozen dirt beside her, every inch of him alert, and she was probably the least of his concerns.
"You want to kiss the man who tried to kill you? You are a very foolish young
woman," the Shirosama said. "Go ahead."
Taka turned to her, his eyes dark and unreadable, waiting. She reached up, put her mouth against his and whispered, "I have a knife that's fallen down the front of my shirt, you son of a bitch. See if you can get it." The feel of his lips against hers was agony. The sickness deep inside her was that she wanted to kiss him anyway, no matter what he'd done. — Anne Stuart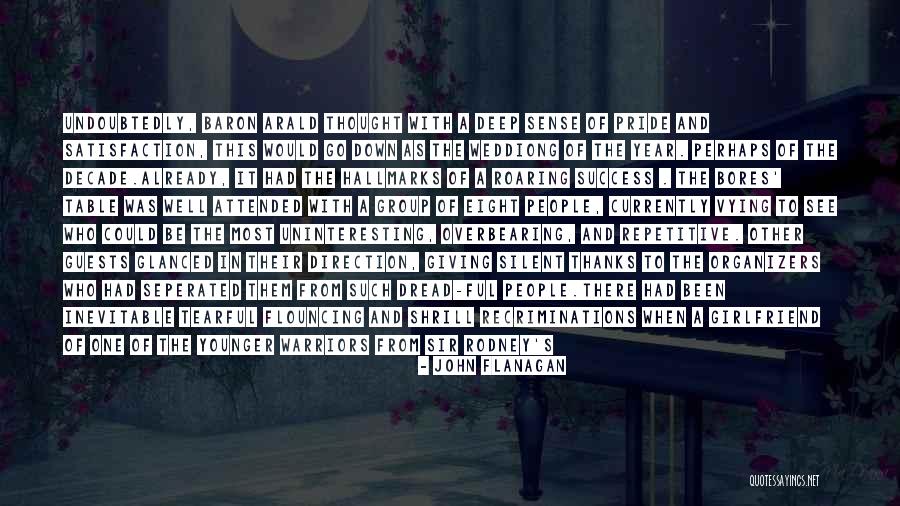 Undoubtedly, Baron Arald thought with a deep sense of pride and satisfaction, this would go down as the weddiong of the year. Perhaps of the decade.
Already, it had the hallmarks of a roaring success . The Bores' Table was well attended with a group of eight people, currently vying to see who could be the most uninteresting, overbearing, and repetitive. Other guests glanced in their direction, giving silent thanks to the organizers who had seperated them from such dread-ful people.
There had been inevitable tearful flouncing and shrill recriminations when a girlfriend of one of the younger warriors from Sir Rodney's Battleschool had caught her boyfriend kissing another girl in a darkened corridor. It wouldn't be a wedding reception without that, Arald thought. — John Flanagan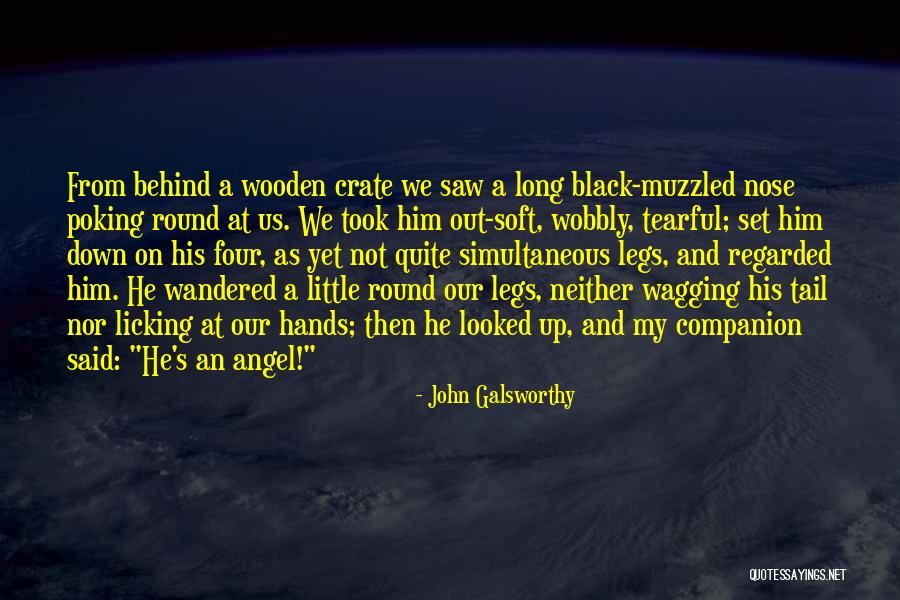 From behind a wooden crate we saw a long black-muzzled nose poking round at us. We took him out-soft, wobbly, tearful; set him down on his four, as yet not quite simultaneous legs, and regarded him. He wandered a little round our legs, neither wagging his tail nor licking at our hands; then he looked up, and my companion said: "He's an angel!" — John Galsworthy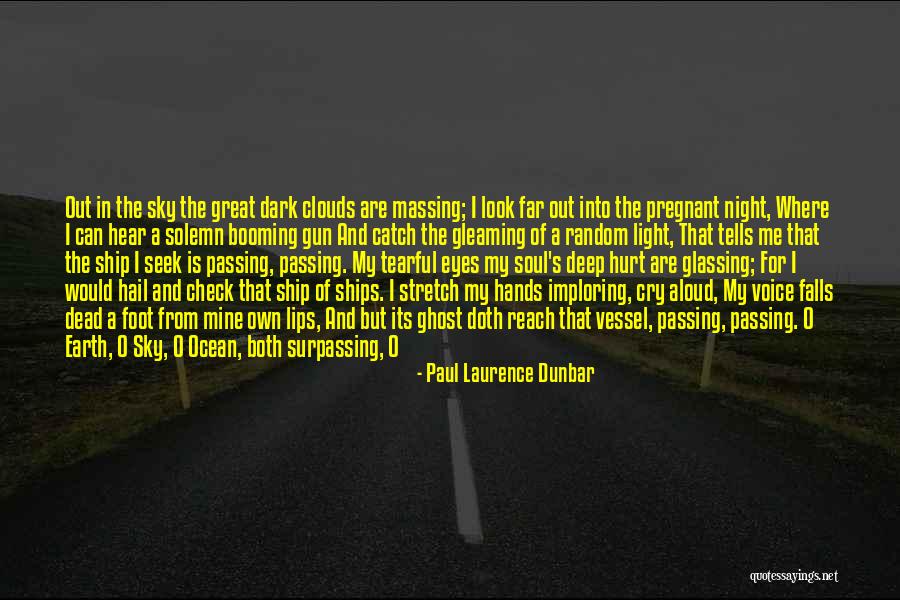 Out in the sky the great dark clouds are massing;
I look far out into the pregnant night,
Where I can hear a solemn booming gun
And catch the gleaming of a random light,
That tells me that the ship I seek is passing, passing.
My tearful eyes my soul's deep hurt are glassing;
For I would hail and check that ship of ships.
I stretch my hands imploring, cry aloud,
My voice falls dead a foot from mine own lips,
And but its ghost doth reach that vessel, passing, passing.
O Earth, O Sky, O Ocean, both surpassing,
O heart of mine, O soul that dreads the dark!
Is there no hope for me? Is there no way
That I may sight and check that speeding bark
Which out of sight and sound is passing, passing? — Paul Laurence Dunbar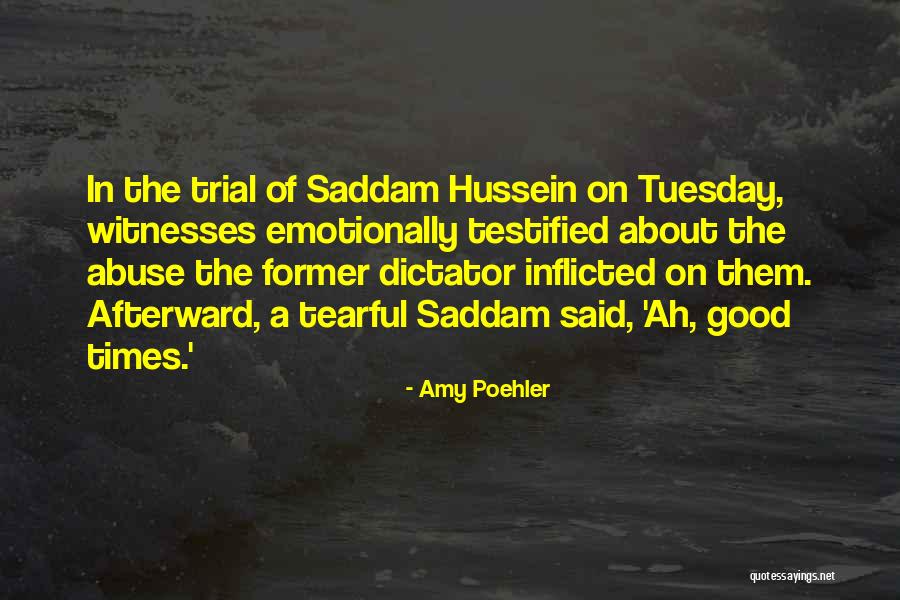 In the trial of Saddam Hussein on Tuesday, witnesses emotionally testified about the abuse the former dictator inflicted on them. Afterward, a tearful Saddam said, 'Ah, good times.' — Amy Poehler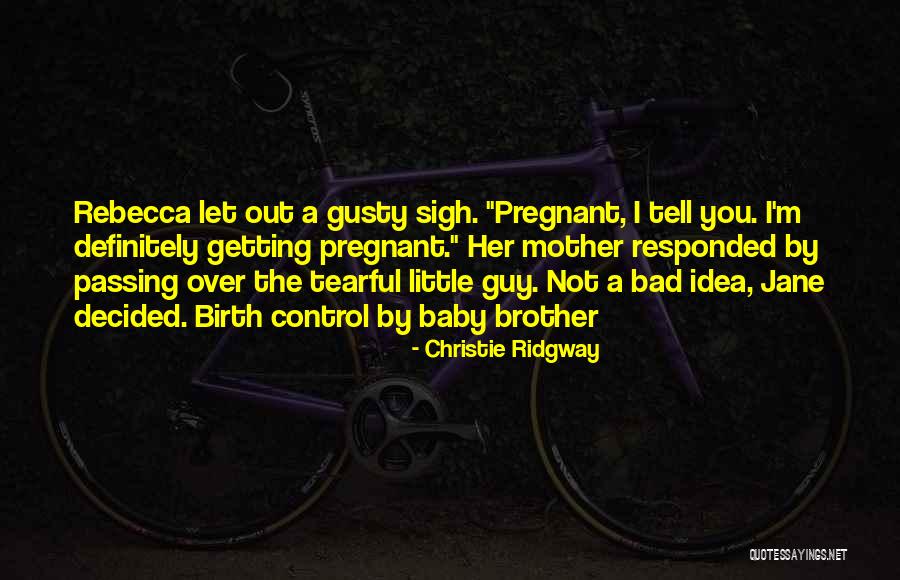 Rebecca let out a gusty sigh. "Pregnant, I tell you. I'm definitely getting pregnant." Her mother responded by passing over the tearful little guy. Not a bad idea, Jane decided. Birth control by baby brother — Christie Ridgway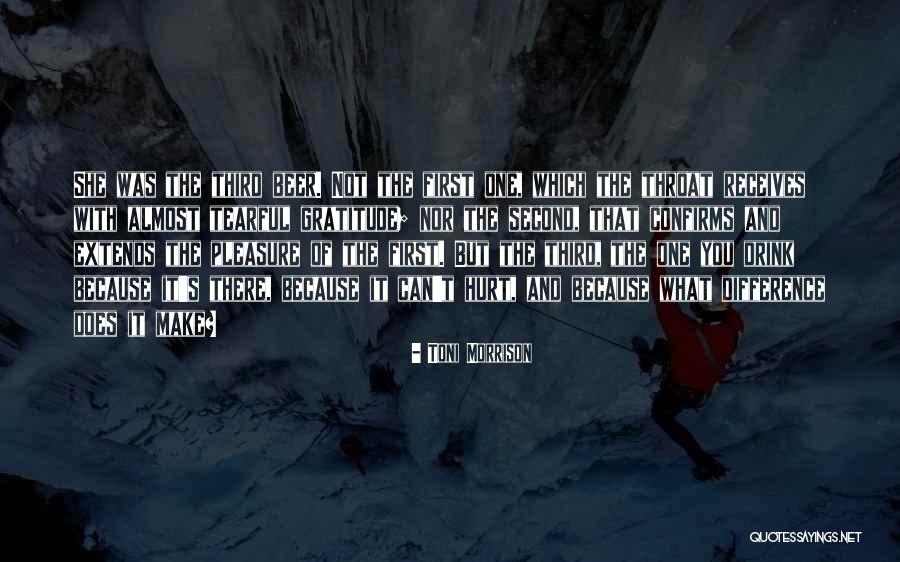 She was the third beer. Not the first one, which the throat receives with almost tearful gratitude; nor the second, that confirms and extends the pleasure of the first. But the third, the one you drink because it's there, because it can't hurt, and because what difference does it make? — Toni Morrison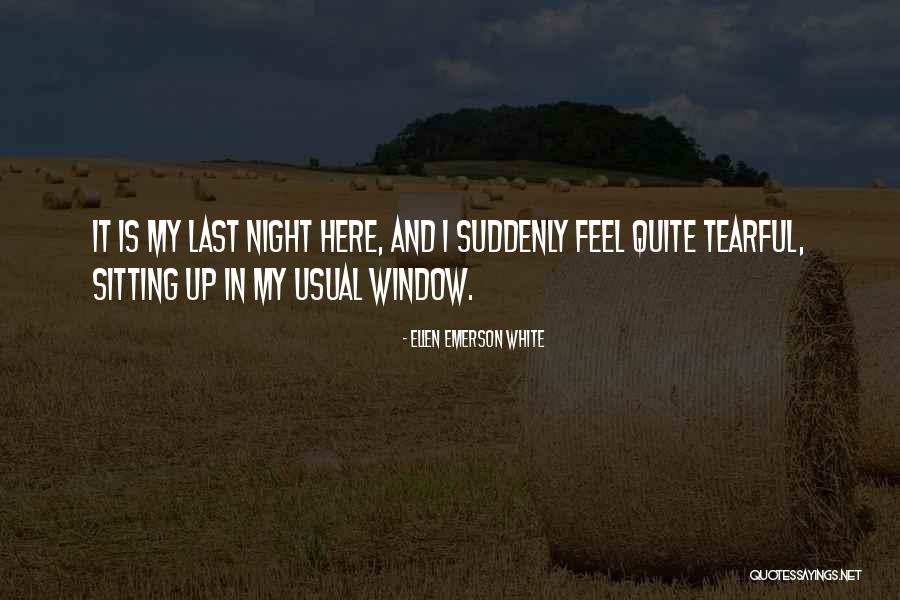 It is my last night here, and I suddenly feel quite tearful, sitting up in my usual window. — Ellen Emerson White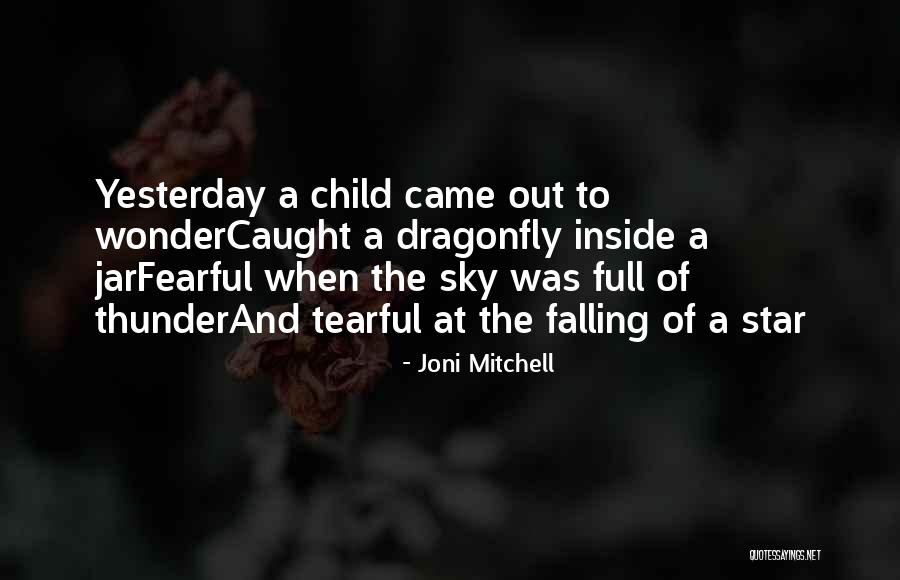 Yesterday a child came out to wonder
Caught a dragonfly inside a jar
Fearful when the sky was full of thunder
And tearful at the falling of a star — Joni Mitchell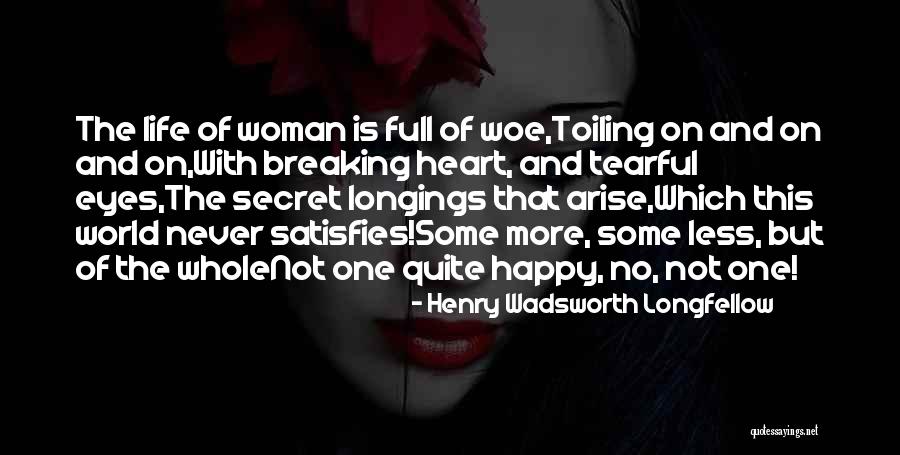 The life of woman is full of woe,
Toiling on and on and on,
With breaking heart, and tearful eyes,
The secret longings that arise,
Which this world never satisfies!
Some more, some less, but of the whole
Not one quite happy, no, not one! — Henry Wadsworth Longfellow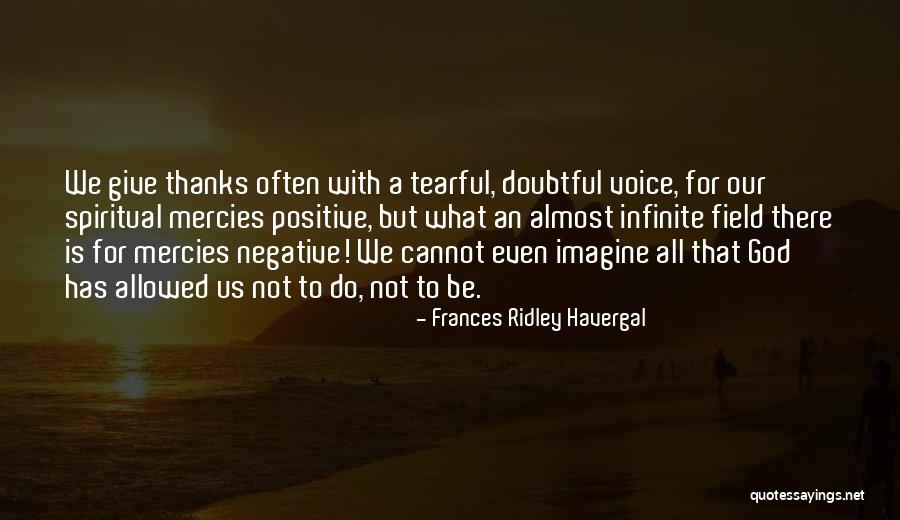 We give thanks often with a tearful, doubtful voice, for our spiritual mercies positive, but what an almost infinite field there is for mercies negative! We cannot even imagine all that God has allowed us not to do, not to be. — Frances Ridley Havergal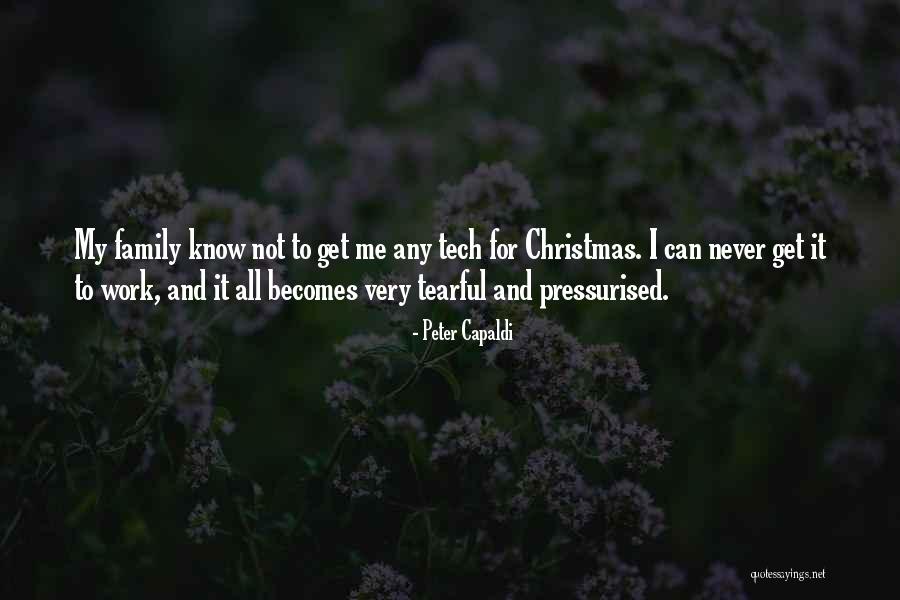 My family know not to get me any tech for Christmas. I can never get it to work, and it all becomes very tearful and pressurised. — Peter Capaldi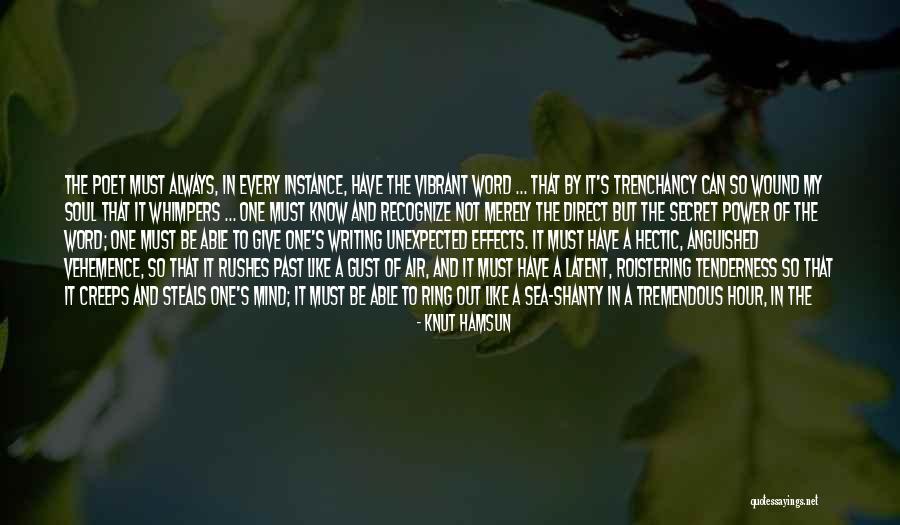 The poet must always, in every instance, have the vibrant word ... that by it's trenchancy can so wound my soul that it whimpers ... One must know and recognize not merely the direct but the secret power of the word; one must be able to give one's writing unexpected effects. It must have a hectic, anguished vehemence, so that it rushes past like a gust of air, and it must have a latent, roistering tenderness so that it creeps and steals one's mind; it must be able to ring out like a sea-shanty in a tremendous hour, in the time of the tempest, and it must be able to sigh like one who, in tearful mood, sobs in his inmost heart. — Knut Hamsun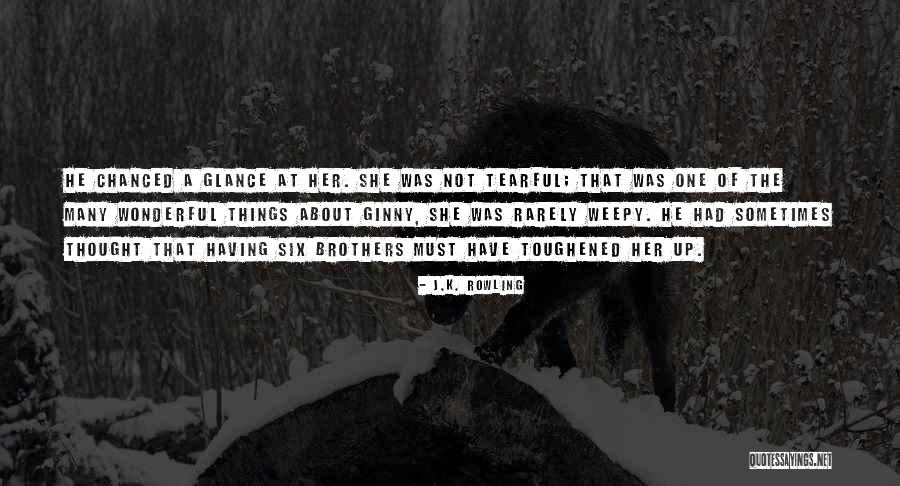 He chanced a glance at her. She was not tearful; that was one of the many wonderful things about Ginny, she was rarely weepy. He had sometimes thought that having six brothers must have toughened her up. — J.K. Rowling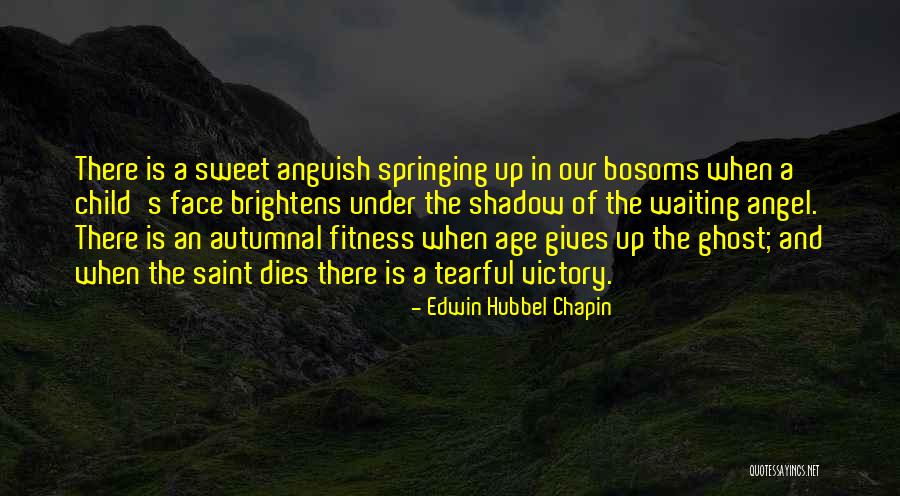 There is a sweet anguish springing up in our bosoms when a child's face brightens under the shadow of the waiting angel. There is an autumnal fitness when age gives up the ghost; and when the saint dies there is a tearful victory. — Edwin Hubbel Chapin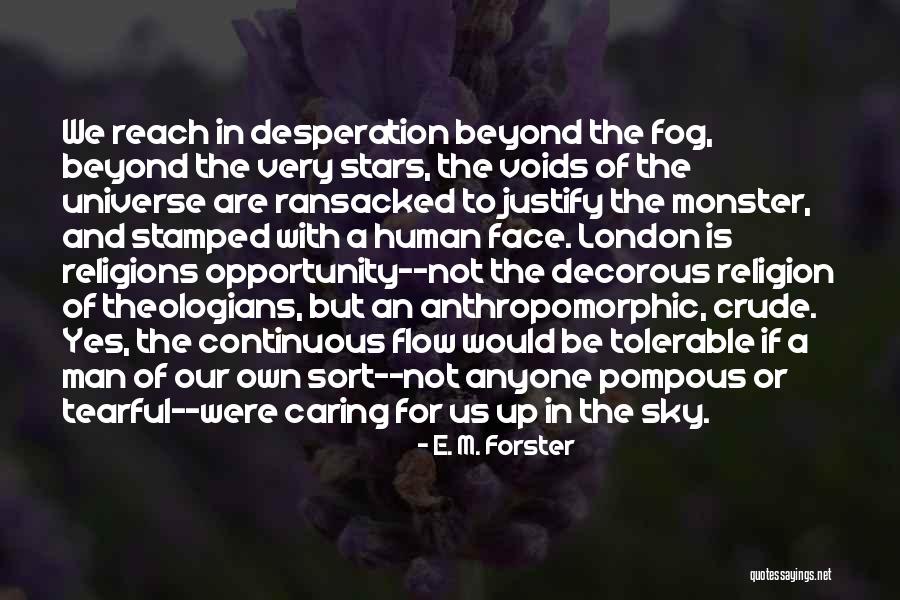 We reach in desperation beyond the fog, beyond the very stars, the voids of the universe are ransacked to justify the monster, and stamped with a human face. London is religions opportunity--not the decorous religion of theologians, but an anthropomorphic, crude. Yes, the continuous flow would be tolerable if a man of our own sort--not anyone pompous or tearful--were caring for us up in the sky. — E. M. Forster
The heavy rain beat down the tender branches of vine and jessamine, and trampled on them in its fury; and when the lightning gleamed, it showed the tearful leaves shivering and cowering together at the window, and tapping at it urgently, as if beseeching to be sheltered from the dismal night. — Charles Dickens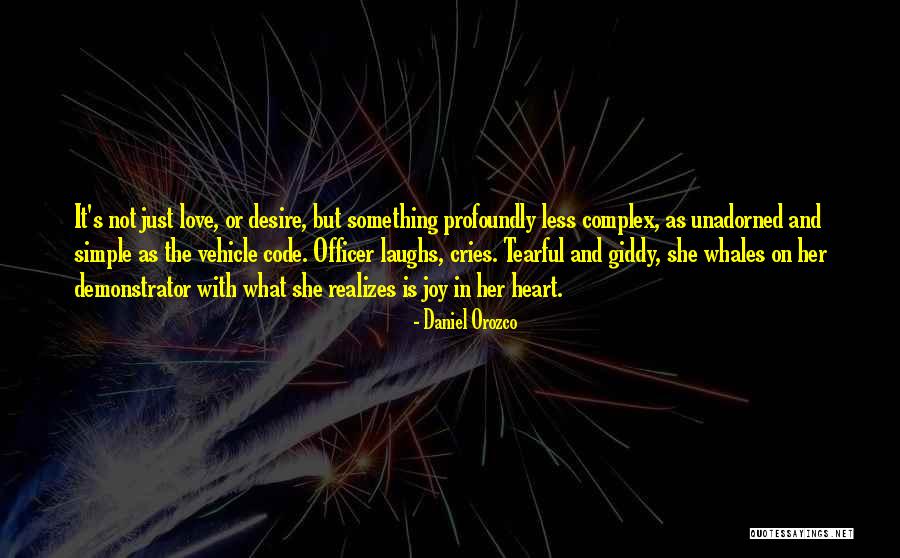 It's not just love, or desire, but something profoundly less complex, as unadorned and simple as the vehicle code. Officer laughs, cries. Tearful and giddy, she whales on her demonstrator with what she realizes is joy in her heart. — Daniel Orozco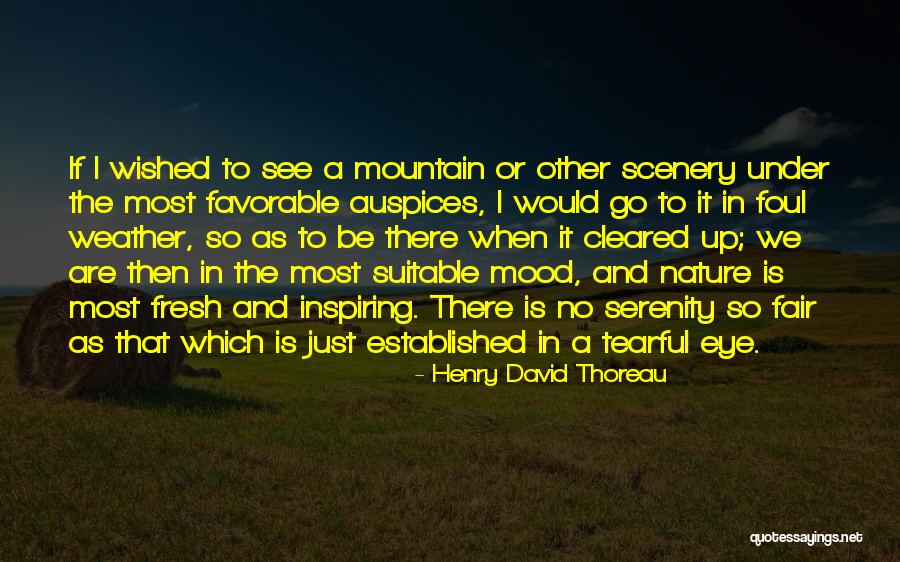 If I wished to see a mountain or other scenery under the most favorable auspices, I would go to it in foul weather, so as to be there when it cleared up; we are then in the most suitable mood, and nature is most fresh and inspiring. There is no serenity so fair as that which is just established in a tearful eye. — Henry David Thoreau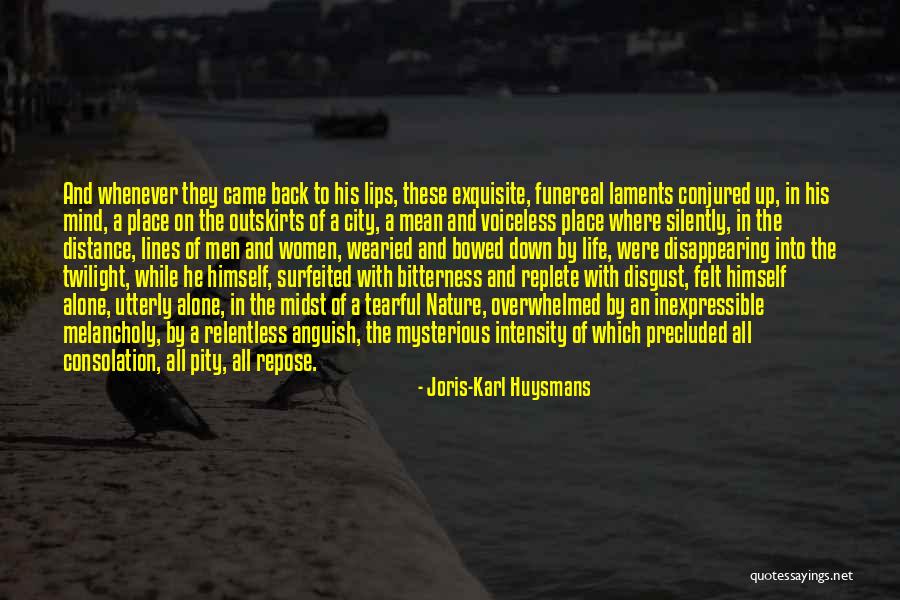 And whenever they came back to his lips, these exquisite, funereal laments conjured up, in his mind, a place on the outskirts of a city, a mean and voiceless place where silently, in the distance, lines of men and women, wearied and bowed down by life, were disappearing into the twilight, while he himself, surfeited with bitterness and replete with disgust, felt himself alone, utterly alone, in the midst of a tearful Nature, overwhelmed by an inexpressible melancholy, by a relentless anguish, the mysterious intensity of which precluded all consolation, all pity, all repose. — Joris-Karl Huysmans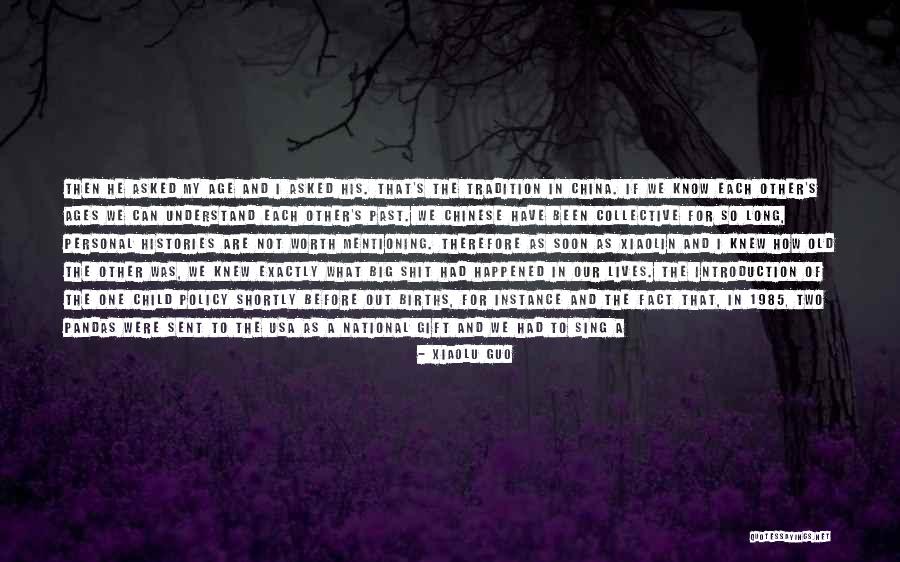 Then he asked my age and I asked his. That's the tradition in China. If we know each other's ages we can understand each other's past. We Chinese have been collective for so long, personal histories are not worth mentioning. Therefore as soon as Xiaolin and I knew how old the other was, we knew exactly what big shit had happened in our lives. The introduction of the One Child Policy shortly before out births, for instance and the fact that, in 1985, two pandas were sent to the USA as a national gift and we had to sing a tearful panda song at school. 1989 was the Tiananmen Square student demonstration. Anyway, Xiaolin was one year younger than me, so I assumed we were from the same generation. — Xiaolu Guo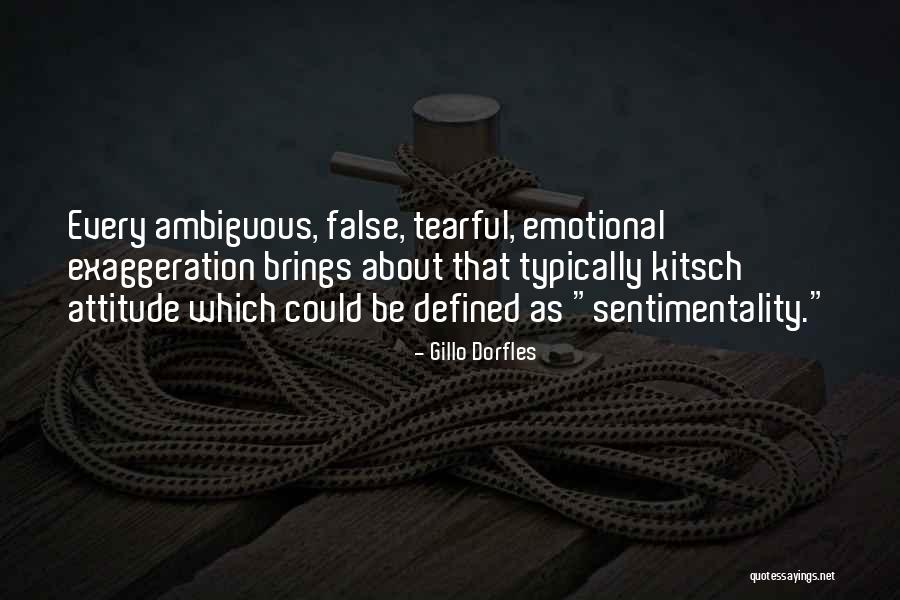 Every ambiguous, false, tearful, emotional exaggeration brings about that typically kitsch attitude which could be defined as "sentimentality." — Gillo Dorfles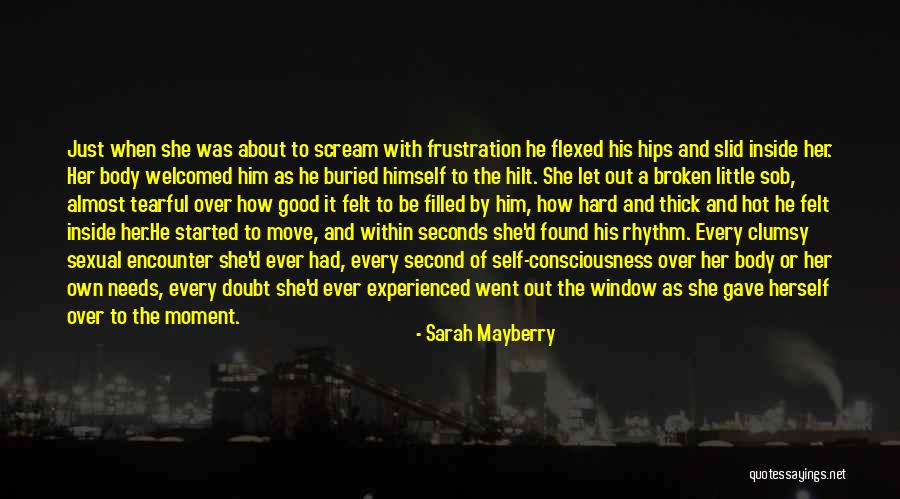 Just when she was about to scream with frustration he flexed his hips and slid inside her. Her body welcomed him as he buried himself to the hilt. She let out a broken little sob, almost tearful over how good it felt to be filled by him, how hard and thick and hot he felt inside her.
He started to move, and within seconds she'd found his rhythm. Every clumsy sexual encounter she'd ever had, every second of self-consciousness over her body or her own needs, every doubt she'd ever experienced went out the window as she gave herself over to the moment. — Sarah Mayberry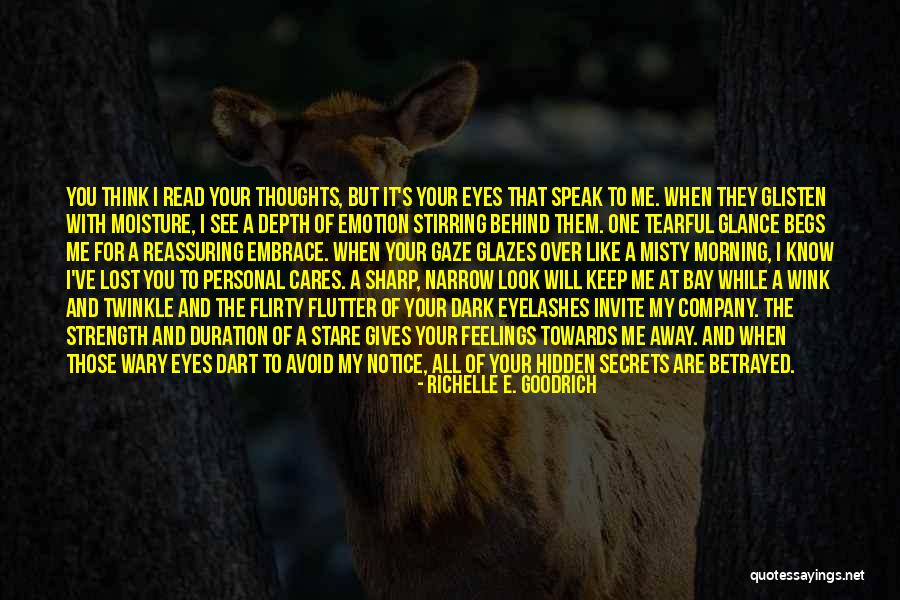 You think I read your thoughts, but it's your eyes that speak to me. When they glisten with moisture, I see a depth of emotion stirring behind them. One tearful glance begs me for a reassuring embrace. When your gaze glazes over like a misty morning, I know I've lost you to personal cares. A sharp, narrow look will keep me at bay while a wink and twinkle and the flirty flutter of your dark eyelashes invite my company. The strength and duration of a stare gives your feelings towards me away. And when those wary eyes dart to avoid my notice, all of your hidden secrets are betrayed. — Richelle E. Goodrich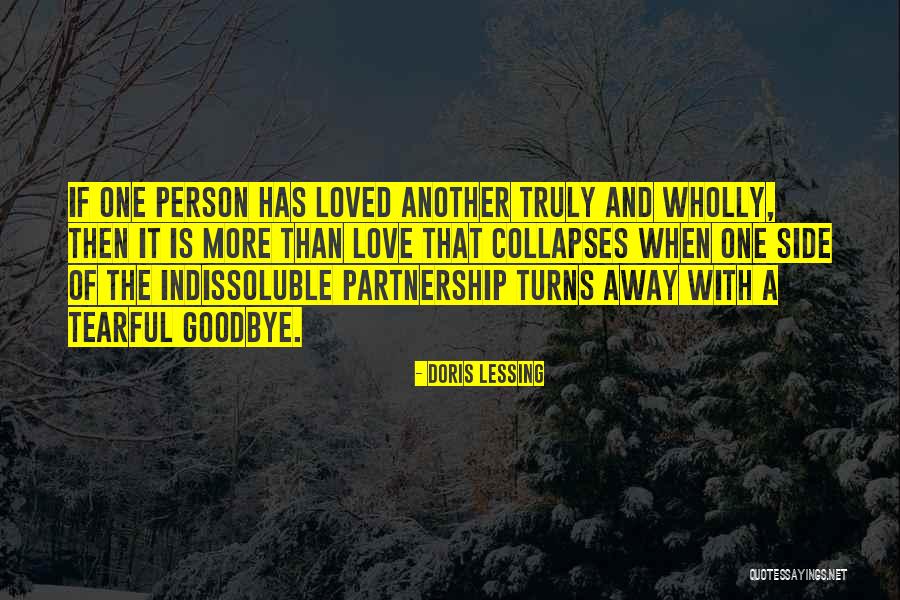 If one person has loved another truly and wholly, then it is more than love that collapses when one side of the indissoluble partnership turns away with a tearful goodbye. — Doris Lessing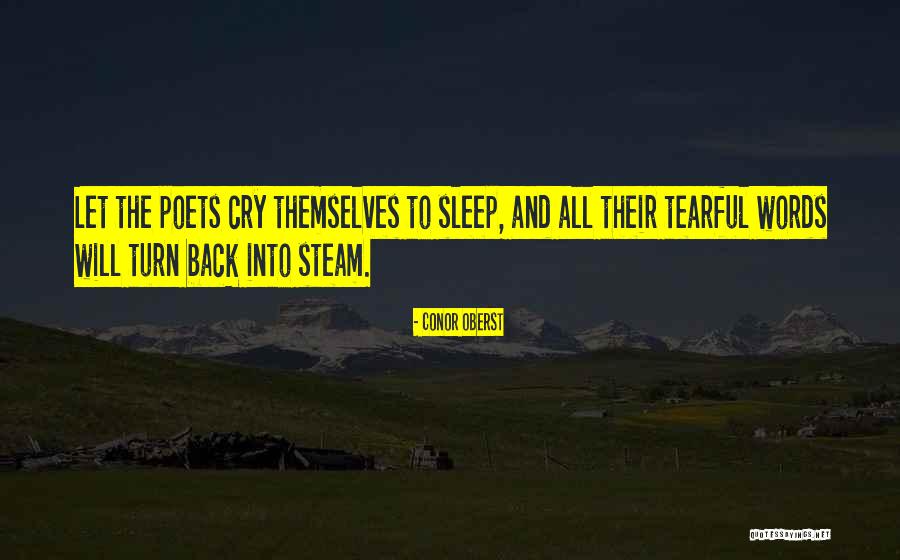 Let the poets cry themselves to sleep, and all their tearful words will turn back into steam. — Conor Oberst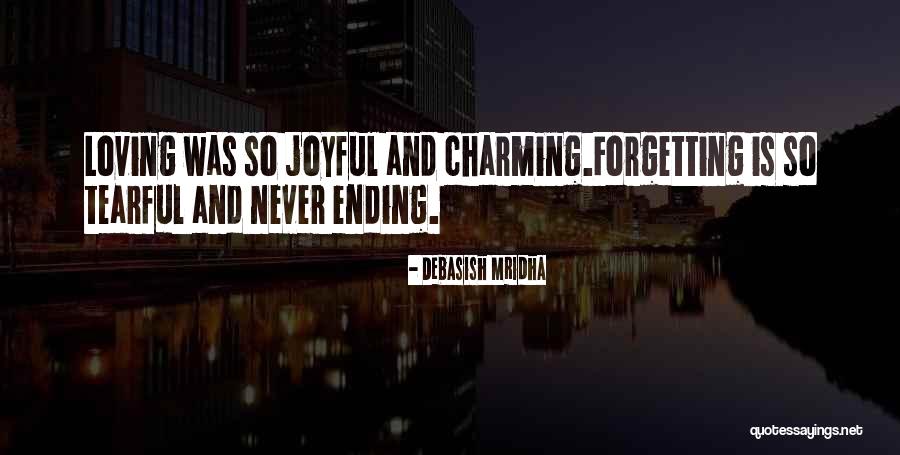 Loving was so joyful and charming.
Forgetting is so tearful and never ending. — Debasish Mridha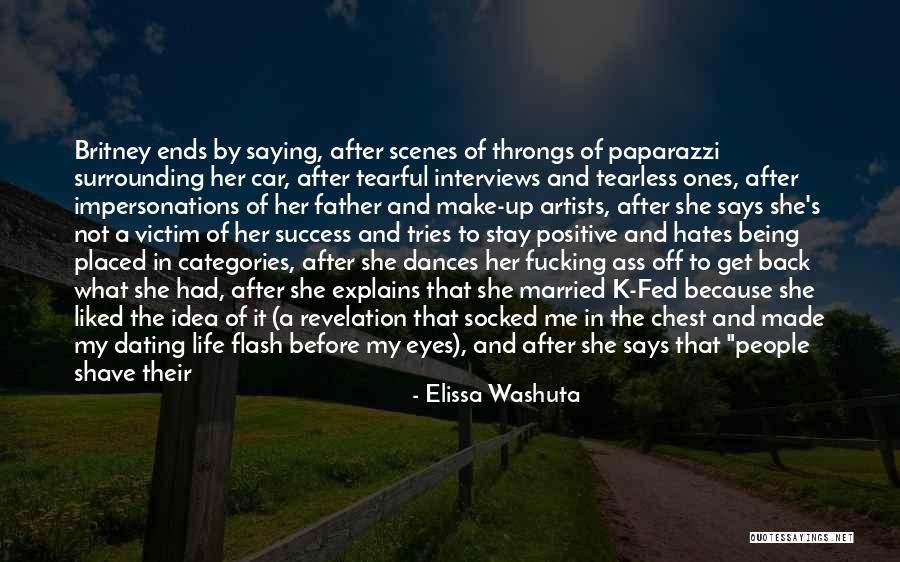 Britney ends by saying, after scenes of throngs of paparazzi surrounding her car, after tearful interviews and tearless ones, after impersonations of her father and make-up artists, after she says she's not a victim of her success and tries to stay positive and hates being placed in categories, after she dances her fucking ass off to get back what she had, after she explains that she married K-Fed because she liked the idea of it (a revelation that socked me in the chest and made my dating life flash before my eyes), and after she says that "people shave their heads all the time"; after all that, she leaves me with this: "I go through life like a karate kid. — Elissa Washuta
What the leave left me on deposit after the grace period expired: a crazy sad elation, as sad as it was exciting. A wretched happiness, yet another affect I've never suspected I could feel, a tearful happiness, lightened, raked by claws, to discover that death lets pass, that it may sheathe its claws, admit exceptions. As if one could do everything one imagines doing, all of us living dead dying life death and other beings subject to laws so harsh but open to interpretation, natural phenomena. An extra-mortal joy that doesn't take its eyes off death. No denials. I don't deny the sentence, its execution, its terrible consequences, the solitude, the weakening, the ruination of beauties the carnage of skies, global chlorosis, anxiety, that demolish us, the butchery of living moments, the pulling out by the roots of the hearts of things and beings. But that day it was clear to me we had found: the answer. This was the Granting of Leave. It will suffice. — Helene Cixous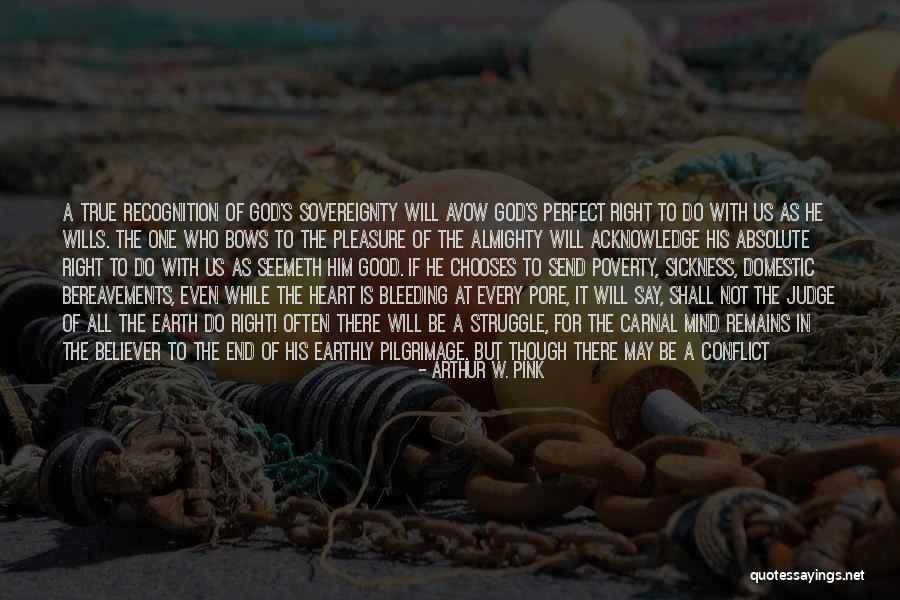 A true recognition of God's sovereignty will avow God's perfect right to do with us as He wills. The one who bows to the pleasure of the Almighty will acknowledge His absolute right to do with us as seemeth Him good. If He chooses to send poverty, sickness, domestic bereavements, even while the heart is bleeding at every pore, it will say, Shall not the Judge of all the earth do right! Often there will be a struggle, for the carnal mind remains in the believer to the end of his earthly pilgrimage. But though there may be a conflict within his breast, nevertheless, to the one who has really yielded himself to this blessed truth there will presently be heard that Voice saying, as of old it said to the turbulent Gennesaret, "Peace be still"; and the tempestuous flood within will be quieted and the subdued soul will lift a tearful but confident eye to Heaven and say, "Thy will be done. — Arthur W. Pink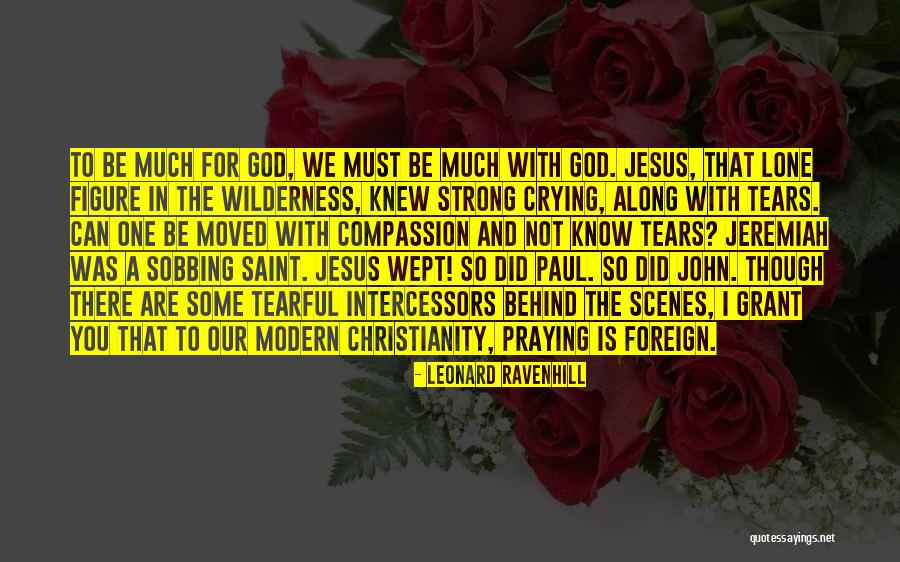 To be much for God, we must be much with God. Jesus, that lone figure in the wilderness, knew strong crying, along with tears. Can one be moved with compassion and not know tears? Jeremiah was a sobbing saint. Jesus wept! So did Paul. So did John. Though there are some tearful intercessors behind the scenes, I grant you that to our modern Christianity, praying is foreign. — Leonard Ravenhill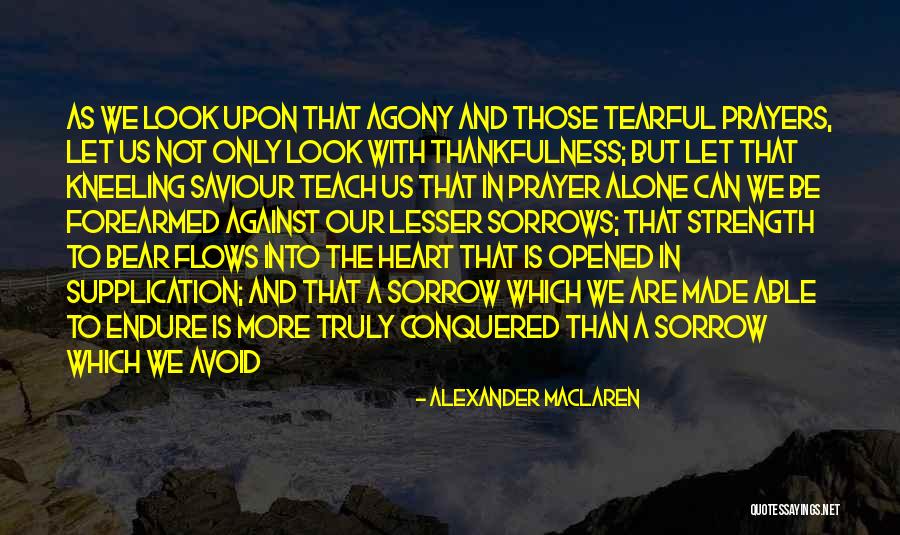 As we look upon that agony and those tearful prayers, let us not only look with thankfulness; but let that kneeling Saviour teach us that in prayer alone can we be forearmed against our lesser sorrows; that strength to bear flows into the heart that is opened in supplication; and that a sorrow which we are made able to endure is more truly conquered than a sorrow which we avoid — Alexander MacLaren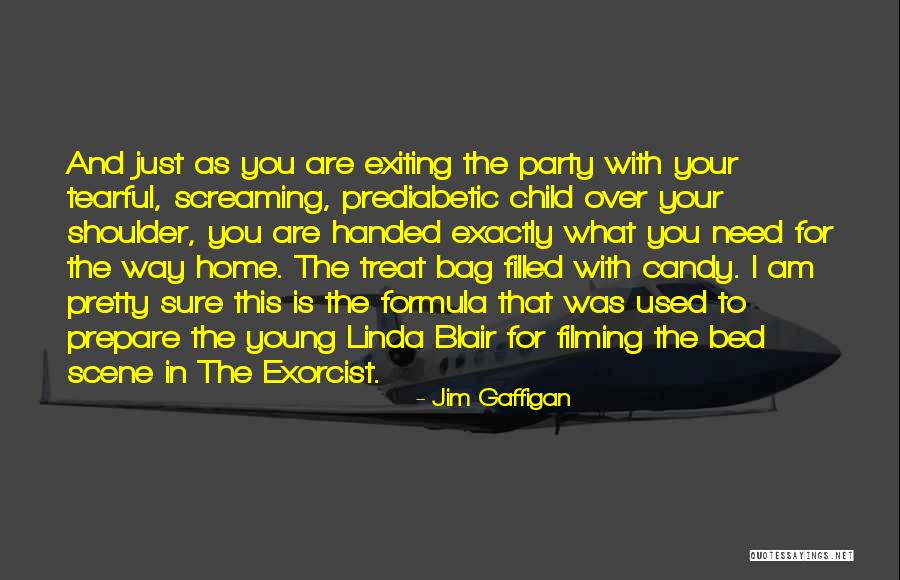 And just as you are exiting the party with your tearful, screaming, prediabetic child over your shoulder, you are handed exactly what you need for the way home. The treat bag filled with candy. I am pretty sure this is the formula that was used to prepare the young Linda Blair for filming the bed scene in The Exorcist. — Jim Gaffigan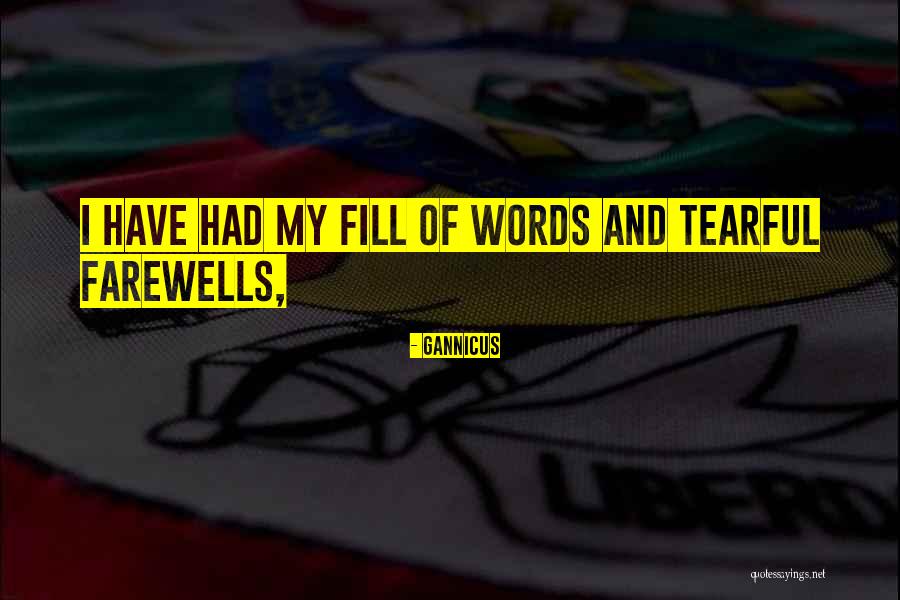 I have had my fill of words and tearful farewells, — Gannicus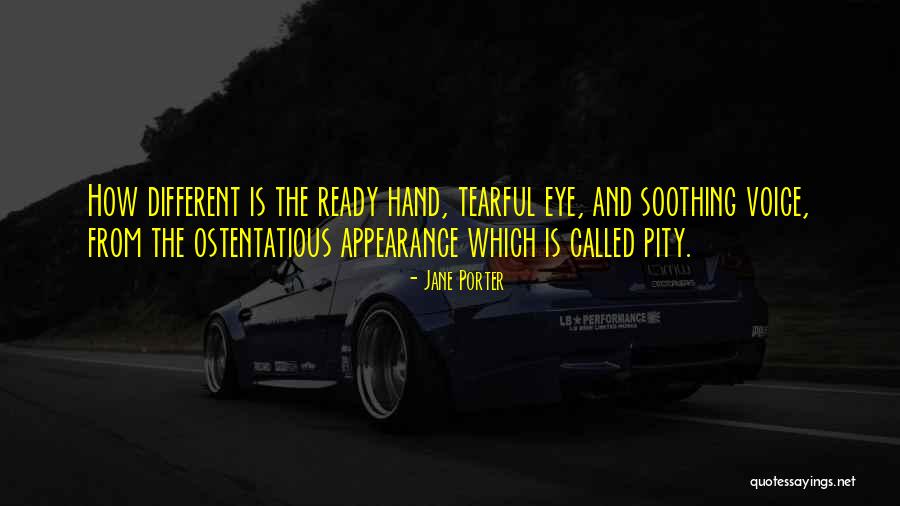 How different is the ready hand, tearful eye, and soothing voice, from the ostentatious appearance which is called pity. — Jane Porter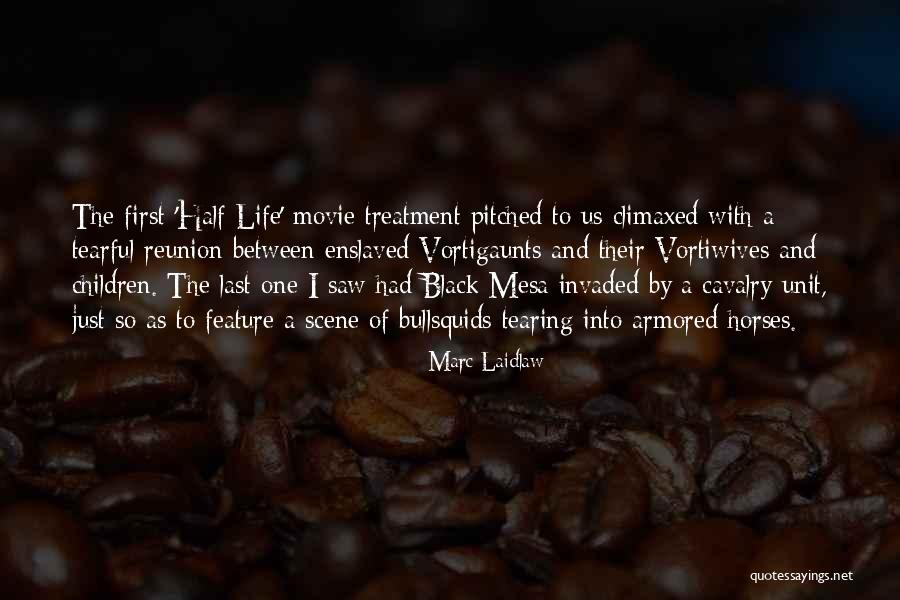 The first 'Half-Life' movie treatment pitched to us climaxed with a tearful reunion between enslaved Vortigaunts and their Vortiwives and children. The last one I saw had Black Mesa invaded by a cavalry unit, just so as to feature a scene of bullsquids tearing into armored horses. — Marc Laidlaw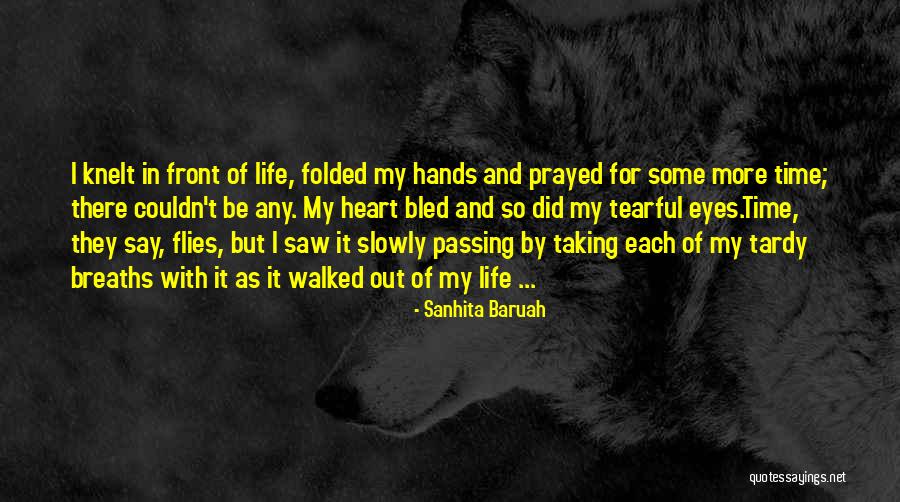 I knelt in front of life, folded my hands and prayed for some more time; there couldn't be any. My heart bled and so did my tearful eyes.
Time, they say, flies, but I saw it slowly passing by taking each of my tardy breaths with it as it walked out of my life ... — Sanhita Baruah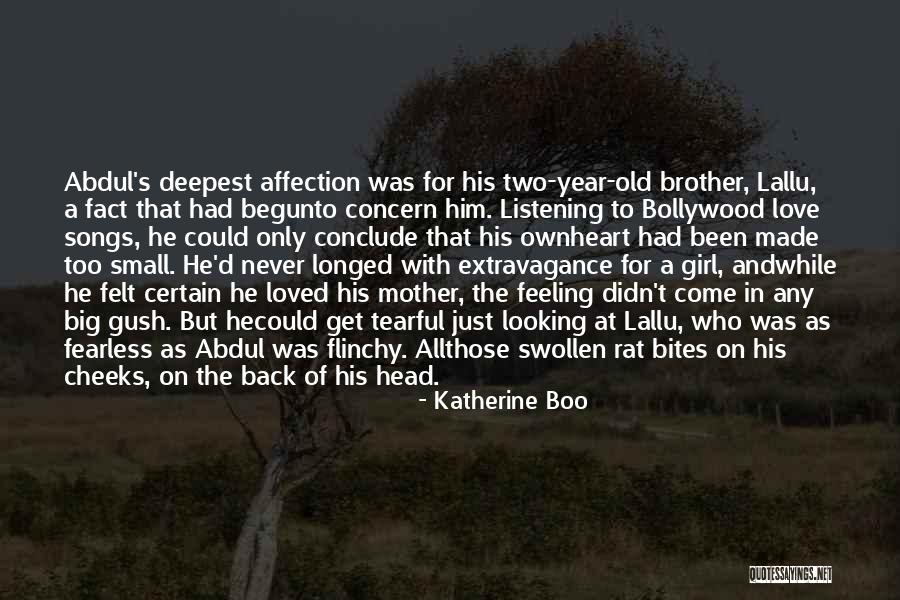 Abdul's deepest affection was for his two-year-old brother, Lallu, a fact that had begun
to concern him. Listening to Bollywood love songs, he could only conclude that his own
heart had been made too small. He'd never longed with extravagance for a girl, and
while he felt certain he loved his mother, the feeling didn't come in any big gush. But he
could get tearful just looking at Lallu, who was as fearless as Abdul was flinchy. All
those swollen rat bites on his cheeks, on the back of his head. — Katherine Boo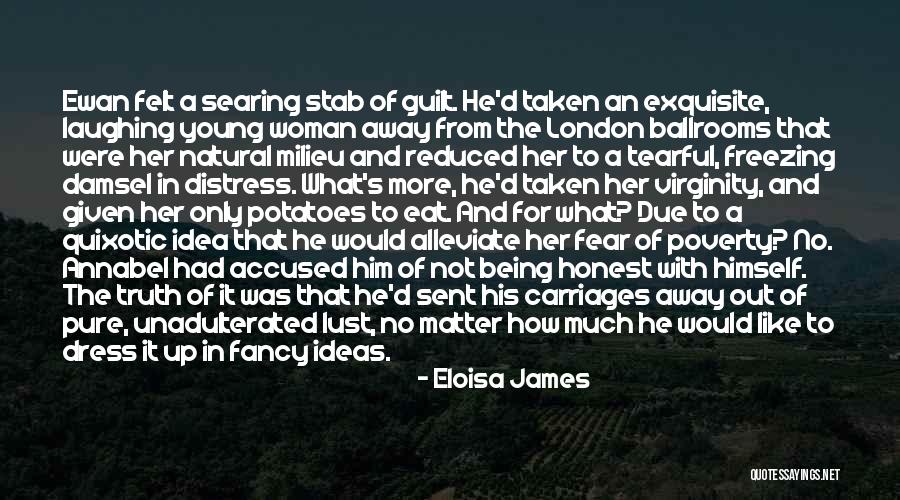 Ewan felt a searing stab of guilt. He'd taken an exquisite, laughing young woman away from the London ballrooms that were her natural milieu and reduced her to a tearful, freezing damsel in distress. What's more, he'd taken her virginity, and given her only potatoes to eat. And for what? Due to a quixotic idea that he would alleviate her fear of poverty?
No. Annabel had accused him of not being honest with himself. The truth of it was that he'd sent his carriages away out of pure, unadulterated lust, no matter how much he would like to dress it up in fancy ideas. — Eloisa James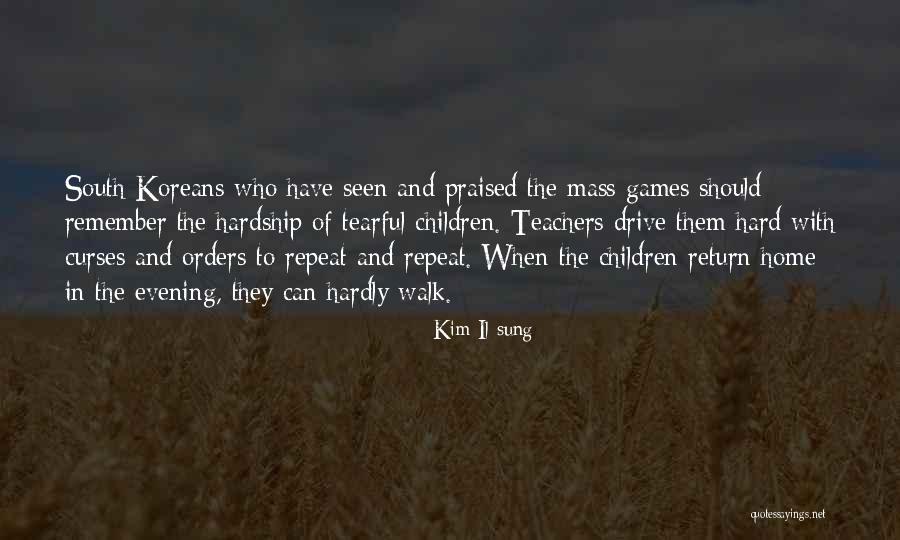 South Koreans who have seen and praised the mass games should remember the hardship of tearful children. Teachers drive them hard with curses and orders to repeat and repeat. When the children return home in the evening, they can hardly walk. — Kim Il-sung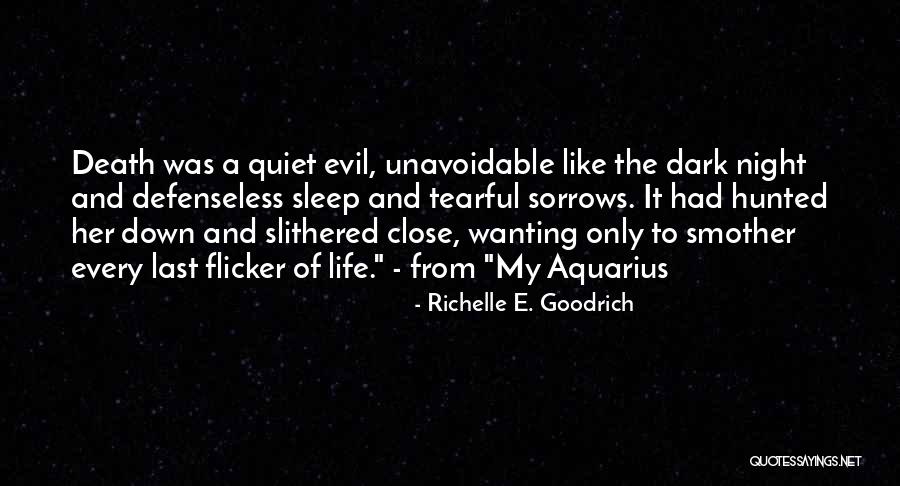 Death was a quiet evil, unavoidable like the dark night and defenseless sleep and tearful sorrows. It had hunted her down and slithered close, wanting only to smother every last flicker of life."
- from "My Aquarius — Richelle E. Goodrich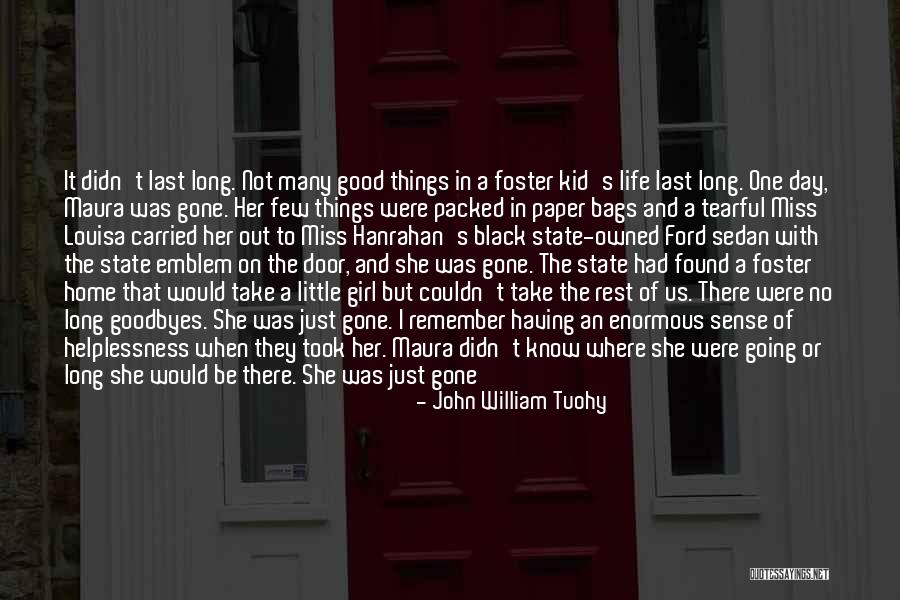 It didn't last long. Not many good things in a foster kid's life last long. One day, Maura was gone. Her few things were packed in paper bags and a tearful Miss Louisa carried her out to Miss Hanrahan's black state-owned Ford sedan with the state emblem on the door, and she was gone. The state had found a foster home that would take a little girl but couldn't take the rest of us. There were no long goodbyes. She was just gone. I remember having an enormous sense of helplessness when they took her. Maura didn't know where she were going or long she would be there. She was just gone — John William Tuohy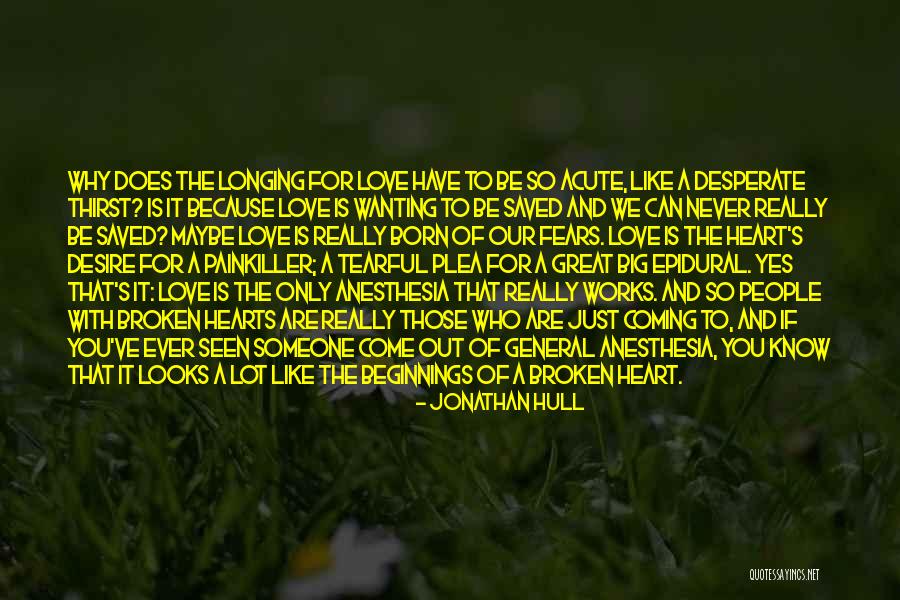 Why does the longing for love have to be so acute, like a desperate thirst? Is it because love is wanting to be saved and we can never really be saved? Maybe love is really born of our fears. Love is the heart's desire for a painkiller; a tearful plea for a great big epidural. Yes that's it: love is the only anesthesia that really works. And so people with broken hearts are really those who are just coming to, and if you've ever seen someone come out of general anesthesia, you know that it looks a lot like the beginnings of a broken heart. — Jonathan Hull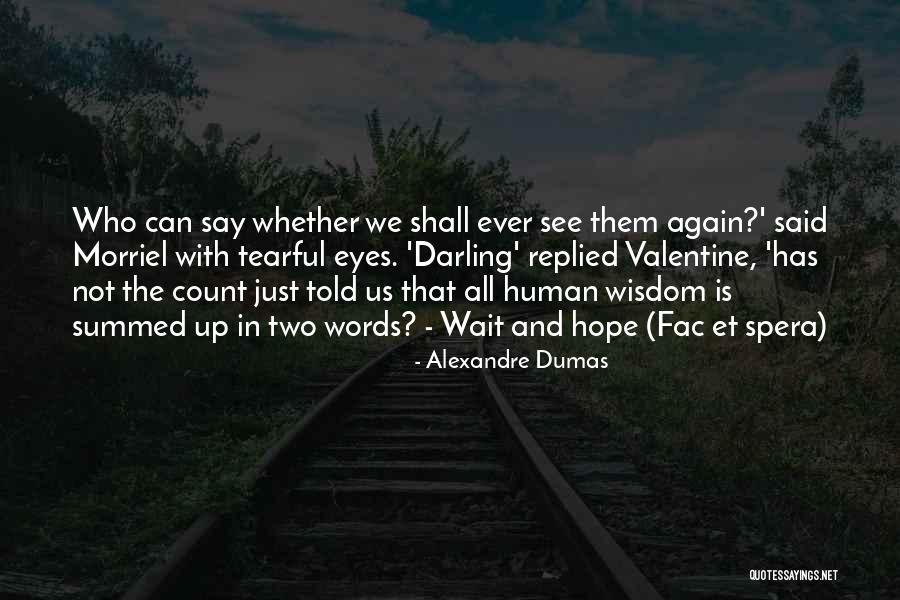 Who can say whether we shall ever see them again?' said Morriel with tearful eyes. 'Darling' replied Valentine, 'has not the count just told us that all human wisdom is summed up in two words? - Wait and hope (Fac et spera) — Alexandre Dumas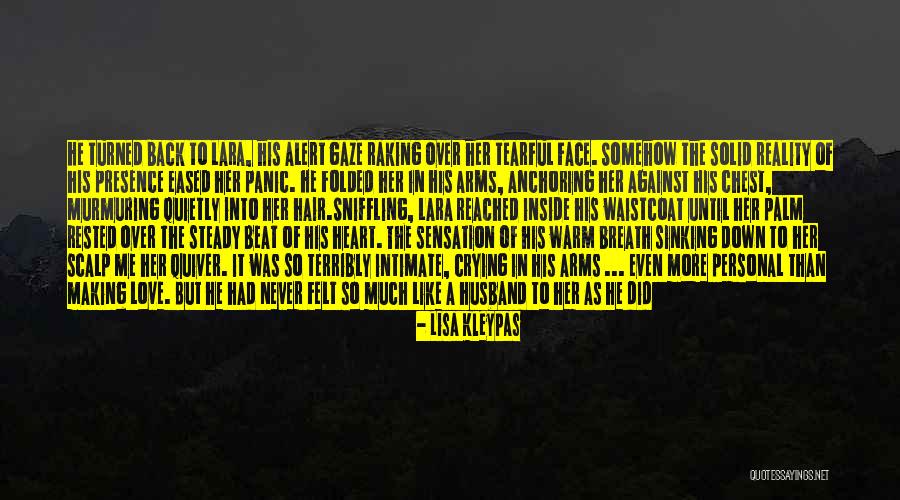 He turned back to Lara, his alert gaze raking over her tearful face. Somehow the solid reality of his presence eased her panic. He folded her in his arms, anchoring her against his chest, murmuring quietly into her hair.
Sniffling, Lara reached inside his waistcoat until her palm rested over the steady beat of his heart. The sensation of his warm breath sinking down to her scalp me her quiver. It was so terribly intimate, crying in his arms ... even more personal than making love. But he had never felt so much like a husband to her as he did in this moment. Quieting, she inhaled his familiar scent and let out a shaky sigh. — Lisa Kleypas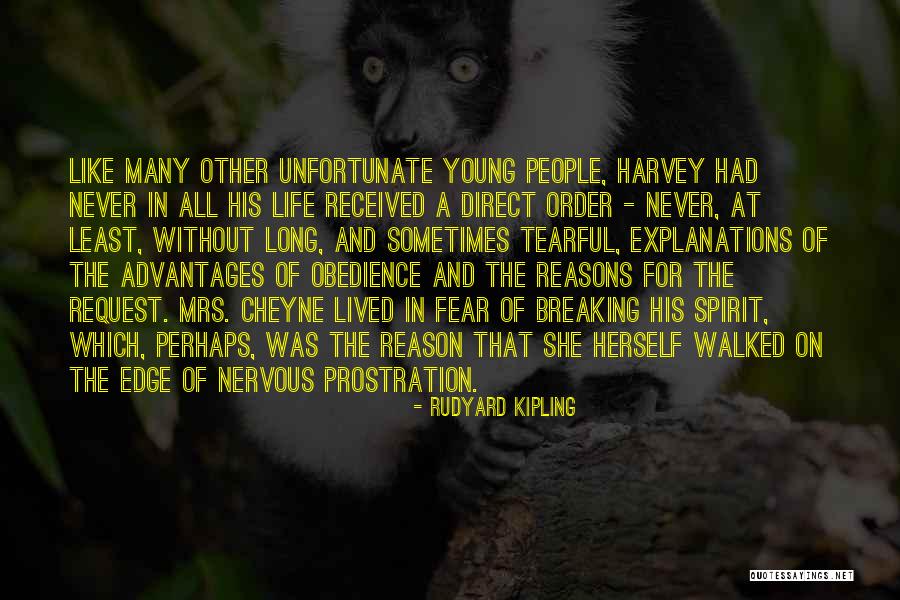 Like many other unfortunate young people, Harvey had never in all his life received a direct order - never, at least, without long, and sometimes tearful, explanations of the advantages of obedience and the reasons for the request. Mrs. Cheyne lived in fear of breaking his spirit, which, perhaps, was the reason that she herself walked on the edge of nervous prostration. — Rudyard Kipling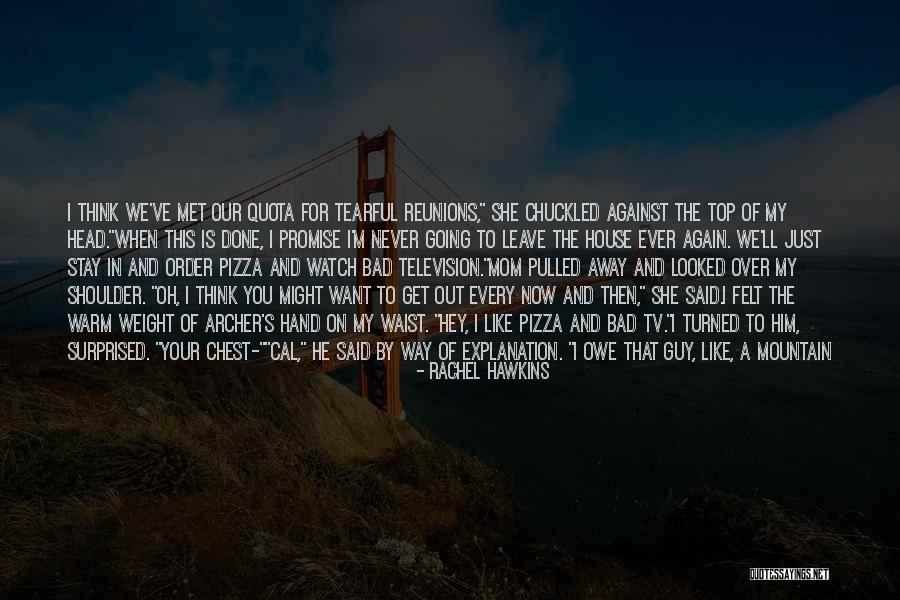 I think we've met our quota for tearful reunions," she chuckled against the top of my head.
"When this is done, I promise I'm never going to leave the house ever again. We'll just stay in and order pizza and watch bad television."
Mom pulled away and looked over my shoulder. "Oh, I think you might want to get out every now and then," she said.
I felt the warm weight of Archer's hand on my waist. "Hey, I like pizza and bad TV."
I turned to him, surprised. "Your chest-"
"Cal," he said by way of explanation. "I owe that guy, like, a mountain of burgers. It's getting embarrassing."
Mom flashed me a little smile before saying, "You know, this isn't how I imagined meeting Sophie's first real boyfriend."
"Mom."
Archer gave me a little squeeze. "You mean I'm the first guy your parents have rescued from an enchanted island via use of a magic mirror? I feel so special. — Rachel Hawkins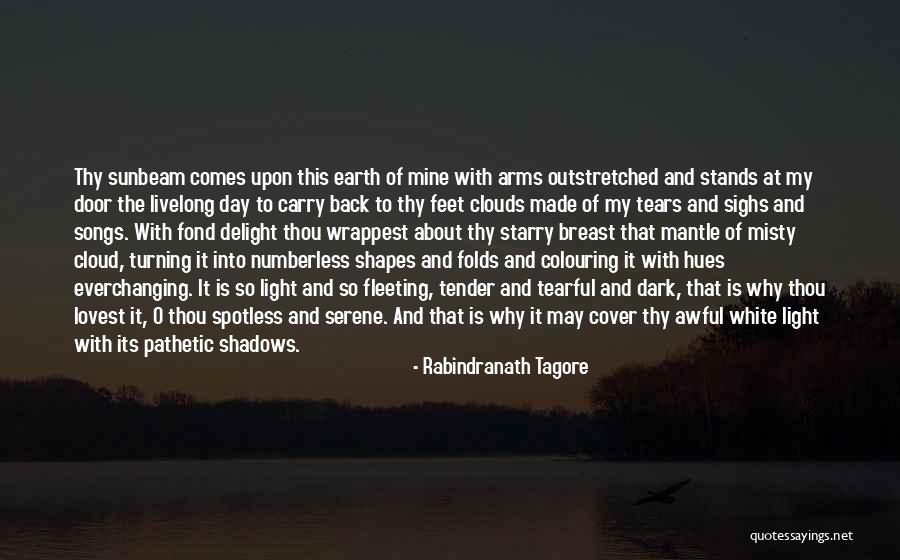 Thy sunbeam comes upon this earth of mine with arms outstretched and stands at my door the livelong day to carry back to thy feet clouds made of my tears and sighs and songs.
With fond delight thou wrappest about thy starry breast that mantle of misty cloud, turning it into numberless shapes and folds and colouring it with hues everchanging.
It is so light and so fleeting, tender and tearful and dark, that is why thou lovest it, O thou spotless and serene. And that is why it may cover thy awful white light with its pathetic shadows. — Rabindranath Tagore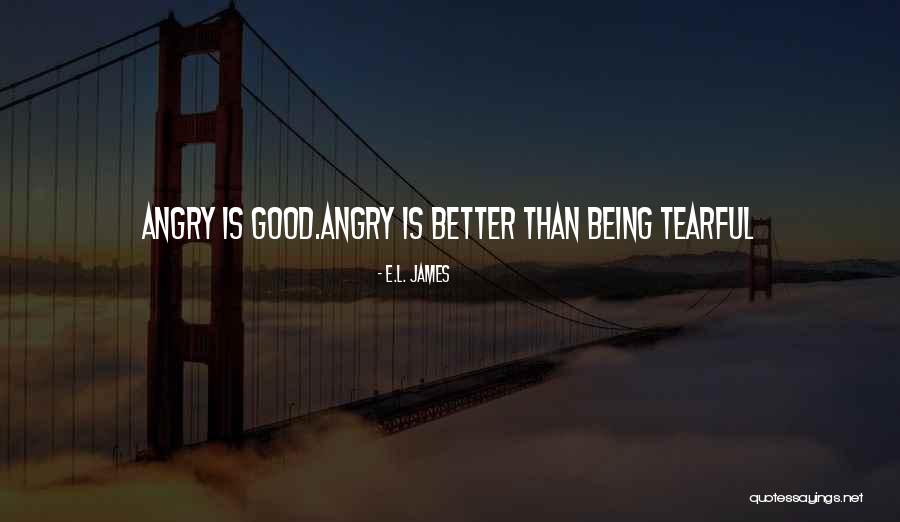 Angry is good.
Angry is better than being tearful — E.L. James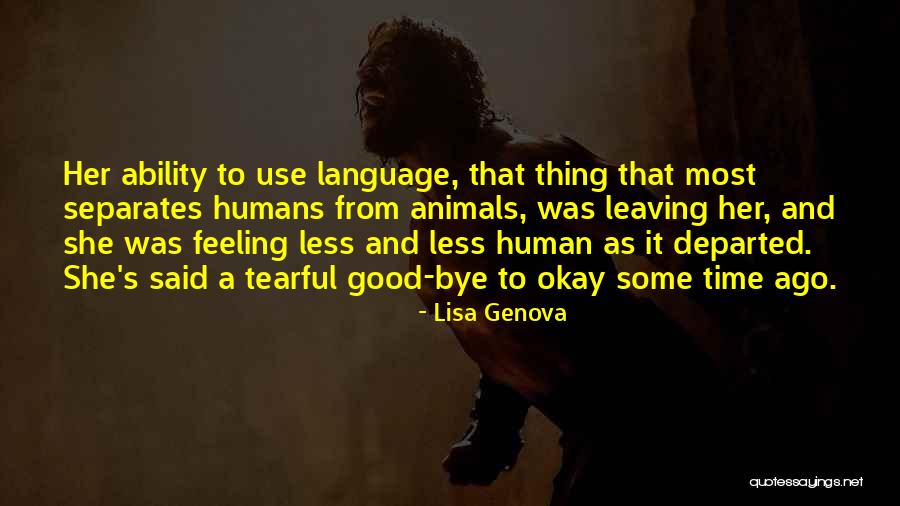 Her ability to use language, that thing that most separates humans from animals, was leaving her, and she was feeling less and less human as it departed. She's said a tearful good-bye to okay some time ago. — Lisa Genova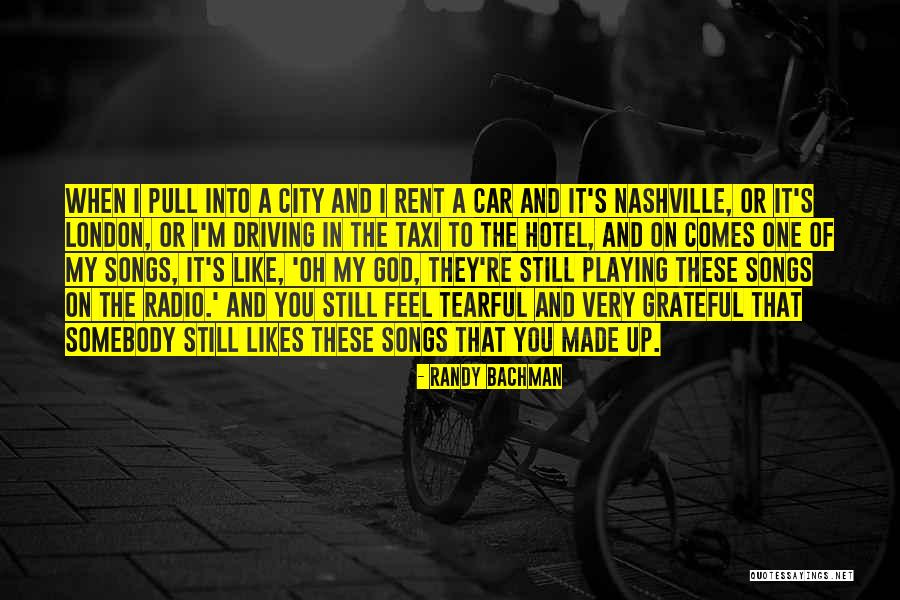 When I pull into a city and I rent a car and it's Nashville, or it's London, or I'm driving in the taxi to the hotel, and on comes one of my songs, it's like, 'Oh my God, they're still playing these songs on the radio.' And you still feel tearful and very grateful that somebody still likes these songs that you made up. — Randy Bachman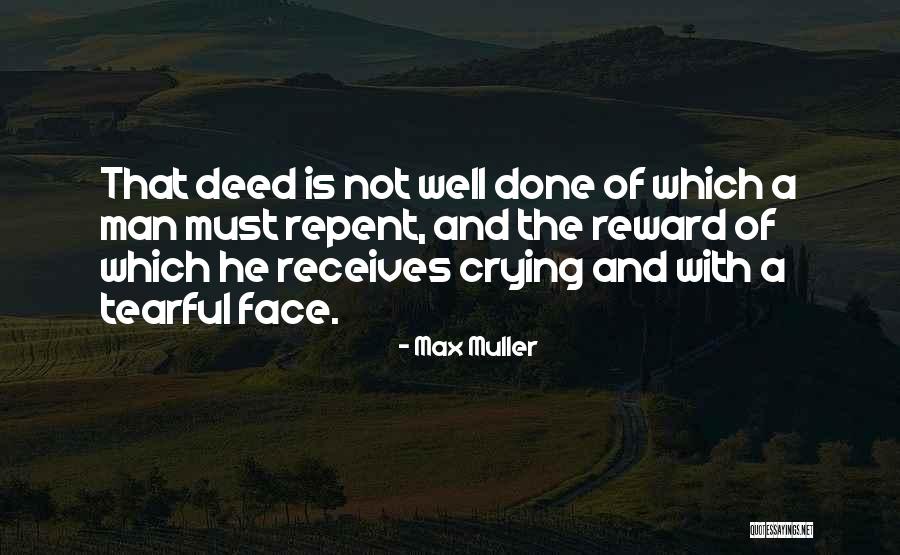 That deed is not well done of which a man must repent, and the reward of which he receives crying and with a tearful face. — Max Muller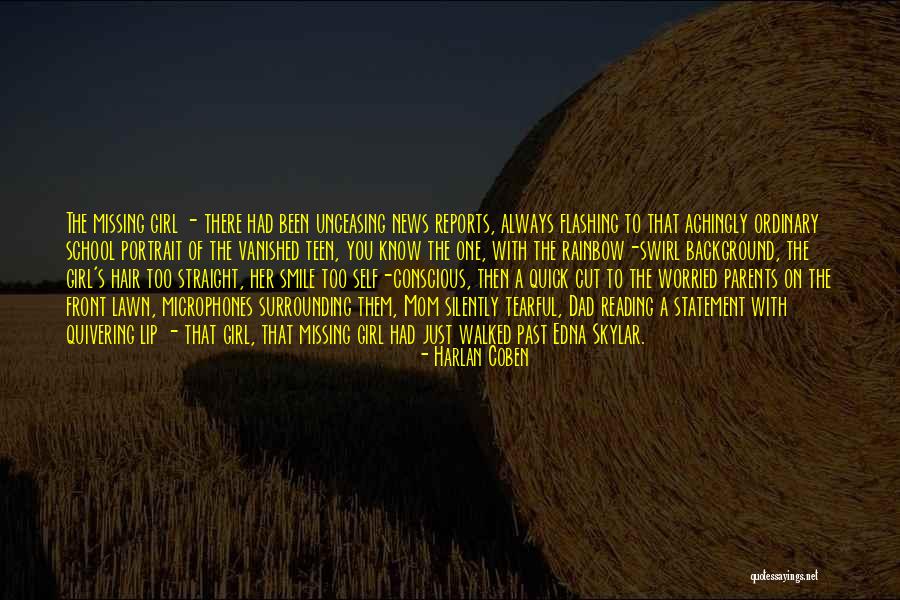 The missing girl - there had been unceasing news reports, always flashing to that achingly ordinary school portrait of the vanished teen, you know the one, with the rainbow-swirl background, the girl's hair too straight, her smile too self-conscious, then a quick cut to the worried parents on the front lawn, microphones surrounding them, Mom silently tearful, Dad reading a statement with quivering lip - that girl, that missing girl had just walked past Edna Skylar. — Harlan Coben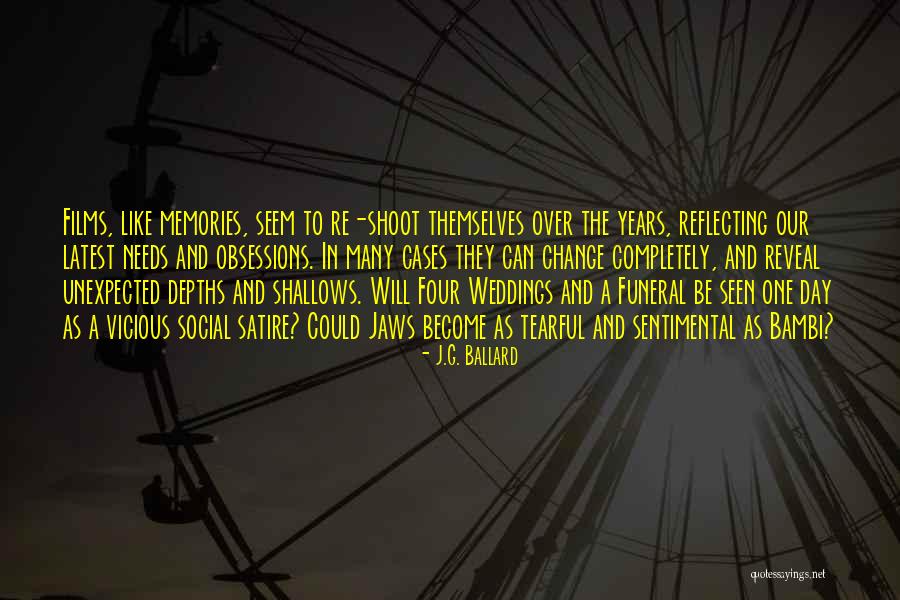 Films, like memories, seem to re-shoot themselves over the years, reflecting our latest needs and obsessions. In many cases they can change completely, and reveal unexpected depths and shallows. Will Four Weddings and a Funeral be seen one day as a vicious social satire? Could Jaws become as tearful and sentimental as Bambi? — J.G. Ballard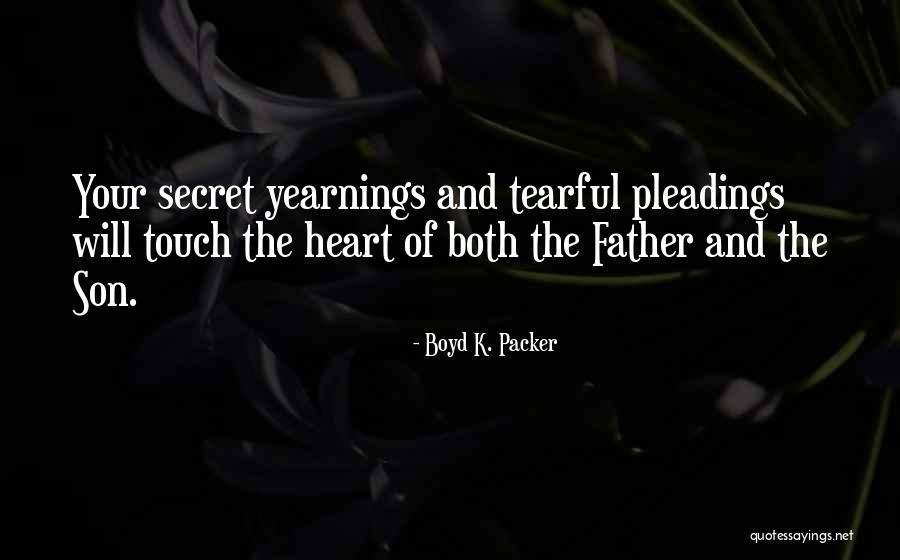 Your secret yearnings and tearful pleadings will touch the heart of both the Father and the Son. — Boyd K. Packer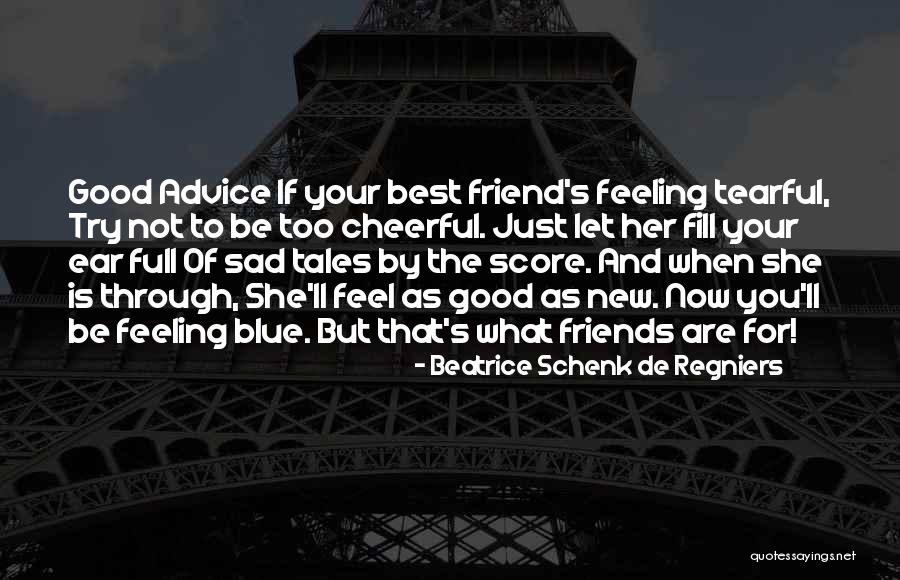 Good Advice If your best friend's feeling tearful, Try not to be too cheerful. Just let her fill your ear full Of sad tales by the score. And when she is through, She'll feel as good as new. Now you'll be feeling blue. But that's what friends are for! — Beatrice Schenk De Regniers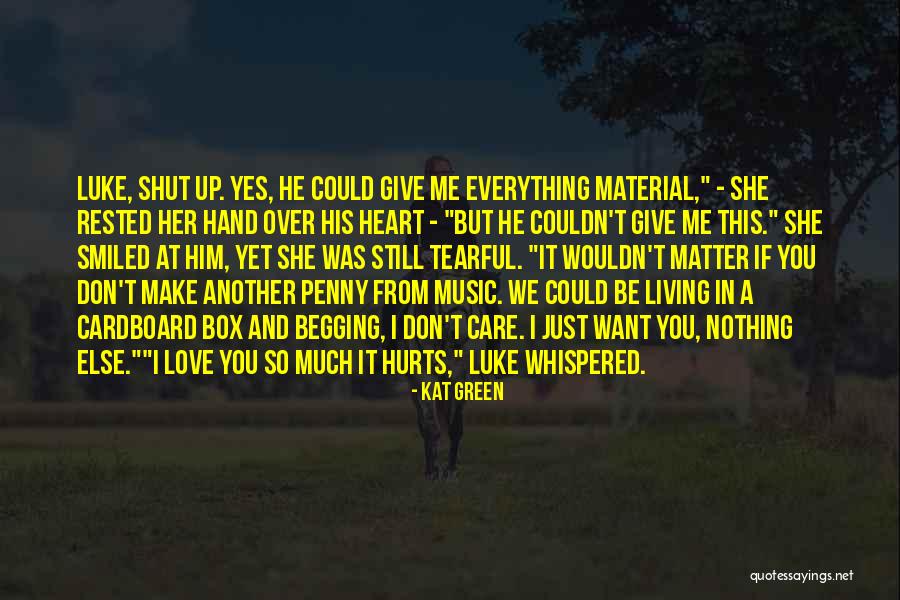 Luke, shut up. Yes, he could give me everything material," - she rested her hand over his heart - "but he couldn't give me this." She smiled at him, yet she was still tearful. "It wouldn't matter if you don't make another penny from music. We could be living in a cardboard box and begging, I don't care. I just want you, nothing else."
"I love you so much it hurts," Luke whispered. — Kat Green
Catherine Land liked the beginnings of things. The pure white possibility of the empty room, the first kiss, the first swipe at larceny. And endings, she liked endings, too. The drama of the smashing glass, the dead bird, the tearful goodbye, the last awful word which could never be unsaid or unremembered.
It was the middles that gave her pause. This, for all its forward momentum, this was a middle. The beginnings were sweet, the endings usually bitter, but the middles were only the tightrope you walked between the one and the other. No more than that. — Robert Goolrick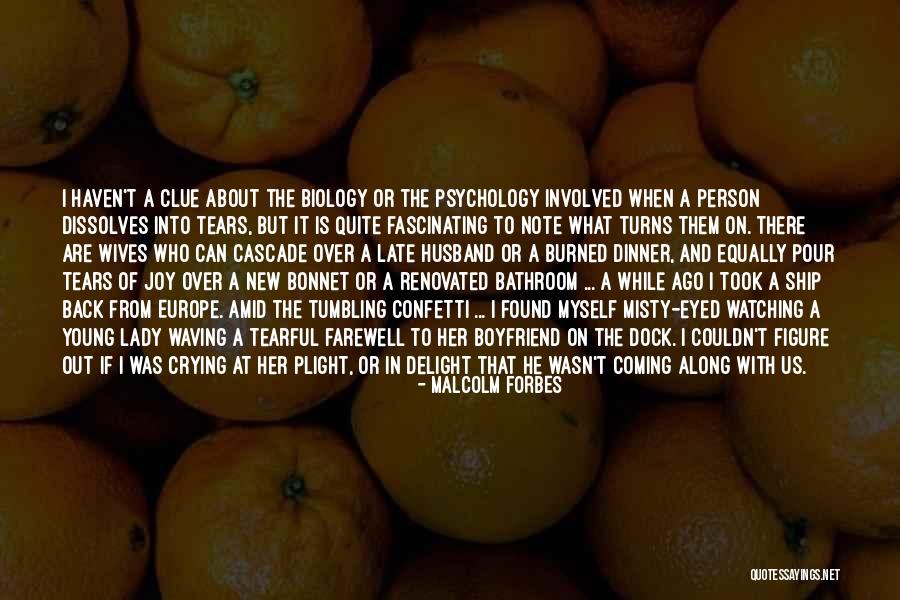 I haven't a clue about the biology or the psychology involved when a person dissolves into tears, but it is quite fascinating to note what turns them on. There are wives who can cascade over a late husband or a burned dinner, and equally pour tears of joy over a new bonnet or a renovated bathroom ... A while ago I took a ship back from Europe. Amid the tumbling confetti ... I found myself misty-eyed watching a young lady waving a tearful farewell to her boyfriend on the dock. I couldn't figure out if I was crying at her plight, or in delight that he wasn't coming along with us. — Malcolm Forbes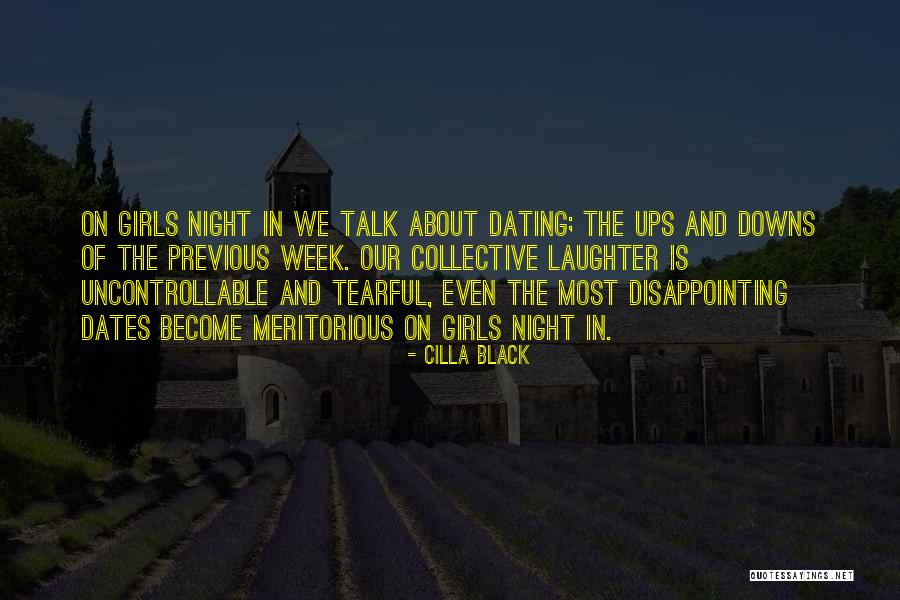 On girls night in we talk about dating; the ups and downs of the previous week. Our collective laughter is uncontrollable and tearful, even the most disappointing dates become meritorious on girls night in. — Cilla Black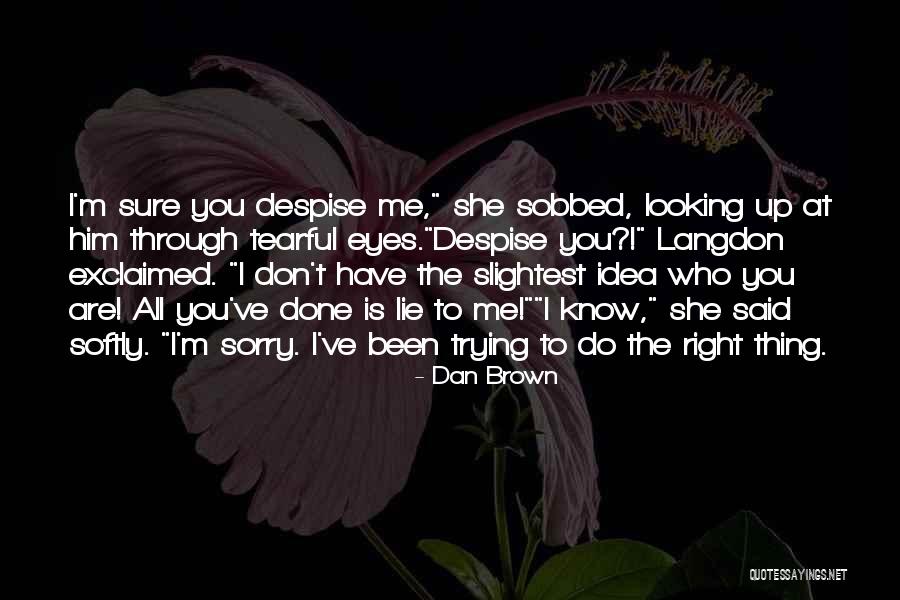 I'm sure you despise me," she sobbed, looking up at him through tearful eyes.
"Despise you?!" Langdon exclaimed. "I don't have the slightest idea who you are! All you've done is lie to me!"
"I know," she said softly. "I'm sorry. I've been trying to do the right thing. — Dan Brown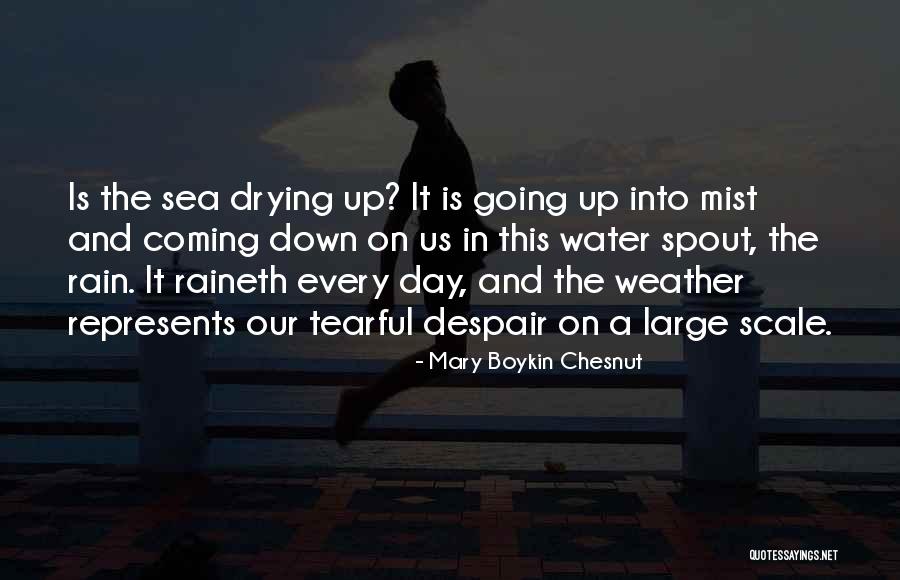 Is the sea drying up? It is going up into mist and coming down on us in this water spout, the rain. It raineth every day, and the weather represents our tearful despair on a large scale. — Mary Boykin Chesnut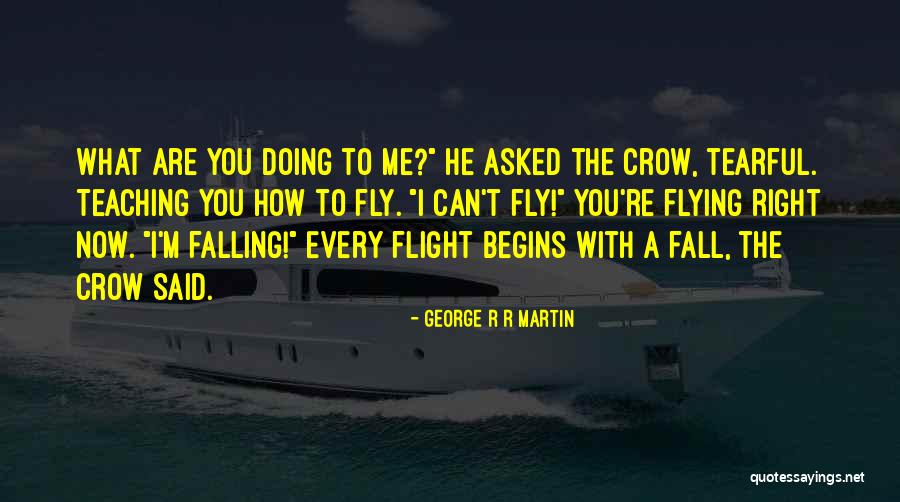 What are you doing to me?" he asked the crow, tearful. Teaching you how to fly. "I can't fly!" You're flying right now. "I'm falling!" Every flight begins with a fall, the crow said. — George R R Martin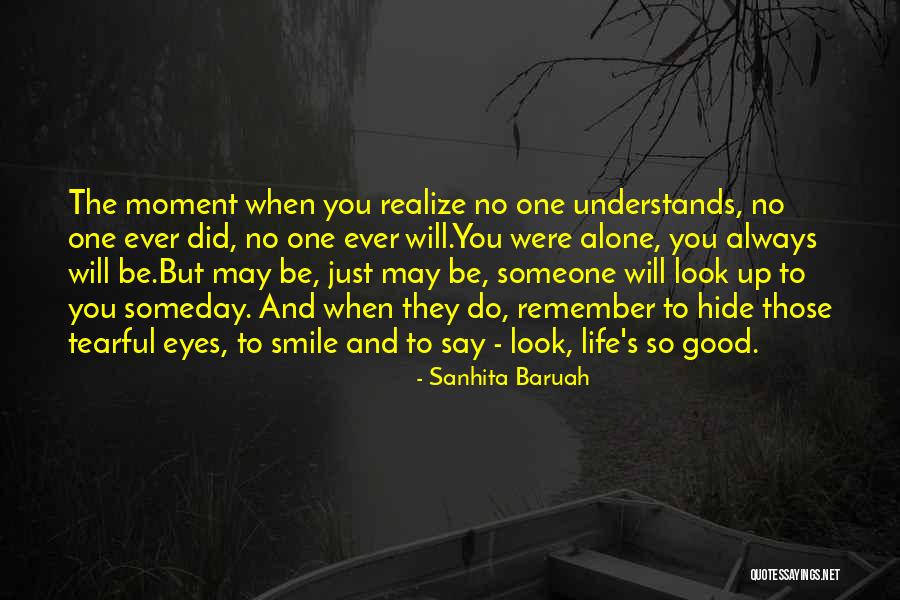 The moment when you realize no one understands, no one ever did, no one ever will.
You were alone, you always will be.
But may be, just may be, someone will look up to you someday. And when they do, remember to hide those tearful eyes, to smile and to say - look, life's so good. — Sanhita Baruah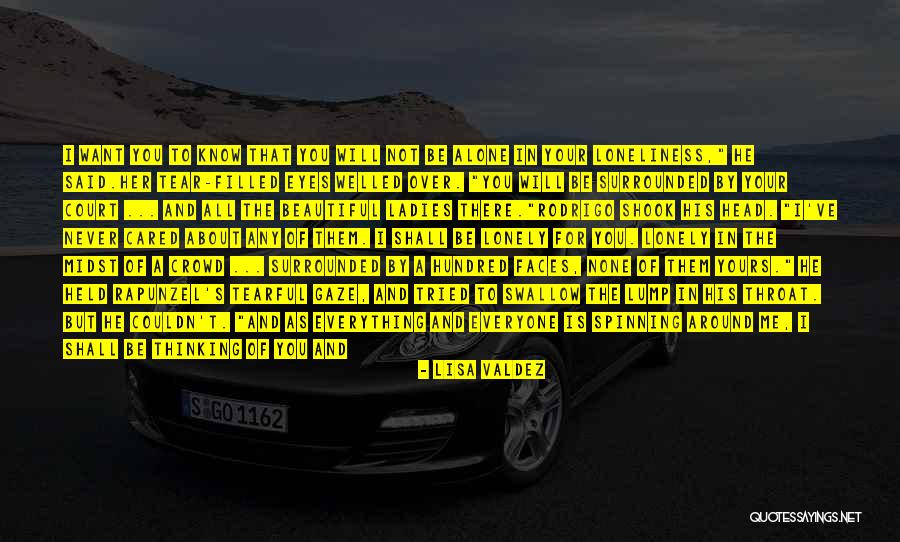 I want you to know that you will not be alone in your loneliness," he said.
Her tear-filled eyes welled over. "You will be surrounded by your court ... and all the beautiful ladies there."
Rodrigo shook his head. "I've never cared about any of them. I shall be lonely for you. Lonely in the midst of a crowd ... surrounded by a hundred faces, none of them yours." He held Rapunzel's tearful gaze, and tried to swallow the lump in his throat. But he couldn't. "And as everything and everyone is spinning around me, I shall be thinking of you and longing to be here ... " he brushed the backs of his fingers against her wet cheek, " ... here in the tower, with my Rapunzel. — Lisa Valdez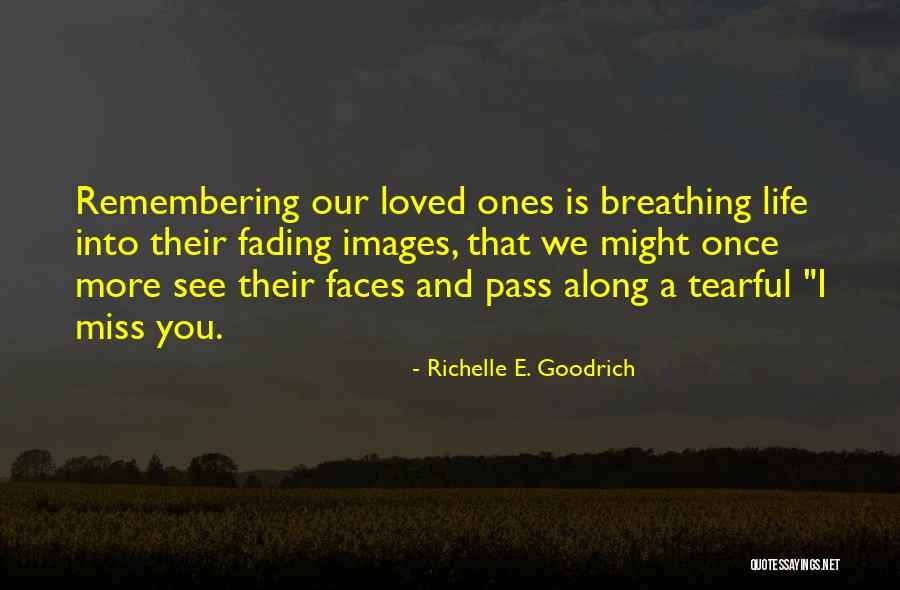 Remembering our loved ones is breathing life into their fading images, that we might once more see their faces and pass along a tearful "I miss you. — Richelle E. Goodrich
I hadn't been left on the doorstep of an orphanage or church. I wasn't abandoned in some frilly basket by a tearful mother. Even that was too romantic of a story for me. I was left in a trashcan. Meant to die, I figured. — R.K. Lilley