Quotes & Sayings About Sweetness And Bitterness
Enjoy reading and share 32 famous quotes about Sweetness And Bitterness with everyone.
Top Sweetness And Bitterness Quotes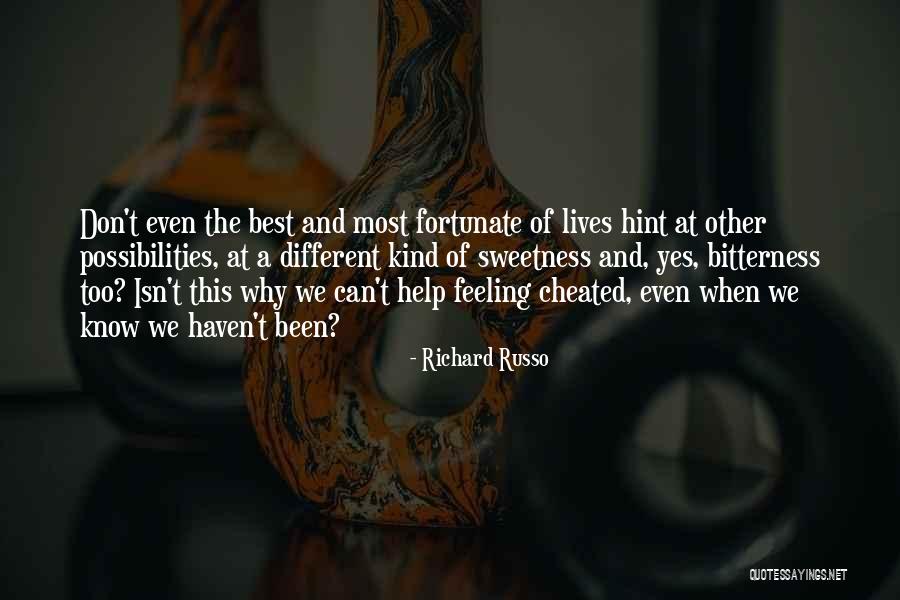 Don't even the best and most fortunate of lives hint at other possibilities, at a different kind of sweetness and, yes, bitterness too? Isn't this why we can't help feeling cheated, even when we know we haven't been? — Richard Russo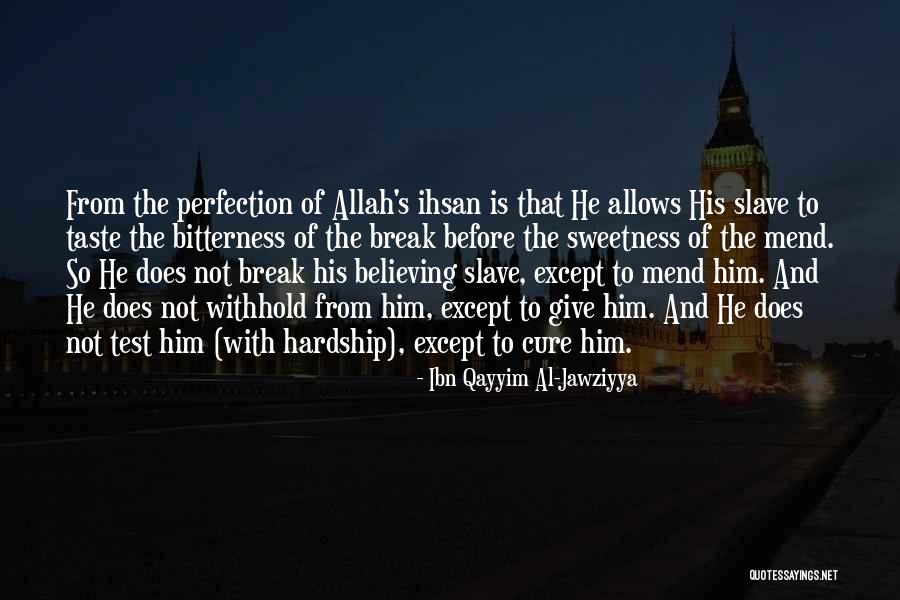 From the perfection of Allah's ihsan is that He allows His slave to taste the bitterness of the break before the sweetness of the mend. So He does not break his believing slave, except to mend him. And He does not withhold from him, except to give him. And He does not test him (with hardship), except to cure him. — Ibn Qayyim Al-Jawziyya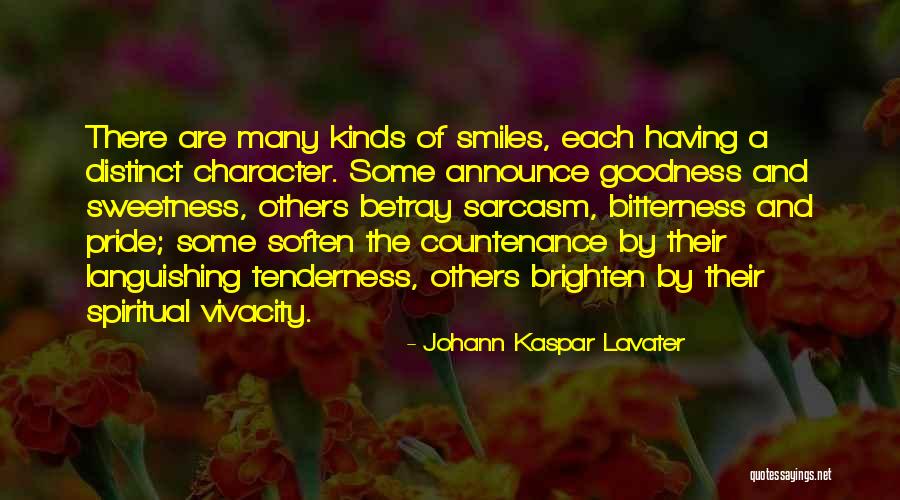 There are many kinds of smiles, each having a distinct character. Some announce goodness and sweetness, others betray sarcasm, bitterness and pride; some soften the countenance by their languishing tenderness, others brighten by their spiritual vivacity. — Johann Kaspar Lavater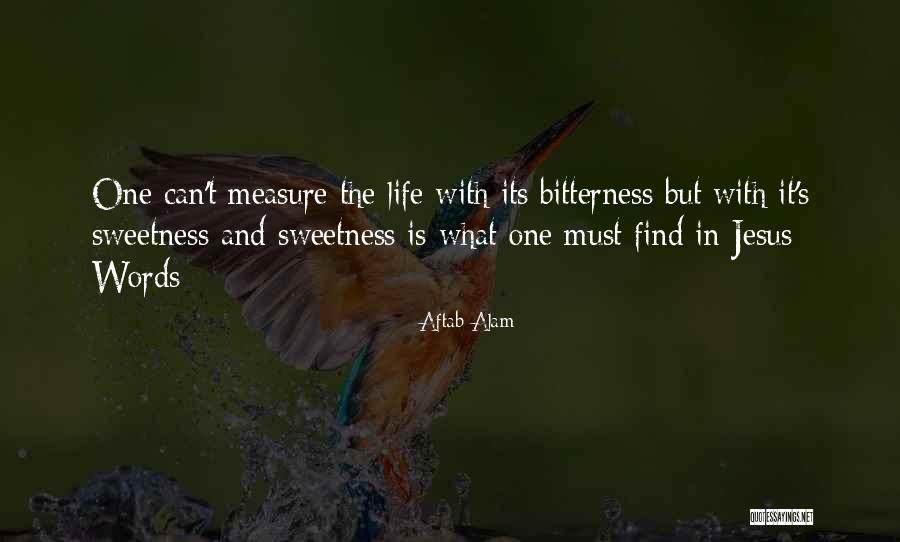 One can't measure the life with its bitterness but with it's sweetness and sweetness is what one must find in Jesus Words — Aftab Alam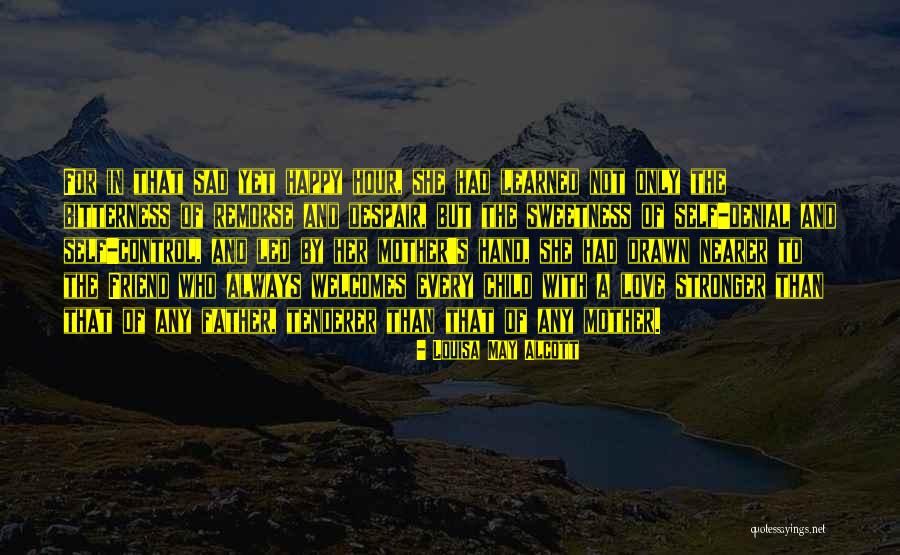 For in that sad yet happy hour, she had learned not only the bitterness of remorse and despair, but the sweetness of self-denial and self-control, and led by her mother's hand, she had drawn nearer to the Friend who always welcomes every child with a love stronger than that of any father, tenderer than that of any mother. — Louisa May Alcott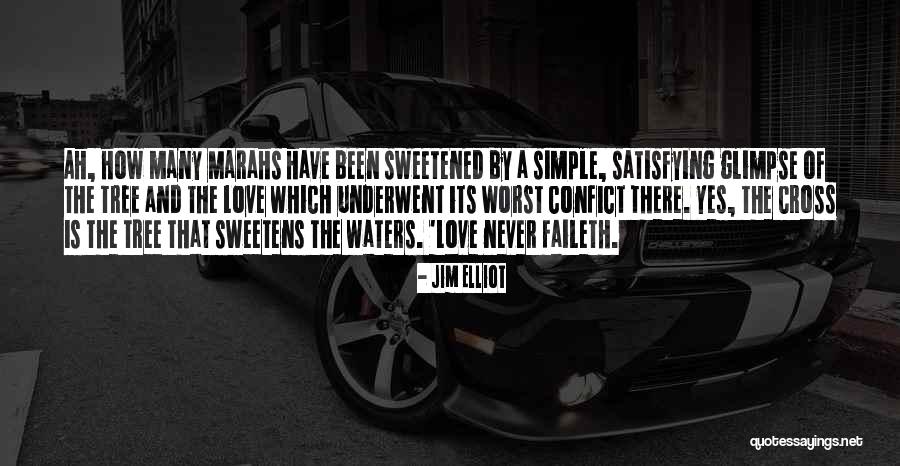 Ah, how many Marahs have been sweetened by a simple, satisfying glimpse of the Tree and the Love which underwent its worst confict there. Yes, the Cross is the tree that sweetens the waters. 'Love never faileth. — Jim Elliot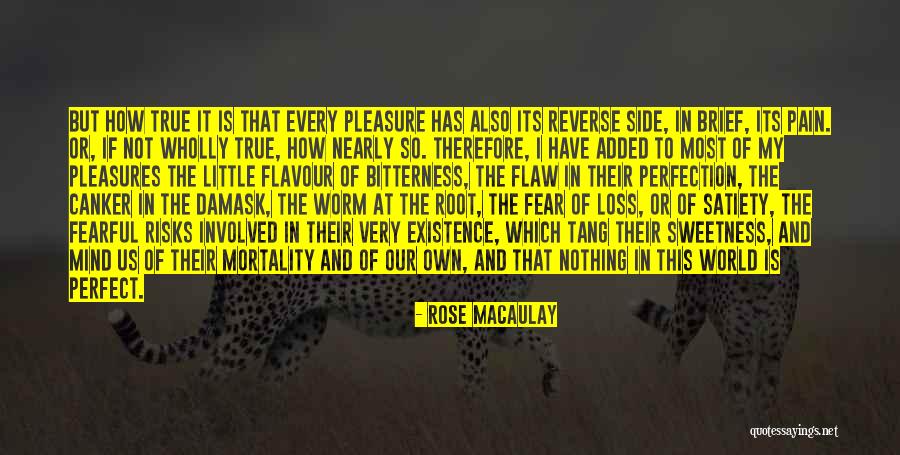 But how true it is that every pleasure has also its reverse side, in brief, its pain. Or, if not wholly true, how nearly so. Therefore, I have added to most of my pleasures the little flavour of bitterness, the flaw in their perfection, the canker in the damask, the worm at the root, the fear of loss, or of satiety, the fearful risks involved in their very existence, which tang their sweetness, and mind us of their mortality and of our own, and that nothing in this world is perfect. — Rose Macaulay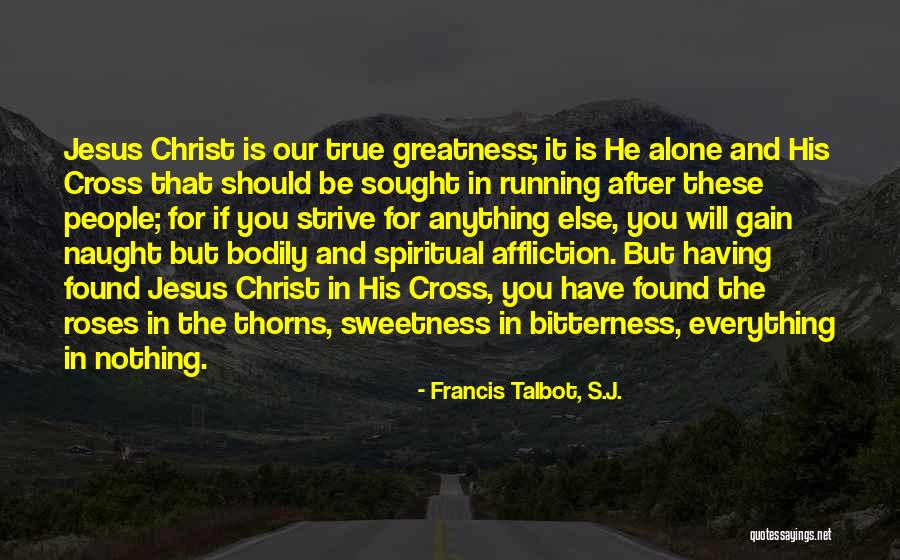 Jesus Christ is our true greatness; it is He alone and His Cross that should be sought in running after these people; for if you strive for anything else, you will gain naught but bodily and spiritual affliction. But having found Jesus Christ in His Cross, you have found the roses in the thorns, sweetness in bitterness, everything in nothing. — Francis Talbot, S.J.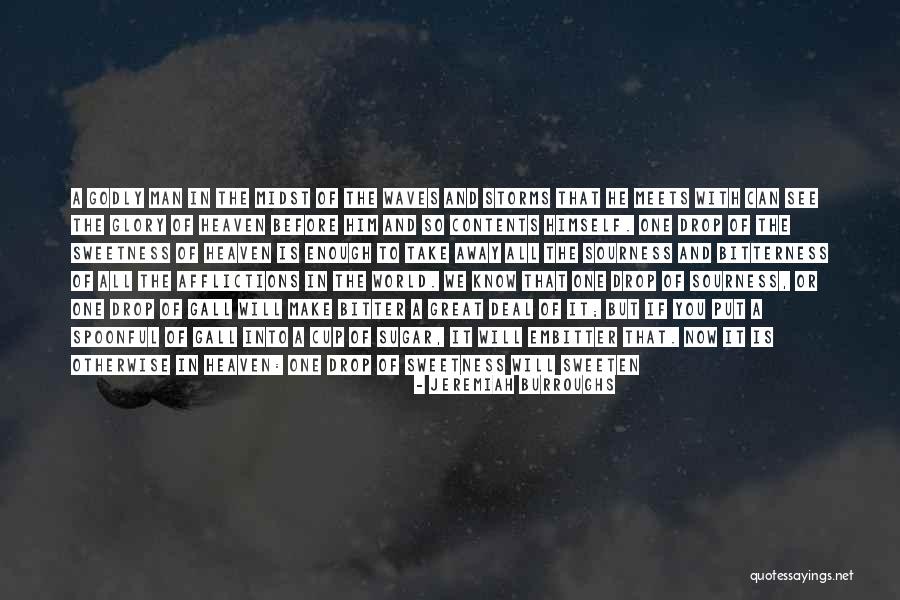 A godly man in the midst of the waves and storms that he meets with can see the glory of heaven before him and so contents himself. One drop of the sweetness of heaven is enough to take away all the sourness and bitterness of all the afflictions in the world. We know that one drop of sourness, or one drop of gall will make bitter a great deal of it; but if you put a spoonful of gall into a cup of sugar, it will embitter that. Now it is otherwise in heaven: one drop of sweetness will sweeten a great deal of sour affliction, but a great deal of sourness and gall will not embitter a soul who sees the glory of heaven that is to come. — Jeremiah Burroughs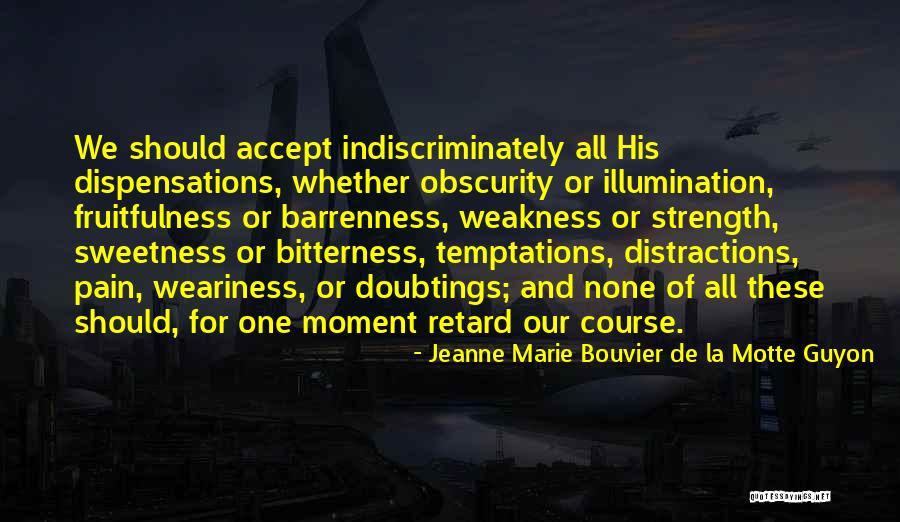 We should accept indiscriminately all His dispensations, whether obscurity or illumination, fruitfulness or barrenness, weakness or strength, sweetness or bitterness, temptations, distractions, pain, weariness, or doubtings; and none of all these should, for one moment retard our course. — Jeanne Marie Bouvier De La Motte Guyon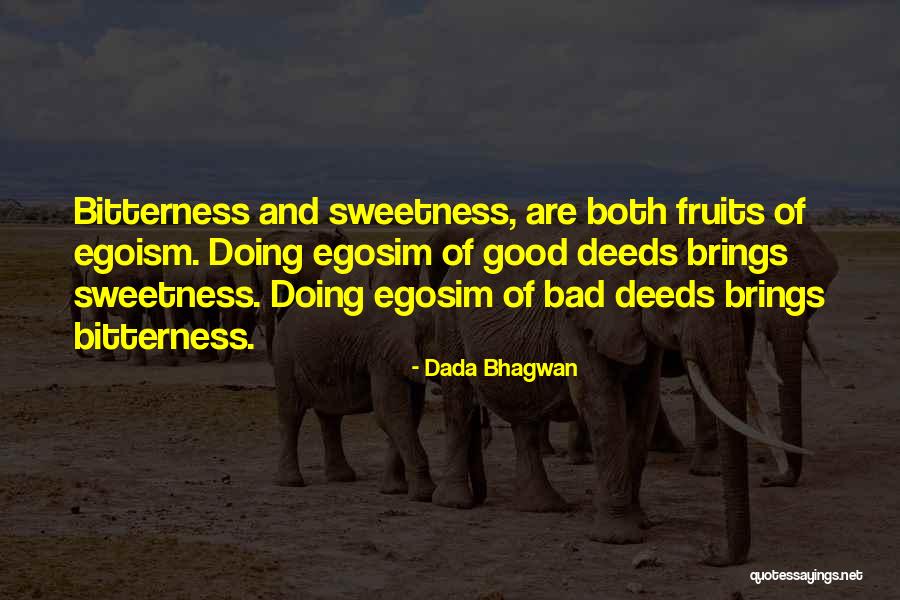 Bitterness and sweetness, are both fruits of egoism. Doing egosim of good deeds brings sweetness. Doing egosim of bad deeds brings bitterness. — Dada Bhagwan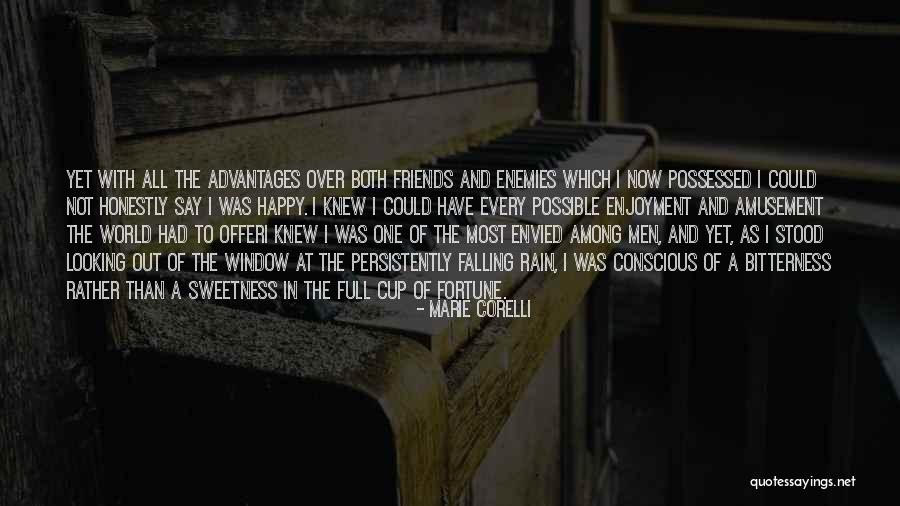 Yet with all the advantages over both friends and enemies which I now possessed I could not honestly say I was happy. I knew I could have every possible enjoyment and amusement the world had to offer
I knew I was one of the most envied among men, and yet, as I stood looking out of the window at the persistently falling rain, I was conscious of a bitterness rather than a sweetness in the full cup of fortune. — Marie Corelli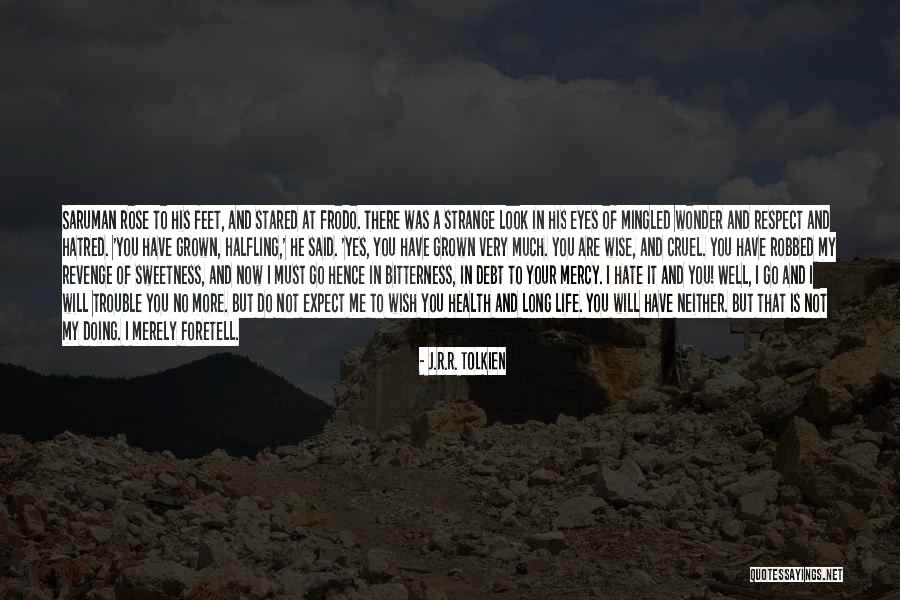 Saruman rose to his feet, and stared at Frodo. There was a strange look in his eyes of mingled wonder and respect and hatred. 'You have grown, Halfling,' he said. 'Yes, you have grown very much. You are wise, and cruel. you have robbed my revenge of sweetness, and now I must go hence in bitterness, in debt to your mercy. I hate it and you! Well, I go and I will trouble you no more. But do not expect me to wish you health and long life. You will have neither. But that is not my doing. I merely foretell. — J.R.R. Tolkien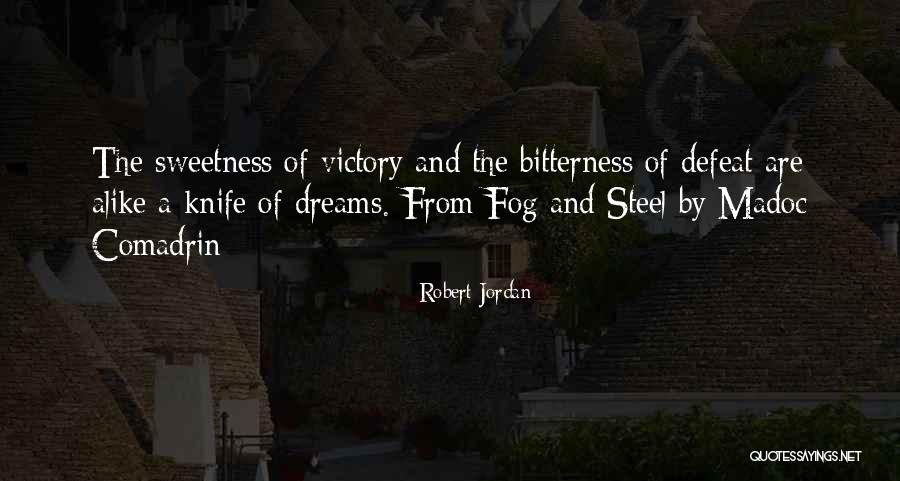 The sweetness of victory and the bitterness of defeat are alike a knife of dreams.
-From Fog and Steel by Madoc Comadrin — Robert Jordan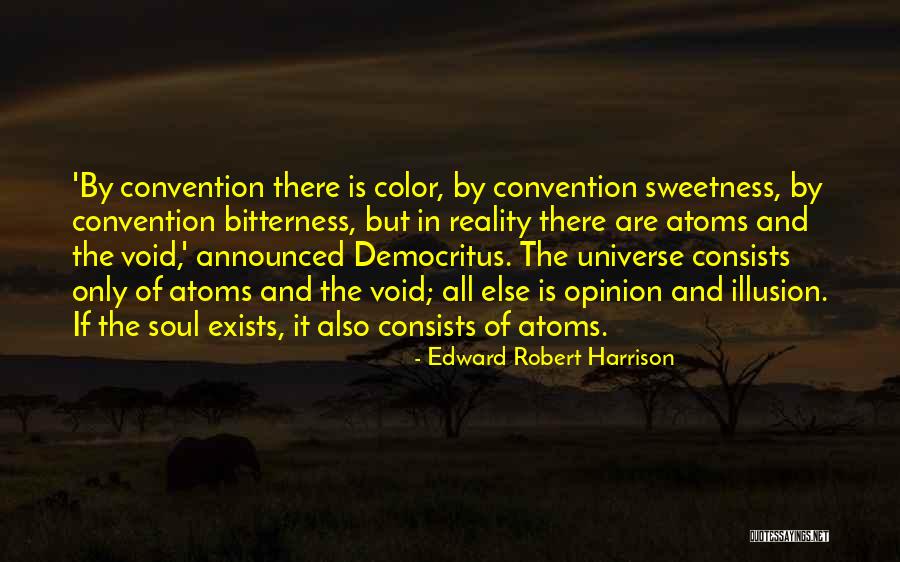 'By convention there is color, by convention sweetness, by convention bitterness, but in reality there are atoms and the void,' announced Democritus. The universe consists only of atoms and the void; all else is opinion and illusion. If the soul exists, it also consists of atoms. — Edward Robert Harrison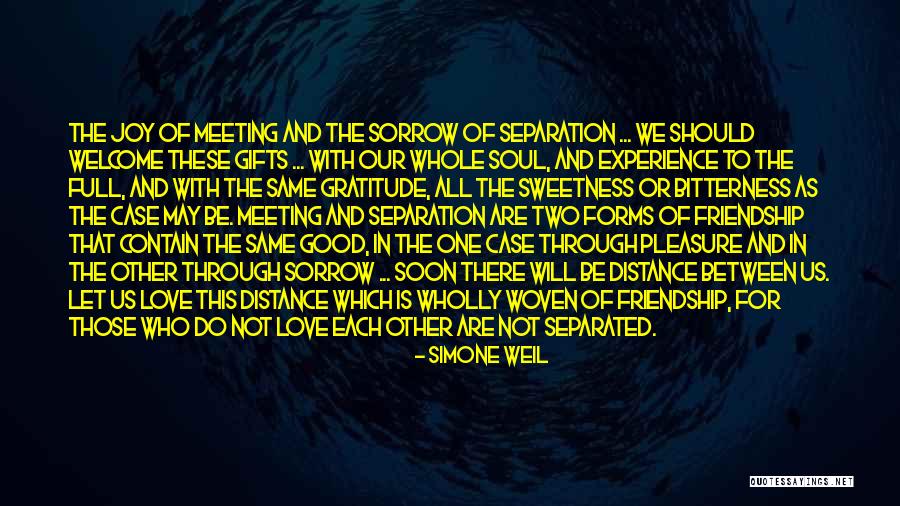 The joy of meeting and the sorrow of separation ... we should welcome these gifts ... with our whole soul, and experience to the full, and with the same gratitude, all the sweetness or bitterness as the case may be. Meeting and separation are two forms of friendship that contain the same good, in the one case through pleasure and in the other through sorrow ... Soon there will be distance between us. Let us love this distance which is wholly woven of friendship, for those who do not love each other are not separated. — Simone Weil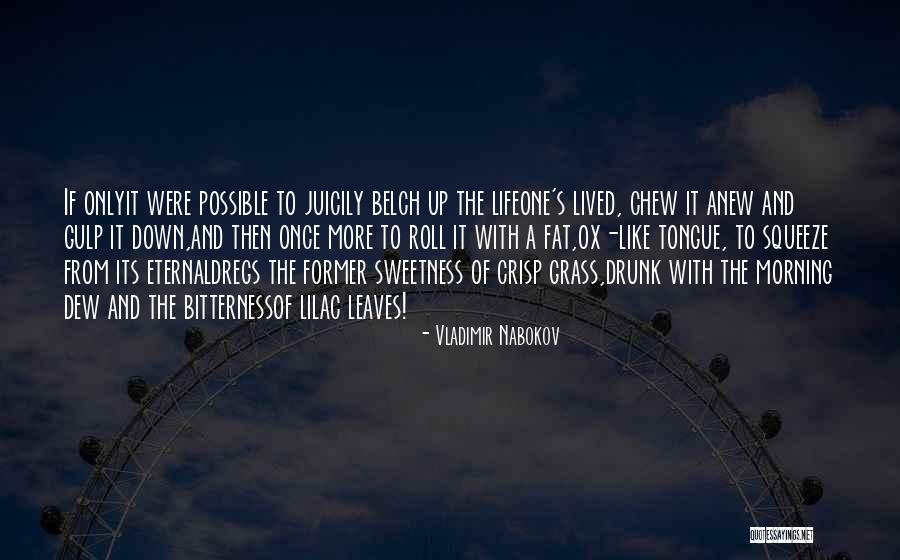 If only
it were possible to juicily belch up the life
one's lived, chew it anew and gulp it down,
and then once more to roll it with a fat,
ox-like tongue, to squeeze from its eternal
dregs the former sweetness of crisp grass,
drunk with the morning dew and the bitterness
of lilac leaves! — Vladimir Nabokov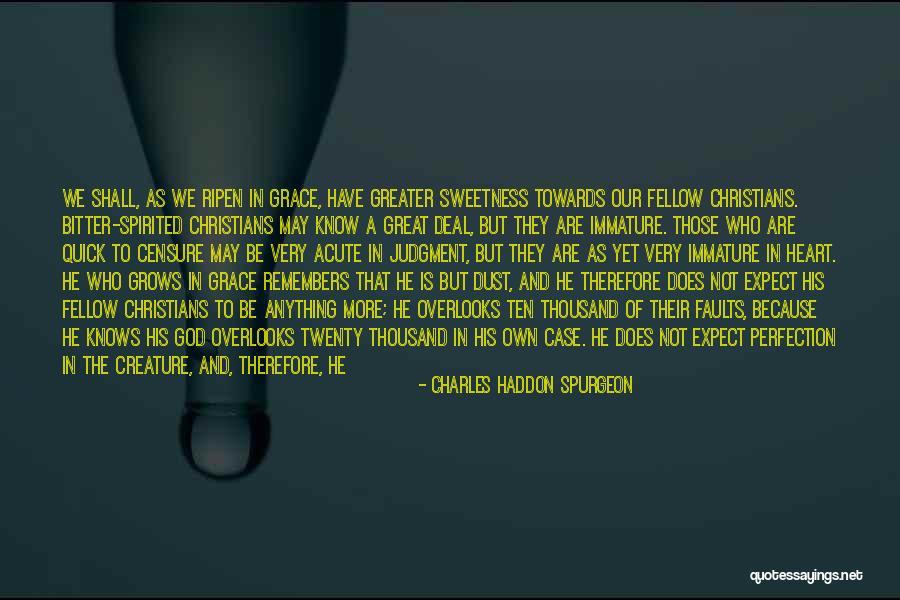 We shall, as we ripen in grace, have greater sweetness towards our fellow Christians. Bitter-spirited Christians may know a great deal, but they are immature. Those who are quick to censure may be very acute in judgment, but they are as yet very immature in heart. He who grows in grace remembers that he is but dust, and he therefore does not expect his fellow Christians to be anything more; he overlooks ten thousand of their faults, because he knows his God overlooks twenty thousand in his own case. He does not expect perfection in the creature, and, therefore, he is not disappointed when he does not find it ... I know we who are young beginners in grace think ourselves qualified to reform the whole Christian church. We drag her before us, and condemn her straightway; but when our virtues become more mature, I trust we shall not be more tolerant of evil, but we shall be more tolerant of infirmity, more hopeful for the people of God, and certainly less arrogant in our criticisms. — Charles Haddon Spurgeon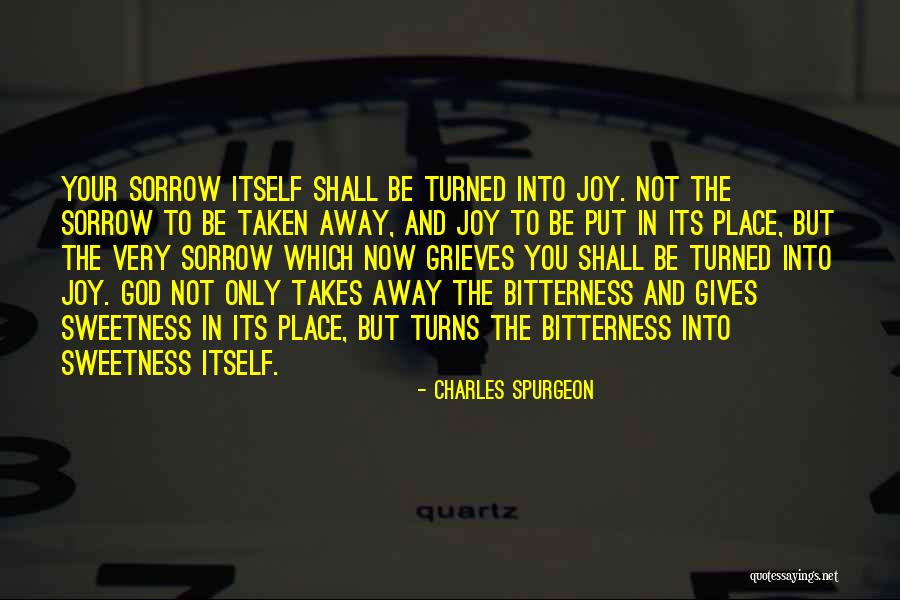 Your sorrow itself shall be turned into joy. Not the sorrow to be taken away, and joy to be put in its place, but the very sorrow which now grieves you shall be turned into joy. God not only takes away the bitterness and gives sweetness in its place, but turns the bitterness into sweetness itself. — Charles Spurgeon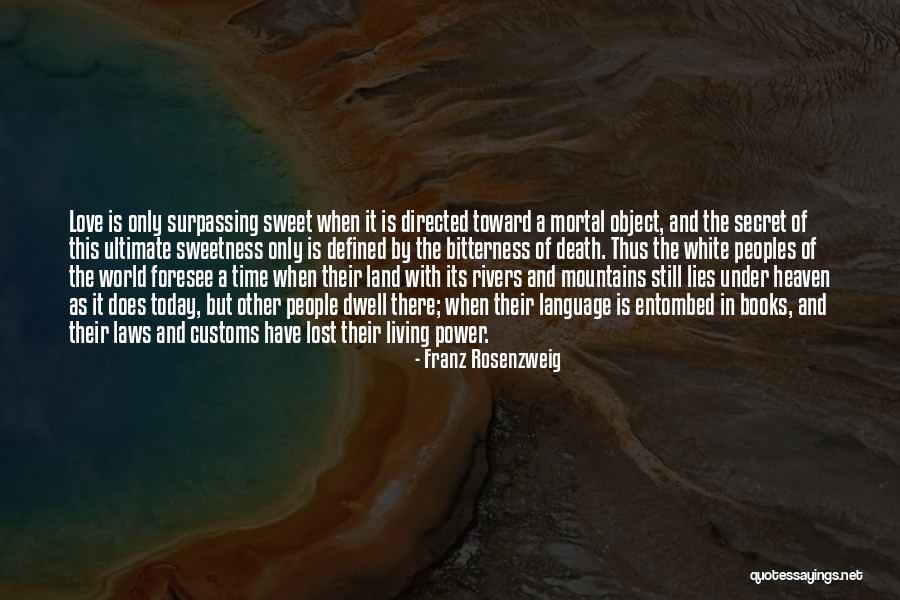 Love is only surpassing sweet when it is directed toward a mortal object, and the secret of this ultimate sweetness only is defined by the bitterness of death. Thus the white peoples of the world foresee a time when their land with its rivers and mountains still lies under heaven as it does today, but other people dwell there; when their language is entombed in books, and their laws and customs have lost their living power. — Franz Rosenzweig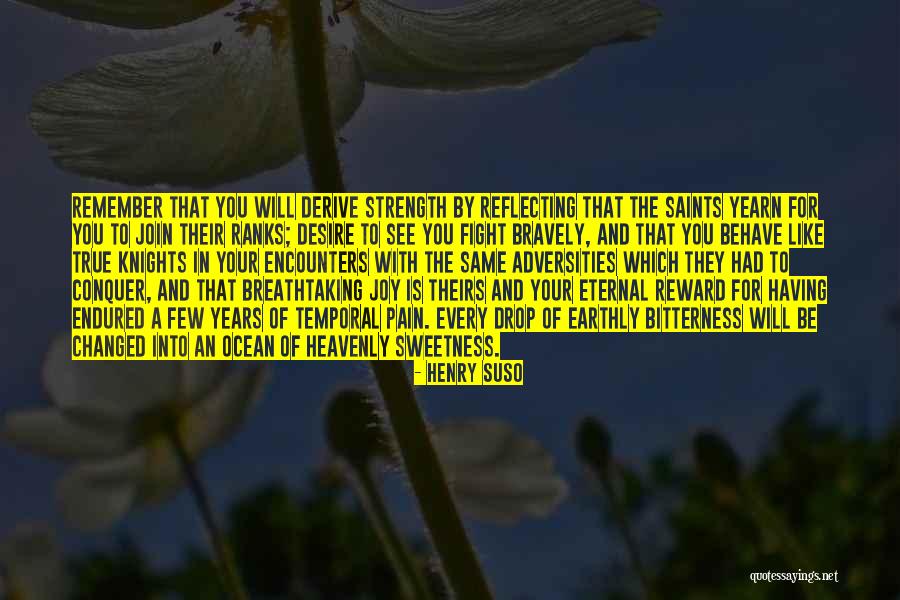 Remember that you will derive strength by reflecting that the saints yearn for you to join their ranks; desire to see you fight bravely, and that you behave like true knights in your encounters with the same adversities which they had to conquer, and that breathtaking joy is theirs and your eternal reward for having endured a few years of temporal pain. Every drop of earthly bitterness will be changed into an ocean of heavenly sweetness. — Henry Suso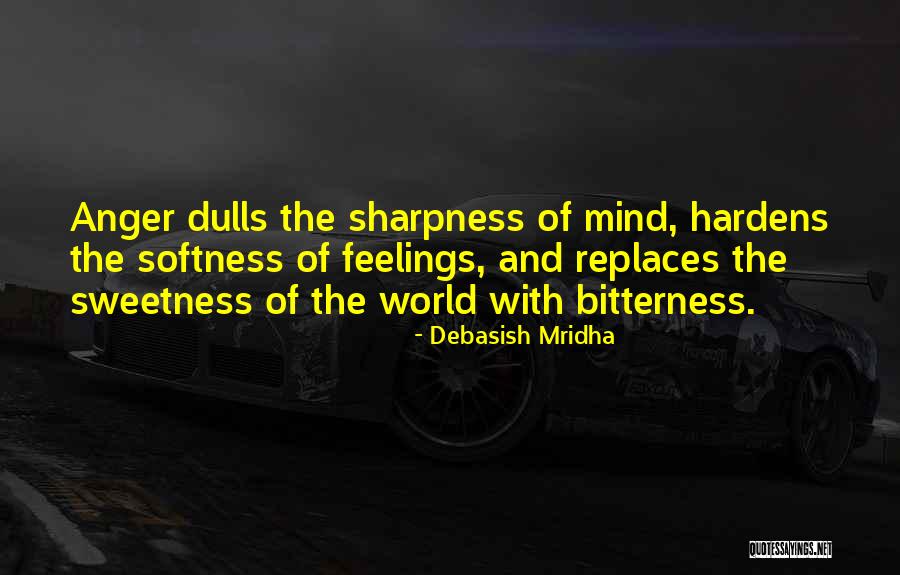 Anger dulls the sharpness of mind, hardens the softness of feelings, and replaces the sweetness of the world with bitterness. — Debasish Mridha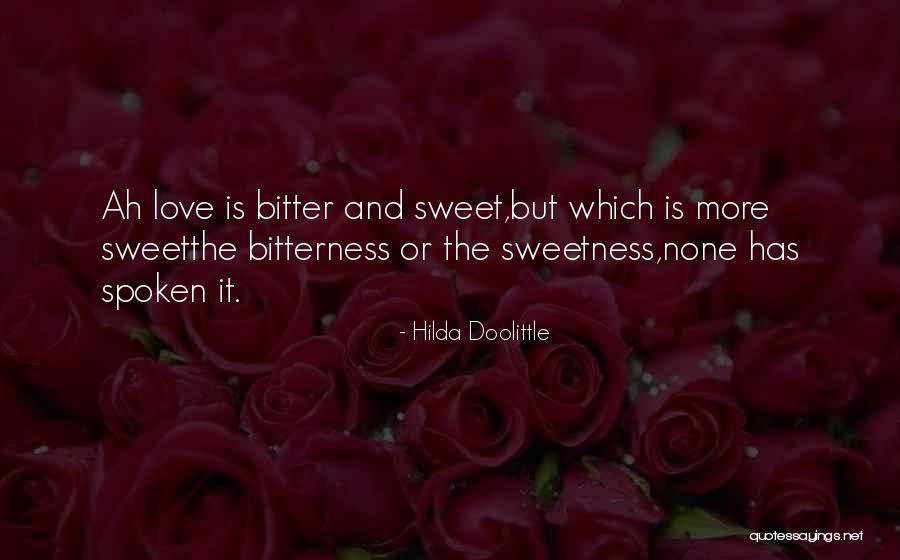 Ah love is bitter and sweet,
but which is more sweet
the bitterness or the sweetness,
none has spoken it. — Hilda Doolittle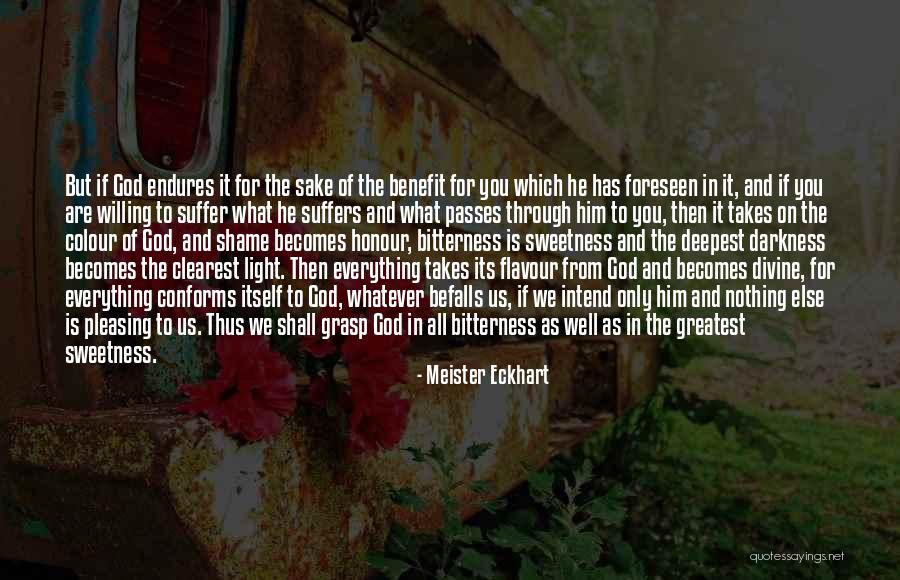 But if God endures it for the sake of the benefit for you which he has foreseen in it, and if you are willing to suffer what he suffers and what passes through him to you, then it takes on the colour of God, and shame becomes honour, bitterness is sweetness and the deepest darkness becomes the clearest light. Then everything takes its flavour from God and becomes divine, for everything conforms itself to God, whatever befalls us, if we intend only him and nothing else is pleasing to us. Thus we shall grasp God in all bitterness as well as in the greatest sweetness. — Meister Eckhart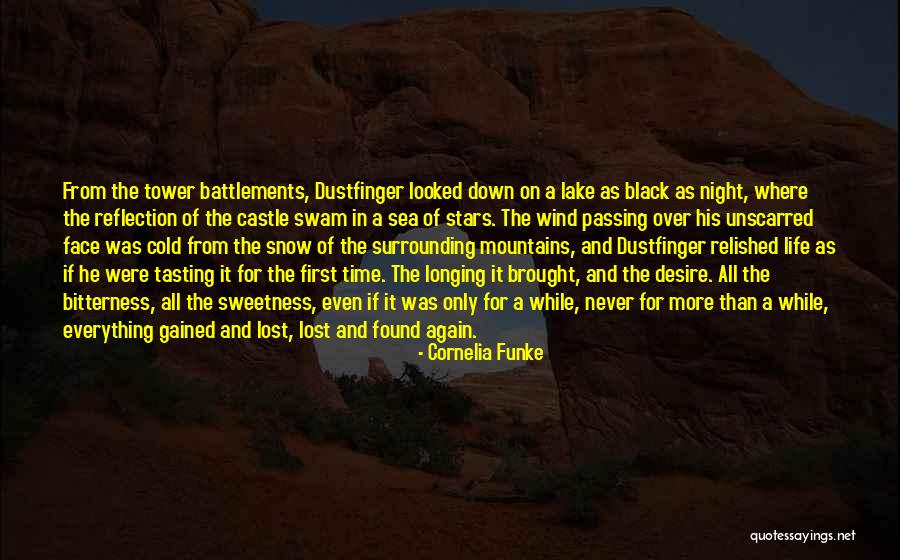 From the tower battlements, Dustfinger looked down on a lake as black as night, where the reflection of the castle swam in a sea of stars. The wind passing over his unscarred face was cold from the snow of the surrounding mountains, and Dustfinger relished life as if he were tasting it for the first time. The longing it brought, and the desire. All the bitterness, all the sweetness, even if it was only for a while, never for more than a while, everything gained and lost, lost and found again. — Cornelia Funke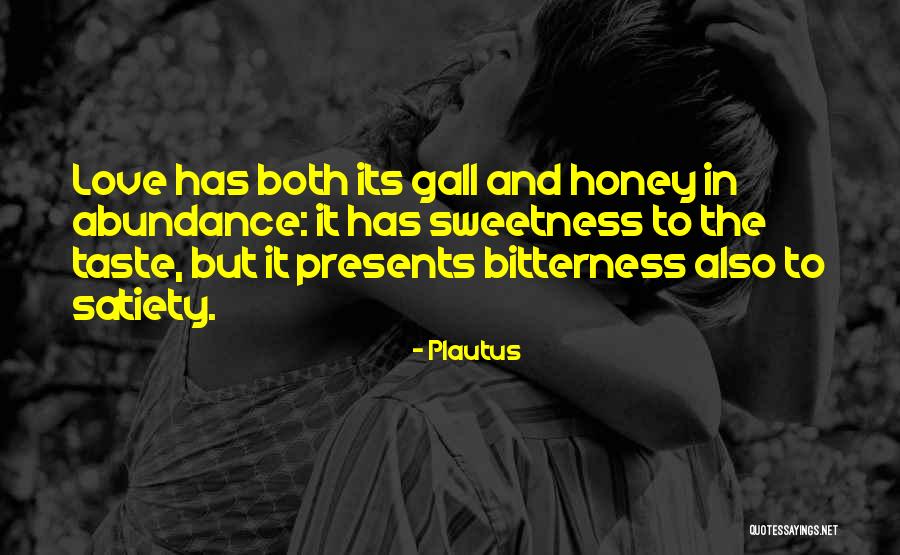 Love has both its gall and honey in abundance: it has sweetness to the taste, but it presents bitterness also to satiety. — Plautus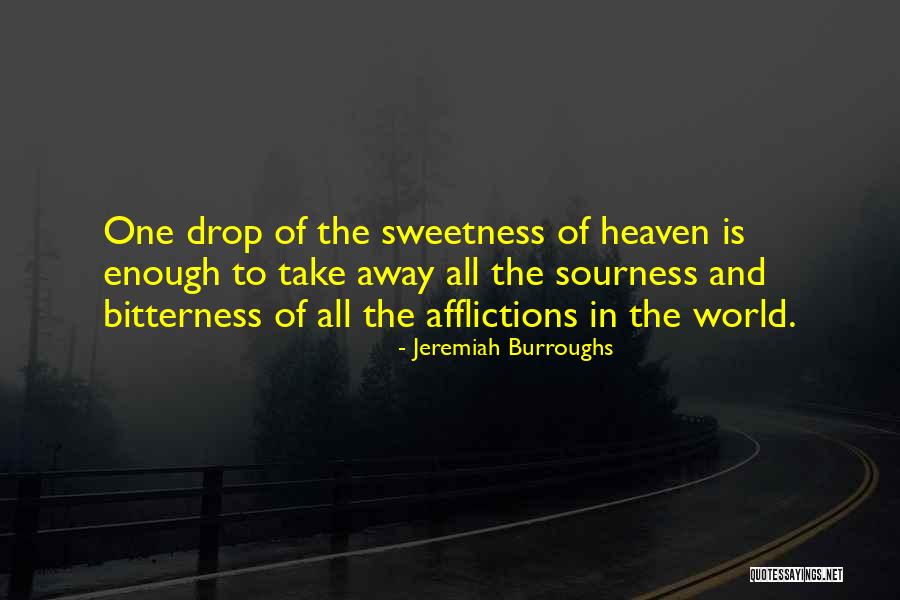 One drop of the sweetness of heaven is enough to take away all the sourness and bitterness of all the afflictions in the world. — Jeremiah Burroughs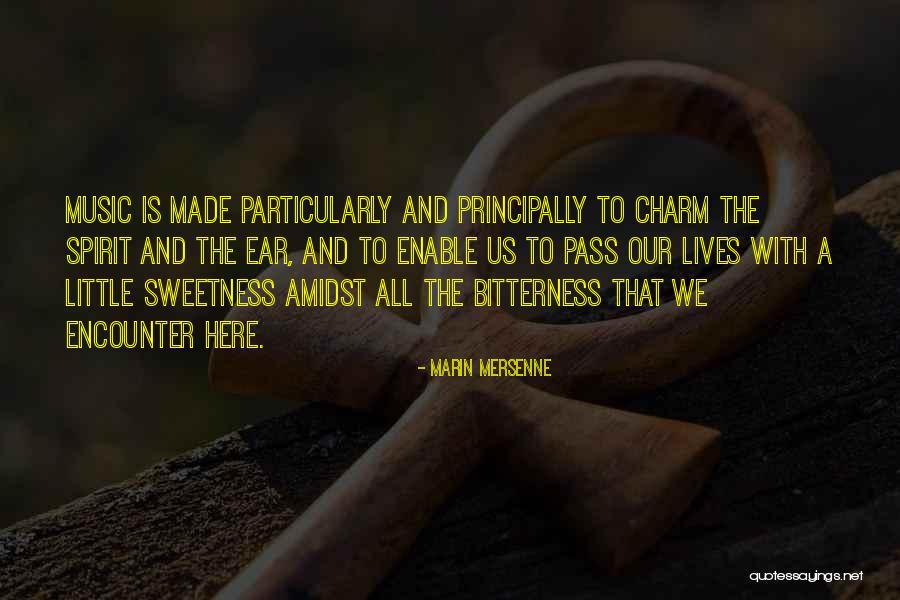 Music is made particularly and principally to charm the spirit and the ear, and to enable us to pass our lives with a little sweetness amidst all the bitterness that we encounter here. — Marin Mersenne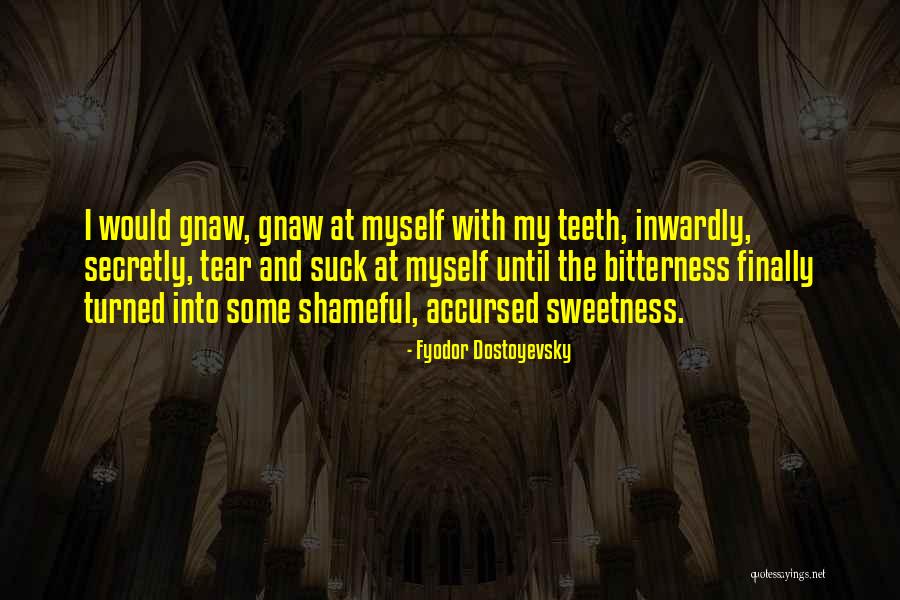 I would gnaw, gnaw at myself with my teeth, inwardly, secretly, tear and suck at myself until the bitterness finally turned into some shameful, accursed sweetness. — Fyodor Dostoyevsky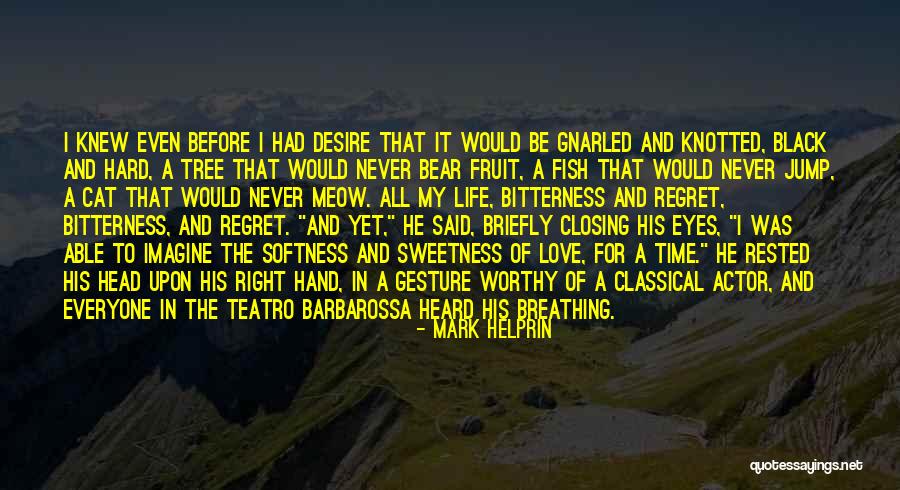 I knew even before I had desire that it would be gnarled and knotted, black and hard, a tree that would never bear fruit, a fish that would never jump, a cat that would never meow. All my life, bitterness and regret, bitterness, and regret. "And yet," he said, briefly closing his eyes, "I was able to imagine the softness and sweetness of love, for a time." He rested his head upon his right hand, in a gesture worthy of a classical actor, and everyone in the Teatro Barbarossa heard his breathing. — Mark Helprin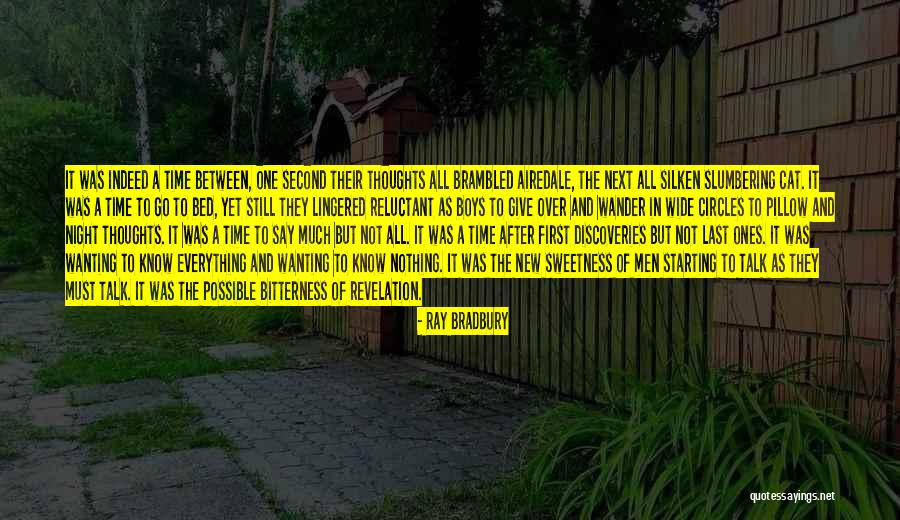 It was indeed a time between, one second their thoughts all brambled airedale, the next all silken slumbering cat. It was a time to go to bed, yet still they lingered reluctant as boys to give over and wander in wide circles to pillow and night thoughts. It was a time to say much but not all. It was a time after first discoveries but not last ones. It was wanting to know everything and wanting to know nothing. It was the new sweetness of men starting to talk as they must talk. It was the possible bitterness of revelation. — Ray Bradbury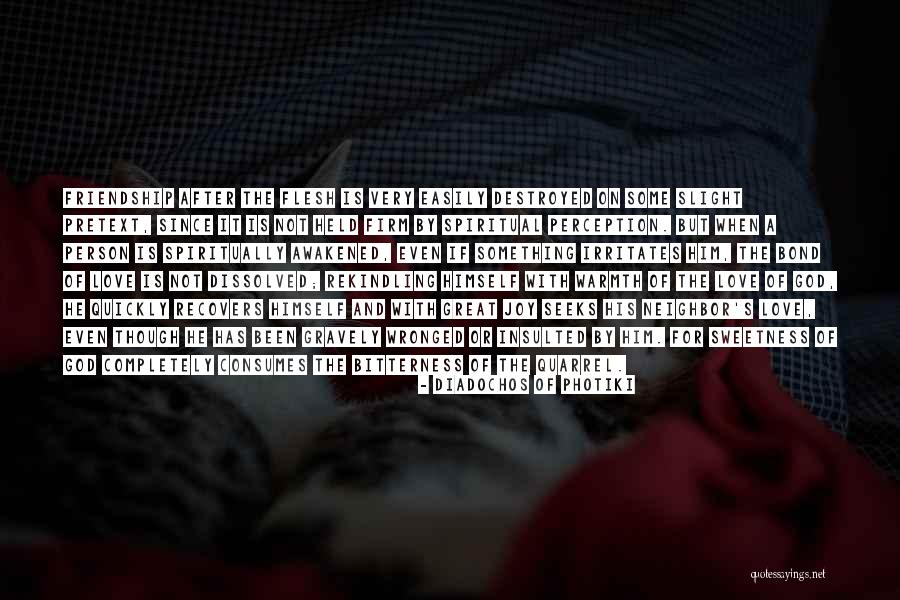 Friendship after the flesh is very easily destroyed on some slight pretext, since it is not held firm by spiritual perception. But when a person is spiritually awakened, even if something irritates him, the bond of love is not dissolved; rekindling himself with warmth of the love of God, he quickly recovers himself and with great joy seeks his neighbor's love, even though he has been gravely wronged or insulted by him. For sweetness of God completely consumes the bitterness of the quarrel. — Diadochos Of Photiki