Quotes & Sayings About Success And Cooperation
Enjoy reading and share 21 famous quotes about Success And Cooperation with everyone.
Top Success And Cooperation Quotes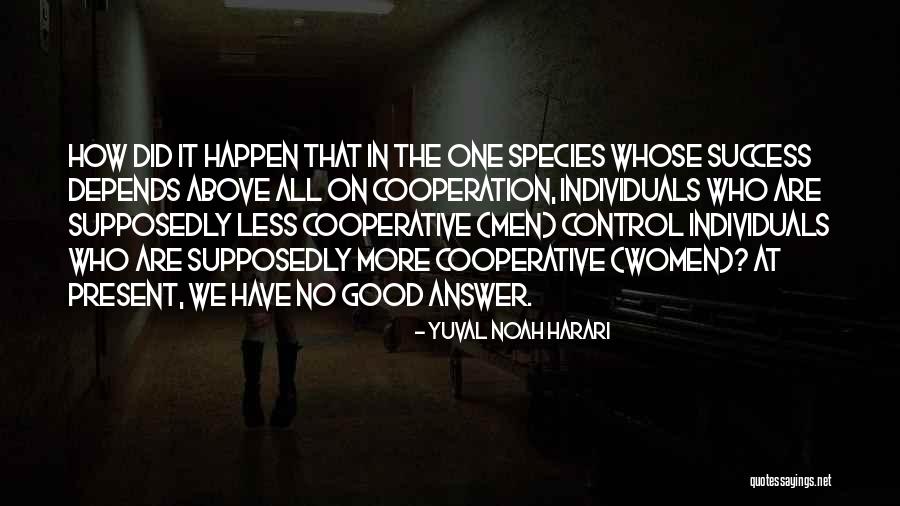 How did it happen that in the one species whose success depends above all on cooperation, individuals who are supposedly less cooperative (men) control individuals who are supposedly more cooperative (women)? At present, we have no good answer. — Yuval Noah Harari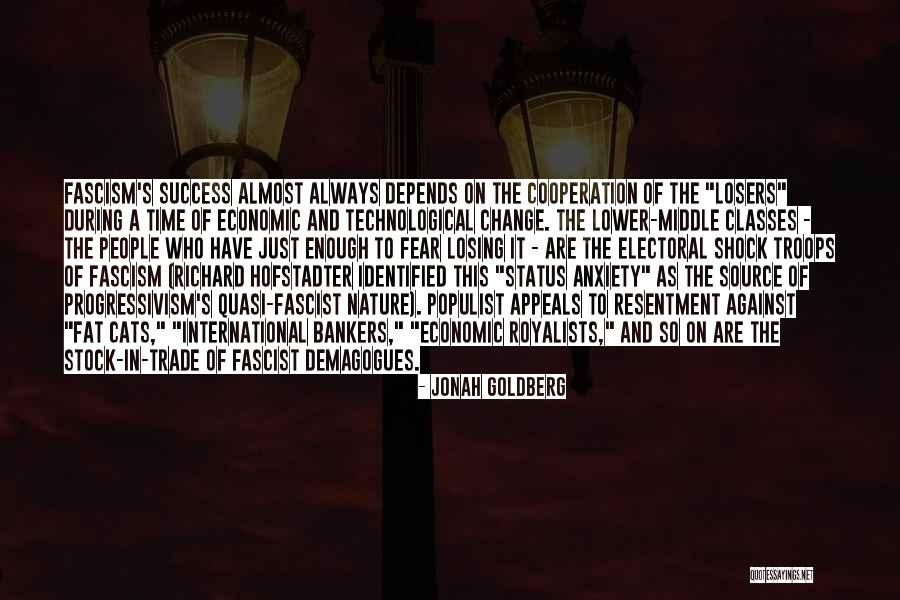 Fascism's success almost always depends on the cooperation of the "losers" during a time of economic and technological change. The lower-middle classes - the people who have just enough to fear losing it - are the electoral shock troops of fascism (Richard Hofstadter identified this "status anxiety" as the source of Progressivism's quasi-fascist nature). Populist appeals to resentment against "fat cats," "international bankers," "economic royalists," and so on are the stock-in-trade of fascist demagogues. — Jonah Goldberg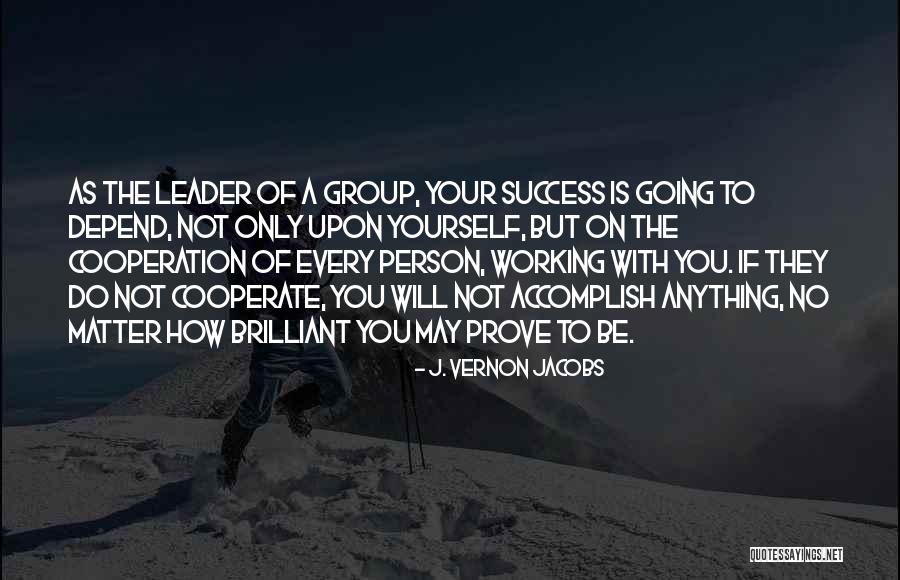 As the leader of a group, your success is going to depend, not only upon yourself, but on the cooperation of every person, working with you. If they do not cooperate, you will not accomplish anything, no matter how brilliant you may prove to be. — J. Vernon Jacobs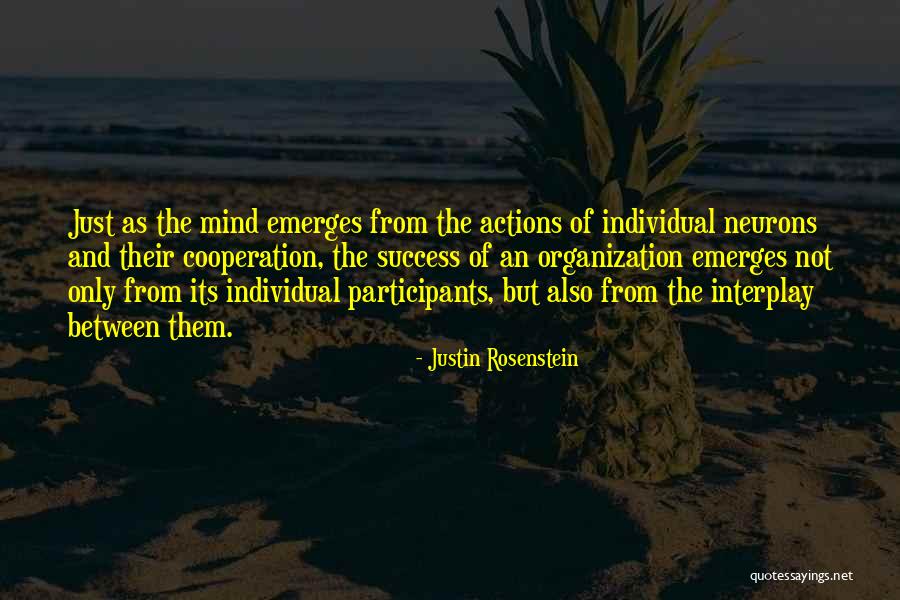 Just as the mind emerges from the actions of individual neurons and their cooperation, the success of an organization emerges not only from its individual participants, but also from the interplay between them. — Justin Rosenstein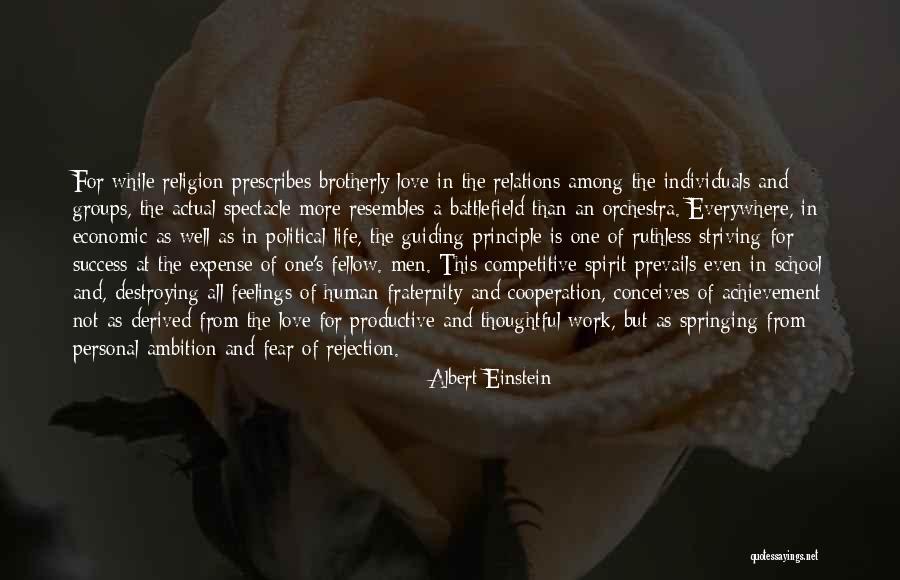 For while religion prescribes brotherly love in the relations among the individuals and groups, the actual spectacle more resembles a battlefield than an orchestra. Everywhere, in economic as well as in political life, the guiding principle is one of ruthless striving for success at the expense of one's fellow. men. This competitive spirit prevails even in school and, destroying all feelings of human fraternity and cooperation, conceives of achievement not as derived from the love for productive and thoughtful work, but as springing from personal ambition and fear of rejection. — Albert Einstein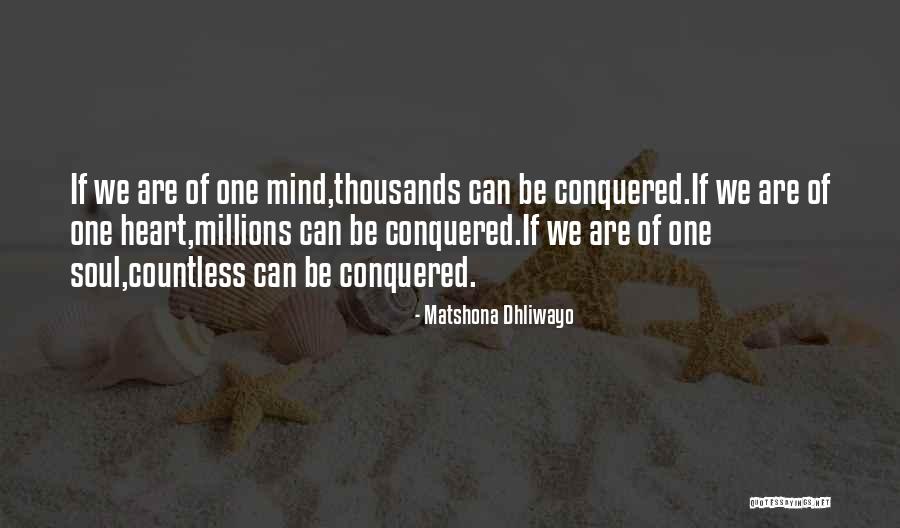 If we are of one mind,
thousands can be conquered.
If we are of one heart,
millions can be conquered.
If we are of one soul,
countless can be conquered. — Matshona Dhliwayo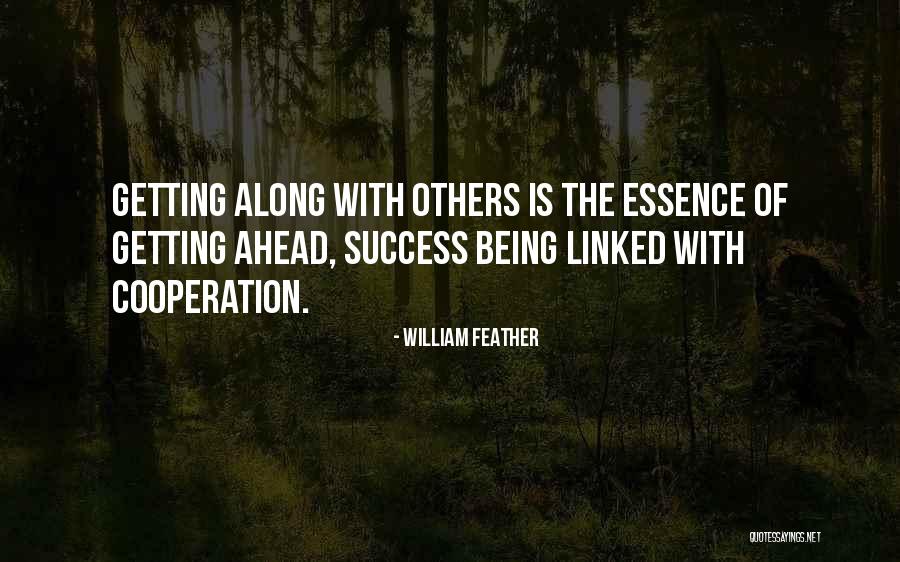 Getting along with others is the essence of getting ahead, success being linked with cooperation. — William Feather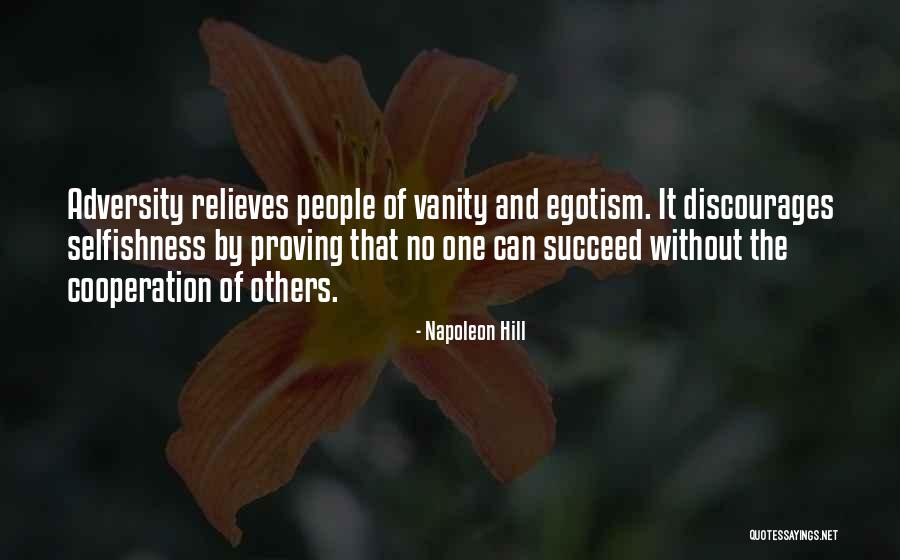 Adversity relieves people of vanity and egotism. It discourages selfishness by proving that no one can succeed without the cooperation of others. — Napoleon Hill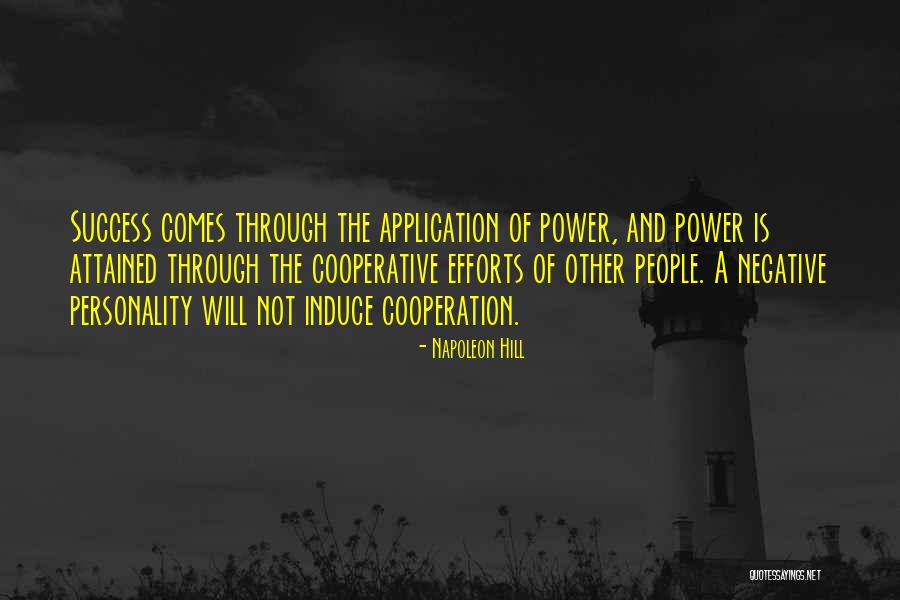 Success comes through the application of power, and power is attained through the cooperative efforts of other people. A negative personality will not induce cooperation. — Napoleon Hill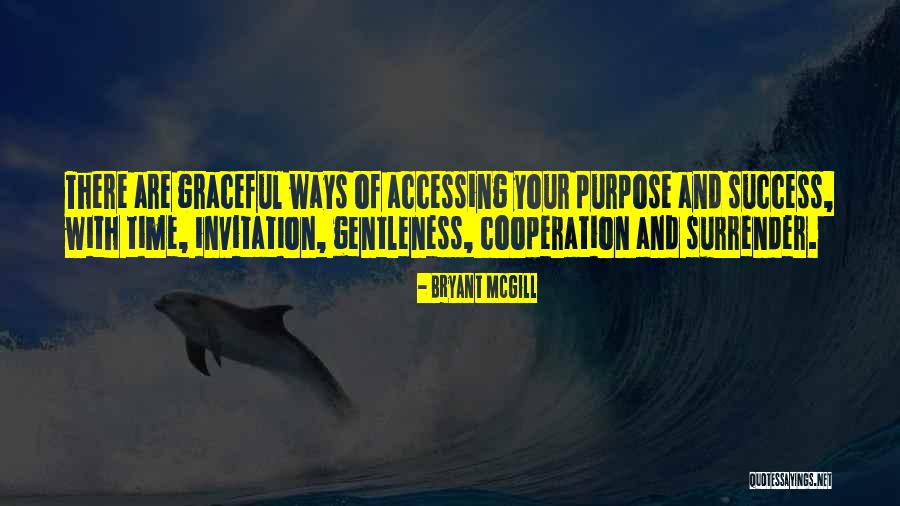 There are graceful ways of accessing your purpose and success, with time, invitation, gentleness, cooperation and surrender. — Bryant McGill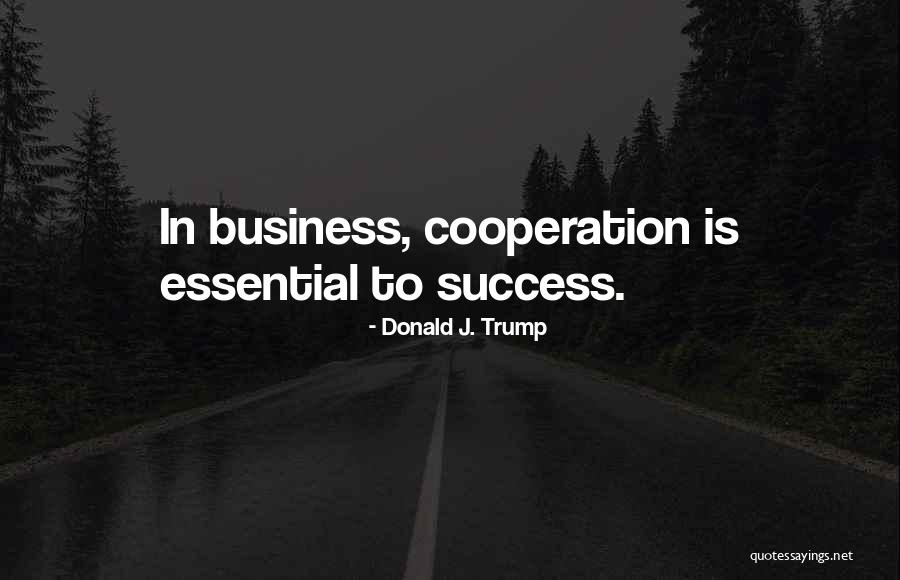 In business, cooperation is essential to success. — Donald J. Trump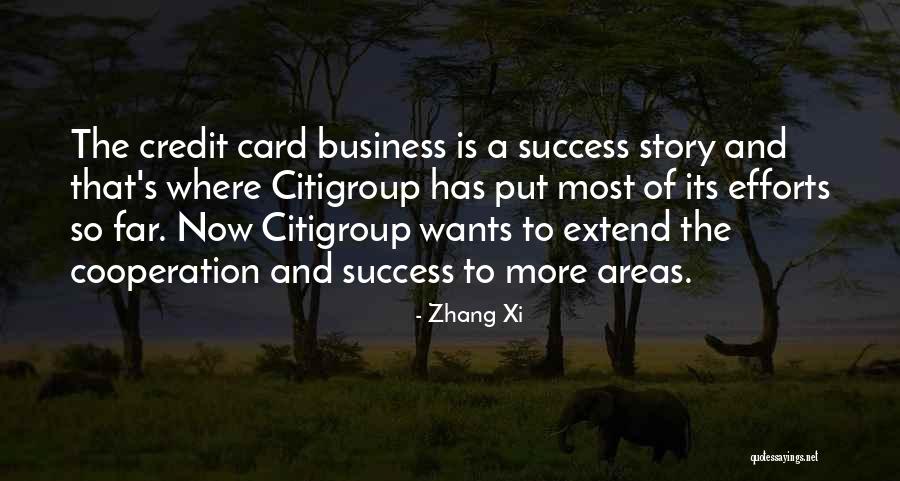 The credit card business is a success story and that's where Citigroup has put most of its efforts so far. Now Citigroup wants to extend the cooperation and success to more areas. — Zhang Xi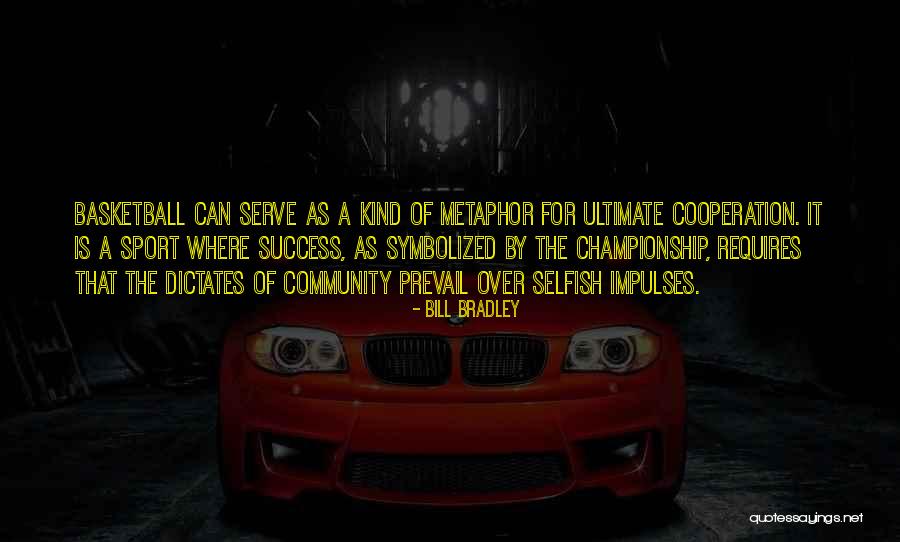 Basketball can serve as a kind of metaphor for ultimate cooperation. It is a sport where success, as symbolized by the championship, requires that the dictates of community prevail over selfish impulses. — Bill Bradley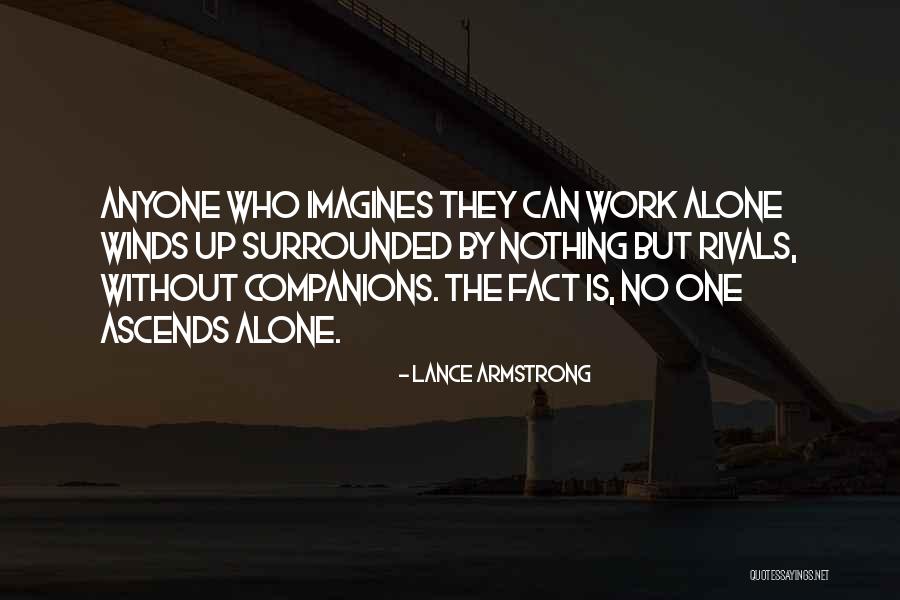 Anyone who imagines they can work alone winds up surrounded by nothing but rivals, without companions. The fact is, no one ascends alone. — Lance Armstrong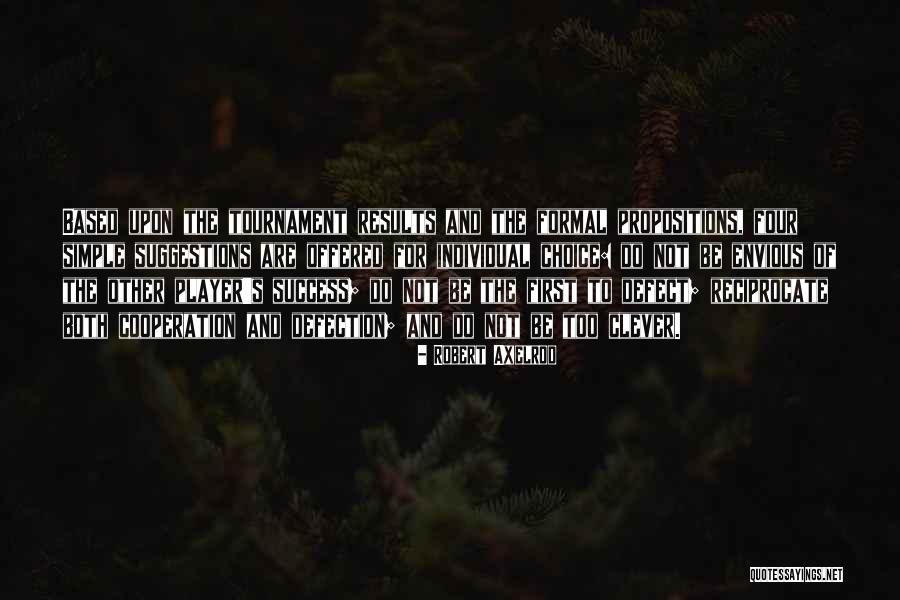 Based upon the tournament results and the formal propositions, four simple suggestions are offered for individual choice: do not be envious of the other player's success; do not be the first to defect; reciprocate both cooperation and defection; and do not be too clever. — Robert Axelrod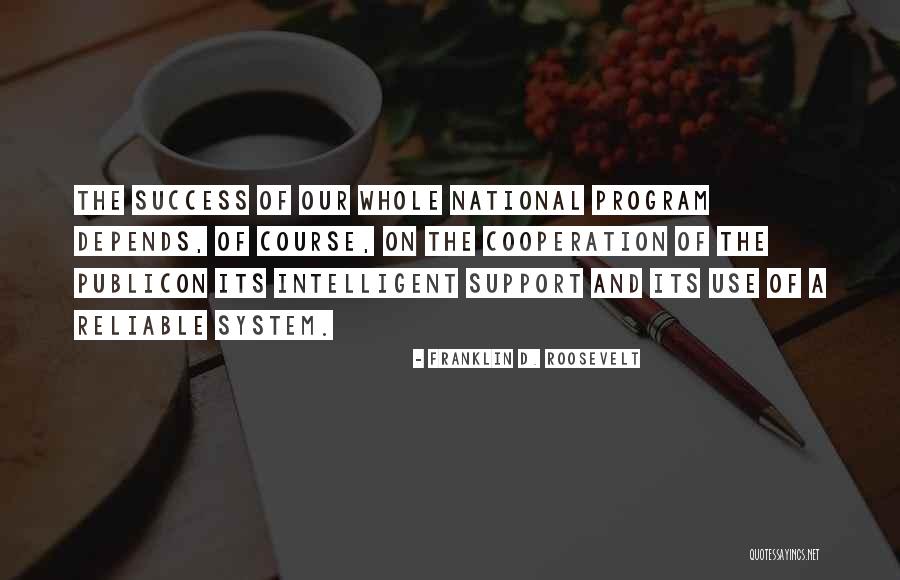 The success of our whole national program depends, of course, on the cooperation of the public
on its intelligent support and its use of a reliable system. — Franklin D. Roosevelt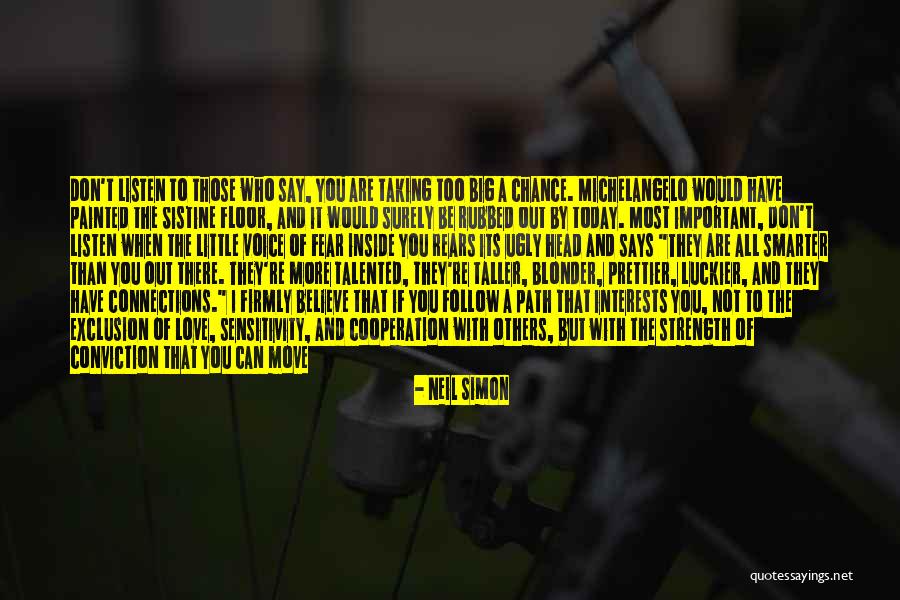 Don't listen to those who say, you are taking too big a chance. Michelangelo would have painted the Sistine floor, and it would surely be rubbed out by today. Most important, don't listen when the little voice of fear inside you rears its ugly head and says "They are all smarter than you out there. They're more talented, they're taller, blonder, prettier, luckier, and they have connections." I firmly believe that if you follow a path that interests you, not to the exclusion of love, sensitivity, and cooperation with others, but with the strength of conviction that you can move others by your own efforts, and do not make success or failure the criteria by which you live, the chances are you'll be a person worthy of your own respects. — Neil Simon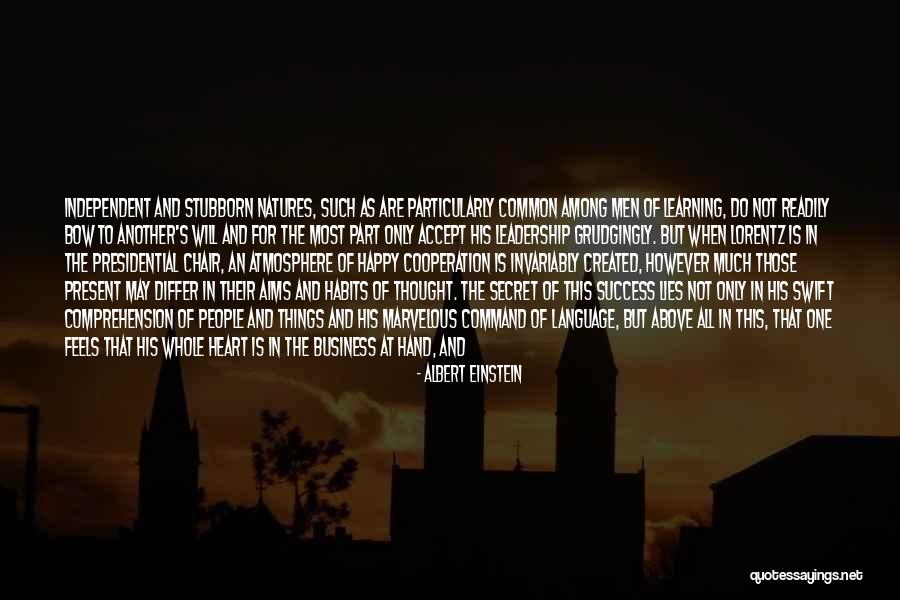 Independent and stubborn natures, such as are particularly common among men of learning, do not readily bow to another's will and for the most part only accept his leadership grudgingly. But when Lorentz is in the presidential chair, an atmosphere of happy cooperation is invariably created, however much those present may differ in their aims and habits of thought. The secret of this success lies not only in his swift comprehension of people and things and his marvelous command of language, but above all in this, that one feels that his whole heart is in the business at hand, and that when he is at work, he has room for nothing else in his mind. Nothing disarms the recalcitrant so much as this. — Albert Einstein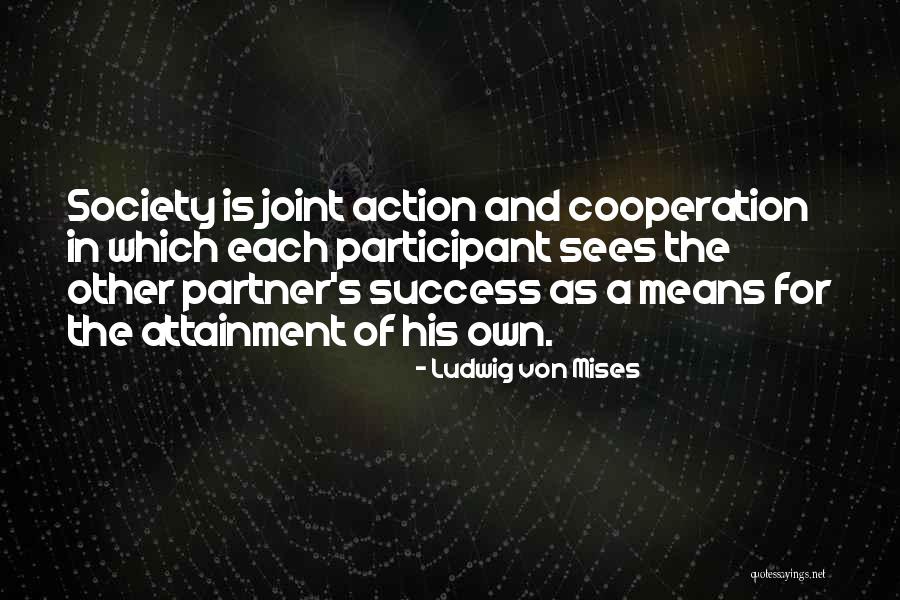 Society is joint action and cooperation in which each participant sees the other partner's success as a means for the attainment of his own. — Ludwig Von Mises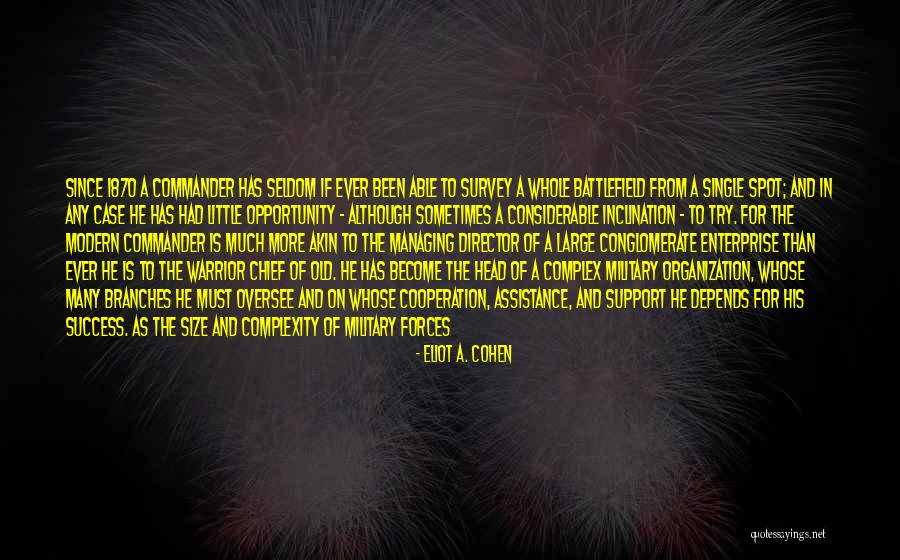 Since 1870 a commander has seldom if ever been able to survey a whole battlefield from a single spot; and in any case he has had little opportunity - although sometimes a considerable inclination - to try. For the modern commander is much more akin to the managing director of a large conglomerate enterprise than ever he is to the warrior chief of old. He has become the head of a complex military organization, whose many branches he must oversee and on whose cooperation, assistance, and support he depends for his success. As the size and complexity of military forces have increased, the business of war has developed an organizational dimension that can make a mighty contribution to triumph - or to tragedy. Hitherto, the role of this organizational dimension of war in explaining military performance has been strangely neglected. We shall return to it later - indeed, it will form one of the major themes of this book. For now we simply need to note its looming presence. — Eliot A. Cohen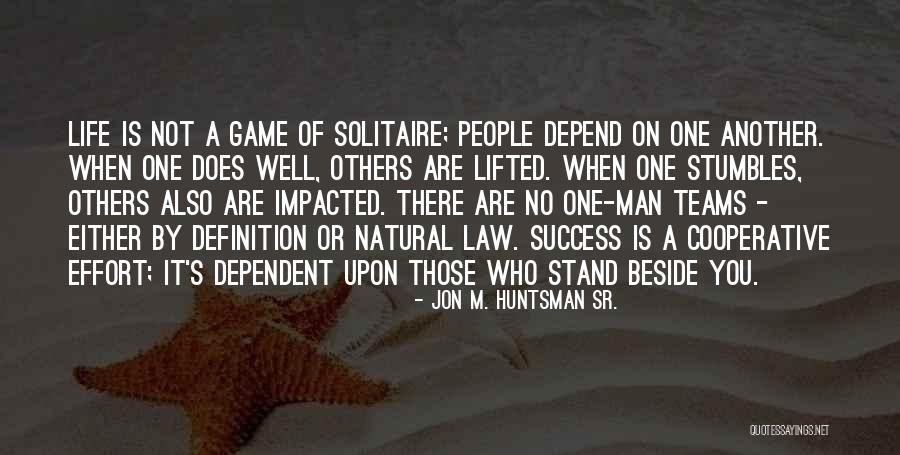 Life is not a game of Solitaire; people depend on one another. When one does well, others are lifted. When one stumbles, others also are impacted. There are no one-man teams - either by definition or natural law. Success is a cooperative effort; it's dependent upon those who stand beside you. — Jon M. Huntsman Sr.