Quotes & Sayings About Style And Simplicity
Enjoy reading and share 27 famous quotes about Style And Simplicity with everyone.
Top Style And Simplicity Quotes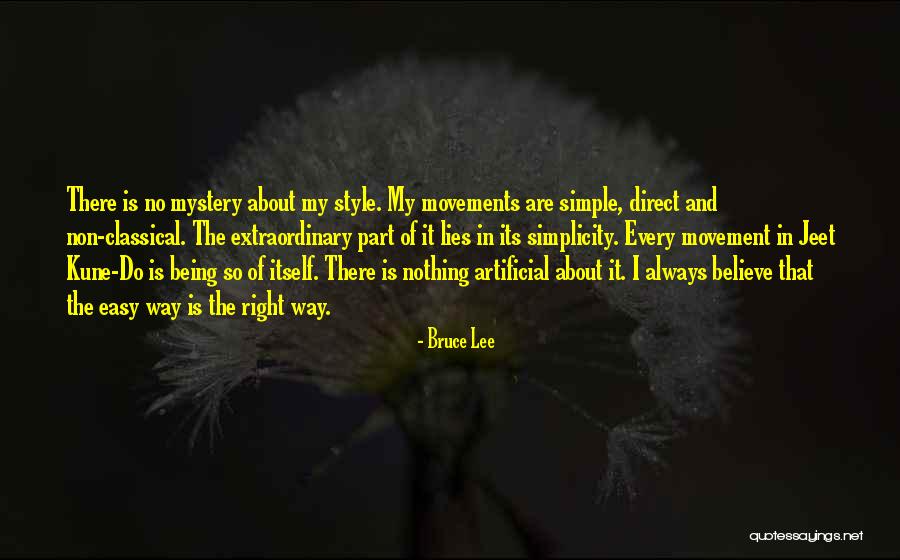 There is no mystery about my style. My movements are simple, direct and non-classical. The extraordinary part of it lies in its simplicity. Every movement in Jeet Kune-Do is being so of itself. There is nothing artificial about it. I always believe that the easy way is the right way. — Bruce Lee
James Taylor is the kind of person I always thought the word 'folksinger' referred to. He writes and sings songs that are reflections of his own life, and performs in them in his own style. All of his performances are marked by an eloquent simplicity. — Jon Landau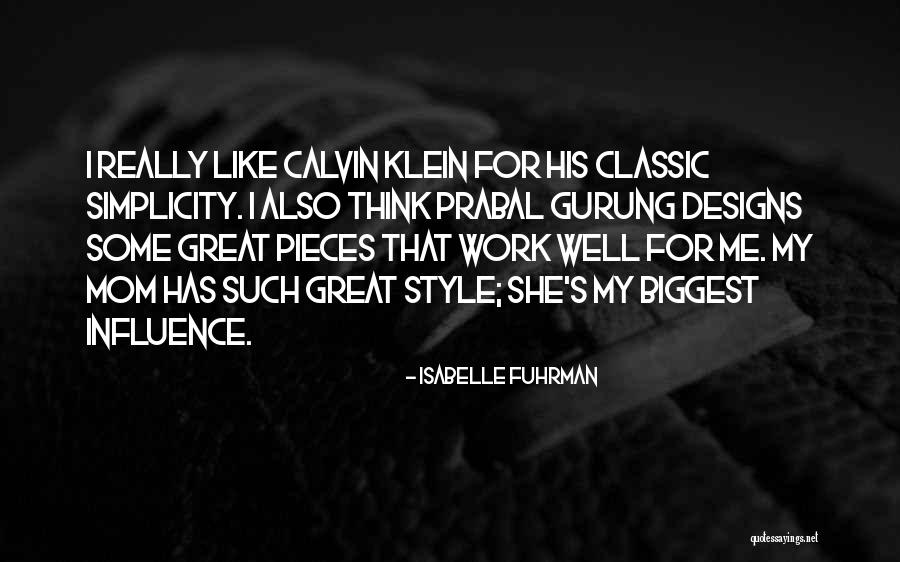 I really like Calvin Klein for his classic simplicity. I also think Prabal Gurung designs some great pieces that work well for me. My mom has such great style; she's my biggest influence. — Isabelle Fuhrman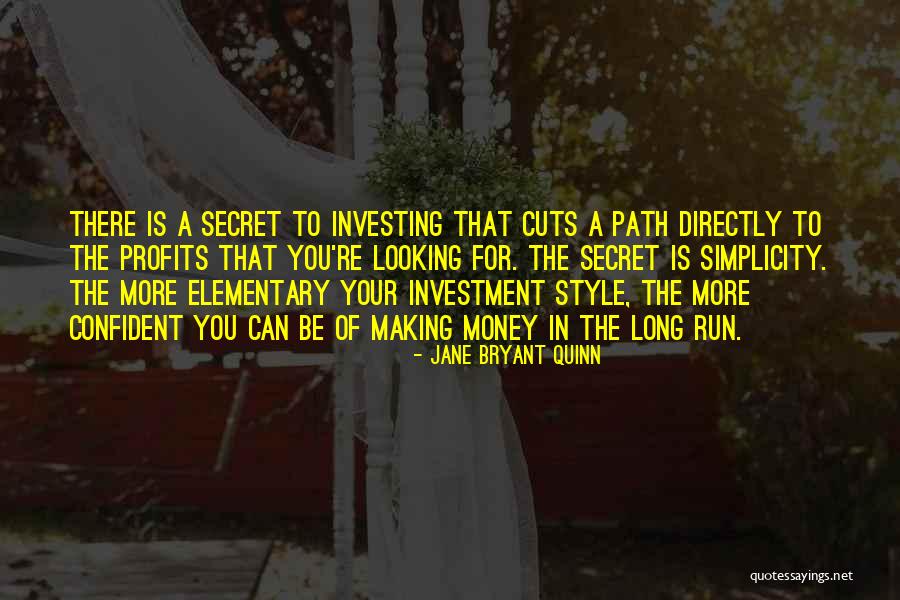 There is a secret to investing that cuts a path directly to the profits that you're looking for. The secret is simplicity. The more elementary your investment style, the more confident you can be of making money in the long run. — Jane Bryant Quinn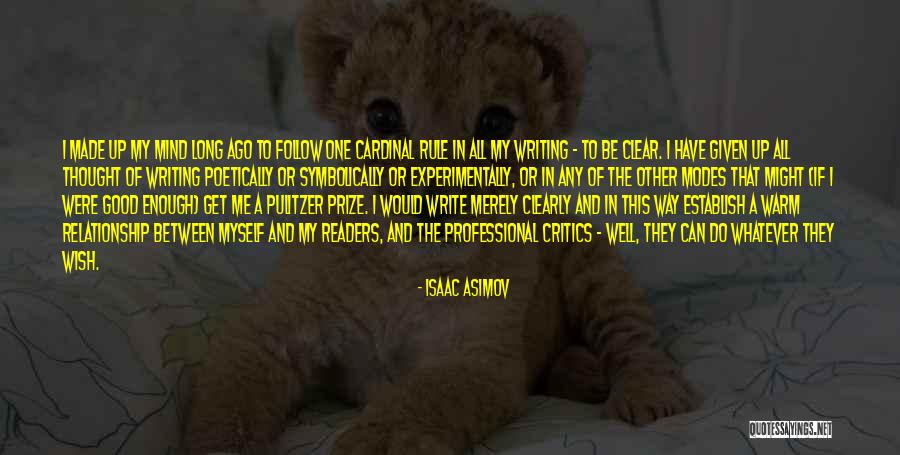 I made up my mind long ago to follow one cardinal rule in all my writing - to be clear. I have given up all thought of writing poetically or symbolically or experimentally, or in any of the other modes that might (if I were good enough) get me a Pulitzer prize. I would write merely clearly and in this way establish a warm relationship between myself and my readers, and the professional critics - Well, they can do whatever they wish. — Isaac Asimov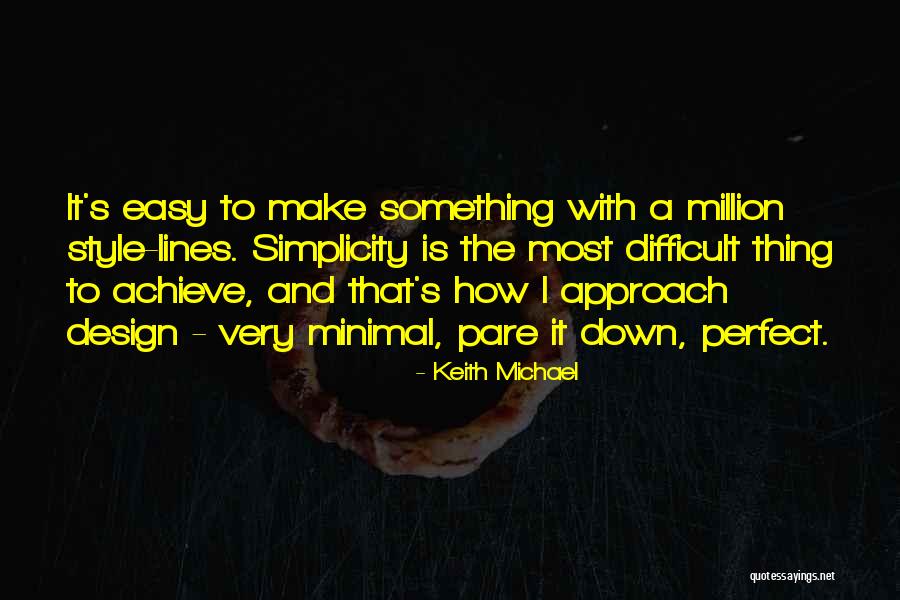 It's easy to make something with a million style-lines. Simplicity is the most difficult thing to achieve, and that's how I approach design - very minimal, pare it down, perfect. — Keith Michael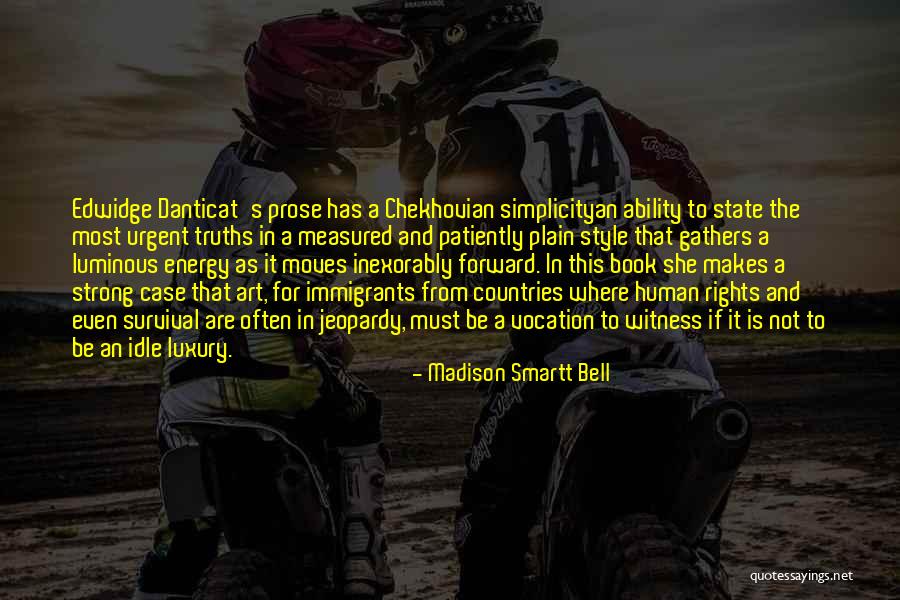 Edwidge Danticat's prose has a Chekhovian simplicity
an ability to state the most urgent truths in a measured and patiently plain style that gathers a luminous energy as it moves inexorably forward. In this book she makes a strong case that art, for immigrants from countries where human rights and even survival are often in jeopardy, must be a vocation to witness if it is not to be an idle luxury. — Madison Smartt Bell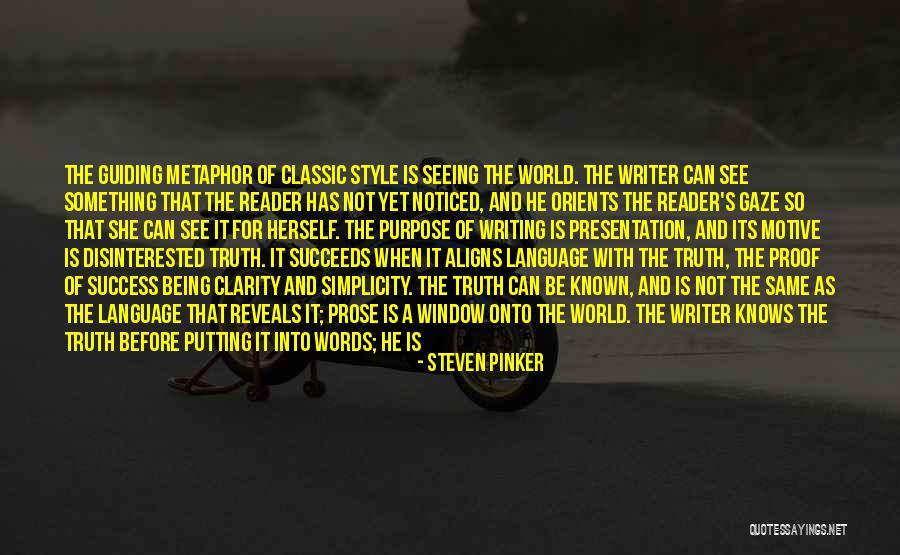 The guiding metaphor of classic style is seeing the world. The writer can see something that the reader has not yet noticed, and he orients the reader's gaze so that she can see it for herself. The purpose of writing is presentation, and its motive is disinterested truth. It succeeds when it aligns language with the truth, the proof of success being clarity and simplicity. The truth can be known, and is not the same as the language that reveals it; prose is a window onto the world. The writer knows the truth before putting it into words; he is not using the occasion of writing to sort out what he thinks. Nor does the writer of classic prose have to argue for the truth; he just needs to present it. That is because the reader is competent and can recognize the truth when she sees it, as long as she is given an unobstructed view. The writer and the reader are equals, and the process of directing the reader's gaze takes the form of a conversation. — Steven Pinker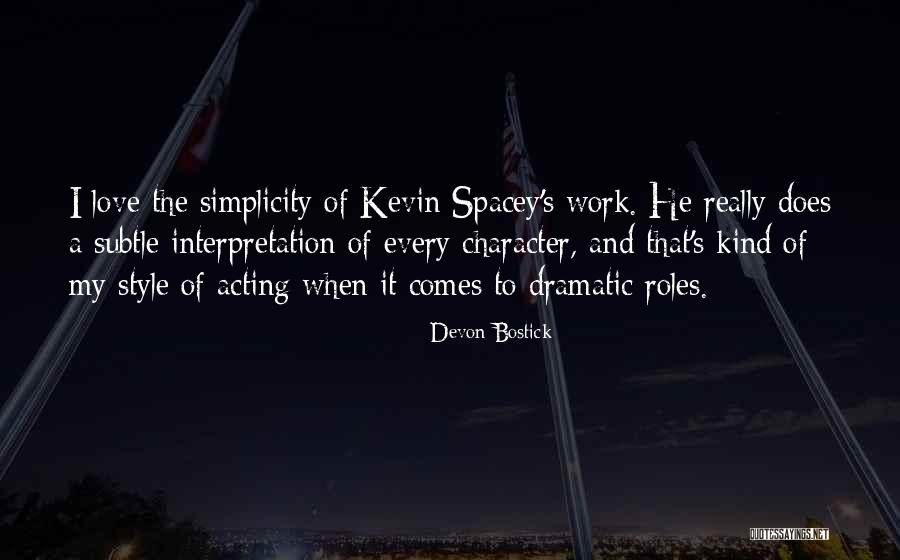 I love the simplicity of Kevin Spacey's work. He really does a subtle interpretation of every character, and that's kind of my style of acting when it comes to dramatic roles. — Devon Bostick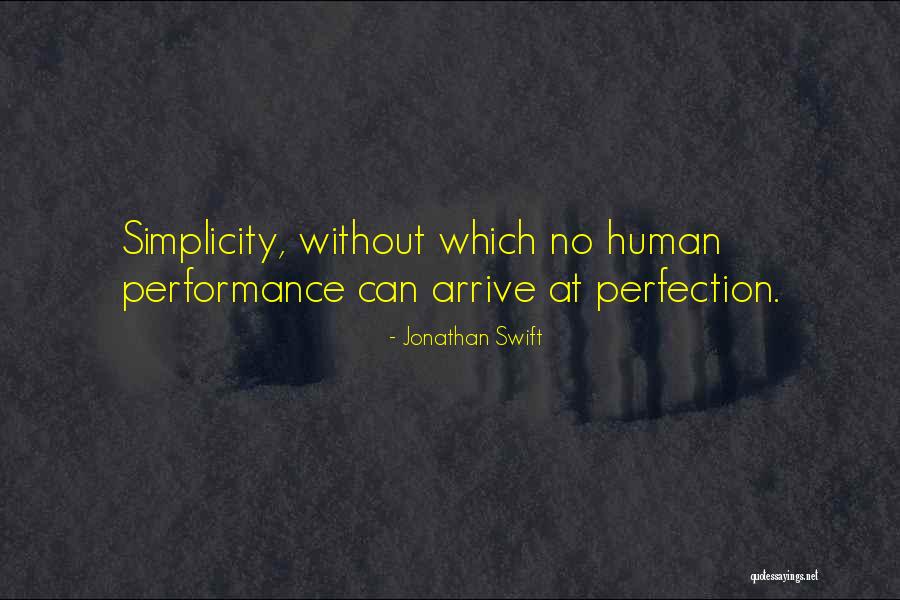 Simplicity, without which no human performance can arrive at perfection. — Jonathan Swift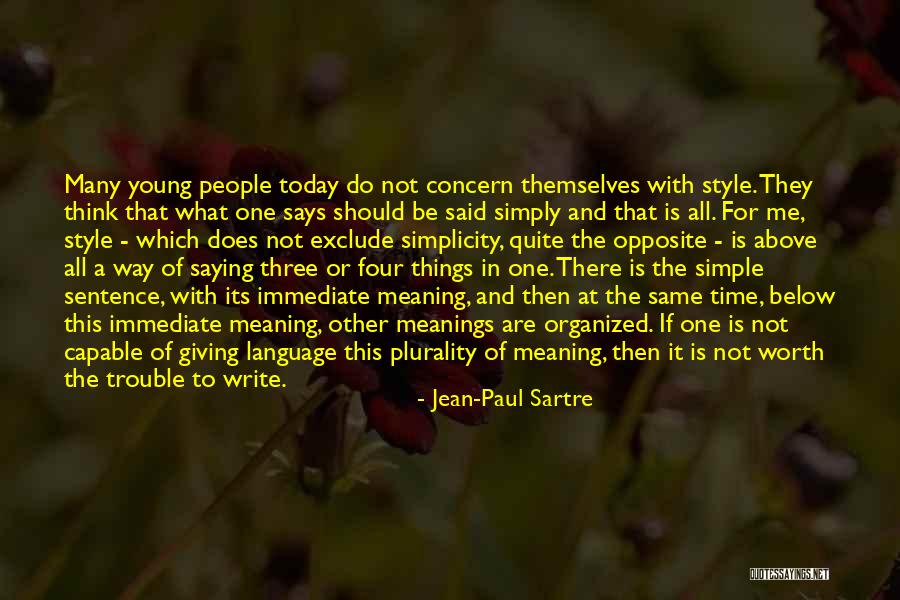 Many young people today do not concern themselves with style. They think that what one says should be said simply and that is all. For me, style - which does not exclude simplicity, quite the opposite - is above all a way of saying three or four things in one. There is the simple sentence, with its immediate meaning, and then at the same time, below this immediate meaning, other meanings are organized. If one is not capable of giving language this plurality of meaning, then it is not worth the trouble to write. — Jean-Paul Sartre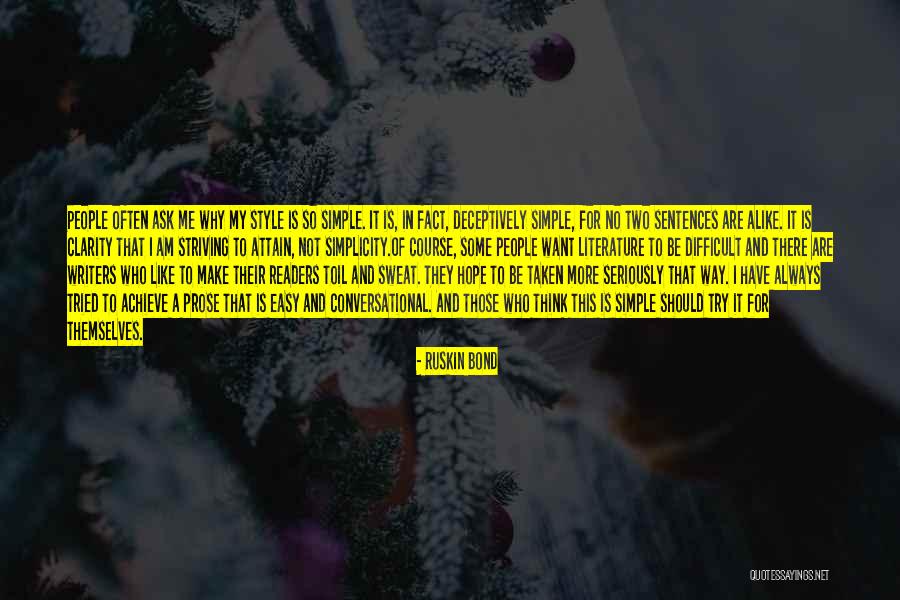 People often ask me why my style is so simple. It is, in fact, deceptively simple, for no two sentences are alike. It is clarity that I am striving to attain, not simplicity.
Of course, some people want literature to be difficult and there are writers who like to make their readers toil and sweat. They hope to be taken more seriously that way. I have always tried to achieve a prose that is easy and conversational. And those who think this is simple should try it for themselves. — Ruskin Bond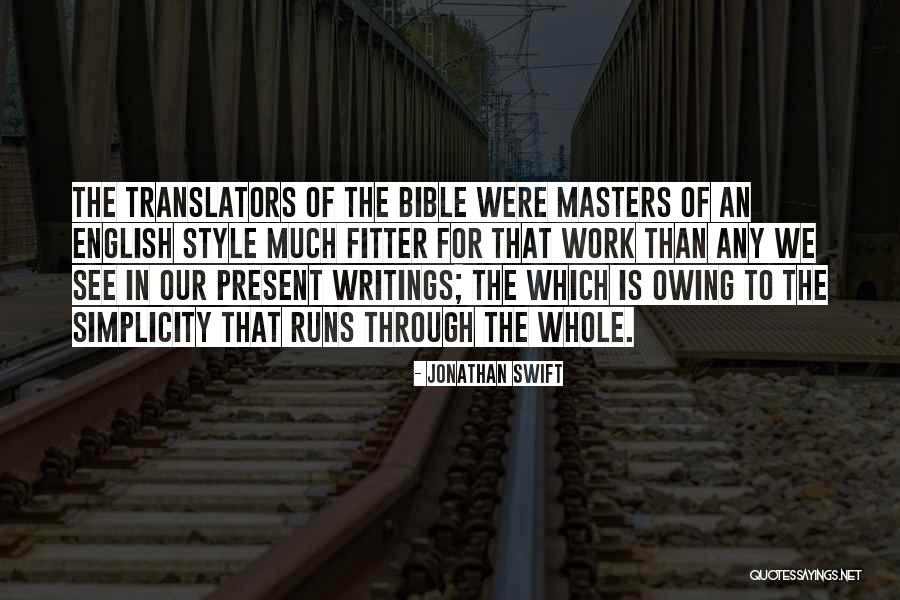 The translators of the Bible were masters of an English style much fitter for that work than any we see in our present writings; the which is owing to the simplicity that runs through the whole. — Jonathan Swift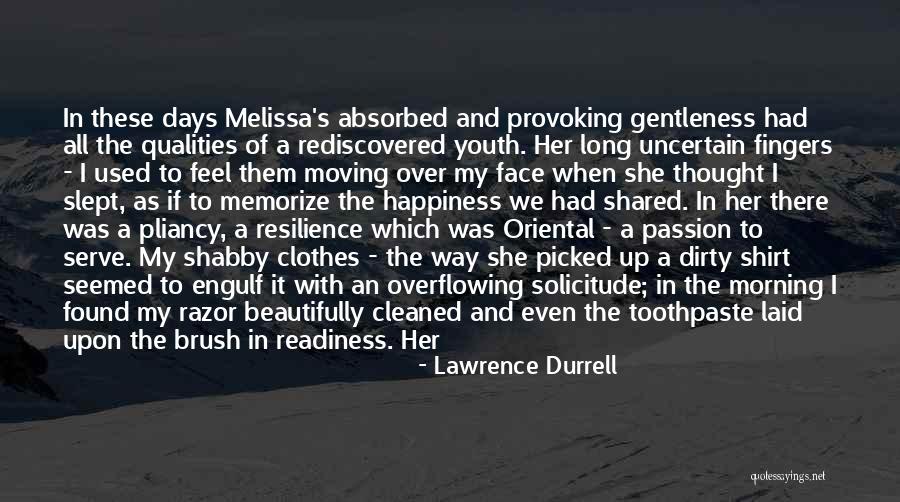 In these days Melissa's absorbed and provoking gentleness had all the qualities of a rediscovered youth. Her long uncertain fingers - I used to feel them moving over my face when she thought I slept, as if to memorize the happiness we had shared. In her there was a pliancy, a resilience which was Oriental - a passion to serve. My shabby clothes - the way she picked up a dirty shirt seemed to engulf it with an overflowing solicitude; in the morning I found my razor beautifully cleaned and even the toothpaste laid upon the brush in readiness. Her care for me was a goad, provoking me to give my life some sort of shape and style that might match the simplicity of hers. Of her experiences in love she would never speak, turning from them with a weariness and distaste which suggested that they had been born of necessity rather than desire. She paid me the comlpiment of saying: "For the first time I am not afraid to be light-headed or foolish with a man". — Lawrence Durrell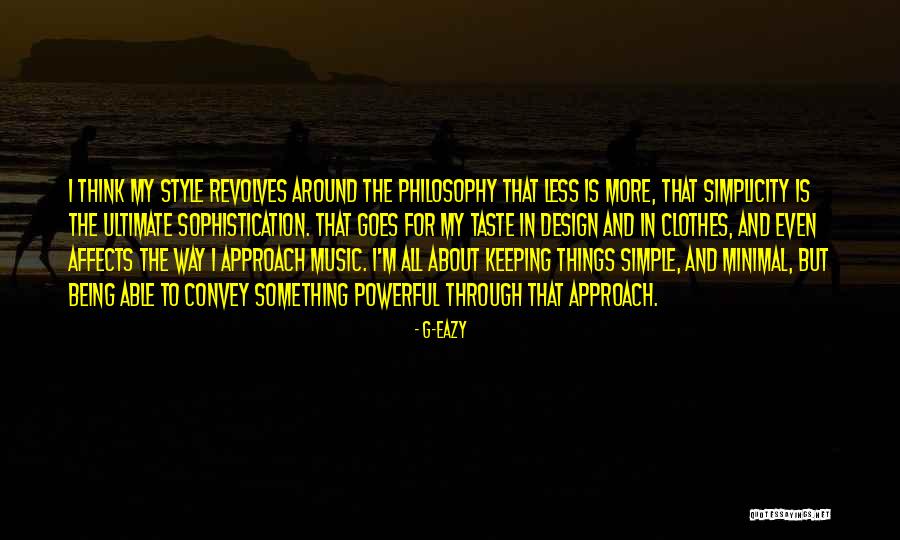 I think my style revolves around the philosophy that less is more, that simplicity is the ultimate sophistication. That goes for my taste in design and in clothes, and even affects the way I approach music. I'm all about keeping things simple, and minimal, but being able to convey something powerful through that approach. — G-Eazy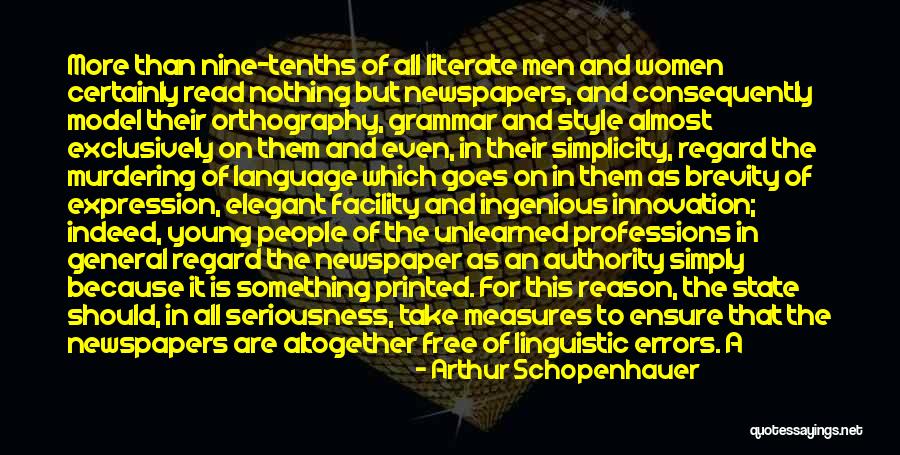 More than nine-tenths of all literate men and women certainly read nothing but newspapers, and consequently model their orthography, grammar and style almost exclusively on them and even, in their simplicity, regard the murdering of language which goes on in them as brevity of expression, elegant facility and ingenious innovation; indeed, young people of the unlearned professions in general regard the newspaper as an authority simply because it is something printed. For this reason, the state should, in all seriousness, take measures to ensure that the newspapers are altogether free of linguistic errors. A — Arthur Schopenhauer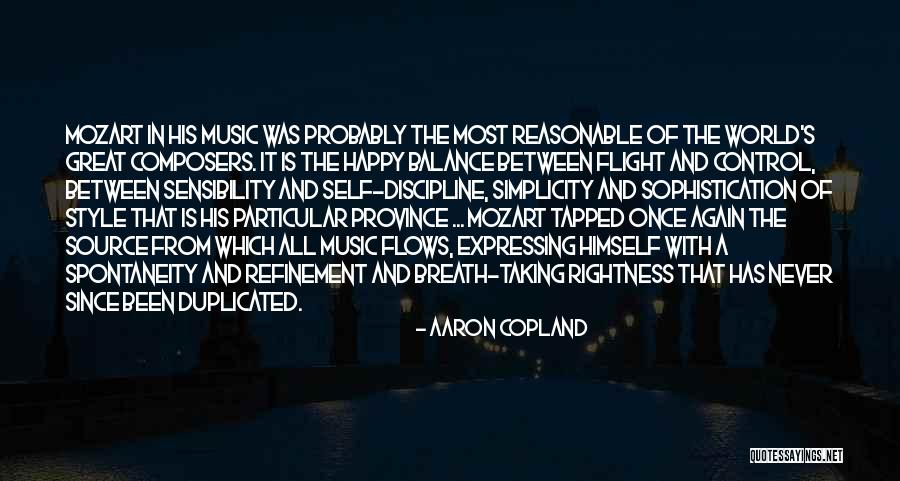 Mozart in his music was probably the most reasonable of the world's great composers. It is the happy balance between flight and control, between sensibility and self-discipline, simplicity and sophistication of style that is his particular province ... Mozart tapped once again the source from which all music flows, expressing himself with a spontaneity and refinement and breath-taking rightness that has never since been duplicated. — Aaron Copland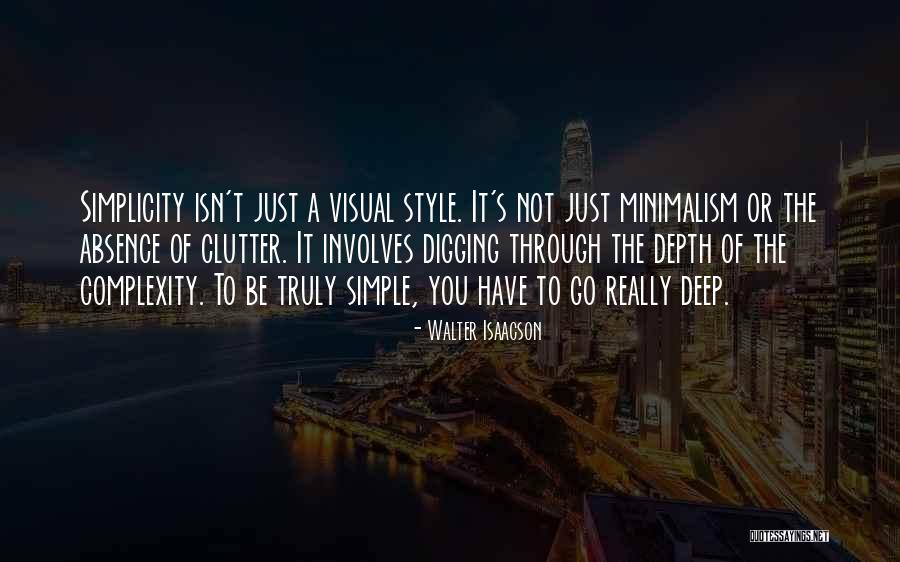 Simplicity isn't just a visual style. It's not just minimalism or the absence of clutter. It involves digging through the depth of the complexity. To be truly simple, you have to go really deep. — Walter Isaacson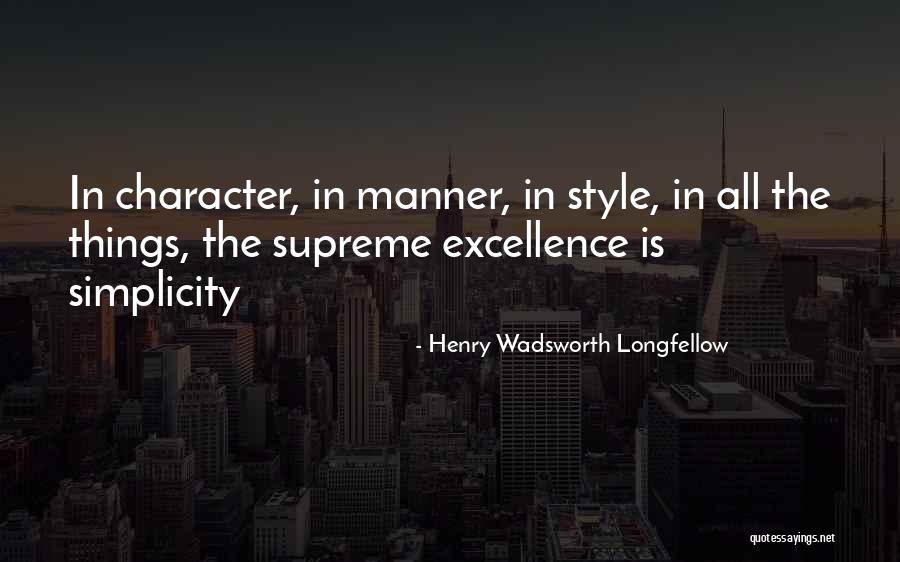 In character, in manner, in style, in all the things, the supreme excellence is simplicity — Henry Wadsworth Longfellow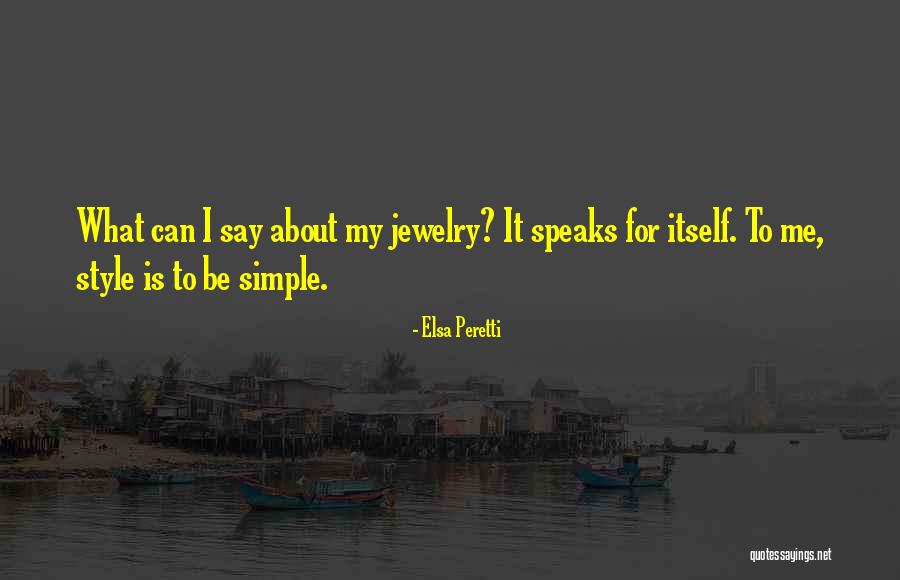 What can I say about my jewelry? It speaks for itself. To me, style is to be simple. — Elsa Peretti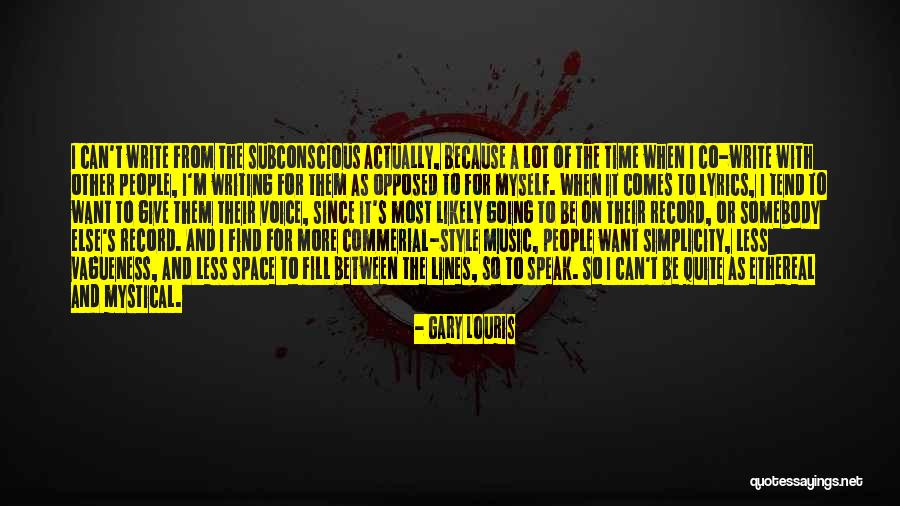 I can't write from the subconscious actually, because a lot of the time when I co-write with other people, I'm writing for them as opposed to for myself. When it comes to lyrics, I tend to want to give them their voice, since it's most likely going to be on their record, or somebody else's record. And I find for more commerial-style music, people want simplicity, less vagueness, and less space to fill between the lines, so to speak. So I can't be quite as ethereal and mystical. — Gary Louris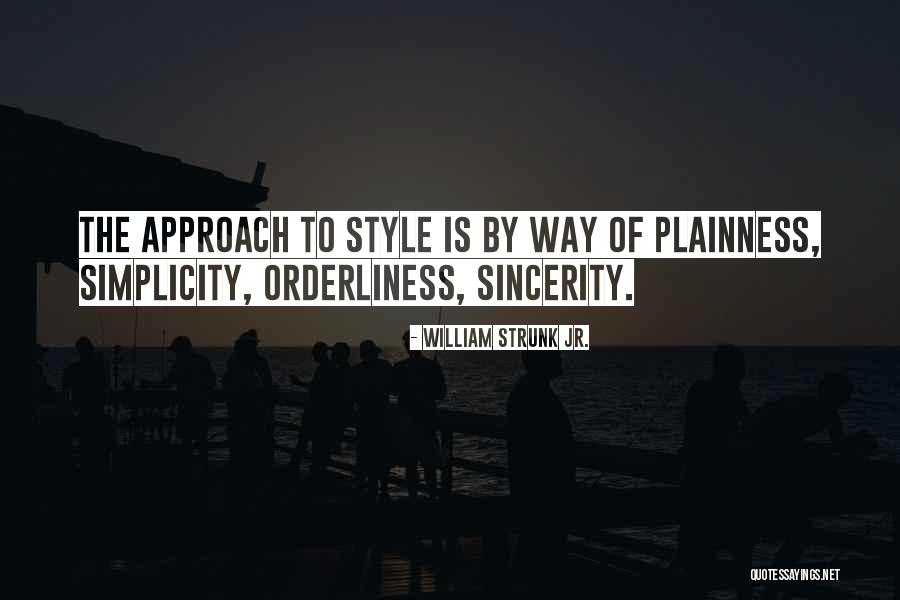 The approach to style is by way of plainness, simplicity, orderliness, sincerity. — William Strunk Jr.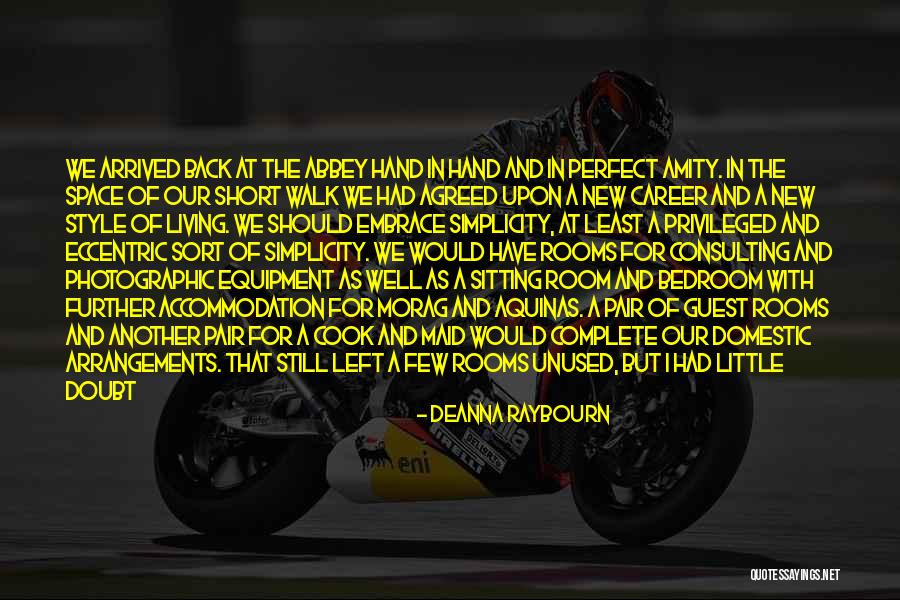 We arrived back at the Abbey hand in hand and in perfect amity. In the space of our short walk we had agreed upon a new career and a new style of living. We should embrace simplicity, at least a privileged and eccentric sort of simplicity. We would have rooms for consulting and photographic equipment as well as a sitting room and bedroom with further accommodation for Morag and Aquinas. A pair of guest rooms and another pair for a cook and maid would complete our domestic arrangements. That still left a few rooms unused, but I had little doubt we would eventually put them to good purpose. As to the work Brisbane proposed, I felt a thrill at the prospect of taking on such important and clandestine activities. There was much yet to be discussed, but I felt the new year had dawned full of expectant promise, and already it was being fulfilled. — Deanna Raybourn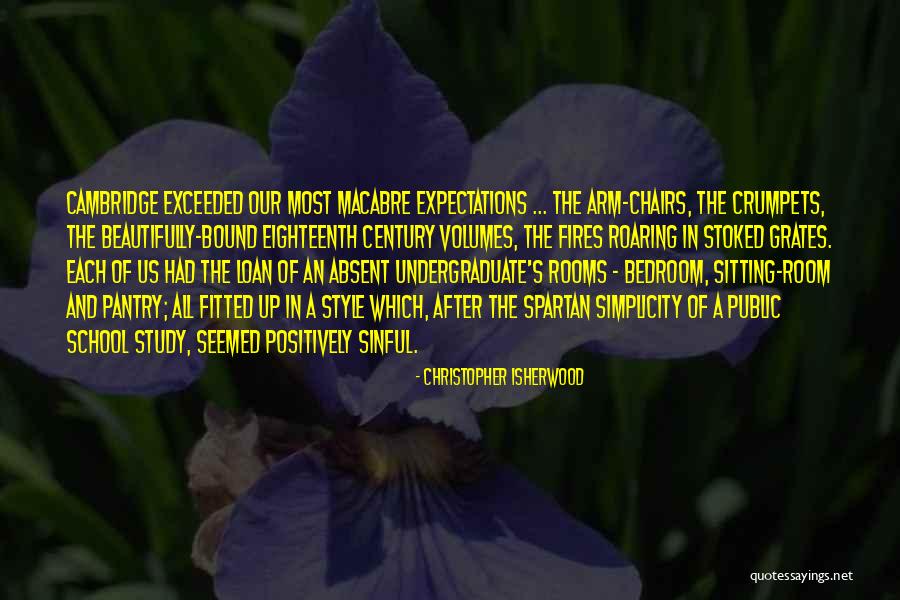 Cambridge exceeded our most macabre expectations ... the arm-chairs, the crumpets, the beautifully-bound eighteenth century volumes, the fires roaring in stoked grates. Each of us had the loan of an absent undergraduate's rooms - bedroom, sitting-room and pantry; all fitted up in a style which, after the spartan simplicity of a public school study, seemed positively sinful. — Christopher Isherwood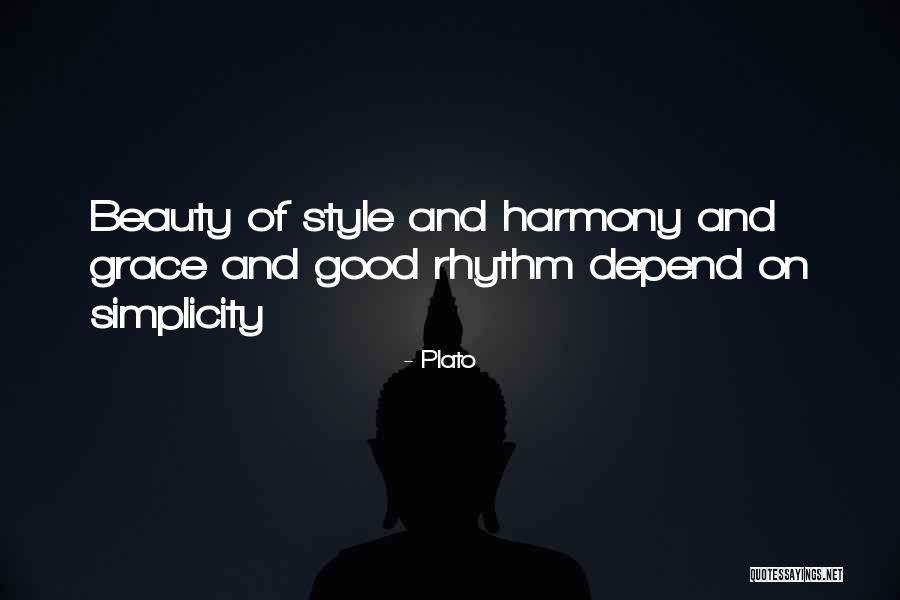 Beauty of style and harmony and grace and good rhythm depend on simplicity — Plato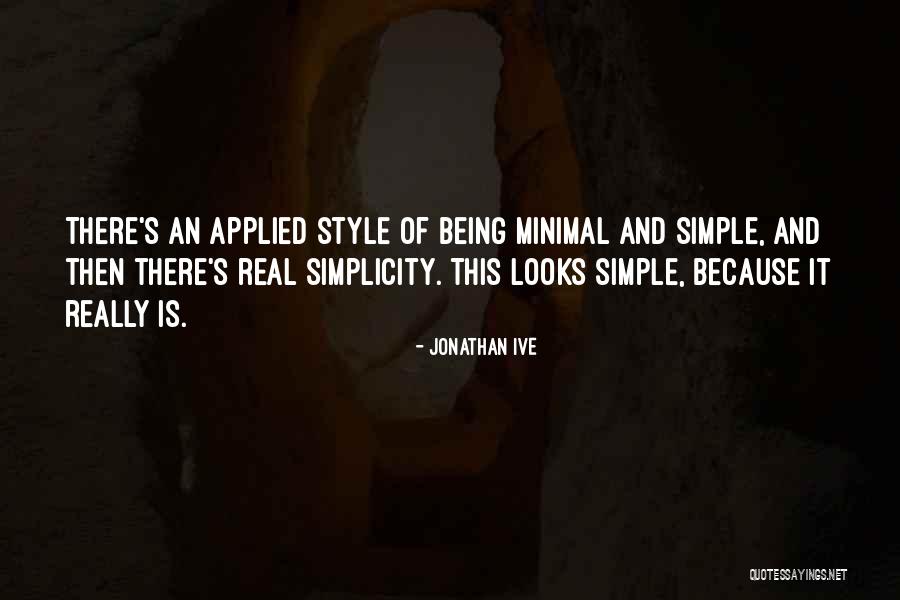 There's an applied style of being minimal and simple, and then there's real simplicity. This looks simple, because it really is. — Jonathan Ive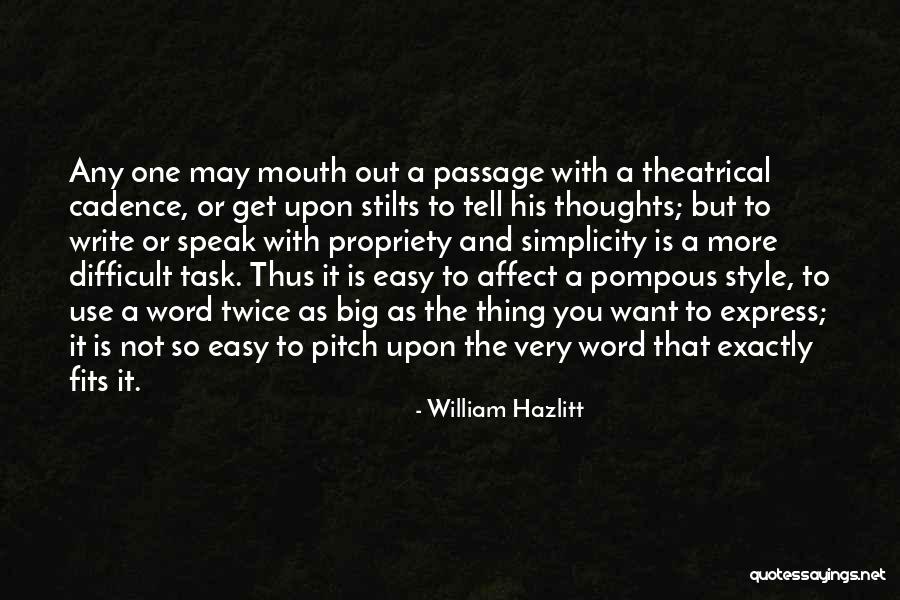 Any one may mouth out a passage with a theatrical cadence, or get upon stilts to tell his thoughts; but to write or speak with propriety and simplicity is a more difficult task. Thus it is easy to affect a pompous style, to use a word twice as big as the thing you want to express; it is not so easy to pitch upon the very word that exactly fits it. — William Hazlitt