Stop Yelling Quotes & Sayings
Enjoy reading and share 31 famous quotes about Stop Yelling with everyone.
Top Stop Yelling Quotes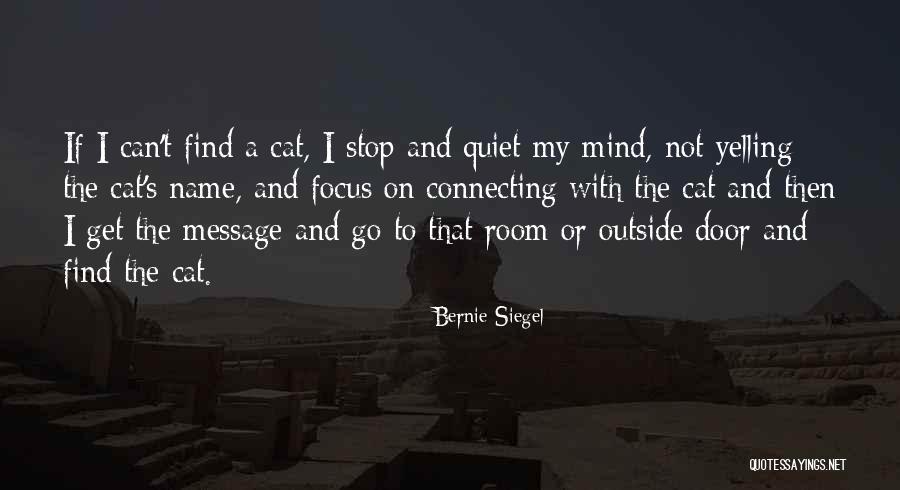 If I can't find a cat, I stop and quiet my mind, not yelling the cat's name, and focus on connecting with the cat and then I get the message and go to that room or outside door and find the cat. — Bernie Siegel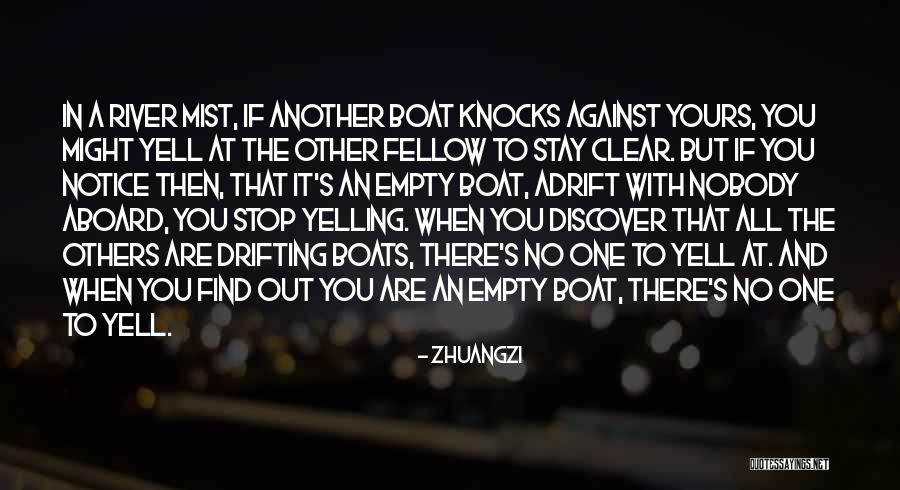 In a river mist, if another boat knocks against yours, you might yell at the other fellow to stay clear. But if you notice then, that it's an empty boat, adrift with nobody aboard, you stop yelling. When you discover that all the others are drifting boats, there's no one to yell at. And when you find out you are an empty boat, there's no one to yell. — Zhuangzi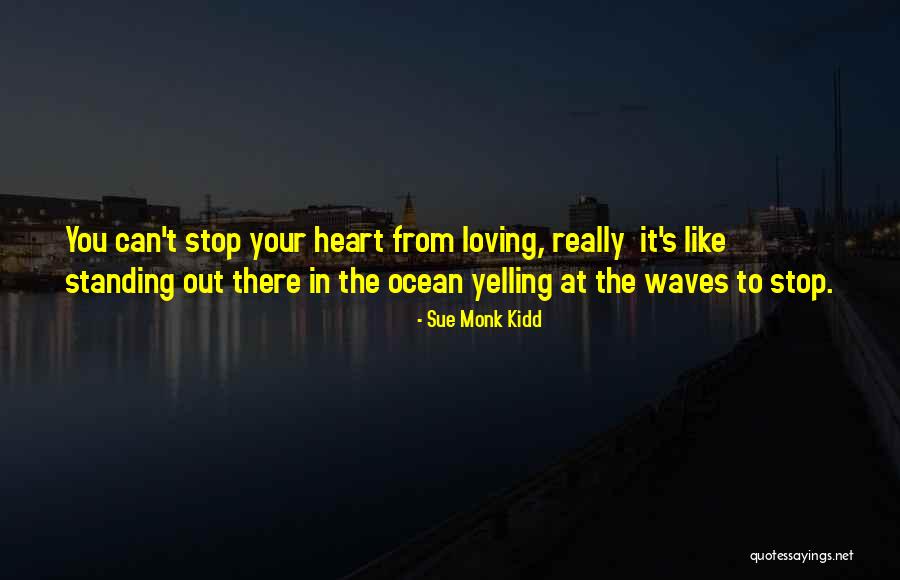 You can't stop your heart from loving, really
it's like standing out there in the ocean yelling at the waves to stop. — Sue Monk Kidd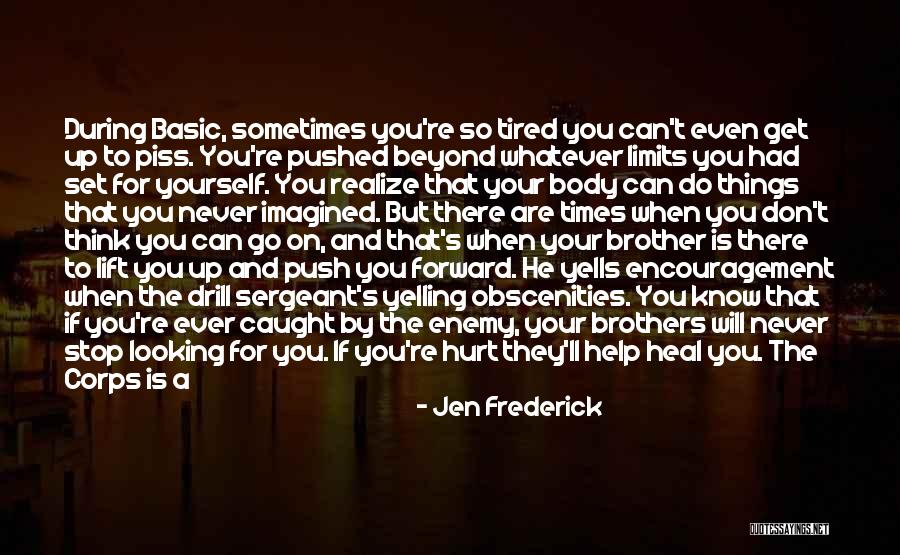 During Basic, sometimes you're so tired you can't even get up to piss. You're pushed beyond whatever limits you had set for yourself. You realize that your body can do things that you never imagined. But there are times when you don't think you can go on, and that's when your brother is there to lift you up and push you forward. He yells encouragement when the drill sergeant's yelling obscenities. You know that if you're ever caught by the enemy, your brothers will never stop looking for you. If you're hurt they'll help heal you. The Corps is a unit of many, not one, but dozens, thousands even, who have your back. You can smite one Marine, but a thousand will rose up to avenge him. — Jen Frederick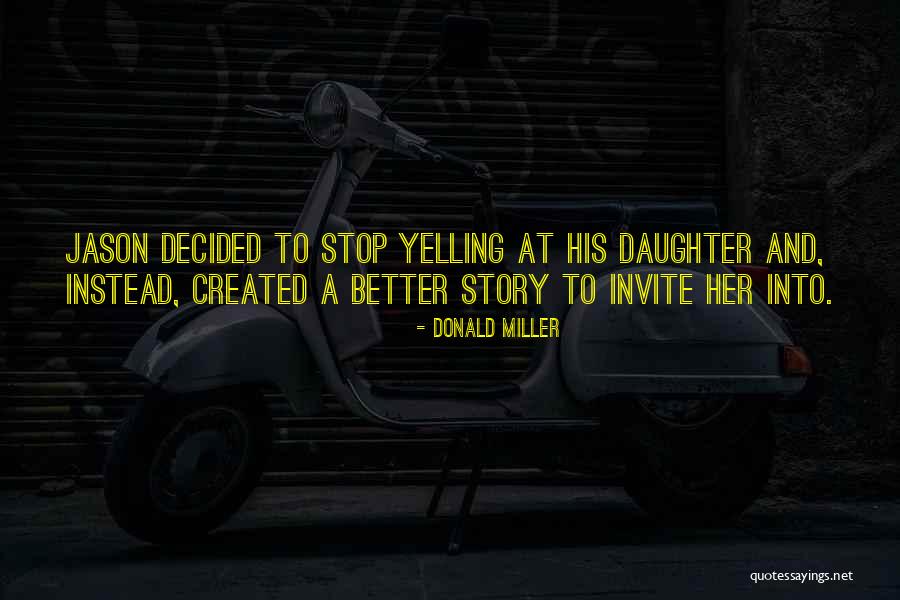 Jason decided to stop yelling at his daughter and, instead, created a better story to invite her into. — Donald Miller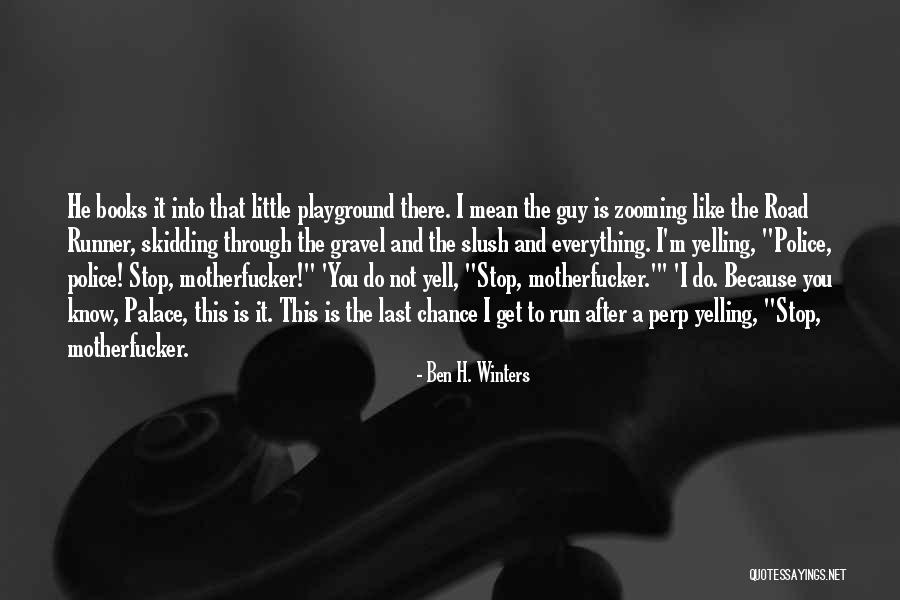 He books it into that little playground there. I mean the guy is zooming like the Road Runner, skidding through the gravel and the slush and everything. I'm yelling, "Police, police! Stop, motherfucker!"

'You do not yell, "Stop, motherfucker."'

'I do. Because you know, Palace, this is it. This is the last chance I get to run after a perp yelling, "Stop, motherfucker. — Ben H. Winters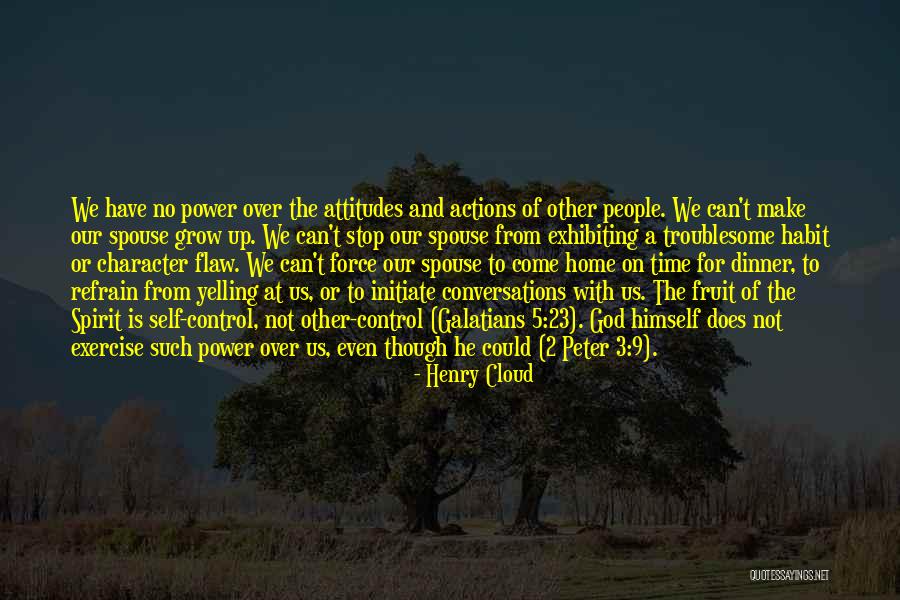 We have no power over the attitudes and actions of other people. We can't make our spouse grow up. We can't stop our spouse from exhibiting a troublesome habit or character flaw. We can't force our spouse to come home on time for dinner, to refrain from yelling at us, or to initiate conversations with us. The fruit of the Spirit is self-control, not other-control (Galatians 5:23). God himself does not exercise such power over us, even though he could (2 Peter 3:9). — Henry Cloud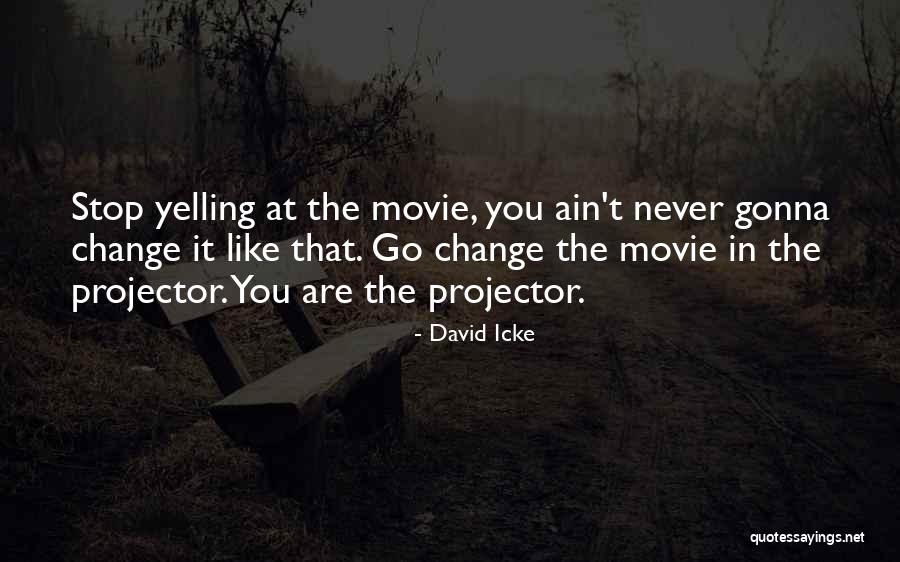 Stop yelling at the movie, you ain't never gonna change it like that. Go change the movie in the projector. You are the projector. — David Icke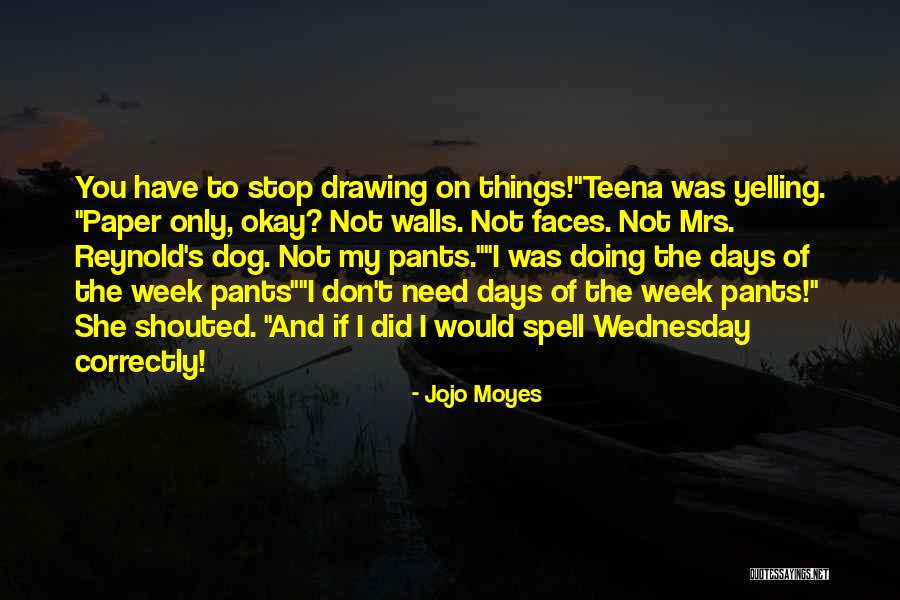 You have to stop drawing on things!"Teena was yelling. "Paper only, okay? Not walls. Not faces. Not Mrs. Reynold's dog. Not my pants."
"I was doing the days of the week pants"
"I don't need days of the week pants!" She shouted. "And if I did I would spell Wednesday correctly! — Jojo Moyes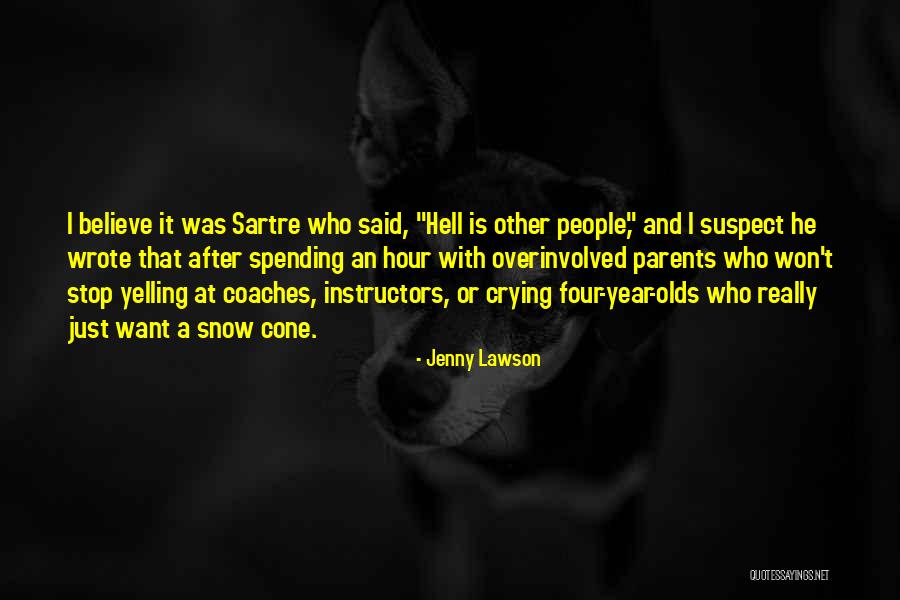 I believe it was Sartre who said, "Hell is other people," and I suspect he wrote that after spending an hour with overinvolved parents who won't stop yelling at coaches, instructors, or crying four-year-olds who really just want a snow cone. — Jenny Lawson
You'll get through this. You fear you won't. We all do. We fear that the depression will never lift, the yelling will never stop, the pain will never leave. Here in the pits, surrounded by steep walls and angry brothers, we wonder, Will this gray sky ever brighten? This load ever lighten? We feel stuck, trapped, locked in. Predestined for failure. Will we ever exit this pit? — Max Lucado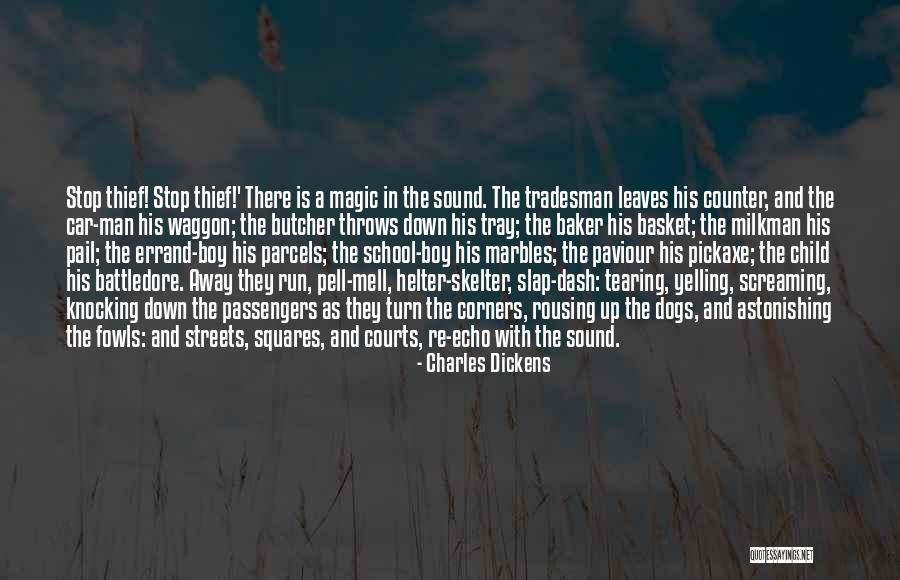 Stop thief! Stop thief!' There is a magic in the sound. The tradesman leaves his counter, and the car-man his waggon; the butcher throws down his tray; the baker his basket; the milkman his pail; the errand-boy his parcels; the school-boy his marbles; the paviour his pickaxe; the child his battledore. Away they run, pell-mell, helter-skelter, slap-dash: tearing, yelling, screaming, knocking down the passengers as they turn the corners, rousing up the dogs, and astonishing the fowls: and streets, squares, and courts, re-echo with the sound. — Charles Dickens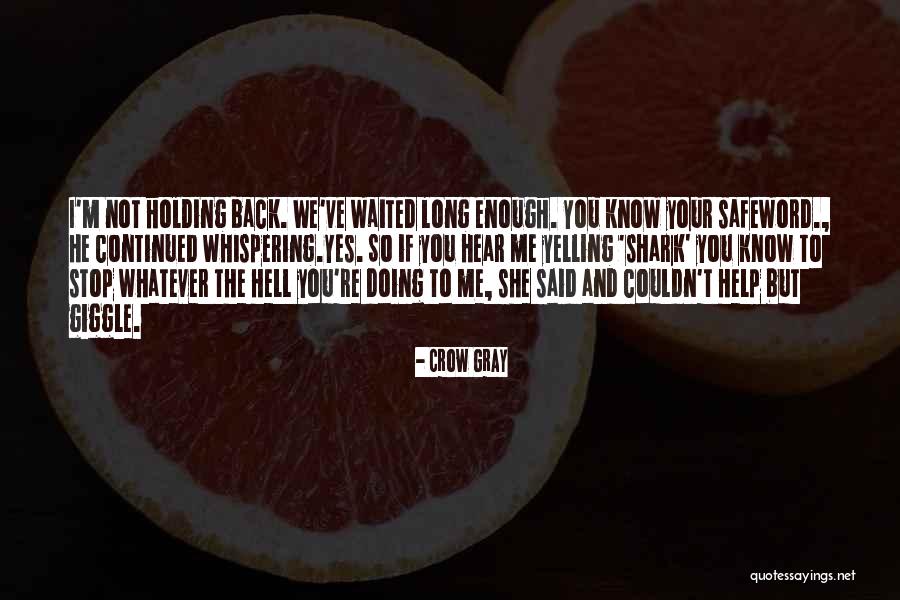 I'm not holding back. We've waited long enough. You know your safeword., he continued whispering.

Yes. So if you hear me yelling 'shark' you know to stop whatever the hell you're doing to me, she said and couldn't help but giggle. — Crow Gray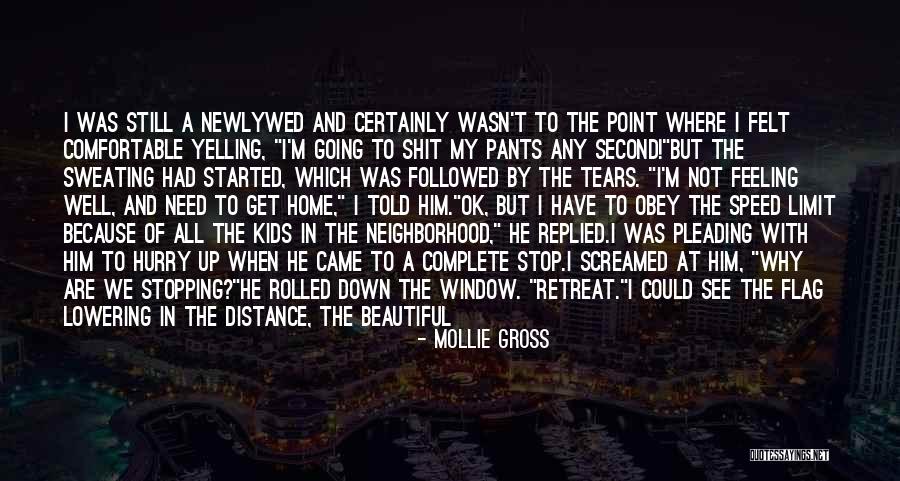 I was still a newlywed and certainly wasn't to the point where I felt comfortable yelling, "I'm going to shit my pants any second!"
But the sweating had started, which was followed by the tears. "I'm not feeling well, and need to get home," I told him.
"Ok, but I have to obey the speed limit because of all the kids in the neighborhood," he replied.
I was pleading with him to hurry up when he came to a complete stop.
I screamed at him, "Why are we stopping?"
He rolled down the window. "Retreat."
I could see the flag lowering in the distance, the beautiful orange sun setting behind it.
In the opposite direction I could see the roof line of our home - so close, yet so far away.
As Retreat played, I surrendered. I pooped my pants. I took one for the flag.
Now that's patriotism. — Mollie Gross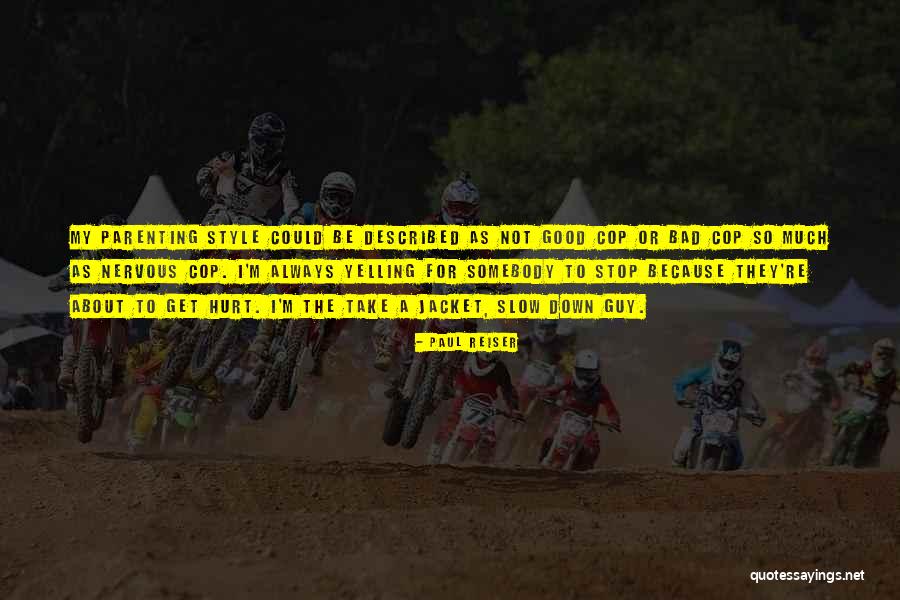 My parenting style could be described as not good cop or bad cop so much as nervous cop. I'm always yelling for somebody to stop because they're about to get hurt. I'm the take a jacket, slow down guy. — Paul Reiser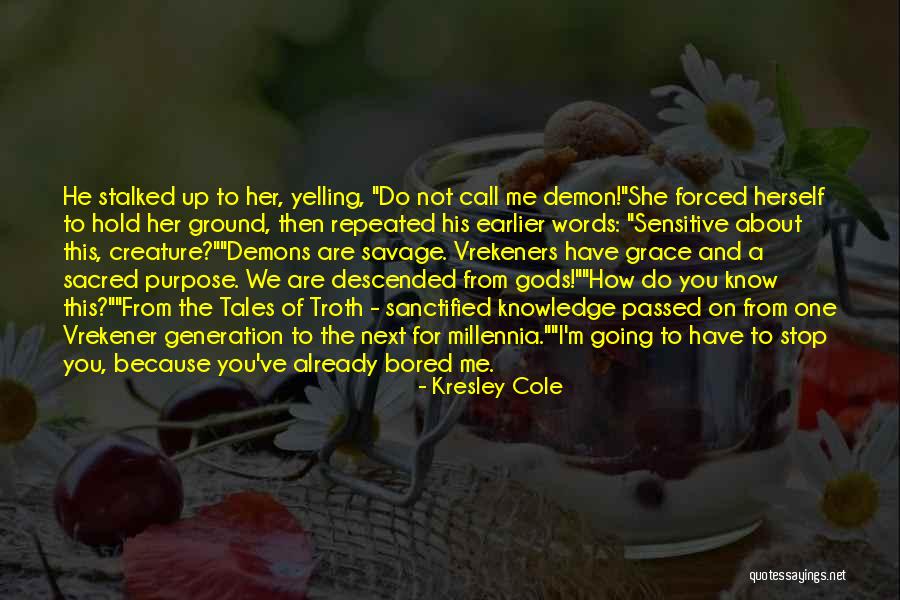 He stalked up to her, yelling, "Do not call me demon!"
She forced herself to hold her ground, then repeated his earlier words: "Sensitive about this, creature?"
"Demons are savage. Vrekeners have grace and a sacred purpose. We are descended from gods!"
"How do you know this?"
"From the Tales of Troth - sanctified knowledge passed on from one Vrekener generation to the next for millennia."
"I'm going to have to stop you, because you've already bored me. — Kresley Cole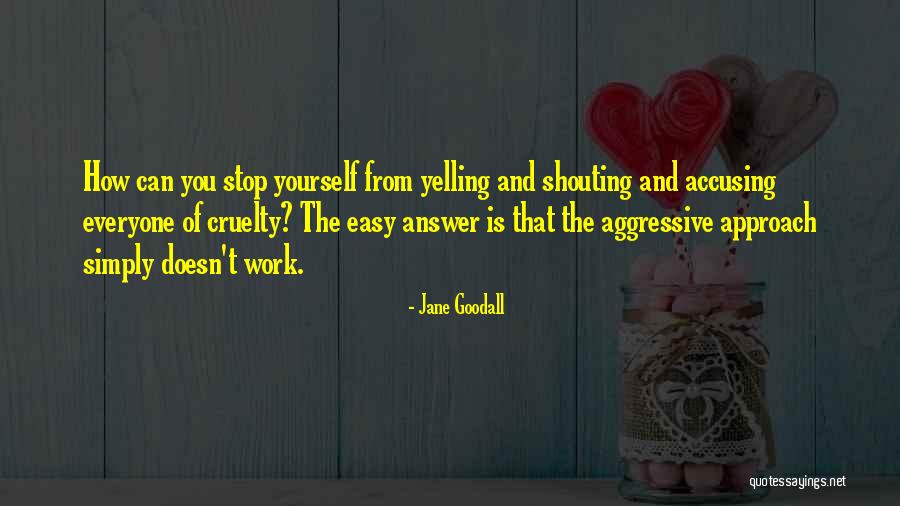 How can you stop yourself from yelling and shouting and accusing everyone of cruelty? The easy answer is that the aggressive approach simply doesn't work. — Jane Goodall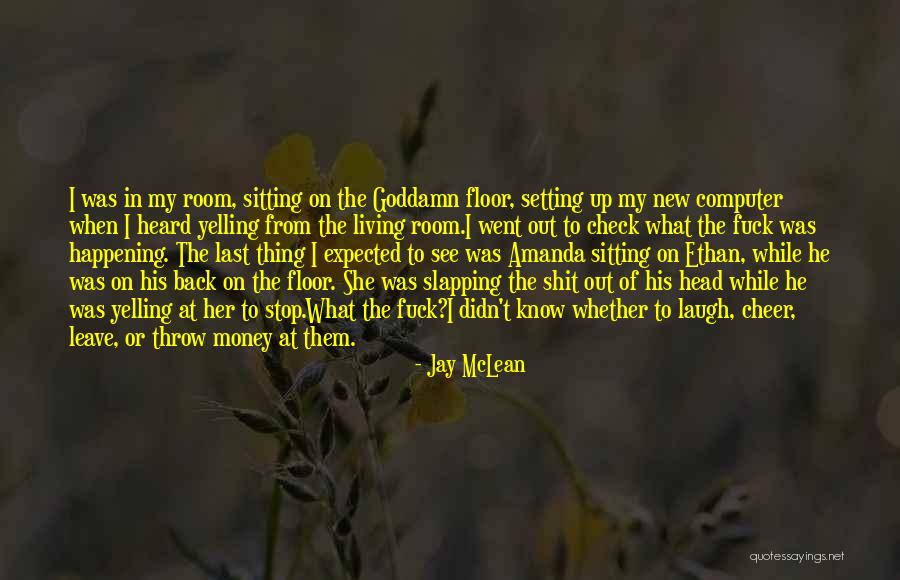 I was in my room, sitting on the Goddamn floor, setting up my new computer when I heard yelling from the living room.
I went out to check what the fuck was happening. The last thing I expected to see was Amanda sitting on Ethan, while he was on his back on the floor. She was slapping the shit out of his head while he was yelling at her to stop.
What the fuck?
I didn't know whether to laugh, cheer, leave, or throw money at them. — Jay McLean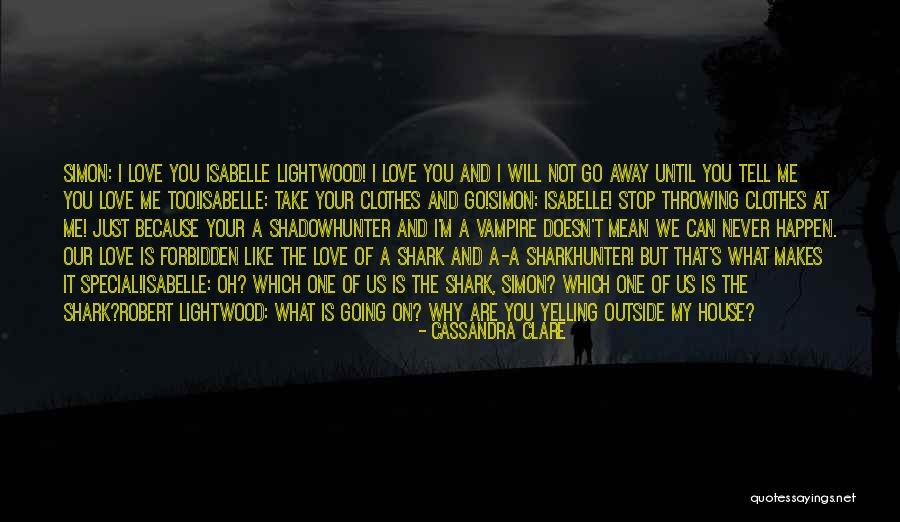 Simon: I love you Isabelle Lightwood! I love you and I will not go away until you tell me you love me too!
Isabelle: Take your clothes and go!
Simon: Isabelle! Stop throwing clothes at me! Just because your a Shadowhunter and I'm a vampire doesn't mean we can never happen. Our love is forbidden like the love of a shark and a-a sharkhunter! But that's what makes it special!
Isabelle: Oh? Which one of us is the shark, Simon? Which one of us is the shark?
Robert Lightwood: What is going on? Why are you yelling outside my house? — Cassandra Clare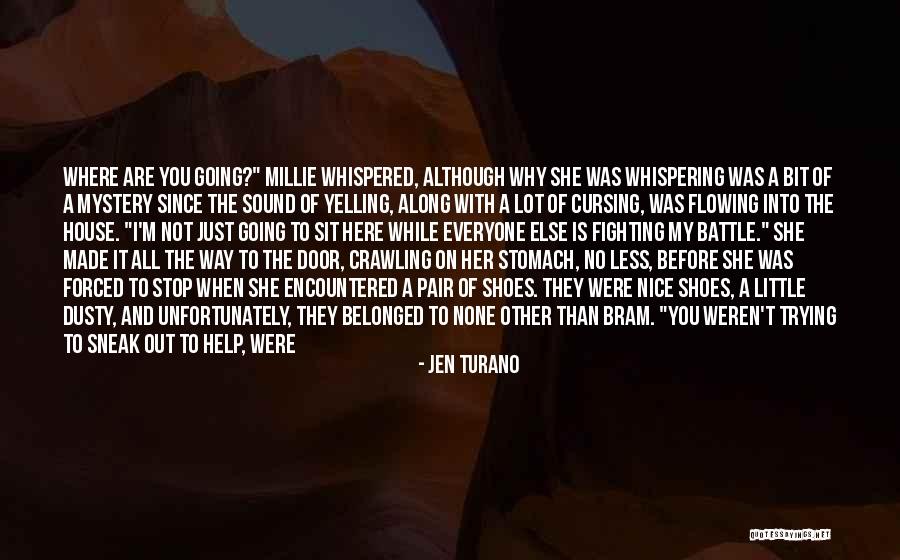 Where are you going?" Millie whispered, although why she was whispering was a bit of a mystery since the sound of yelling, along with a lot of cursing, was flowing into the house. "I'm not just going to sit here while everyone else is fighting my battle." She made it all the way to the door, crawling on her stomach, no less, before she was forced to stop when she encountered a pair of shoes. They were nice shoes, a little dusty, and unfortunately, they belonged to none other than Bram. "You weren't trying to sneak out to help, were you?" he asked, squatting down next to her. "I might have been." "There's no need. Silas has been secured." Lucetta frowned. "He came down here on his own?" Holding out a hand, Bram helped her to her feet before he smiled. "Apparently, yes. I imagine those women he hired weren't too keen to travel the country with him. Aiding and abetting men on the run usually results in a stint behind bars, and they must have decided he wasn't worth that." "I — Jen Turano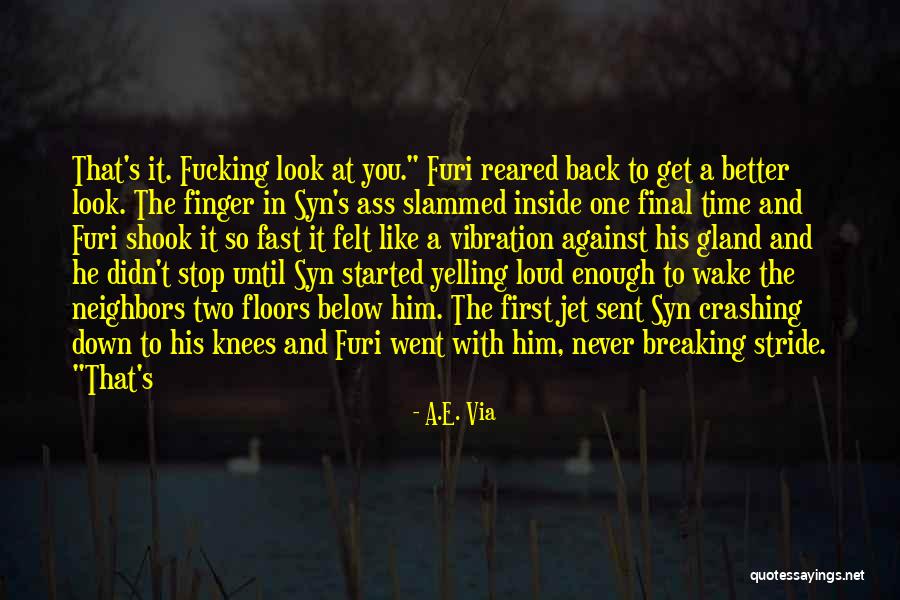 That's it. Fucking look at you." Furi reared back to get a better look. The finger in Syn's ass slammed inside one final time and Furi shook it so fast it felt like a vibration against his gland and he didn't stop until Syn started yelling loud enough to wake the neighbors two floors below him. The first jet sent Syn crashing down to his knees and Furi went with him, never breaking stride. "That's — A.E. Via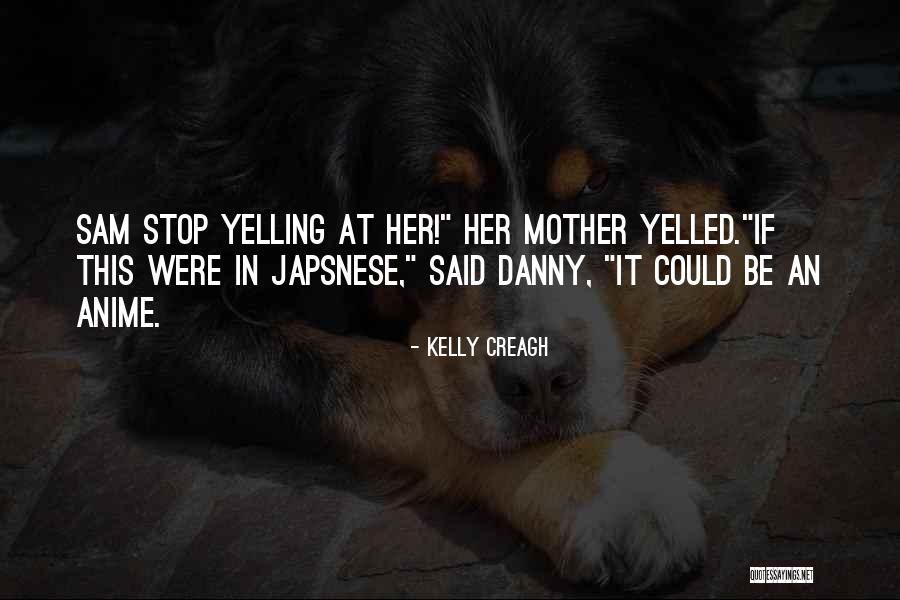 Sam stop yelling at her!" her mother yelled.
"If this were in Japsnese," said Danny, "it could be an anime. — Kelly Creagh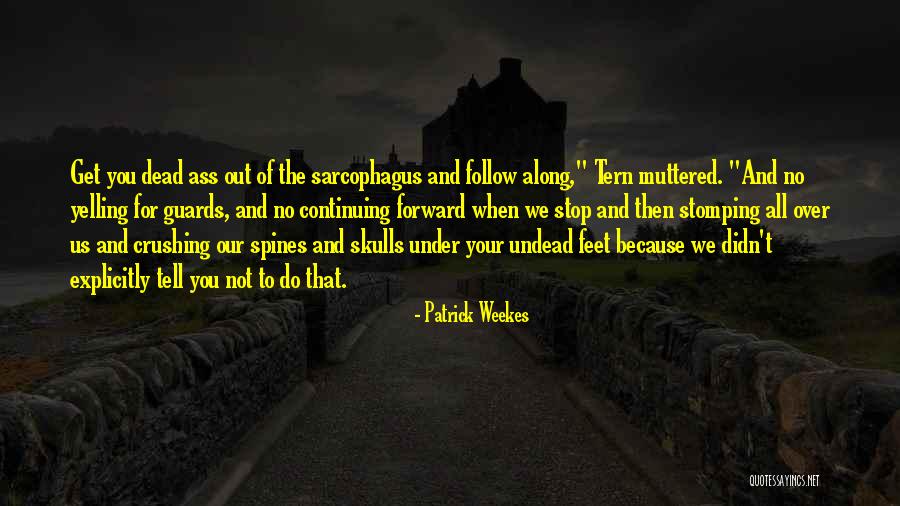 Get you dead ass out of the sarcophagus and follow along," Tern muttered. "And no yelling for guards, and no continuing forward when we stop and then stomping all over us and crushing our spines and skulls under your undead feet because we didn't explicitly tell you not to do that. — Patrick Weekes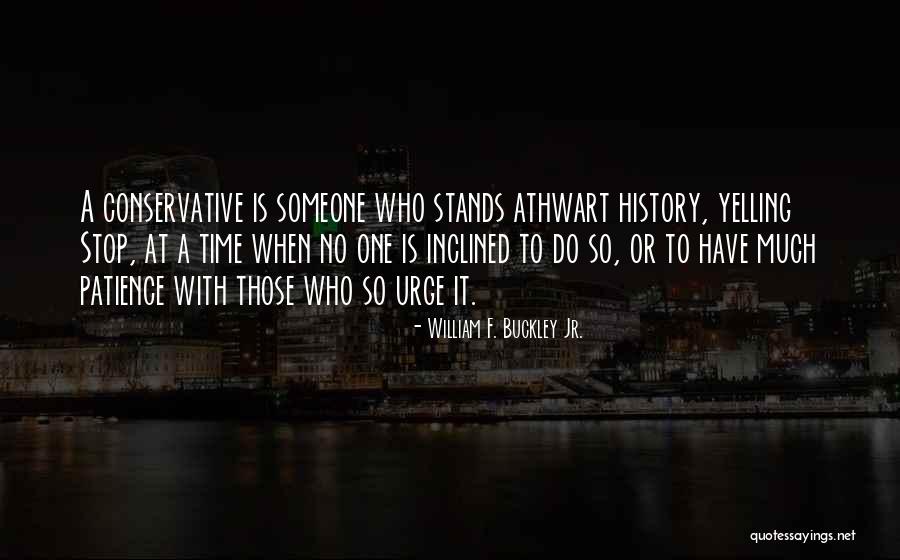 A conservative is someone who stands athwart history, yelling Stop, at a time when no one is inclined to do so, or to have much patience with those who so urge it. — William F. Buckley Jr.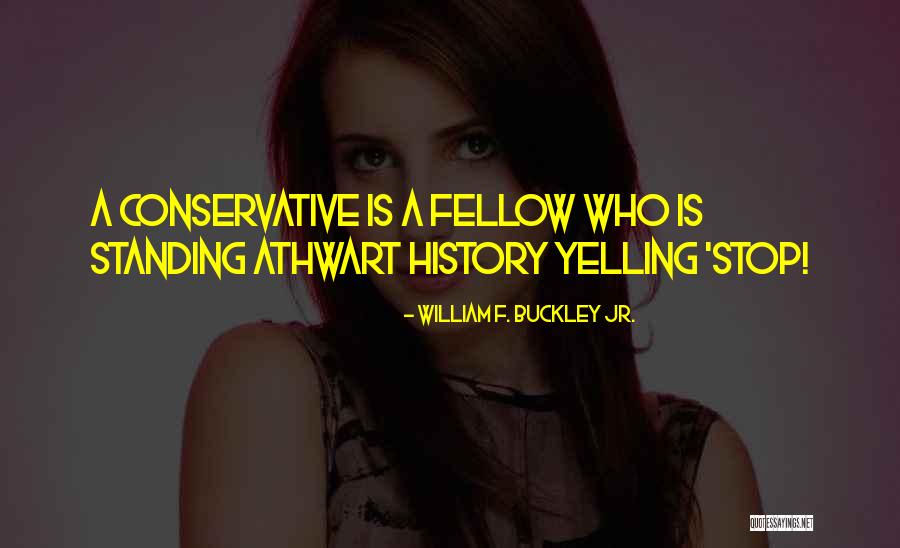 A Conservative is a fellow who is standing athwart history yelling 'Stop! — William F. Buckley Jr.
You know why my show is good? Because the network officials say you're not smart enough to get what I'm doing, and every day I fight for you. I tell them how smart you are. Turns out, I was wrong. You people are stupid.
-responding to an idiot in the audience during a stand-up performance who would not stop yelling "I'm Rick James B***h". — Dave Chapelle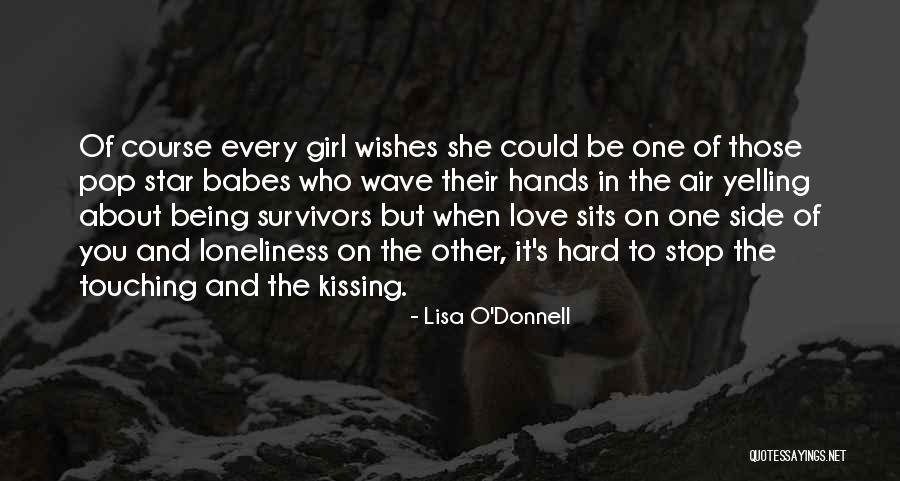 Of course every girl wishes she could be one of those pop star babes who wave their hands in the air yelling about being survivors but when love sits on one side of you and loneliness on the other, it's hard to stop the touching and the kissing. — Lisa O'Donnell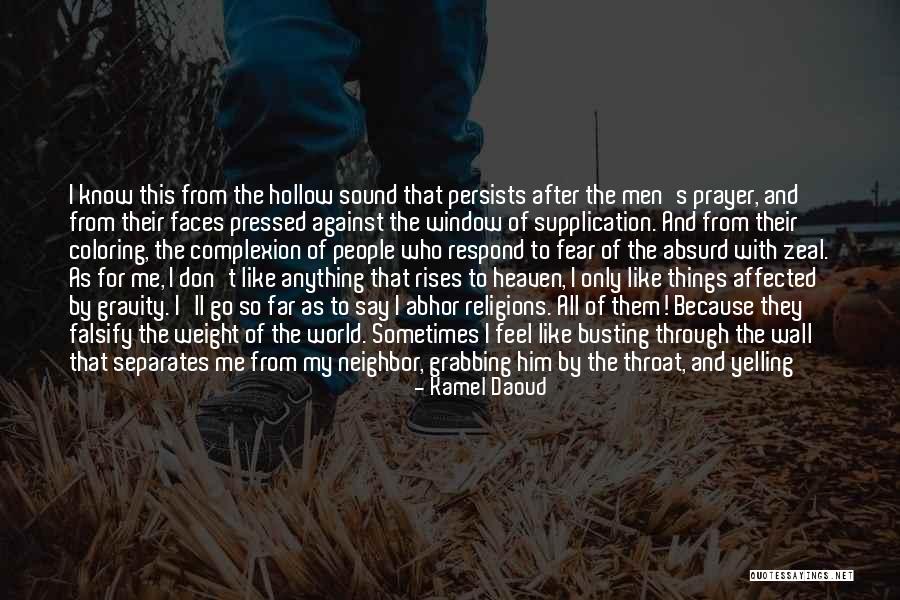 I know this from the hollow sound that persists after the men's prayer, and from their faces pressed against the window of supplication. And from their coloring, the complexion of people who respond to fear of the absurd with zeal. As for me, I don't like anything that rises to heaven, I only like things affected by gravity. I'll go so far as to say I abhor religions. All of them! Because they falsify the weight of the world. Sometimes I feel like busting through the wall that separates me from my neighbor, grabbing him by the throat, and yelling at him to quit reciting his sniveling prayers, accept the world, open his eyes to his own strength, his own dignity, and stop running after a father who has absconded to heaven and is never coming back. Have a look at that group passing by, over there. Notice the little girl with the veil on her head, even though she's not old enough to know what a body is, or what desire is. What can you do with such people? Eh? — Kamel Daoud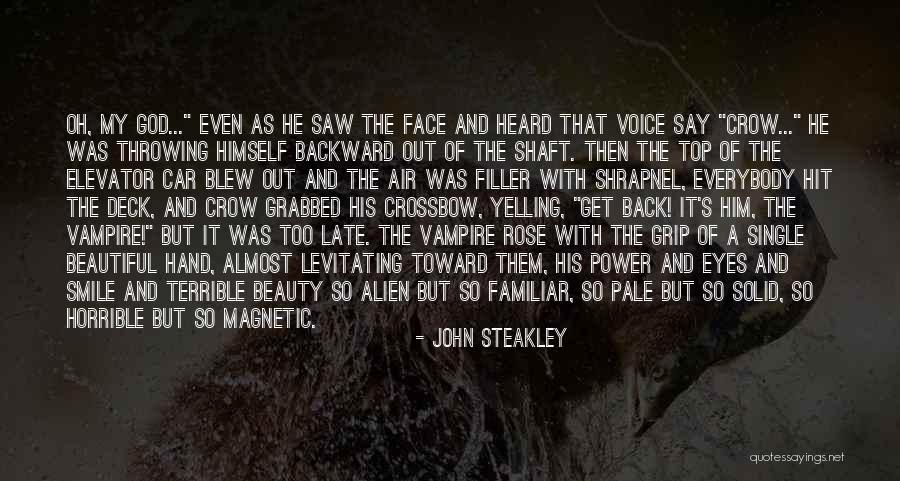 Oh, My God..." Even as he saw the face and heard that voice say "Crow..." he was throwing himself backward out of the shaft. Then the top of the elevator car blew out and the air was filler with shrapnel, everybody hit the deck, and crow grabbed his crossbow, yelling, "Get back! It's him, the vampire!" But it was too late. The vampire rose with the grip of a single beautiful hand, almost levitating toward them, his power and eyes and smile and terrible beauty so alien but so familiar, so pale but so solid, so horrible but so magnetic. And he came closer and closer. "Get back," ordered crow, and the Team started to obey. "Too late," the vampire said, halting them with the voice. "You've let me get too close." Crow raised his crossbow all the way then saied: "Hold it there." The thing laughed and said, "Are you joking?" "Stop!" said Crow. And the vampire smiled and showed his big teeth and said: "Stop me... — John Steakley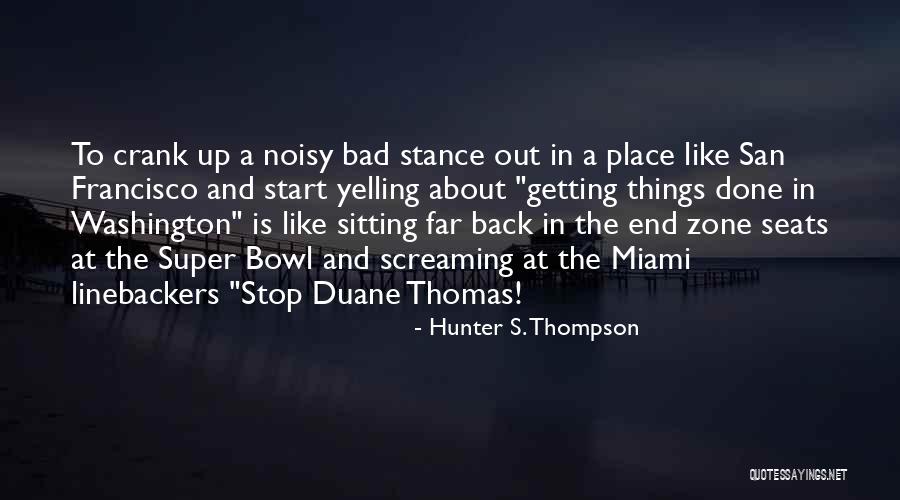 To crank up a noisy bad stance out in a place like San Francisco and start yelling about "getting things done in Washington" is like sitting far back in the end zone seats at the Super Bowl and screaming at the Miami linebackers "Stop Duane Thomas! — Hunter S. Thompson