Stop The Ugly Quotes & Sayings
Enjoy reading and share 48 famous quotes about Stop The Ugly with everyone.
Top Stop The Ugly Quotes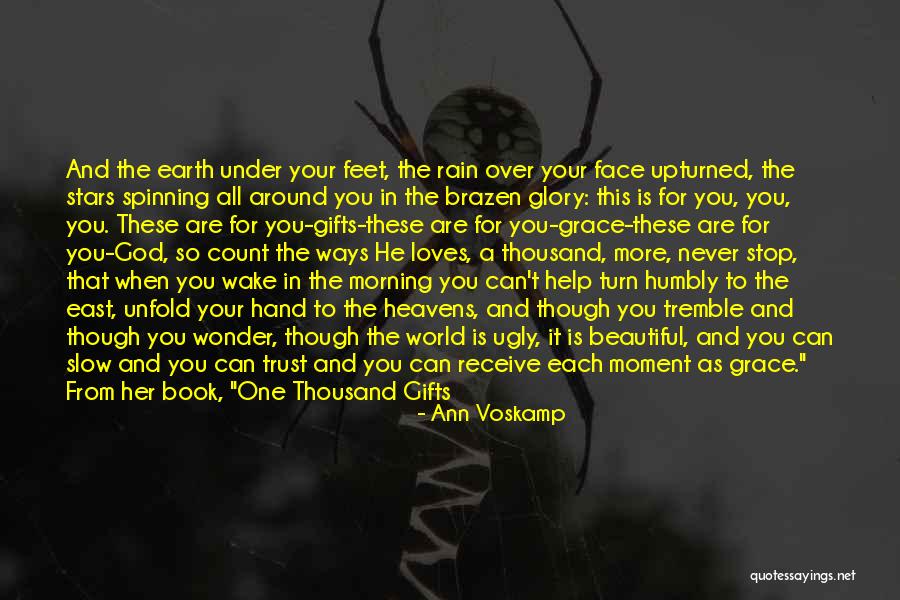 And the earth under your feet, the rain over your face upturned, the stars spinning all around you in the brazen glory: this is for you, you, you. These are for you-gifts-these are for you-grace-these are for you-God, so count the ways He loves, a thousand, more, never stop, that when you wake in the morning you can't help turn humbly to the east, unfold your hand to the heavens, and though you tremble and though you wonder, though the world is ugly, it is beautiful, and you can slow and you can trust and you can receive each moment as grace." From her book, "One Thousand Gifts — Ann Voskamp
God, but life is loneliness, despite all the opiates, despite the shrill tinsel gaiety of "parties" with no purpose, despite the false grinning faces we all wear. And when at last you find someone to whom you feel you can pour out your soul, you stop in shock at the words you utter - they are so rusty, so ugly, so meaningless and feeble from being kept in the small cramped dark inside you so long. Yes, there is joy, fulfillment and companionship - but the loneliness of the soul in its appalling self-consciousness is horrible and overpowering. — Sylvia Plath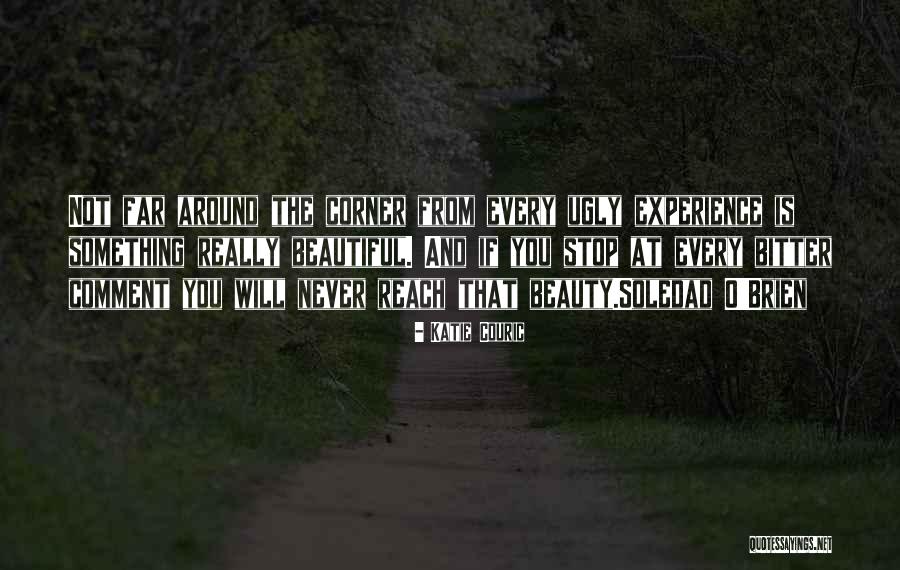 Not far around the corner from every ugly experience is something really beautiful. And if you stop at every bitter comment you will never reach that beauty.
Soledad O'Brien — Katie Couric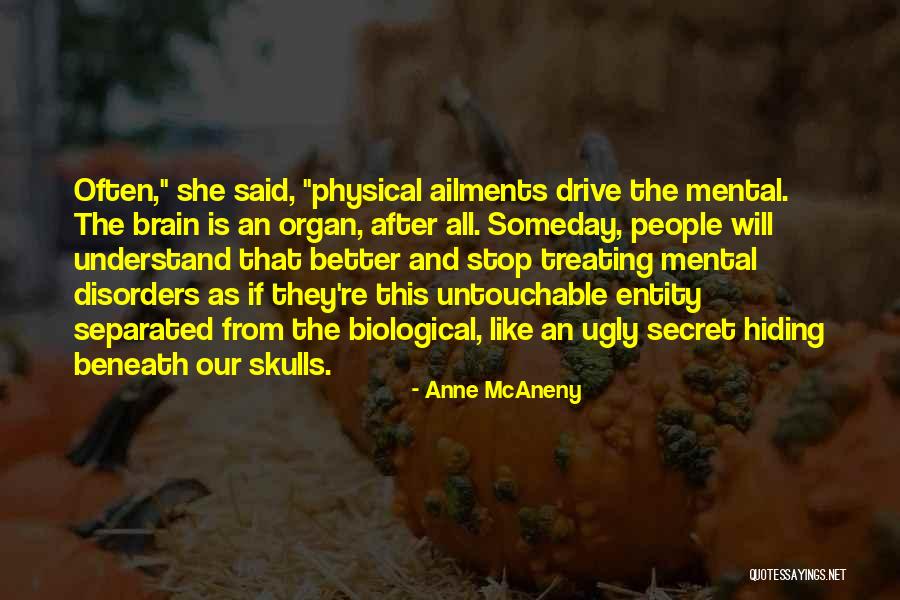 Often," she said, "physical ailments drive the mental. The brain is an organ, after all. Someday, people will understand that better and stop treating mental disorders as if they're this untouchable entity separated from the biological, like an ugly secret hiding beneath our skulls. — Anne McAneny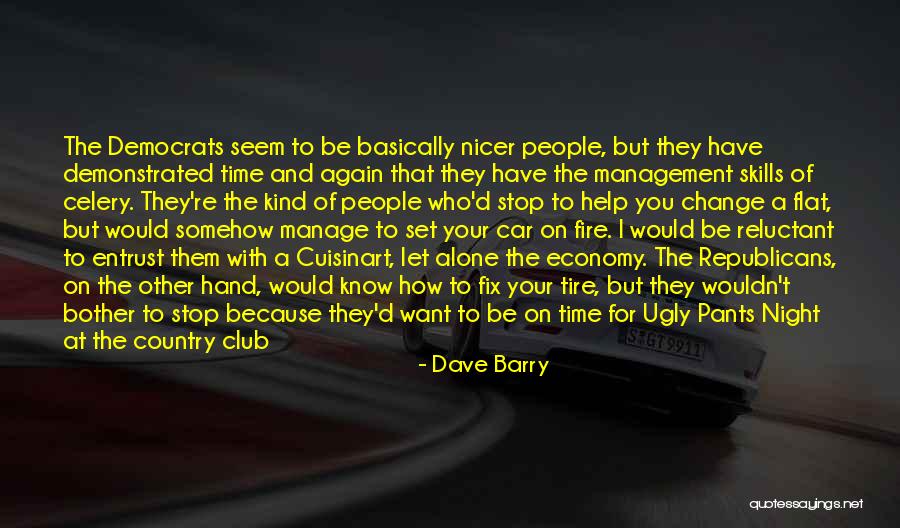 The Democrats seem to be basically nicer people, but they have demonstrated time and again that they have the management skills of celery. They're the kind of people who'd stop to help you change a flat, but would somehow manage to set your car on fire. I would be reluctant to entrust them with a Cuisinart, let alone the economy. The Republicans, on the other hand, would know how to fix your tire, but they wouldn't bother to stop because they'd want to be on time for Ugly Pants Night at the country club — Dave Barry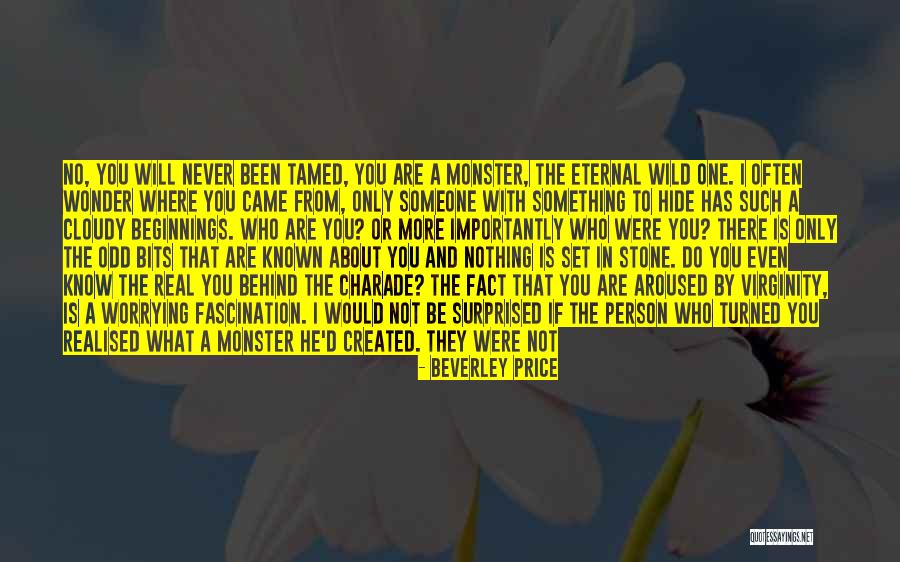 No, you will never been tamed, you are a monster, the eternal wild one. I often wonder where you came from, only someone with something to hide has such a cloudy beginnings. Who are you? Or more importantly who were you? There is only the odd bits that are known about you and nothing is set in stone. Do you even know the real you behind the charade? The fact that you are aroused by virginity, is a worrying fascination. I would not be surprised if the person who turned you realised what a monster he'd created. They were not called Frankenstein by any chance? Maybe you are a creature of many parts? Did you destroy your creator as well in a fit of rage? Is that why your are always looking for your virgin bride? Only you take beautiful swans and turn them into ugly ducklings. You will never return to that life that you give up. Stop trying to recreate them. — Beverley Price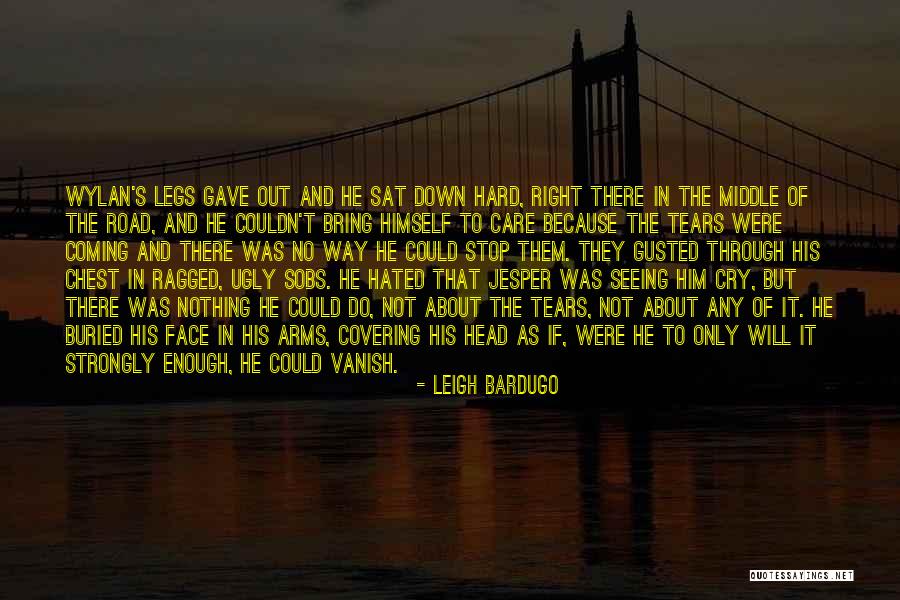 Wylan's legs gave out and he sat down hard, right there in the middle of the road, and he couldn't bring himself to care because the tears were coming and there was no way he could stop them. They gusted through his chest in ragged, ugly sobs. He hated that Jesper was seeing him cry, but there was nothing he could do, not about the tears, not about any of it. He buried his face in his arms, covering his head as if, were he to only will it strongly enough, he could vanish. — Leigh Bardugo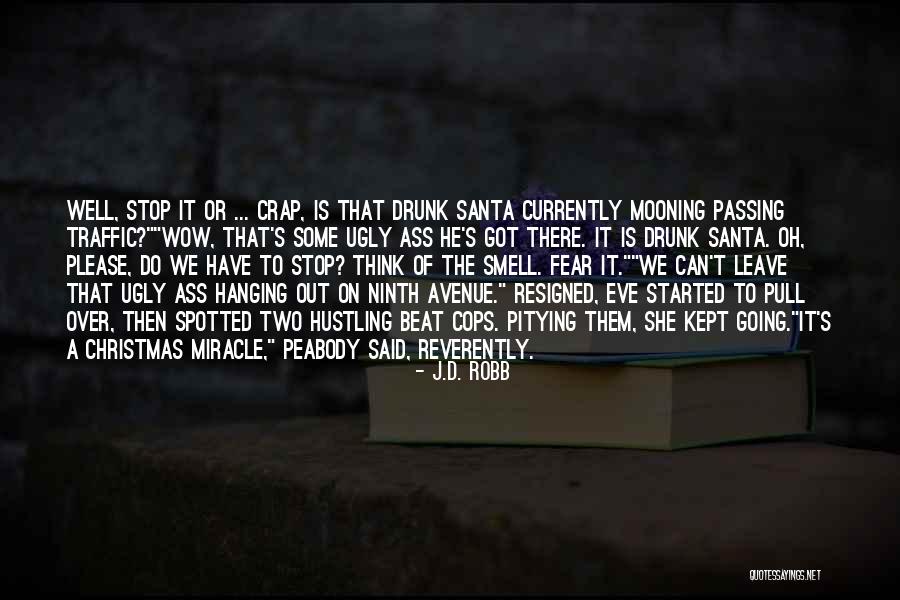 Well, stop it or ... Crap, is that Drunk Santa currently mooning passing traffic?"
"Wow, that's some ugly ass he's got there. It is Drunk Santa. Oh, please, do we have to stop? Think of the smell. Fear it."
"We can't leave that ugly ass hanging out on Ninth Avenue." Resigned, Eve started to pull over, then spotted two hustling beat cops. Pitying them, she kept going.
"It's a Christmas miracle," Peabody said, reverently. — J.D. Robb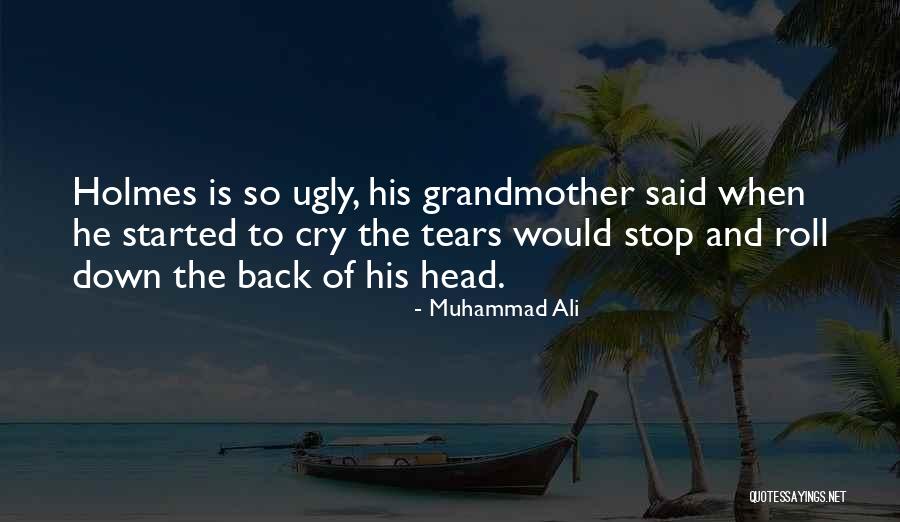 Holmes is so ugly, his grandmother said when he started to cry the tears would stop and roll down the back of his head. — Muhammad Ali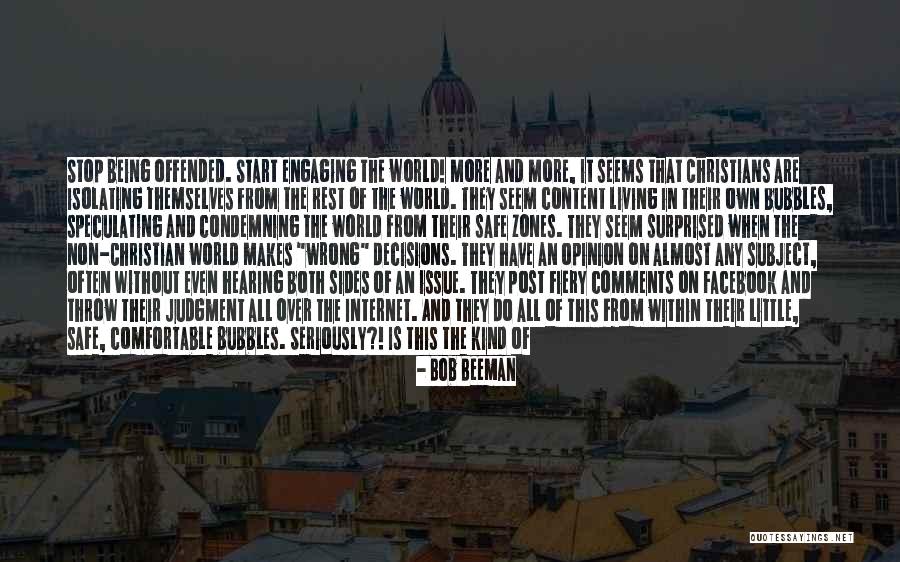 Stop being offended. Start engaging the world! More and more, it seems that Christians are isolating themselves from the rest of the world. They seem content living in their own bubbles, speculating and condemning the world from their safe zones. They seem surprised when the non-Christian world makes "wrong" decisions. They have an opinion on almost any subject, often without even hearing both sides of an issue. They post fiery comments on Facebook and throw their judgment all over the Internet. And they do all of this from within their little, safe, comfortable bubbles. Seriously?! Is this the kind of influence Jesus asked us to have in the world? You need to quit being offended! Instead, you must engage the world. The world doesn't need your judgment. It needs your love! It needs to see a real Christian living a real life. The good. The bad. The ugly! — Bob Beeman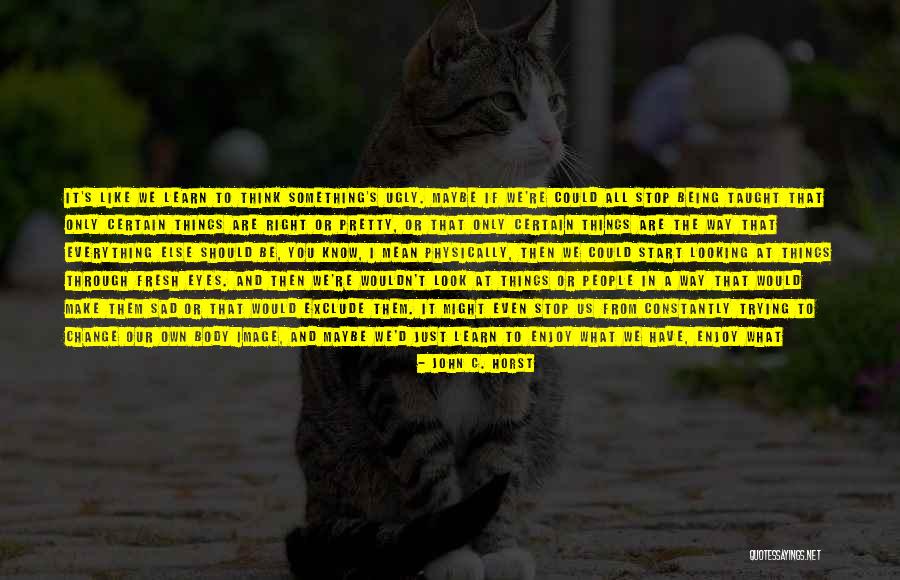 It's like we learn to think something's ugly. Maybe if we're could all stop being taught that only certain things are right or pretty, or that only certain things are the way that everything else should be, you know, I mean physically, then we could start looking at things through fresh eyes. And then we're wouldn't look at things or people in a way that would make them sad or that would exclude them. It might even stop us from constantly trying to change our own body image, and maybe we'd just learn to enjoy what we have, enjoy what great gifts we've been given and revel in them instead of wishing they'd be different. — John C. Horst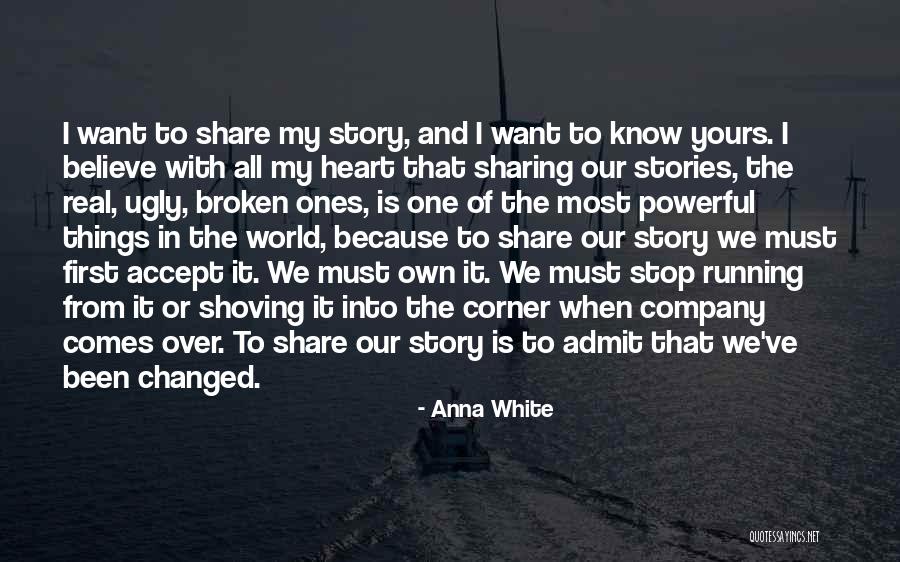 I want to share my story, and I want to know yours. I believe with all my heart that sharing our stories, the real, ugly, broken ones, is one of the most powerful things in the world, because to share our story we must first accept it. We must own it. We must stop running from it or shoving it into the corner when company comes over. To share our story is to admit that we've been changed. — Anna White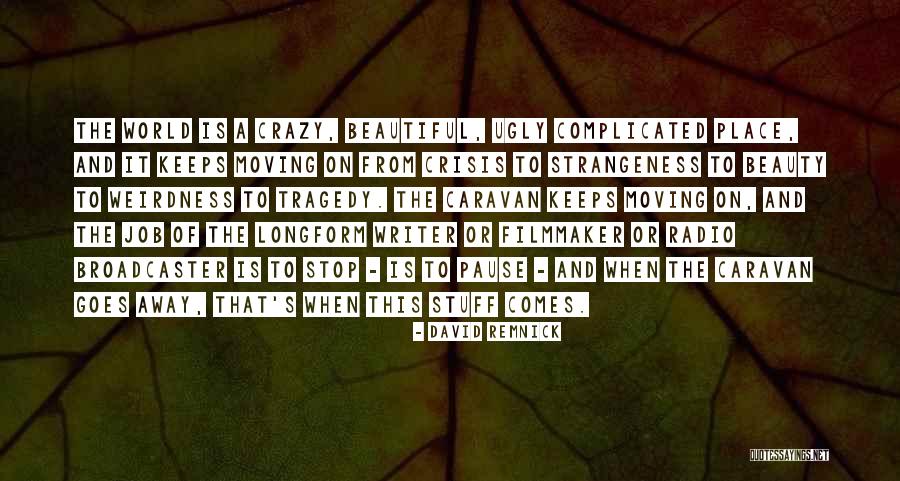 The world is a crazy, beautiful, ugly complicated place, and it keeps moving on from crisis to strangeness to beauty to weirdness to tragedy. The caravan keeps moving on, and the job of the longform writer or filmmaker or radio broadcaster is to stop - is to pause - and when the caravan goes away, that's when this stuff comes. — David Remnick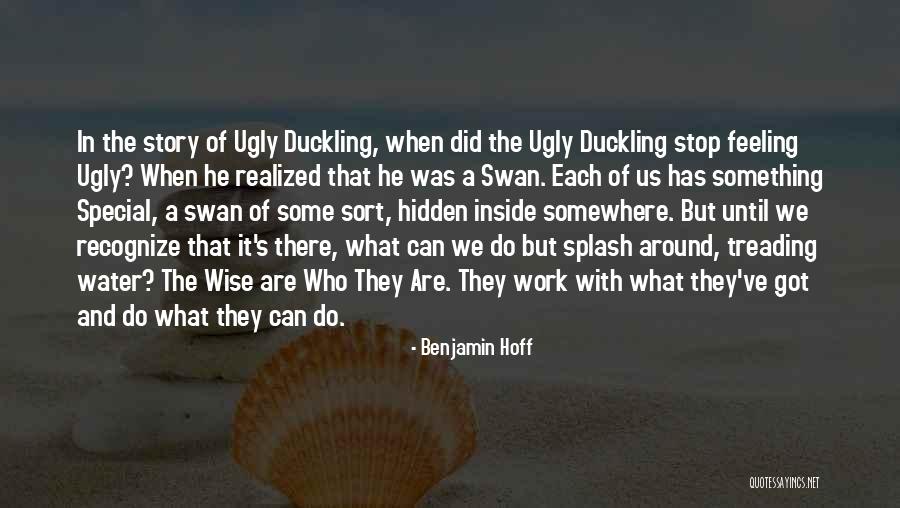 In the story of Ugly Duckling, when did the Ugly Duckling stop feeling Ugly? When he realized that he was a Swan. Each of us has something Special, a swan of some sort, hidden inside somewhere. But until we recognize that it's there, what can we do but splash around, treading water? The Wise are Who They Are. They work with what they've got and do what they can do. — Benjamin Hoff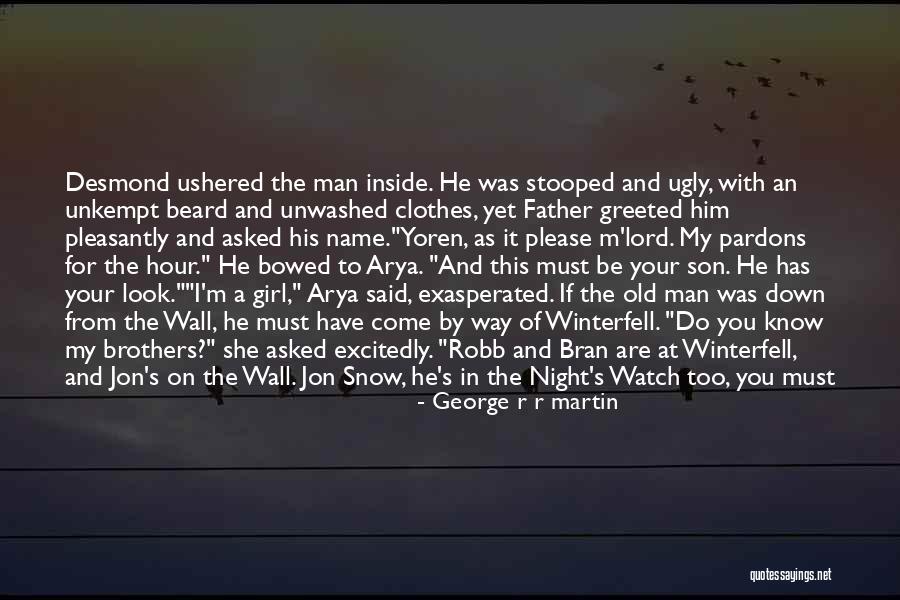 Desmond ushered the man inside. He was stooped and ugly, with an unkempt beard and unwashed clothes, yet Father greeted him pleasantly and asked his name.
"Yoren, as it please m'lord. My pardons for the hour." He bowed to Arya. "And this must be your son. He has your look."
"I'm a girl," Arya said, exasperated. If the old man was down from the Wall, he must have come by way of Winterfell. "Do you know my brothers?" she asked excitedly. "Robb and Bran are at Winterfell, and Jon's on the Wall. Jon Snow, he's in the Night's Watch too, you must know him, he has a direwolf, a white one with red eyes. Is Jon a ranger yet? I'm Arya Stark." The old man in his smelly black clothes was looking at her oddly, but Arya could not seem to stop talking. "When you ride back to the Wall, would you bring Jon a letter if I wrote one?" She wished Jon were here right now. He'd believe her about the dungeons and the fat man with the forked beard and the wizard in the steel cap. — George R R Martin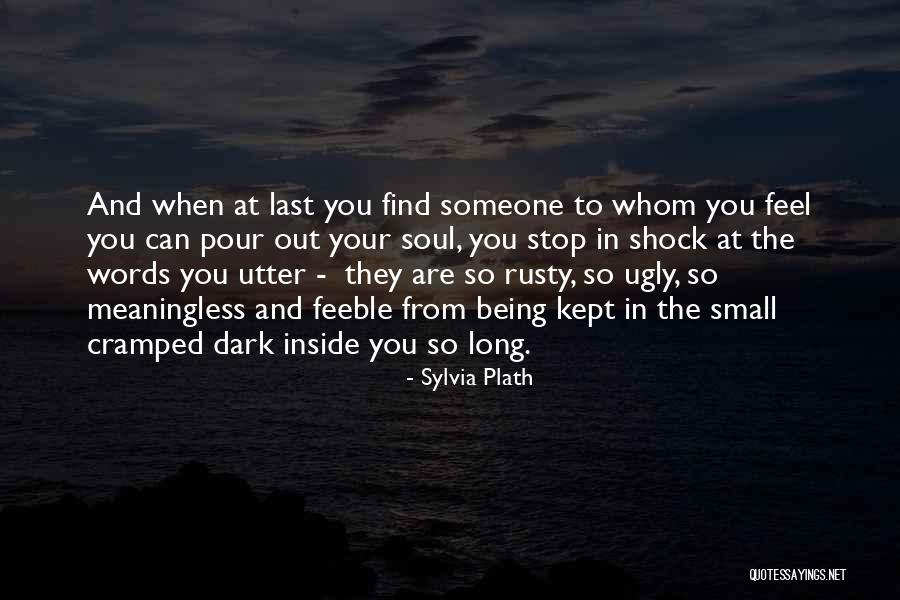 And when at last you find someone to whom you feel you can pour out your soul, you stop in shock at the words you utter - they are so rusty, so ugly, so meaningless and feeble from being kept in the small cramped dark inside you so long. — Sylvia Plath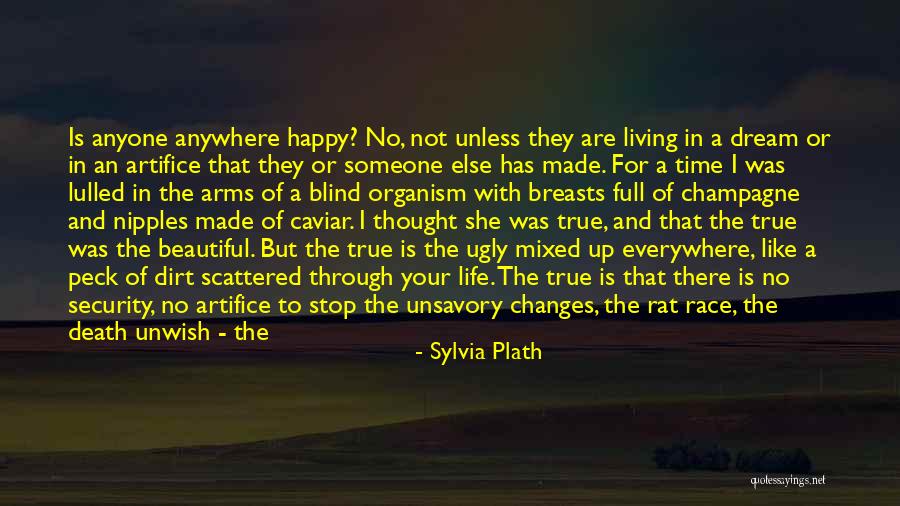 Is anyone anywhere happy? No, not unless they are living in a dream or in an artifice that they or someone else has made. For a time I was lulled in the arms of a blind organism with breasts full of champagne and nipples made of caviar. I thought she was true, and that the true was the beautiful. But the true is the ugly mixed up everywhere, like a peck of dirt scattered through your life. The true is that there is no security, no artifice to stop the unsavory changes, the rat race, the death unwish - the winged chariot, the horns and the motors, the Devil in the clock. Love is a desperate artifice to take the place of those two original parents who turned out not to be omnisciently right gods, but a rather pedestrian pair of muddled suburbanites who, no matter how bumbling they tried, never could quite understand how or why you grew up to your 21st birthday. — Sylvia Plath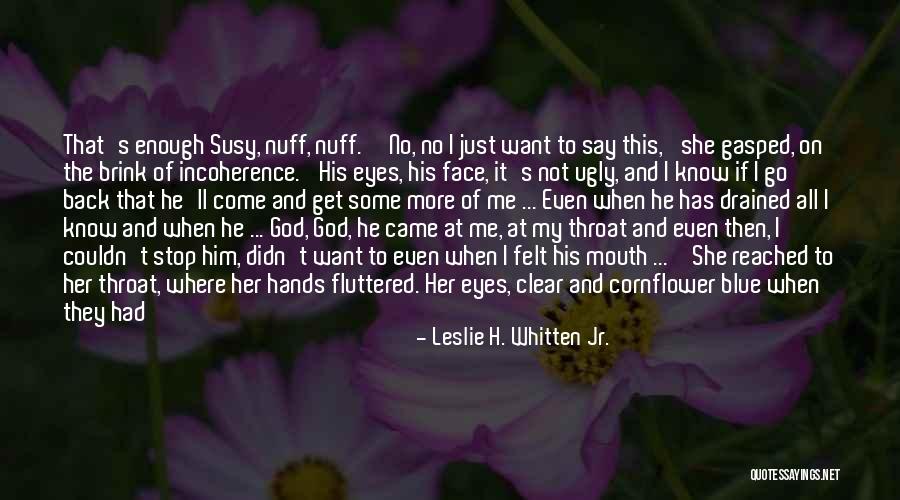 That's enough Susy, nuff, nuff.'
'No, no I just want to say this,' she gasped, on the brink of incoherence. 'His eyes, his face, it's not ugly, and I know if I go back that he'll come and get some more of me ... Even when he has drained all I know and when he ... God, God, he came at me, at my throat and even then, I couldn't stop him, didn't want to even when I felt his mouth ... '
She reached to her throat, where her hands fluttered. Her eyes, clear and cornflower blue when they had been so serene a few minutes ago, were stark and tormented. Suddenly she buckled toward him from her propped position, sobbing. He caught her and she wept into his chest.
'And the worst thing ... the worst thing ... is that I want to see him again ... Harry, he wanted me to take that cross off, and I did, and I've felt him wanting me now, even now, with blessed Jesus over my bed. — Leslie H. Whitten Jr.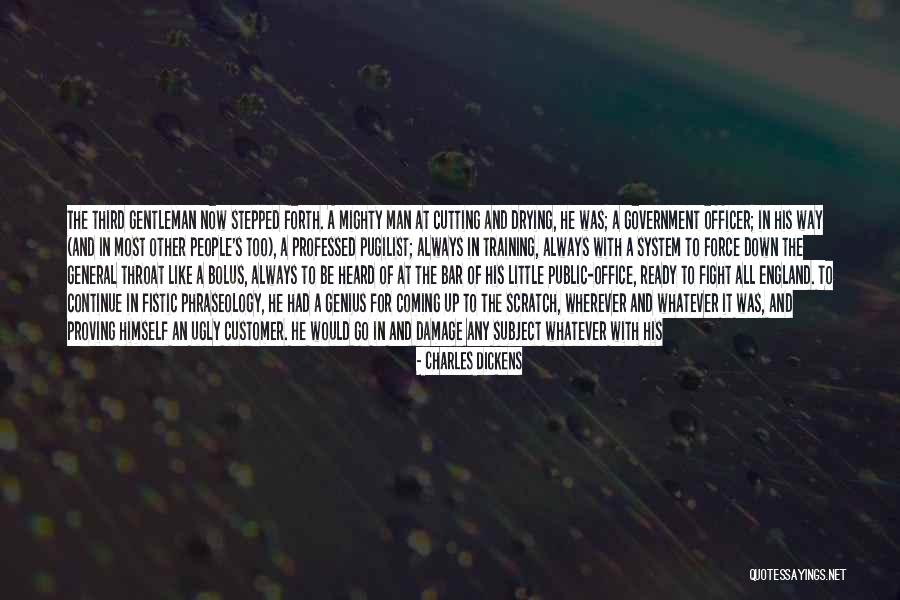 The third gentleman now stepped forth. A mighty man at cutting and drying, he was; a government officer; in his way (and in most other people's too), a professed pugilist; always in training, always with a system to force down the general throat like a bolus, always to be heard of at the bar of his little Public-office, ready to fight all England. To continue in fistic phraseology, he had a genius for coming up to the scratch, wherever and whatever it was, and proving himself an ugly customer. He would go in and damage any subject whatever with his right, follow up with his left, stop, exchange, counter, bore his opponent (he always fought All England) to the ropes, and fall upon him neatly. He was certain to knock the wind out of common sense, and render that unlucky adversary deaf to the call of time. And he had it in charge from high authority to bring about the great public-office Millennium, when Commissioners should reign upon earth. 'Very — Charles Dickens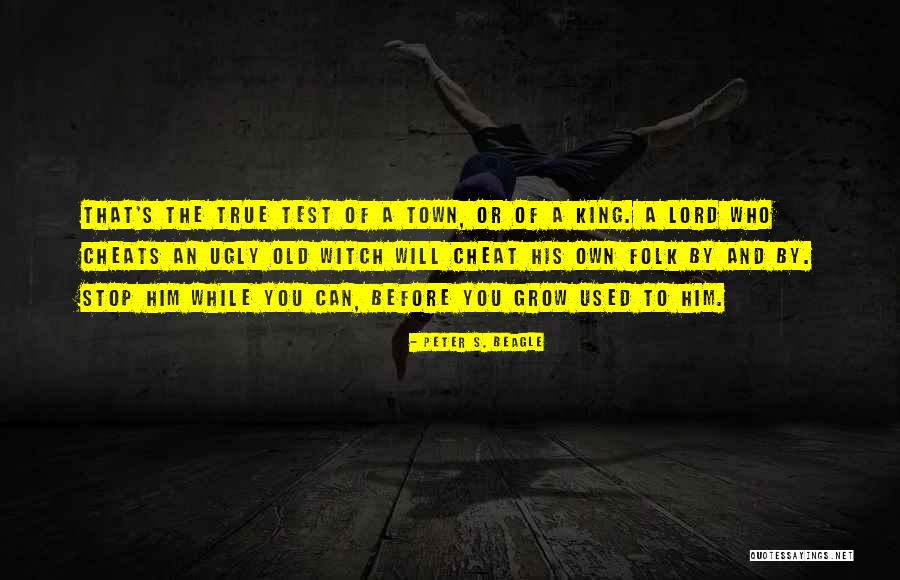 That's the true test of a town, or of a king. A lord who cheats an ugly old witch will cheat his own folk by and by. Stop him while you can, before you grow used to him. — Peter S. Beagle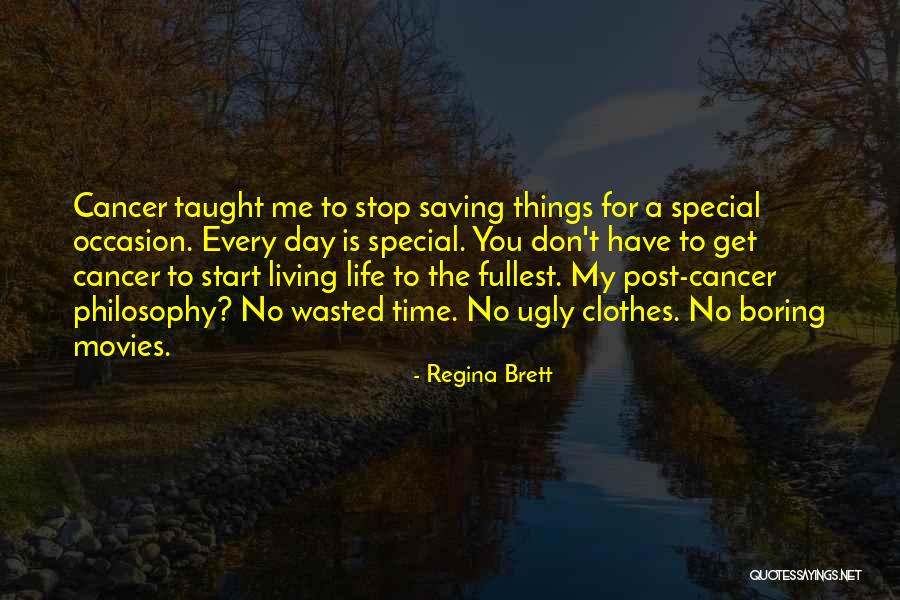 Cancer taught me to stop saving things for a special occasion. Every day is special. You don't have to get cancer to start living life to the fullest. My post-cancer philosophy? No wasted time. No ugly clothes. No boring movies. — Regina Brett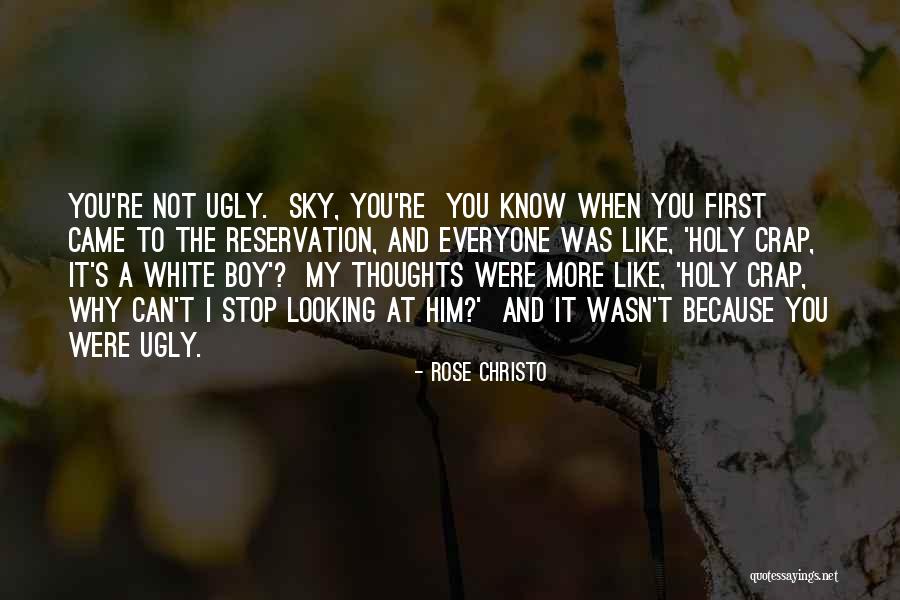 You're not ugly. Sky, you're
You know when you first came to the reservation, and everyone was like, 'Holy crap, it's a white boy'? My thoughts were more like, 'Holy crap, why can't I stop looking at him?' And it wasn't because you were ugly. — Rose Christo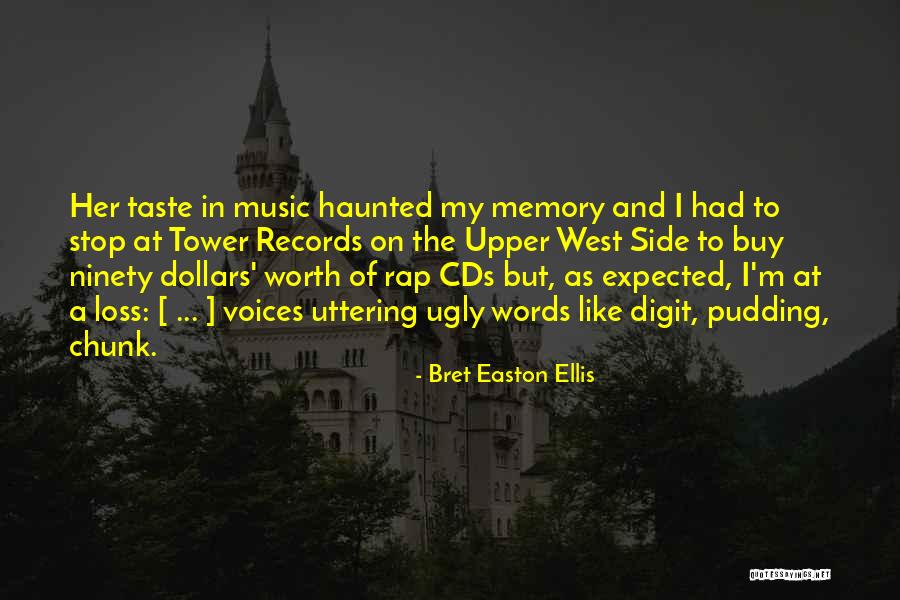 Her taste in music haunted my memory and I had to stop at Tower Records on the Upper West Side to buy ninety dollars' worth of rap CDs but, as expected, I'm at a loss: [ ... ] voices uttering ugly words like digit, pudding, chunk. — Bret Easton Ellis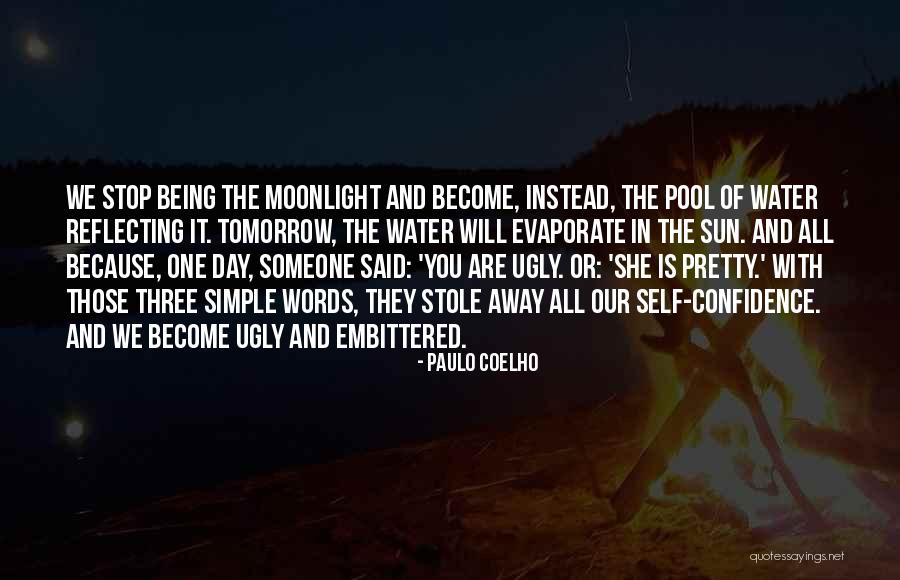 We stop being the moonlight and become, instead, the pool of water reflecting it. Tomorrow, the water will evaporate in the sun. And all because, one day, someone said: 'You are ugly. Or: 'She is pretty.' With those three simple words, they stole away all our self-confidence. And we become ugly and embittered. — Paulo Coelho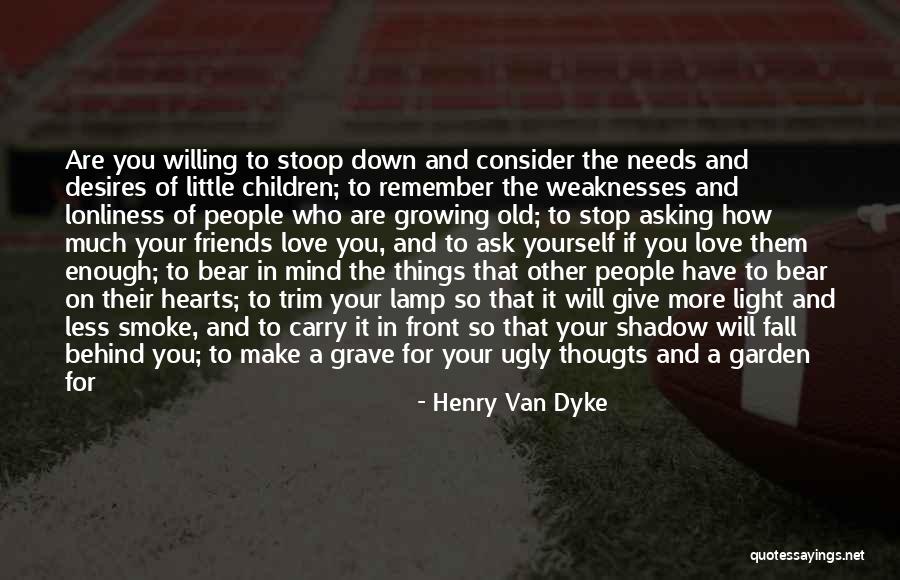 Are you willing to stoop down and consider the needs and desires of little children; to remember the weaknesses and lonliness of people who are growing old; to stop asking how much your friends love you, and to ask yourself if you love them enough; to bear in mind the things that other people have to bear on their hearts; to trim your lamp so that it will give more light and less smoke, and to carry it in front so that your shadow will fall behind you; to make a grave for your ugly thougts and a garden for your kindly feelings, with the gate open? Are you willing to do these things for a day? Then you are ready to keep Christmas! — Henry Van Dyke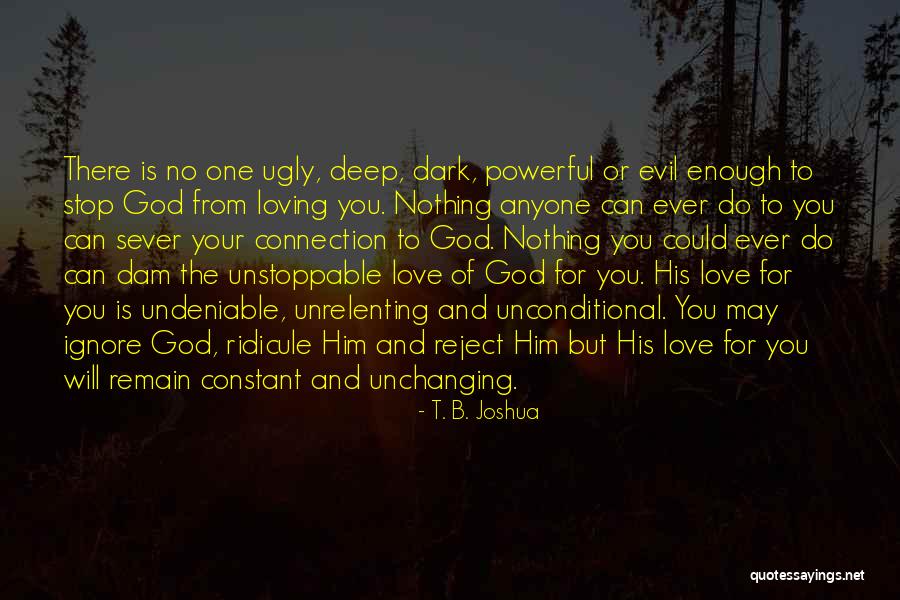 There is no one ugly, deep, dark, powerful or evil enough to stop God from loving you. Nothing anyone can ever do to you can sever your connection to God. Nothing you could ever do can dam the unstoppable love of God for you. His love for you is undeniable, unrelenting and unconditional. You may ignore God, ridicule Him and reject Him but His love for you will remain constant and unchanging. — T. B. Joshua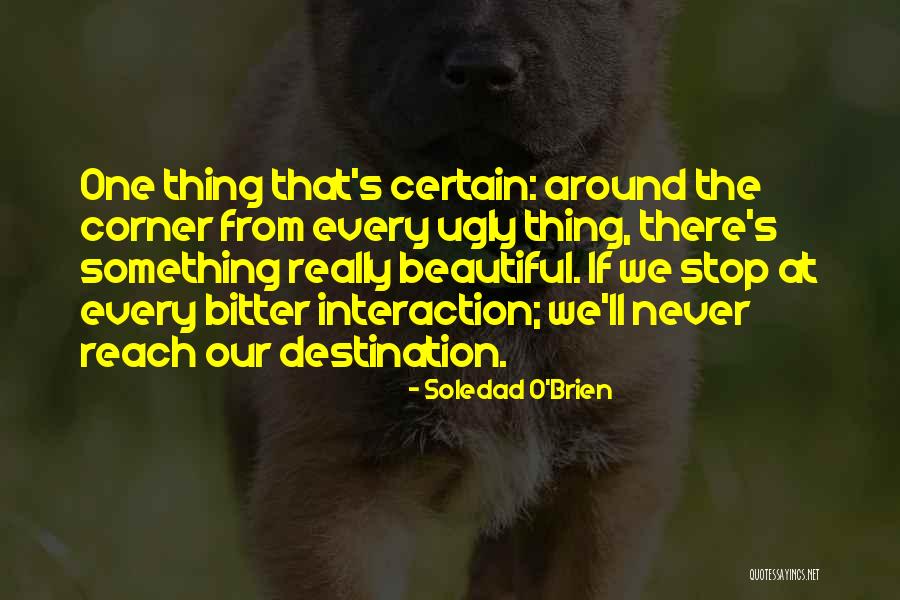 One thing that's certain: around the corner from every ugly thing, there's something really beautiful. If we stop at every bitter interaction; we'll never reach our destination. — Soledad O'Brien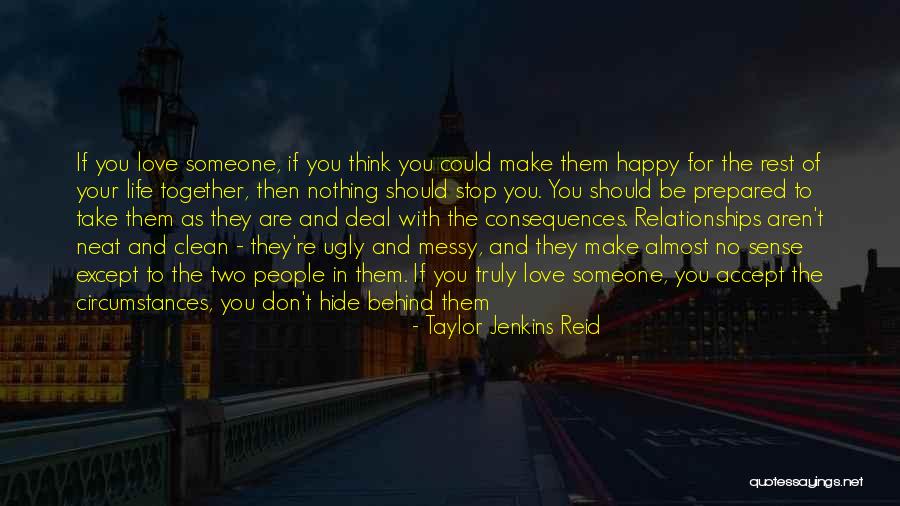 If you love someone, if you think you could make them happy for the rest of your life together, then nothing should stop you. You should be prepared to take them as they are and deal with the consequences. Relationships aren't neat and clean - they're ugly and messy, and they make almost no sense except to the two people in them. If you truly love someone, you accept the circumstances, you don't hide behind them — Taylor Jenkins Reid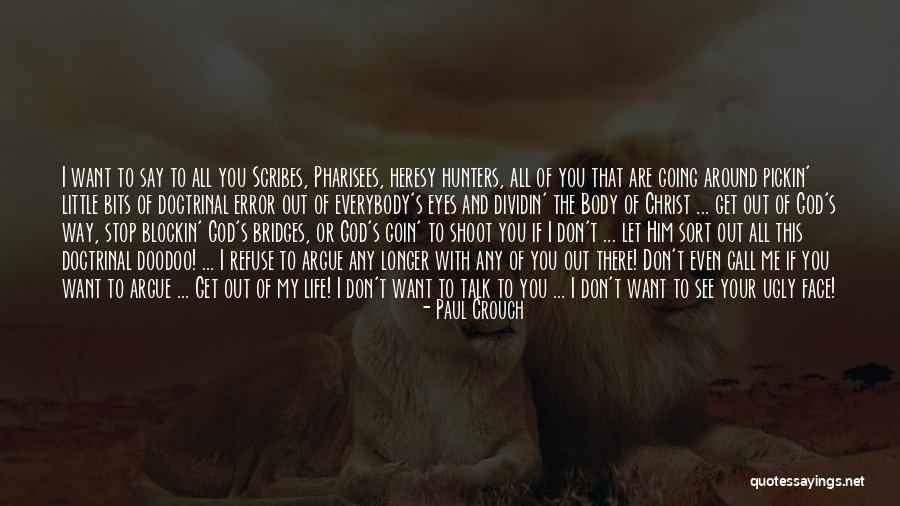 I want to say to all you Scribes, Pharisees, heresy hunters, all of you that are going around pickin' little bits of doctrinal error out of everybody's eyes and dividin' the Body of Christ ... get out of God's way, stop blockin' God's bridges, or God's goin' to shoot you if I don't ... let Him sort out all this doctrinal doodoo! ... I refuse to argue any longer with any of you out there! Don't even call me if you want to argue ... Get out of my life! I don't want to talk to you ... I don't want to see your ugly face! — Paul Crouch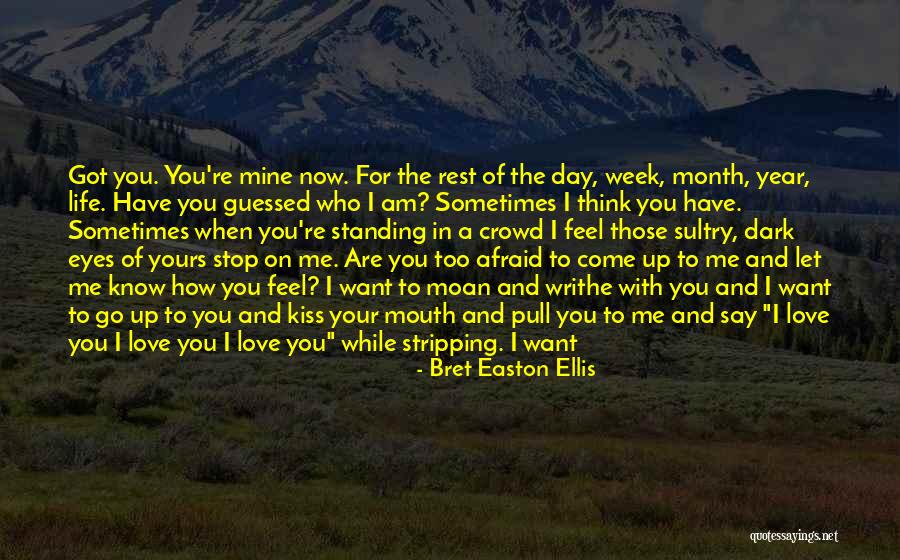 Got you. You're mine now. For the rest of the day, week, month, year, life. Have you guessed who I am? Sometimes I think you have. Sometimes when you're standing in a crowd I feel those sultry, dark eyes of yours stop on me. Are you too afraid to come up to me and let me know how you feel? I want to moan and writhe with you and I want to go up to you and kiss your mouth and pull you to me and say "I love you I love you I love you" while stripping. I want you so bad it stings. I want to kill the ugly girls that you're always with. Do you really like those boring, naive, coy, calculating girls or is it just for sex? The seeds of love have taken hold, and if we won't burn together, I'll burn alone. — Bret Easton Ellis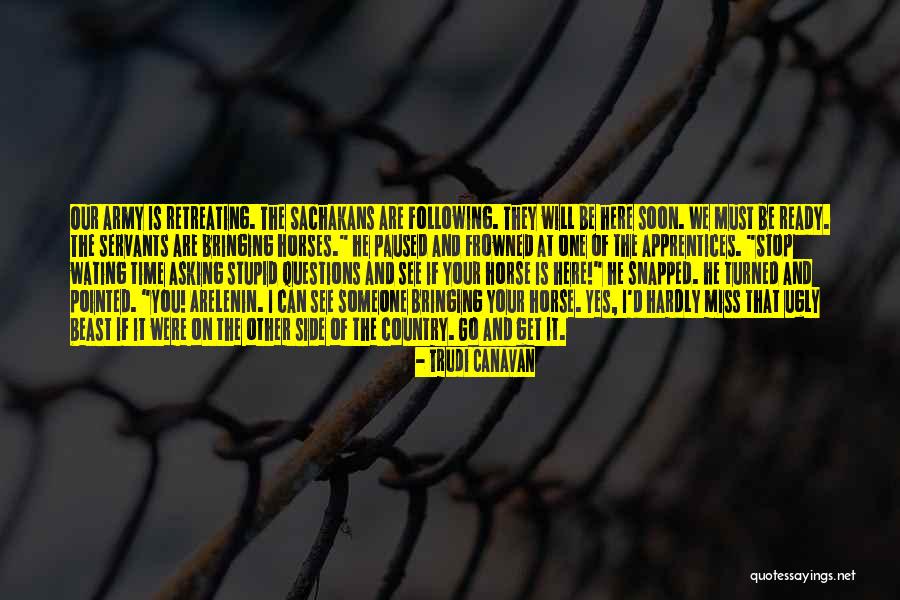 Our army is retreating. The Sachakans are following. They will be here soon. We must be ready. The servants are bringing horses." He paused and frowned at one of the apprentices. "Stop wating time asking stupid questions and see if your horse is here!" he snapped. He turned and pointed. "You! Arelenin. I can see someone bringing your horse. Yes, I'd hardly miss that ugly beast if it were on the other side of the country. Go and get it. — Trudi Canavan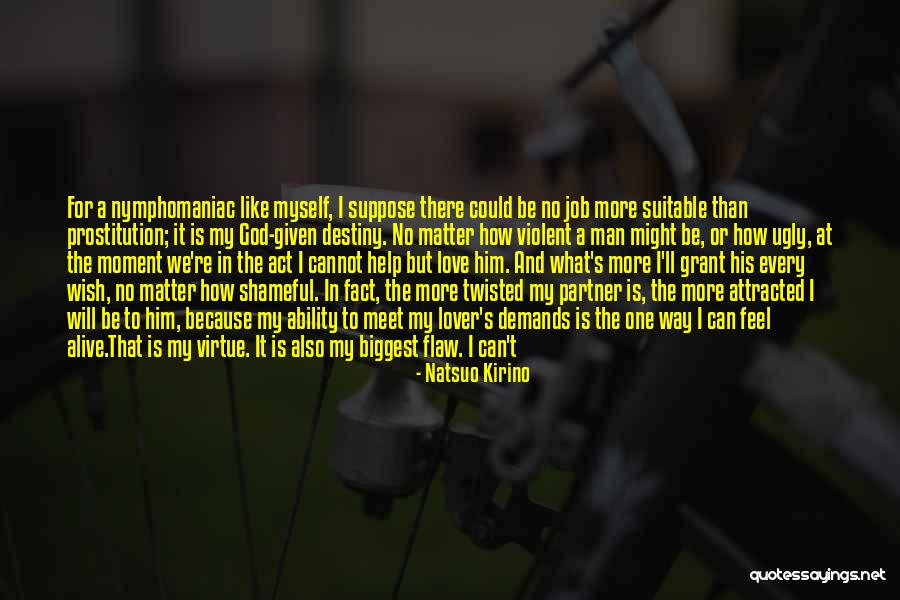 For a nymphomaniac like myself, I suppose there could be no job more suitable than prostitution; it is my God-given destiny. No matter how violent a man might be, or how ugly, at the moment we're in the act I cannot help but love him. And what's more I'll grant his every wish, no matter how shameful. In fact, the more twisted my partner is, the more attracted I will be to him, because my ability to meet my lover's demands is the one way I can feel alive.
That is my virtue. It is also my biggest flaw. I can't deny a man. I'm like a vagina incarnate - female essence embodied. If I ever were to deny a man, I would stop being me. — Natsuo Kirino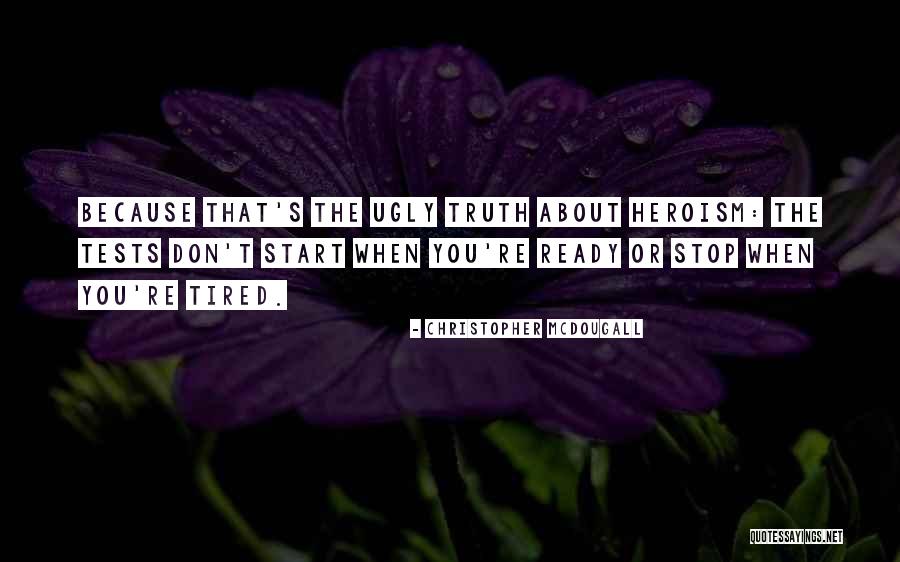 Because that's the ugly truth about heroism: the tests don't start when you're ready or stop when you're tired. — Christopher McDougall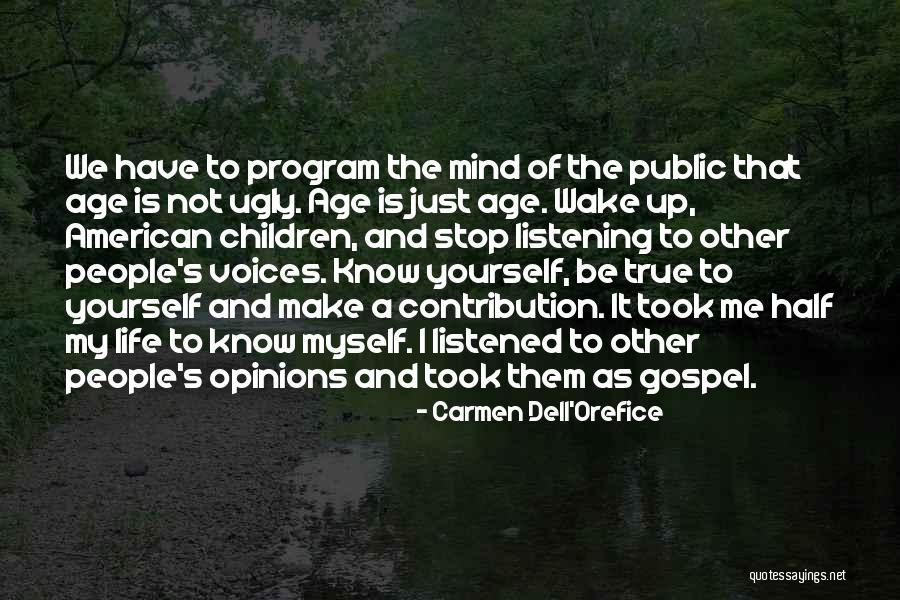 We have to program the mind of the public that age is not ugly. Age is just age. Wake up, American children, and stop listening to other people's voices. Know yourself, be true to yourself and make a contribution. It took me half my life to know myself. I listened to other people's opinions and took them as gospel. — Carmen Dell'Orefice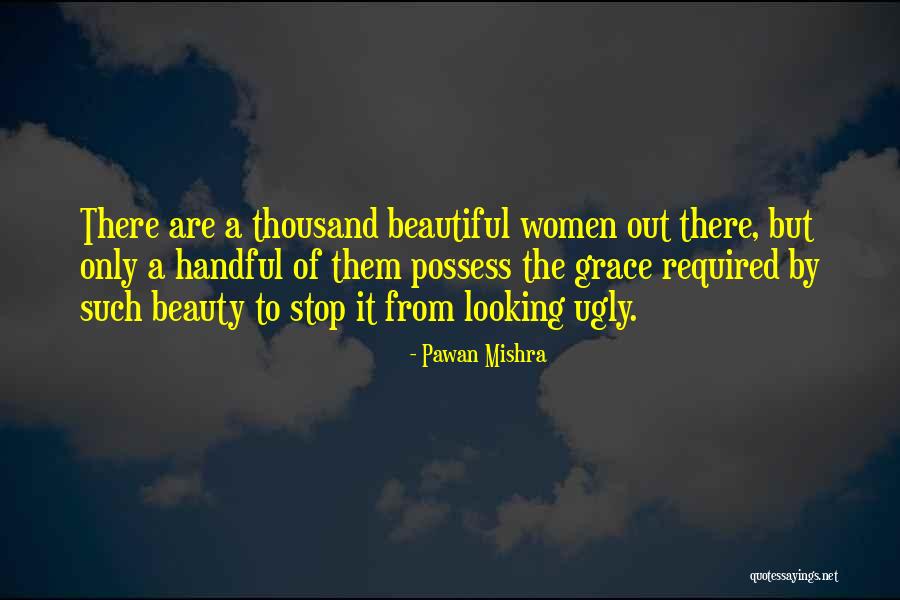 There are a thousand beautiful women out there, but only a handful of them possess the grace required by such beauty to stop it from looking ugly. — Pawan Mishra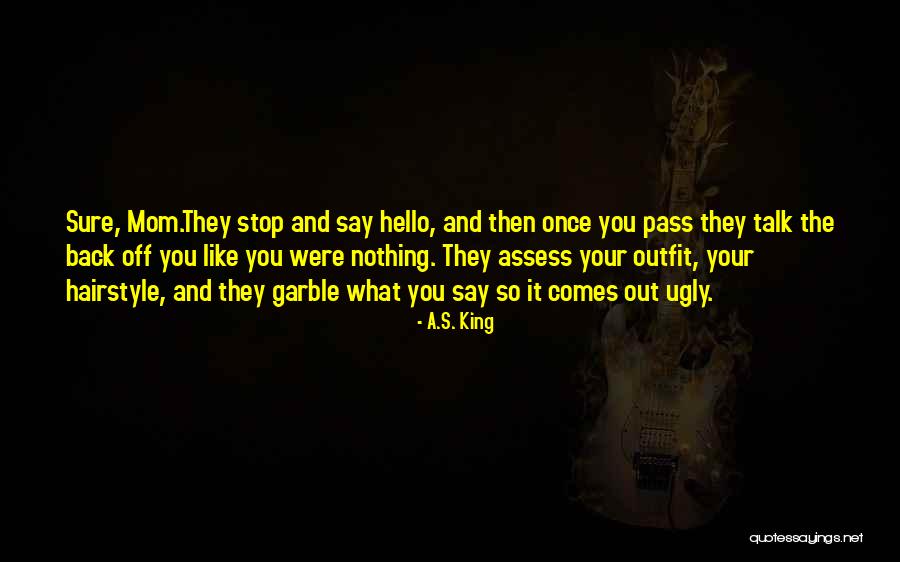 Sure, Mom.
They stop and say hello, and then once you pass they talk the back off you like you were nothing. They assess your outfit, your hairstyle, and they garble what you say so it comes out ugly. — A.S. King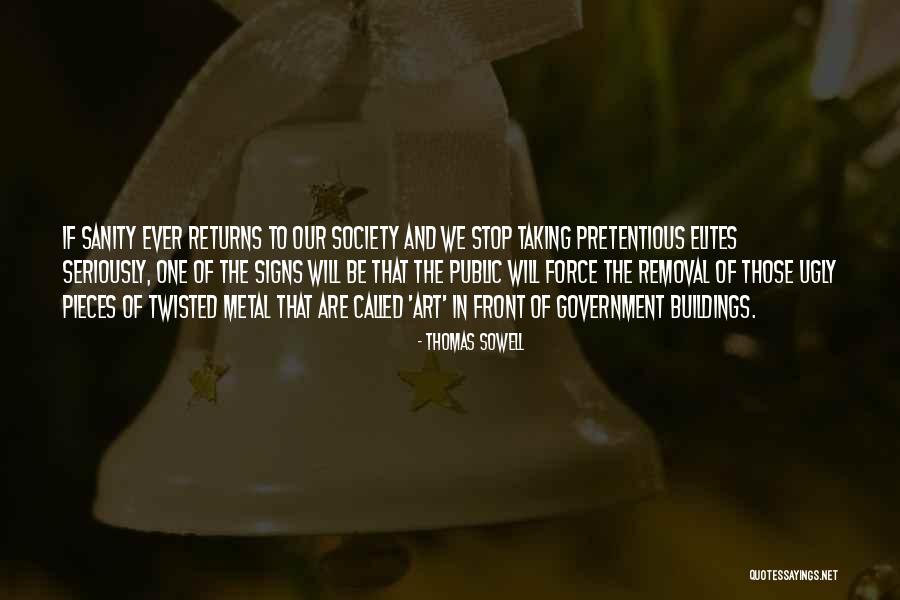 If sanity ever returns to our society and we stop taking pretentious elites seriously, one of the signs will be that the public will force the removal of those ugly pieces of twisted metal that are called 'art' in front of government buildings. — Thomas Sowell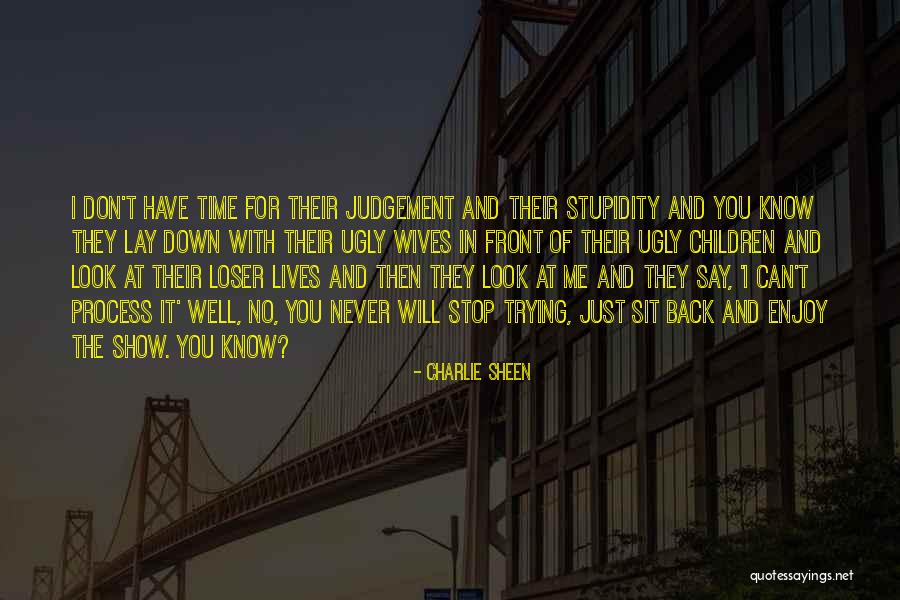 I don't have time for their judgement and their stupidity and you know they lay down with their ugly wives in front of their ugly children and look at their loser lives and then they look at me and they say, 'I can't process it' well, no, you never will stop trying, just sit back and enjoy the show. You know? — Charlie Sheen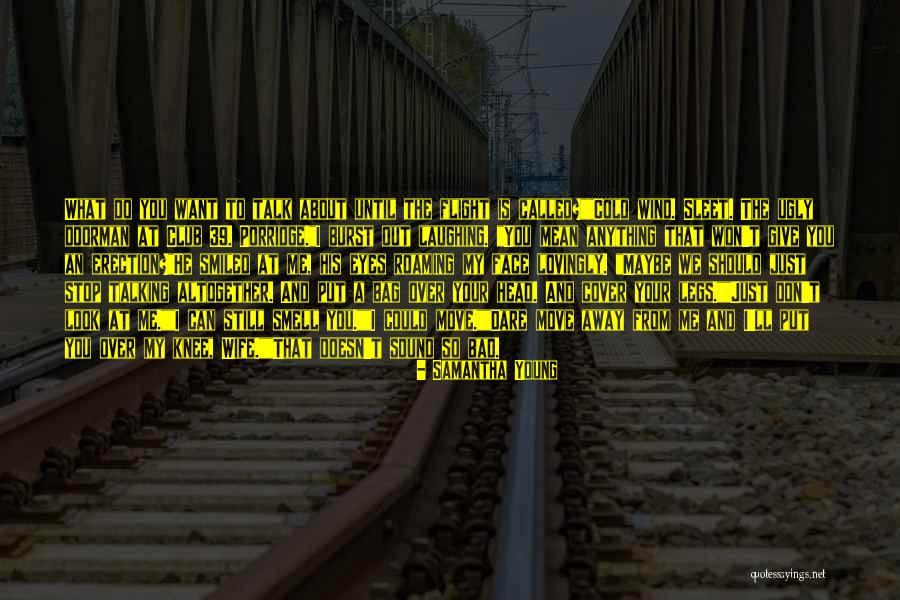 What do you want to talk about until the flight is called?"
"Cold wind. Sleet. The ugly doorman at Club 39. Porridge."
I burst out laughing. "You mean anything that won't give you an erection?"
He smiled at me, his eyes roaming my face lovingly. "Maybe we should just stop talking altogether. And put a bag over your head. And cover your legs."
"Just don't look at me."
"I can still smell you."
"I could move."
"Dare move away from me and I'll put you over my knee, Wife."
"That doesn't sound so bad. — Samantha Young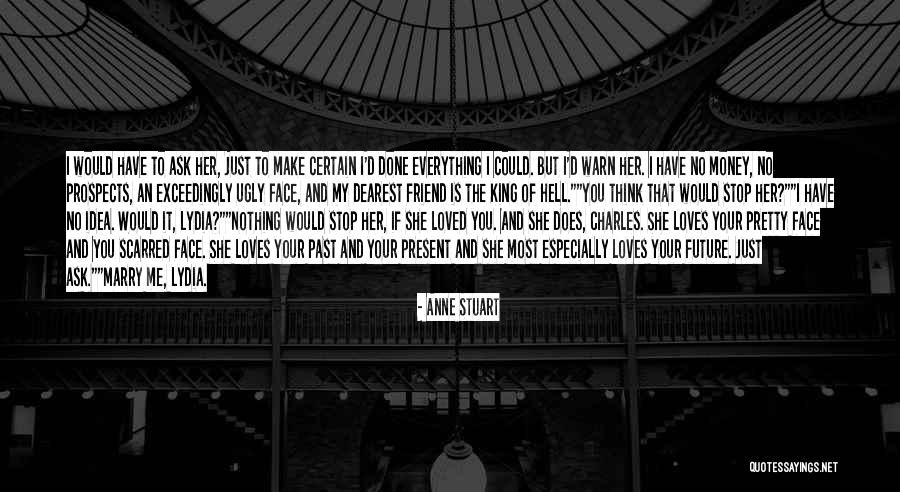 I would have to ask her, just to make certain I'd done everything I could. But I'd warn her. I have no money, no prospects, an exceedingly ugly face, and my dearest friend is the King of Hell."
"You think that would stop her?"
"I have no idea. Would it, Lydia?"
"Nothing would stop her, if she loved you. And she does, Charles. She loves your pretty face and you scarred face. She loves your past and your present and she most especially loves your future. Just ask."
"Marry me, Lydia. — Anne Stuart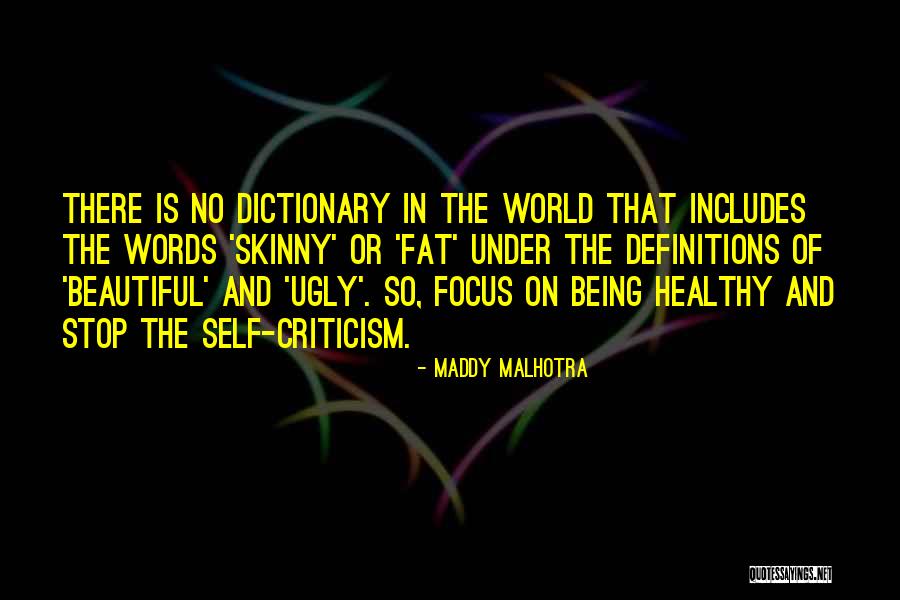 There is no dictionary in the world that includes the words 'skinny' or 'fat' under the definitions of 'beautiful' and 'ugly'. So, focus on being healthy and stop the self-criticism. — Maddy Malhotra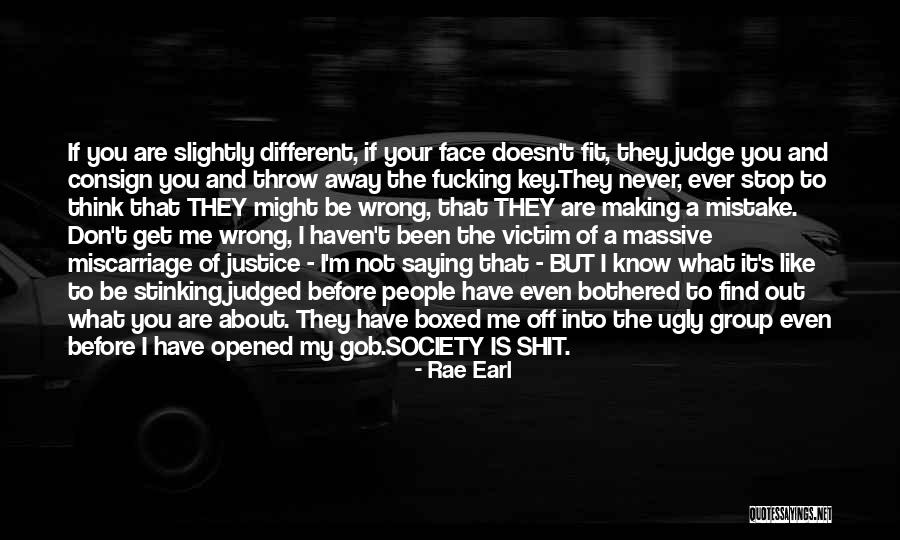 If you are slightly different, if your face doesn't fit, they judge you and consign you and throw away the fucking key.
They never, ever stop to think that THEY might be wrong, that THEY are making a mistake. Don't get me wrong, I haven't been the victim of a massive miscarriage of justice - I'm not saying that - BUT I know what it's like to be stinking judged before people have even bothered to find out what you are about. They have boxed me off into the ugly group even before I have opened my gob.
SOCIETY IS SHIT. — Rae Earl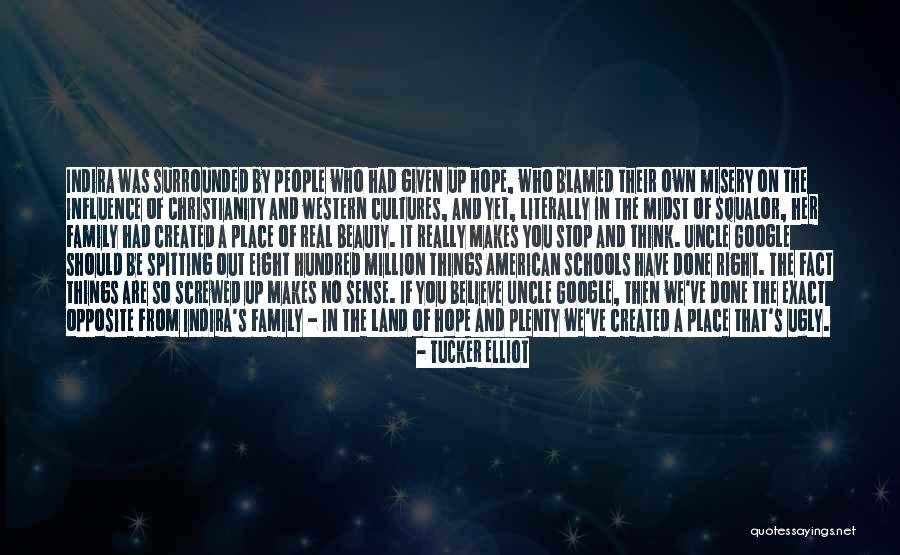 Indira was surrounded by people who had given up hope, who blamed their own misery on the influence of Christianity and western cultures, and yet, literally in the midst of squalor, her family had created a place of real beauty. It really makes you stop and think. Uncle Google should be spitting out eight hundred million things American schools have done right. The fact things are so screwed up makes no sense. If you believe Uncle Google, then we've done the exact opposite from Indira's family - in the land of hope and plenty we've created a place that's ugly. We have so much. Can things really be so bad? Maybe we can't fix our schools because as individuals we've never truly been broken. Or maybe Chinese lanterns make everyone wax philosophical. — Tucker Elliot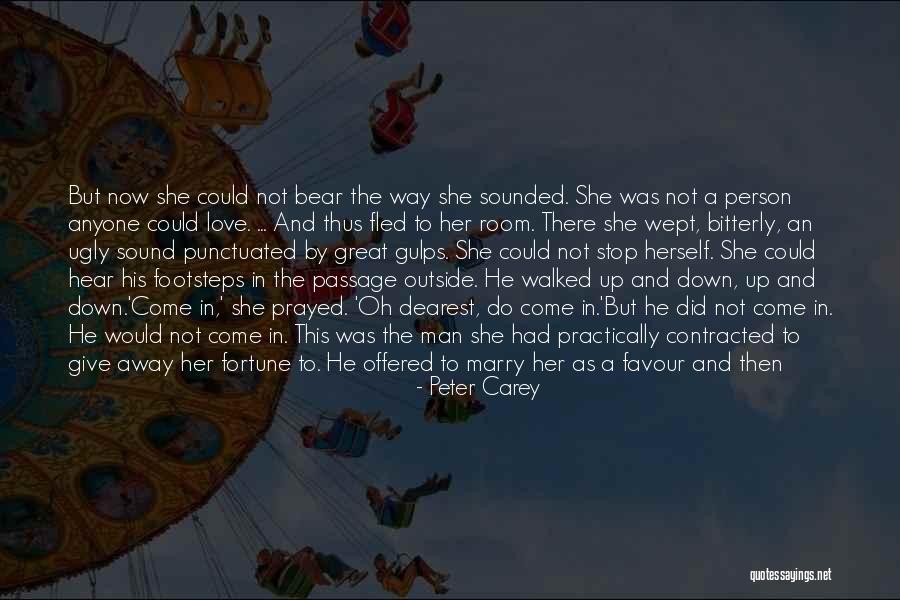 But now she could not bear the way she sounded. She was not a person anyone could love.
...
And thus fled to her room. There she wept, bitterly, an ugly sound punctuated by great gulps. She could not stop herself. She could hear his footsteps in the passage outside. He walked up and down, up and down.
'Come in,' she prayed. 'Oh dearest, do come in.'
But he did not come in. He would not come in. This was the man she had practically contracted to give away her fortune to. He offered to marry her as a favour and then he would not even come into her room.
Later, she could smell him make himself a sweet pancake for his lunch. She thought this a childish thing to eat, and selfish, too. If he were a gentleman he would now come to her room and save her from the prison her foolishness had made for her. He did not come. She heard him pacing in his room. — Peter Carey
Even now, as she walks down the long corridor, the crude jokes, the lewd propositions, the stinging remarks, the jeering catcalls and
the leering laughter echo in her ears. She can hear all the vile names she had been called post scandal. Hateful, ugly names that don't stop resonating in her head even after so many years. They never would. Some memories are etched too deeply to be erased completely. — Chandana Roy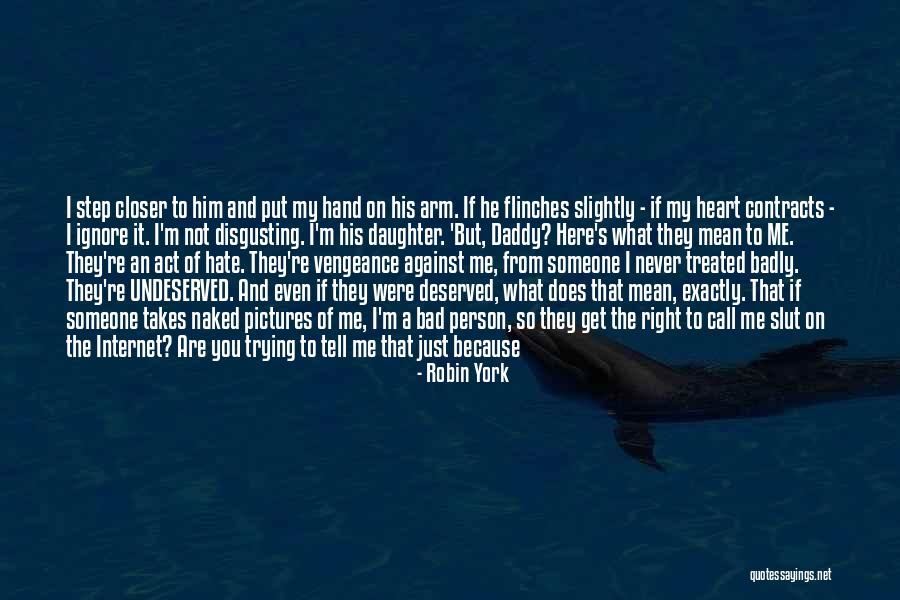 I step closer to him and put my hand on his arm.
If he flinches slightly - if my heart contracts - I ignore it.
I'm not disgusting. I'm his daughter.

'But, Daddy? Here's what they mean to ME. They're an act of hate. They're vengeance against me, from someone I never treated badly. They're UNDESERVED. And even if they were deserved, what does that mean, exactly. That if someone takes naked pictures of me, I'm a bad person, so they get the right to call me slut on the Internet? Are you trying to tell me that just because I didn't stop Nate from aiming his camera, I deserve whatever happens to me, forever? I deserved this attack because I asked for it? Do you hear how ugly that is?'

"I never said you asked for it." He sounds different, his voice choked and unsettled.

'Yeah. You did. — Robin York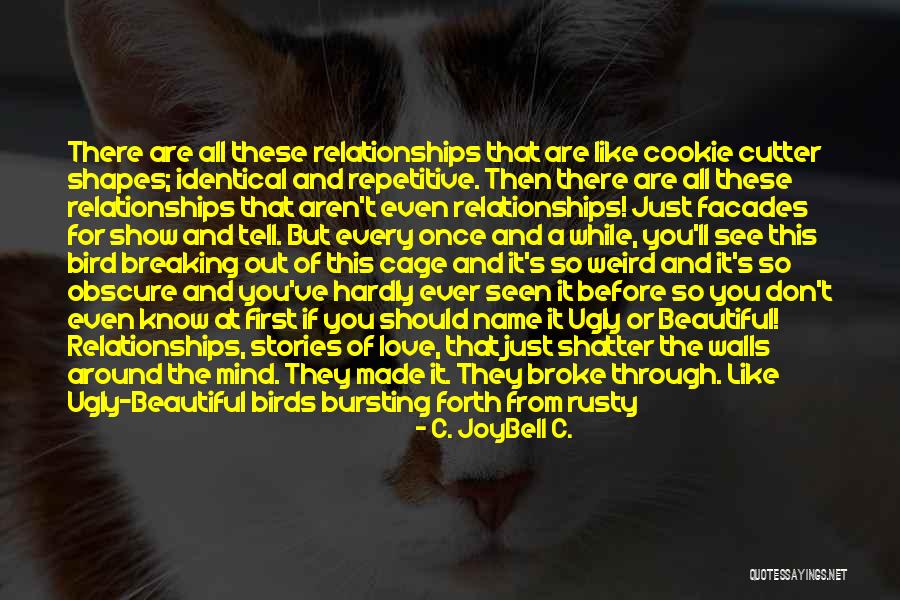 There are all these relationships that are like cookie cutter shapes; identical and repetitive. Then there are all these relationships that aren't even relationships! Just facades for show and tell. But every once and a while, you'll see this bird breaking out of this cage and it's so weird and it's so obscure and you've hardly ever seen it before so you don't even know at first if you should name it Ugly or Beautiful! Relationships, stories of love, that just shatter the walls around the mind. They made it. They broke through. Like Ugly-Beautiful birds bursting forth from rusty cages! And then suddenly you stop and you think to yourself, "Maybe love really is real. — C. JoyBell C.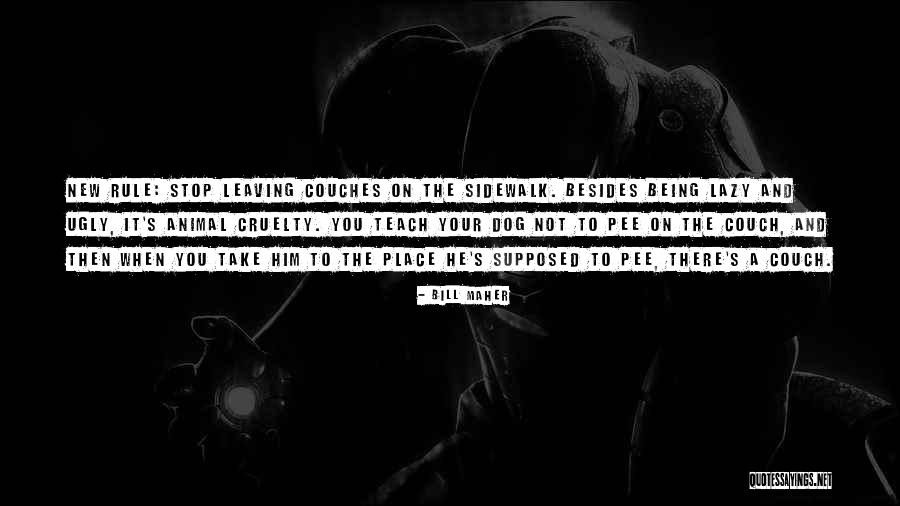 New Rule: Stop leaving couches on the sidewalk. Besides being lazy and ugly, it's animal cruelty. You teach your dog not to pee on the couch, and then when you take him to the place he's supposed to pee, there's a couch. — Bill Maher