Speaking In Tongues Quotes & Sayings
Enjoy reading and share 33 famous quotes about Speaking In Tongues with everyone.
Top Speaking In Tongues Quotes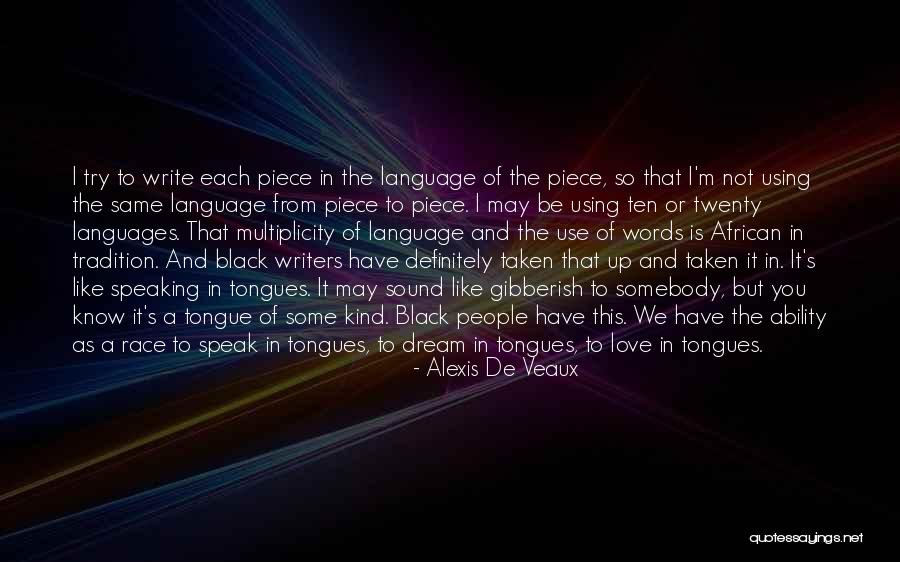 I try to write each piece in the language of the piece, so that I'm not using the same language from piece to piece. I may be using ten or twenty languages. That multiplicity of language and the use of words is African in tradition. And black writers have definitely taken that up and taken it in. It's like speaking in tongues. It may sound like gibberish to somebody, but you know it's a tongue of some kind. Black people have this. We have the ability as a race to speak in tongues, to dream in tongues, to love in tongues. — Alexis De Veaux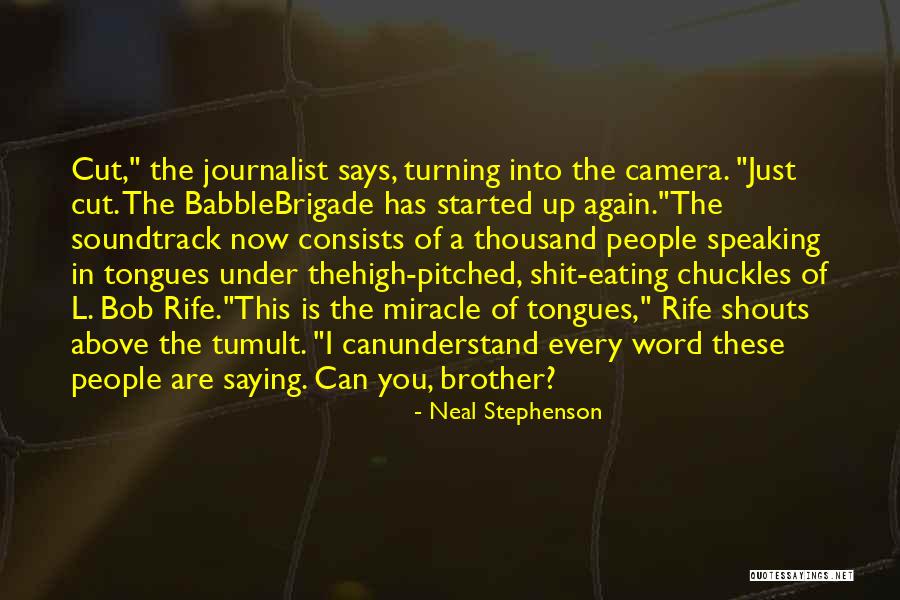 Cut," the journalist says, turning into the camera. "Just cut. The Babble
Brigade has started up again."
The soundtrack now consists of a thousand people speaking in tongues under the
high-pitched, shit-eating chuckles of L. Bob Rife.
"This is the miracle of tongues," Rife shouts above the tumult. "I can
understand every word these people are saying. Can you, brother? — Neal Stephenson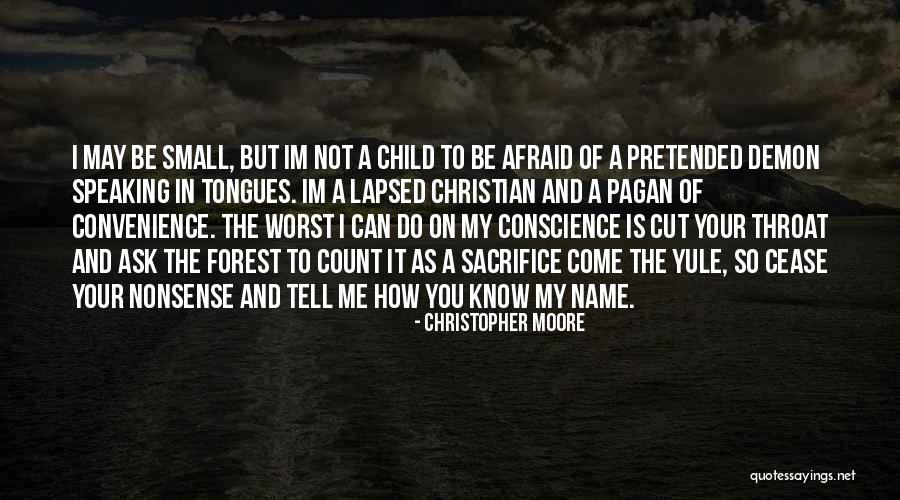 I may be small, but Im not a child to be afraid of a pretended demon speaking in tongues. Im a lapsed Christian and a pagan of convenience. The worst I can do on my conscience is cut your throat and ask the forest to count it as a sacrifice come the Yule, so cease your nonsense and tell me how you know my name. — Christopher Moore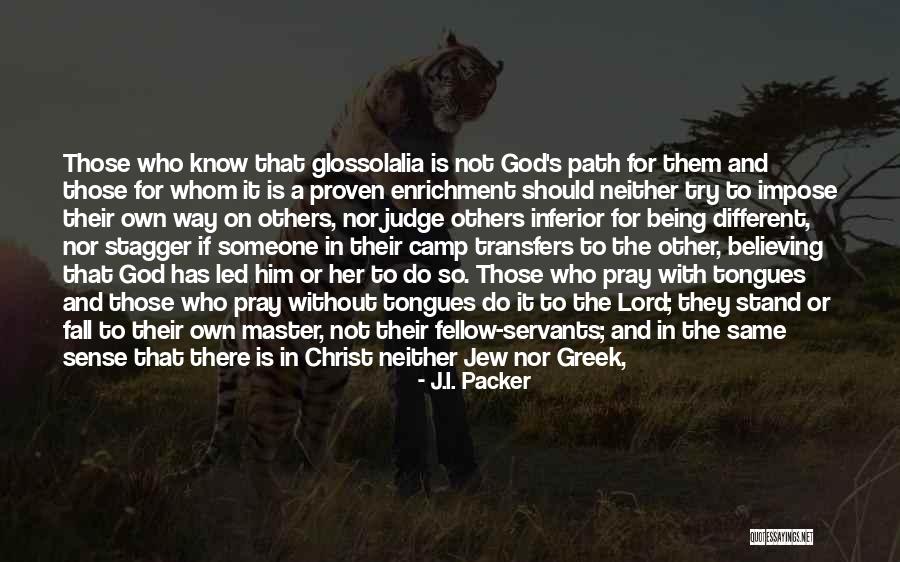 Those who know that glossolalia is not God's path for them and those for whom it is a proven enrichment should neither try to impose their own way on others, nor judge others inferior for being different, nor stagger if someone in their camp transfers to the other, believing that God has led him or her to do so. Those who pray with tongues and those who pray without tongues do it to the Lord; they stand or fall to their own master, not their fellow-servants; and in the same sense that there is in Christ neither Jew nor Greek, bond nor free, male nor female, so in Christ there is neither glossolalist nor non-glossolalist. — J.I. Packer
The next object of speaking in tongues is the edification of self — Sunday Adelaja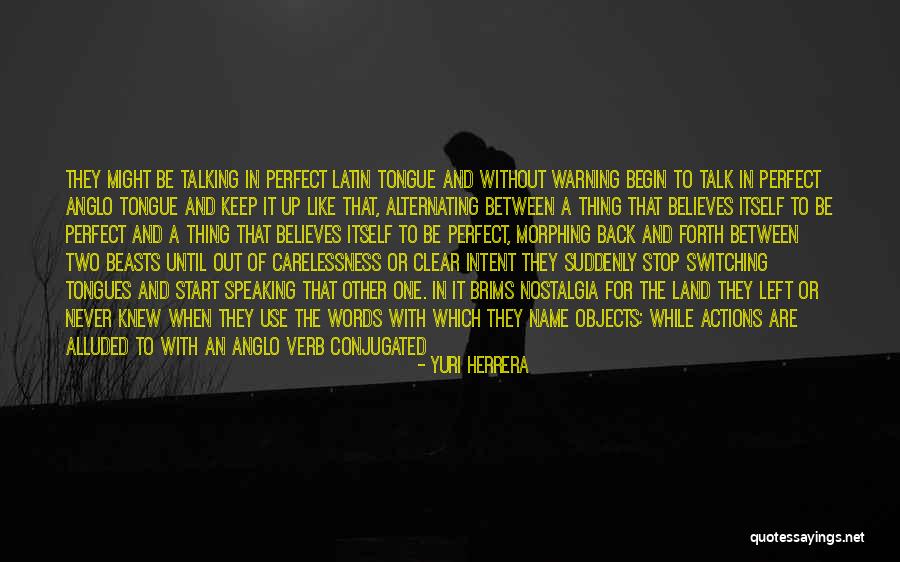 They might be talking in perfect latin tongue and without warning begin to talk in perfect anglo tongue and keep it up like that, alternating between a thing that believes itself to be perfect and a thing that believes itself to be perfect, morphing back and forth between two beasts until out of carelessness or clear intent they suddenly stop switching tongues and start speaking that other one. In it brims nostalgia for the land they left or never knew when they use the words with which they name objects; while actions are alluded to with an anglo verb conjugated latin-style, pinning on a sonorous tail from back there. Using in one tongue the word for a thing in the other makes the attributes of both resound: if you say Give me fire when they say Give me a light, what is not to be learned about fire, light and the act of giving? It's not another way of saying things: these are new things — Yuri Herrera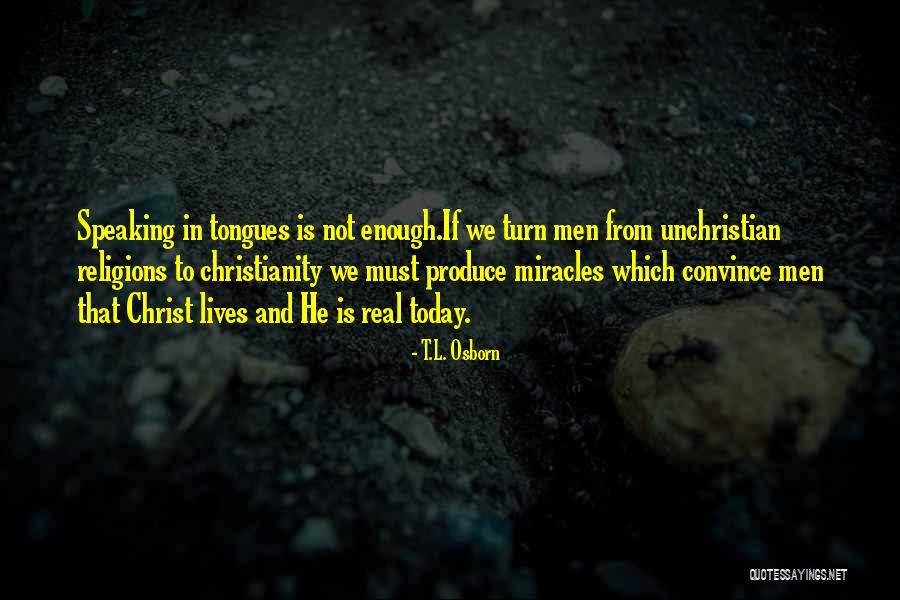 Speaking in tongues is not enough.If we turn men from unchristian religions to christianity we must produce miracles which convince men that Christ lives and He is real today. — T.L. Osborn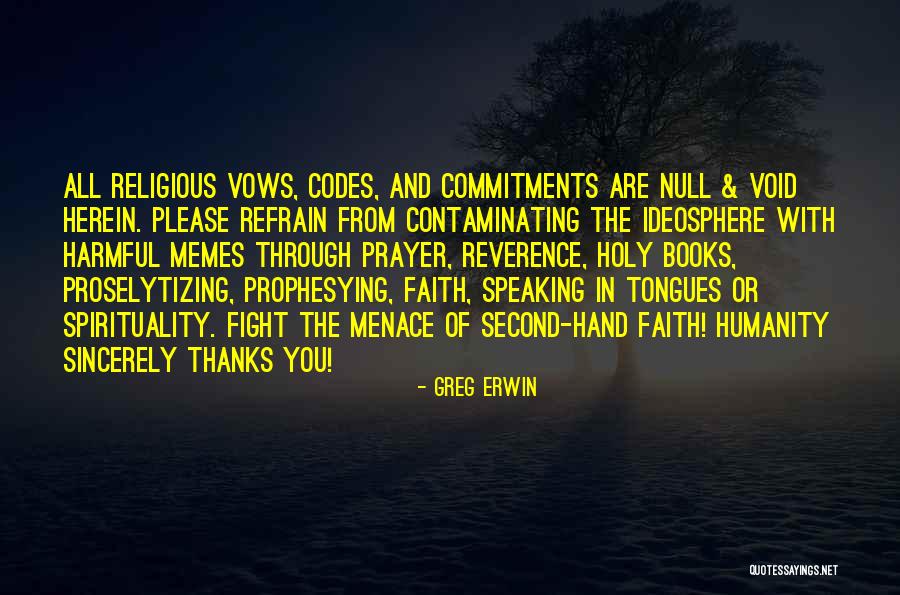 All religious vows, codes, and commitments are null & void herein. Please refrain from contaminating the ideosphere with harmful memes through prayer, reverence, holy books, proselytizing, prophesying, faith, speaking in tongues or spirituality. Fight the menace of second-hand faith! Humanity sincerely thanks you! — Greg Erwin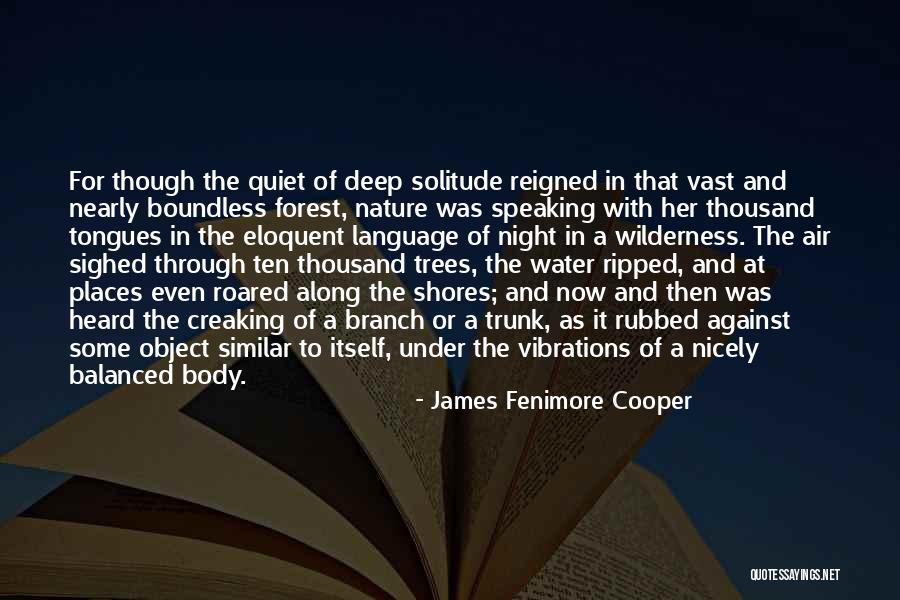 For though the quiet of deep solitude reigned in that vast and nearly boundless forest, nature was speaking with her thousand tongues in the eloquent language of night in a wilderness. The air sighed through ten thousand trees, the water ripped, and at places even roared along the shores; and now and then was heard the creaking of a branch or a trunk, as it rubbed against some object similar to itself, under the vibrations of a nicely balanced body. — James Fenimore Cooper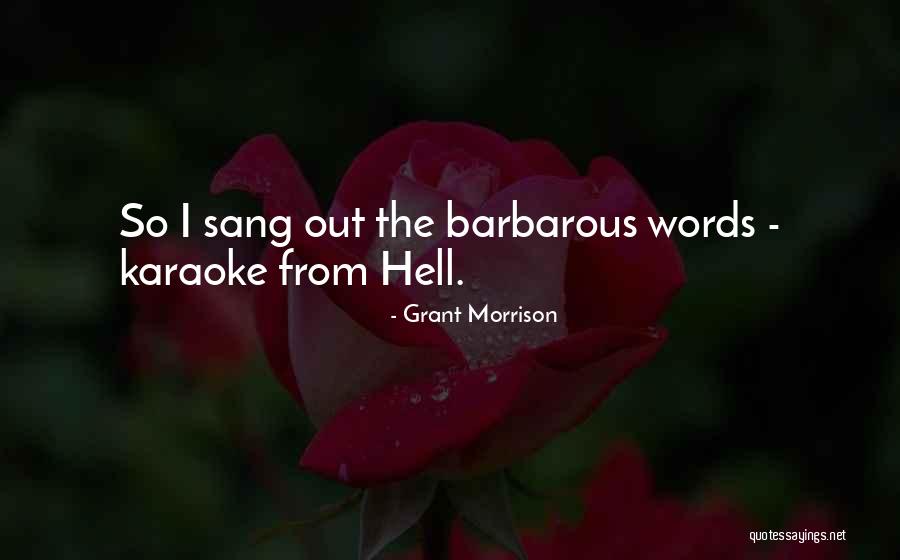 So I sang out the barbarous words - karaoke from Hell. — Grant Morrison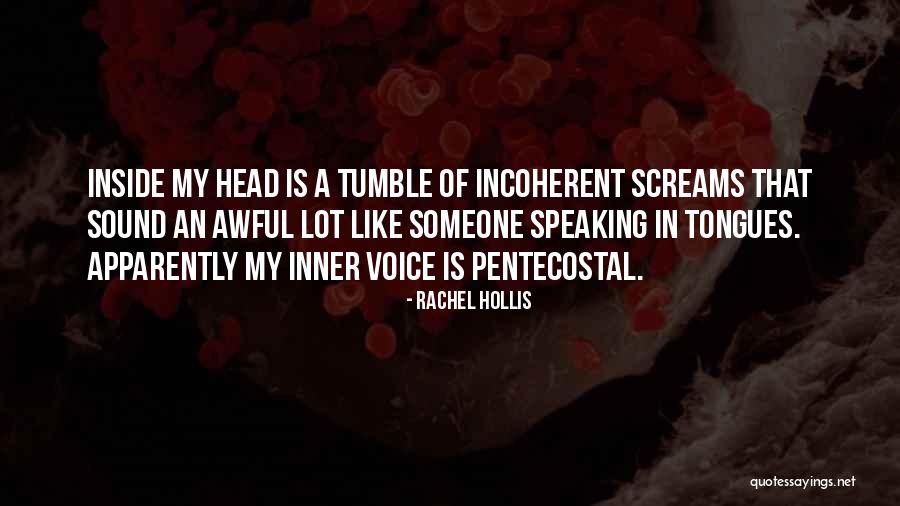 Inside my head is a tumble of incoherent screams that sound an awful lot like someone speaking in tongues. Apparently my inner voice is Pentecostal. — Rachel Hollis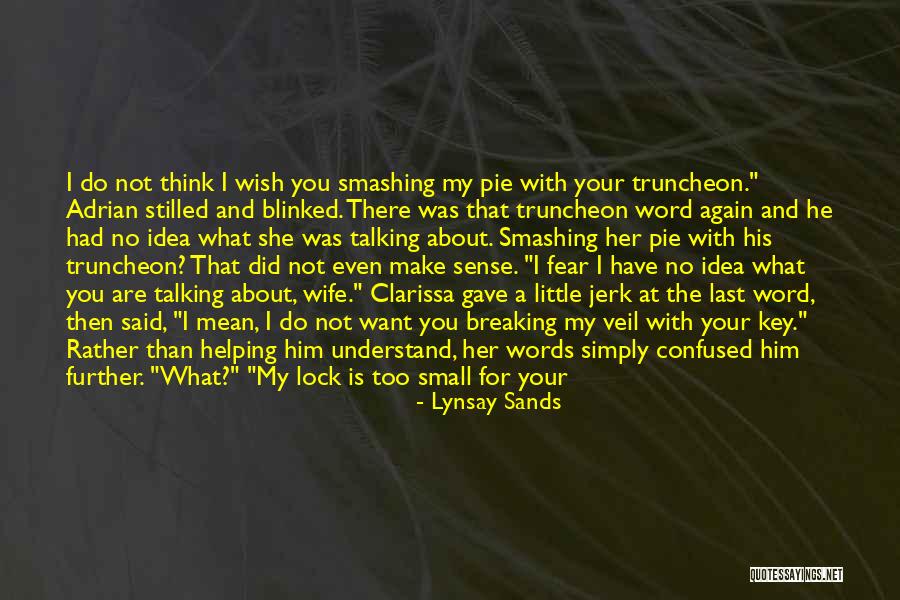 I do not think I wish you smashing my pie with your truncheon." Adrian stilled and blinked. There was that truncheon word again and he had no idea what she was talking about. Smashing her pie with his truncheon? That did not even make sense. "I fear I have no idea what you are talking about, wife." Clarissa gave a little jerk at the last word, then said, "I mean, I do not want you breaking my veil with your key." Rather than helping him understand, her words simply confused him further. "What?" "My lock is too small for your truncheon." "Are you speaking in tongues?" Adrian asked. "Clarissa, I have no idea what - — Lynsay Sands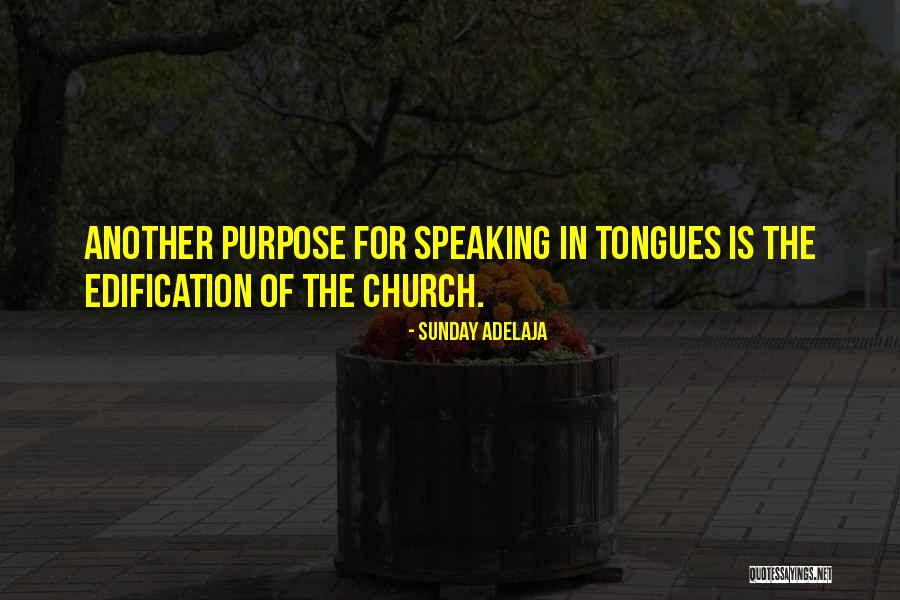 Another purpose for speaking in tongues is the edification of the church. — Sunday Adelaja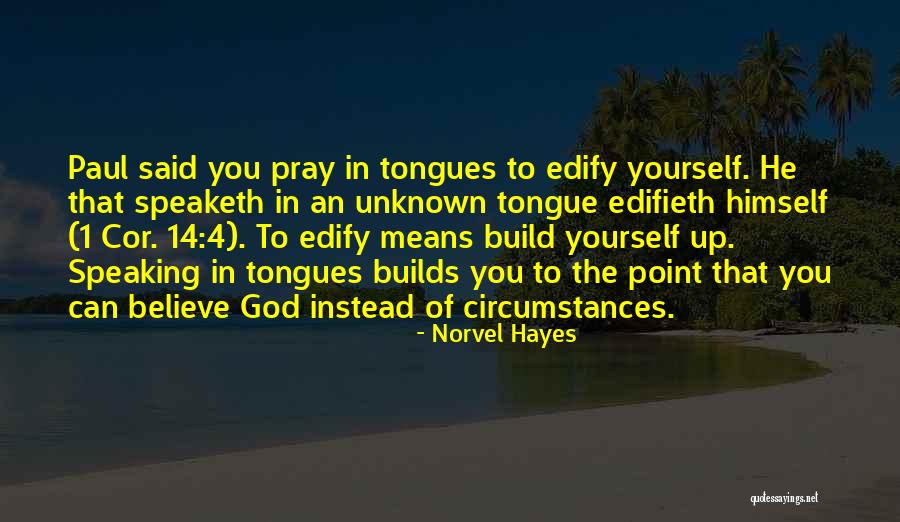 Paul said you pray in tongues to edify yourself. He that speaketh in an unknown tongue edifieth himself (1 Cor. 14:4). To edify means build yourself up. Speaking in tongues builds you to the point that you can believe God instead of circumstances. — Norvel Hayes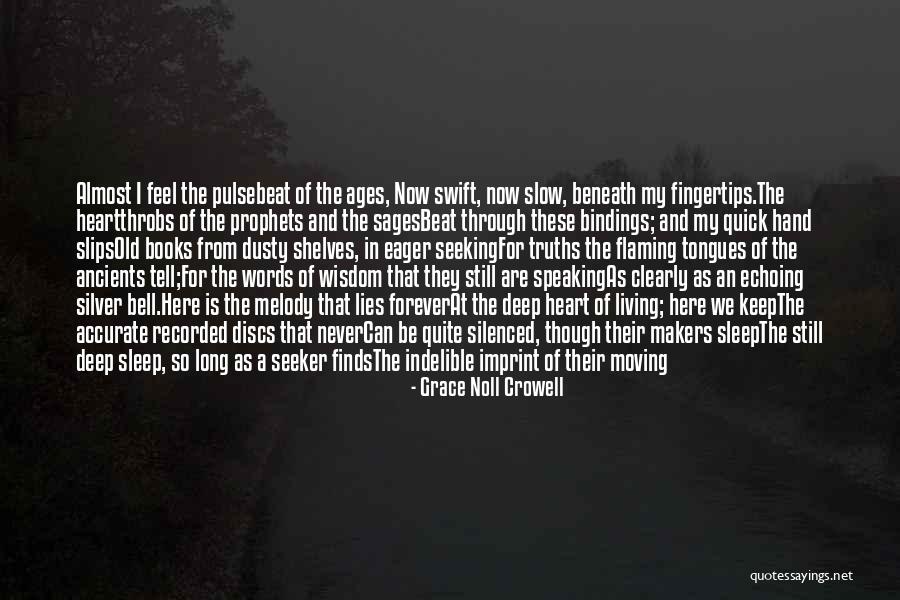 Almost I feel the pulsebeat of the ages,
Now swift, now slow, beneath my fingertips.
The heartthrobs of the prophets and the sages
Beat through these bindings; and my quick hand slips
Old books from dusty shelves, in eager seeking
For truths the flaming tongues of the ancients tell;
For the words of wisdom that they still are speaking
As clearly as an echoing silver bell.
Here is the melody that lies forever
At the deep heart of living; here we keep
The accurate recorded discs that never
Can be quite silenced, though their makers sleep
The still deep sleep, so long as a seeker finds
The indelible imprint of their moving minds. — Grace Noll Crowell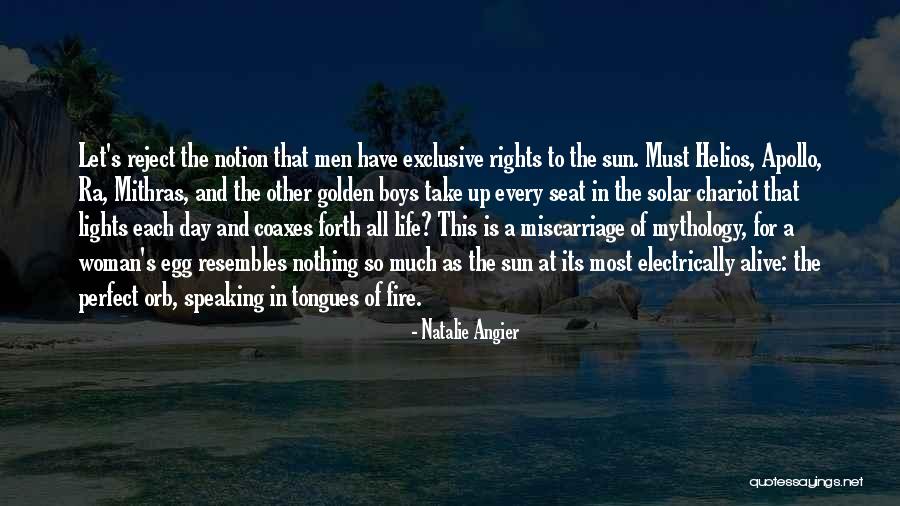 Let's reject the notion that men have exclusive rights to the sun. Must Helios, Apollo, Ra, Mithras, and the other golden boys take up every seat in the solar chariot that lights each day and coaxes forth all life? This is a miscarriage of mythology, for a woman's egg resembles nothing so much as the sun at its most electrically alive: the perfect orb, speaking in tongues of fire. — Natalie Angier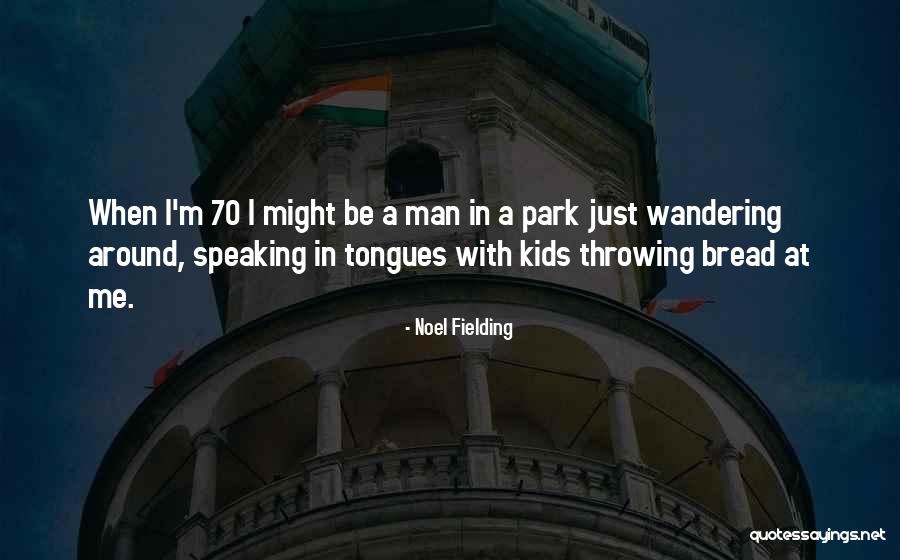 When I'm 70 I might be a man in a park just wandering around, speaking in tongues with kids throwing bread at me. — Noel Fielding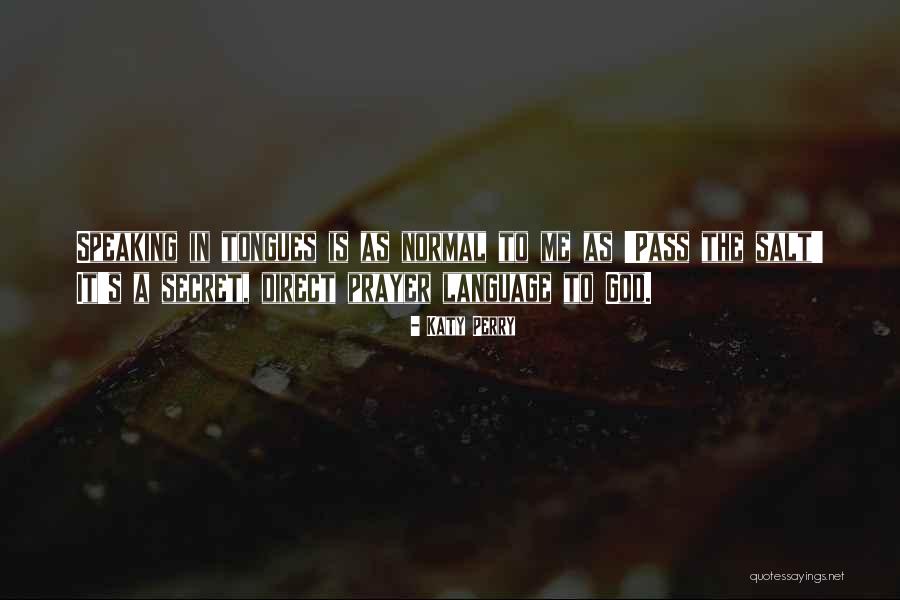 Speaking in tongues is as normal to me as 'Pass the salt' It's a secret, direct prayer language to God. — Katy Perry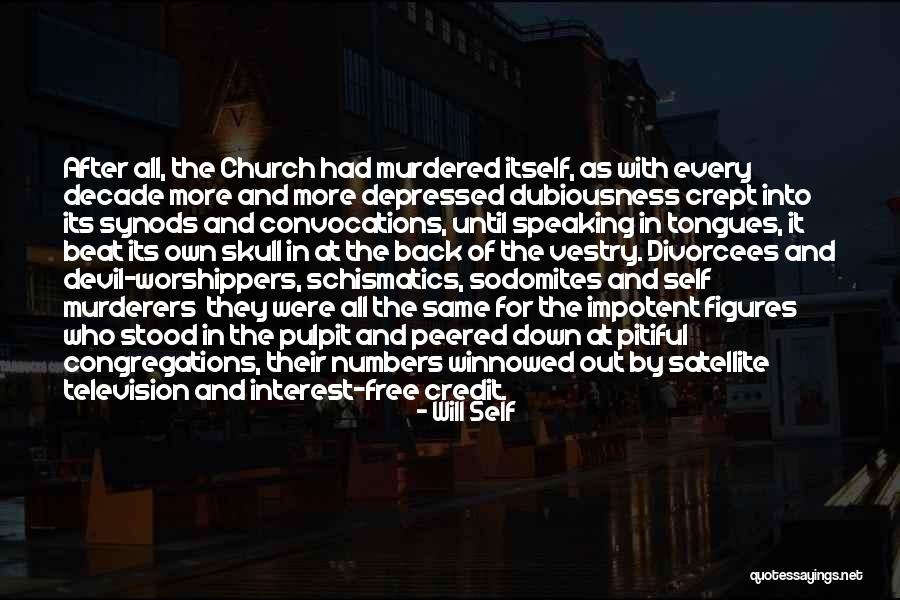 After all, the Church had murdered itself, as with every decade more and more depressed dubiousness crept into its synods and convocations, until speaking in tongues, it beat its own skull in at the back of the vestry. Divorcees and devil-worshippers, schismatics, sodomites and self murderers
they were all the same for the impotent figures who stood in the pulpit and peered down at pitiful congregations, their numbers winnowed out by satellite television and interest-free credit. — Will Self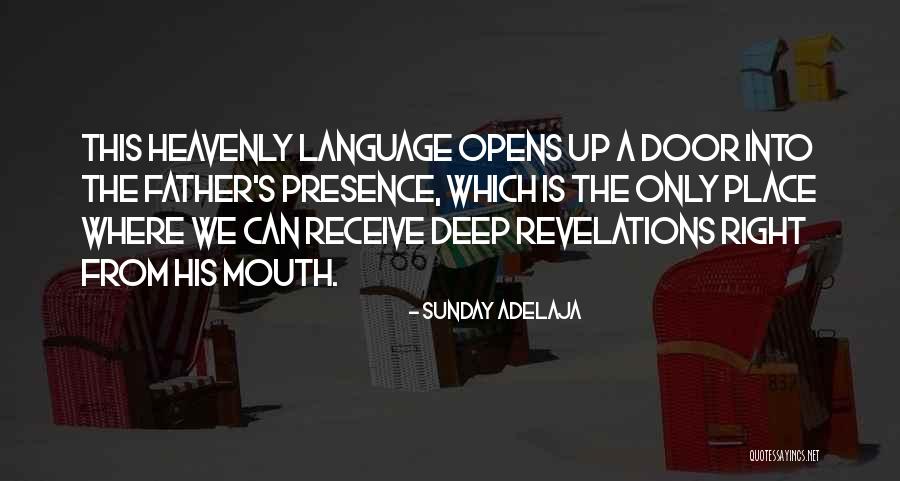 This heavenly language opens up a door into the Father's presence, which is the only place where we can receive deep revelations right from His mouth. — Sunday Adelaja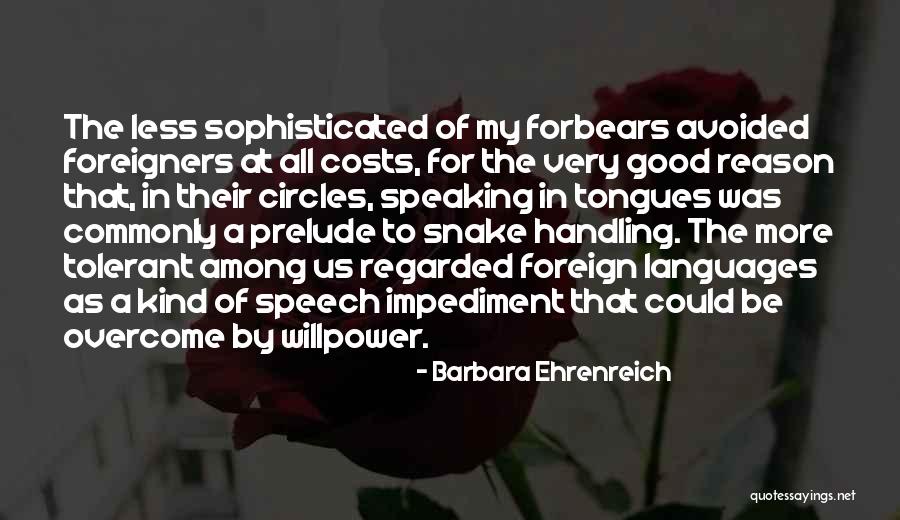 The less sophisticated of my forbears avoided foreigners at all costs, for the very good reason that, in their circles, speaking in tongues was commonly a prelude to snake handling. The more tolerant among us regarded foreign languages as a kind of speech impediment that could be overcome by willpower. — Barbara Ehrenreich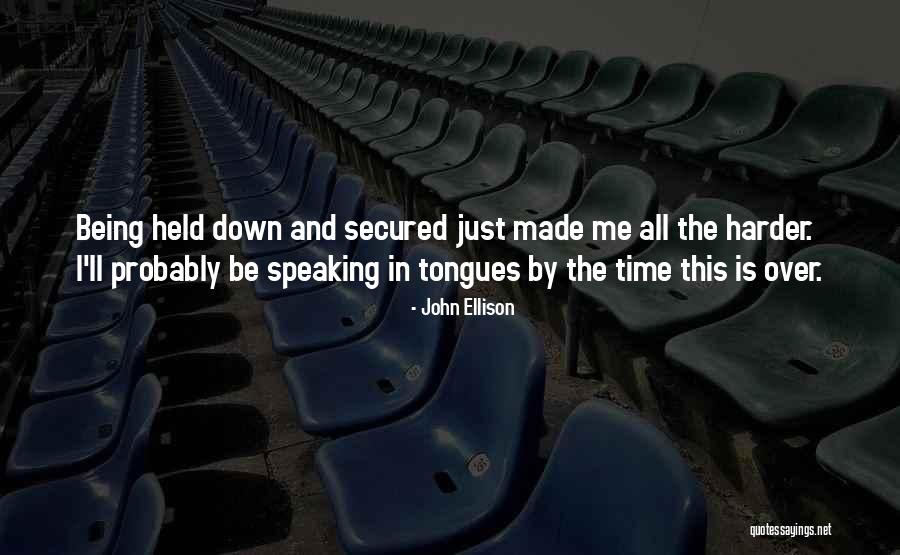 Being held down and secured just made me all the harder. I'll probably be speaking in tongues by the time this is over. — John Ellison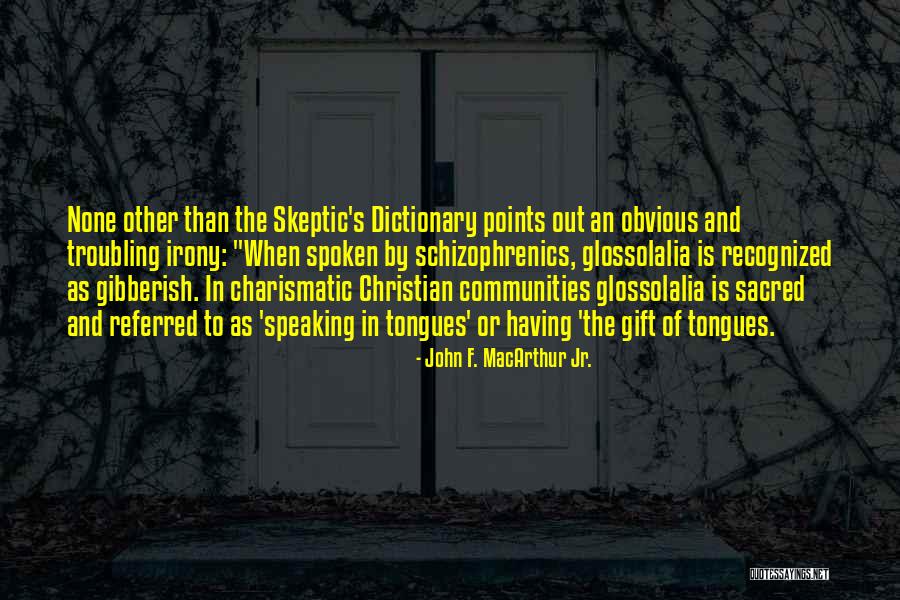 None other than the Skeptic's Dictionary points out an obvious and troubling irony: "When spoken by schizophrenics, glossolalia is recognized as gibberish. In charismatic Christian communities glossolalia is sacred and referred to as 'speaking in tongues' or having 'the gift of tongues. — John F. MacArthur Jr.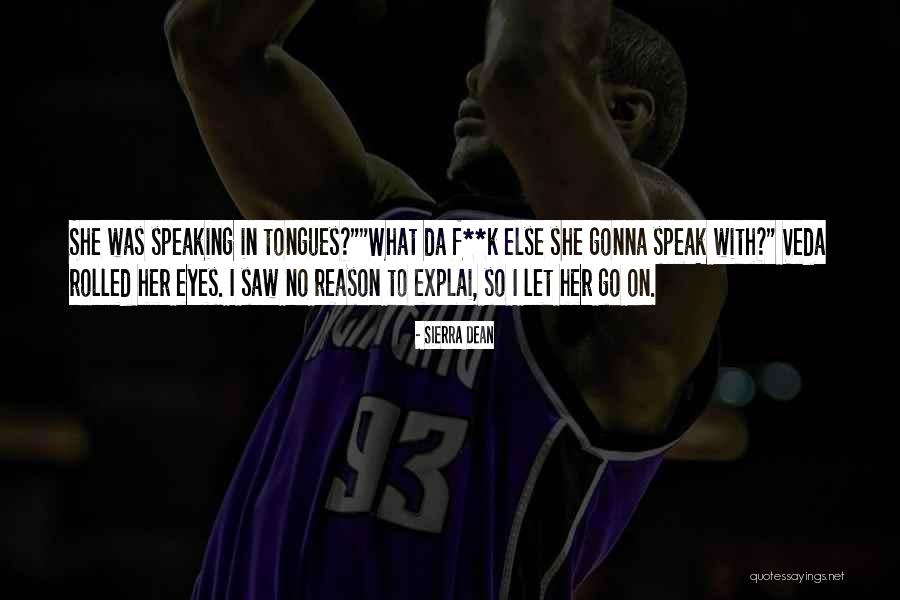 She was speaking in tongues?"
"What da f**k else she gonna speak with?" Veda rolled her eyes. I saw no reason to explai, so I let her go on. — Sierra Dean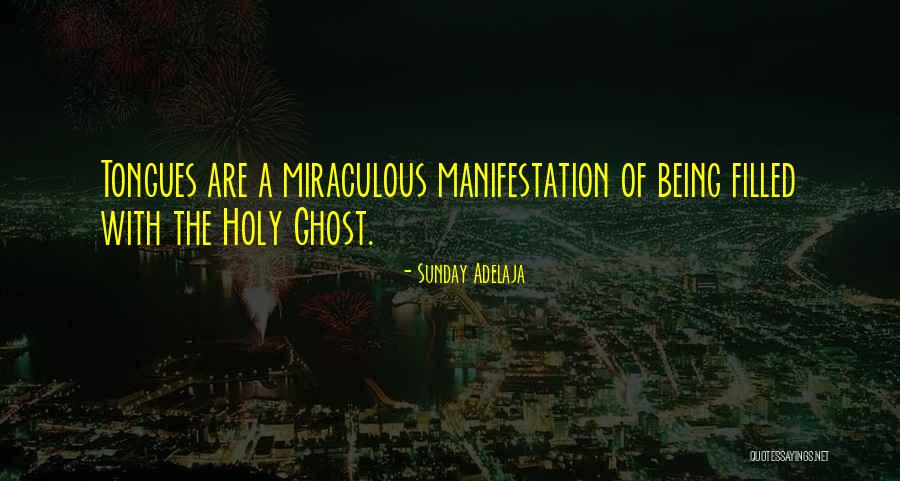 Tongues are a miraculous manifestation of being filled with the Holy Ghost. — Sunday Adelaja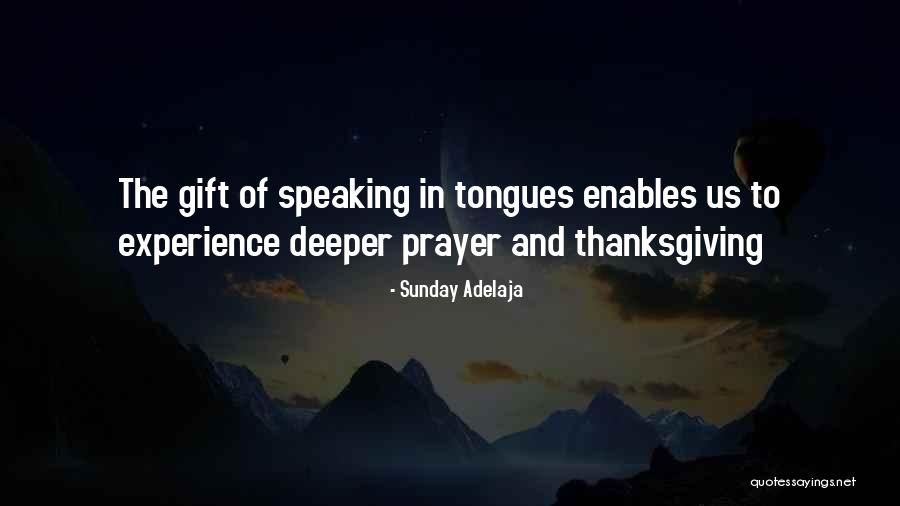 The gift of speaking in tongues enables us to experience deeper prayer and thanksgiving — Sunday Adelaja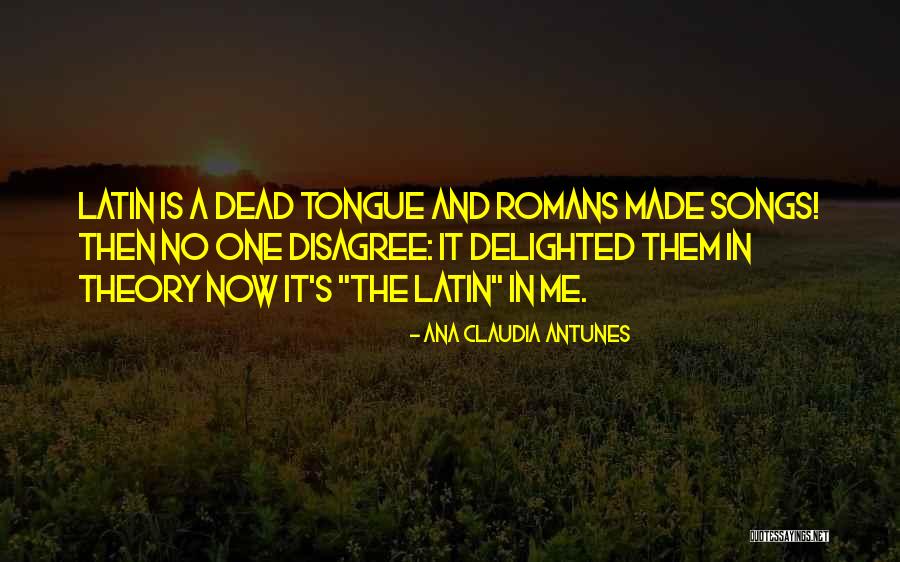 Latin is a dead tongue
And Romans made songs!
Then no one disagree:
It delighted them in theory
Now it's "the Latin" in me. — Ana Claudia Antunes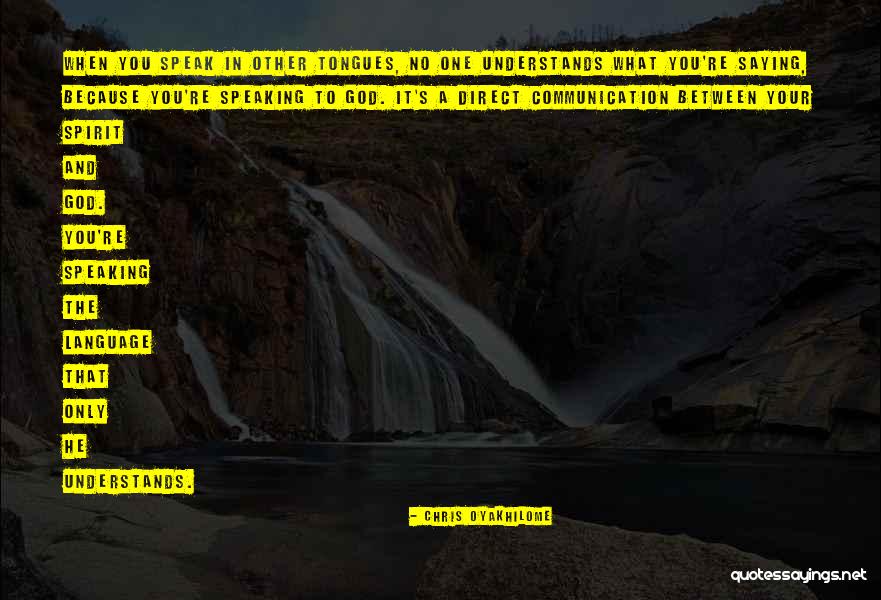 When you speak in other tongues, no one understands what you're saying, because you're speaking to God. It's a direct communication between your spirit and God. You're speaking the language that only He understands. — Chris Oyakhilome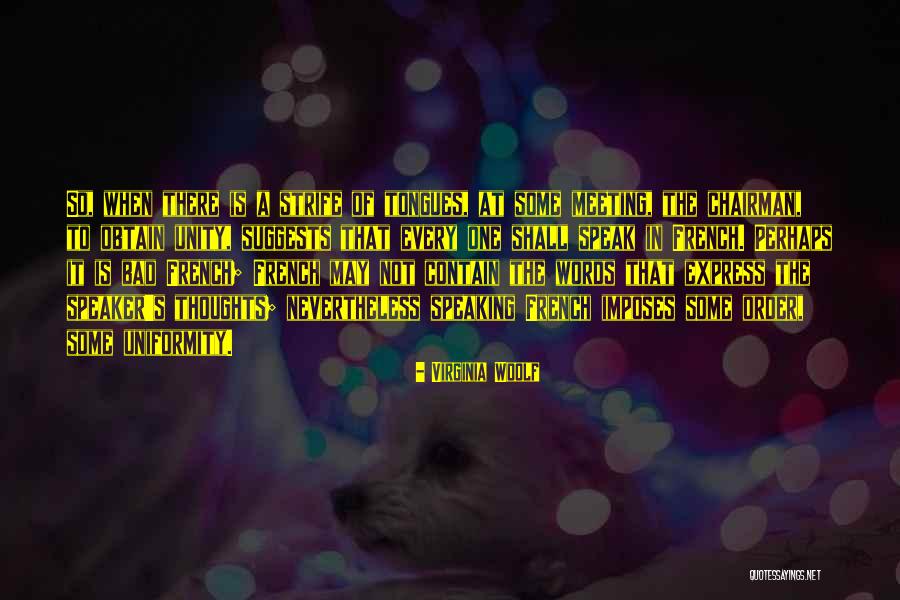 So, when there is a strife of tongues, at some meeting, the chairman, to obtain unity, suggests that every one shall speak in French. Perhaps it is bad French; French may not contain the words that express the speaker's thoughts; nevertheless speaking French imposes some order, some uniformity. — Virginia Woolf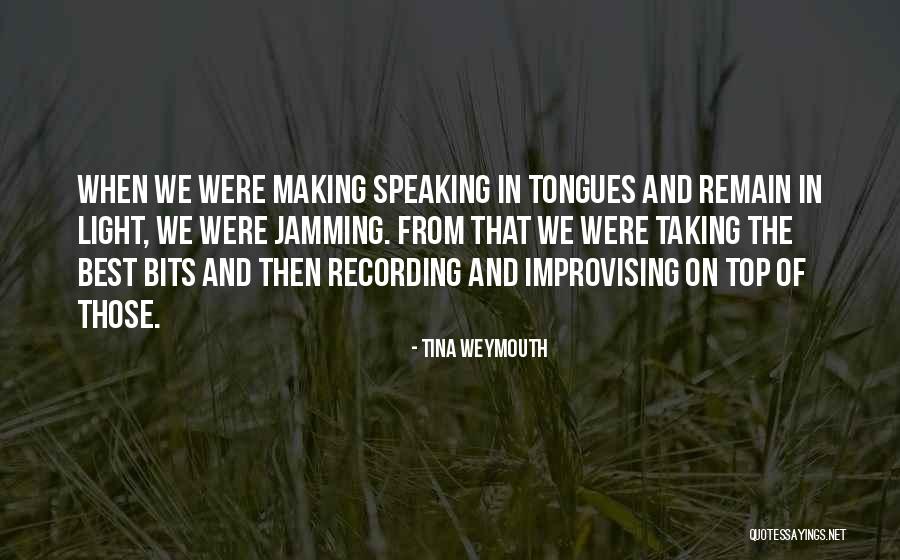 When we were making Speaking in Tongues and Remain in Light, we were jamming. From that we were taking the best bits and then recording and improvising on top of those. — Tina Weymouth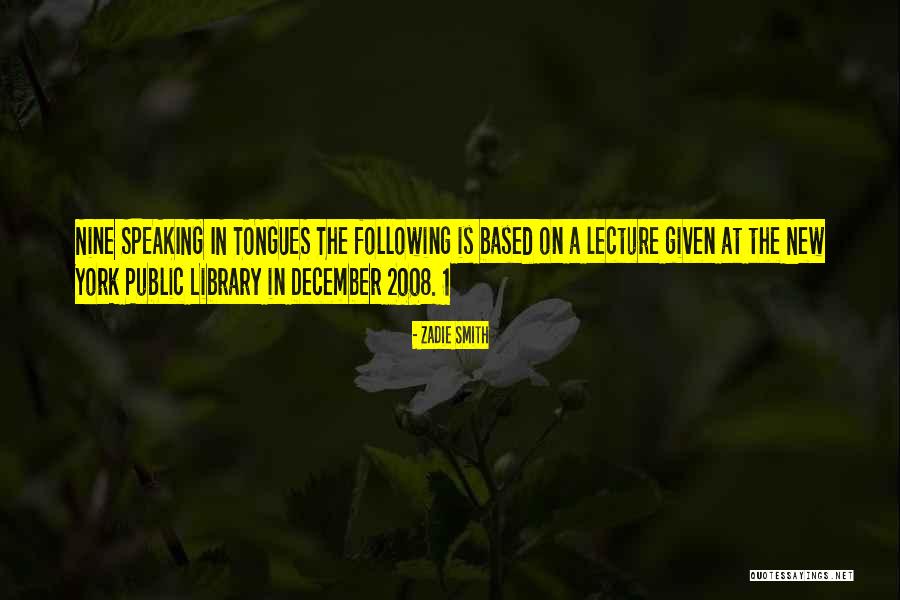 Nine SPEAKING IN TONGUES The following is based on a lecture given at the New York Public Library in December 2008. 1 — Zadie Smith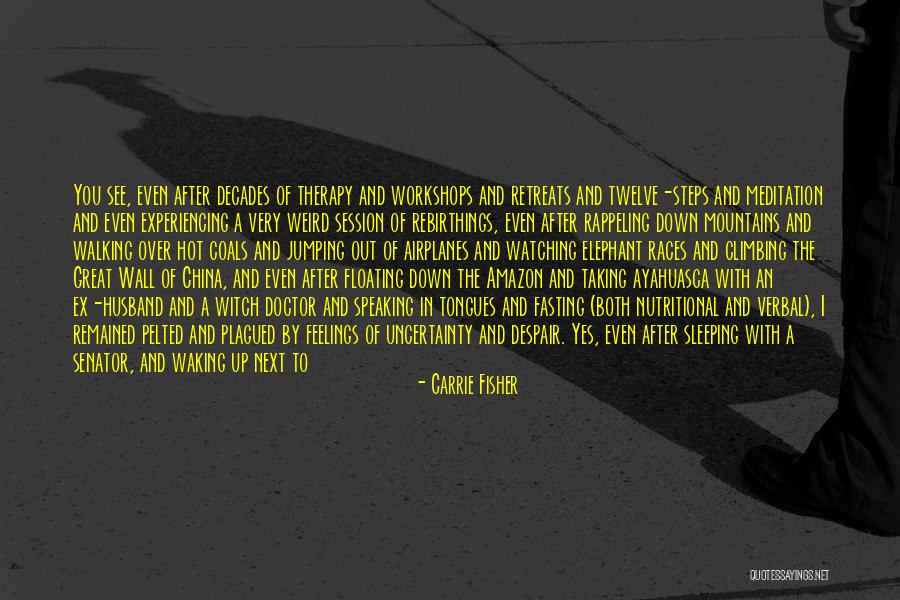 You see, even after decades of therapy and workshops and retreats and twelve-steps and meditation and even experiencing a very weird session of rebirthings, even after rappeling down mountains and walking over hot coals and jumping out of airplanes and watching elephant races and climbing the Great Wall of China, and even after floating down the Amazon and taking ayahuasca with an ex-husband and a witch doctor and speaking in tongues and fasting (both nutritional and verbal), I remained pelted and plagued by feelings of uncertainty and despair. Yes, even after sleeping with a senator, and waking up next to a dead friend, and celebrating Michael Jackson's last Christmas with him and his kids, I still did not feel - how shall I put this? - mentally sound. — Carrie Fisher
I have learned that we may change the very nature of our thoughts, by changing the tone of voice we are thinking in! No one has ever paid attention to what tone of voice they are speaking in, during the time that their words are going on in their heads! People only pay attention to their tones of voice when their words are on their tongues! But it is the tone of voice we think in, that is responsible for creating the energy we emit. You may be screaming on the inside and even though you are calm on the outside, you are going to create the energy of your thoughts. If you want real change in your life, in your mind - really, just change the tone of voice that you think in! — C. JoyBell C.