Quotes & Sayings About South Georgia
Enjoy reading and share 36 famous quotes about South Georgia with everyone.
Top South Georgia Quotes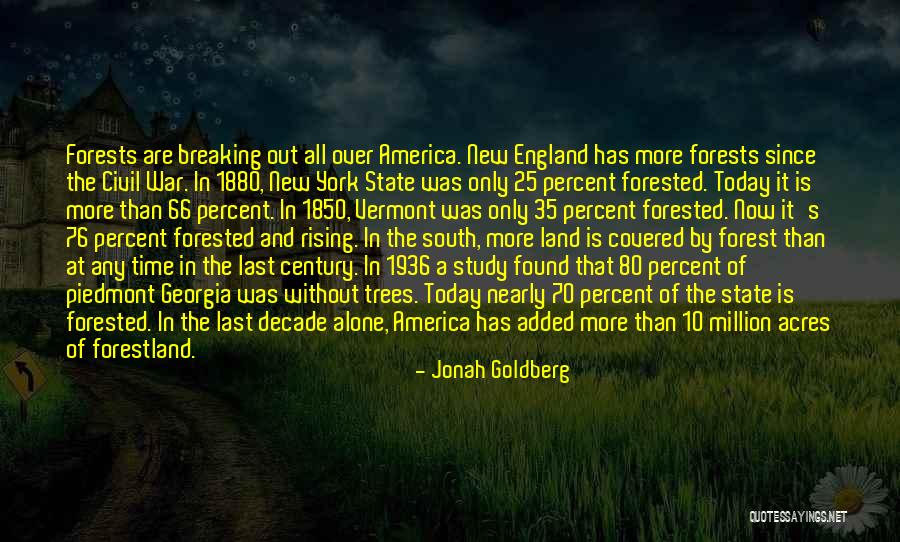 Forests are breaking out all over America. New England has more forests since the Civil War. In 1880, New York State was only 25 percent forested. Today it is more than 66 percent. In 1850, Vermont was only 35 percent forested. Now it's 76 percent forested and rising. In the south, more land is covered by forest than at any time in the last century. In 1936 a study found that 80 percent of piedmont Georgia was without trees. Today nearly 70 percent of the state is forested. In the last decade alone, America has added more than 10 million acres of forestland. — Jonah Goldberg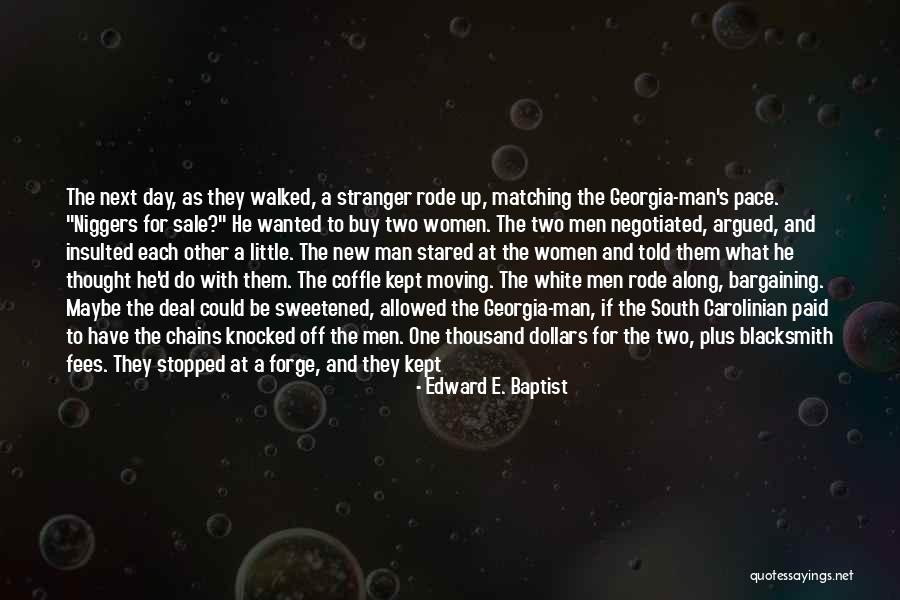 The next day, as they walked, a stranger rode up, matching the Georgia-man's pace. "Niggers for sale?" He wanted to buy two women. The two men negotiated, argued, and insulted each other a little. The new man stared at the women and told them what he thought he'd do with them. The coffle kept moving. The white men rode along, bargaining. Maybe the deal could be sweetened, allowed the Georgia-man, if the South Carolinian paid to have the chains knocked off the men. One thousand dollars for the two, plus blacksmith fees. They stopped at a forge, and they kept arguing. The new man stated for everyone's benefit that he had worked African men to death in iron collars. The blacksmith came out, and he asked what "the two gentlemen were making such a frolick about," Ball later said. Frolicking: Down there, Ball realized, the Carolinians' play, the time when they were most fully themselves, was evidently when they were arguing, negotiating, dealing, and intimidating the enslaved. — Edward E. Baptist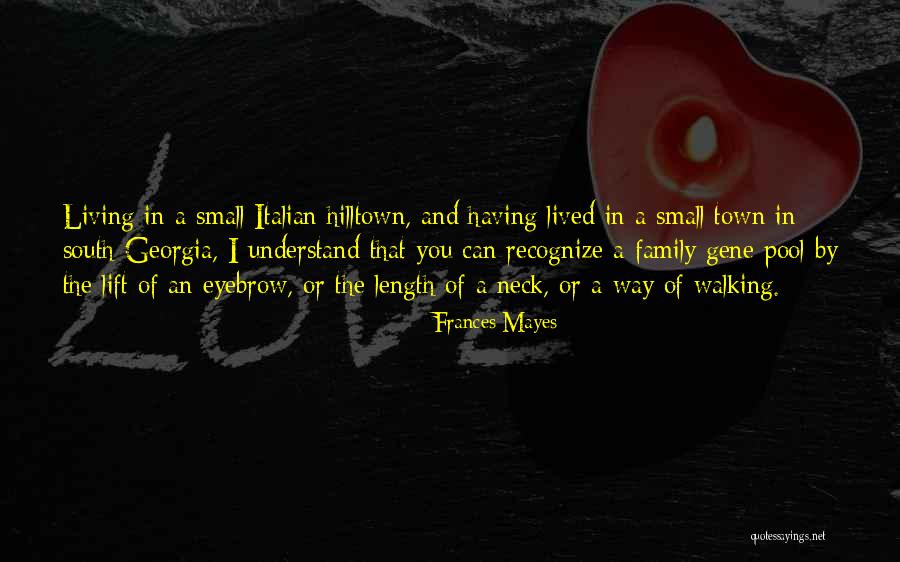 Living in a small Italian hilltown, and having lived in a small town in south Georgia, I understand that you can recognize a family gene pool by the lift of an eyebrow, or the length of a neck, or a way of walking. — Frances Mayes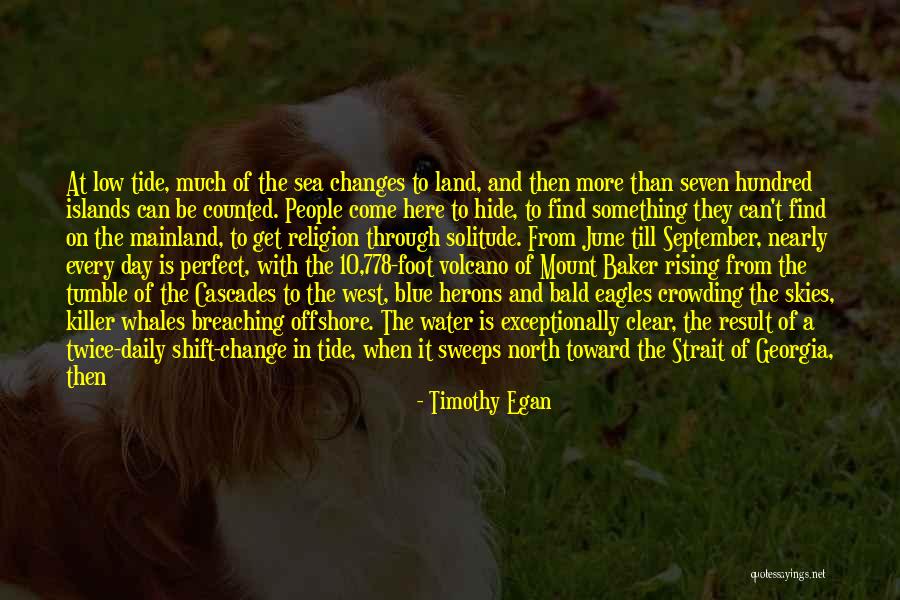 At low tide, much of the sea changes to land, and then more than seven hundred islands can be counted. People come here to hide, to find something they can't find on the mainland, to get religion through solitude. From June till September, nearly every day is perfect, with the 10,778-foot volcano of Mount Baker rising from the tumble of the Cascades to the west, blue herons and bald eagles crowding the skies, killer whales breaching offshore. The water is exceptionally clear, the result of a twice-daily shift-change in tide, when it sweeps north toward the Strait of Georgia, then back south toward the Strait of Juan de Fuca. In some places, the rip tides create white water like rapids on a foaming river. Being is bliss. But then the winters come and the tourists all go home and clouds hang on the horizon and unemployment doubles and the island dweller is left with whatever it is that led him to escape the rest of the world. — Timothy Egan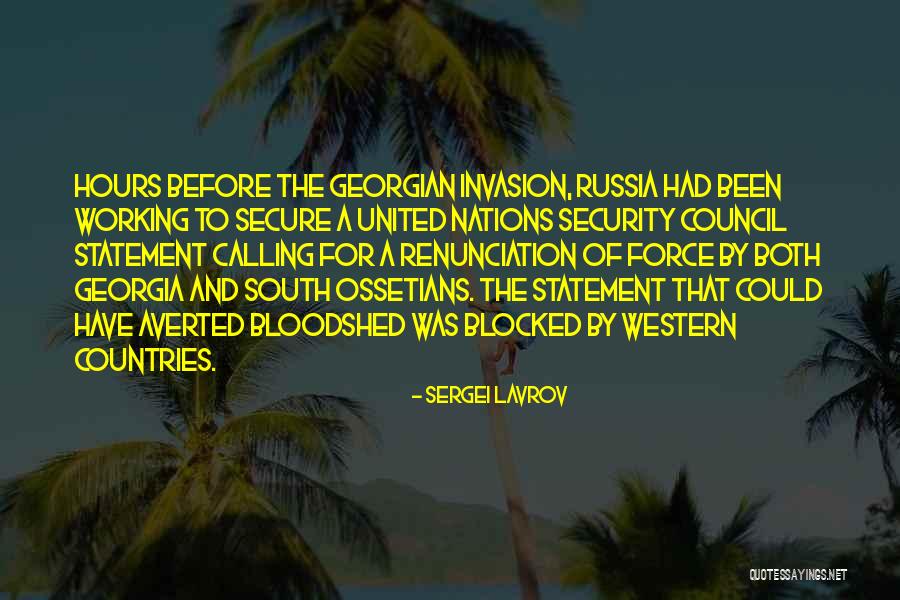 Hours before the Georgian invasion, Russia had been working to secure a United Nations Security Council statement calling for a renunciation of force by both Georgia and South Ossetians. The statement that could have averted bloodshed was blocked by western countries. — Sergei Lavrov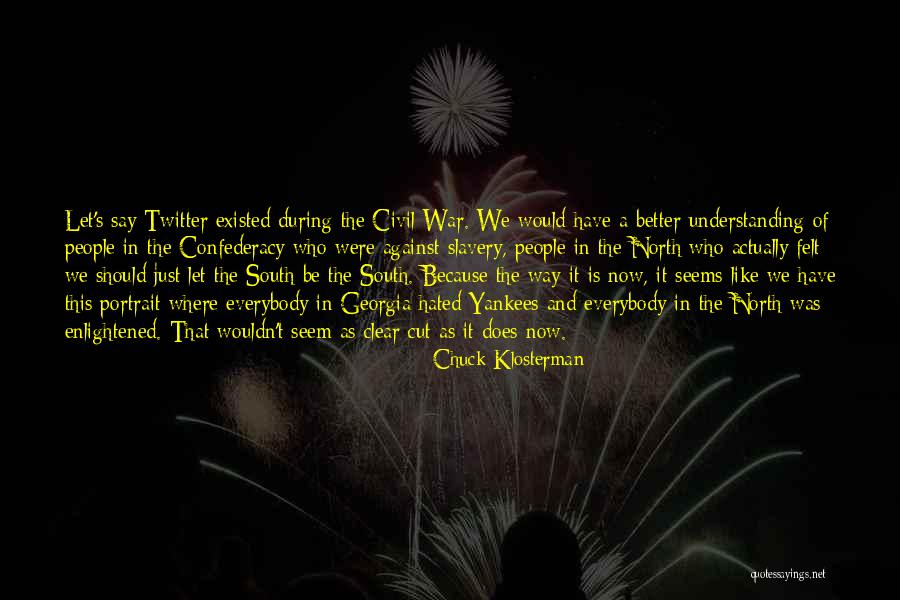 Let's say Twitter existed during the Civil War. We would have a better understanding of people in the Confederacy who were against slavery, people in the North who actually felt we should just let the South be the South. Because the way it is now, it seems like we have this portrait where everybody in Georgia hated Yankees and everybody in the North was enlightened. That wouldn't seem as clear cut as it does now. — Chuck Klosterman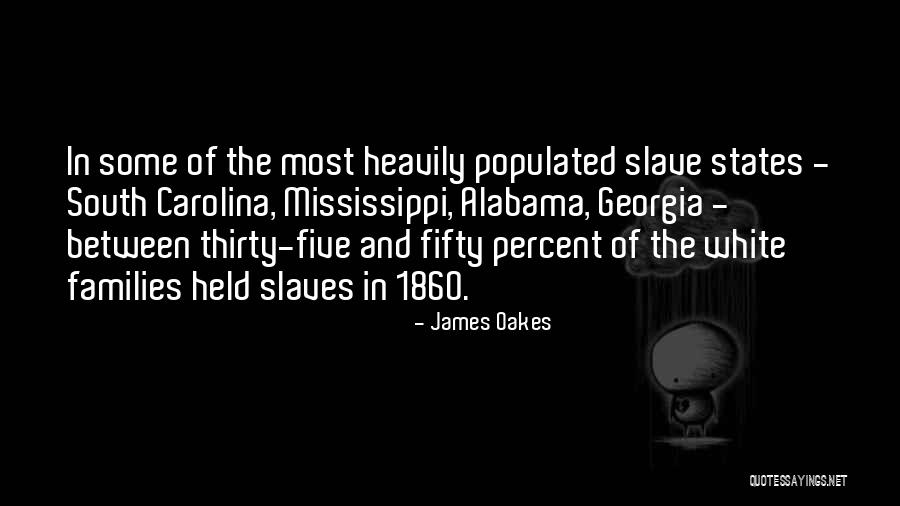 In some of the most heavily populated slave states - South Carolina, Mississippi, Alabama, Georgia - between thirty-five and fifty percent of the white families held slaves in 1860. — James Oakes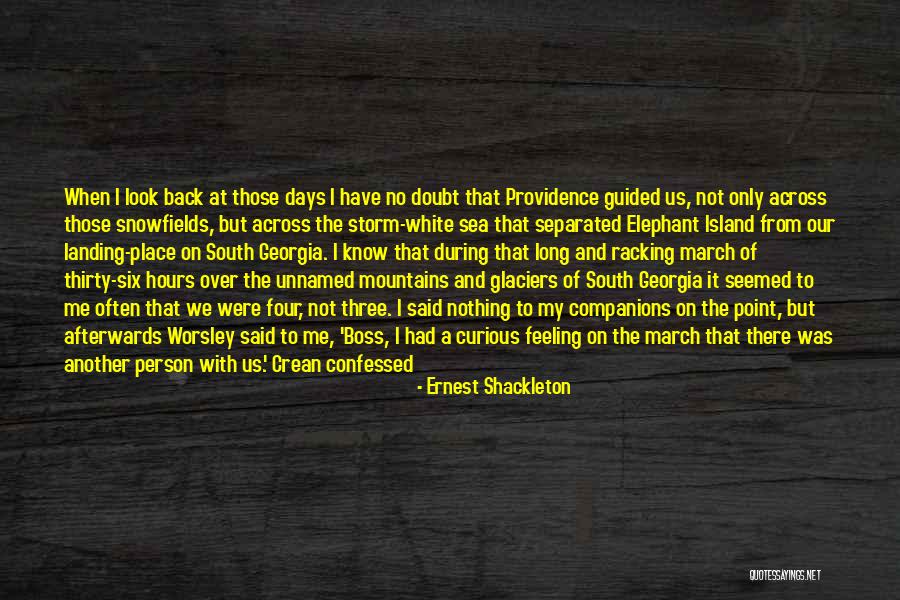 When I look back at those days I have no doubt that Providence guided us, not only across those snowfields, but across the storm-white sea that separated Elephant Island from our landing-place on South Georgia. I know that during that long and racking march of thirty-six hours over the unnamed mountains and glaciers of South Georgia it seemed to me often that we were four, not three. I said nothing to my companions on the point, but afterwards Worsley said to me, 'Boss, I had a curious feeling on the march that there was another person with us.' Crean confessed to the same idea. One feels 'the dearth of human words, the roughness of mortal speech' in trying to describe things intangible, but a record of our journeys would be incomplete without a reference to a subject very near to our hearts. — Ernest Shackleton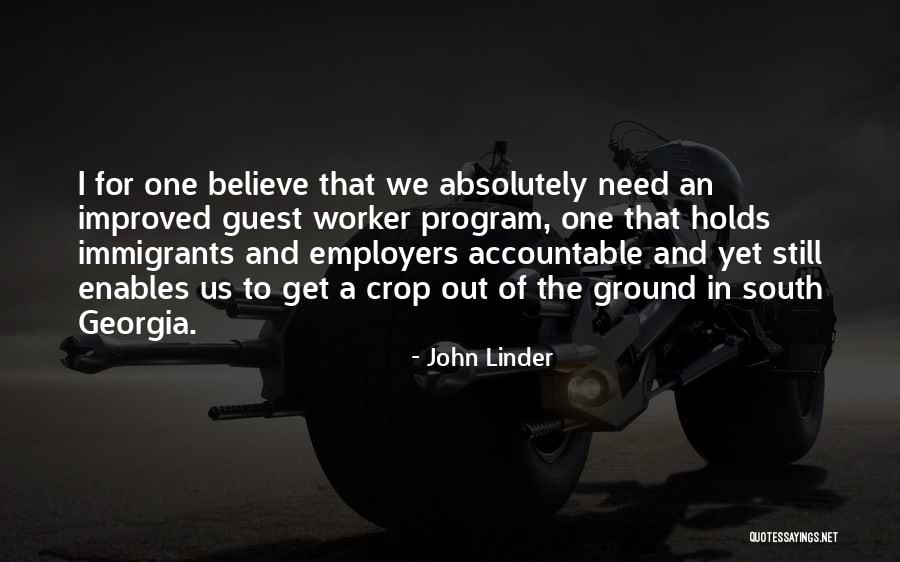 I for one believe that we absolutely need an improved guest worker program, one that holds immigrants and employers accountable and yet still enables us to get a crop out of the ground in south Georgia. — John Linder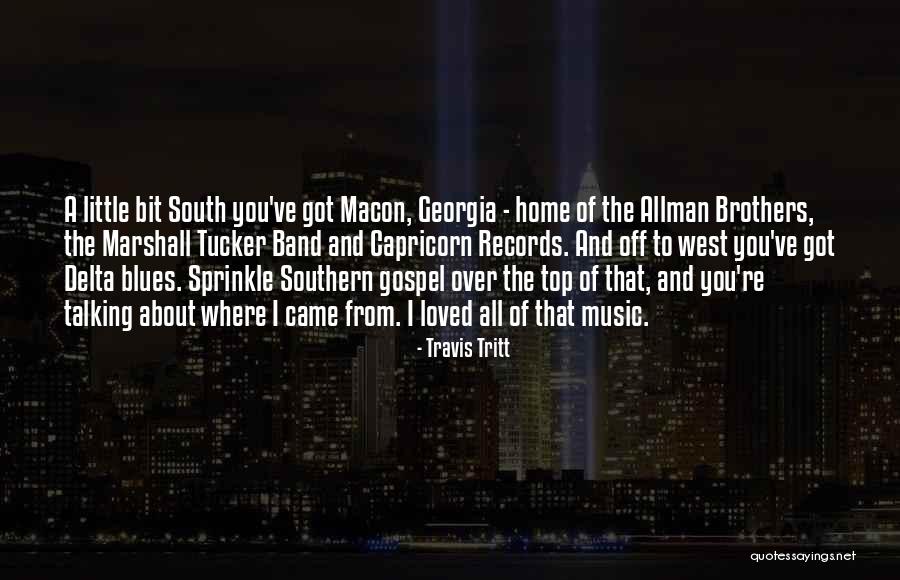 A little bit South you've got Macon, Georgia - home of the Allman Brothers, the Marshall Tucker Band and Capricorn Records. And off to west you've got Delta blues. Sprinkle Southern gospel over the top of that, and you're talking about where I came from. I loved all of that music. — Travis Tritt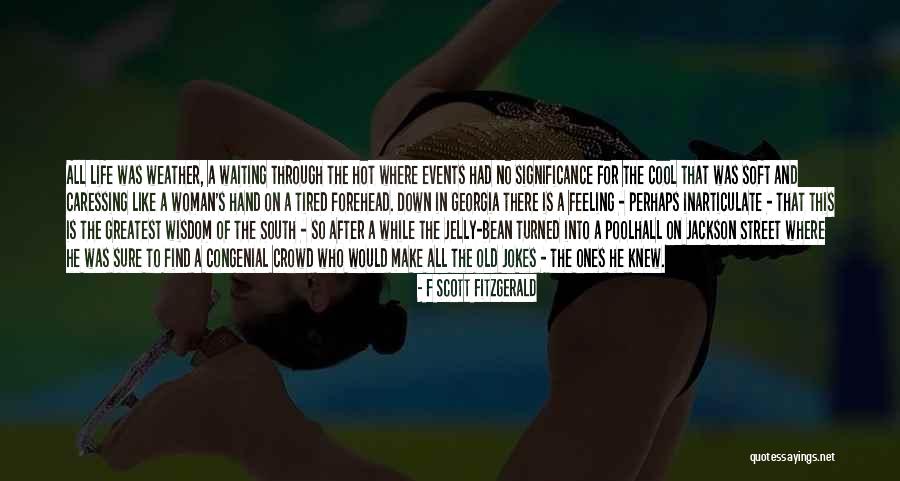 All life was weather, a waiting through the hot where events had no significance for the cool that was soft and caressing like a woman's hand on a tired forehead. Down in Georgia there is a feeling - perhaps inarticulate - that this is the greatest wisdom of the South - so after a while the Jelly-bean turned into a poolhall on Jackson Street where he was sure to find a congenial crowd who would make all the old jokes - the ones he knew. — F Scott Fitzgerald
I kinda like Florida. It's hot as hell, but we moved to Tallahassee, which is so close to Georgia. It really wasn't Florida the way people think of Florida. It wasn't south Florida. But you could still easily drive to Panama City Beach and get a little bit of Redneck Riviera if you want that. Get some airbrushed T-shirts on, and you're done. — Tony Hale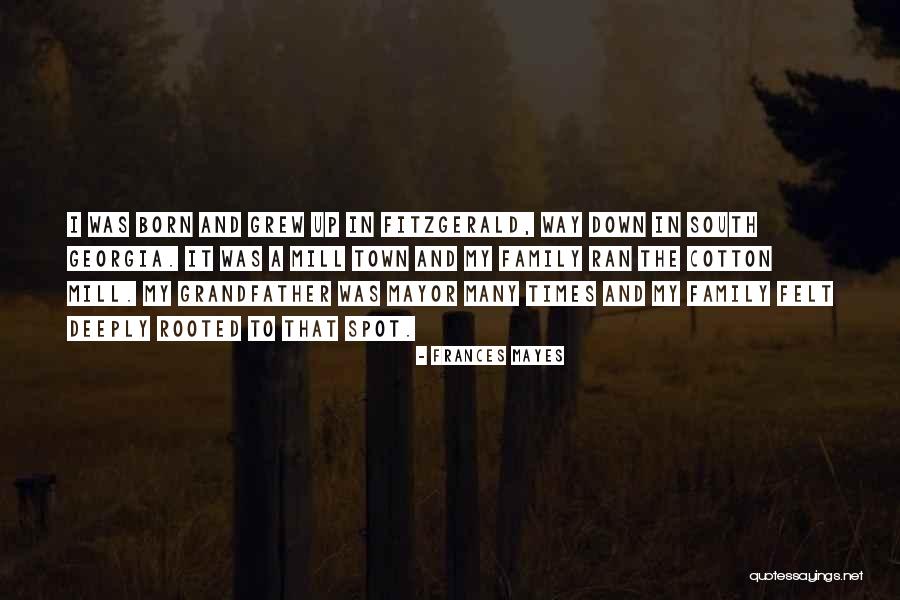 I was born and grew up in Fitzgerald, way down in south Georgia. It was a mill town and my family ran the cotton mill. My grandfather was mayor many times and my family felt deeply rooted to that spot. — Frances Mayes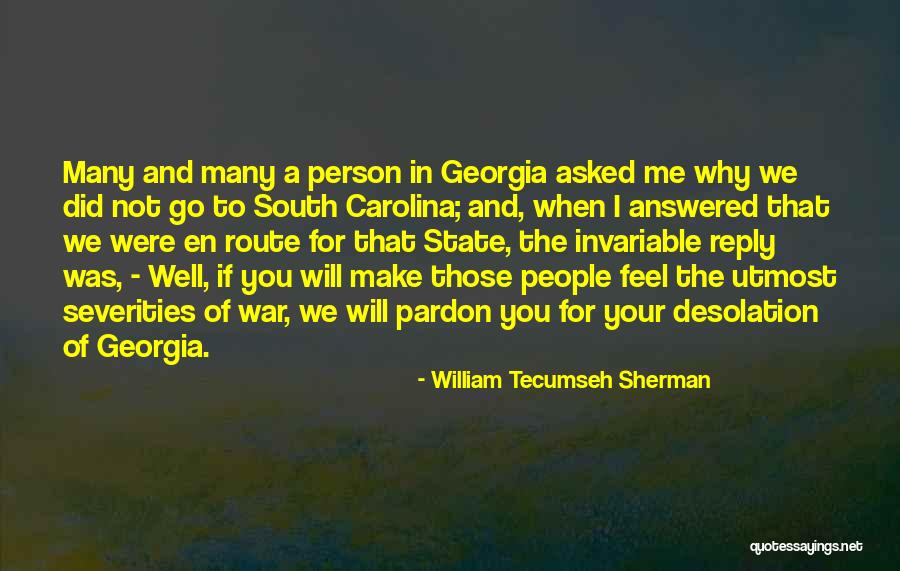 Many and many a person in Georgia asked me why we did not go to South Carolina; and, when I answered that we were en route for that State, the invariable reply was, - Well, if you will make those people feel the utmost severities of war, we will pardon you for your desolation of Georgia. — William Tecumseh Sherman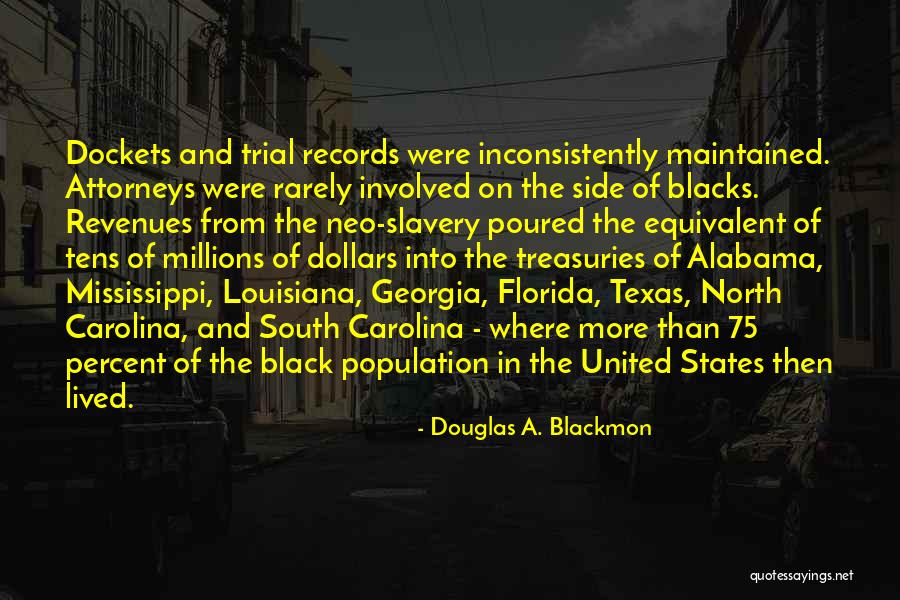 Dockets and trial records were inconsistently maintained. Attorneys were rarely involved on the side of blacks. Revenues from the neo-slavery poured the equivalent of tens of millions of dollars into the treasuries of Alabama, Mississippi, Louisiana, Georgia, Florida, Texas, North Carolina, and South Carolina - where more than 75 percent of the black population in the United States then lived. — Douglas A. Blackmon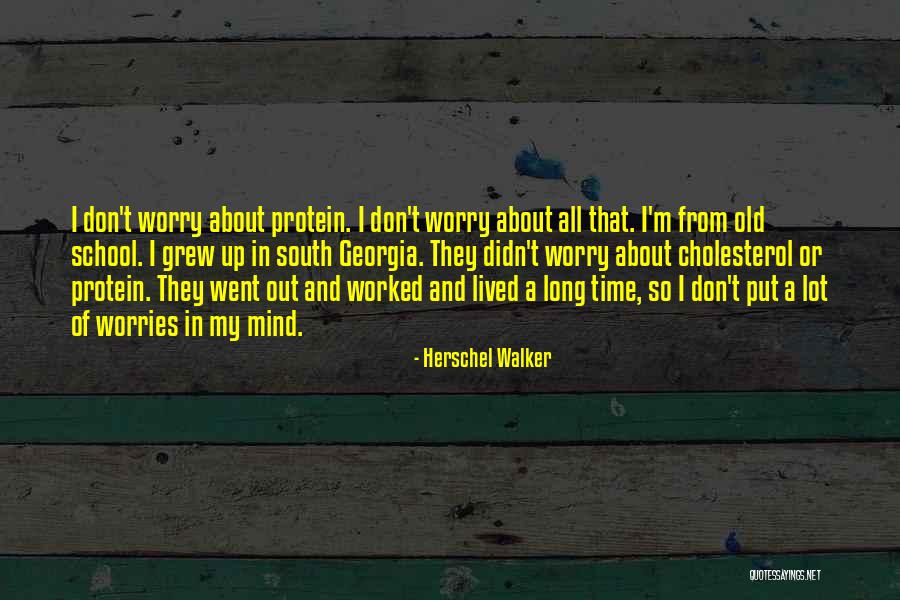 I don't worry about protein. I don't worry about all that. I'm from old school. I grew up in south Georgia. They didn't worry about cholesterol or protein. They went out and worked and lived a long time, so I don't put a lot of worries in my mind. — Herschel Walker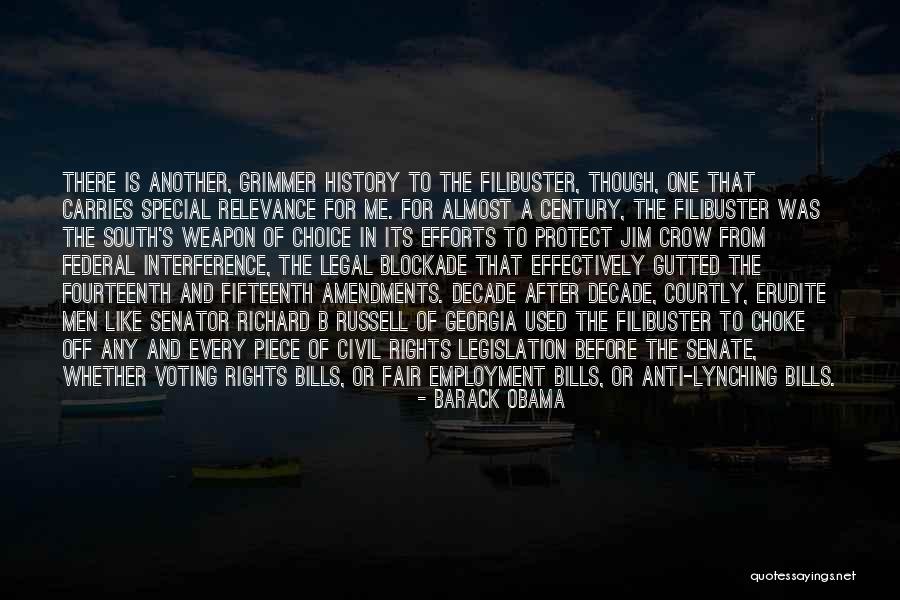 There is another, grimmer history to the filibuster, though, one that carries special relevance for me. For almost a century, the filibuster was the South's weapon of choice in its efforts to protect Jim Crow from federal interference, the legal blockade that effectively gutted the Fourteenth and Fifteenth Amendments. Decade after decade, courtly, erudite men like Senator Richard B Russell of Georgia used the filibuster to choke off any and every piece of civil rights legislation before the Senate, whether voting rights bills, or fair employment bills, or anti-lynching bills. — Barack Obama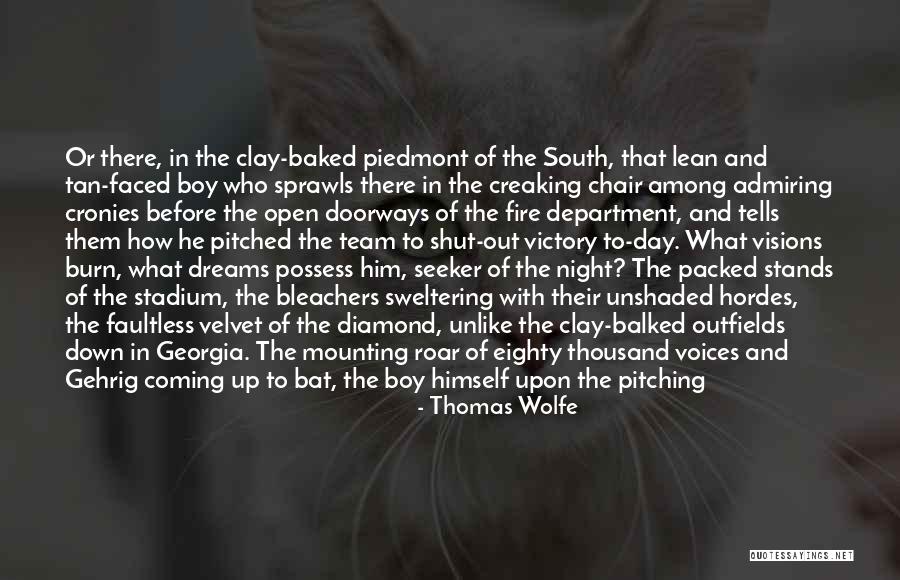 Or there, in the clay-baked piedmont of the South, that lean and tan-faced boy who sprawls there in the creaking chair among admiring cronies before the open doorways of the fire department, and tells them how he pitched the team to shut-out victory to-day. What visions burn, what dreams possess him, seeker of the night? The packed stands of the stadium, the bleachers sweltering with their unshaded hordes, the faultless velvet of the diamond, unlike the clay-balked outfields down in Georgia. The mounting roar of eighty thousand voices and Gehrig coming up to bat, the boy himself upon the pitching mound, the lean face steady as a hound's; then the nod, the signal, and the wind-up, the rawhide arm that snaps and crackles like a whip, the small white bullet of the blazing ball, its loud report in the oiled pocket of the catcher's mitt, the umpire's thumb jerked upwards, the clean strike. — Thomas Wolfe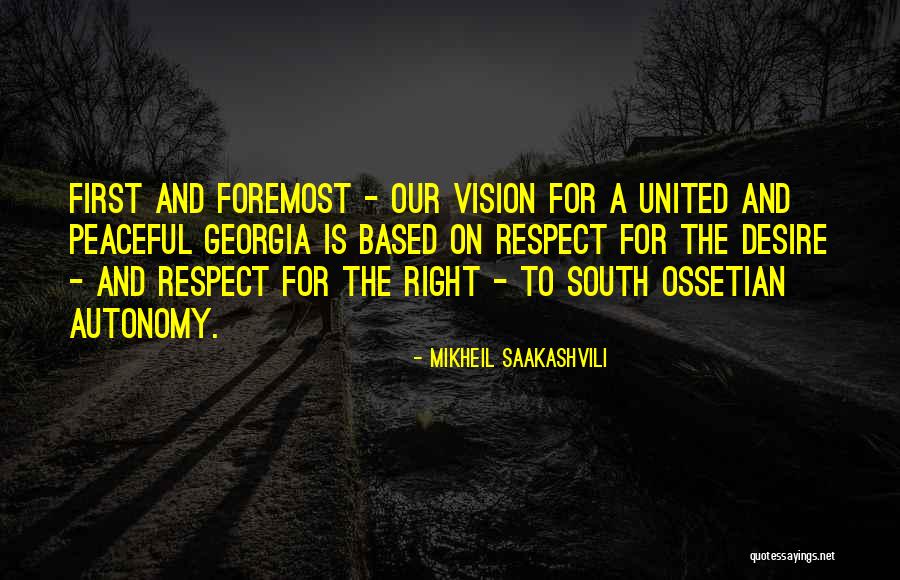 First and foremost - our vision for a united and peaceful Georgia is based on respect for the desire - and respect for the right - to South Ossetian autonomy. — Mikheil Saakashvili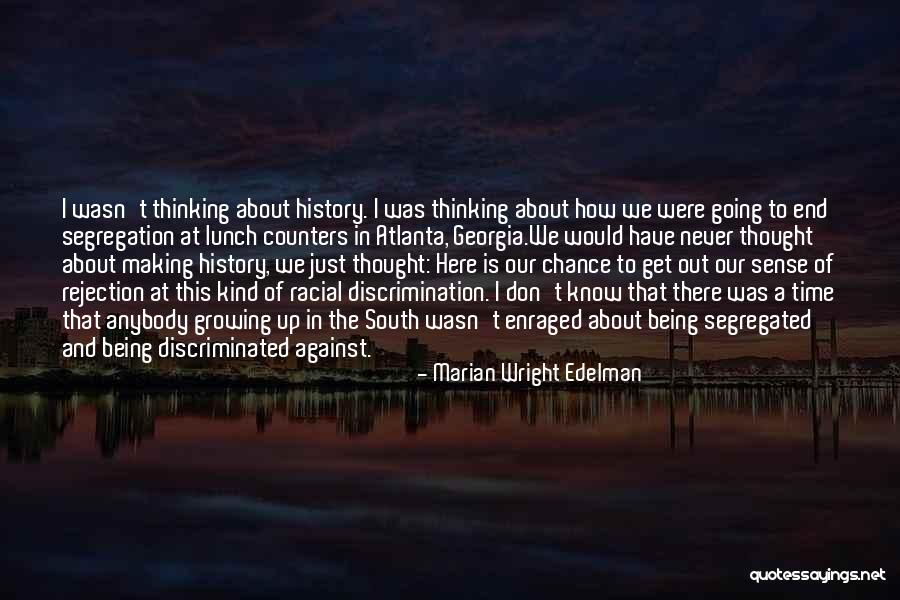 I wasn't thinking about history. I was thinking about how we were going to end segregation at lunch counters in Atlanta, Georgia.We would have never thought about making history, we just thought: Here is our chance to get out our sense of rejection at this kind of racial discrimination. I don't know that there was a time that anybody growing up in the South wasn't enraged about being segregated and being discriminated against. — Marian Wright Edelman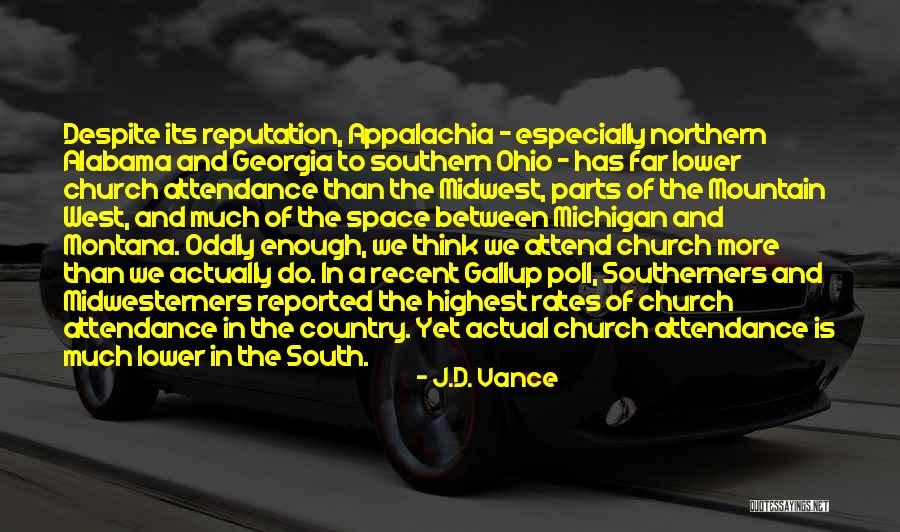 Despite its reputation, Appalachia - especially northern Alabama and Georgia to southern Ohio - has far lower church attendance than the Midwest, parts of the Mountain West, and much of the space between Michigan and Montana. Oddly enough, we think we attend church more than we actually do. In a recent Gallup poll, Southerners and Midwesterners reported the highest rates of church attendance in the country. Yet actual church attendance is much lower in the South. — J.D. Vance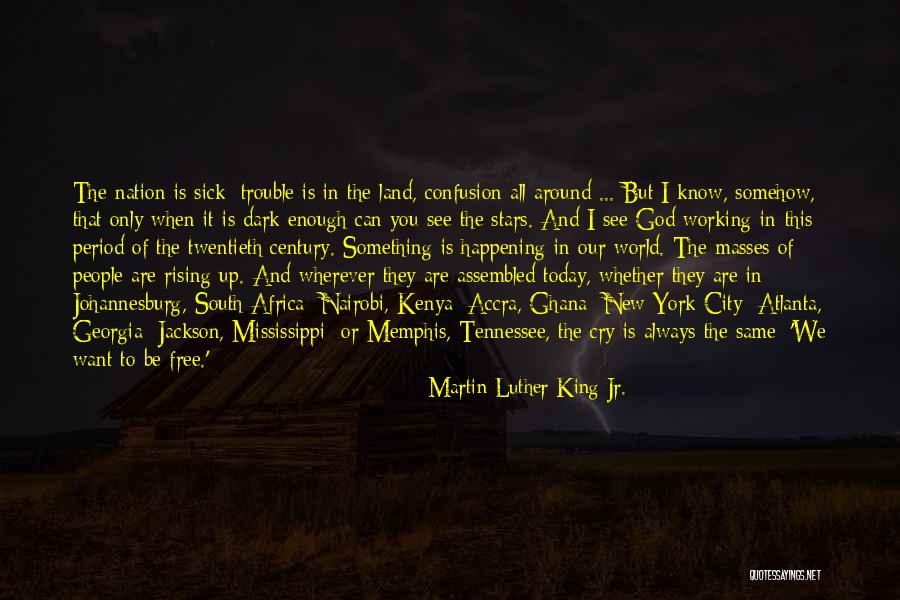 The nation is sick; trouble is in the land, confusion all around ... But I know, somehow, that only when it is dark enough can you see the stars. And I see God working in this period of the twentieth century. Something is happening in our world. The masses of people are rising up. And wherever they are assembled today, whether they are in Johannesburg, South Africa; Nairobi, Kenya; Accra, Ghana; New York City; Atlanta, Georgia; Jackson, Mississippi; or Memphis, Tennessee, the cry is always the same: 'We want to be free.' — Martin Luther King Jr.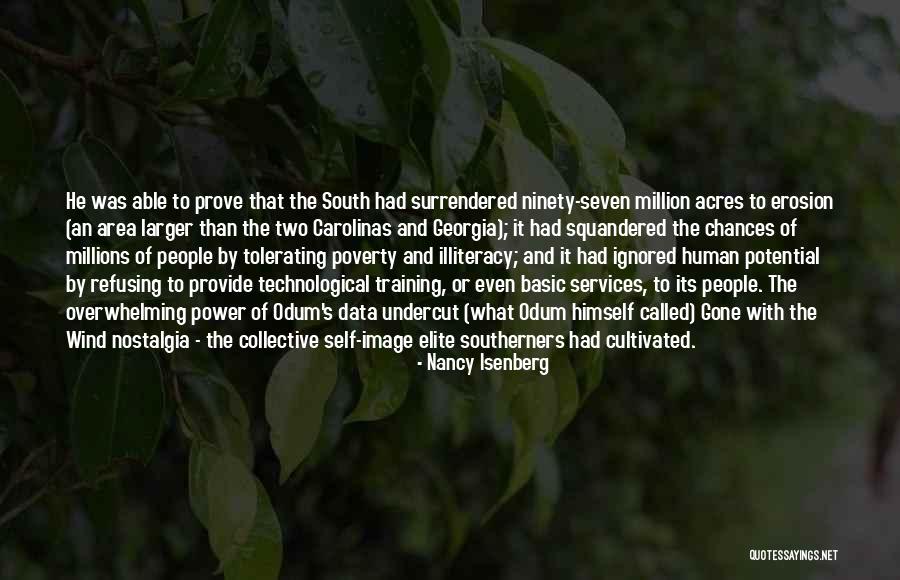 He was able to prove that the South had surrendered ninety-seven million acres to erosion (an area larger than the two Carolinas and Georgia); it had squandered the chances of millions of people by tolerating poverty and illiteracy; and it had ignored human potential by refusing to provide technological training, or even basic services, to its people. The overwhelming power of Odum's data undercut (what Odum himself called) Gone with the Wind nostalgia - the collective self-image elite southerners had cultivated. — Nancy Isenberg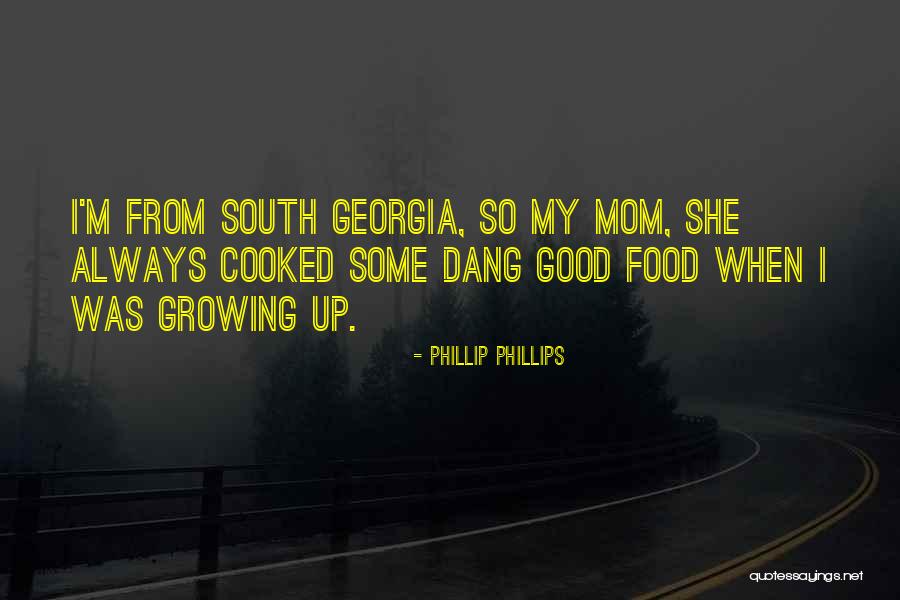 I'm from South Georgia, so my mom, she always cooked some dang good food when I was growing up. — Phillip Phillips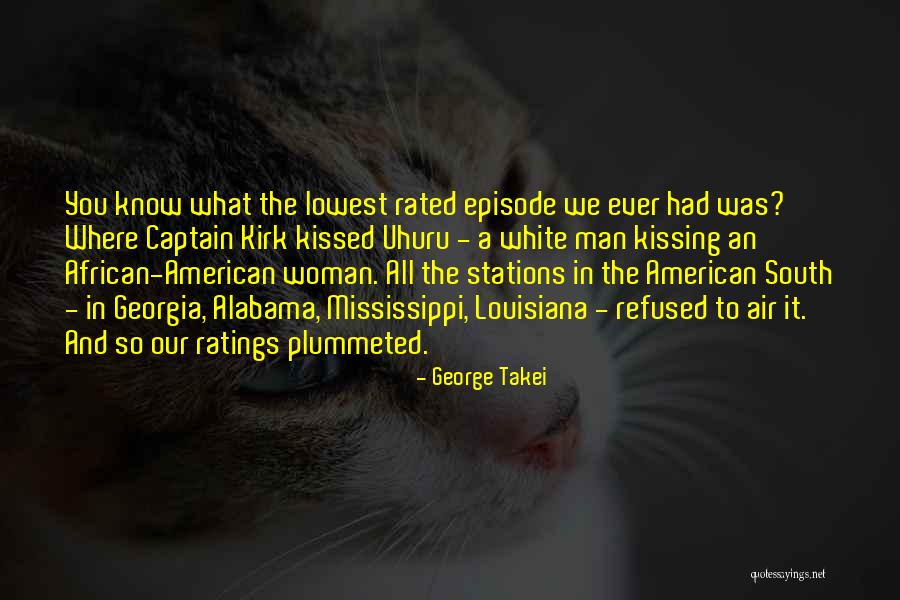 You know what the lowest rated episode we ever had was? Where Captain Kirk kissed Uhuru - a white man kissing an African-American woman. All the stations in the American South - in Georgia, Alabama, Mississippi, Louisiana - refused to air it. And so our ratings plummeted. — George Takei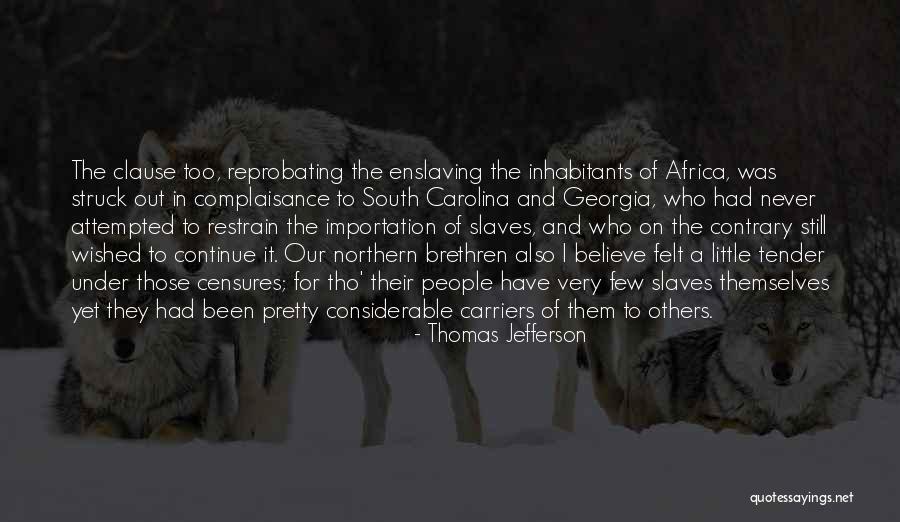 The clause too, reprobating the enslaving the inhabitants of Africa, was struck out in complaisance to South Carolina and Georgia, who had never attempted to restrain the importation of slaves, and who on the contrary still wished to continue it. Our northern brethren also I believe felt a little tender under those censures; for tho' their people have very few slaves themselves yet they had been pretty considerable carriers of them to others. — Thomas Jefferson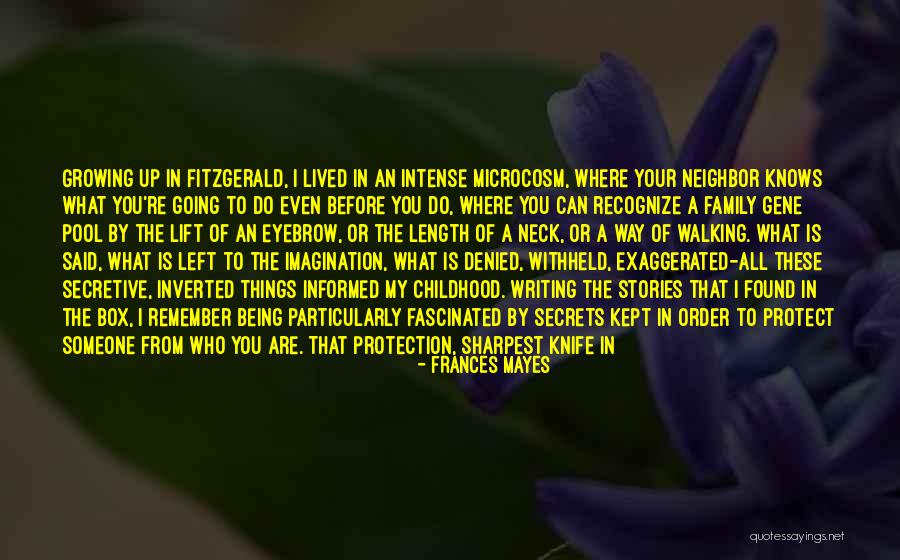 Growing up in Fitzgerald, I lived in an intense microcosm, where your neighbor knows what you're going to do even before you do, where you can recognize a family gene pool by the lift of an eyebrow, or the length of a neck, or a way of walking. What is said, what is left to the imagination, what is denied, withheld, exaggerated-all these secretive, inverted things informed my childhood. Writing the stories that I found in the box, I remember being particularly fascinated by secrets kept in order to protect someone from who you are. That protection, sharpest knife in the drawer, I absorbed as naturally as a southern accent. At that time, I was curious to hold up to the light glimpses of the family that I had so efficiently fled. We were remote-back behind nowhere-when I was growing up, but even so, enormous social change was about to crumble foundations. Who were we, way far South? "We're south of everywhere," my mother used to lament. — Frances Mayes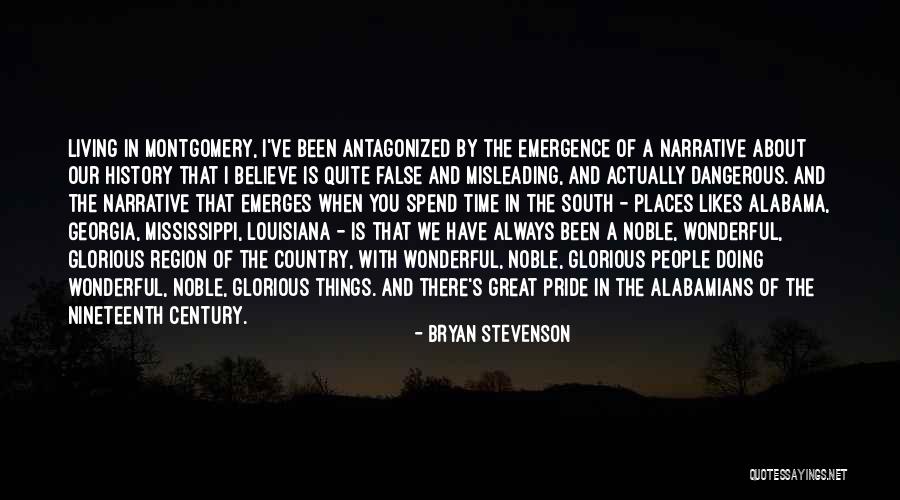 Living in Montgomery, I've been antagonized by the emergence of a narrative about our history that I believe is quite false and misleading, and actually dangerous. And the narrative that emerges when you spend time in the South - places likes Alabama, Georgia, Mississippi, Louisiana - is that we have always been a noble, wonderful, glorious region of the country, with wonderful, noble, glorious people doing wonderful, noble, glorious things. And there's great pride in the Alabamians of the nineteenth century. — Bryan Stevenson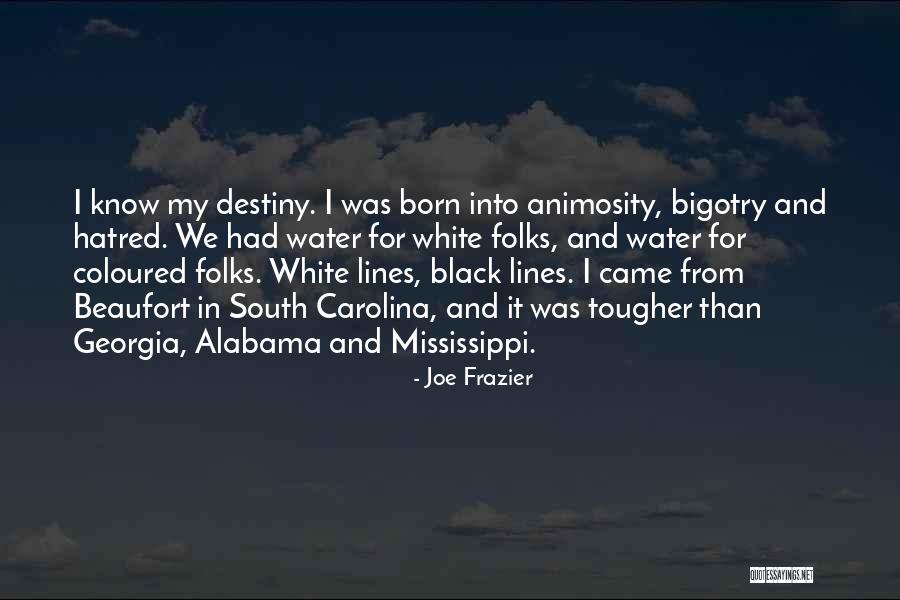 I know my destiny. I was born into animosity, bigotry and hatred. We had water for white folks, and water for coloured folks. White lines, black lines. I came from Beaufort in South Carolina, and it was tougher than Georgia, Alabama and Mississippi. — Joe Frazier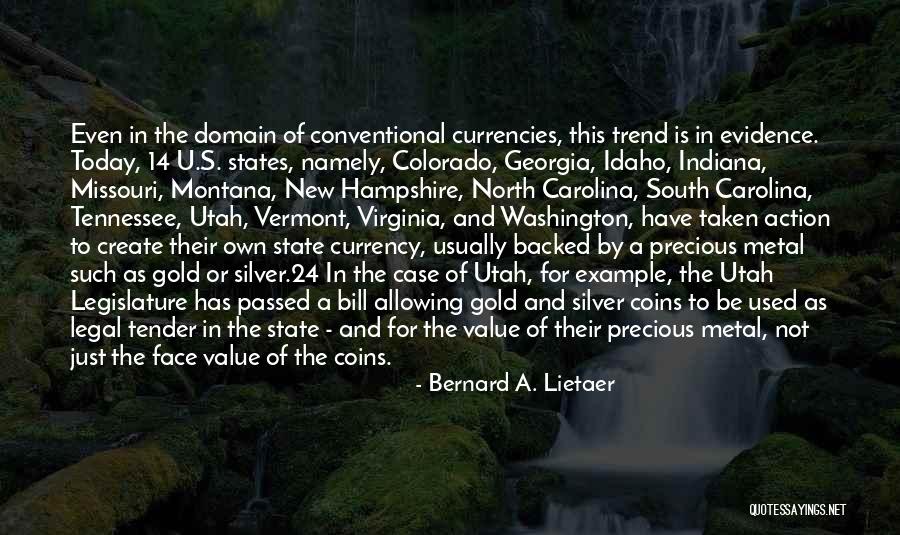 Even in the domain of conventional currencies, this trend is in evidence. Today, 14 U.S. states, namely, Colorado, Georgia, Idaho, Indiana, Missouri, Montana, New Hampshire, North Carolina, South Carolina, Tennessee, Utah, Vermont, Virginia, and Washington, have taken action to create their own state currency, usually backed by a precious metal such as gold or silver.24 In the case of Utah, for example, the Utah Legislature has passed a bill allowing gold and silver coins to be used as legal tender in the state - and for the value of their precious metal, not just the face value of the coins. Utah's bill allows stores to accept gold and silver coins as legal tender. It also exempts gold and silver transactions from the state's capital gains tax, though that does not shield exchanges from federal taxes. — Bernard A. Lietaer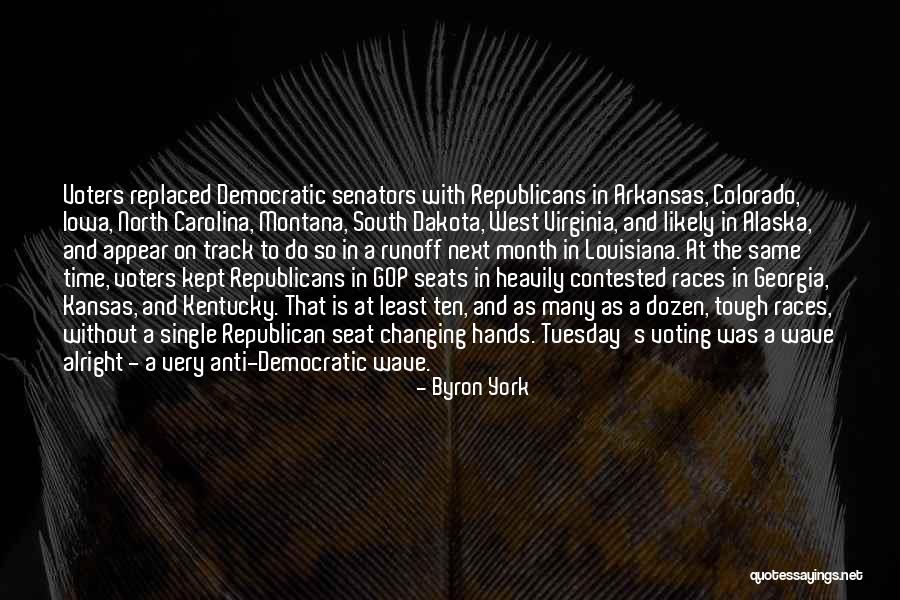 Voters replaced Democratic senators with Republicans in Arkansas, Colorado, Iowa, North Carolina, Montana, South Dakota, West Virginia, and likely in Alaska, and appear on track to do so in a runoff next month in Louisiana. At the same time, voters kept Republicans in GOP seats in heavily contested races in Georgia, Kansas, and Kentucky. That is at least ten, and as many as a dozen, tough races, without a single Republican seat changing hands. Tuesday's voting was a wave alright - a very anti-Democratic wave. — Byron York
Georgia Author Brenda Sutton Rose captures some of the conflicted and captivating characters of a rapidly changing South. — Janisse Ray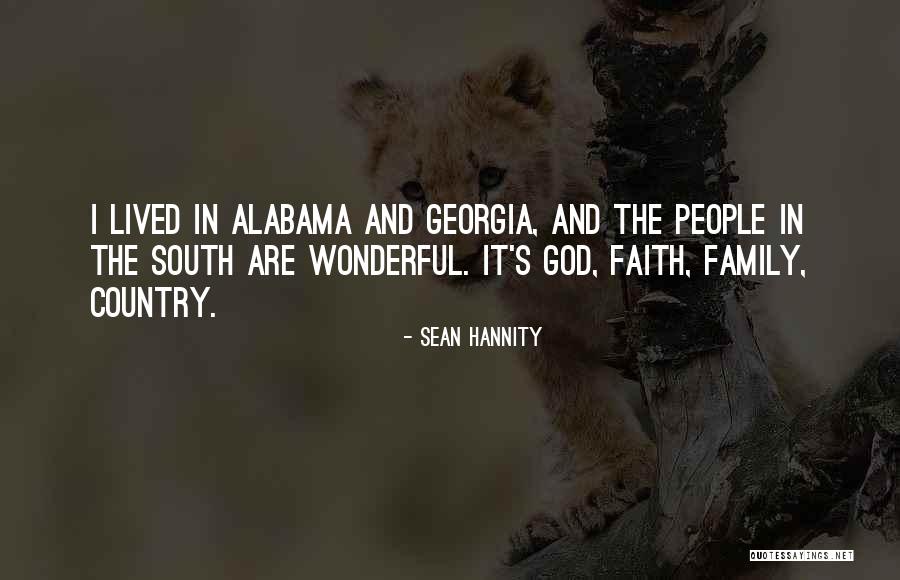 I lived in Alabama and Georgia, and the people in the south are wonderful. It's God, faith, family, country. — Sean Hannity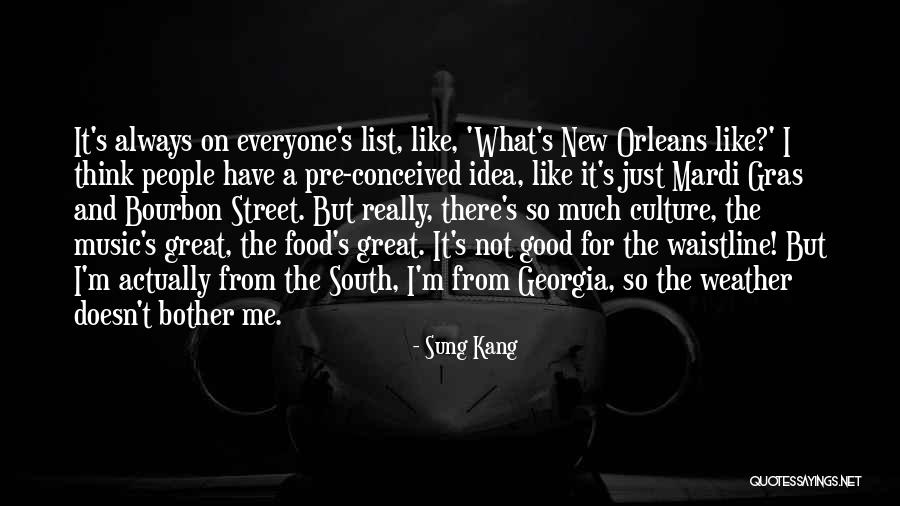 It's always on everyone's list, like, 'What's New Orleans like?' I think people have a pre-conceived idea, like it's just Mardi Gras and Bourbon Street. But really, there's so much culture, the music's great, the food's great. It's not good for the waistline! But I'm actually from the South, I'm from Georgia, so the weather doesn't bother me. — Sung Kang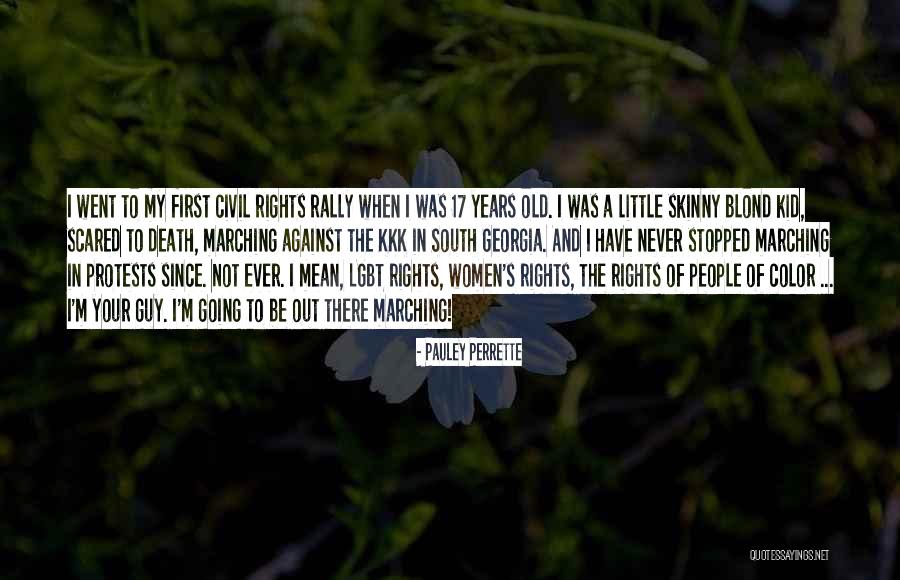 I went to my first civil rights rally when I was 17 years old. I was a little skinny blond kid, scared to death, marching against the KKK in South Georgia. And I have never stopped marching in protests since. Not ever. I mean, LGBT rights, women's rights, the rights of people of color ... I'm your guy. I'm going to be out there marching! — Pauley Perrette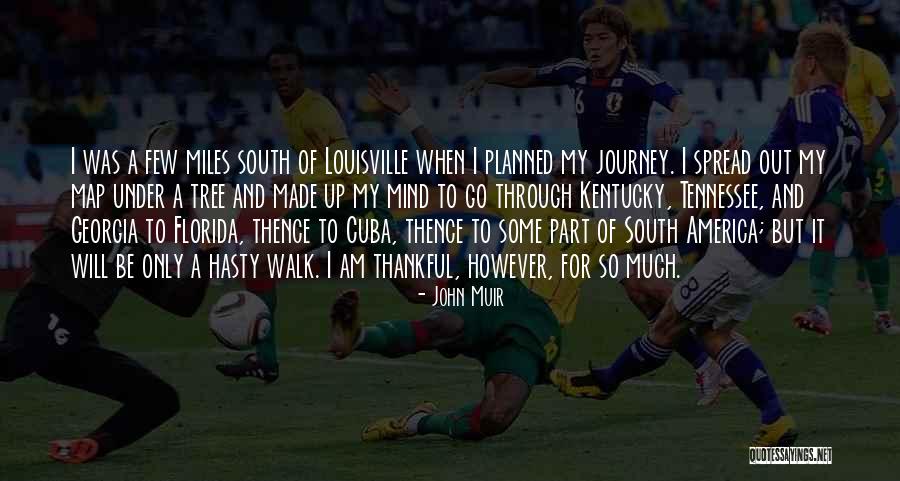 I was a few miles south of Louisville when I planned my journey. I spread out my map under a tree and made up my mind to go through Kentucky, Tennessee, and Georgia to Florida, thence to Cuba, thence to some part of South America; but it will be only a hasty walk. I am thankful, however, for so much. — John Muir