Soul Binding Quotes & Sayings
Enjoy reading and share 27 famous quotes about Soul Binding with everyone.
Top Soul Binding Quotes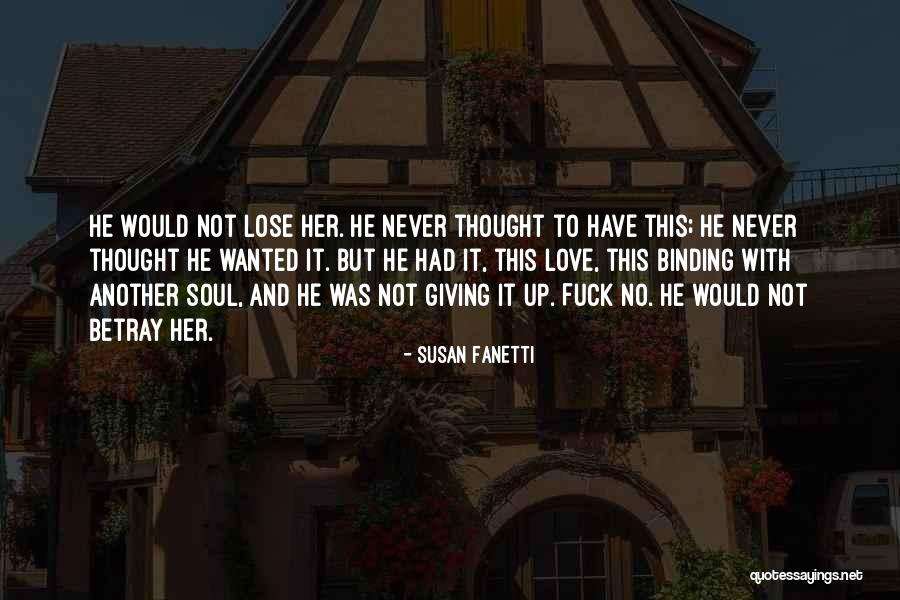 He would not lose her. He never thought to have this; he never thought he wanted it. But he had it, this love, this binding with another soul, and he was not giving it up. Fuck no. He would not betray her. — Susan Fanetti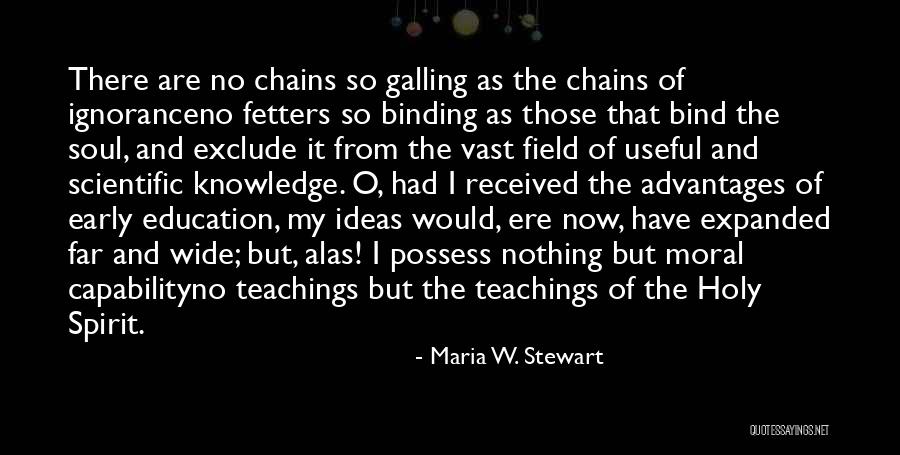 There are no chains so galling as the chains of ignorance
no fetters so binding as those that bind the soul, and exclude it from the vast field of useful and scientific knowledge. O, had I received the advantages of early education, my ideas would, ere now, have expanded far and wide; but, alas! I possess nothing but moral capability
no teachings but the teachings of the Holy Spirit. — Maria W. Stewart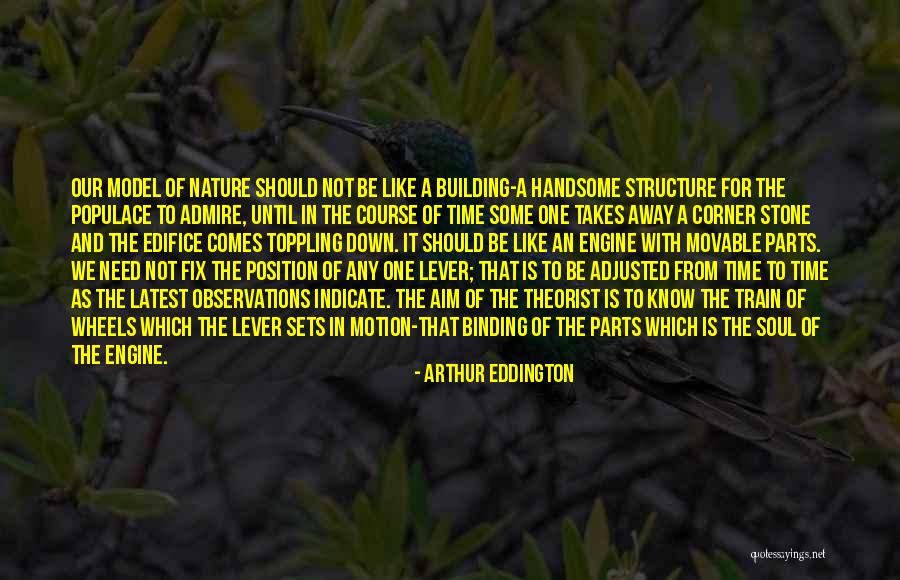 Our model of Nature should not be like a building-a handsome structure for the populace to admire, until in the course of time some one takes away a corner stone and the edifice comes toppling down. It should be like an engine with movable parts. We need not fix the position of any one lever; that is to be adjusted from time to time as the latest observations indicate. The aim of the theorist is to know the train of wheels which the lever sets in motion-that binding of the parts which is the soul of the engine. — Arthur Eddington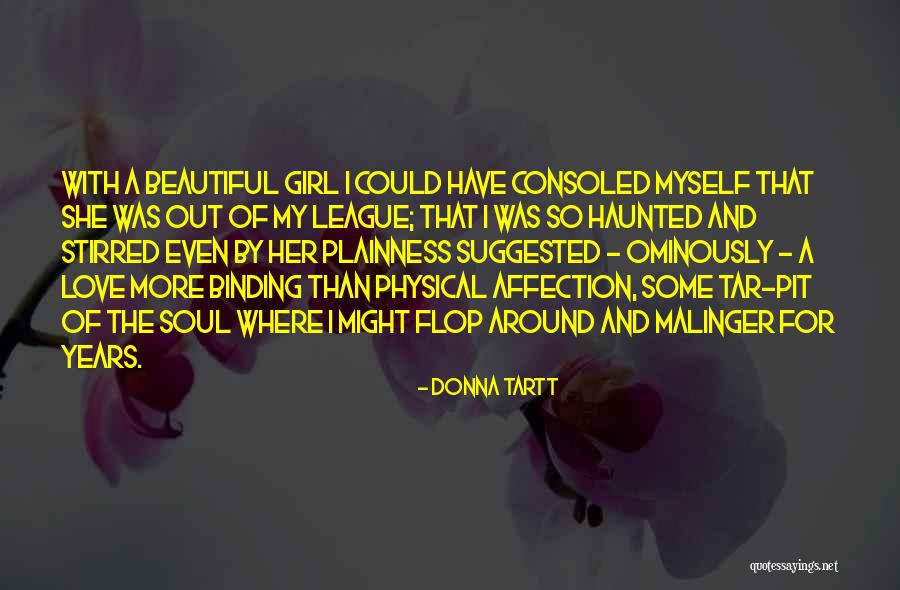 With a beautiful girl I could have consoled myself that she was out of my league; that I was so haunted and stirred even by her plainness suggested - ominously - a love more binding than physical affection, some tar-pit of the soul where I might flop around and malinger for years. — Donna Tartt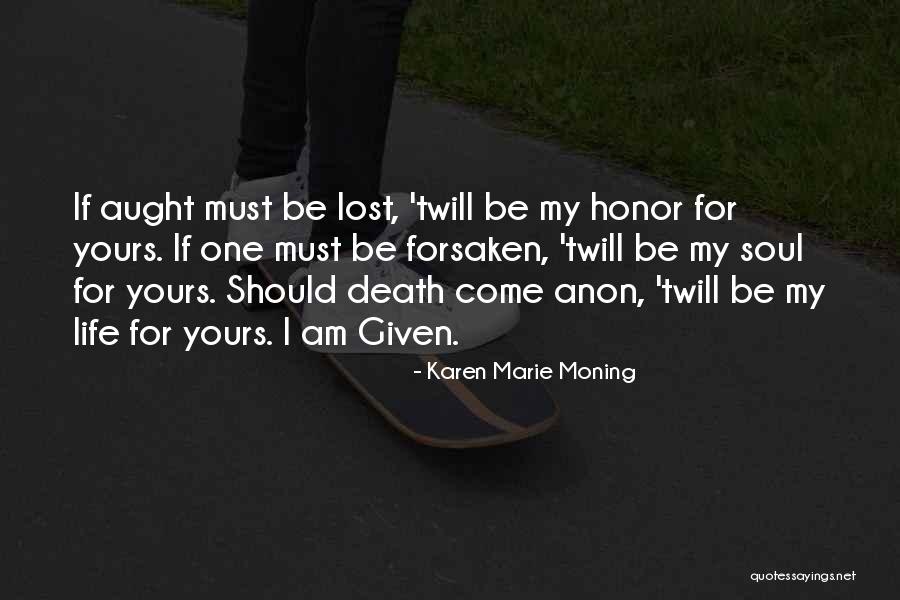 If aught must be lost, 'twill be my honor for yours. If one must be forsaken, 'twill be my soul for yours. Should death come anon, 'twill be my life for yours. I am Given. — Karen Marie Moning
His mouth captured hers with a strong, soft heat and Celine discovered something far sexier than this man's voice or his body. His kiss. She never had the chance to think of a protest. To think at all. She had been kissed before, but never like this. It was neither awkward and teasing nor forceful and overpowering, but long, slow, confident, and devastating. It was as if he were binding them together, deftly drawing her soul into his. — Shelly Thacker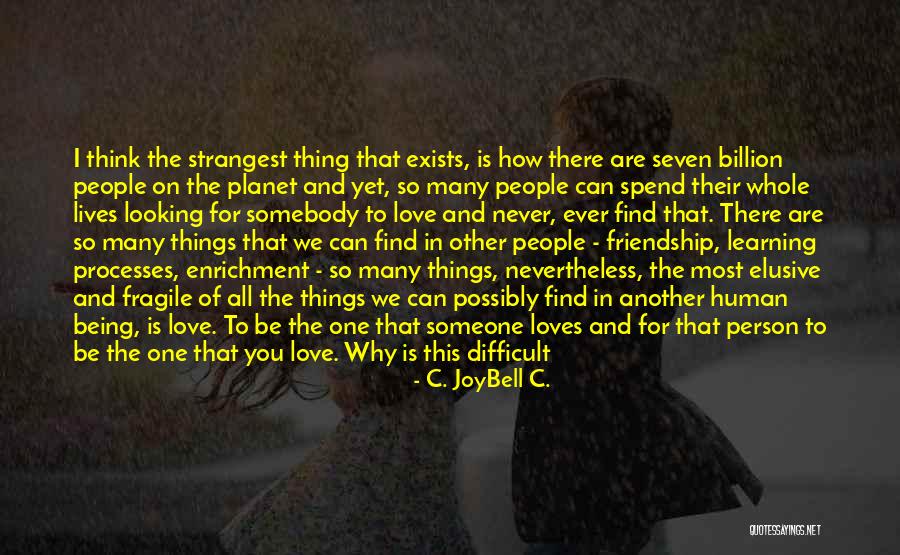 I think the strangest thing that exists, is how there are seven billion people on the planet and yet, so many people can spend their whole lives looking for somebody to love and never, ever find that. There are so many things that we can find in other people - friendship, learning processes, enrichment - so many things, nevertheless, the most elusive and fragile of all the things we can possibly find in another human being, is love. To be the one that someone loves and for that person to be the one that you love. Why is this difficult to find? My answer is that, because out of the seven billion, there really is only one. You don't find something and make it work; you find the one and when you do, you work until it works. The problem is finding the one. Many, many people are born and die never finding that. — C. JoyBell C.
A king is a king, but a bard is the heart and soul of the people; he is their life in song, and the lamp which guides their steps along the paths of destiny. A bard is the essential spirit of the clan; he is the linking ring, the golden cord which unites the manifold ages of the clan, binding all that is past with all that is yet to come. — Stephen R. Lawhead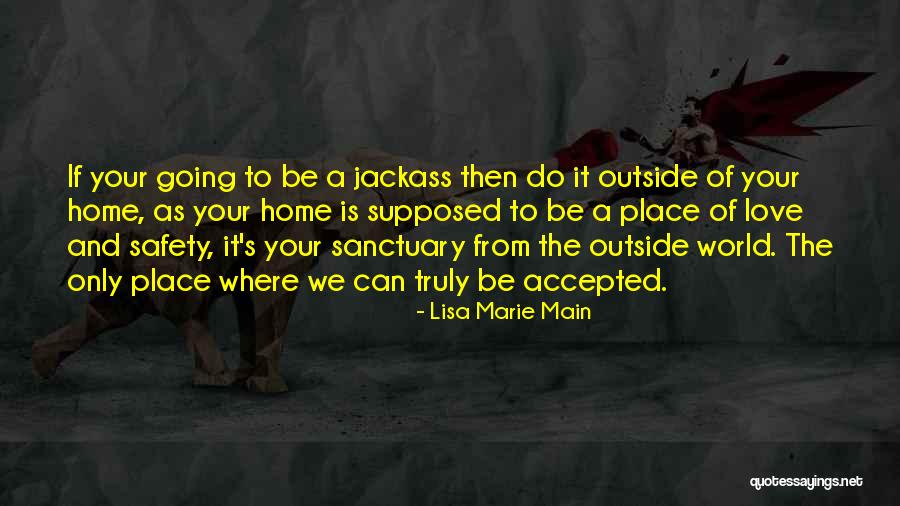 If your going to be a jackass then do it outside of your home, as your home is supposed to be a place of love and safety, it's your sanctuary from the outside world. The only place where we can truly be accepted. — Lisa Marie Main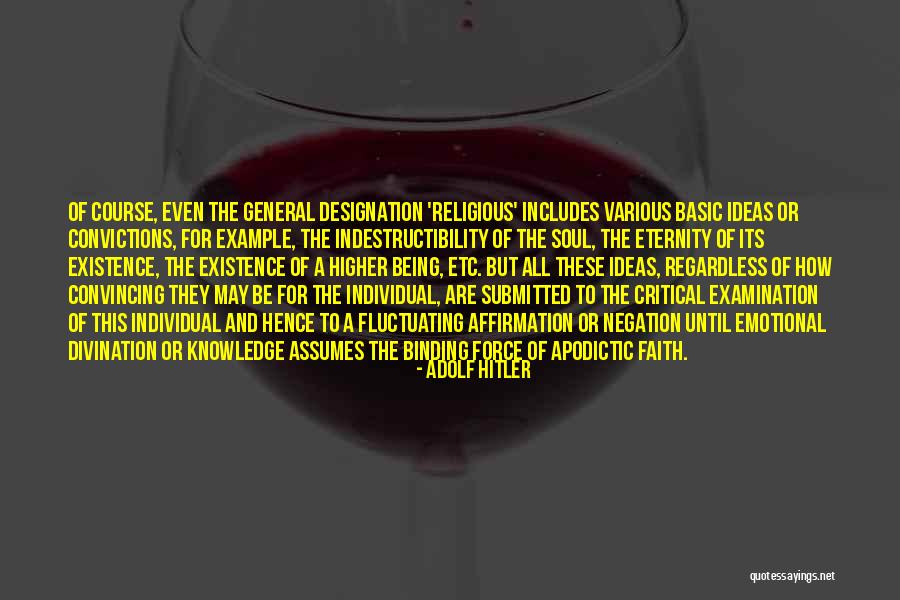 Of course, even the general designation 'religious' includes various basic ideas or convictions, for example, the indestructibility of the soul, the eternity of its existence, the existence of a higher being, etc. But all these ideas, regardless of how convincing they may be for the individual, are submitted to the critical examination of this individual and hence to a fluctuating affirmation or negation until emotional divination or knowledge assumes the binding force of apodictic faith. — Adolf Hitler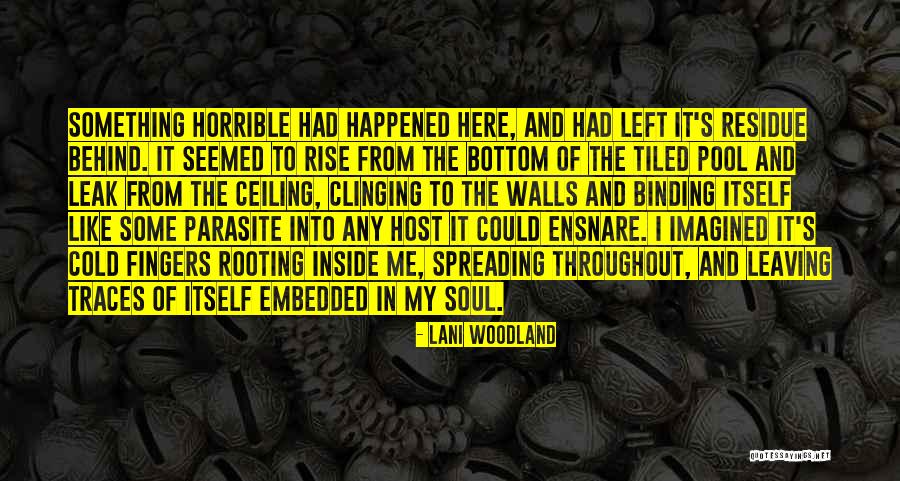 Something horrible had happened here, and had left it's residue behind. It seemed to rise from the bottom of the tiled pool and leak from the ceiling, clinging to the walls and binding itself like some parasite into any host it could ensnare. I imagined it's cold fingers rooting inside me, spreading throughout, and leaving traces of itself embedded in my soul. — Lani Woodland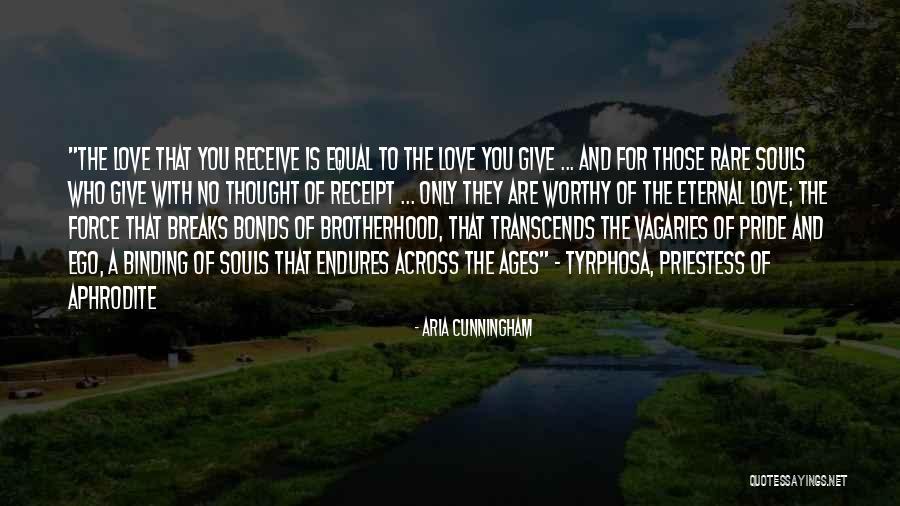 "The love that you receive is equal to the love you give ... And for those rare souls who give with no thought of receipt ... only they are worthy of the eternal love; the force that breaks bonds of brotherhood, that transcends the vagaries of pride and ego, a binding of souls that endures across the Ages" - Tyrphosa, Priestess of Aphrodite — Aria Cunningham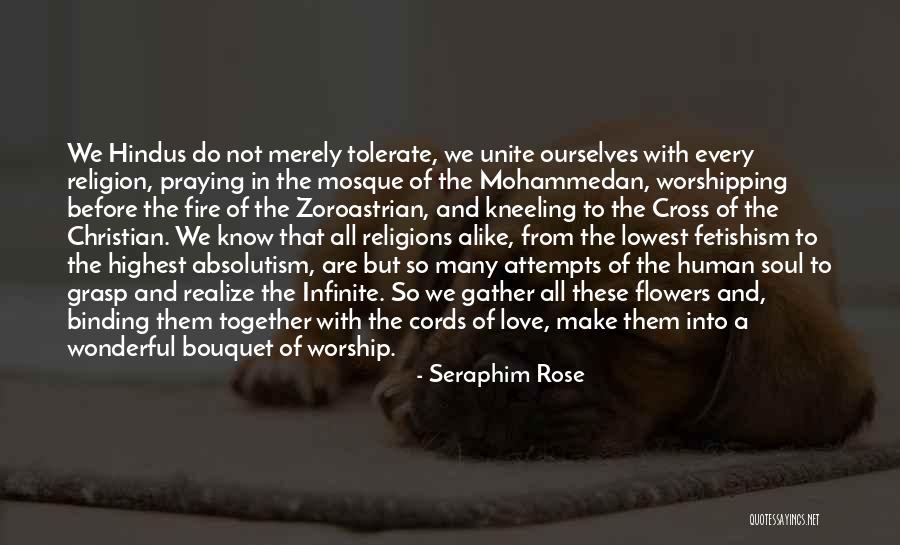 We Hindus do not merely tolerate, we unite ourselves with every religion, praying in the mosque of the Mohammedan, worshipping before the fire of the Zoroastrian, and kneeling to the Cross of the Christian. We know that all religions alike, from the lowest fetishism to the highest absolutism, are but so many attempts of the human soul to grasp and realize the Infinite. So we gather all these flowers and, binding them together with the cords of love, make them into a wonderful bouquet of worship. — Seraphim Rose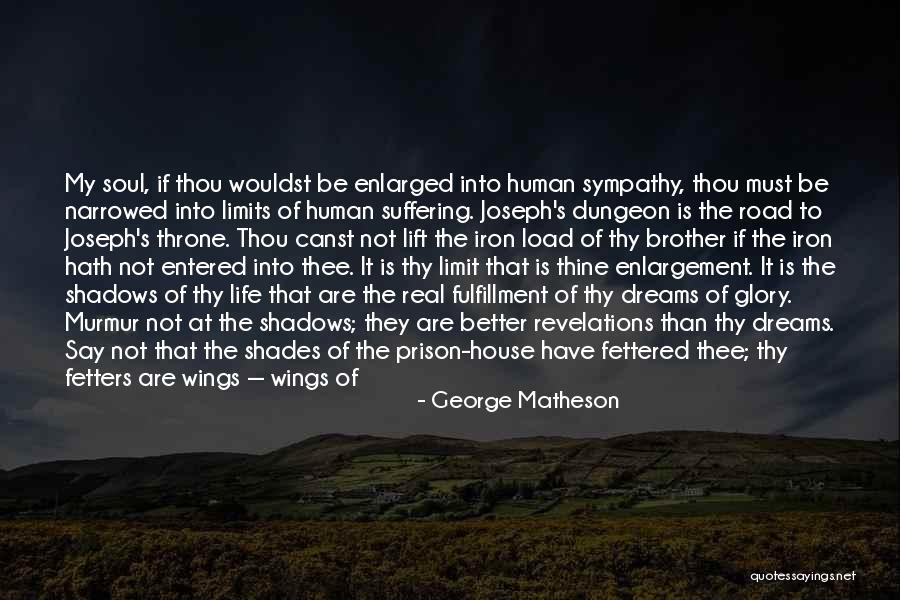 My soul, if thou wouldst be enlarged into human sympathy, thou must be narrowed into limits of human suffering. Joseph's dungeon is the road to Joseph's throne. Thou canst not lift the iron load of thy brother if the iron hath not entered into thee. It is thy limit that is thine enlargement. It is the shadows of thy life that are the real fulfillment of thy dreams of glory. Murmur not at the shadows; they are better revelations than thy dreams. Say not that the shades of the prison-house have fettered thee; thy fetters are wings -- wings of flight into the bosom of humanity. The door of thy prison-house is a door into the heart of the universe. God has enlarged thee by the binding of sorrow's chain — George Matheson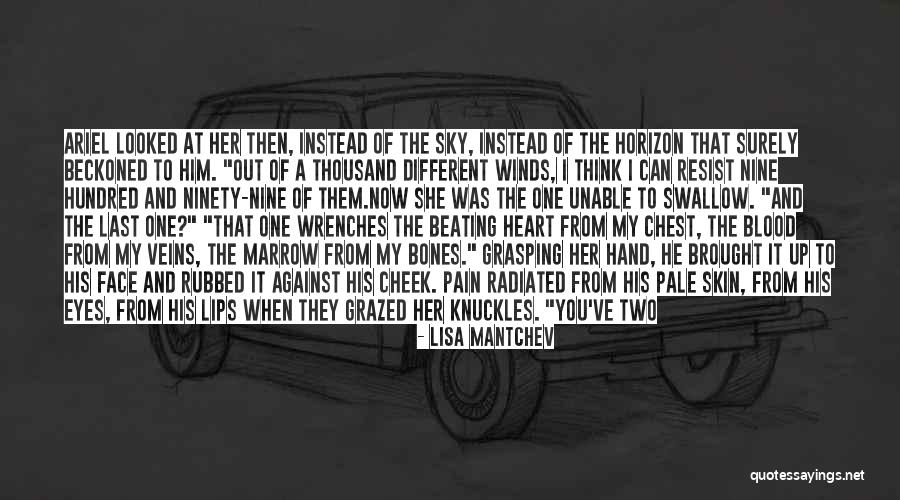 Ariel looked at her then, instead of the sky, instead of the horizon that surely beckoned to him. "Out of a thousand different winds, I think I can resist nine hundred and ninety-nine of them.
Now she was the one unable to swallow. "And the last one?"
"That one wrenches the beating heart from my chest, the blood from my veins, the marrow from my bones." Grasping her hand, he brought it up to his face and rubbed it against his cheek. Pain radiated from his pale skin, from his eyes, from his lips when they grazed her knuckles. "You've two birds to do your bidding, my fair huntress, but I want you to choose me, to love me above all others, to make the pain in my soul worthwhile ... or I would be free of you. — Lisa Mantchev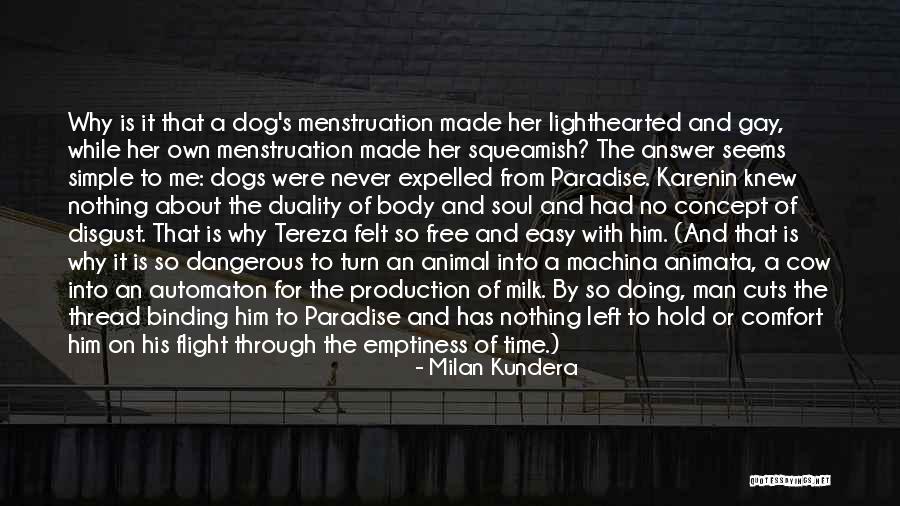 Why is it that a dog's menstruation made her lighthearted and gay, while her own menstruation made her squeamish? The answer seems simple to me: dogs were never expelled from Paradise. Karenin knew nothing about the duality of body and soul and had no concept of disgust. That is why Tereza felt so free and easy with him. (And that is why it is so dangerous to turn an animal into a machina animata, a cow into an automaton for the production of milk. By so doing, man cuts the thread binding him to Paradise and has nothing left to hold or comfort him on his flight through the emptiness of time.) — Milan Kundera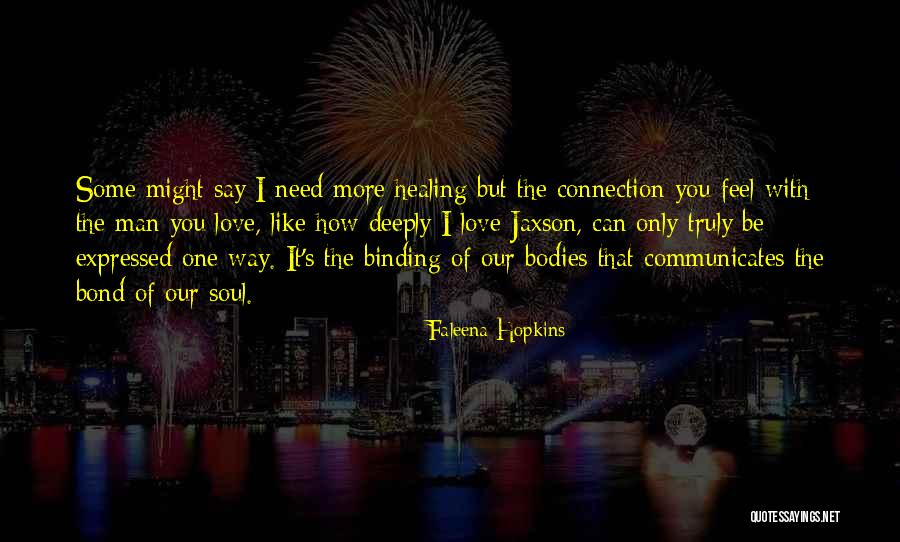 Some might say I need more healing but the connection you feel with the man you love, like how deeply I love Jaxson, can only truly be expressed one way. It's the binding of our bodies that communicates the bond of our soul. — Faleena Hopkins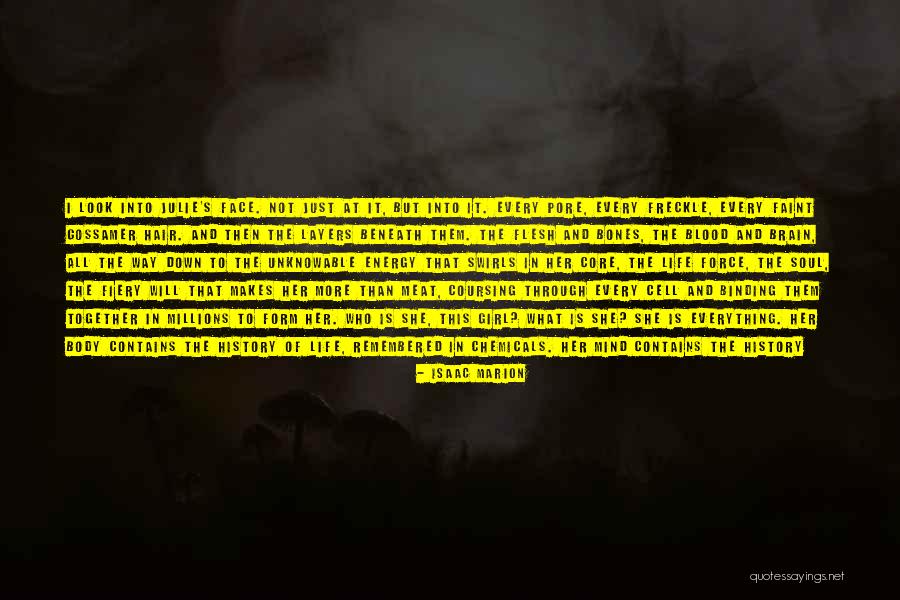 I look into Julie's face. Not just at it, but into it. Every pore, every freckle, every faint gossamer hair. And then the layers beneath them. The flesh and bones, the blood and brain, all the way down to the unknowable energy that swirls in her core, the life force, the soul, the fiery will that makes her more than meat, coursing through every cell and binding them together in millions to form her. Who is she, this girl? What is she? She is everything. Her body contains the history of life, remembered in chemicals. Her mind contains the history of the universe, remembered in pain, in joy and sadness, hate and hope and bad habits, every thought of God, past-present-future, remembered, felt, and hoped for all at once. — Isaac Marion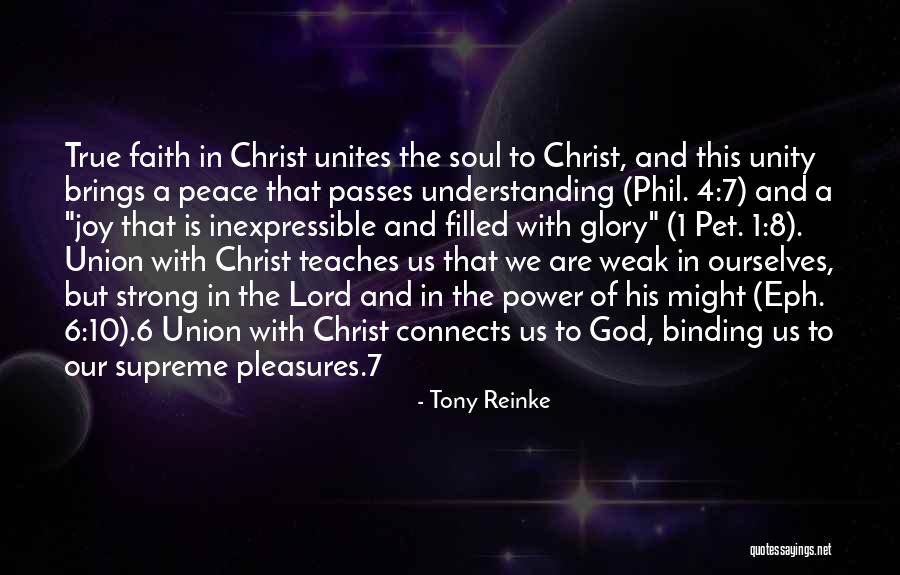 True faith in Christ unites the soul to Christ, and this unity brings a peace that passes understanding (Phil. 4:7) and a "joy that is inexpressible and filled with glory" (1 Pet. 1:8). Union with Christ teaches us that we are weak in ourselves, but strong in the Lord and in the power of his might (Eph. 6:10).6 Union with Christ connects us to God, binding us to our supreme pleasures.7 — Tony Reinke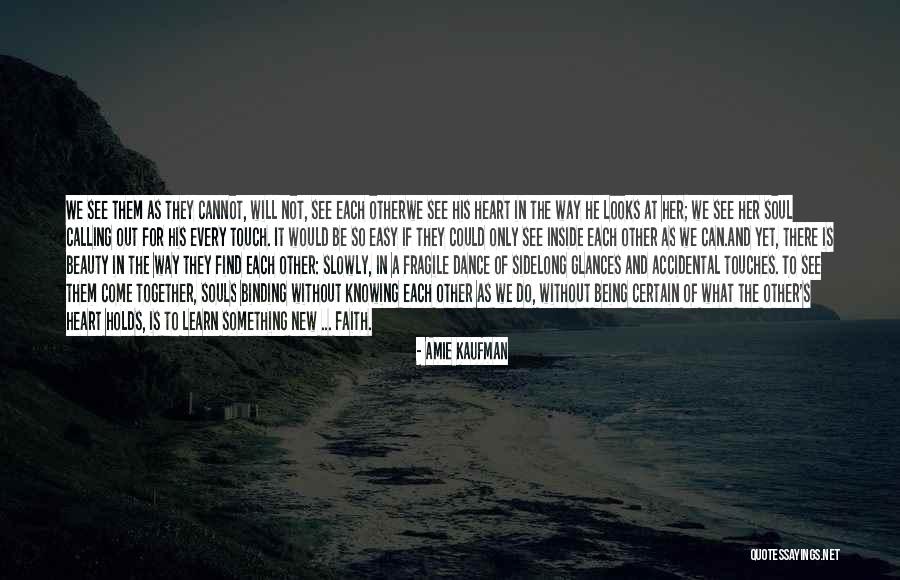 We see them as they cannot, will not, see each other
we see his heart in the way he looks at her; we see her soul calling out for his every touch. It would be so easy if they could only see inside each other as we can.
And yet, there is beauty in the way they find each other: slowly, in a fragile dance of sidelong glances and accidental touches. To see them come together, souls binding without knowing each other as we do, without being certain of what the other's heart holds, is to learn something new ...
Faith. — Amie Kaufman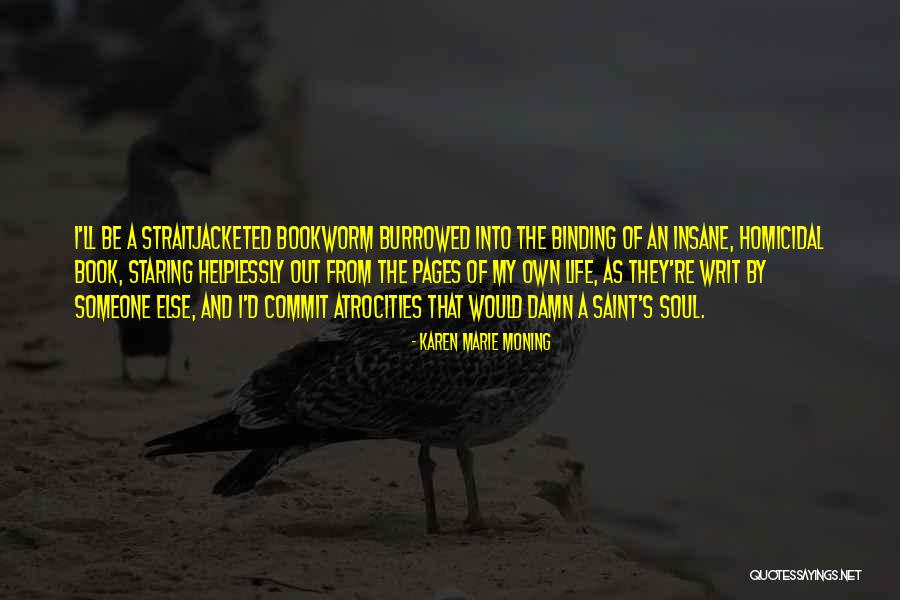 I'll be a straitjacketed bookworm burrowed into the binding of an insane, homicidal book, staring helplessly out from the pages of my own life, as they're writ by someone else, and I'd commit atrocities that would damn a saint's soul. — Karen Marie Moning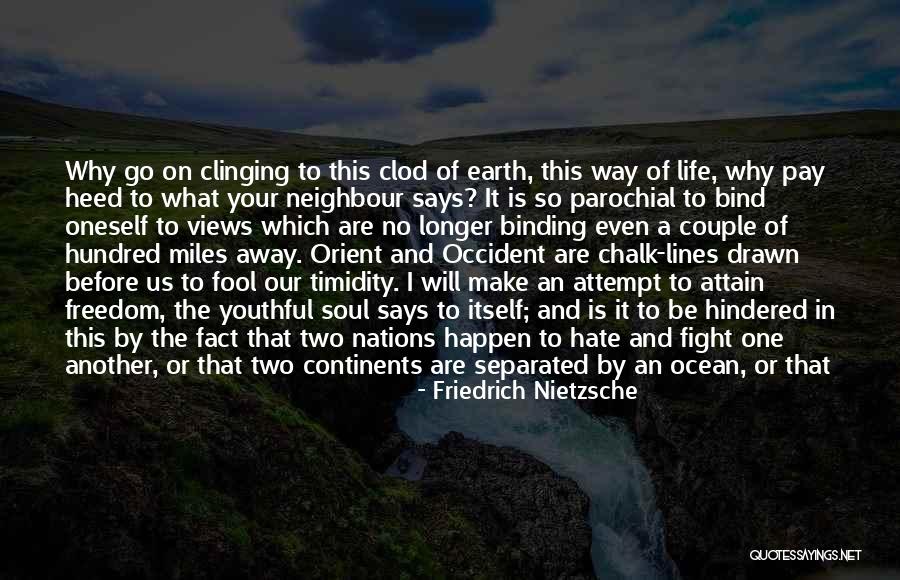 Why go on clinging to this clod of earth, this way of life, why pay heed to what your neighbour says? It is so parochial to bind oneself to views which are no longer binding even a couple of hundred miles away. Orient and Occident are chalk-lines drawn before us to fool our timidity. I will make an attempt to attain freedom, the youthful soul says to itself; and is it to be hindered in this by the fact that two nations happen to hate and fight one another, or that two continents are separated by an ocean, or that all around it a religion is taught which, nevertheless, did not exist a few thousand years ago. All that is not you, it says to itself. — Friedrich Nietzsche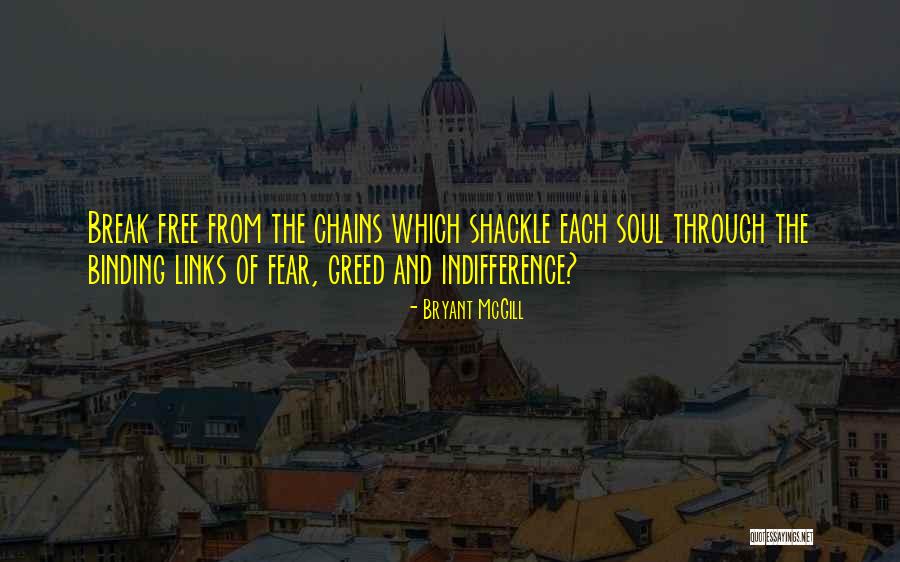 Break free from the chains which shackle each soul through the binding links of fear, greed and indifference? — Bryant McGill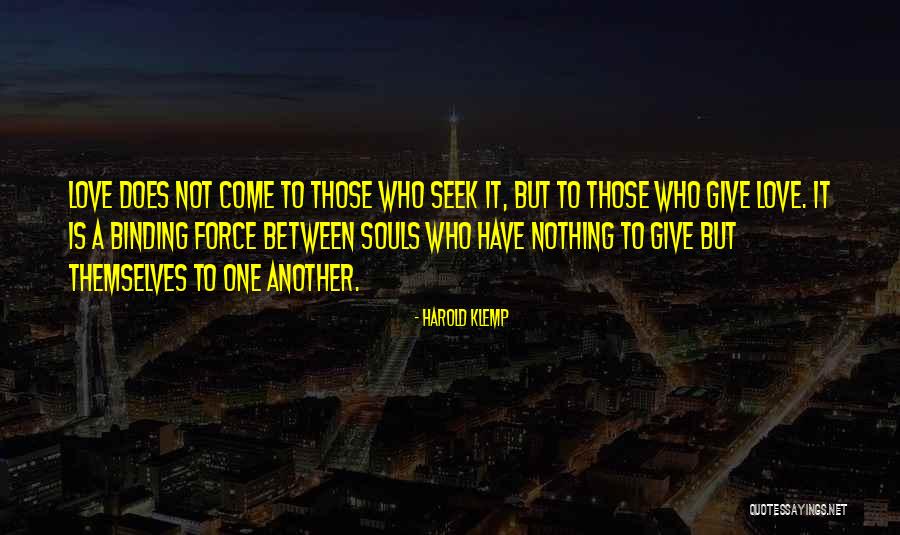 Love does not come to those who seek it, but to those who give love. It is a binding force between souls who have nothing to give but themselves to one another. — Harold Klemp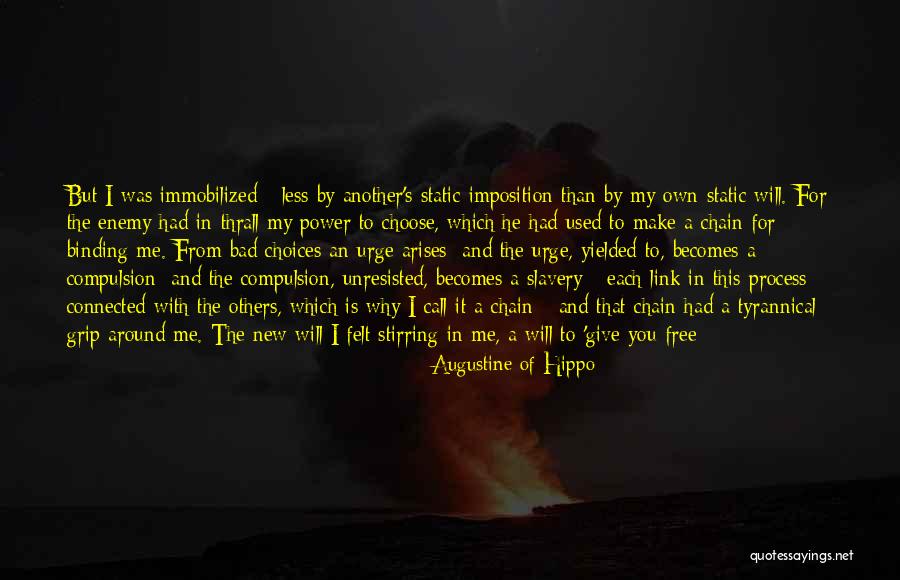 But I was immobilized - less by another's static imposition than by my own static will. For the enemy had in thrall my power to choose, which he had used to make a chain for binding me. From bad choices an urge arises; and the urge, yielded to, becomes a compulsion; and the compulsion, unresisted, becomes a slavery - each link in this process connected with the others, which is why I call it a chain - and that chain had a tyrannical grip around me. The new will I felt stirring in me, a will to 'give you free worship' and enjoy what I yearned for, my God, my only reliable happiness, could not break away from the will made strong by long dominance. Two wills were mine, old and new, of the flesh, of the spirit, each warring on the other, and between their dissonances was my soul disintegrating. — Augustine Of Hippo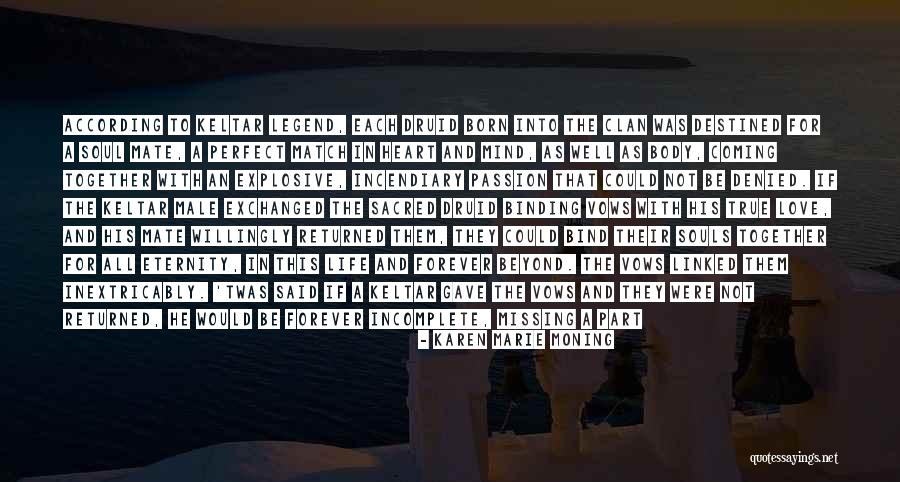 According to Keltar legend, each Druid born into the clan was destined for a soul mate, a perfect match in heart and mind, as well as body, coming together with an explosive, incendiary passion that could not be denied. If the Keltar male exchanged the sacred Druid binding vows with his true love, and his mate willingly returned them, they could bind their souls together for all eternity, in this life and forever beyond. The vows linked them inextricably. 'Twas said if a Keltar gave the vows and they were not returned, he would be forever incomplete, missing a part of his heart, aching for the love of a woman he could never have, eternally bound to her, through this life and all his future existence, whether in the cycle of rebirth, heaven, hell, or even an eternal Unseelie prison. If aught must be lost ... the legendary vows began, 'twill be my life for yours ... — Karen Marie Moning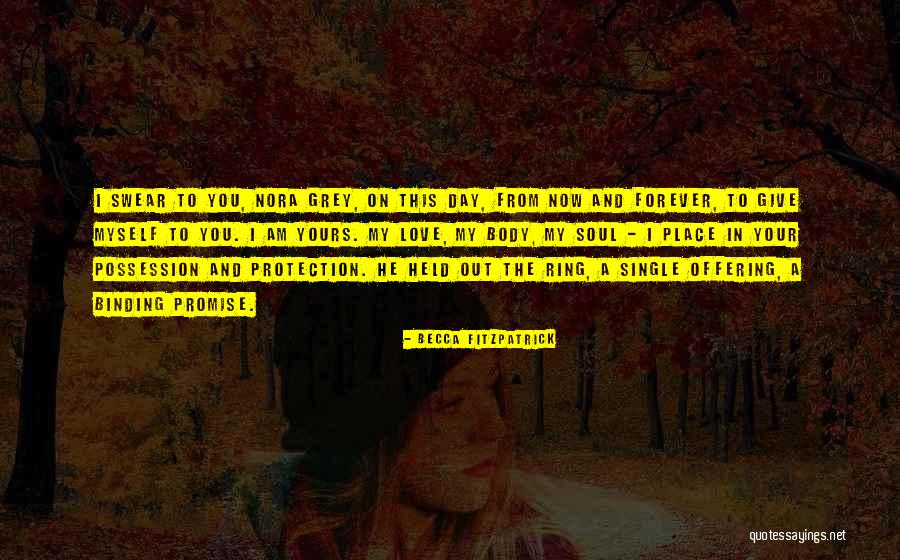 I swear to you, Nora Grey, on this day, from now and forever, to give myself to you. I am yours. My love, my body, my soul - I place in your possession and protection. He held out the ring, a single offering, a binding promise. — Becca Fitzpatrick