Soul Aches Quotes & Sayings
Enjoy reading and share 15 famous quotes about Soul Aches with everyone.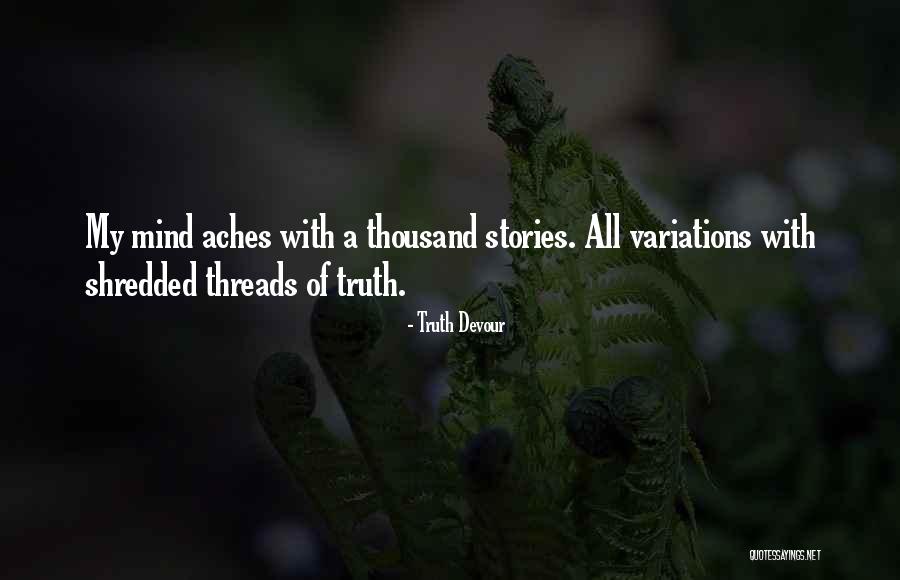 My mind aches with a thousand stories. All variations with shredded threads of truth. — Truth Devour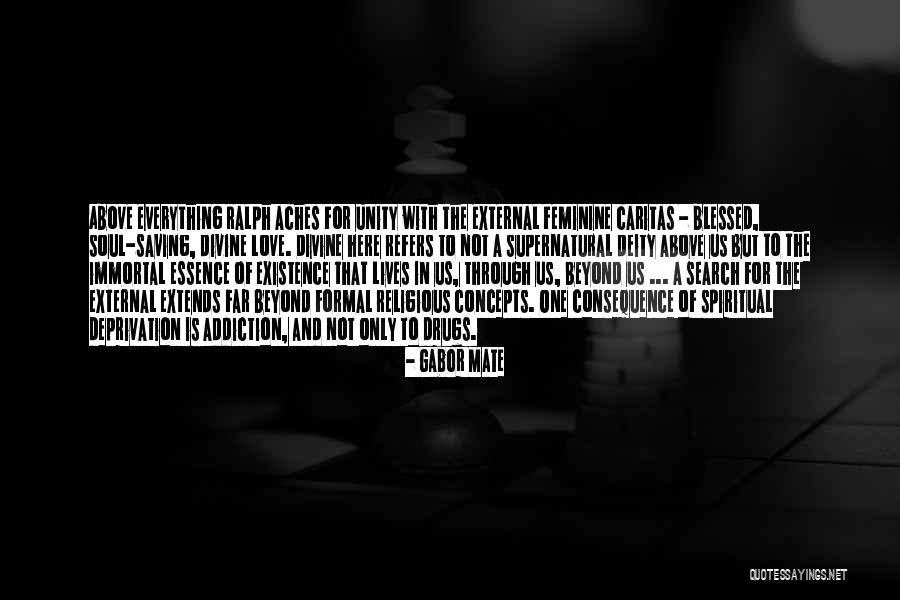 Above everything Ralph aches for unity with the external feminine caritas - blessed, soul-saving, divine love. Divine here refers to not a supernatural deity above us but to the immortal essence of existence that lives in us, through us, beyond us ... a search for the external extends far beyond formal religious concepts. One consequence of spiritual deprivation is addiction, and not only to drugs. — Gabor Mate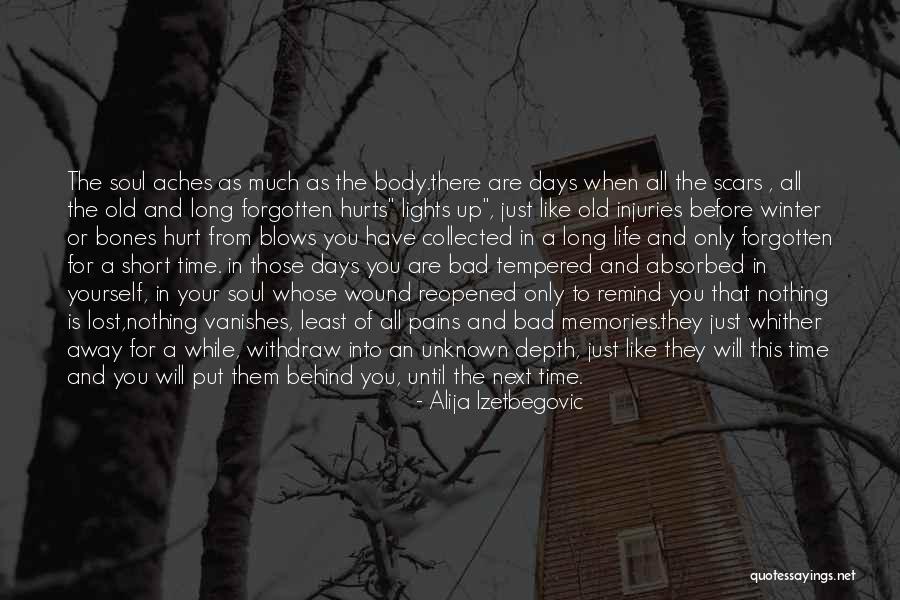 The soul aches as much as the body.there are days when all the scars , all the old and long forgotten hurts" lights up", just like old injuries before winter or bones hurt from blows you have collected in a long life and only forgotten for a short time. in those days you are bad tempered and absorbed in yourself, in your soul whose wound reopened only to remind you that nothing is lost,nothing vanishes, least of all pains and bad memories.they just whither away for a while, withdraw into an unknown depth, just like they will this time and you will put them behind you, until the next time. — Alija Izetbegovic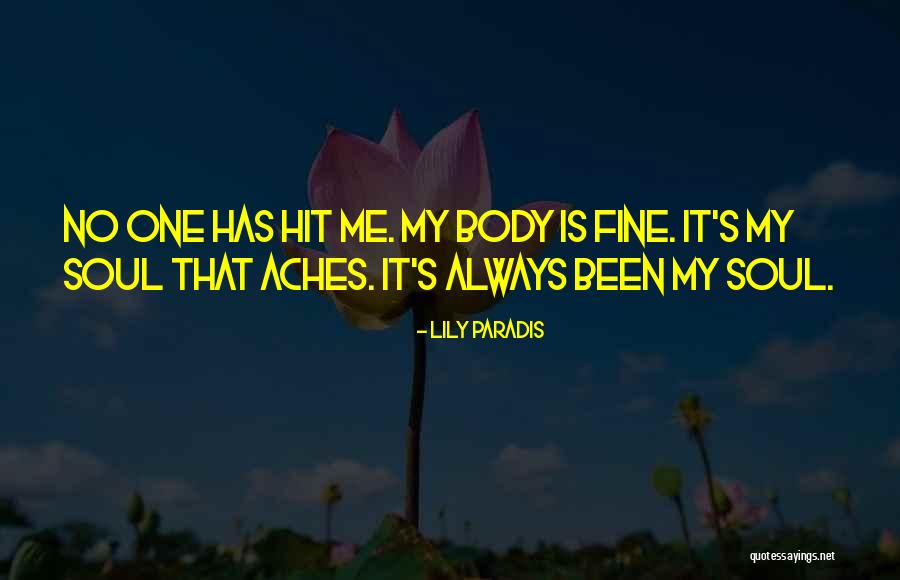 No one has hit me. My body is fine. It's my soul that aches. It's always been my soul. — Lily Paradis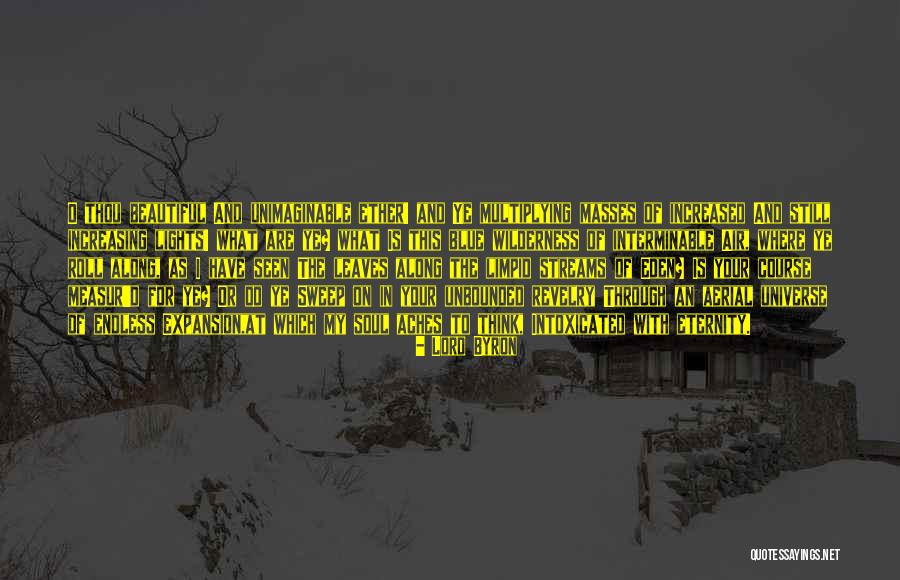 O thou beautiful And unimaginable ether! and Ye multiplying masses of increased And still increasing lights! what are ye? what Is this blue wilderness of interminable Air, where ye roll along, as I have seen The leaves along the limpid streams of Eden? Is your course measur'd for ye? Or do ye Sweep on in your unbounded revelry Through an aerial universe of endless Expansion,
at which my soul aches to think,
Intoxicated with eternity. — Lord Byron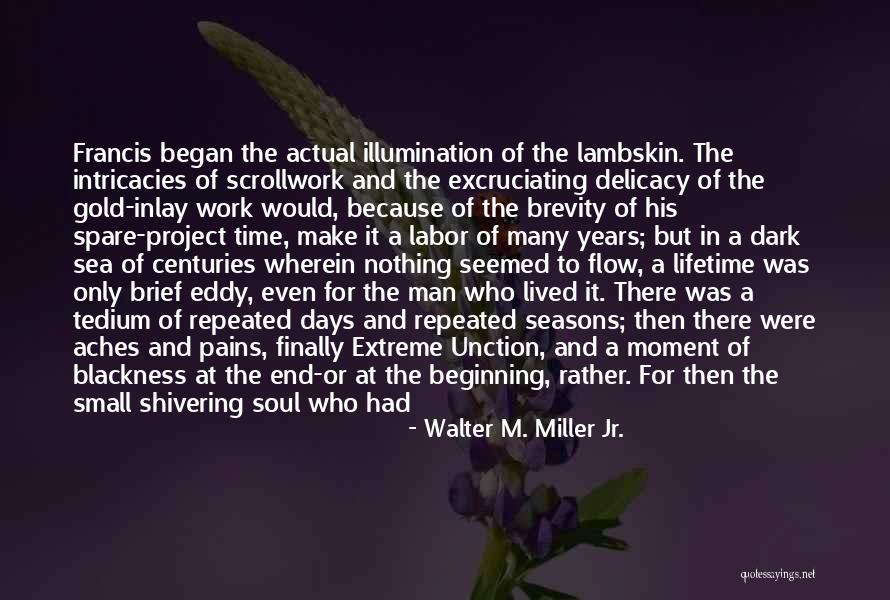 Francis began the actual illumination of the lambskin. The intricacies of scrollwork and the excruciating delicacy of the gold-inlay work would, because of the brevity of his spare-project time, make it a labor of many years; but in a dark sea of centuries wherein nothing seemed to flow, a lifetime was only brief eddy, even for the man who lived it. There was a tedium of repeated days and repeated seasons; then there were aches and pains, finally Extreme Unction, and a moment of blackness at the end-or at the beginning, rather. For then the small shivering soul who had endured the tedium, endured it badly or well, would find itself in a place of light, find itself absorbed in the burning gaze of infinitely compassionate eyes as it stood before the Just One. And then the King would say: "Come," or the King would say: "Go," and only for that moment had the tedium of years existed. It would be hard to believe differently during such an age as Francis knew. — Walter M. Miller Jr.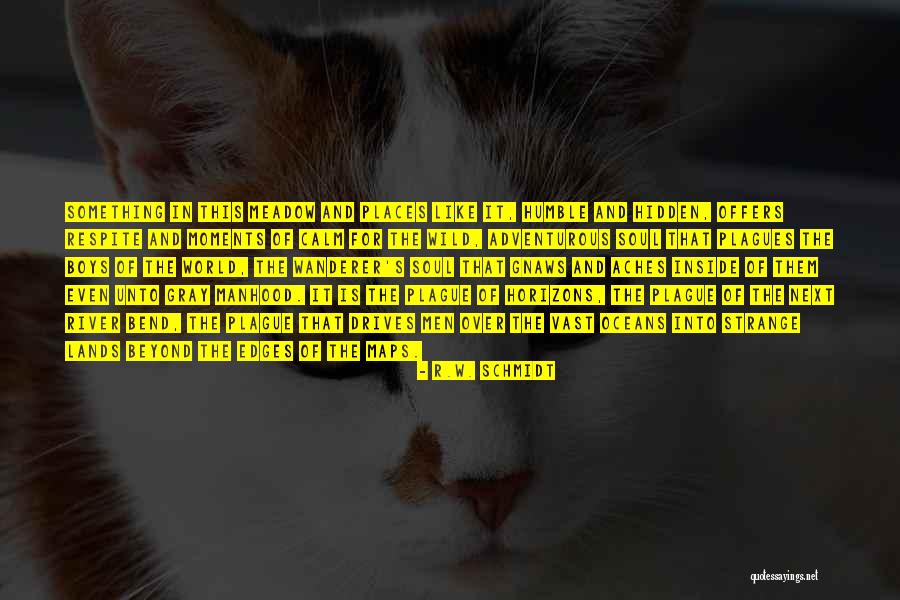 Something in this meadow and places like it, humble and hidden, offers respite and moments of calm for the wild, adventurous soul that plagues the boys of the world, the wanderer's soul that gnaws and aches inside of them even unto gray manhood. It is the plague of horizons, the plague of the next river bend, the plague that drives men over the vast oceans into strange lands beyond the edges of the maps. — R.W. Schmidt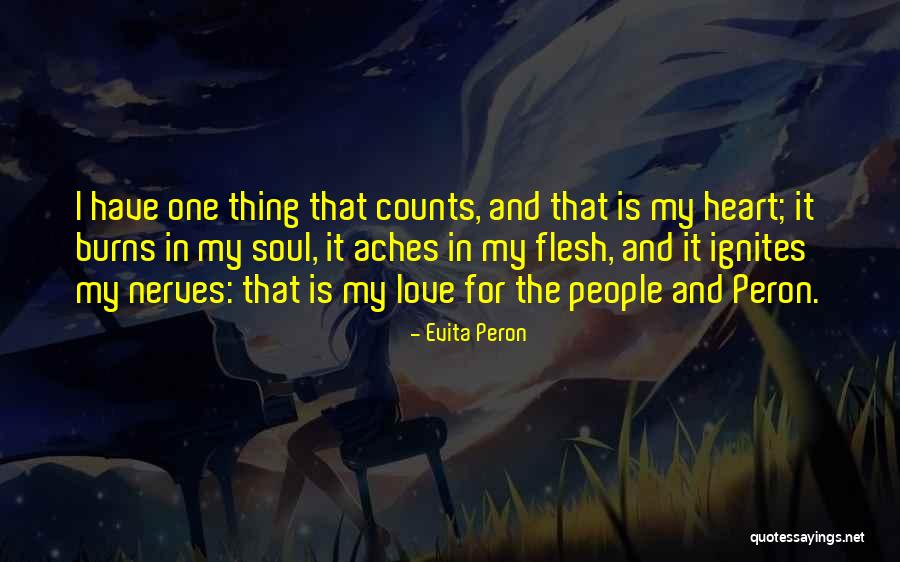 I have one thing that counts, and that is my heart; it burns in my soul, it aches in my flesh, and it ignites my nerves: that is my love for the people and Peron. — Evita Peron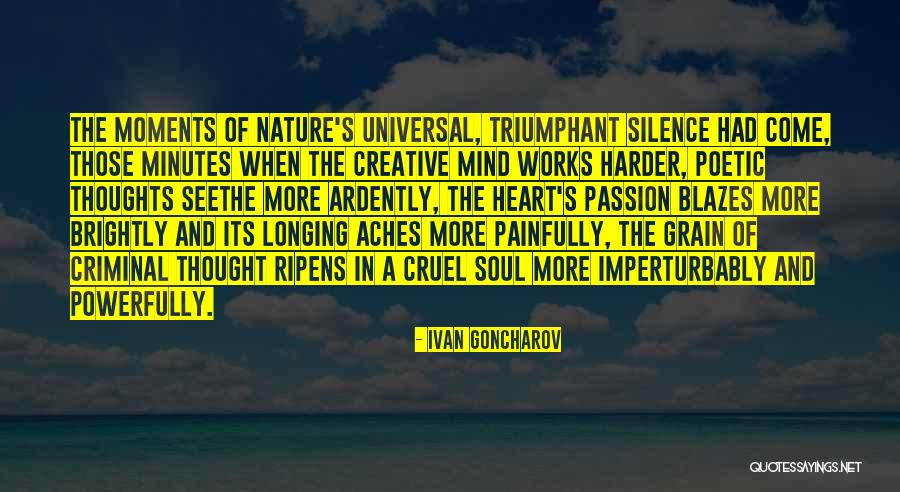 The moments of nature's universal, triumphant silence had come, those minutes when the creative mind works harder, poetic thoughts seethe more ardently, the heart's passion blazes more brightly and its longing aches more painfully, the grain of criminal thought ripens in a cruel soul more imperturbably and powerfully. — Ivan Goncharov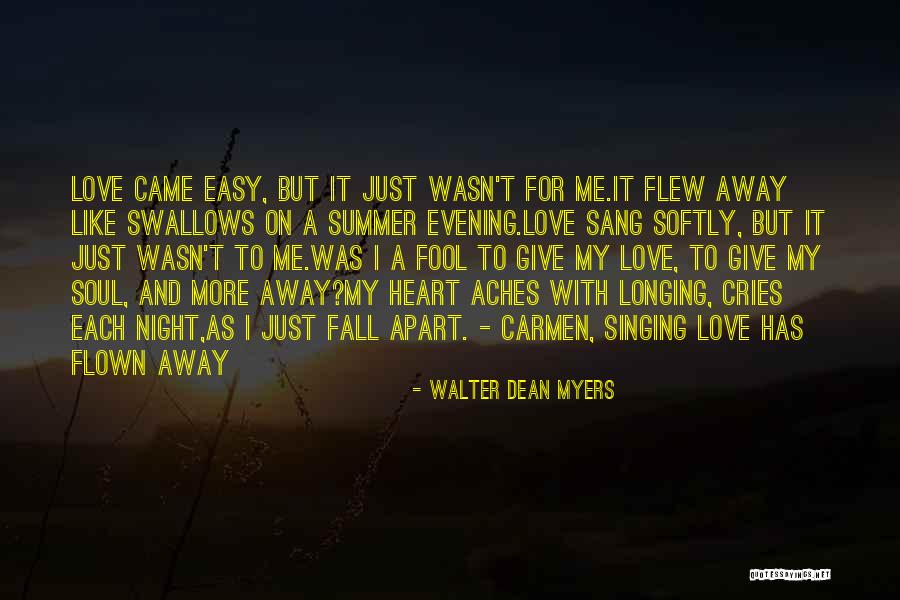 Love came easy, but it just wasn't for me.
It flew away like swallows on a summer evening.
Love sang softly, but it just wasn't to me.
Was I a fool to give my love, to give my soul,
and more away?
My heart aches with longing, cries each night,
As I just fall apart.
- Carmen, singing Love Has Flown Away — Walter Dean Myers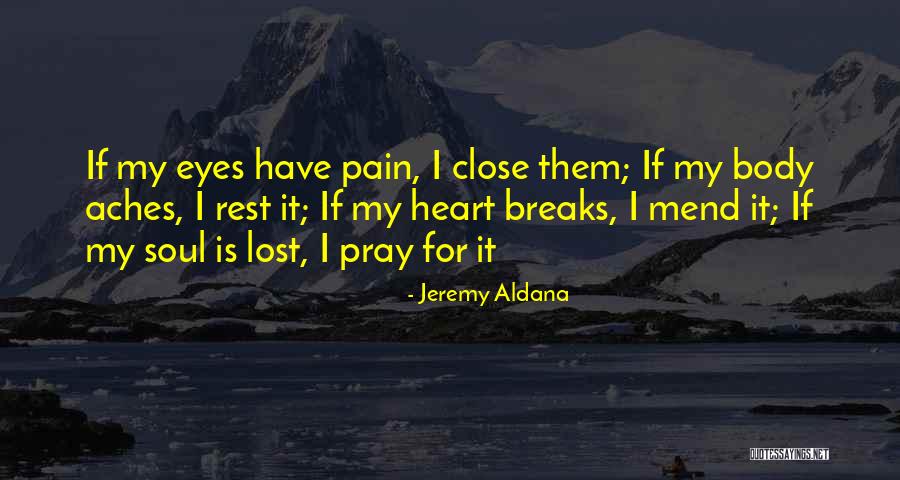 If my eyes have pain, I close them; If my body aches, I rest it; If my heart breaks, I mend it; If my soul is lost, I pray for it — Jeremy Aldana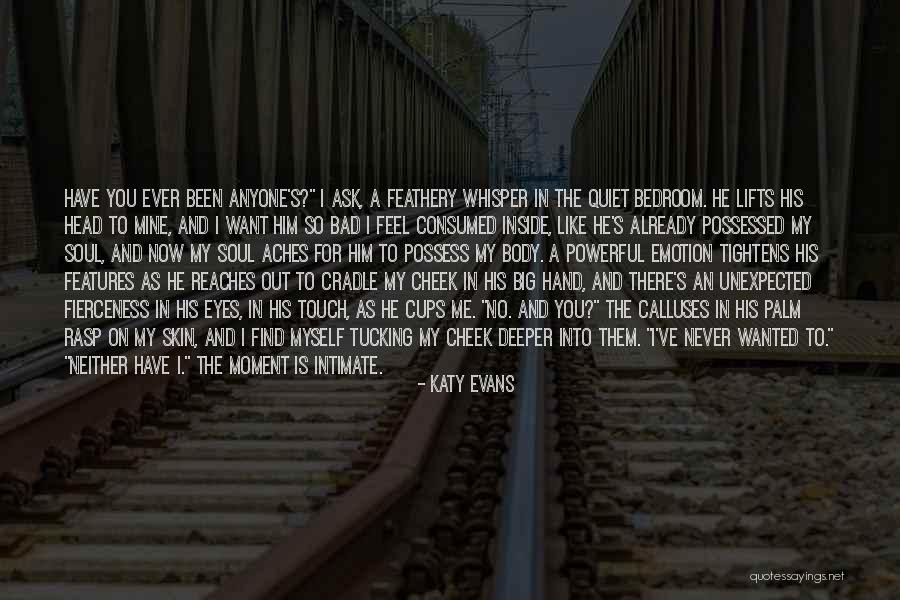 Have you ever been anyone's?" I ask, a feathery whisper in the quiet bedroom. He lifts his head to mine, and I want him so bad I feel consumed inside, like he's already possessed my soul, and now my soul aches for him to possess my body. A powerful emotion tightens his features as he reaches out to cradle my cheek in his big hand, and there's an unexpected fierceness in his eyes, in his touch, as he cups me. "No. And you?" The calluses in his palm rasp on my skin, and I find myself tucking my cheek deeper into them. "I've never wanted to." "Neither have I." The moment is intimate. — Katy Evans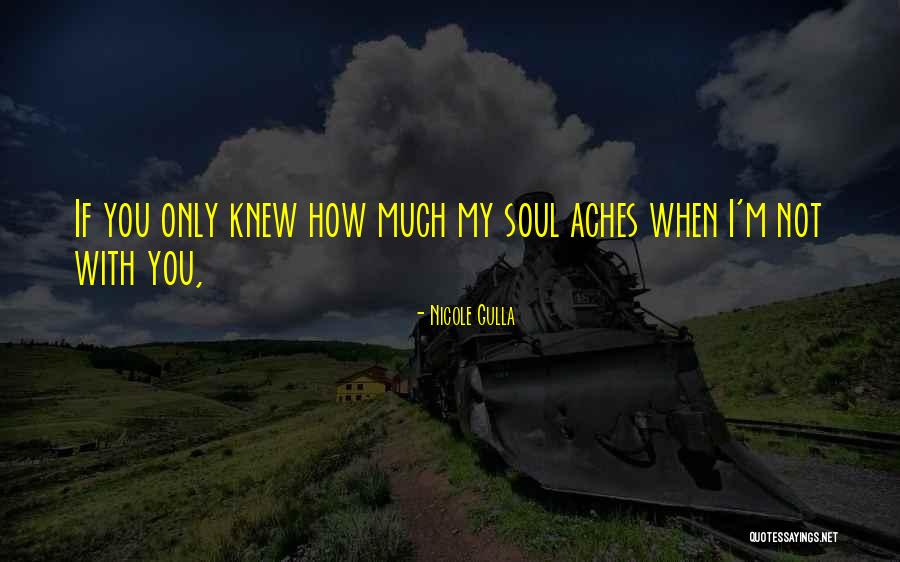 If you only knew how much my soul aches when I'm not with you, — Nicole Gulla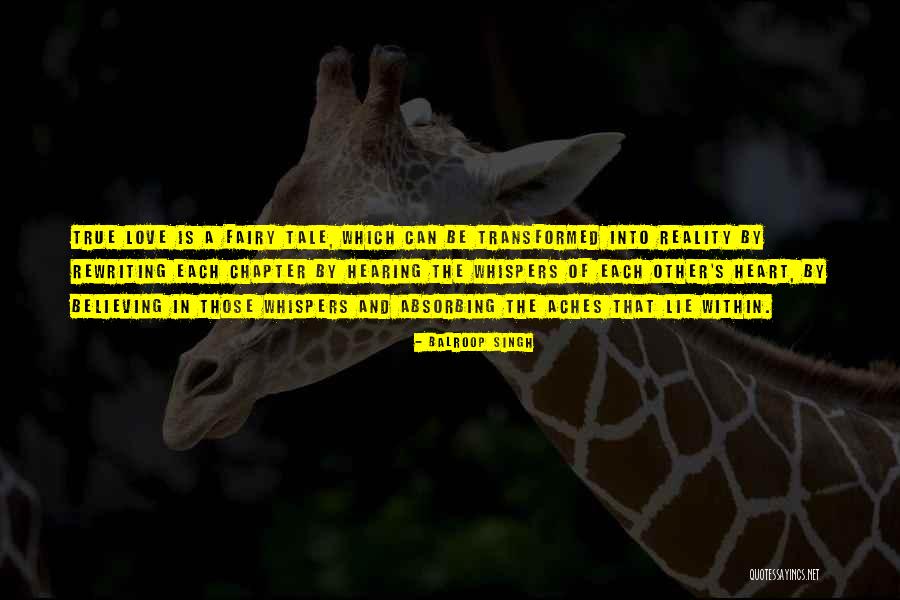 True love is a fairy tale, which can be transformed into reality by rewriting each chapter by hearing the whispers of each other's heart, by believing in those whispers and absorbing the aches that lie within. — Balroop Singh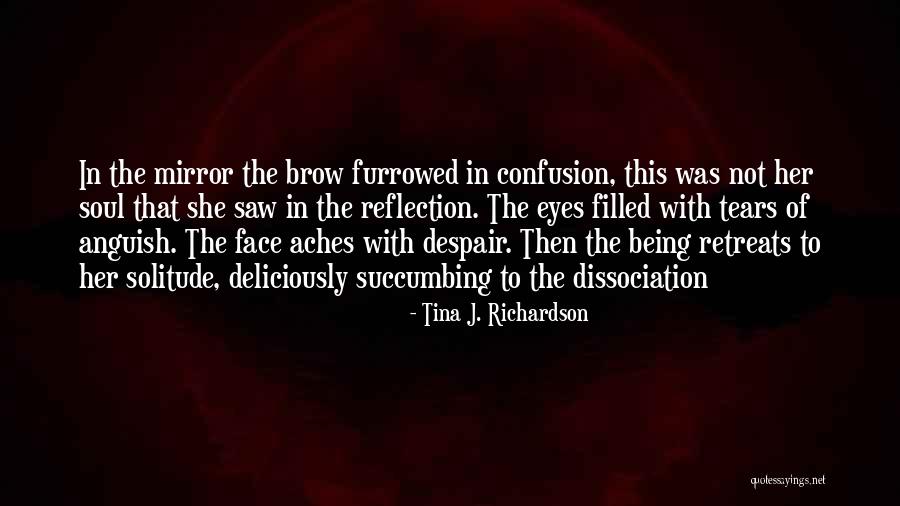 In the mirror the brow furrowed in confusion, this was not her soul that she saw in the reflection. The eyes filled with tears of anguish. The face aches with despair.
Then the being retreats to her solitude, deliciously succumbing to the dissociation — Tina J. Richardson