Something One Creates Quotes & Sayings
Enjoy reading and share 36 famous quotes about Something One Creates with everyone.
Top Something One Creates Quotes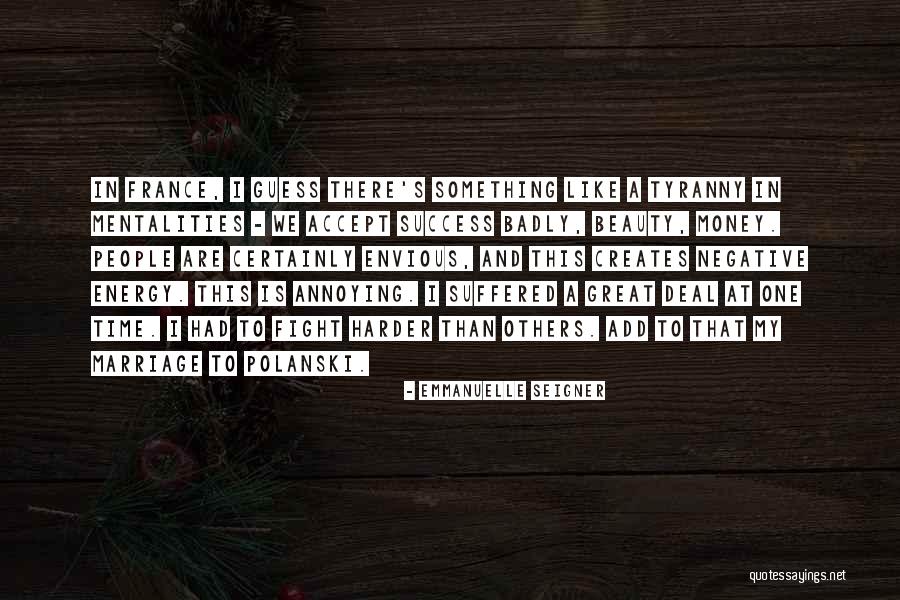 In France, I guess there's something like a tyranny in mentalities - we accept success badly, beauty, money. People are certainly envious, and this creates negative energy. This is annoying. I suffered a great deal at one time. I had to fight harder than others. Add to that my marriage to Polanski. — Emmanuelle Seigner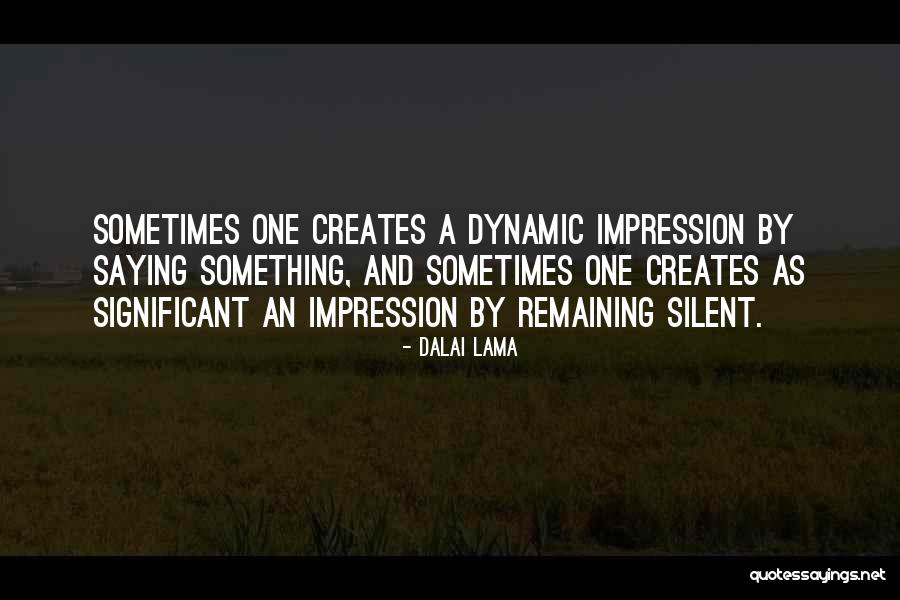 Sometimes one creates a dynamic impression by saying something, and sometimes one creates as significant an impression by remaining silent. — Dalai Lama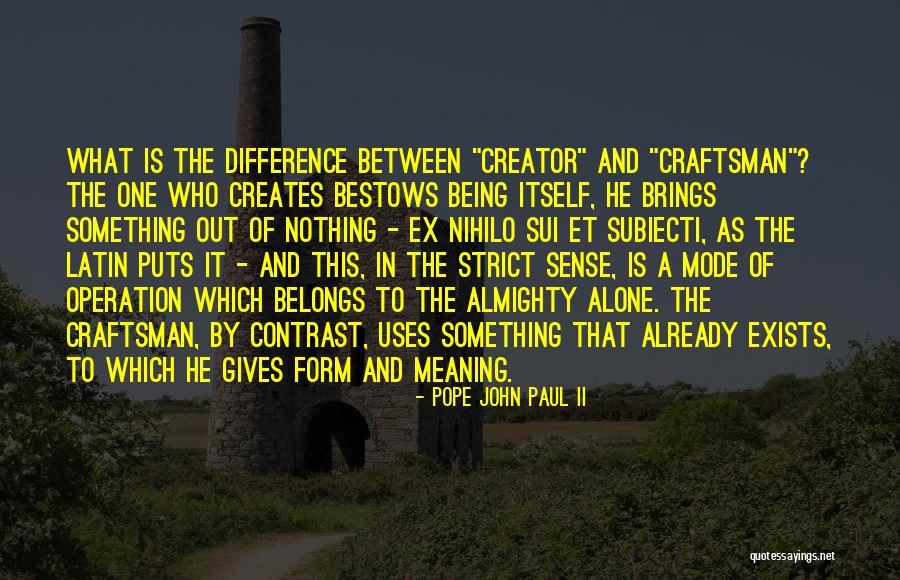 What is the difference between "creator" and "craftsman"? The one who creates bestows being itself, he brings something out of nothing - ex nihilo sui et subiecti, as the Latin puts it - and this, in the strict sense, is a mode of operation which belongs to the Almighty alone. The craftsman, by contrast, uses something that already exists, to which he gives form and meaning. — Pope John Paul II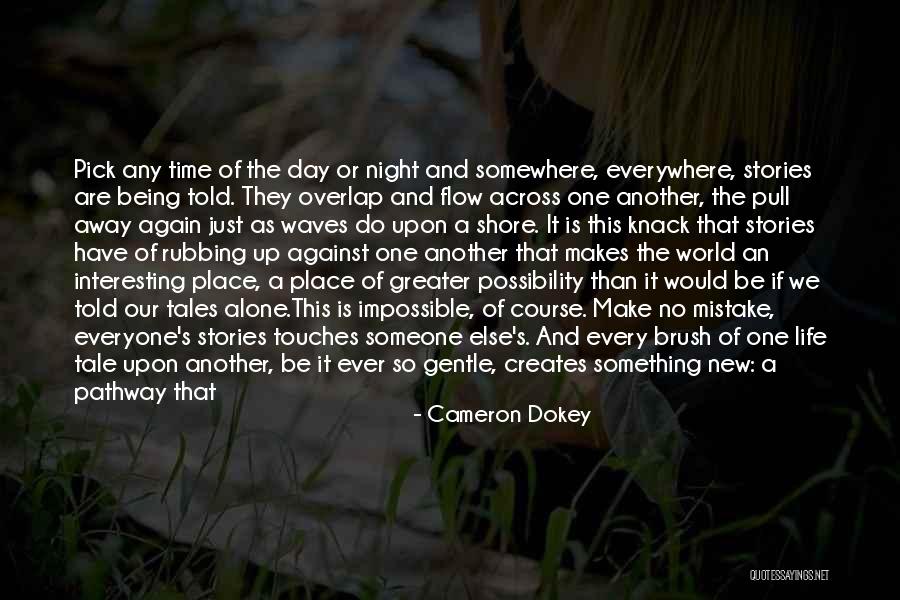 Pick any time of the day or night and somewhere, everywhere, stories are being told. They overlap and flow across one another, the pull away again just as waves do upon a shore. It is this knack that stories have of rubbing up against one another that makes the world an interesting place, a place of greater possibility than it would be if we told our tales alone.
This is impossible, of course. Make no mistake, everyone's stories touches someone else's. And every brush of one life tale upon another, be it ever so gentle, creates something new: a pathway that wasn't there before. The possibility to create a new tale. — Cameron Dokey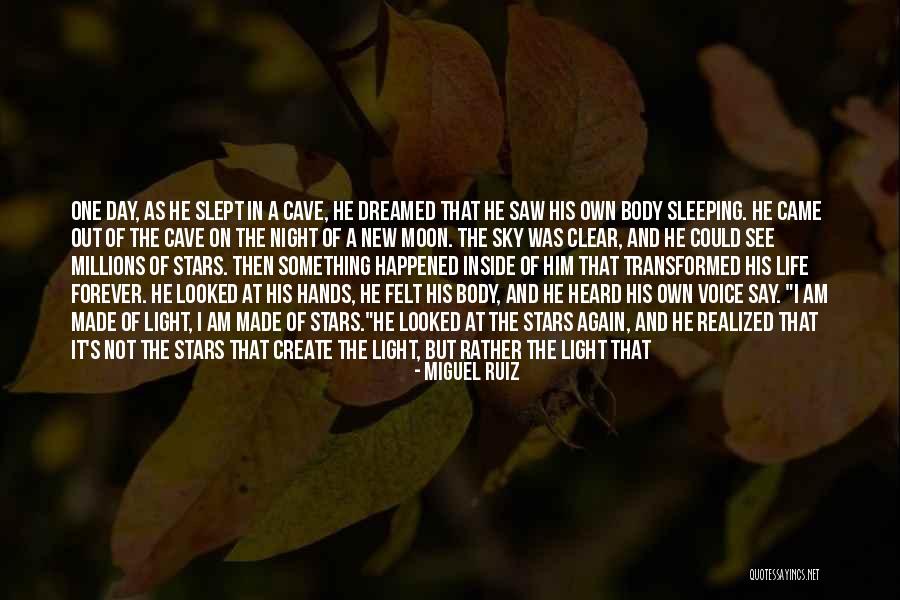 One day, as he slept in a cave, he dreamed that he saw his own body sleeping. He came out of the cave on the night of a new moon. The sky was clear, and he could see millions of stars. Then something happened inside of him that transformed his life forever. He looked at his hands, he felt his body, and he heard his own voice say. "I am made of light, I am made of stars."
He looked at the stars again, and he realized that it's not the stars that create the light, but rather the light that creates the stars. "Everything is made of light," he said, "and the space in-between isn't empty." And he knew that everything that exists is one living being, and that light is the messenger of life, because it is alive and contains all information. (xvi) — Miguel Ruiz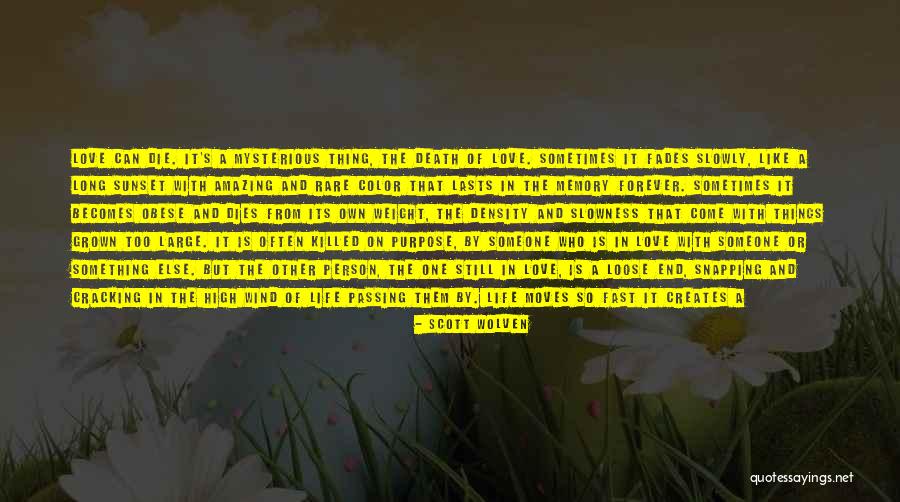 Love can die. It's a mysterious thing, the death of love. Sometimes it fades slowly, like a long sunset with amazing and rare color that lasts in the memory forever. Sometimes it becomes obese and dies from its own weight, the density and slowness that come with things grown too large. It is often killed on purpose, by someone who is in love with someone or something else. But the other person, the one still in love, is a loose end, snapping and cracking in the high wind of life passing them by. Life moves so fast it creates a back draft, that leaves things scattered and blowing in its wake. Life, of all things, is alive. It is everywhere and moves beyond speed. — Scott Wolven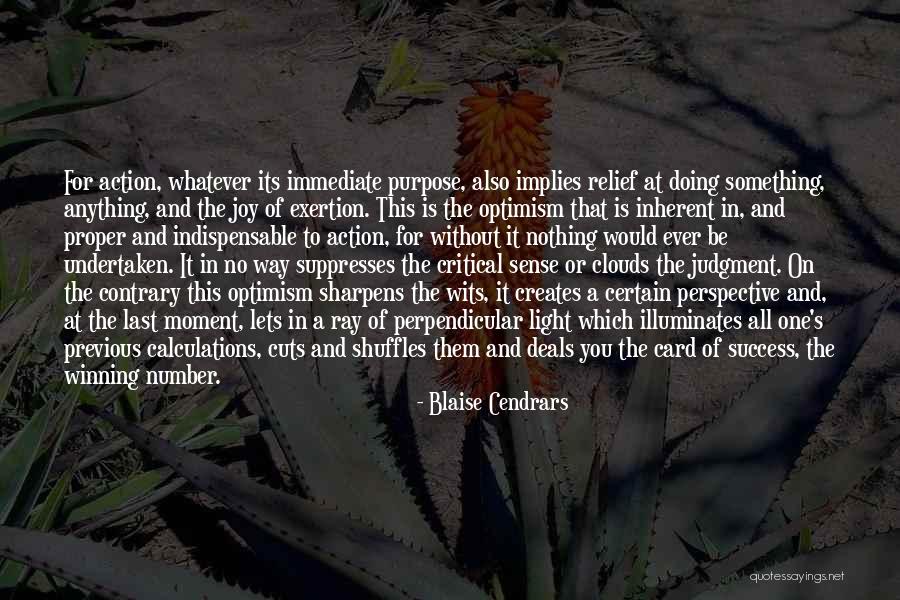 For action, whatever its immediate purpose, also implies relief at doing something, anything, and the joy of exertion. This is the optimism that is inherent in, and proper and indispensable to action, for without it nothing would ever be undertaken. It in no way suppresses the critical sense or clouds the judgment. On the contrary this optimism sharpens the wits, it creates a certain perspective and, at the last moment, lets in a ray of perpendicular light which illuminates all one's previous calculations, cuts and shuffles them and deals you the card of success, the winning number. — Blaise Cendrars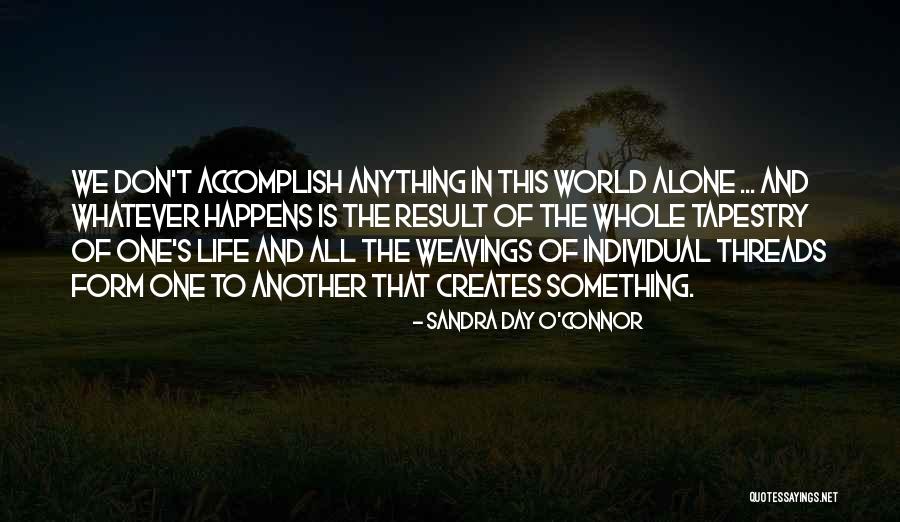 We don't accomplish anything in this world alone ... and whatever happens is the result of the whole tapestry of one's life and all the weavings of individual threads form one to another that creates something. — Sandra Day O'Connor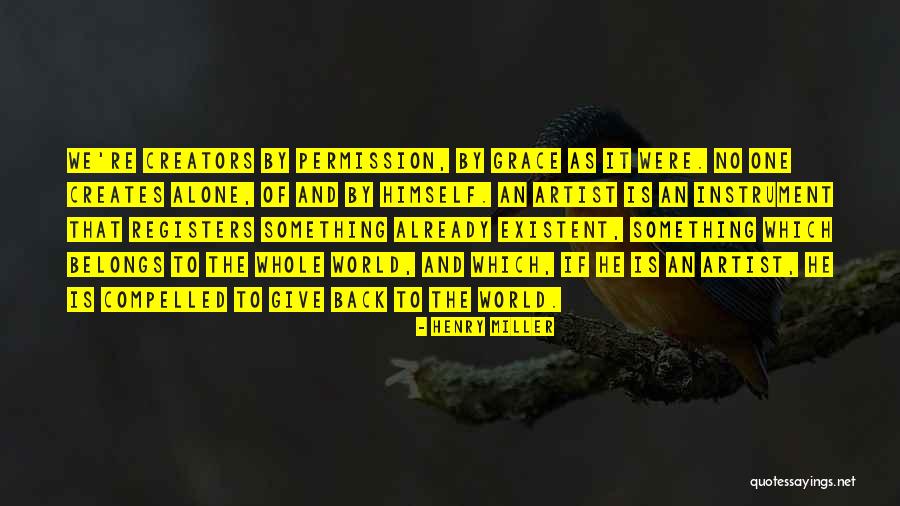 We're creators by permission, by grace as it were. No one creates alone, of and by himself. An artist is an instrument that registers something already existent, something which belongs to the whole world, and which, if he is an artist, he is compelled to give back to the world. — Henry Miller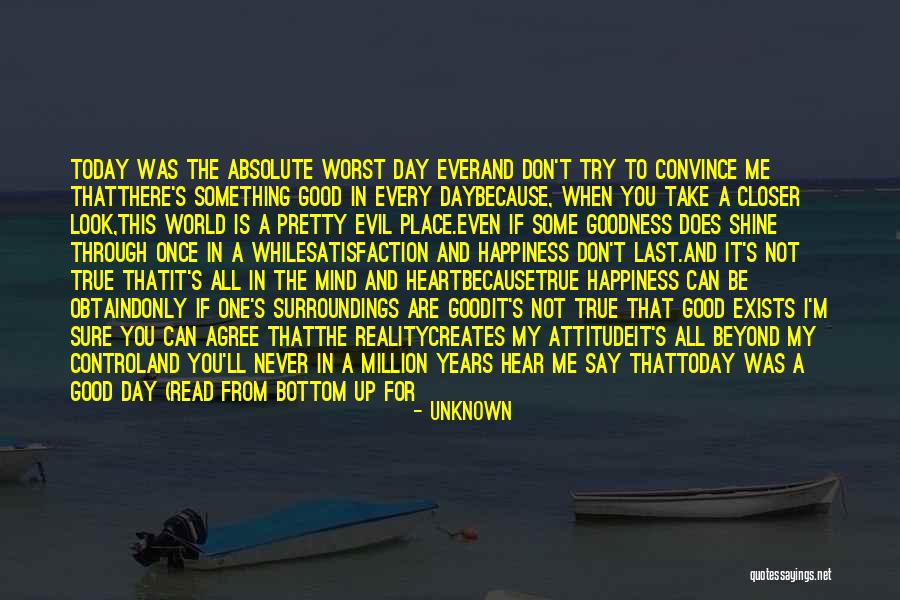 Today was the absolute worst day ever
And don't try to convince me that
There's something good in every day
Because, when you take a closer look,
This world is a pretty evil place.
Even if
Some goodness does shine through once in a while
Satisfaction and happiness don't last.
And it's not true that
It's all in the mind and heart
Because
True happiness can be obtaind
Only if one's surroundings are good
It's not true that good exists
I'm sure you can agree that
The reality
Creates
My attitude
It's all beyond my control
And you'll never in a million years hear me say that
Today was a good day

(read from bottom up for a different perspective) — Unknown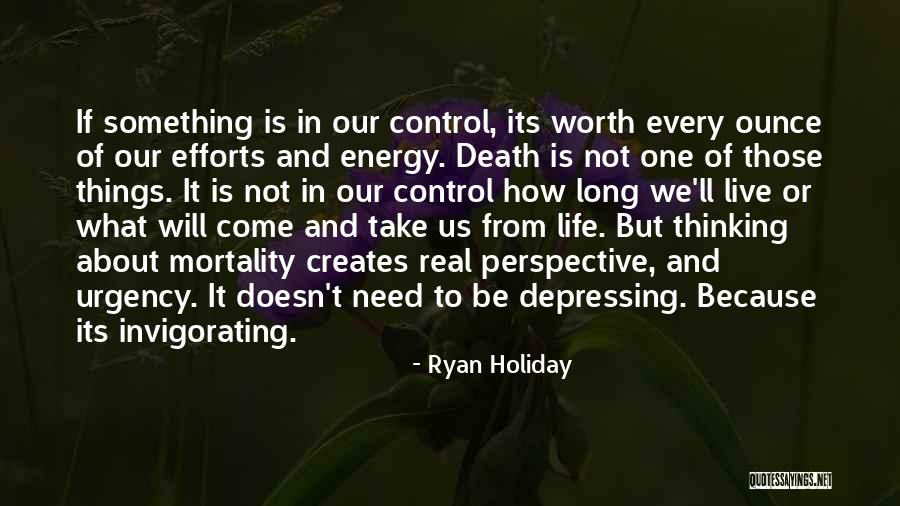 If something is in our control, its worth every ounce of our efforts and energy. Death is not one of those things. It is not in our control how long we'll live or what will come and take us from life. But thinking about mortality creates real perspective, and urgency. It doesn't need to be depressing. Because its invigorating. — Ryan Holiday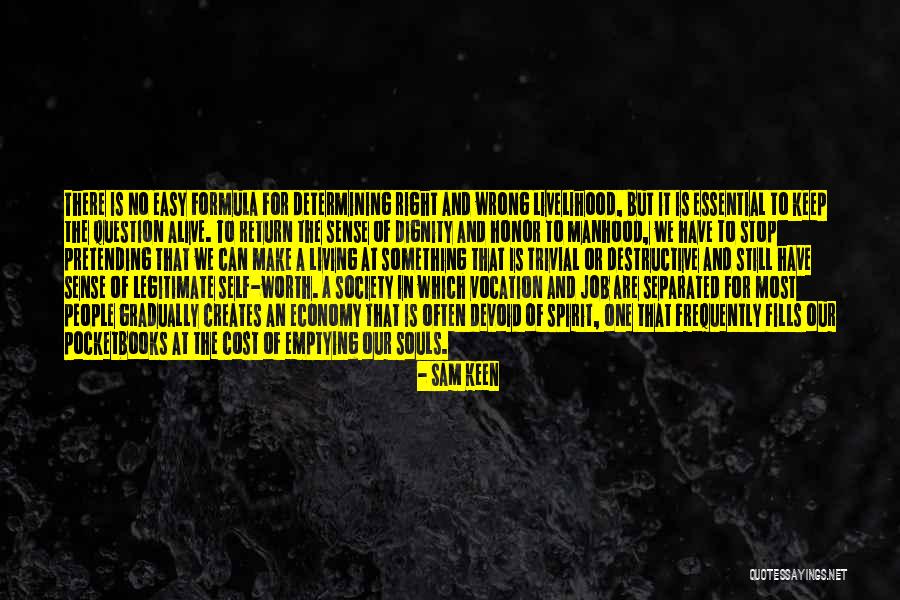 There is no easy formula for determining right and wrong livelihood, but it is essential to keep the question alive. To return the sense of dignity and honor to manhood, we have to stop pretending that we can make a living at something that is trivial or destructive and still have sense of legitimate self-worth. A society in which vocation and job are separated for most people gradually creates an economy that is often devoid of spirit, one that frequently fills our pocketbooks at the cost of emptying our souls. — Sam Keen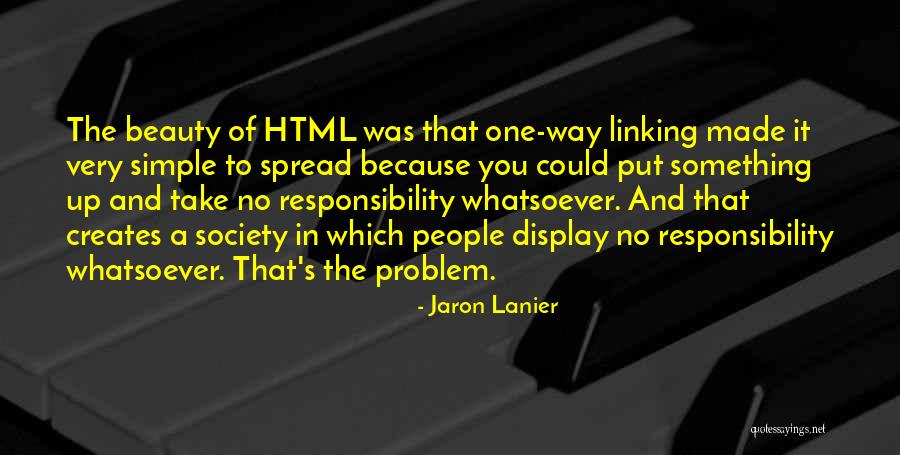 The beauty of HTML was that one-way linking made it very simple to spread because you could put something up and take no responsibility whatsoever. And that creates a society in which people display no responsibility whatsoever. That's the problem. — Jaron Lanier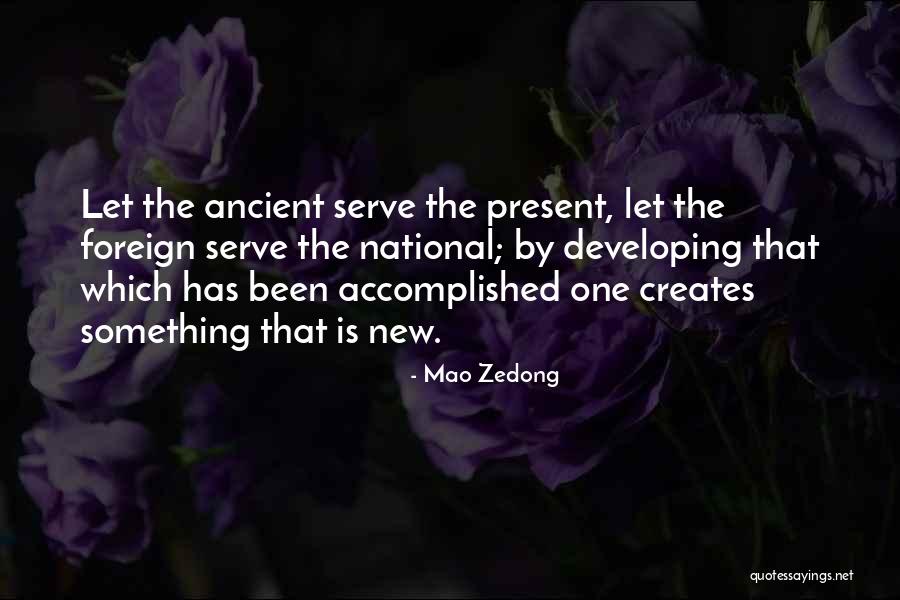 Let the ancient serve the present, let the foreign serve the national; by developing that which has been accomplished one creates something that is new. — Mao Zedong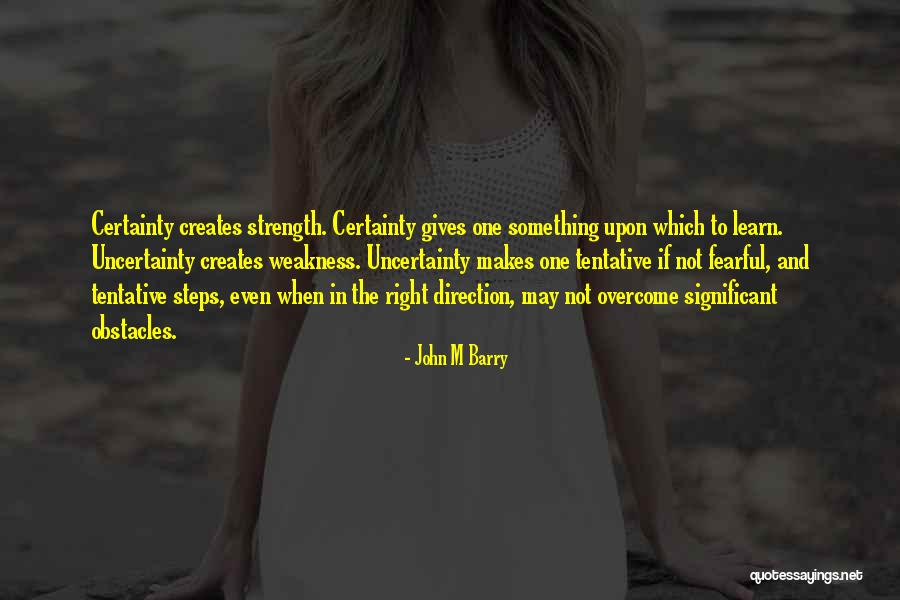 Certainty creates strength. Certainty gives one something upon which to learn. Uncertainty creates weakness. Uncertainty makes one tentative if not fearful, and tentative steps, even when in the right direction, may not overcome significant obstacles. — John M Barry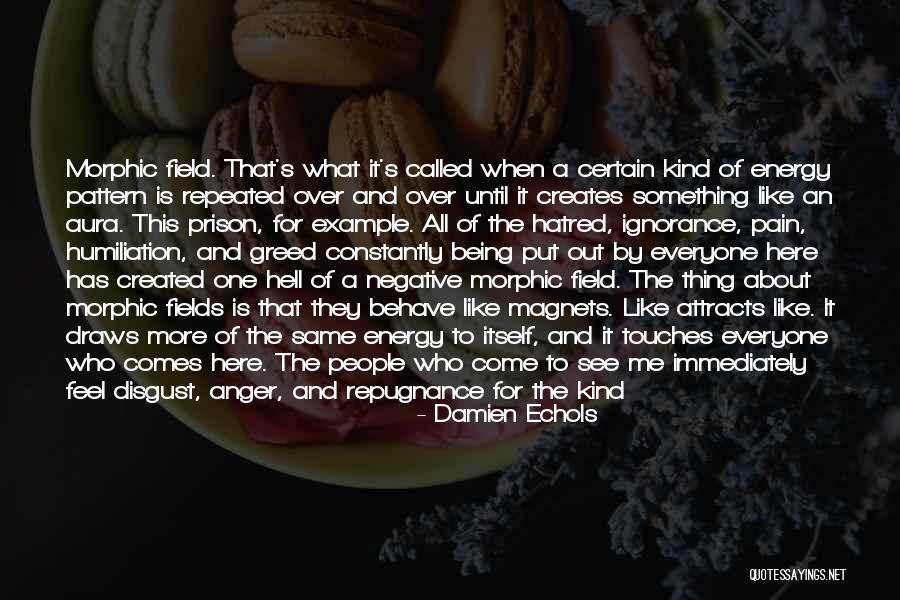 Morphic field. That's what it's called when a certain kind of energy pattern is repeated over and over until it creates something like an aura. This prison, for example. All of the hatred, ignorance, pain, humiliation, and greed constantly being put out by everyone here has created one hell of a negative morphic field. The thing about morphic fields is that they behave like magnets. Like attracts like. It draws more of the same energy to itself, and it touches everyone who comes here. The people who come to see me immediately feel disgust, anger, and repugnance for the kind of people they have to deal with here. It also explains why every new batch of guards who come to work here are a little more brutal and ignorant than the last. As the morphic field grows increasingly worse, it draws in the kind of people who resonate with it. — Damien Echols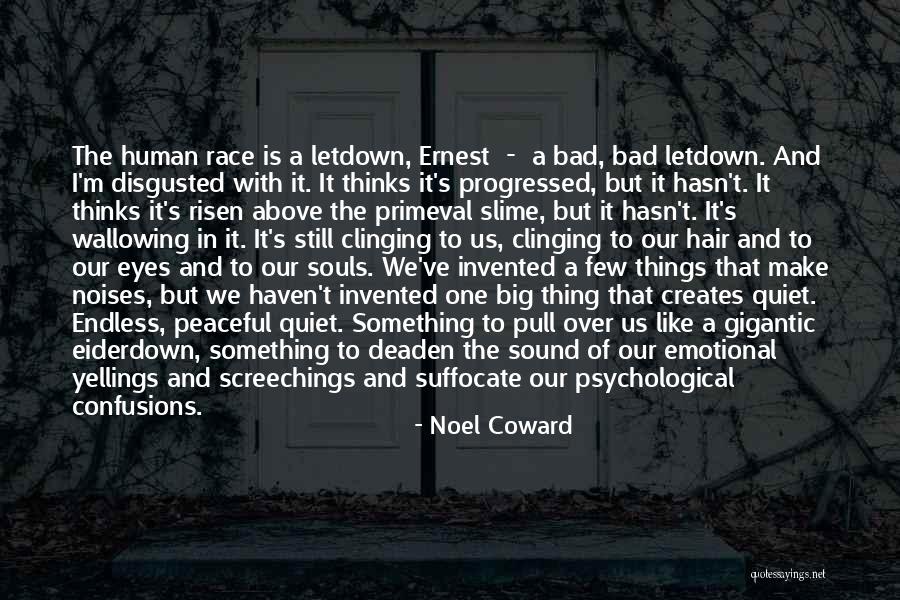 The human race is a letdown, Ernest - a bad, bad letdown. And I'm disgusted with it. It thinks it's progressed, but it hasn't. It thinks it's risen above the primeval slime, but it hasn't. It's wallowing in it. It's still clinging to us, clinging to our hair and to our eyes and to our souls. We've invented a few things that make noises, but we haven't invented one big thing that creates quiet. Endless, peaceful quiet. Something to pull over us like a gigantic eiderdown, something to deaden the sound of our emotional yellings and screechings and suffocate our psychological confusions. — Noel Coward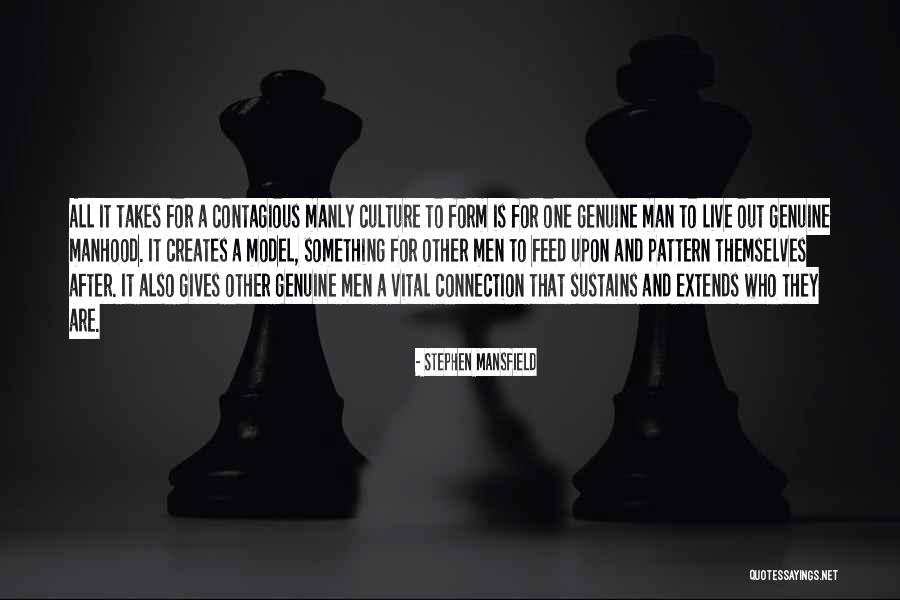 All it takes for a contagious manly culture to form is for one genuine man to live out genuine manhood. It creates a model, something for other men to feed upon and pattern themselves after. It also gives other genuine men a vital connection that sustains and extends who they are. — Stephen Mansfield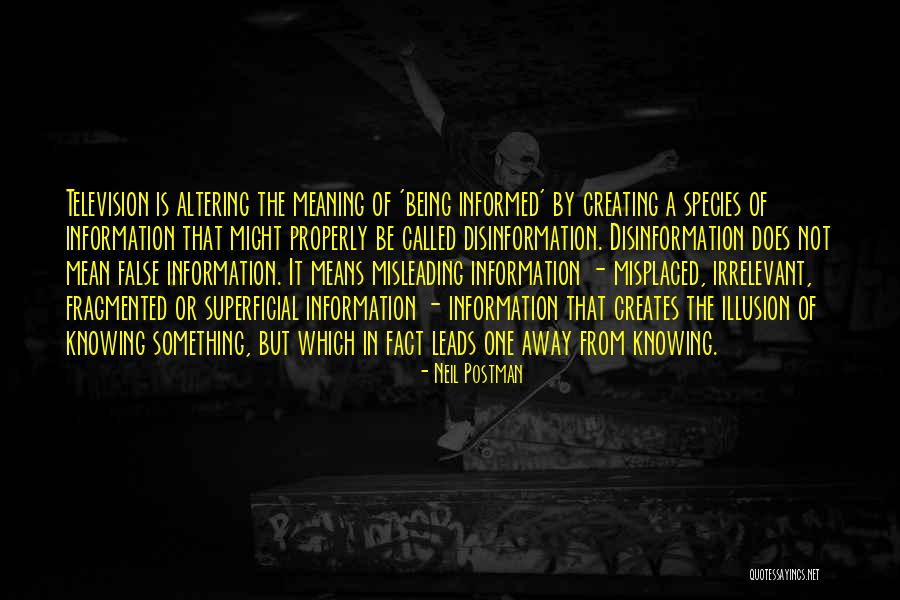 Television is altering the meaning of 'being informed' by creating a species of information that might properly be called disinformation. Disinformation does not mean false information. It means misleading information - misplaced, irrelevant, fragmented or superficial information - information that creates the illusion of knowing something, but which in fact leads one away from knowing. — Neil Postman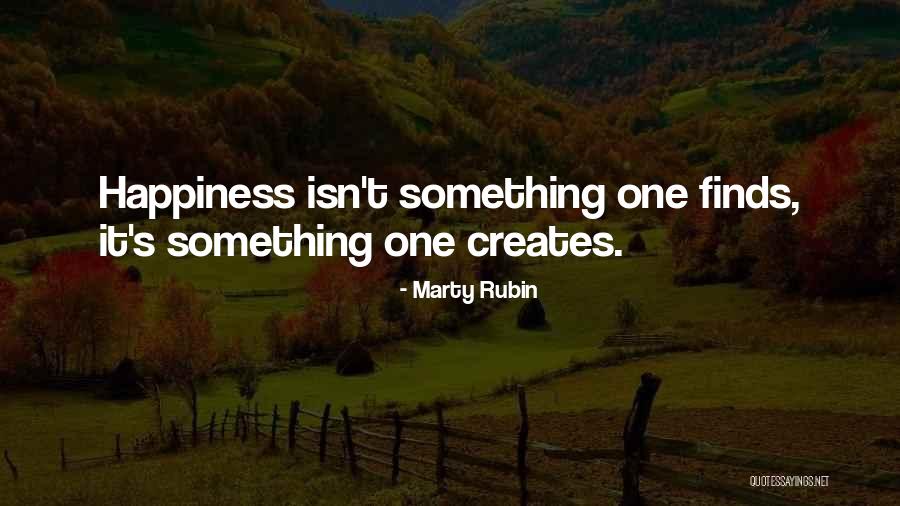 Happiness isn't something one finds, it's something one creates. — Marty Rubin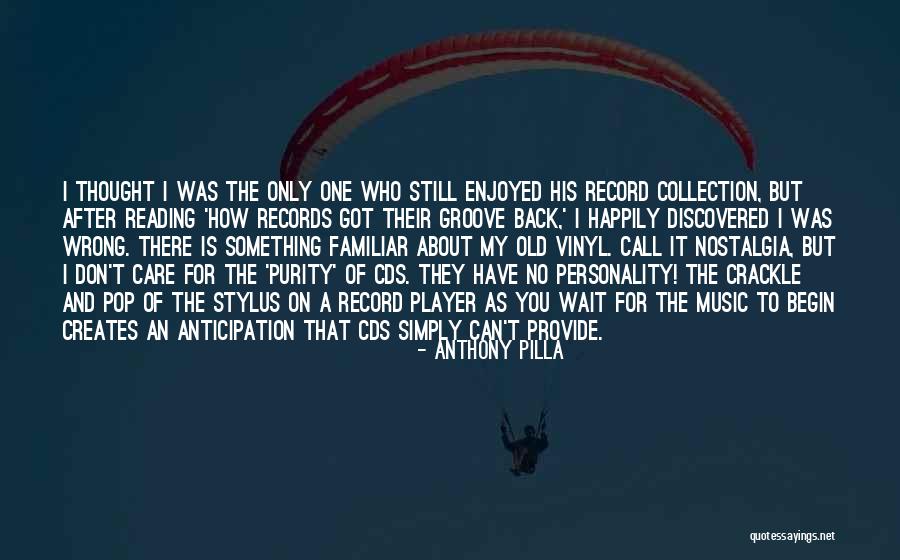 I thought I was the only one who still enjoyed his record collection, but after reading 'How Records Got Their Groove Back,' I happily discovered I was wrong. There is something familiar about my old vinyl. Call it nostalgia, but I don't care for the 'purity' of CDs. They have no personality! The crackle and pop of the stylus on a record player as you wait for the music to begin creates an anticipation that CDs simply can't provide. — Anthony Pilla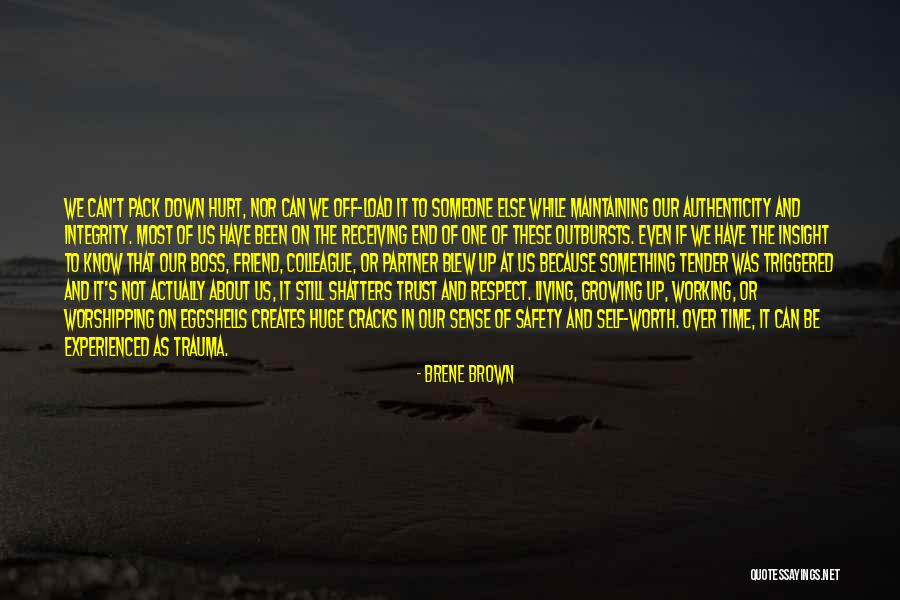 We can't pack down hurt, nor can we off-load it to someone else while maintaining our authenticity and integrity. Most of us have been on the receiving end of one of these outbursts. Even if we have the insight to know that our boss, friend, colleague, or partner blew up at us because something tender was triggered and it's not actually about us, it still shatters trust and respect. Living, growing up, working, or worshipping on eggshells creates huge cracks in our sense of safety and self-worth. Over time, it can be experienced as trauma. — Brene Brown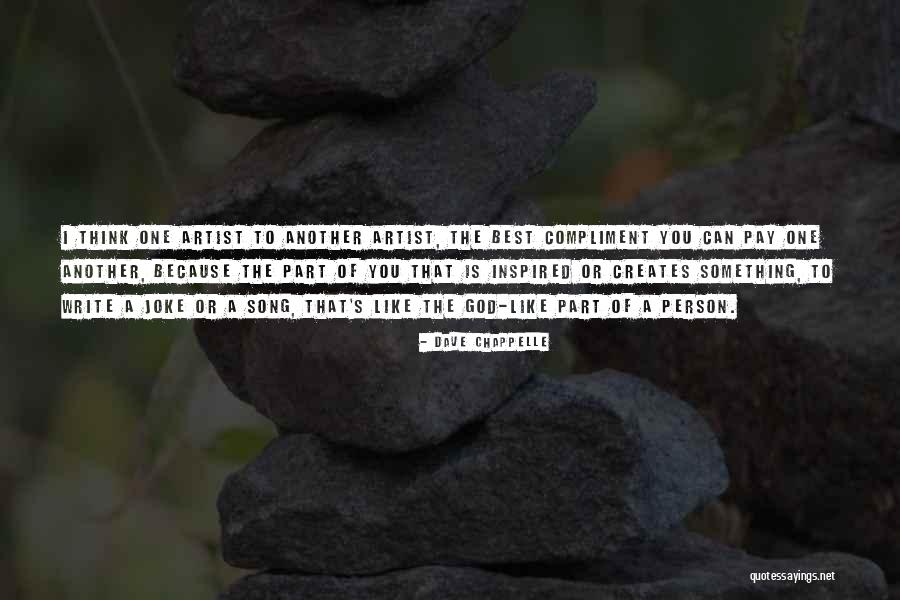 I think one artist to another artist, the best compliment you can pay one another, because the part of you that is inspired or creates something, to write a joke or a song, that's like the God-like part of a person. — Dave Chappelle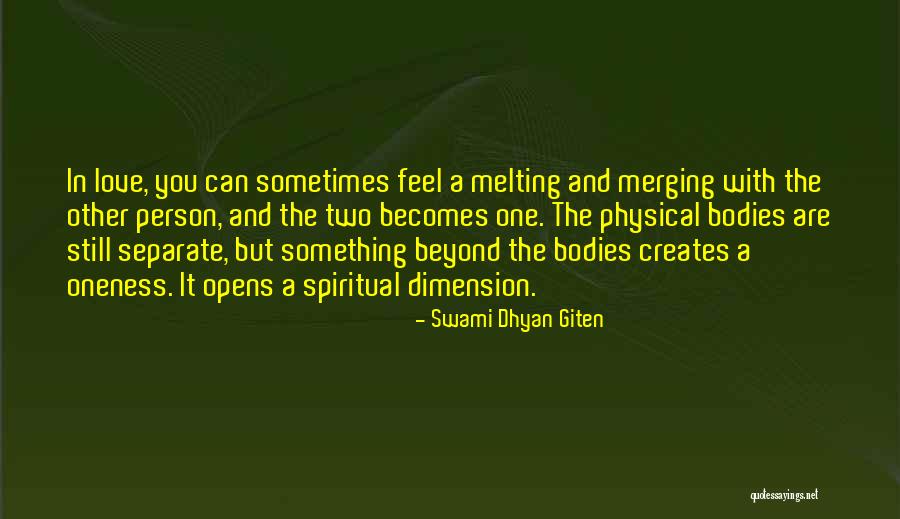 In love, you can sometimes feel a melting and merging with the other person, and the two becomes one. The physical bodies are still separate, but something beyond the bodies creates a oneness. It opens a spiritual dimension. — Swami Dhyan Giten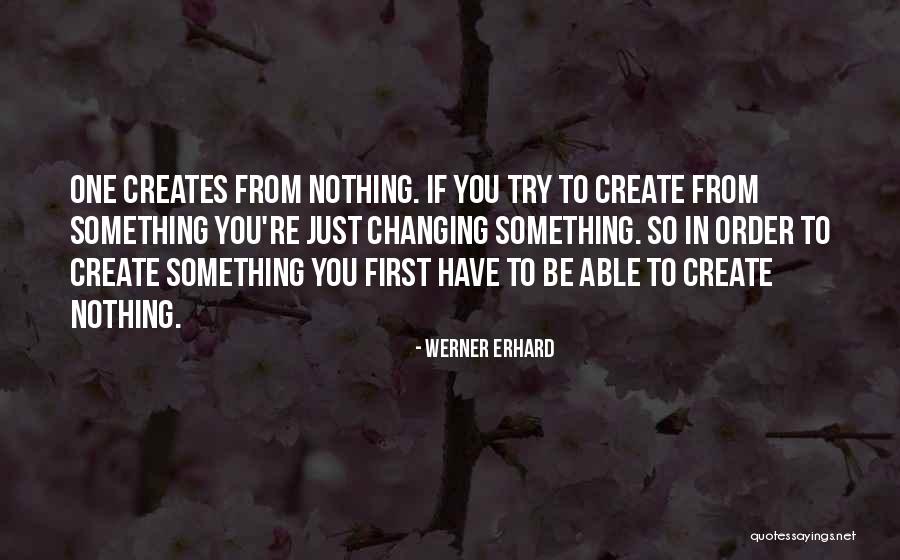 One creates from nothing. If you try to create from something you're just changing something. So in order to create something you first have to be able to create nothing. — Werner Erhard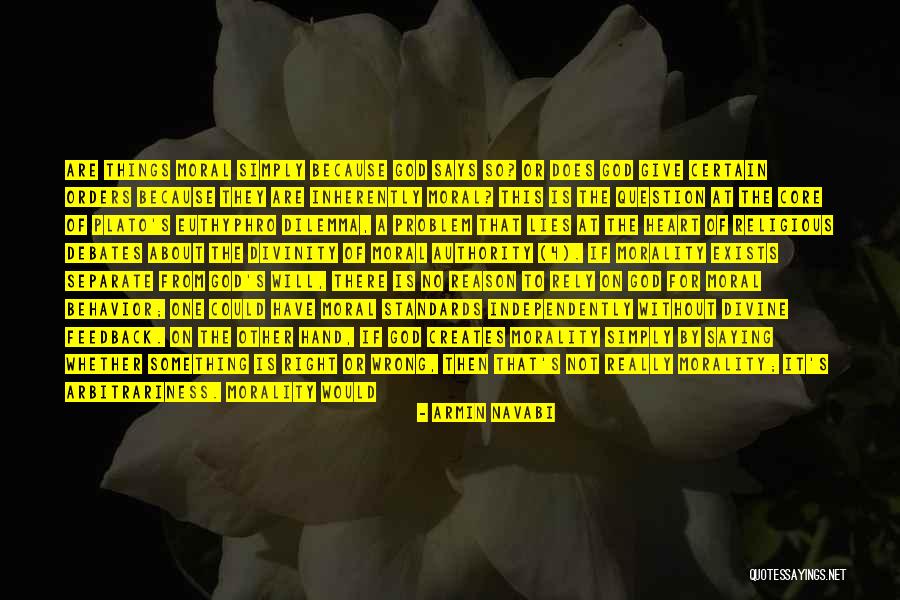 Are things moral simply because God says so? Or does God give certain orders because they are inherently moral? This is the question at the core of Plato's Euthyphro dilemma, a problem that lies at the heart of religious debates about the divinity of moral authority (4). If morality exists separate from God's will, there is no reason to rely on God for moral behavior; one could have moral standards independently without divine feedback. On the other hand, if God creates morality simply by saying whether something is right or wrong, then that's not really morality; it's arbitrariness. Morality would become nothing more than the whimsy of a divine being blindly followed by humans. — Armin Navabi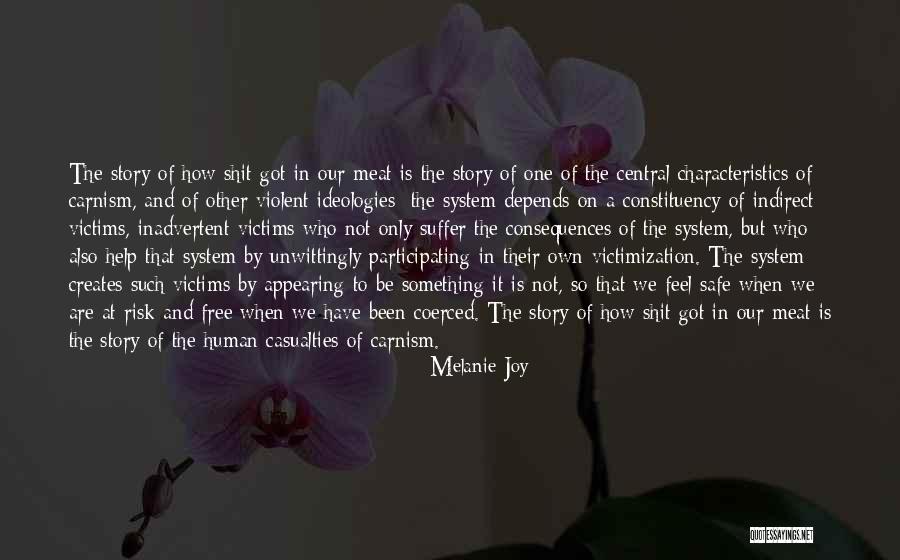 The story of how shit got in our meat is the story of one of the central characteristics of carnism, and of other violent ideologies: the system depends on a constituency of indirect victims, inadvertent victims who not only suffer the consequences of the system, but who also help that system by unwittingly participating in their own victimization. The system creates such victims by appearing to be something it is not, so that we feel safe when we are at risk and free when we have been coerced. The story of how shit got in our meat is the story of the human casualties of carnism. — Melanie Joy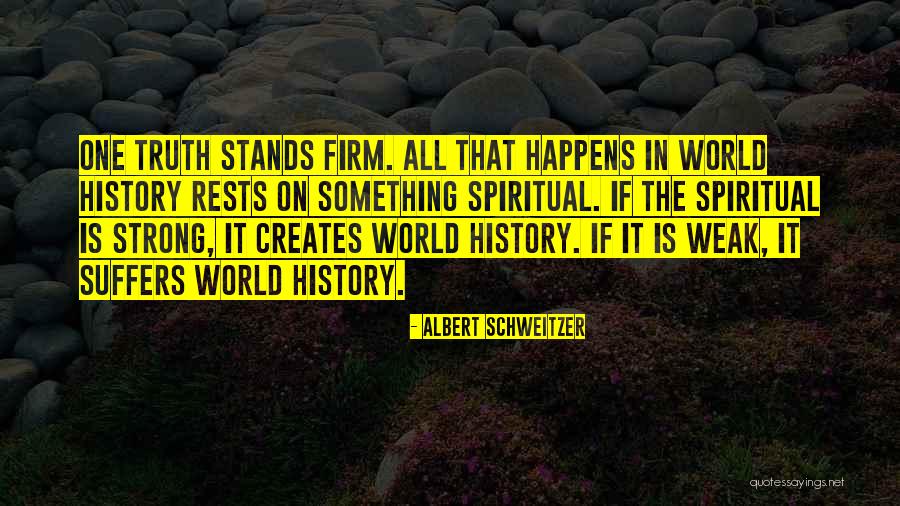 One truth stands firm. All that happens in world history rests on something spiritual. If the spiritual is strong, it creates world history. If it is weak, it suffers world history. — Albert Schweitzer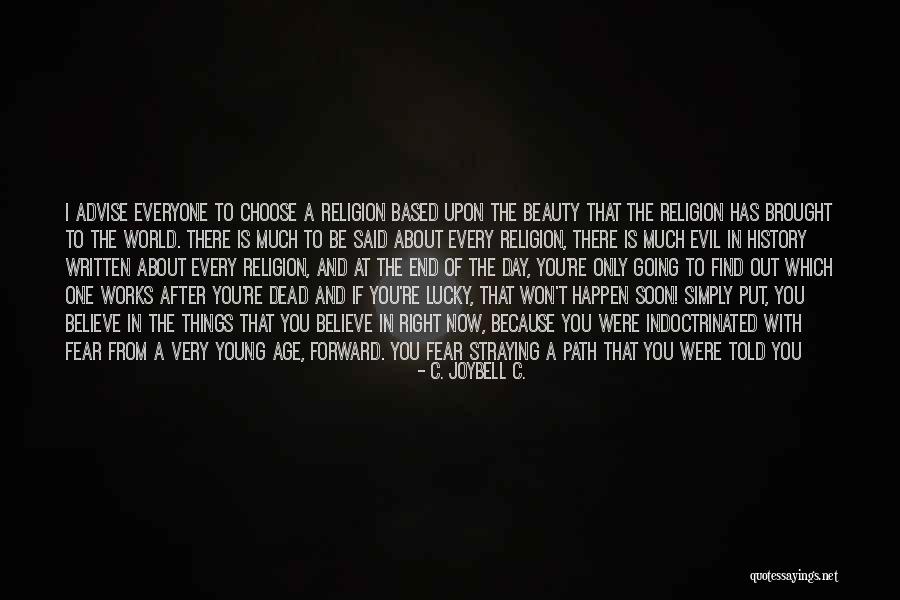 I advise everyone to choose a religion based upon the beauty that the religion has brought to the world. There is much to be said about every religion, there is much evil in history written about every religion, and at the end of the day, you're only going to find out which one works after you're dead and if you're lucky, that won't happen soon! Simply put, you believe in the things that you believe in right now, because you were indoctrinated with fear from a very young age, forward. You fear straying a path that you were told you should walk on. So what path should you really walk on? Walk on the path that has created, is creating, and will be creating - beauty. The only real sign of anything worthwhile, is beauty. The true religion is the belief in what is beautiful. So if something creates a beauty in your heart and in the world - walk that path. — C. JoyBell C.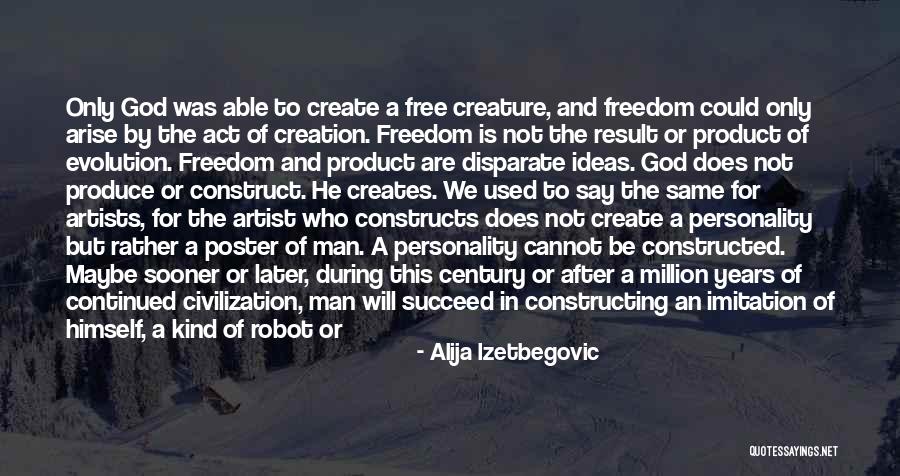 Only God was able to create a free creature, and freedom could only arise by the act of creation. Freedom is not the result or product of evolution. Freedom and product are disparate ideas. God does not produce or construct. He creates. We used to say the same for artists, for the artist who constructs does not create a personality but rather a poster of man. A personality cannot be constructed. Maybe sooner or later, during this century or after a million years of continued civilization, man will succeed in constructing an imitation of himself, a kind of robot or monster, something similar to its constructor. This human-looking monster may look very much like man, but one thing is certain: it will never have freedom. Without a divine touch, the result of evolution would not have been man, but rather a developed animal, a super-animal, a creature with a human body and intelligence but without a heart and personality. — Alija Izetbegovic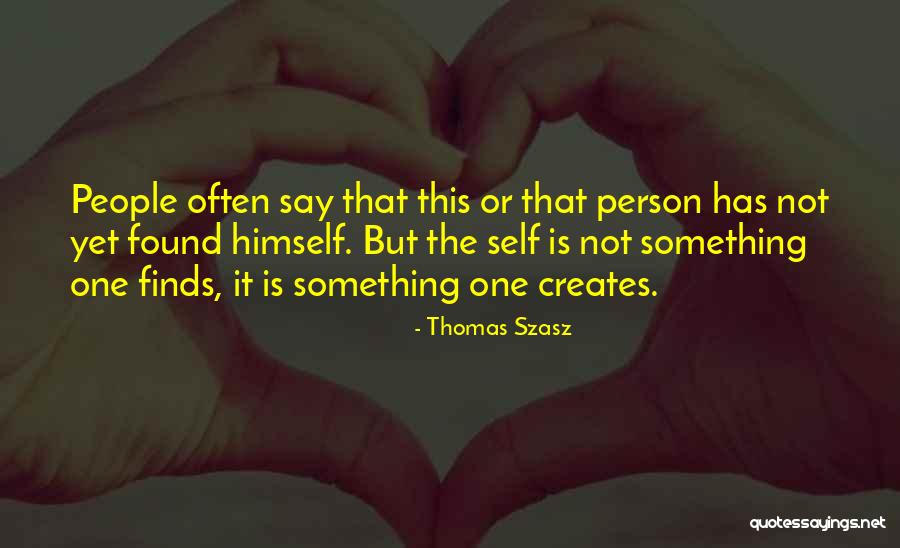 People often say that this or that person has not yet found himself. But the self is not something one finds, it is something one creates. — Thomas Szasz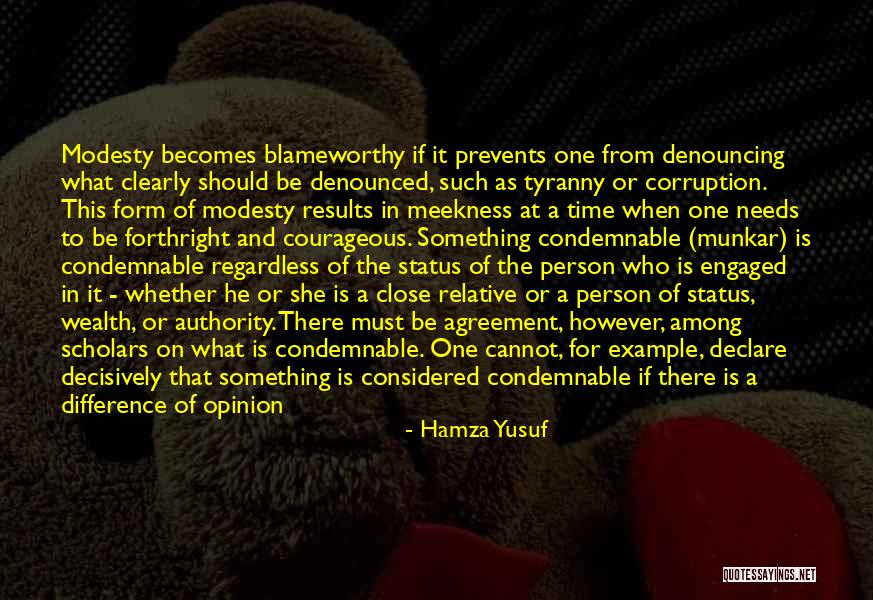 Modesty becomes blameworthy if it prevents one from denouncing what clearly should be denounced, such as tyranny or corruption. This form of modesty results in meekness at a time when one needs to be forthright and courageous. Something condemnable (munkar) is condemnable regardless of the status of the person who is engaged in it - whether he or she is a close relative or a person of status, wealth, or authority. There must be agreement, however, among scholars on what is condemnable. One cannot, for example, declare decisively that something is considered condemnable if there is a difference of opinion on it among the scholars. Scholars knowledgeable of the plentitude of juristic differences rarely condemn others. They refrain from such condemnation not because of modesty but because of their extensive knowledge and scholarly insight. Unfortunately, many people today are swift to condemn, which creates another disease: self-righteousness. — Hamza Yusuf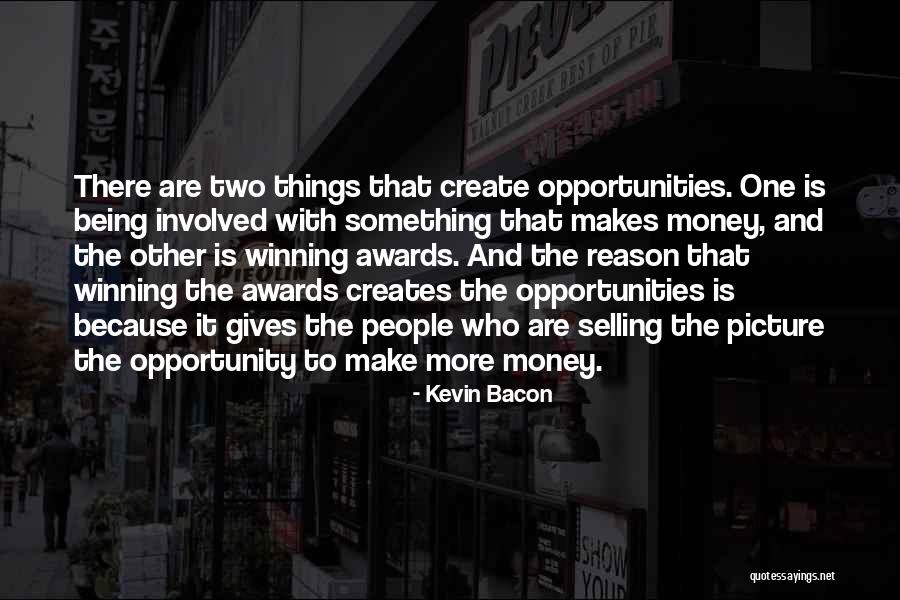 There are two things that create opportunities. One is being involved with something that makes money, and the other is winning awards. And the reason that winning the awards creates the opportunities is because it gives the people who are selling the picture the opportunity to make more money. — Kevin Bacon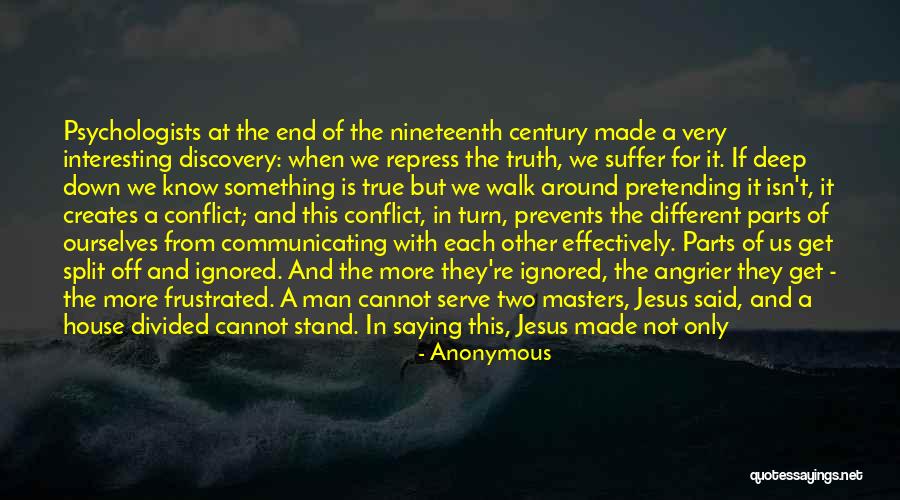 Psychologists at the end of the nineteenth century made a very interesting discovery: when we repress the truth, we suffer for it. If deep down we know something is true but we walk around pretending it isn't, it creates a conflict; and this conflict, in turn, prevents the different parts of ourselves from communicating with each other effectively. Parts of us get split off and ignored. And the more they're ignored, the angrier they get - the more frustrated. A man cannot serve two masters, Jesus said, and a house divided cannot stand. In saying this, Jesus made not only one of the greatest spiritual statements, but one of the greatest psychological ones as well. — Anonymous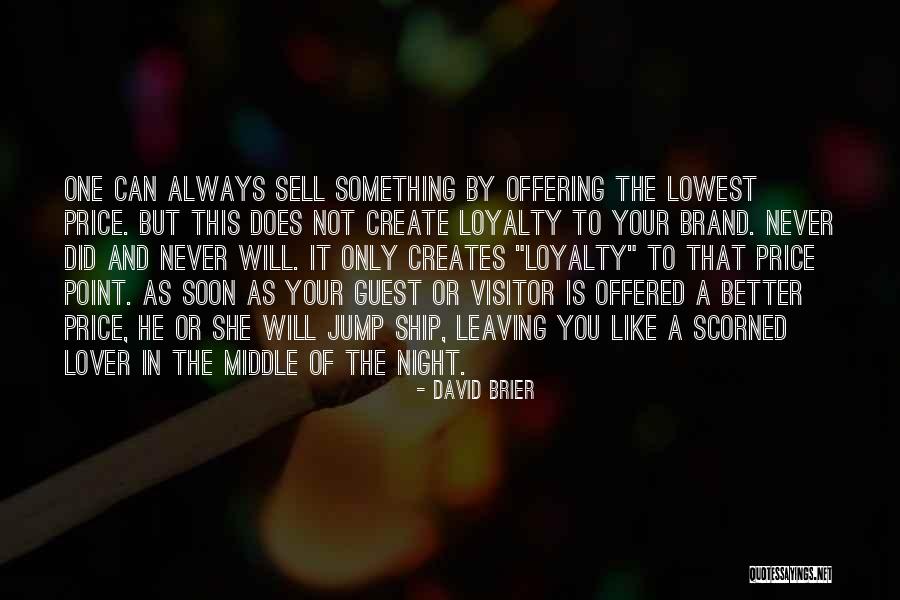 One can always sell something by offering the lowest price. But this does not create loyalty to your brand. Never did and never will. It only creates "loyalty" to that price point. As soon as your guest or visitor is offered a better price, he or she will jump ship, leaving you like a scorned lover in the middle of the night. — David Brier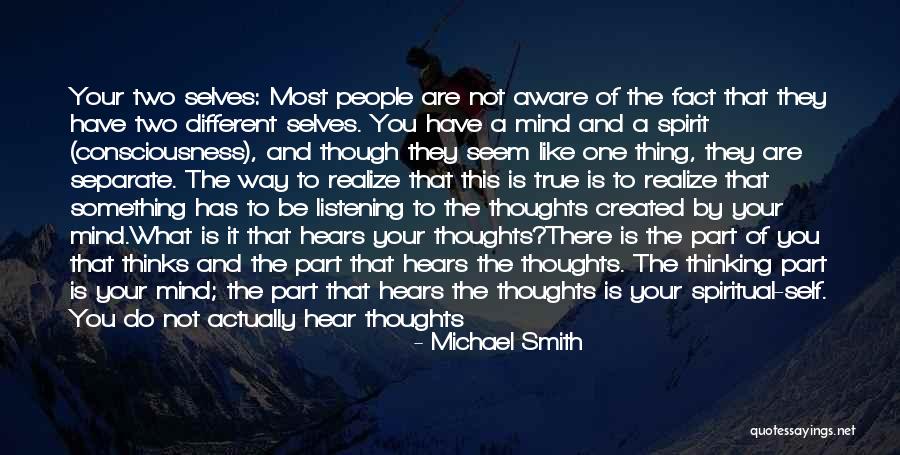 Your two selves: Most people are not aware of the fact that they have two different selves. You have a mind and a spirit (consciousness), and though they seem like one thing, they are separate. The way to realize that this is true is to realize that something has to be listening to the thoughts created by your mind.

What is it that hears your thoughts?

There is the part of you that thinks and the part that hears the thoughts. The thinking part is your mind; the part that hears the thoughts is your spiritual-self. You do not actually hear thoughts through your ears, because your mind is already inside your head. The point is, your spiritual-self receives the things the mind creates in a similar way to hearing them.

Check it out: Just ask yourself, what is it that is hearing the thoughts you are thinking right now?

It is your spiritual-self, the same thing that receives all life. — Michael Smith