Quotes & Sayings About Someone's True Colours
Enjoy reading and share 32 famous quotes about Someone's True Colours with everyone.
Top Someone's True Colours Quotes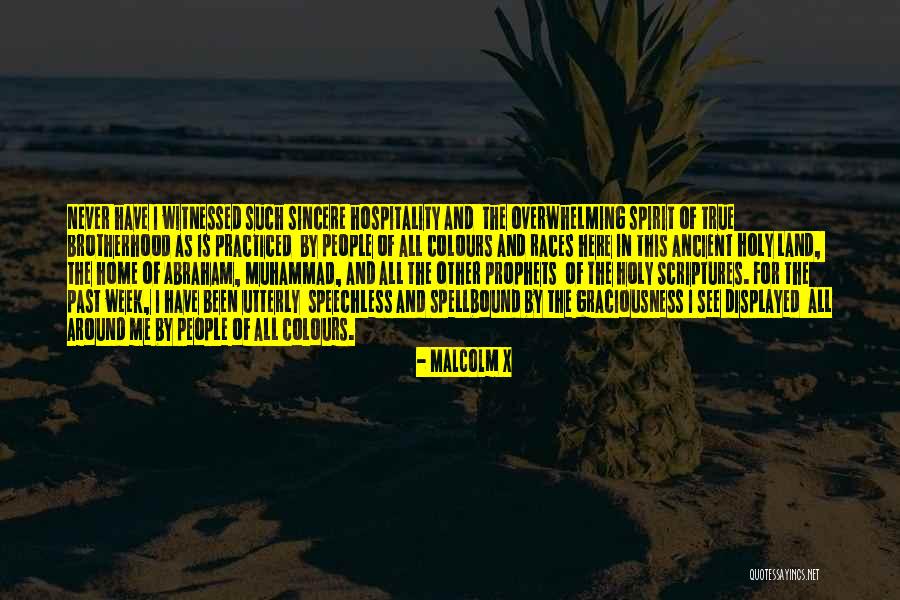 Never have I witnessed such sincere hospitality and
the overwhelming spirit of true brotherhood as is practiced
by people of all colours and races here in this ancient Holy Land,
the home of Abraham, Muhammad, and all the other prophets
of the Holy Scriptures. For the past week, I have been utterly
speechless and spellbound by the graciousness I see displayed
all around me by people of all colours. — Malcolm X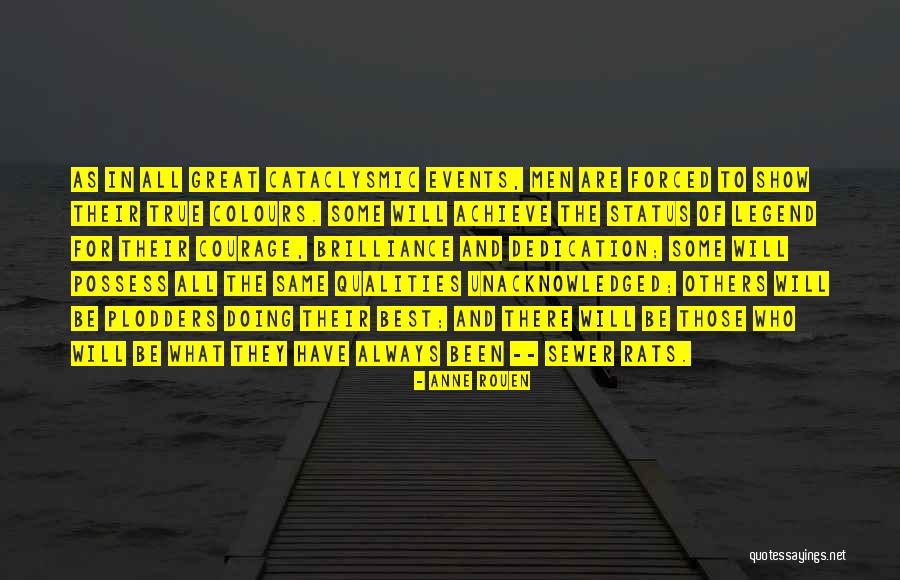 As in all great cataclysmic events, men are forced to show their true colours. Some will achieve the status of legend for their courage, brilliance and dedication; some will possess all the same qualities unacknowledged; others will be plodders doing their best; and there will be those who will be what they have always been -- sewer rats. — Anne Rouen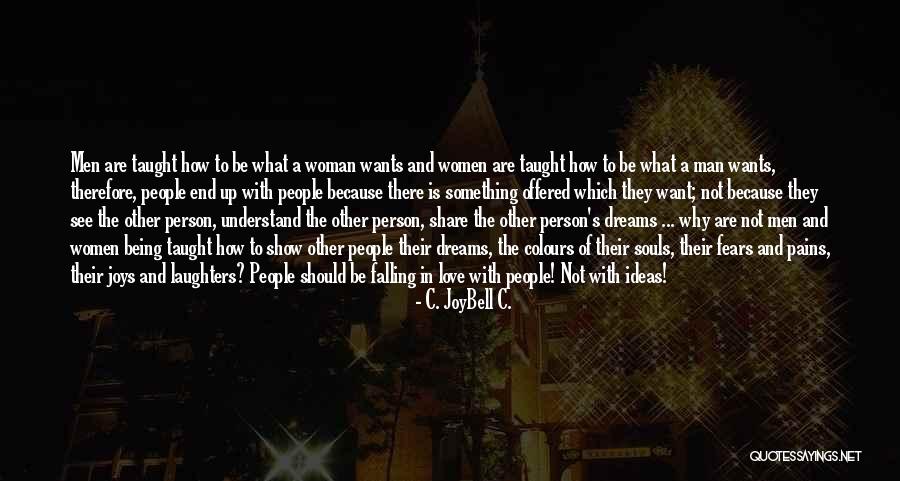 Men are taught how to be what a woman wants and women are taught how to be what a man wants, therefore, people end up with people because there is something offered which they want; not because they see the other person, understand the other person, share the other person's dreams ... why are not men and women being taught how to show other people their dreams, the colours of their souls, their fears and pains, their joys and laughters? People should be falling in love with people! Not with ideas! — C. JoyBell C.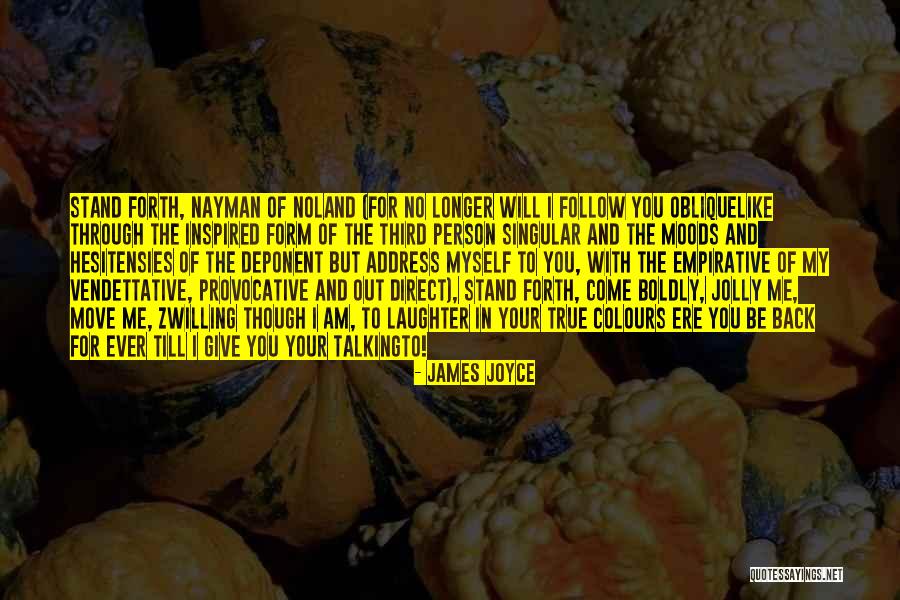 Stand forth, Nayman of Noland (for no longer will I follow you obliquelike through the inspired form of the third person singular and the moods and hesitensies of the deponent but address myself to you, with the empirative of my vendettative, provocative and out direct), stand forth, come boldly, jolly me, move me, zwilling though I am, to laughter in your true colours ere you be back for ever till I give you your talkingto! — James Joyce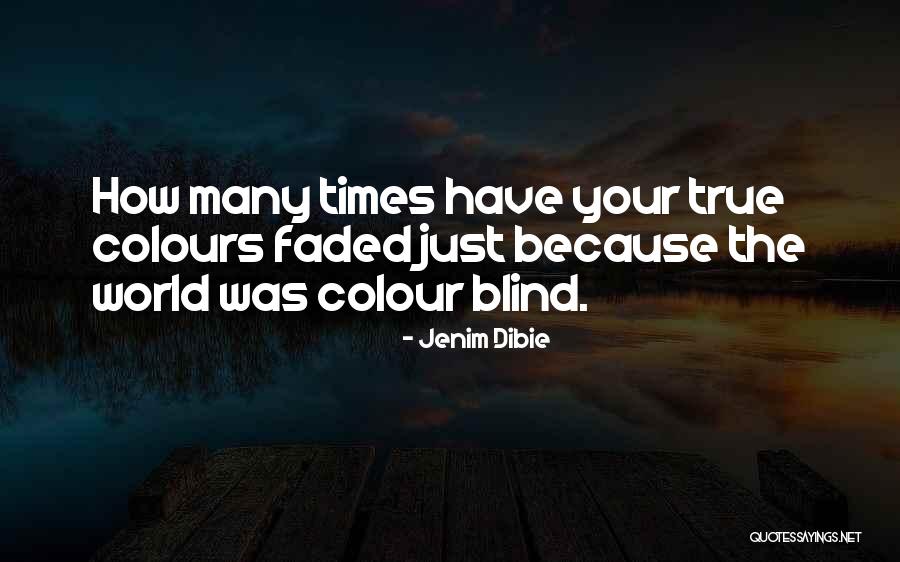 How many times have your true colours faded just because the world was colour blind. — Jenim Dibie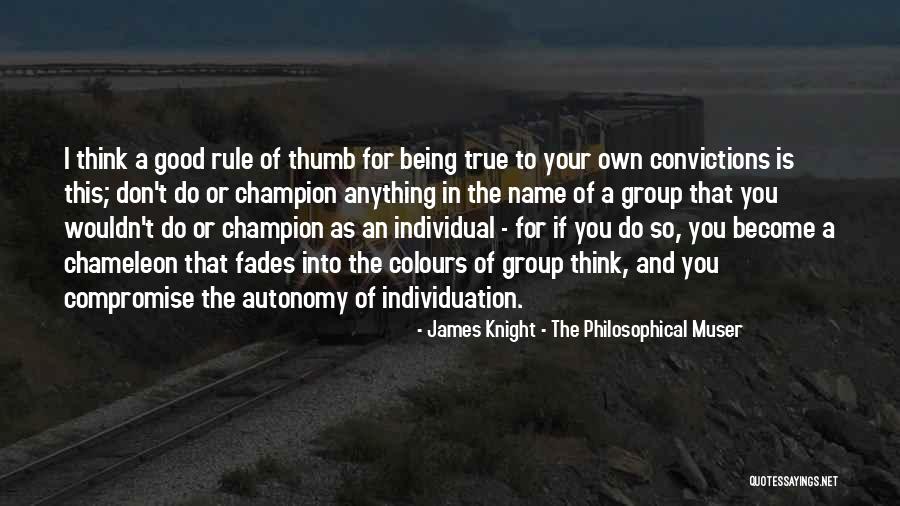 I think a good rule of thumb for being true to your own convictions is this; don't do or champion anything in the name of a group that you wouldn't do or champion as an individual - for if you do so, you become a chameleon that fades into the colours of group think, and you compromise the autonomy of individuation. — James Knight - The Philosophical Muser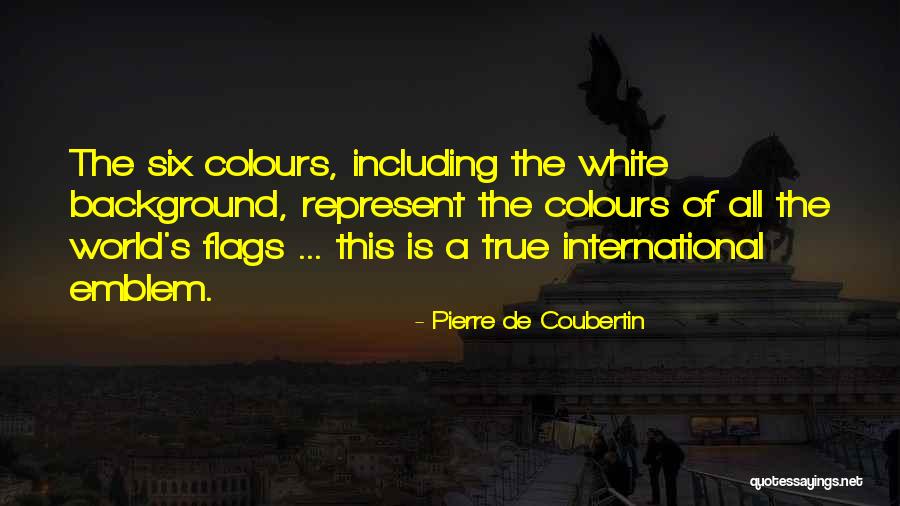 The six colours, including the white background, represent the colours of all the world's flags ... this is a true international emblem. — Pierre De Coubertin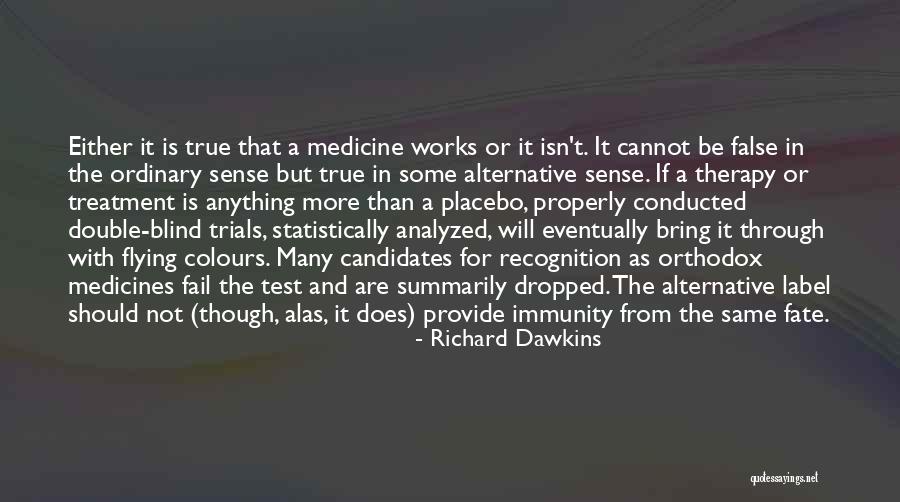 Either it is true that a medicine works or it isn't. It cannot be false in the ordinary sense but true in some alternative sense. If a therapy or treatment is anything more than a placebo, properly conducted double-blind trials, statistically analyzed, will eventually bring it through with flying colours. Many candidates for recognition as orthodox medicines fail the test and are summarily dropped. The alternative label should not (though, alas, it does) provide immunity from the same fate. — Richard Dawkins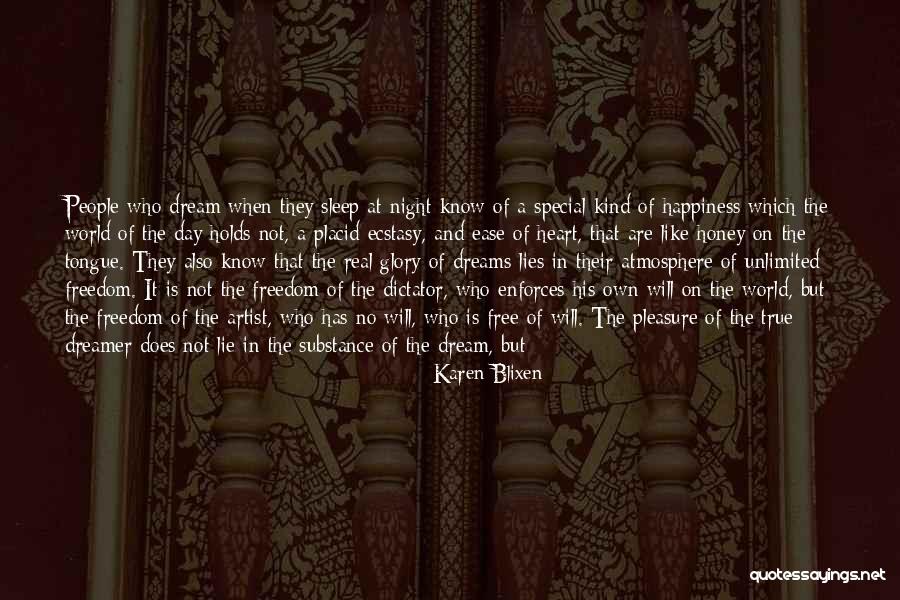 People who dream when they sleep at night know of a special kind of happiness which the world of the day holds not, a placid ecstasy, and ease of heart, that are like honey on the tongue. They also know that the real glory of dreams lies in their atmosphere of unlimited freedom. It is not the freedom of the dictator, who enforces his own will on the world, but the freedom of the artist, who has no will, who is free of will. The pleasure of the true dreamer does not lie in the substance of the dream, but in this: that there things happen without any interference from his side, and altogether outside his control. Great landscapes create themselves, long splendid views, rich and delicate colours, roads, houses, which he has never seen or heard of ... — Karen Blixen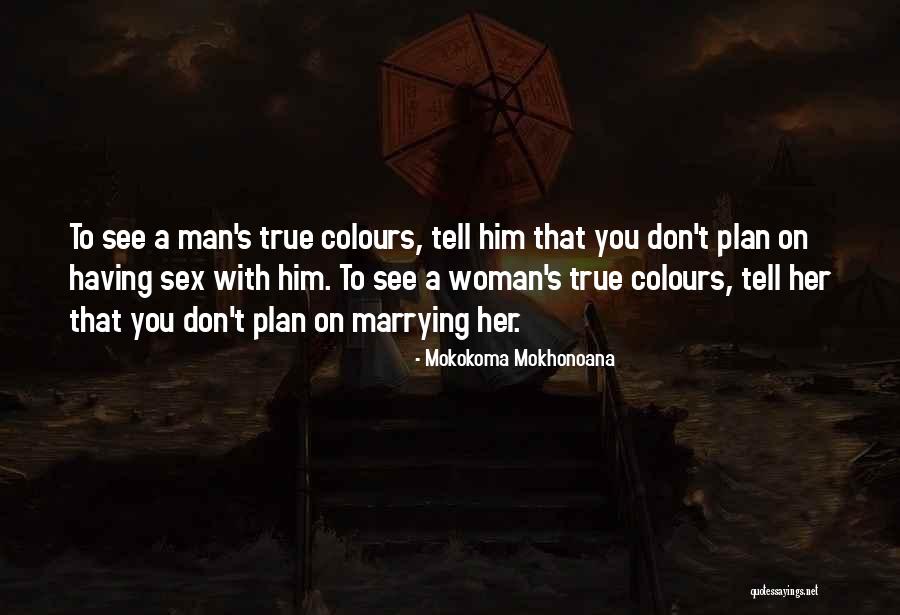 To see a man's true colours, tell him that you don't plan on having sex with him. To see a woman's true colours, tell her that you don't plan on marrying her. — Mokokoma Mokhonoana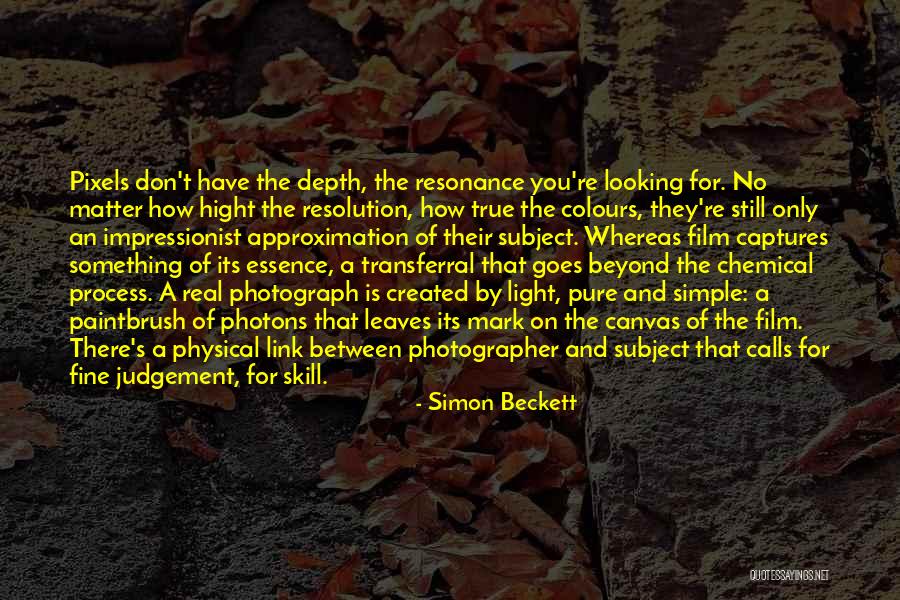 Pixels don't have the depth, the resonance you're looking for. No matter how hight the resolution, how true the colours, they're still only an impressionist approximation of their subject. Whereas film captures something of its essence, a transferral that goes beyond the chemical process. A real photograph is created by light, pure and simple: a paintbrush of photons that leaves its mark on the canvas of the film. There's a physical link between photographer and subject that calls for fine judgement, for skill. — Simon Beckett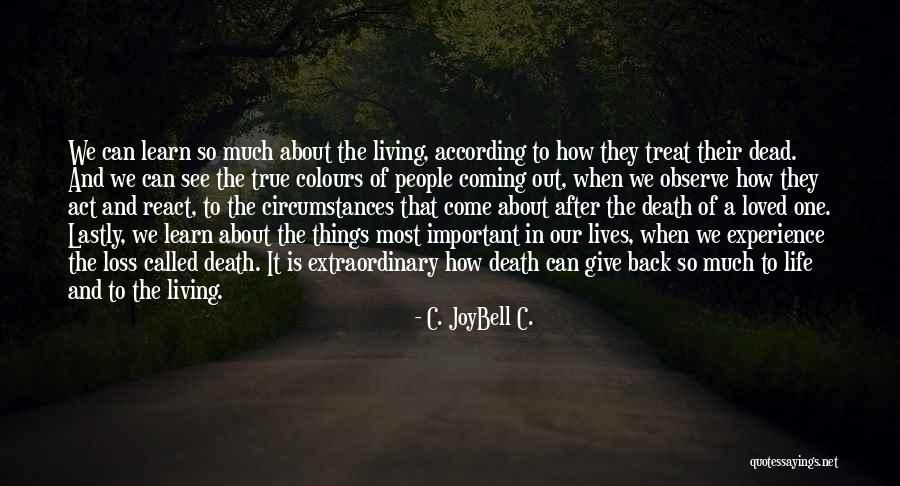 We can learn so much about the living, according to how they treat their dead. And we can see the true colours of people coming out, when we observe how they act and react, to the circumstances that come about after the death of a loved one. Lastly, we learn about the things most important in our lives, when we experience the loss called death. It is extraordinary how death can give back so much to life and to the living. — C. JoyBell C.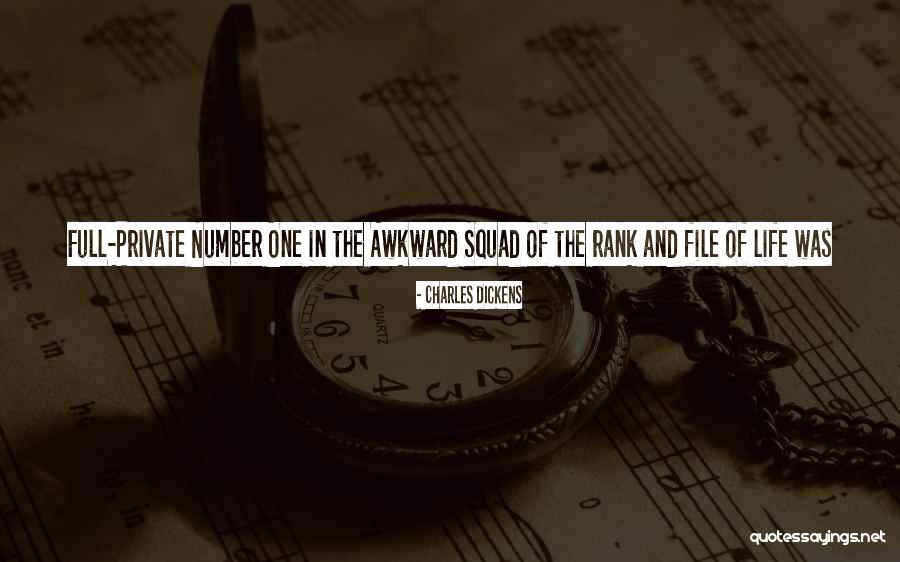 Full-Private Number One in the Awkward Squad of the rank and file of life was Sloppy, and yet had his glimmering notions of standing true to the Colours. — Charles Dickens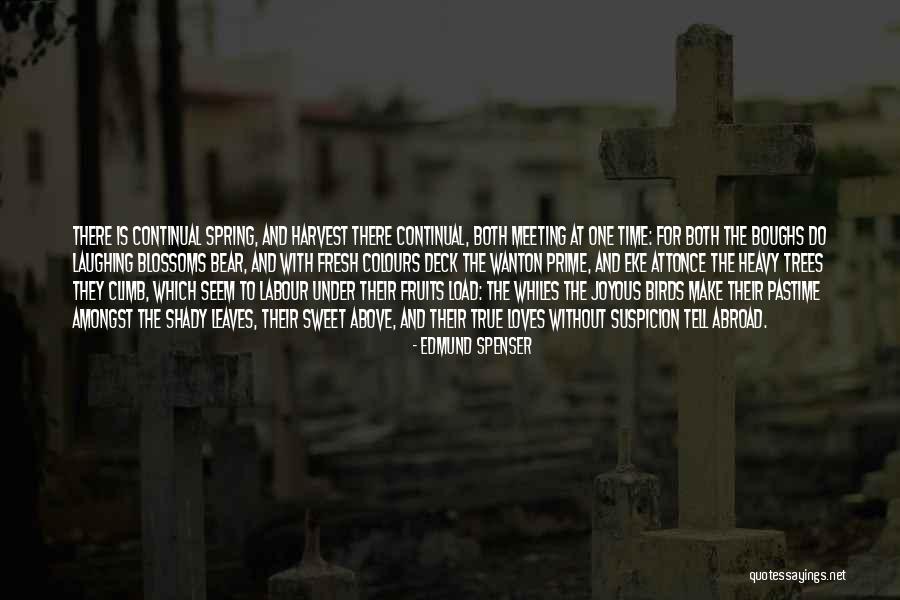 There is continual spring, and harvest there Continual, both meeting at one time: For both the boughs do laughing blossoms bear, And with fresh colours deck the wanton prime, And eke attonce the heavy trees they climb, Which seem to labour under their fruits load: The whiles the joyous birds make their pastime Amongst the shady leaves, their sweet above, And their true loves without suspicion tell abroad. — Edmund Spenser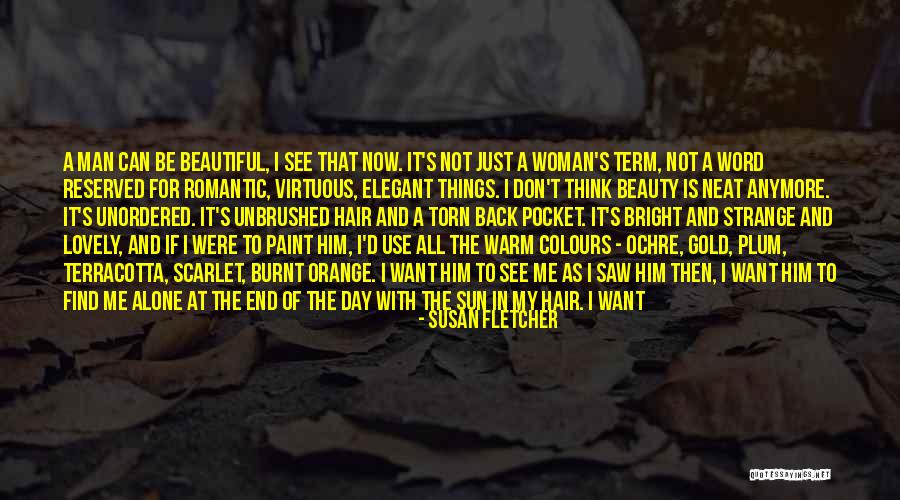 A man can be beautiful, I see that now. It's not just a woman's term, not a word reserved for romantic, virtuous, elegant things. I don't think beauty is neat anymore. It's unordered. It's unbrushed hair and a torn back pocket. It's bright and strange and lovely, and if I were to paint him, I'd use all the warm colours - ochre, gold, plum, terracotta, scarlet, burnt orange. I want him to see me as I saw him then, I want him to find me alone at the end of the day with the sun in my hair. I want his heart to buckle, too. I want him to stop someone out in the square and say, who's that? Do you know her? Where is she from?"

- from Eve Green's mother's account.
"It is written on a piece of thin, yellow paper, and is folded in half. I like this account. I like it because it's true, she's right. We all want out lovers to see us that way - unaware, natural, serene. We want to change their world with one glance, to stop their breath at the sight of us. — Susan Fletcher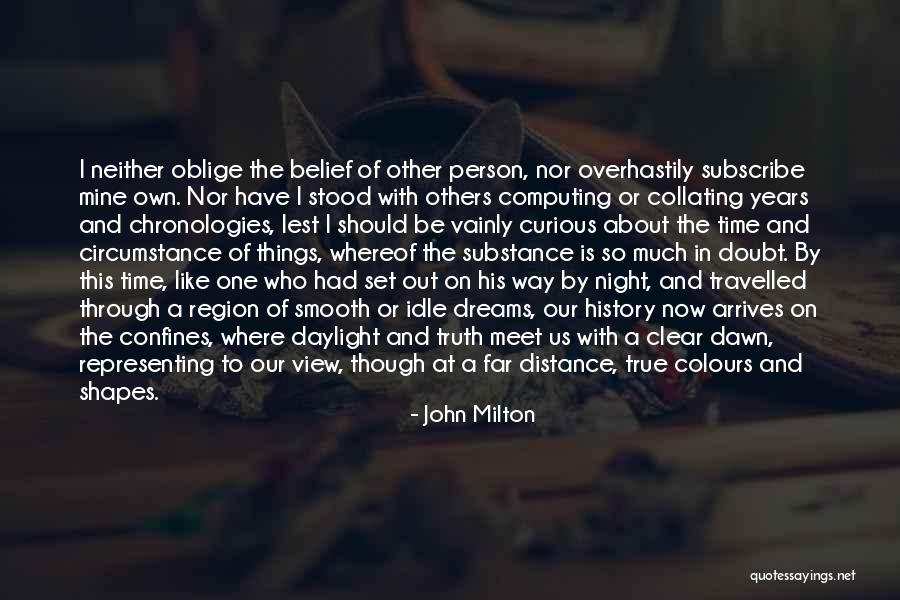 I neither oblige the belief of other person, nor overhastily subscribe mine own. Nor have I stood with others computing or collating years and chronologies, lest I should be vainly curious about the time and circumstance of things, whereof the substance is so much in doubt. By this time, like one who had set out on his way by night, and travelled through a region of smooth or idle dreams, our history now arrives on the confines, where daylight and truth meet us with a clear dawn, representing to our view, though at a far distance, true colours and shapes. — John Milton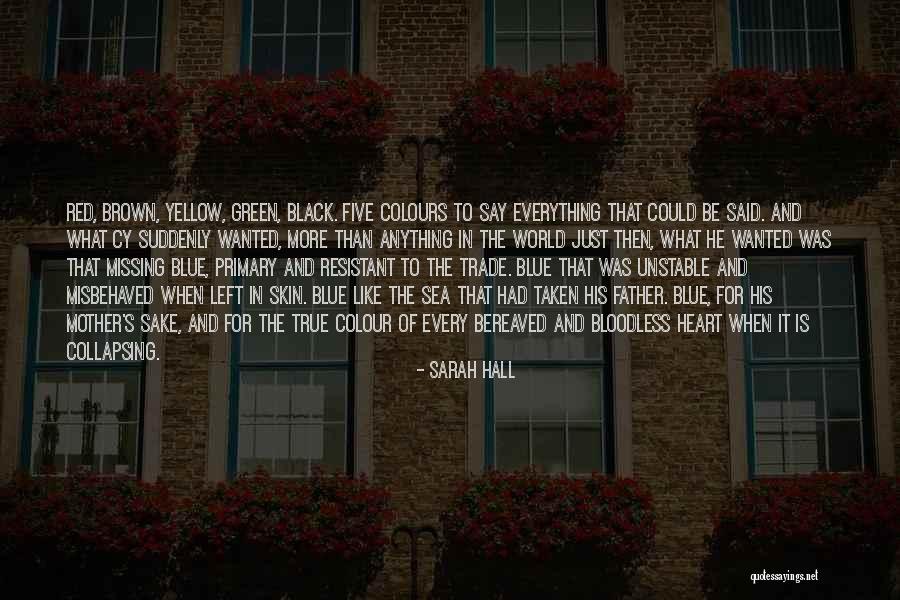 Red, brown, yellow, green, black. Five colours to say everything that could be said. And what Cy suddenly wanted, more than anything in the world just then, what he wanted was that missing blue, primary and resistant to the trade. Blue that was unstable and misbehaved when left in skin. Blue like the sea that had taken his father. Blue, for his mother's sake, and for the true colour of every bereaved and bloodless heart when it is collapsing. — Sarah Hall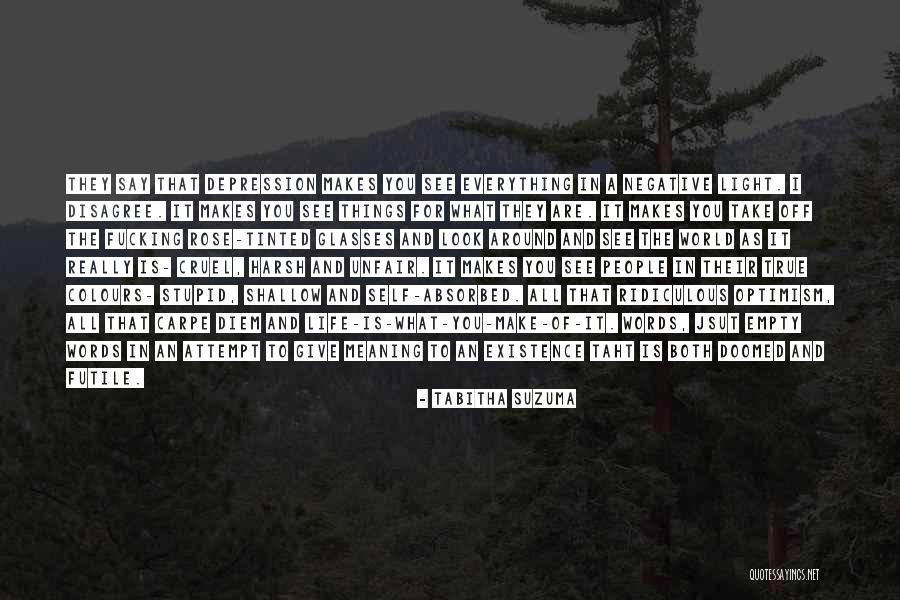 They say that depression makes you see everything in a negative light. I disagree. It makes you see things for what they are. It makes you take off the fucking rose-tinted glasses and look around and see the world as it really is- cruel, harsh and unfair. It makes you see people in their true colours- stupid, shallow and self-absorbed. All that ridiculous optimism, all that carpe diem and life-is-what-you-make-of-it. Words, jsut empty words in an attempt to give meaning to an existence taht is both doomed and futile. — Tabitha Suzuma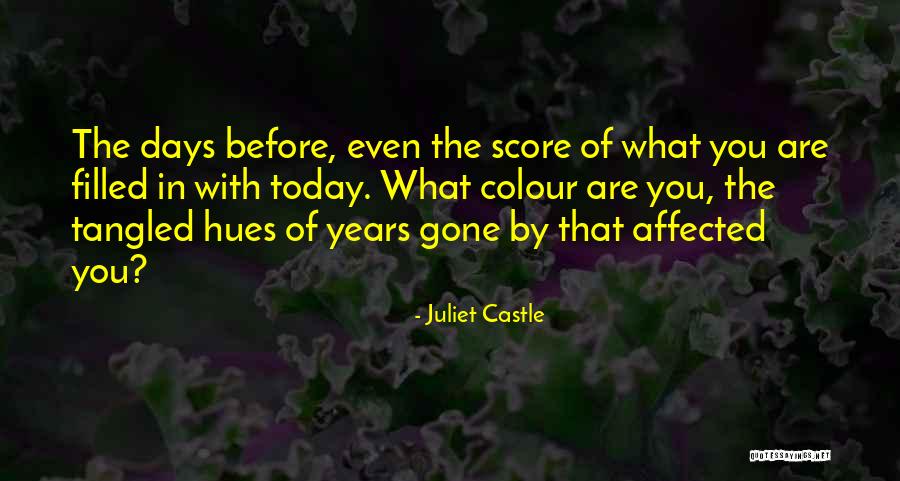 The days before, even the score of what you are filled in with today. What colour are you, the tangled hues of years gone by that affected you? — Juliet Castle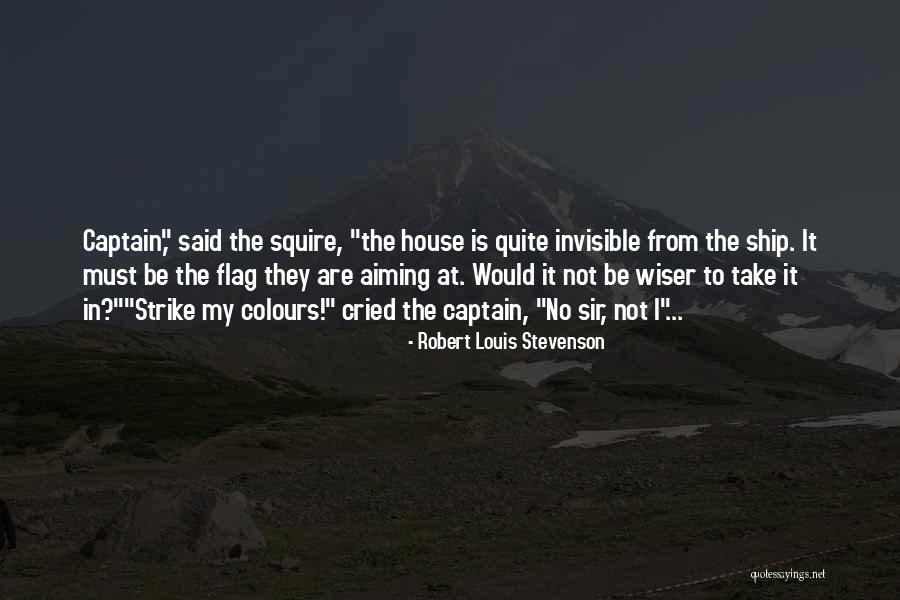 Captain," said the squire, "the house is quite invisible from the ship. It must be the flag they are aiming at. Would it not be wiser to take it in?"
"Strike my colours!" cried the captain, "No sir, not I"... — Robert Louis Stevenson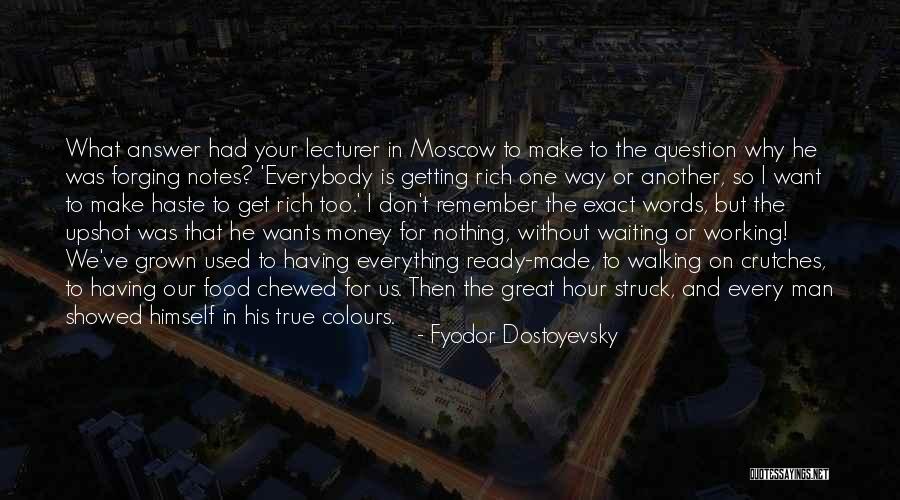 What answer had your lecturer in Moscow to make to the question why he was forging notes? 'Everybody is getting rich one way or another, so I want to make haste to get rich too.' I don't remember the exact words, but the upshot was that he wants money for nothing, without waiting or working! We've grown used to having everything ready-made, to walking on crutches, to having our food chewed for us. Then the great hour struck, and every man showed himself in his true colours. — Fyodor Dostoyevsky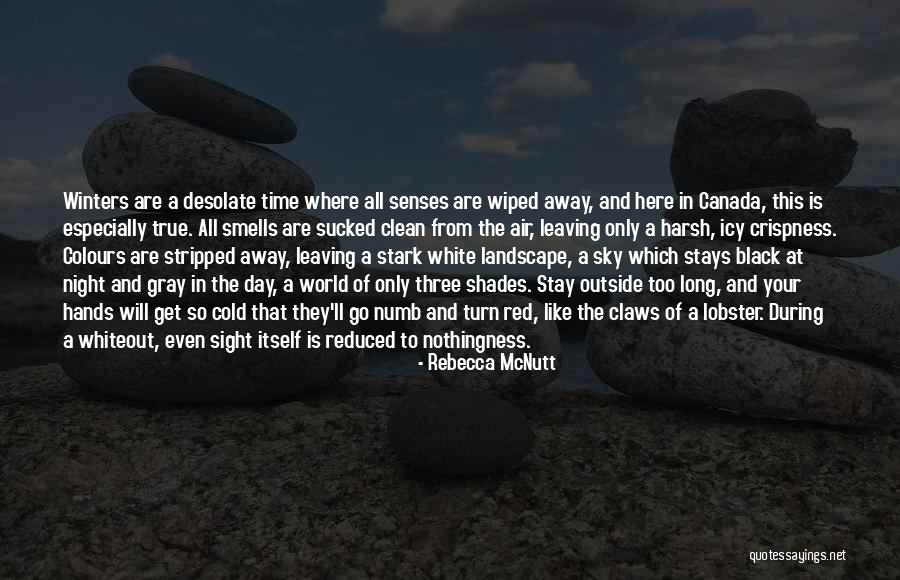 Winters are a desolate time where all senses are wiped away, and here in Canada, this is especially true. All smells are sucked clean from the air, leaving only a harsh, icy crispness. Colours are stripped away, leaving a stark white landscape, a sky which stays black at night and gray in the day, a world of only three shades. Stay outside too long, and your hands will get so cold that they'll go numb and turn red, like the claws of a lobster. During a whiteout, even sight itself is reduced to nothingness. — Rebecca McNutt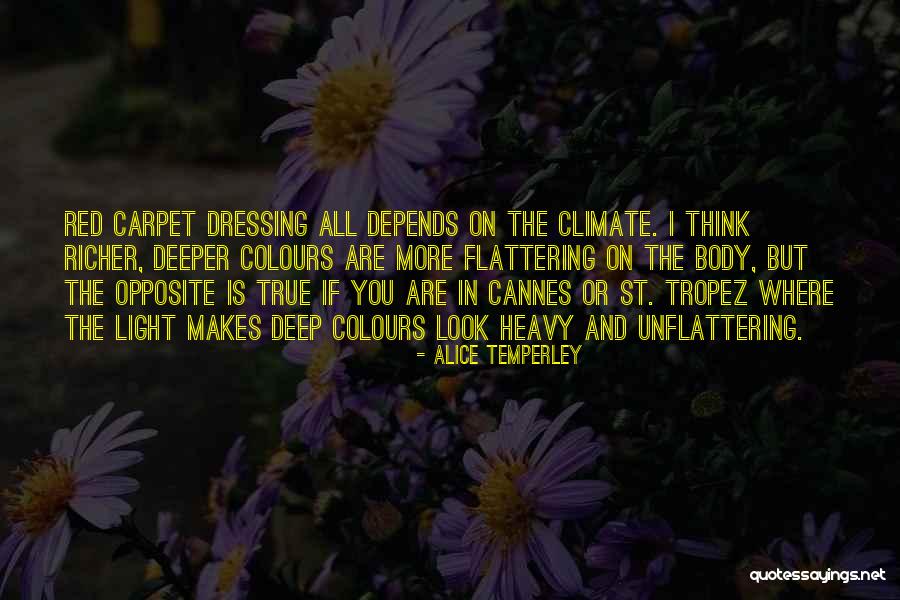 Red carpet dressing all depends on the climate. I think richer, deeper colours are more flattering on the body, but the opposite is true if you are in Cannes or St. Tropez where the light makes deep colours look heavy and unflattering. — Alice Temperley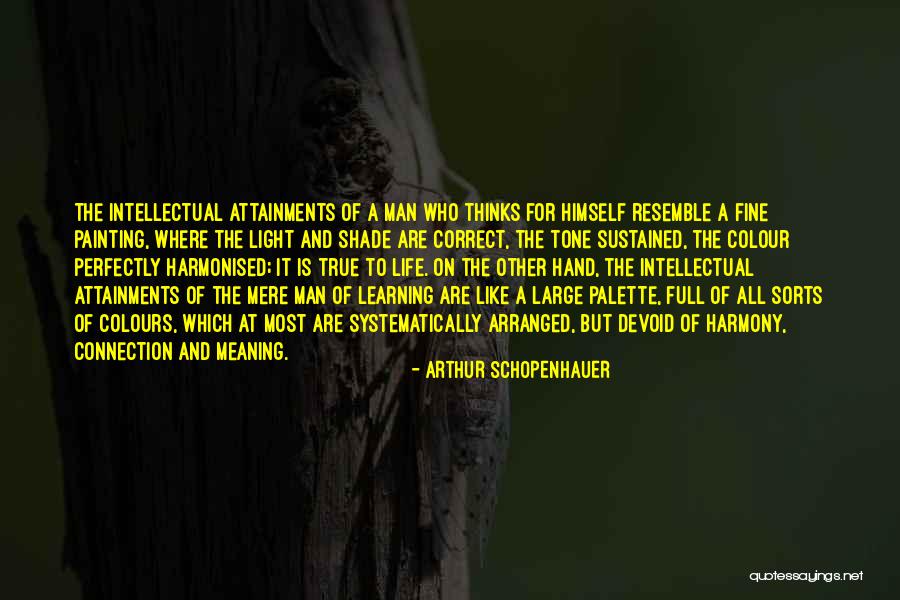 The intellectual attainments of a man who thinks for himself resemble a fine painting, where the light and shade are correct, the tone sustained, the colour perfectly harmonised; it is true to life. On the other hand, the intellectual attainments of the mere man of learning are like a large palette, full of all sorts of colours, which at most are systematically arranged, but devoid of harmony, connection and meaning. — Arthur Schopenhauer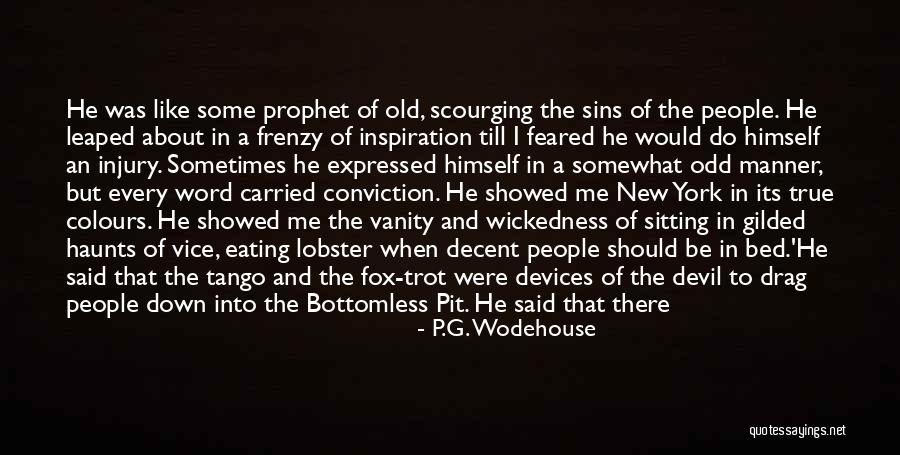 He was like some prophet of old, scourging the sins of the people. He leaped about in a frenzy of inspiration till I feared he would do himself an injury. Sometimes he expressed himself in a somewhat odd manner, but every word carried conviction. He showed me New York in its true colours. He showed me the vanity and wickedness of sitting in gilded haunts of vice, eating lobster when decent people should be in bed.
'He said that the tango and the fox-trot were devices of the devil to drag people down into the Bottomless Pit. He said that there was more sin in ten minutes with a negro banjo orchestra than in all the ancient revels of Nineveh and Babylon. And when he stood on one leg and pointed right at where I was sitting and shouted "This means you!" I could have sunk through the floor. — P.G. Wodehouse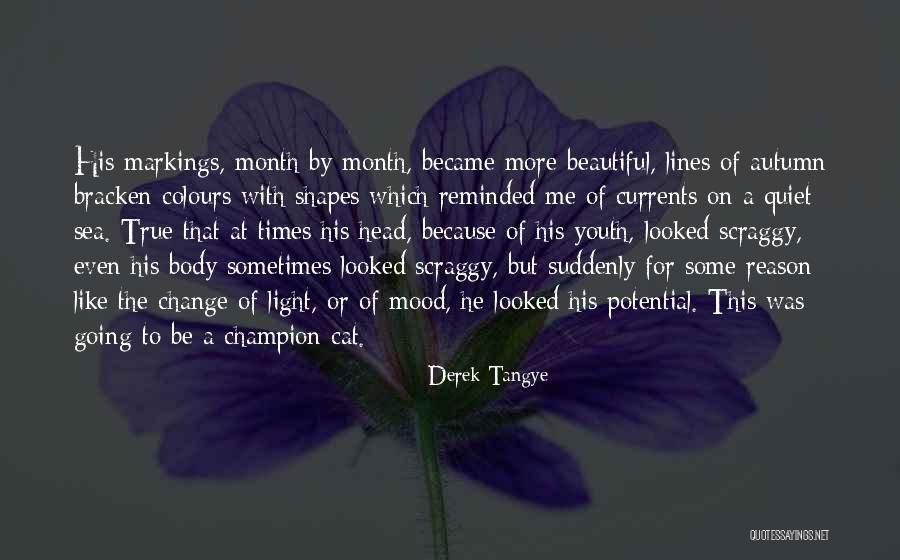 His markings, month by month, became more beautiful, lines of autumn bracken colours with shapes which reminded me of currents on a quiet sea. True that at times his head, because of his youth, looked scraggy, even his body sometimes looked scraggy, but suddenly for some reason like the change of light, or of mood, he looked his potential. This was going to be a champion cat. — Derek Tangye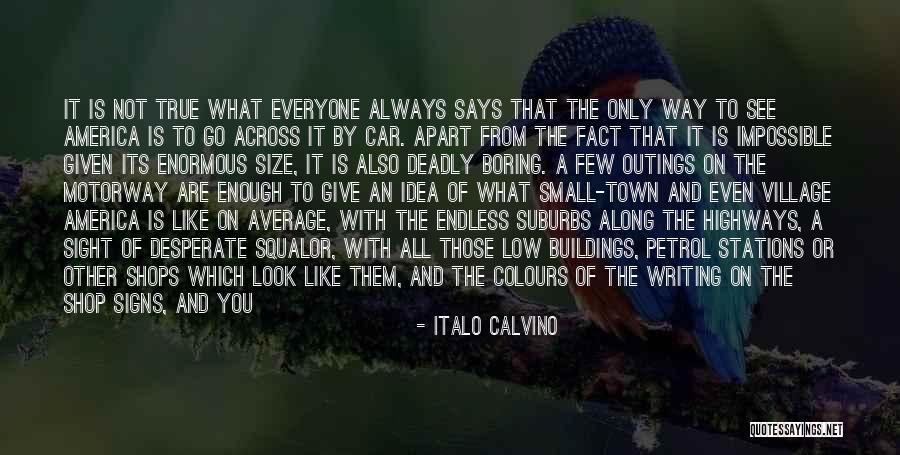 It is not true what everyone always says that the only way to see America is to go across it by car. Apart from the fact that it is impossible given its enormous size, it is also deadly boring. A few outings on the motorway are enough to give an idea of what small-town and even village America is like on average, with the endless suburbs along the highways, a sight of desperate squalor, with all those low buildings, petrol stations or other shops which look like them, and the colours of the writing on the shop signs, and you realize 95 per cent of America is a country of ugliness, oppressiveness and sameness, in short of relentless monotony. — Italo Calvino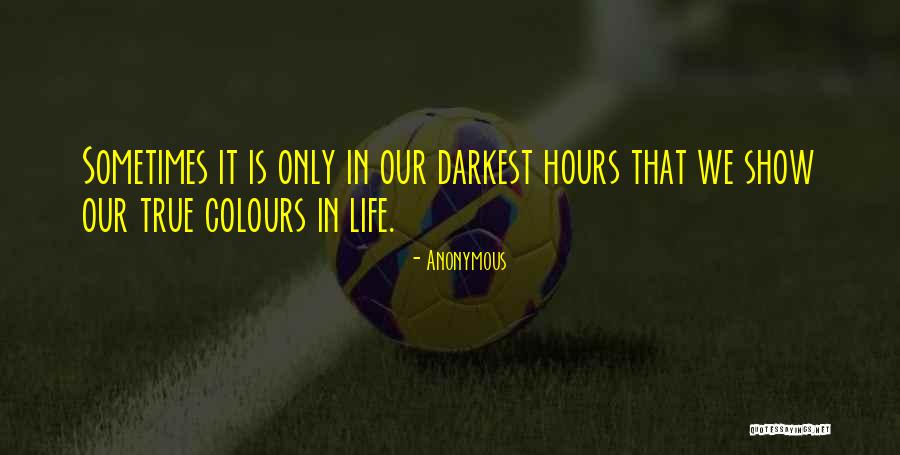 Sometimes it is only in our darkest hours that we show our true colours in life. — Anonymous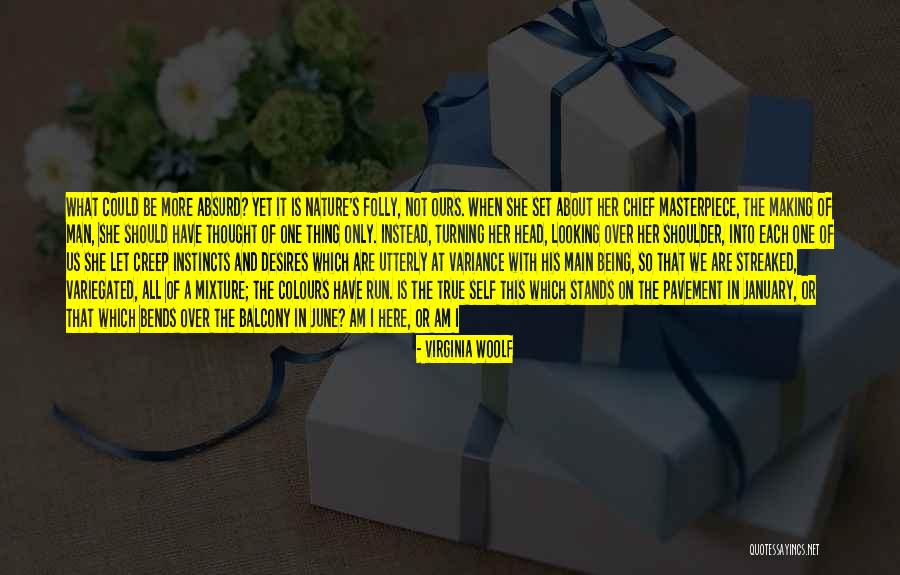 What could be more absurd? Yet it is nature's folly, not ours. When she set about her chief masterpiece, the making of man, she should have thought of one thing only. Instead, turning her head, looking over her shoulder, into each one of us she let creep instincts and desires which are utterly at variance with his main being, so that we are streaked, variegated, all of a mixture; the colours have run. Is the true self this which stands on the pavement in January, or that which bends over the balcony in June? Am I here, or am I there? Or is the true self neither this nor that, neither here nor there, but something so varied and wandering that it is only when we give the rein to its wishes and let it take its way unimpeded that we are indeed ourselves? — Virginia Woolf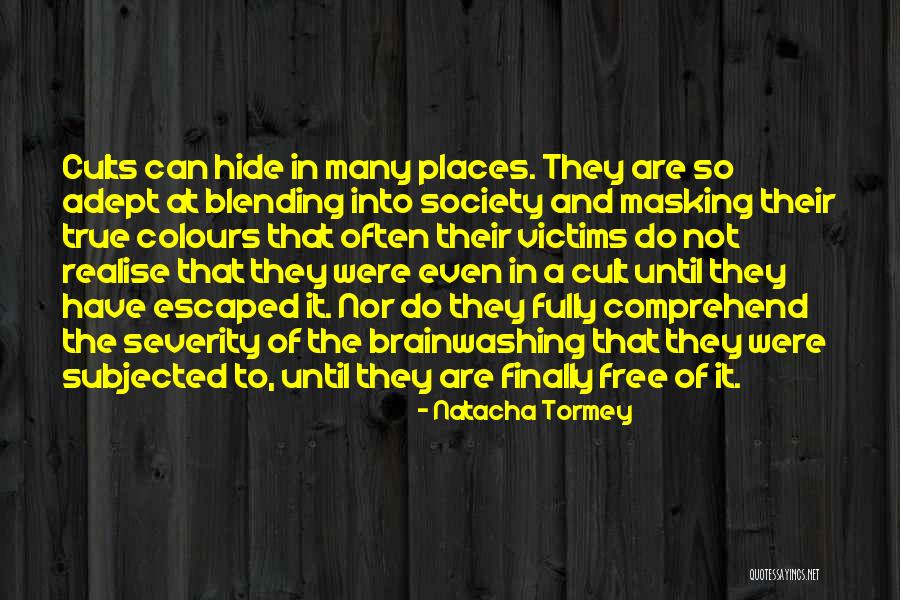 Cults can hide in many places. They are so adept at blending into society and masking their true colours that often their victims do not realise that they were even in a cult until they have escaped it. Nor do they fully comprehend the severity of the brainwashing that they were subjected to, until they are finally free of it. — Natacha Tormey