Some Things Are Hard To Explain Quotes & Sayings
Enjoy reading and share 34 famous quotes about Some Things Are Hard To Explain with everyone.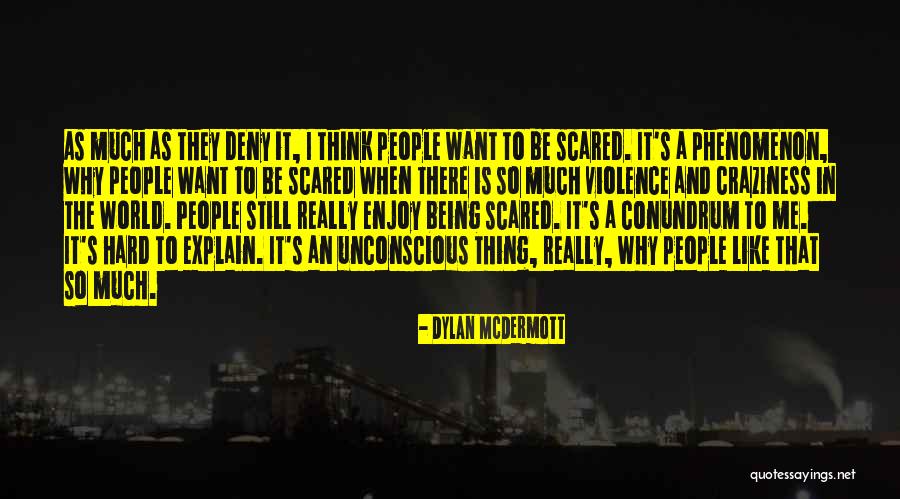 As much as they deny it, I think people want to be scared. It's a phenomenon, why people want to be scared when there is so much violence and craziness in the world. People still really enjoy being scared. It's a conundrum to me. It's hard to explain. It's an unconscious thing, really, why people like that so much. — Dylan McDermott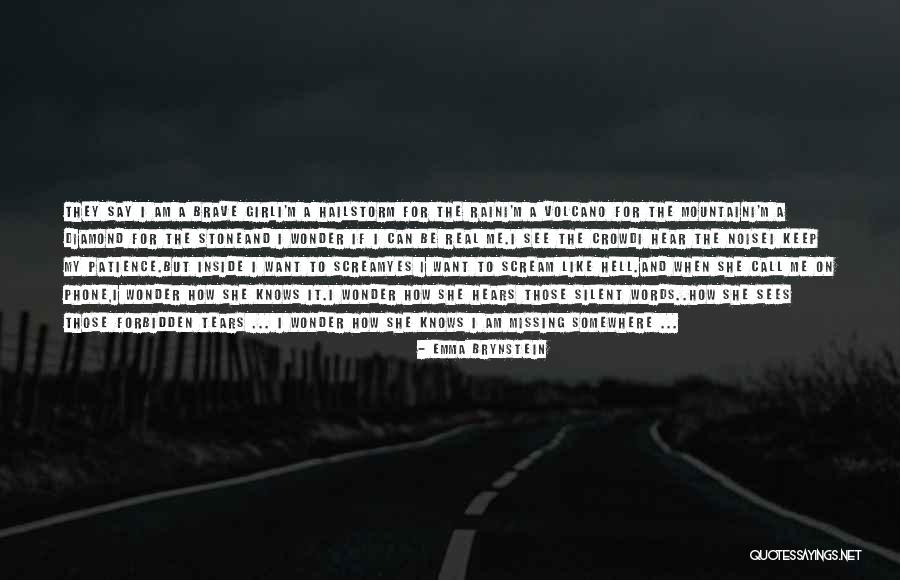 They say I am a brave girl
I'm a hailstorm for the rain
I'm a volcano for the mountain
I'm a diamond for the stone
And I wonder if I can be real me.
I see the crowd
I hear the noise
I keep my patience.
But inside I want to scream
Yes I want to scream like hell.
And when she call me on phone,
I wonder how she knows it.
I wonder how she hears those silent words..
How she sees those forbidden tears ...
I wonder how she knows I am missing somewhere ... — Emma Brynstein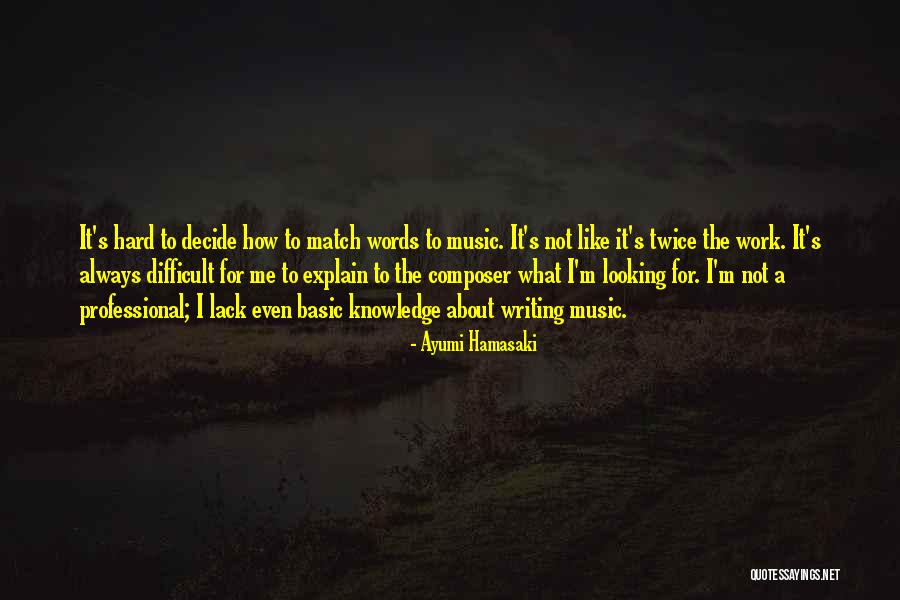 It's hard to decide how to match words to music. It's not like it's twice the work. It's always difficult for me to explain to the composer what I'm looking for. I'm not a professional; I lack even basic knowledge about writing music. — Ayumi Hamasaki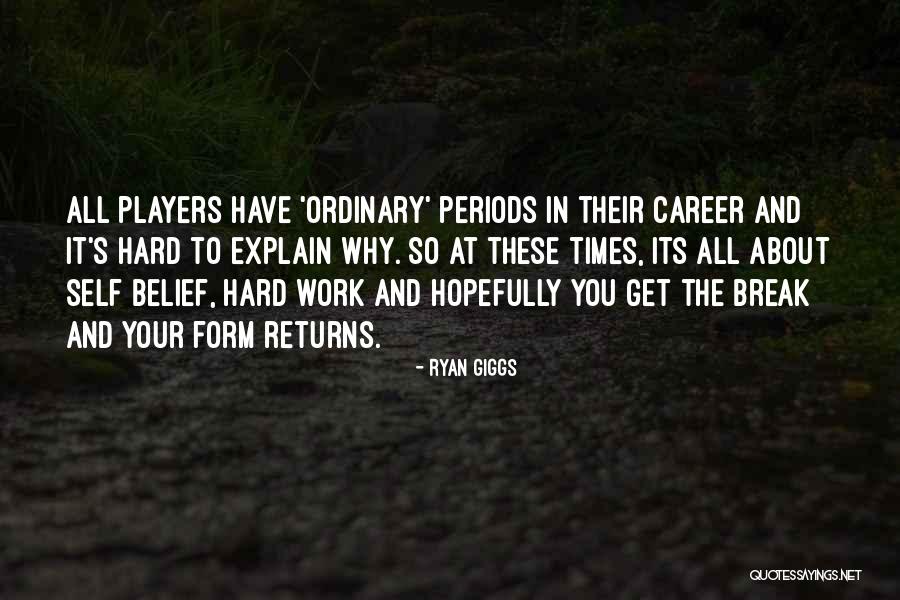 All players have 'ordinary' periods in their career and it's hard to explain why. So at these times, its all about self belief, hard work and hopefully you get the break and your form returns. — Ryan Giggs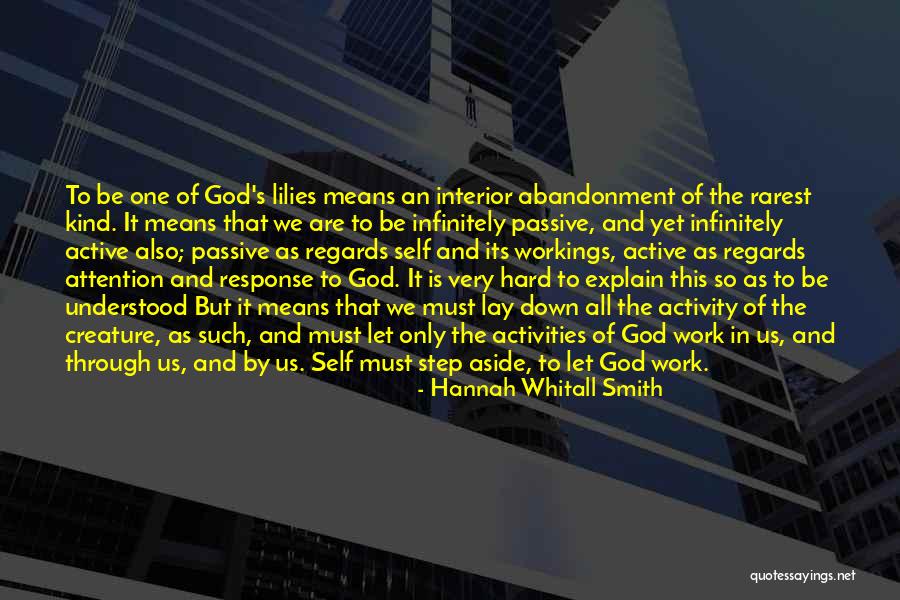 To be one of God's lilies means an interior abandonment of the rarest kind. It means that we are to be infinitely passive, and yet infinitely active also; passive as regards self and its workings, active as regards attention and response to God. It is very hard to explain this so as to be understood But it means that we must lay down all the activity of the creature, as such, and must let only the activities of God work in us, and through us, and by us. Self must step aside, to let God work. — Hannah Whitall Smith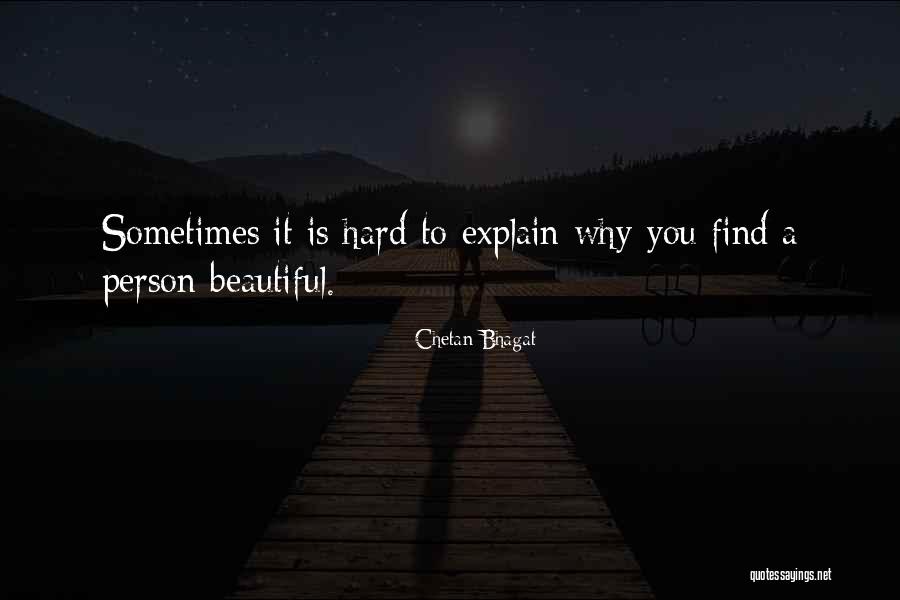 Sometimes it is hard to explain why you find a person beautiful. — Chetan Bhagat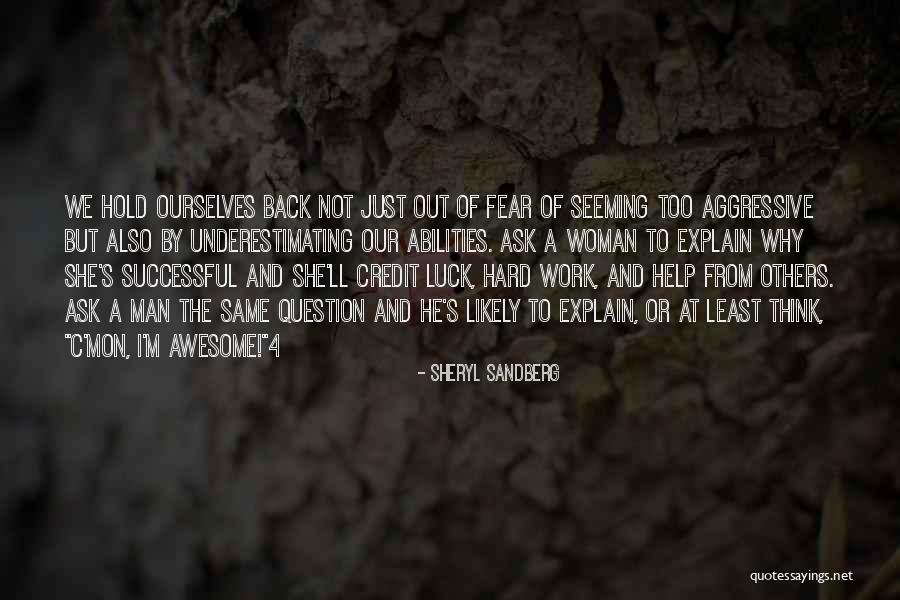 We hold ourselves back not just out of fear of seeming too aggressive but also by underestimating our abilities. Ask a woman to explain why she's successful and she'll credit luck, hard work, and help from others. Ask a man the same question and he's likely to explain, or at least think, "C'mon, I'm awesome!"4 — Sheryl Sandberg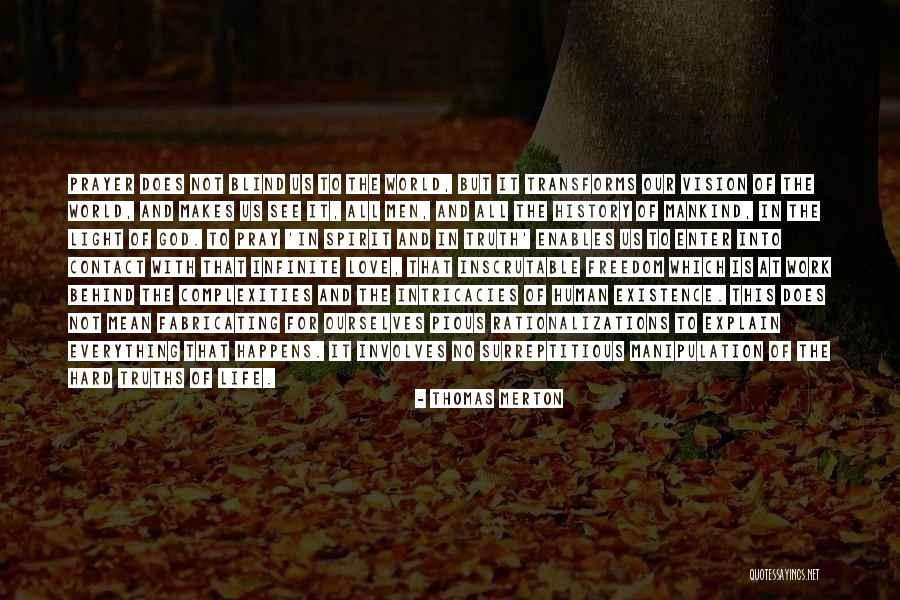 Prayer does not blind us to the world, but it transforms our vision of the world, and makes us see it, all men, and all the history of mankind, in the light of God. To pray 'in spirit and in truth' enables us to enter into contact with that infinite love, that inscrutable freedom which is at work behind the complexities and the intricacies of human existence. This does not mean fabricating for ourselves pious rationalizations to explain everything that happens. It involves no surreptitious manipulation of the hard truths of life. — Thomas Merton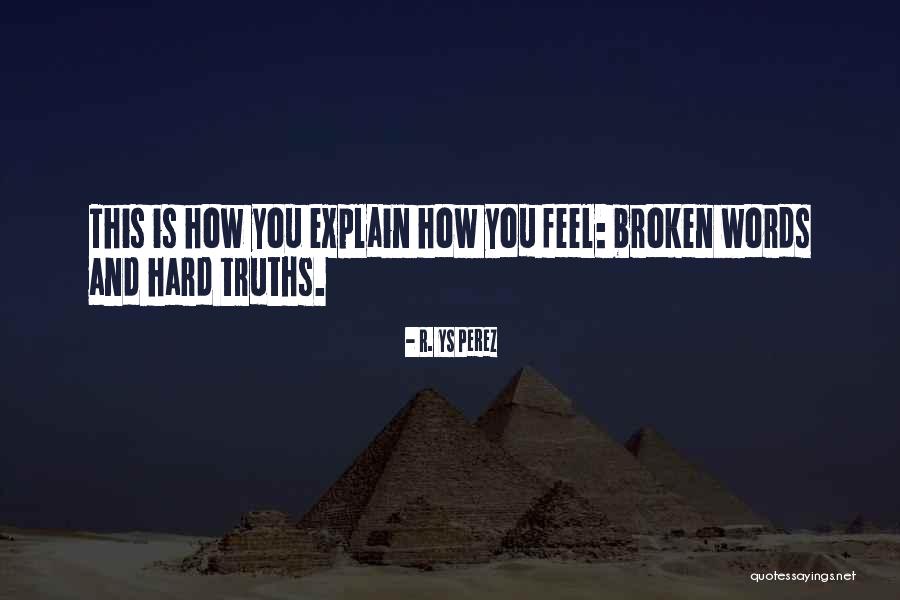 This is how you explain how you feel: broken words and hard truths. — R. YS Perez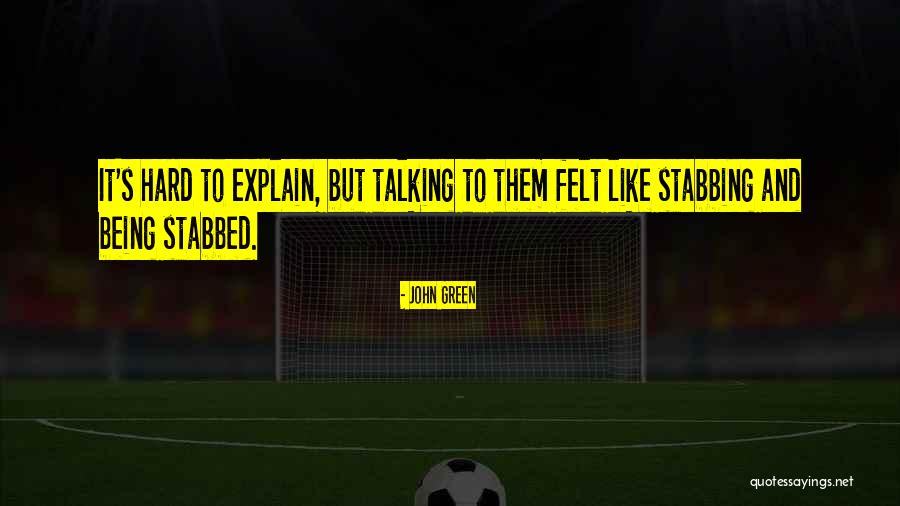 It's hard to explain, but talking to them felt like stabbing and being stabbed. — John Green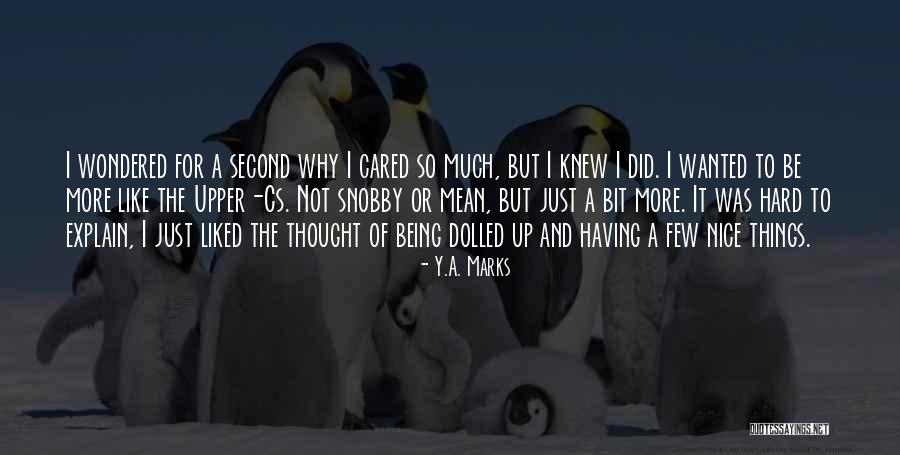 I wondered for a second why I cared so much, but I knew I did. I wanted to be more like the Upper-Cs. Not snobby or mean, but just a bit more. It was hard to explain, I just liked the thought of being dolled up and having a few nice things. — Y.A. Marks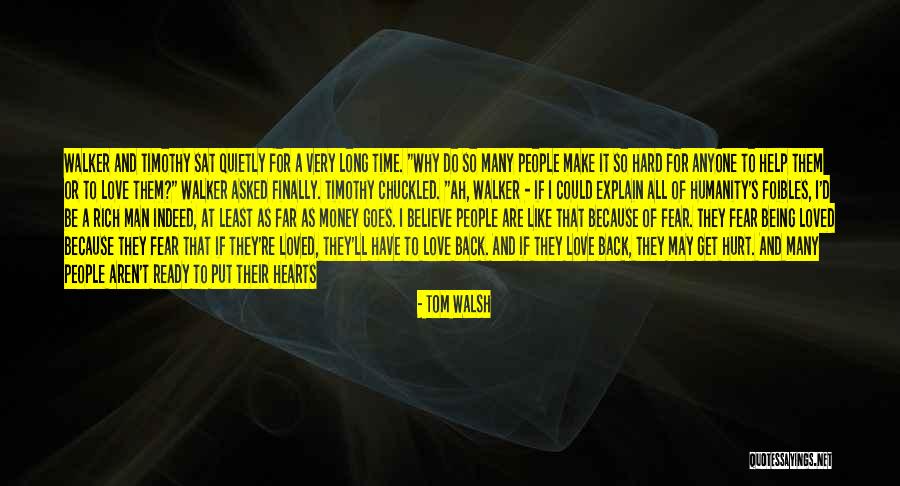 Walker and Timothy sat quietly for a very long time. "Why do so many people make it so hard for anyone to help them or to love them?" Walker asked finally.
Timothy chuckled. "Ah, Walker - if I could explain all of humanity's foibles, I'd be a rich man indeed, at least as far as money goes. I believe people are like that because of fear. They fear being loved because they fear that if they're loved, they'll have to love back. And if they love back, they may get hurt. And many people aren't ready to put their hearts on the line like that. Mostly because they don't have anything to fall back on. It's quite a shame, really, because they hurt themselves by trying to avoid getting hurt. But we have to be willing to die many times if we're ever going to get on with this business of living. — Tom Walsh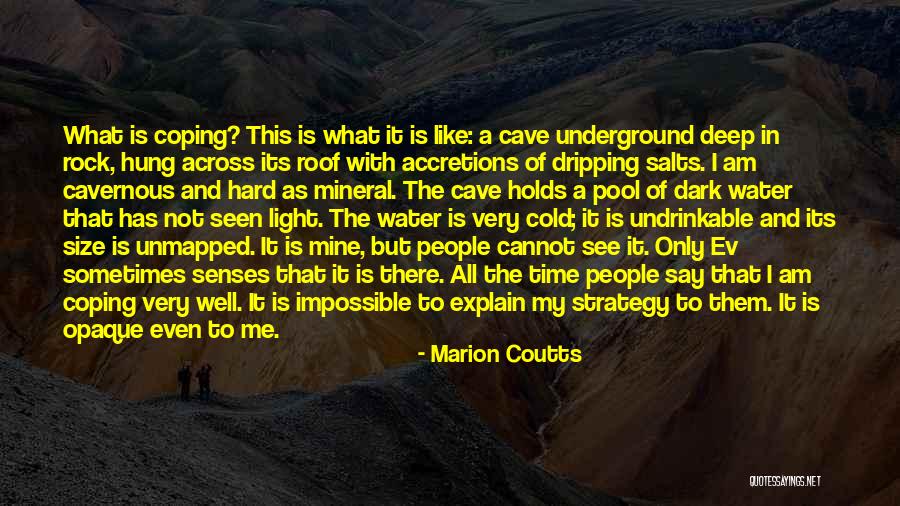 What is coping? This is what it is like: a cave underground deep in rock, hung across its roof with accretions of dripping salts. I am cavernous and hard as mineral. The cave holds a pool of dark water that has not seen light. The water is very cold; it is undrinkable and its size is unmapped. It is mine, but people cannot see it. Only Ev sometimes senses that it is there. All the time people say that I am coping very well. It is impossible to explain my strategy to them. It is opaque even to me. — Marion Coutts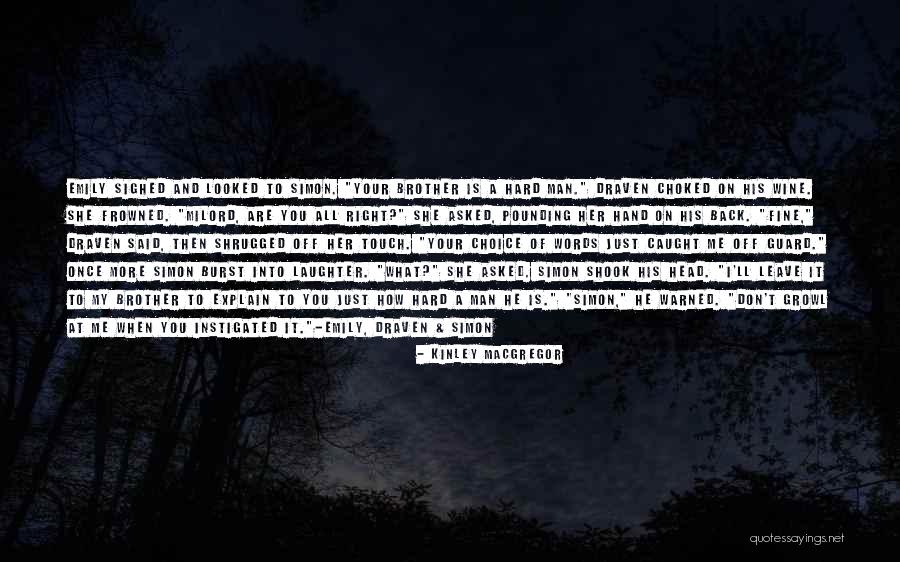 Emily sighed and looked to Simon. "Your brother is a hard man." Draven choked on his wine. She frowned. "Milord, are you all right?" she asked, pounding her hand on his back. "Fine," Draven said, then shrugged off her touch. "Your choice of words just caught me off guard." Once more Simon burst into laughter. "What?" she asked. Simon shook his head. "I'll leave it to my brother to explain to you just how hard a man he is." "Simon," he warned. "Don't growl at me when you instigated it."
-Emily, Draven & Simon — Kinley MacGregor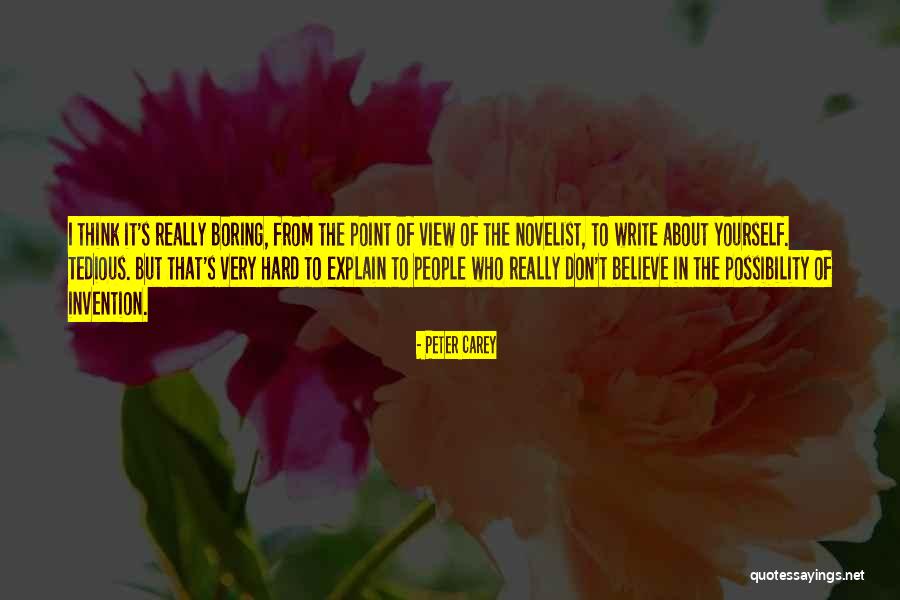 I think it's really boring, from the point of view of the novelist, to write about yourself. Tedious. But that's very hard to explain to people who really don't believe in the possibility of invention. — Peter Carey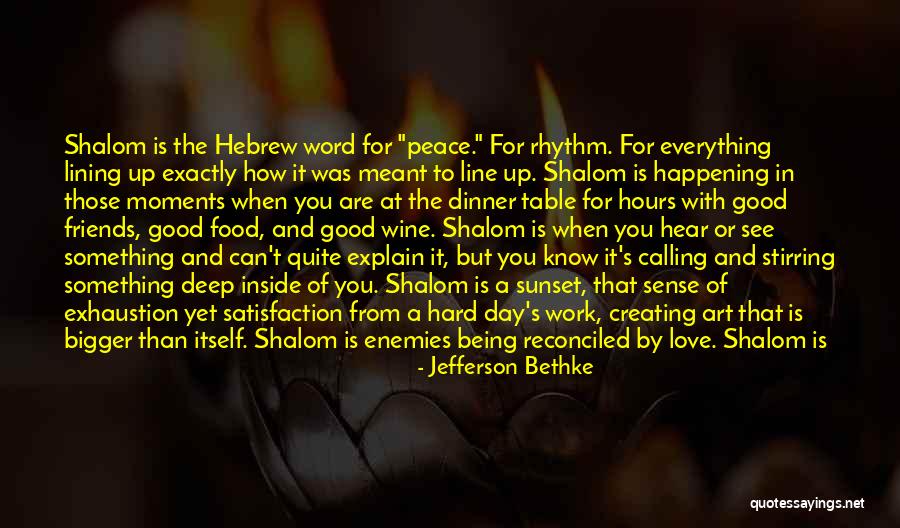 Shalom is the Hebrew word for "peace." For rhythm. For everything lining up exactly how it was meant to line up. Shalom is happening in those moments when you are at the dinner table for hours with good friends, good food, and good wine. Shalom is when you hear or see something and can't quite explain it, but you know it's calling and stirring something deep inside of you. Shalom is a sunset, that sense of exhaustion yet satisfaction from a hard day's work, creating art that is bigger than itself. Shalom is enemies being reconciled by love. Shalom is when you are dancing to the rhythm of God's voice. — Jefferson Bethke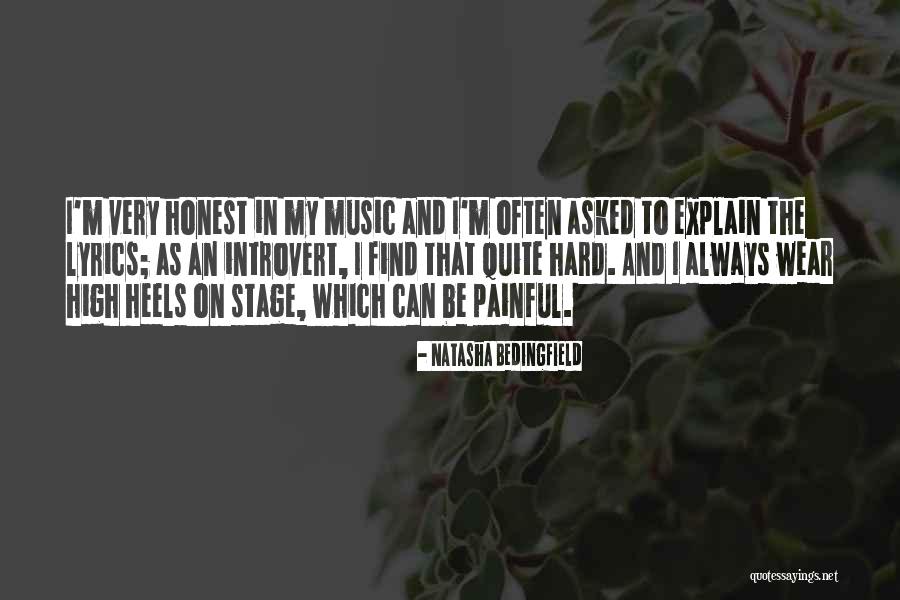 I'm very honest in my music and I'm often asked to explain the lyrics; as an introvert, I find that quite hard. And I always wear high heels on stage, which can be painful. — Natasha Bedingfield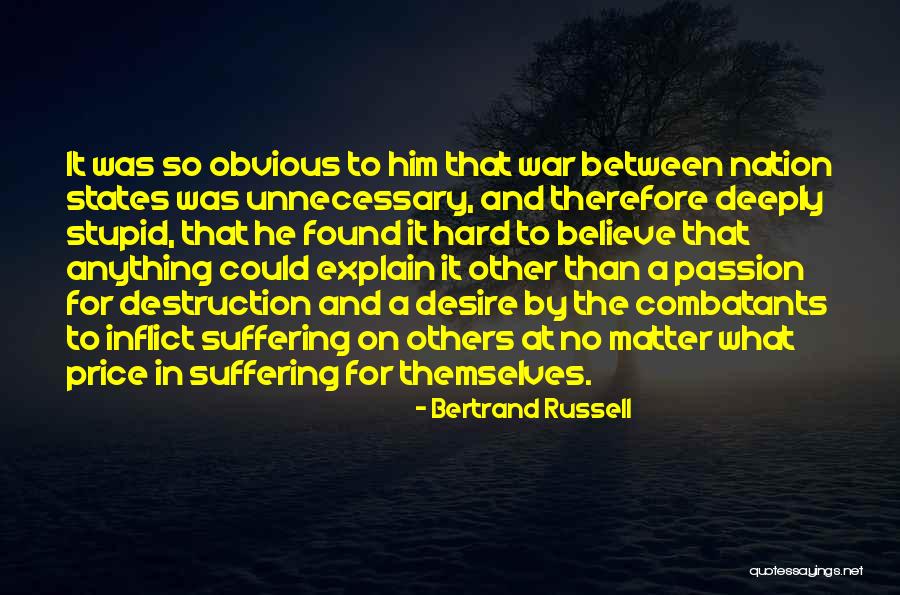 It was so obvious to him that war between nation states was unnecessary, and therefore deeply stupid, that he found it hard to believe that anything could explain it other than a passion for destruction and a desire by the combatants to inflict suffering on others at no matter what price in suffering for themselves. — Bertrand Russell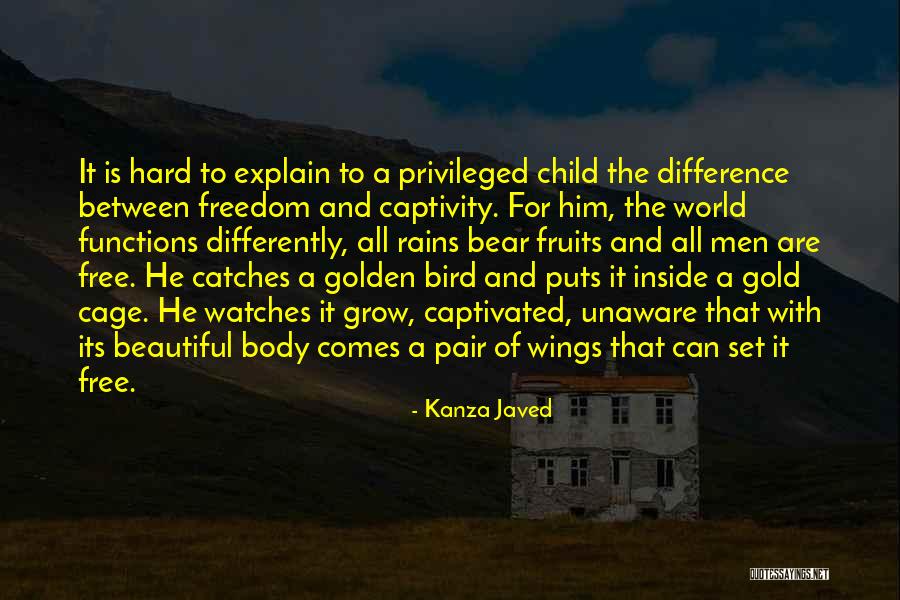 It is hard to explain to a privileged child the difference between freedom and captivity. For him, the world functions differently, all rains bear fruits and all men are free. He catches a golden bird and puts it inside a gold cage. He watches it grow, captivated, unaware that with its beautiful body comes a pair of wings that can set it free. — Kanza Javed
Plus, I won't have to feel bad for eating too many egg rolls because if I suddenly get skinny that's going to be hard to explain. — Jenny Lawson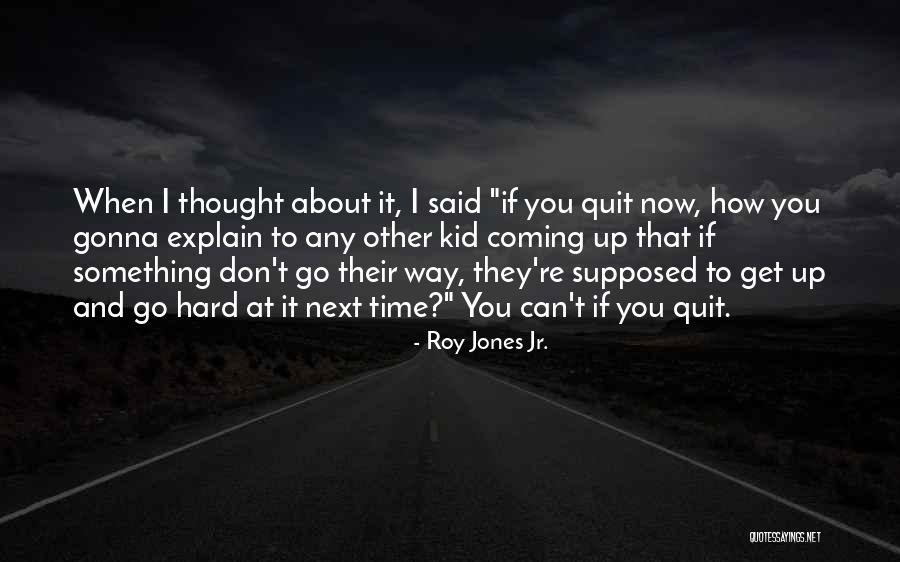 When I thought about it, I said "if you quit now, how you gonna explain to any other kid coming up that if something don't go their way, they're supposed to get up and go hard at it next time?" You can't if you quit. — Roy Jones Jr.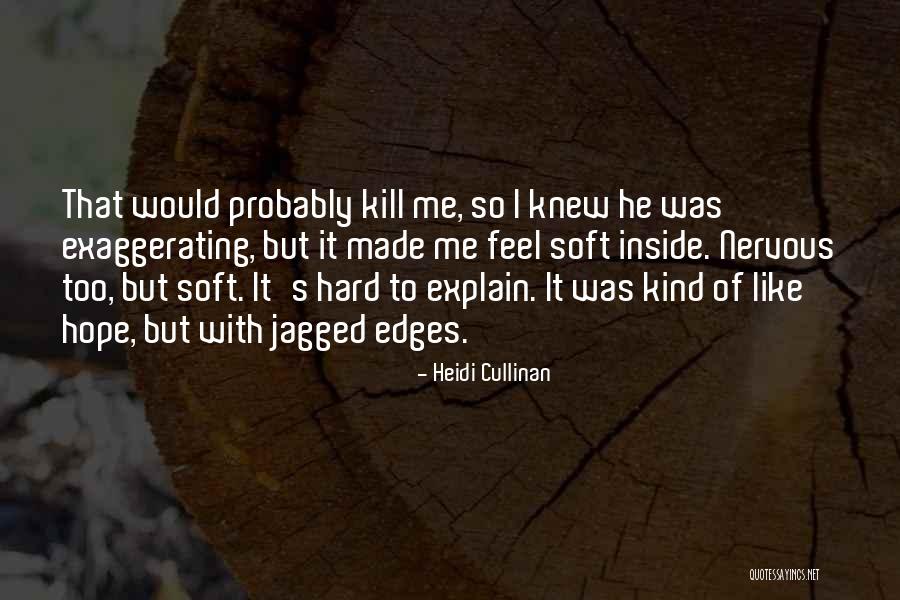 That would probably kill me, so I knew he was exaggerating, but it made me feel soft inside. Nervous too, but soft. It's hard to explain. It was kind of like hope, but with jagged edges. — Heidi Cullinan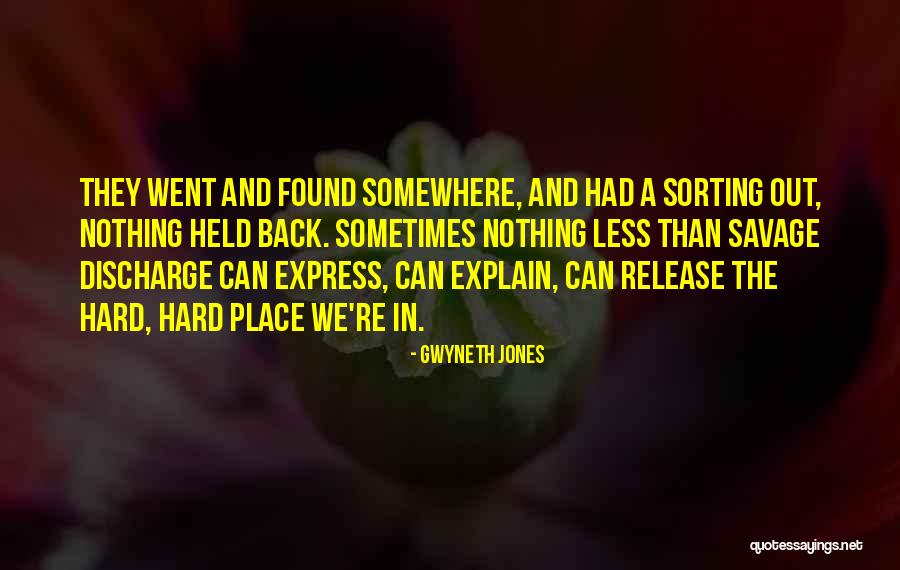 They went and found somewhere, and had a sorting out, nothing held back. Sometimes nothing less than savage discharge can express, can explain, can release the hard, hard place we're in. — Gwyneth Jones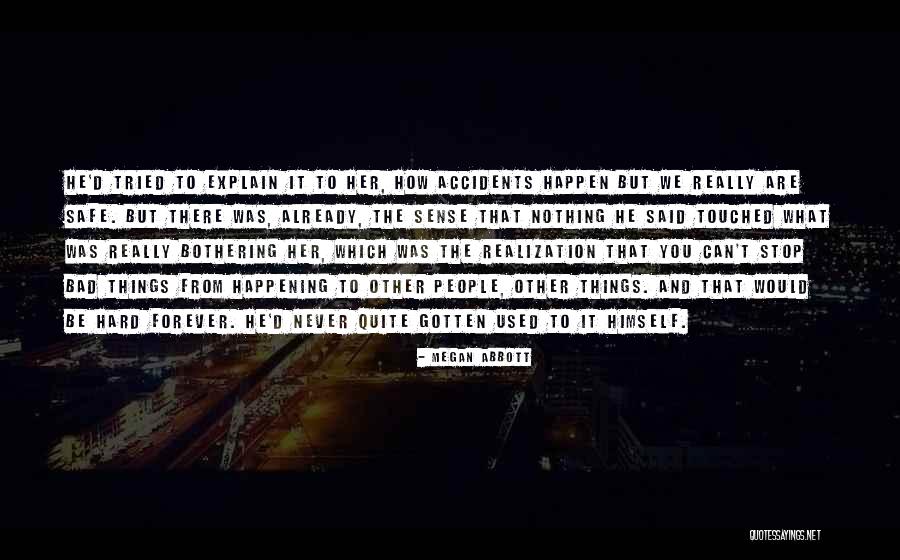 He'd tried to explain it to her, how accidents happen but we really are safe. But there was, already, the sense that nothing he said touched what was really bothering her, which was the realization that you can't stop bad things from happening to other people, other things. And that would be hard forever. He'd never quite gotten used to it himself. — Megan Abbott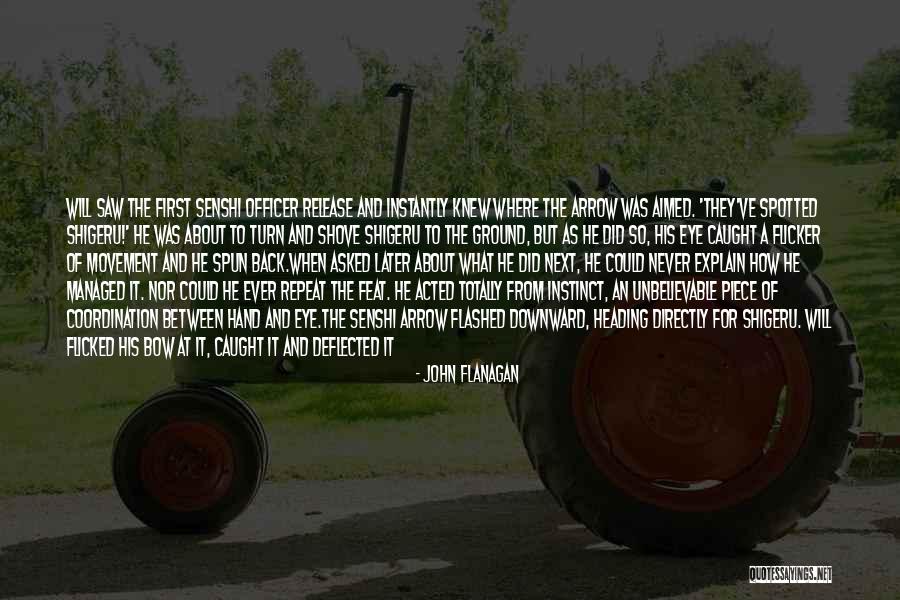 Will saw the first Senshi officer release and instantly knew where the arrow was aimed. 'They've spotted Shigeru!' He was about to turn and shove Shigeru to the ground, but as he did so, his eye caught a flicker of movement and he spun back.
When asked later about what he did next, he could never explain how he managed it. Nor could he ever repeat the feat. He acted totally from instinct, an unbelievable piece of coordination between hand and eye.
The Senshi arrow flashed downward, heading directly for Shigeru. Will flicked his bow at it, caught it and deflected it from its course. The arrowhead screeched on the hard, rocky ground and the arrow skittered away. Even Halt took a second to be impressed.
'My god!' he said. 'How did you do that? — John Flanagan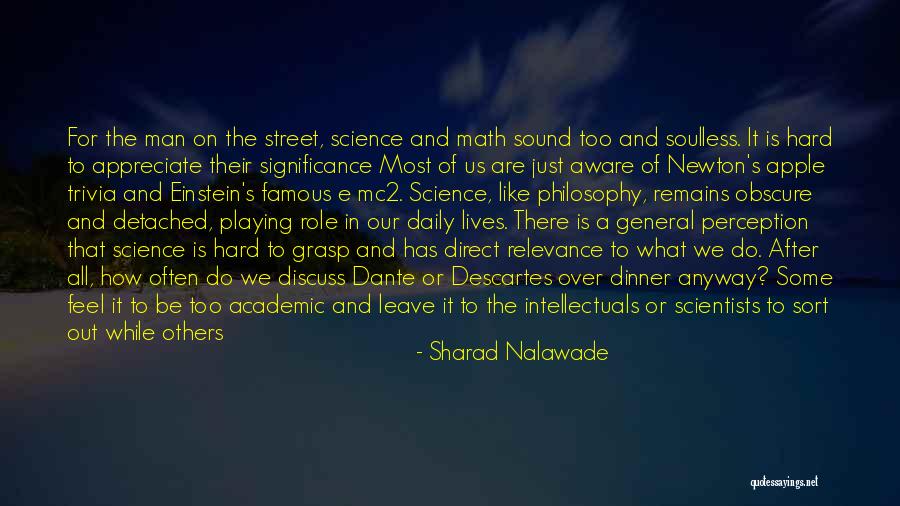 For the man on the street, science and math sound too and soulless. It is hard to appreciate their significance Most of us are just aware of Newton's apple trivia and Einstein's famous e mc2. Science, like philosophy, remains obscure and detached, playing role in our daily lives. There is a general perception that science is hard to grasp and has direct relevance to what we do. After all, how often do we discuss Dante or Descartes over dinner anyway? Some feel it to be too academic and leave it to the intellectuals or scientists to sort out while others feel that such topics are good only for academic debate. The great physicist, Rutherford, once quipped that, "i you can't explain a complex theory to a bartender, the theory not worth it" Well, it could be easier said than done (applications of tools — Sharad Nalawade
It was hard to explain to students that there was a rule that trumped all of the others: Always trust your instincts. — Robert Jordan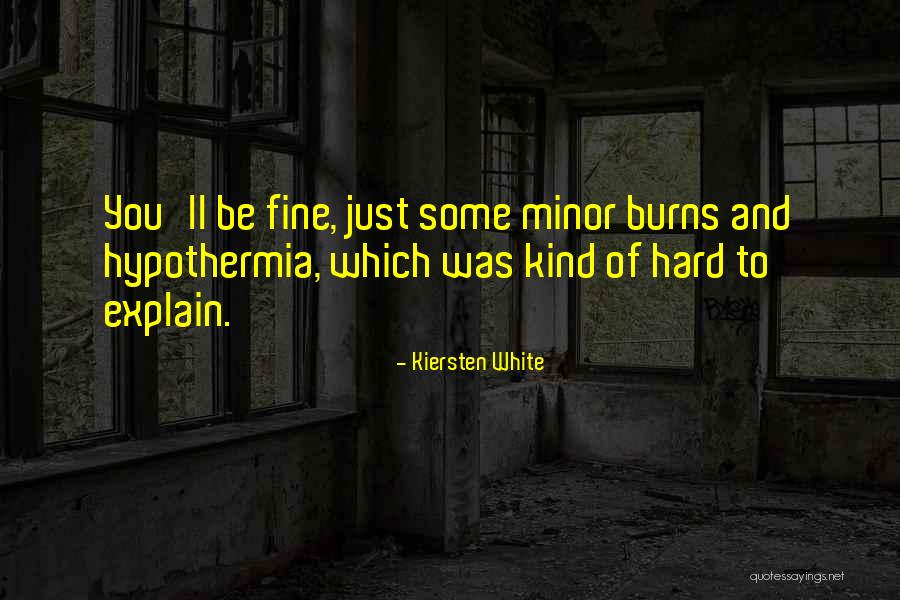 You'll be fine, just some minor burns and hypothermia, which was kind of hard to explain. — Kiersten White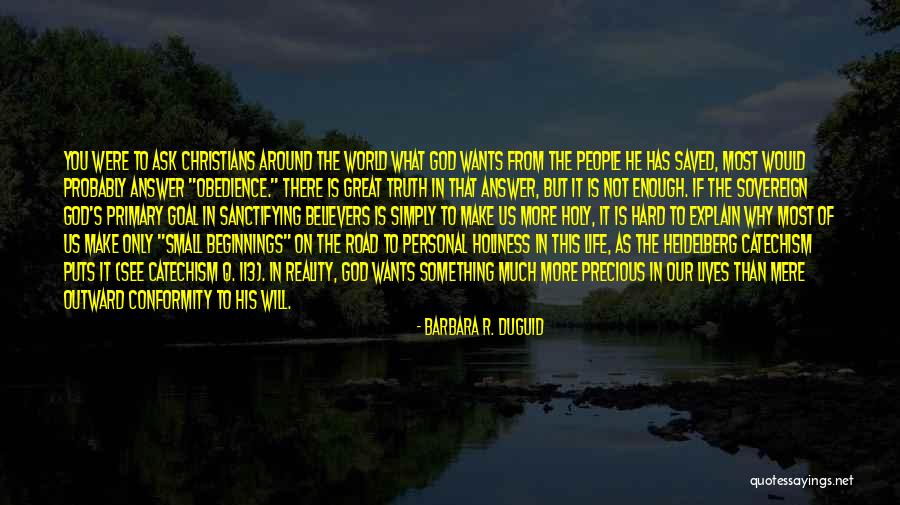 you were to ask Christians around the world what God wants from the people he has saved, most would probably answer "obedience." There is great truth in that answer, but it is not enough. If the sovereign God's primary goal in sanctifying believers is simply to make us more holy, it is hard to explain why most of us make only "small beginnings" on the road to personal holiness in this life, as the Heidelberg Catechism puts it (see Catechism Q. 113). In reality, God wants something much more precious in our lives than mere outward conformity to his will. After all, obedience is tricky business and can be confusing to us. We can be obedient outwardly while sinning wildly on the inside, as the example of the Pharisees makes clear. In fact, many of my worst sins have been committed in the context of my best obedience. — Barbara R. Duguid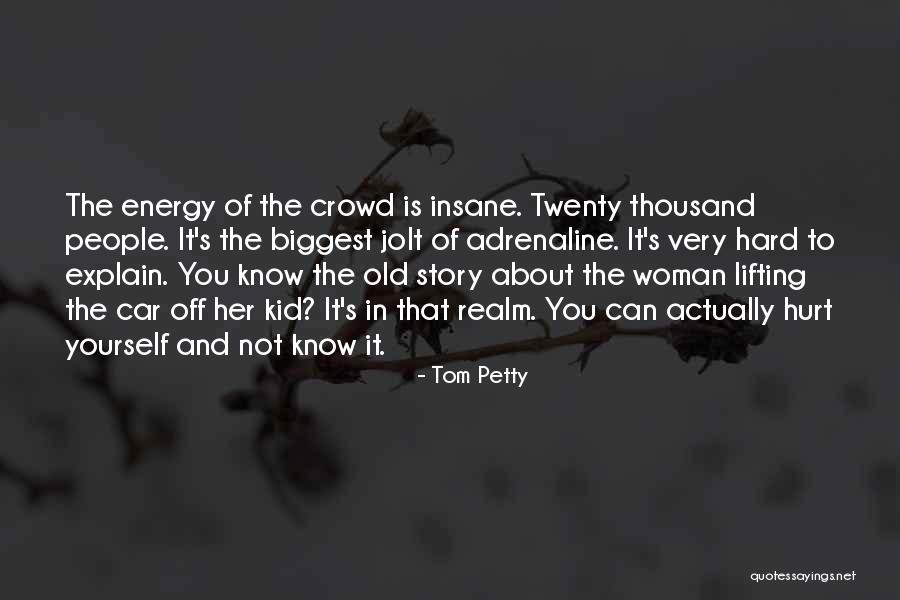 The energy of the crowd is insane. Twenty thousand people. It's the biggest jolt of adrenaline. It's very hard to explain. You know the old story about the woman lifting the car off her kid? It's in that realm. You can actually hurt yourself and not know it. — Tom Petty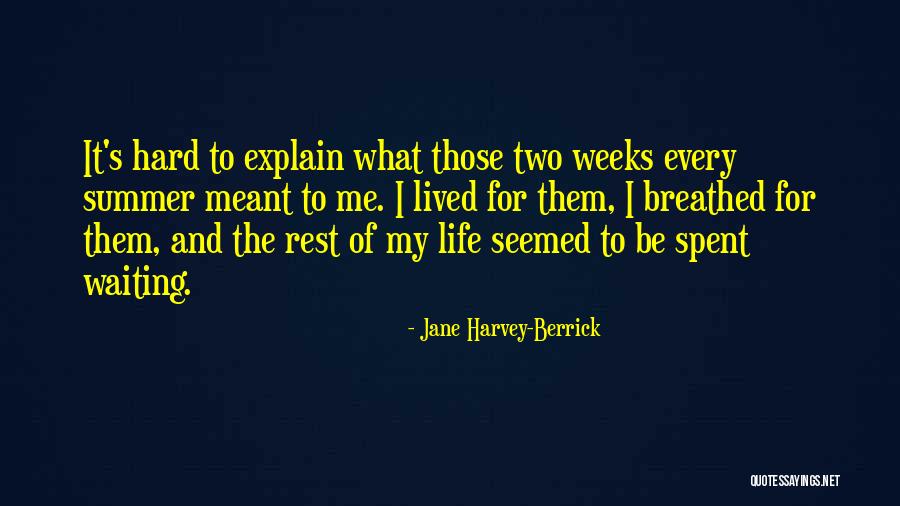 It's hard to explain what those two weeks every summer meant to me. I lived for them, I breathed for them, and the rest of my life seemed to be spent waiting. — Jane Harvey-Berrick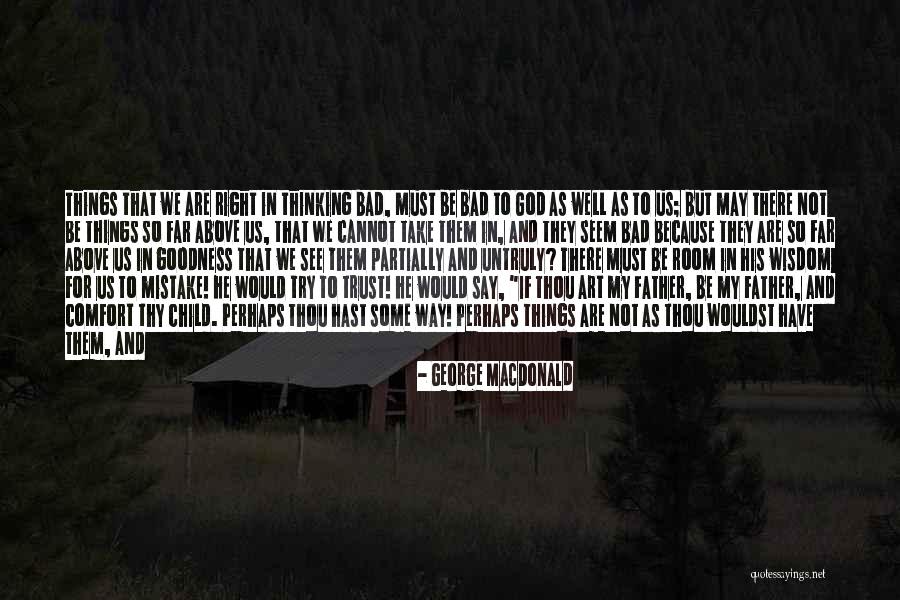 Things that we are right in thinking bad, must be bad to God as well as to us; but may there not be things so far above us, that we cannot take them in, and they seem bad because they are so far above us in goodness that we see them partially and untruly? There must be room in his wisdom for us to mistake! He would try to trust! He would say, "If thou art my father, be my father, and comfort thy child. Perhaps thou hast some way! Perhaps things are not as thou wouldst have them, and thou art doing what can be done to set them right! If thou art indeed true to thy own, it were hard not to be believed - hard that one of thine own should not trust thee, should not give thee time to make things clear, should behave to thee as if thou wouldst not explain, when it is that we are unable to understand! — George MacDonald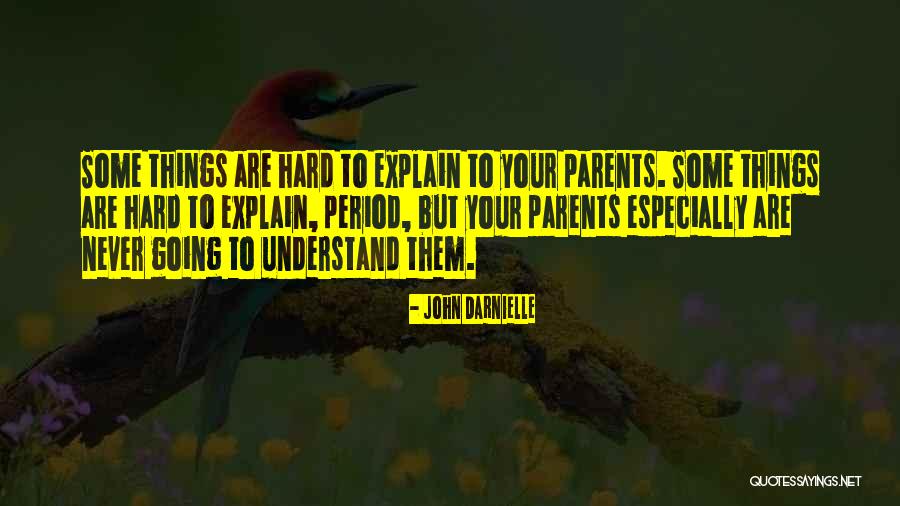 Some things are hard to explain to your parents. Some things are hard to explain, period, but your parents especially are never going to understand them. — John Darnielle