Quotes & Sayings About Smitten Love
Enjoy reading and share 45 famous quotes about Smitten Love with everyone.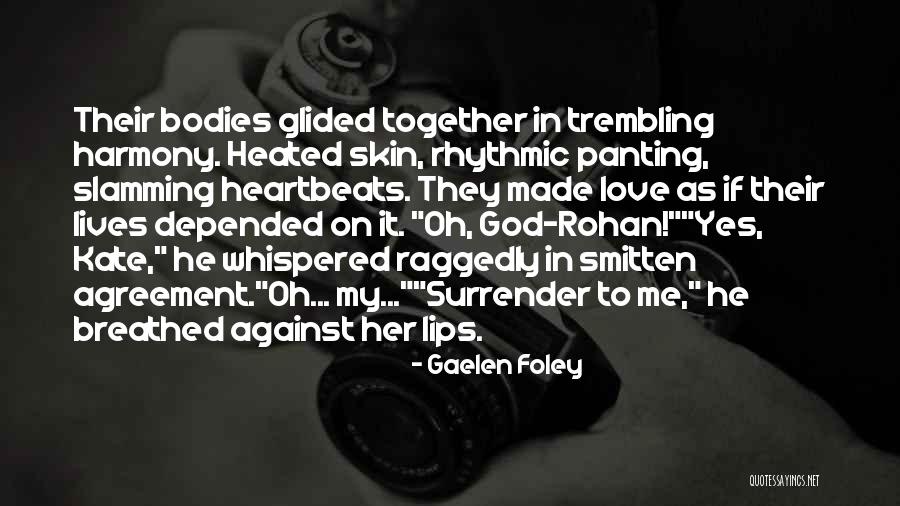 Their bodies glided together in trembling harmony. Heated skin, rhythmic panting, slamming heartbeats. They made love as if their lives depended on it.
"Oh, God-Rohan!"
"Yes, Kate," he whispered raggedly in smitten agreement.
"Oh... my..."
"Surrender to me," he breathed against her lips. — Gaelen Foley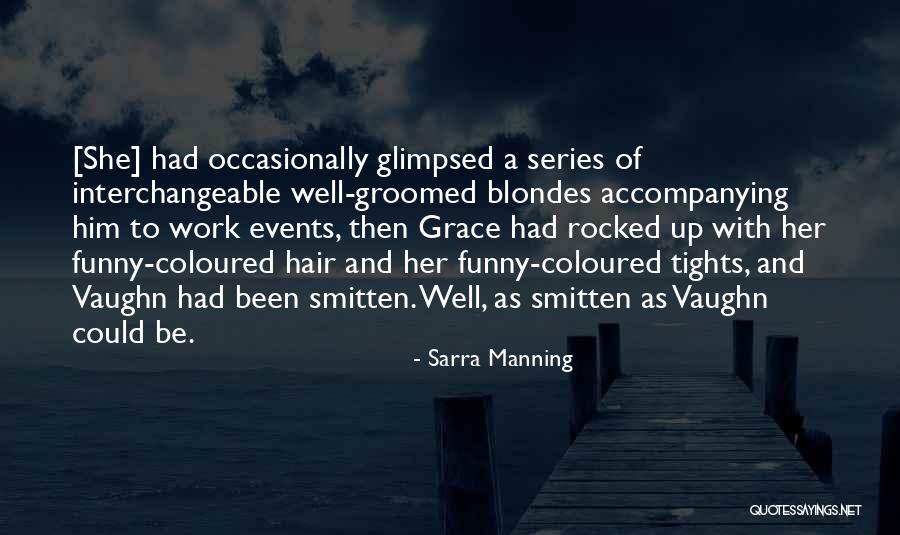 [She] had occasionally glimpsed a series of interchangeable well-groomed blondes accompanying him to work events, then Grace had rocked up with her funny-coloured hair and her funny-coloured tights, and Vaughn had been smitten. Well, as smitten as Vaughn could be. — Sarra Manning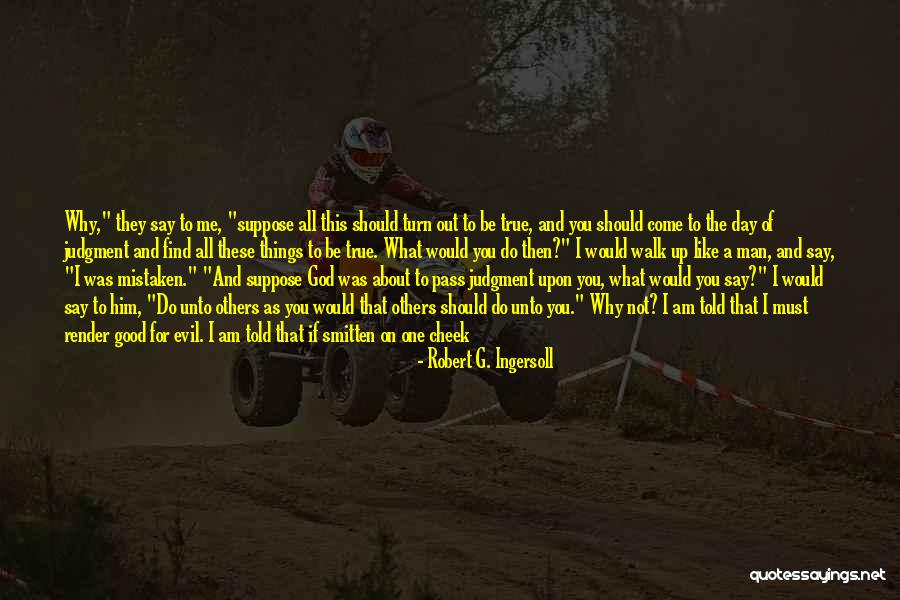 Why," they say to me, "suppose all this should turn out to be true, and you should come to the day of judgment and find all these things to be true. What would you do then?" I would walk up like a man, and say, "I was mistaken." "And suppose God was about to pass judgment upon you, what would you say?" I would say to him, "Do unto others as you would that others should do unto you." Why not? I am told that I must render good for evil. I am told that if smitten on one cheek I must turn the other. I am told that I must overcome evil with good. I am told that I must love my enemies; and will it do for this God who tells me to love my enemies to damn his? No, it will not do. It will not do. — Robert G. Ingersoll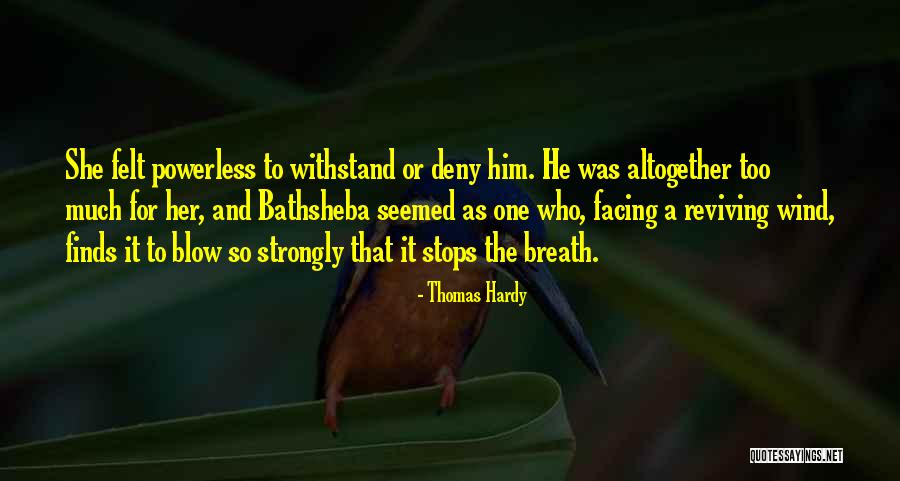 She felt powerless to withstand or deny him. He was altogether too much for her, and Bathsheba seemed as one who, facing a reviving wind, finds it to blow so strongly that it stops the breath. — Thomas Hardy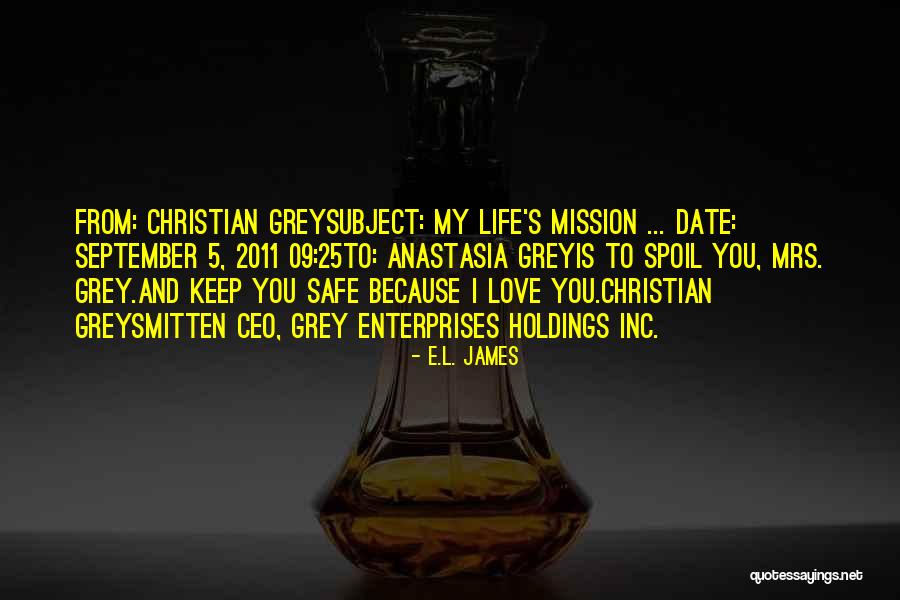 From: Christian Grey
Subject: My Life's Mission ...
Date: September 5, 2011 09:25
To: Anastasia Grey
Is to spoil you, Mrs. Grey.
And keep you safe because I love you.
Christian Grey
Smitten CEO, Grey Enterprises Holdings Inc. — E.L. James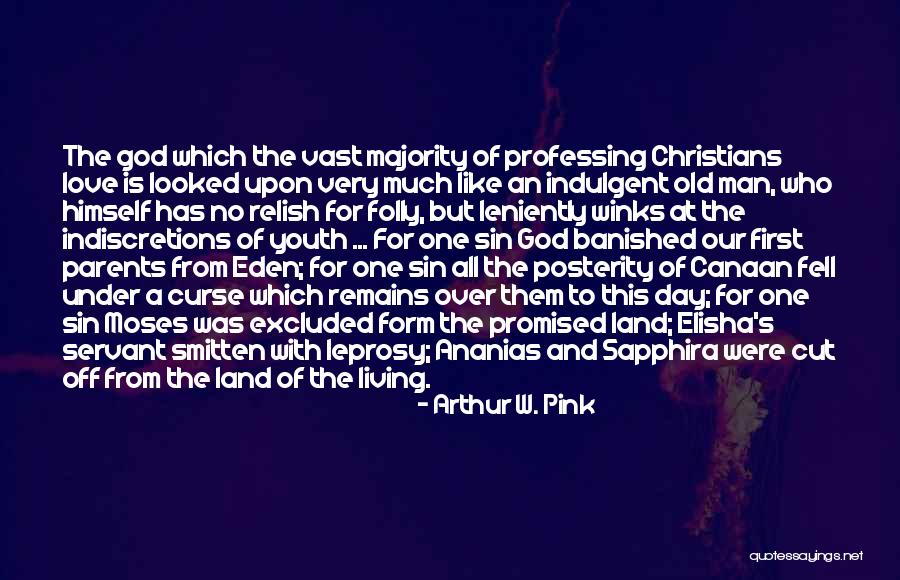 The god which the vast majority of professing Christians love is looked upon very much like an indulgent old man, who himself has no relish for folly, but leniently winks at the indiscretions of youth ... For one sin God banished our first parents from Eden; for one sin all the posterity of Canaan fell under a curse which remains over them to this day; for one sin Moses was excluded form the promised land; Elisha's servant smitten with leprosy; Ananias and Sapphira were cut off from the land of the living. — Arthur W. Pink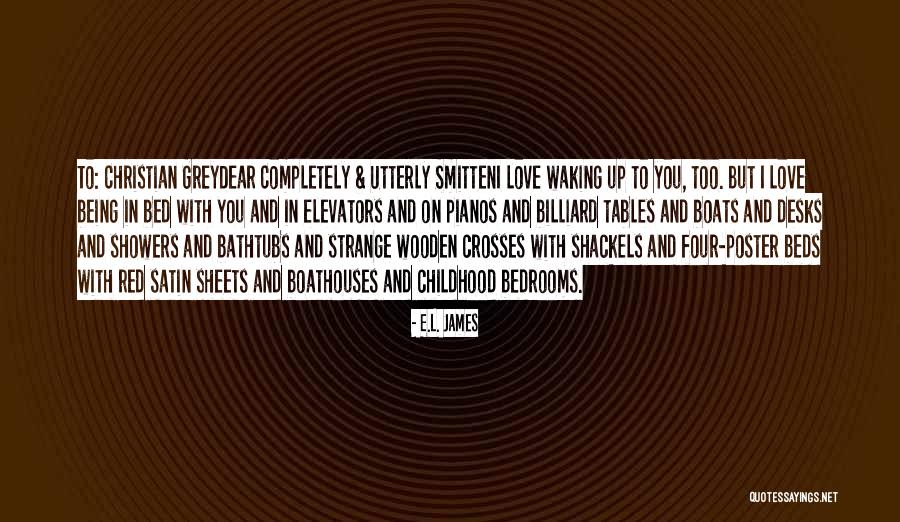 To: Christian Grey
Dear Completely & Utterly Smitten
I love waking up to you, too. But I love being in bed with you and in elevators and on pianos and billiard tables and boats and desks and showers and bathtubs and strange wooden crosses with shackels and four-poster beds with red satin sheets and boathouses and childhood bedrooms. — E.L. James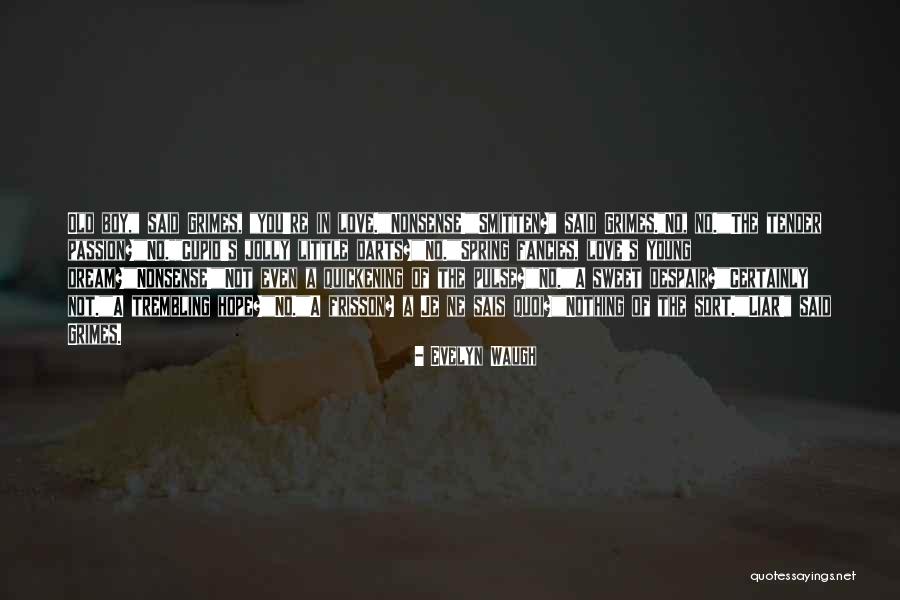 Old boy," said Grimes, "you're in love."
"Nonsense!"
"Smitten?" said Grimes.
"No, no."
"The tender passion?"
"No."
"Cupid's jolly little darts?"
"No."
"Spring fancies, love's young dream?"
"Nonsense!"
"Not even a quickening of the pulse?"
"No."
"A sweet despair?"
"Certainly not."
"A trembling hope?"
"No."
"A frisson? a Je ne sais quoi?"
"Nothing of the sort."
"Liar!" said Grimes. — Evelyn Waugh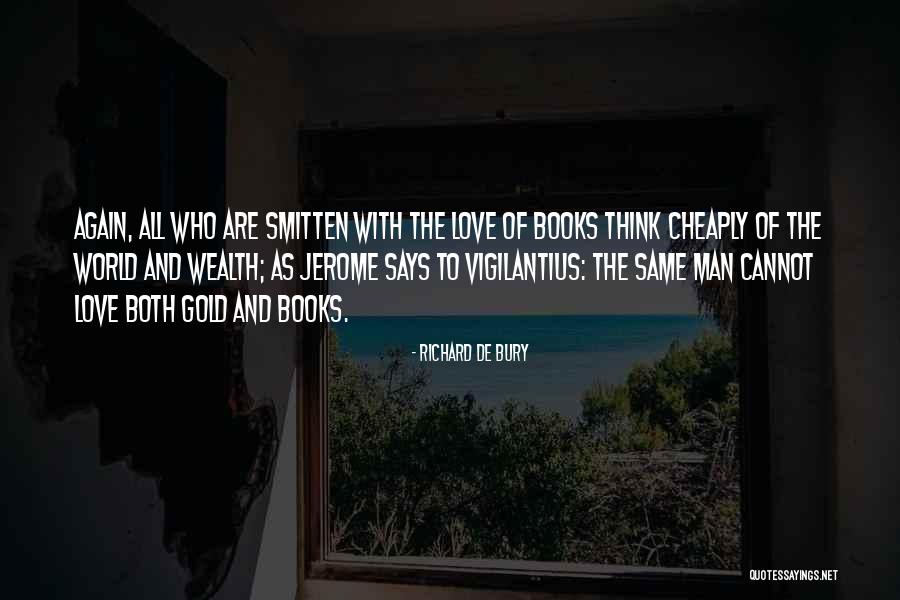 Again, all who are smitten with the love of books think cheaply of the world and wealth; as Jerome says to Vigilantius: The same man cannot love both gold and books. — Richard De Bury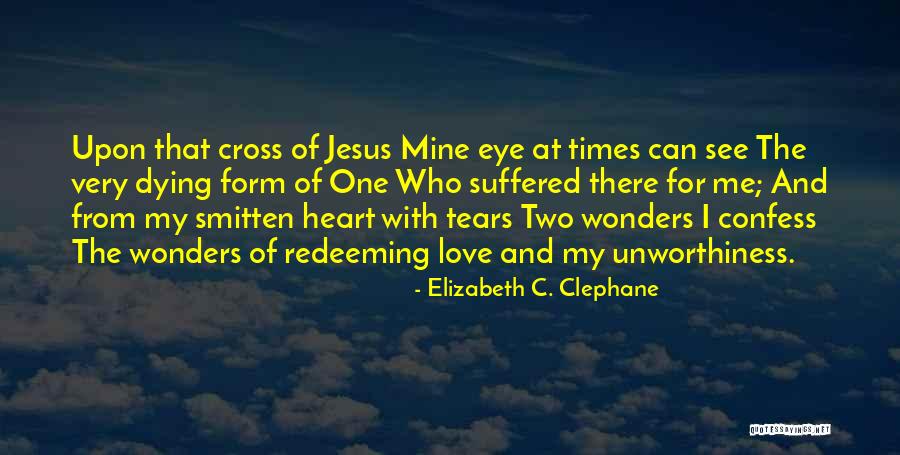 Upon that cross of Jesus Mine eye at times can see The very dying form of One Who suffered there for me; And from my smitten heart with tears Two wonders I confess The wonders of redeeming love and my unworthiness. — Elizabeth C. Clephane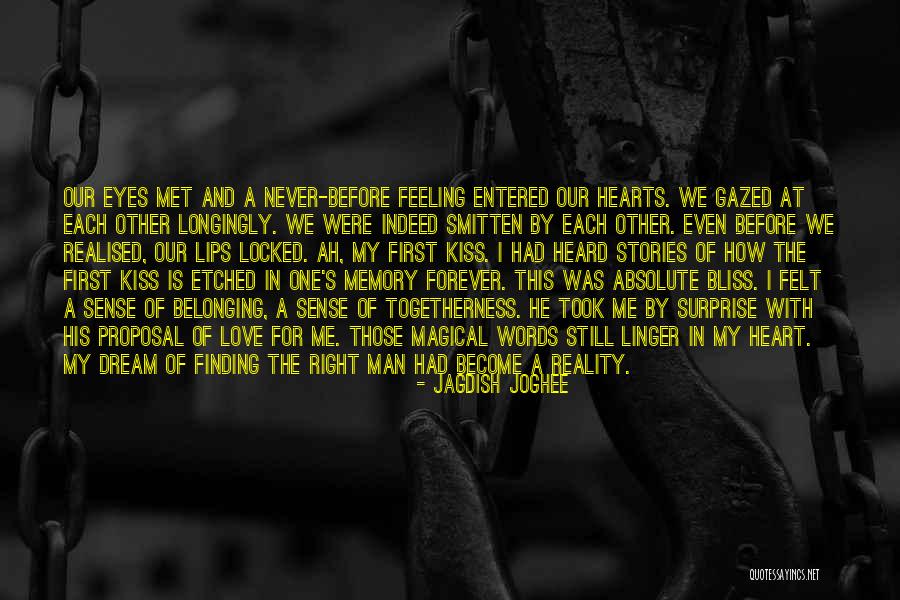 Our eyes met and a never-before feeling entered our hearts. We gazed at each other longingly. We were indeed smitten by each other. Even before we realised, our lips locked. Ah, my first kiss. I had heard stories of how the first kiss is etched in one's memory forever. This was absolute bliss. I felt a sense of belonging, a sense of togetherness. He took me by surprise with his proposal of love for me. Those magical words still linger in my heart. My dream of finding the right man had become a reality. — Jagdish Joghee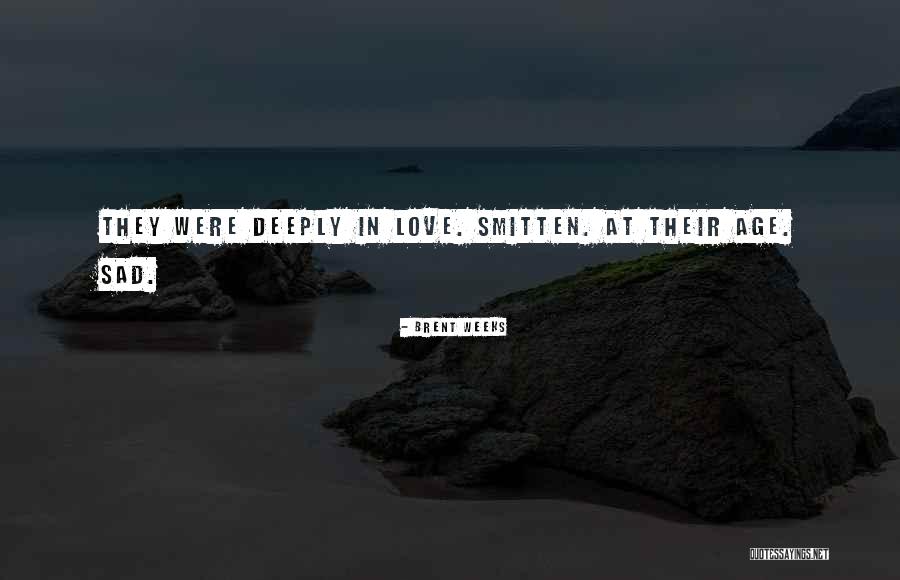 They were deeply in love. Smitten. At their age. Sad. — Brent Weeks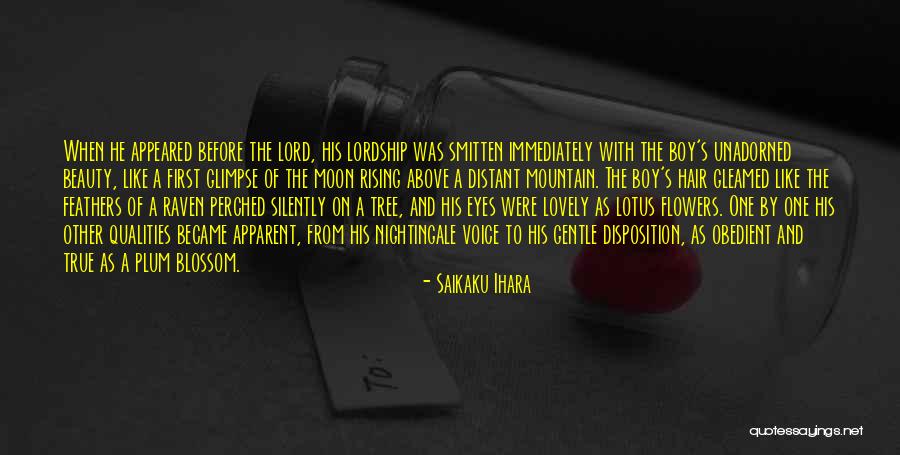 When he appeared before the lord, his lordship was smitten immediately with the boy's unadorned beauty, like a first glimpse of the moon rising above a distant mountain. The boy's hair gleamed like the feathers of a raven perched silently on a tree, and his eyes were lovely as lotus flowers. One by one his other qualities became apparent, from his nightingale voice to his gentle disposition, as obedient and true as a plum blossom. — Saikaku Ihara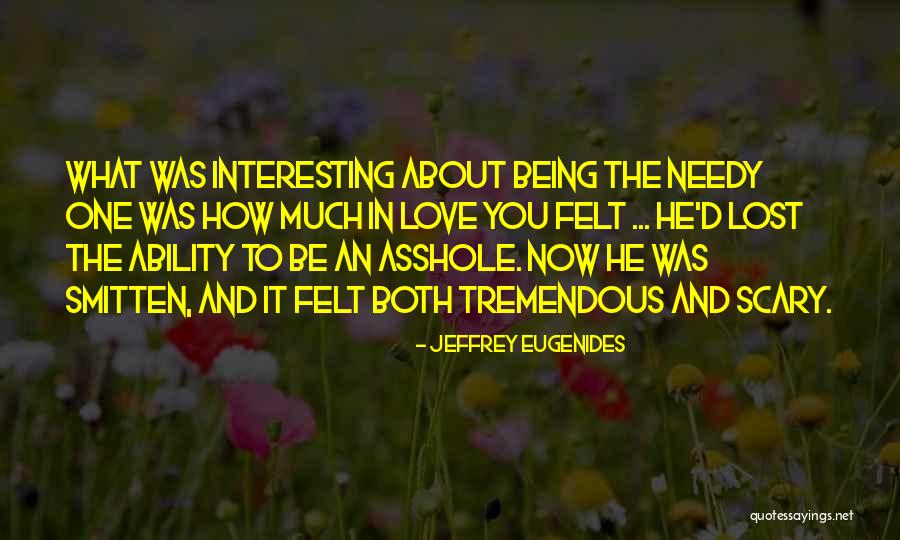 What was interesting about being the needy one was how much in love you felt ... He'd lost the ability to be an asshole. Now he was smitten, and it felt both tremendous and scary. — Jeffrey Eugenides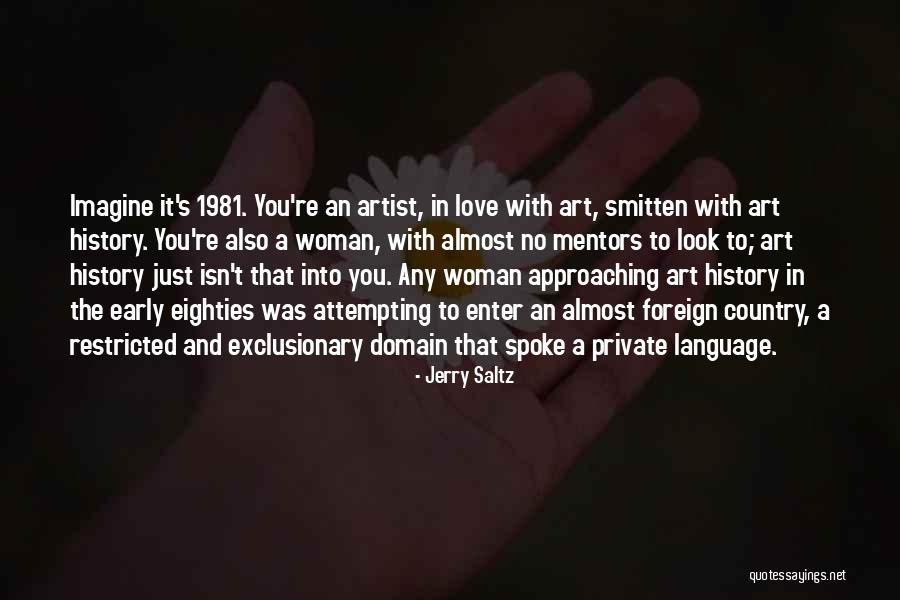 Imagine it's 1981. You're an artist, in love with art, smitten with art history. You're also a woman, with almost no mentors to look to; art history just isn't that into you. Any woman approaching art history in the early eighties was attempting to enter an almost foreign country, a restricted and exclusionary domain that spoke a private language. — Jerry Saltz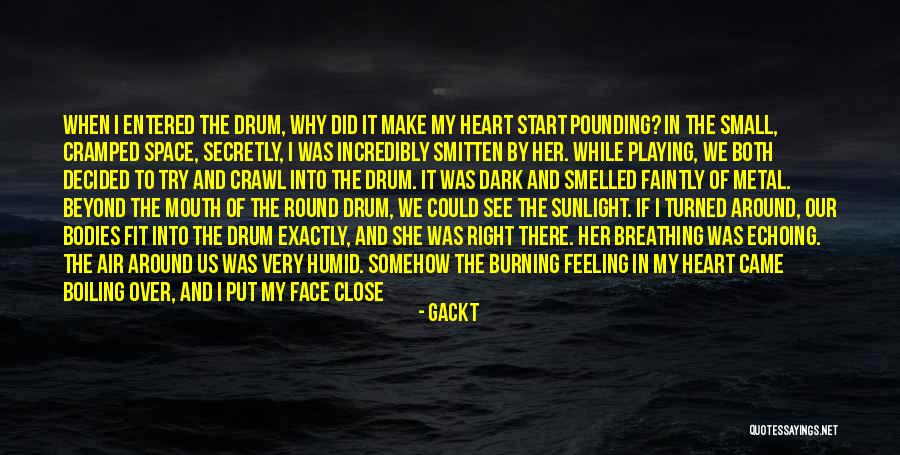 When I entered the drum, why did it make my heart start pounding? In the small, cramped space, secretly, I was incredibly smitten by her.
While playing, we both decided to try and crawl into the drum. It was dark and smelled faintly of metal. Beyond the mouth of the round drum, we could see the sunlight.
If I turned around, our bodies fit into the drum exactly, and she was right there. Her breathing was echoing. The air around us was very humid.
Somehow the burning feeling in my heart came boiling over, and I put my face close to hers, and gave her a little kiss. Of course it was on the lips.
It was a gentle sensation, and it was the first time I'd ever felt such a strange emotion. She responded with the same feeling. So I kept on kissing her. They were light kisses, but my heart was beating wildly.It was an amazing first time. — Gackt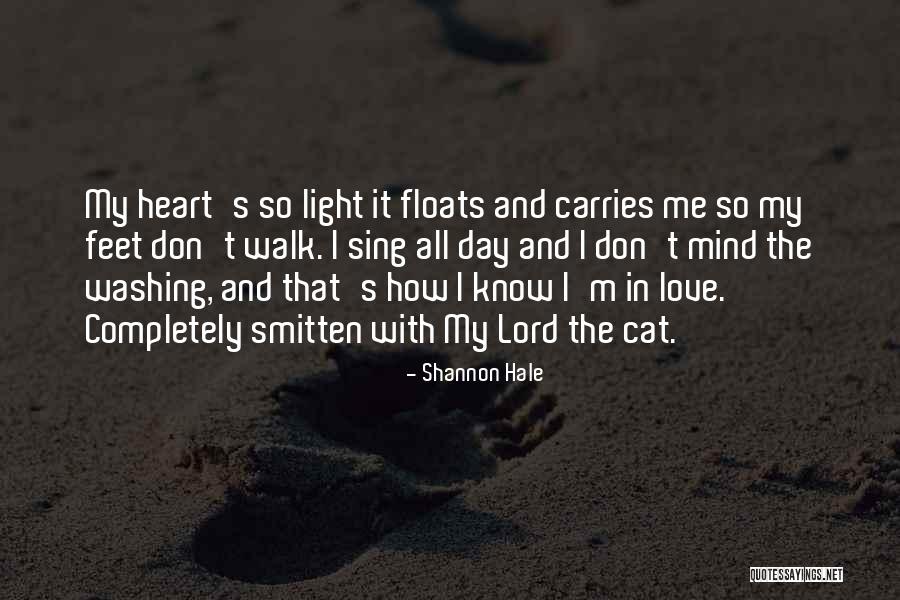 My heart's so light it floats and carries me so my feet don't walk. I sing all day and I don't mind the washing, and that's how I know I'm in love. Completely smitten with My Lord the cat. — Shannon Hale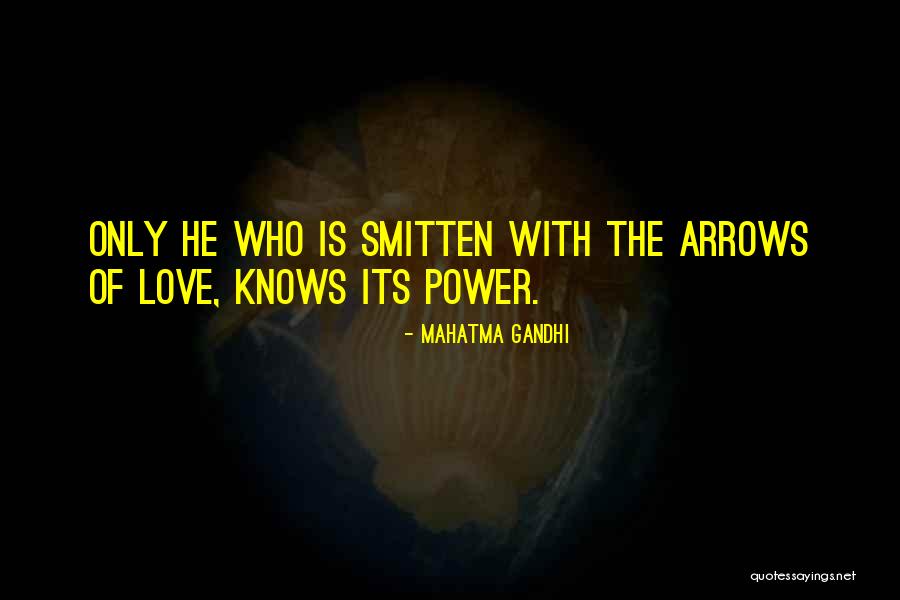 Only he Who is smitten with the arrows of love, Knows its power. — Mahatma Gandhi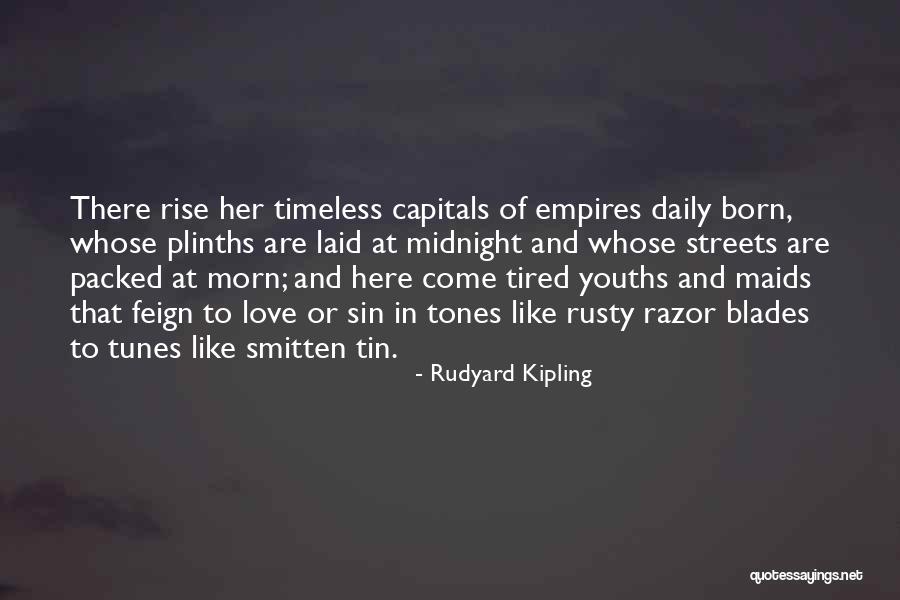 There rise her timeless capitals of empires daily born, whose plinths are laid at midnight and whose streets are packed at morn; and here come tired youths and maids that feign to love or sin in tones like rusty razor blades to tunes like smitten tin. — Rudyard Kipling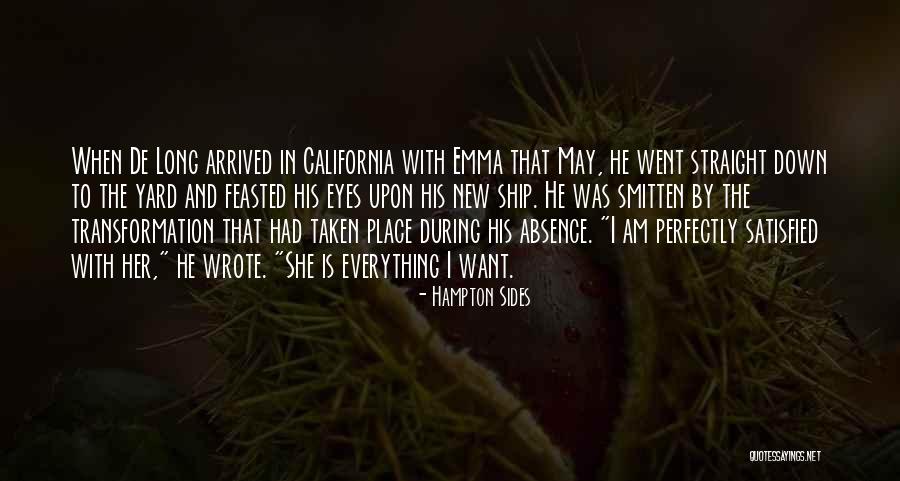 When De Long arrived in California with Emma that May, he went straight down to the yard and feasted his eyes upon his new ship. He was smitten by the transformation that had taken place during his absence. "I am perfectly satisfied with her," he wrote. "She is everything I want. — Hampton Sides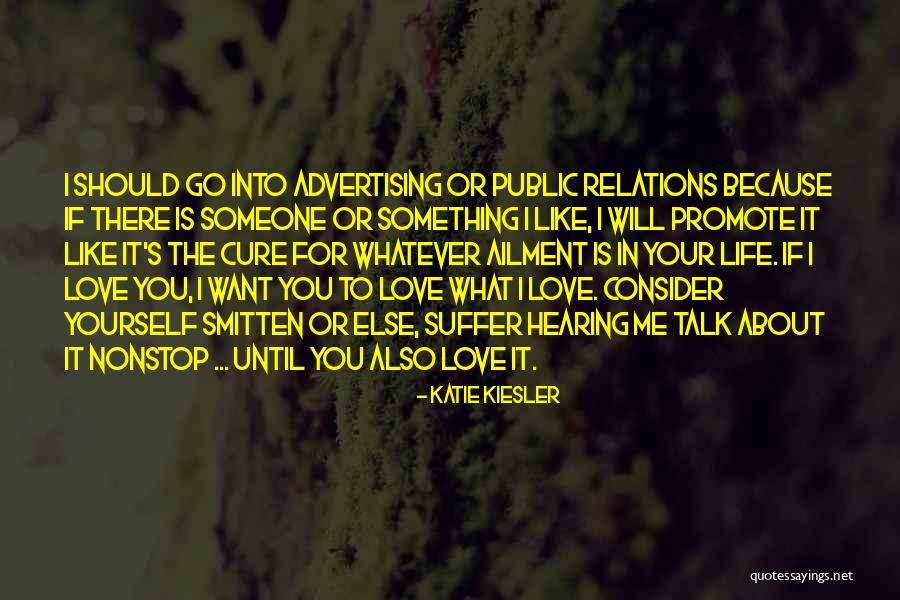 I should go into advertising or public relations because if there is someone or something I like, I will promote it like it's the cure for whatever ailment is in your life. If I love you, I want you to love what I love. Consider yourself smitten or else, suffer hearing me talk about it nonstop ... until you also love it. — Katie Kiesler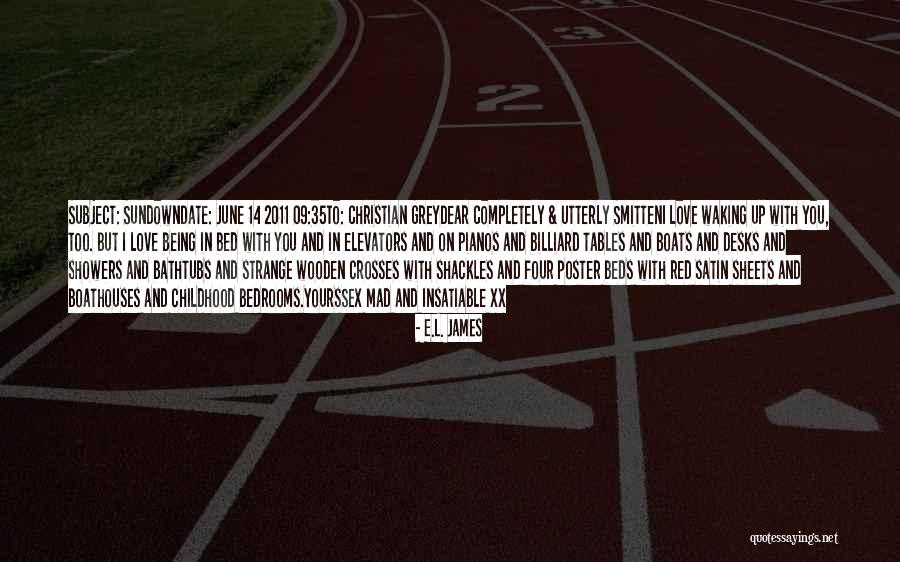 Subject: Sundown
Date: June 14 2011 09:35
To: Christian Grey
Dear Completely & Utterly Smitten
I love waking up with you, too. But I love being in bed with you and in elevators and on pianos and billiard tables and boats and desks and showers and bathtubs and strange wooden crosses with shackles and four poster beds with red satin sheets and boathouses and childhood bedrooms.
Yours
Sex Mad and Insatiable xx — E.L. James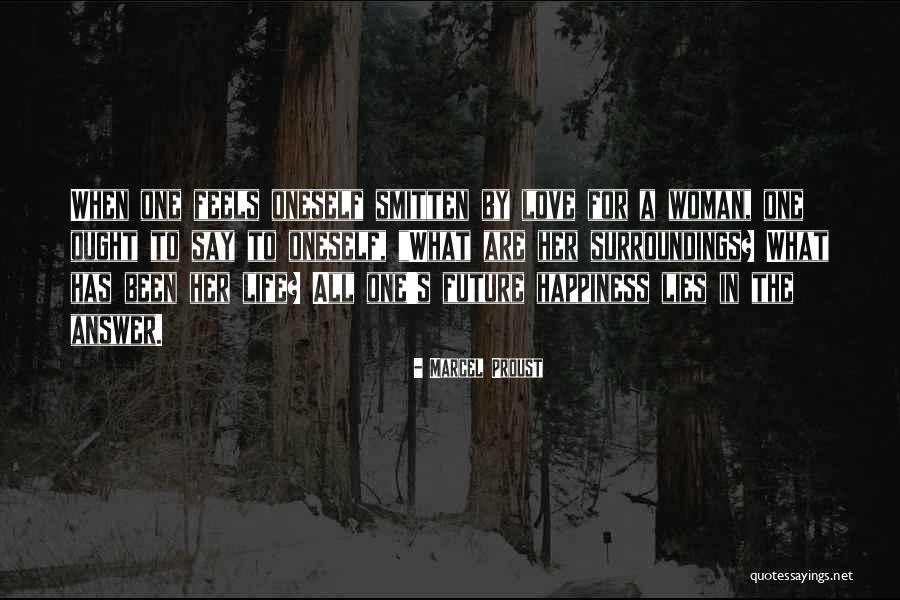 When one feels oneself smitten by love for a woman, one ought to say to oneself, "What are her surroundings? What has been her life? All one's future happiness lies in the answer. — Marcel Proust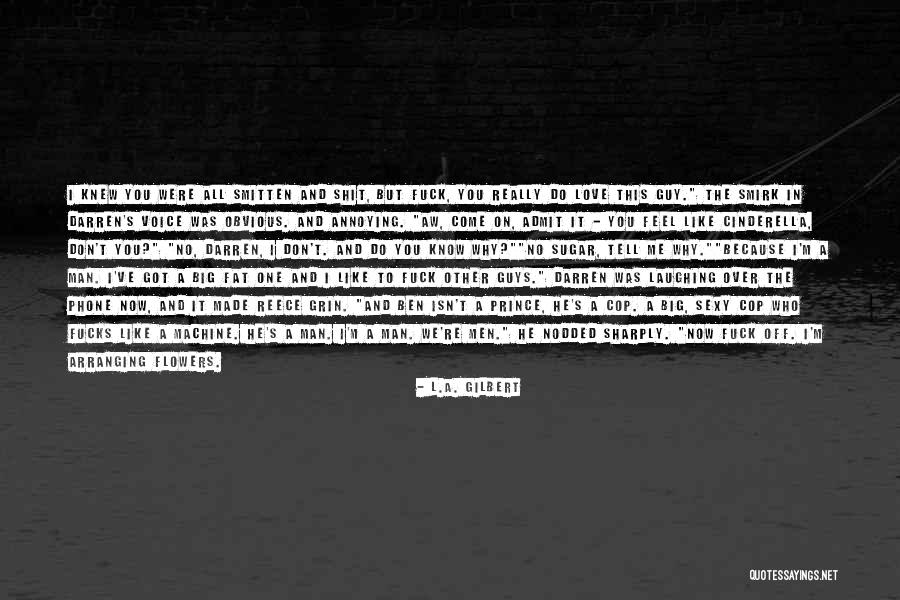 I knew you were all smitten and shit, but fuck, you really do love this guy." The smirk in Darren's voice was obvious. And annoying. "Aw, come on, admit it - you feel like Cinderella, don't you?"
"No, Darren, I don't. And do you know why?"
"No sugar, tell me why."
"Because I'm a man. I've got a big fat one and I like to fuck other guys." Darren was laughing over the phone now, and it made Reece grin. "And Ben isn't a prince, he's a cop. A big, sexy cop who fucks like a machine. He's a man. I'm a man. We're men." He nodded sharply. "Now fuck off. I'm arranging flowers. — L.A. Gilbert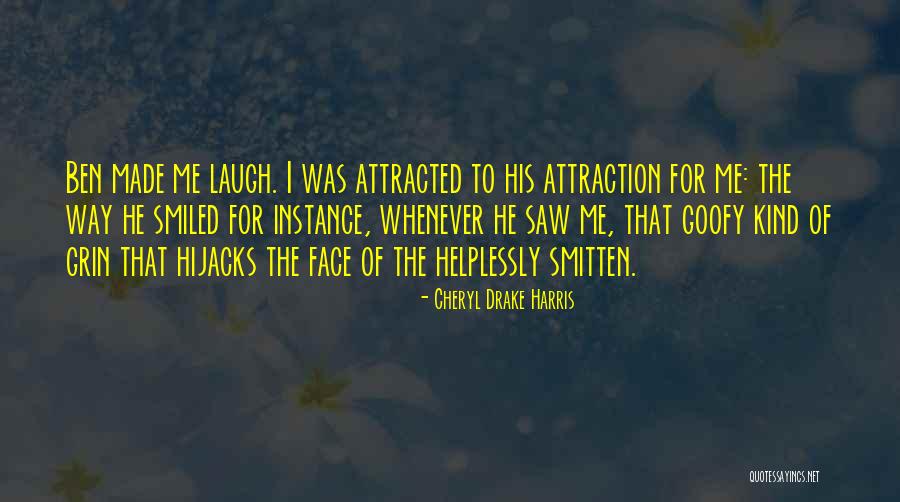 Ben made me laugh. I was attracted to his attraction for me: the way he smiled for instance, whenever he saw me, that goofy kind of grin that hijacks the face of the helplessly smitten. — Cheryl Drake Harris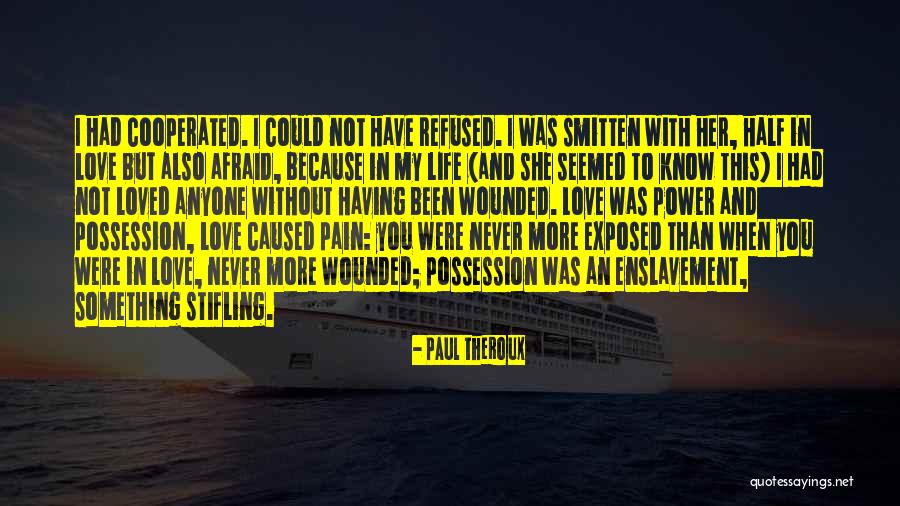 I had cooperated. I could not have refused. I was smitten with her, half in love but also afraid, because in my life (and she seemed to know this) I had not loved anyone without having been wounded. Love was power and possession, love caused pain: you were never more exposed than when you were in love, never more wounded; possession was an enslavement, something stifling. — Paul Theroux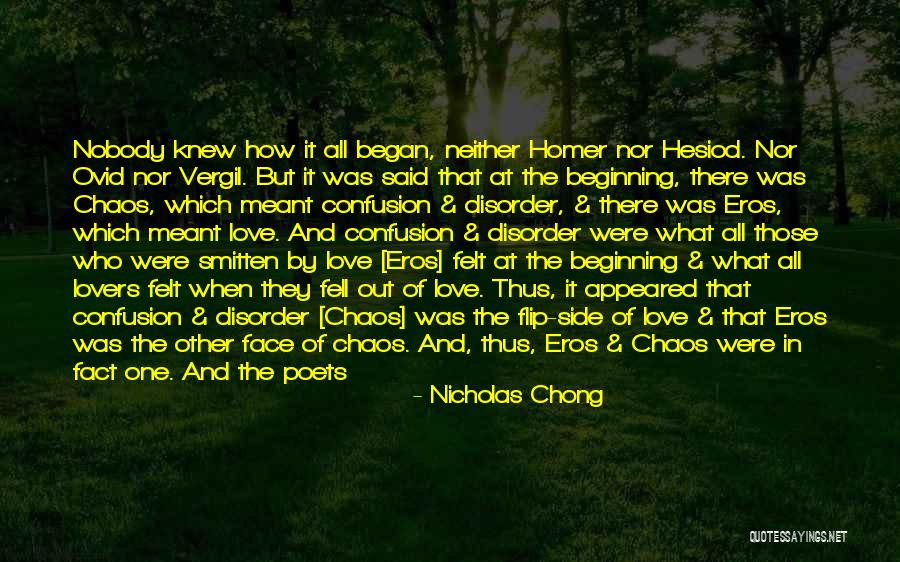 Nobody knew how it all began, neither Homer nor Hesiod. Nor Ovid nor Vergil. But it was said that at the beginning, there was Chaos, which meant confusion & disorder, & there was Eros, which meant love. And confusion & disorder were what all those who were smitten by love [Eros] felt at the beginning & what all lovers felt when they fell out of love. Thus, it appeared that confusion & disorder [Chaos] was the flip-side of love & that Eros was the other face of chaos. And, thus, Eros & Chaos were in fact one. And the poets saw other aspects of Eros, such as Himeros[Passion or Desire], Anteros[Reciprocal or Mutual Love] & Pothos[Longing]. And they also saw other aspects of Chaos, such as Phobos[Fear] & Deimos[Terror]. And that since Eros & Chaos were one,all these aspects of the two were the aspects of love. — Nicholas Chong
At the cross of Christ, God shows the full expression of both his wrath and his love, as Jesus is stricken, smitten, afflicted, wounded, crushed, and chastised for the sake of sinners. — David Platt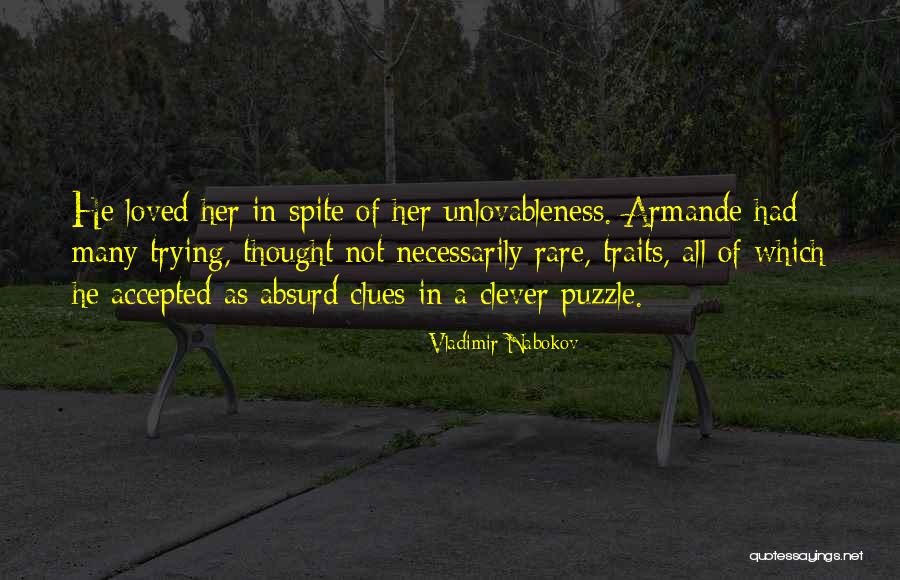 He loved her in spite of her unlovableness. Armande had many trying, thought not necessarily rare, traits, all of which he accepted as absurd clues in a clever puzzle. — Vladimir Nabokov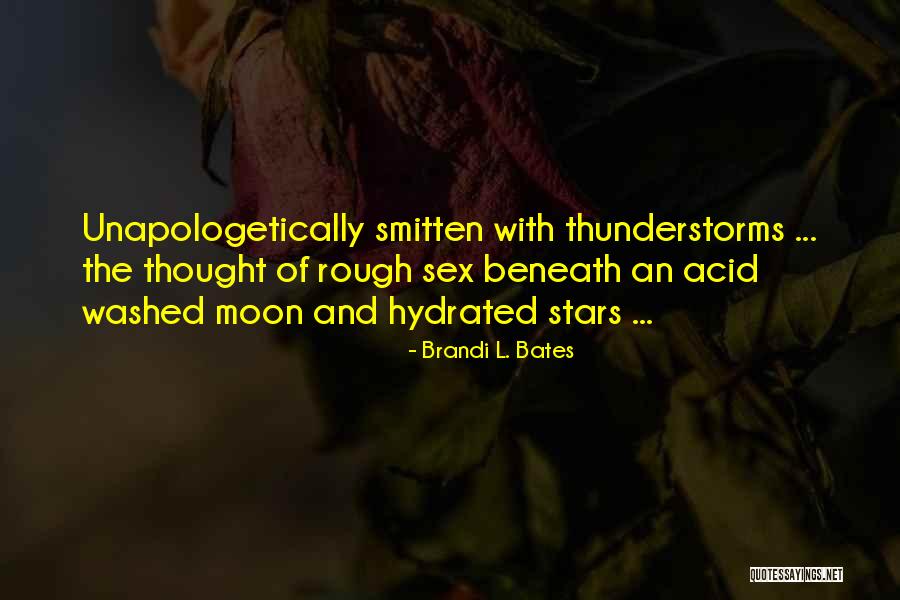 Unapologetically smitten with thunderstorms ... the thought of rough sex beneath an acid washed moon and hydrated stars ... — Brandi L. Bates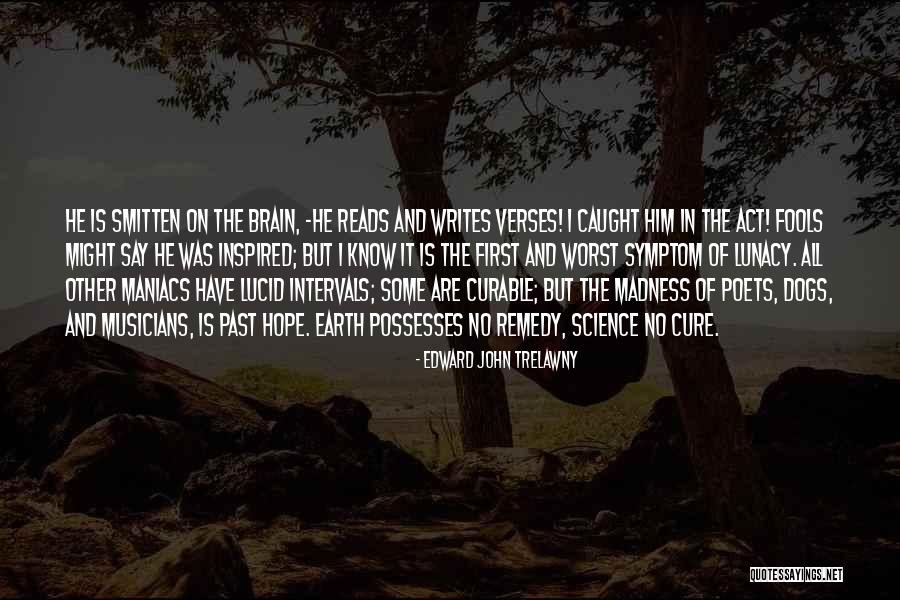 He is smitten on the brain, -he reads and writes verses! I caught him in the act! Fools might say he was inspired; but I know it is the first and worst symptom of lunacy. All other maniacs have lucid intervals; some are curable; but the madness of poets, dogs, and musicians, is past hope. Earth possesses no remedy, science no cure. — Edward John Trelawny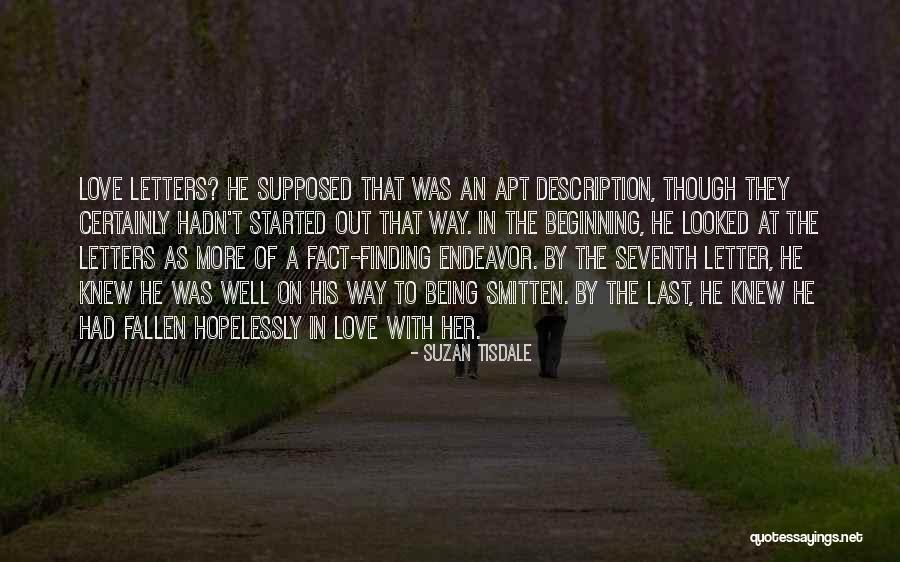 Love letters? He supposed that was an apt description, though they certainly hadn't started out that way. In the beginning, he looked at the letters as more of a fact-finding endeavor. By the seventh letter, he knew he was well on his way to being smitten. By the last, he knew he had fallen hopelessly in love with her. — Suzan Tisdale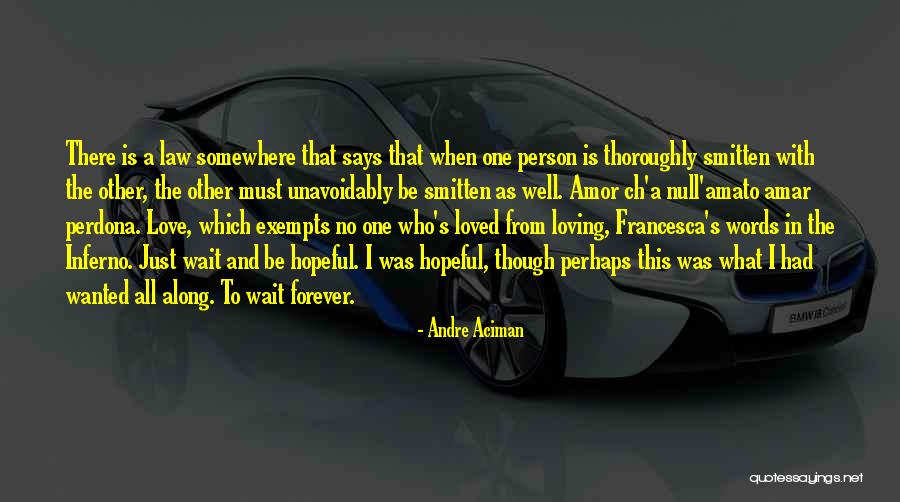 There is a law somewhere that says that when one person is thoroughly smitten with the other, the other must unavoidably be smitten as well. Amor ch'a null'amato amar perdona. Love, which exempts no one who's loved from loving, Francesca's words in the Inferno. Just wait and be hopeful. I was hopeful, though perhaps this was what I had wanted all along. To wait forever. — Andre Aciman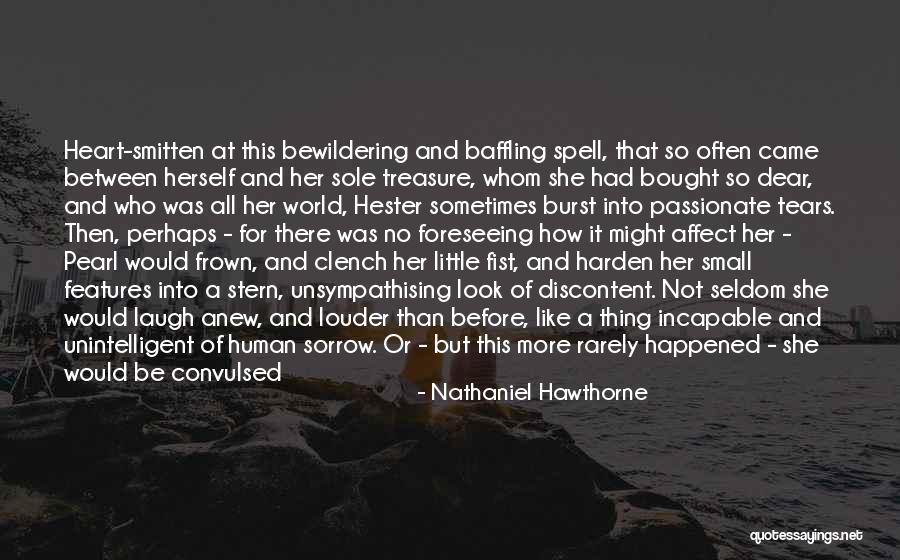 Heart-smitten at this bewildering and baffling spell, that so often came between herself and her sole treasure, whom she had bought so dear, and who was all her world, Hester sometimes burst into passionate tears. Then, perhaps - for there was no foreseeing how it might affect her - Pearl would frown, and clench her little fist, and harden her small features into a stern, unsympathising look of discontent. Not seldom she would laugh anew, and louder than before, like a thing incapable and unintelligent of human sorrow. Or - but this more rarely happened - she would be convulsed with rage of grief and sob out her love for her mother in broken words, and seem intent on proving that she had a heart by breaking it. Yet — Nathaniel Hawthorne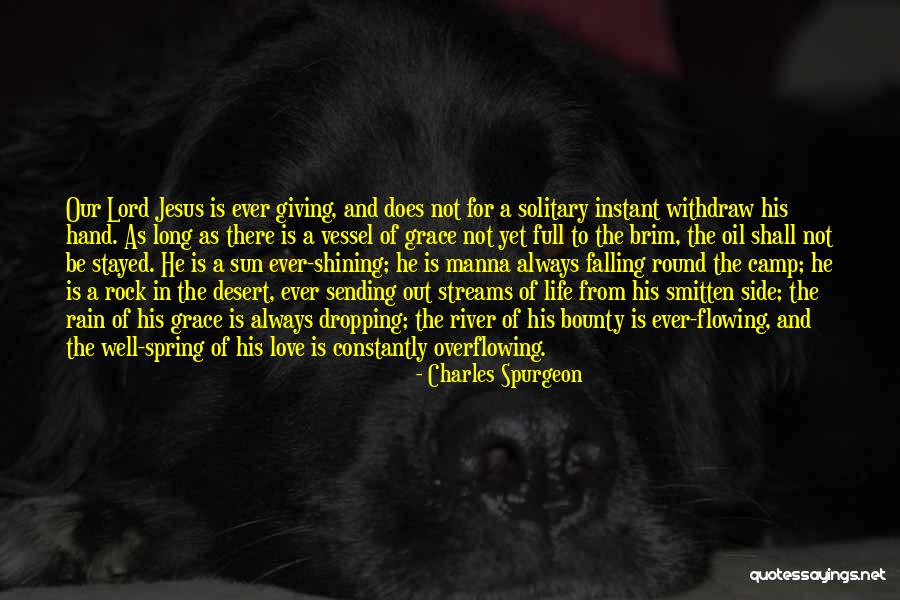 Our Lord Jesus is ever giving, and does not for a solitary instant withdraw his hand. As long as there is a vessel of grace not yet full to the brim, the oil shall not be stayed. He is a sun ever-shining; he is manna always falling round the camp; he is a rock in the desert, ever sending out streams of life from his smitten side; the rain of his grace is always dropping; the river of his bounty is ever-flowing, and the well-spring of his love is constantly overflowing. — Charles Spurgeon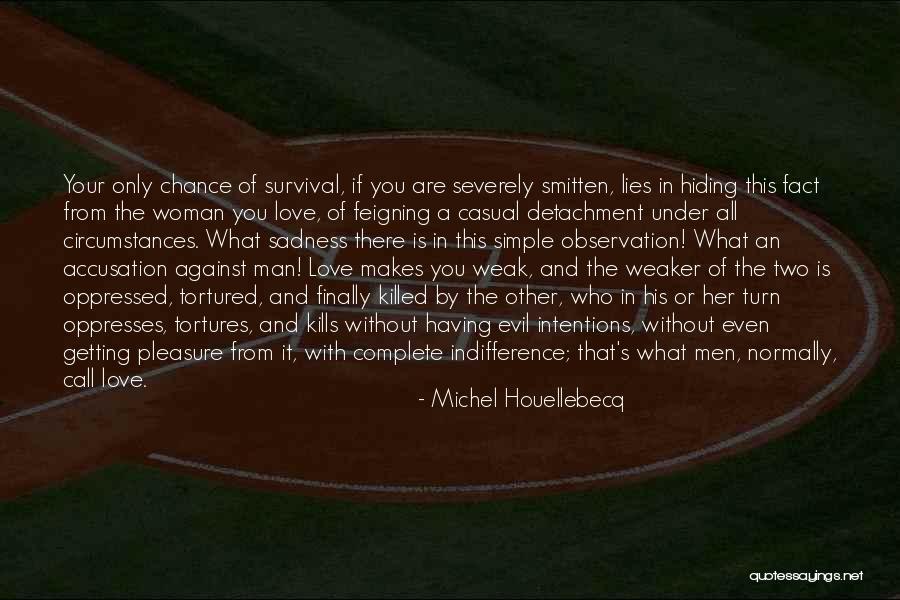 Your only chance of survival, if you are severely smitten, lies in hiding this fact from the woman you love, of feigning a casual detachment under all circumstances. What sadness there is in this simple observation! What an accusation against man! Love makes you weak, and the weaker of the two is oppressed, tortured, and finally killed by the other, who in his or her turn oppresses, tortures, and kills without having evil intentions, without even getting pleasure from it, with complete indifference; that's what men, normally, call love. — Michel Houellebecq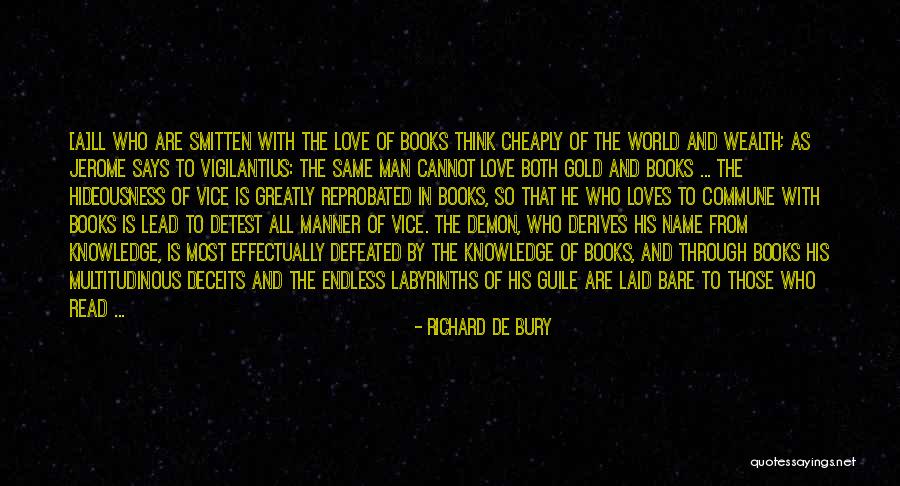 [A]ll who are smitten with the love of books think cheaply of the world and wealth; as Jerome says to Vigilantius: The same man cannot love both gold and books ... The hideousness of vice is greatly reprobated in books, so that he who loves to commune with books is lead to detest all manner of vice. The demon, who derives his name from knowledge, is most effectually defeated by the knowledge of books, and through books his multitudinous deceits and the endless labyrinths of his guile are laid bare to those who read ... — Richard De Bury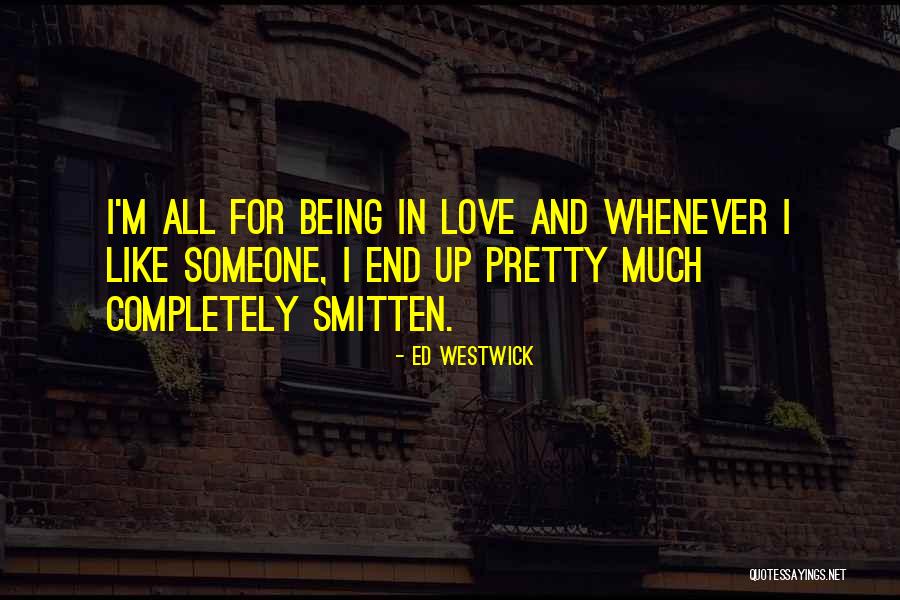 I'm all for being in love and whenever I like someone, I end up pretty much completely smitten. — Ed Westwick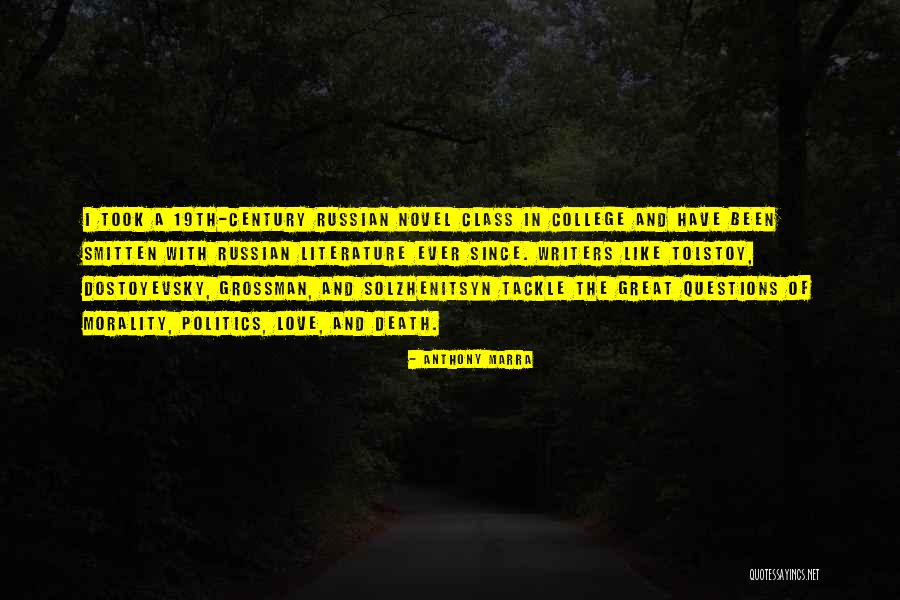 I took a 19th-century Russian novel class in college and have been smitten with Russian literature ever since. Writers like Tolstoy, Dostoyevsky, Grossman, and Solzhenitsyn tackle the great questions of morality, politics, love, and death. — Anthony Marra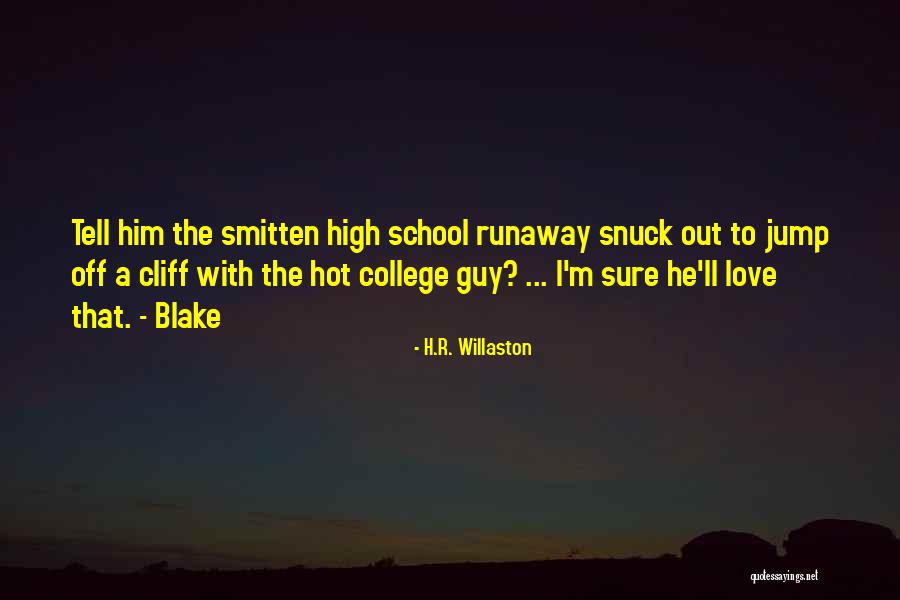 Tell him the smitten high school runaway snuck out to jump off a cliff with the hot college guy? ... I'm sure he'll love that. - Blake — H.R. Willaston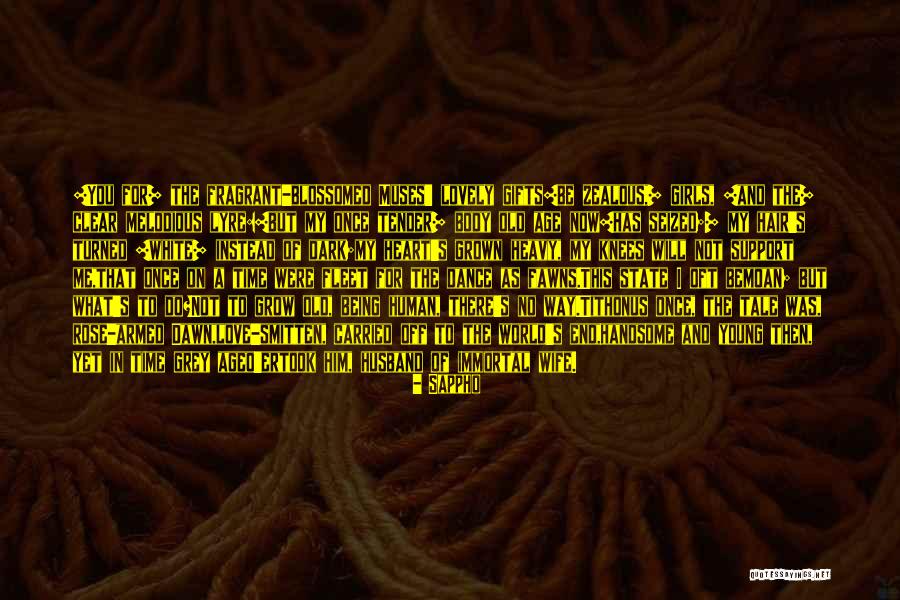 [You for] the fragrant-blossomed Muses' lovely gifts
[be zealous,] girls, [and the] clear melodious lyre:
[but my once tender] body old age now
[has seized;] my hair's turned [white] instead of dark;
my heart's grown heavy, my knees will not support me,
that once on a time were fleet for the dance as fawns.
This state I oft bemoan; but what's to do?
Not to grow old, being human, there's no way.
Tithonus once, the tale was, rose-armed Dawn,
love-smitten, carried off to the world's end,
handsome and young then, yet in time grey age
o'ertook him, husband of immortal wife. — Sappho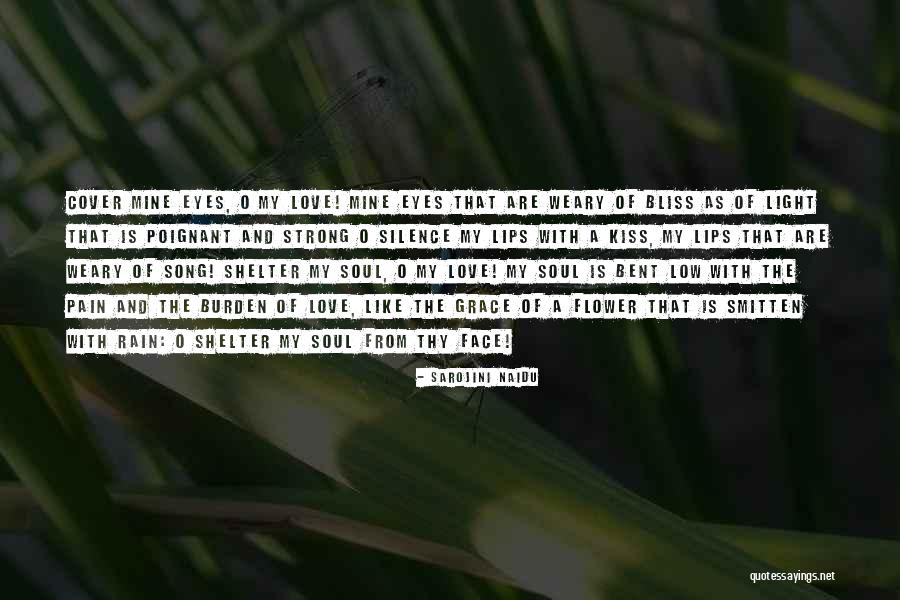 Cover mine eyes, O my Love!
Mine eyes that are weary of bliss
As of light that is poignant and strong
O silence my lips with a kiss,
My lips that are weary of song!
Shelter my soul, O my love!
My soul is bent low with the pain
And the burden of love, like the grace
Of a flower that is smitten with rain:
O shelter my soul from thy face! — Sarojini Naidu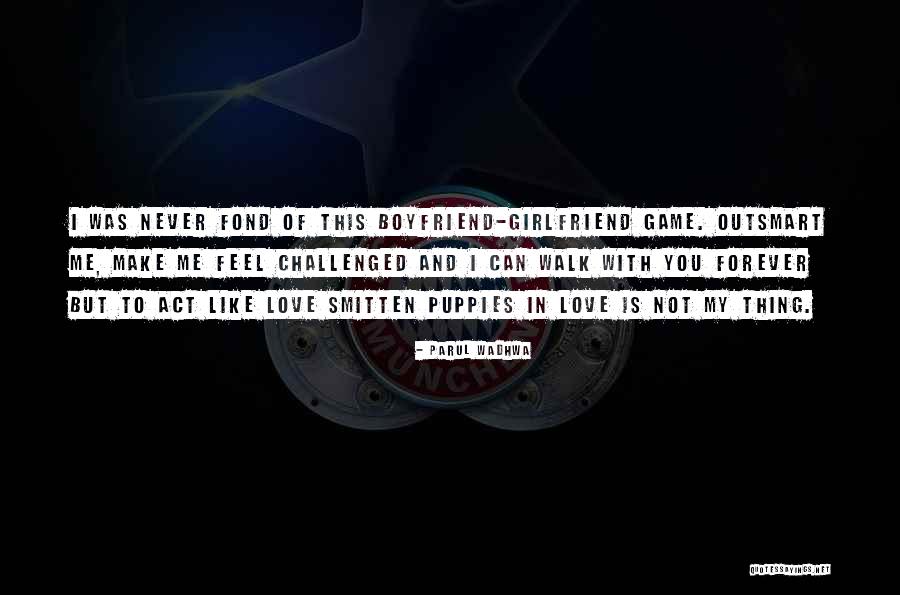 I was never fond of this boyfriend-girlfriend game. Outsmart me, make me feel challenged and I can walk with you forever but to act like love smitten puppies in love is not my thing. — Parul Wadhwa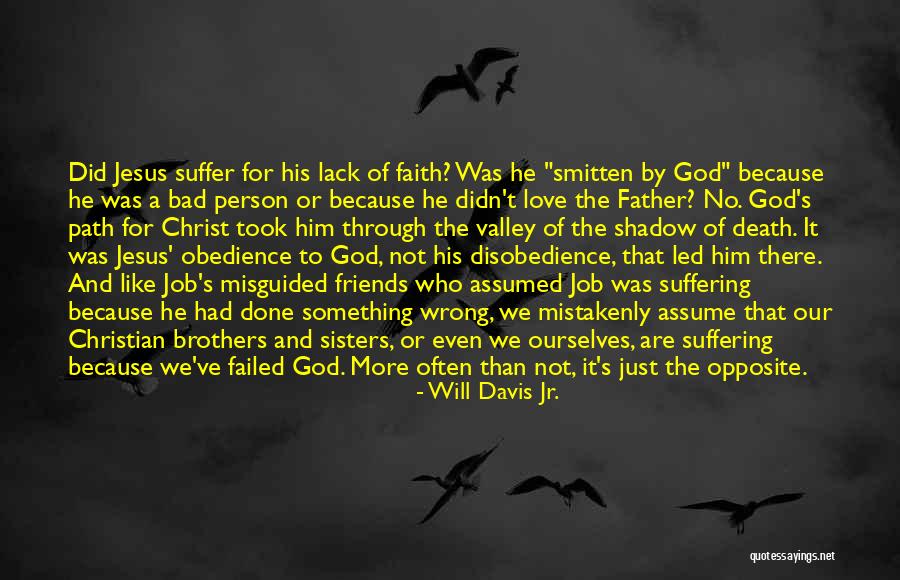 Did Jesus suffer for his lack of faith? Was he "smitten by God" because he was a bad person or because he didn't love the Father? No. God's path for Christ took him through the valley of the shadow of death. It was Jesus' obedience to God, not his disobedience, that led him there. And like Job's misguided friends who assumed Job was suffering because he had done something wrong, we mistakenly assume that our Christian brothers and sisters, or even we ourselves, are suffering because we've failed God. More often than not, it's just the opposite. — Will Davis Jr.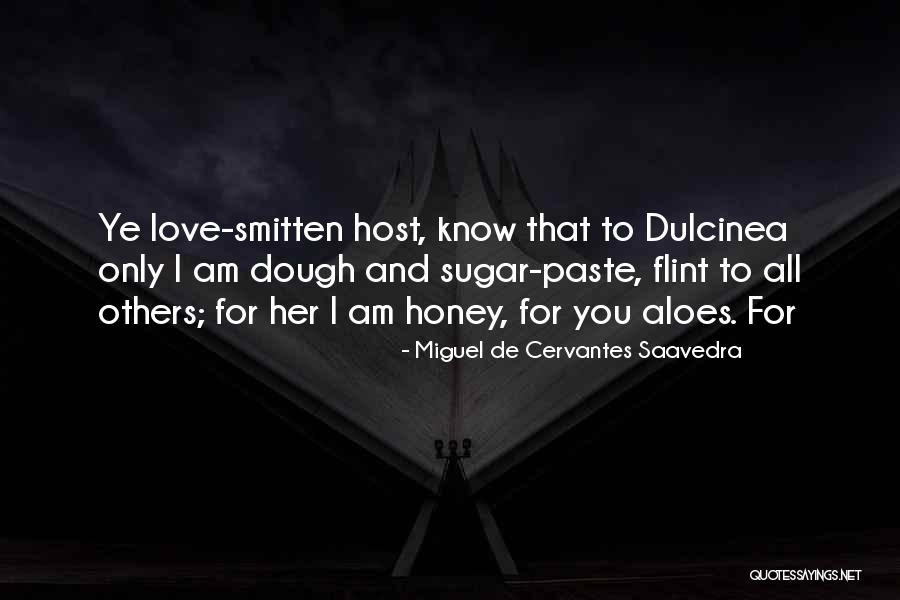 Ye love-smitten host, know that to Dulcinea only I am dough and sugar-paste, flint to all others; for her I am honey, for you aloes. For — Miguel De Cervantes Saavedra