Small But Powerful Love Quotes & Sayings
Enjoy reading and share 9 famous quotes about Small But Powerful Love with everyone.
Top Small But Powerful Love Quotes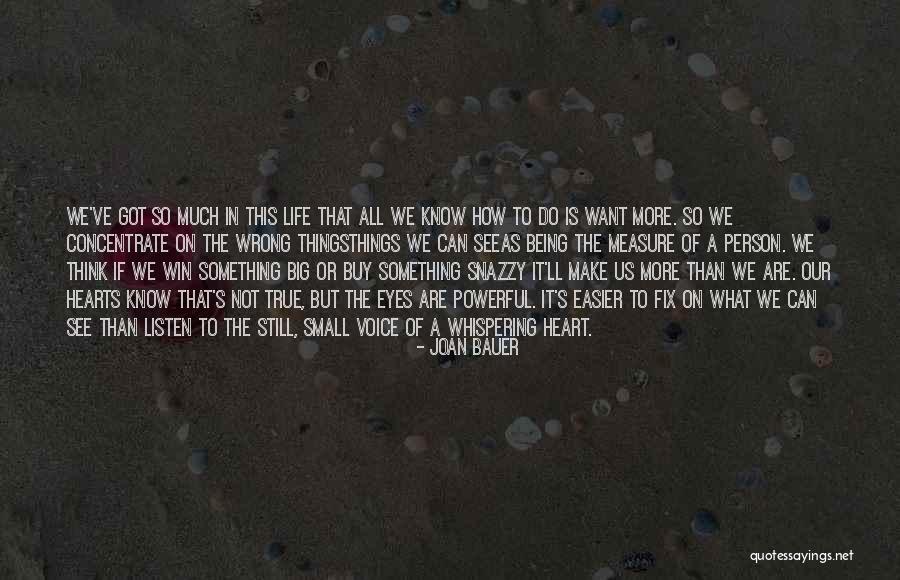 We've got so much in this life that all we know how to do is want more. So we concentrate on the wrong things
things we can see
as being the measure of a person. We think if we win something big or buy something snazzy it'll make us more than we are. Our hearts know that's not true, but the eyes are powerful. It's easier to fix on what we can see than listen to the still, small voice of a whispering heart. — Joan Bauer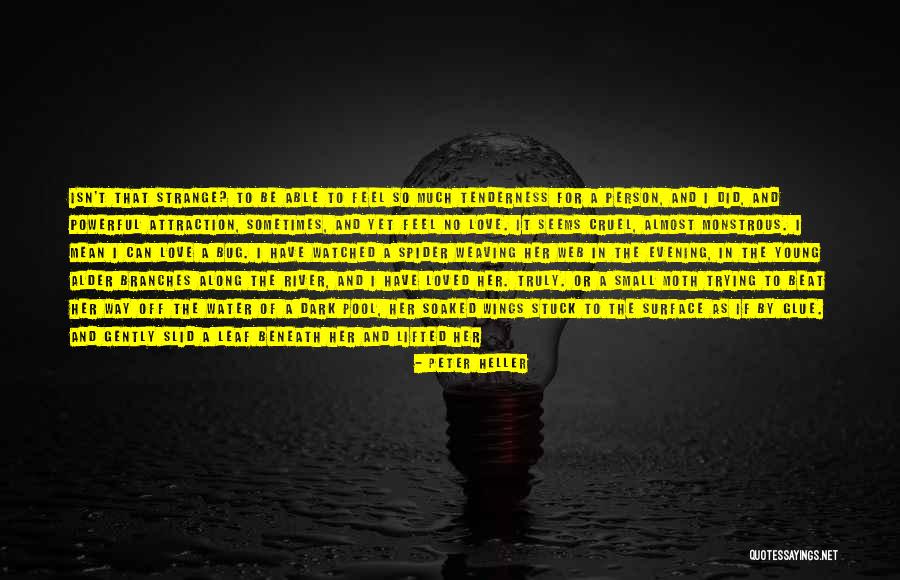 Isn't that strange? To be able to feel so much tenderness for a person, and I did, and powerful attraction, sometimes, and yet feel no love. It seems cruel, almost monstrous. I mean I can love a bug. I have watched a spider weaving her web in the evening, in the young alder branches along the river, and I have loved her. Truly. Or a small moth trying to beat her way off the water of a dark pool, her soaked wings stuck to the surface as if by glue. And gently slid a leaf beneath her and lifted her to the ground, praying that her wings would dry without damage. I've done that. And yet I could not love my wife. — Peter Heller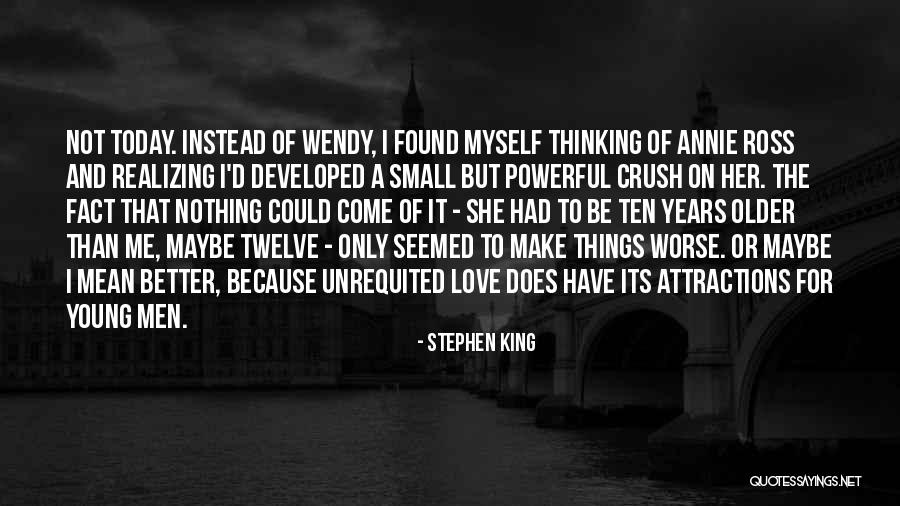 Not today. Instead of Wendy, I found myself thinking of Annie Ross and realizing I'd developed a small but powerful crush on her. The fact that nothing could come of it - she had to be ten years older than me, maybe twelve - only seemed to make things worse. Or maybe I mean better, because unrequited love does have its attractions for young men. — Stephen King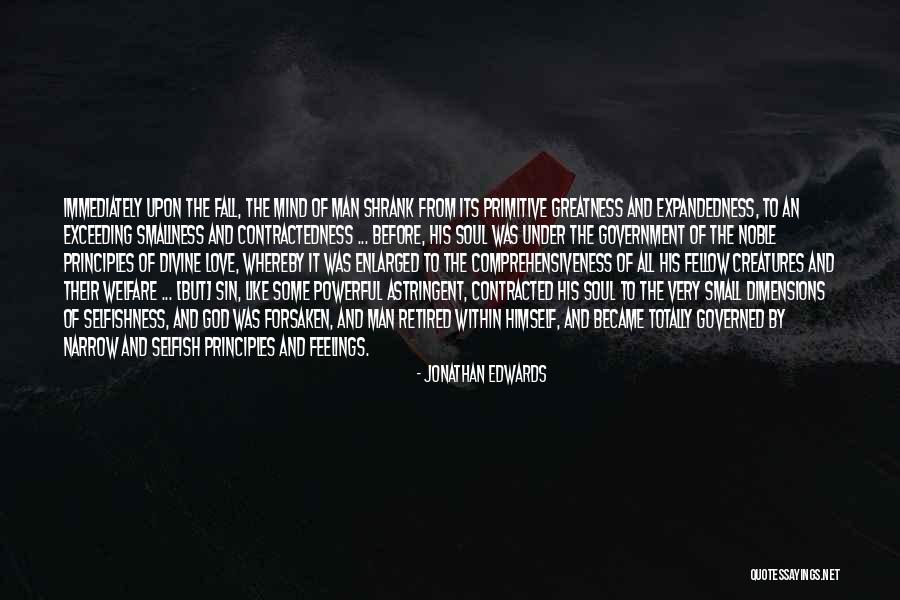 Immediately upon the fall, the mind of man shrank from its primitive greatness and expandedness, to an exceeding smallness and contractedness ... Before, his soul was under the government of the noble principles of divine love, whereby it was enlarged to the comprehensiveness of all his fellow creatures and their welfare ... [But] sin, like some powerful astringent, contracted his soul to the very small dimensions of selfishness, and God was forsaken, and man retired within himself, and became totally governed by narrow and selfish principles and feelings. — Jonathan Edwards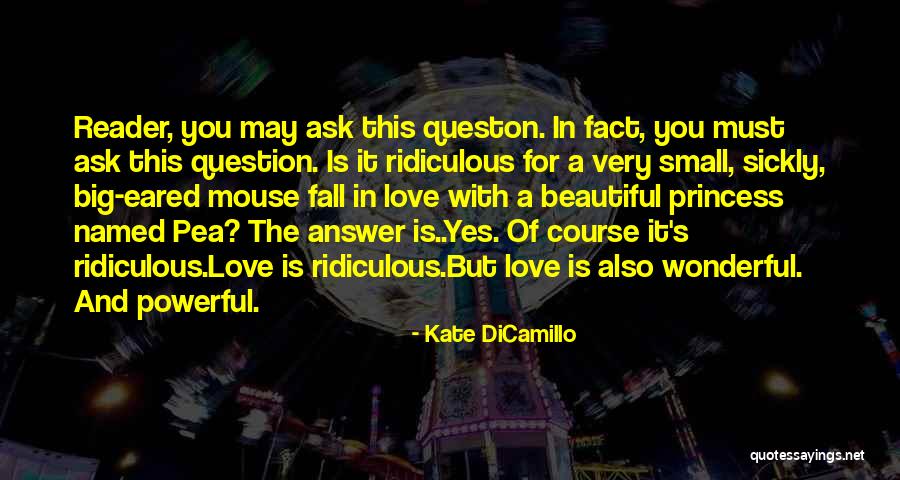 Reader, you may ask this queston. In fact, you must ask this question. Is it ridiculous for a very small, sickly, big-eared mouse fall in love with a beautiful princess named Pea? The answer is..
Yes. Of course it's ridiculous.
Love is ridiculous.
But love is also wonderful. And powerful. — Kate DiCamillo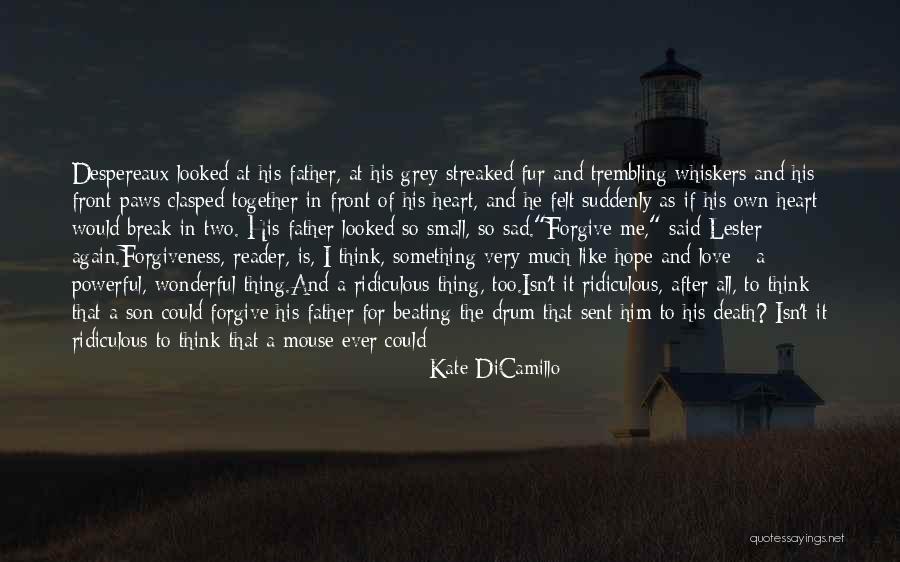 Despereaux looked at his father, at his grey-streaked fur and trembling whiskers and his front paws clasped together in front of his heart, and he felt suddenly as if his own heart would break in two. His father looked so small, so sad.
"Forgive me," said Lester again.
Forgiveness, reader, is, I think, something very much like hope and love - a powerful, wonderful thing.
And a ridiculous thing, too.
Isn't it ridiculous, after all, to think that a son could forgive his father for beating the drum that sent him to his death? Isn't it ridiculous to think that a mouse ever could forgive anyone for such perfidy?
But still, here are the words Despereaux Tilling spoke to his father. He said, "I forgive you, Pa."
And he said those words because he sensed it was the only way to save his own heart, to stop it from breaking in two. Despereaux, reader, spoke those words to save himself. — Kate DiCamillo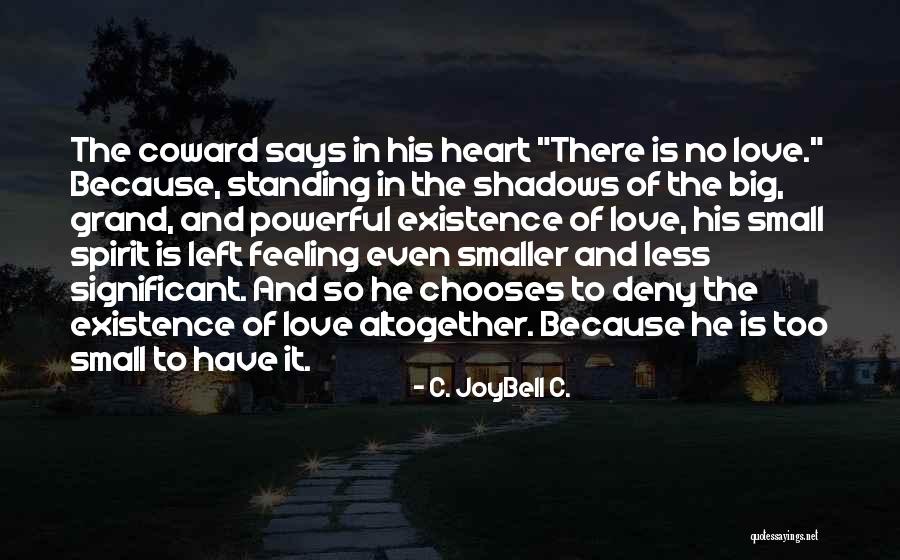 The coward says in his heart "There is no love." Because, standing in the shadows of the big, grand, and powerful existence of love, his small spirit is left feeling even smaller and less significant. And so he chooses to deny the existence of love altogether. Because he is too small to have it. — C. JoyBell C.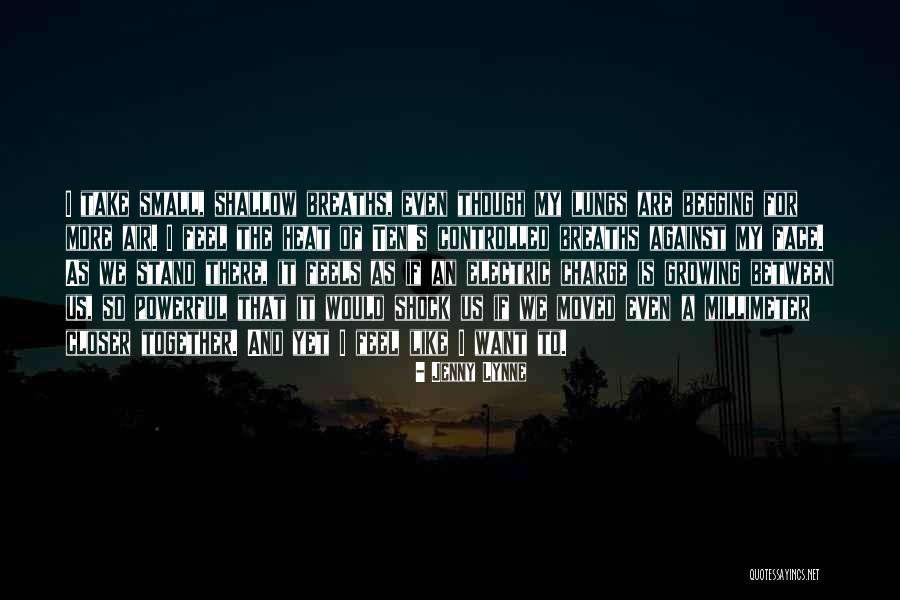 I take small, shallow breaths, even though my lungs are begging for more air. I feel the heat of Ten's controlled breaths against my face. As we stand there, it feels as if an electric charge is growing between us, so powerful that it would shock us if we moved even a millimeter closer together. And yet I feel like I want to. — Jenny Lynne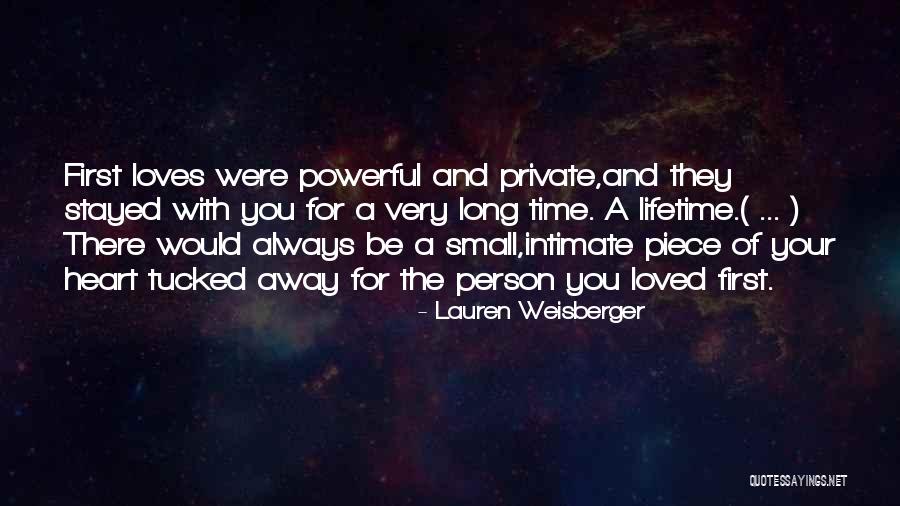 First loves were powerful and private,and they stayed with you for a very long time. A lifetime.( ... ) There would always be a small,intimate piece of your heart tucked away for the person you loved first. — Lauren Weisberger