Quotes & Sayings About Skeletons In Your Closet
Enjoy reading and share 44 famous quotes about Skeletons In Your Closet with everyone.
Top Skeletons In Your Closet Quotes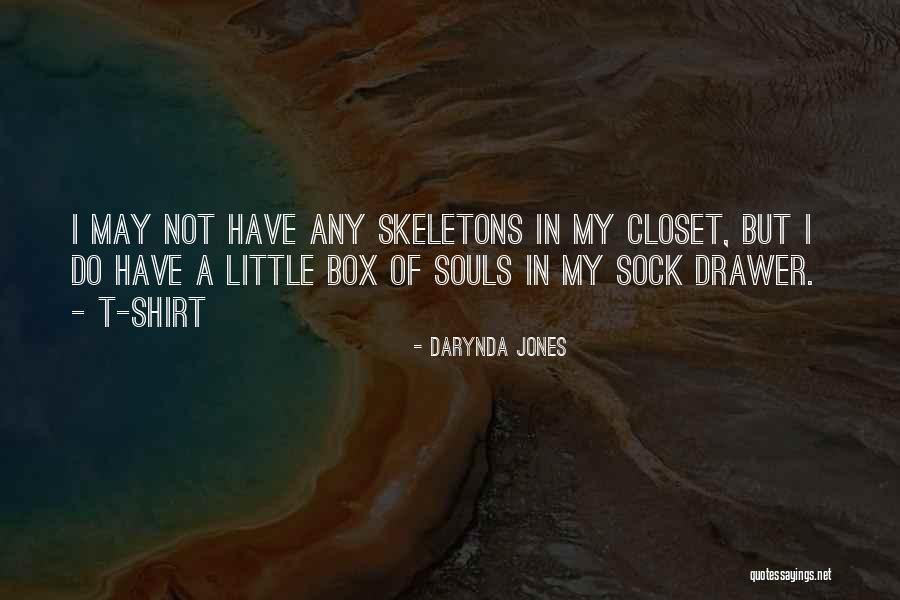 I may not have any skeletons in my closet, but I do have a little box of souls in my sock drawer. - T-SHIRT — Darynda Jones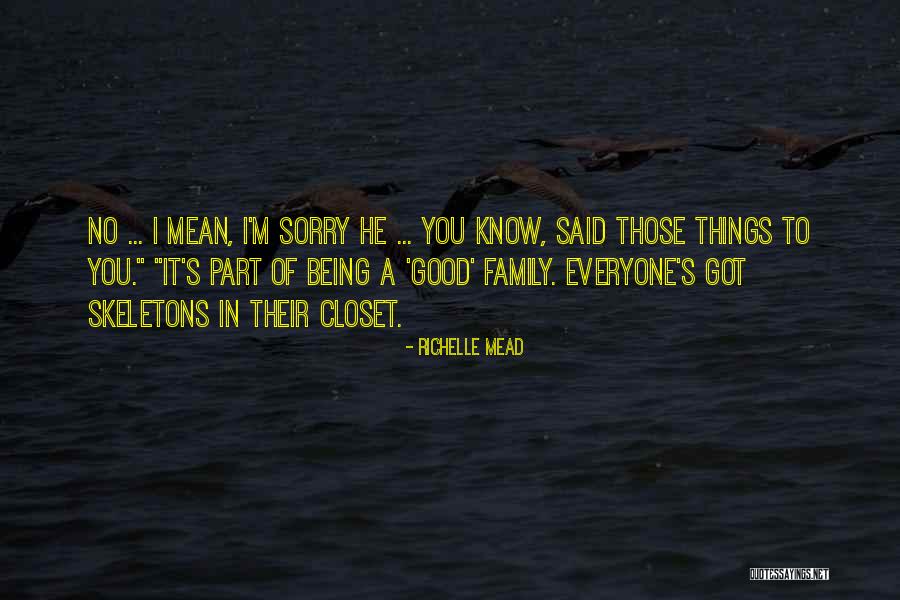 No ... I mean, I'm sorry he ... You know, said those things to you."
"It's part of being a 'good' family. Everyone's got skeletons in their closet. — Richelle Mead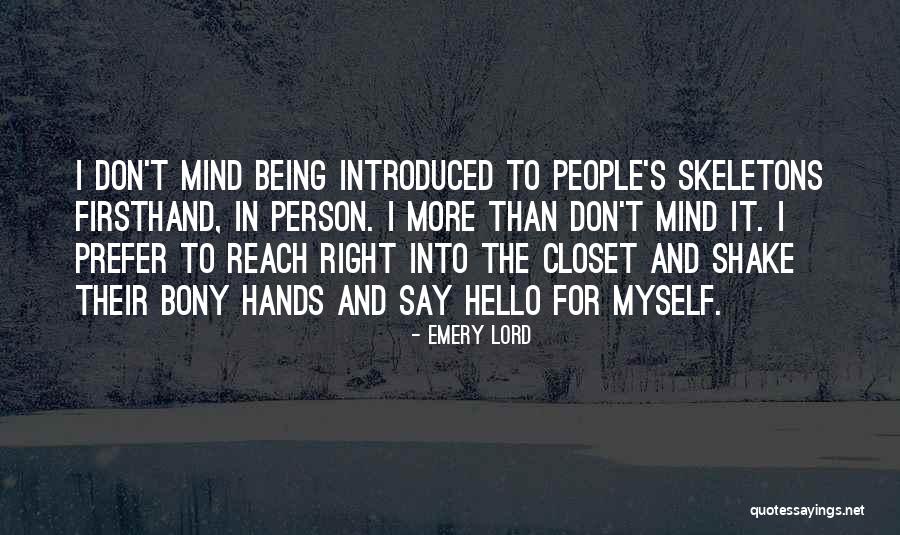 I don't mind being introduced to people's skeletons firsthand, in person. I more than don't mind it. I prefer to reach right into the closet and shake their bony hands and say hello for myself. — Emery Lord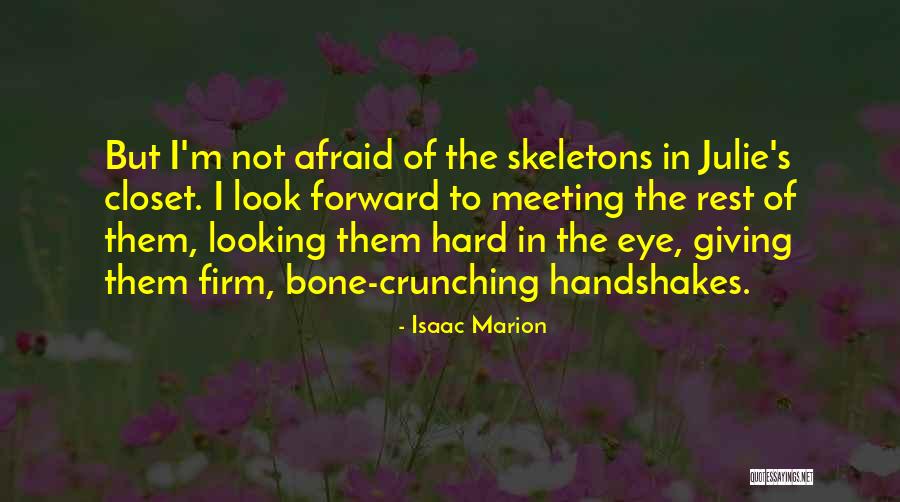 But I'm not afraid of the skeletons in Julie's closet. I look forward to meeting the rest of them, looking them hard in the eye, giving them firm, bone-crunching handshakes. — Isaac Marion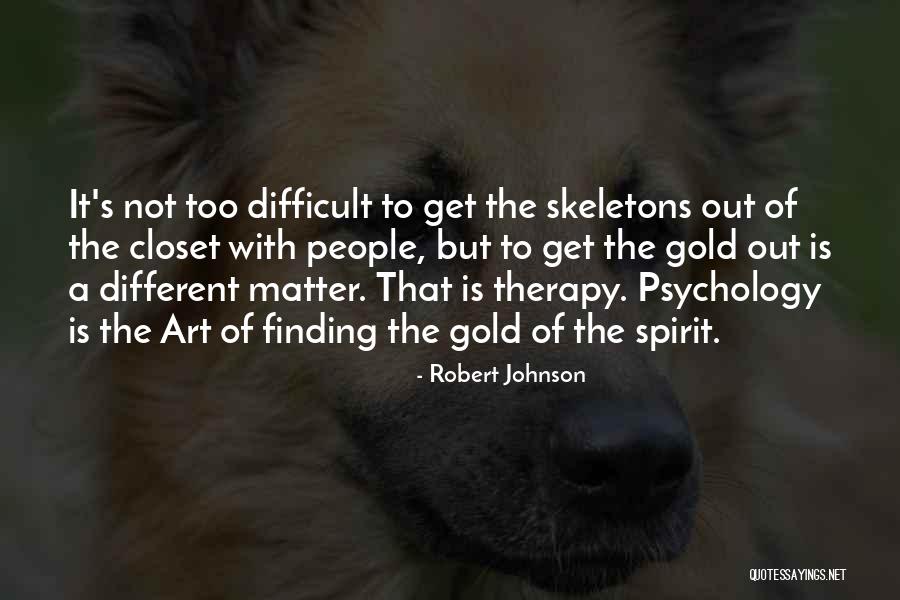 It's not too difficult to get the skeletons out of the closet with people, but to get the gold out is a different matter. That is therapy. Psychology is the Art of finding the gold of the spirit. — Robert Johnson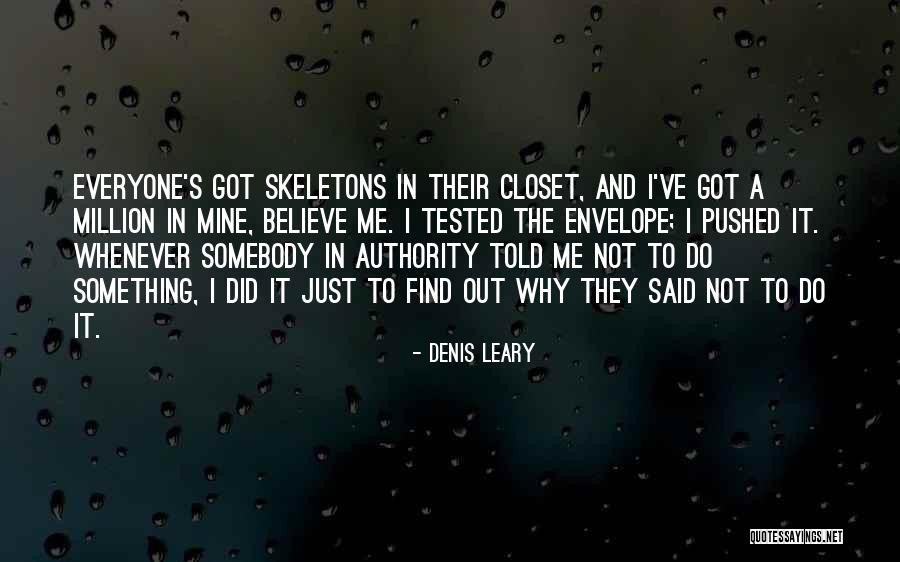 Everyone's got skeletons in their closet, and I've got a million in mine, believe me. I tested the envelope; I pushed it. Whenever somebody in authority told me not to do something, I did it just to find out why they said not to do it. — Denis Leary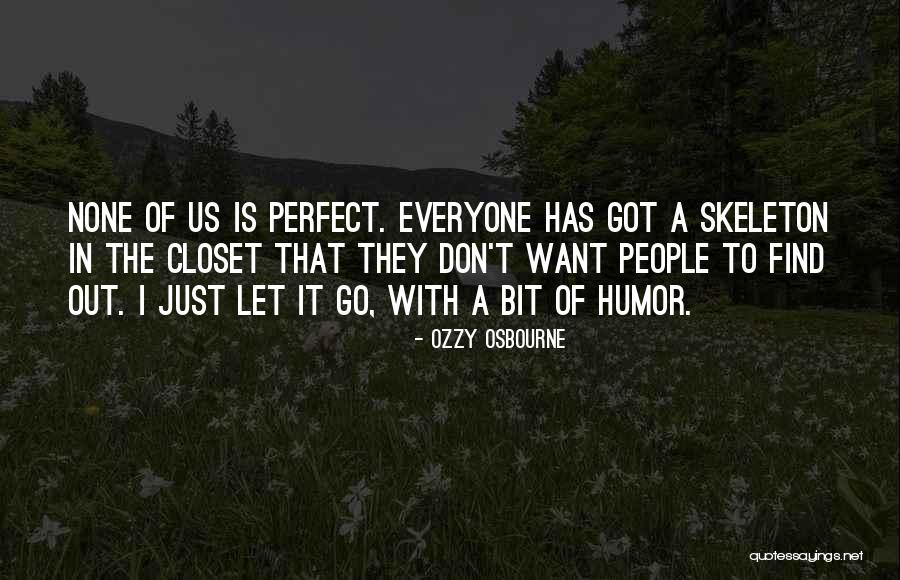 None of us is perfect. Everyone has got a skeleton in the closet that they don't want people to find out. I just let it go, with a bit of humor. — Ozzy Osbourne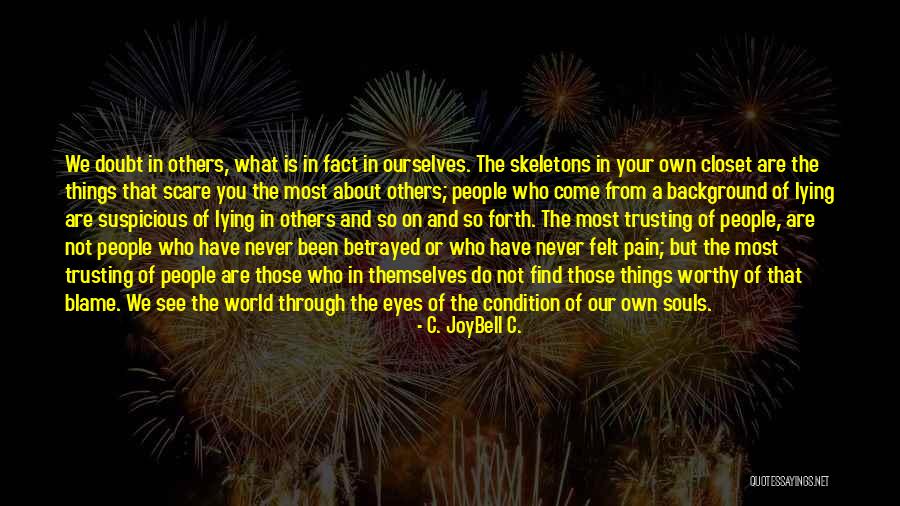 We doubt in others, what is in fact in ourselves. The skeletons in your own closet are the things that scare you the most about others; people who come from a background of lying are suspicious of lying in others and so on and so forth. The most trusting of people, are not people who have never been betrayed or who have never felt pain; but the most trusting of people are those who in themselves do not find those things worthy of that blame. We see the world through the eyes of the condition of our own souls. — C. JoyBell C.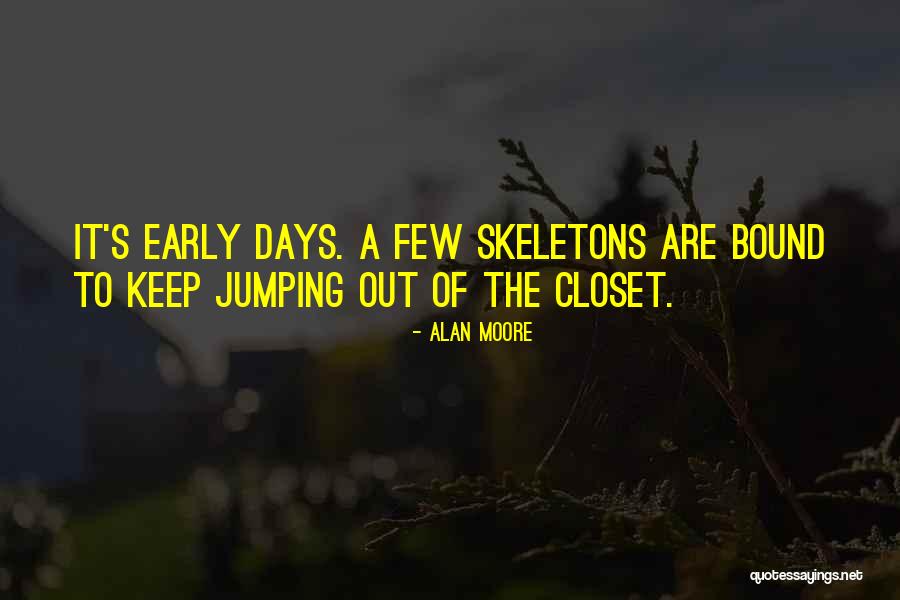 It's early days. A few skeletons are bound to keep jumping out of the closet. — Alan Moore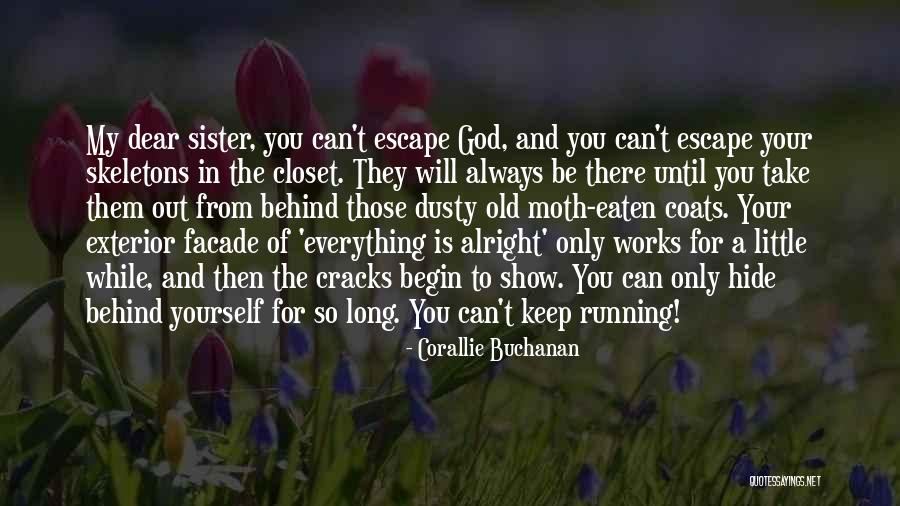 My dear sister, you can't escape God, and you can't escape your skeletons in the closet. They will always be there until you take them out from behind those dusty old moth-eaten coats. Your exterior facade of 'everything is alright' only works for a little while, and then the cracks begin to show. You can only hide behind yourself for so long. You can't keep running! — Corallie Buchanan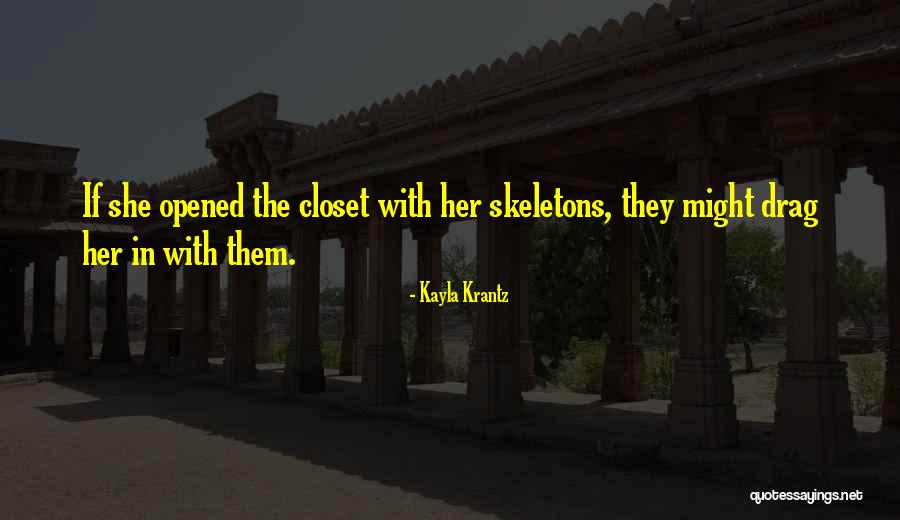 If she opened the closet with her skeletons, they might drag her in with them. — Kayla Krantz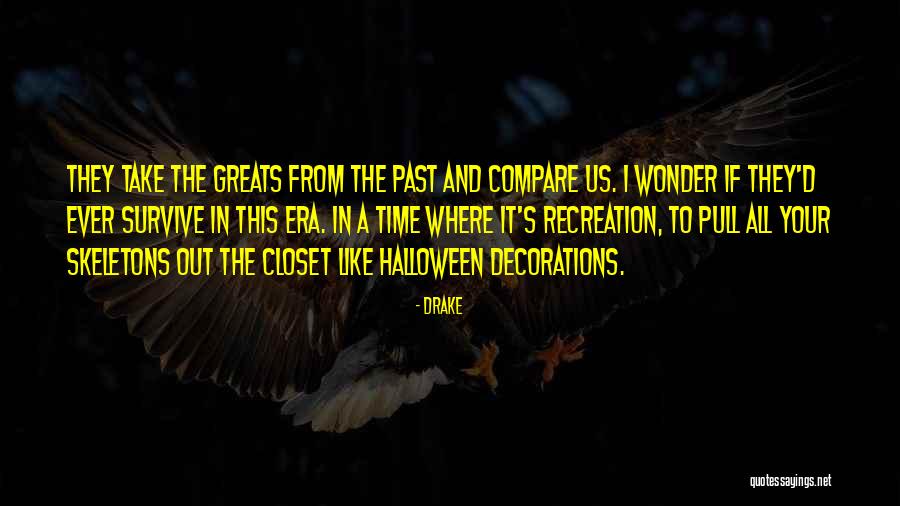 They take the greats from the past and compare us. I wonder if they'd ever survive in this era. In a time where it's recreation, to pull all your skeletons out the closet like Halloween decorations. — Drake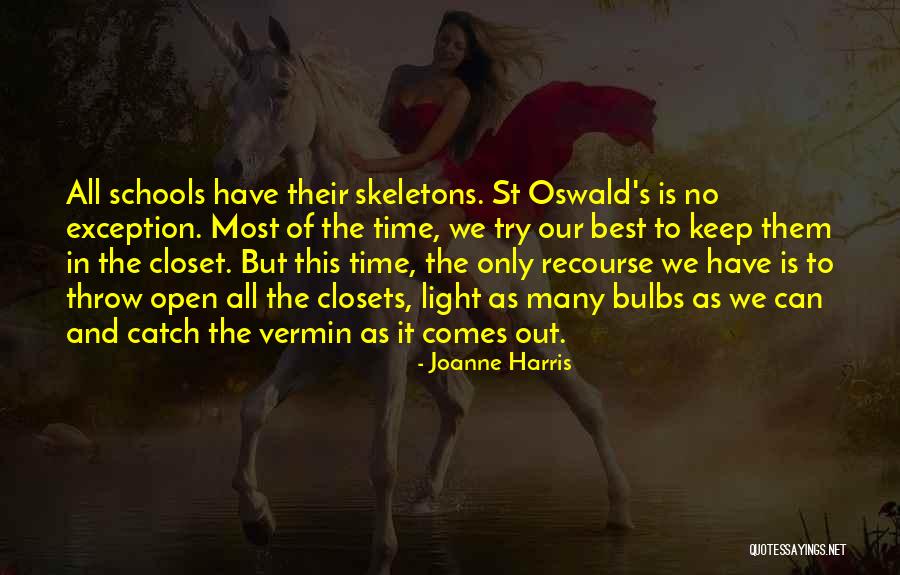 All schools have their skeletons. St Oswald's is no exception. Most of the time, we try our best to keep them in the closet. But this time, the only recourse we have is to throw open all the closets, light as many bulbs as we can and catch the vermin as it comes out. — Joanne Harris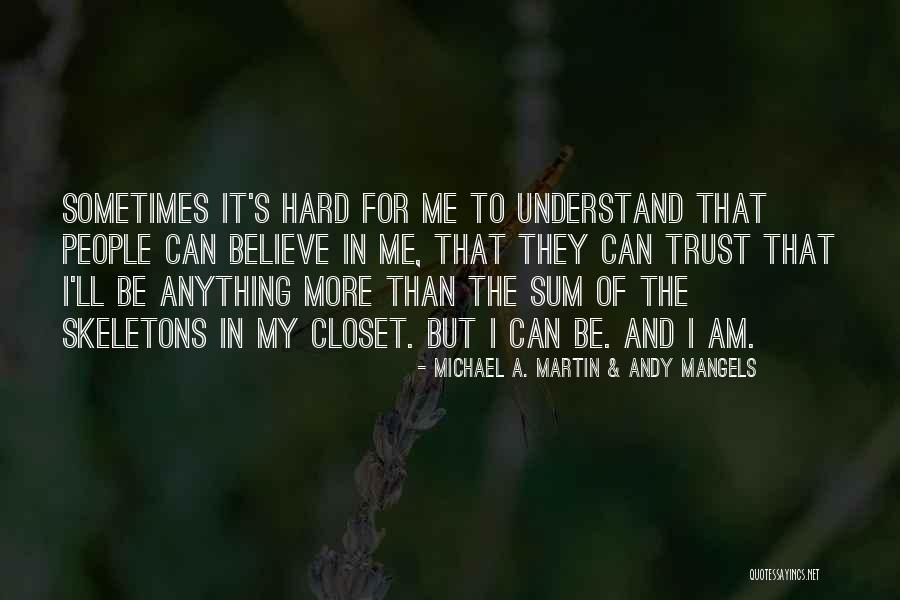 Sometimes it's hard for me to understand that people can believe in me, that they can trust that I'll be anything more than the sum of the skeletons in my closet. But I can be. And I am. — Michael A. Martin & Andy Mangels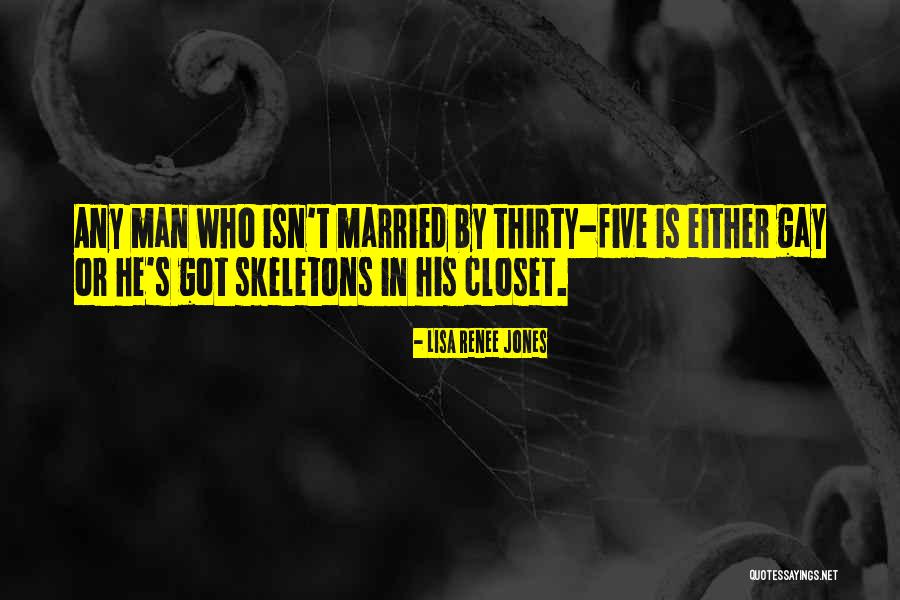 Any man who isn't married by thirty-five is either gay or he's got skeletons in his closet. — Lisa Renee Jones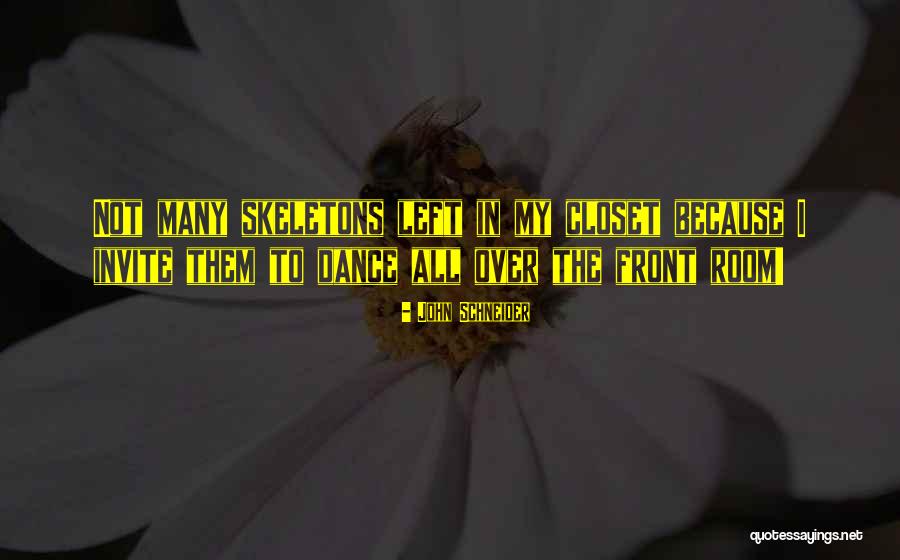 Not many skeletons left in my closet because I invite them to dance all over the front room! — John Schneider
I don't have any skeletons in my closet that can't be allowed out. — Walter Isaacson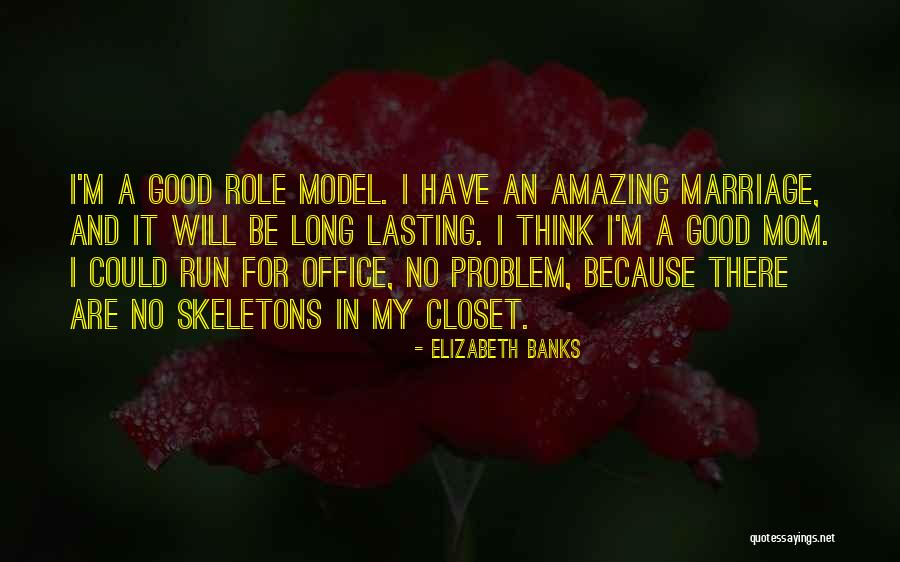 I'm a good role model. I have an amazing marriage, and it will be long lasting. I think I'm a good mom. I could run for office, no problem, because there are no skeletons in my closet. — Elizabeth Banks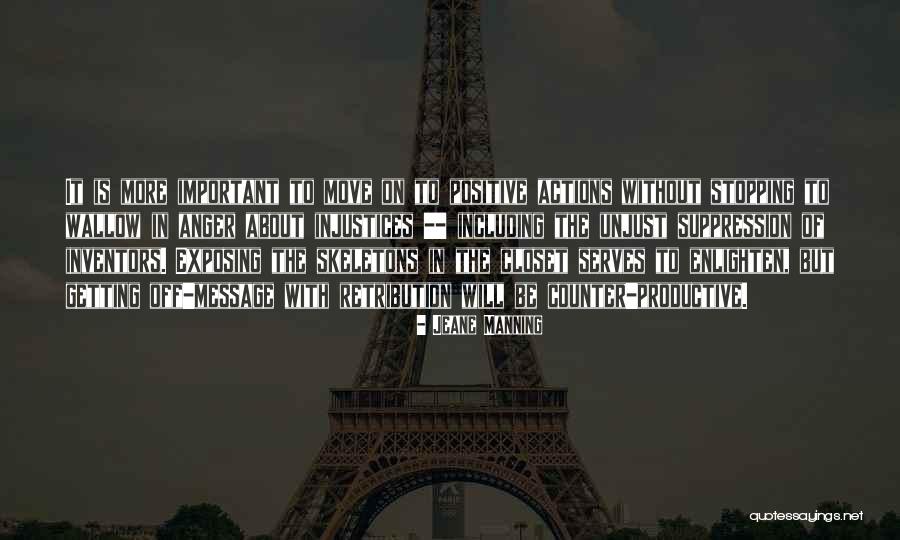 It is more important to move on to positive actions without stopping to wallow in anger about injustices -- including the unjust suppression of inventors. Exposing the skeletons in the closet serves to enlighten, but getting off-message with retribution will be counter-productive. — Jeane Manning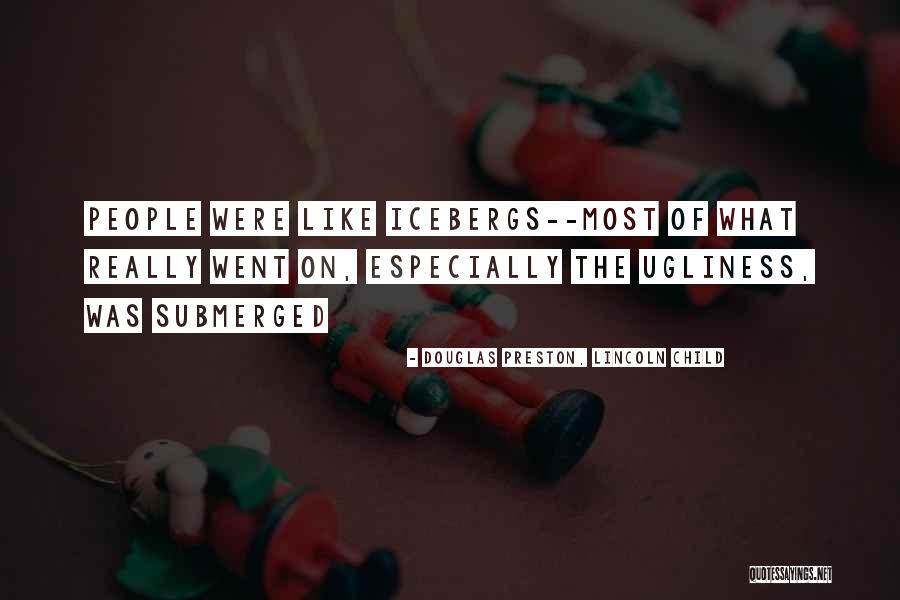 people were like icebergs--most of what really went on, especially the ugliness, was submerged — Douglas Preston, Lincoln Child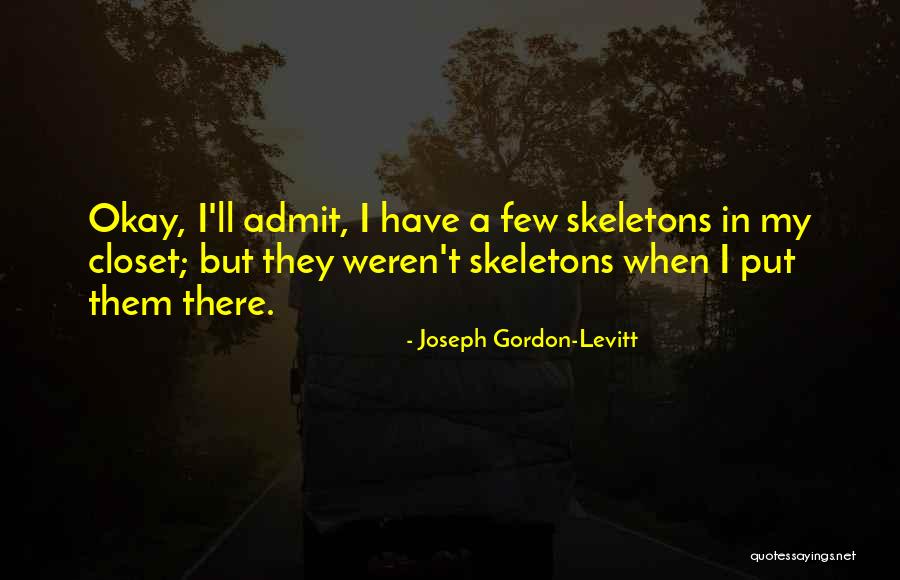 Okay, I'll admit, I have a few skeletons in my closet; but they weren't skeletons when I put them there. — Joseph Gordon-Levitt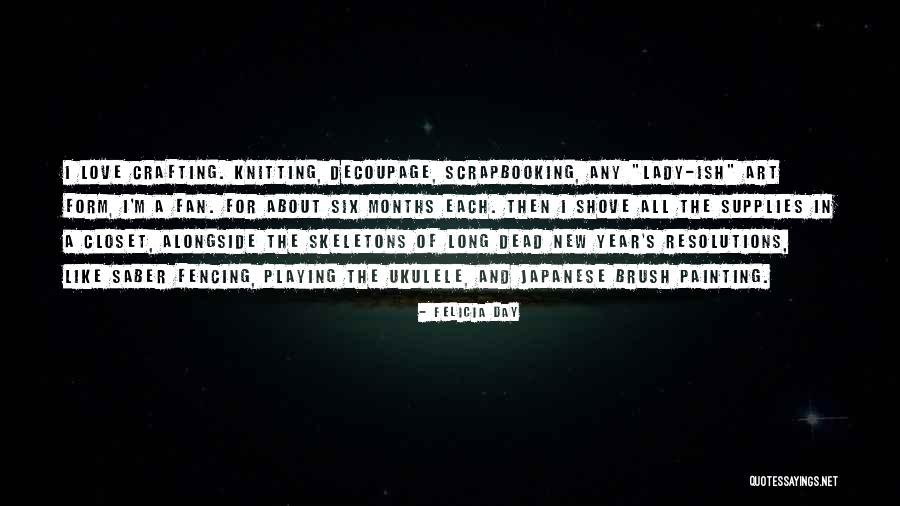 I love crafting. Knitting, decoupage, scrapbooking, any "lady-ish" art form, I'm a fan. For about six months each. Then I shove all the supplies in a closet, alongside the skeletons of long dead New Year's resolutions, like saber fencing, playing the ukulele, and Japanese brush painting. — Felicia Day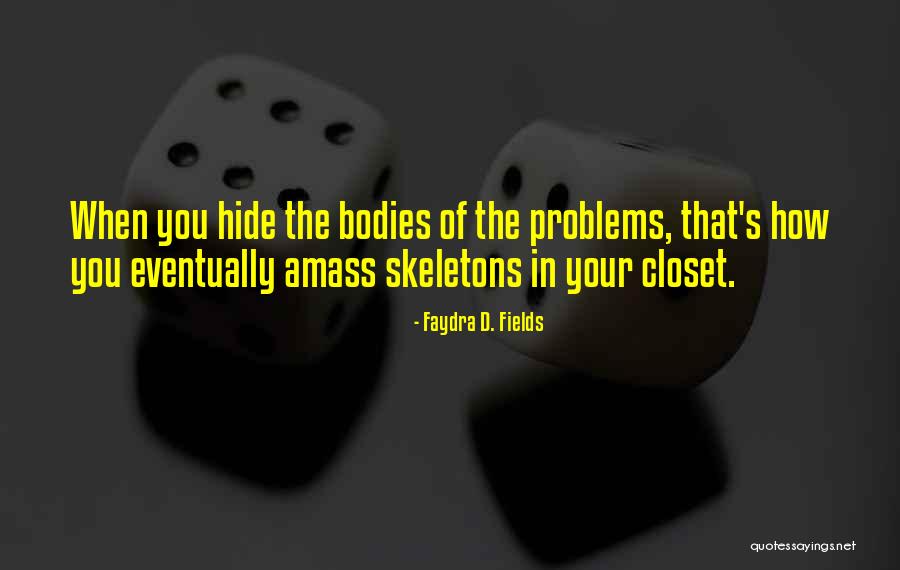 When you hide the bodies of the problems, that's how you eventually amass skeletons in your closet. — Faydra D. Fields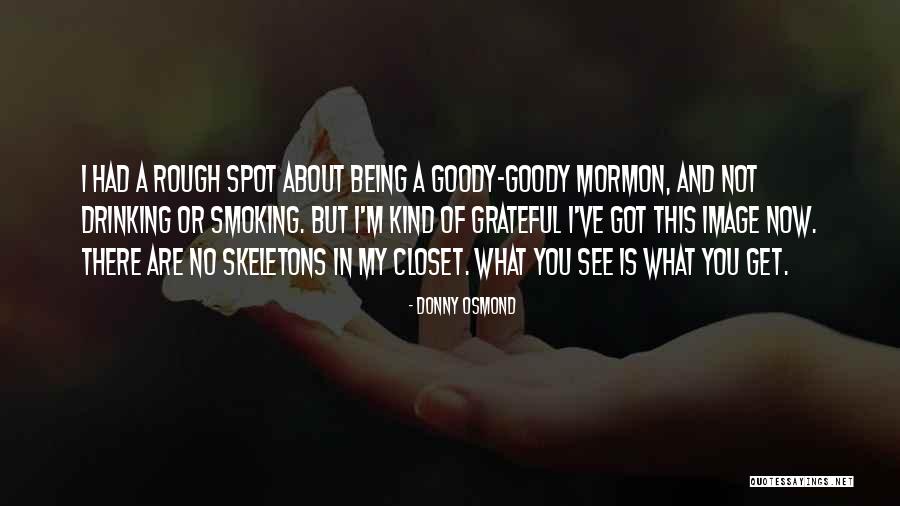 I had a rough spot about being a goody-goody Mormon, and not drinking or smoking. But I'm kind of grateful I've got this image now. There are no skeletons in my closet. What you see is what you get. — Donny Osmond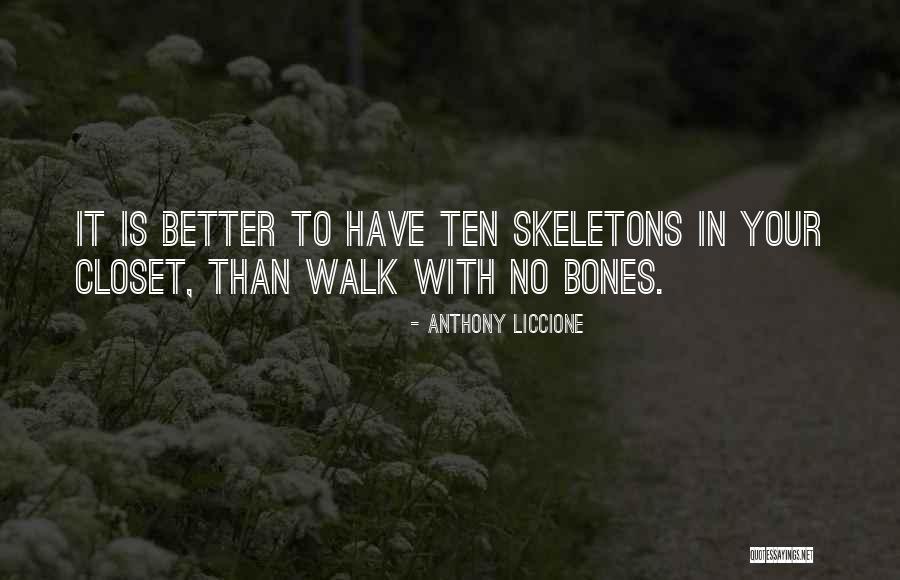 It is better to have ten skeletons in your closet, than walk with no bones. — Anthony Liccione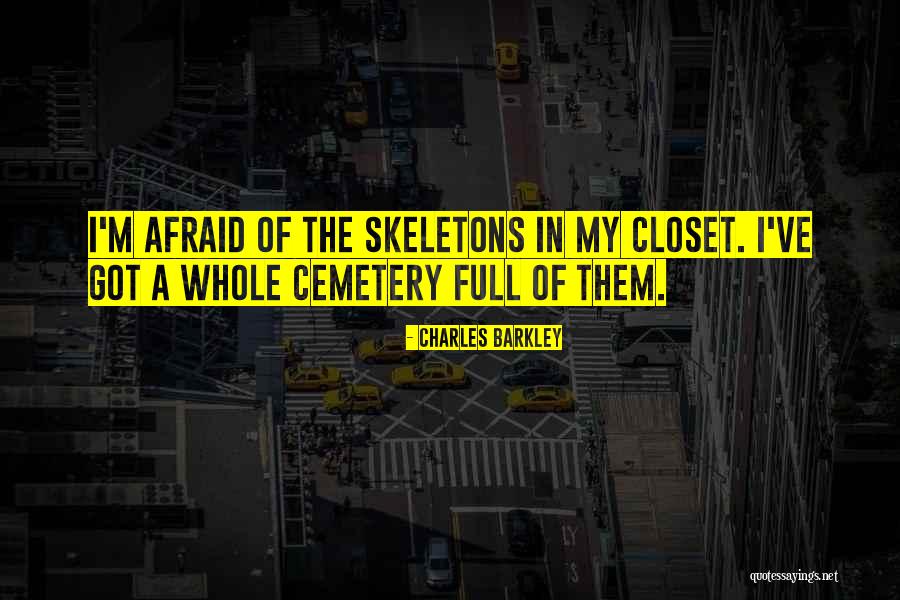 I'm afraid of the skeletons in my closet. I've got a whole cemetery full of them. — Charles Barkley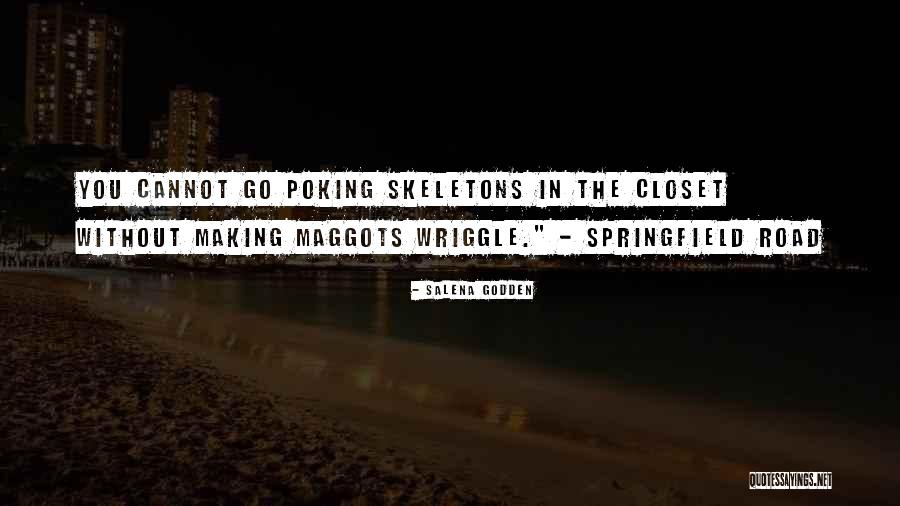 You cannot go poking skeletons in the closet without making maggots wriggle." - Springfield Road — Salena Godden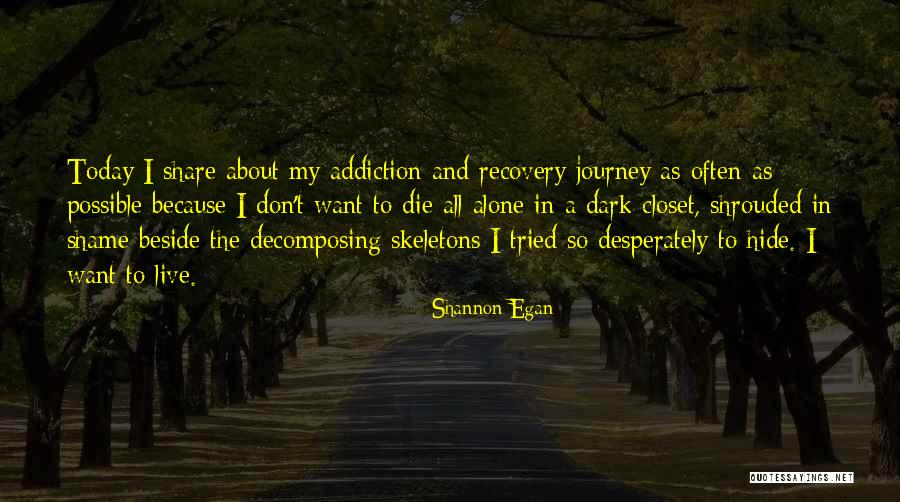 Today I share about my addiction and recovery journey as often as possible because I don't want to die all alone in a dark closet, shrouded in shame beside the decomposing skeletons I tried so desperately to hide. I want to live. — Shannon Egan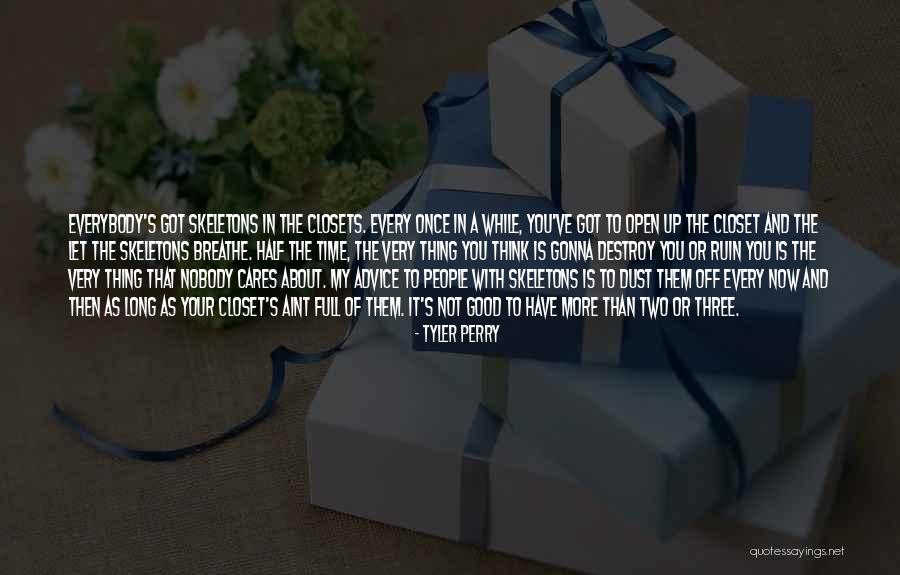 Everybody's got skeletons in the closets. Every once in a while, you've got to open up the closet and the let the skeletons breathe. Half the time, the very thing you think is gonna destroy you or ruin you is the very thing that nobody cares about. My advice to people with skeletons is to dust them off every now and then
as long as your closet's aint full of them. It's not good to have more than two or three. — Tyler Perry
Have you ever had a difference with a dear friend? How his letters, written in the period of love and confidence, sicken and rebuke you! What a dreary mourning it is to dwell upon those vehement protests of dead affection! What lying epitaphs they make over the corpse of love! What dark, cruel comments upon Life and Vanities! Most of us have got or written drawers full of them. They are closet-skeletons which we keep and shun — William Makepeace Thackeray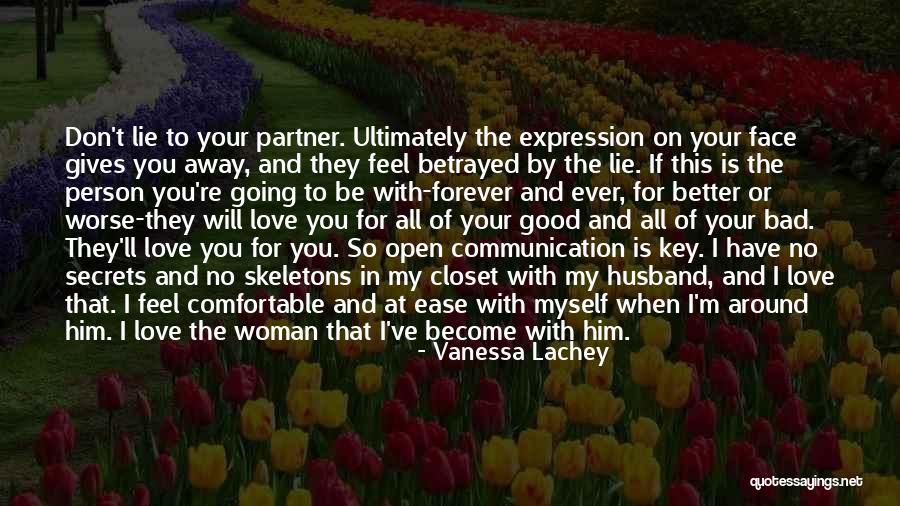 Don't lie to your partner. Ultimately the expression on your face gives you away, and they feel betrayed by the lie. If this is the person you're going to be with-forever and ever, for better or worse-they will love you for all of your good and all of your bad. They'll love you for you. So open communication is key. I have no secrets and no skeletons in my closet with my husband, and I love that. I feel comfortable and at ease with myself when I'm around him. I love the woman that I've become with him. — Vanessa Lachey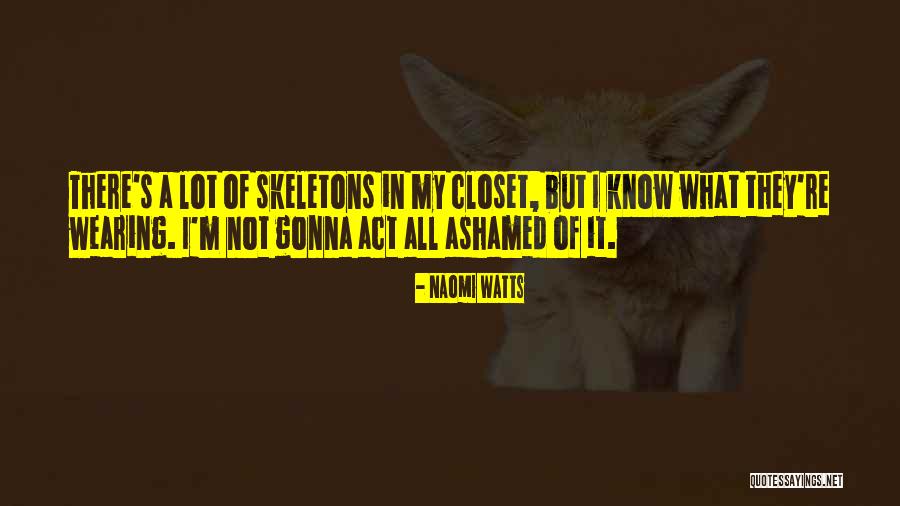 There's a lot of skeletons in my closet, but I know what they're wearing. I'm not gonna act all ashamed of it. — Naomi Watts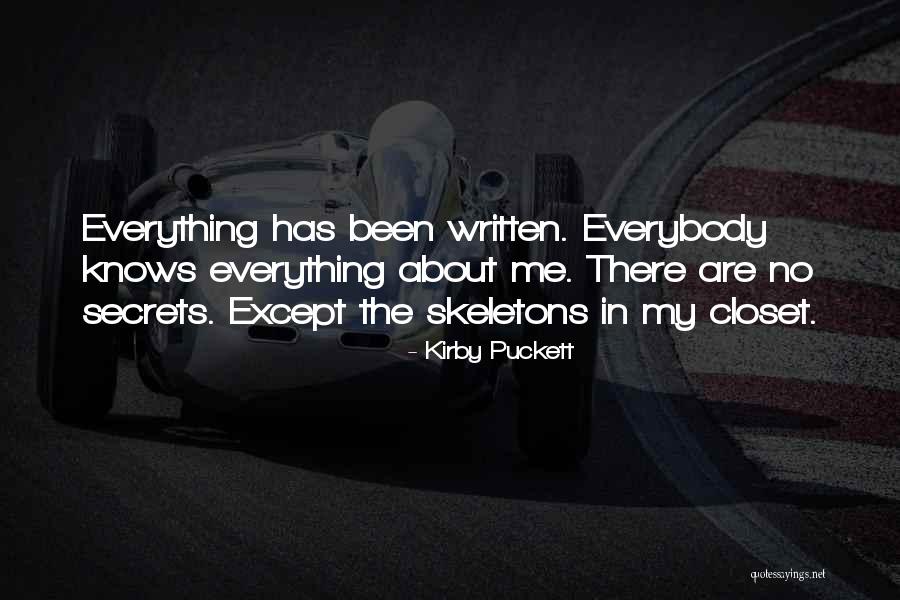 Everything has been written. Everybody knows everything about me. There are no secrets. Except the skeletons in my closet. — Kirby Puckett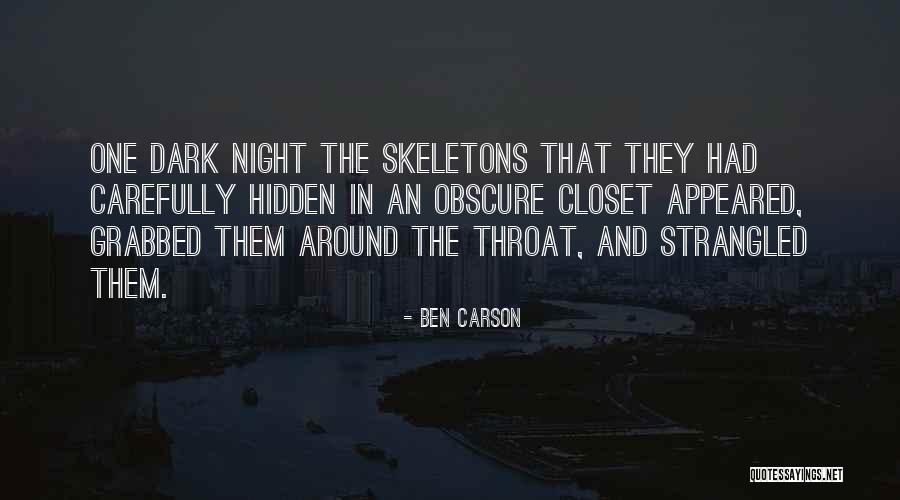 One dark night the skeletons that they had carefully hidden in an obscure closet appeared, grabbed them around the throat, and strangled them. — Ben Carson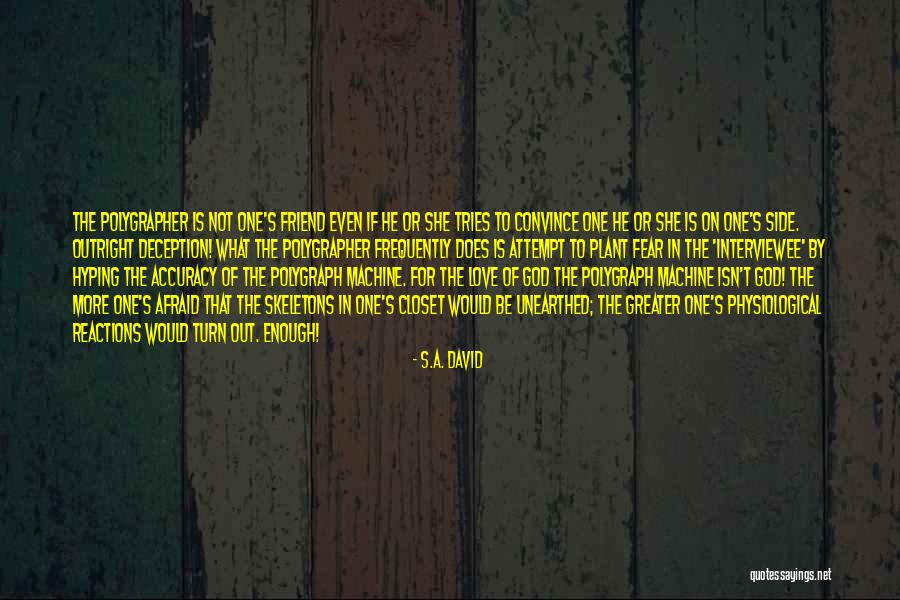 The polygrapher is not one's friend even if he or she tries to convince one he or she is on one's side. Outright deception! What the polygrapher frequently does is attempt to plant fear in the 'interviewee' by hyping the accuracy of the polygraph machine. For the love of God the polygraph machine isn't God! The more one's afraid that the skeletons in one's closet would be unearthed; the greater one's physiological reactions would turn out. Enough! — S.A. David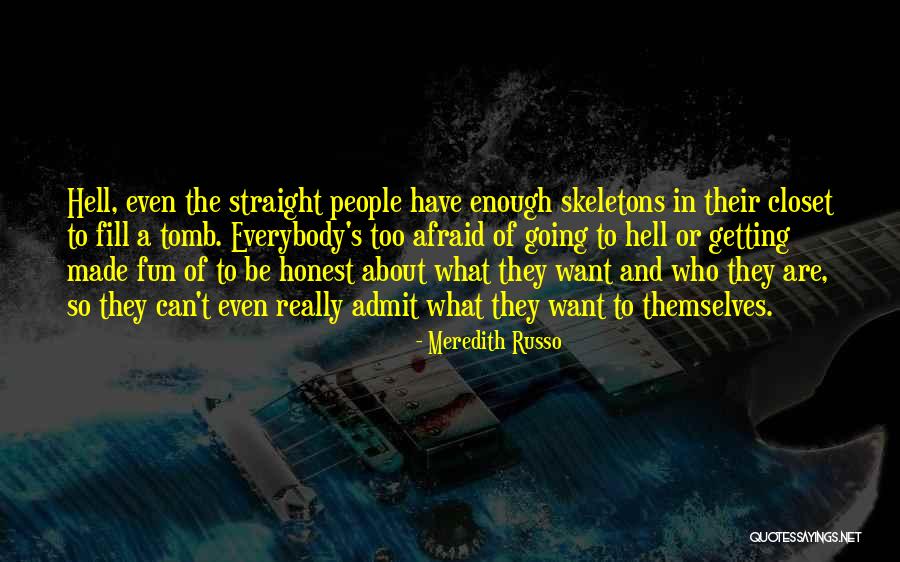 Hell, even the straight people have enough skeletons in their closet to fill a tomb. Everybody's too afraid of going to hell or getting made fun of to be honest about what they want and who they are, so they can't even really admit what they want to themselves. — Meredith Russo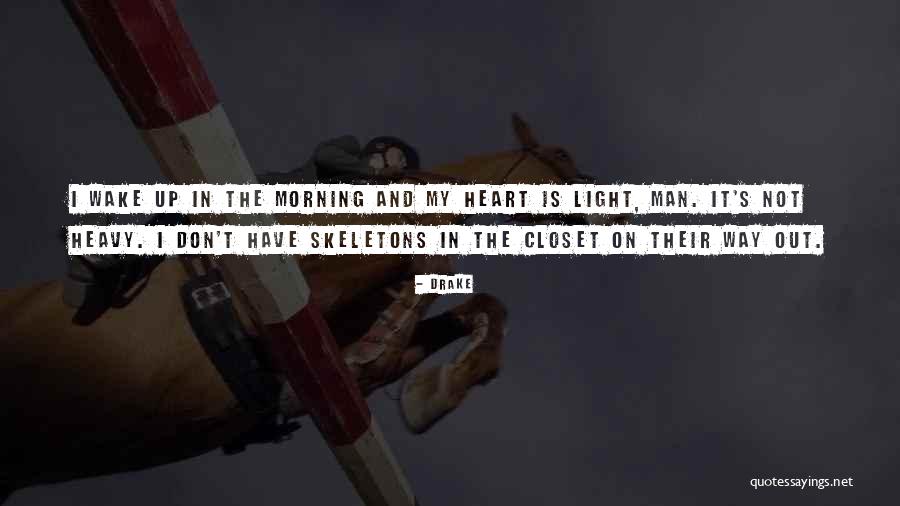 I wake up in the morning and my heart is light, man. It's not heavy. I don't have skeletons in the closet on their way out. — Drake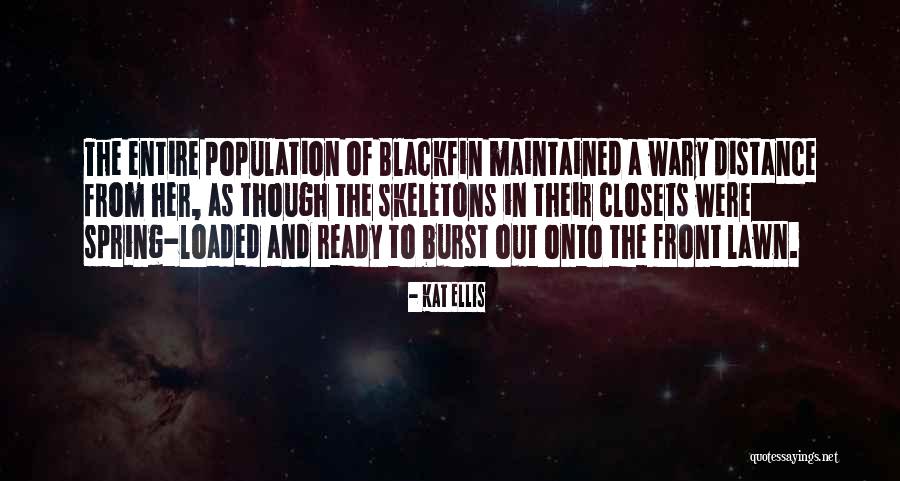 The entire population of Blackfin maintained a wary distance from her, as though the skeletons in their closets were spring-loaded and ready to burst out onto the front lawn. — Kat Ellis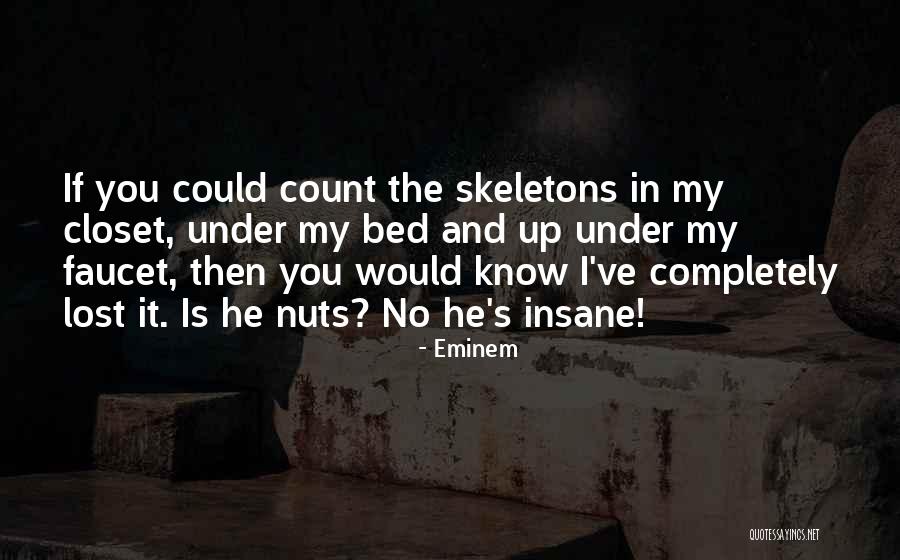 If you could count the skeletons in my closet, under my bed and up under my faucet, then you would know I've completely lost it. Is he nuts? No he's insane! — Eminem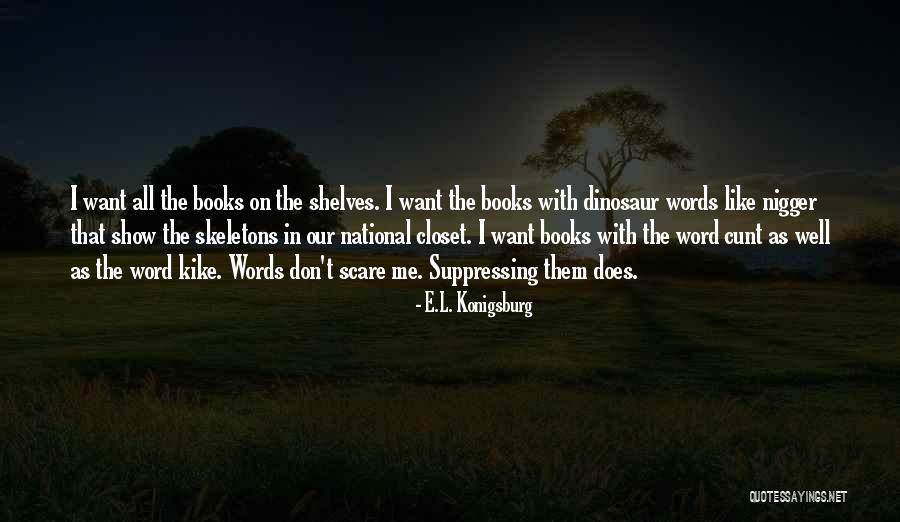 I want all the books on the shelves.
I want the books with dinosaur words like nigger that show the skeletons in our national closet. I want books with the word cunt as well as the word kike. Words don't scare me. Suppressing them does. — E.L. Konigsburg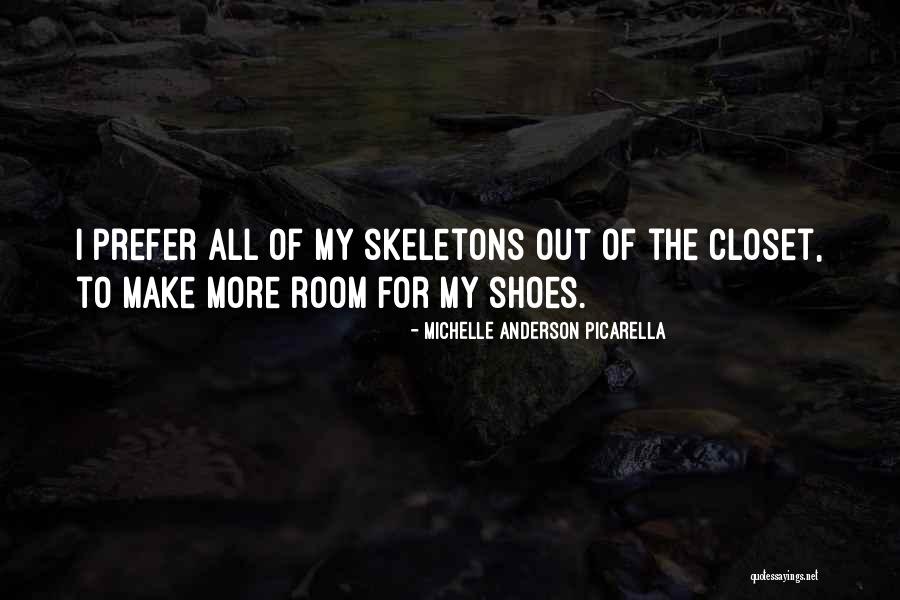 I prefer all of my skeletons out of the closet, to make more room for my shoes. — Michelle Anderson Picarella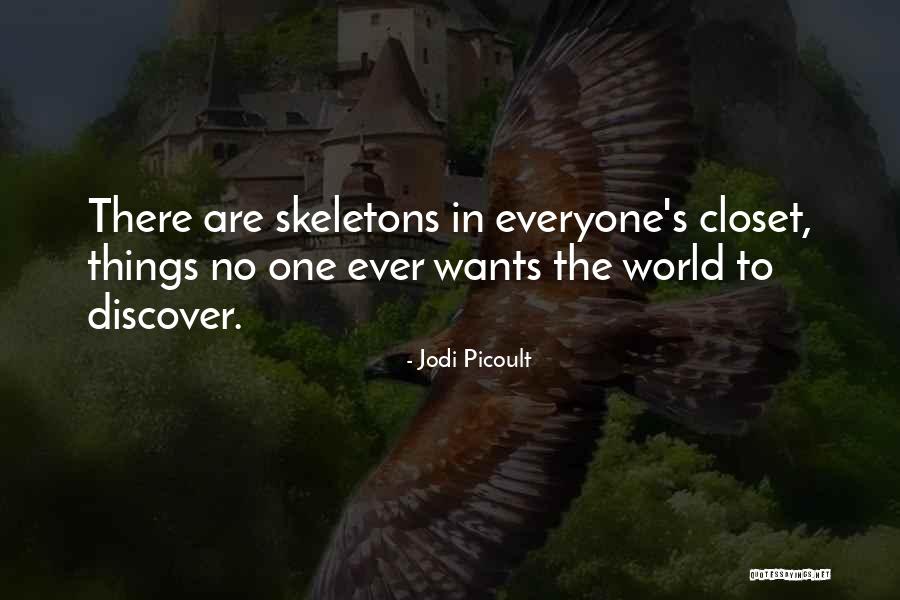 There are skeletons in everyone's closet, things no one ever wants the world to discover. — Jodi Picoult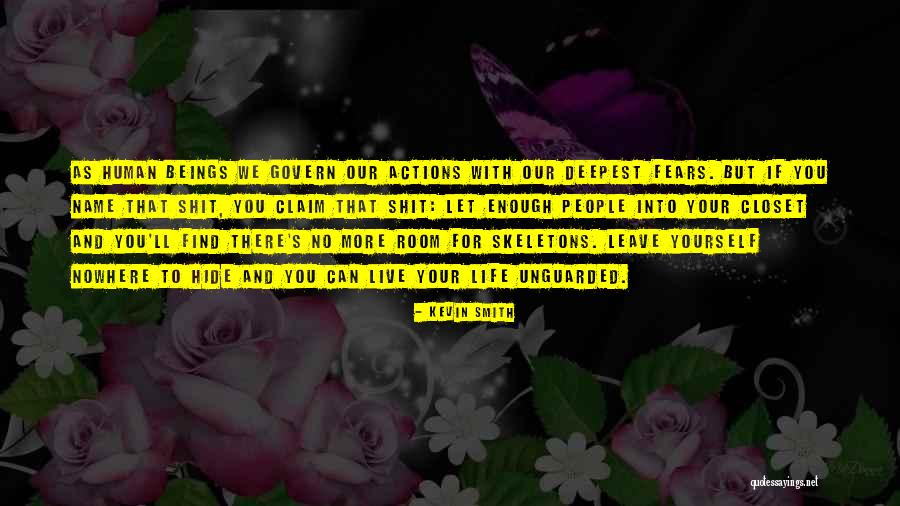 As human beings we govern our actions with our deepest fears. But if you name that shit, you claim that shit: let enough people into your closet and you'll find there's no more room for skeletons. Leave yourself nowhere to hide and you can live your life unguarded. — Kevin Smith